6 Best Places to Enjoy Christmas in Korea!
6 Trending Christmassy places recommended by local Koreans
4 months ago
Hello,everyone! We are Creatrip, a group of Korean travel experts.
We proudly present you the latest, useful Korean travel information and tips every day.
Koreans think Christmas as a romantic holiday more than a religious holiday. Lovers usually spend Christmas together. They visit giant Christmas trees, exchange gifts and dine out at fine restaurants.
Creatrip editors are about to share the list of the best Christmassy places in Korea so that you can spend this time of the year with full of pleasant surprises.
2018 Christmas in Korea|Best place to spend Christmas in Korea:1. Seoul City Hall Square
Address: Seoul City hall
Opening date:December 8th, 2018 @17:00
During the Christmas season in Korea, the City Hall Square (Cheonggyechon Square) becomes the best place for celebrating the end of the year. Every year, a cone-shaped giant Christmas tree is installed at the square. Many Seoul couples visit this place for a date.
Along the Cheonggyecheon River, Christmas monuments are installed. The Cheonggyechon River is a place for hanging out for many Seoul families, couples and friends. During the Christmas season, you can see many Christmas decorations and lightenings. This is the best place to go for seeing Christmas attractions.
---
2018 Christmas in Korea|Best place to spend Christmas in Korea

:2. Myeongdong Catholic Church
Address:서울특별시 중구 저동1가 명동길 74
South Korea probably might have the highest proportion of believers in Christianity and Catholicism out of all East Asian countries. You can see Christian and Catholic churches almost around every corner, and that's why you can feel Christmas well in Korea. There is plenty of Christmas decoration. Myeongdong Catholic Church is by far the best place to feel Christmas.
My friends and I visit this Myeongdong sanctuary every week to practice Catholicism. If you come to Myeong-dong during the Christmas season, you may want to see the Christmas decorations in Myeongdong sanctuary.
Related post:2018 winter! Myeongdong's best shopping place - Lotte Young Plaza
---
2018 Christmas in Korea|Best place to spend Christmas in Korea

:3. Lotte World
Address:서울특별시 송파구 잠실동 올림픽로 240
Opening date:November 10th, 2018 to December 31st, 2018.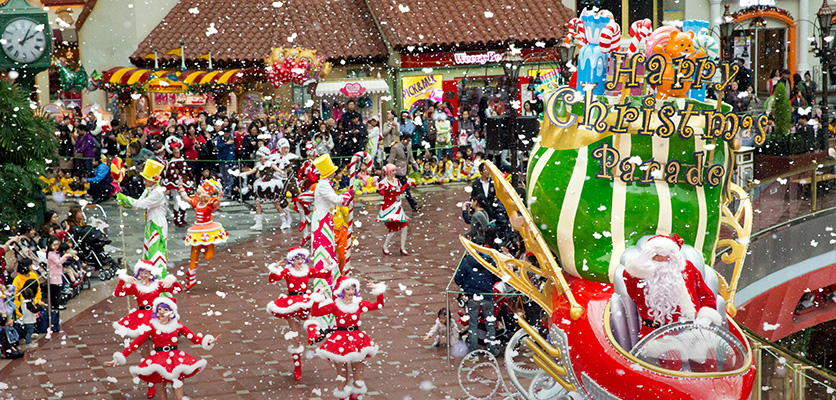 If you are looking for a place where you can experience the grand celebration of Christmas in Korea, you should check out Seoul Lotte World. After all, you can see a giant Christmas tree and get cute Christmas souvenirs. You can watch the biggest Christmas parade in Korea.
Although there is no Disneyland in Korea, Seoul Lotte World is super popular among Koreans. Especially during the Christmas season, you can watch a series of winter celebrations, and experience the joyful atmosphere of Christmas in Korea.
Related Post: Wear Produce 101 high school uniform from Ewha School Uniform and enjoy your time at Lotte World!
---
2018 Christmas in Korea|Best place to spend Christmas in Korea:

4. Everland
Address:경기도 용인시 처인구 포곡읍 에버랜드로 199
Opening Date:November 16th, 2018 to January 1st, 2019
Everland is another famous amusement park in South Korea, and this place also holds a grand celebration during the Christmas season. The entire park is filled with a celebratory Christmas atmosphere.
Although Everland is not located in Seoul, this place can be easily reached by public transportation. You can make a quick one-day trip. This place has all kinds of amusement facilities and rides available for the visitors of all ages. On Christmas Day in Korea, make sure to check out Everland's grand Christmas event.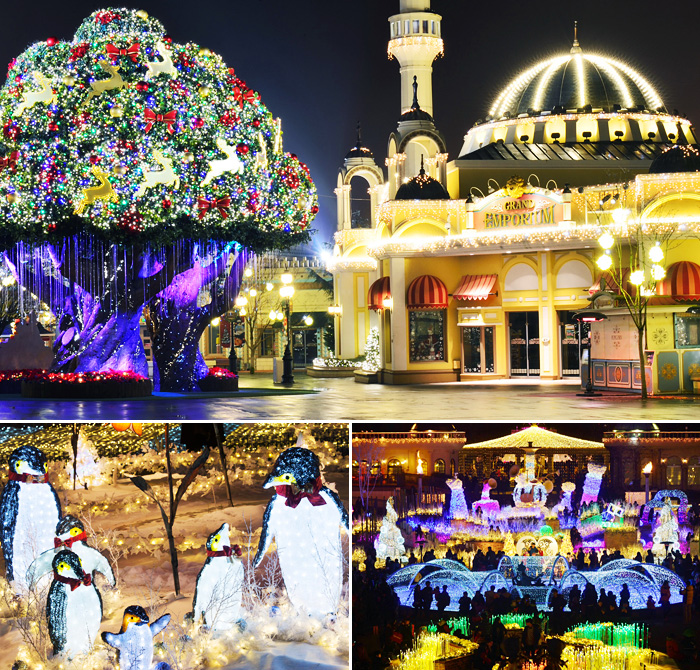 Further readig:Seoul people's TOP 3 Amusement Parks in Seoul!
Book Everland Tickets via Online Reservation
Creatrip members-only coupon code: enter creatrip_everland enjoys a 5% discount
---
2018 Christmas in Korea|Best place to spend Christmas in Korea:

5. Namsan/N Seoul Tower
The most romantic place to spend Christmas in Seoul would be Seoul N Tower. In fact, this place is not only great for spending Christmas but also great for seeing the night view of Seoul's skyline. There are many lovers who visit Seoul N Tower to promise their love with a lock.
Every Christmas, N Seoul Tower will light the famous love lock trees. These trees will look like medium-sized Christmas trees. Especially when it snows, the branches of the love lock trees are covered with snow and exert romantic vibes.
If you are not a huge fan of a massive Christmas crowd, maybe you want to avoid Seoul N Tower during the Christmas season. If you are a solo traveler, you could feel lonely as well.
Further Reading:Travel Seoul: Recommended restaurants and attractions near Namsan N Seoul Tower
---
2018 Christmas in Korea|Best place to spend Christmas in Korea

:6. Shinchon Yonseiro
Address:Shinchon Yonseiro
Opening date:December 22nd, 2018 to December 25th, 2018
If you want to feel the Christmas atmosphere in the downtown of Seoul, you should check out Yonseiro in Shinchon. It may be a bit strange when you just hear the name Yonseiro, Shinchon. Shinchon is a busy business district and a college town in Seoul and is always full of lively college students.
At the New Year's Eve, a huge Christmas tree lights up in Yonseiro. For Seoul people, Shinchon is the perfect place for feeling the Christmas atmosphere. On Christmas Day, you see colorful Christmas decorations and join the celebratory crowd. At that time, the surrounding area of Shinchon usually gets very crowded.
Further Reading:High CP value Korean food: the most cost-effective Shinchon Restaurants Recommended!
---
So far, we've shared the list of six popular Christmas attractions in Seoul. When you visit these places, you will be able to feel the festive atmosphere in Korea! Come and visit these places with your friends and lovers. Feel the lovely Christmas vibe in Seoul.
We will see you next time!!
0 reviews in total