Olympic Park
The largest civic park in Seoul, built to commemorate the 1988 Seoul Olympics!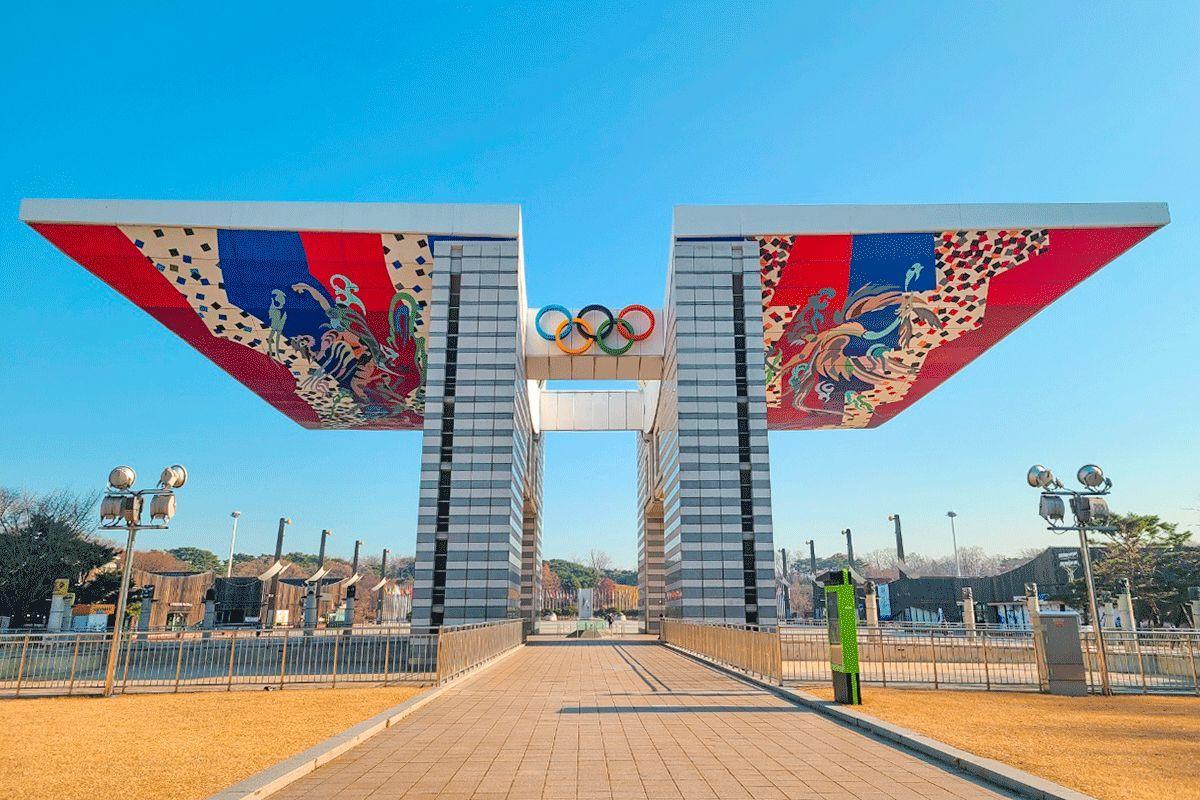 Seoul has many famous parks and the Olympic Park is one of them! Built initially to commemorate the 1988 Seoul Olympics, the famous park was used once again as the starting point for the torch relay for the 2008 Beijing Olympics!
Today, we'll introduce you to a park that once held historic global events and now acts a favorite place of relaxation for the citizens of Seoul.
---
Information
Address: 서울 송파구 올림픽로 424
424 Olympic Road, Songpa-gu, Seoul
Hours: 5:00 - 22:00
(Car access beginning at 6:00; plazas are available 24 hours)
Directions:
Subway Line 5 or 9 to Olympic Park Station (올림픽공원역), Exit 3 or 4
OR
Subway Line 8 to Mongchon Do-seong Station (몽촌토성역)ㅎ, Exit 1
OR
Subway Line 9 to Hanseong Baeje Station (한성백제역), Exit 2
---
Overview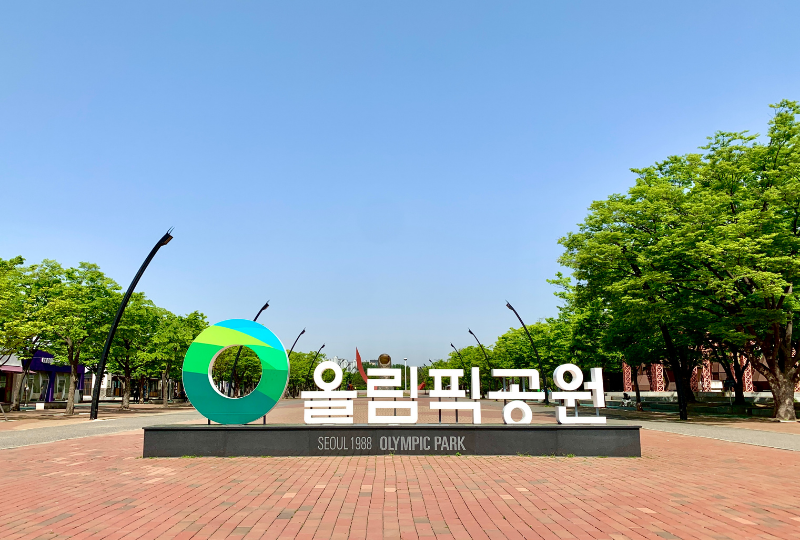 The Olympic Park, built to commemorate the 1988 Seoul Olympics, was once the site of Mongchon Fortress, an ancient Baekje site, and now is home to a variety of facilities, including numerous plazas, outdoor stages, museums, and stadiums.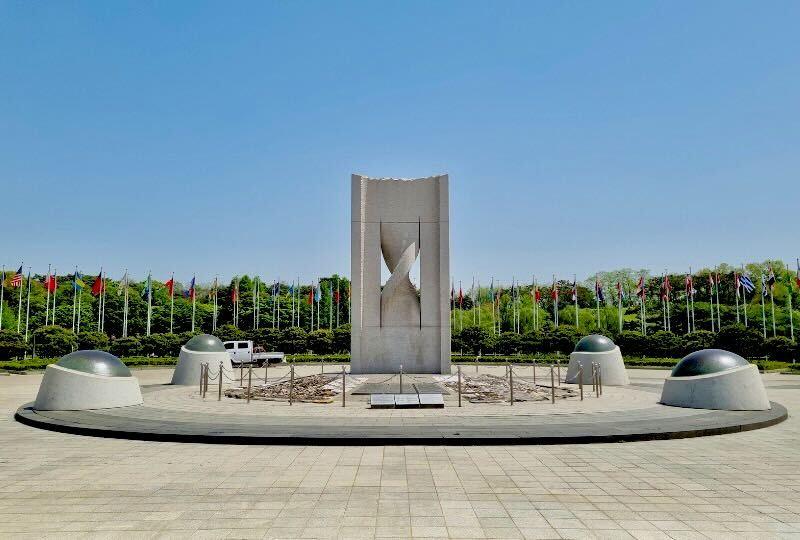 Its total area is approximately 158,000 square meters.
Admission is free all year round, but access to the park is prohibited after 22:00. Only the Peace Square and the Encounter Square are open 24 hours a day.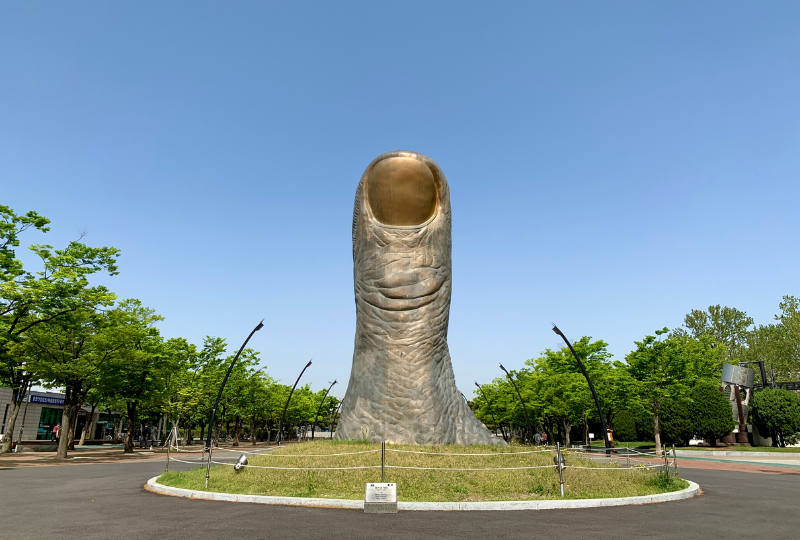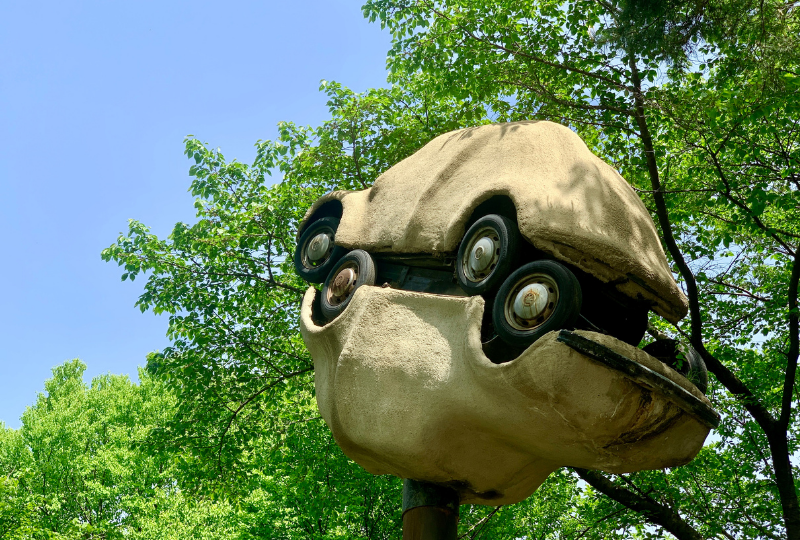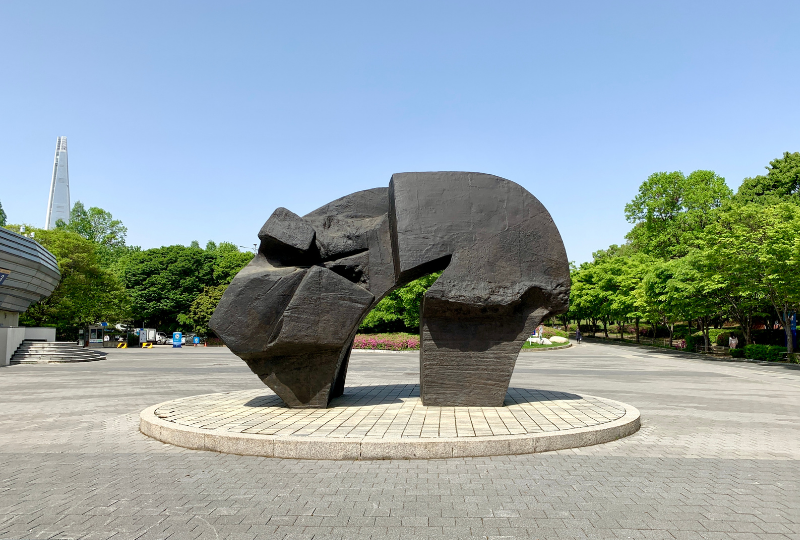 Monuments and sculptural objects throughout the spacious park are great highlights as you walk through.
Let's take a look at what else you can enjoy in one of Seoul's largest parks.
---
Main Entrance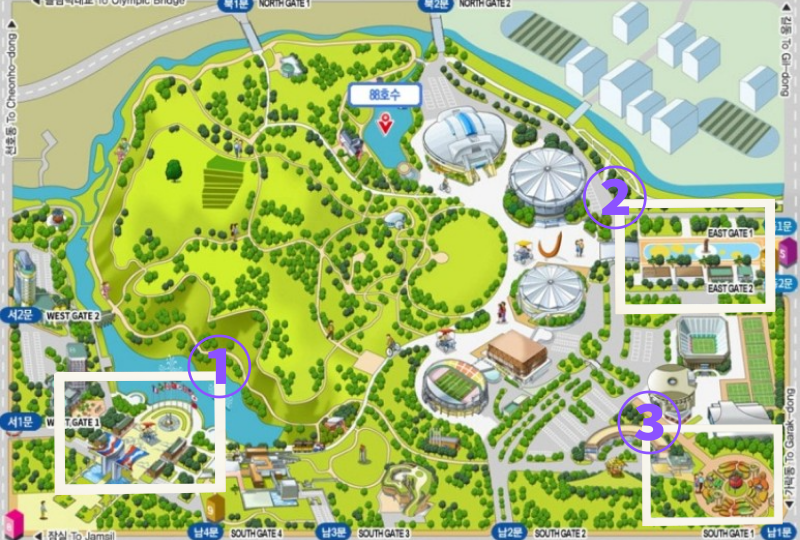 Photo Cred:나무위키
There are a total of three subway stations in the vicinity of the Olympic Park: Olympic Park Station, served by Lines 5 and 9; the Mongchon Toseong Station, served by Line 8; and the Hanseong Baekje Station, served by Line 9.
For those visiting via subway, these three stations will get you to the park in just a few minutes.
For the rest of you , the park can be accessed from basically anywhere on the map, including the area marked 'Gate', or from the side of any other parking lot (until 22:00).
The three plazas, which are the main entrances to the park, are as follows.
Peace Square (평화의 광장)
Just outside Exit 1 of Mongchon-Toseong Station on Line 8.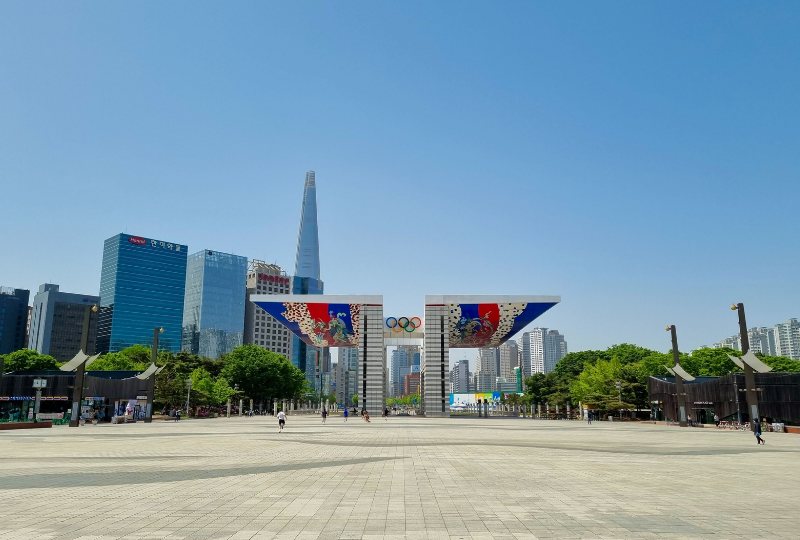 Peace Square, is where the Gate of Peace, the symbol of the Olympic Park, stands tall.
For more information, please visit the following places.
Encounter Plaza (만남의 광장)
Just outside of Exit or 4 of Olympic Park Station on Line 5 and 9.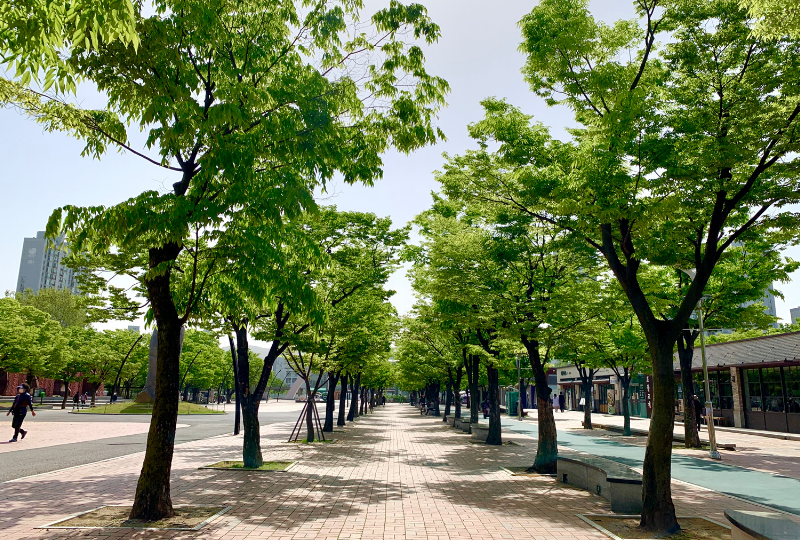 A plaza leading straight from the station to the park.
Cafes and eateries line the sides, perfect for getting some food or filling up before heading out to the park.
Rose Plaza (장미광장)
An 8 minute walk from Exit 3 of Olympic Park Station from Lines 5 and 9.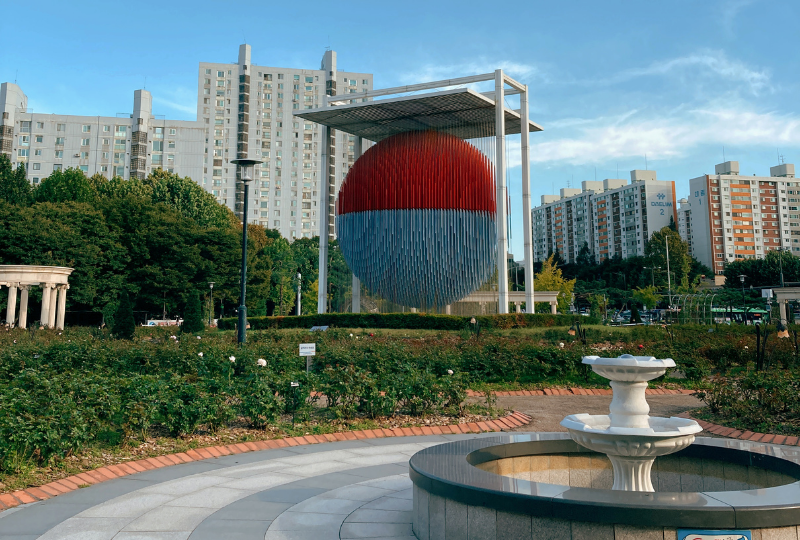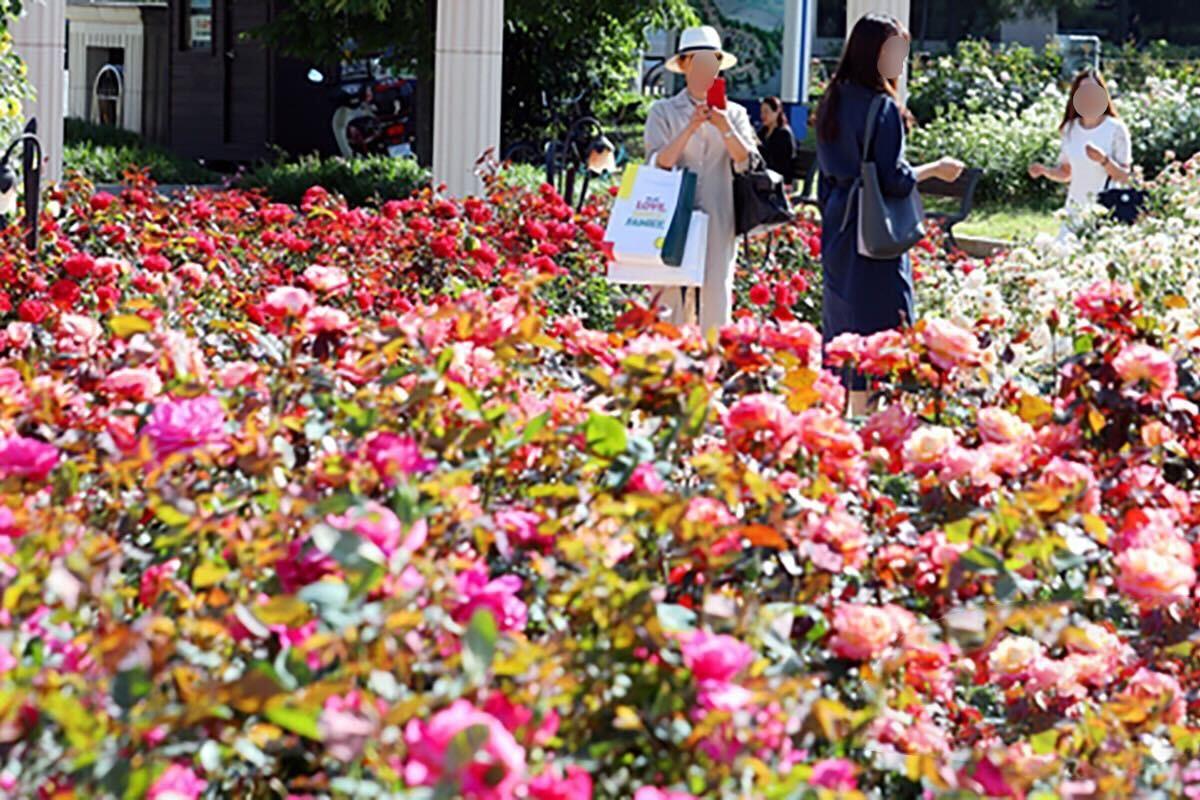 Photo Cred: NEW1
There are several places famous for roses in the suburbs of Seoul, and the Rose Plaza in Olympic Park is one of them.
In May, colorful roses bloom in full glory, offering a 360-degree view of roses.
---
Sights and Facilities
Gate of Peace
Just outside of Exit 1 of Mongchon-Toseong Station on Line 8.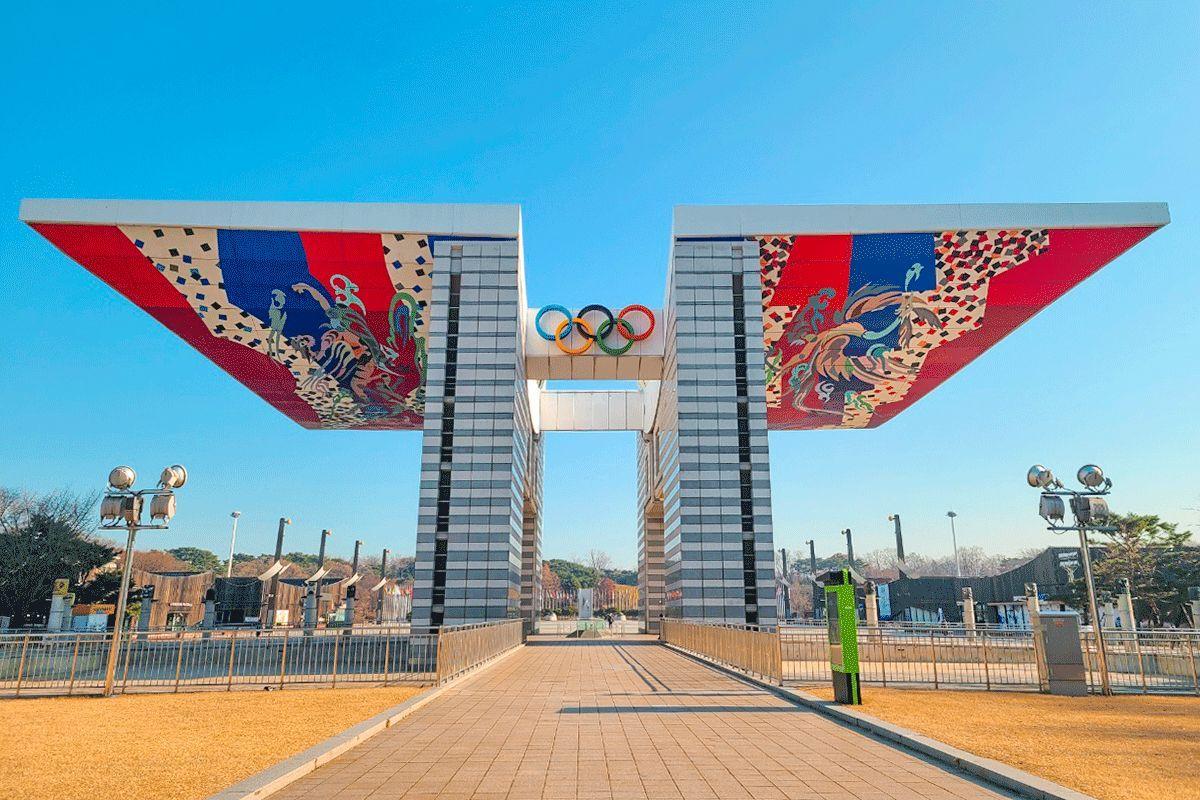 Designed by Kim Joon-op, one of Korea's leading architects, it is the representative symbol of the Olympic Park and serves as the main gate.
It was built in the image of a dove spreading its wings, a symbol of peace.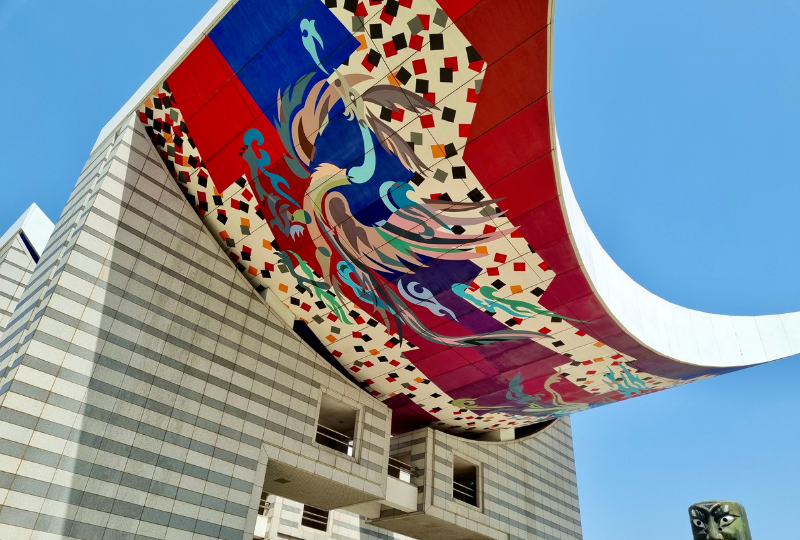 At 24 meters high, its wings are decorated with dragons, tigers, and other legendary animals.
Take a picture here to commemorate your visit.
Universal Flags of all Countries in the World
Just outside Exit 1 of Mongchon-Tuseong Station on Line 8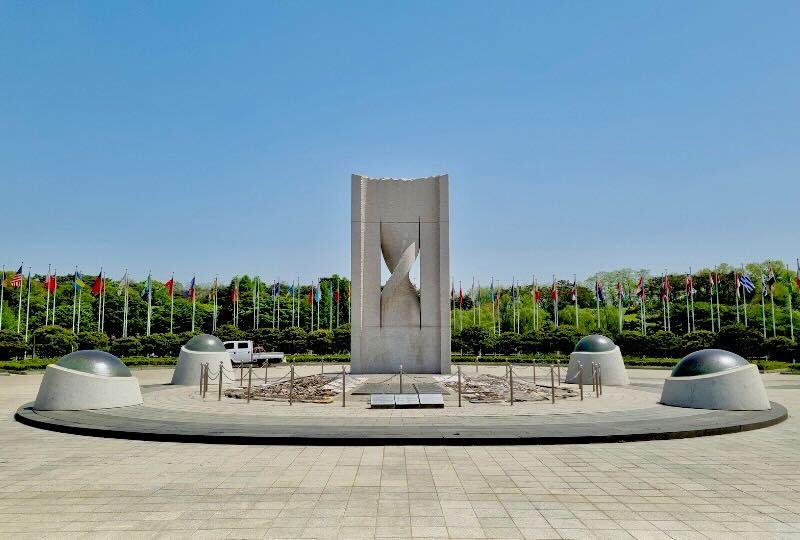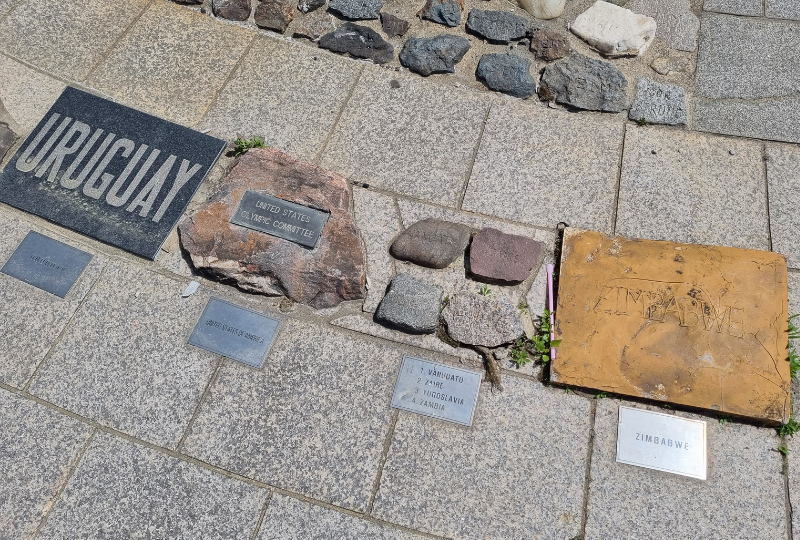 Beyond the Peace Gate, flags of all the countries that participated in the 1988 Seoul Olympics are lined up in an archway, and the names of the medalists of those Olympics are engraved around the archway.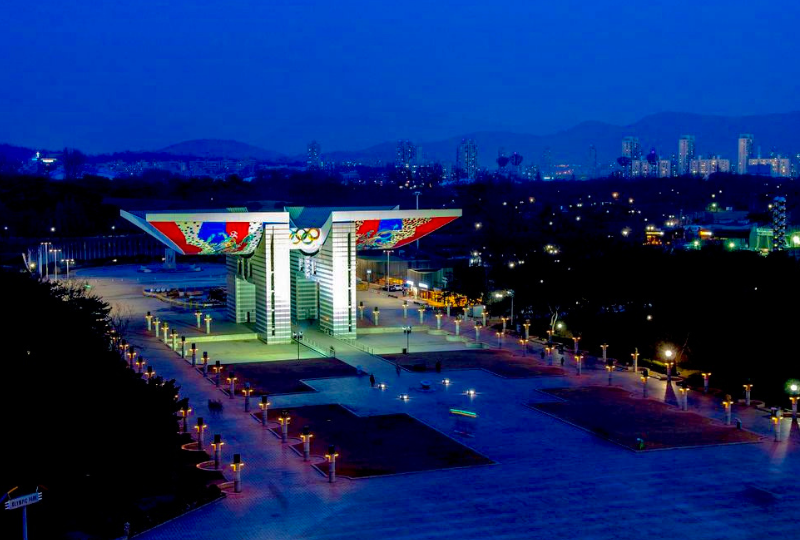 Photo Cred:나무위키
Entrance to the park is until 10pm, but the Peace Gate and the flags are lit up at night, so a visit during night time is even more powerful and beautiful.
If you don't have time to relax in the park, the Peace Square alone is well worth the visit.
Nahoro Tree
Central Park, 20 minutes walk from Yumemura-Dojo Station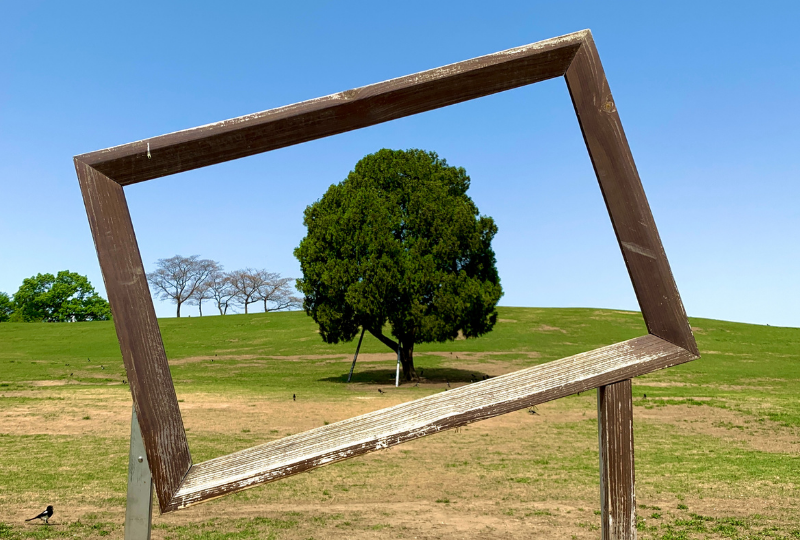 Another symbol of the Olympic Park, is the Nahorro Tree.
Meaning, 'lone tree,' it stands alone in the center of a large plaza.
It looks like a painting, and is a popular location for wedding photos.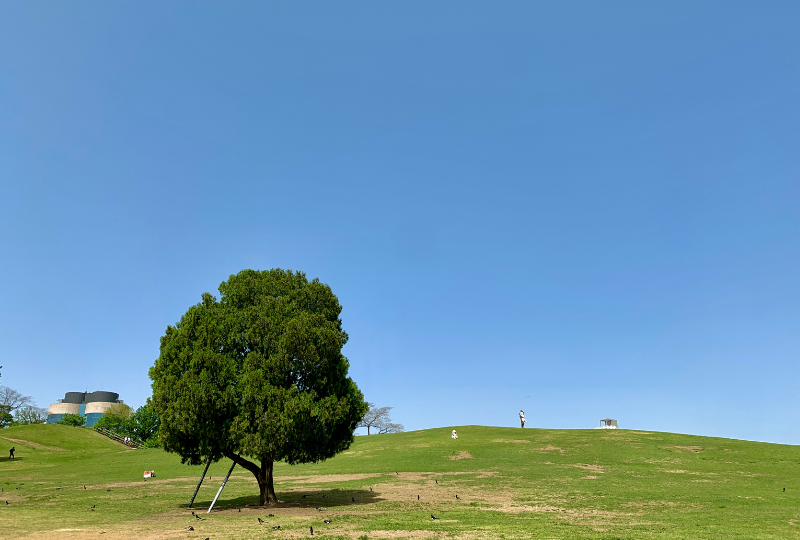 When we visited, happy couples were having their wedding photos shot under the sunny sky.
It takes more than 20 minutes to get to the park from each station, so you can take a walk and enjoy the beautiful nature in the park.
Yume Village Tucheng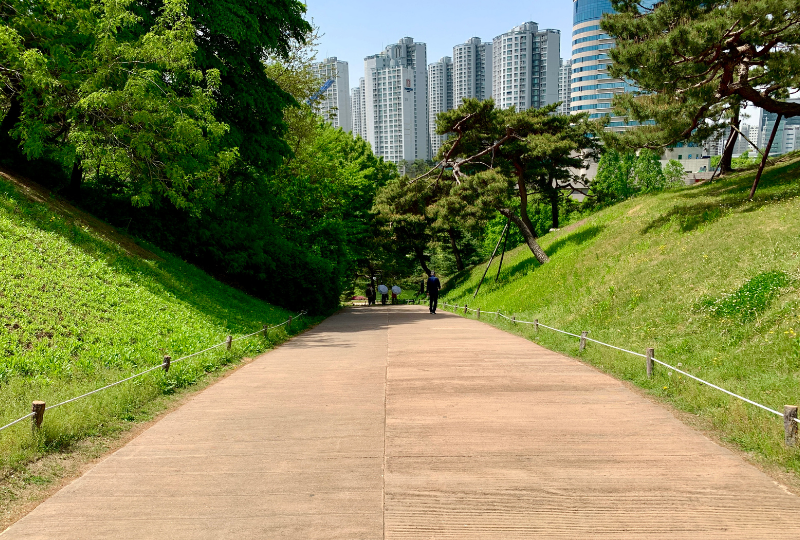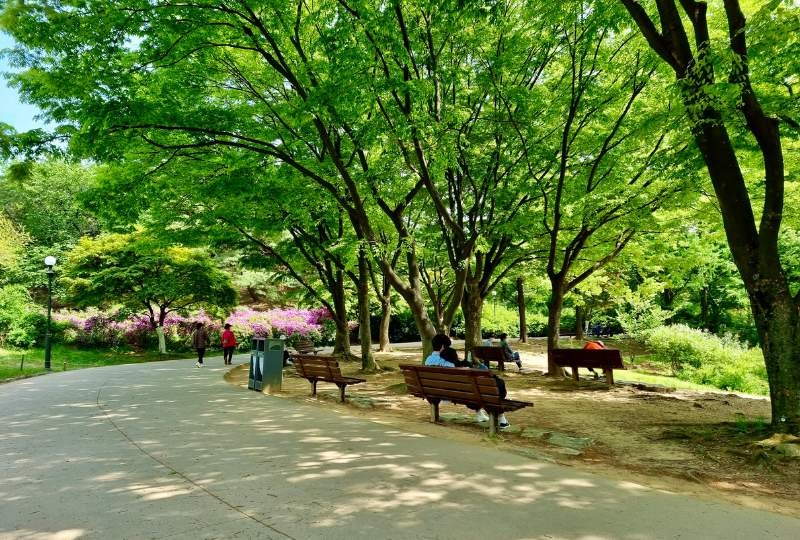 In fact, this area where the Olympic Park was once built was once the site of Monchon Fortress, an early Baekje Dynasty capital city with an overall circumference of 2.7 km.
Although the castle no longer remains, there is a 2.4 km walking path within the park.
Yumemura History Museum
About a 17 minute walk from Exit 3 of Koto-gu Office Station.
Hours: 9:00 - 18:00, Closed Mondays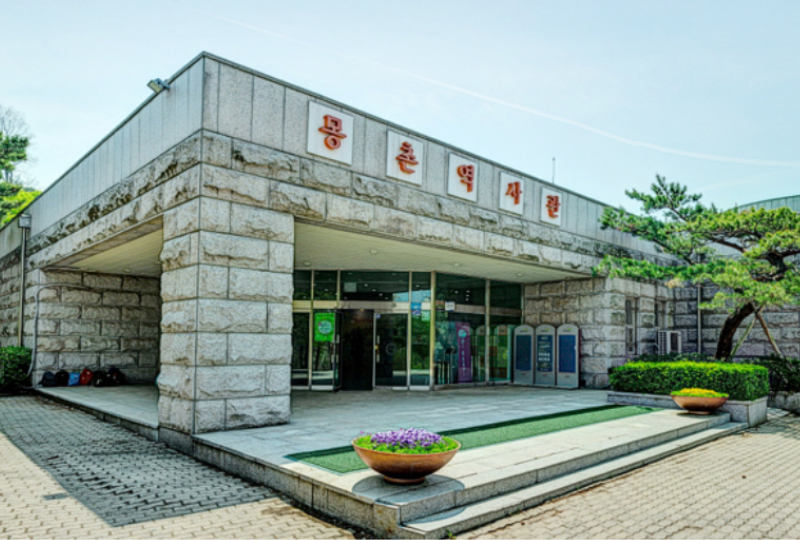 Photo Cred: 공식사이트
Hanseong Baekje Museum
About a 5 minute walk from Exit 2 of Hanseong Baekje Station
Hours: 9:00 - 19:00 (November - February 9:00 - 18:00)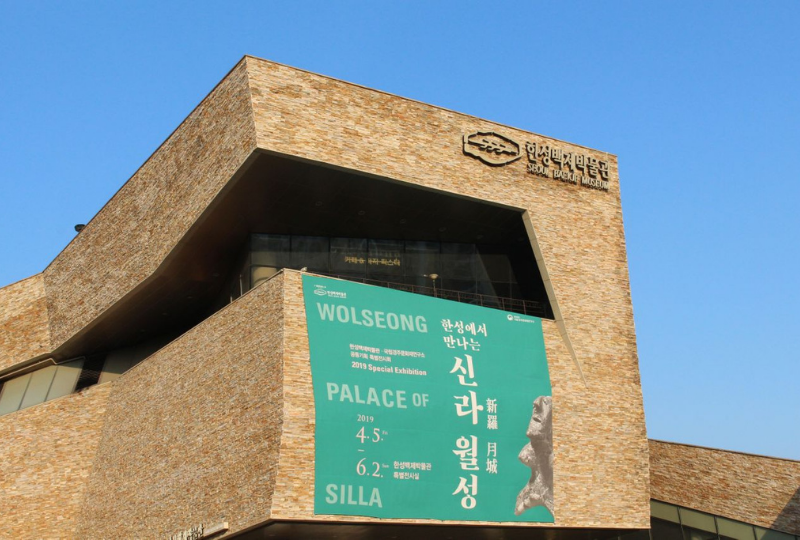 If you are interested in relics, you can visit the Mongchon History Museum and the Hanseong Baekje Museum in the park, both of which are free to visit, to learn more about the 2,000-year history of the city Seoul and the relics of the Baekje culture.
Yumemura Lake and Lake 88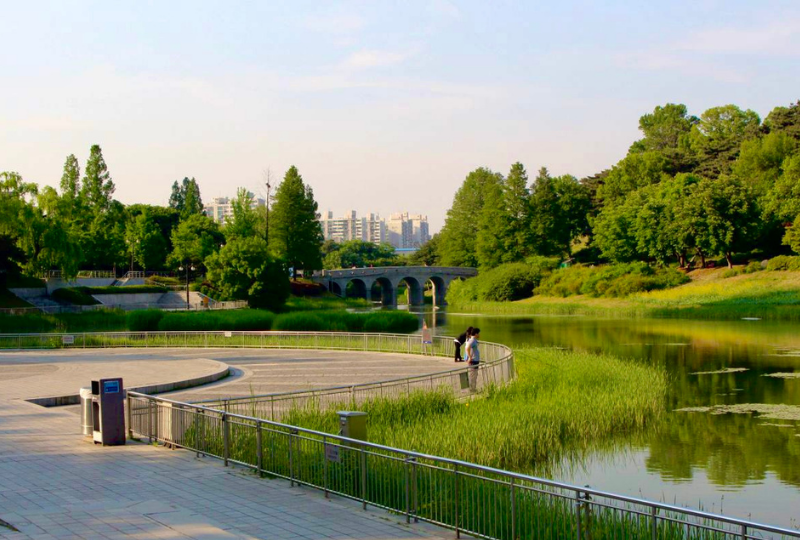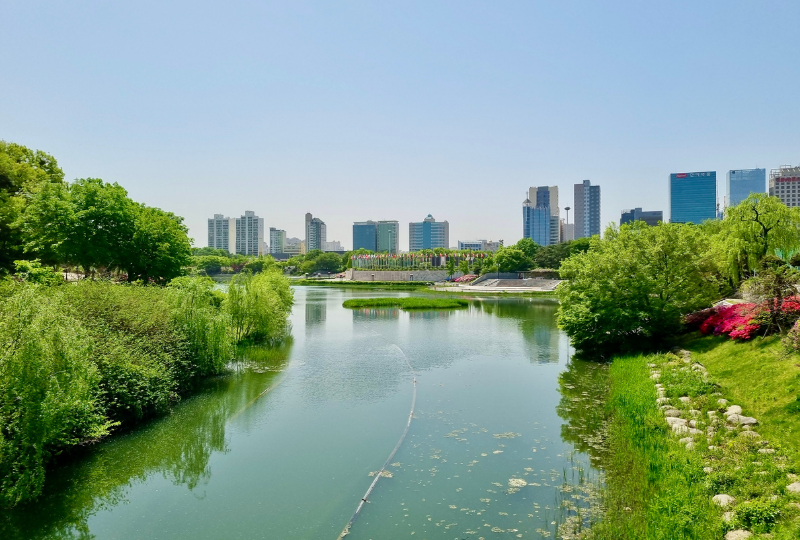 Yumemura Lake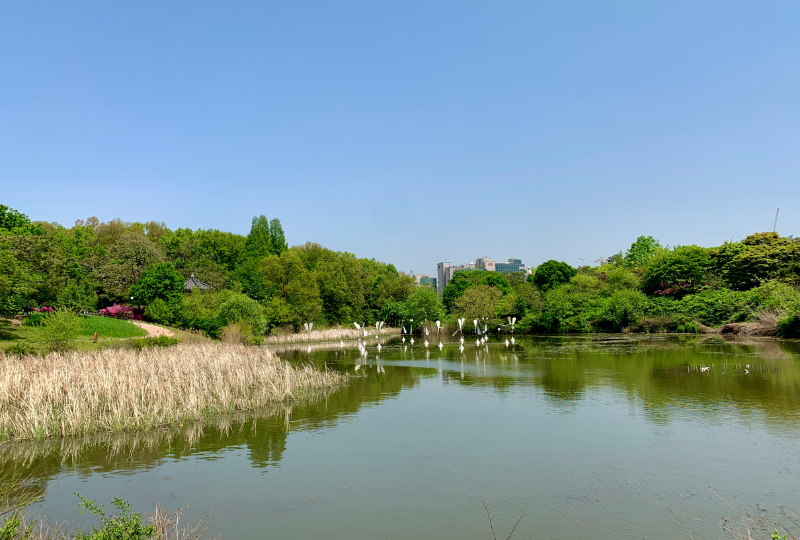 Lake 88
Lake Mongchon extends behind the Peace Square, and there is a walking path along the lake as well.
From the walkway on the park side, you can see Lotte Tower and go around the outside of the park.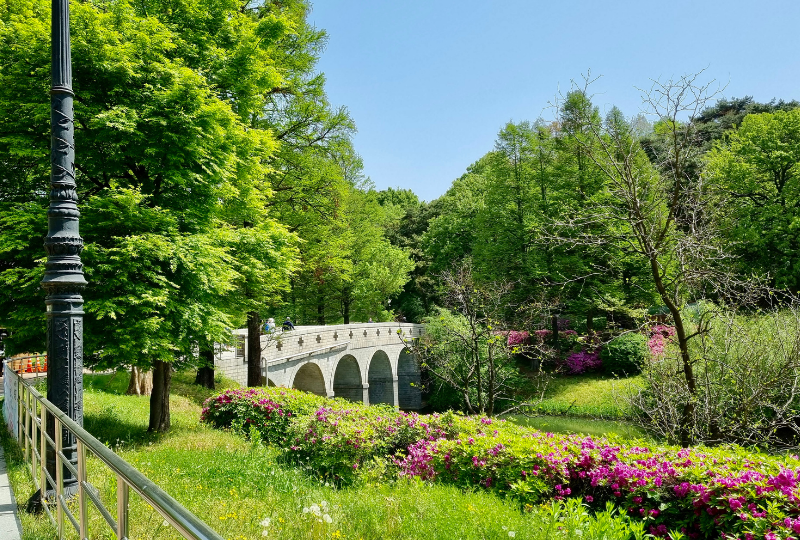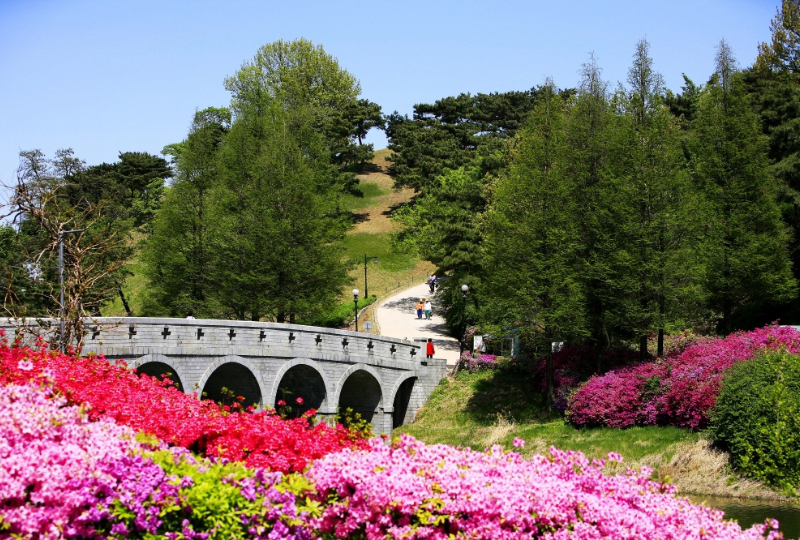 Photo Cred: 올림픽공원 공식사이트
Visitors can also cross the bridge called Gommal-dari (곰말다리) to move from Peace Square to the park side.
It looks like something out of a fairy tale and is a popular photo spot.
Flower Garden Spot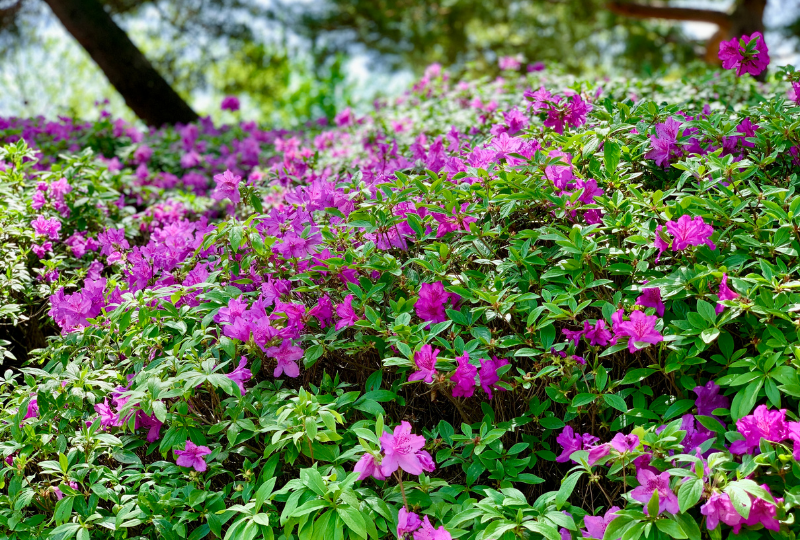 Depending on the time of the year you visit the park, you can observe a variety of plants.
In addition to the Rose Plaza introduced as one of the main entrances, there are other famous spots where many people visit in spring and fall to see the entire flower garden in full bloom.
Dulgot-maru (들꽃마루)
About a 3 minute walk from Rose Square.
May - August: Poppies
September: Cosmos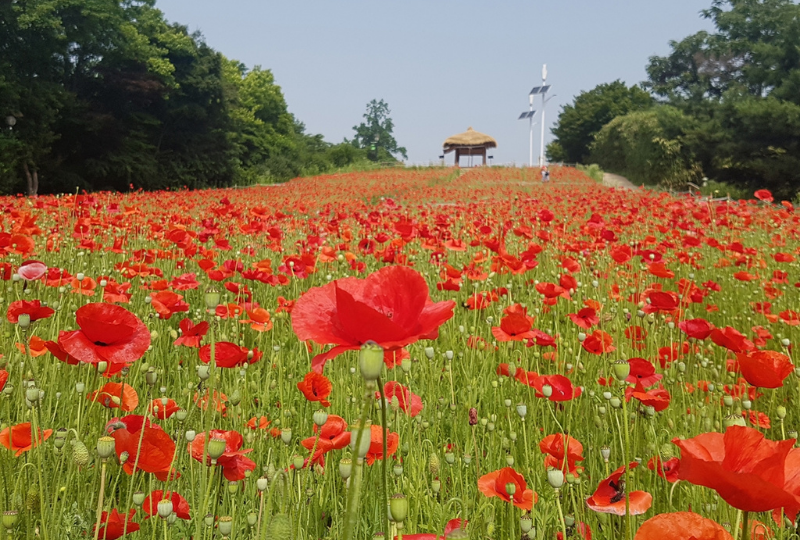 Photo Cred: worldKorean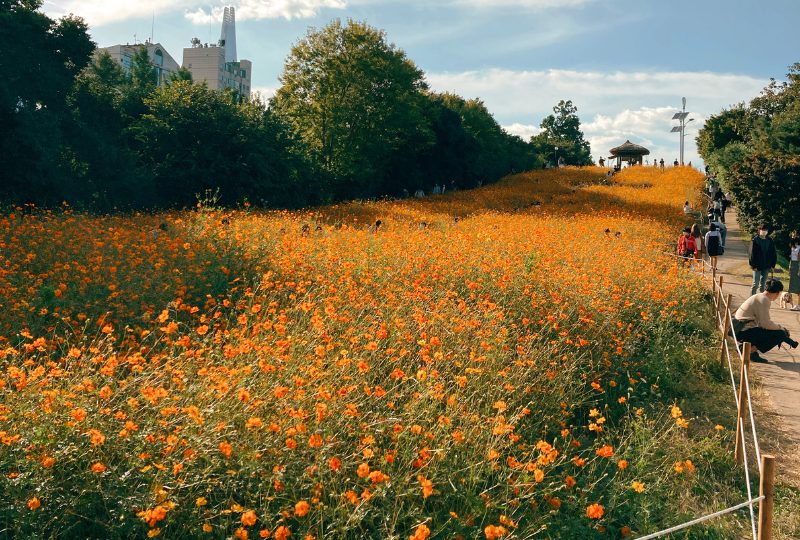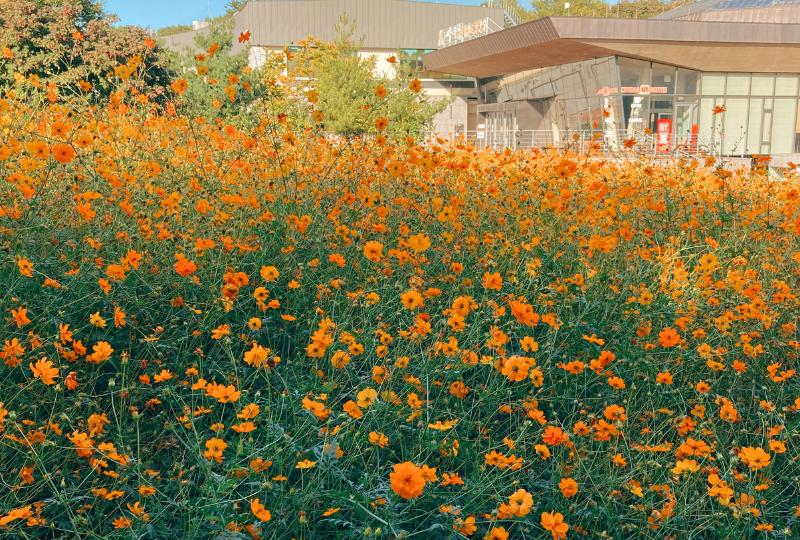 This hill is filled with poppies from late May and Cosmos in autumn.
If you visit at the right time, you can see flowers blooming high in the sky all over the hill, and the sky looks wide thanks to the lack of tall building nearby, making it hard to believe that you're actually in the center of Seoul.
Wild Flower Complex (야생화단지)
About a 15 minute walk from Exit 2 of Hanseong Baekje Station
October: Pink Mulleins, Broomrapes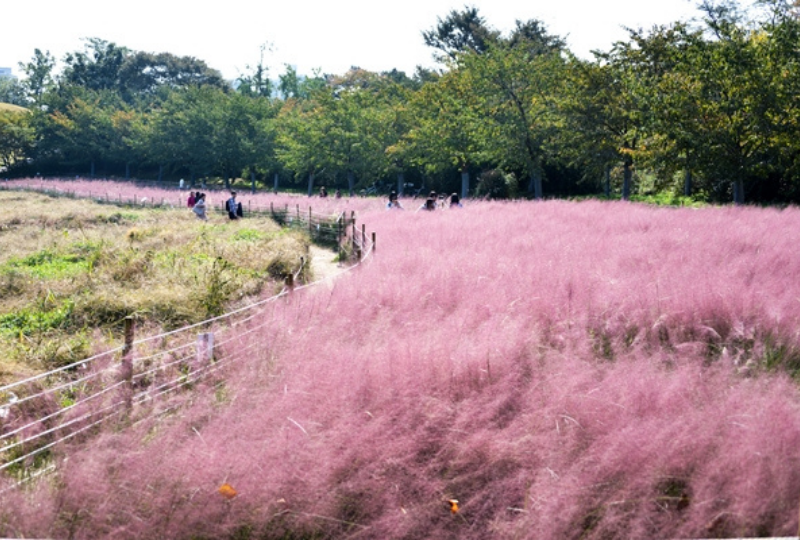 Photo Cred: 스포츠투데이
Pink silver grass, or pink muly, which Koreans have probably seen on social media, can also be seen in Olympic Park.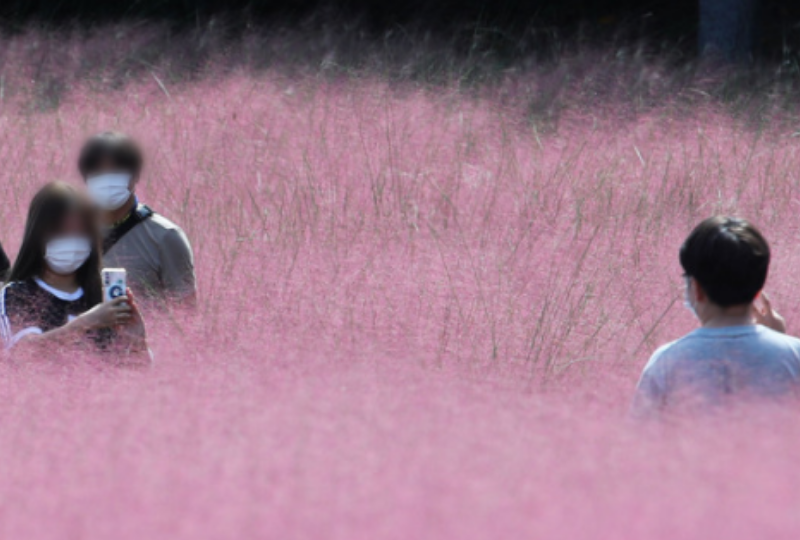 Photo Cred: 시사뉴스
The Olympic Park is operated and managed by the Korea Sports Industry Development Corporation, where there is a walking path through the pink muly field.
If you adjust the angle of your camera properly, you can take a fantastic 360 degree photo surrounded by pink muly, so give it a try!
Soma Art Museum
A short walk from Exit 2 of Hanseong Baekje Station
Hours: 10:00 - 18:00, closed on Mondays
Admission:
Adults - 3,000 KRW
Youth (13 - 24) - 2,000 KRW
Children (7 - 12) - 1,000 KRW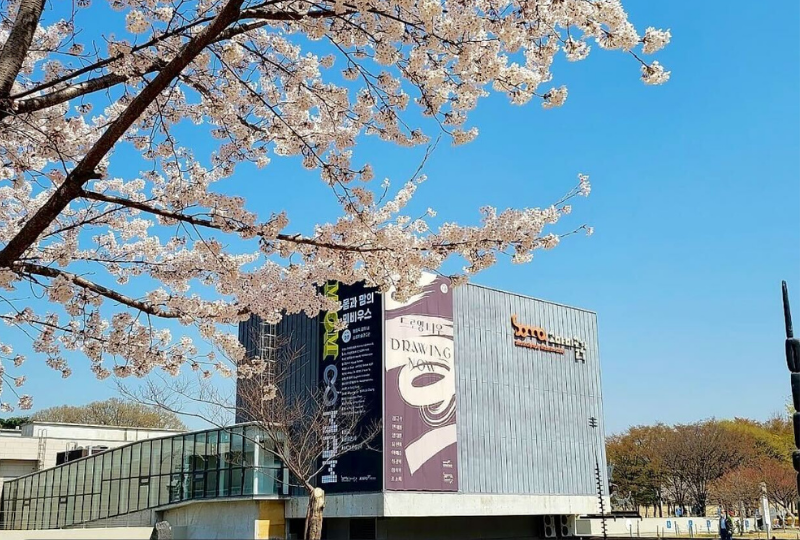 Photo Cred: Insta @soma_museum
Soma Museum of Art, located just outside Hanseong Baekje Station, is a two-story modern art museum that holds exhibitions and other events on a case-by-case basis.
Various Stadiums
KSPO Dome
Next to Encounter Plaza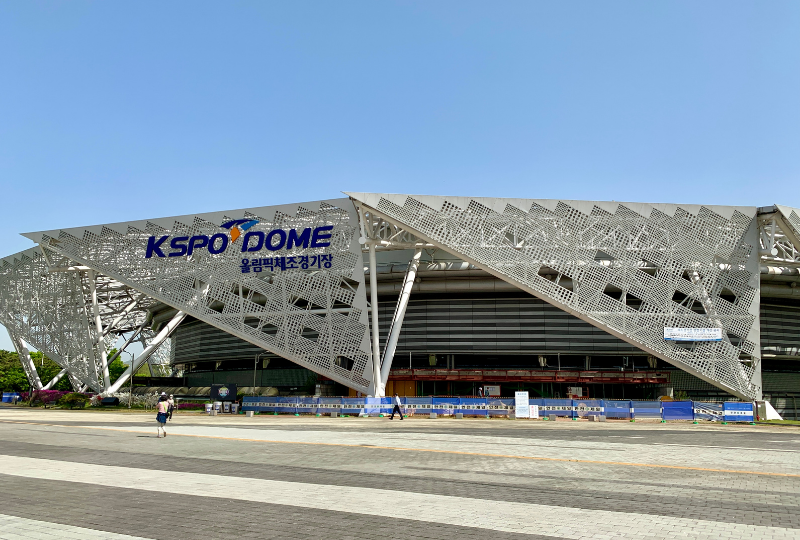 Olympic Swimming Stadium
Next to KSPO Dome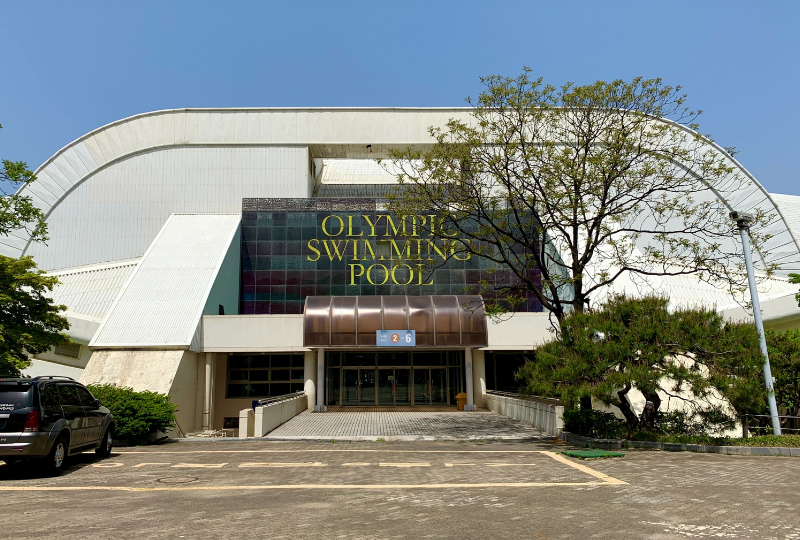 SK Handball Stadium
Next to the Meeting Plaza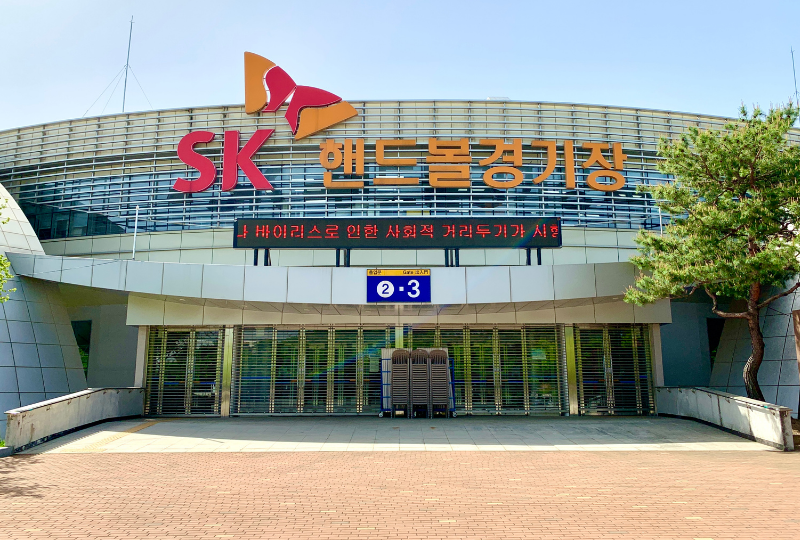 Woori Financial Art Hall
Next to the SK Handball Stadium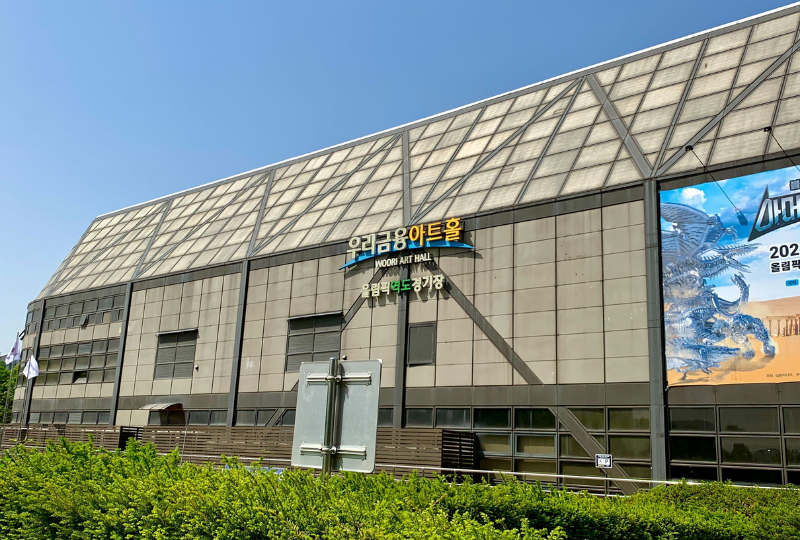 There are also soccer fields, indoor and outdoor courts, basketball courts, and all kinds of sport facilities such as the Korea National University of Sport Science and Technology, Seoul Sports Middle School, etc. that are all located adjacent to the Olympic Park area.
Olympic Stadium
About a 5 minute walk from Exit 3 of Olympic Park Station.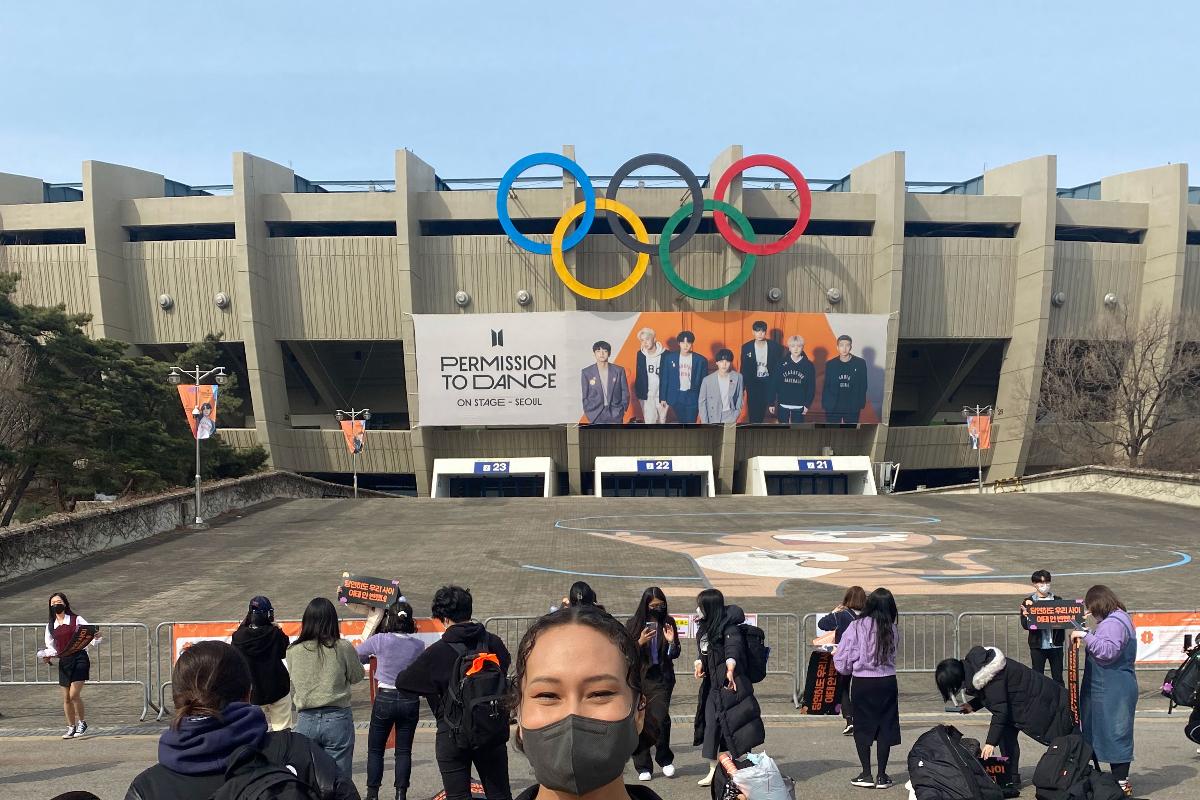 KSPO Dome, SK Handball Stadium and the Olympic Stadium are often used as performance venues for k-pop concerts and fan meetings.
We hope you get the chance to experience one of these events!
---
Activities in the Area
Have a Picnic
Store: CAFE AWESOME (카페 어썸피크닉)
Hours: 10:00 - 19:30
All return due by 19:30 regardless of rental time
Directions: About a 5 minute walk from Exit 5 of Kangdong-gu Office Station from Subway Line 8.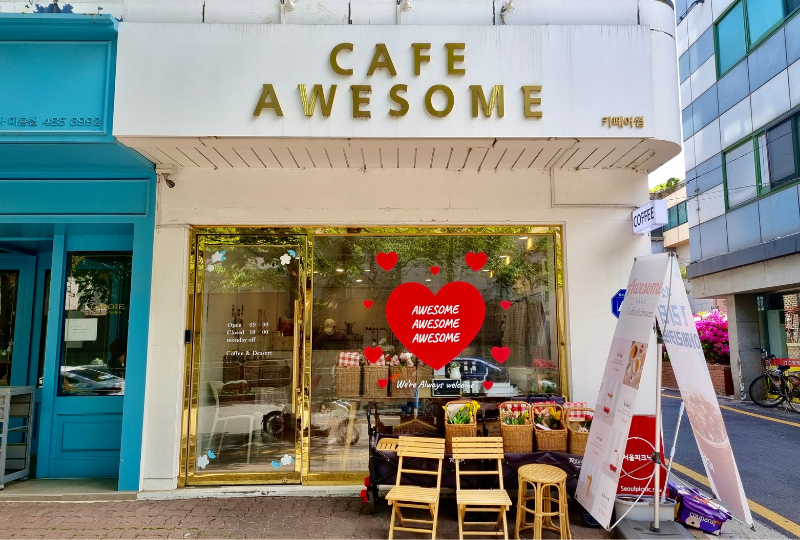 Awesome Picnic is a great place to rent picnic equipment near Olympic Park.
It's about a 5-minute walk from Kangdong-gu Office Station, but it takes about 20 minutes to walk from the store to the park, so you may find it easiest to take a cab for about 6, 300 KRW.
We visited the store after making a reservation in advance, but on weekends, you can visit the store without a reservation and even rent a car.
If you wish to use the shop on weekends or holidays, be sure to make a reservation through the KakaoTalk channel on the official Instagram, as all equipment may be reserved otherwise.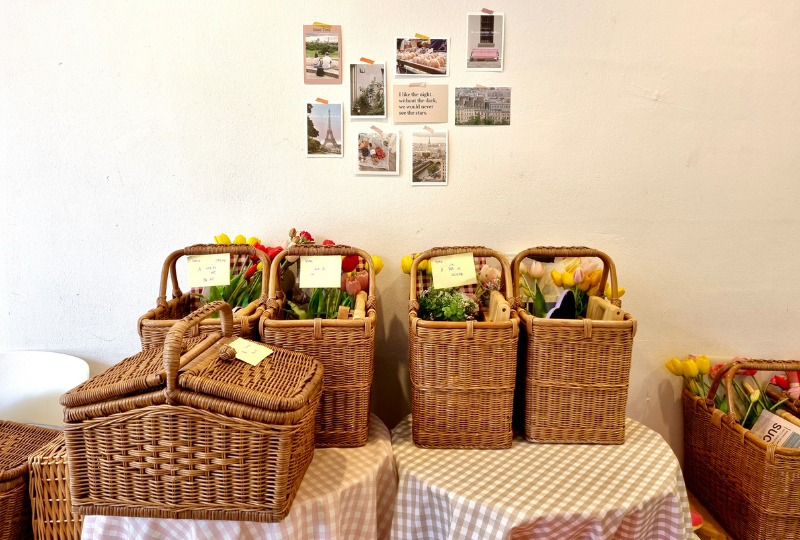 We rented Picnic Set A (25,00 KRW).
Set A includes a leisure sheet, basket, mini table, wooden plate, artificial flowers and postcards, and a bluetooth speaker.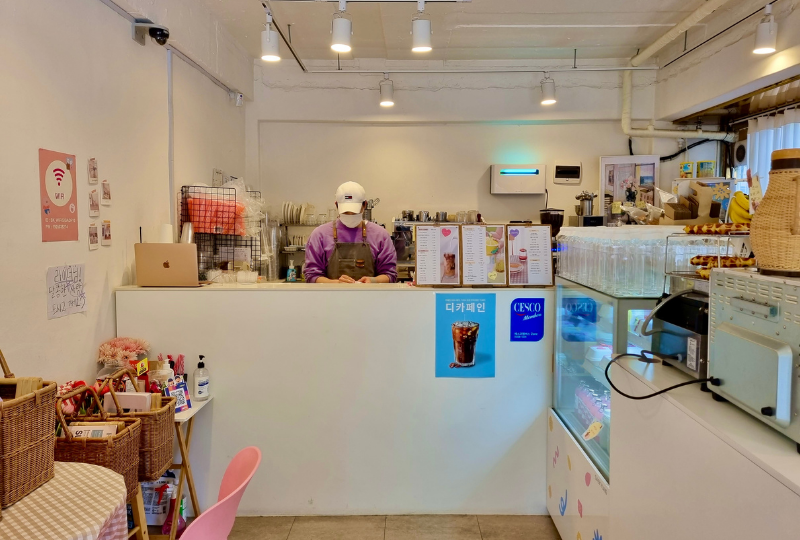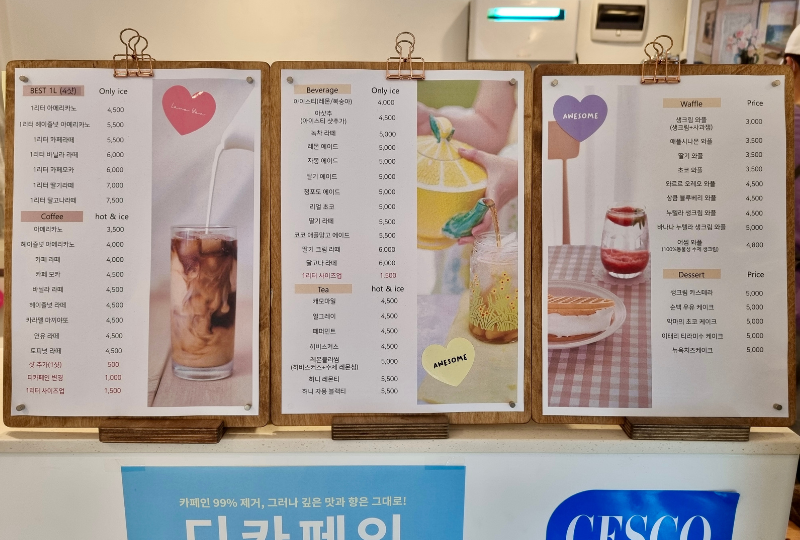 Food and drink are not included but can be ordered separately at the restaurant.
We purchased a 1-Liter Iced Americano (2리터 아메리카노) for 4,500 KRW, and a Fresh Cream Sponge Cake (생크림 카스테라) for 5,000 KRW.
Of course you can buy from other stores as well.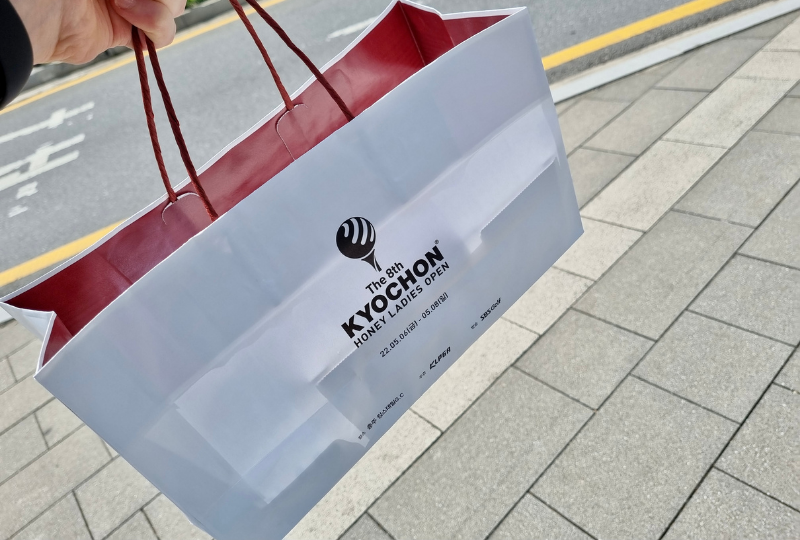 In addition to the sweet stuff, we knew we wanted to eat fried chicken when we had our picnic. There are two Kyochon Chicken restaurants around the park so we also bought a chicken (half yangnyeom and half fried for 19,000 KRW).
You can call the store or order through the app, but the easier way is to visit the store and order take out in person. That, and you'll also save money by not having it delivered.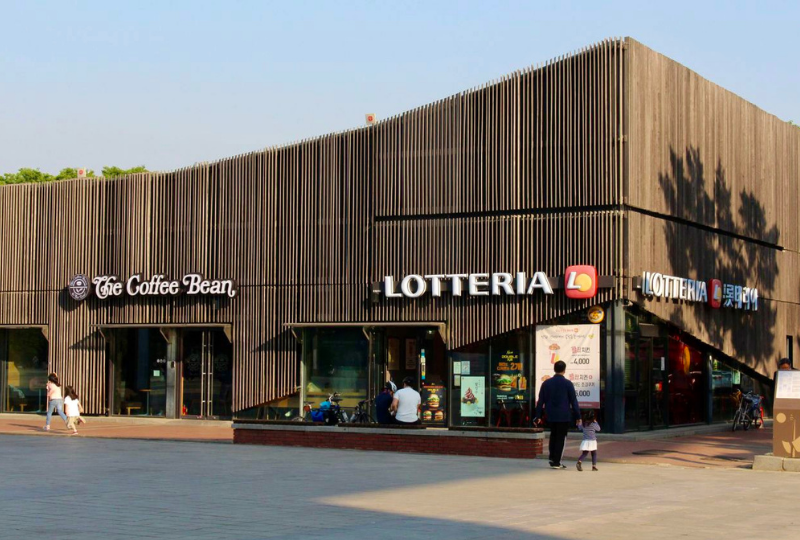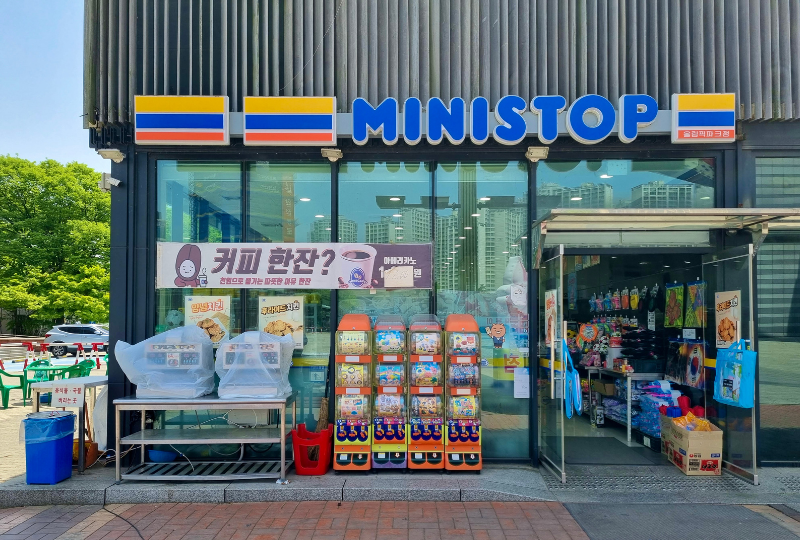 Olympic Park Plaza (near Peace Plaza)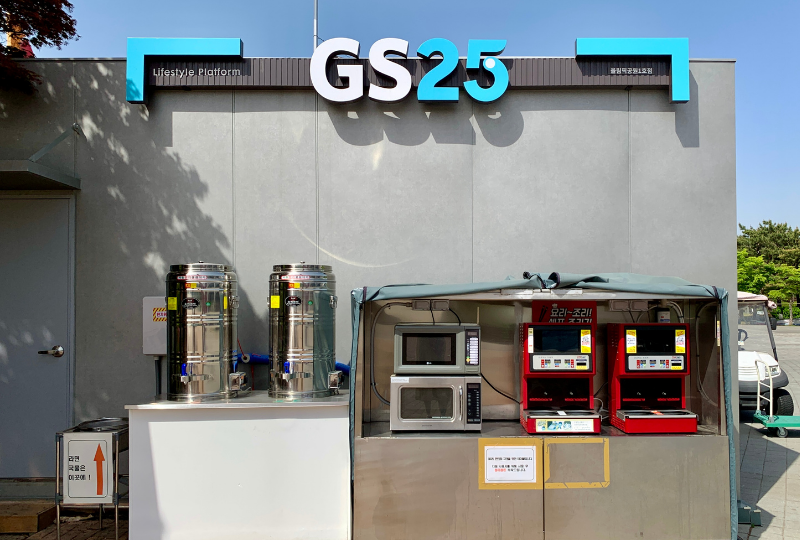 Near Encounter Plaza
Since the Olympic Park is very large and it is difficult to have deliveries delivered to the park, we recommend that you get food and drinks before entering the park.
Please check the official website of the Olympic Park for details on what kind of stores are available in this area.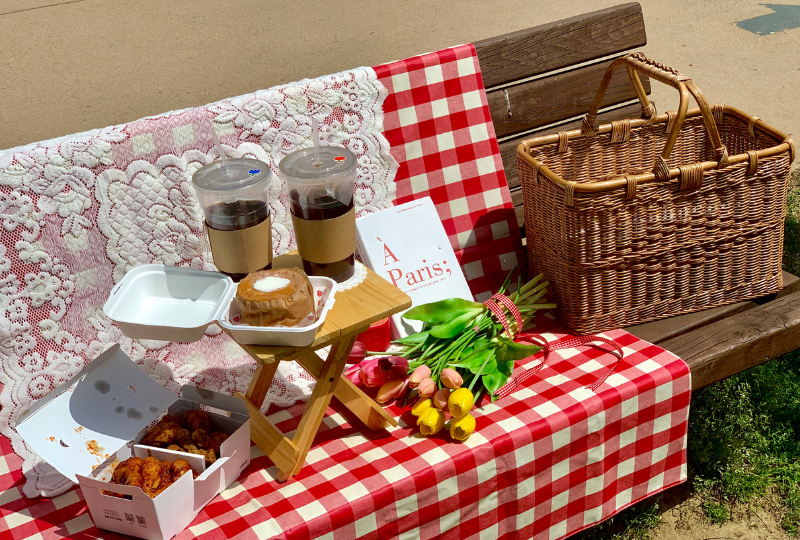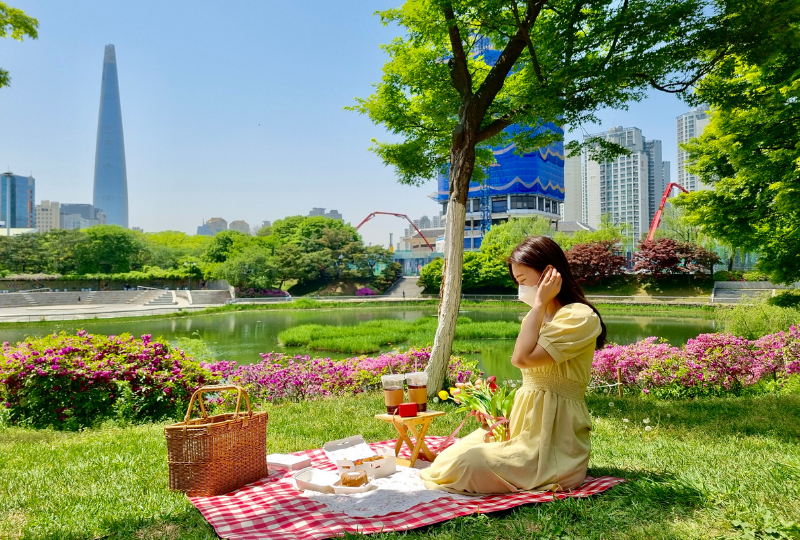 All that's left is to find a favorite spot in the large park and set it up tastefully!
The park side of Yumecheon Lake is the best spot to capture the lake and Lotte Tower in the background, as you can see here.
Take a Bike Ride
Location: On the left after the Meeting Plaza, and also in Peace Square
Hours:
December to February - 10:00 - 17:00
March - November - 10:00 - 18:00
Riding bicycles along the Han River is a popular activity, but there are also many people who enjoy cycling in the large Olympic Park. Here, you can also has large bicycles that fit up to six people on it too!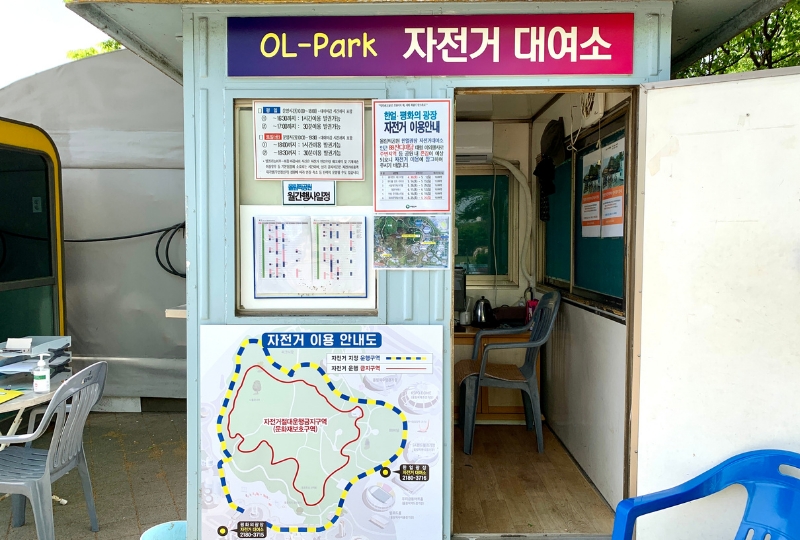 Olympic Park Station Side Stores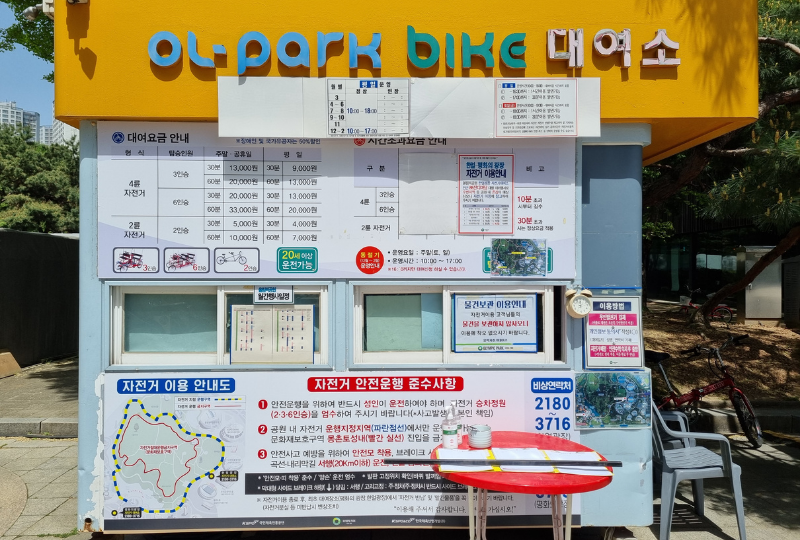 Stores at Peace Square
There are two rental locations in the park: one on the Olympic Park Station side and the other in Peace Plaza.
Type

Number of Users

Weekends and Holidays (mins/KRW)

Weekdays

4-Wheeled Bike

For 3 people

For 6 people

2-Wheeled Bike

For 2 people
To use a bicycle, find a rental place, purchase a ticket, and fill in your name an contact information on a form called a 'Personal Information Consent Form'.
Basically, you don't HAVE to leave your ID in lieu of a deposit, but if you don't have contact information in Korea, then you can rent a bicycle by leaving some personal item instead.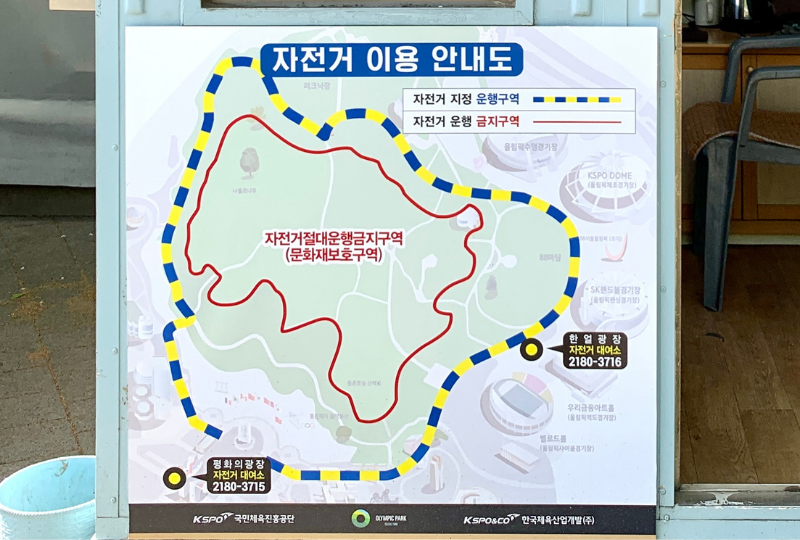 Please not that bicycles are only allowed around the outside of the park (within the yellow and blue lines) and are not allowed inside the park.
---
Recommended Shop Nearby
Lotte World Song-pa is famous for being home to Lotte World.
Don't miss out on the discounted one-day free-use tickets at Creatrip. To make a reservation, click here.
Ewha School Uniform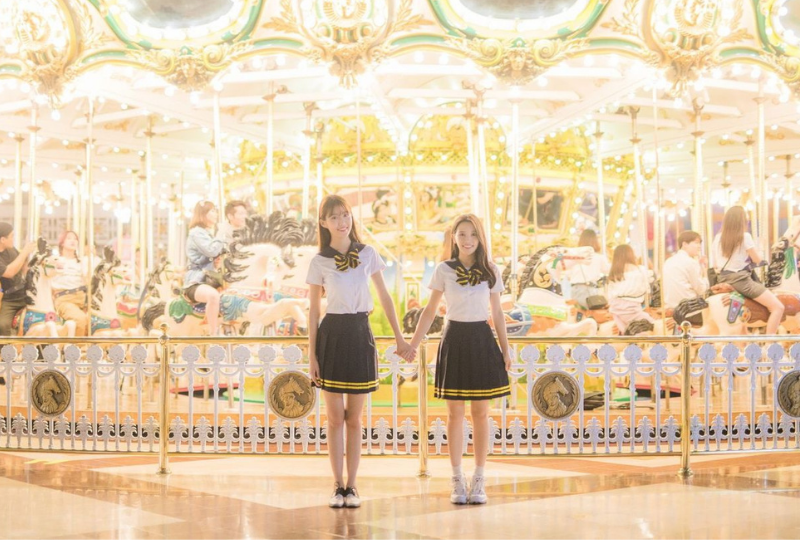 Among the younger generation in Korea, it is a standard practice to wear uniforms when visiting Lotte World!
Ewha Uniform is located right next to Lotte World and has a variety of cute uniforms that were also worn on Produce 101.
Reserve yours here!
Lotte World Tower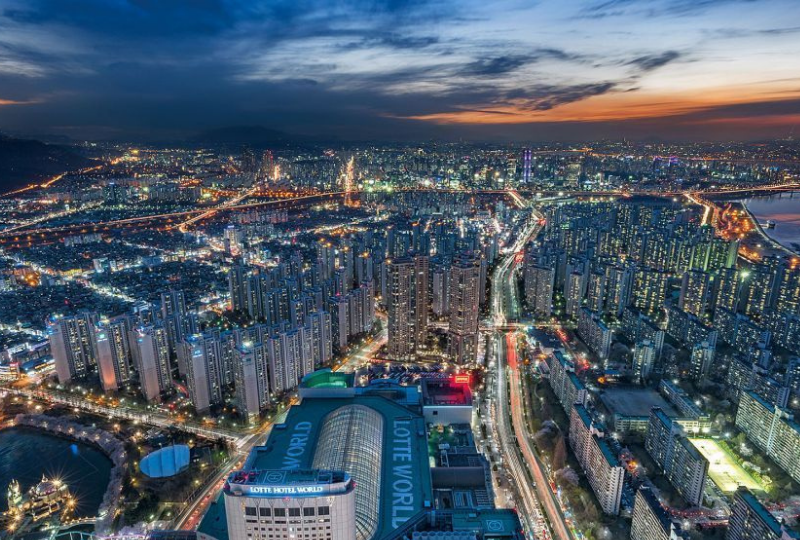 Get a full panoramic view of the metropolis of Seoul from the world's fifth tallest tower.
A view that can only be seen here awaits you.
Reserve your tickets here.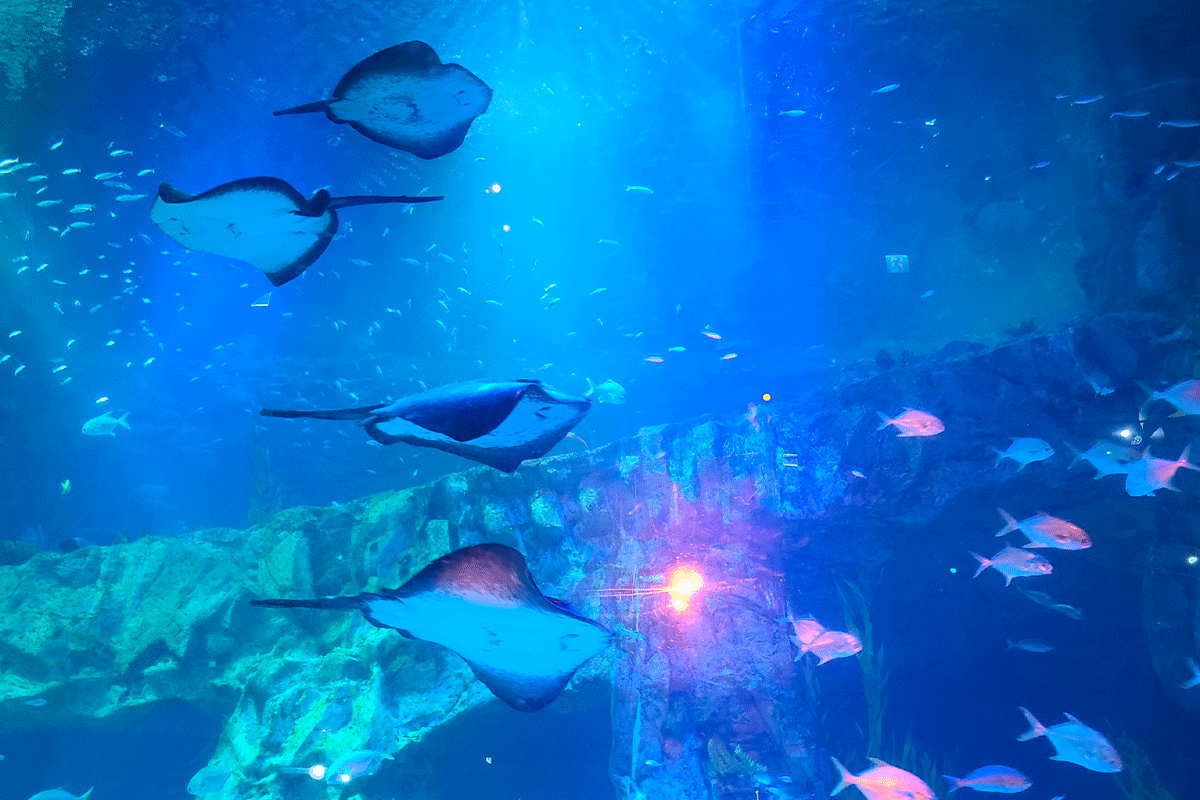 With a total of 55,000 mysterious creatures of 650 species, the aquarium is like a transfer of the entire world's oceans.
After being surrounded by nature in the Olympic Park, why not explore under the sea?
Reserve your tickets here!
---
How to Get to Olympic Park
1. Take Line 5 or 9 to Olympic Park Station and take Exit 3 or 4.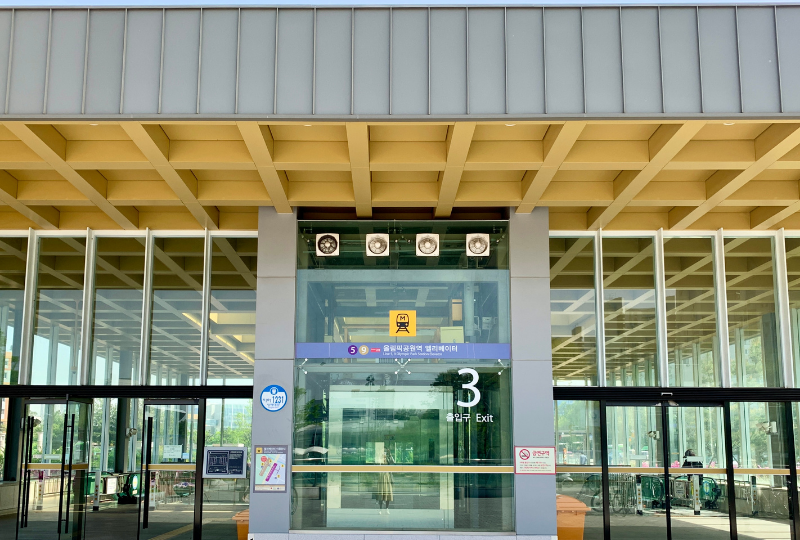 2. Take Line 8 to Yeomchon-Tuseong Station and take Exit 1.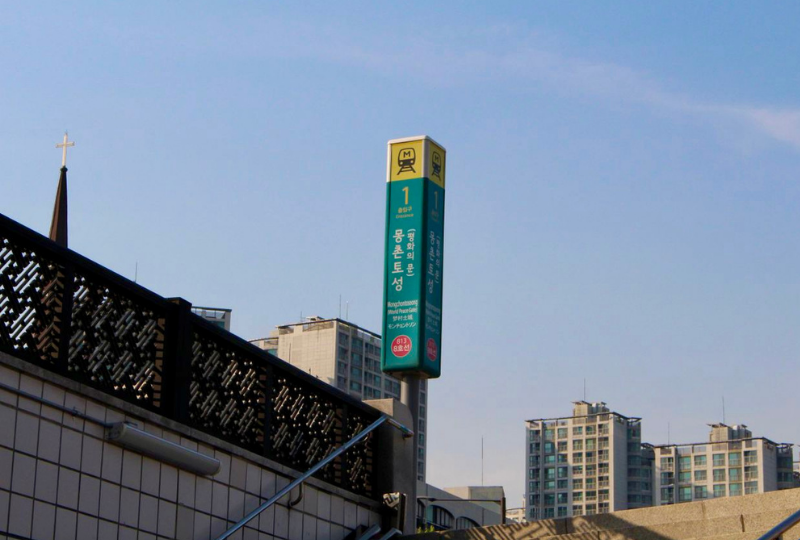 3. Take Line 9 to Hanseong Baekje Station and take Exit 2.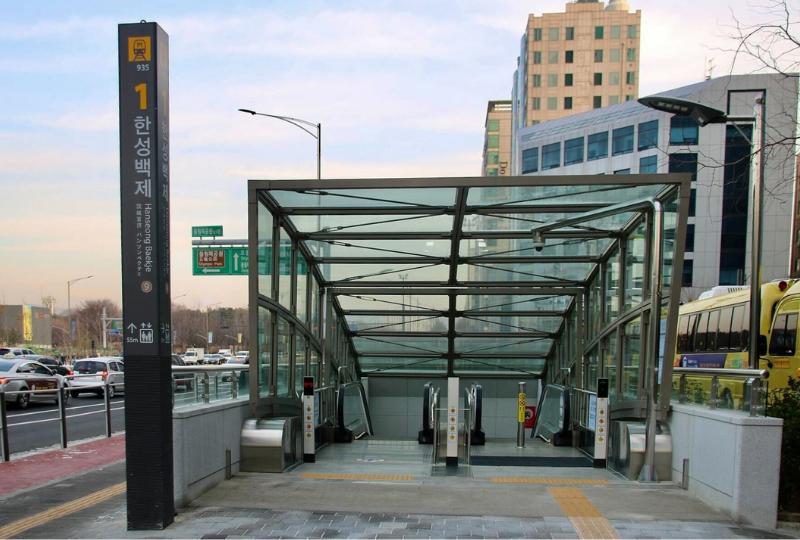 Photo Cred: wikipedia
Accessible from outside these subway stations, between the parking lot and stadium.
(No entry into the park after 22:00 except for Peace Square and Encounter Plaza).
---
This has been our introduction of Olympic Park. We hope you found this guide helpful and enjoyable. As always, if you have any questions, feel free to contact us support@creatrip.com. Also make sure you're following us on Instagram, TikTok, and Facebook for all the latest content on Korea.
---