Cheonggyecheon Review
Cheonggyecheon Summary | List of romantic place to visit in Cheonggyecheon!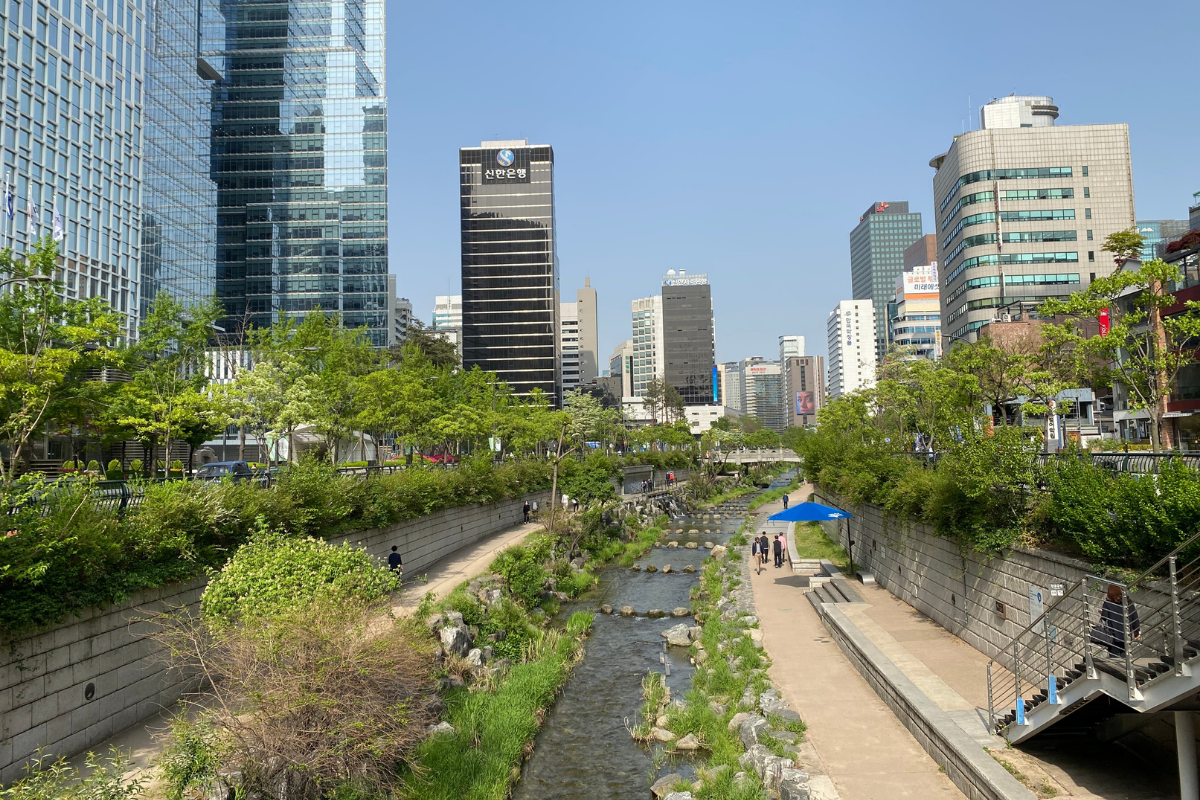 When you think of Seoul, one of the first places that comes to mind might be the Han River, which is Seoul's main river that flows through the city. However, there is another body of water in Seoul that is lesser known, but just as equally beautiful and visit worthy! The Cheongyecheon Stream is an 11 km-long stream that runs through the heart of Seoul. The stream has been restored and is a perfect area to visit while in downtown Seoul. It's prime location makes it a perfect spot to hang out after a day exploring Seoul, or just to take a walk and get some fresh air.
---
Information
Location: 서울 종로구 청계천로1
1 Cheonggyecheon-ro, Jongno-gu, Seoul
Transportation: Line 1 City Hall Exit 4
---
Cheonggyecheon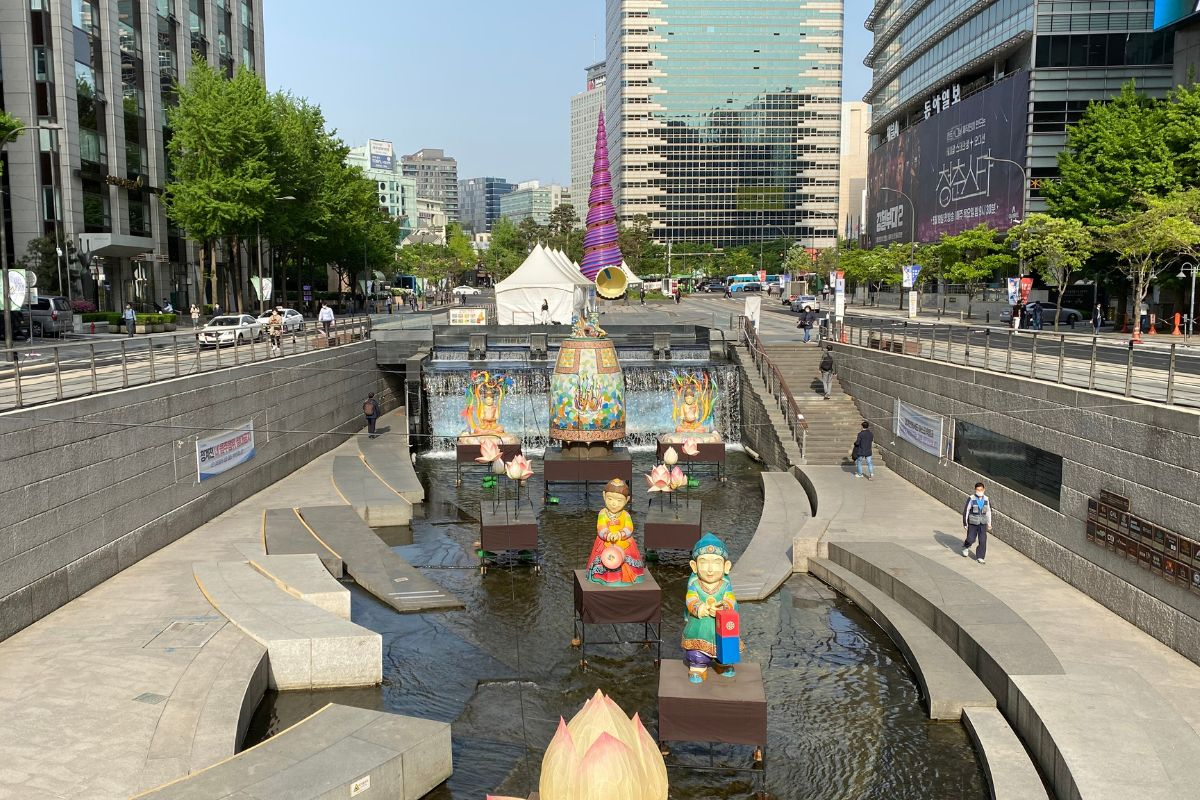 Cheonggyecheon runs throughout downtown Seoul, and there are many points of entry to get to the stream. However, the starting point is from Cheonggye Square. The square is nearby many major locations in Seoul such as City Hall, Gwanghwamun, Gyeongbokgung, and Deoksugung. From there, the stream runs all the way down to the Jungnangcheon, which empties into the Han River. If you walk the stream from start to finish you will pass many famous tourist attractions such as the Gwangjang Market, DDP Cultural Center, and hot neighborhoods like Dongdaemun and Euljiro!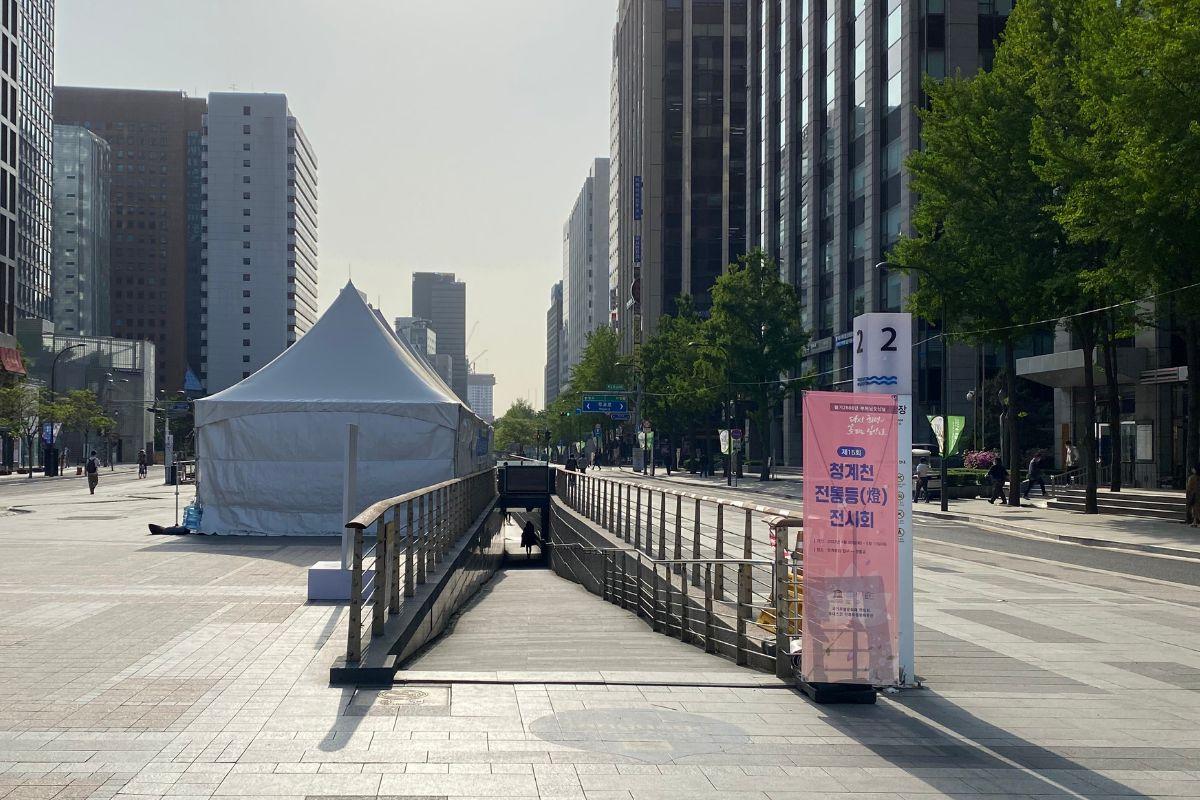 Cheonggyecheon starts at Cheonggye Square, (sometimes also referred to as Cheonggye Plaza), where you will be able to spot the entrance of the stream. The square is a public square in central Seoul that is known for it's Spring Sculpture which is a colorful red and blue sculpture that stands in the middle of the square. From the square, there is a ramp that leads to the stream, which is under the main road area.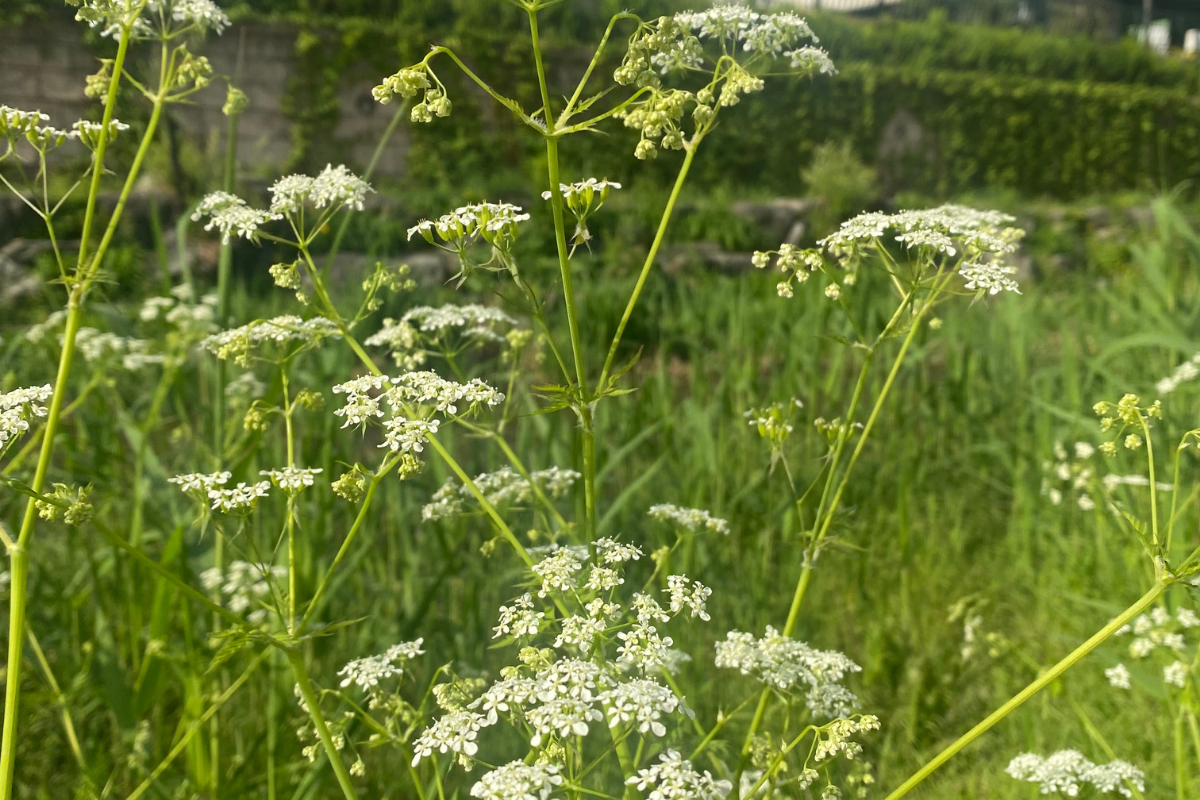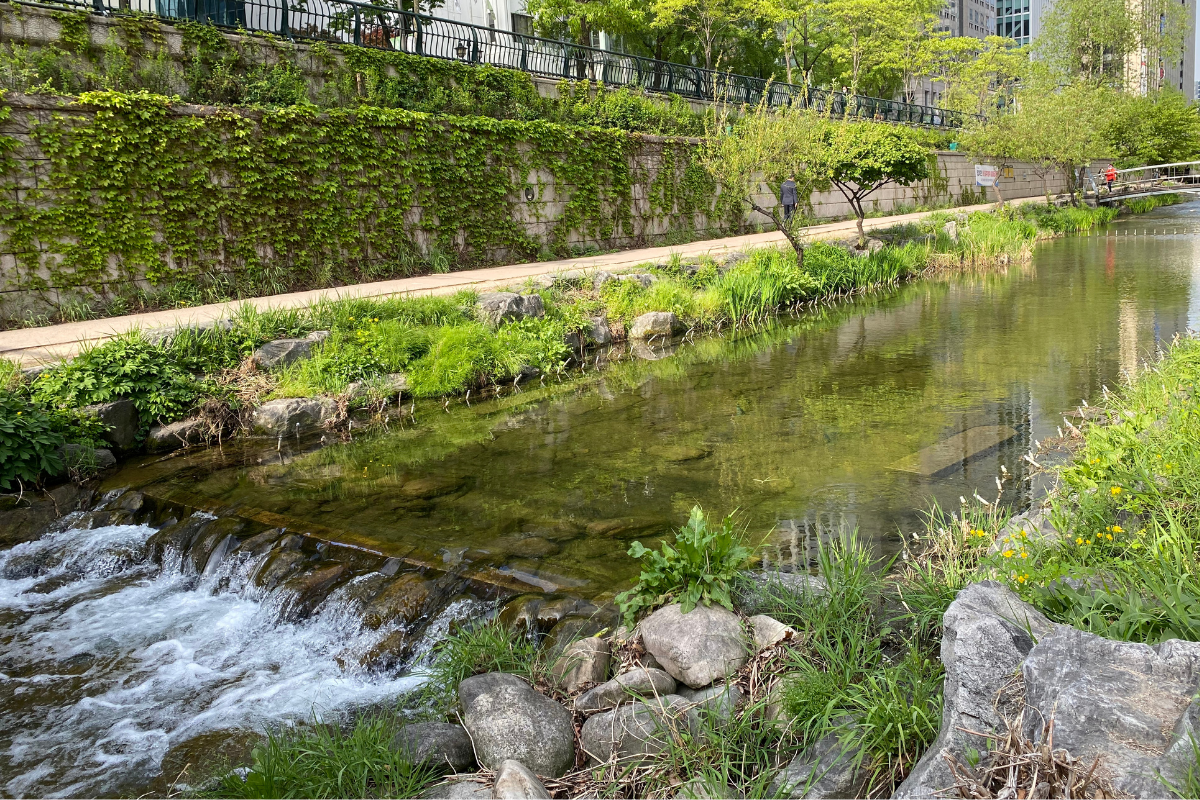 This stream is known for being prosperous with nature and a great place for a light stroll. Although you are in downtown Seoul, the area near the stream if filled with beautiful trees, grassland, and flowers, making it a perfect place to take some time to relax and get away from the hustle and bustle of the city.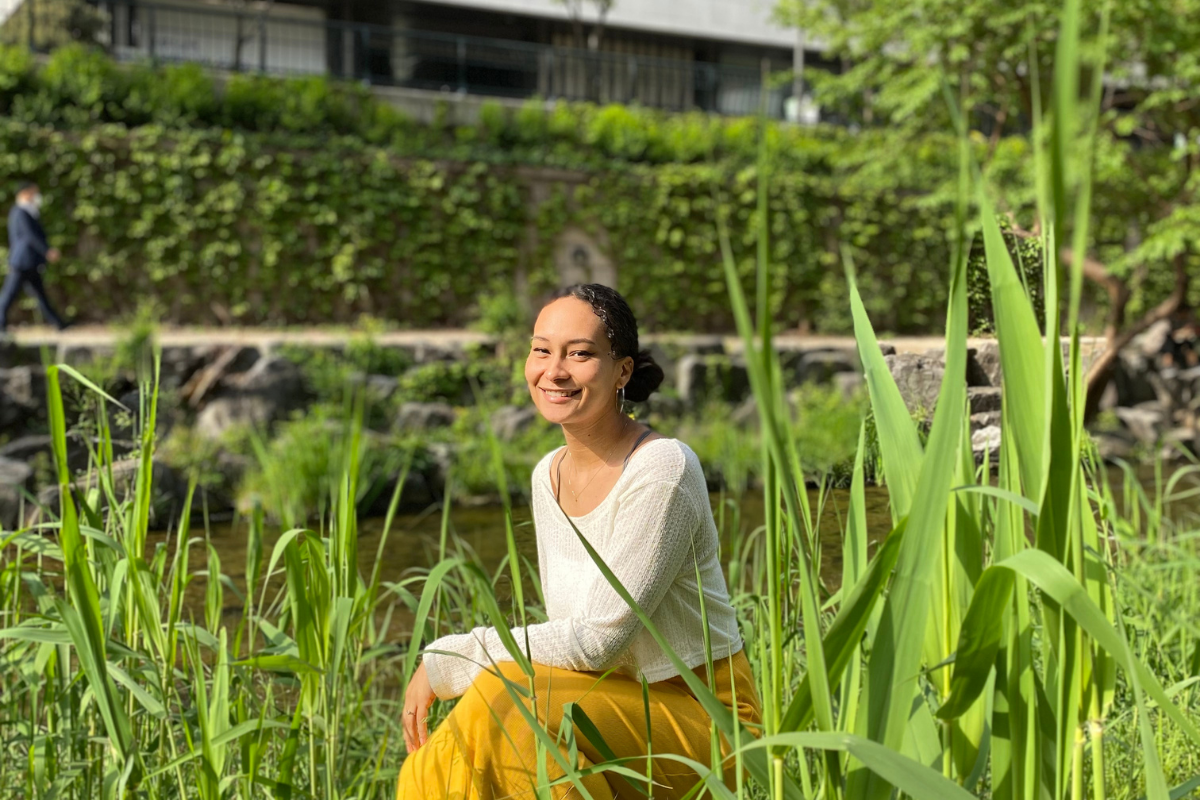 Many Koreans like to come here in the warmer months and enjoy a stroll and sit by the stream. Some cool off by dipping their feet into the water for a little as well! During the day you can enjoy the nature and the green scenery (like we did!). When we visited, we could smell the scent of the nature and the grass and it was refreshing, especially after always being surrounded by skyscrapers and the city. On warm summer nights, it is a great place to come to cool down and enjoy some quality time with friends or family.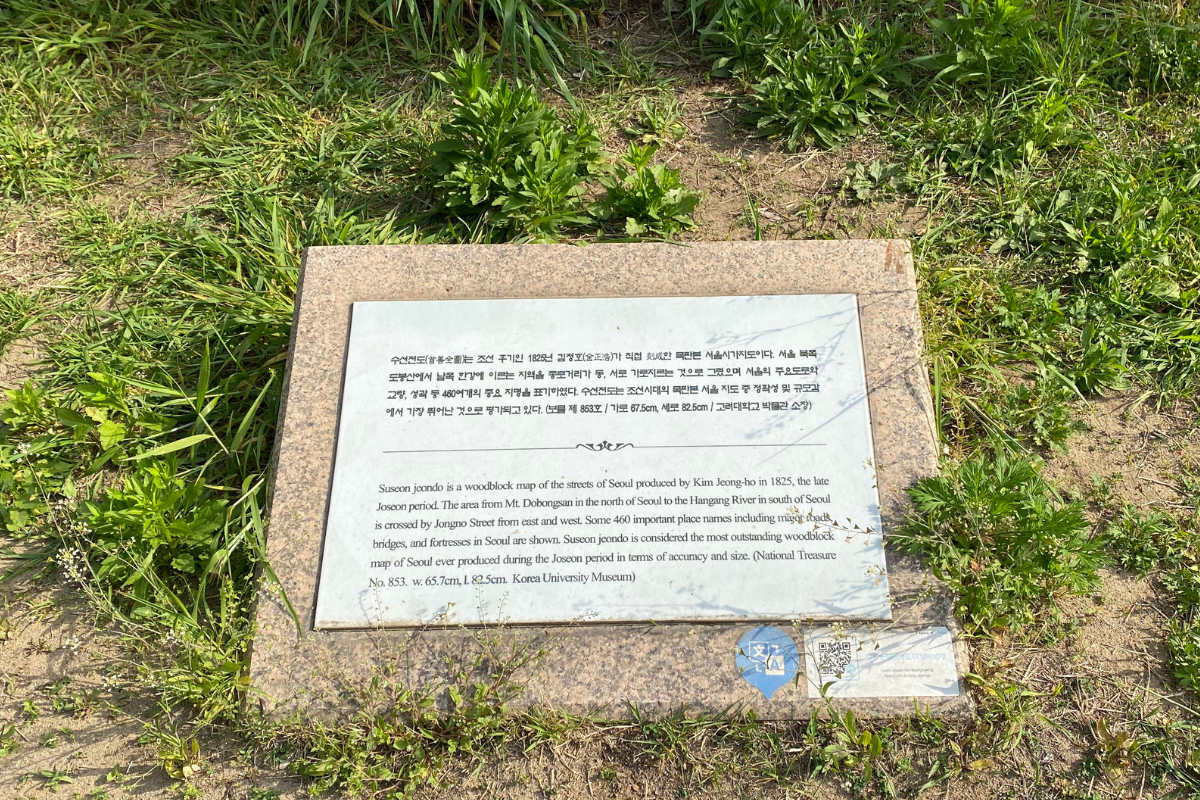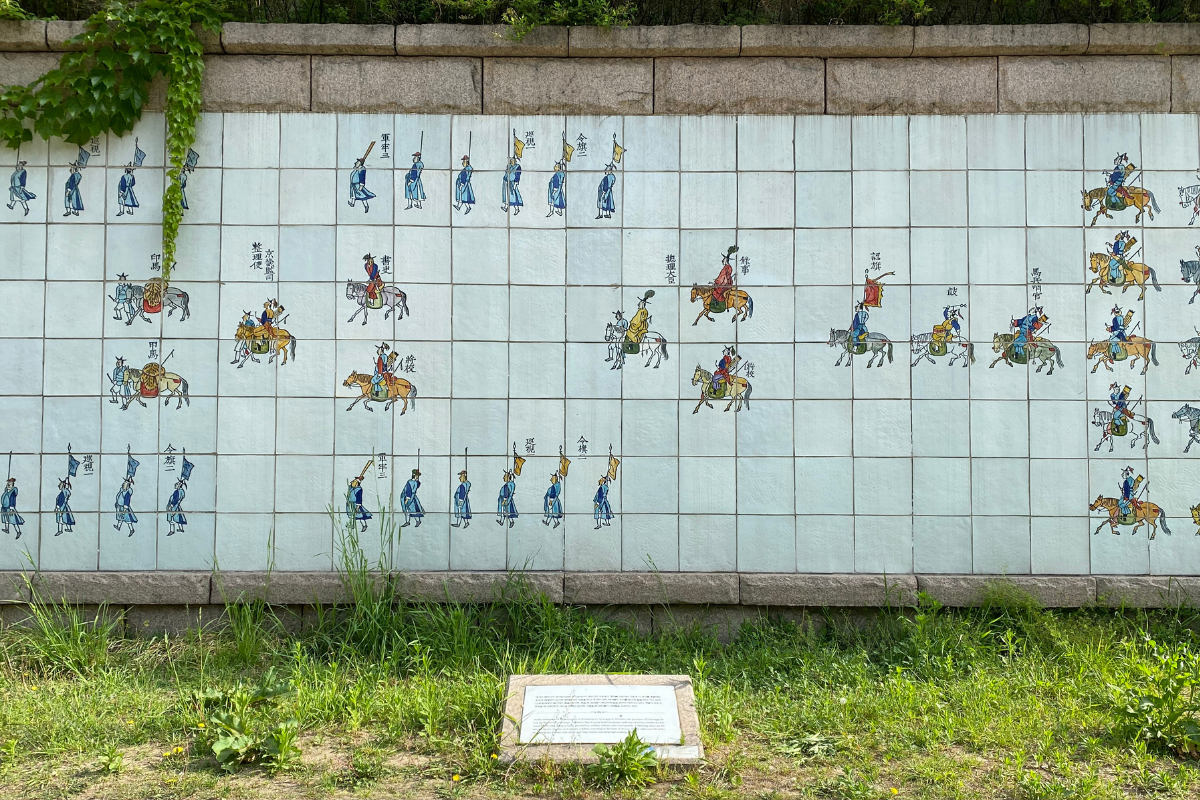 History buffs can also come here and enjoy the murals on the walls of the stream. There are interesting artifacts that depict the history of Korea, Seoul and of Cheonggyecheon! We really liked how there were so many detailed explanations in English as well. Reading these artifact and mural explanations gave us a deeper understanding of the area that we were in and helped us visualize the history, which made our visit more meaningful.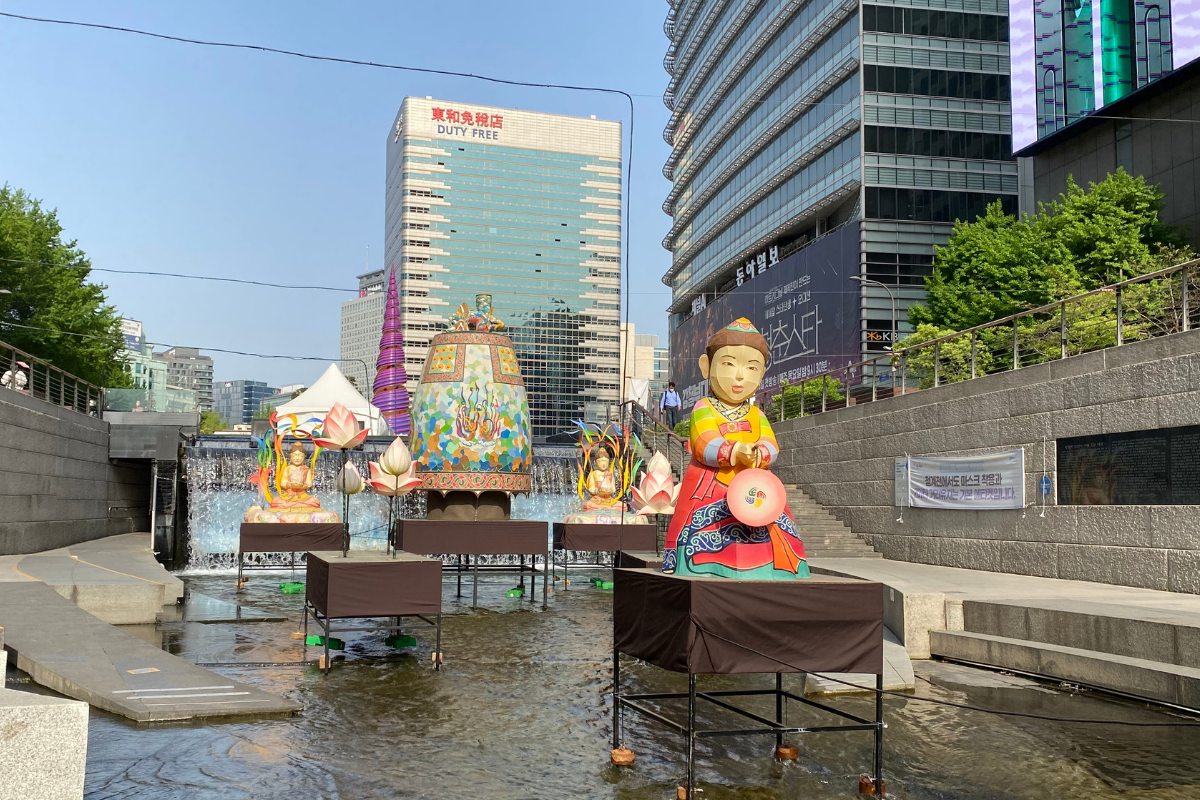 When we went Cheonggyecheon was decorated to celebrate Buddah's Birthday, which was on May 8, 2022. The stream is decorated multiple times throughout the year depending on the time of year and corresponding holidays. The two most famous festivals that occur at Cheonggyecheon are the Lantern Festival, which takes place every November, and the Christmas and New Year festivals. During these times, the stream is decorated beautifully and create a festive atmosphere that attracts thousands of visitors.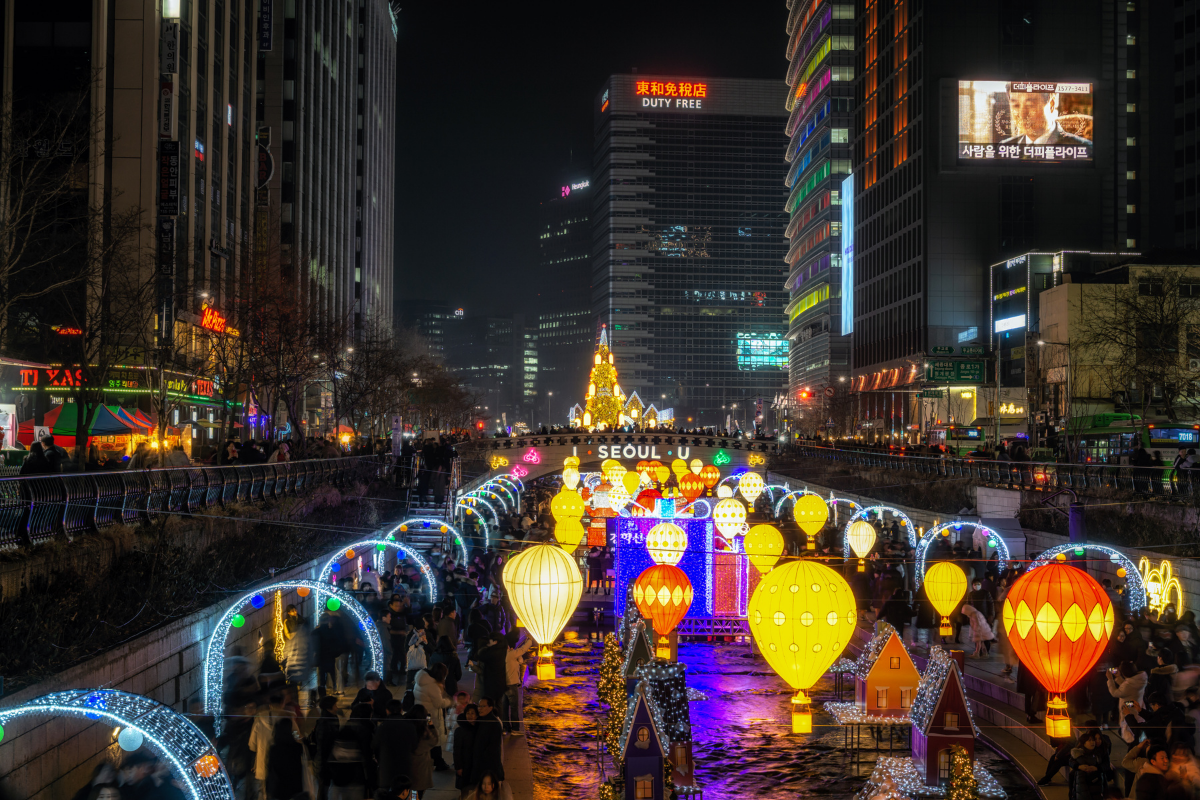 We suggest coming at night time during these festivals as the decorations tend to light up and are more impactful during the darker hours! If anything, it might be nice to come right before sunset so you can experience both the day and night at Cheonggyecheon.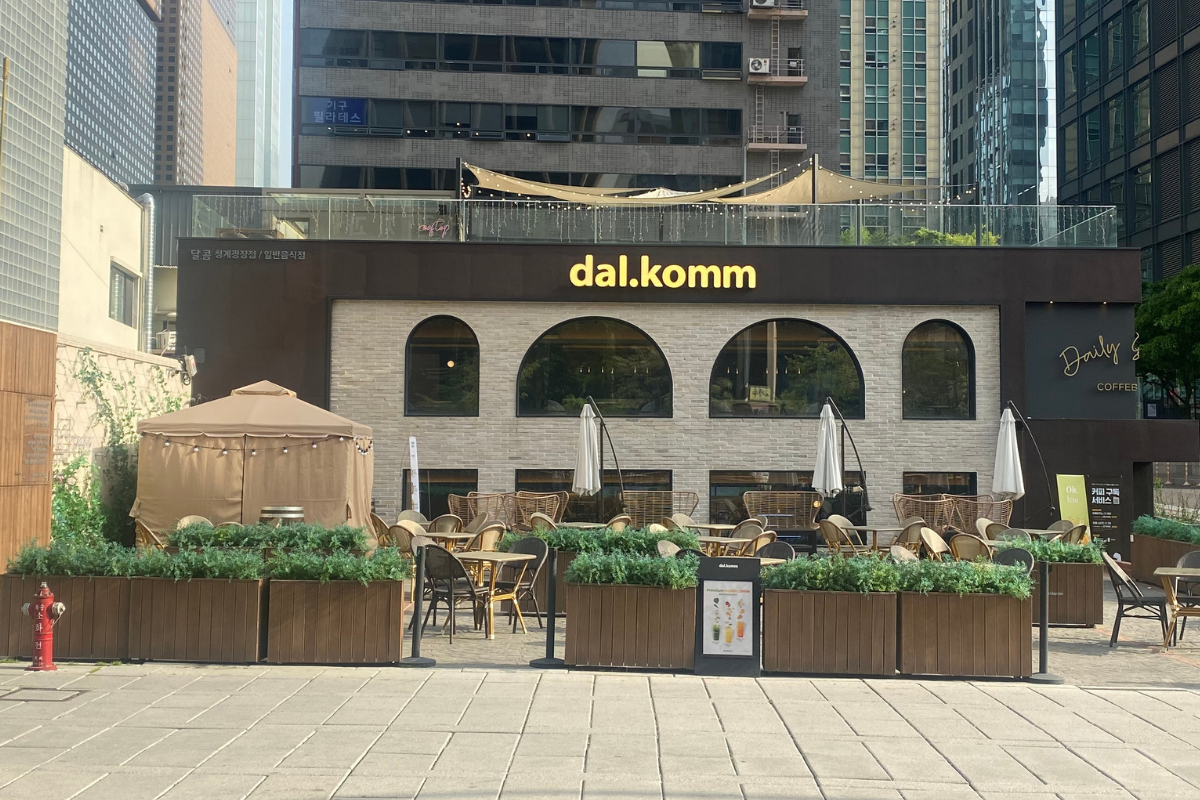 The streets that surround Cheonggyecheon are all different based on the area that you are in. The area near the start of the stream has more cafes, pubs and bars that you can visit. For cafes that are near the Cheonggye Plaza that overlook the stream, we recommend the dal.komm right near the Cheonggye Square. Although it is a franchise, there are not that many cafes in this area that have a rooftop. This is your best bet if you would like to overlook the stream from the cafe. Towards the Jongro area, there is a Hollys Coffee and a The Coffee Bean which are also rooftop cafes that overlook the stream. If you are in the Jongro area of the stream, we recommend trying out those cafes and heading to the rooftop to enjoy the views.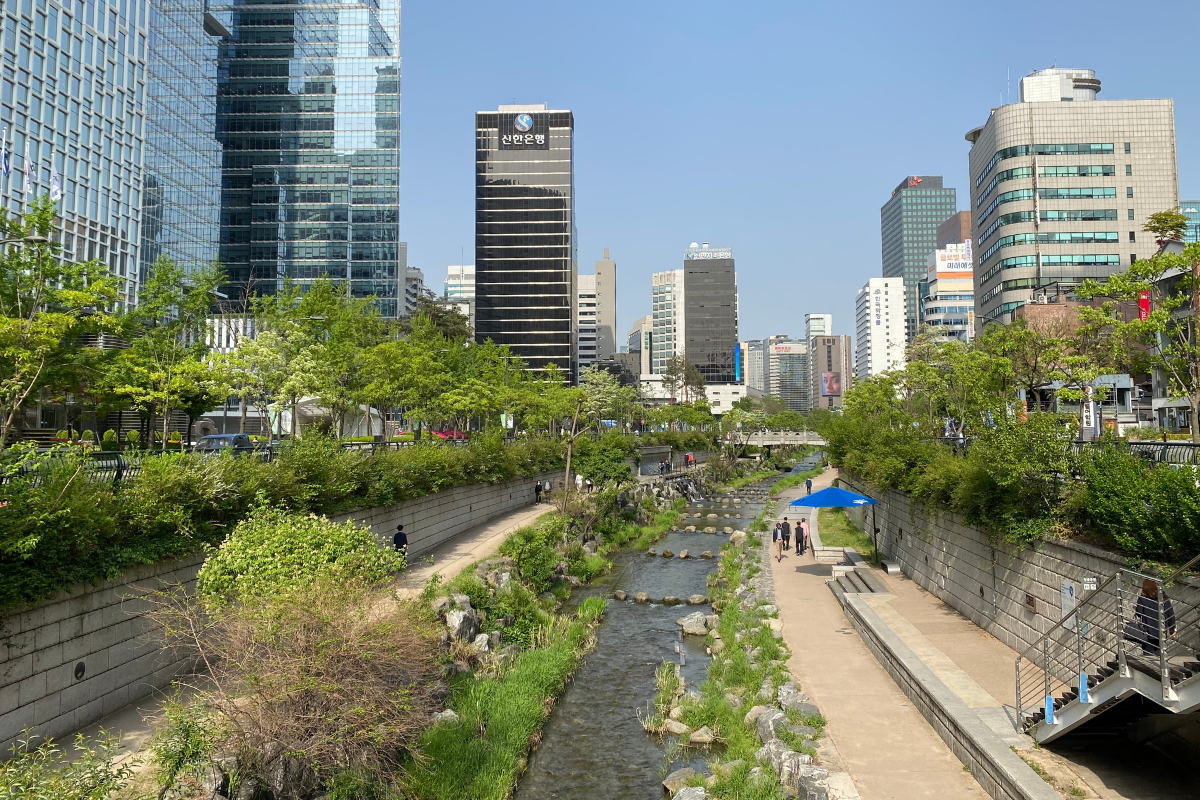 We personally think that there is no "best" spot of Cheonggyecheon. All parts of the stream have their own unique personality depending on the area it is surrounded by. However, if you want to be near more cafes, pubs, and modern buildings, we recommend staying near the Cheonggye Square area. If you want to be near markets you can hang around the Dongdaemun area. If you like to explore interesting alleyways and shop around, we suggest heading towards the Jongro area of the stream. If you have a good amount of time to spare, you can try walking down from the start of the stream! There is a unique charm to seeing how the stream changes as the surrounding neighborhood starts to change.
Cheonggyecheon Museum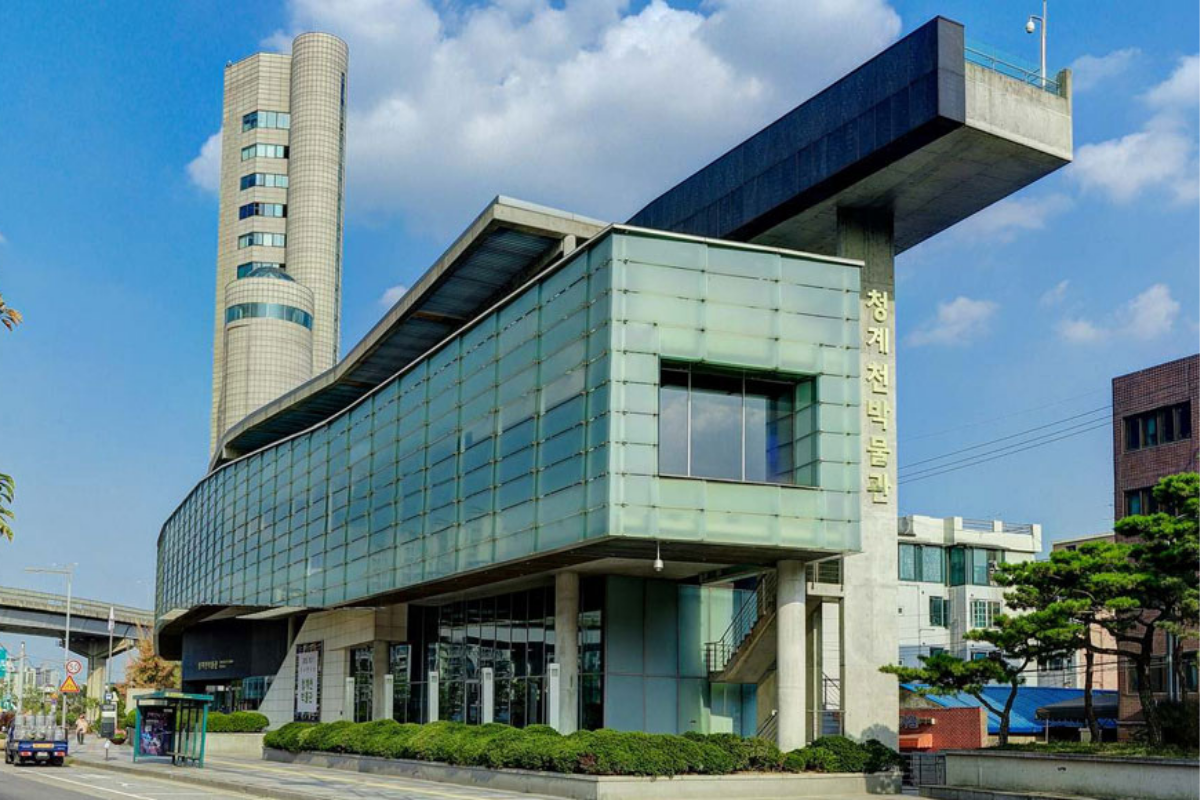 Source: Seoul Museum of History
Along the stream there is also the Cheonggyecheon Museum, which is a museum that documents the history of Cheonggyecheon and the surrounding area. This is a great place to come in and learn more about the history of the stream, starting from the role it played during the Joseon Dynasty until present day! The museum is free to enter, so it is a budget-friendly activity to partake in while visiting the stream!
Address: 서울 성동구 청계천로 530
530 Cheonggyecheon-ro, Seongdong-gu, Seoul
Hours: Tues-Sun: 09:00-18:00, Closed on Mondays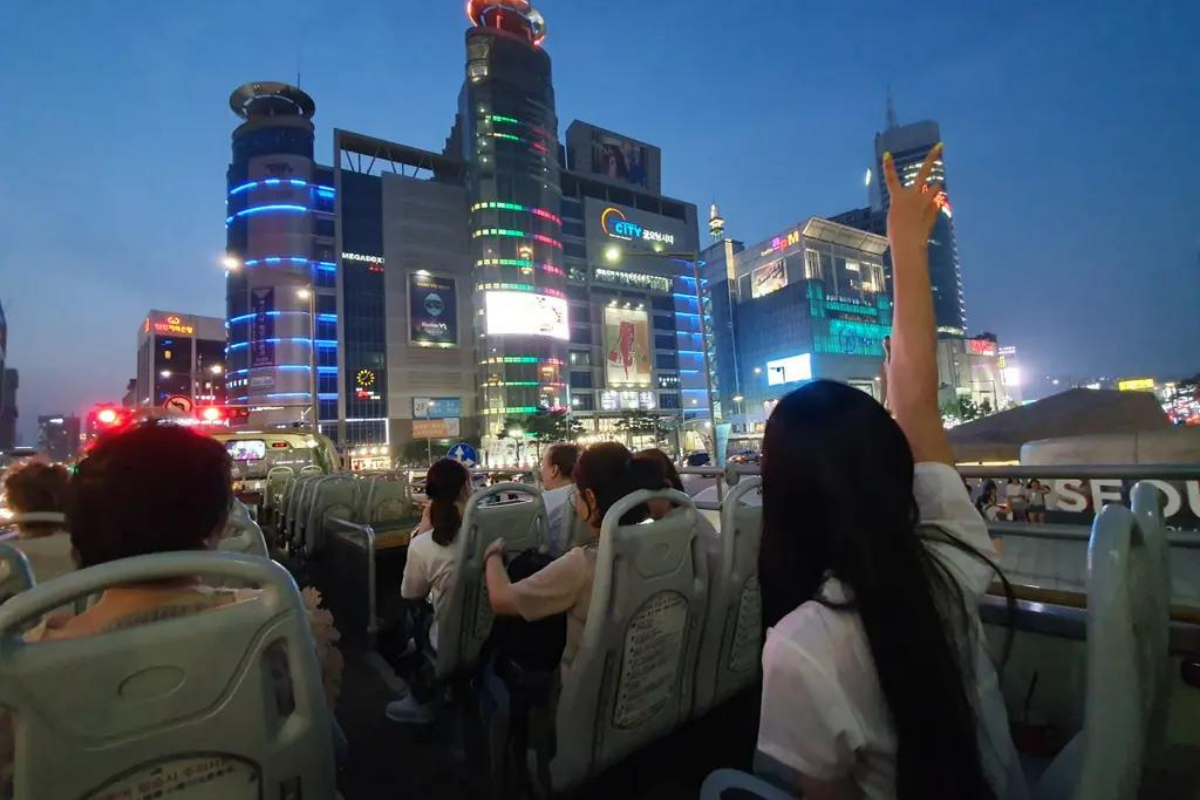 For those that are looking to go get some fresh air and take a stroll alongside the stream and take in the scenery and different vibes of the various neighborhoods, we suggest taking a day to walk Cheonggyecheon. However, if you would like to just enjoy it briefly and move on to other tourist attractions in the nearby area, we suggest trying out the Yellow Balloon City Bus. This bus allows you to hop on and off at multiple attractions in Seoul all day long. It is the perfect choice for those that would like to incorporate as many tourist attractions into their day!
---
Nearby Attractions
Gwangjang Market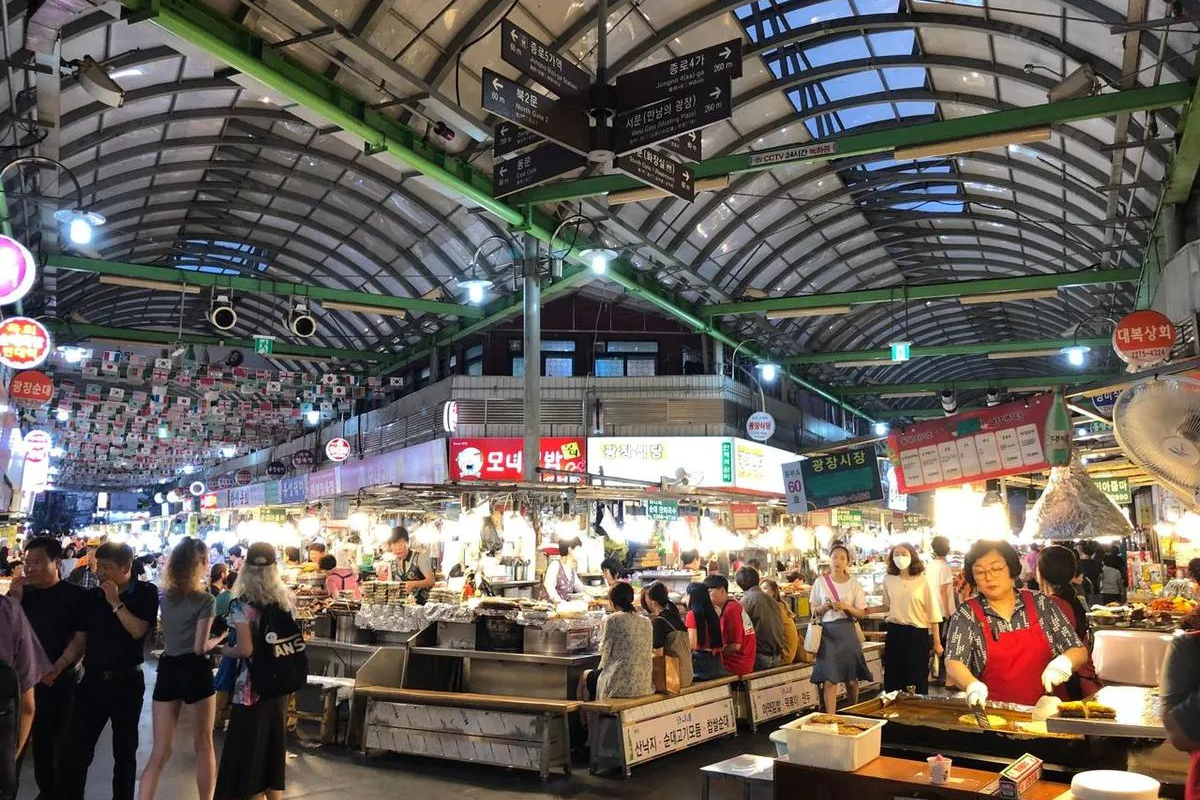 After walking alongside the stream, you might get hungry! Head over to Gwangjang Market, one of Seoul's oldest and largest markets, attracting visitors from all over the world. An episode of Netflix's show "Street Food" was also filmed here, showcasing the various street foods that Gwangjang Market is known for! There is an assortment of cheap and delicious street foods that you can try here! Koreans like to eat the food by sitting at the stalls, so make sure to grab a seat, and enjoy the bustling and lively atmosphere or the market!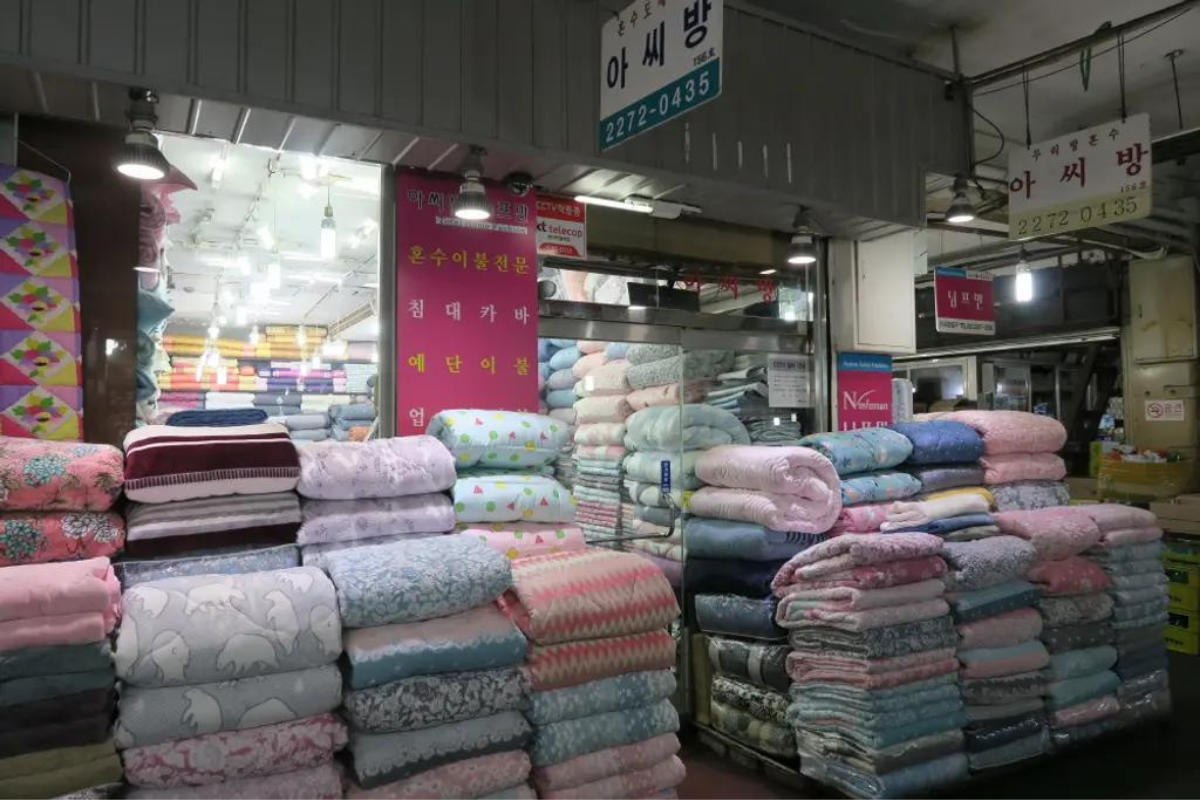 Stop by Gwangjang Market and enjoy munching on spicy rice cakes, delicious Korean-style donuts, bibimbap, kimbap, and other Korean street foods! You can read more about all the options that Gwangjang Market has to offer with our in-depth review of Gwangjang Market. You can also find other items at Gwangjang Market such as blankets, quilts, Hanbok, and clothes! The blankets in Gwangjang Market are also notorious for being of high quality, and a favored item to bring back home! Some of our favorite blanket vendors in the market are #156 and #88 Creatrip members can also get a discount when purchasing blankets when they download the coupons from our website, so make sure to click the links into the shops!
Dongdaemun Design Plaza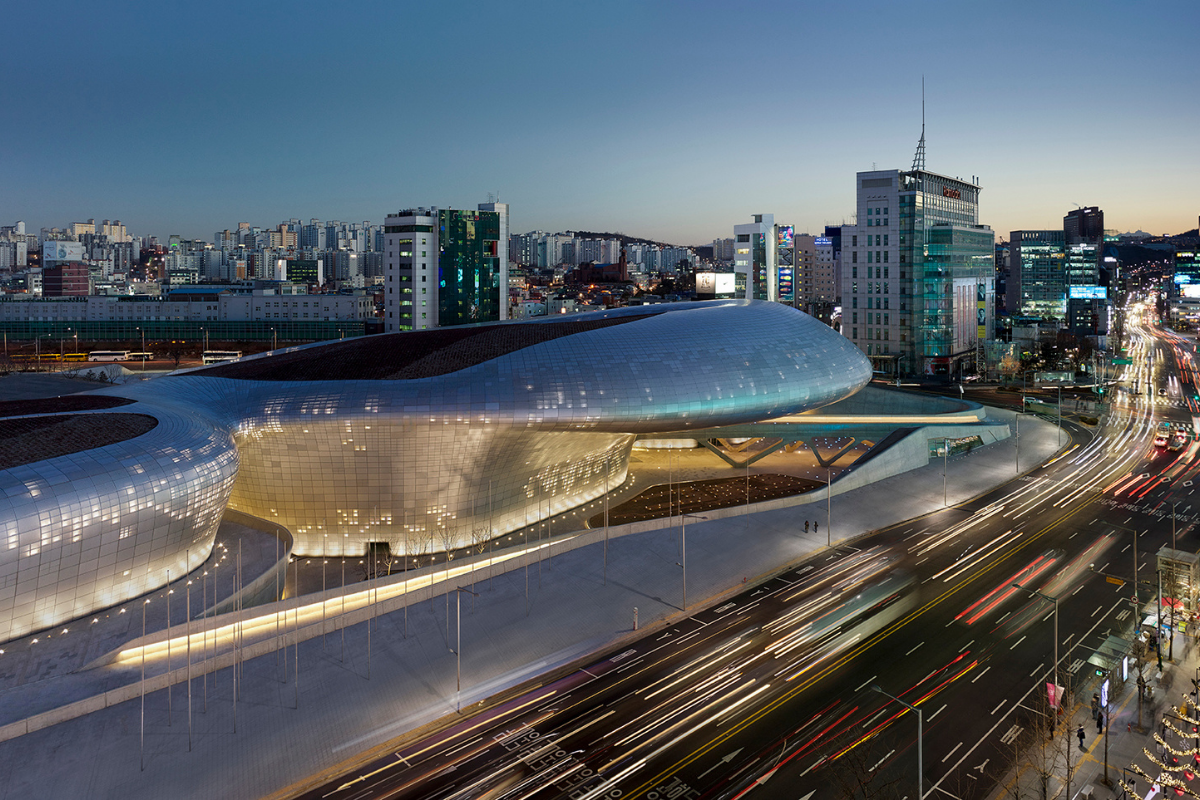 DDP, otherwise known as Dongdaemun Desgin Plaza is also located near Cheonggyecheon. The urban and unique design of the plaza has made is a cultural landmark in Seoul. DDP is close to Dongdaemun Gate, and Dongdaemun Market and is a great area to stop by and explore. Art, design and fashion lovers will also find the various exhibitions and museums within the plaza to be a great way to spend their time! You can read our full in-depth review here.
Gyeongbokgung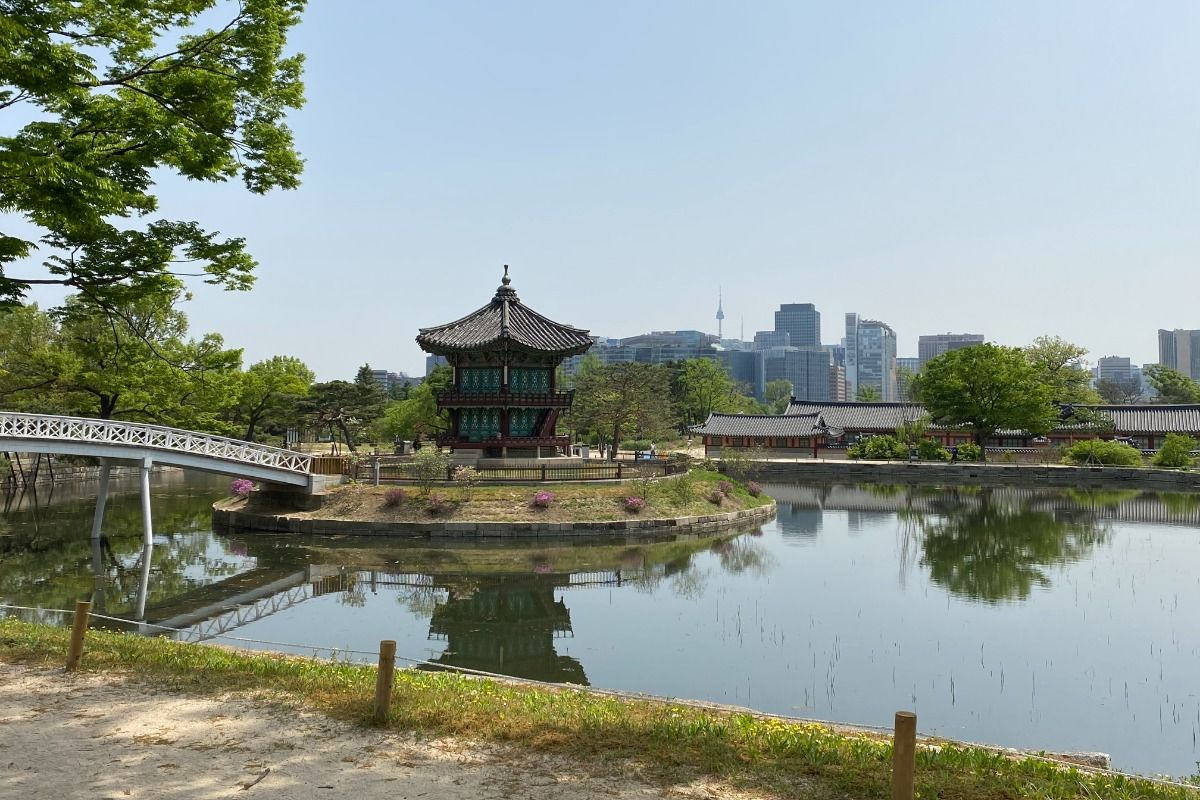 Gyeongbokgung is one of the five royal palaces in Seoul, and is the biggest out of all the five. It is one of Seoul, and Korea's most memorable and well-known tourist attractions! Once you step into the palace you will literally feel as though you have traveled back in time. For those that love history or those that would like to experience a unique part of Korean history and culture, we highly suggest heading over to Gyeongbokgung. Entry into the palace grounds is free is you are wearing a hanbok! You can learn more about Gyeonbokgung here.
Gwanghwamun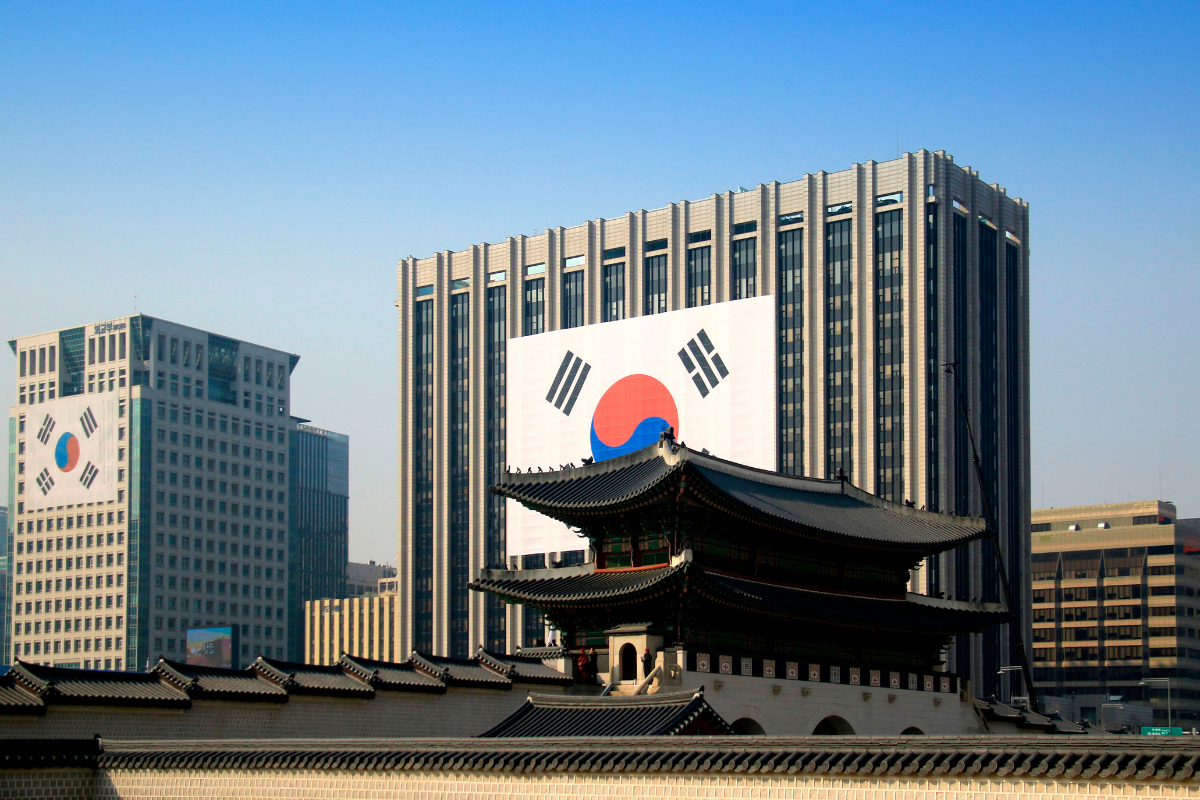 Gwanghwamun is the main gate into Gyeongbokgung Palace and is just a short walk away from Chonggyecheon. At Gwanghwamun Square, you will be able to see monuments such as Admiral Yi Sun-sin of Joseon Dynasty and King Sejong the Great of Joseon. It is also another great place for history lovers that would like to learn more about Korean history! Plan your visit to Gwanghwamun now!
Address: 서울 종로구 세종로 세종대로 172
172 Sejong-daero, Sejongno, Jongno-gu
Woori Dongnae Photo Studio Jongro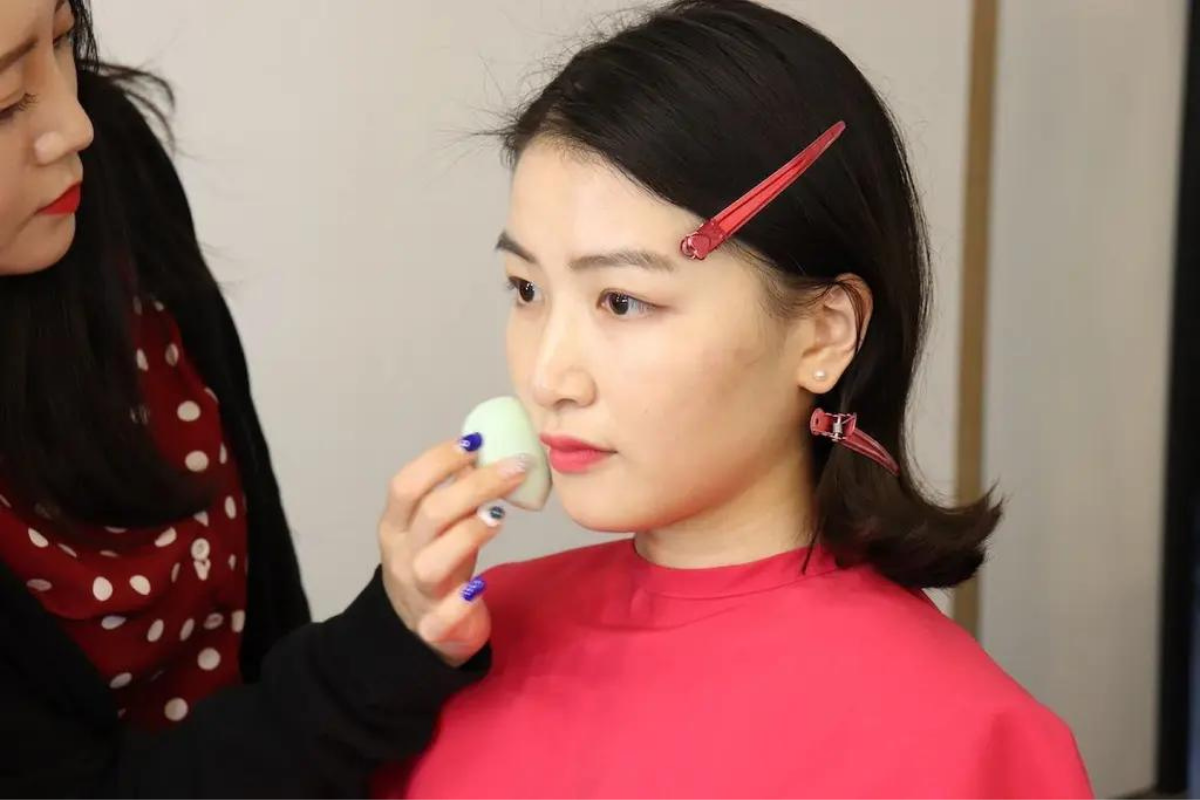 Korea is famous for having tons of photo studios where you can take professional photos at a very affordable price. Just a short distance away from Cheonggyecheon, you can get passport and ID photos taken at Woori Dongnae Photo Studio! This is perfect for those that need budget friendly headshots.
Reserve Woori Dongnae Photo Studio
Green Korean Language School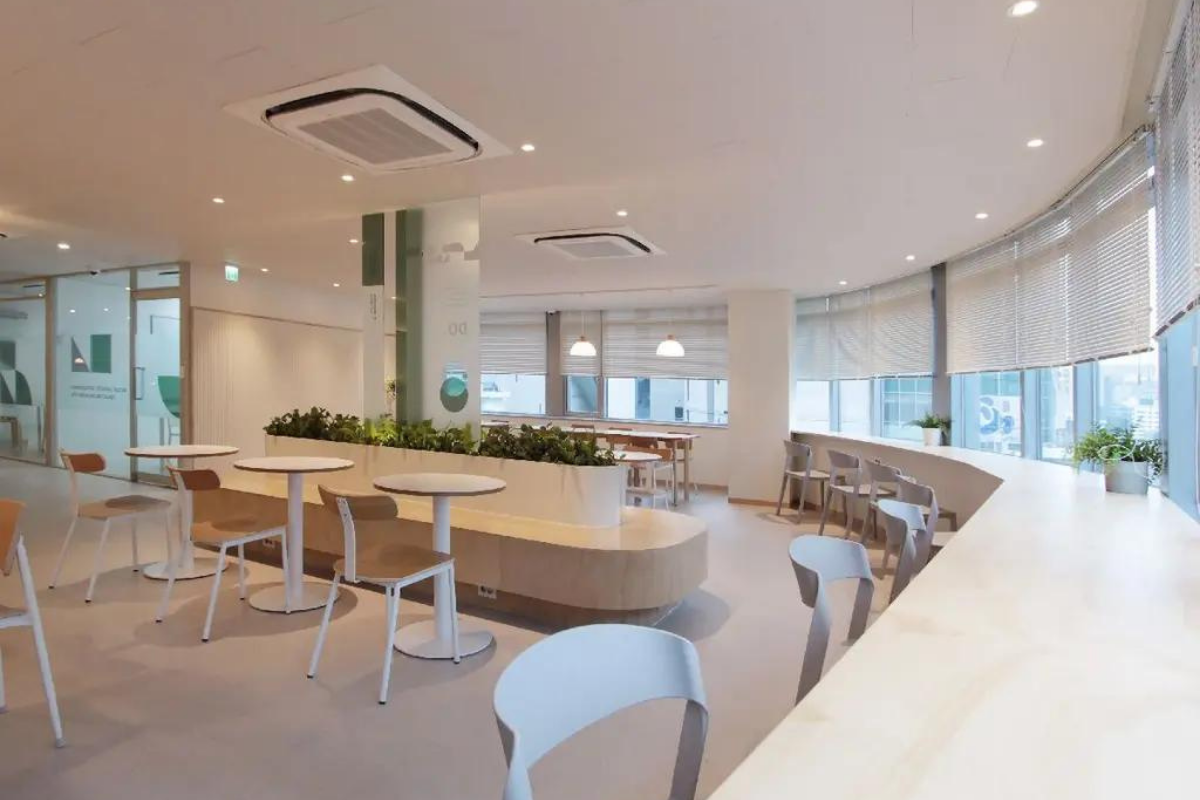 Since you are in Korea, why not take some Korean language classes? Green Korean Language School is located in the Jongro area near Cheonggyecheon. If you are looking to brush up those Korean skills, we suggest trying out Green Korean Language School.
Purchase Ginseng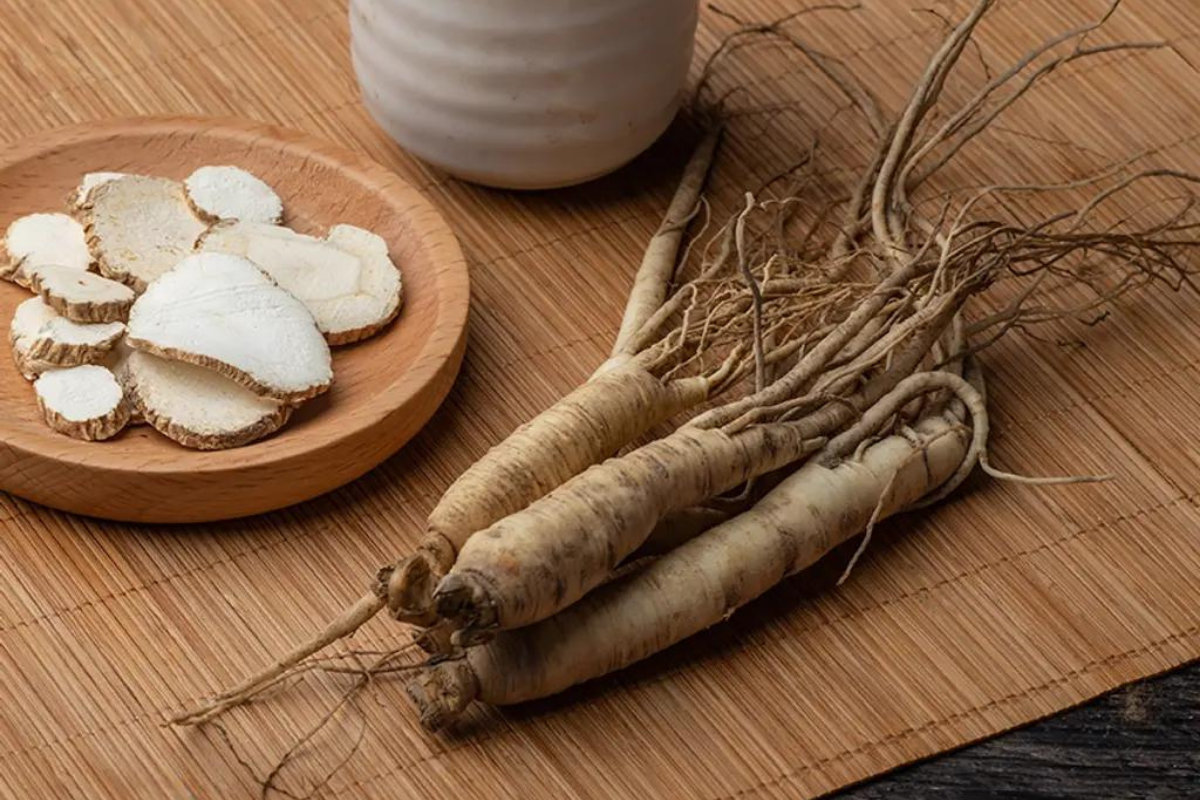 Ginseng is a famous health food in Korea and is used in many herbal and traditional medicines. Many people that come to Korea buy Ginseng to take back to their home country. There are many places that you can get ginseng nearby Cheonggyecheon. Two of our favorite spots are Sejong Ginseng and Heungwon Ginseng.
---
Nearby Restaurants
Seoul Original Braised Seafood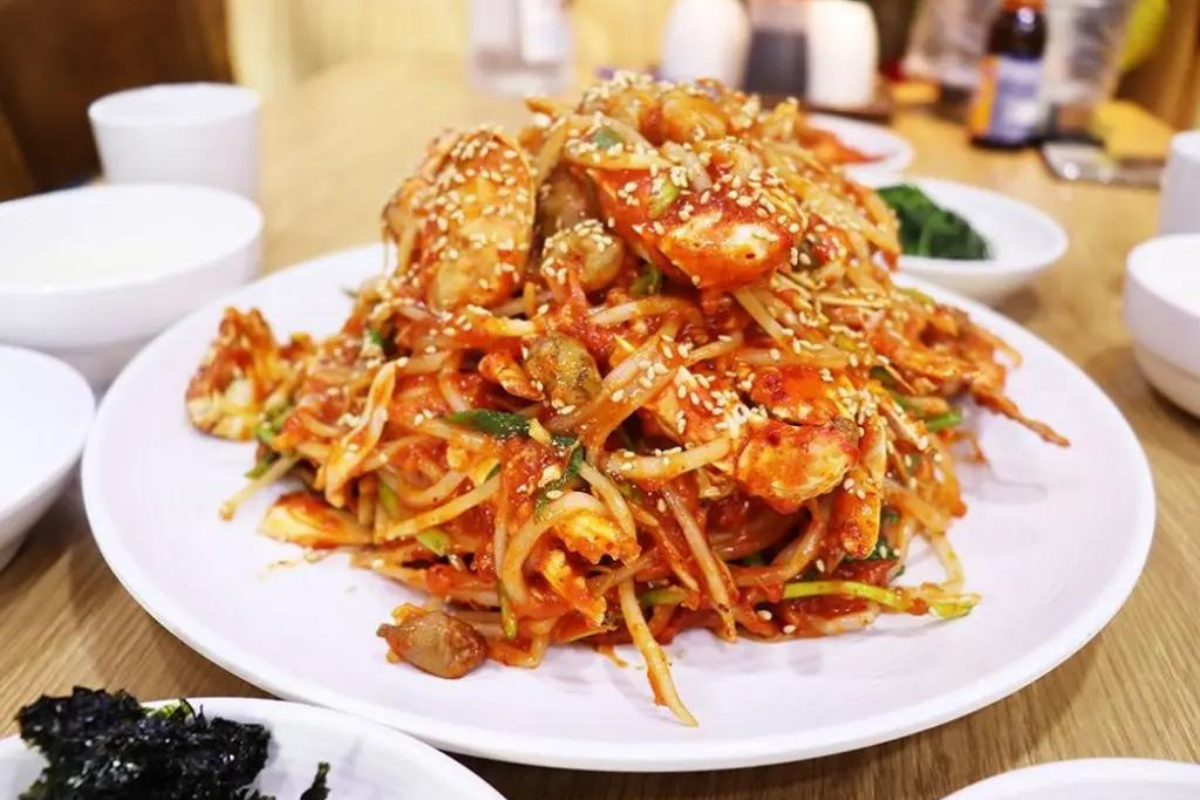 You can enjoy fresh Korean-style seafood stew at Seoul Original Braised Seafood. For those that struggle with spice, you can adjust the spice levels to suit your palette. Creatrip also offers a 10% off coupon for members.
Seoul Original Braised Seafood
Dongdaemun Meat Restaurant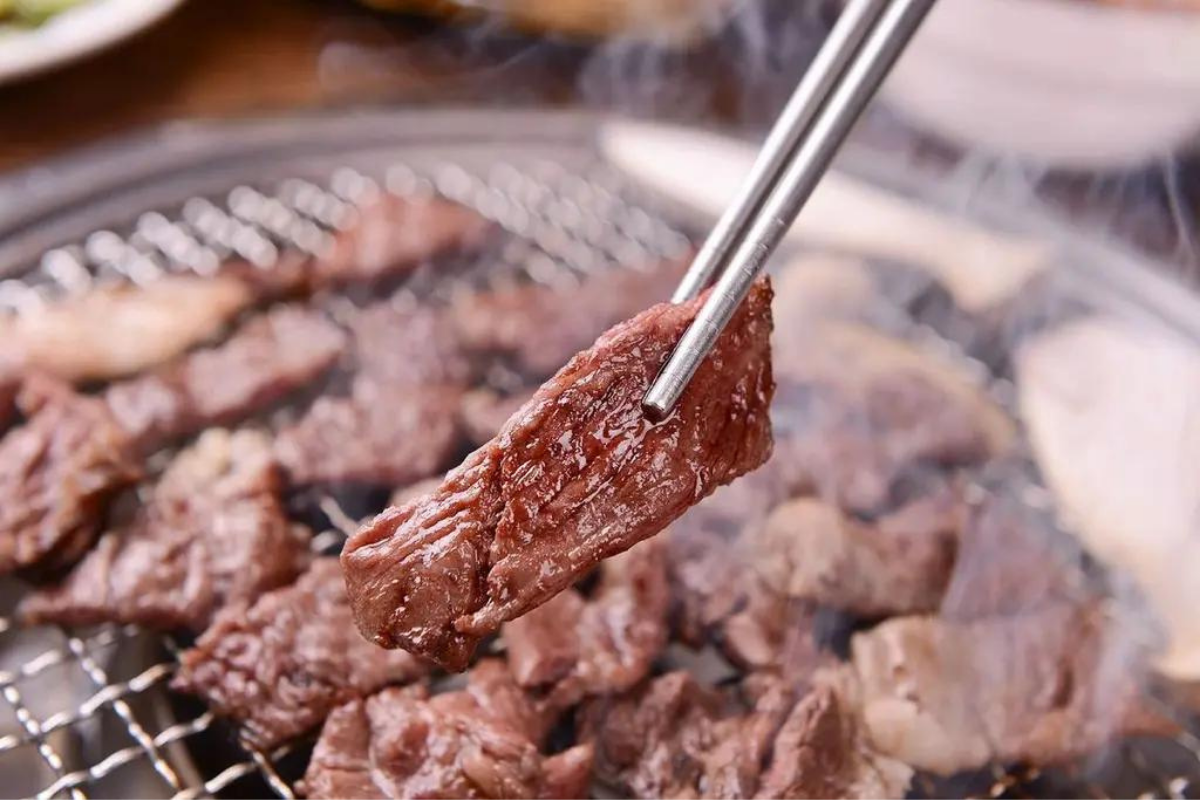 What is a trip to Korea without indulging in Korean BBQ! You can enjoy delicious and very high quality cuts of meat here at an affordable price. If you are in the Dongdaemun area of Cheonggyecheon, make sure to stop by and enjoy some delicious BBQ! Reserve with us today!
Reserve Dongdaemun Meat Restaurant
Sungkyung Dumplings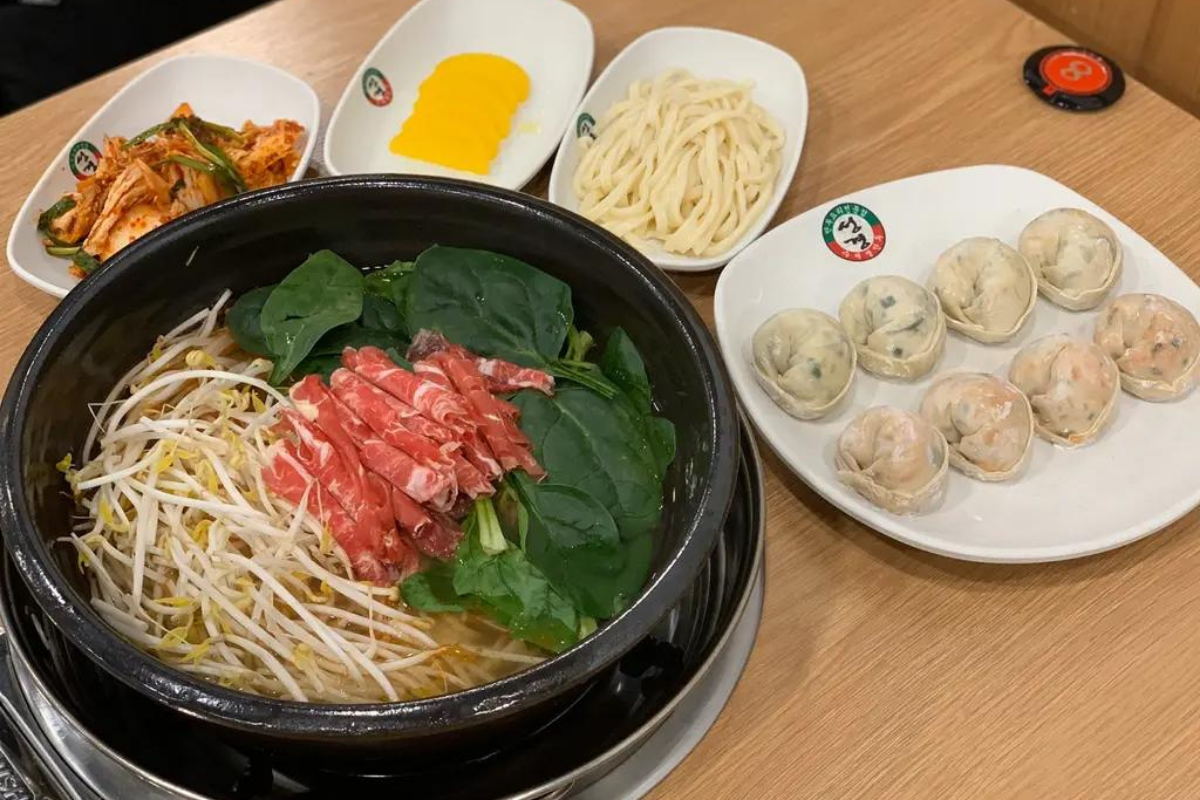 For those that are looking to try some fresh, handmade dumplings, try out Sungkyung Dumplings, which are made fresh daily. You can try an assortment of different types of dumplings ranging from meat to kimchi! Make sure to download your 10% off coupon with Creatrip. Which one will you be trying out?
Kyochon Chicken (Dongdaemun Branch)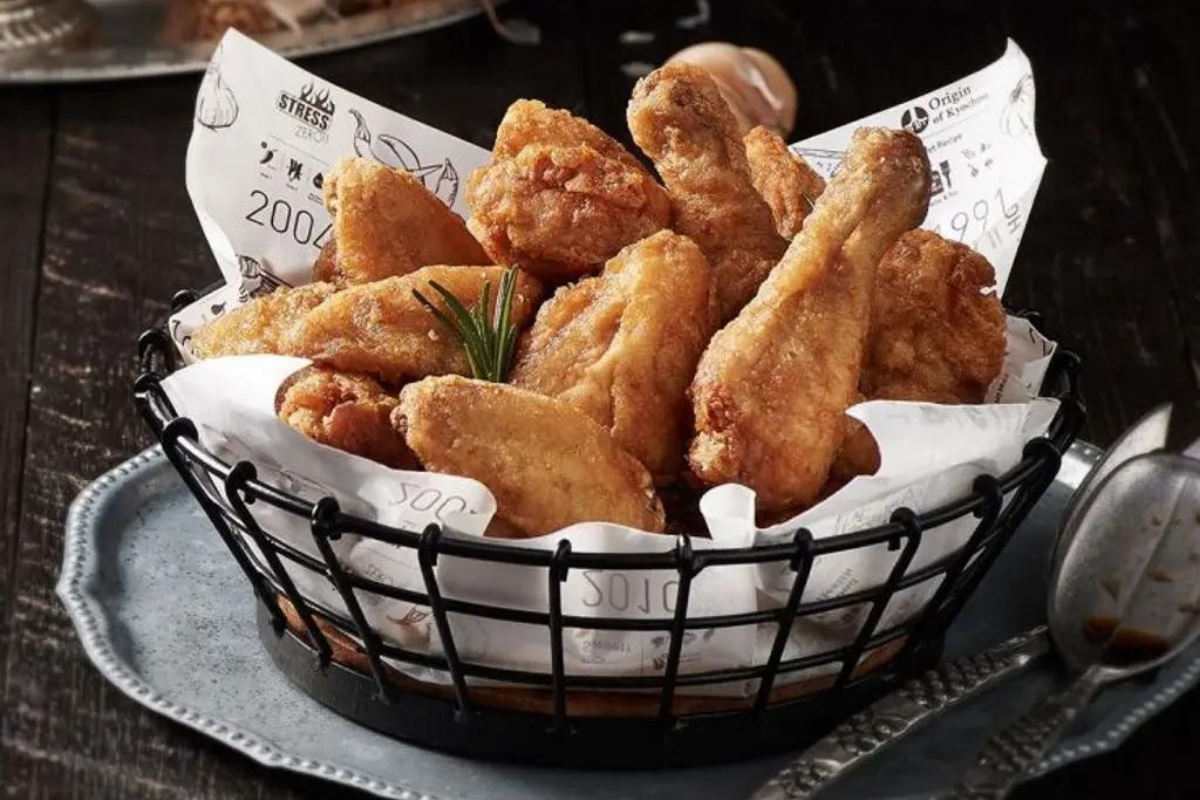 Who doesn't love a good batch of Korean fried chicken? After a nighttime walk alongside Cheonggyecheon, we suggest heading to Kyochon Chicken in Dongdaemun to enjoy a delicious late night snack! Creatrip members can get free potato wedges as well so you don't have to feel too guilty about your late night snack!
Sungwoo Yukhoe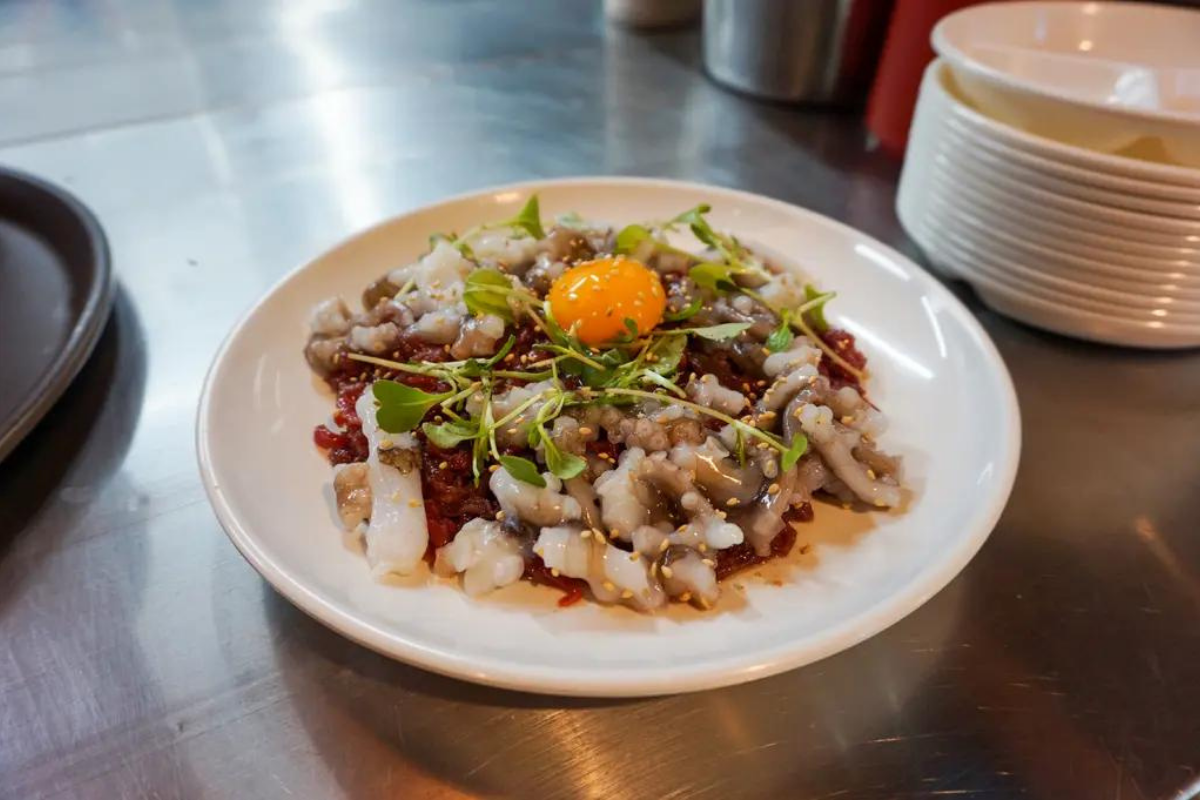 If you decide to stop by Gwangjang Market, we suggest setting aside some time to take a visit to this restaurant within the market! It is famous for it's Yukhoe and Sannakji, which is Korean style beef tartare and live octopus. For those that feel brave enough, we high recommend these Korean delicacies! You can also get a discount if you present this coupon!
DingDim 1968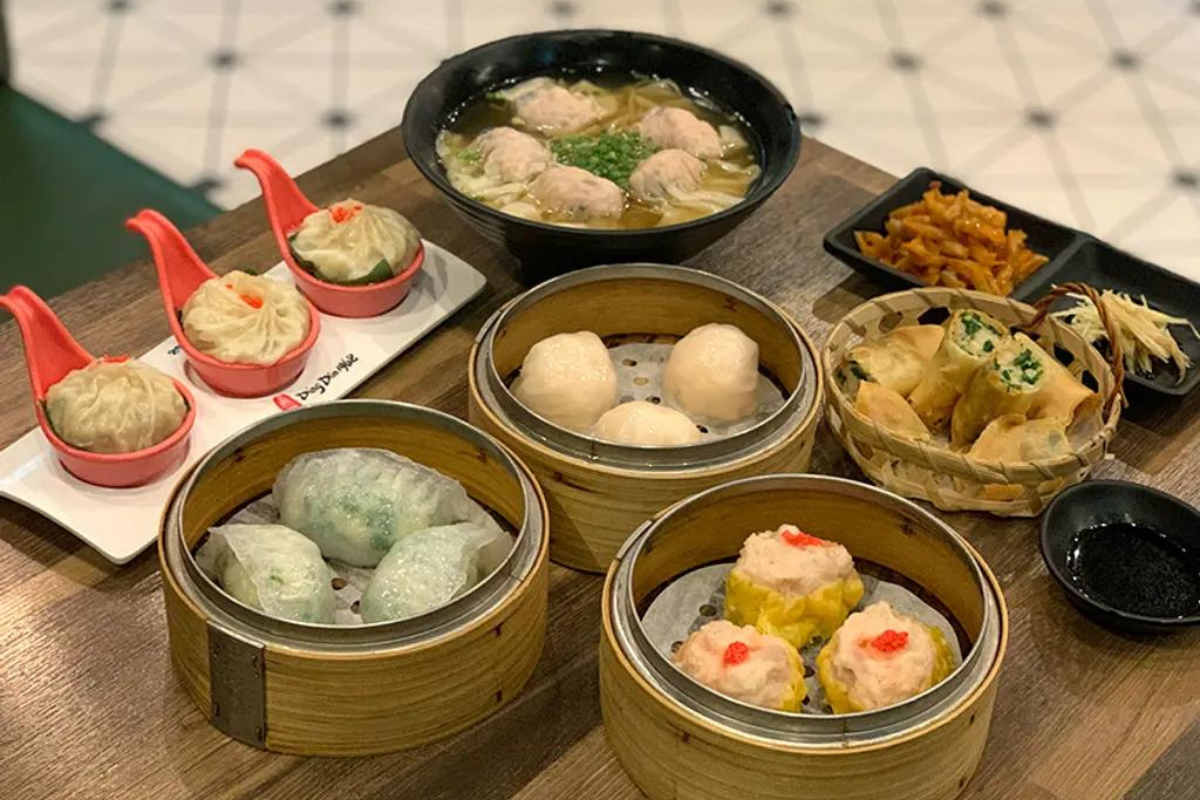 For those that would like to try Hong Kong style dumplings, we suggest trying out DingDim 1968 in Jongro! It is in the Jongro area of Cheonggyecheon. This Dim Sum place is a great spot to recharge your energy by enjoying delicious dumplings, spring rolls and noodles! You can never go wrong with Dim Sum! We also offer 10% off, if you present this coupon to the staff!
---
Nearby Cafes
Luft Coffee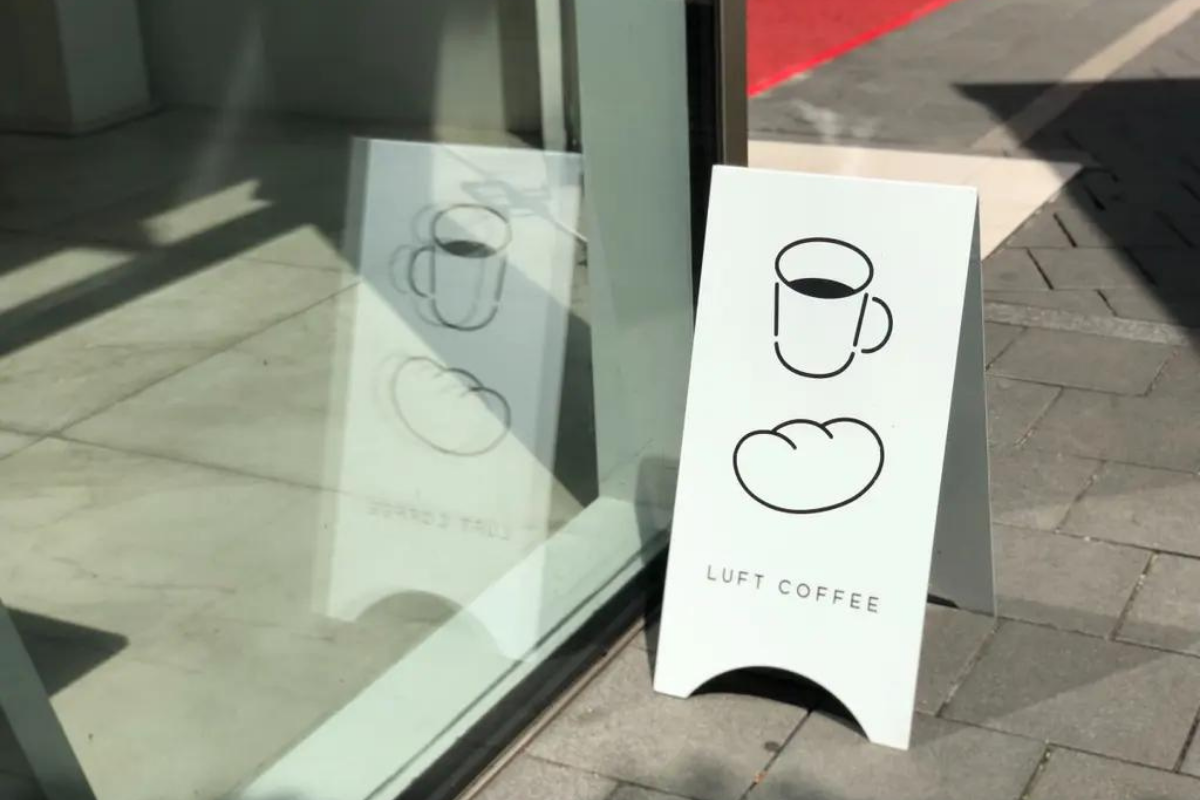 An aesthetic cafe nearby Insadong and Jonggak known for their delicious cubed breads! It is in close proximity to Insadong and Cheonggyecheon so it is a great pit stop for those that would like to explore Insadong. Creatrip members can get 10% off by presenting this this coupon.
J. Hidden House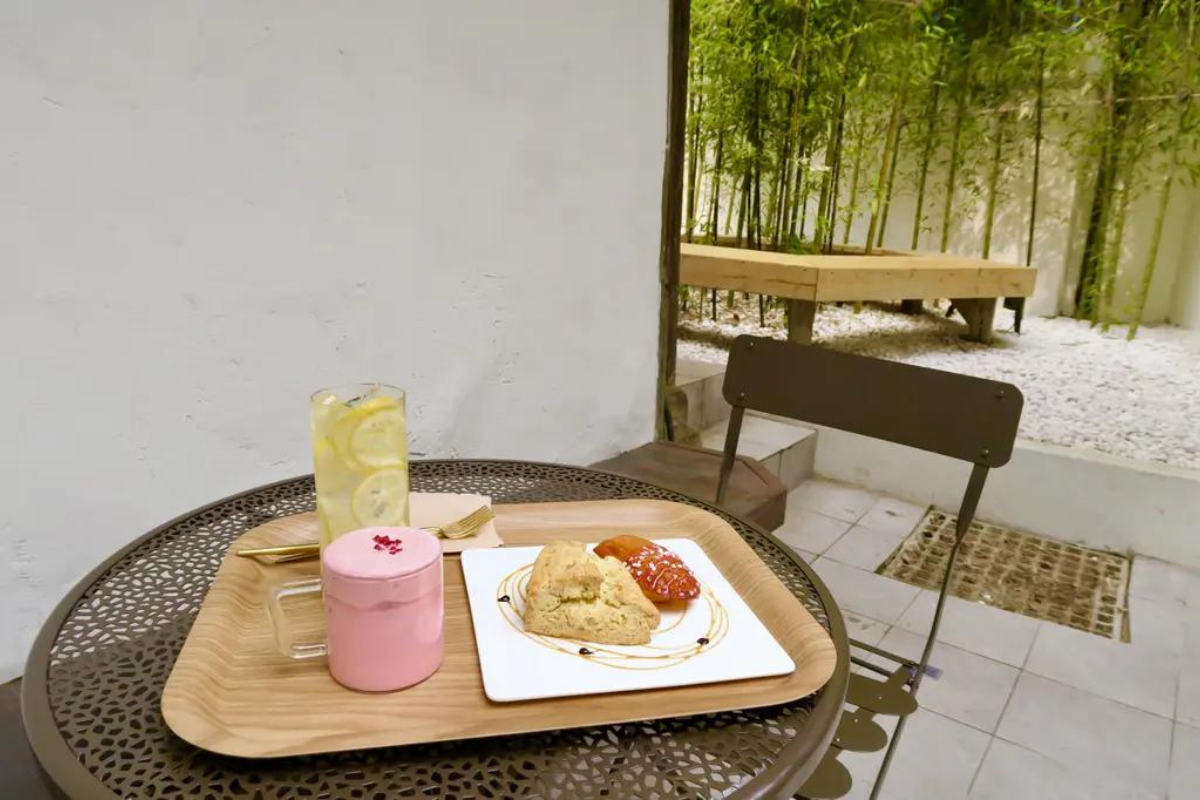 A beautiful Hanok cafe that is located near Dongdaemun Market and walking distance from DDP. It is a great place to relax and enjoy the traditional Korean decorations and Hanok atmosphere. They are best known for their peanut cream latte and raspberry cream latte. Creatrip members can get 10% off by presenting this coupon.
---
How to Get There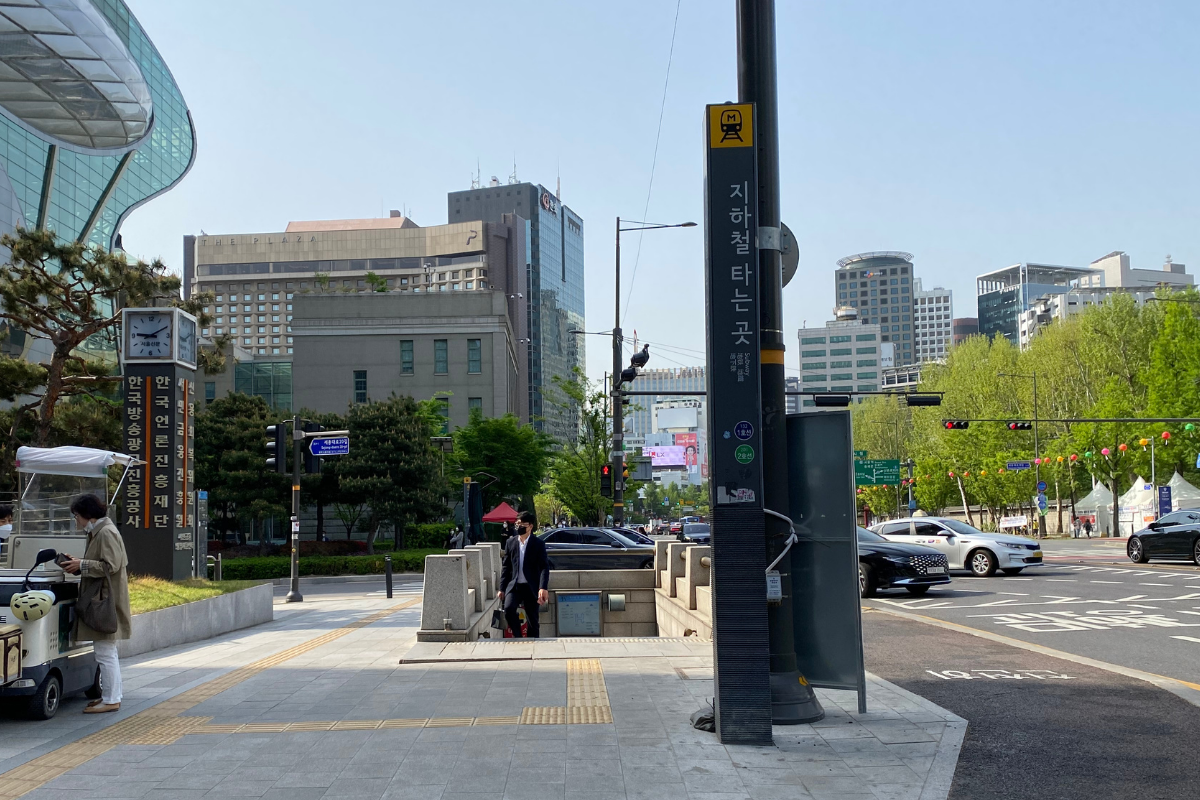 Exit out of Exit 4 of Line 1.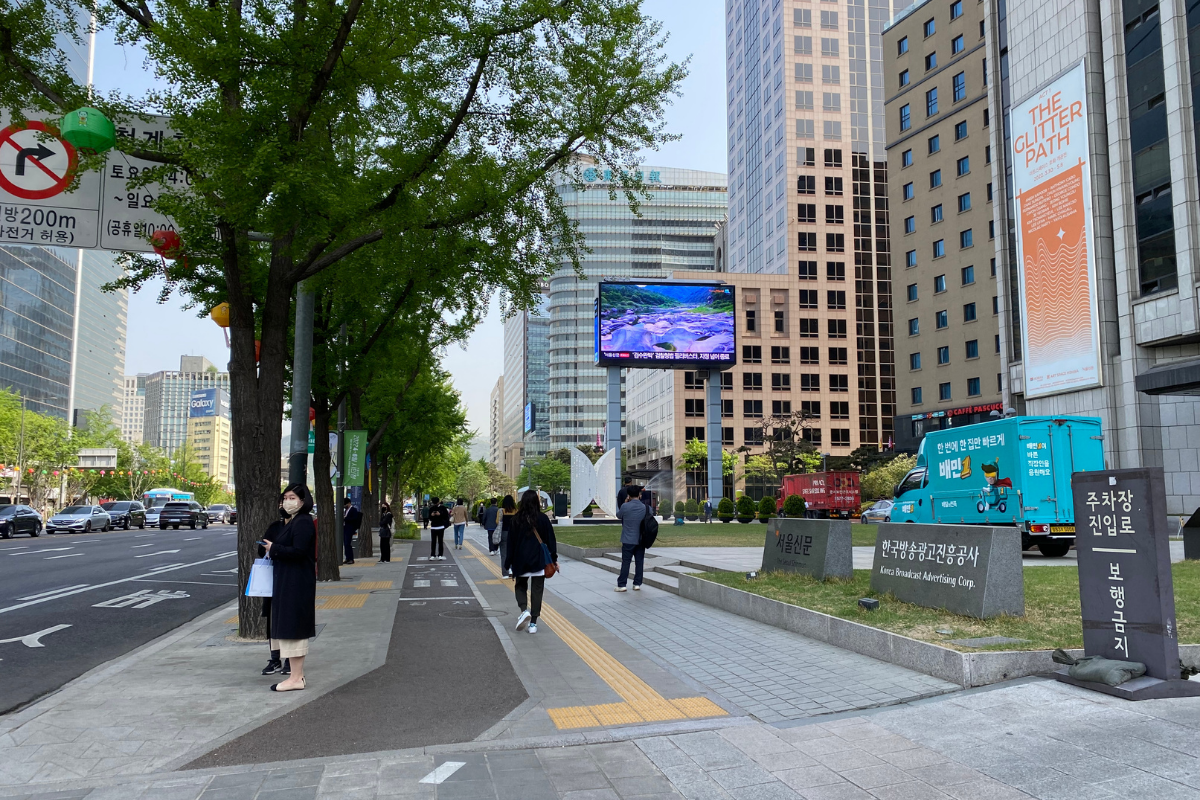 From there, head straight for around 7 minutes.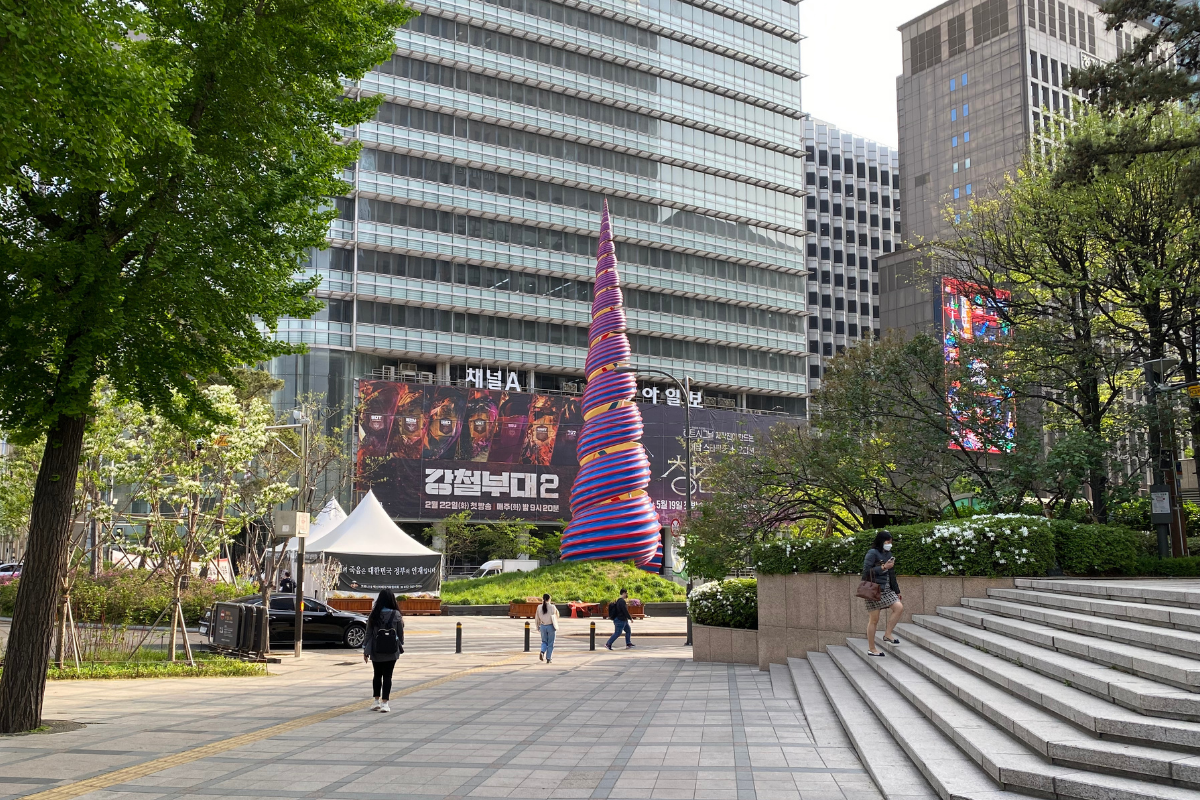 When you see the Spring Sculpture, turn left and you will arrive at Cheonggye Plaza.
---
We hope that you can enjoy your time in Cheonggyecheon and the nearby neighborhoods. If you have any questions, please leave a comment below or send us an email at support@creatrip.com! You can also follow us on Instagram, Tik Tok, and Facebook to stay updated on all things Korea!
---