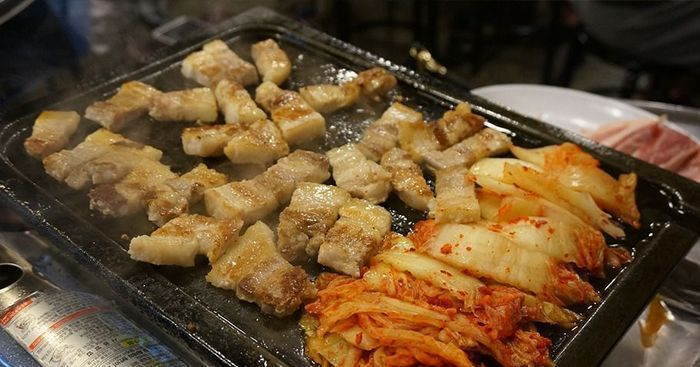 When you think of Korean food, what is the first thing that comes to mind? Of course there is kimchi and kimbap, but many will also think of Korean barbecue.
The most popular cut to put on the grill is pork belly, also known as samgyeopsal. Some would argue that you haven't really tasted Korean cuisine unless you have had some authentic samgyeopsal.
You can find samgyeopsal restaurants everywhere in South Korea. How come it is so popular that the dish is know closely associated with Korea?
We will also offer some advice on how to eat samgyeopsal like a Korean!
---
WHY KOREANS LOVE SAMGYEOPSAL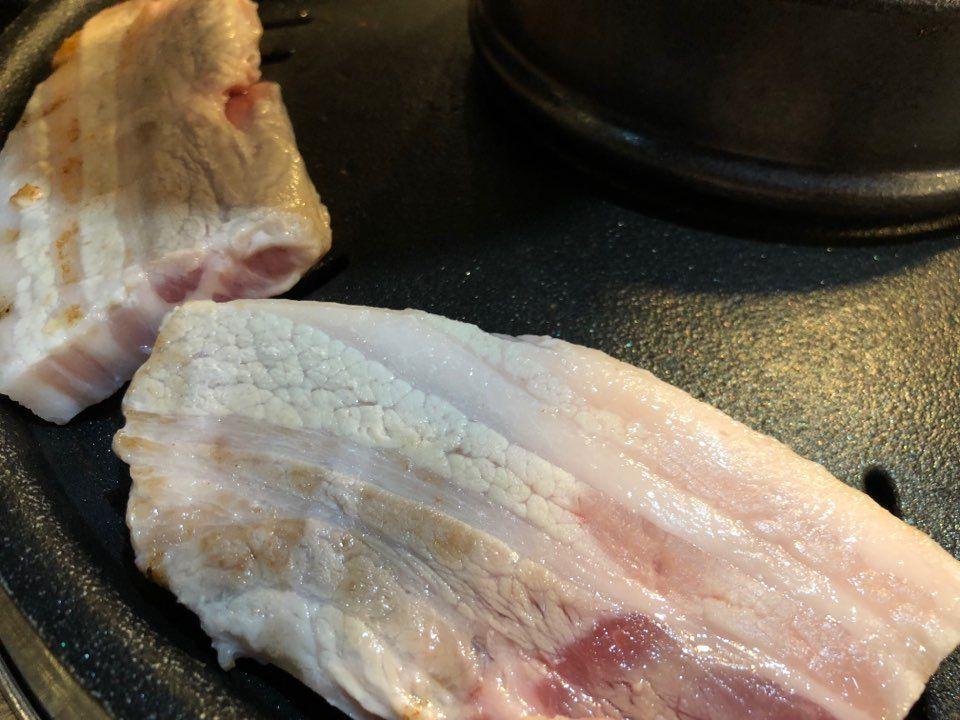 How come Koreans are crazy about grilled pork belly?
For those who prefer to cut the fat off their meats, it may seem strange that Samgyeopsal with its pronounced fat layer is so popular. However in Korea, it has become somewhat of a national dish.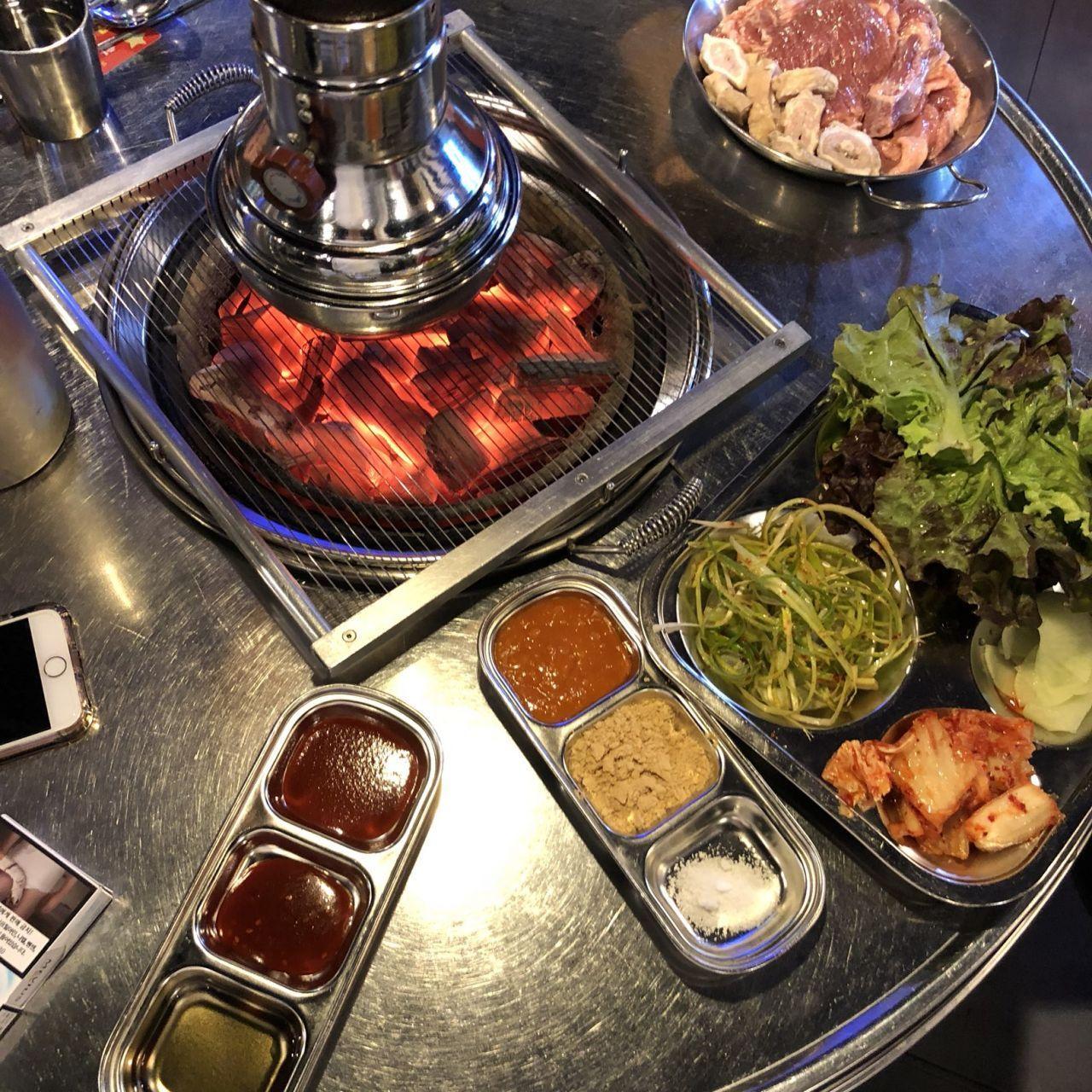 There are a number of stories that help explain why South Koreans love pork belly barbecue so much.
_

1. The Samgyeopsal Fat Is Said To Help Clean Throat And Lungs.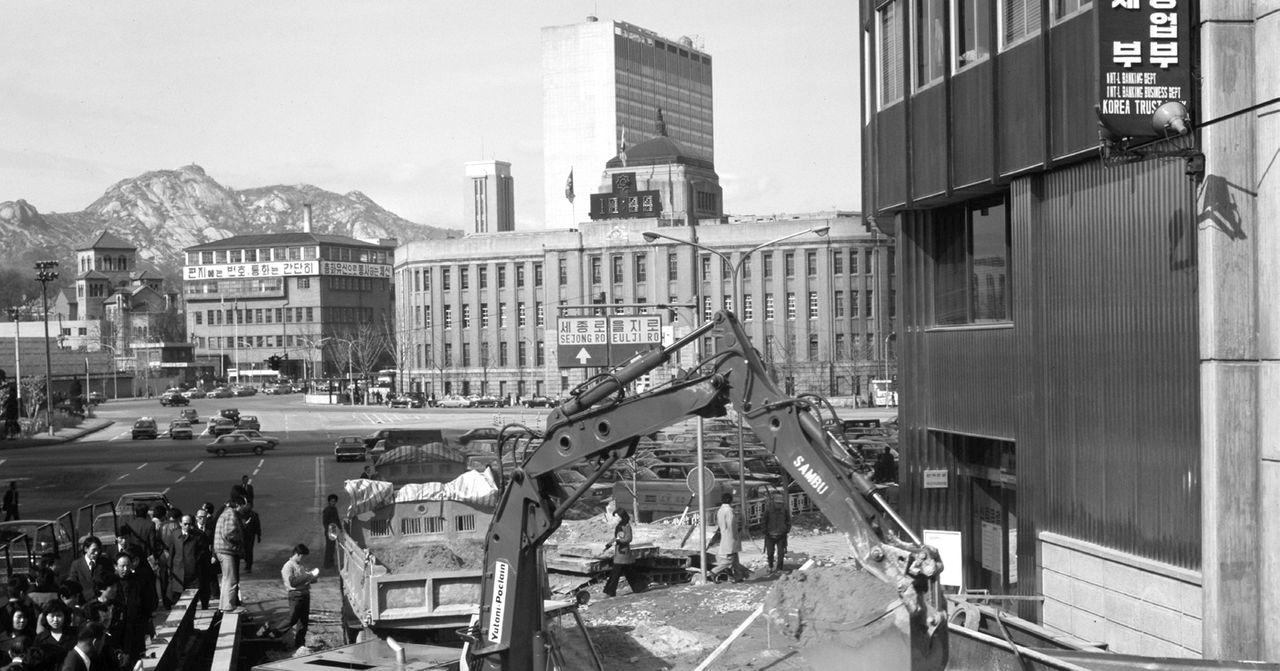 Back in the days when Korea was mainly an industrial society, many Koreans would work all day in dusty environments.
After a day of hard labor, workers would gather to eat together. A hearty meal of samgyeopsal became the natural choice to replenish their energy.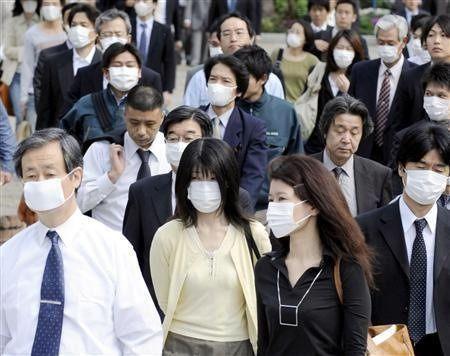 The hygiene standard in many factories wasn't great, and few wore masks to protect them from dust and dangerous particles.
As a result, many ended up contracting and dying from lung diseases. Under these circumstances, persistent rumors started to emerge that laborers would eat samgyeopsal in order to clean their throats and lungs.
To this day, many Koreans will eat samgyeopsal on days when there are high levels of fine dust in the air.
_

2. Main Parts Of Korean Pork Were Exported, Leaving Only The Fatty Pork Belly.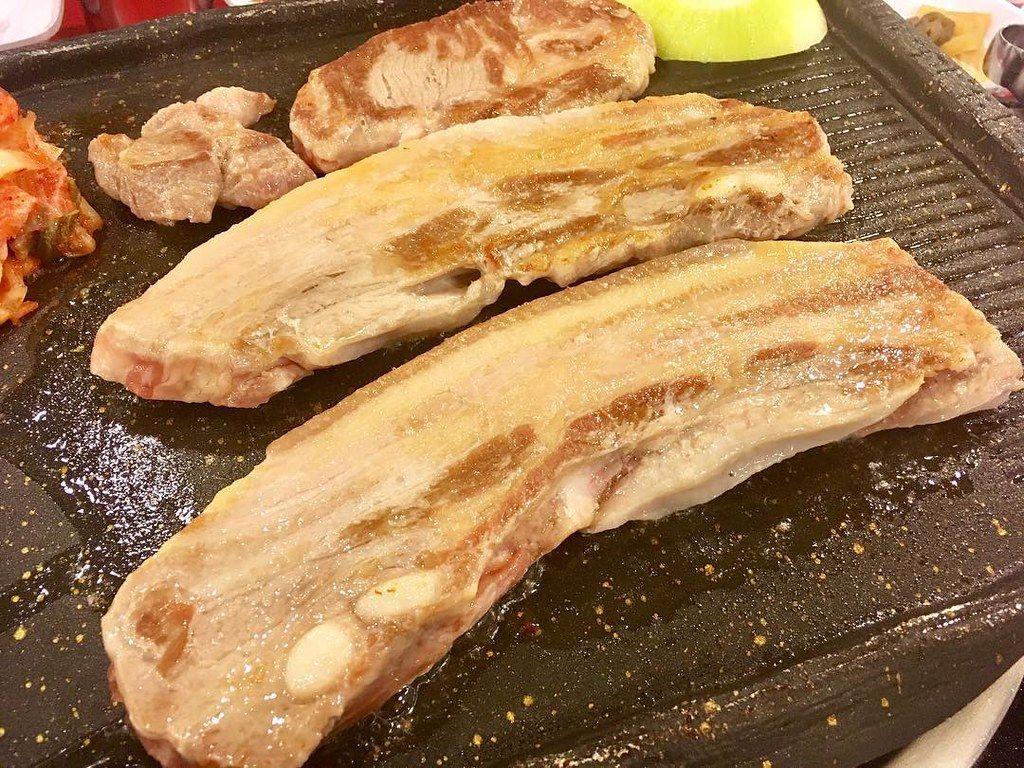 The next explanation can be traced to two points in time: the Japanese occupation of Korea, and the 60s and 70s after Korea had gained independence.
After Japan occupied Korea, the pork industry in the country grew, focusing on exports to Japan.
The Japanese preferred less fatty cuts (used mainly for pork cutlet – tonkatsu), and only the bottom layer of the pork belly could not be exported.
Producers would therefore sell these cuts on the domestic market. The story was similar in the 60s and 70s.
_

3. Pork Was Cheaper Than Other Meat Sources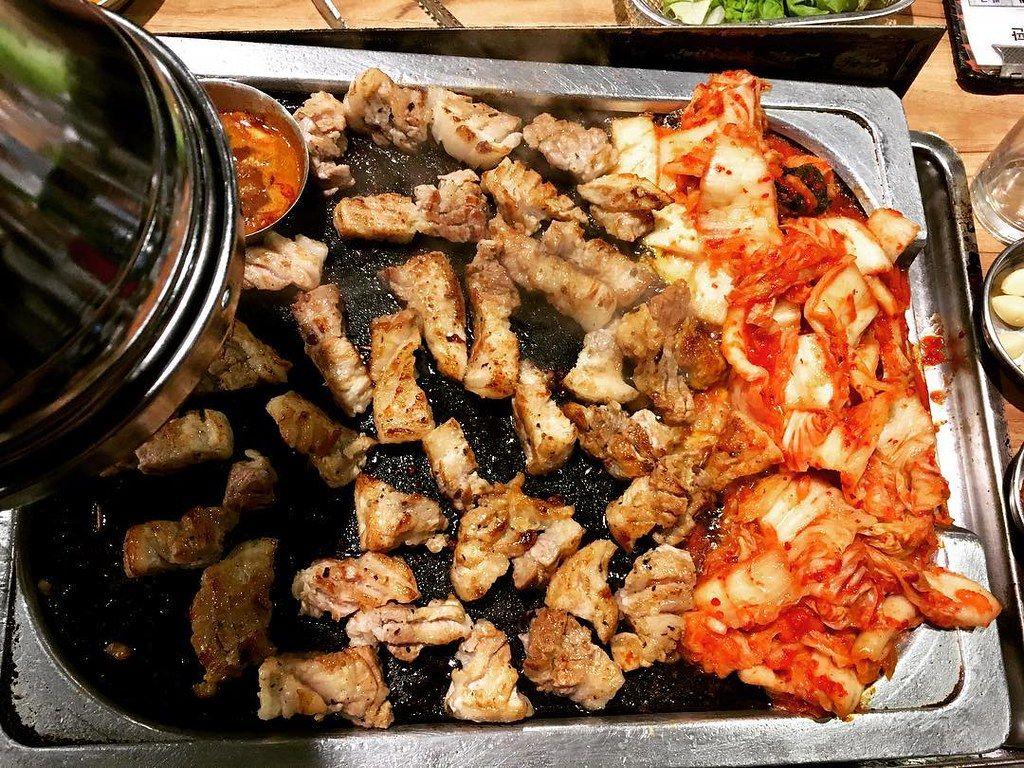 Historically, climate on the Korean peninsula made it difficult to grow a variety of vegetables. The long winters led to Koreans preserving what vegetables they could grow by turning them into kimchi.
In the past, the average Korean would live almost exclusively on a diet of kimchi, bean sprouts and white rice. This led to a lack of protein and other nutrients.
Meat was expensive, and most people couldn't afford if for every meal. But when they did eat meat, they would often chose pork, as it was relatively inexpensive compared to other meat sources.
Containing a lot of fat, pork belly in particular was sold at a lower price. And so samgyeopsal became a dish that came to represent the common people.
---
HOW TO EAT SAMGYEOPSAL

Many of our readers will already be familiar with the dish, and you are probably aware that there will more than meat on the table at samgyeopsal restaurants.
Let's have a look at how to eat like a Korean!
_

1. Different Kinds Of Grills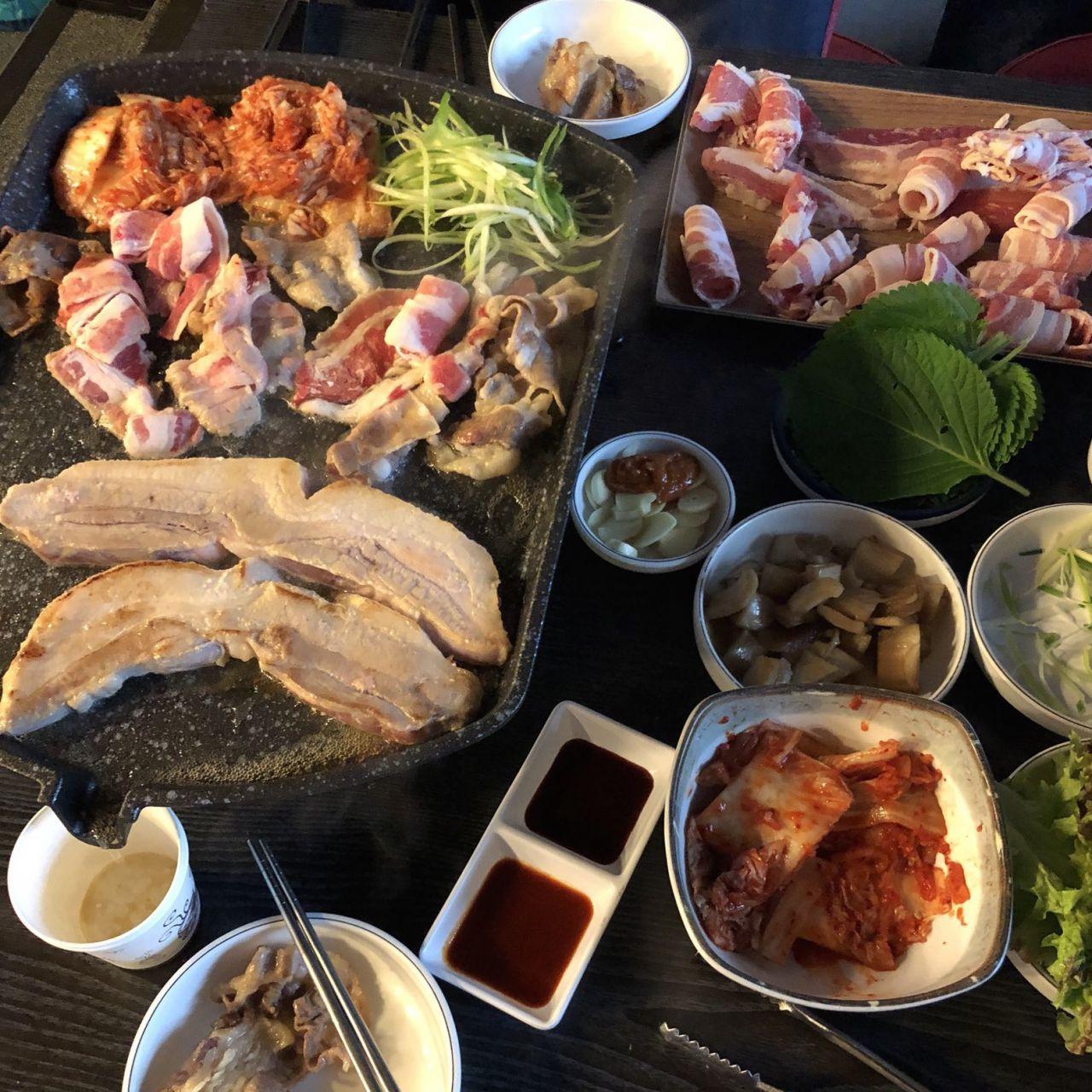 There are two main ways of doing Korean barbecue: either grill it directly on a charcoal grill or a on a table grill pan. The grill pans come in two different shapes.
The first is slightly tilted to allow the fat of the meat to drip to one side.
The other one (see the picture below) is disc-shaped with small drain holes for the fat.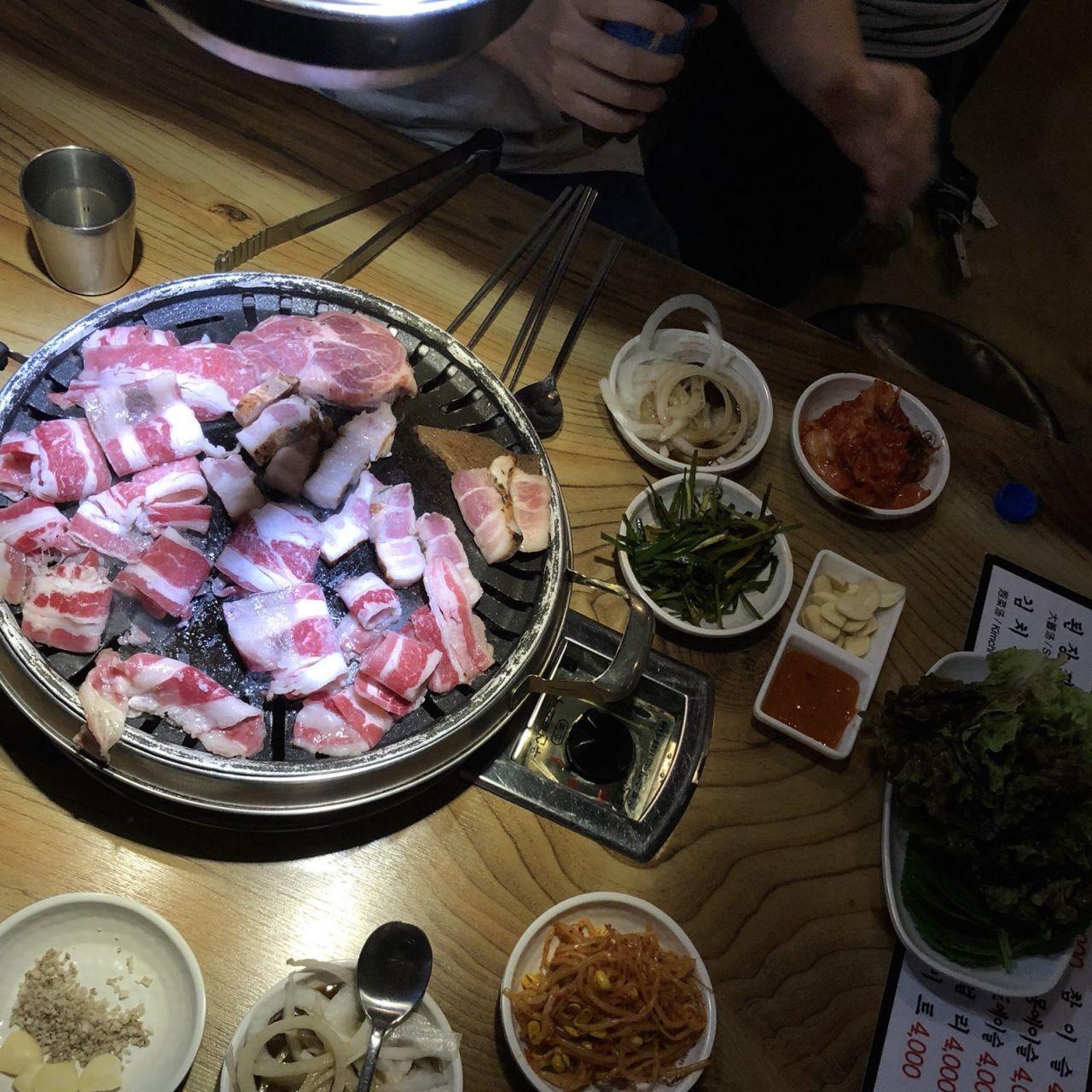 _

2. What Else Is On The Table?
When you order samgyeopsal, it will almost guaranteed come with lettuce, kimchi, sauce and salt. Some restaurants will also give you sesame leaves, pickled radishes, soybean sprouts, onion, garlic and leeks.
If you are lucky, you might even get doenjang jjigae (soybean paste soup) or kimchi soup for free!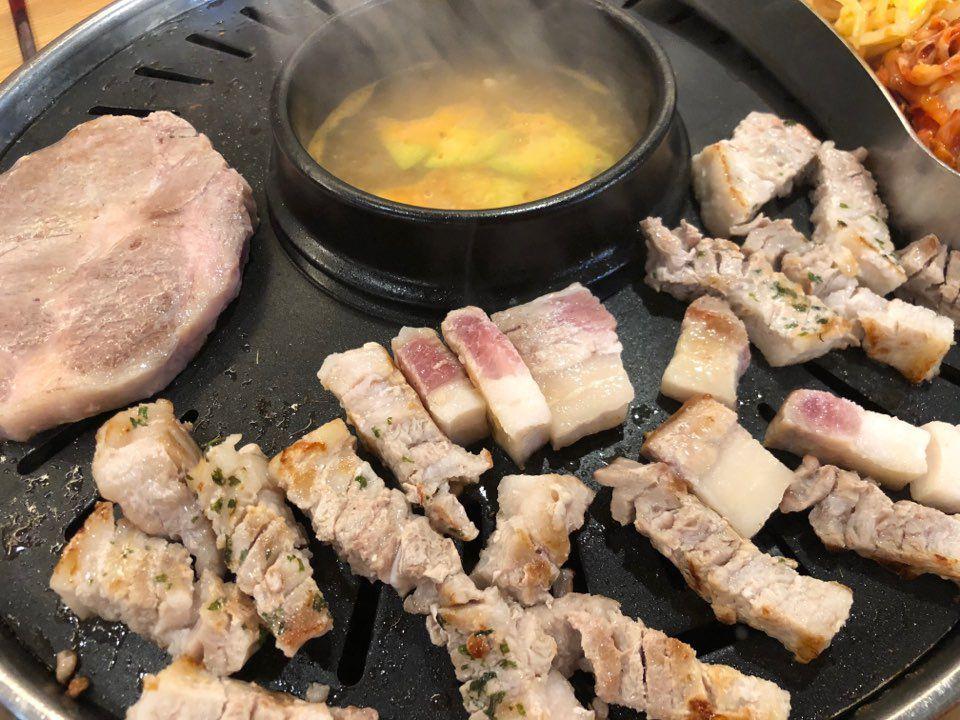 ---
HOW TO BARBECUE LIKE A KOREAN

_

1. Grill Until The Meat Is Slightly Charred, Then Cut It.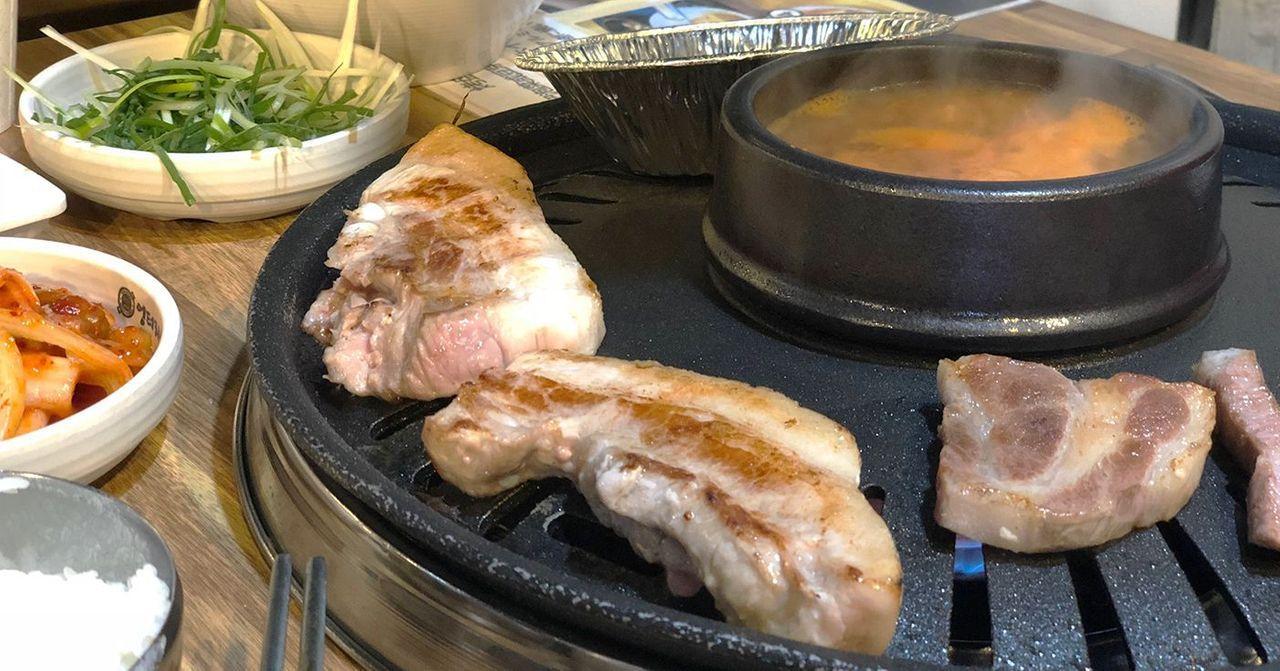 Koreans generally prefer to grill the meat strips until they turn a golden brown, after which they cut it with scissors. Cut too early, and you might get scolded!
_

2. Roll Up The Meat In Lettuce With Other Vegetables.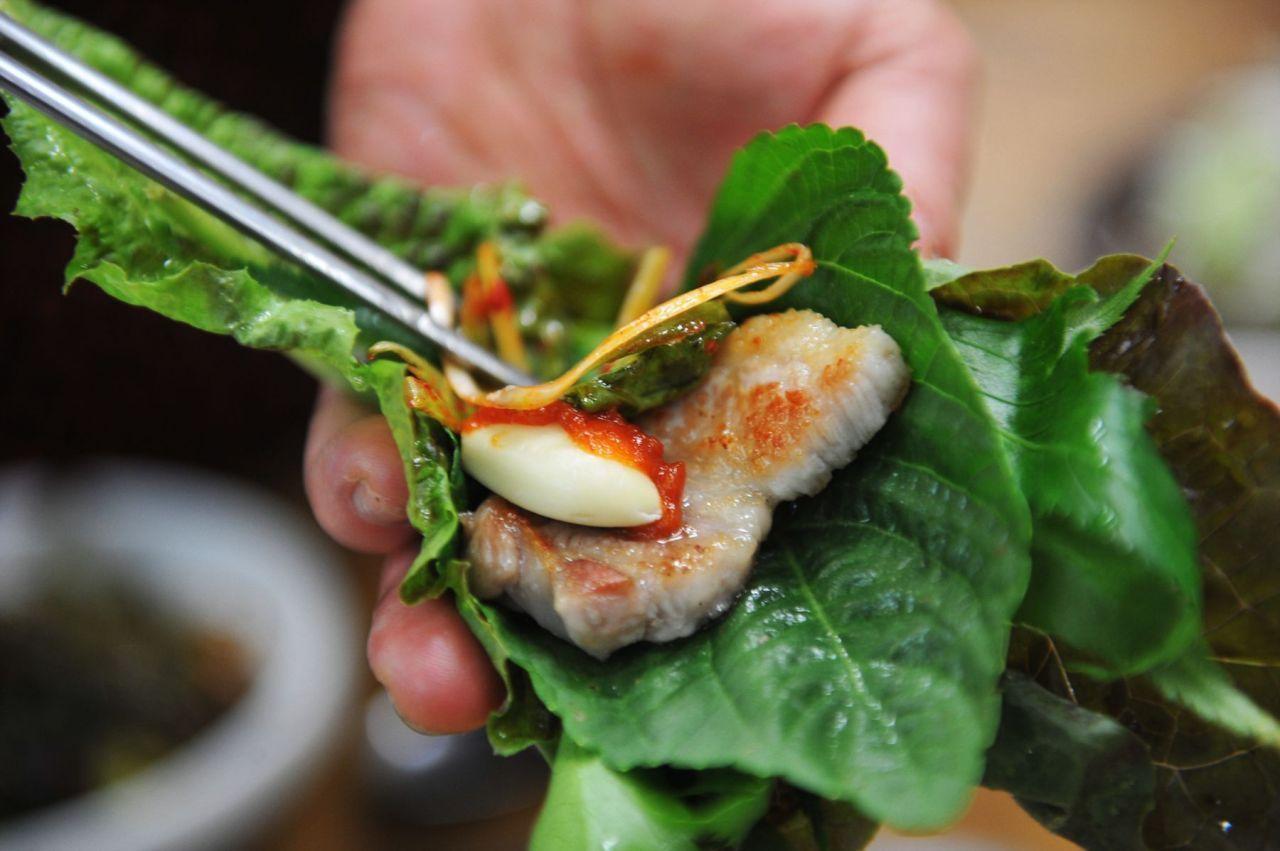 bbkk.kr/stay/view/2899
Once the meat is ready, you usually place it into a piece of lettuce. You can also place it into a perilla leaf, although not everyone loves the herbal flavors of the leaf.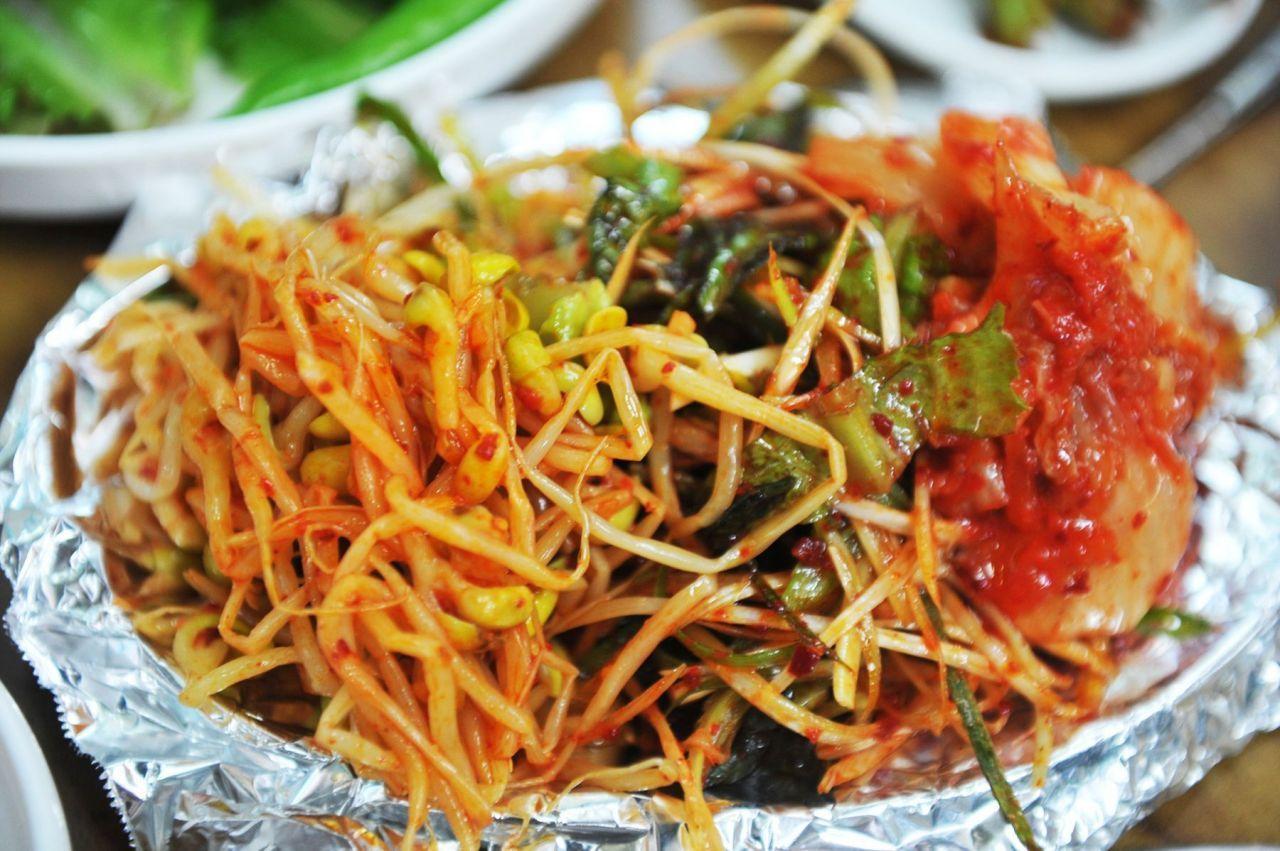 bbkk.kr/stay/view/2899
Now for the topping!
You can add kimchi, garlic, soybean sprouts, leeks and scallions to your roll.
If you add too much, it might be difficult to properly close the wrap, but this is something you will learn by trial and error!
_

3. Dip it! Sauce Or Sesame Oil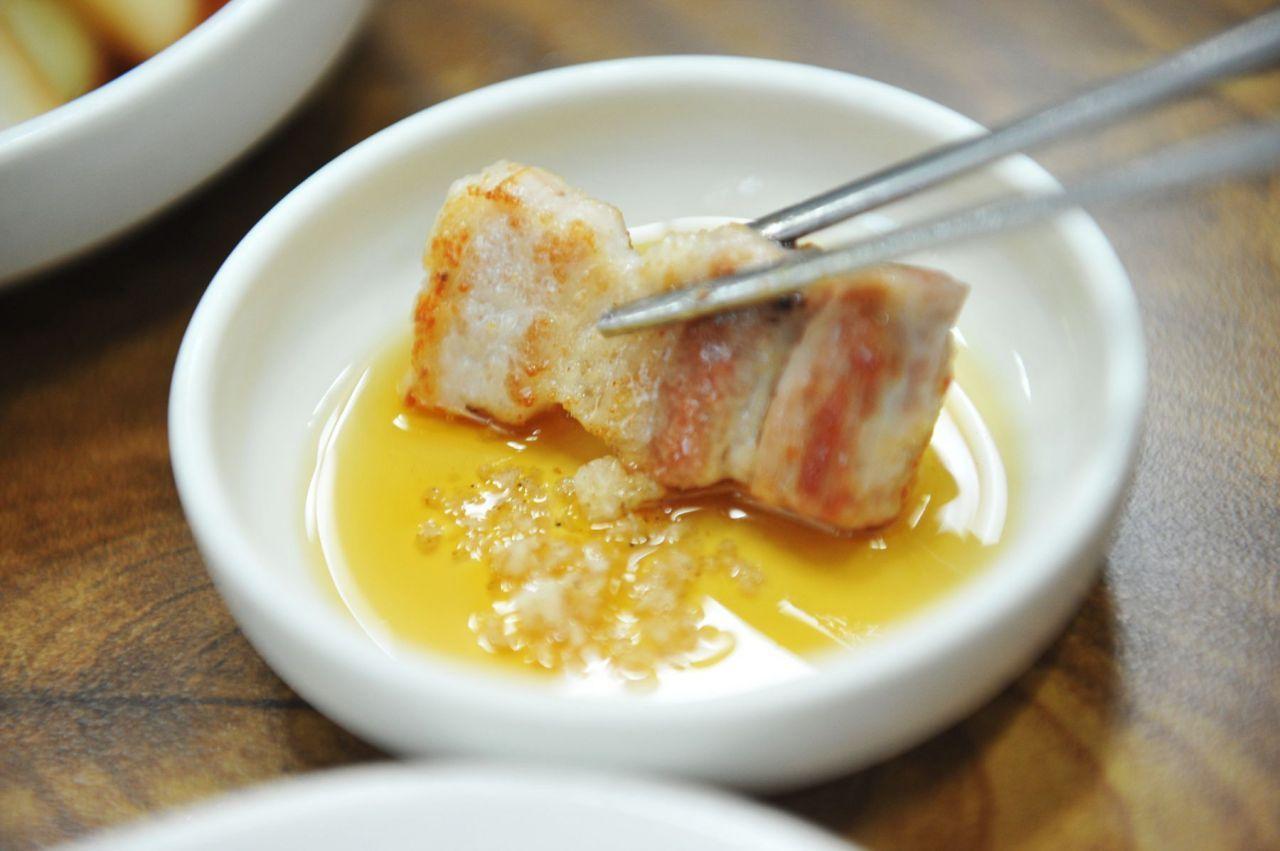 bbkk.kr/stay/view/2899
You can dip the meat in ssamjang (slightly spicy dipping sauce) or sesame oil with added salt.
This adds another taste layer that to many is essential to the samgyeopsal experience.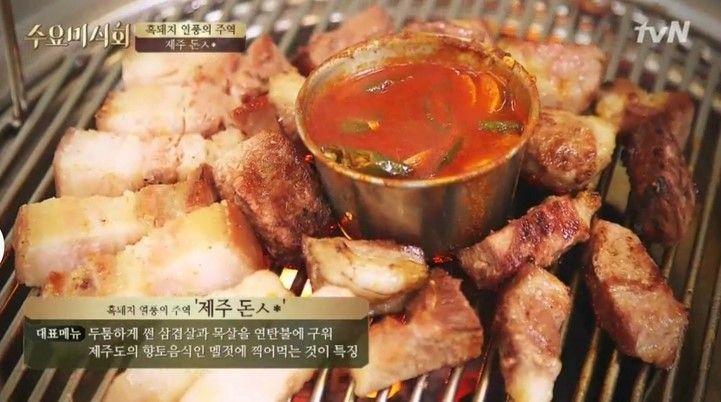 Some restaurants also offer soybean paste and salted baby shrimps as dipping alternatives.
Dipping the meat in salted shrimps is popular on Jeju Island, and you might have to inquire for it if you go to a restaurant in Seoul.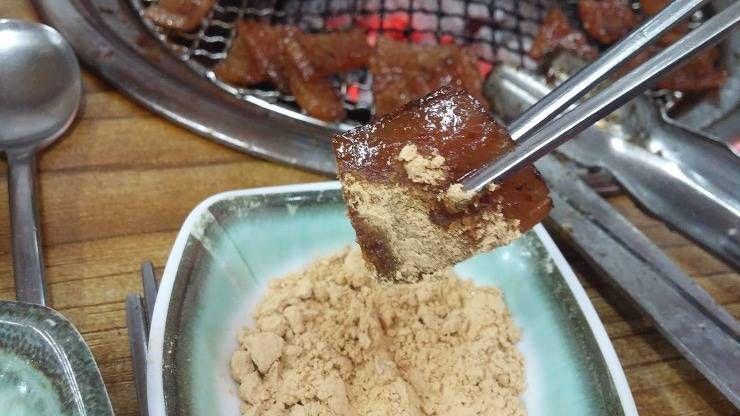 Should you order pork rind along with your pork belly, you will likely be provided with soybean flour, which goes great with the skin!
_

4. Grill Your Kimchi!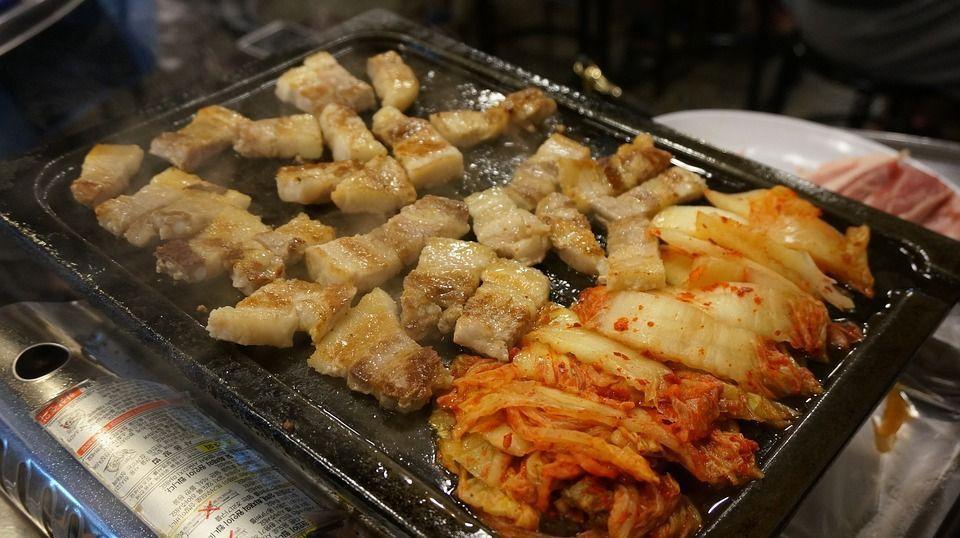 You will always be provided with kimchi when you order samgyeopsal.
You can eat it as it is, but the taste experience will further increase If you put the kimchi on the grill together with the meat. The same goes for garlic and other vegetables.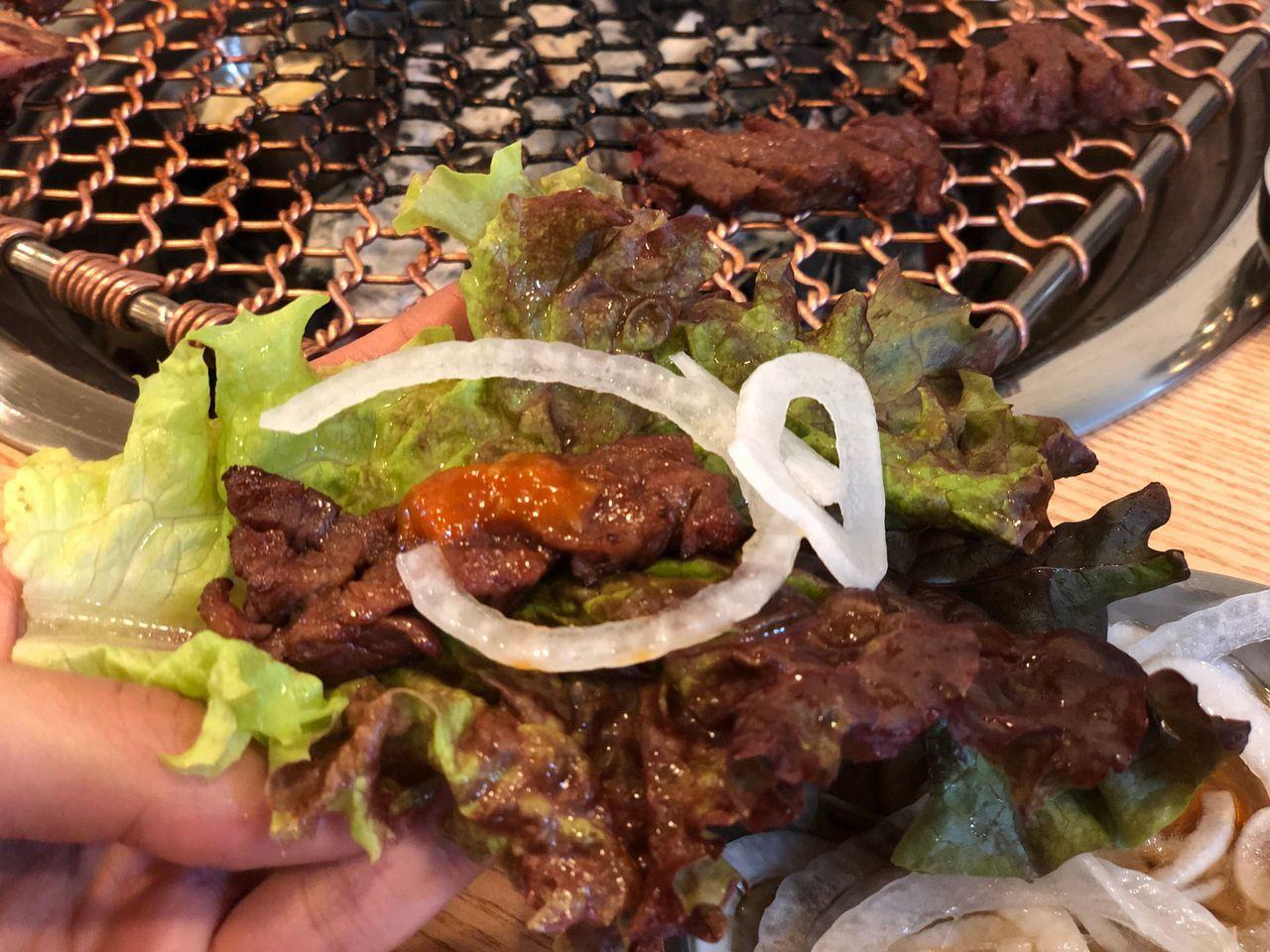 Plates made from metal with kimchi and other side dishes can be put directly on the grill pan.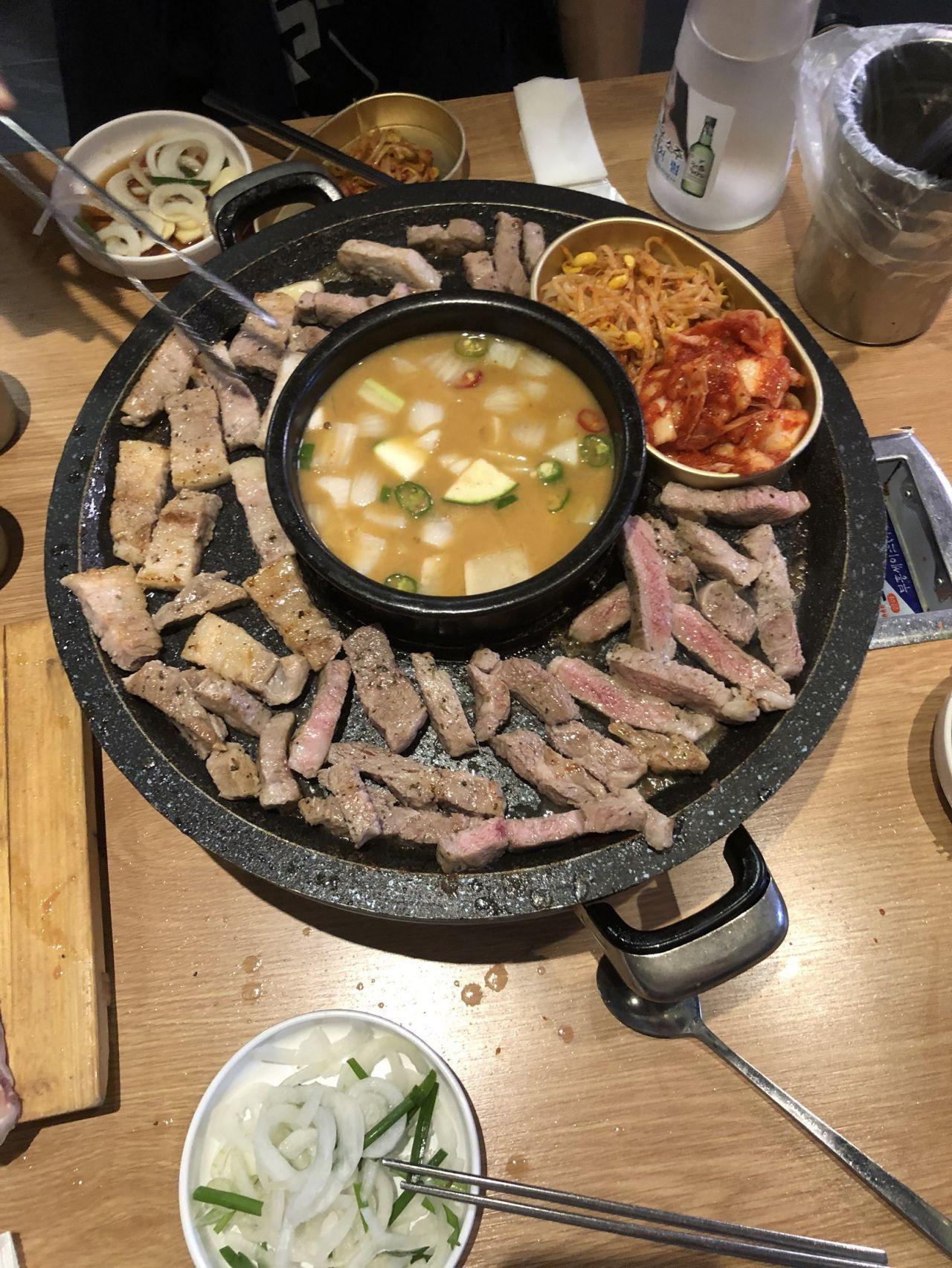 If available, you can also put some sesame oil in one of these metal plates and fry your garlic in them!
_

5. Cold Noodles & Fried Rice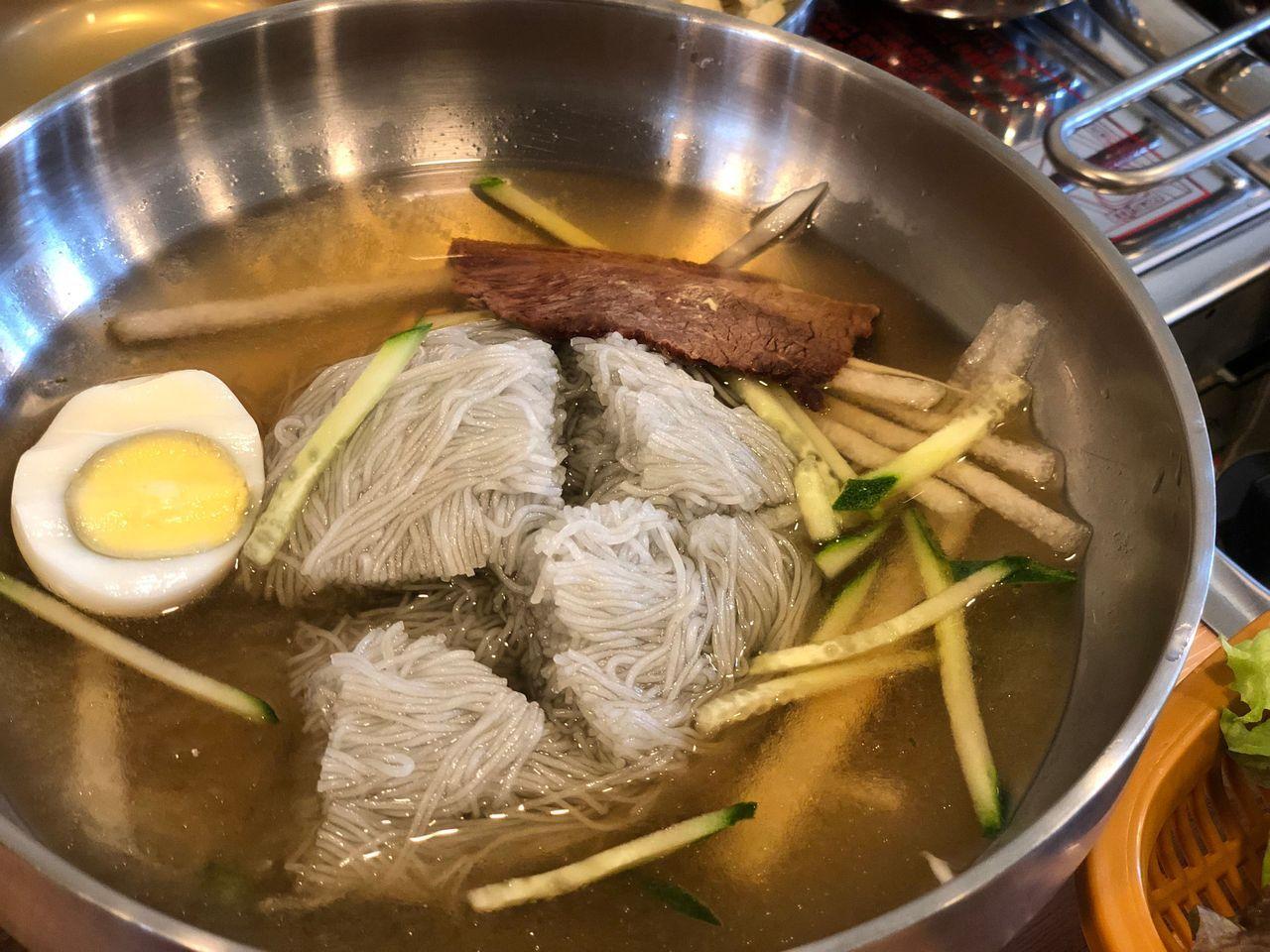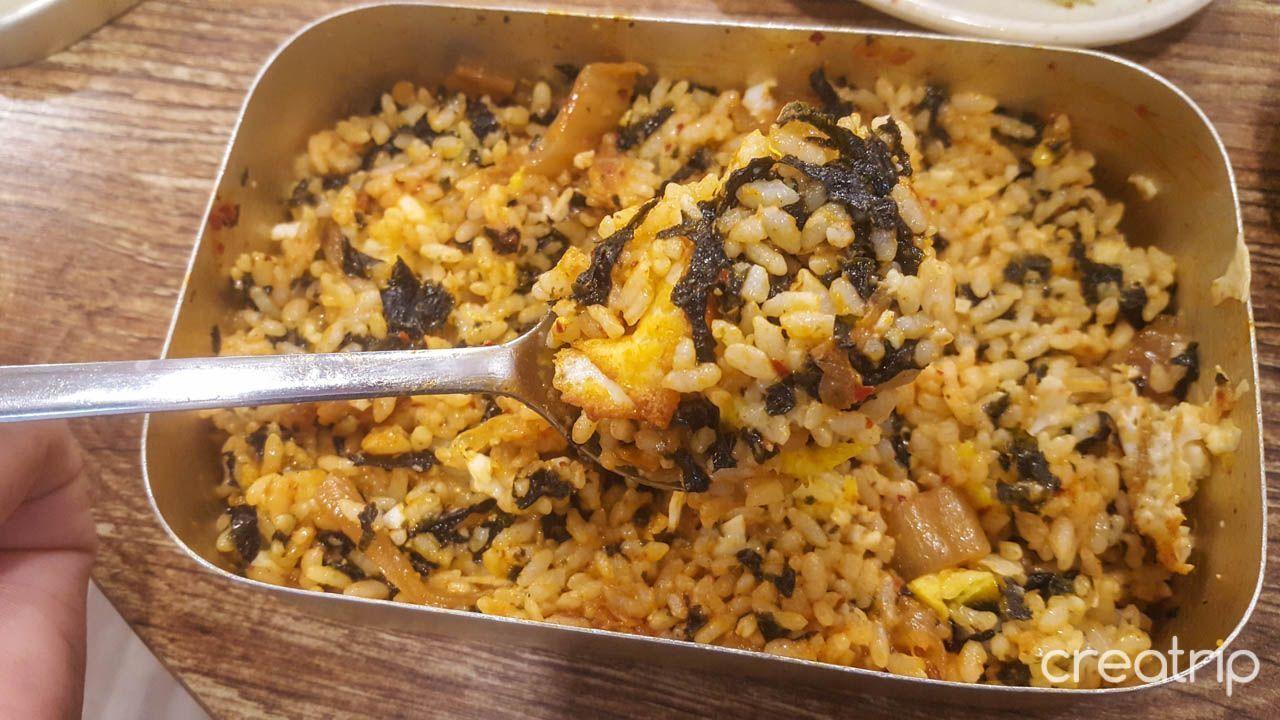 Most samgyeopsal restaurants will also have cold noodles and fried rice on their menus. Cold noodles pairs great with grilled pork belly!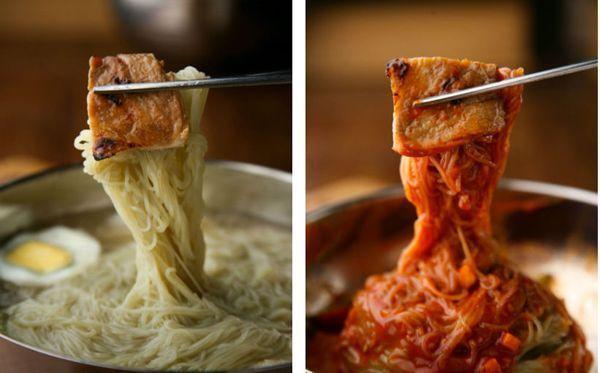 If you're not a fan of cold noodles, you can order fried rice instead. In some cases, you can get it in a kind of lunch box, which you shake well before opening.
But in most cases you fry the rice on the grill plate.
_

6. Rice & Soups
On most tables in Korean barbecue restaurants you will find rice as well as soups that go with the barbecue.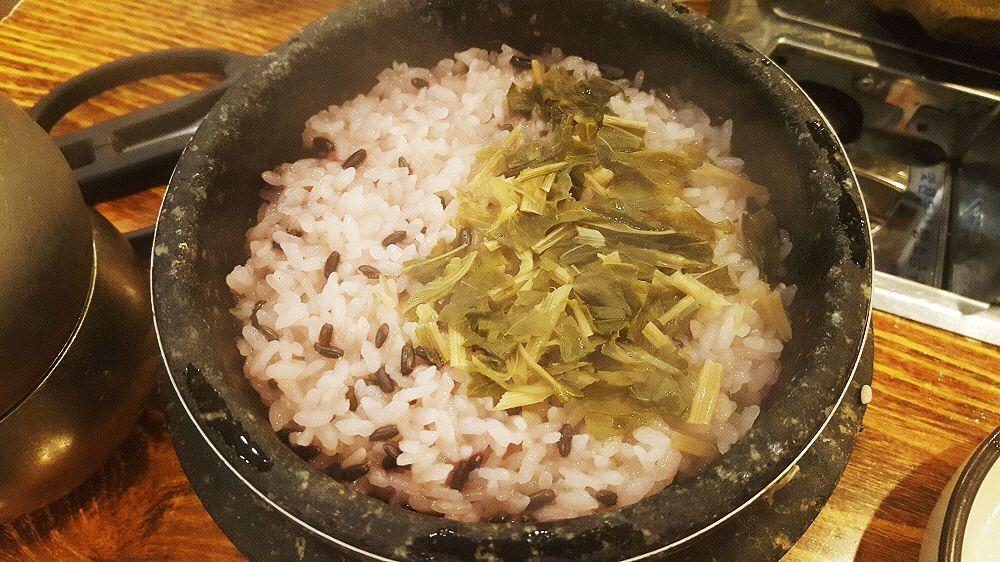 Some restaurants will give you a bowl of boiling hot soup for free, whereas you need to pay extra in other places.
The most common soups are doenjang jjigae (soybean paste soup) and kimchi soup. Usually you will have to pay extra for a bowl of rice.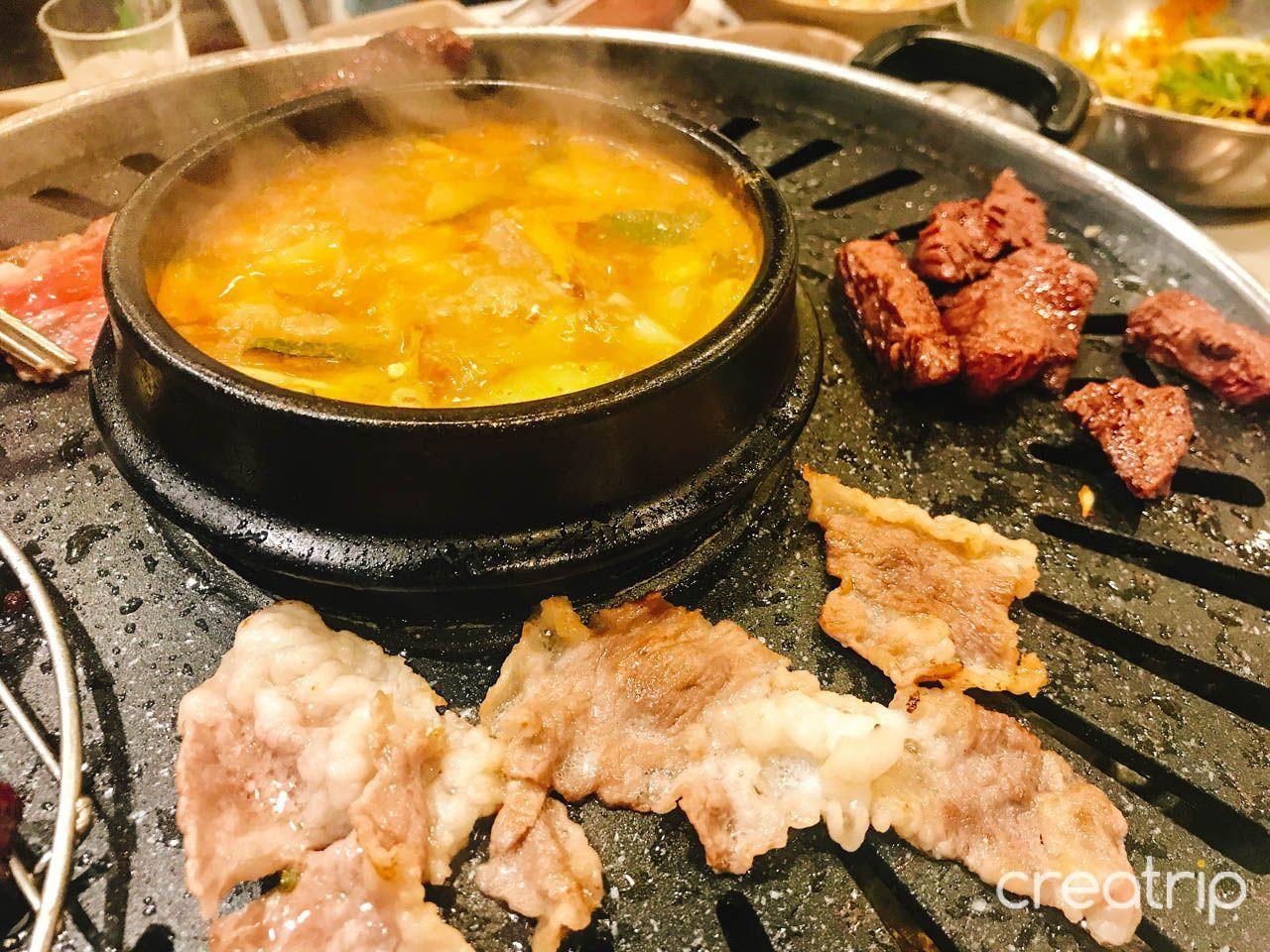 ---
SAMGYEOPSAL DAY (삼겹살데이)

More than ten years ago, the Korea Livestock Association established a Samgyeopsal Day to promote domestic pork belly consumption.
Samgyeopsal (삼겹살) literally means three-layered meat, a trait of the pork belly cut. Referring to the three layers, they chose to establish Samgyeopsal Day on March 3,
---
WHAT TO DRINK

If you have been to a restaurant in Korea, you will likely be familiar with the green bottle on the picture below.
These are soju bottles, the most popular alcoholic drink in South Korea. You see empty bottles lined up on the tables, with many more in the fridges.
Koreans love their drinks, and regardless of day of the week or time of the day, chances are that you will spot people merrily drinking when you enter a restaurant.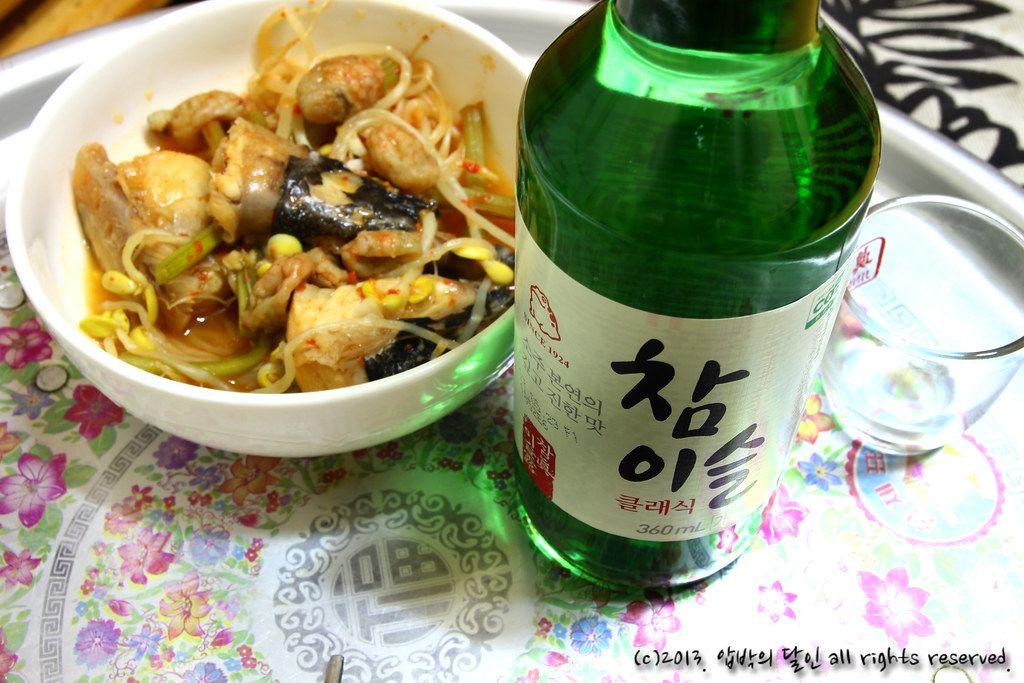 Chamisul Soju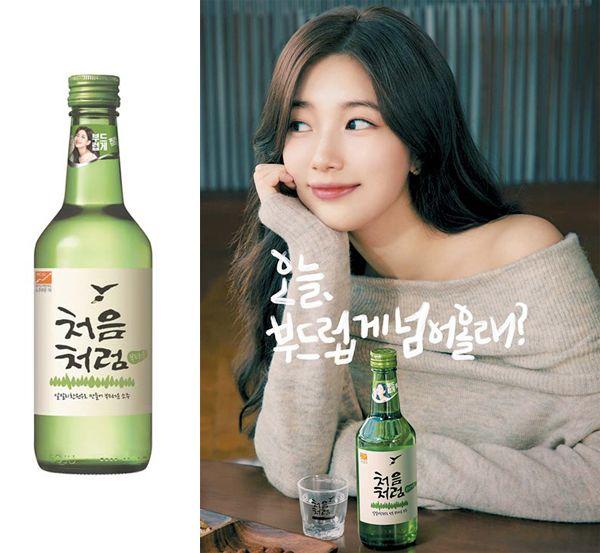 Cheoeum-Cheoreom Soju

Good Day, A Soju Brand Popular In Busan
There are many different soju brands in Korea. The most popular one is Chamisul, followed by Cheoeum-Cheoreom.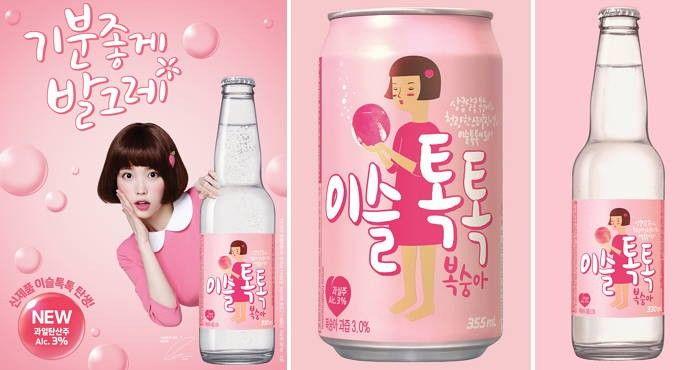 IIsul TokTok, A 3% Carbonated Alcoholic Drink With A Peach Flavor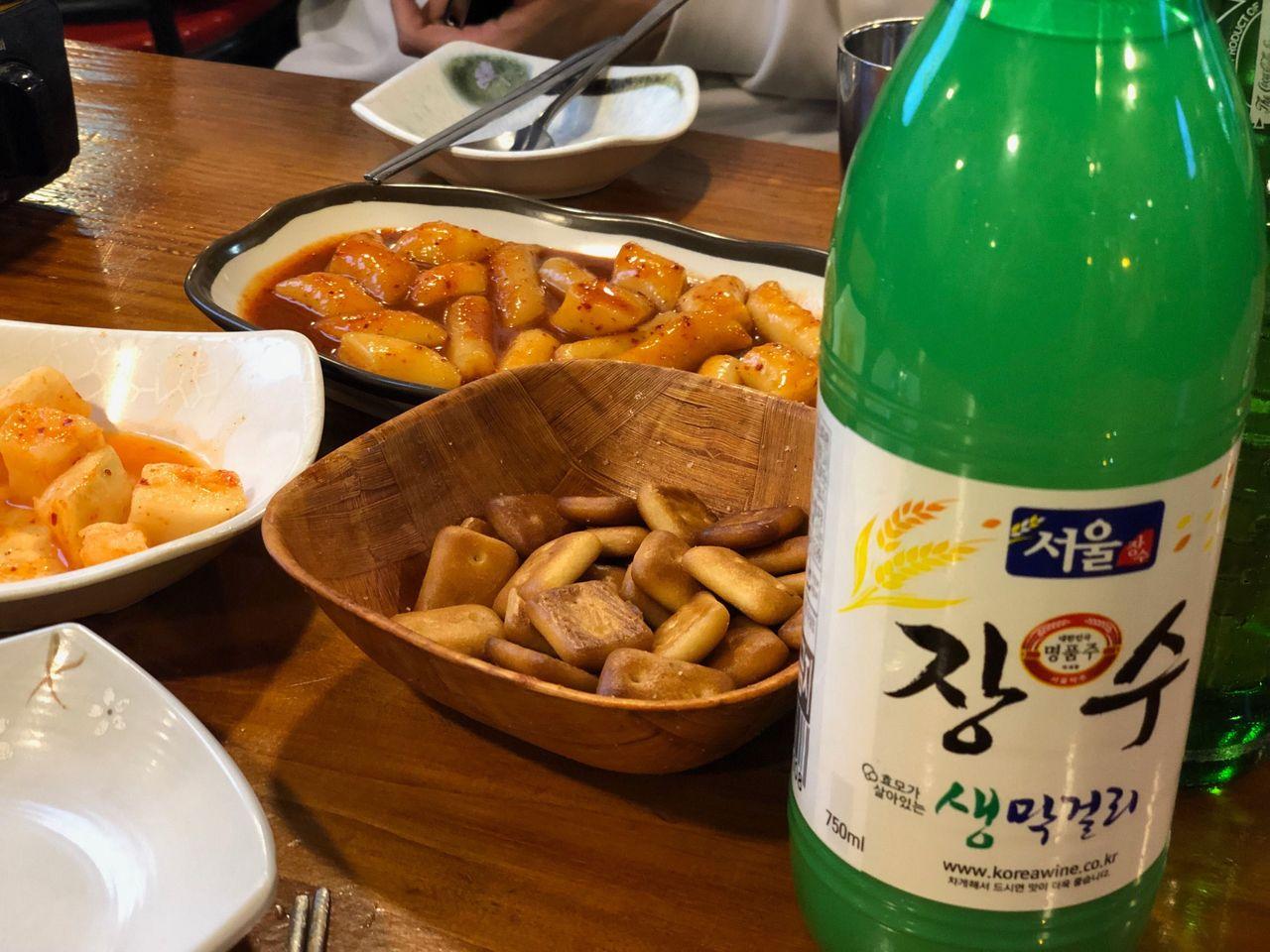 Makgeolli
Other popular alcoholic beverages include makgeolli rice wine, low-alcohol fruit flavored drinks and flavored soju (grapefruits and grape flavored soju are quite popular).
---
SOMAEK

Another very popular drink in South Korea is somaek (소맥), a mix between soju and and beer.
Many will argue that mixing the drinks create an whole that is better than the parts. But beware, depending on how much soju you add to the mix, it can get you drunk very quickly.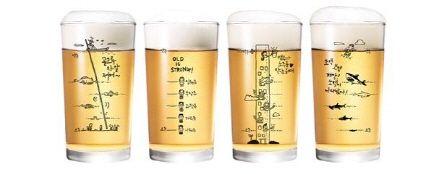 Koreans will fill the soju glass to 60 or 70 percent, pour it into the beer glass, and then fill up with beer.
Then they strike the bottom of the beer glass with a spoon or use chopsticks to mix the drinks and create a thin foamy head.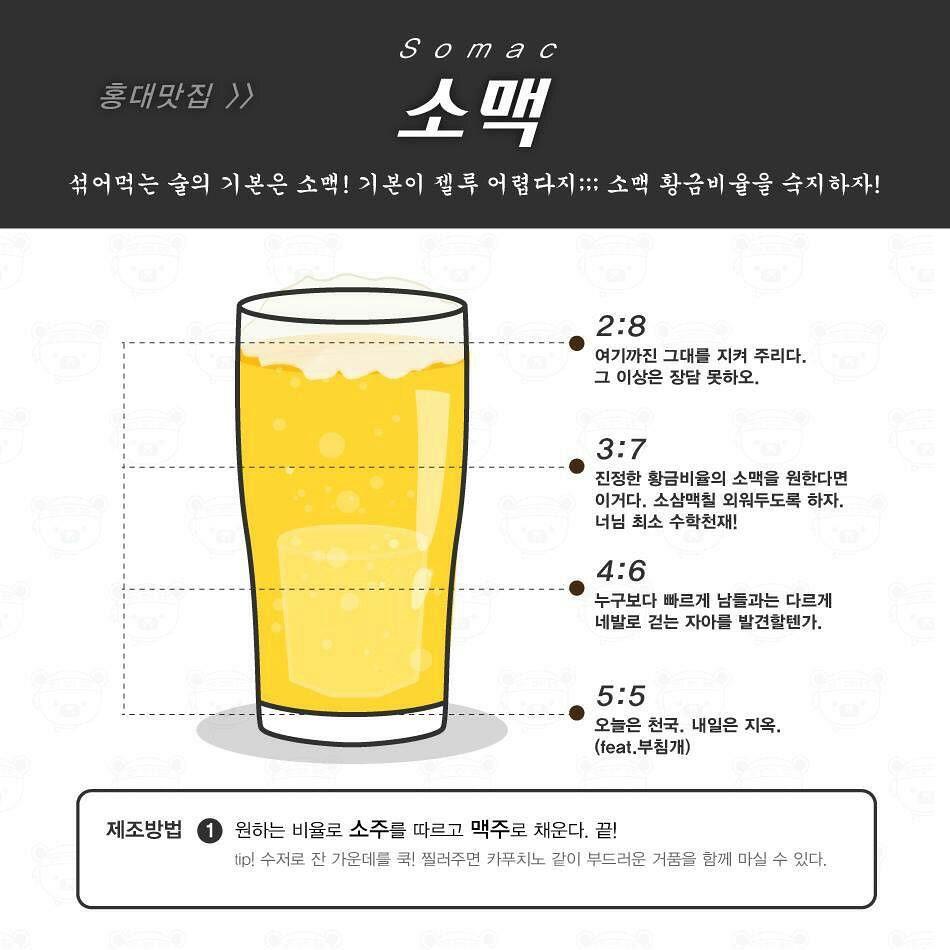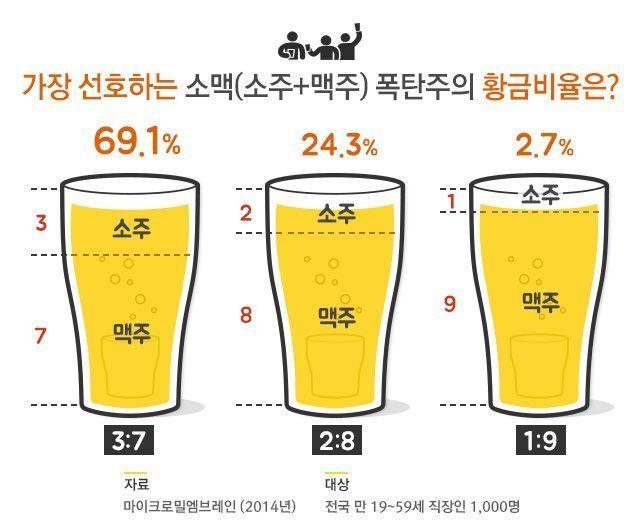 news.tongplus.com
A survey on the topic showed that most Koreans prefer their somaek in the ratio 3:7 of soju and beer.
That's about what you get if you add one cup up soju and fill up the rest of the glass with beer. What ratio do you prefer?

That wraps up this article about samgyeopsal. Now you know how to enjoy grilled pork belly like a Korean!
---
If you have questions or comments about the blog post, please leave a comment below or email us at support@creatrip.com.