Gwangjang Market | Changsin Yukhoe 4th Branch
Enjoy a delicious meal of yukhoe and mung bean pancakes at one of Gwangjang Market's most popular restaurants without waiting in line!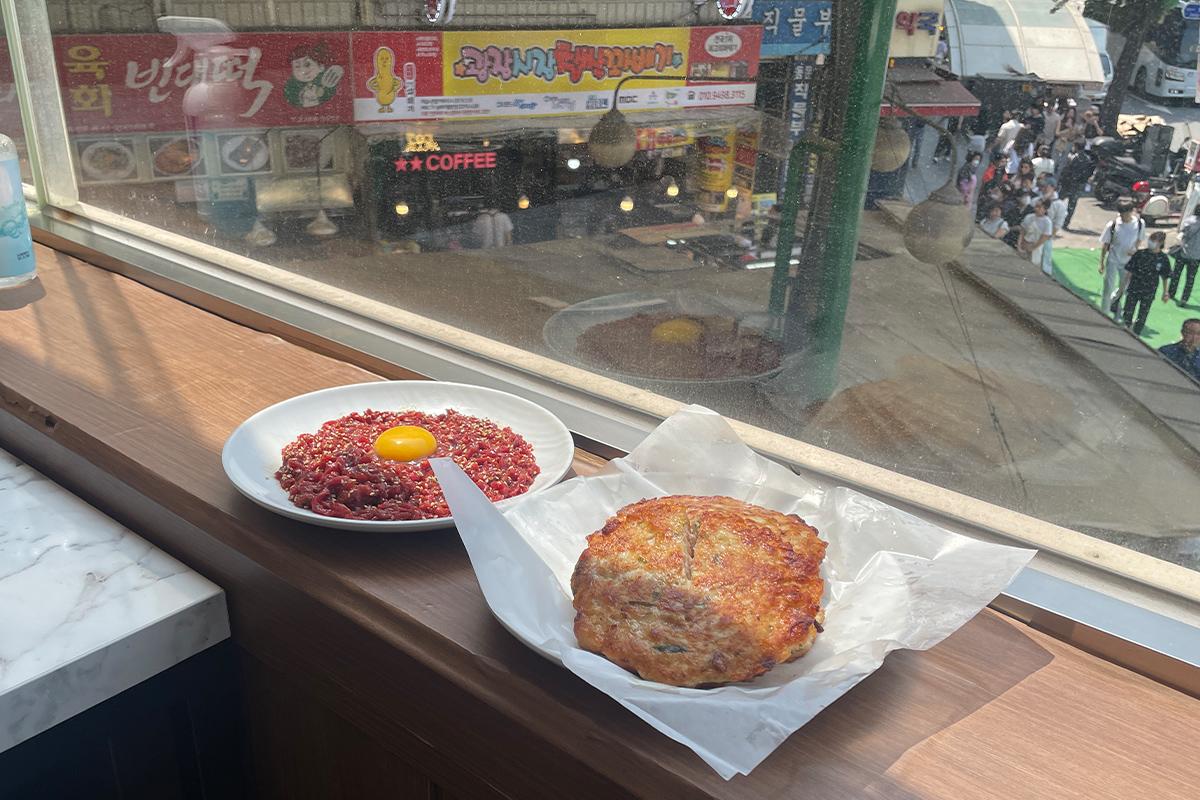 Gwangjang Market, a 100-year-old traditional market in Seoul, is a must-visit destination renowned for its wide array of traditional foods. One delicacy that stands out is yukhoe, a Korean beef tartare, representing an iconic traditional dish. Visitors and locals alike flock to the market, indulging in the finest yukhoe and delectable mungbean pancakes. Among the numerous yukhoe restaurants, Changsin Yukhoe stands as a popular choice, captivating guests with its exceptional offerings. Prepare yourself for a delightful experience at this renowned yukhoe restaurant!
---
Changsin Yukhoe 4th Branch
---
Information
Hours: Tue - Sun 10:00 - 21:50 / Closed on Mondays
Available reservation time: Tue - Fri 11:00 ~ 20:00 / Not available for weekend reservations
Address: 서울특별시 종로구 종로 206, 2~3층
206 Jong-ro, Jongno-gu, Seoul, 2nd and 3rd floor
---
Why We Recommend It
You can have authentic Yukhoe at a beef tartare restaurant located in a 100-year-old traditional market.
Try yukhoe, sashimi, and the infamous Korean moving live octopus, all at once!
You can taste the crispy crust and juicy meat wanja(patty).
Located in the prime location of Jongno 5-ga Station and with an entrance outside of Gwangjang Market, it's easy to find your way.
If you make a reservation through the partnership of Creatrip and Changsin Yukhoe 4th branch, you can enter the restaurant without waiting in line!
---
Things to Keep In Mind
Please make on-site payment for any additional items added beyond the reserved products.
Please select the accurate date and time within the reservation page for smooth progress.
If you are more than 10 minutes late for your appointment, it will be automatically cancelled. Please arrive on time.
Please contact help@creatrip.com for reservation changes or other inquiries.
---
Price
| | | |
| --- | --- | --- |
| Yukhoe (200g) | | |
| Yukhoe + Beef Sashimi Set | | |
| Yukhoe with Live Octopus | | |
| Meat Wanja (3 pieces) | | |
| Mung bean Pancakes with Meat | | |
*Please make a reservation at least 3 days in advance.
Refund Policy
| | |
| --- | --- |
| Cancellation made up to 3 days before visit | 100% refund |
| Cancellation made up to 2 days before visit | Non-refundable |
---
How to Reserve
Step 1


Make a reservation on the Creatrip reservation page.
Reserve Here


Step 2




Please fill in the required information, date, and time of your visit accurately.




Step 3


Your reservation will be confirmed within 1-2 business days after completion.
Reservation changes and cancellations are available up to 3 days prior to the date of use.


Step 4


Please arrive at the restaurant on time for your reservation.
Show your reservation details to the staff upon arrival.


Step 5


Enjoy your meal comfortably.



---
Our Visit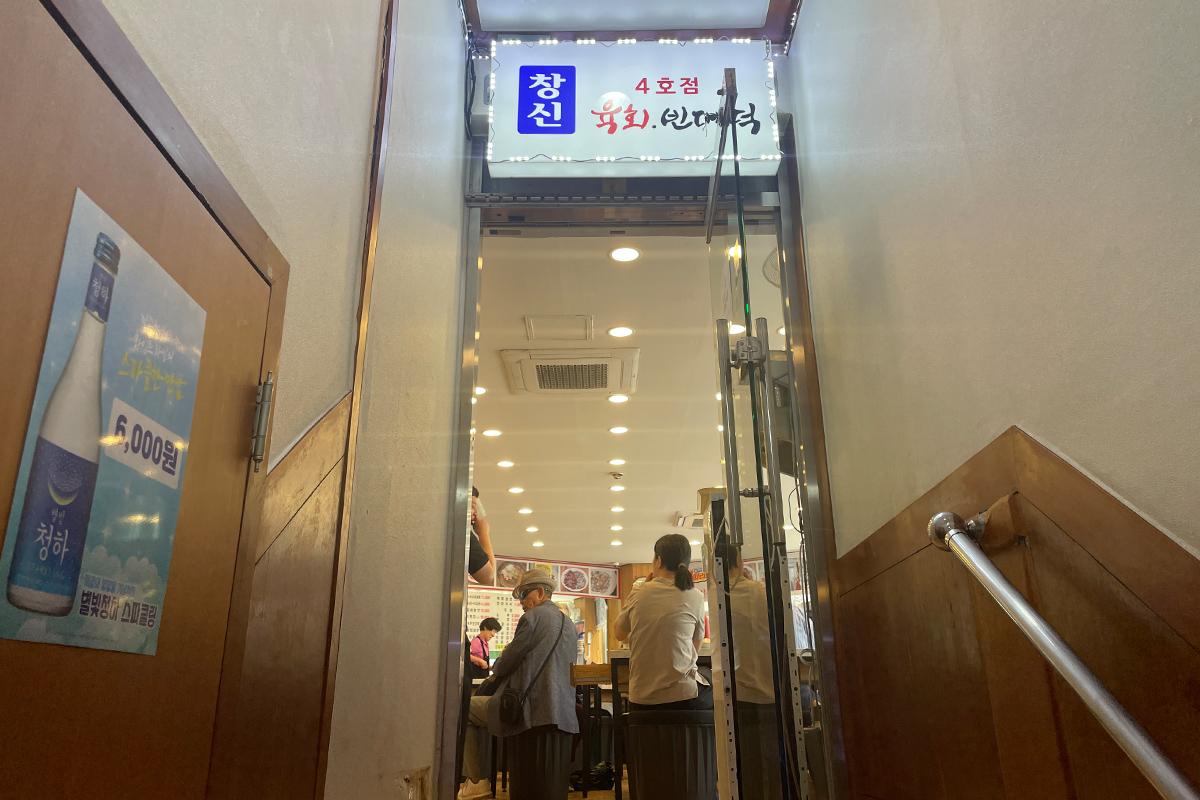 Today, I visited the 4th branch of Changsin Yukhoe located in Gwangjang Market. Changsin Yukhoe has a total of 4 branches and each one has its own unique charm with different owners. There are various menus available other than beef tartare, such as mung bean pancakes, green onion pancakes, and beef tartare rice bowls for meals.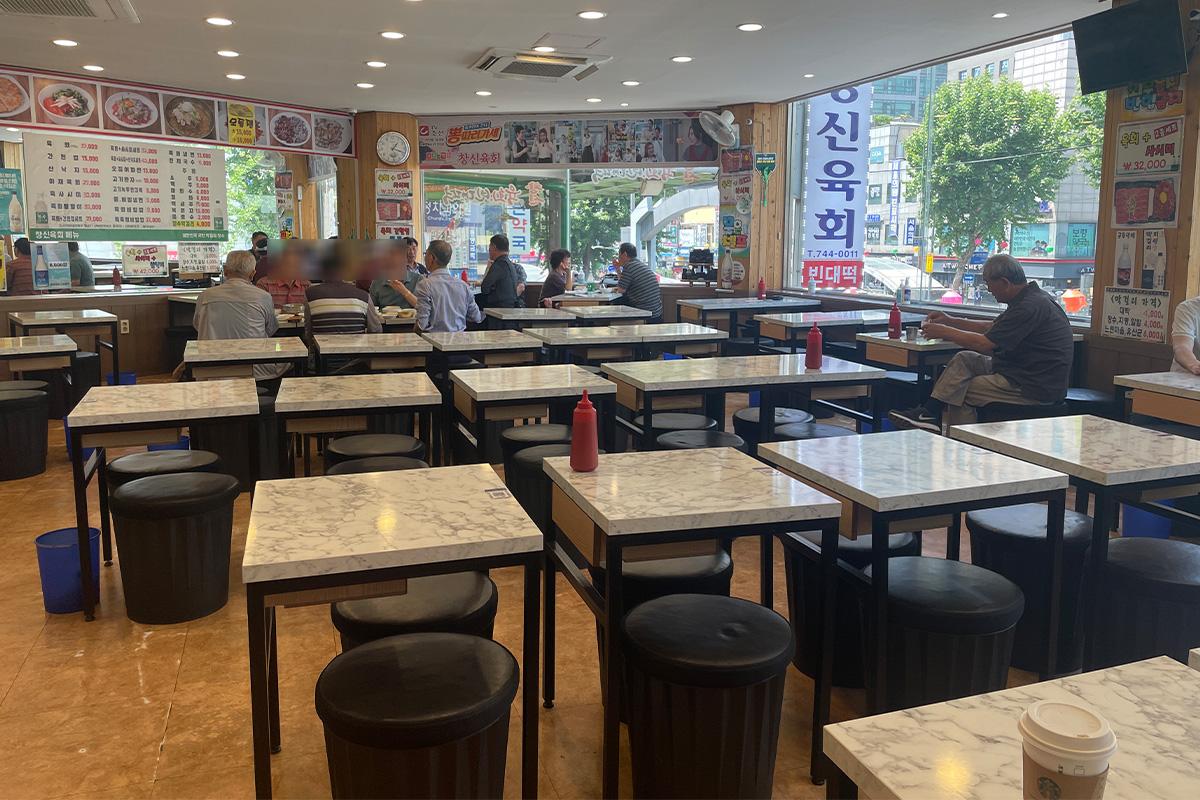 The fourth branch of Changsin Yukhoe has two entrances, one inside Gwangjang Market and one outside. The exterior entrance is located a 2-minute walk from Jongno 5-ga Station Exit 8 and is easy to find. When you go up to the second floor, you will be welcomed by a spacious and pleasant store. The store is spacious, but please note that there is not much space between tables.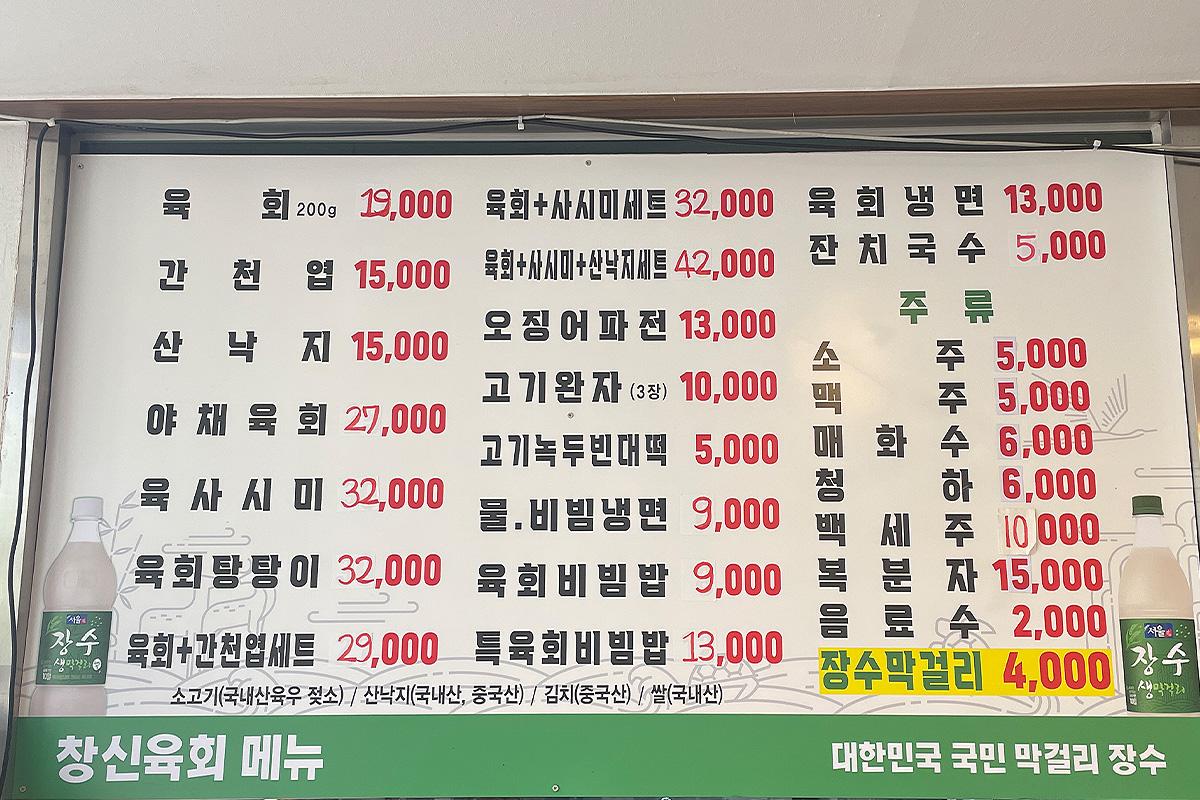 There are menus on the walls in the front and back of the store. When you book with Creatrip, the table will be set up on time, so you don't have to worry about waiting!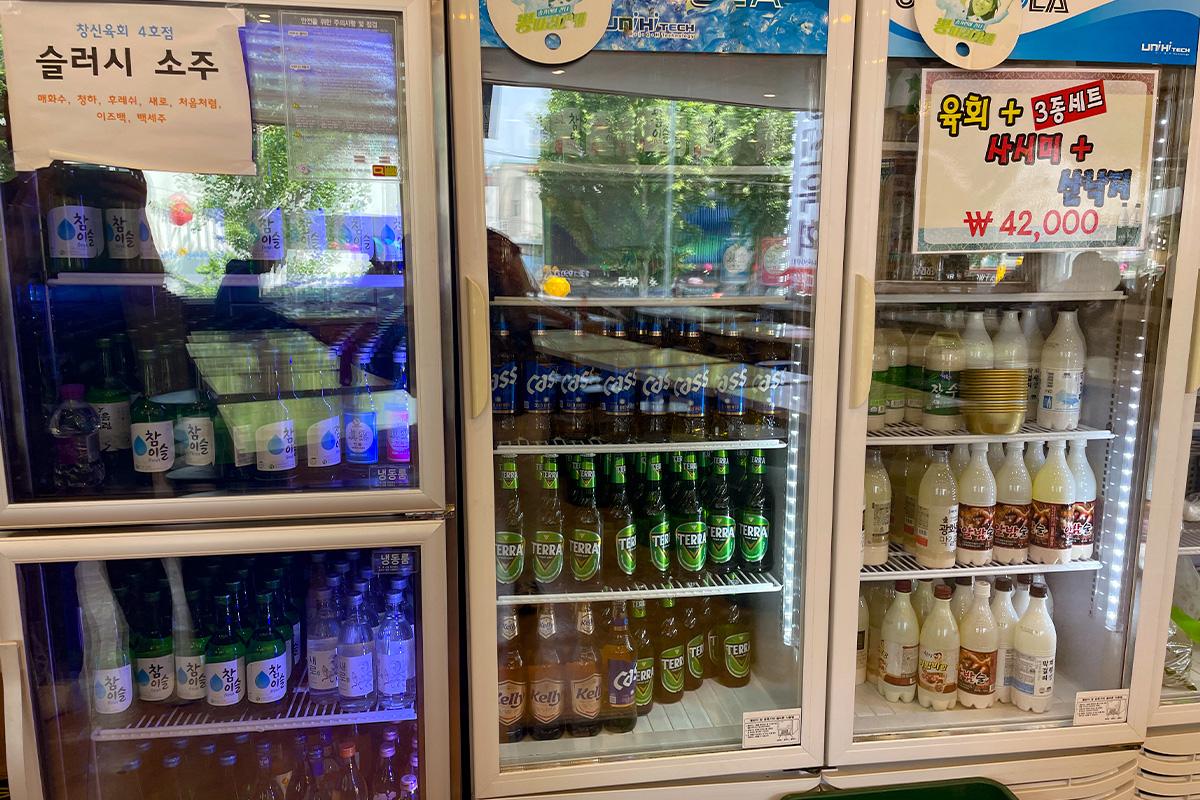 On one side of the store, there is a refrigerator for alcohol. If you order a slushie soju, the owner will make it for you. There are various types of alcoholic beverages such as beer, makgeolli, traditional liquors, in addition to soju, which all pair well with yukhoe.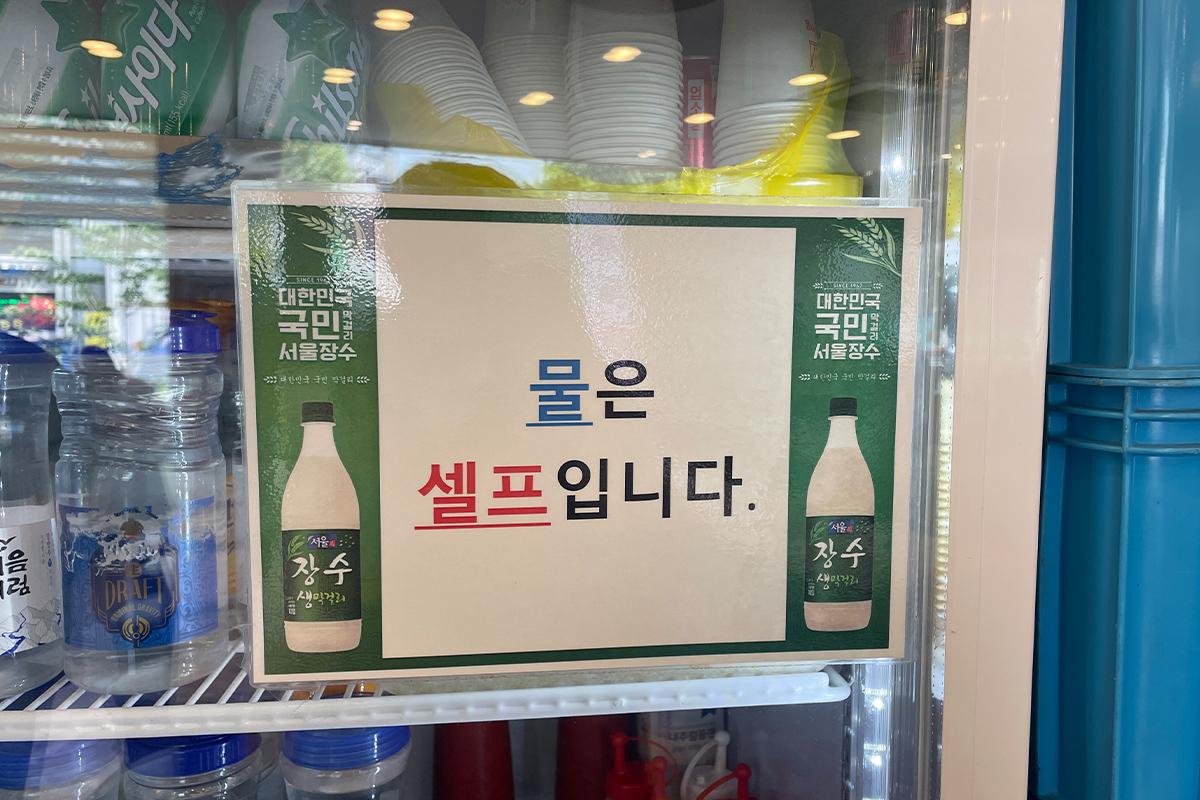 Water is self-served. Take a bottle our of the fridge if you're feeling thirsty.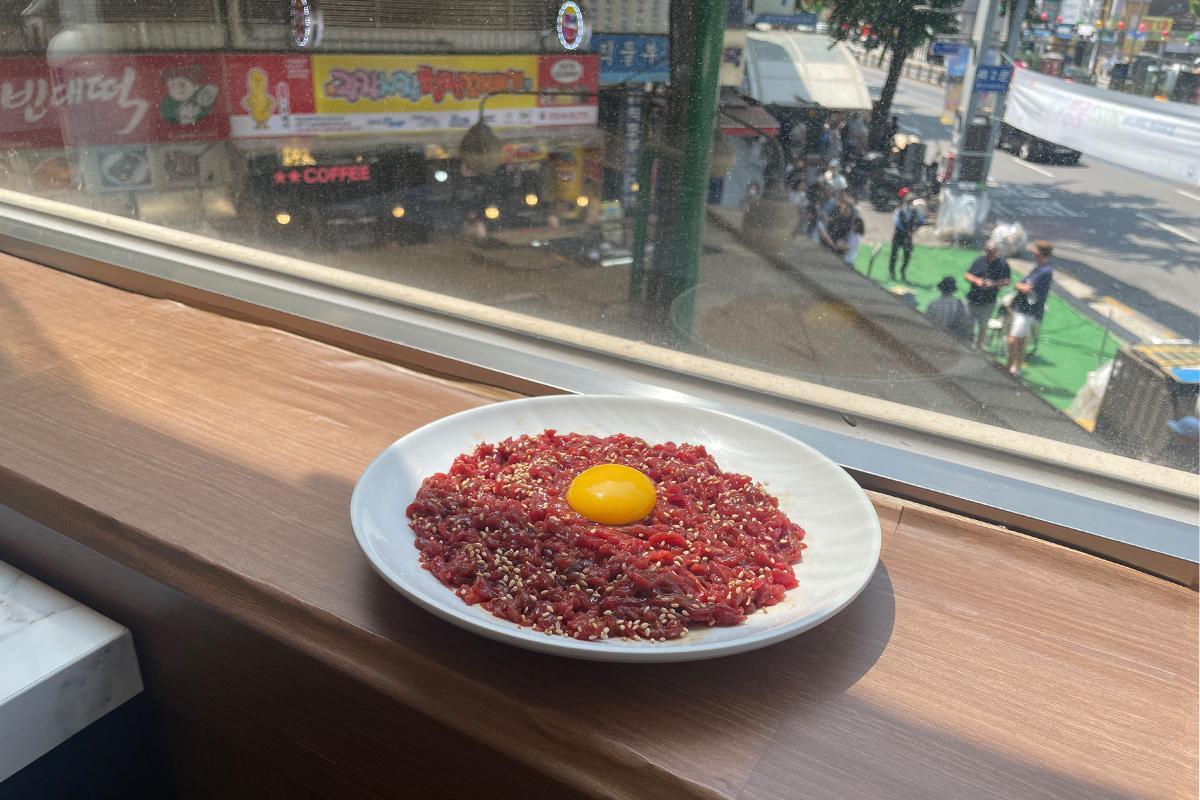 *Yukhoe (200g) 19,000 KRW
*Yukhoe and beef sashimi set 32,000 KRW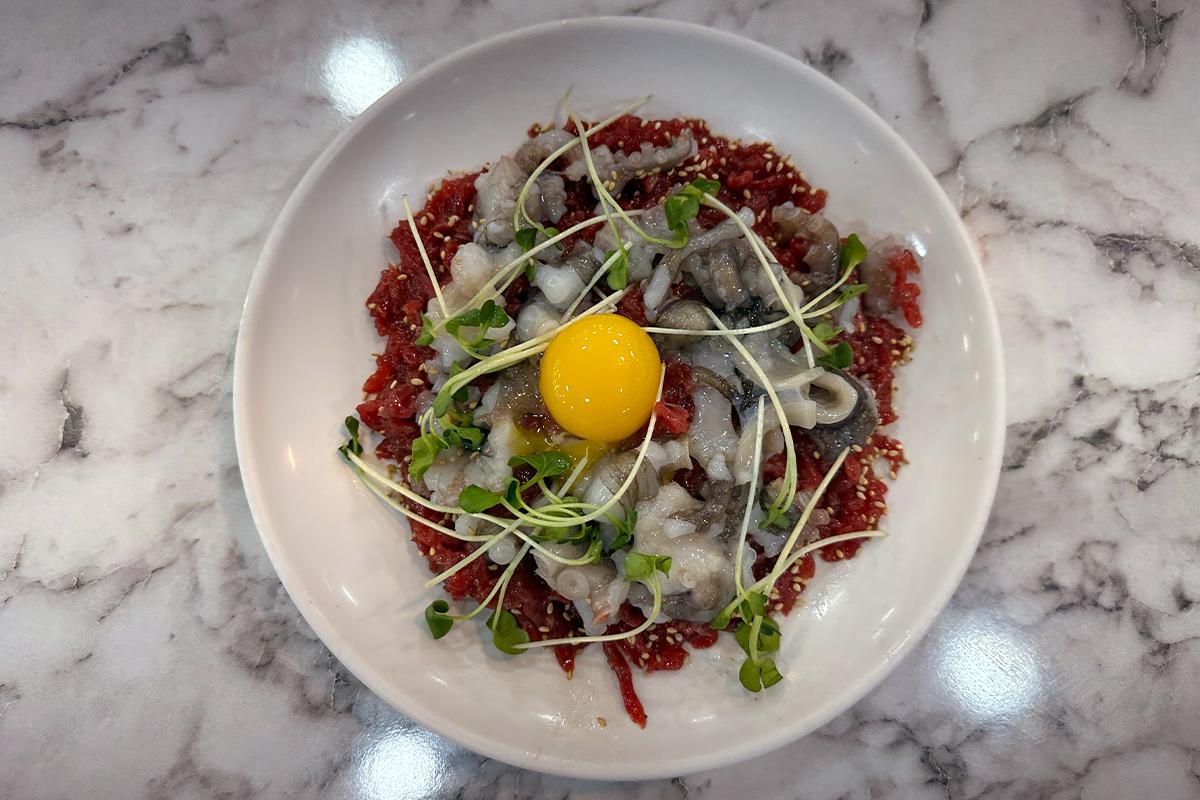 *Yukhoe wiht live octopus 32,000 KRW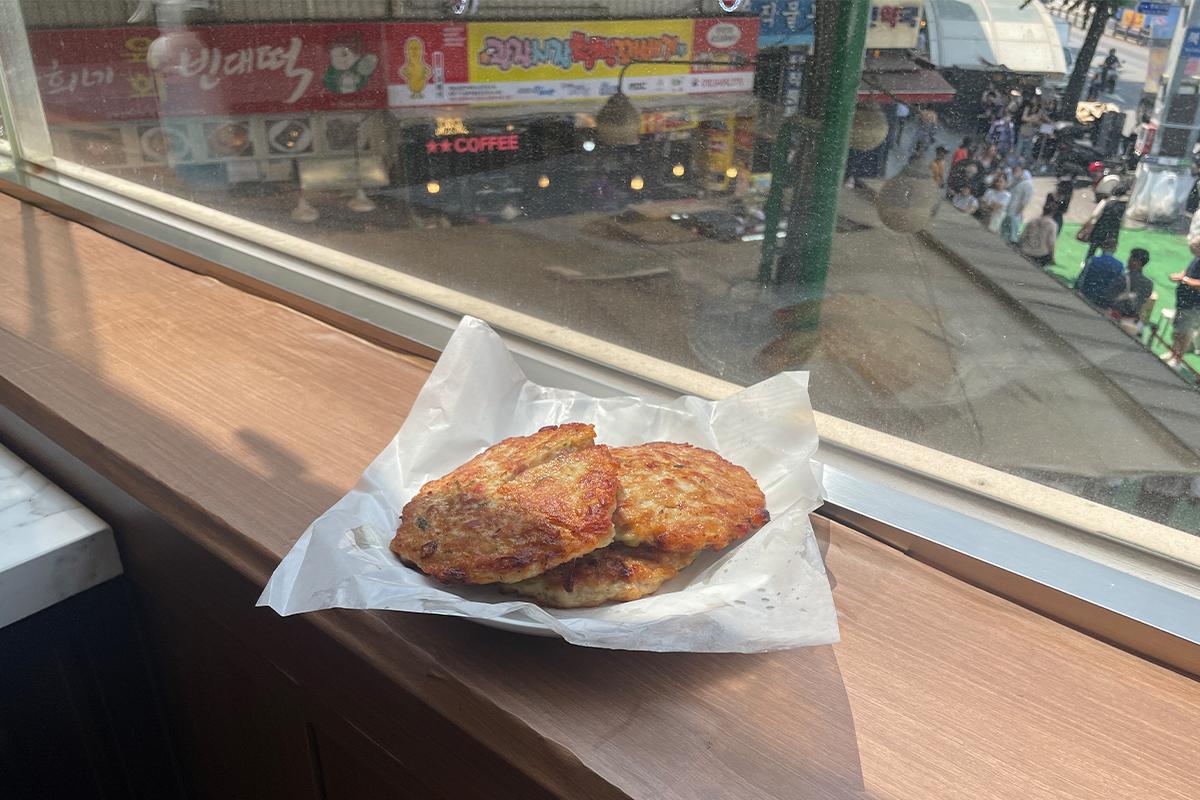 *Meat Wanja (3 pieces) 10,000 KRW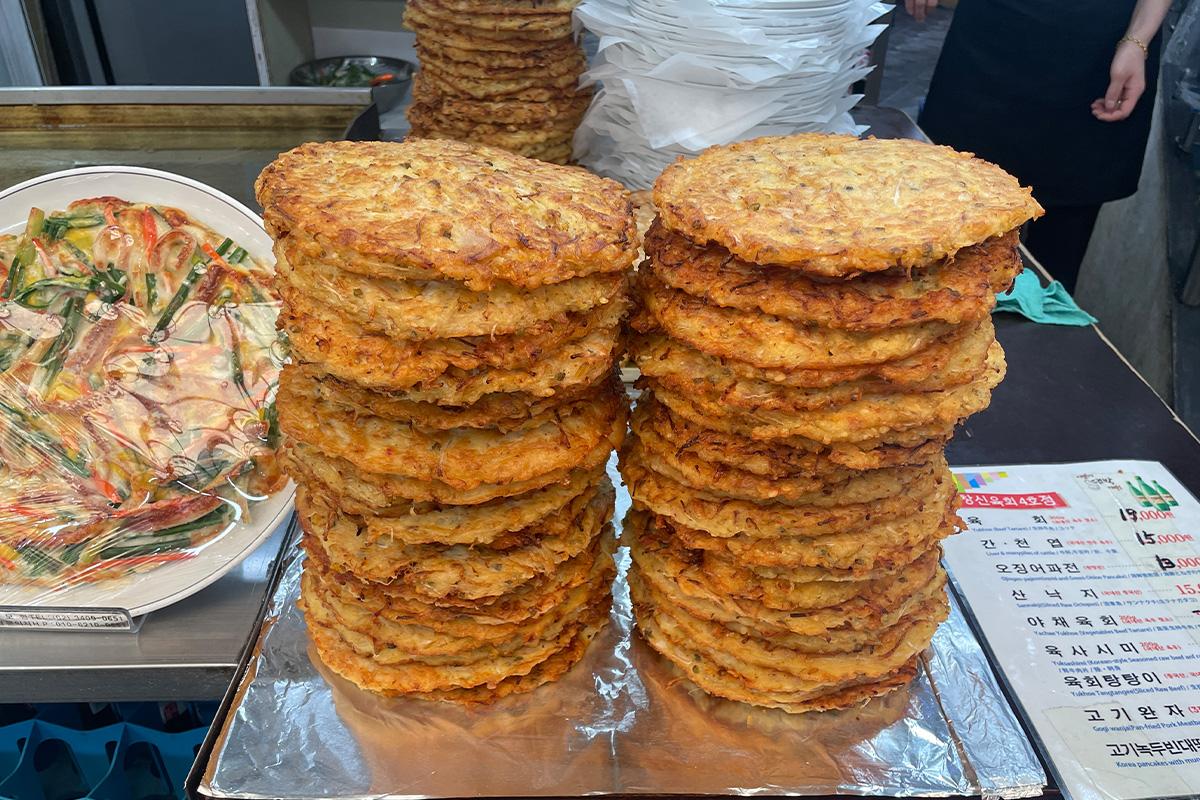 Mung bean pancake with meat 5,000 KRW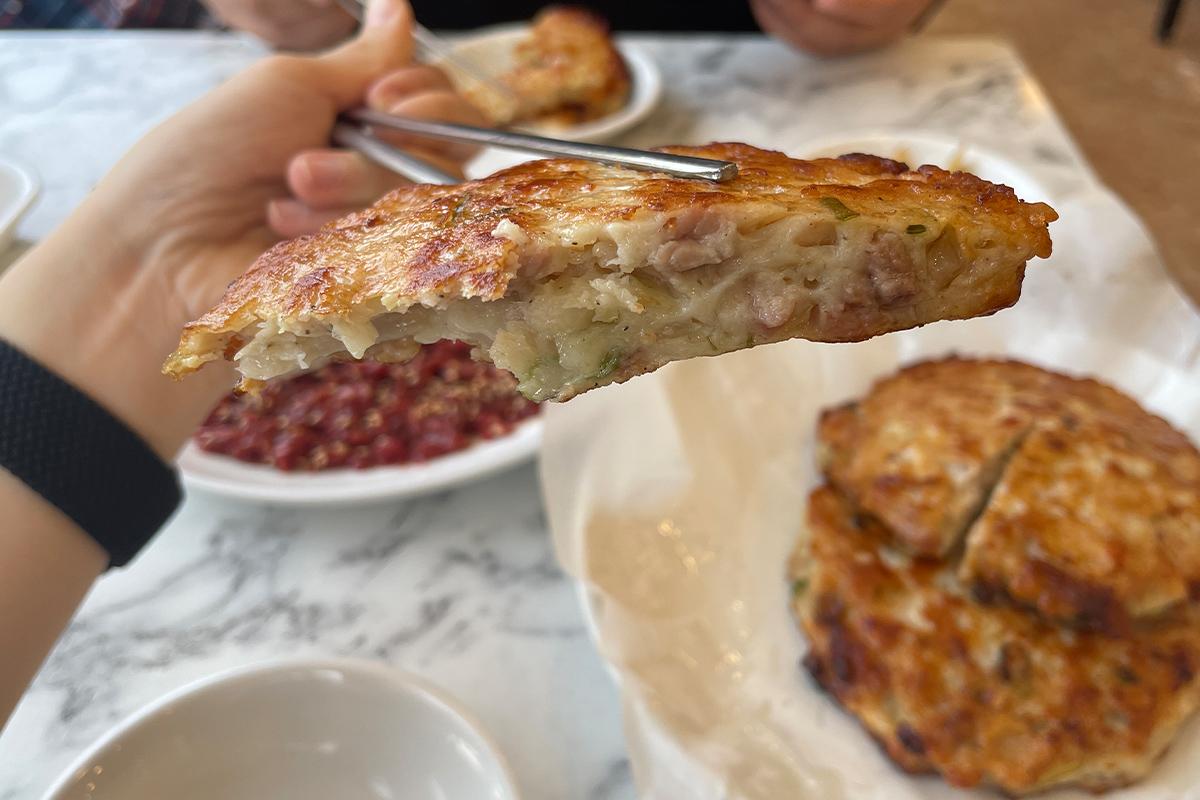 We ordered a serving of Meat Wanja as well. The meat wanja, which is basically a meat patty, is filled tightly with onions and meat, and the outside is crispy while the inside is moist and tender, making it a dish that you can keep on eating. Also, if you eat it with the onion dipping sauce provided, the sweet and sour flavor of the onion sauce enhances the richness of the meat dumplings.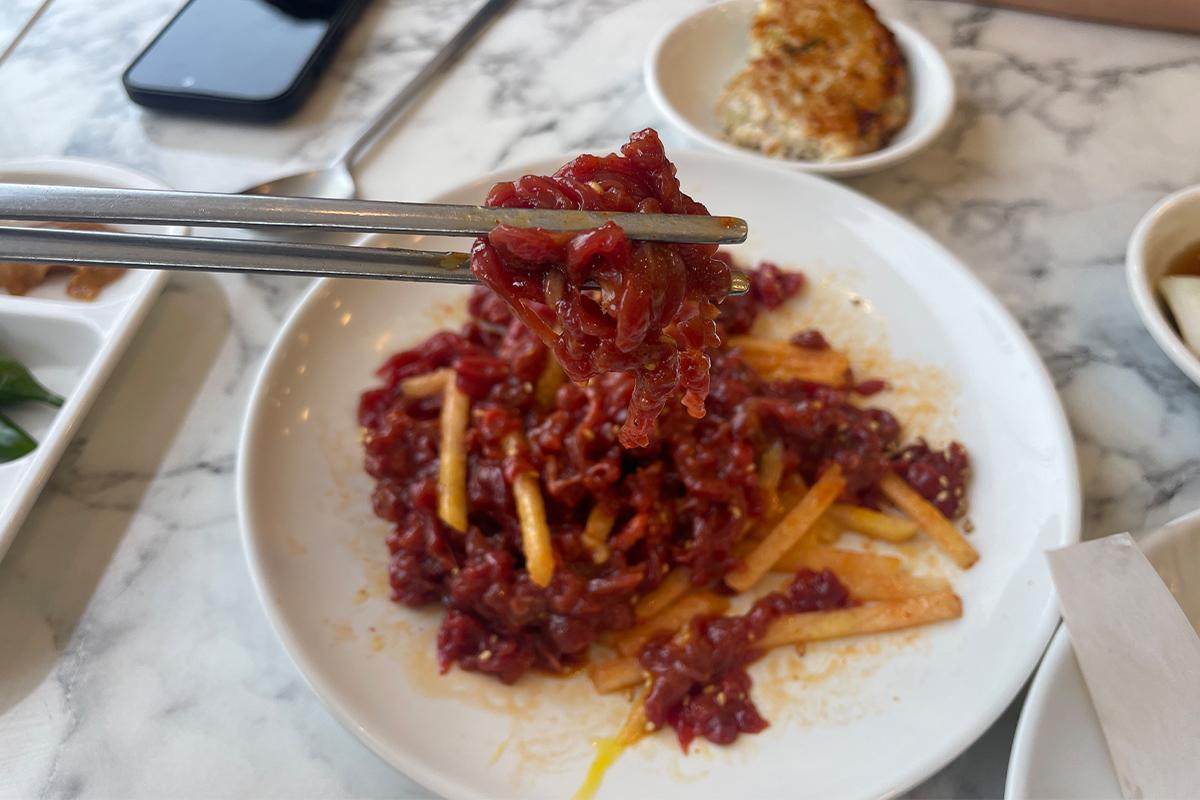 This restaurant's Yukhoe has gochugaru (red pepper flakes) inside, which adds a slight kick.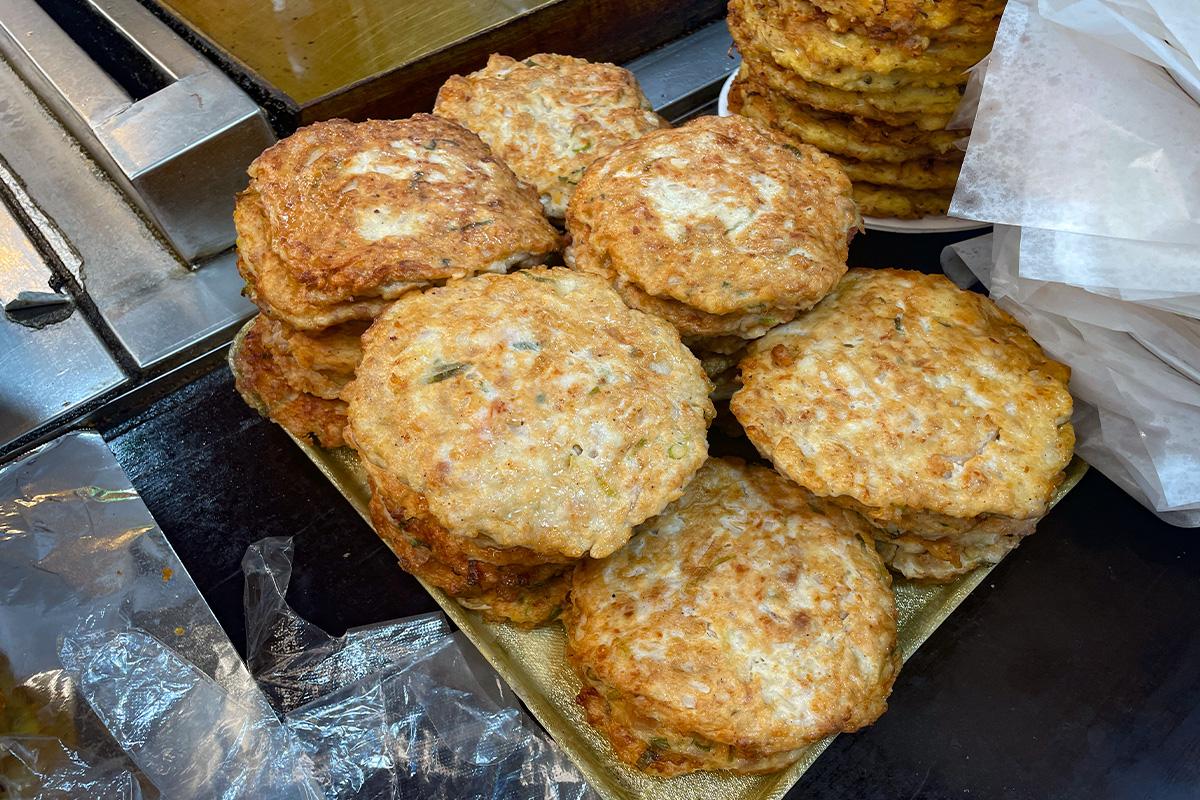 When I came down, I went through the door located inside Gwangjang Market, and as soon as I came down, I saw bindaetteok (mung bean pancakes) and gogiwanja (meat dumplings).
---
How to Get There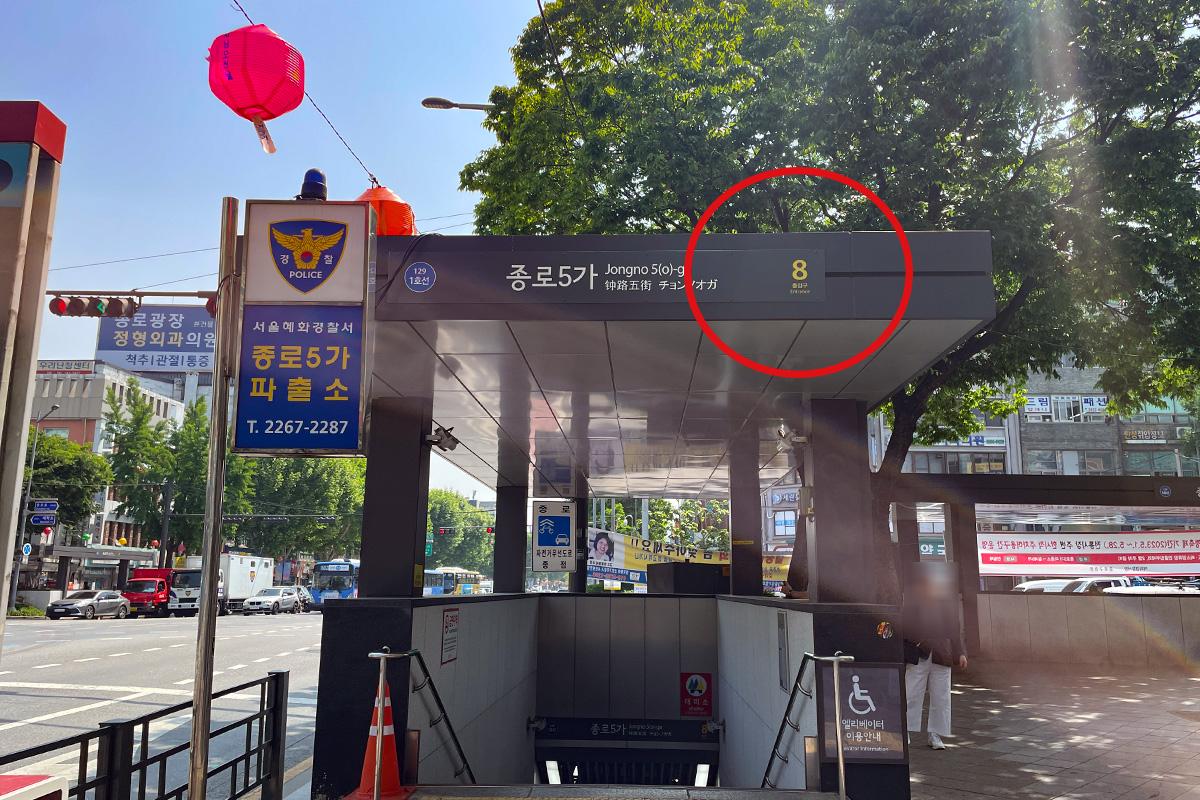 Exit through Exit 8 of Jongno 5-ga Station.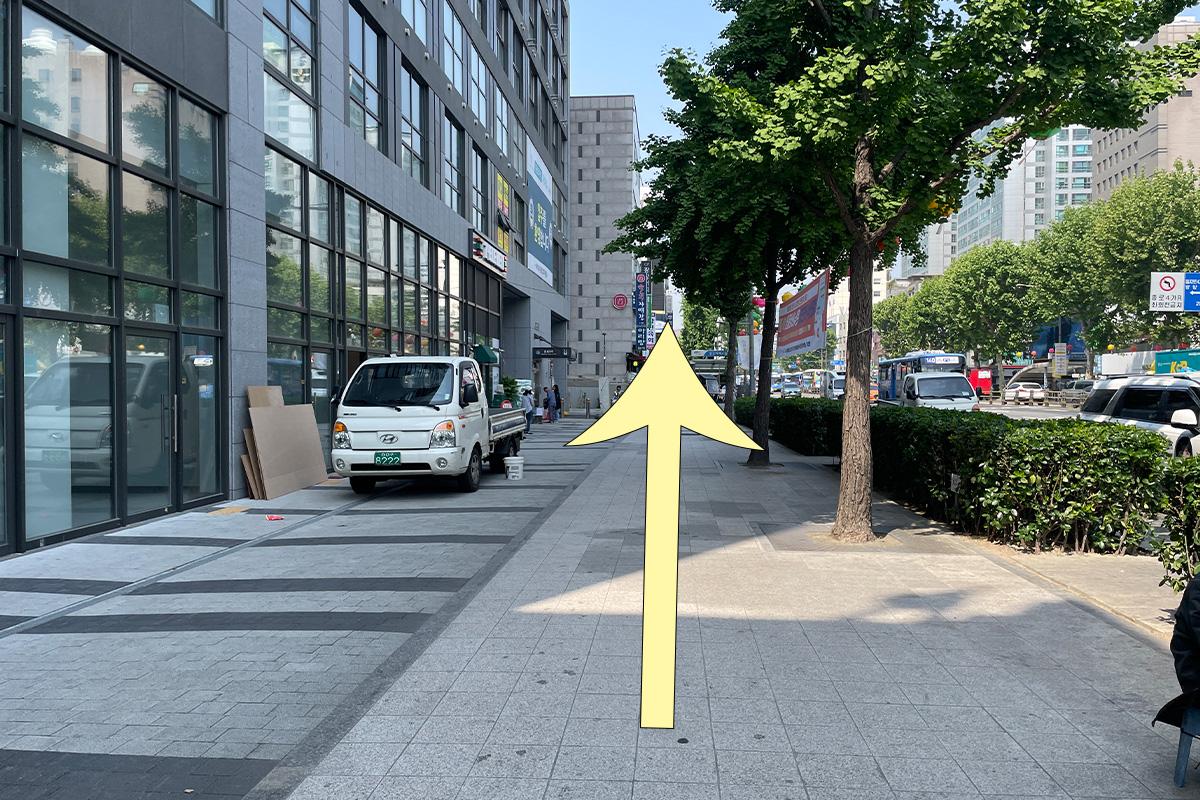 If you go straight about 70m, you will see a sign on the left.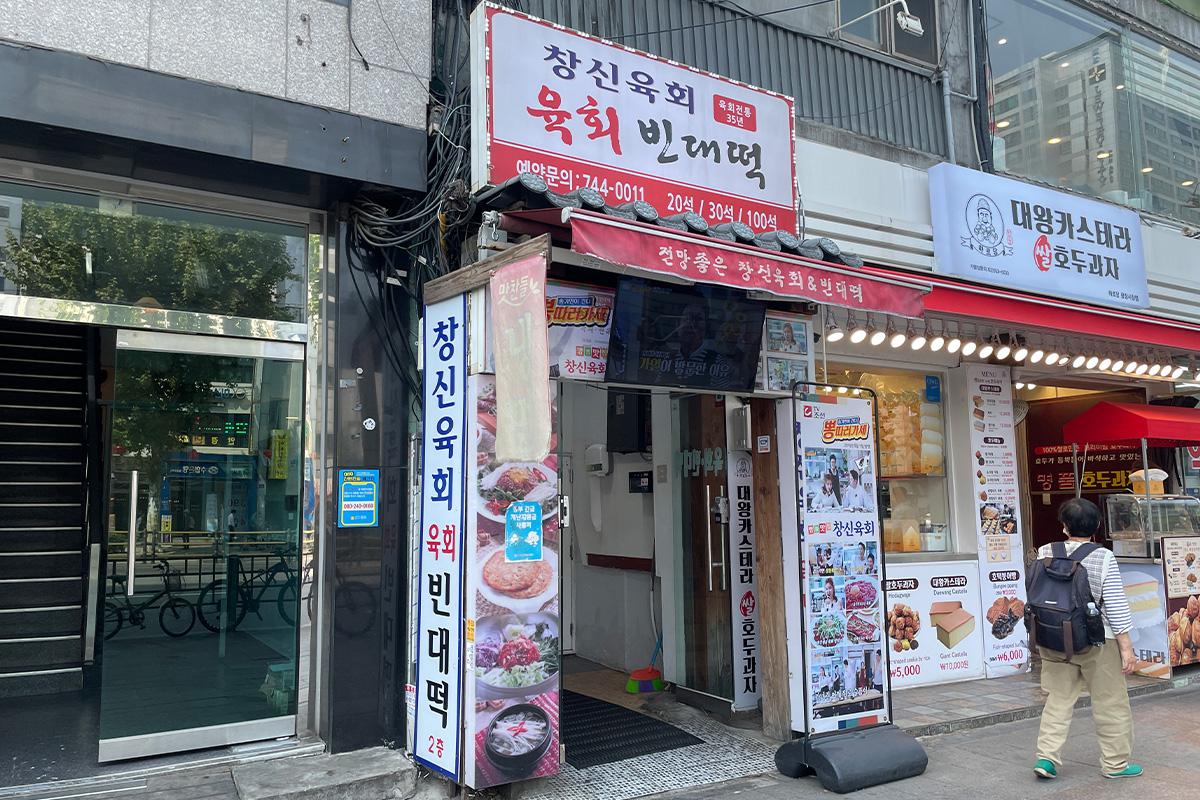 Go up to the second floor and you'll arrive!
---
Changsin Yukhoe 4th Branch
---
We hope that you can enjoy a delicious meal of yukhoe and mungbean pancake at Gwangjang Market! If you have any questions or concerns, please leave a comment below or send us an email at help@creatrip.com! You can follow us on Instagram, TikTok, Twitter, and Facebook to stay updated on all things Korea!
---