Gontran Cherrier GC Atelier | French-Style Bakery in Chuncheon
Indulge in delicious Paris-inspired baked goods while taking in the stunning view of Chuncheon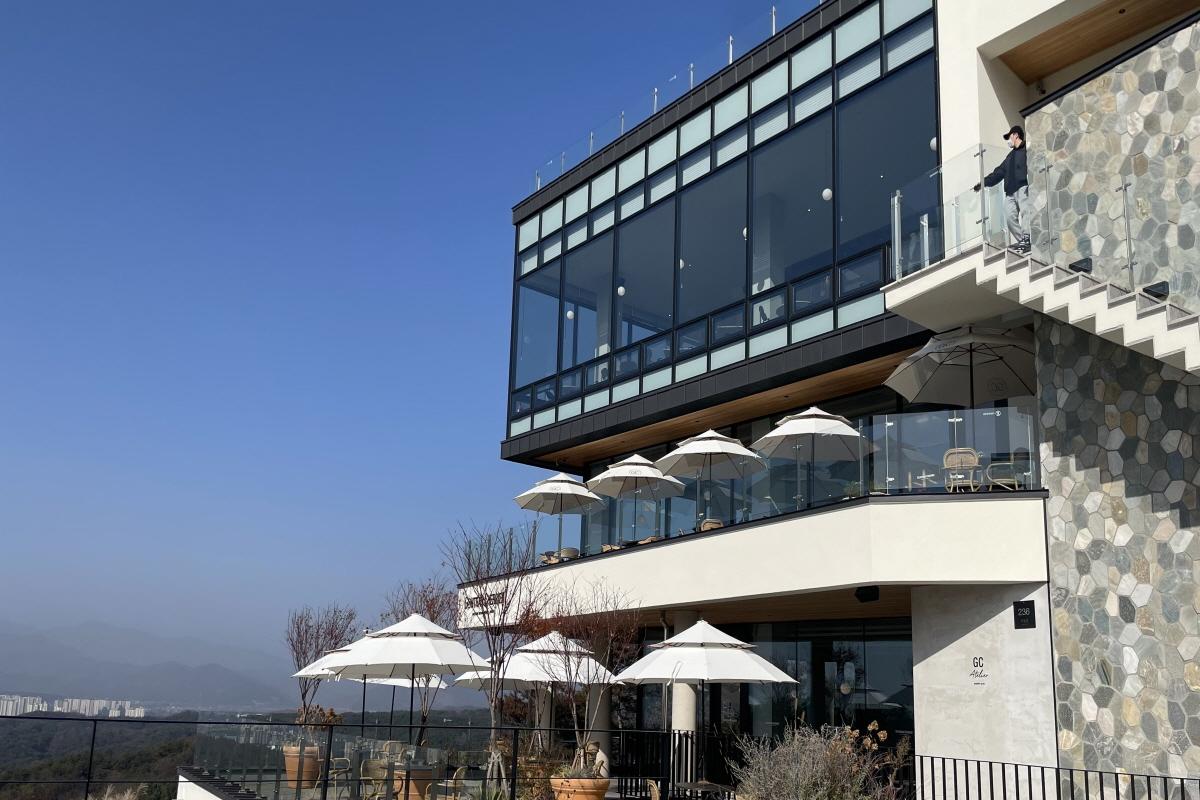 Chuncheon in Gangwondo is famous for its delicious spicy stir-fried chicken, but did you know there is also an area known as Gubongsan Mountain Observatory Cafe Street?
There are many lovely cafes here, but today I want to highlight the authentic French artisan boulangerie, Gontran Cherrier GC Atelier.
The cafe has four floors, each with their own charms, and a breath-taking view of Chuncheon.
Relax and enjoy the artisan bread and a latte and feel the peace of the mountains.
And Creatrip members can even receive 10% off with this coupon!
---
Information
Address: 강원도 춘천시 동면 건일길 236
236, Geonil-gil, Dong-myeon, Chuncheon-si, Gangwon-do
Hours: 10:00-21:30

---
Reasons For Recommendation
Breads are baked at the store with fresh ingredients directly from France, and there are many different kinds to choose from.
Gontran Cherrier is famous for their delicious baked goods of course, but don't miss out on the shop's other recommended menu items!
Gontran Cherrier GC Atelier is located on Chuncheon's Gubongsan Mountain Observatory Cafe Street, so you can enjoy a panoramic view of the city.
The spacious four-story cafe seats many people and each floor has its own charms, so make sure to look around.
---
Member Benefits
Present your Creatrip coupon at checkout to receive 10% off all menu items.
You do not need to make a reservation to use the coupon.
If you have any issues with your coupon, please contact help@creatrip.com.
---
Things To Keep In Mind
Outside food or garbage is not permitted, so please dispose of any prior to entering.
---
Menu
Menu
Price (KRW)
Breads

Croissant




크루아상

4,200

Pain Au Chocolat




빵 오 쇼콜라

4,200

Traditional Baguette


바게트 트라디시옹

4,800

Kouign-amann




퀸아망

4,200

Salt Butter Bread




소금버터빵

2,300

Beverages

Americano




아메리카노

6,200

Cafe Latte




카페라떼

6,800

Cappuccino




카푸치노

6,800

Vanilla Latte




바닐라라떼

7,200

Caramel Macchiato




카라멜마끼아또

7,200

Cafe Mocha




카페모카

7,200

Cafe Earl Grey (recommended item)




카페 얼그레이

7,500
*The store has a wide variety of breads and drinks, these are just some of the best selling items.
---
Our Visit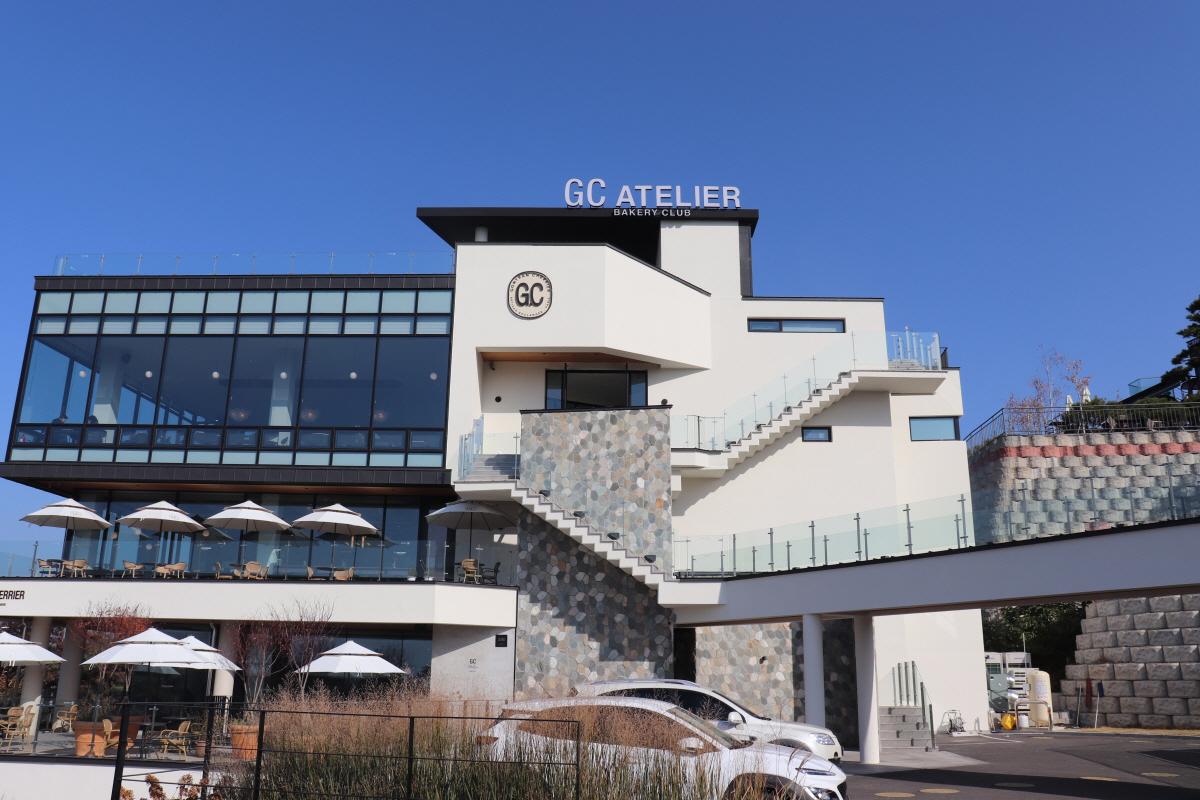 This is the front of the huge Gontran Cherrier GC Atelier in Chuncheon. The bakery is located on Gubongsan Mountain Observatory Cafe Street, so the views here are incredible.
Since it is up on the mountain, the best way to get here is by car. If you don't have a car, then you can take a taxi. Chuncheon is not a huge city, so the fare is not much, so no need to worry about that.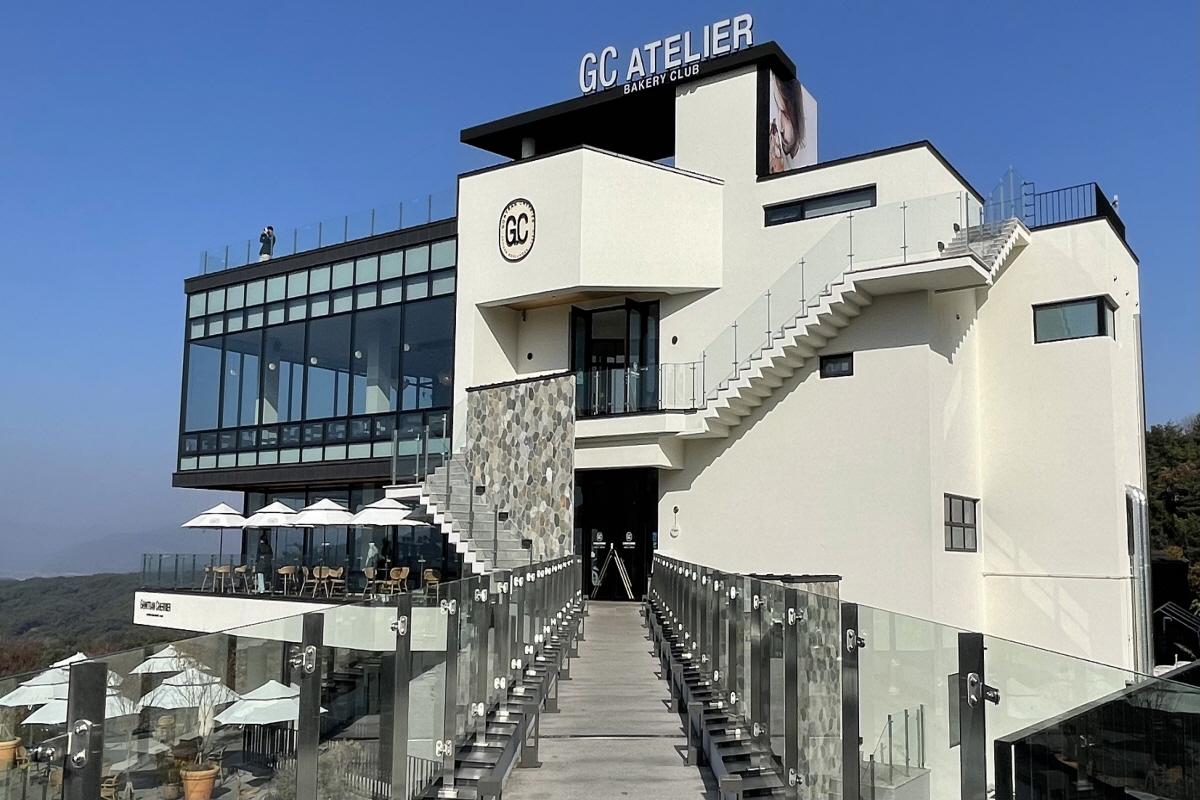 GC Atelier's bridge is a famous photo spot for taking beautiful pictures.
In the evening, the staff will leave the lights on in the building. You can watch the sunset and capture some really lovely photos here, so you might want to visit towards the evening to catch it!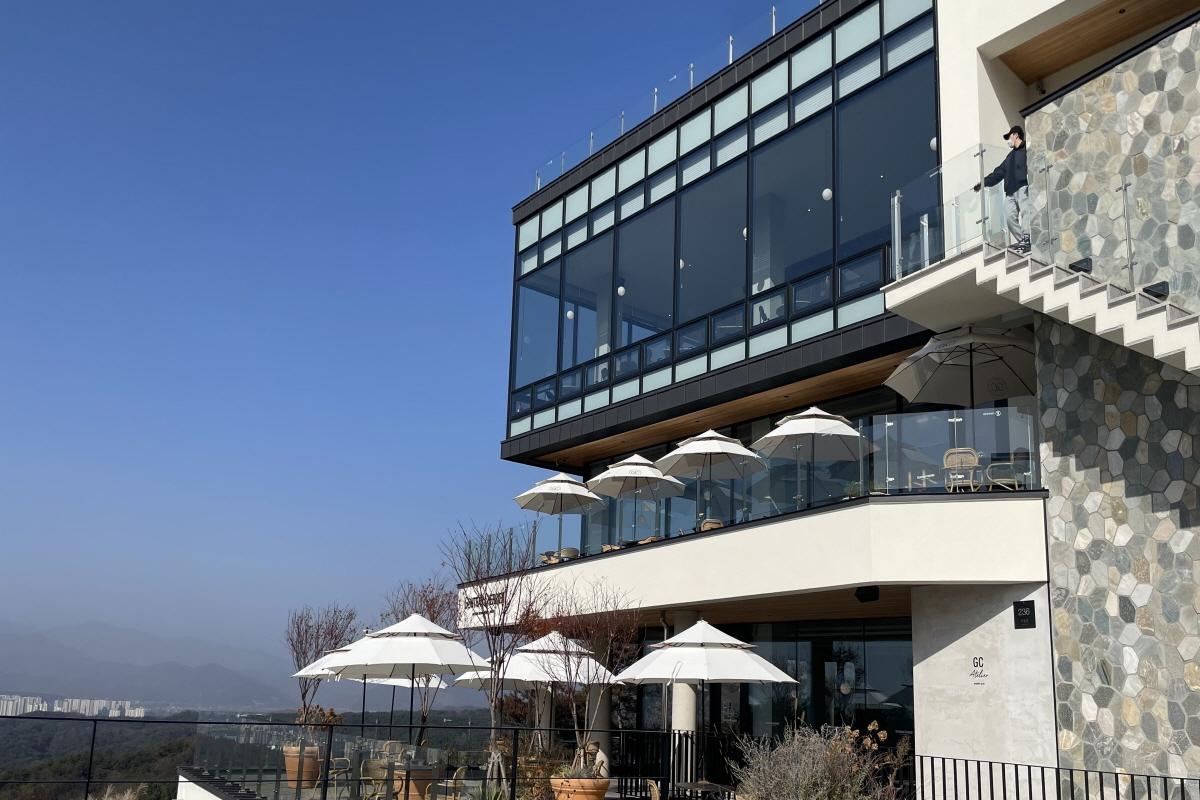 While crossing the bridge, you get a good look at the outside of the building.
On a nice day it would be very enjoyable to sit outside on the terrace and enjoy the fresh air and view.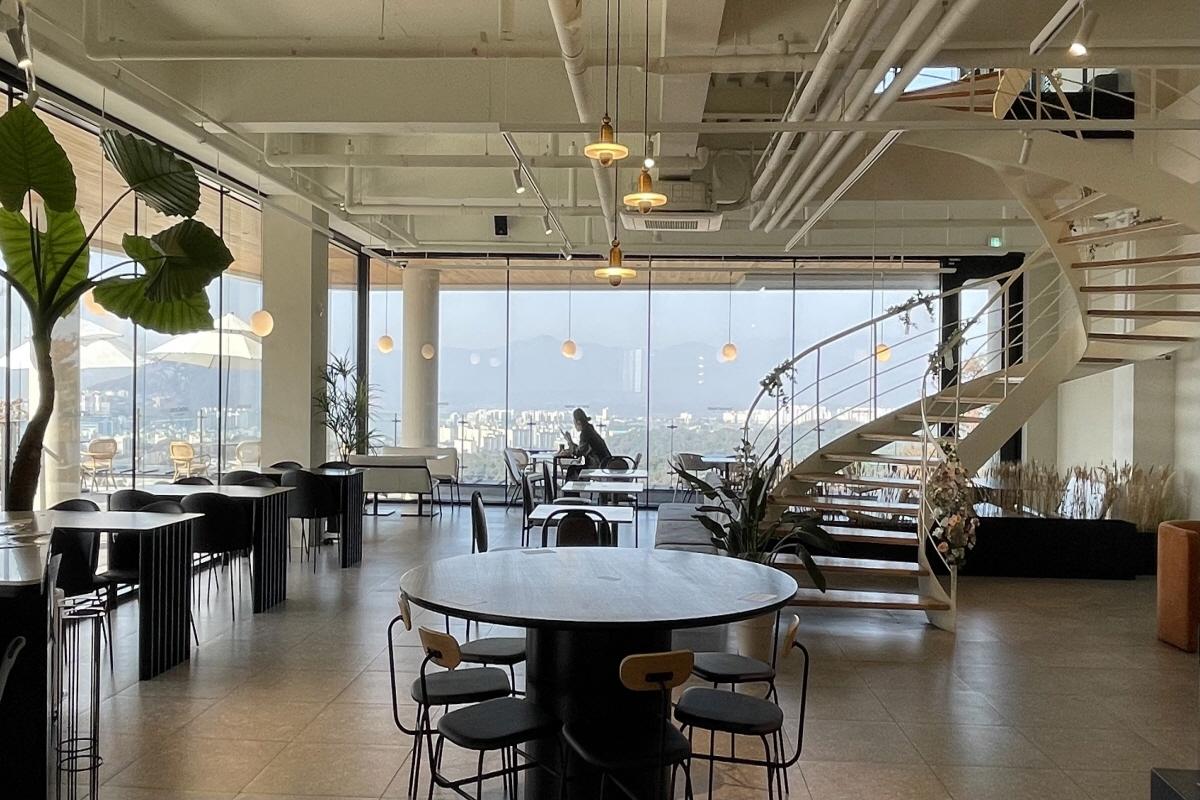 You can also enter on the first floor from the parking lot if it is more convenient for you.
The first floor is quiet and cozy with a spiral staircase that adds a nice flow to the atmosphere.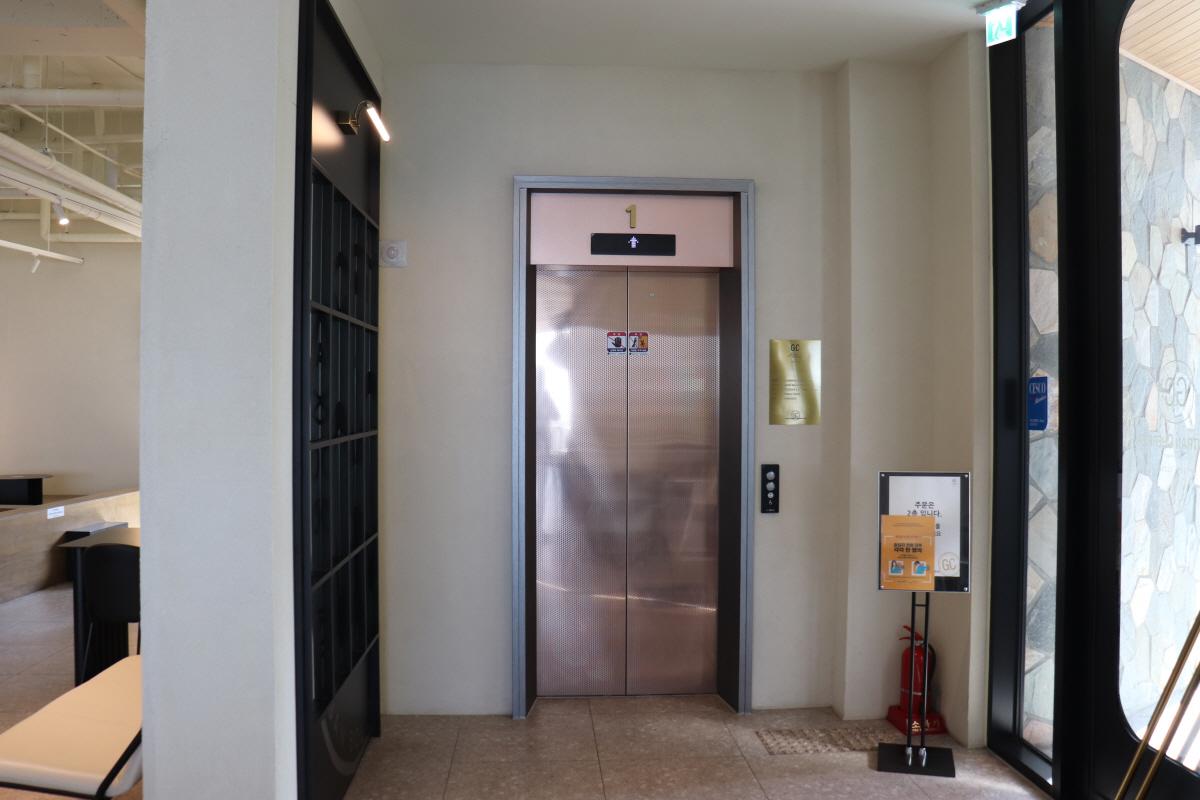 There is an elevator available to all customers at GC Atelier.
Next to the elevator is a sign that says that the place to order is on the second floor (주문은 2층에서).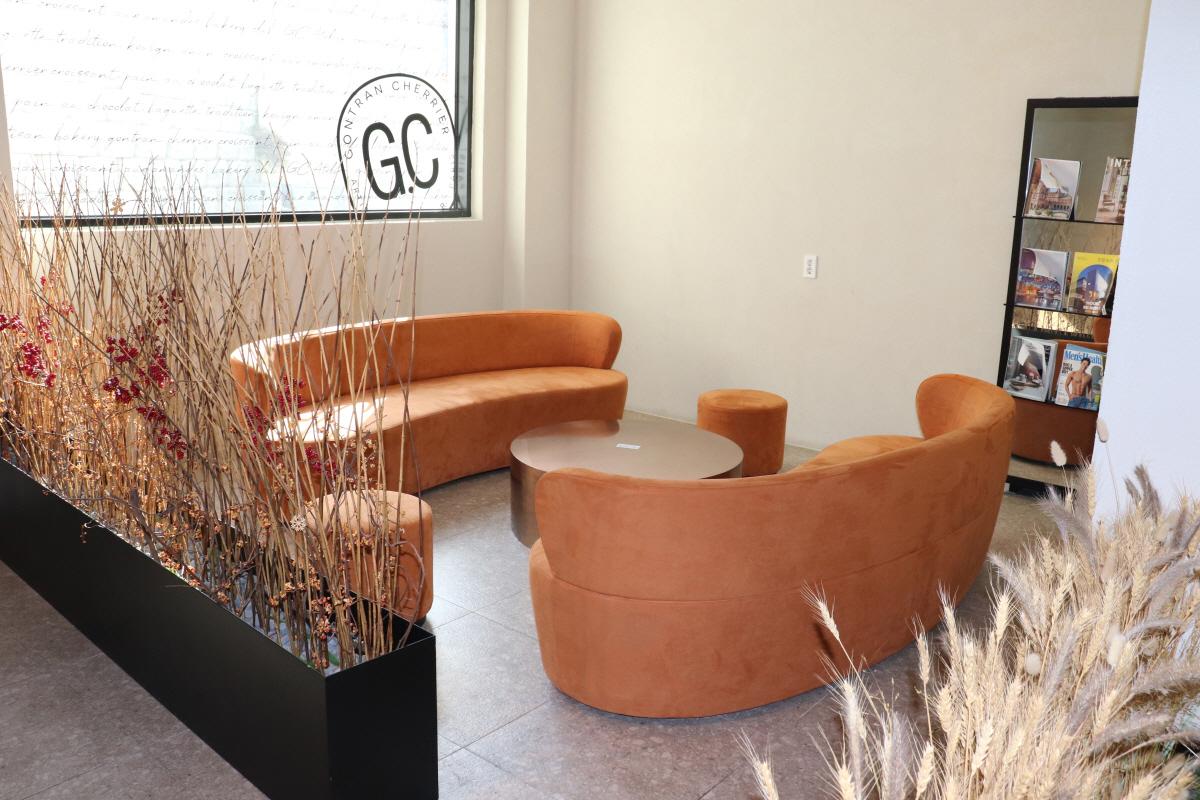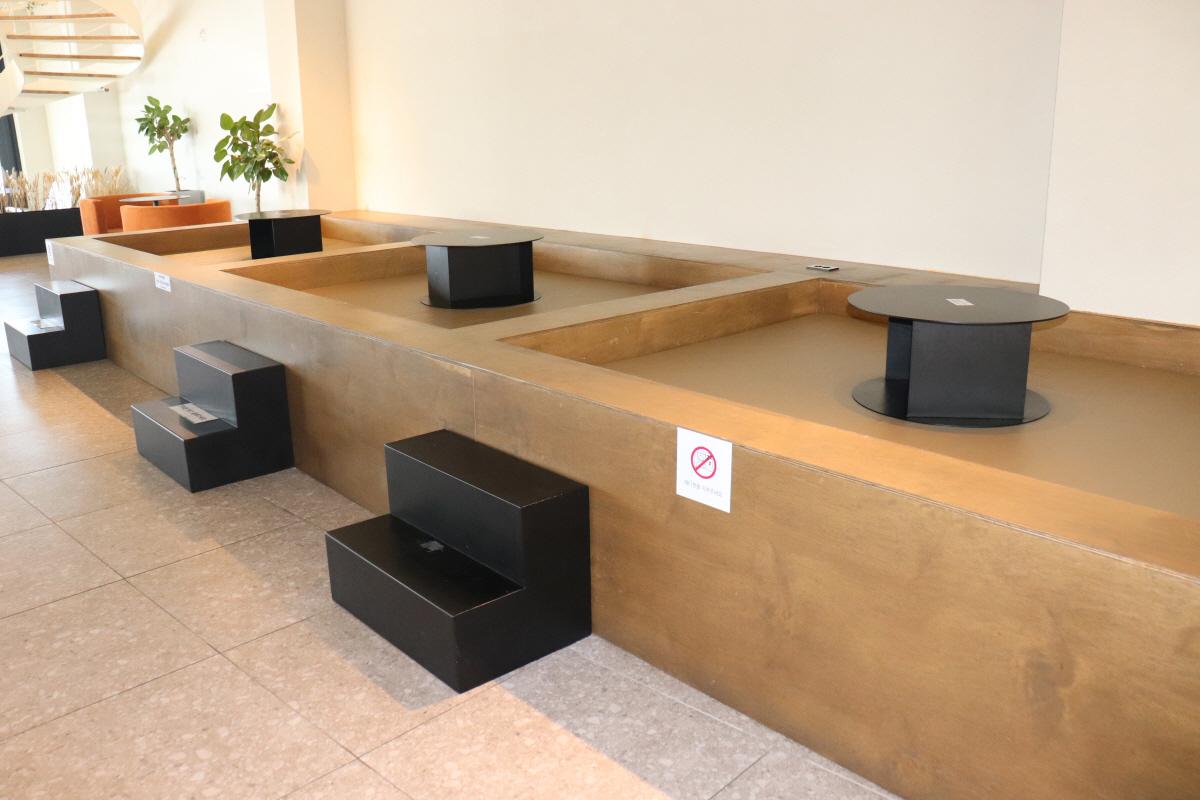 There are also traditional Korean-style seats on the first floor where you take off your shoes to sit.
If you prefer a chair though, don't worry there are plenty of options.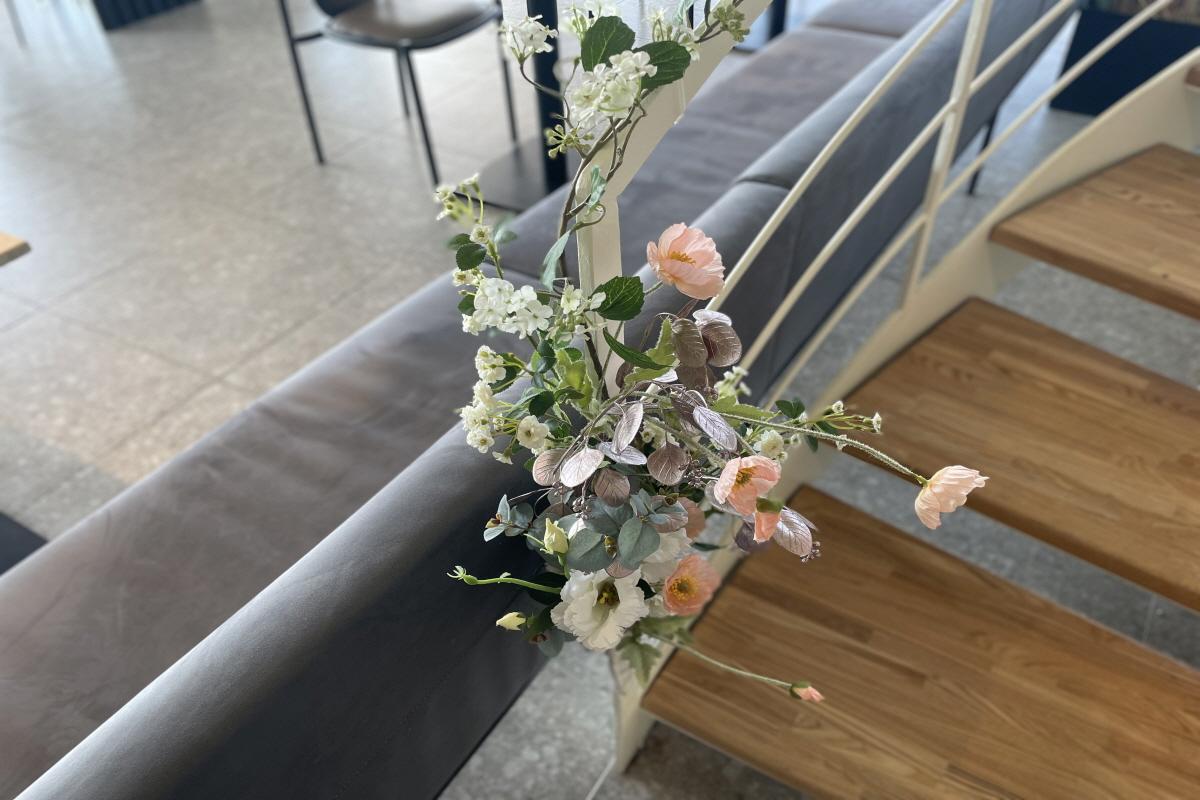 The stairs to the second floor are decorated to match the rest of the floor. From a distance I thought these flowers were real at first.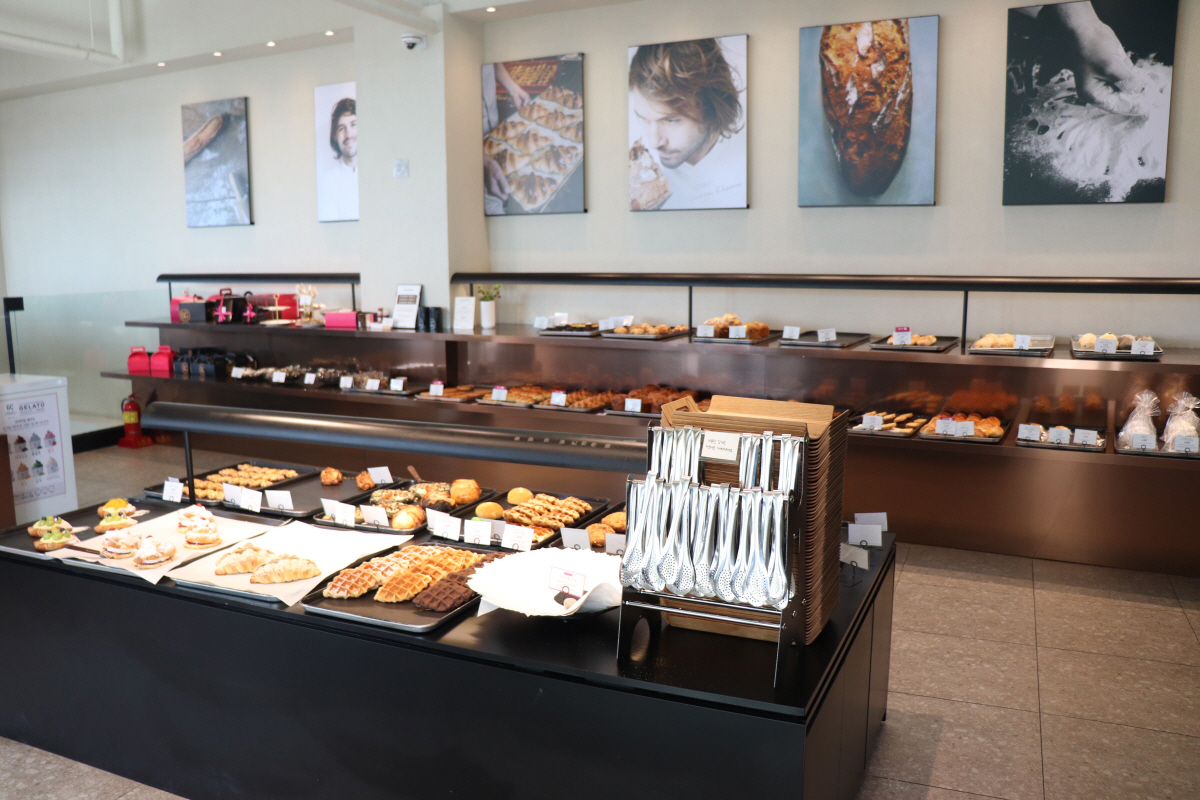 On the second floor, there is a counter where you can choose your breads, order drinks, and pay.
There are so many kinds of bread, it's hard to choose.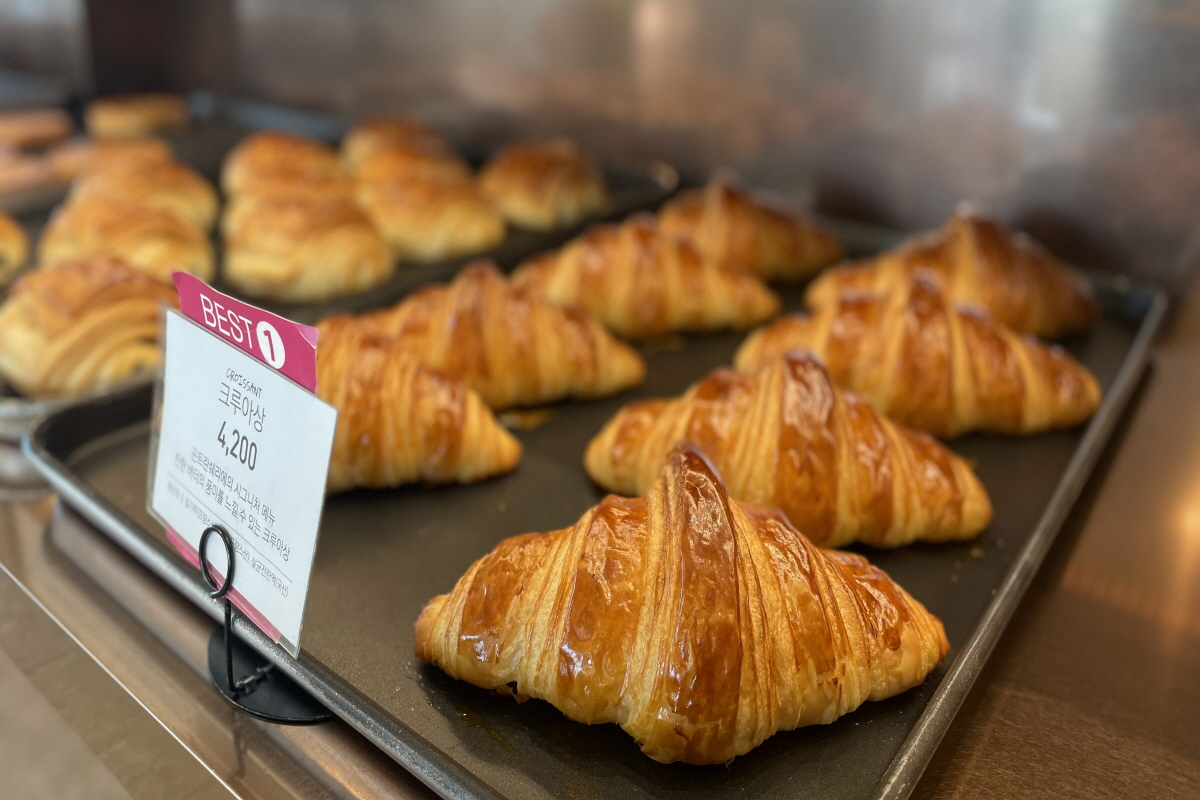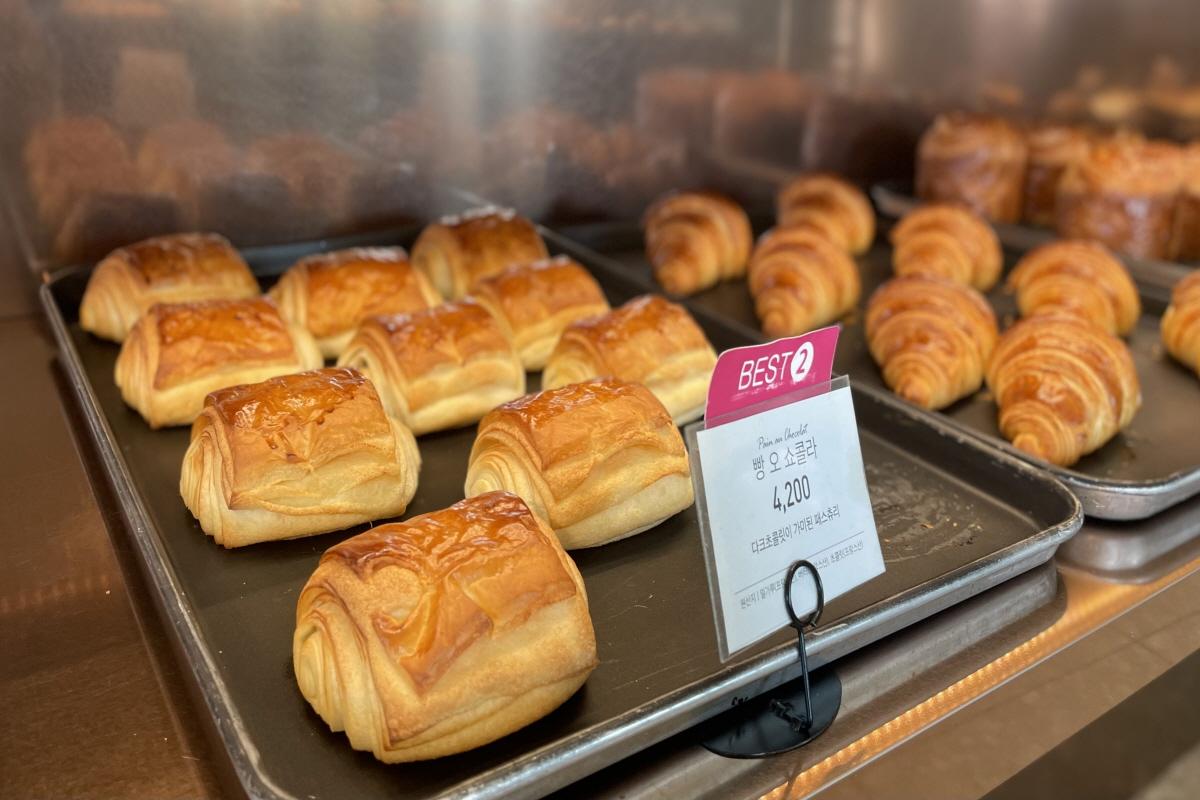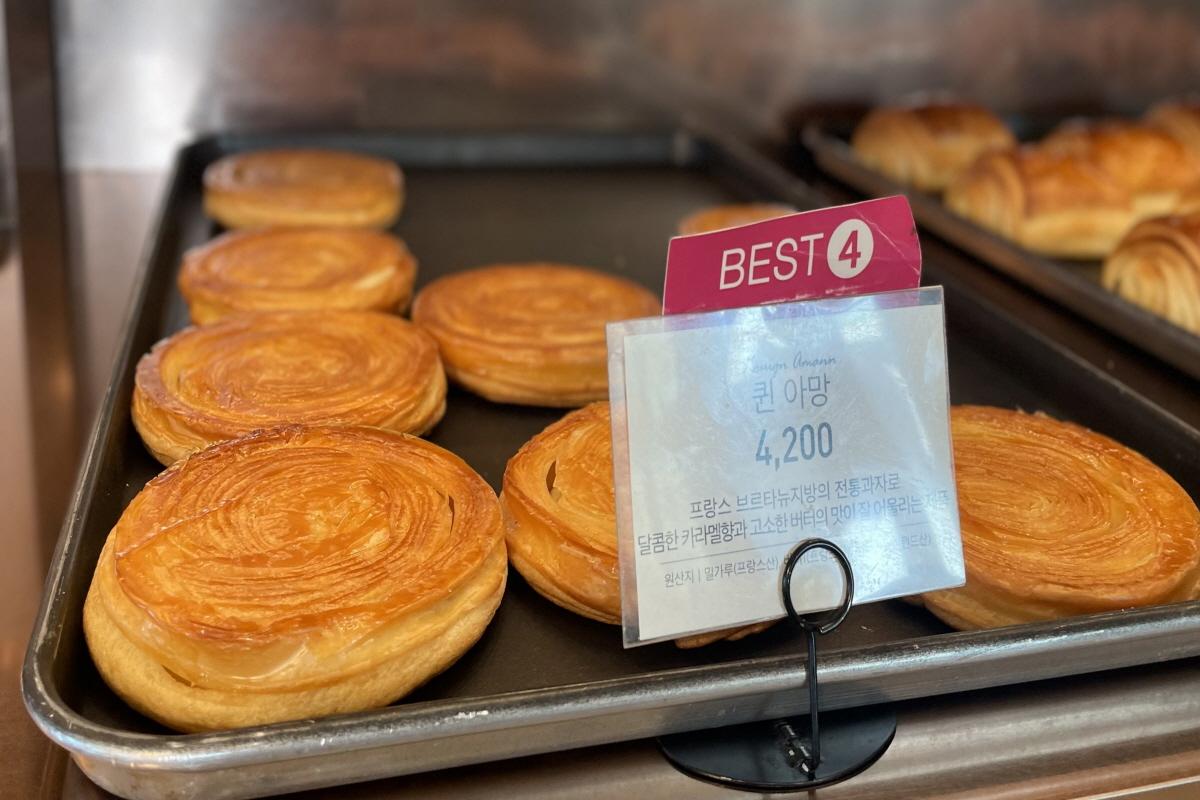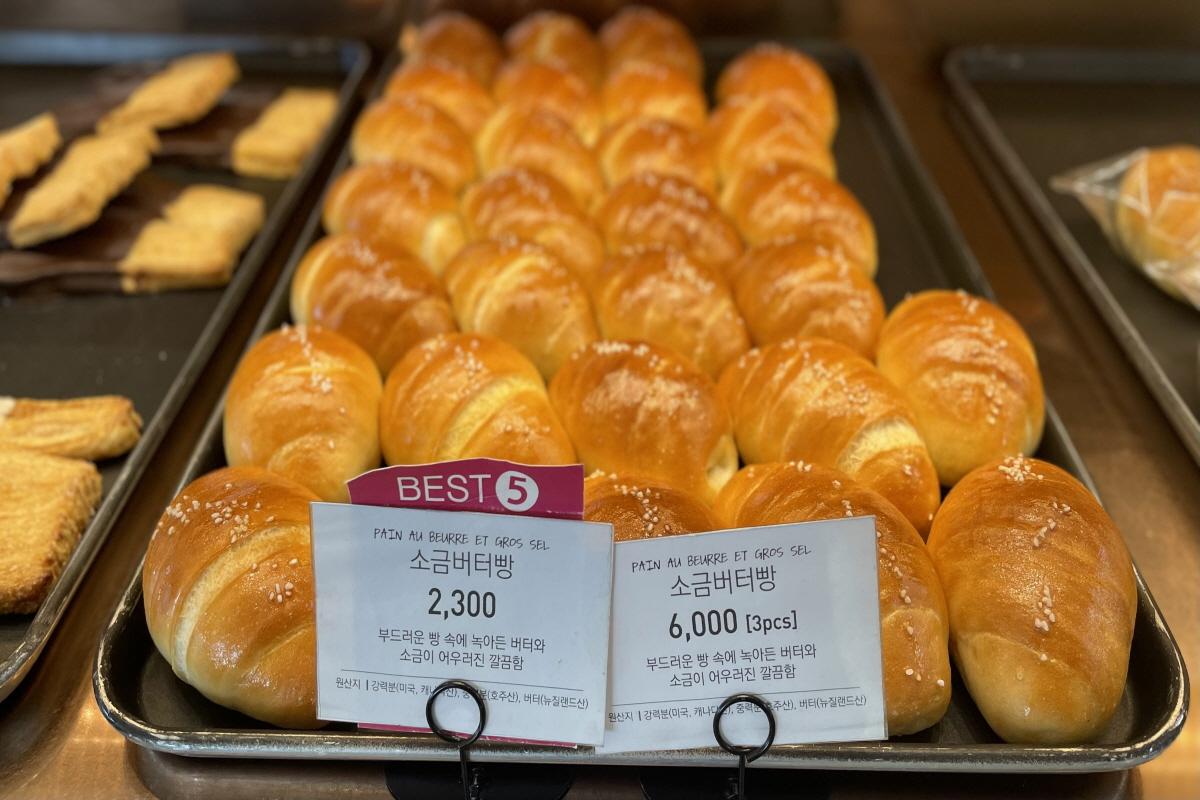 They all looked so good!
Pastries like the kouign-amann, croissant, and pain au chocolat are Gontran Cherrier's global best sellers.
The Salt butter bread is a best seller in Korea and has been very popular on social media recently.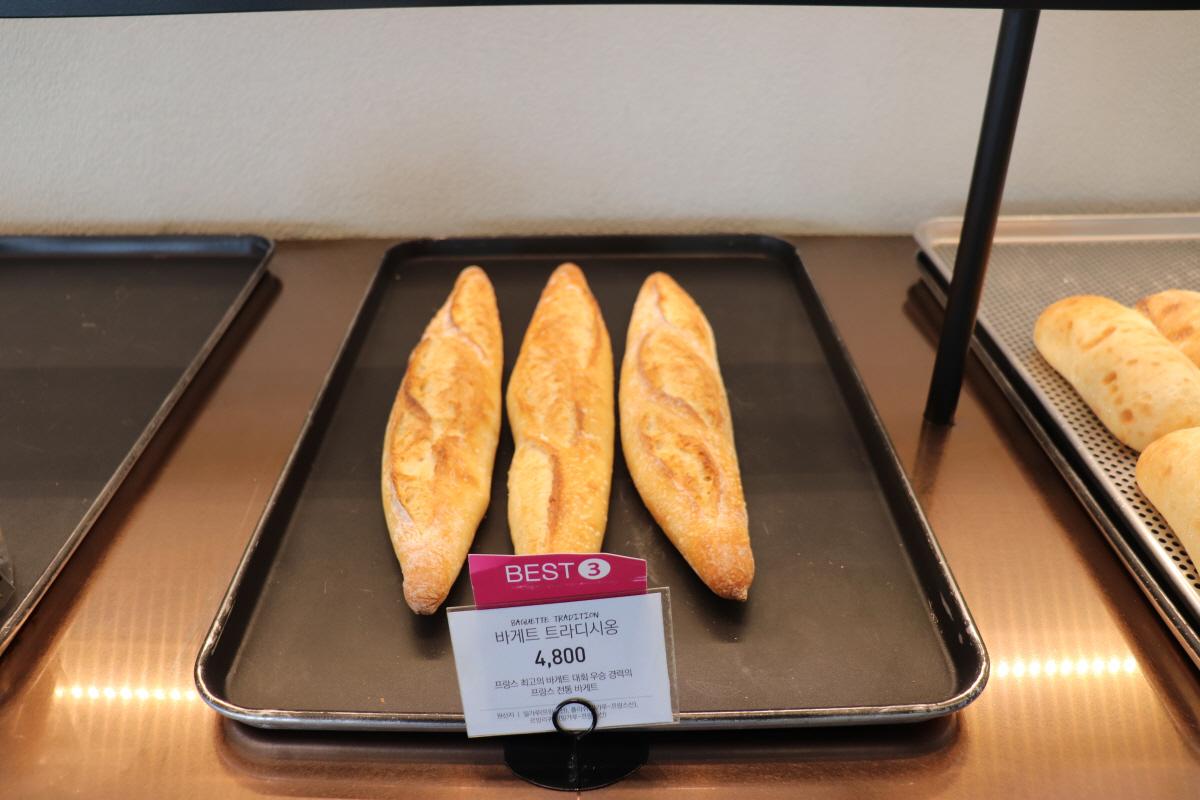 A timeless classic - the baguette!
Gontran Cherrier offers this traditional French-style bread as well.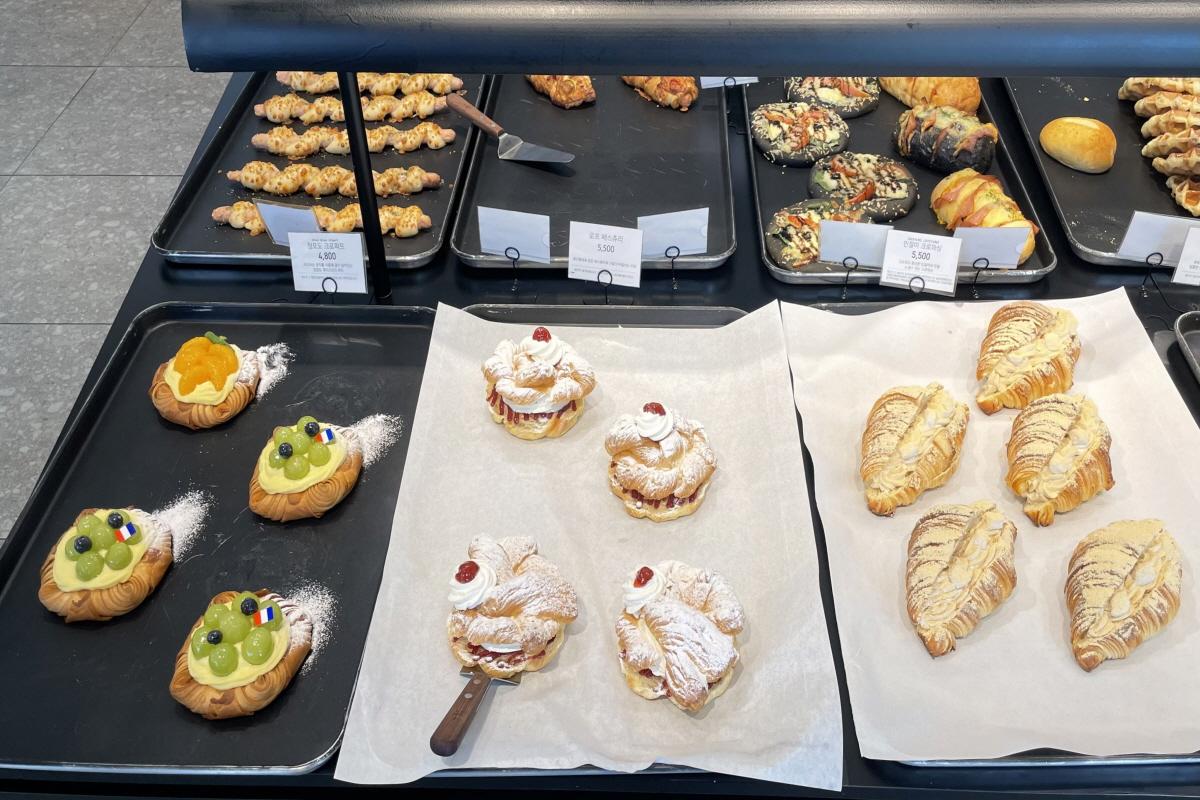 In addition to these basic staples, they also offer many different elegant looking variations.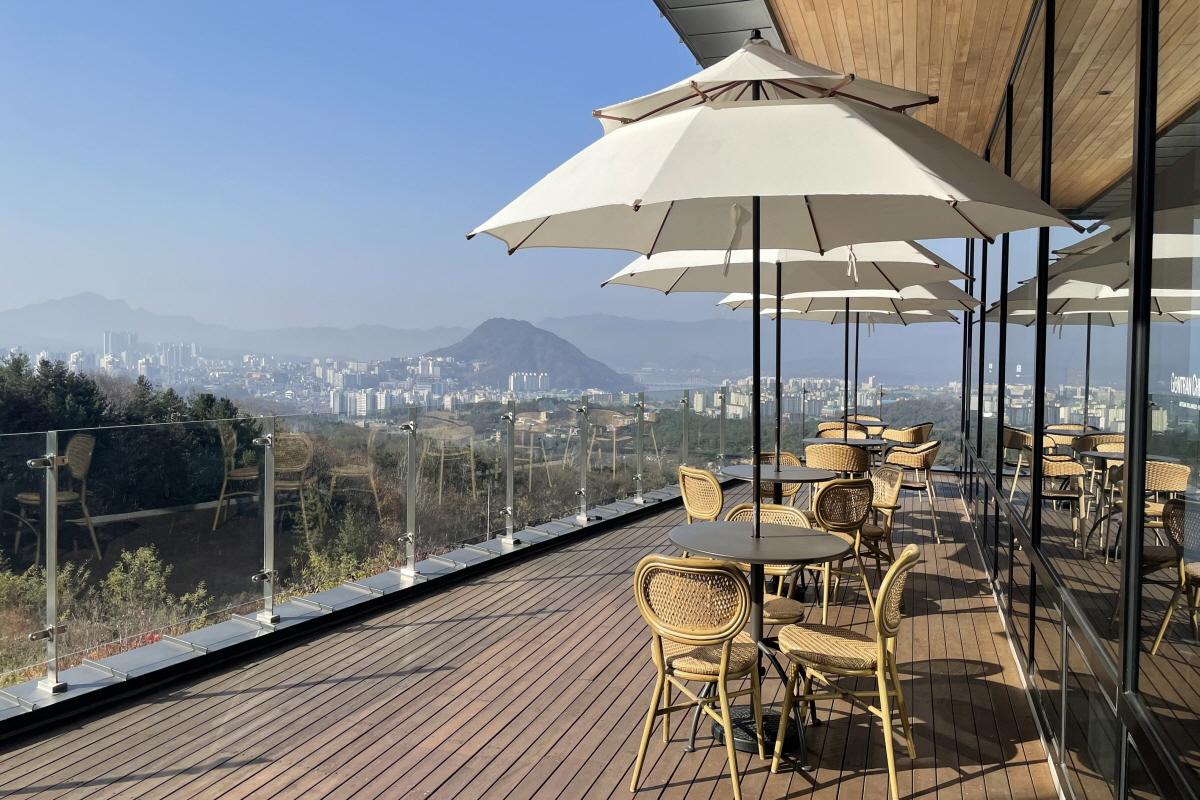 There are terraces with outdoor seating of the first two floors.
The second floor deck has a really beautiful view of Chuncheon.
By the way, which mountain is that?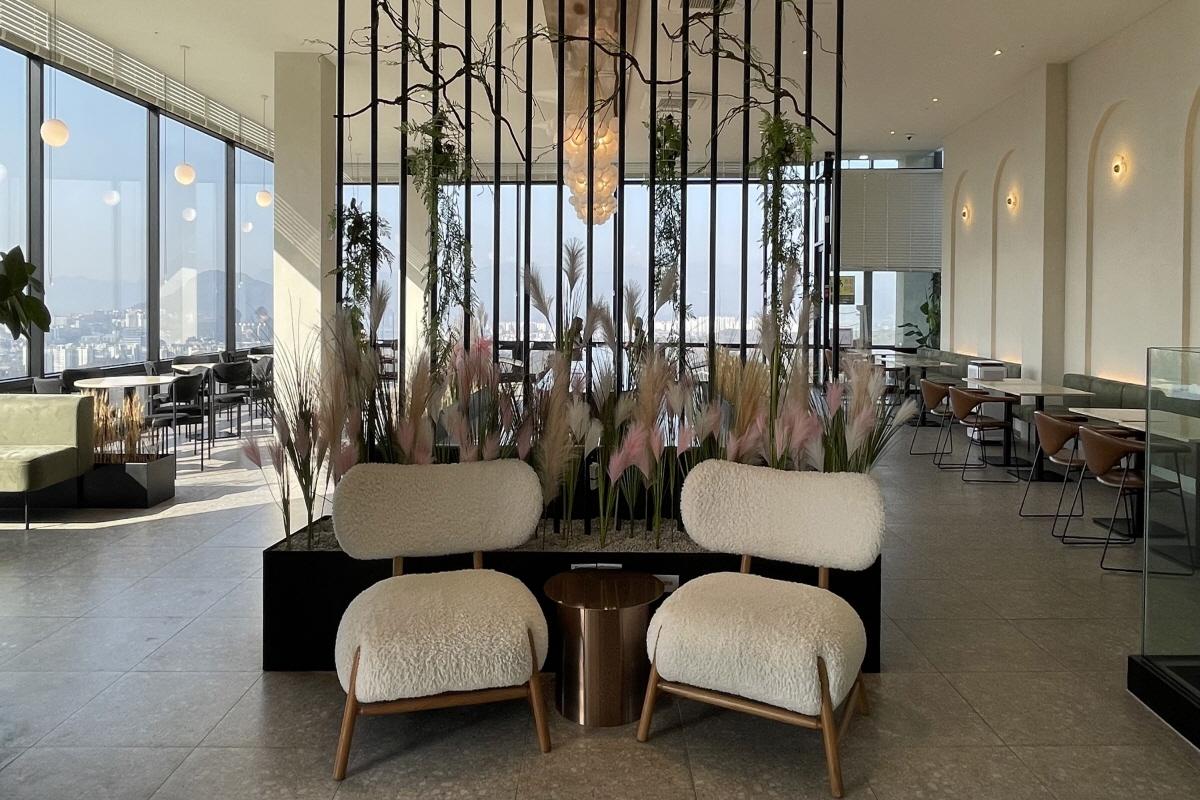 These two chairs on the third floor are soft and remind me of winter.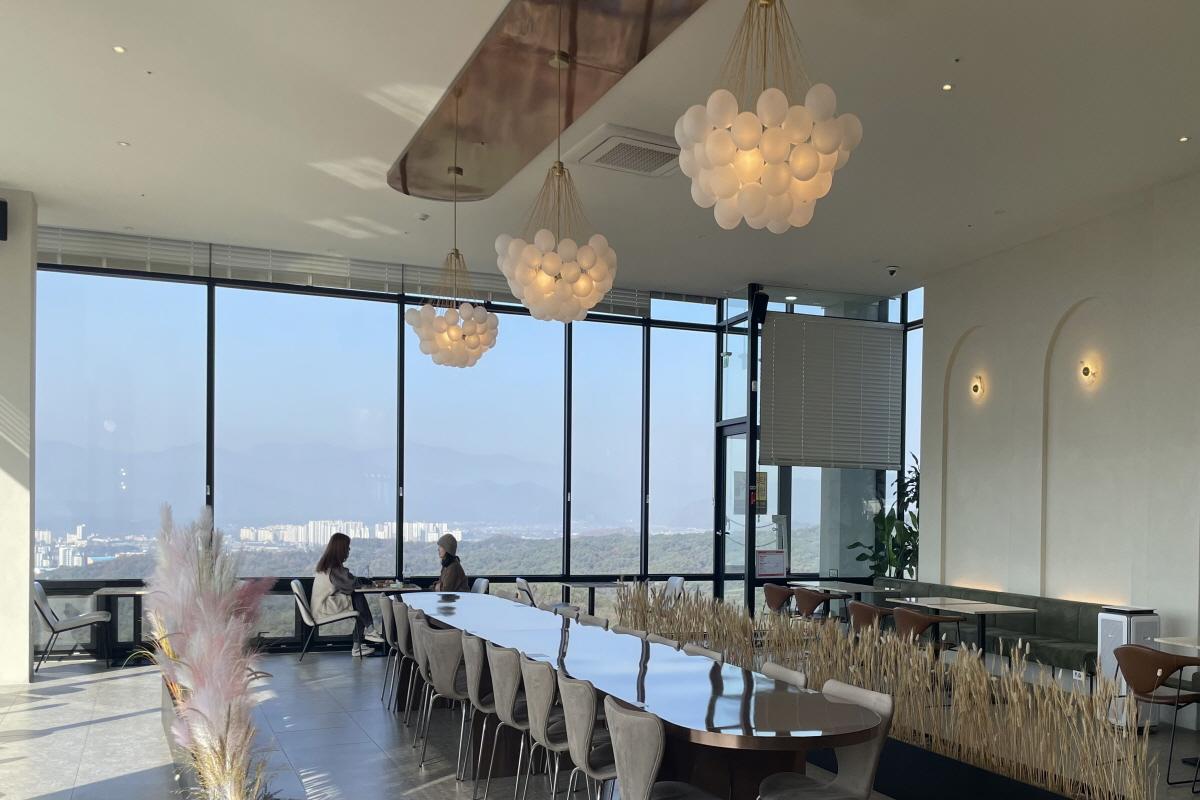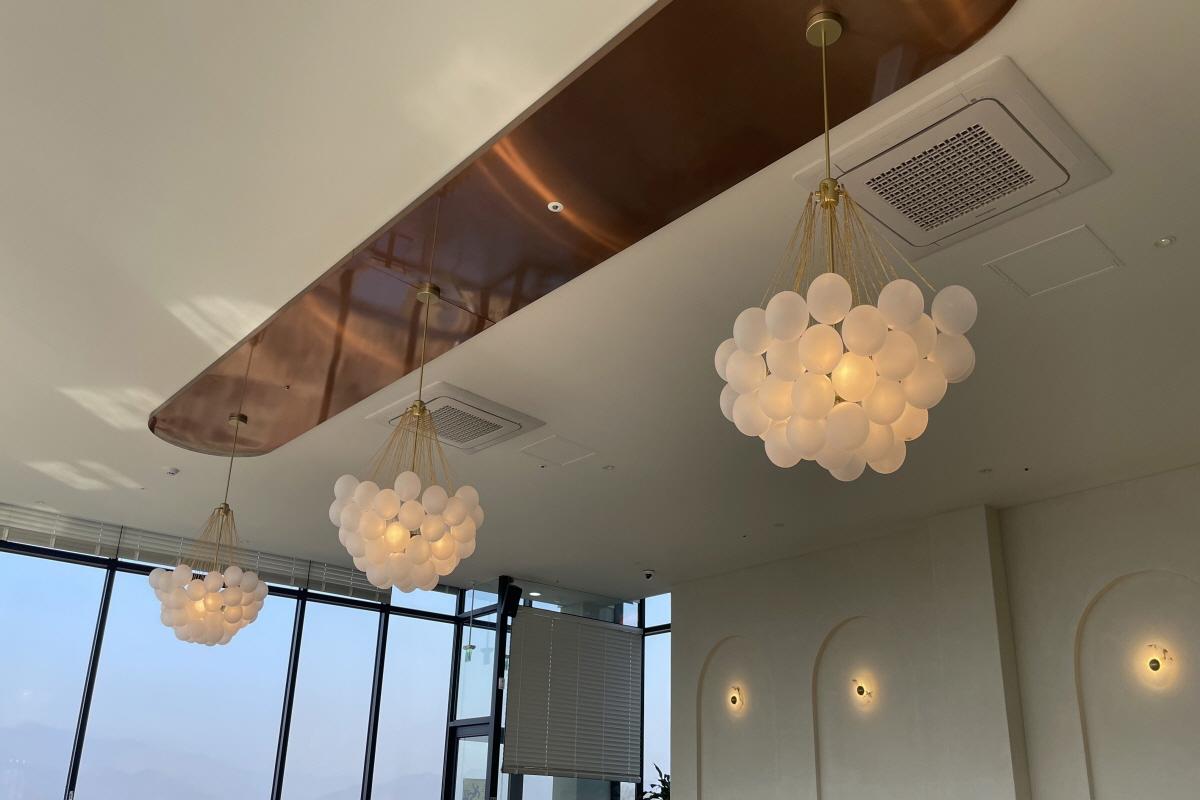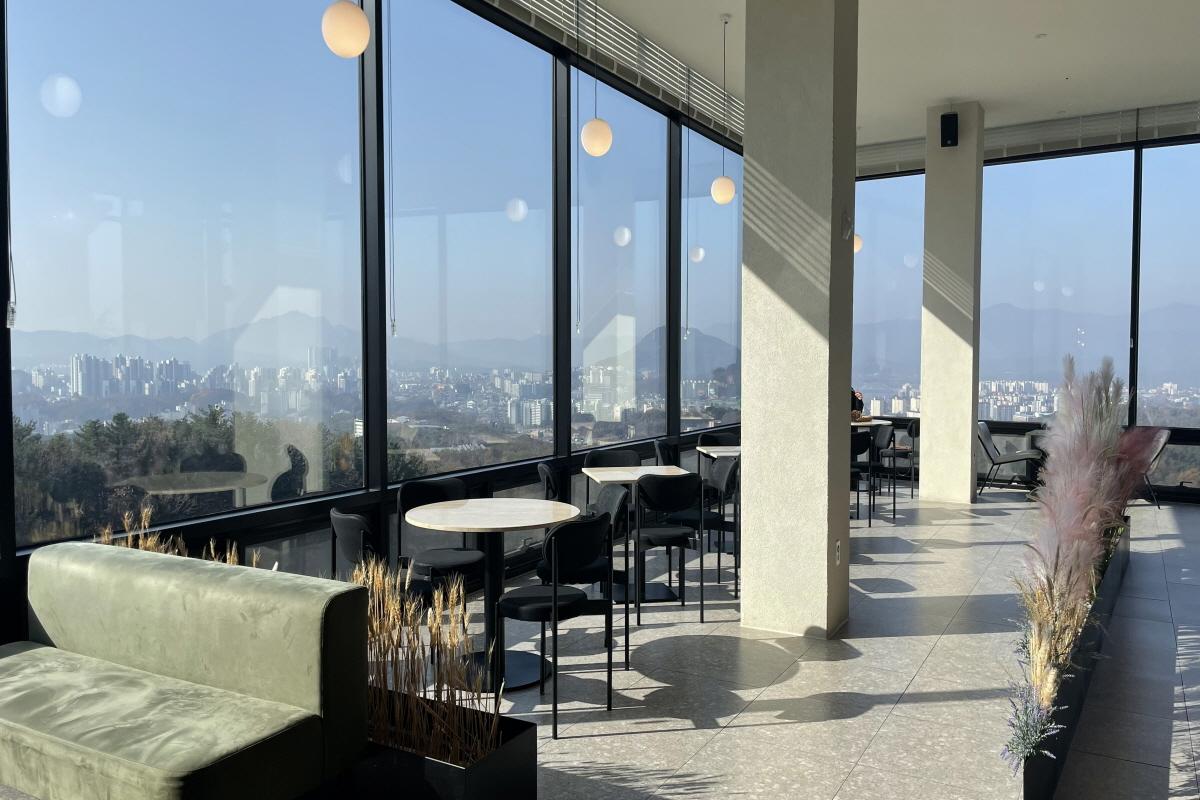 The third floor has a high ceiling which gives it a luxe feel, and the sun here is best.
Doesn't it look like a banquet hall in a movie because of the long table in the middle?
And the light fixtures were also very pretty and looked like white balloons.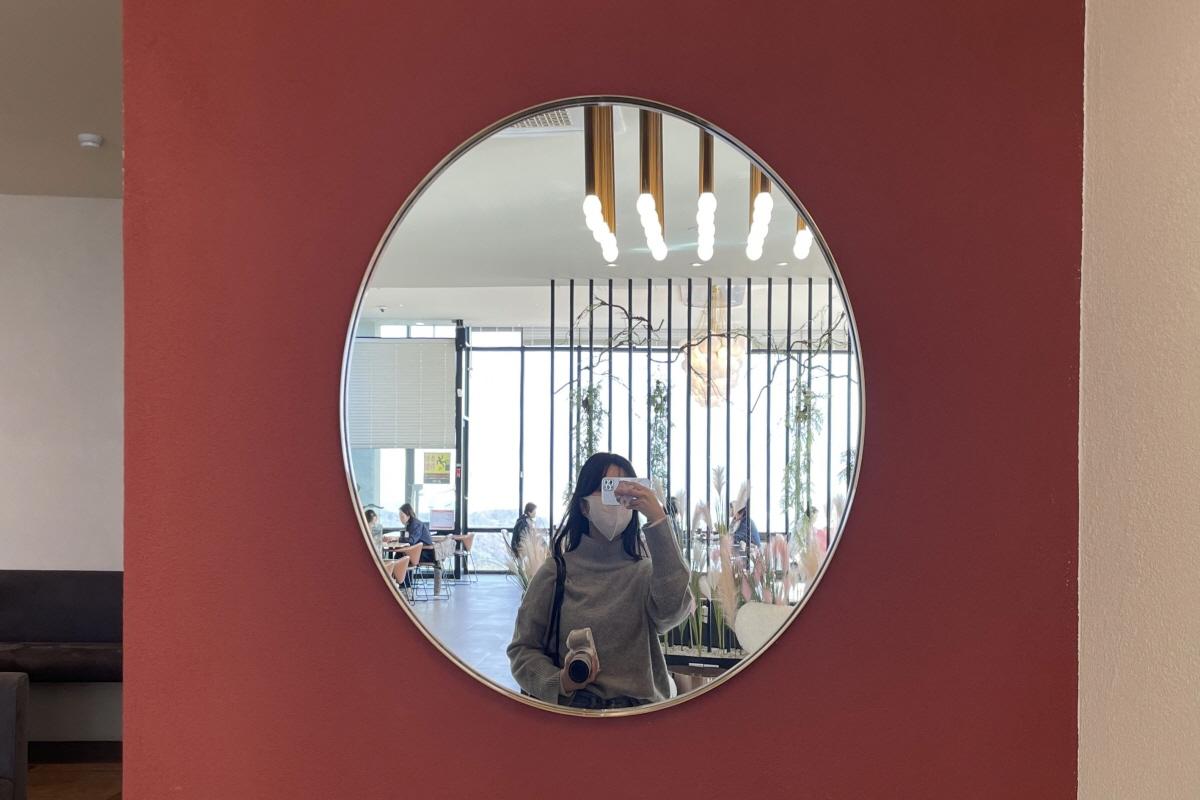 Of course when there's a mirror at a cafe, you can't forget to take a mirror selfie!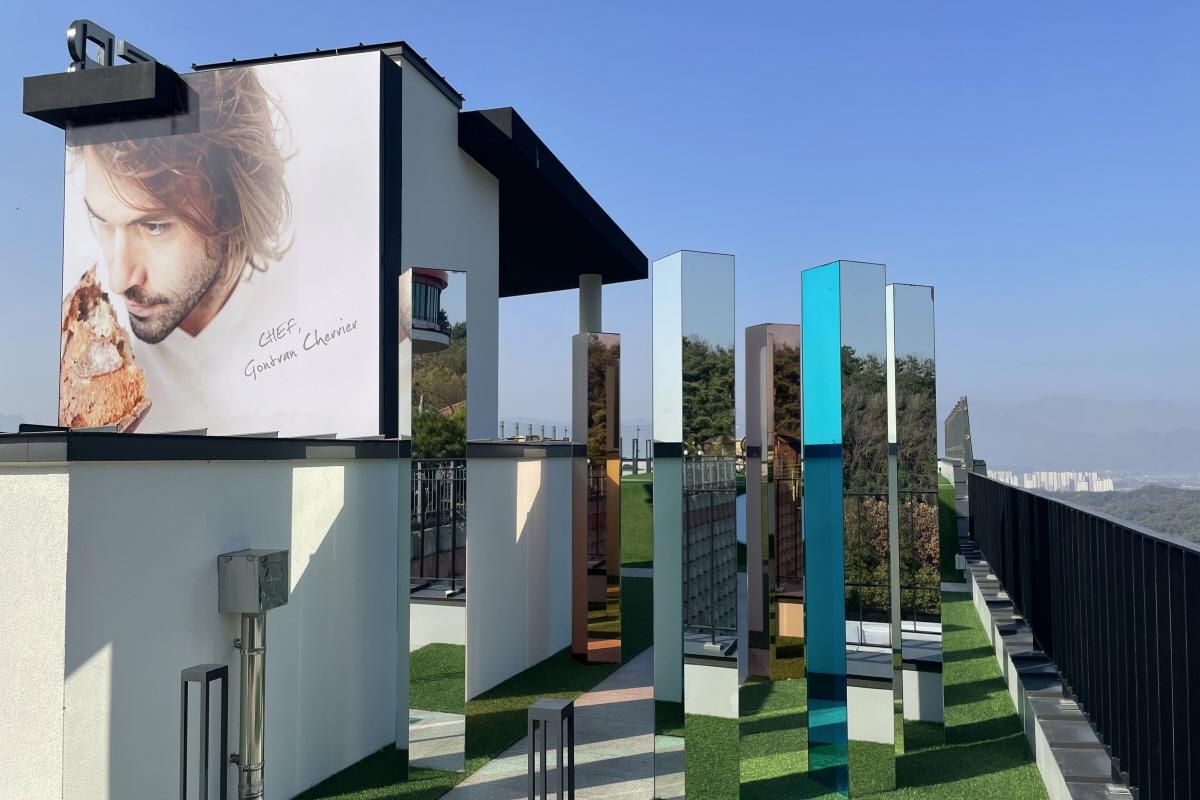 Before our order came out, we went to check the rooftop as well.
The man in the photo is Gontran Cherrier, CEO of the Gontran Cherrier brand.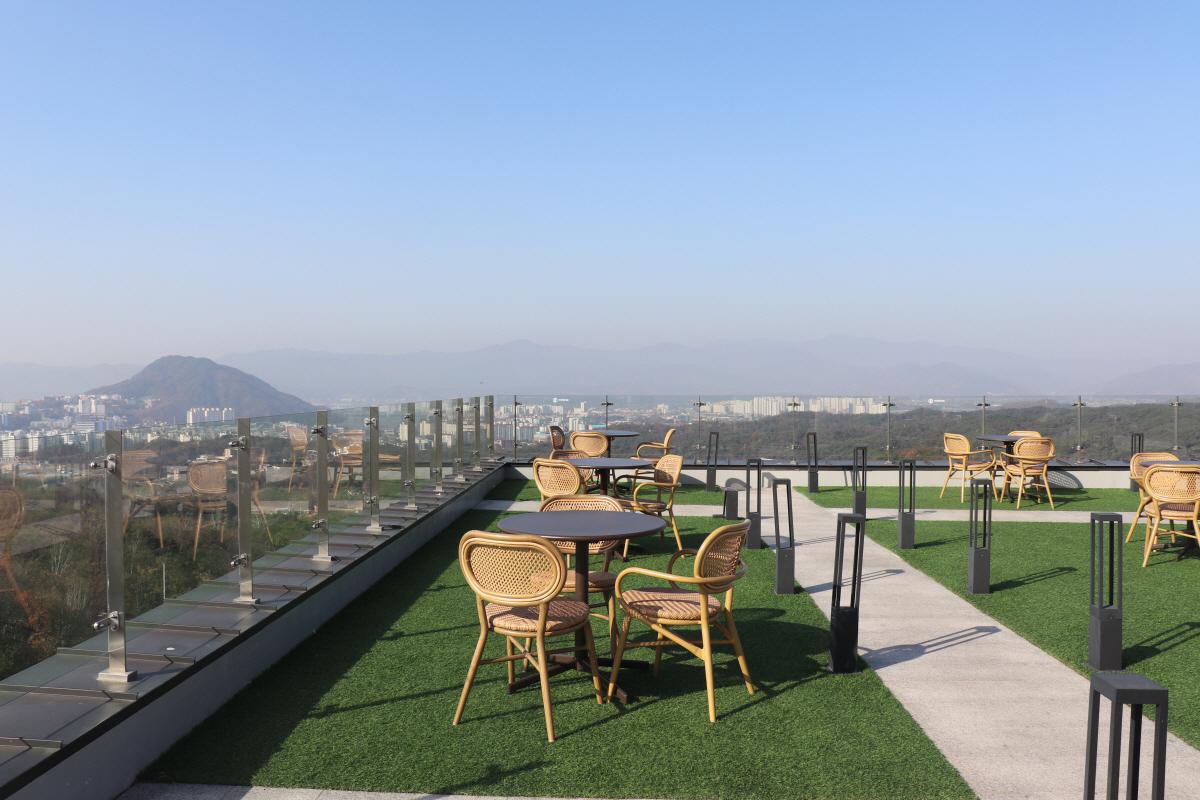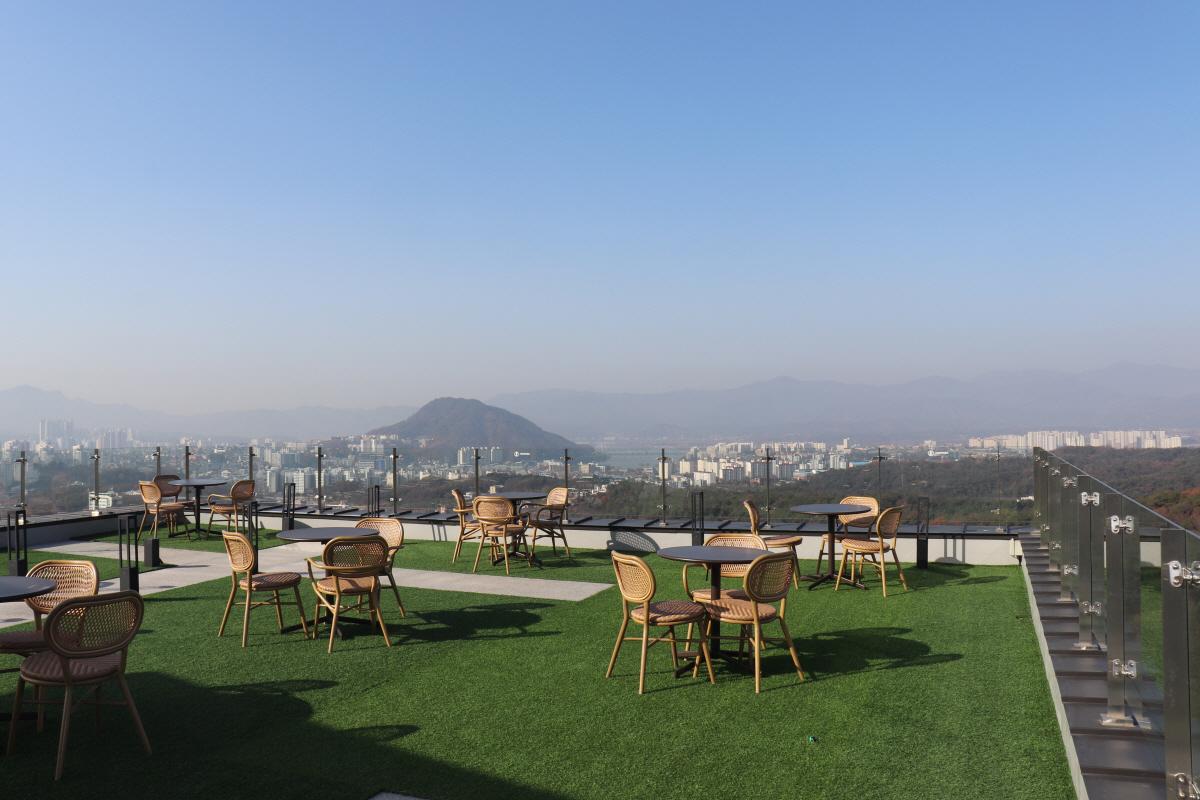 There were quite a few seats on the rooftop, so you don't have to worry about not finding a seat.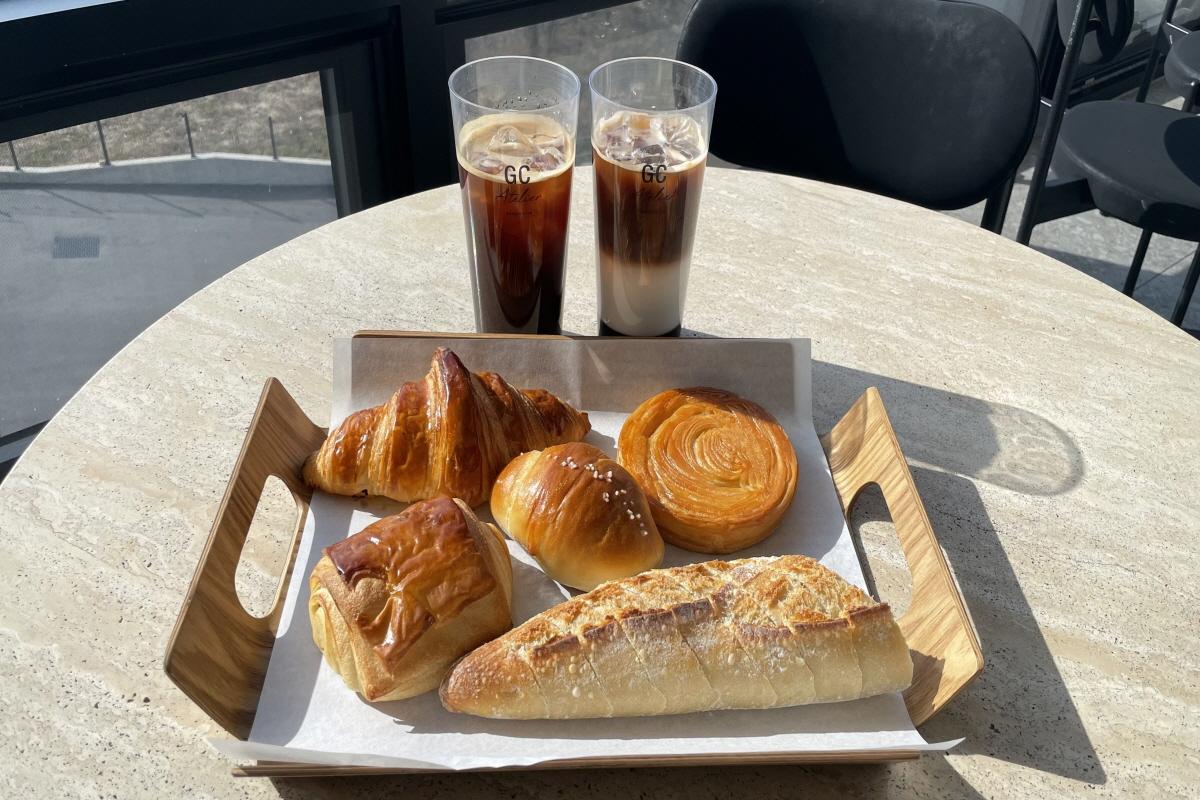 We ordered the 5 best-selling breads, an Iced Americano, and a Cafe Earl Grey.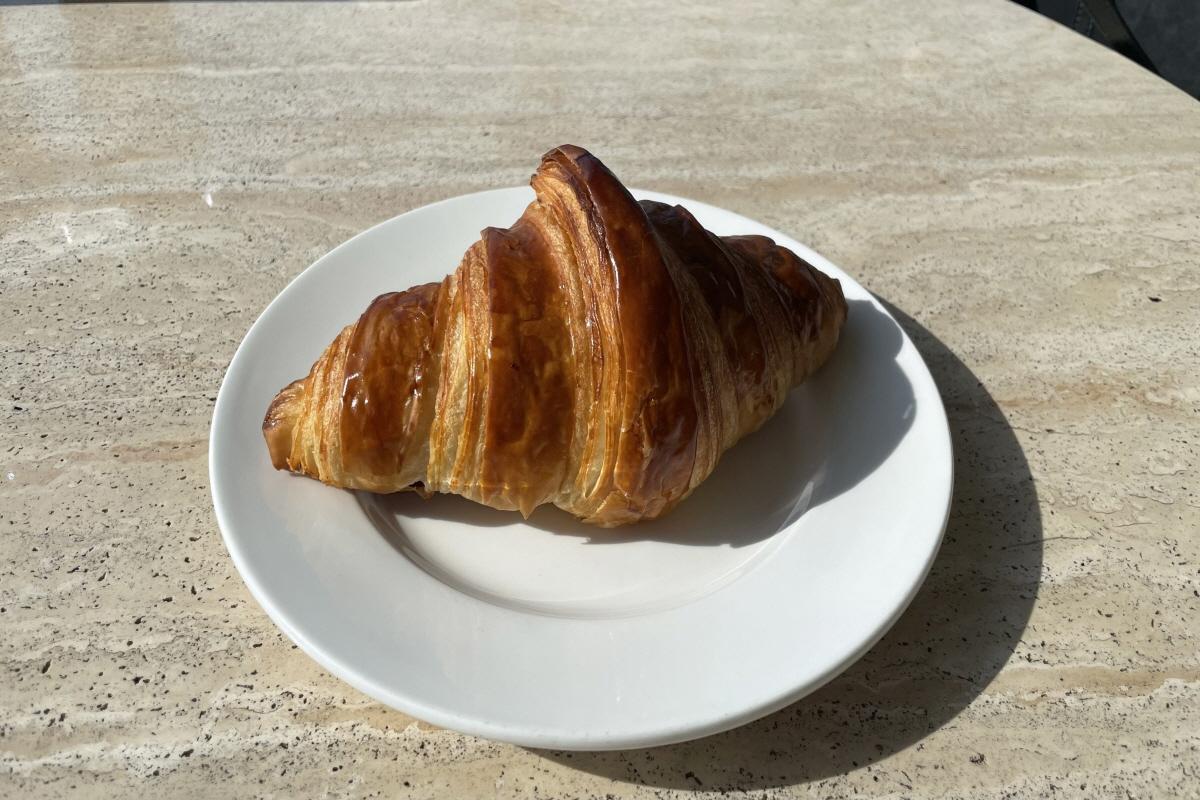 Croissant (크루아상)
4,200 won
Croissants are the star menu item at Gontran Cherrier GC Atelier. They are perfectly crispy on the outside and soft on the inside, with a light and pleasing taste. It goes well with various dairy-based drinks.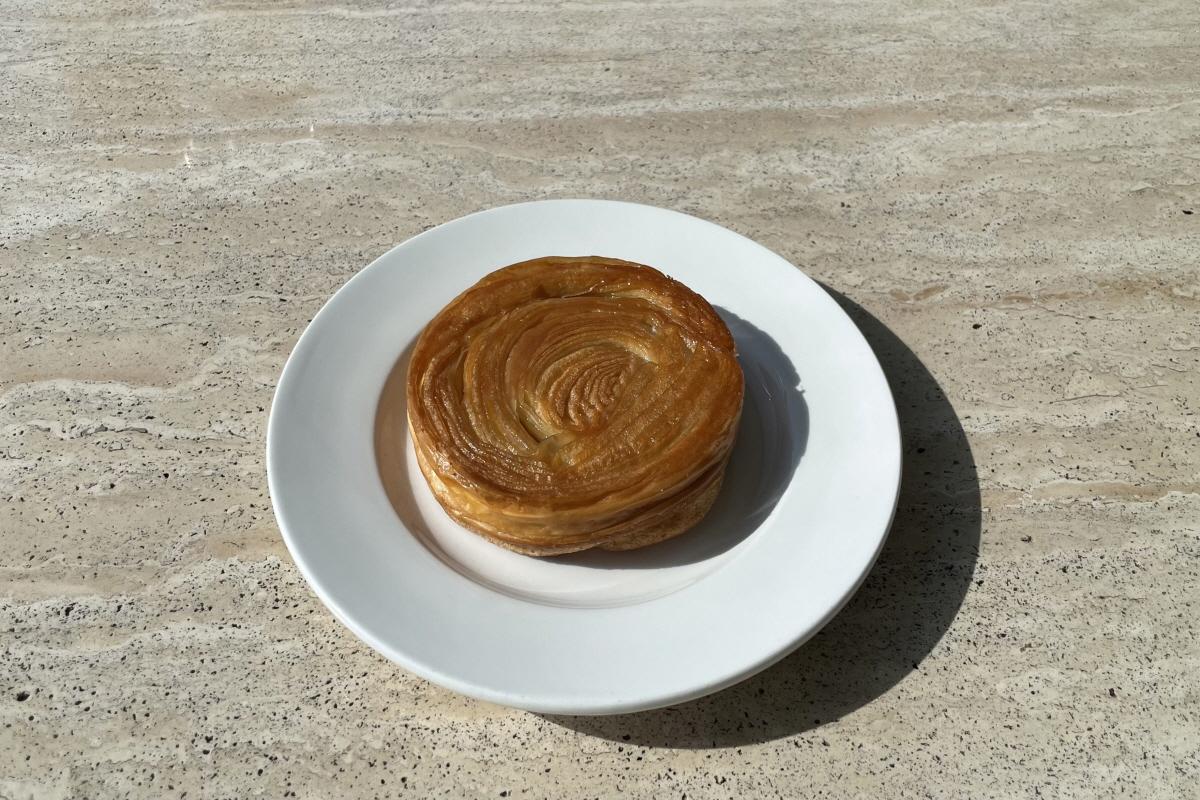 Kouign-Amann (퀸아망)
4,200 won
A Kouign-amann is a pastry baked with a lot of sugar on top.
It is very easy to burn the sugar and ruin the taste when baking these, but GC Atelier bakes theirs just right!
This is very butter heavy, so definitely not low in calories, but it is very delicious.
Pain Au Chocolat (빵 오 쇼콜라)
4,200 won
This pastry is rolled up with chocolate inside and, as expected, the outside was crisp.
This would be perfect for anyone who enjoys croissants but is in the mood for something a little sweeter.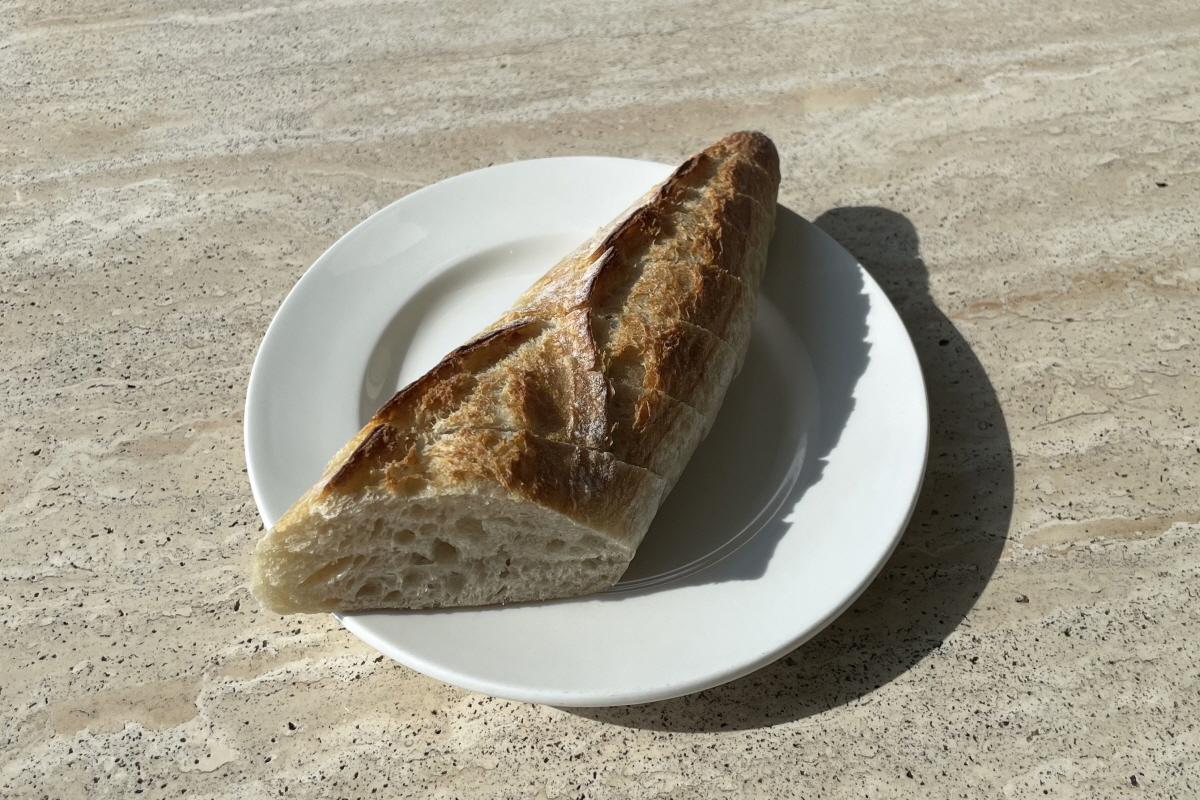 Traditional Baguette (바게트 트라디시옹)
4,800 won
The representative bread of France!
This baguette's crust is not too hard and would be even more delicious with a soft cheese.
Jambon-beurre sandwiches, which are very popular in Korea right now, are made with baguette bread.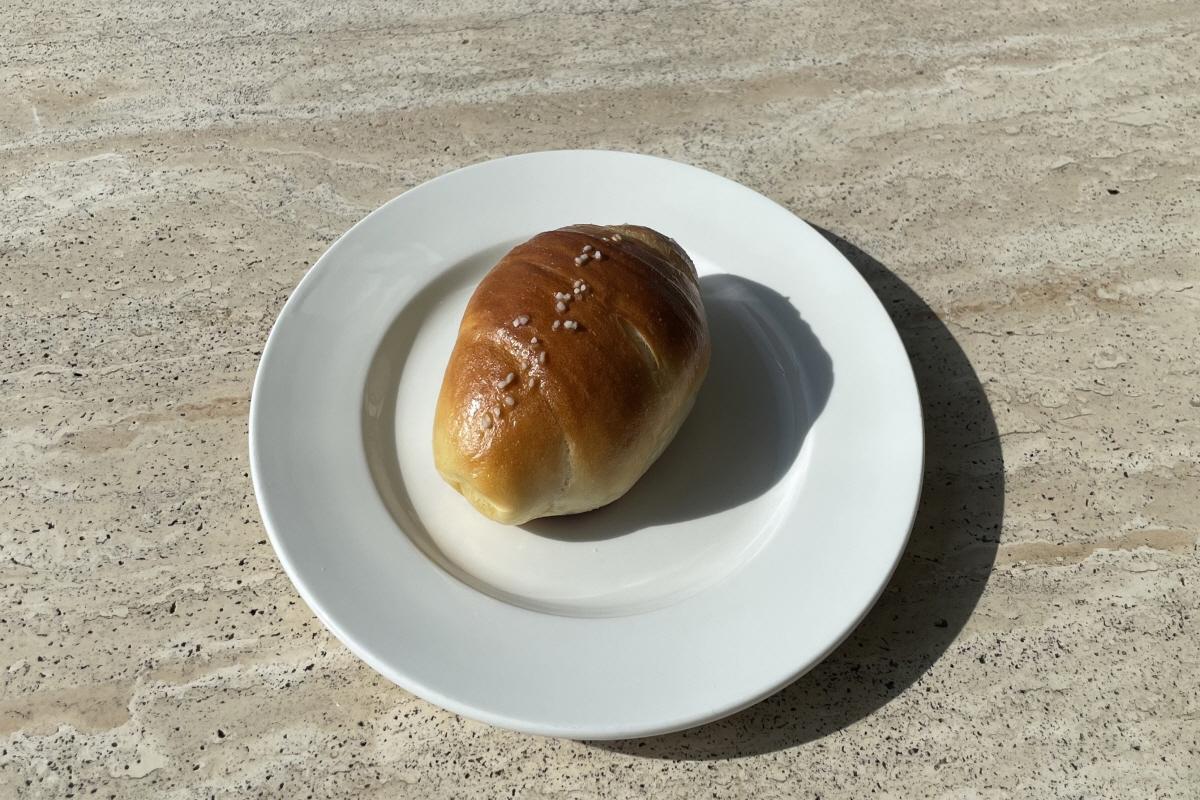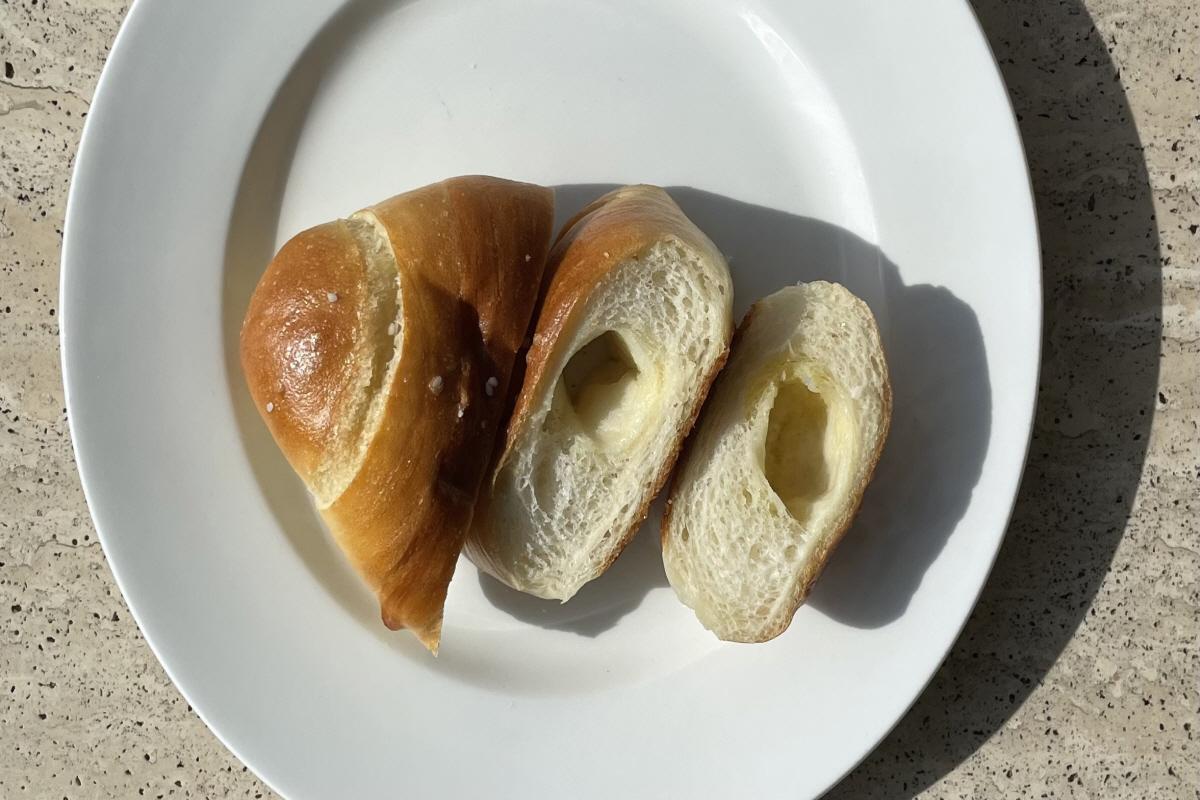 Salted Butter Bread (소금버터빵)
2,300 won
These butter rolls are sprinkled with sea salt and baked to perfection.
The salty and rich buttery bread has been something of a sensation on social media lately.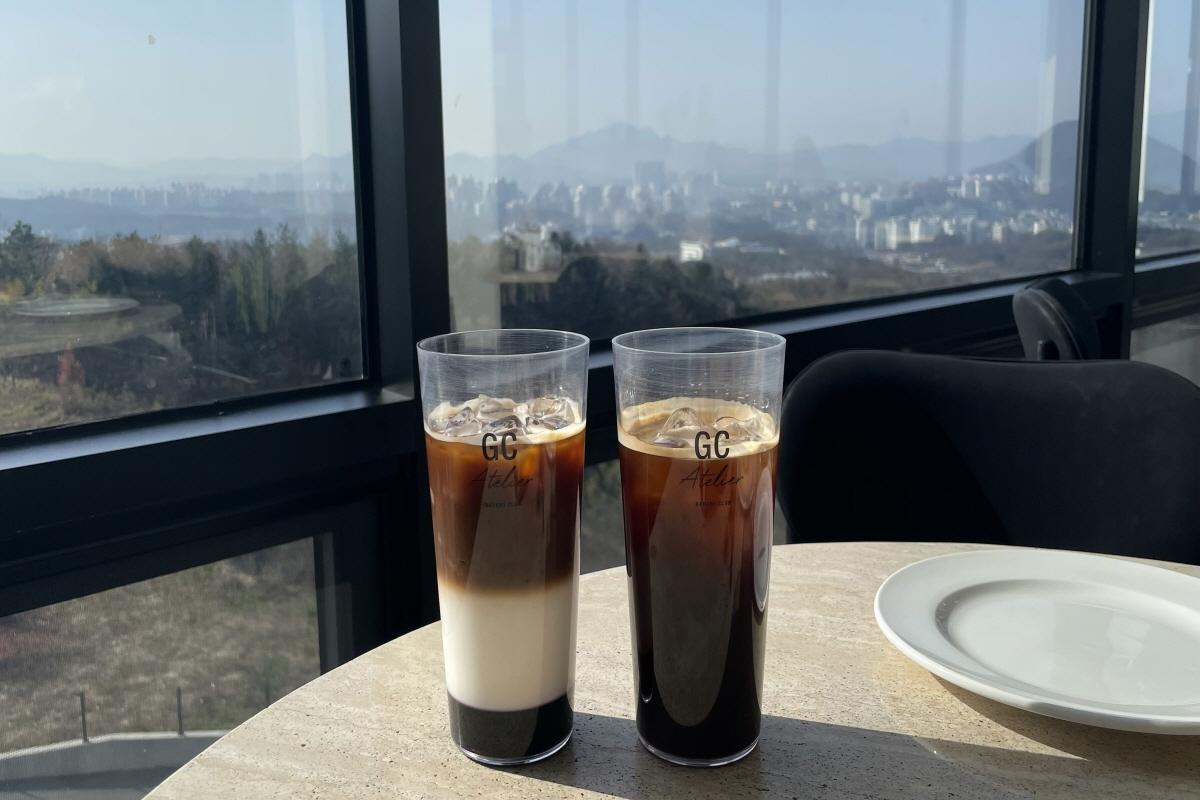 Cafe Earl Grey (카페 얼그레이)
7,500 won
This is a new drink available at GC Atelier.
The violet Earl Grey syrup, milk, and espresso shots are added one at a time and not mixed, so be sure to use your straw to mix before sipping.
It goes well with the bread and looks very cool too!
Iced Americano (아이스 아메리카노)
6,200 won
GC Atelier uses coffee beans that are rich and aromatic and don't have any of the tart, fruity taste some varieties of coffee do.
It went really well with the sweet breads, so I was satisfied.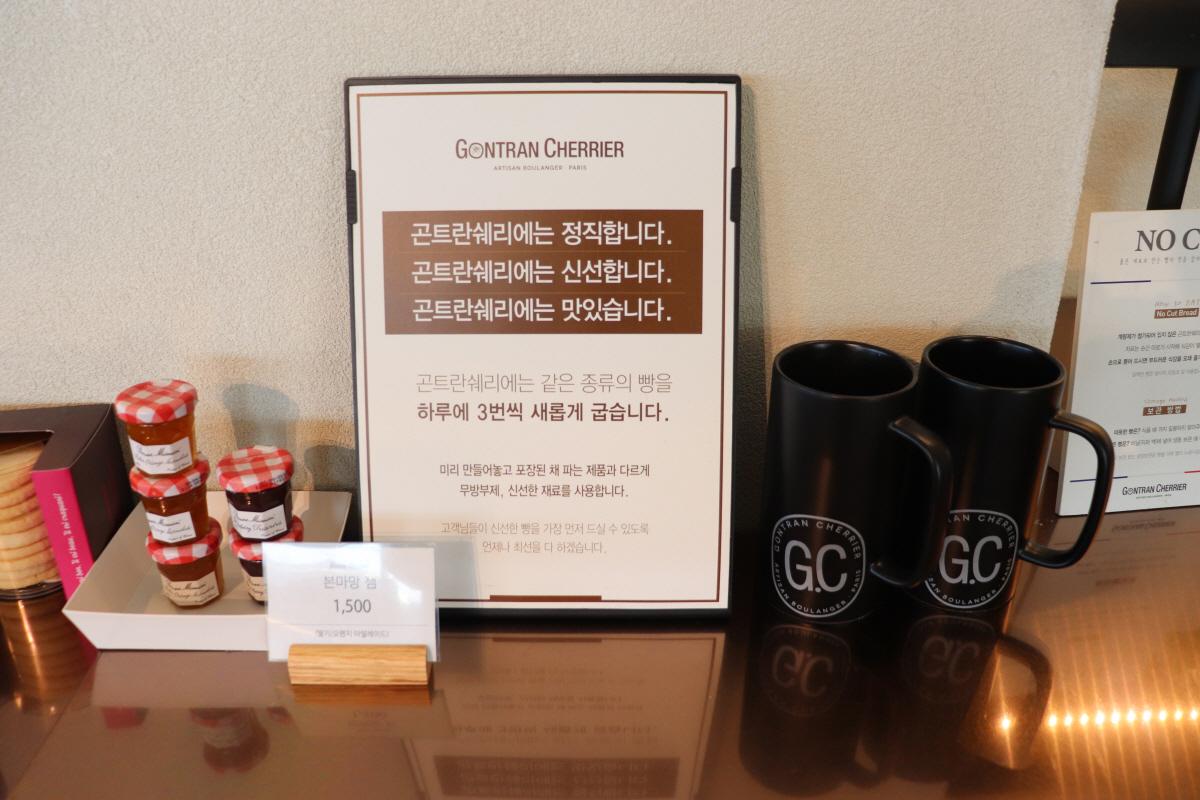 We noticed this sign on the way out. It says "At Gontran Cherrie, we bake each type of bread three times a day", meaning that they are constantly baking to serve their customers only the freshest breads.
The passion and dedication can be tasted for sure!
---
How To Get There
Gubongsan Mountain Observatory Cafe Street is most easily accessed by car, so it is recommended to take a taxi if you do not have your own vehicle.
From Chuncheon Dakgalbi Street: Takes about 10 minutes, taxi fare is around 6,500 won.
From Chuncheon Station Exit 1: Takes about 20 minutes, taxi fare is around 9,500 won.
---
That was our review of Gontran Cherrier GC Atelier, the place with the most delicious bread on Gubgongsan Observatory Cafe Street.
If you're craving authentic French breads and pastries, you have to check this place out!
And don't forget to download your Creatrip coupon to get 10% off your order!
---
---