Tour Of Gangwondo | Chuncheon & Gangneung Highlights And Must Sees
A comprehensive list of sites and attractions in Chuncheon and Gangneung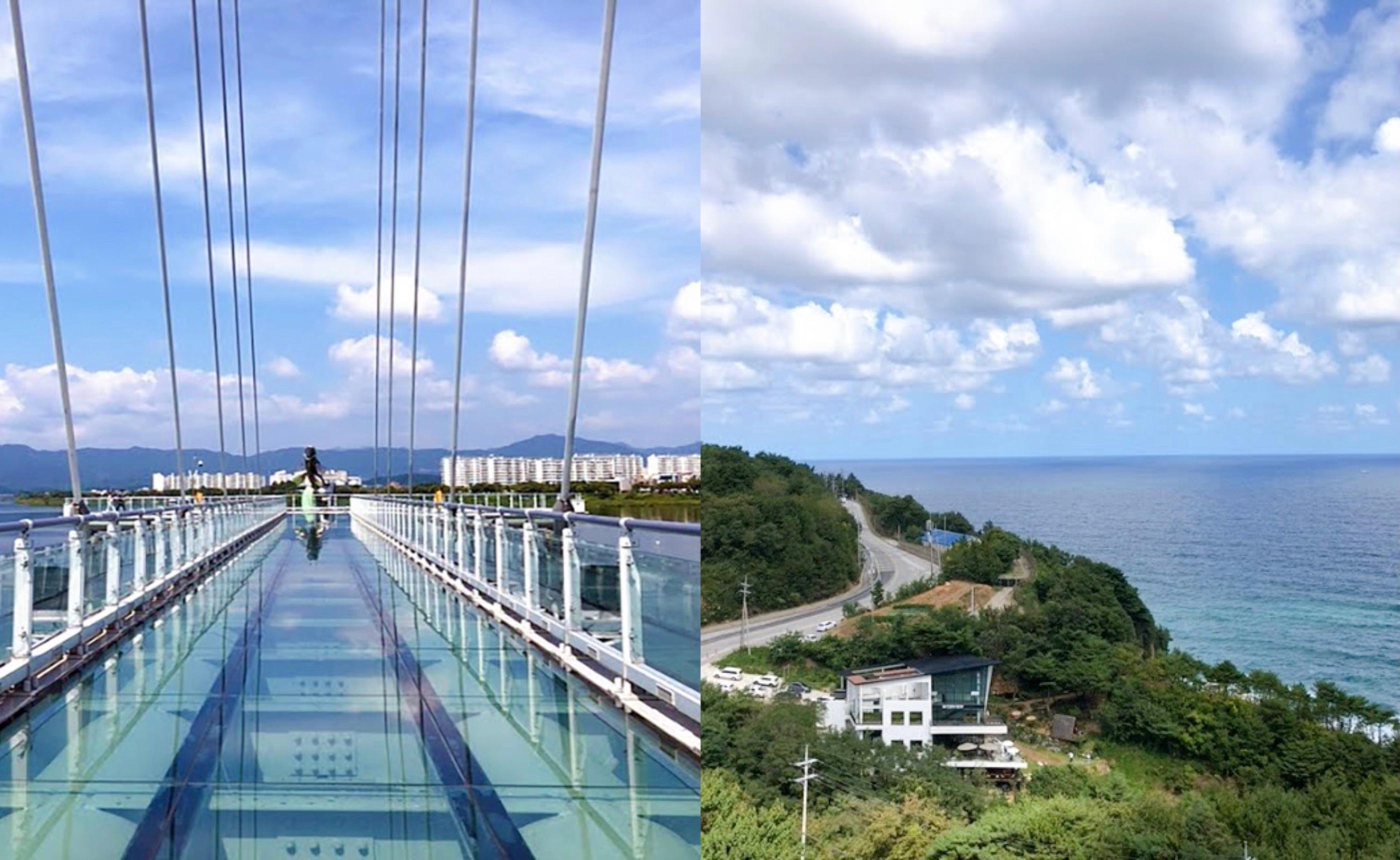 When it comes to travel in Korea, aside from the bustling city of Seoul, what places come to your mind?
Today we're going to take you on a virtual trip to Chuncheon and Gangneung in Gangwon-do, only a couple hours max from Seoul by car.
But if you don't have a car, there's no need to worry because we've explored it all and have public transit directions for you.
Let's get started!
---
Chuncheon
춘천시
How To Get There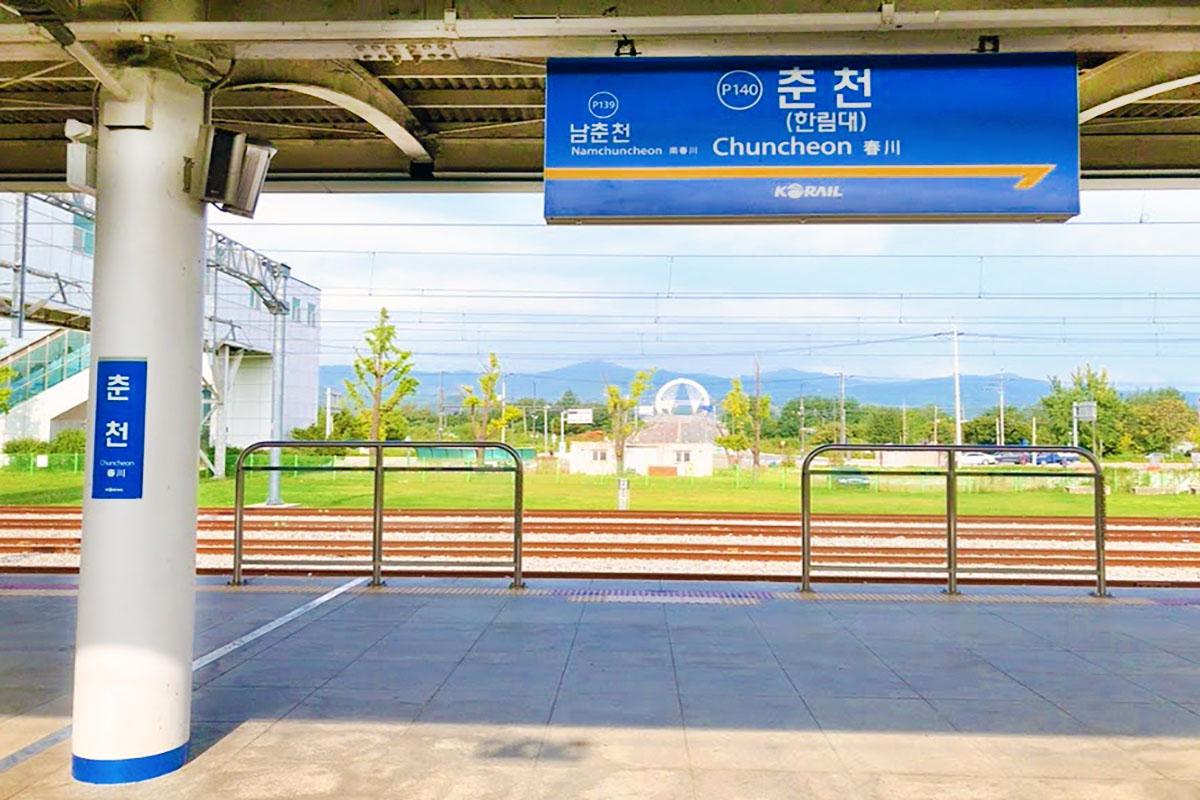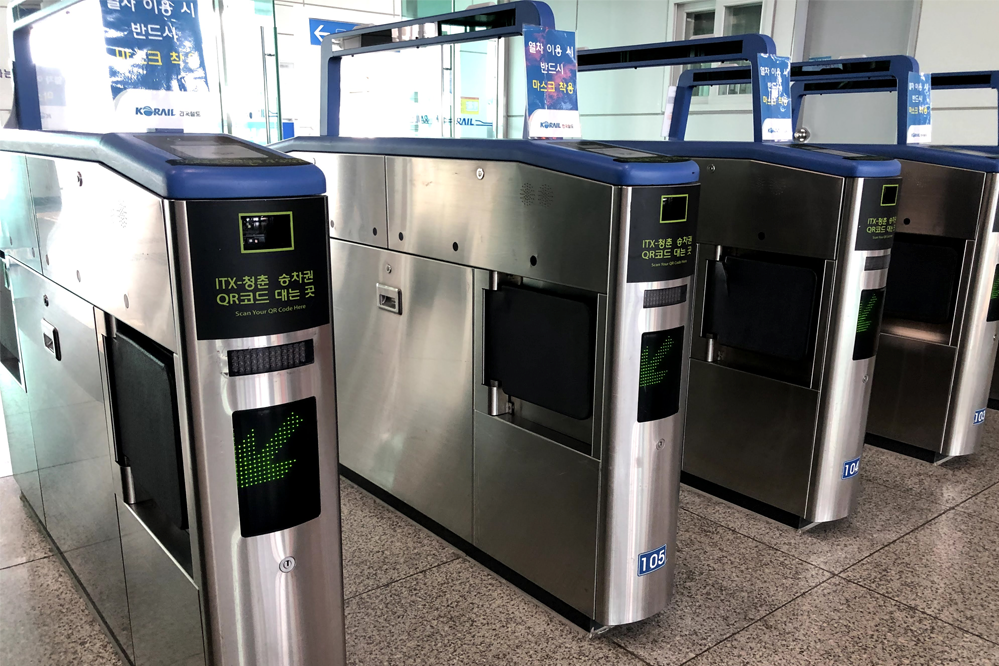 From Seoul there are multiple ways to travel to Chuncheon. There are busses and trains you can take, but we have the most convenient option mapped out for you.
The ITX train can get you there in just 1 hour. ITX does not stop at Seoul Station and also does not stop at every station, so take that into consideration when planning.
Your best bet is to leave from either Yongsan Station (용산역) or Cheongnyangni Station (청량리역).
Don't forget that you must present your QR code to take this train.
Gubongsan Observatory Cafe Street




구봉산 전망대 카페거리
Address: 강원도 춘천시 동면 순환대로 1154-113
Transit: 20 minute taxi ride from Chuncheon Station.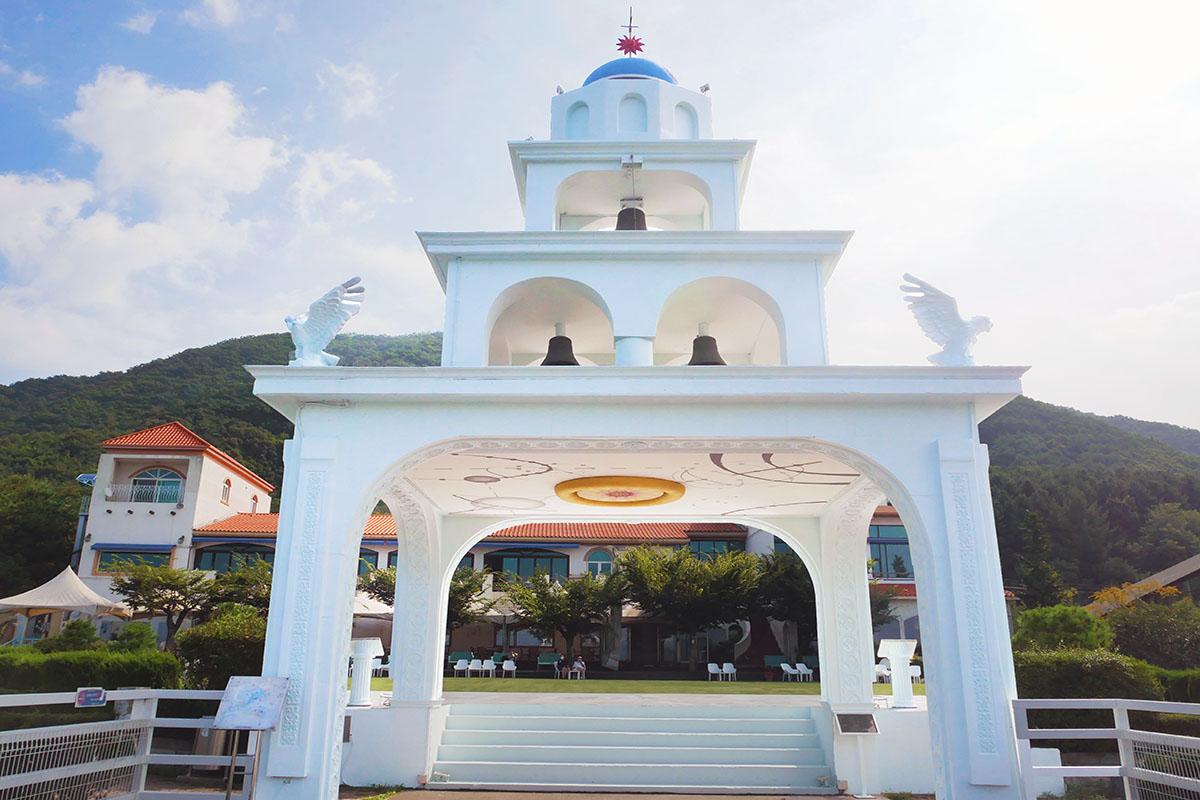 The 441-meter-high Gubongsan is made up of nine mountain peaks.
It has a bird's-eye view of Chuncheon city and the river, and is a good place to get close to nature.
The observatory is about a 20 minutes' drive from downtown Chuncheon and the train station.
Since there is now bus stop nearby, taxi is the best way to get there. It cost us about 11,000 won.
When you see "observatory" in the name, you might think that there is a place to view, but in fact there is no viewing platform. There are however, many beautiful cafes where you can enjoy the scenery.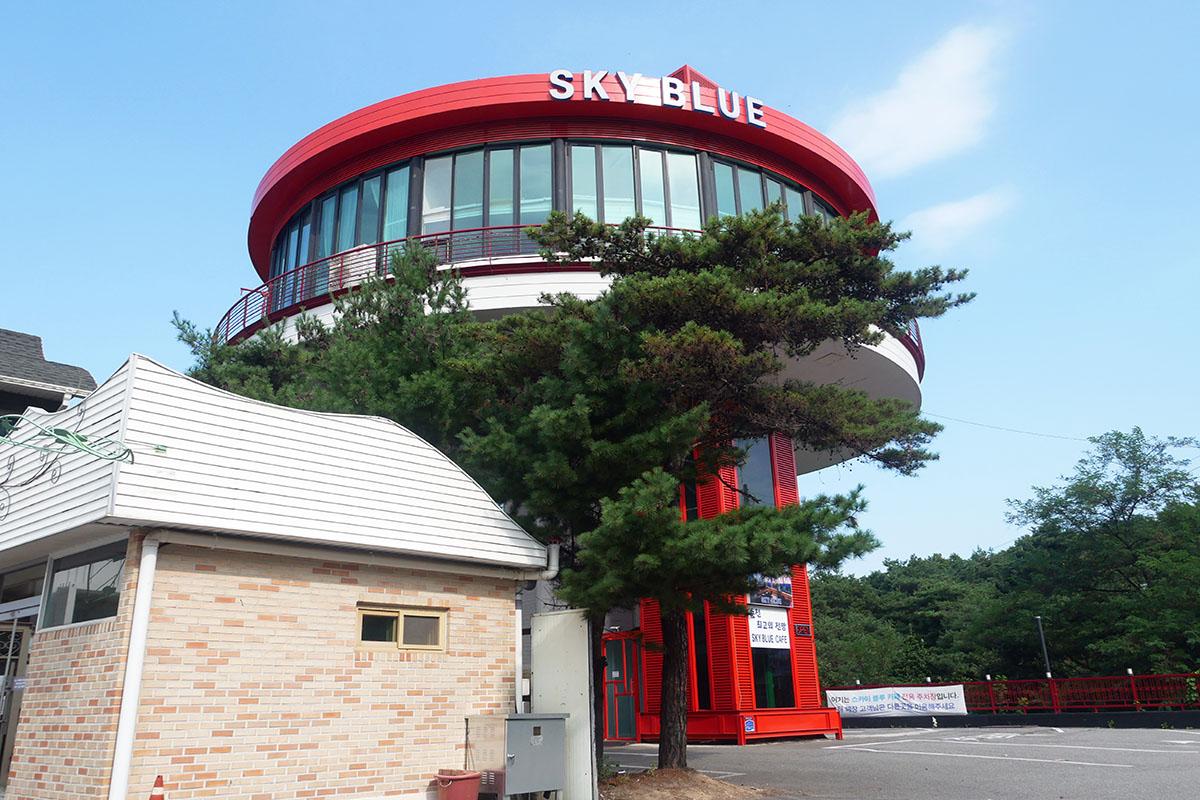 Following the opening of the mountainside road in the 90s, many people took interest because of the views and chose to open cafes and restaurants here, forming the Gubongsan Observatory Cafe Street that we know today.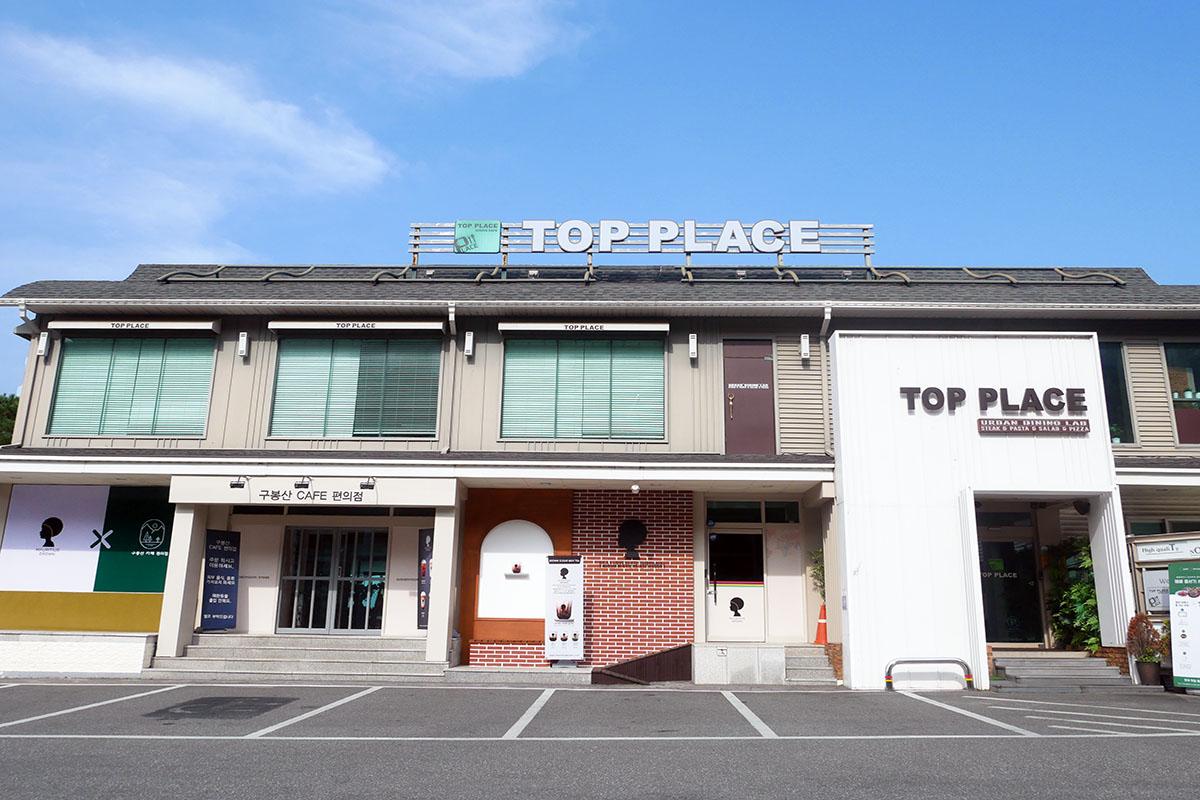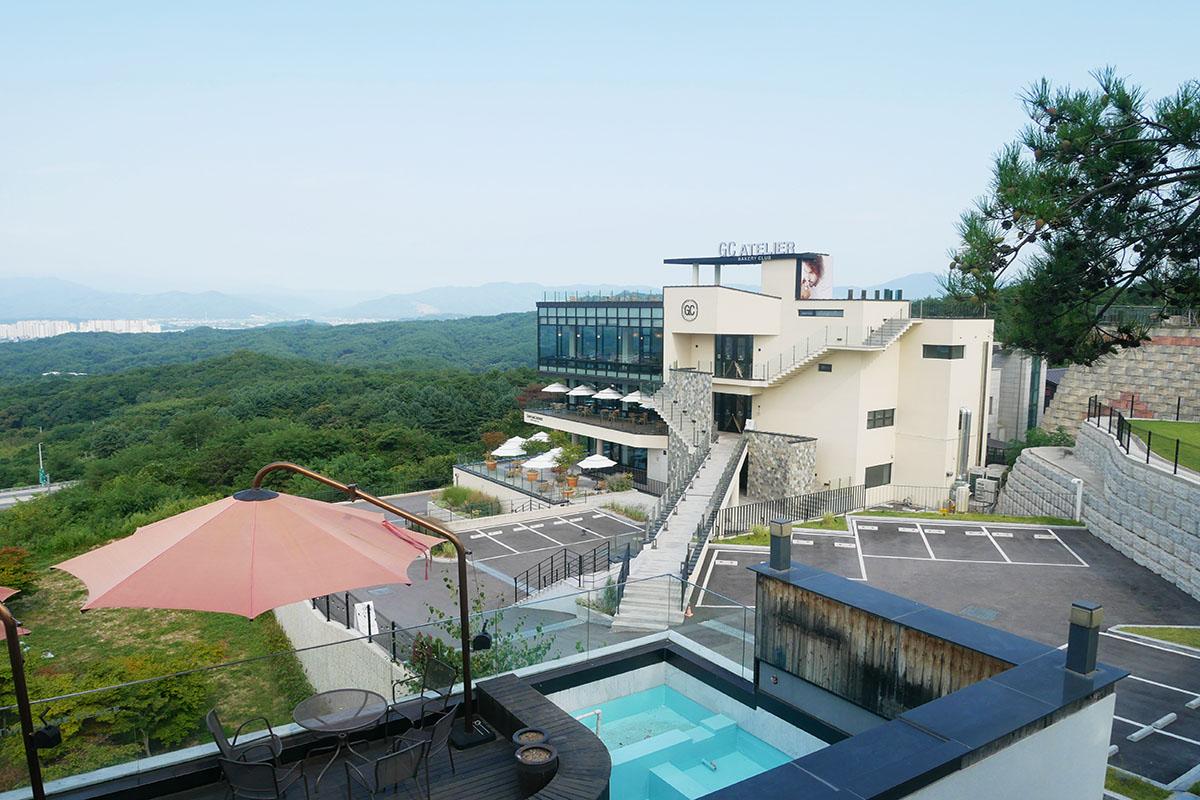 The street was pretty deserted at 9:00 on a weekday morning, and some stores had not even opened yet for the day.
I suggest going in the afternoon so you can relax at a cafe and watch the sunset.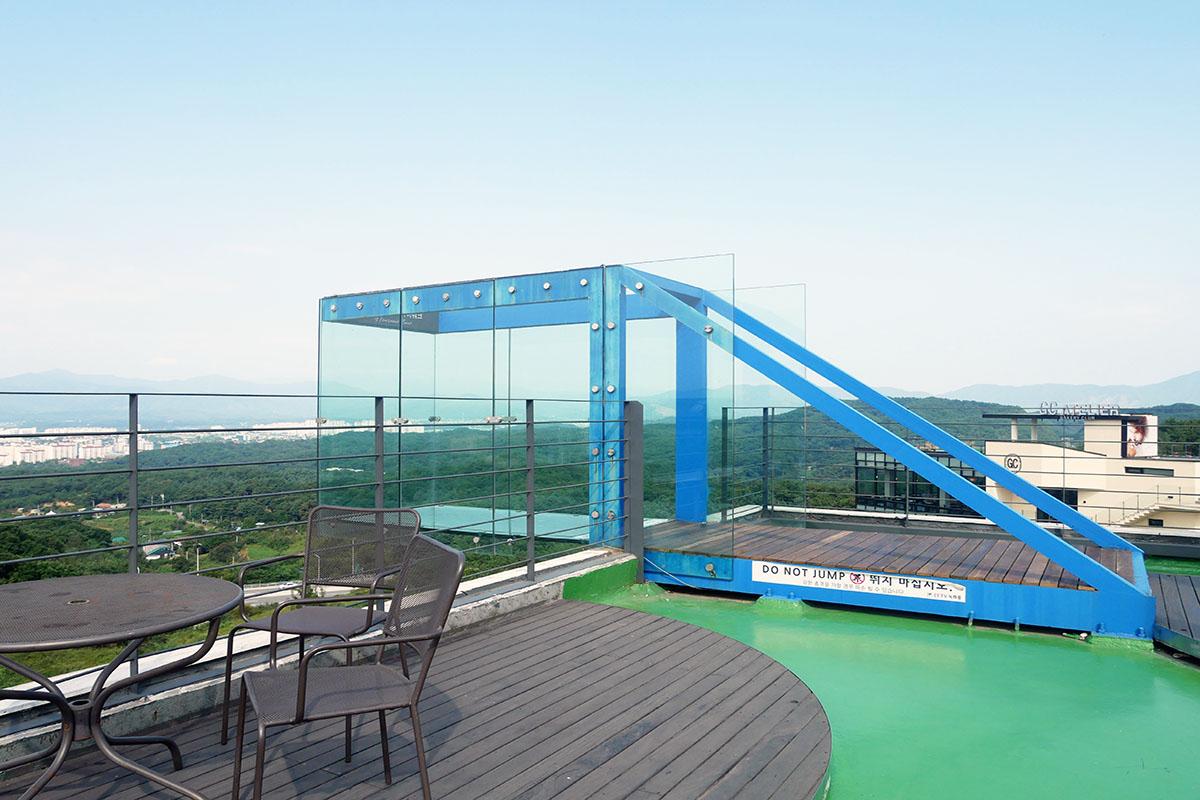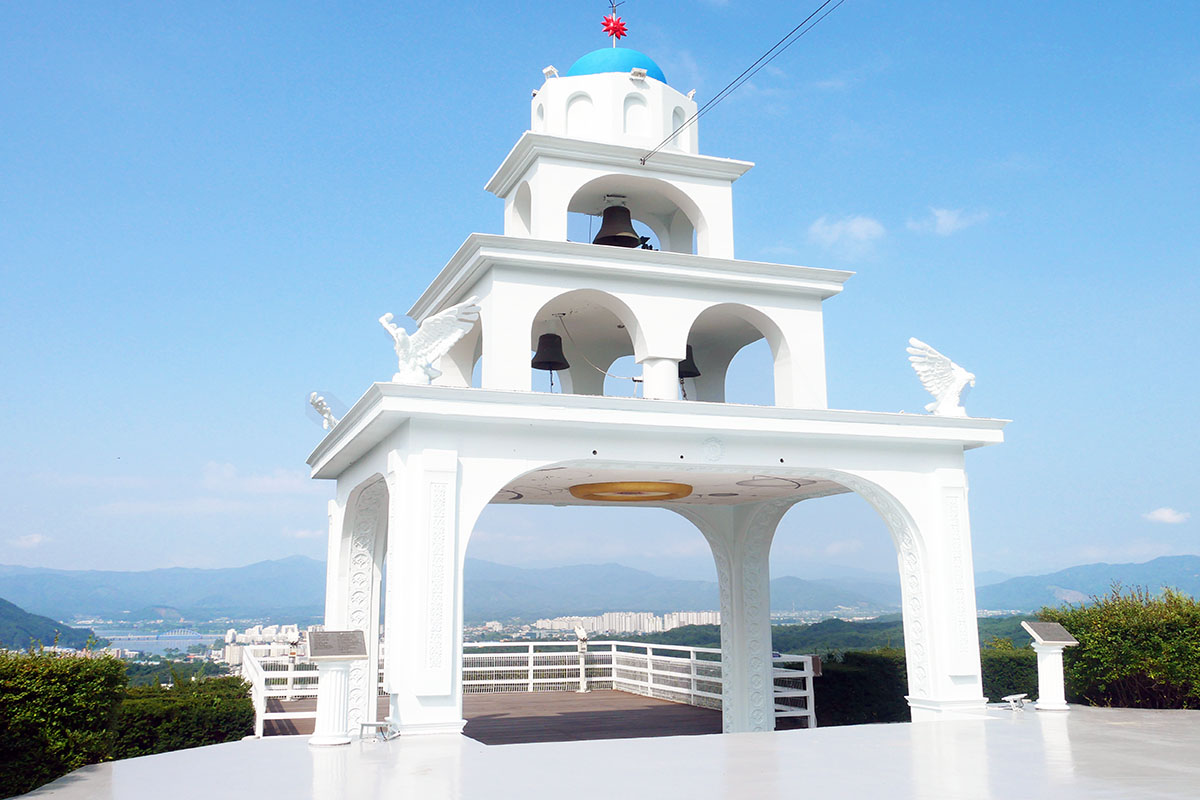 Each coffee shop has its own distinct style in order to set themselves apart from the numerous other cafes, so you can definitely find one that will suit your tastes.
When I went there were not many people out because it was early, so I enjoyed the morning alone.
Cafe Gamzabatt
카페 감자밭
Address: 강원 춘천시 신북읍 신샘밭로 674
674 Sinsaembat-ro, Sinbuk-eup, Chuncheon-si, Gangwon-do
Hours: 10:00-20:30
Transit: Take bus 11 or 12 at Chuncheon Station Transfer Center (춘천역환승센터) to Sangcheon Elementary School Station (상천추등학교)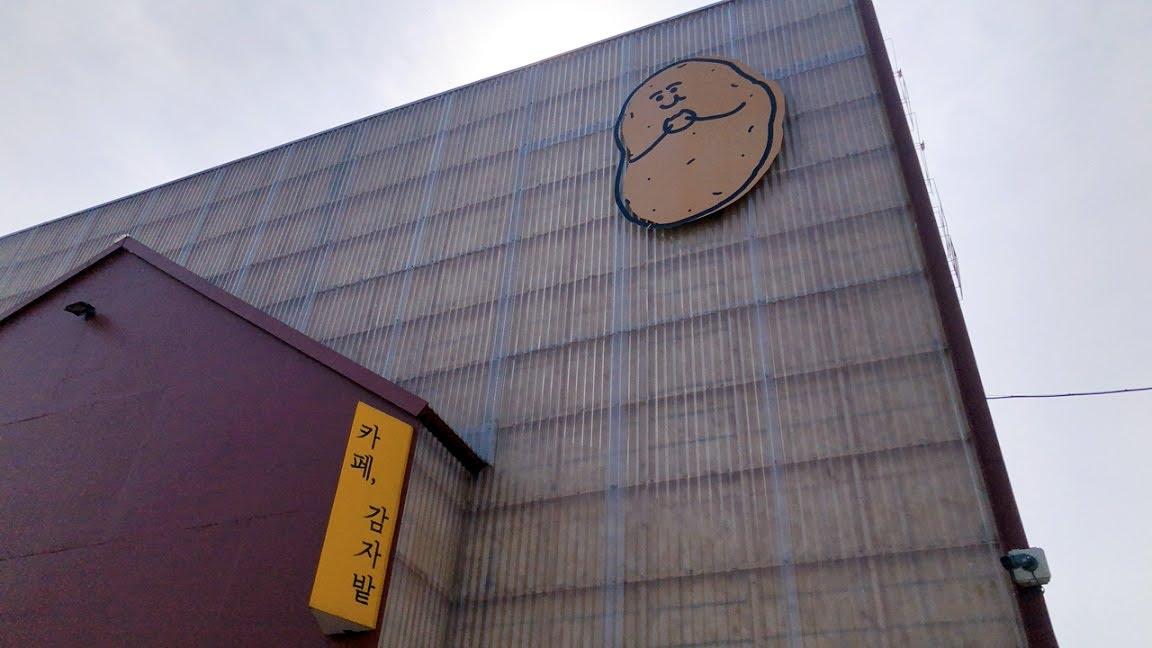 Cafe Gamzabatt is famous for its potato bread, its name meaning "potato field"
The shop also sells some potato themed merchandise.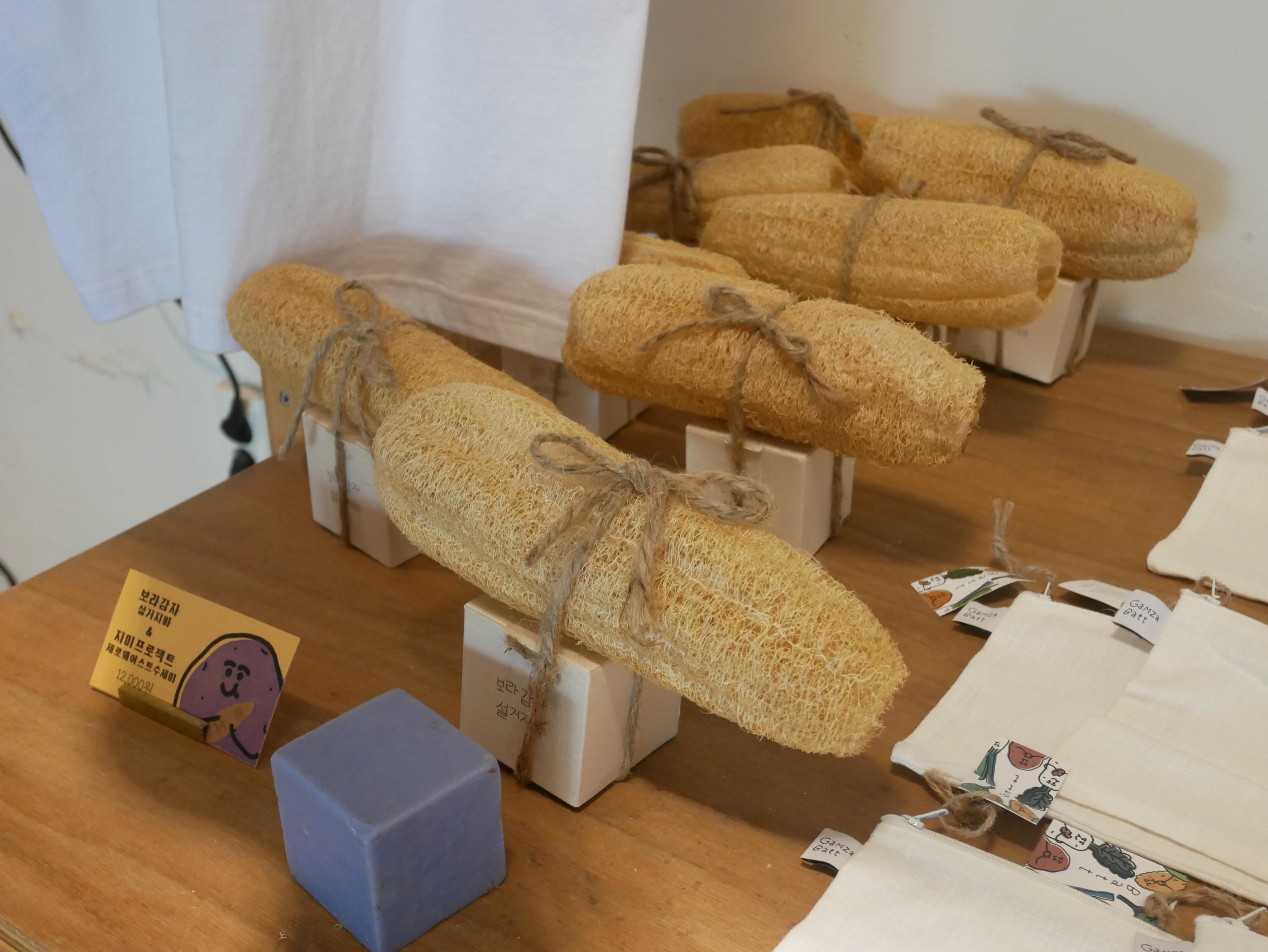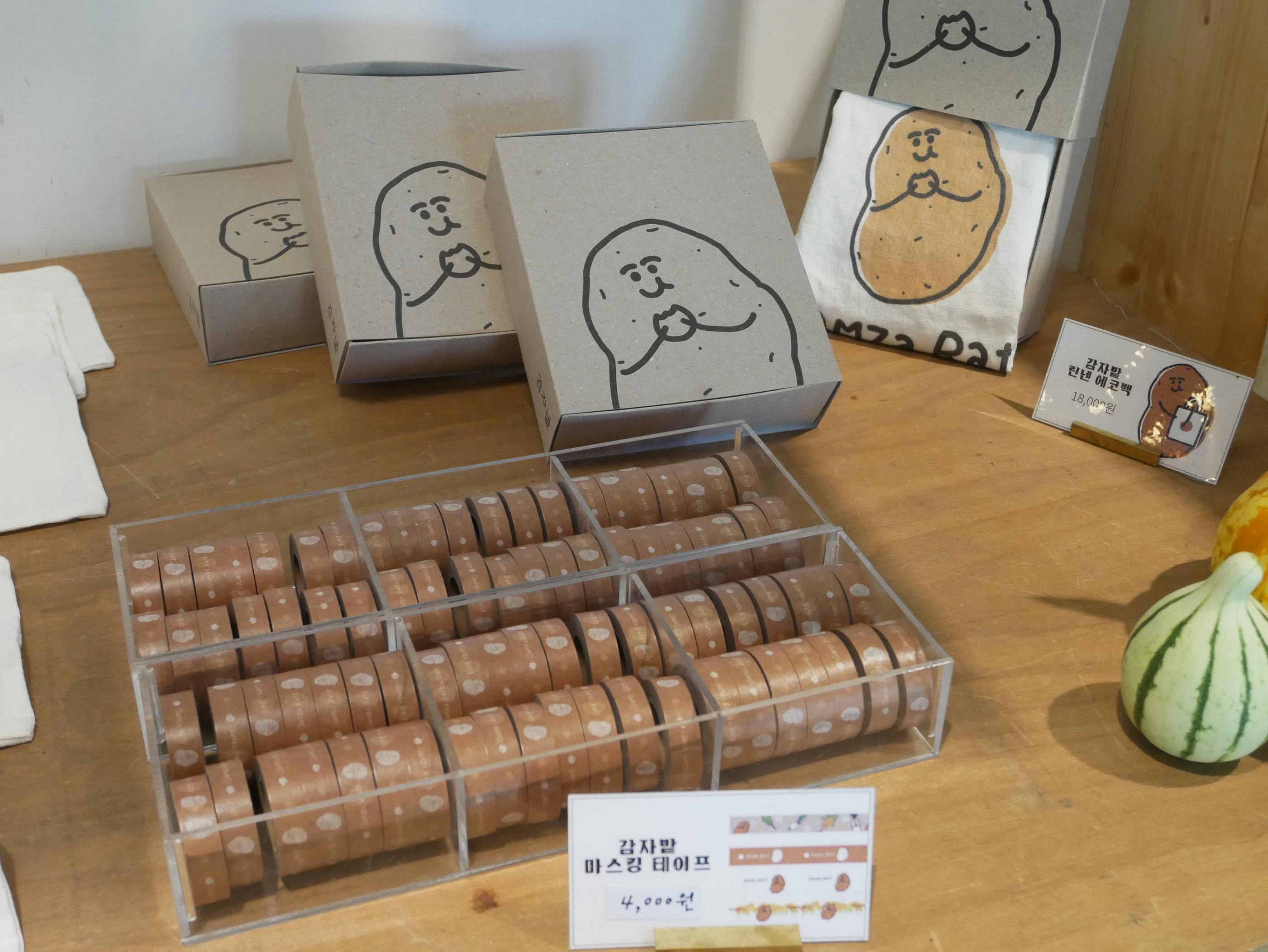 In addition to tape, tote bags, and stationary, the cafe also sells dish sponges that are made from all natural plant materials and are earth-friendly!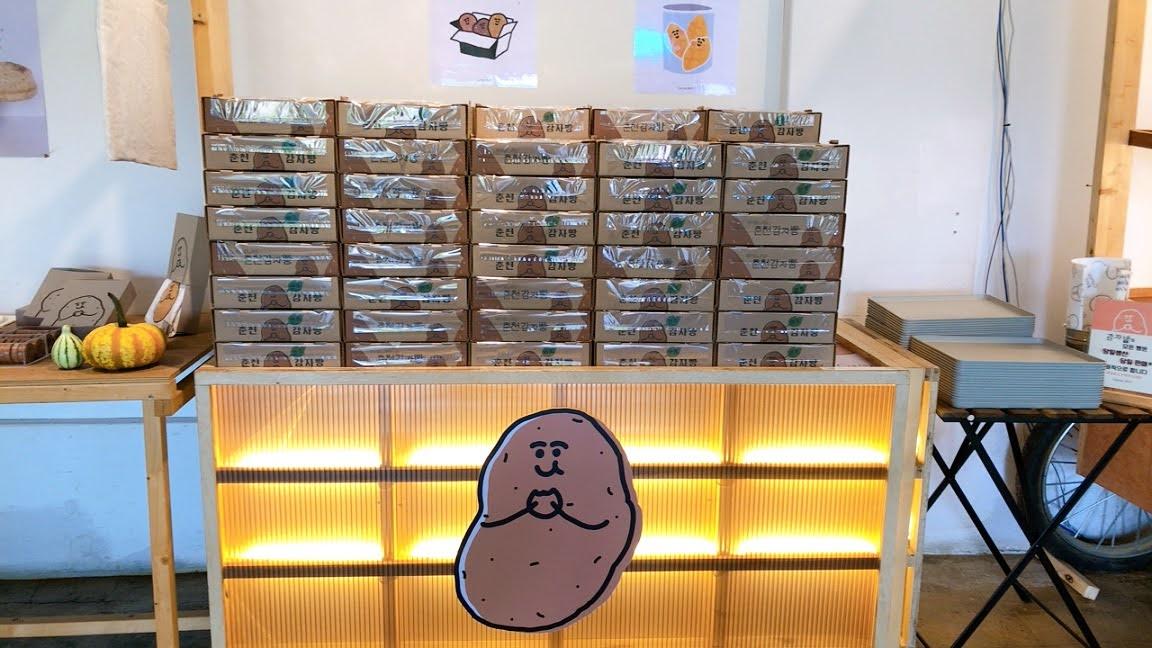 The main flavors offered are original, cheese, and curry.
The average price is 3,300 won for one, or 29,700 won for a box of 10.
They presentation of both the food and the packaging is designed to make them look like real potatoes.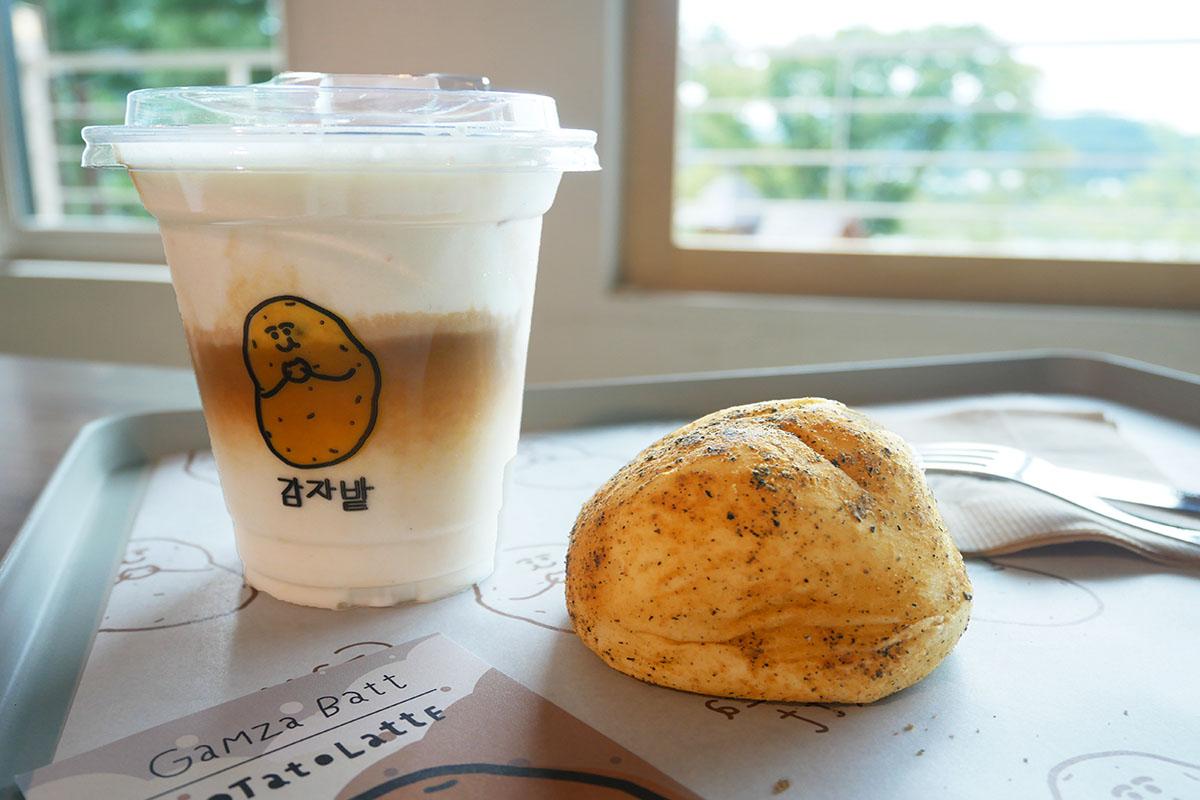 Potato Bread Original (춘천 감자빵) 3,300 won; Potato Latte (감자라떼) 6,000 won
The outer "skin" of the original potato bread is chewy and the filling is a dense and creamy mashed potato.
The taste of the potato latte is very unique, but just don't forget to stir it well!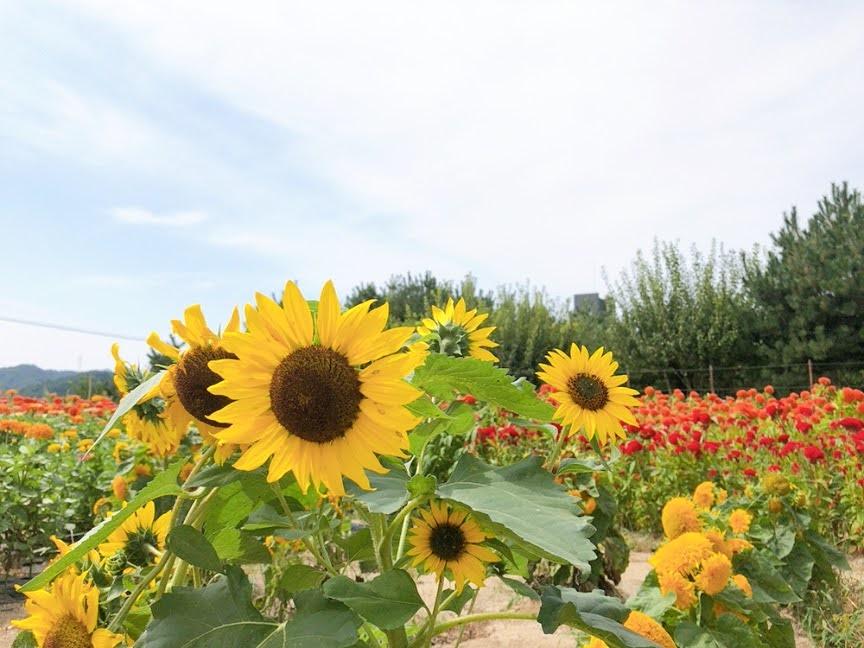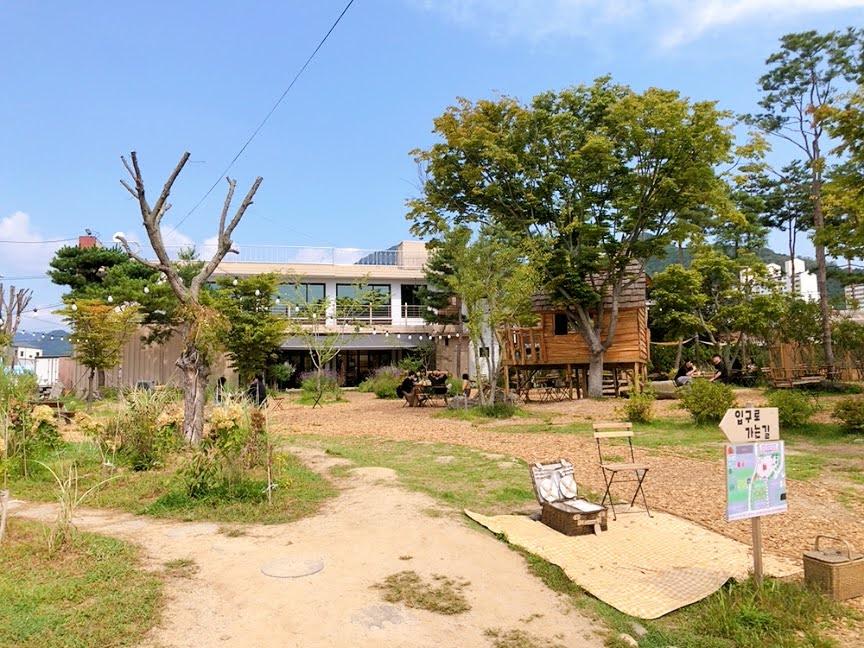 In addition to the novel and delicious foods, there is also a beautiful field of sunflowers, cock's combs and other flowers for you to enjoy.
Soyanggang Skywalk
소양강스카이워크
Address: 강원도 춘천시 영서로 2663
2663 Yeongseo-ro, Chuncheon-si, Gangwon-do
Hours:
Mar-Oct: 10:00-21:00
Nov-Feb: 10:00-18:00
Admission: 2,000 won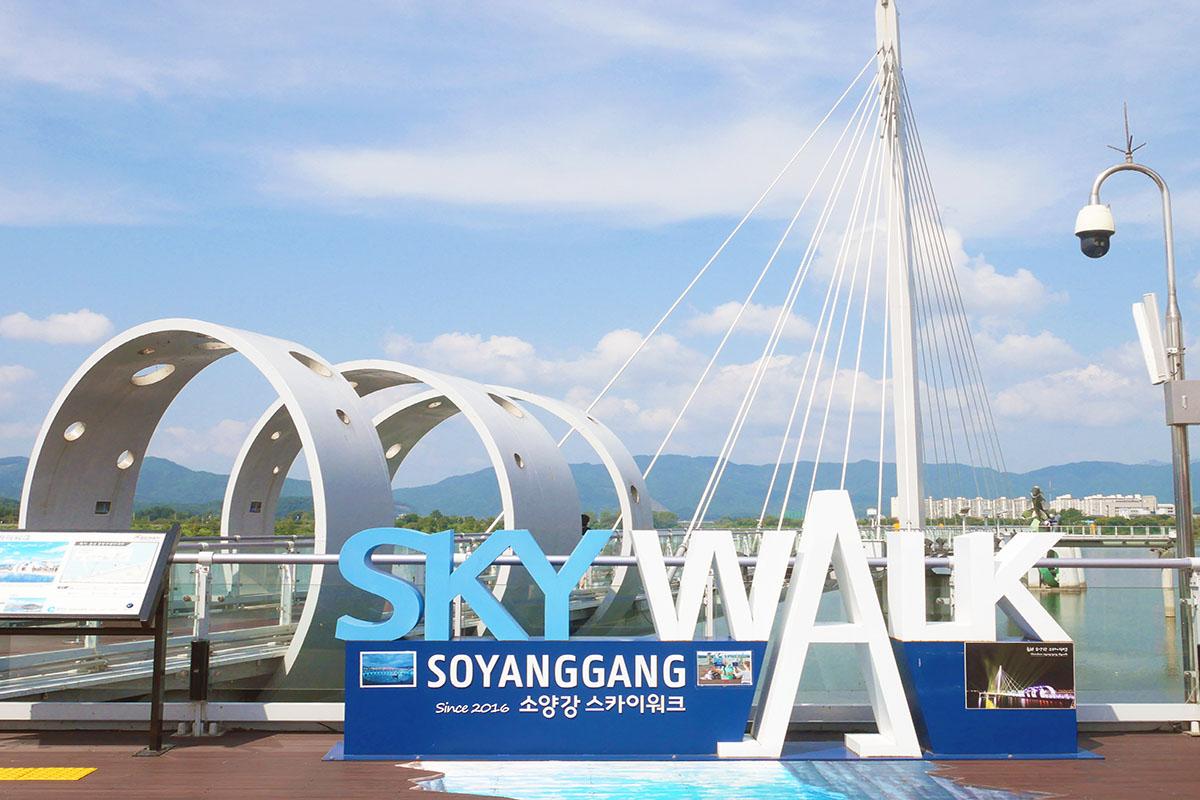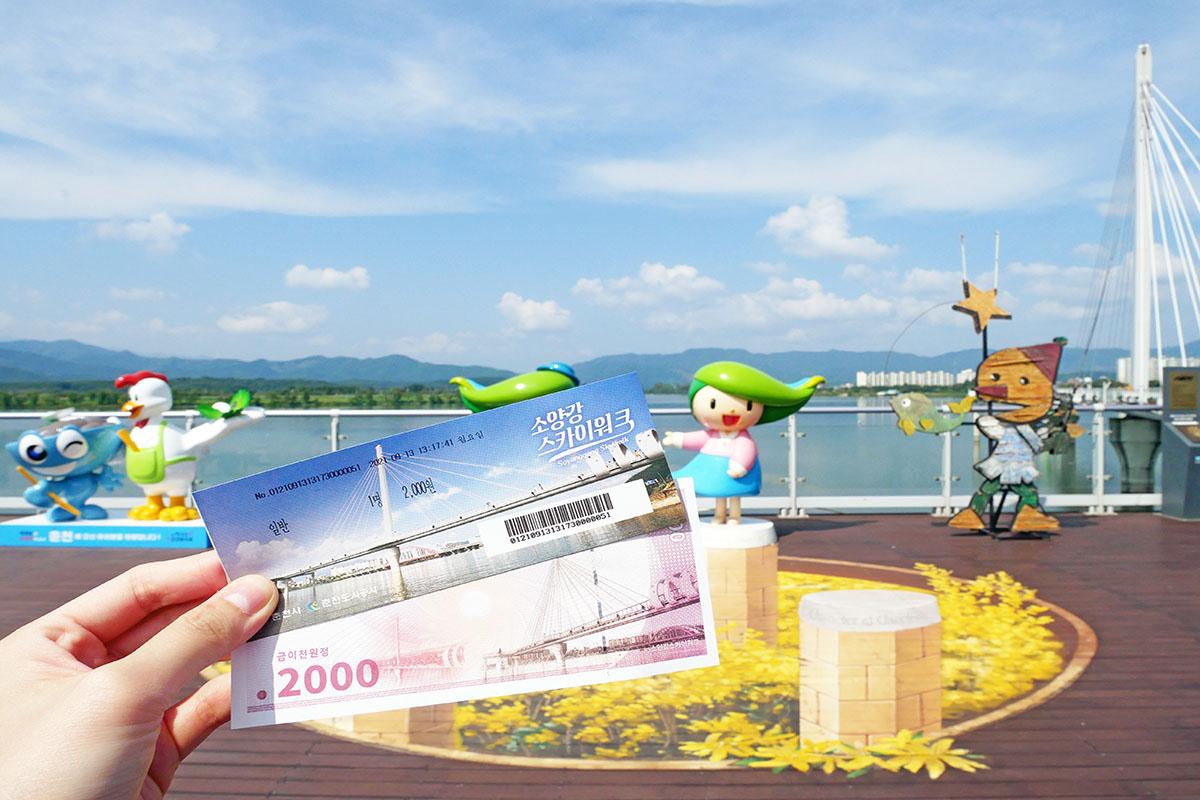 The Soyanggang Skywalk is a sightseeing facility built on Uiamho Lake that officially opened in July 2016.
With a total length of 174 meters, the 156-meter-long trail is made of tempered glass and is the longest glass bridge in Korea. The glass allows visitors to look down at the sparkling waters of the lake as the walk across.
To avoid scratches and damage to the walkway, show covers are provided at the entrance. If you were heels however, you will need to change into slippers.
In order to promote sightseeing and tourism, Chuncheon City now offers 2,000 won discount tickets that can be used at local eateries.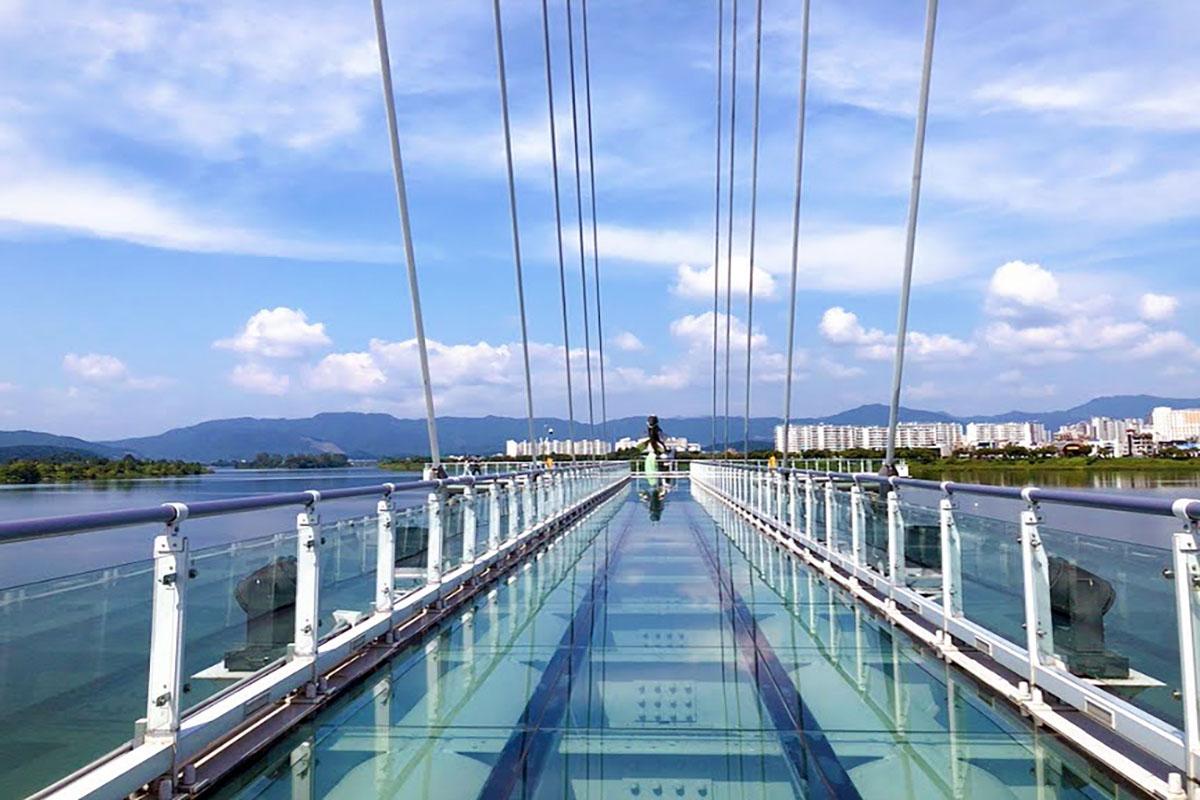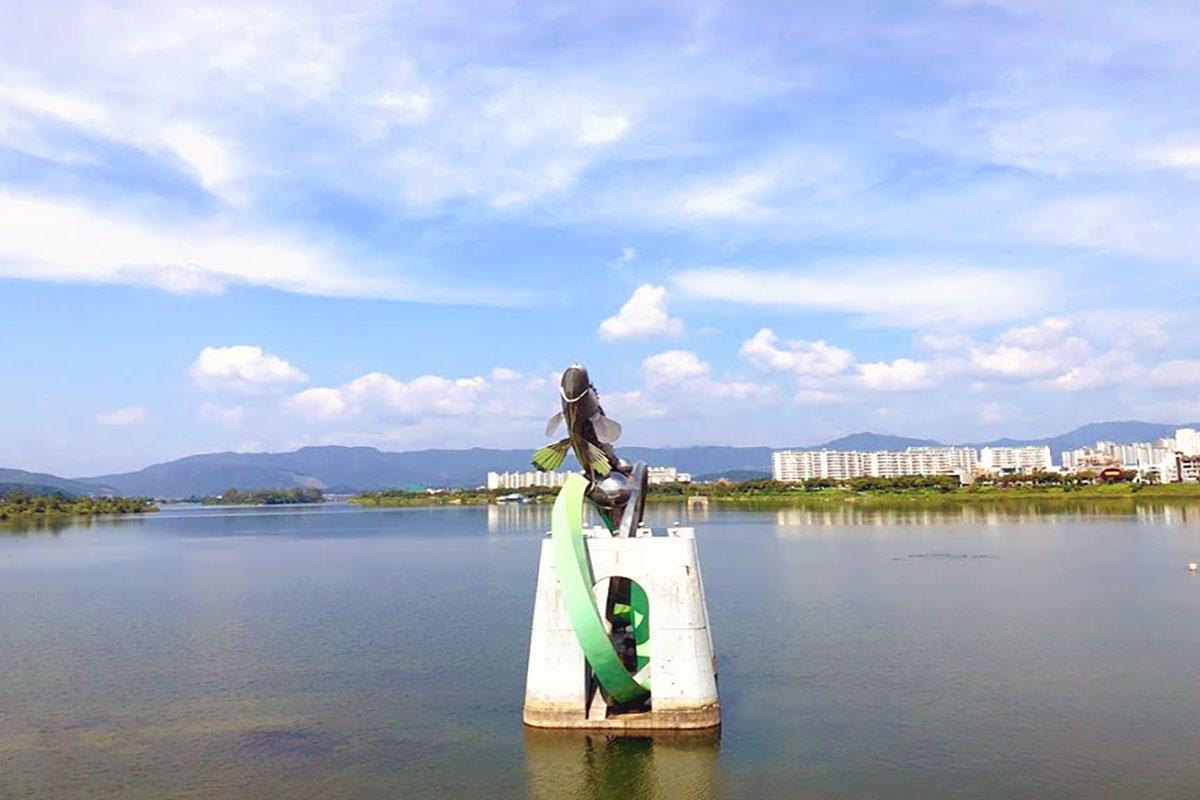 At the end of the trail, you can see the Ssogarisang (쏘가리), a sculpture of a fish that spouts water at scheduled times. Many people like to pose for photos here.
On the day I visited, the weather was perfect, and you could see the city surrounded by mountains well.
If you go after sundown, however, you can see the colorful lights of the skywalk!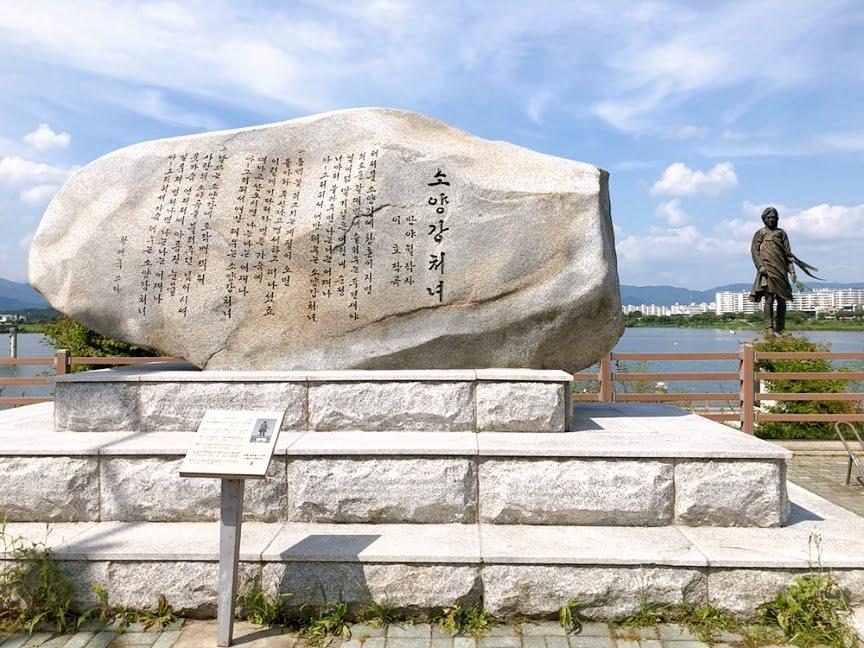 Here you can also read the story of the Soyanggang Maiden.
There is a song called "Soyanggang Cheonyeo" about a young woman, who was born in Chuncheon in 1953. At the age of 18, she wanted to become a singer, but because of her father's leg injury, she, as the eldest daughter, took the Gyeongchun Line to Seoul to make money to raise her seven younger siblings.
The song was sung and popularized by Kim Tae-hee, who was herself only 18 at the time.
In 2004, Chuncheon built the monument to the Soyanggang Maiden.
Chuncheon Myeongdong Dakgalbi Street
명동 닭갈비골목
Address: 강원도 춘천시 명동길 9
9 Myeongdong-gil, Chuncheon-si, Gangwon-do
Transit: Take bus 300, 11, 12, or 12-S at Chuncheon Station Transfer Center (춘천여환승센터), get off at Soyangno Post Office (소양로우체국), then walk 5 minutes.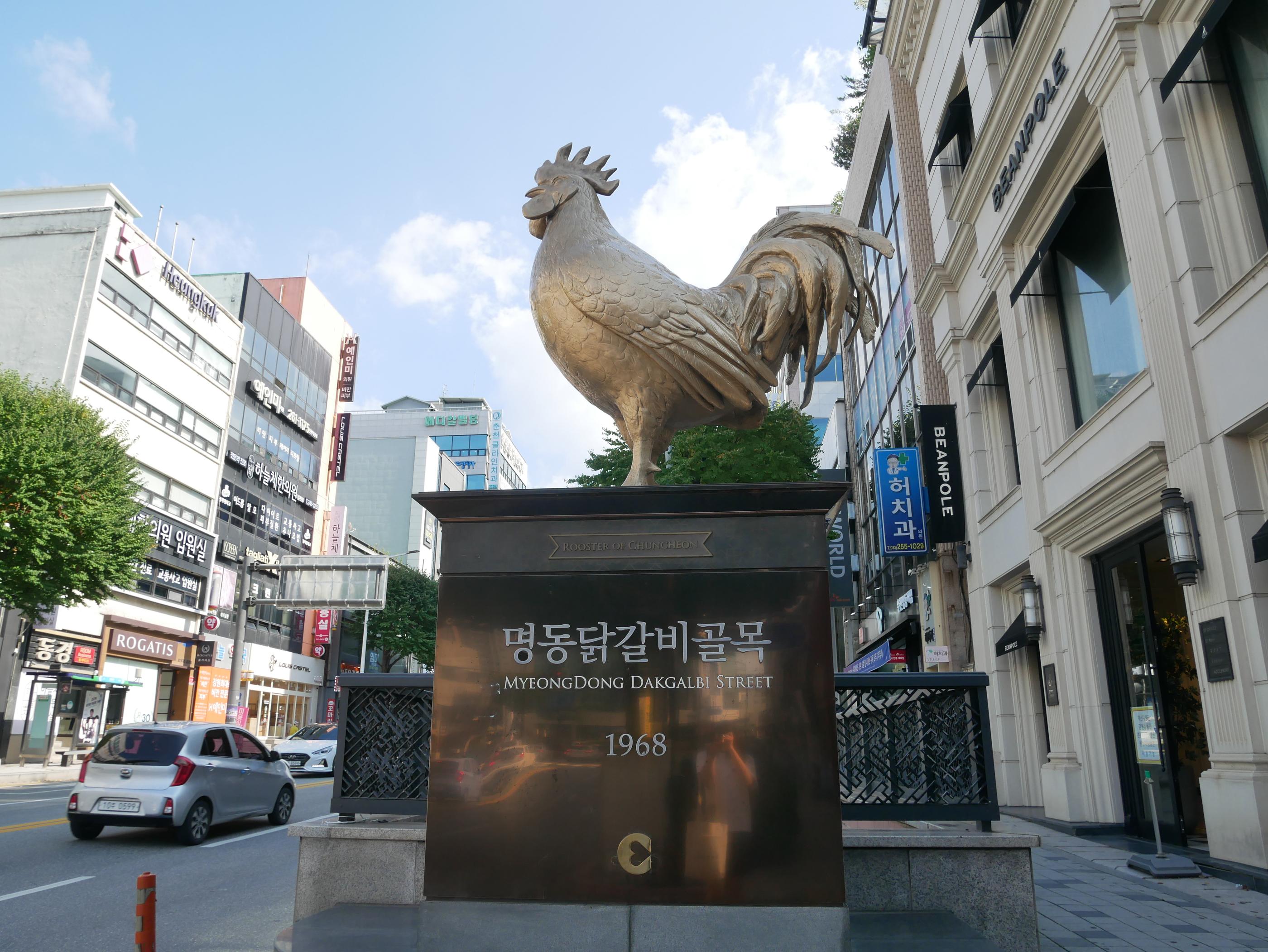 When it comes to Chuncheon cuisine, this spicy chicken stir-fry dish is definitely one of the most famous.
Chuncheon dakgalbi originated in the 1960s at a time when chicken was more common that pork. Vegetables like cabbage, onion, and sweet potato were stir-fried with he marinated chicken. It was affordable and a definite favorite amongst the locals.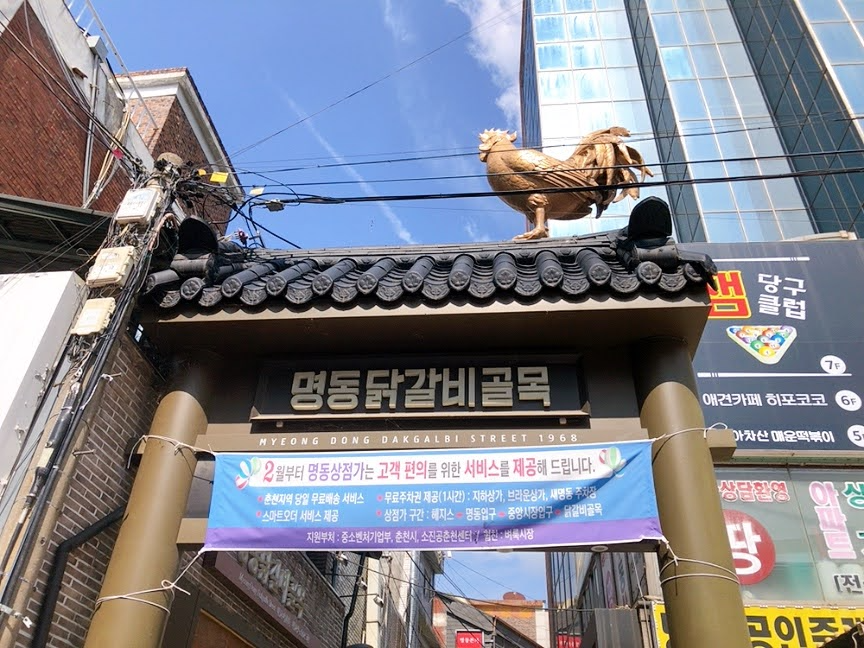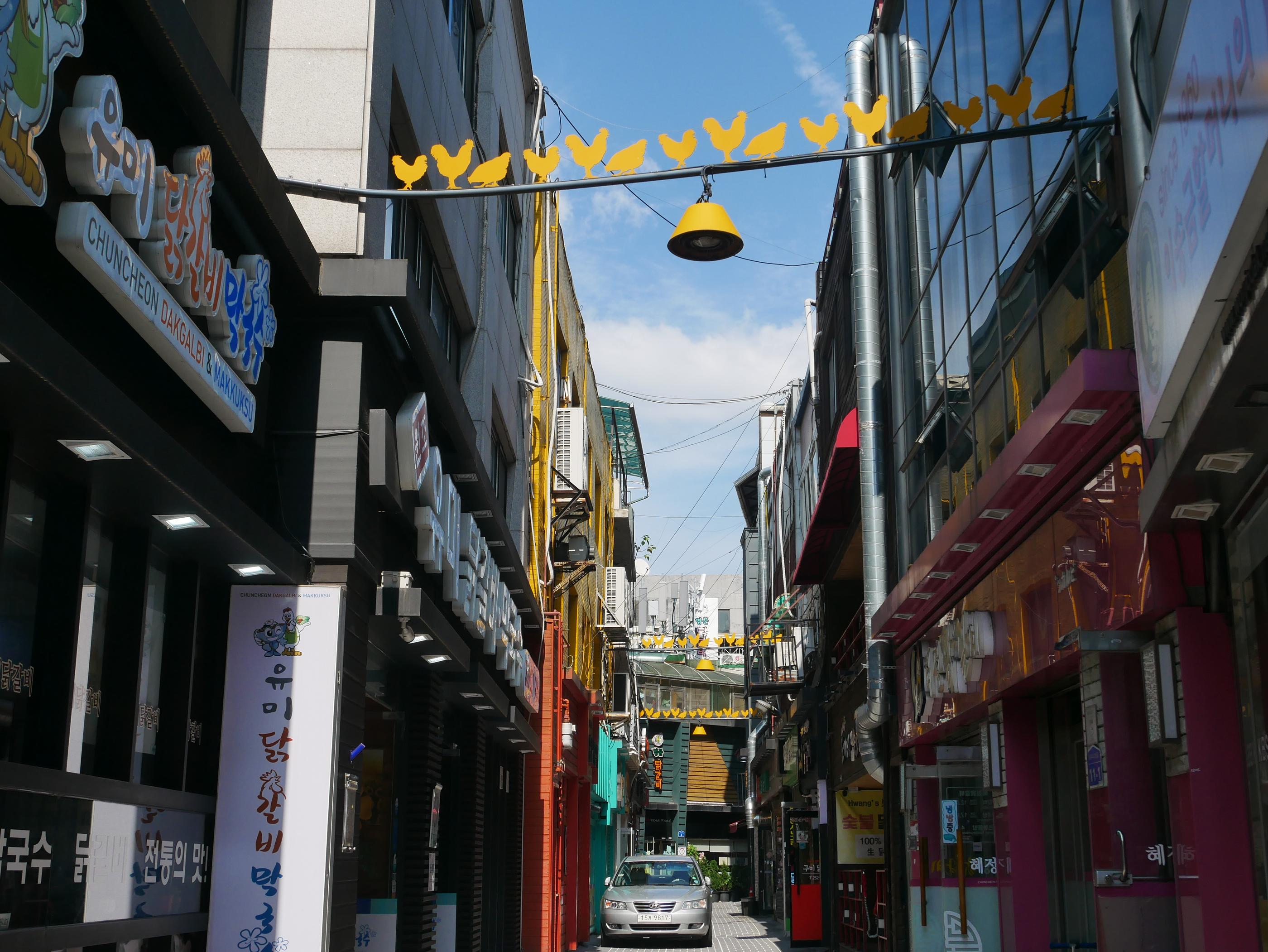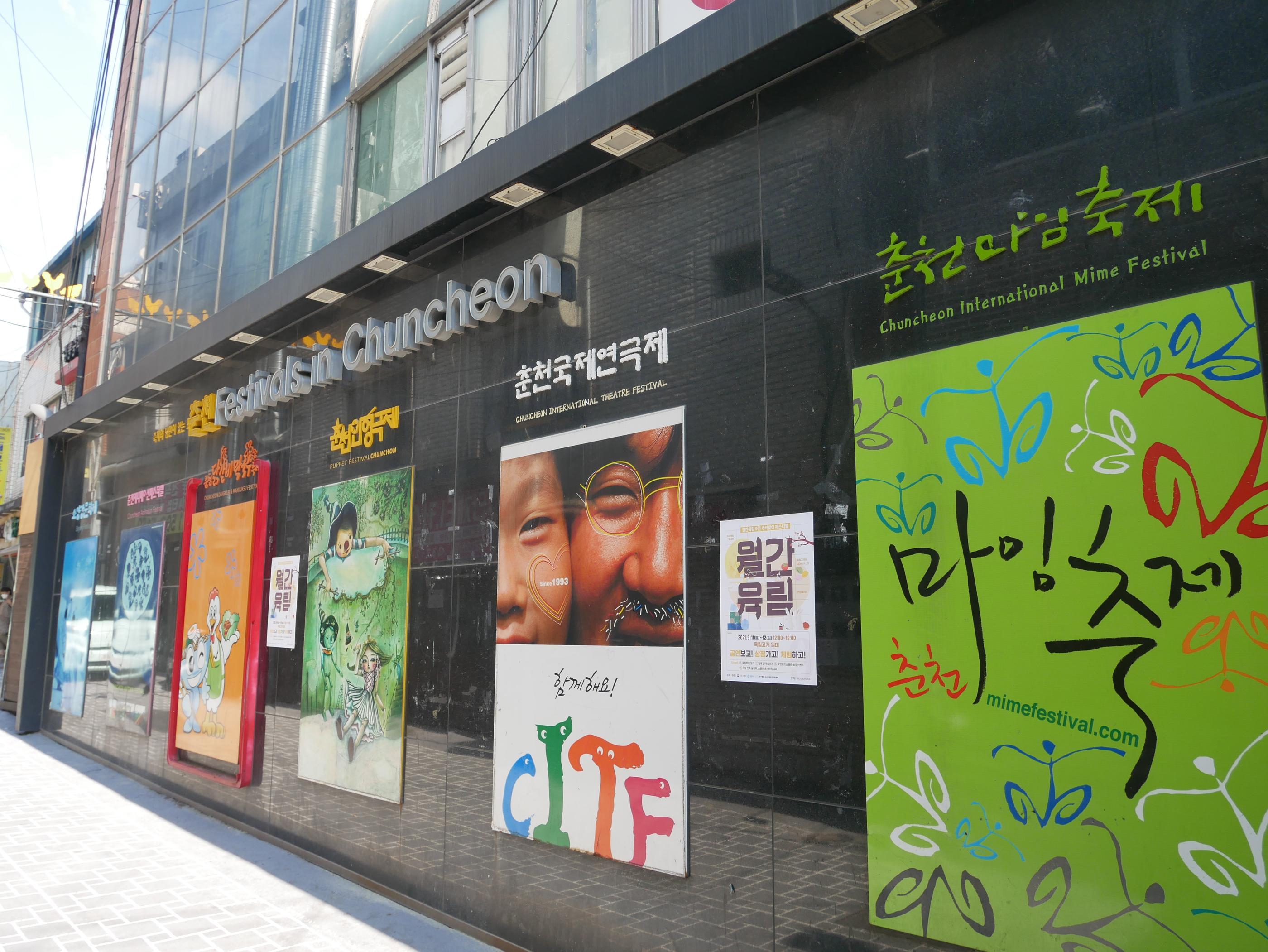 From the 70s to the 80s, one restaurant after another opened in the back alleys of Myeongdong Street in Chuncheon, which is how it earned its nickname.
I arrived around 2:00 in the afternoon on a weekday and there were not too many people out due to the time and the pandemic. There were a lot of places that were closed, a contrast to the usual busy scene pre-COVID.
Yumi Dakgalbi
유미닭갈비
Address: 강원도 춘천시 금강로62번길 12
12 Geumgang-ro 62-beongil, Chuncheon-si, Gangwon-do
Hours: 10:00-23:00
*closed second Wed of every month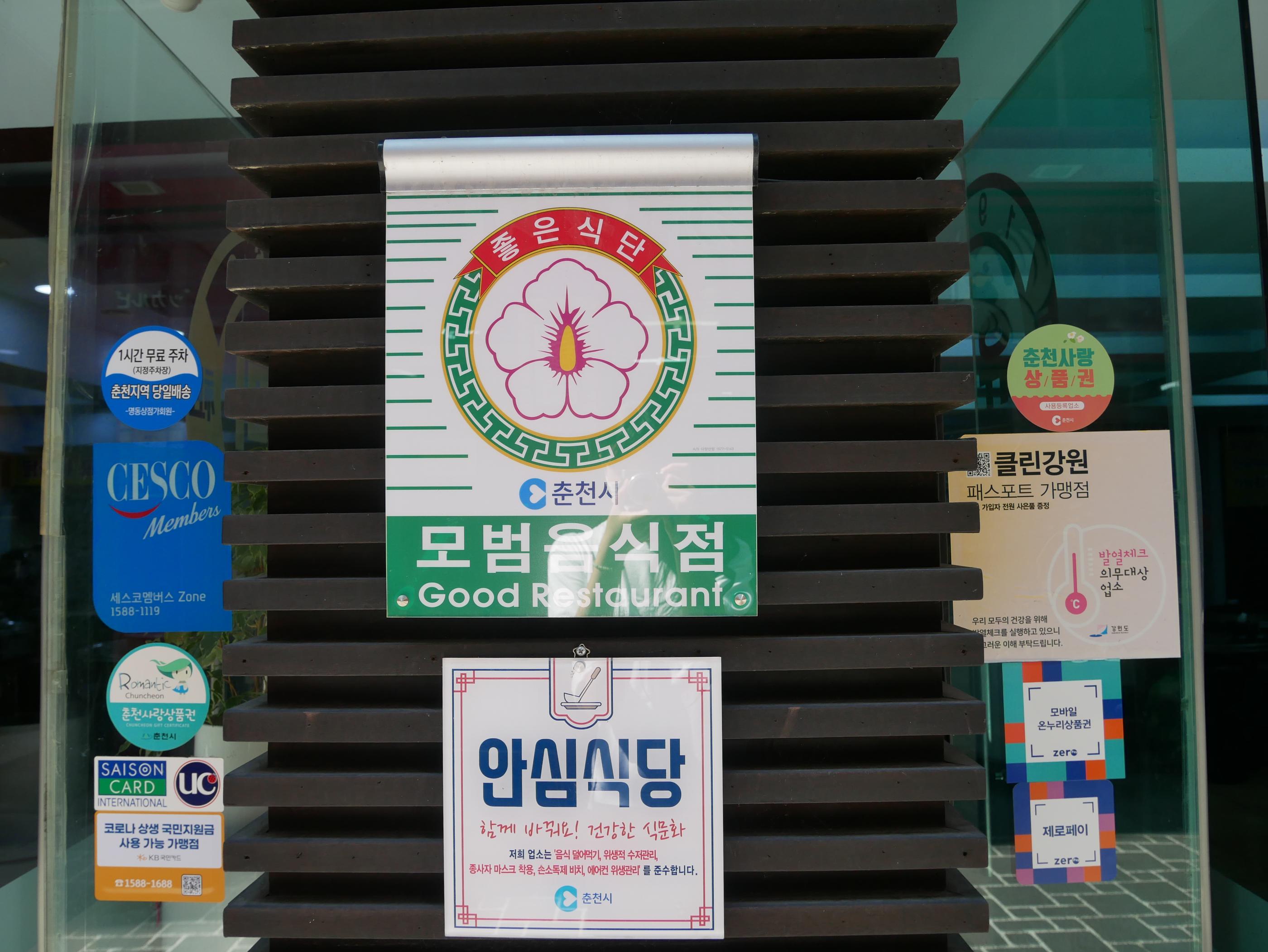 Some Korean dishes are meant to be shared, so it can be difficult to find single serving meals sometimes. Dakgalbi is one of those dishes, but I found a place that actually does offer one-person servings.
This restaurant has a 50 year history and a good reputation, so I had to check it out.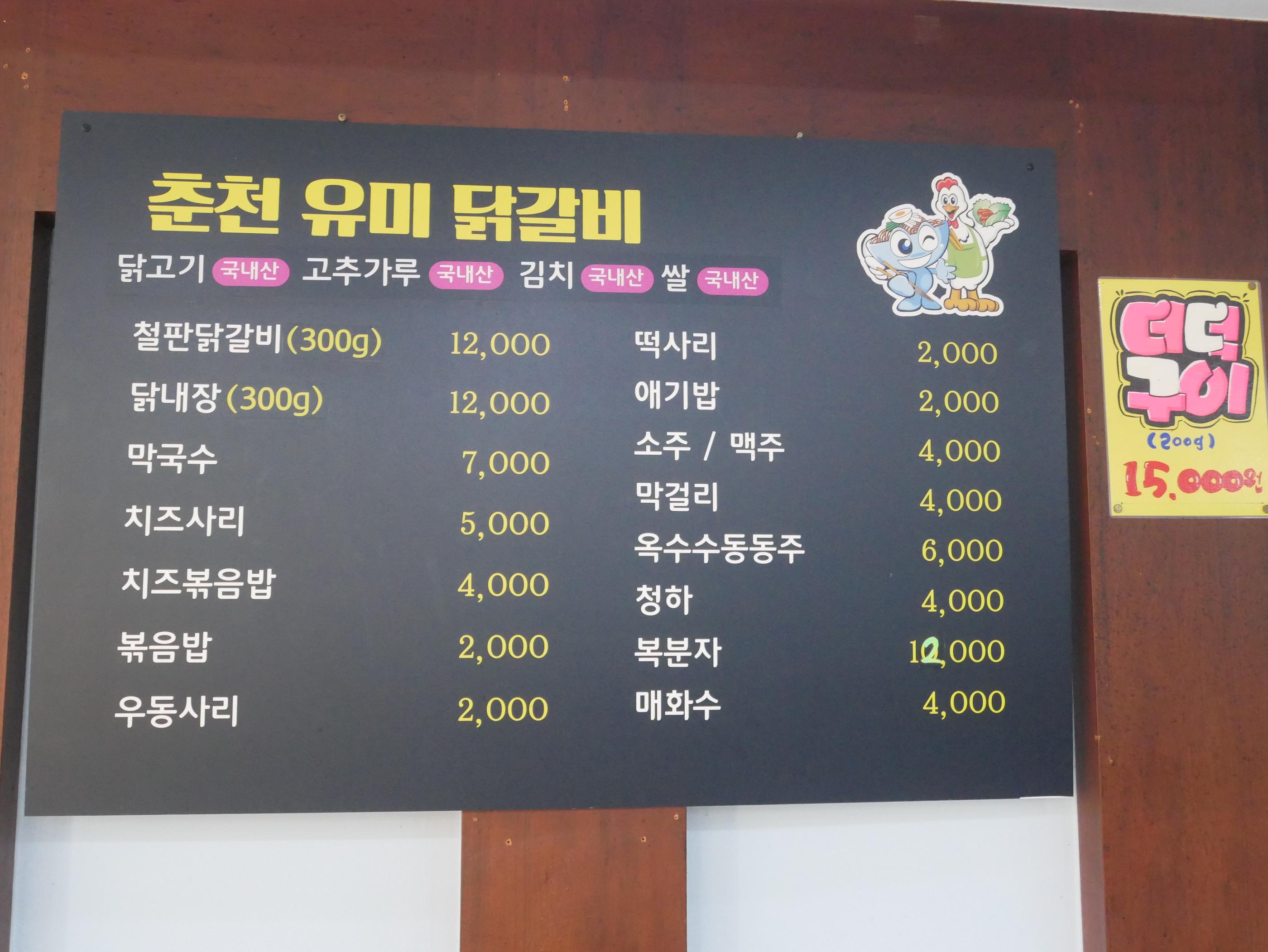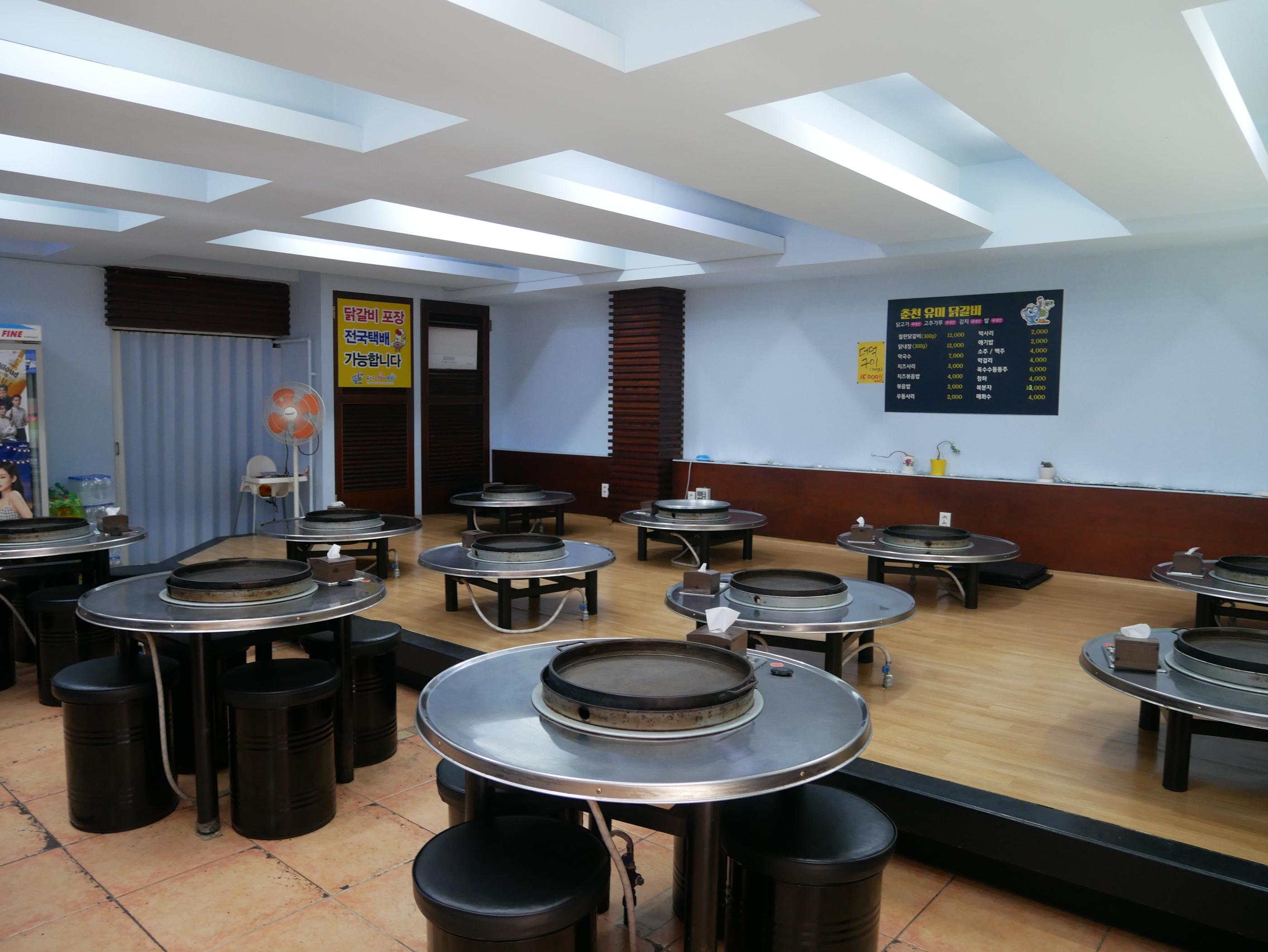 In addition to the dakgalbi, they also have other dishes like naengmyeon (냉면) and tongdak (통닭).
The restaurant's interior is very spacious so you can eat comfortably.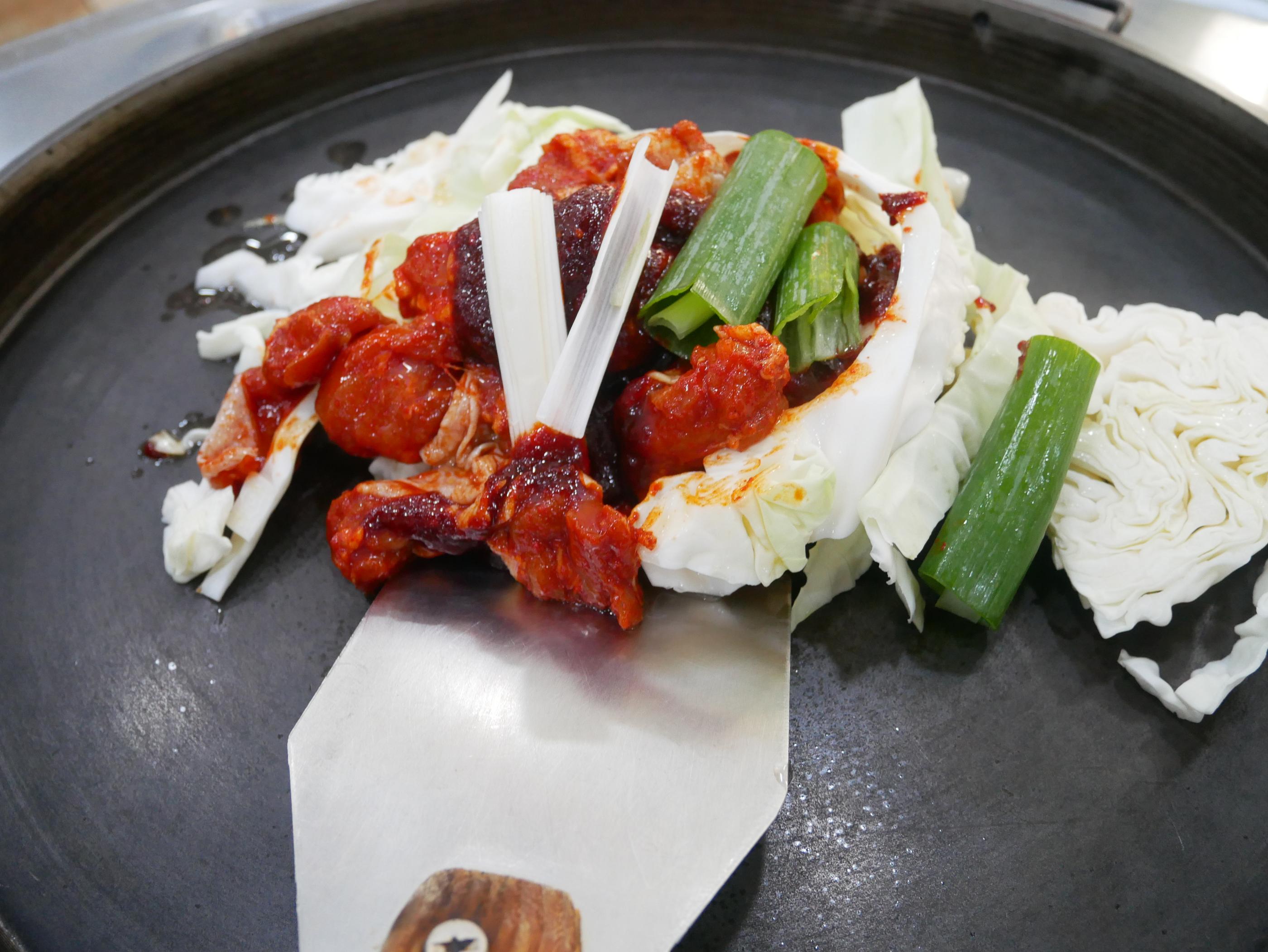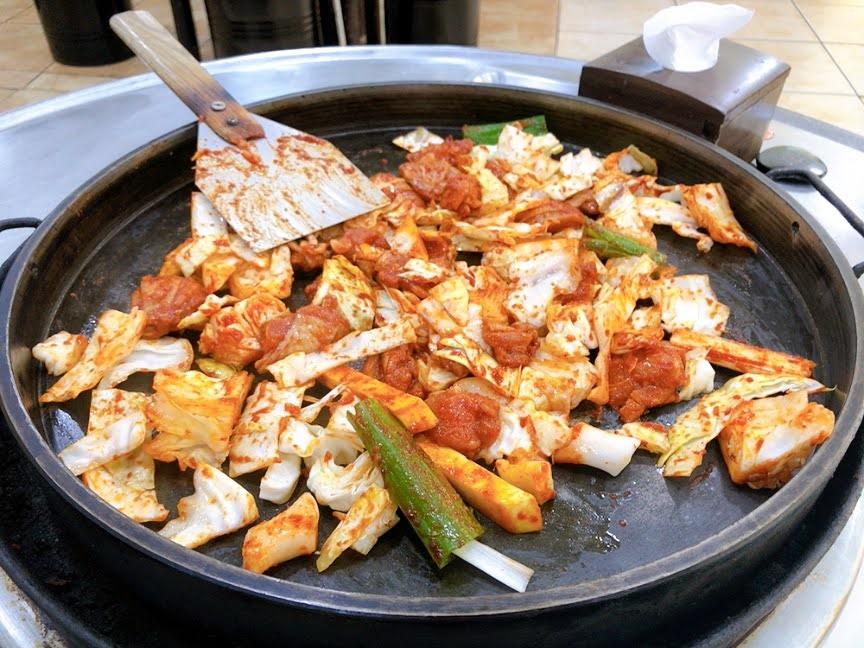 The basic dakgalbi order consists of chicken, green onions, cabbage, rice cakes, and sweet potatoes.
If you want, you can add cheese, noodles, or fried rice though.
Dakgalbi (닭갈비) 300g 12,000 won
A staff member will help you stir-fry the meal without having to do it yourself.
The chicken is tender and the restaurant's signature chili sauce is very flavorful. The noodles I got have a nice, chewy texture that complements the chicken well. The aroma from the iron pan at the table only adds to the delicious experience.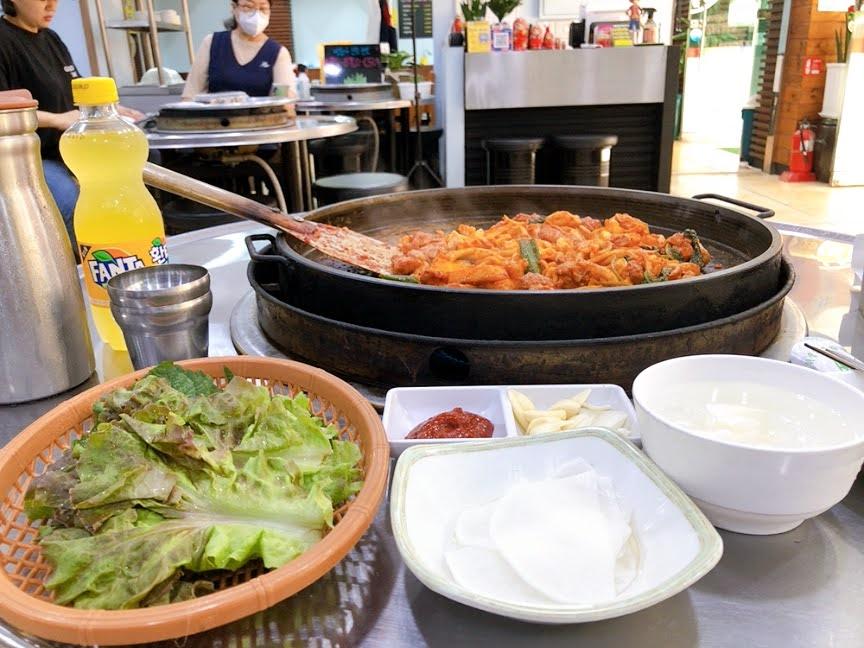 To cut the greasiness, you can use a lettuce leaf as a wrap or eat with pickled radish and kimchi.
Remember the discount I mentioned earlier that you can get from the Skywalk? You can use it here! Just show it to the staff at checkout.
Yukrimgogae
육림고개
Address: 강원도 춘천시 춘천로 151번길 21-2
21-2 Chuncheon-ro 151-beongil, Chuncheon-si, Gangwon-do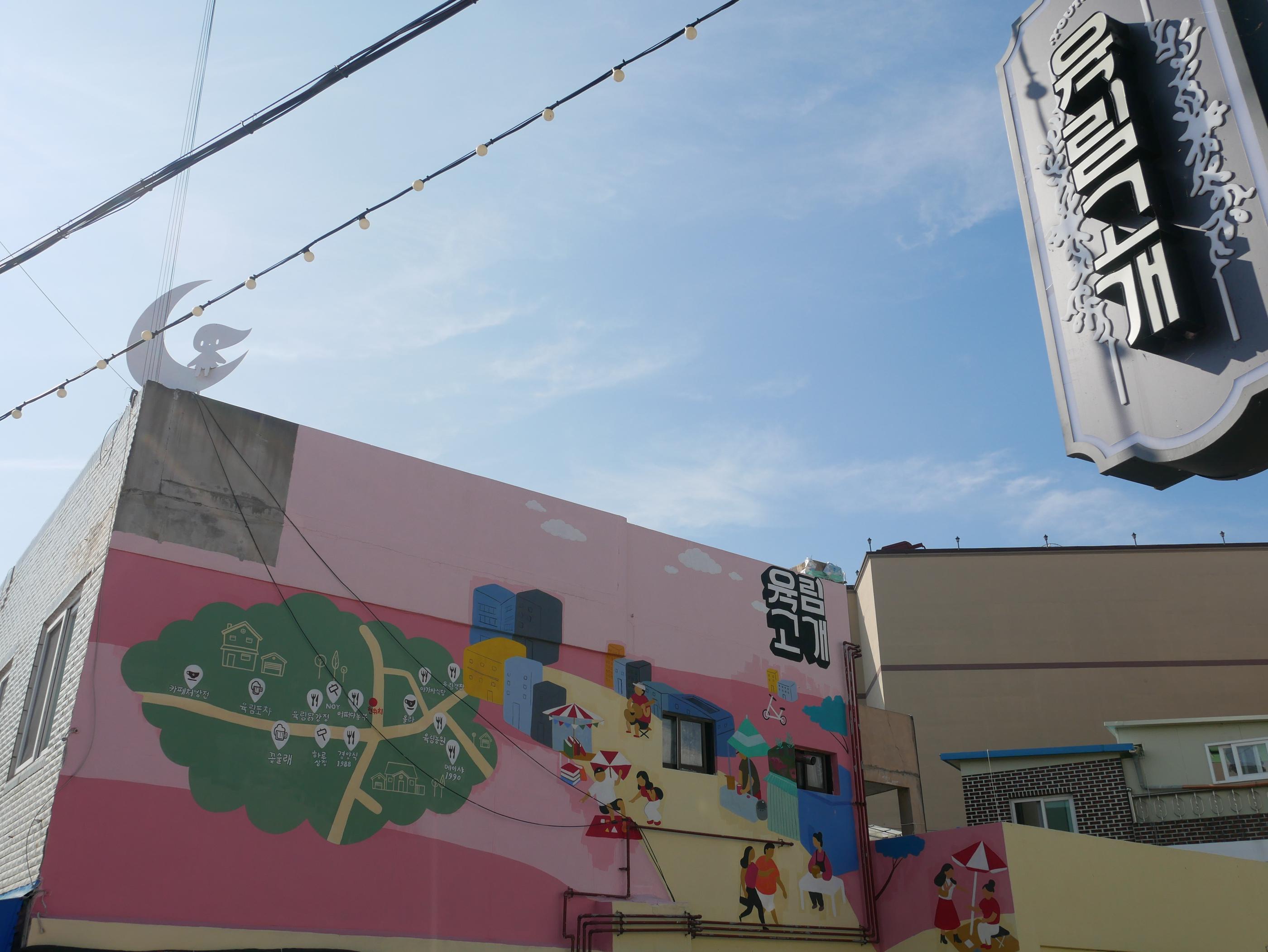 Yukrimgogae is a relatively new attraction in Chuncheon. The hillside road connecting the now closed Yukrim Theater to Chuncheon Jungang Market, the main business district in the 80s and 90s for the are. It has since declined with the changing of time and development of new urban areas.
In 2015, the city of Chuncheon set out to give the area a facelift, while still preserving the traditional feeling, and so Makgeolli Street was born.
Vintage themed cafes, hand-crafted shops, renovated houses turned into restaurants, and other traditional shops successfully caught the attention of the younger generations.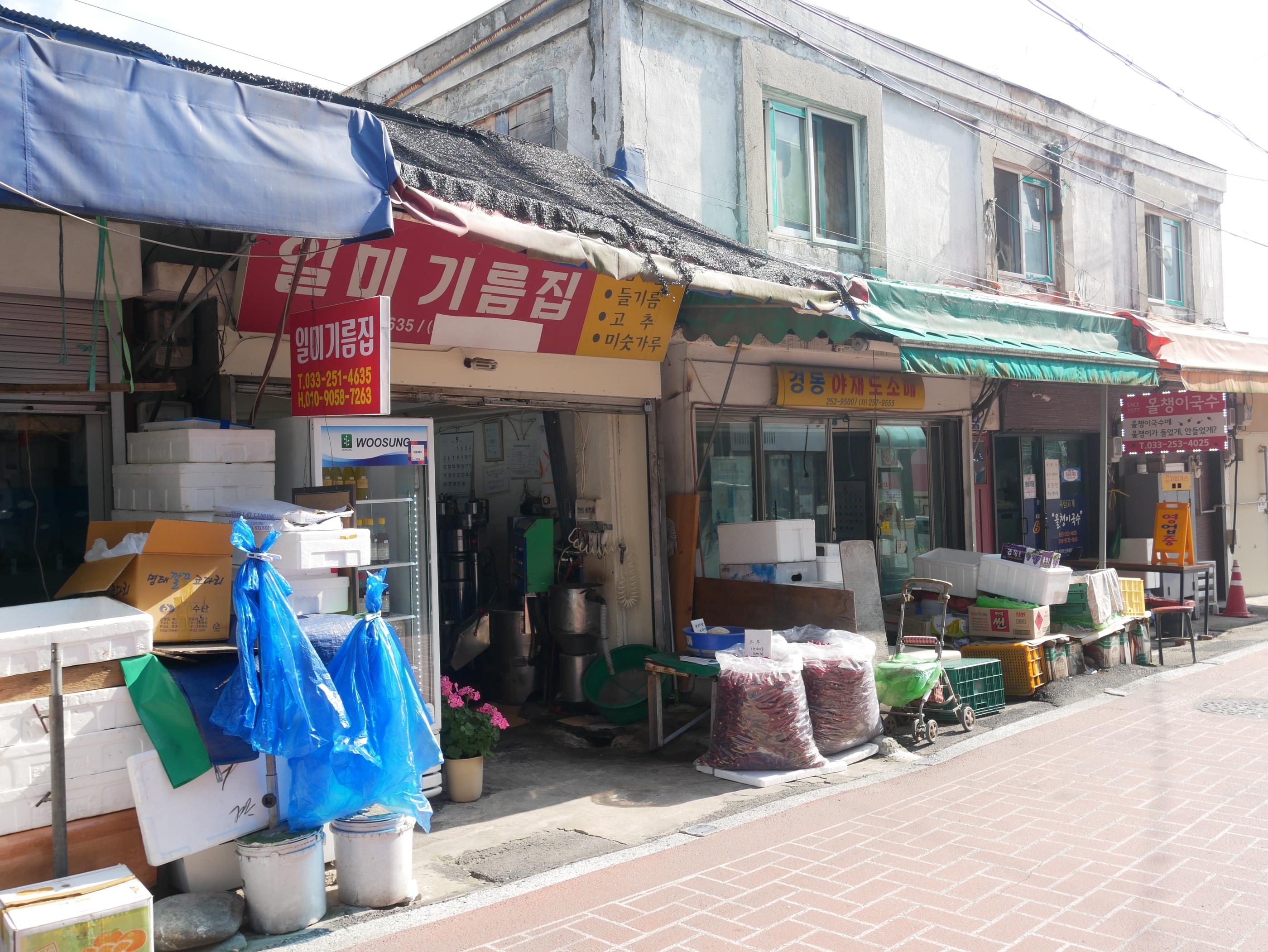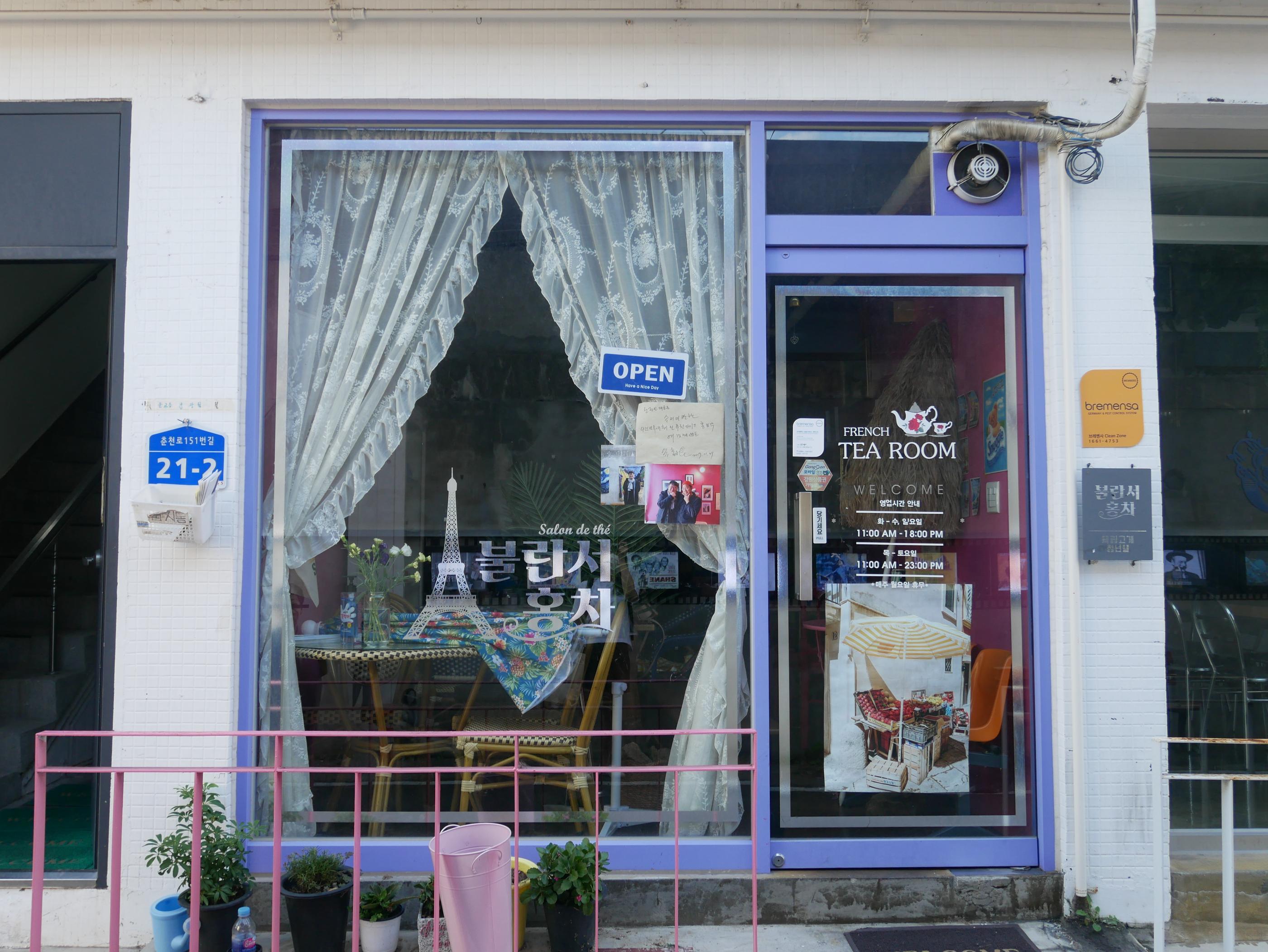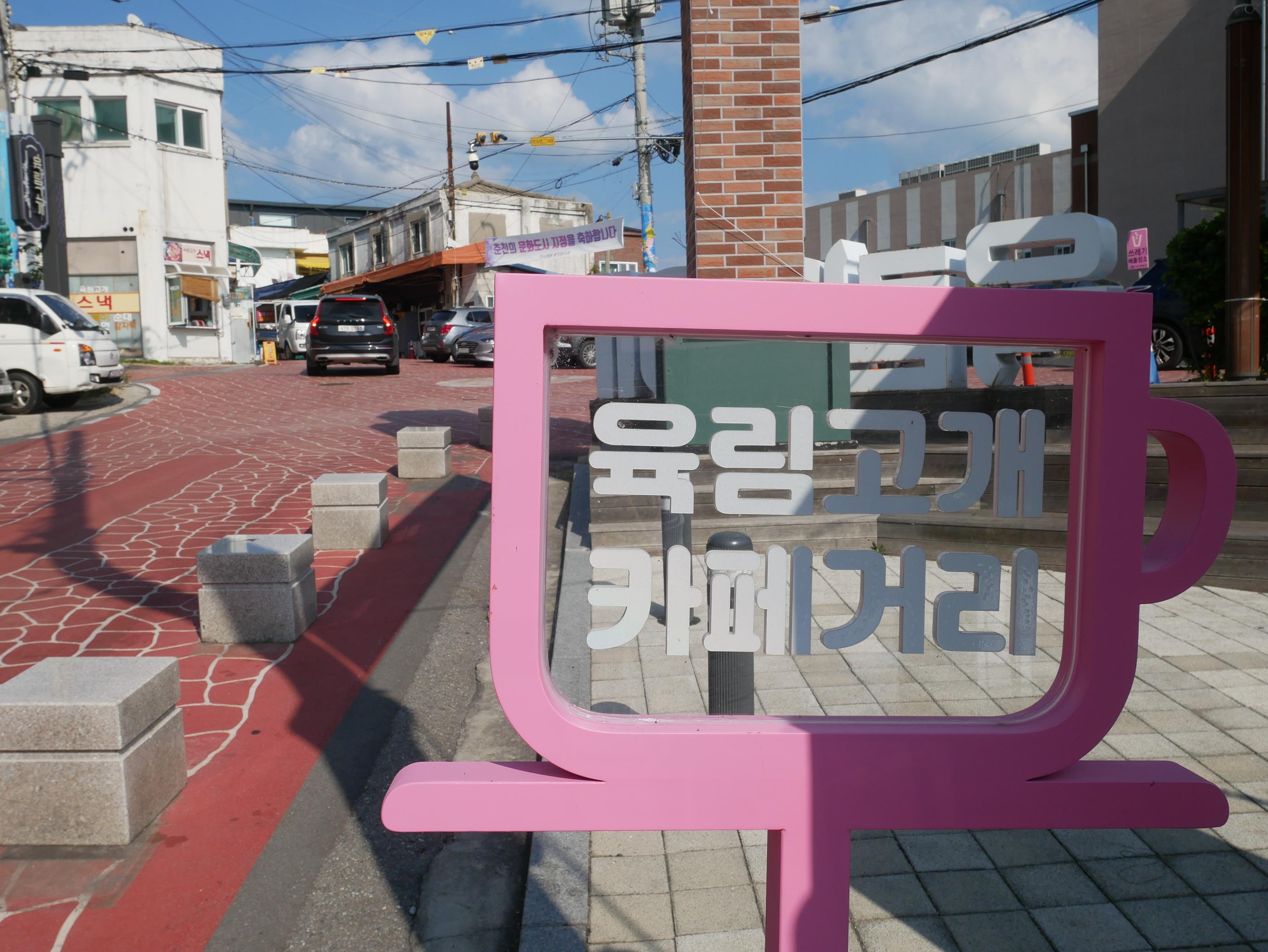 At the end of the road is the Yukrim Theater, originally opened in 1967. From the 60s to the 2000s, despite the many economic cries, the theater remained unshakeable and provided wonderful movies to the people of Chuncheon.
However, it was no match for the vigorous development of compound theaters, and on November 1, 2006, the lights were finally shut off for good and now only the signs remains.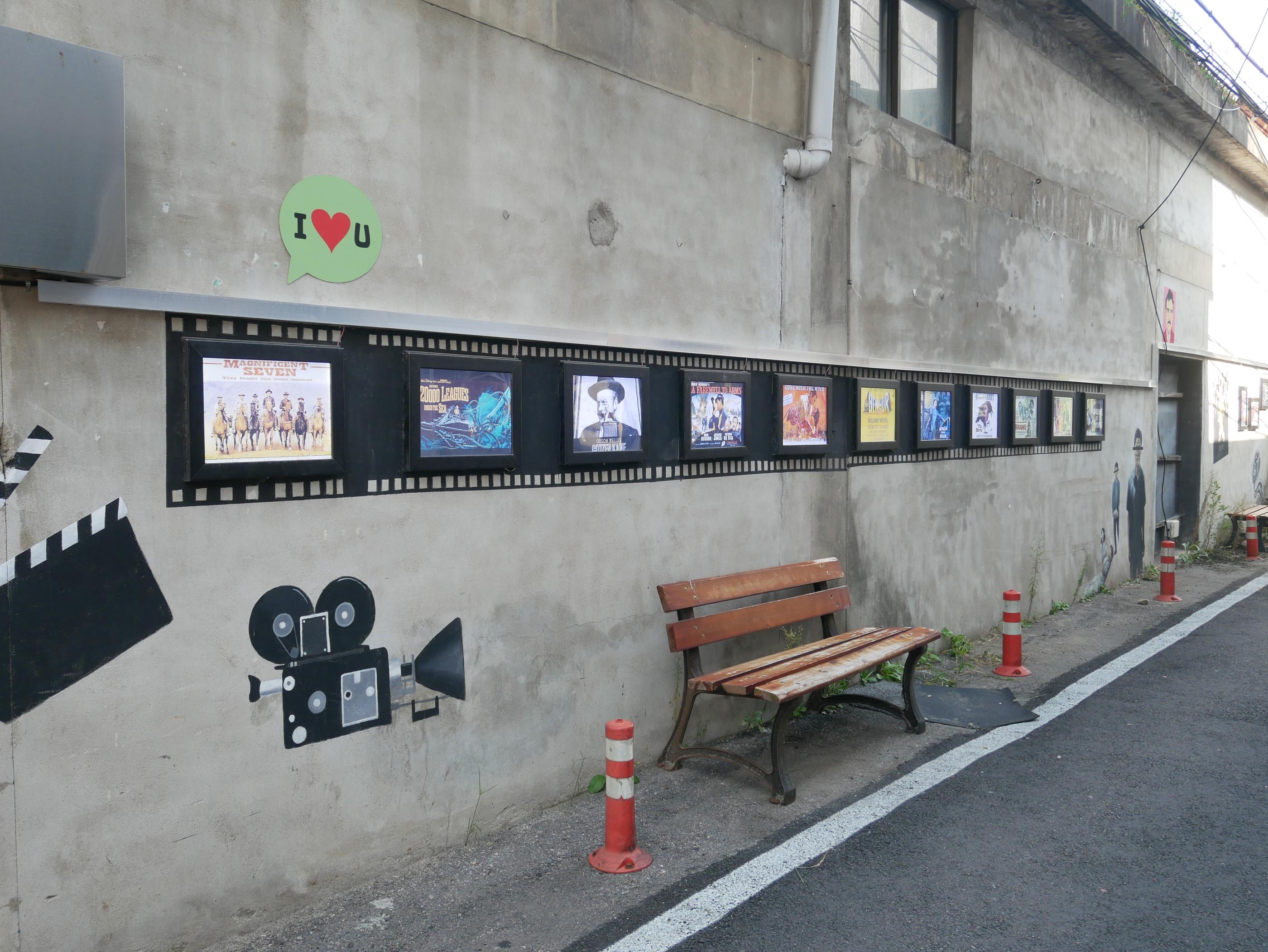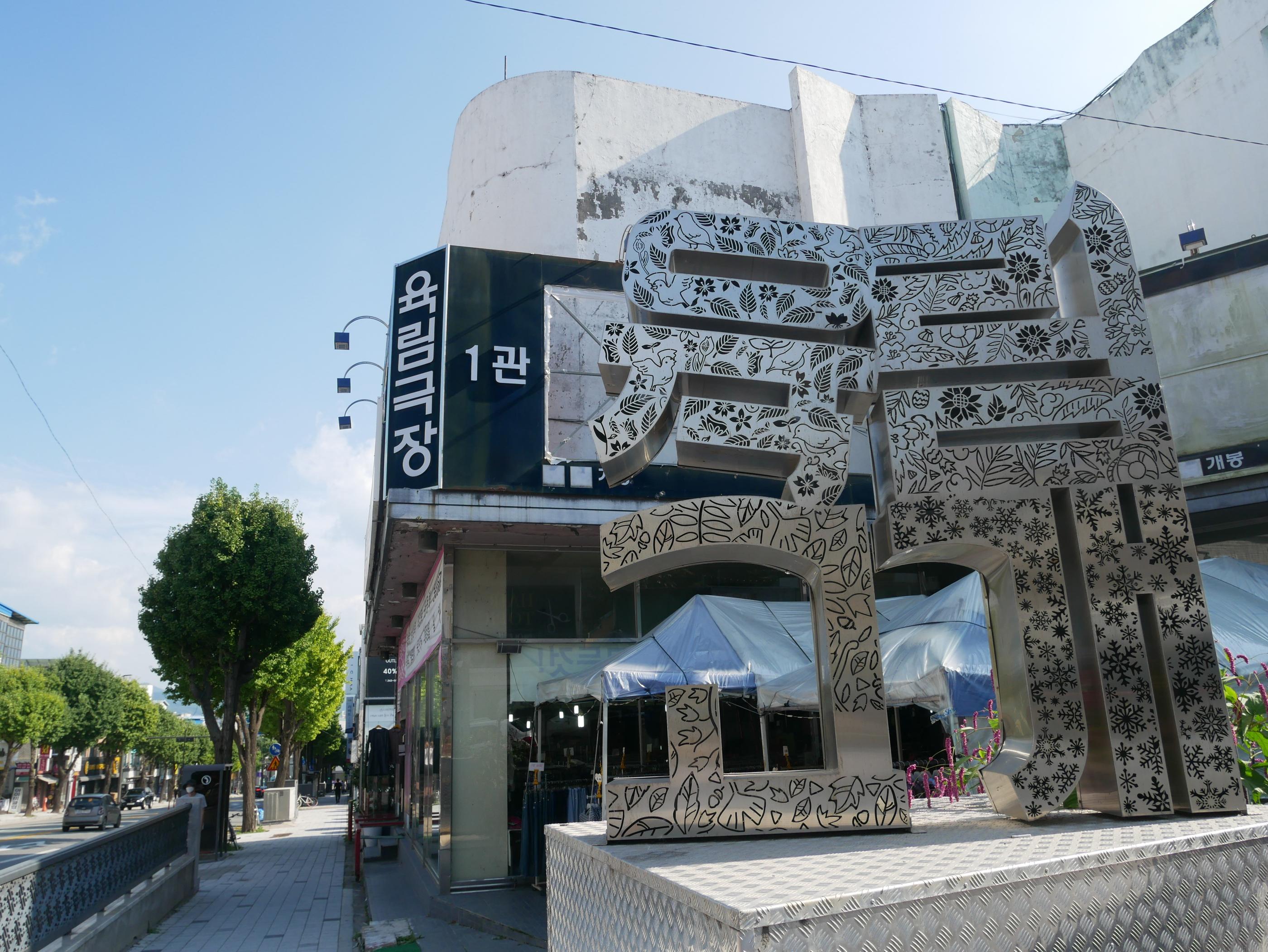 Many interesting murals and art installations can be seen on the roads of the commercial districts, allowing Yukrim to add a youthful atmosphere while still maintaining the old shops.
Hyoja-dong Mural Village
효자동 벽화마을
Address: 강뭔도 춘천샤 효자동 541-6
541-6 Hyoja-dong, Chuncheon-si, Gangwon-so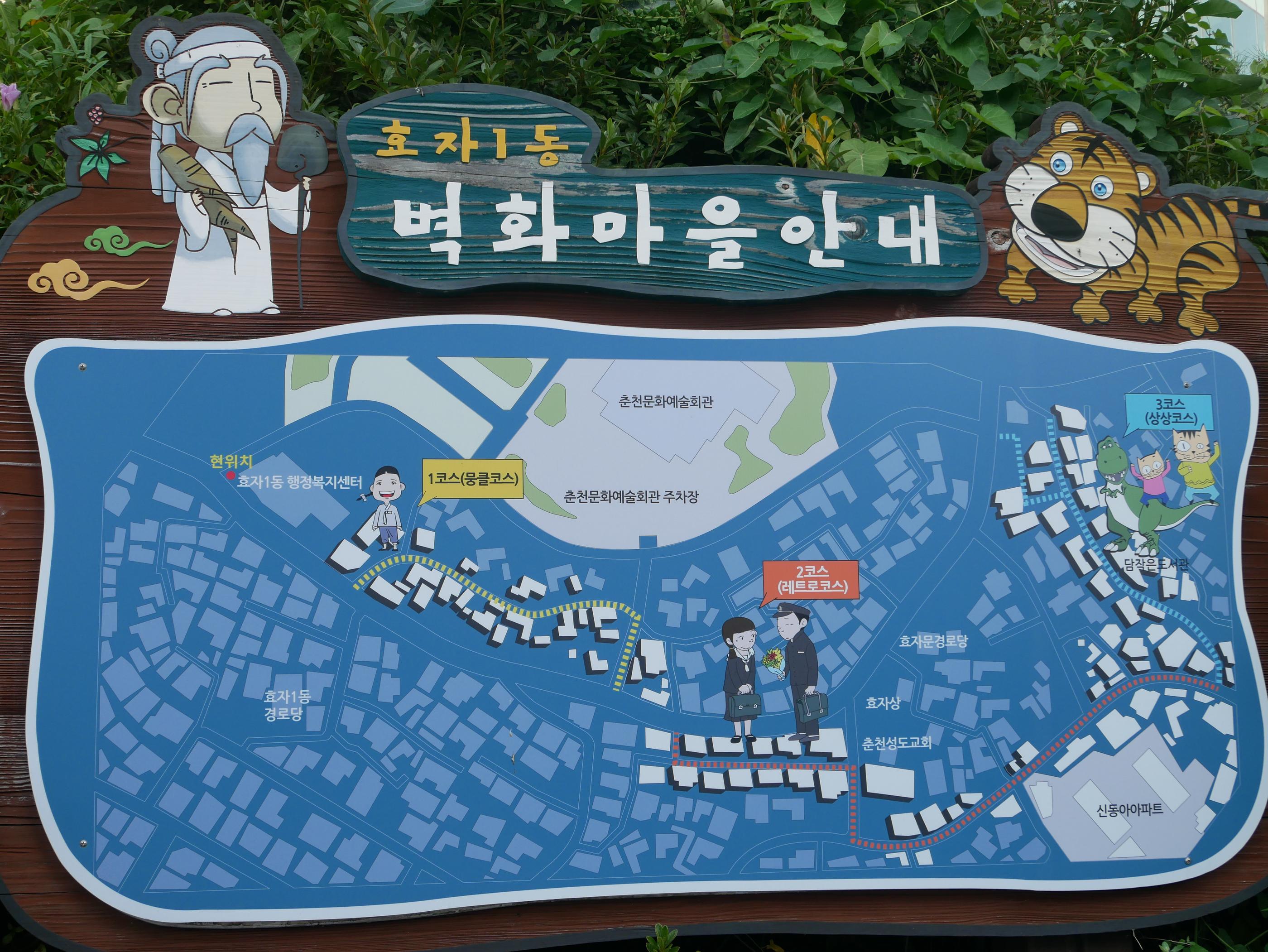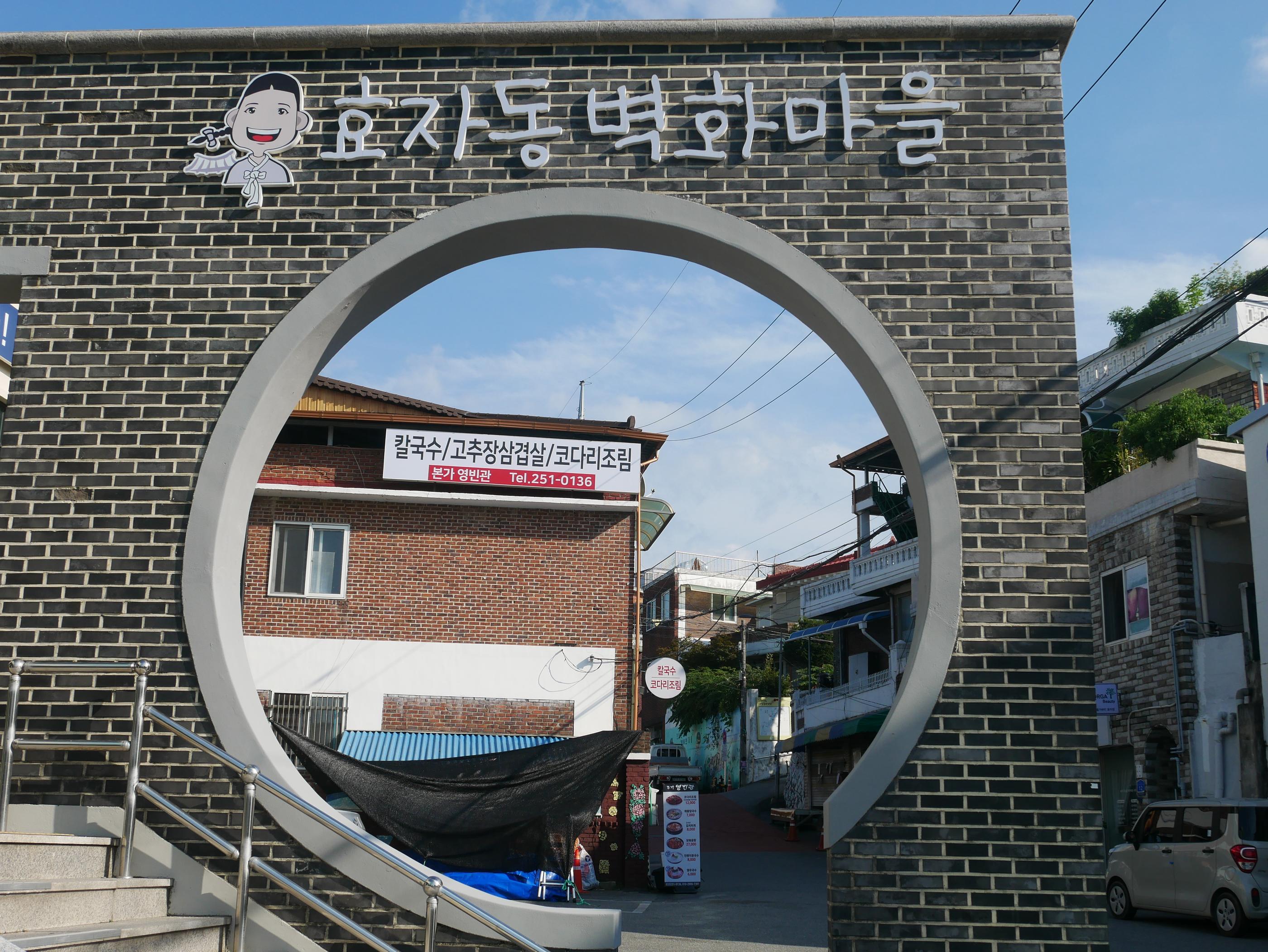 Hyojang Mural Village is very large and is divided into three different areas.
It is said that the a good son name Ban Hee-eon whose father had died in battle, lived in this alley and took care of his mother when she became very sick. Though he did everything he could, her condition did not improve.
One day, a mountain god appeared to him and told him to go to the mountains and retrieve the middle head out of three corpses and make a soup to fee the mother and she would be cured. The head mentioned is actually wild ginseng. He also went out of his way to find strawberries for his mother in the winter when she asked for them.
his filial piety (a key virtue of Confucianism) was greatly appreciated by the surrounding residents and the news spread throughout the village and eventually to the palace.
The king was deeply moved by Ban Hee-eon's story and honored him by erecting a special gate symbolizing filial piety at the entrance of the village.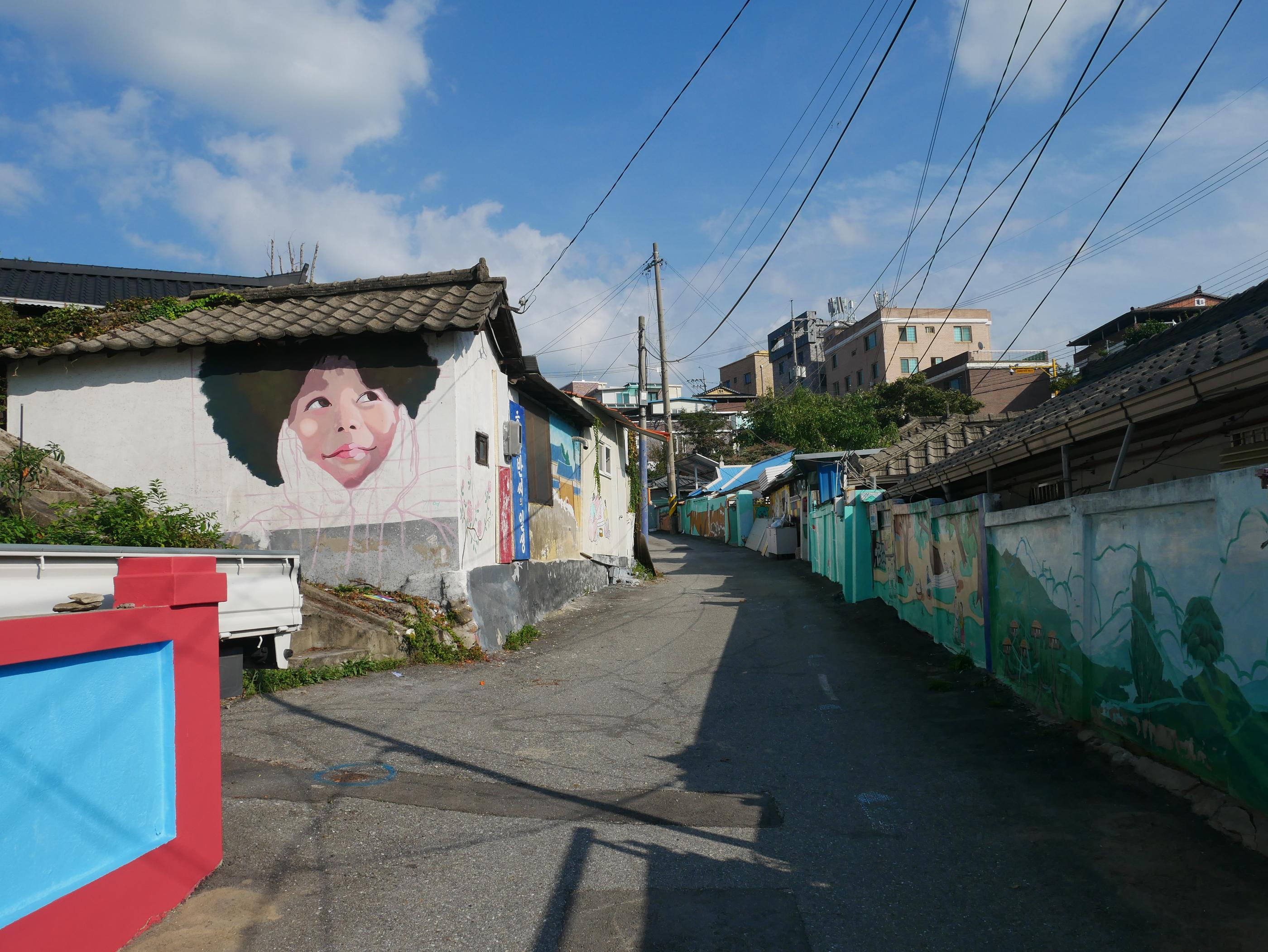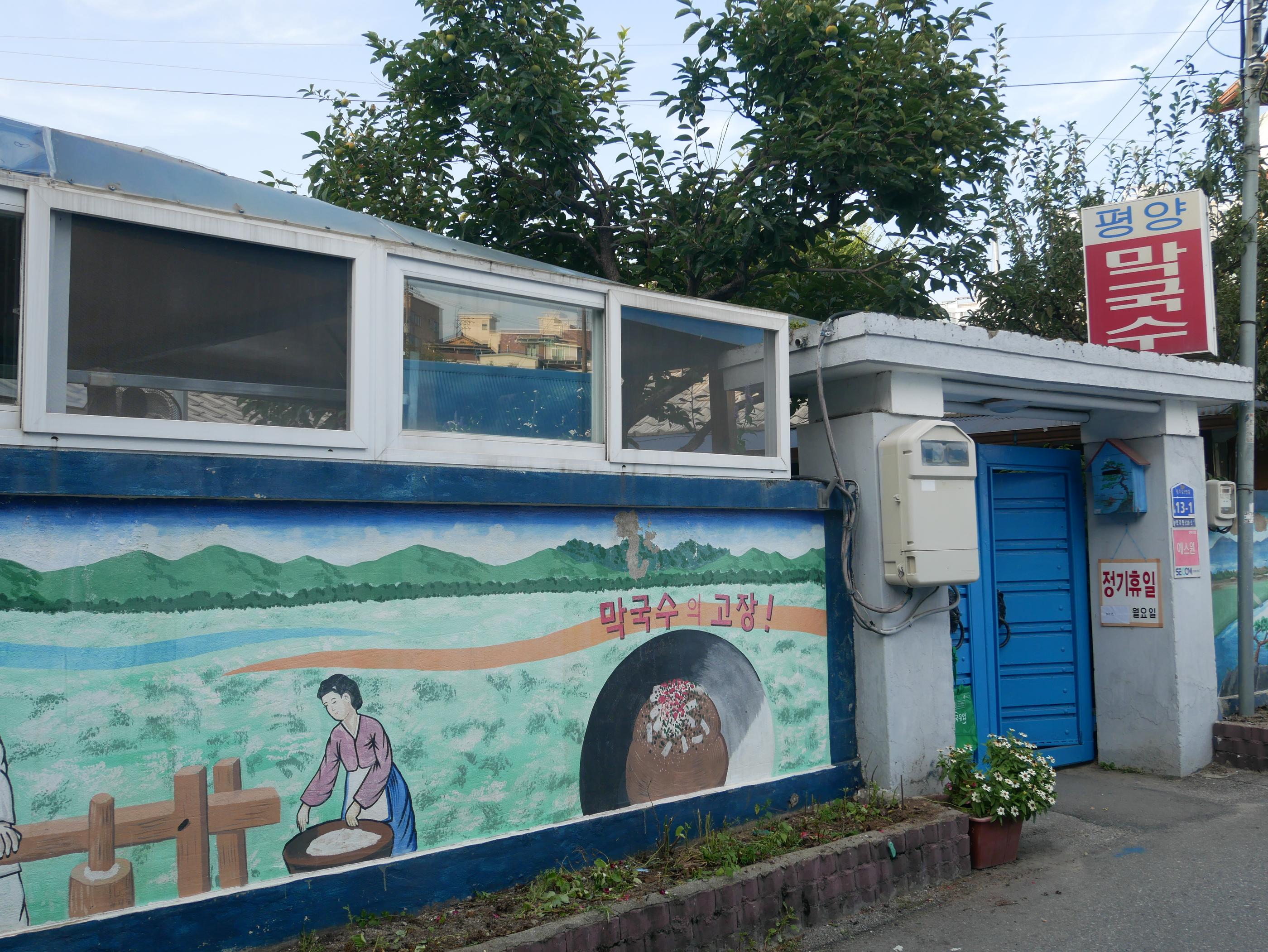 The first alley after entering is dominated by murals that resemble scenes from the Joseon era.
Among them you will see Pyongyang Naenmyeon, a very authentic Korean dish, which I had originally planned to try here, but did not anticipate the shop being closed on Monday. If you have to chance to try the noodles, please let me know how they are!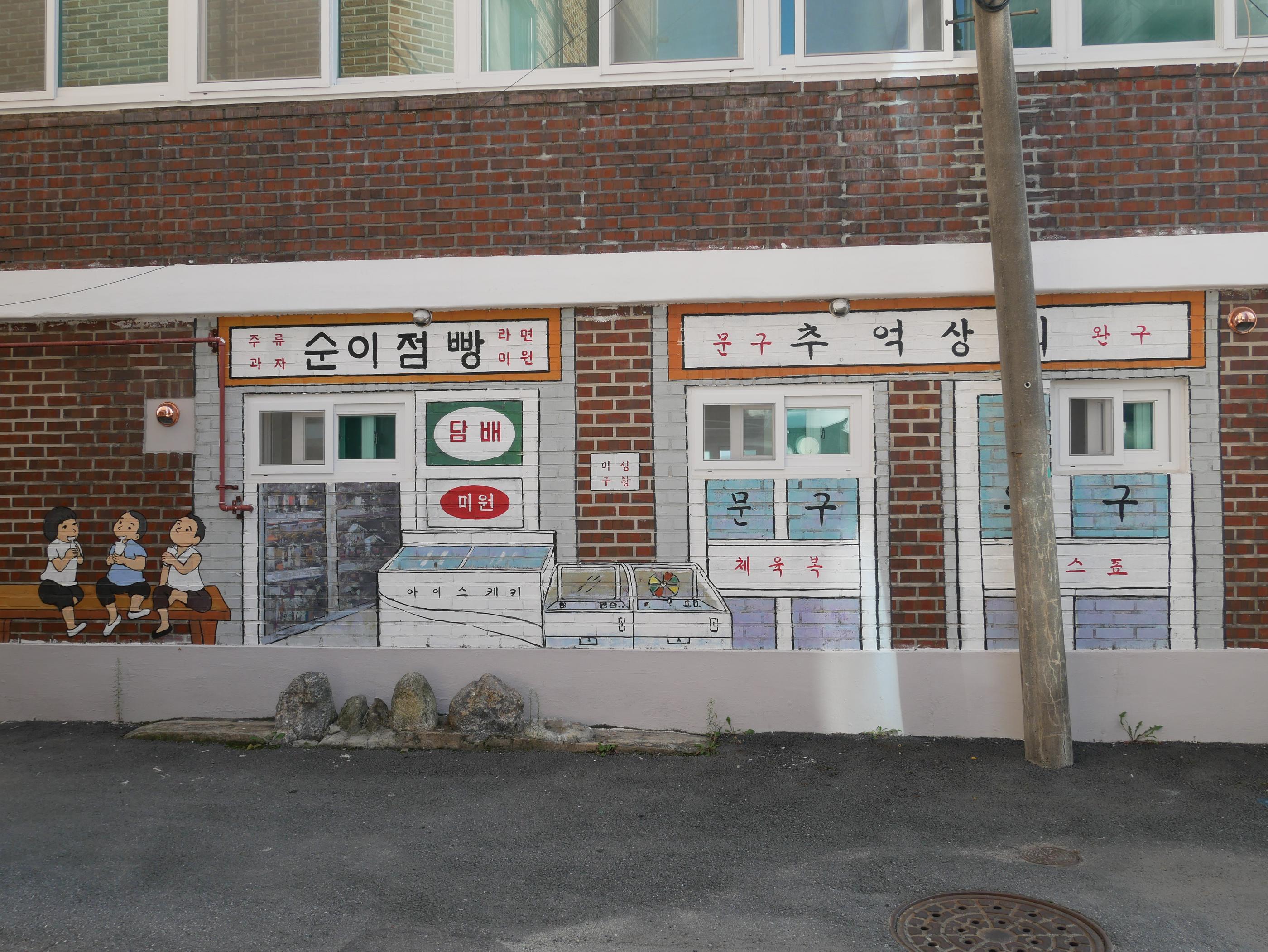 If you go on straight to the the main road, you will see the the picture above on your right. Along the alley you will see murals of Korean comic book, popcorn, and stationary shops from the 80s.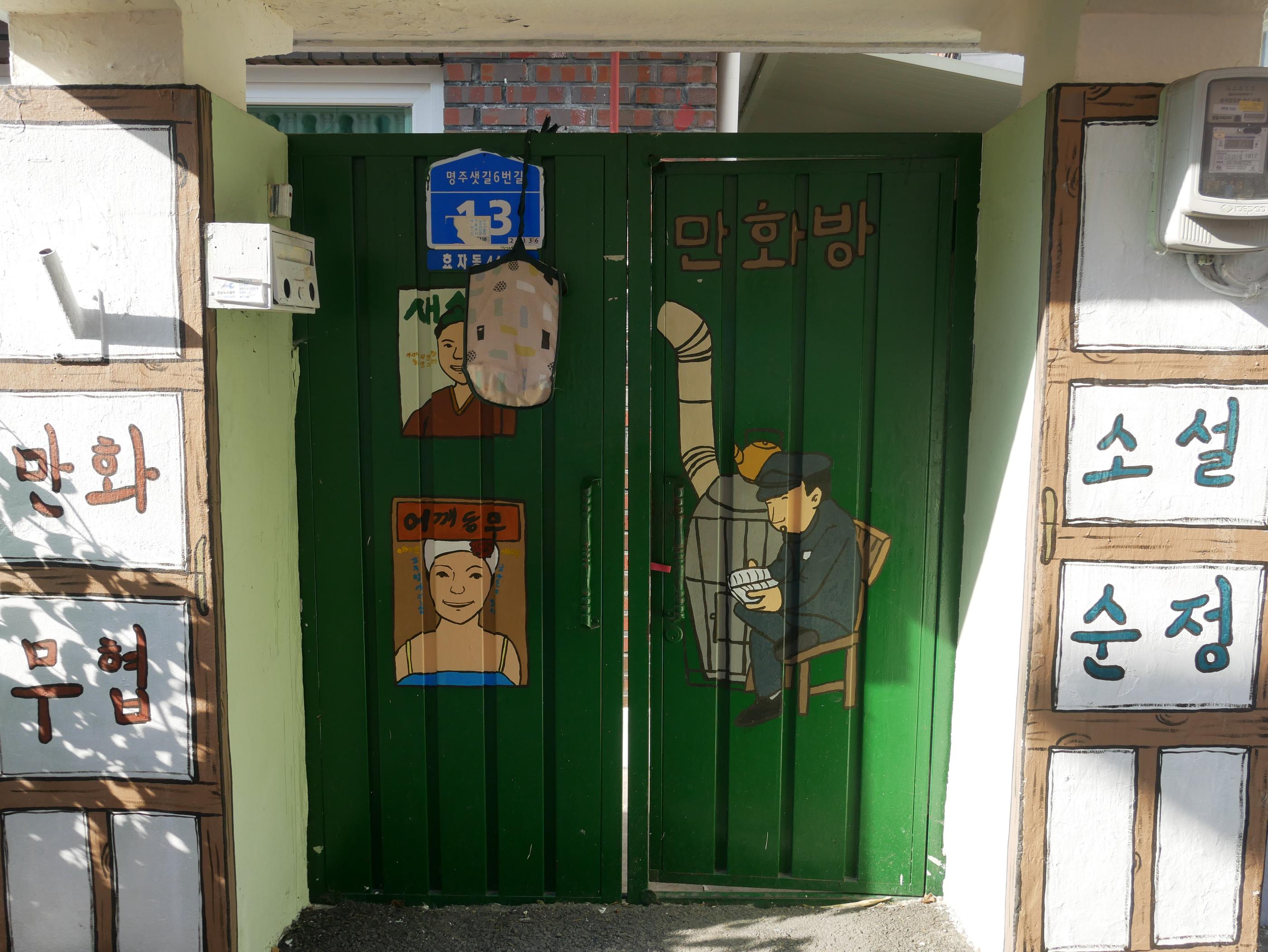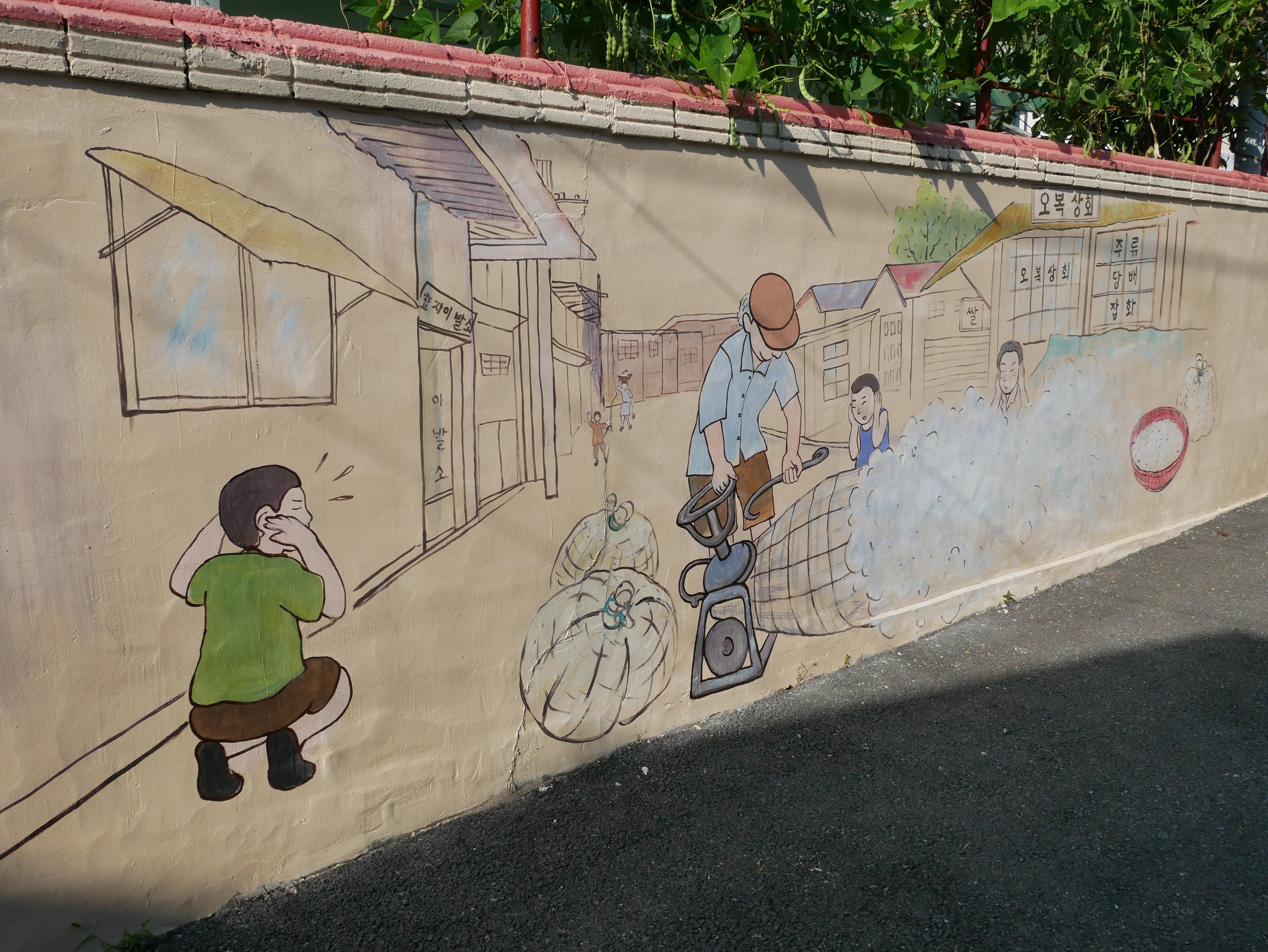 Although there is no observations point in the mural village, because it is located on a hillside, you can see the distant mountains and densely packed buildings.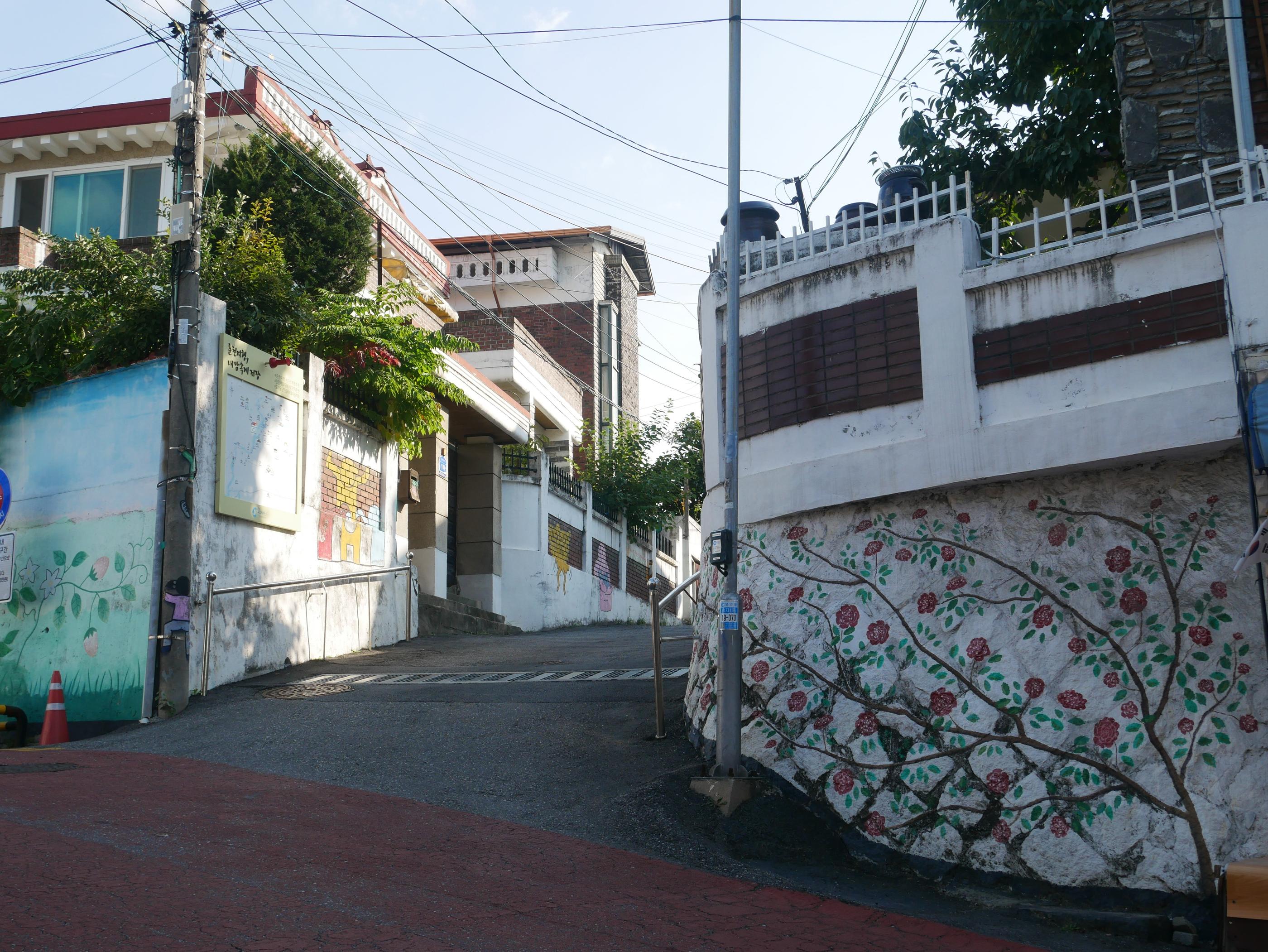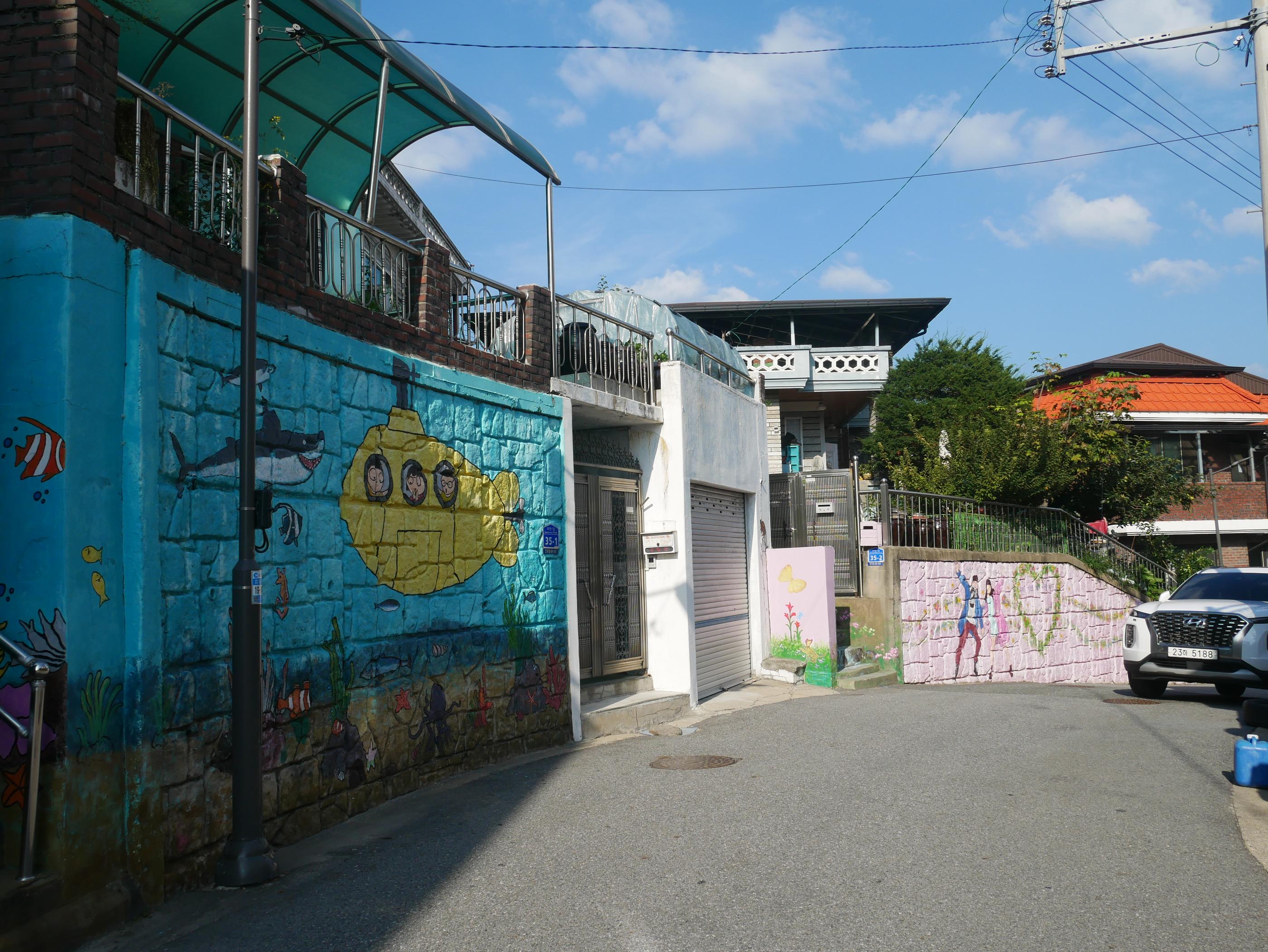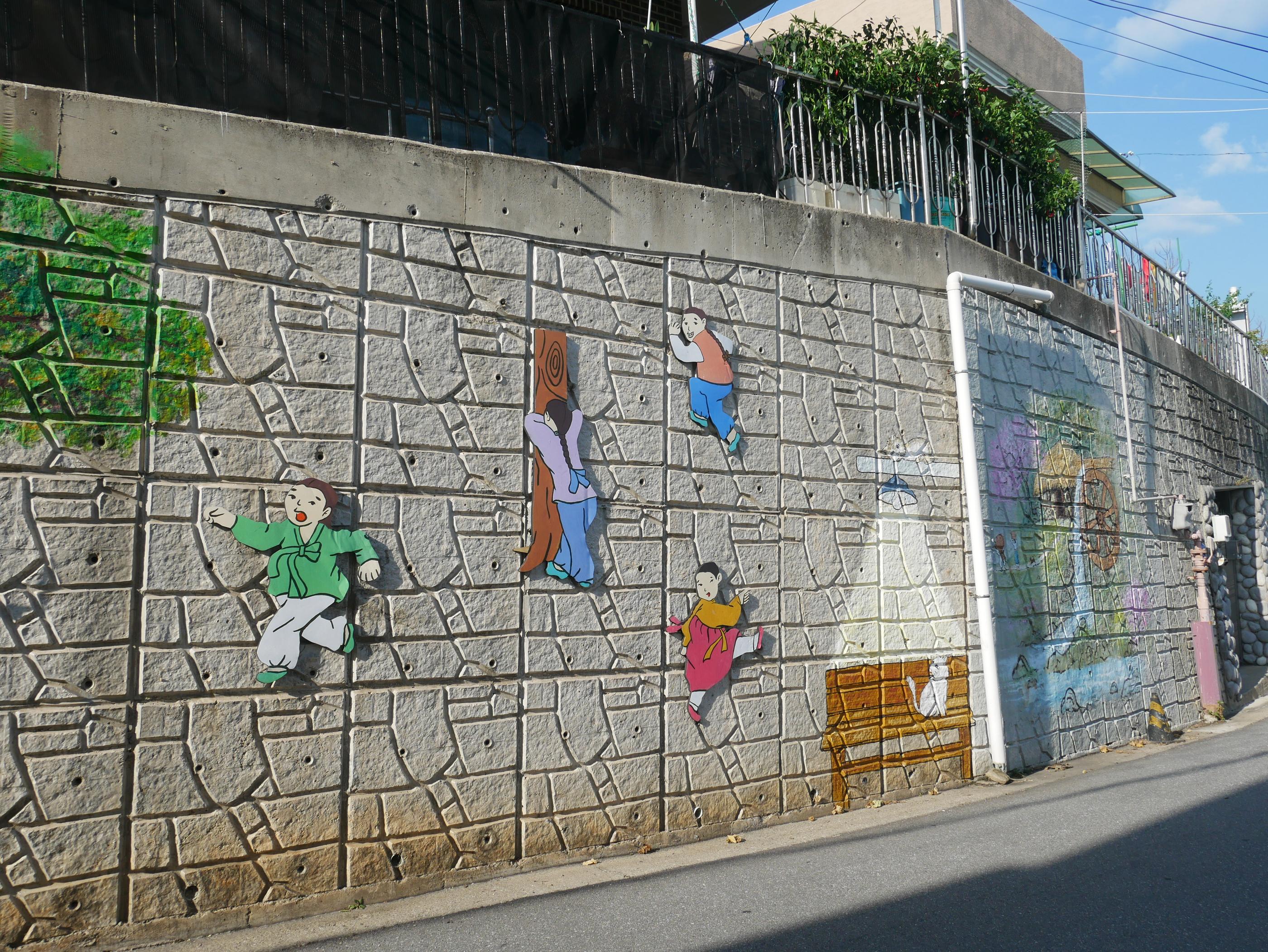 When you descend the hill, you'll come to an area where the murals are brighter and newer.
Because the area is so large, you can come here and have a good meal and spend a leisurely afternoon walking around and exploring, taking photos and enjoying all there is to see.
LEGOLAND Korea Resort (레고렌드 코리아)
Location: 강원도 춘천시 하중도길 128
128 Hajungdo-gil, Chuncheon, Gangwon-do
Hours:
Monday - Thursday: 10:00 - 18:00
Friday - Sunday: 10:00 - 19:00
Opening hours may vary so make sure to confirm when you book.
Prices: One-Time Ticket
Adults: 50,000 - 60,000 KRW
Children: 40,000 - 50,000 KRW
Ticket prices vary depending on the date.
Tickets include all rides, however games where a prize is received cost extra. Food is not included.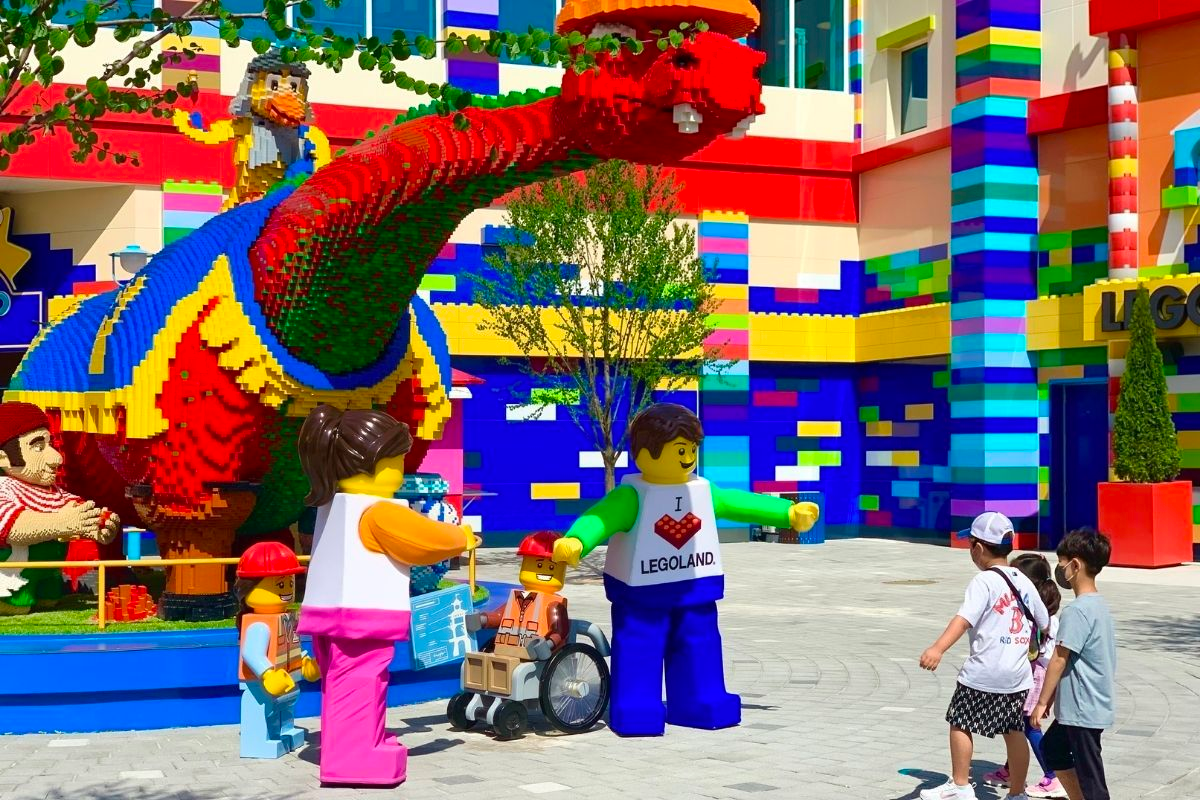 LEGOLAND Korea Resort is a new Lego-themed complex resort that opened in Korea on May 5, 2022. It's one of the most popular theme parks to come to Korea. Here you can see a colorful display of all the Lego themes you know and love.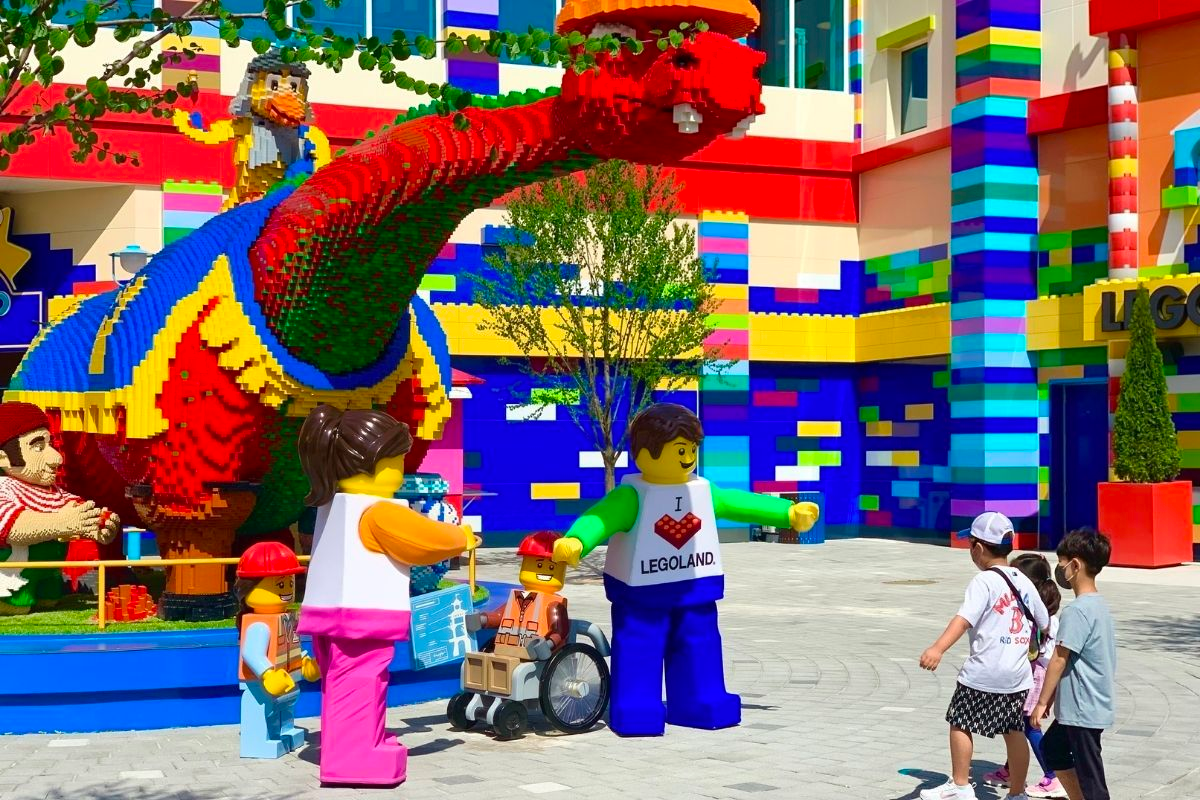 LEGOLAND is divided into eight main areas including LEGOLAND Hotel Resort and seven playground area which include BRICK STREET, BRICKTOPIA, LEGO CASTLE, LEGO NINJAGO WORLD, MINILAND, PIRATE SHORES, and LEGO CITY. Each playground is designed under a certain theme with more than 40 beautifully decorated games, dining, and shopping areas. You can check out the detailed review for your trip.
---
Gangneung
강릉시
How To Get There From Chuncheon
From Chuncheon, our next stop in Gangneung.
The most convenient and efficient way is to take the intercity bus, which takes a little under 3 hours and costs 15,700 won.
The departure times are as follows: 6:20, 8:00, 8:30, 9:30, 10:30, 12:20, 13:00, 14:05, 15:15, 16:30, 17:00, 17:40, 18:30
If you are coming from Seoul, however, you can take KTX.
Bus tickets can be purchased through TxBus or BusTago.
We previously made a blog about Ganeung that you can check out here for even more info!
Gangneung Gyeongpo Beach
강릉경포해수욕장
Address: 강원도 강릉시 창해로 514
514 Changhae-ro, Gangneung-si, Gangwon-do
Transit: Take bus 202-1 or 202-2 heading towards Gyeongpo from Gangneung Station and get off at Gyeongpo Beach Station. It takes about 20 minutes.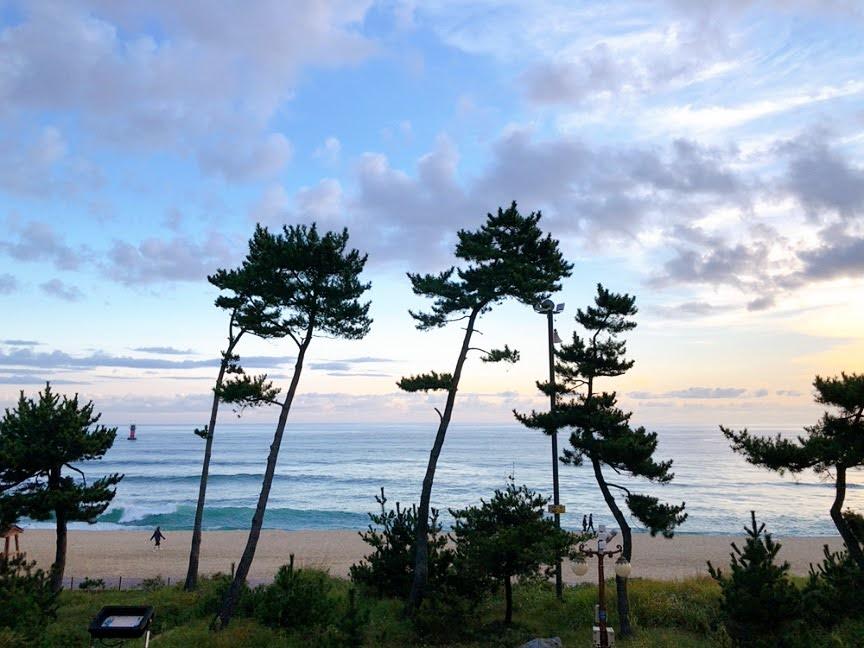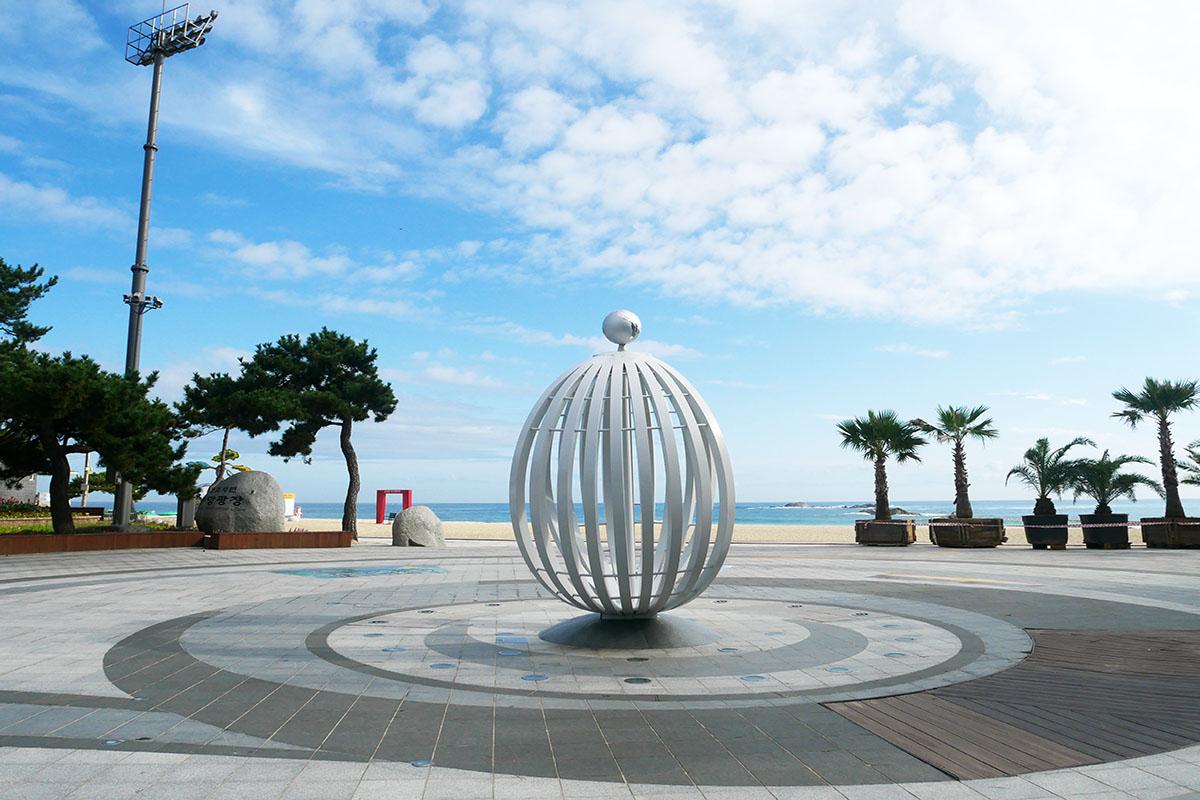 Gyeongpo Beach is 1.8 km long and is the largest beach on the east coast of Korea.
It has a picturesque, white sandy beach covering an area of 1.44 square km.
The wind off the sea rustles the pine forest by the shore, a beautiful and healing sight.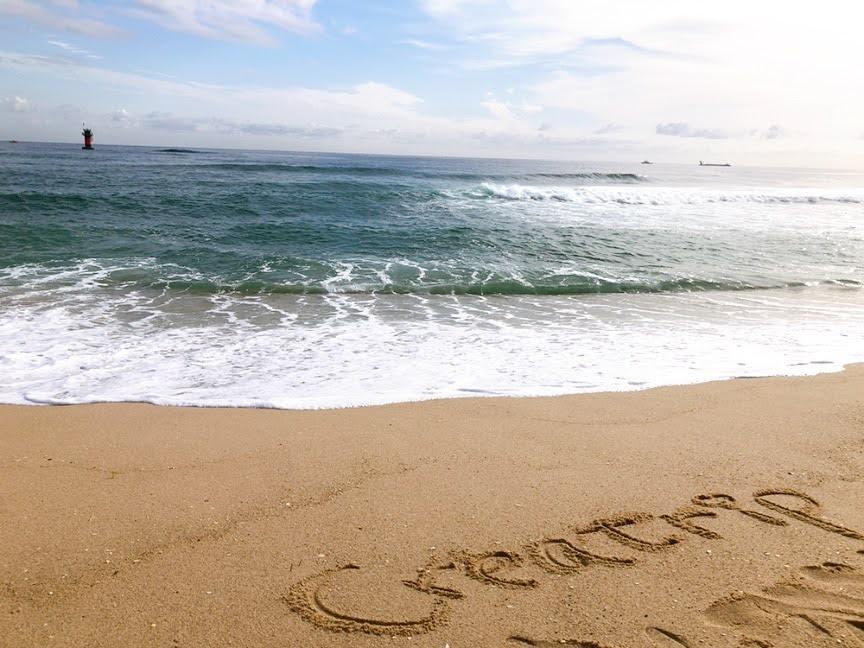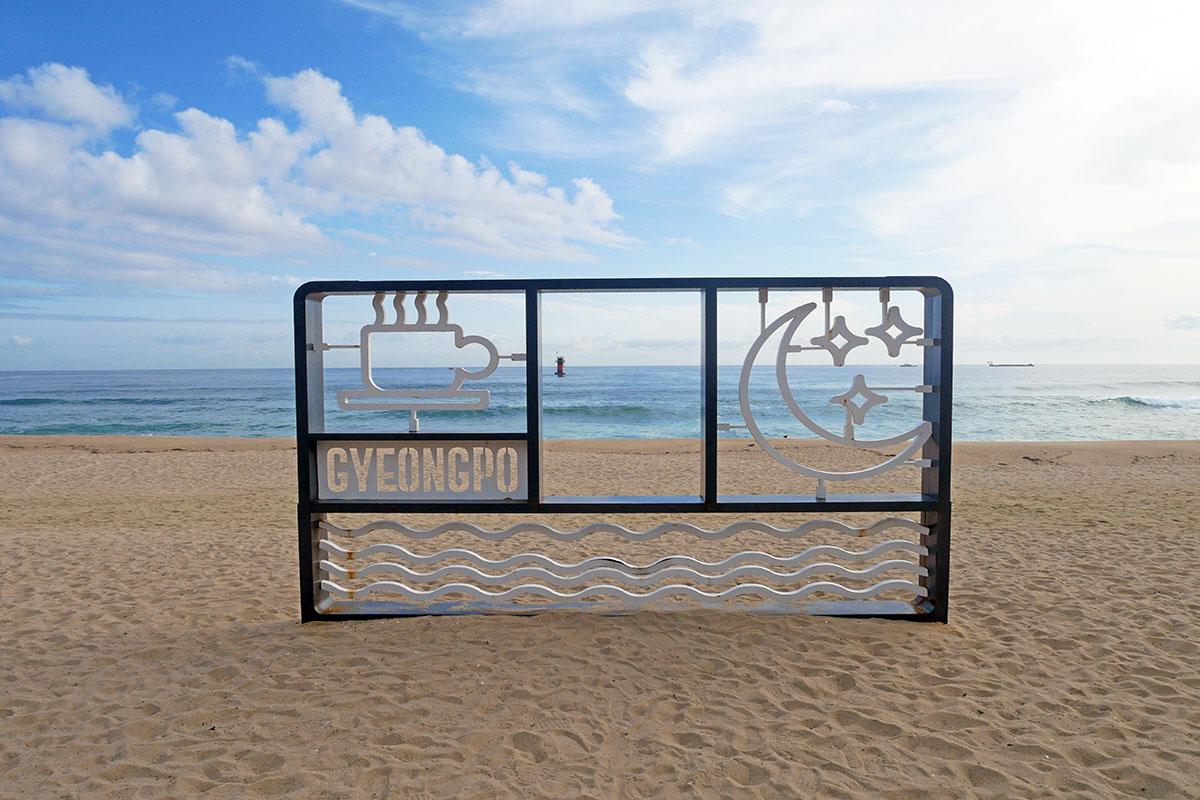 The water depth is 1 to 2 meters with a gentle slope.
This beach is a summer resort area where many Koreans vacation every year.
There are cute signs and seats on the beach, perfect for snapping souvenir photos.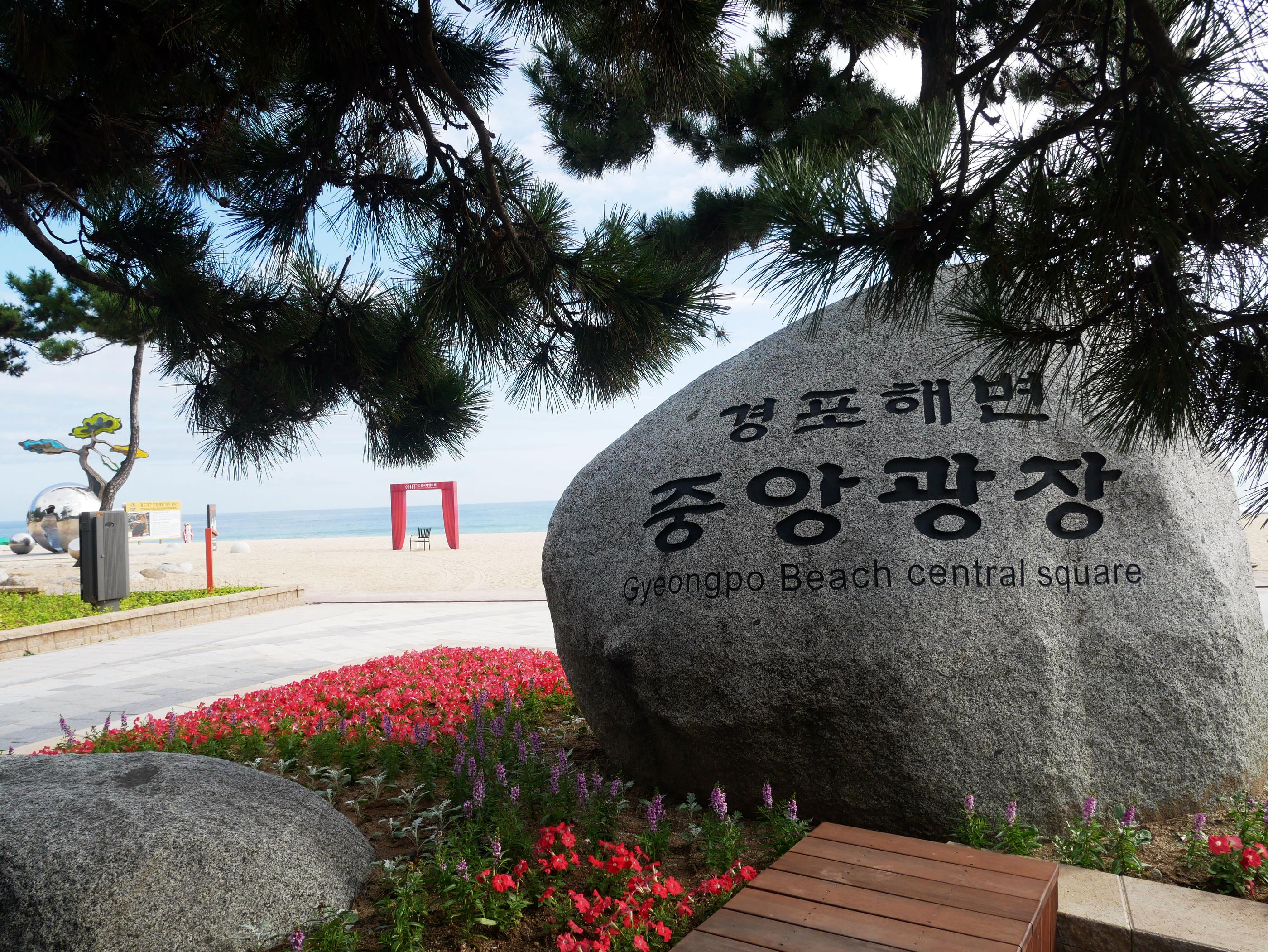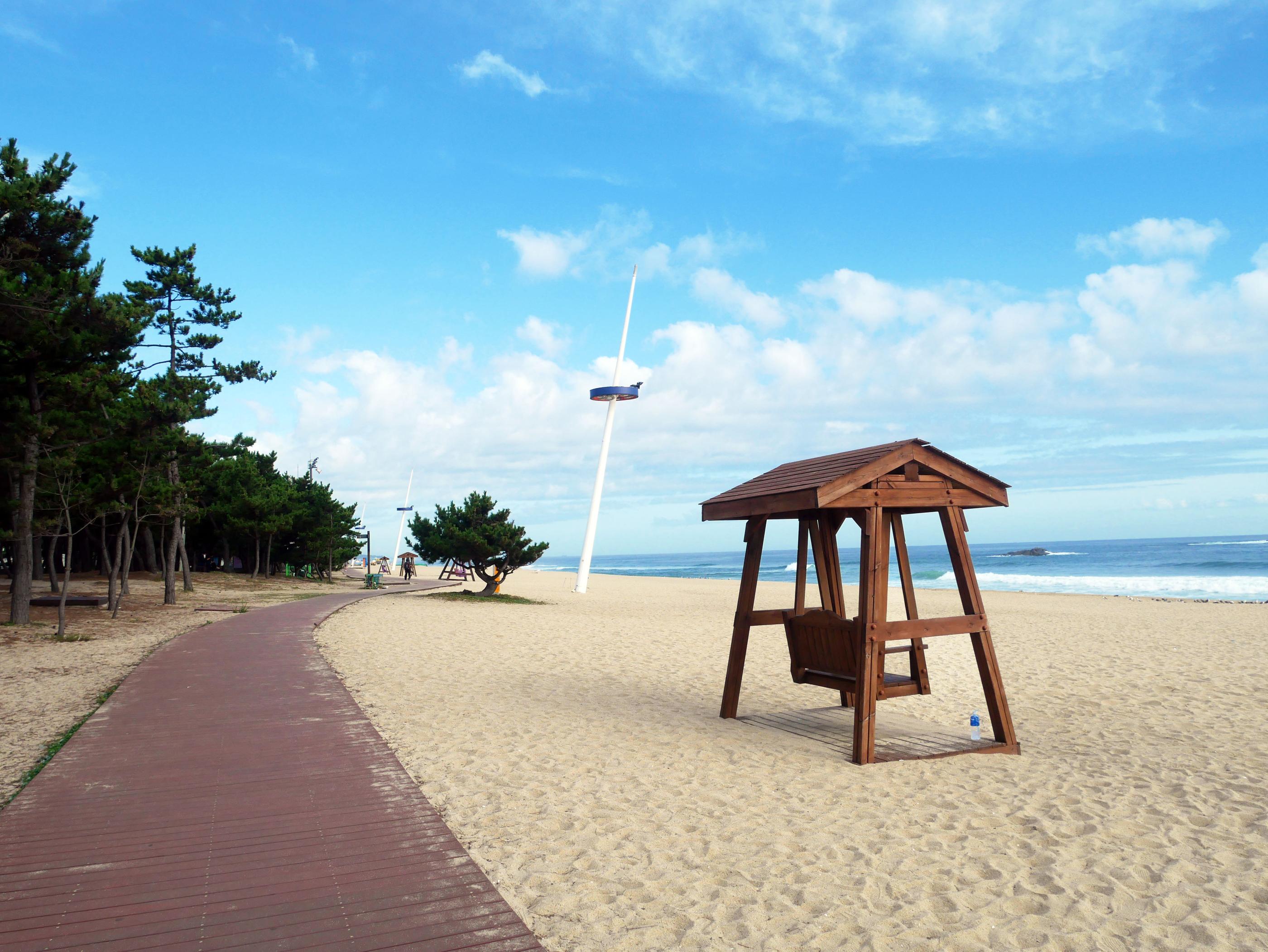 The stage set up at the beach hosts a summer night art festival to add an artistic atmosphere to Gangneung.
Take a walk along the coastal trail or sit on the beach and rest, enjoying the relaxing time by the ocean.
Gangneung Gyeongpo Lake Park
강릉경포호수공원
Address: 강원도 강릉시 초당동 459-28
459-28 Chodang-dong, Gangneung-si, Gangwon-do
Transit: Just a 15 minute walk, across the street from Gyeongpo Beach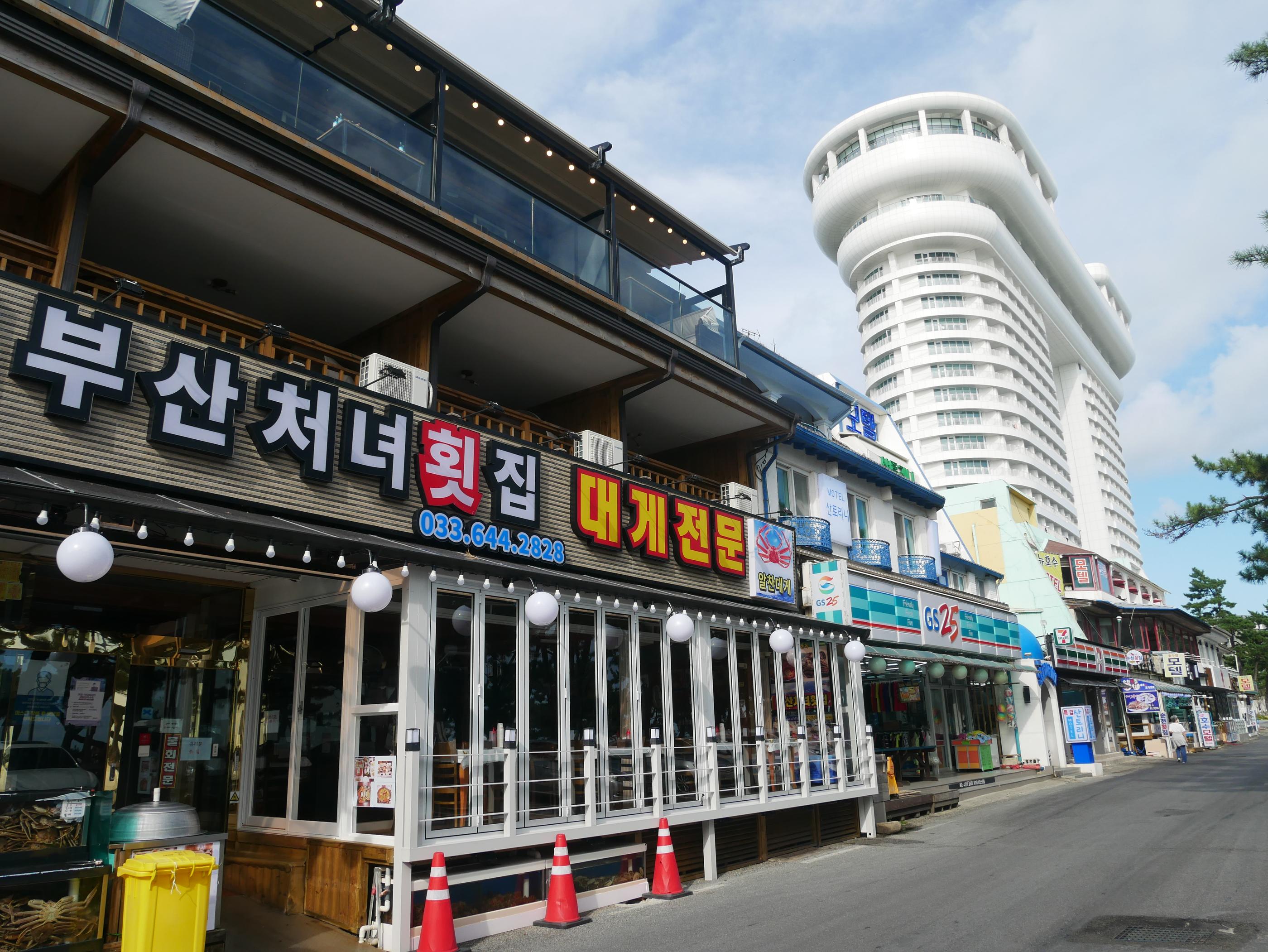 Go towards the Gyeongpo Sky Bay Hotel (the distinct-looking white building pictured above) and you will arrive at Gyeongpo Lake Park.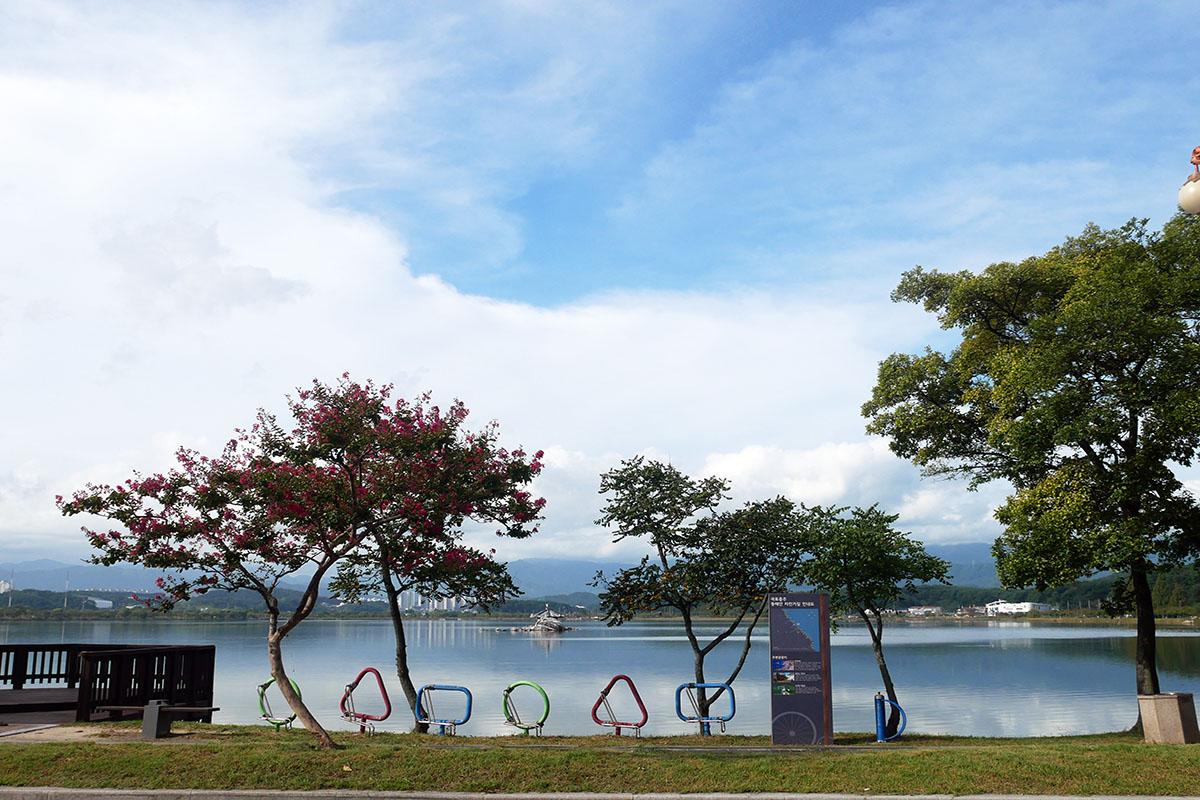 After enjoying the ocean view, I went to the lake park and found it also to be very calming and peaceful.
Although the lake is surround by roads, there is no noise pollution.
You can see the buildings and landscape mirrored in the lake.
It's a nice place to sit and admire the beauty of nature.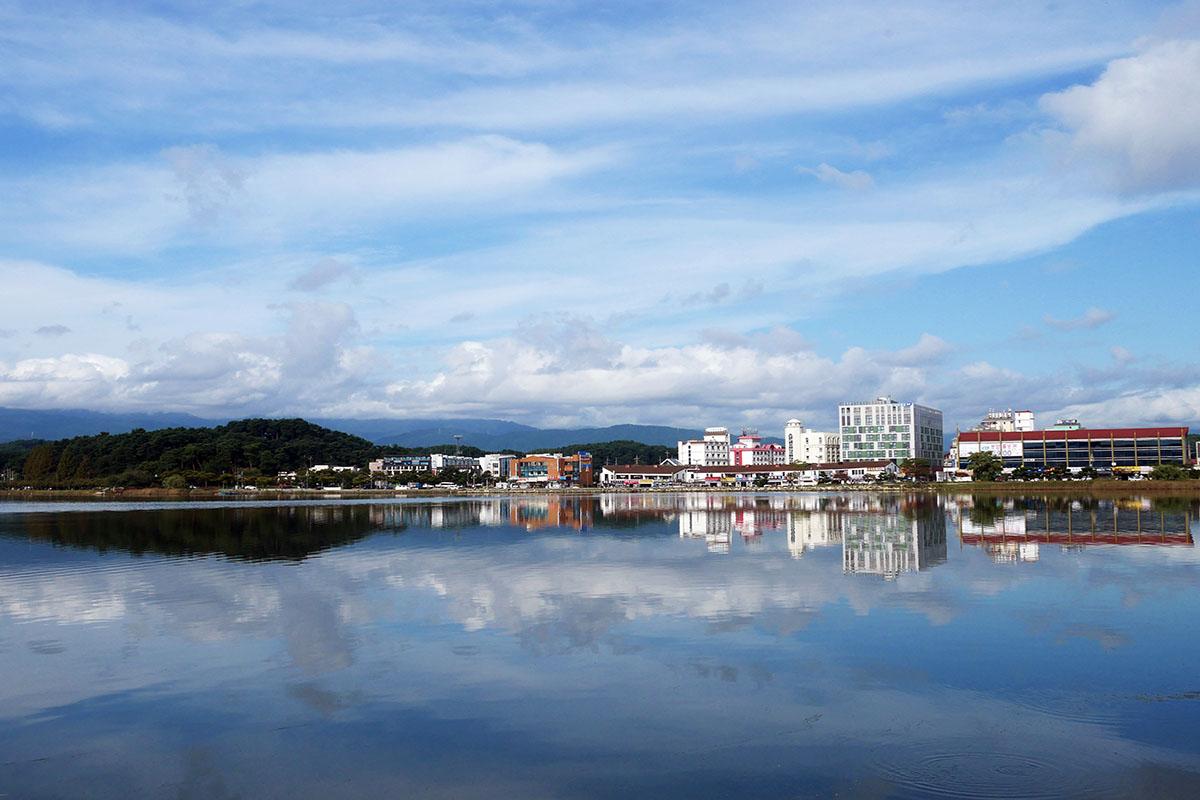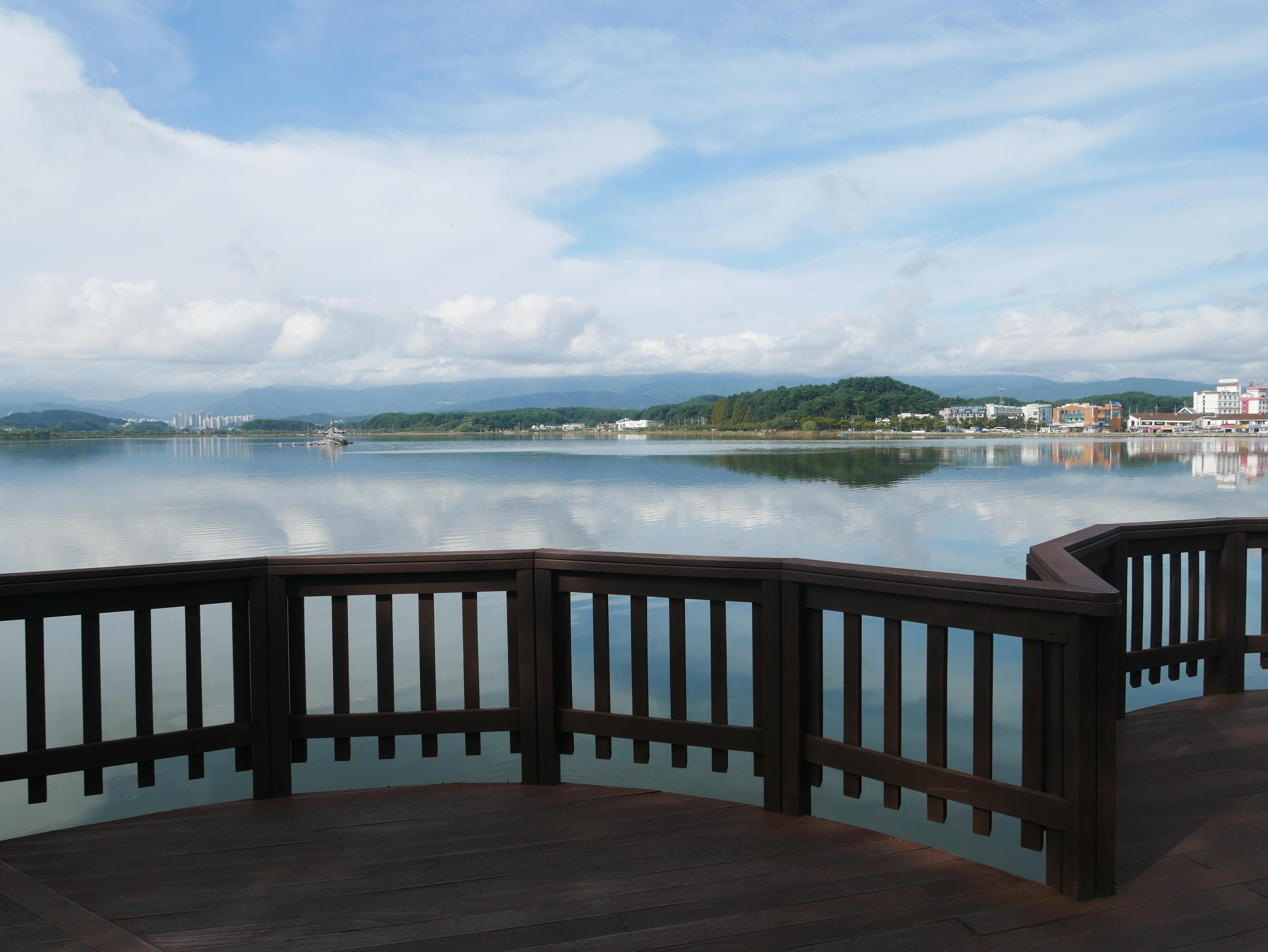 In the mornings, many people can be seen jogging or bicycling along the park trail.
If you enjoy the quiet or want some respite from the business of life, this park is perfect for you.
Heo Gyun Heo Nanseolheon Memorial Park
허견허난설헌기념공원
Address: 강원도 강릉시 난설헌로193번길 1-29
1-29 Nanseolheon-ro 193-beongil, Gangneung-si, Gangwon-do
Hours: 9:00-18:00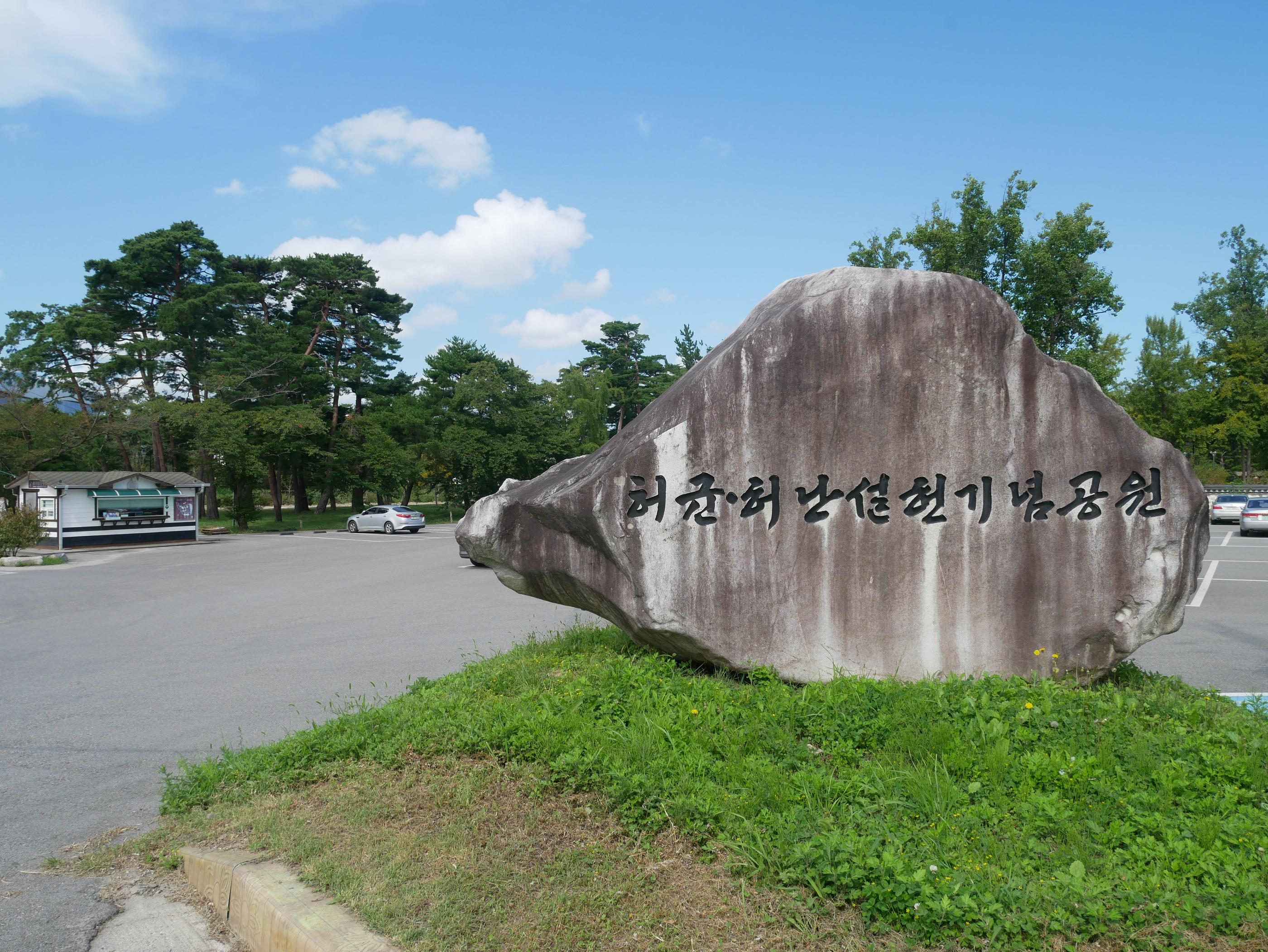 Heo Gyun Heo Nanseolheon Memorial Park is a place to commemorate the famous brother and sister Heo Gyun and Heo Nanseolheon, Joseon era nobles who were known for being progressive thinkers. Both were writers, Heo Nanseolheon in particular was known for her poetry skills from a young age.
Sure to COVID restrictions, many indoor exhibit areas were not open when I went, but the traditional gardens and hanok were still lovely and enjoyable.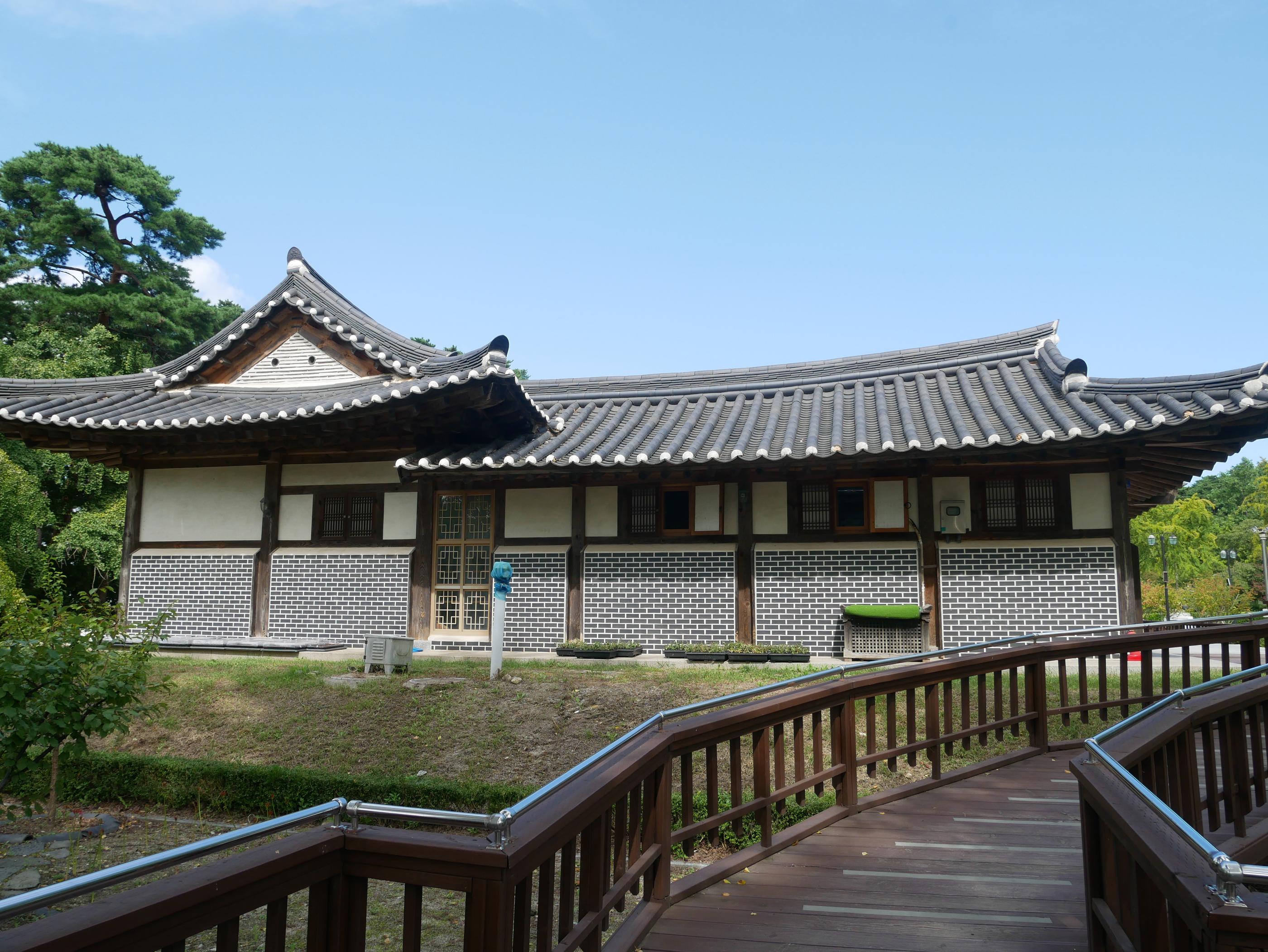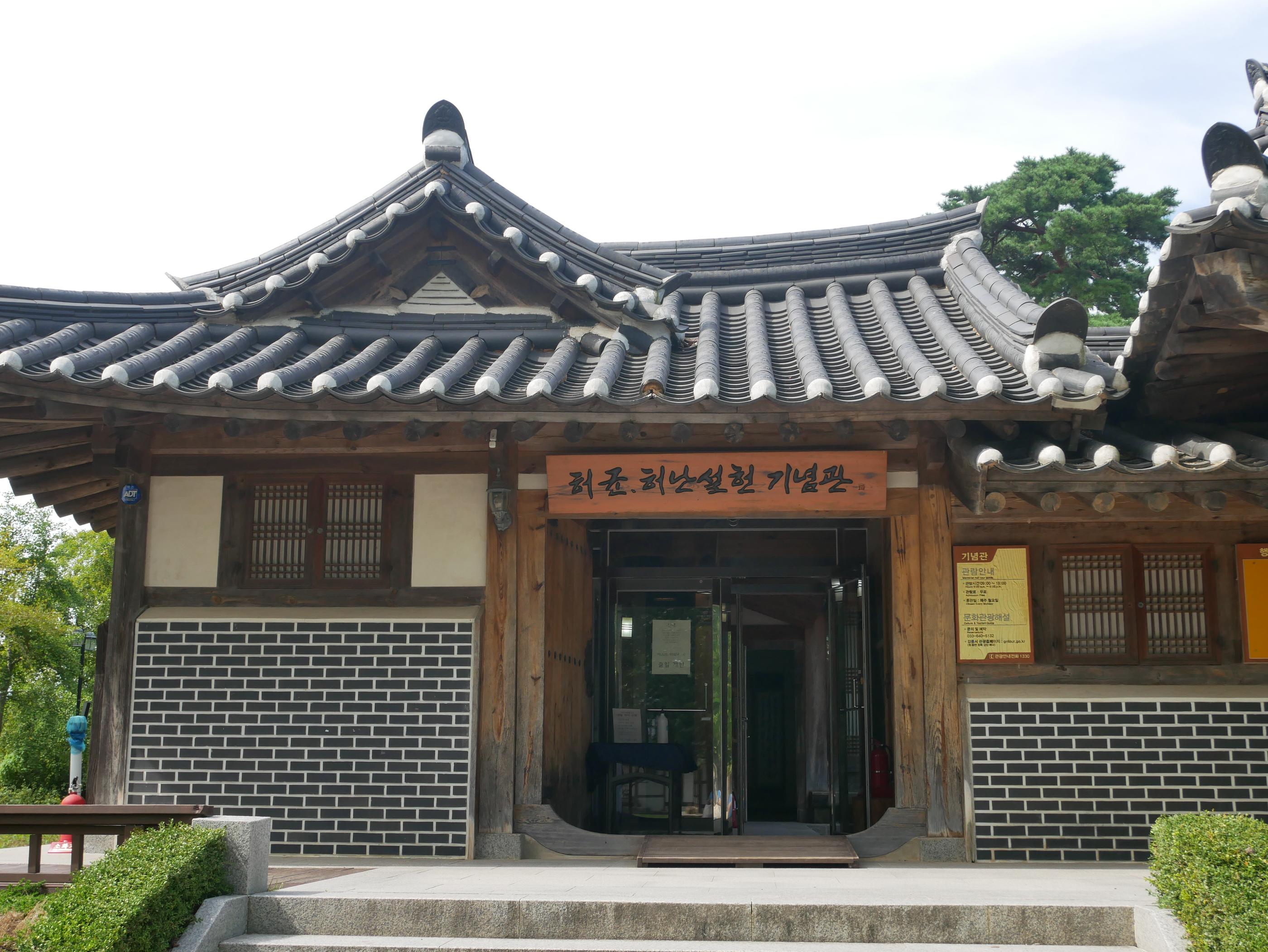 You can see Heo Nanseolheon's former residence and memorial, bronze statues, poetry, etc. in the park.
There is a lush pine forest behind the house, a suitable place for families to relax and play.
Compared to other tourist attractions in the area, this is relatively quiet and less crowded, so you can take your time enjoying the park.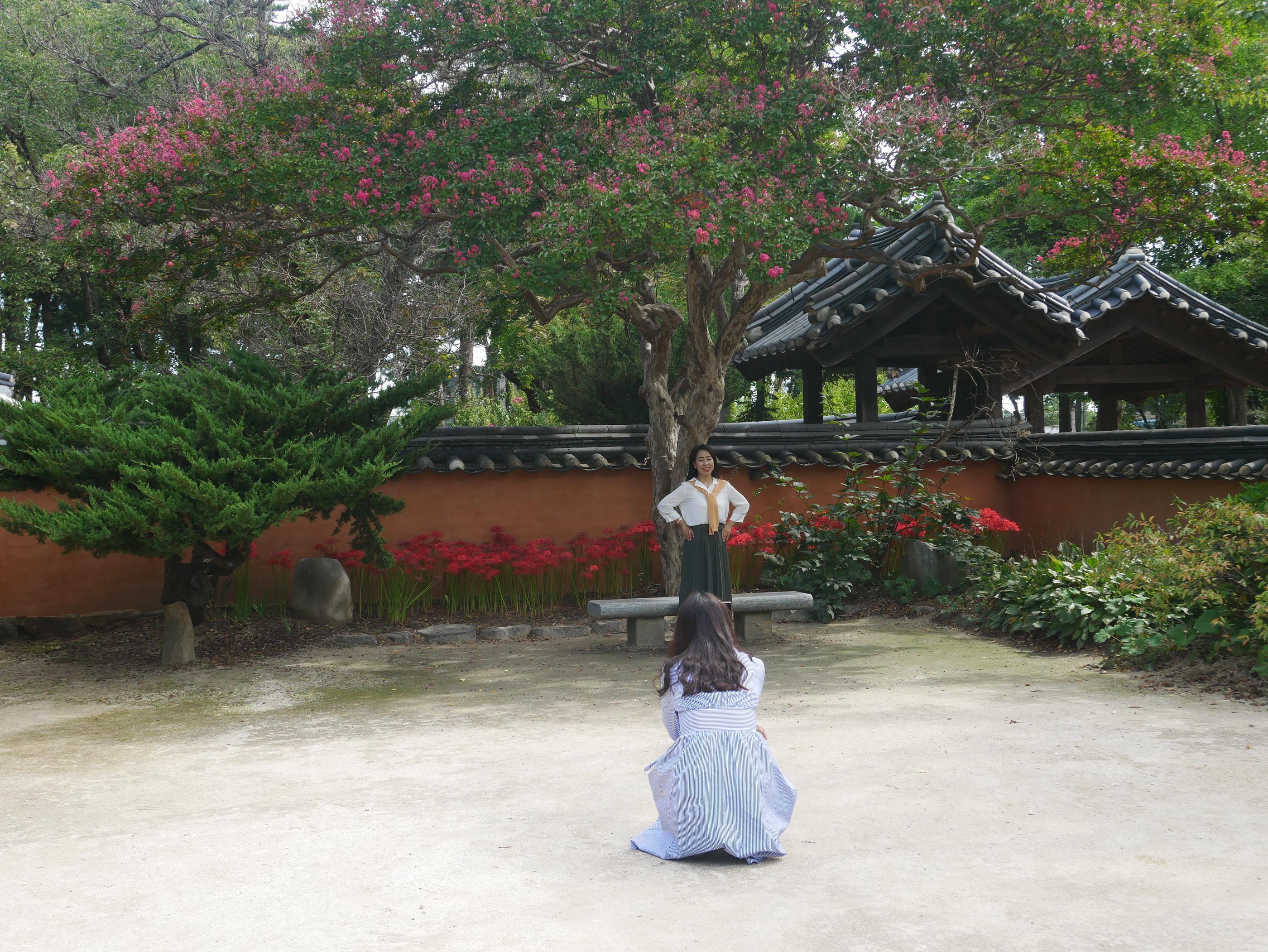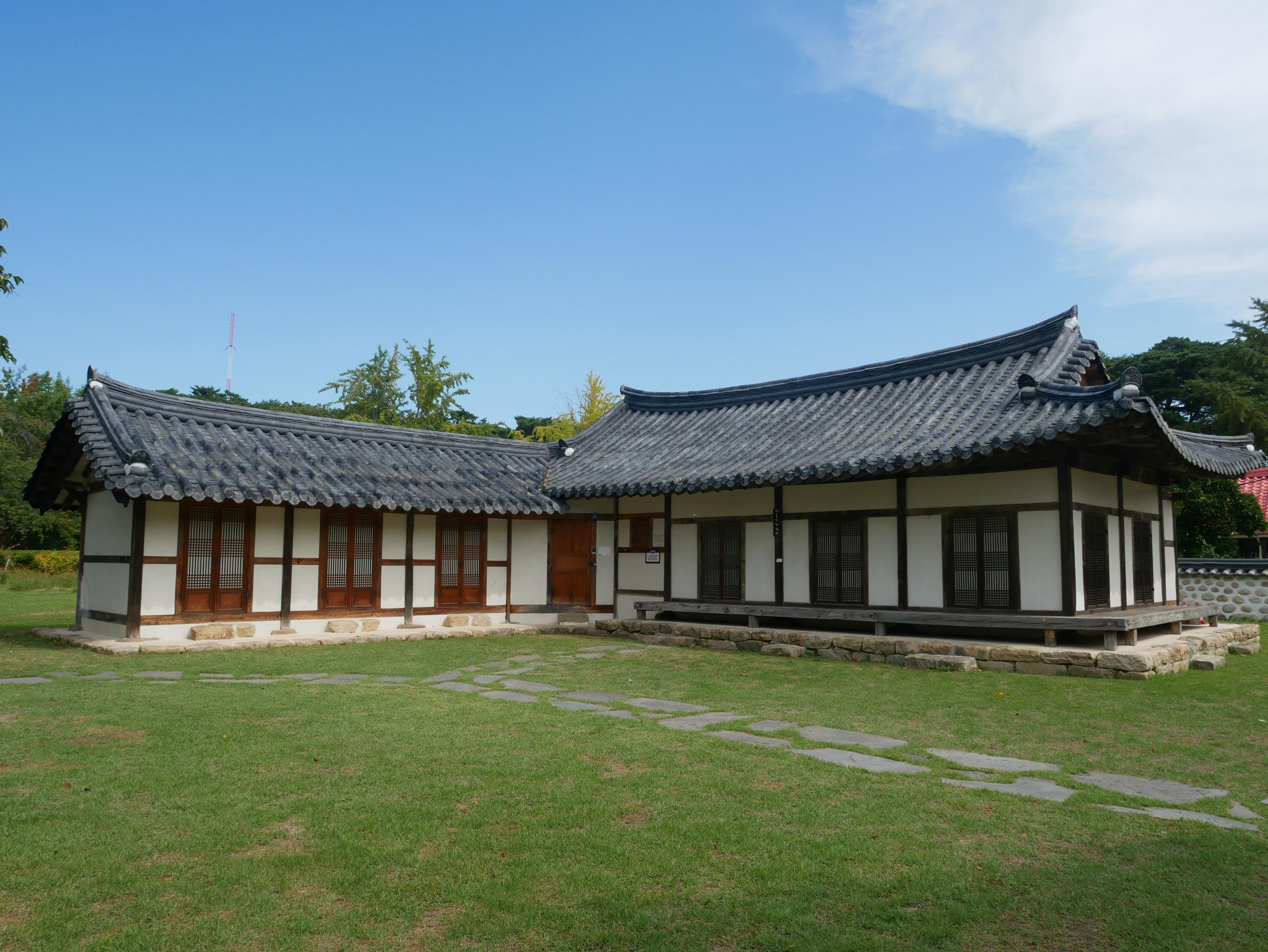 The memorial park holds the Nanseolheon Cultural Festival and other activities every spring and autumn.
Although it is not a common destination for foreign tourists, it is one of the most famous places in Gangneung.
There are also many good cafes and restaurants nearby, so it's a great place to visit.
Donghwa Garden
동화가든
Address: 강원도 강릉시 초당순두길77번길 15
15 Chodangsoondubu-gil 77-beongil, Gangneung-si, Gangwon-do
Hours: 7:00-19:00 (Soft Tofu available 8:30-19:00)
Break: 16:00-17:00
Transit: Take bus 202 from Gyeongpo Beach Station (경포해변역) to Gangmun Beach (강문해변입구역) and walk for about 10 minutes.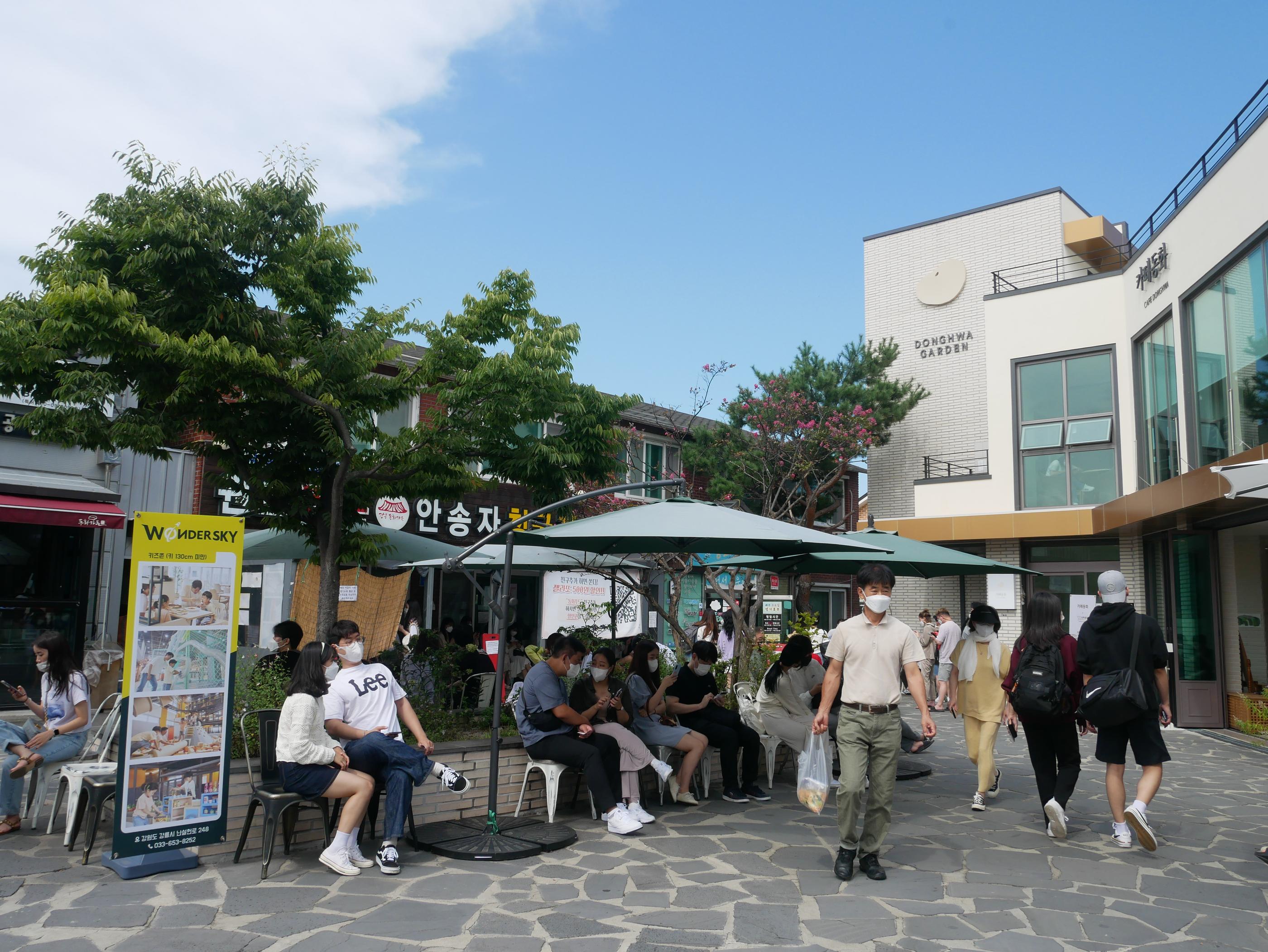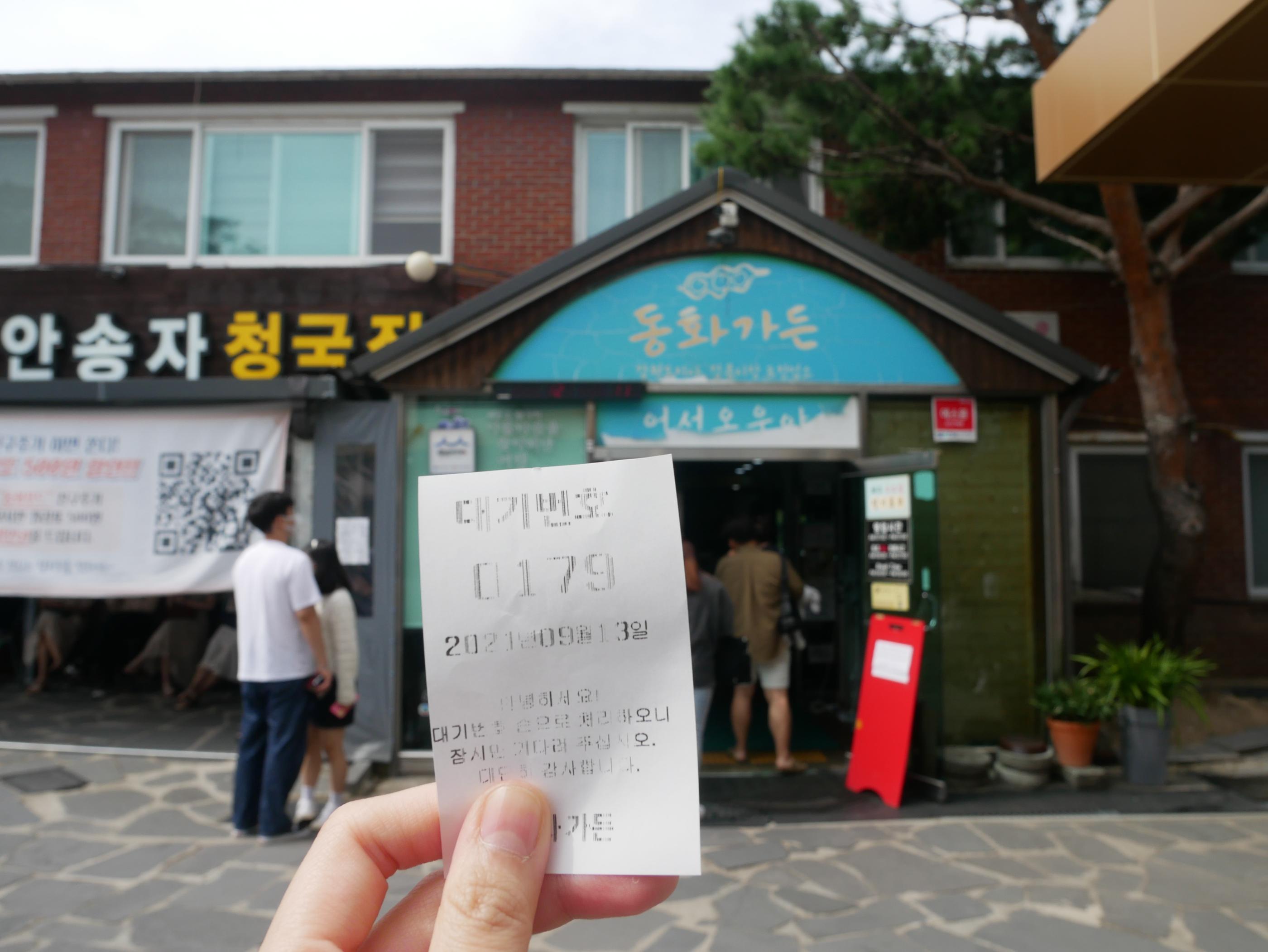 If you ask about the must-eat food in Gangneung, it's definitely seafood soft tofu and Donghwa Garden has the most delicious version.
Just how popular is this place? Well, it opens at 7 in the morning, and when I arrived at 11:30 on a weekday, I was ticket number 179. They were currently serving number 120, which meant there were about 60 people ahead of me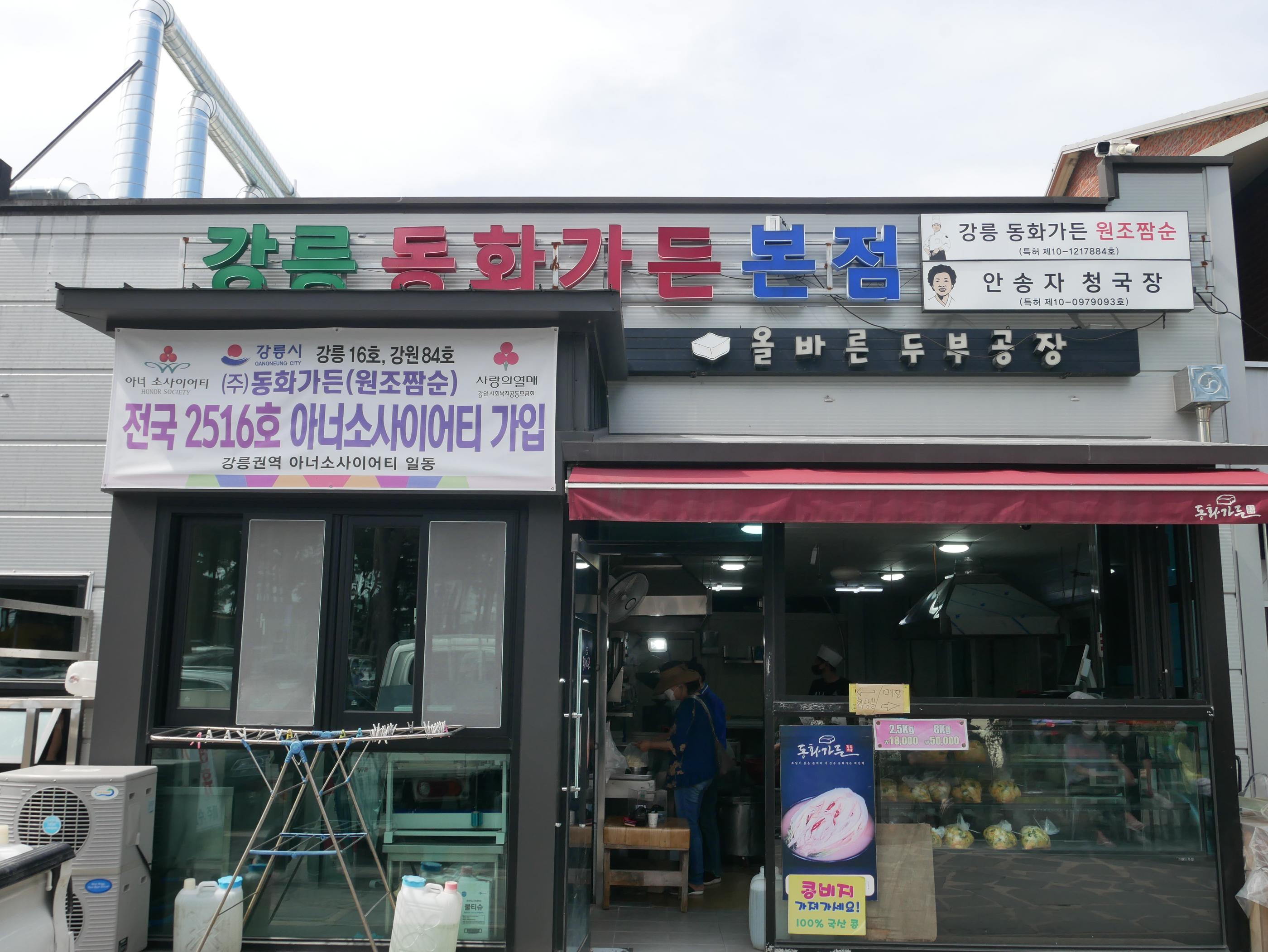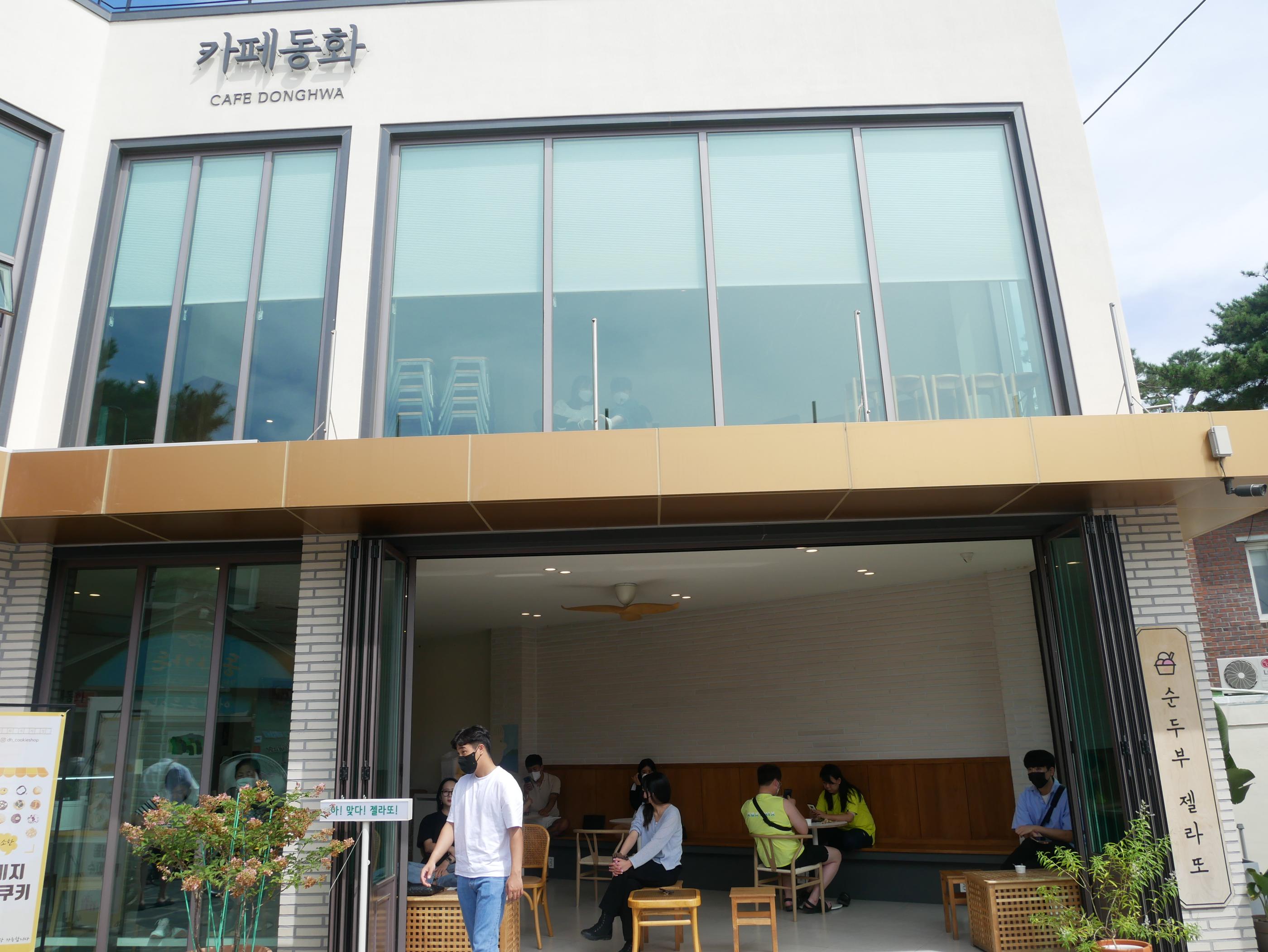 There were so many people in line that they opened up a second room, but there still weren't enough seats for everyone waiting.
Many people choose to wait at the cafe across the street.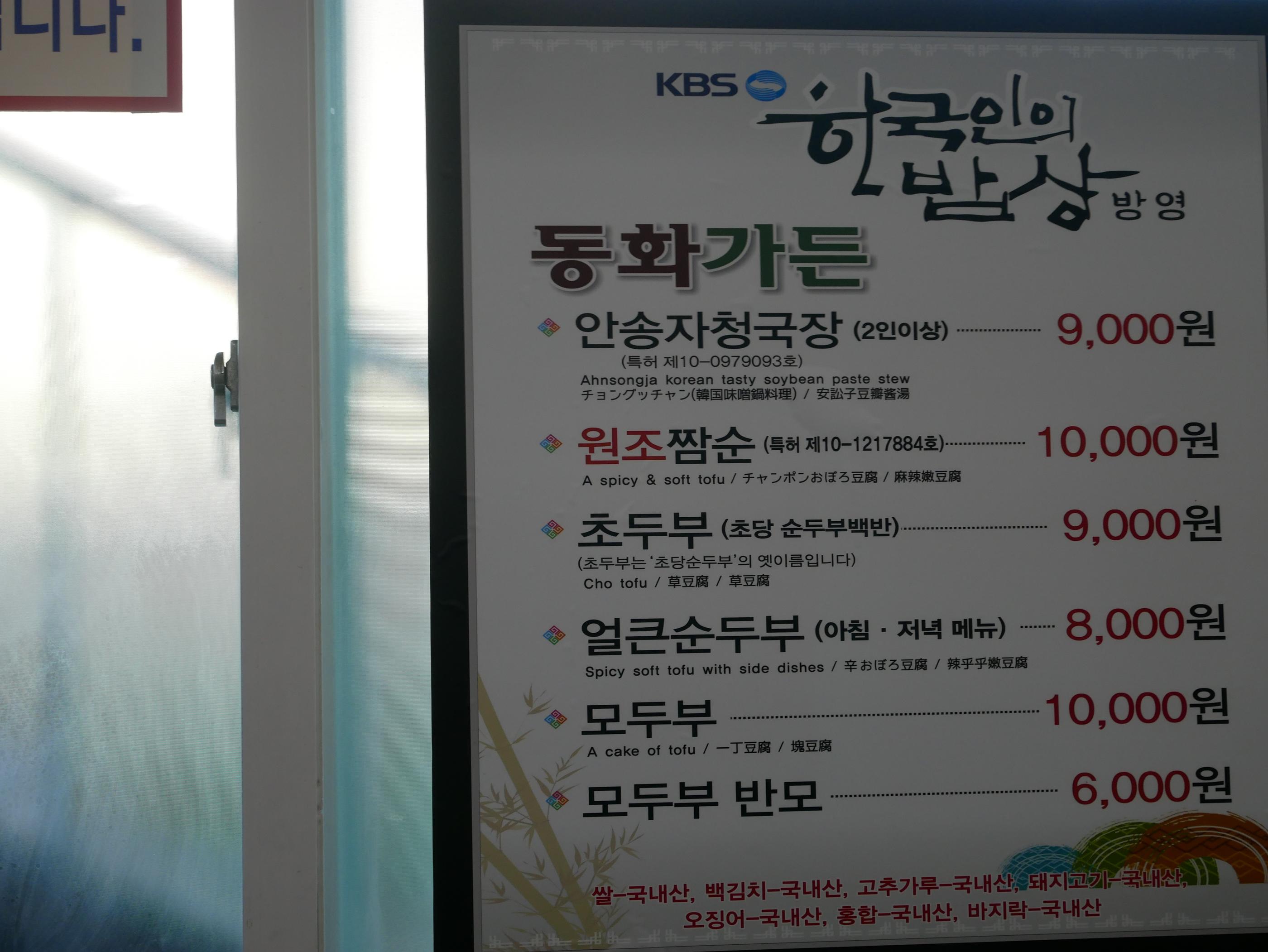 After about an hour of waiting, it was finally my turn.
The menu was very simple, consisting of the signature seafood soft tofu, a fermented soybean soup, and some other tofu dishes.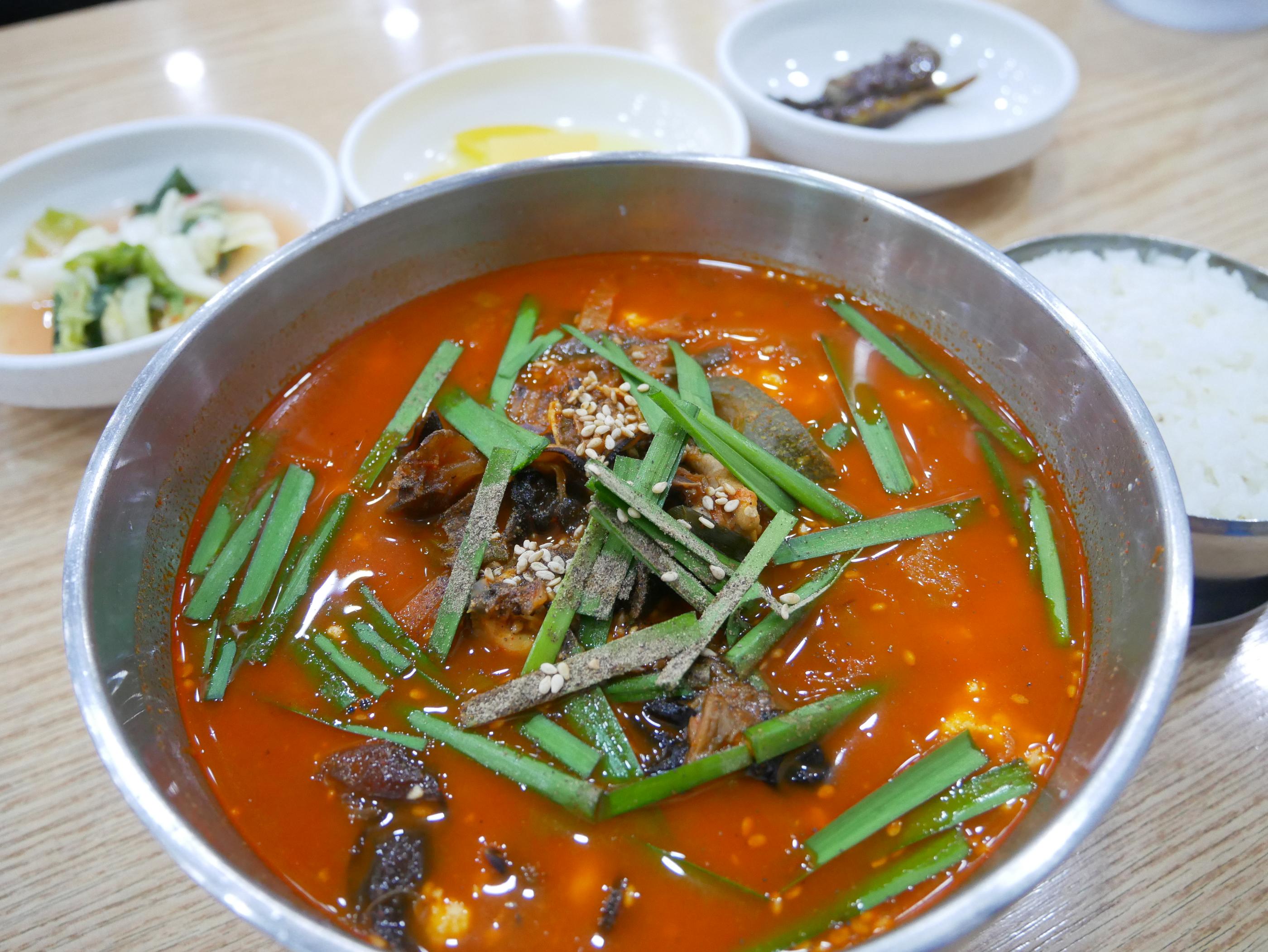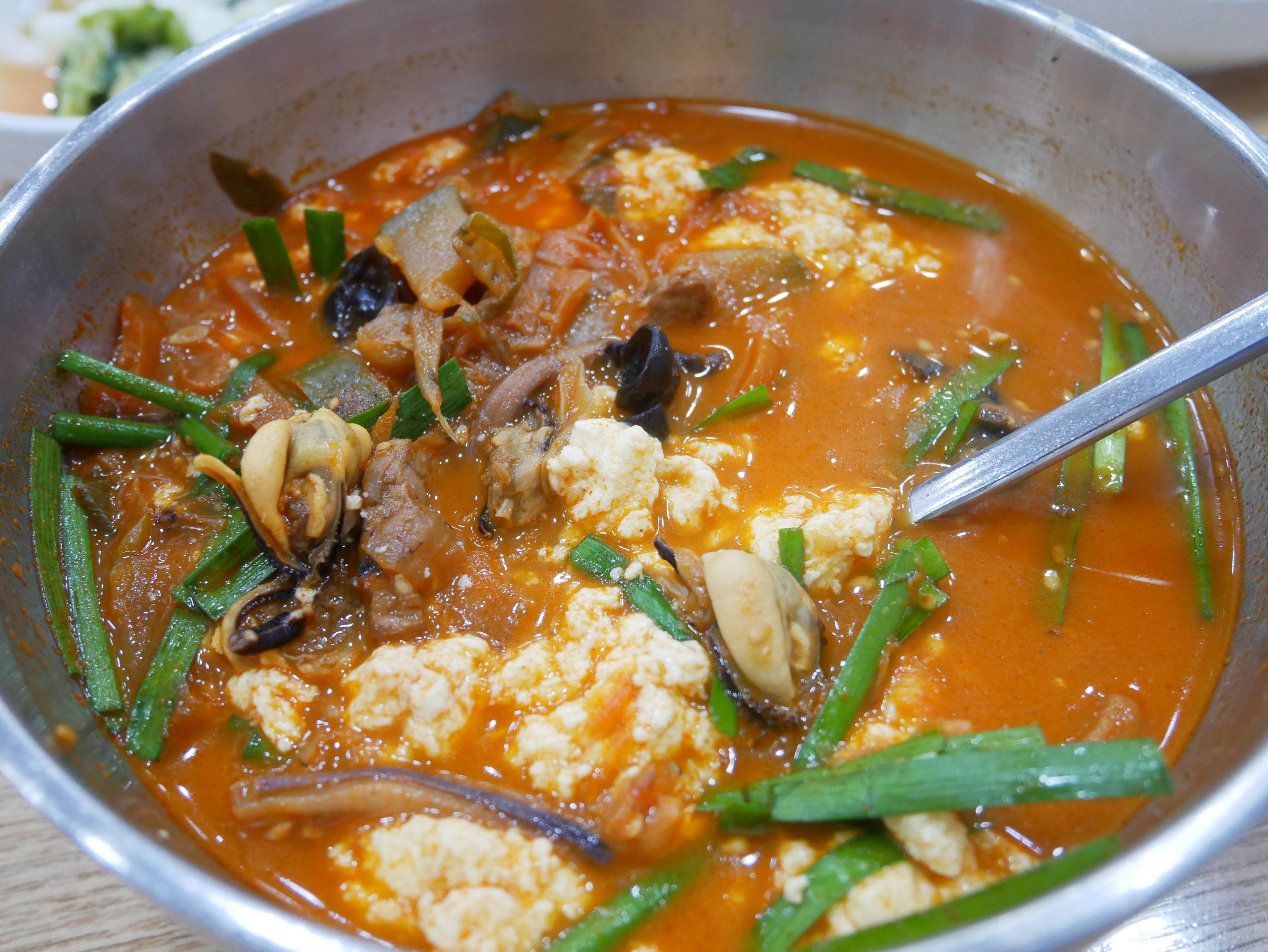 Original Spicy Soft Tofu (원주짬순순두부) 10,000 won
Although it looks very spicy, the flavor was rich and smooth and I definitely recommend you try this!
The portion of seafood is not much, but the tofu is the start after all.
Soon Tofu Gelato
순두부젤라또
Address: 강원도 강릉시 초당순두부길 95-5
95-5 Chodangsoondubu-gil, Gangneung-si, Gangwon-do
Hours: 10:00-19:30
Break: 15:30-16:30
Closed: Tue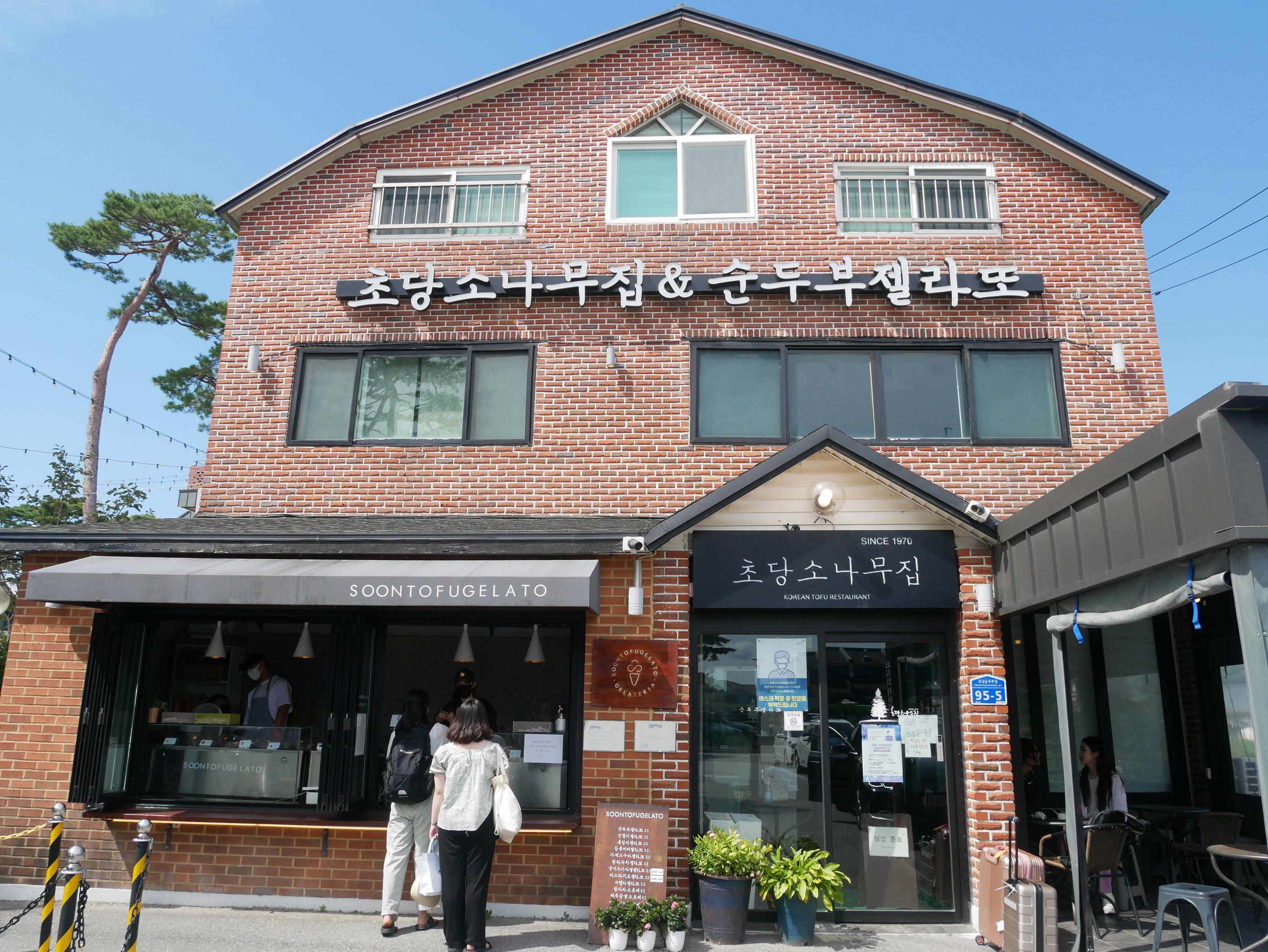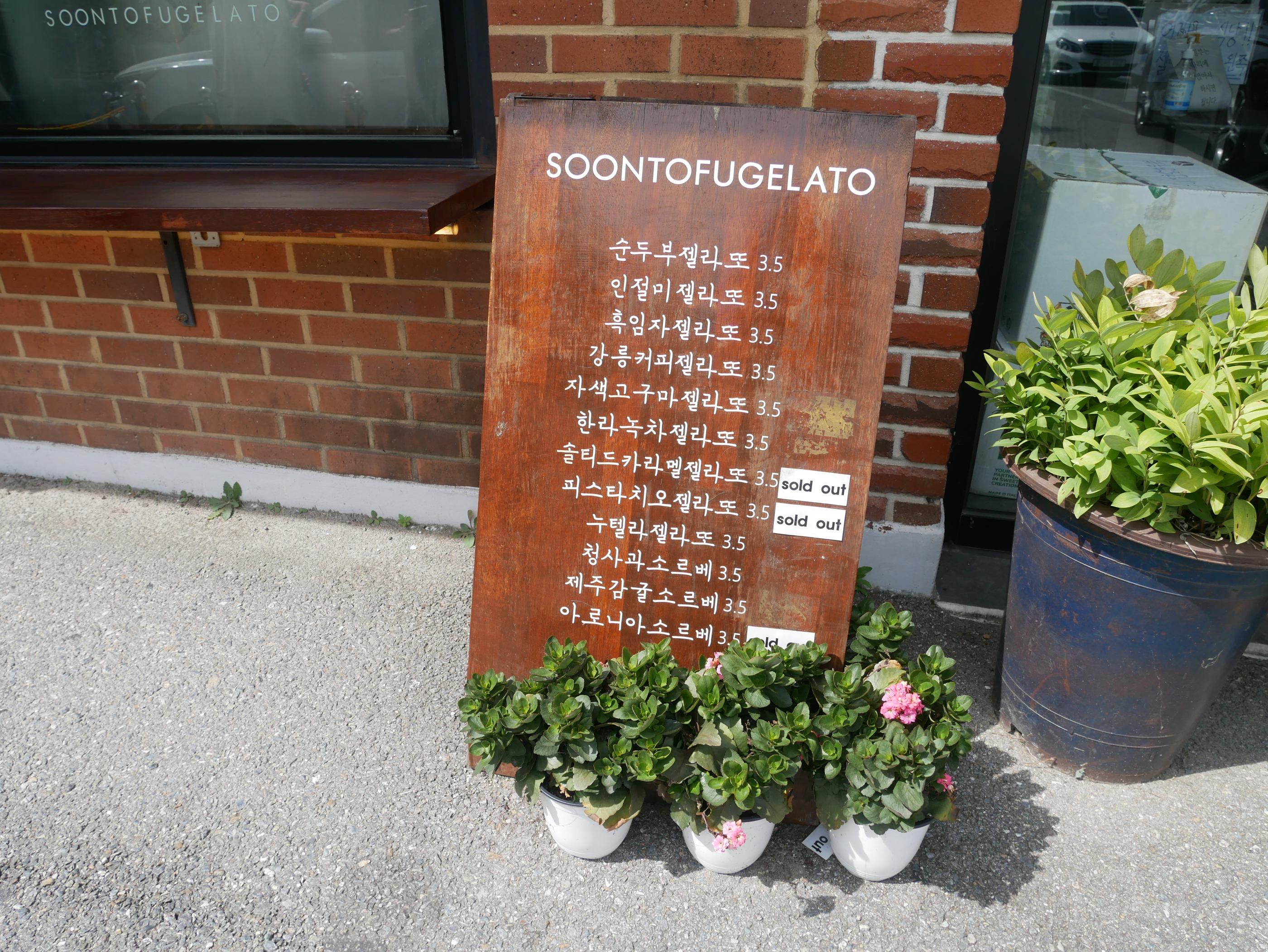 After eating at Donghwa, walk along the main road towards the beach and in a few minutes, you'll come to Soon Tofu Gelato, tofu ice cream specialty store.
You can choose from tofu, rice cake, black sesame, coffee, sweet potato, green tea, salted caramel, Nutella, green apple, Jeju citrus, wild berry etc.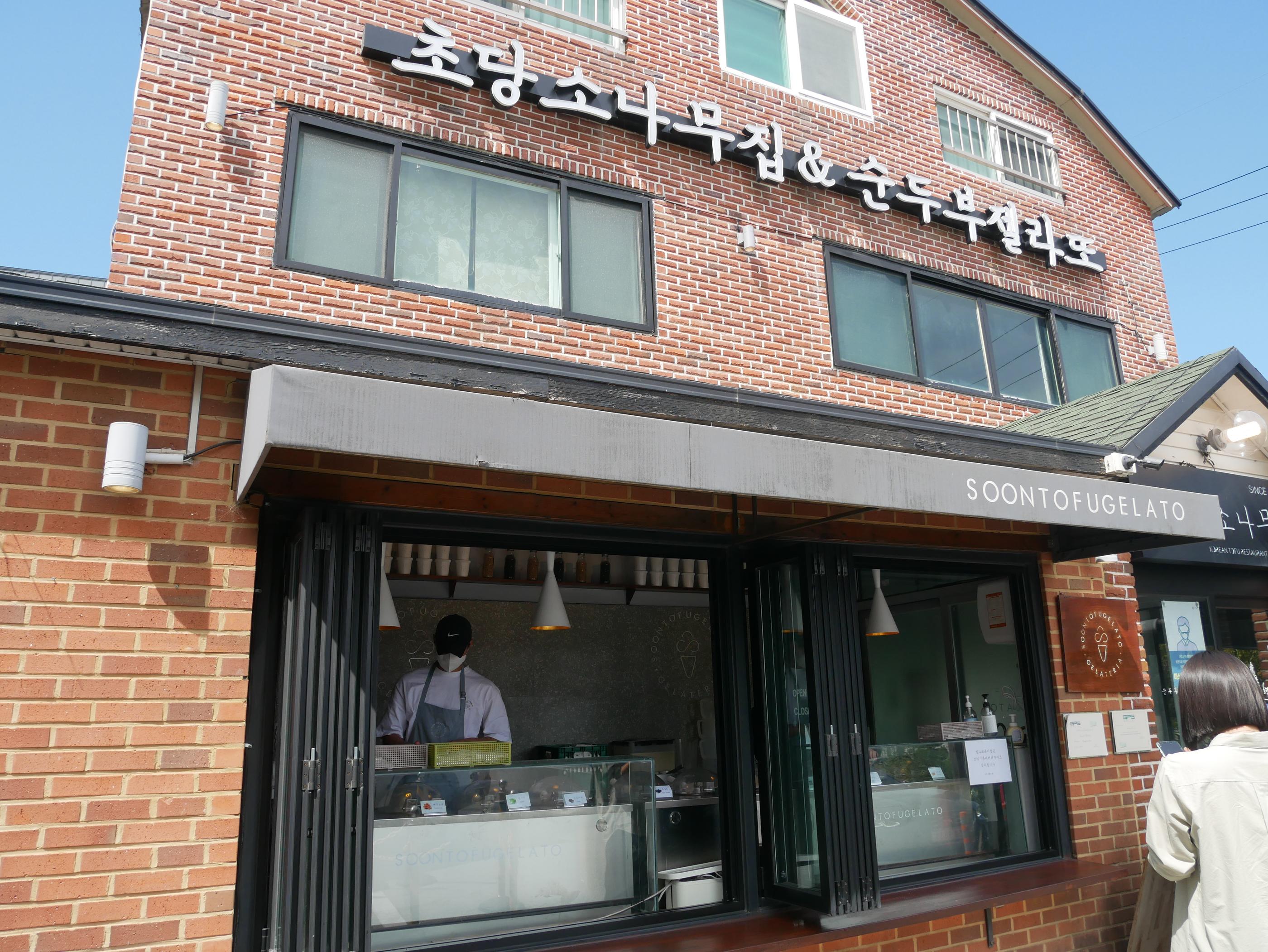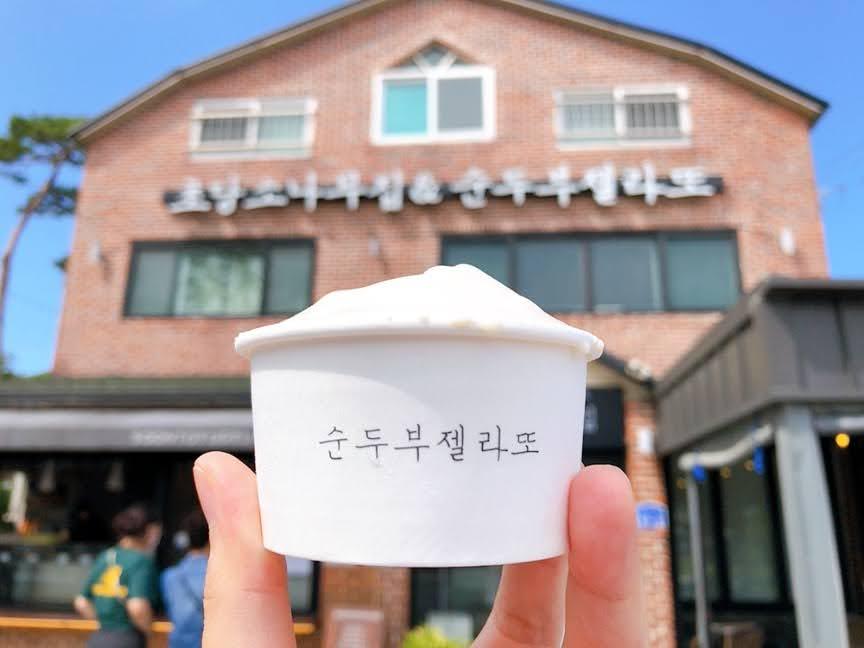 I've eaten tofu ice cream before in Taipei, so this wasn't my first time trying it. This tofu ice cream in particular was very creamy, sweet, not greasy. The only downside really is that I wish the serving size was bigger.
It seemed like the black sesame and green tea flavors were very popular with customers.
If you visit this place and try other flavors, let me know how they were!
Ojukheon
오죽헌
Address: 강원 강릉시 율곡로3139번길 24
24 Yulgok-ro 3139-beongil, Gangneung-si, Gangwon-do
Hours: 9:00-18:00 (last ticket sale 17:00)
Admission: Adults 3,000 won, youths & military 2,000 won, children 1,000 won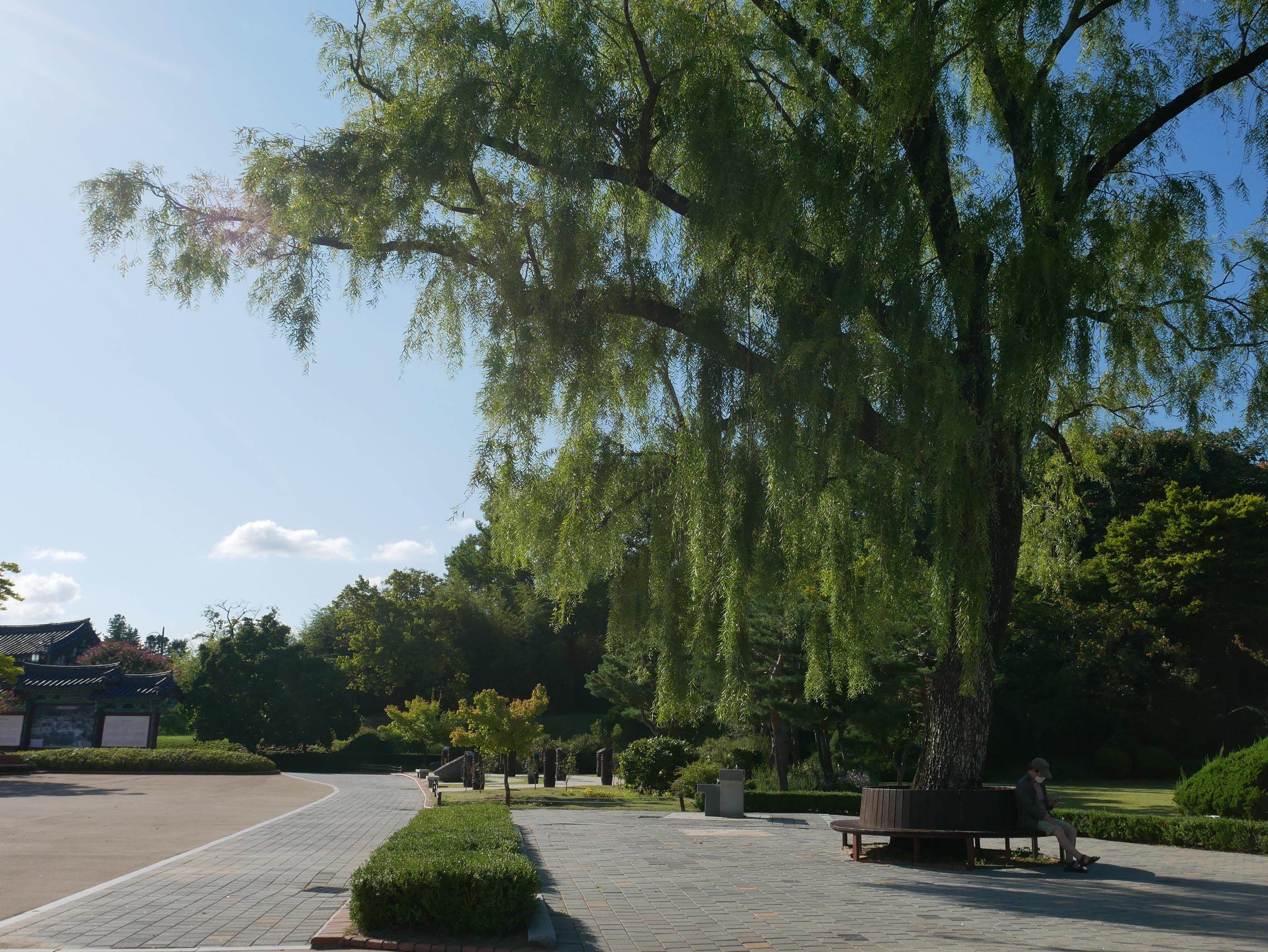 Ojukheon is the former residence of the famous philosopher Yi I and his also famous mother Shin Saimdang, who are featured on the 5,000 and 50,000 won notes.
It is considered to be most representative of Gangneung and is the oldest wooden structure among Korean houses. As such, it was designated as treasure no. 165 in 1963 due to its importance in the history of architecture.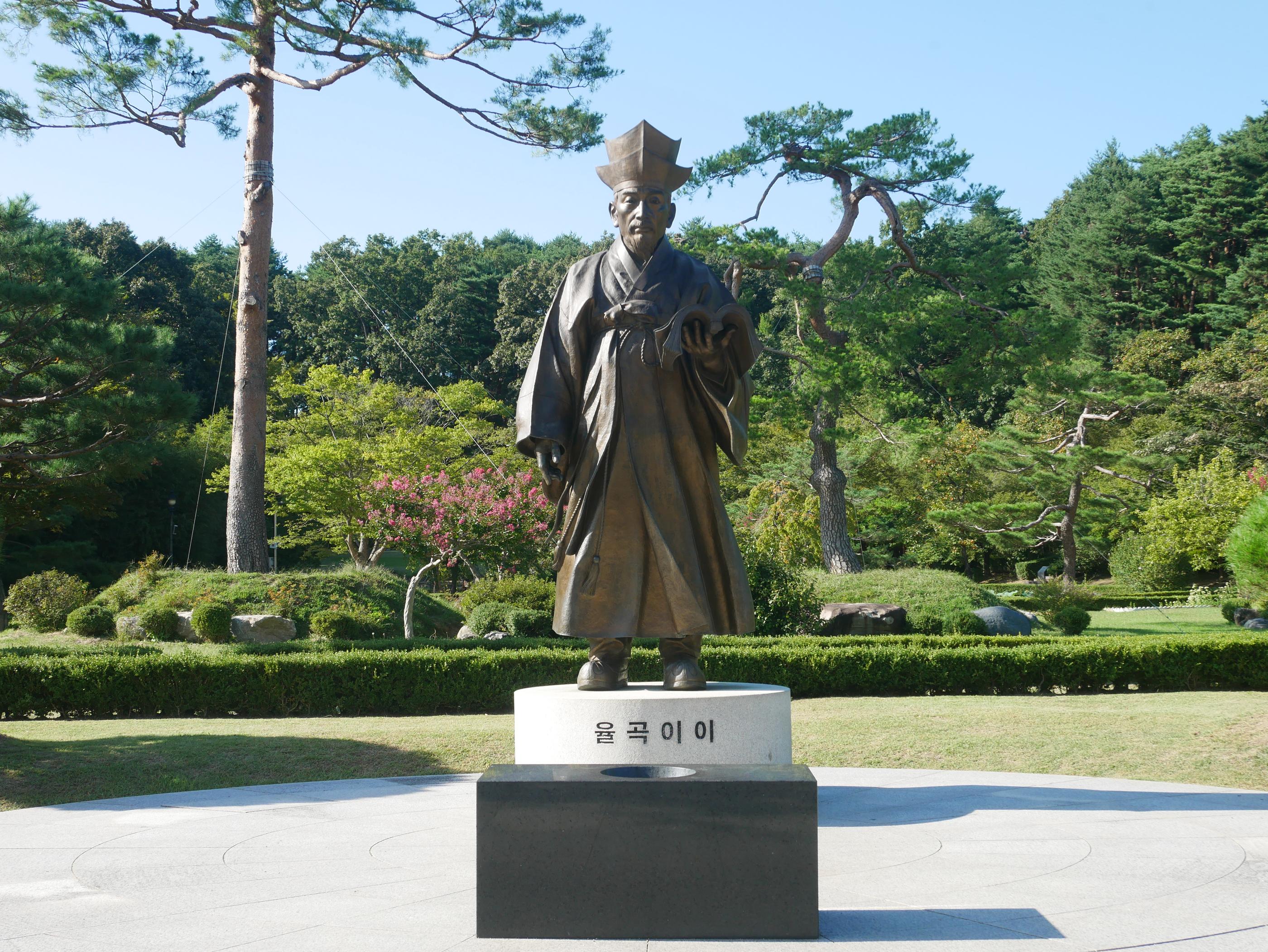 Yi I is a well known Confucian scholar and poet who is admired for his contributions to national politics and education.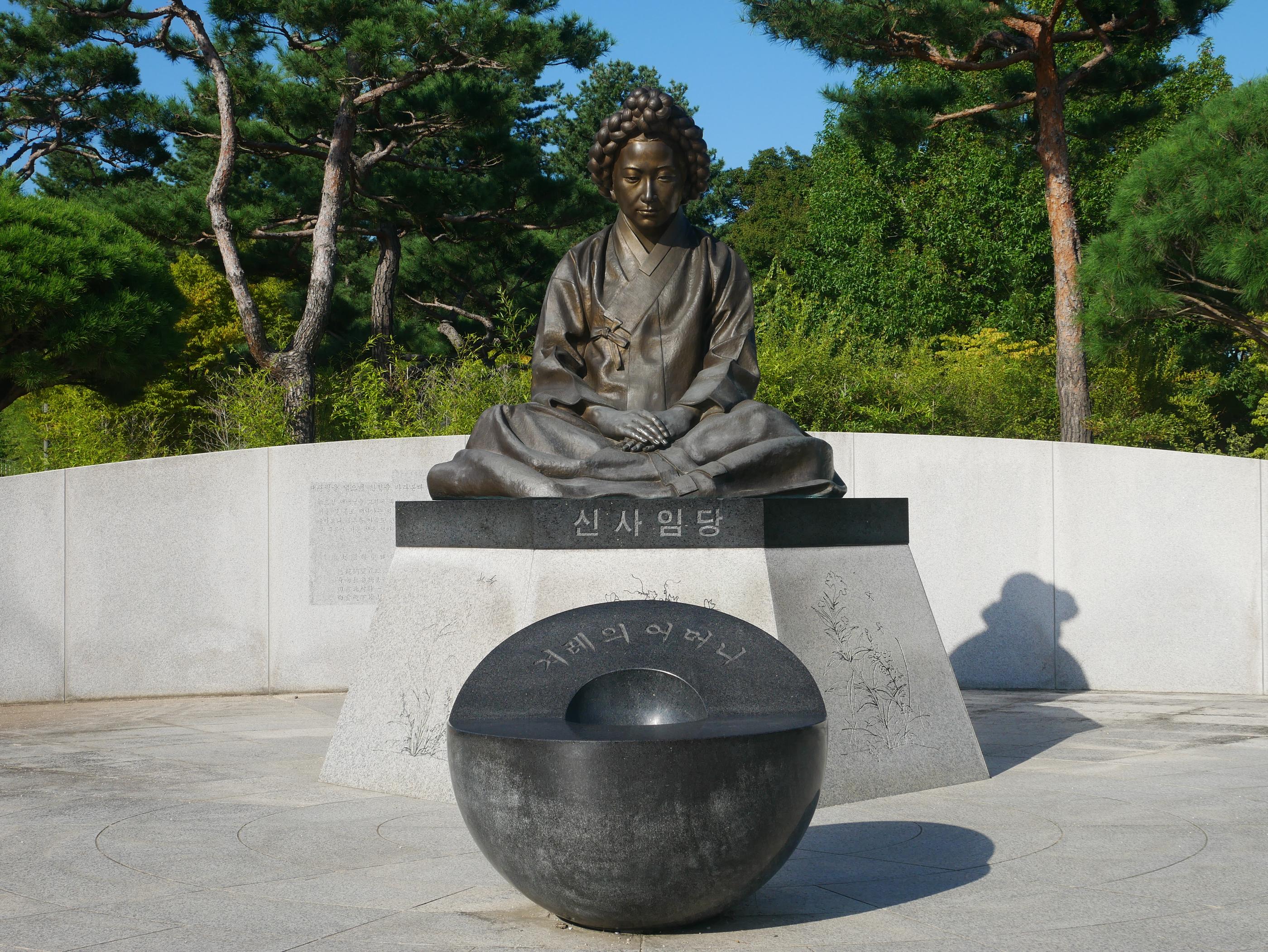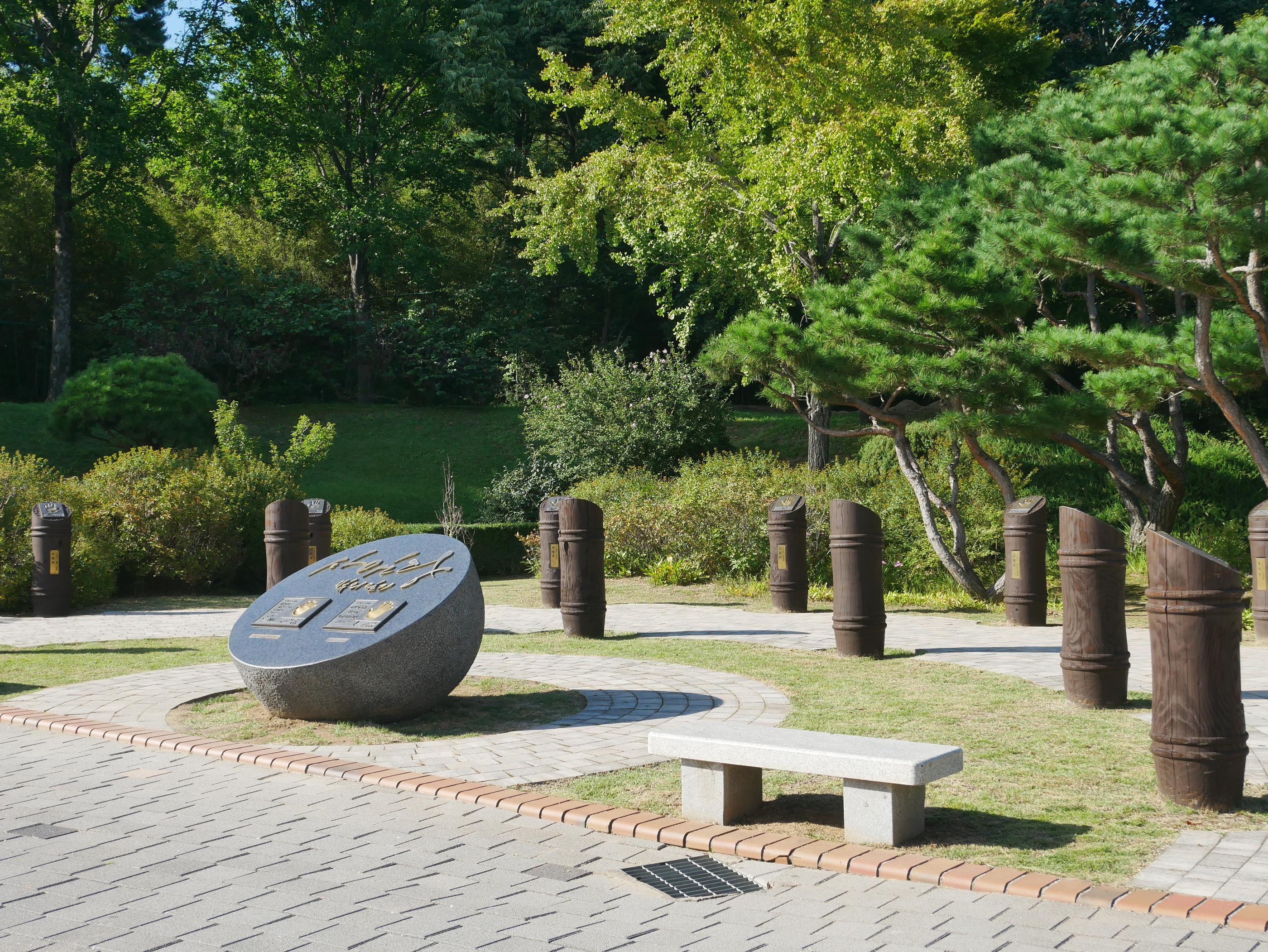 Shin Saimdang was a painter, writer, poet, and Confucian scholar in the mid Joseon era.
There are handprints left here from the filming of Saimdang, Memoir of Colors.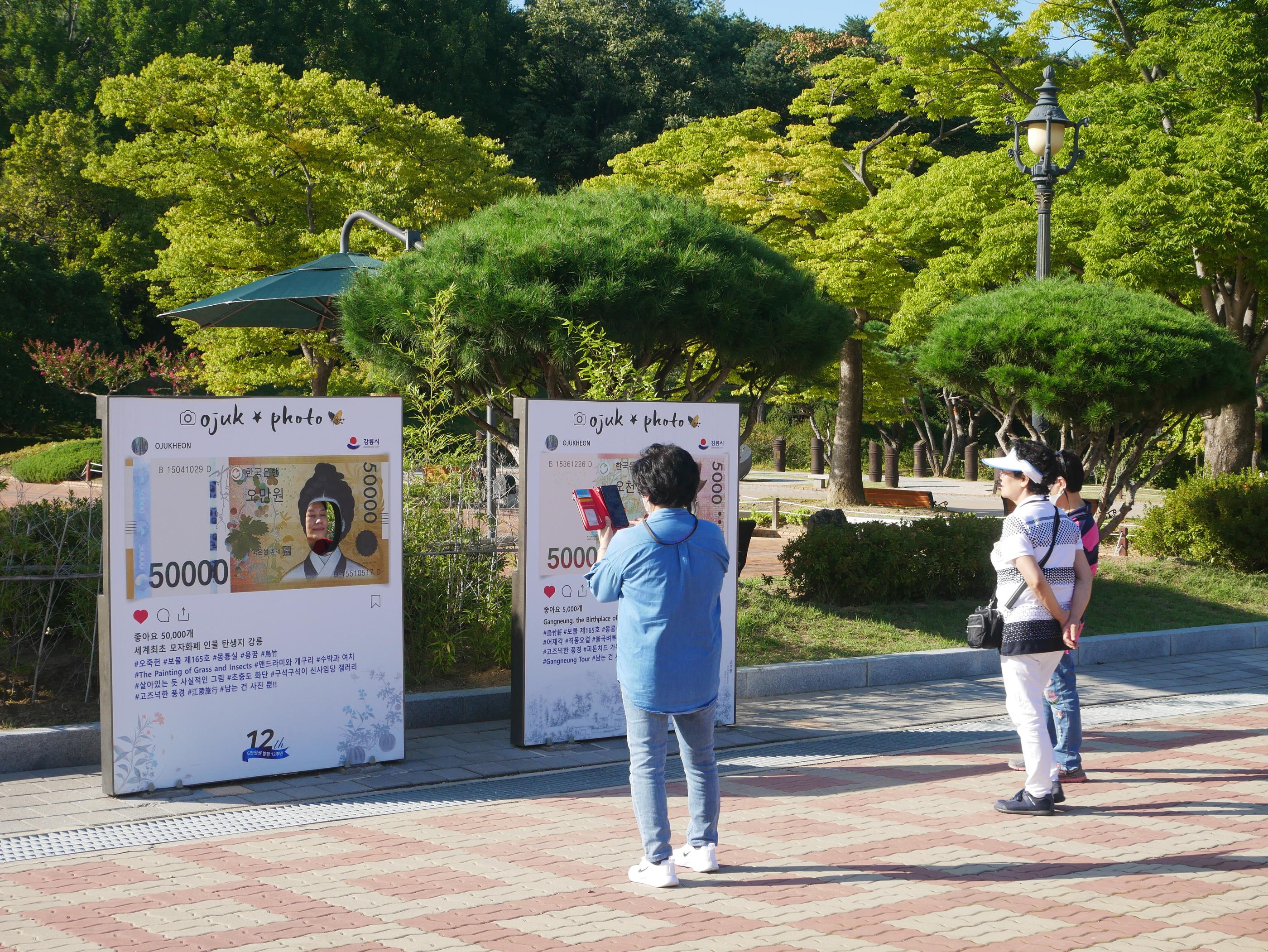 There are usually many educational exhibits with fascinating information about Korean history and culture here as well, but unfortunately when I visited, the indoor exhibits were closed due to the pandemic.
Jungang Market
중앙시장
Address: 강원도 강릉시 금성로 21
21 Geumseong-ro, Gangneung-si, Gangwon-do
Hours: 8:30-21:00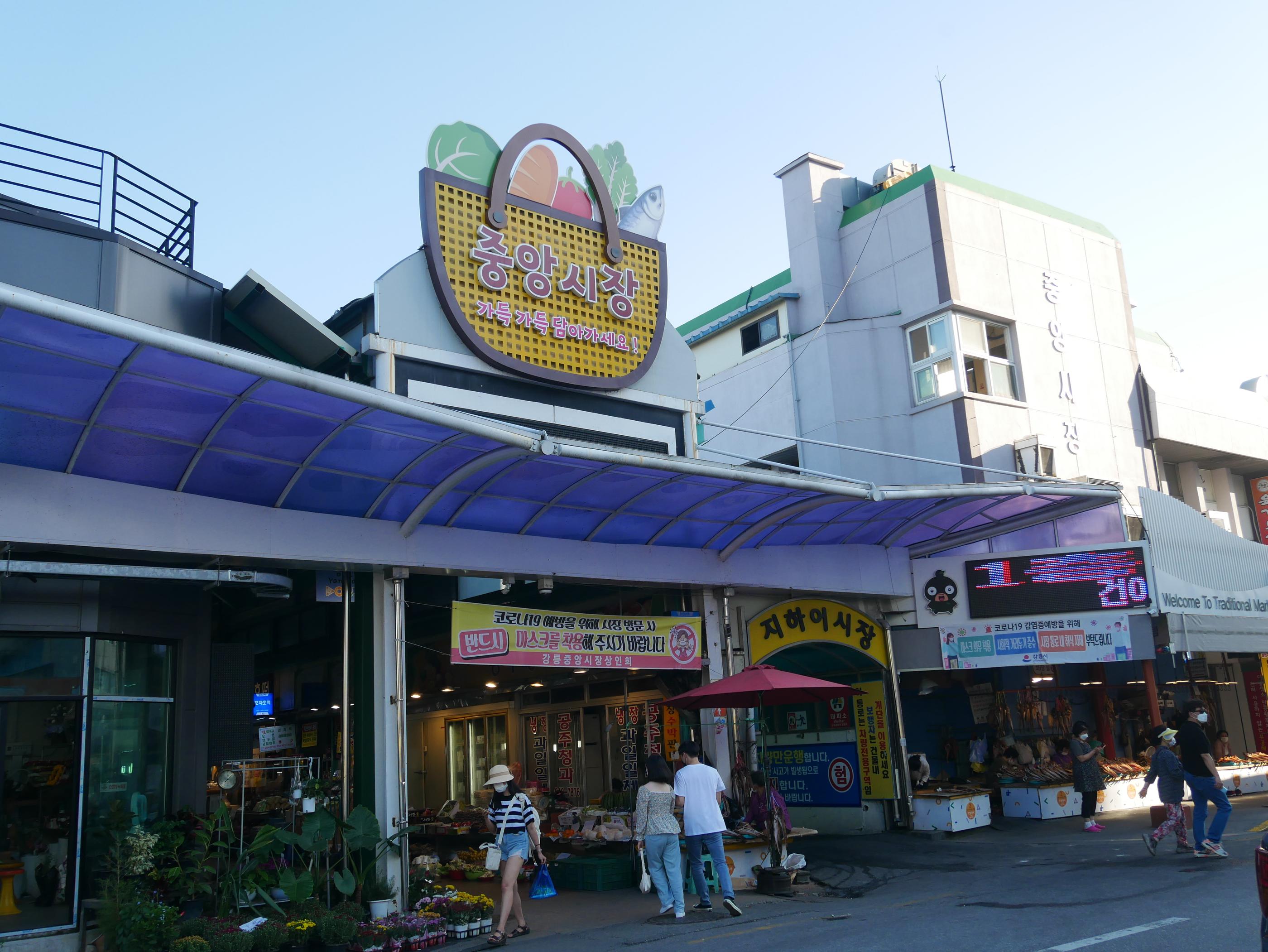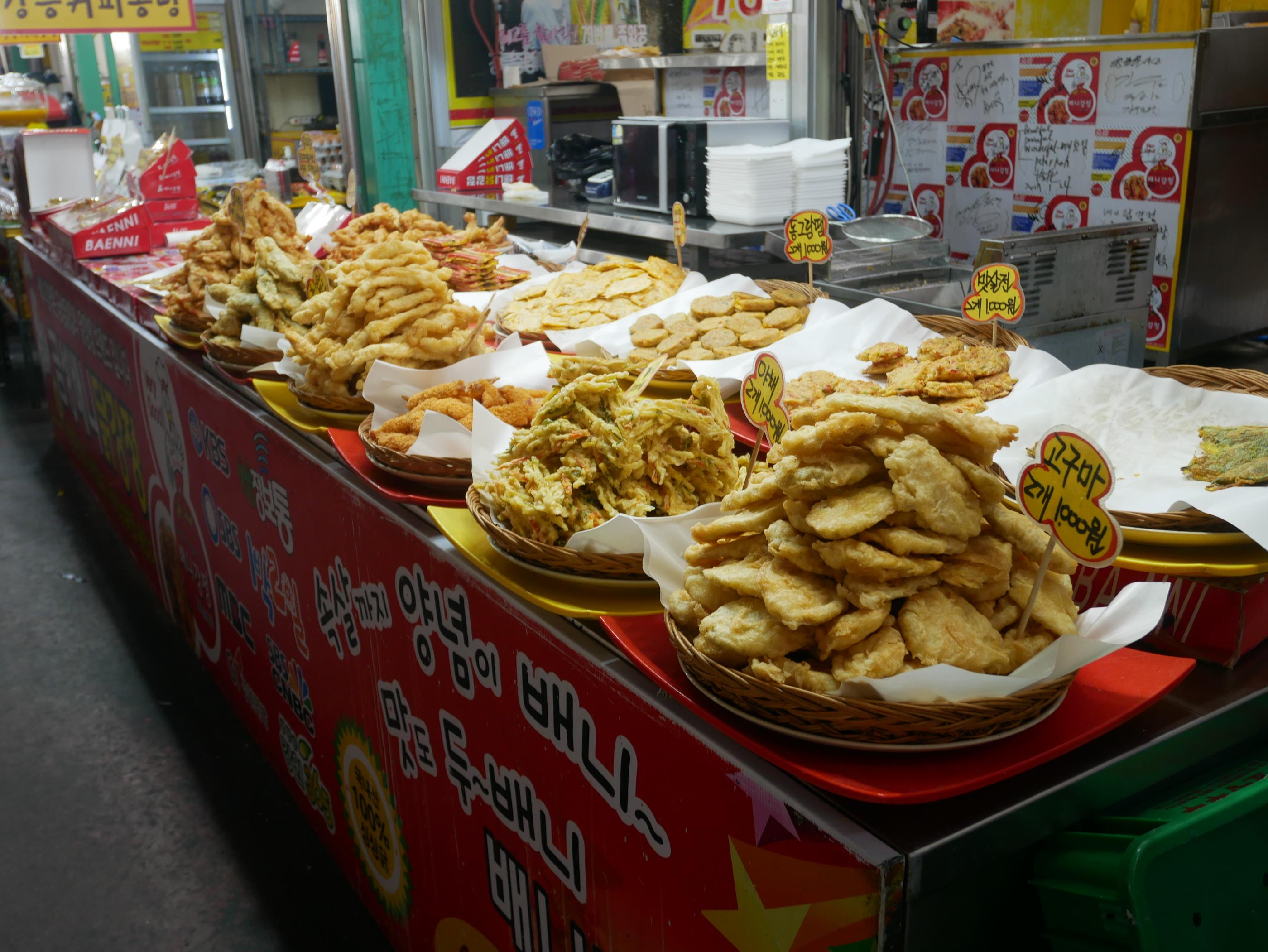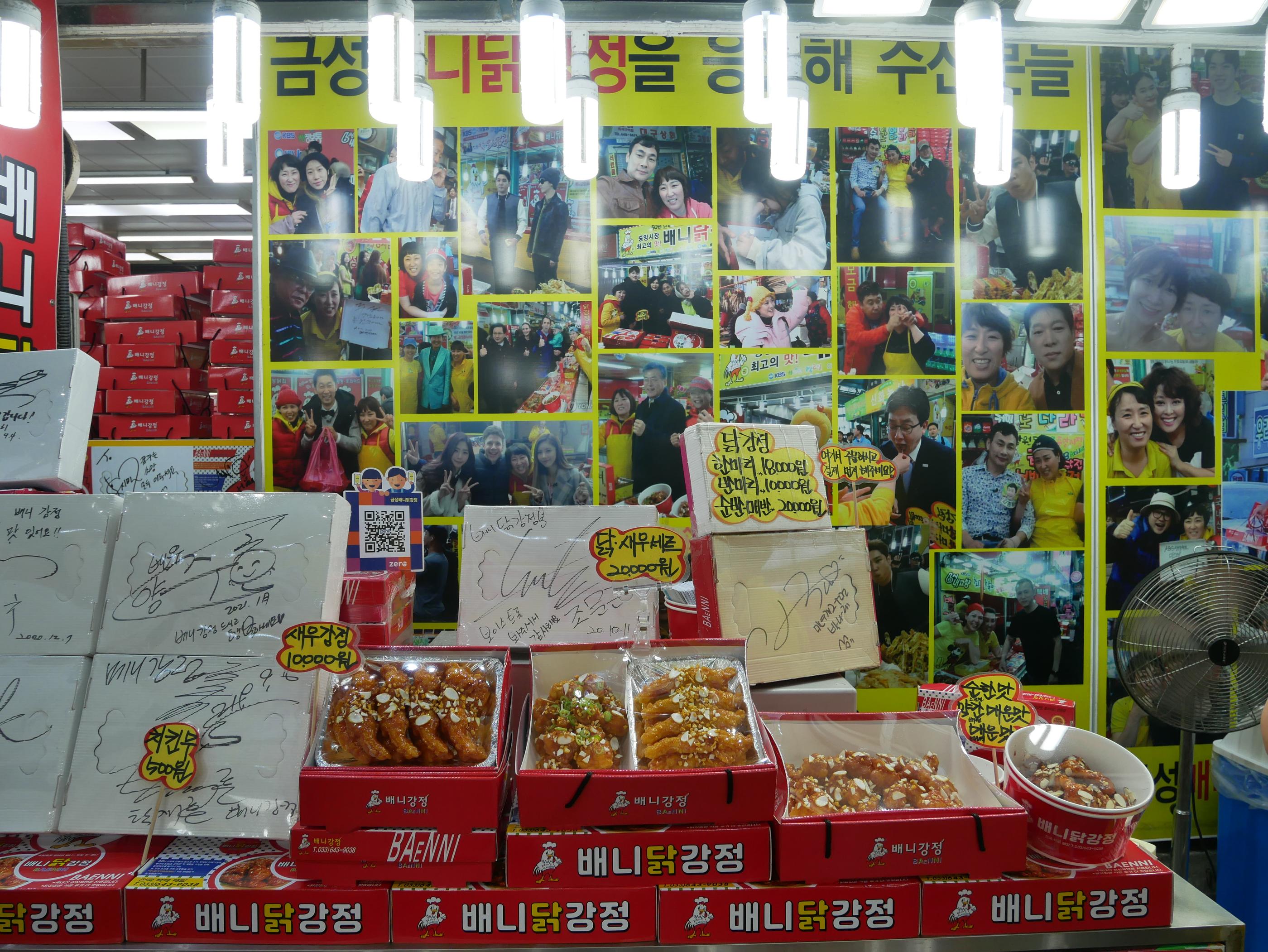 Almost every city in Korea has a "Jungang Sijang", meaning central market, but the most important thing is always what's the most delicious and cheapest food there.
This market is very large, but it is divided up into different sections, so it is not too overwhelming and can be navigated easily enough.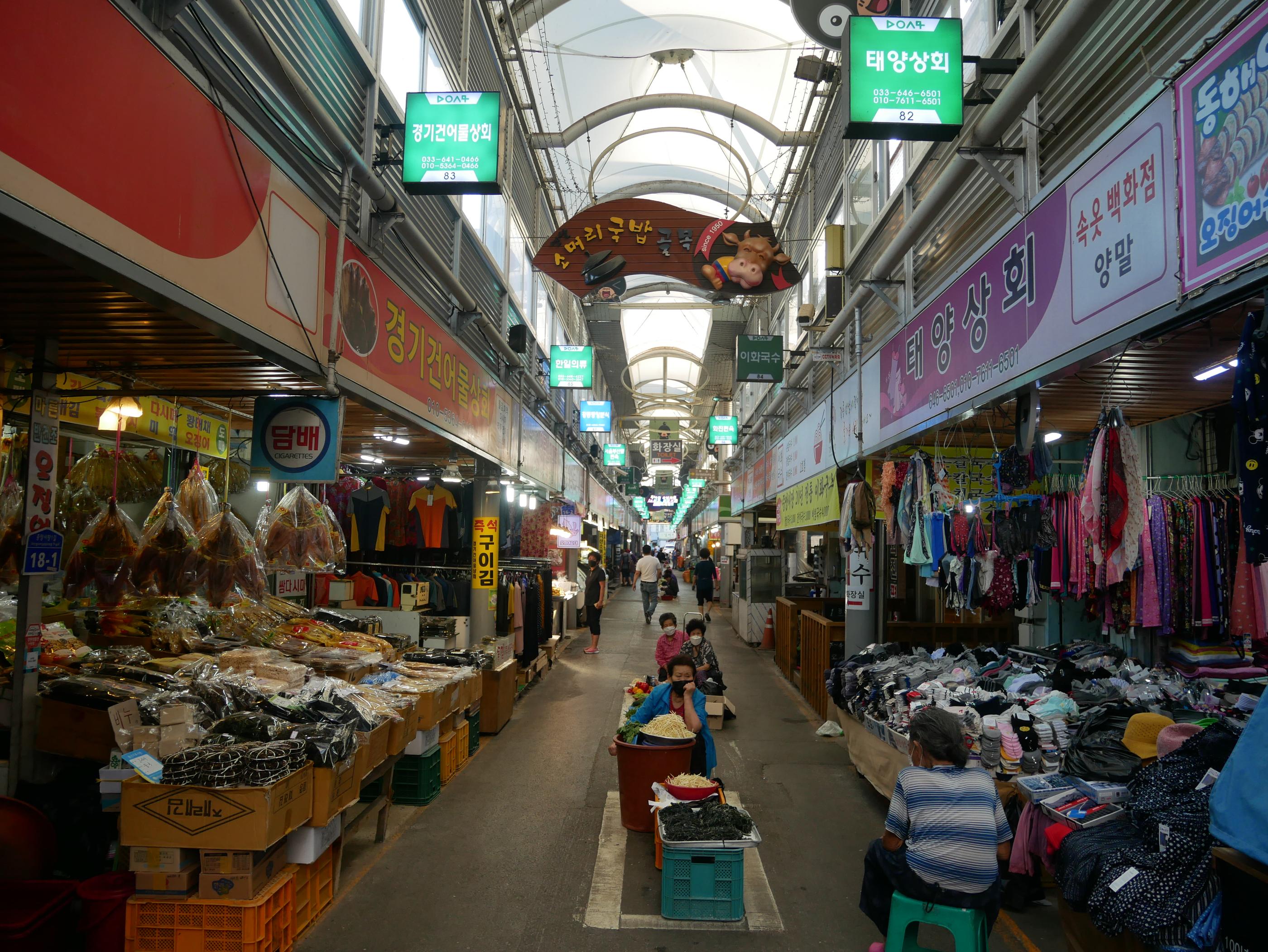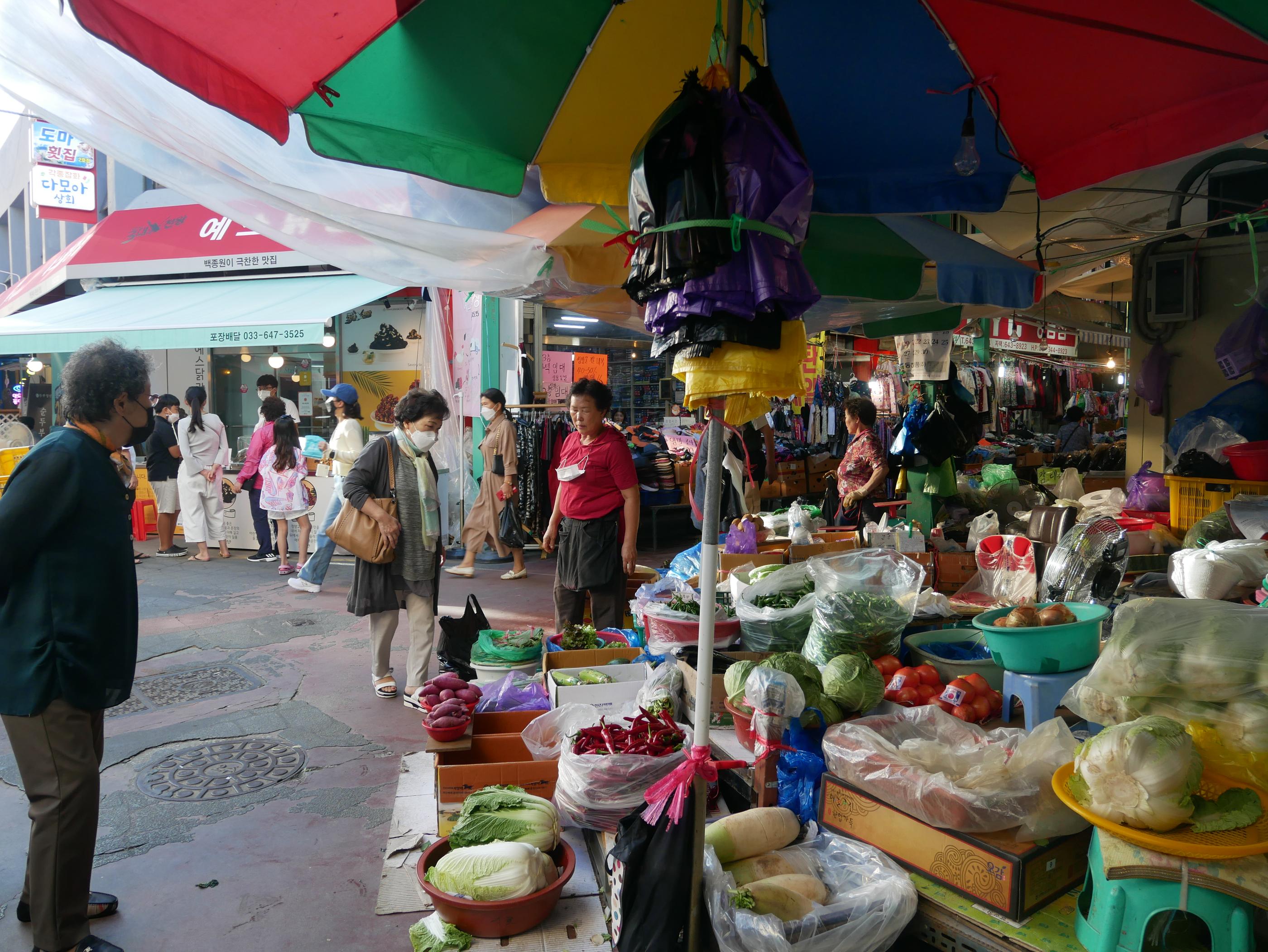 The underground is the fish market; first floor is a general groceries, clothes, daily use items; the 2nd floor is where you can find restaurants; and the 3rd floor is offices.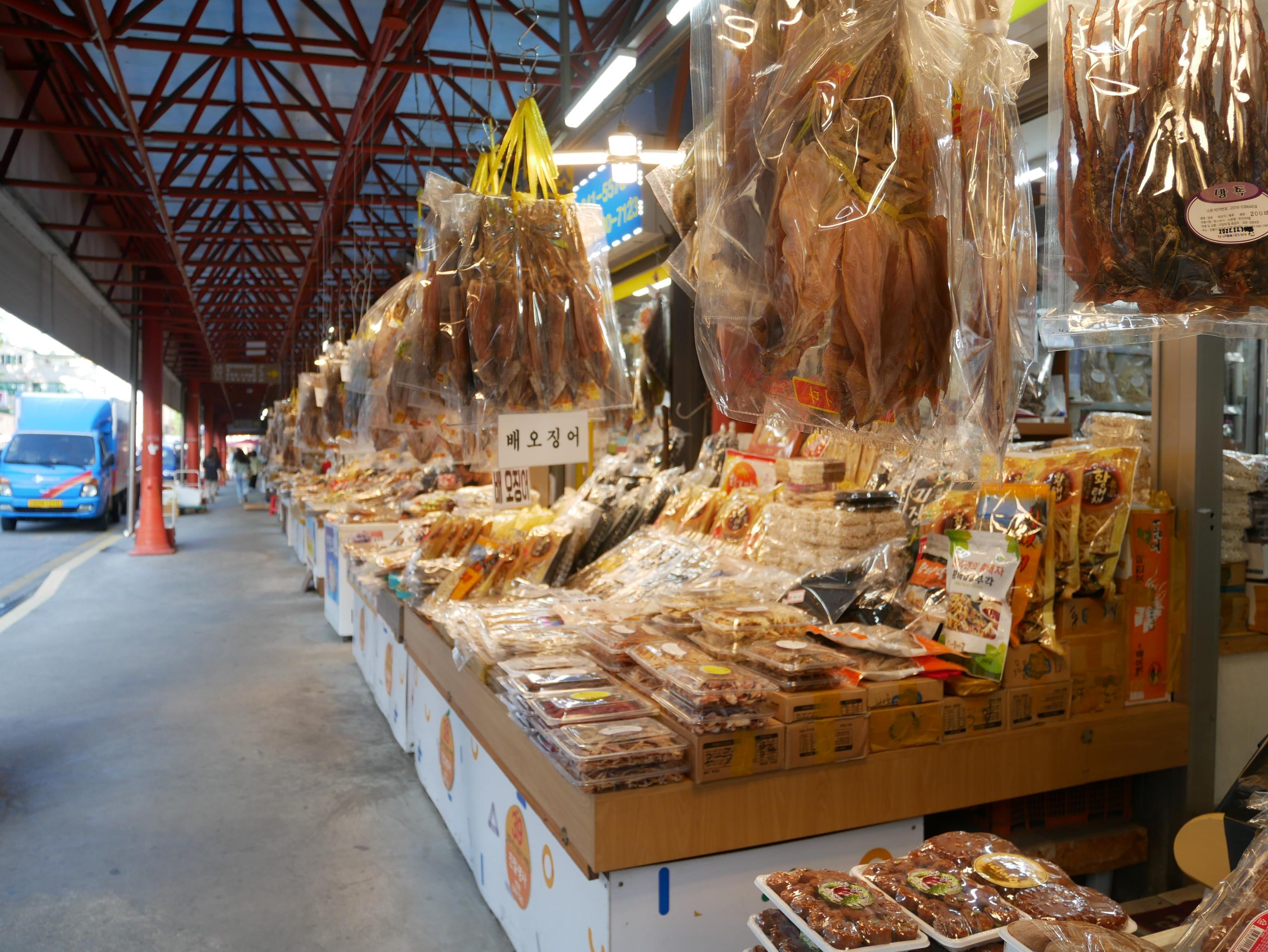 I will show you some highlights of the market that you don't want to miss.
Gangneung Hand-made Fishcake Croquette
강릉 수제 어묵고로케
Address: 강원도 강릉시 금성로13버길 8
8 Geumseong-ro 13-beongil, Gangneung-si, Gangwon-do
Hours: 8:30-21:00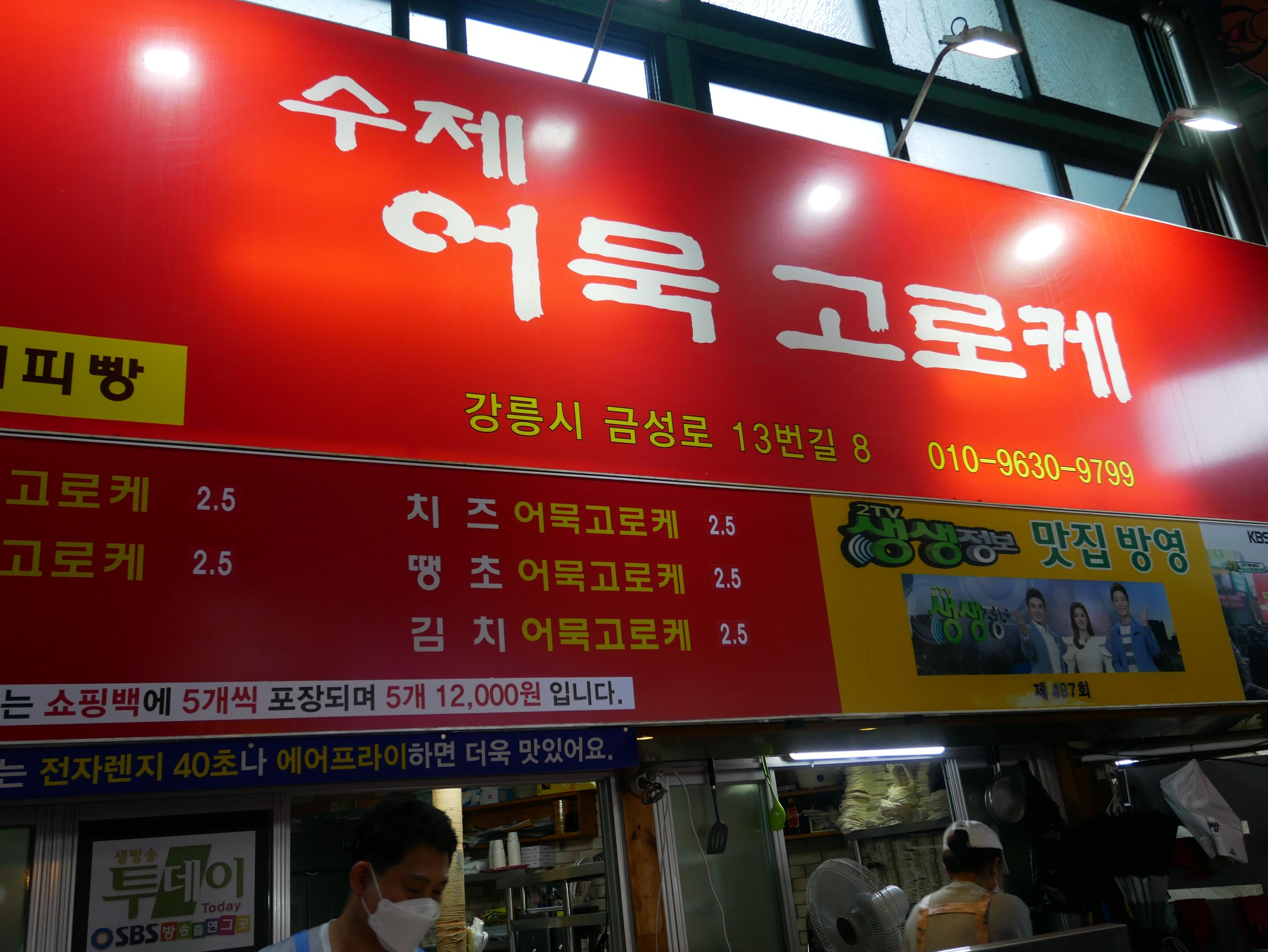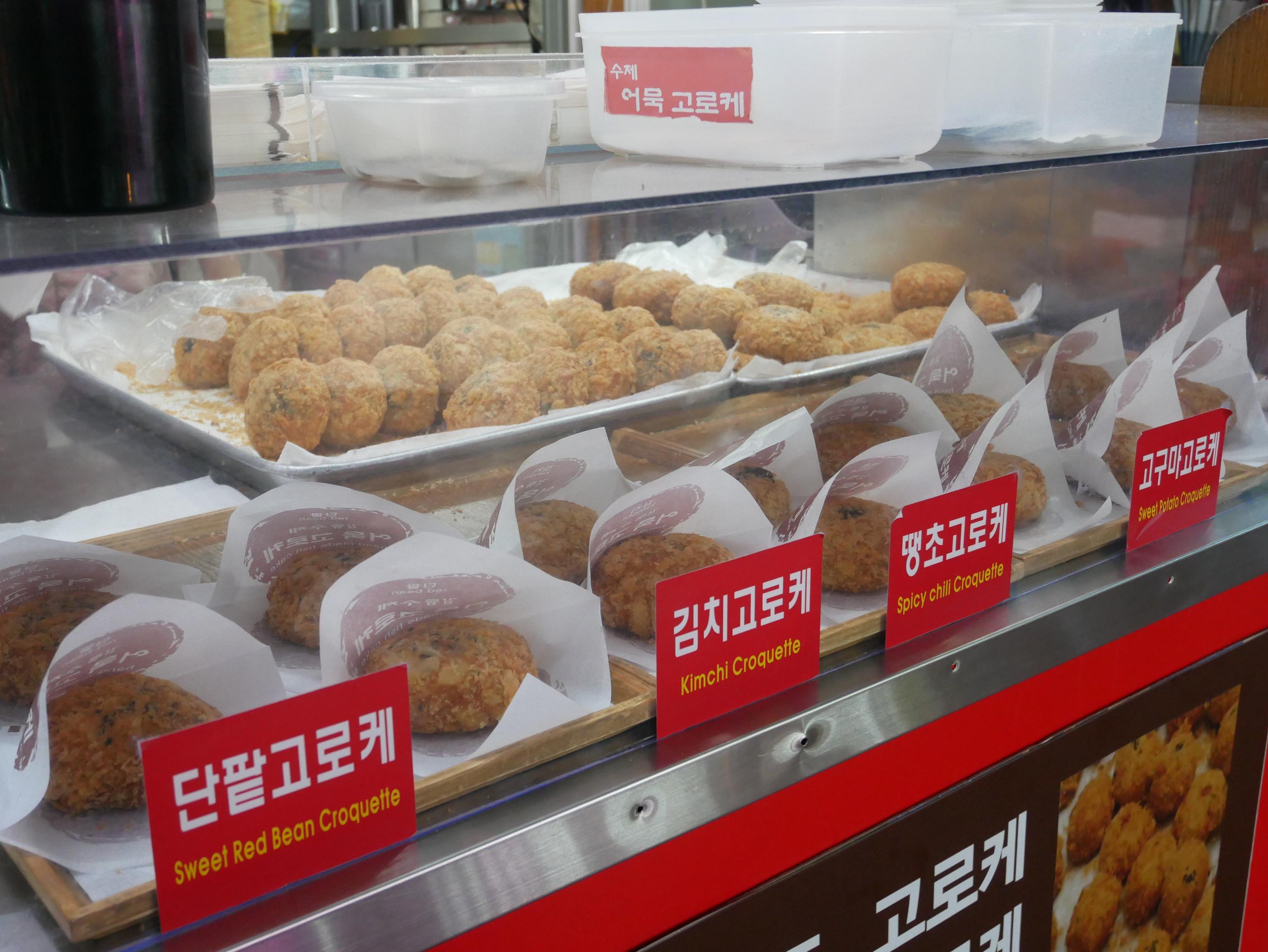 This croquette shop in Gangneung Jungang Market is one of the most popular local snacks.
It has attracted various TV stations to report on the food because it is very distinctive and the price is cheap.
Foreigners and locals alike love this snack!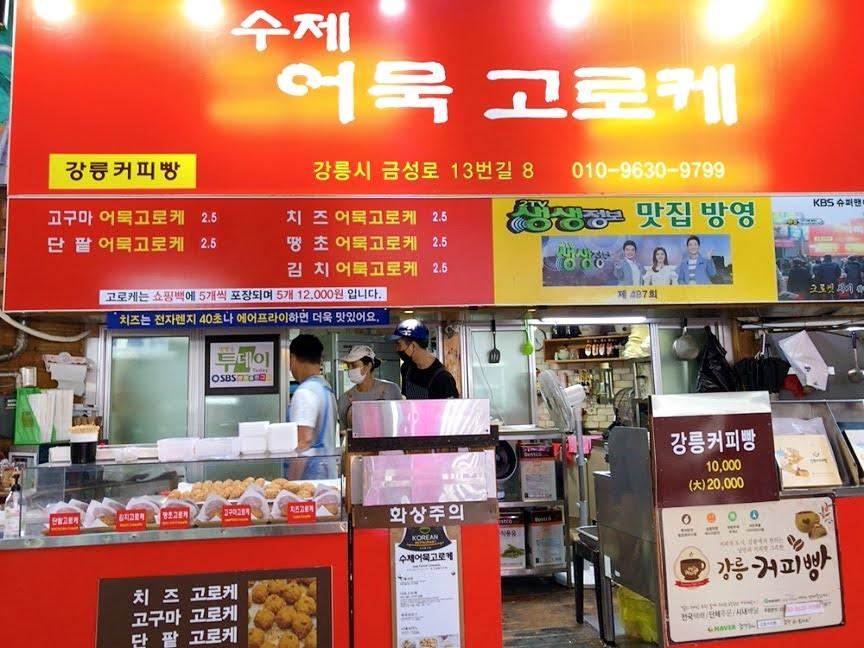 The store sells sweet potato, red bean, cheese, and chili flavored croquettes.
The average price is 2,500 won for one or 12,000 won for 5
In addition, the store also sells coffee and bread.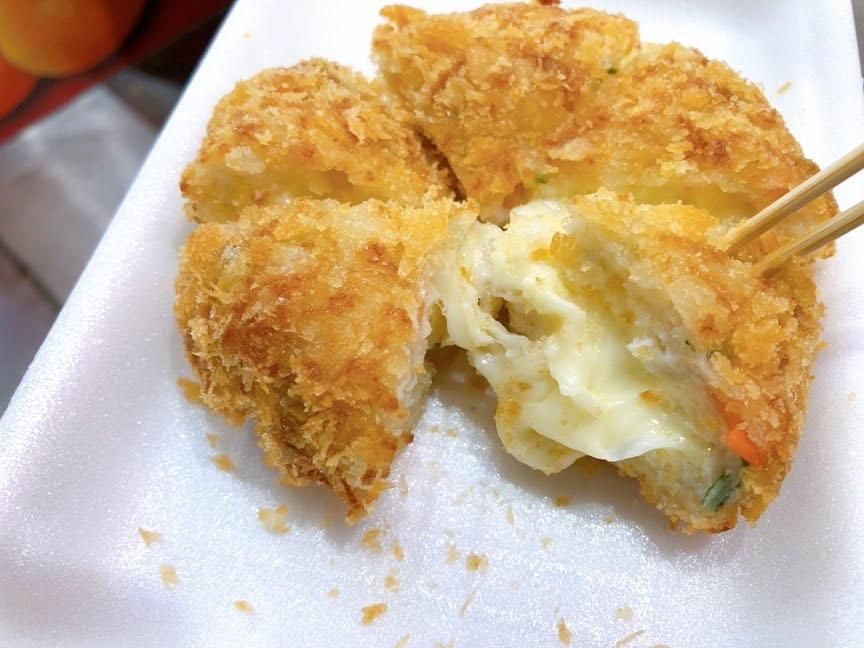 Cheese Fishcake Croquette (치즈 어묵고로케) 2,500 won
I ordered the cheese flavor, one of the most popular options at this shop.
The owner suggested that if you eat it within 40 seconds, it will be more delicious.
The texture is crispy, with solid pieces of fishcake mixed in, and the filling is hot, fragrant cheese.
It is really delicious and I recommend you try it if you visit the Gangneung Jungang Market.
Basak Factory
바삭공장
Address: 강원도 강릉시 금성로13번길 9-2
9-2 Geumseong-ro 13-beongil, Gangneung-si, Gangwon-do
Hours:
Mon-Fri: 11:00-19:00
Sat: 10:00-20:00
Sun: 10:00-20:00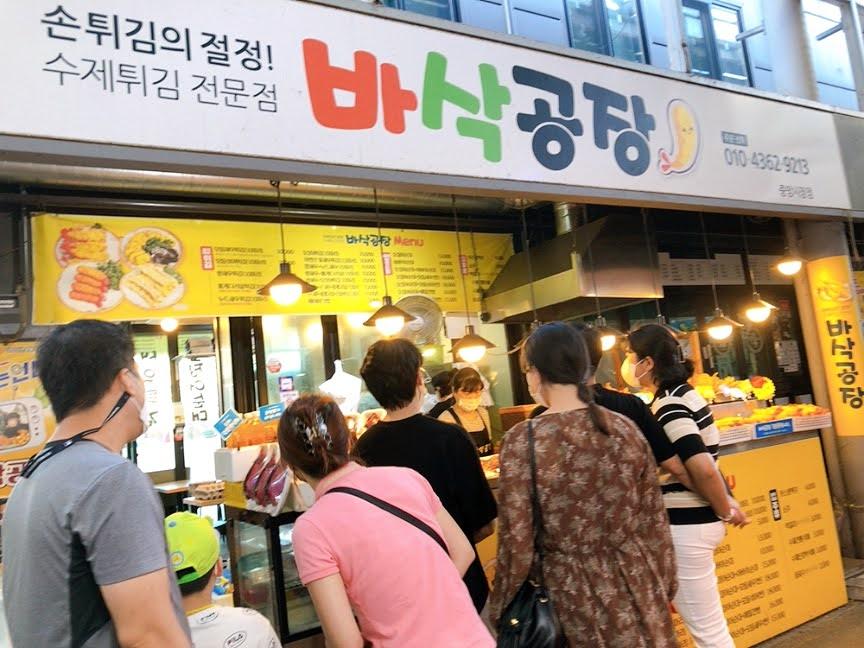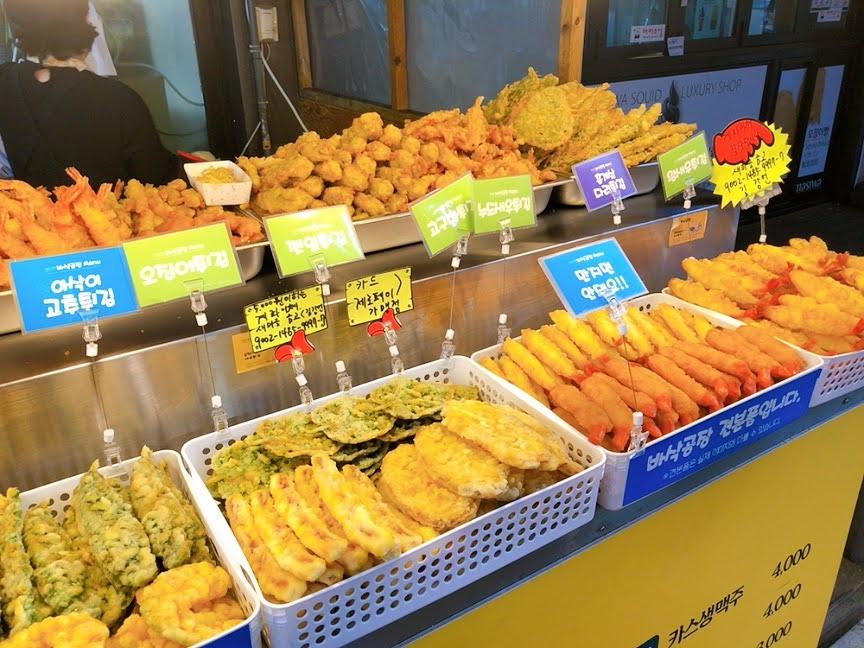 Another famous food is squid "sausage" and you can see vendors all over selling it.
I found the shop with the longest line, figuring that must be the best one.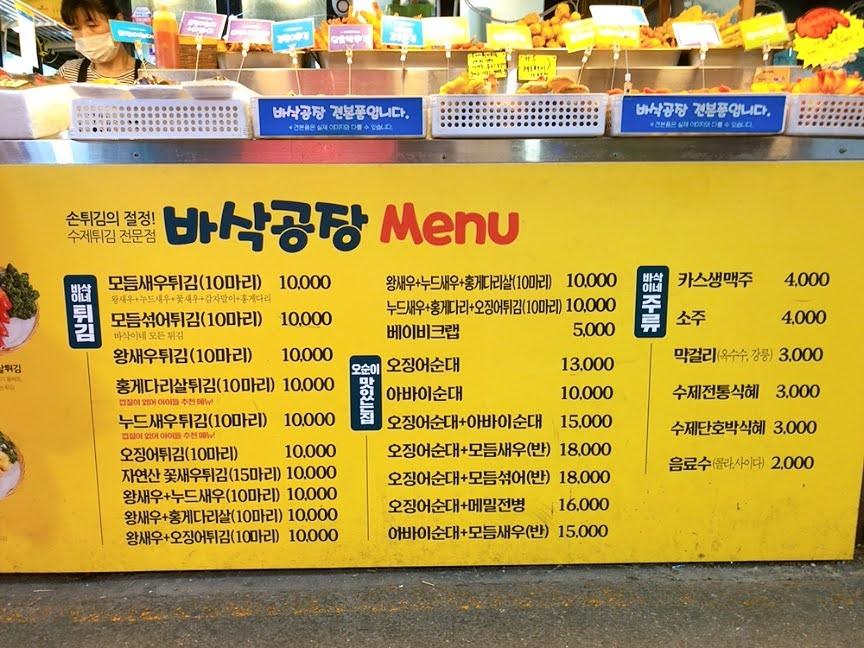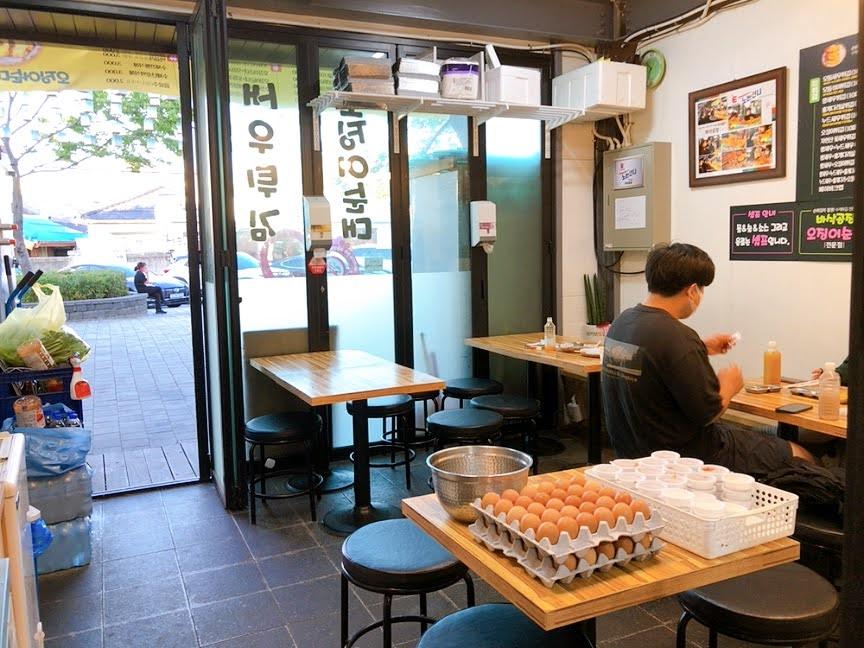 This particular eatery specializes in fried foods and in addition to the stuffed squid, you can find fried shrimp, crab, veggies, and more.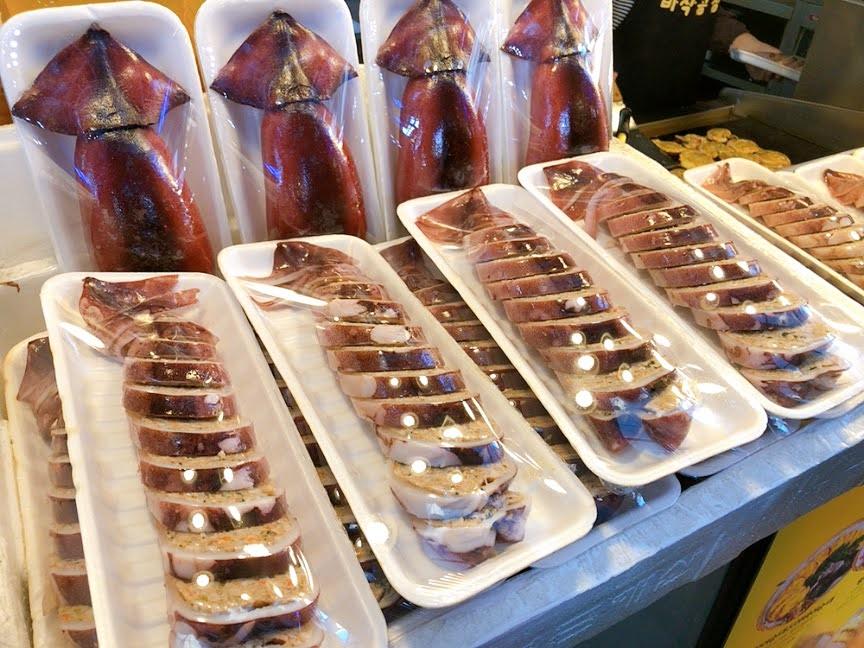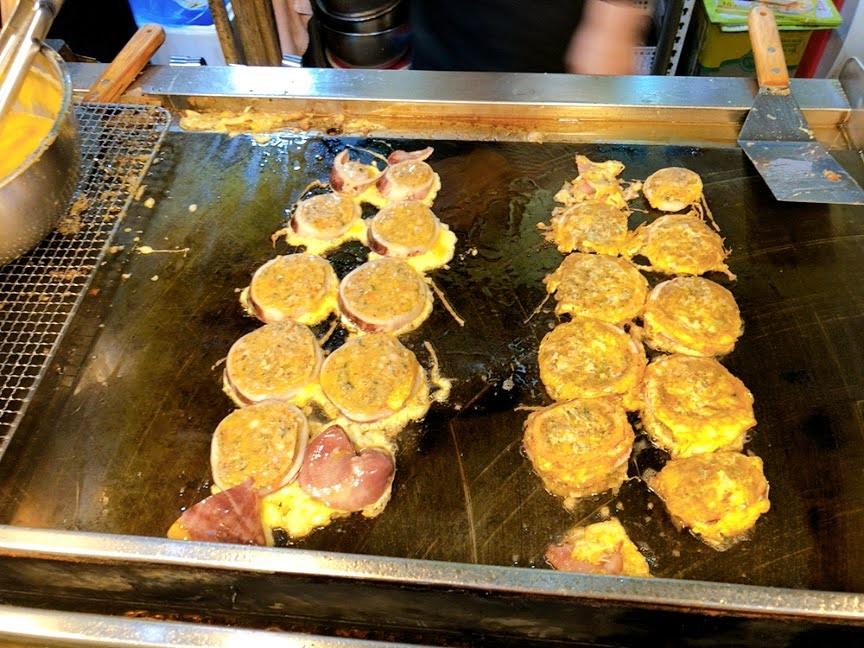 Squid Sundae (오징어순대) 13,000 won
There are tables available, but I chose to get my order to go so that I wouldn't miss my bus.
This dish is called a 오징어순대 (pronounced ojingeo soondae), meaning squid sausage because it resembles Korean blood sausage.
It is actually a squid body that has been stuffed with vegetables. It is sliced and cooked with eggs until golden brown.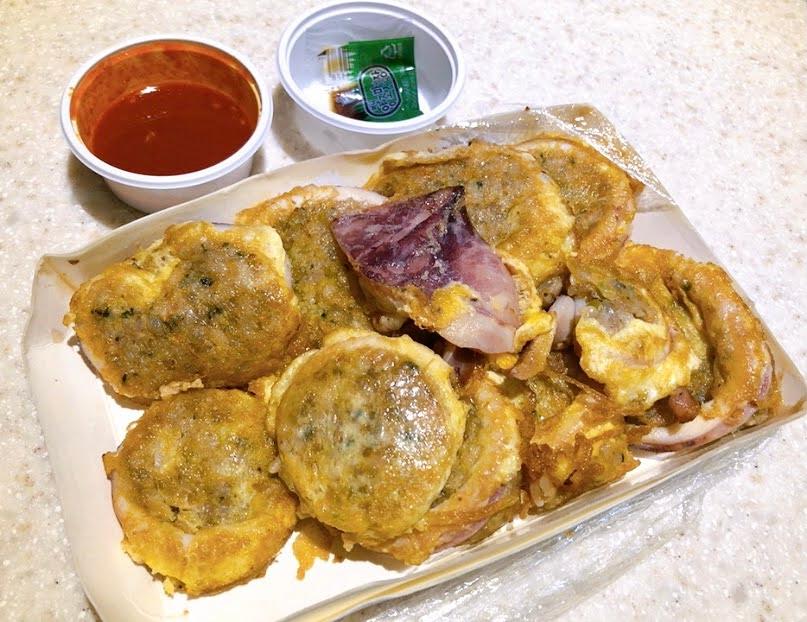 The filling is satisfying and rich in taste. There is a lot of umami already, but you can also add some soy sauce for more flavor if you like.
Gangneung Wolhwa Street
강릉월화거리
Address: 강원도 강릉시 경강로 2111
2111 Gyeonggang-ro, Gangneung-si, Gangwon-do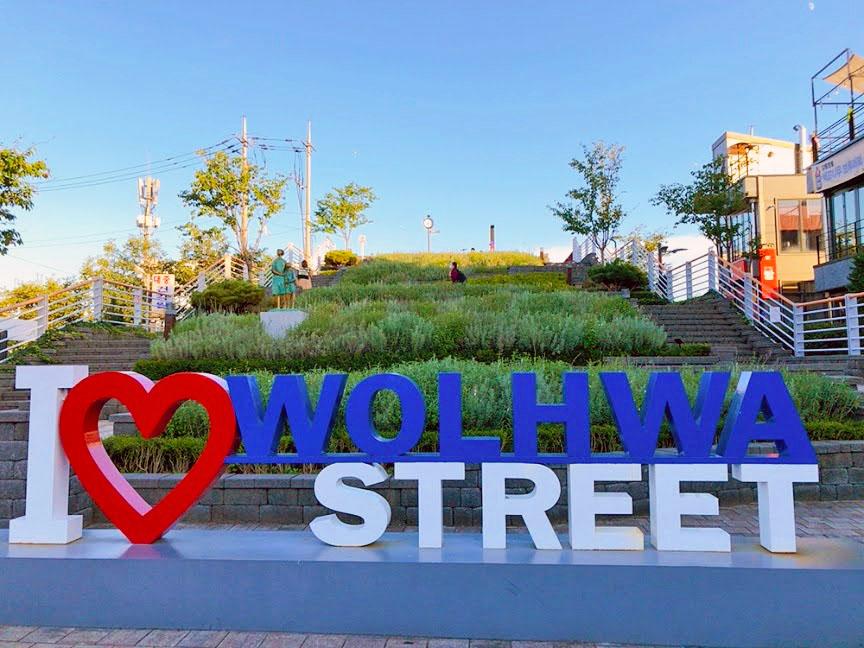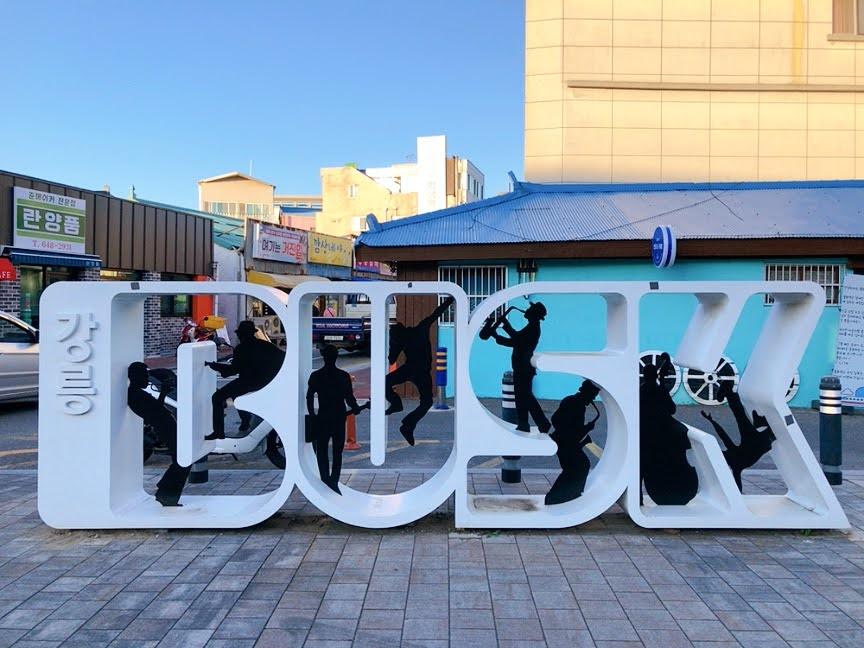 After visiting the market, I accidentally discovered Wolhwa Street, which is full of art and literature.
It's a reconstruction of the railway crossing at Namdaecheon Stream. The abandoned section of railway started to become a popular scenic spot around 2017.
The government demolished the original railway, which solved the problem of the separation between the east and west sides and also provided a public leisure space.
From the leisure park to the 2km railway site, Wolhwa Street has five themed spaces that you can check out after shopping and eating at the market.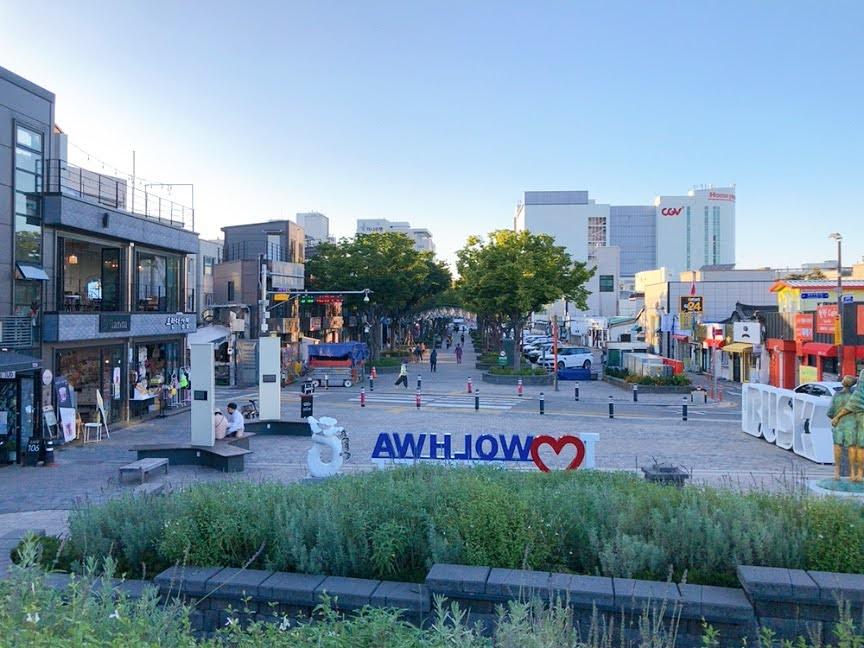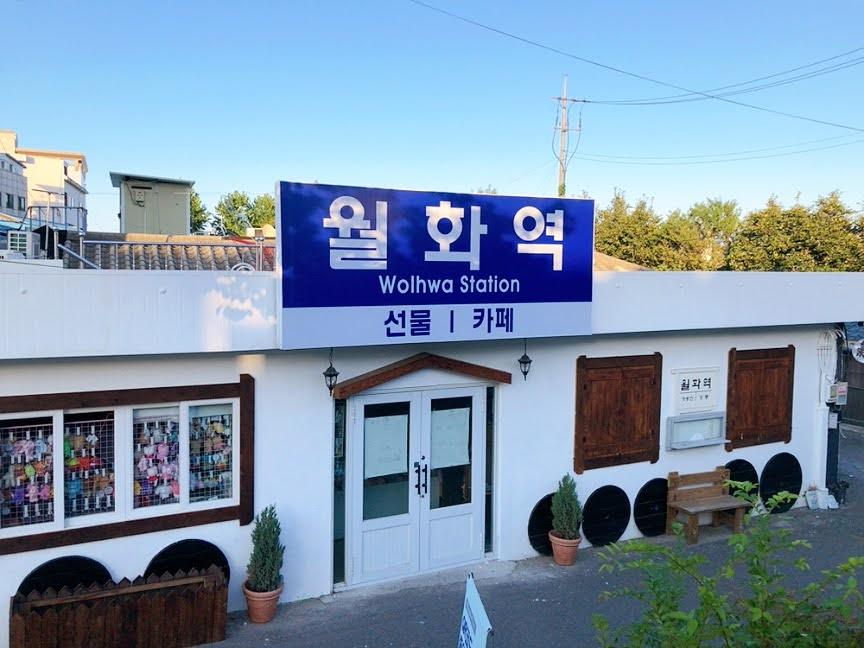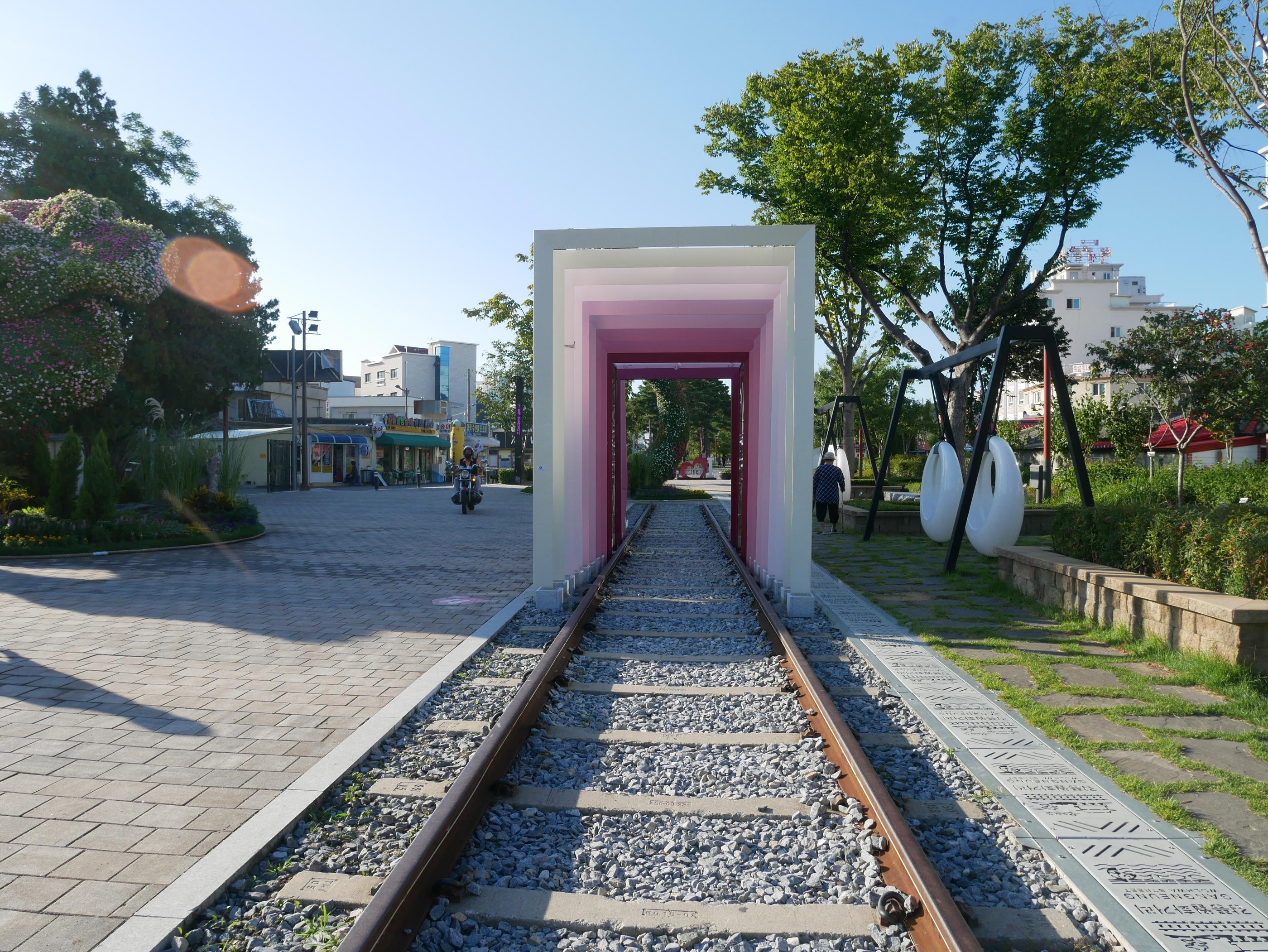 There are many art installations in the square, which are great for taking pictures.
There are also many small shops on both sides of the street and you can find nice souvenirs or relax at a cafe.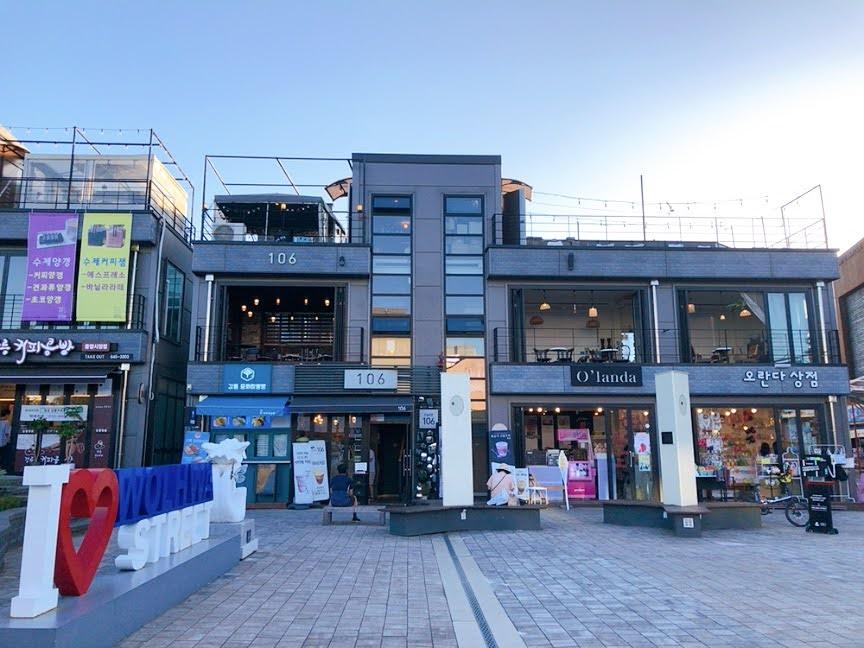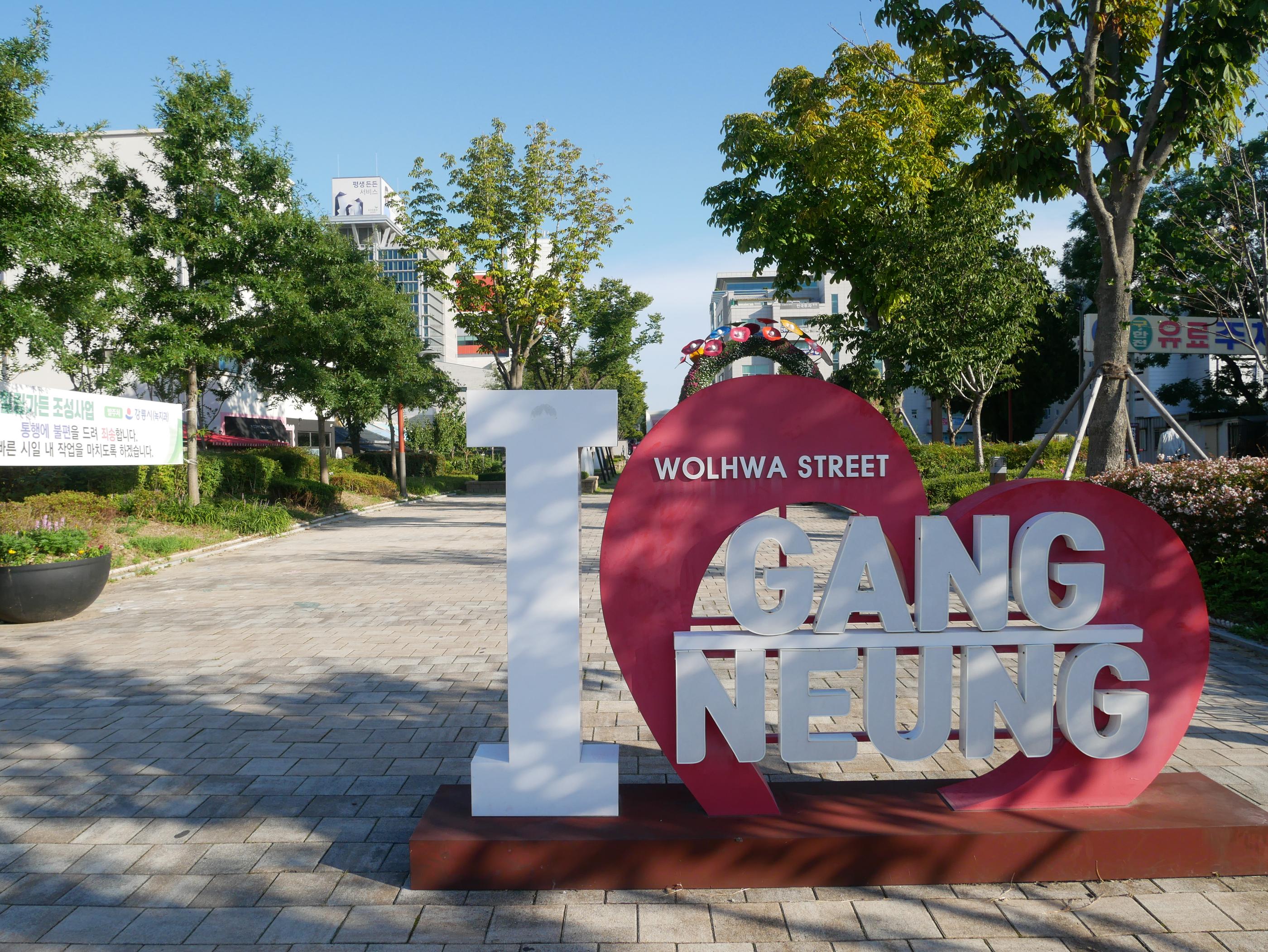 The fresh and youthful look and feel of Wolhwa Street is a contrast to the traditional market.
The two seem to balance each other out and attract people young and old.
---
Jeongdongjin




정동진
How To Get There From Gangneung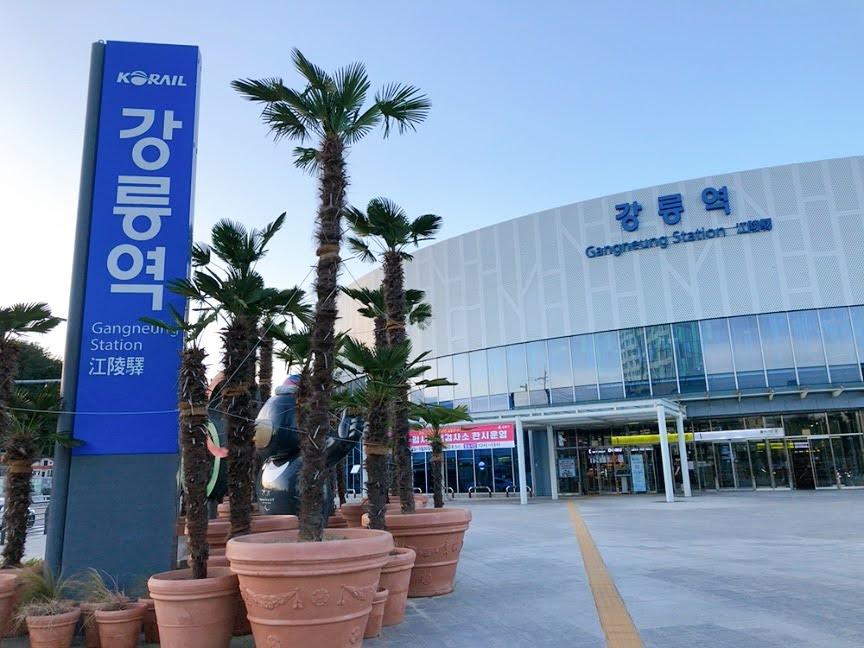 Our last stop on this trip will be Jeongdongjin.
Although you can take the city bus, it is not economical, so I recommend you take the train from Gangneung Station.
There are eight trains a day from Gangneung to Jeongdongjin: 6:26, 7:38, 8:36, 10:40, 14:10, 16:25, 18:29, 20:36.
It is recommended you reserve your ticket in advance on the Korail website.
Jeongdongjin Beach Sunrise
정동진해변 일출
Address: 강원도 강릉시 강동면 정동역길 17
17 Jeongdong Station-gil, Gangdong-myeon, Gangneung-si, Gangwon-do
Tip: You can enjoy the sunrise from Jeongdongjin Station, but the closer you get to the Sun Cruise Hotel, the more beautiful the sunrise.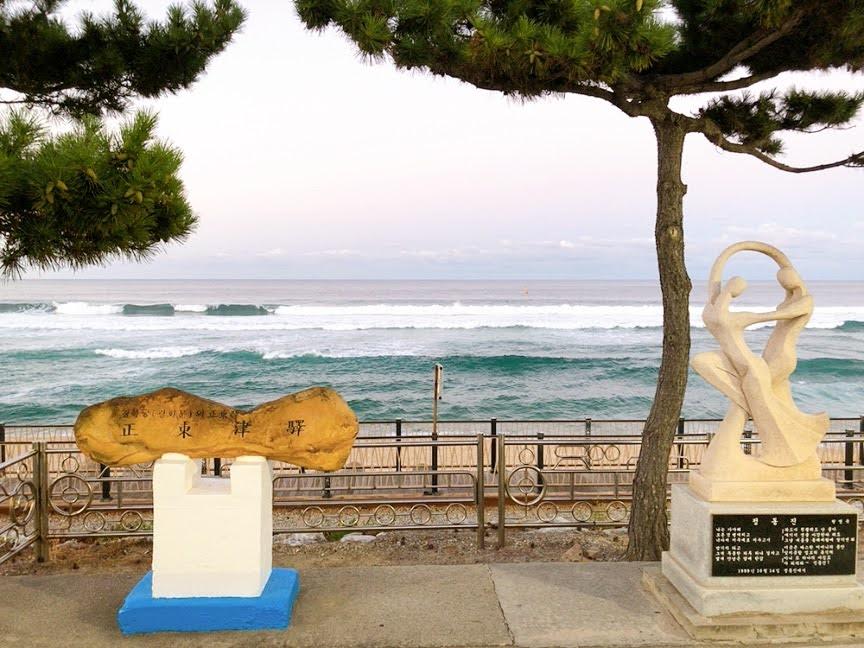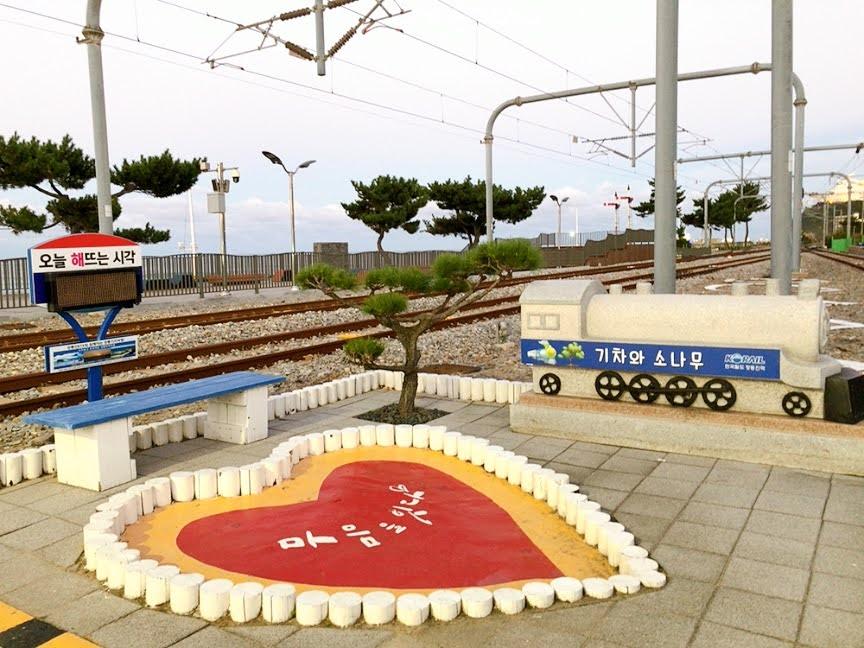 Jeongdongjin is one of the best places to watch the sun rise in Korea. Many people even take the night train from Seoul to watch the sunrise here.
The station is simple, but lovely in style and the daily sunrise time is marked for your convenience.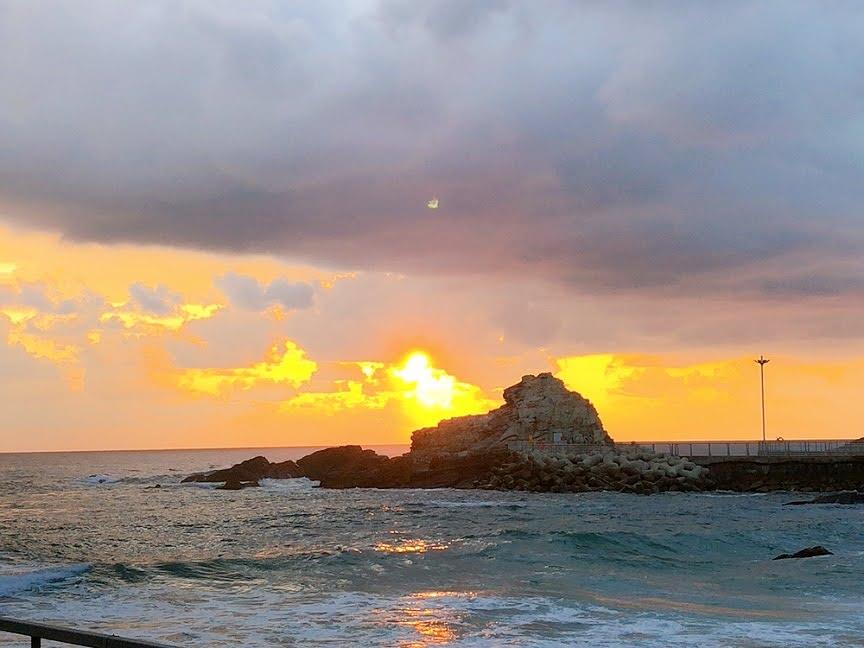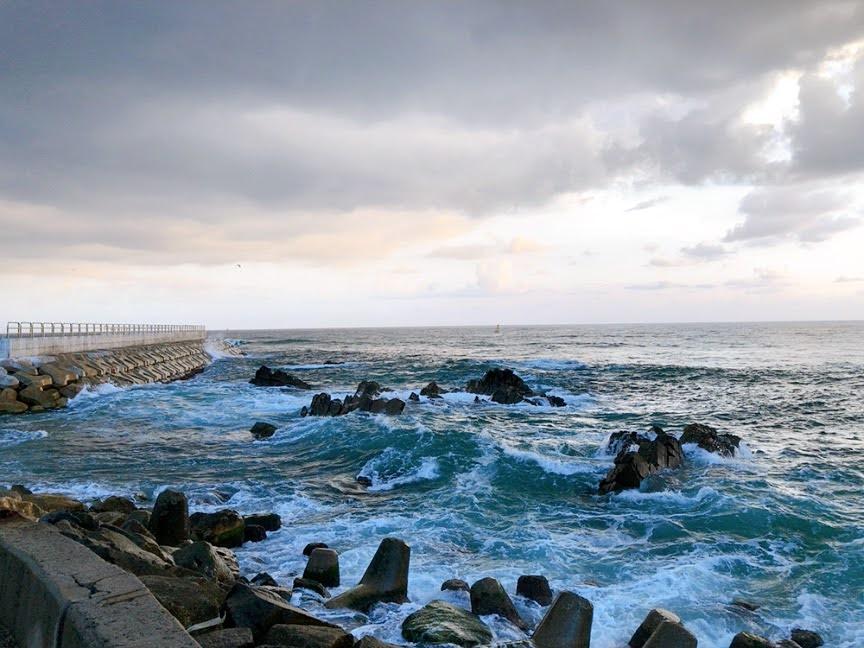 Because of the train times, I chose to arrive at Jeongdongjin the day before. The sunrise that day was 6:05, so I departed from my hotel towards the beach at 5:40.
Unfortunately, the sky that day was rather cloudy, so I did not have a clear view of the sunrise.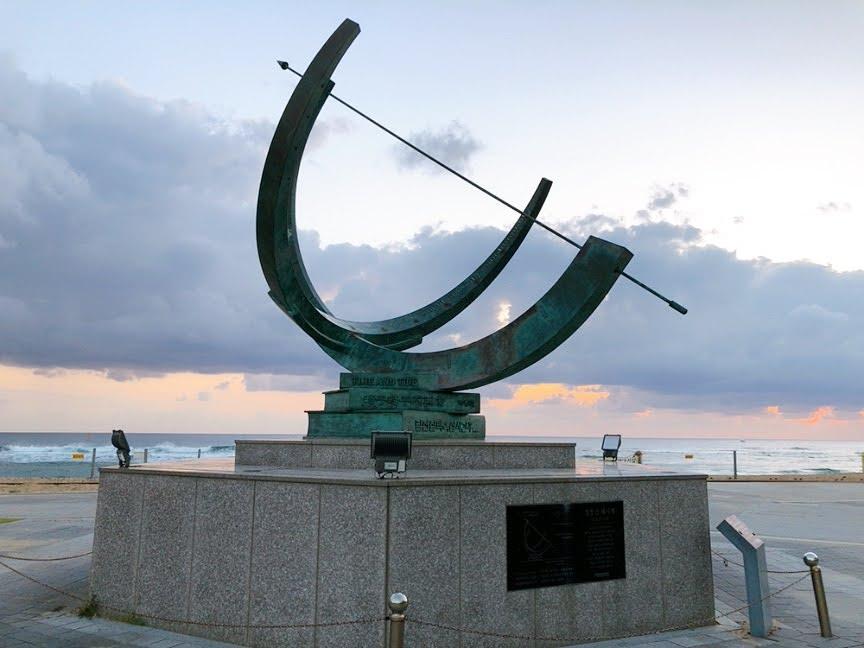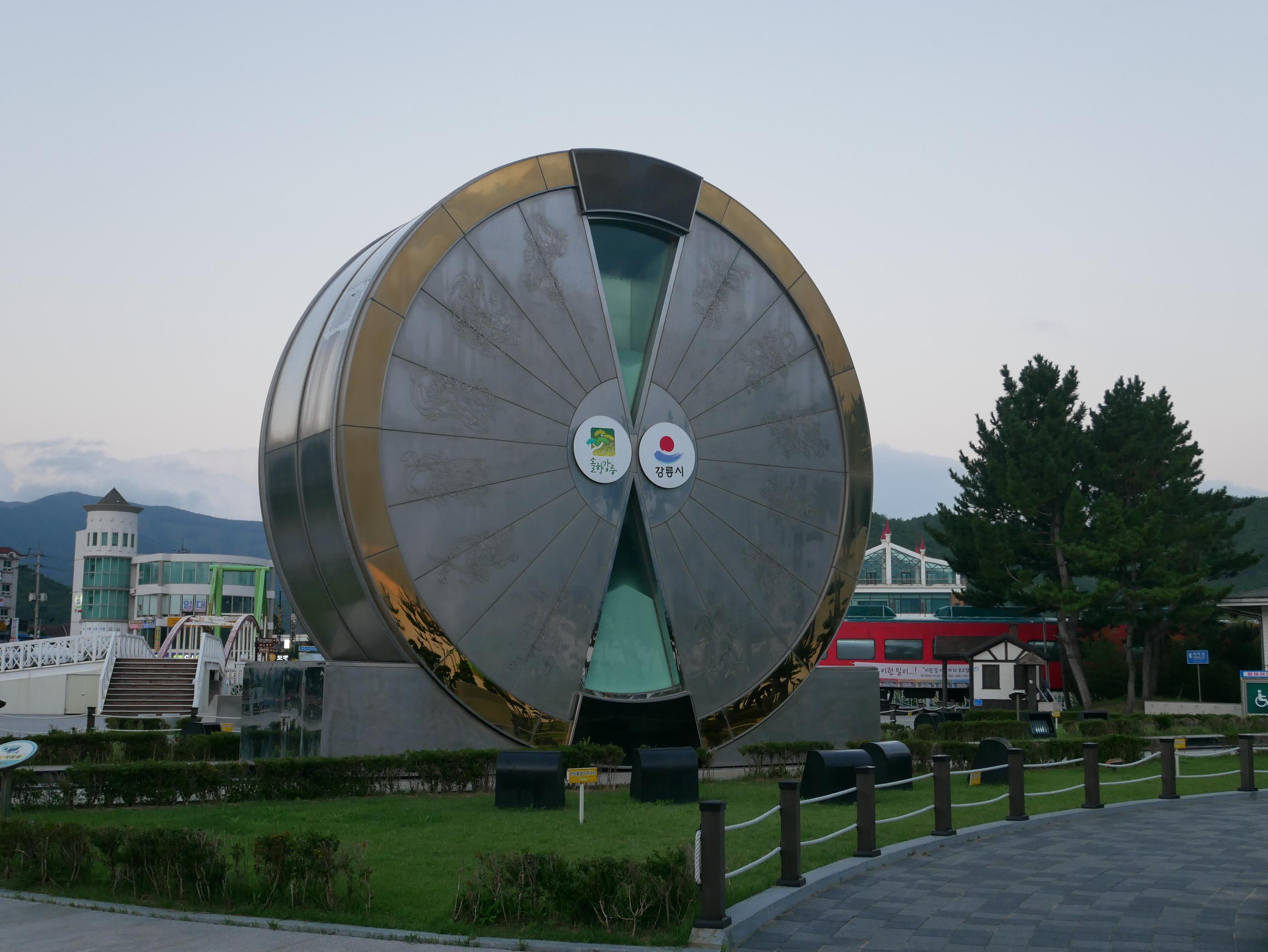 Jeongdongjin was once prosperous due to the dense coal mines nearby, but with the change of government policy, it became a small fishing village with a population of less than 2,000.
It was not until 1995 when the drama Sandglass starring Choi Min-too, Park Sang-won, Go Hyun-jung aired that this place started to become more well known.
It is now a popular tourist destination.
The large hourglass display rotates once a year, so many come here at the end of the year to see and also watch the first sunrise of the new year.
Jeongdongjin Sunrise Canteen
정동진 일출식당
Address: 강원도 강릉시 강동면 정동1길 7
7 Jeongdong 1-gil, Gangdong-myeon, Gangneung-si, Gangwon-do
Hours:
Mon-Fri: 6:00-21:00
Sat-Sun: 6:00-22:00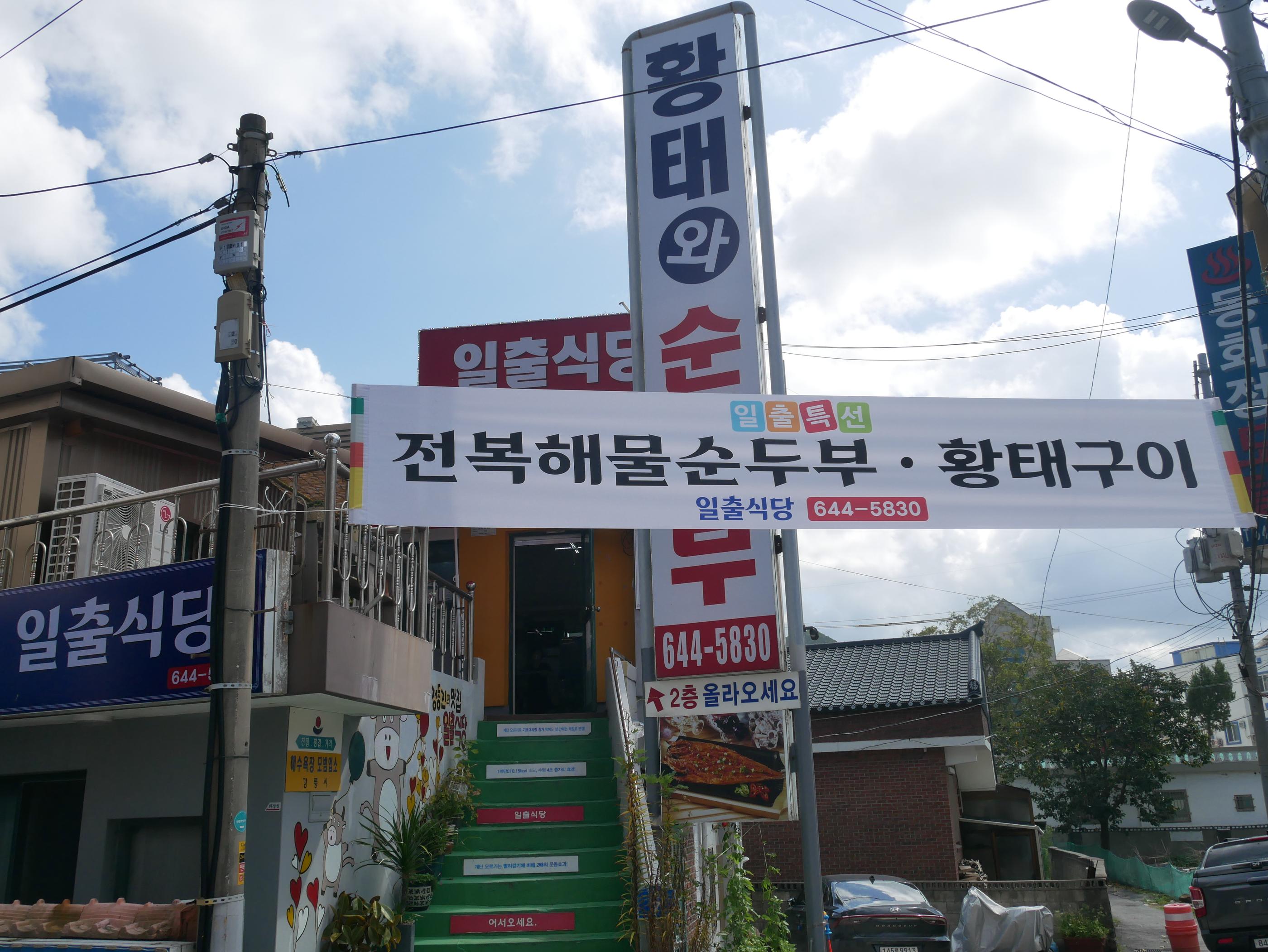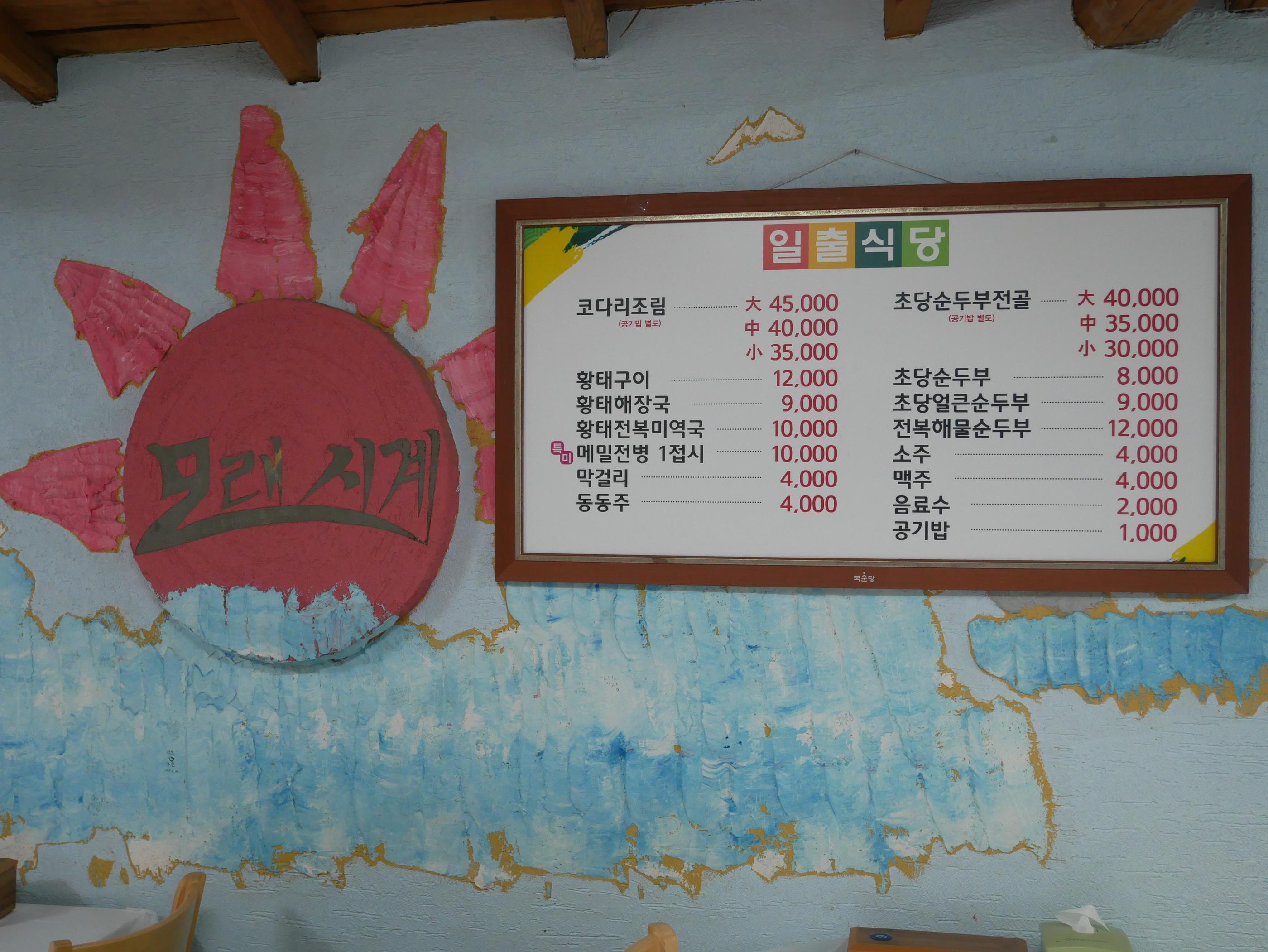 After watching the sunrise, it's time to eat!
There are many restaurants here that open around 6:00am to accommodate sunrise viewers.
Today I chose to visit Sunrise Canteen, a place visited by many Koreans. Their signature dish is grilled yellow croaker and soft tofu.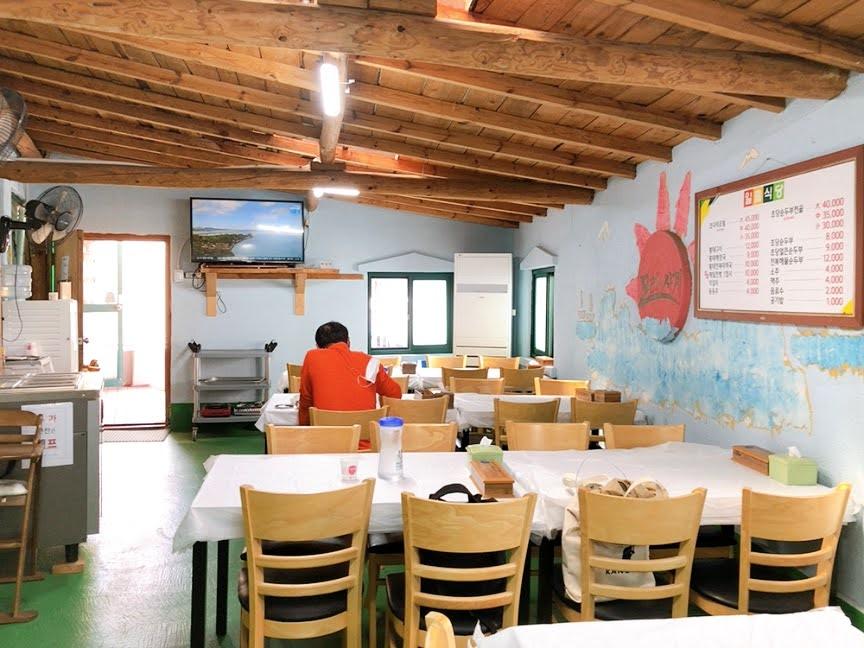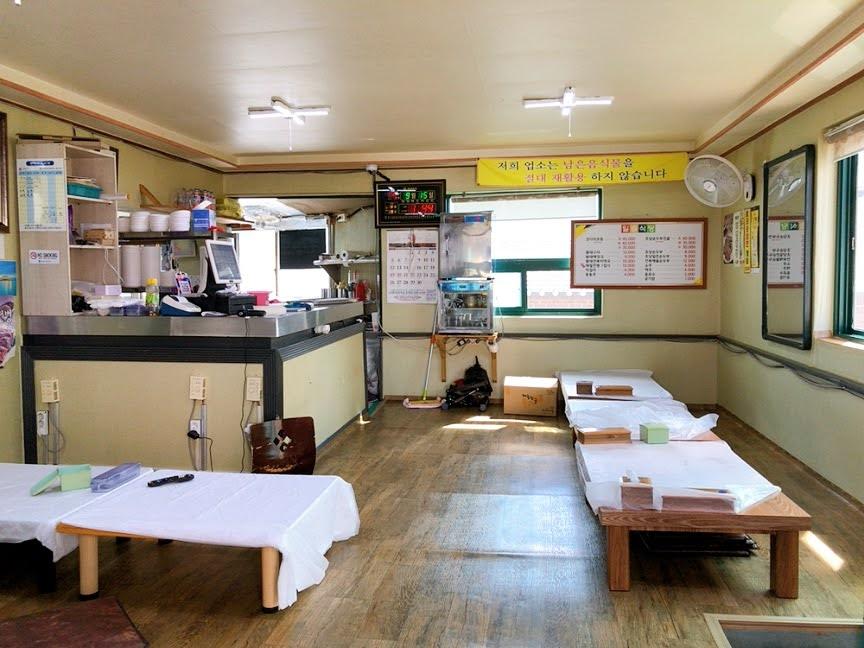 There is ample seating in this restaurant that is divided into traditional and modern seating.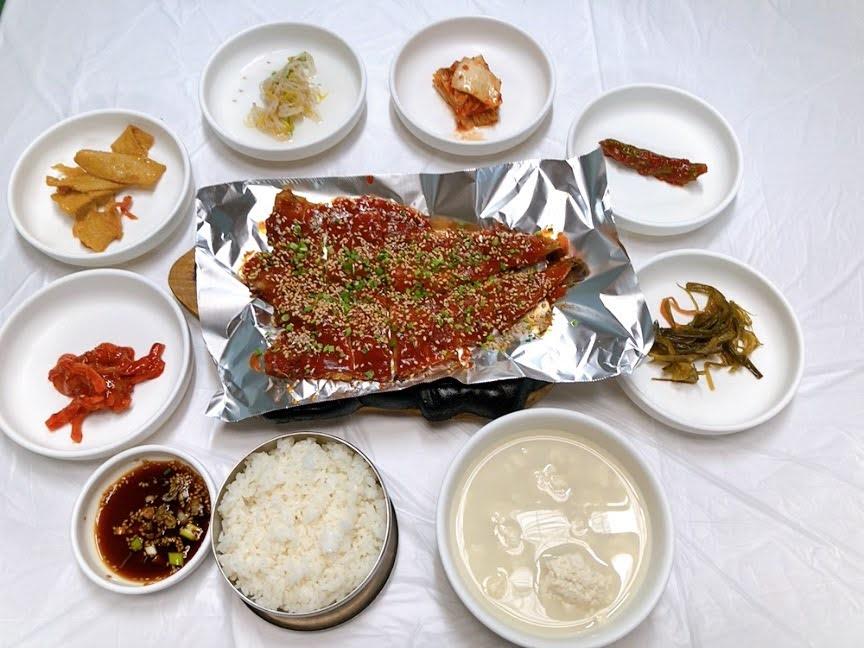 Grilled Yellow Croaker (황태구이) 12,000 won
The friendly ajumma brought me a variety of side dishes and if you need more, there is a buffet bar where you can serve yourself.
When the meal comes out, you can smell it right away, the delicious charcoal grilled scent.
This was my first time trying grilled yellow croaker and I found the skin to be very crispy and the spicy sauce was similar to tteokbokki sauce. The taste of the fish itself was unique and not too fishy, and I really enjoyed it.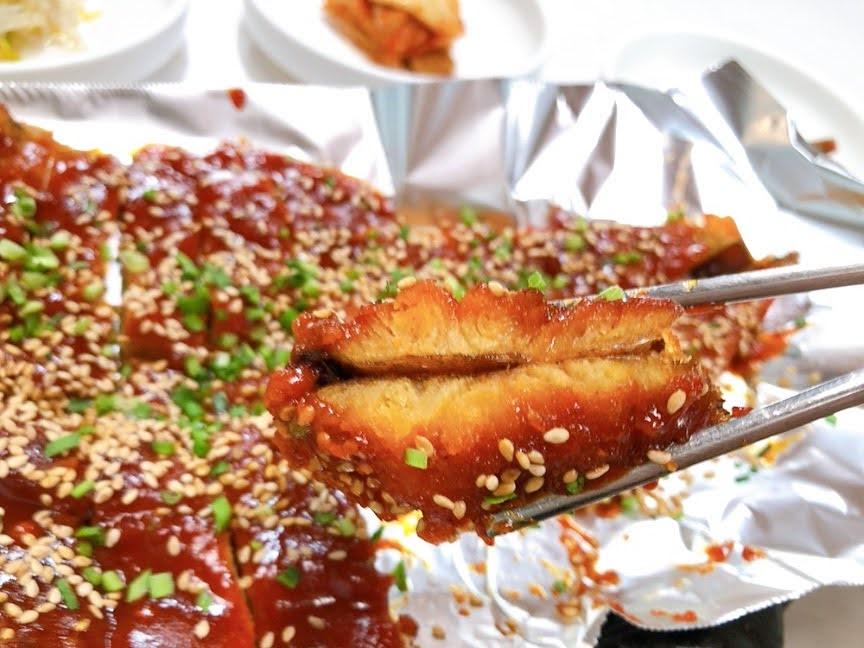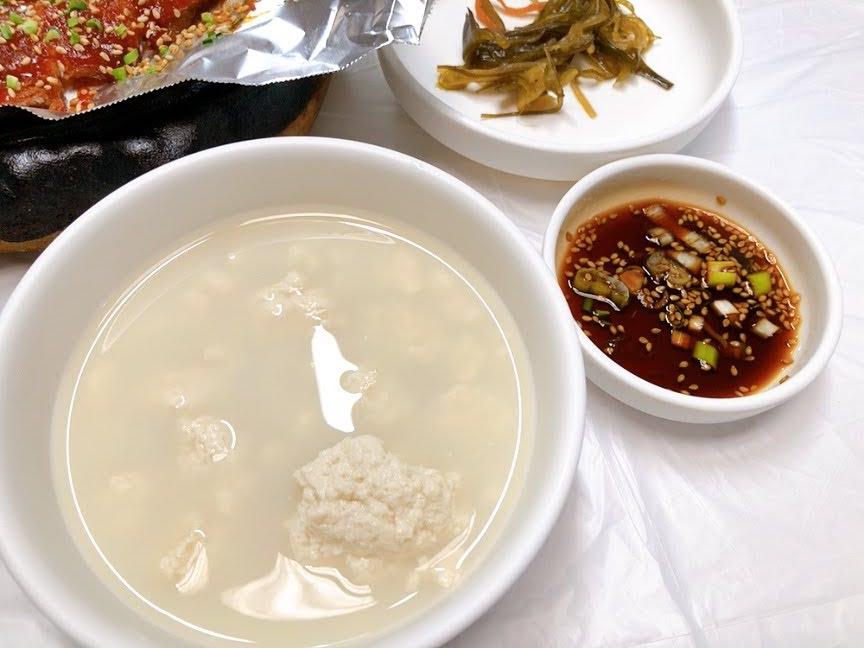 The meal also comes with a bowl of tofu.
This was the first time that I have eaten tofu like this.
The salty soup and hand-made tofu are different, but pleasant and if you need more flavor, you can add soy sauce.
Haslla Art World




하슬라 아트월드
Address: 강원도 강릉시 강동면 율국로 1441
1441 Yulguk-ro, Gangdong-myeon, Gangneung-si, Gangwon-do
Hours: 9:00-18:00
Admission:
Regular admission: Adult 12,000 won, Child 11,000
Guided Tour*: Adult 16,000 won, Child 15,000 won
*temporarily suspended due to COVID-19
Transit: Take bus 112 or 113 from Jeongdongjin Station and get off at Haslla Art World (하슬라 아트월드) Station. Remember to confirm the departure time at the station.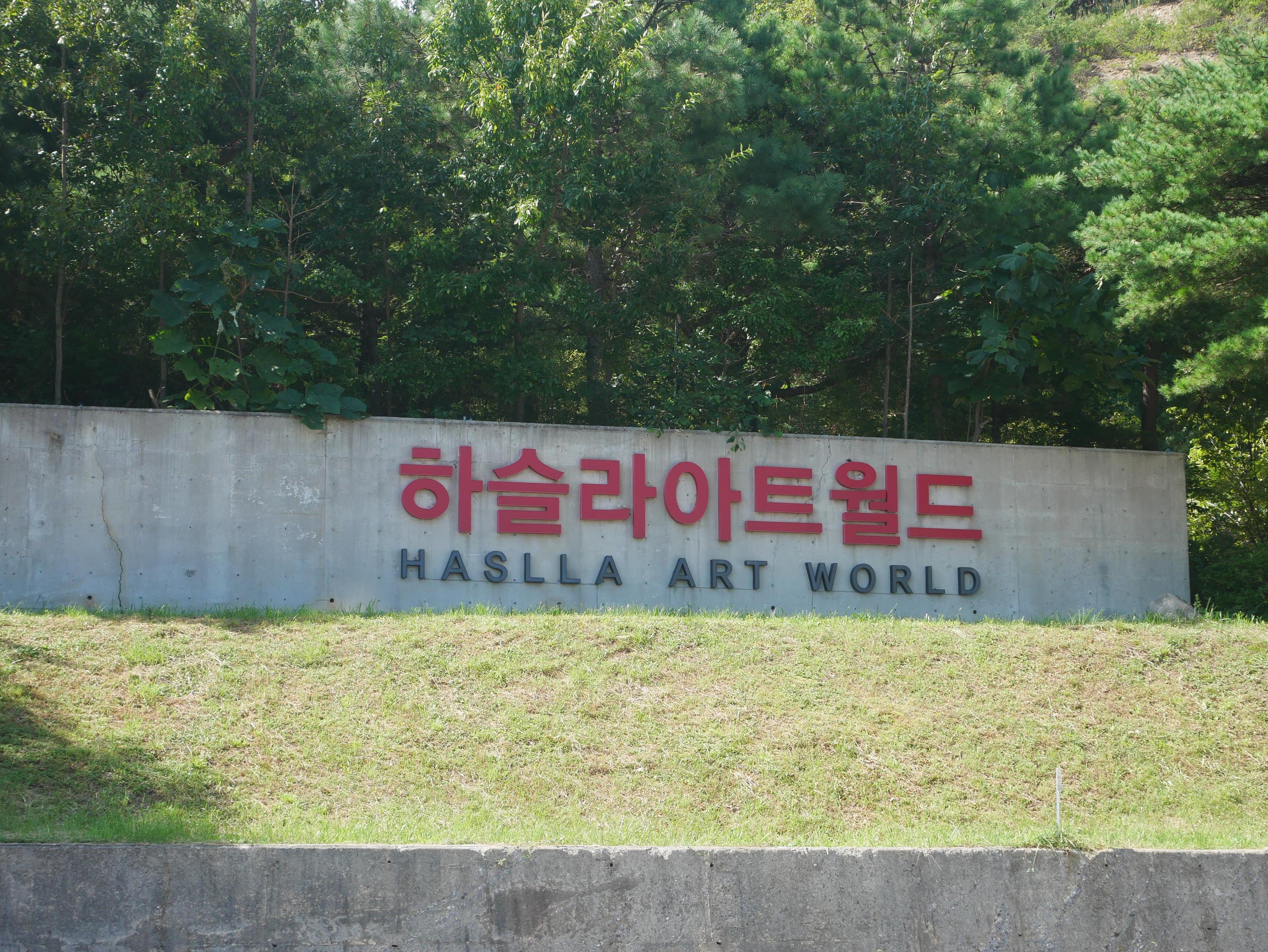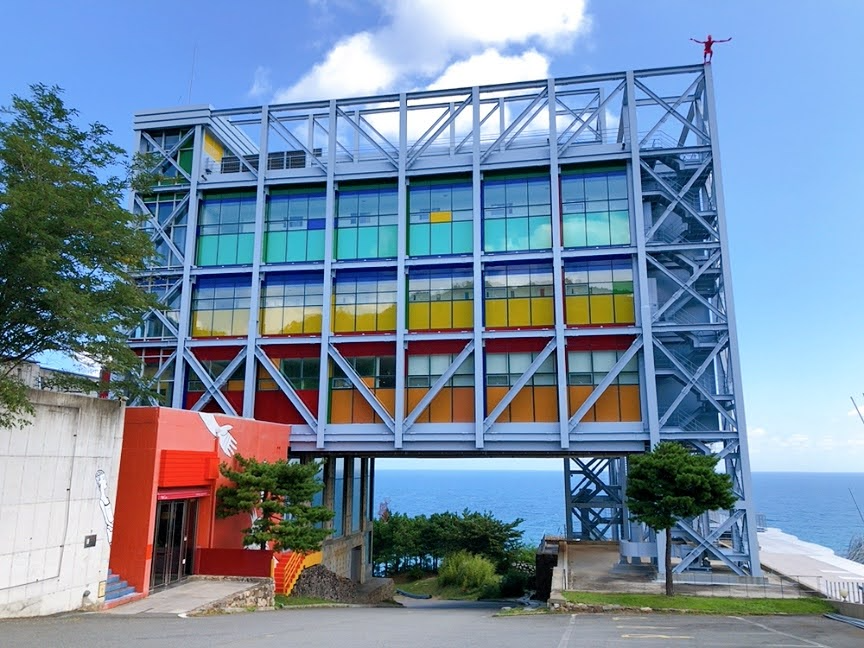 Our last location is Haslla Art World, an art park that covers an area of 75,000 square meters.
The name is derived from the alias of the Gangneung area during the Silla era.
Using the natural environment, the space in the museum is divided into Pine Garden, Time Square, Farmland Garden, Ocean Garden, and Music Garden.
There are also a variety of works of art displayed outdoors, and the museum has a natural ecology experience hall, particularly great for families.
There are also restaurants, cafes, and accommodations in the area.
Average visit time is about 1.5-2 hours, but I think if you have time, you might as well relax and enjoy the view from a coffee shop for a bit.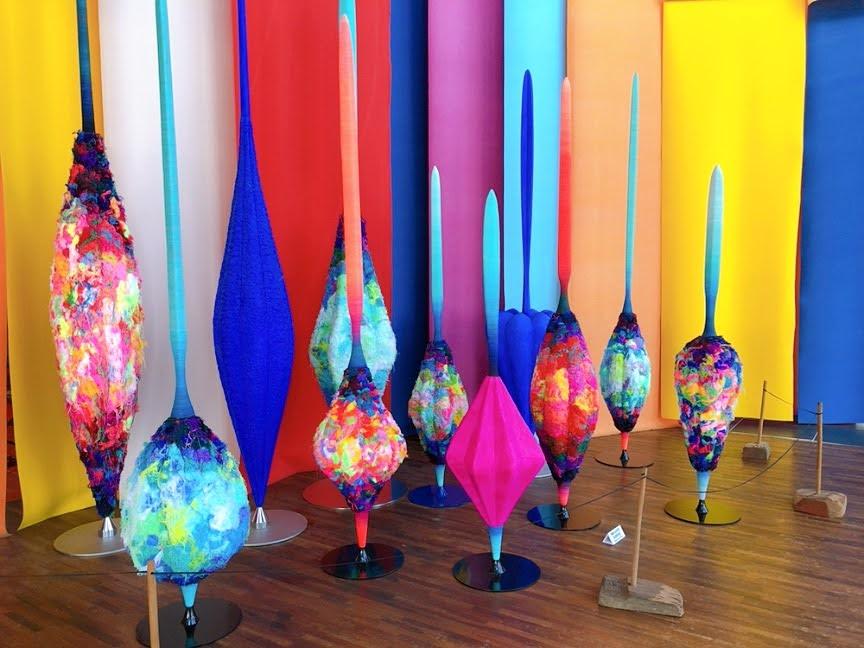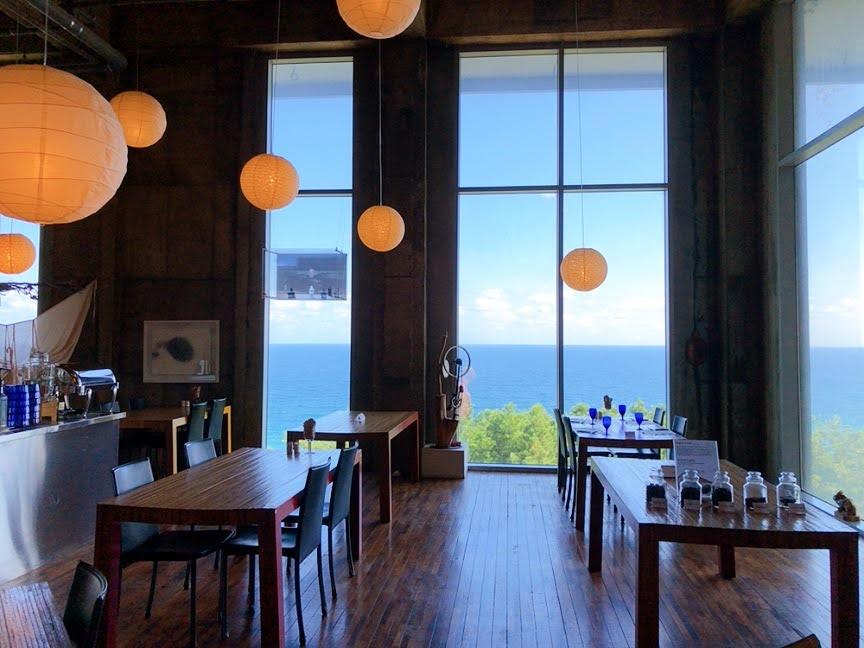 The restaurant in the art gallery directly faces the sea, and the art gallery also provides many interactive experience activities for children.
The museum features many interesting works.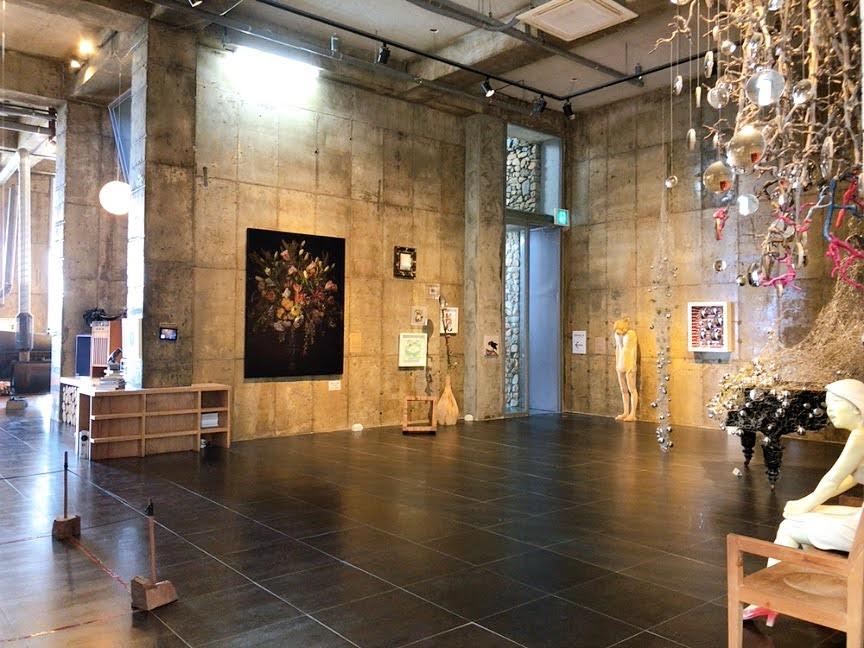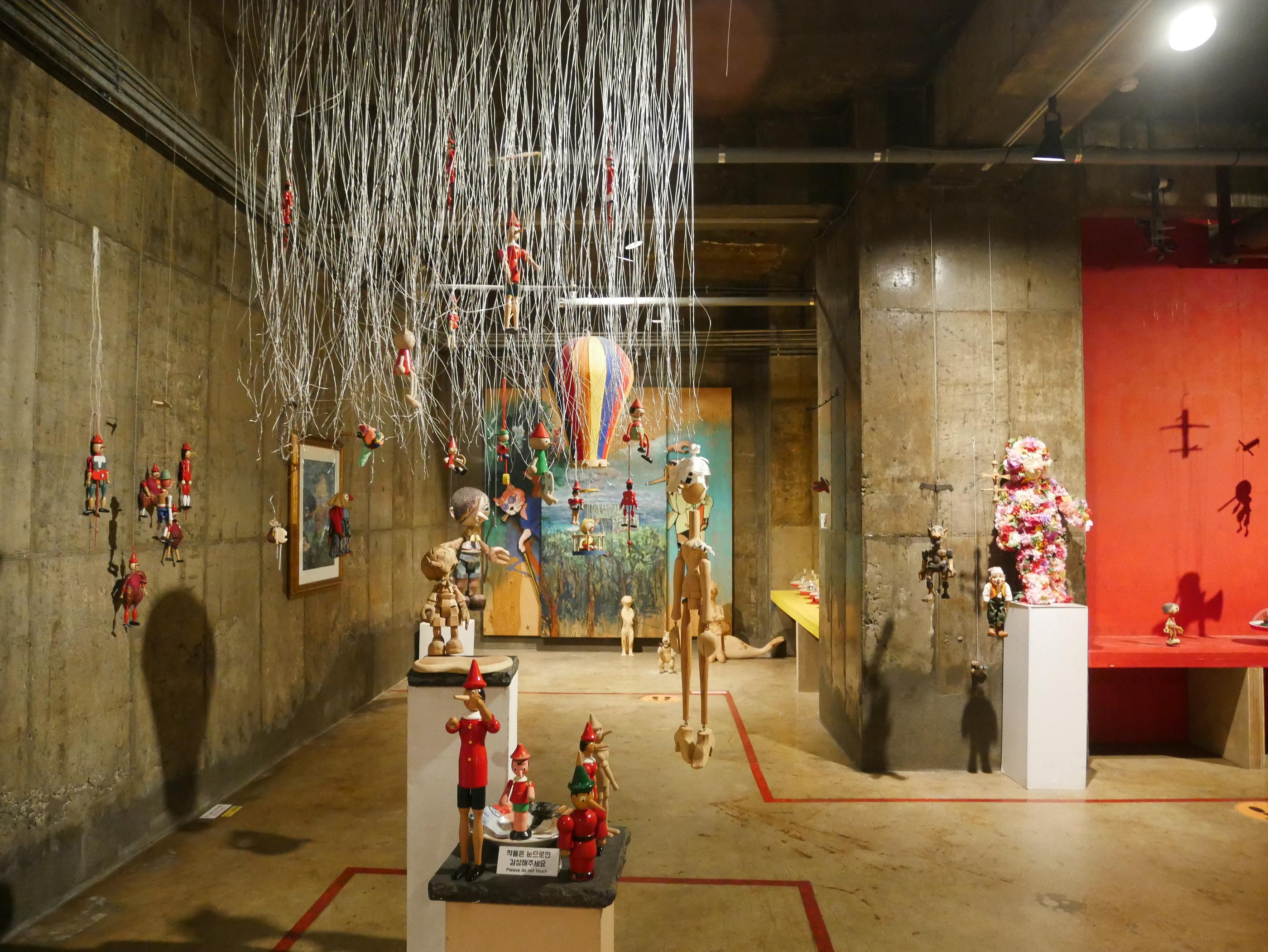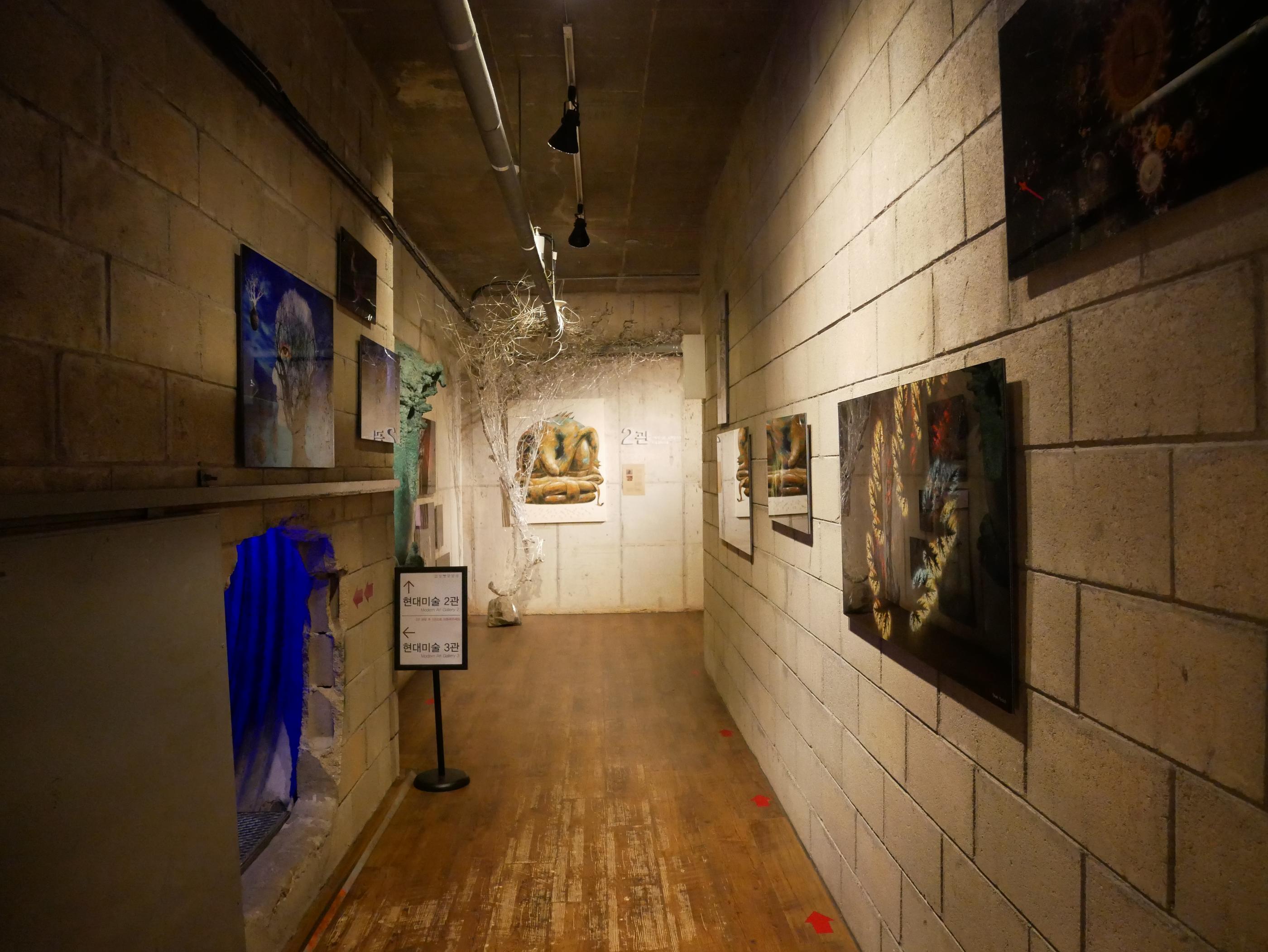 There are many works on display by both Korean and foreign artists.
Each installation is fascinating and very impressive.
The Pinocchio exhibition is quite whimsical and evokes a feeling of nostalgia.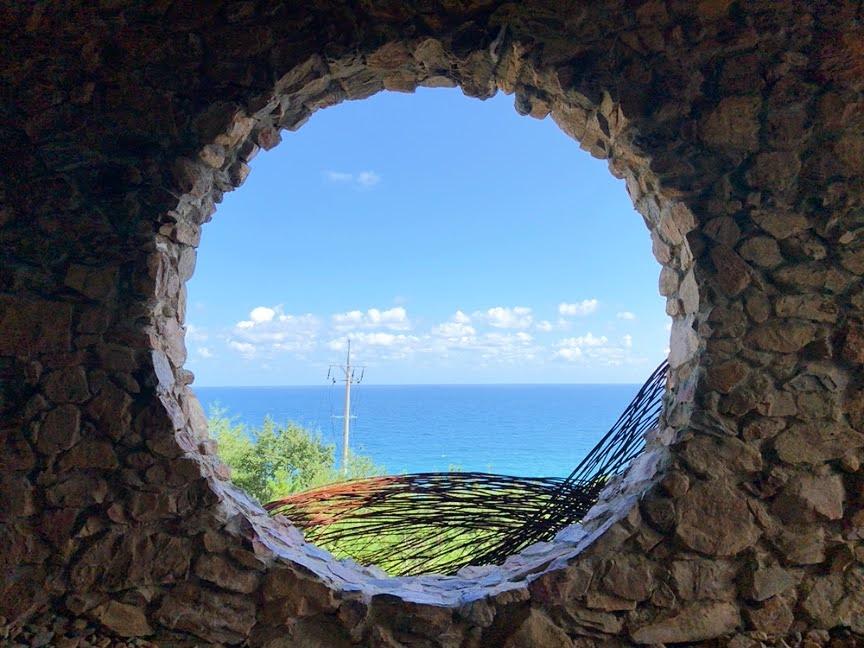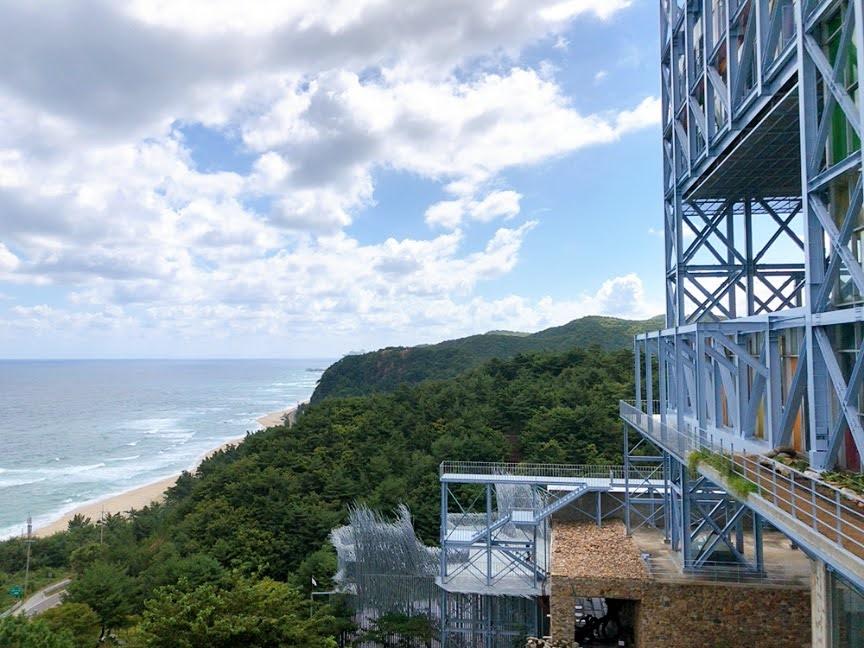 The open-air exhibit area offers a bird's-eye view of the sea. The breeze brings a peaceful and romantic atmosphere.
Time seems to be frozen here, making people reluctant to leave such a beautiful moment.
If you have the opportunity to come to Gangneung, don't miss this complex art park!
---
That brings us to the end of our three-day, two-night itinerary of Chuncheon and Gangneung.
Which places will you be visiting?
---