BUSAN X The SKY At Haeundae
Enjoy breathtaking panoramic views of Busan at this popular observatory!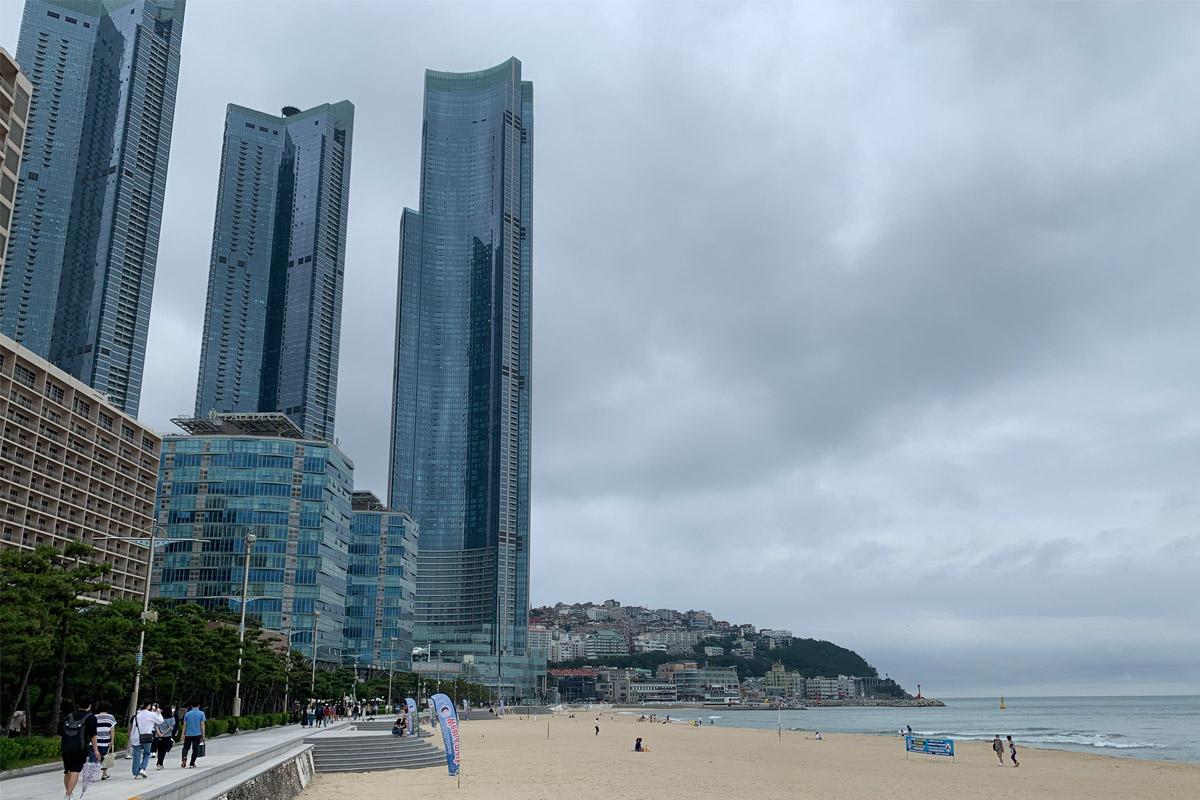 BUSAN X the SKY is a popular observatory in Busan that opened in 2020.
This observatory is located on the 100th floor of the L City Landmark Tower in Haeundae.
After X the SKY opened, its ocean, mountain, and city views were a hot topic in Korea.
We recently traveled to Busan and made sure to visit this incredible observatory.
This is our visit to BUSAN X the SKY!
---
Information

Address: 부산 해운대구 달맞이길 20
30 Dalmaji-gil, Haeundae-gu, Busan
Hours: 10:00-21:00
Last ticket purchase at 20:30
Transportation: 15-minute walk from Haeundae Station (Line 2) Exit 3
---
We love visiting any place with a great view, so we were excited to check out BUSAN X the SKY.
Just by looking at how tall L City Trademark Tower is, we knew that the view was going to be amazing.
Let's check it out!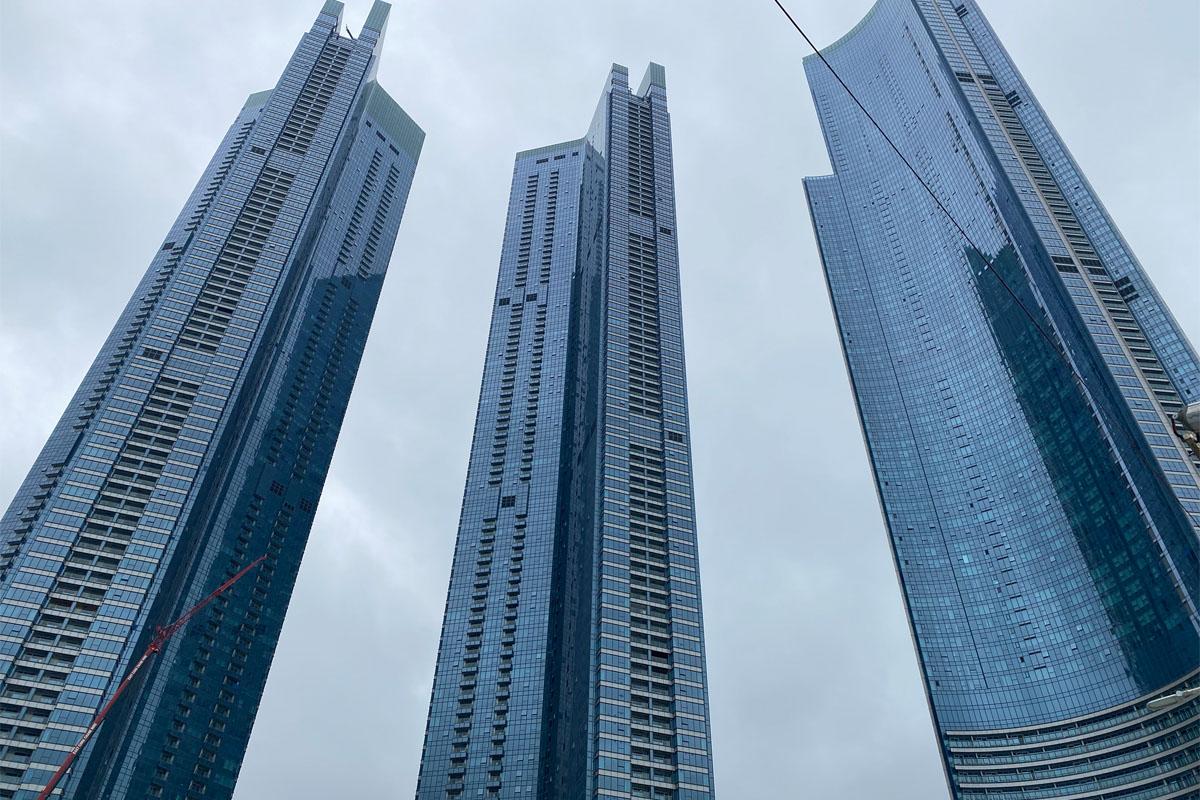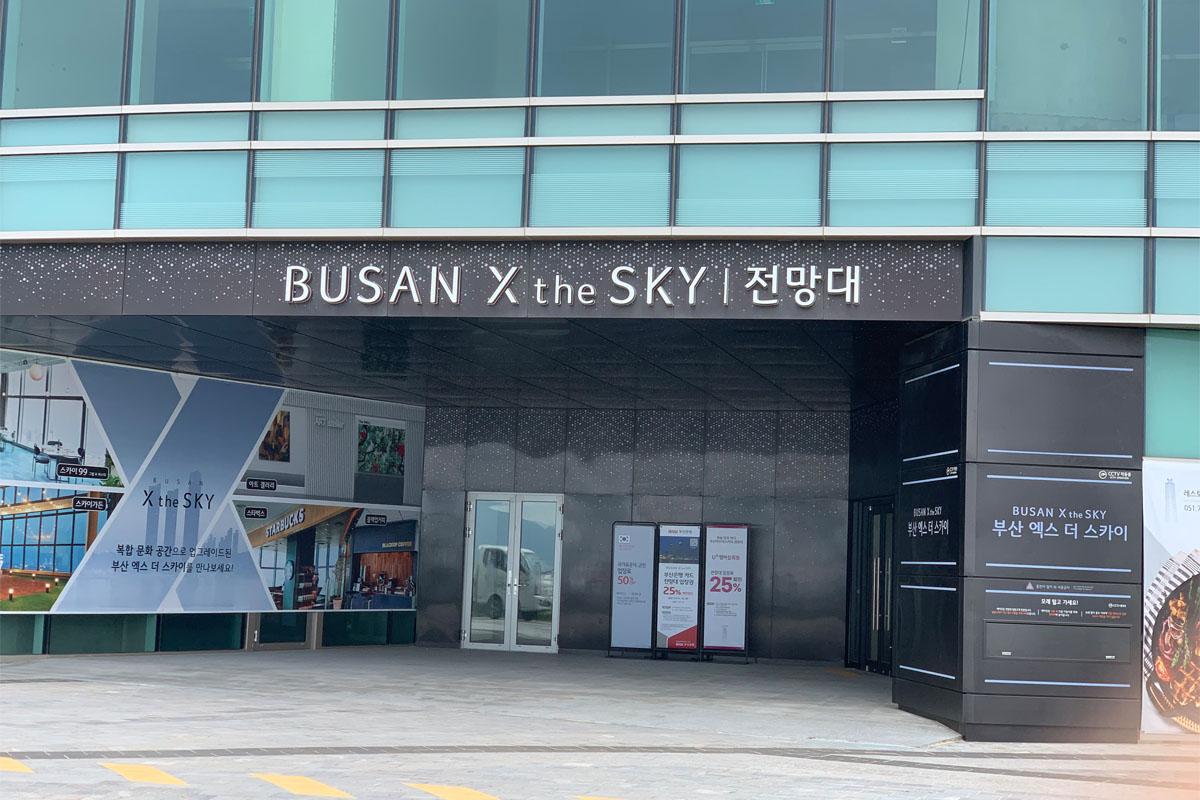 L City Trademark Tower at Haeundae is the tallest building in Busan.
The BUSAN X the SKY observatory opened here on July 17, 2020.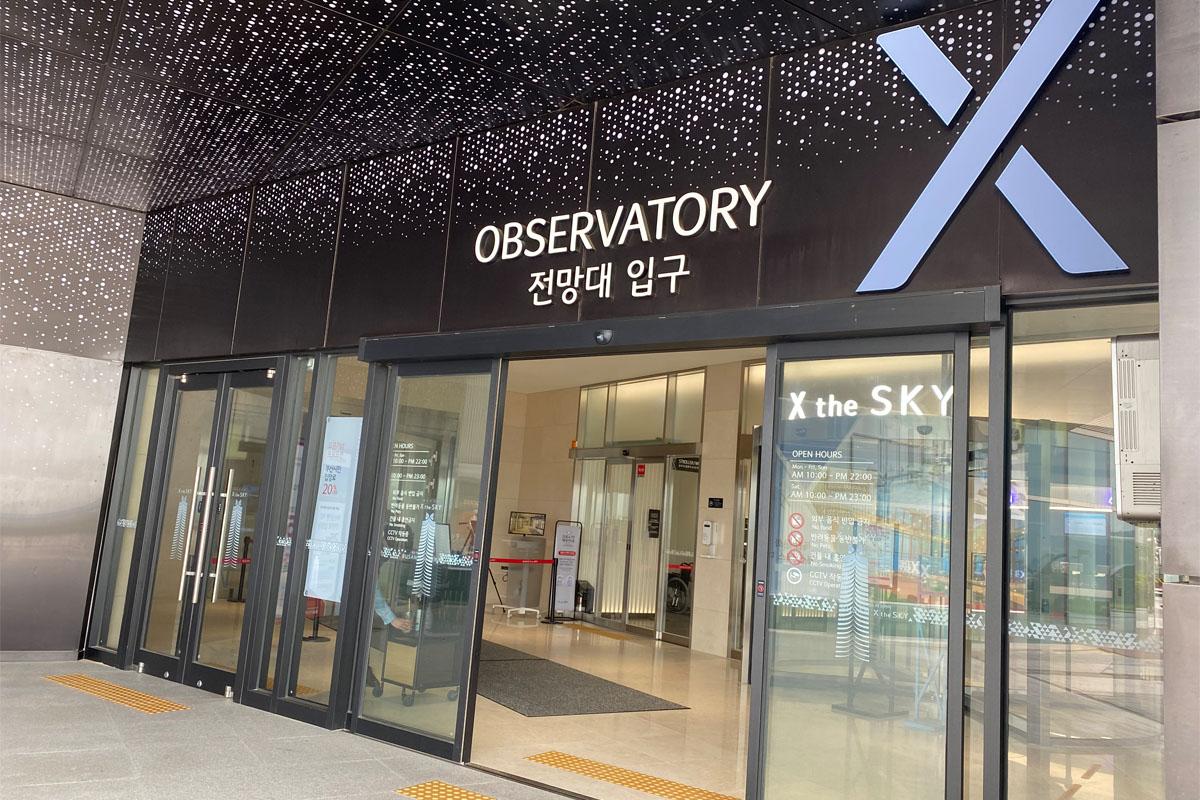 This is the entrance.
It has a sleek and modern design.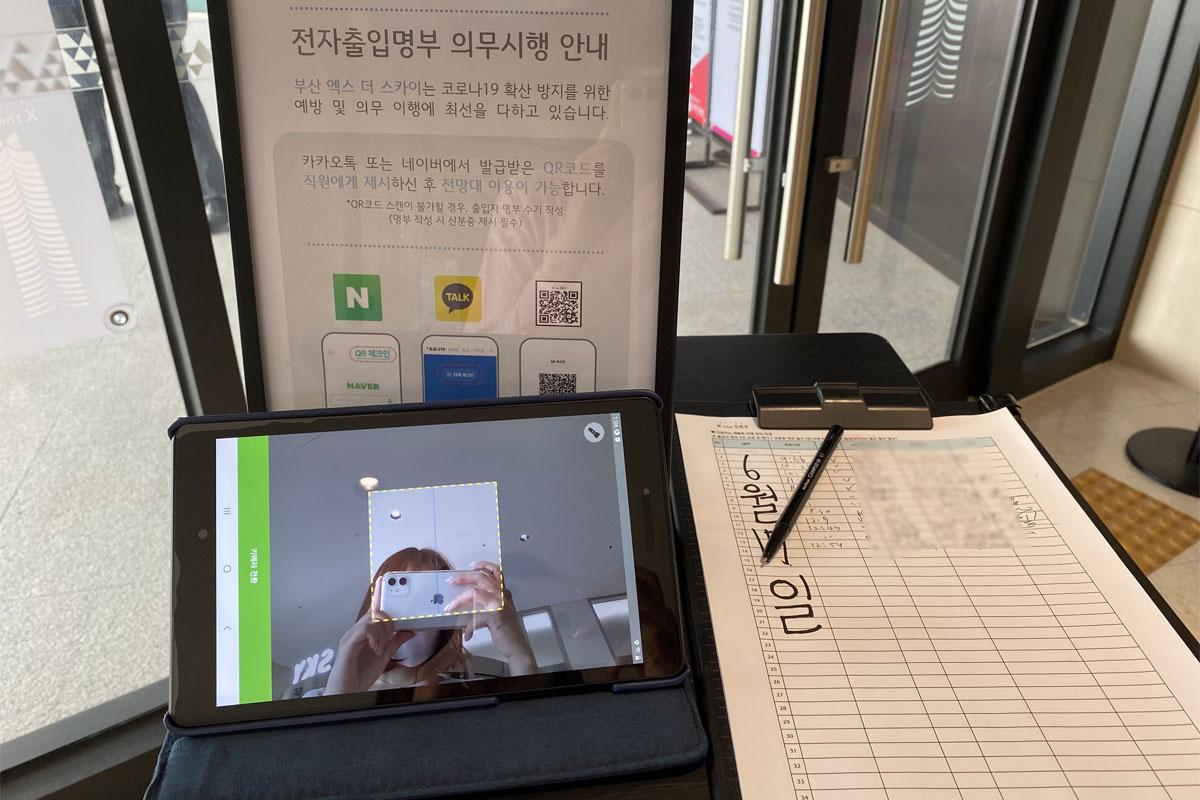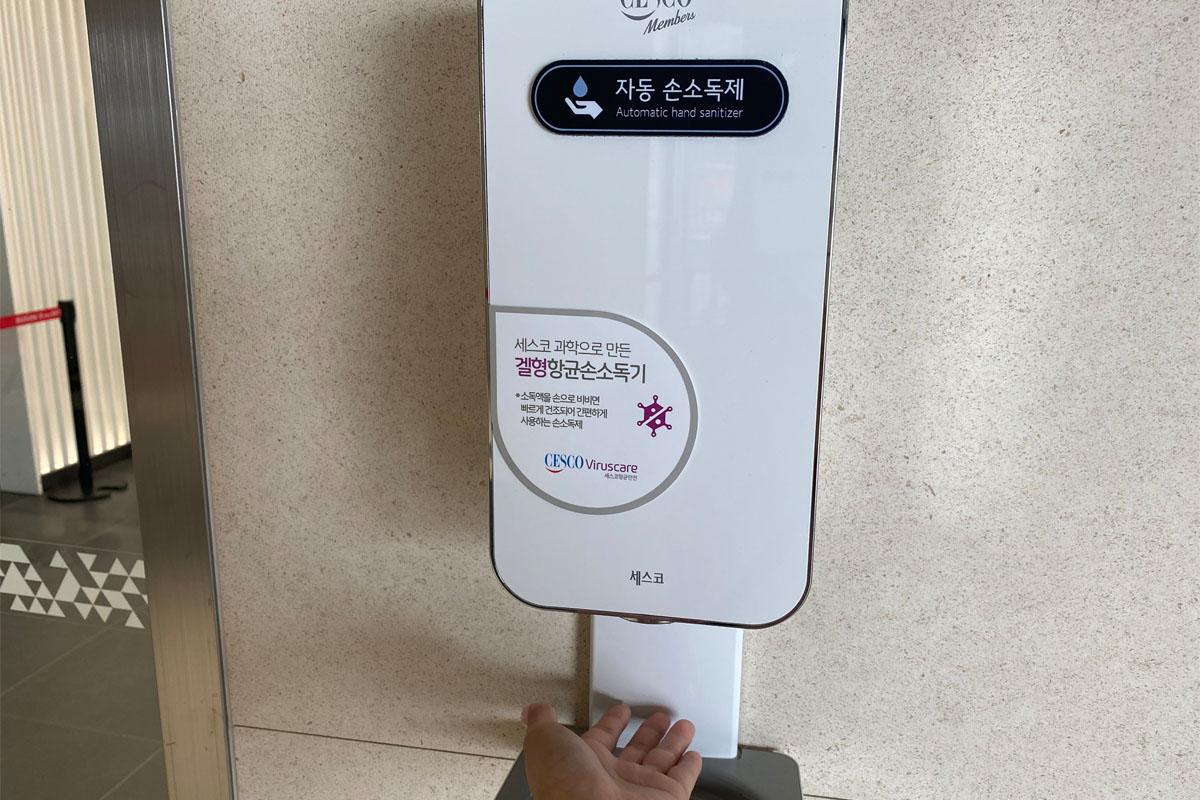 For COVID-19 safety precautions, we had to check in with a QR code.
For visitors who don't have a QR code, they could check in via a paper form.
We also had to sanitize our hands.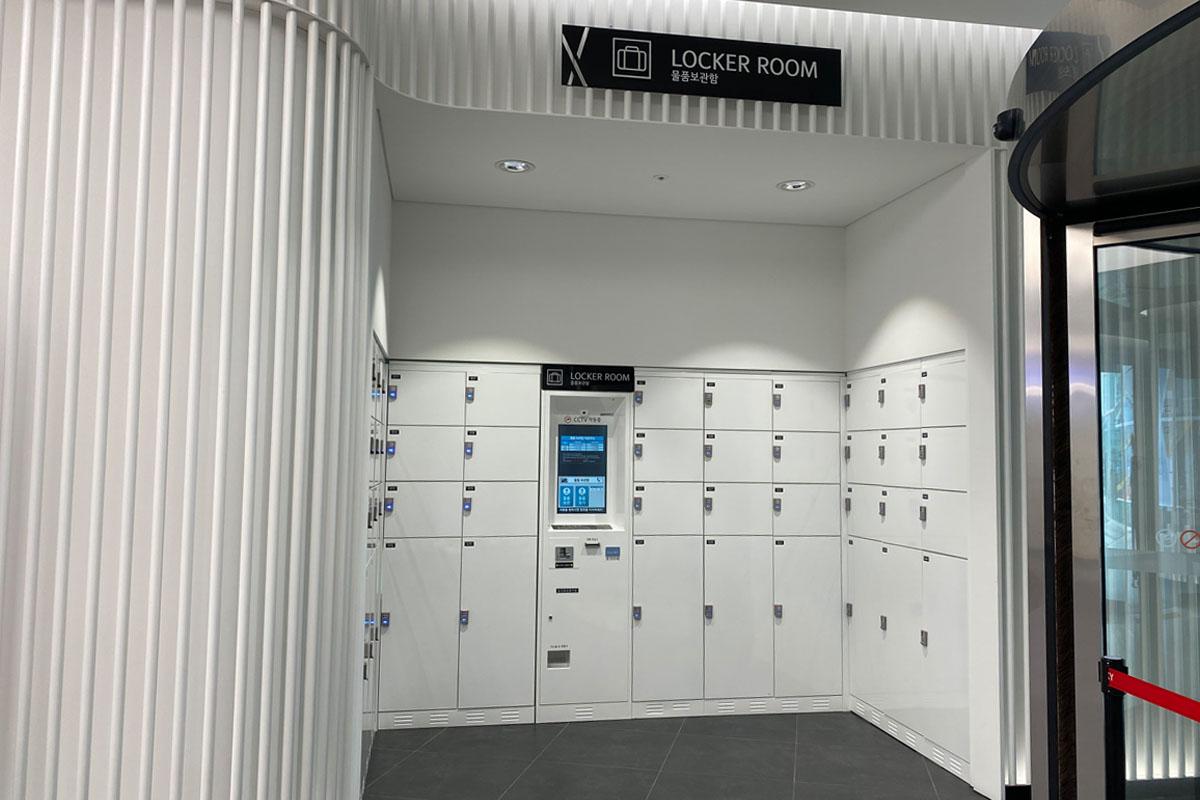 There were lockers available for visitors.
This is a great option for travelers who may have a lot of luggage.
They can come straight here without having to stop somewhere else to store their luggage.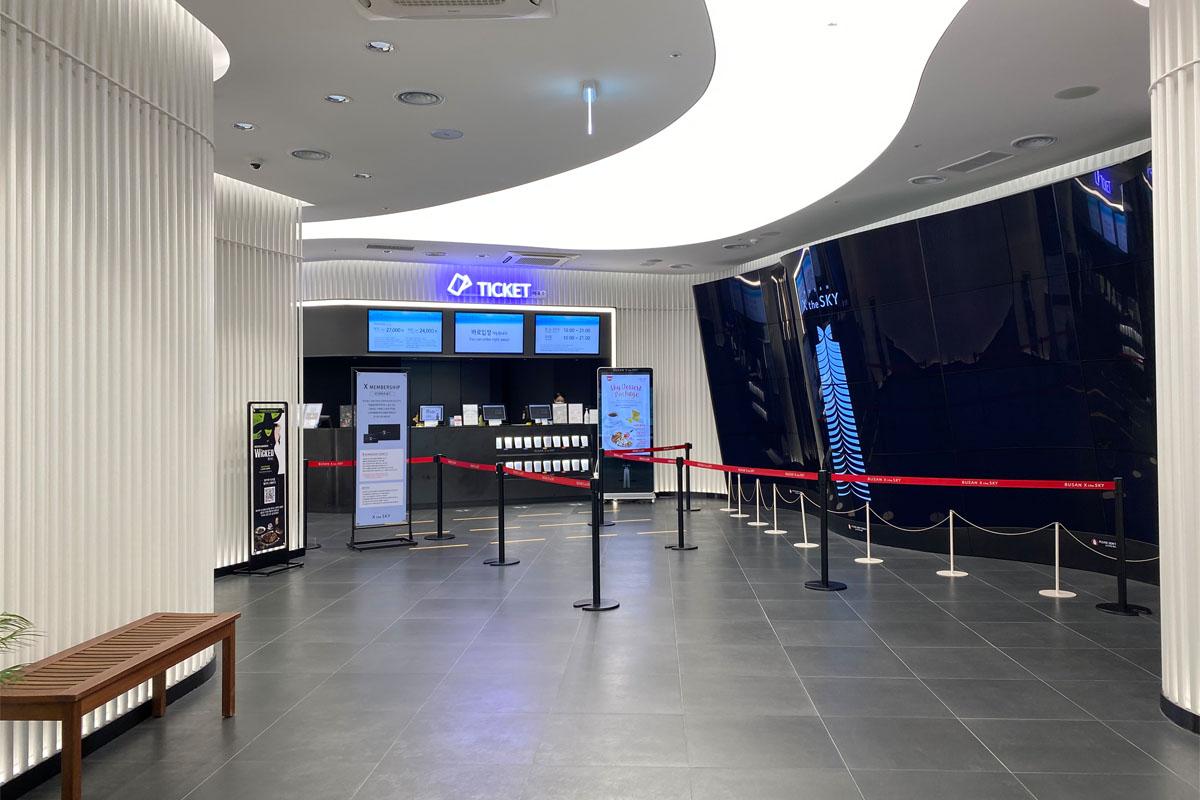 If you walk in a bit further, you'll see the ticket window.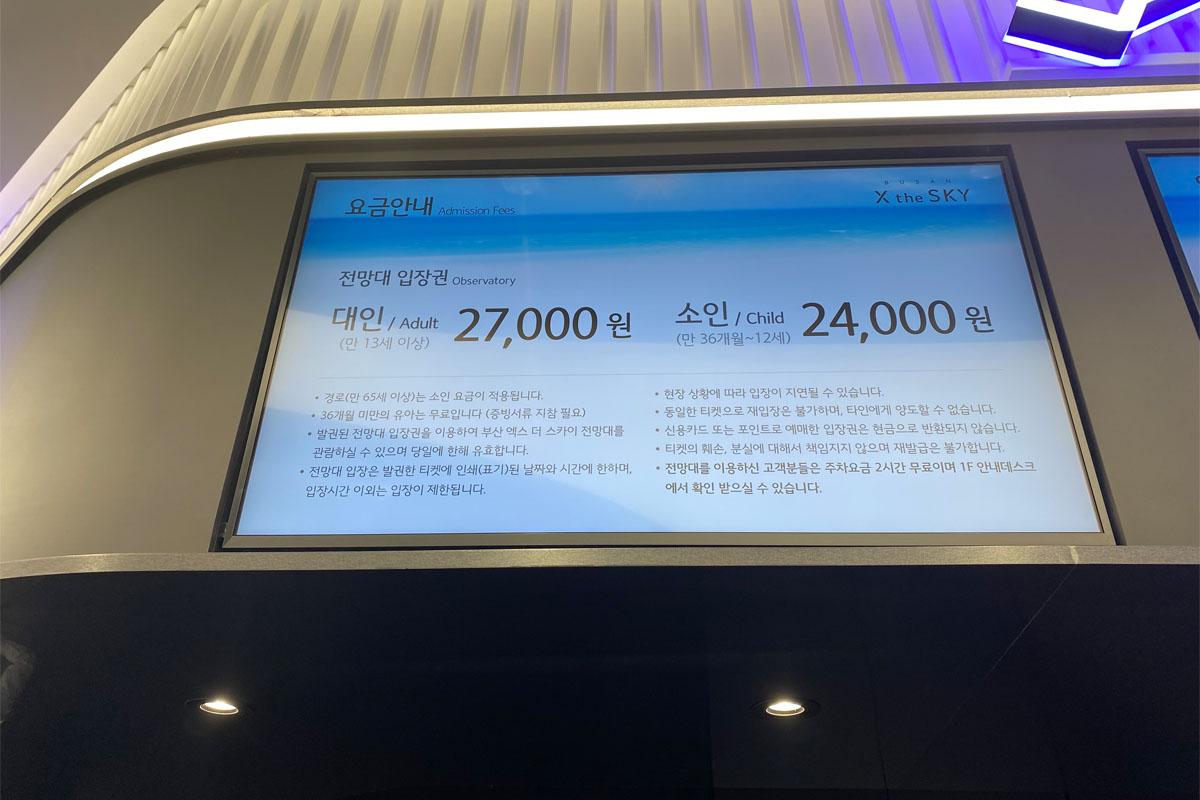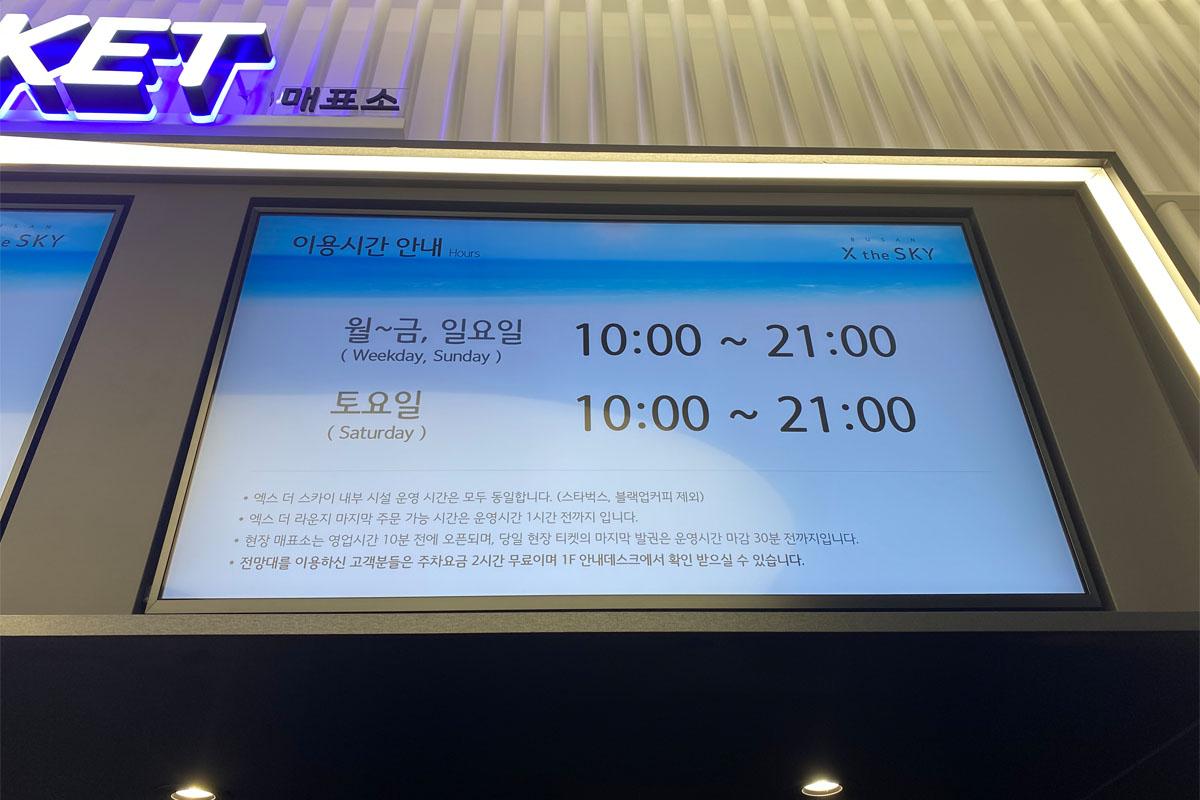 Information regarding ticket prices and business hours were available on the screens above the ticket window.
For adults (over the age of 13), tickets are 27,000 won.
For children ages 3 to 12, tickets are 24,000 won.
The observatory is open from 10 a.m. to 9 p.m. everyday.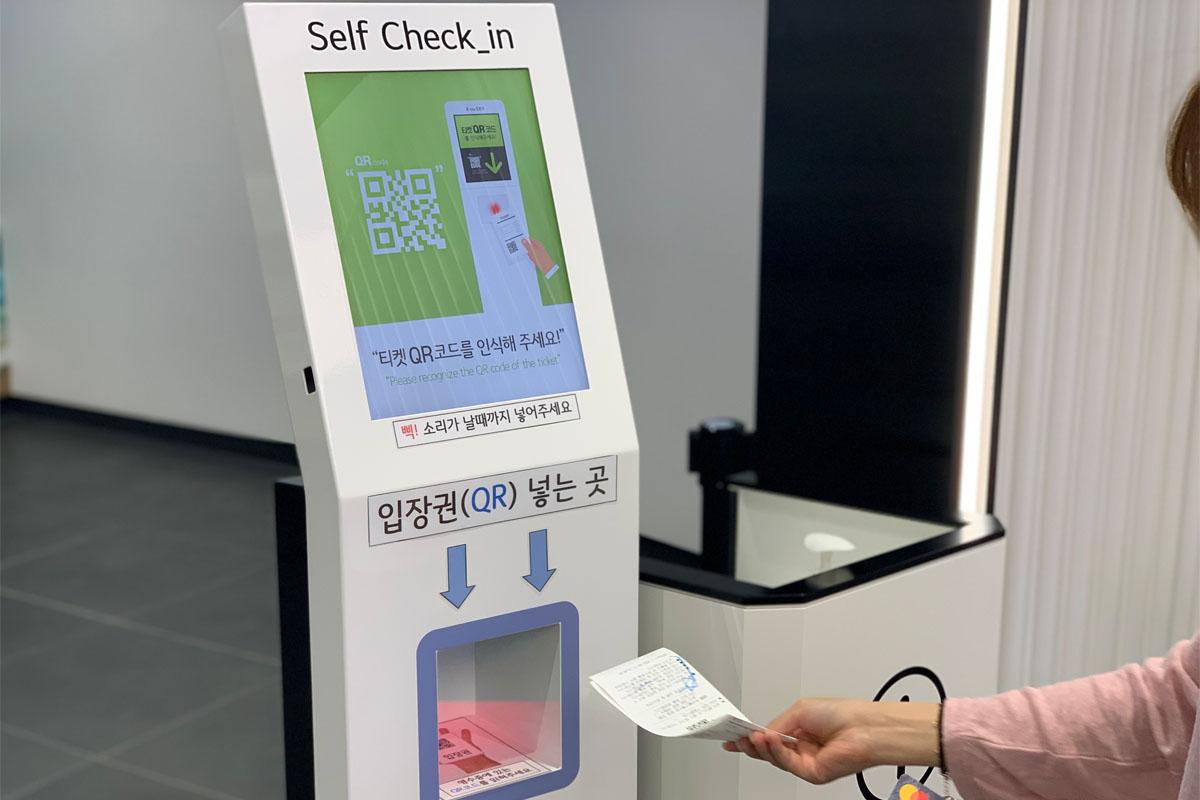 If you purchased tickets in advance, you can check in at a kiosk.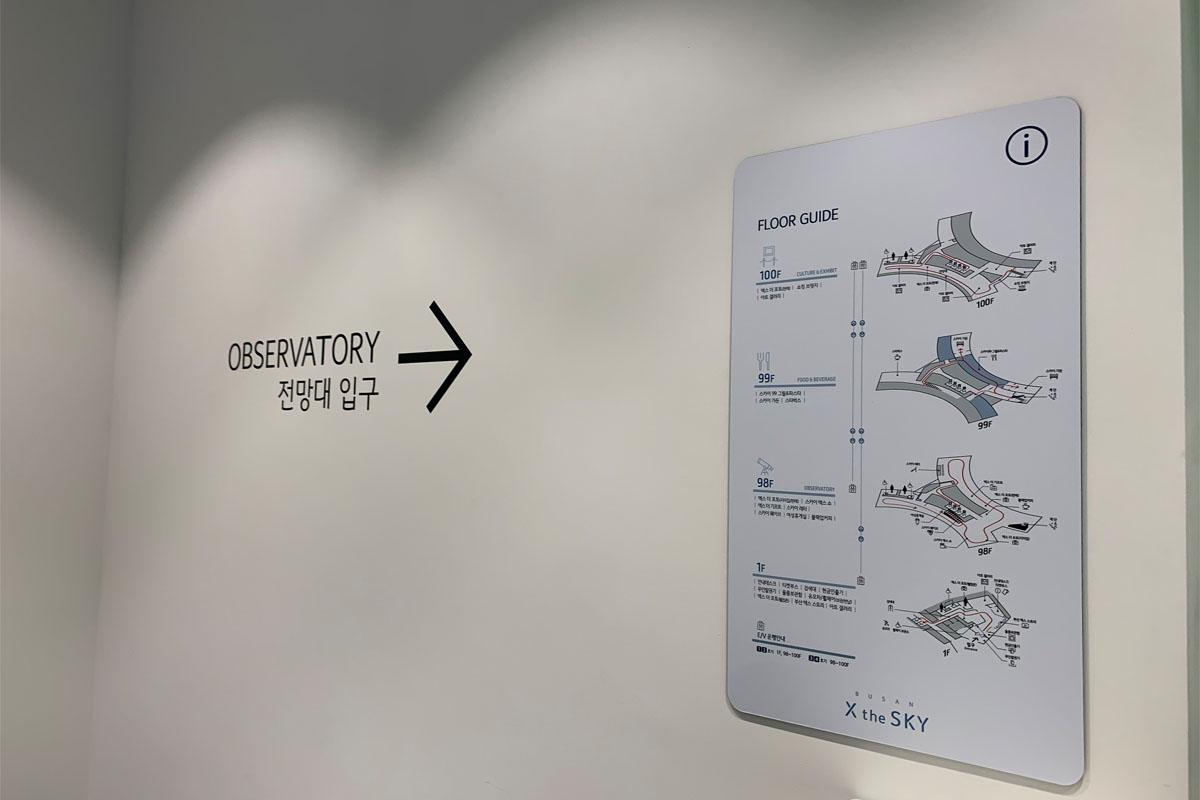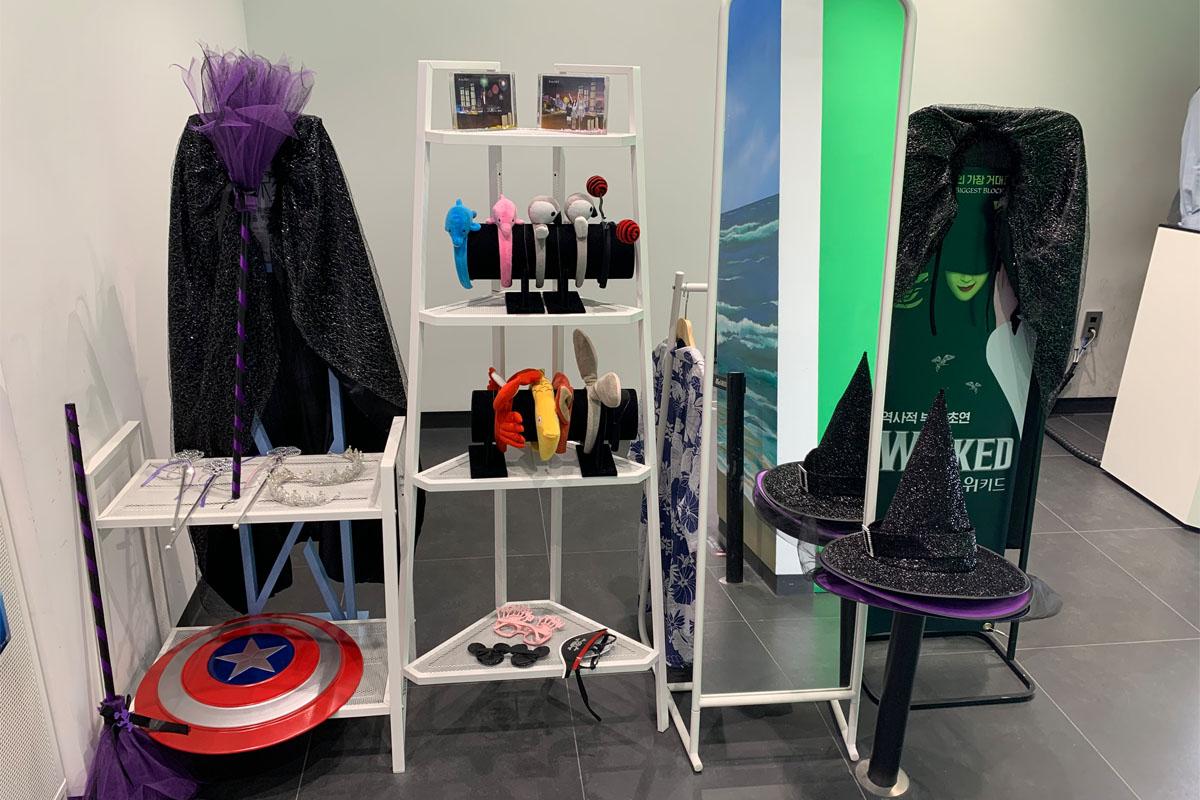 Before you make your way to the observatory, there is an area called "X the PHOTO."
This is where you can take a souvenir picture.
There are lots of fun props available for visitors to use for their photo.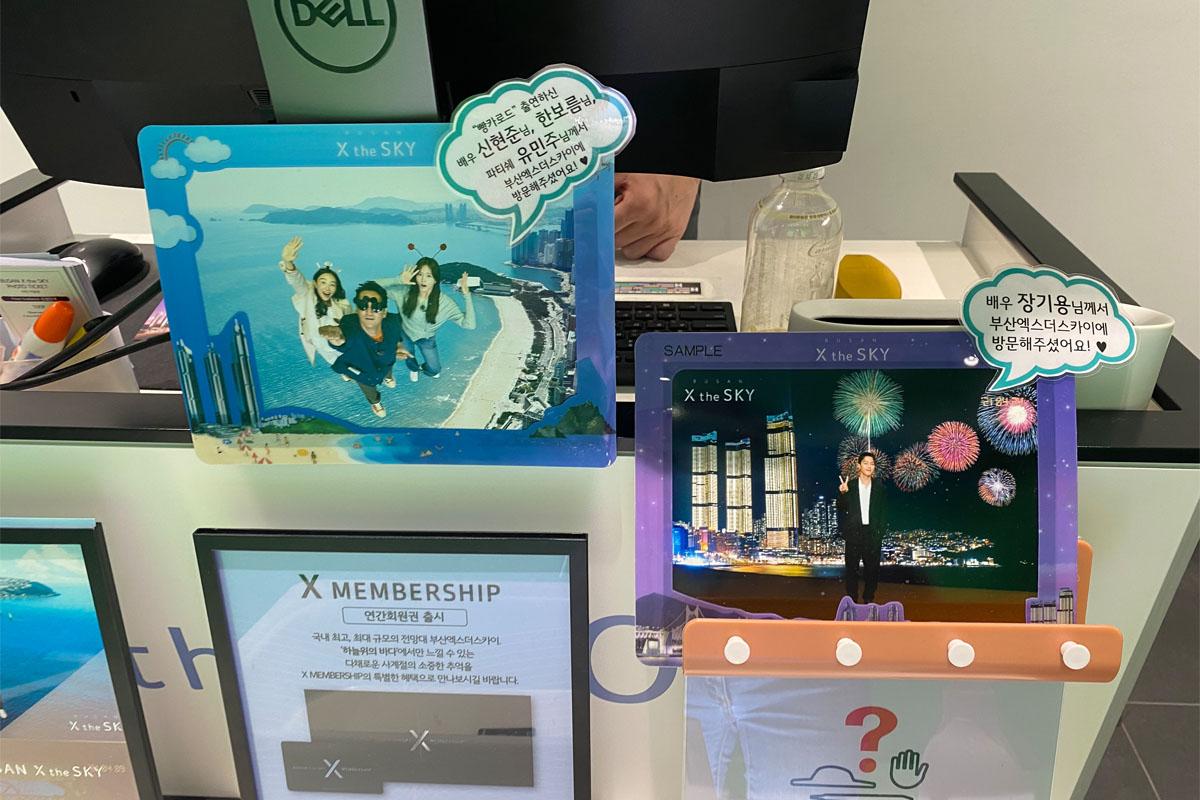 Here are some examples of what the souvenir photos look like.
We were surprised to learn that Jang Ki-Young and Shin Hyun-Joon also visited X the SKY.
Jang Ki-Young also took a souvenir photo here.
Isn't his photo so cute?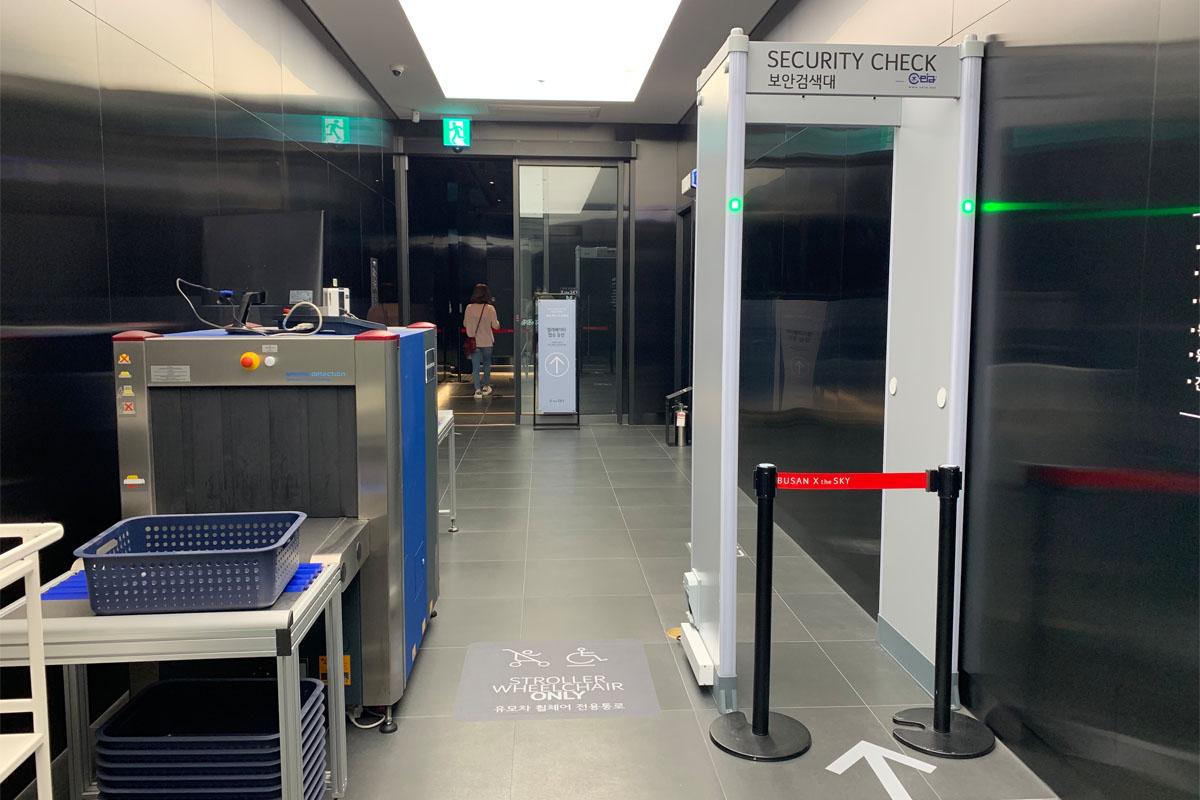 Before getting on the elevator, there is a security checkpoint.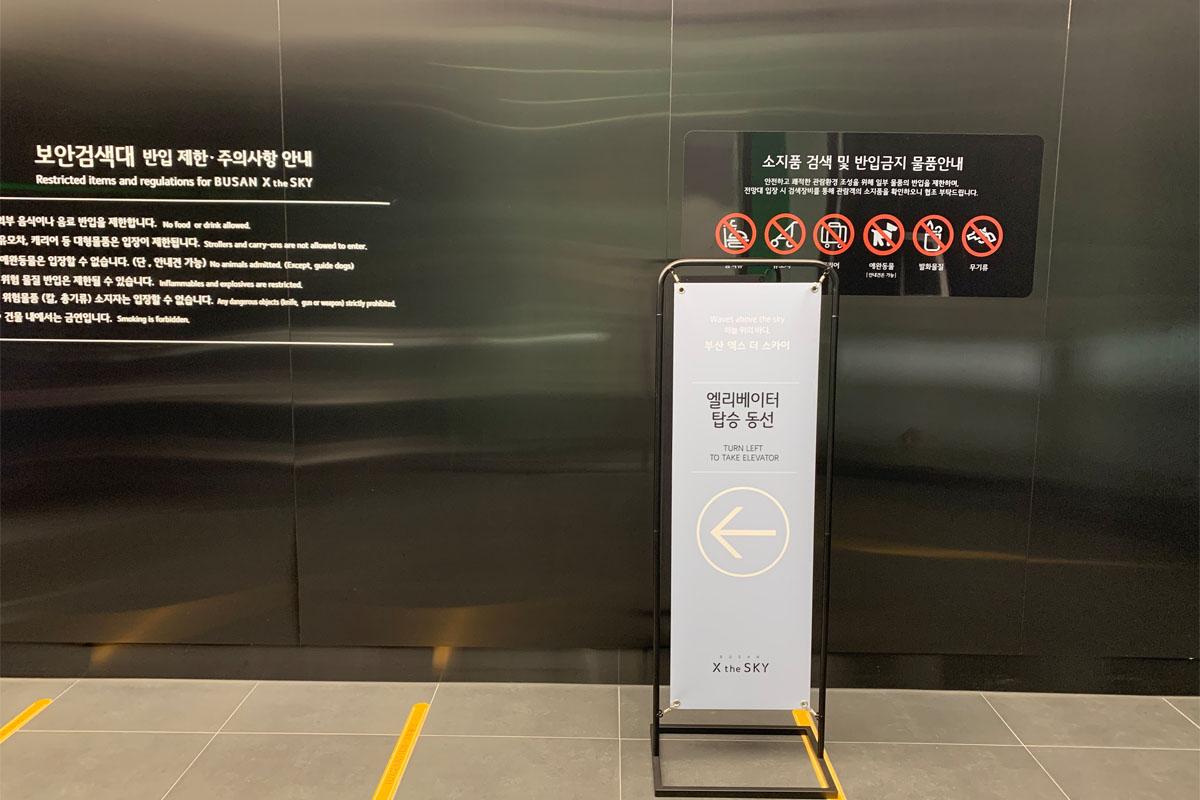 We were ready to go up to the 100th floor!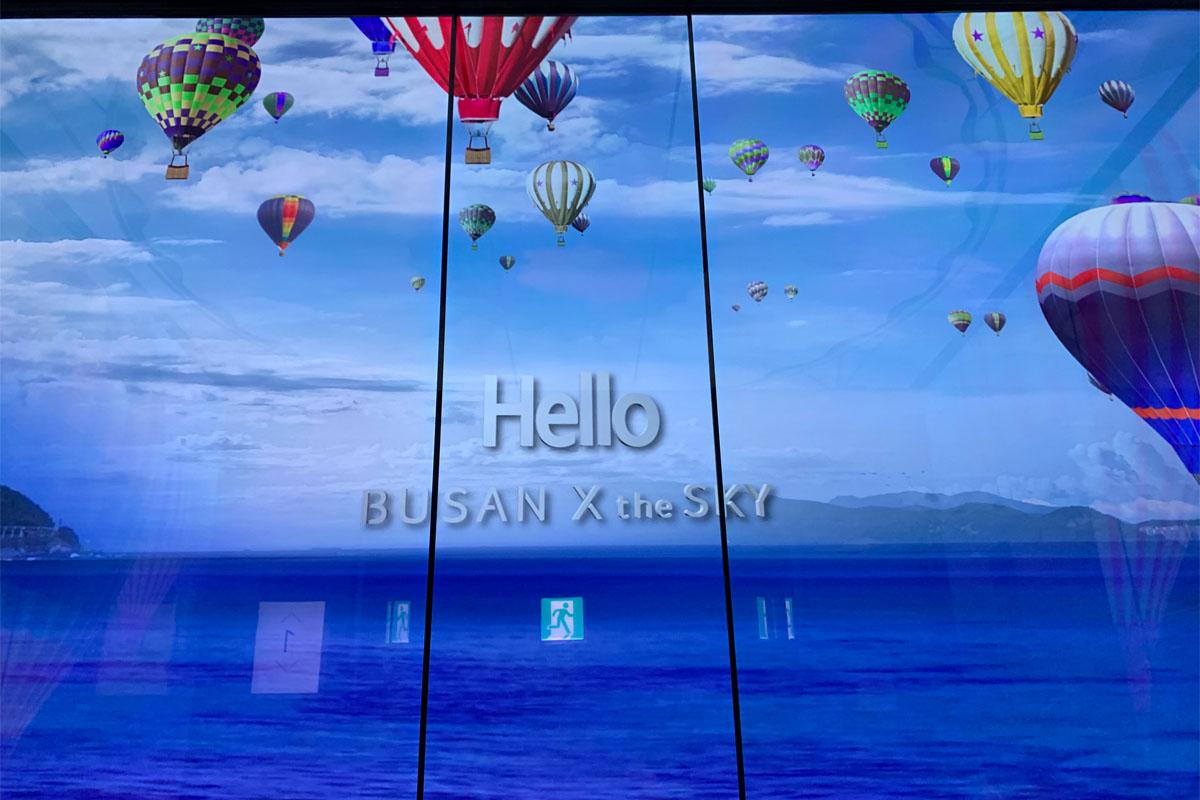 It took 56 seconds to go up to the 100th floor!
Because we went up so high so quickly, our ears popped a bit.
There were no windows in the elevator.
Instead, there was a video that we could watch.
The video for when you go up is different from the one for when you go down.
Be sure to enjoy both of these videos!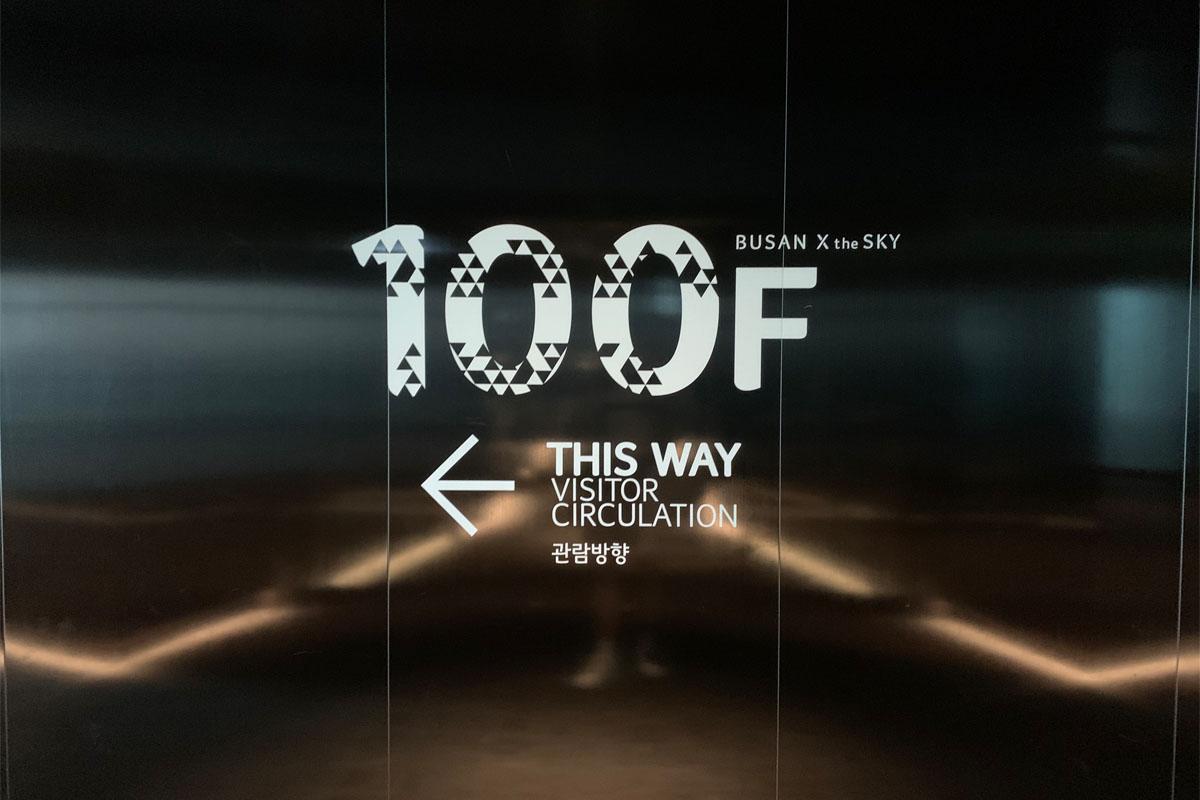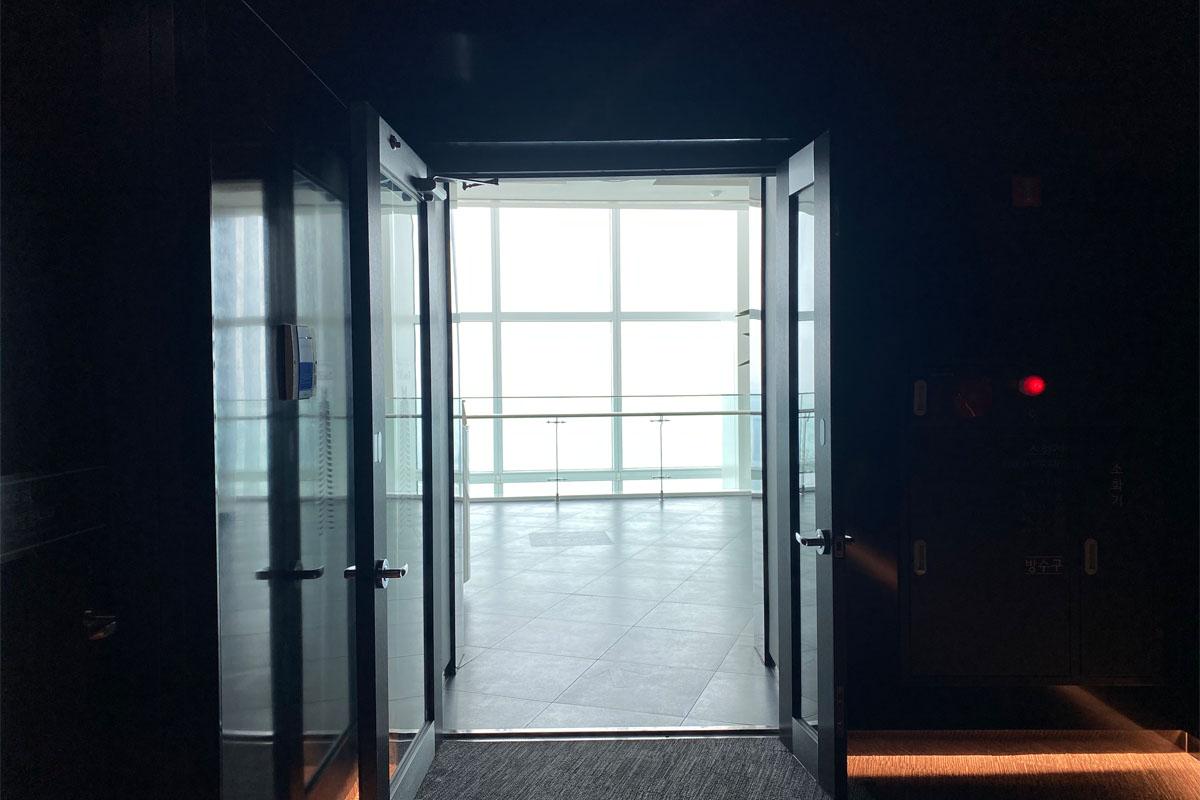 We made it to the 100th floor!
And the view from BUSAN X the SKY looked like this.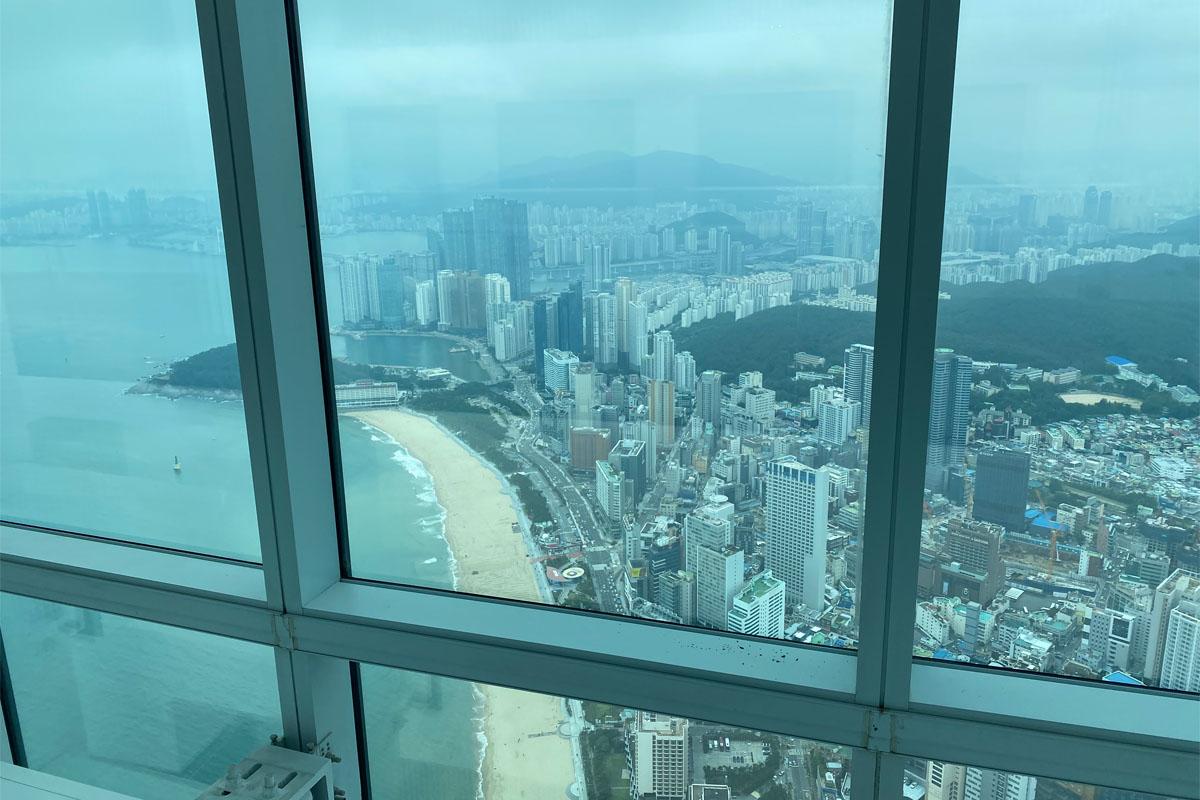 Isn't the view breathtaking?
The beach, the ocean, the mountains, the buildings, it all looked so amazing!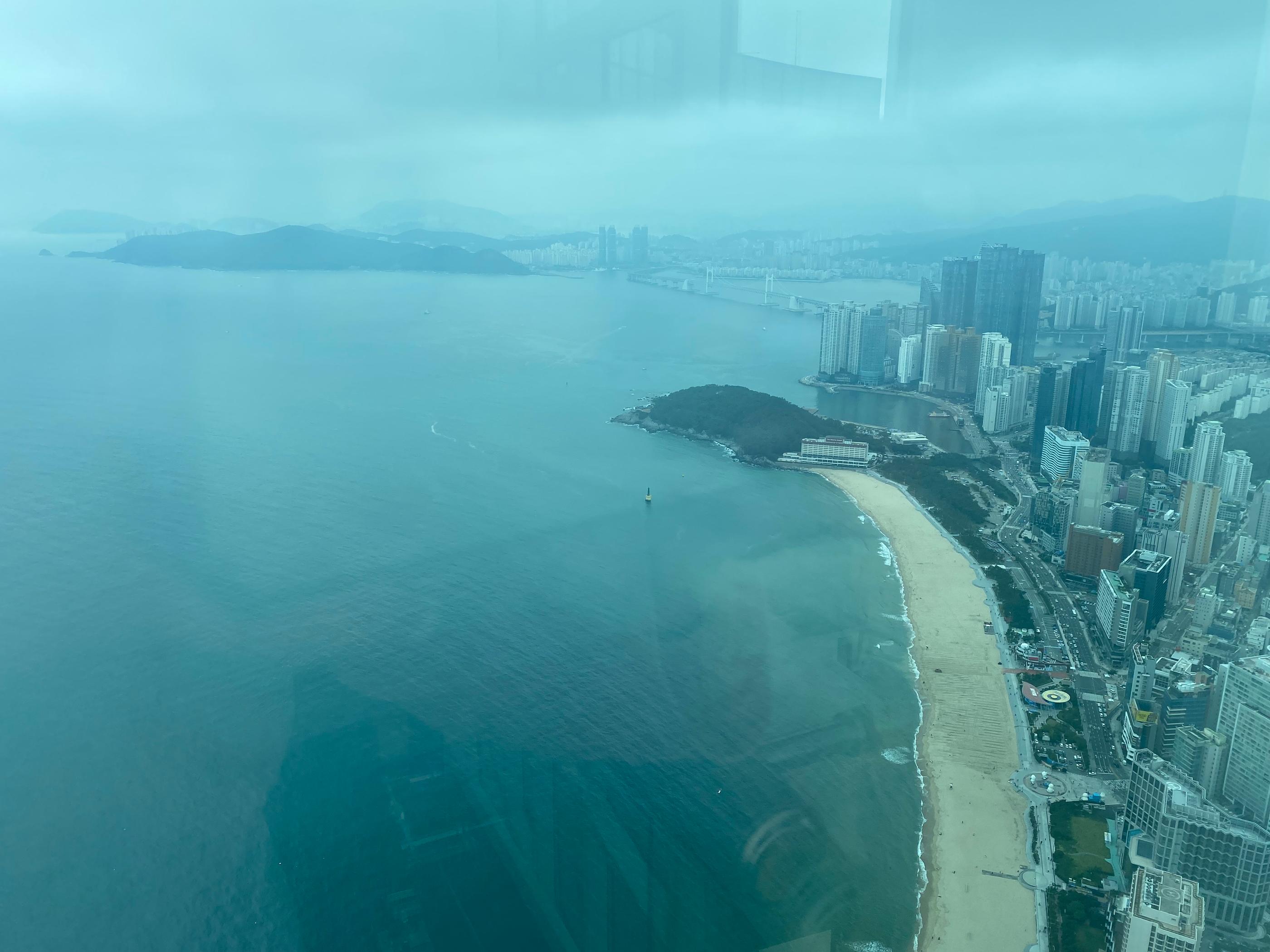 Even though the weather wasn't as nice, the view still looked spectacular.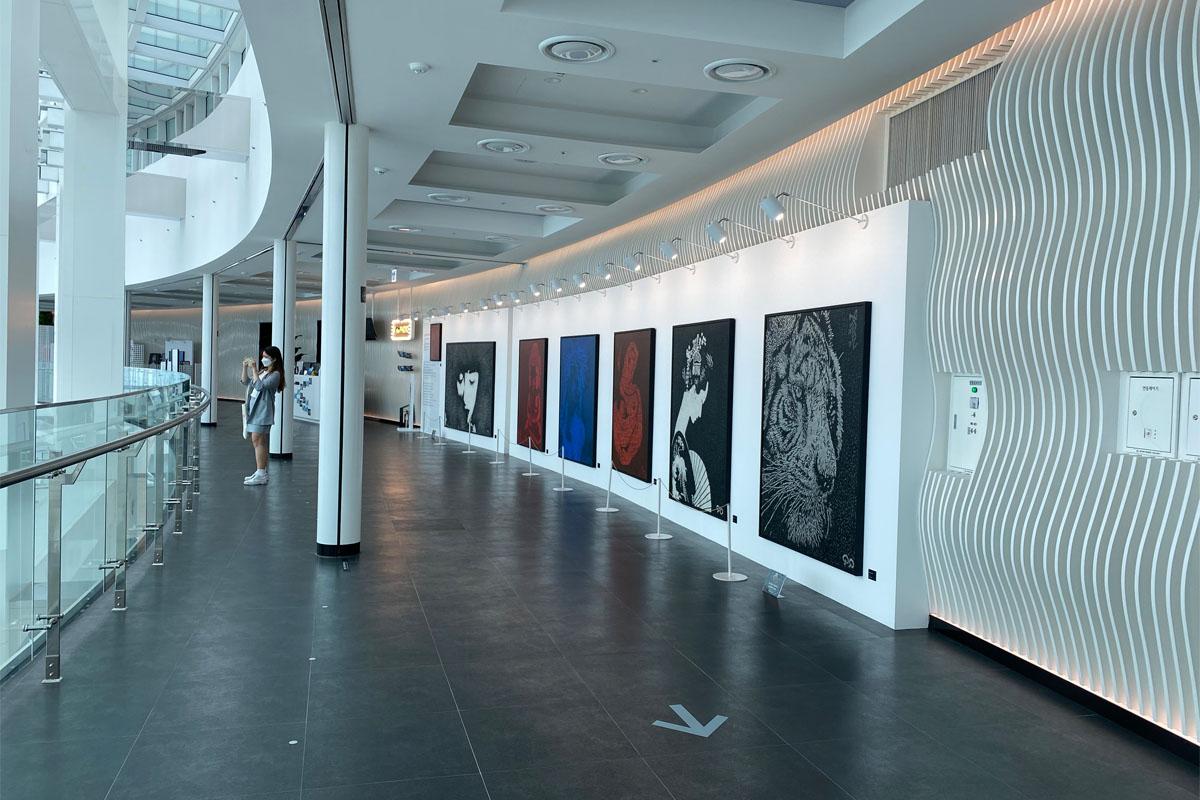 The observation deck was very spacious and decorated with various paintings.
This area almost felt like an exhibition space.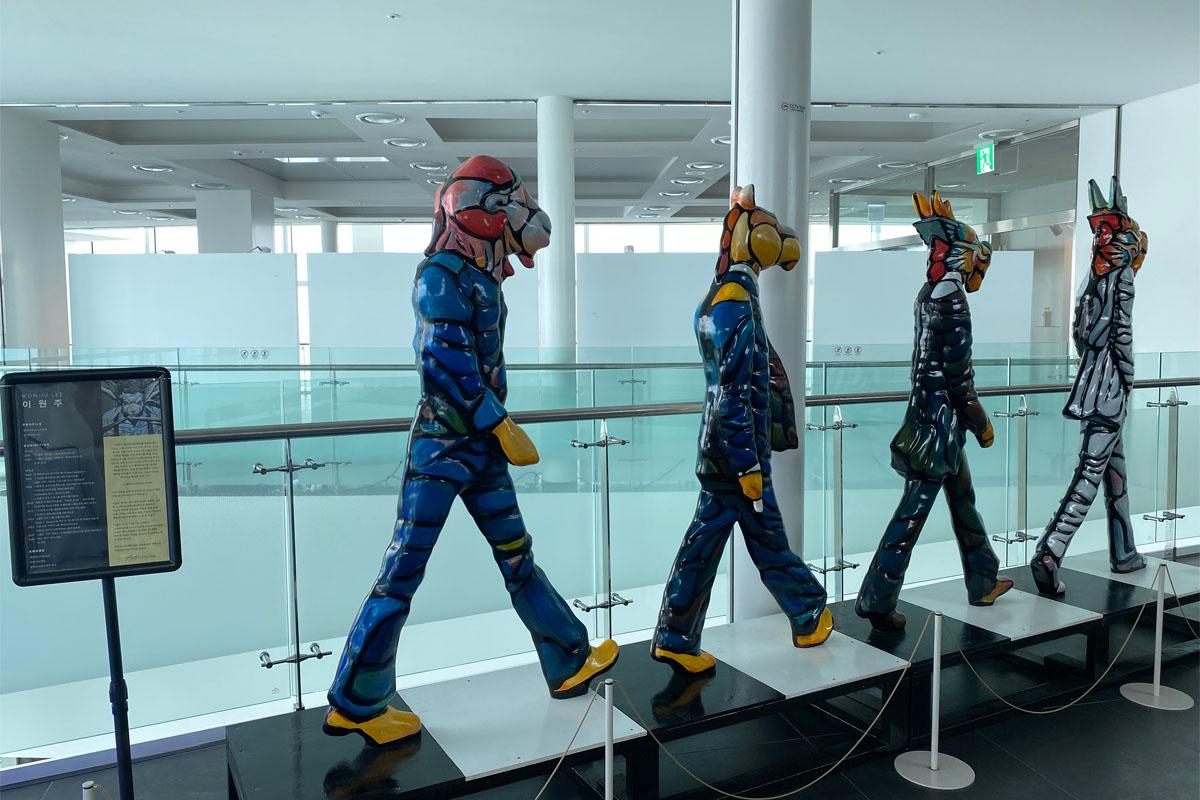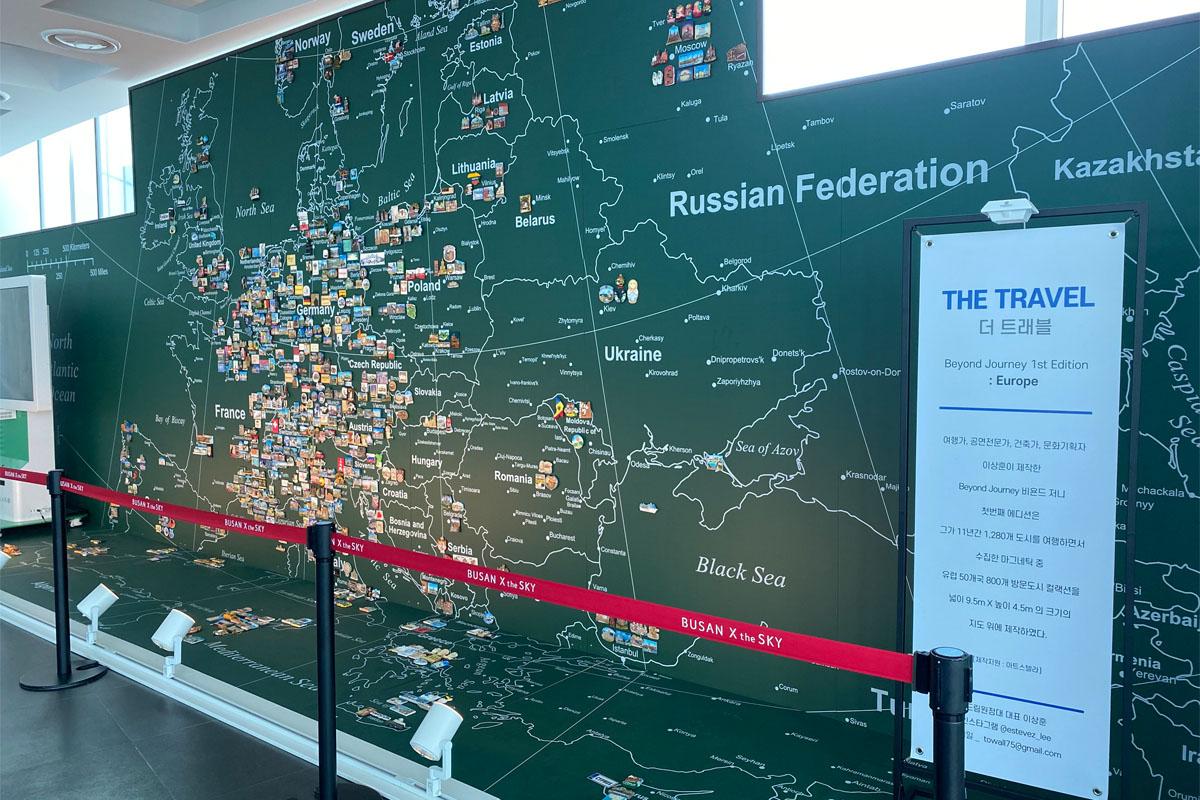 There was a lot to explore on the observation deck.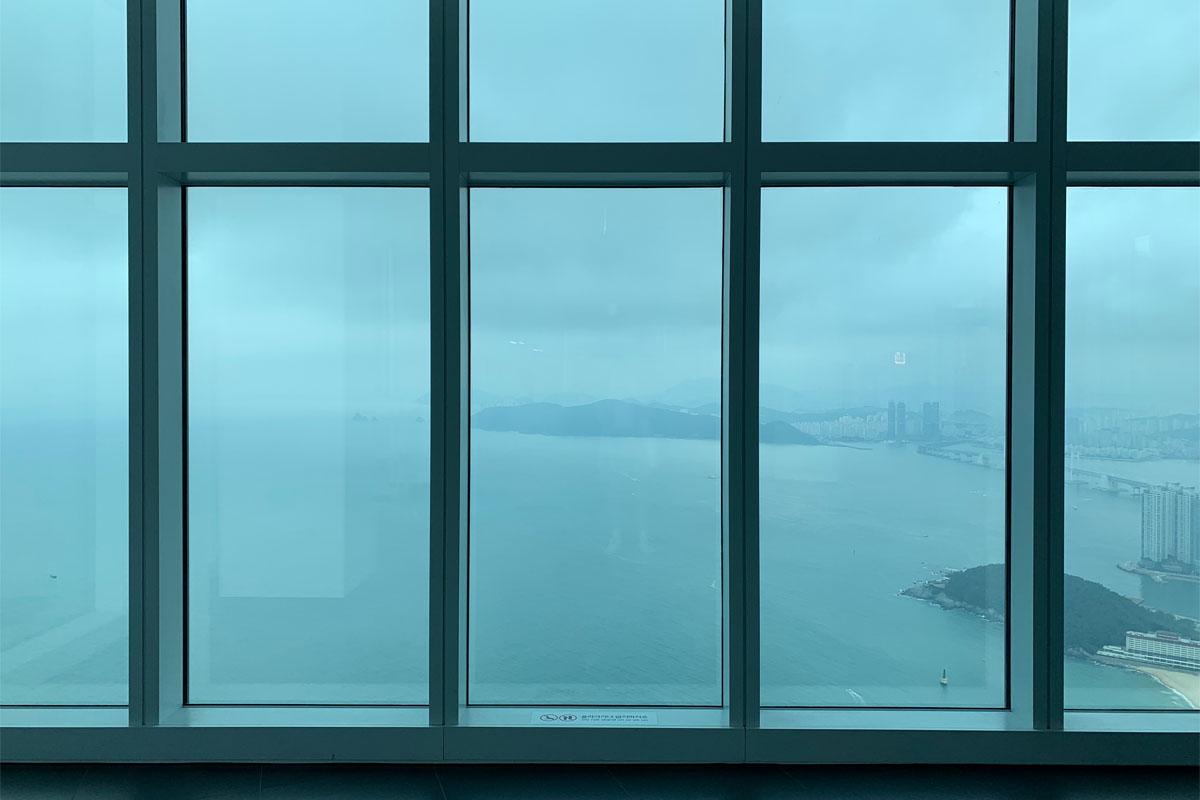 We kept coming back to this view though!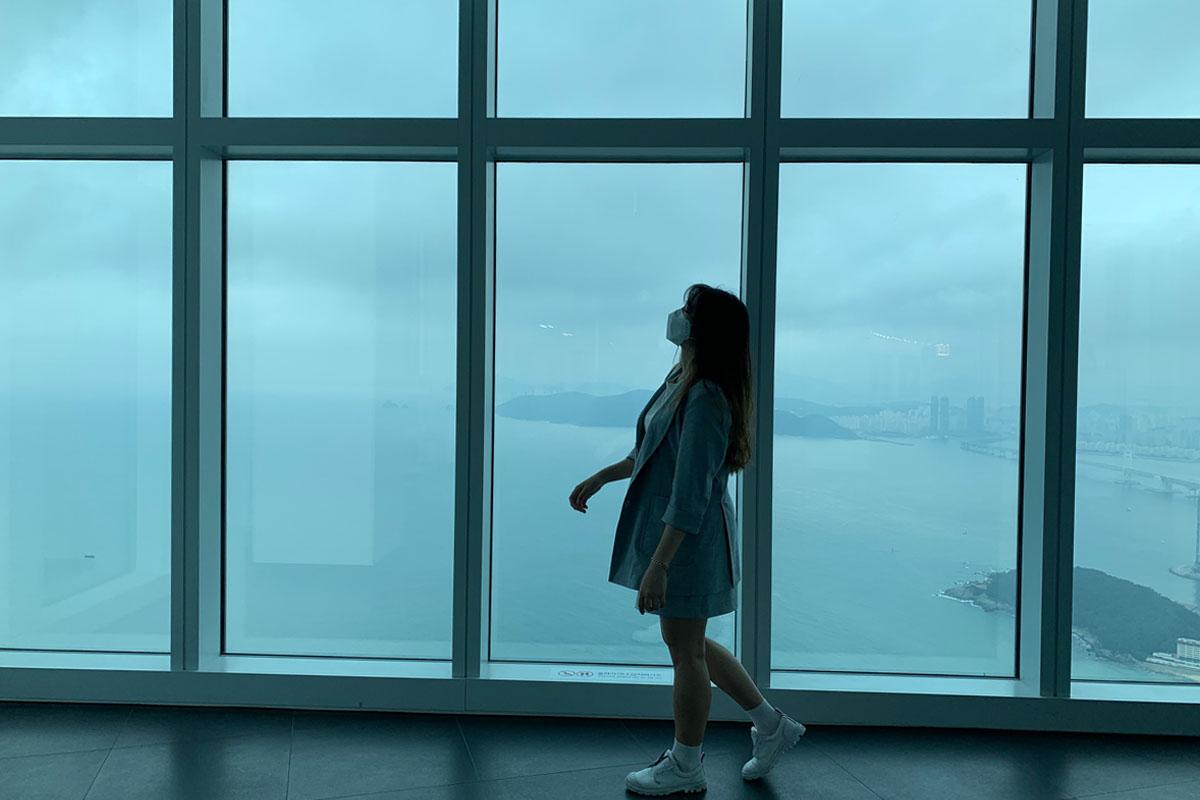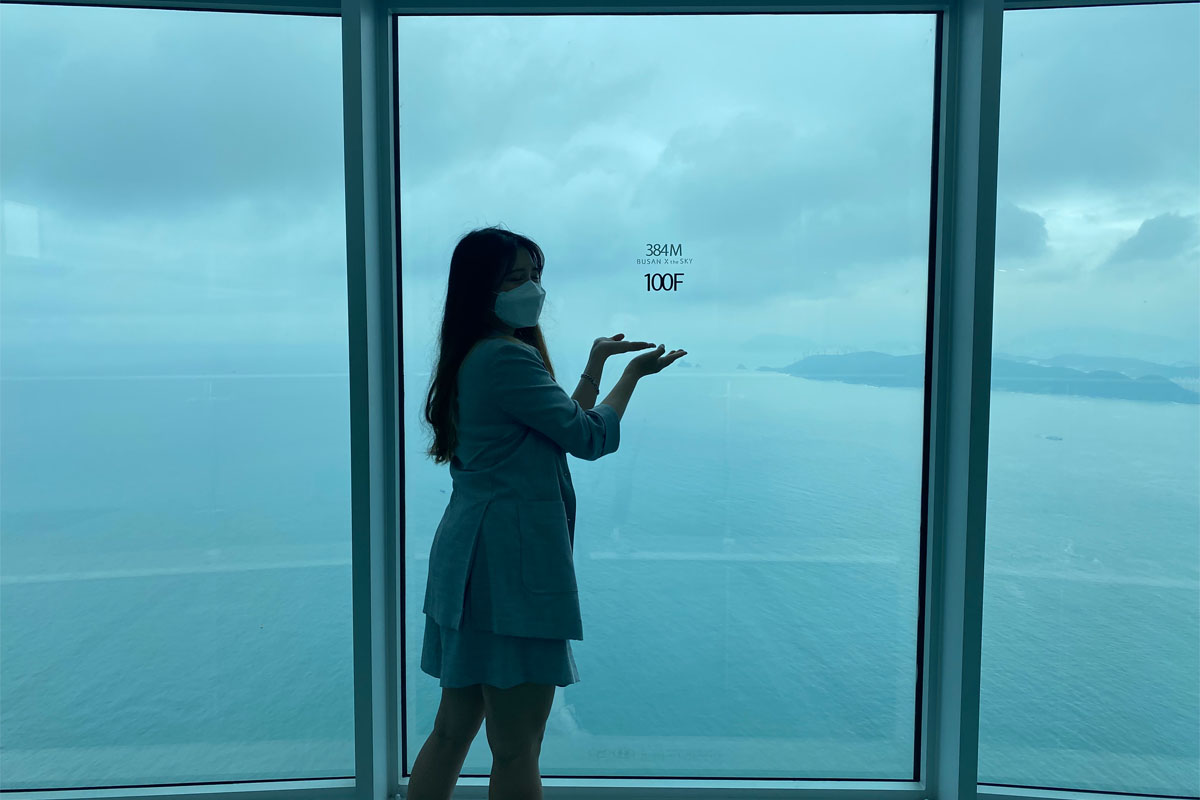 We thought it would be really pretty to take photos in front of the glass like this.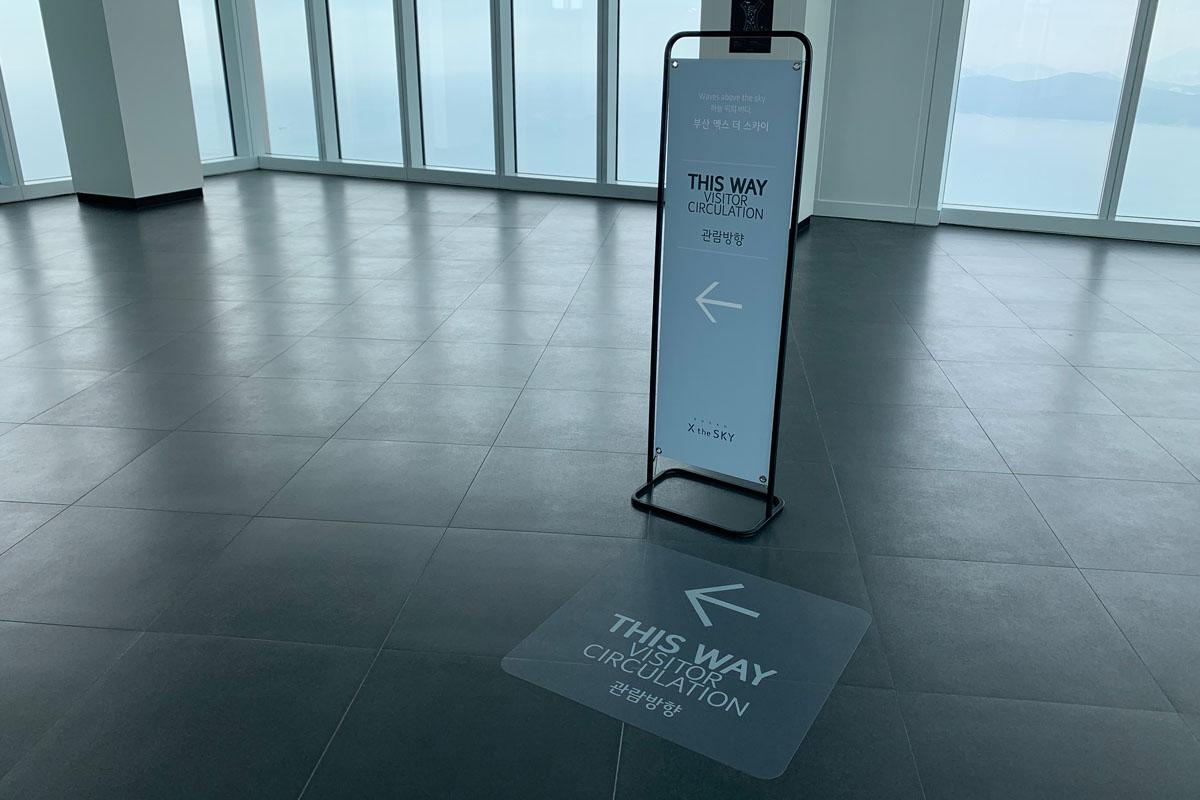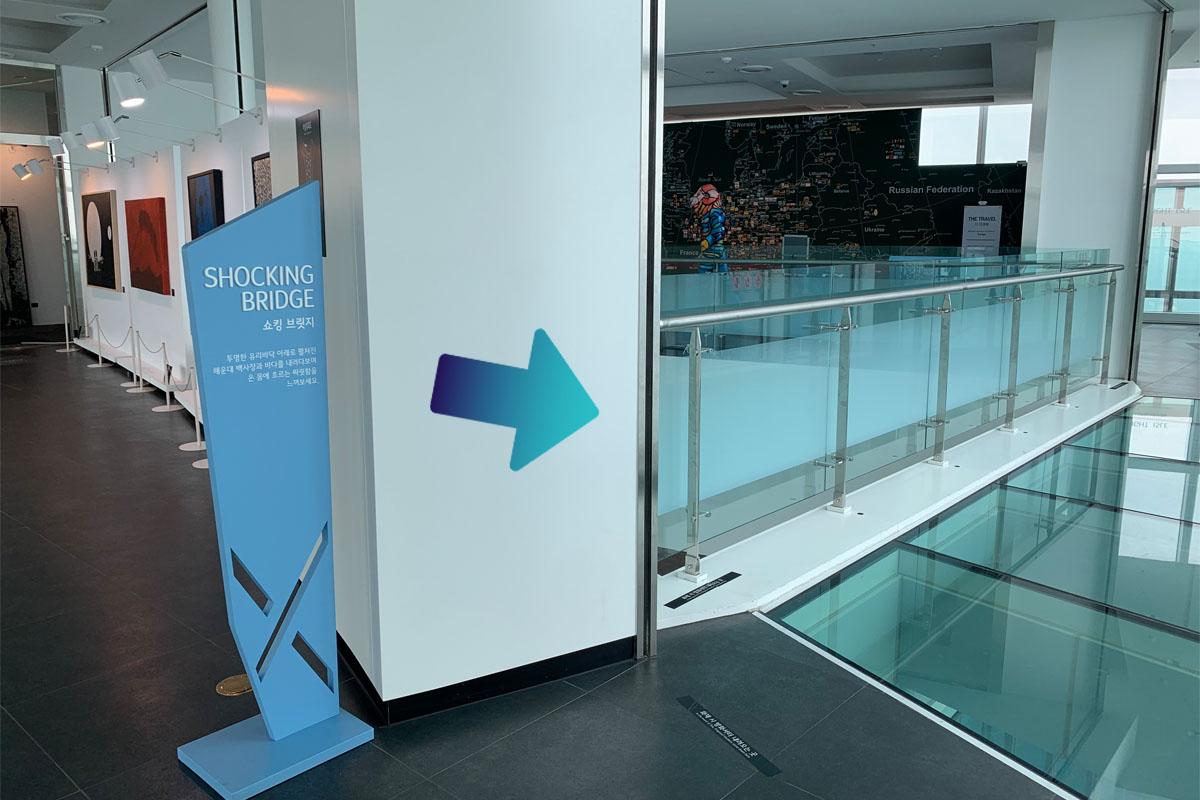 After enjoying the view from the observation deck, we saw signs for the Shocking Bridge.
We wanted to see what this was about.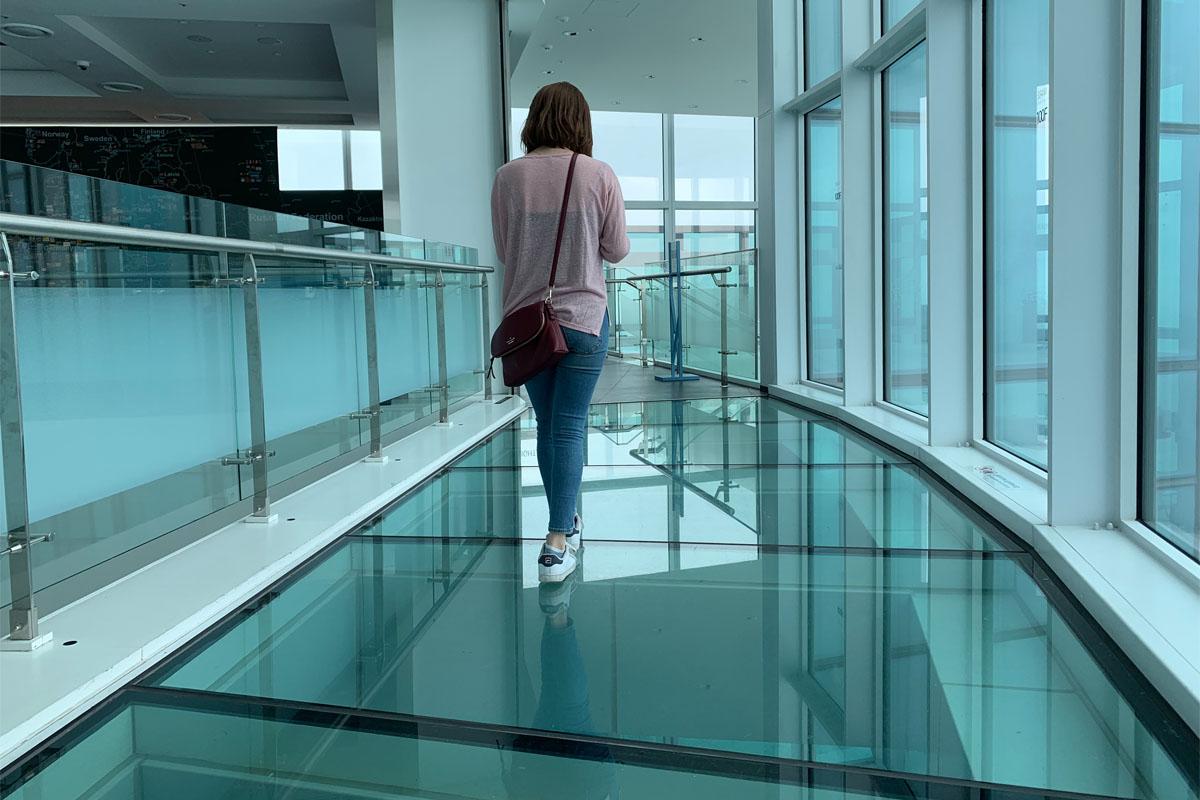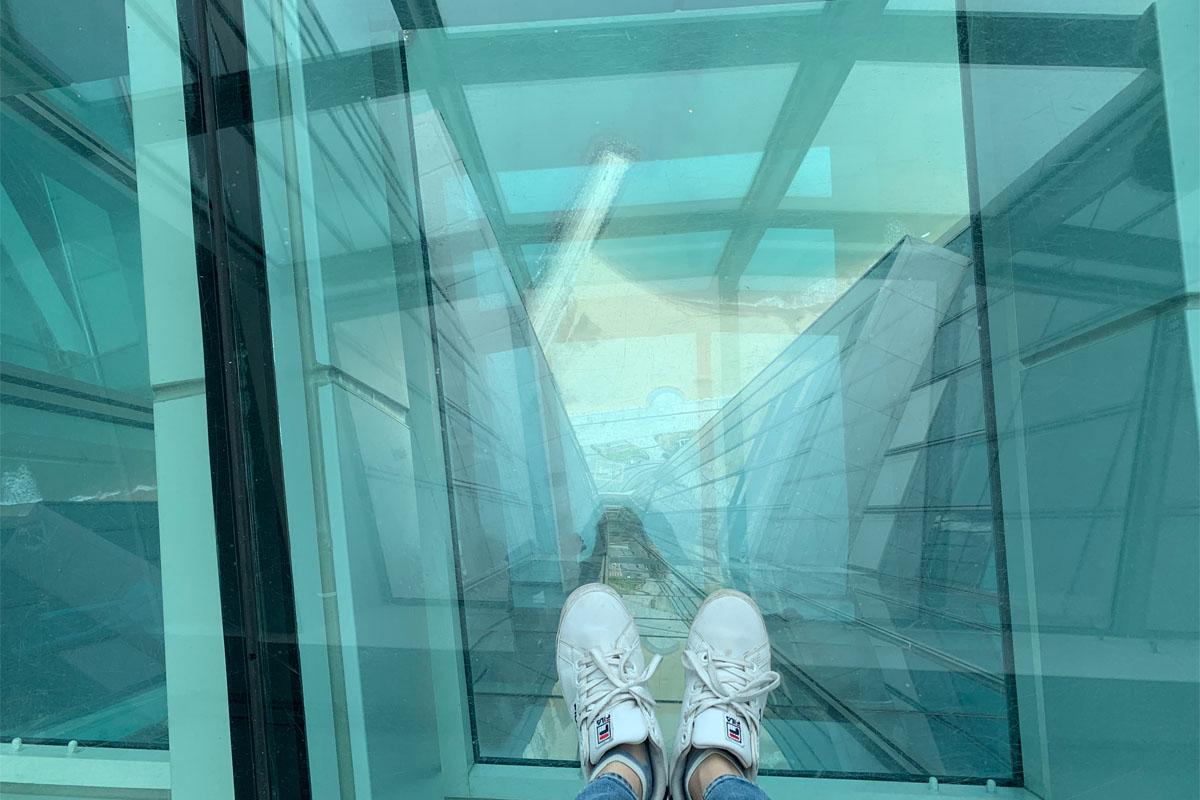 This was a bridge made of glass, so you could see all 100 floors of the way down!
If you're scared of heights, watch out for this!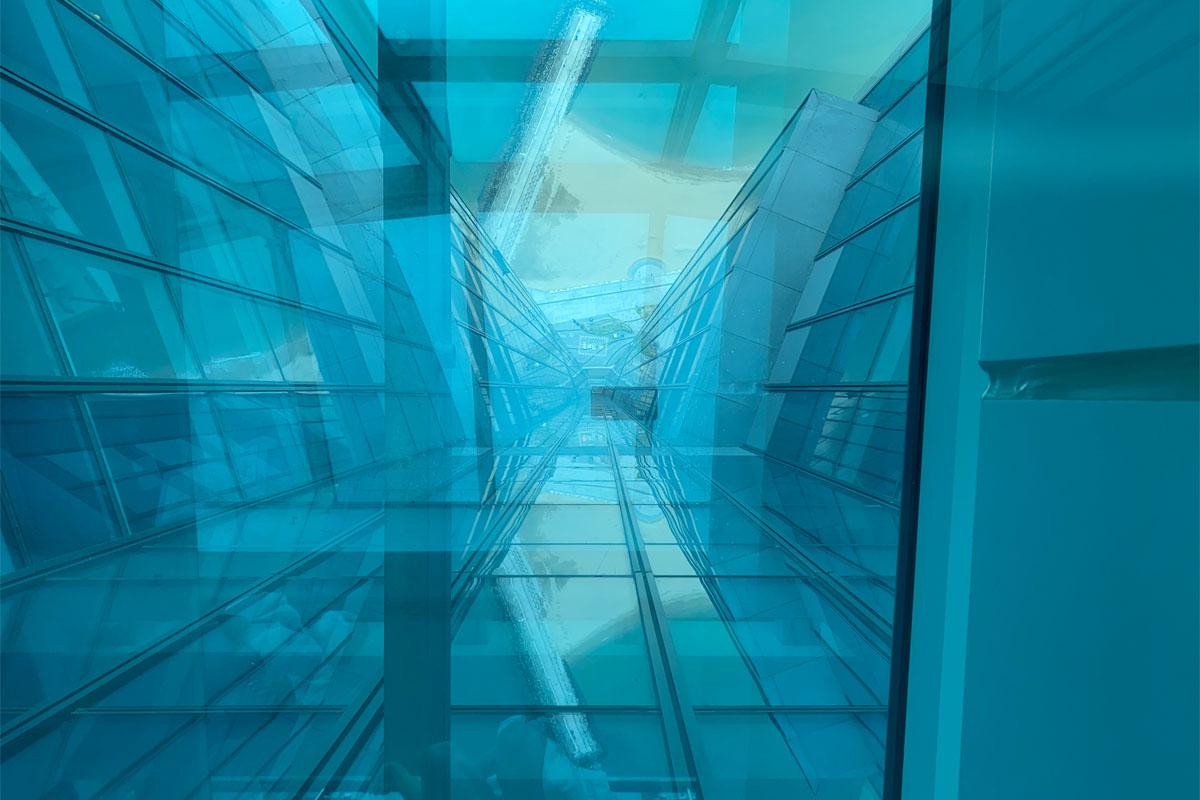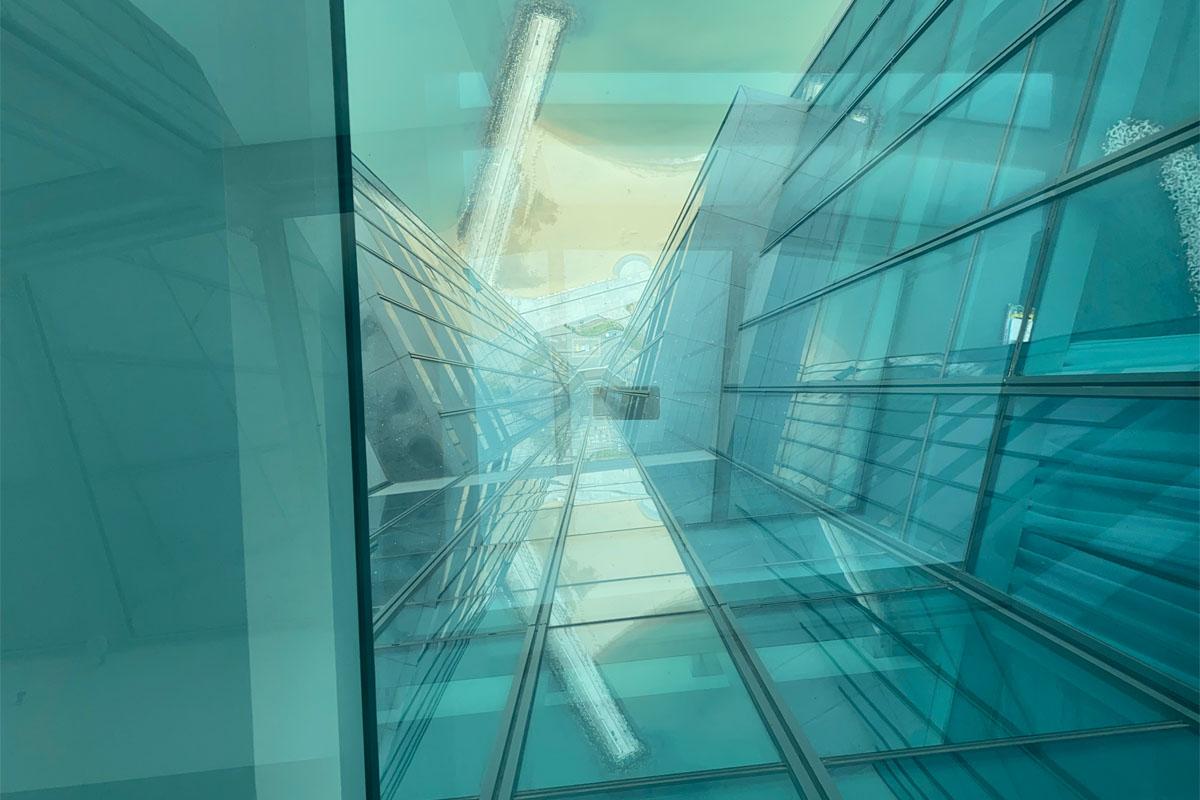 Even though it was a little scary at first, we eventually got used to this view and were able to take some amazing pictures.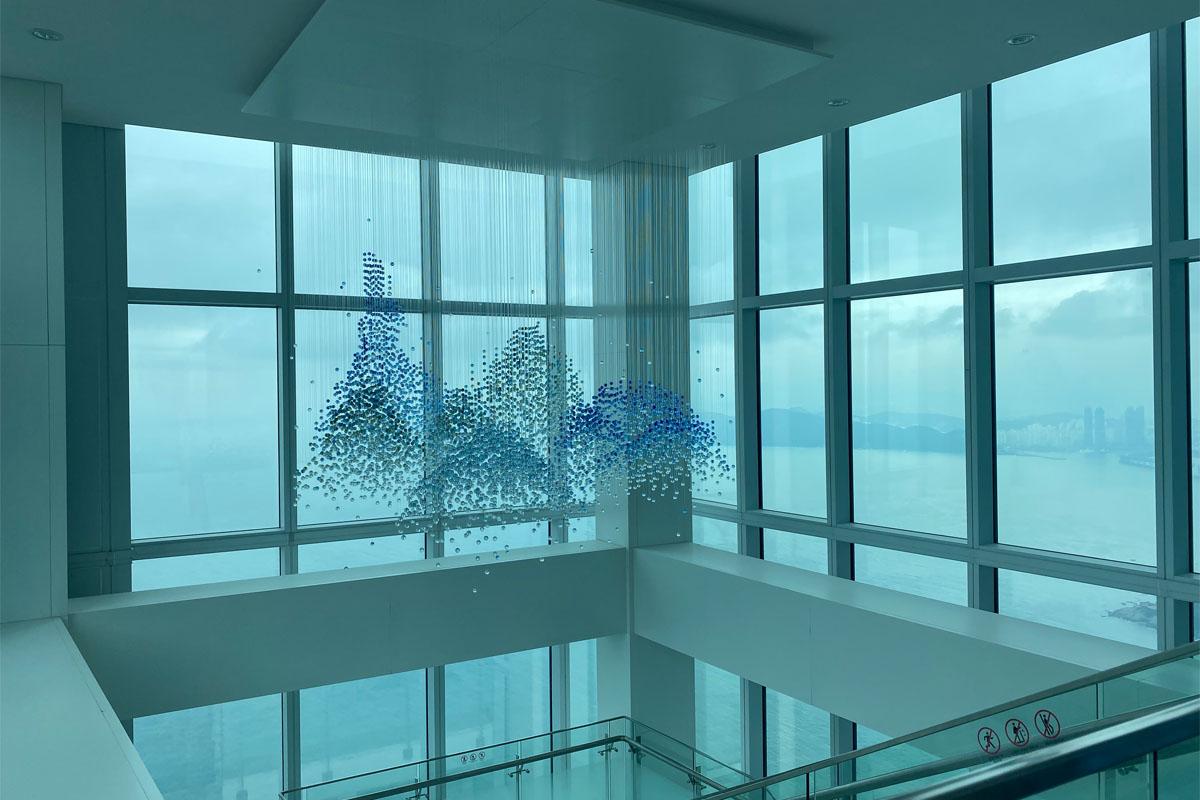 After walking to the end of the Shocking Bridge, you'll find a staircase that leads you downstairs to the 99th floor.
Isn't this art installation beautiful?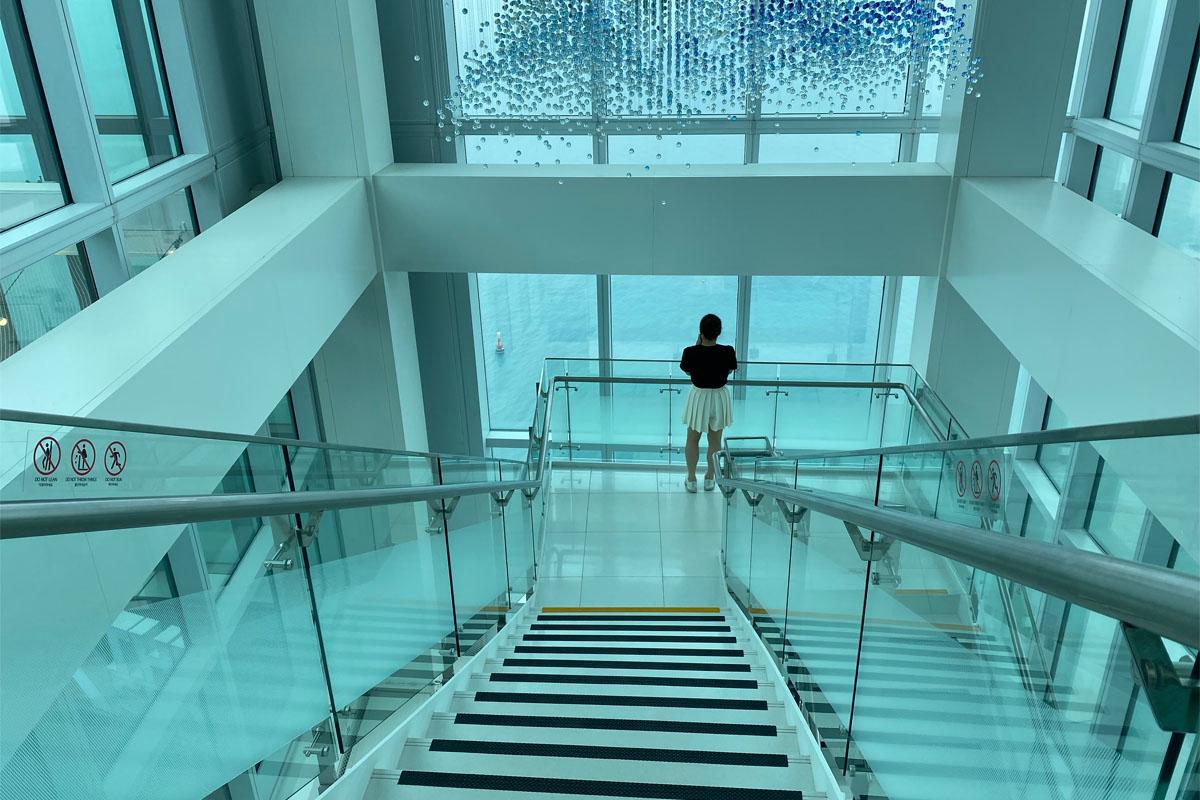 If you go downstairs, you'll find a restaurant, cafes, and the Sky Garden.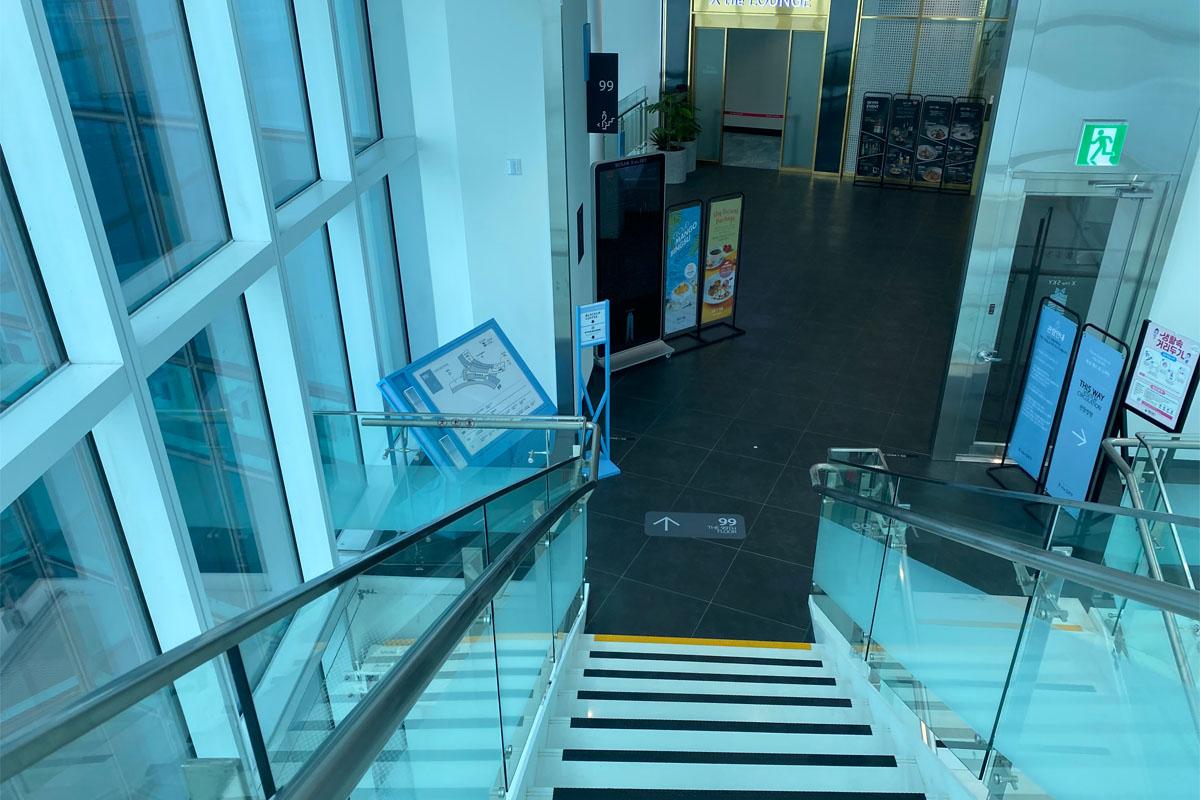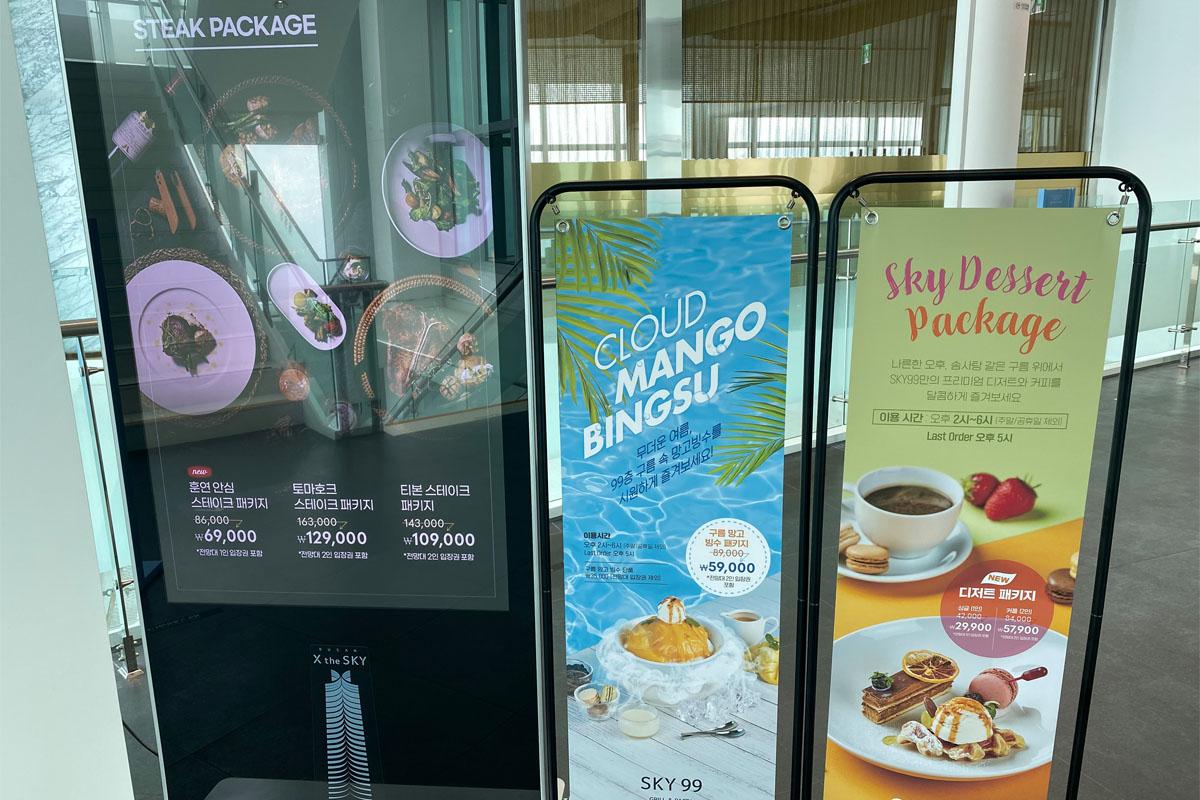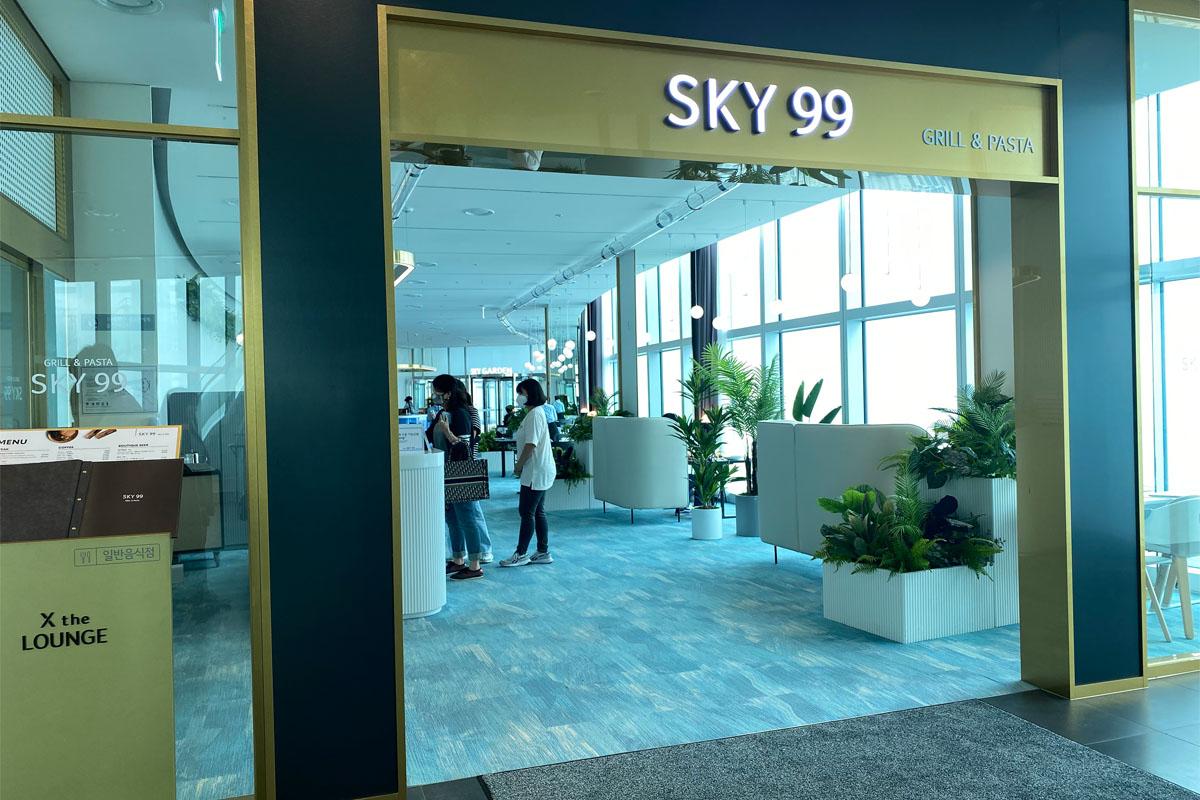 When we went down the stairs, the first thing we saw was a restaurant called X the LOUNGE.
Wouldn't it be so nice to have a delicious meal with such a wonderful view like this?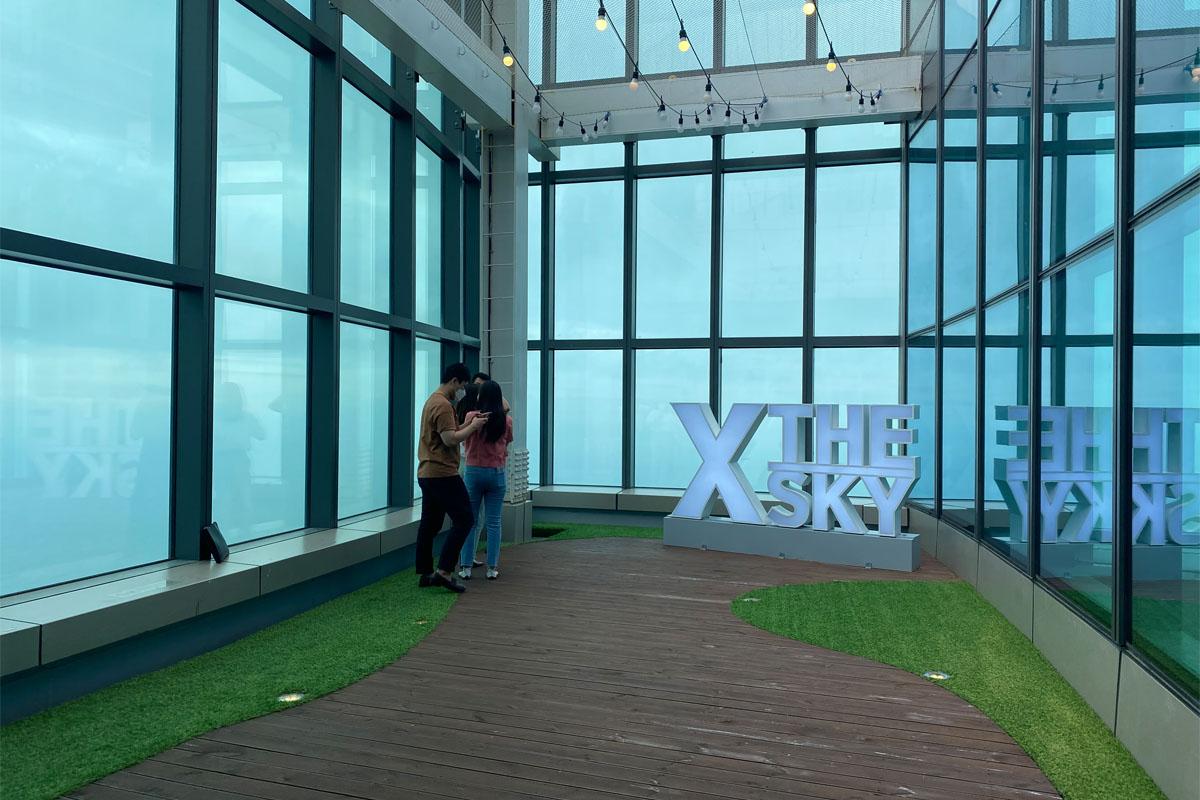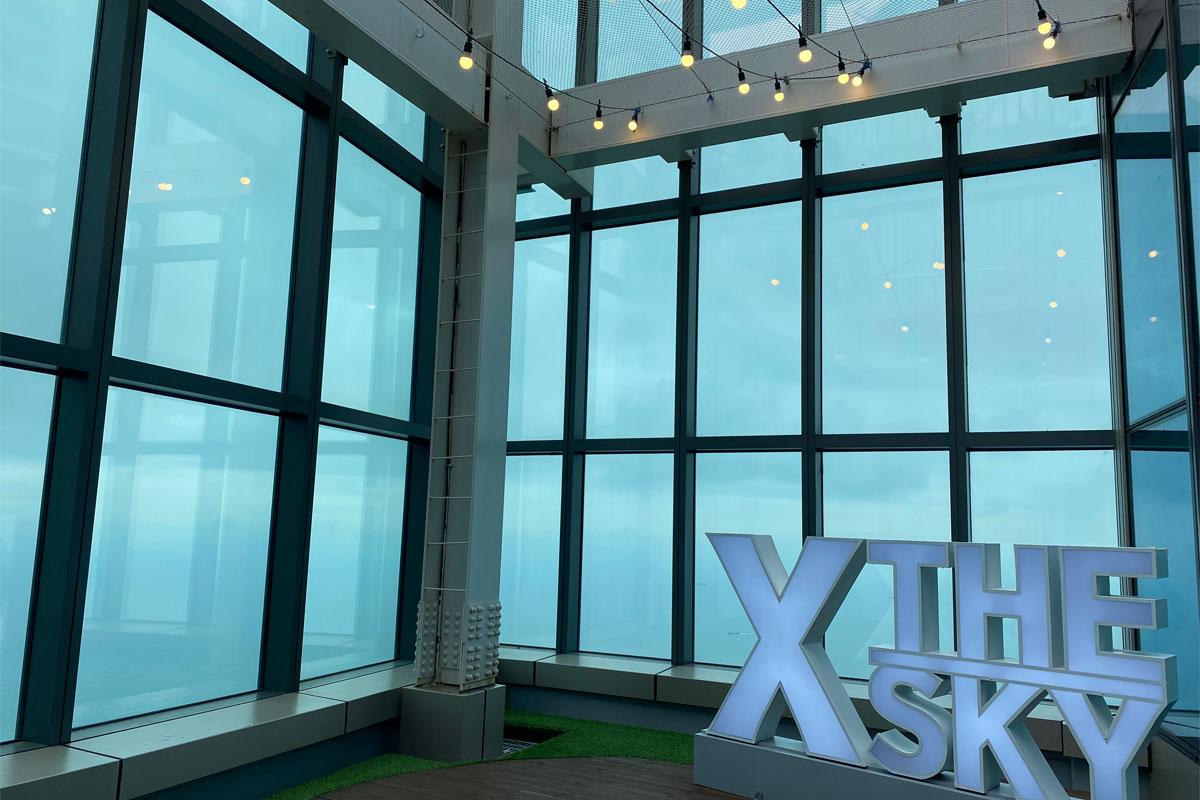 Next to the restaurant was the Sky Garden.
The view from here was also very beautiful.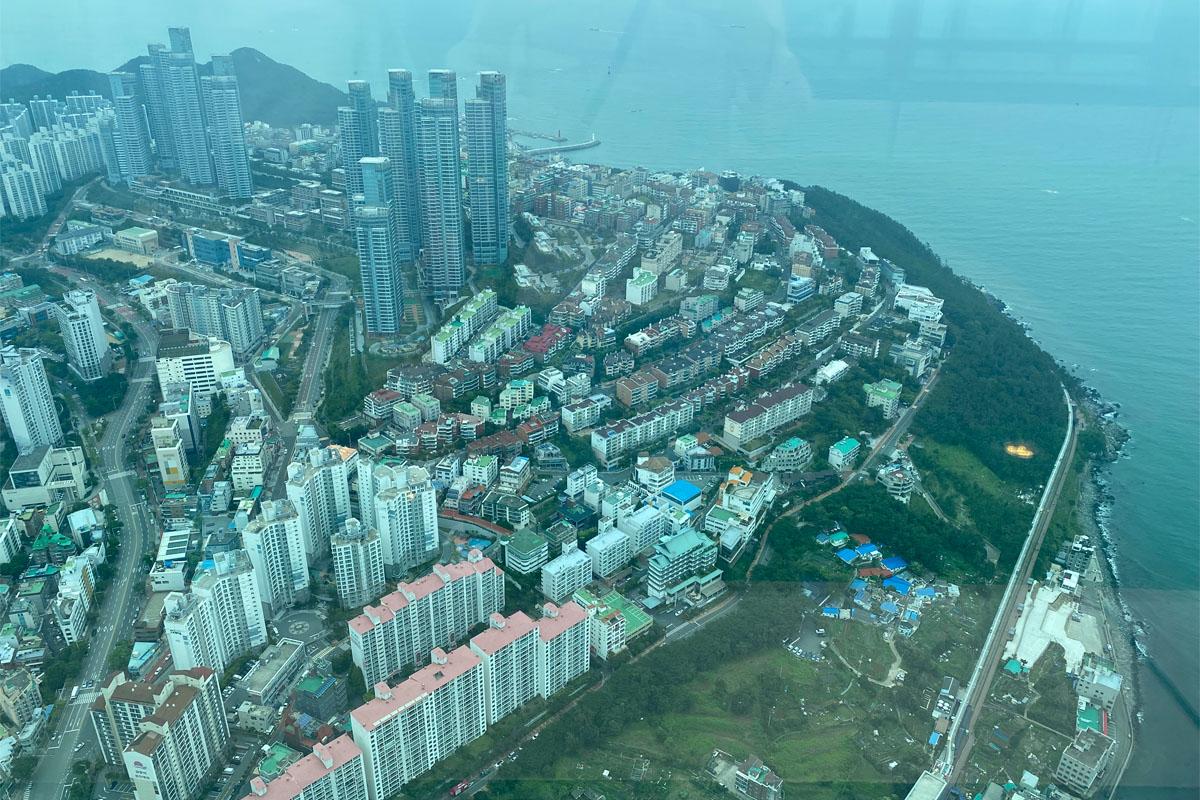 The views of the ocean and the city just went on and on.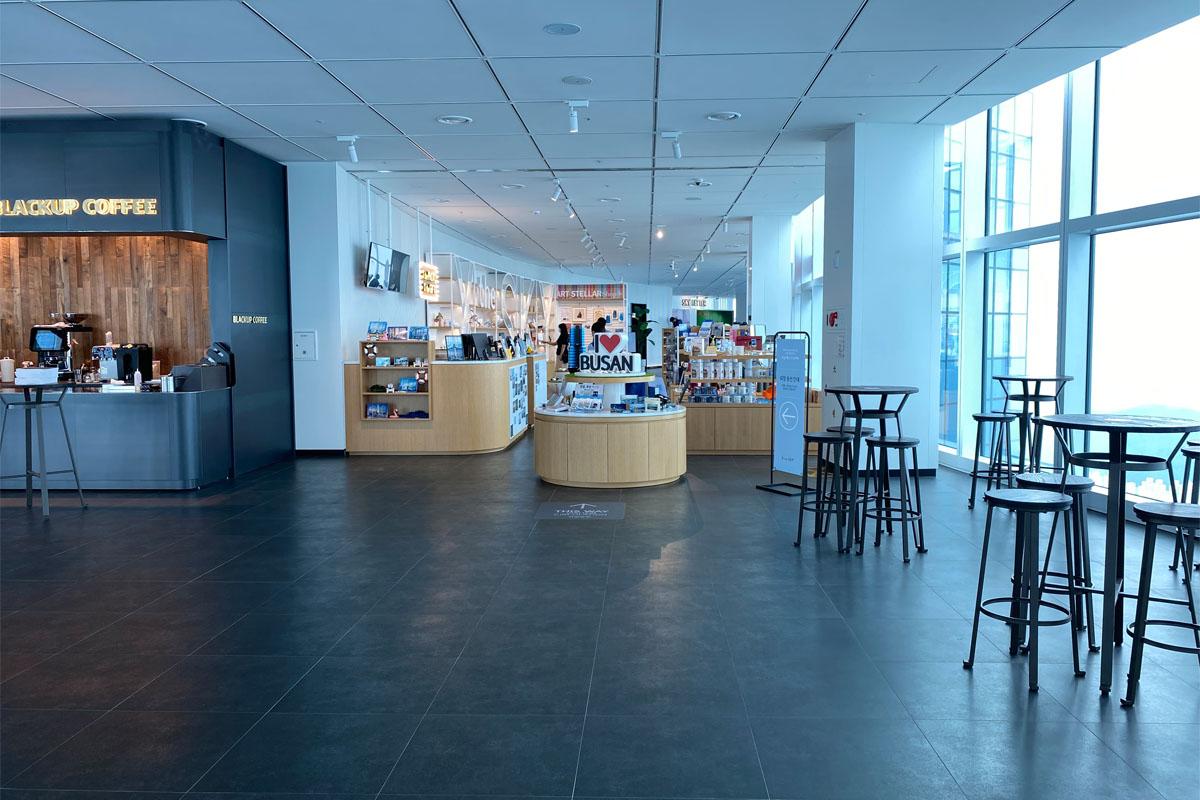 There was a souvenir shop called X the GIFT.
There were also various cafes in this area including a Starbucks.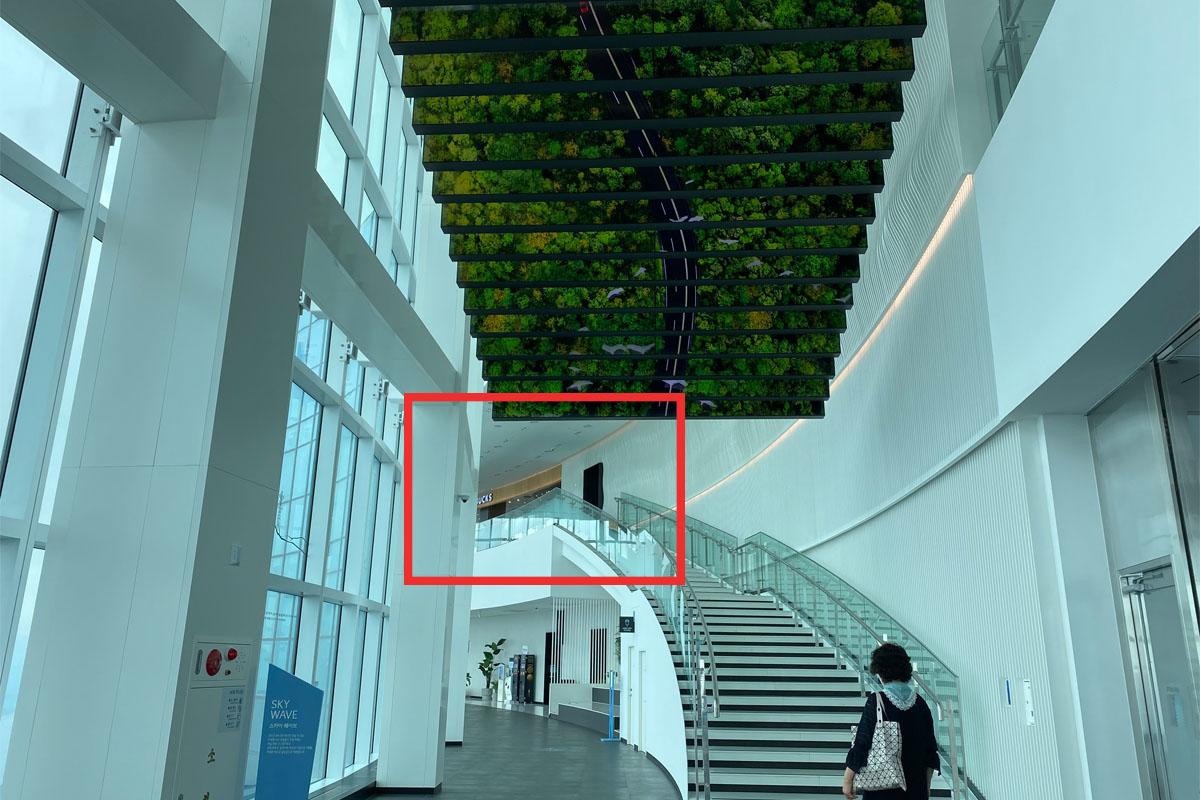 This is where the Starbucks is located.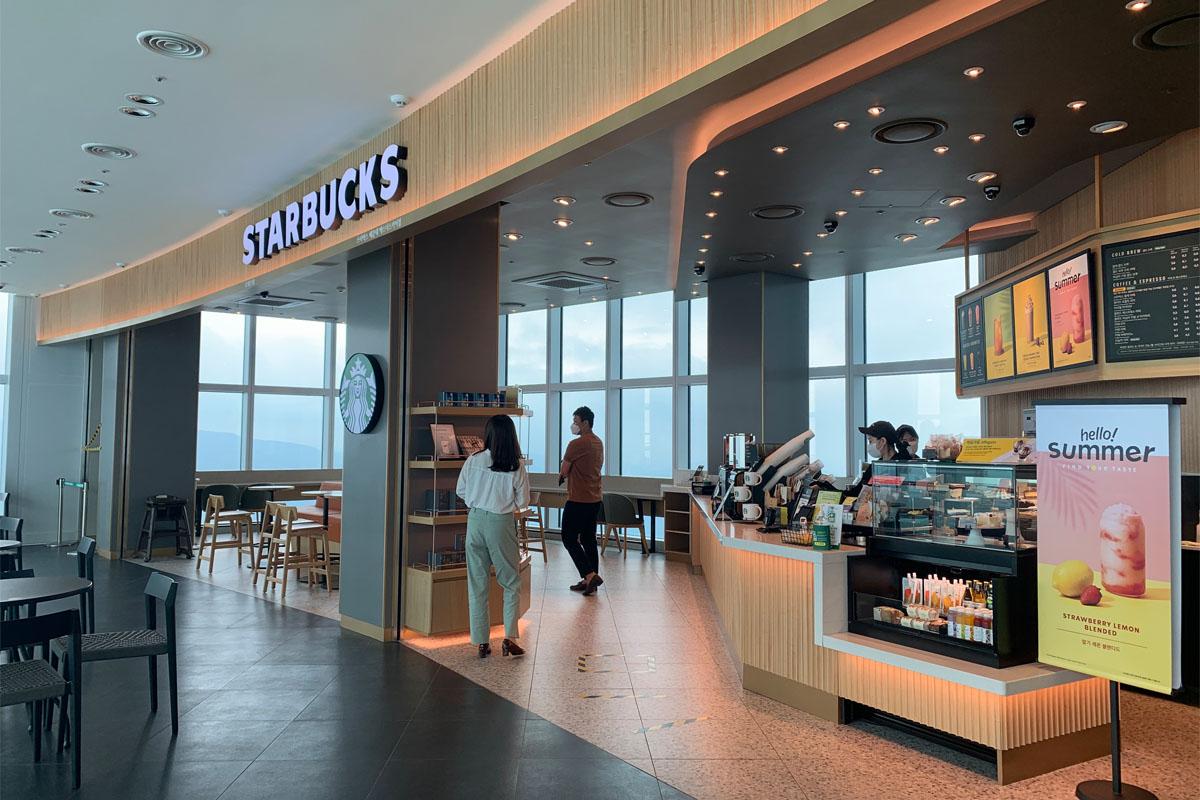 This Starbucks is attracting a lot of attention as the world's highest Starbucks.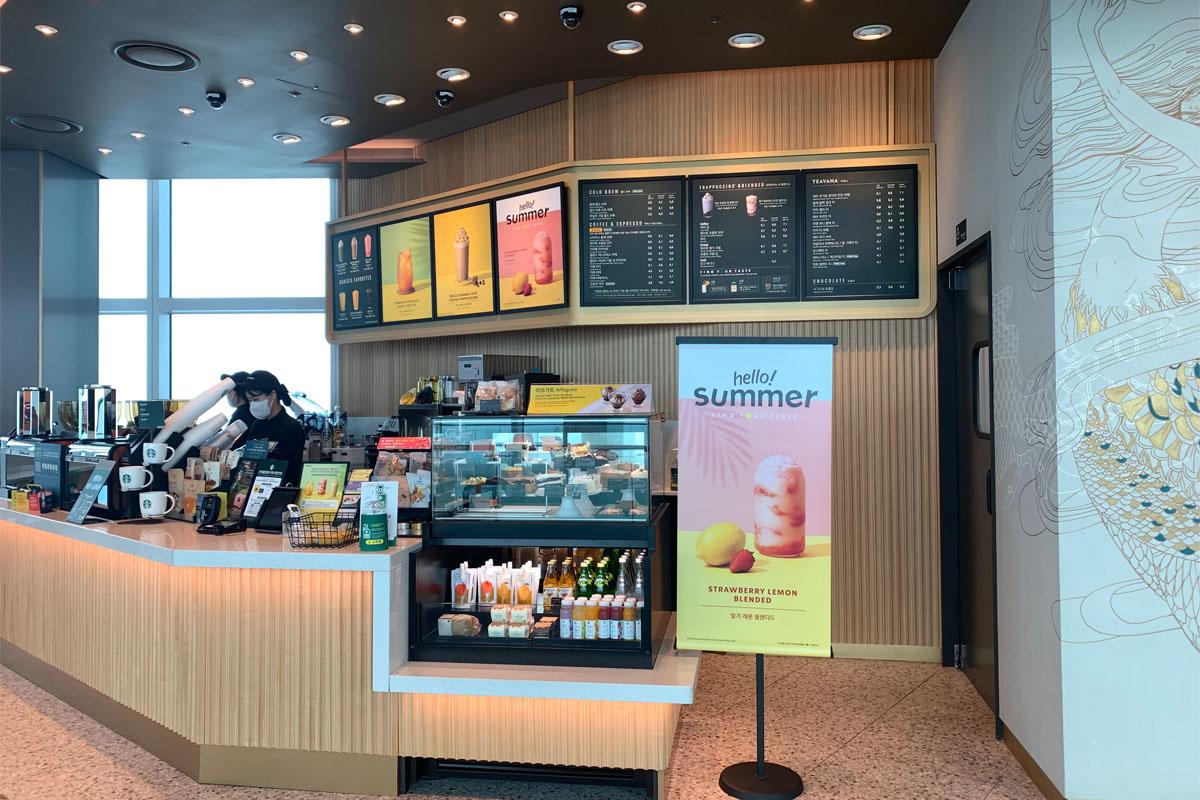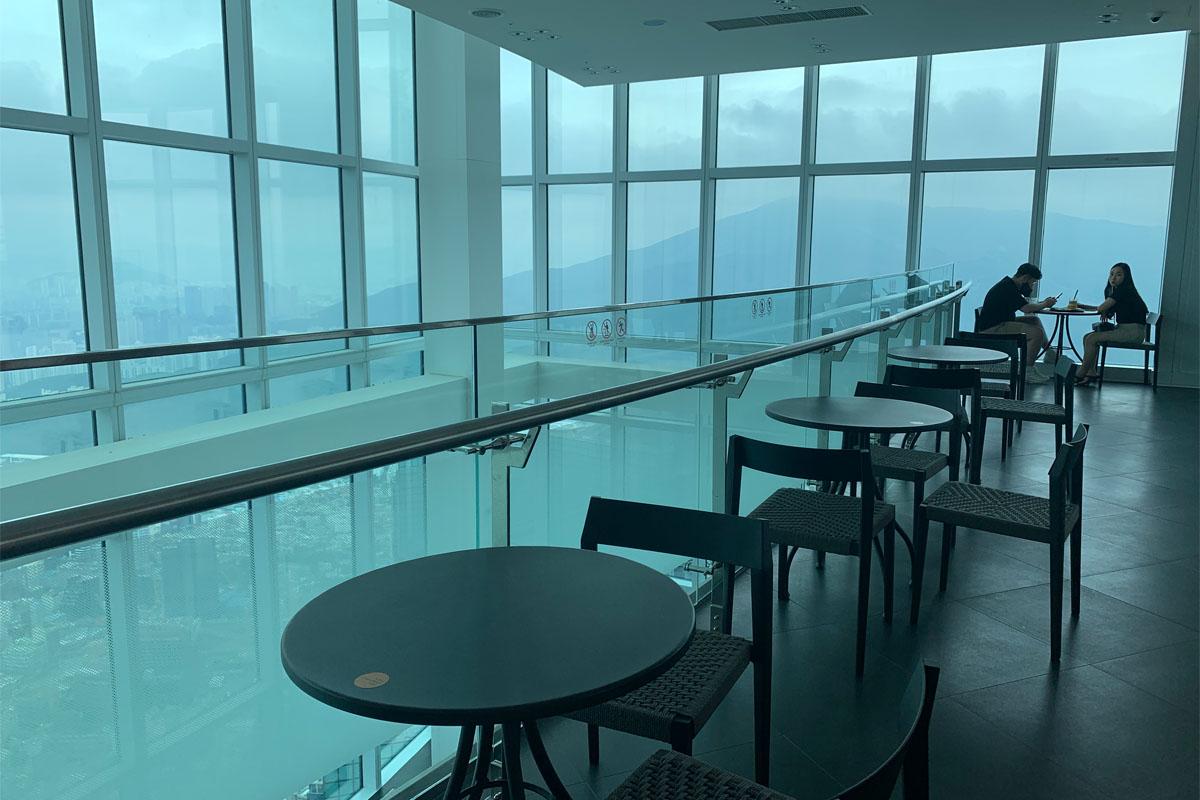 This Starbucks is only available to visitors of X the SKY.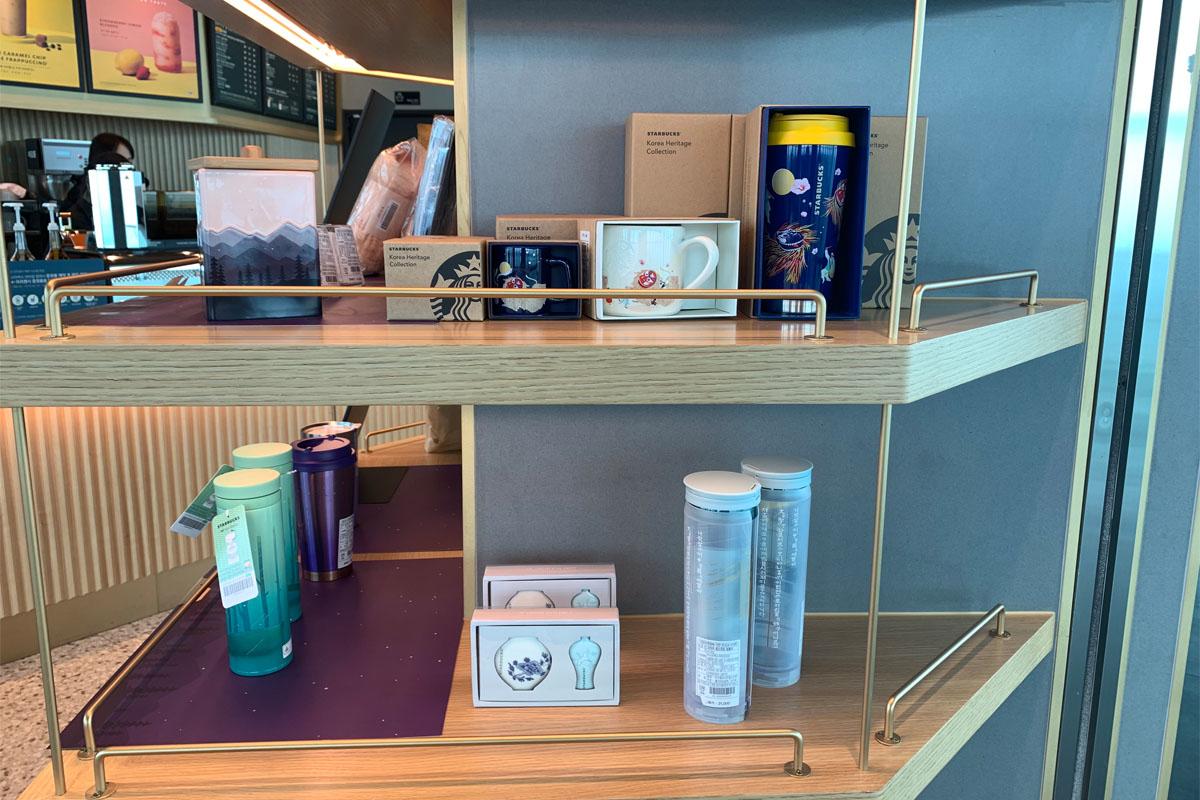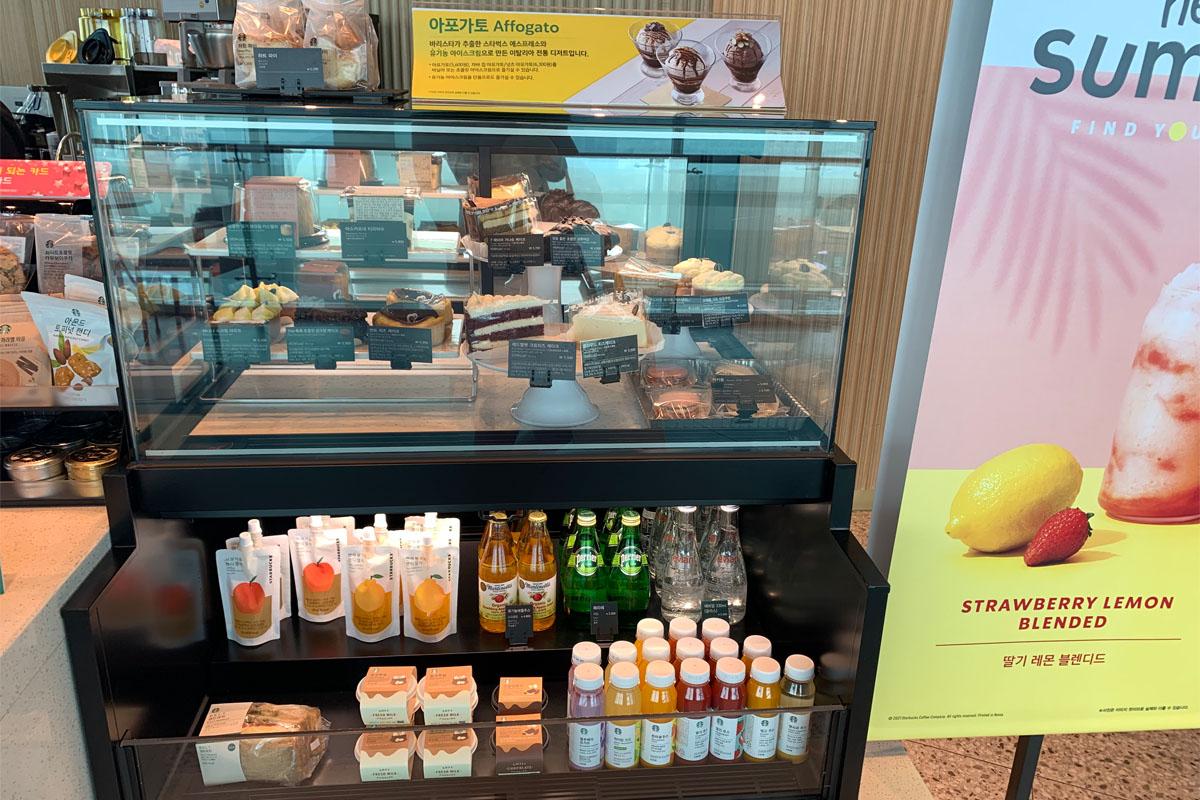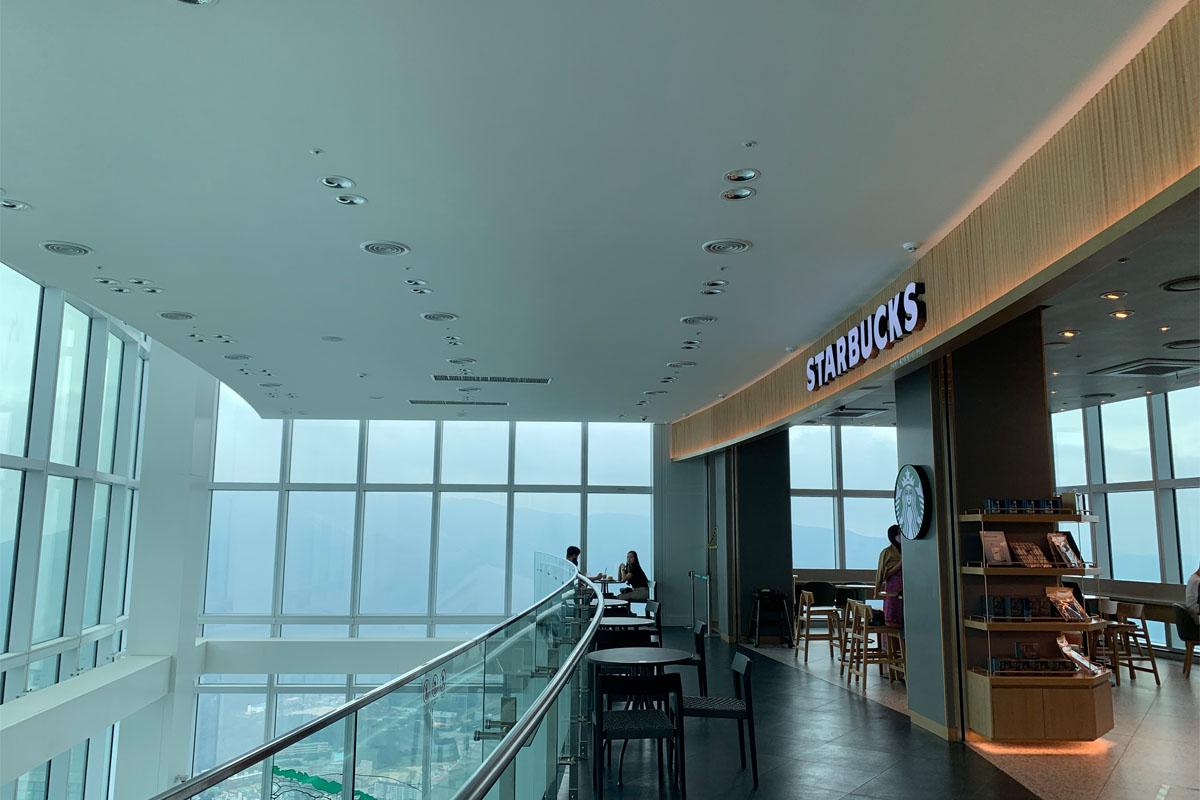 We thought it'd be really lovely to enjoy a drink here and look out at the view.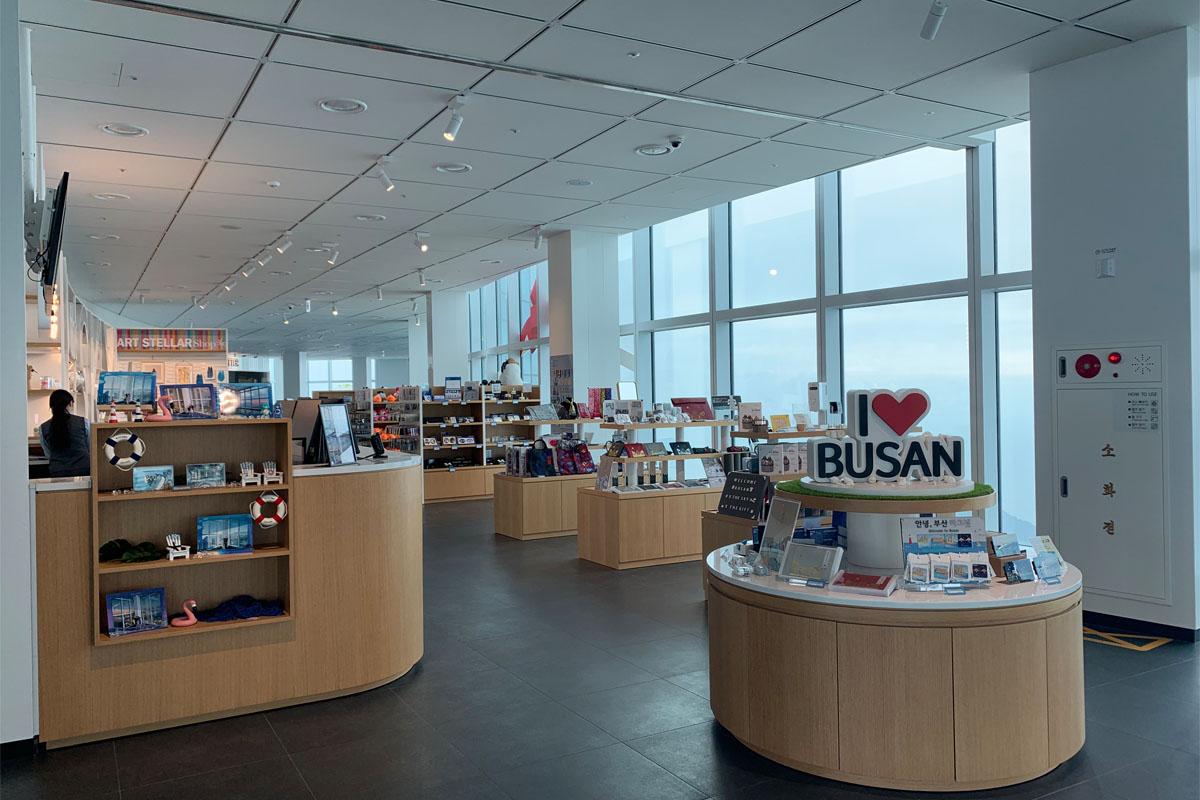 At the souvenir shop, X the GIFT, there were lots of souvenirs that were unique to Busan.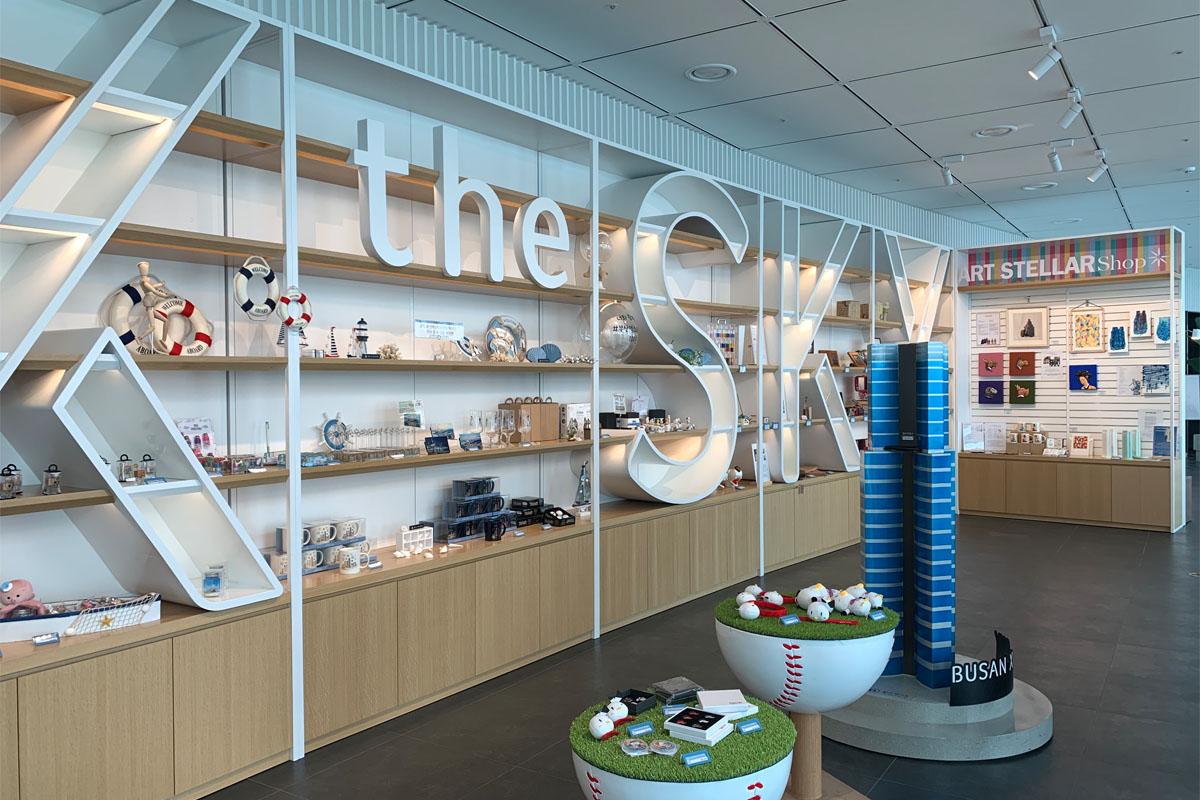 There were so many great items to look at.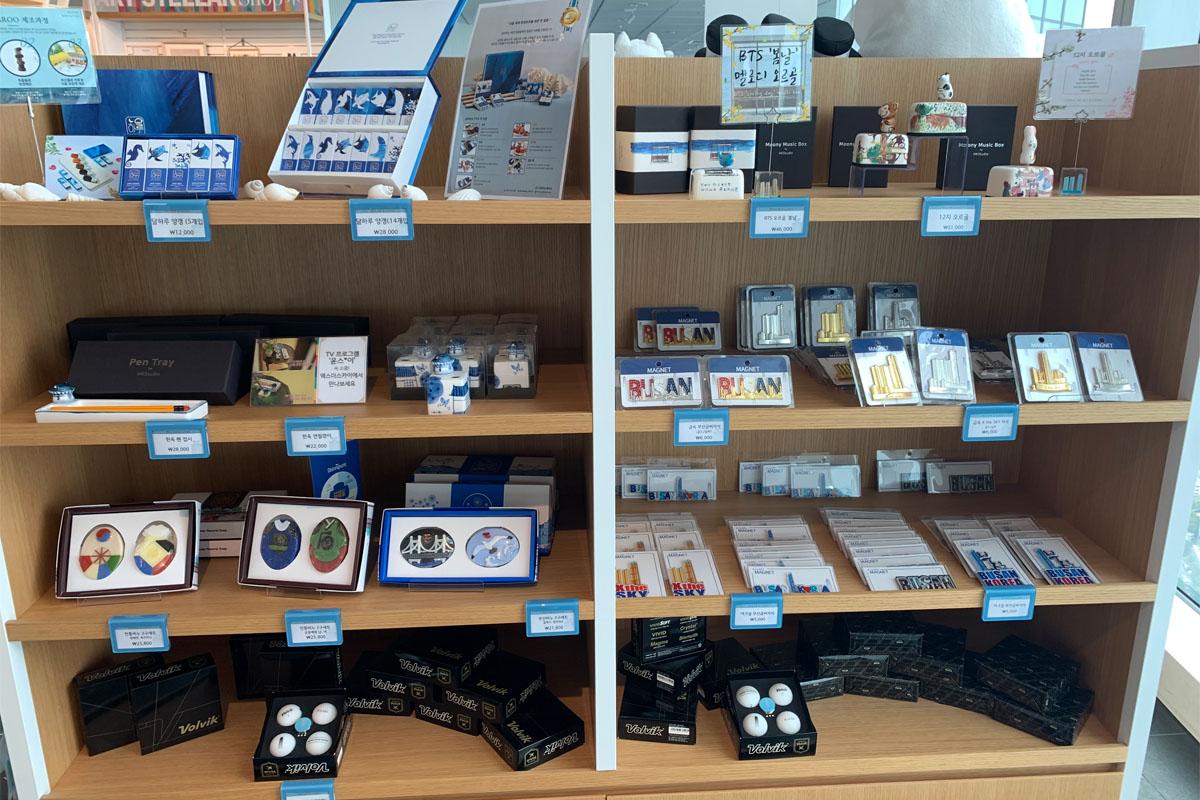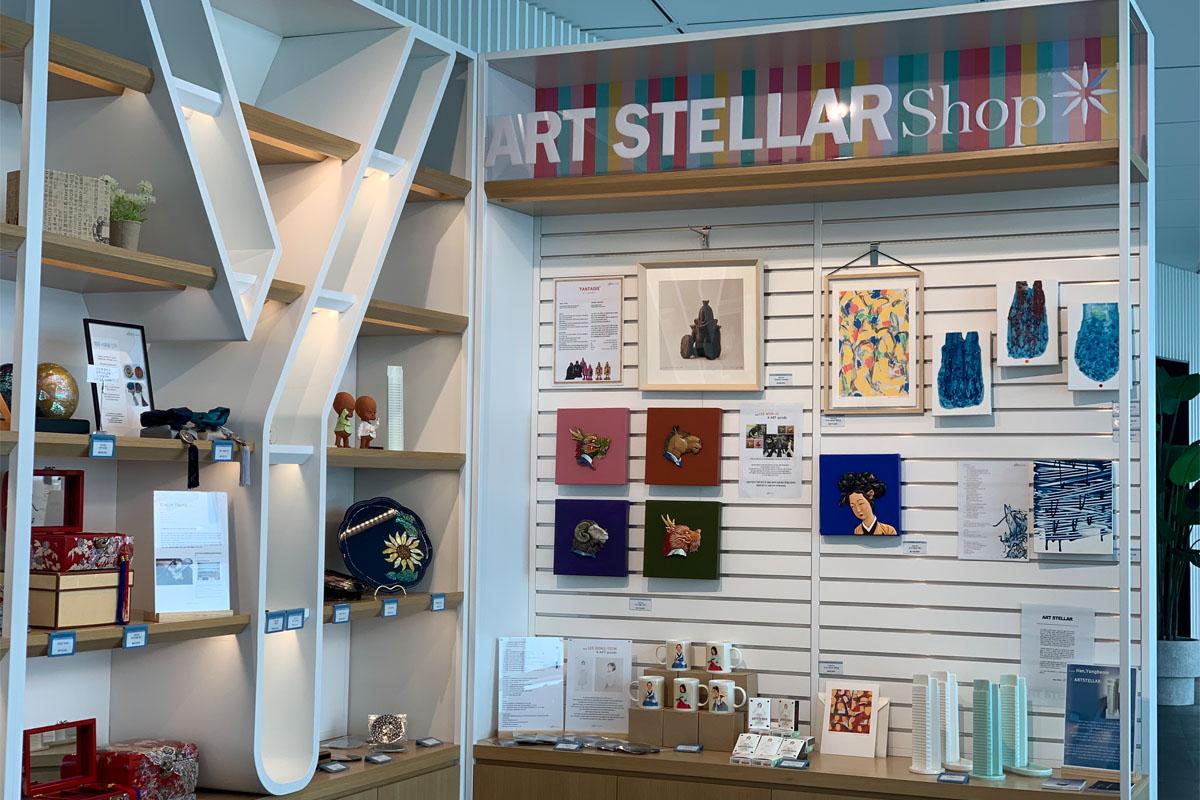 We thought any one of these items would be a great way to remember our visit to X the SKY.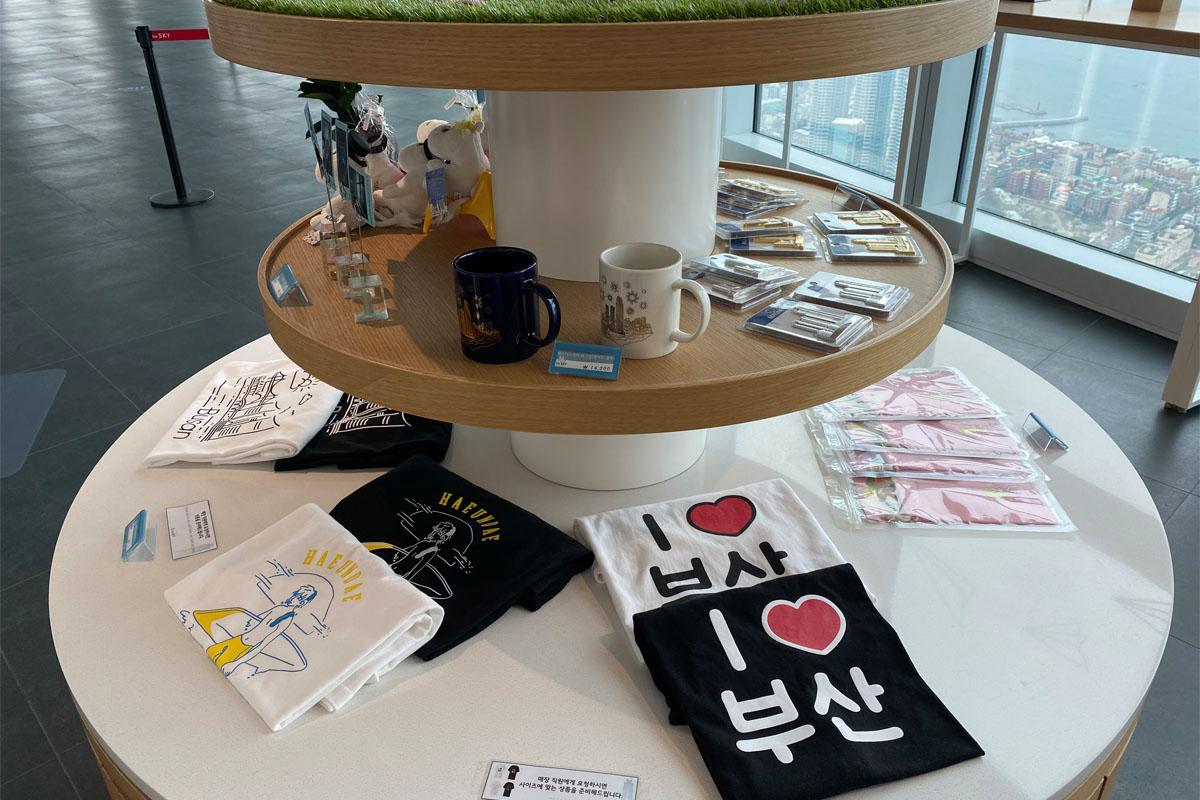 We particularly liked the "I love Busan" shirts.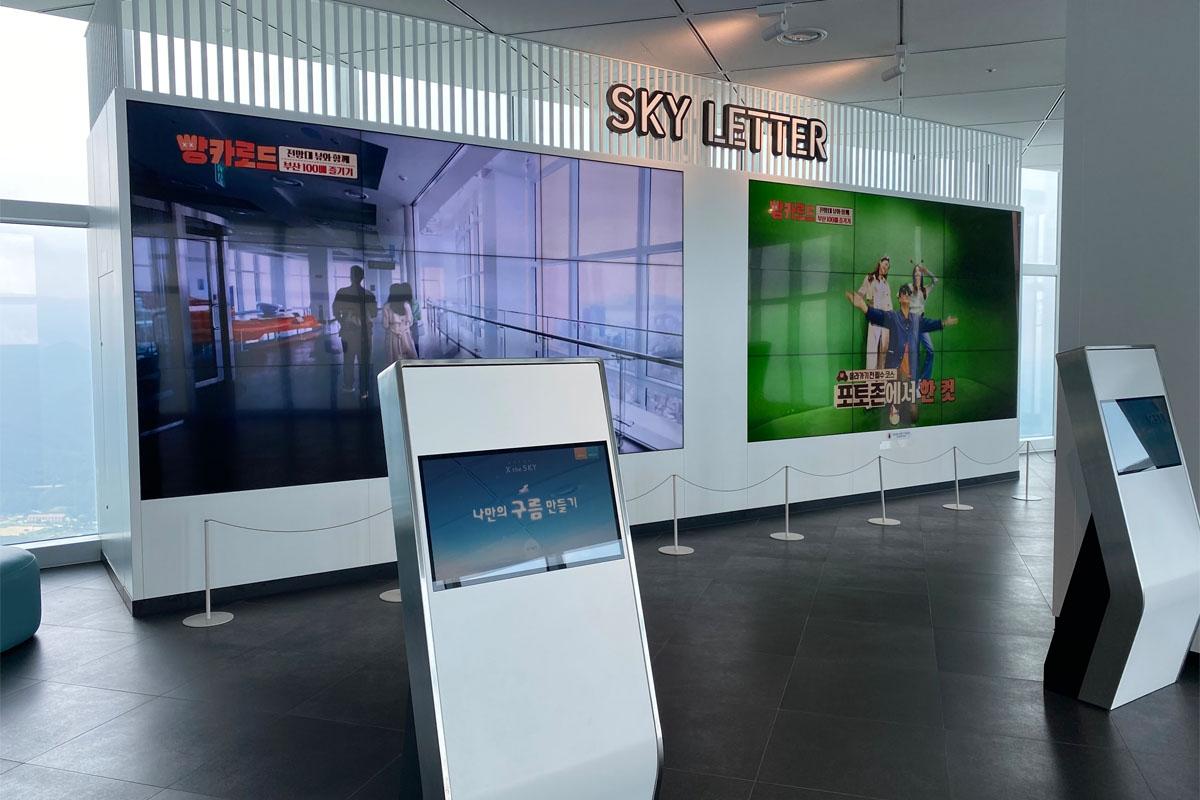 Before you make your way down to the 1st floor, there is an area called SKY LETTER.
Here you can write a letter on one of the tablets and then send it to the big screen in front of you.
As a souvenir, you can take a picture of your letter on the big screen.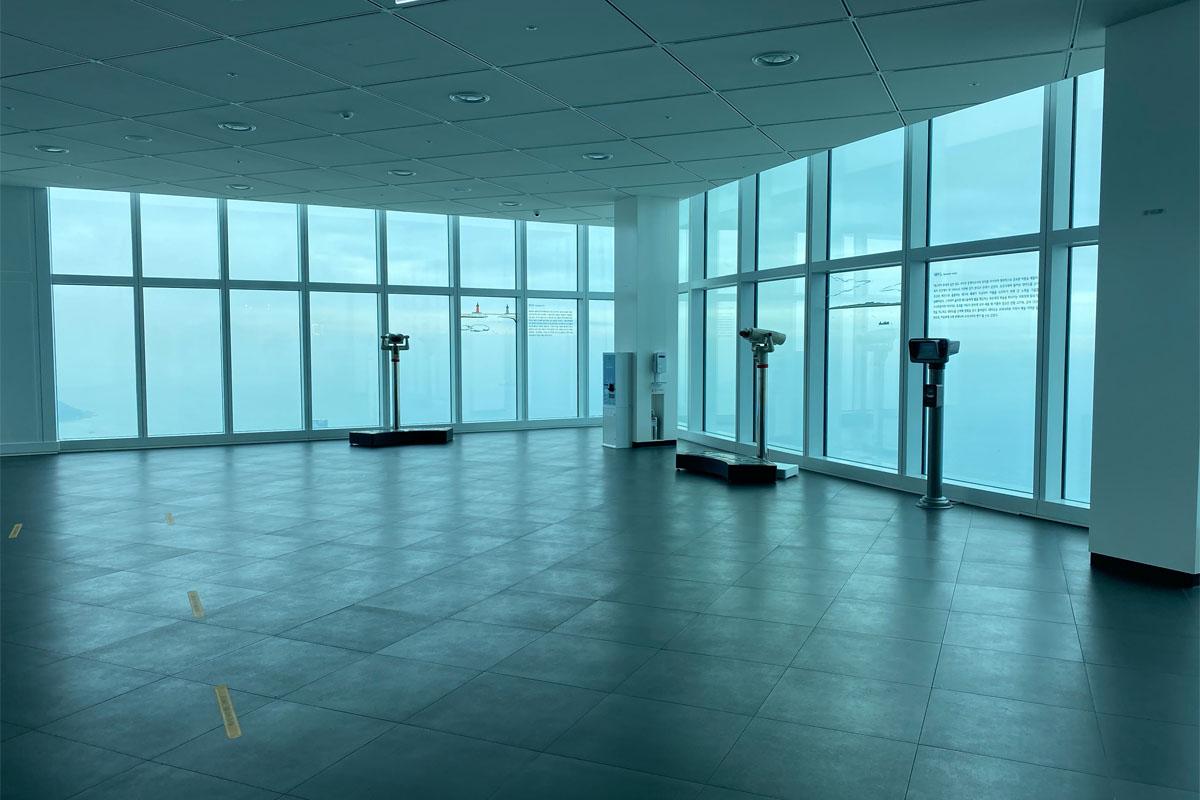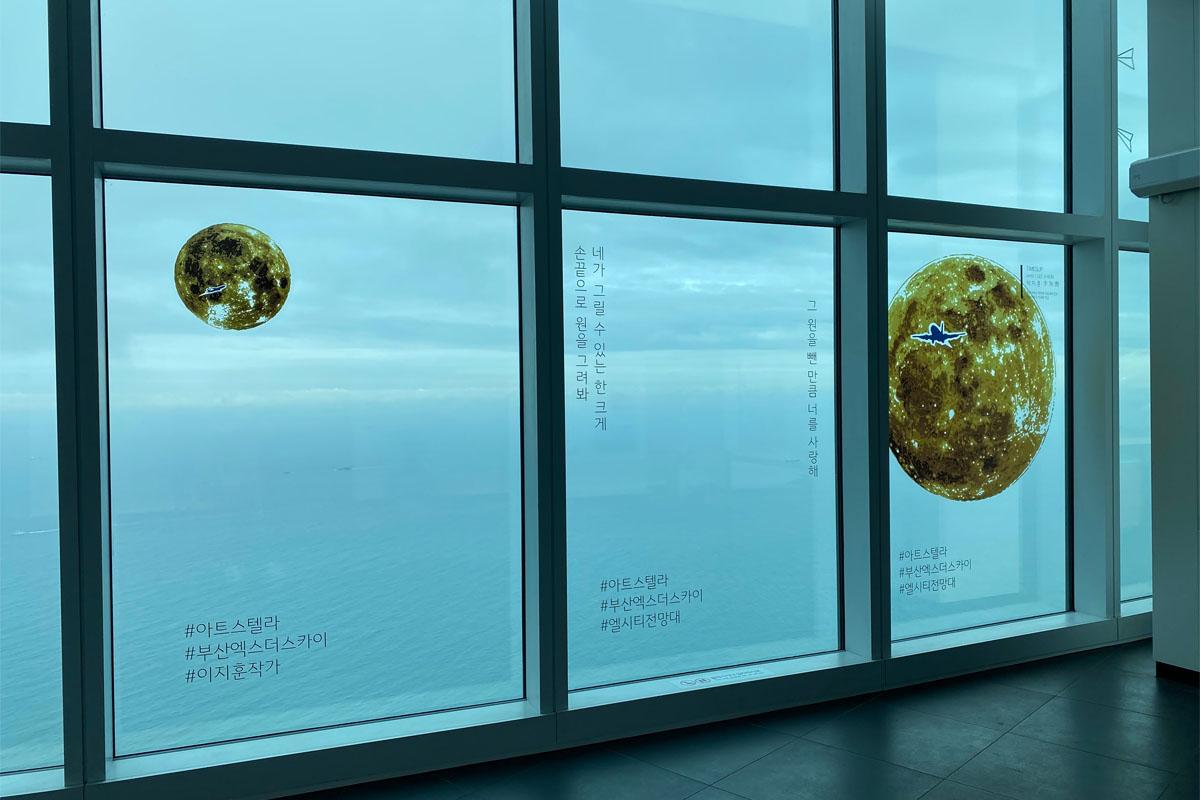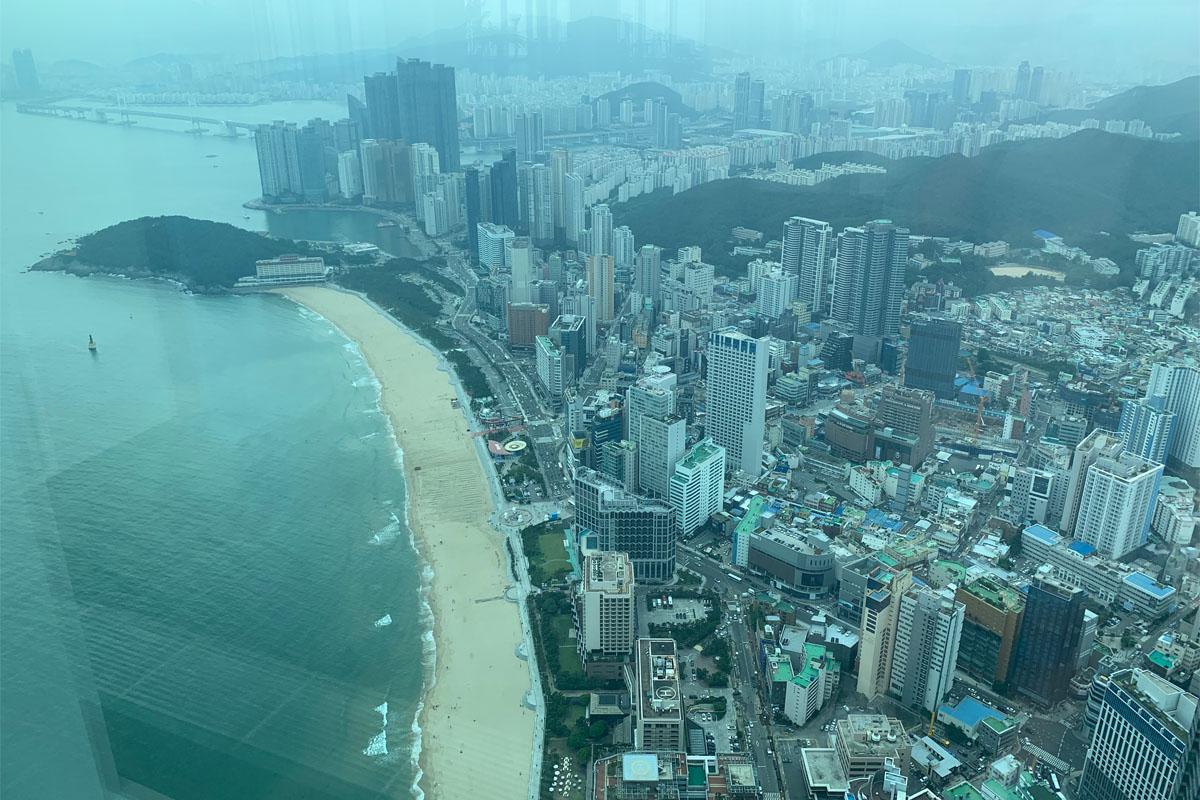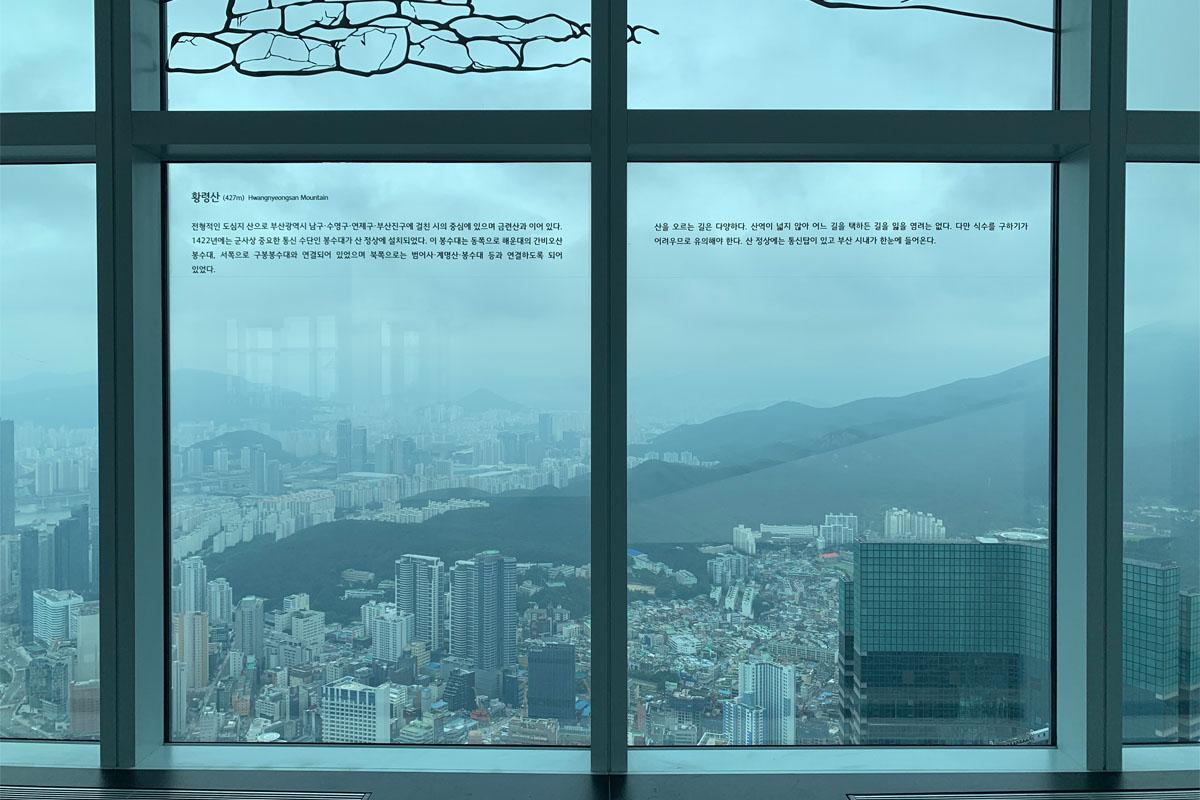 We really enjoyed our time at BUSAN X the SKY.
We went during the day, but we think the view at night would be amazing, too.
---
How to Get There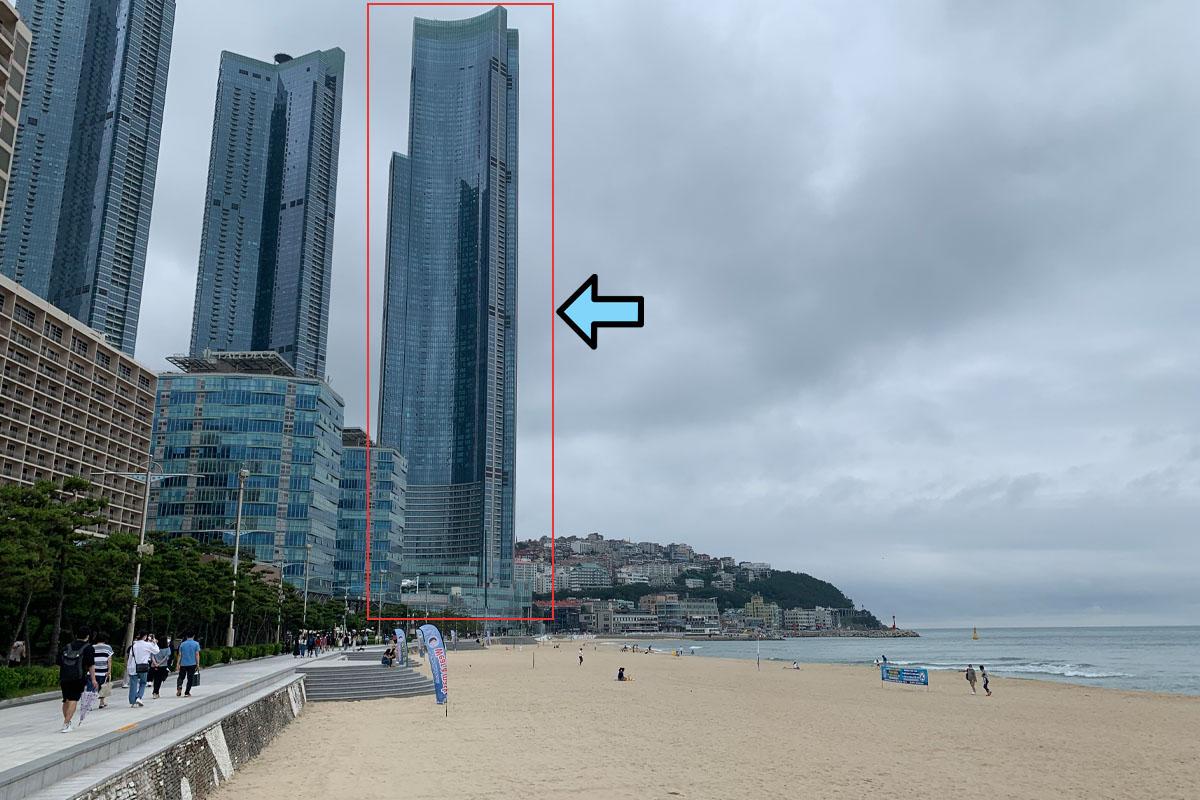 Come out of exit 3 of Haeundae Station on Line 2.
Walk straight for 10 minutes until you hit Haeundae Beach.
Turn left on the boardwalk.
You'll be able to see L City Trademark Tower from the beach.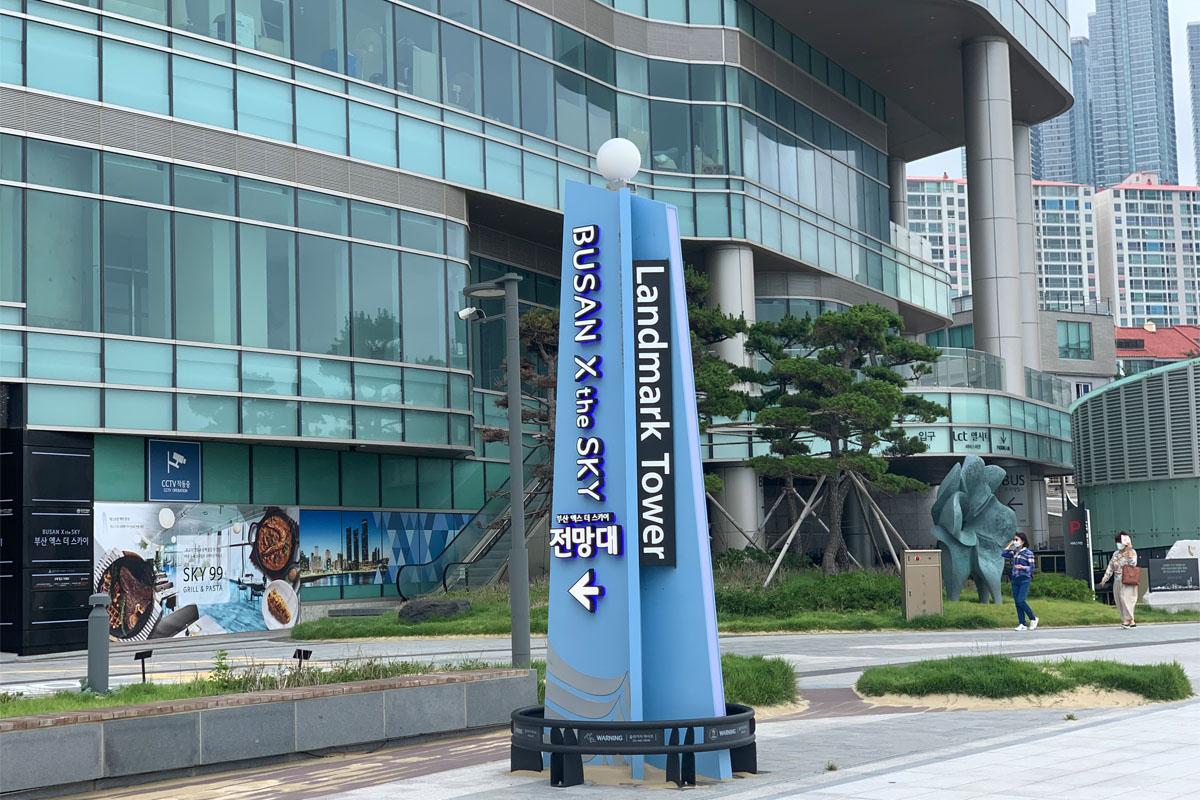 As you get closer to the building, you'll see a sign for BUSAN X the SKY.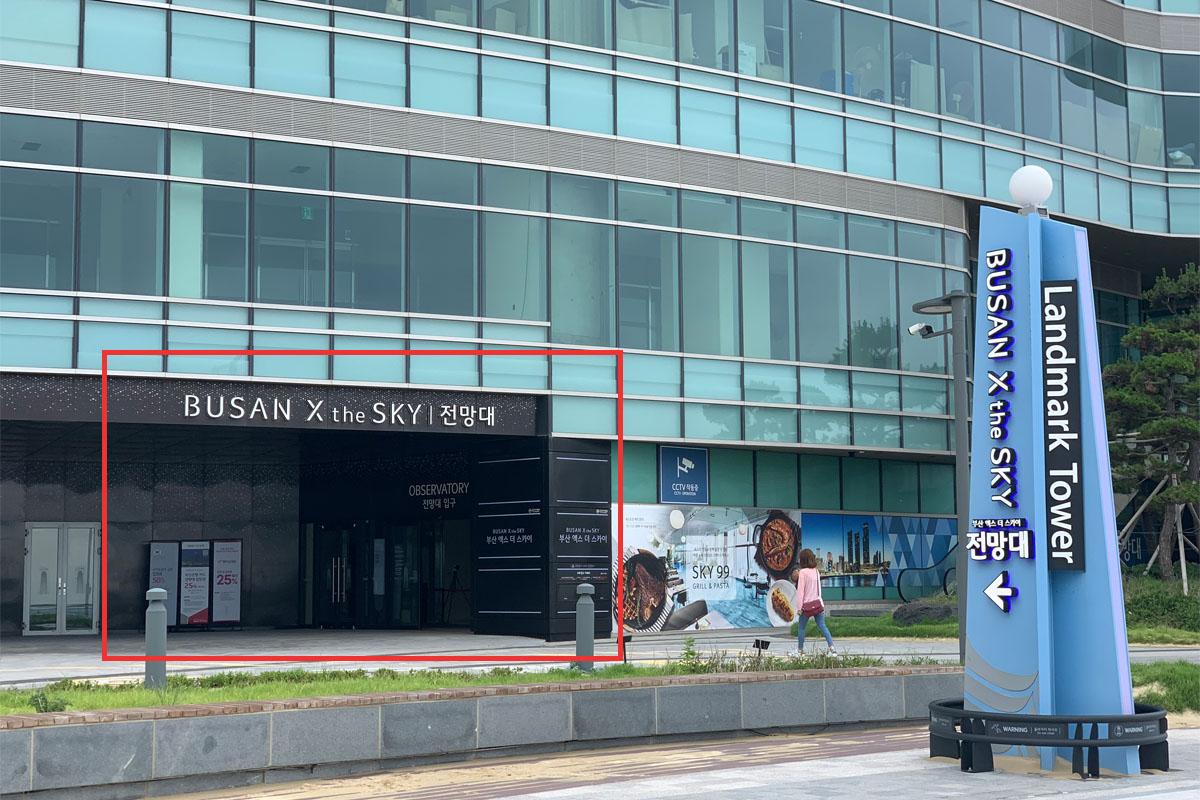 The entrance is to the left of this sign.
---
If you're planning a trip to Busan and looking for amazing views of the ocean and city, then BUSAN X the SKY is a must for you!
Be sure to add this observatory to your list of places to visit when in Busan.
---