Busan Nightlife | The Bay 101
The trendiest place to grab a drink with friends and snap instaworthy photos!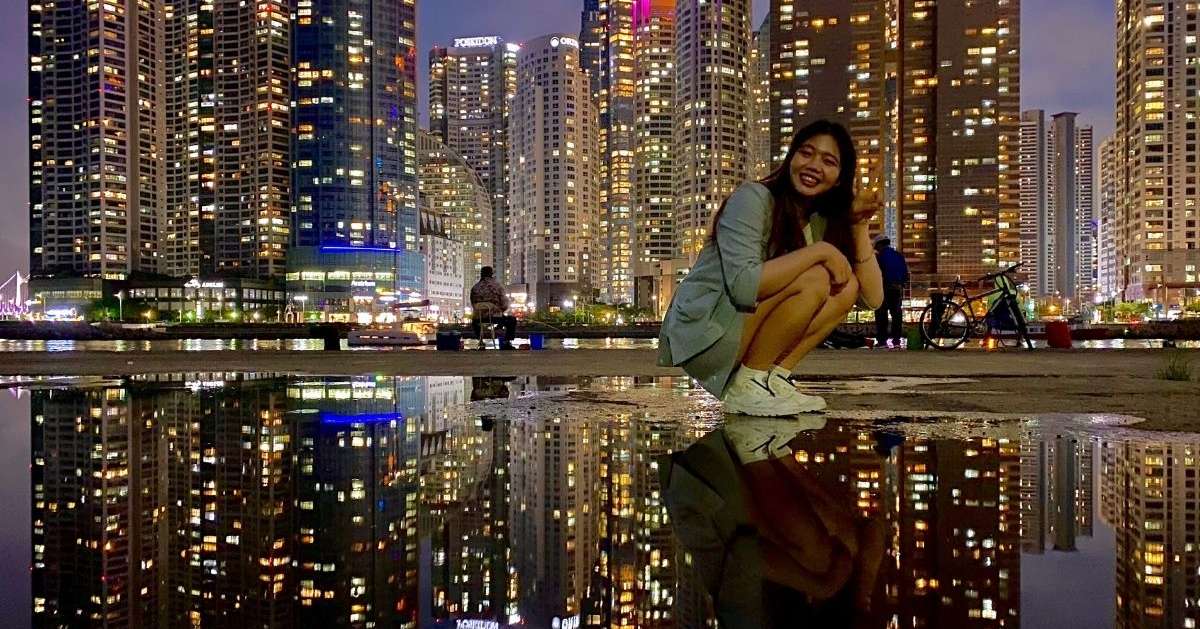 If you ask young people in Busan where you should visit, most will say The Bay 101.
It's one of the trendiest food and entertainment complexes around.
Let's check it out together!
---
Information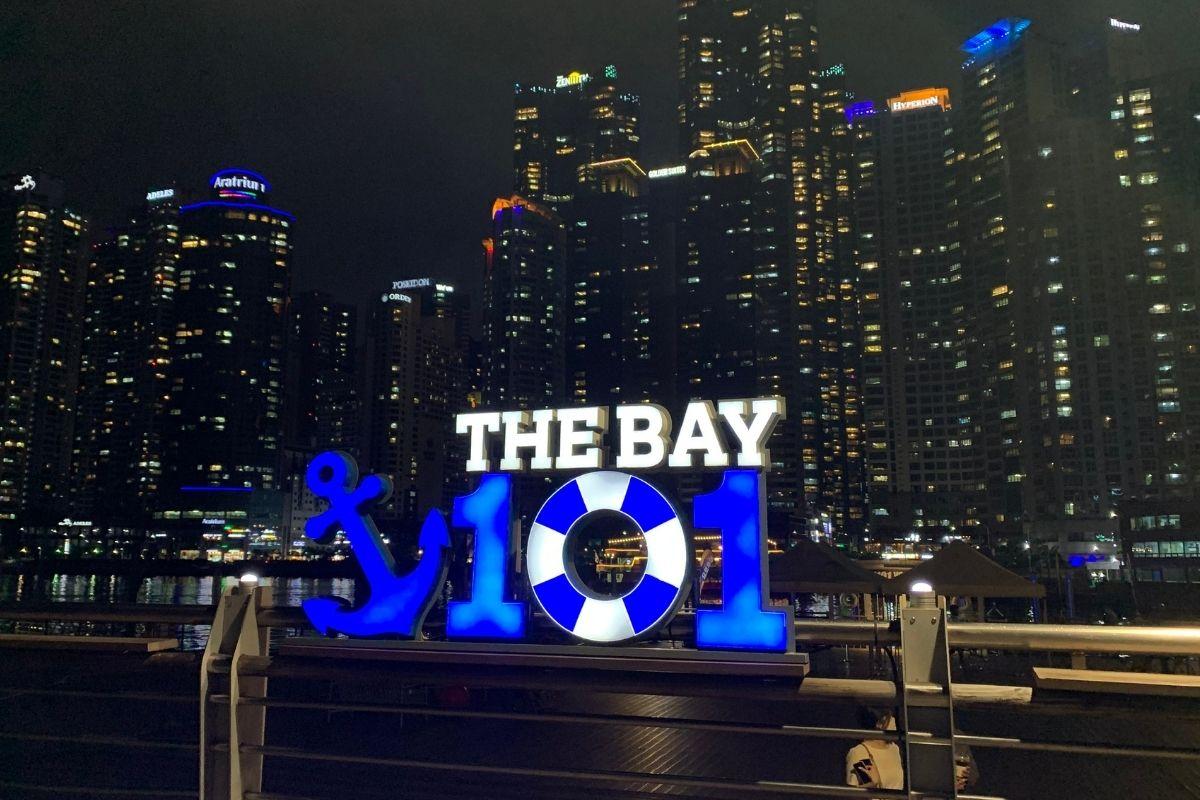 Address: 부산 해운대구 동백로 52
52 Dongbaek-ro, Haeundae-gu, Busan
Hours: 9:00-24:00
---
Our Visit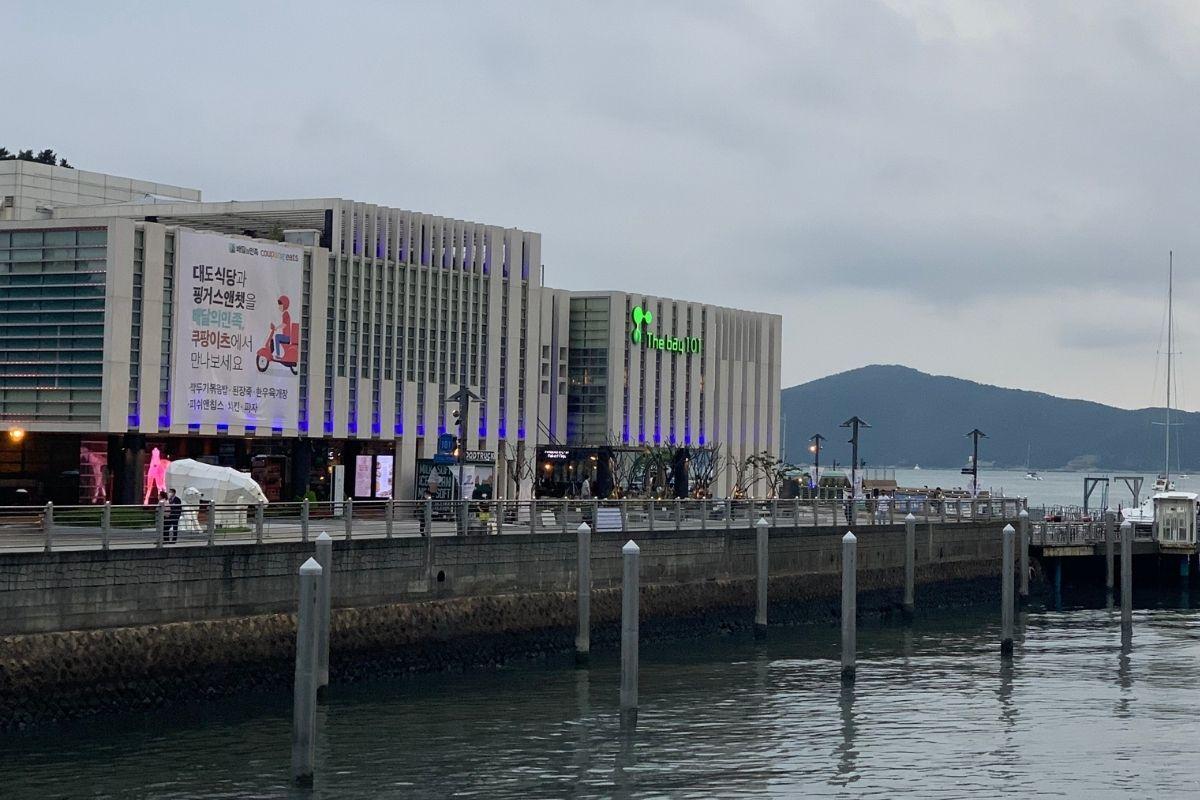 The Bay 101 (더베이101) is a destination that attracts many young people living in Busan.
If you look on Instagram, you'll find countless glittering nightlife photos taken there.
I tried to go on a weekend evening, but it was too crowded, so I came back on a weekday.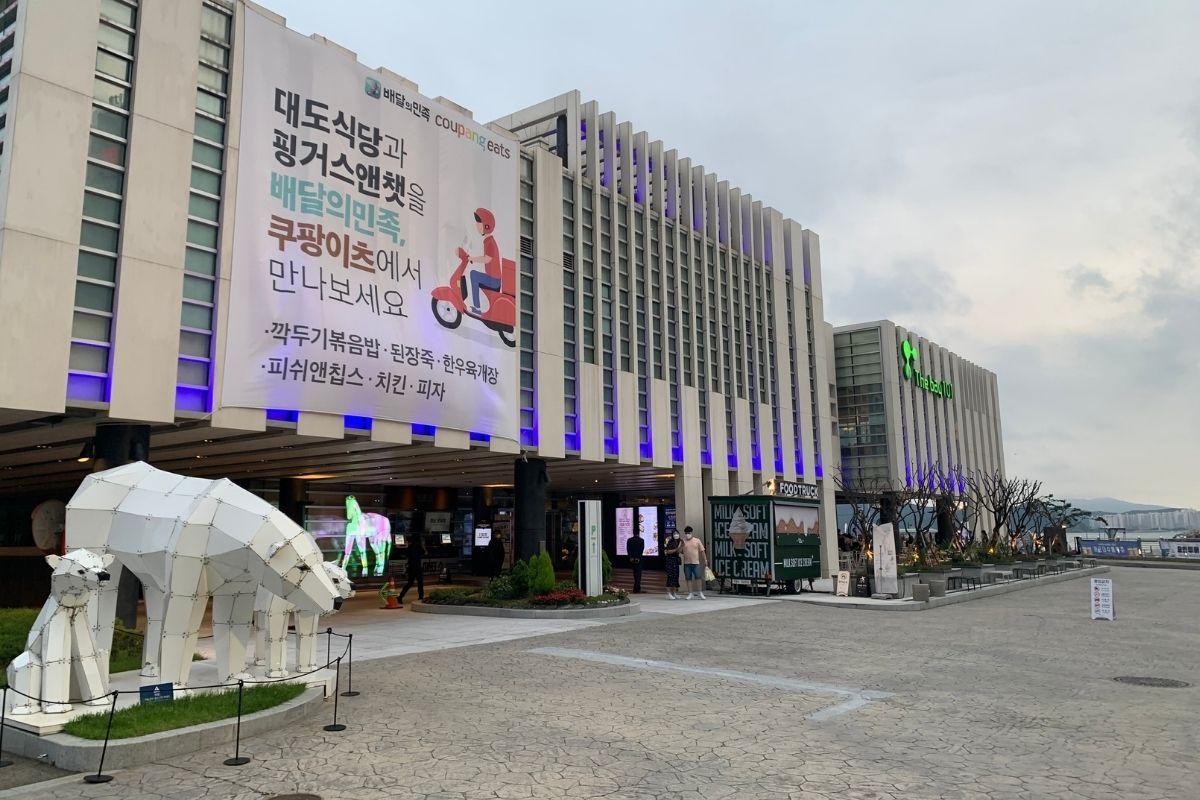 I recommend going in the late afternoon to beat the crowds and staying through the evening when it really gets busy.
It has two floors and doesn't look like much from the outside, but don't let looks deceive you.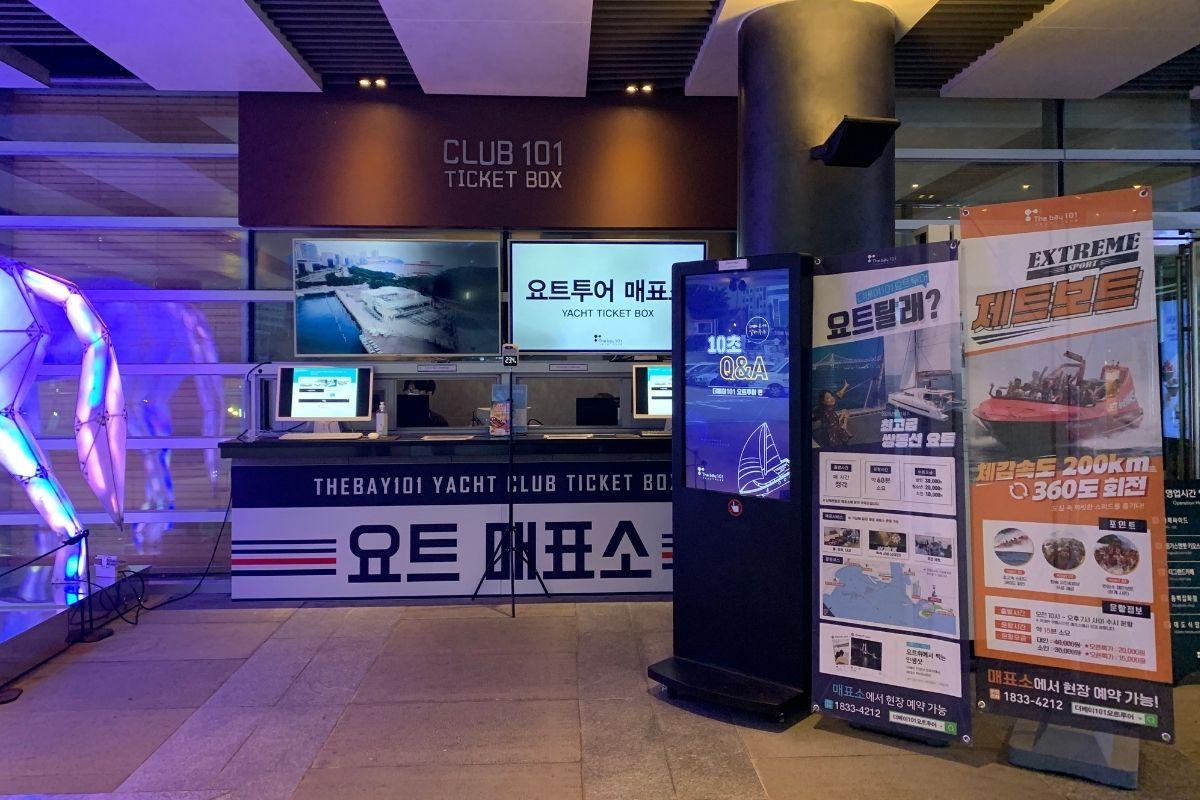 By the entrance, you will see the ticket counter for The Bay 101 Yacht Club.
If you want, you can buy tickets here, or conveniently book in advance through Creatrip and receive a discount.
You can read all about our Busan cruise experience here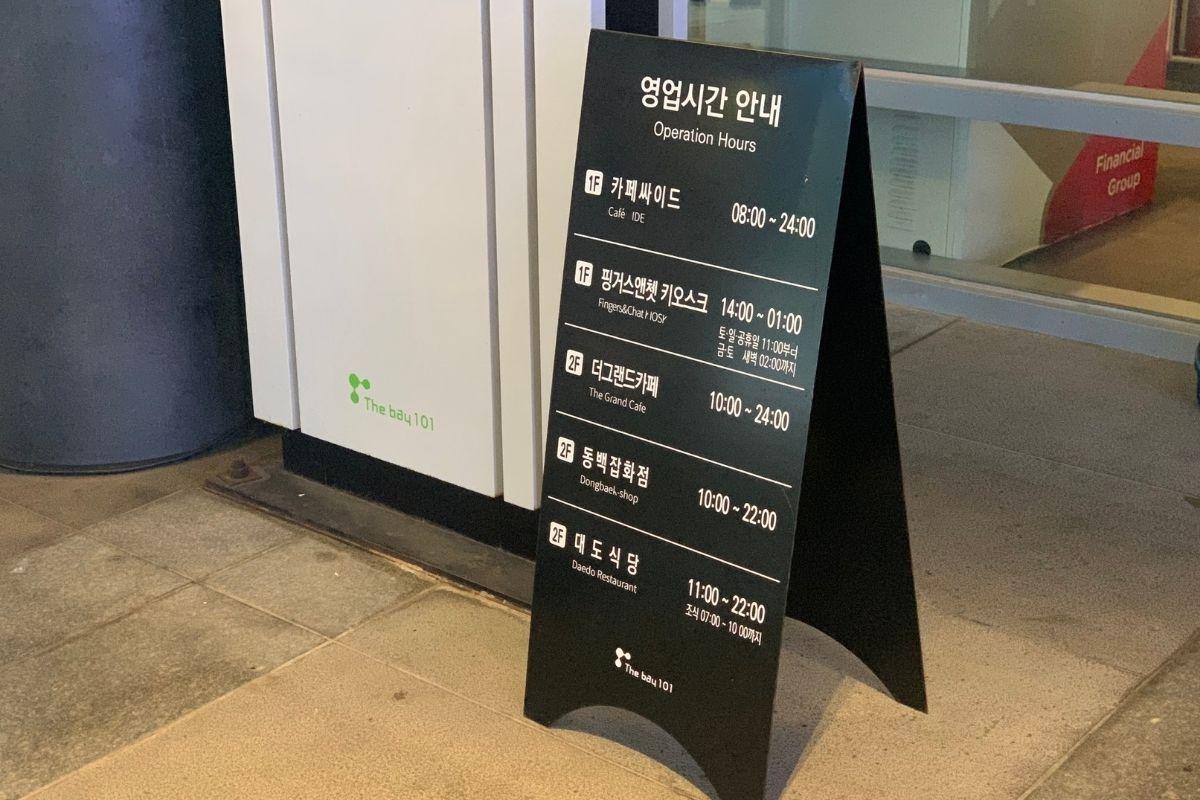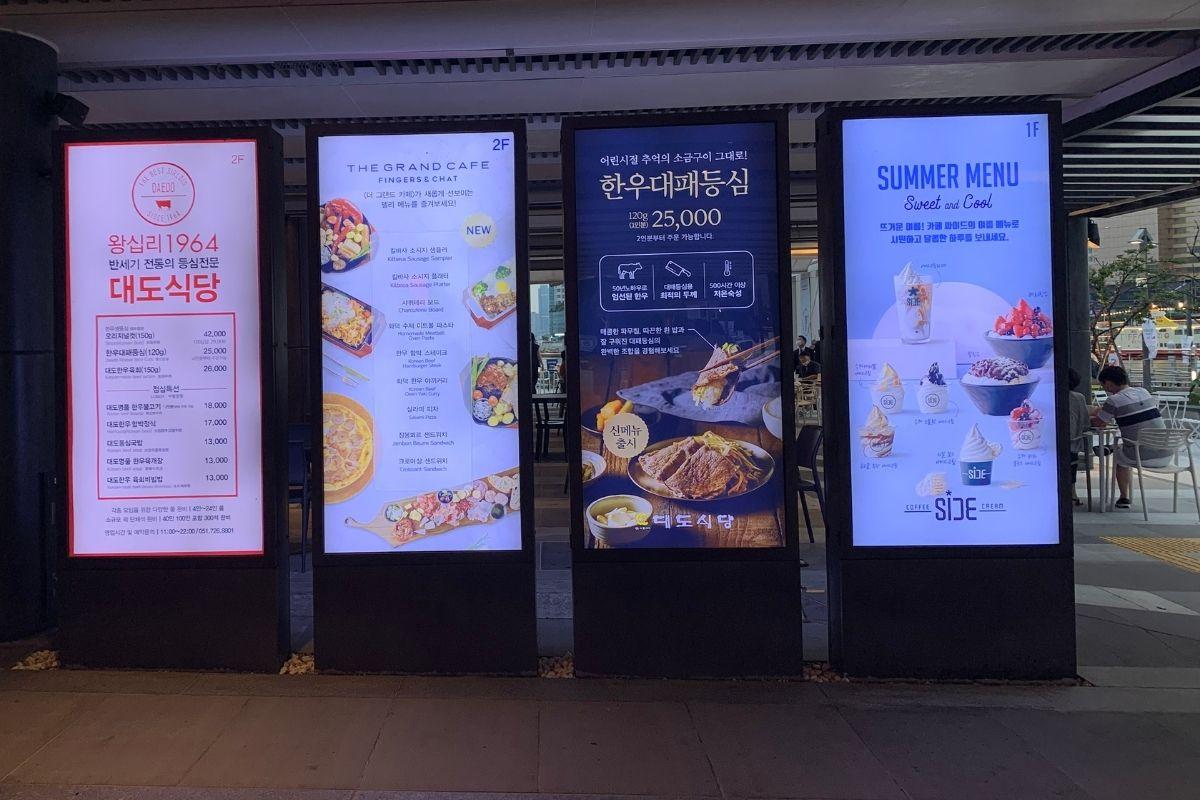 On the other side you can find a sign with hours of operation for the cafes and restaurants, as well as menus.
Menus are subject to change based on the season.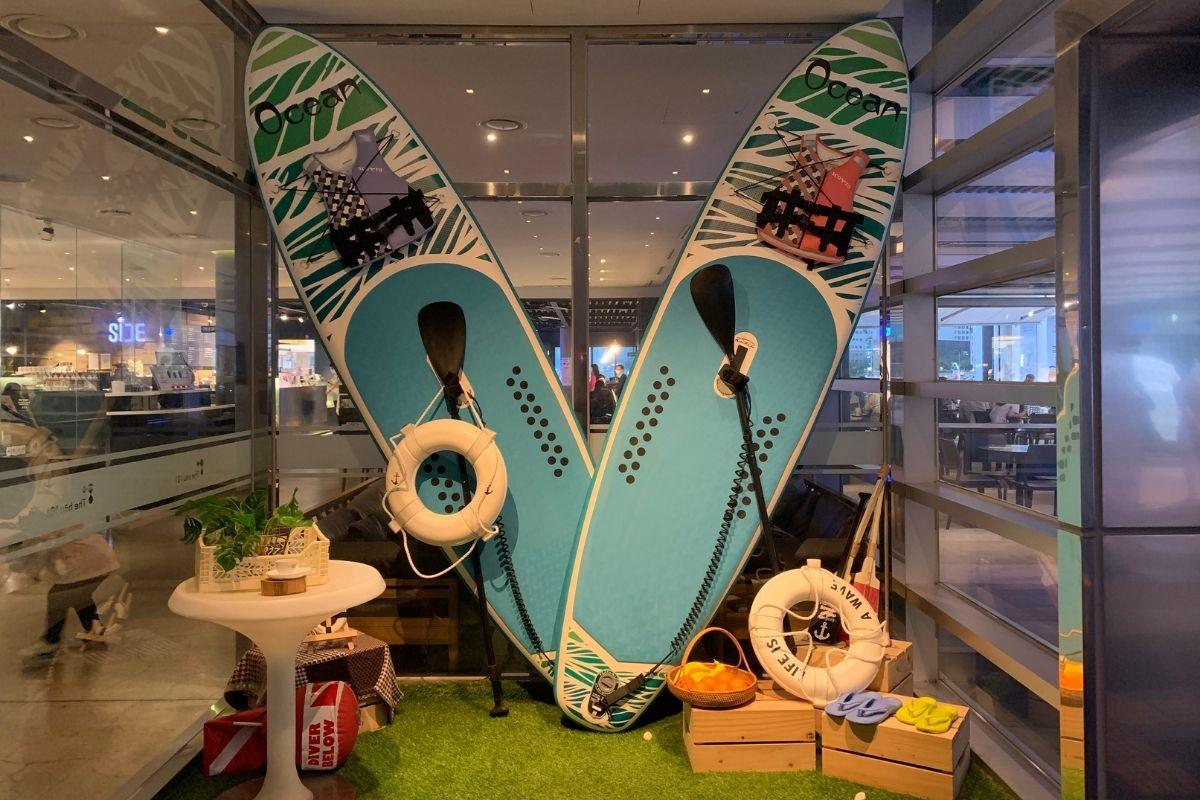 This is one of the photo spots where you can take fun pictures.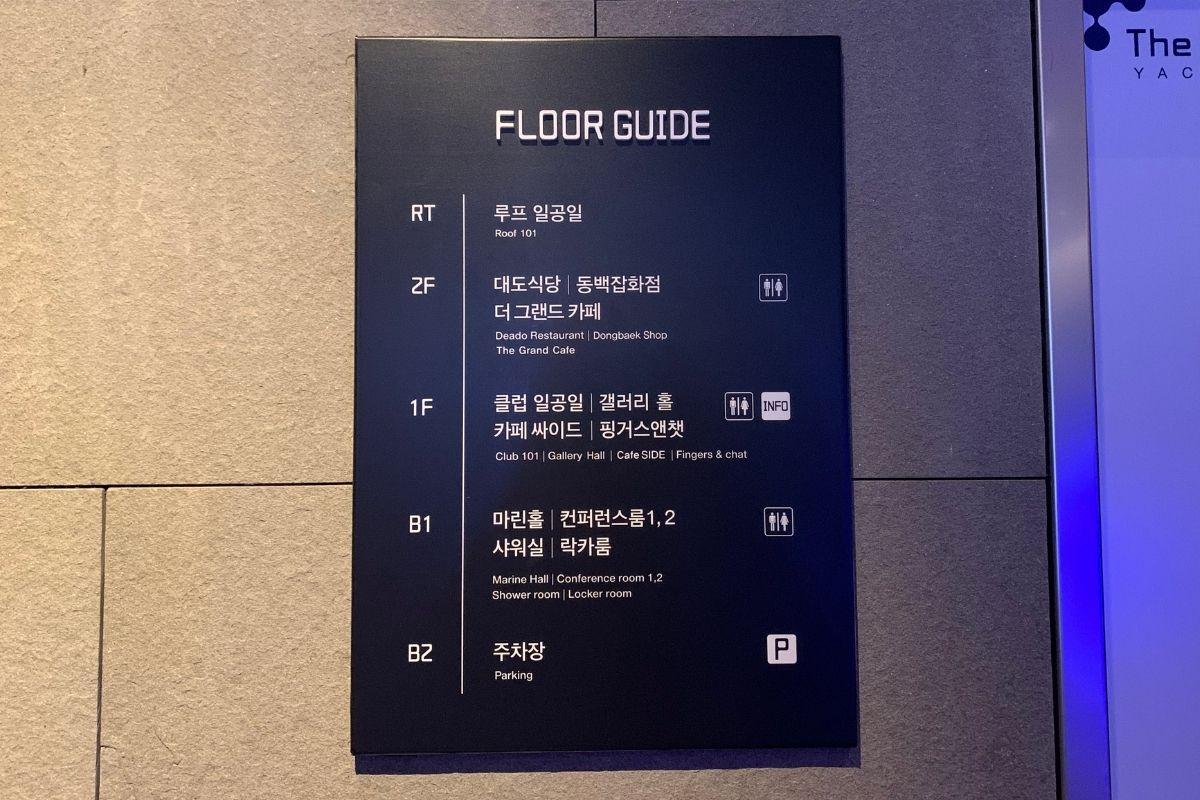 There is an easy to read floor guide with both Korean and English.
Restaurants and cafes can be found on the 1st and 2nd floors.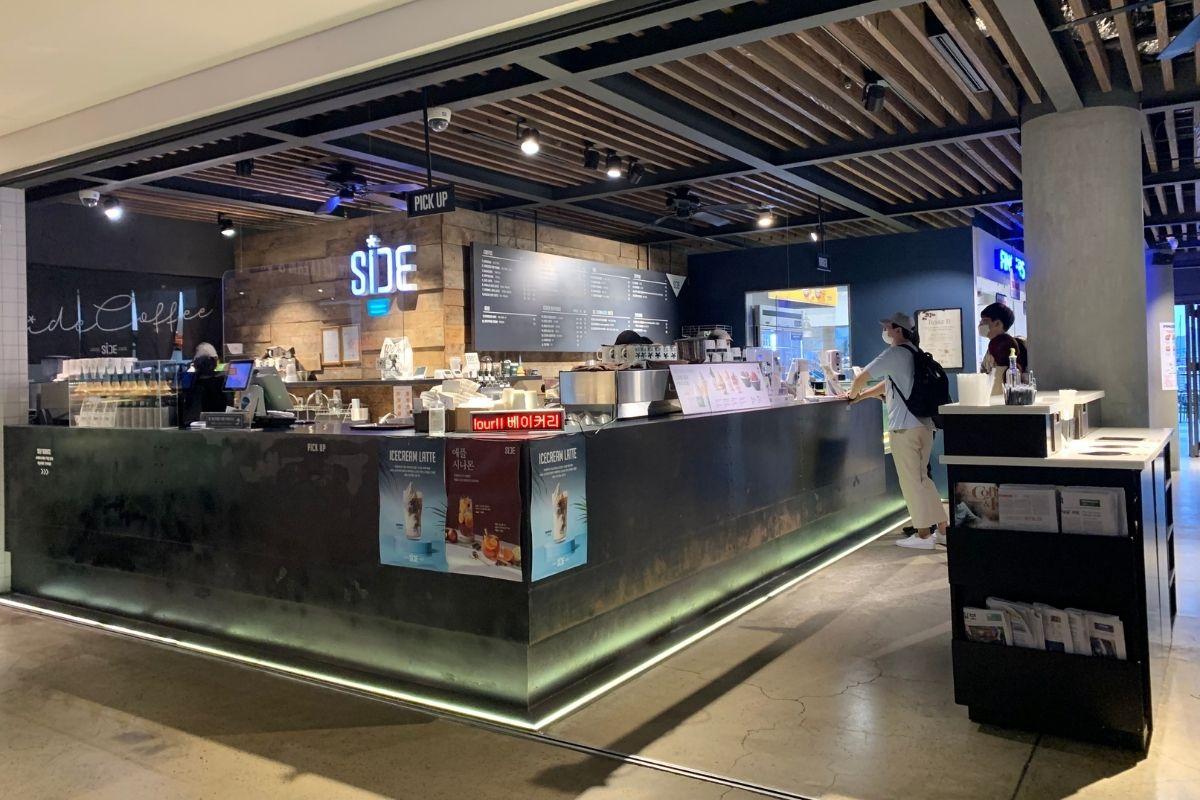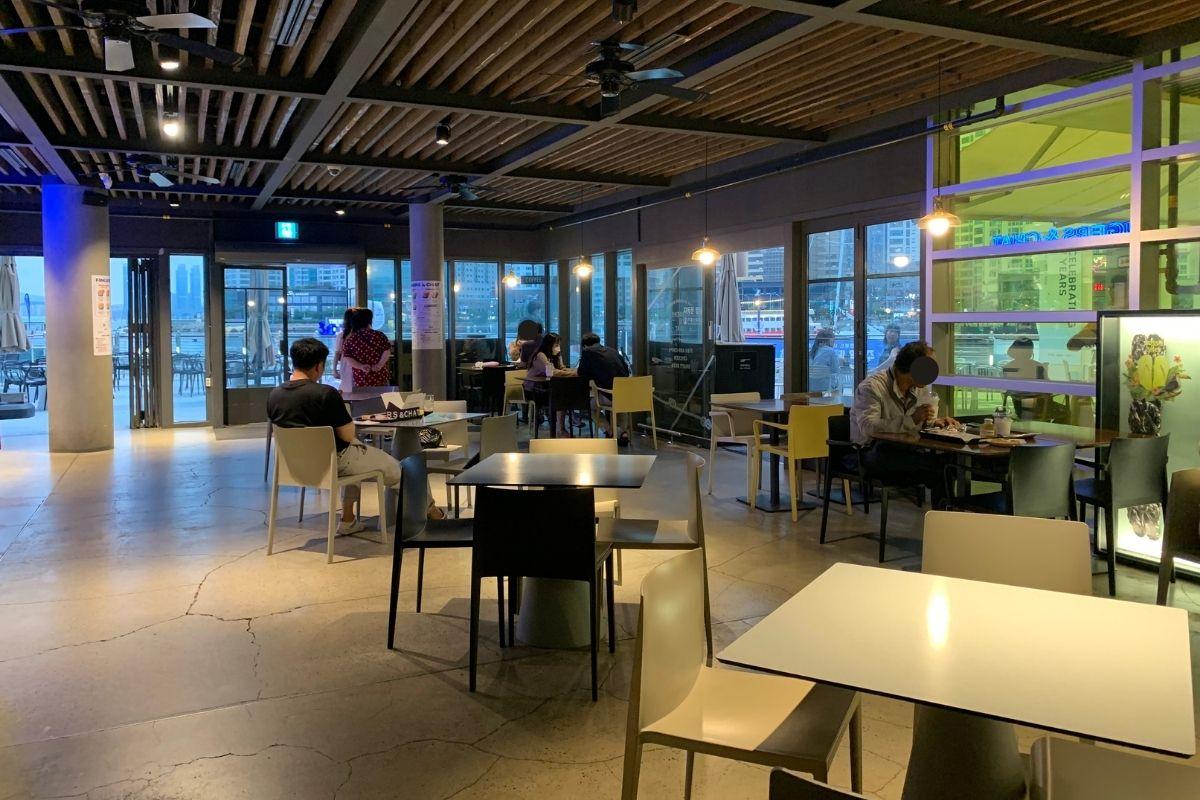 Coffee-lovers, Cafe SIDE is the place for you!
Plus, they have ample seating, both indoor and outdoor, so you can relax and enjoy your drink.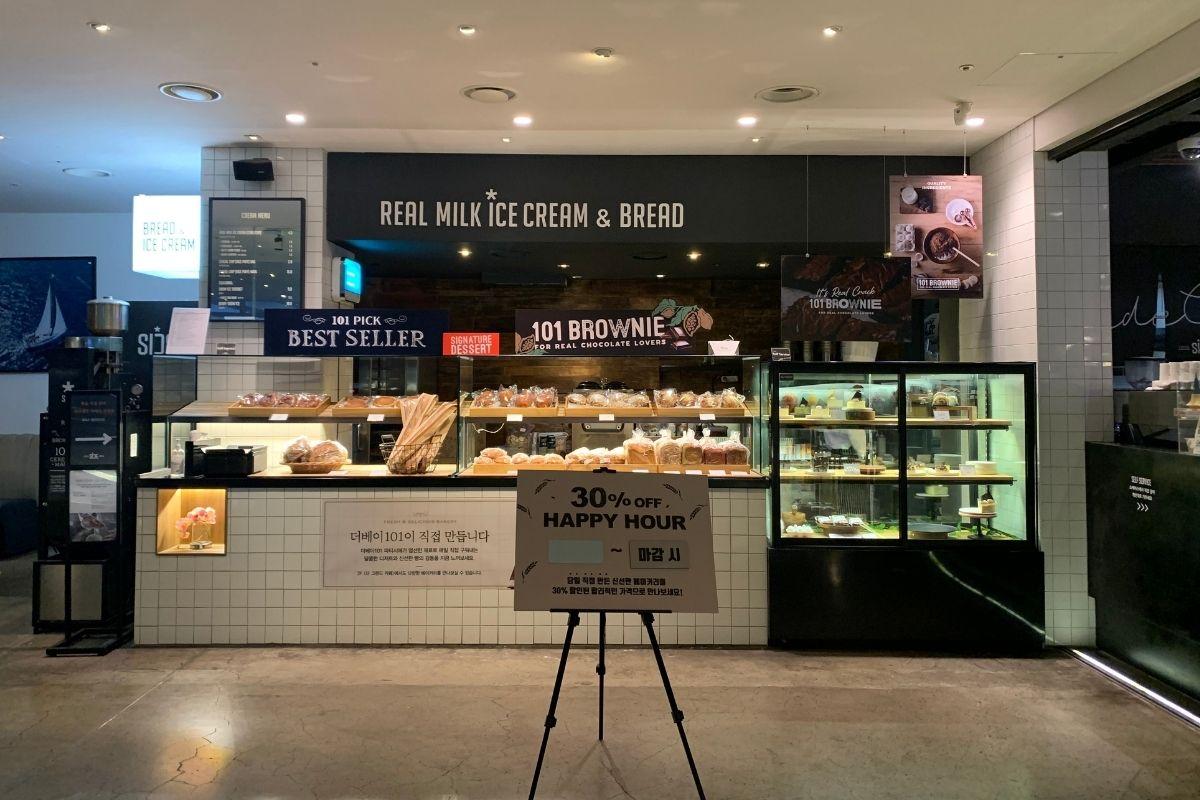 Cafe SIDE also has a decently sized bakery with a variety of cakes and breads to choose from.
We got here in time for happy hour - 30% the cakes of the day!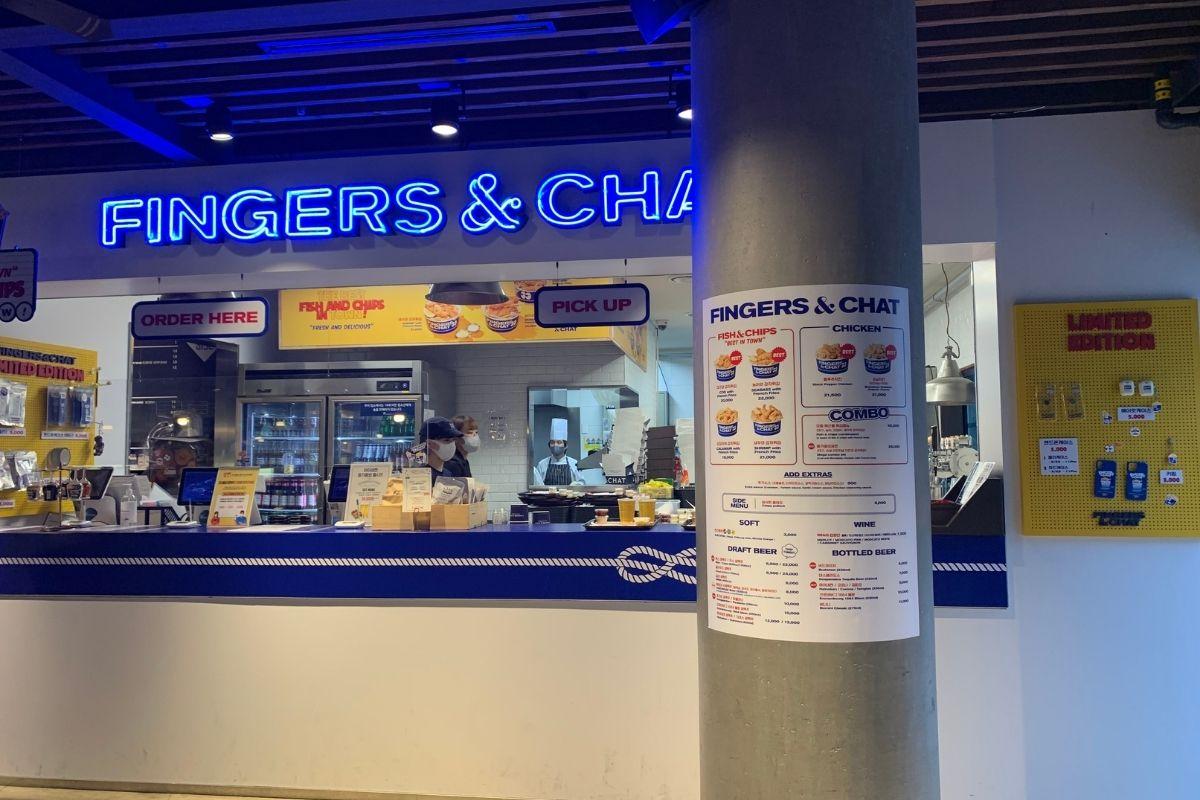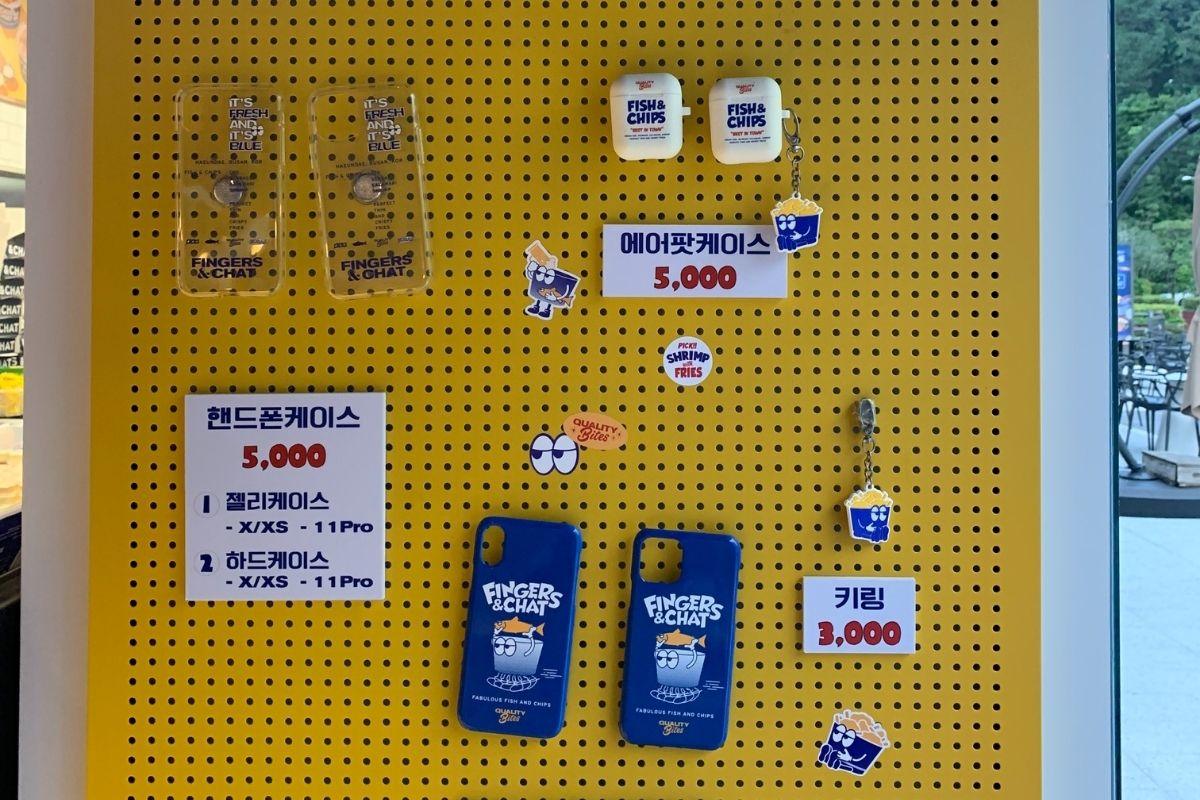 Adjacent to Cafe SIDE is Fingers & Chat.
They sell fried chicken, shrimp, fries, and beer at an affordable price.
They also have cute souvenirs you can pick up for friends or yourself.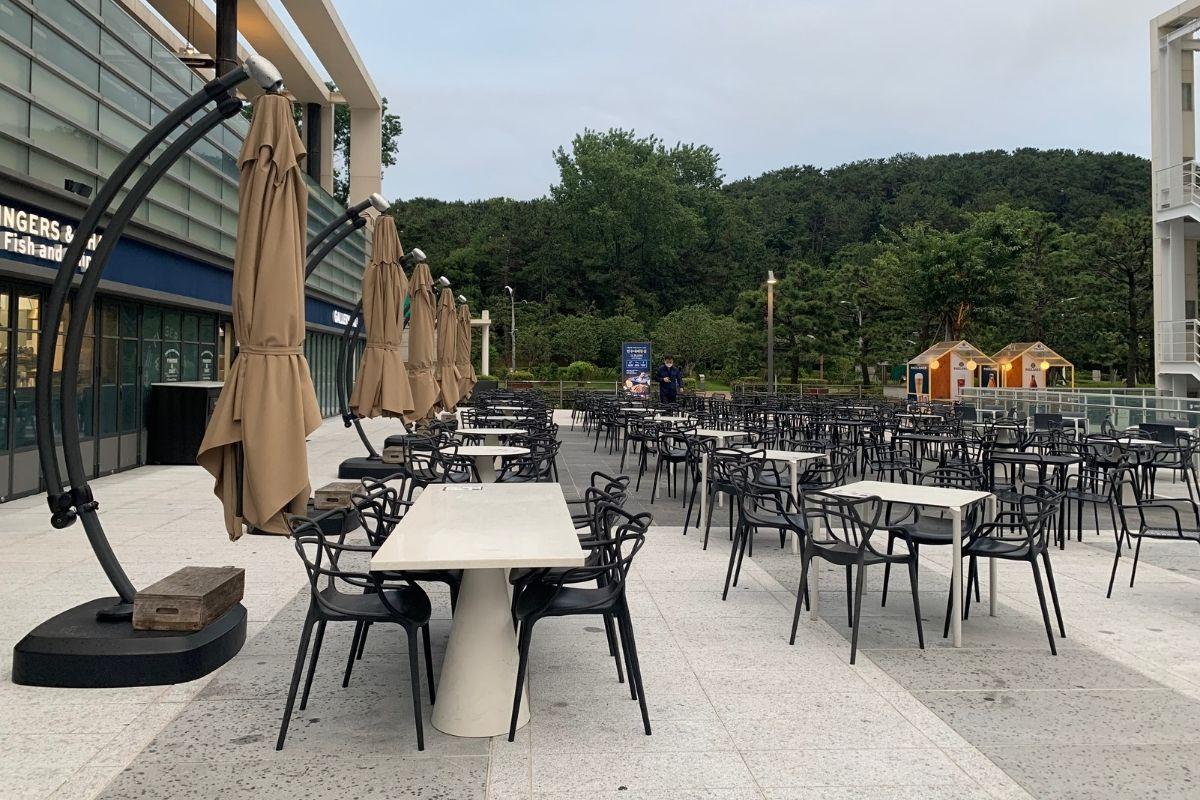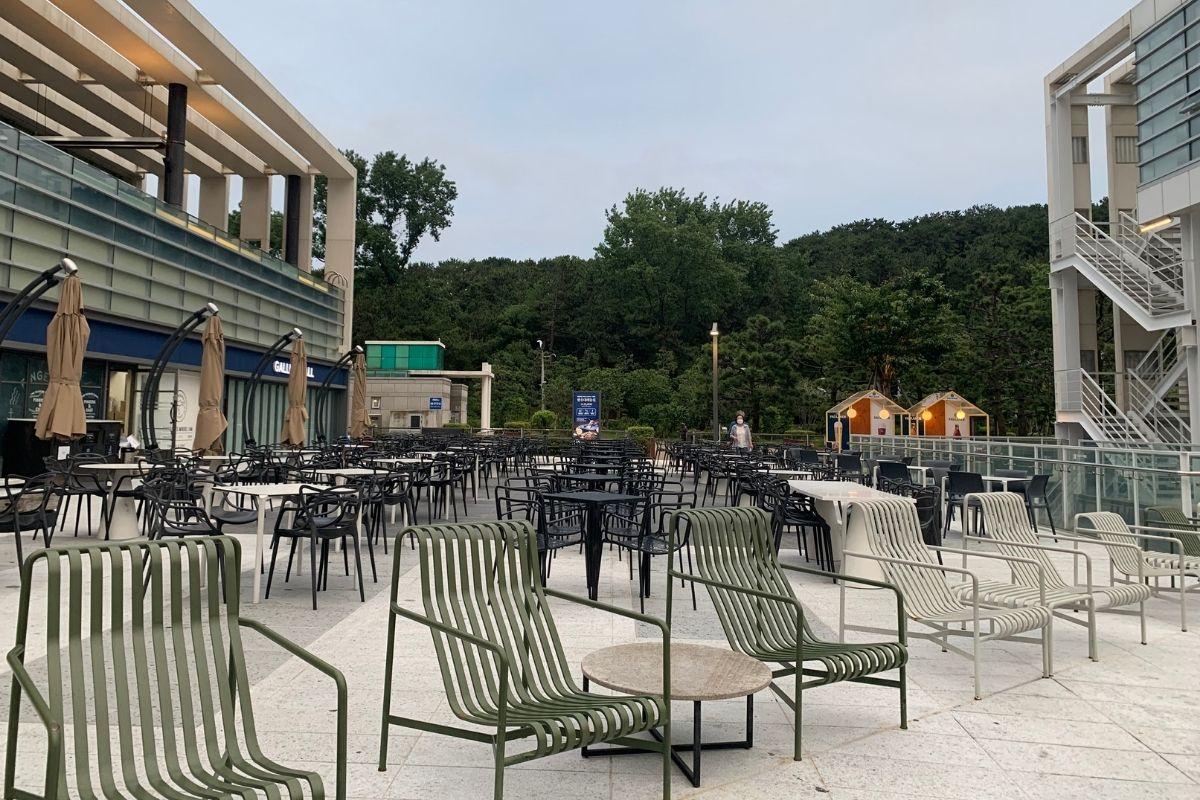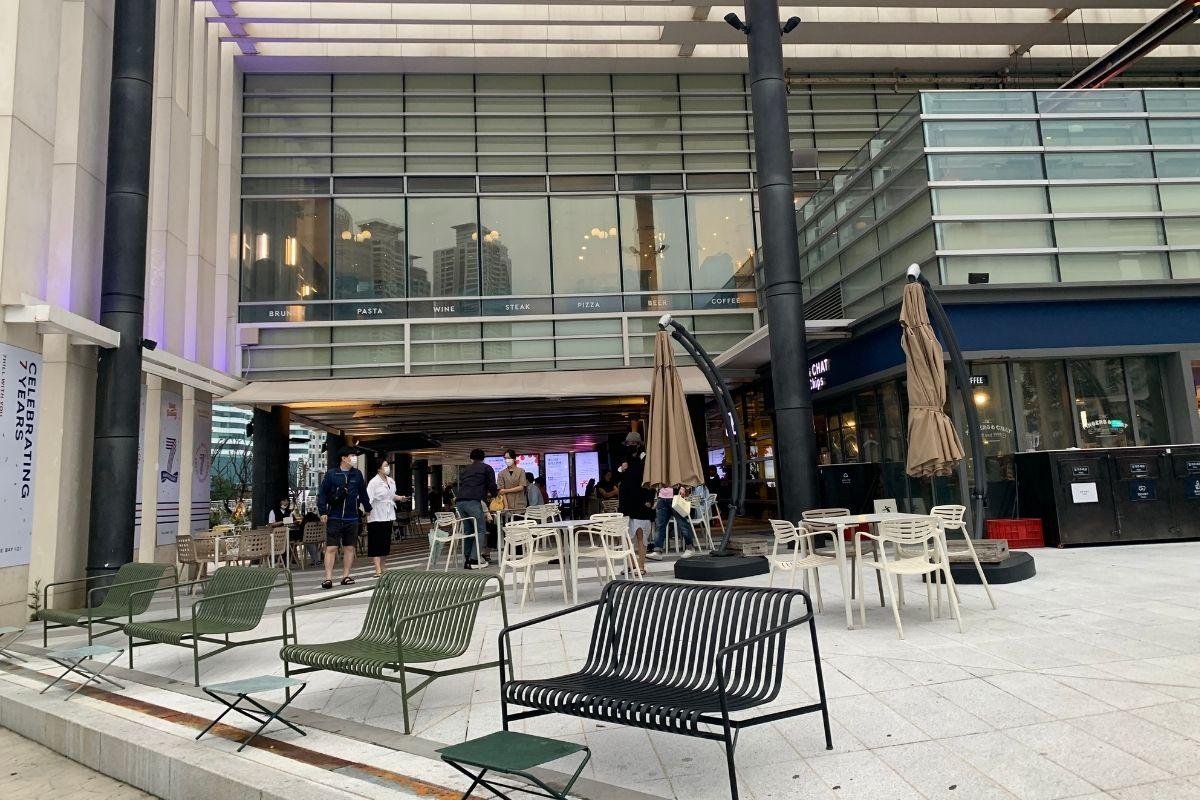 Outside the first floor there is plenty of seating available so you can enjoy drinks and food with friends.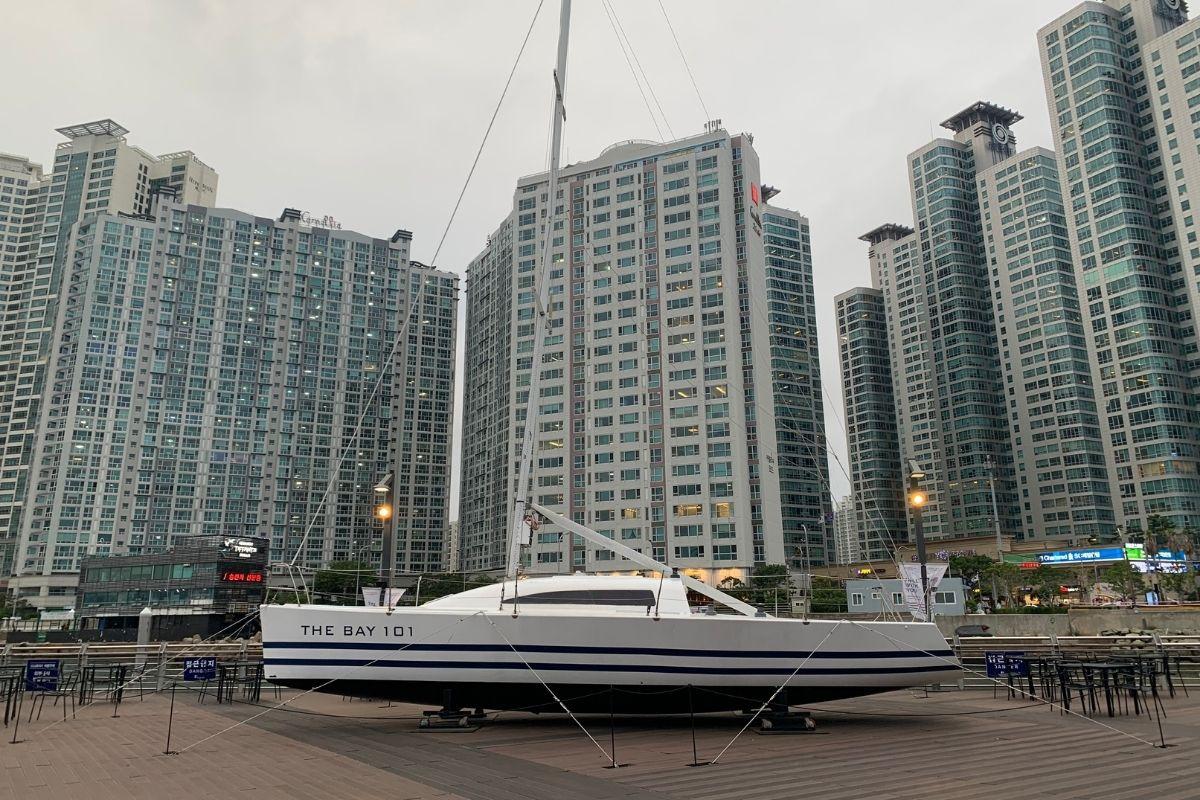 The view looks out at the high rise buildings of the city and has a great atmosphere, especially on a warm summer night.
Many people take photos by this boat.
This is where you can board The Bay 101 Yacht Club boat.
Tickets can be purchased inside on the 1st floor, or click here to book through Creatrip for a discount.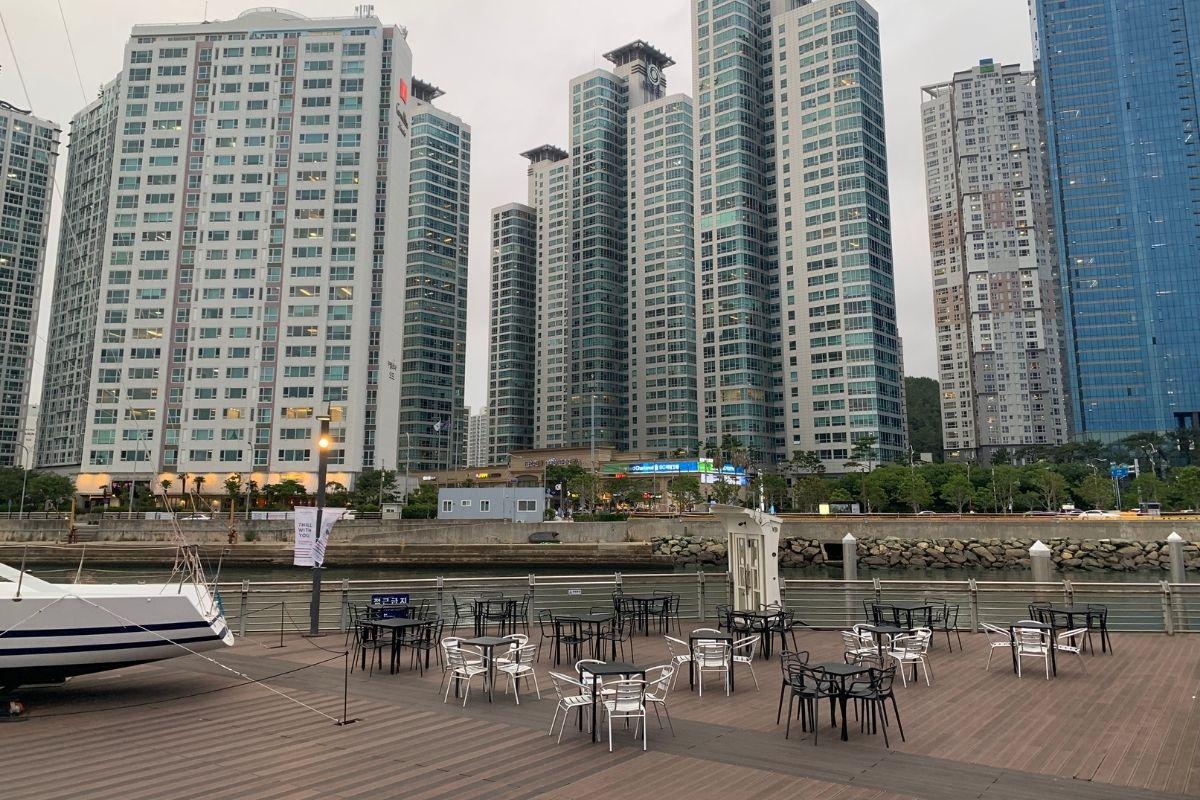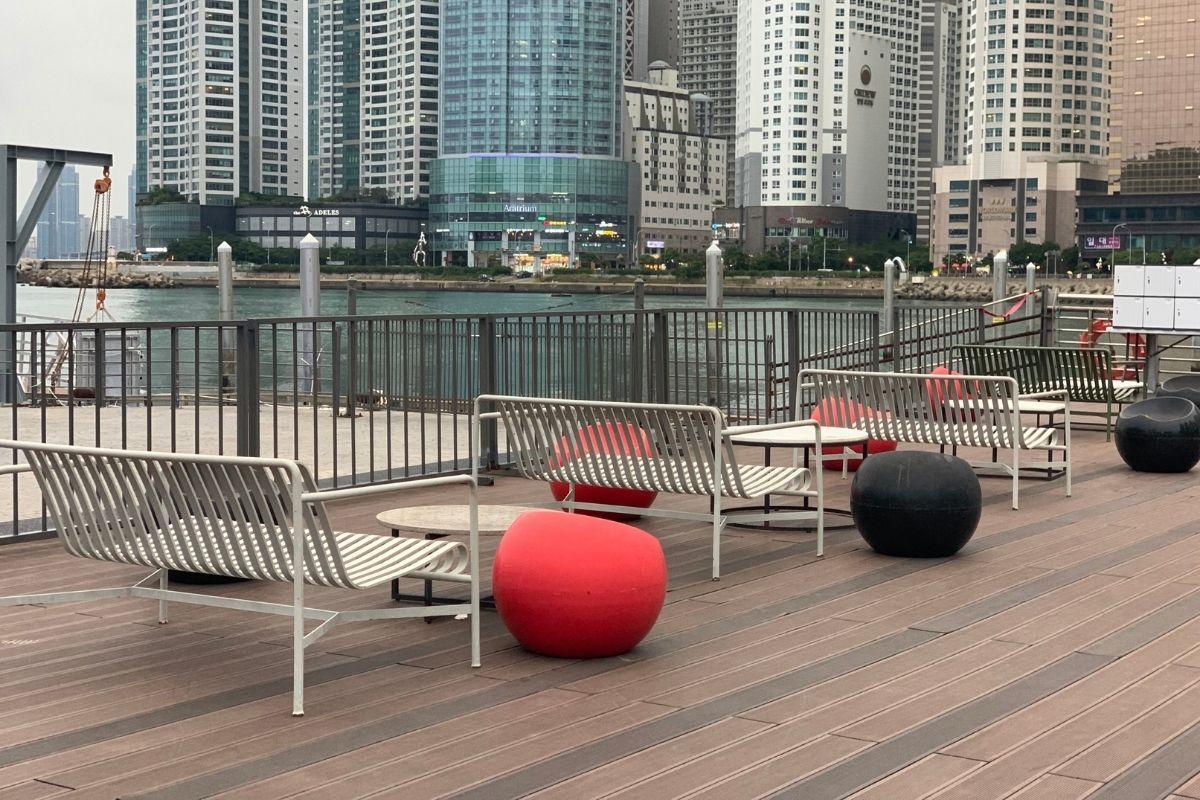 They really have a ton of outdoor seating options!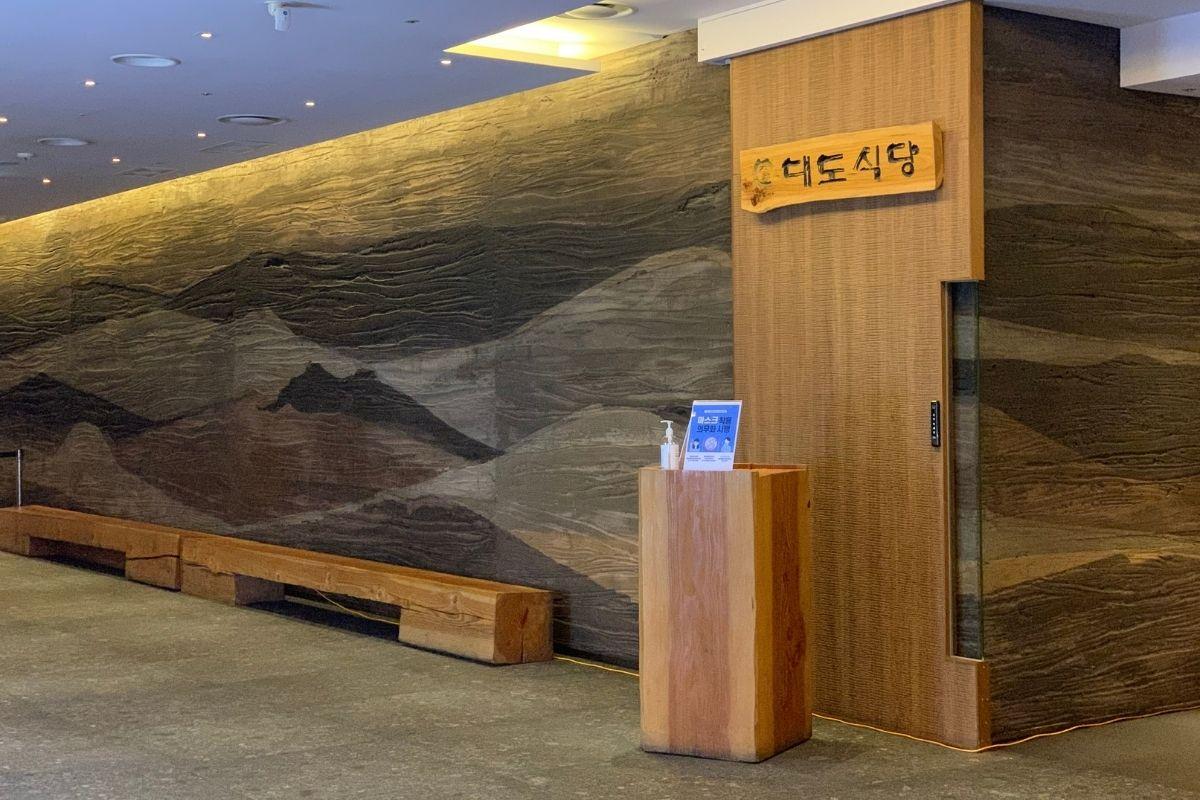 Now let's move on to the 2nd floor attractions!
First, there's a restaurant called Daedosikdang.
They specialize in beef dishes - soup, steak, etc.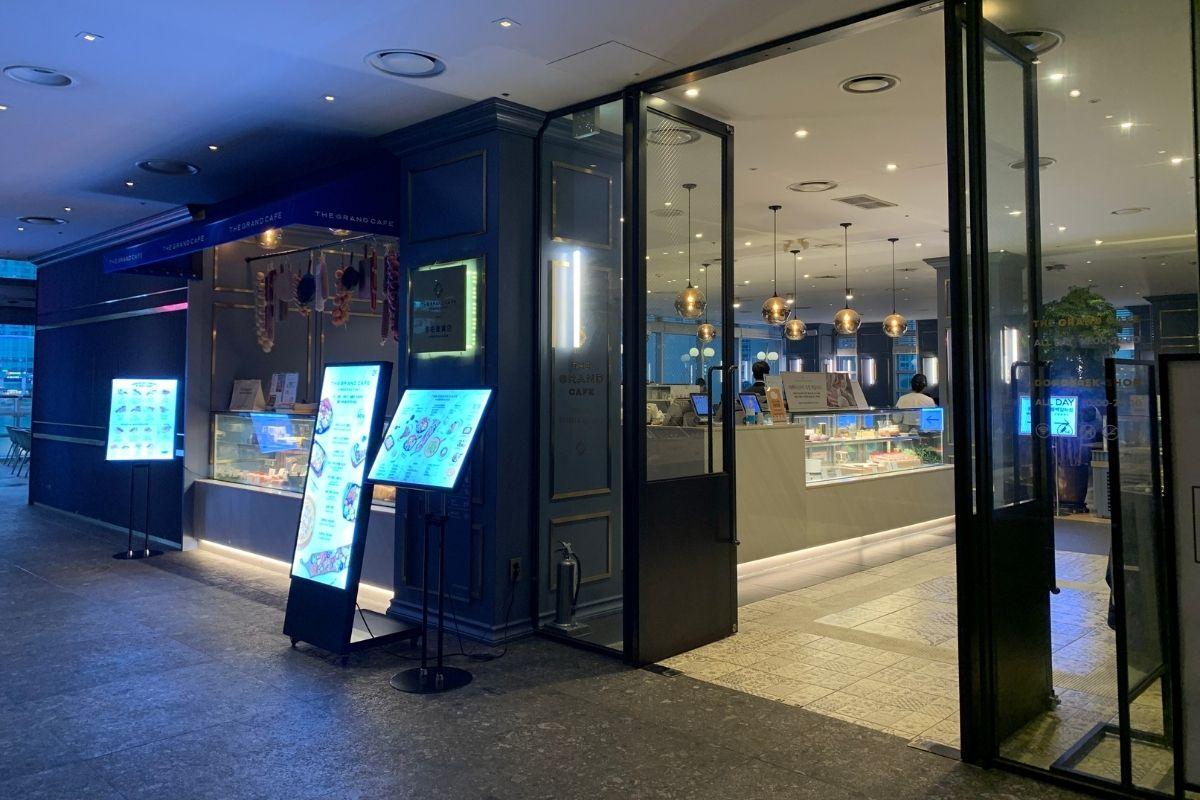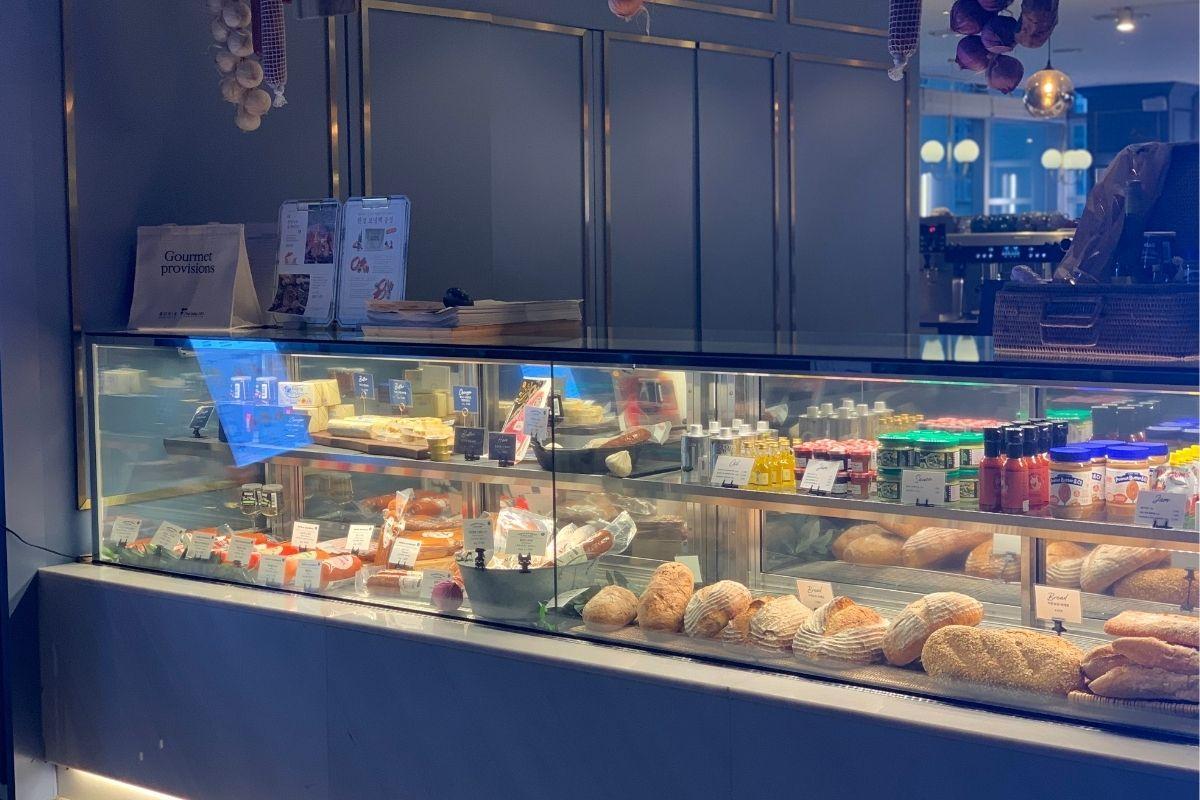 Opposite Daedosikdang is The Grand Cafe where you can find your typical dessert cafe fare and also brunch and European style food.
They also sell kitchenware and souvenirs.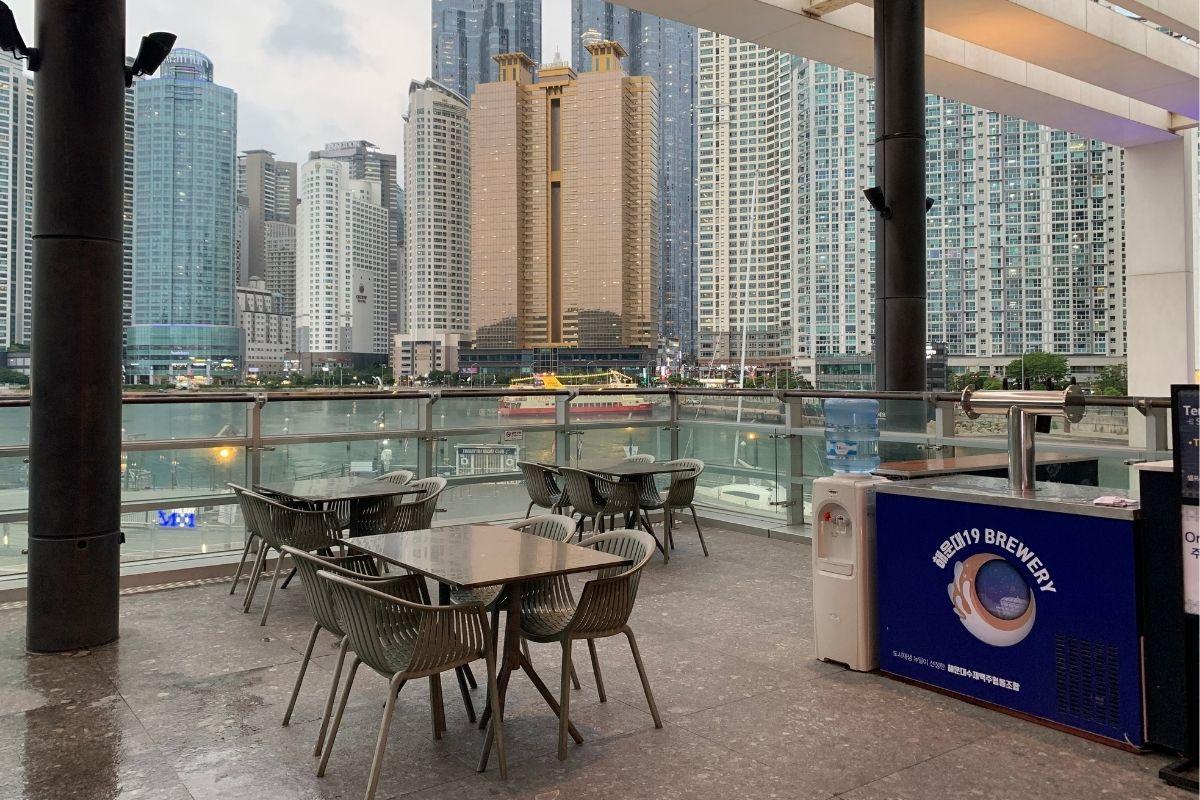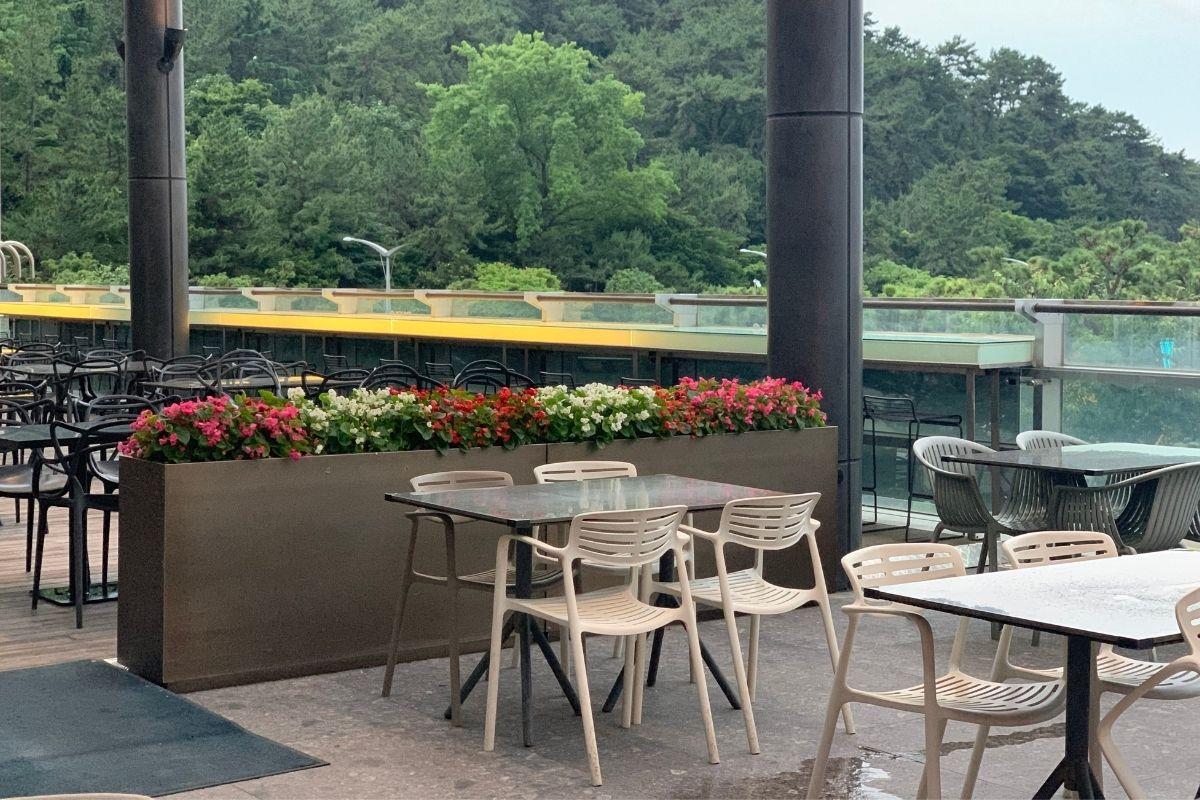 On the 2nd floor there is also outdoor patio seating where you can sip drinks and enjoy the breeze.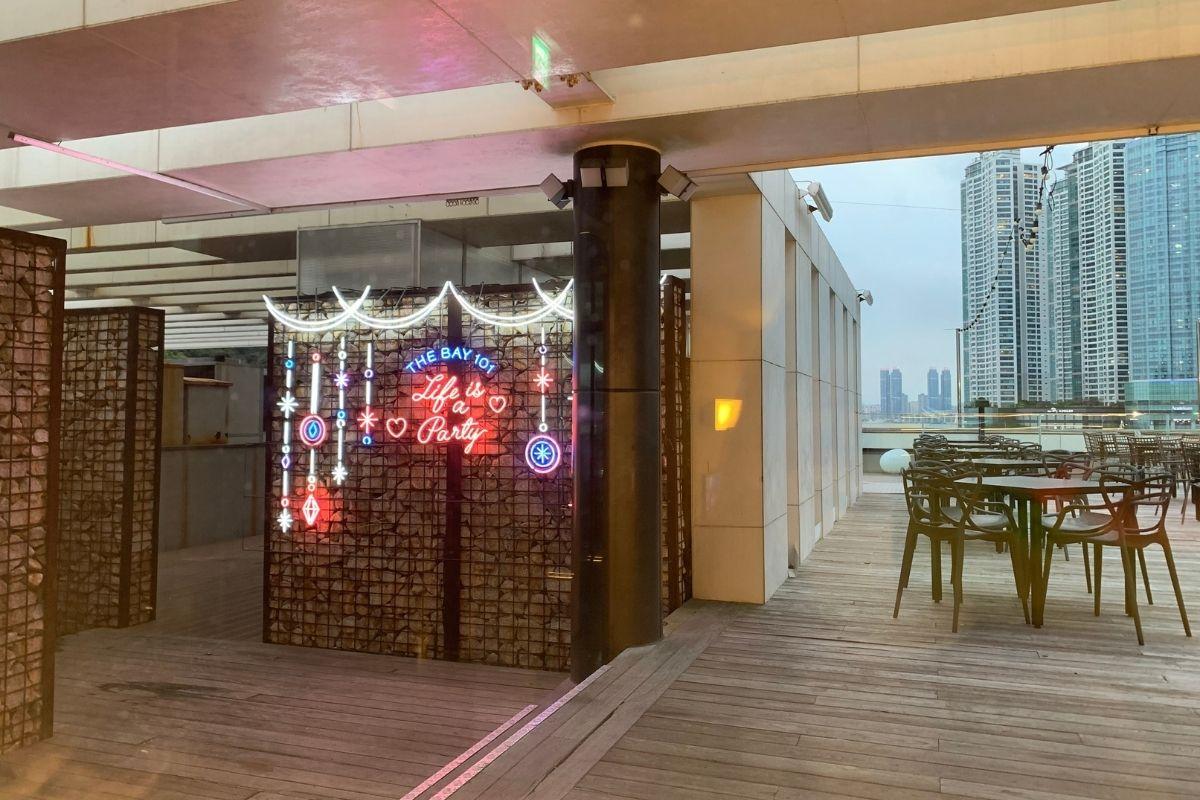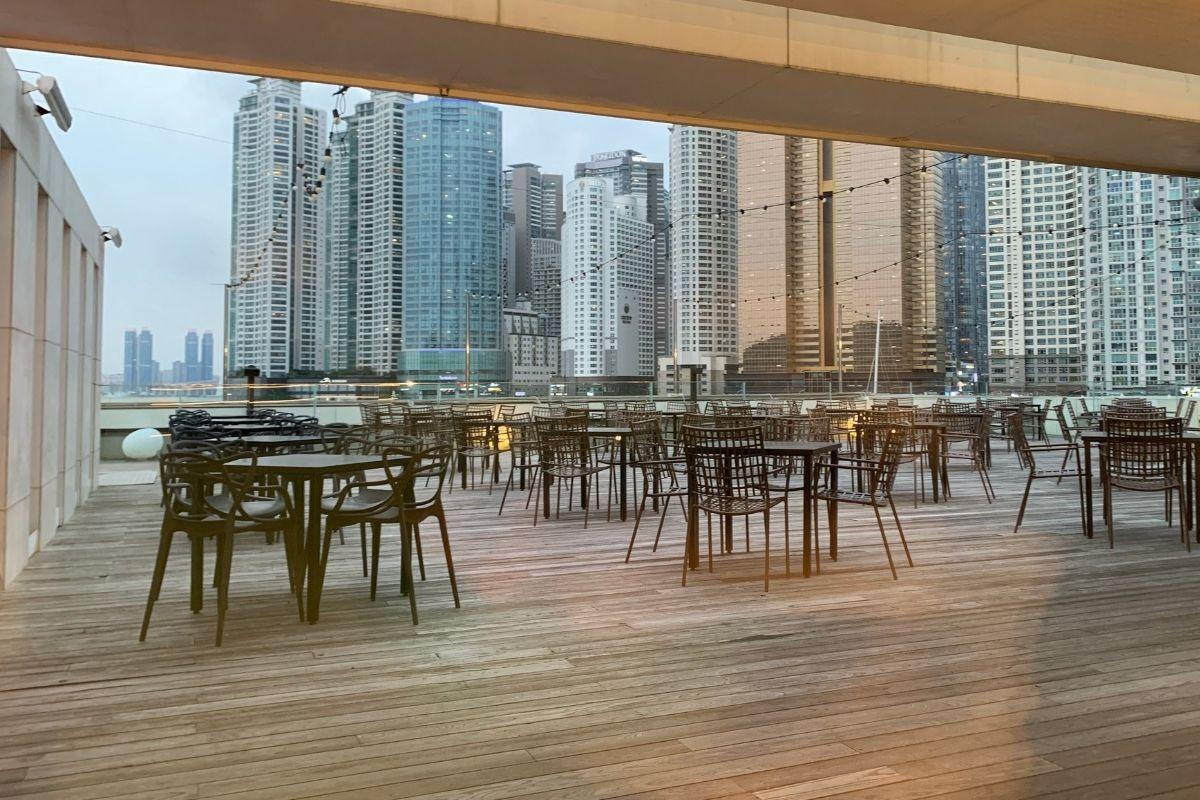 The Bay 101 has a rooftop, but unfortunately it was closed when I visited, so I could only take pictures through the glass door.
As you can see, this is really cool spot to chill with friends, but I'm gonna let you in on a secret that only those in the know are privy to.
If you search The Bay 101, you'll see a lot of photos like this, but where do you go to take these pictures?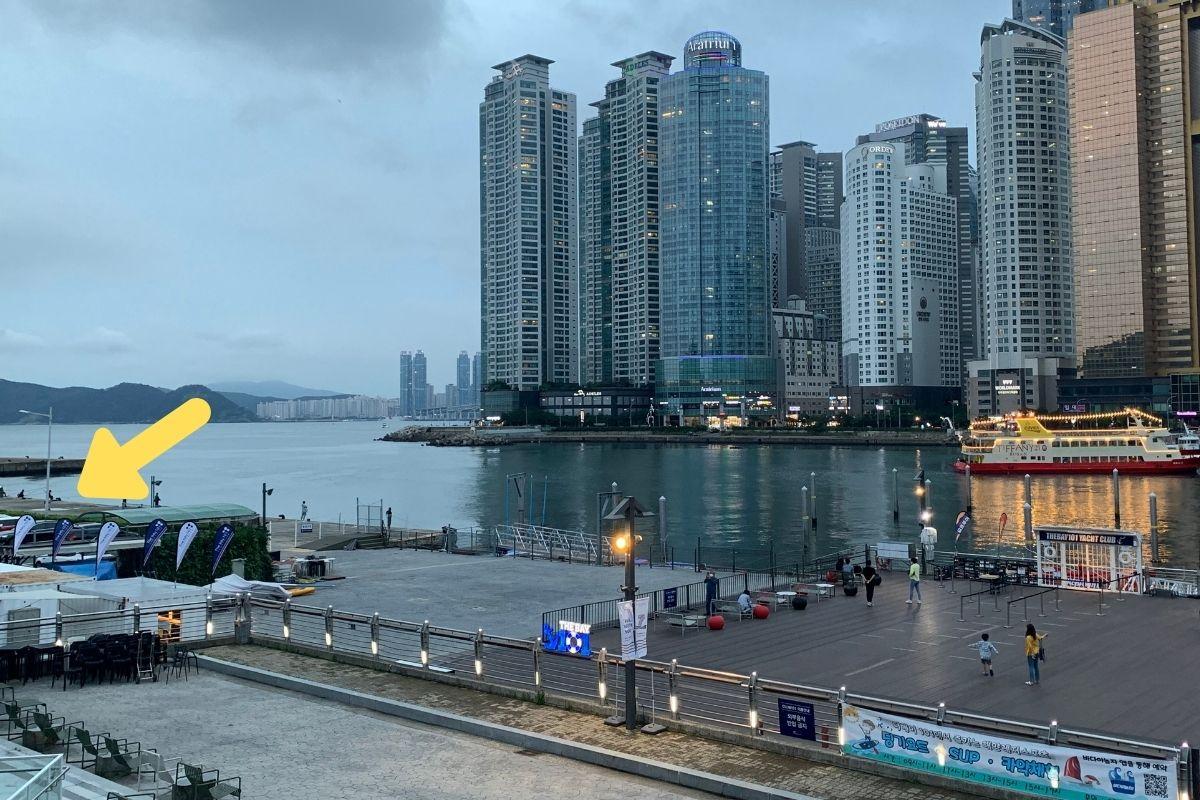 I've marked with an arrow the spot you need to go to take a photo like I showed you.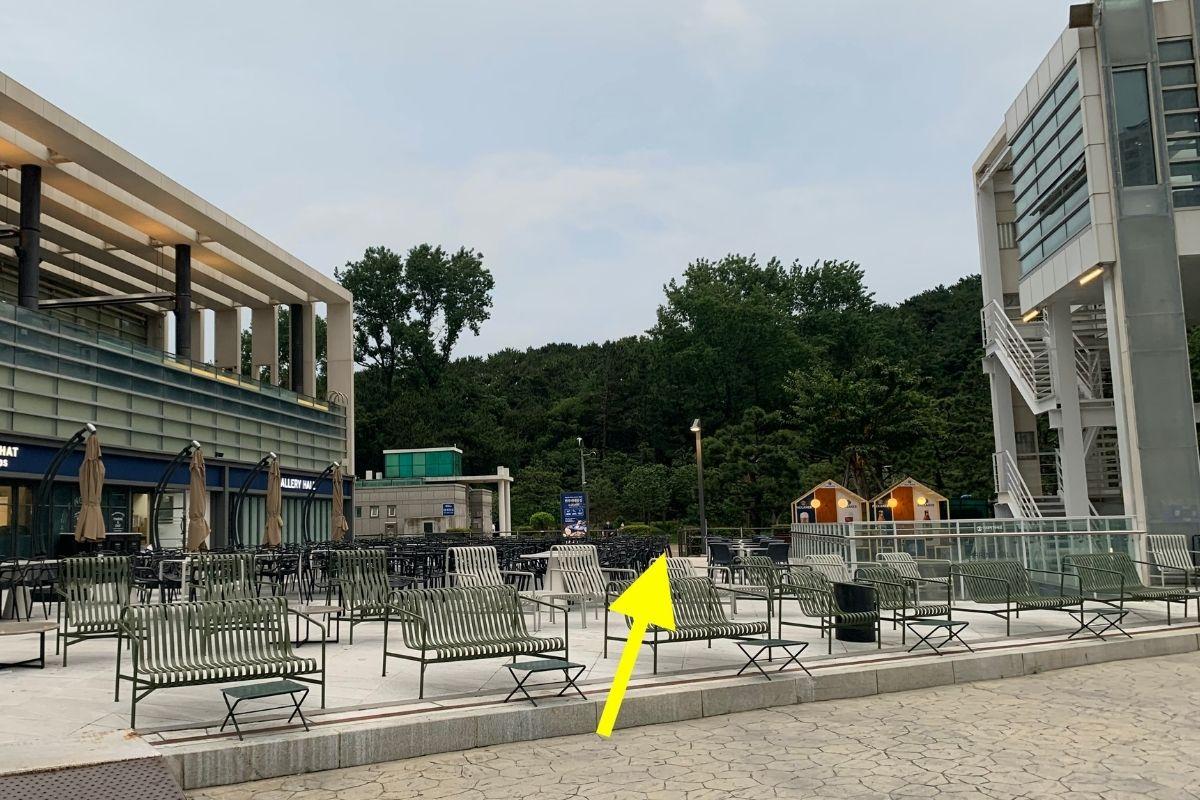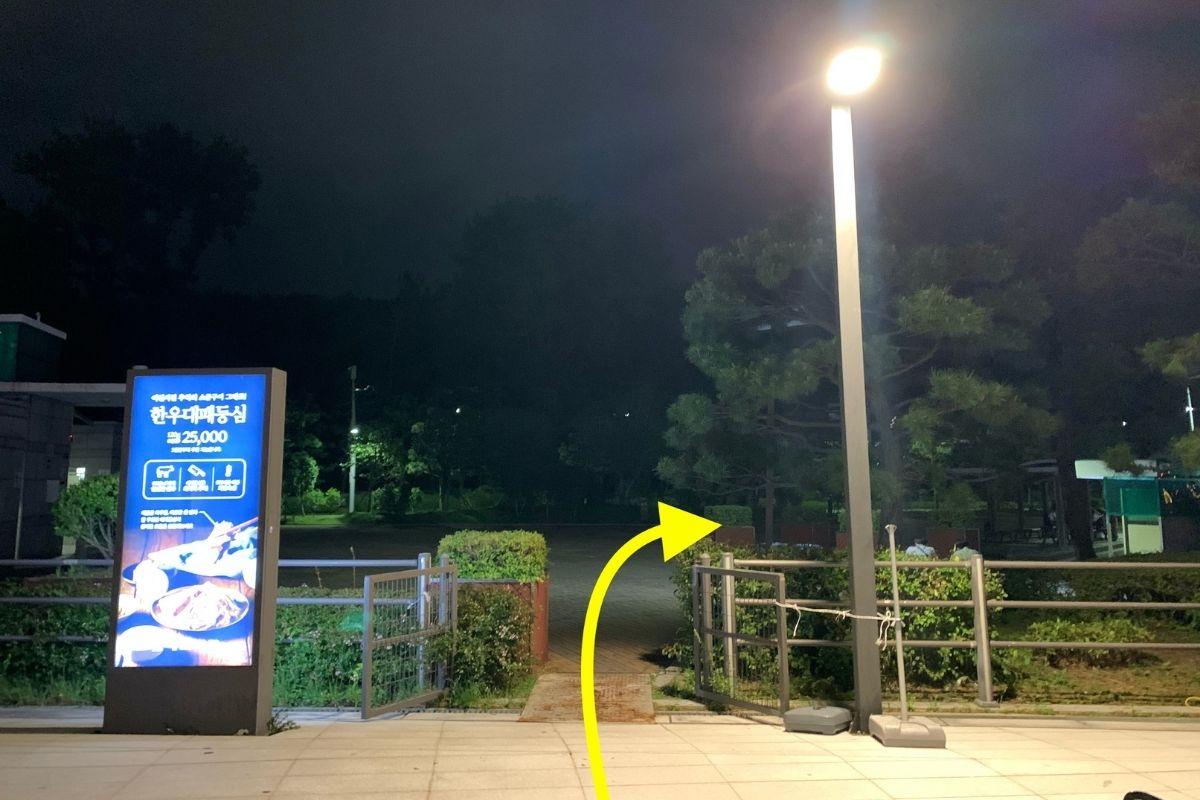 It's outside The Bay 101 so from the 1st floor patio, follow the arrows out the gate.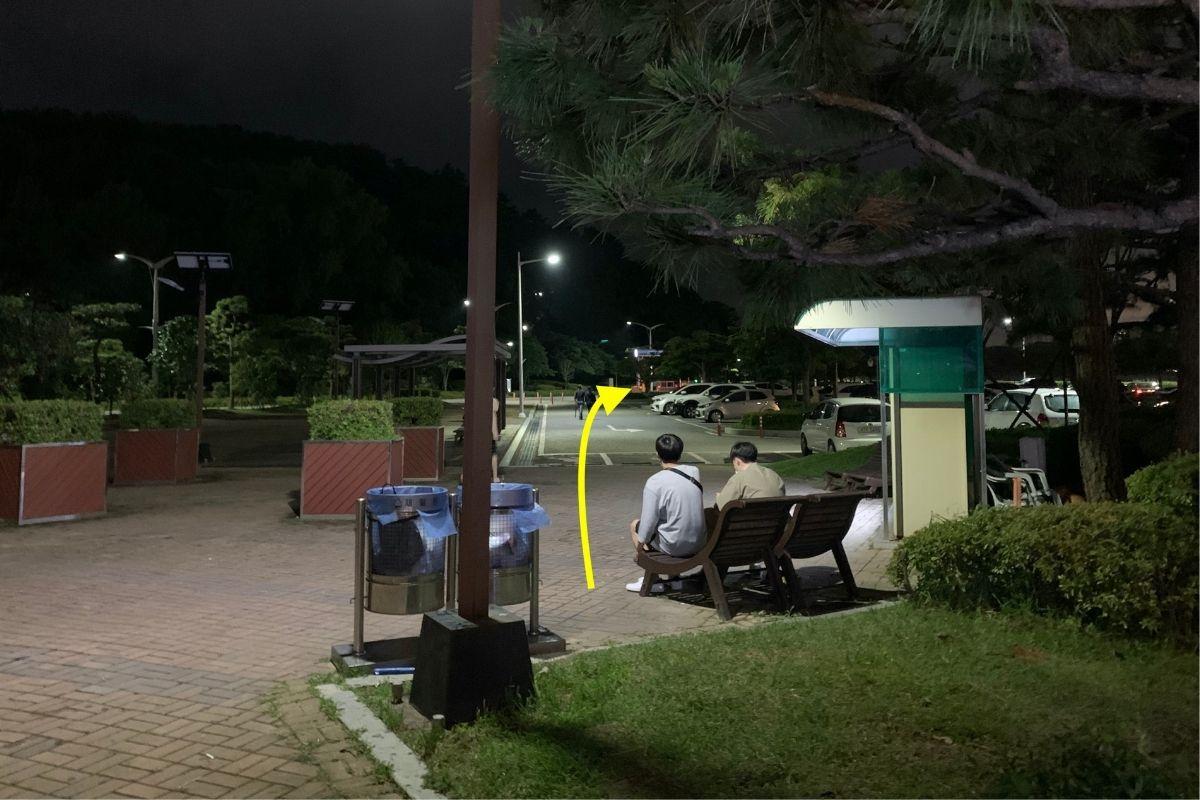 Go towards the parking lot and follow the arrow.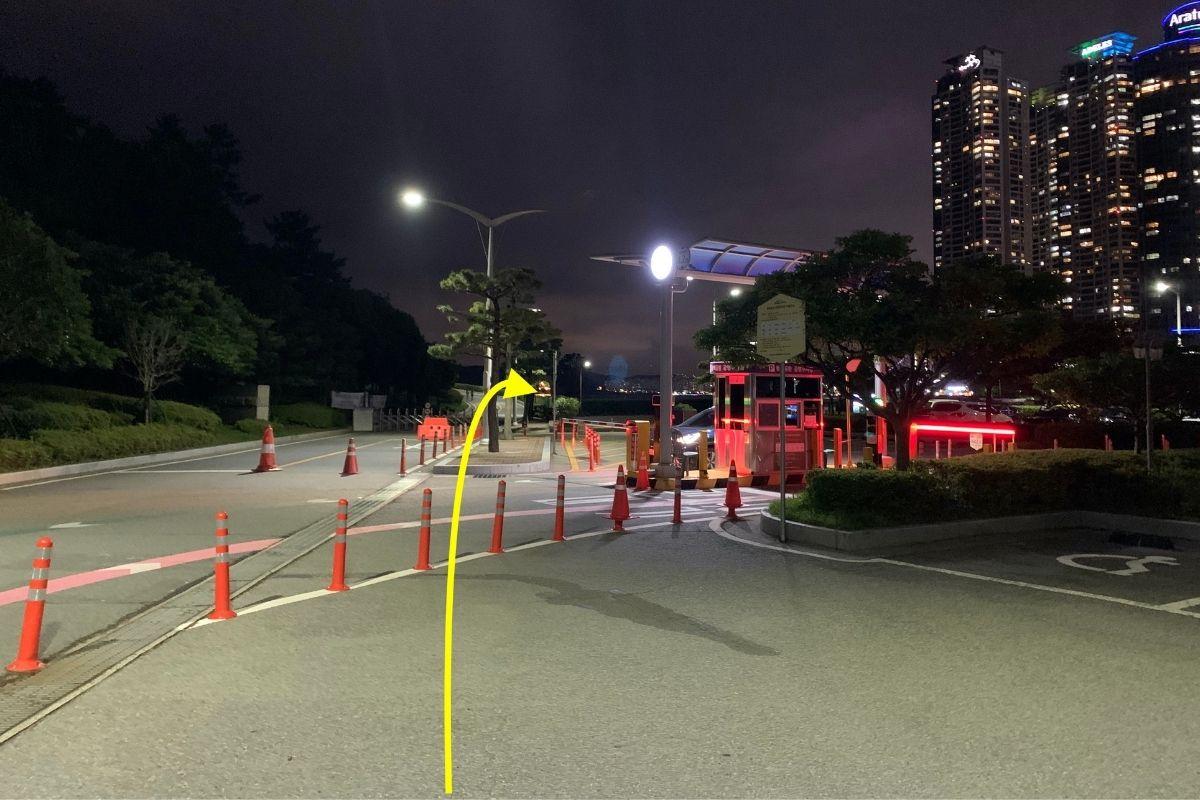 Go through the parking lot and you will see the entrance on the right.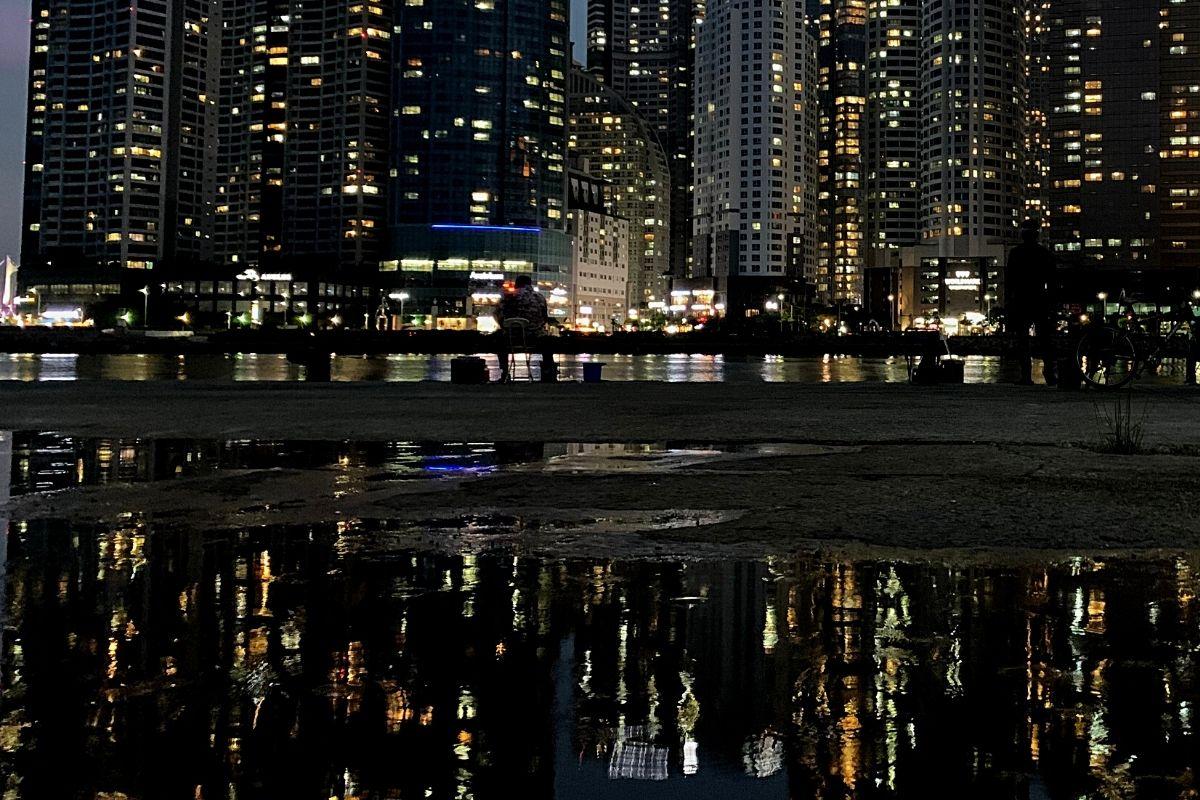 The trick to taking these reflection photos, is a good size puddle.
Often there will be puddles to work with, but if not, you can borrow a bucket from the people who are fishing and make your own puddle.
To take the photo requires some photography skills.
You will need to keep your camera low, close to the water and angle it just right.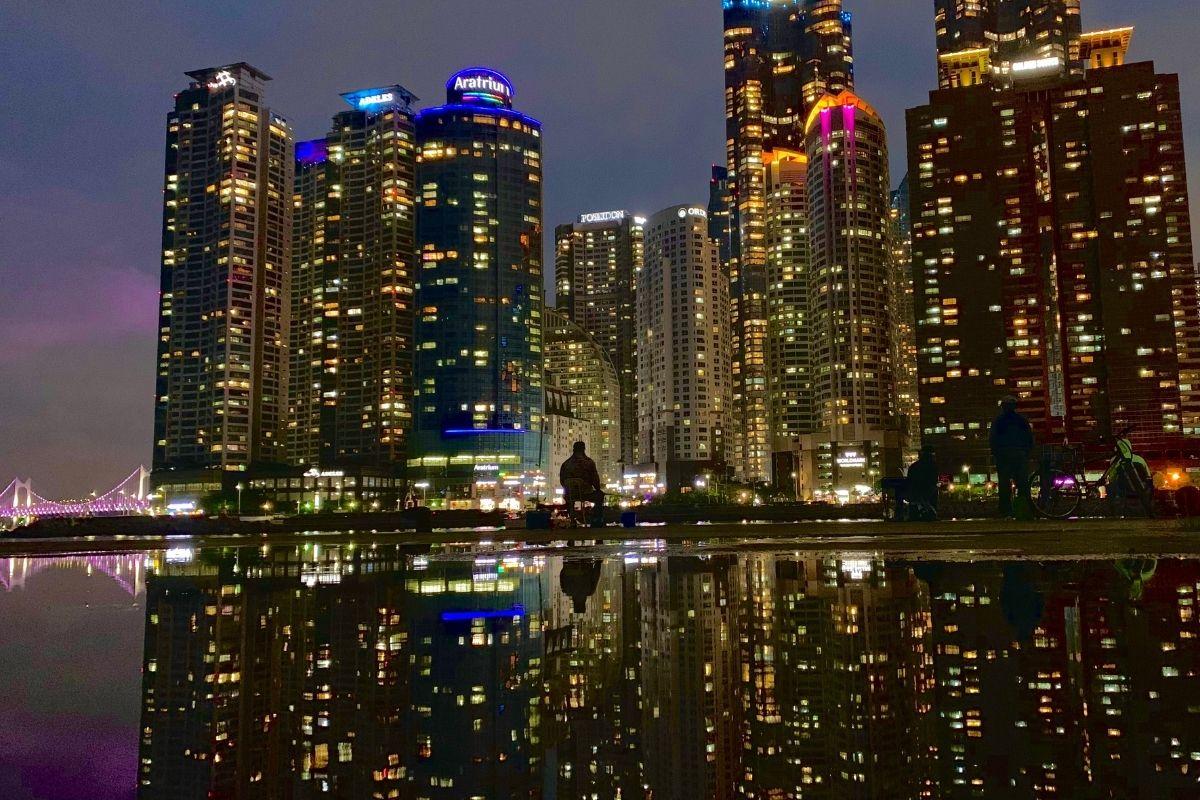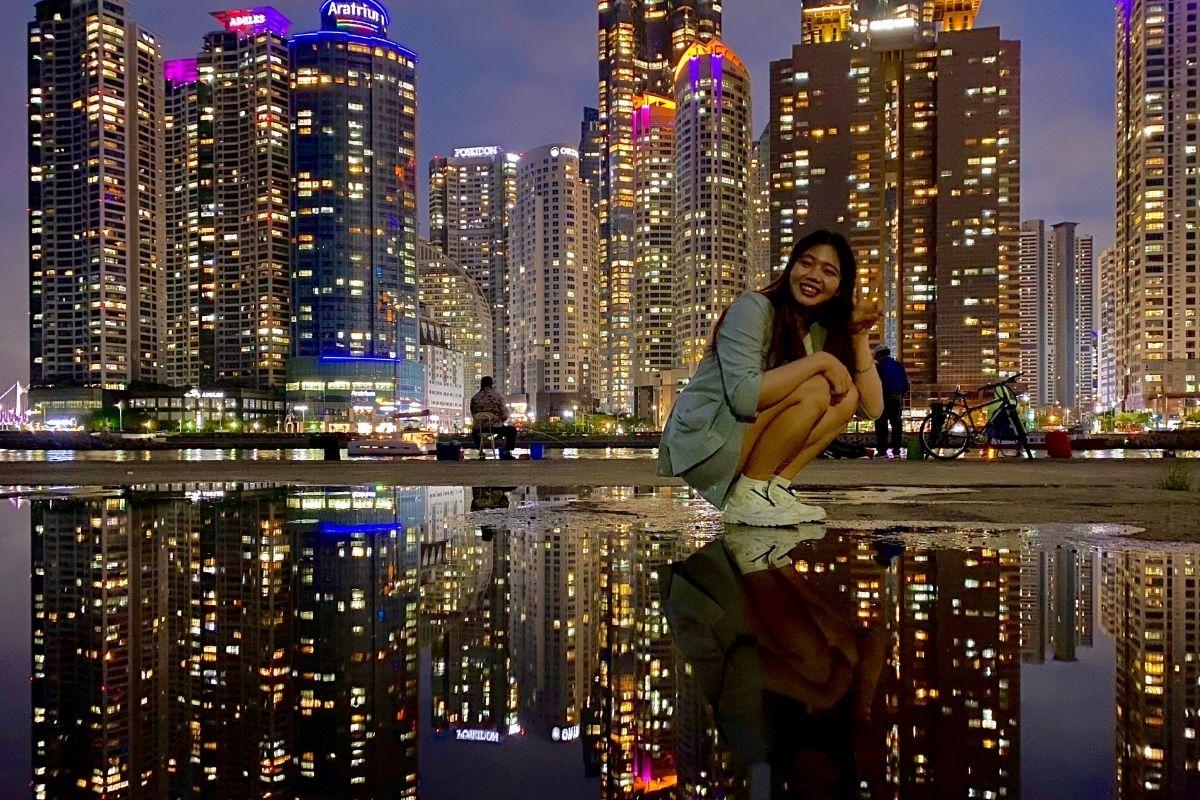 It took some time and patience, but I was finally able to get some photos that I was satisfied with.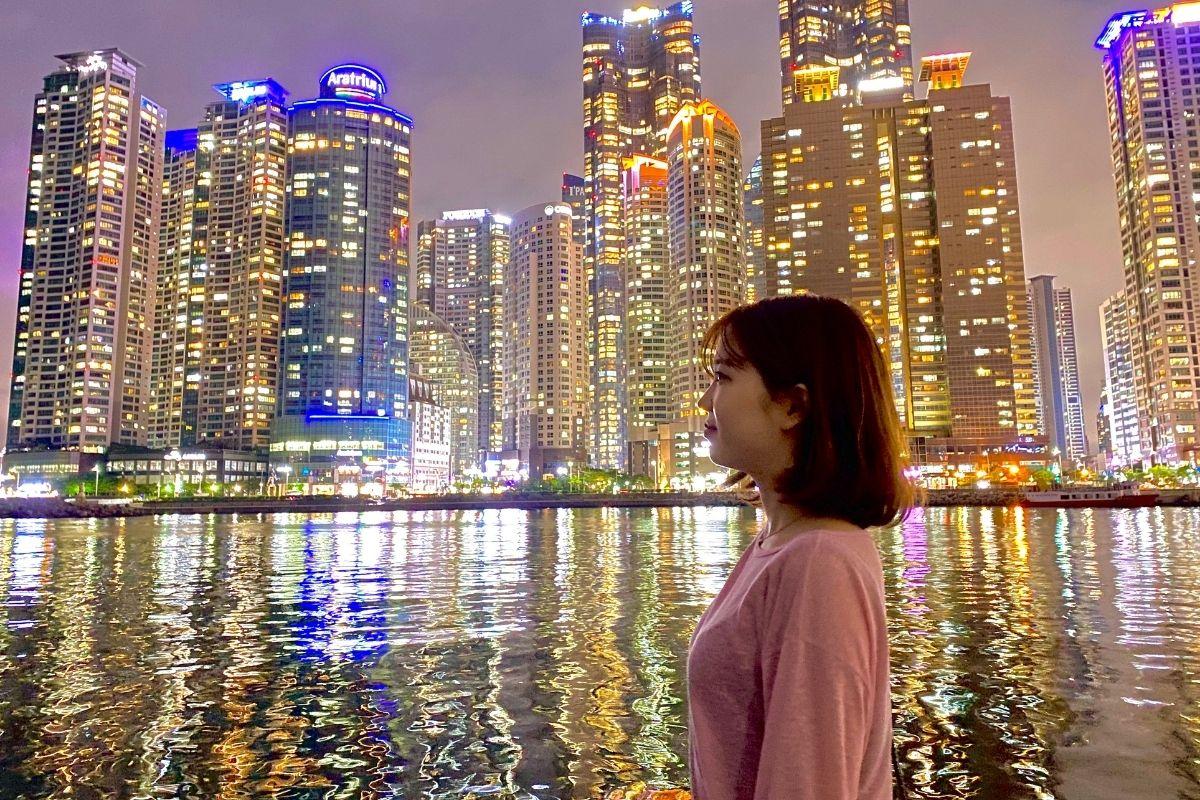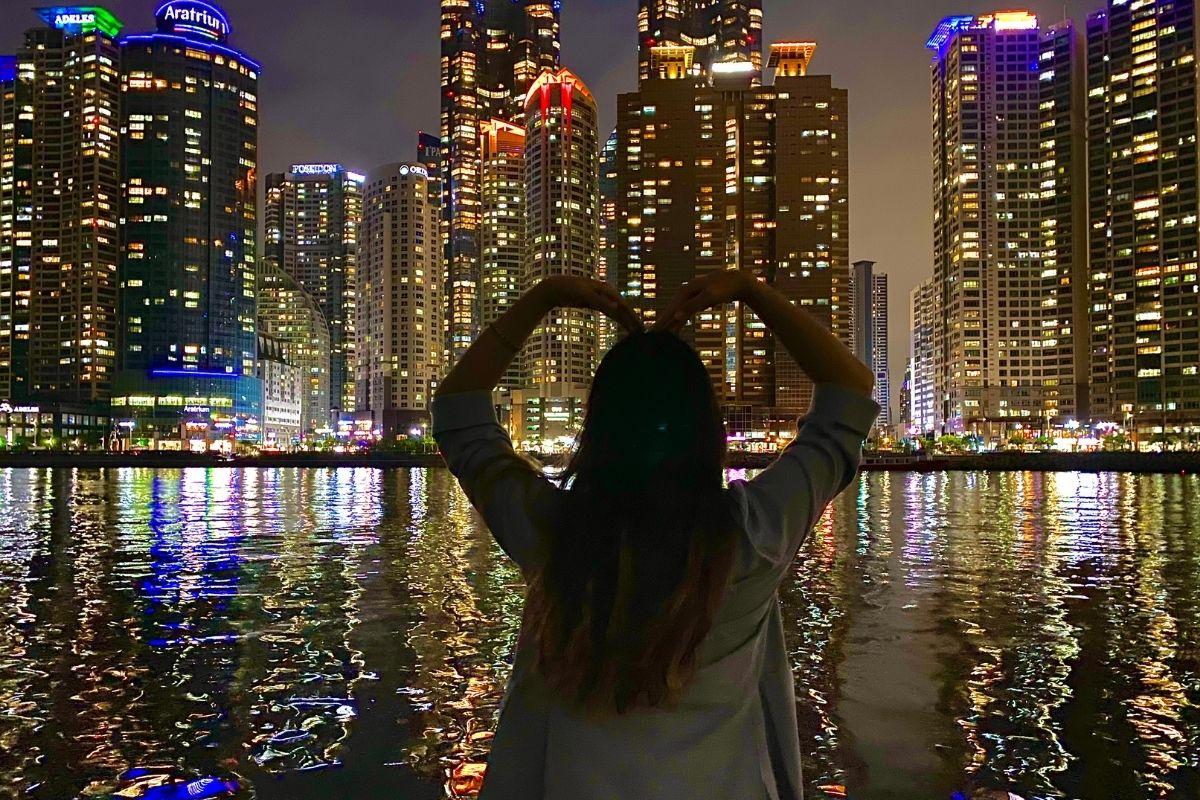 I really love how my photos turned out and definitely think it was worth the bit of effort.
Night time is the best time to visit obviously if you want to take similar photos.
---
How To Get There

The Bay 101 is just a 13 minute walk from Dongbaek Station (동백역)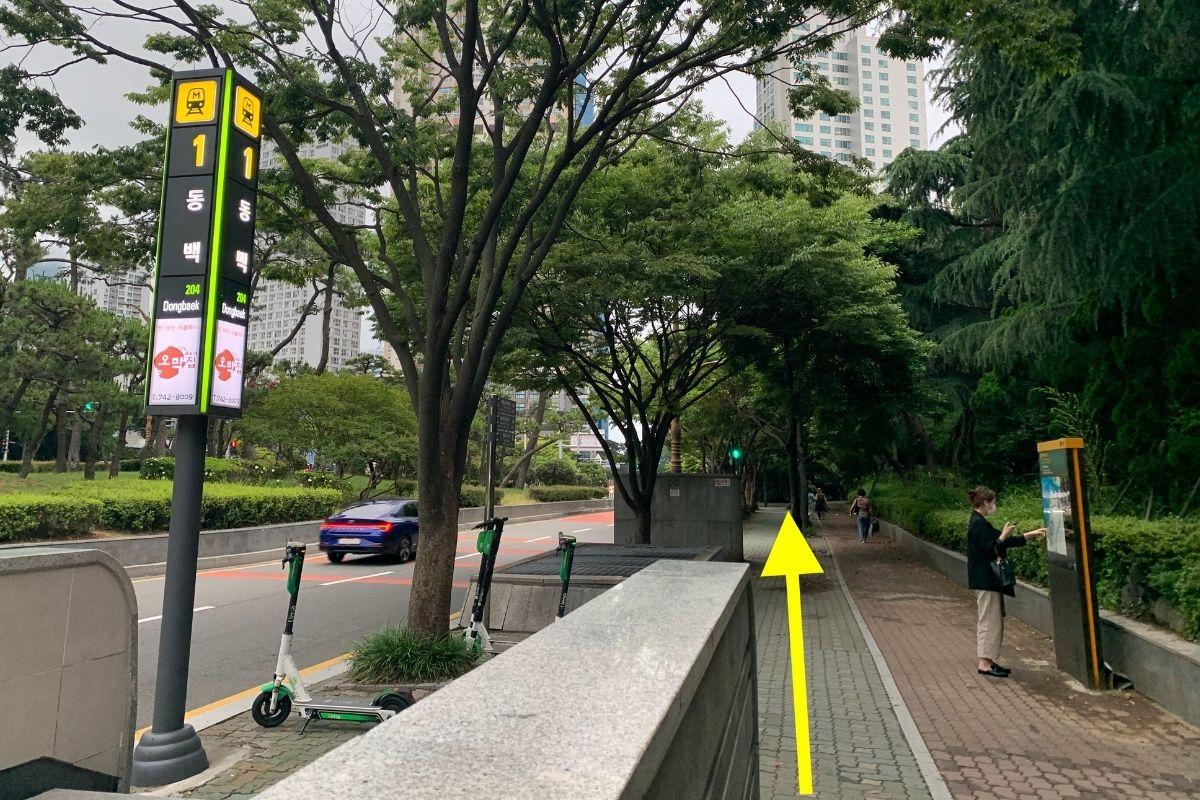 From Dongbaek Station exit 1, go straight.
At the intersection, cross the road and continue straight.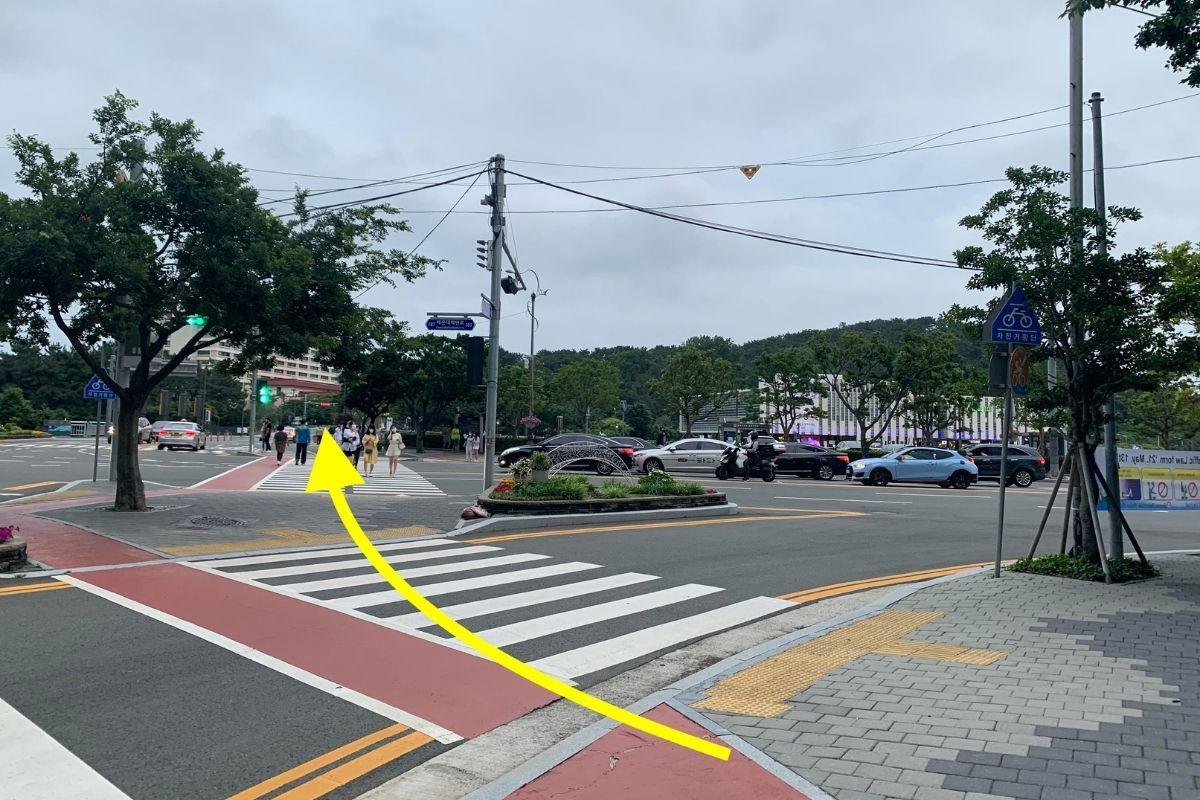 Go straight until you see the next intersection and cross at the crosswalk.
You will see a small bridge.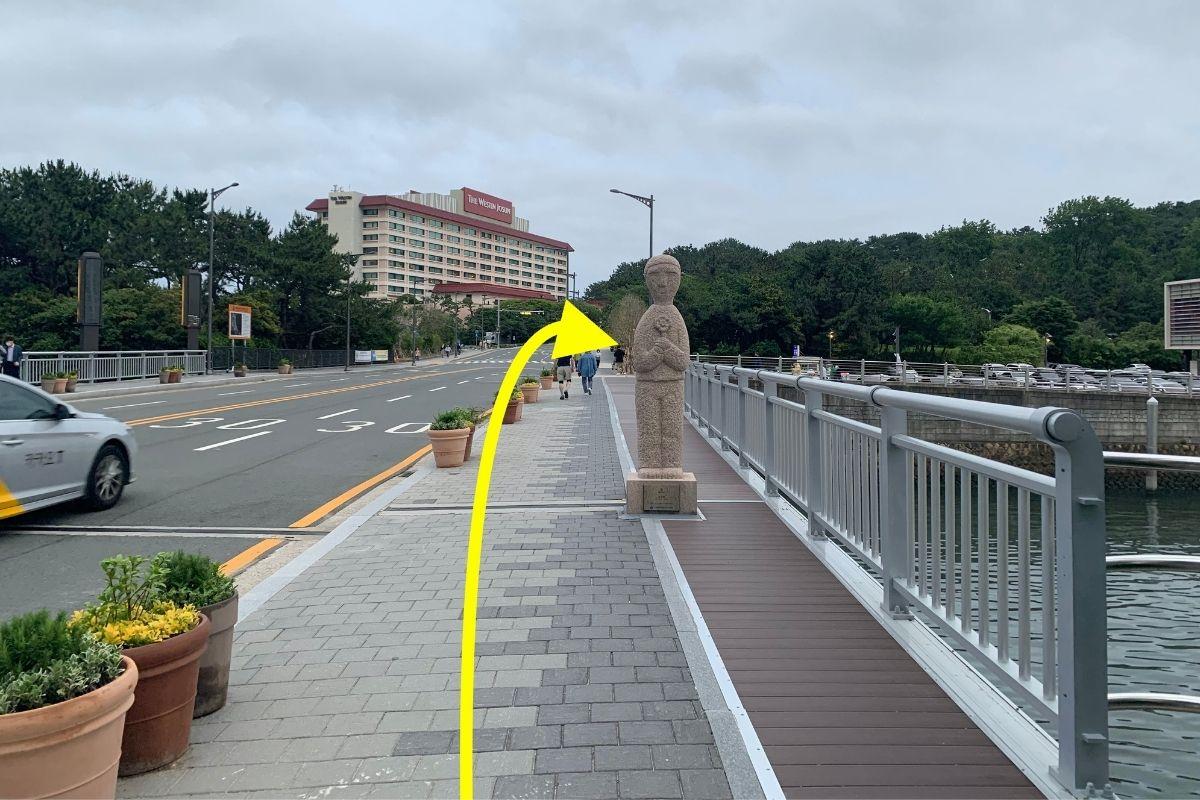 Cross the bridge and you will see The Bay 101 on your right.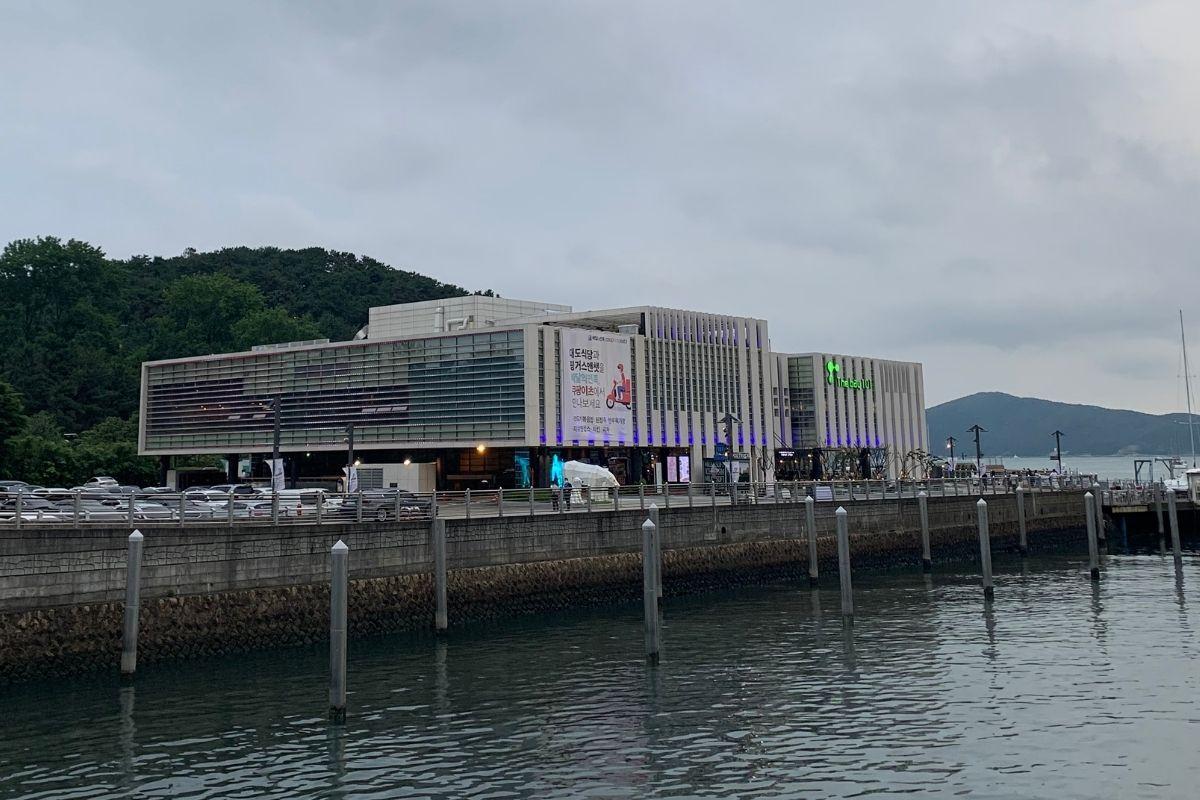 What do you think of this trendy nightlife location?
Would you like to visit?
Hopefully this has given you some useful information for your next trip to Busan.
Feel free to let us know your thoughts in the comments.
---