2022 Nampodong Busan Food Guide
Let's go on a food tour of some of the most delicious restaurants in Nampodong, Busan!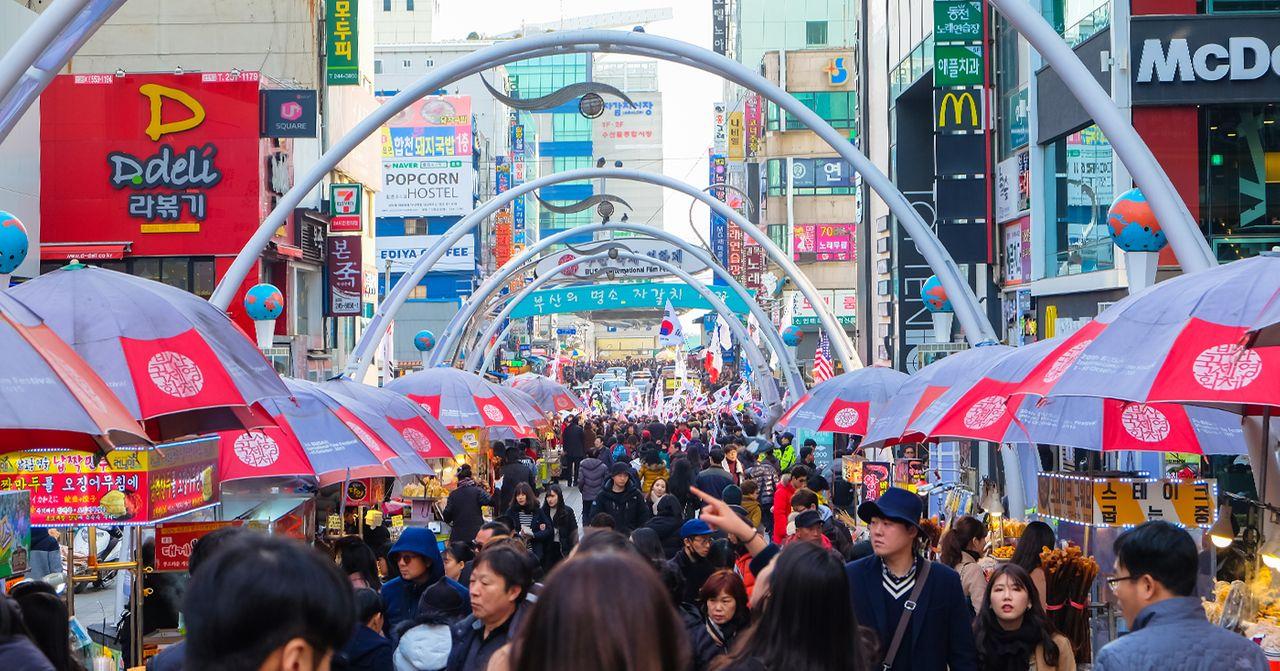 When in Busan, you need to visit Nampo-dong. Unlike the bustling Seomyeon area, Nampo-dong feels more relaxed and it's a place you can enjoy food, shopping, and a sea view all at once.
Let's see what kind of delicious food you can find here!
---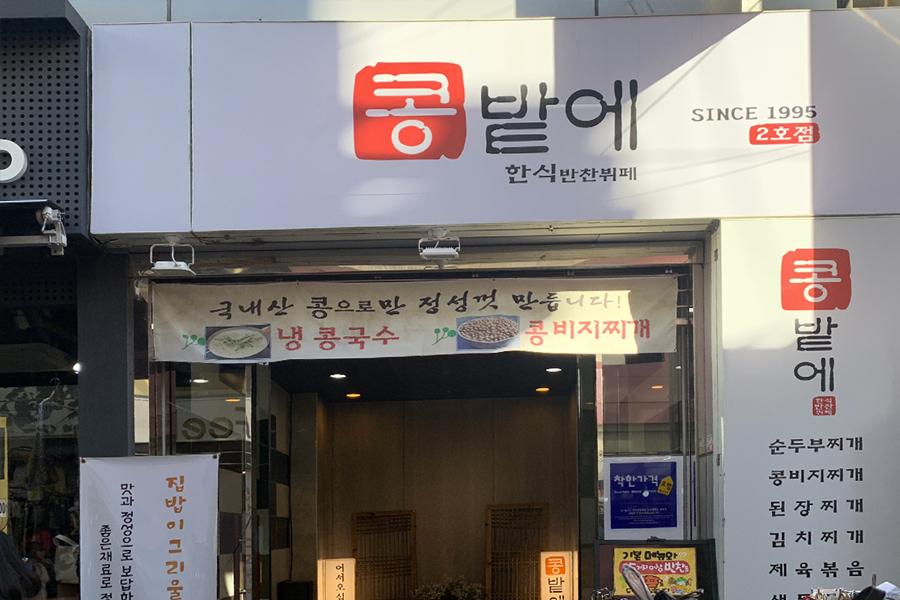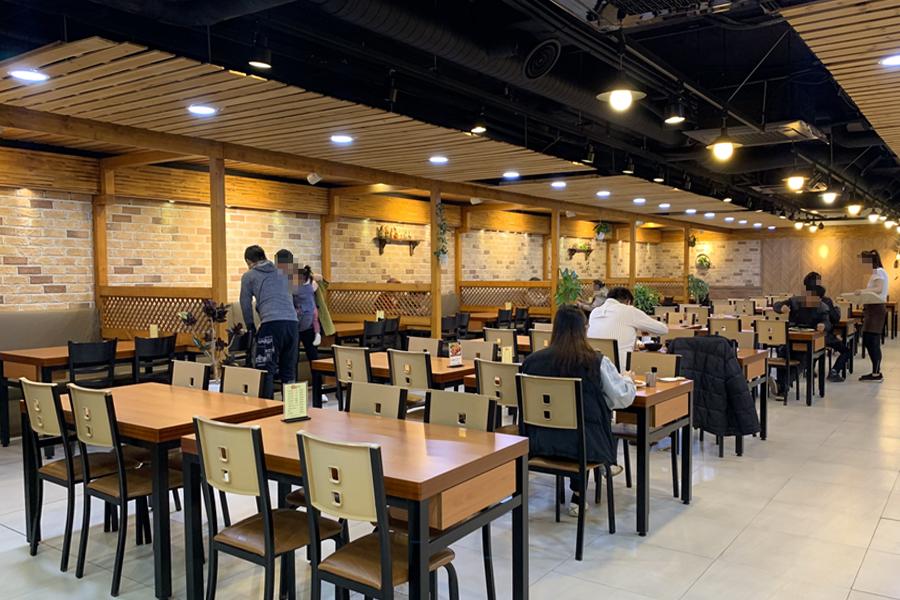 Kongbate in Nampodong is probably the restaurant that gives you the best value for the price in this area. It's a buffet that only costs 9,900 won per person! They serve lots of traditional Korean food, from fish to vegetables.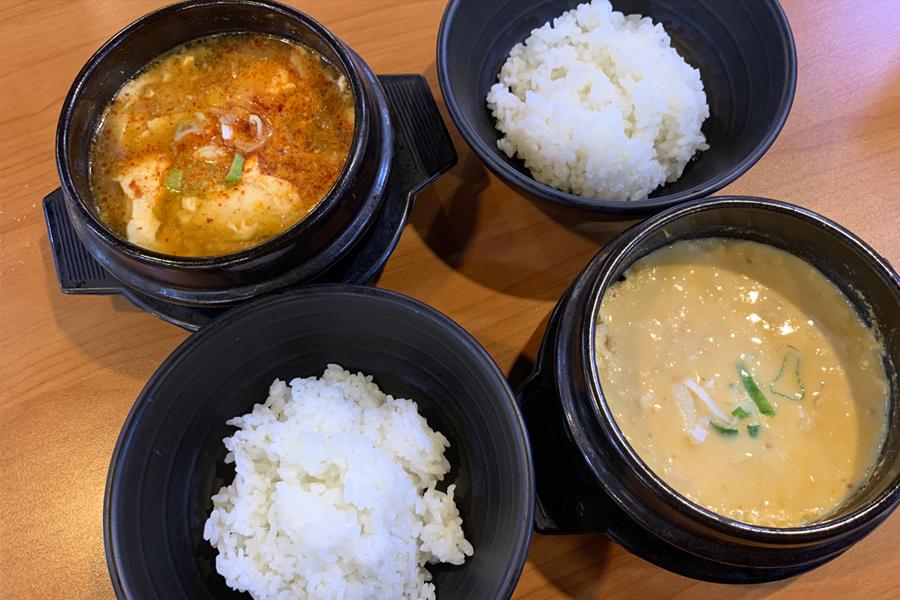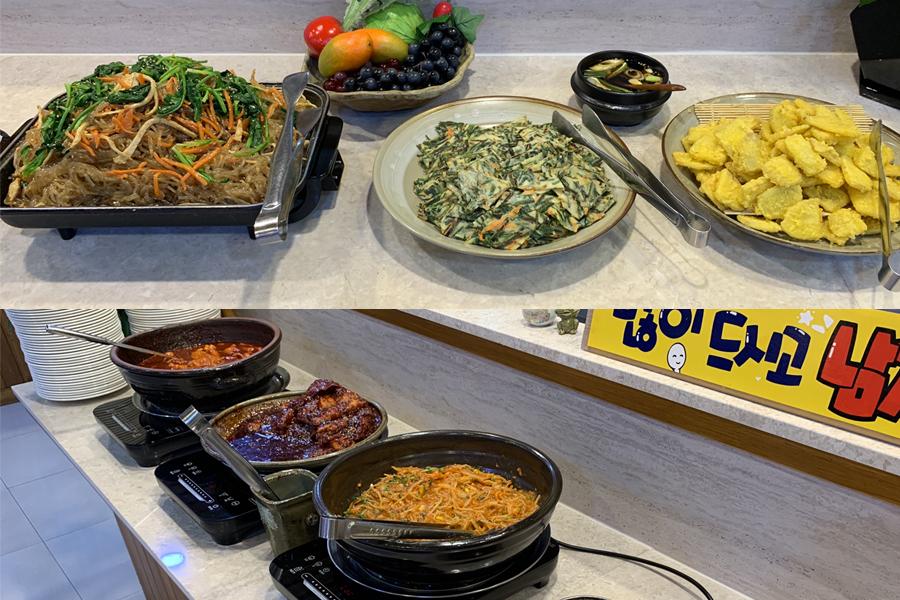 You can eat as much delicious food as you want, just be sure not to waste any food, and don't worry because the items are constantly refilled. Compared to the other expensive buffets in Korea, Kongbate is such a great restaurant to visit and you can eat so much fresh food for the price.
Creatrip members can even use this coupon to get a free can of soda per group of four!
Address: 부산 중구 광복로49번길 26 B1
B1 26 Gwangbok-ro 49beon-gil, Jung-gu, Busan
Hours: 10:30-21:00
---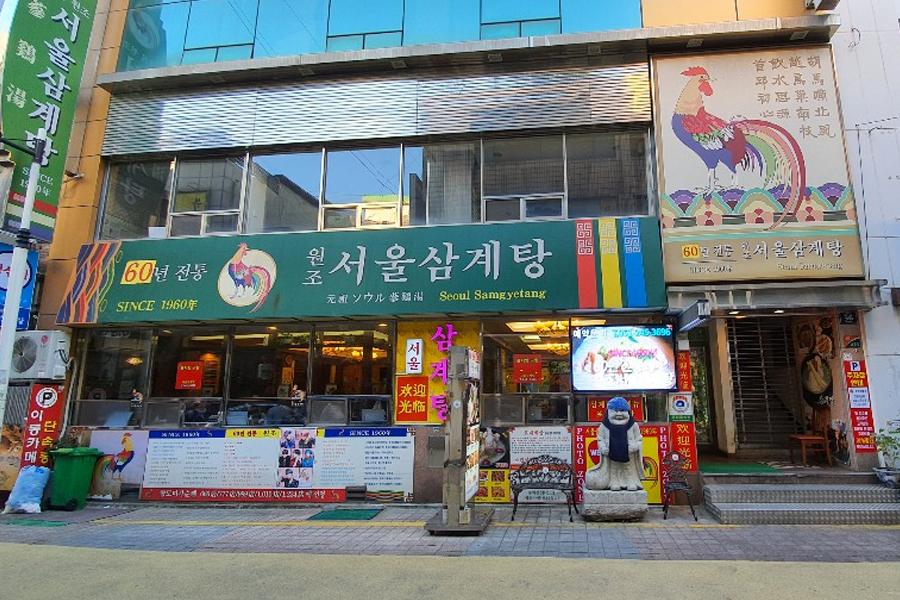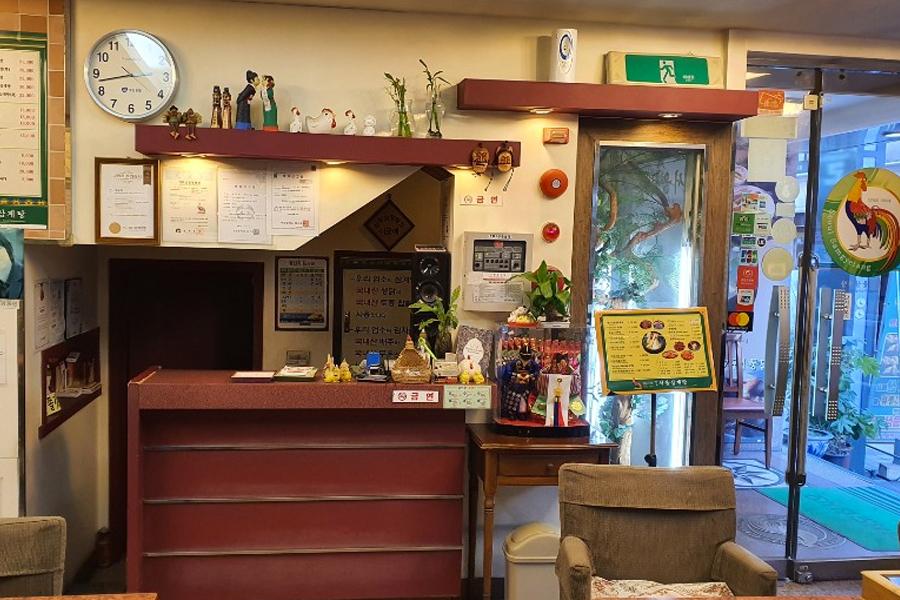 Wondering what to eat if you're visiting when it's cold? We recommend Wonjo Seoul Samgyetang, which specializes in Seoul-style samgyetang, or ginseng chicken soup.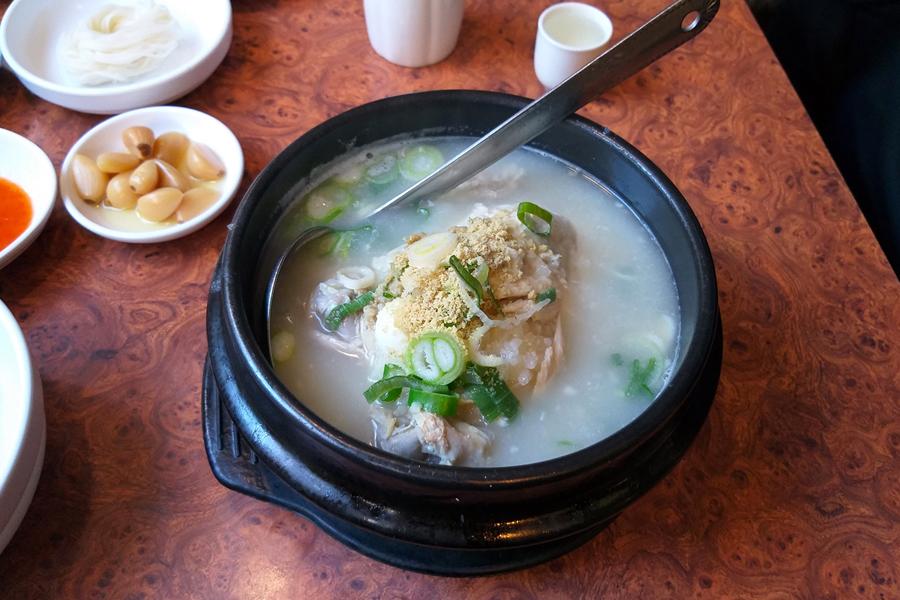 Original Samgyetang (원조 삼계탕)
16,000 won

The carefully boiled samgyetang has a light broth with a strong flavor and it will warm you up on a chilly day.
The broth is filled with sticky rice and made with healthy ginseng. You'll feel energized as soon as you take a sip and you probably won't be able to stop eating!
Also, Creatrip members can click here to get a coupon for free insam-ju (ginseng wine) per group of three.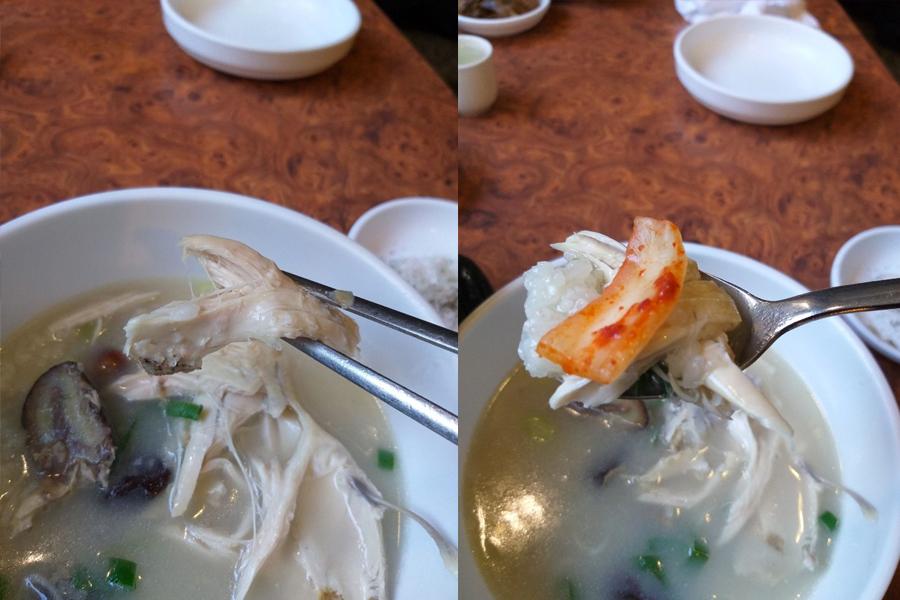 Address: 부산 중구 남포길 36
36 Nampo-gil, Jung-gu, Busan
Hours: 10:00-21:30
Last Order 21:00
---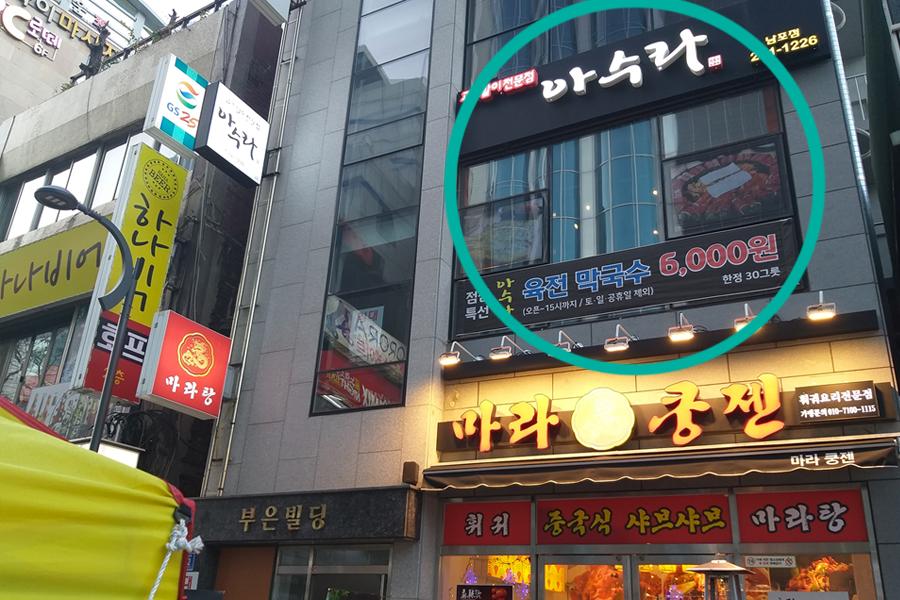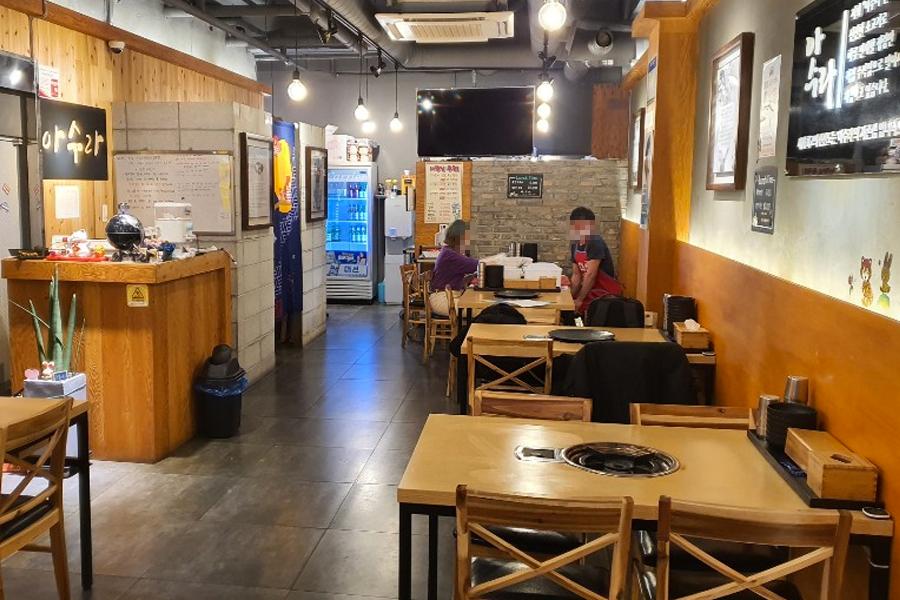 If you're getting tired of the normal Korean food and Korean barbecue, we recommend Asura. It's a chain with a branch in Nampodong with a very unique meat dish.
Here, you can have fresh meat rolls. Vegetables are wrapped in meat then grilled with oil. They are so flavorful and delicious, you'll be wondering why you haven't tried them sooner!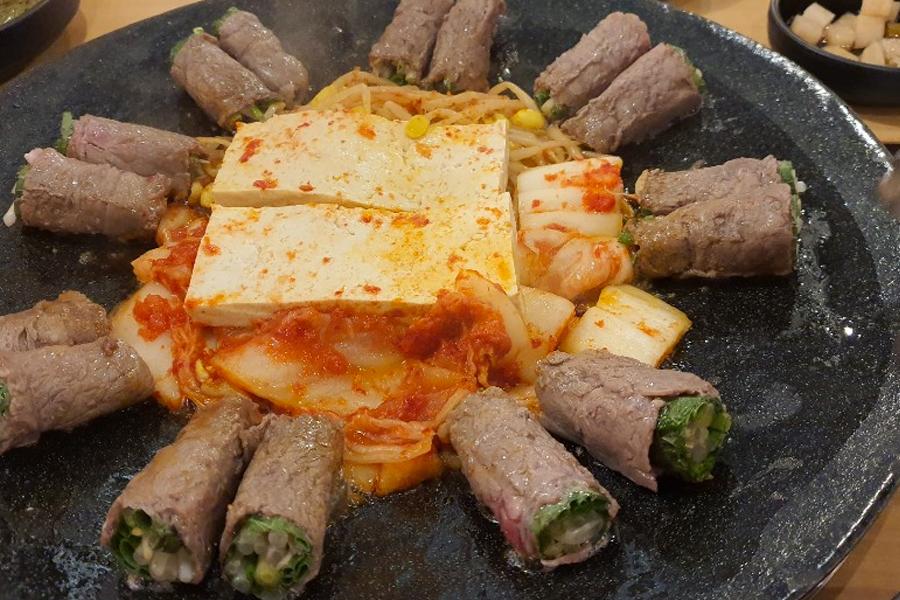 Meat Rolls 1 Serving (고기말이)
19,000 won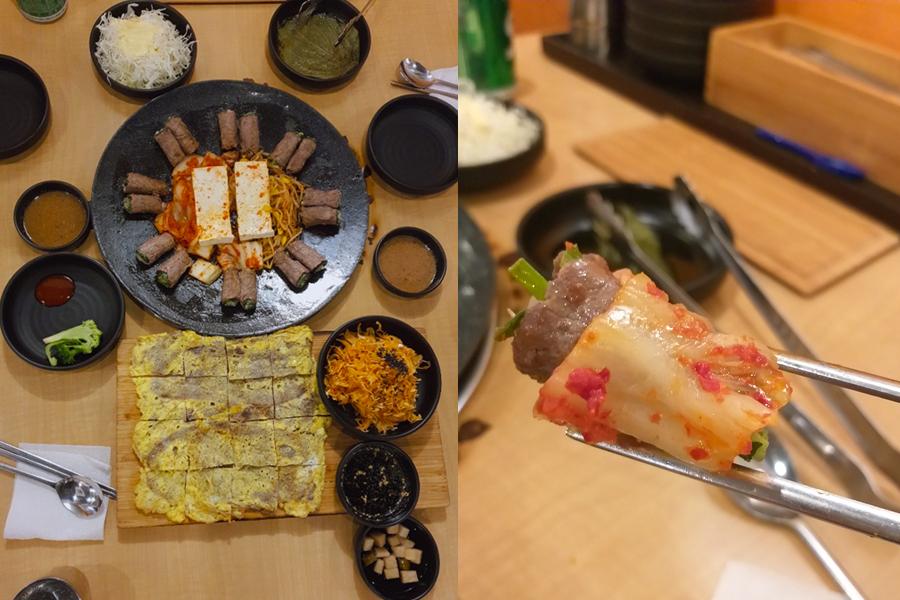 Meat Pancake (육전)
19,000 won
In addition to the rolls, you definitely have to order the meat pancake at Asura. It's a little pricey, but it exceeded our expectations both in taste and portions. It tastes good eaten with vegetables or dipped in the sauce.
If you plan on visiting Gijang, Busan, there is also an Asura branch there. Creatrip members can also get a free soybean paste soup or a free can of soda per two people with this coupon!
Address: 부산 중구 비프광장로 19-2 2F
2F, 19-2 BIFF Gwangjang-ro, Jung-gu, Busan
Hours:12:00-23:00
---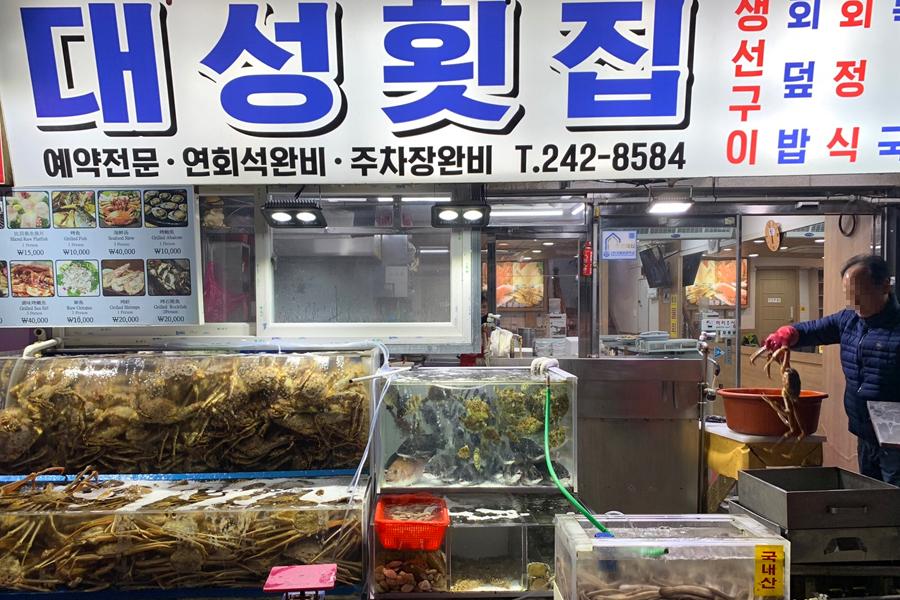 When in Busan, you have to have some seafood, right? Jagalchi Market, the largest fresh seafood market in Busan, is located in Nampodong, which is right by the sea. Daeseong Sashimi is one of the many stores here and we'll tell you why we recommend it!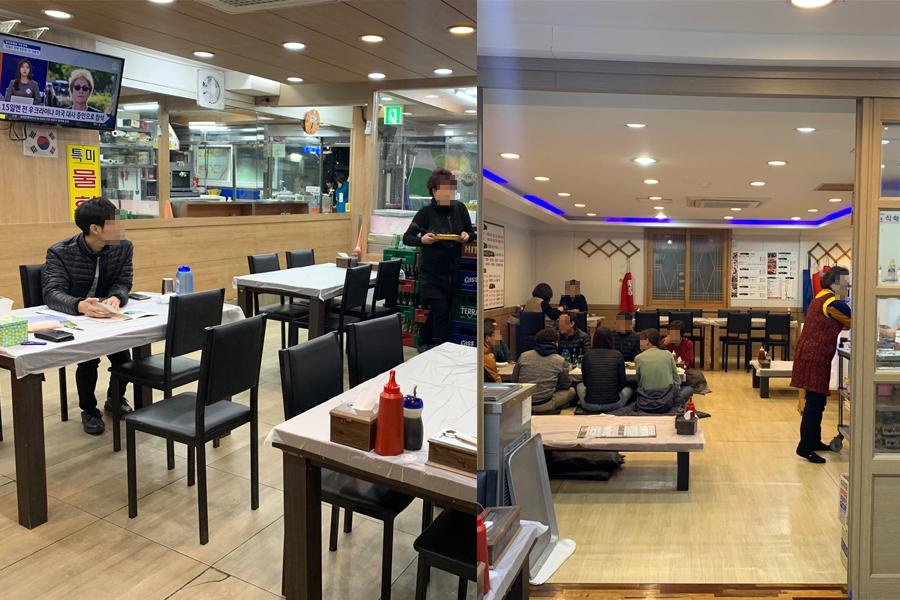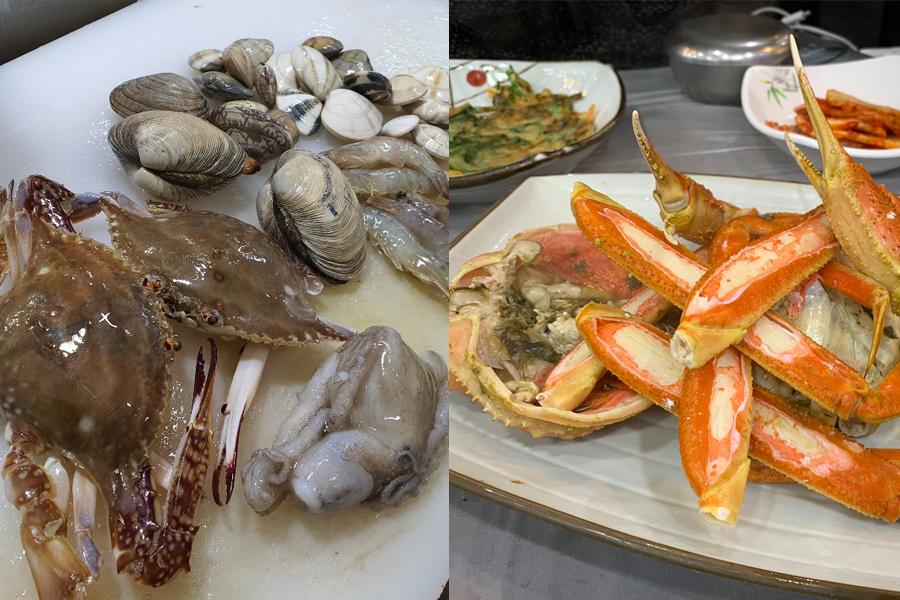 Daeseong Sashimi is a famous restaurant in this area. They have tables with regular chairs and floor seating, so you can choose what you prefer.
All the seafood is priced based on weight and prices are disclosed, so you don't have to worry about getting scammed if you are a foreigner.
The menu items have fixed prices for the S, M, and L sizes and seafood like king crab and lobster are sold after weighing on a scale, so you can ask the price first before buying it.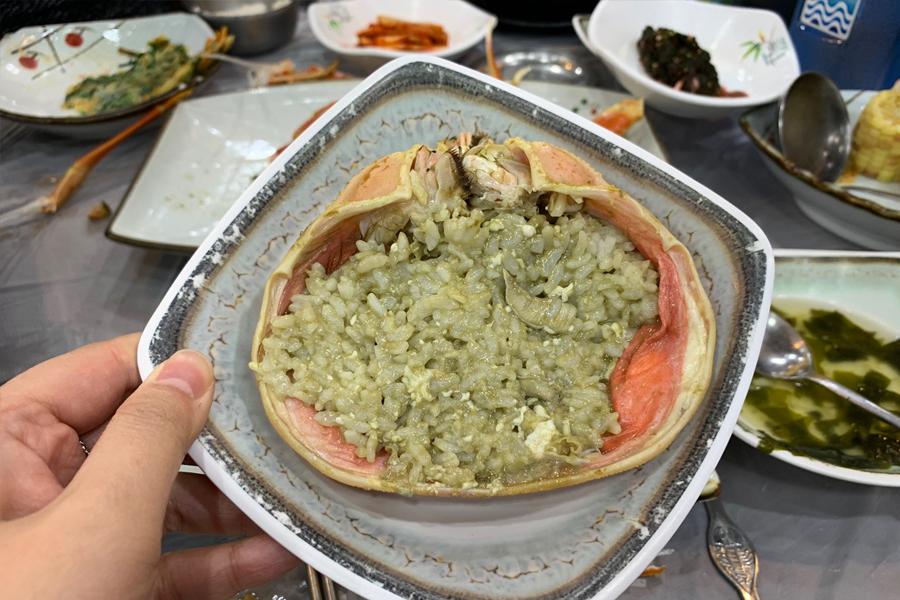 Creatrip members can get a 10% discount with this coupon!
Address: 부산 중구 자갈치로38번길 4-1
Hours: 09:00-22:00
---
When thinking of what to eat in Busan, you might think of seafood, such as sashimi and grilled clams, first. However, we've seen lots of Koreans posting pictures of grilled tripe on social media, and among them, Misool Works was recommended the most.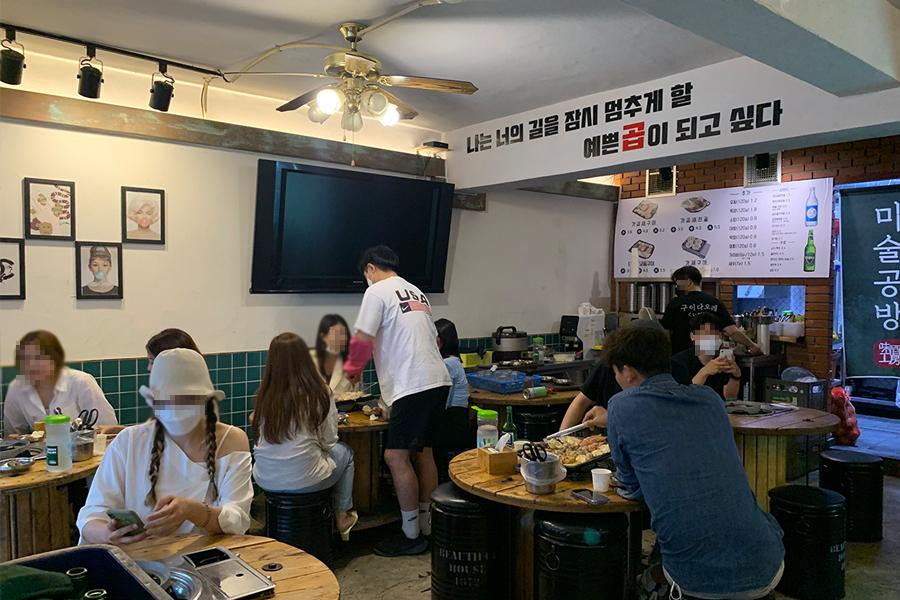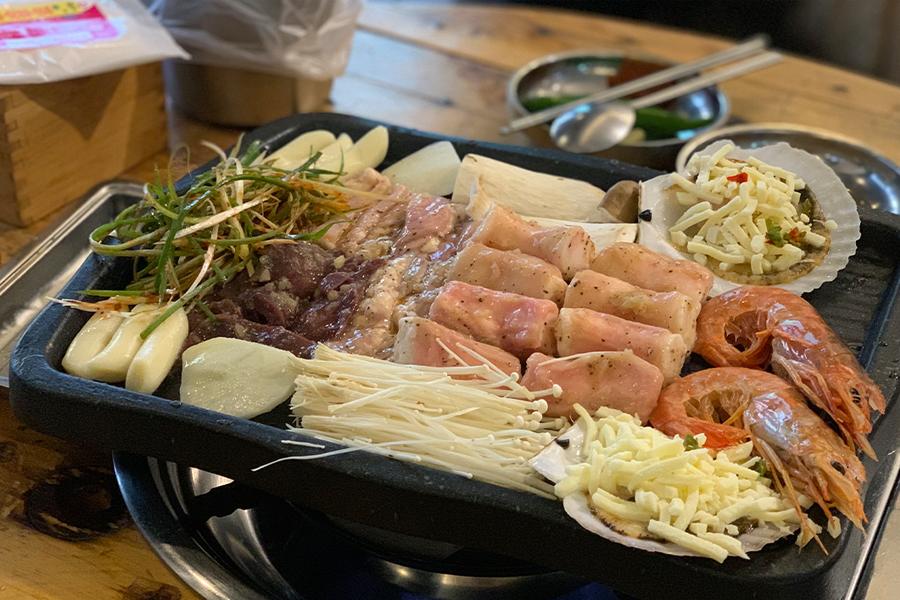 Grilled Scallop, Tripe, and Shrimp (가곱새 구이)
38,000 won

We went on a weekday afternoon, but the place was so crowded, and we could tell at once how popular it was. The smell of alcohol and delicious food filled the restaurant too.
The grilled scallop, tripe, and shrimp might seem a little pricey, but the portions are huge! No wonder this place has been a popular restaurant in Nampodong these days. Also, don't worry about grilling because the staff grills for you and you just have to worry about eating.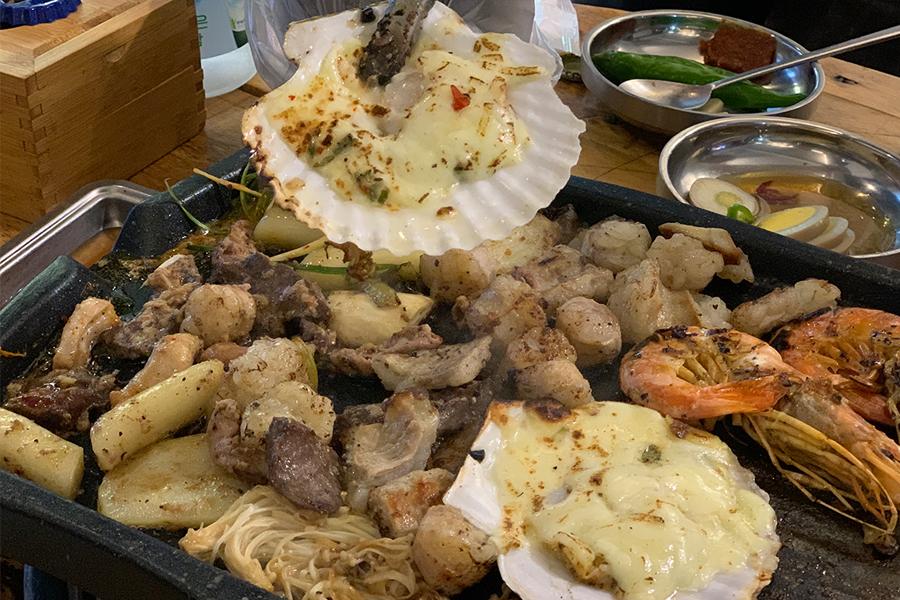 Overall, we want to give this place a high rating. Everything is perfectly seasoned, so it's easy to eat and tastier than you'd expect. Please make sure you visit and try the grilled food here!
Address: 부산 중구 중구로29번길 17-1
17-1 Junggu-ro 29beon-gil, Jung-gu, Busan
Hours: 16:00-00:00
---
Gongsundae
공순대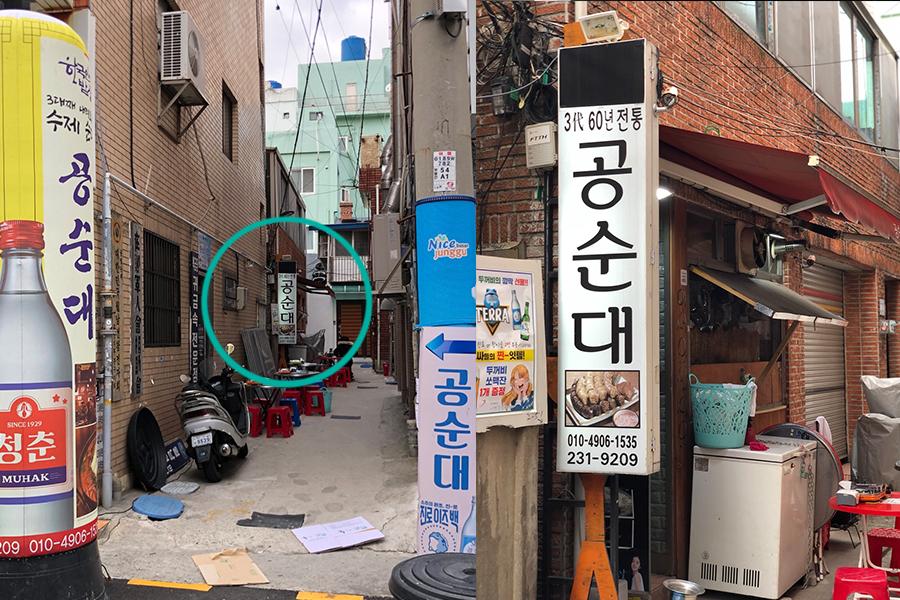 Gongsundae is very popular on social media, and if you visit on the weekend or for dinner, you might have to wait in line.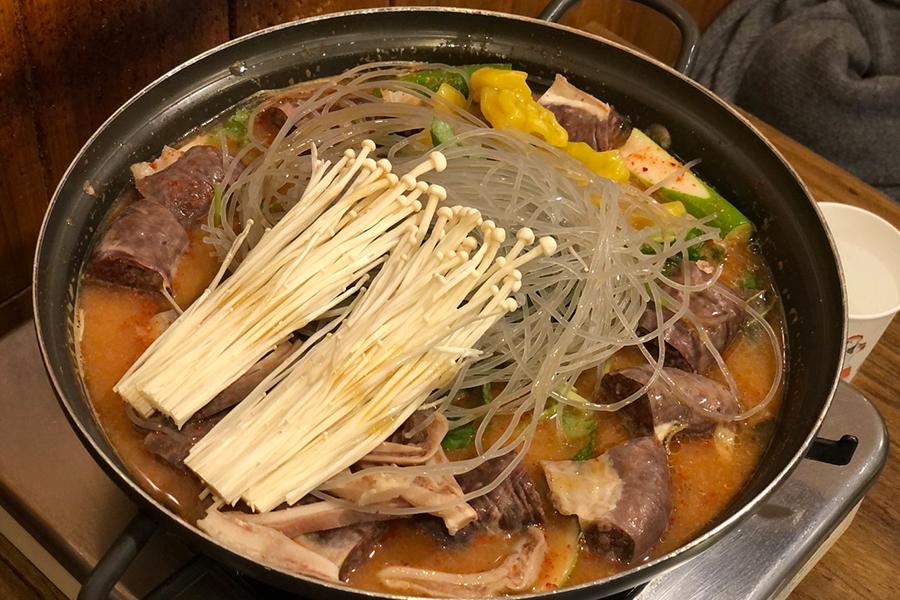 Sundae Hot Pot (Small)
28,000 won

This is the signature dish of this restaurant, which is large enough for 2 to 3 people. The sundae (Korean blood sausage) looks delicious! The soup is very red, but it's not too spicy.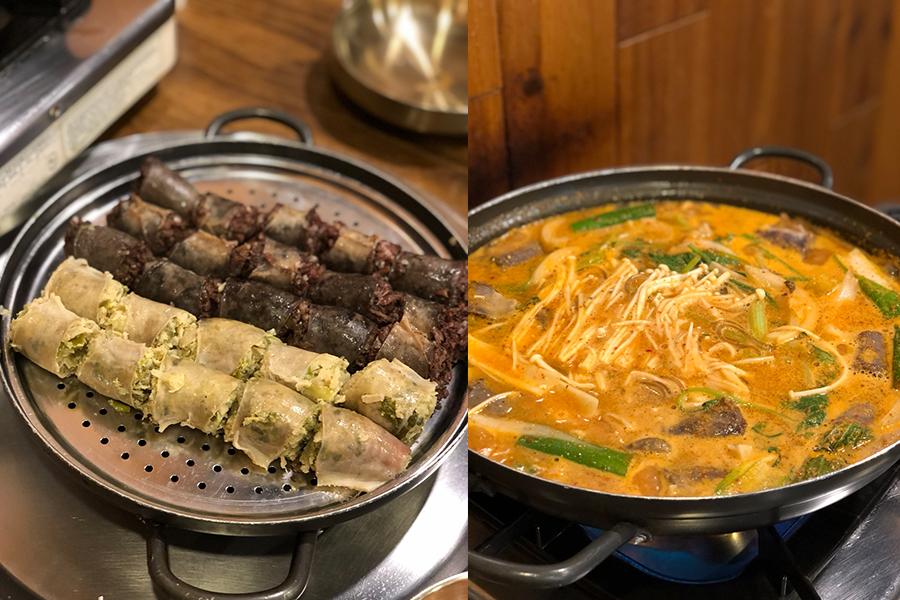 We also ordered 20,000 won worth of sundae. The filling is so thick and strong that it's better to eat with some soju!

Address: 부산 중구 중구로29번길 18-5
18-5 Junggu-ro 29beon-gil, Jung-gu, Busan
Hours: 12:00-00:00
---
Bukwang Dwaeji Gukbap
부광 돼지국밥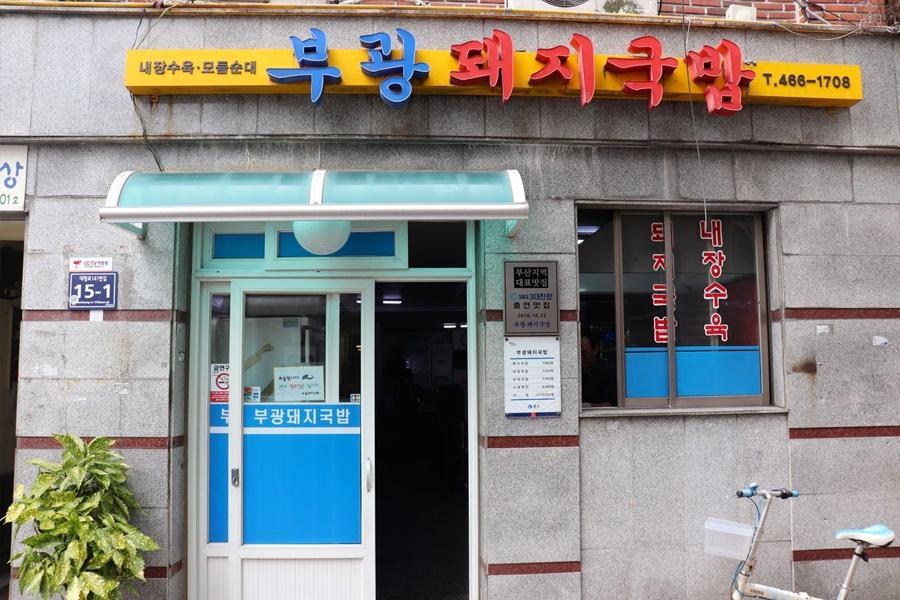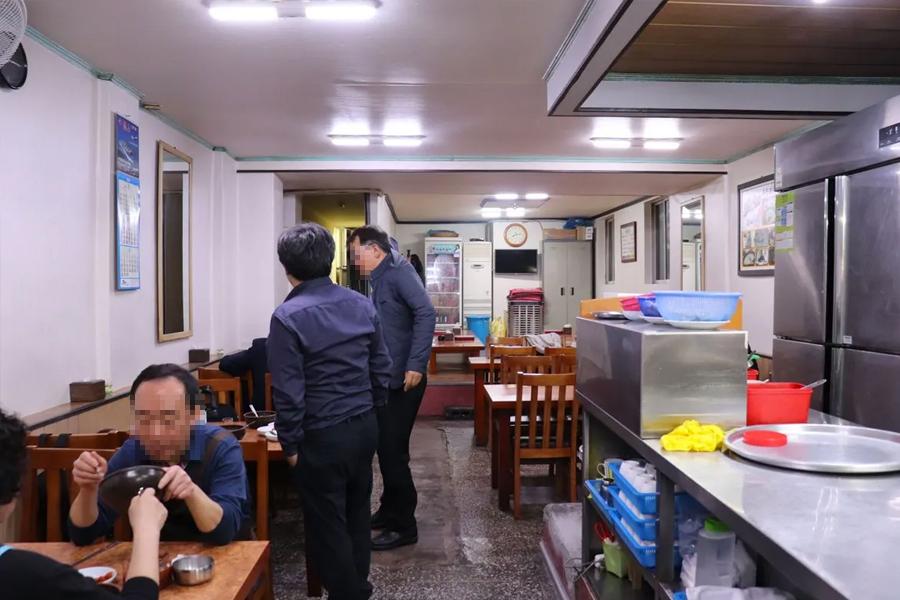 Gukbap is also a must-eat food in Busan, right?
Bukwang Dwaeji Gukbap is a famous pork rice soup restaurant among locals and has even been featured on Baek Jong-won's Top 3 Chef King.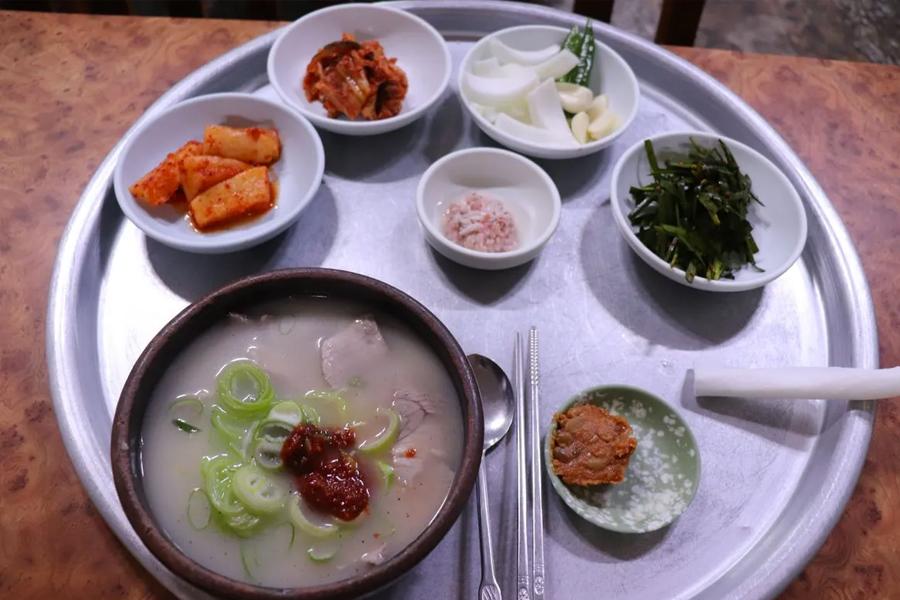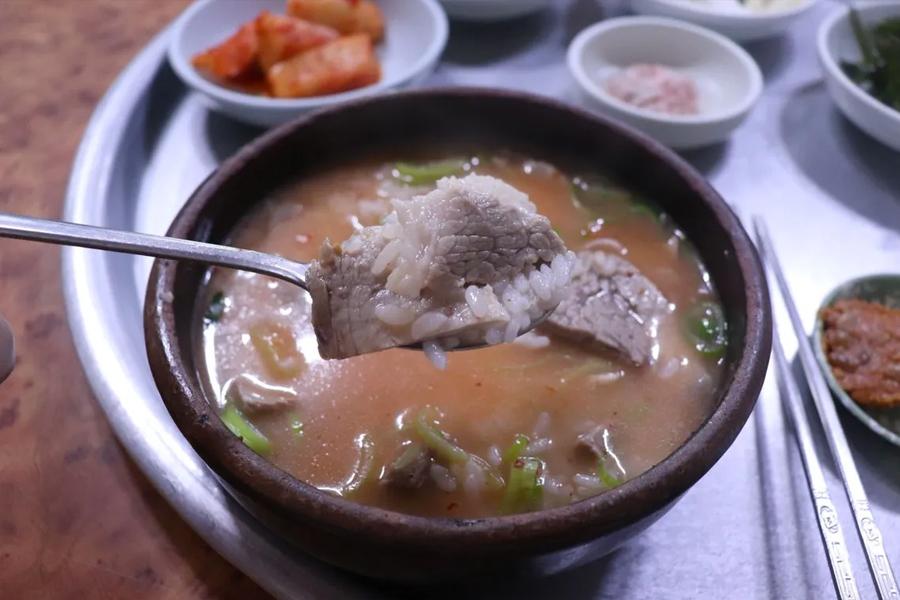 Dwaeji Gukbap
8,000 won

The gukbap is 8,000 won, which is such a good deal! There's lot's of meat and the broth is very fragrant and light, so it goes perfectly with the kimchi.

Address: 부산 중구 대청로141번길 15-1
15-1 Daecheong-ro 141beon-gil, Jung-gu, Busan
Hours: Mon-Sat 10:00-21:00
---
Abiko
아비꼬 남포점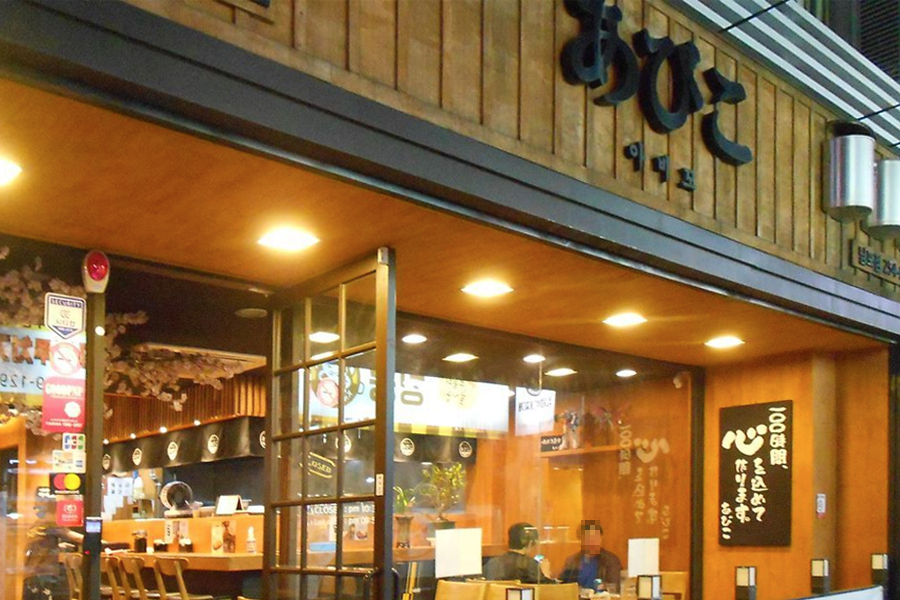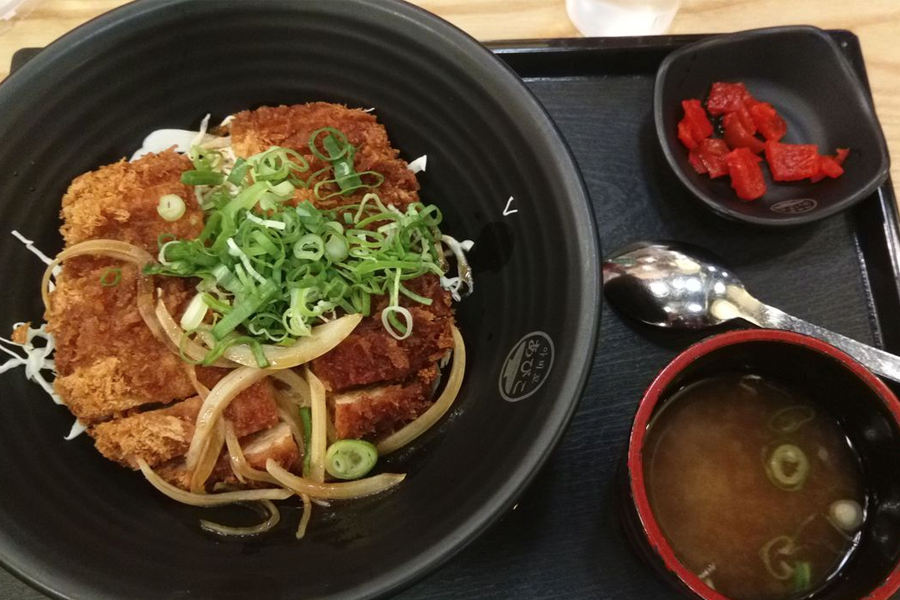 Abiko, located in a small alley in Nampodong, is a restaurant specializing in Japanese food. There are plenty of seats in the store, and there's a wide variety of food on their manu, so it's easy to find something for everyone to eat.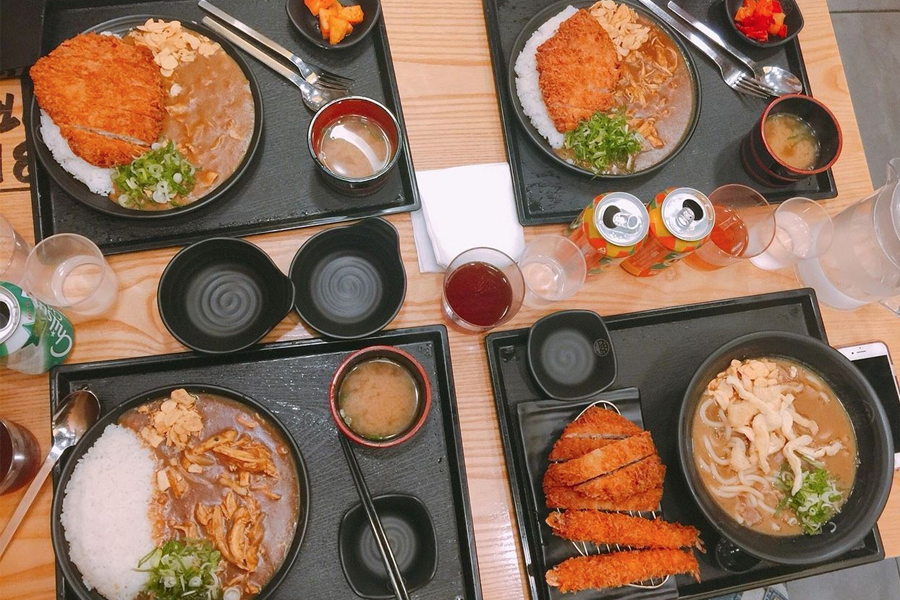 Wow, does it look delicious? Pork cutlet, curry, and rice is a perfect combination. The pork cutlet is crispy, soft and chewy, and the curry sauce is delicious.
The udon noodles are also perfectly thick and chewy.
Address: 부산 중구 남포길 14
14 Nampo-gil, Jung-gu, Busan
Hours: 11:30-22:00
---
Kkujippong Samgyetang
꾸지뽕삼계탕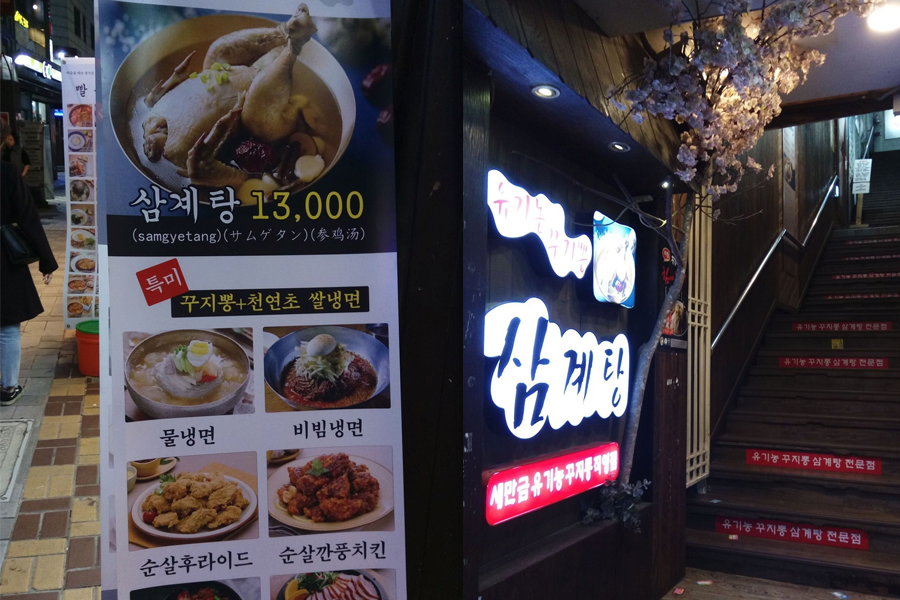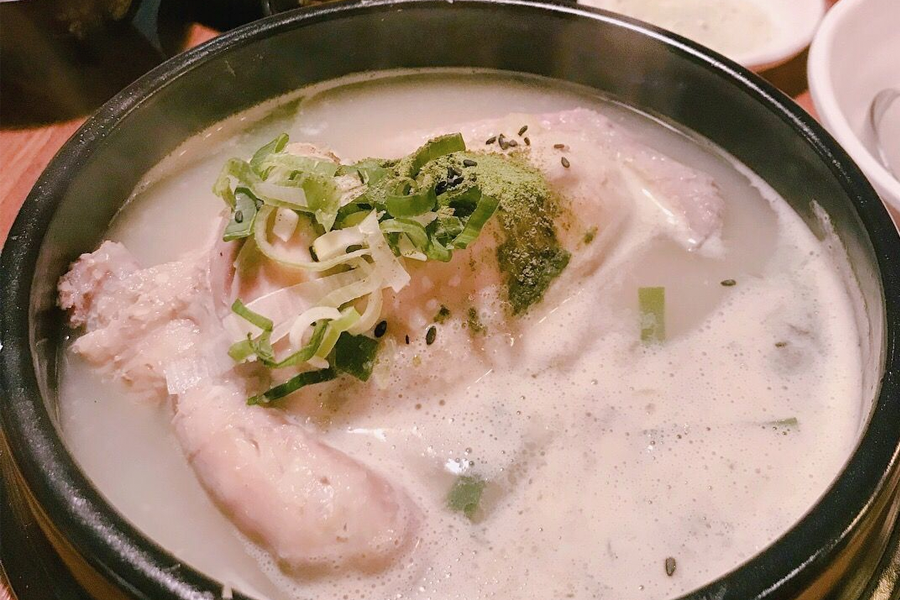 Samgyetang
13,000 won

In addition to Wonjo Seoul Samgyetang introduced earlier, this is one of the other most famous samgyetang restaurants in Nampodong.
The broth is carefully boiled for a long time, making the flavor strong. The chicken is so tender that you can easily separate the bones from the chicken with chopsticks. It's a super healthy Korean ginseng chicken soup!

Address: 부산 중구 남포길 28
28 Nampo-gil, Jung-gu, Busan
---
Dolgorae Sundubu
돌고래 순두부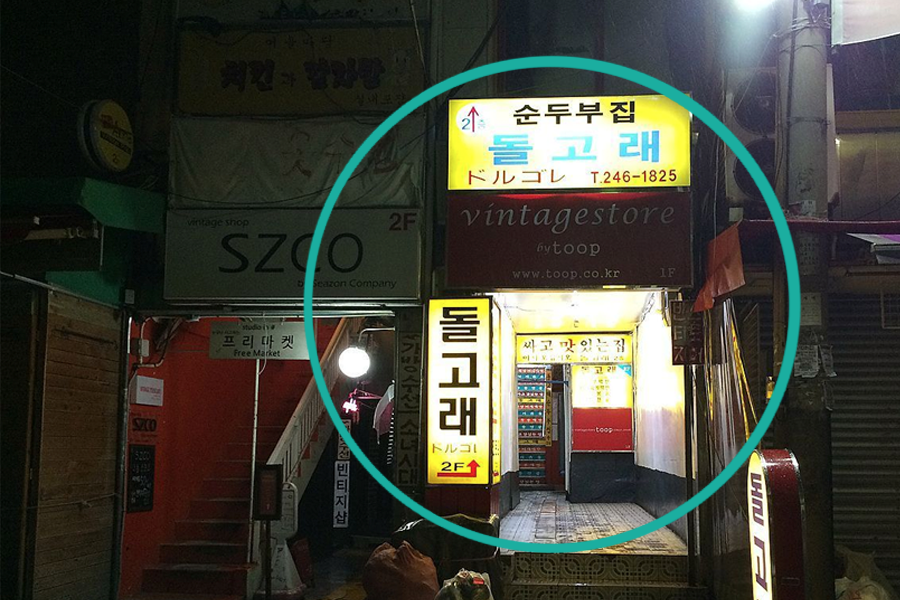 Dolgorae Sundubu restaurant might look shabby on the outside, but it is a famous soft tofu stew restaurant that is over 30 years old and is in the Korea Tourism Guide!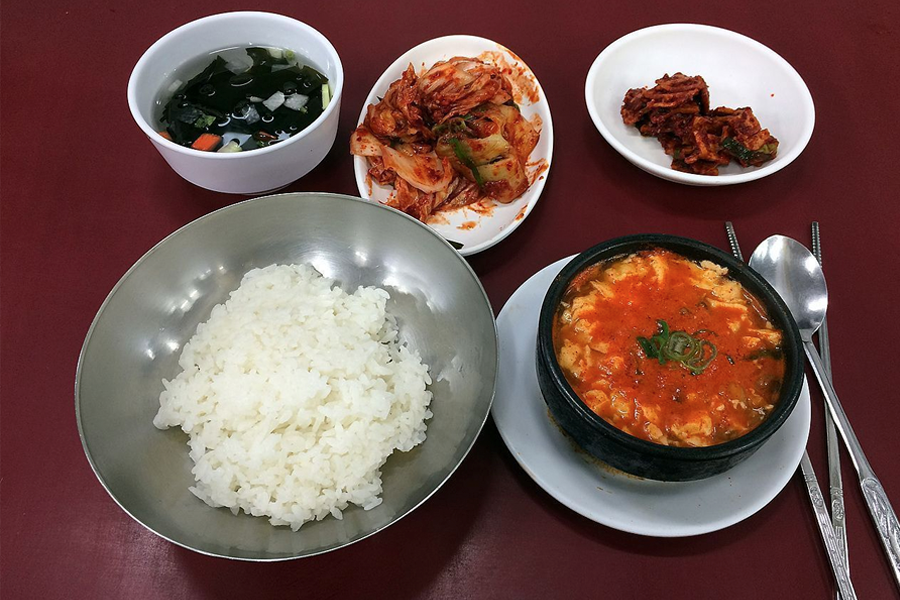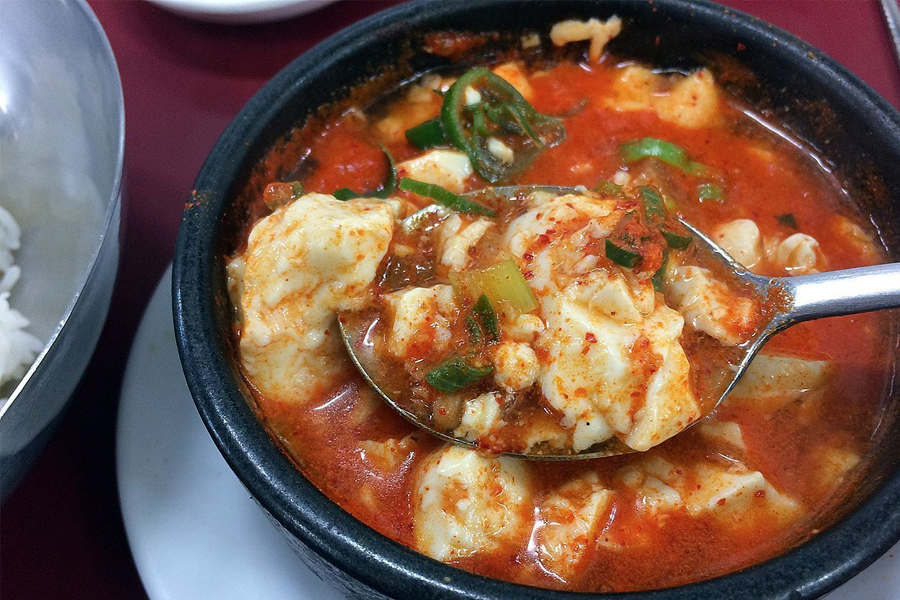 Sundubu
6,000 won

The soft tofu melts in your mouth and the broth is spicy and not greasy. You'll feel refreshed after eating it!

Address: 부산 중구 중구로40번길 17 2F
2F 17 Junggu-ro 40beon-gil, Jung-gu, Busan
Hours: 07:00-22:00
---
Halmaejip Hweguksu
할매집 회국수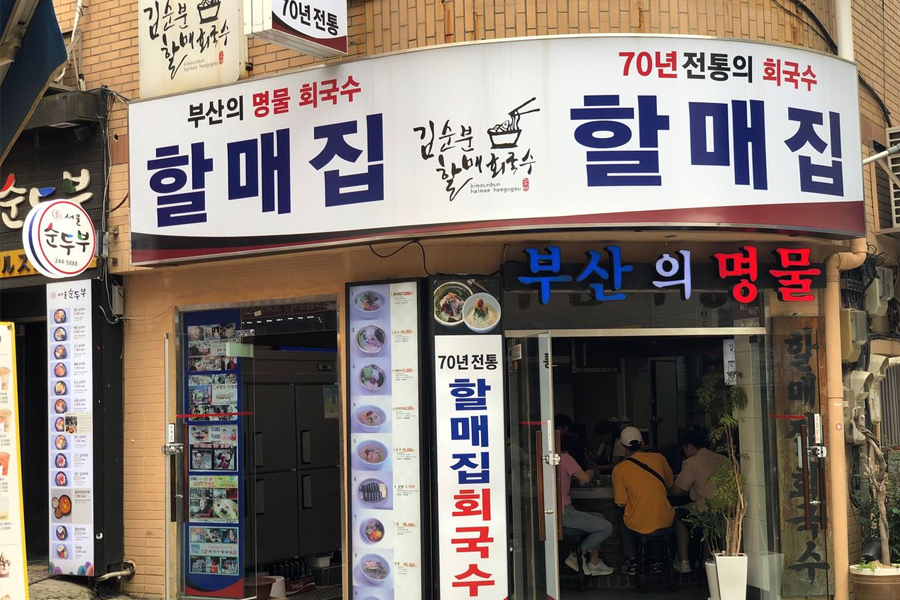 During the Korean War (the 1950s), this restaurant first started operations in Yeongdong.
After that, it moved to Nampodong and has remained the same since then. The long bar tables, steel bowls, and old interior give it a very nostalgic feel like you've been transported back in time.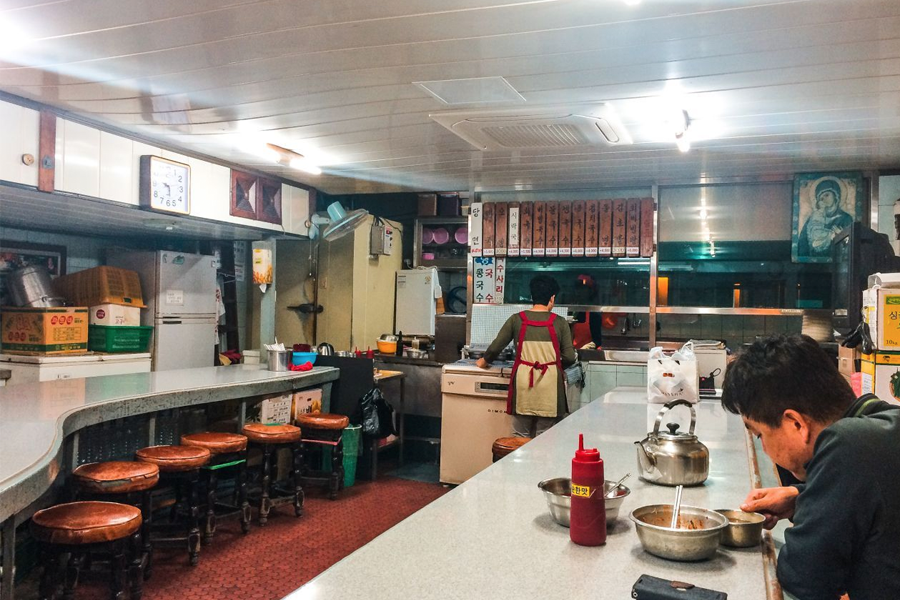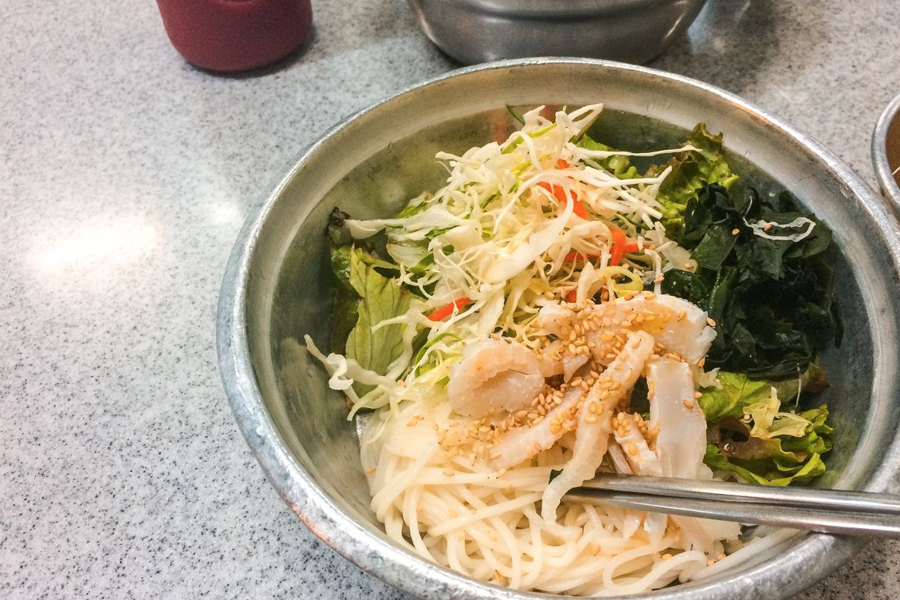 Enjoy the sashimi with noodles, vegetables, and a unique, spicy gochujang sauce! You can also pour some broth from the kettle to help with the spice.

Address: 부산 중구 남포길 25-3
25-3 Nampo-gil, Jung-gu, Busan
Hours: 09:00-23:00
---
This has been our list of some of the most popular restaurants in Nampodong you have to visit when travelling to Busan! In addition to these restaurants, you can check out more delicious food nearby at BIFF Square and the Bupyeong Kkangtong Market.
---