Nari Park Seoul Pink Muhly Autumn Day Tour
From the Pink Muhly at Nari Park to the Eunpyeong Hanok Village, enjoy the charms of autumn!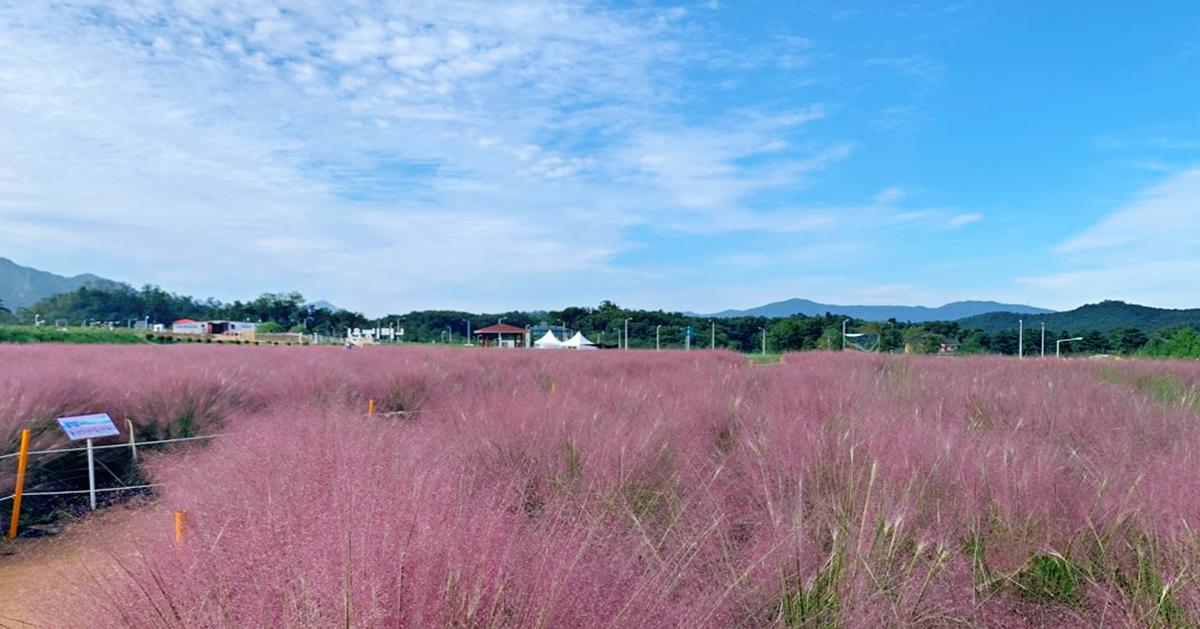 Autumn is a colorful season with yellow, orange, and red foliage, as well as the beautiful Pink Muhly. Trench coats, knitted sweaters, and other clothes that are suitable for autumn weather can be worn among the nature of fall! Thanks to the weather that is neither hot nor cold, there are various places to visit. In this tour, you can experience a colorful autumn!
---
Nari Park Seoul Pink Muhly Autumn Day Tour
---
Information
Period of Operation: September 1, 2023 ~ October 31, 2023
Days of Operation: Every Monday & Thursday
Hours: 07:30-18:10
---
Why We Recommend It
You can visit Nari Park, which contains more than 50 types of flowers including pink muhly and roses and feel the mood of autumn.
At Starfield, you can fill your stomach with various types of food and go shopping, or have a unique experience at Aquafield.
At Majang Reservoir Suspension Bridge, you can experience the thrill of crossing the bridge and enjoy various cultural activities in the Hanok Village.
---
Things To Keep In Mind
Included: Round-trip transportation, English-speaking guide, Yangju Nari Park ticket
Excluded: Meals, travel insurance, personal expenses
The driver can communicate in basic English and can provide interpretation services in Chinese and English through a phone app.
Please arrive at the meeting point 10 minutes early. If you arrive late, it will be considered a no-show and a refund will not be issued.
The departure time may be delayed due to traffic conditions.
Generally, the travel itinerary is not affected by rain, but in the case of severe natural disasters, you can change the departure date for free or receive a full refund.
If you are bringing a stroller or wheelchair, please inform us in advance at help@creatrip.com.
If you have any further inquiries, please contact us at help@creatrip.com.
---
Price
Please make a reservation at least 3 days in advance.
Up to 10 people can be accommodated in a van, and a specialized van driver will be guiding the tour.
For groups of 11 or more, a minibus will be provided with a guide.
1 Adult
(13+ years)

64,064 KRW

1 Child
(3~12 years)

62,832 KRW
Refund Policy
| | |
| --- | --- |
| Cancelation 3 days before departure | 100% refund |
| Cancelation 2 days before departure | No refund |
---
Itinerary
| | |
| --- | --- |
| 07:30 | Meet at Hongik University Station Exit 4 |
| 08:00 | Meet at Myeongdong Station Exit 2 |
| 08:10 | Meet at Dongdaemun History and Culture Park Station Exit 10 |
| 09:00-10:30 | Nari Park in Yangju |
| 11:15-12:30 | Majang Lake |
| 13:15-15:15 | Starfield Goyang (Lunch) |
| 15:30-16:45 | Eunpyeong Hanok Village |
| 17:30 | Hongik University Station |
| 18:00 | Myeongdong Station |
| 18:10 | Dongdaemun History and Culture Park Station |
---
How To Reserve
Step 1




Make a reservation on the Creatrip reservation page.

Step 2




Enter the required information in detail and make the full payment. Your reservation will be confirmed in 1-2 business days and the vehicle/guide information will be sent via email or SNS one day before departure.

You can also check My Page for the reservation status.

Step 3

Be sure to arrive at the meeting place 10 minutes before. The tour departs on time.

07:30 Hongik University Station Exit 4


08:00 Myeongdong Station Exit 2


08:10 Dongdaemun History & Culture Park Station Exit 10



Step 4

Present your reservation confirmation to the tour representative and enjoy the tour!


---
Preview
Yangju Nari Park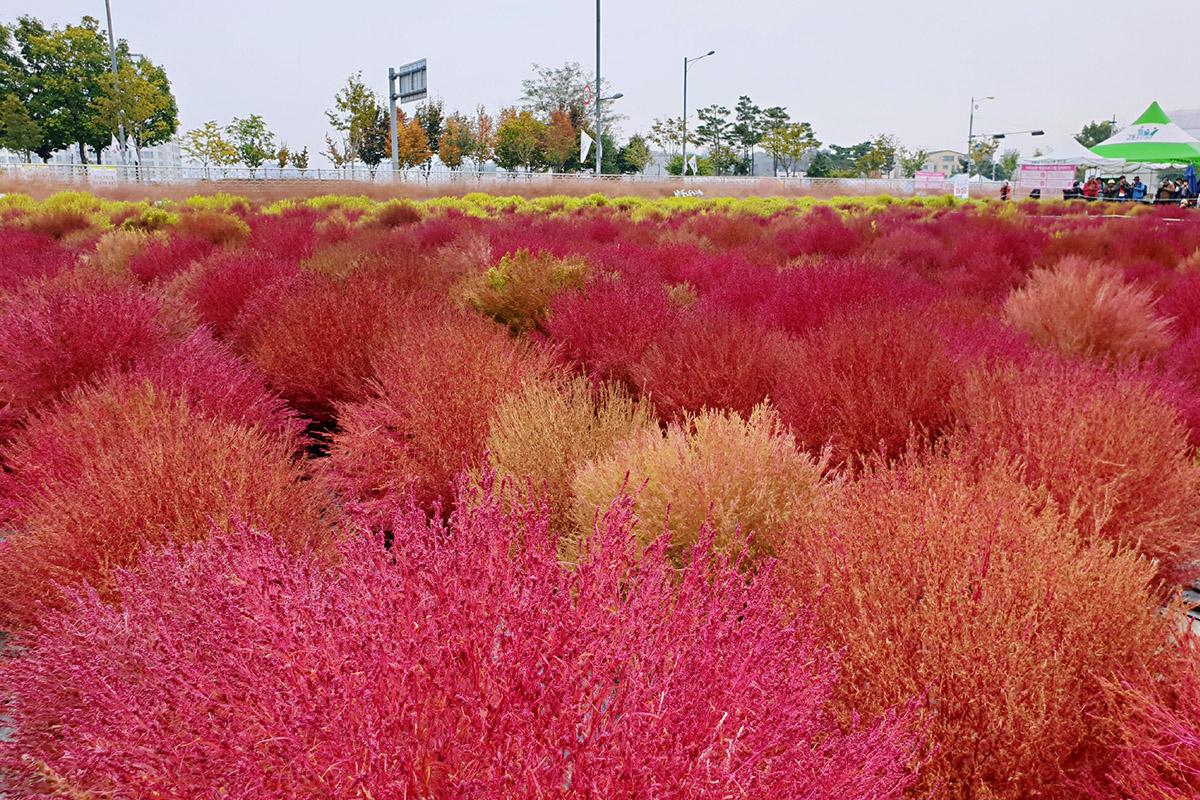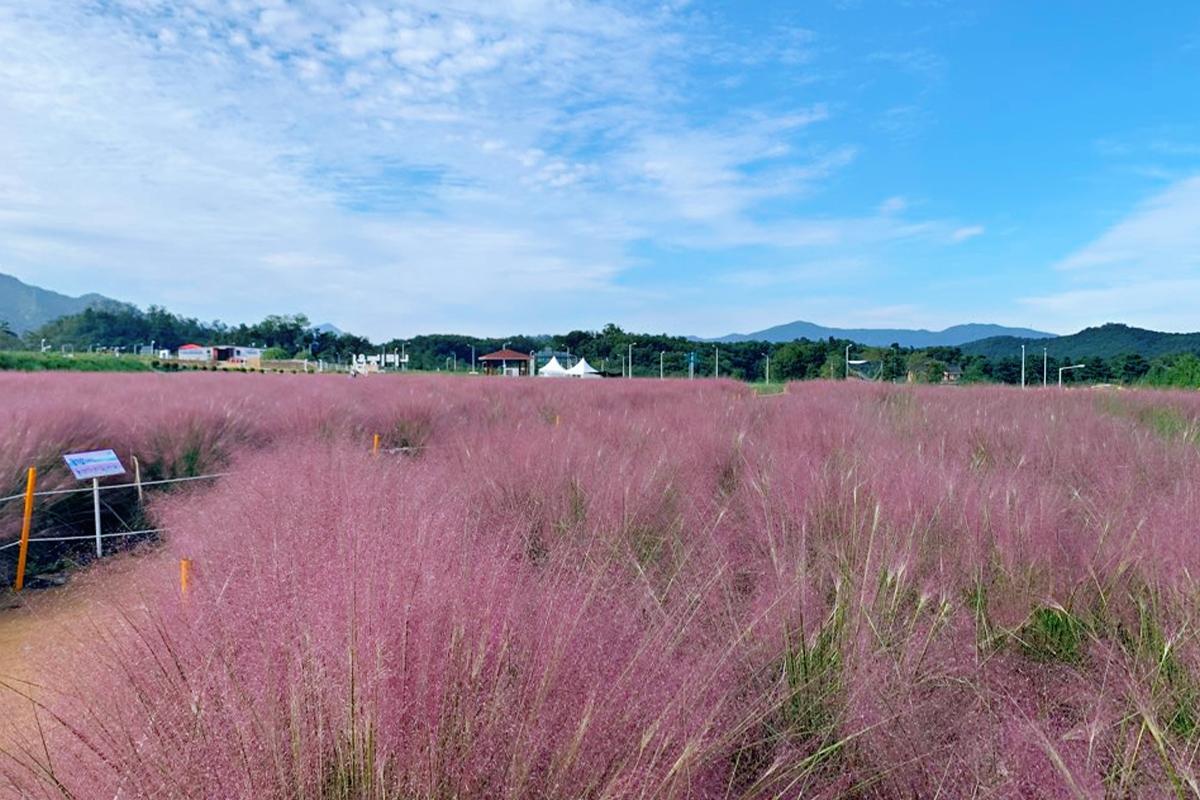 Nari Park is a park located in Yangju, Gyeonggi-do, where you can enjoy various flowers depending on the season. In September, the 'Cheonman Songi Cheonilhong Festival' is held, with various events to partake in!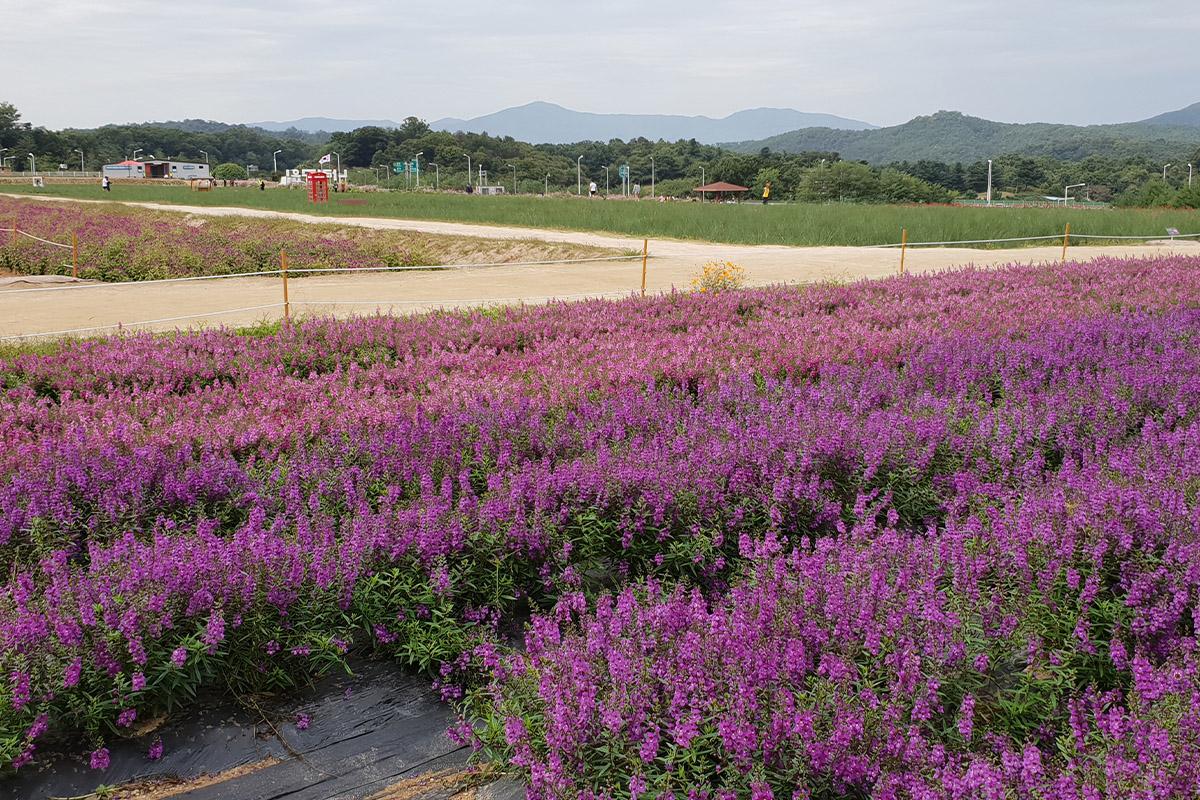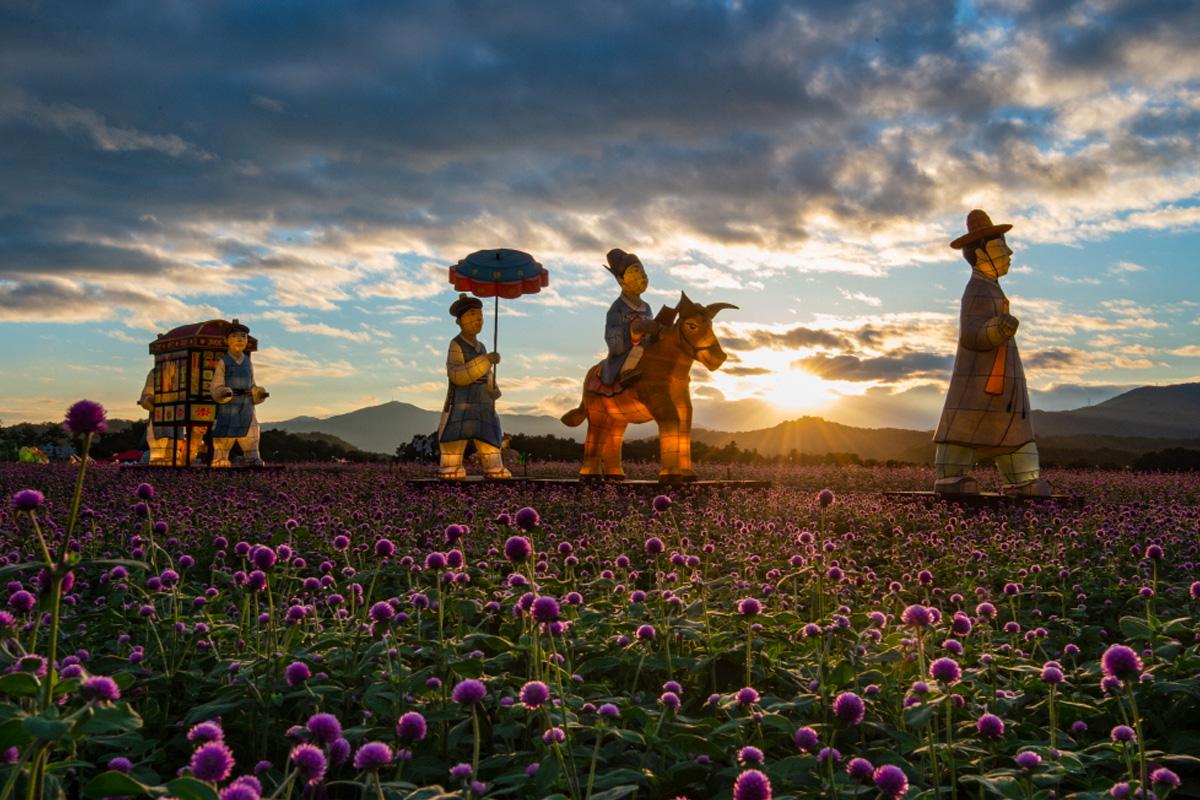 Source: Discover Korea's Hidden Gems
At Nari Park, there is a popular photo spot that many people love to take pictures at, which is the Pink Muhly Field. You can see so many different flowers at Nari Park and take beautiful pictures with them in the background!
Majang Lake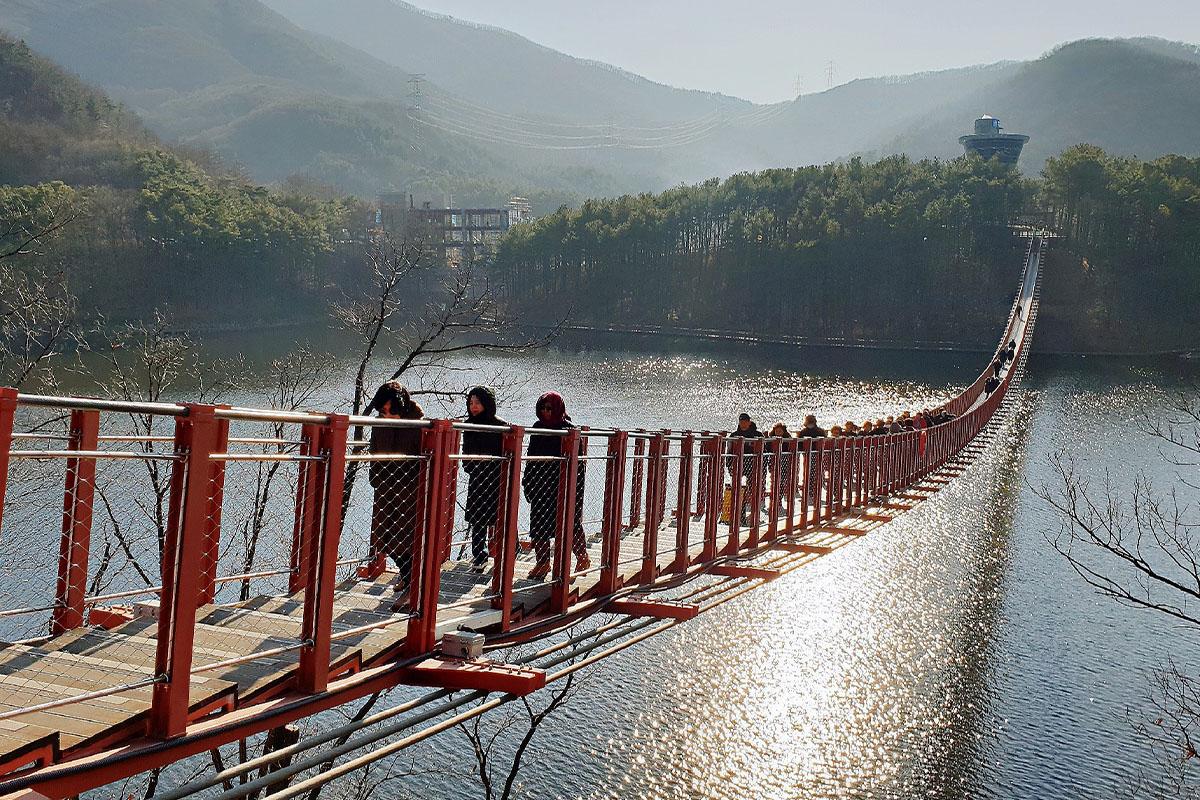 Majang Lake, with its clean park and fountain, is a great spot to rest at and has a 'stairway to heaven' attraction filled with wildflowers. It is the perfect place for a family trip or a romantic outing on the weekend.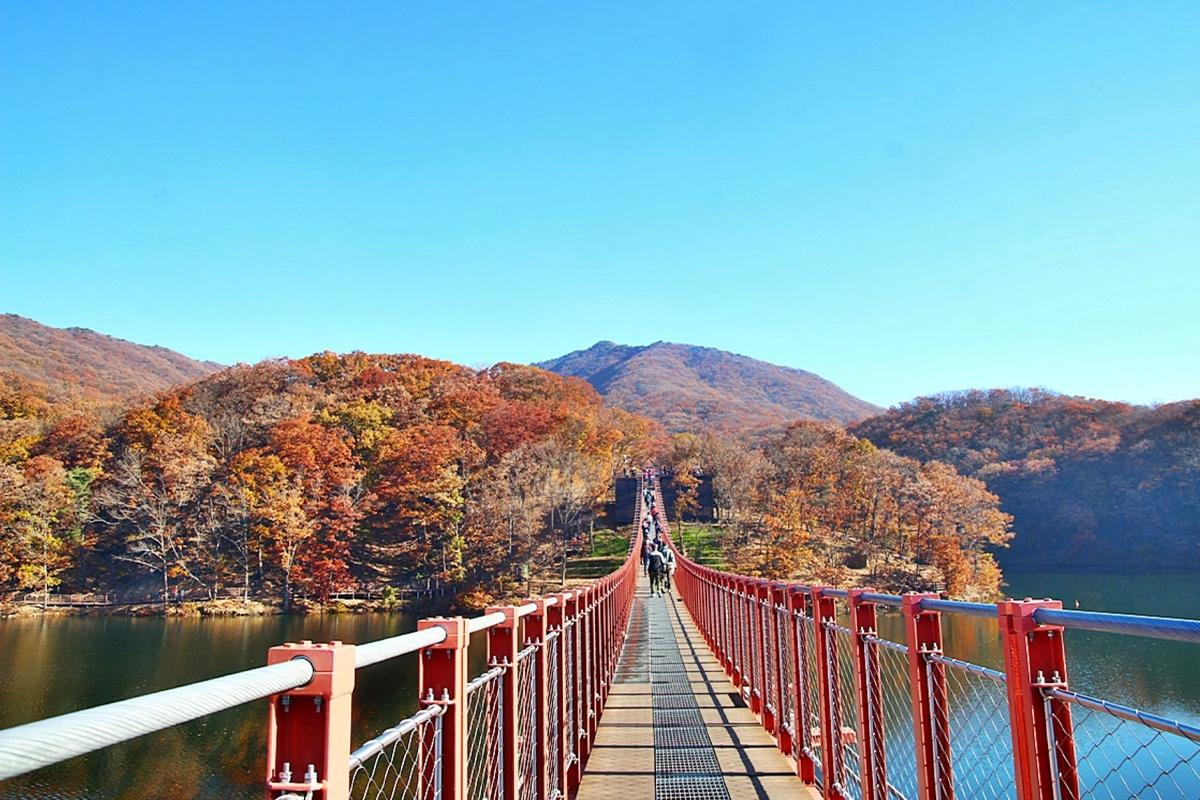 You can walk along the riverside deck, which is 3.6km long, while looking at the water change management building. There is also a suspension bridge that is 220m long. When crossing the suspension bridge, the bridge sways and shakes slightly, allowing you to enjoy the thrill.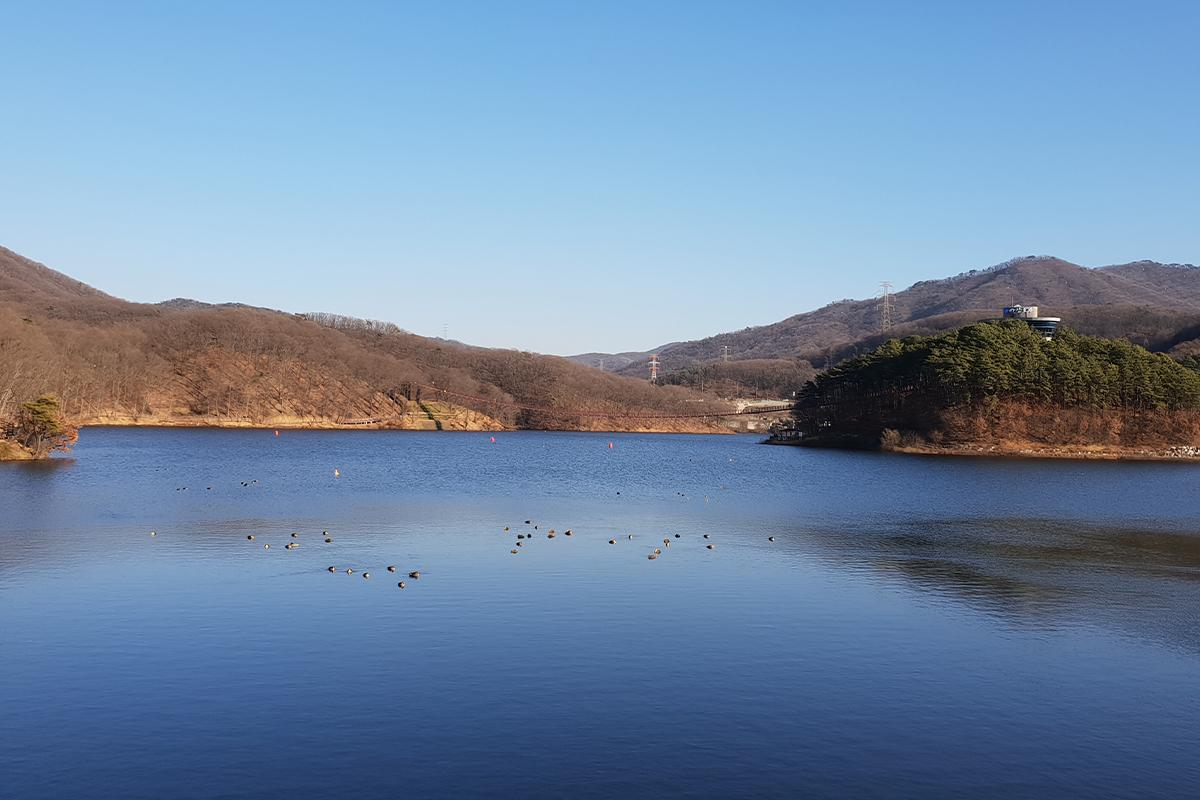 A cafe overlooking a spacious lake is located in the observatory and management building, where you can enjoy a relaxing cup of tea and heal in nature.
Starfield Goyang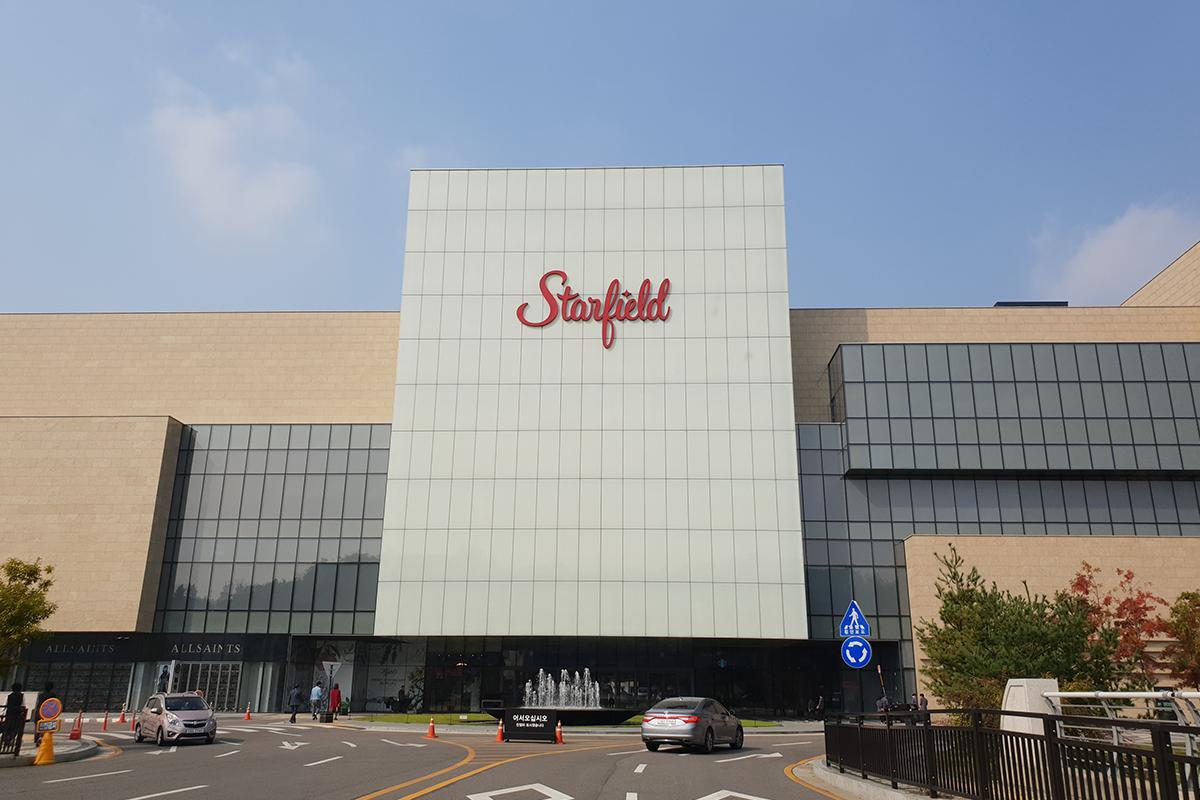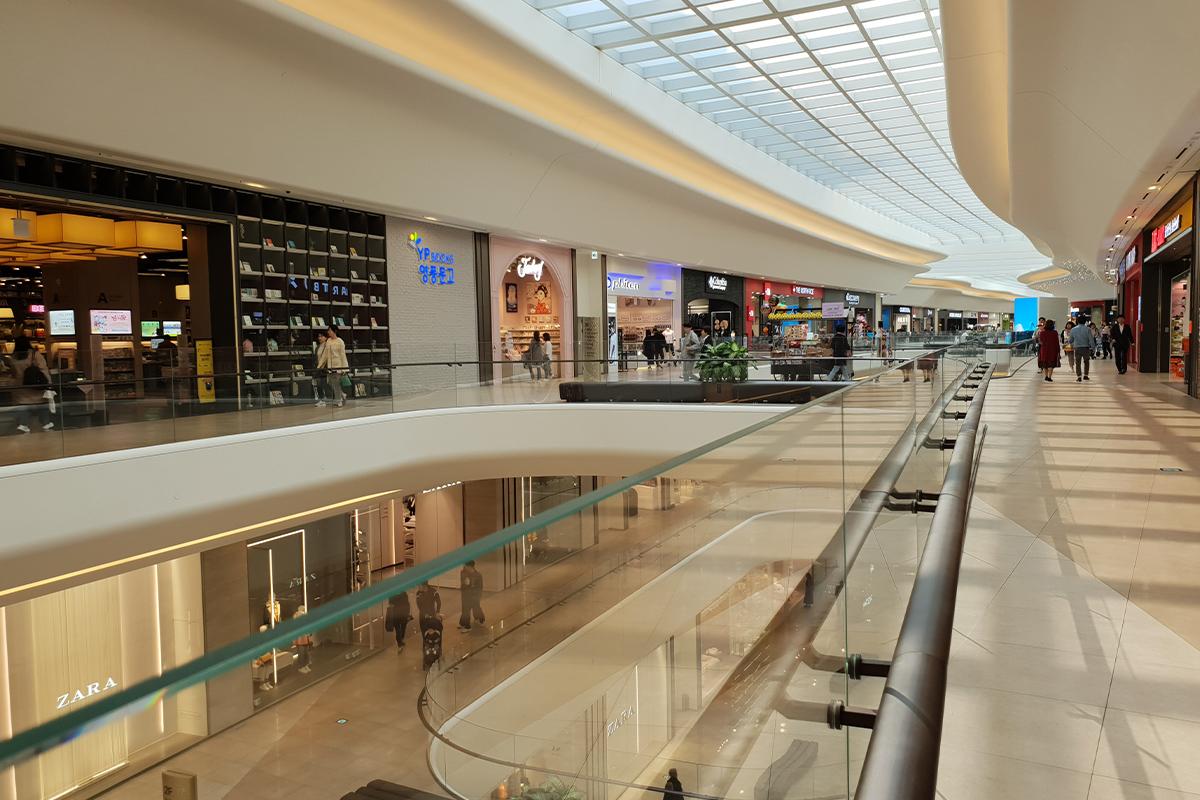 Starfield Goyang is a large-scale shopping mall with 560 brands and over 100 restaurants nationwide, making it a popular date spot for couples and a weekend outing destination for families.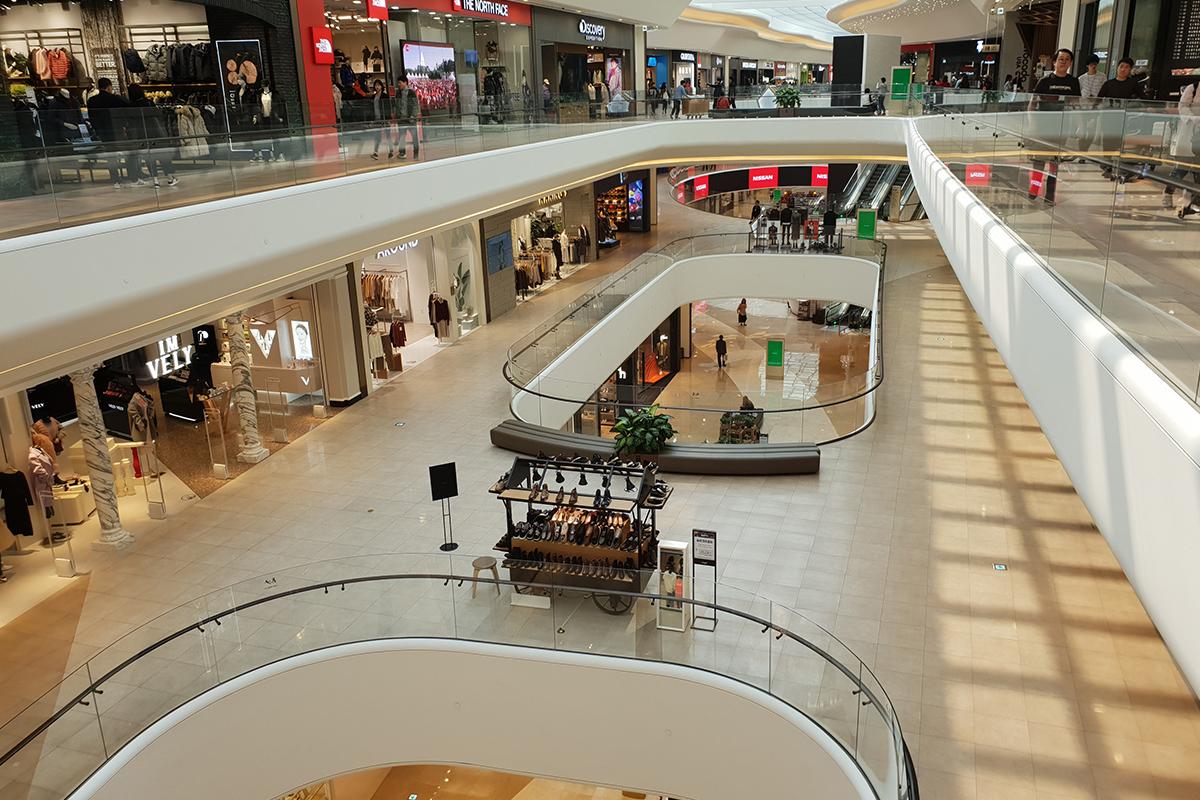 Starfield also has Aquafield, a sauna and spa located at the top levels, Sports Monster, which combines sports and play, Toy Kingdom, and Electro Mart. Nature, gourmet food, shopping, and culture are harmoniously combined at Starfield, so you can have a fulfilling time!
Eunpyeong Hanok Village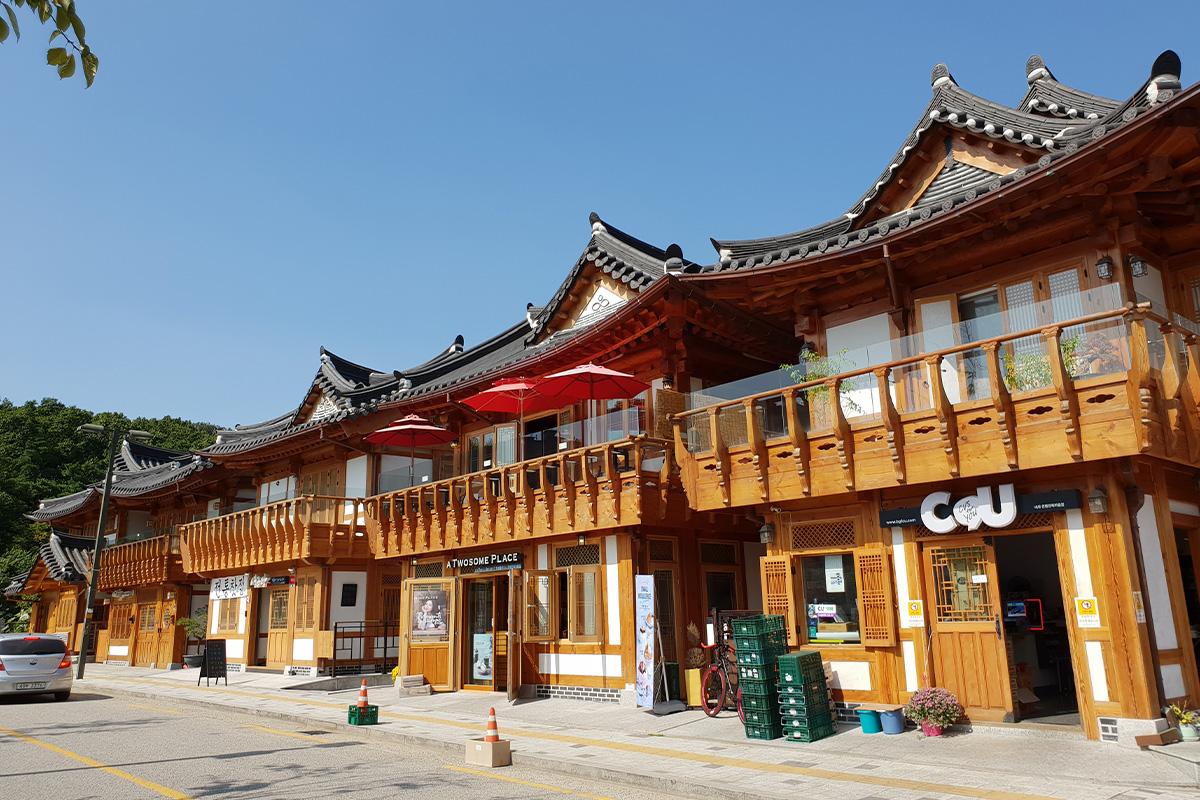 Eunpyeong Hanok Village is a representative attraction of Eunpyeong-gu, where the beautiful natural environment of Bukhansan and modern Hanok houses are combined.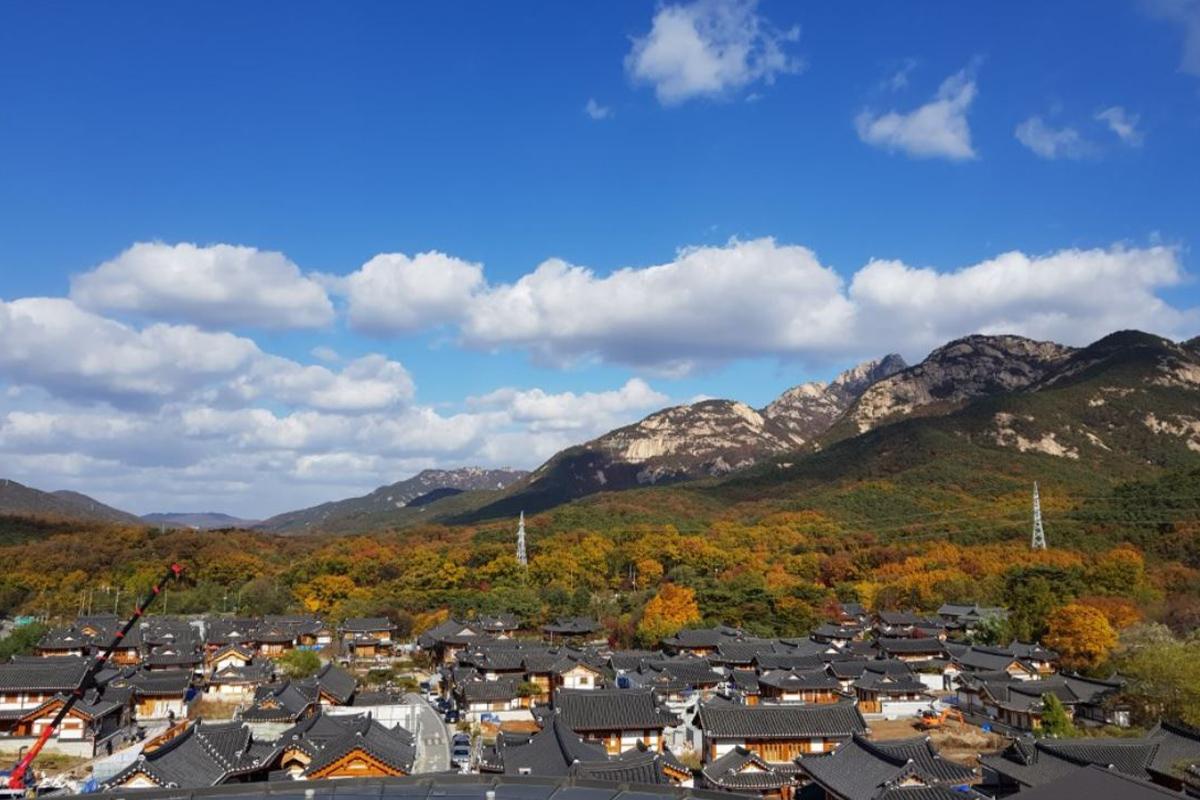 In the vicinity, there are 8 attractions in Eunpyeong Hanok Village that add to the sightseeing, including Eunpyeong History Hanok Museum, Neona Deul-i Center, Seti Seo Literature Museum, and Geumam Art Museum, where various experiential facilities are located, allowing you to enjoy various cultural activities such as exhibitions, experiences, and education.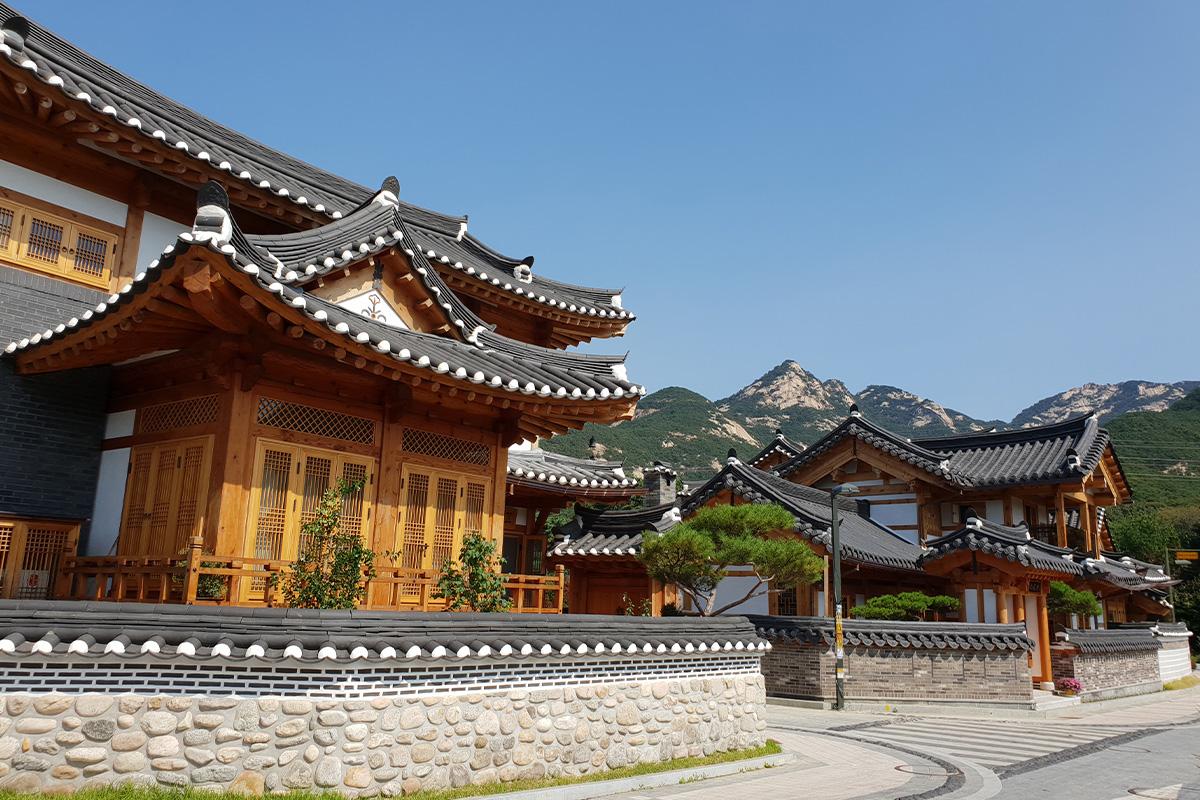 Also, there are maple trees blooming in between the traditional Korean houses, creating a harmonious blend of the houses and the autumn foliage. Don't miss the opportunity to experience the charm of autumn!
---
Nari Park Seoul Pink Muhly Autumn Day Tour
---
We hope you can enjoy the beauty of fall on this tour! If you have any questions or concerns, please leave a comment below or send us an email at help@creatrip.com. You can follow us on Instagram, TikTok, Twitter, and Facebook to stay updated on all things Korea!
---