---
Introduction
YES HANBOK: Embrace the Allure of Tradition with Modern Designs
Located just 1 minute from Gyeongbokgung Palace Station and 5 minutes from Gyeongbokgung Palace, YES HANBOK offers a convenient location for travelers.
Our shop houses over 1,000 diverse Hanbok sets, meticulously maintained and cleaned to preserve the original colors.
With staff fluent in English, Chinese, Korean, and Japanese, YES HANBOK facilitates easy communication with foreign tourists.
Complimentary accessories such as hairpins, hairbands, bags, underskirts, lockers, and hair accessories are provided.
YES HANBOK regularly introduces new Hanbok collections with the changing seasons, ensuring you have access to the latest trends.
Rent for 2 or 4 hours and enjoy an additional free hour of rental.
Book through Creatrip and receive a discounted rate, 5,000 KRW less than the regular price.
YES HANBOK has received numerous positive reviews from Creatrip users, establishing trust and reliability with our actual customers.
YES HANBOK SAMPLE PHOTOS
Enhance your elegance with beautiful designs and quality.
With the widest variety of Hanbok sets available, we recommend starting with the "Premium Women's Hanbok" if you're unsure which one to choose.
Luxury Hanbok stands out with its high-quality materials, offering a smooth and comfortable wearing experience.
Why not try the "Luxury Hanbok" for a premium feel?
The Queen's Hanbok features a royal and elegant design, perfect for those looking to showcase rich colors and a majestic feeling.
The King's Hanbok is known for its splendid and magnificent design, representing regal authority. It's an excellent choice for special occasions.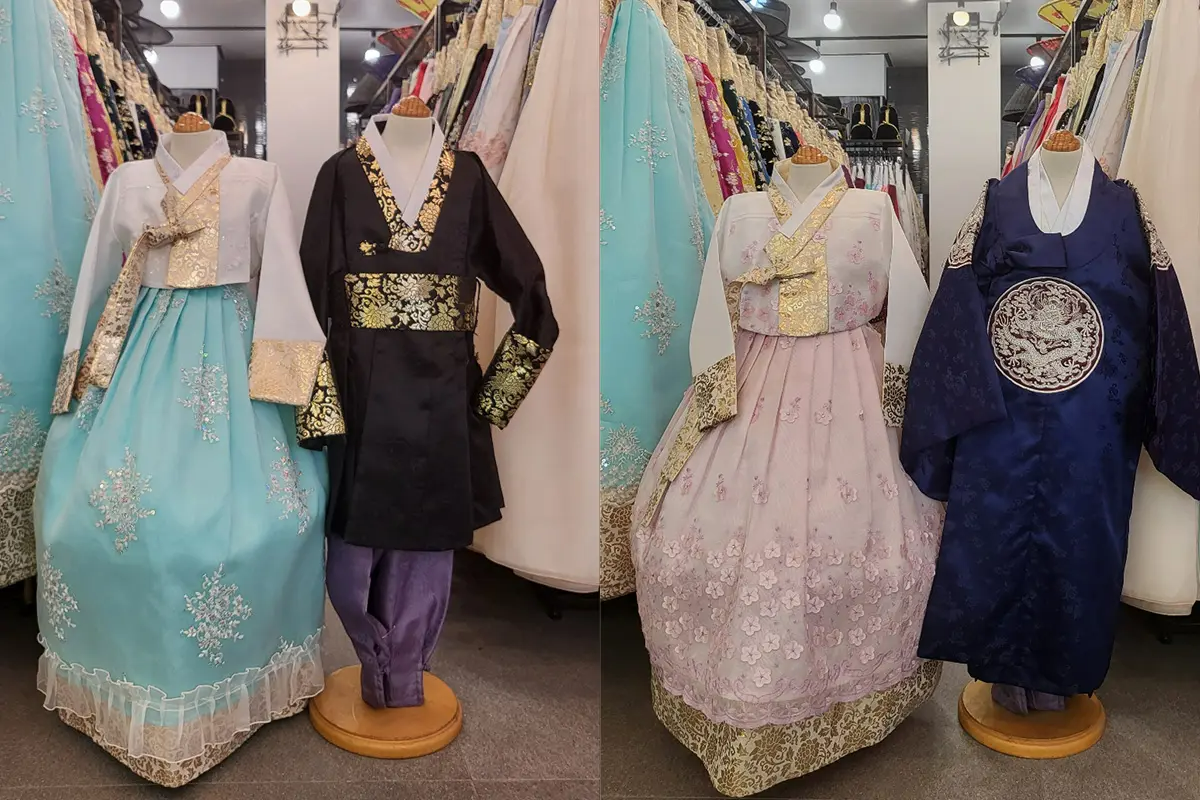 Children's Hanbok features cute and charming styles designed to suit the body shape of children. Dressing your children in these Hanbok sets is a wonderful way to express family harmony and connection during family trips."
---
Options
2 Hour Rental

[17%] USD 19.38

23.26

---
4 Hour Rental

USD 23.26

27.14

---
All Day Rental

[13%] USD 27.14

31.01

---
---
How To Use
Hanbok rentals are available with a reservation made at least one day in advance.
Hours: Everyday 09:00 - 18:00
Times available for reservation: Everyday Wed - Mon 09:00 - 15:00
Your reservation will be confirmed immediately via email and can be found on My Page.
---
Cancelation Policy
Canceled at least 3 days before reserved date: 100% refund
Canceled 2 days before reserved date: No refund
---
Things To Keep In Mind
Free services: Hairpins, hair ties, headbands, lockers, bags, hairstyling, underskirts, hair accessories
Paid services: Hats (5,000 KRW), shoes (3,000 KRW), thermal vest (5,000 KRW)
When booking the 2-hour or 4-hour hanbok rental package, you can enjoy an additional 1 hour of use.
You may wear a Hanbok one time per reservation.
If there is a delay in returning the hanbok, an additional fee of 5,000 KRW will be charged for every 2 hours.
Please select the correct date and time on the reservation page for smooth operation.
At YES Hanbok, friendly staff who speak English, Japanese, Chinese, and Korean are available to communicate easily with foreign tourists.
For all-day rentals, hanboks must be returned by 6:00 PM on the same day, not after 24 hours.
Please return the hanbok to the store before the rental time is over. (Additional charges may apply)
If you do not store your belongings in the store, a deposit will be charged.
Sizes range from XS to 3XL, but adjustments may be made due to non-standardized hanbok sizes.
The hanbok design cannot be determined in advance and will be chosen on-site.
Lost or damaged accessories and locker keys are the responsibility of the customer and must be paid for.
For reservation changes or other inquiries, please contact help@creatrip.com.
---
Store Info
Call

02-734-2567

Hours Of Operation