Top 5 Diet Supplements In Korea
Tried and tested diet supplements recommendations in Korea!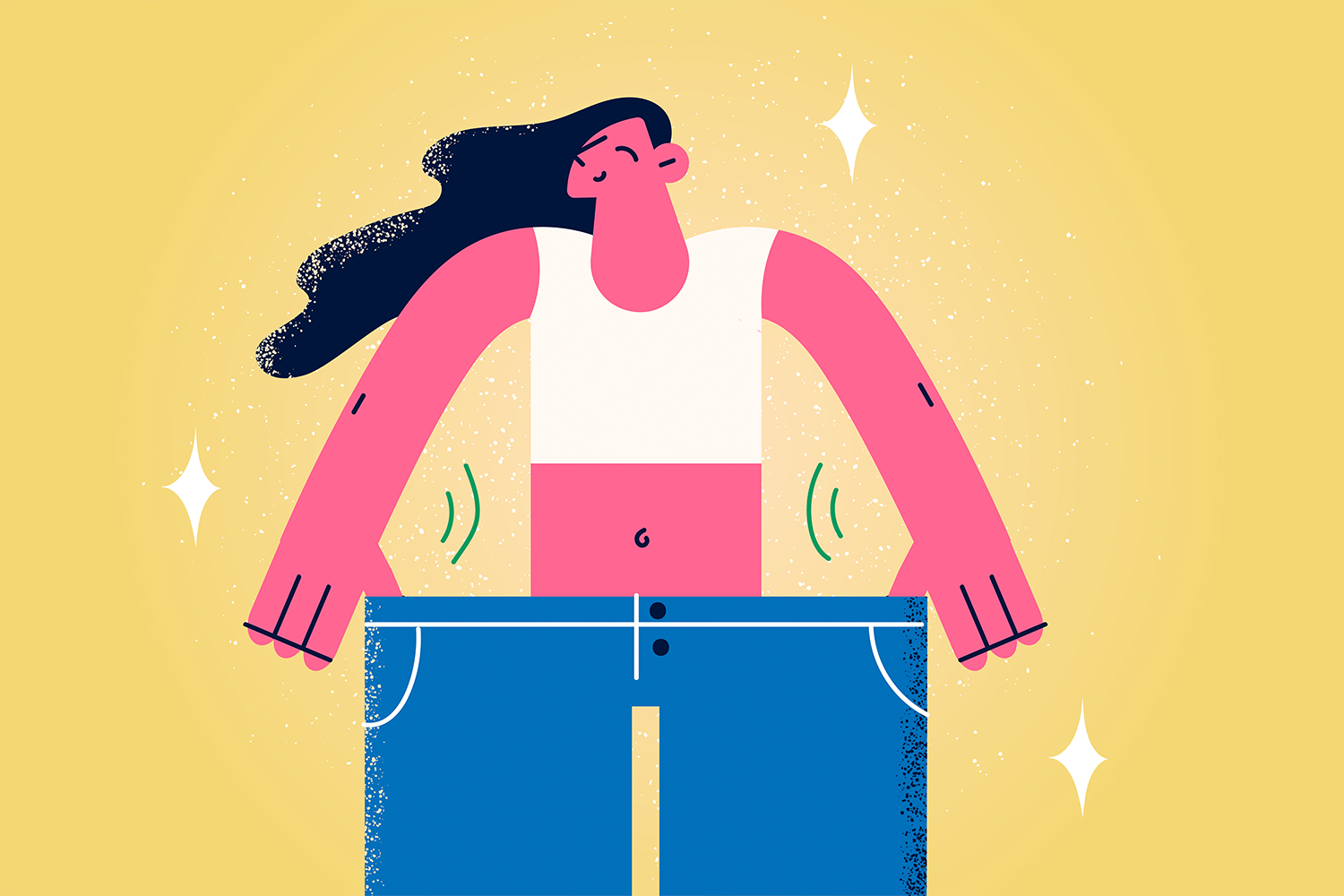 Choosing a healthy lifestyle is easy to decide, but difficult to put into action.
So today, we would like to introduce some of the most popular diet supplements in Korea to help you on your journey.
Our editors not only checked each ingredient of these products carefully but also tried and picked the best products in terms of taste and results.
If you're aiming towards a healthy lifestyle this year, we highly suggest you read until the end!
---
Seryburn
Night Oasis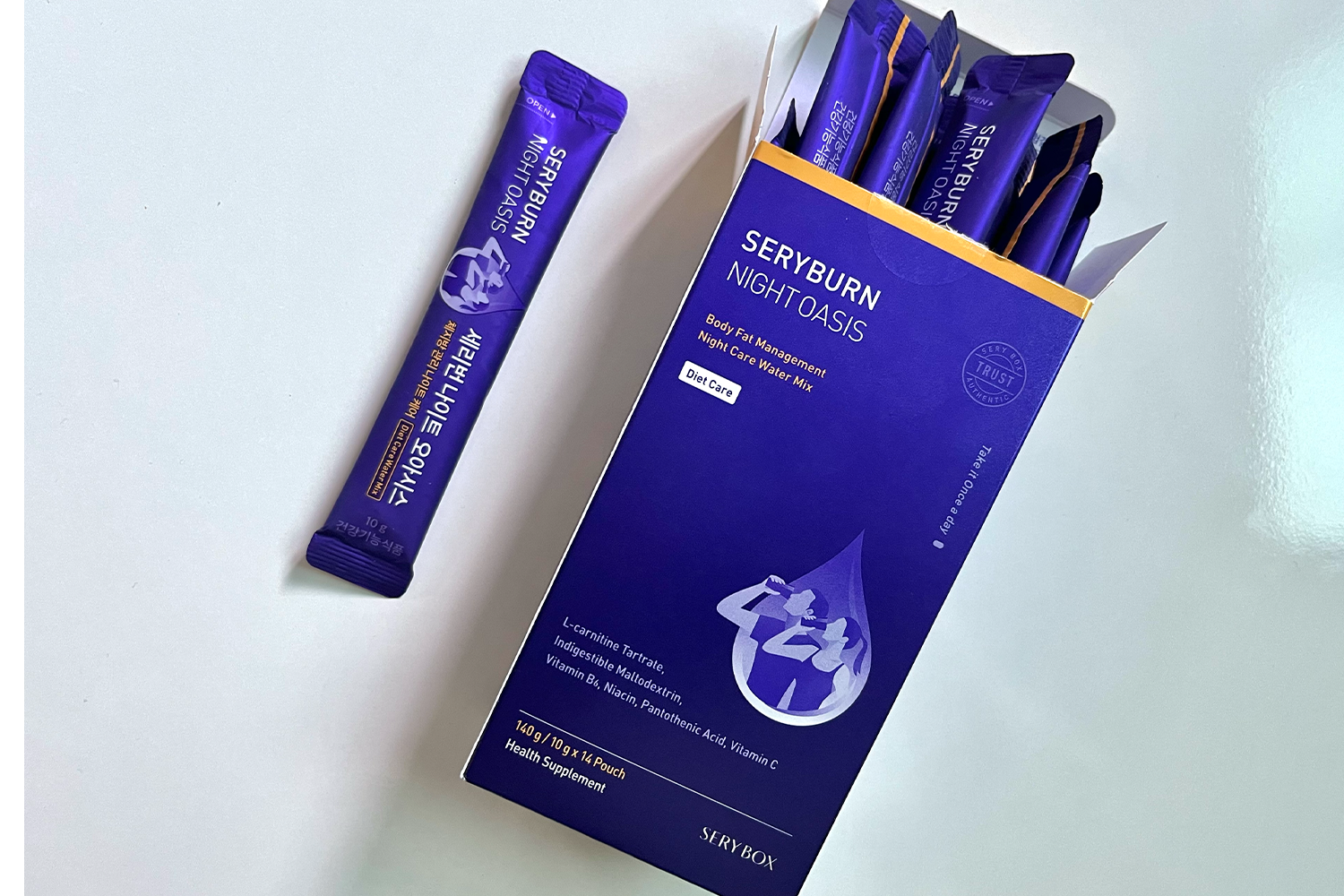 The very first product we would like to introduce is Seryburn Night Oasis. Just as its name suggests, you can consume this like water at night before bed.
It is a functional product that helps effectively reduce body fat so it gained a lot of popularity in Korea.
To give you an honest review, we purchased this product and decided to try it out for a month.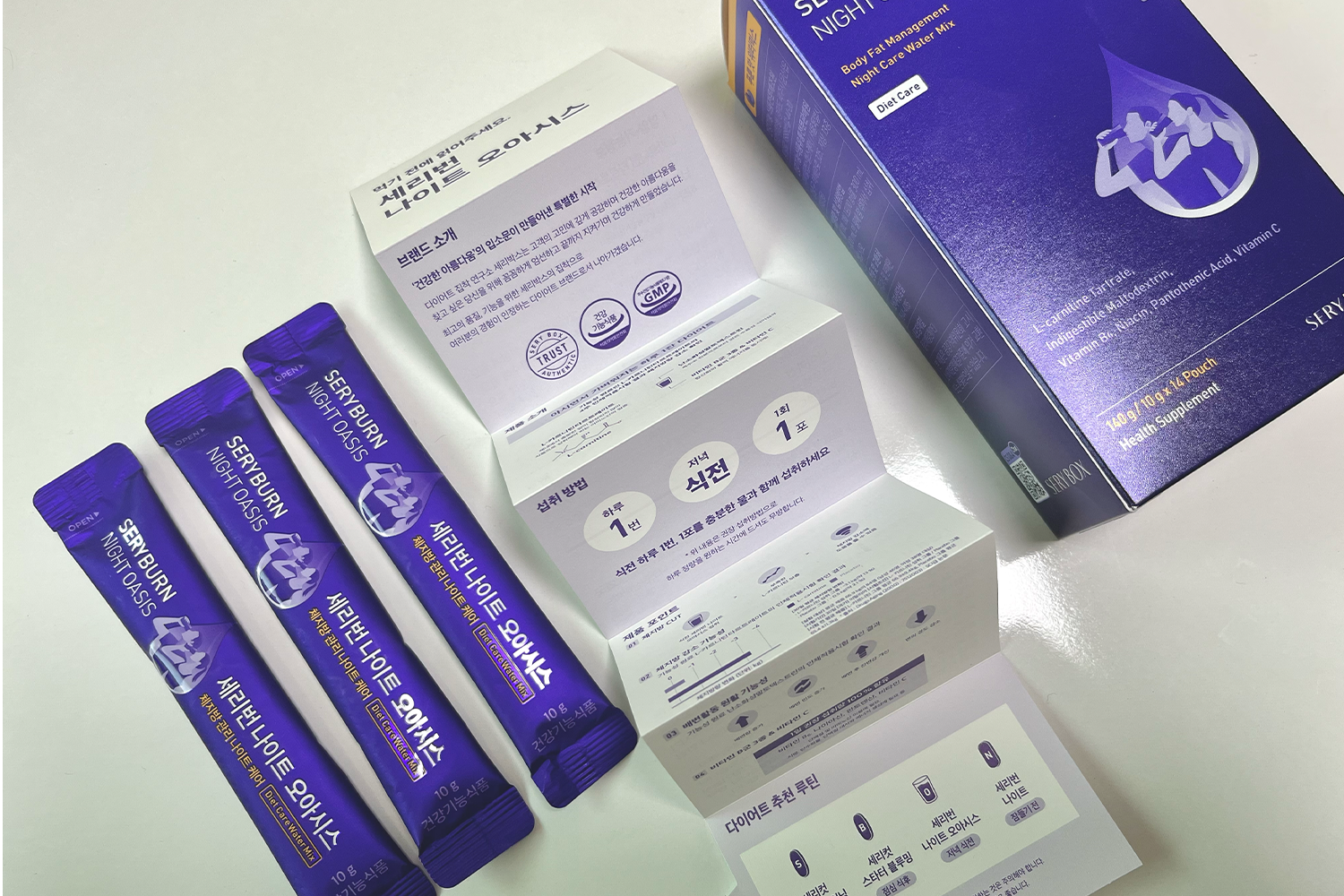 First, when you open the box, there is a manual with a description of the product and 14 packs inside.
When reading the manual, it states that we should consume one pack a day before dinner or before working out.
It also says that it contains carefully selected ingredients that effectively reduce body fat.
I did exactly what I was told!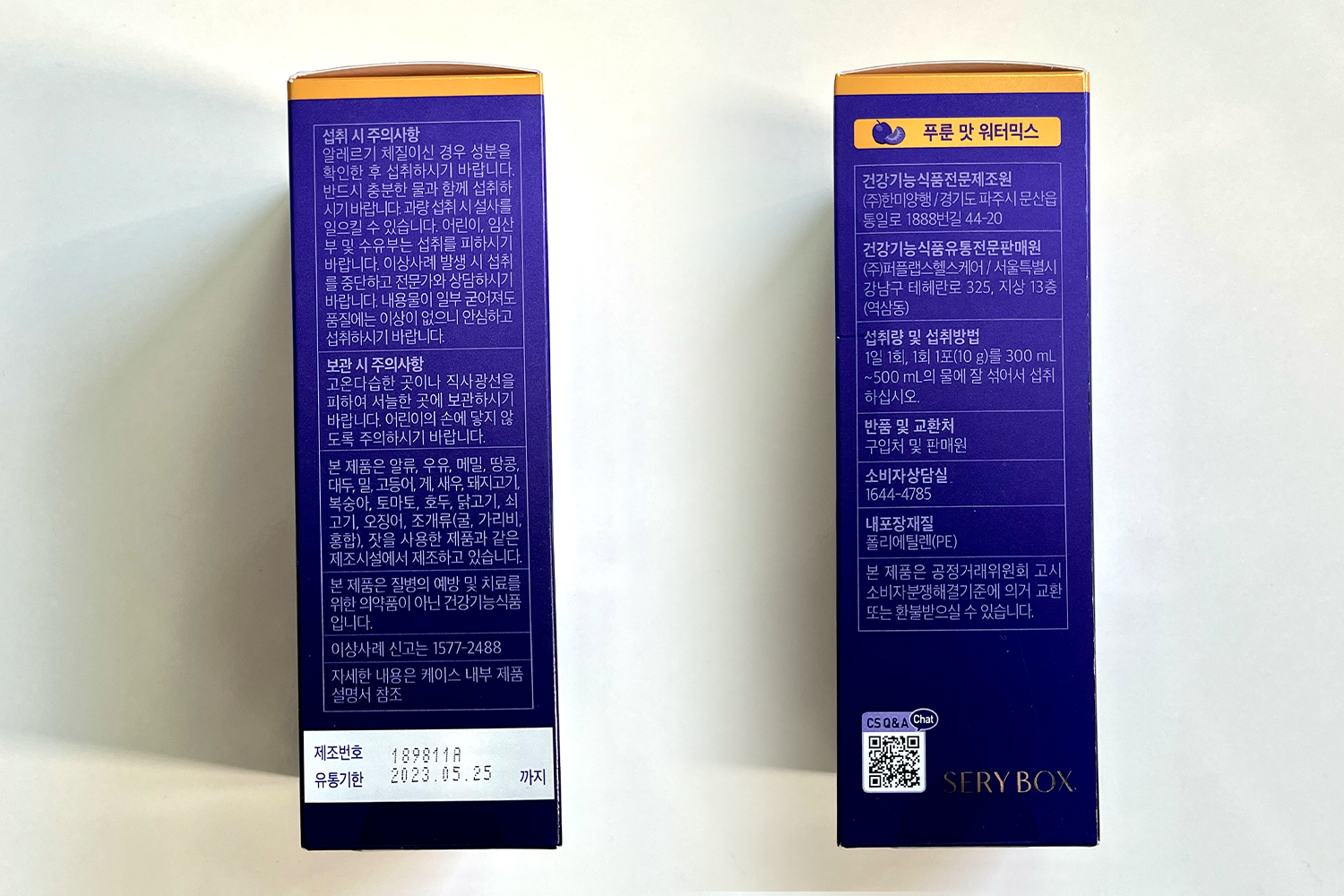 On one side of the product packaging, there were also precautions and explanations about the product.
People with allergies should be careful when consuming and it is recommended that we keep the product in a cool place away from humidity and direct sunlight.
In addition, one pack should be consumed once a day. And we can mix it with 300ml-500ml of water.
The expiration date is also written on the white square at the bottom of the box, so make sure you read this carefully.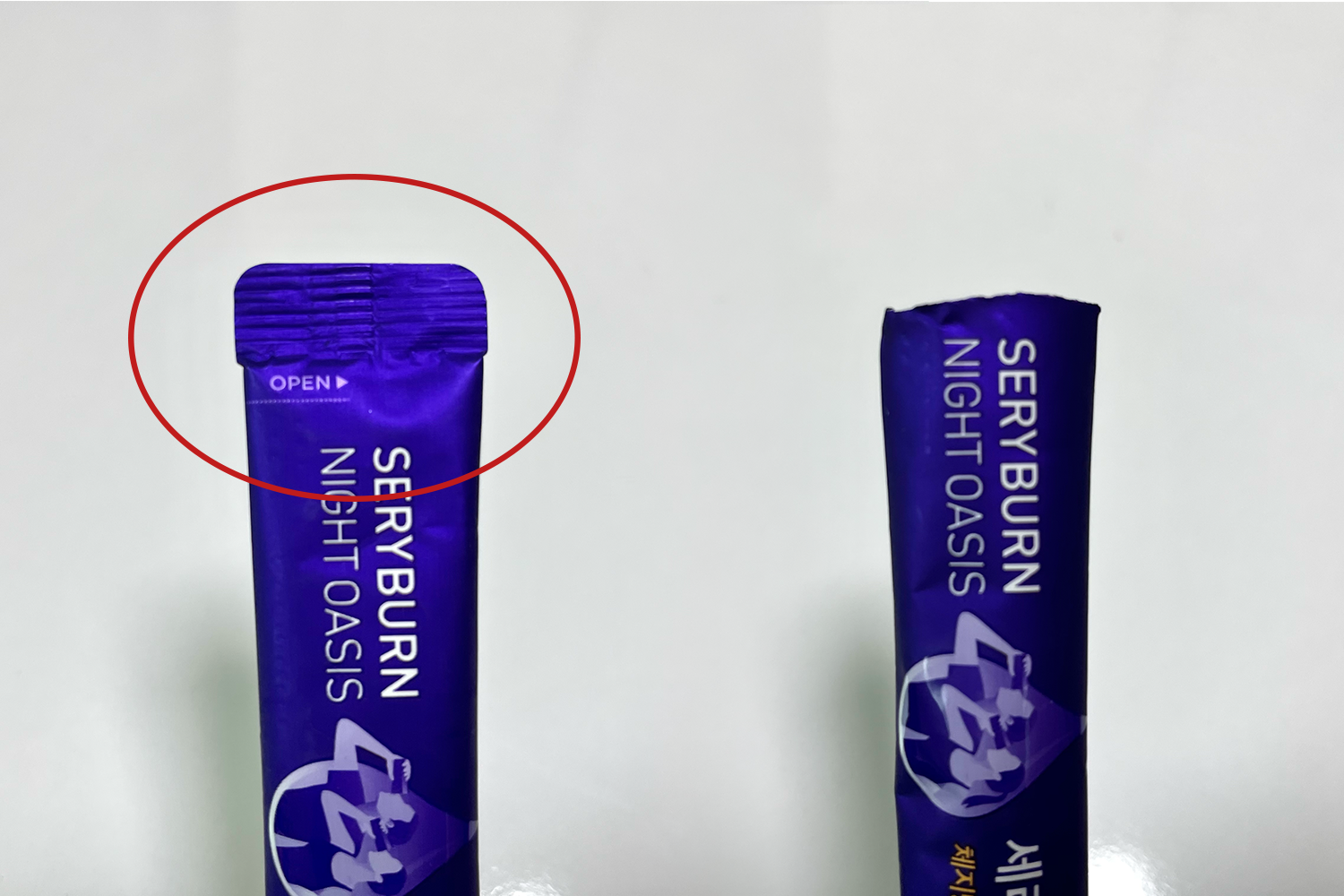 One small advantage we noticed right away was that it is super easy to open.
If you gently grab it and pull it off, it opens conveniently without a pair of scissors.
It dissolves easily into the water and eliminates any chances of spills onto the floor.
As shown in the photo below, you can directly mix the product with the desired amount of water.
It dissolves easily as soon as the water is poured, so all you need to do is mix it slightly before drinking.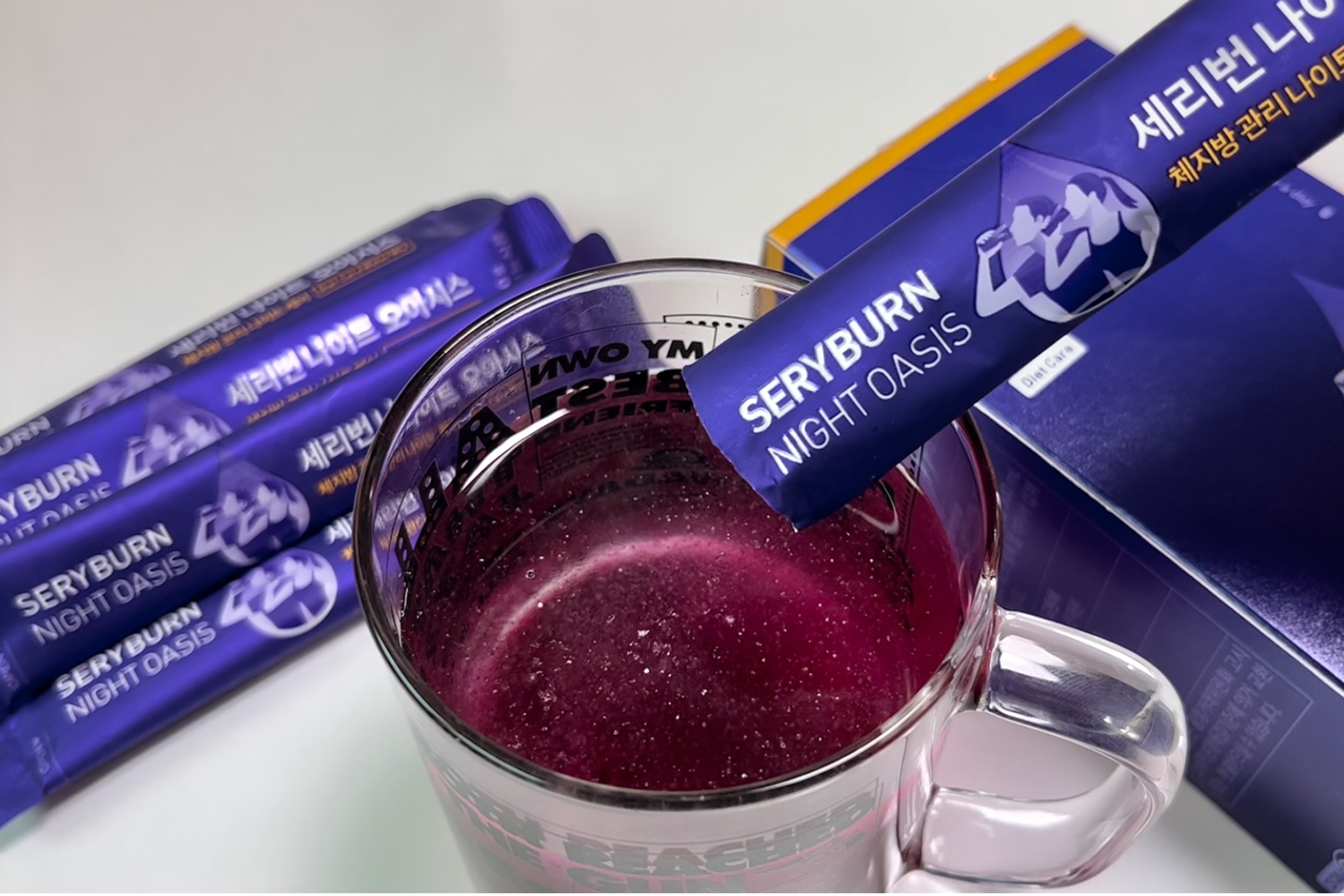 It is a prune flavor, but personally, I found that it tasted like sweet grape juice.
I mixed this product with water and drank it every evening before going for a walk. I felt that it boosted my energy and my body overall felt much lighter.
It also helped me cut down on snacks because the drink itself was pretty sweet.
I highly recommend it to those who often drink sweet beverages and are looking for tasty healthy options.
Seryburn
Night Oasis

#Prune+grape juice flavor

#Before dinner or workout
---
Vital Beautie
Meta Green Slim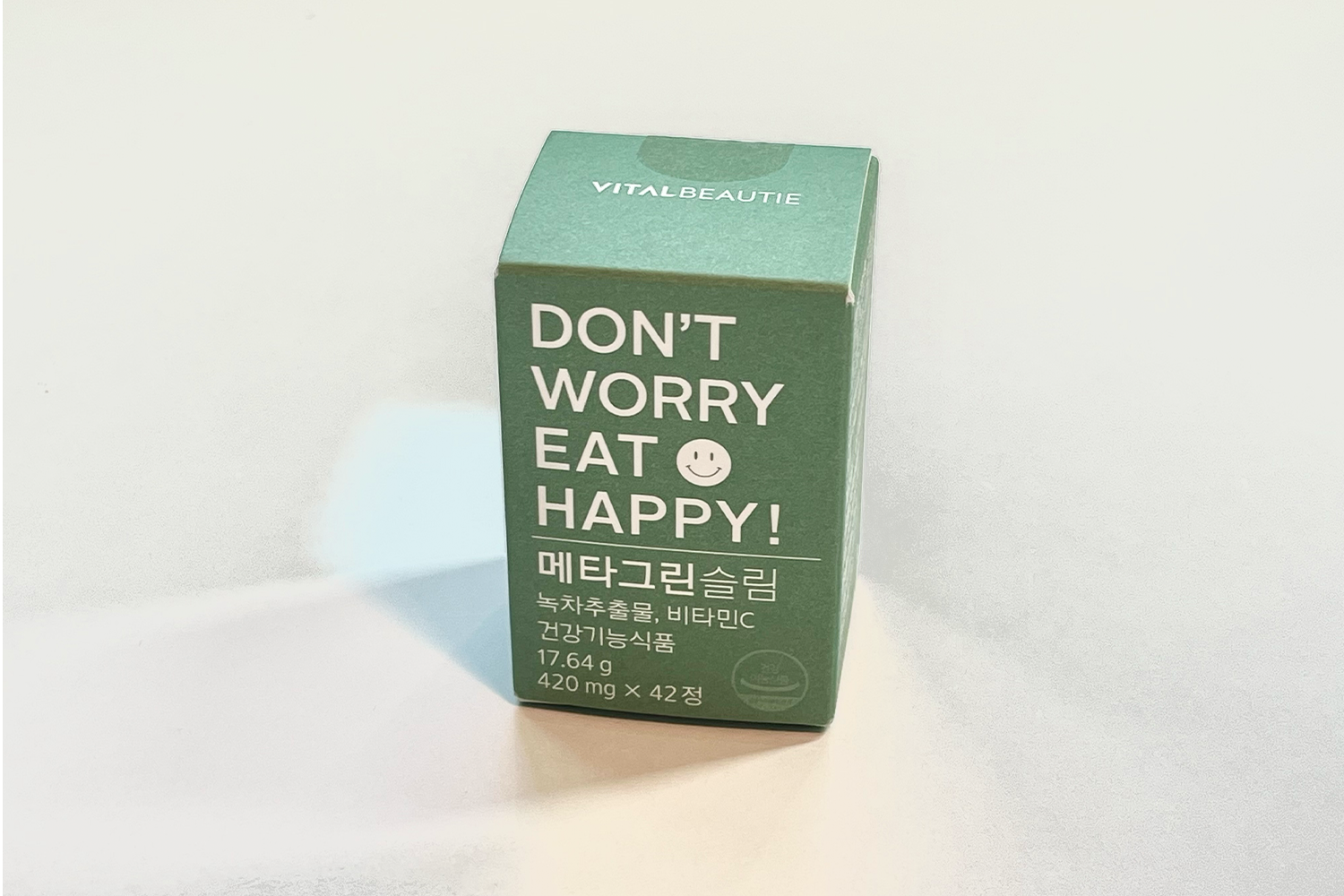 The next product is the Green Slim by Vital Beautie.
This is a very popular health supplement in Korea.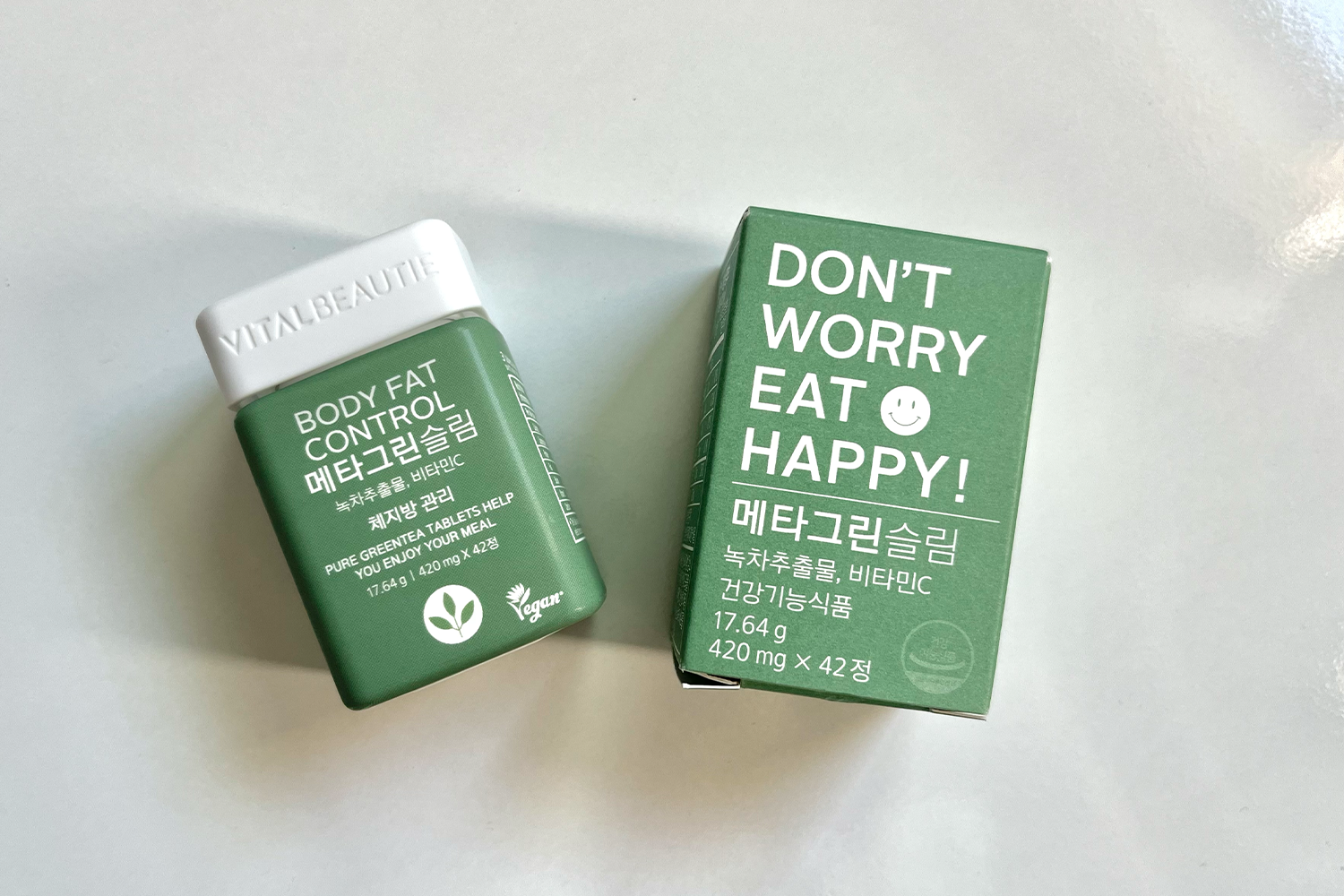 It contains catechin, an effective ingredient in losing weight. It works wonders for body fat and cholesterol management.
I've seen a lot of friends around me who consume this product so I decided to try it out myself.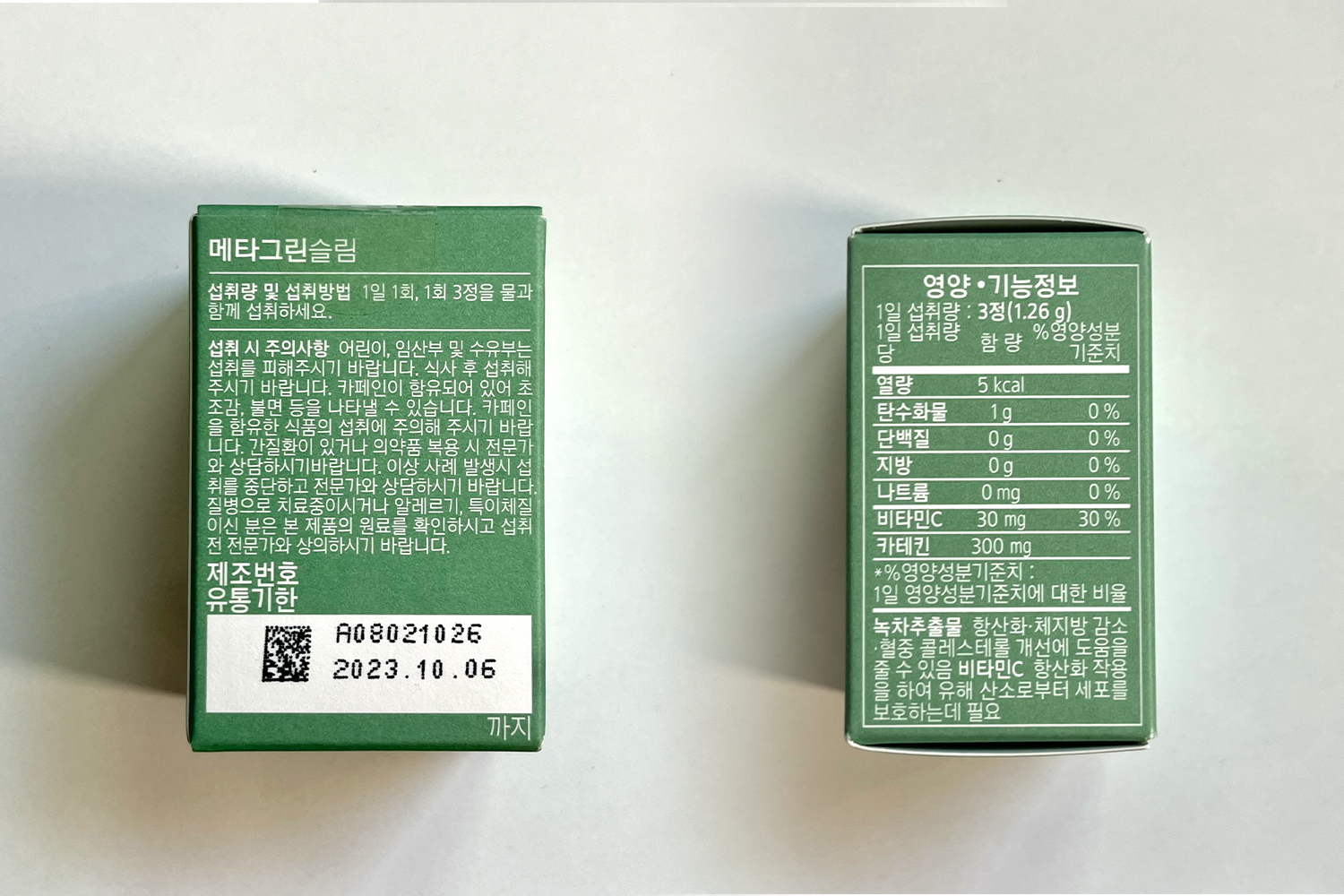 When I looked closely at the product, there is a description of its nutritional information.
You can consume it once a day, three tablets at once.
One thing to be mindful of is that it contains green tea, which is caffeine. So those that are sensitive towards caffeine, children, and pregnant women should refrain from consuming.
The daily intake of 3 tablets is 5kcal, which contains 30mg of vitamin C and 300mg of catechin.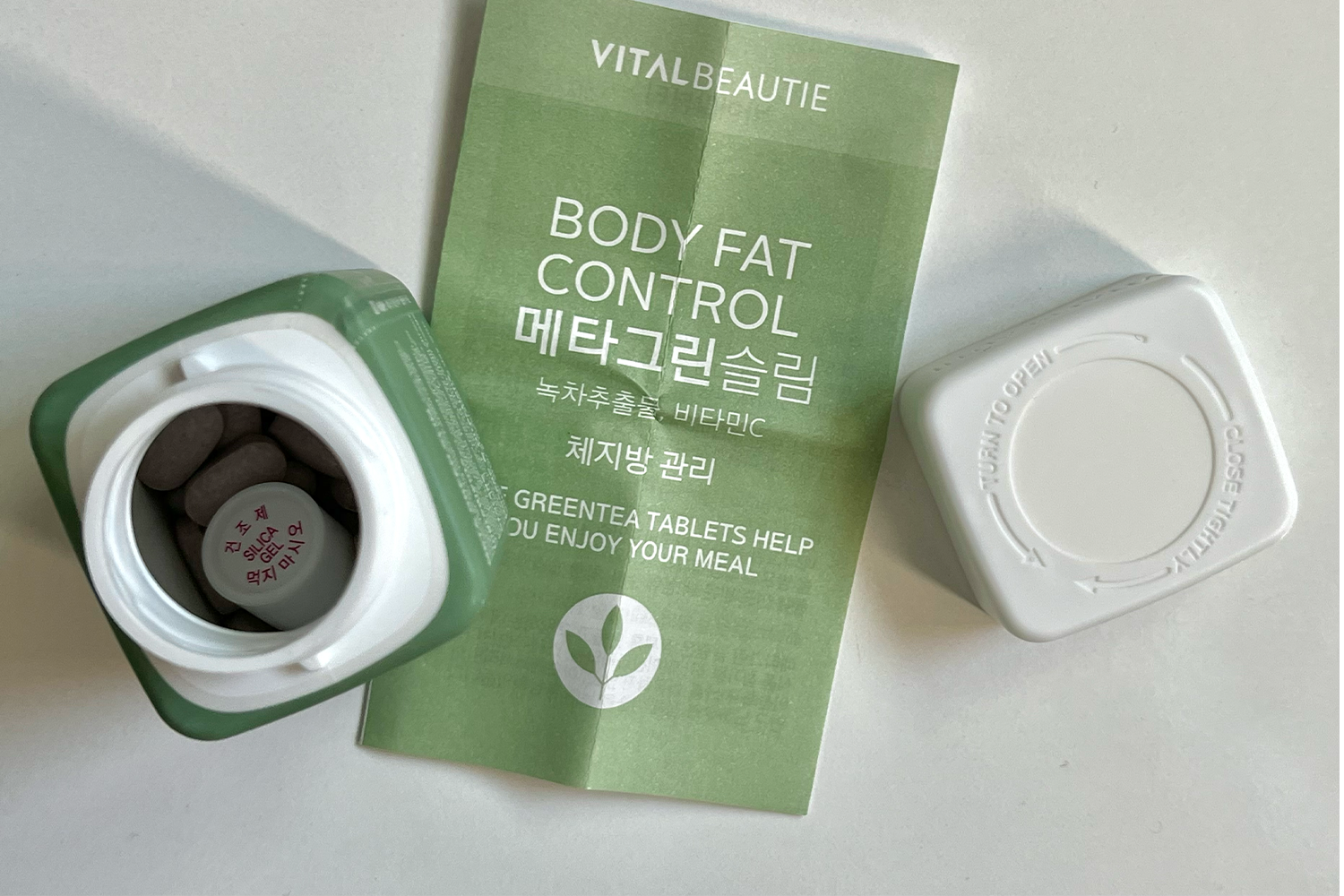 When I opened the box, the product container was hygienically sealed along with its instructions.
When I opened the seal, there was a desiccant as in the photo above. This helps the tablets from getting soggy so it is recommended that it stays in there until you've finished it all.
I consumed this product for about two weeks and I never experienced any discomfort.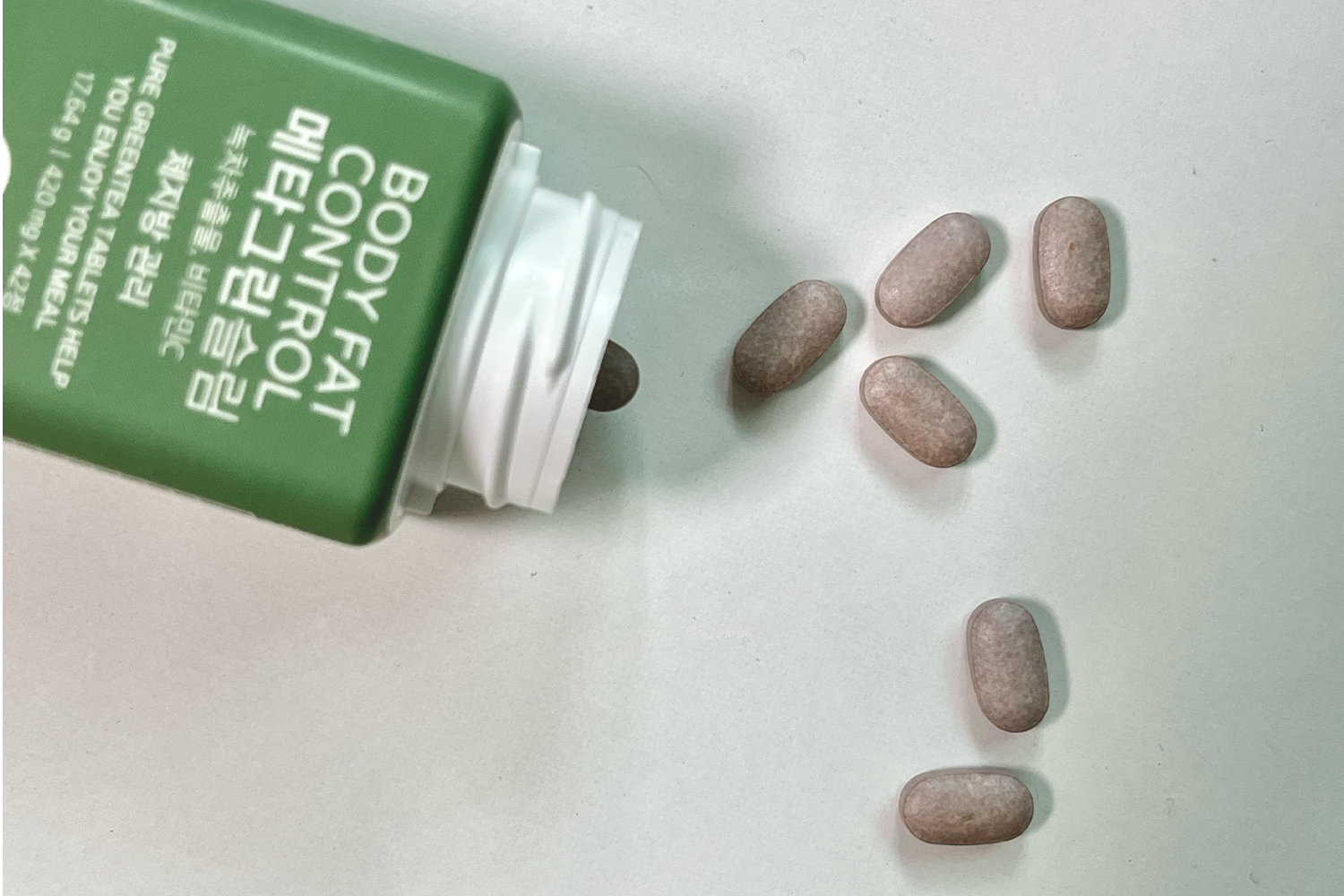 Out of all products I tried before, I noticed a big difference after I tried this.
In fact, I didn't exercise and ordered a lot of fast food while consuming these tablets but surprisingly my weight didn't increase.
It would be much more effective if you work out and eat clean while consuming these tablets.
If you are planning to lose weight, I highly recommend this product.
Vital Beautie

Meta Green Slim

#3 tablet after meal

#Feels light
---
Nutridday
Diet Shake Happy Mix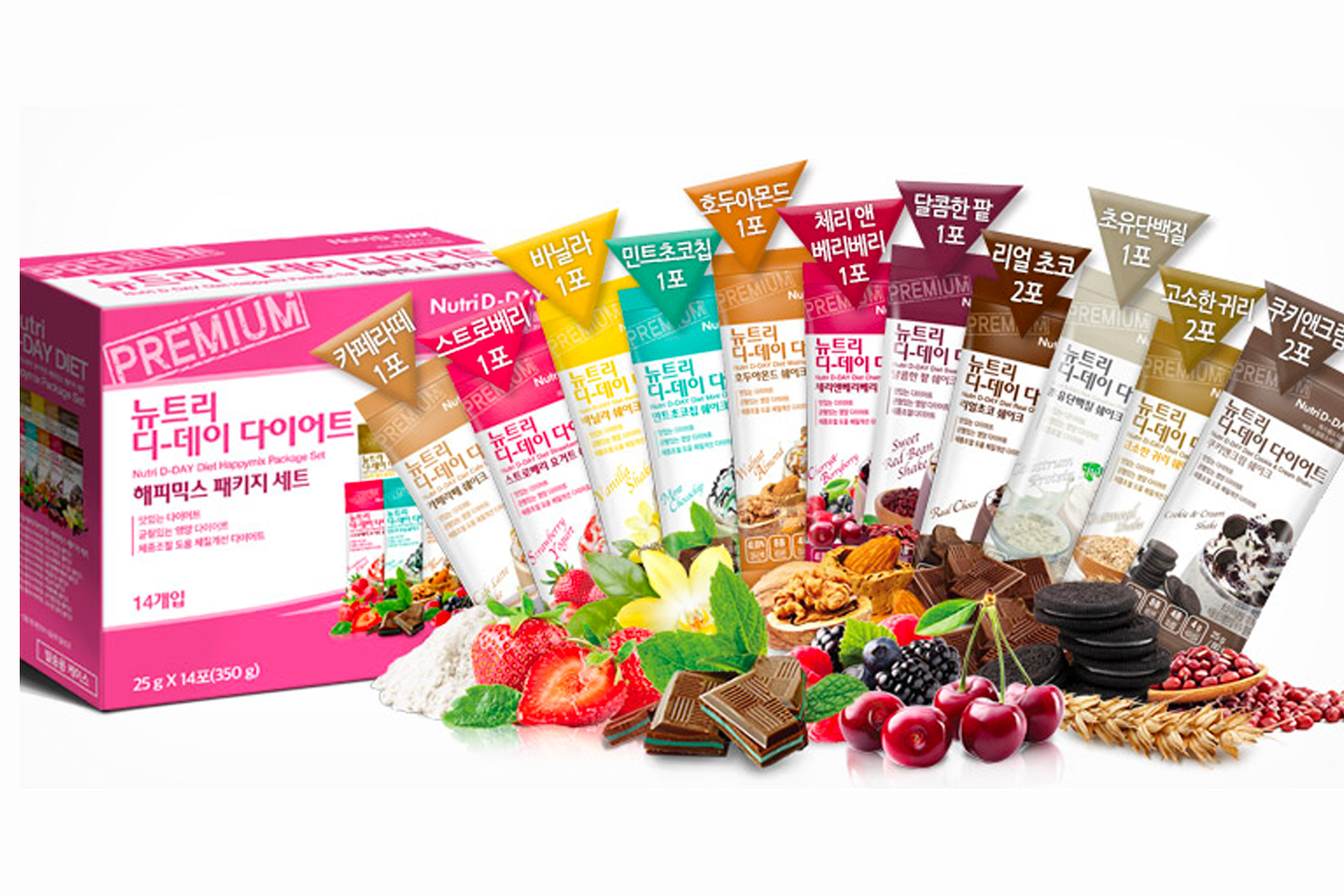 Next, we have a steady selling product in Korea!
It is the Nutridday Diet Shake Happy Mix. This product gained wide popularity in Korea.
You can try 14 different flavors in one box at an affordable price.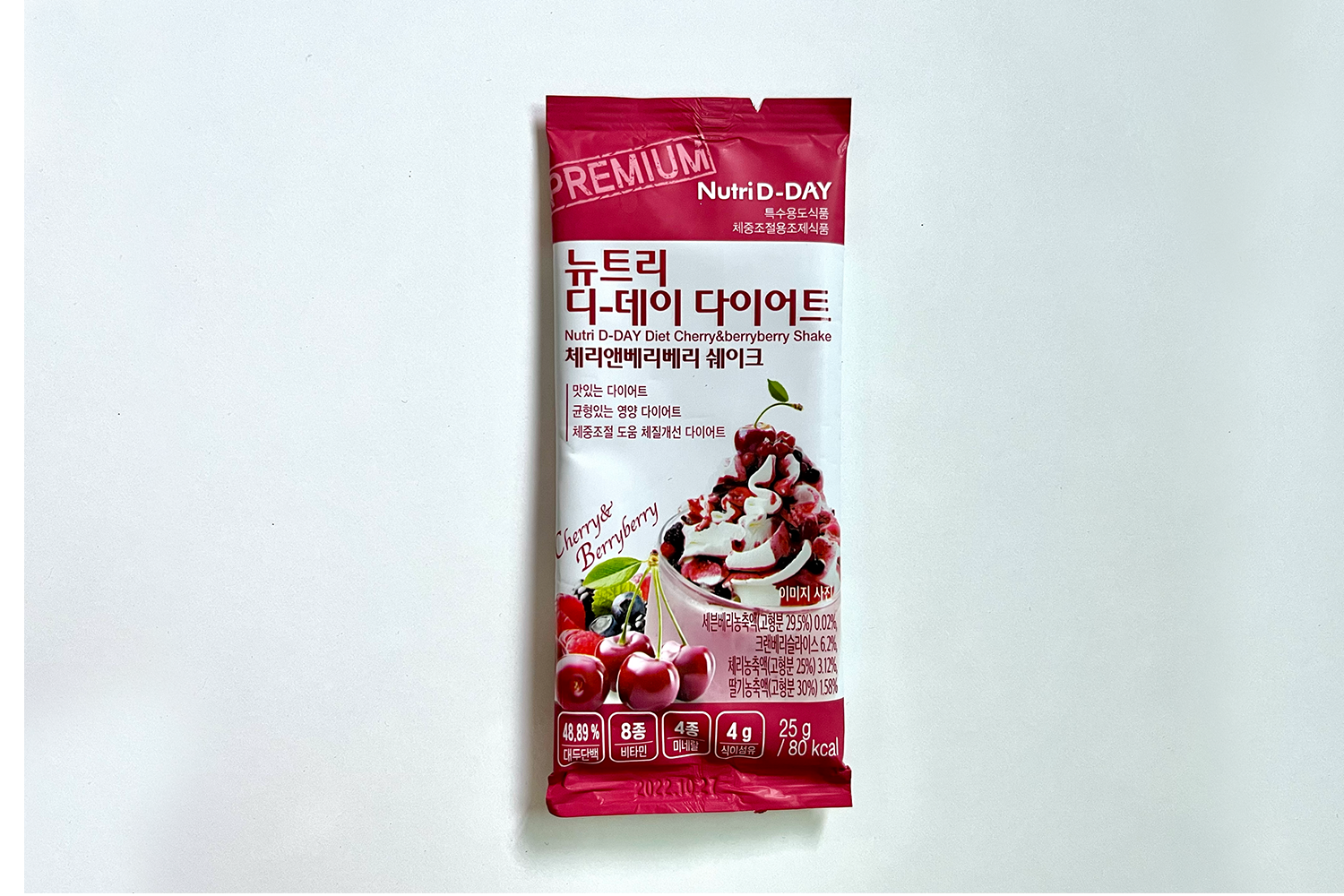 To be honest, I ended up finishing all the other packs except this cherry-flavored shake so let's open this one together.
It states on the wrapper that it helps control your body fat and can change your metabolism overall.
It is 80 kcal per package, so you can enjoy it lightly with milk.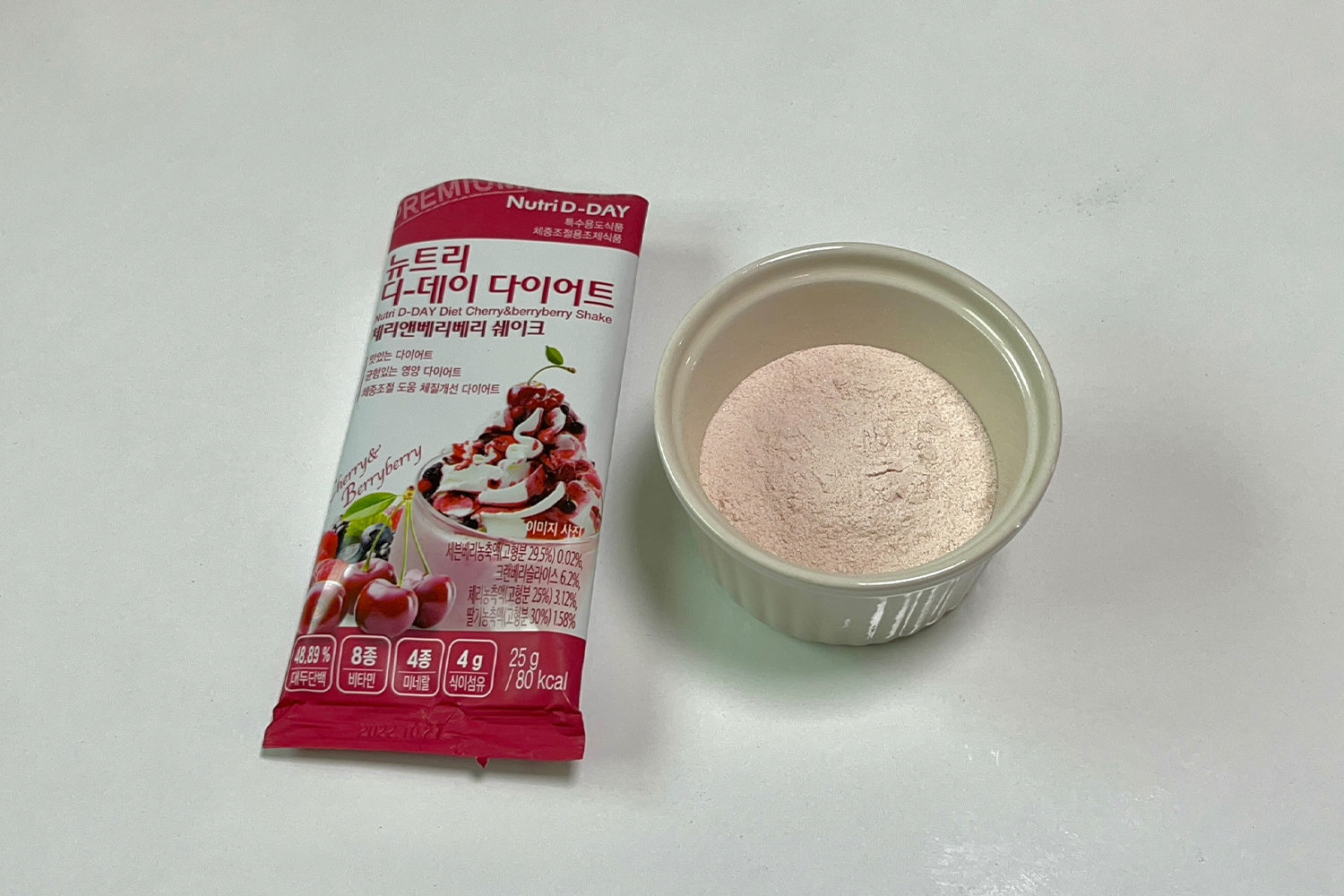 When I poured the powder into a bowl, the color was light cherry. I liked the sweet cherry scent as well.
And you can't really tell in the photo, but there are little cranberry slices in there! I was really looking forward to its texture.
I usually like to mix it with milk and other fruits so today I decided to mix it with fresh strawberries.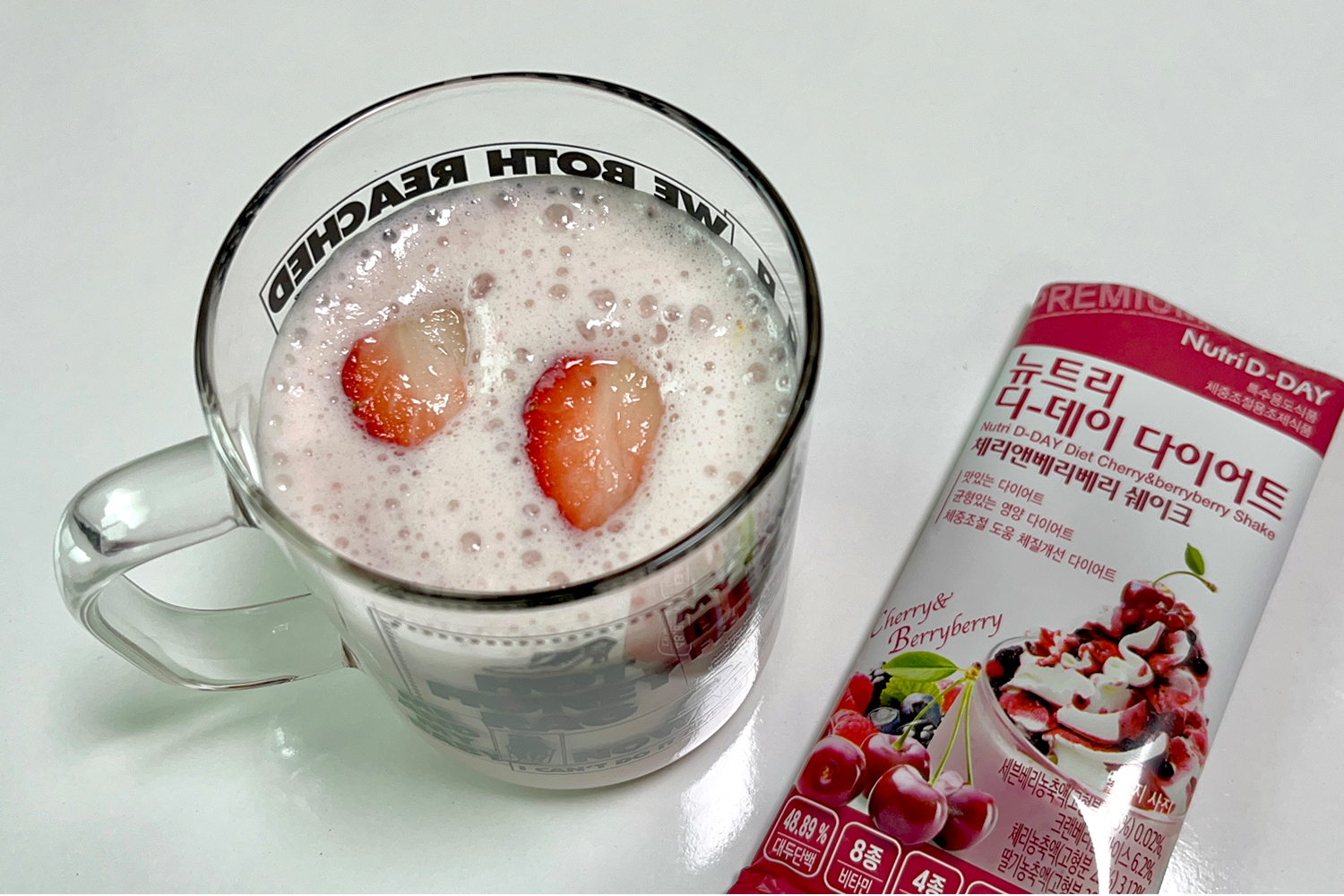 I often end up giving up mid-way when I'm on a diet because I get so sick of the food easily.
But this shake has so many different flavors to try every day and it's filling enough for a meal so I found myself always reaching for a pack.
In fact, I lost more than 5kg after consuming this product for two months and working out consistently in the evening.
Consuming this as meal replacements definitely helped me see a big difference in my body.
I highly recommend this product to those that really want to lose weight and become healthier but don't have enough time.
Nutridday

Diet Shake Happy Mix

#14 flavors

#Variety of flavors to try
---
Selex
Slim25 Matcha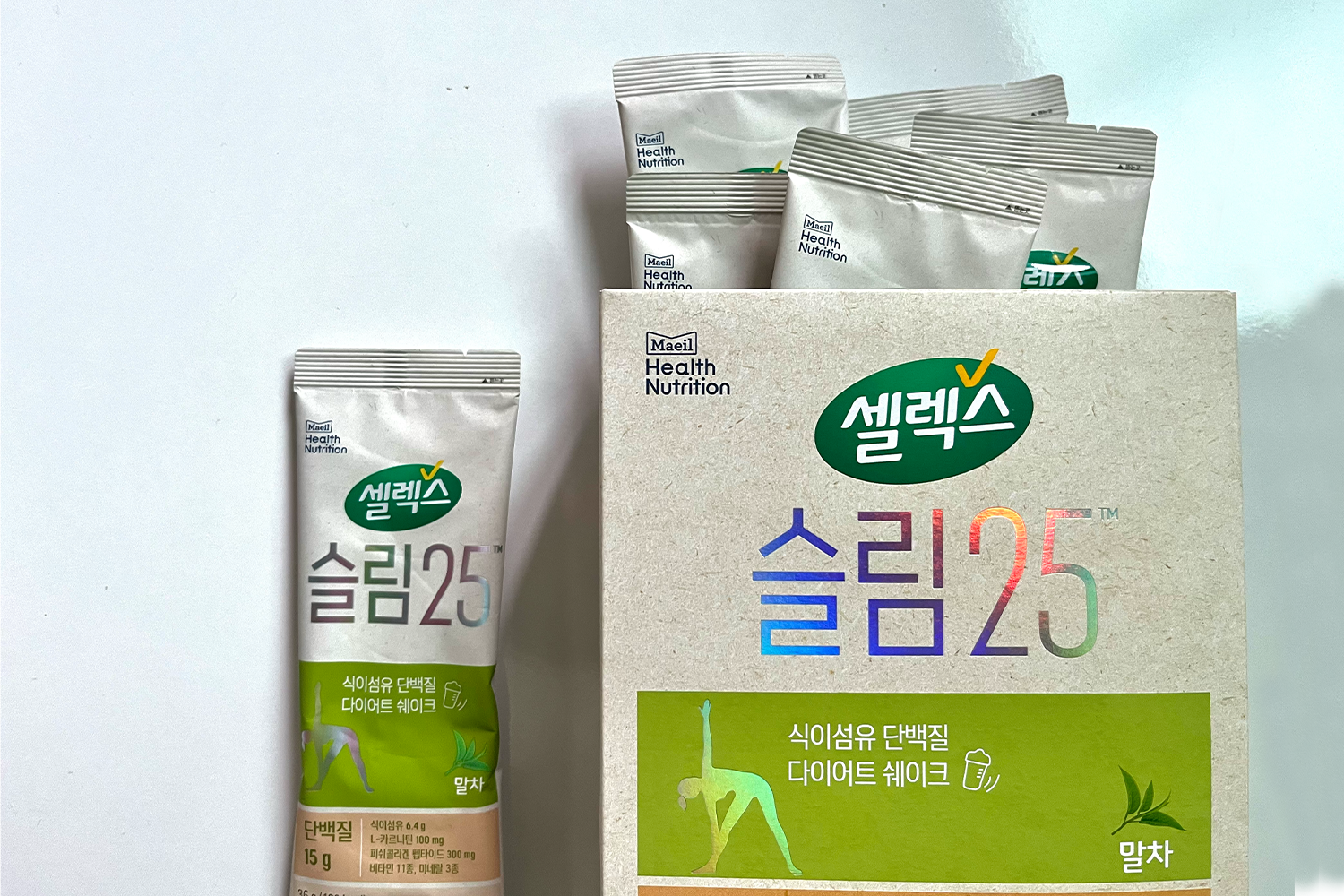 Next up is the Selex Slim24 Matcha diet shake.
Selex is a popular health food brand known for its protein shake and they have gained consumer trust.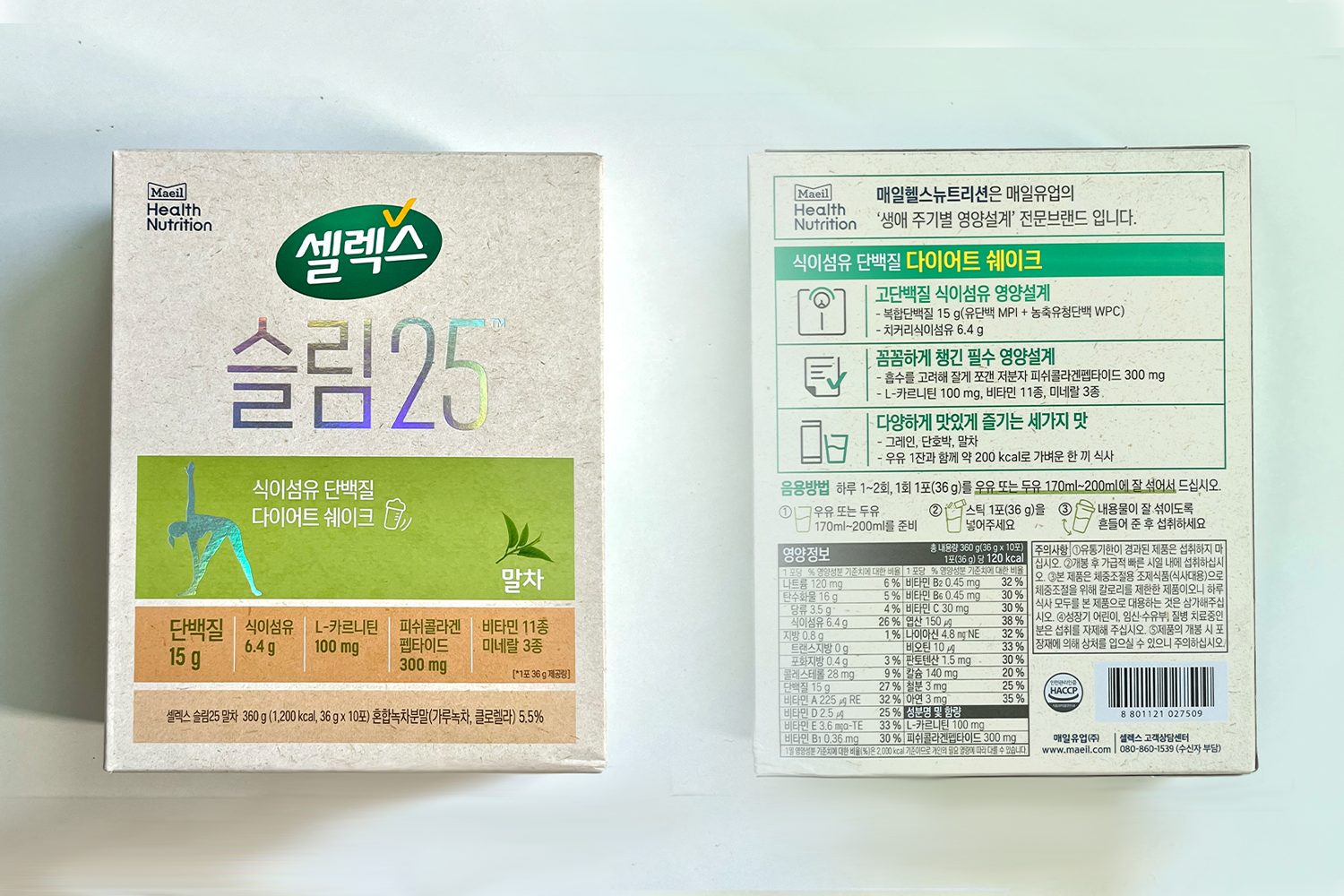 Selex Slim25 launched three flavors: matcha, sweet pumpkin, and grain.
I tried all of the three flavors and my favorite was the matcha so this is the one I recommend.
If you look at the front and back of its packaging, it reads "Food fiber protein diet shake" on the front.
On the back, it reads that the protein and dietary fiber are well mixed and carefully designed for nutrition benefits.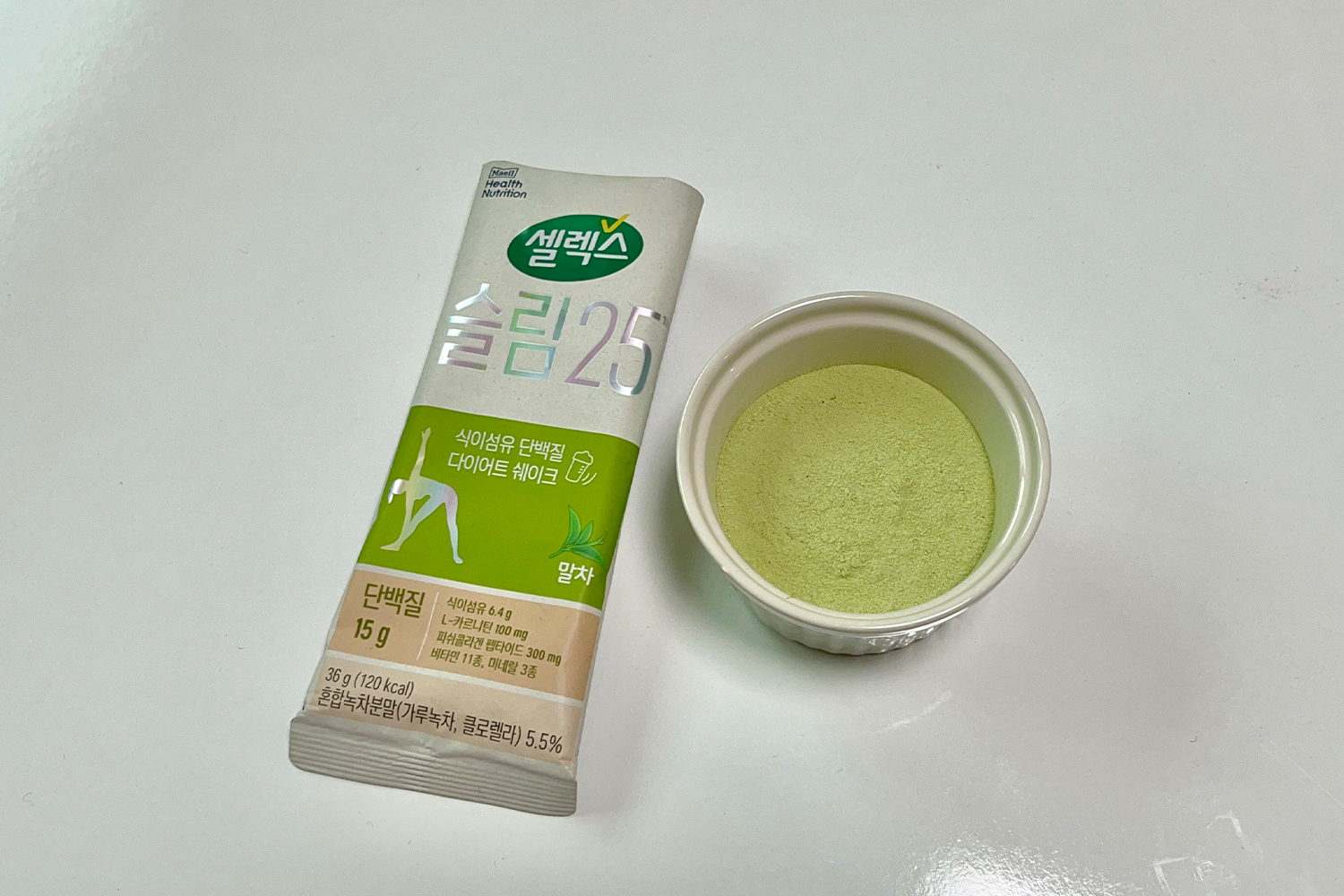 There are a total of 10 packs in a box so let's open one together and have a look.
When I pour the shake into a bowl, the smell of delicious matcha filled the room.
If you look at the contents written on the packaging, it reads that one pack is 120 kcal and contains 5.5% matcha powder.
Also, one pack contains 15g of protein, so it would be great to consume before/after a workout as well as a meal replacement.
I mixed it with milk but it looks kind of clumpy, right?
Compared to the Nutridday shakes I introduced earlier, the Selex product is easily clumped so it is best to stir it well before drinking.
It tastes just like matcha latte sold at cafes so we give it a 10/10 for taste.
I consistently drank this as a meal substitute and was able to lose weight naturally.
I was very happy that I was able to lose weight without giving up a delicious cup of matcha latte.
Selex

Slim24 Matcha

#Matcha latte

#Sweet
---
GNM
Diet Shake Special Mix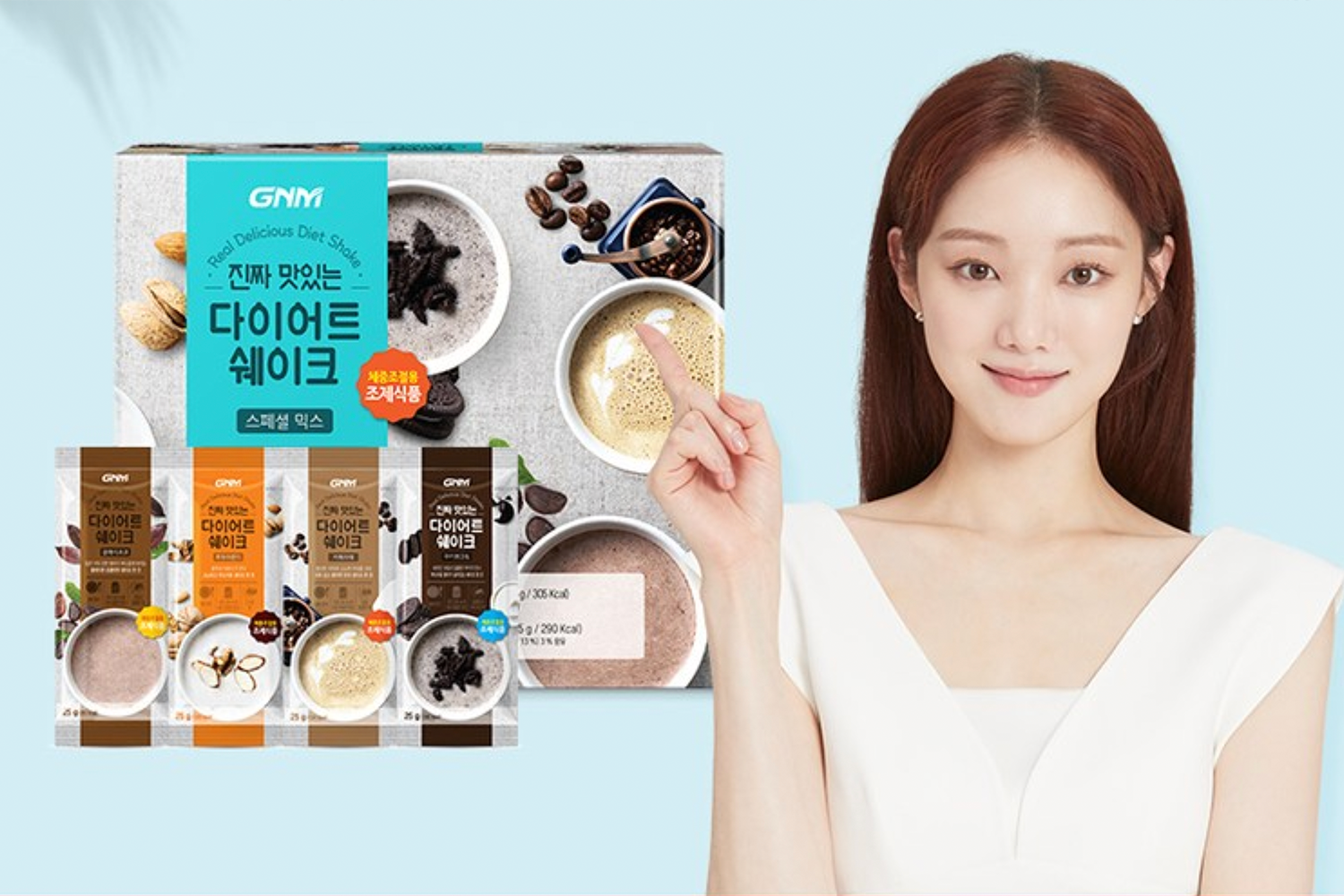 Today we looked at a variety of shakes.
If you asked me to recommend one that doesn't taste like a diet supplement and is the most delicious, I would pick this one.
As someone that saw results with this product and the Nutridday shake, you can take my word for it.
GNM's shake is labeled the "really delicious diet shake" in Korean.
I bought this product because I was curious to see if it lived up to its name.
The product that is on our website, is a combination of four different flavors: classic chocolate, cookies and cream, walnut almonds, and coffee latte.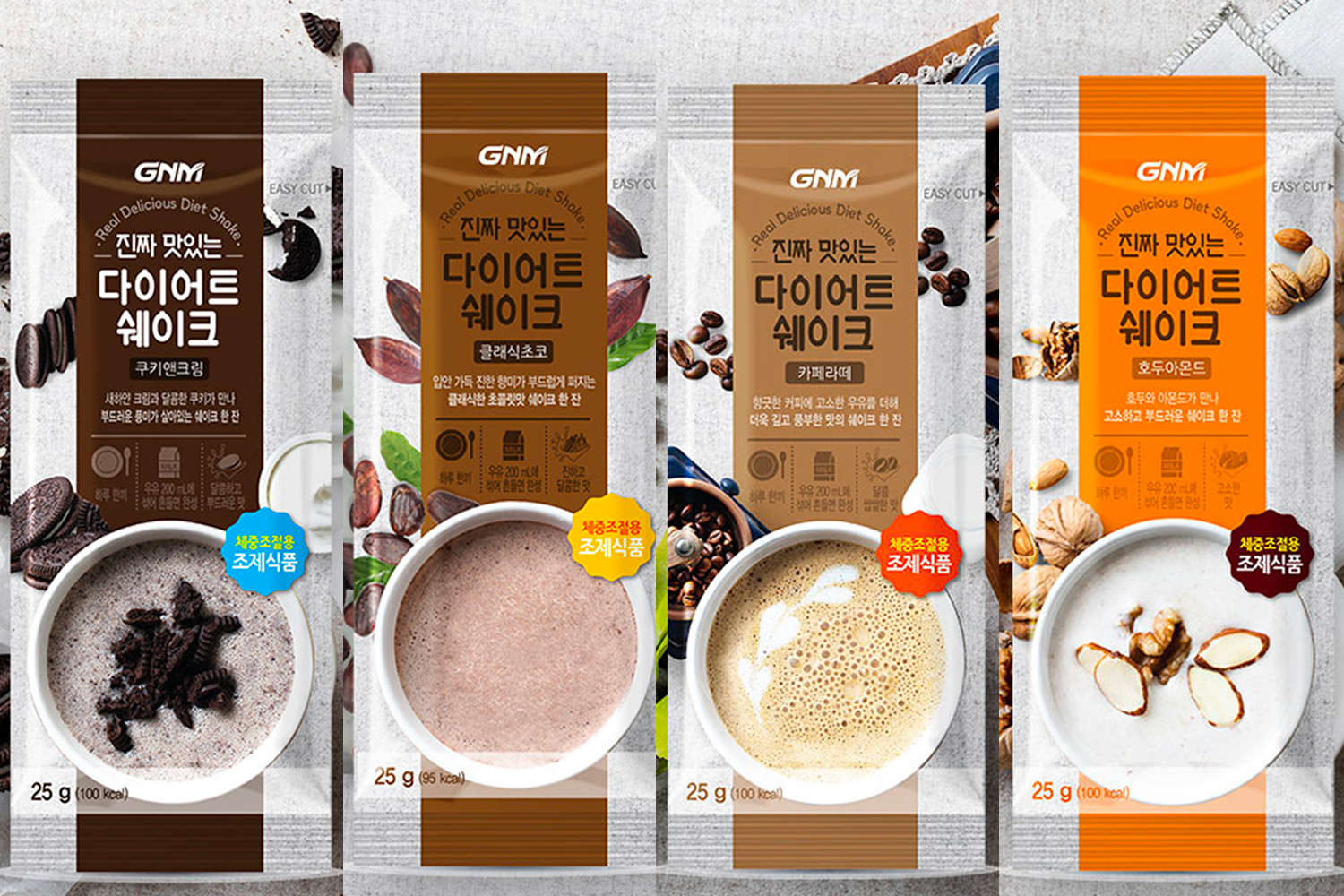 If you tried the Nutridday shakes and it didn't suit your tastebuds, I highly recommend trying this out.
The major benefit of this product is that there are delicious flavors such as chocolate and walnut almonds to try.
Also, it tastes very delicious!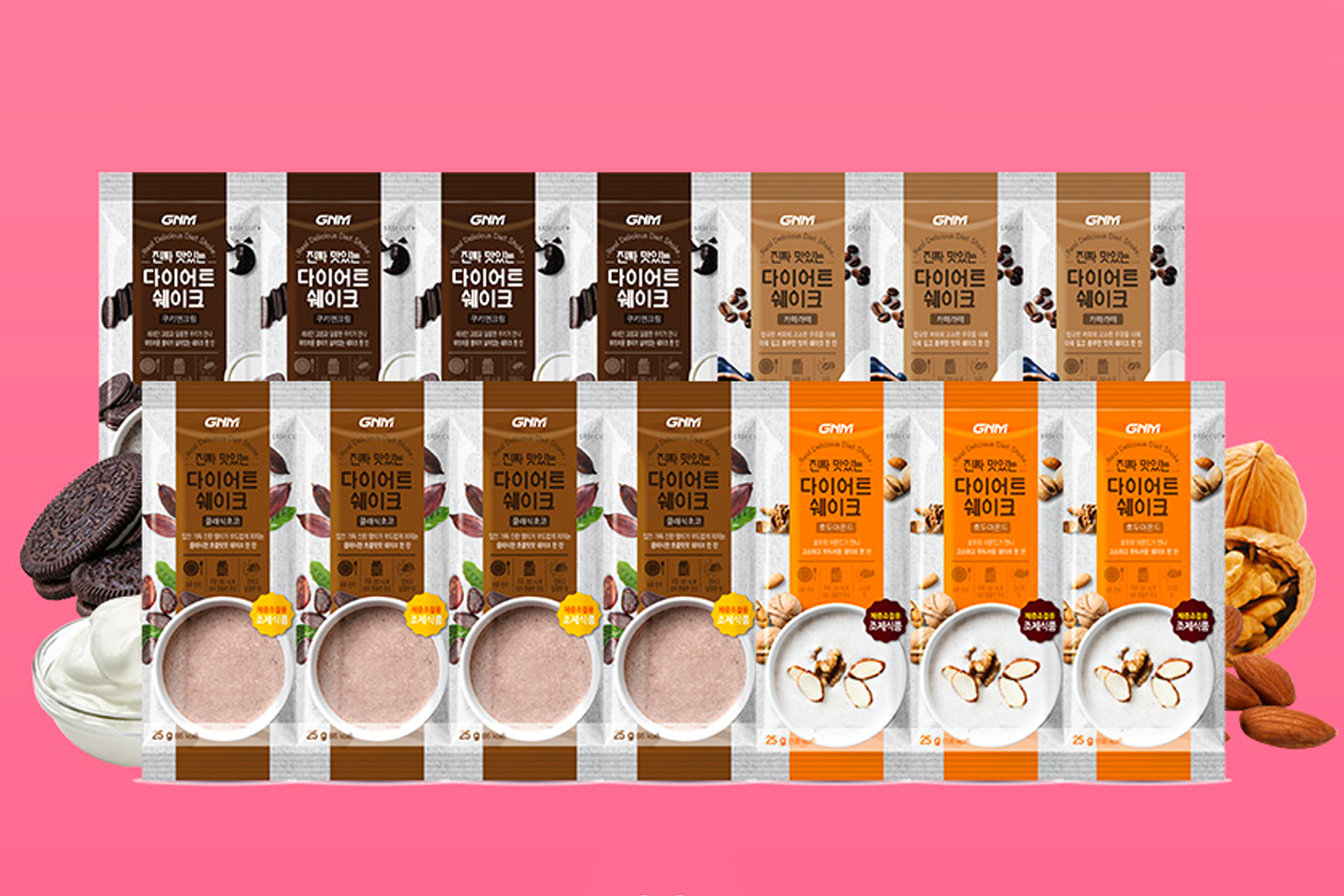 If you drink diet shakes, you will often find that it's very dry or there is a strong taste of protein.
However, this product completely eliminates those issues and you can enjoy it deliciously!
On top of that, it is about 100kcal so you can enjoy it with milk and feel guilt-free.
GNM
Diet Shake Special Mix

#Really delicious

#Popular flavors
---
Today we compiled the best health supplements that we actually tried out among other popular supplements in Korea.
You can trust us on this one as we carefully reviewed its ingredients, taste, and outcome!
We hope these products help you build the body of your dreams.
---