Food Guide | MYEONGDONG
After your shopping spree, you need to head to these places to eat!
Myeongdong is most likely one of the most famous neighborhoods in Seoul for tourists! It is filled with tons of great shopping options, beauty treatments, and delicious restaurants. For some tourists, the overwhelming amount of options in Myeongdong can be very overwhelming. However, there is no need to worry as we here at Creatrip have brought together some of our favorite places to eat out in Myeongdong! These are some of the places we think you can't miss out on when in Myeongdong.
---
BBQ Myeongdong Chicken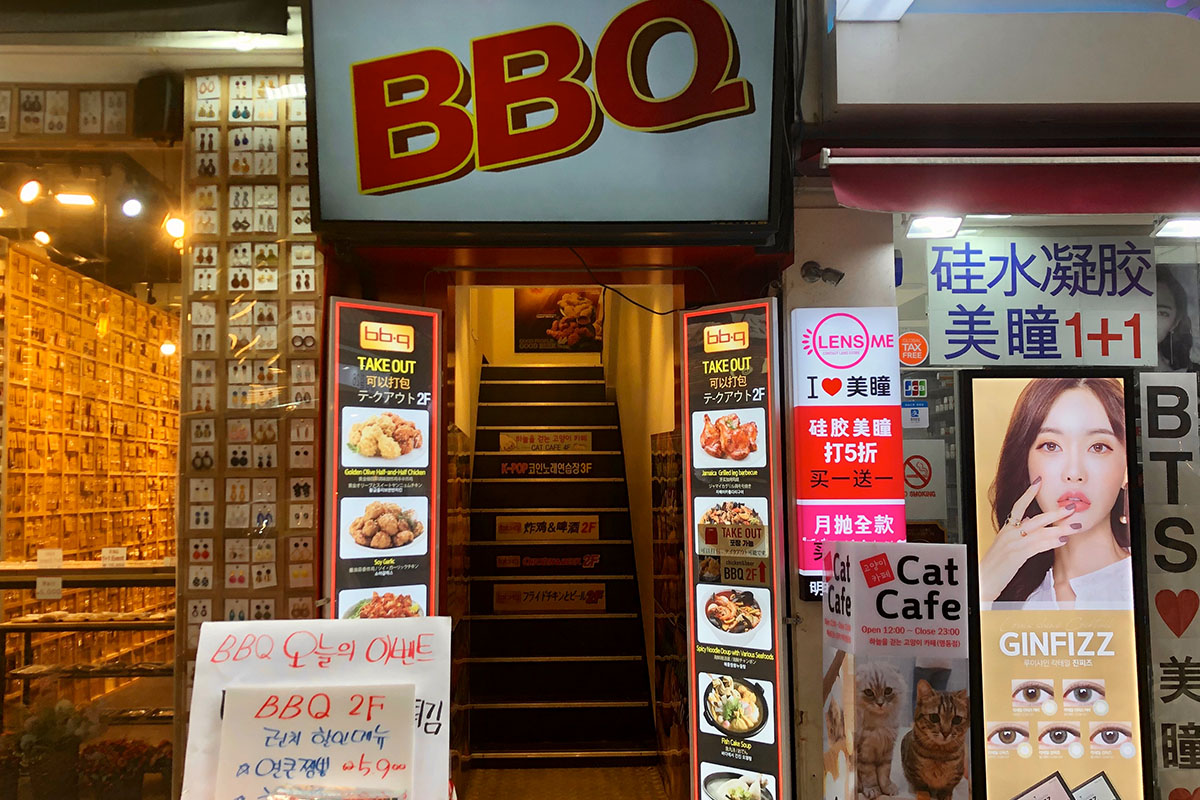 If you are looking for a delicious chicken and beer shop in Myeongdong, this is your choice. In the summer, you can sit on the terrace and enjoy chicken outside!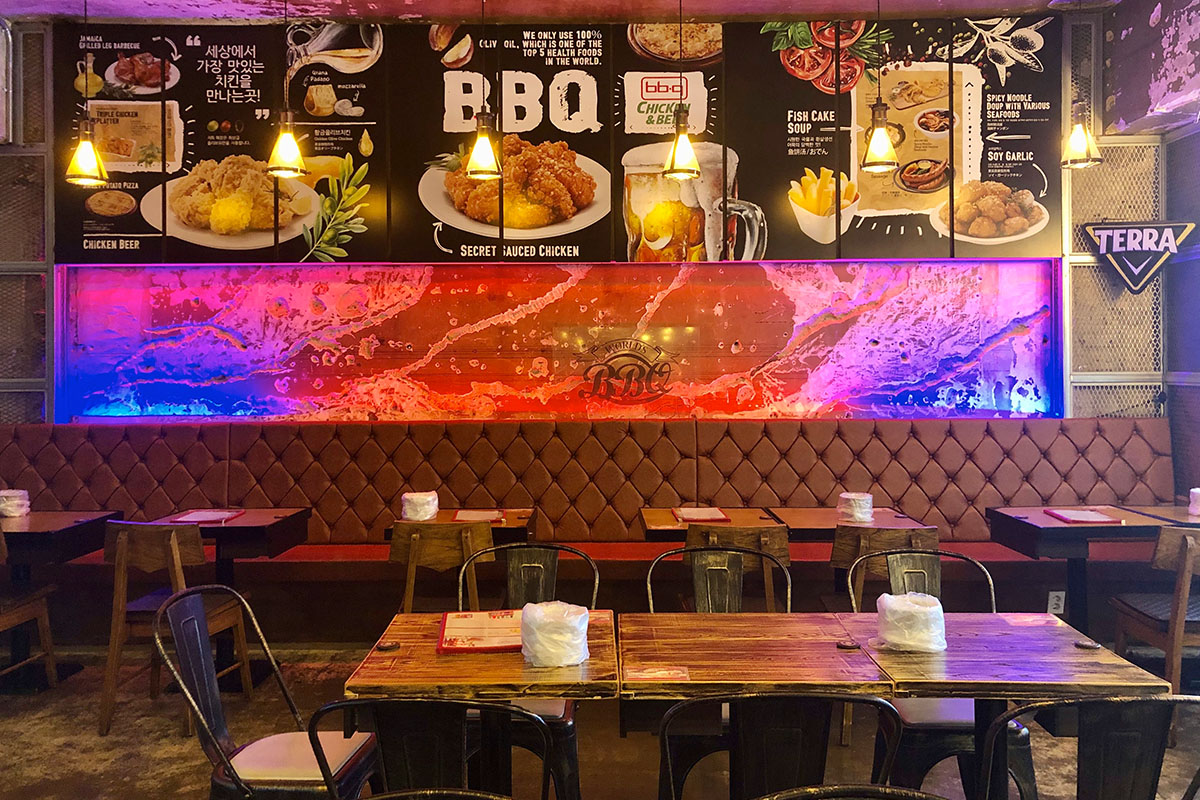 The golden olive chicken that appears in the popular drama "Crash Landing on You" can be found here as well.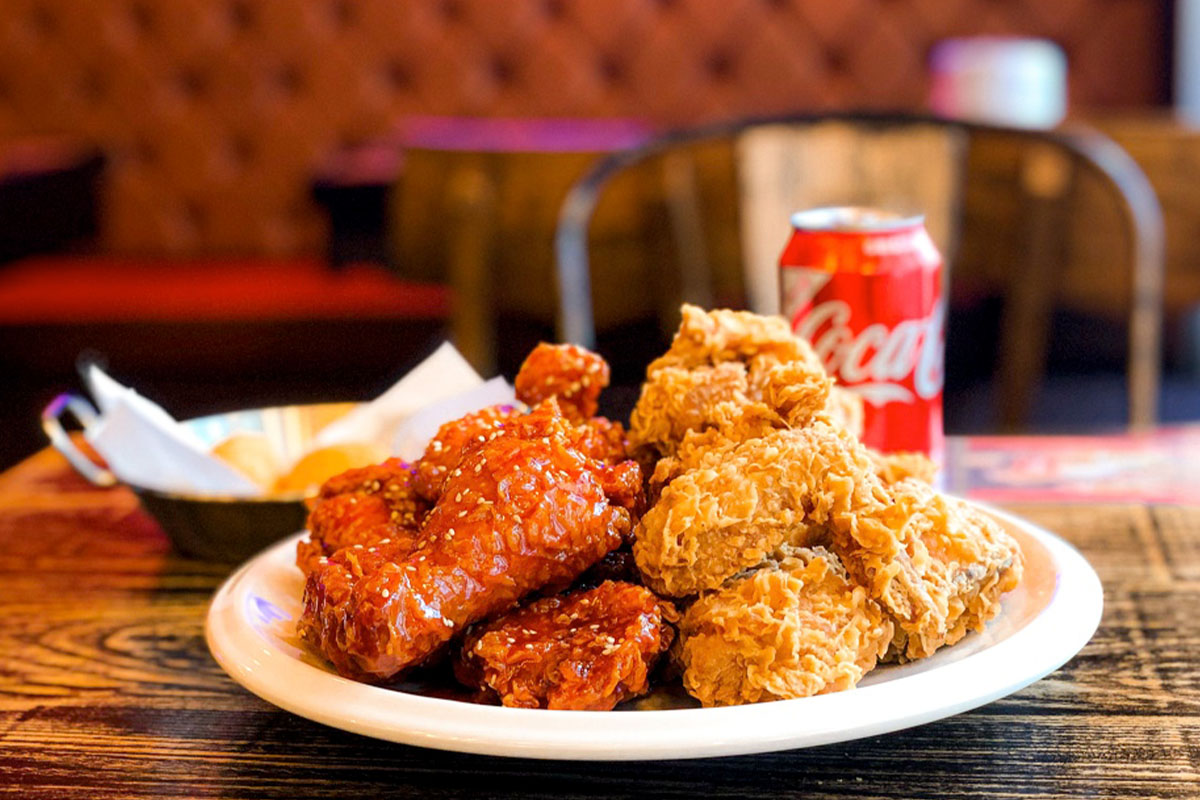 We ordered the half and half of golden olive chicken and Yangnyeom chicken. Both were delicious and crispy, a very irresistible combination. The Golden Olive Chicken was around 20,000 KRW and the Half and Half combo was around 22,000 KRW. Also, Creatrip members can get take advantage of this great deal where you get a discount on the chain's popular cheese balls when using our coupon!
Address: 서울 중구 명동 4길 2F
2 Myeongdong 4-gil, Jung-gu, Seoul
Hours: 11:00- 01:00
---
Baekje Samgyetang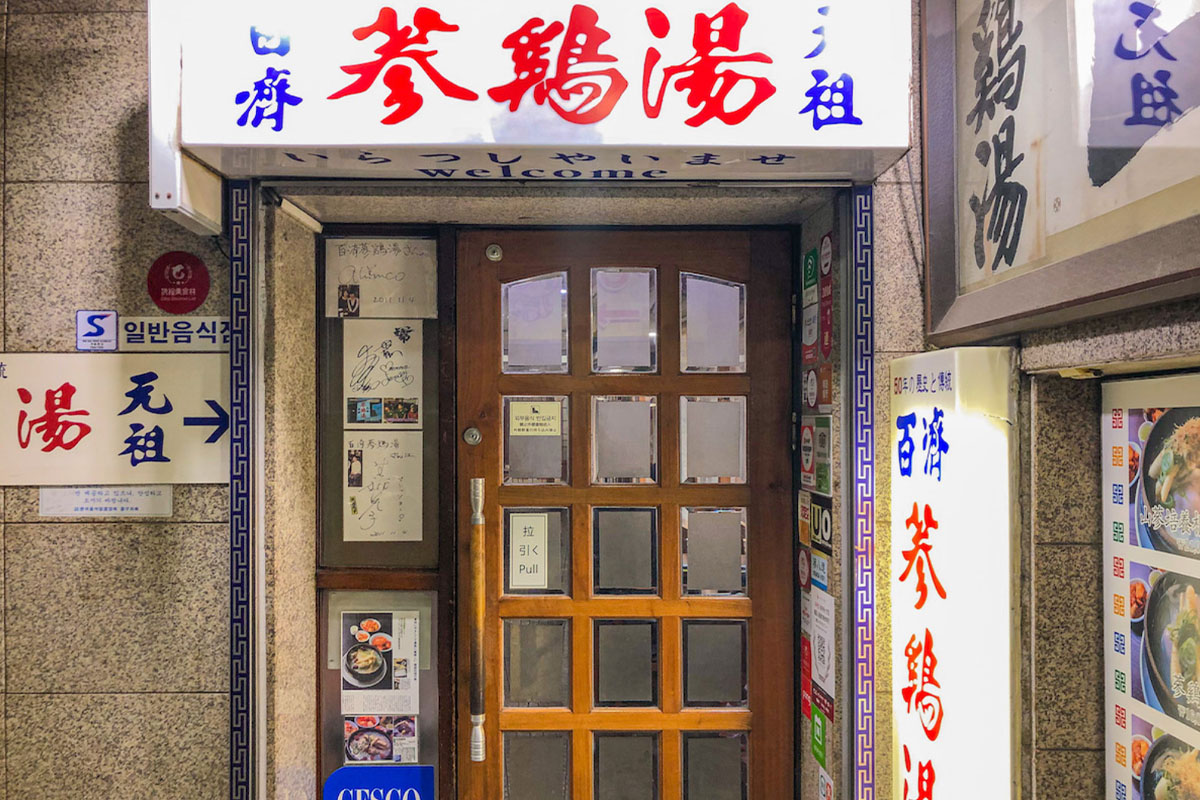 This place is famous for their nutritious and filling chicken stew! Samgyetang is a traditional chicken stew that is known by Koreans for it's nutritious properties and large amounts of vitamins. The inside of the store is decorated in a vintage style Korean way with domestic and foreign newspapers as well as records!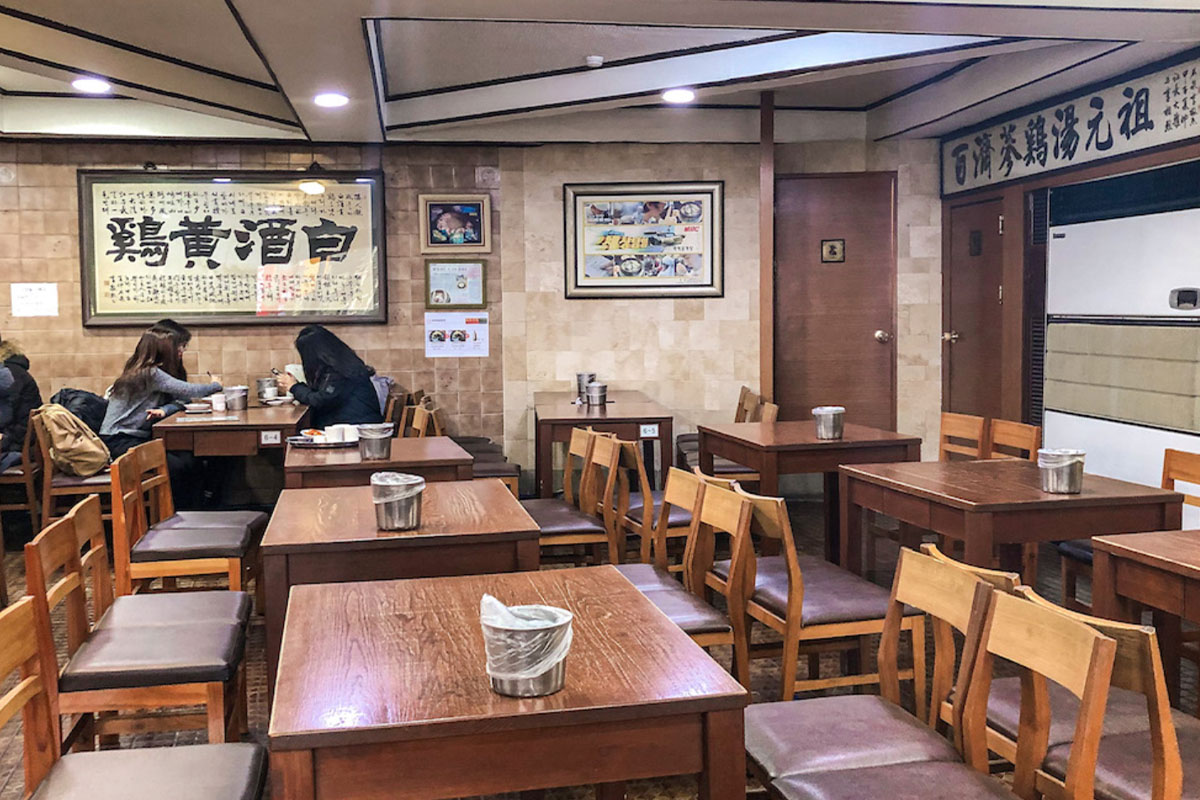 The clean and beautiful interior has a long-loved history.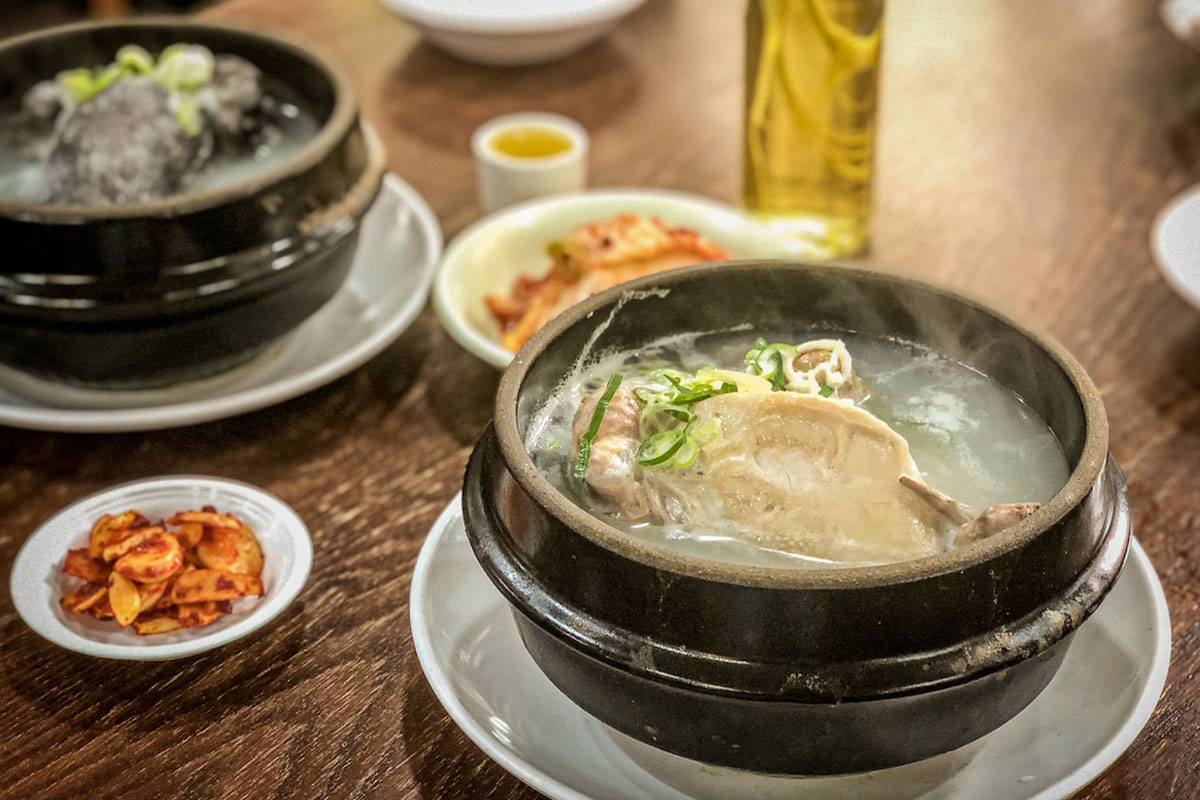 Samgyetang contains many nutritional ingredients such as ginseng! We highly suggest this menu! Samgyetang here is around 18,000 KRW!
Address: 서울 중구 명동 8길 8-10
8-10 Myeongdong 8-gil, Jung-gu, Myeongdong, Seoul
Hours: 09:00-22:00
Read more about Baekje Samgyetang
---
Andong Jjimdak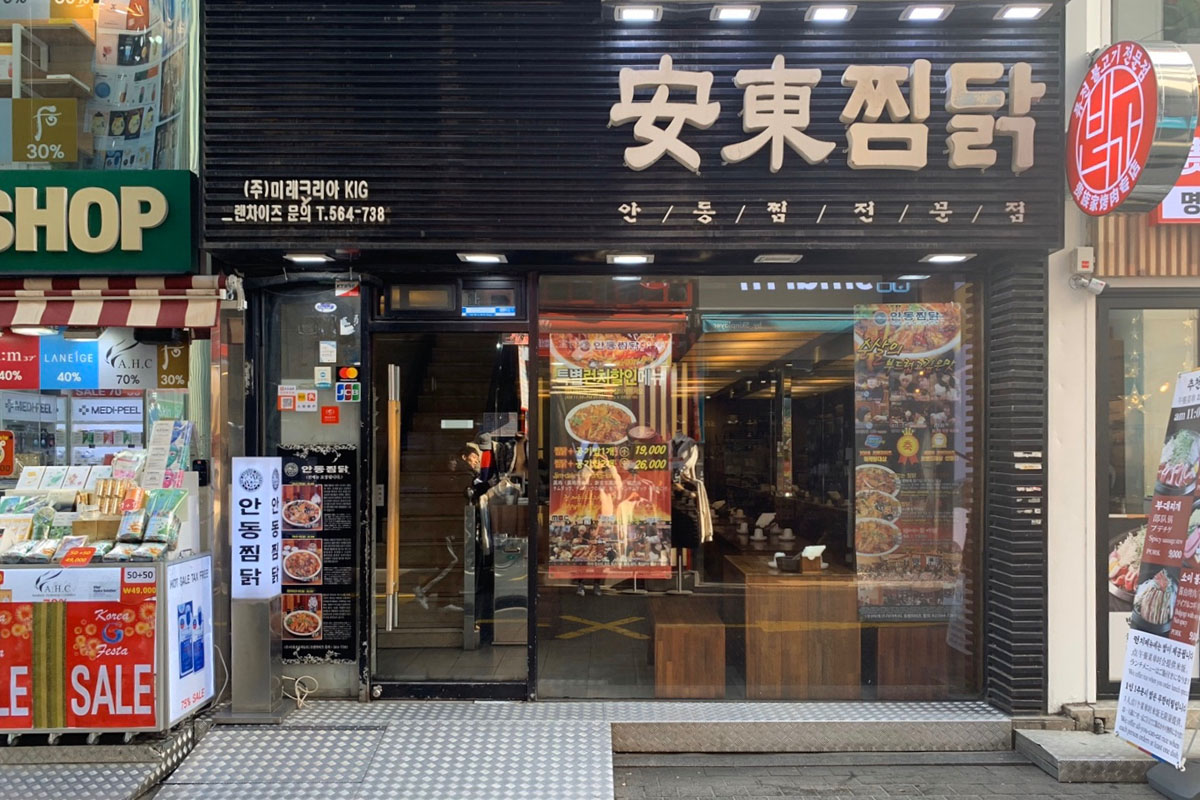 Jjim Dalk is a Korean dish that is made up of steamed chicken, vegetables, and noodles that is simmered and cooked in soy sauce.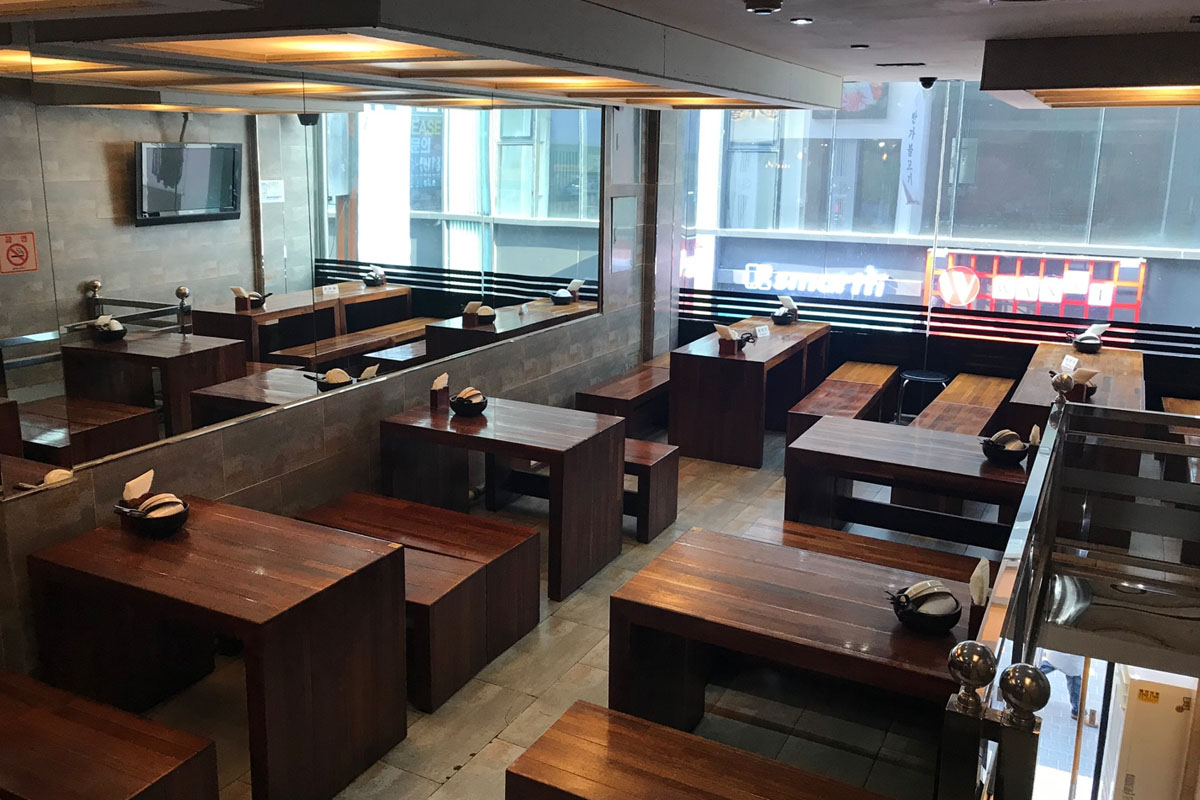 This shop here has three floors and the menu is written in English, Japanese, and Chinese.
We ordered a medium sized jjim dalk but was surprised at how big the plate was. The chicken was very tender and steamed perfectly! It paired perfectly with white rice. You can get a jjim dalk for around 32,000 KRW and a bowl of rice for around 1,000 KRW.
Address: 서울 중구 명동 10길 3
3 Myeongdong 10-gil, Jung-gu, Seoul
Hours: 11:30 - 23:30
Read more about Andong Jjimdak

---
Odari Jip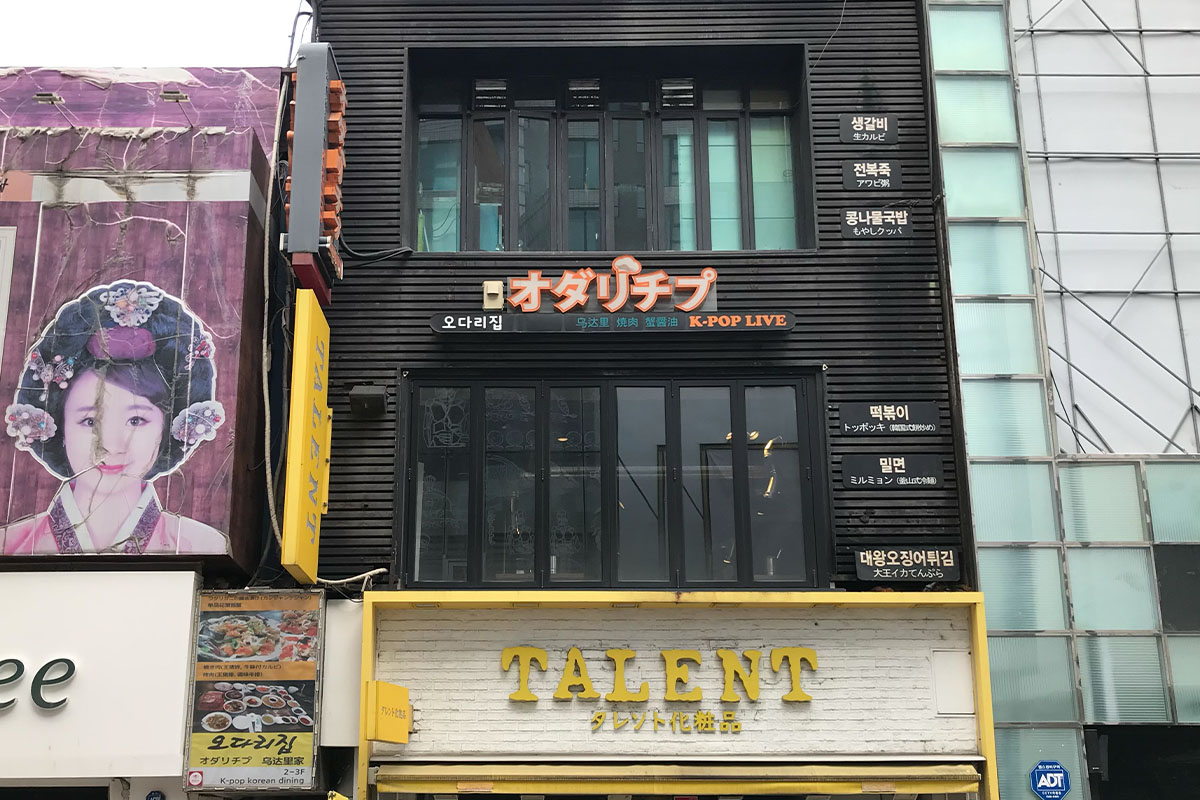 This next place is a favorite of many Korean celebs!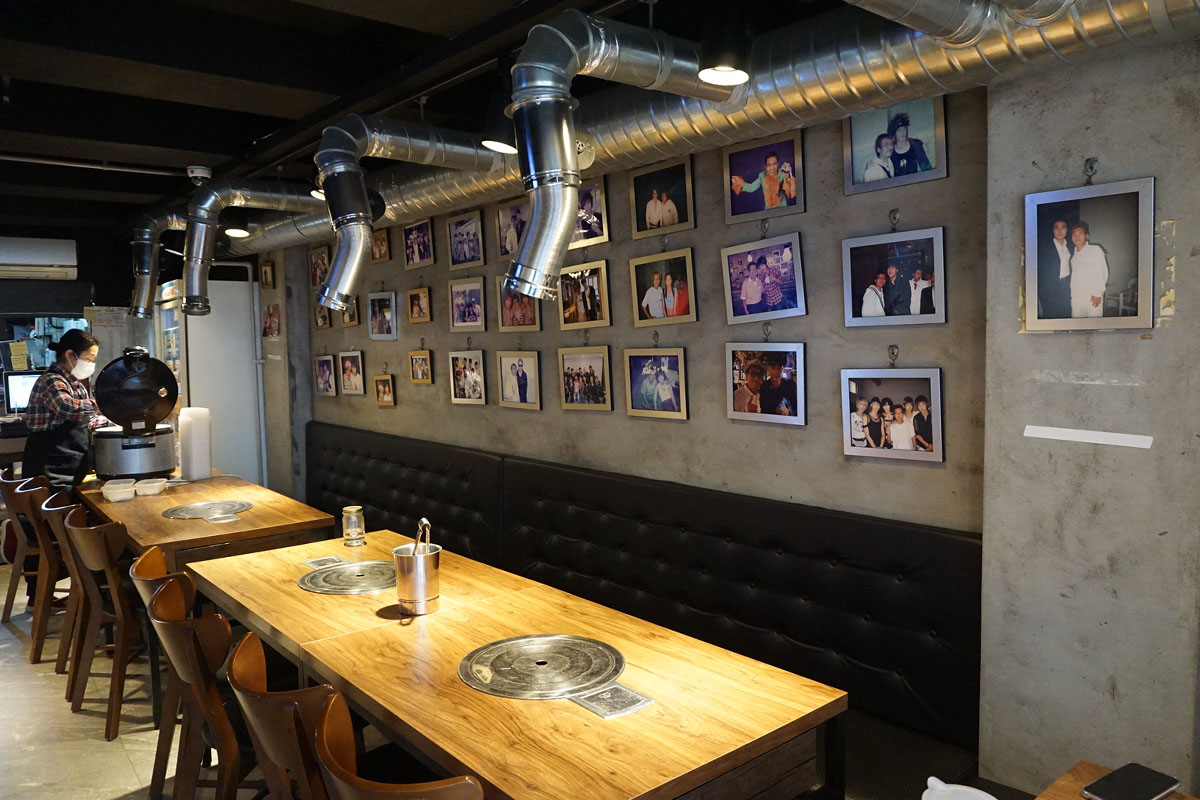 The menu here is available in Korean, English, and Japanese, therefore you do not have to worry about not being able to read the menu. It is a very popular shop and the walls are filled of Korean celebs that have come to eat here.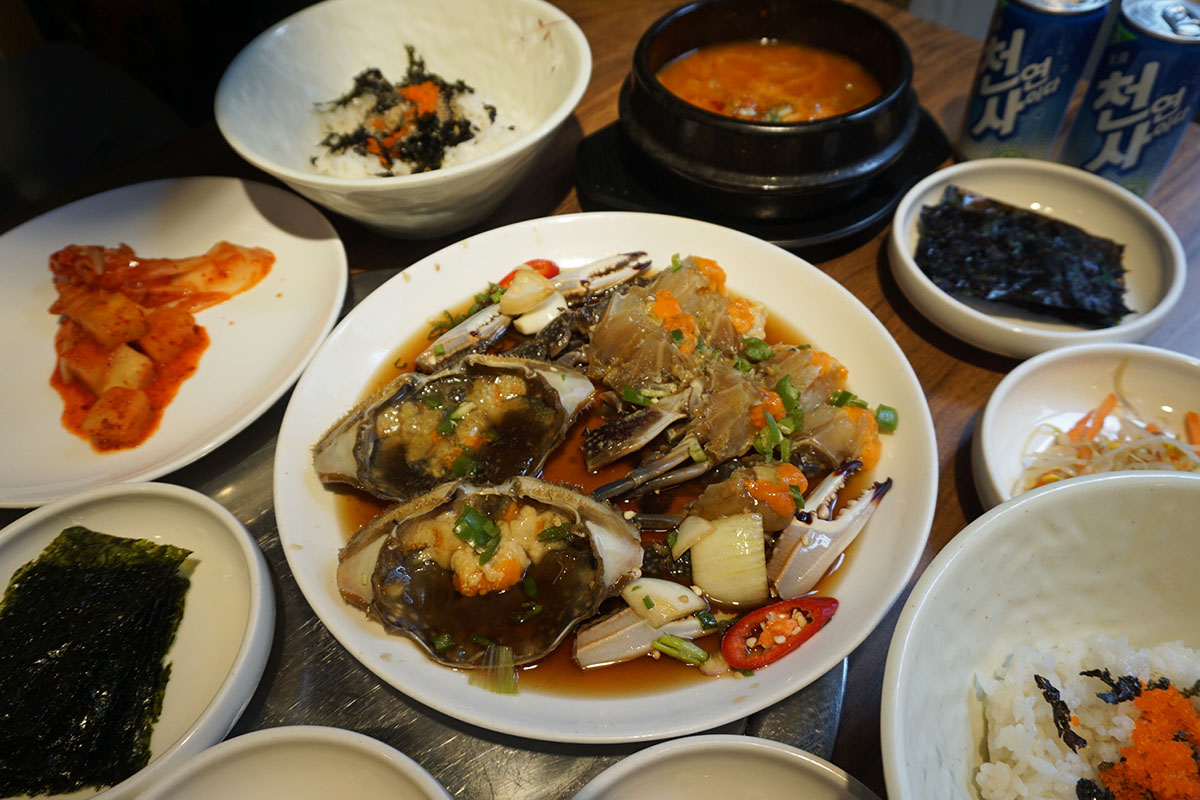 We ordered the shop's main menu item, the soy sauce crabs! The set came with kimchi jjigae, rice with sardines, side dishes such as kimchi and seaweed, and soft drinks. The set was around 27,000 ~ 35,000 KRW.
Address: 서울 중구 명동 8나길 28 2-3F
28 Myeongdong 8na-gil, Jung-gu, Seoul
Hours: 10:00 - 23:00
---
Wooden Mountain House(목멱산방)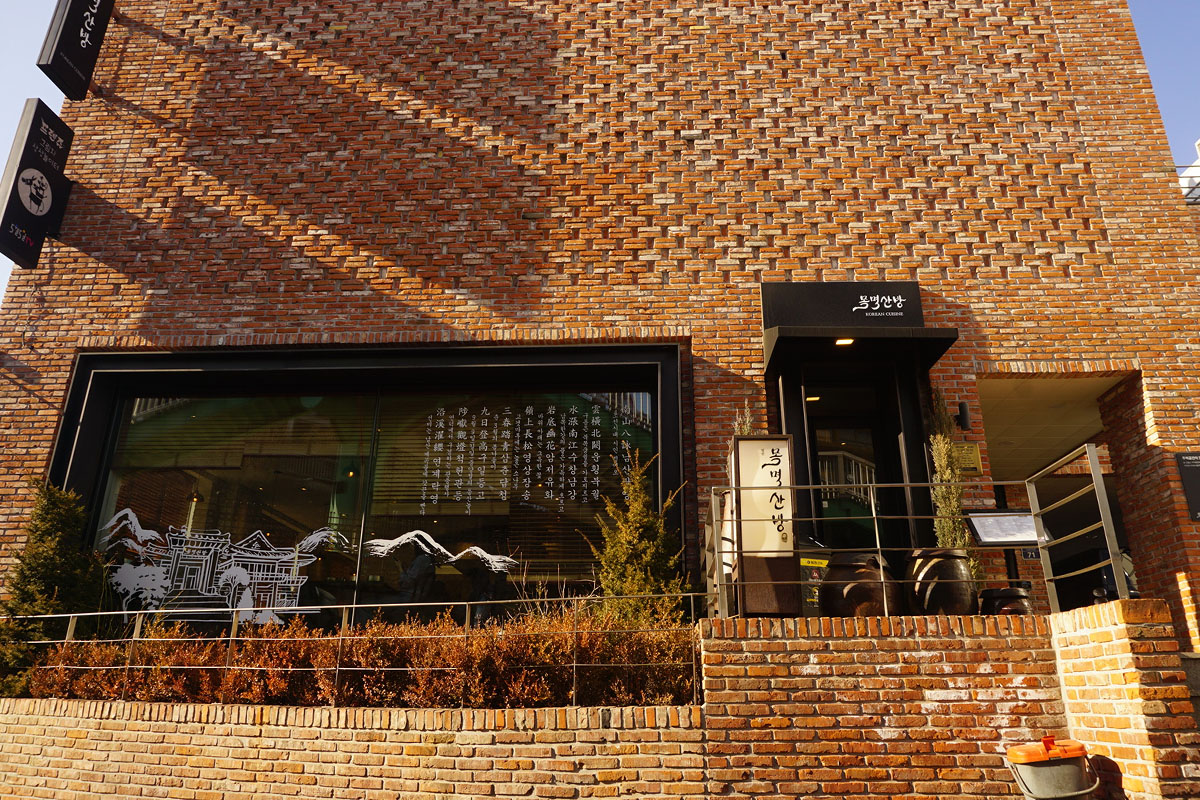 Located at the foot of N Seoul Tower this restaurant is a Michelin-selected Bibimbap restaurant.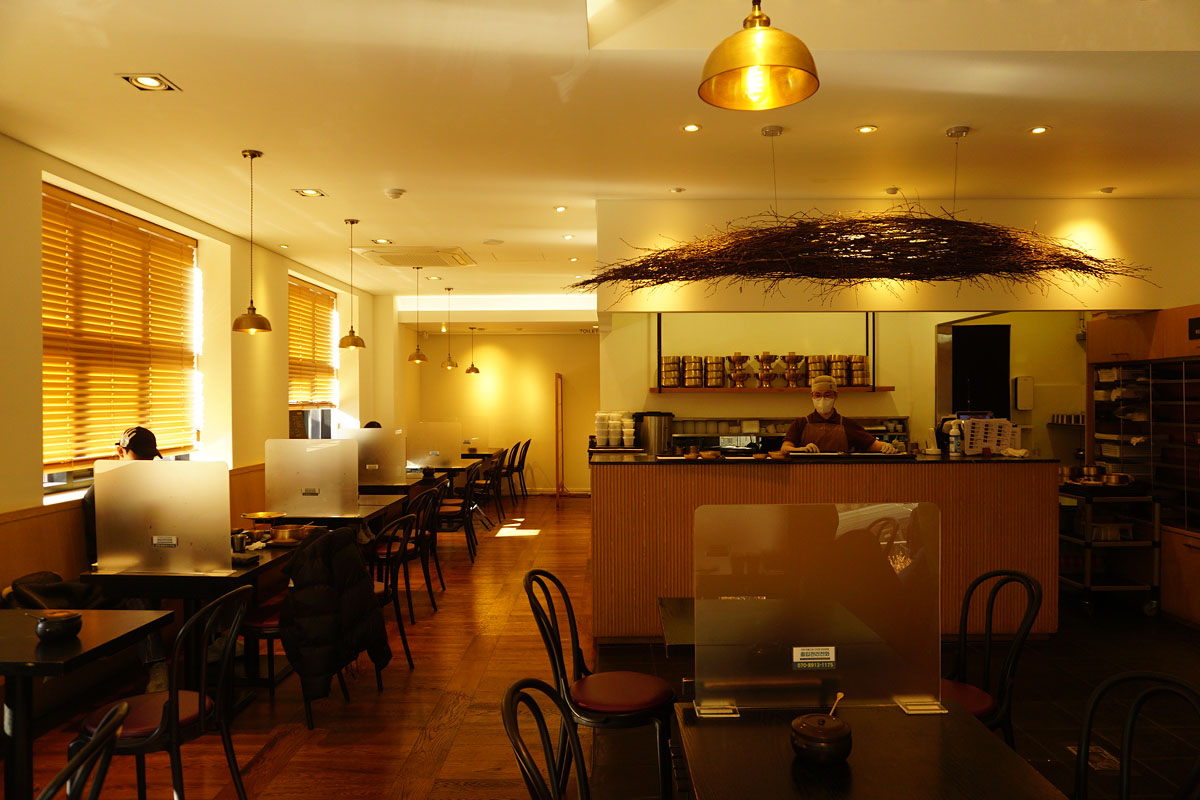 The interior is simple and has warm lighting. After ordering at the entrance, you can choose your seat and go to the counter when the food is served.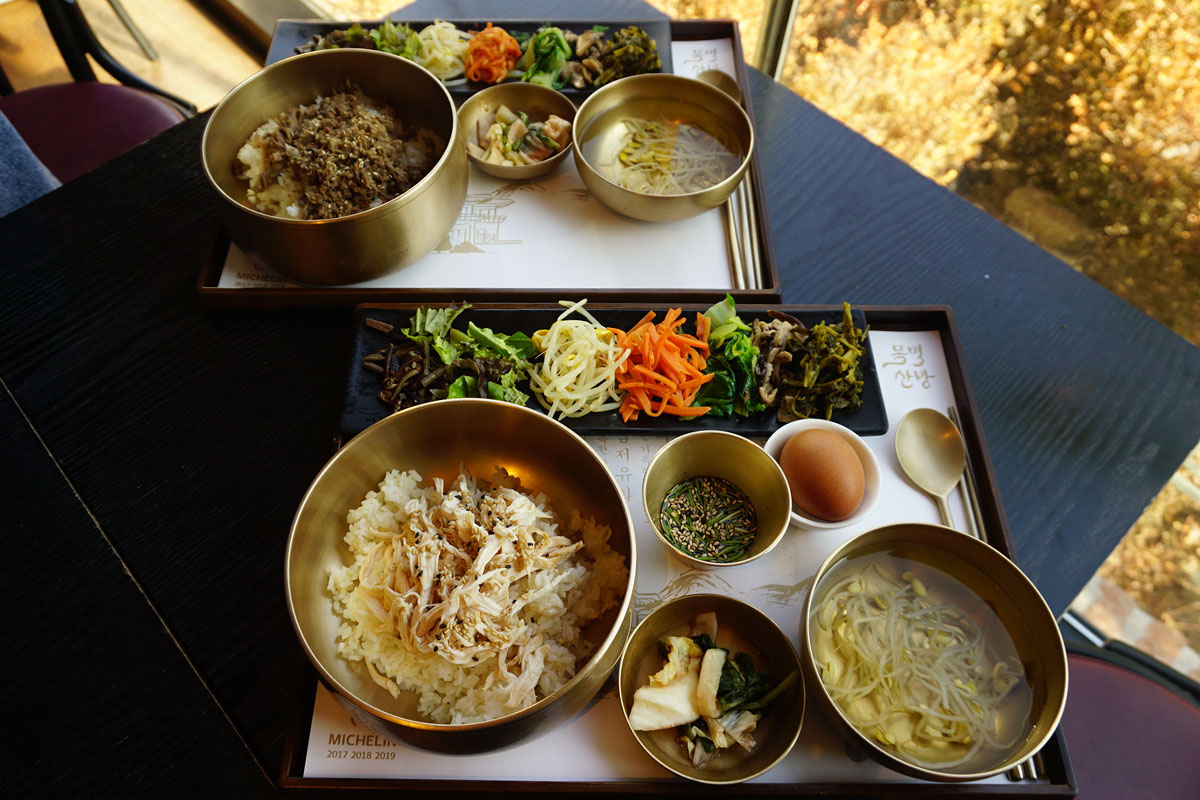 You can easily eat a lot of bibimbap here! The food here is very delicious and healthy. If you want to try a traditional and classic Korean meal, this is the place to go! The bulgogi bibimbap is around 10,000 KRW and the chicken bibimbap will be around 11,000 KRW.
Address: 서울 중구 명동 최계로 20길 71
71 Toegye-ro 20-gil, Jung-gu, Seoul
Hours: 11:00 - 20:30, Break Time: 15:00 - 16:30
---
Myeongdong Dumplings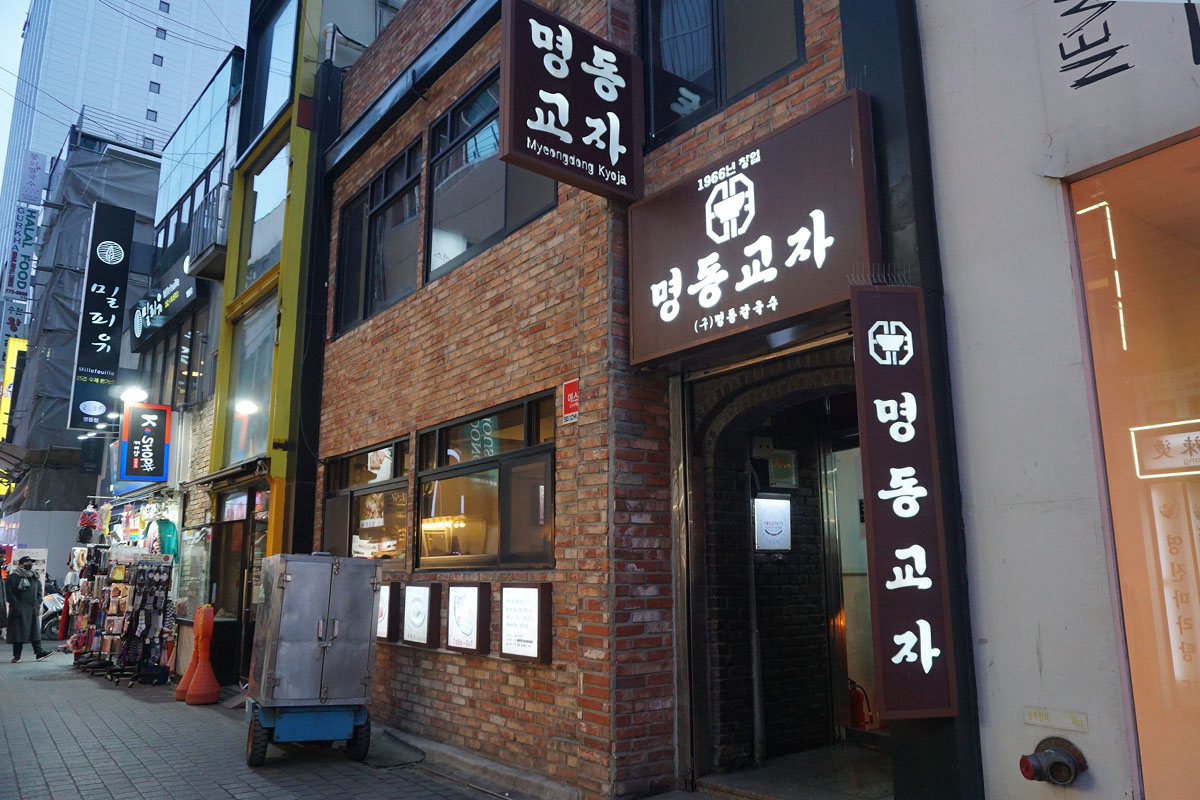 Myeongdong Dumplings is a popular dumpling place in Myeongdong! This is a very well known store and practically a tourist attraction in itself!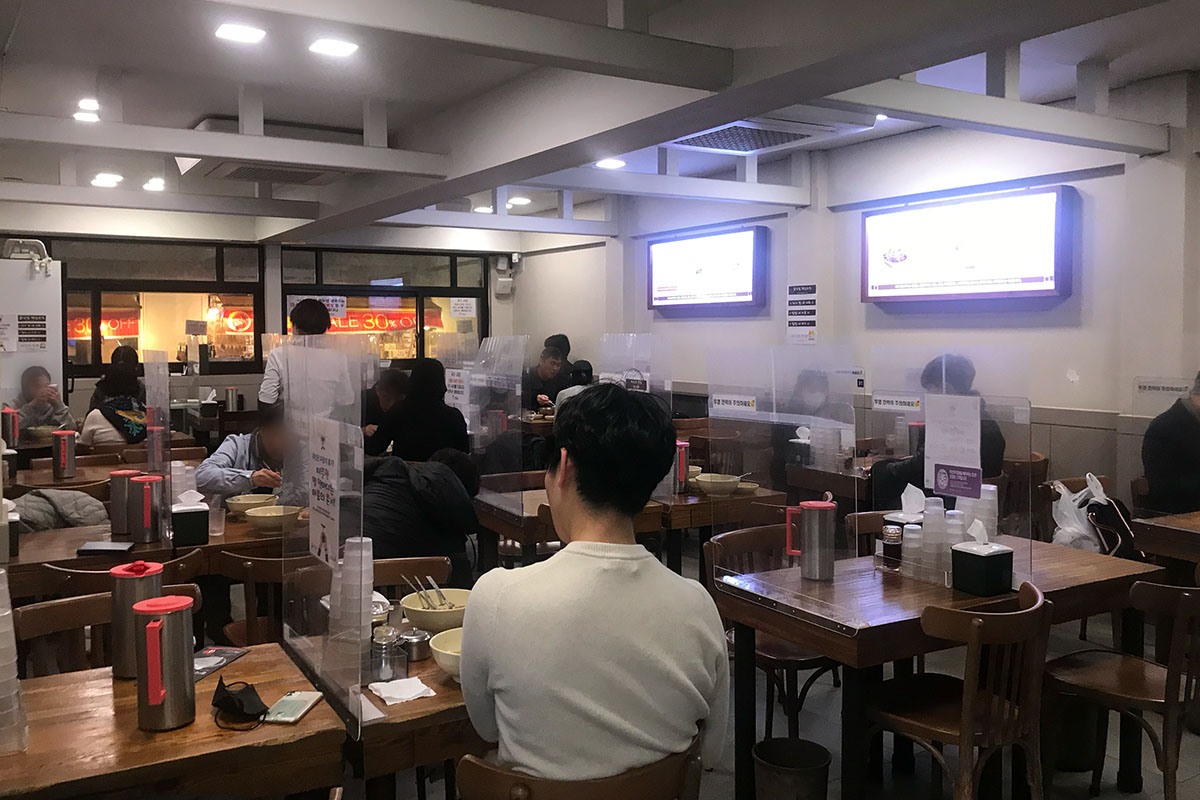 Many shops here in Myeongdong have gone out of business or closed down due to the pandemic, however Myeongdong Dumplings is just as busy as it was before the pandemic!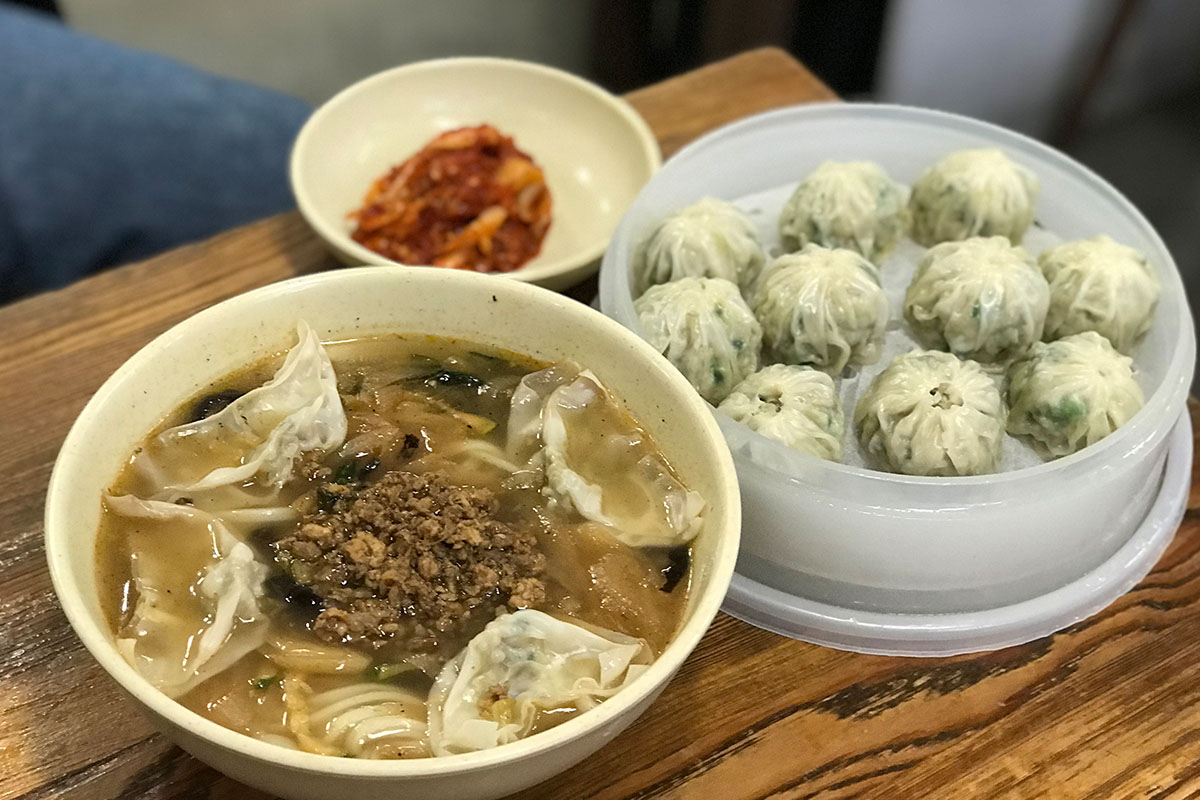 The steamed dumplings were so delicious that we finished eating them in no time! Kalguksu was also delicious and a made with a delicious soup that was warming. It was the perfect hearty meal! The dumplings were around 11,000 KRW and the kalguksu was around 10,000 KRW.
Address: 서울 중구 명동 10길 10
10 Myeongdong 10-gil, Jung-gu, Myeongdong, Seoul
---
Lee Nam Jang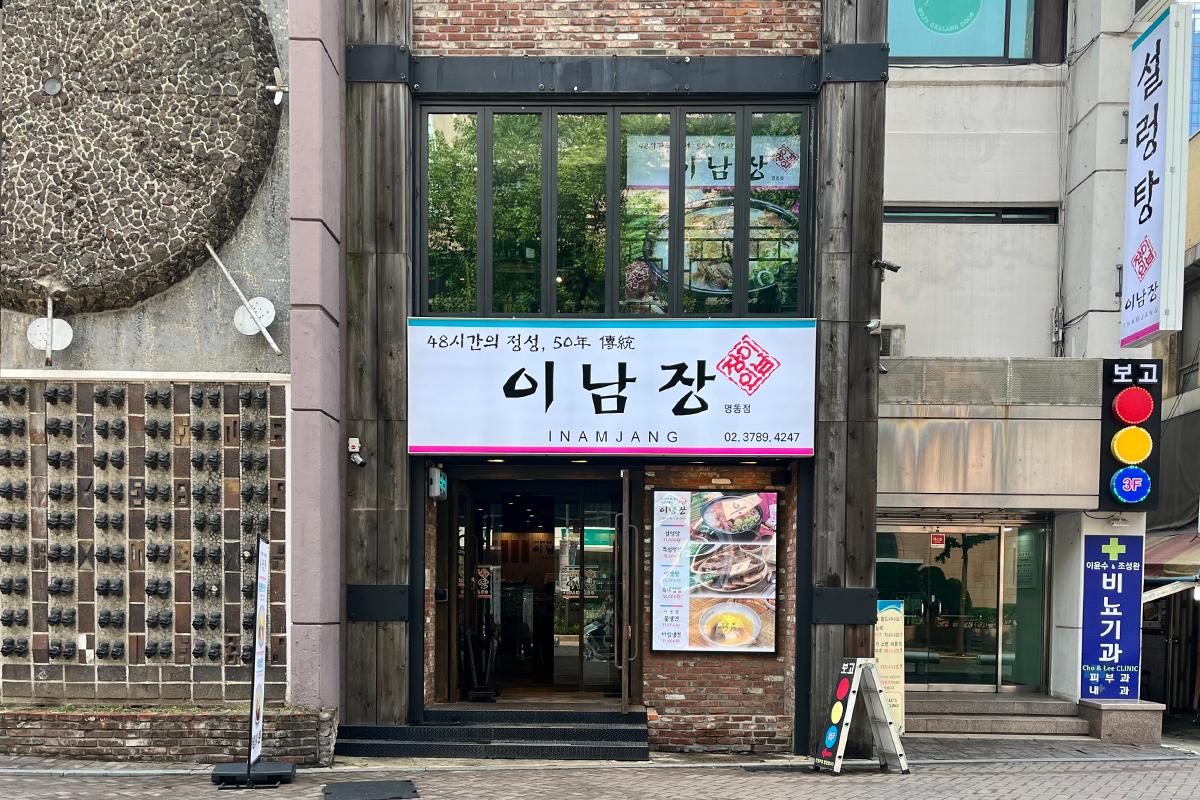 Lee Nam Jang is a traditional seolleongtang restaurant in Seoul, located near Euljiro 1-ga station! If you want to taste Korea's unique savory beef bone soup, visit this restaurant.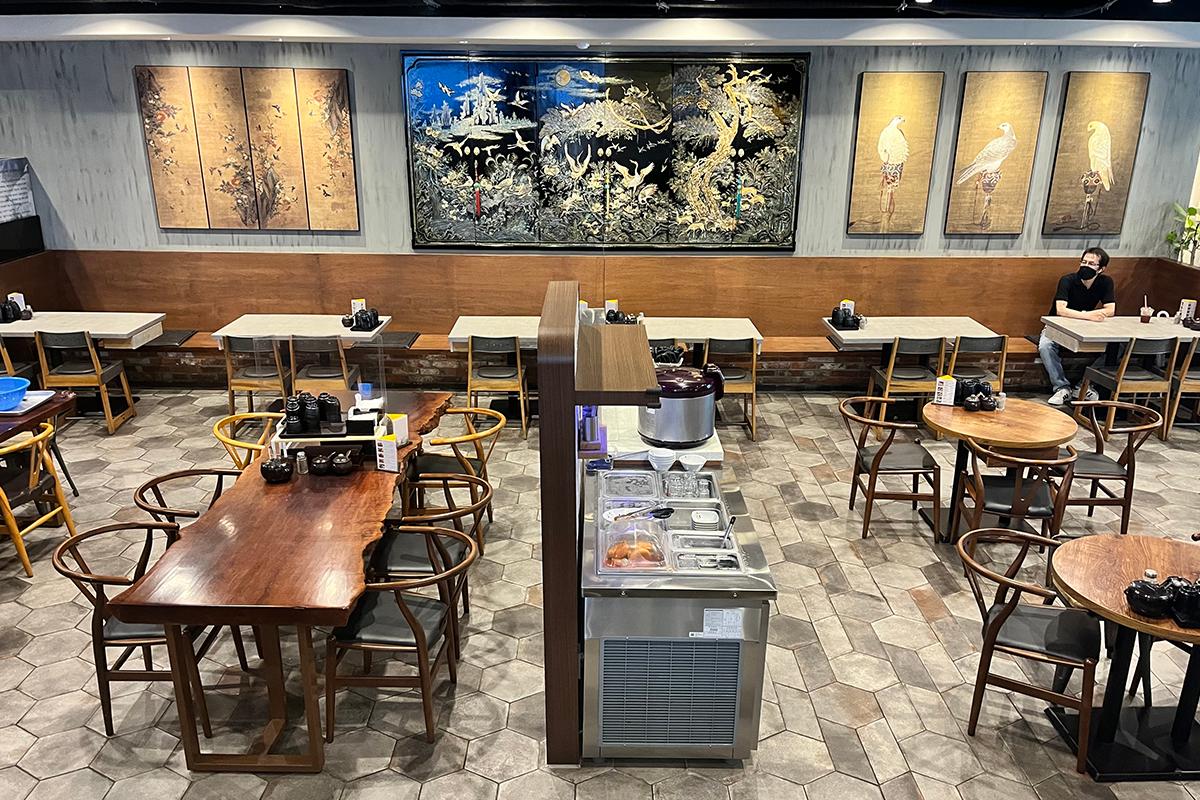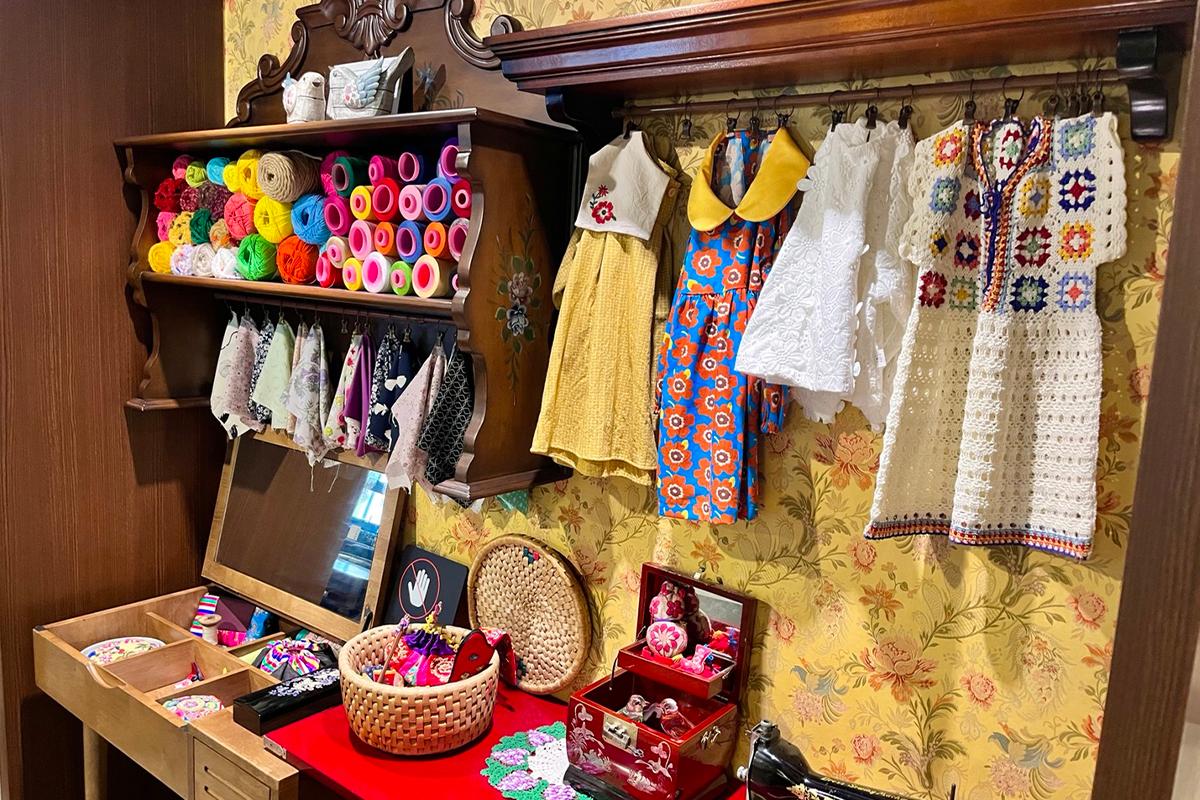 The restaurant is very spacious, there are two floors. The store is decorated with picture frames and props that create a traditional Korean atmosphere. This restaurant was so popular that there was a bit of a crowd when we came on a weekday at 3PM!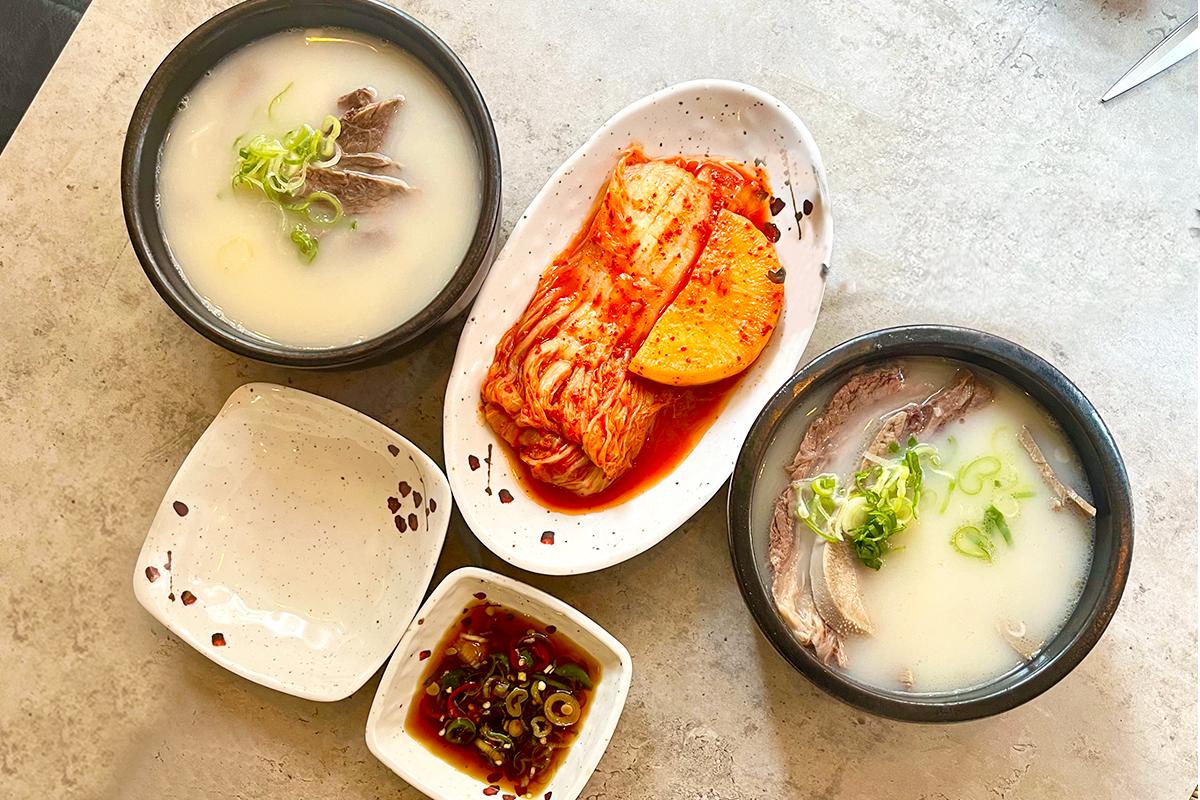 Seolleongtang with this much brisket and meat is hard to find anywhere else. Seolleongtang will be 12,000 KRW and the Special Seolleongtang is 20,000 KRW.
---
Golden Farm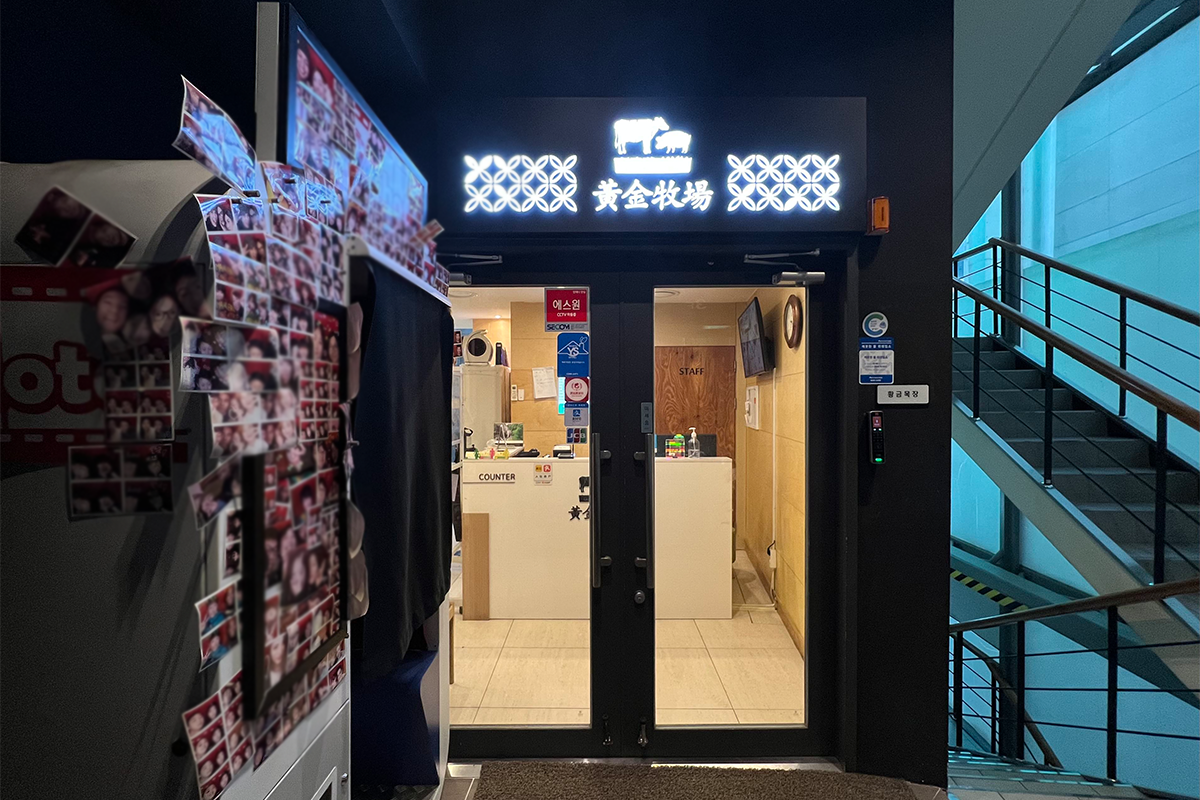 Golden Farm is very close to Exit 6 of Myeongdong Station. It only takes about 2 minutes to walk there from the station!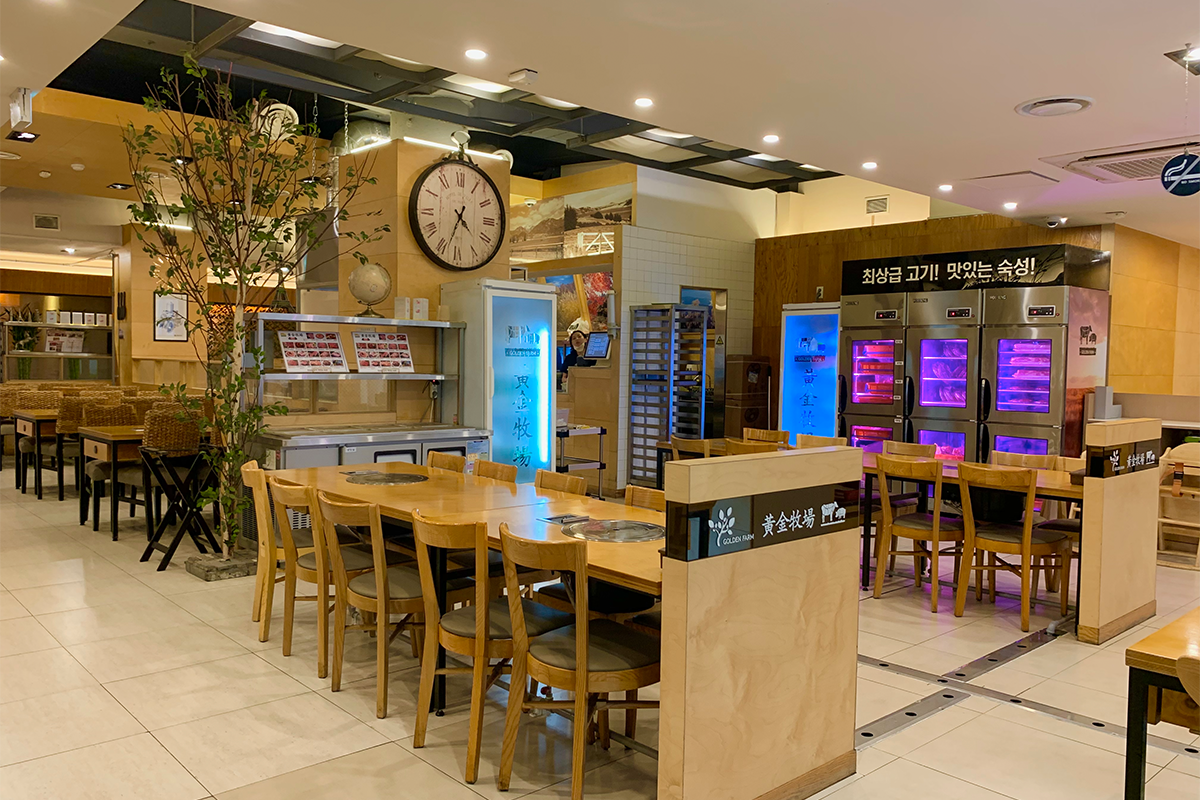 The store is very spacious and there is plenty of seating. If you are going in a group, you can call ahead to make an appointment to book a room. One room can seat up to 20 people.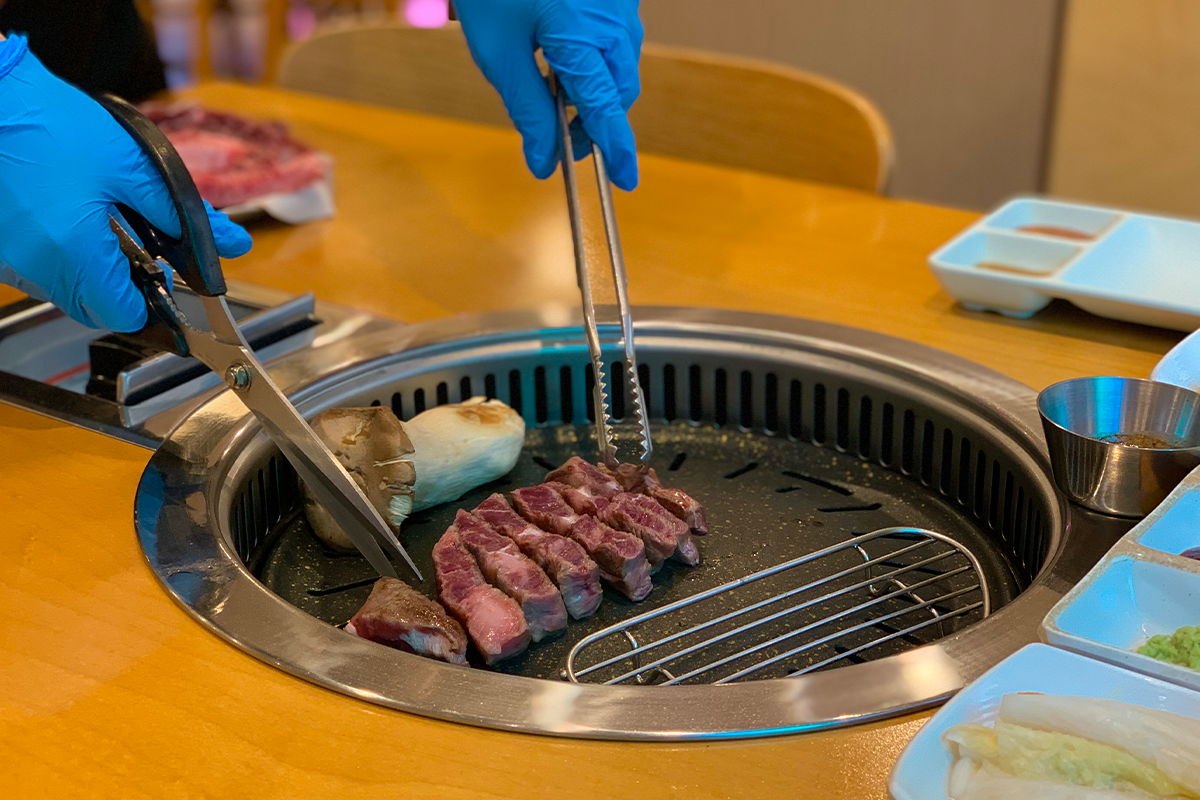 All the meat will be cooked by the staff. You don't need to know how to cook the meat yourself! The set menu costs around 159,000 KRW.
Address: 서울 중구 명동 8나길 6 3F
6 Myeongdong 8 na-gil, Jung-gu, Seoul
Hours: 11:00-22:00
---
Gunja Daehan Gopchang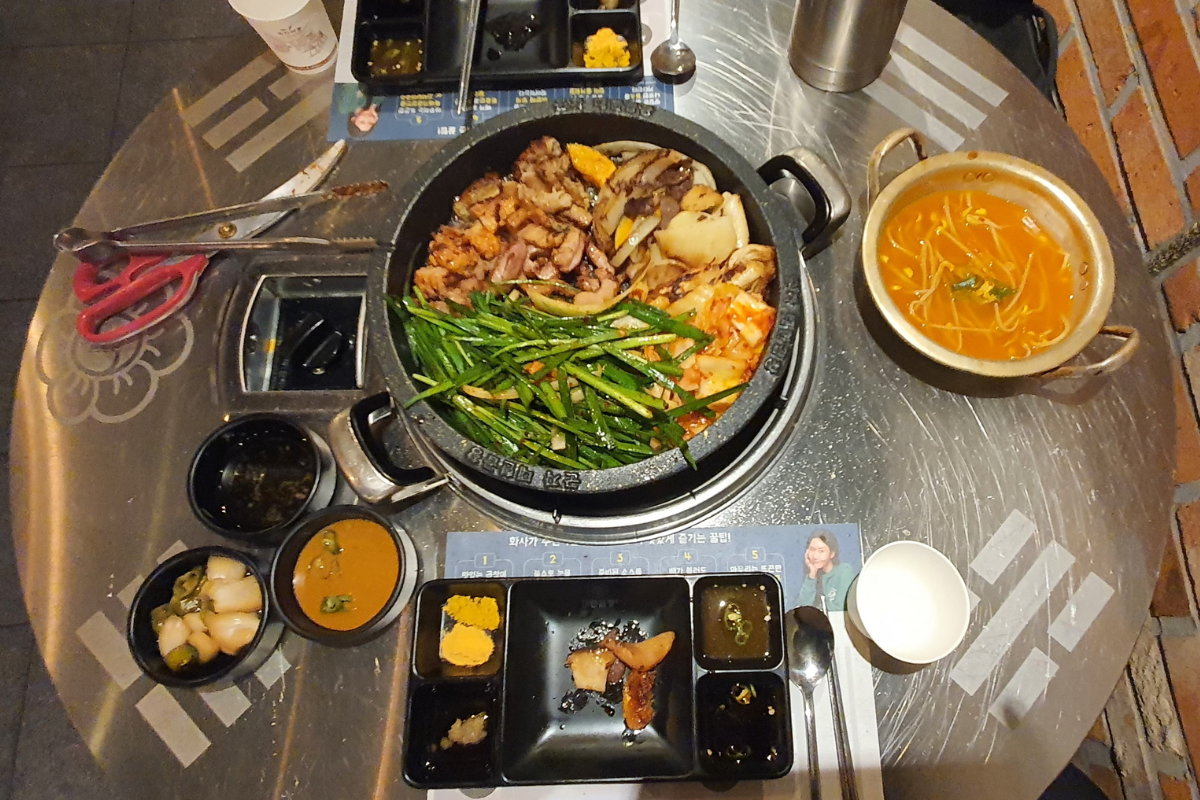 Gunja Daehan Gopchang is a beef tripe restaurant that has become widely known after Mamamoo member Hwasa visited and deliciously ate a dish here on a variety show, I Live Alone in 2018.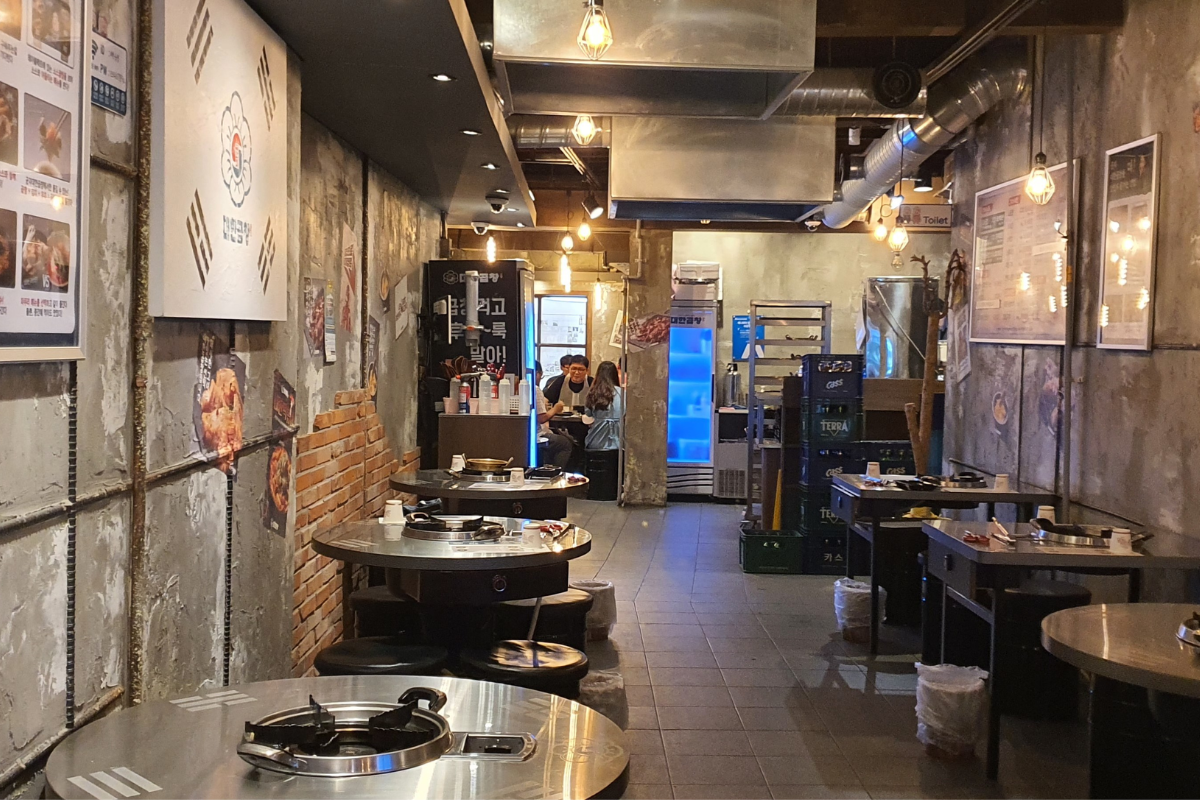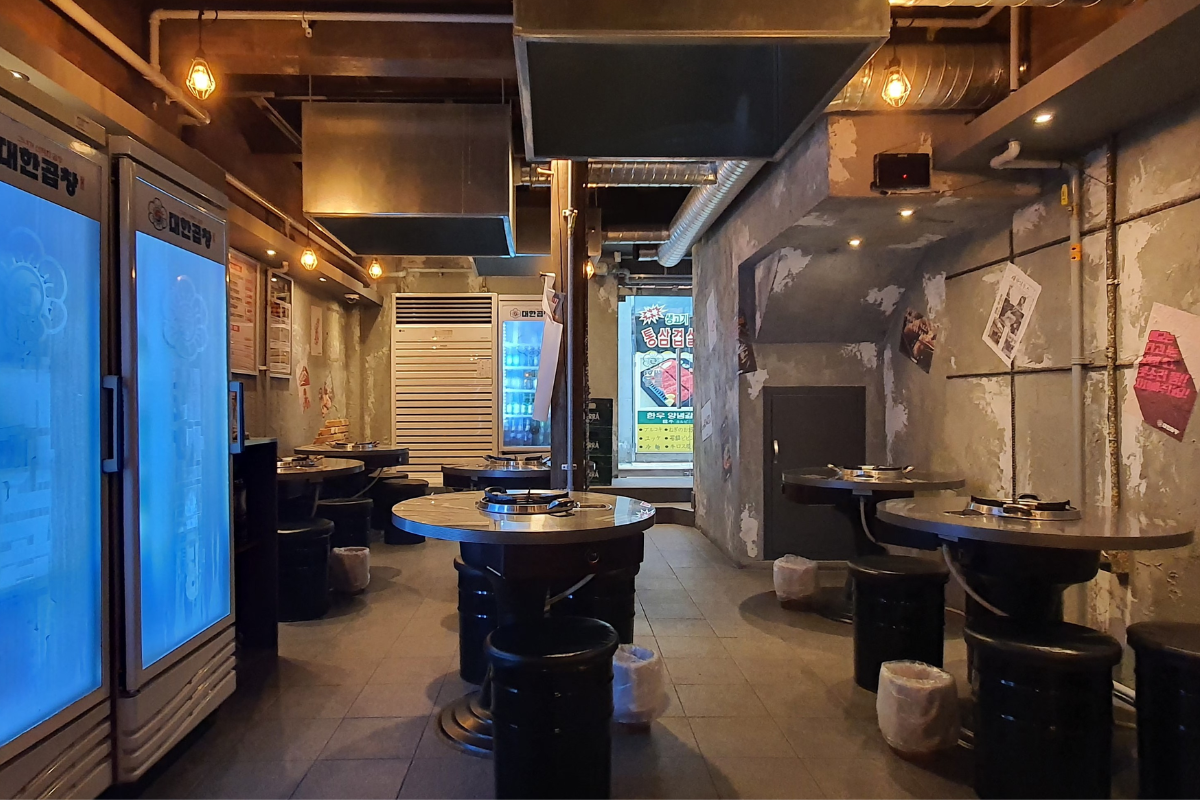 From the exterior of the restaurant, you may feel that the restaurant is quite small. However, it's very spacious inside with many tables awaiting its guests.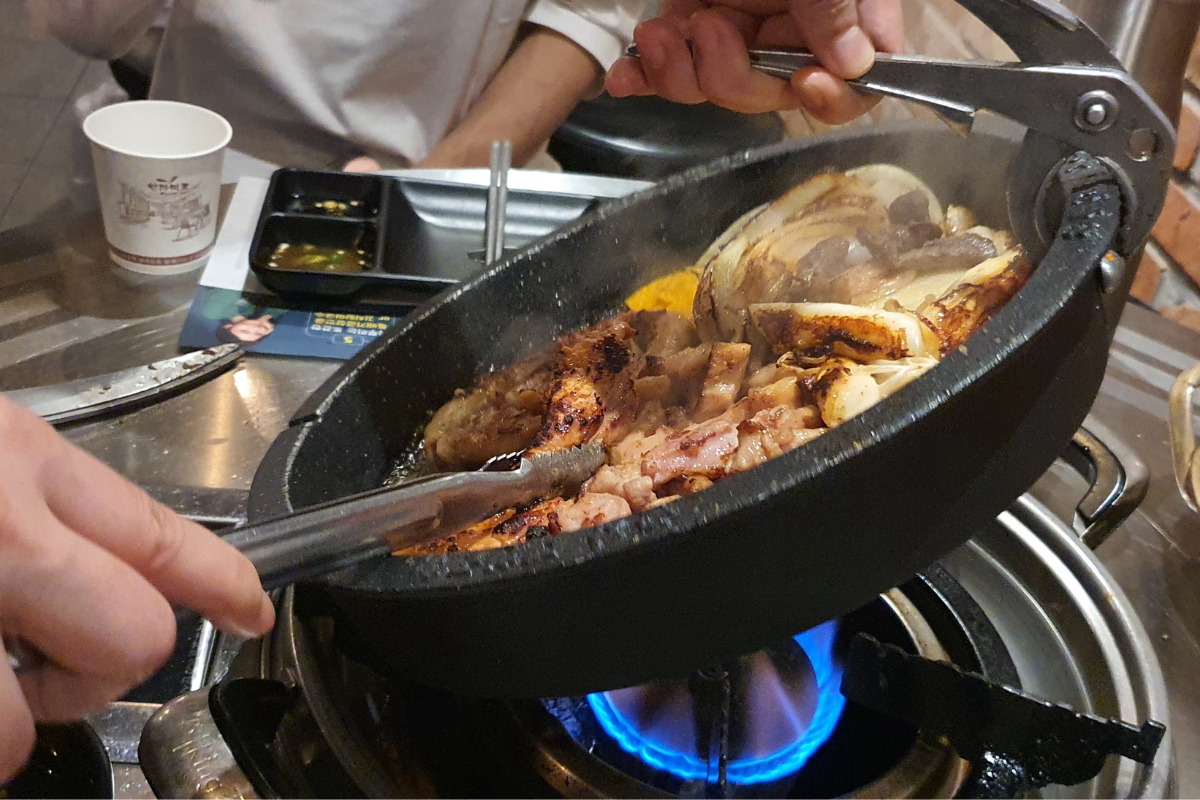 The assorted set is one of the most popular dishes at the restaurant because you can taste a variety of beef intestines such as small intestines, big intestines, heart, and stomach. The staff will bring the food to your table and cook it on the pan in front of you.
Address: 1, 18-1 Myeongdong 7-gil, Jung-gu, Seoul
(서울 중구 명동 7길 18-1, 1F)
Hours: 11:00 AM - 02:00 AM
Directions: 5-minute walk from subway line 2 Euljiro 1(il)-ga Station exit 5.
Read more about Daehan Gopchang
---
Isaac Toast Myeongdong Cathedral Branch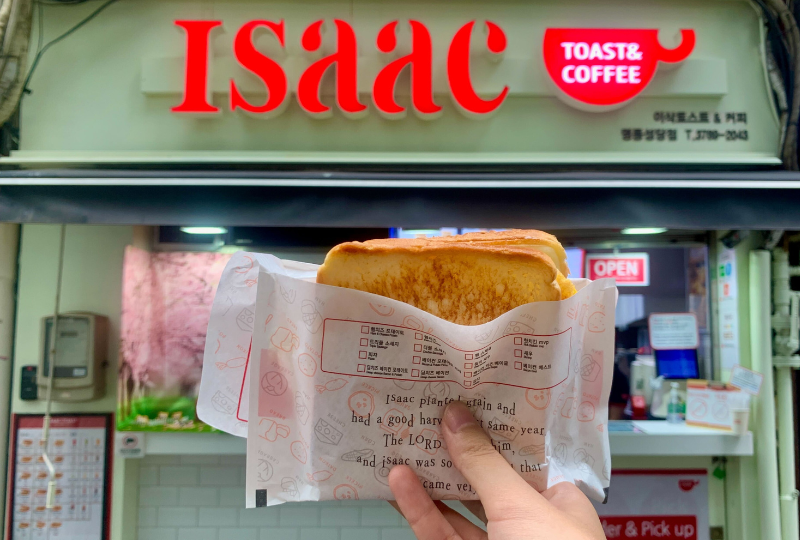 Isaac Toast is a popular chain store that specializes in toasted sandwiches. It's known for its sandwiches that are deliciously toasted in butter and a house special sauce. You can enjoy an affordable and tasty meal here when you're on the-go!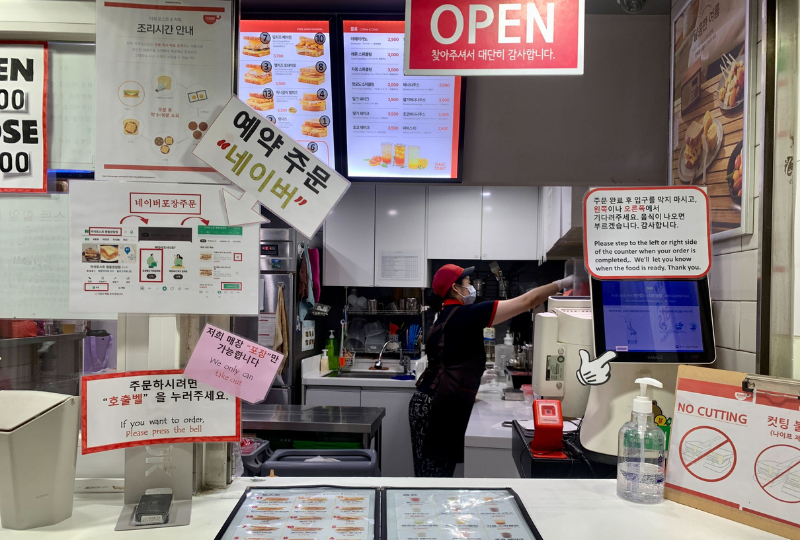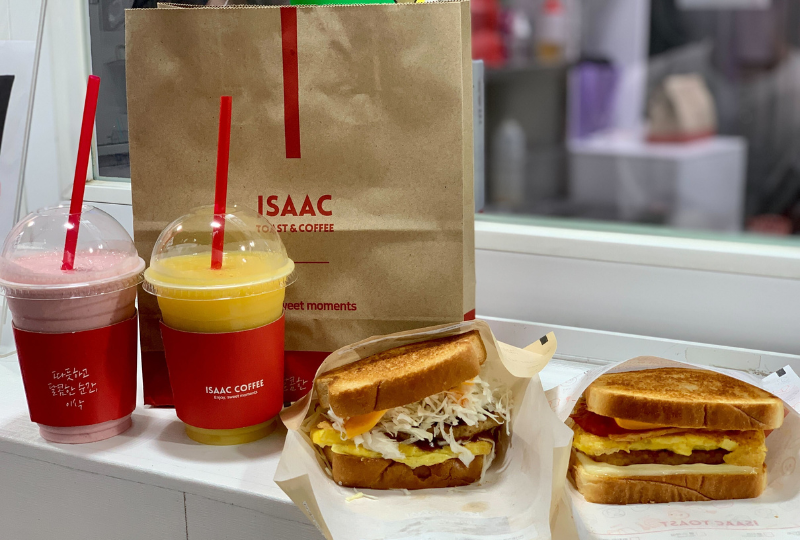 Isaac Toast usually has a couple of seating areas inside and a big counter where you can order take-out. Since the Myeongdong Cathedral Branch is only a take-out store, many customers quickly order and eat freshly made toast while moving to their next destination. Pictured above are the Bacon Potato Pizza (5,000 KRW) and the Grilled Bulgalbi (4,400 KRW). For a more in-depth review, read our blog on Isaac Toast here.
We also have a coupon for 1,000 KRW off the entire menu! Click on the link below to download the coupon.
Address: 17-1, Myeongdong 10-gil, Jung-gu, Seoul (서울 중구 명동 10길 17-1)
Hours: 8:00-20:00
Public Transportation: 3-minute walk from Myeong-dong Station subway line 4
---
The Sic-Ddang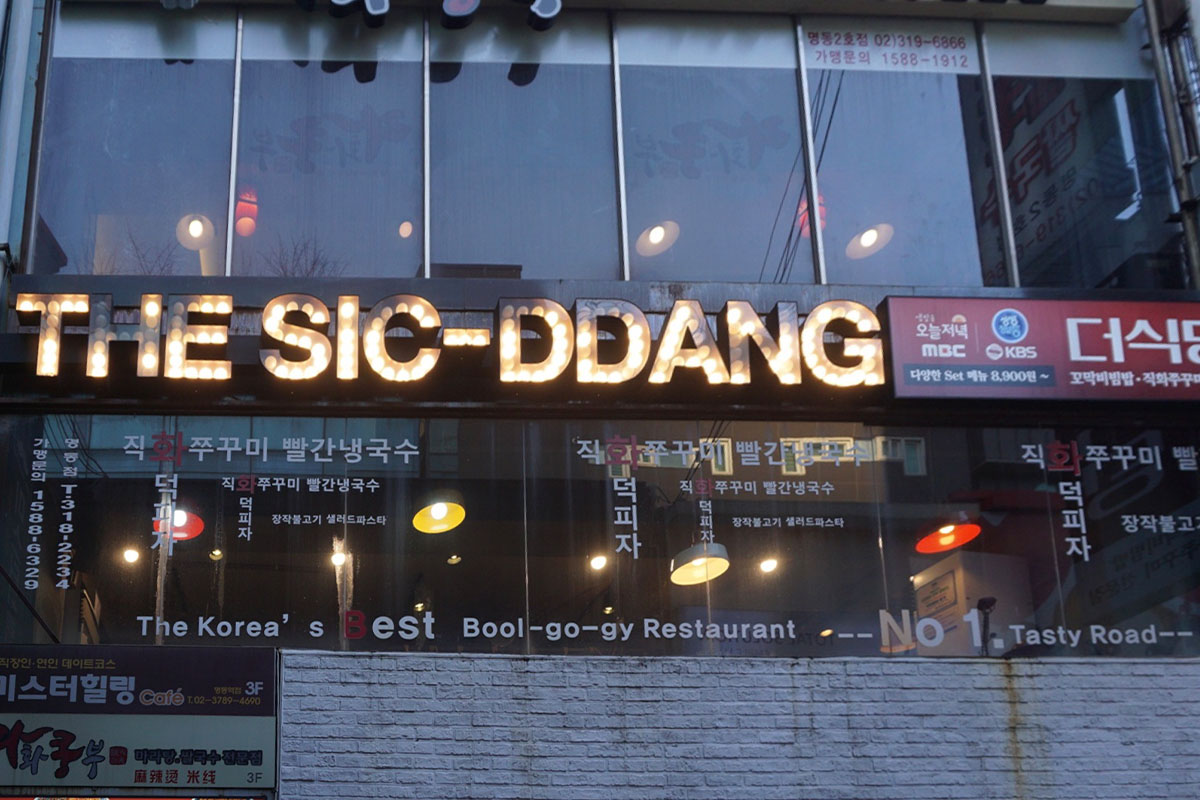 The Sic-Ddang is known for having delicious and fresh seafood at very affordable prices.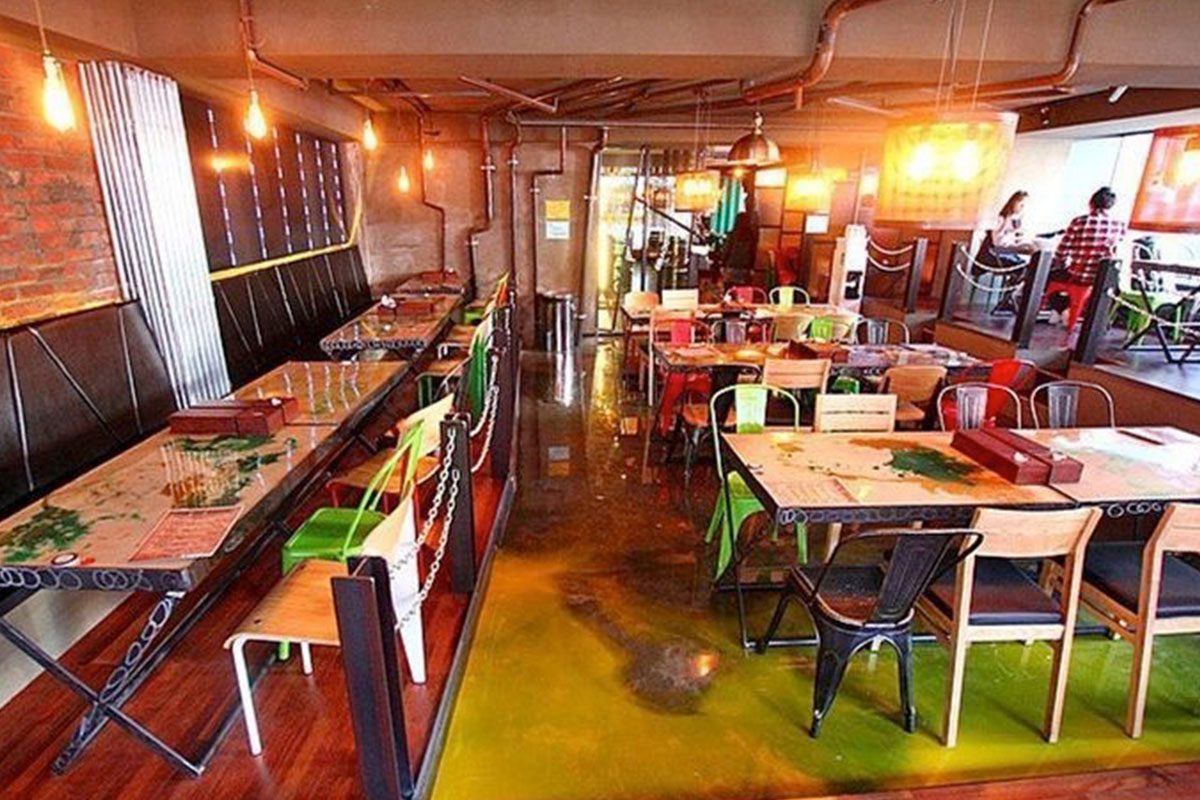 This place has plenty of seats in the store so you do not have to worry about waiting in line on weekdays. However, on the weekends, you should expect a little bit of a wait as they are very popular!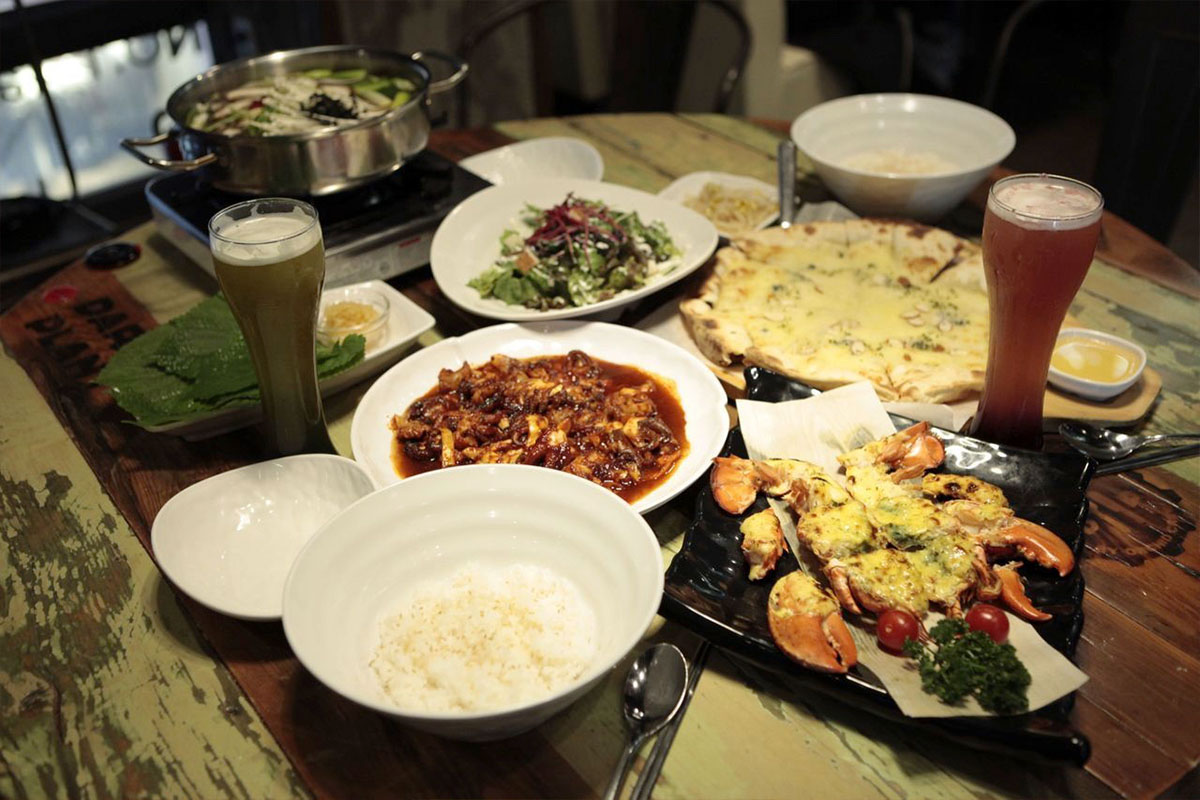 Their most popular menu item is lobster but since lobster is a little bit on the pricer side, we suggest that you try a set menu as we did! Ours came with spicy bulgogi, gorgonzola pizza, pasta salad, and a mushroom noodle soup for around 37,800 KRW. For reference, if you do want to get some seafood, you can get lobster sets for around 59,800 KRW for 2 servings!
Address: 서울 중구 명동10길 36 2F
36 Myeongdong 10-gil, Jung-gu, Seoul
Hours: Everyday 11:00 - 22:00
Price: Lobster A Set - 59,800 KRW / 2 Servings; Full Set - 37,800 KRW / 2 Servings
---
Hwa Tteok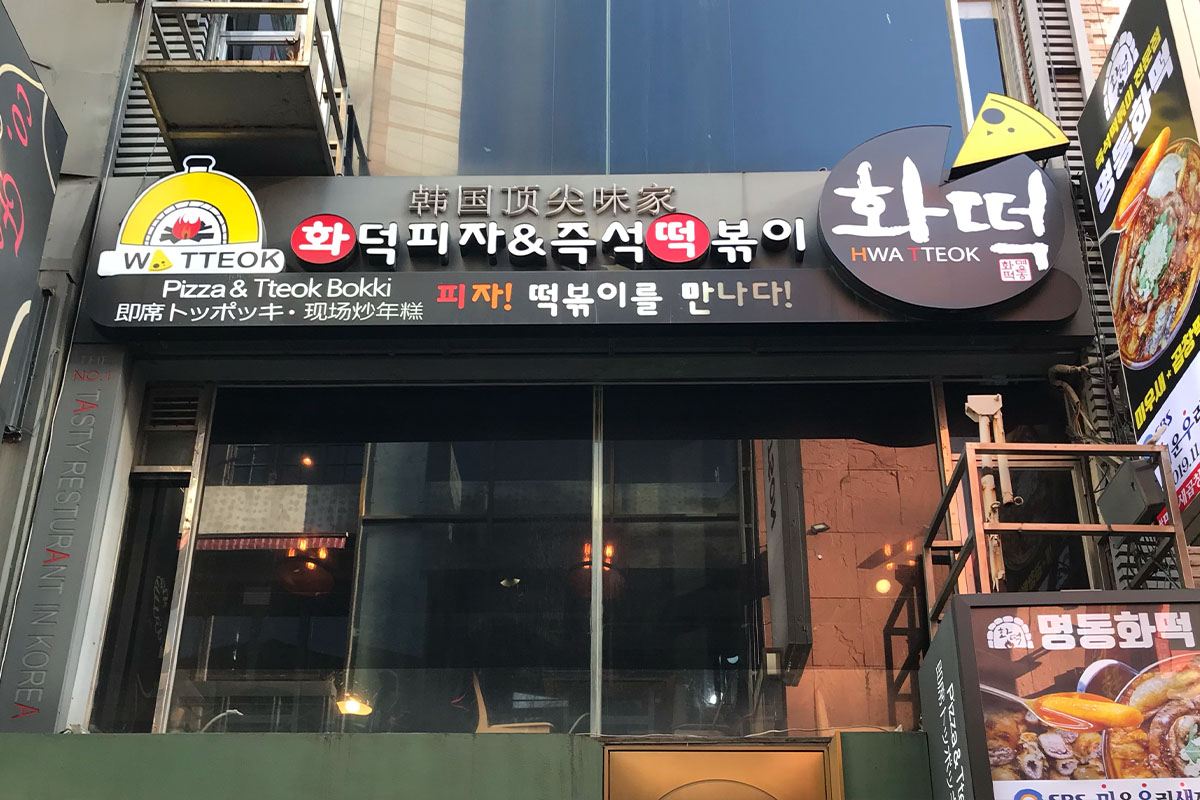 Hwa Tteok is a place that combines pizza and Tteokbokki. Although it is not a traditional combination, it is quite unique as it is a pairing of two foods that everyone loves!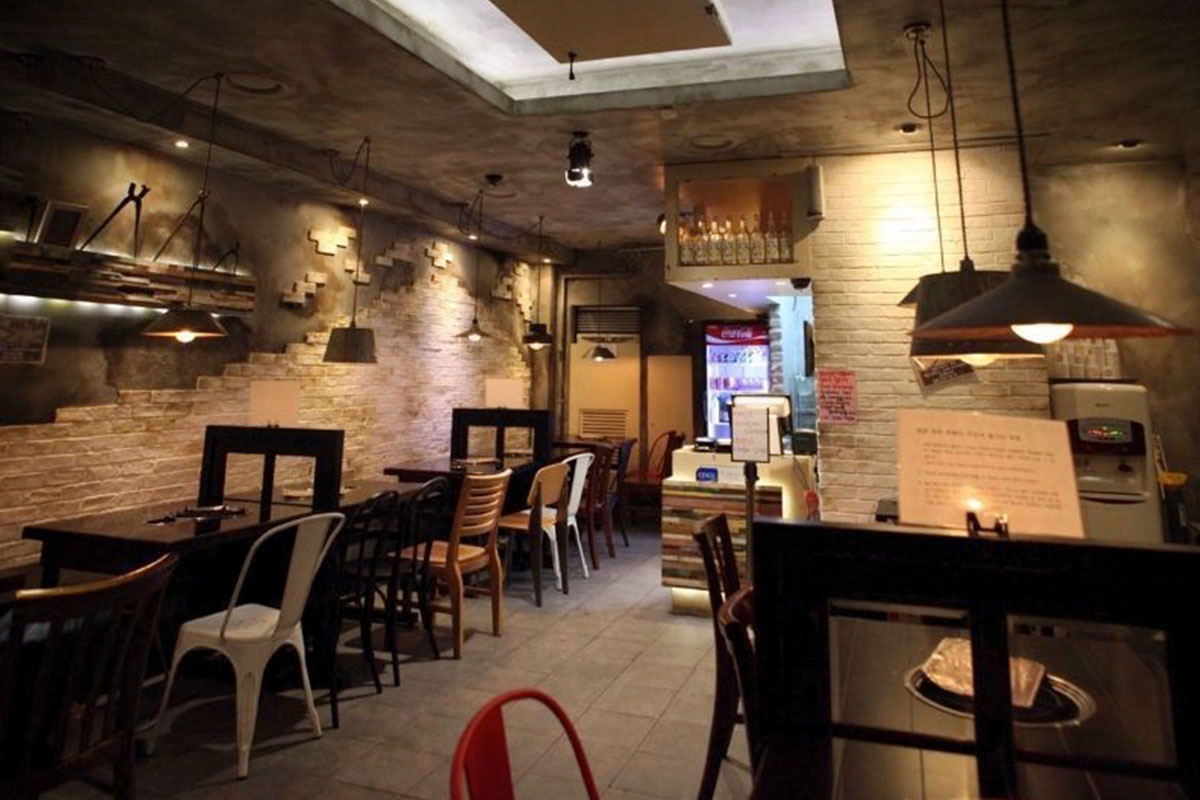 The shop has a fire pot where they cook everything so you will be able to taste a deep flavor in the food.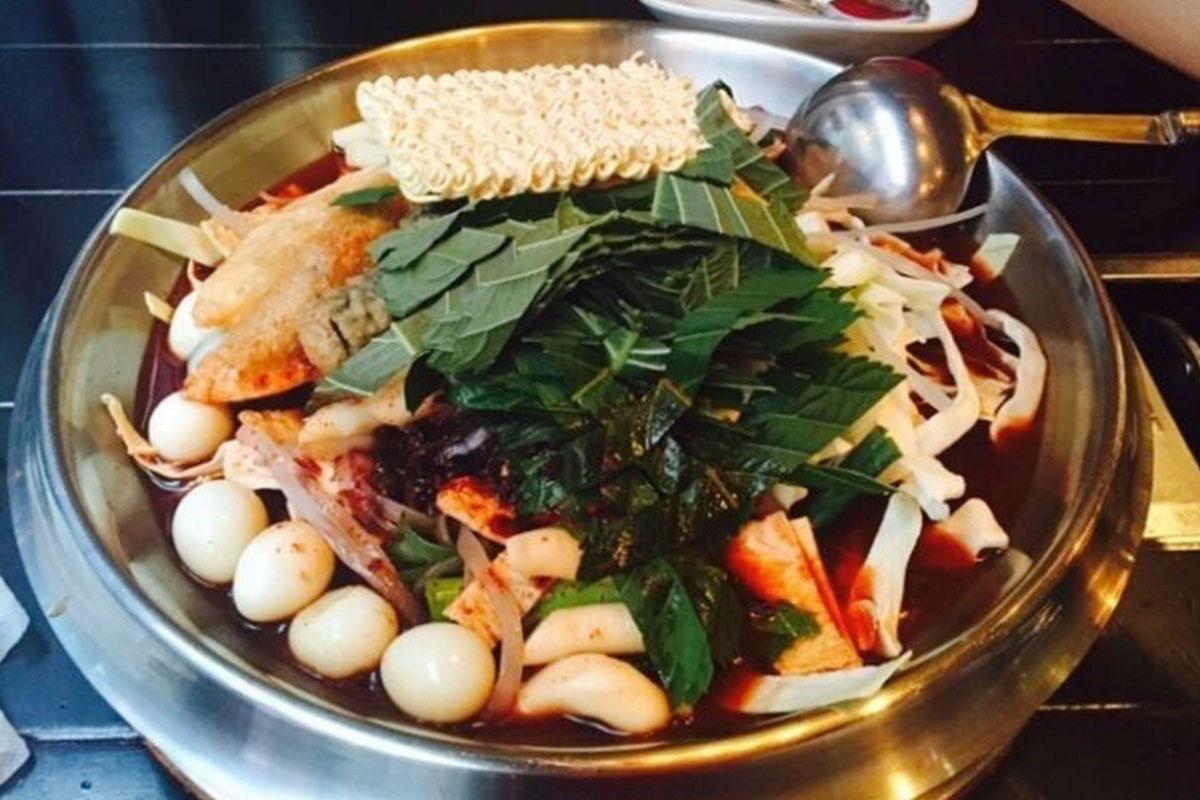 The tteokbokki contains spicy ramen, vermicelli, rices cakes, quail eggs, and seaweed rolls. You can adjust the spice level according to your preference as well. The tteokbokki is around 16,800 KRW and the Set Menu is around 27,600 KRW. This place is also very popular and gets really crowded. You may have to line up to get here so we recommend coming prepared!
Address: 서울 중구 명동4길 15
15 Myeongdong 4-gil, Jung-gu, Seoul
Hours: 11:00- 22:00
---
Din Tai Fung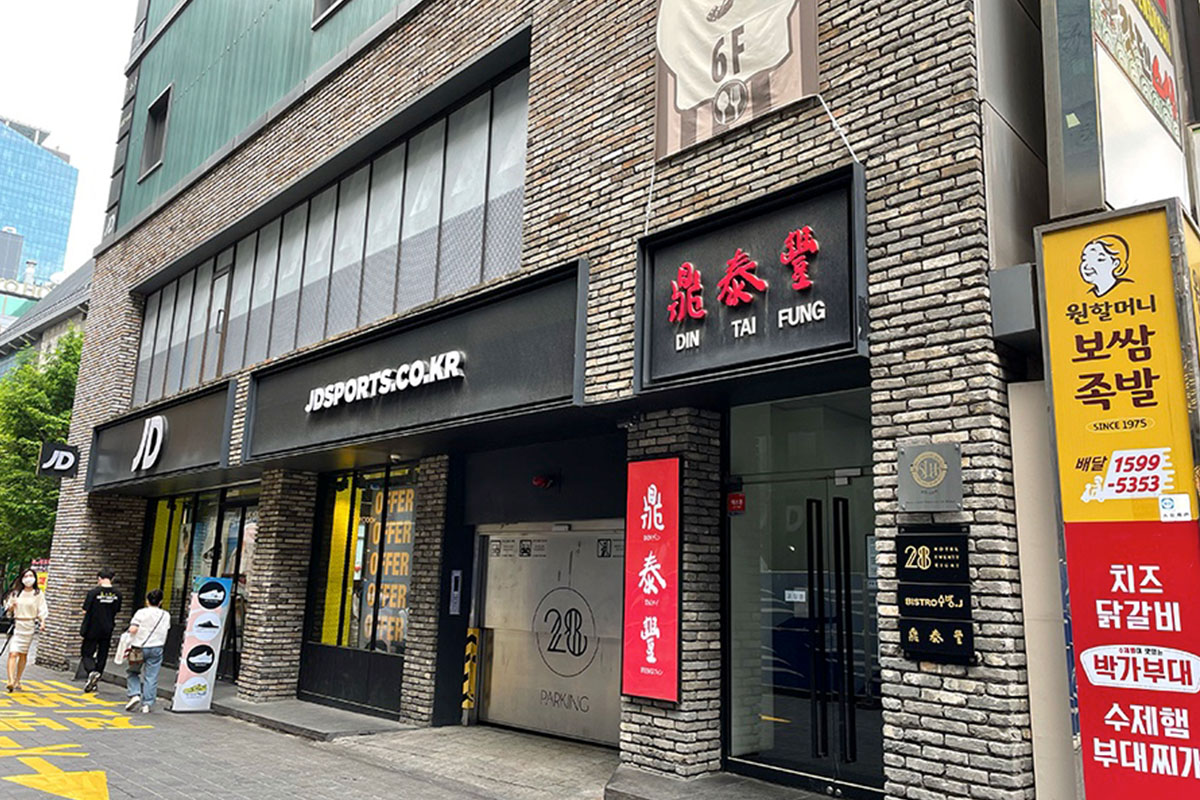 Din Tai Fung is a Taiwanese restaurant that is very popular amongst Koreans! If you are looking for something other than Korean food, this is a restaurant you should visit.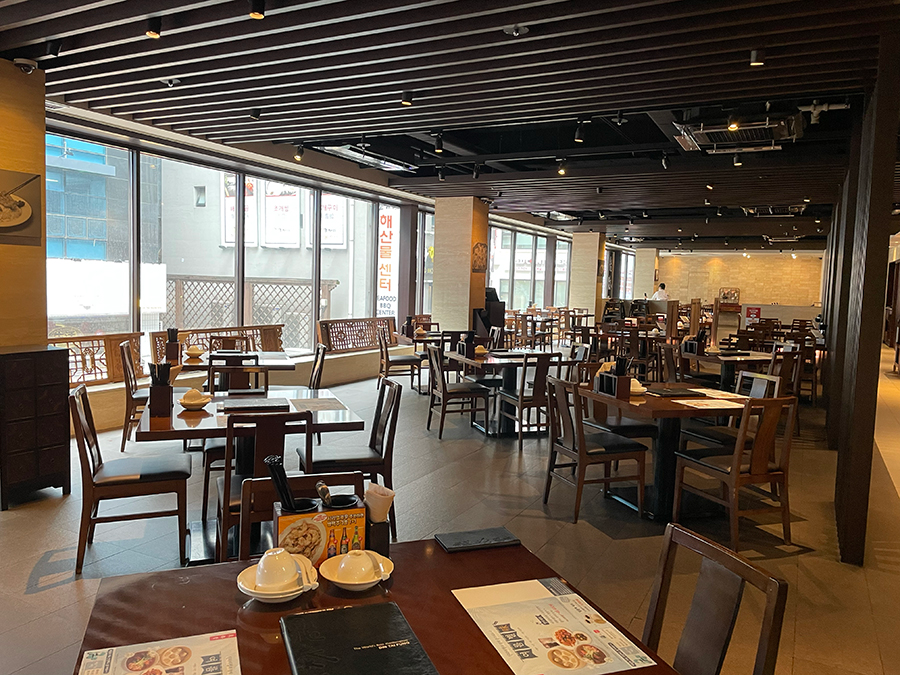 The Myeongdong Branch is very spacious and has sofa seats and group rooms as well. The sofa seats are widely spaced between tables and are separated by partitions.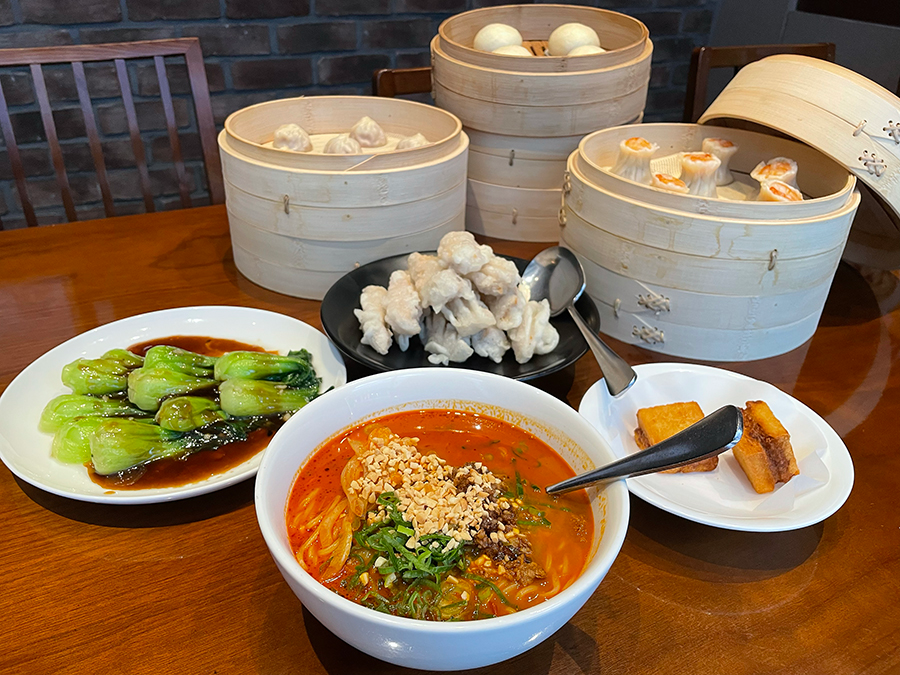 The menu is available in Korean, English and Chinese as well so you will not have any issues reading the menu. Additionally, there are many details on how to eat the dumplings so even if you have never tried if before, you can do not need to worry.
We ordered dumplings, shrimp dumplings, pot stickers, noodles, stir fried bok choy in oyster sauce and mini custard buns as well. The price for here ranges from aorund 8,500 KRW to 18,000 KRW.
Address: 서울 중구 명동7길 13 2F
13 Myeongdong 7-gil 2F, Jung-gu, Seoul
Hours: 11:00 - 21:00
Price: Xiao Long Bao (6 Pieces) / 8,500 KRW, Shrimp Shumai (6 Pieces) / 12,000 KRW, Hot Pot Pork (Small) 18,000 KRW
---
We hope that you can enjoy a delicious meal at one of these restaurants in Myeongdong! If you have any questions, leave a comment below or send us an email at help@creatrip.com! You can also follow us on Instagram, TikTok, and Facebook to stay updated on all things Korea!
---