Shopping in Shinchon District
Korean college students shopping haven! Shinchon U-PLEX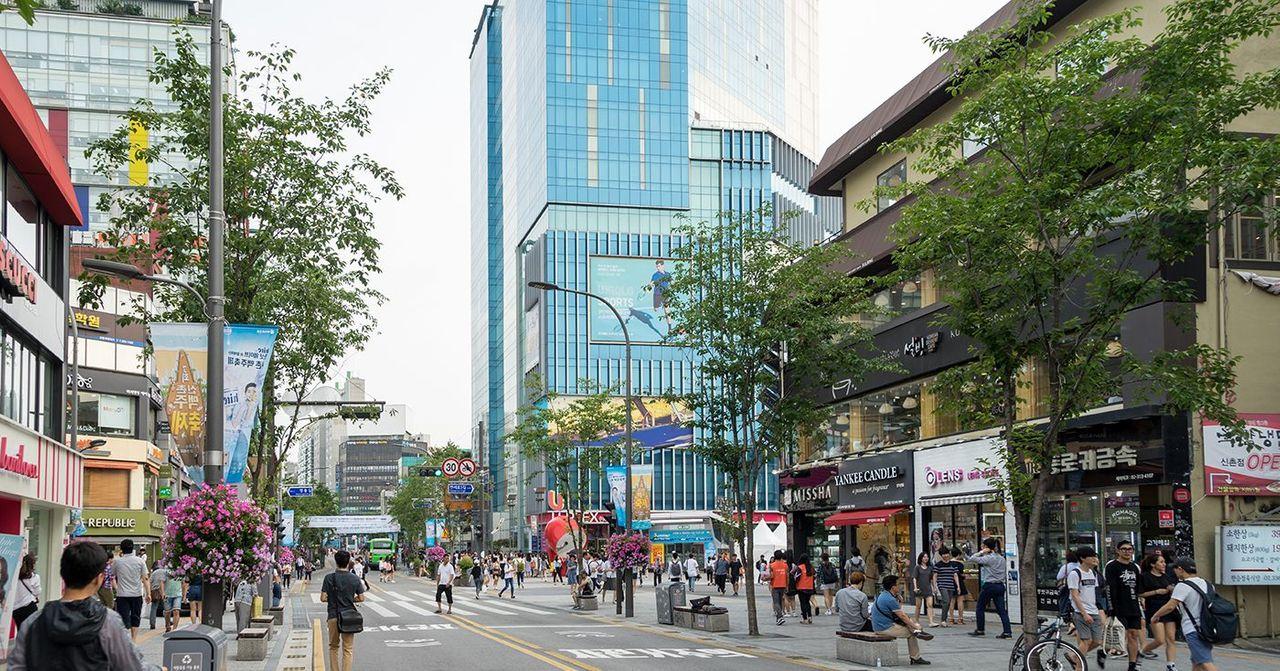 Hello,everyone! We are Creatrip, a group of Korean travel experts.
We proudly present you the latest, useful Korean travel information and tips every day.
You can't miss out Shopping when you are in Korea.
There are plenty of places where you can shop.
You can go to the underground shopping malls, college areas, Myeongdong and Dongdaemun. Today, we would like to introduce you a new place: Shinchon!!
Shinchon is the one of the major college town in between Ehwa University and Hongik Univerisity.
In Shinchon, several universities - Yonsei, Sogang, Ewha Women's, and Hongik- are located. This area is famous for shopping among Korean youngsters.
I woud like to introduce you the main shopping streets of Shinchon and U-PLEX.
---
Shopping in Shinchon|1. Introduction
Let me first briefly introduce you about Shinchon. Shinchon (신촌) refers to as the big college town surrounding the Ewha Women's University, Yonsei University, and Hongik University. It is also home to many trendy Korean youngsters and is a must-visit place for shopping in Seoul. The streets are full of interesting shops and restaurants, and this area is perfect for catching up with the fashion and makeup trends of Korea. Make sure you add this place to your itinerary!

FACEBOOK:신촌물총축제 (Shinchon Watergun Festival)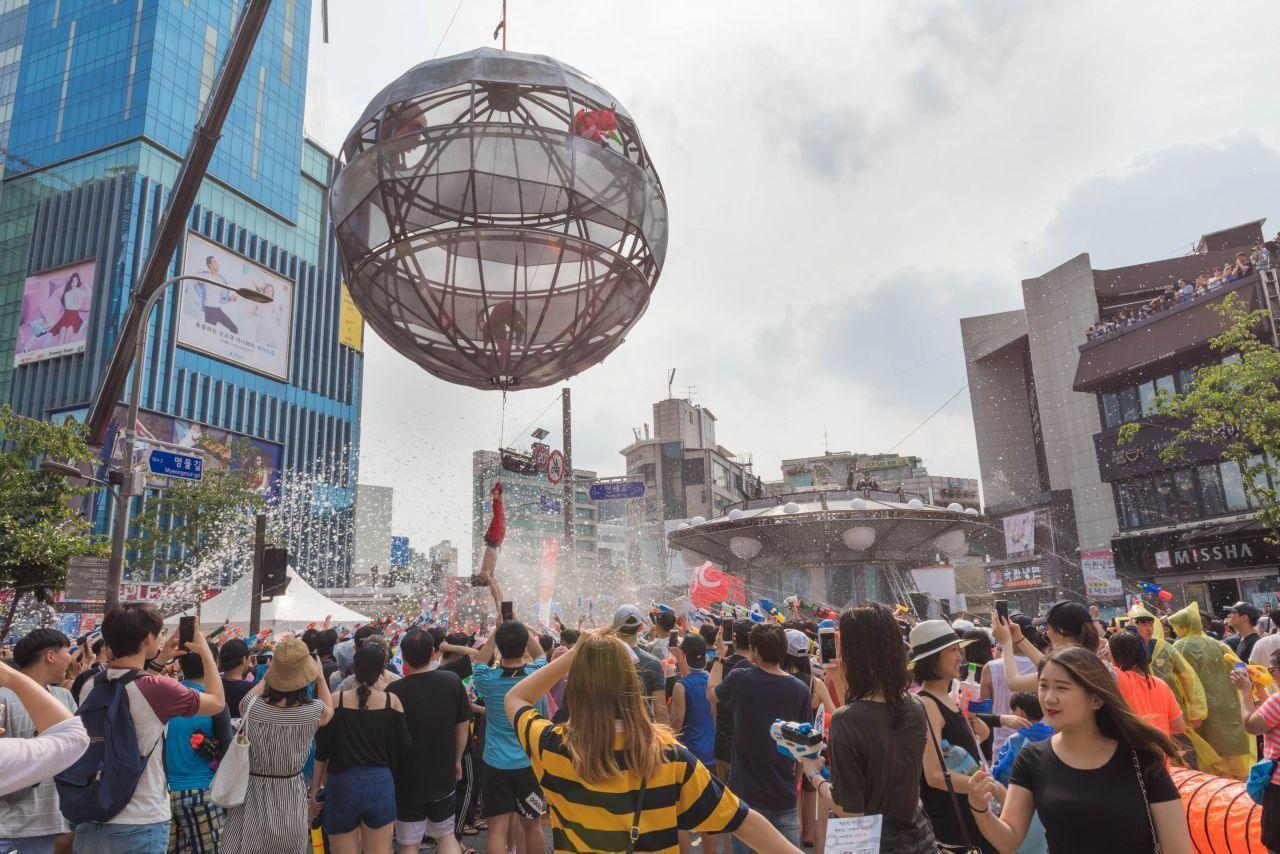 The "Shinchon Water Gun Festival" is a popular festival in the area. Every summer, the main street of Shinchon (Yonsei Road) is closed for two days for a water gun festival. This festival attracts many young men and women, who wants to cool off the hot summer heat. They dress up in cool costume, and spray water on strangers on the streets of Shinchon.

FACEBOOK:신촌맥주축제 (Shinchon Beer Festival)
In September, Shinchon becomes hot again with its famous beer festival. Korean college students gather in Shinchon to taste beer produced in different regions and countries. Shinchon has a young, lively vibe and this unique atmosphere attracts youngsters all year round. This is why Shinchon is not only a shopping place in South Korea. Shinchon is a place where you can experience Korean youth culture.
Due to its proximity to Yonsei University, the Shinchon Business district is hard to be separated from Yeon-Go sports competition. The Yeon-Go sports competitions is a series of annual sports matches between two rival schools, Yonsei University and Korea University. At the end Yeon-Go season, you can experience a mayhem in Shinchon business district.
The main shopping district of Shinchon is concentrated at Exit 2 and 3 of the Shinchon Station (신촌역), Seoul Metro Line 2. The other Shinchon Station is for Joongang Central Line. These two stations are not connected, and you have to walk a long distance (Make sure you don't confuse these two stations!). The latter station has fewer trains and is relatively smaller than the other. The Joongang Central line is closer to the Ewha University area. Therefore, the location of the main shopping district in Shinchon would be the main Shinchon Station near Metro Line 2.
Shopping in Shinchon|

2. Featured on Korean Drama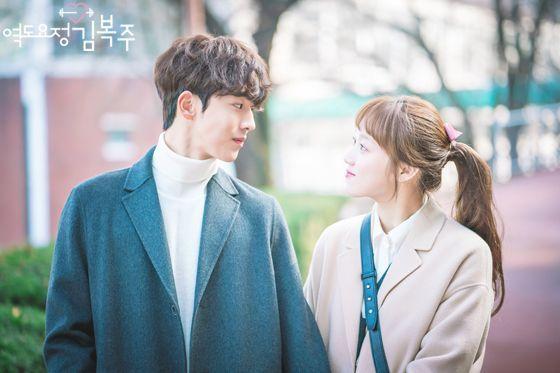 In addition to being one of South Korea's famous shopping destinations, Shinchon is occasionally featured on many Korean dramas such as "Weightlifting Fairy Kim Bok-joo." The shooting venue of this drama (captured in the photos below) was Shinchon. This drama was based on the story about college students, so you can see many places of Shinchon on the show.
Shopping in Shinchon|

3. Shinchon U-PLEX
Since Shinchon is a gathering place for many Korean university students, there are many Korean shopping shops and outlets. Among them, U-PLEX Shinchon is the most famous shopping mall. You can find many young, stylish clothing brands. These brands are occasionally on promotion and sales.
The Red Water Pipe monument outside the first floor occasionally becomes a sales venue. If you get a chance to visit Shinchon for shopping, check out this venue.
Address: 서울 서대문구 연세로 13
Opening hours: 11:30 to 22:00
Public holiday time: Click here!
Directions: Get out of Exit 2 or 3 of the Metro Shinchon Station and walk straight. After passing cosmetics stores and many street performers, you will be able to see the vast shopping district of Shinchon. Shinchon U-PLEX can be easily spotted if you can find the big red water pipe monument.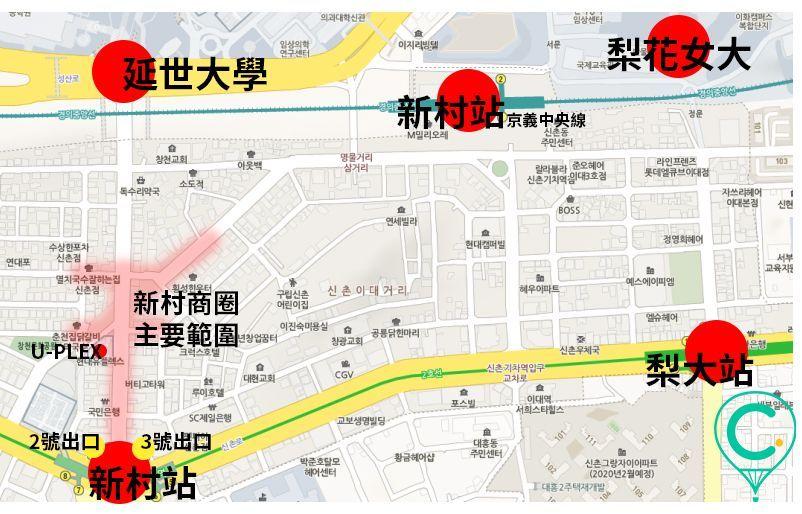 Seoul Shinchon Shopping Map
The parts color-coated in red in the map above is the major shopping areas of Shinchon. However, do not assume that you only need to check out these main streets! Shinchon is full of small shops and restaurants hiding in the alleys. I would like to suggest everyone to explore Shinchon when they come to Korea. Take a look at the hidden gourmet restaurants.
Shopping in Shinchon|

4. Creatrip Editor's visit to U-PLEX in 2018 Fall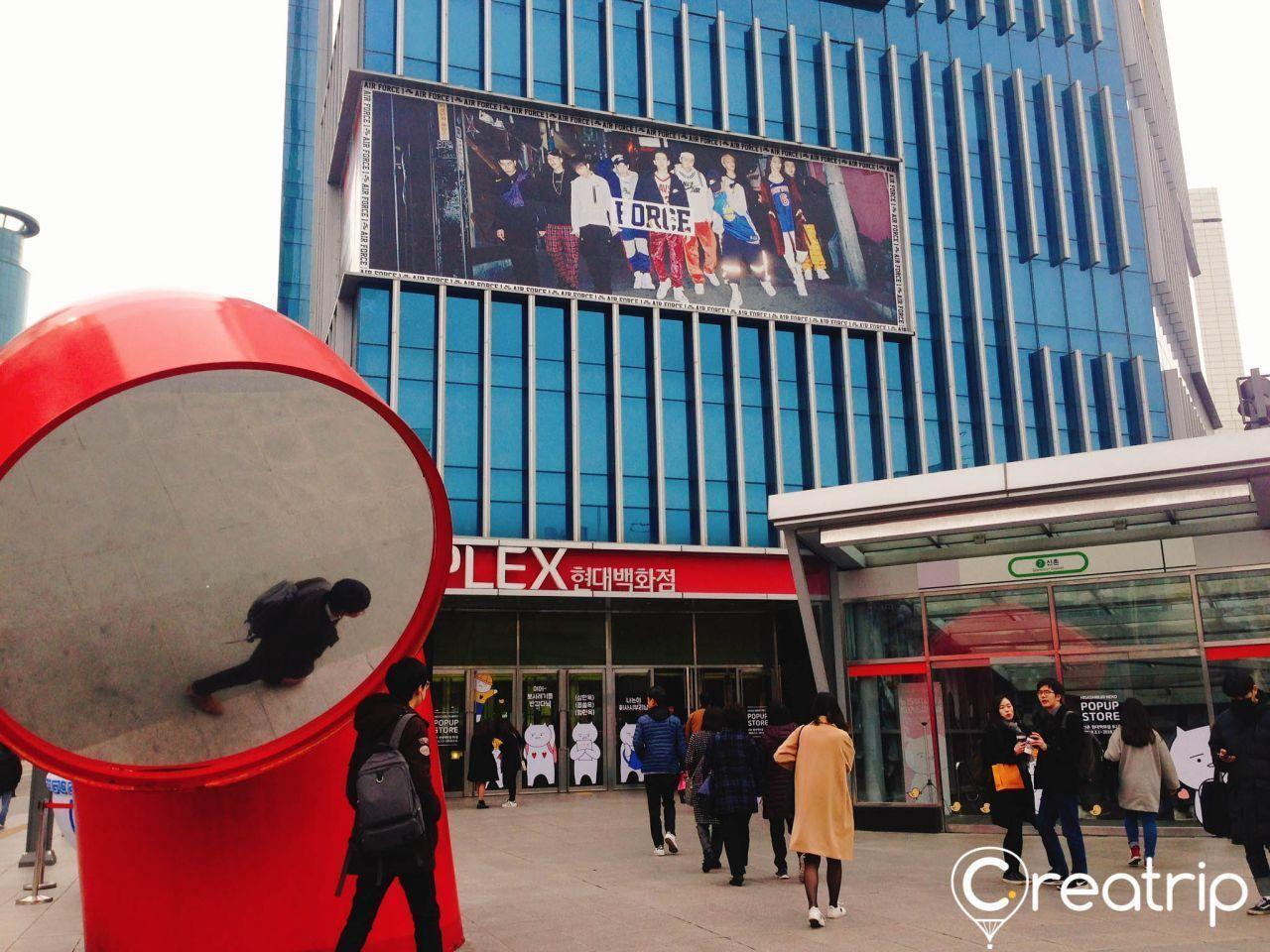 I believe many of you already familiar with Shinchon are familiar with this red water pipe monument. The U-PLEX Shopping mall is a must-visit place for shoppers in Shinchon. This place is very easy to spot. After getting out of exit 2 of the Shinchon Station, walk straight until you see this red monument. You can also go directly to the Shinchon U-PLEX without getting out of the subway station.
As the video suggested, walk toward Exit 7 and 8. Pass Exit 7-11 on the way, but don't go out yet! Walk straight to the end of the passage until you find push doors. Check for the sign "U-Plex." This passage comes in super handy when the weather gets wild in winter. Everyone can reach U-Plex via underground passages since the subway station is directly connected with the shopping mall.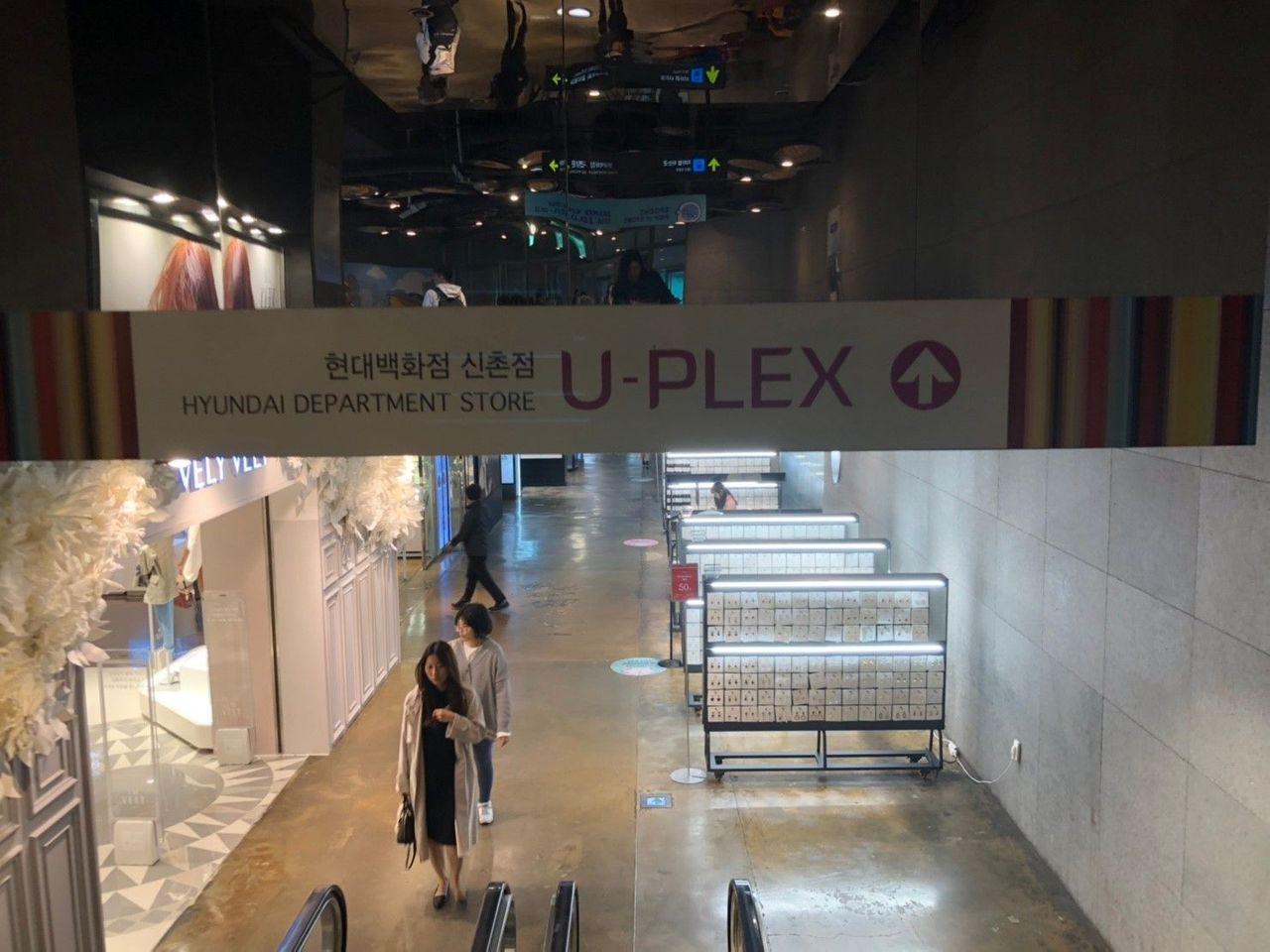 Here is the basement of the Shinchon U-PLEX shopping mall, and from here you can start shopping. Usually, there will be a lot of promotion counters along this passage. You can buy many items for heavily discounted prices. As for those who want to buy Korean Beauty items in U-PLEX, please start your shopping spree from this basement floor first, and I would suggest you go up one more floor for shopping apparels.
Toward the end of my tour, I saw this clothing store: A Land. You can reach this store by taking a right turn and then go up one more floor by escalator. Then you will enter the building of U-PLEX. If you continue to go straight, you can enter Hyundai Department Store.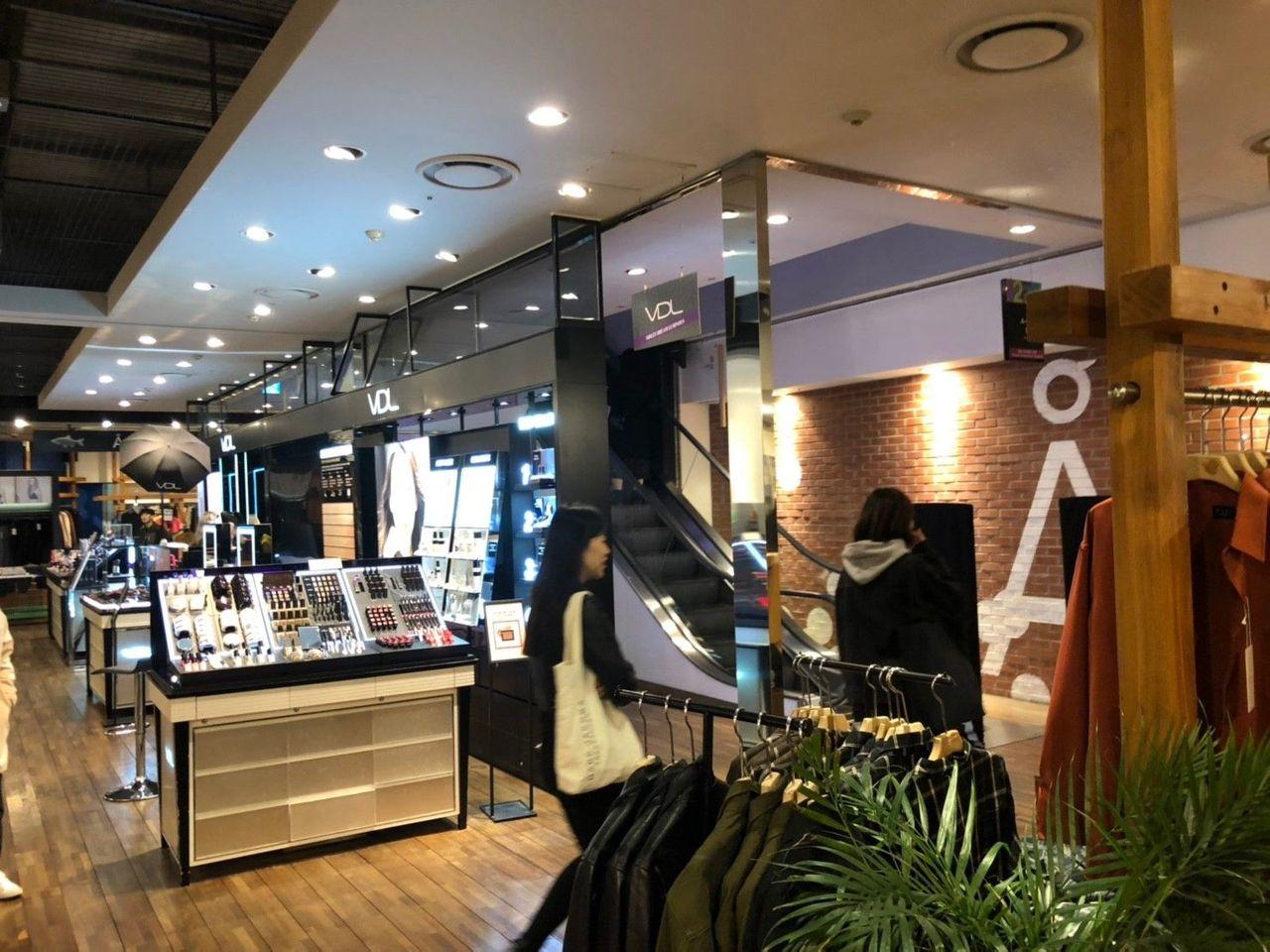 There is an escalator leading upstairs in A Land, Shinchon.
You can buy quality clothes at affordable prices at U-PLEX Shinchon. Many people come to South Korea to shop and buy cheap clothes in underground shopping malls, but the quality of the clothes are not so good when you buy from there. If they try to buy clothes from a department store, the price not affordable.
However, the range of price of items sold at U-PLEX is somewhere in between. You can expect to buy quality clothes at affordable prices. When you come to South Korea for shopping, definitely check this place out!
As you can see from the photos above, the displays of the stores are already replaced with autumn and winter clothing. Coats and thick coats are out. When I visited this store at the beginning of the autumn in 2018, I saw some short-sleeves on clearance sales. If you go now, probably you won't be able to find them. Since this shopping mall is not an outlet, it would be very difficult to find summer clothes when you visit this place during autumn and winter.
Another advantage of shopping in Shinchon over Ewha University shopping district would be the variety of styles for women's clothing. Although the shopping district near Ewha University is heavily focused on Women's clothing, the ratio of men's and women's clothing in U-PLEX is about the same. If you are looking for a place to shop men's clothing, I would recommend you to check out U-PLEX Shinchon.
In addition to some Korean local apparel brands, there are many large chain apparel brands in Shinchon U-PLEX. If you come to South Korea to shop, especially are planning to check out Shinchon U-PLEX, you need to remember to bring your passport for a tax refund.
I suggest you to compare the price and quality for certain brands before you make the final purchase. WONDER PLACE (On the second floor of Shinchon U-PLEX) has great men's wear collection, but some of the clothes sold from this store can be found elsewhere at probably cheaper prices. If you have enough time to travel and shop in South Korea, I recommend you to take a look around in U-PLEX first to browse which style you are into. Then you can go to stores in Shinchon and get a similar style for less.
WONDER PLACE on the second floor of U-PLEX in Shinchon is probably the best place for getting men's wear. Men's wear on other floors is more known brands. Some Korean-style clothing brands have a higher price range for men's wear. If you are lucky, you may encounter seasonal sales during your visit!
As you can see from the photos above, you can find more brands as you go up more floors in Shinchon U-PLEX. If you are looking for a simple and elegant look, you won't be able to find many brands that suit your preference. Most of the brands in this mall are casual clothing brands. If you are looking for heavy duty jackets for the autumn and winter season, you will be able to find many functional clothes.
Shinchon is one of the trendiest town in Seoul. Many trendy brands exhibit their unique styles at Shinchon U-PLEX. You can find out the latest fashion trends from here.
You can find a variety of Korean local clothing brands at Shinchon U-PLEX. Especially, there are several brands that focus on men's clothing. , boys do not have to just help his girlfriend to carry bags, no one Piece of your own clothes.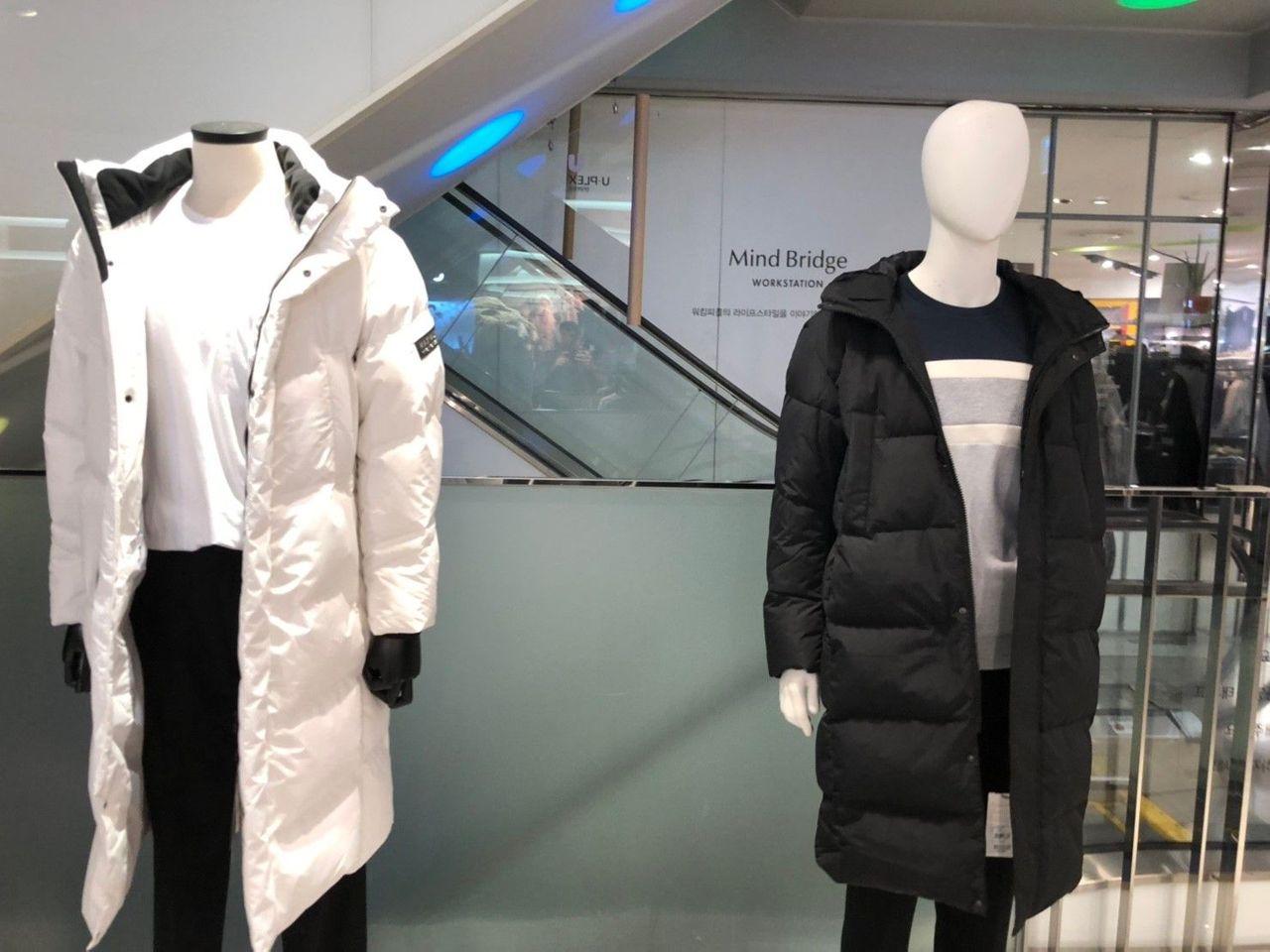 Xiaobian bought DICKIES's white long down jacket on the same day, 100,000 won.
小編當天買了DICKIES的白色長羽絨外套,10萬韓元
When you visit the upper levels of Shinchon U-PLEX, you can find more reputable fashion brands. Not only you can find Korean brands in U-PLEX, but also the world-renowned sports and apparel brands. You don't have to spend a lot of time browsing, just come to U-PLEX. This place can meet all your shopping needs.
Take a guess! What brand receives the highest demand in Korea nowadays? In addition to the famous Korean cosmetics, you must consider buying sporty clothing and shoes from FILA. FILA is a sports brand that suddenly became popular among the young people in South Korea after VANS in recent years.
If you compare the price of FILA in Taiwan and South Korea, you will be surprised by the price difference. In Korea, you can get FILA shoes for 59,000 won, excluding the tax refund.
I have a heads-up for boys! If you have big feet and want to find the shoes of your dream in South Korea, you might encounter some problems. If you have size 9 feet or bigger may find it a bit difficult to find your size in South Korea. My size is also 9.5. The Korean chain sports brands usually do not have my size. Many stores have men's footwear for up to size 9.
There is a rooftop garden in Shinchon U-PLEX, and the opening hours starts from 8 pm. If you want to check out the beautiful night scenery of Seoul, I would like to recommend this place. You can take a look at the entire Shinchon business area.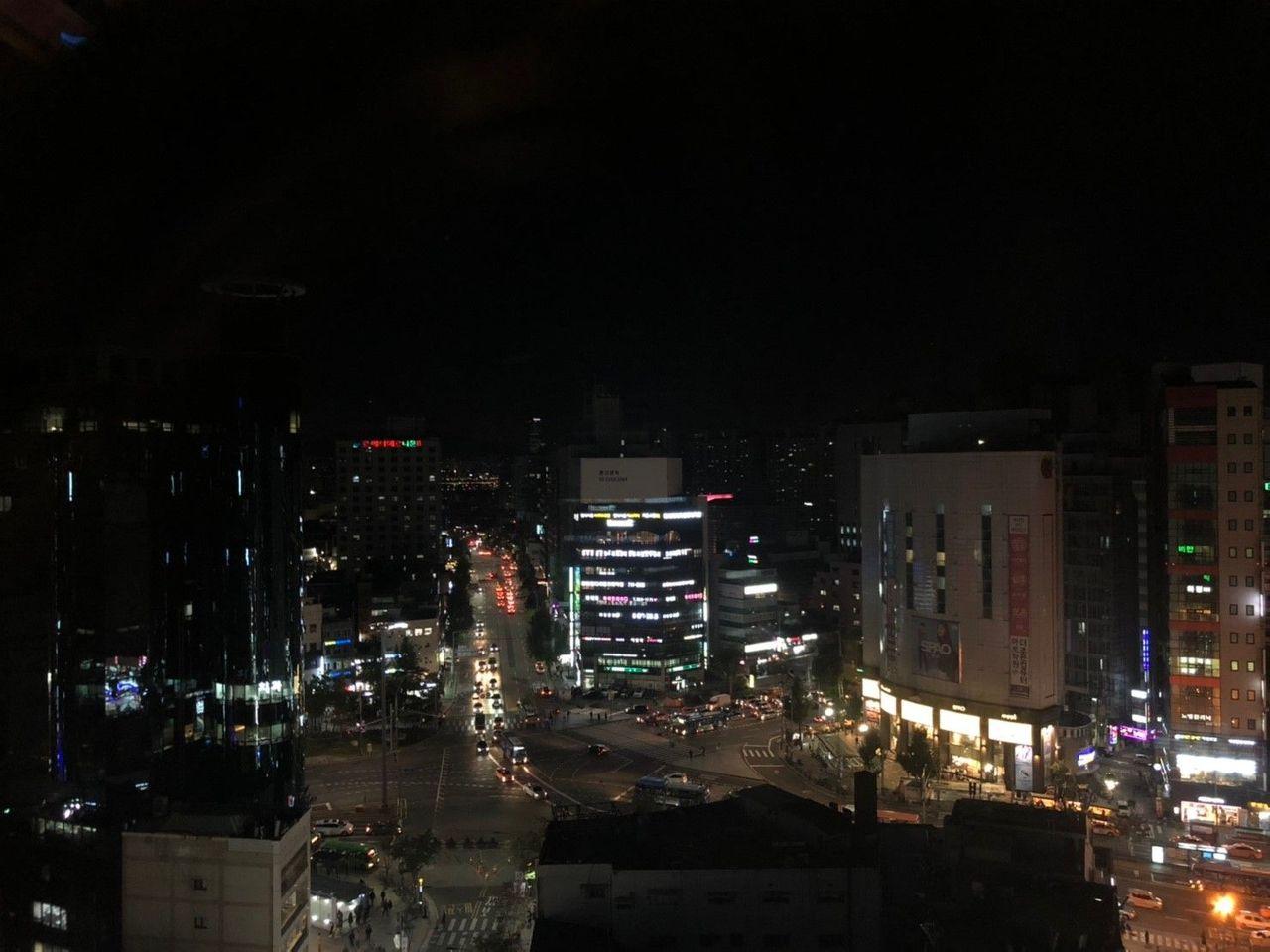 Shinchon Business District Night Scenery
Shopping in Shinchon|

5. South Korea Shinchon Business District
Is U-PLEX the only place worth visiting in Shinchon? Of course not, these is a variety of shops, restaurants, and cafes in Shinchon. I decided to post some of the must-visit places in Shinchon for your future reference. Buckle up guys! Here we go!
#Shinchon's new trending adult shop:RED CONTAINER
You must show your ID to prove that you are over 19 years old to enter this adult shop
Address:서울특별시 서대문구 명물길 28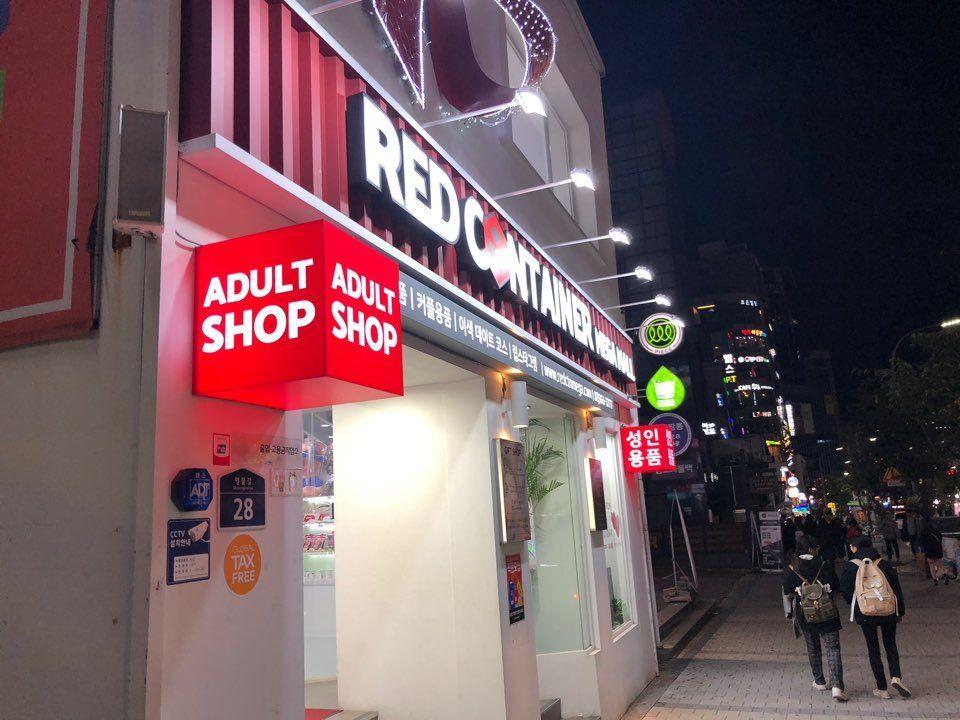 #A Must-visit Shinchon Shopping Mall:PLAY GROUND
This is Koreans' favorite shopping place for men's clothing! This mall also has branches in other famous college towns - near Hongdae and Gonguk University!

Address: 서울특별시 서대문구 연세로 9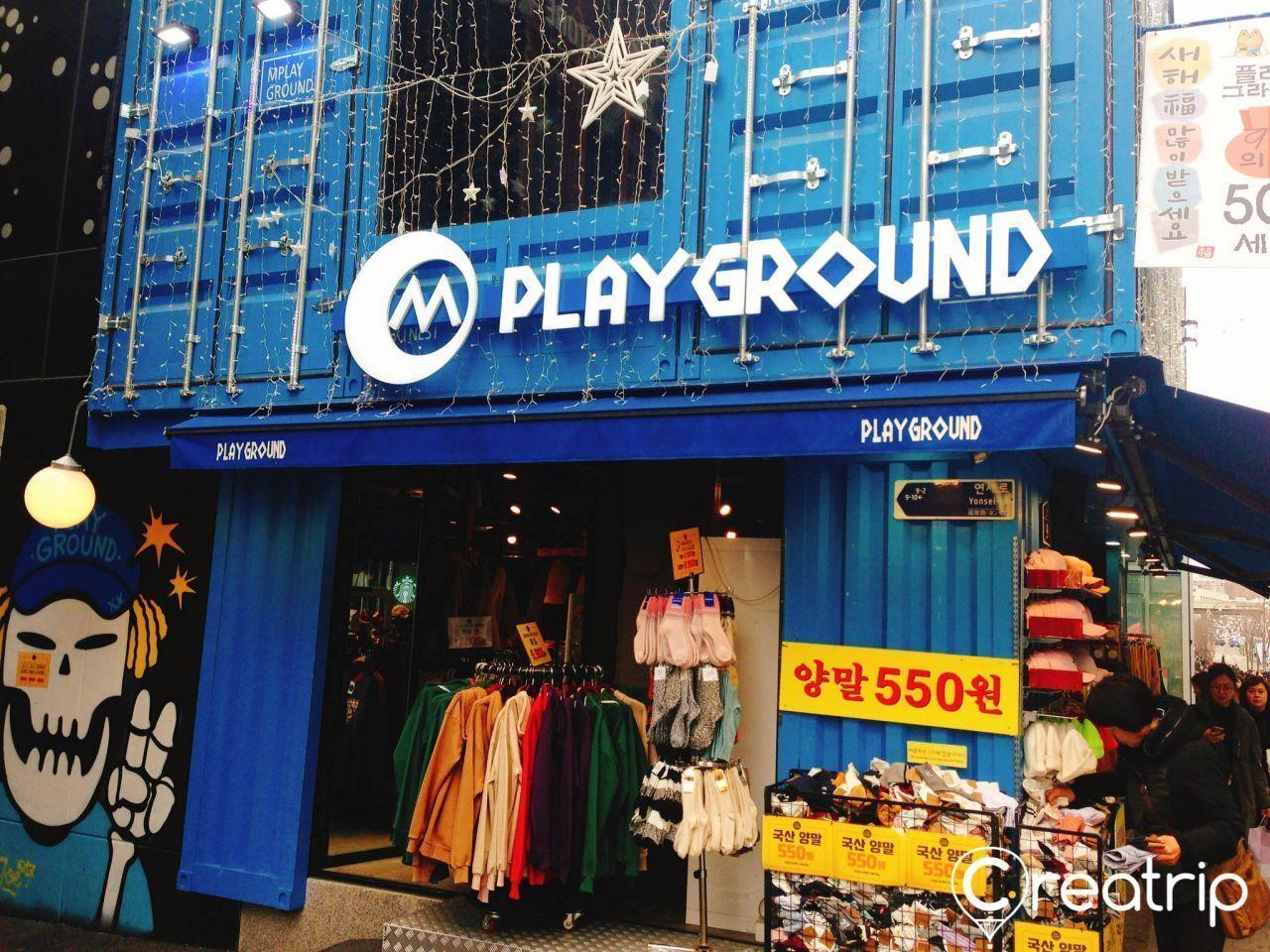 #A Must-visit Shinchon Cosmetics Store:ETUDE HOUSE
Address:서울특별시 서대문구 연세로 16
#A Must-visit Shinchon Cosmetics Store:TOO COOL FOR SCHOOL
Address:서울특별시 서대문구 연세로 3-3 1층
#A Must-visit Restaurant:Kyochon Chicken
#A Must-visit Shinchon Shopping Place for shoes:SHOOPEN
Address:서울특별시 마포구 노고산동 57-1
This post contains the latest Creatrip editor's visit to the famous Shinchon business district in Seoul, South Korea. In addition to the valuable information about Shinchon U-PLEX, I've shared some trending places in Shinchon which recently became super popular among young people and college students. I hope everyone can make a good use out of this post. When you come to Korea for shopping, remember to visit Shinchon for shopping and hanging out.
Dear Creatrip members, I will come back with a better post about South Korea next time!!
So long!
---