Netflix's Hit Show Squid Game | The Reality, Editing Errors, And Controversy
Did You Enjoy Watching Squid Game? Let's Look At Aspects Of Korea It Portrays And A Few Editing Mistakes!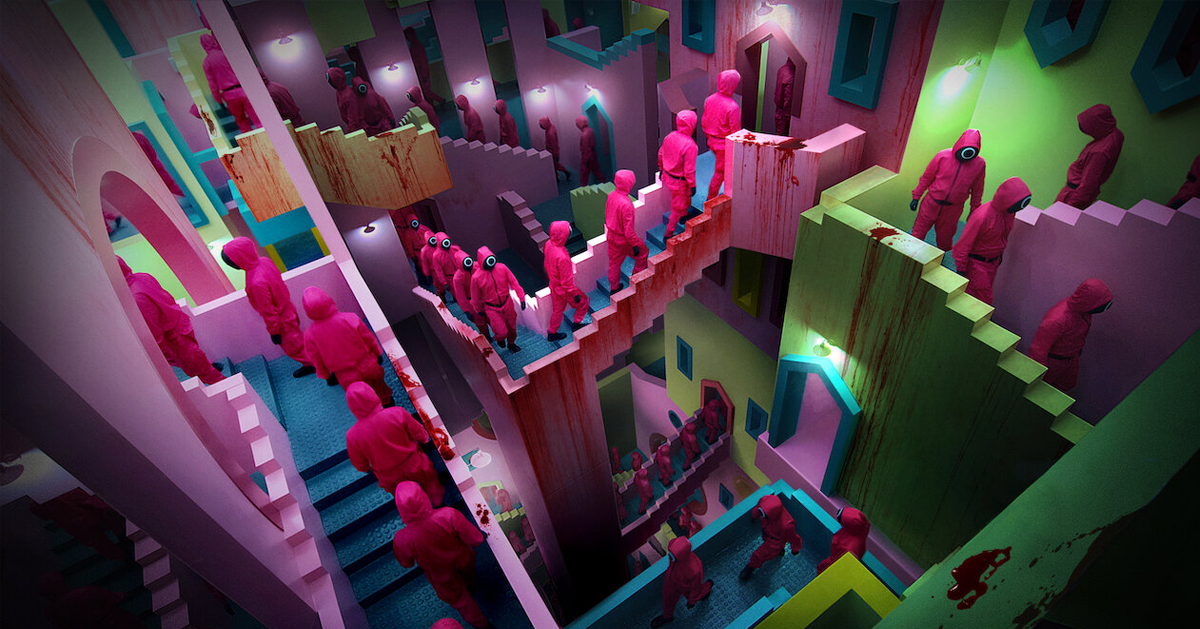 Source: Netflix Squid Game
Netflix's new hit drama Squid Game tells a story of 456 desperate people who are facing financial difficulties. One day, they receive a mysterious game invitation. They play children's games and as long as they pass all six levels, they can earn 45.6 billion won (approx. 38.5 million USD), but the catch is if you lose a game, you lose your life...
Squid Game is an intense and exciting show telling of human struggles and it ranked in Netflix's top 10 list in many countries and even ranked no. 1 on US Netflix rankings, a first for a Korean work.
Today, we will show you some scenes and details of Squid Game that you might have missed, as well as the many controversies that have emerged so far. If you are interested, keep reading.
---
Meaning Of Squid Game
Meaning Of Each Game
The six levels of Squid Game include Korean childhood games and more or less represent the meaning of Squid Game itself.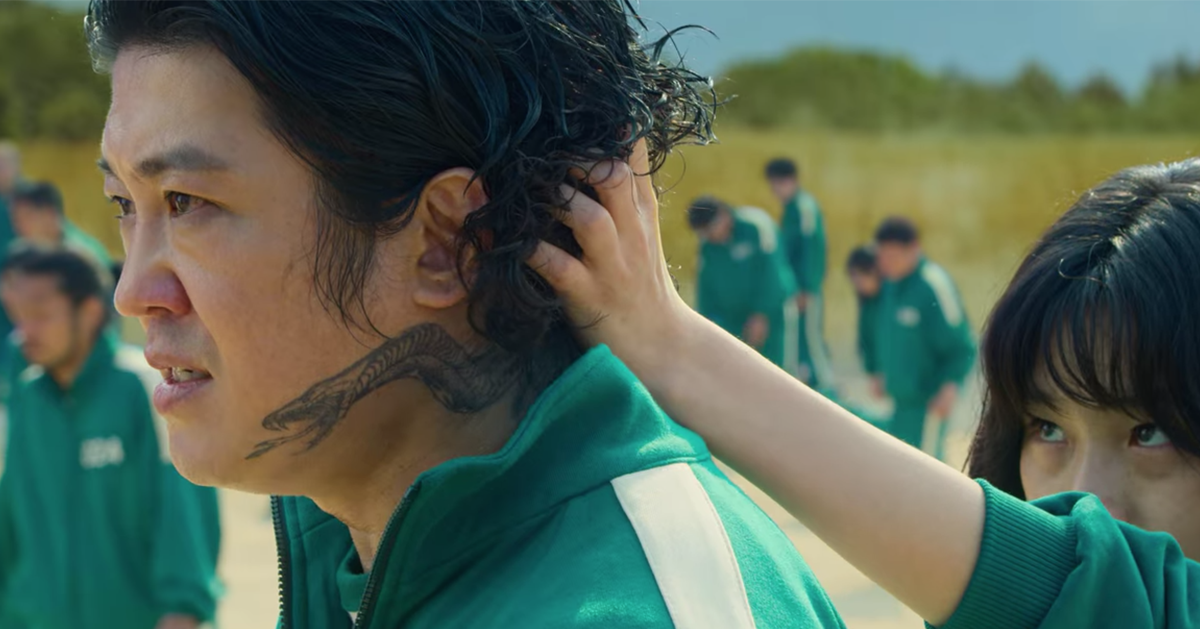 Source: Netflix Squid Game
In the first game, 무궁화 꽃이 피었습니다 (red light, green light), if the large doll turns around and sees a player moving, the player is shot right away.
This holds a message about real life too: In the eyes of the doll (powerful people), you should follow the rules and not move recklessly. But you can do anything you want when the doll can't see you. Therefore, both cheating and killing can occur as long as you don't stand out.
Although the 달고나 (dalgona/sugar honeycomb) game in the second level seems fair, everything is a personal choice, which also allows the possibility of cheating.
The third level, tug-of-war, is a test of wisdom. Even if the other team consisted of all strong men and they seemed to be at an advantage, the weaker team turned the tables to their favor and survived by outsmarting them.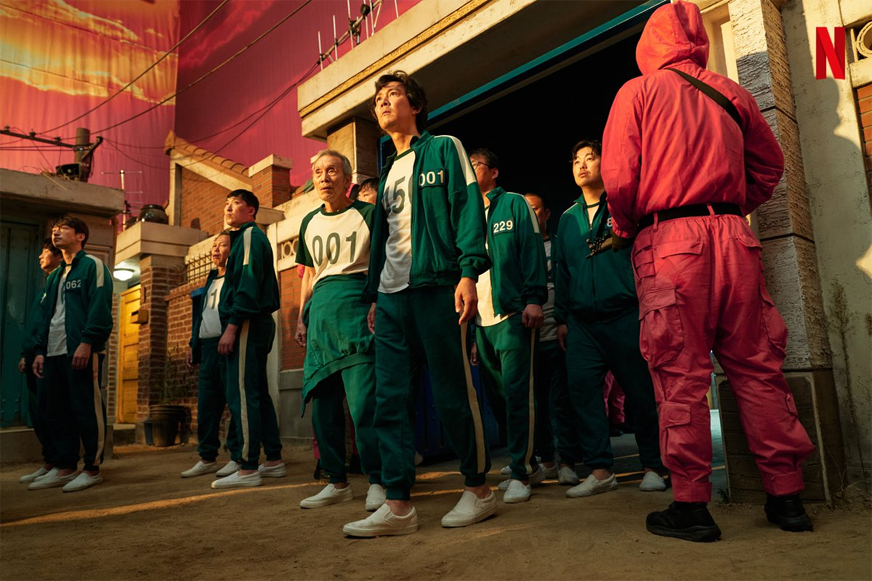 Source: Netflix Squid Game
The marble game in the fourth level is much more meaningful. When everyone thought that choosing a partner would mean being able to pass the level together, the organizer gave the players a twist with a game where only one teammate could survive, which is often true in real life.
Even if we struggle and try move forward with our partners, we often see that everyone still only wants to take care of themselves in critical moments.
The glass bridge also seems fair at first with players going in order, but it also allows personal choice to change their fate. The person who starts first may succeed, provided that he has great luck, and the person who goes later may not remember the steps of the people who went before, resulting in their death.
As for the last level of the Squid Game, they return to the core of the whole event and play the children's game 오징어 게임 (squid game). It uses the simplicity of childhood games in contrast with the darkness and killing faced after growing up in a dog-eat-dog world. There are no rules here, as long as you can attack and just stay in bounds.
The six games make all the participants think "I want to live". In real life and in Squid Game, everyone wants to survive and succeed and it doesn't matter what they do to get there.
Representation of Human Nature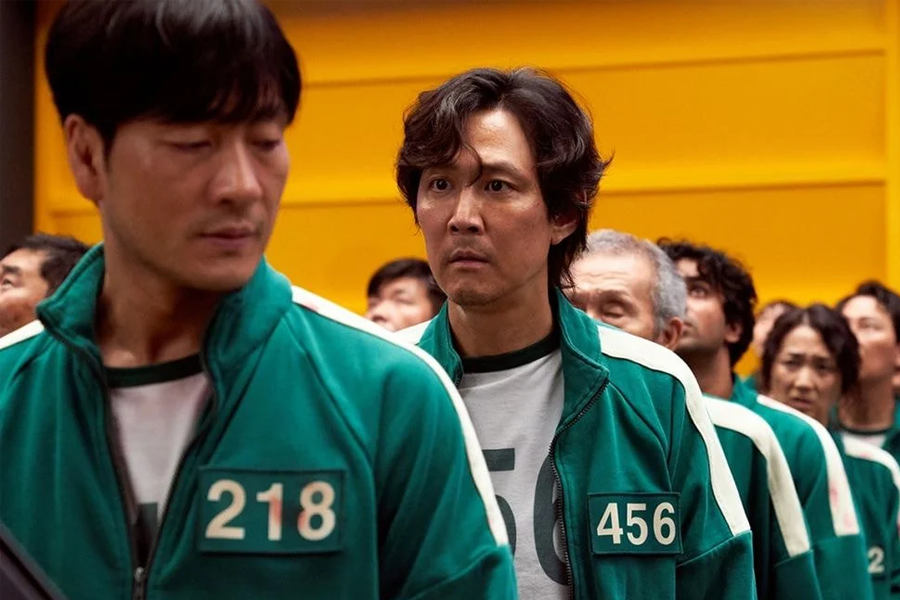 Source: Netflix Squid Game
Squid Game drew attention for its depiction of human nature, which is something Korean dramas and movies do very well.
Han Mi-nyeo, who would do anything in order to survive and do everything, ultimately chose to sacrifice herself while also getting revenge on Deok-su. She may have thought that this would help everyone work together so that they could advance to the next level with fewer victims, but players continued to betray each other.
Throughout the game, corpses keep piling up and the ugly human nature of working together but being able to betray each other at a moment's notice when it comes to life or death is constantly shown.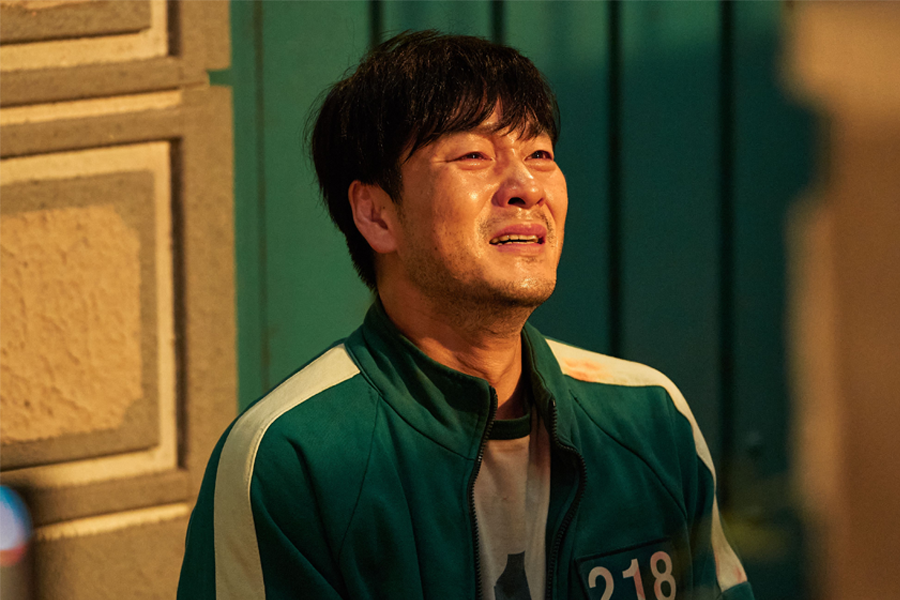 Source: Netflix Squid Game
Squid Game also highlights human desire.
The desire that makes them desperate to earn money and provide for their families, that leads them to do anything for this money, and the desire to survive. Are these not the key desires every human has?
At the fourth game, Ji-young suddenly realizes she does not have as much of a reason or desire to survive the game and sacrifices herself so that Sae-byeok can continue on in the game.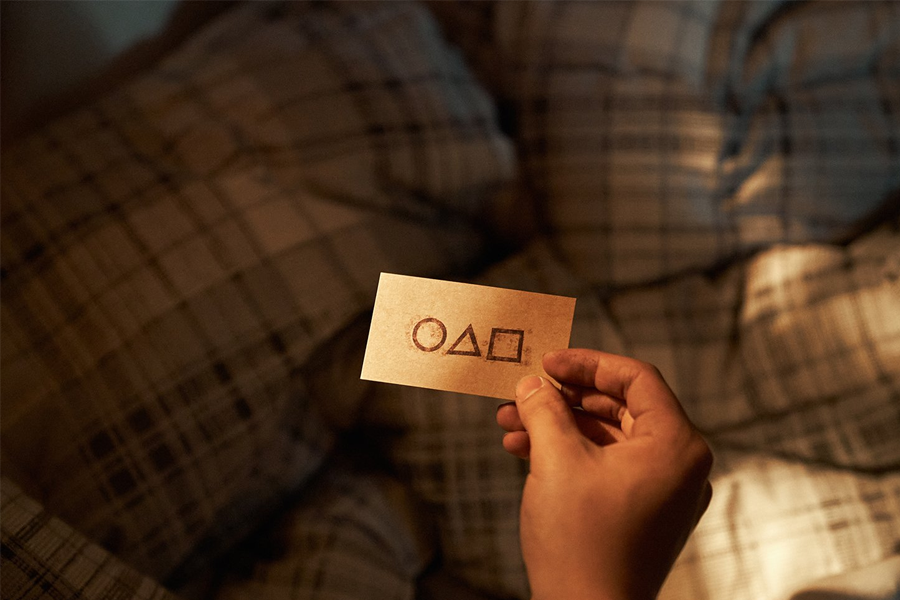 Source: Netflix Squid Game
Even Gi-hun, who finally won the 45.6 billion won, returned to his normal life seemingly heartbroken, but still thinking about Sae-byeok's younger brother and Sang-woo's elderly mother, showing he still has his desires to provide.
At the end, he turns around just before boarding the plane with a new desire to expose the people behind the Squid Game.
What Is True Equality?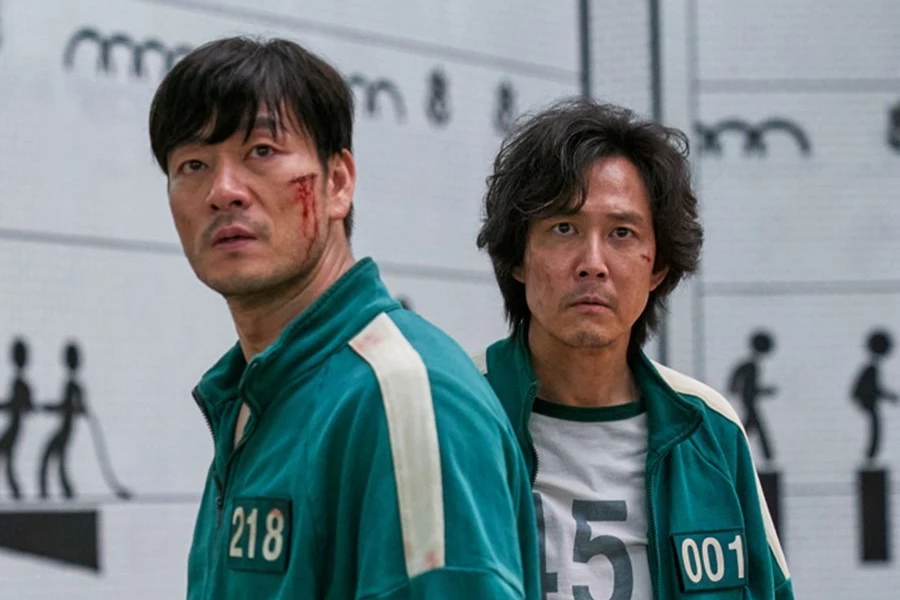 Source: Netflix Squid Game
In Squid Game, the organizer of the game always said that it was a place for people who had no opportunities in the real world to experience real equality and fairness in the games; however, this was not true.
The games are never truly equal, and even if they seem to be based on luck, they are never truly fair. A player's origin, background, and knowledge can give them an advantage. Therefore, the equality the game organizer speaks of is hypocritical, just like the equality referred to in real life.
If the games were really fair, the organizer shouldn't allow players to hide behind others in the first game and using a lighter to heat the needle shouldn't be allowed.
If the games were fair, players shouldn't get tips about the next games and there would be no experienced elders to lead the weak to victory. If the games were fair, the staff wouldn't turn off the lights to obstruct the players when they found out how to tell the difference between the glass panels.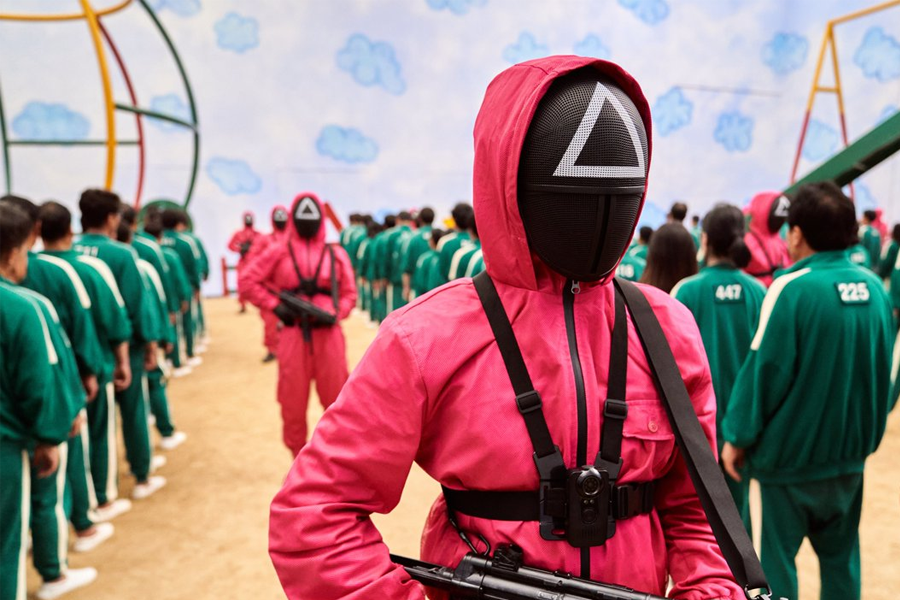 Source: Netflix Squid Game
Is everyone really equal in the game? It seems fair, but in fact this game is not fair at all. The cruelties of the outside world are just magnified in the game.
The Reality Of Defectors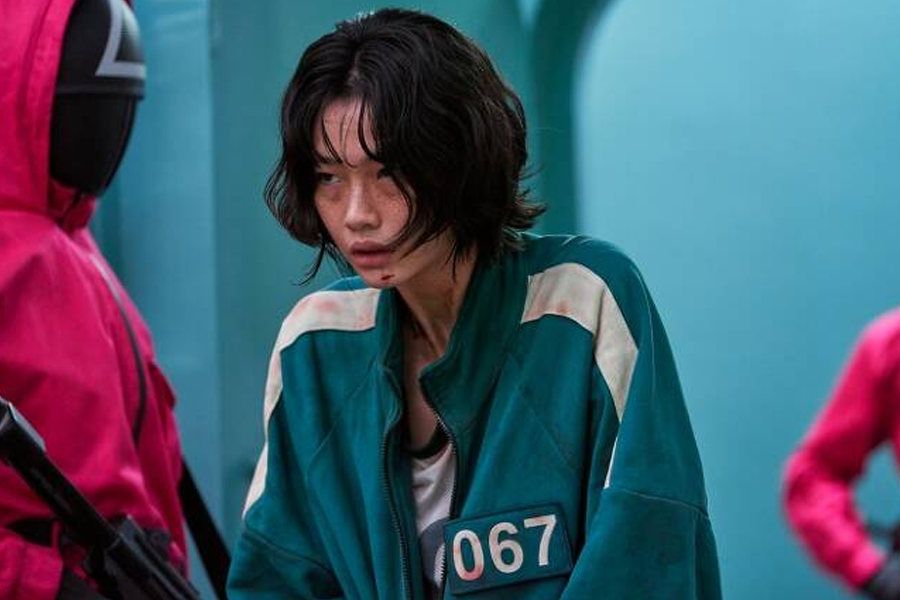 Source: Netflix Squid Game
Sae-byeok, a North Korean defector, has been repeatedly abused throughout her life. Although she has fled from the closed and authoritarian North Korea to South Korea, it seems she has just entered another prison.
Although in South Korea, the government will give North Korean defectors assistance to adapt to South Korean society, who helps the North Korean defectors afterwards? If people find out someone is a defector, how will the way they view this person change?
Without academic qualifications and complete knowledge of the society, defectors often feel that they are victims and do not ask for help.
Economic Inequality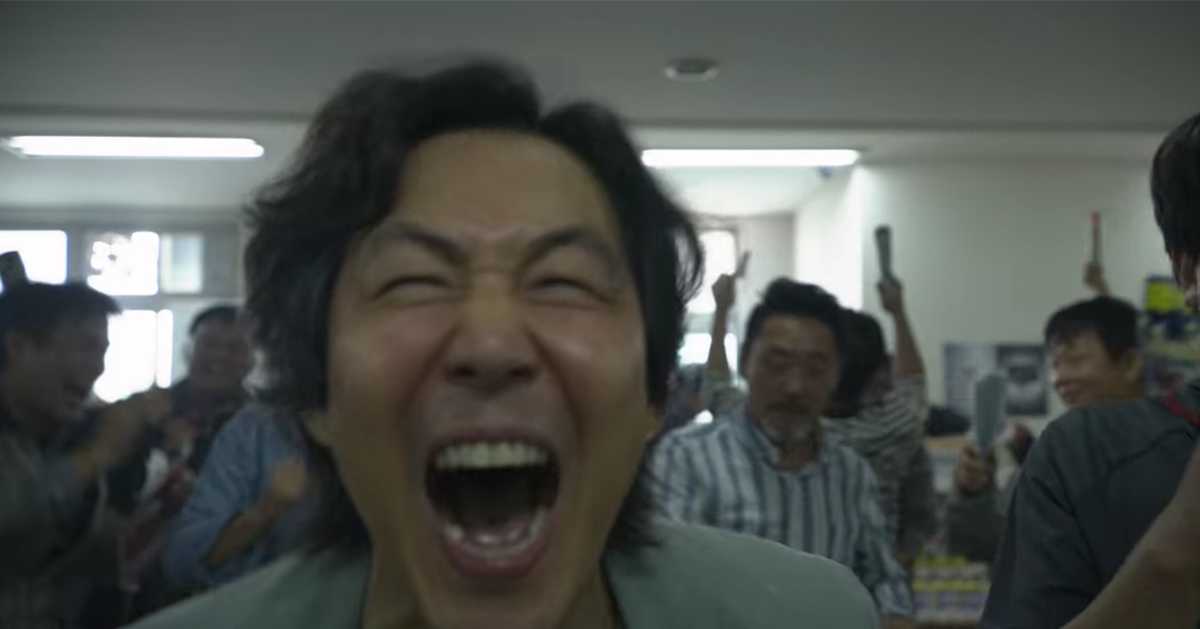 Source: Netflix Squid Game
Depictions of people in poverty in Squid Game may be shocking, but the wealth gap between the rich and the poor in South Korea is even harder to imagine.
The average annual salary in South Korea in 2020 was 37.91 million won (approx. 32,000 USD), but the highest-earning group, the top 0.1%, had an average annual salary of 767.60 million won (approx. 697,000 USD). Only 19,000 people enjoy this wealth. Expanding to the top 1% of the pyramid, the average income is 207.04 million won (approx. 188,000 USD), which is also quite amazing.
Although looking at the average figures, it may seem salaries in Korea aren't that low, but that data is inflated by the wealthy and the annual income of people with the 50 lowest-paid jobs may be less than half of the average annual salary. With many living in Korea calling it "Hell Joseon", it's no wonder these characters chose to participate in the Squid Game.
---
Editing Mistakes In "Squid Game"
Who Is Player 061?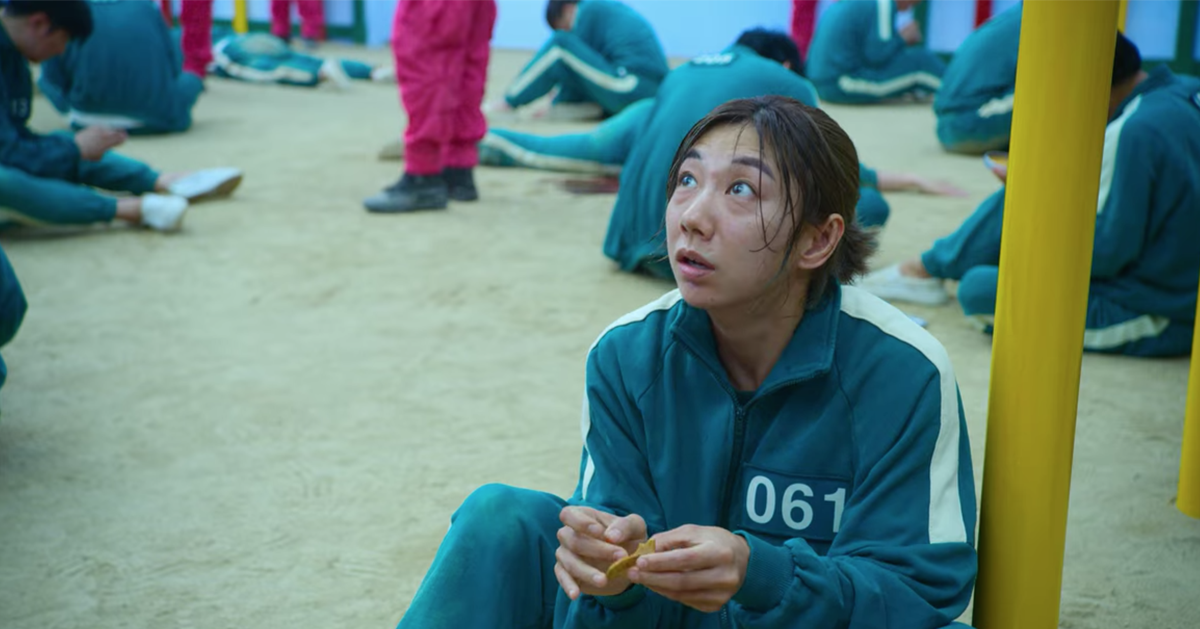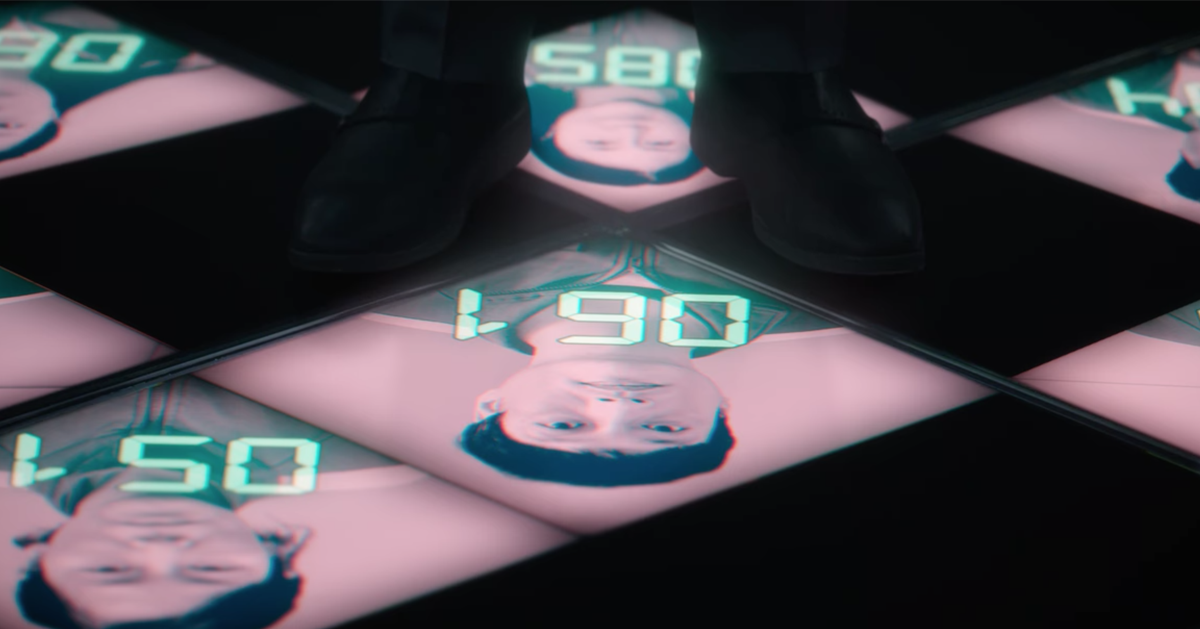 Source: Netflix Squid Game
In the second game, the woman numbered 061 was shot and killed because she shattered the sugar honeycomb. However, afterwards on the list of players, the picture of player 061 turned out to be a man! Who is really player 061? The editing team must have been too busy to notice this little detail.
The Umbrella Shape
Source: Netflix Squid Game
In the sugar honeycomb game, when everyone chooses one of the four patterns in the beginning, the umbrella shape is straight on the bottom, but when the scene changes, the umbrella becomes curved.
It probably became curved to add more difficulty to the game, right? This was a very easy editing mistake to find.
Is Gi-hun Eating Air?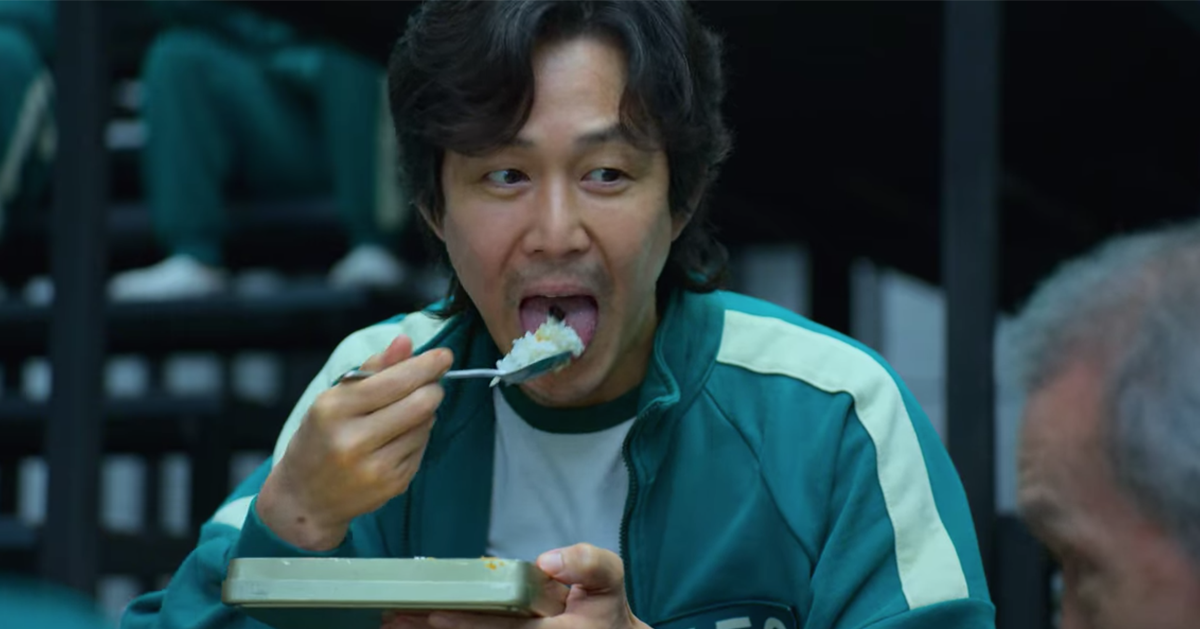 Source: Netflix Squid Game
While everyone was eating, Gi-hun complained that the meal was cold, but still ate happily. However, in the next shot, it appears that Gi-hun is just pretending to eat and actually has nothing on his spoon. This little mistake appeared in the third episode. Anyone with a sharp eye can play it back and watch it again.
Did Gi-hun really dislike the food and just pretend to eat it? Or did he not want to be too full to perform well in the next game?
The Glass Master With 123 Years Of Experience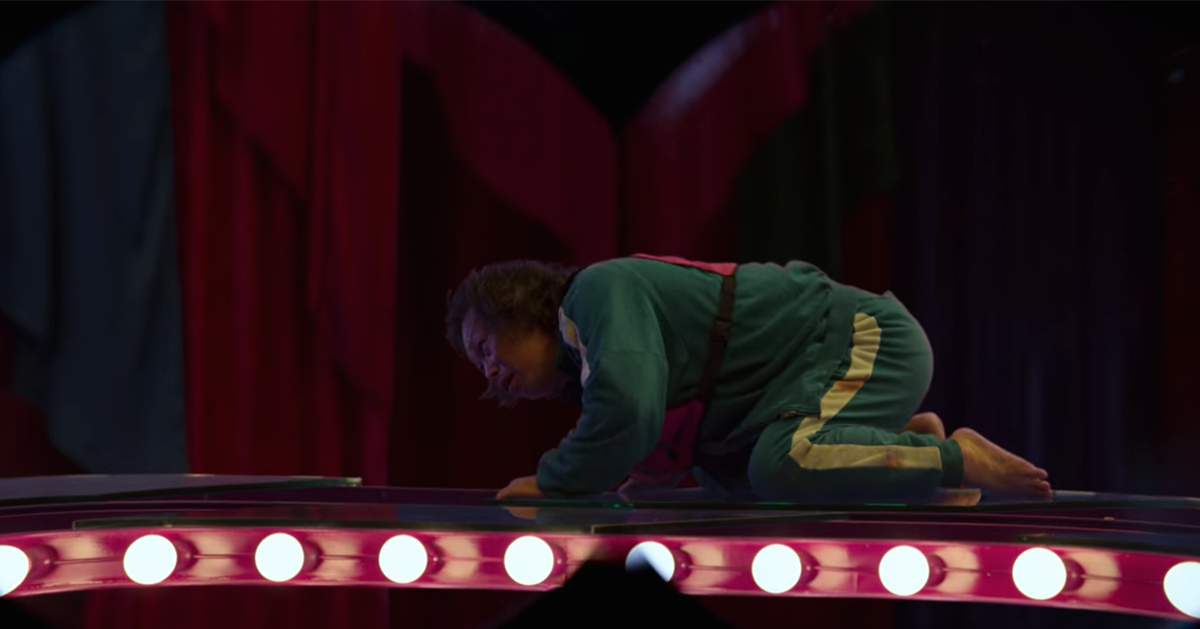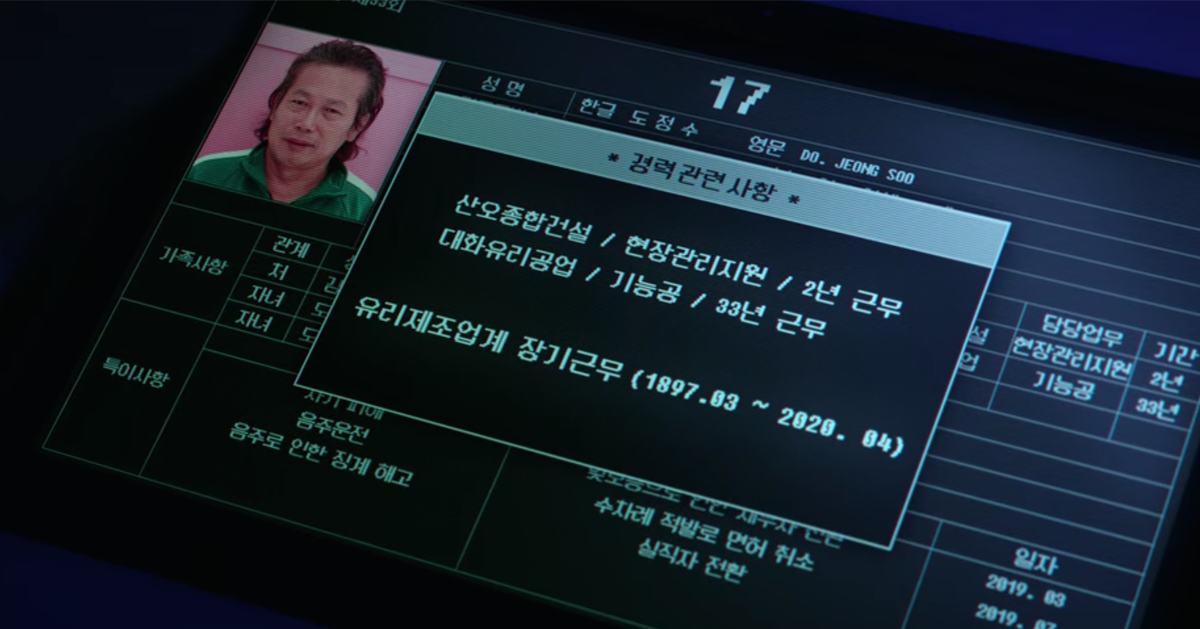 Source: Netflix Squid Game
I don't know if you noticed this part during the glass game episode of Squid Game. When Player 017's file was shown on the screen, it read "Long-term work in the glass manufacturing industry", but the year mentioned was 1897. This means he would have worked for 123 years!
TOP SCRERT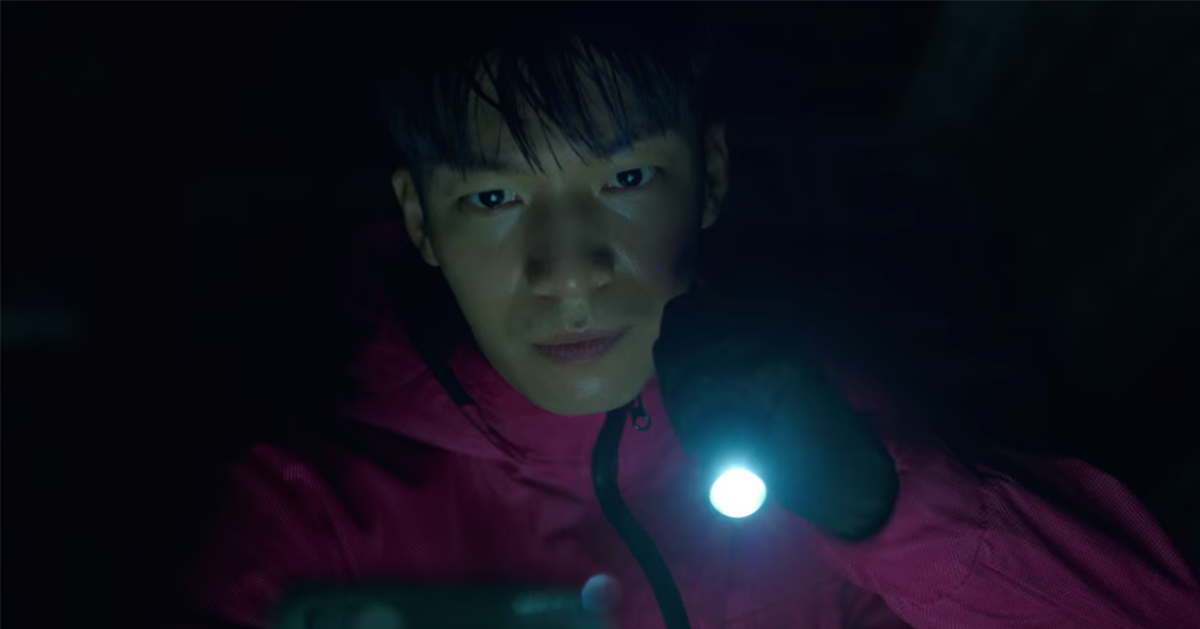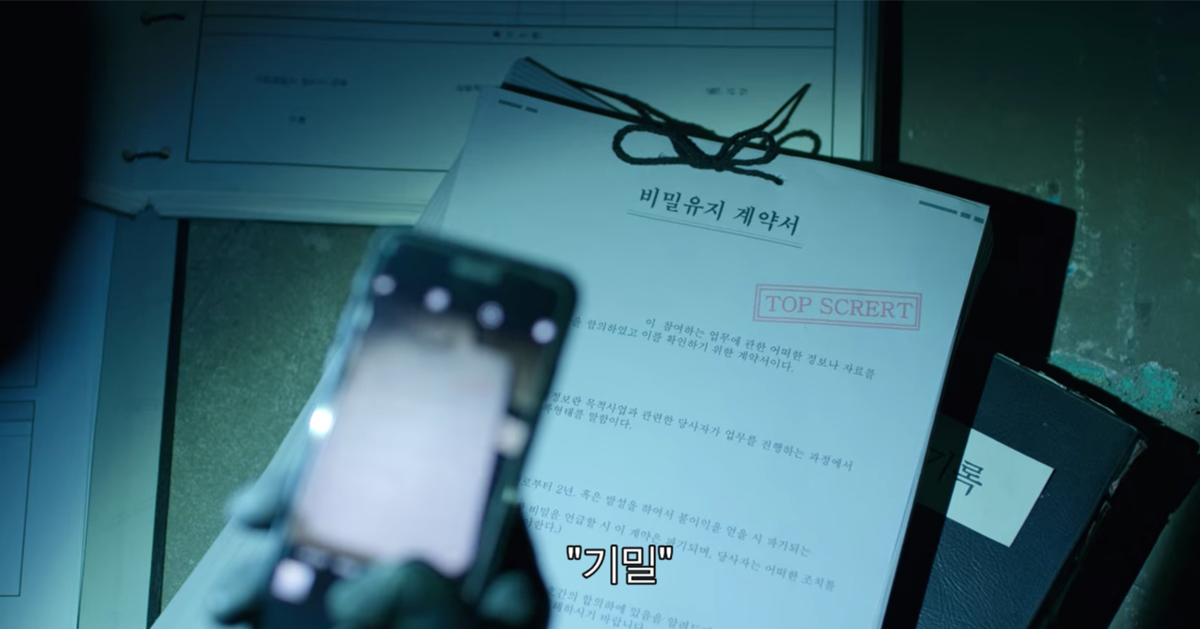 Source: Netflix Squid Game
When the police officer Jun-ho broke into the game organizer's office and found the confidential files, a big English mistake can be seen. The SECRET of TOP SECRET is misspelled as "SCRERT". It's hard to make an excuse for this mistake.
---
Squid Game Controversy
Existing Numbers Shown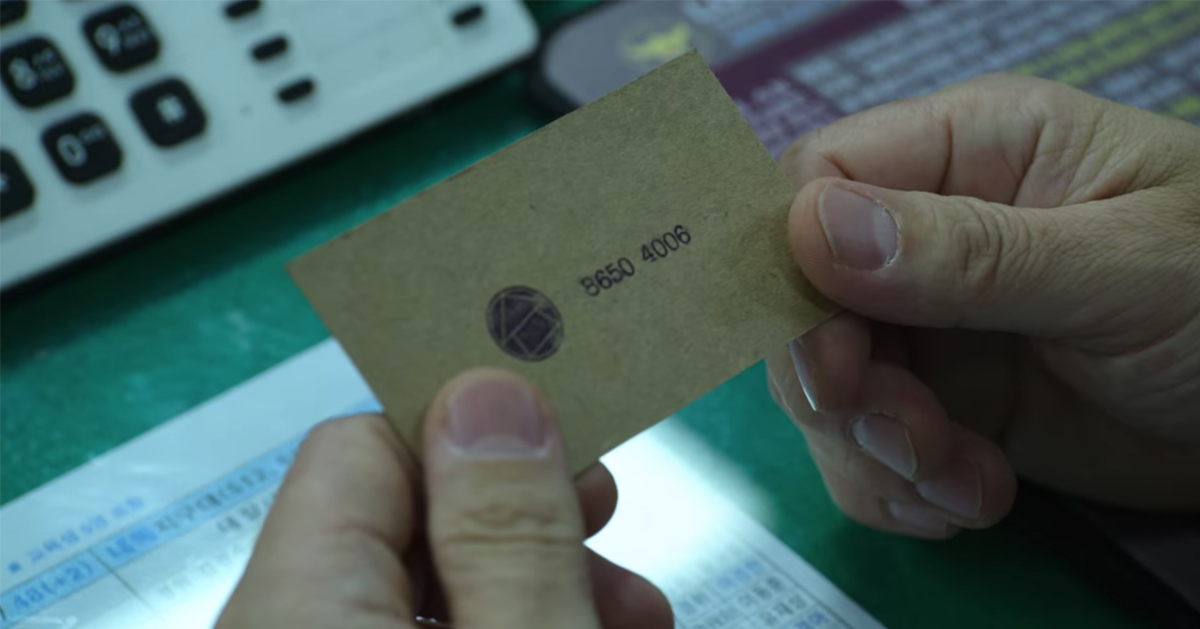 Source: Netflix Squid Game
In Squid Game, actor Gong Yoo makes a cameo and gives Gi-hun a business card. However, the phone number on the business card is actually someone's real phone number.
The owner of this number was bombarded daily by hundreds and thousands of calls. Netflix apologized and stated they will provide compensation of approximately 1 million to 5 million won (approx. 845 to 4,200 USD).
In addition, the bank account number shown in the show is also owned by a real person, but Netflix said that this was used after negotiation with the account owner, and there is no issue.
Plagiarism Accusations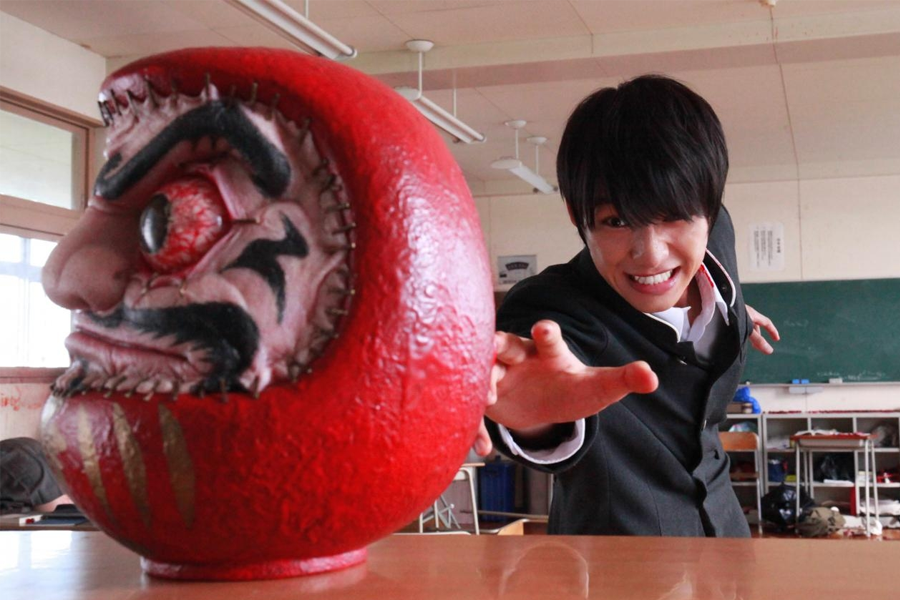 Source: As The Gods Will
After the release of Squid Game, many people said that the first game 무궁화 꽃이 피었습니다 (red light, green light) is quite similar to the first game of the Japanese movie As The Gods Will released in 2014, and that it is also similar to other survival movies.
There are some similarities with other survival game-type movies, which started the plagiarism controversy.
The director responded to the incident and stated the script of Squid Game was written as early as 2009 and denied any plagiarism. But in fact, it's only natural that these survival games are presented in a similar manner in different films, however, the aesthetics shown in Squid Game have become an unprecedented benchmark for this genre in Korea.
Large Installations In Itaewon Attracting Crowds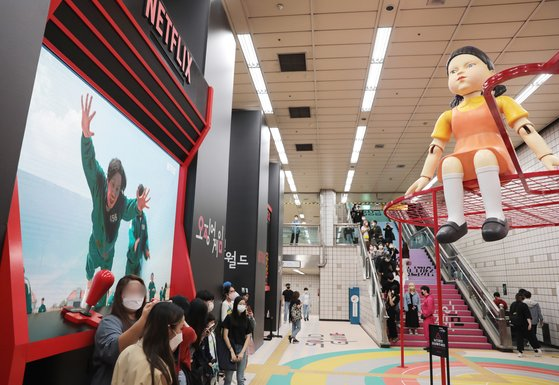 Source: Joongang Ilbo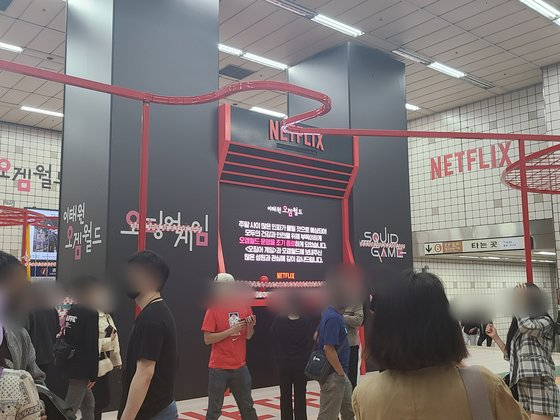 Source: Joongang Ilbo
A large, promotional Squid Game pop-up at Itaewon Station running from September 5th to the 26th caused a craze after the drama was broadcast. This led to a large influx of people visiting Itaewon Station, causing traffic, chaos, and crowds. In addition, the number of new COVID-19 cases in South Korea has reached a record high in recent days.
This kind of installation that encourages everyone to gather and take pictures has received criticism. The Netflix team finally closed the exhibition at Itaewon Station ahead of schedule on the 24th.
---
The above is the introduction of the hit Netflix series Squid Game.
Is everyone done binge watching it? Please feel free to share your thoughts with us in the comments and see you next time!
---