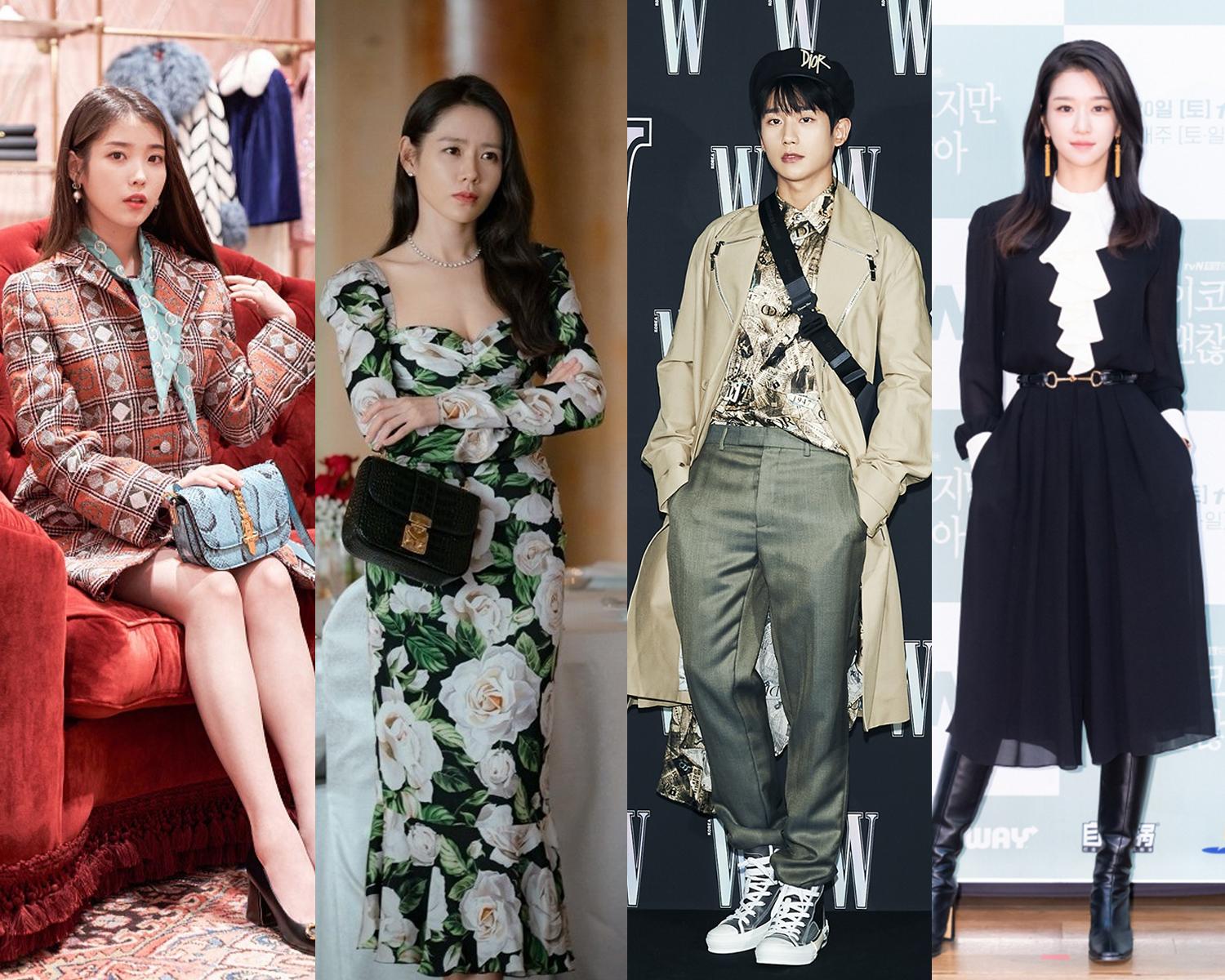 Many Korean celebrity outfits are often coordinated by stylists. But every now and then they are able to style their own clothes.
Generally the clothes Korean celebrities wear are from designer brands. These brands also have models to promote their clothes on the runway or in catalogues.
In this blog we hope to share how the same clothes can have different vibes depending on whether it is worn by an idol, actor, or fashion model!
---
IU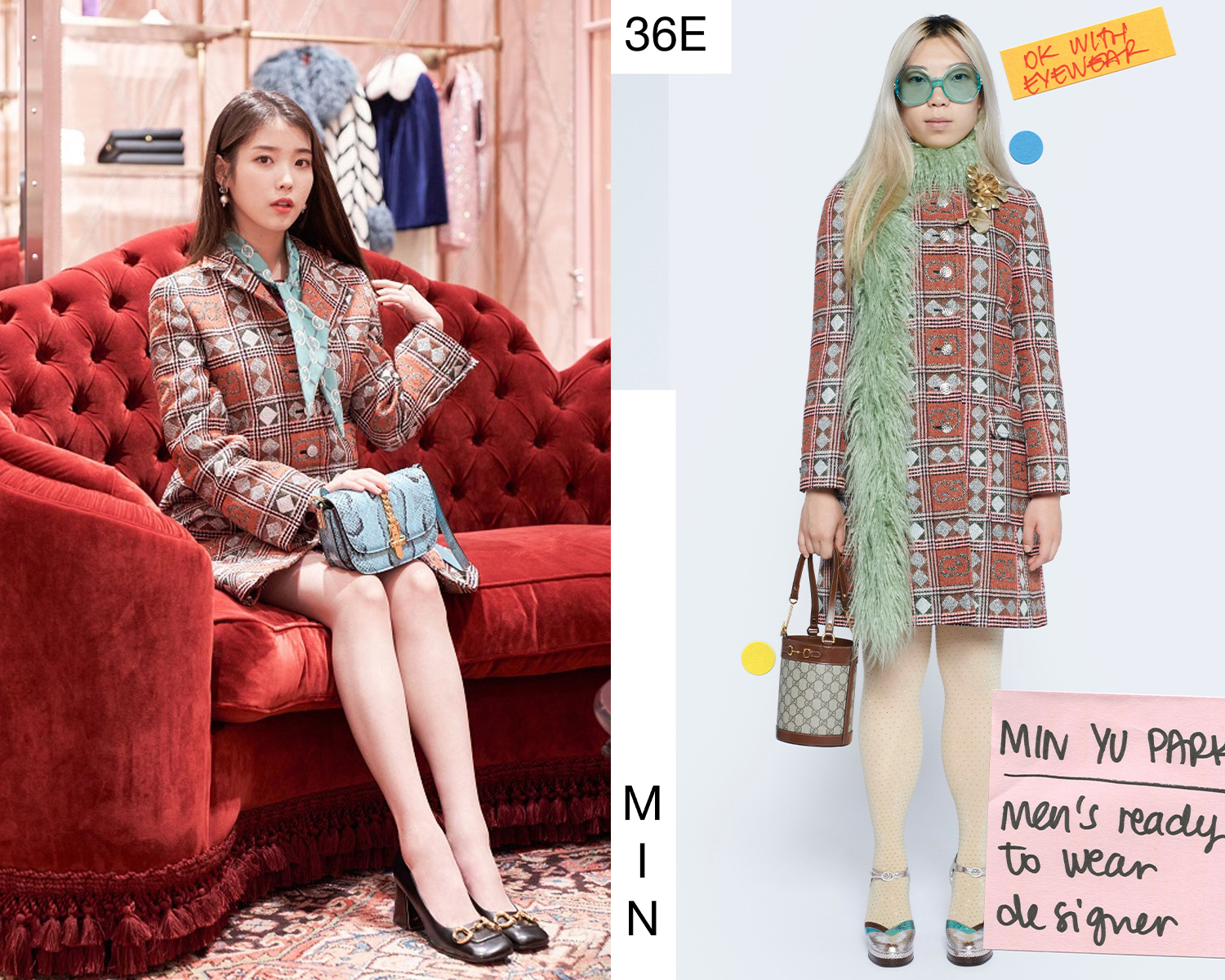 Brand: GUCCI
Price: About. 13 million KRW (Approx. 11,700 USD)
In 2020, IU visited Shinsegae Department Store Gangnam branch to celebrate the newly renovated women's Gucci store.
IU wore a brightly patterned tweed orange coat with the collar slightly open to expose the tie neckline of her lovely mint colored dress. She paired it with a high-end leather chain purse.
Meanwhile, the model that wore this look buttoned up the coat so the coat itself looks like a dress. They paired it with a mint feathered scarf, dot-print stockings, and metallic Mary Jane shoes.
Both looks are amazing, but give completely different vibes. While IU looks cute, and sophisticated, the model looks hip and trendy.
---
BLACKPINK JENNIE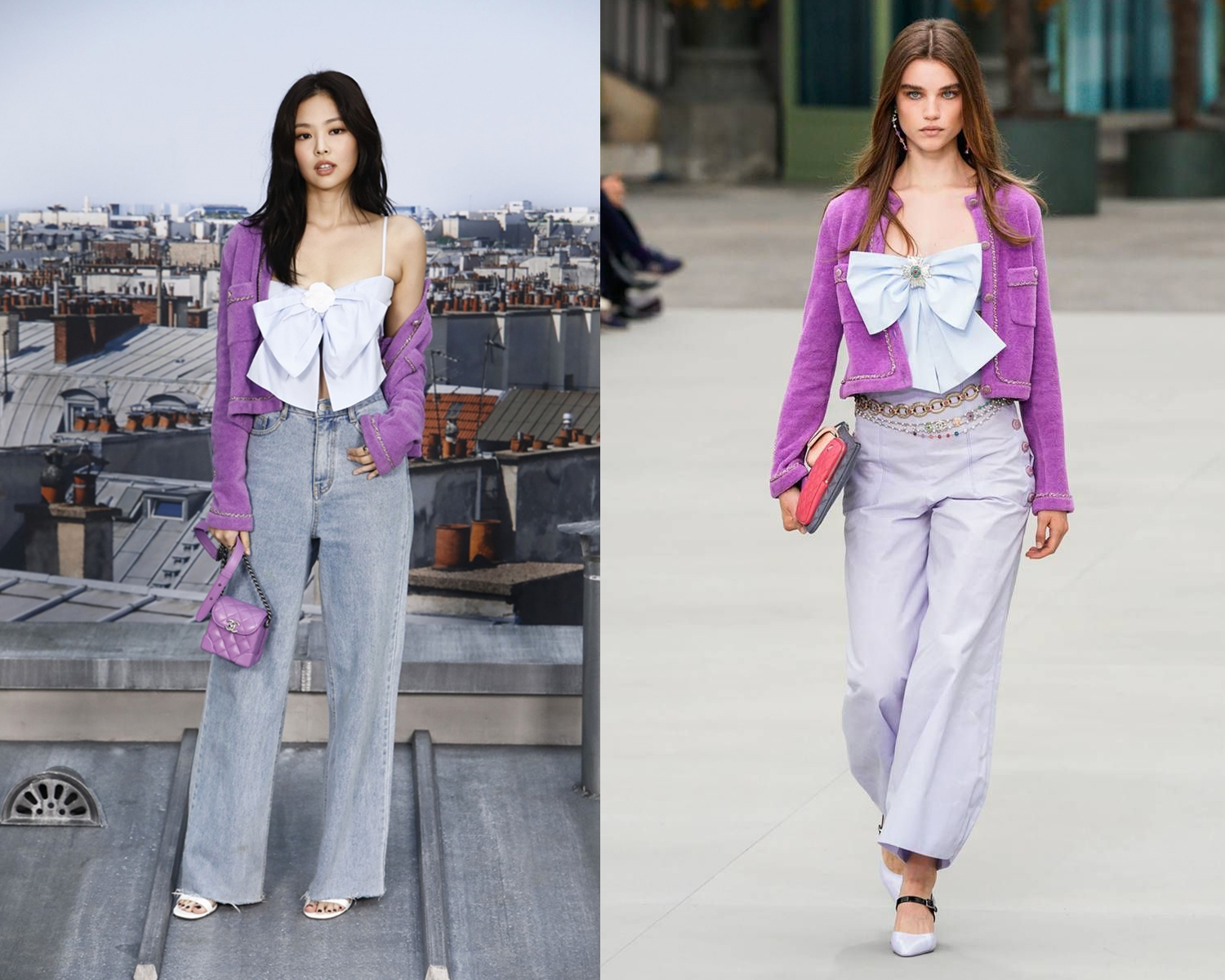 Brand: CHANEL
Price: Undetermined
As pictured above, Jennie from Blackpink is wearing a short purple jacket with a sky blue ribbon tank top underneath. One side of her jacket is slouched to expose some shoulder. Jennie paired the jacket and tank with high-waisted wide legged jeans.
Jennie's choice of accessories were white strappy heels, and a purple mini bag that matches the jacket.
The items Jennie wore are from Chanel's Cruise 2020 collection. On the runway, the model for this look paired the tank and jacket with wide legged pants in a lilac shade.
There is definitely more embellishment with the models's look because of the brooch, decorative chain belt, and vivid clutch.
---
EXO KAI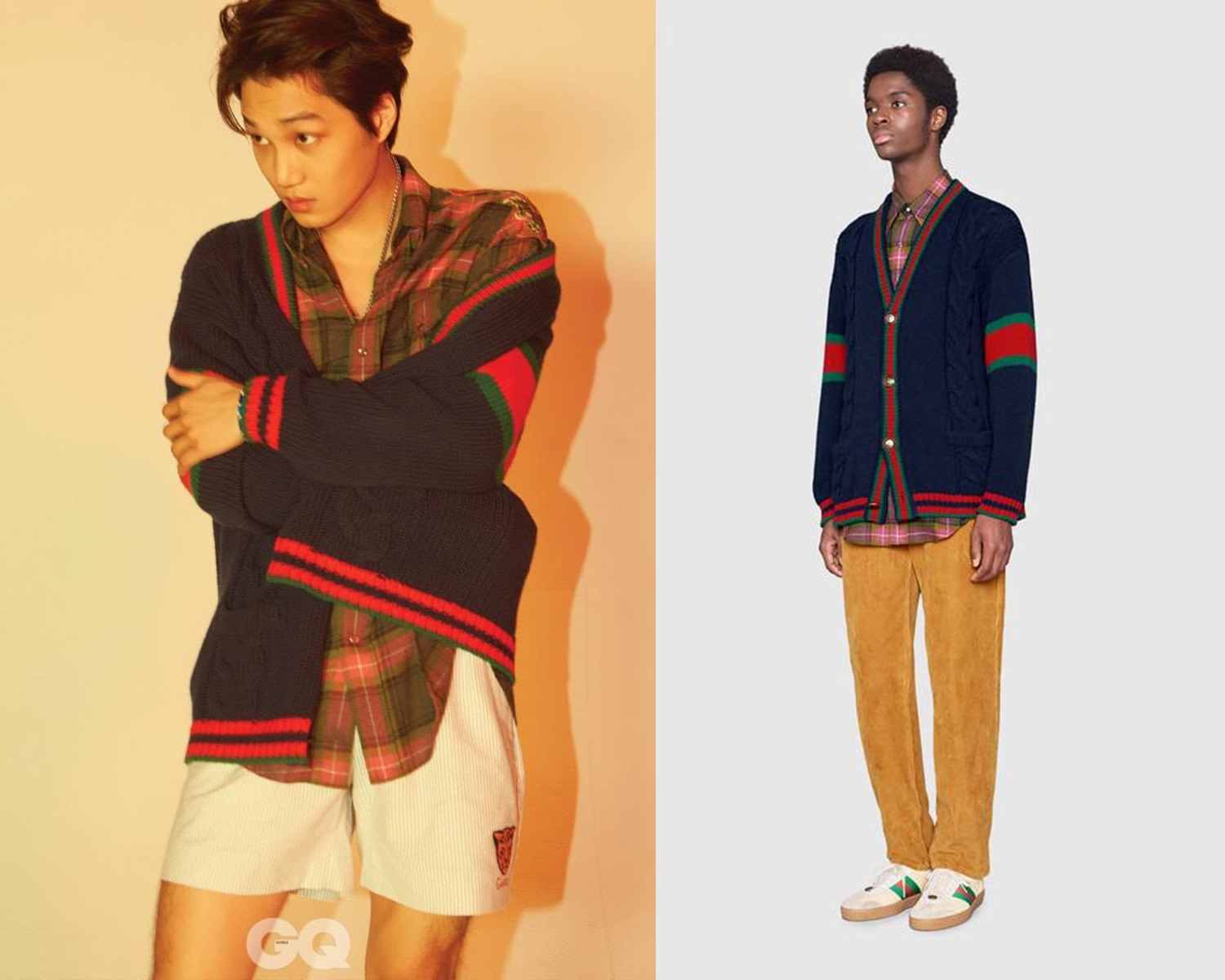 Brand: GUCCI
Price: About 1.5 million KRW (Approx. 1,300 USD)
Kai is found wearing Gucci in GQ magazine. He paired a pink and green plaid shirt with an overfit cardigan with Gucci's signature colors.
Gucci selected Kai as their first Korean male ambassador. You can really see why because of the way he is naturally stylish even in a simple outfit.
The Gucci model's look is gives similar comfortable vibes. But there is a bit of a difference that is chic in another way.
---
SHINEE

KEY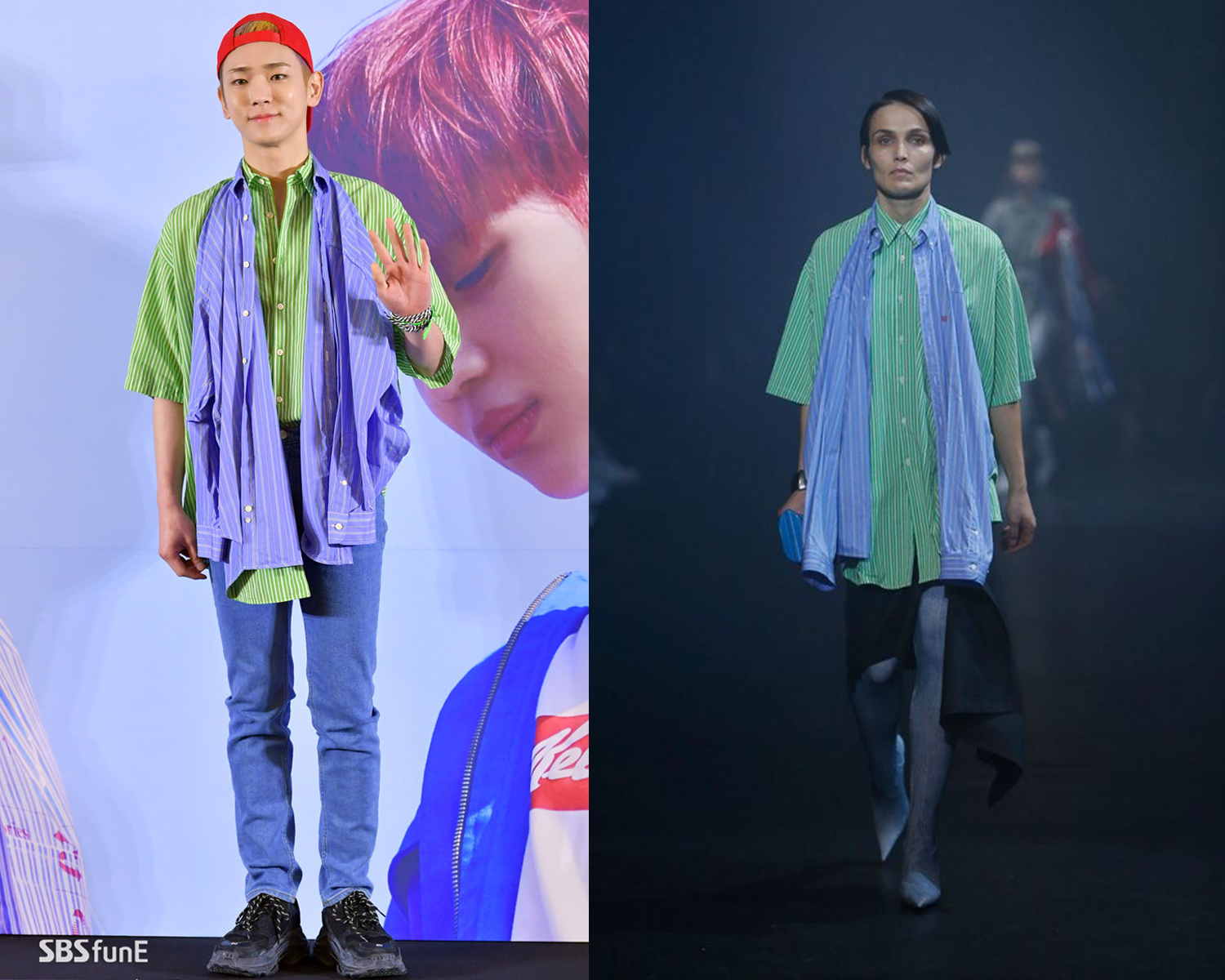 Brand: BALENCIAGA
Price: About 1.6 million KRW (Approx. 1,400 USD)
SHINee's Key is known as a fashion icon!
The shirt pictured above is part of Balenciaga's 2018 collection. This unique shirt is a combination of a short and long sleeve shirt. Many Korean's initial reaction was "who would wear this?"
Unexpectedly, Key wore this shirt and absolutely rocked it which shocked many people! He styled it simply with jeans, black sneakers and a red snapback.
The shirt was initially released as part of the women's collection. But Key proved that it can look good on anyone regardless of gender.
---
JUNG HAE-IN
Brand: DIOR
Price: Undetermined
Actor Jung Hae-in attended an event held by W Korea magazine in Dior. This look, that generated a lot of buzz, featured a printed shirt under a khaki trench coat.
The highlight of this outfit was the beret. Jung Hae-in showed off his fashionable side that has not been commonly seen before.
Jung Hae-in's look is similar to the model with the exception of his converse and cross-body bag that gave Jung Hae-in a more rugged look.
Meanwhile the Dior model wore leather shoes, and velvet gloves which gives more formal vibe.
---
SON YE-JIN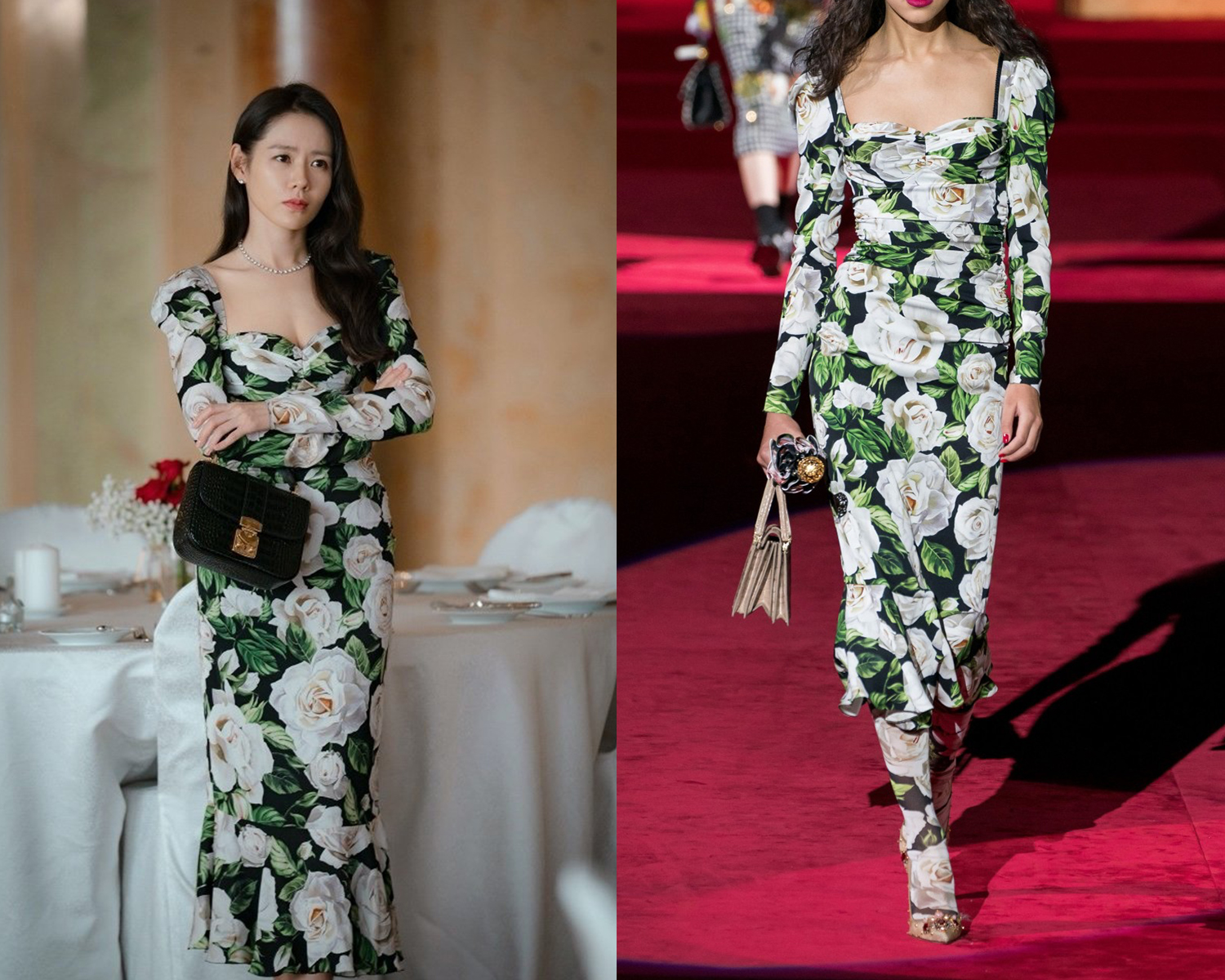 Brand: DOLCE&GABBANA
Price: 3.80 million KRW (Approx. 3,400 USD)
Son Ye-jin played the role of fashion forward Yoon Se-ri in Crash Landing on You. When she wasn't hiding out in North Korea, Yoon Se-ri was always in vibrant and bold outfits. For example the dress pictured above!
The fitted dress with large rose prints is from Dolce & Gabbana. The bold neckline, and unique hemlines adds a level of elegance for both Son Ye-jin and the runway model.
This dress seems like it was custom-made for Son Ye-jin. She looks gorgeous and sophisticated with the added pearl necklace and black purse.
---
MOON GA-YOUNG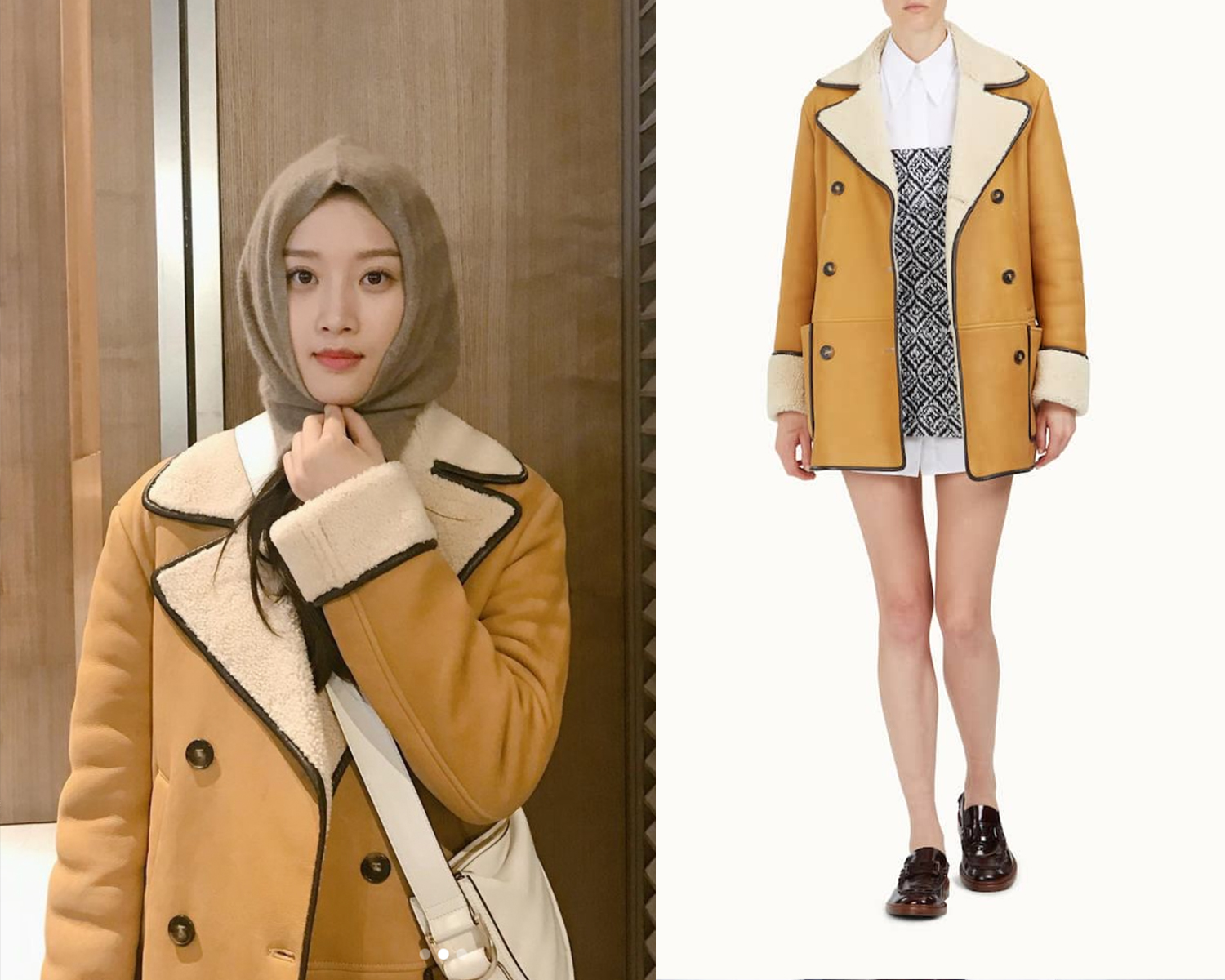 Brand: Tod's
Price: About 8 million KRW (Approx. 7,100 USD )
As featured in K-drama True Beauty, Moon Ga-young wore a Mustang half coat from Tod's.
In the drama Lim Ju-kyung is a high-school student, so Moon Ga-young wore this luxury coat in a cute but toned down manner.
Meanwhile the catalogue model is seen wearing this coat with a black and white printed mini dress and loafers which gives a more retro vibe.
This coat can appear vintage and like from the 1970s but we love seeing models today revive it.
---
GONG HYO-JIN
Brand: Vetements
Price: About 1.5 million KRW (Approx. 1,300 USD)
This retro-style dress is fitting for the old-timey atmosphere of Ongsan in K-drama When the Camellia Blooms. The flower print dress is from luxury brand Vetements.
This high-end dress was probably unrealistic for the character, Dong-baek, but we are willing to overlook this detail since she looks amazing and suits her personality.
Upon first glance of the catalogue model, this dress does not seem so special. But when worn by Gong Hyo-jin it is transformed!
In fact, it seems like all of Gong Hyo-jin's outfits in this drama are popular.
---
SEO YEA-JI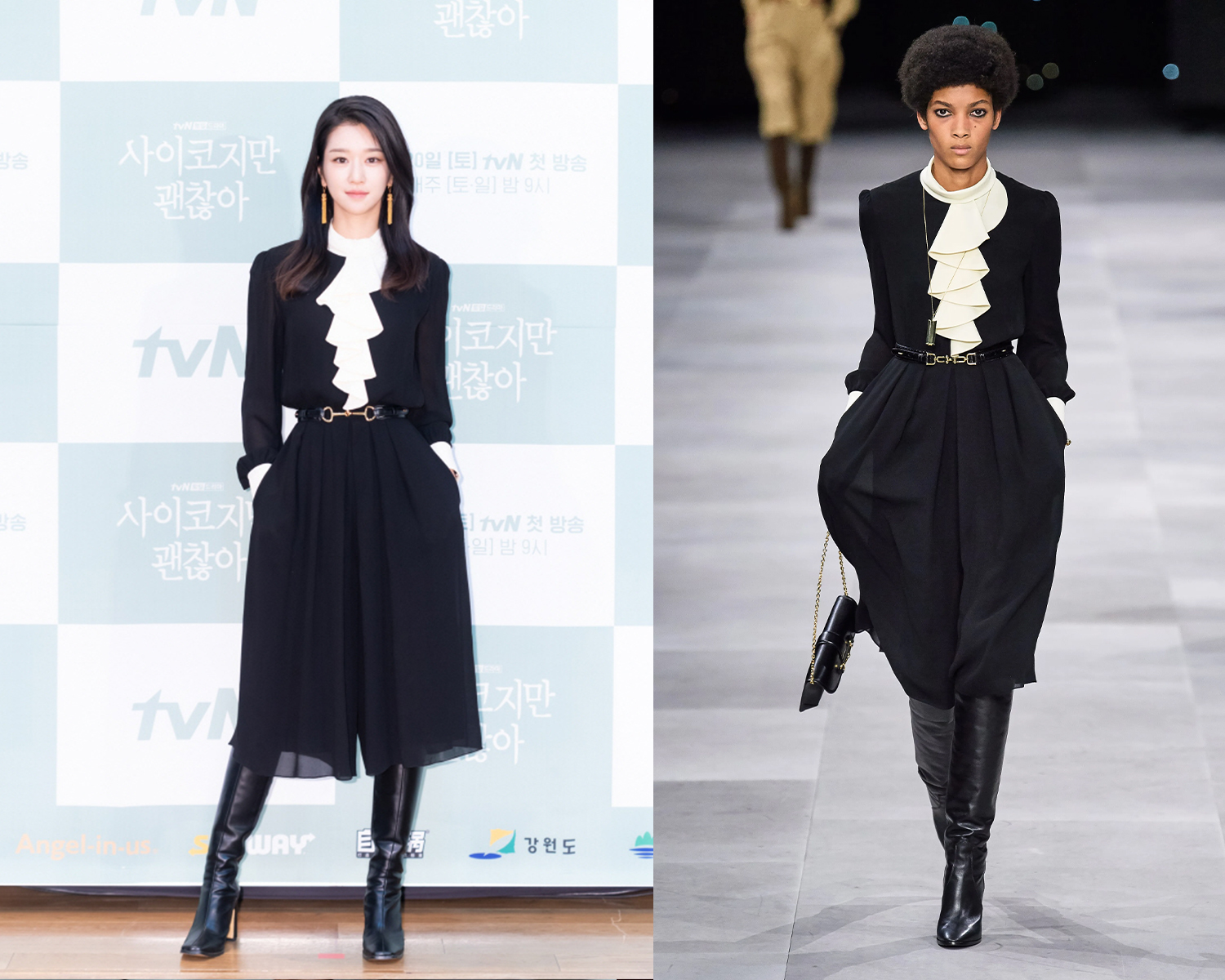 Brand: CELINE
Price: Undetermined
Korean actress Seo Yea-ji wore a black and white jump suit to a press conference for K-drama It's Okay to Not Be Okay. This jump suit was part of Celine's 2020 Spring/Summer collection.
The white cuffs, and ruffling make it look like a chiffon blouse paired with wide-legged pants
Both the model and Seo Yea-ji look elegant and sophisticated in this outfit paired with black leather boots. But we think that the added touch of bold earrings gives Seo Yea-ji's just a touch more charisma.
---
KIM GO-EUN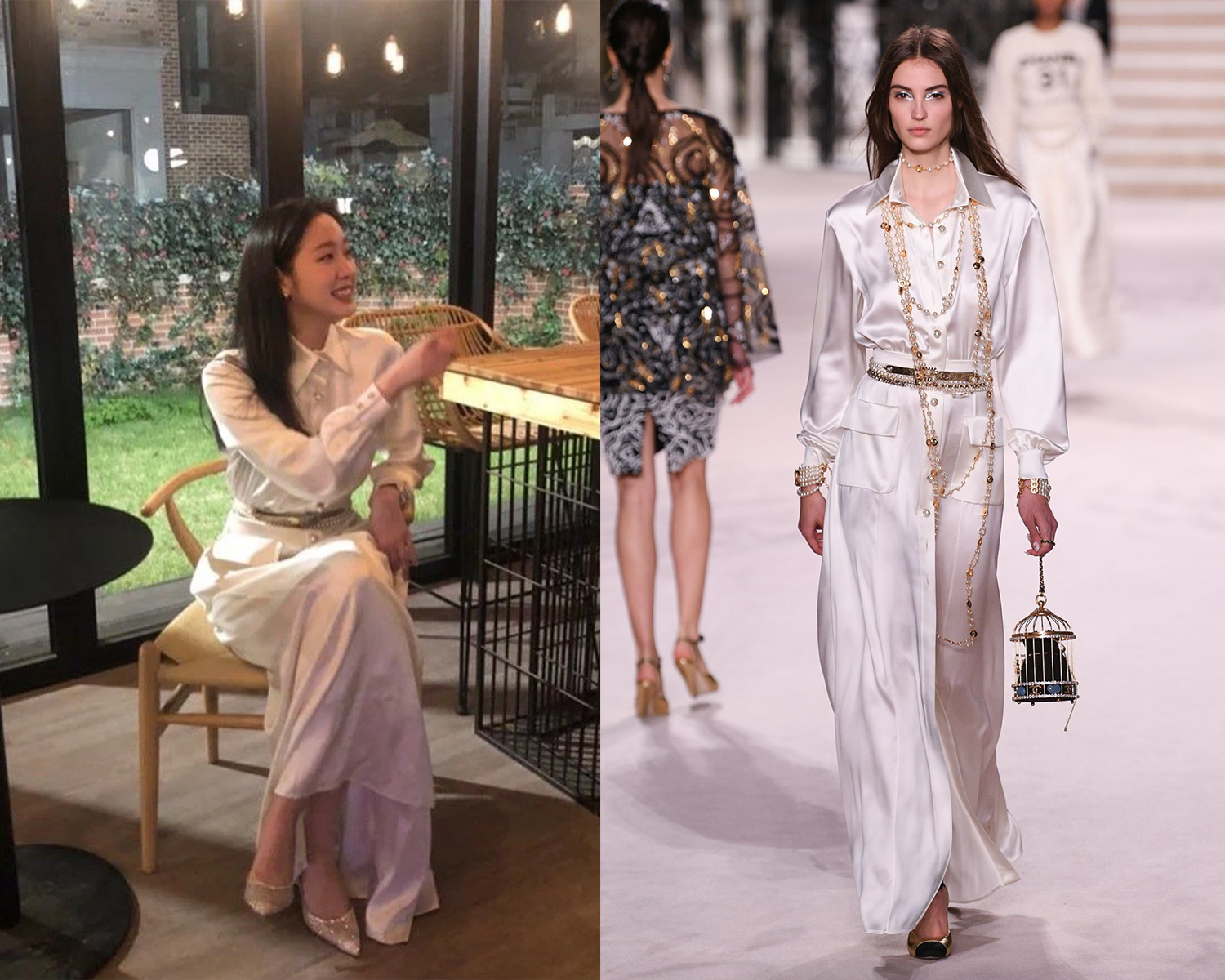 Brand: CHANEL
Price: Undetermined
This dress worn by Kim Go-eun in the last episode of The King: Eternal Monarch became super popular. Many people thought she looked like an absolute goddess.
The flowy white dress was part of Chanel's 2020 Pre-Fall collection. The way the material falls make this dress look that much more luxurious.
Kim Go-eun accessorized this cream-colored dress with a gold belt and shoes. This just added to her alluring innocent charm.
While the model had more touches of color with a bold pearl necklace and chunky bracelets. The touches of sparkly eyes add to the glamor.
---
Today we compared the looks of Korean celebrities and the brand models!
All the styles had their own merits and charms therefore making it difficult to determine which was better.
If you enjoyed these looks, please leave a comment below. Let us know which looks you all preferred!