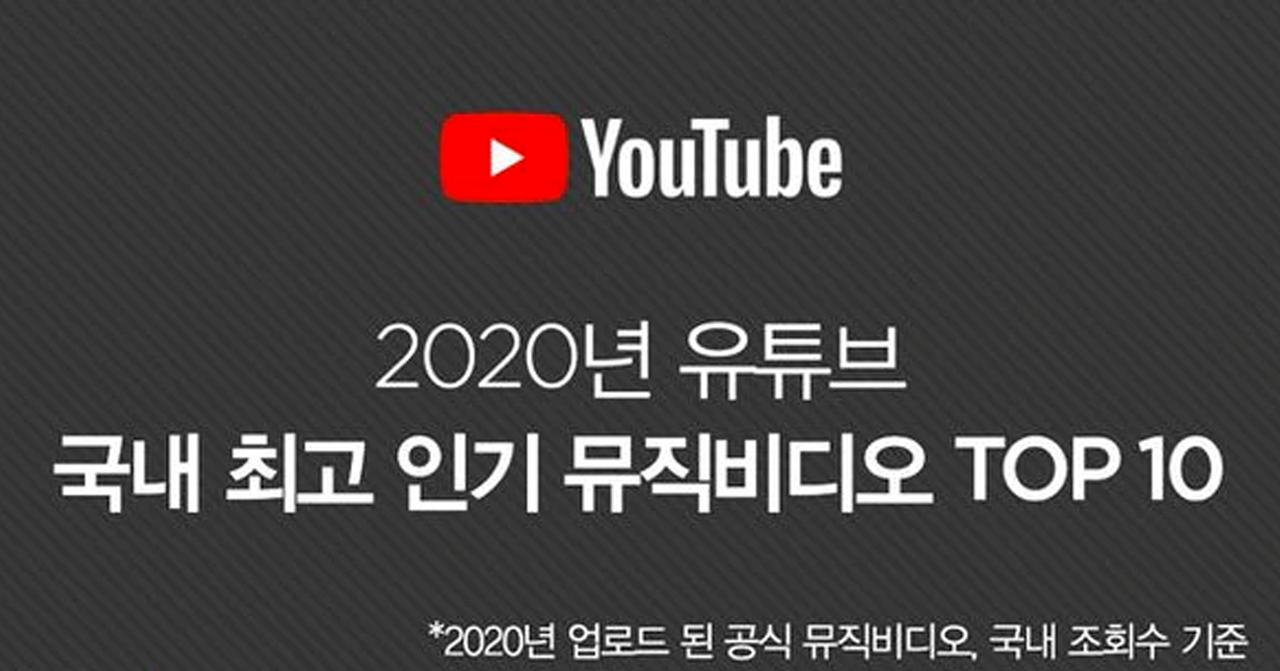 Some people think that YouTube is just for videos of cats.
But it is actually a great destination for fans to interact with their fellow fans as they watch highly anticipated music videos released by their favorite artists.
So let's take a look at the music videos released for the top 10 songs in Korea for 2020.
All music video totals are current as of December 9th, 2020.
---
OH MY GIRL - NONSTOP


오마이걸 - 살짝 설렜어
Views: 52,6155,823
OH MY GIRL has had a long climb to popularity. Formed in 2015, they have focused a lot of their effort on establishing a huge presence in Japan as well as Korea.
Fans are happy to finally see them join the mainstream music scene and explode in popularity.
2020 was a breakout year for them as they released 2 really popular singles, Nonstop and Dolphin.
---
BLACKPINK - LOVESICK GIRLS


Views: 280,878,711
The lyrics are about recovering after a breakup, which would usually be a depressing topic. But BLACKPINK sings it with such an upbeat, catchy melody.
It's so easy to sing along and there are a lot of opportunities for each member to shine as both Jennie and Lisa get rap verses, Jisoo and Rosé get some tingle-inducing solos.
---
NA HOON-A - MR. TES!


나훈아 - 테스형!
Views: 12,197,880
You may not have heard of him before, but he is an incredibly popular singer in Korea.
His popularity exists primarily outside the realm of YouTube as his key fan base is mostly older men and women. But 2020 was his comeback year as he released, "Mr. Tes!"
Apparently, he once sold out 16 concerts in 10 minutes? Which is pretty impressive for any singer.
He was scheduled to make a return to the concert stage in 2020, but COVID-19 dashed all those plans.
---
CHO JUNG SEOK - ALOHA




조정석 - 아로하
Views: 18,993,329
This song is actually really old. It was released in 2001 and has been covered countless times by everyone from Apink to Davinchi.
But the one that skyrocketed it to popularity in 2020 was the cover performed by Cho Jung Seok for the drama Hospital Playlist.
---
ITZY - WANNABE
Views: 244,909,119
From the minute that the opening beat comes in, you can feel the power of this song. It isn't a normal girly pop song.
There are also a lot of positives to say about the dancing! It looks and feels aggressive and difficult. Personally, as someone who cannot and never could dance, I can only watch in amazement.
---
IU - EIGHT FEAT. SUGA
Views: 107,022,037
The combination of IU's fantastic singing talent and Suga's great production skills are unbeatable!
This song remained consistently popular on the Melon charts. People really enjoyed the melody and Suga's rap section.
---
BLACKPINK - HOW YOU LIKE THAT
Views: 683,173,259
Of course, BLACKPINK had many popular songs this year with the release of their long-awaited full album.
This one is much more aggressive than "Lovesick Girls," which we mentioned earlier. It is much more stylish and can really pump you up for the day.
---
BTS - ON
Views: 298,662,884
Even though the music video is considered "simple" compared to other groups (it is all filmed in one location), BTS did their best to create a phantasmagorical video against the backdrop of a gray dam.
It is quite charming, isn't it?
---
ZICO - ANY SONG


지코 아무노래

Views: 72,261,585
This song was made even more popular because it sparked a dance challenge on Tik-Tok.
This song was extremely catchy from the moment it was released and has remained consistently popular.
Even though I'm not good at dancing, I've tried the dancing challenge myself. Have you?
---
BTS - DYNAMITE
Views: 674,563,729
I don't think anyone is surprised that the most popular song of 2020 was from BTS. They are perennial the most consistent chart-topping idol group.
"Dynamite" is an all-English song and has achieved popularity even in Western countries.
It is ranked on the Billboard hot 100 chart in America. Fans around the world are happy to have a song that they can sing every word to.
---
These were the top 10 most popular songs in Korea for the year 2020 according to YouTube view counts!
How many have you heard? Were you surprised that some of your favorites weren't on the list?