A Guide To Must-Visit Cafes In Daegu In 2021
Cute, Adorable And Insta-worthy Cafes In Daegu That You Don't Want To Miss!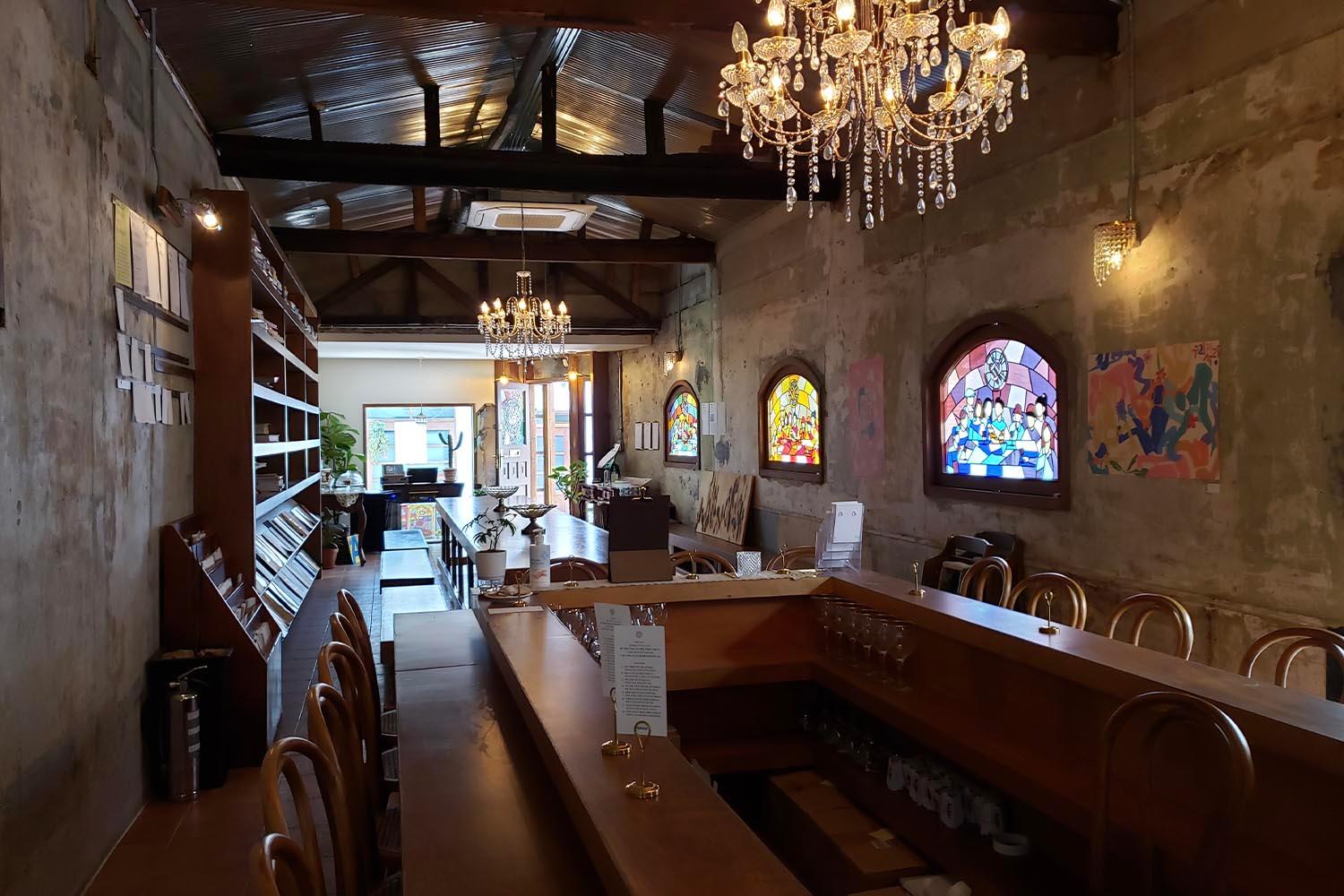 Did you know that Daegu is a famous destination for 'cafe tour'? Korean locals visit Daegu for authentic and trendy cafe vibes, desserts and drinks.
Today, I have brought a full list of twelve cafes in Daegu that you must visit!
---

Address: 대구 중구 동성로12길 51
Hours: 12:00-21:00
Offer: 20% off beverages. Click here to claim your coupon!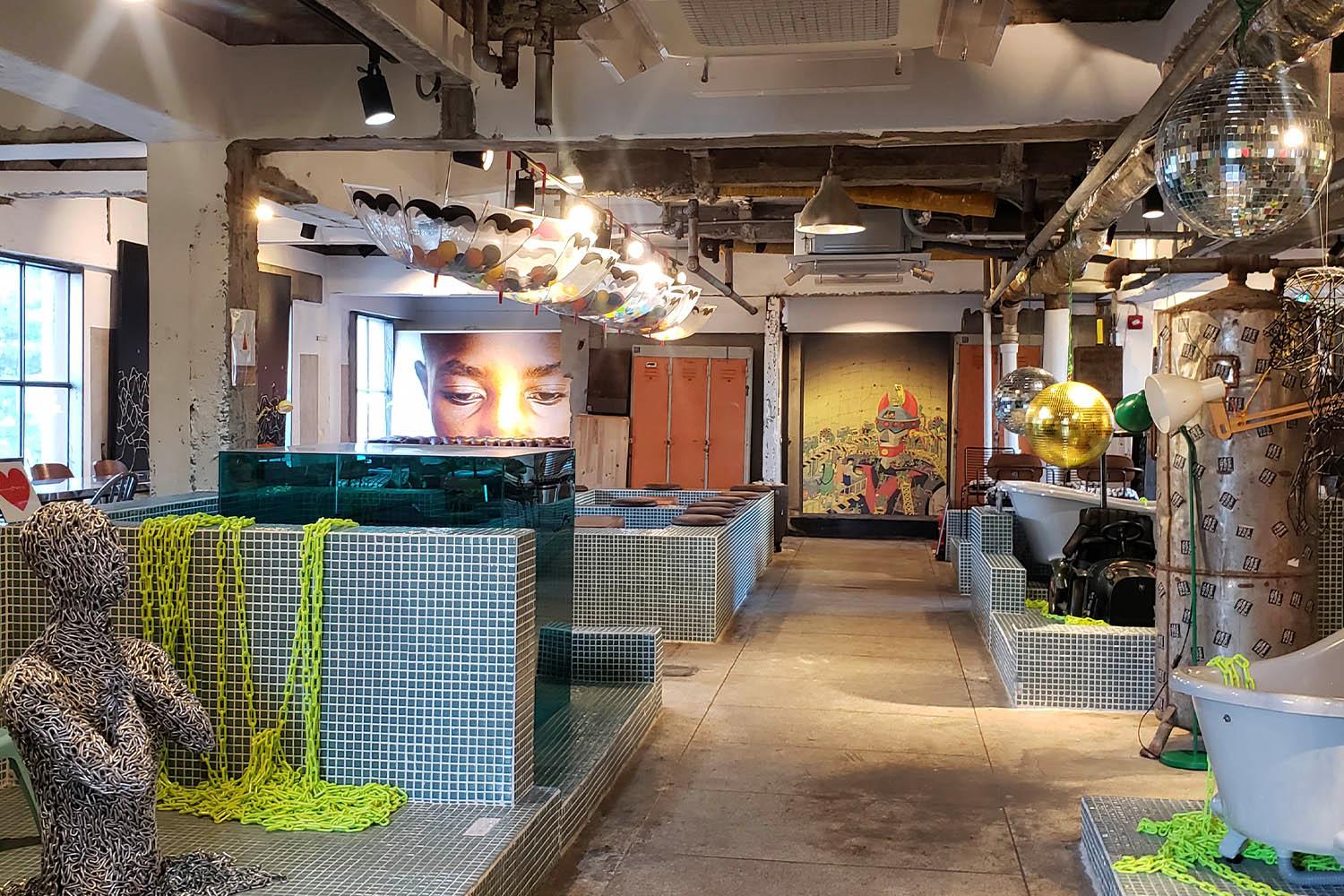 This cafe reminds me of a modern art gallery!
Previously, Mounhowazhang used to be a motel and sauna. The whole building has been refurbished into a cafe where you can enjoy both art and coffee.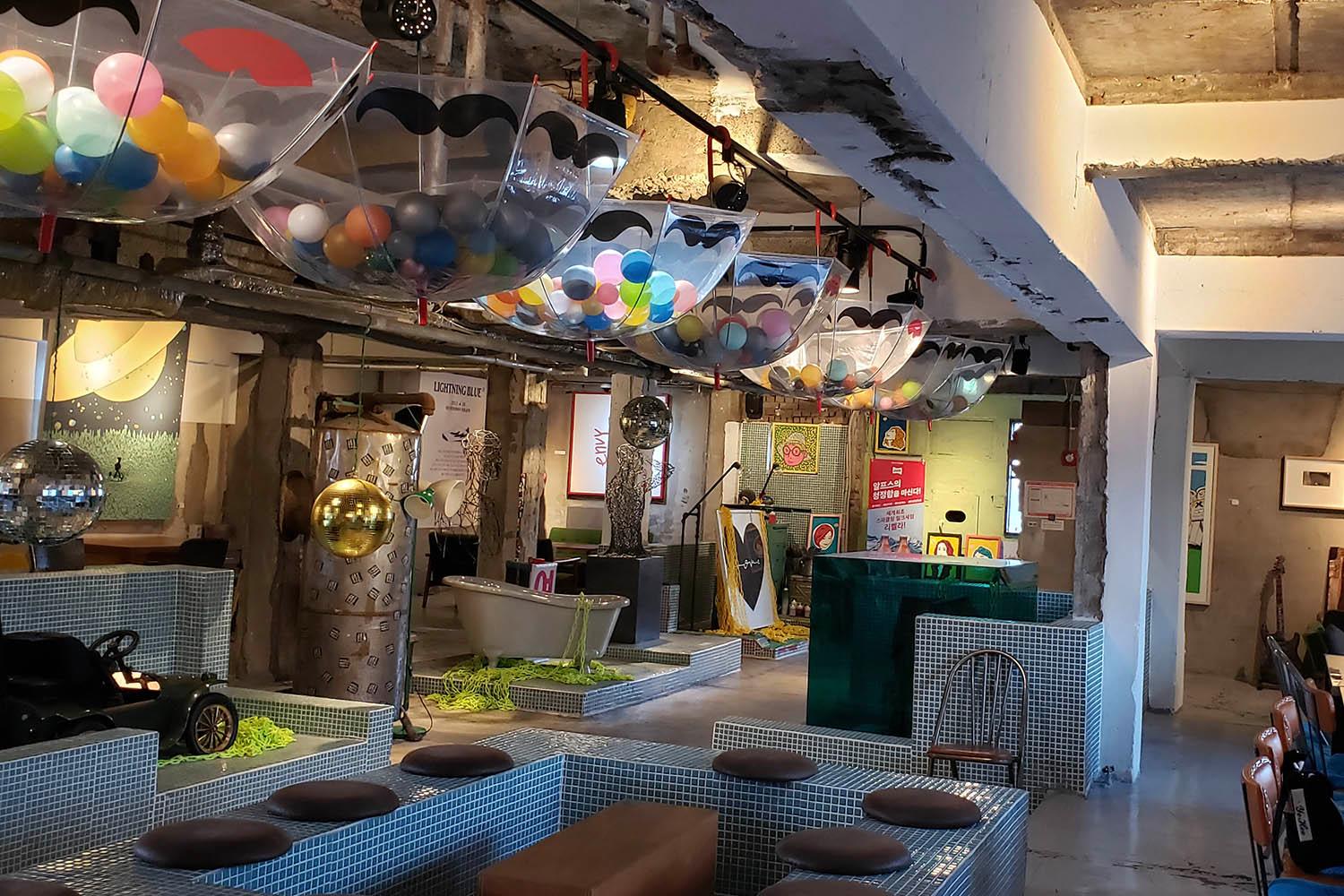 There are plenty of photo spots where you can take one-of-a-kind photos for your Instagram. (Noone will notice that you are visiting a cafe from the picture!)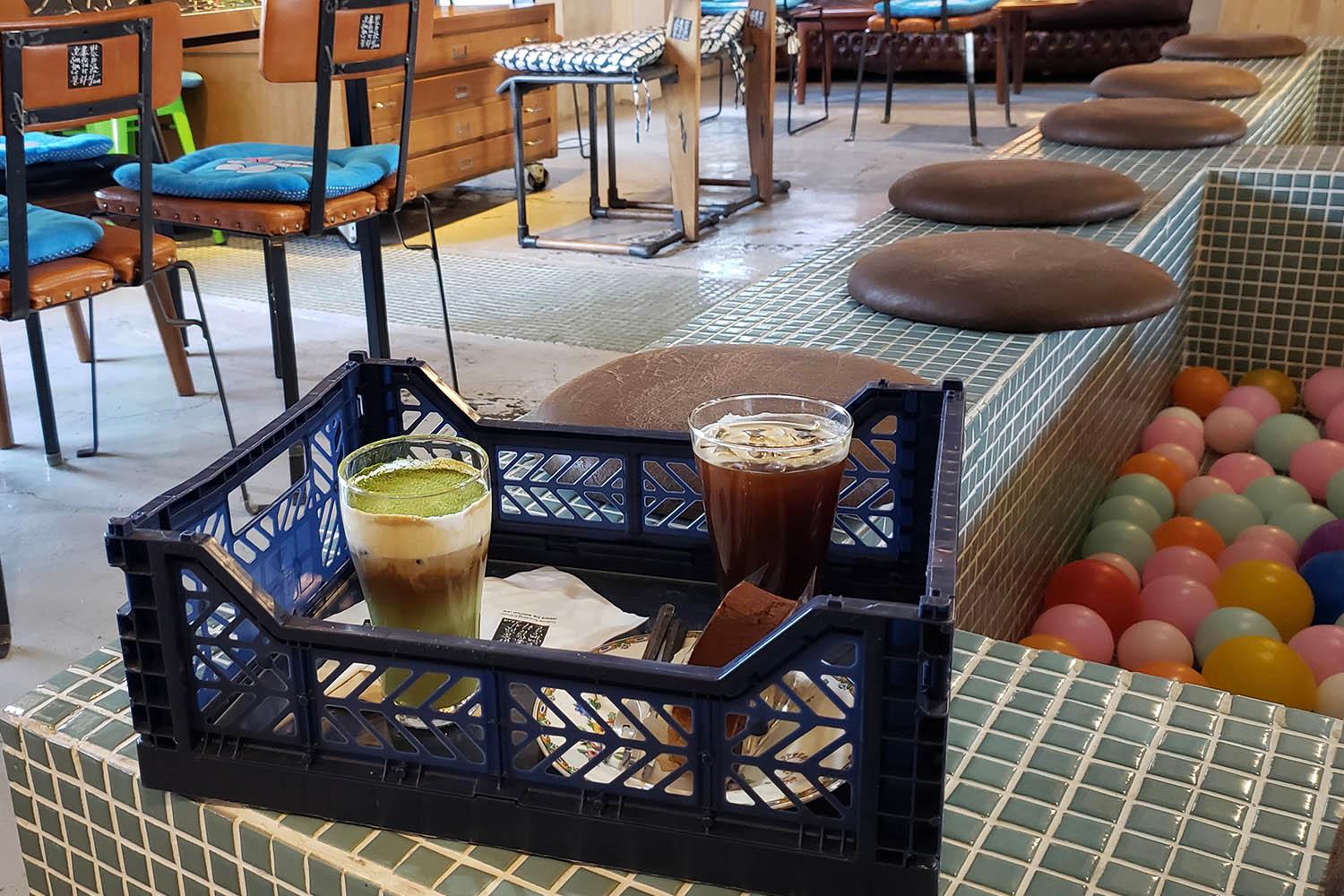 From Mounhowazhang, my friend and I have ordered the cafe's signature drink, which is the triple matcha latte, iced americano and tiramisu roll cake.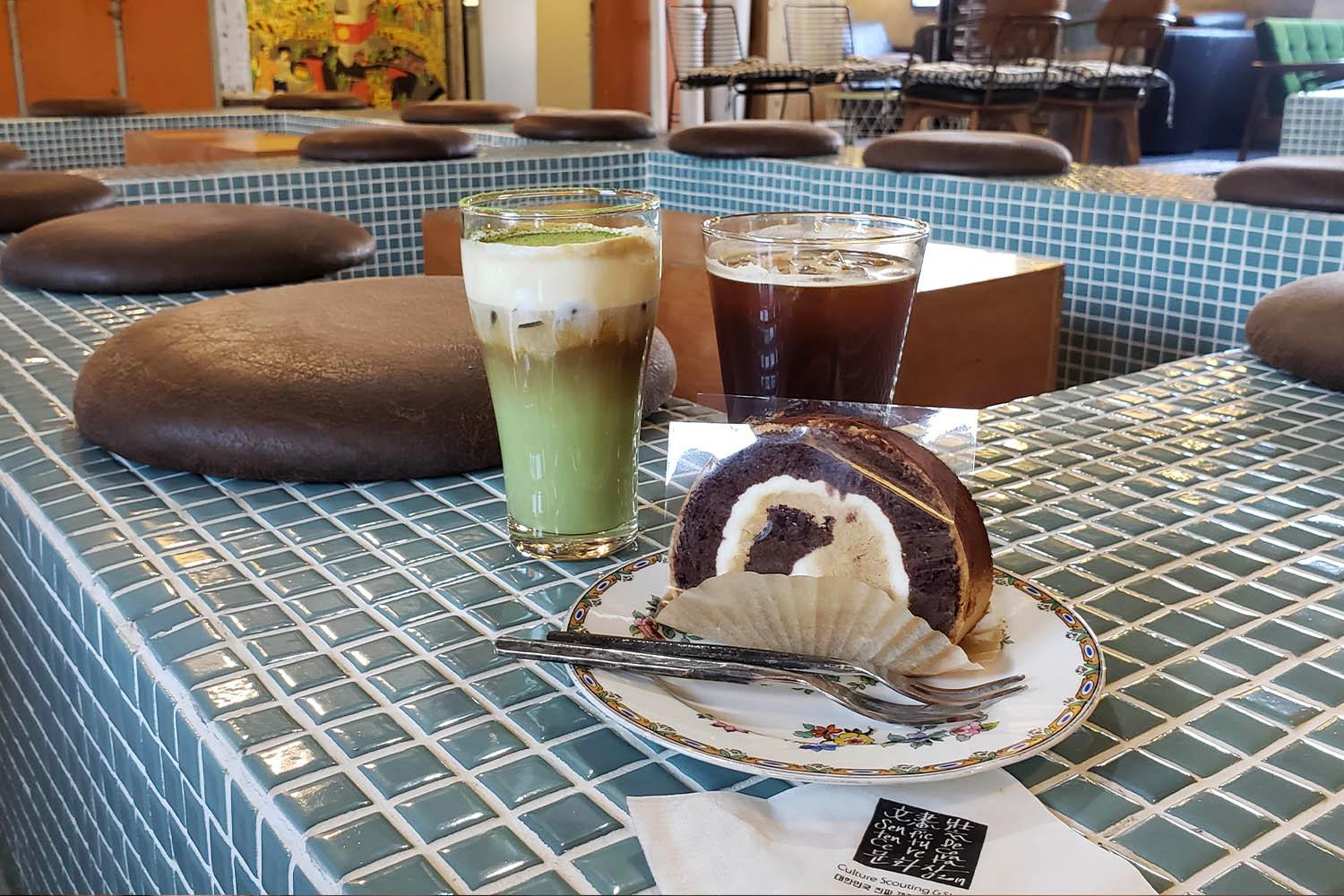 The triple matcha latte was exceptional! It tasted like an einspänner, but it matcha version. The soft cream on top wasn't too sweet which made the drink perfect.
I would definitely recommend trying this drink out when you visit Mounhowazhang.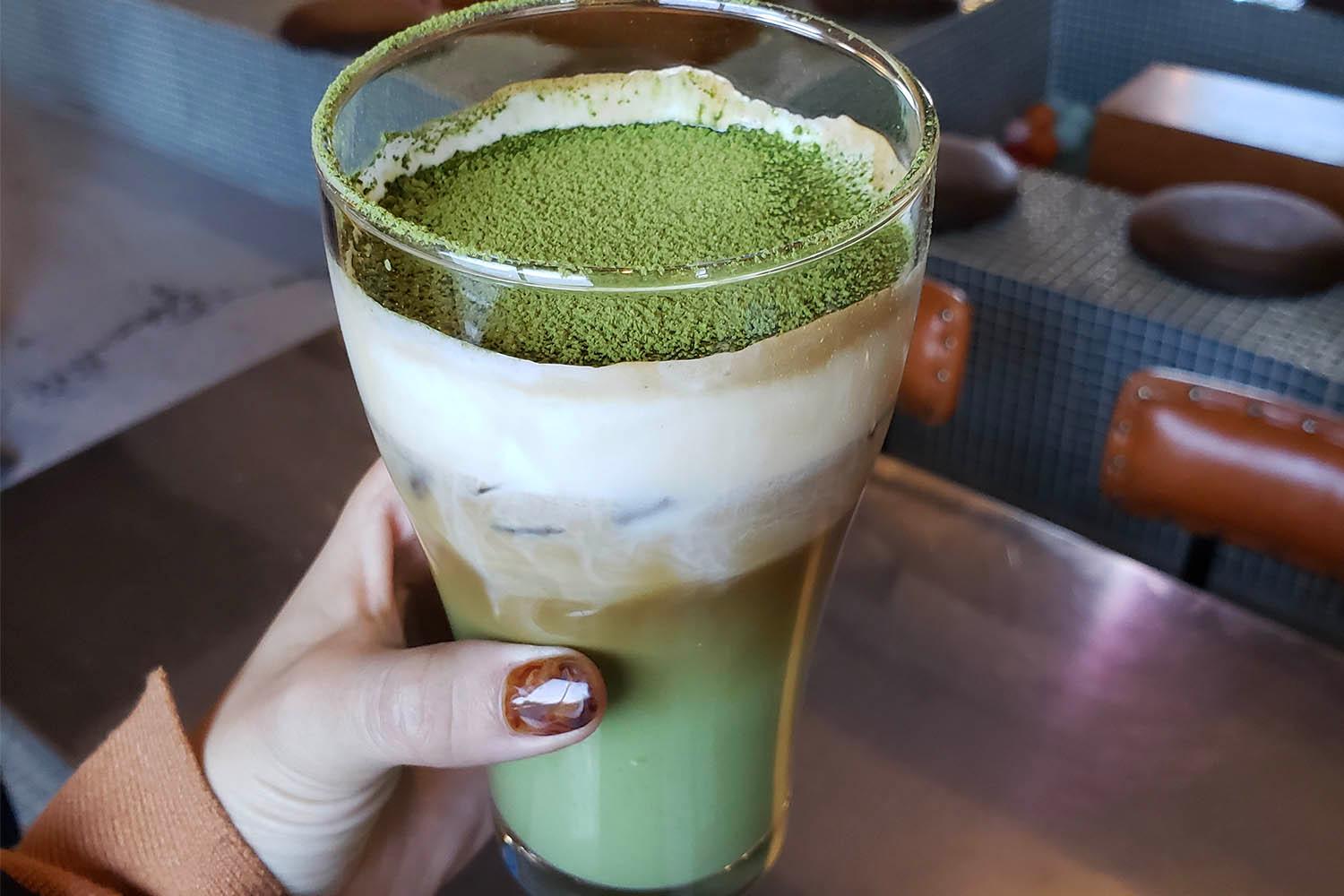 The cafe is in a four-storey building; you will be amazed by the size of the cafe! When you go up to the third floor, you can see several small rooms that are decorated differently!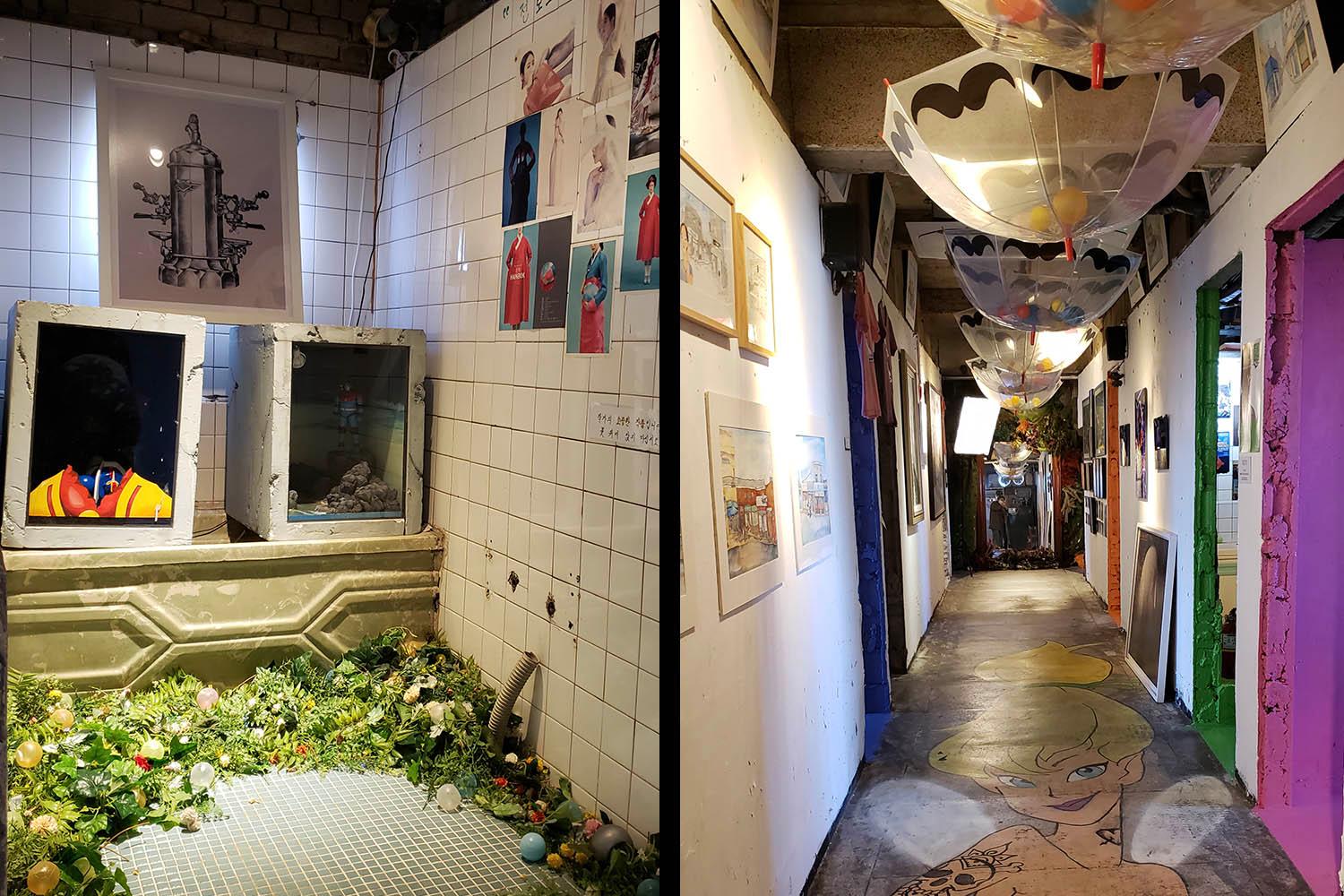 There are lots of choices! Pick your favourite before you sit down and start your coffee & chat journey with your friends.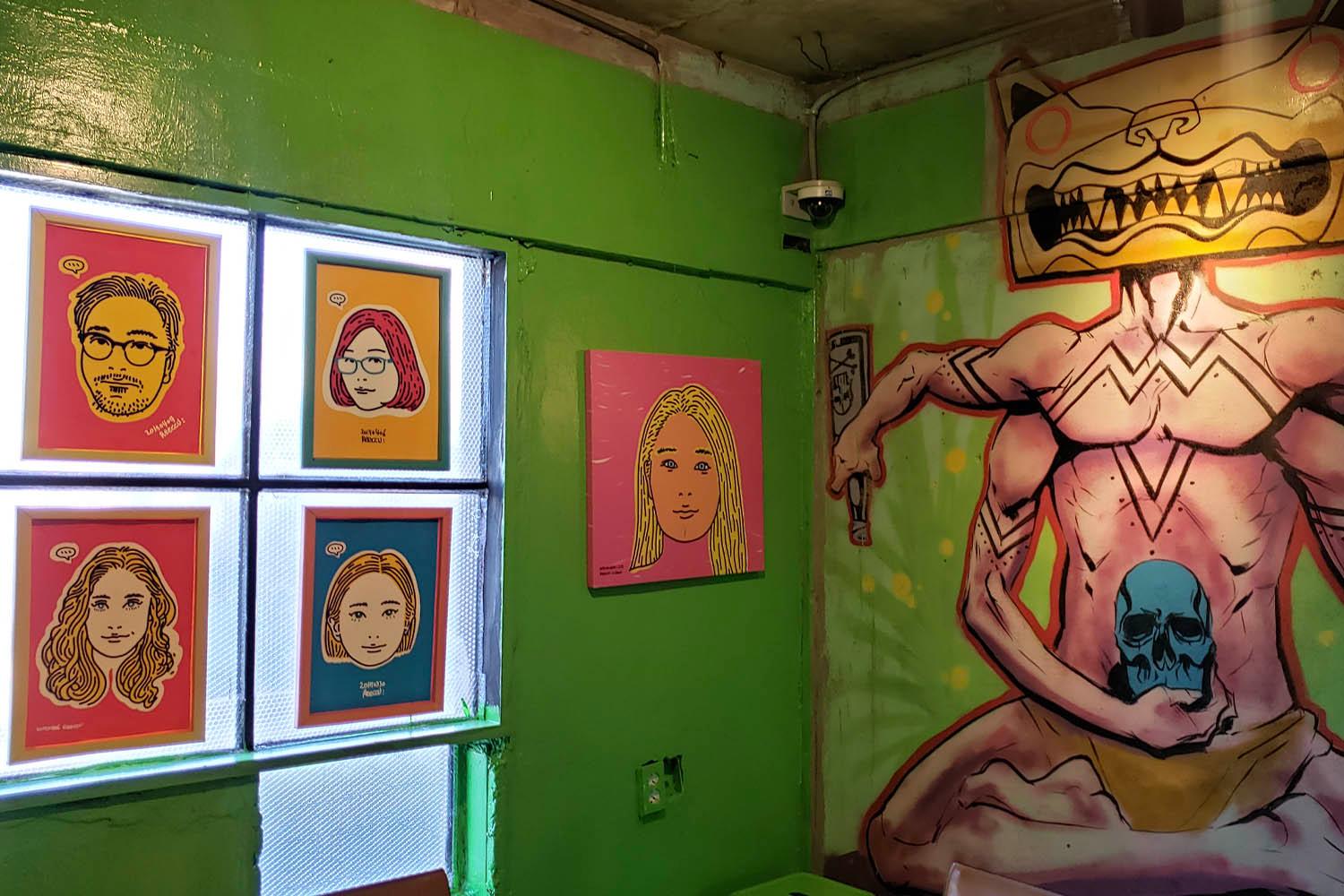 You can also go to the rooftop! This rooftop can be an Instagrammable spot indeed.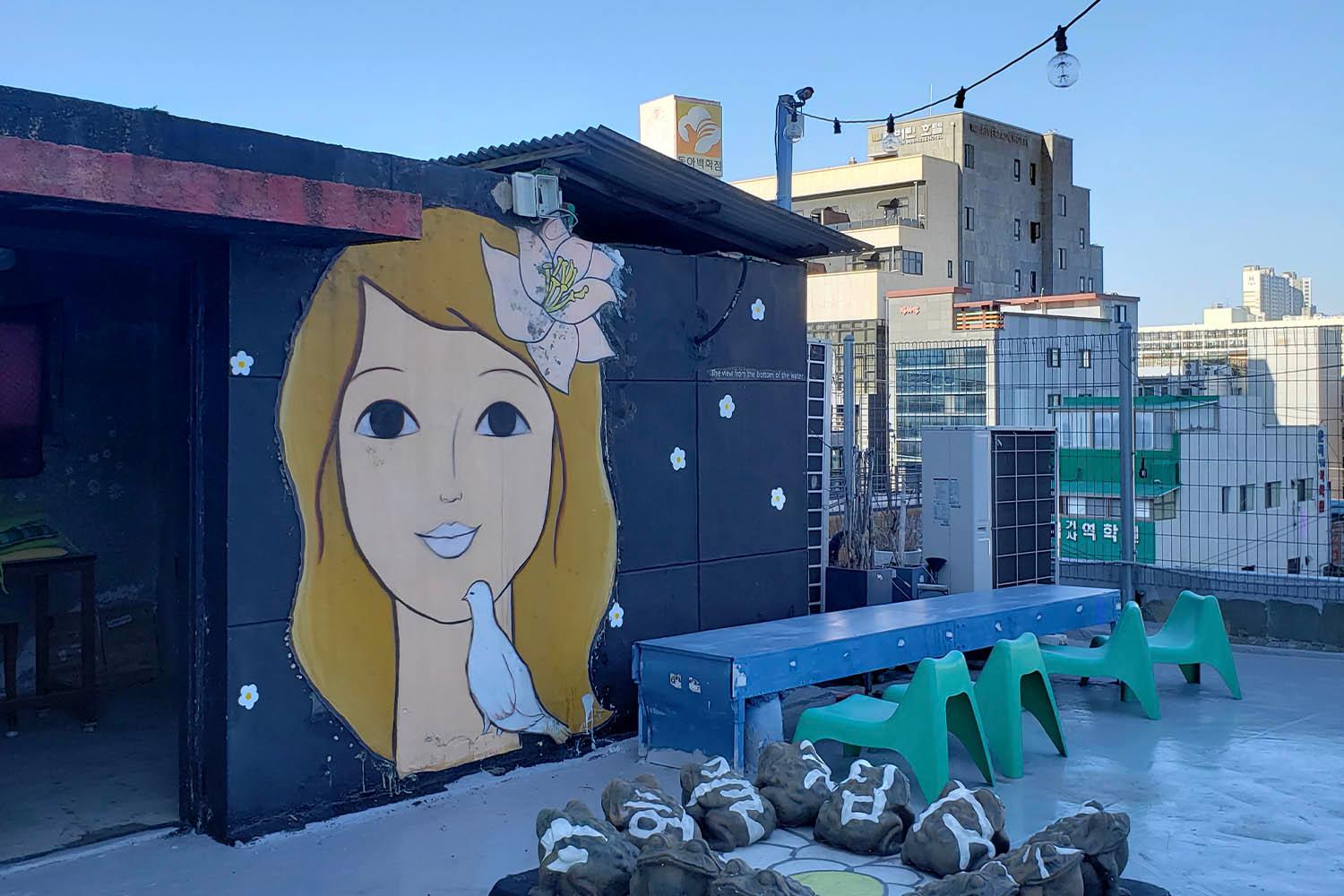 ---
WARM MOIST AIR (wmoa)

Address: 대구 중구 경상감영길 210 2F
Hours:
Tue-Sun: 11:00-23:00
Mon: Closed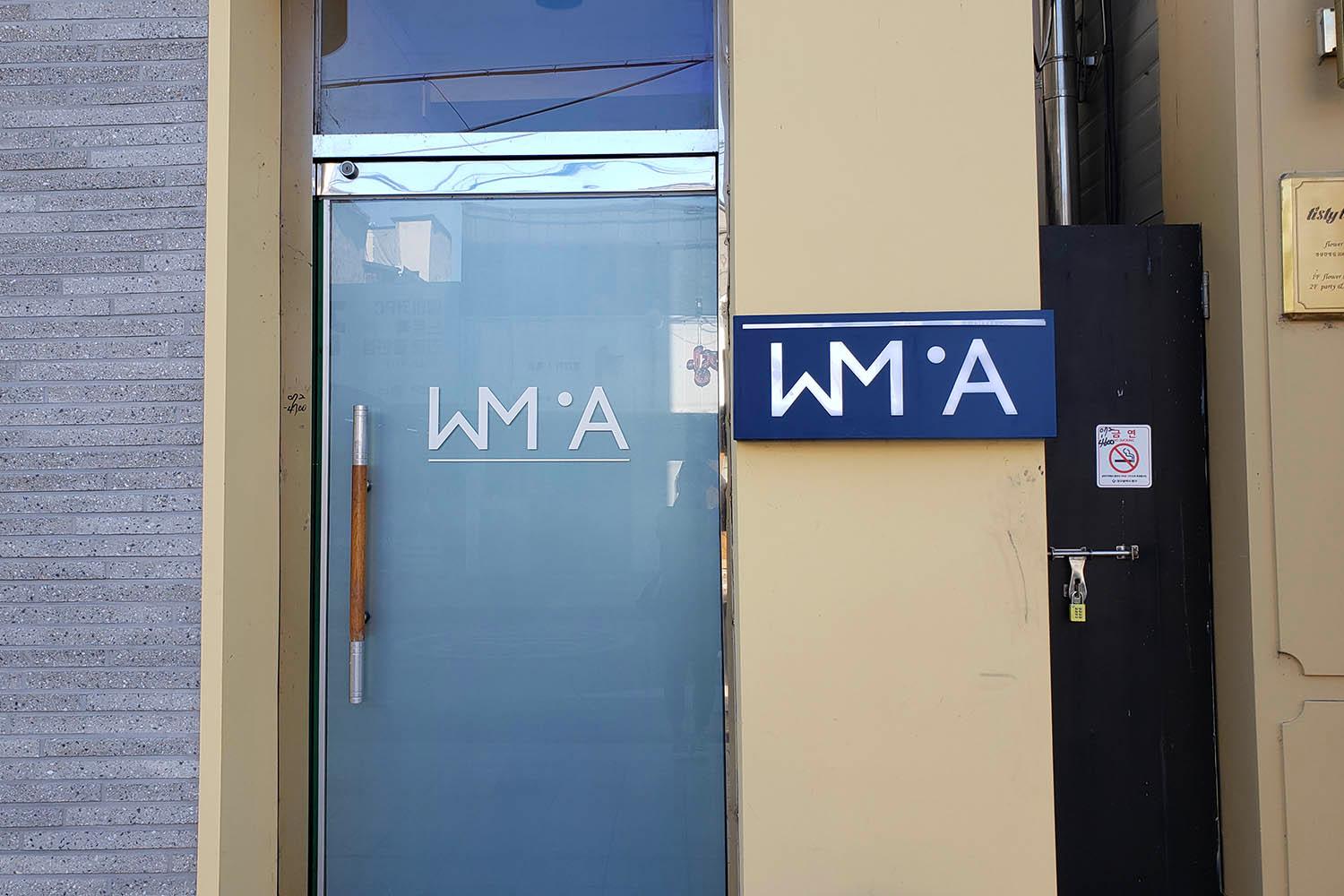 This is a brand new cafe that was recommended by a local friend from Daegu. This trendy cafe opened in June 2020 and has been loved by the locals as well as visitors from other regions in Korea.
Once you open the entrance door, take the stairs to enter the cafe.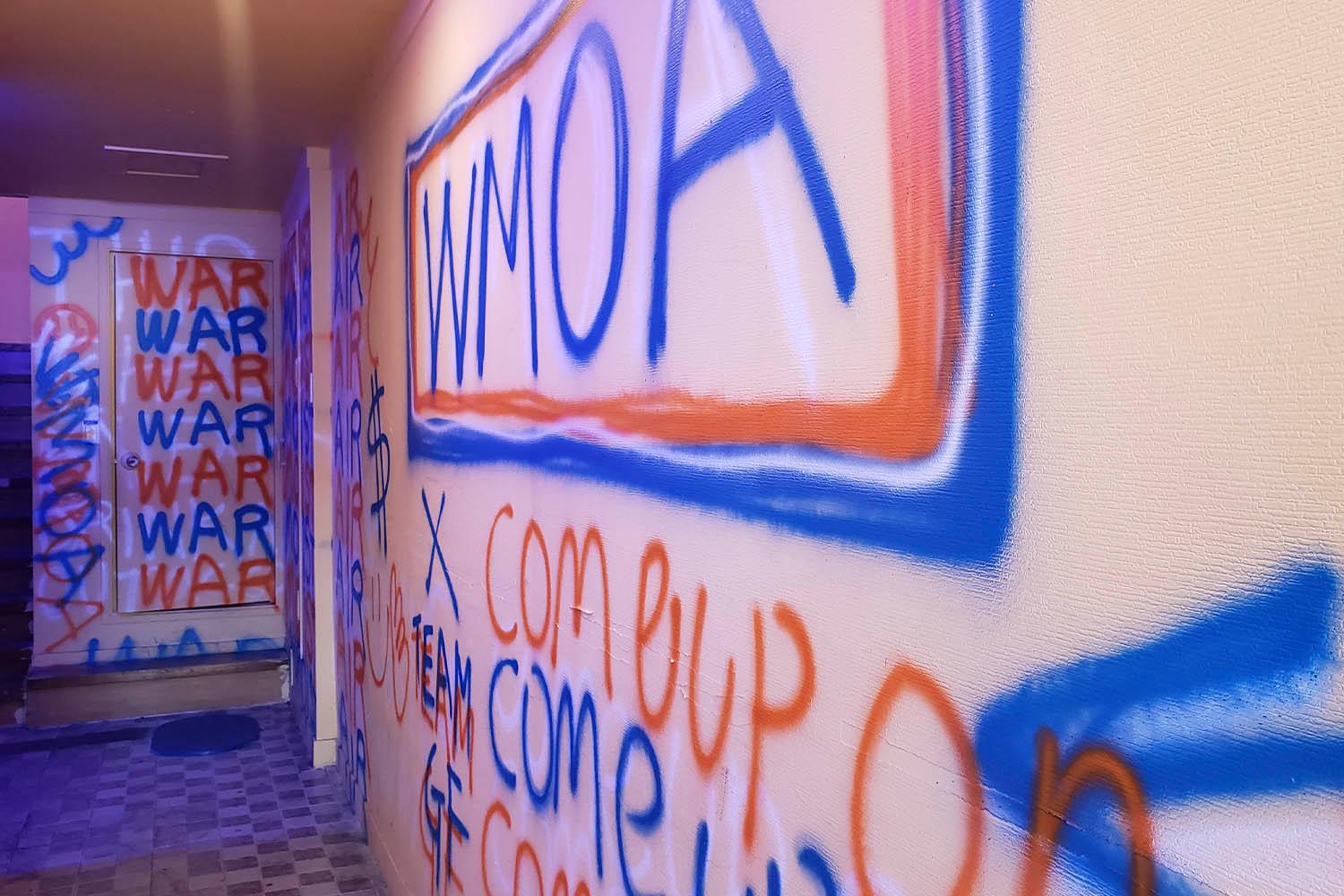 The combination of industrial and modern interior design with a splash of yellow furniture seemed very trendy.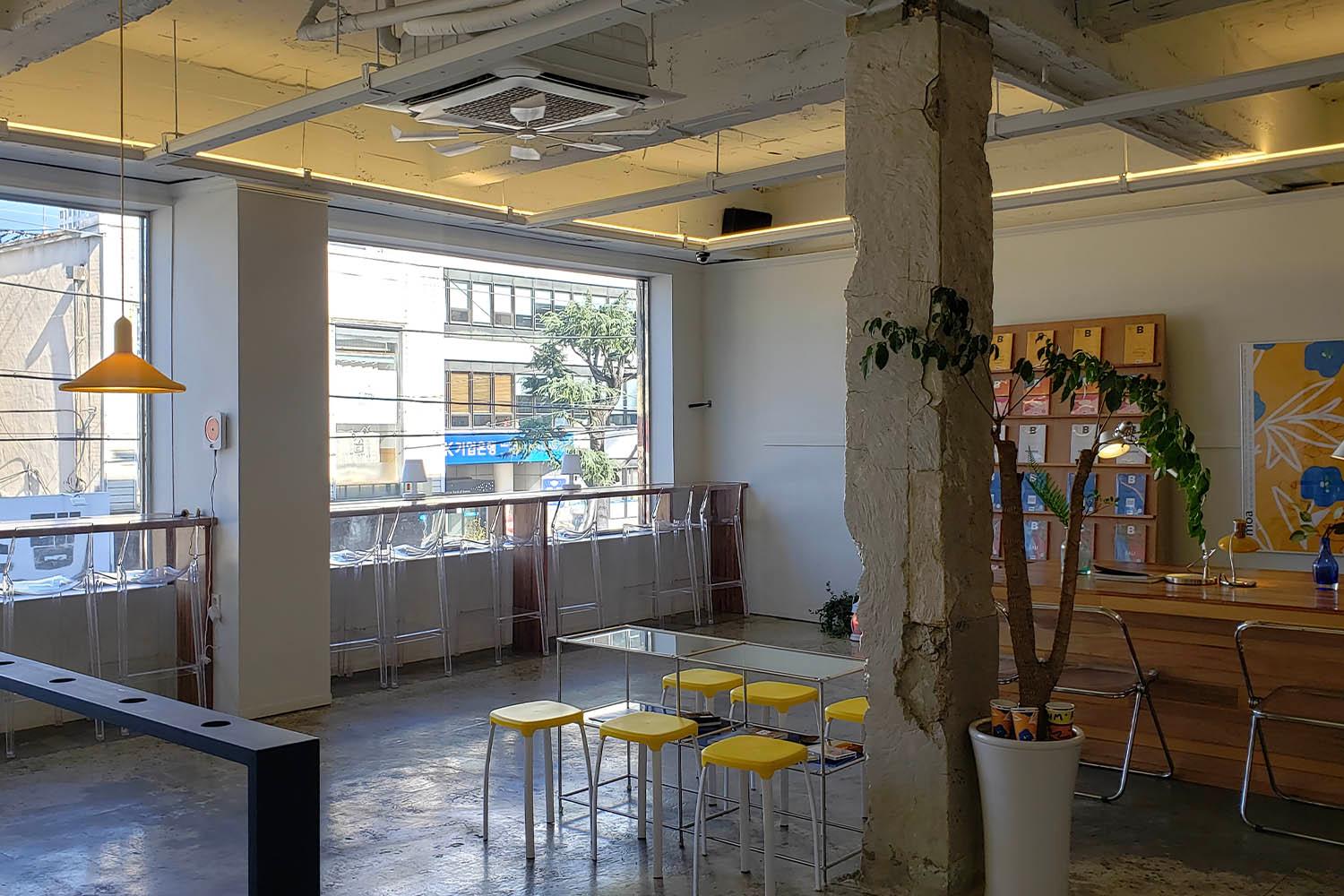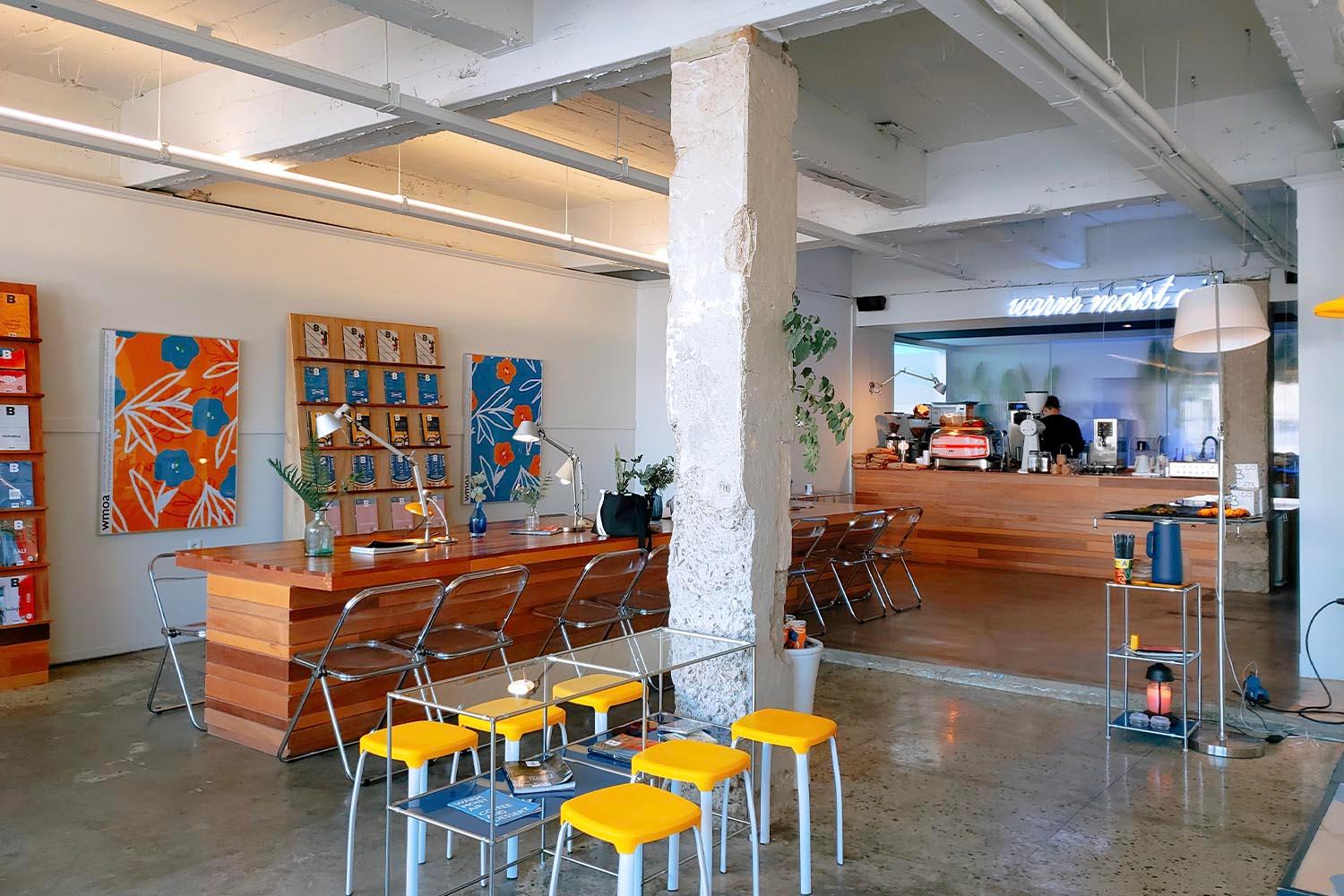 I have ordered Warm Moist Air's signature latte and a matcha cookie.
After a few minutes, my order came in a small yellow tray!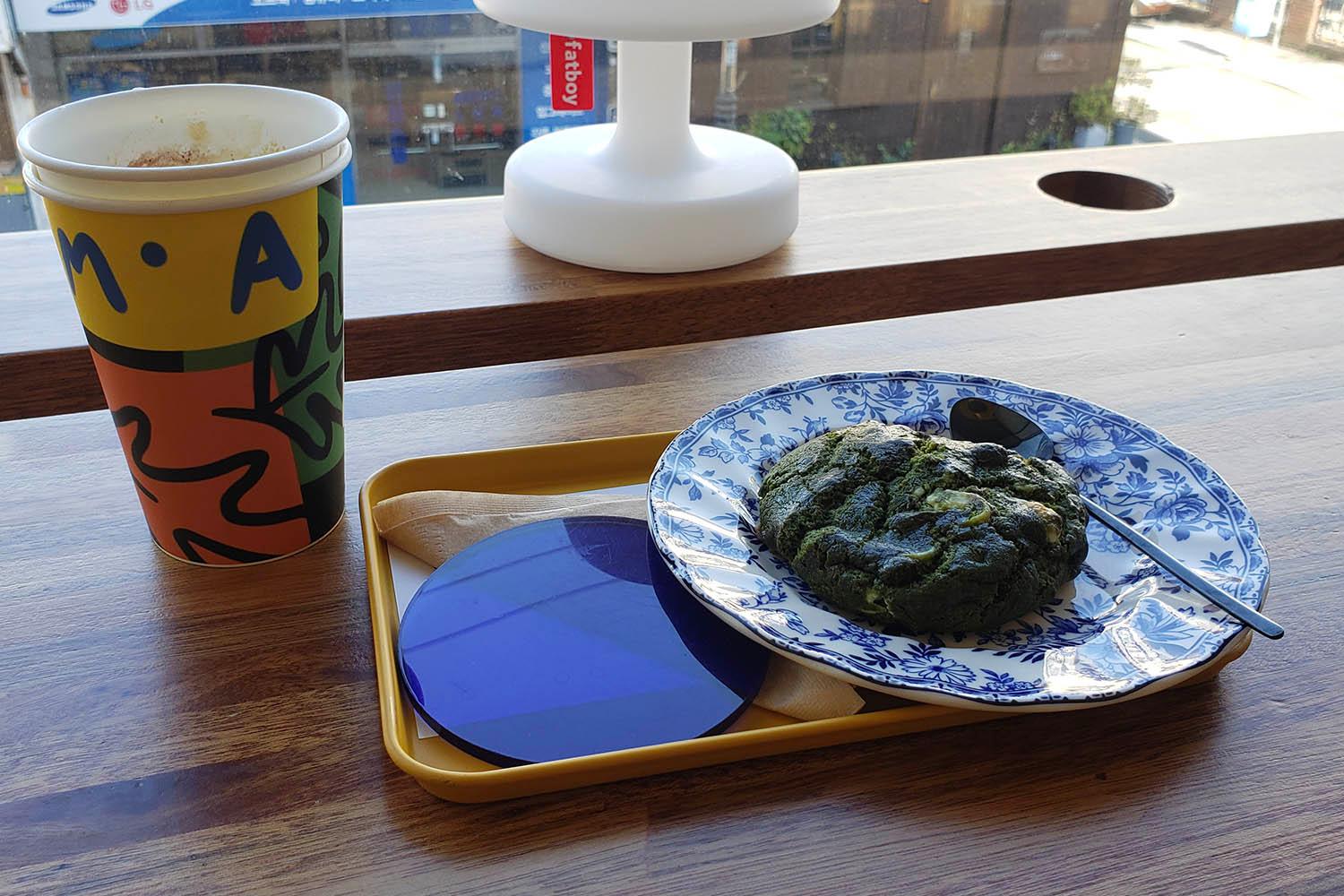 Warm Moist Air's signature latte reminded me of a sweet version of Einspänner. The cream on top was fluffy and soft.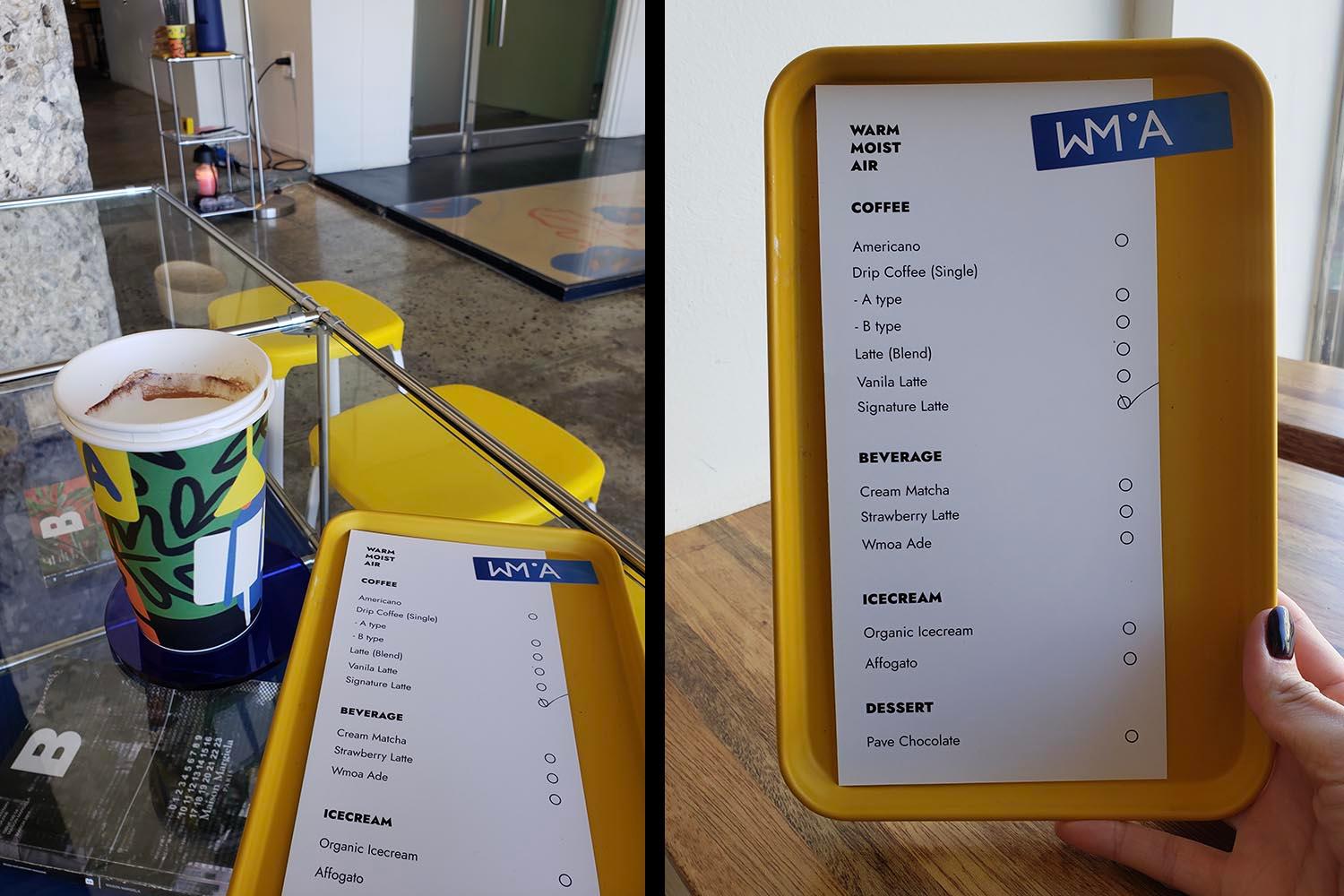 What I liked the most about this cafe was the matcha cookie, to be honest. It was crispy on the outside and chewy on the inside! Also, the white chocolate chunks inside made the cookie even sweeter.
The earthy note of matcha cookie with sweet white chocolate was a great pair indeed.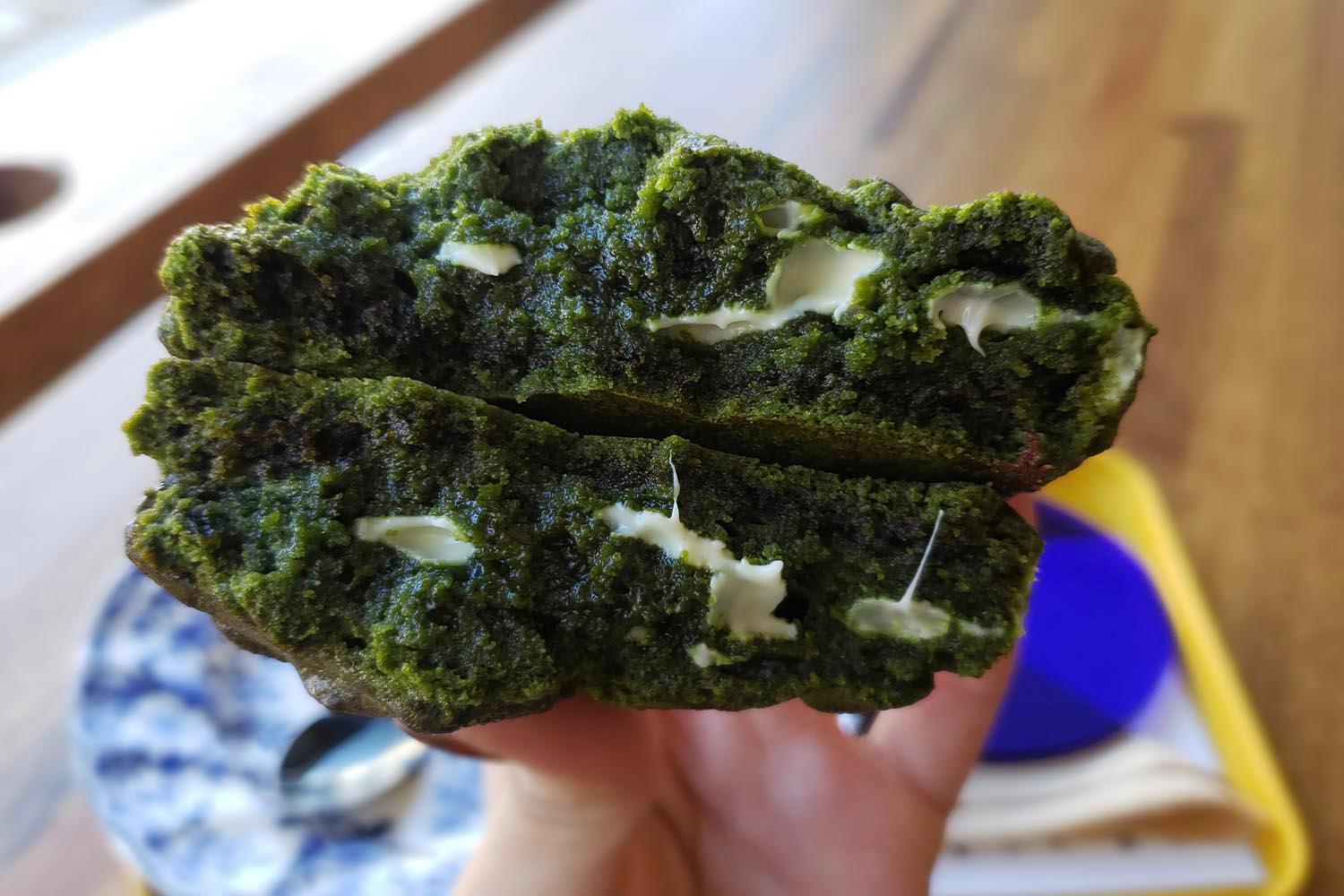 Are you looking for a trendy, modern cafe that is the locals' favourite coffee destination? Warm Moist Air is it!
---

Address: 대구 중구 북성로 104-15
Hours:
Tue-Sun: 12:00-01:00
Mon: Closed
Offer: 10% off entire menu. Click here to claim your coupon!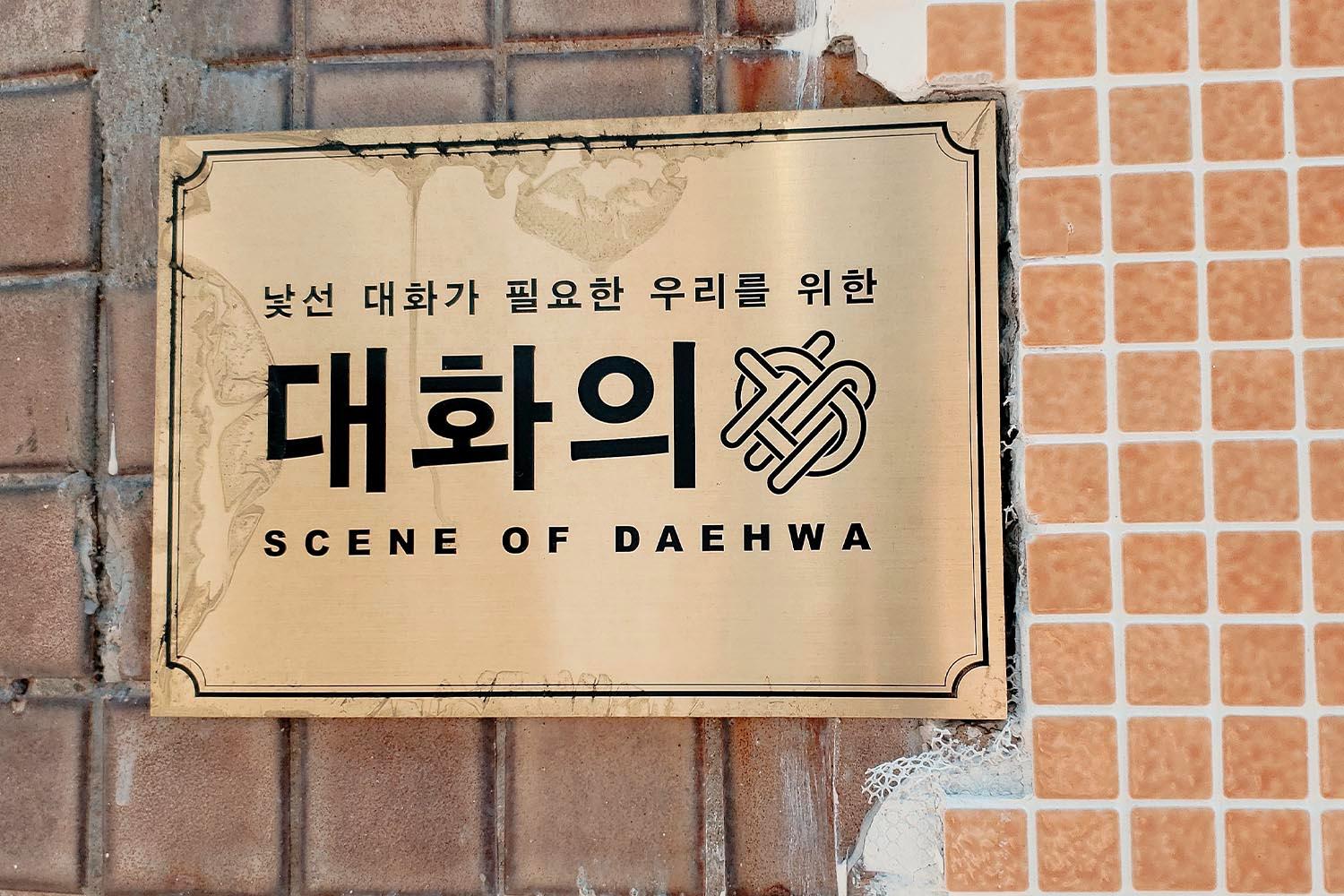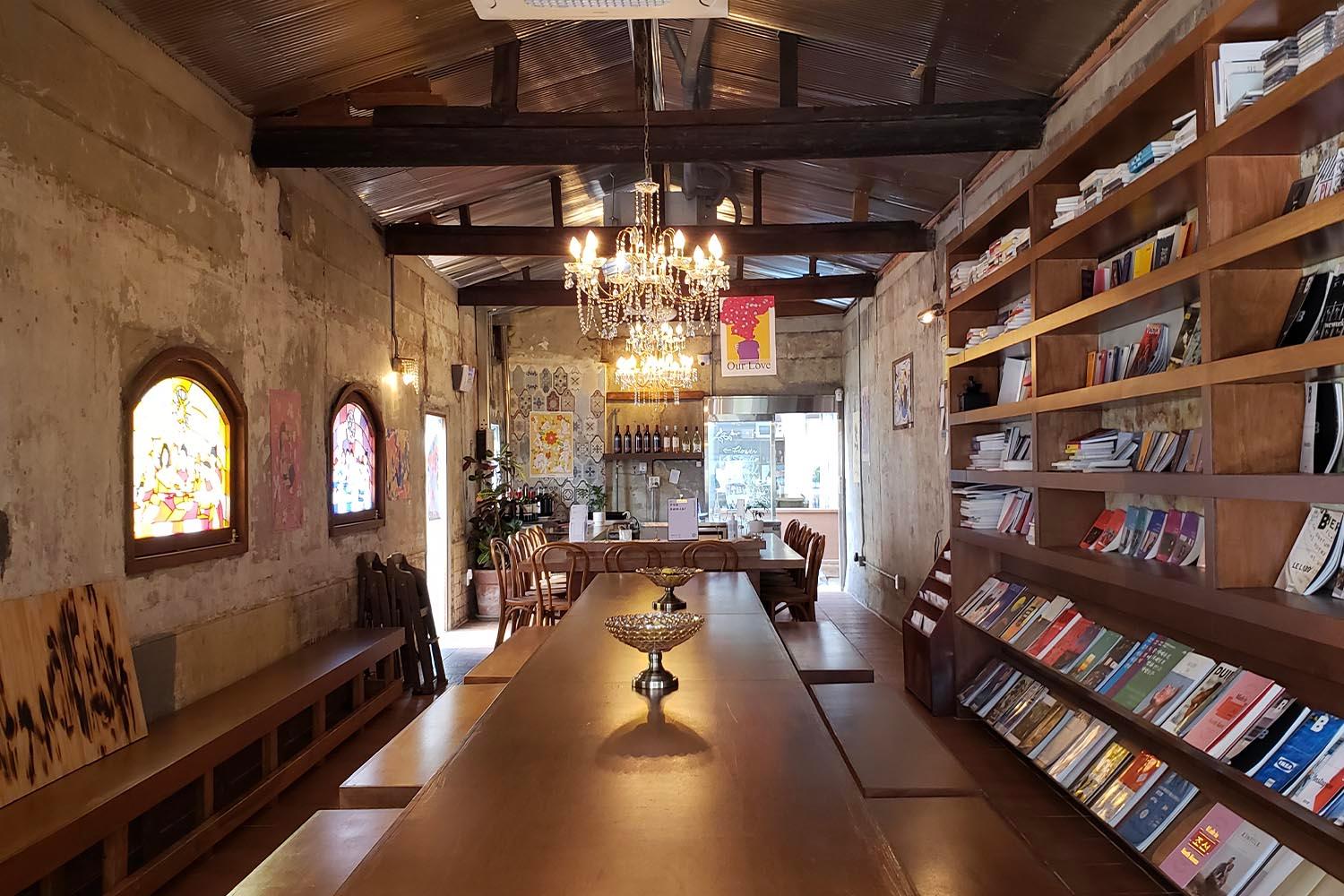 Scene of Daehwa is a new cultural space that opened recently. Called Daehwa-ui-jang in Korean, it means a place of conversation; just like the name of the space, people can easily and diversely communicate with art and culture by having an exhibition, small craft market, workspace and more.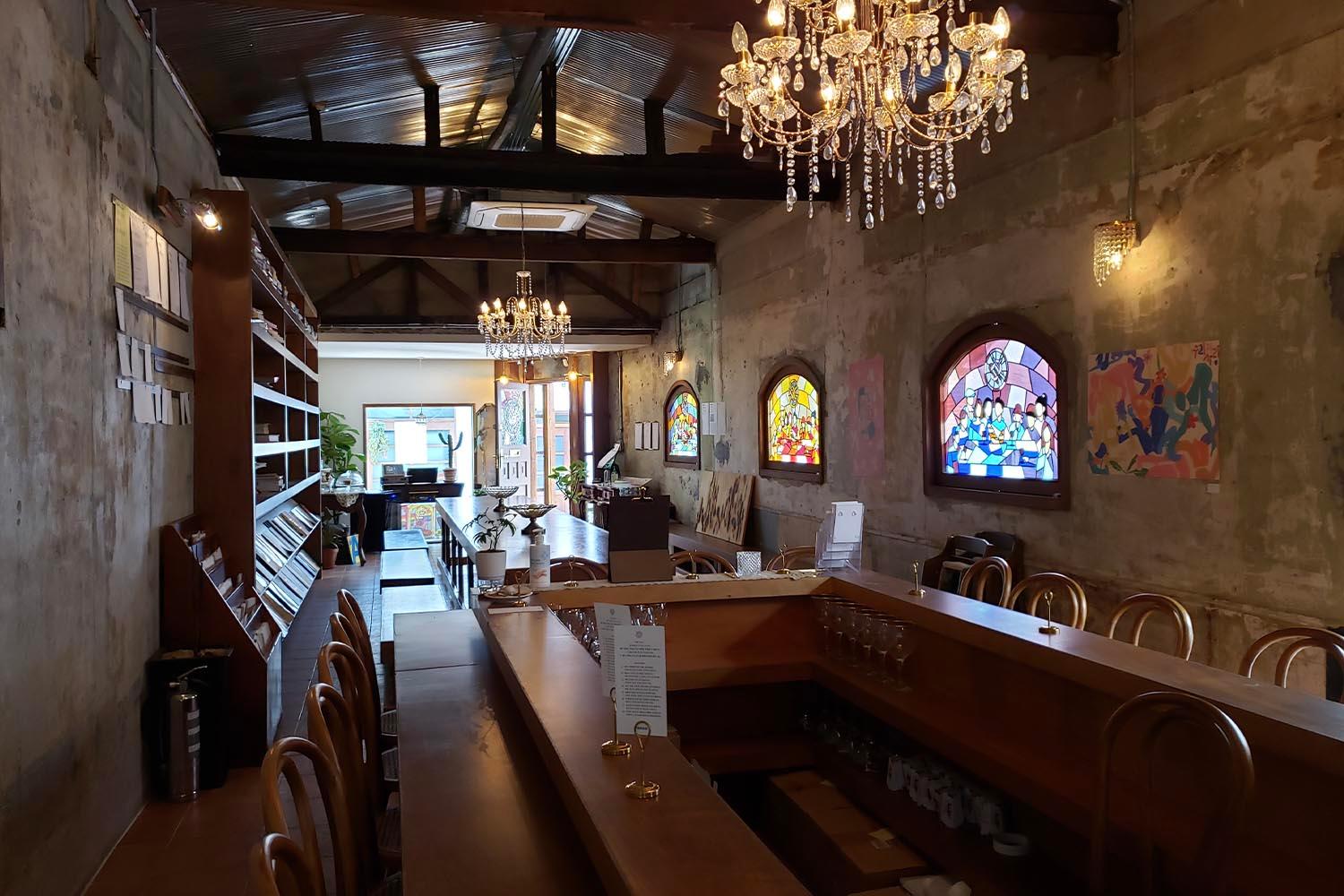 This big hallway impressed me when I first entered the cafe.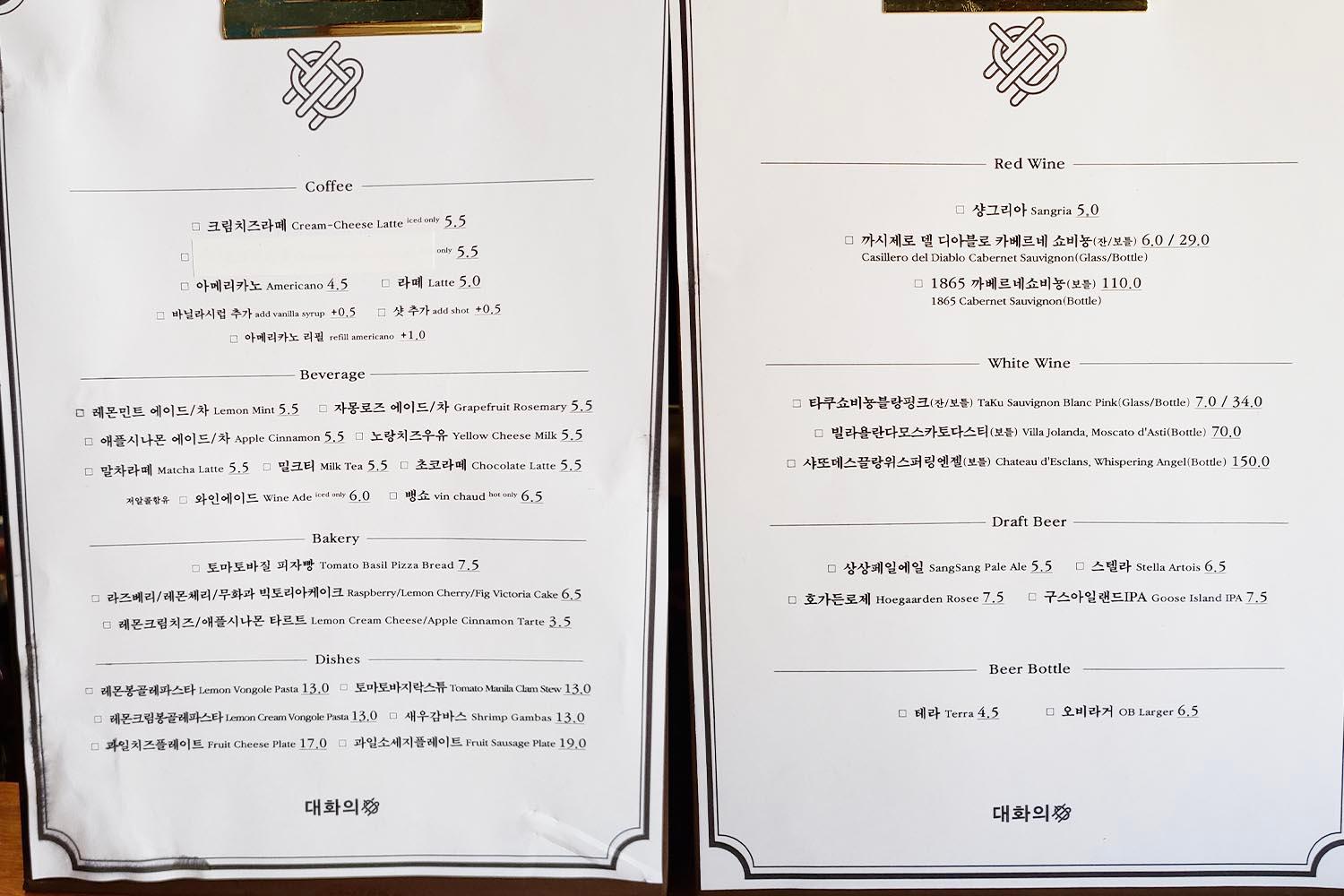 You can not only order cafe menus, but also beer, pasta and food from 18:00-23:00.
Let's take a further look at Daehwa-jang!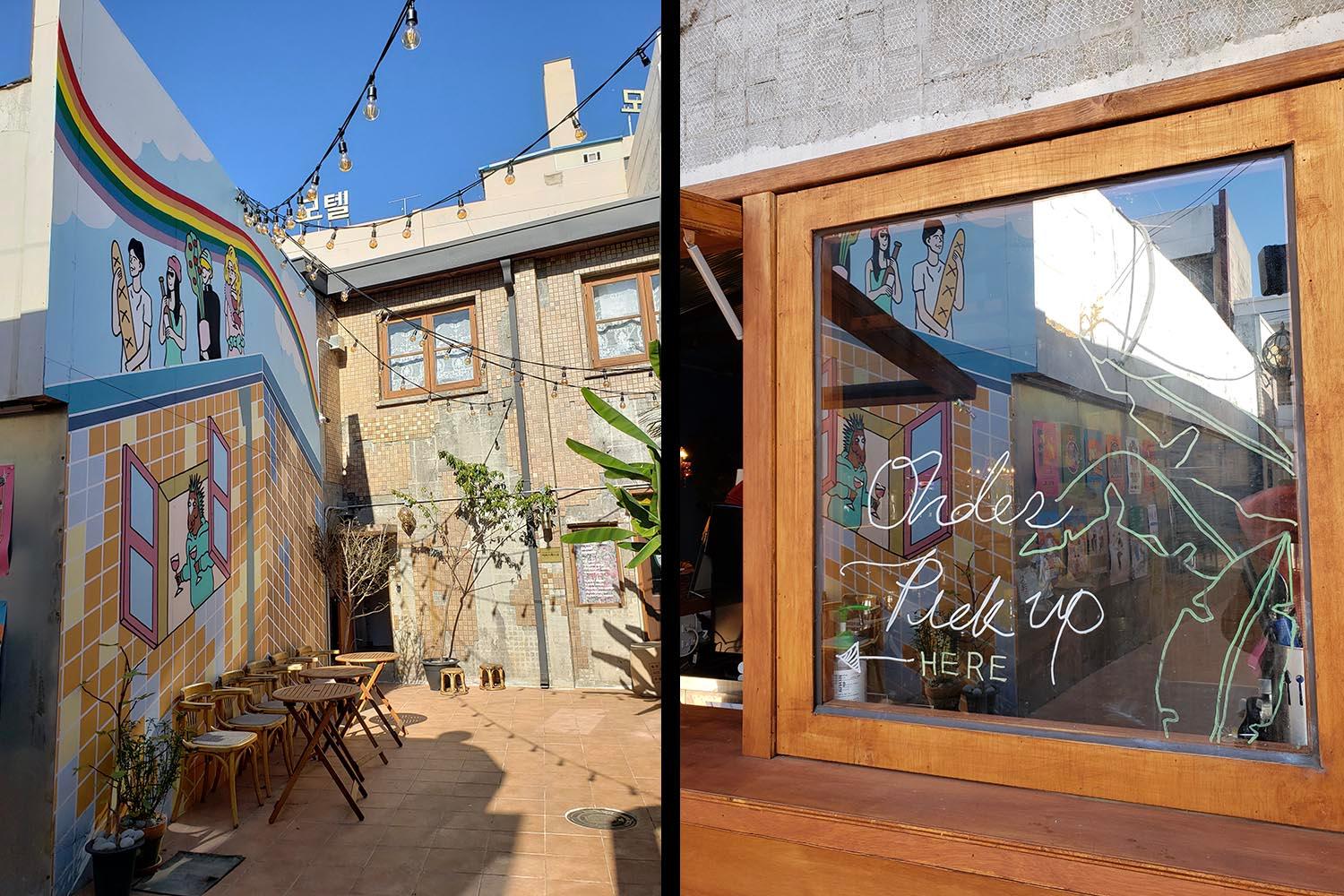 There are multiple spaces where you can take a seat and enjoy your food, drink and dessert. It was fun to discover several different spaces inside the cafe.
They were selling their own goods that seemed perfectly suitable for a beer glass or hot chocolate glass mug.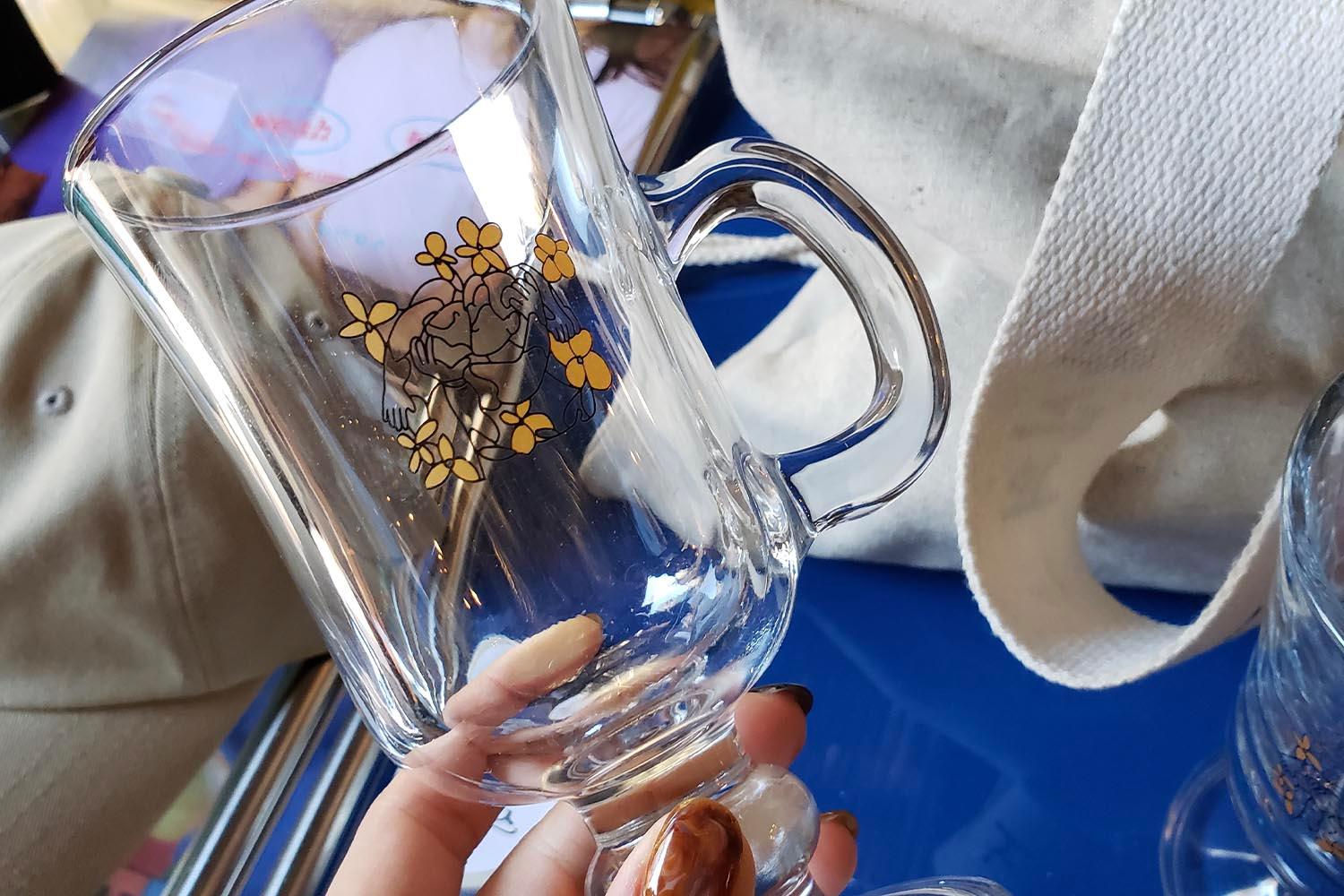 The picture below reminded me of a modern hanok.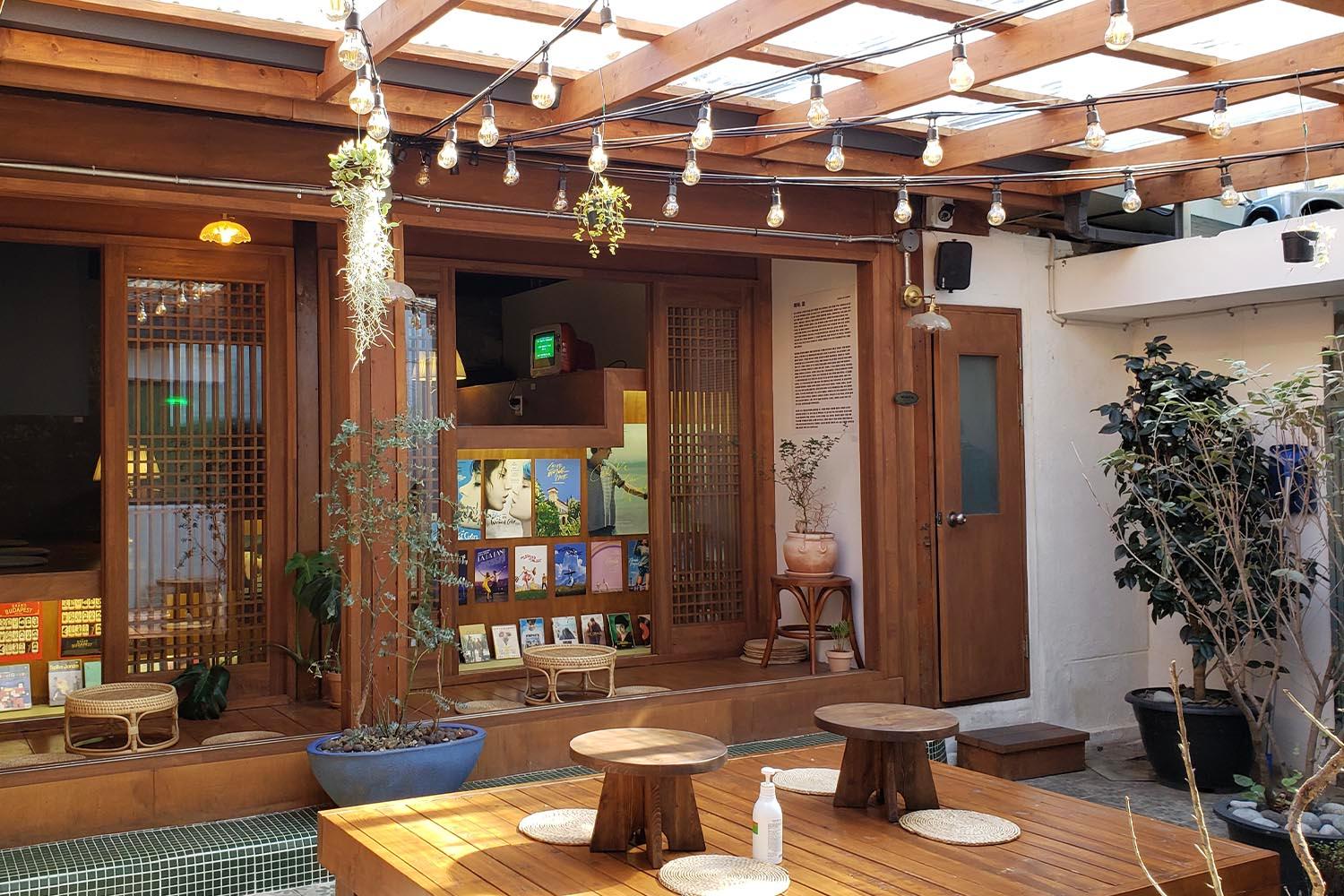 My friend and I ordered a tomato basil pizza bread, fig victoria cake, cream cheese latte and an iced americano.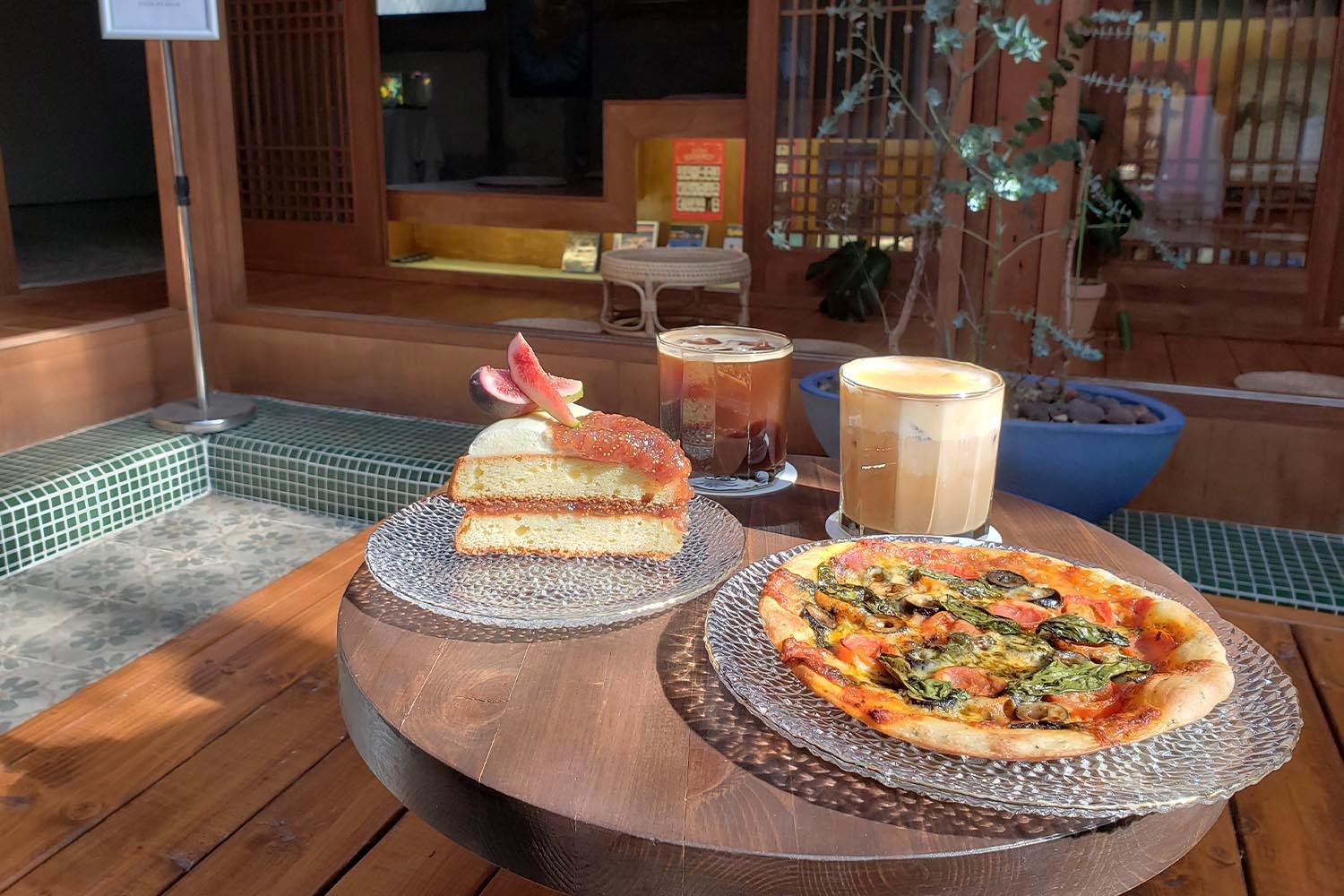 The cream cheese latte was a very unique drink. I could smell the cheese from the coffee which is unforgettable until now. The silky cream on top made this coffee even more unique compared to any other drinks.
When I had another sip of the coffee, I chewed on cheese bits from the cream! I wasn't a big fan of this drink, but my friend loved it. Also, the cream had a hint of citrusy taste, that made the drink more enjoyable.
When I visited Daehwa-jang, the fig was the seasonal fruit for the victoria cake. The refreshing fig jam with cake sheets was a great combination.
Also, the tomato basil pizza bread reminded me of authentic homemade pizza bread.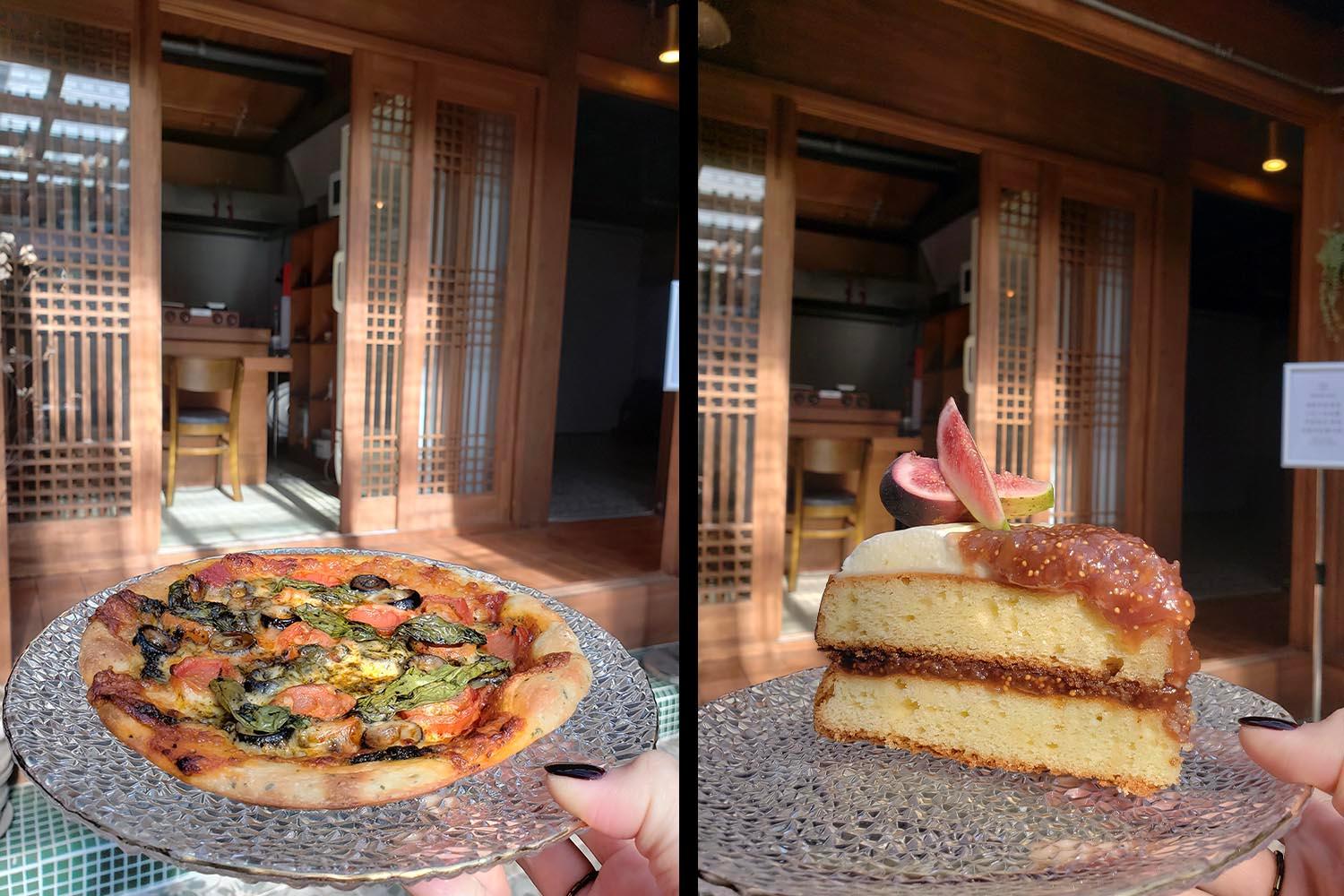 I would totally recommend visiting Daehwa-jang. Five stars without a doubt!
---

Address: 대구 남구 계명중앙1길 19
Hours:
Weekdays: 12:00-22:00
Weekends: 13:00-22:00
Offer: 10% off on all menus for Creatrip members. Click here to get your coupon.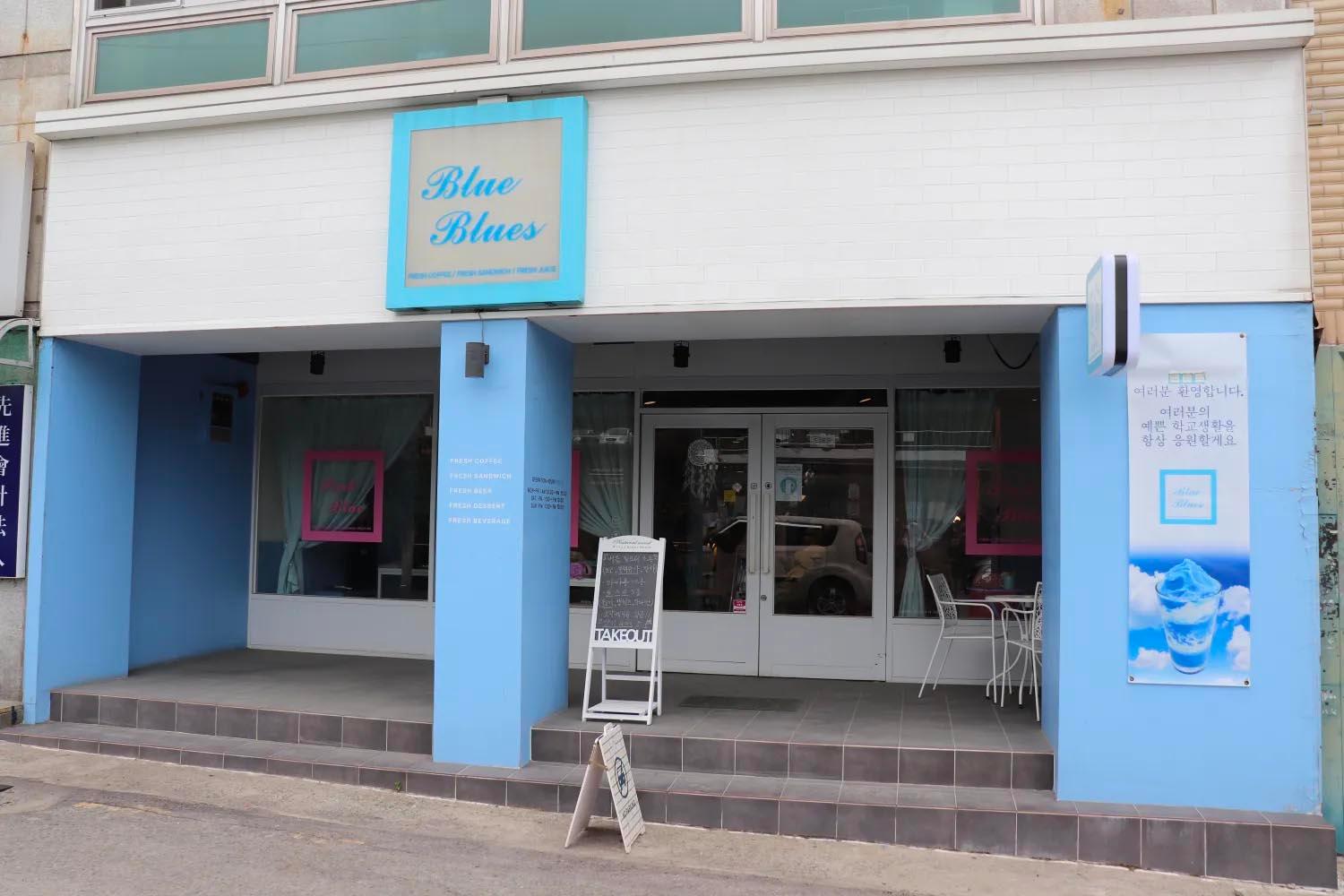 Looking for a unique, exceptional and Instagrammable cafe drink? Blue Blues is a famous cafe in Daegu for cloud smoothies that looks exactly like a blue sky.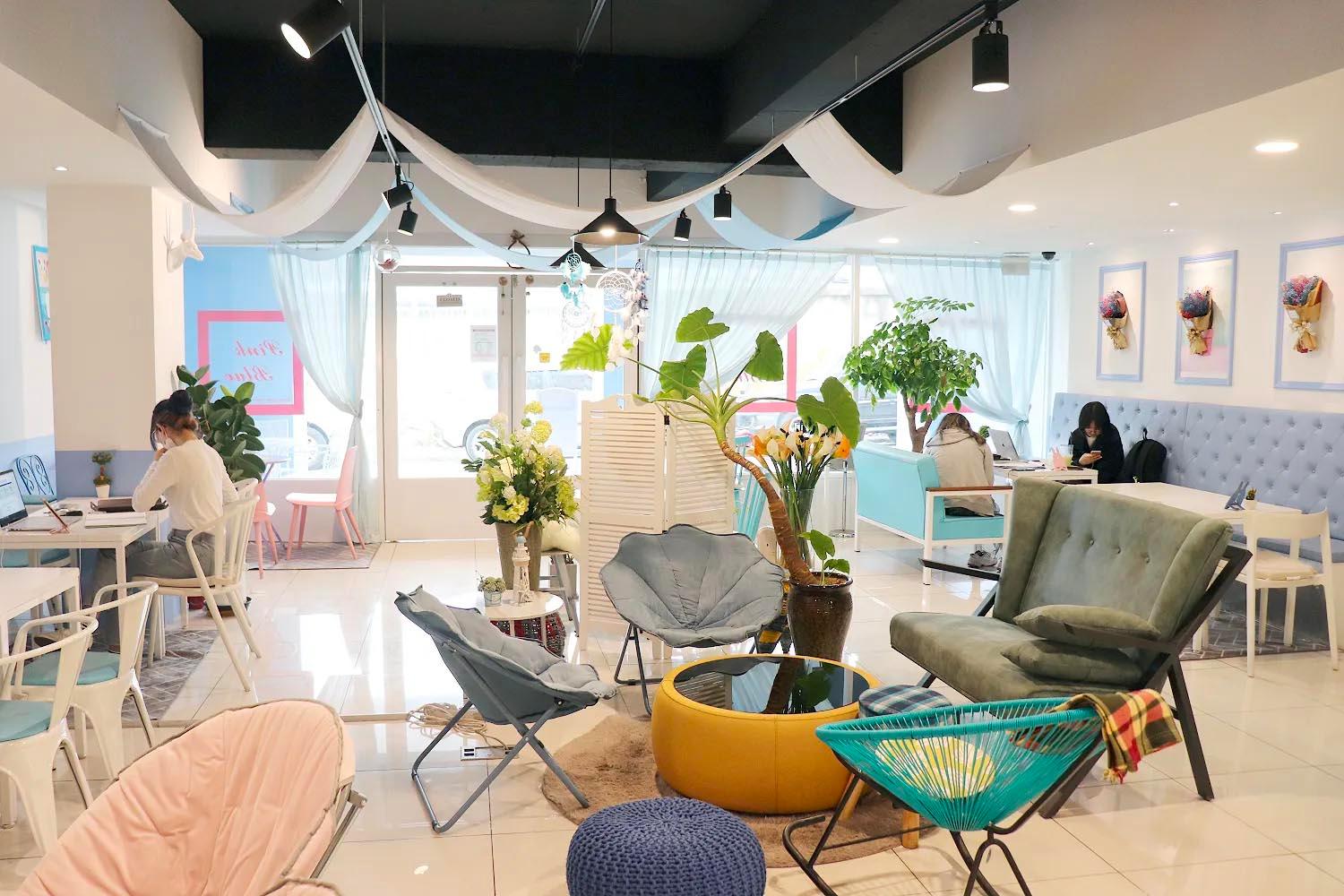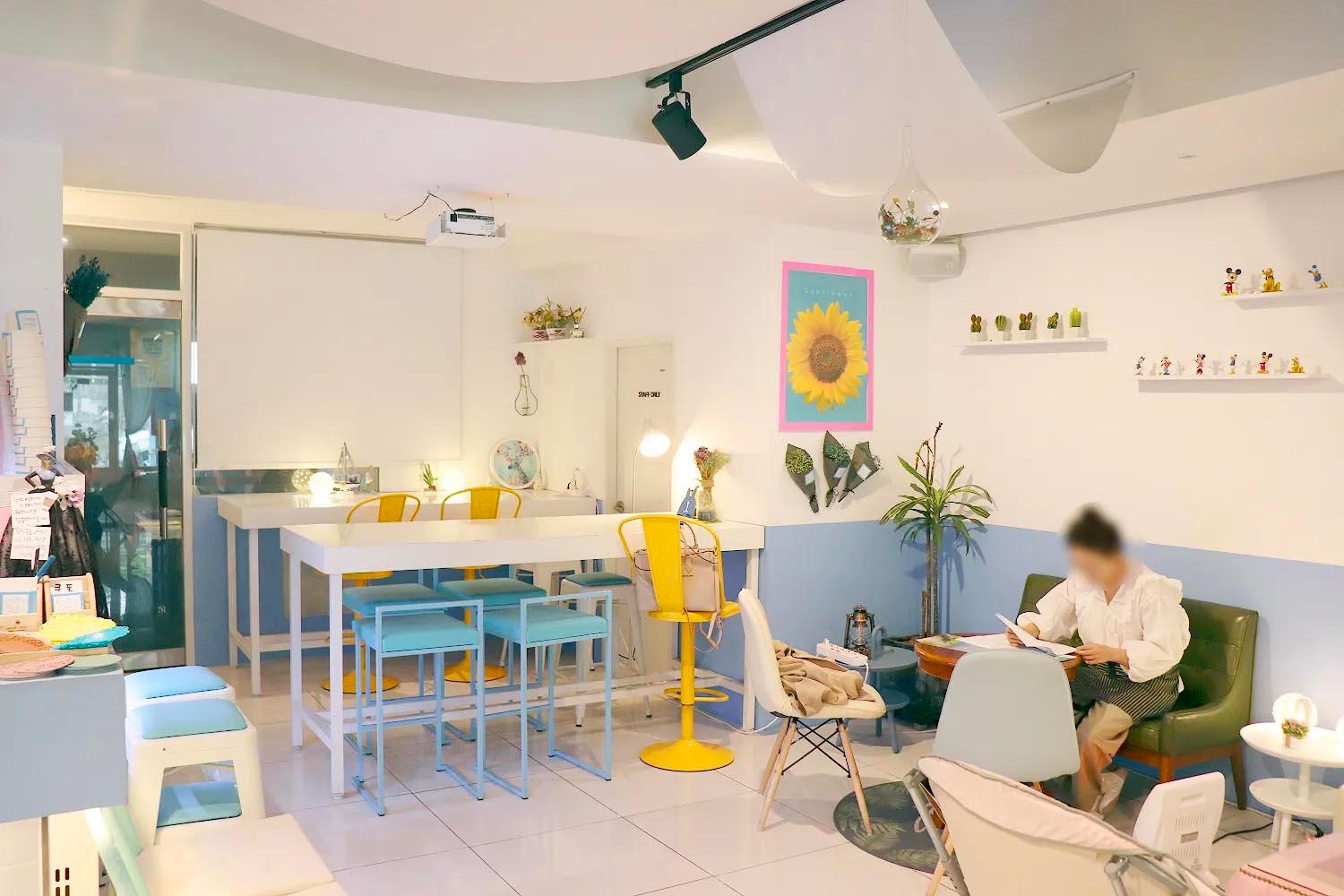 As you can see photos below, the cloud smoothies are adorable!
Drinks are available in four colours including blue, yellow-green, green and pink.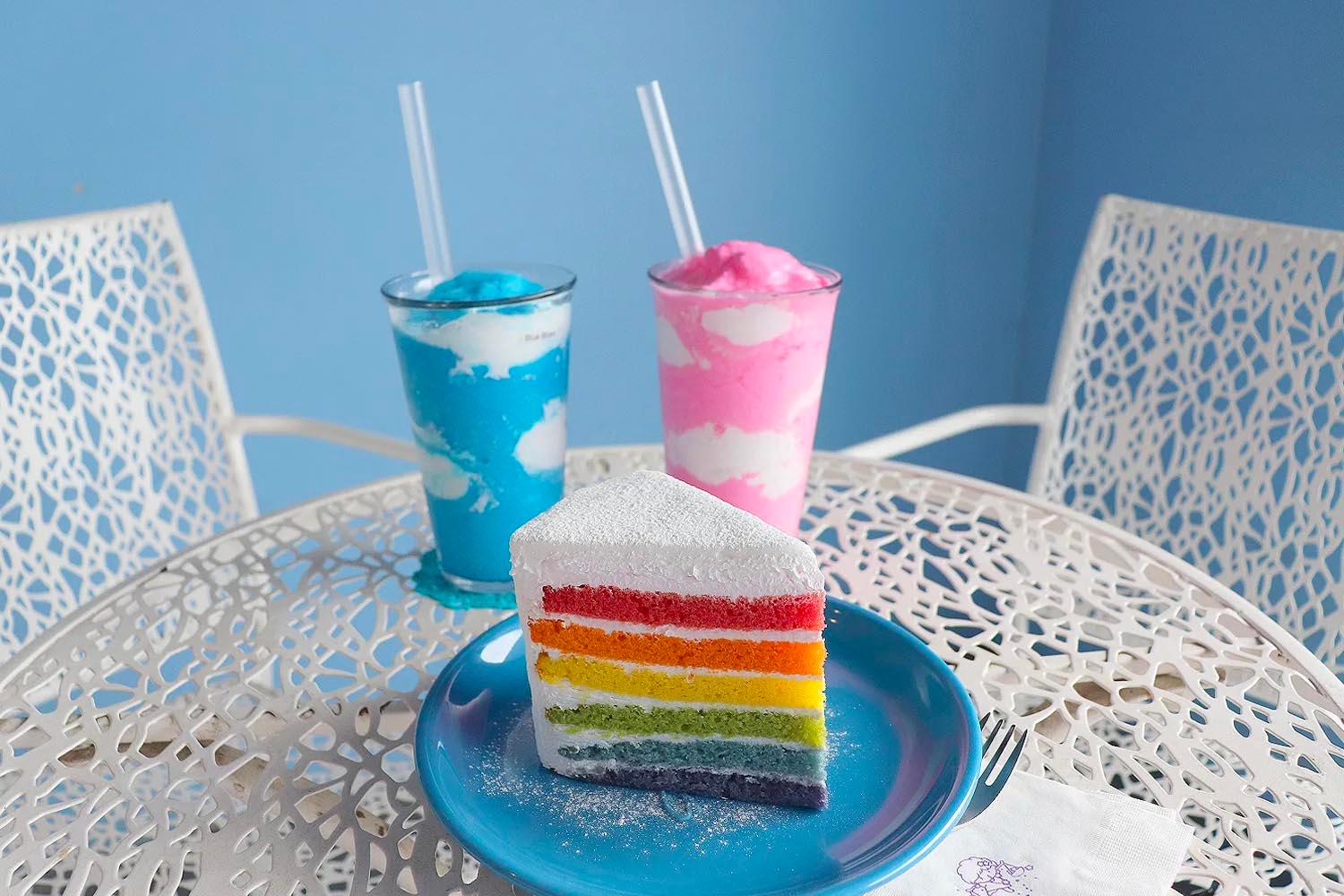 You can choose either soda or yogurt flavour for the colour blue.
Yellow-green is a mint chocolate flavour while green tastes like green tea! At last but not least, you can choose between yogurt, cherry or strawberry flavour for the cutest pink cloud smoothie.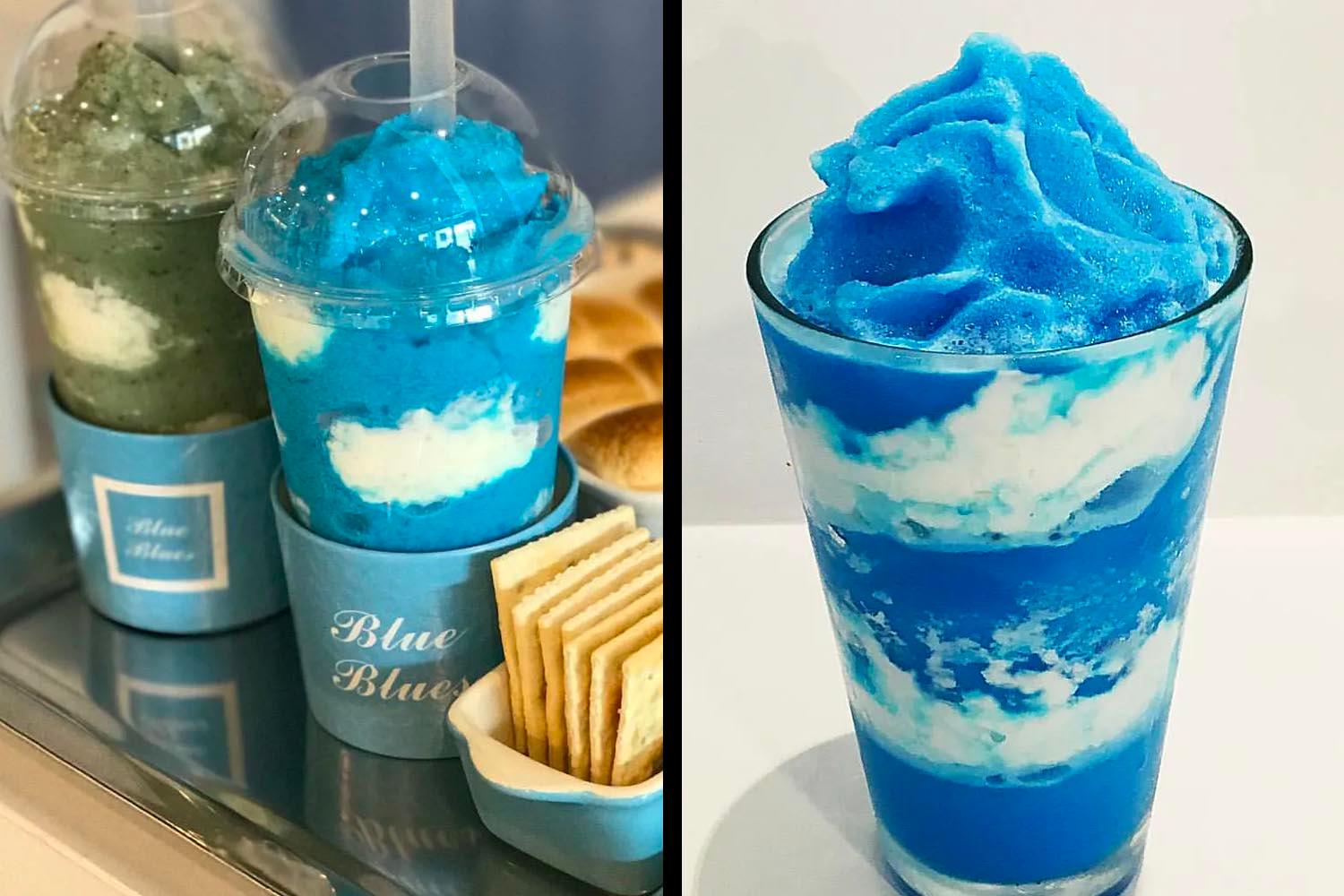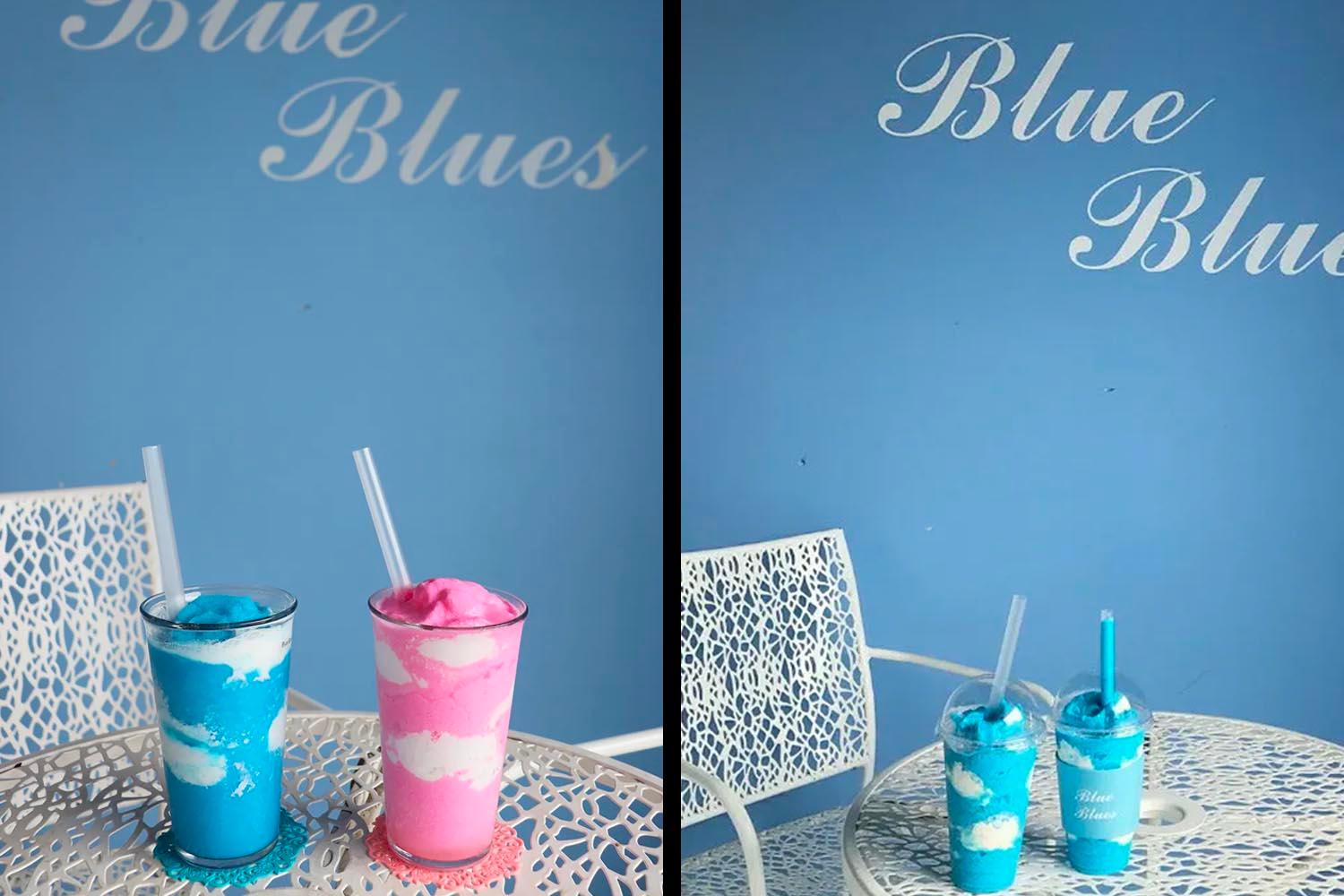 ---
SungDangMotVill.Cafe

Address: 대구남구 성당로 54-3 순복음교회 옆
Hours: 11:00-22:00
Offer: 10% off on all menus for Creatrip members. Click here for your coupon!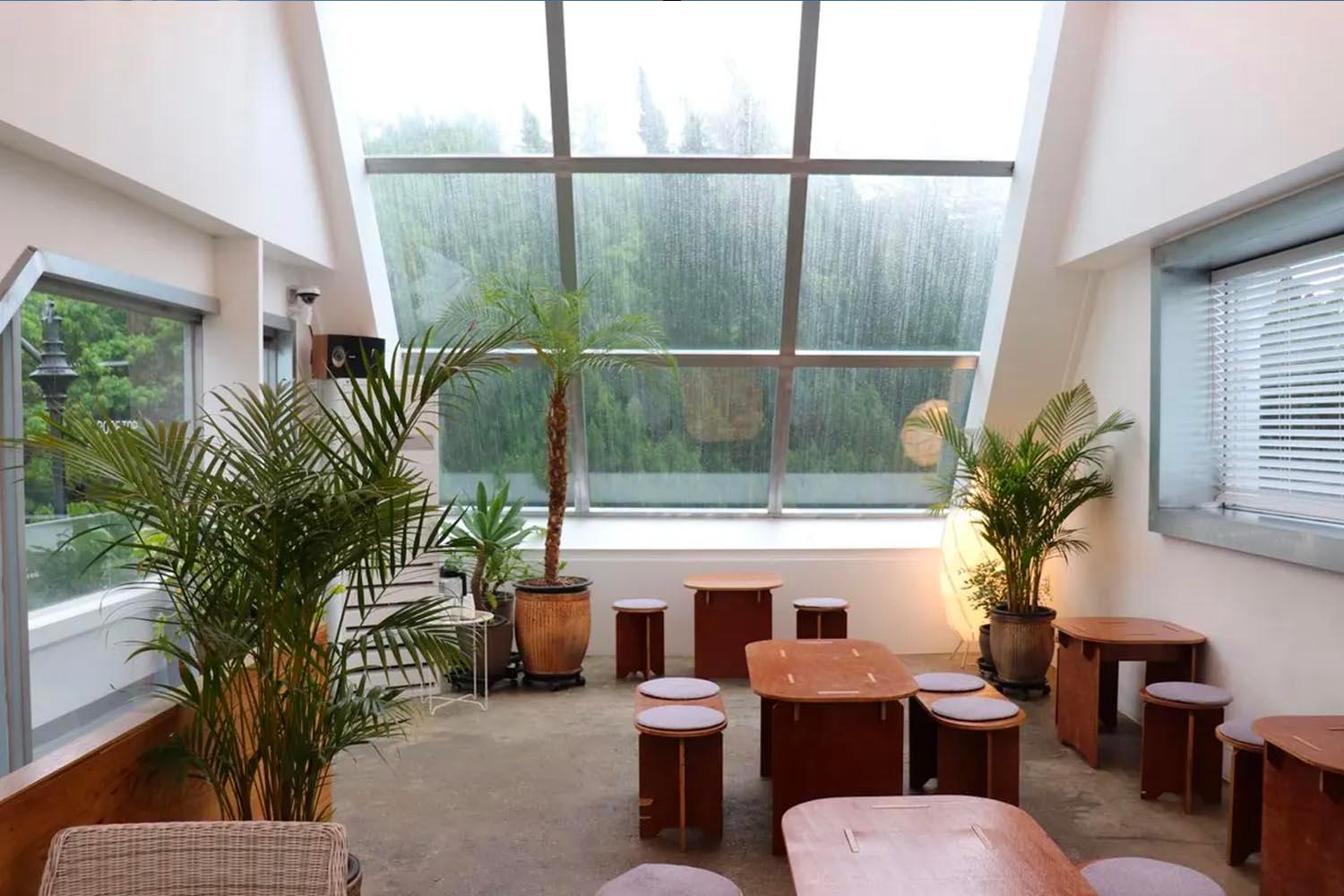 Sungdangmot Vill is a cafe located near Sungdangmot, Duryu Park, and E-World. This cafe is a beloved space by both locals and visitors from other regions for the greenery interior.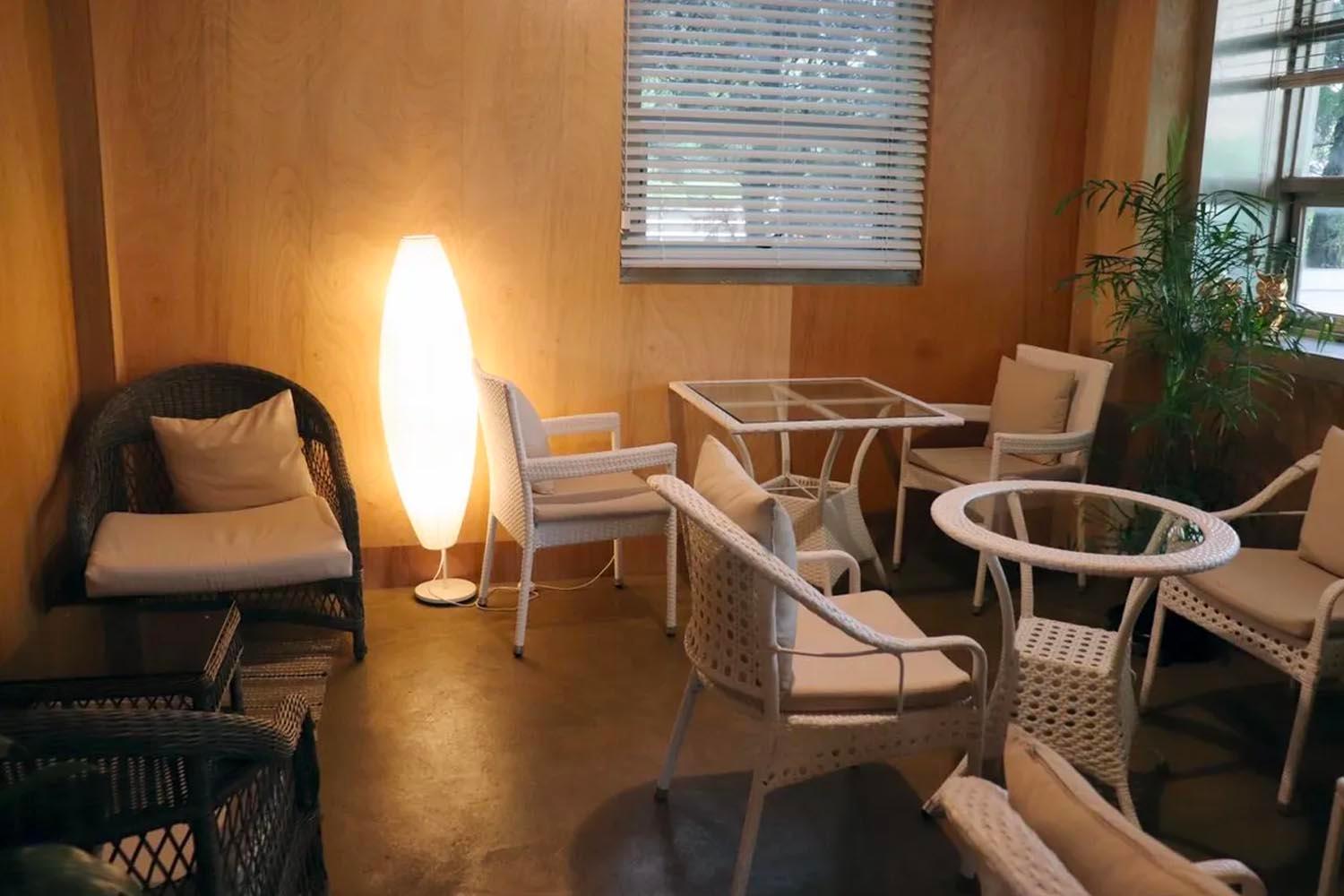 The cafe filled with plants reminded me of an urban forest!
Also, when you go upstairs to the rooftop, you can take your time to admire the great view.
If you visit during the day, you can see the scenery of Sungdangmot and Duryu Park. If you manage your visiting time before sunset, you will be able to watch a beautiful evening glow!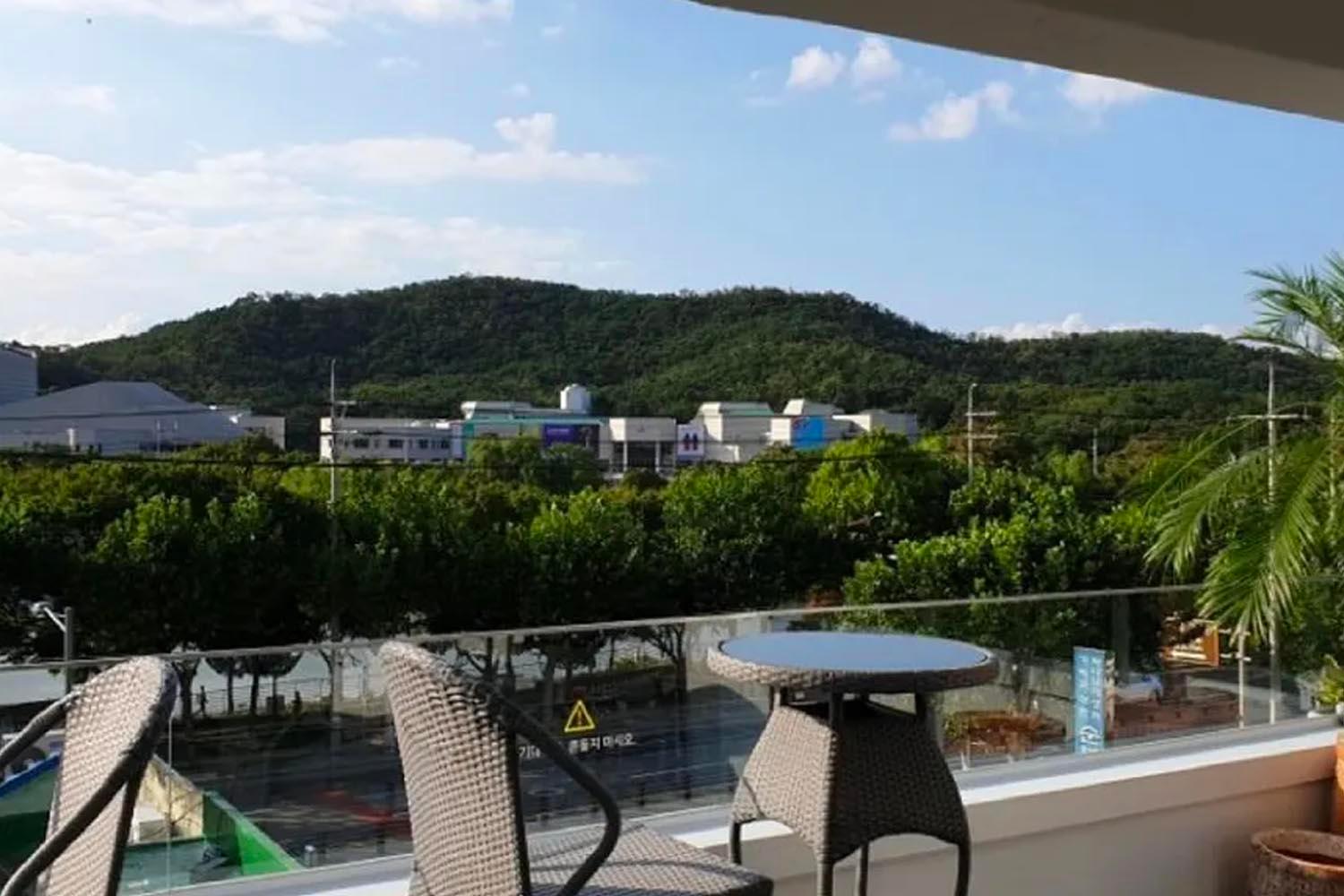 The signature menu includes the strawberry cake, einspänner coffee (Iced americano with whipped cream on top) and cheese tart.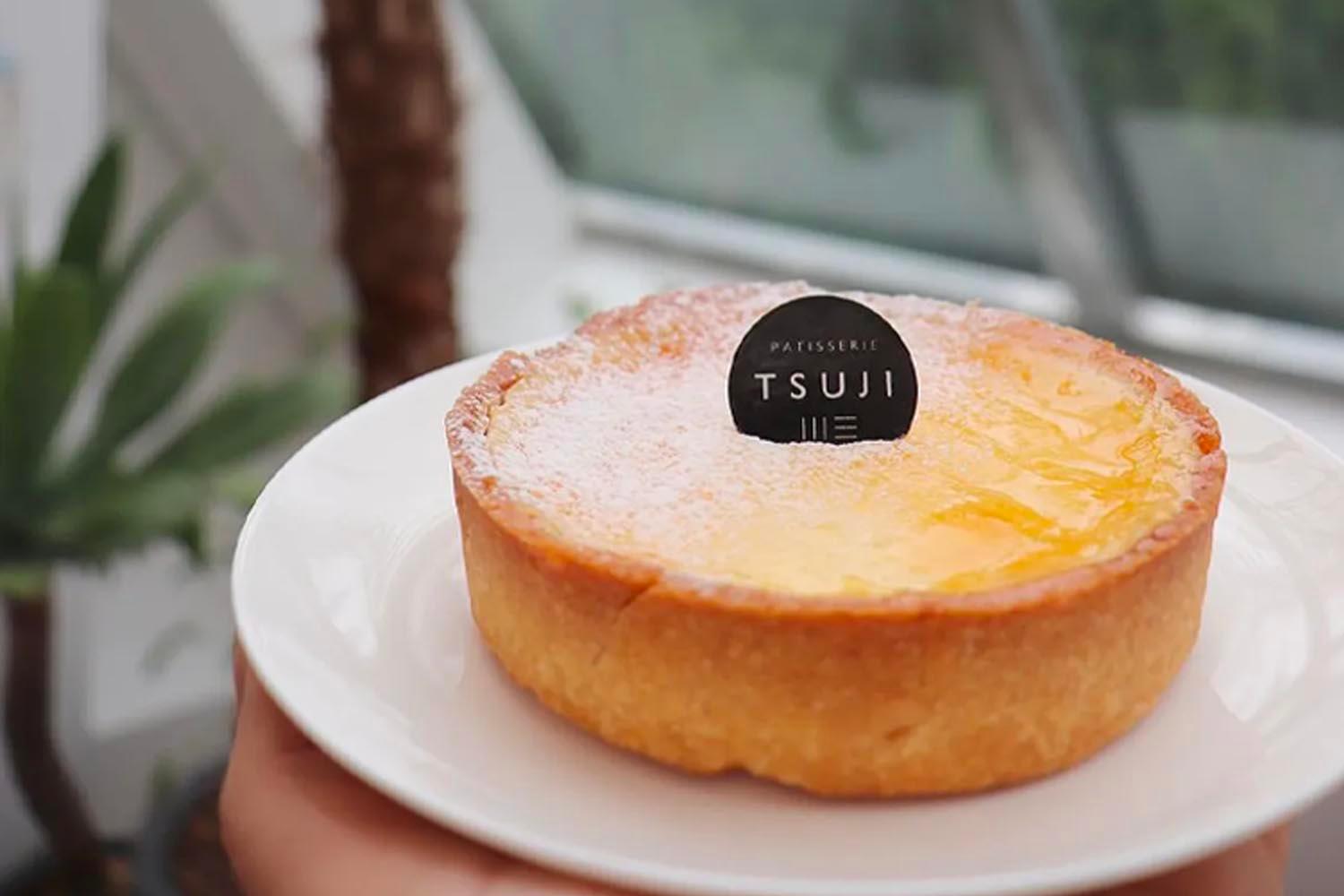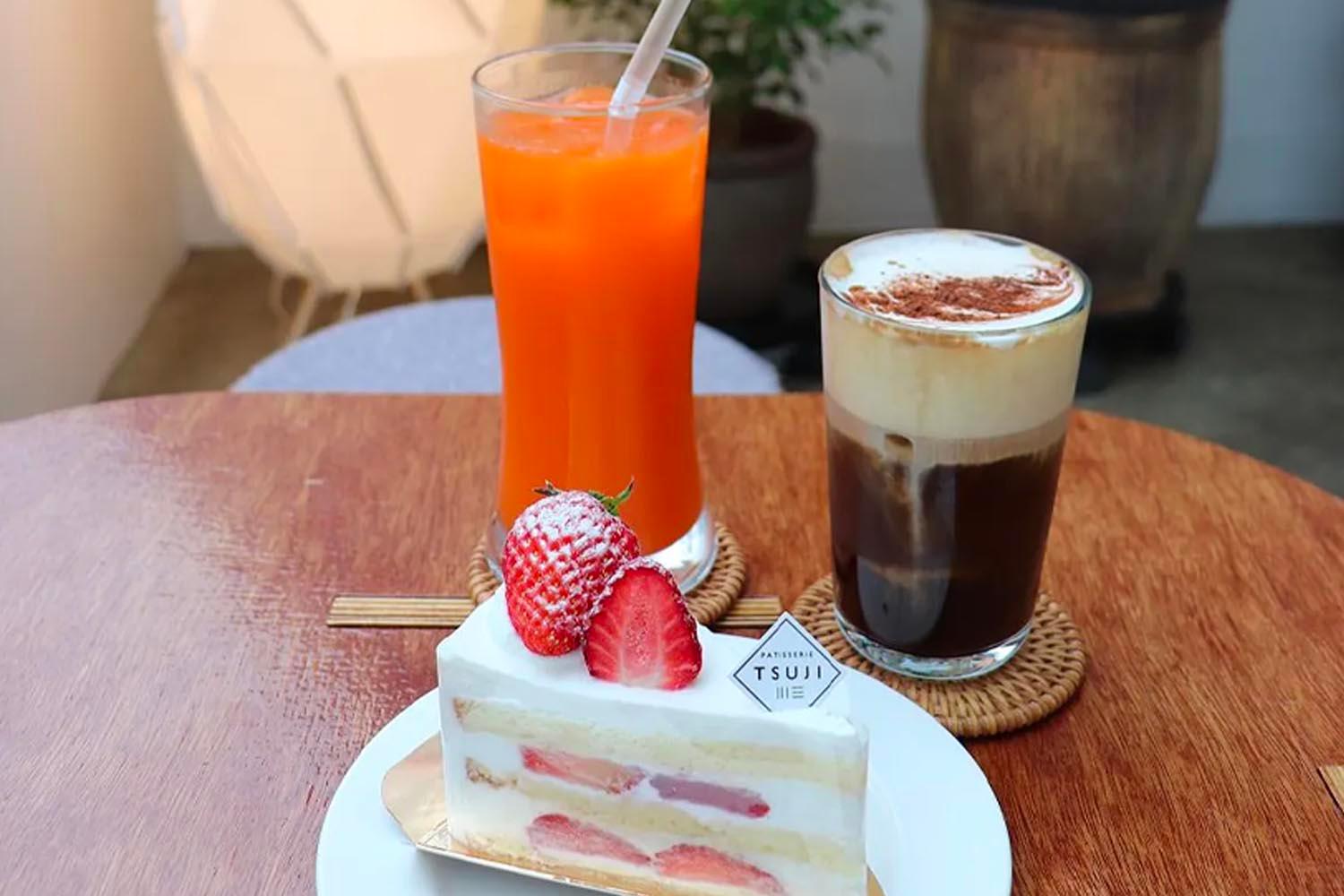 If you ever visit E-World during your stay in Daegu, why don't you check here out to feel the urban forest cafe?
---

Address: 대구 중구 동성로5길 69 2F
Hours: 12:00-22:30
Offer: 10% off on all drink menus. Click here to claim your coupon!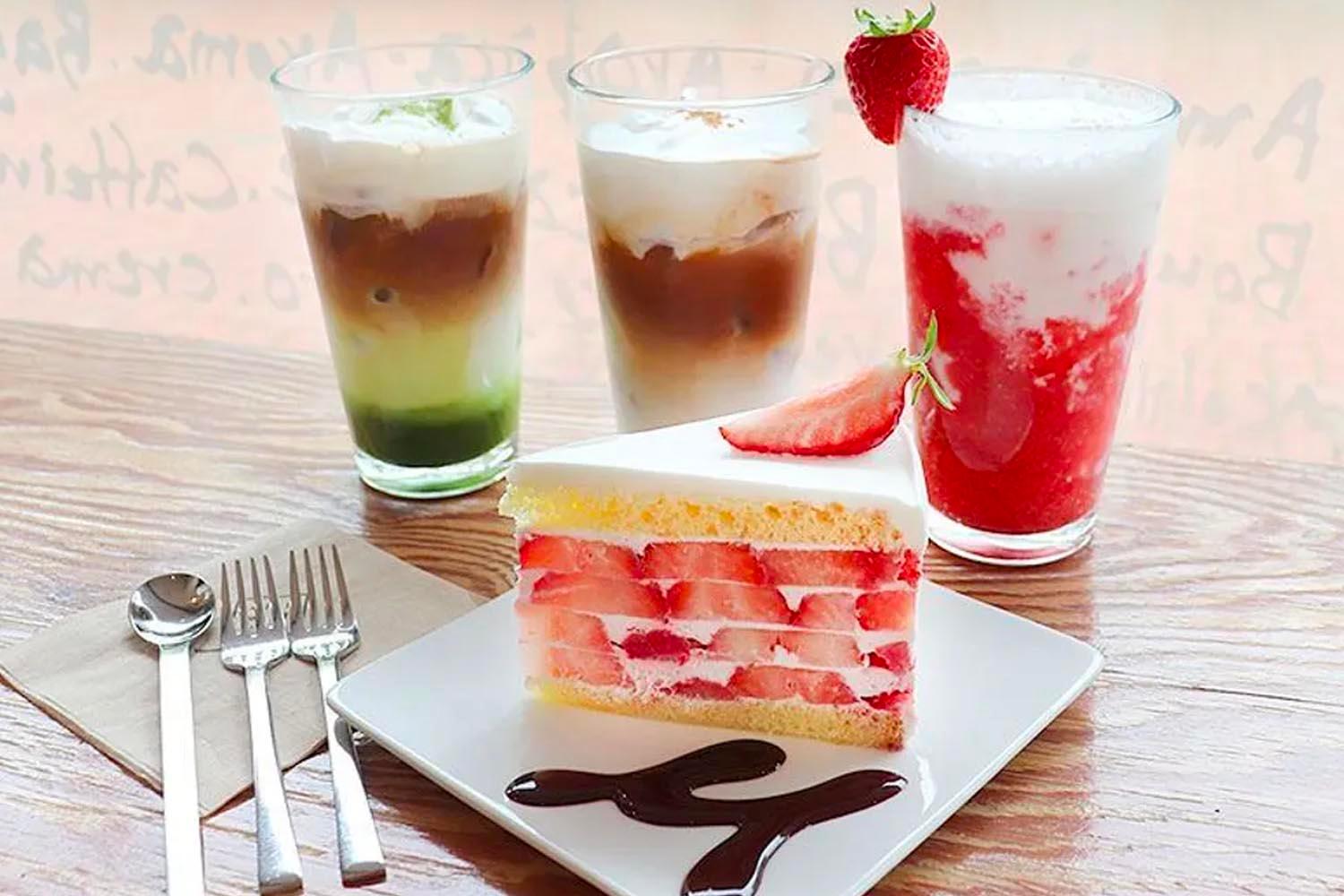 Coffee Myungga is a famous coffee shop that has its headquarters in Daegu.
Interestingly, Coffee Myunga's signature menu is a strawberry cake, not a typical coffee!
As you can see in the photos above and below, the four layers of strawberry with fresh cream was attractive enough to catch the customers' attention!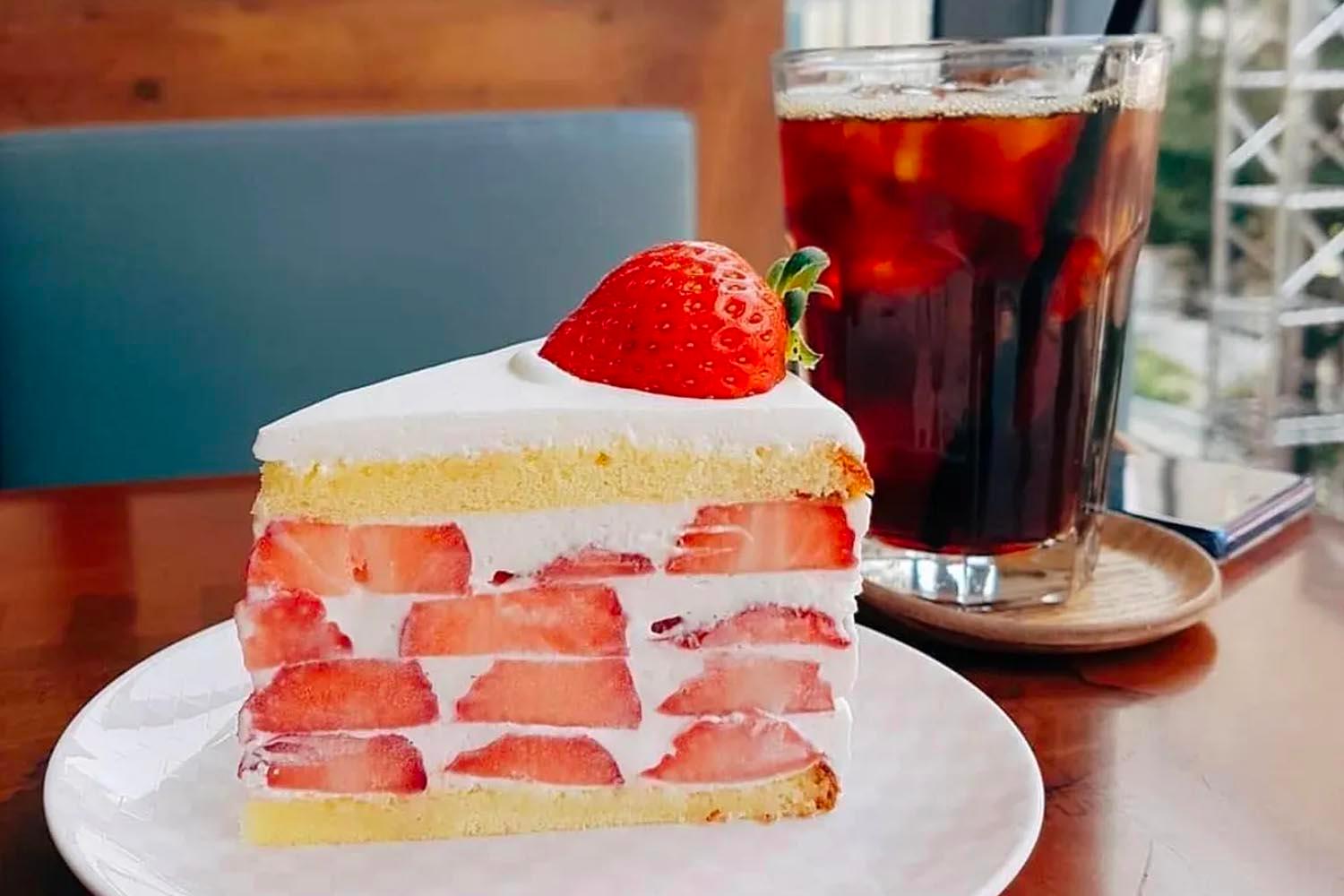 Undoubtedly, the taste of the cake is delicious.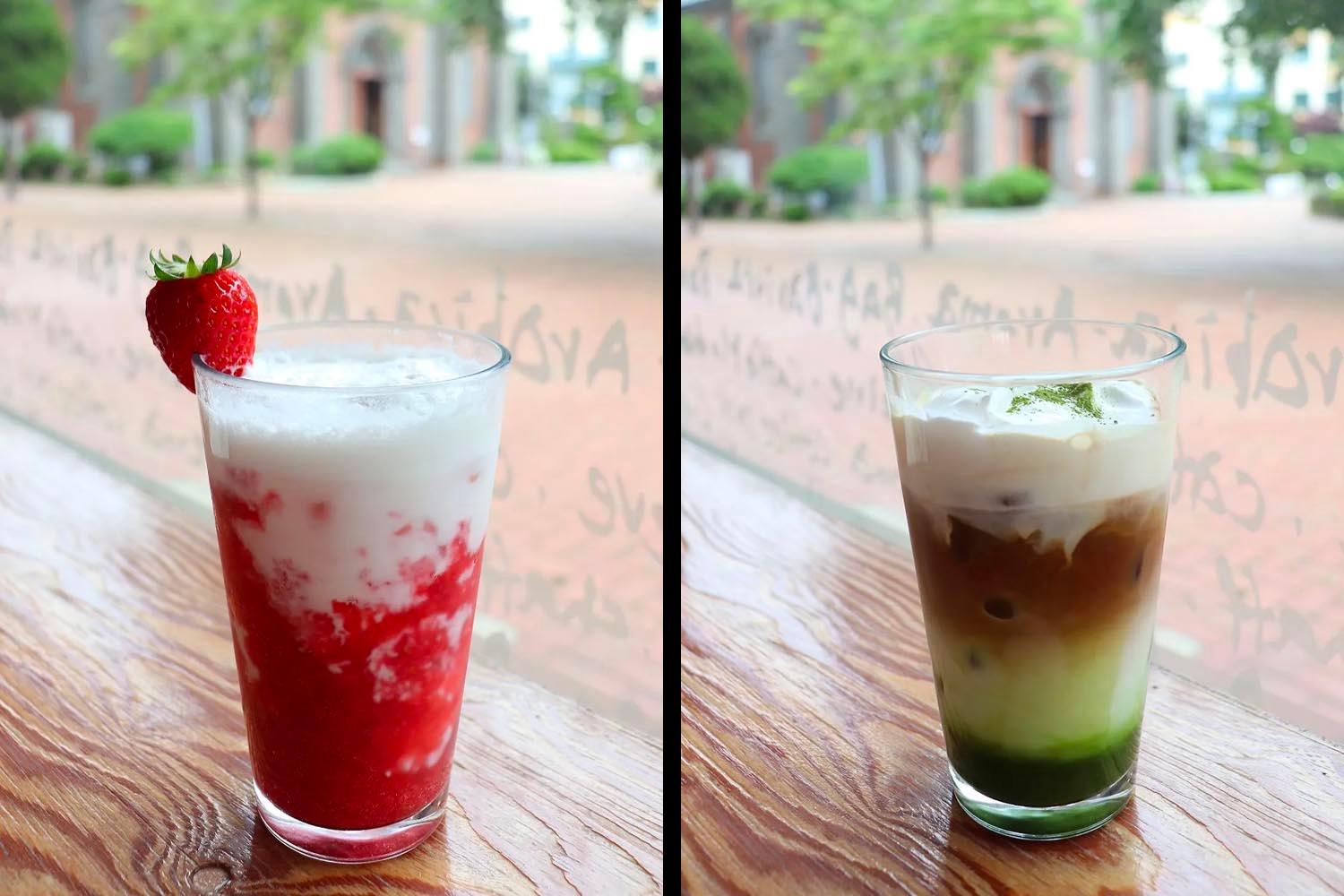 Coffee Myunga's signature drink is the myunggaccino. The drink is topped with homemade whipped cream, and it has a gentle coffee taste that neutralizes the sweetness of whipped cream.
As a coffee lover, I really enjoyed myunggaccino!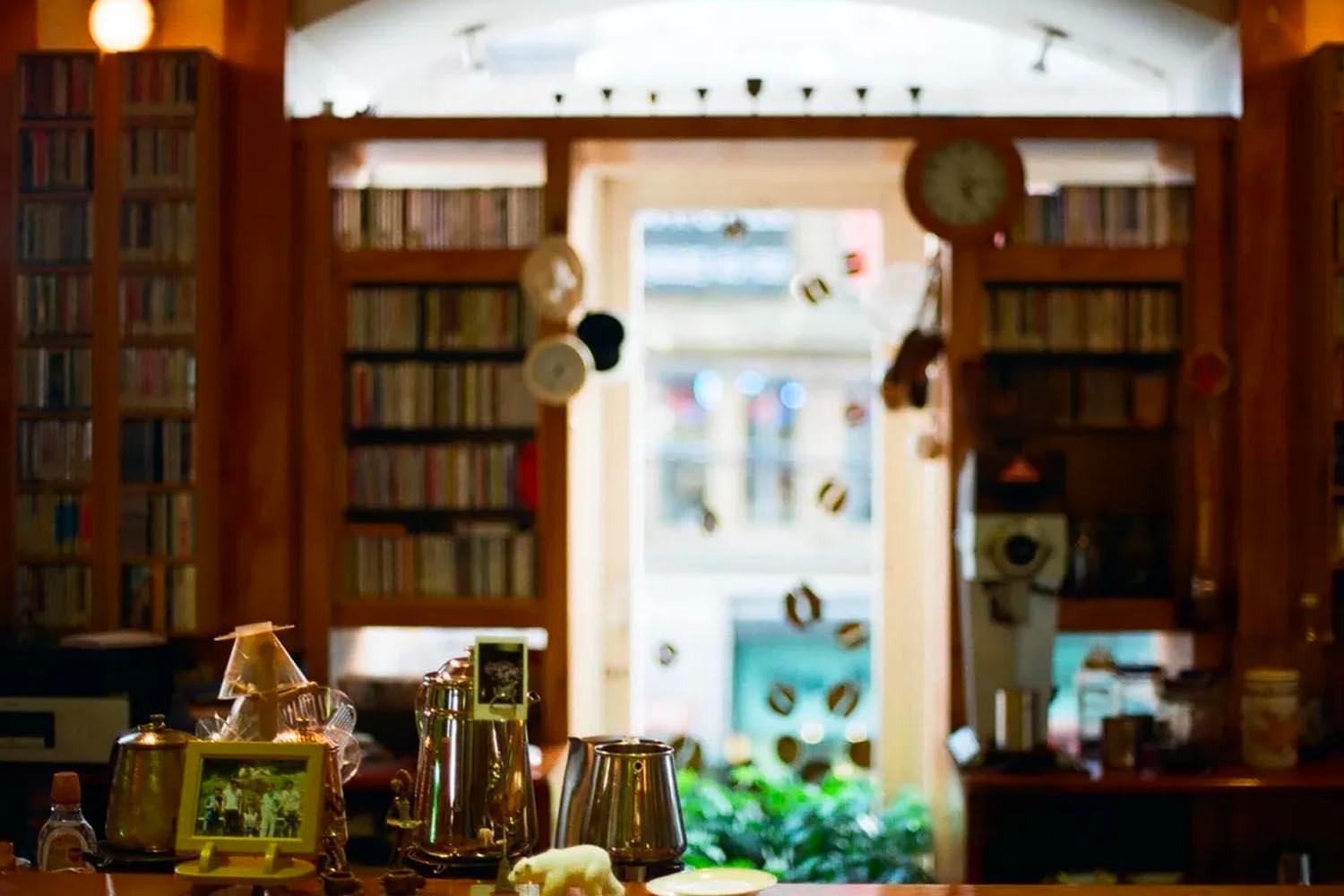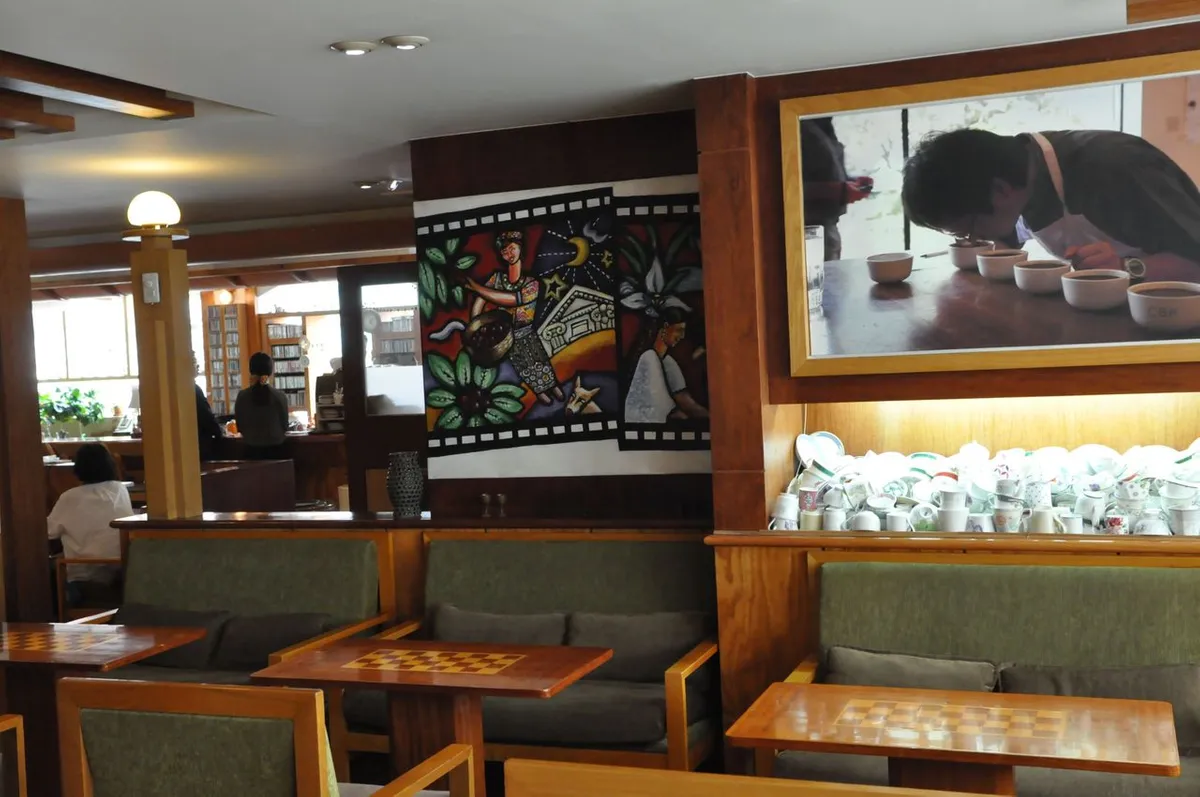 There are three more locations (four in total) of Coffee Myungga where you can get your 10% discount for all your drink menus.
Don't forget to check the rest of the locations below and make your visit for the signature strawberry cake and myunggaccino!
---
COFFEE MYUNGGA
La Finca Branch

Address: 대구 수성구 국채보상로 953-1
Hours: 10:00-22:00
Offer: 10% off on all drink menus. Click here to claim your coupon!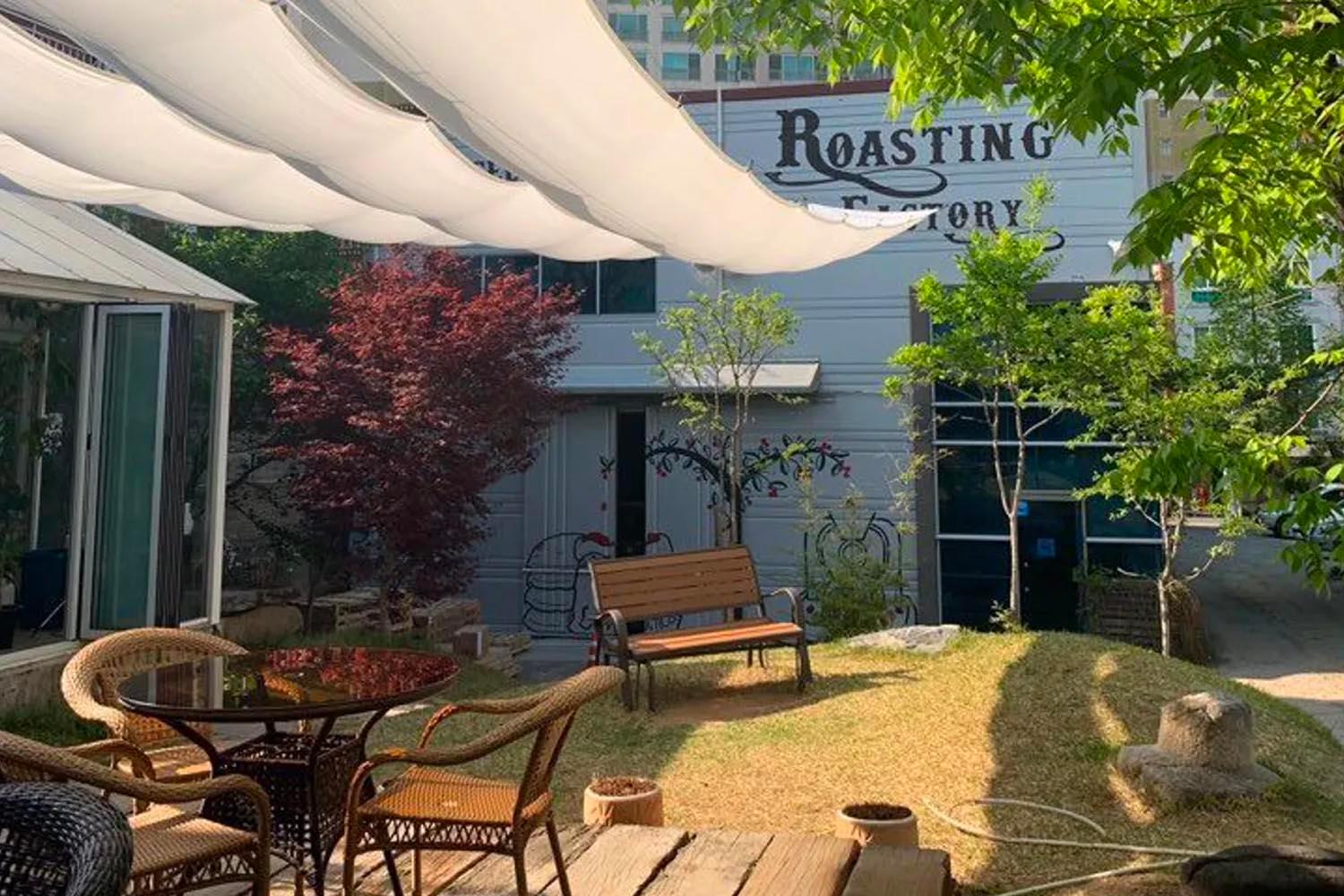 The La Finca branch is located close to the Dongdaegu station, and it offers a relaxing atmosphere for a cup of coffee in the greenhouse.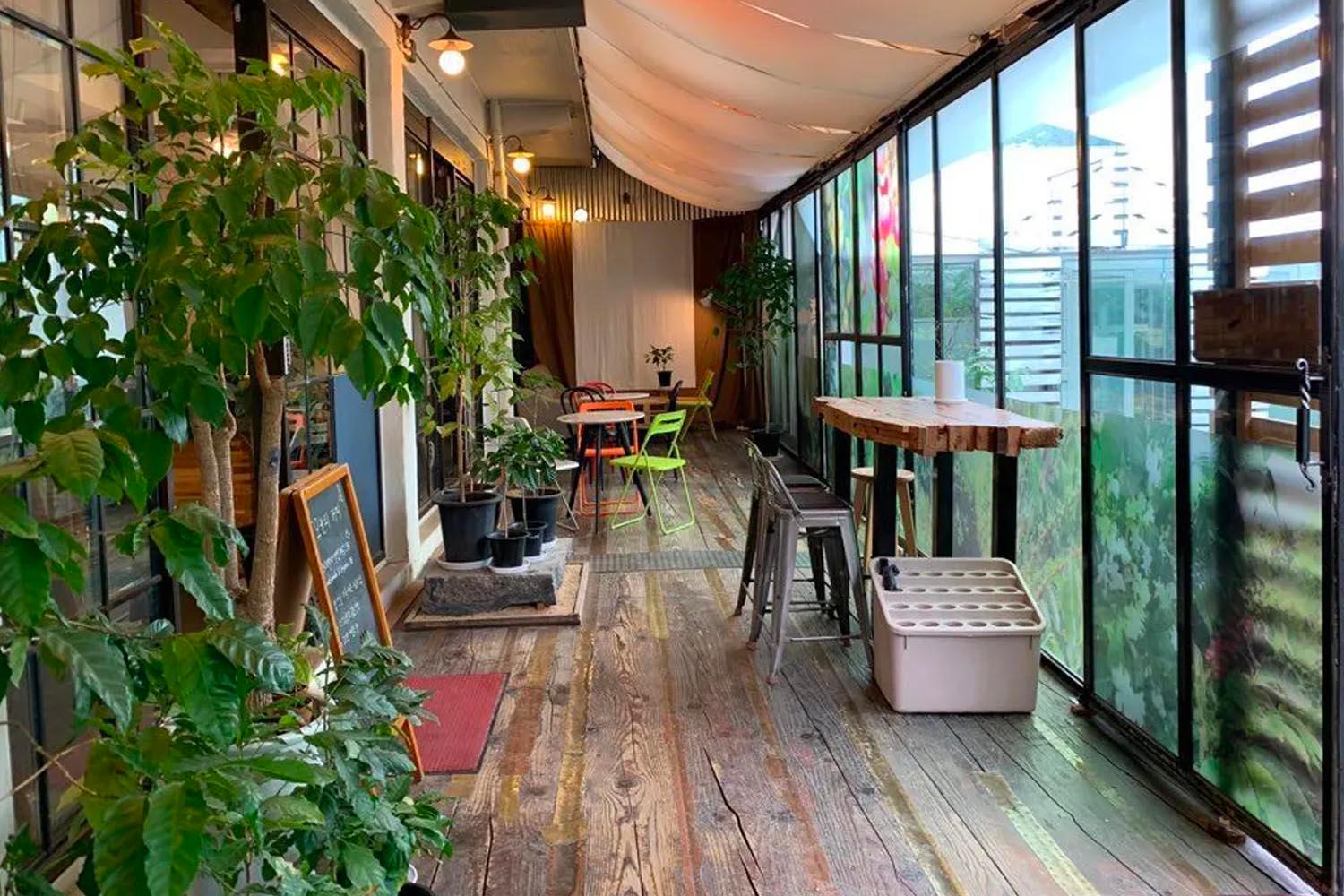 ---
Coffee Myungga




Kim Kwang Seok Alley Branch

Address: 대구 중구 동덕로14길 58-10
Hours: 12:00-22:00
Offer: 10% off on all drink menus. Click here to claim your coupon!
Kim Kwang Seok Alley is an alley filled with murals portraying the life of the treasured Korean singer-songwriter, Kim Kwang Seok.
Why don't you take a sip of coffee while you are visiting the artsy Kim Kwang Seok Alley?
---
CAMP BY Coffee Myungga

Address: 대구 중구 서성로 20 매일신문사 사옥 1F
Hours: 09:00-22:00
Offer: 10% off on all drink menus. Click here to claim your coupon!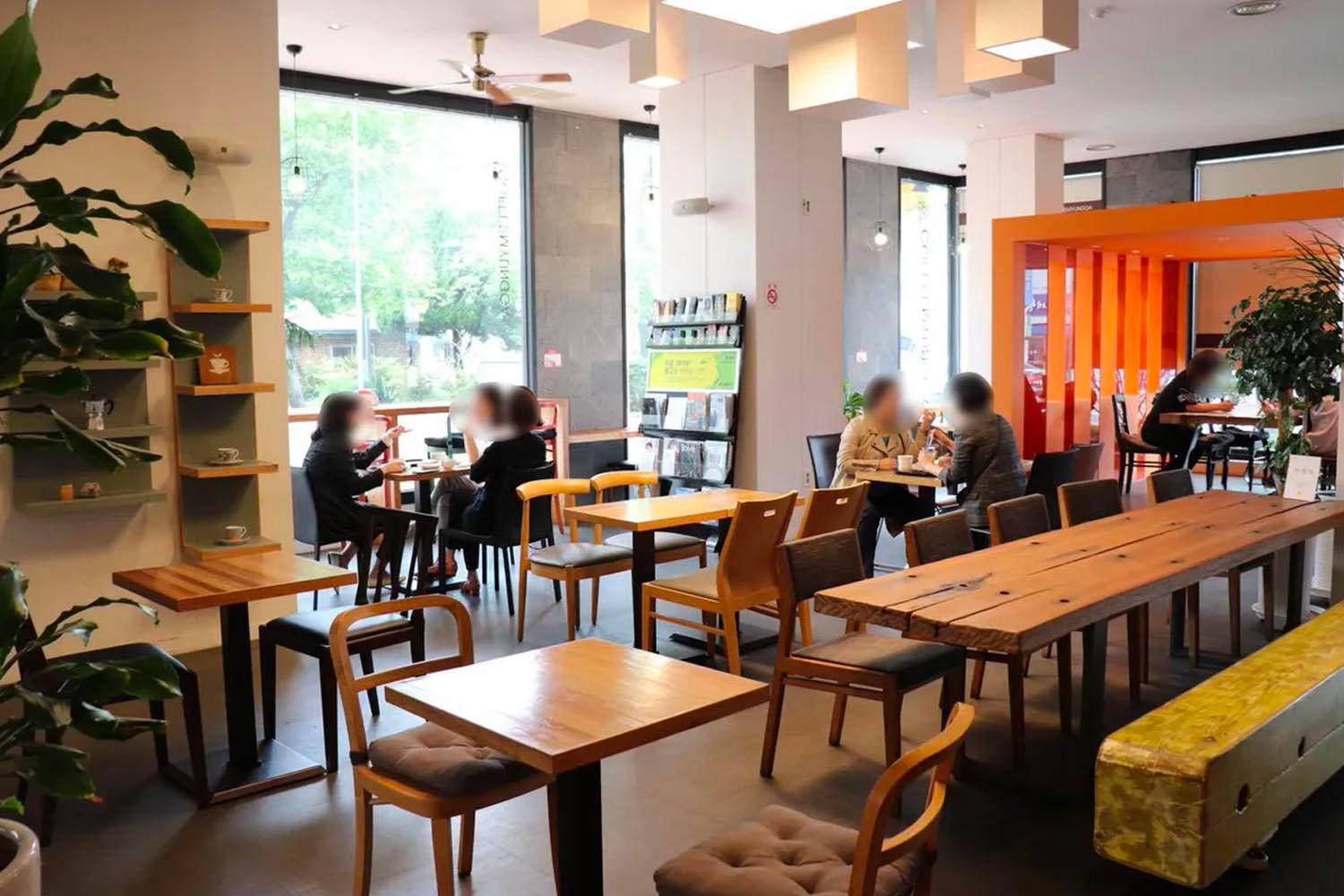 ---
AIR CAFE

Address: 대구 수성구 무학로 42
Hours: Call to confirm hours for the day
Phone: 053-762-2552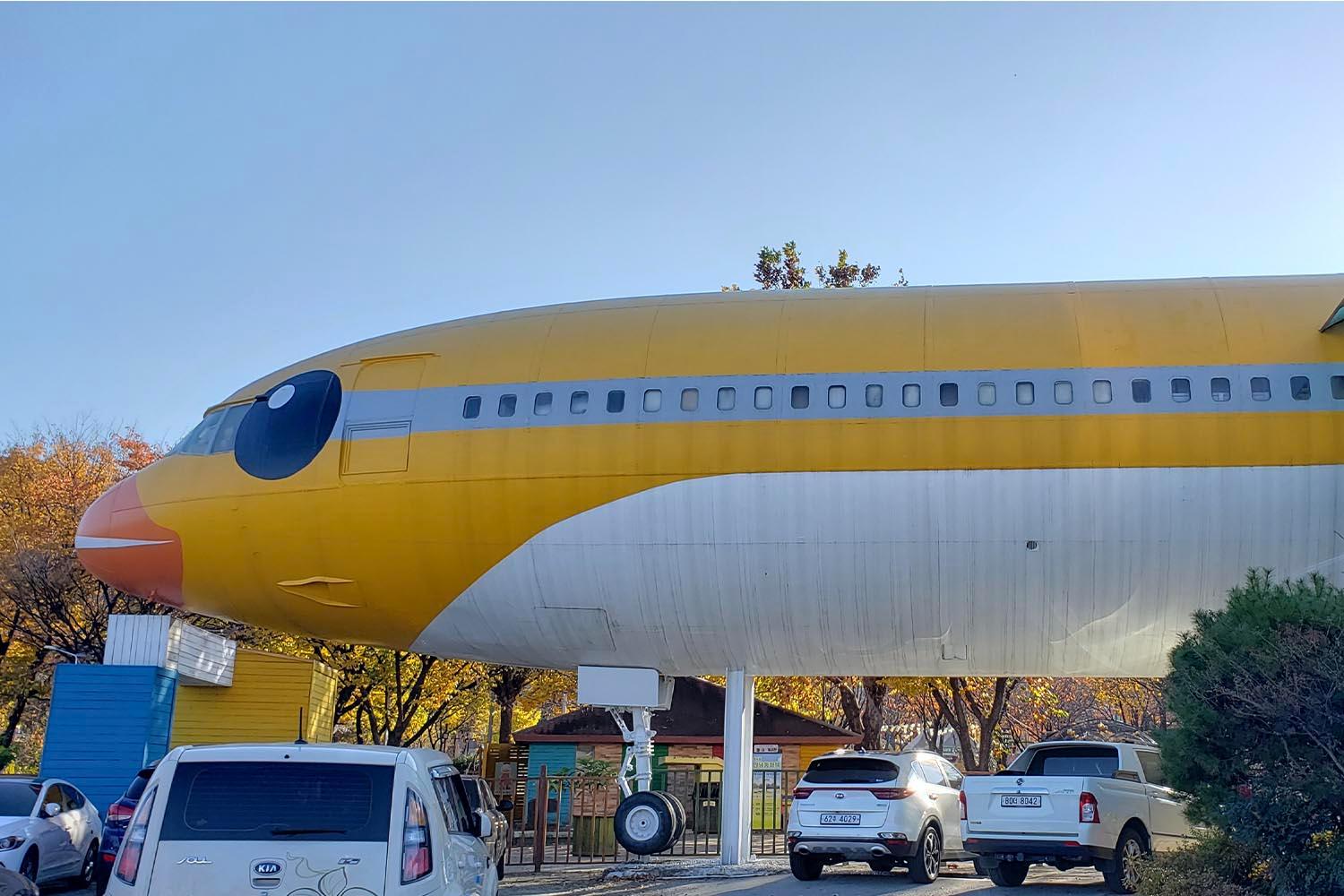 At the end of Suseongmot lake, you can easily spot a gigantic yellow airplane.
This is a refurbished airplane and transformed into a cafe.
Even though the cafe is eye-catching, you might be able to miss the entrance. No worries! Go to the right and take the stairs to the Air Cafe.
Once you go upstairs, you will be able to see the spacious cafe.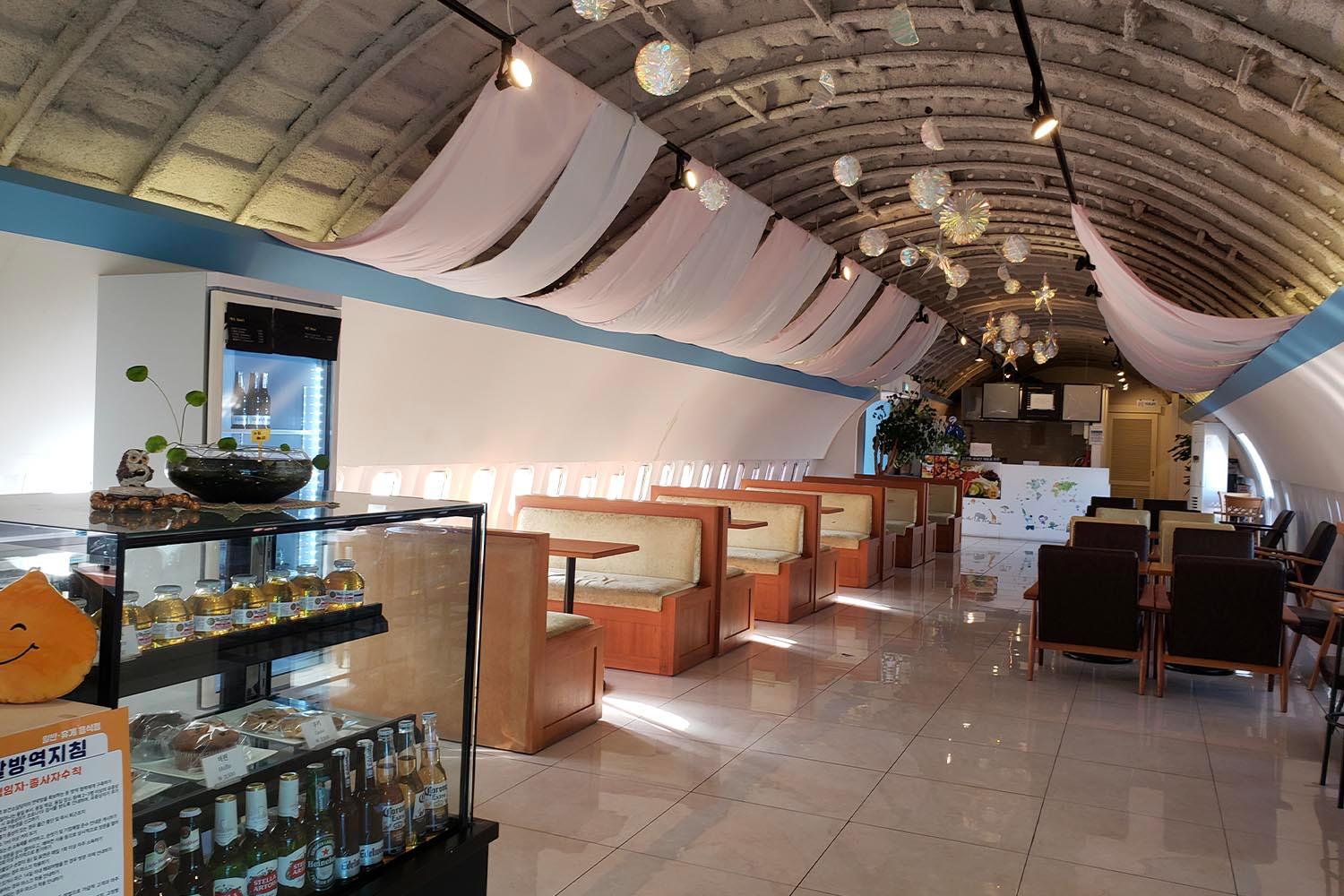 When you take a turn to the left, there is more space for you to sit down and enjoy your drink.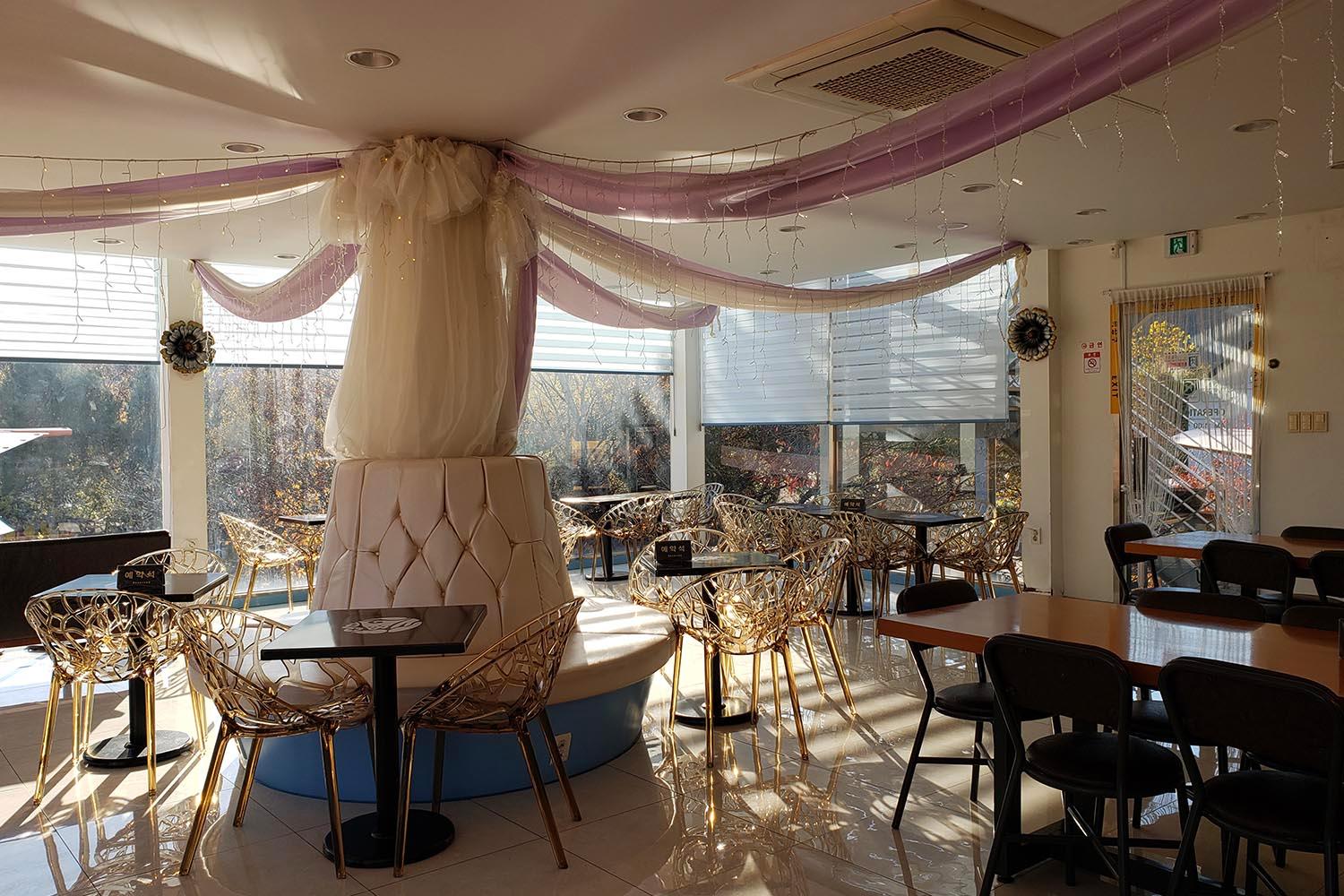 My friend and I ordered a strawberry smoothie and avocado latte, which is the Air Cafe's signature drink menu.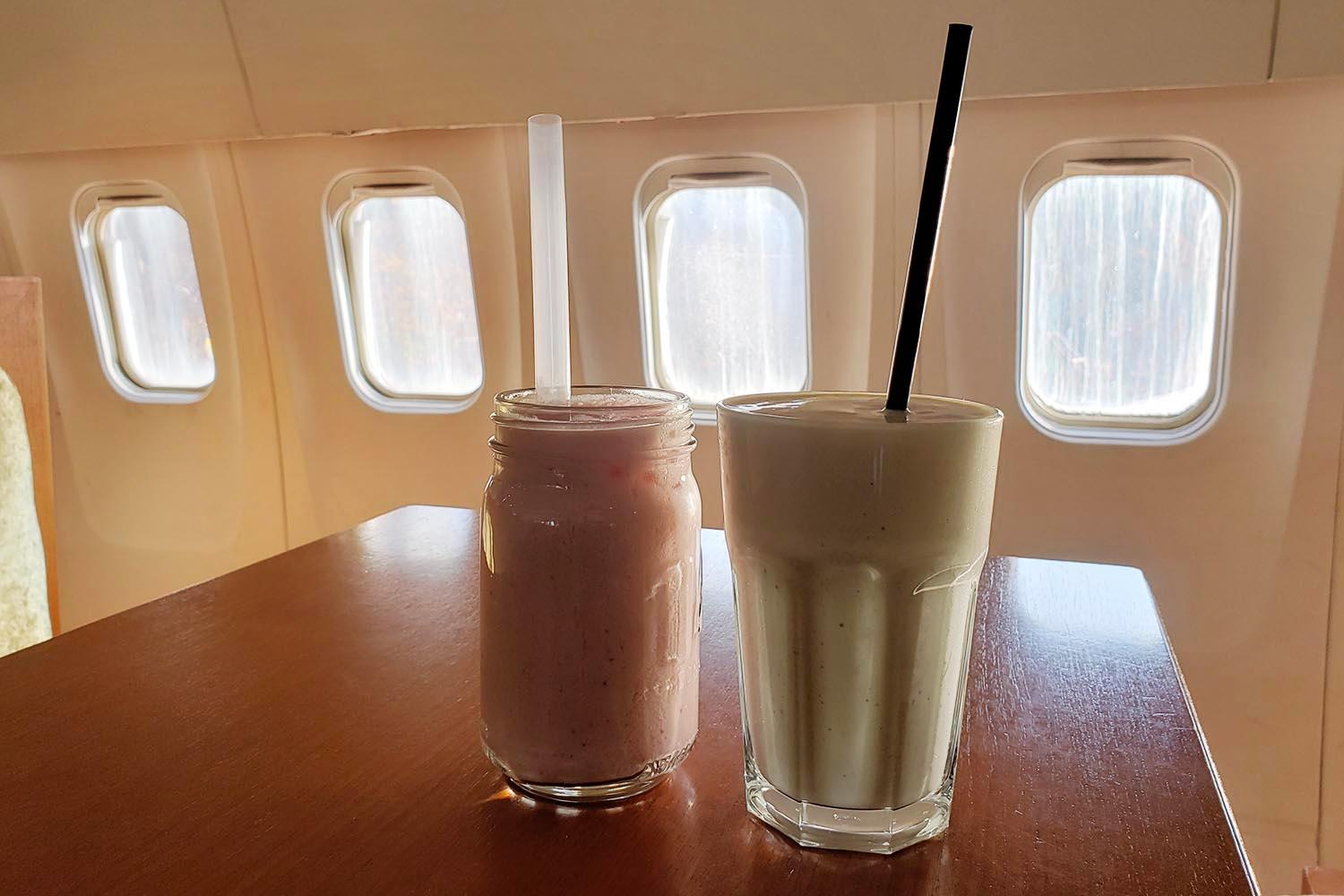 First of all, I loved the avocado latte! In fact, it's more like an avocado smoothie that some might enjoy drinking this menu already. (It doesn't taste like guacamole at all.)The smooth, creamy and hint of savoury taste was exceptional.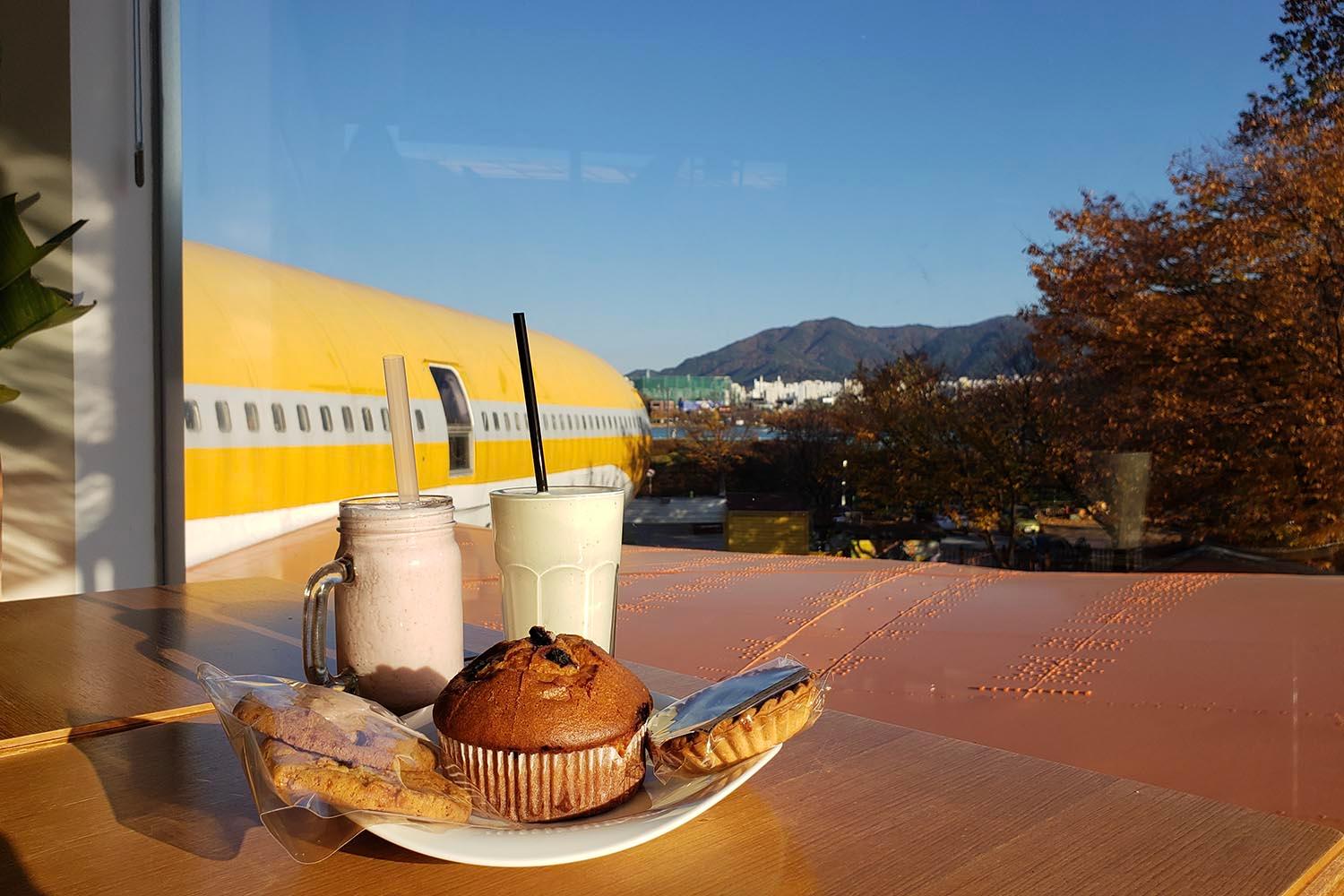 Also, the strawberry smoothie was also tasty; the mix of fresh strawberry, strawberry jam, milk and yogurt satisfied my expectation from the strawberry yogurt smoothie.
If you ever visit Suseongmot Lake, why don't you visit this unique Air Cafe?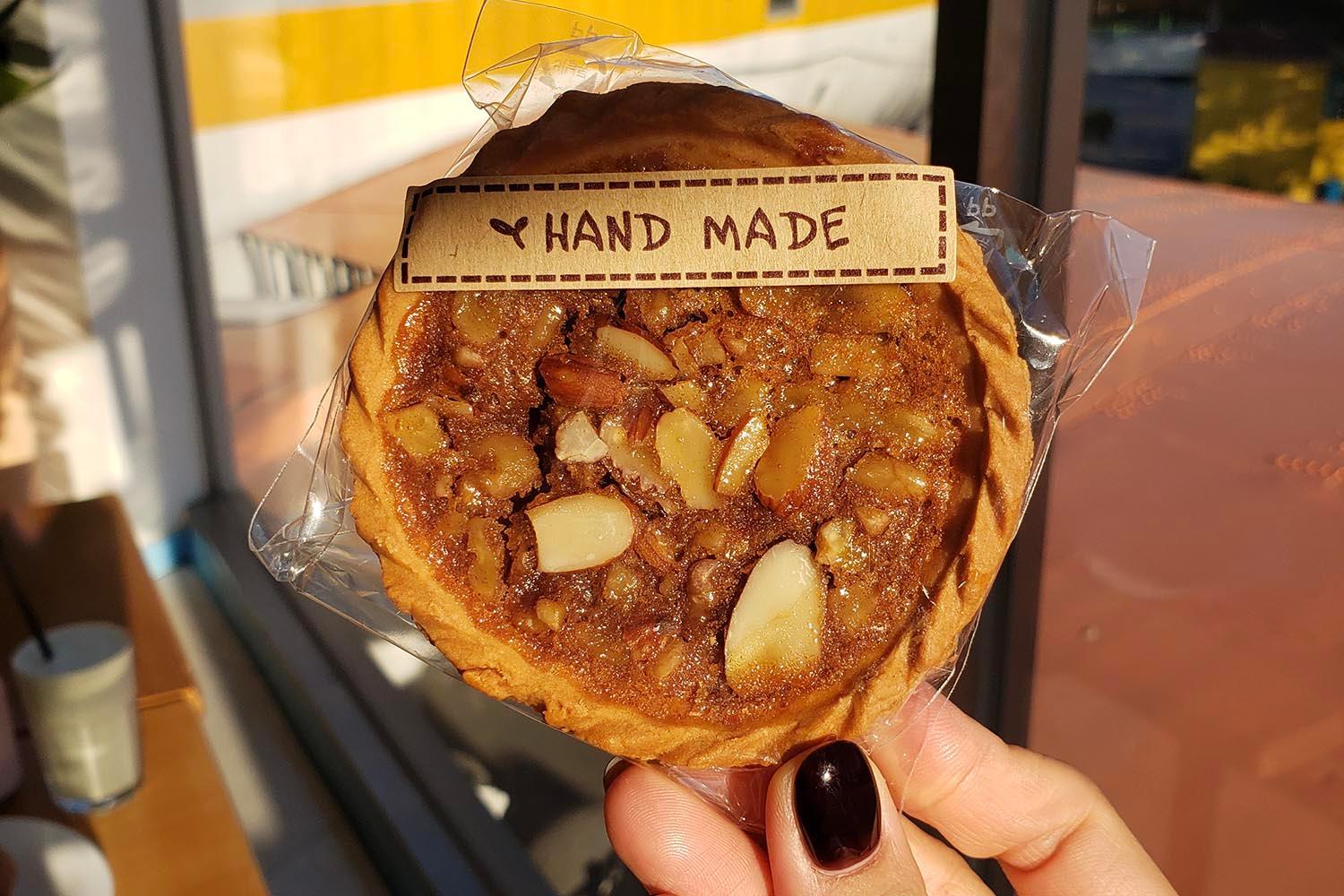 ---
md Bbang

Address: 대구 남구 명덕로40길 72 1F
Hours:
Tue-Sun: 08:00-22:00
Mon: Closed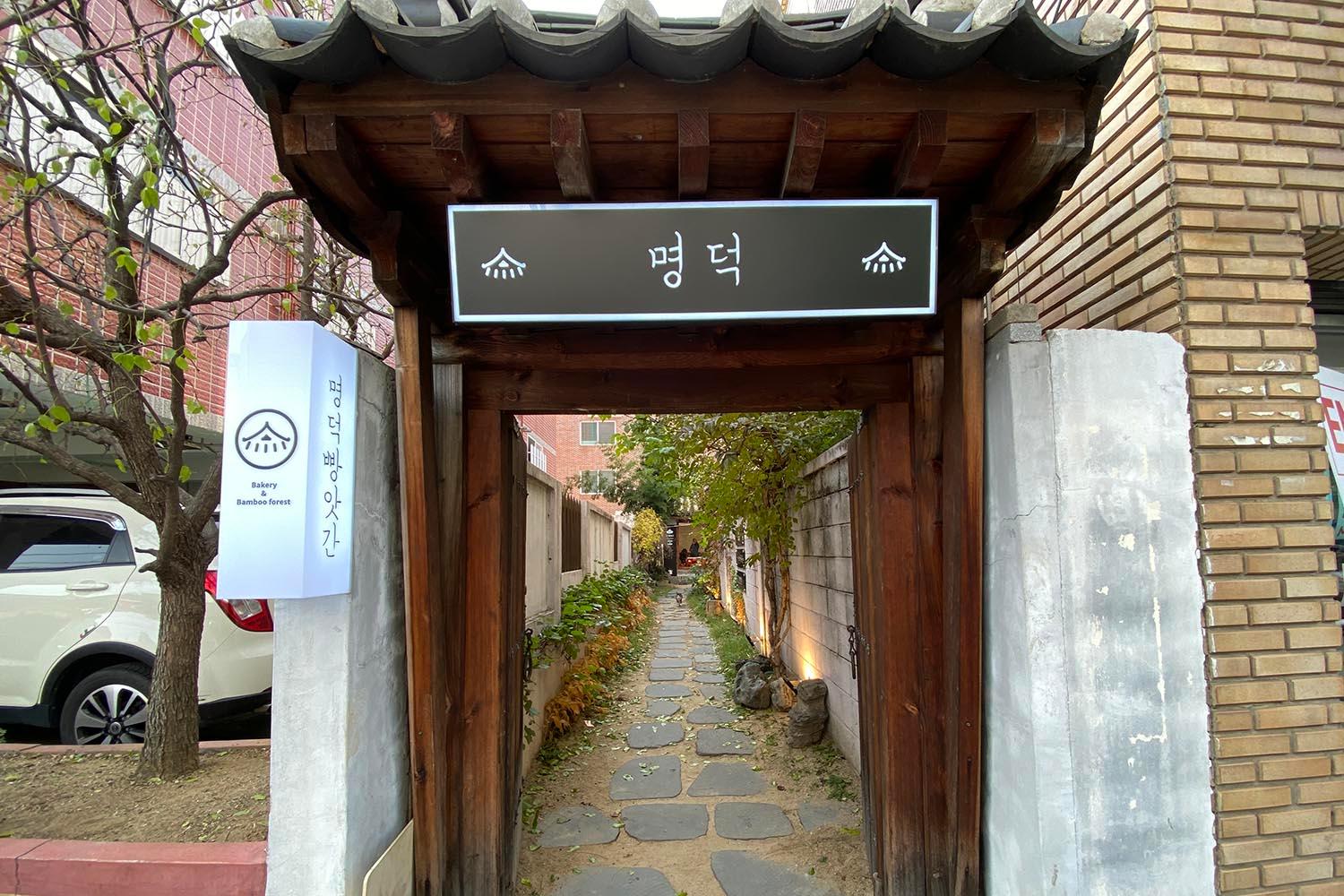 My friend and I discovered this cafe while we were looking for a place to take a rest and have a sip of coffee for a few hours.
The hanok style entrance was charming enough to make us enter the cafe!
There were plenty of dessert options available just like the picture below.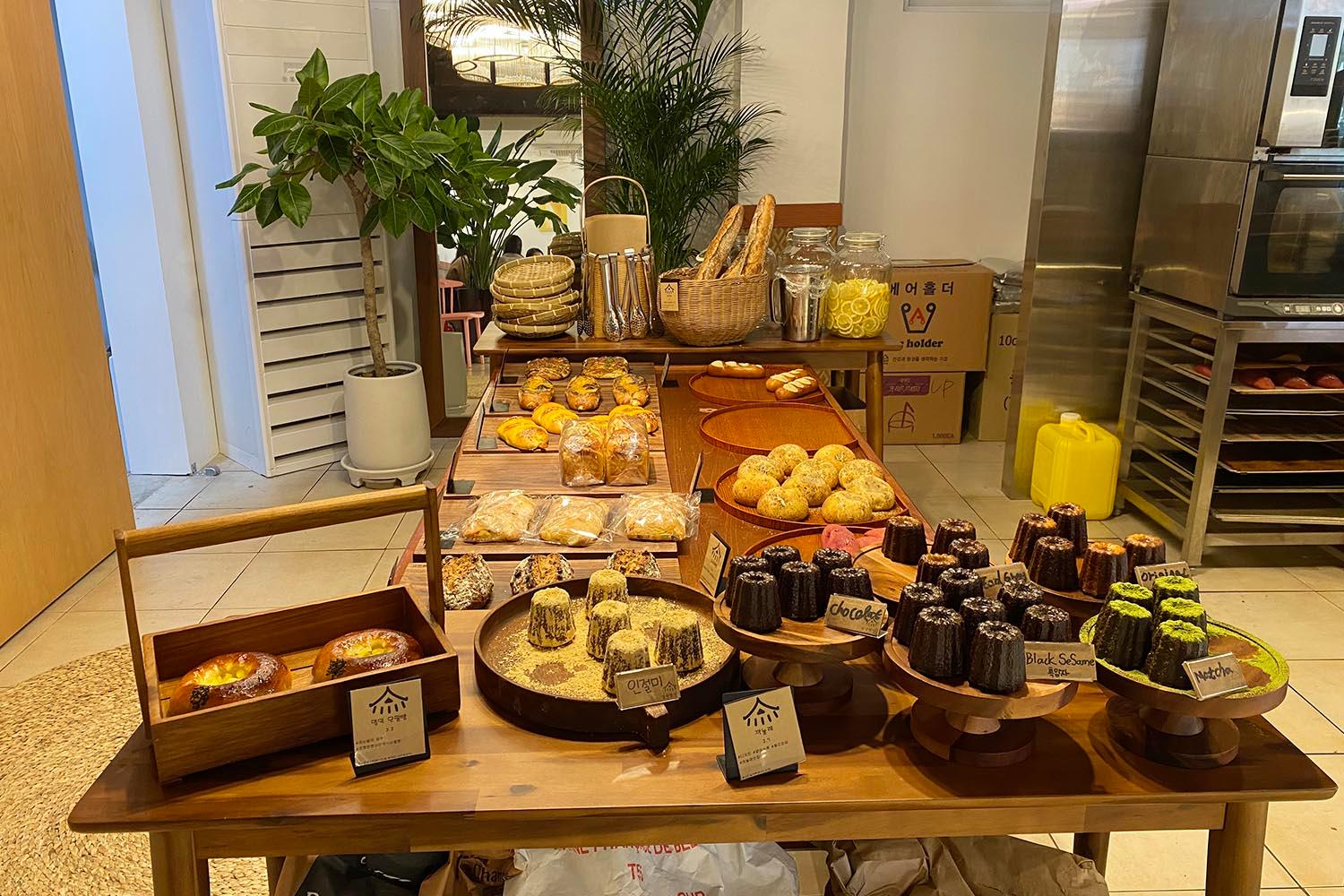 We have ordered two iced americanos and some desserts! The white dessert is walnut dacquoise and the dessert beside is the black sesame canelé.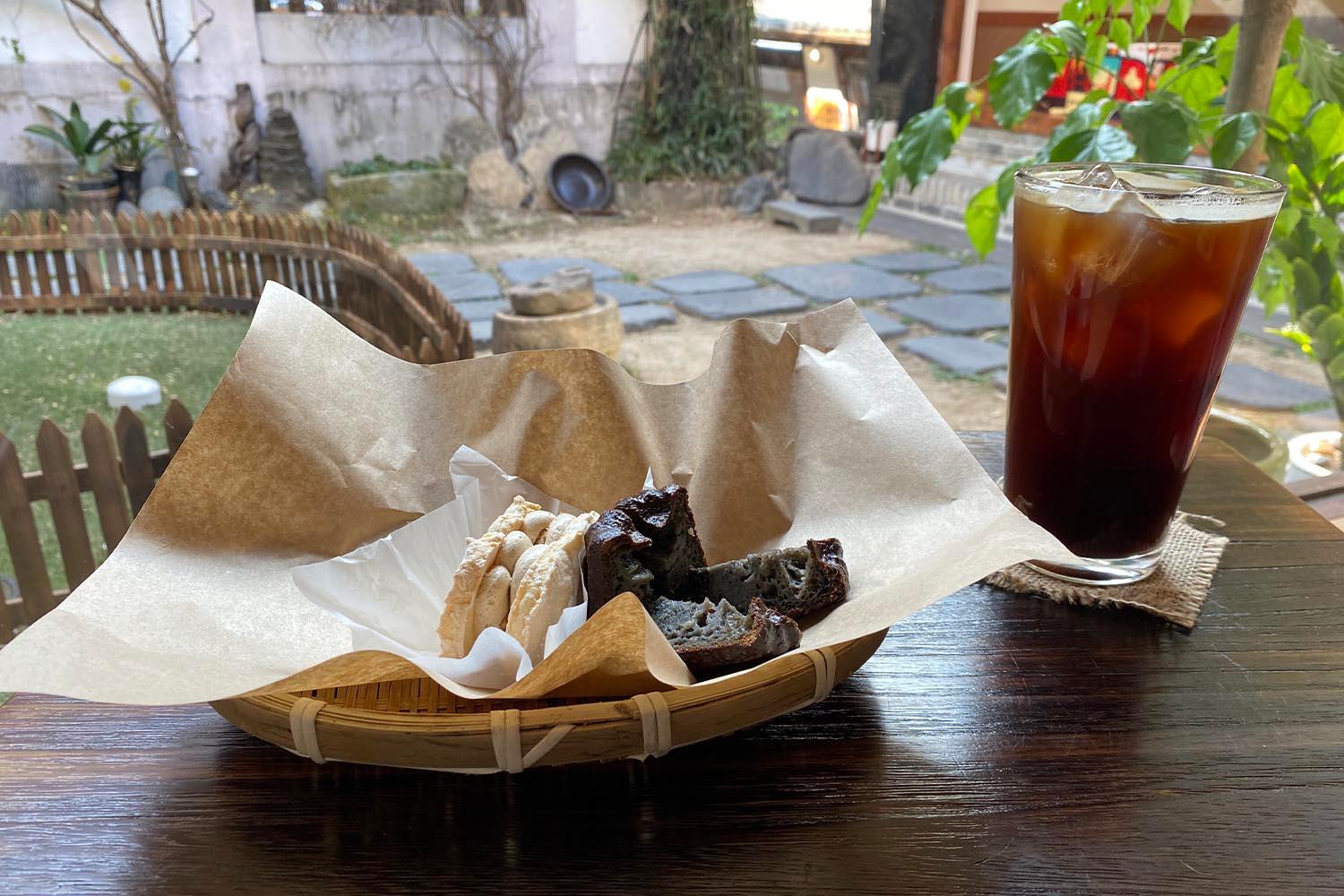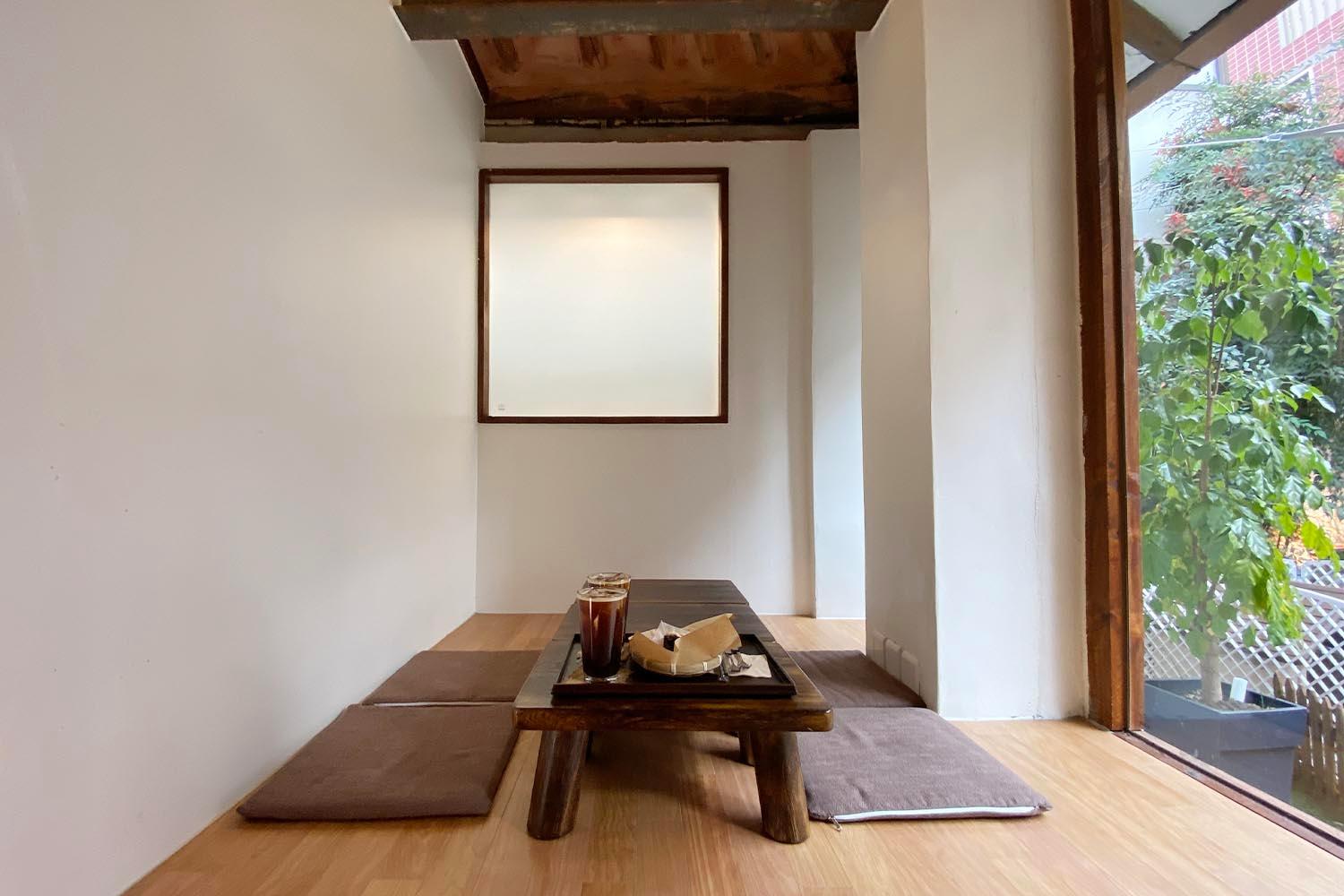 Even though both are famous french desserts, the localization of flavour and ingredients made them even more attractive.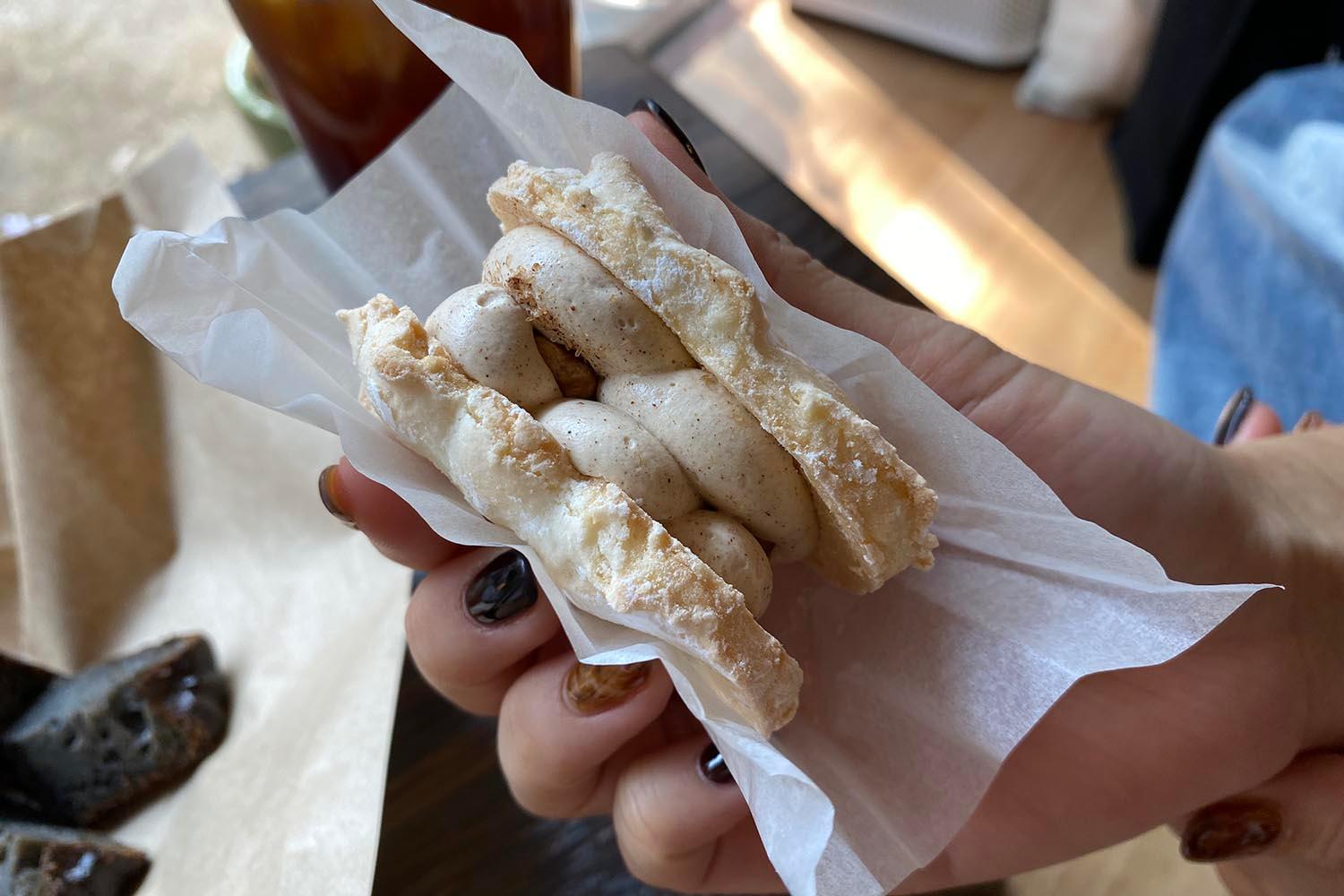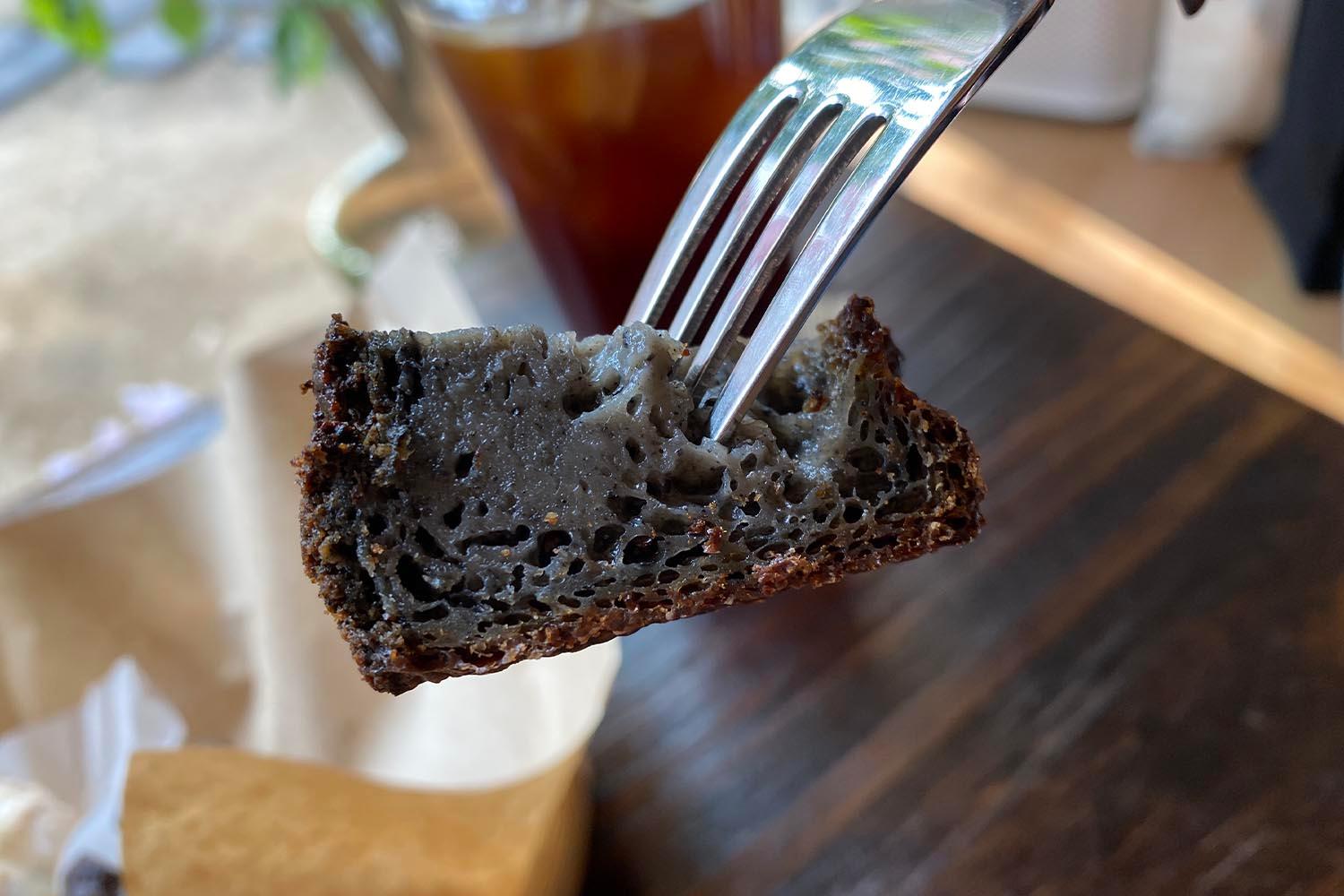 When we finished both of our desserts, we ordered an extra chocolate cookie!
md Bbang's desserts were all satisfying! I would totally recommend visiting here for the relaxing hanok vibe and tasty desserts!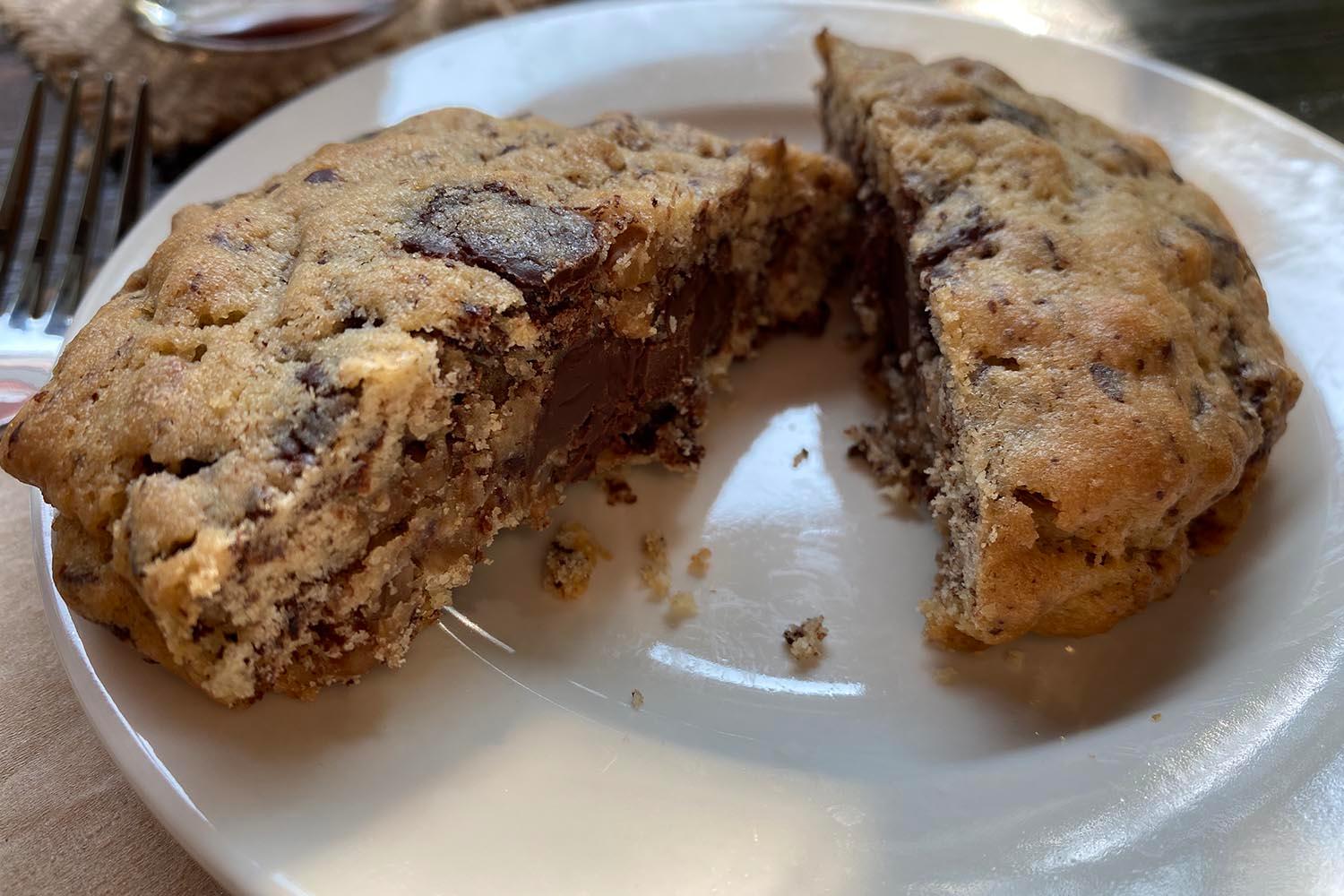 ---
a.nook Apsan

Address: 대구 남구 앞산순환로 459
Hours: 10:00-22:00
Last Order: 21:00
Brunch: 10:00-17:00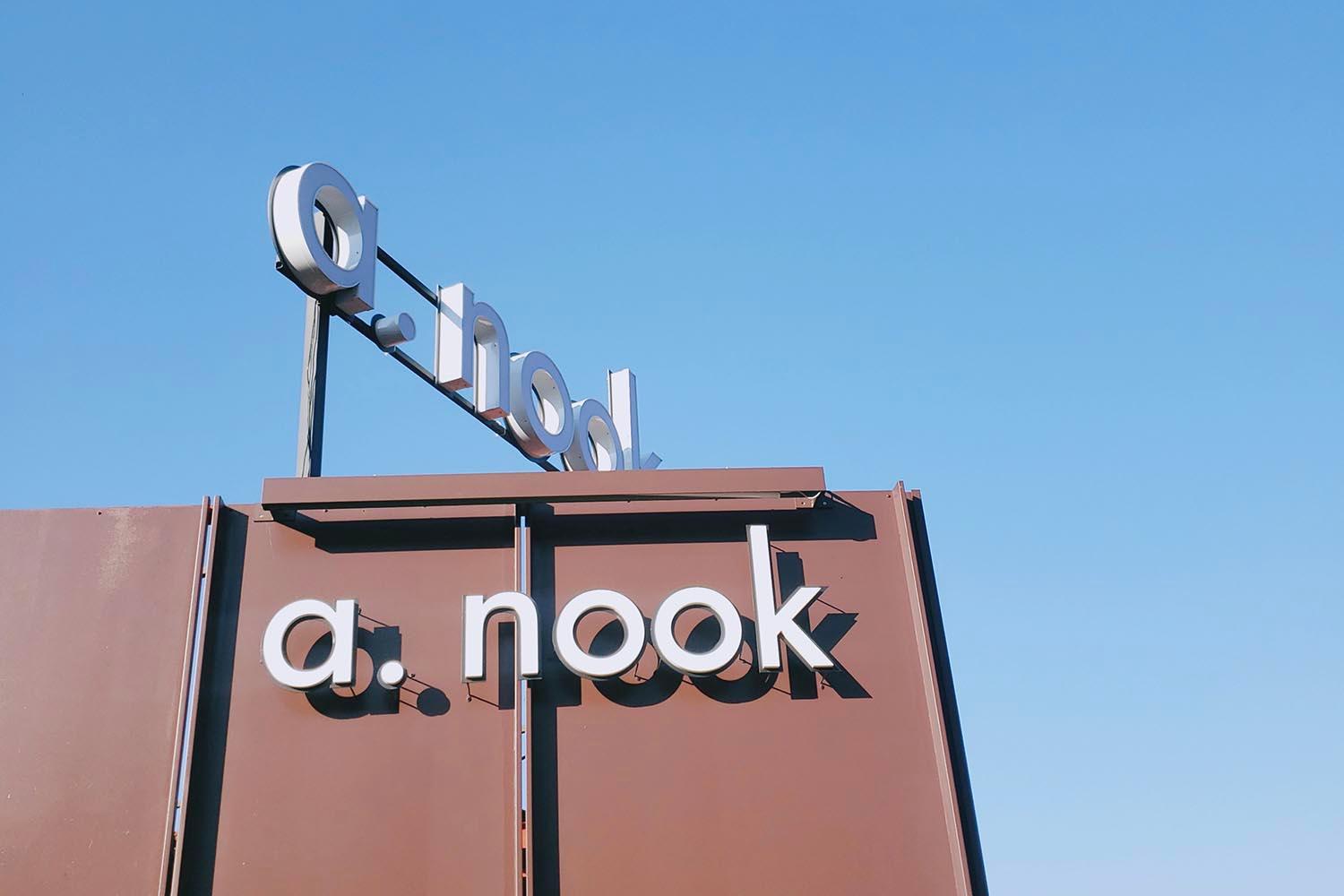 a.nook Apsan is also a brand new cafe that opened its door about two months ago! (September 2020).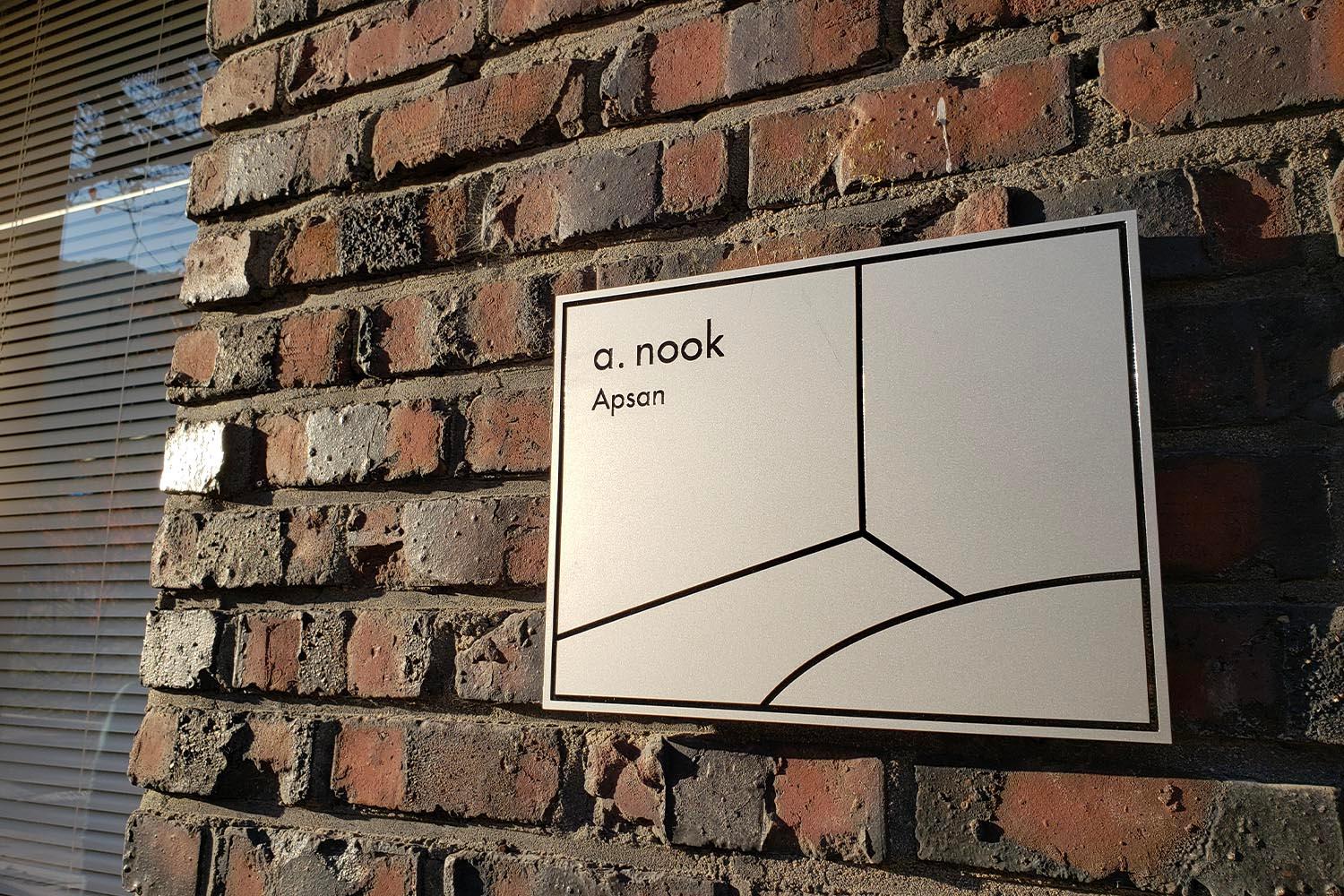 This vintage but chic industrial design cafe is located near Apsan Mountain, which is popular for a hiking trail, cable car and observatory with a stunning view of Daegu.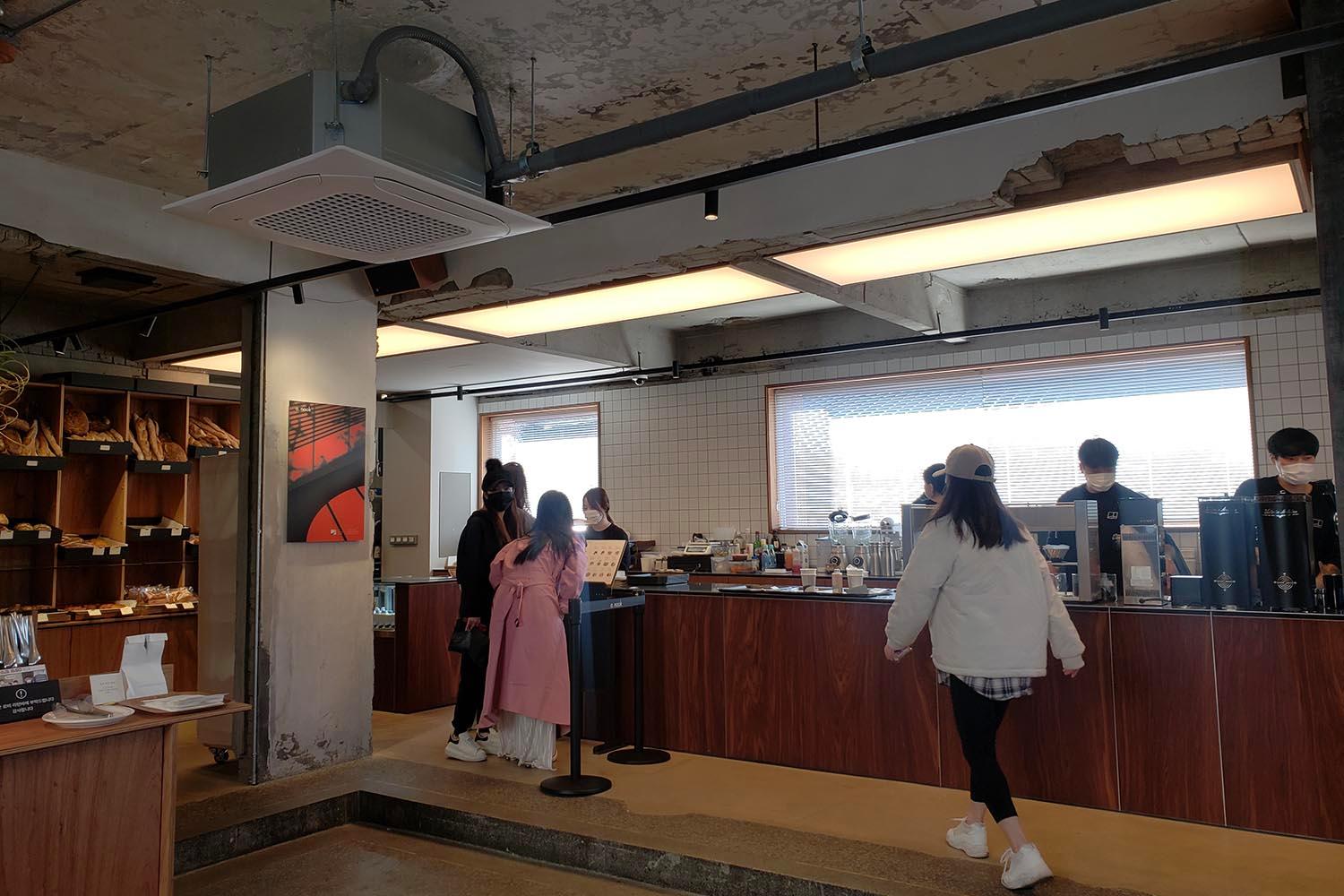 You can order drinks, baked goods and desserts from the counter just like the picture above.
There are several brunch options available too until 5PM as well.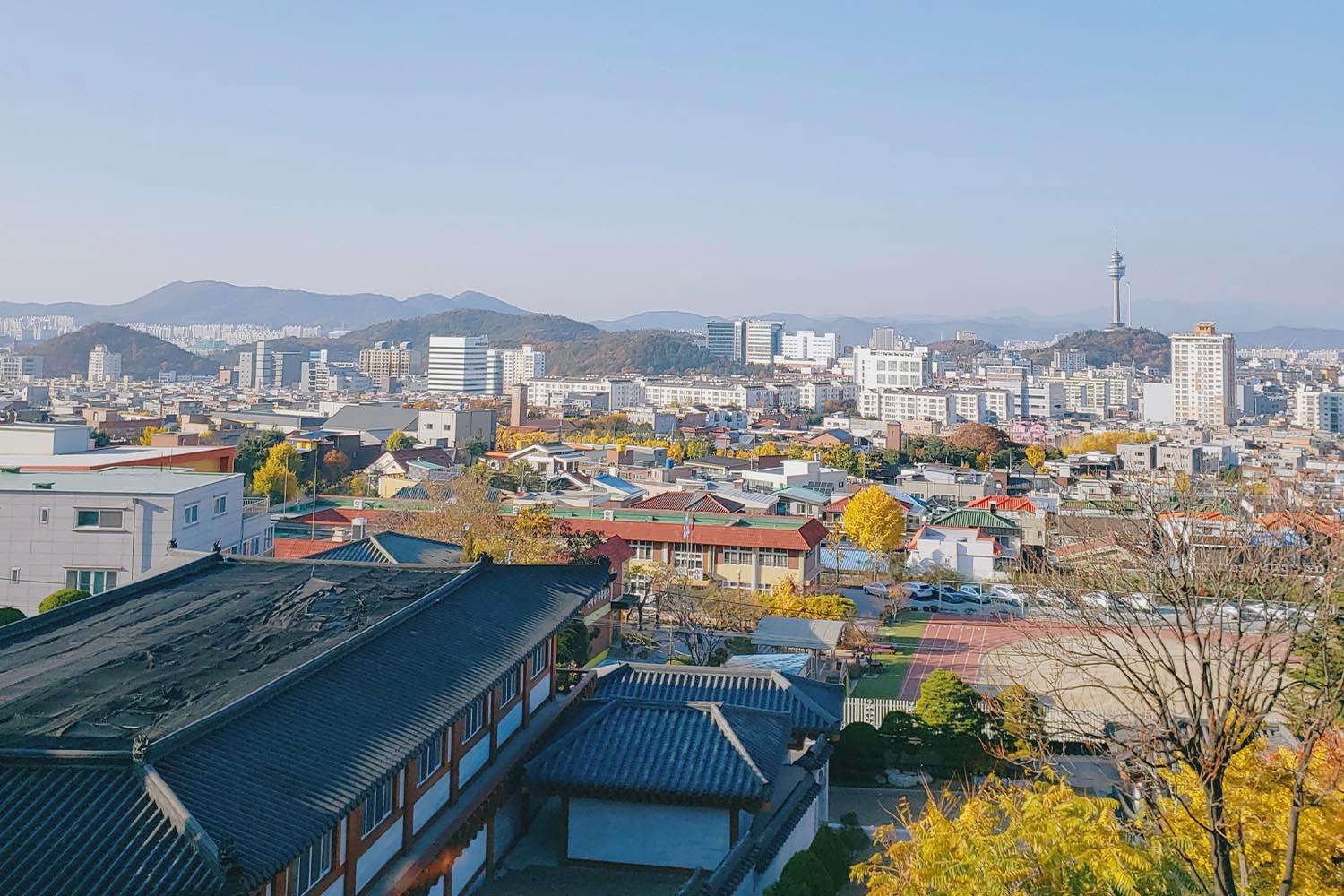 The view from the cafe was dazzling! The hanok onsite made the scenery even more gorgeous.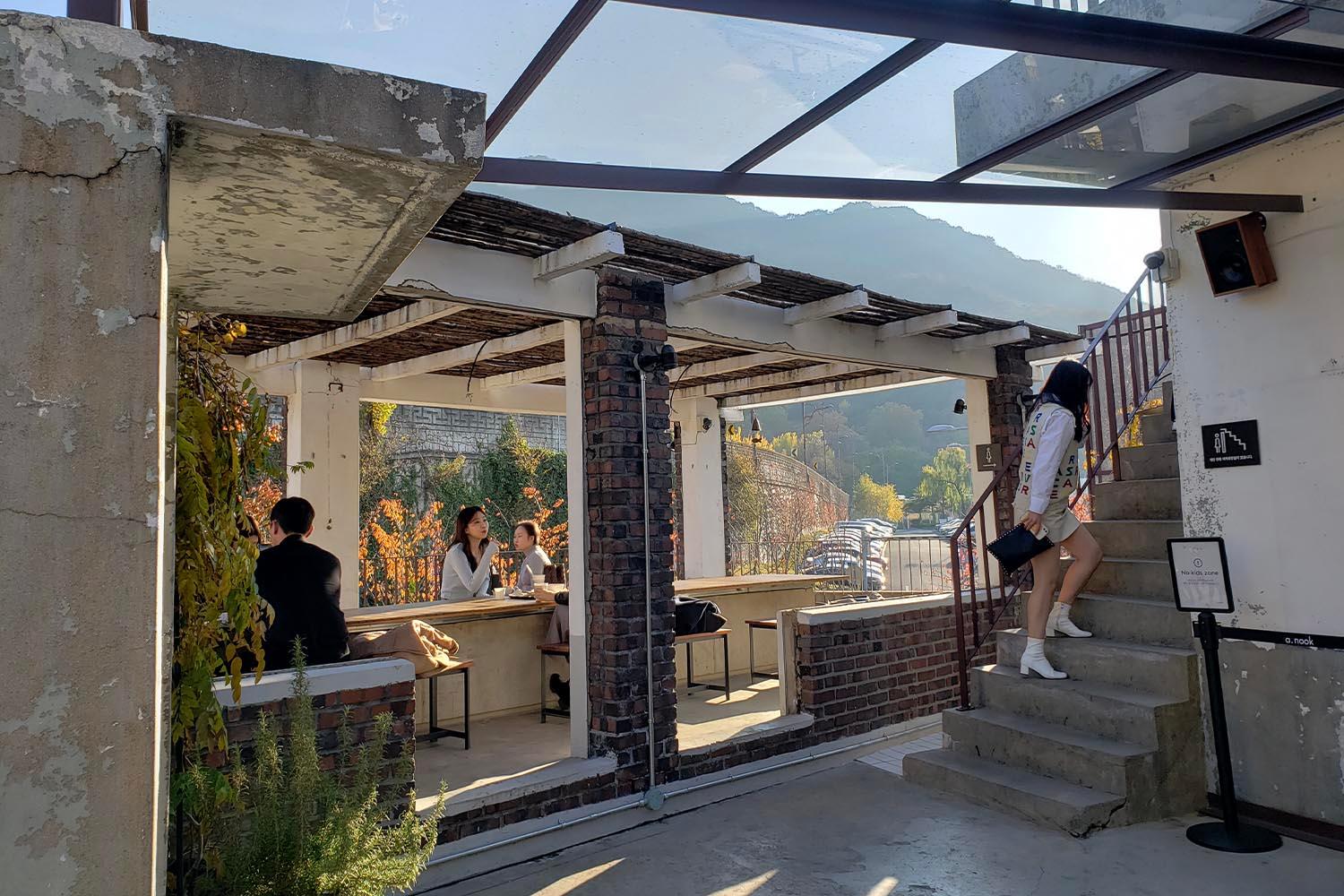 There is plenty of seating available, but the good ones were already taken! If you are planning on taking some Instagrammable photos, I would like to suggest visiting in the morning.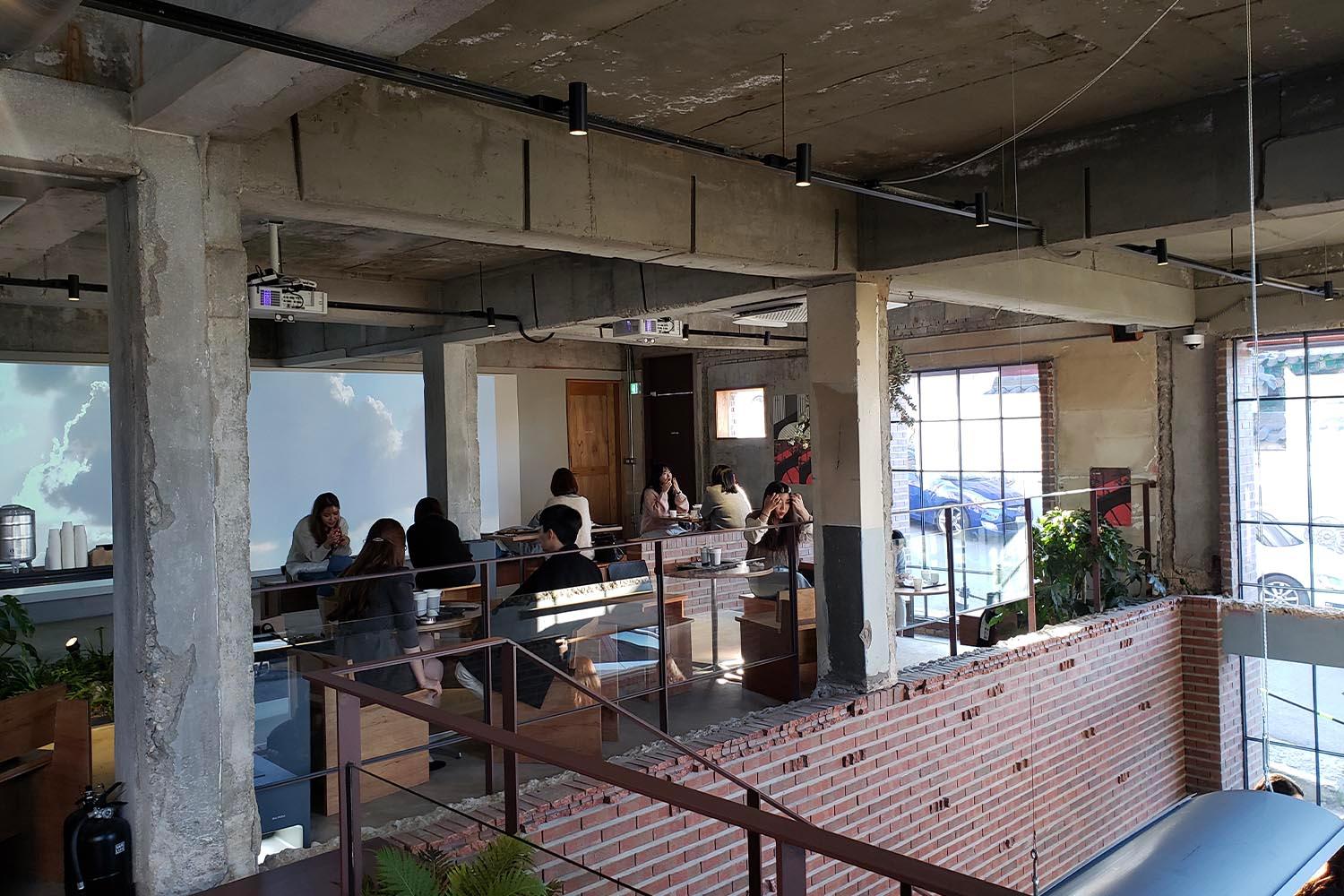 Since I was extremely full from my lunch, I have only ordered a drink; but a special one. Even though a.nook Apsan is a cafe, they also offered a coffee cocktail called 'a.Nook Shakerato'.
The fluffy foam on top of the espresso and the coffee liquor tasted exceptional.
---

Address: 대구 동구 팔공산로 1165-7
Hours: 11:00-22:00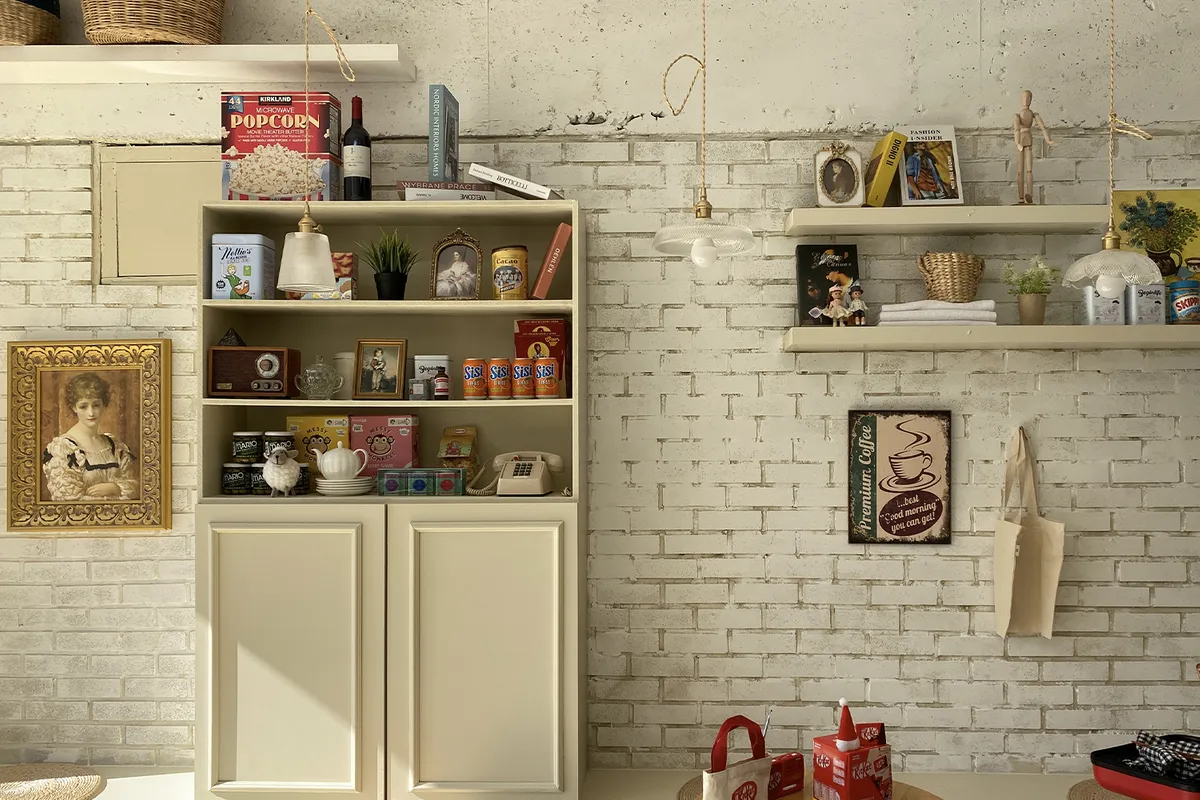 A cozy cafe situated inside a pastel yellow house, Jammy Finger features stylish rooms, some modern and some country chic, with different themes as well as unique drinks and crunchy croffles.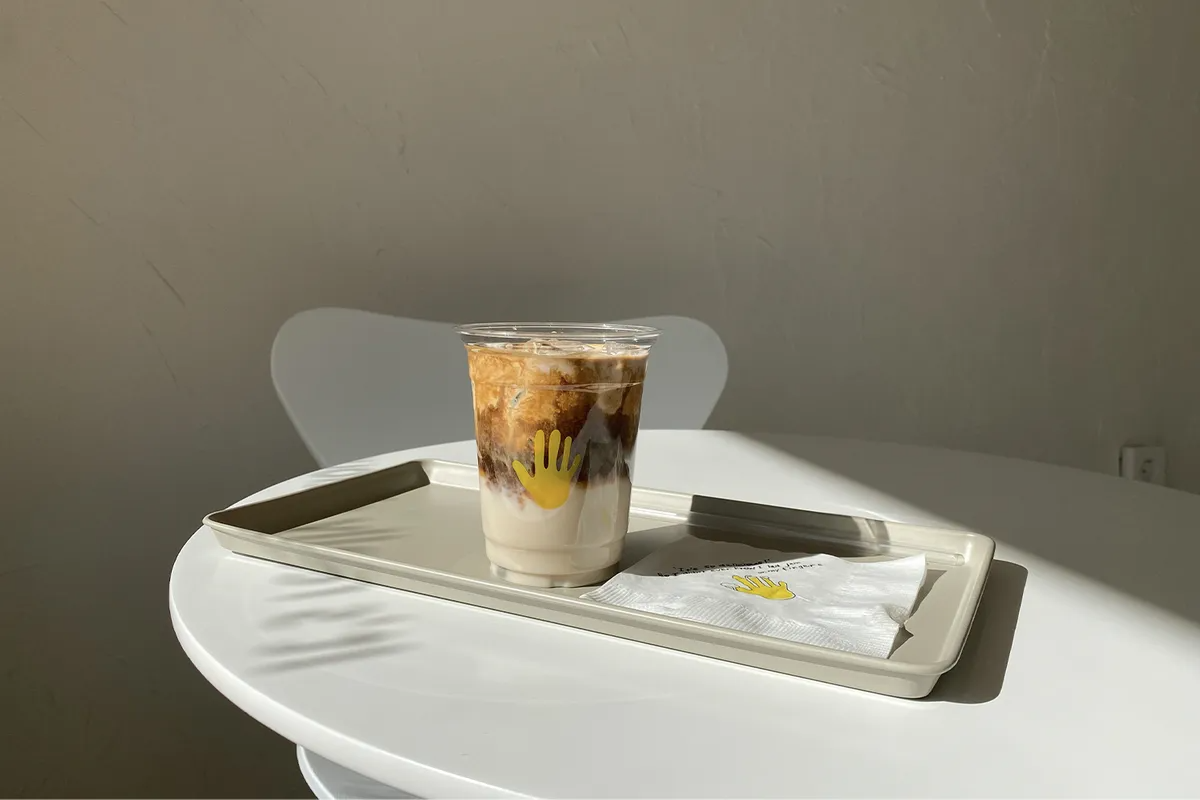 If you have a sweet tooth but also crave coffee, try their Peanut Mond Jam Latte (₩6,000).
If you're down for some dessert or light brunch, their croffle is worth a taste. The flavours range from regular french (₩5,500) and sweet chocolate (₩6,500) to savoury pepperoni (₩7,000).
It's a picturesque place to kick back and relax before or after your trip up the mountain.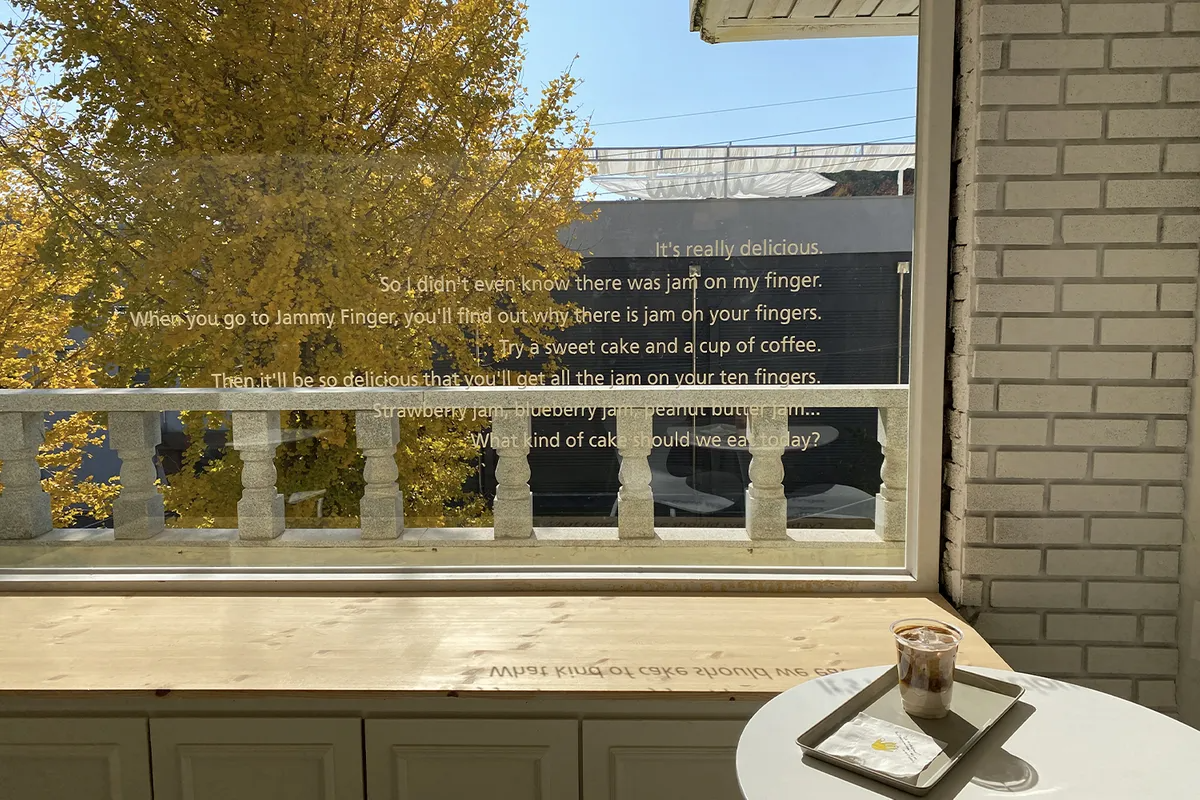 ---
TITF

Address: 대구 동구 팔공산로 1169
Hours: 11:00-23:00
Last Order: 22:00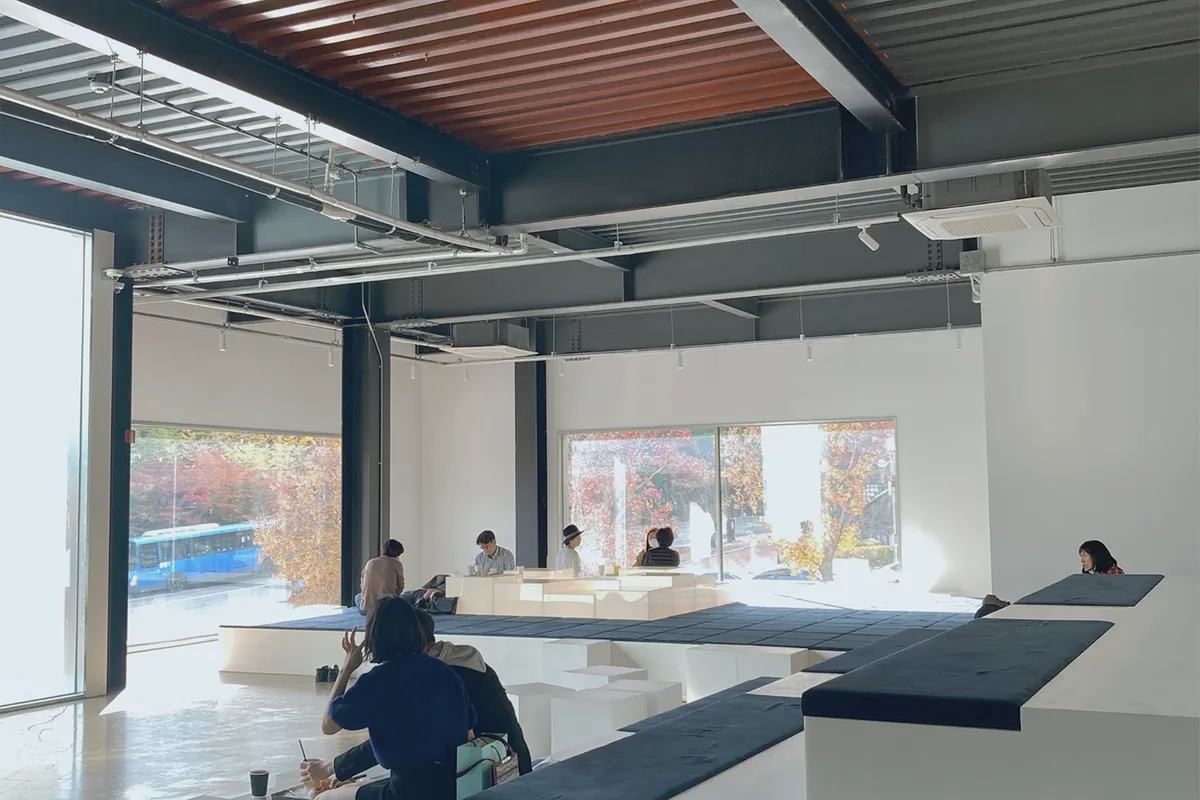 This stylish space that is a gallery cafe features a wide open space with large windows that look out to the mountain.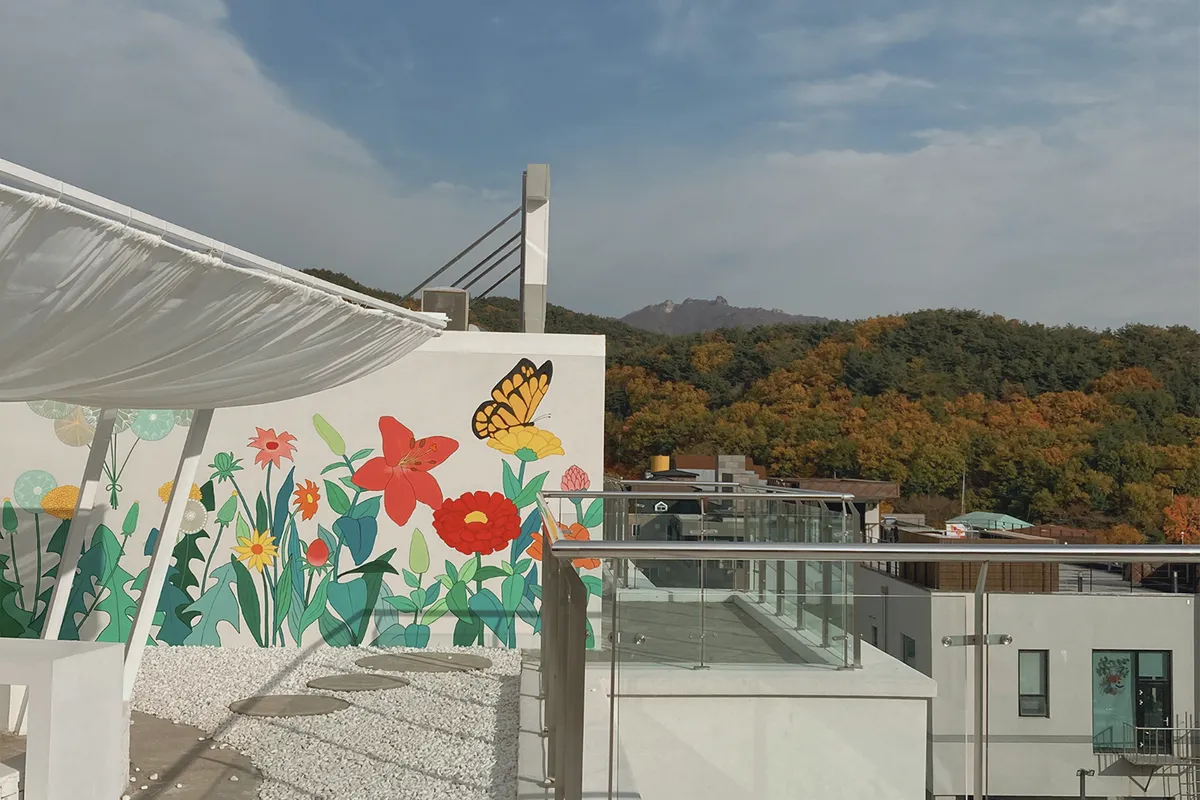 Their signature beverages are Brewed Coffee (₩4,500), Cream Latte (₩6,000) and Almond Cream Latte (₩6,000).
Feel free to enjoy a refreshing drink either outside on their rooftop or inside with lots of sunlight.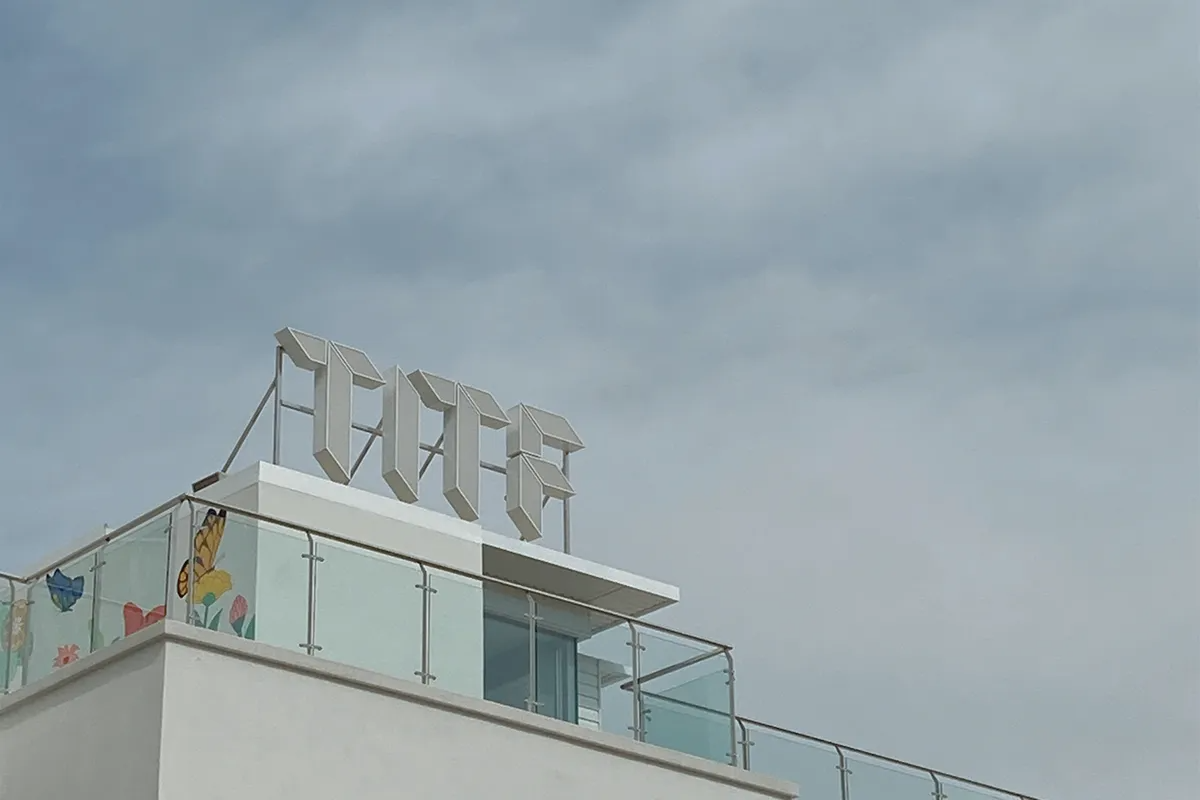 ---
How did you like the recommendation of cafes that you must visit in Daegu? Which one is your favourite that you saved on your list?
I hope you found the list helpful and share your favourites with us!
See you next time!
---