Sightseeing Around Haeundae | Review of Sky Capsule & Haeundae Beach Train
There are two sightseeing train options from Haeundae Blueline Park, the Sky Capsule, and Haeundae Beach Train. Read about our visit and recommendations for making the most of your time and money!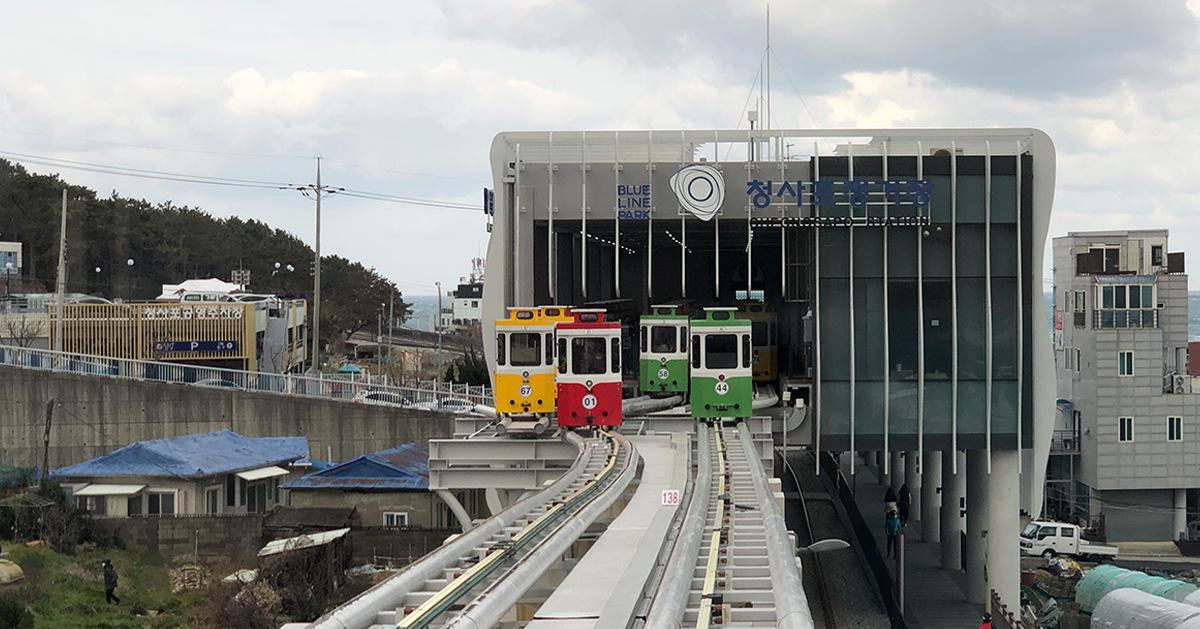 Originally, the Donghae Nambu Line ran along the coast from Busan to Pohang. While most of this railway has been assimilated into the Donghae Line, there is a small section that has been renovated into the Haeundae Blueline Park. Haeundae Blueline Park opened in October of 2020 and is geared for tourists to sightsee around Haeundae. The Haeundae Beach Train runs from Mipo to Songjeong, while the Sky Capsule runs from Mipo to Cheongsapo. We visited the Haeundae Blueline Park and wanted to share our experience with you all!
---
Information
Boarding Address: 부산 해운대구 중동 948-1
948-1 Jung-dong, Haeundae, Busan
Hours:
Nov-Apr: 9:00-18:00
May-Jun, Sep-Oct: 9:00-20:00
Jul-Aug: 9:00-22:00
Price: 7,000 KRW-77,000 KRW*
(approx. 6.21 USD-68.28 USD)
*Details about pricing to be discussed later.


---
Things To Keep In Mind
There is a maintenance period from December 12th, 2022 to December 15th, 2022.
You cannot book a ticket through Creatrip. Please head to the official website to purchase tickets.
For any questions regarding the Haeundae Blueline Park tickets, conditions, etc., please refer to the official FAQ page or contact Haeundae Blueline Park directly.
If you do not book a ticket beforehand, you can also buy a ticket on-site, but keep in mind that there may not be availability.
---
How To Get There
If you head east from Haeundae Beach, you will come across a 7-Eleven and a small hill. Follow that hill and eventually, you will reach a pathway leading to the entrance for Haeundae Blueline Park.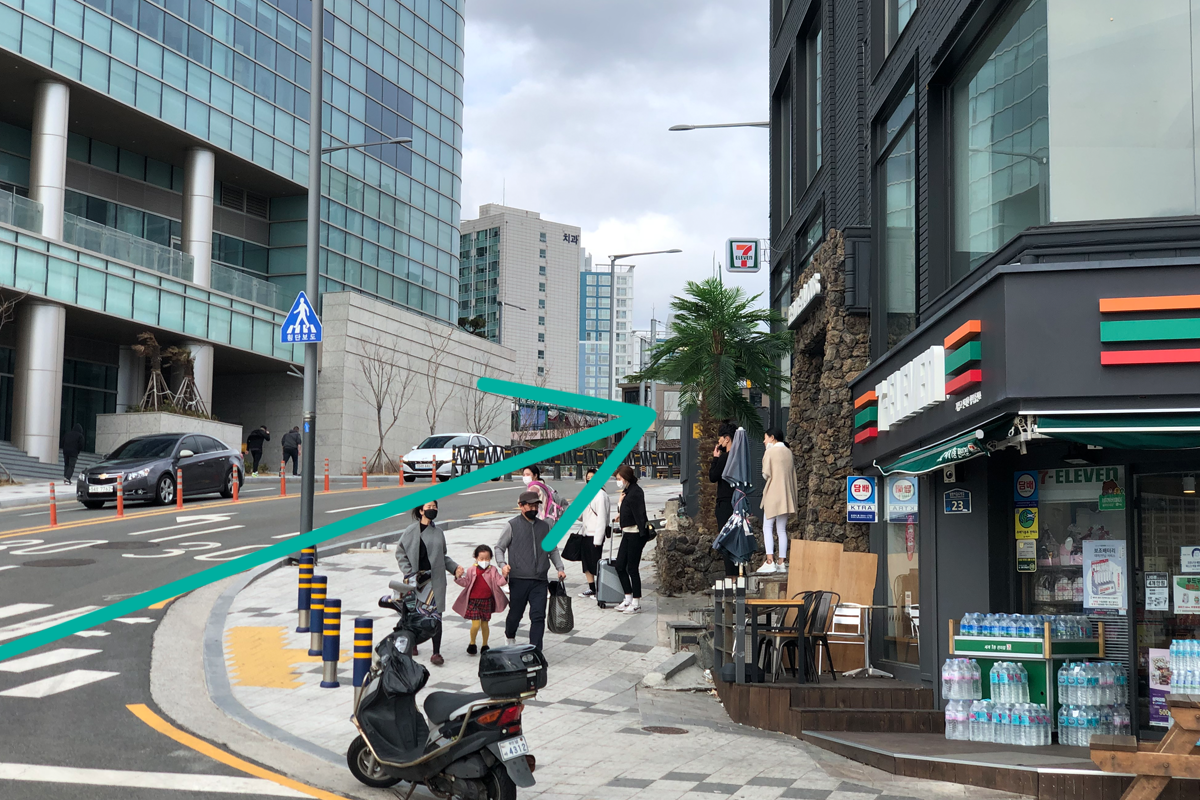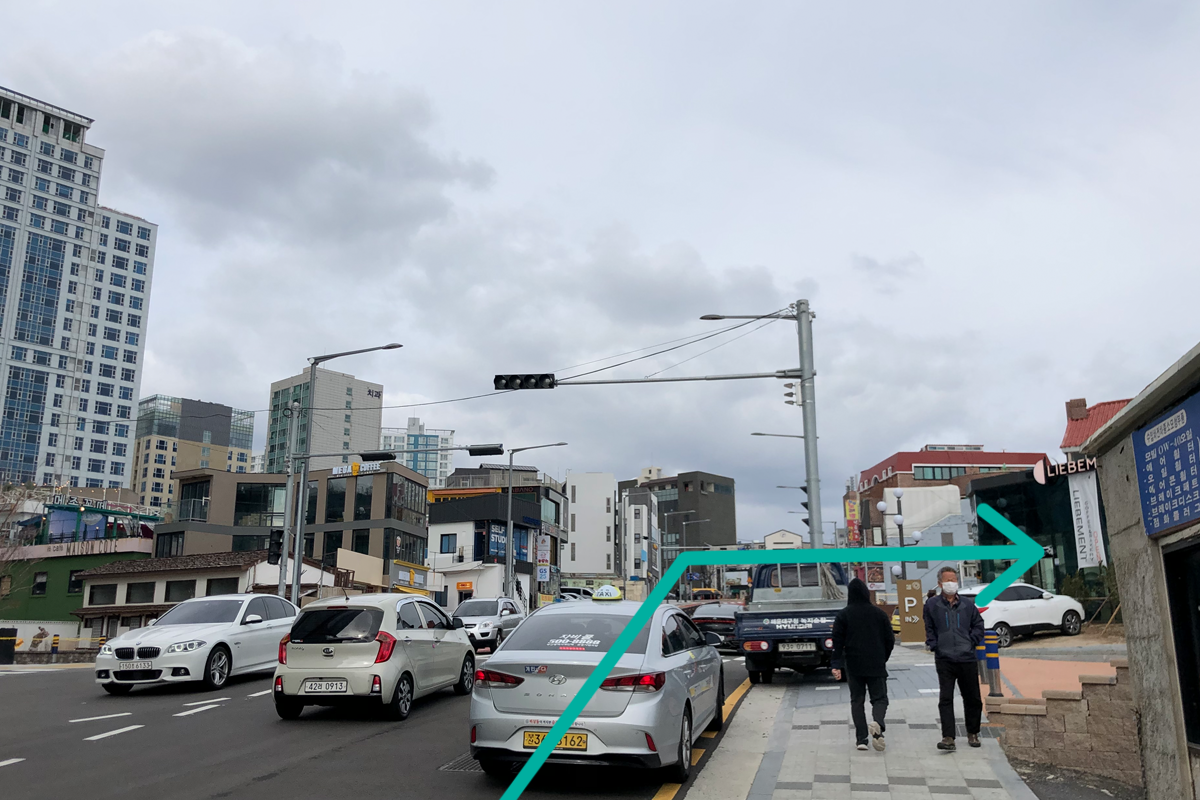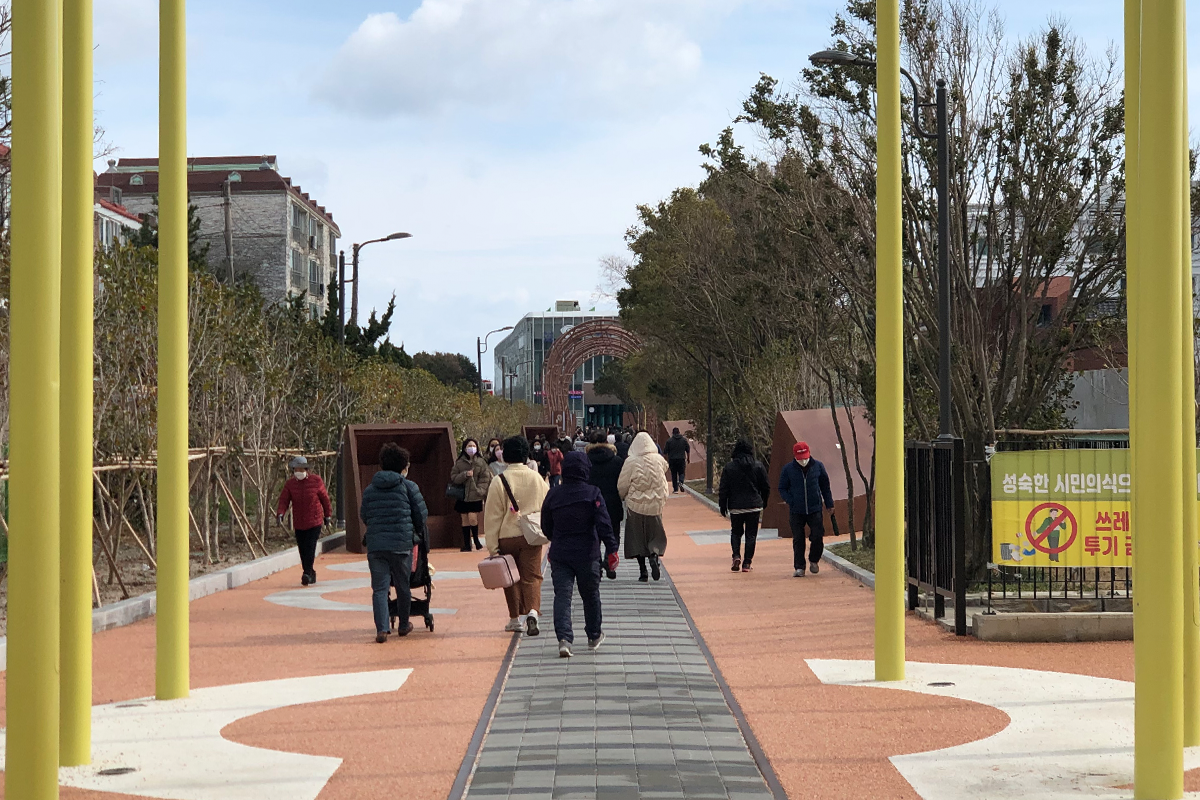 Eventually, you will find a path that leads to Mipo Station (미포정거장). This is the start of Blueline Park. Once you get here, we recommend you secure your tickets first. Also, there are many cafes and a GS25 (convenience store) near the station if you are feeling hungry.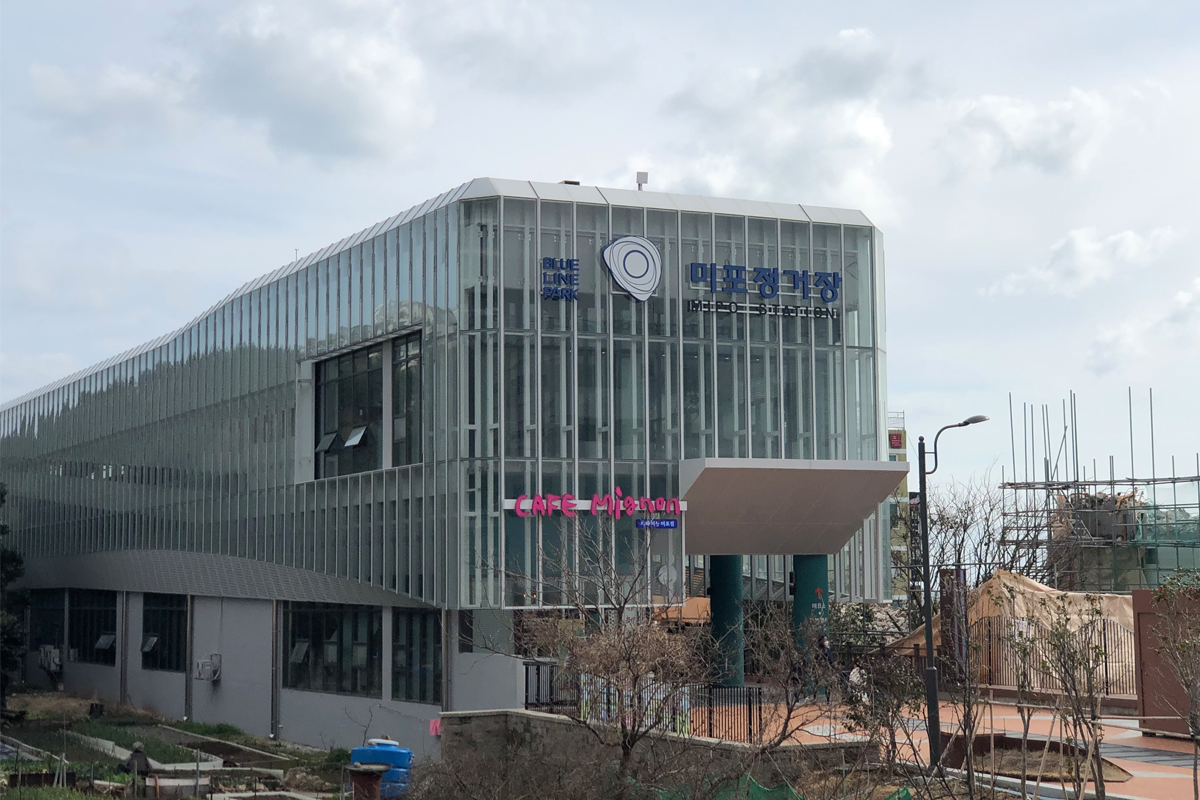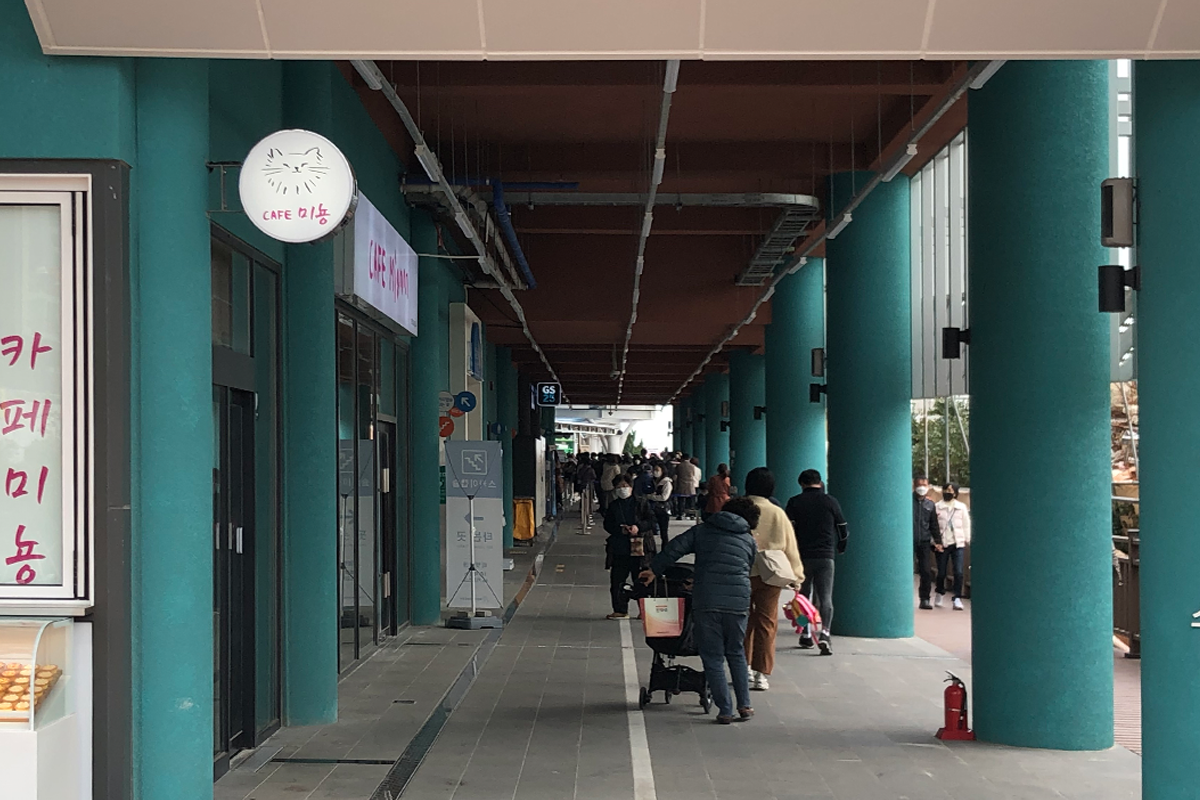 Ticket prices vary so we've converted that information into the table below. To make the most of your time and money, we highly recommend you purchase the outbound ticket for the Sky Capsule and a return ticket for the Haeundae Beach Train. We will explain our line of reasoning later.
Note that the Haeundae Beach Train also functions as transportation and runs from Mipo to Songjeong. So boarding and getting off at another station is considered a single trip (one-way). If you wish to hop on and off at multiple stops with the Haeundae Beach Train, you will need to purchase the "Free Use" ticket (re-boarding from the same station more than once is prohibited).
Also, if you are a group of two and only going one-way, you can buy the twice ticket option and it will be slightly cheaper. The Sky Capsule only runs from Mipo to Cheongsapo.
Haeundae Beach Train

Mipo, Dalmaji Tunnel, Cheongsapo, Daritdol Skywalk, Gudeokpo, Songjeong

Fare

Once

Twice

Free Use

7,000 KRW

10,000 KRW

13,000 KRW

For round-trip, you will need the twice option

Sky Capsule

Mipo ⇄ Cheongsapo




2 People

3 People

4 People

One-way

30,000 KRW

39,000 KRW

44,000 KRW

Round-trip

55,000 KRW

69,000 KRW

77,000 KRW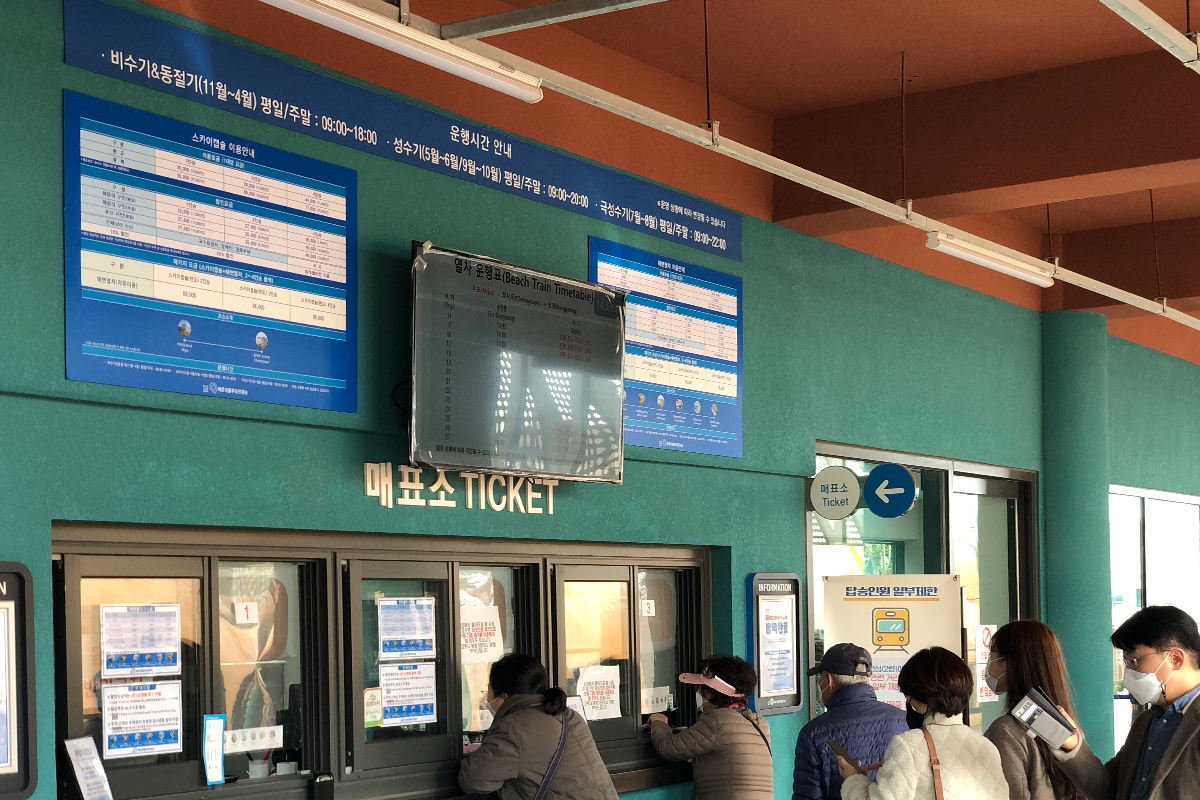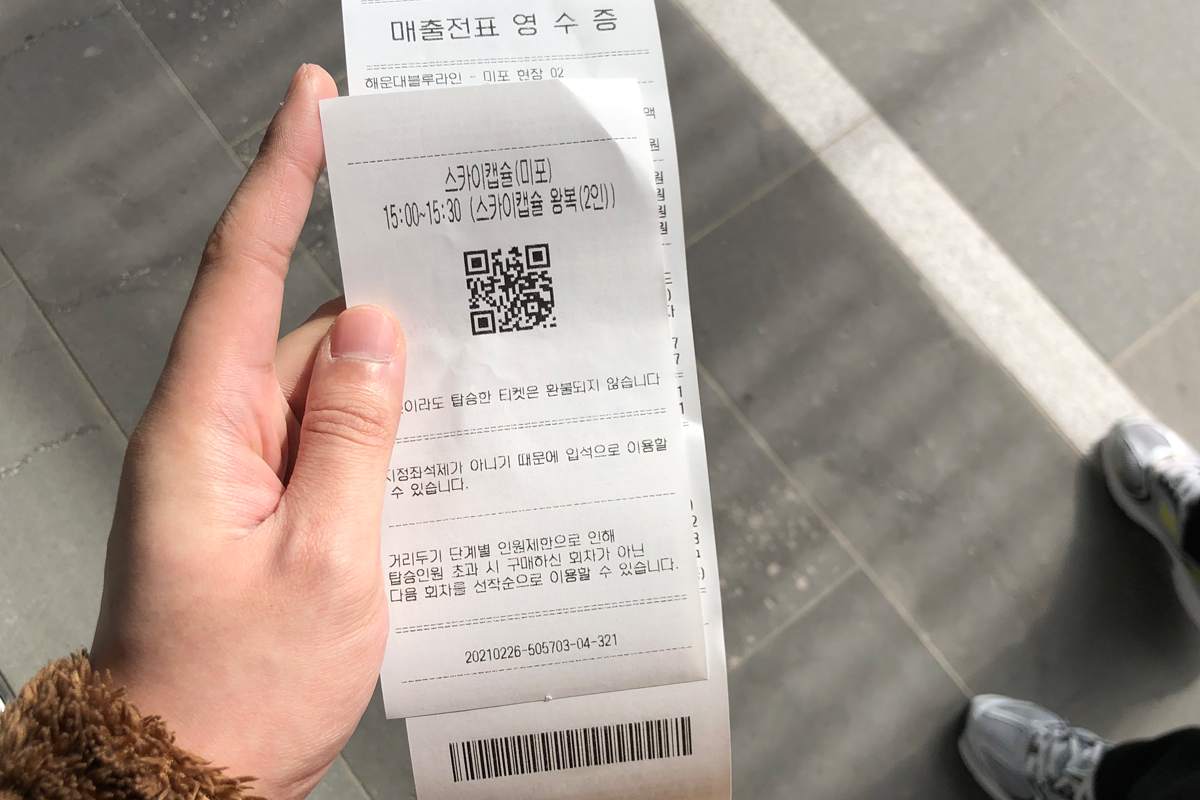 ---
Sky Capsule Review
We initially bought a round-trip ticket for two people on board the Sky Capsule (55,000 KRW). After purchasing our ticket, we went upstairs to wait in line to board.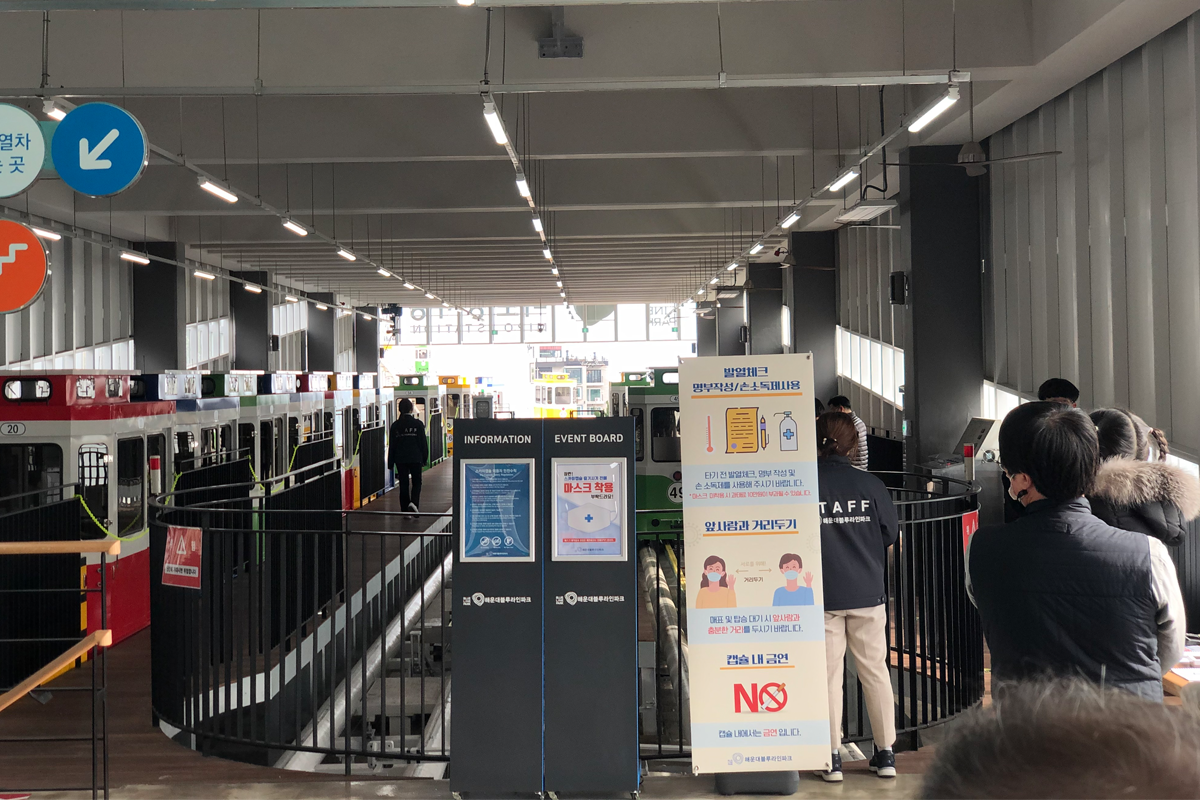 We waited in line for about 35 minutes. The Sky Capsules were colorful and cute. But, since it runs similar to a Ferris wheel, (getting on and off in the same place) the line seemed to go very slow.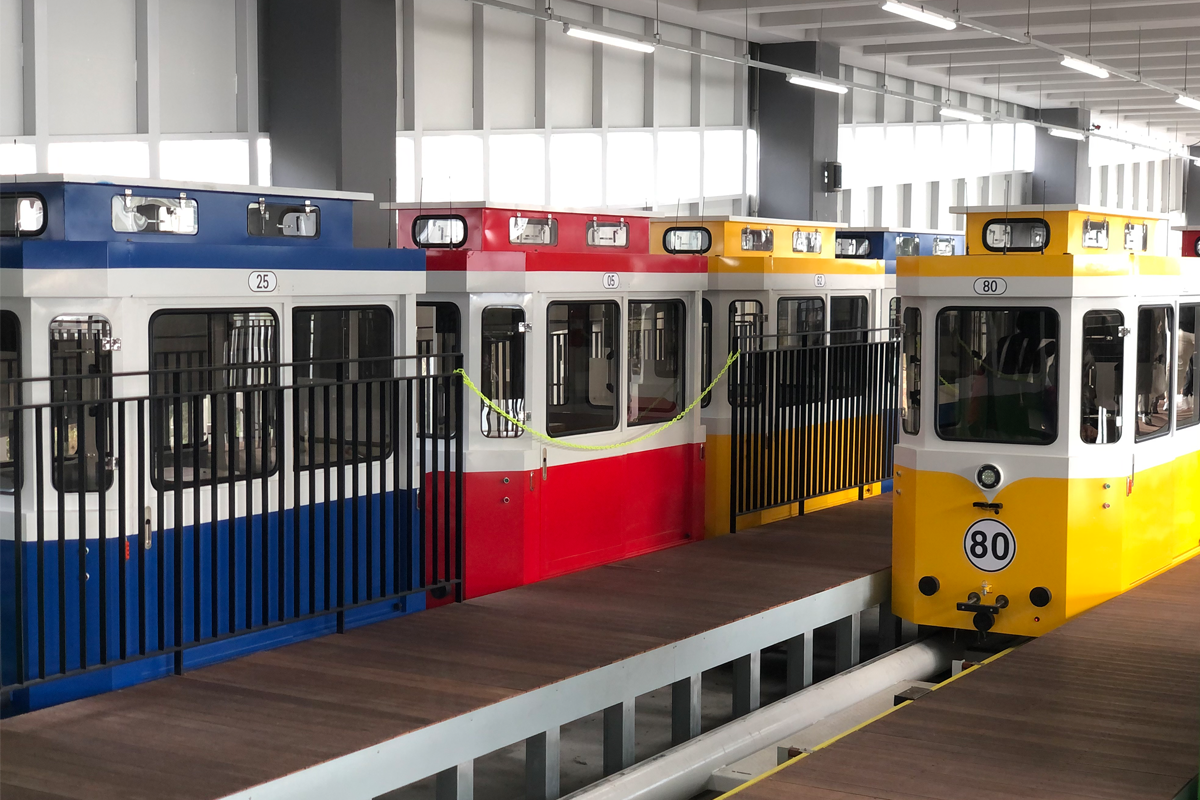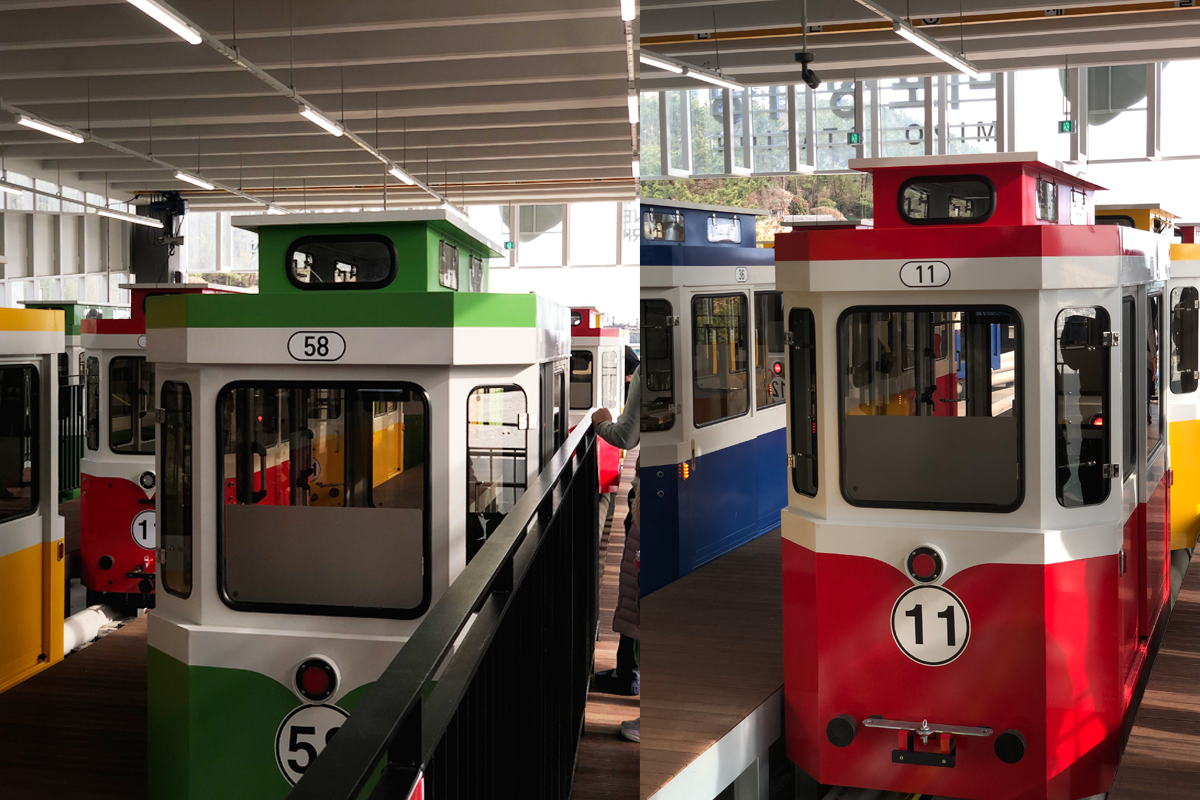 Since the Sky Capsule cars are fairly new, the colors (green, yellow, blue, red) are very vibrant, and the cars are in pristine condition. It felt very similar to a monorail in an amusement park. When we finally got on the Sky Capsule, our first thought was that it moved slower than expected. In fact, we timed it and it took about 30 minutes to get from Mipo to Cheongsapo. It was a little long, but good to look around and get photos and videos!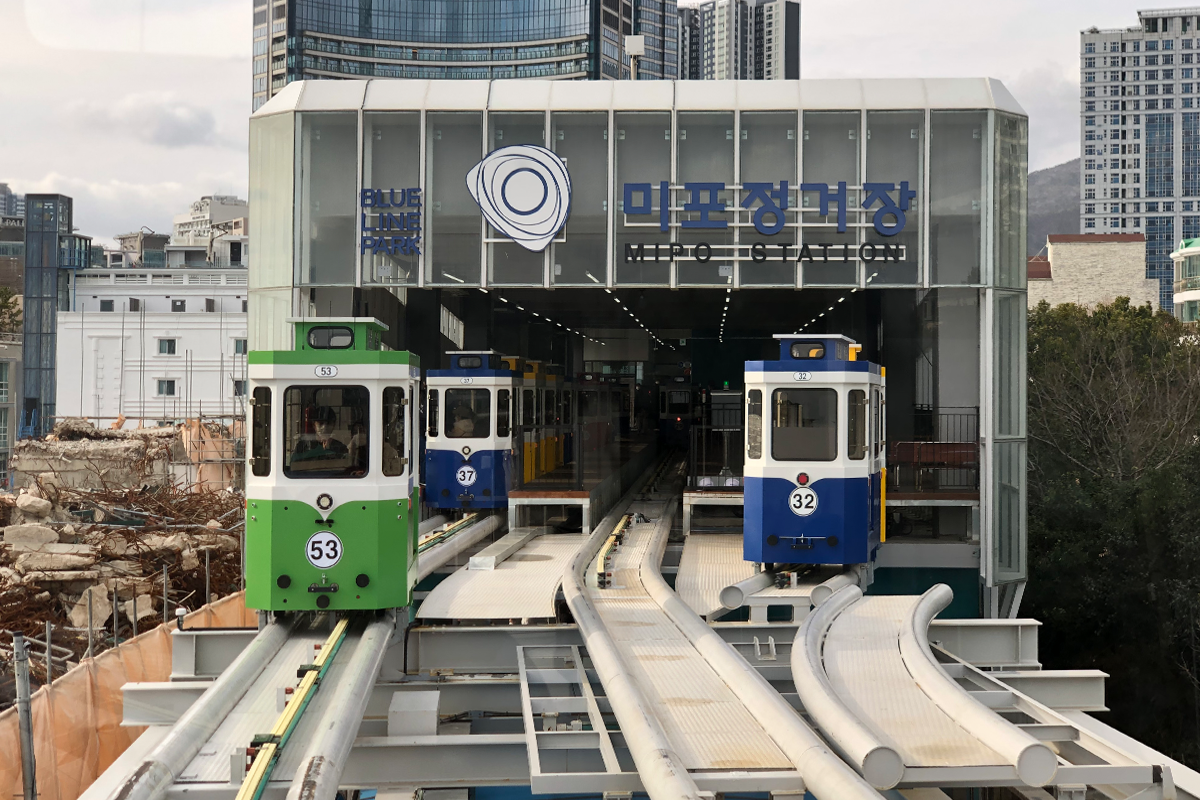 With two people, there is ample space in the car. However, we think having four people in the car would be pretty crowded. The windows can be opened by hand, but the doors are automated so make sure to be cautious of loose items and hands.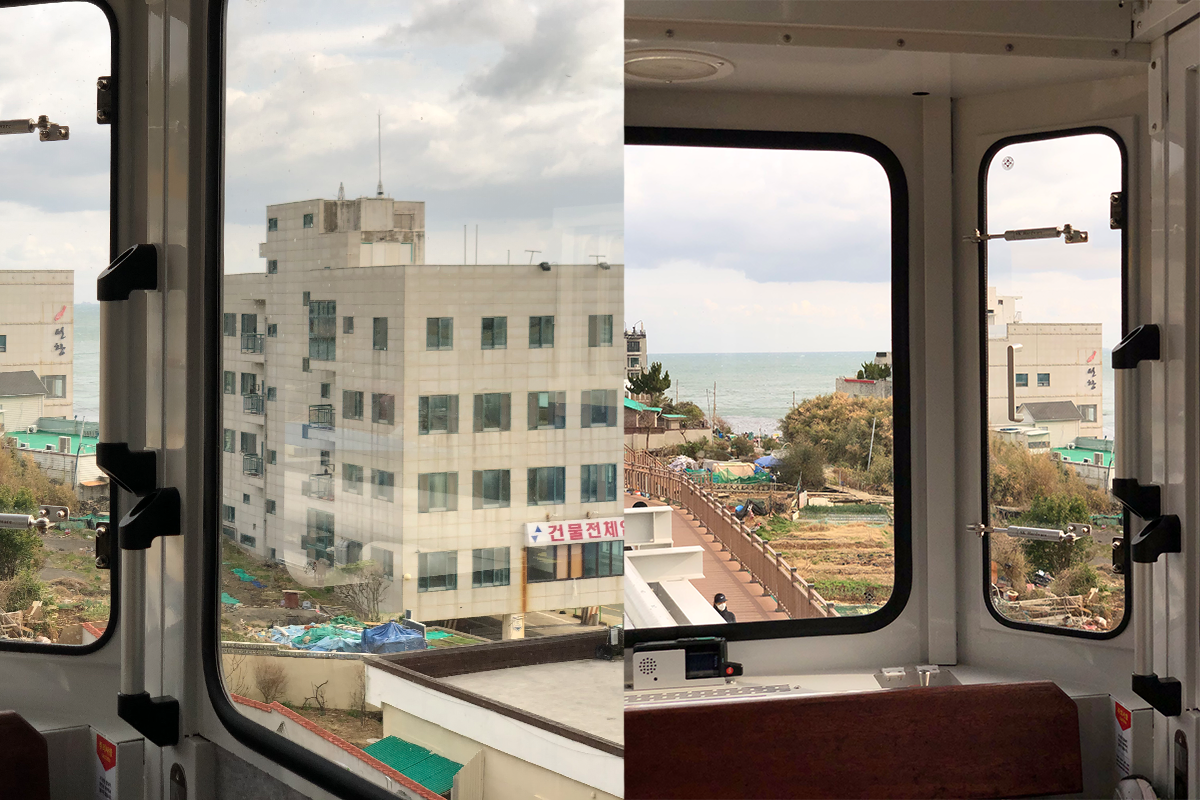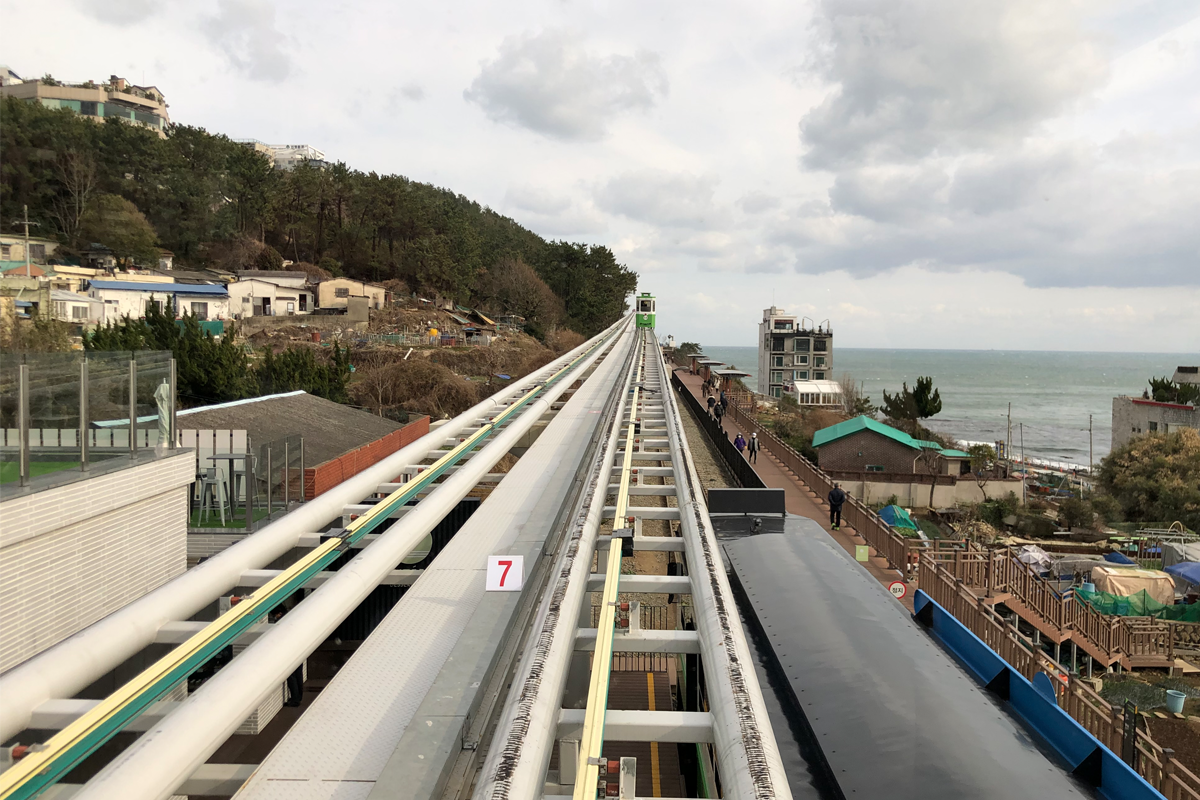 The scenery from Mipo to Cheongsapo was gorgeous. You can see trees, houses, and the ocean.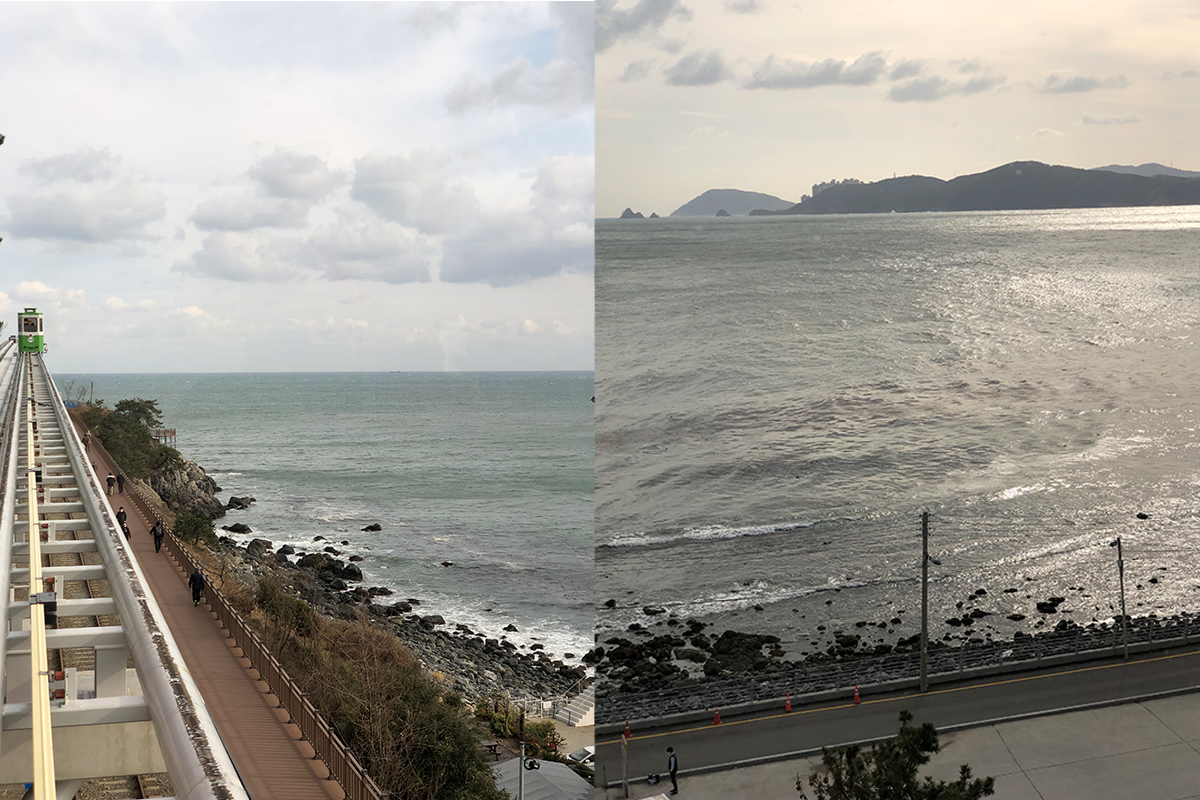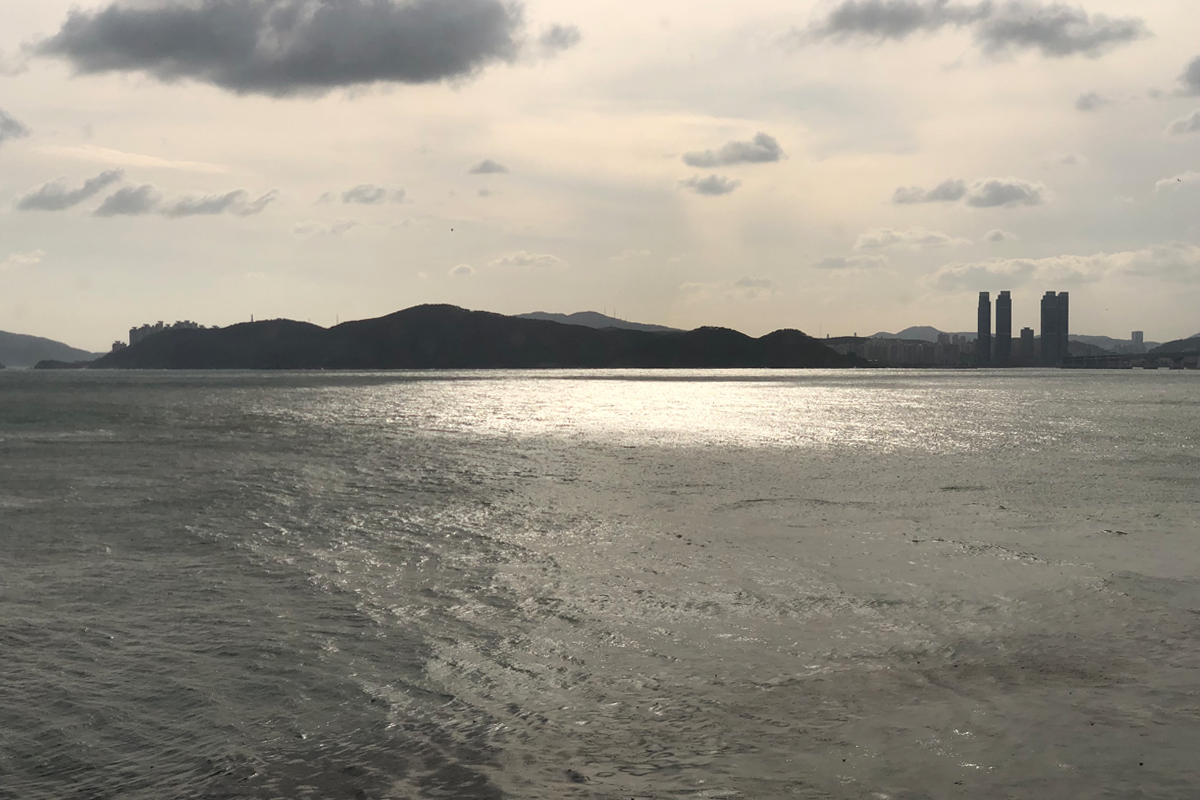 So, do you all remember how we said we would explain our line of reasoning for the ticket purchase? Well, the first reason is that the view from the Sky Capsule is incredible. Because the speed to the Sky Capsule is slow, you can really take in a panoramic view of the Busan coastline.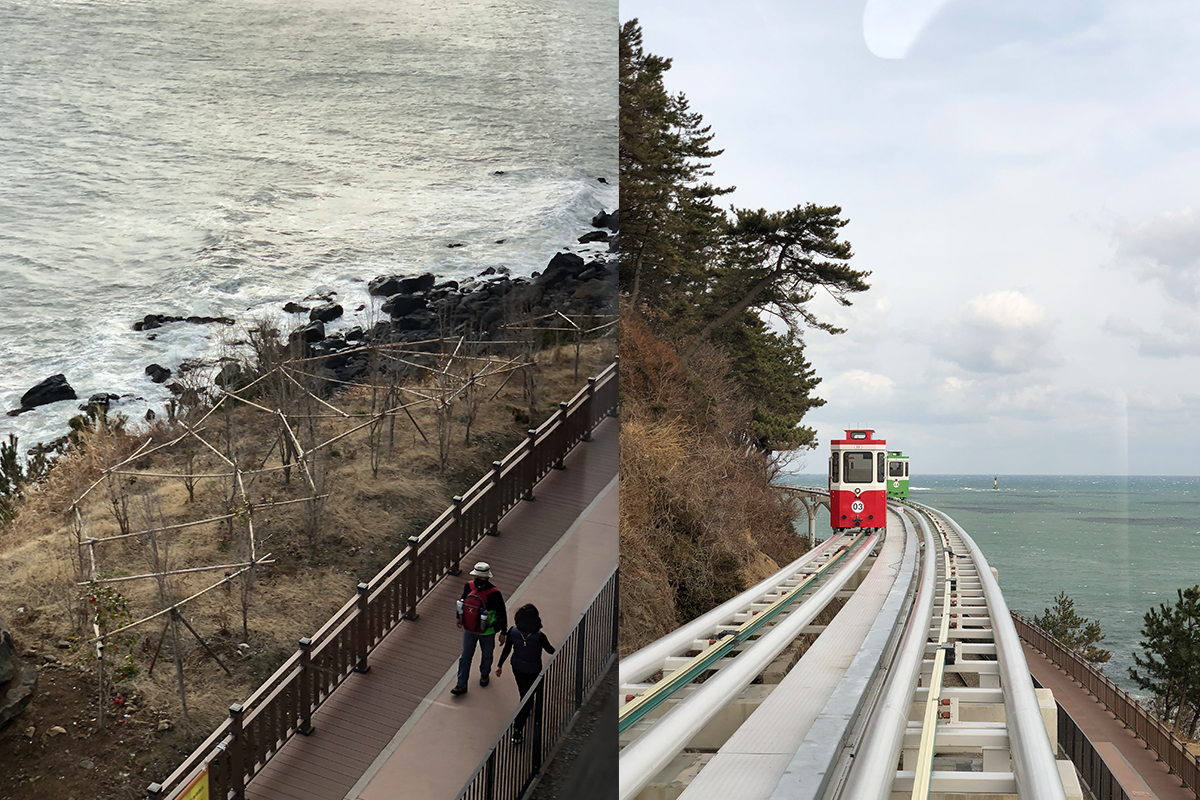 From the Sky Capsule, you can look down onto a walkway. This walkway (shown in the photos above and below) used to be old train tracks!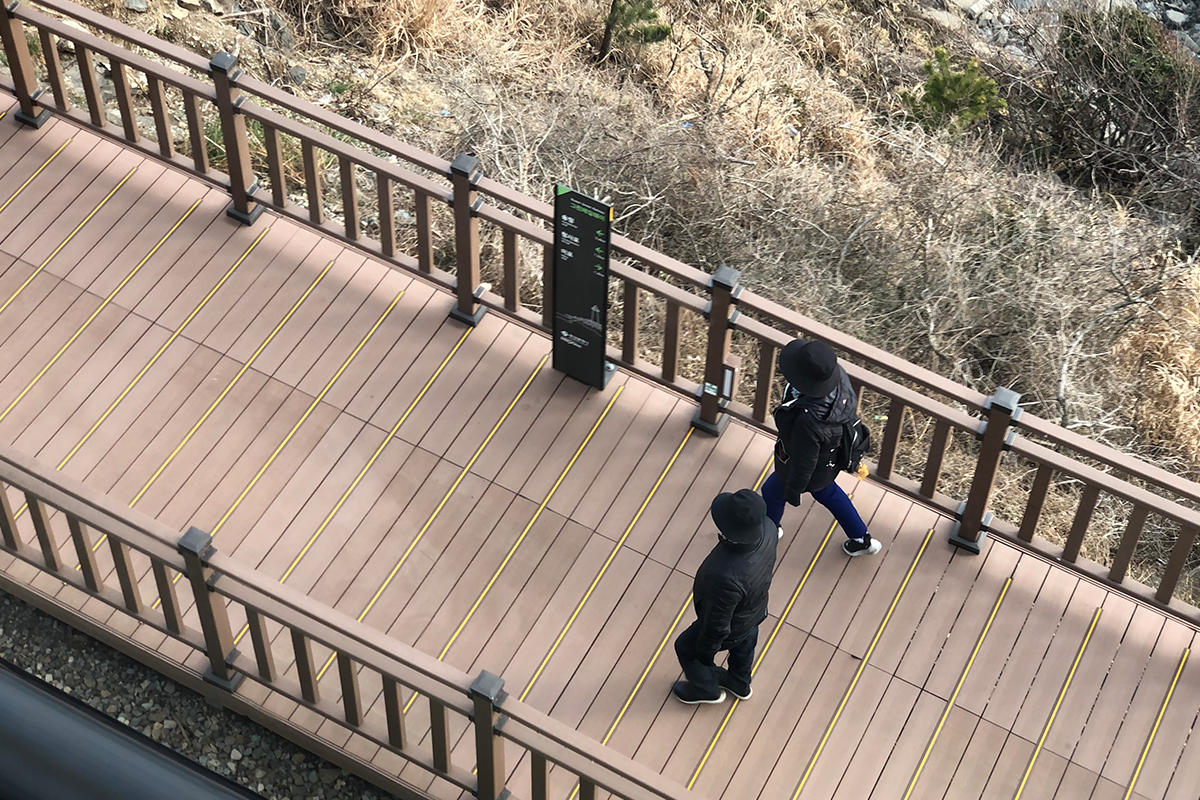 When you see two lighthouses (one red, one white), this is when you know you are almost at Cheongsapo. As you all may recall, we had a round-trip Sky Capsule ticket. But we collectively decided that the Sky Capsule was too slow, and since the view going back would be the same, it felt a little redundant.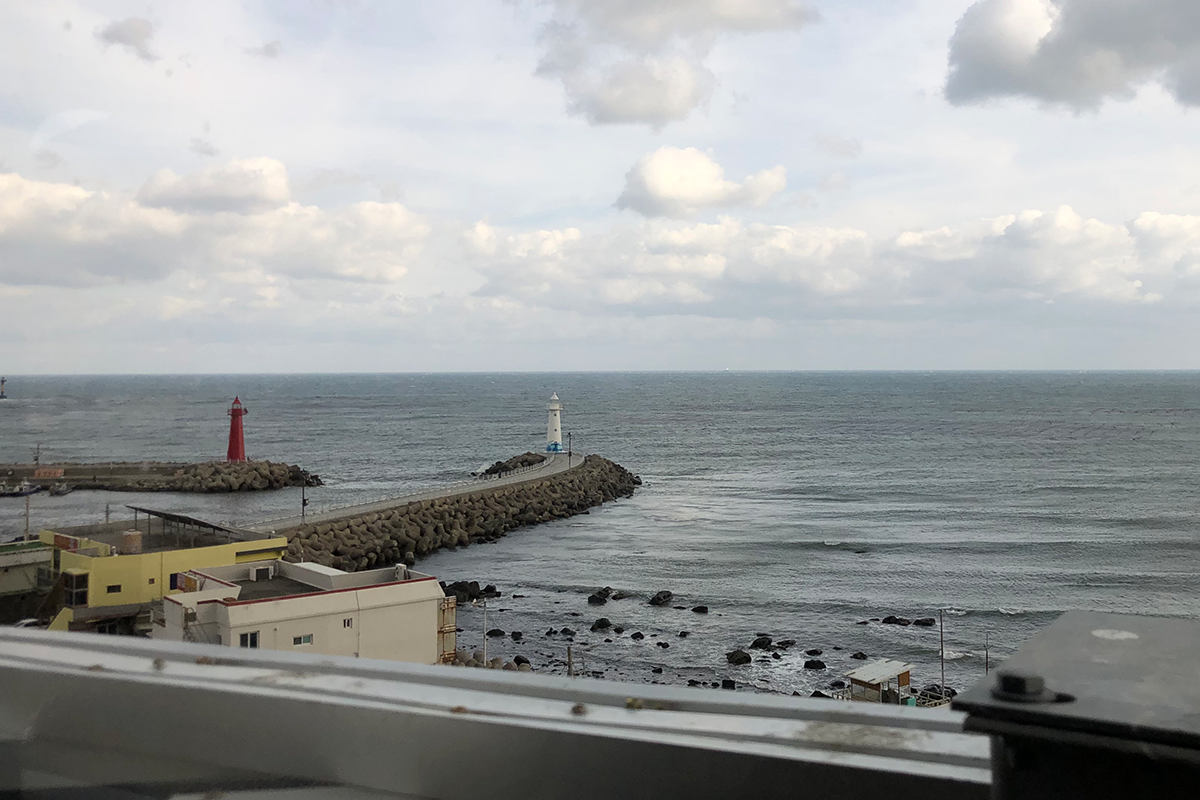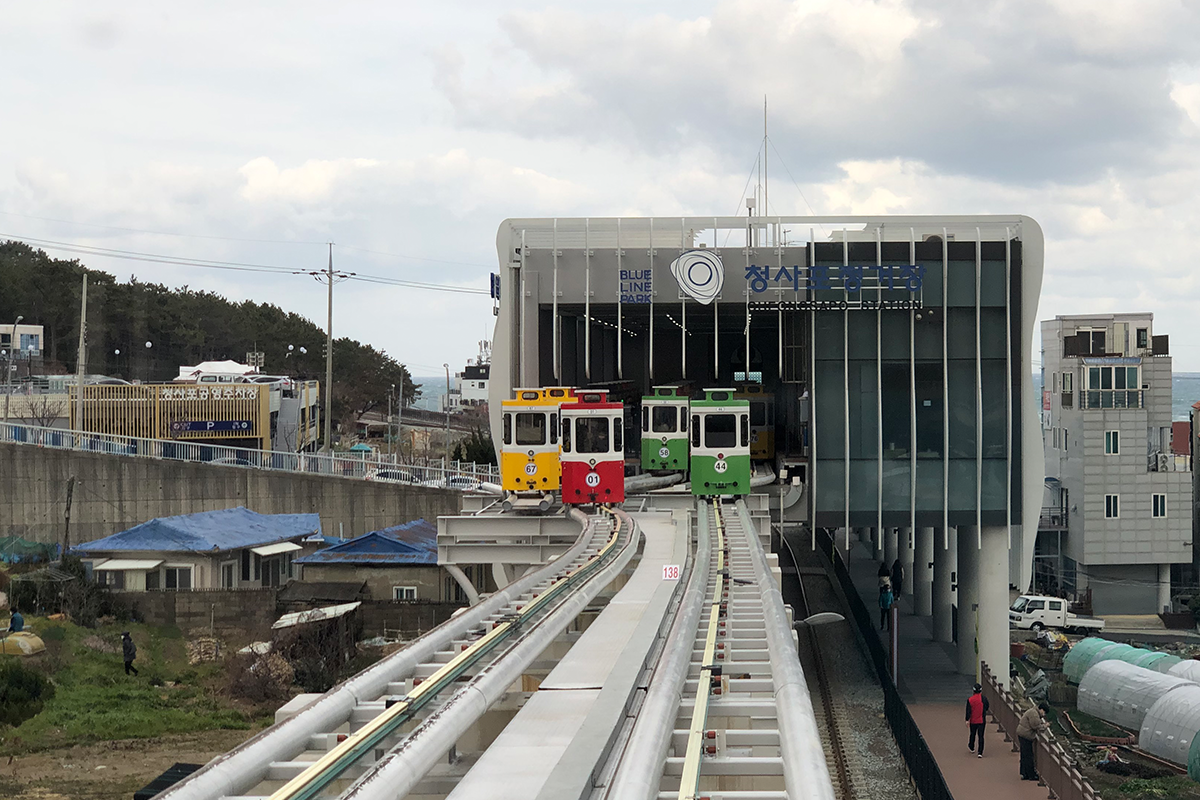 As we approached Cheongsapo Station, we got ready to depart. Be sure to watch your step!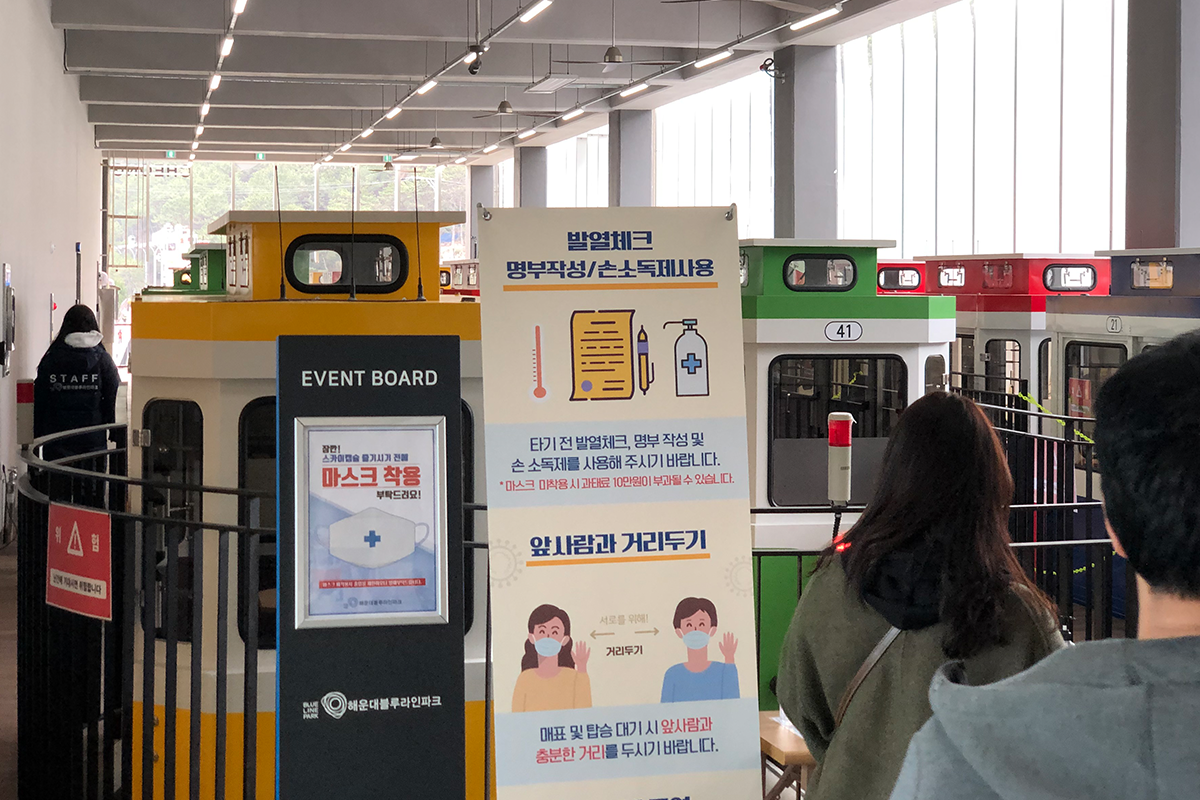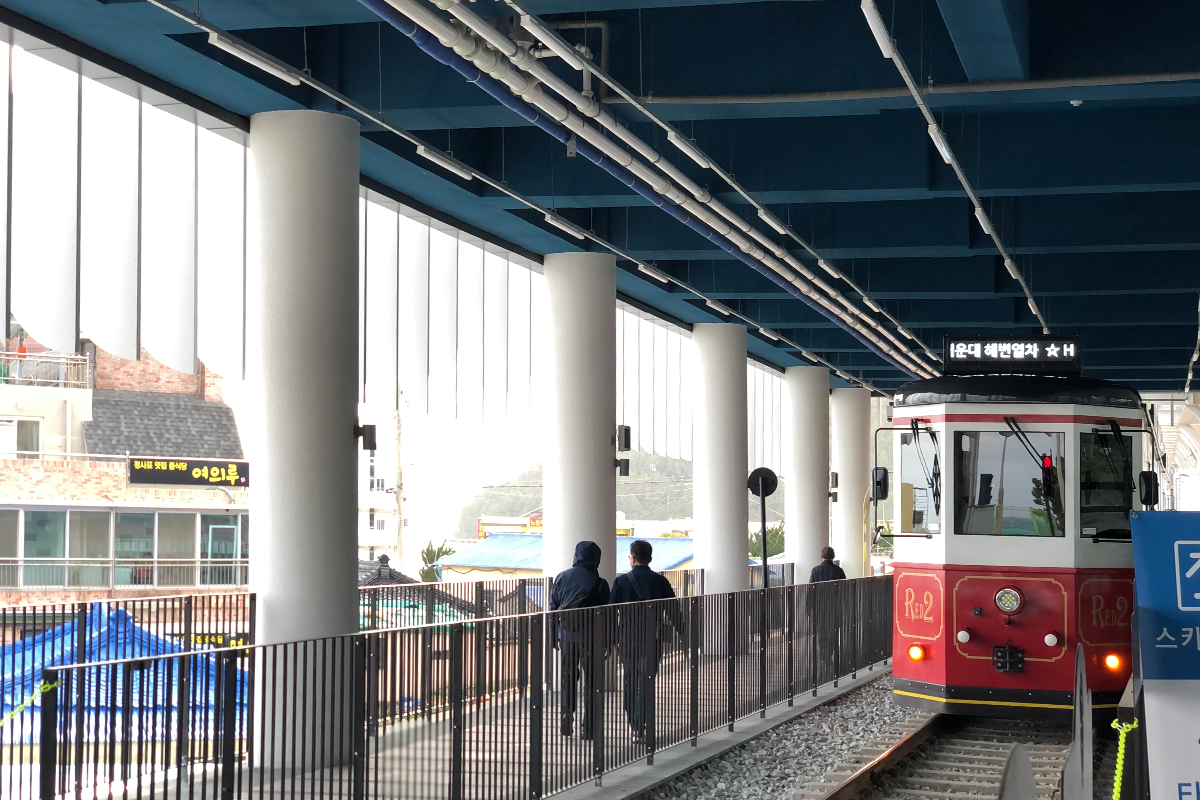 As we departed, we were able to snap a photo of a Haeundae Beach Train also entering Cheongsapo Station. There is so much to do at Cheongsapo, in fact, we have another blog dedicated to this location!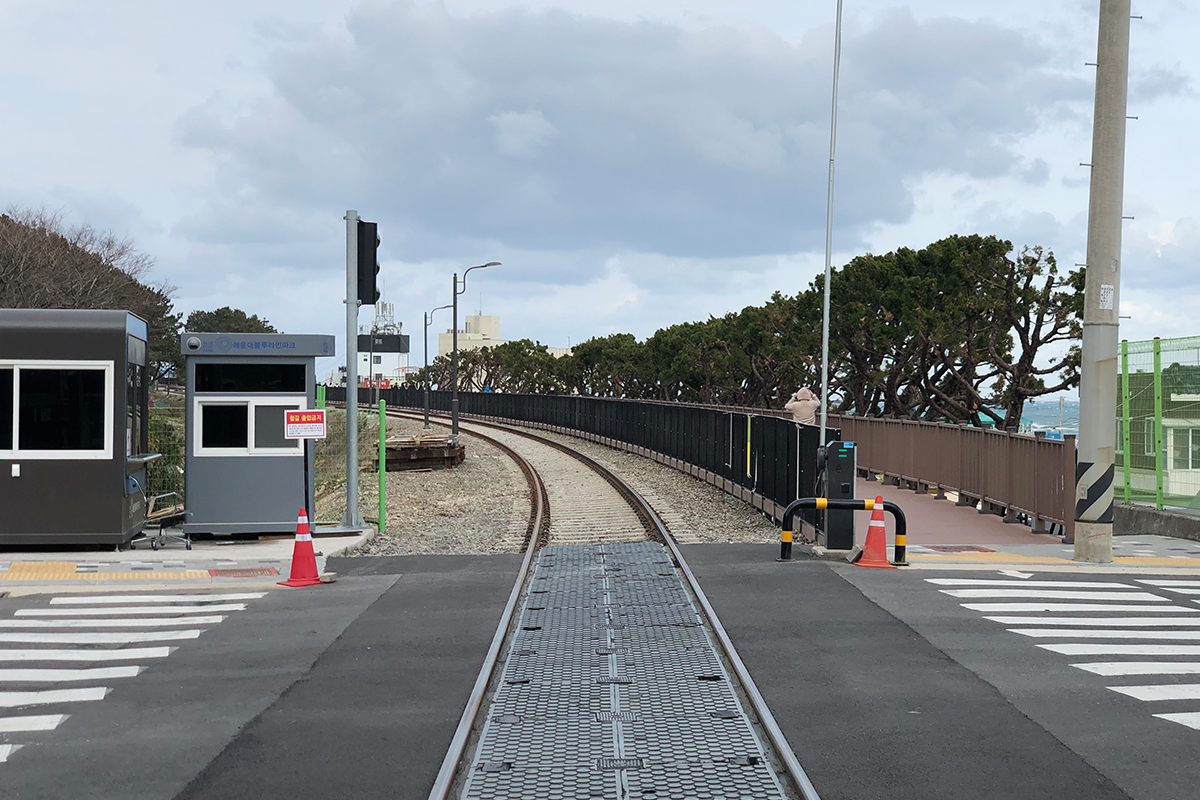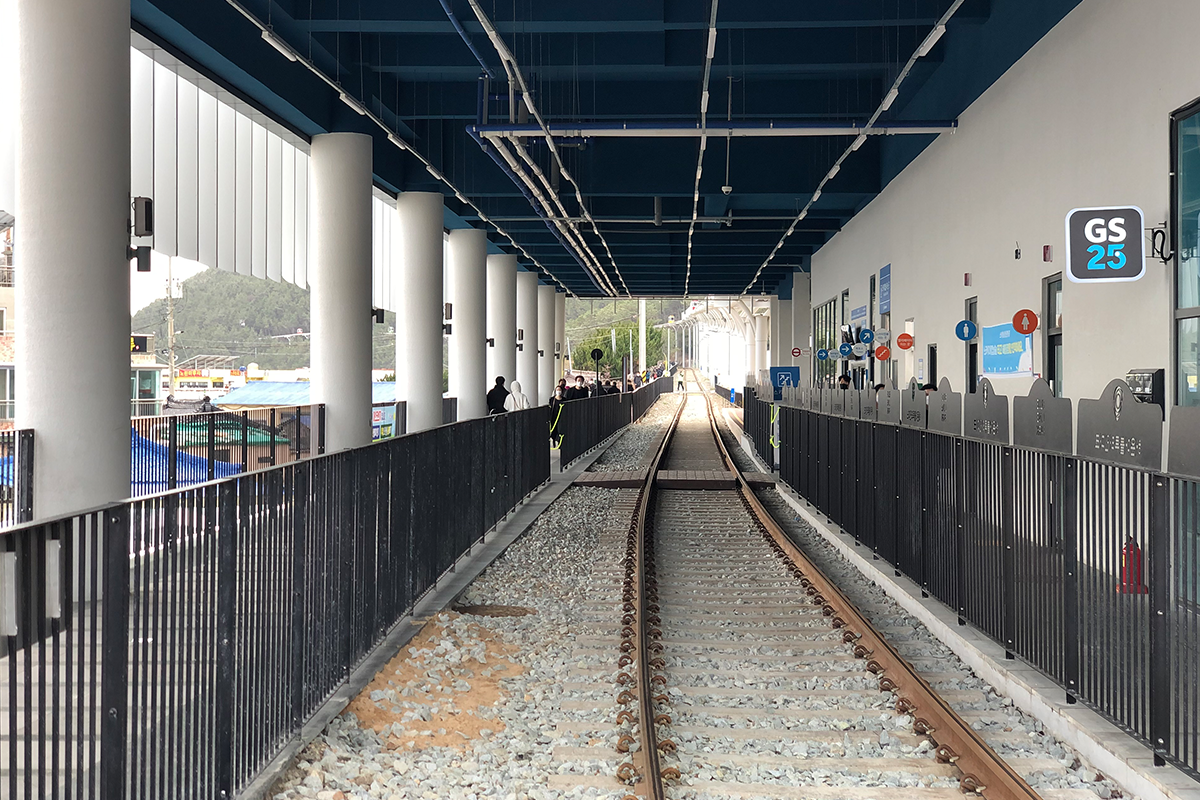 If you would like to travel to Cheongsapo, the Haeundae Beach Train is just one option. You can also walk or take a bus.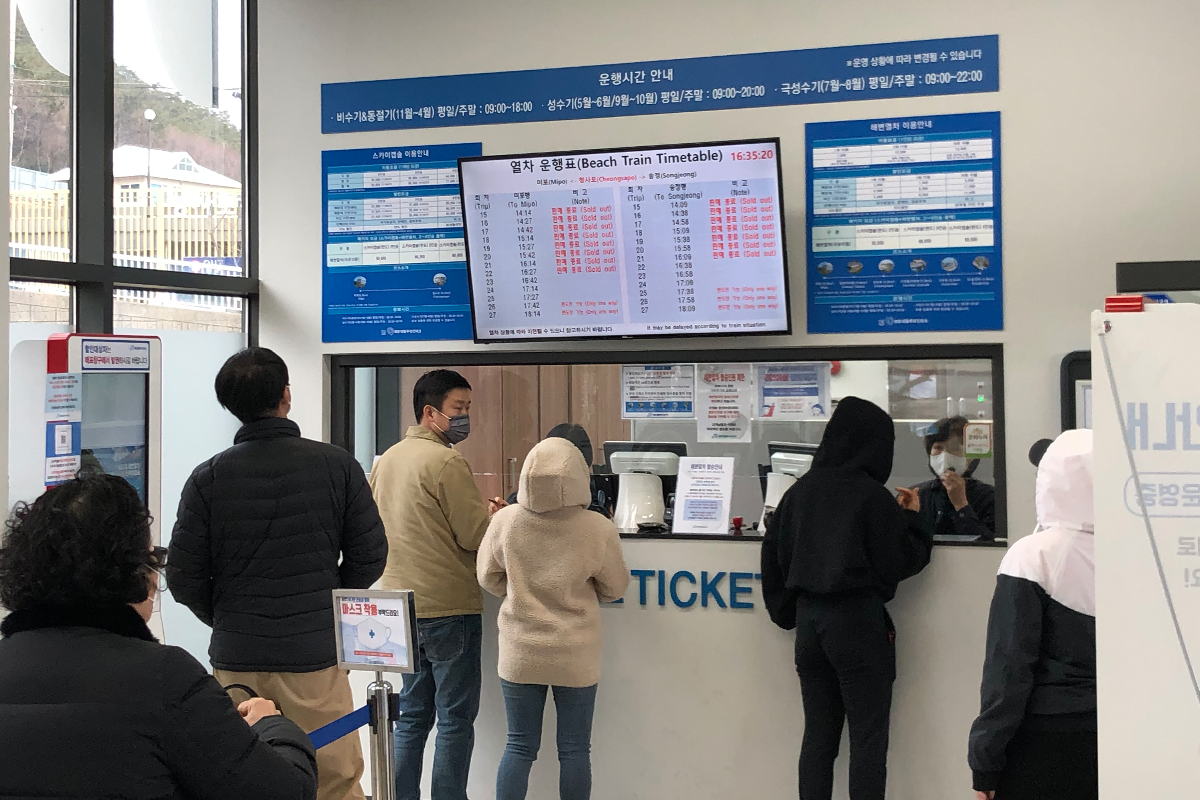 ---
Review of Haeundae Beach Train
Since we did not wish to return on the Sky Capsule, we asked the staff at Cheongsapo Station if we could exchange our ticket to the Haeundae Beach Train. Luckily we were able to, but exchanging tickets is subject to availability.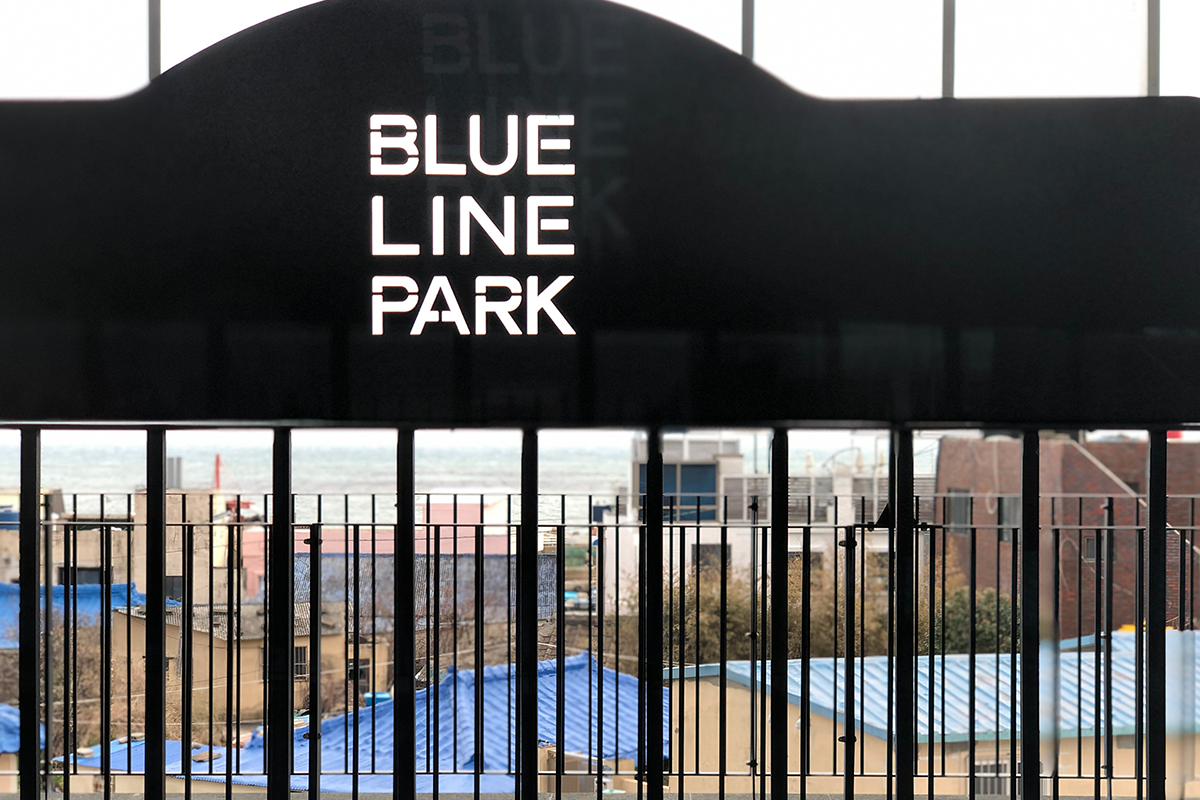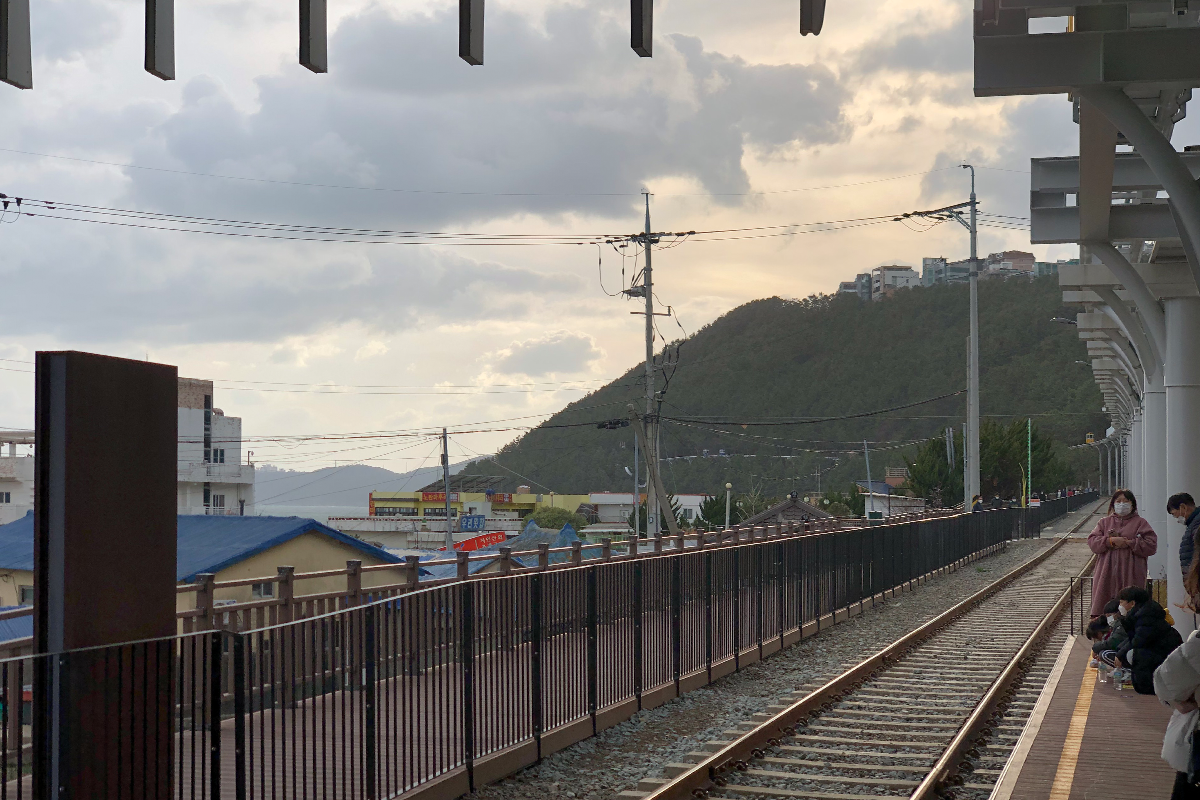 We boarded the train from Cheongsapo Station around sunset and the view was amazing.
Since there were a lot of people that boarded from Cheongsapo, we were left with a seat in the back. But a lot of them got off at Dalmaji Tunnel so we were able to move up towards the front. Compared to the Sky Capsule that took 30 minutes from Mipo to Cheongsapo, the Haeundae Beach Train only took 10 minutes from Cheongsapo to Mipo.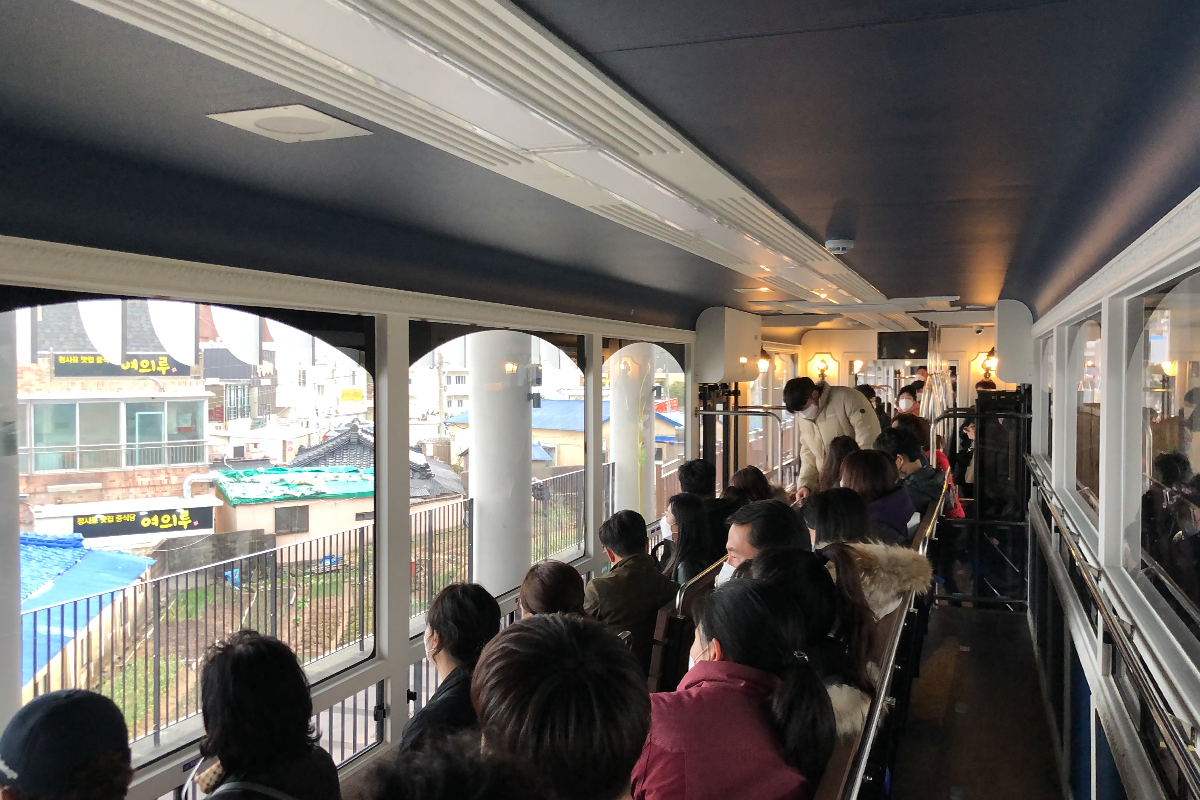 But there were a lot of trees that obstructed the view of the ocean from the Haeundae Beach Train. This is the second reason we recommend taking the Sky Capsule one way and the Haeundae Beach Train the other. We have to admit, despite the slow pace of the Sky Capsule, it did have a better view. With two people, a round trip on the Sky Capsule is 55,000 KRW. However, with a one-way Sky Capsule ticket (30,000 KRW) and two one-time Haeundae Beach Train tickets (7,000 KRW per person), the total was 44,000 KRW which is actually cheaper!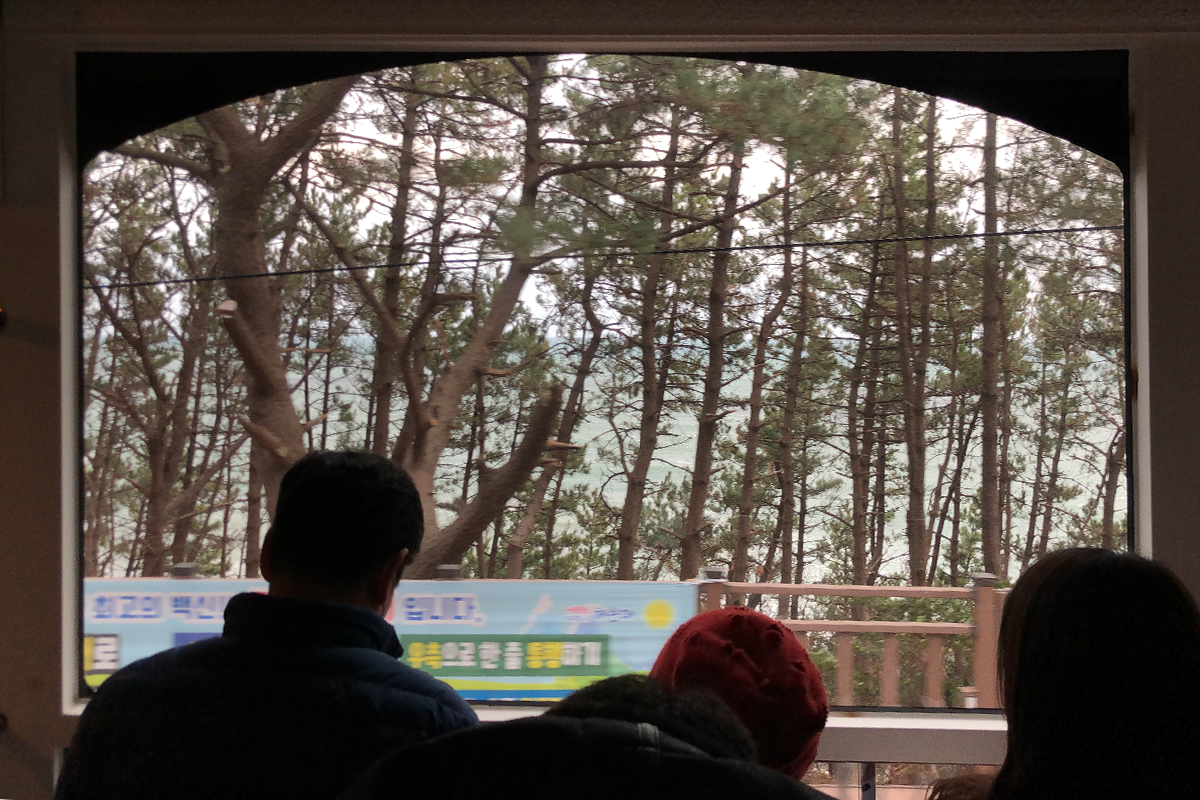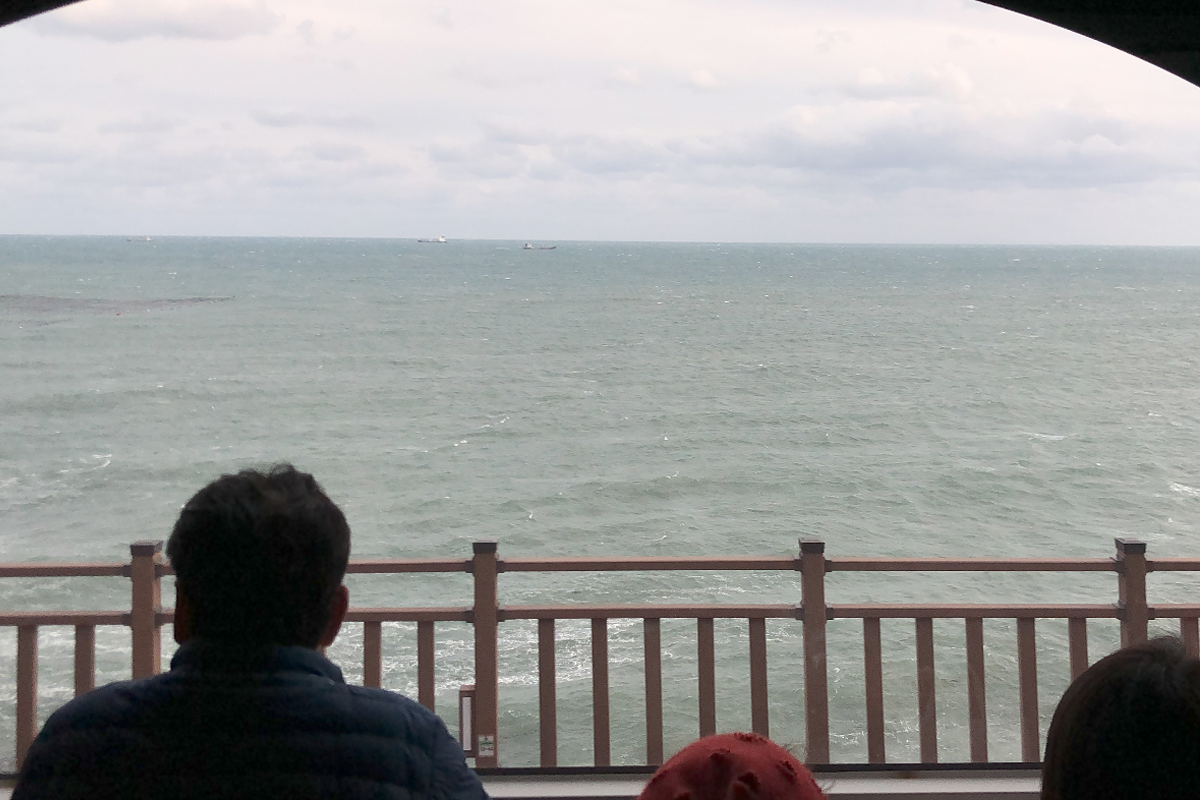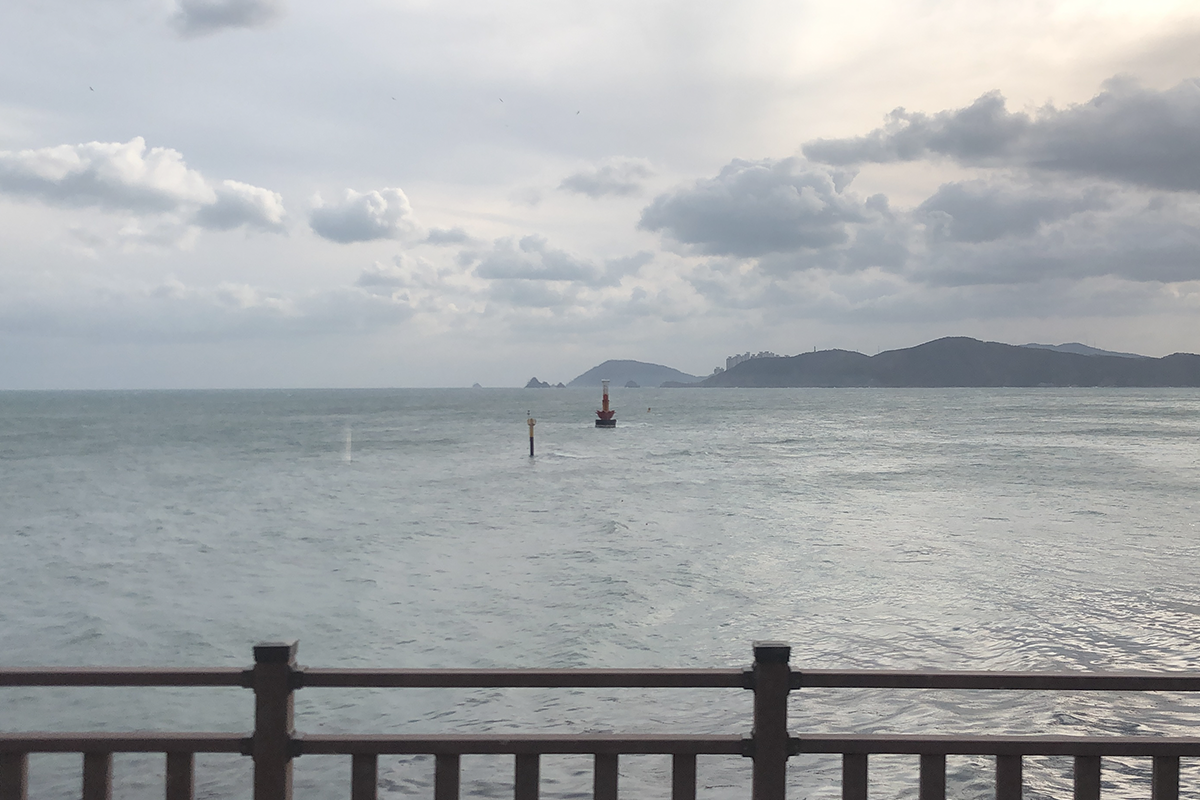 ---
The next time you all visit Busan, we hope you all get the chance to experience the breathtaking ocean views. If you have any questions or concerns, please leave a comment below or send us an email at help@creatrip.com! You can follow us on Instagram, TikTok, Twitter, and Facebook to stay updated on all things Korea!
---