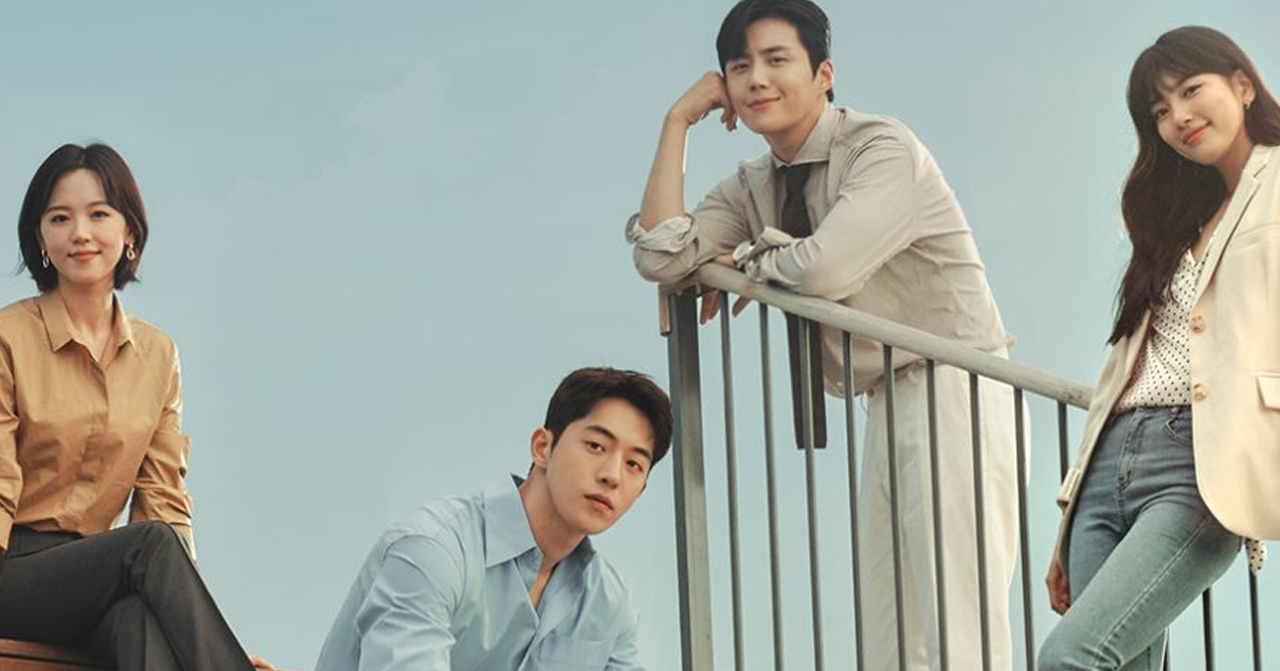 One of the most watched TV dramas this year, tvN's October drama, Start-up, starring Bae Suzy, Nam Joo-hyuk, Kim Sun-ho, and Kang Han-na, has received a lot of attention.
The first episode of Start-up received an average of 4.5% (maximum 5.3%), and the second episode was 4.4% (maximum viewing interval was 5%) in ratings and has continued to produce great results.
The third and fourth episodes also had the highest ratings in the metropolitan area at 5.696%. Let's take a look at the Start-up plot, characters, settings, and the hot topics of this must-watch drama!
---
OUTLINE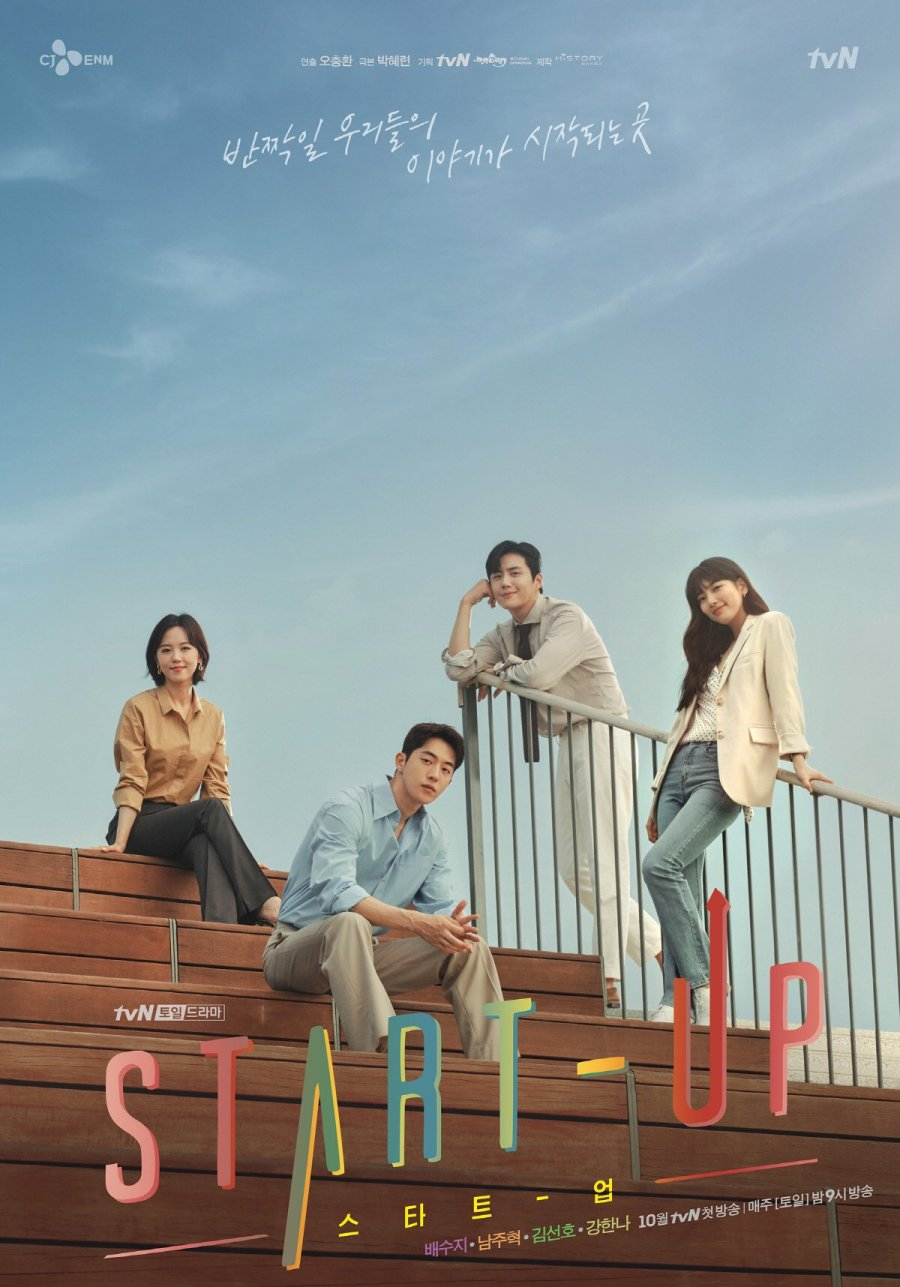 Start-up tells the story of a group of young people who dream of embarking on the road to success in the South Korean Silicon Valley. Everyone wants to be among the ranks of success.
Although the journey is lonely and unforgivable, youth is their biggest asset.
The lineup of Start-up is strong, but behind the scenes, it's directed by Oh Choong-Hwan of Hotel Del Luna, and written by the screenwriter of Pinnochio and While You Were Sleeping, Park Hye-ryeon.
The combination of these two have resulted in the best written drama of the season.
---
CHARACTER INTRODUCTION
_

NAM DO-SAN
Played By Nam Joo-hyuk
Nam Do-san, the founder of Samsan Technology (삼산텍) and once glorified as a mathematics genius, now is just a loser who has invested for several years and has no income.
He has become a shame to his family. He is trying to make a reality of his hopes to create a new and successful business.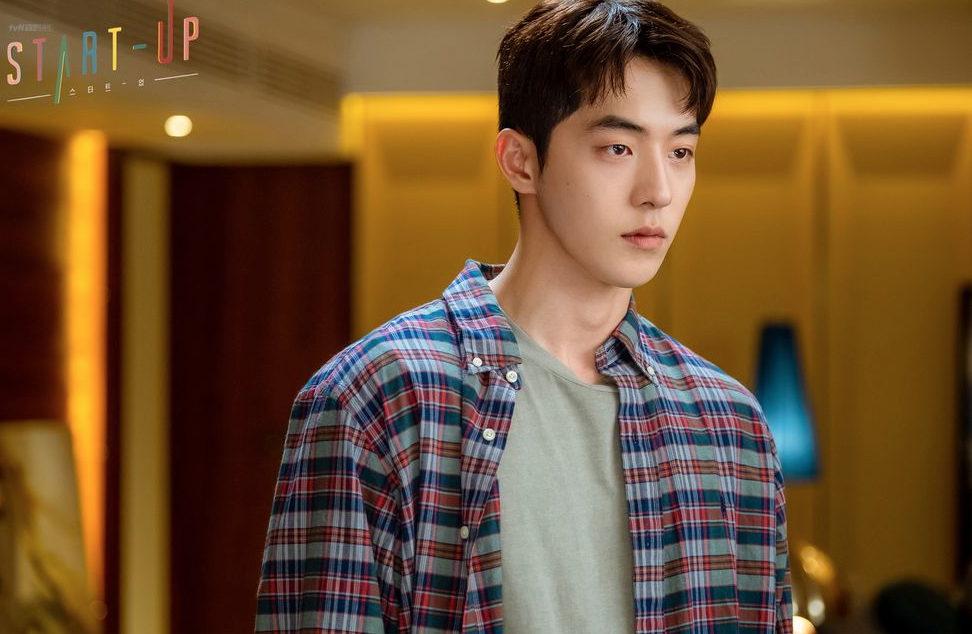 Nam Joo-hyuk, who recently achieved some fame for his acting in the Netflix drama, The School Nurse Files, delivers a good performance here as an adorable bookworm experiencing the joys and pains of youth.
_

SEO DAL-MI
Played By Bae Suzy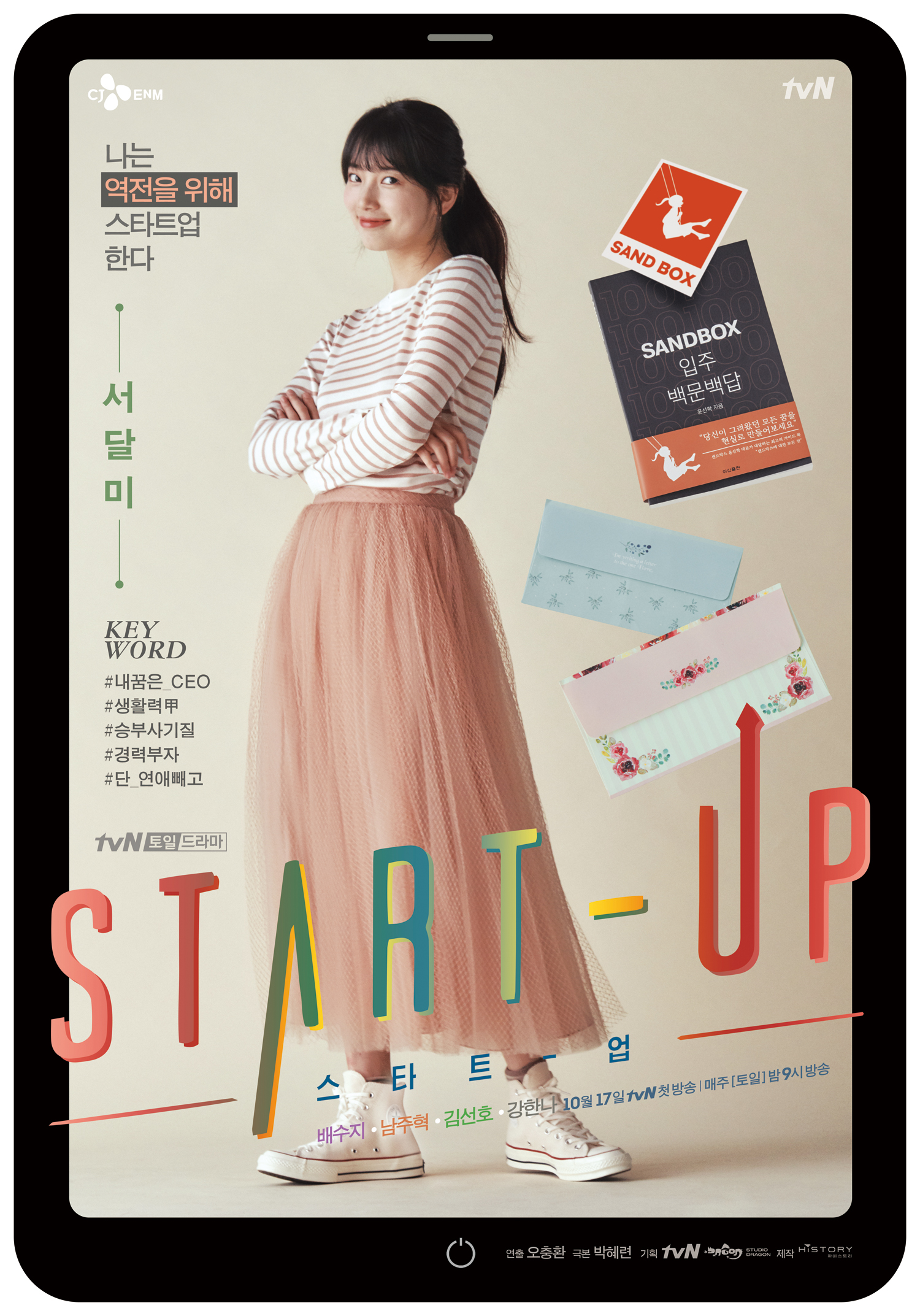 Suzy plays the role of Seo Dal-mi, who dreams of becoming a successful.
Although she has nothing, she is full of vigor, strong language, and an ability to work hard. She plunges headfirst into the journey of starting a new company.
Because she had a very clear passion for her life early on, Dal-mi left university and began to work in society. Seo is full of vitality and passion.
She meets Nam Do-san and helps to start not only a company, but a new romance as well.
Bae Suzy's charm is on full display here and she delivers a wave of youthful energy to each episode. People look forward to watching her traverse the stages of life.
_

HAN JI-PYEONG
Played By Kim Seon-ho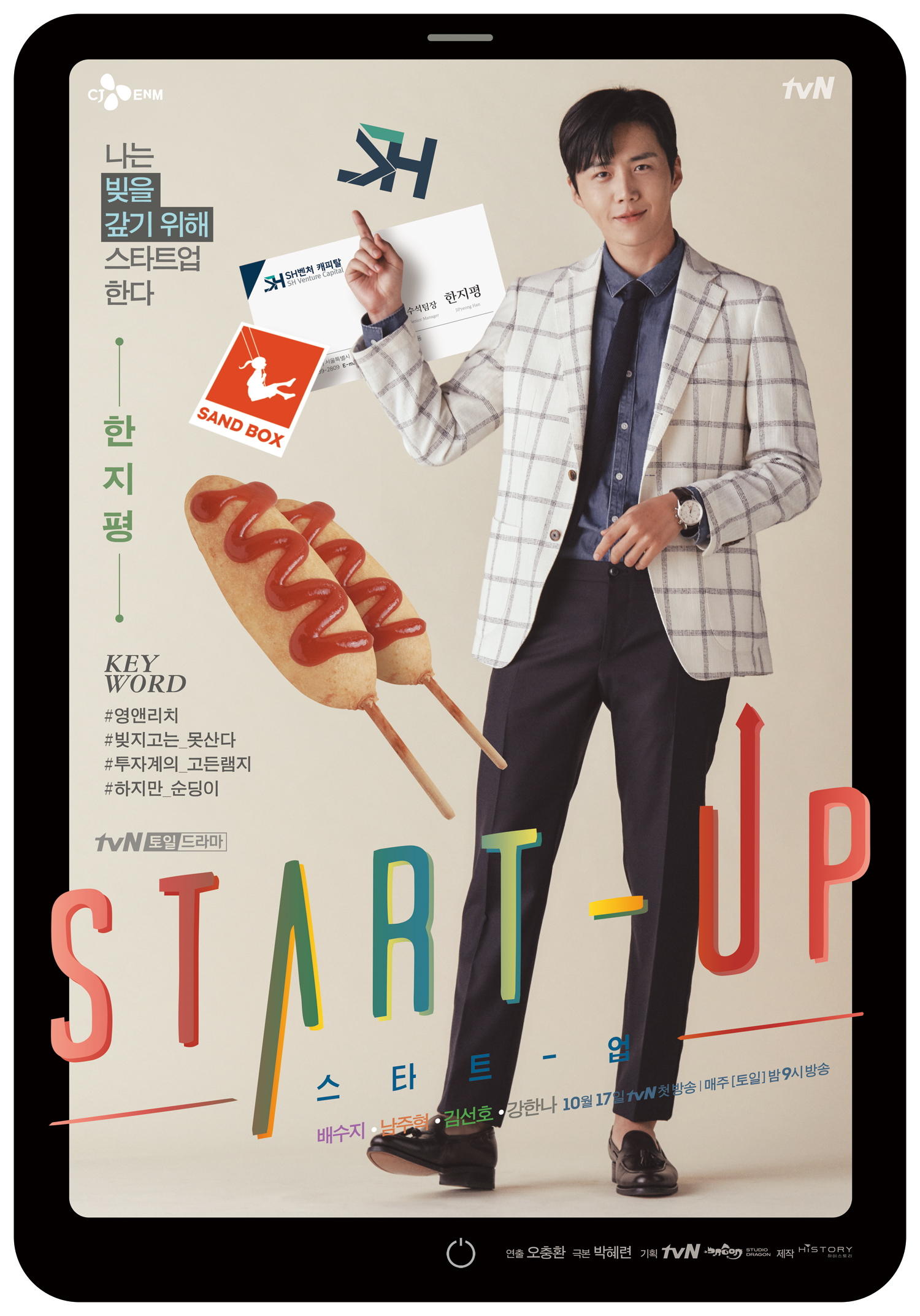 Han Ji-pyeong is the chief team leader of SH Venture Capital, has great investing skills.
Even though he comes off as a bit of a grumpy person that people have a hard time getting along with, it becomes clear in the drama that he is also harboring a soft spot for someone he owes a favor to.
Kim Seon-ho is one of the up-and-coming actors in recent years. He won the MBC acting award for his role in Two Cops. He was born to be an actor and seeks to steal every scene in which he appears.
_

WON IN-JAE
Played By Kang Han-na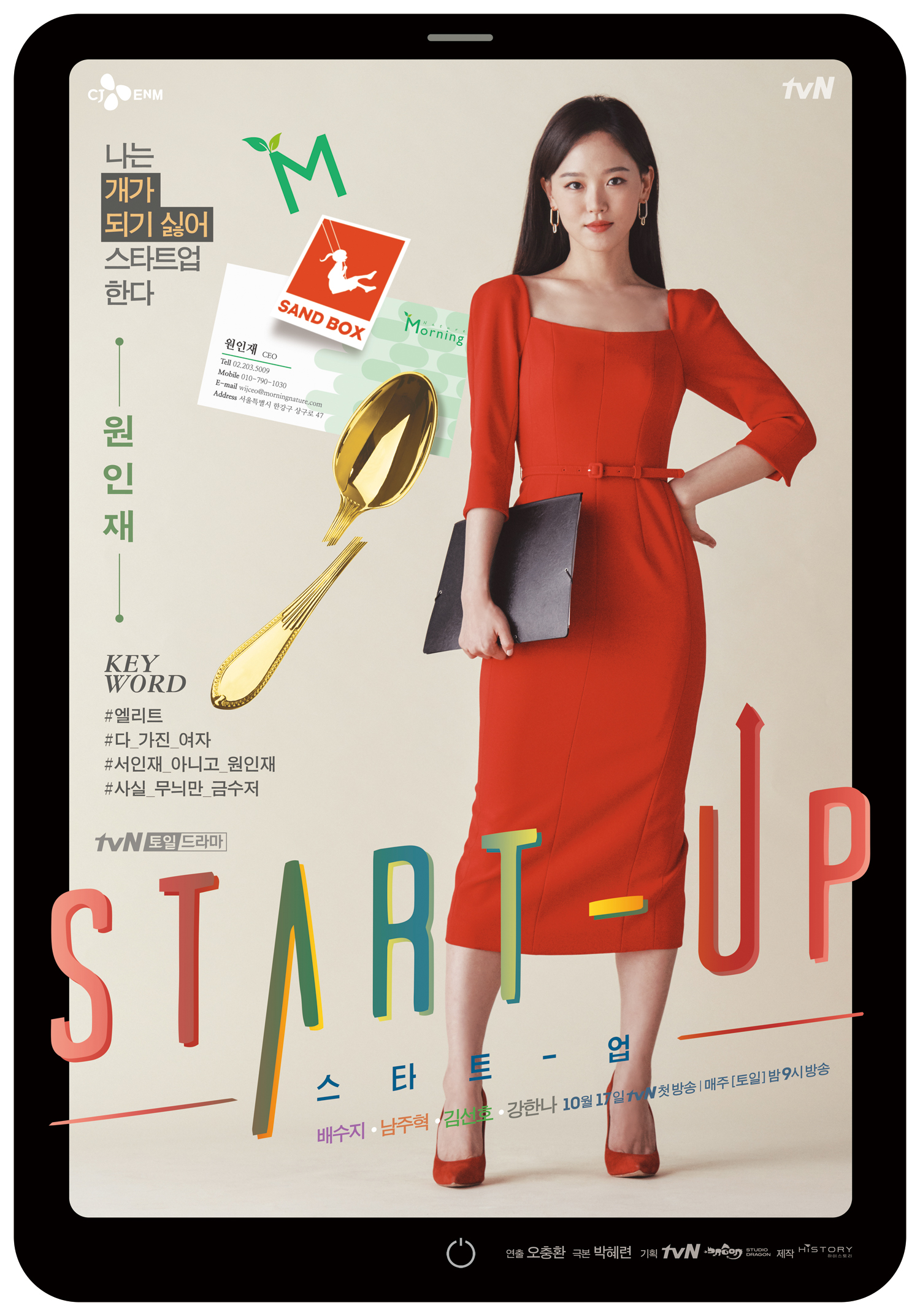 In Start-up, CEO Won In-jae, who has both academic qualifications, beauty, and intelligence, tries hard to shed the cloud over her status as a beneficiary of rich parents.
She is only hoping to be recognized for her own strength.
It turns out that she is Seo Dal-mi's sister. She joins her in the effort to create a new and successful business.
Kang Han-na has had a successful career acting in dramas and she's looking to make this one her masterpiece.
_

SUPPORTING ROLES
Yoo Su-bin, who recently did a great job in the popular drama Crash Landing on You, alongside Kim Do-wan, both deliver standout performances the lift the steady and stellar performance of the lead actors.
Kim Won-hae, who recently recovered from his bout with the novel coronavirus, also shows up to play Nam Joo-hyuk's father.
After the second episode was broadcast, it sparked a lot of discussion among Korean netizens for its positive and enjoyable portrayal of the "chasing your dreams" plotline.
After other recent dramas like Record Of Youth and Do You Like Brahms? tried to deliver on the similar premise, but got bogged down in confusing storylines and too much focus on romance, fans are pleased with the balance that Start-up is able to strike among all the elements.
The actors have received widespread praise and admiration. Fans have said that "Nam Joon-hyuk delivers the kind of poise and charm that only he can."
Fans are also happy with the performance of a national sweetheart like Bae Suzy. It's great to see this level of support for a drama after only two episodes.
Kim Seon-ho and Kang Han-na also received priase for their unique yet charming characters.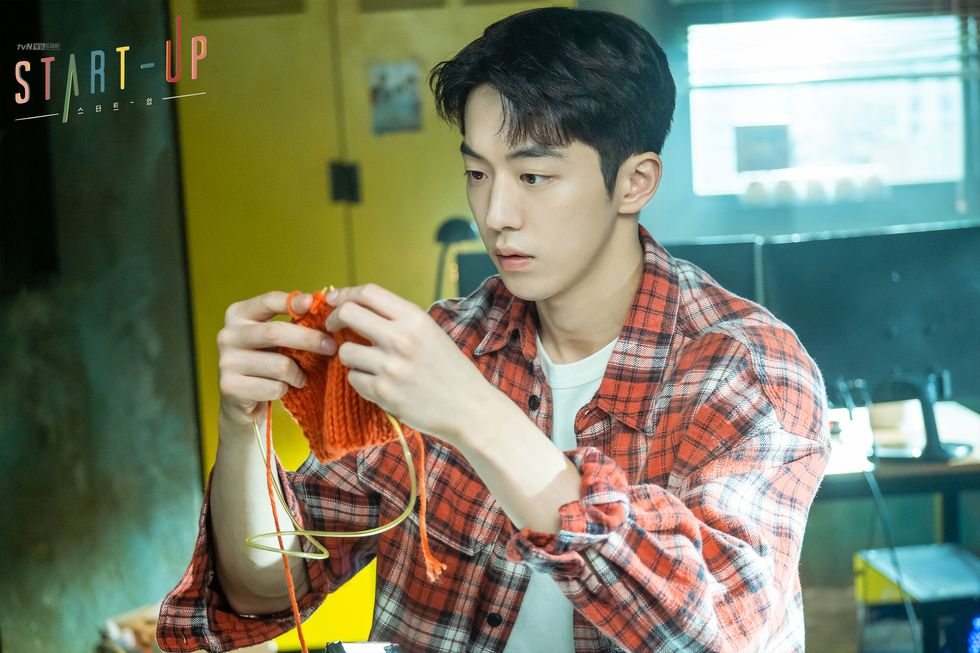 Those working behind the camera are also doing a great job. They commend their actors for their stellar performances as everyone works together to portray a timeless story of youth, no matter how challenging it may be at times.
What's your take on the drama? Let us know by leaving a comment below!