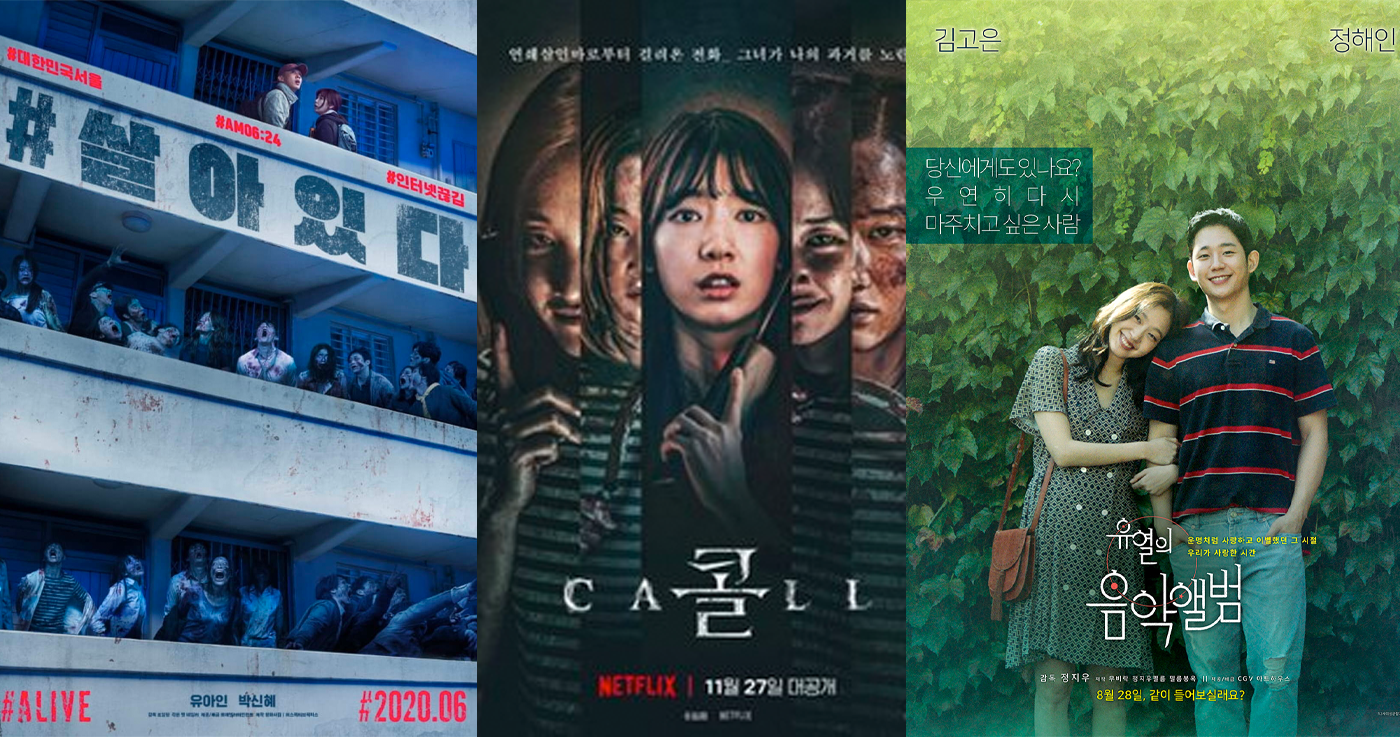 Korean movies that will make your time disappear! If you're looking for new and exciting watches for 2021, you've come to the right place.
Get your popcorn and Coke ready before you press play.
---
MIDNIGHT RUNNERS (2017)
청년경찰
Running Time: 109 minutes
Director: Jason Kim
Cast: Park Seo-joon, Kang Ha-neul, Sung Dong-il
This comedy action film is about two students at the Korean National Police University. They spend a night in the city to have some fun, but witness a kidnapping.
As they try to solve the crime, they get drawn into something much larger and scarier than they originally thought. They must put what they learned to the test in this funny but intense cop movie.
---
SWEET & SOUR (2021)
새콤달콤
Running Time: 101 minutes
Director: Lee Kae-byeok
Cast: Jang Ki-yong, Chae Soo-bin, Jung Soo-jung
This is a romantic comedy film about a couple who fell in love at first sight. However, couples often change after the honeymoon period. This couple finds themselves drifting apart due to a new job assignment further away and a new coworker.
Watch for a realistic portrayal of couples and how they can change over time due to outside circumstances.
---
PARASITE (2019)




기생충
Running Time: 132 minutes
Director: Bong Joon-ho
Cast: Song Kang-ho, Choi Woo-sik, Park So-dam, Cho Yeo-jeong, Lee Sun-kyun
The Kim family live in a semi-basement and is not exactly well off. One day, the son gets offered to tutor a high school girl from a very wealthy family.
Somehow, the two families develop interesting relationships among themselves and a shocking story unfolds from there.
Parasite won 4 Oscars in 2020 and many of the world have already seen the movie. It's worth a watch!
---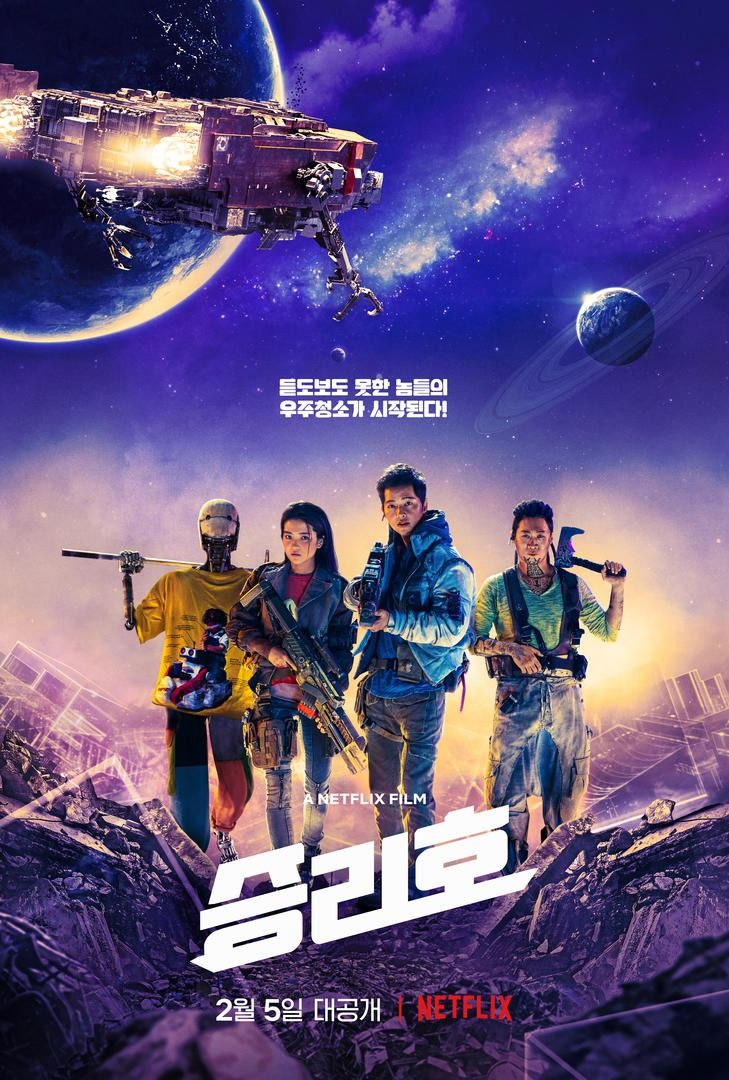 Running Time: 136 minutes
Director: Jo Sung-hee
Cast: Song Joong-ki, Kim Tae-ri, Yoo Hae-jin, Jin Seon-kyu
In 2092, towards the end of the 21st century, three members of a space garbage scavanger named Victory find themselves in a dangerous deal after discovering Dorothy, a humanoid robot that is a weapon of destruction and wanted by the space police.
---
ALIVE (2020)




살아있다
Running Time: 99 minutes
Director: Cho Il
Cast: Yoo Ah-in, Park Shin-hye
Based on the American film Alone written by Matt Naylor, Joon-woo (Yoo Ah-in) gets stuck in his apartment when mass zombie infections break out in his apartment complex.
Without wifi, data and phone, he tries to survive by himself while zombies roam around.
It's one of the newest Korean zombie movies to be released on Netflix.
---
THE CALL (2020)
콜
Running Time: 112 minutes
Director: Lee Chung-hyun
Cast: Park Shin-hye, Jun Jong-seo, Kim Sung-ryoung
Seo-yeon (Park Shin-hye), upon connecting the old landline phone at her old childhood house, gets a phone call from a strange woman named Young-sook (Jeon Jong-seo).
The two women soon realize that they are 20 years apart but live in the same house.
One of them a serial killer, she tries to change her own reality and past by controlling and manipulating the other's.
---
HIGH SOCIETY (2018)


상류사회

Running Time: 120 minutes
Director: Hyuk Byun
Cast: Soo Ae, Park Hae-il
A curator of an art gallery funded by a giant conglomerate and her ambitious professor husband plot to join the elite world in Korea.
---
TIME TO HUNT (2020)


사냥의 시간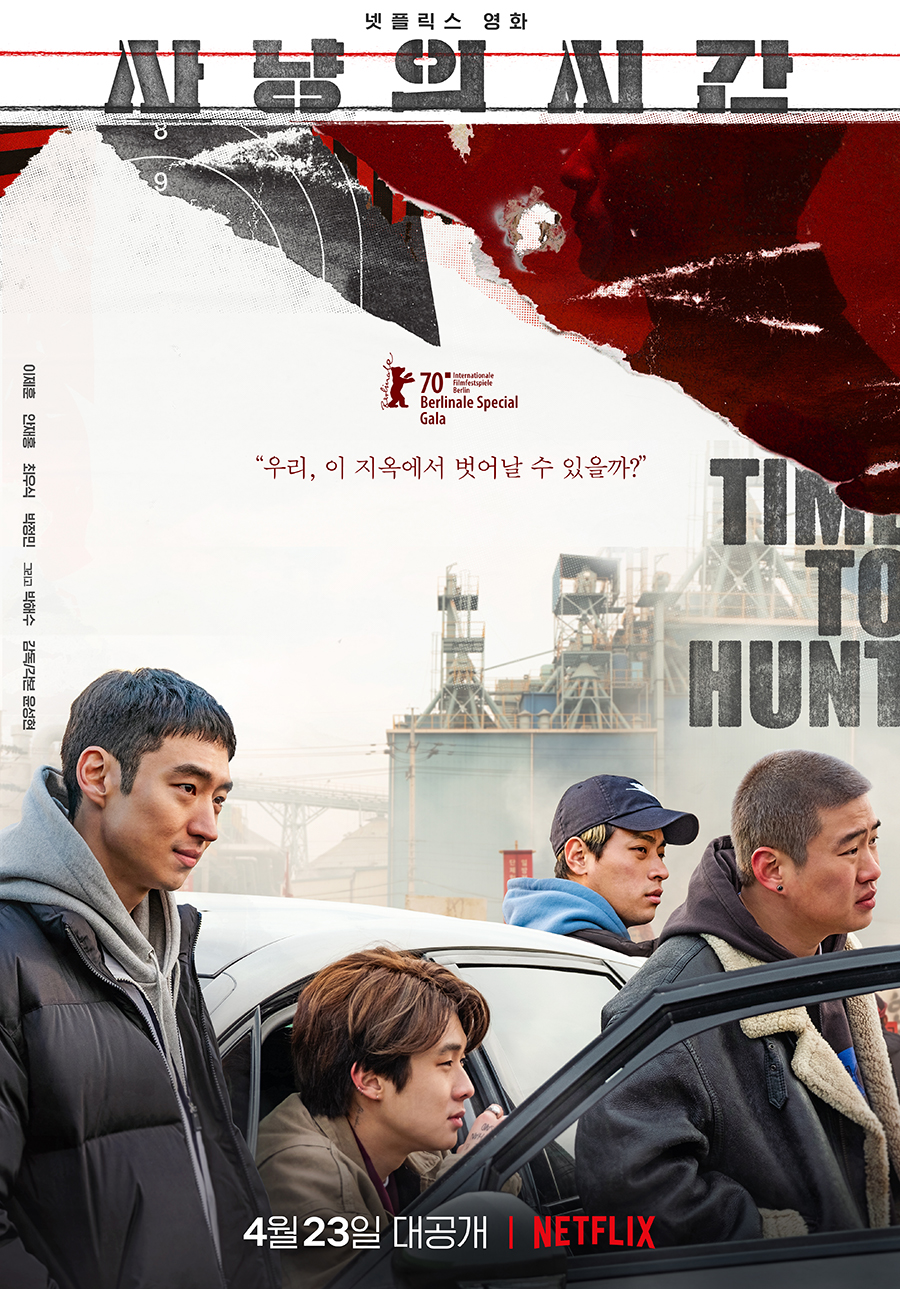 Source: Naver Movies
Running Time: 134 minutes
Director: Yoon Sung-hyun
Cast: Lee Je-hoon, Ahn Jae-hong, Choi Woo-shik
The story takes place in the dystopian South Korea where three friends plan a heist as an attempt to get out of their miserable, impoverished situations.
They target an illegal gambling house with stacks of US dollars. After their successful heist, the owners of the gambling house recruit a killer to track the thieves.
---
SEOUL SEARCHING (2015)




서울캠프 1986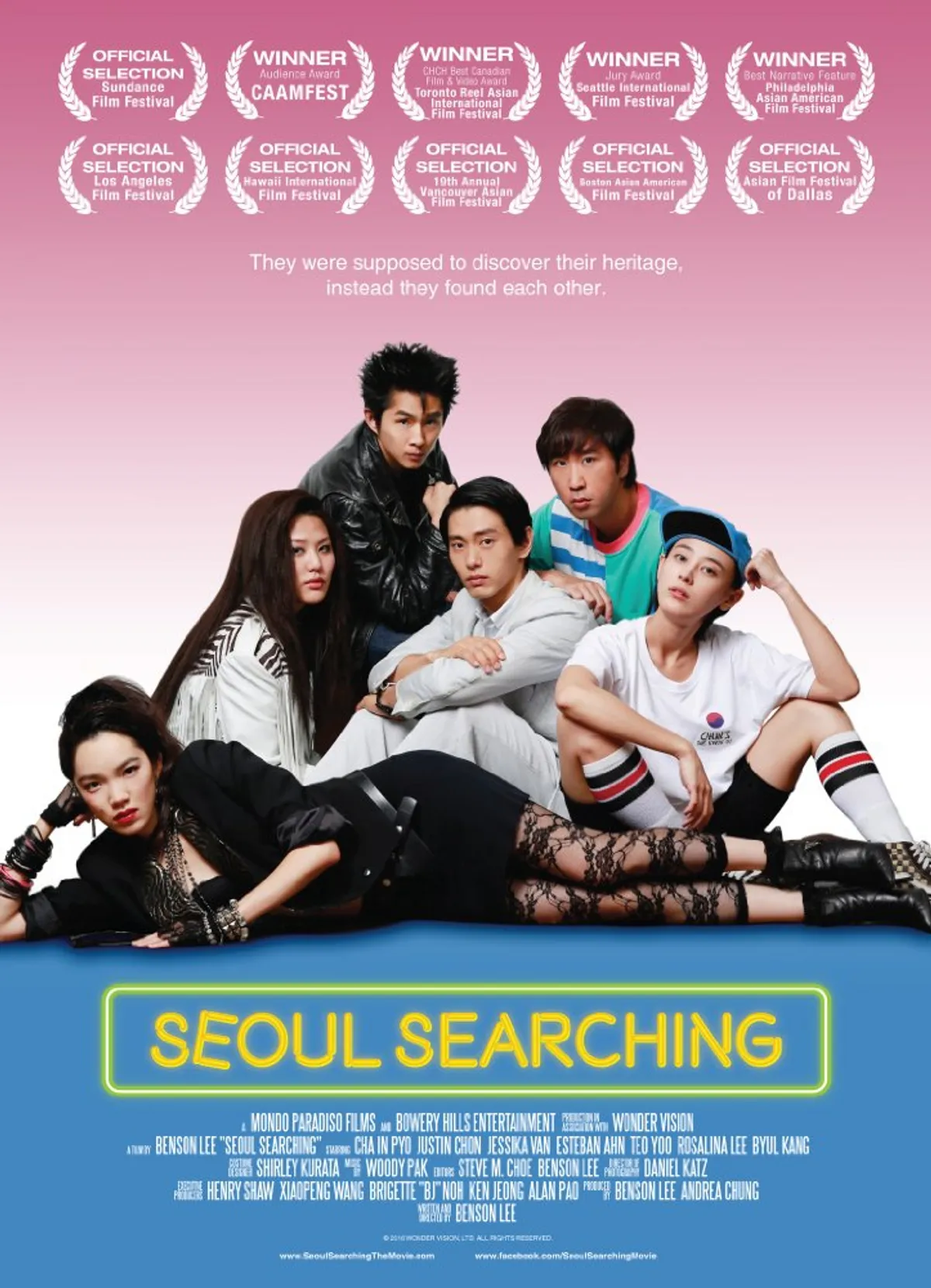 Running Time: 109 minutes
Director: Benson Lee
Cast: Cha In-pyo, Justin Chon, Jessika Van, Teo Yoo, Esteban Ahn
Teens of Korean descent who grew up in other countries gather at a summer camp in 1986 to learn about their roots.
It may not necessarily be considered a "Korean" movie that we're familiar with, but it does shine a light on lives of gyopo (Korean diaspora) teens, a topic not widely discussed in film.
Plus, the movie is based on a true story of the Korean government initiating a summer camp in the 1980s to help gyopo teens to experience their motherland.
However, because their actions were so diverse and uncontrollable, the summer camp had to officially close down in 1986!
---
SVAHA: THE SIXTH FINGER (2019)


사바하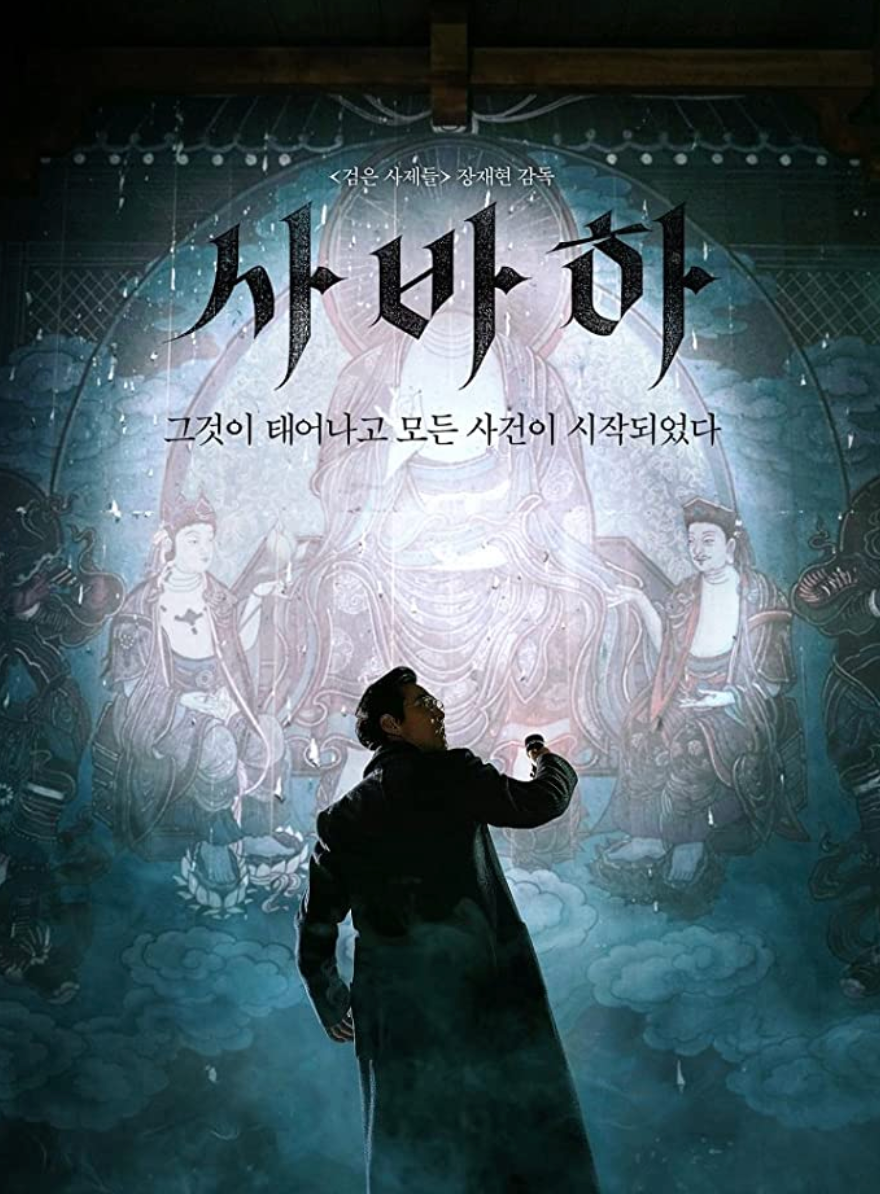 Source: IMDb
Running Time: 122 minutes
Director: Jang Jae-hyun
Cast: Yoo Ji-Tae, Lee Jung-Jae, Park Jung-Min
Pastor Park gets hired to look into a cult group called Deer Mount. At the same time, a Police Captain is also looking for one of Deer Mount member as one of them is the main suspect for a murder. It's a tense and nail-biting thriller and mystery will keep you focused till the end.
Lee Jung-Jae and Park Jung-Min were accused of being Shincheonji (Korean cult group) after shooting this movie. They denied saying it was false information.
---
TUNE IN FOR LOVE (2019)
유열의 음악앨범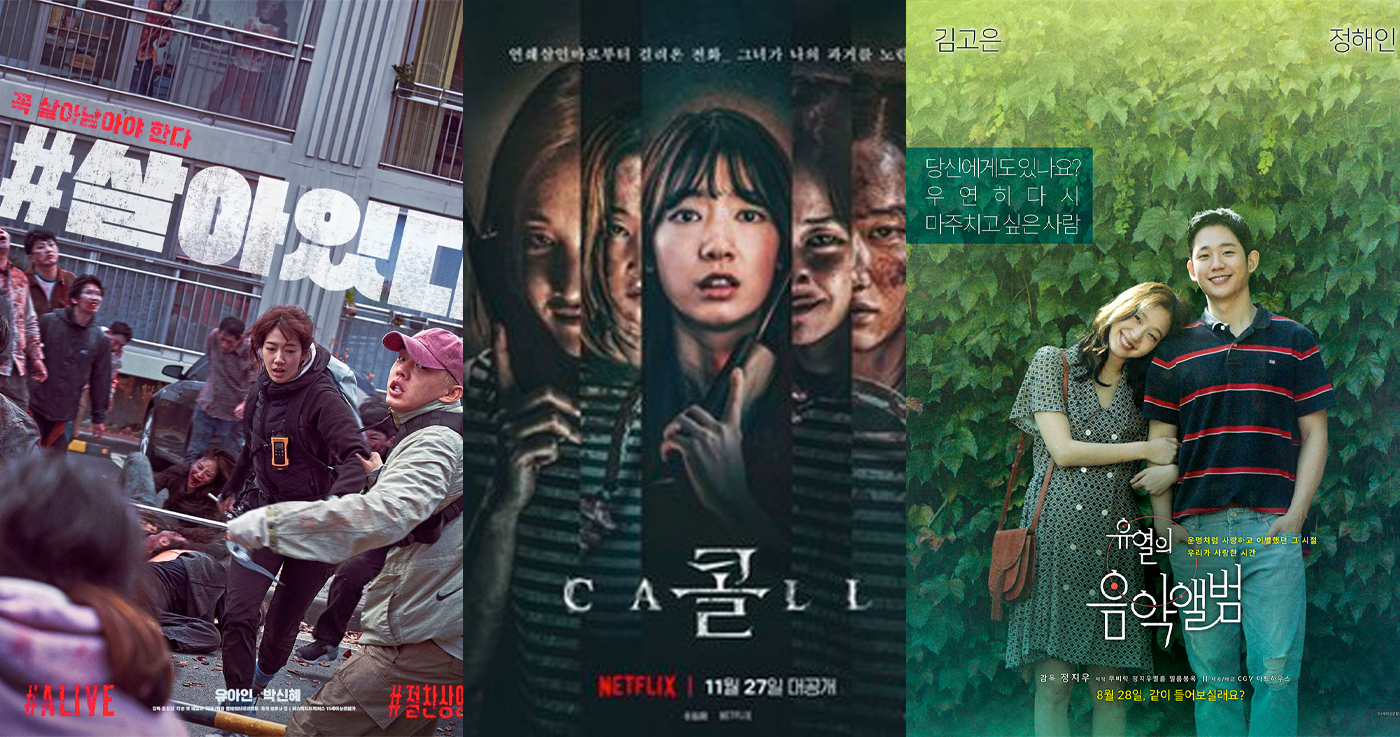 Running Time: 122 minutes
Director: Jung Ji-woo
Cast: Jung Hae-in, Kim Go-eun
Mi-soo (Kim Go-eun), who works at the bakery her mother left her, sees Hyun-woo one day. She falls for him but due to unfortunate events, she loses contact with him.
After miraculously reconnecting, they try to work things out as fate keeps pulling them apart.
---
THE DRUG KING (2018)


마약왕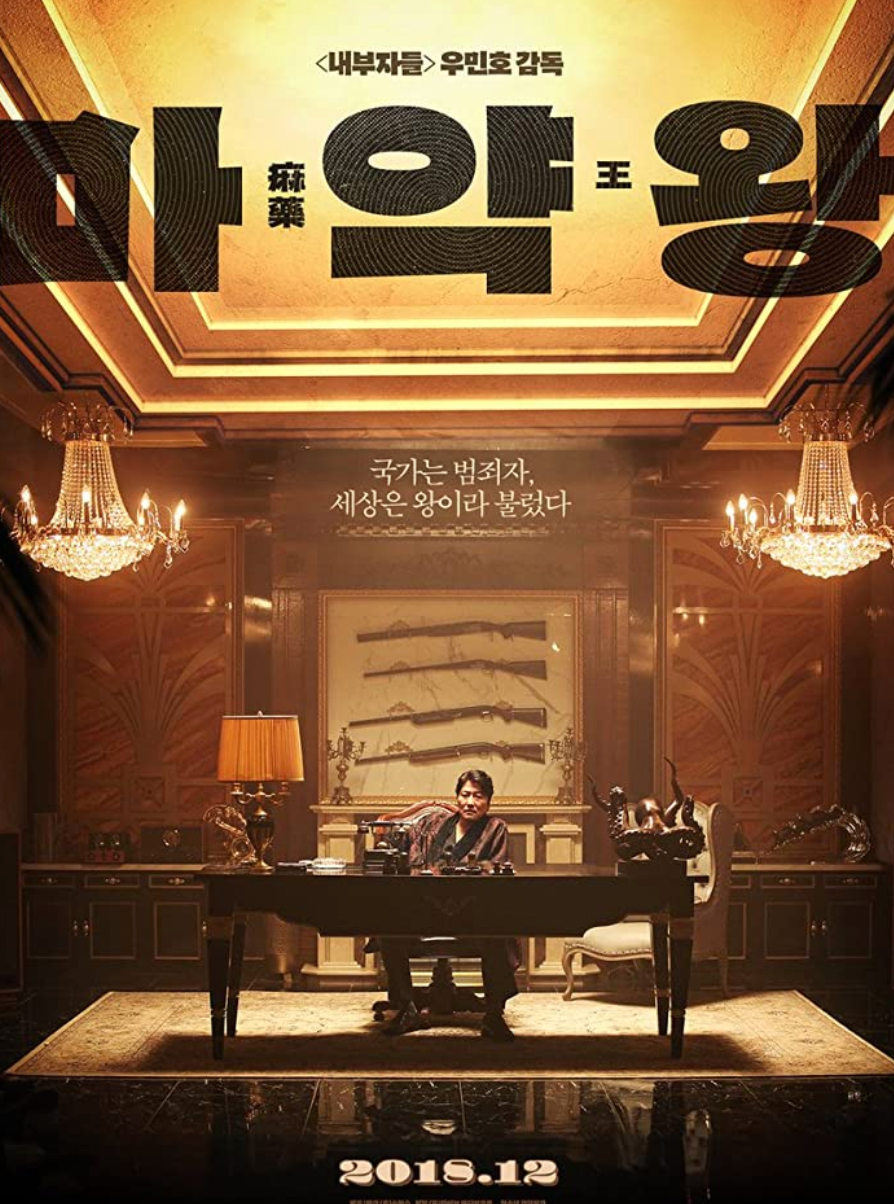 Source: IMDb
Running Time: 139 minutes
Director: Woo Min-ho
Cast: Song Kang-Ho, Jo Jung-Suk, Bae Doona
This is a true story, set in Busan during 1970s, Lee Doo-Sam who becomes the first major drug smuggler in Busan and becomes a wealthy man with great power. However, the public prosecutor Kim In-Goo will not let this filthy back dealing happen anymore and tries to take him down.
This was Song Kang-Ho's most dramatic change shown on film and the audience were mesmerised by his acting. People say the only reason this movie got any attention was due to Song Kang-Ho's acting. Have a look and see how great his acting is.
---
STEEL RAIN (2017)


강철비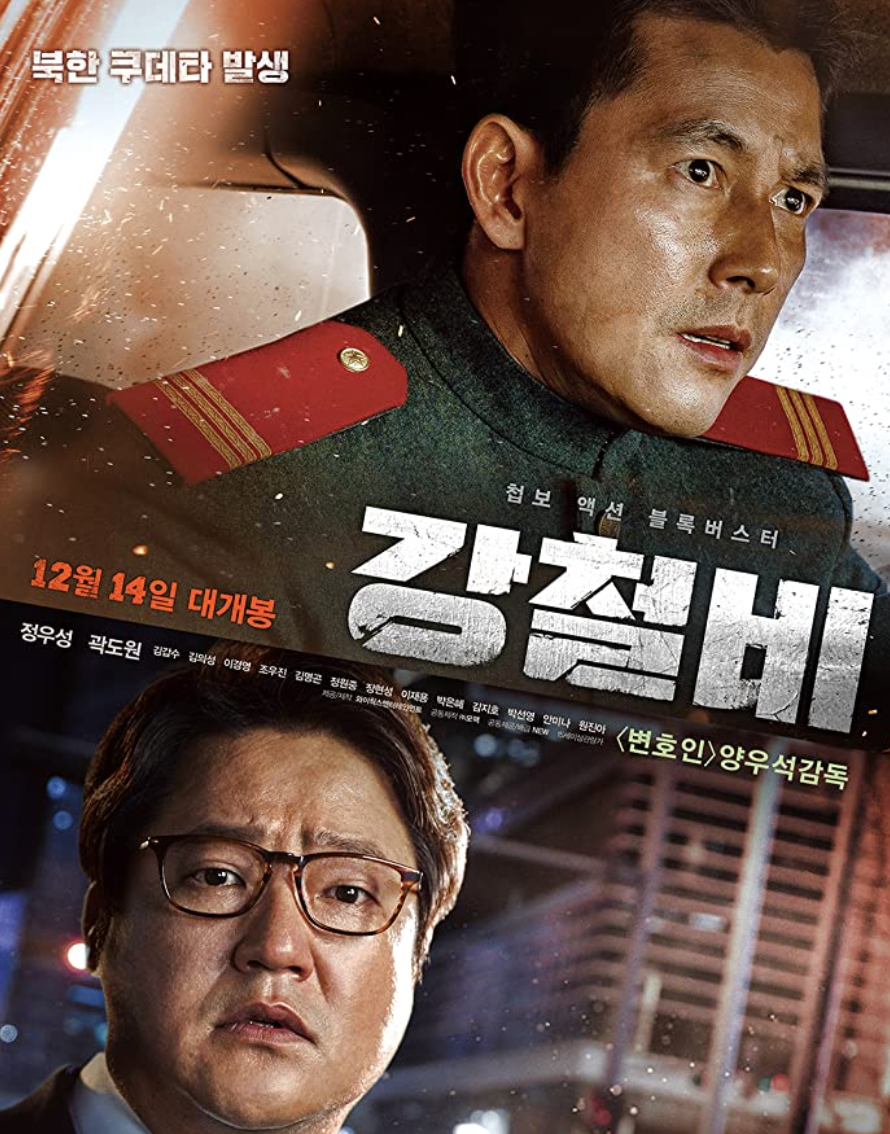 Source: IMDb
Running Time: 139 minutes
Director: Yang Woo-seok
Cast: Jung Woo-Sung, Kwak Do-Wan, Kim Kap-Su
The first-ever coup breaks out on North Korea. Immediately after the coup, an agent goes to South Korea with an injured North Korean who is North Korea's No. 1 agent. Meanwhile, North Korea declares war against South Korea and the United States. Now, how will they solve this massive problem?
The chemistry between Jung Woo-Sung and Kwak Do-Wan were so good that they are planning on making Steel rain 2. It is said to be released later this year.
---
FORGOTTEN (2017)
기억의 밤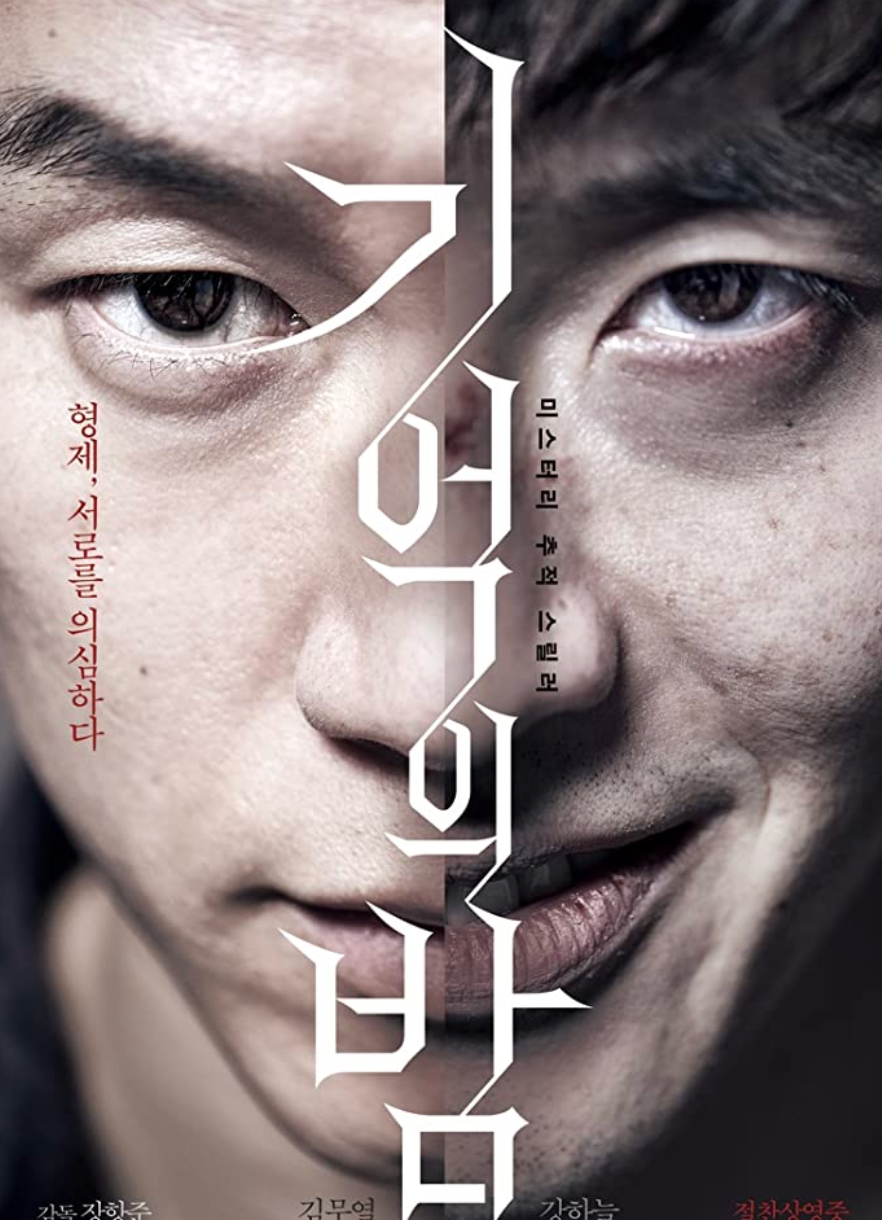 Source: IMDb
Running Time: 109 minutes
Director: Jang Hang-jun
Cast: Kang Ha-Neul, Kim Mu-Yeol, Lee Eun-Woo
Yoo-Seok gets kidnapped the night he moved into his new home. Because Yoo-Seok got kidnapped his little brother Jin-Seok, starts to hallucinate and have nightmares. However, Yoo-Seok suddenly shows up after 19 days of his disappearance and says he has lost all his memories. But Jin-Seok senses something is not right with Yoo-Seok. What could have happened during the 19 days?
The director wanted to film with Kang Ha-Neul due to his performance in Dongju: The Portrait of a Poet.
---
THE PRISON (2017)


프리즌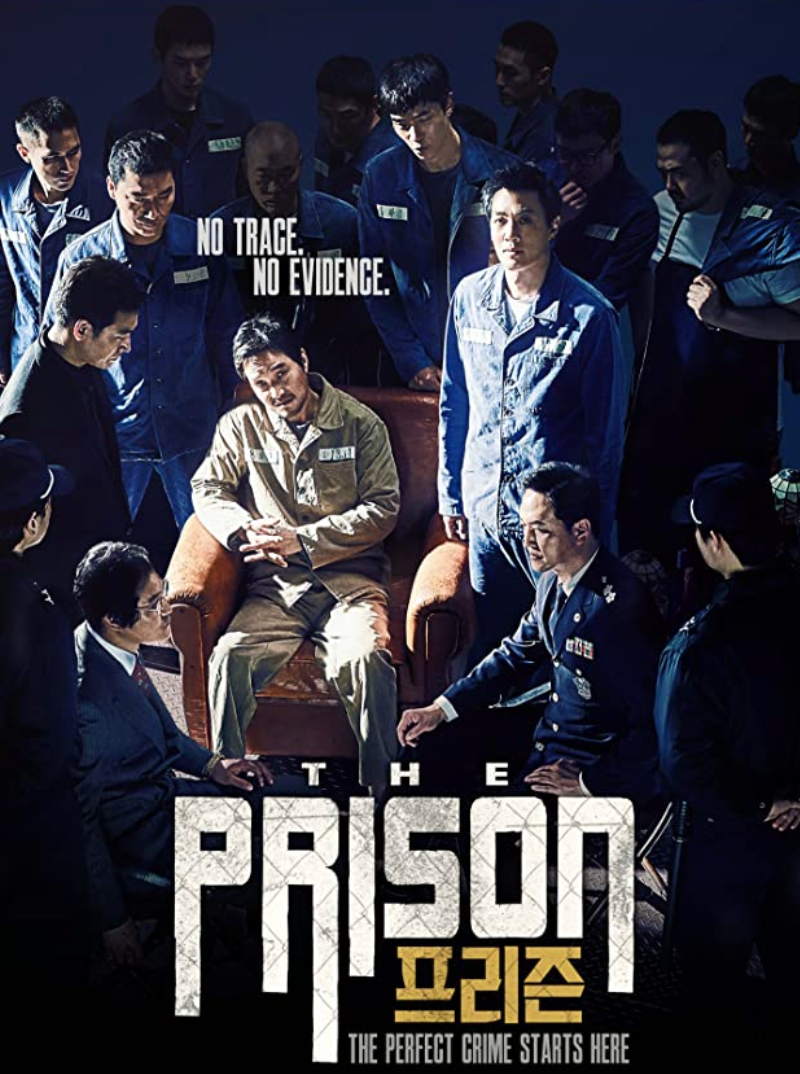 Source: IMDb
Running Time: 125 minutes
Director: Na Hyun
Cast: Kim Rae-Won, Han Suk-Kyu, Lee Kyeong-Yeong
It's called the prison but really it not. A prison where you could do whatever you want; even going outside. When the night comes, prisoners go out and create crimes. Ik-ho reigns over the prison as a king. Yoo Geon, a famous former police officer, who has arrest rate of 100%. Will these two work together or become each other worst enemy?
Kim Rae-Won and Han Suk-Kyu are renown for their acting. When people hear they were shooting together the hype for this movie was extremely high.
---
Okja (2017)


옥자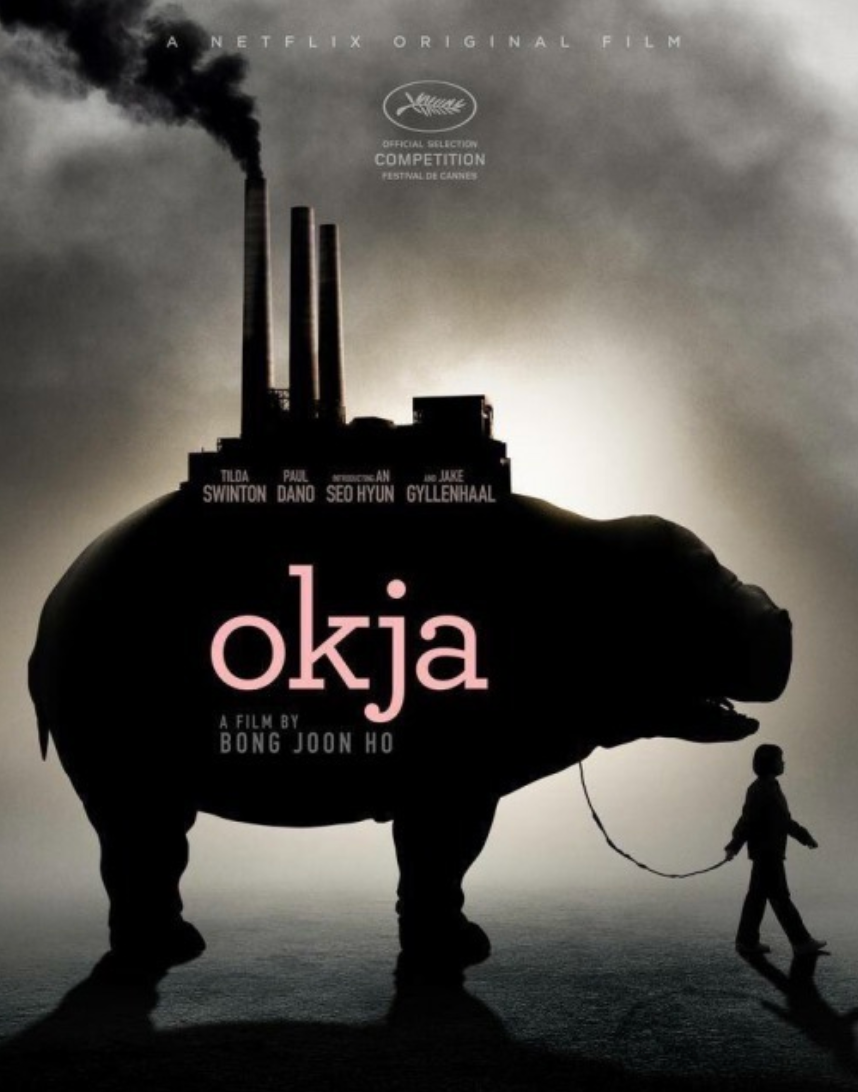 Source: IMDb
Running Time: 120 minutes
Director: Bong Joon-ho
Cast: Tilda Swinton, Jake Gyllenhaal, Steven Yeun, Lily Collins
Okja (pig) and Mija have been together for over 10 years and become best friends. One day a global company called 'Mirando' forcefully takes Okja away to New York.
Mija is determined to get Okja back so she goes on a dangerous adventure to rescue Okja. Will she get Okja back?
This film is shot by the director of Parasite. He has involved famous western actors, editors, producers and many more to make this a globe movie.
---
Train to Busan (2016)


부산행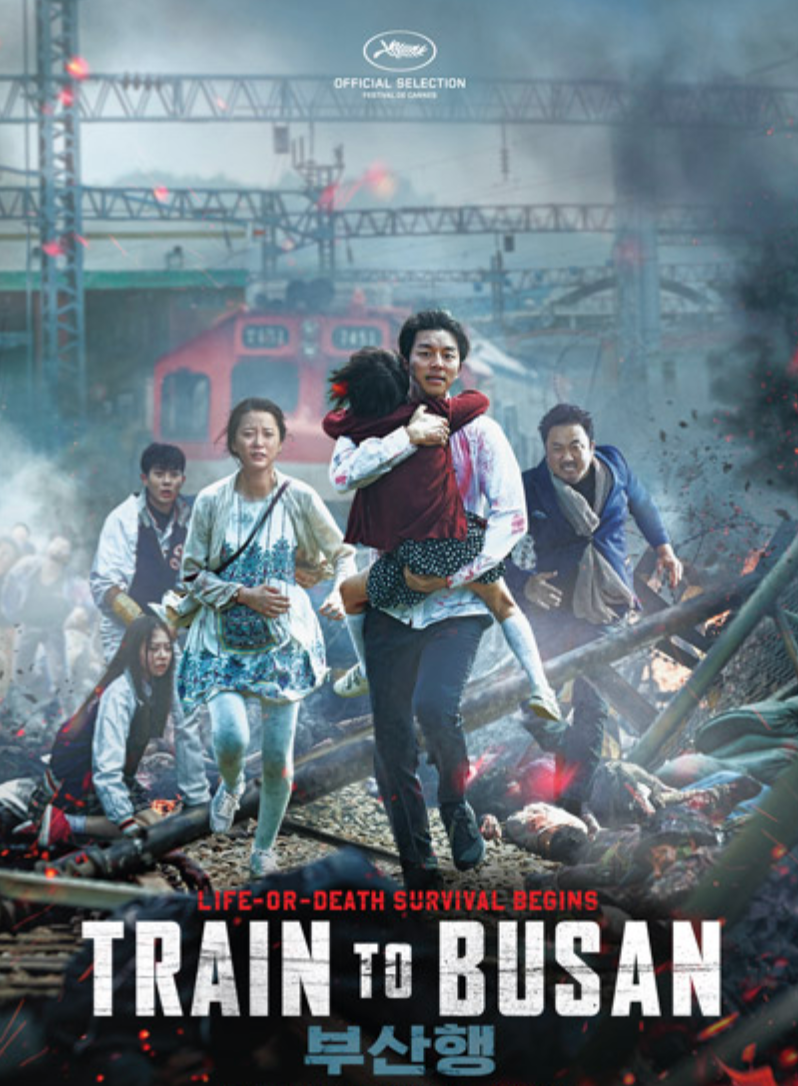 Source: IMDb
Running Time: 121 minutes
Director: Yeon Sang-ho
Cast: Gong Yoo, Jung Yu-Mi, Ma Dong-Seok
The unprecedented disaster strikes Korea. A virus that will turn people into zombies. The only safe place is Busan and the safest way to get there is by train. Seoul to Busan is 442KM, will they get there safely in time?
Gong Yoo was really scared when he shot this film as the zombies face looked so real. He actually ran for his life when the zombies were following him.
---
26 Years (2012)


26년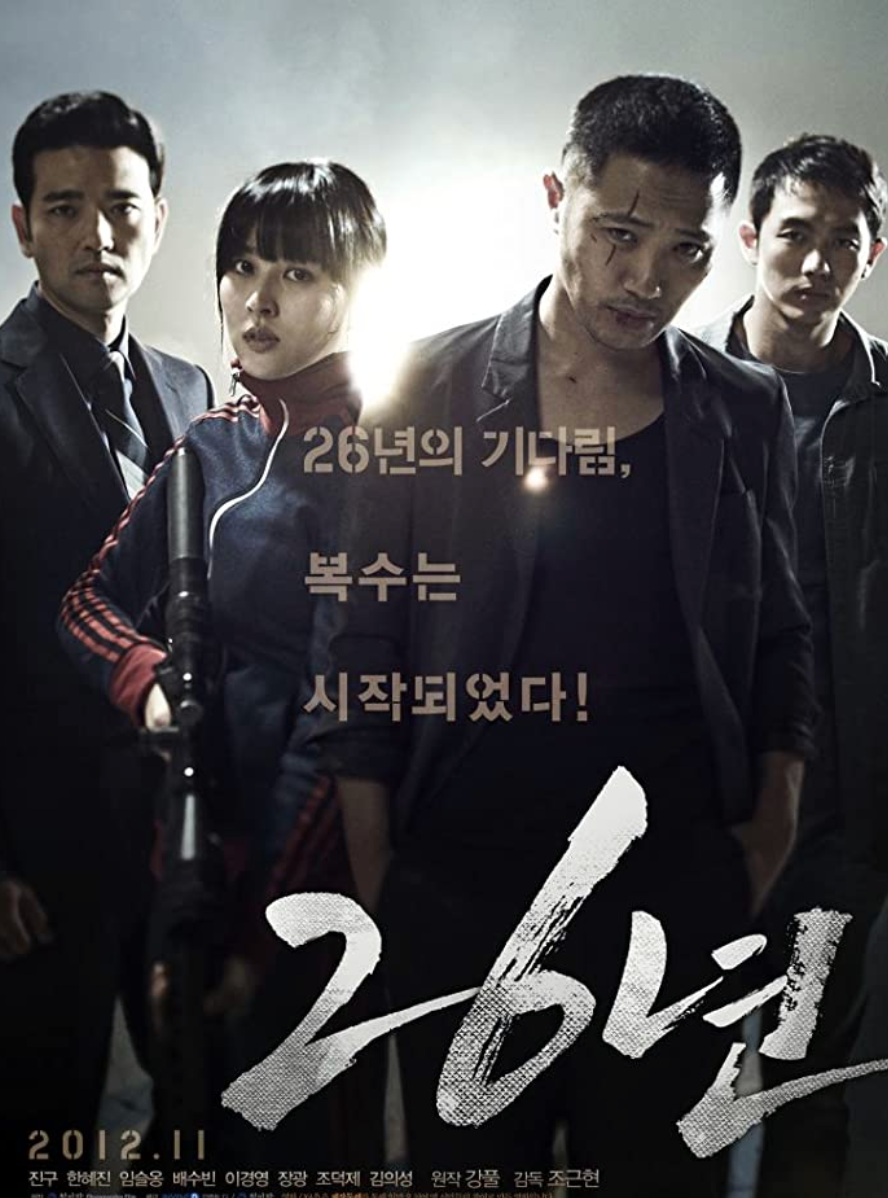 Source: IMDb
Running Time: 135 minutes
Director: Cho Keun-hyun
Cast: Jin Goo, Han Hye-Jin, Bae Soo-Bin
May 1980, state troops shot civilians in the city of Gwangju. Gwangju civilians were demonstrating their rights as a democratic at the time. 26 years later 5 individuals partner together to revenge the person liable for the massacre that occurred during the Gwangju Democratization Movement.
This was originally a webtoon but because of its fame, it was made into a movie.
---
THE PRESIDENT'S BARBER (2004)


효자동 이발사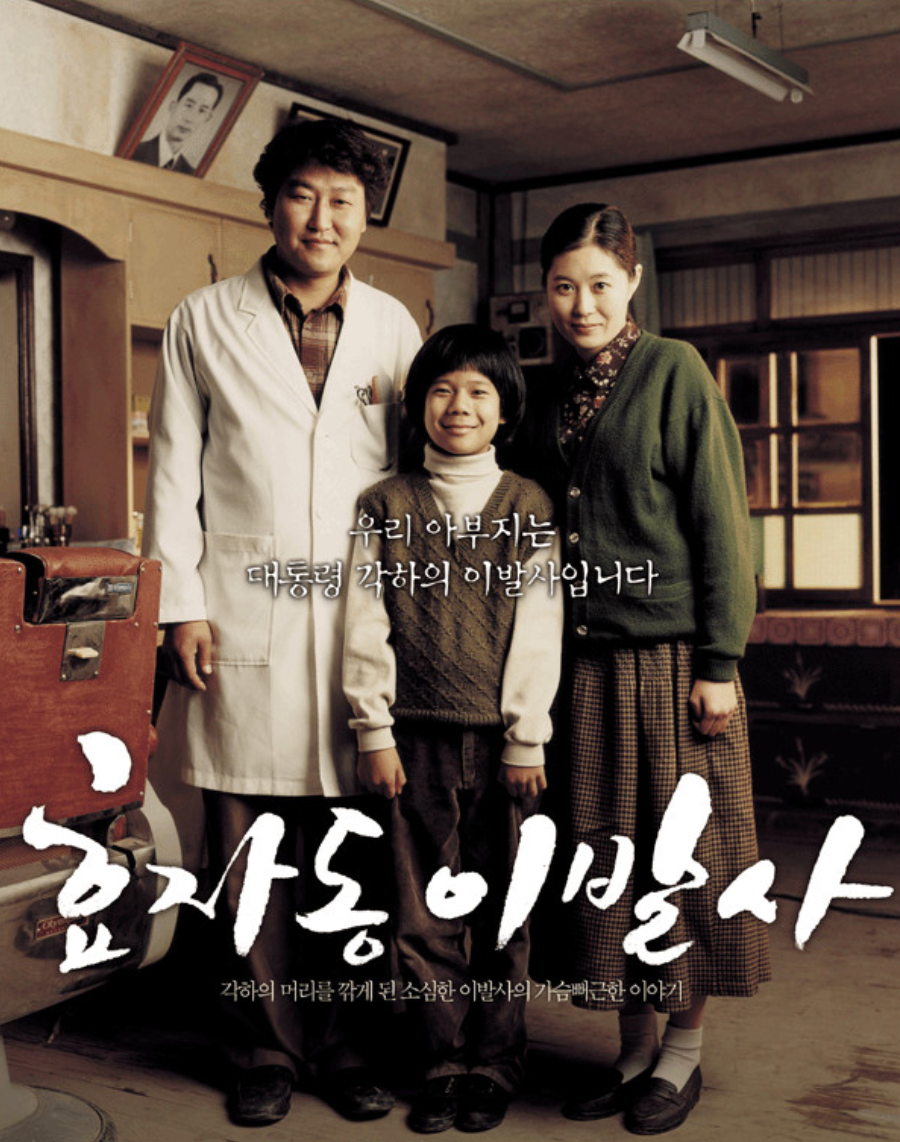 Source: IMDb
Running Time: 116 minutes
Director: Im Chan-sang
Cast: Song Kang-Ho, Moon So-Ri, Lee Jae-Eung
"My father was an ordinary barber but he did not cut ordinary people." There was a time when Blue House was called 'Gyeongmudae' and located near was a Hyoja barbershop. This movie takes you back to the 1960s of South Korea. You will see outdated laws and other interesting things in this film.
Song Kang-Ho and Moon So-Ri acted out their role of marriage so well, people asked if they were actually married.
---
One thing to keep in mind is that Netflix contents may or may not be available depending on your country. Which movie are you most interested in checking out?
Stay safe and healthy!
If you have questions or comments about the blog post, please leave a comment below or email us at support@creatrip.com.