Stationery Shops In Mangwondong - Where To Shop For Works Of Korea's Local Designers
Alleys Of Mangwondong Are Filled With Local Artworks & Merchandise. Find Out Where To Shop For The Most Unique And Adorable Props!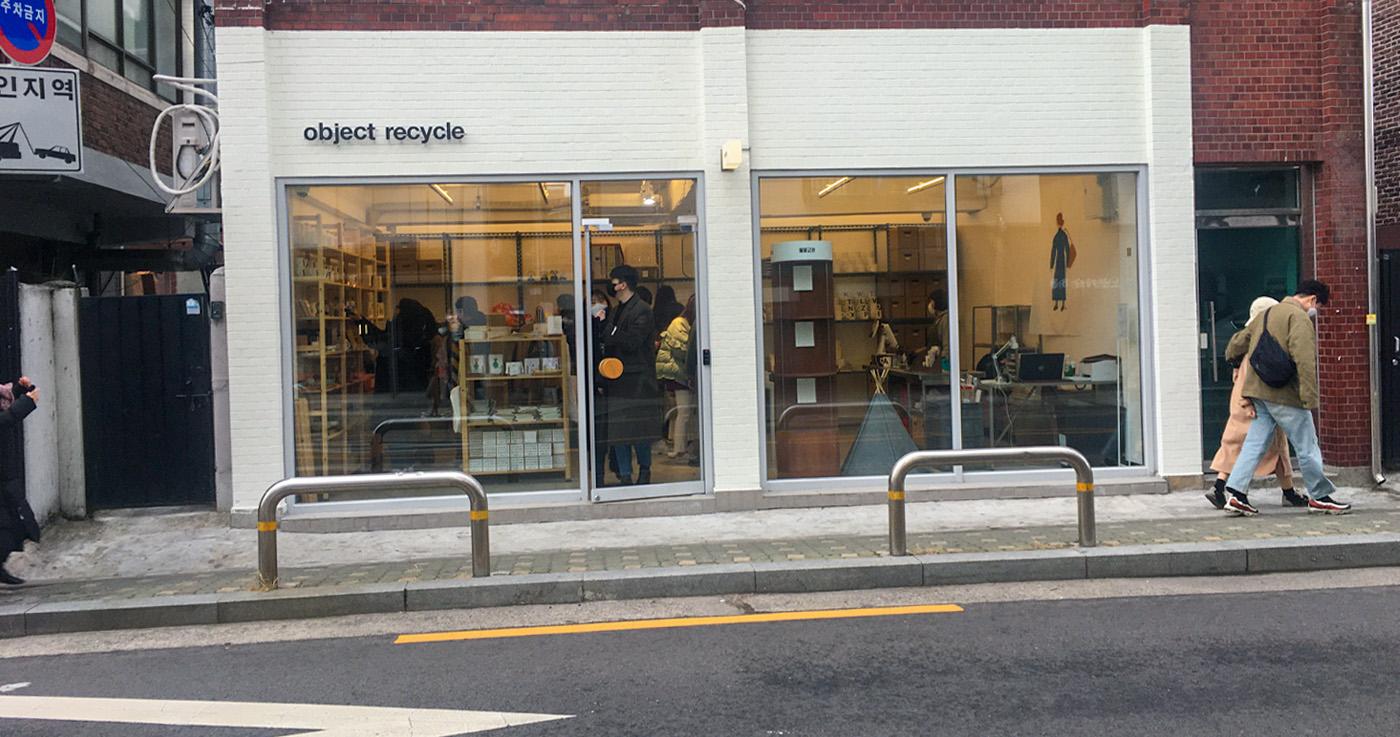 Mangwondong, although not modern nor fancy, is a trendy destination among young locals. It attracts the crowd with adorable stationery shops, the vibrant Mangwon Market as well as eateries and cafes with character. I took myself out on a stationery shop tour around Mangwondong to check out the works and products of local artists.
---
ZERO SPACE
From exit 2 of Mangwon Station, walk straight down for about 7-9 minutes. The first place you want to start off at is Zero Space because they provide copies of the yellow Mangwongyeong (망원경), the official map of all stationery shops in the Mangwon area. It's a good reference to carry around and to explore new places not covered in the blog post too!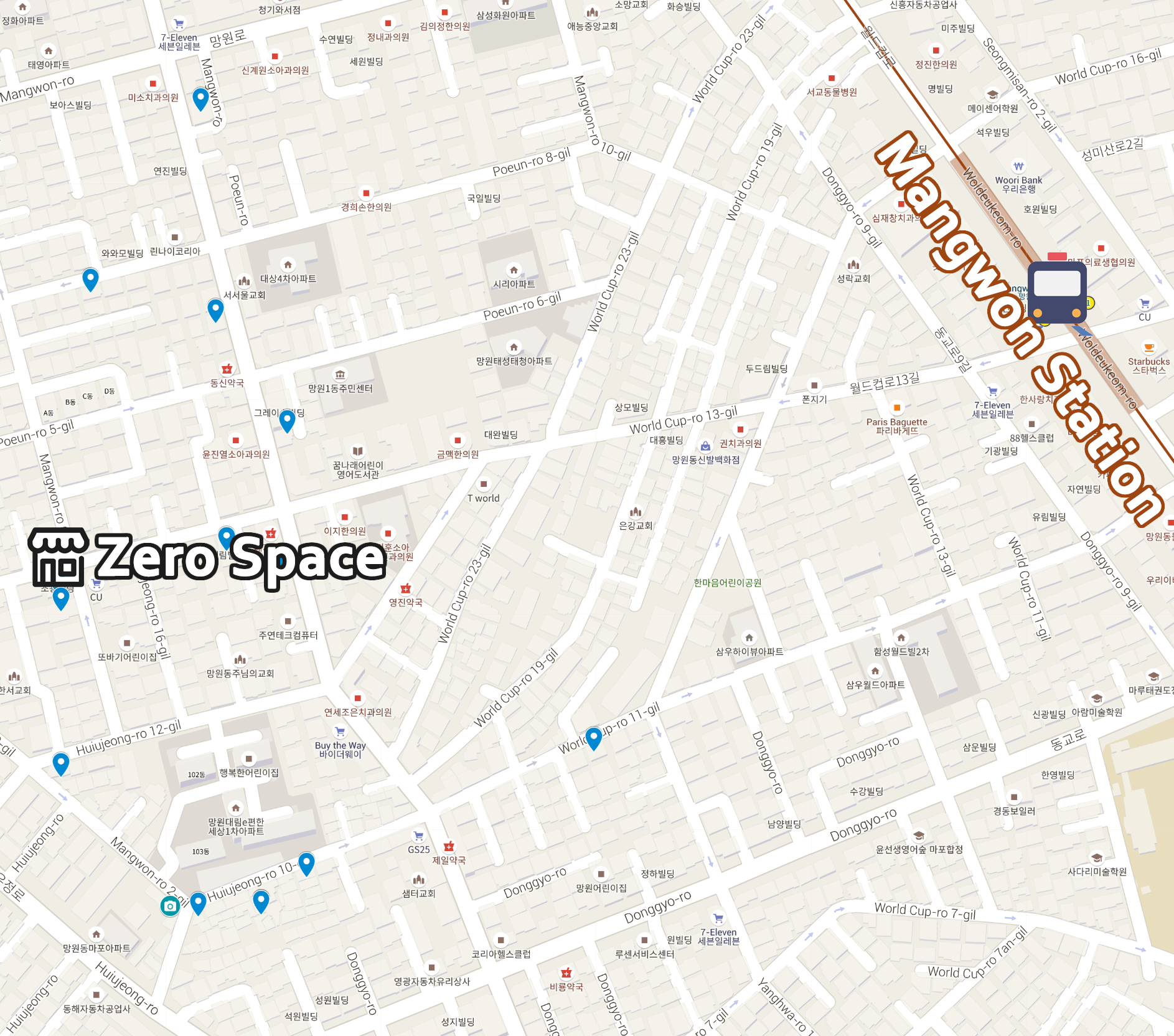 Address: 망원동 398-2
Hours: Weekdays 11:00-19:30; Saturdays 13:00-20:00; Sundays 13:00-18:00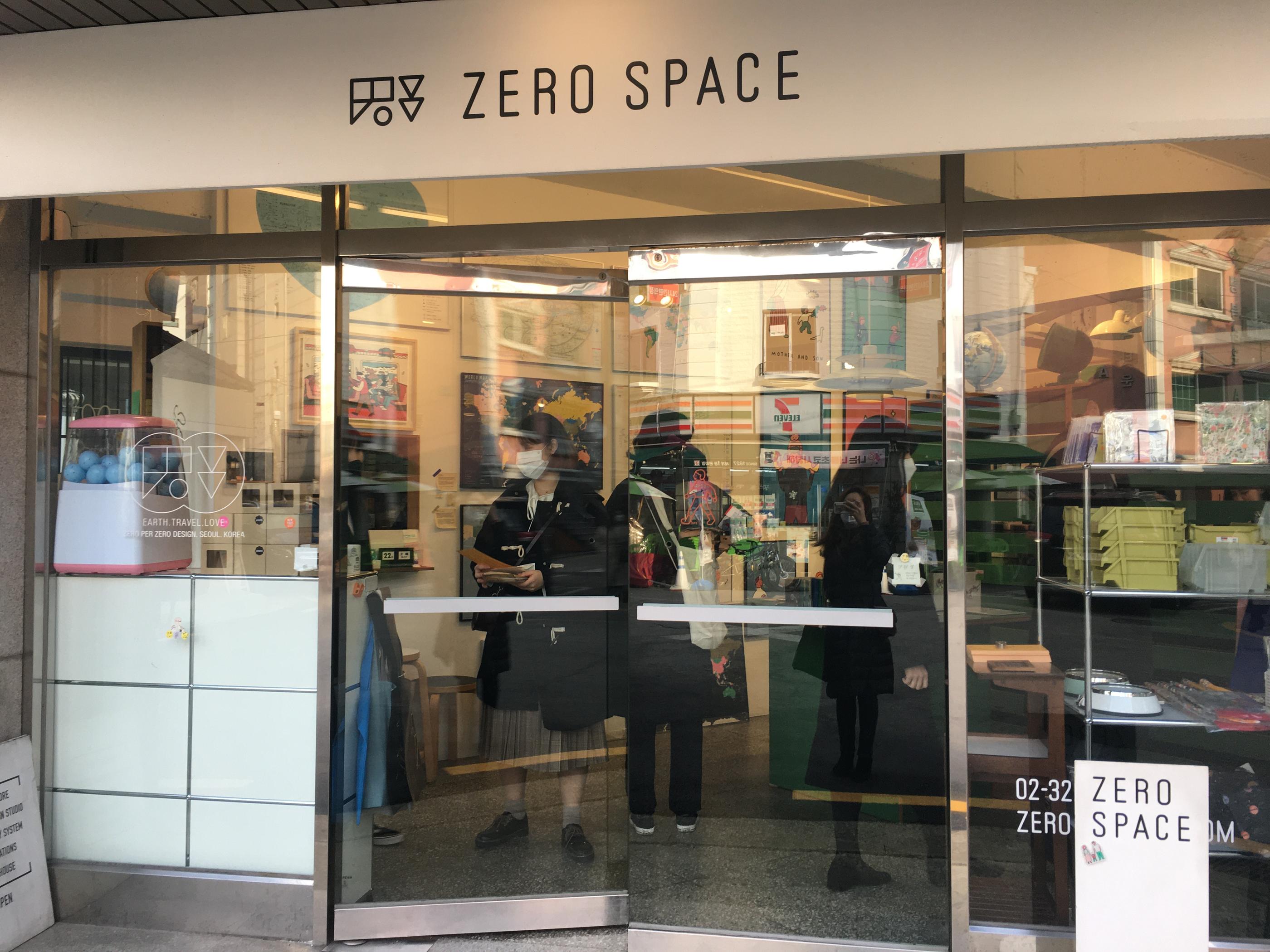 This graphic design studio features Zero per Zero's works as well as products of international brands such as Miffy and Classiky as well as a variety of stationery from Japan. This is a great place to shop for souvenirs inspired by the city of Seoul and the old traditions of Korea.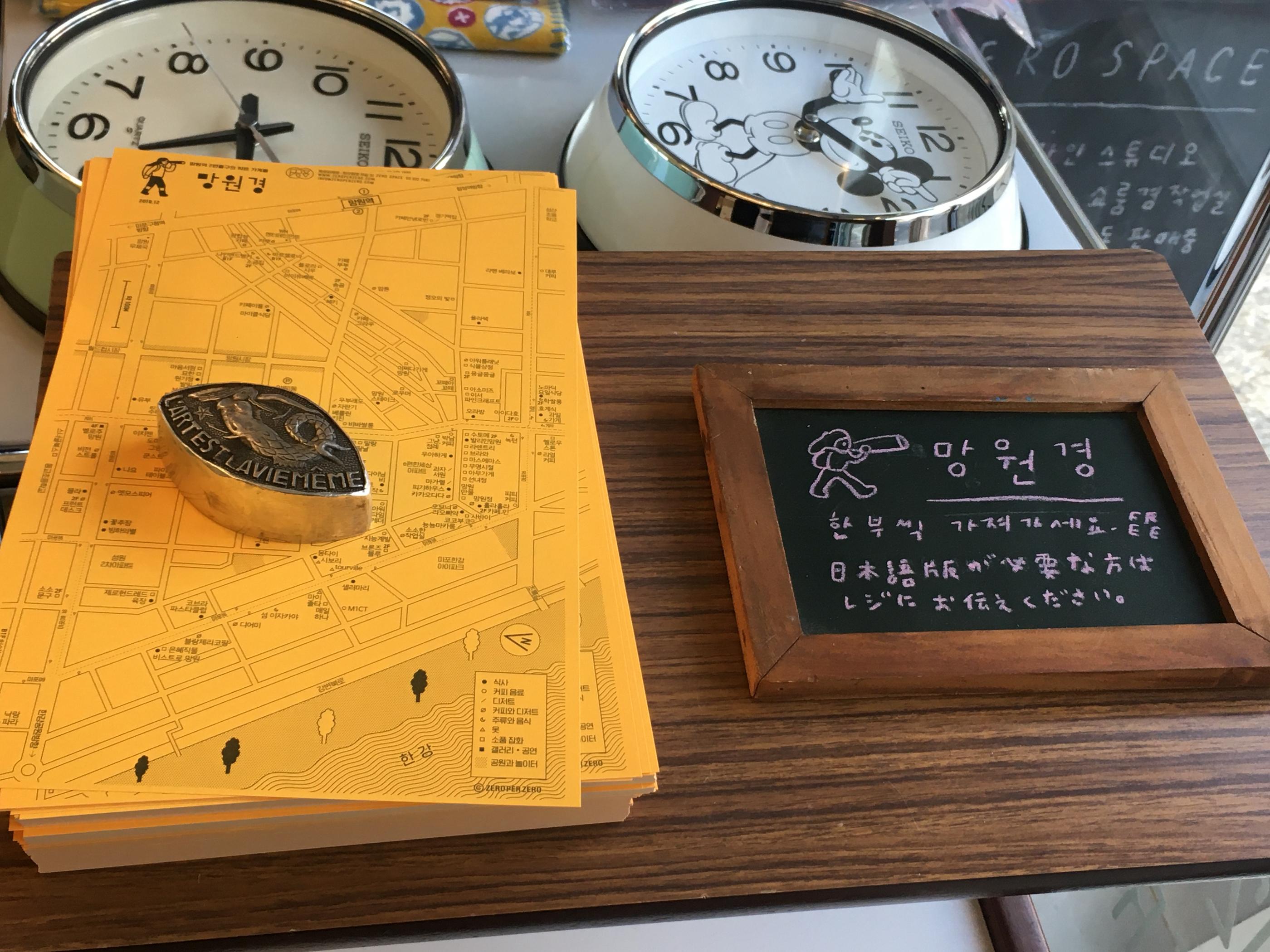 <Stack of Mangwongyeong Copies>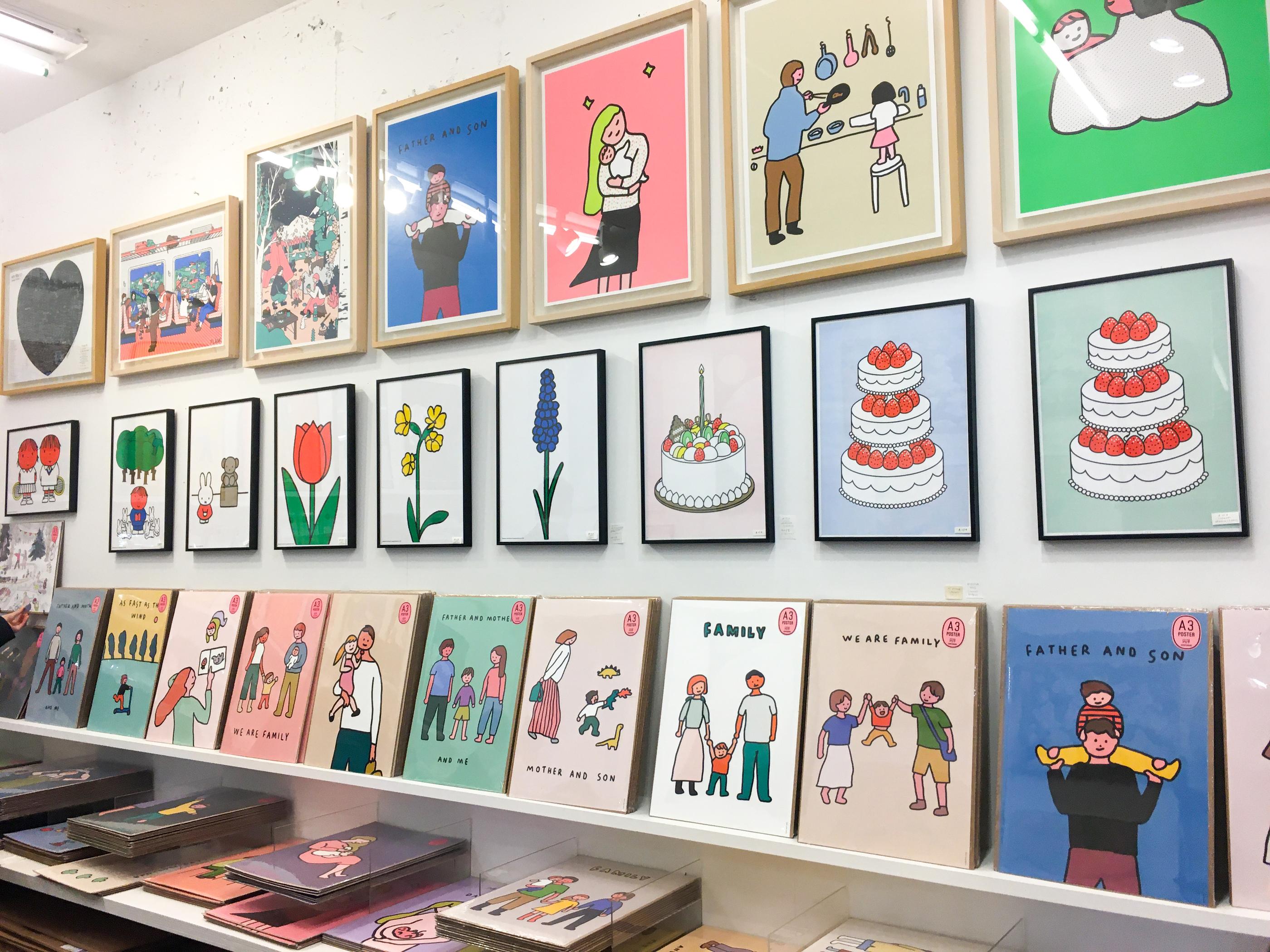 <Zero per Zero Pieces>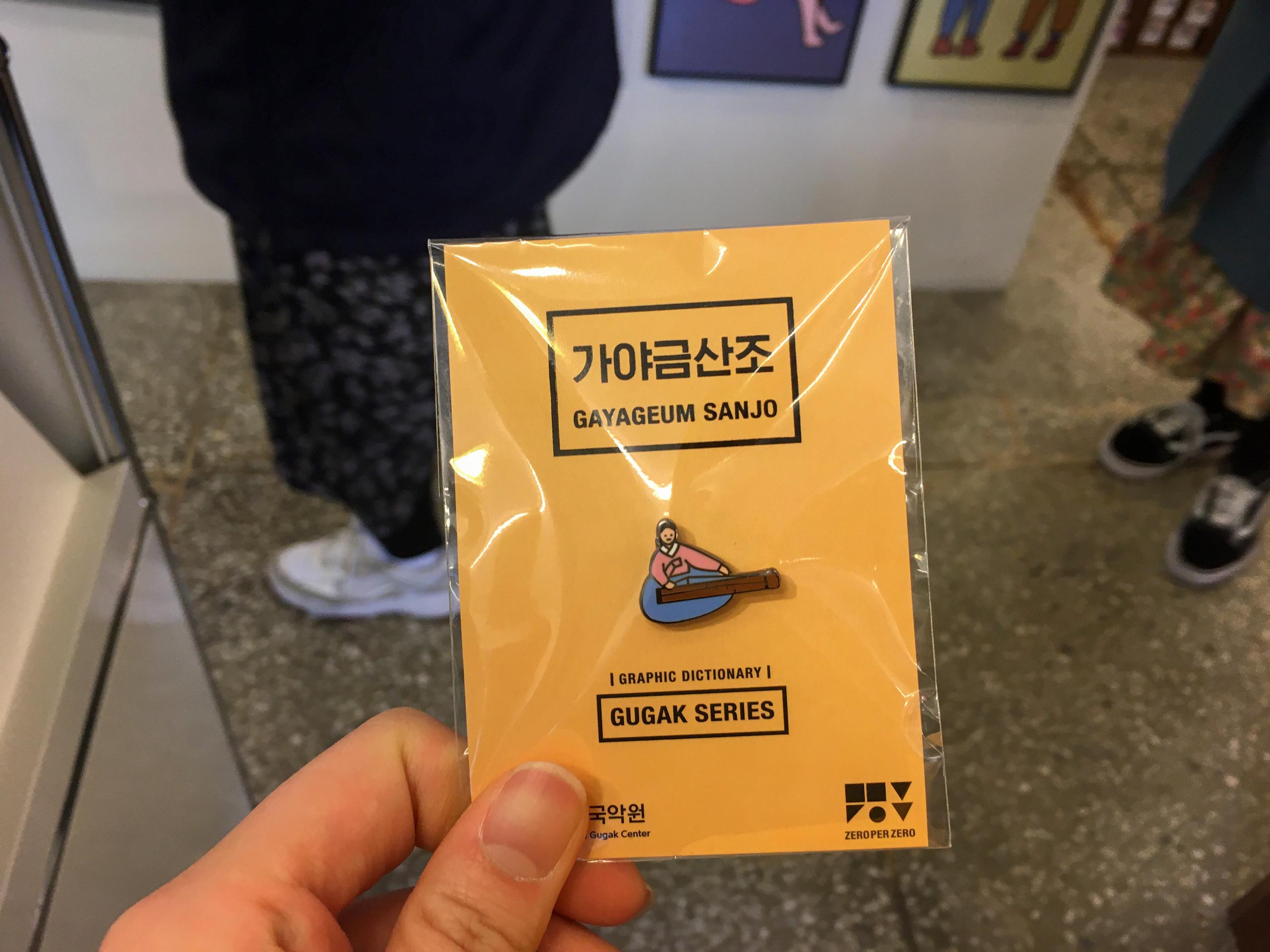 <Gayageum Sanjo Badge>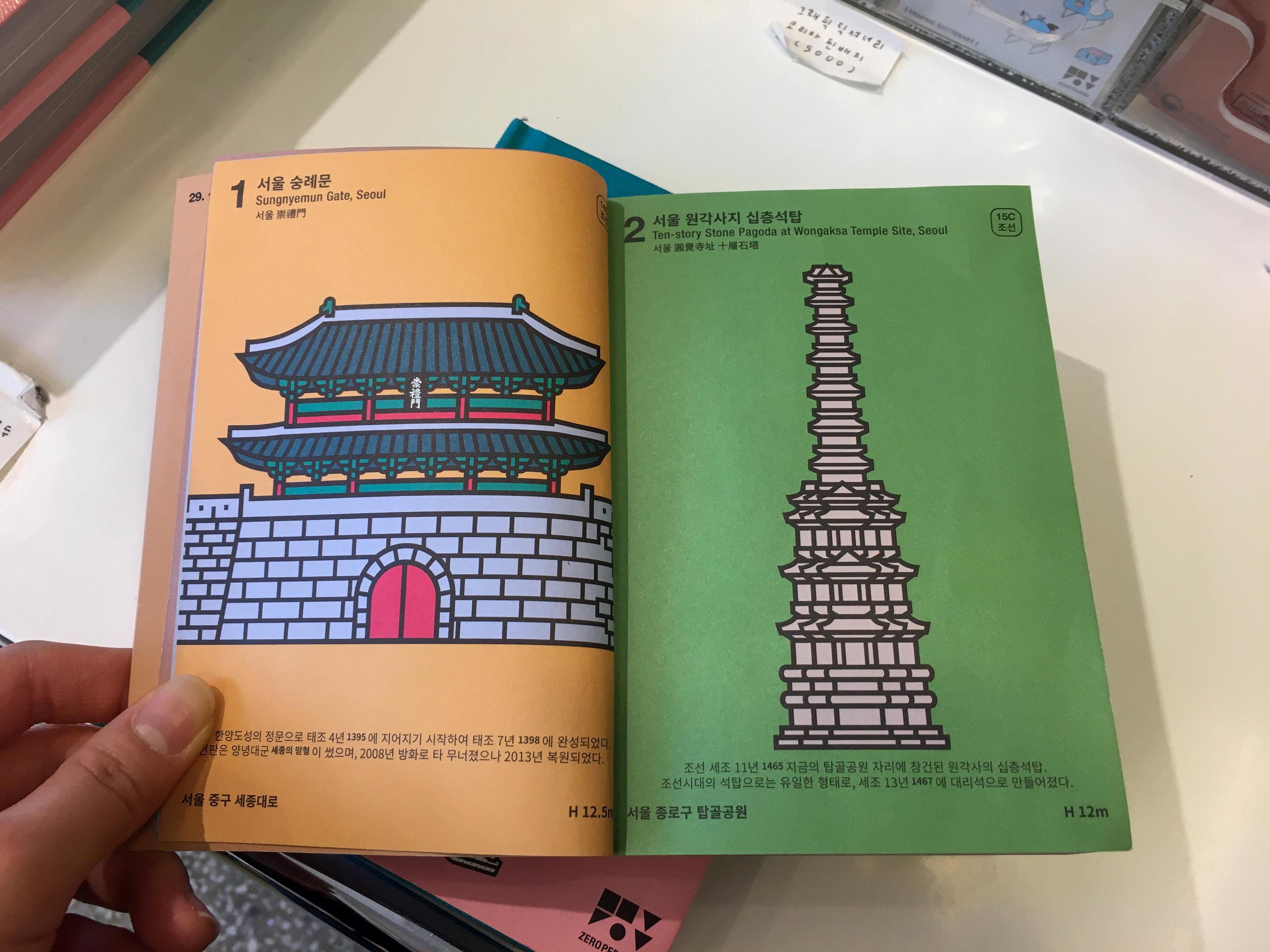 <Book of National Treasures>
<Miffy Zone>
Need Things
Just across the street from Zero Space, you'll find Need Things located on the basement floor. You might get greeted by a friendly dog at the door! Need Things displays local artists' works ranging from clothing and bags to stickers and smartphone cases.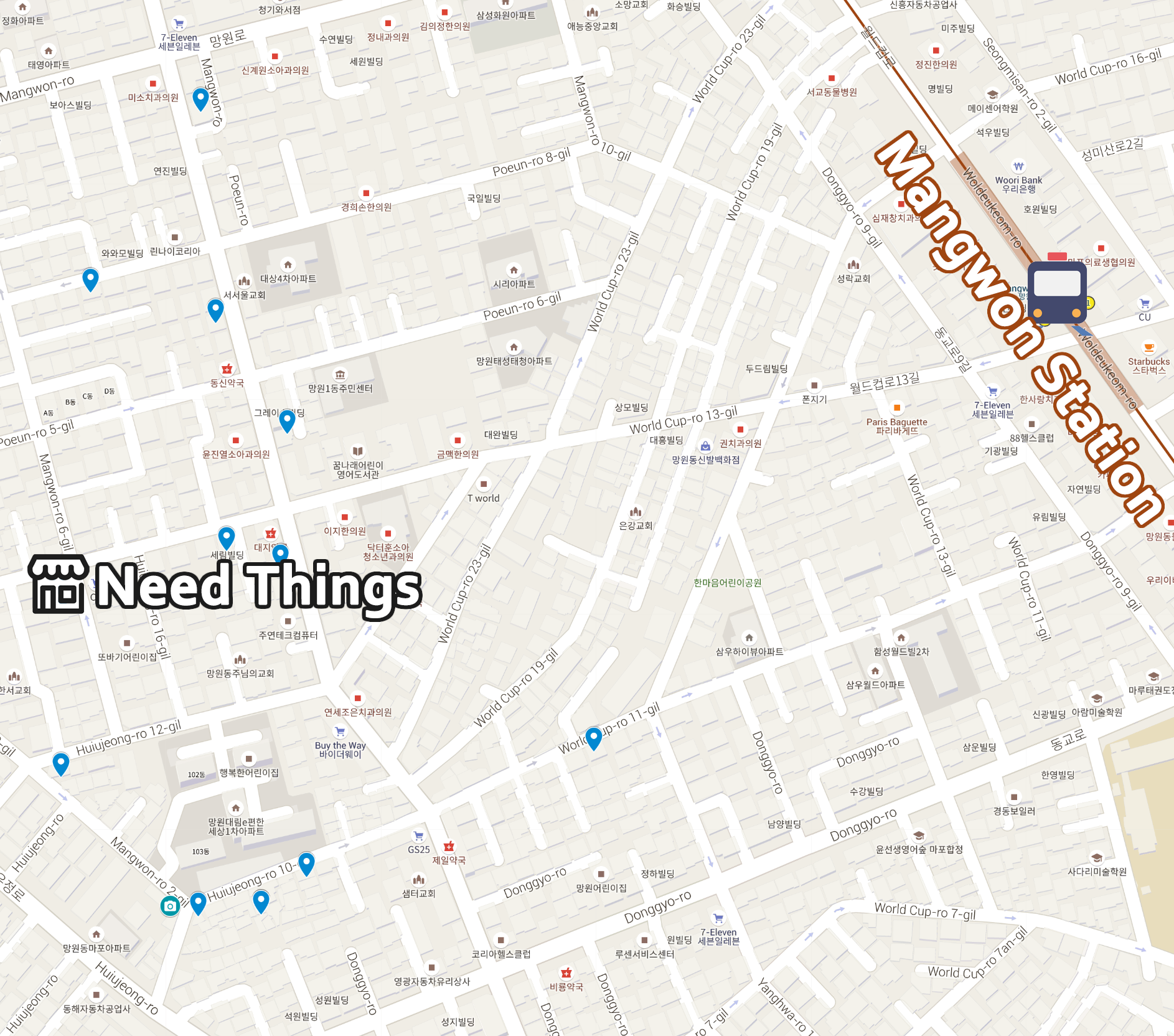 Address: 서울 마포구 망원로6길 56
Hours: 12:00-20:00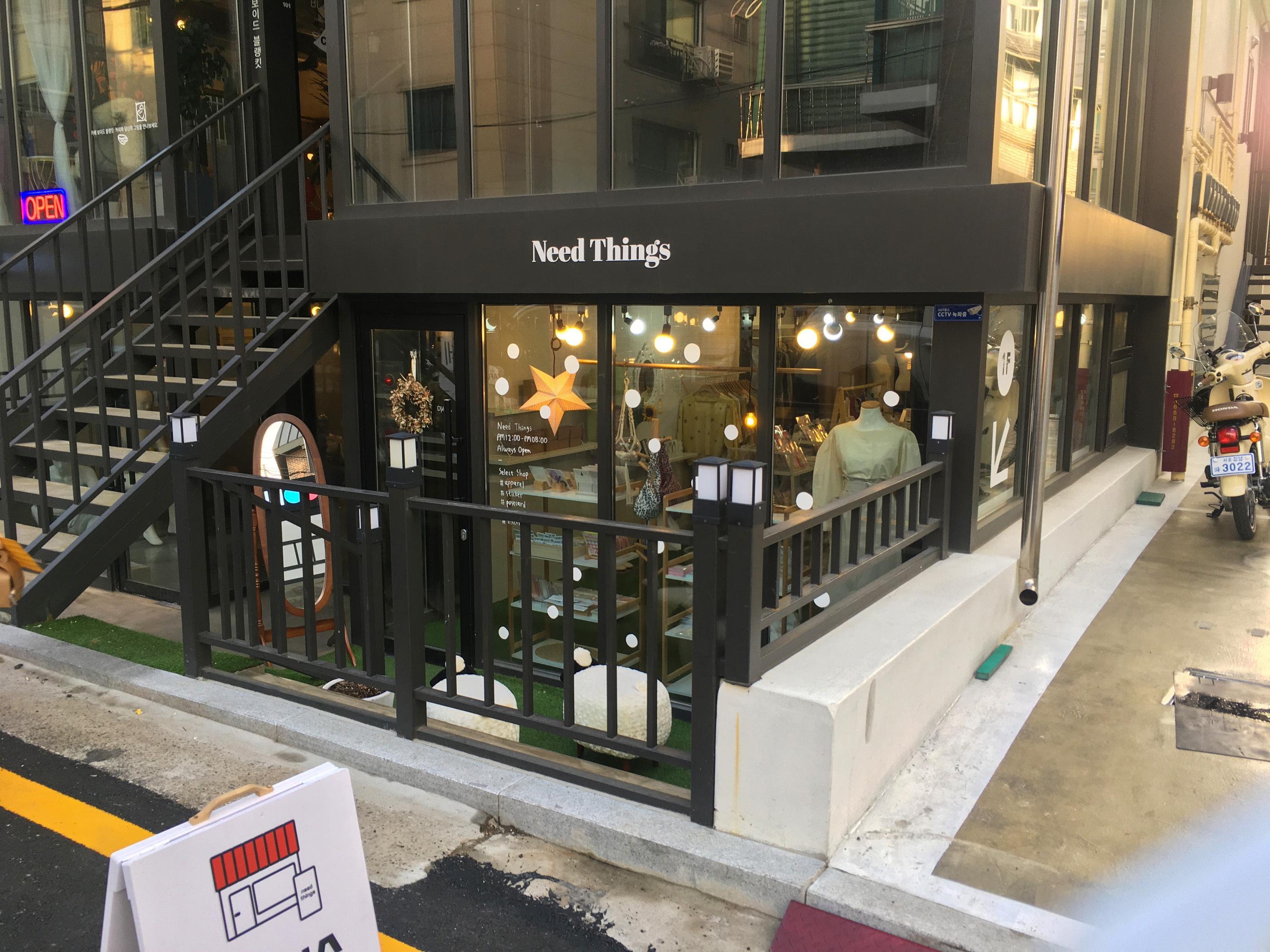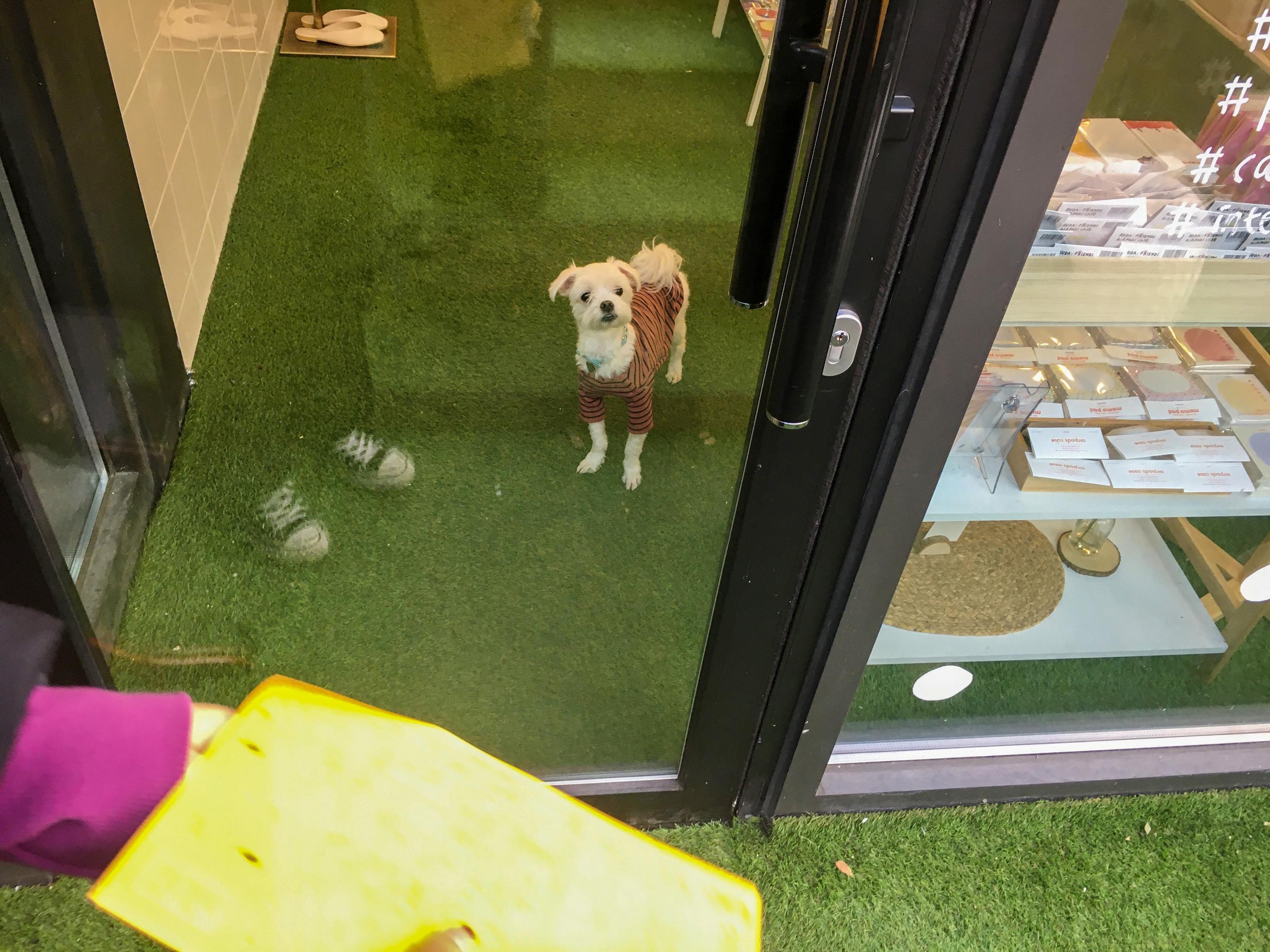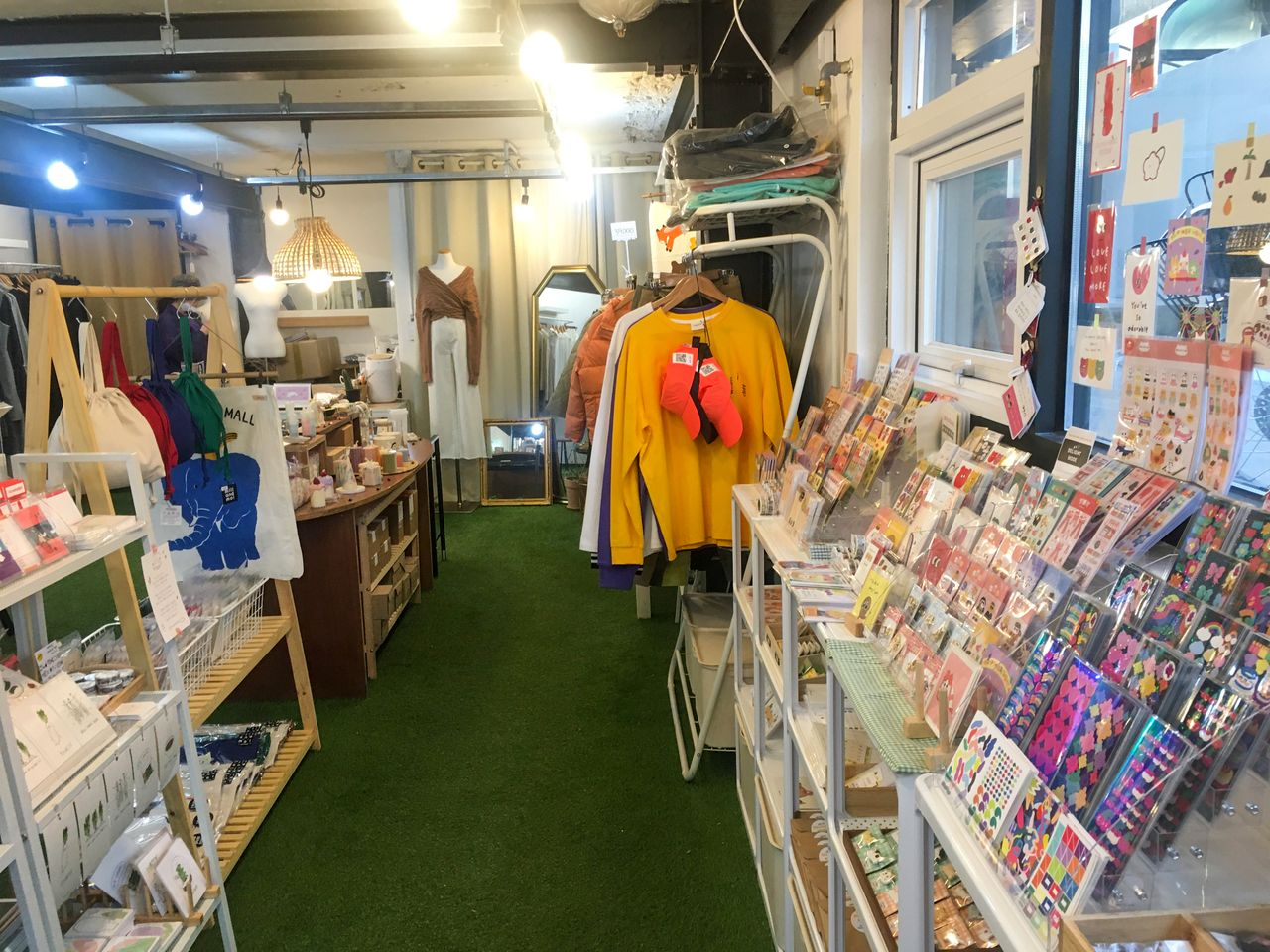 PLEASING
You'll find vintagesque items featuring characters from Disney, Pixar and many more. For those of you who grew up with these characters, this store will take you back in time.
Address: 서울 마포구 망원로2길 87
Hours: 13:00-19:00; Hours subject to change daily. Check official Instagram for details.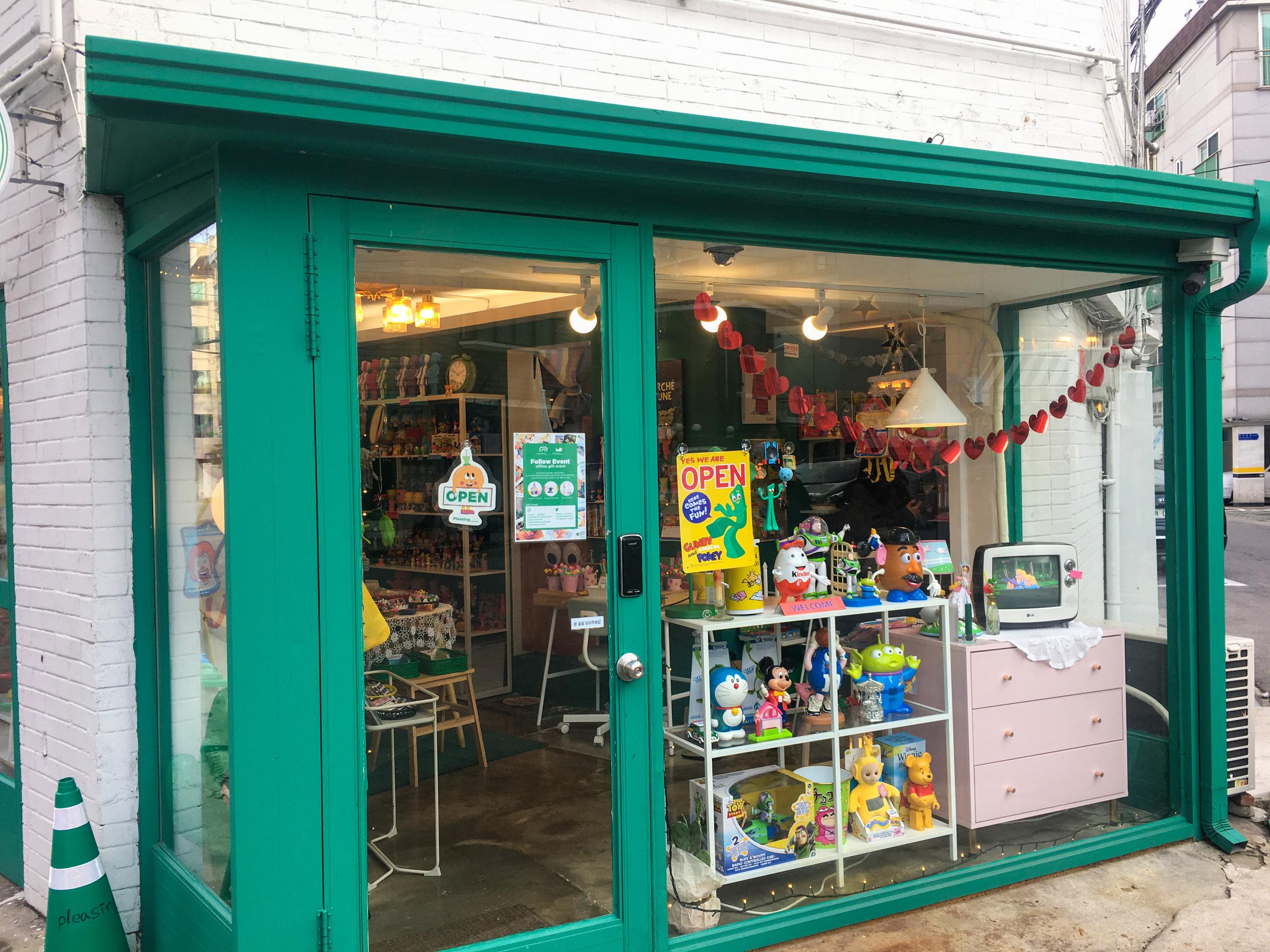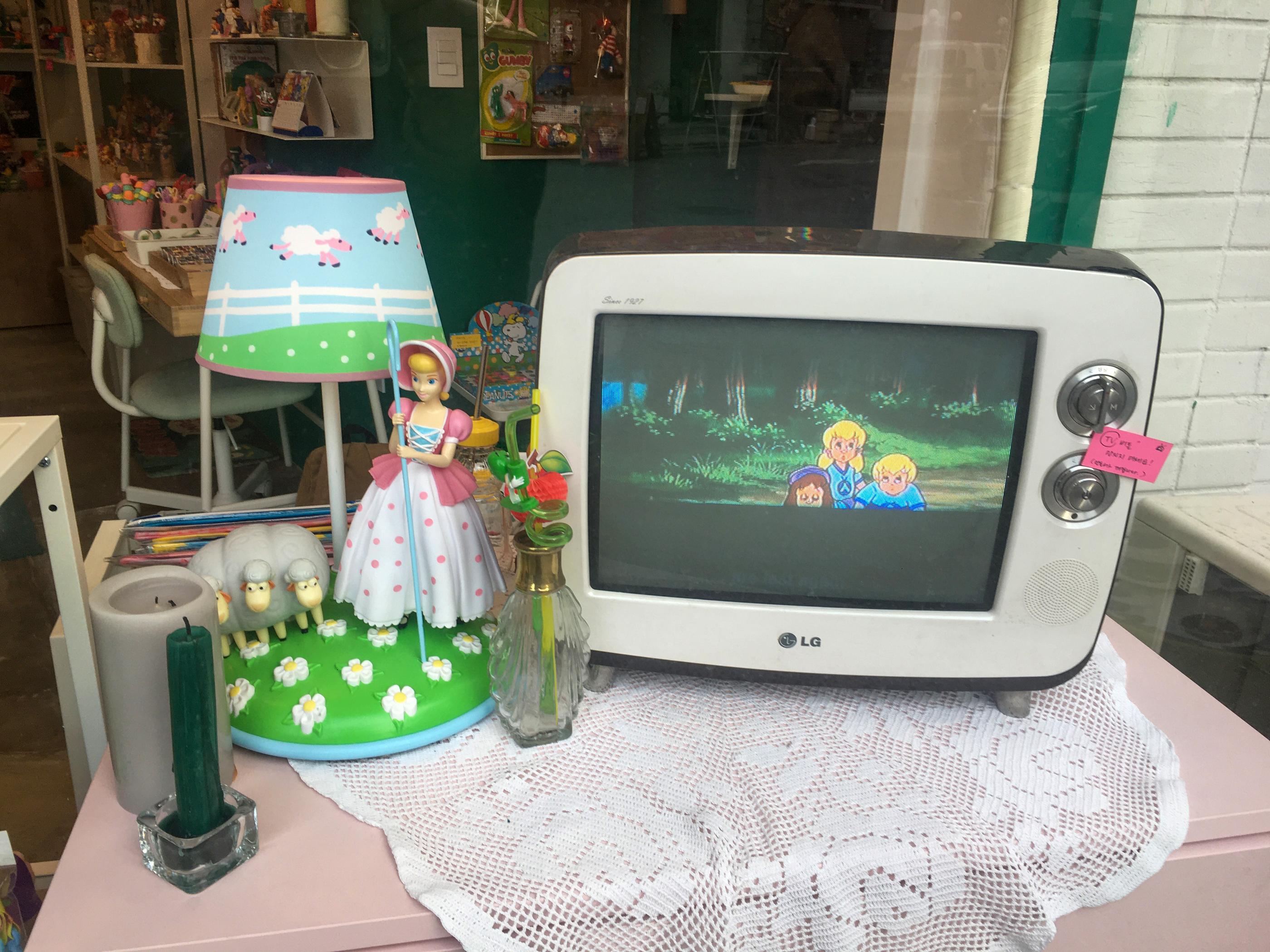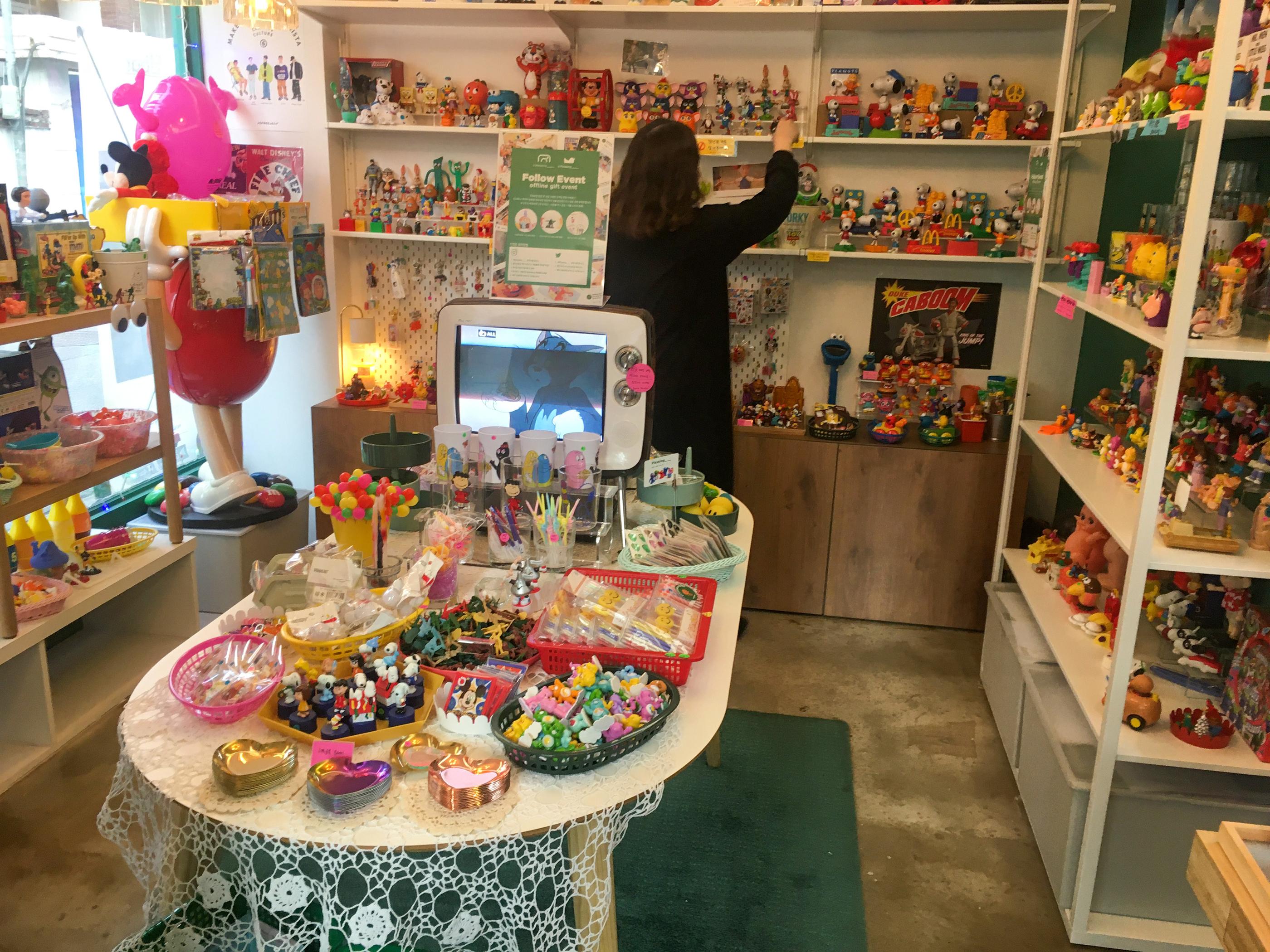 Paradise Bay
This cool photography studio has a vending machine for disposable cameras and films outside. If you purchase a disposable camera from the vending machine, they will develop and scan the photos for free. If you bring back the used disposable camera, you can get it exchanged for upcycled goods. This is a great place for those of you who want to take film photos to take home.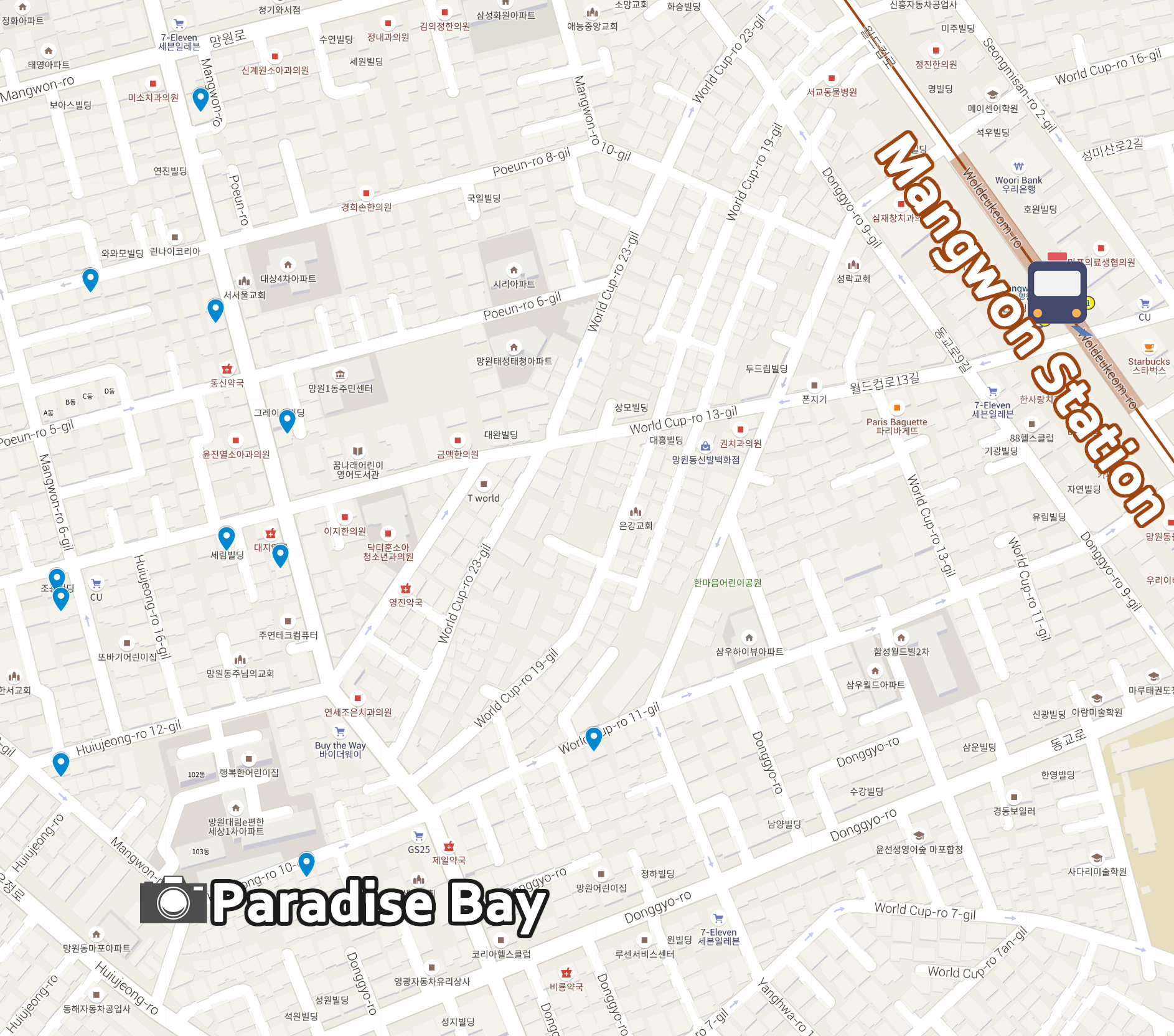 Address: 서울 마포구 망원로2길 108
Hours: 11:00-20:00; 23:00-02:00 (Reservation required); Closed when shooting outdoors.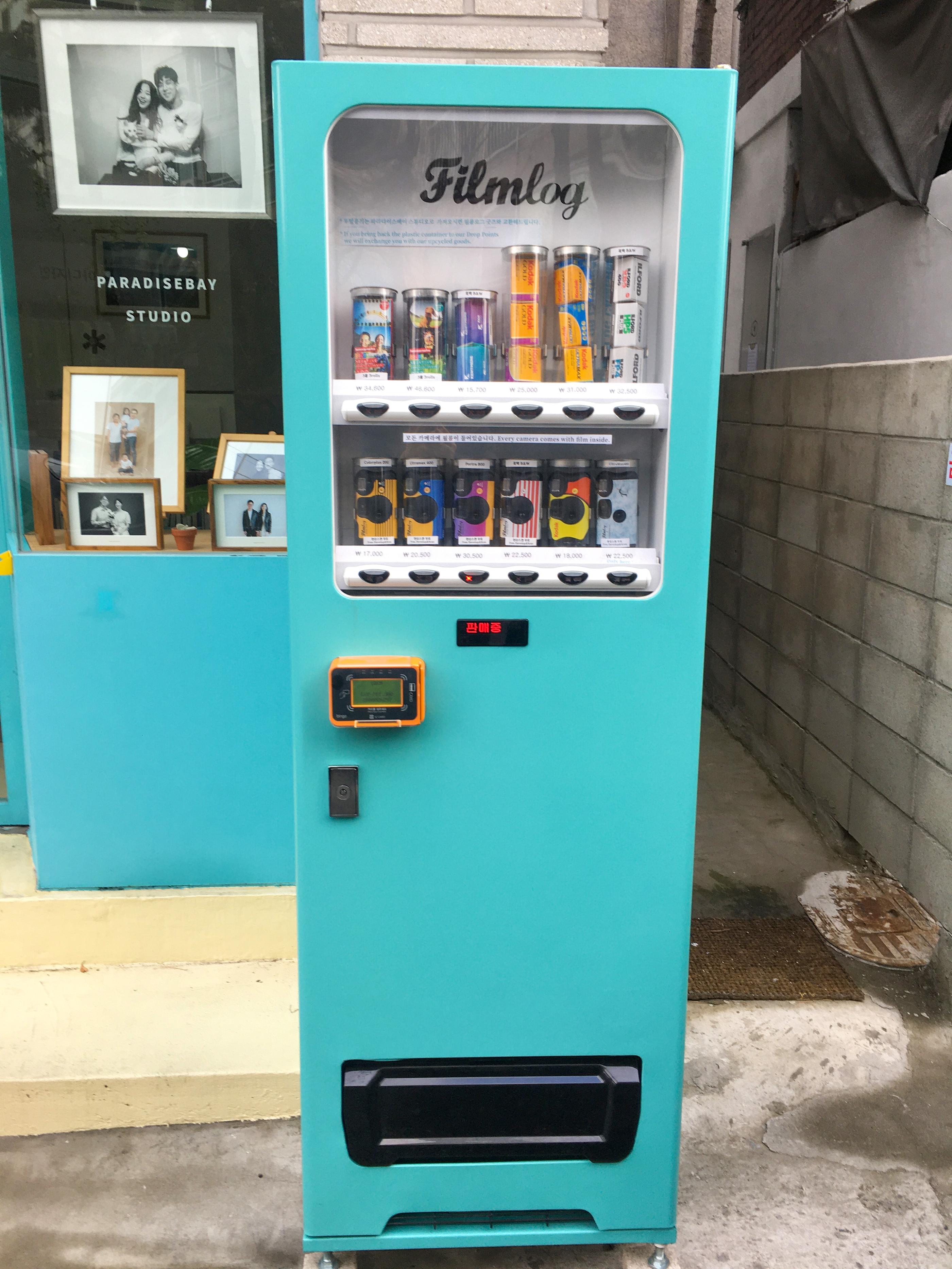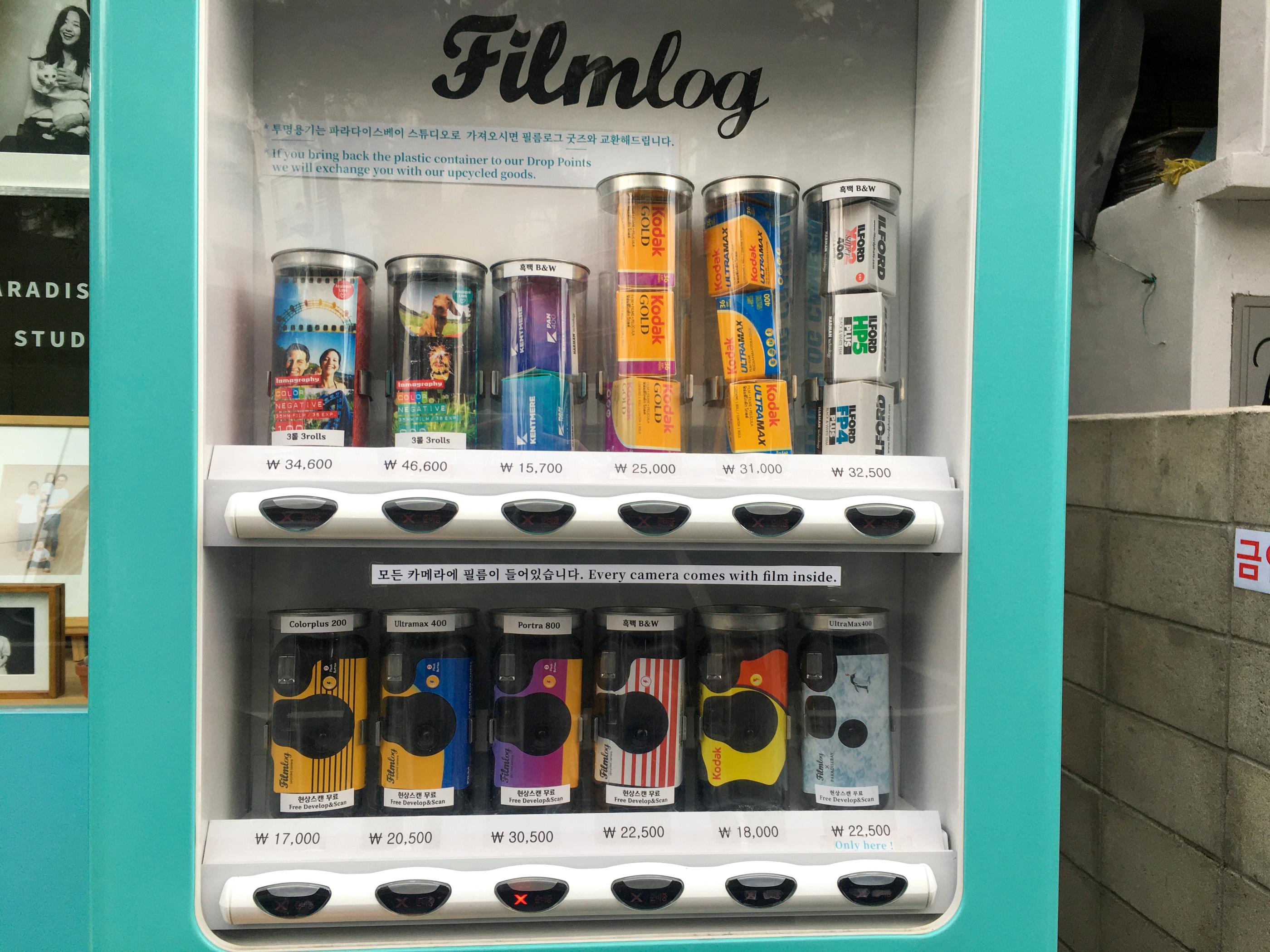 <Outdoor Vending Machine>
Mangwon Manmul
As one of the most popular stationery shops in Mangwon, this store is often crowded with shoppers. You'll find arrays of items from cups and plates to postcards and stamps. The store is quite small so if it's packed, you'll have to wait outside until it clears out a bit.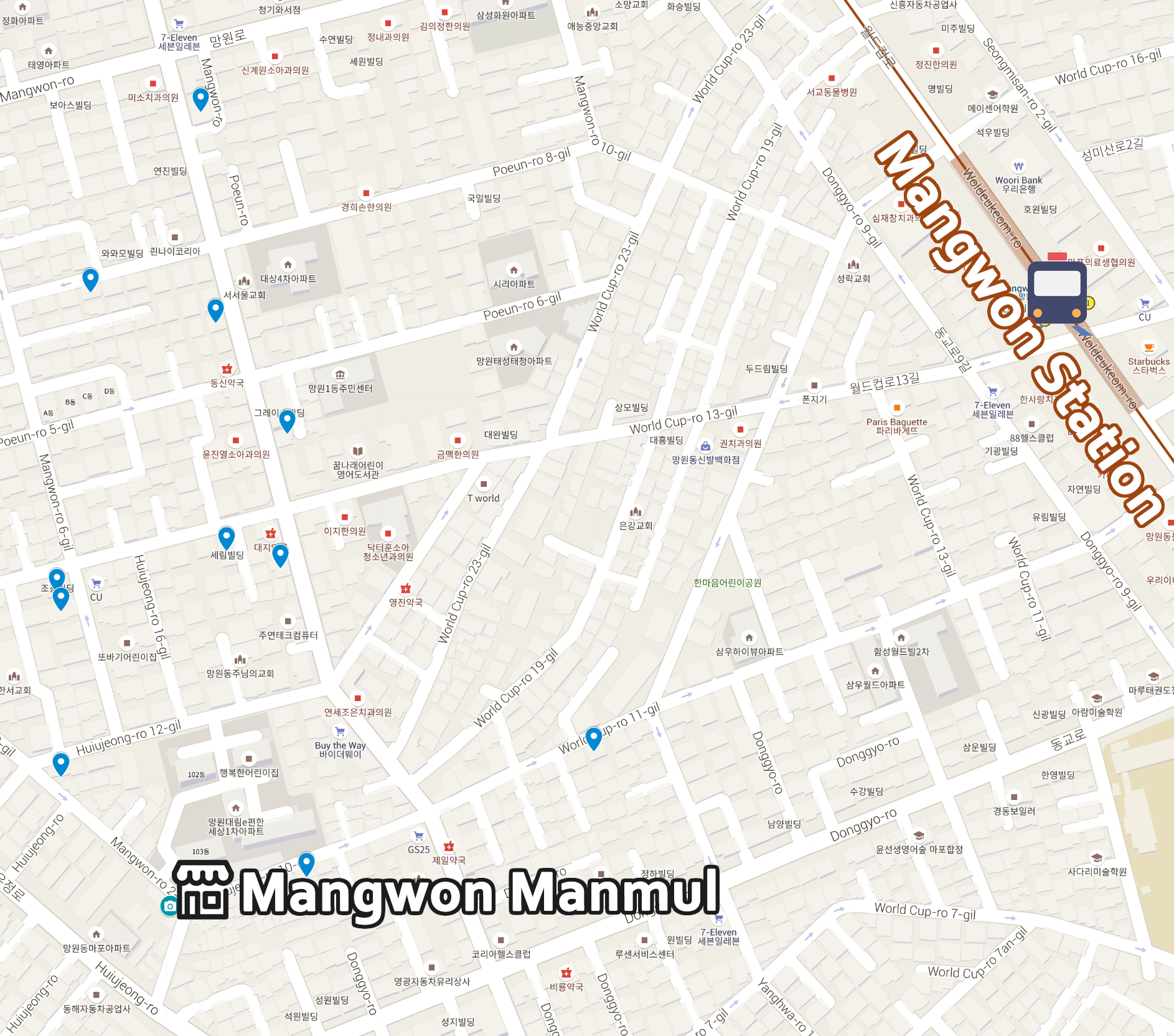 Address: 서울 마포구 희우정로10길 12
Hours: 14:00-19:00, Closed on Mondays and Tuesdays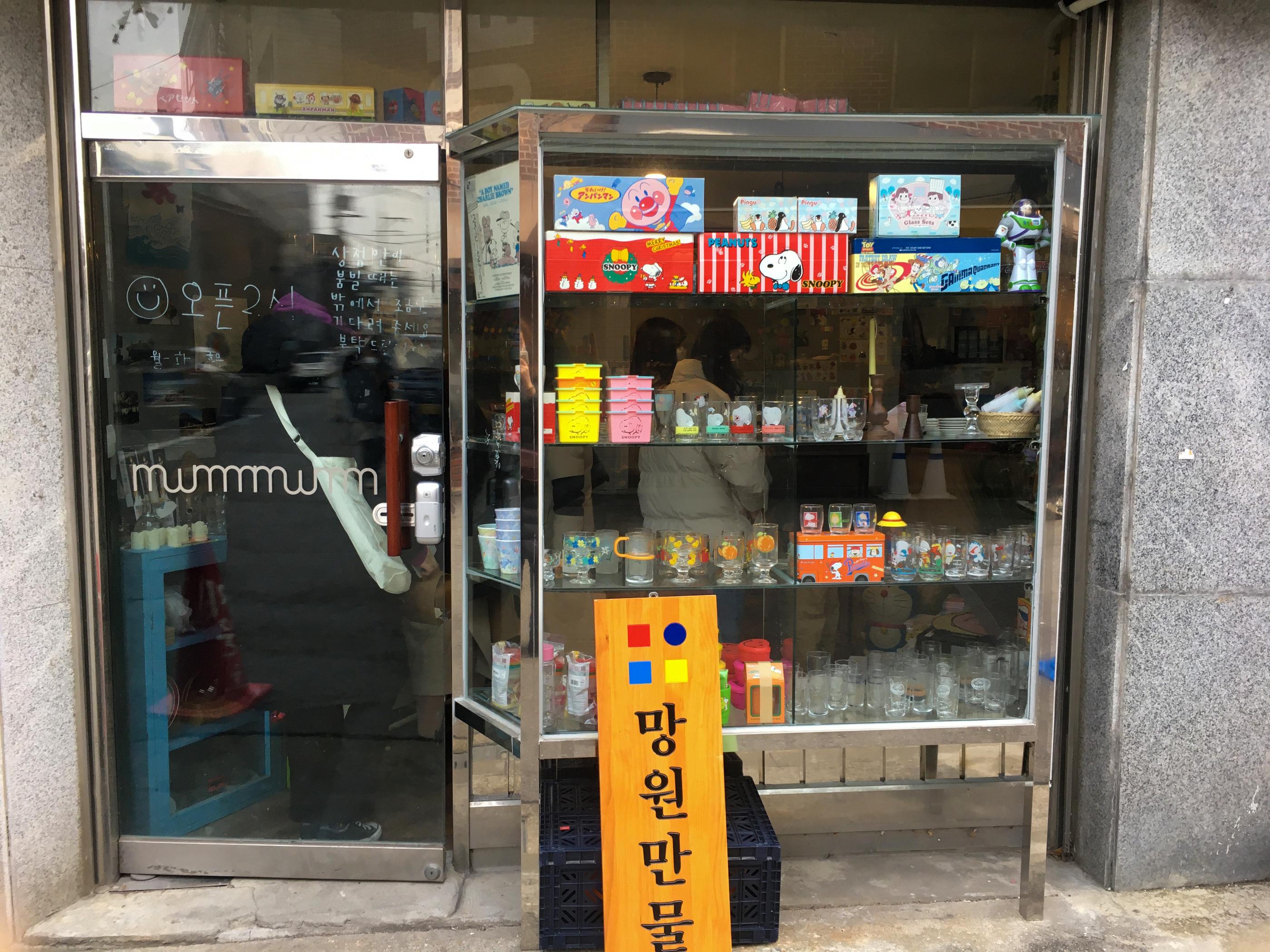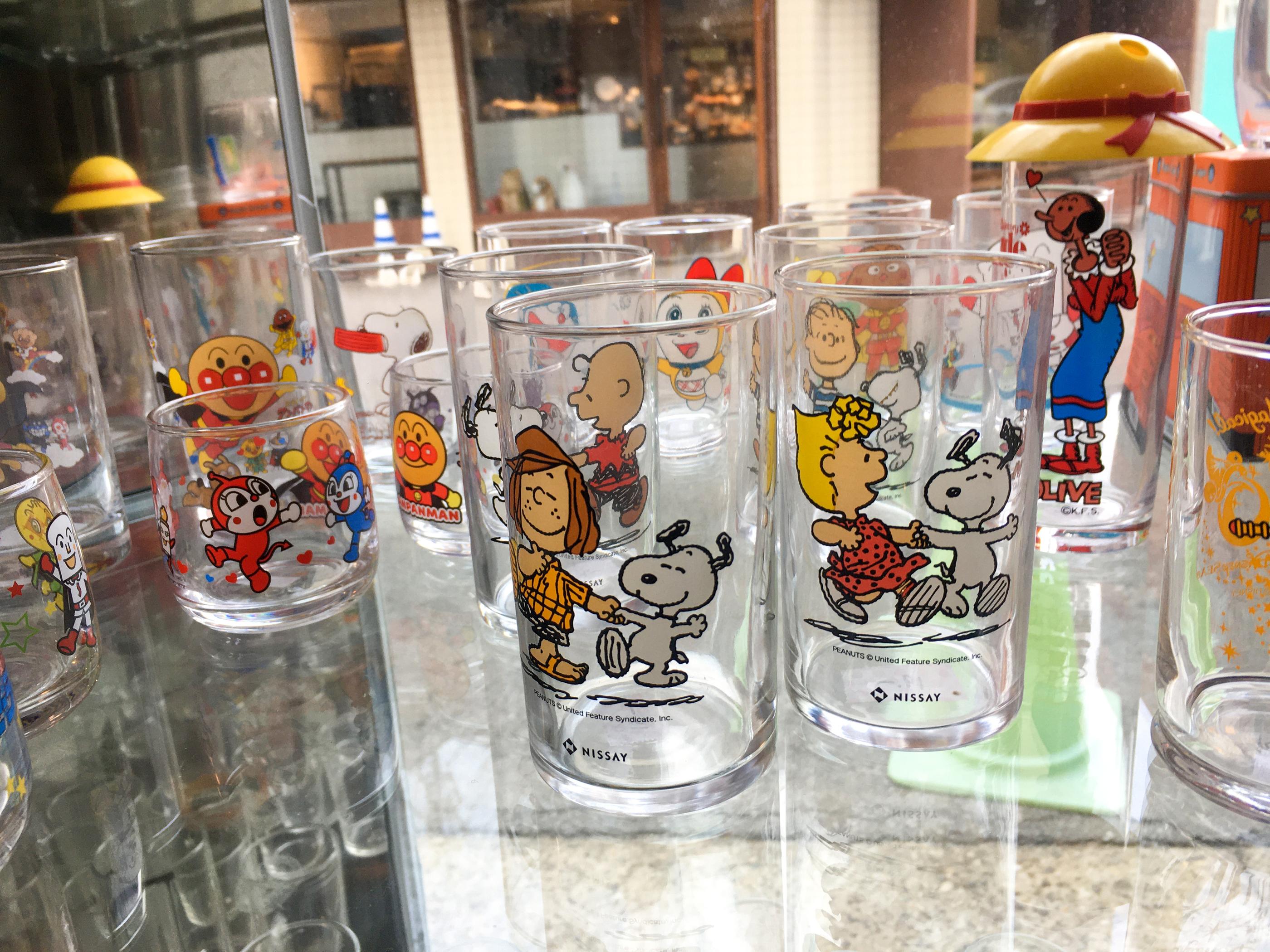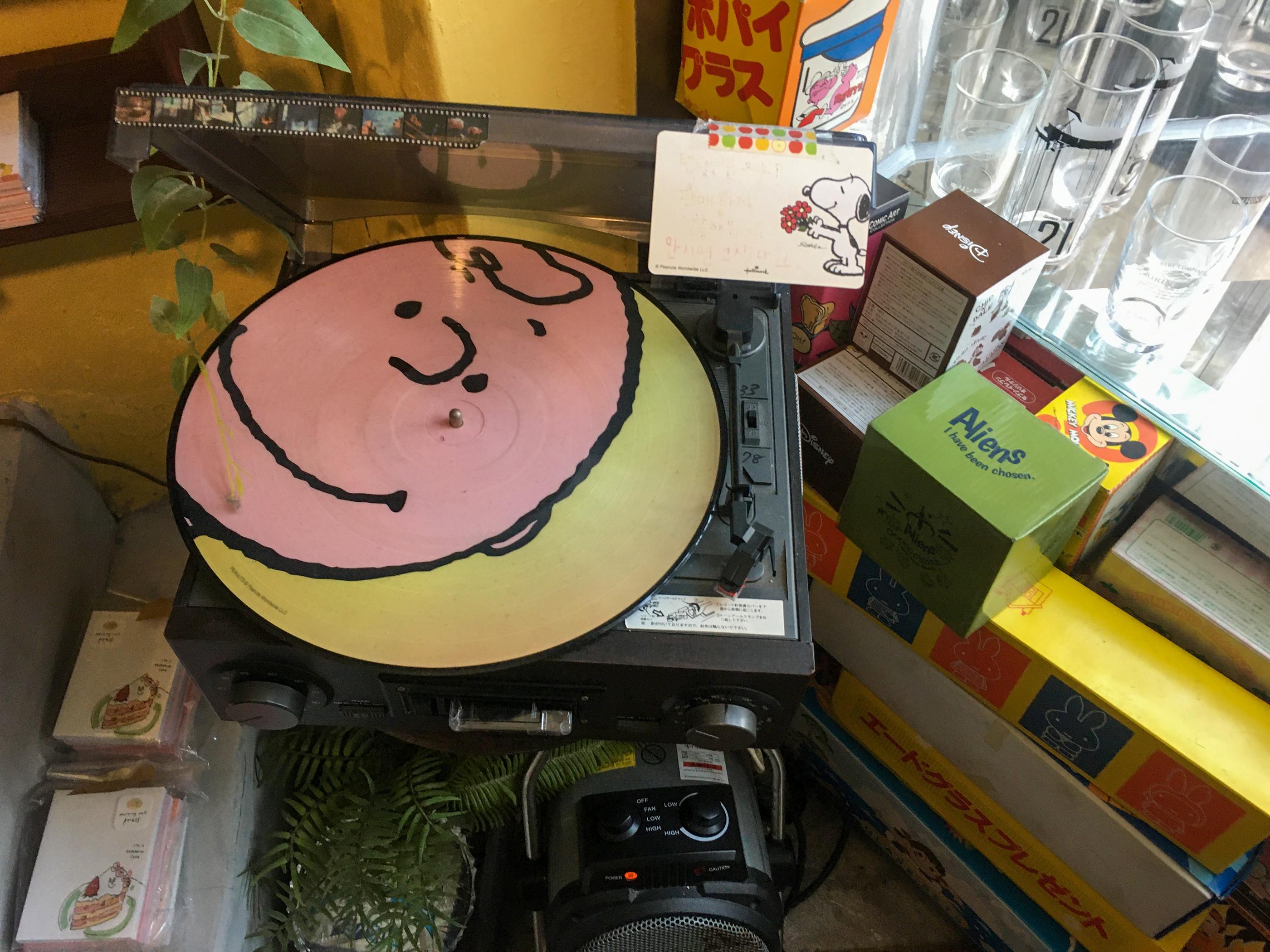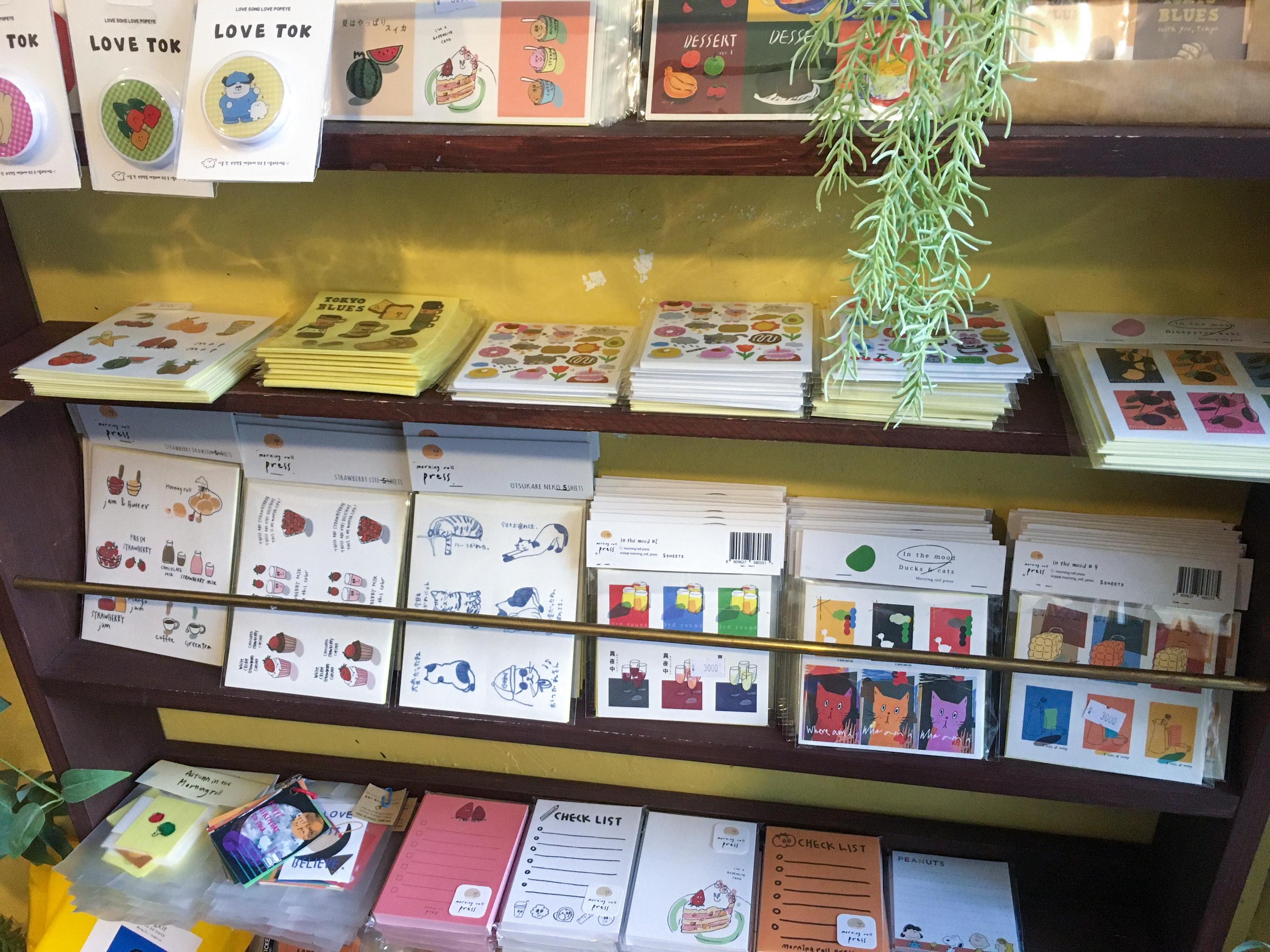 Sunnyeojeong (Seonnyeojeong)
Located close to Mangwon Manmul, this small shop is well-known for custom-made cellphone cases and postcards. You can shop for quality AirPods cases too.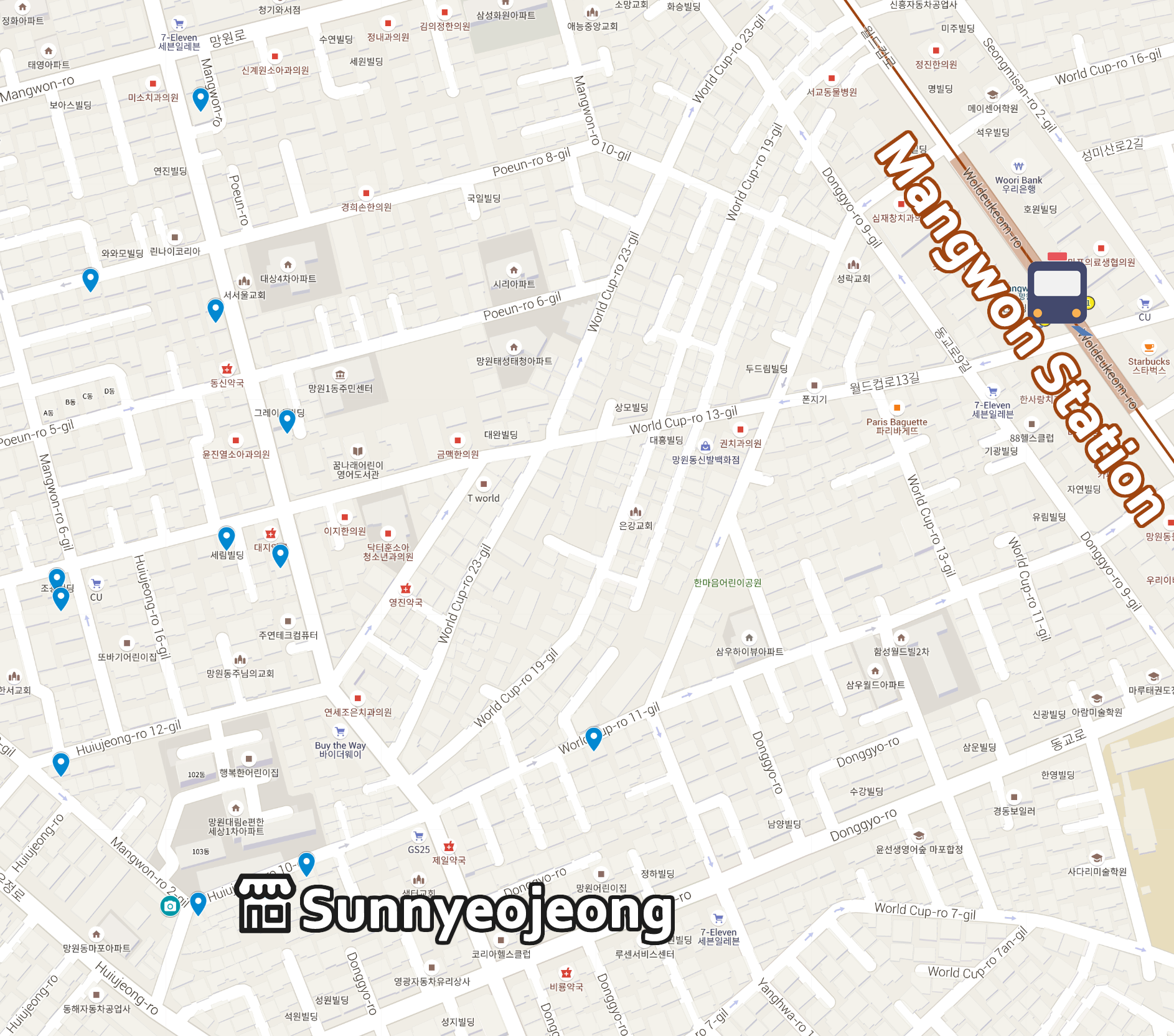 Address: 서울 마포구 희우정로10길 12
Hours: Thurs-Sat 14:00-19:00; Sun 14:00-18:00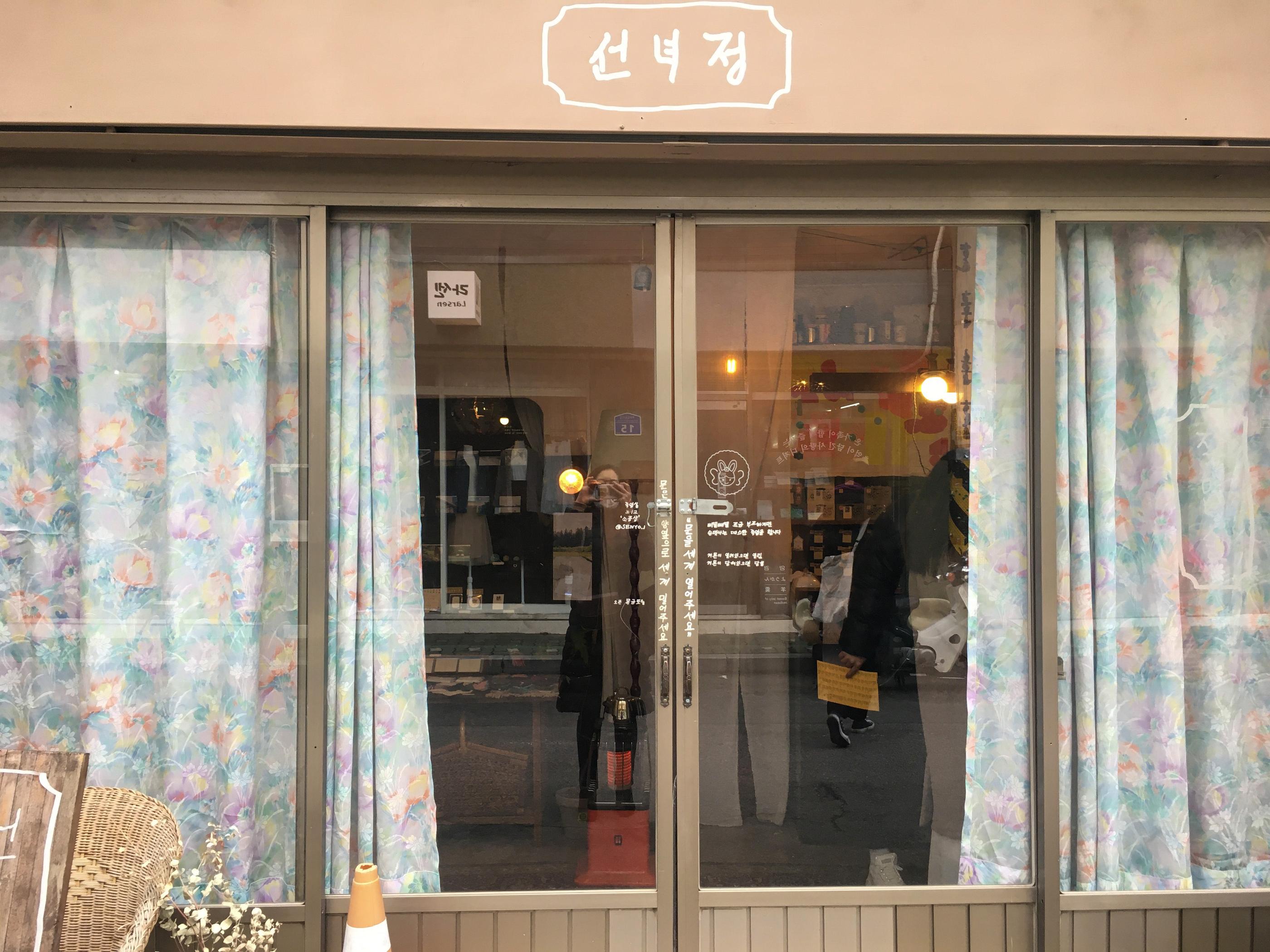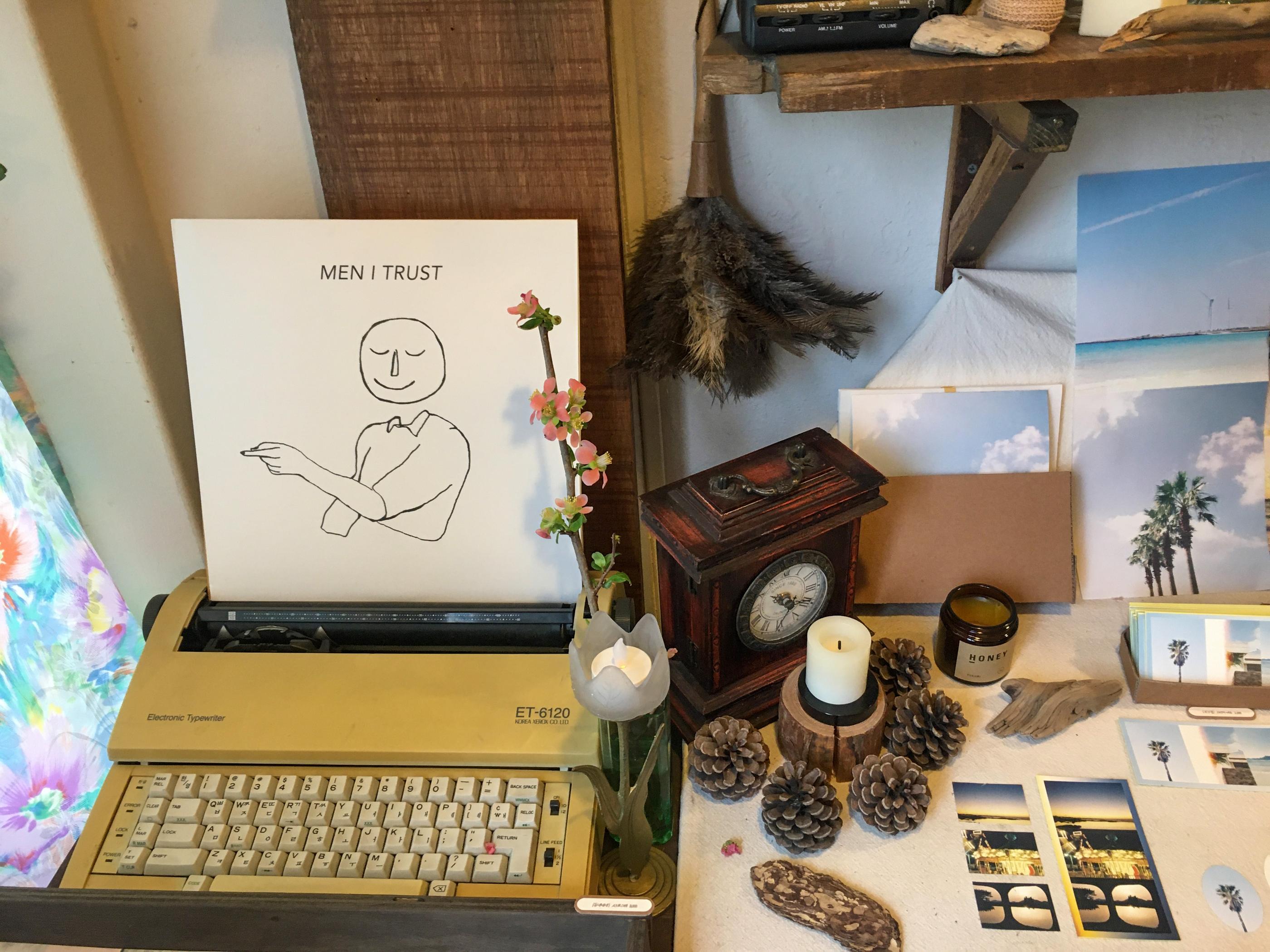 Byeoljogak Sangjeom
A cute stationery shop run by two local illustrators. Take a look at their illustrations and see if anything catches your eye!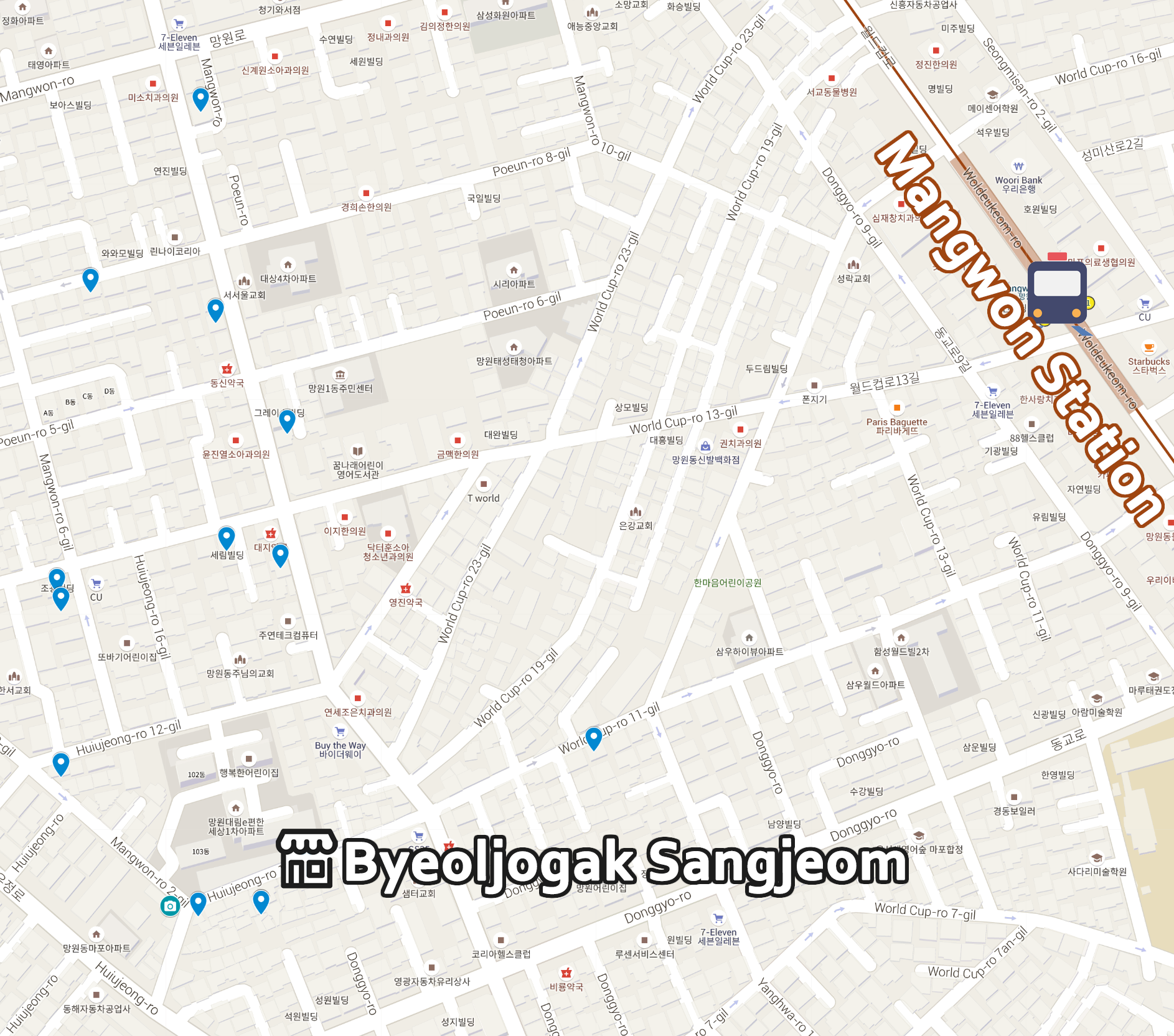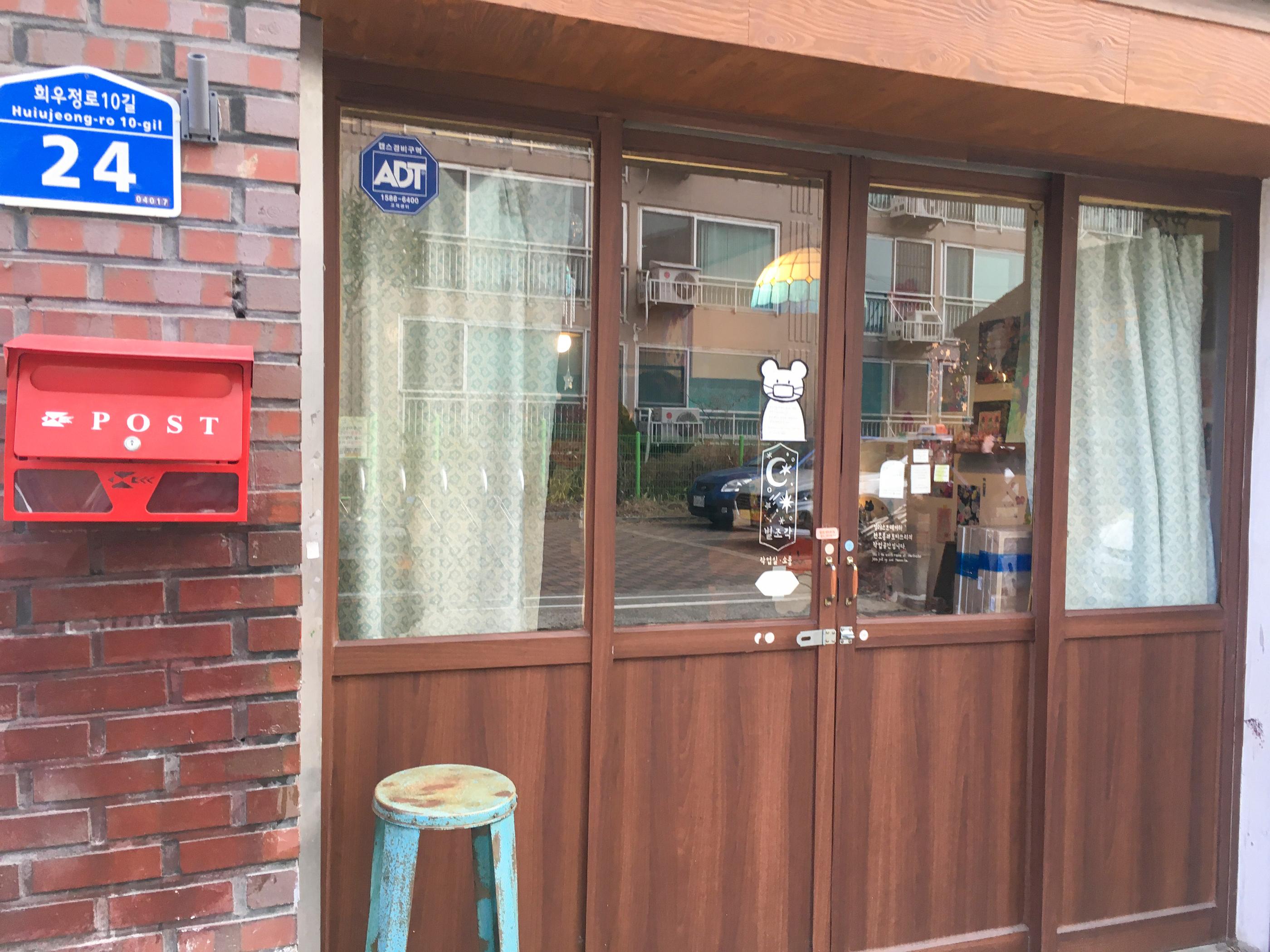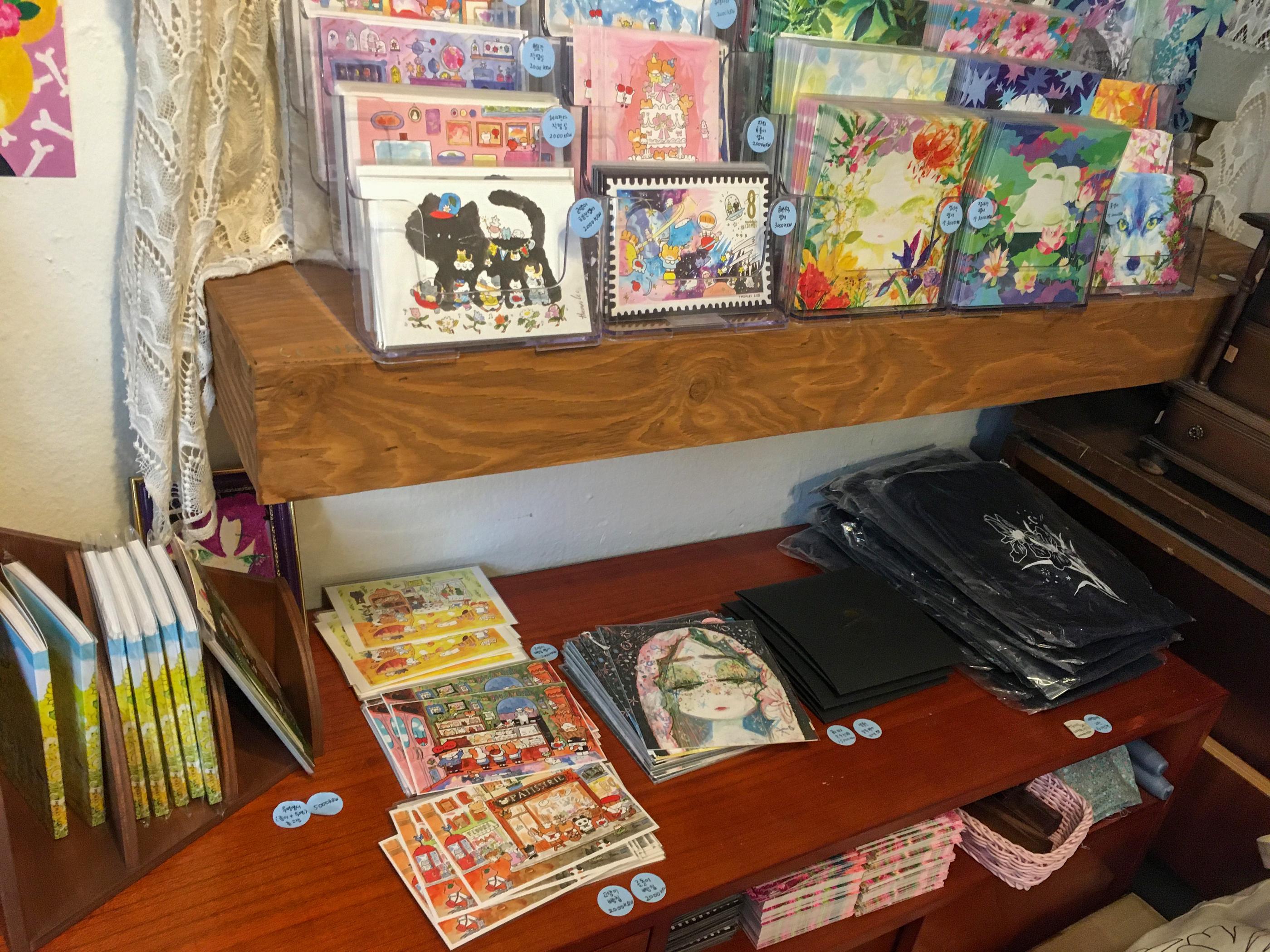 Mongle Mongle
Located on the second floor of a brown building, Mongle Mongle doesn't have a big flashy sign. Look for the two clouds that work as their sign! You'll find utensils of all shapes and materials as well as clothing and stationery.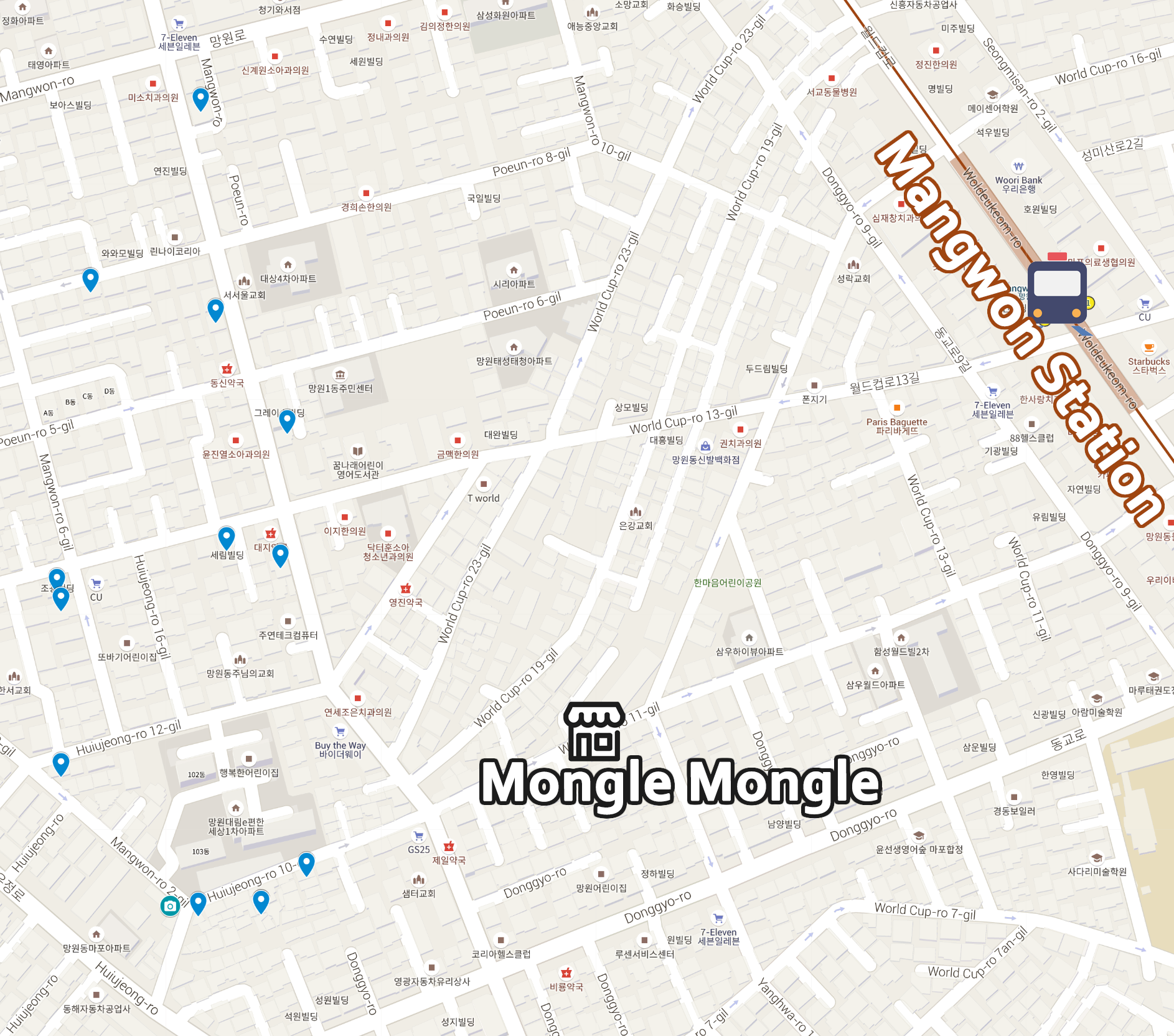 Address: 망원동 338-69
Hours: Thurs-Fri 14:00-19:00; Sat-Sun 14:00-19:30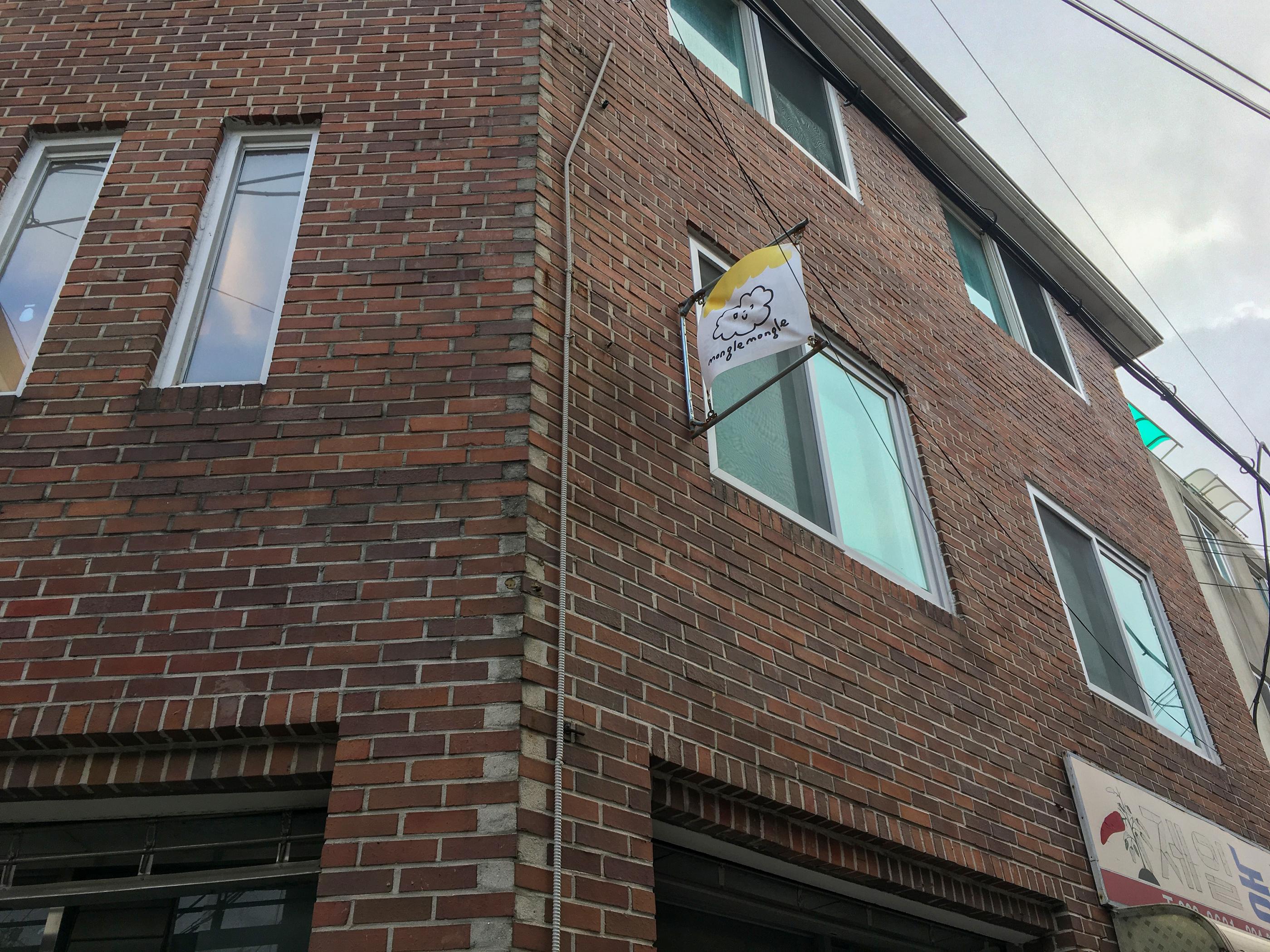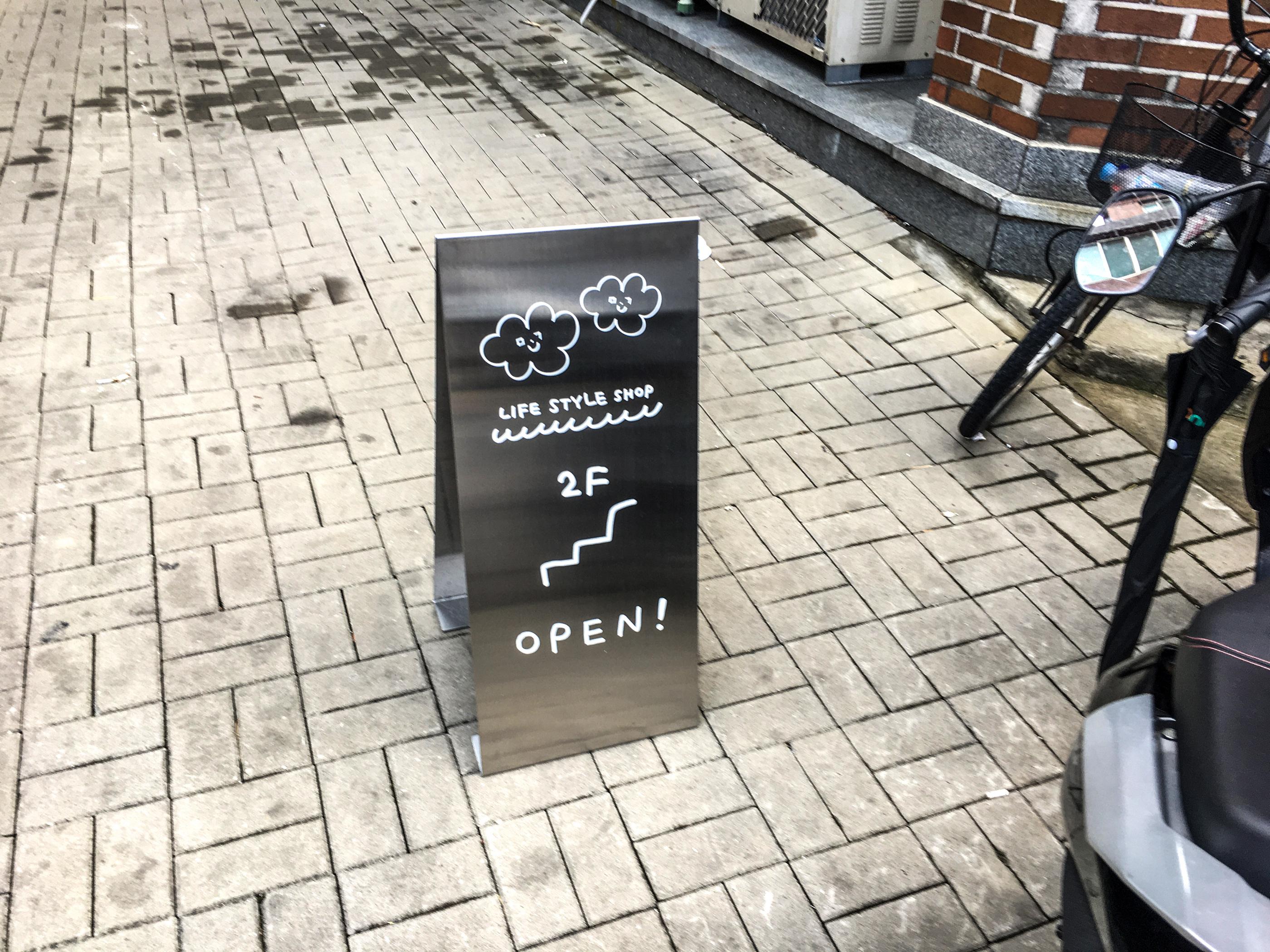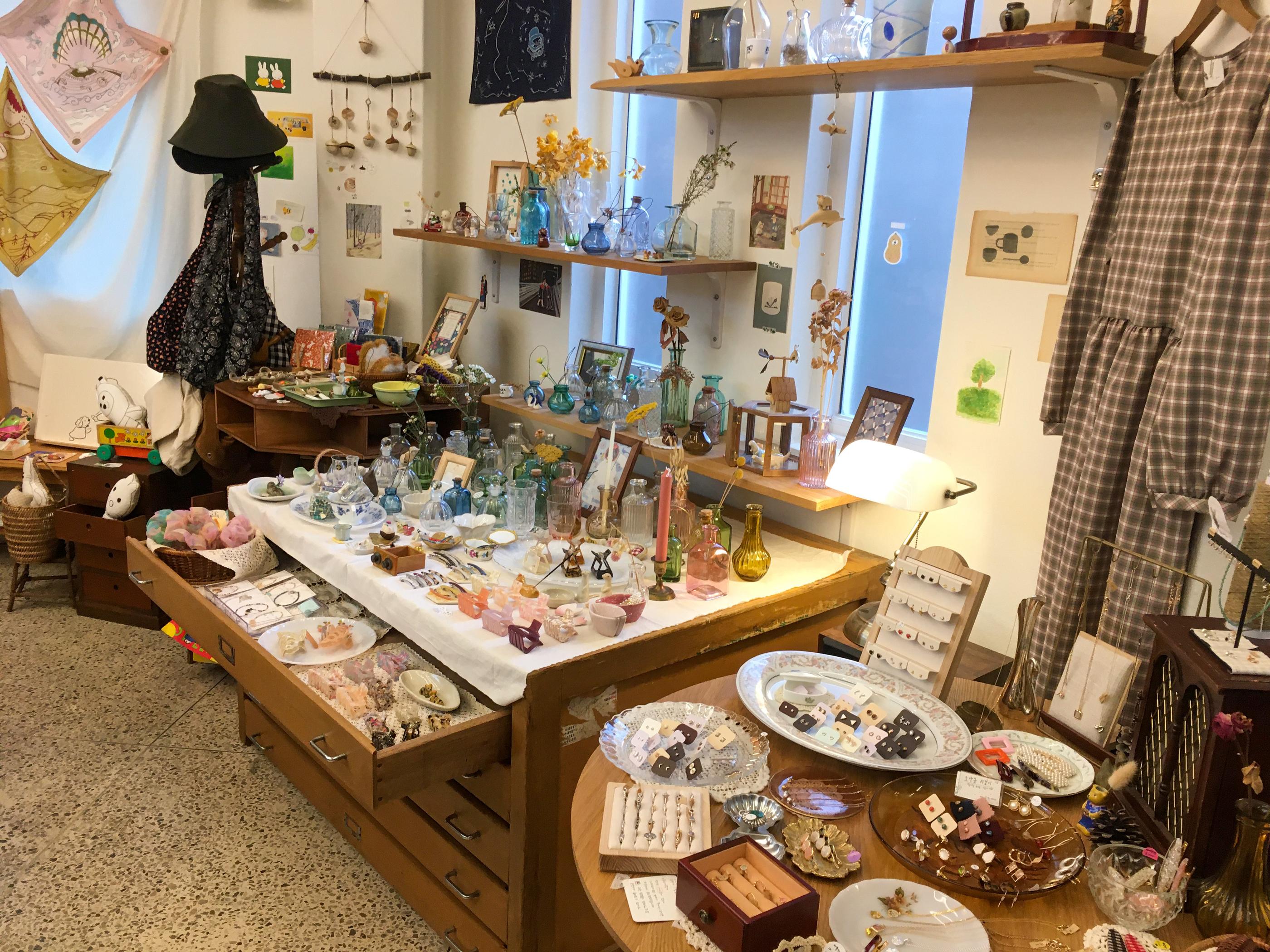 Mallang Sangjeom
The phrase I heard the most in this store was shoppers going 'gwi-yeo-wo,' meaning 'cute' in Korean. Needless to say, this shop features local artists' works of cute animal characters.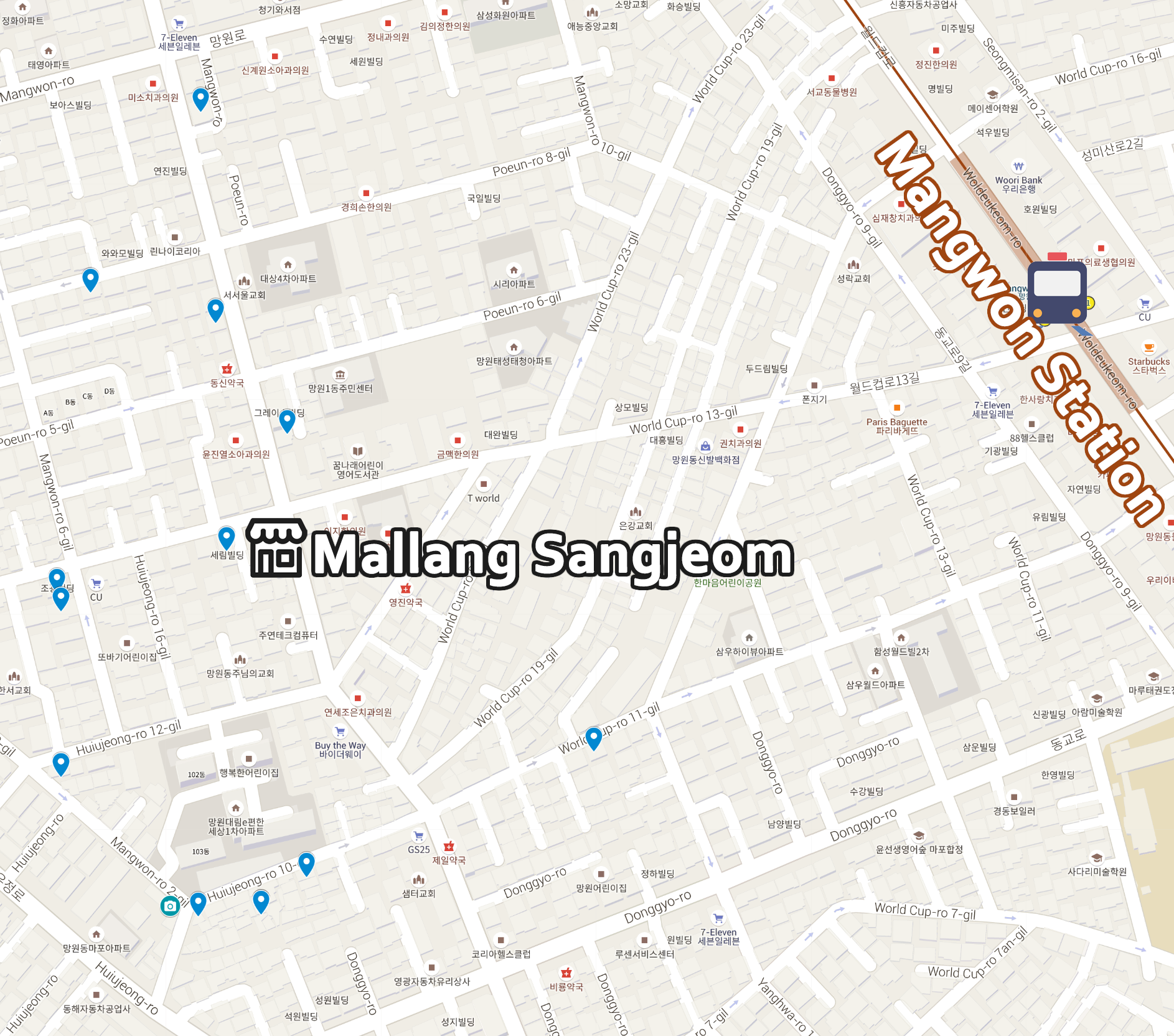 Address: 서울 마포구 포은로 85
Hours: 13:00-20:00, Closed on Mondays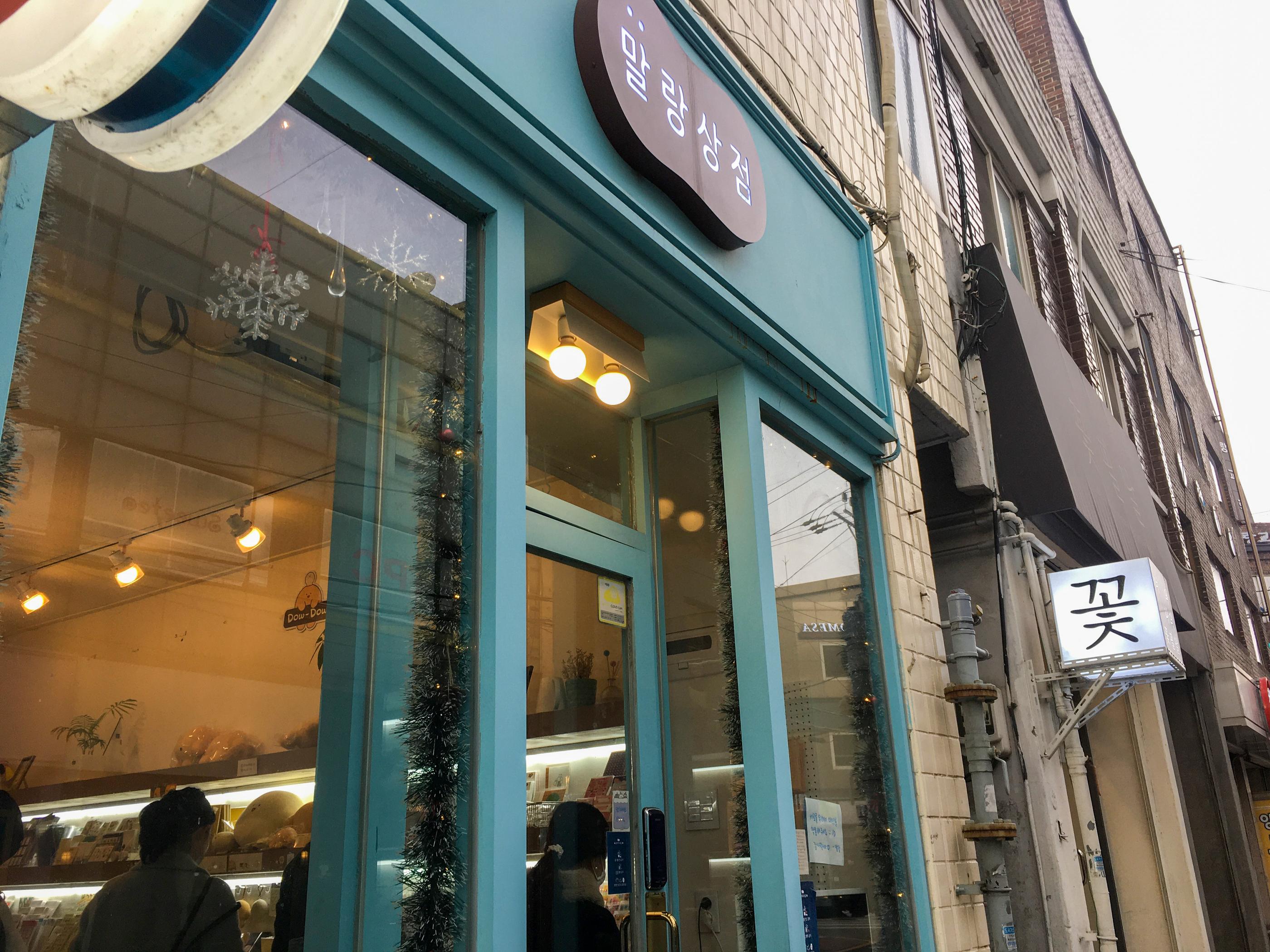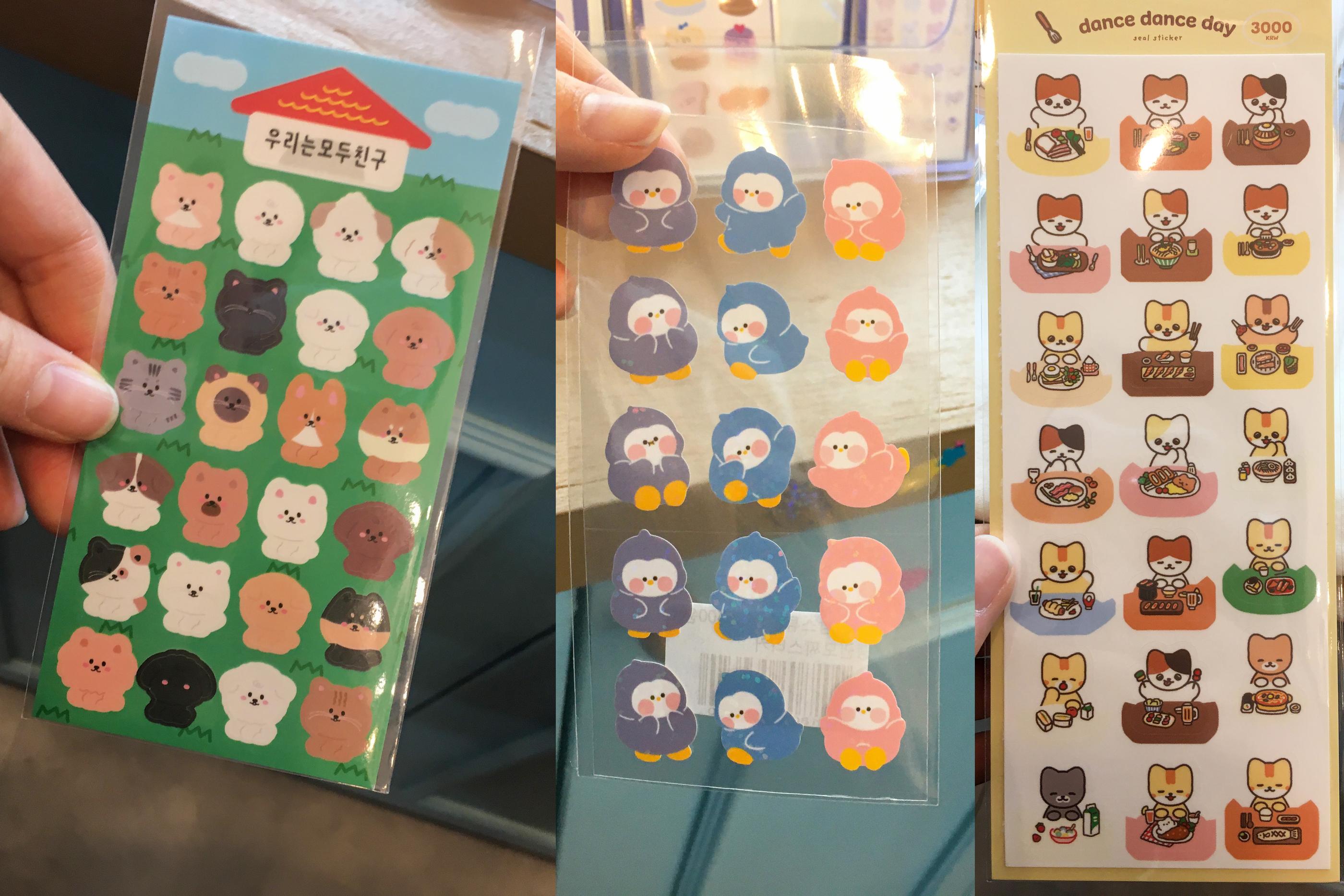 Porong Porong
Porong Porong is a jap-hwa-jeom, or a store that sells miscellaneous goods. You'll find lots of unique pieces of cutleries, cups, china as well as stationery here.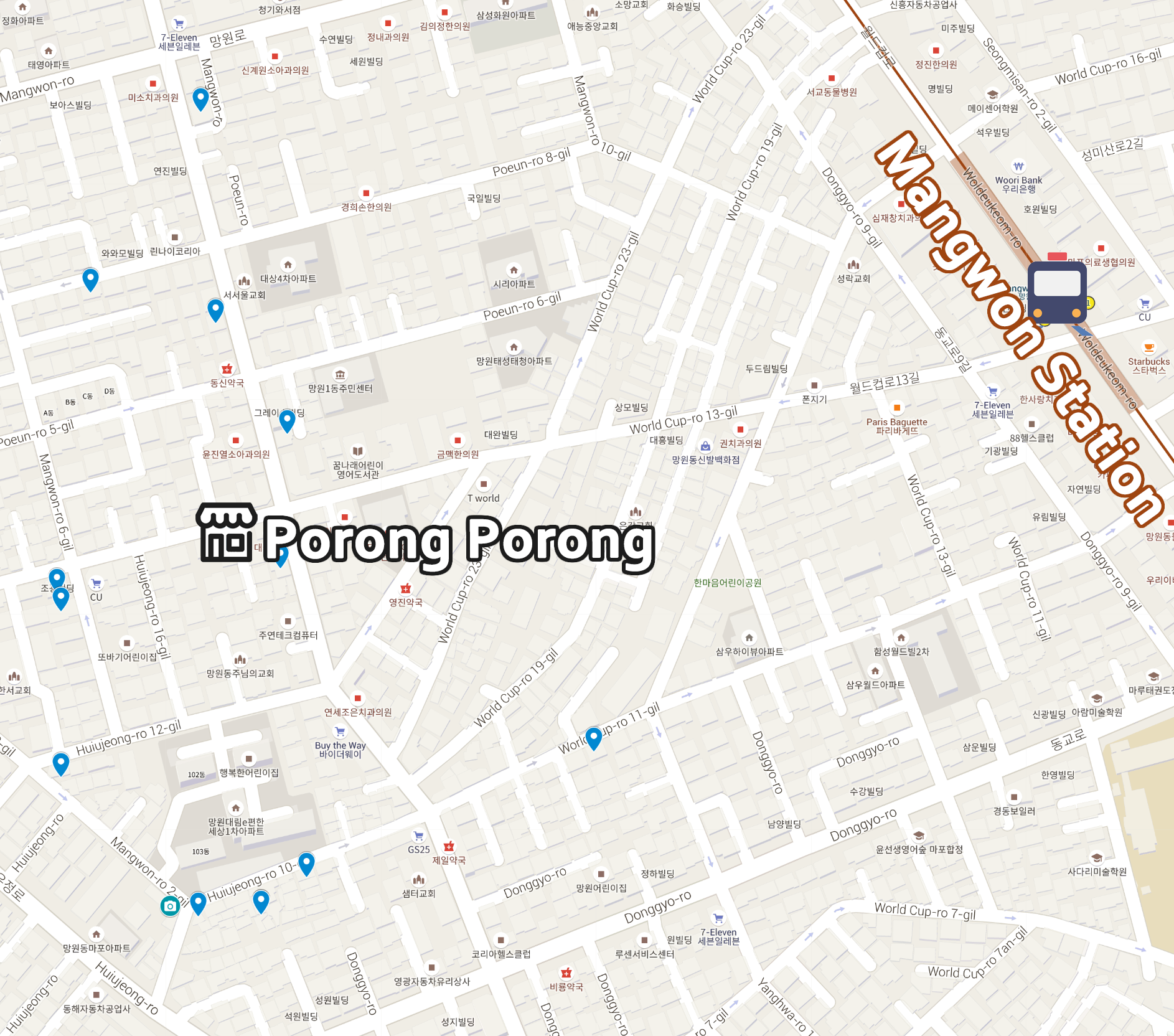 Address: 서울 마포구 희우정로16길 54 세림빌딩 2F
Hours: Tues-Fri 14:00-19:30; Sat 14:00-20:00; Sun 13:00-19:00; Closed on Mondays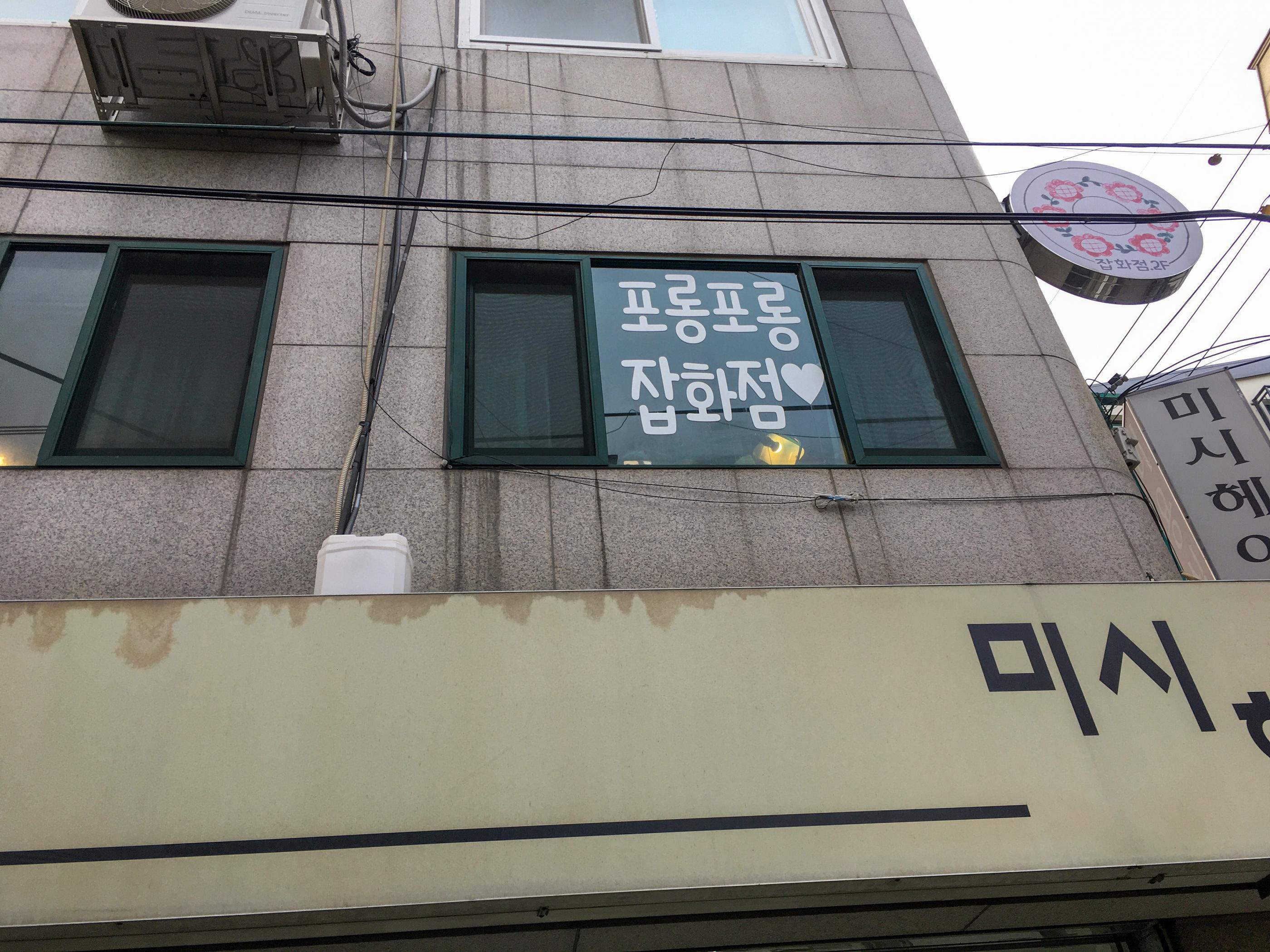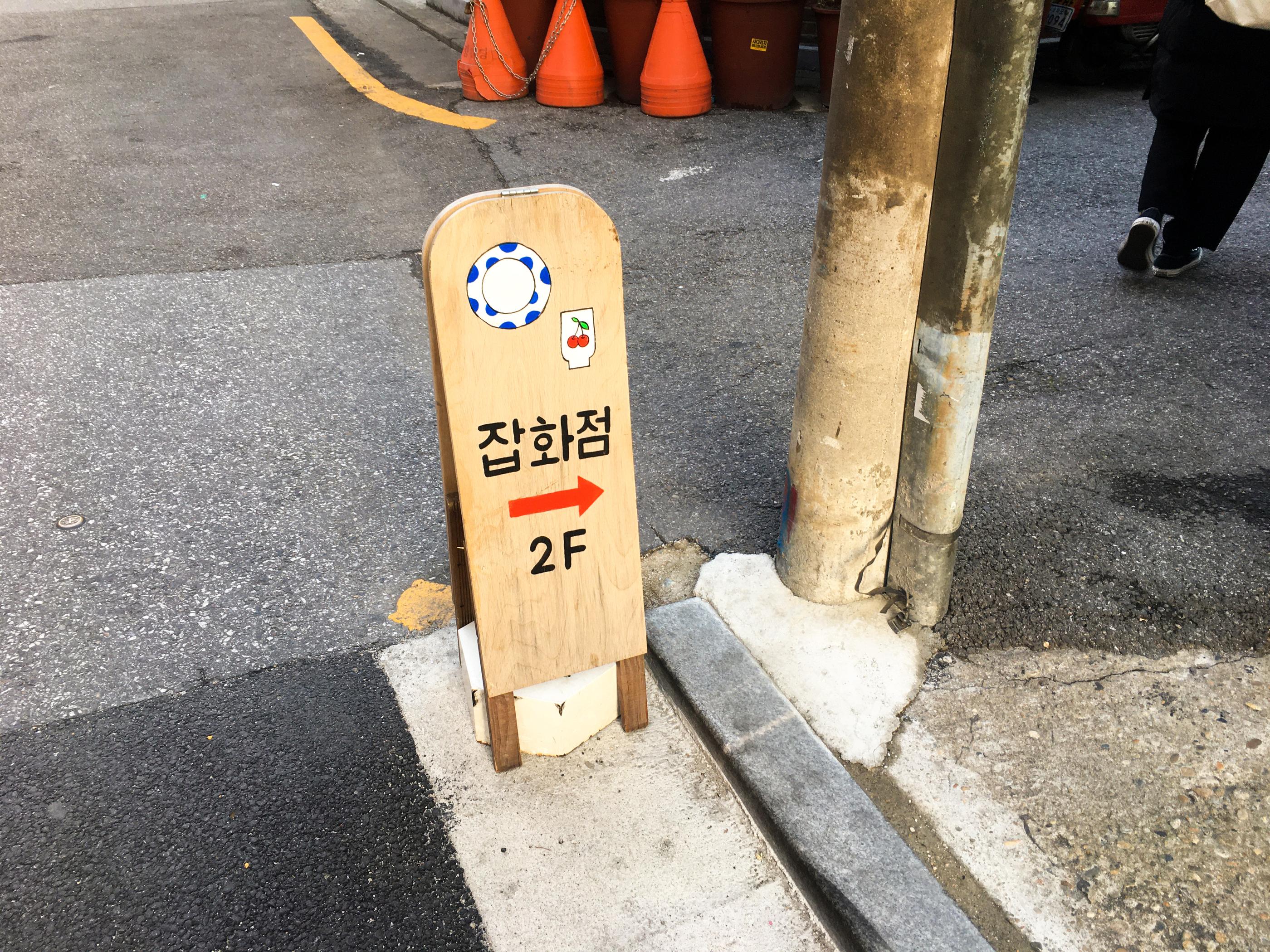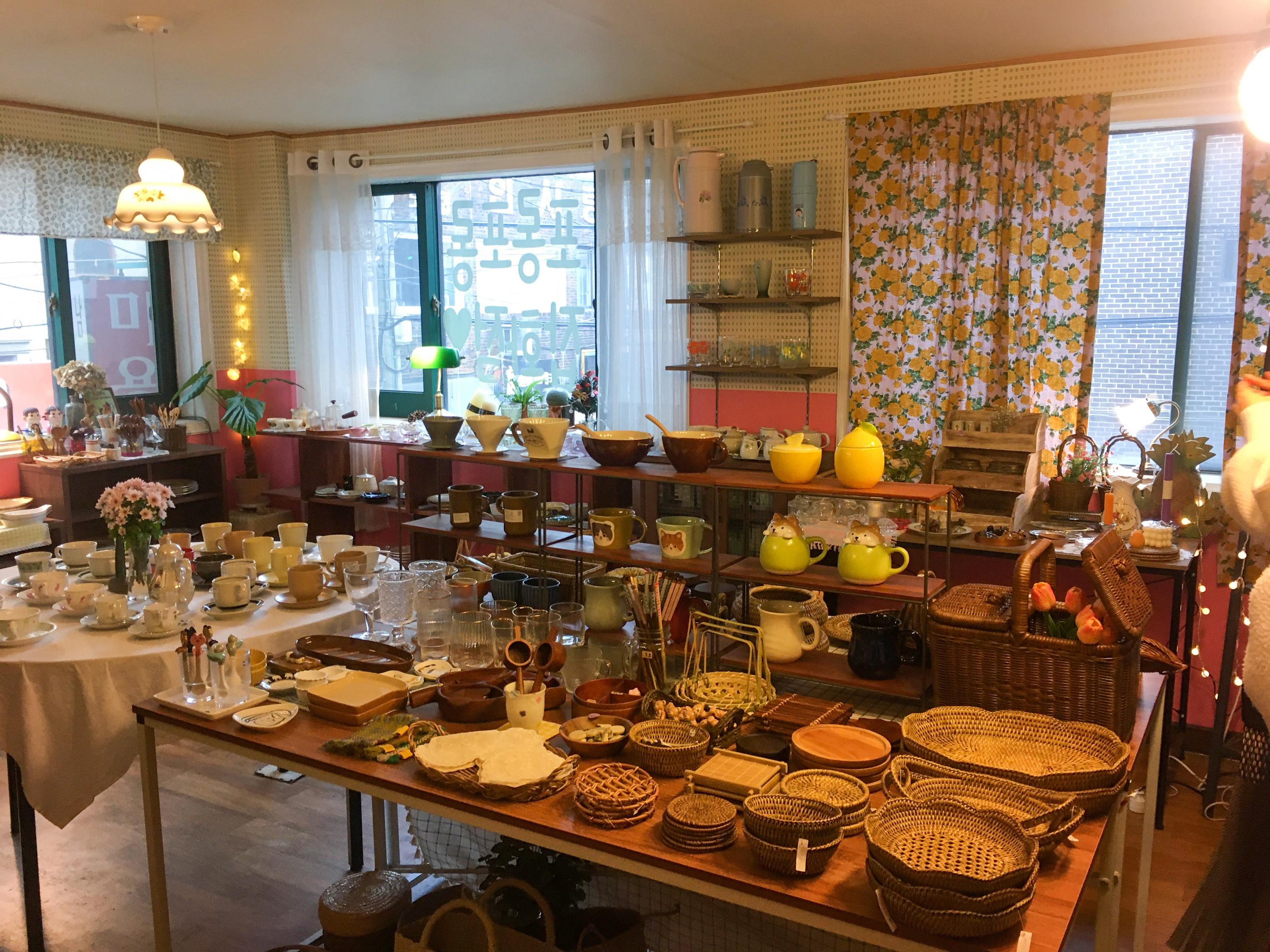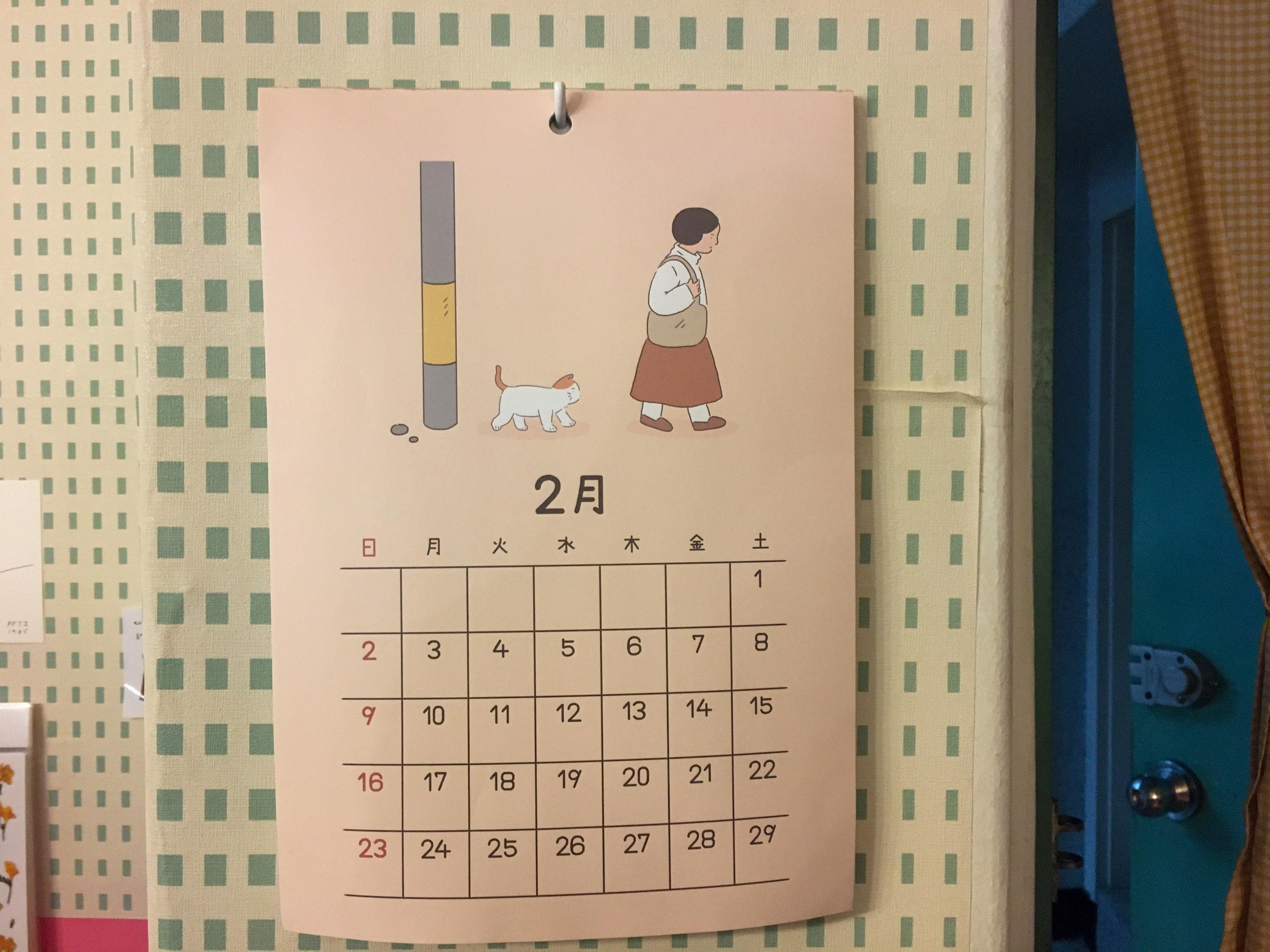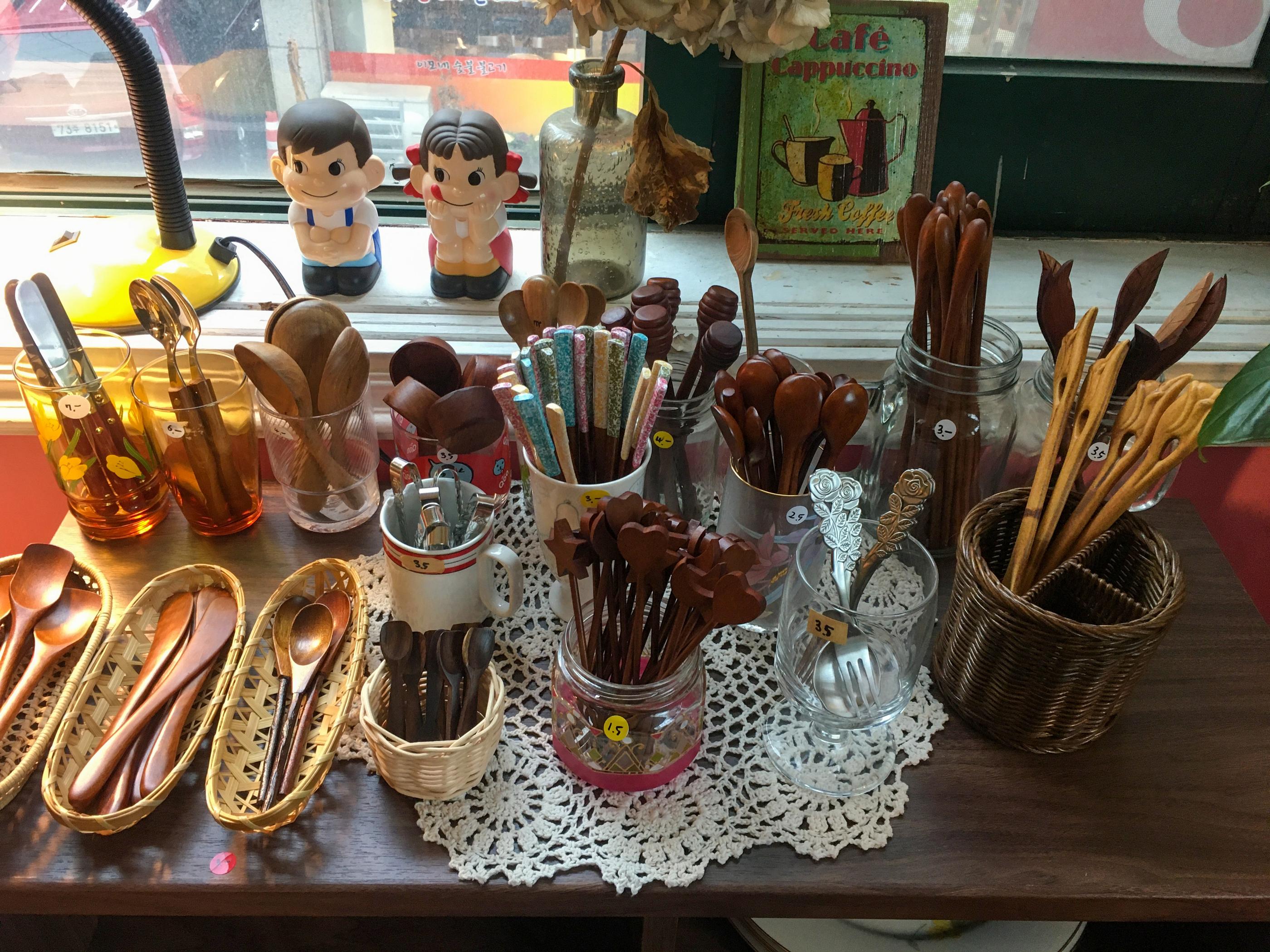 Warmgrey Tail
A husband and wife team of an illustrator and an art director, the showroom in Mangwondong double functions as their studio. This famed brand's merchandise is available in many partnering stores around the world.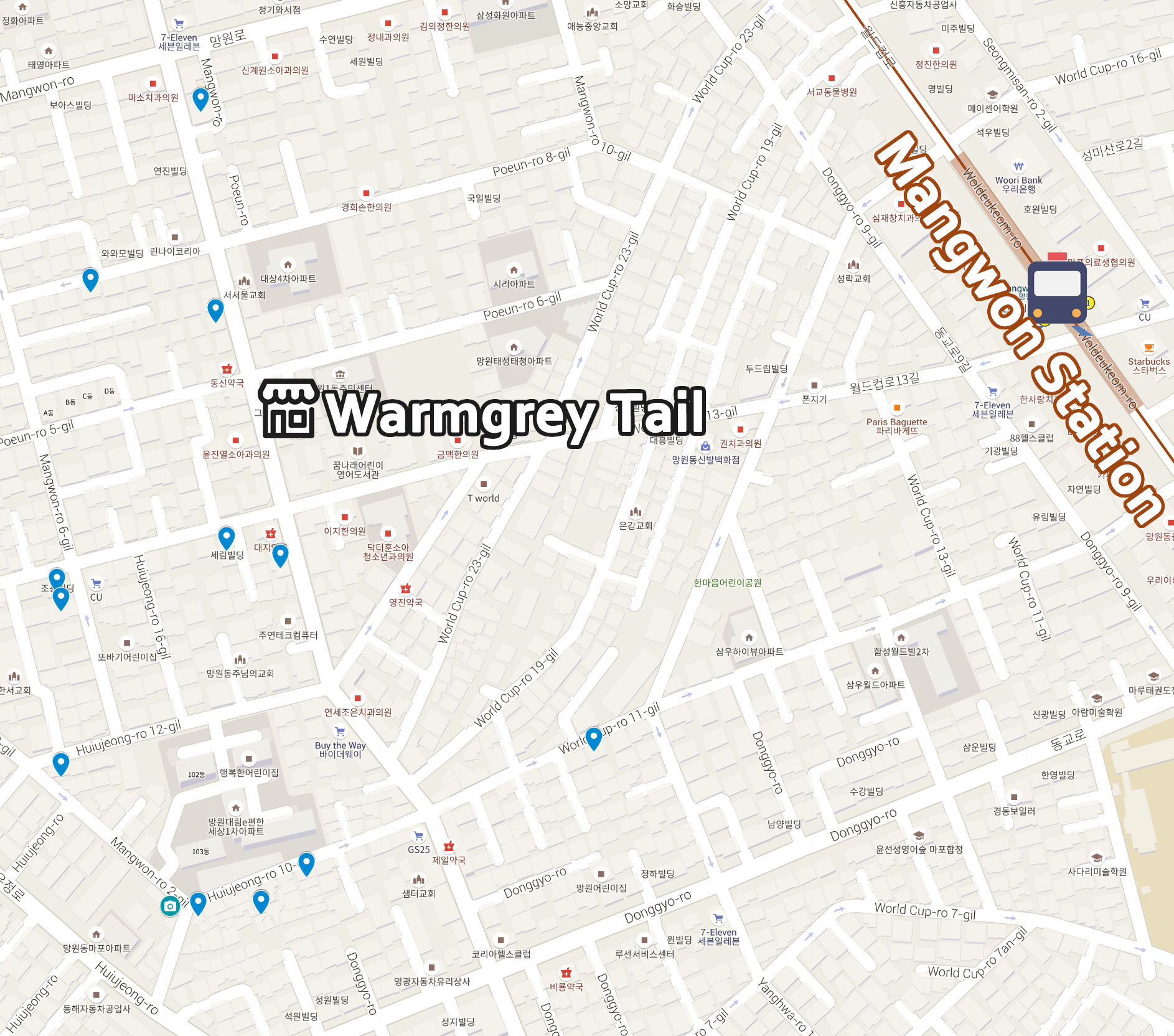 Address: 서울 마포구 포은로 94 2F
Hours: Wed-Fri 13:30-19:30; Sat 12:00-19:30; Sun 12:00-18:30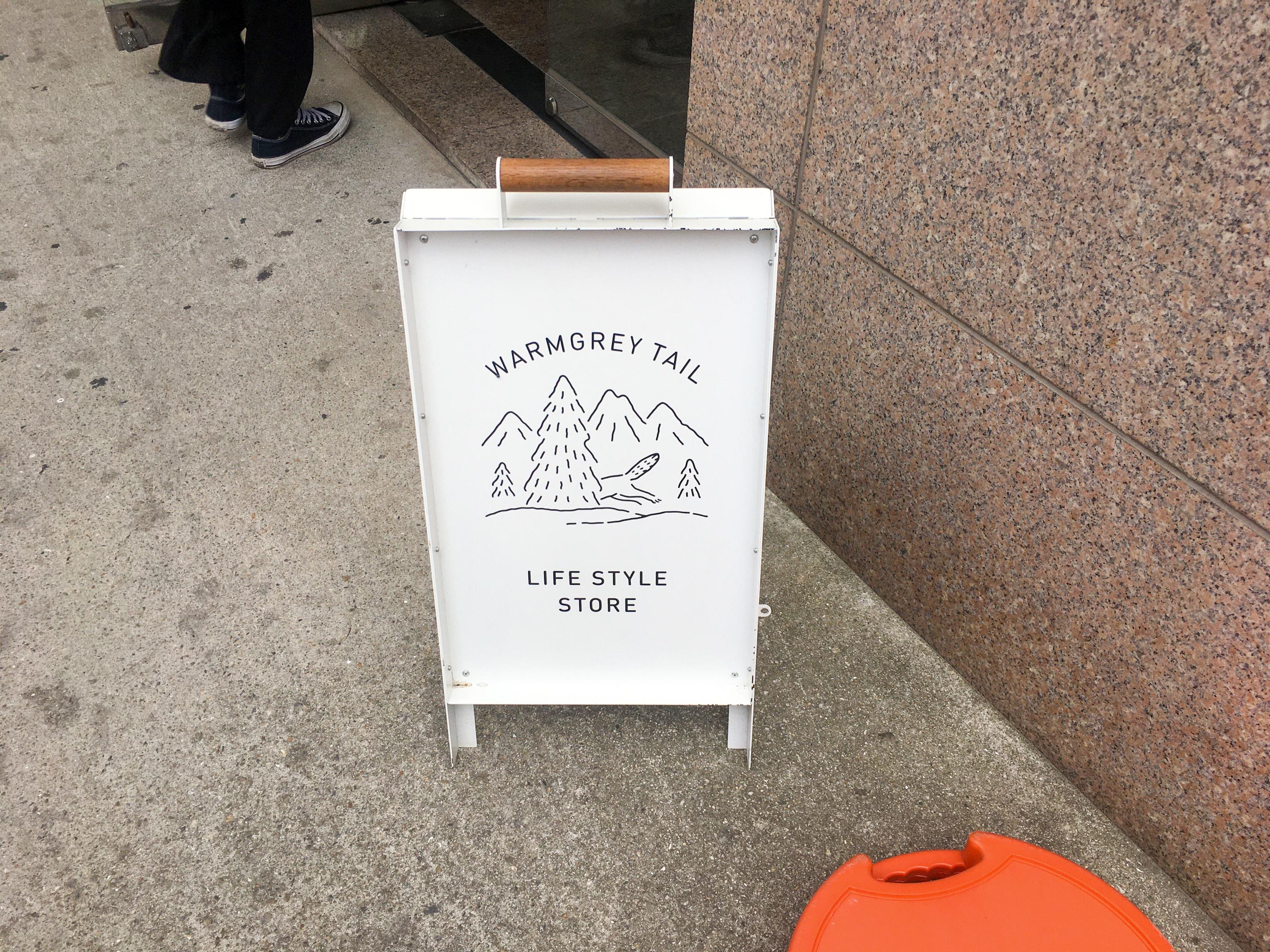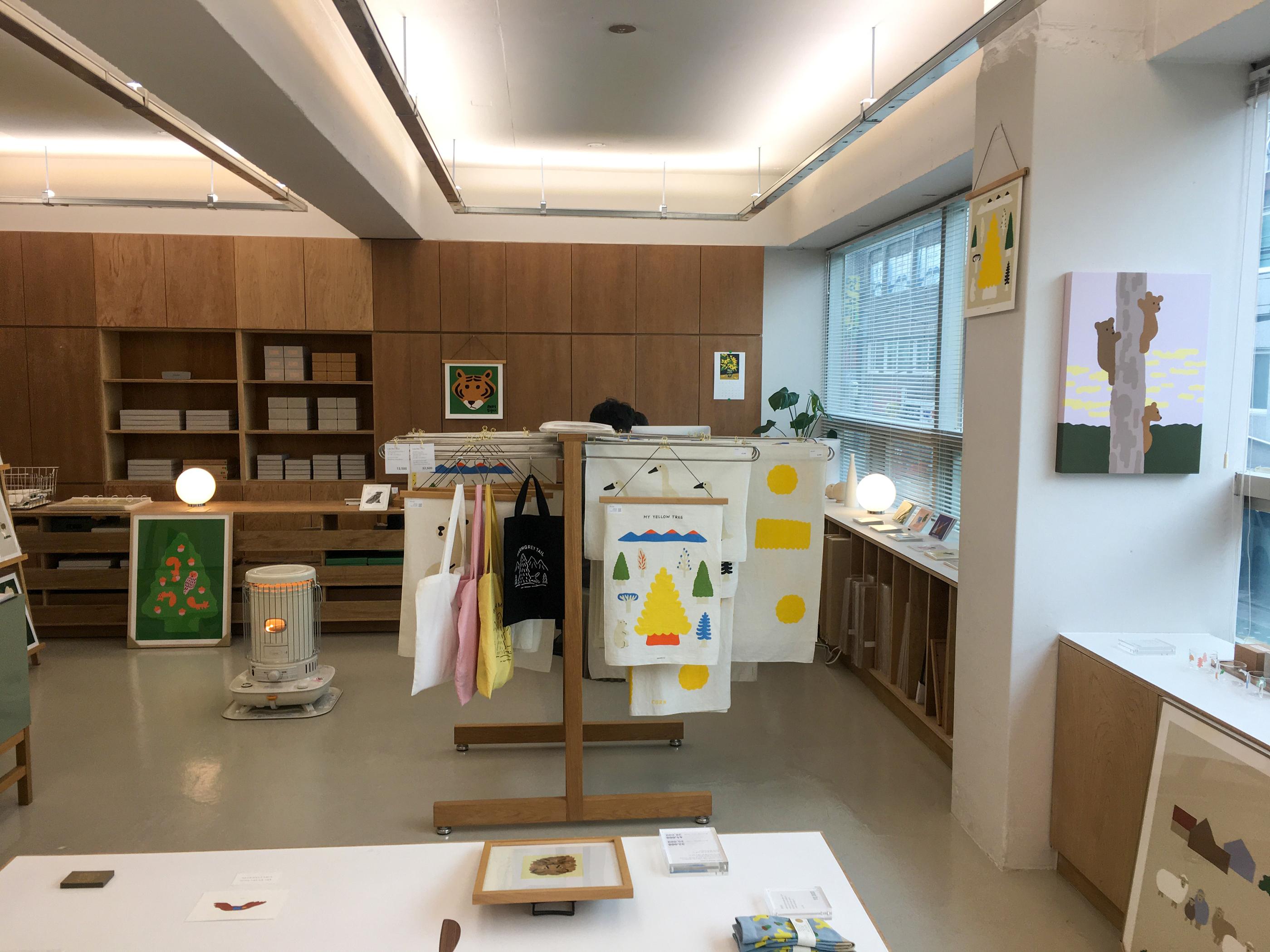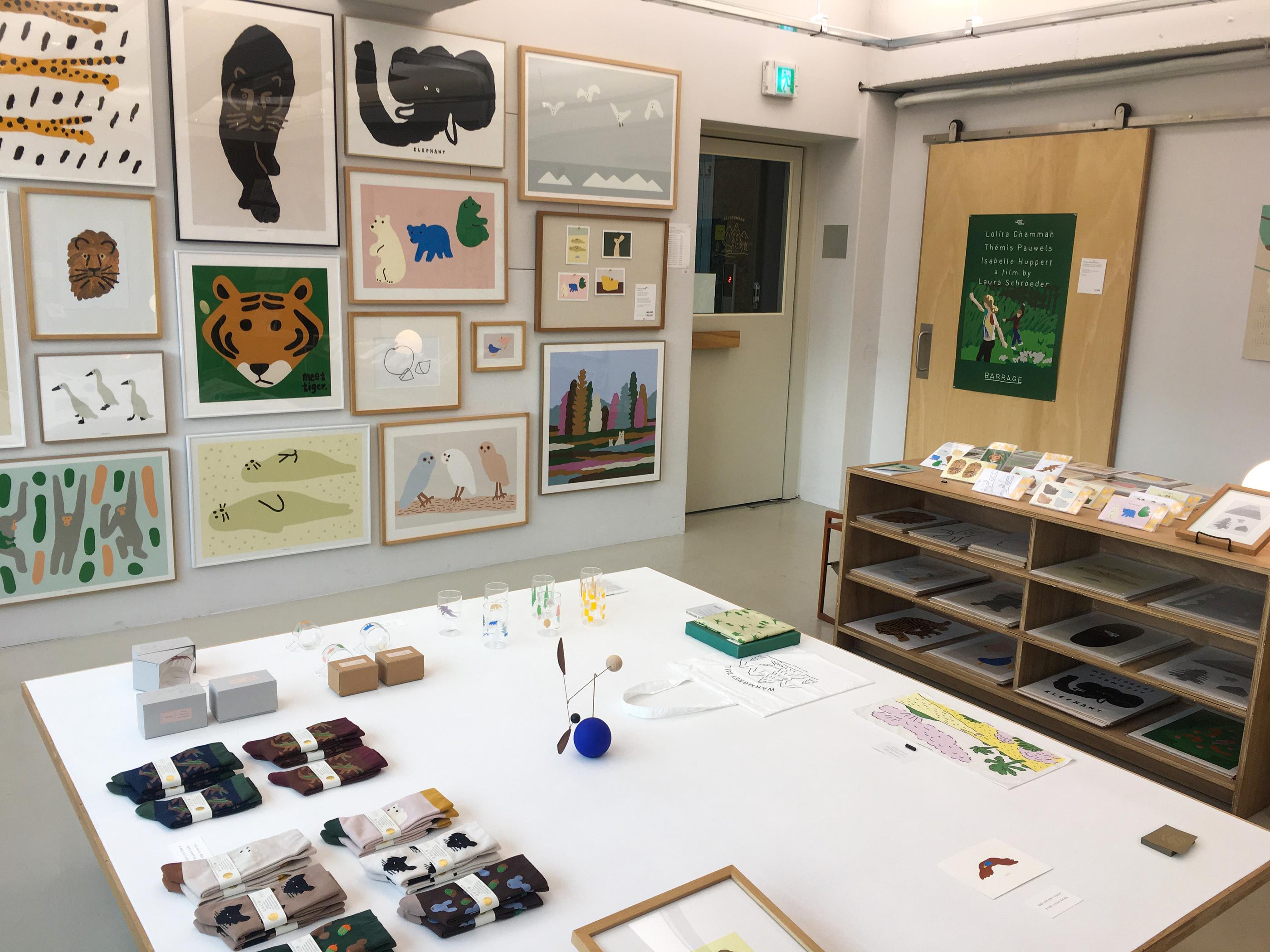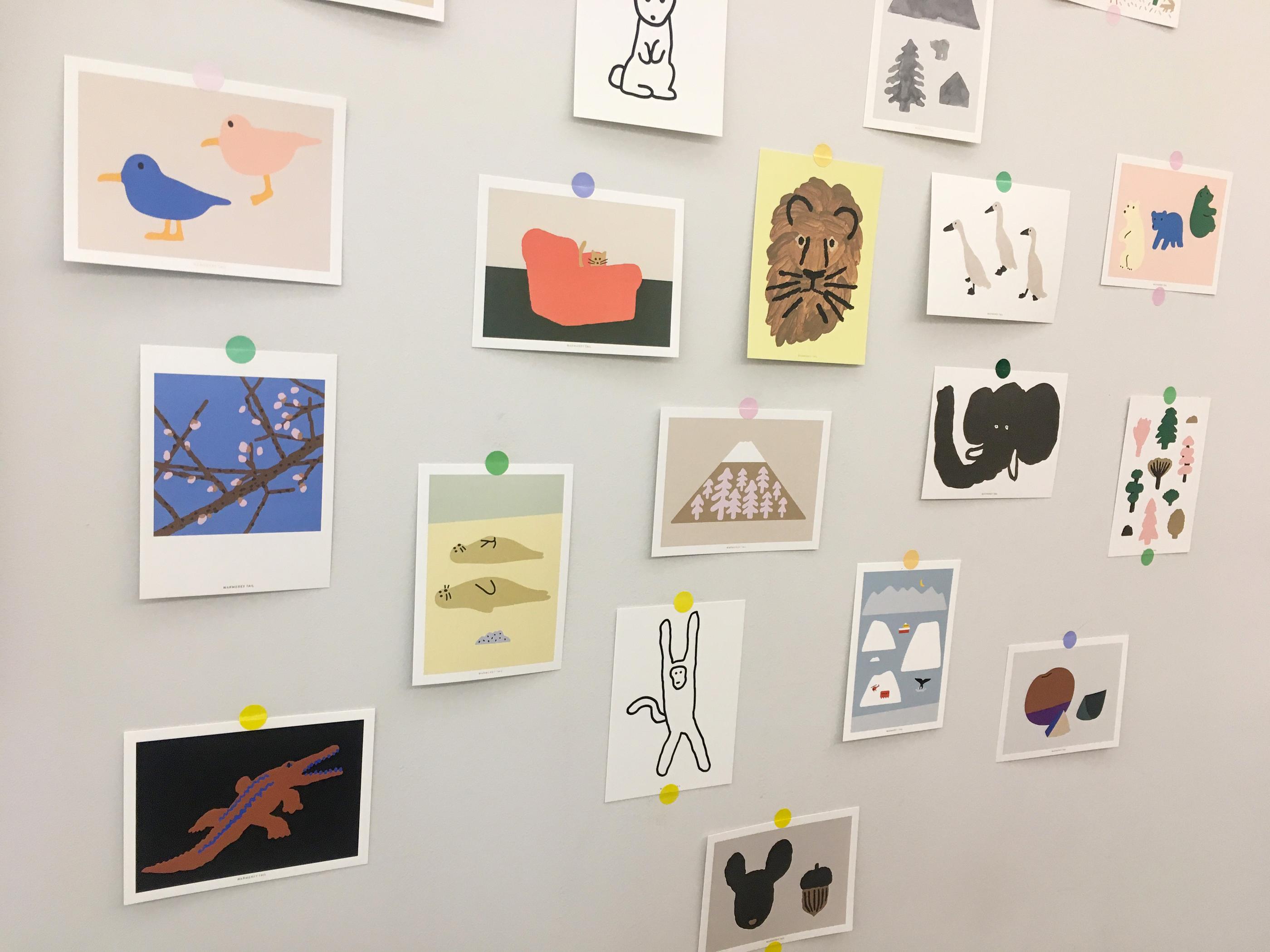 Object Recycle
This environmentally friendly shop focuses on obtaining 'level B products,' or products that are fine to use but don't quite meet the merchandiser standards. You'll find products of a lot of different brands here.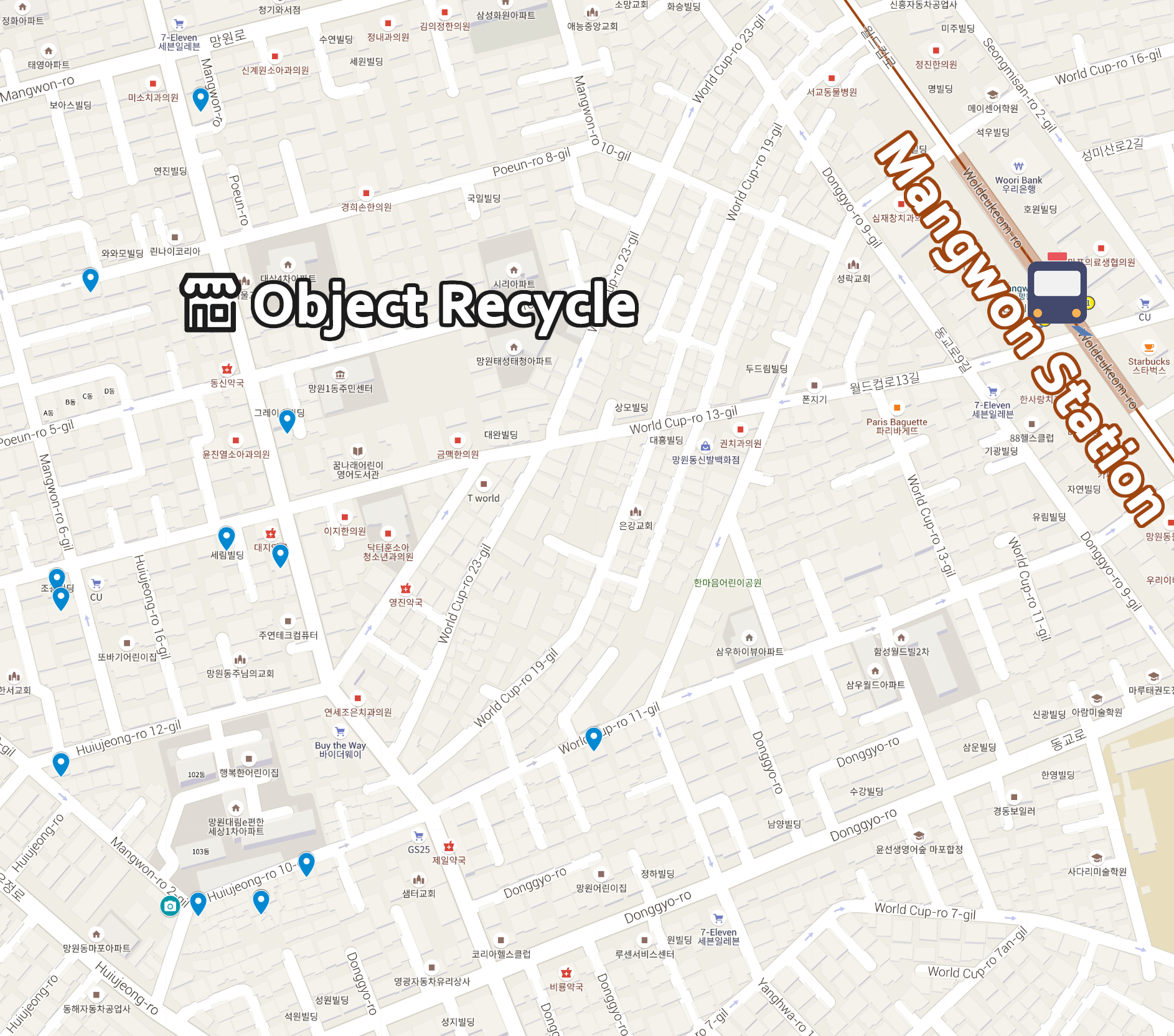 Address: 서울 마포구 포은로 99
Hours: 13:00-21:00, Closed on Mondays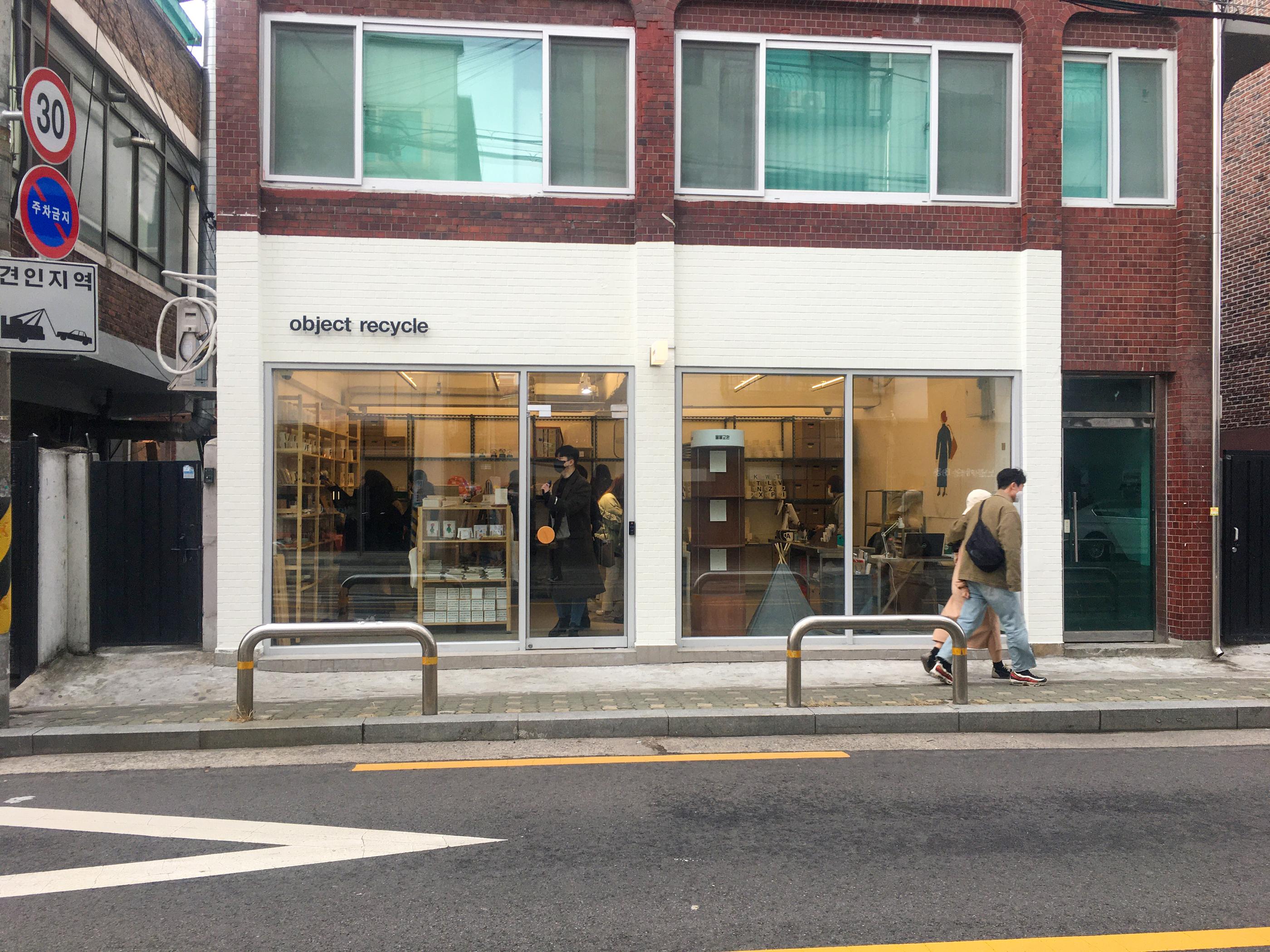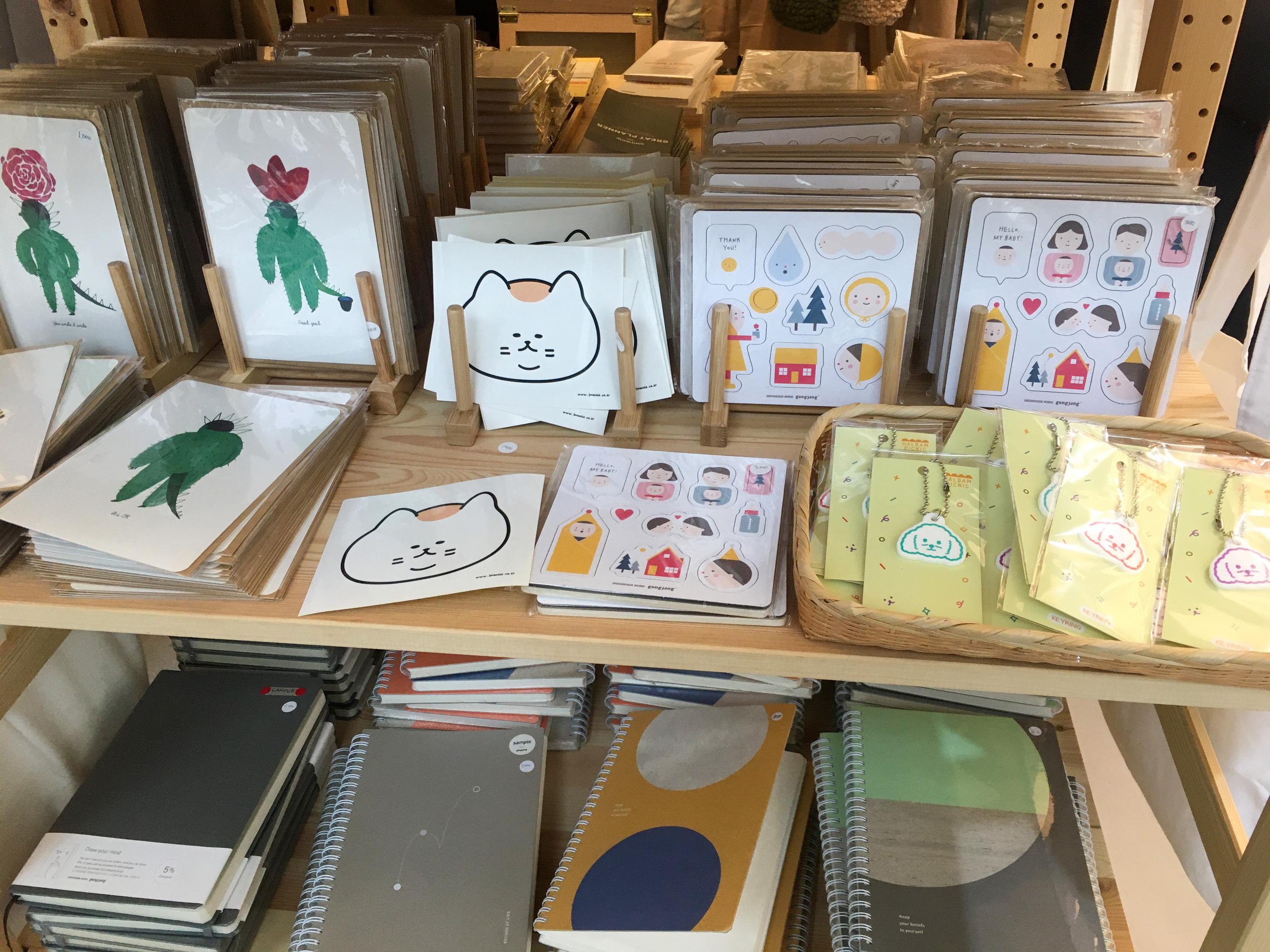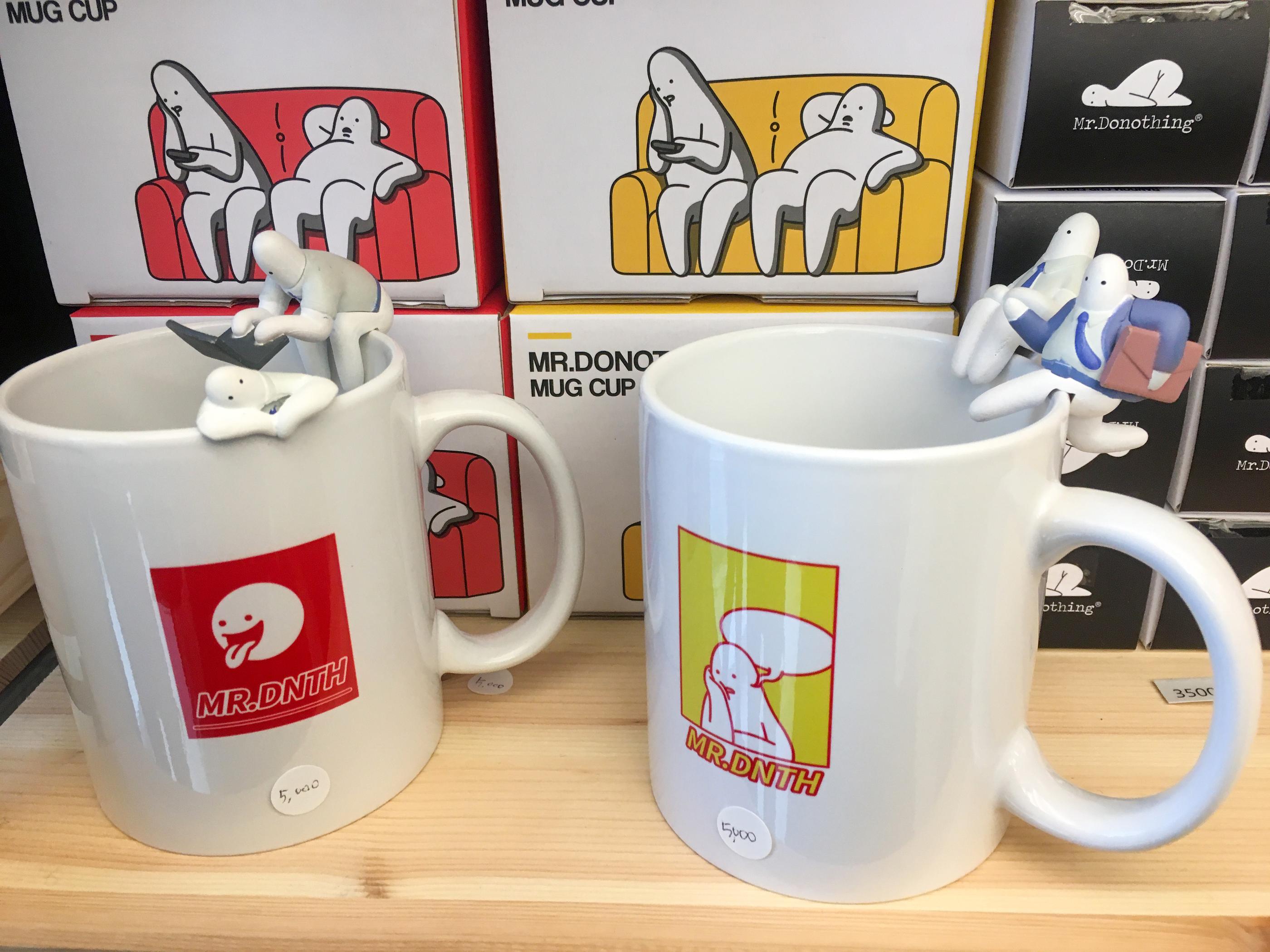 Subaco
This store features lots of Japanese-inspired and Japanese brands. You'll find classic Sato and Anpanman toys and stationery here.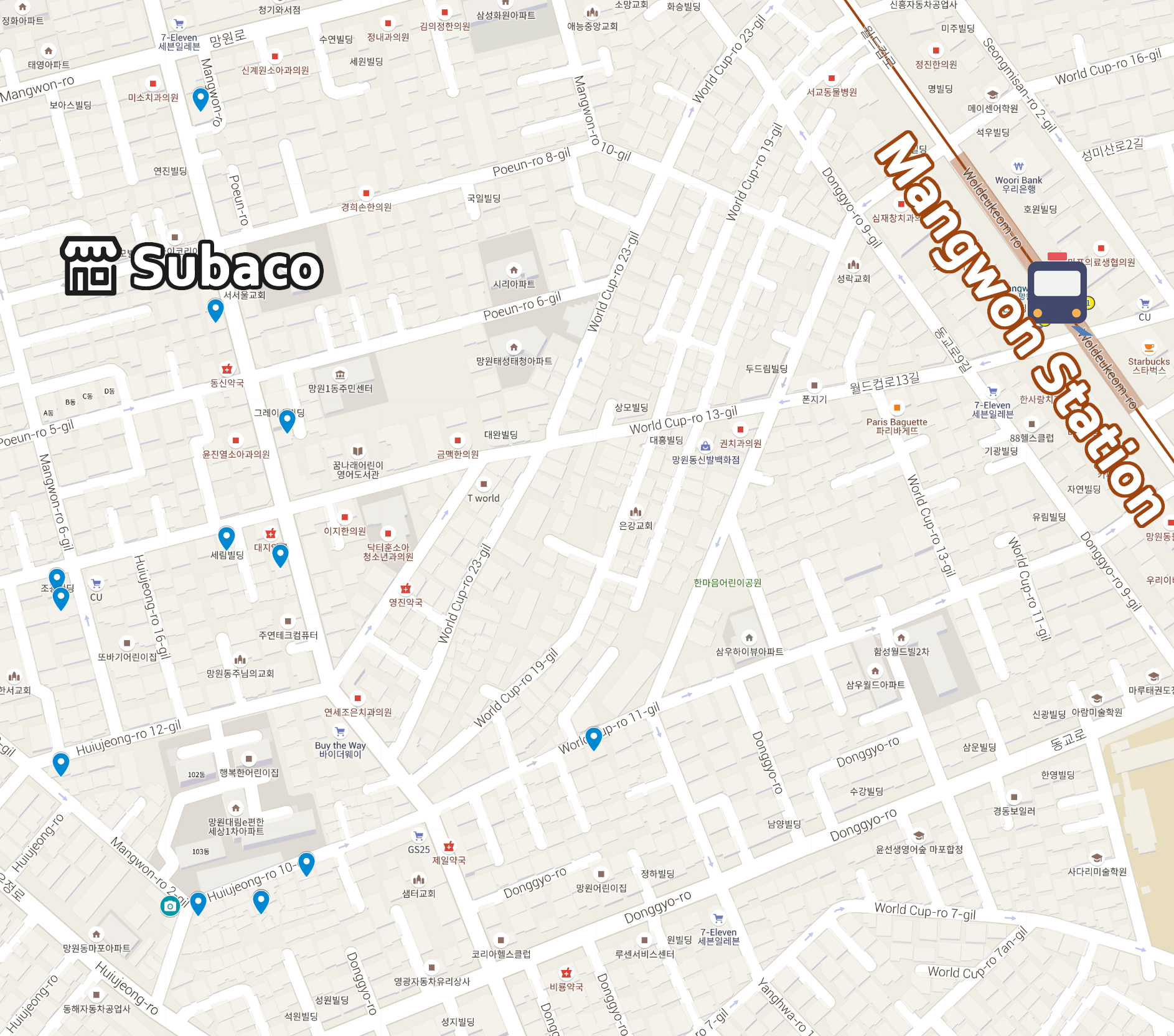 Address: 서울 마포구 희우정로20길 66
Hours: 14:00-19:00, Closed on Mondays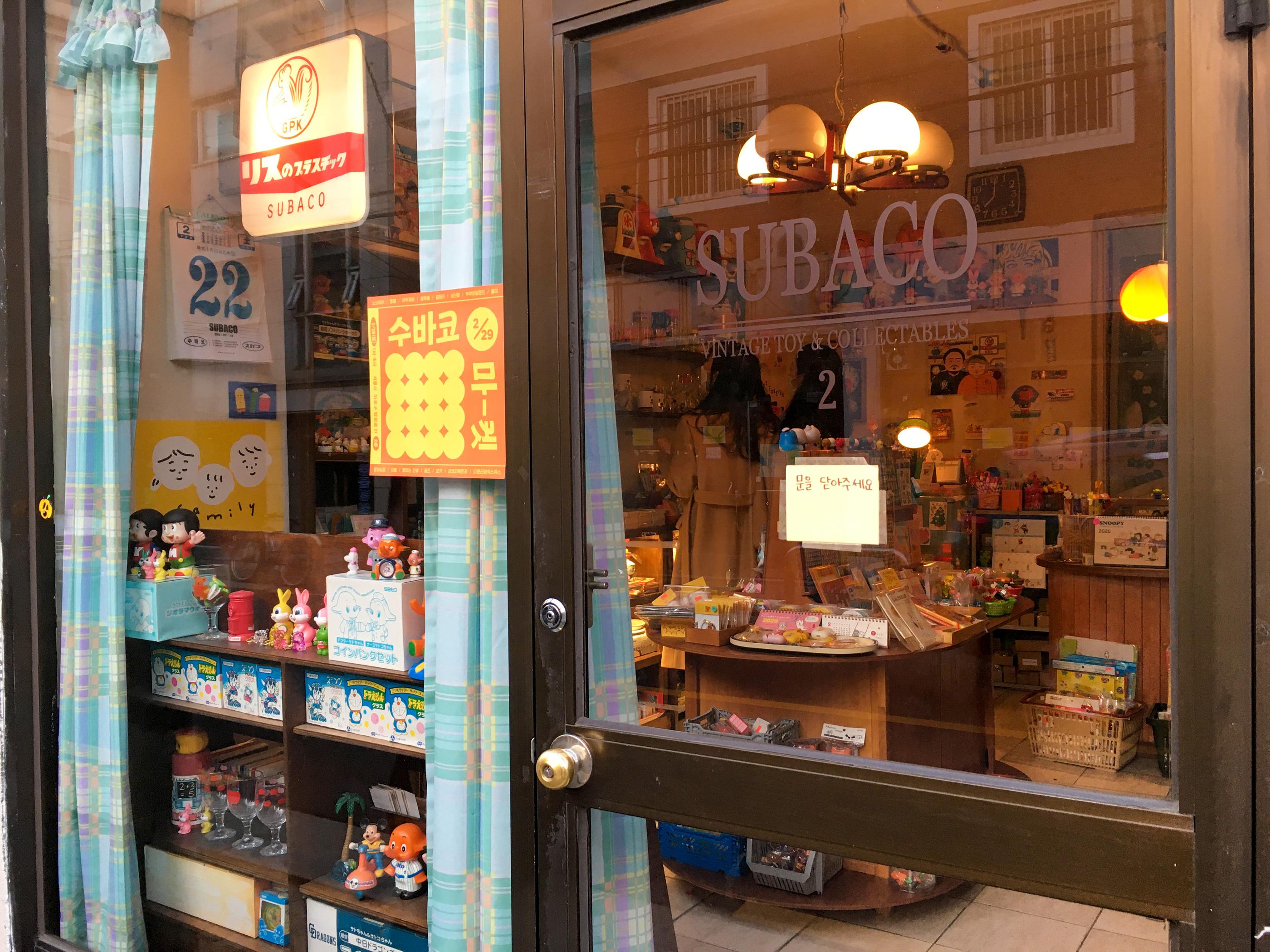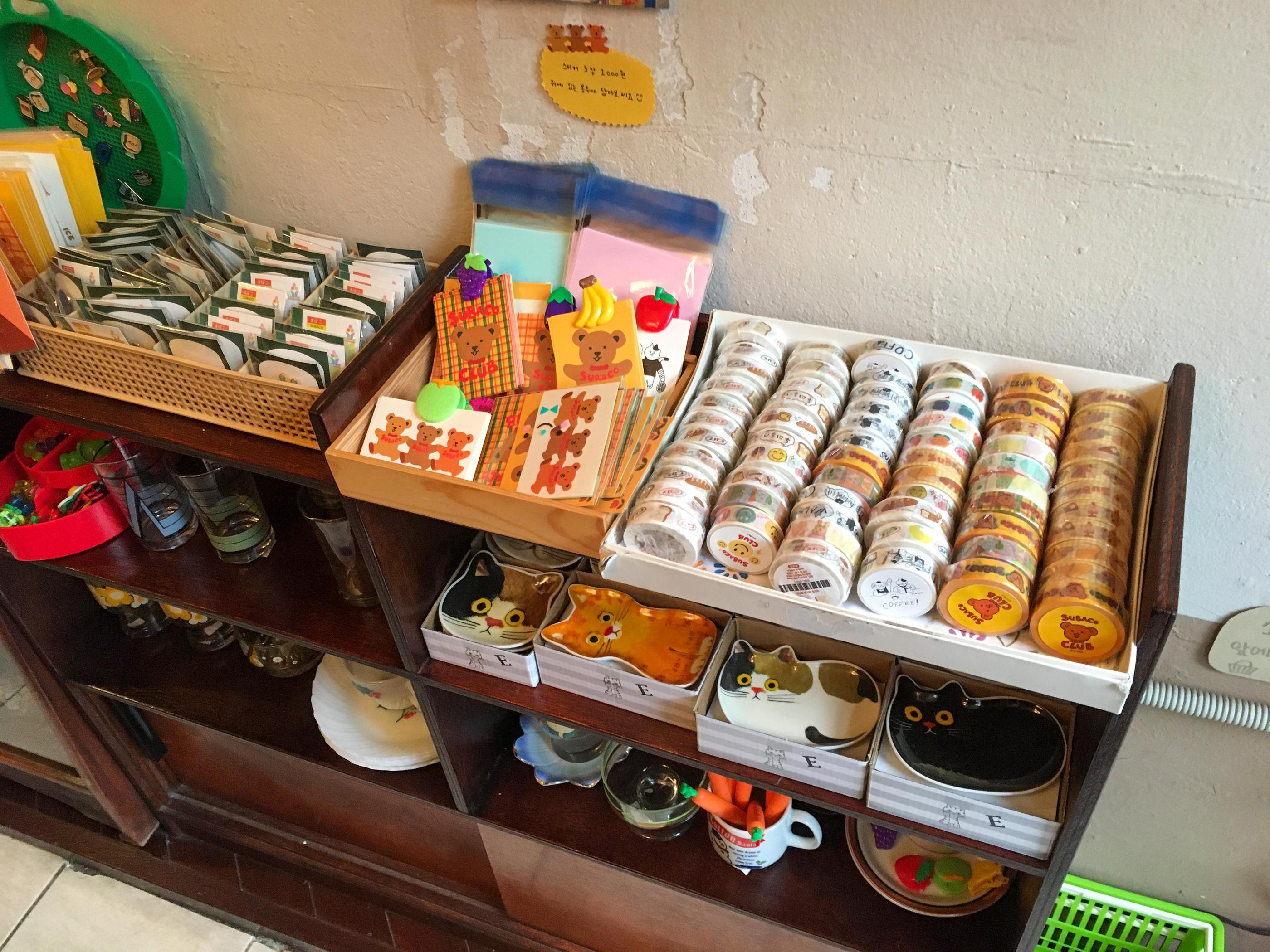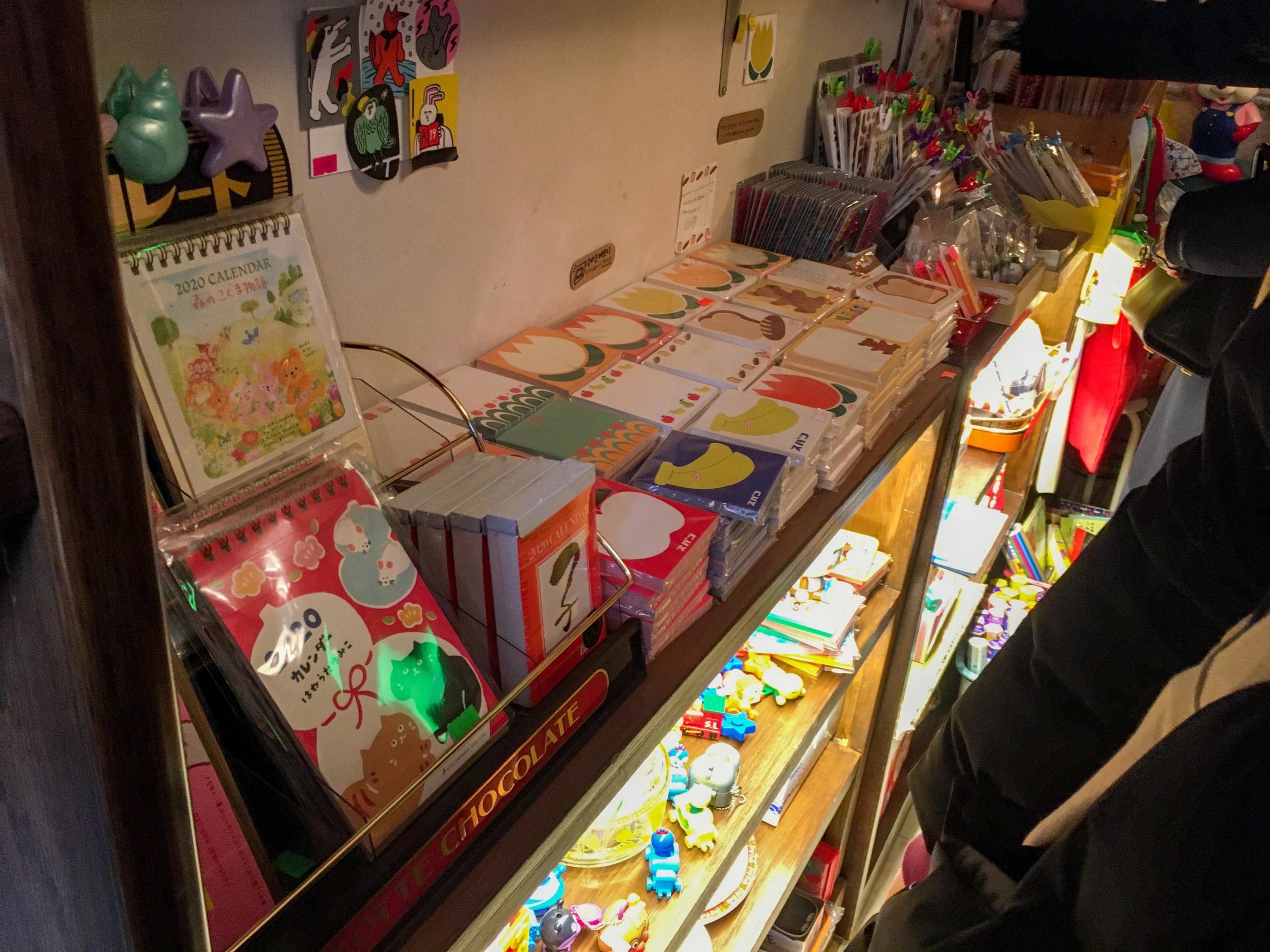 Snoopy Mansion
This place only sells licensed Snoopy goods, bringing the prices up but guaranteeing quality and authenticity.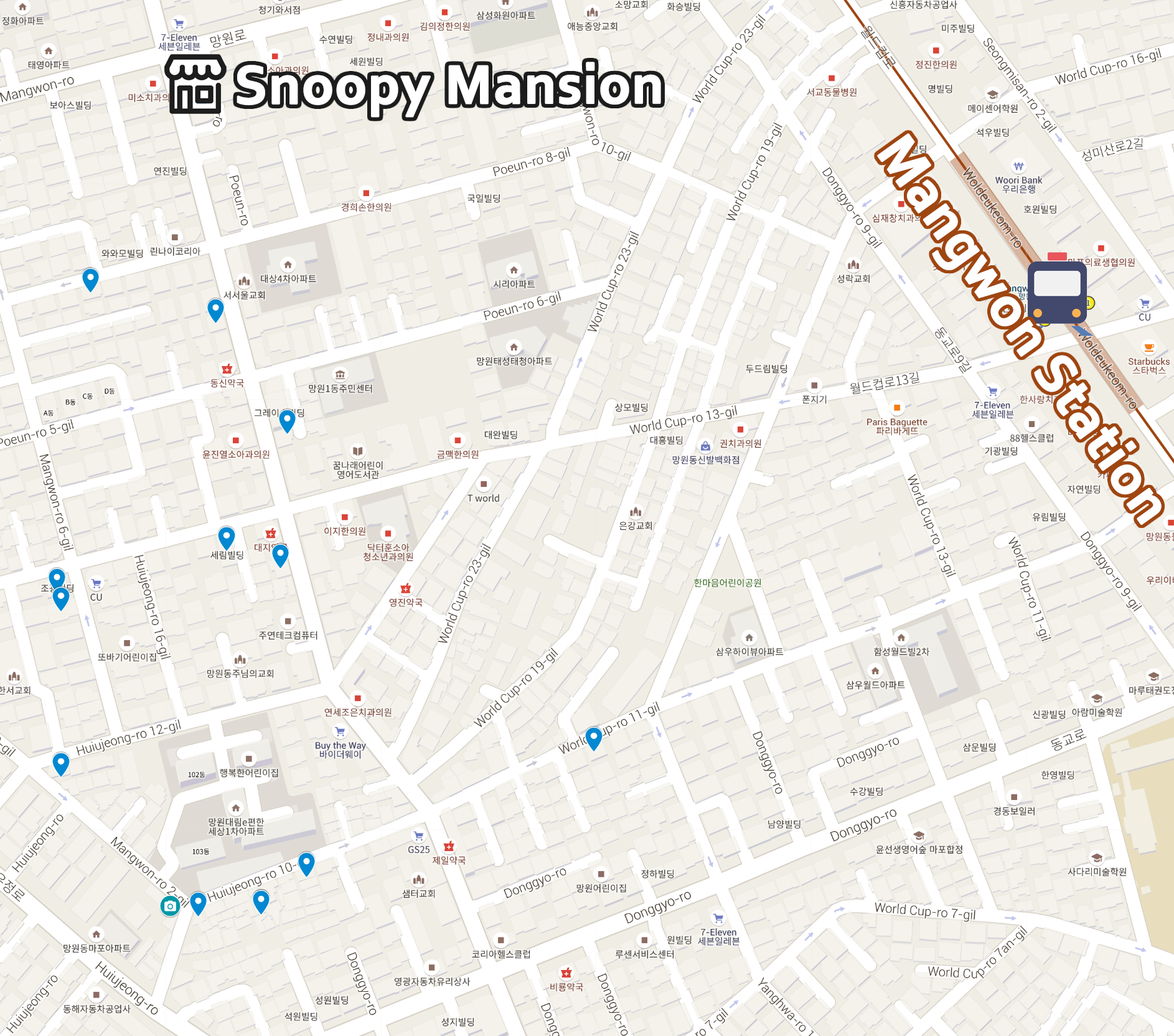 Address: 서울 마포구 월드컵로15길 17
Hours: Wed-Sun 12:00-19:00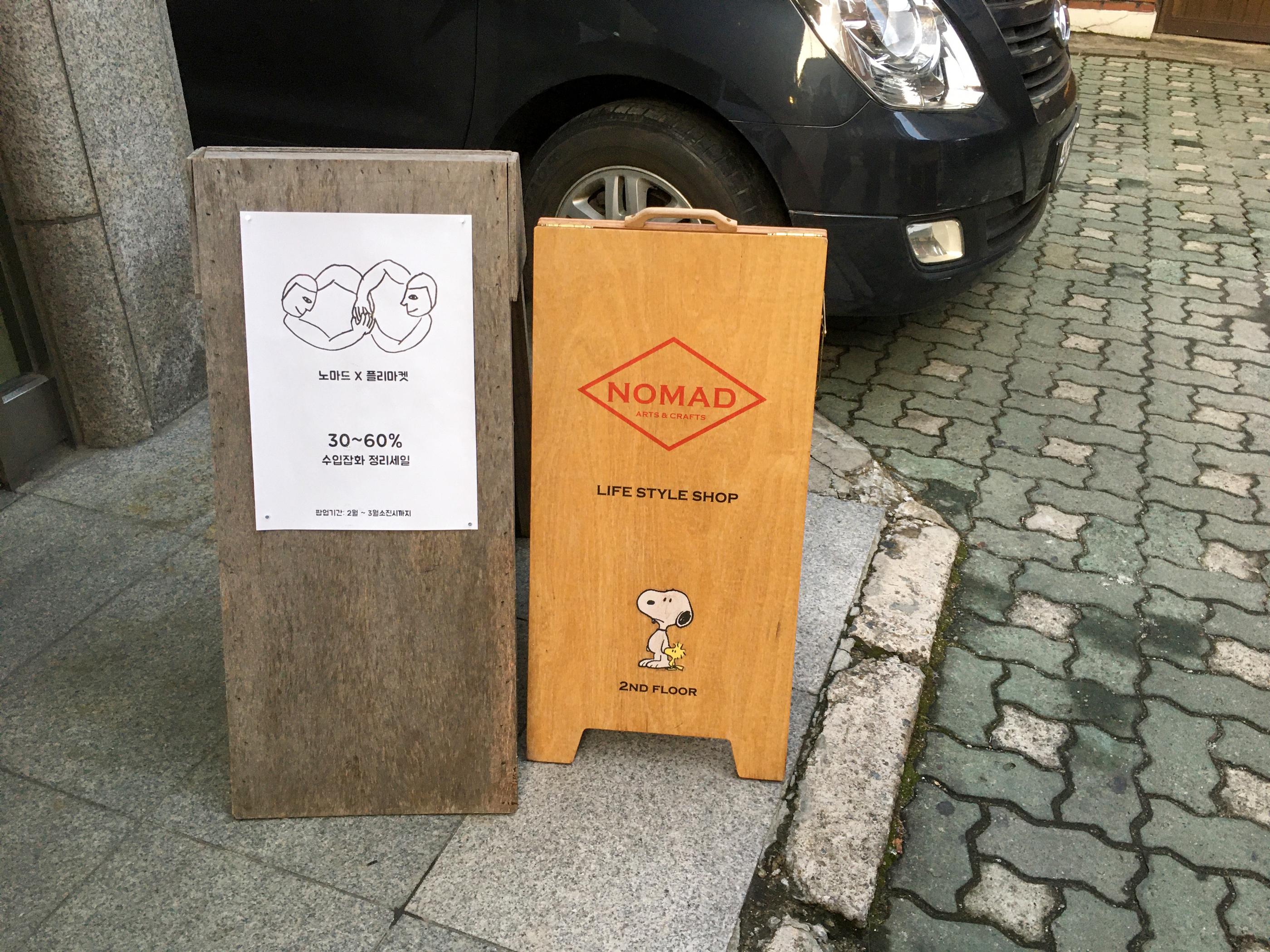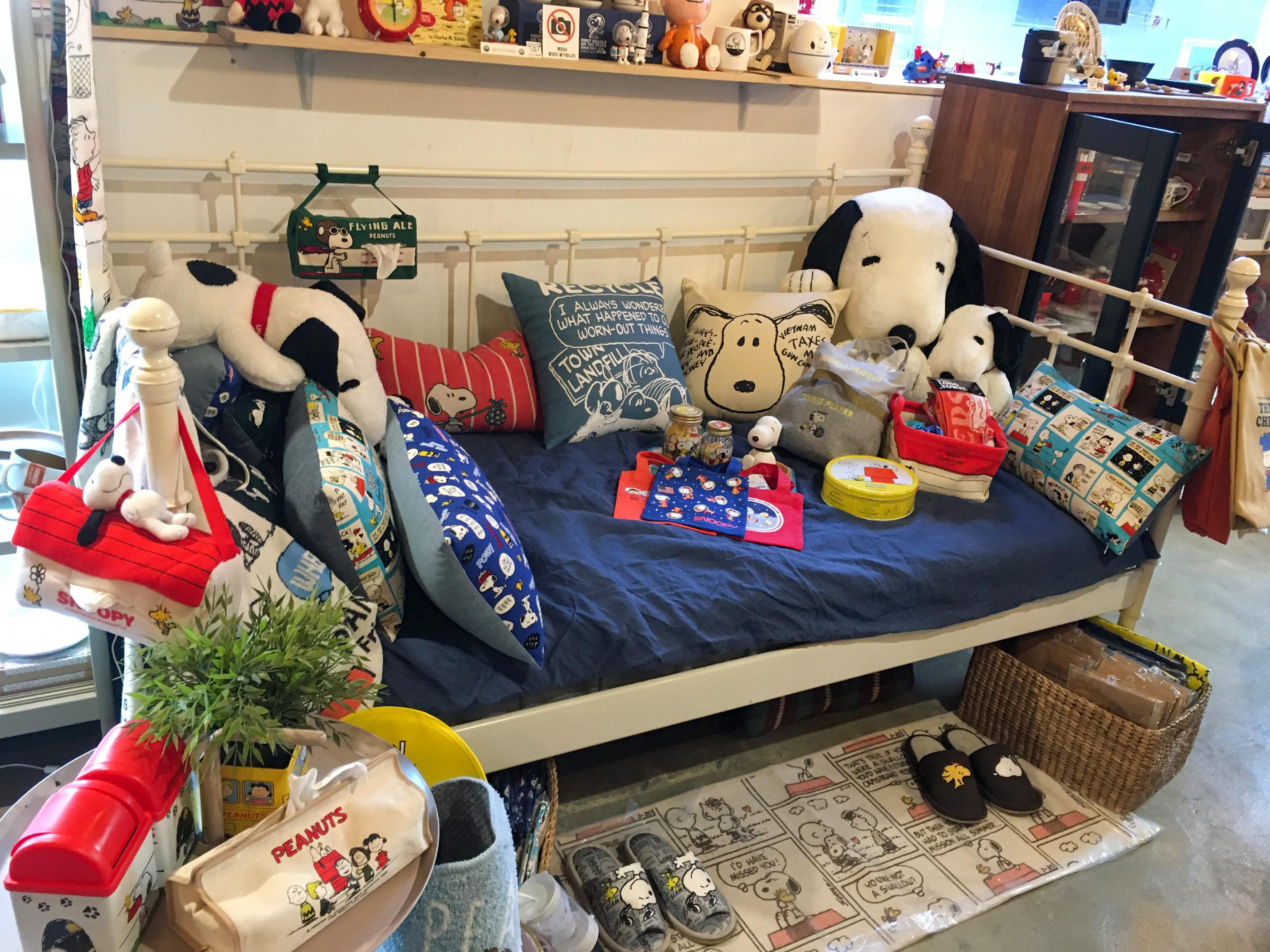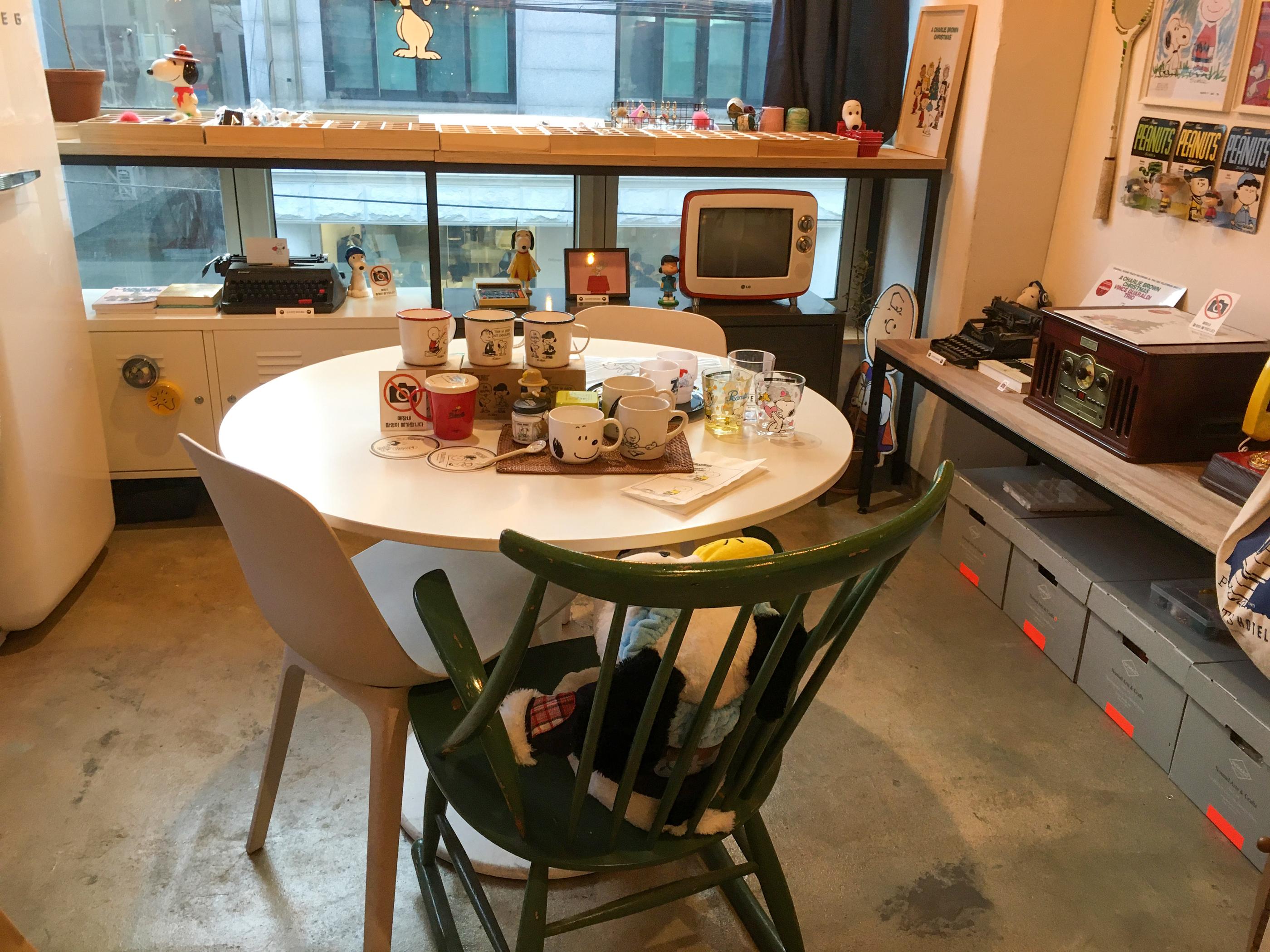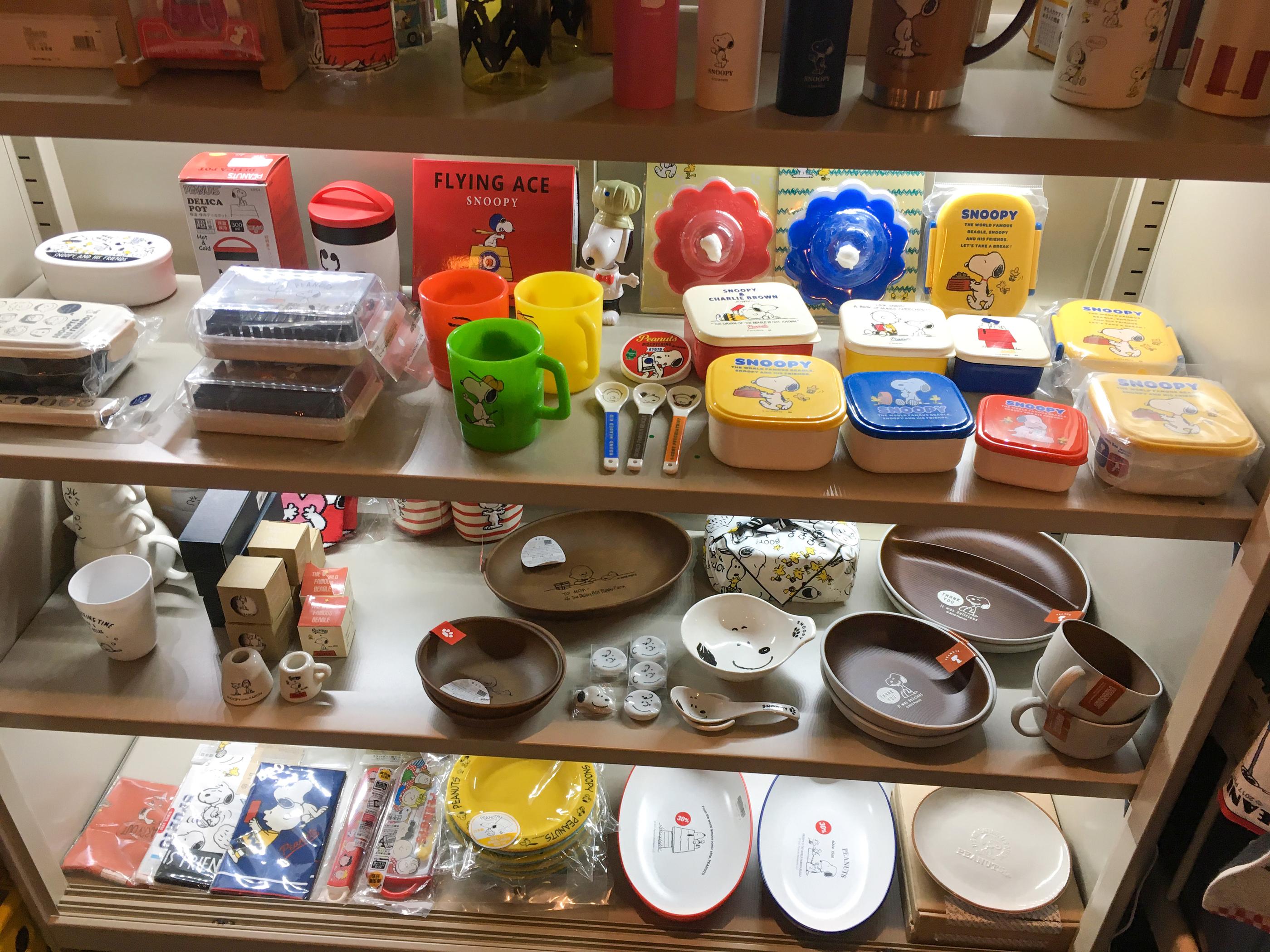 Mr. Donothing is such a humorous character and I love his demotivated attitude. Well-reflecting the occasional don't-feel-like-doing-anything phases of our lives, this relatable character has gained an immense amount of popularity in Korea.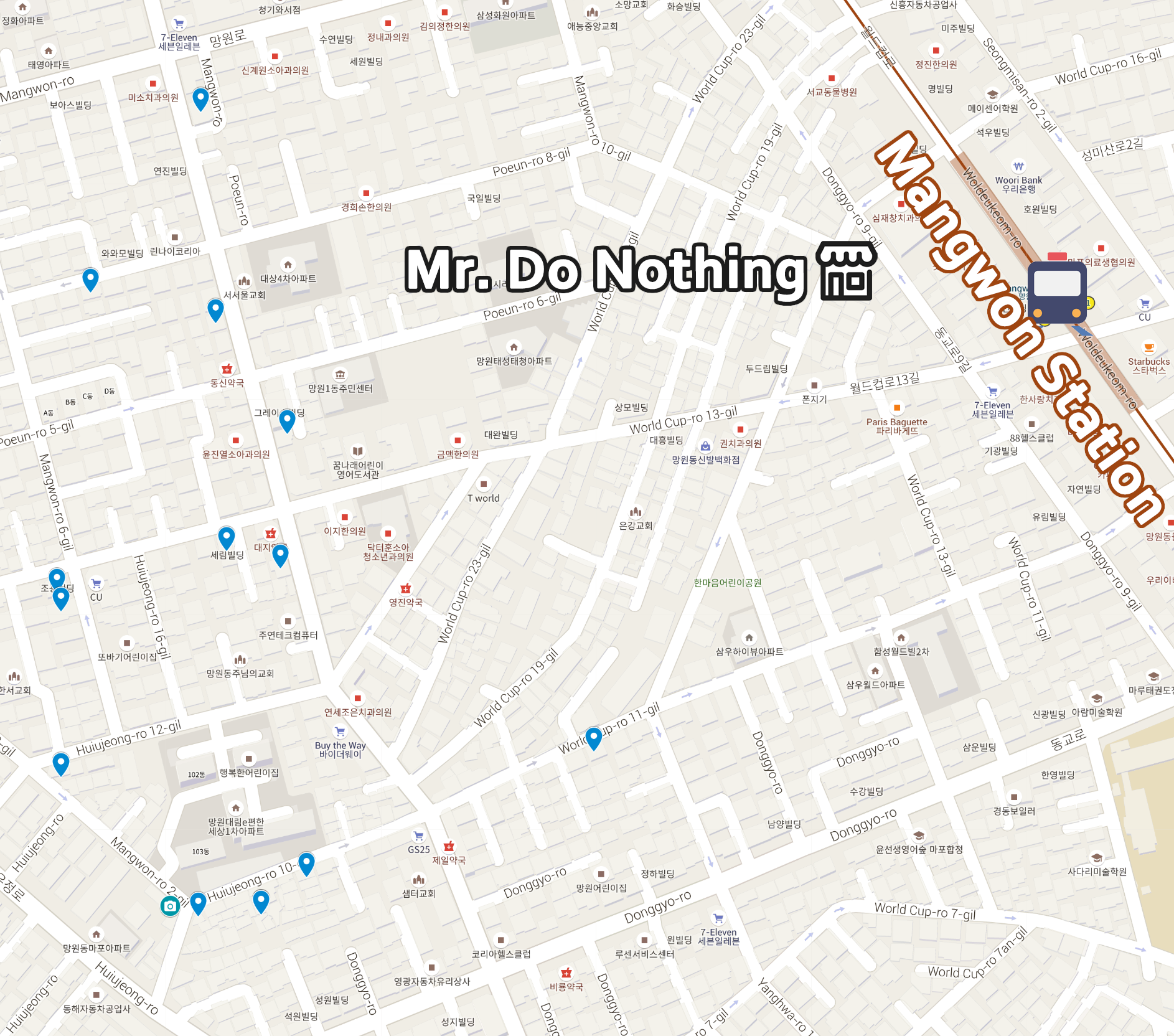 Address: 서울 마포구 월드컵로15길 17
Hours: 13:00-20:00, Closed on weekends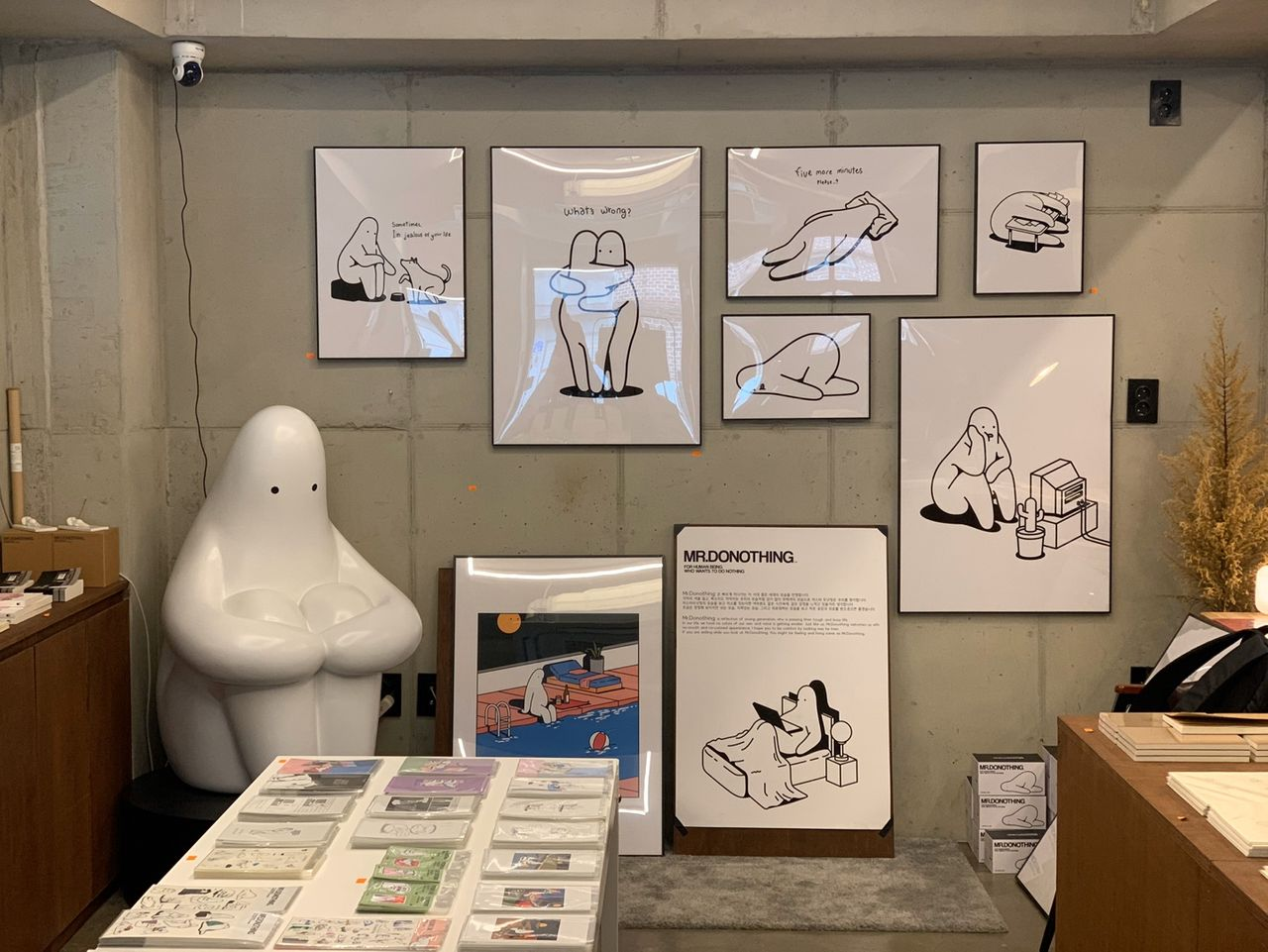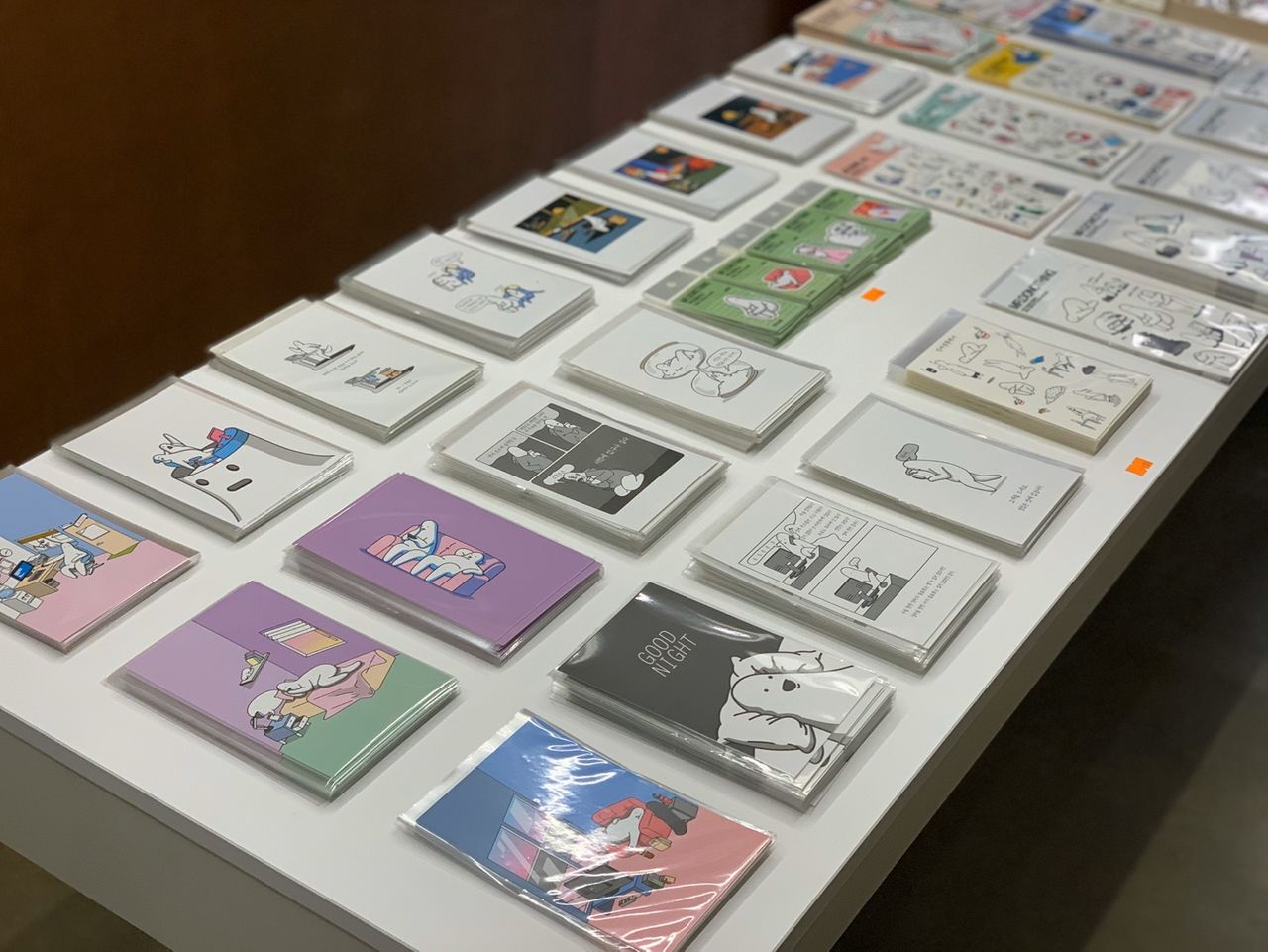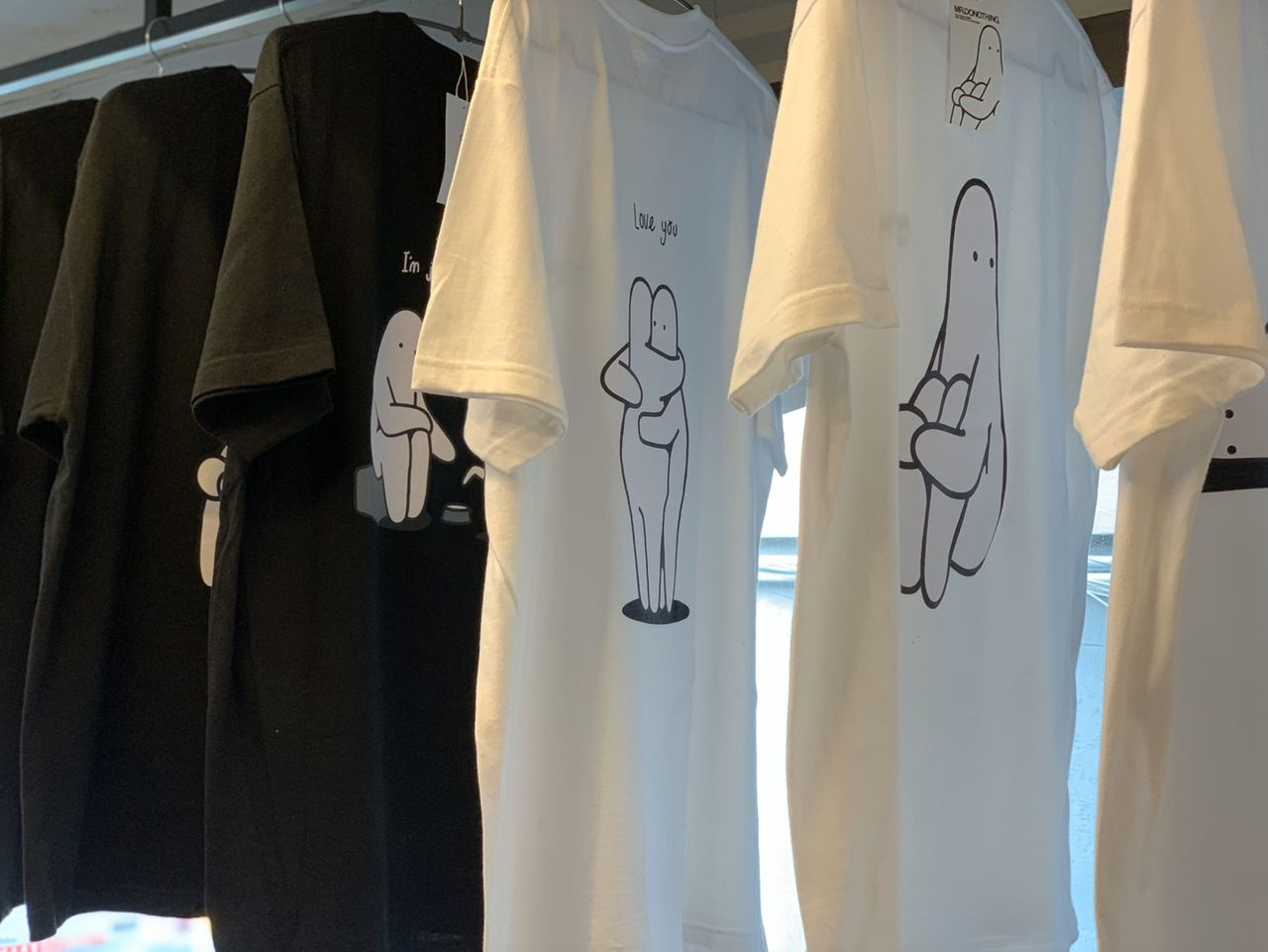 ---
Overall, Mangwondong is a great place to browse local artists' works and purchase souvenirs to take home. Afterwards, stop by Mangwon Market for a snack or a meal, walk around Mangwon Cafe Street and go to Dangdo for gelato ice cream of unique flavours!
---
If you have questions or comments about this blog, please leave them down below or email us at help@creatrip.com.
---