C.THROUGH Yeonnam branch
Latte arts taken to another level! C.THROUGH has newly opened its branch in Hongdae Yeonnam-dong!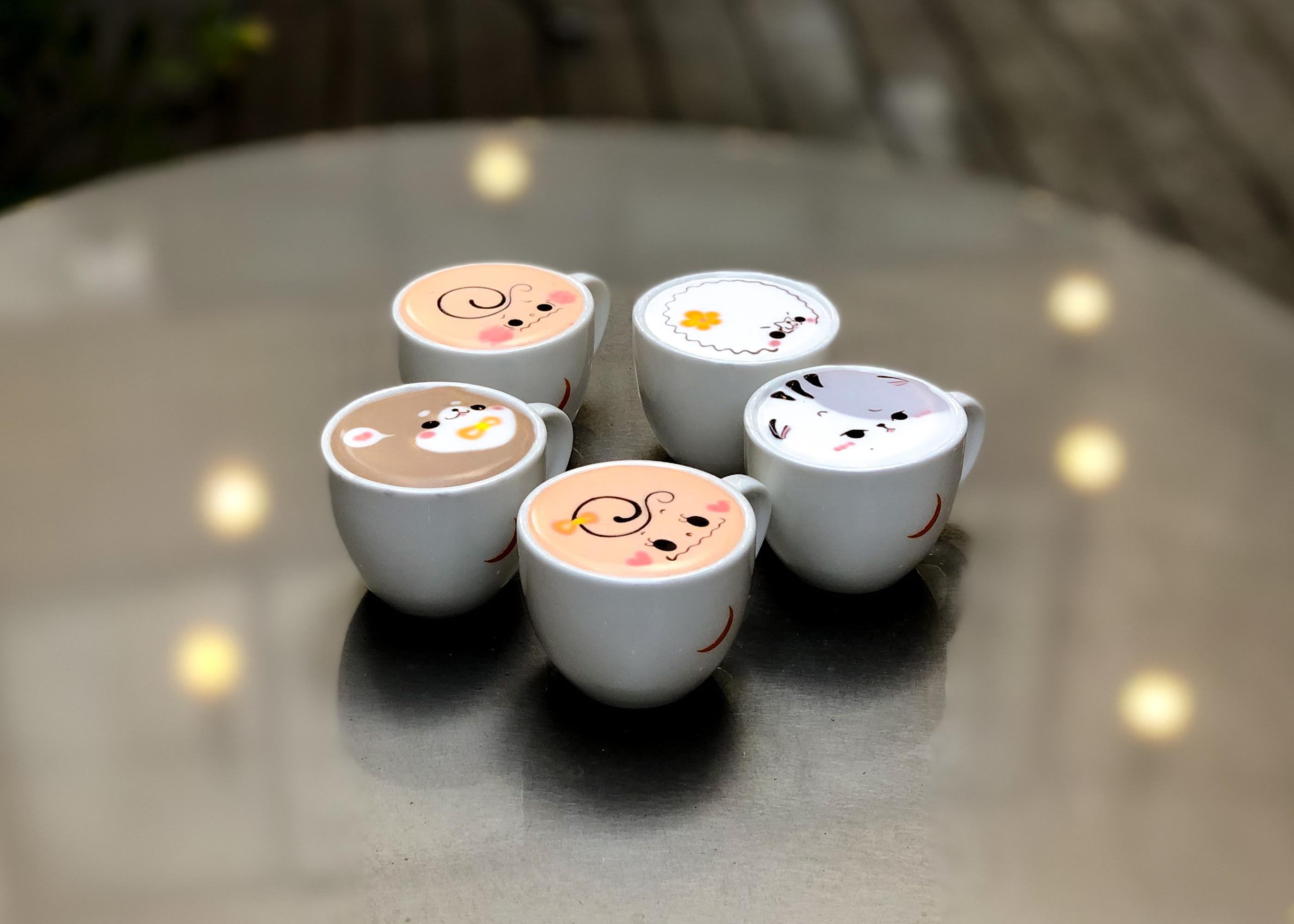 Hi everyone! We are your personal Korean travel guide Creatrip.
☕ There are millions of cafes that sells coffee. It's hard to find a cafe with good tasting coffee. It's almost impossible to find a cafe that serves coffee with good taste and great visual.
C.THROUGH Yeonnam is the place where you can find delicious coffees with beautiful latte arts! You won't be disappointed no matter what you expect.
---
Due to the spread of COVID-19, the number of people allowed and business hours may be limited, or a vaccine pass may be required.
Please refer to the linked blog for the latest social distancing restrictions.
Latest Social Distancing Restrictions
---
C.THROUGH Yeonnam | Info
Address : 서울 마포구 동교로 266-6 1층
Hours : Mon~Sun 12:00 - 22:00
Contact : 02-336-9936
C.THROUGH Yeonnam | Recommendation
You can find the most beautiful art here in C.THROUGH!
In addition to the beautiful looks, taste of coffee and dessert is excellent~
There are lots of instagrammable spots and desserts here at C.THROUGH!
C.THROUGH Yeonnam | Menu

*Present Creatrip COUPON on site to get 10% off on all menus.
| | |
| --- | --- |
| | |
| Coffee | |
| Creamart (크리마트) | ₩7,500-8,000 |
| Scotchino (스카치노) | ₩6,000 |
| Haha Cookie (웃음이쿠키키키) | ₩7,500 |
| Flatwhite (플랫화이트) | ₩6,000 |
| Americano (아메리카노) | ₩5,000 |
| Cafe Latte (카페라떼) | ₩6,000 |
| Caramelting (카라멜팅) | ₩8,000 |
| Beverage (Non-Coffee) | |
| Chocolate Egg Drop (쪼꼬에계란탁) | ₩7,500 |
| Pretty Soda (예뻣소다) | ₩7,000 |
| Dessert | |
| Tiramisu (티라미수) | ₩8,000 |
| Choux (슈) | ₩3,000 / ₩3,500 |
C.THROUGH Yeonnam | Review
C.THROUGH Itaewon was one of the all time favorite cafe introduced on Creatrip! Finally, it has opened another branch in Hongdae Yeonnam-dong area.
If you are near Hongdae, you don't have to travel all the way to meet these beautiful latte arts! Let's see what they have in store!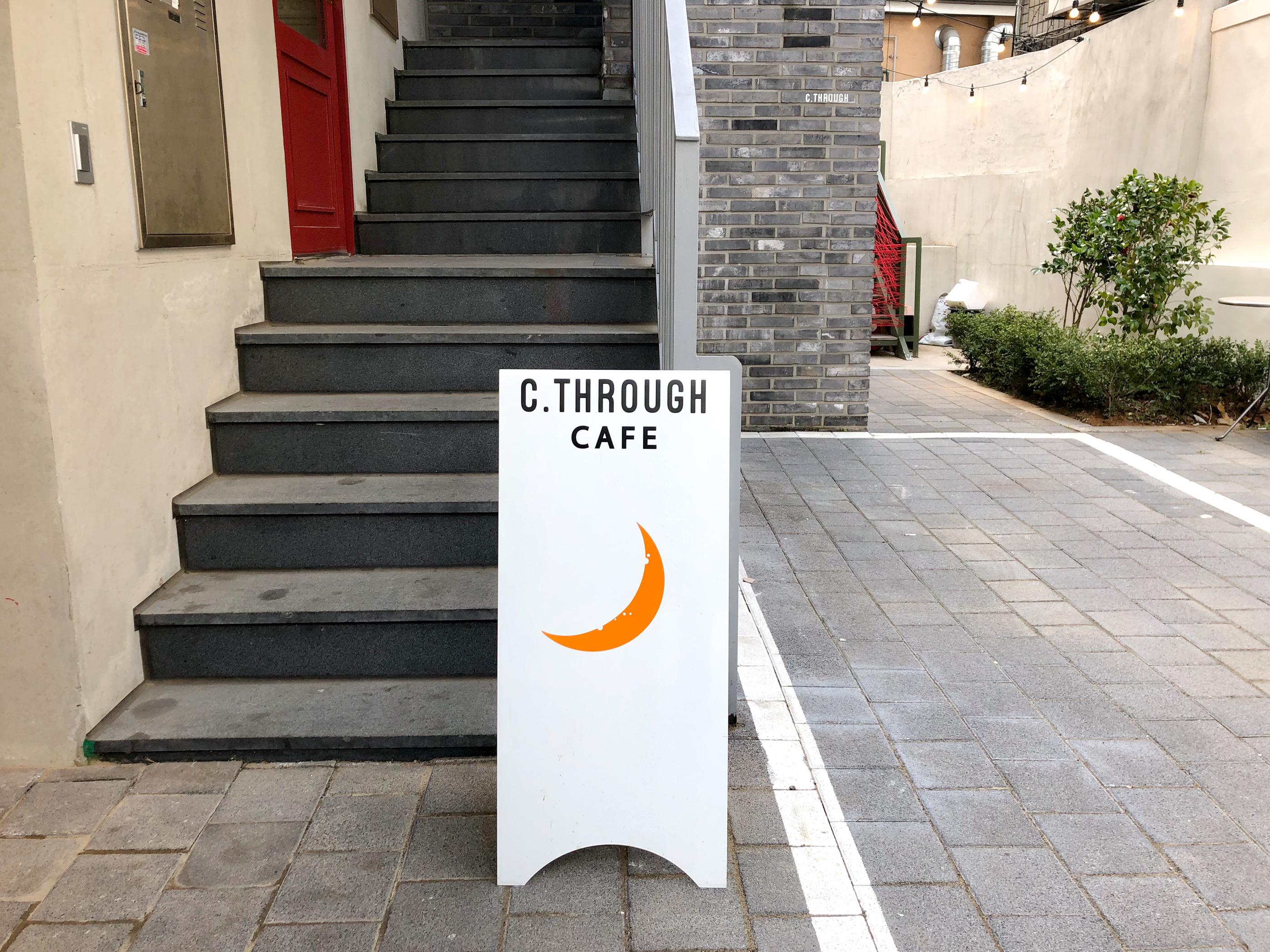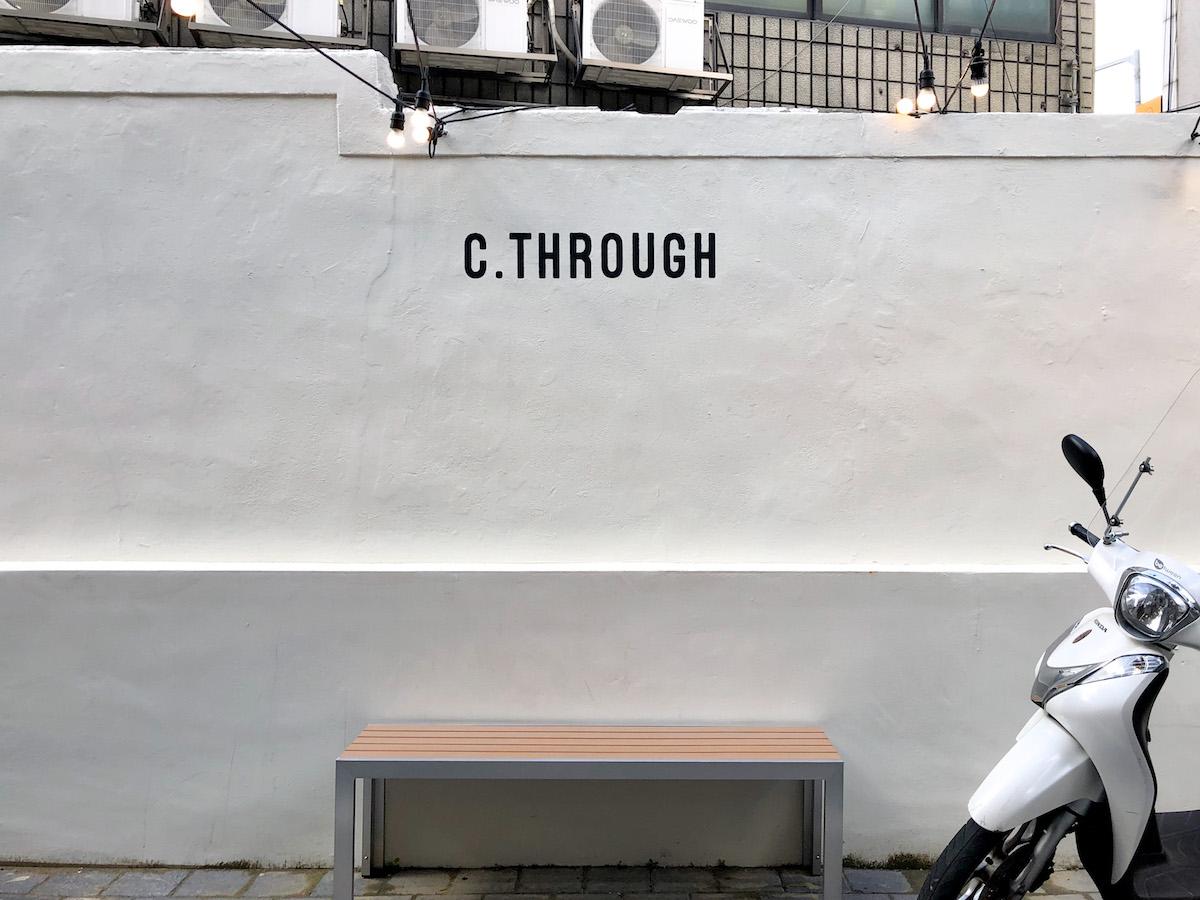 You can find a photo zone before you even enter the place.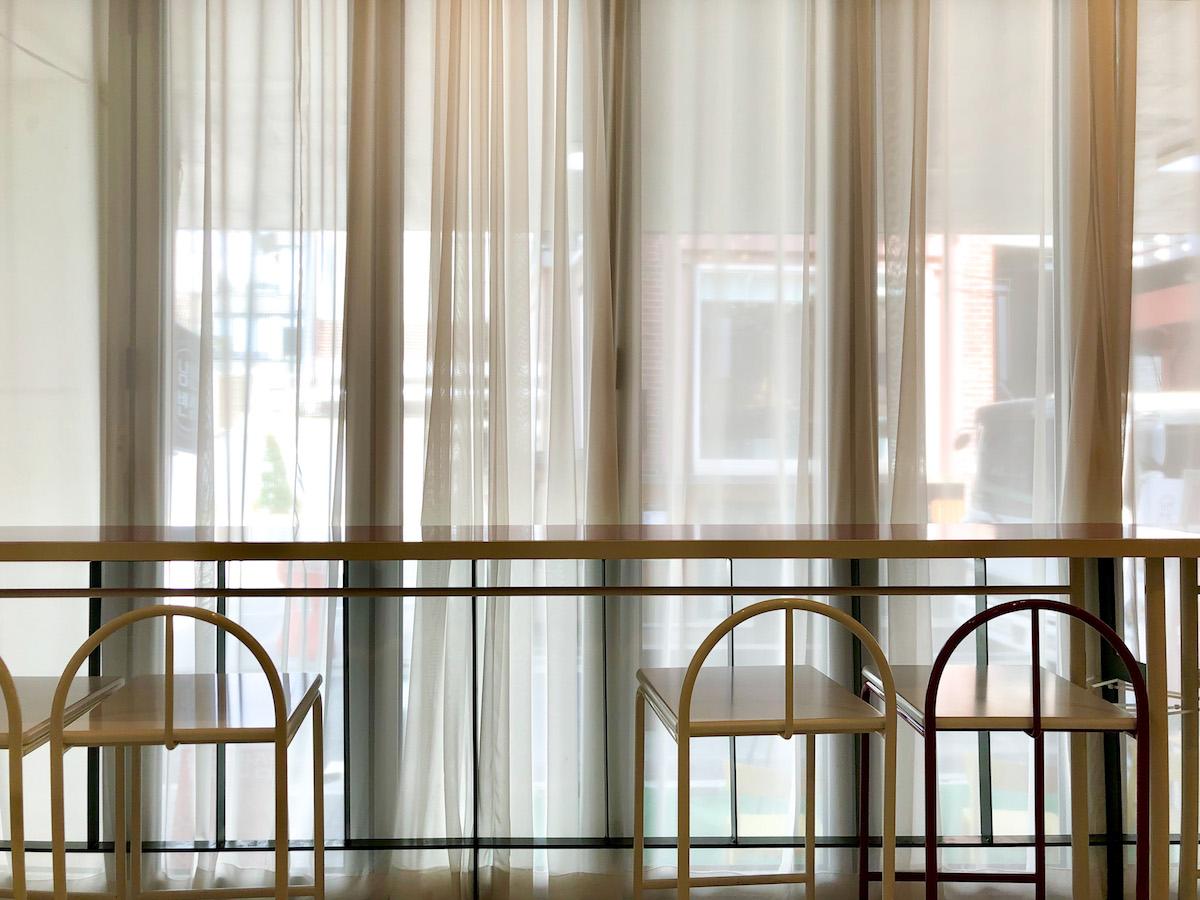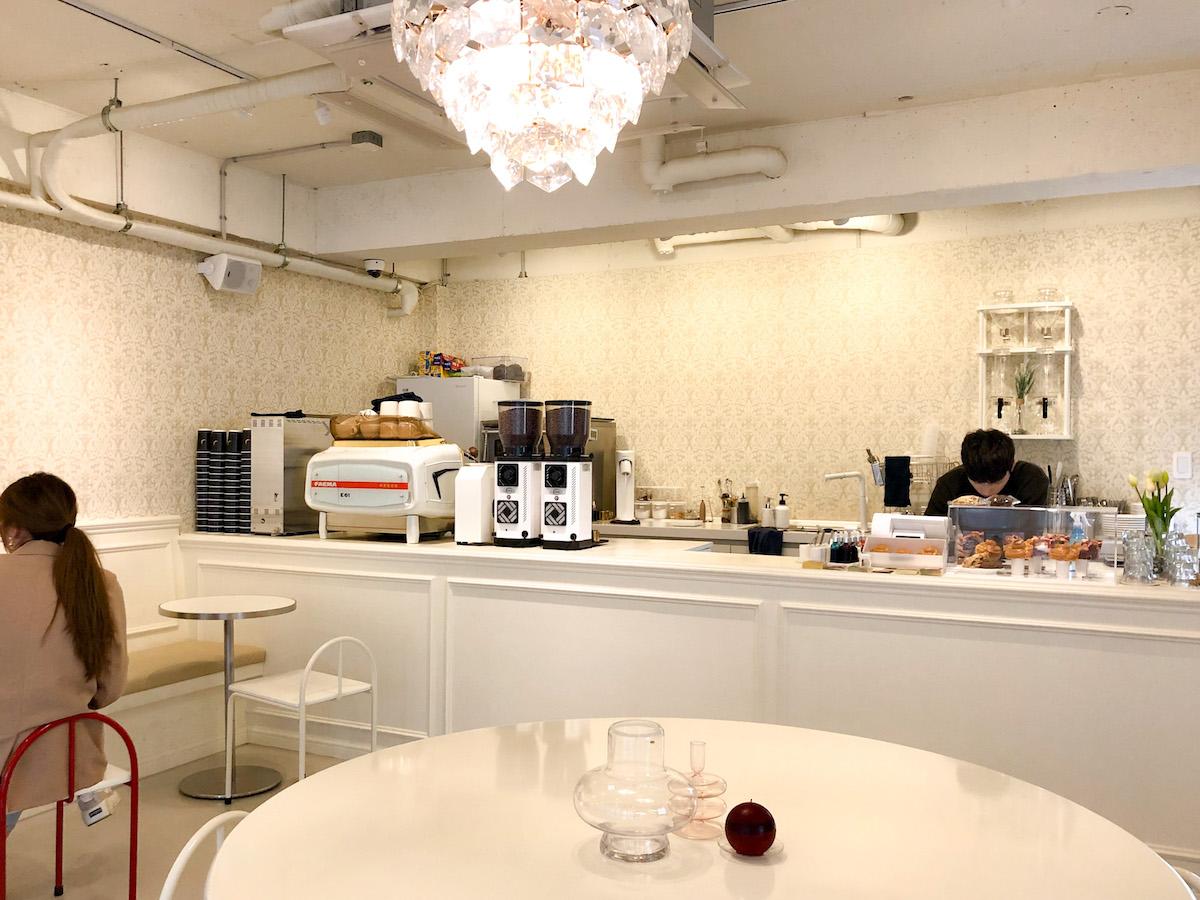 The store isn't that large, but it has clean and neat interior design in all white.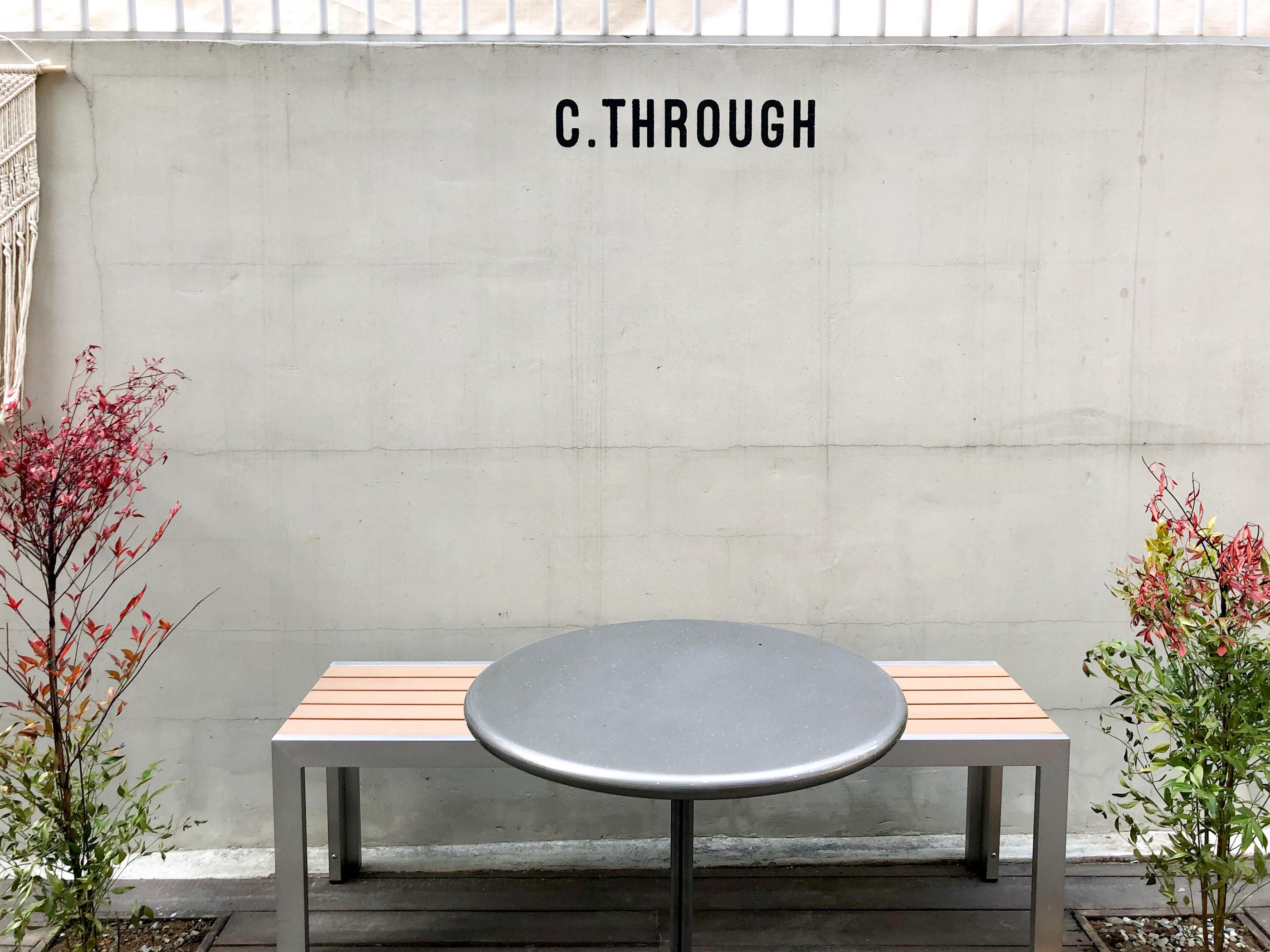 There is a small terrace outside outside. In summer time it would be much more popular, but it's kind of cold for this time around.
We ordered menus recommended by the manager! Let's take a look at them one by one!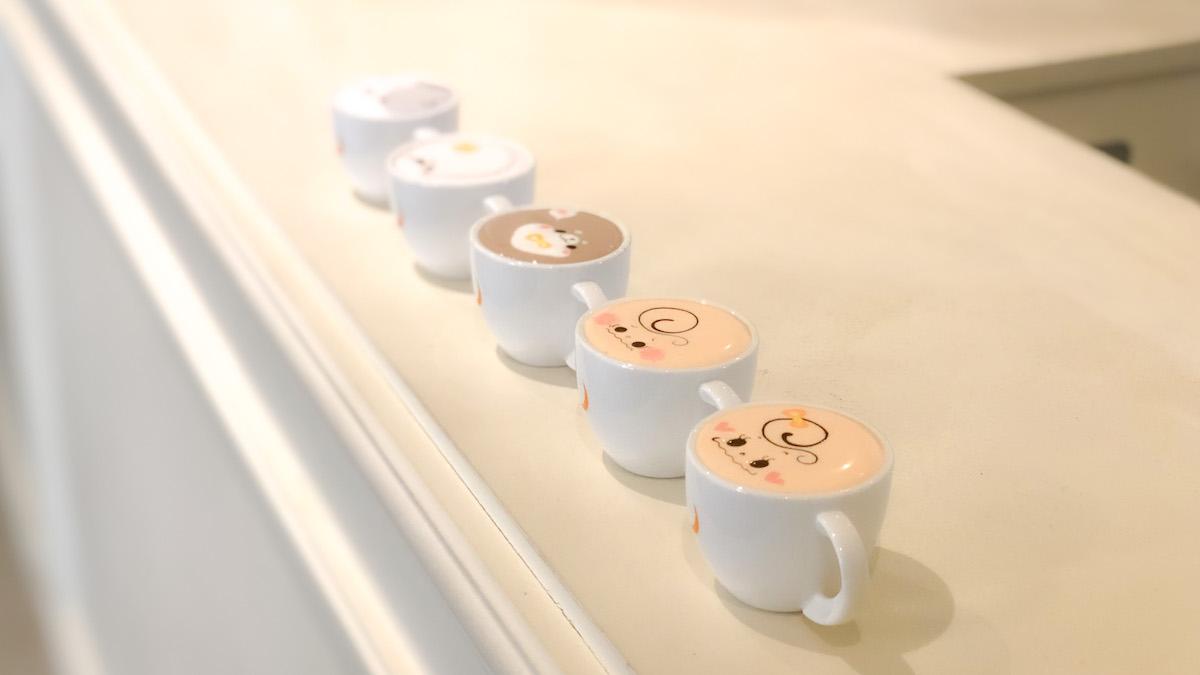 First menu is the most famous menu from C.THROUGH, Creamart!!
If it's your first time in C.THROUGH you should definitely try these Creamart coffees. These latte works from another level.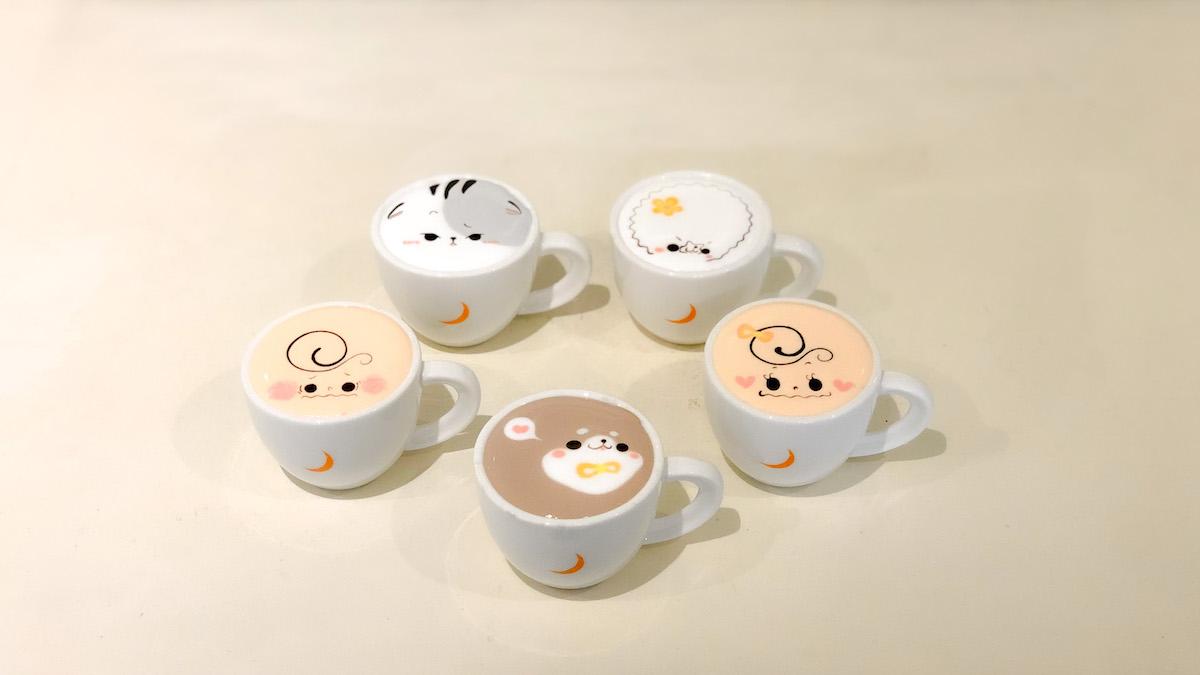 I couldn't believe that these were not graphics but coffees. (Yes they are coffee )
Let's take a look at how they are made~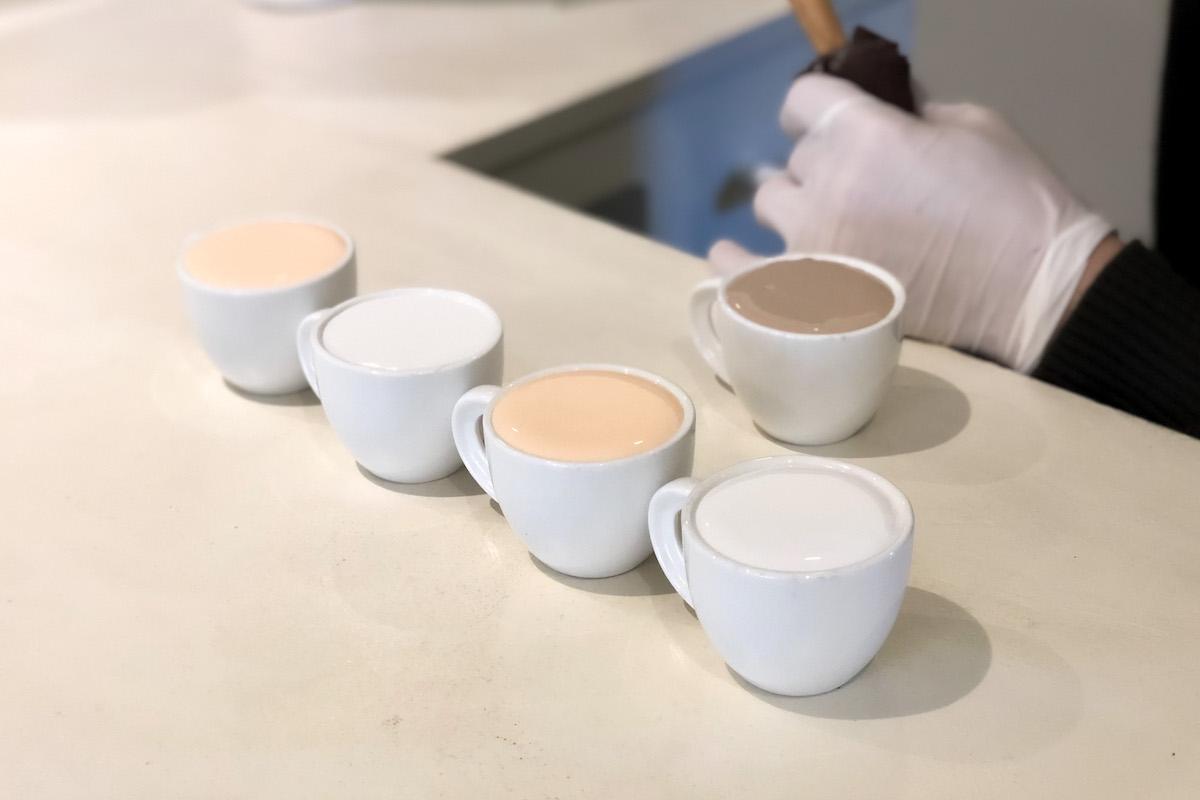 This is the Creamart without the latte works.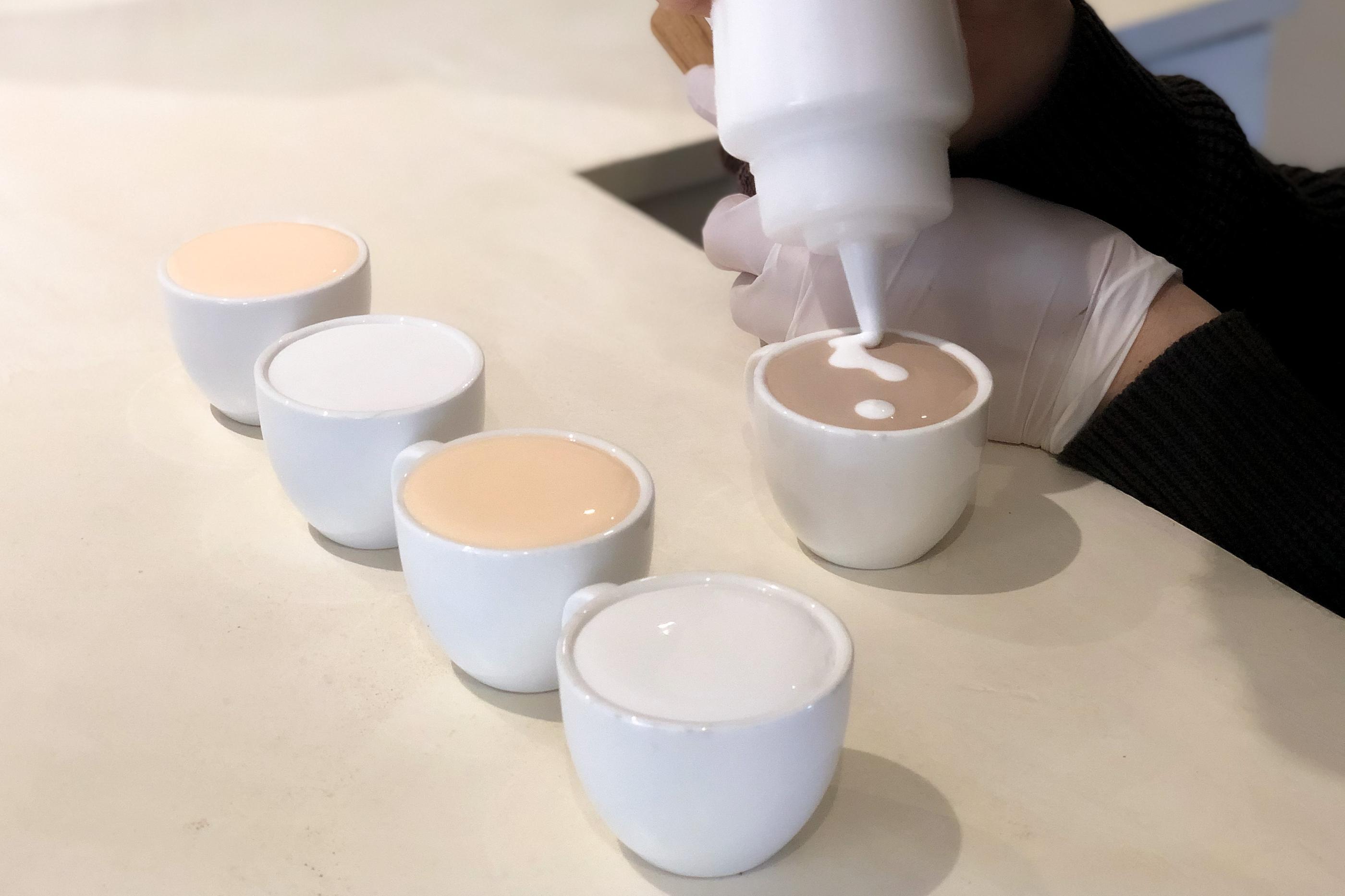 Then these Latte arts go above.
It's a very delicate work, and he had to support the hand with the other hand to stop it from shaking.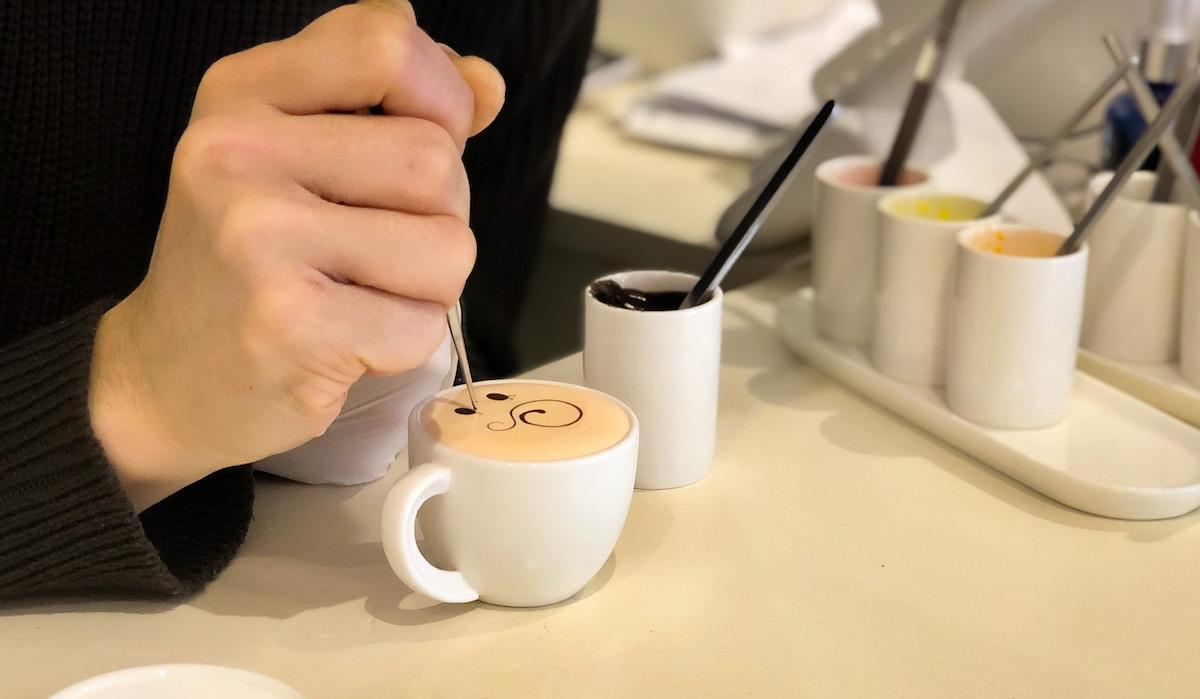 The colors come from potato so it's perfectly safe for your body~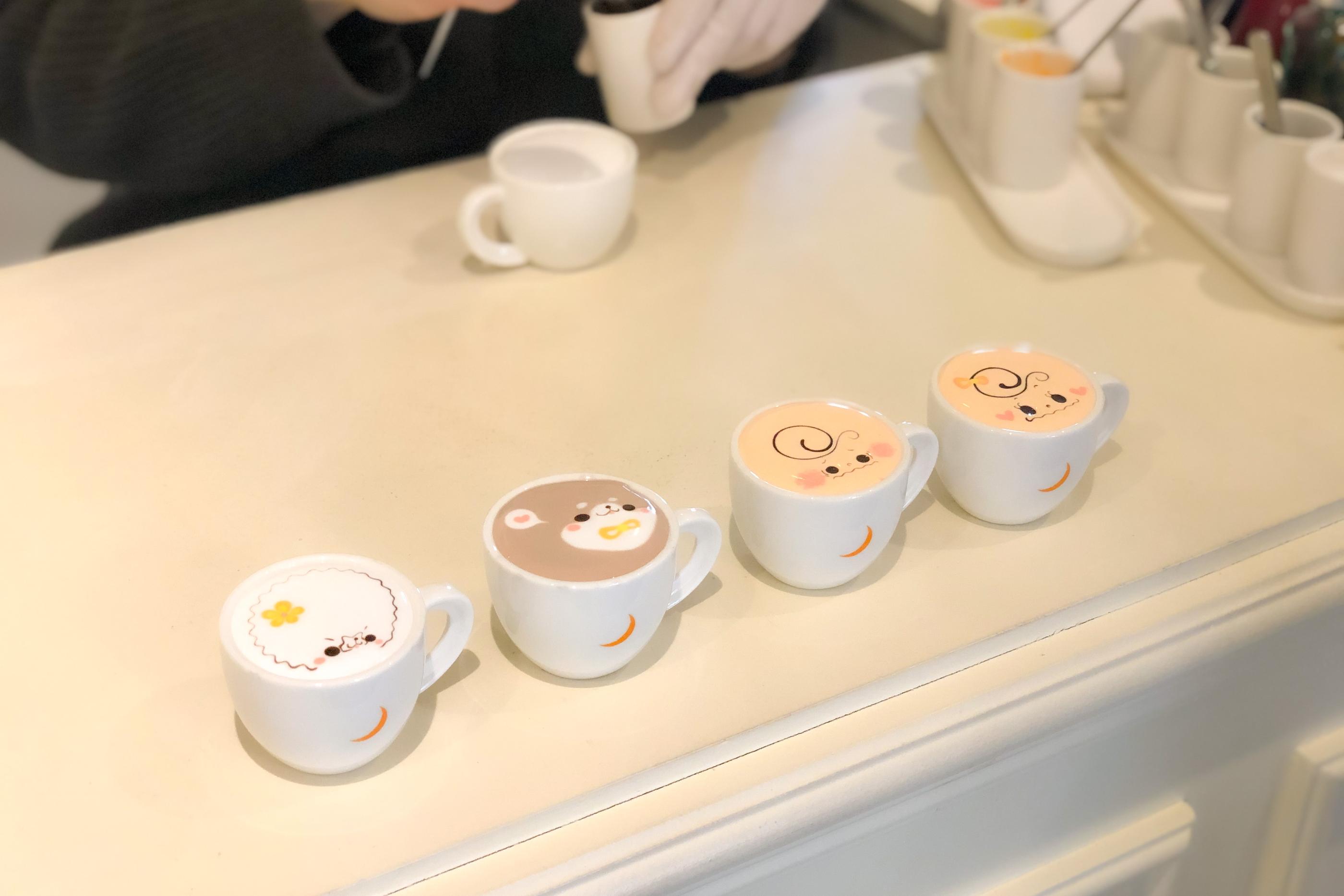 All characters are really cute, and the character on the far right are created by the barista of the C.THROUGH!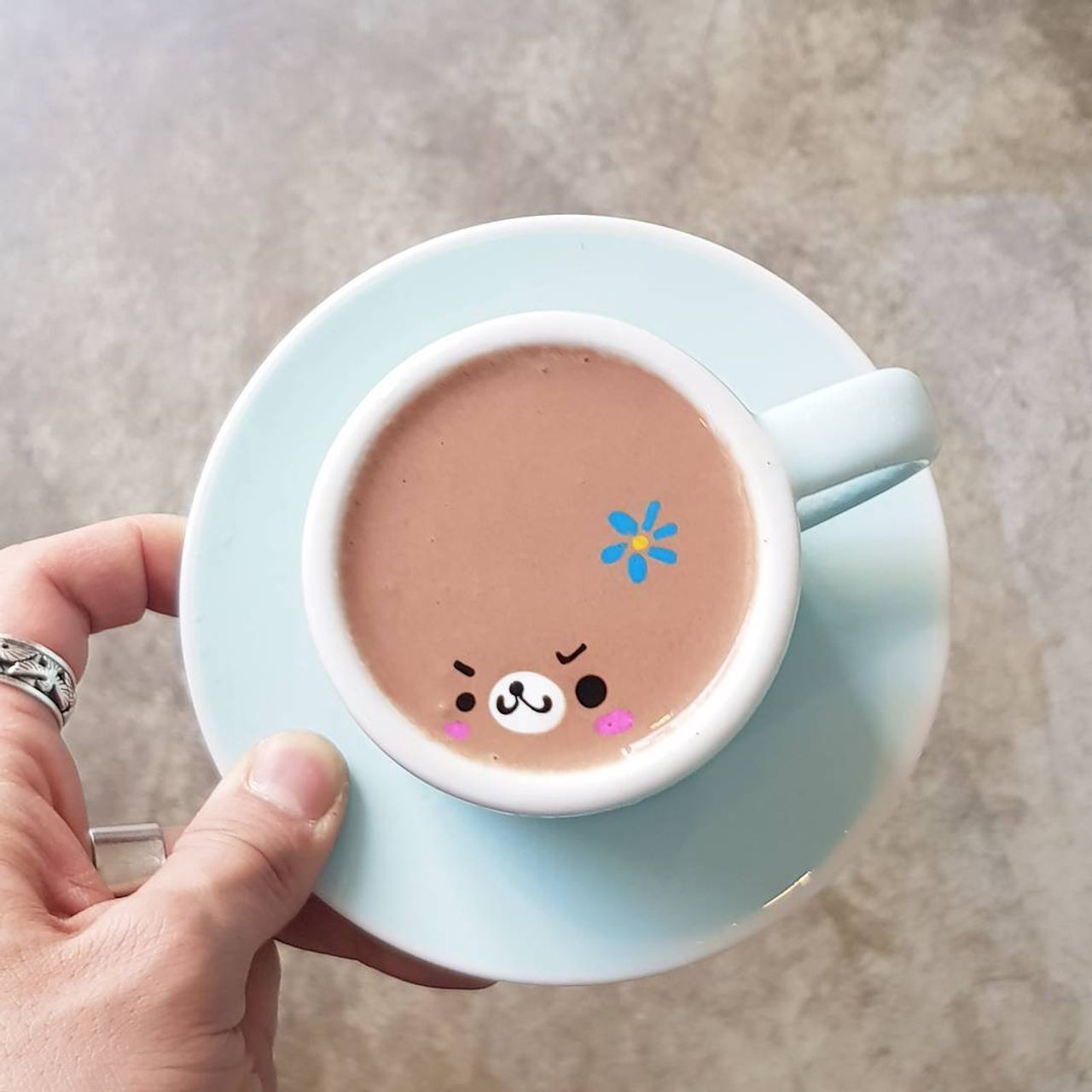 Creamart of the bear in the picture above is ₩7,500. Creamarts of other characters are ₩8,000 each! The coffee covered by the fluffy cream was sweet with a deep coffee taste.
Here are some other popular menus of C.THOUGH! Scotchino is another signature menu here.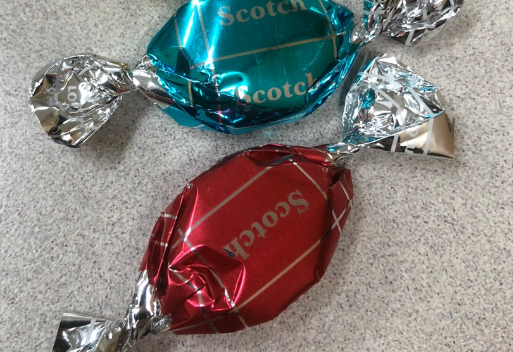 Have you ever tried one of these scotch candies? This Scotchino tastes just like them!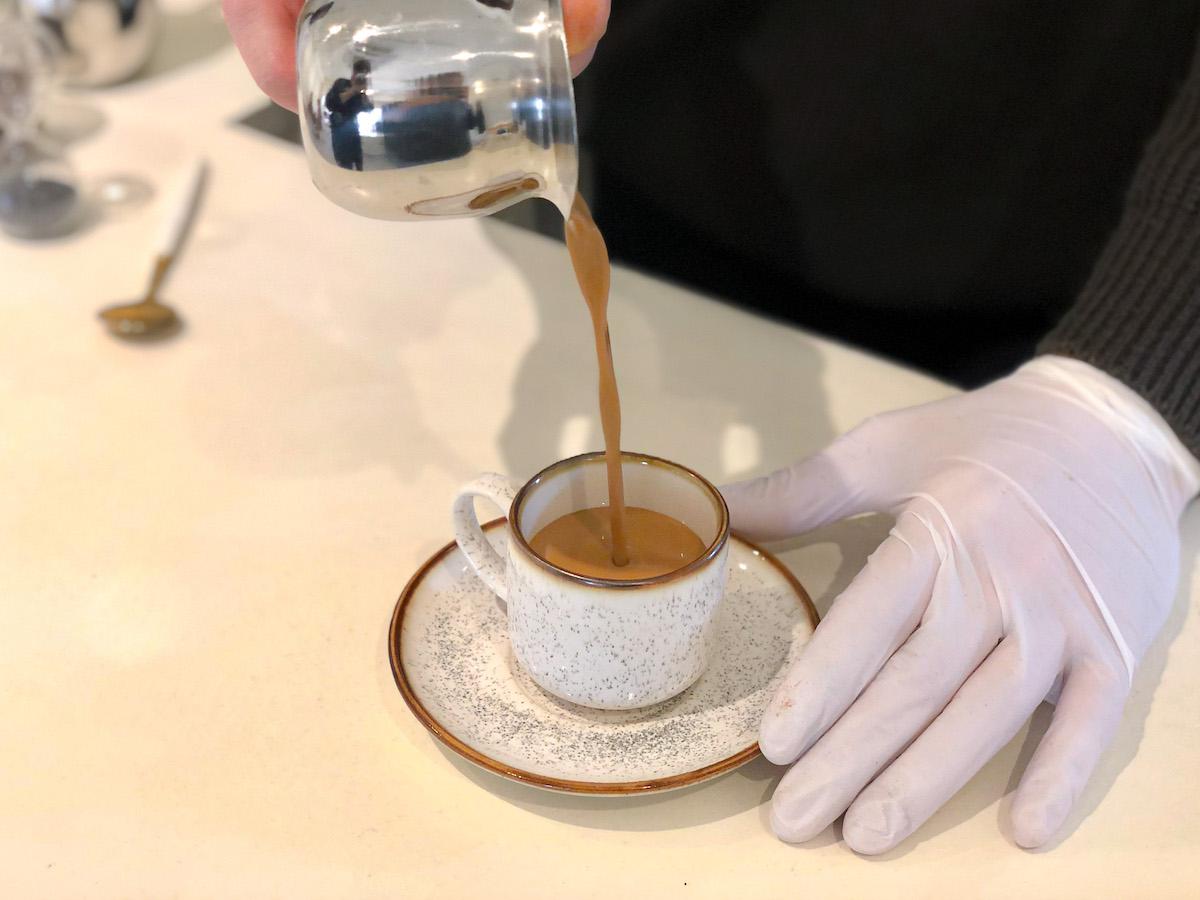 Pour coffee into a cup
Pour some cream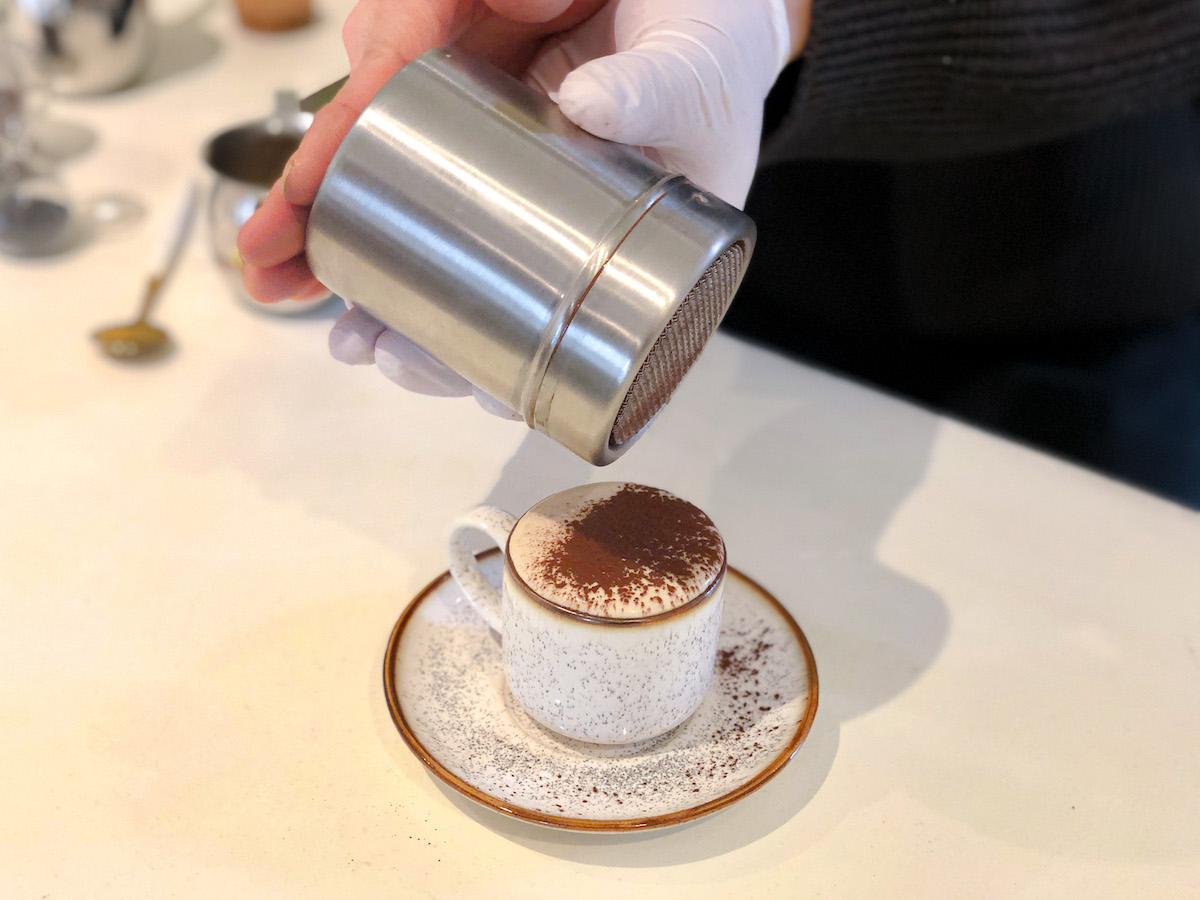 pour some powder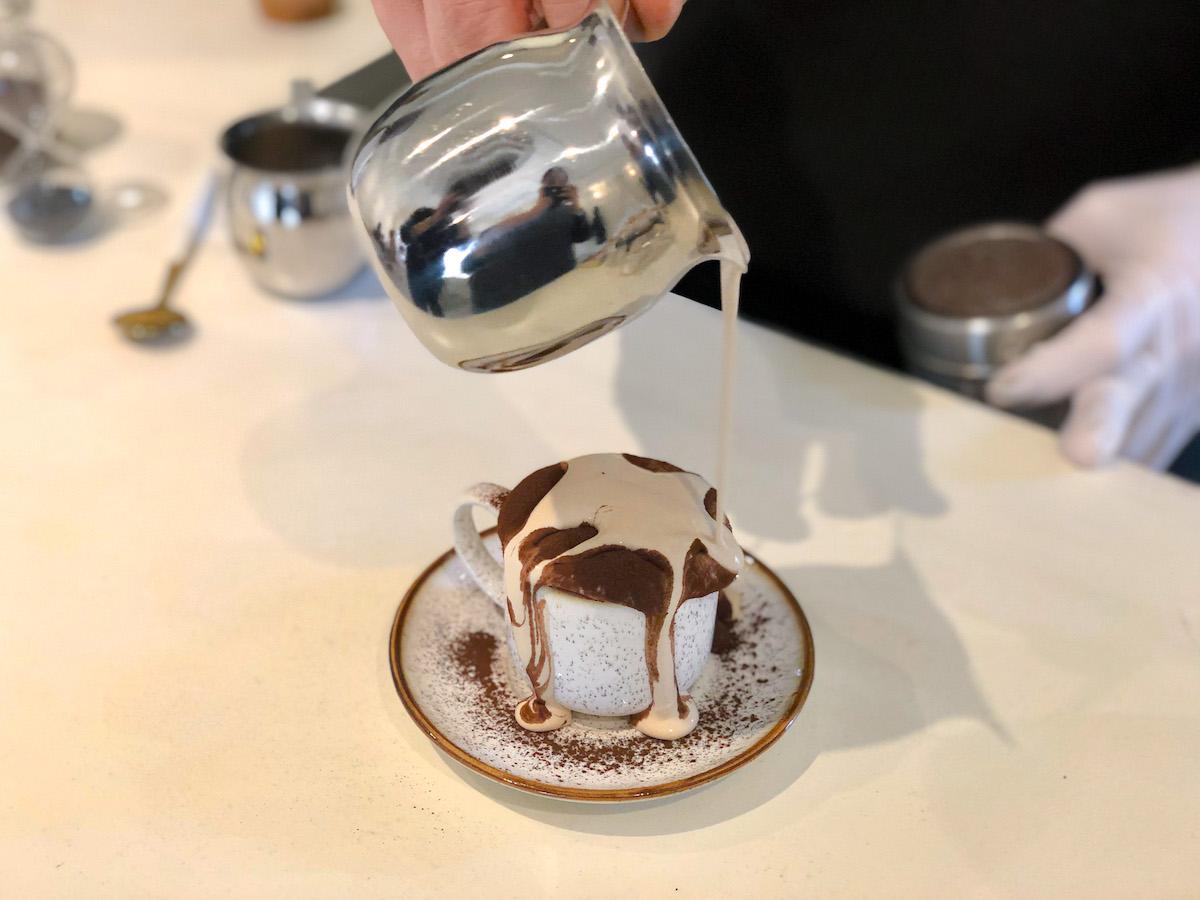 Pour some more cream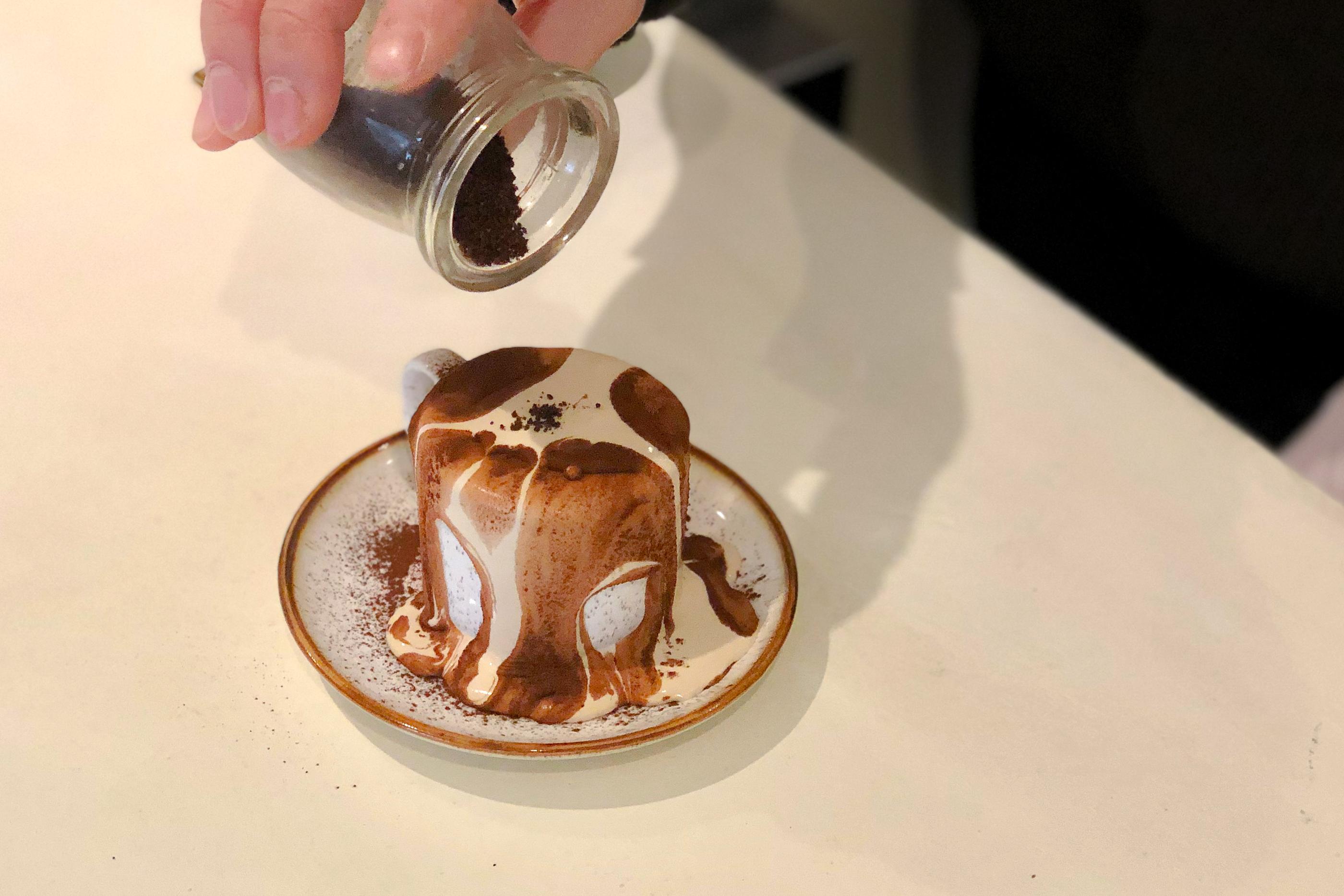 Voila, you get a beautiful looking scotchino.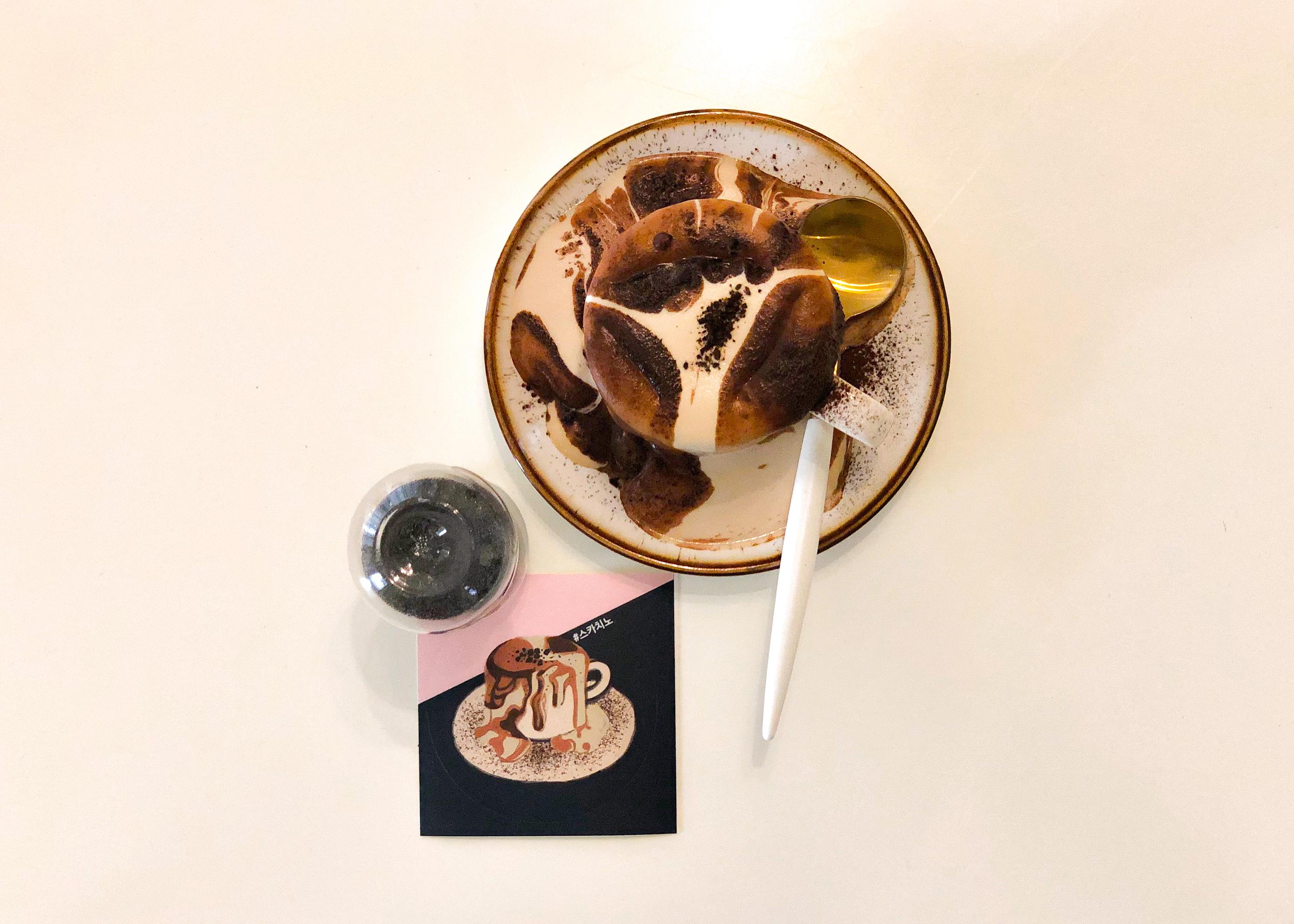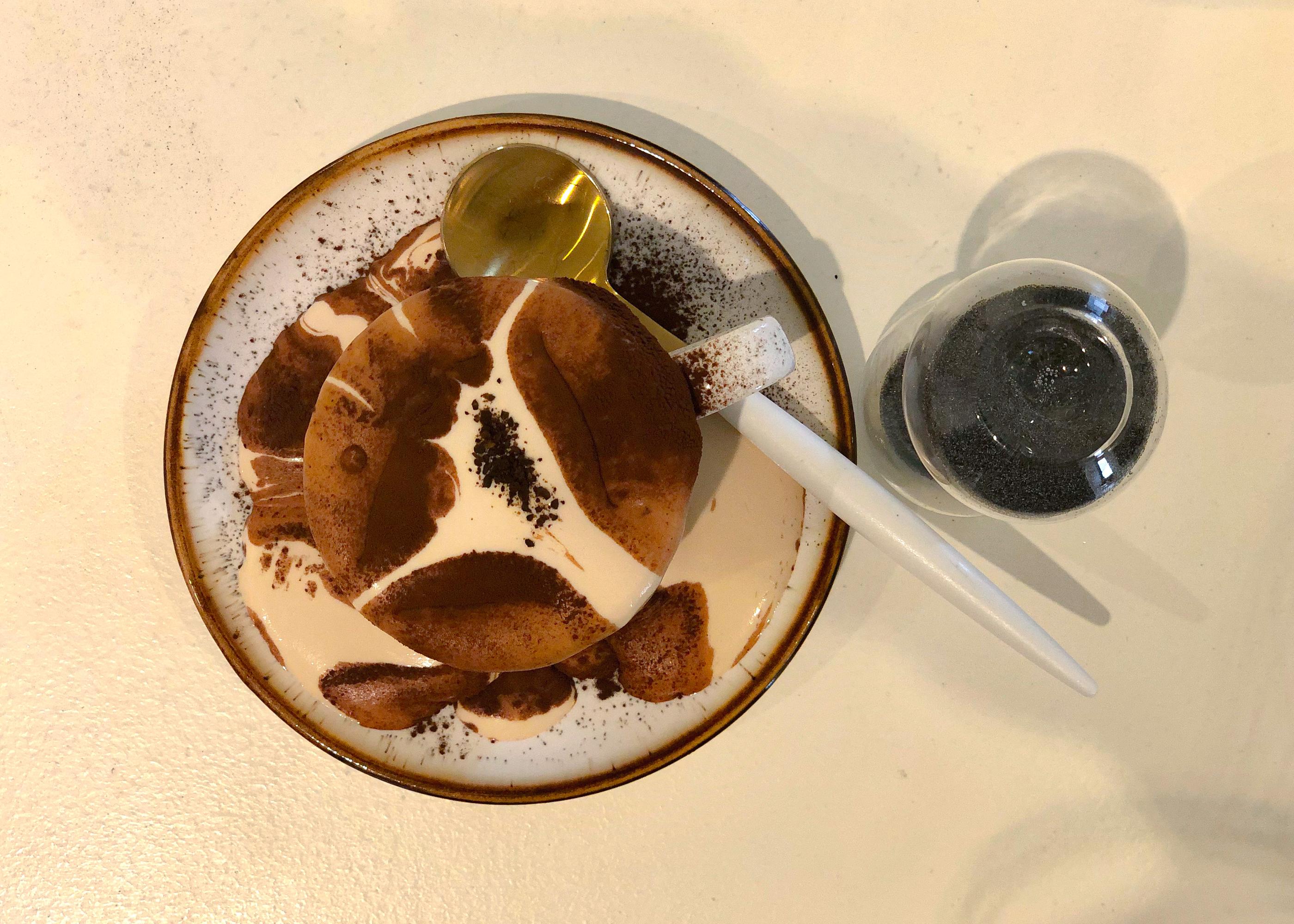 You get an hourglass with your scotchino. It tastes before 3 minutes have passed, and this hourglass is set on 3 minutes mark.
If you can't finish it, at least try the first sip in 3 minutes! You'll get the best out of it!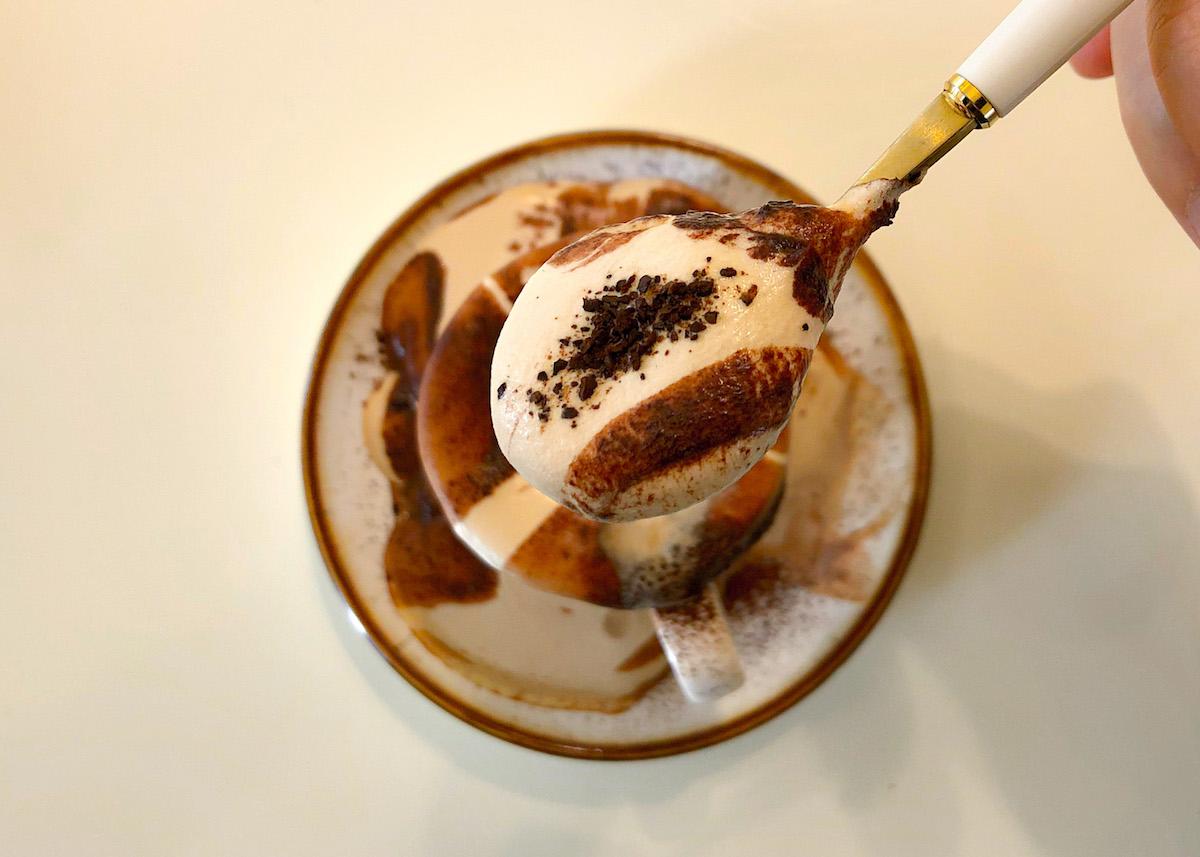 Upper part is all creamy and you can enjoy the soft creamy taste with the scent of coffee.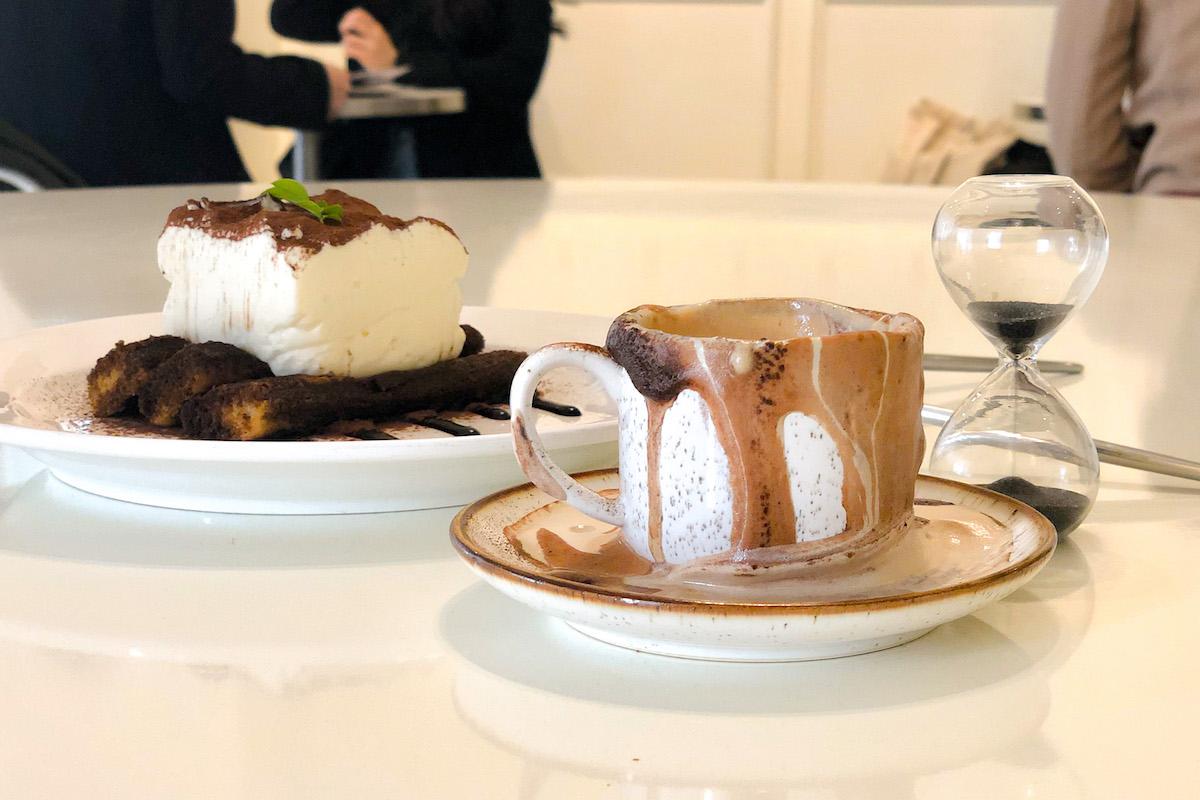 Then I mixed the cream with the coffee... and surprisingly it tasted just like the scotch candy mentioned above!
I couldn't help but suspect whether they melted the candy inside the coffee It was sweet as candy with strong taste of coffee which I enjoyed.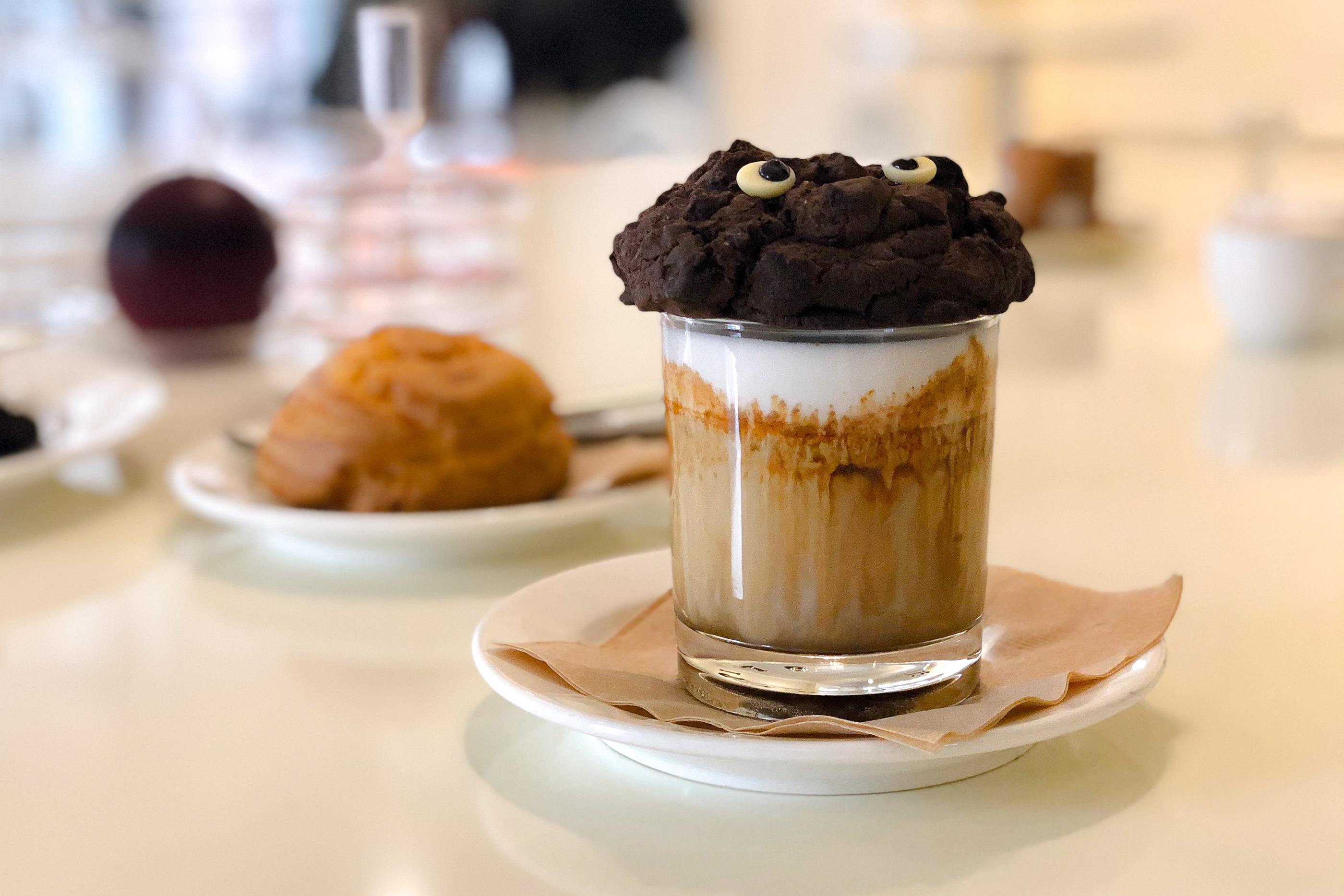 Next coffee is another hot menu! It's a great pleasure to have it before I introduce it to you~
Name's really funny. It's 웃음이쿠키키키, which kind of means "giggling cookikikik".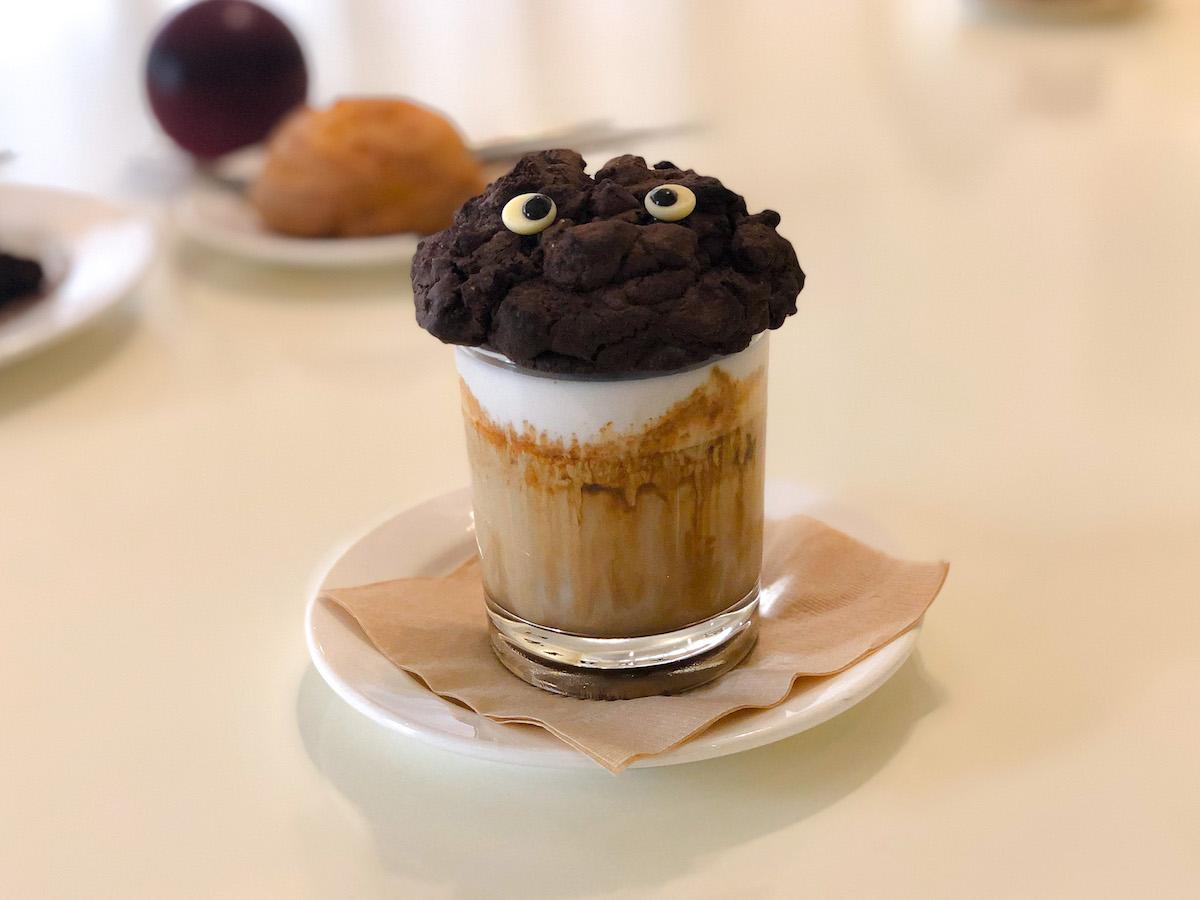 Bottom part is all coffee, and black part is thick chocolate cookie. Eyes are also made of chocolate which look very cute!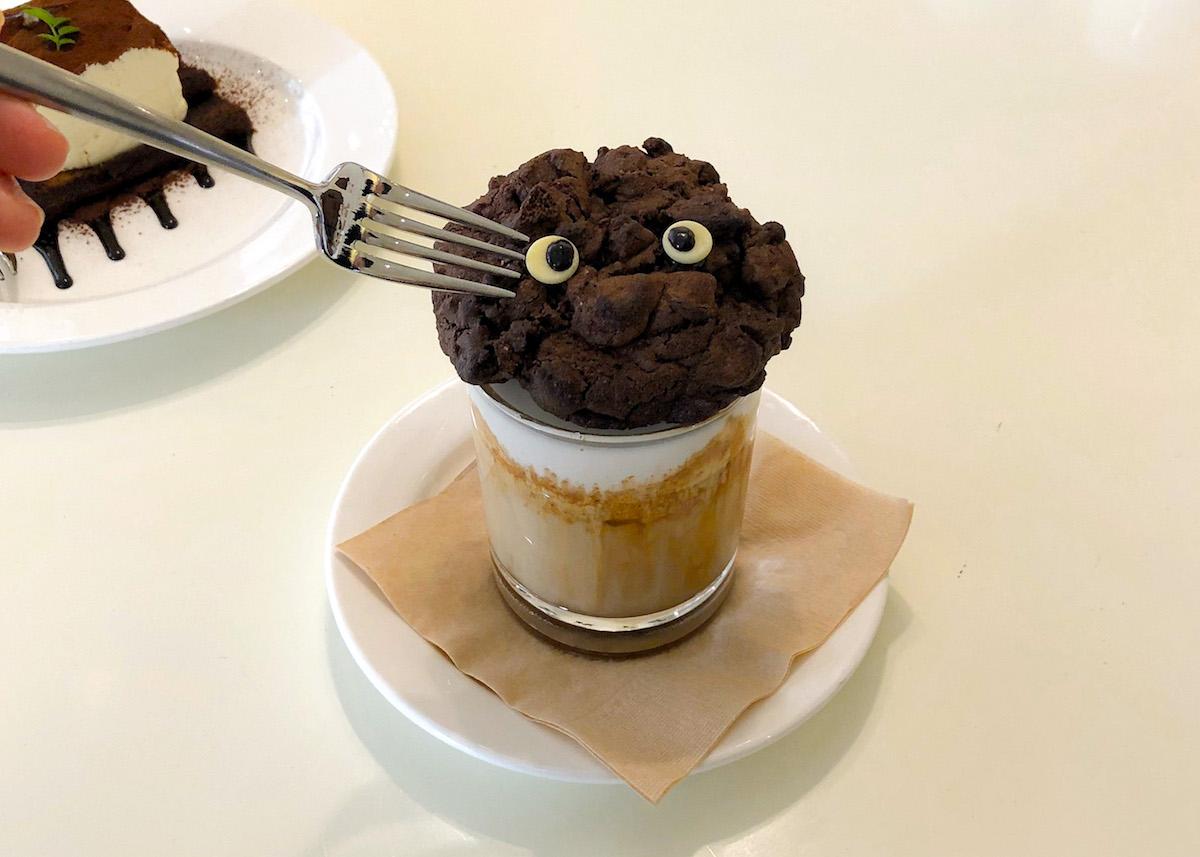 Way to eat it is to, take the eyes...(chocolate) first, and have some of the cookie by it self.
It's really crunchy on the outside and moist inside. The cookie itself was really tastie.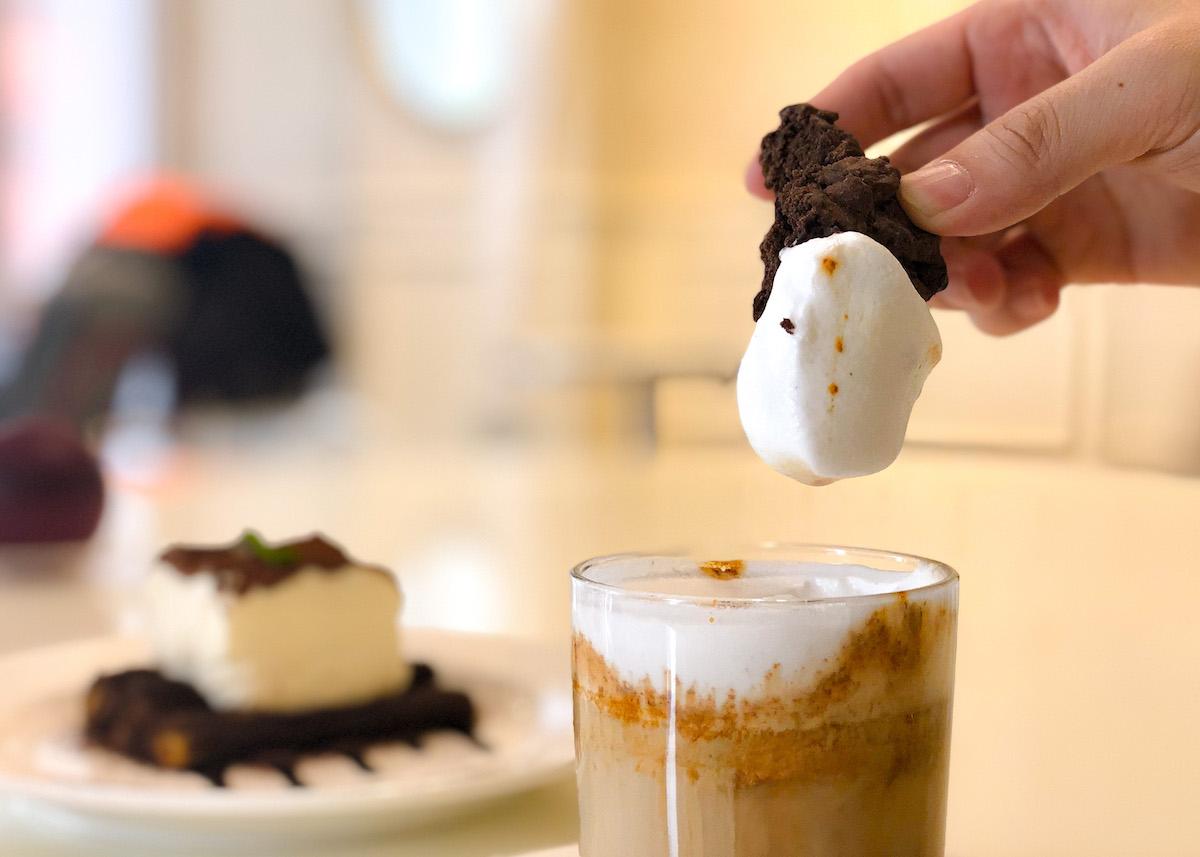 After that, you can dip the cookies in the coffee. The chocolate mixes with the coffee which makes the coffee more sweet and have another flavor to it! Last part is to drink the coffee. This coffee wasn't as heavy as the scotchino.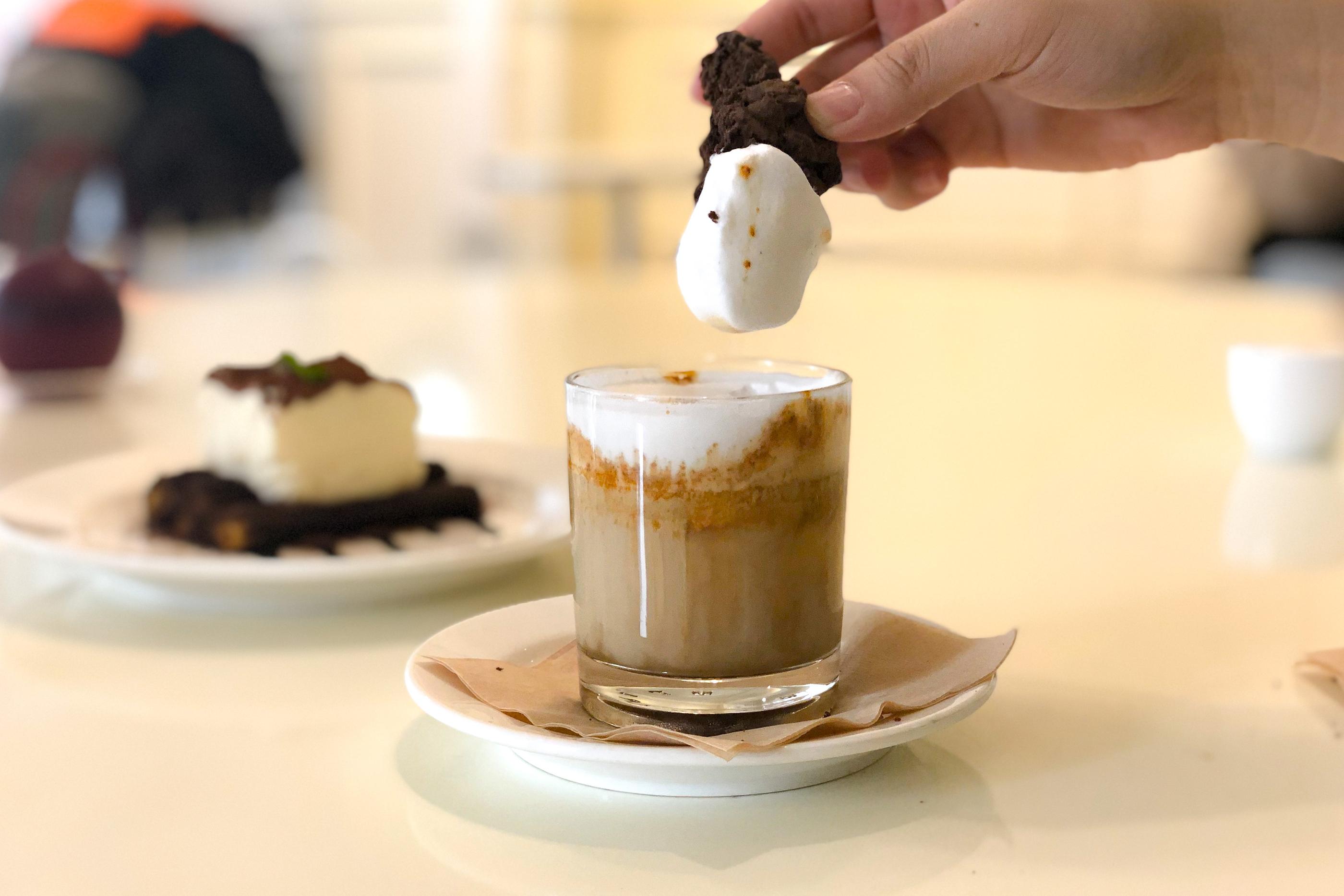 If you would like to taste more sweet and less bitter dessert, this might fit your needs!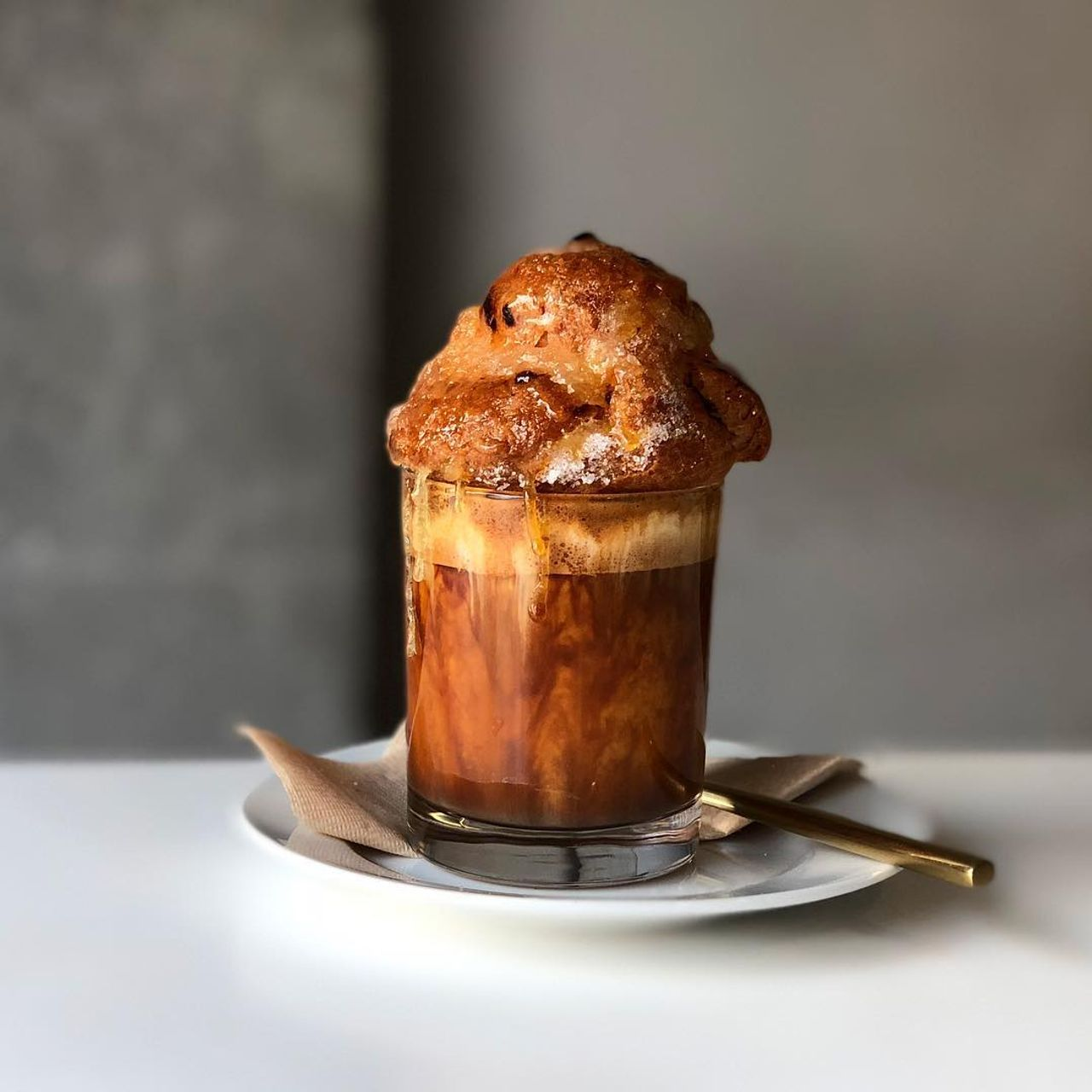 Caramelting ₩7,500
This specialty is coffee with a huge choux on top. Cut the choux into smaller pieces and dip it in the cream or coffee. The caramel adds even more sweetness to the flavour!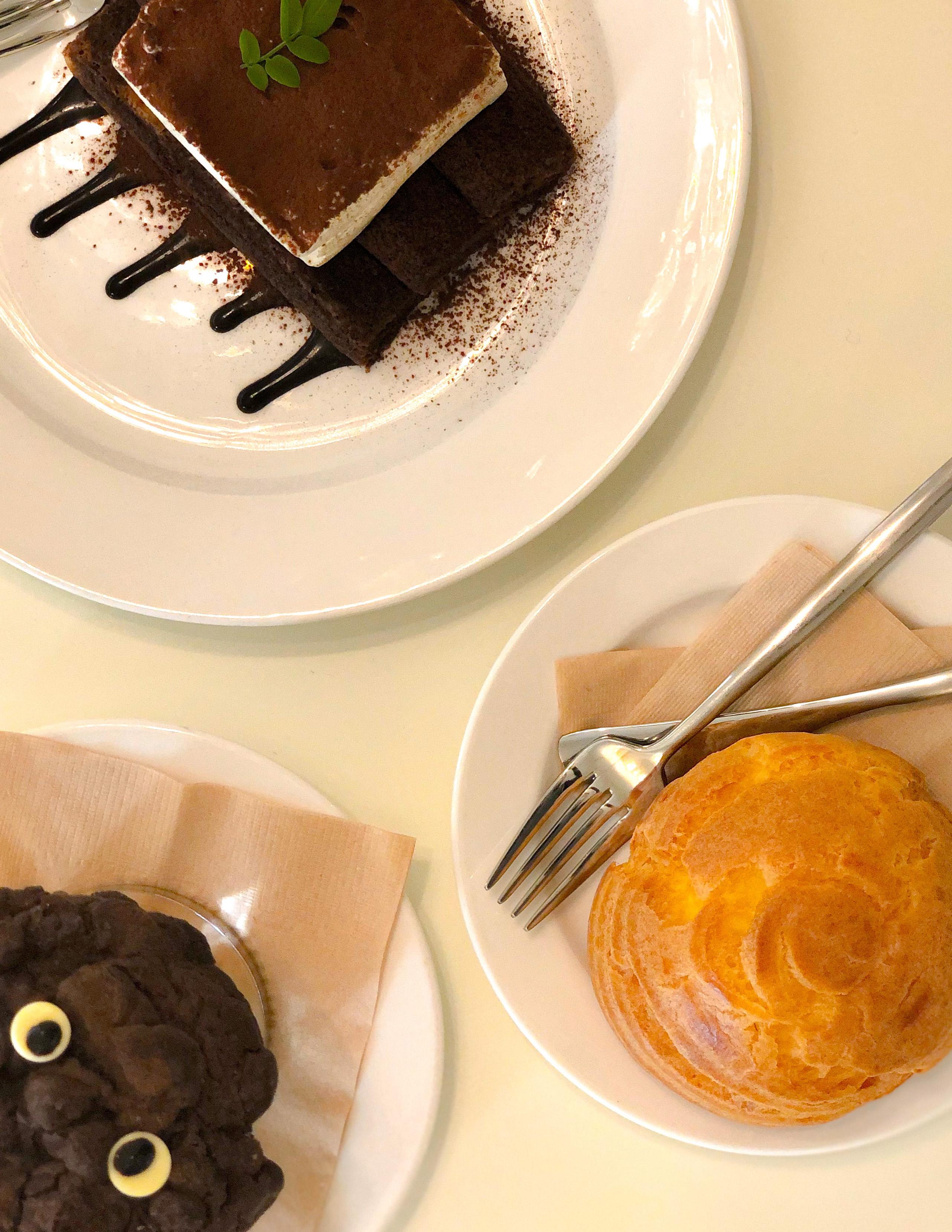 I had some desserts along with the drinks!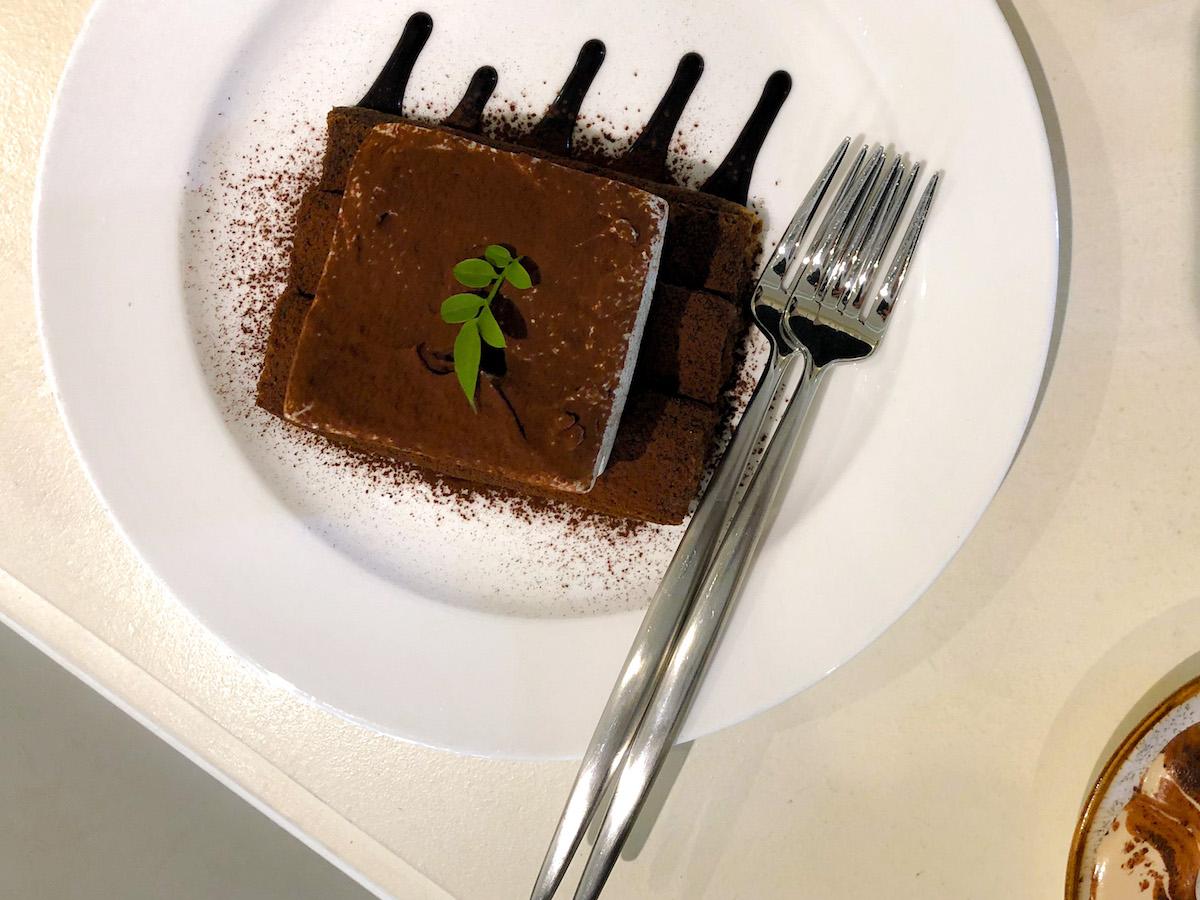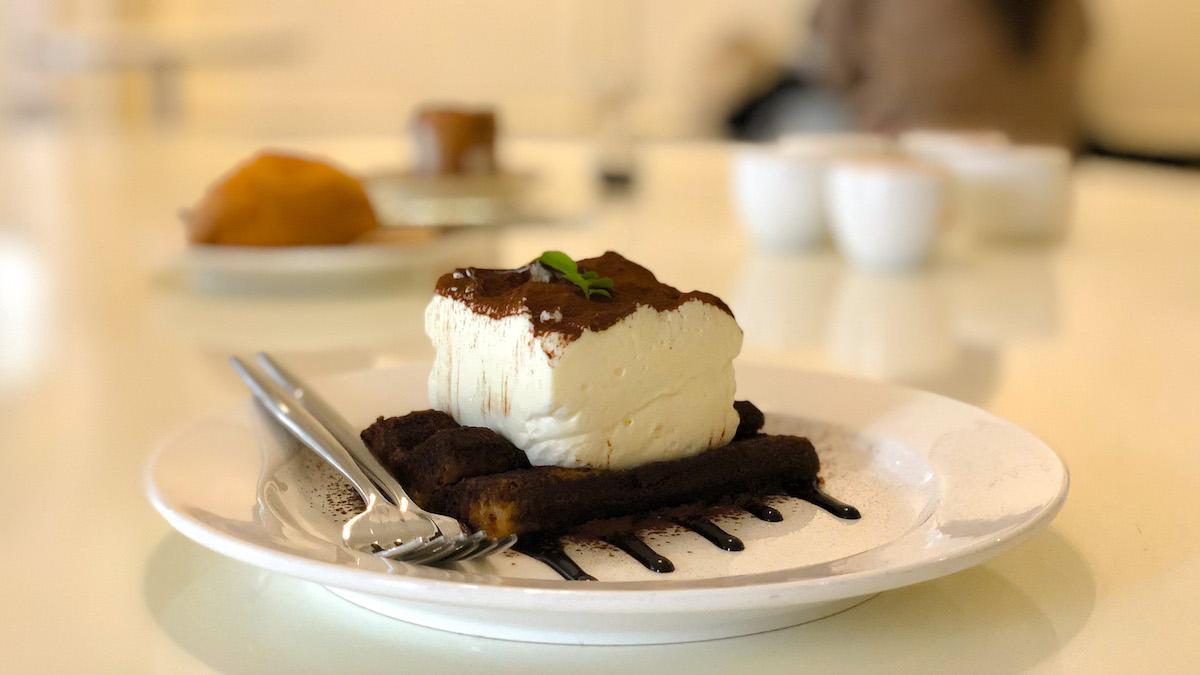 Tiramisu!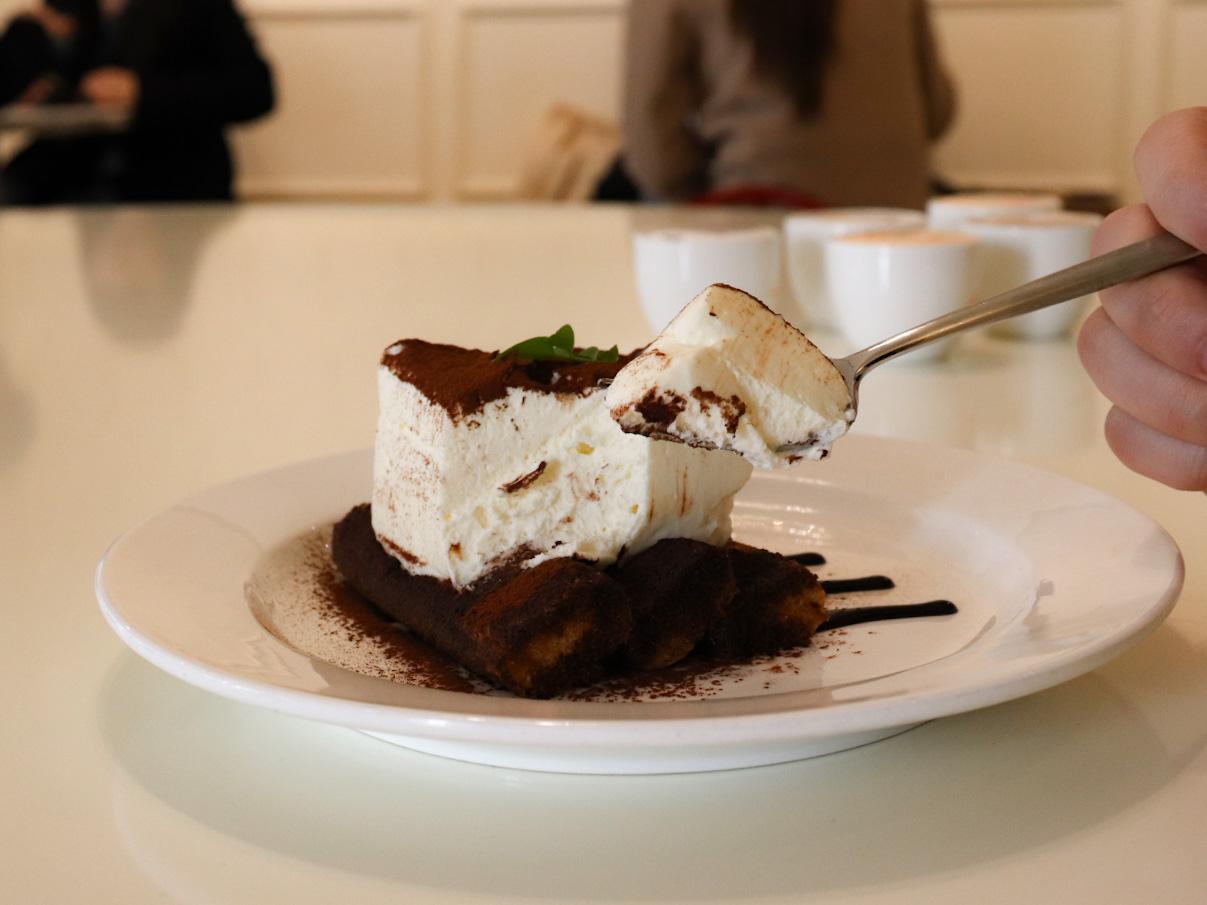 Ordinary tiramisus have layers bread and cream soaked it coffee.
C.THROUGH's tiramisu has coffee soaked bread at the bottom, and loads of cream was on top. I never had tiramisu with so much cheese cream before!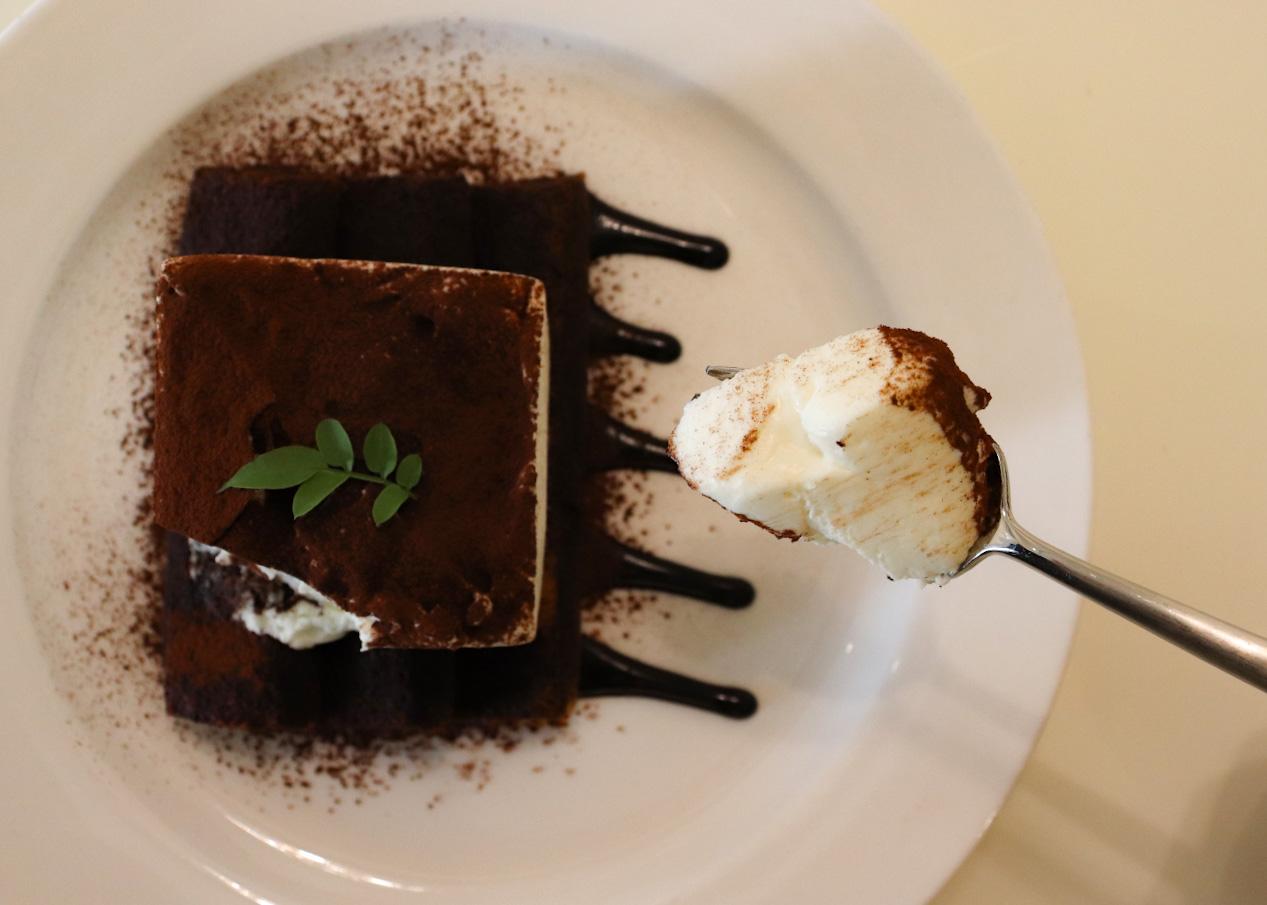 Tiramisu was full of coffee aroma which was really nice! I strongly recommend that you try it~
Next dessert to introduce are these choux pastries!
The have six flavors of choux here ; custard, match, tiramisu, sesame, caramel, and chocolate. We had the custard one.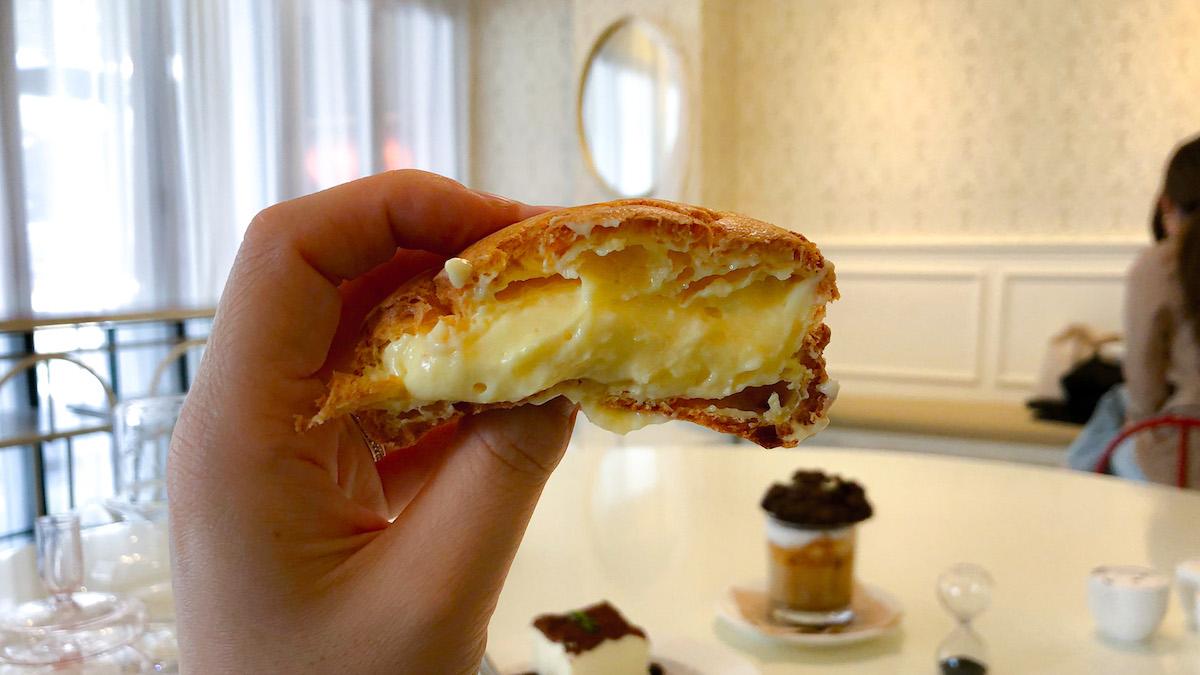 You can tell that it's really good just from the picture! It's filled with cream inside.
I was really satisfied from the desserts here, they were all really full of taste and full of ingredients.
Don't think of the small choux sold in other places. This one was bigger than my hand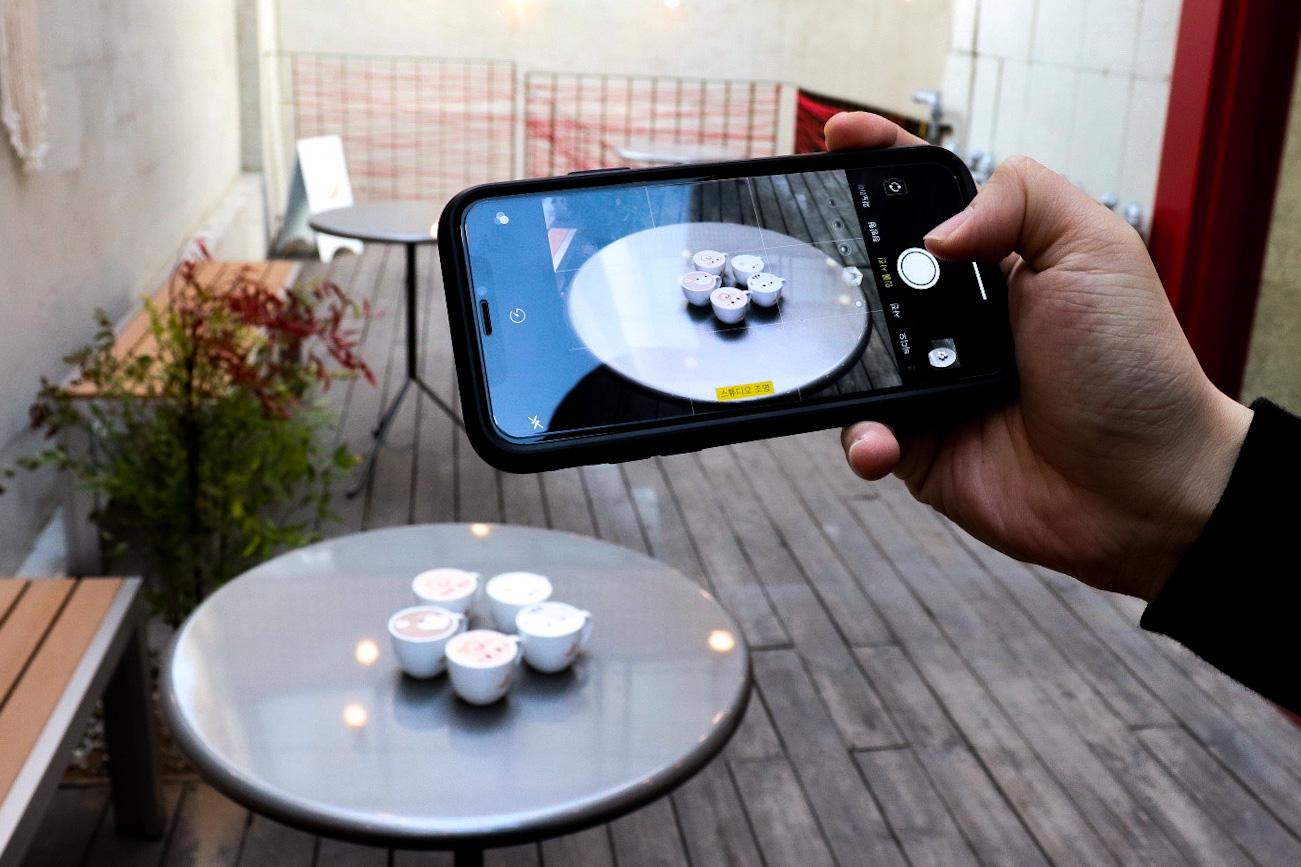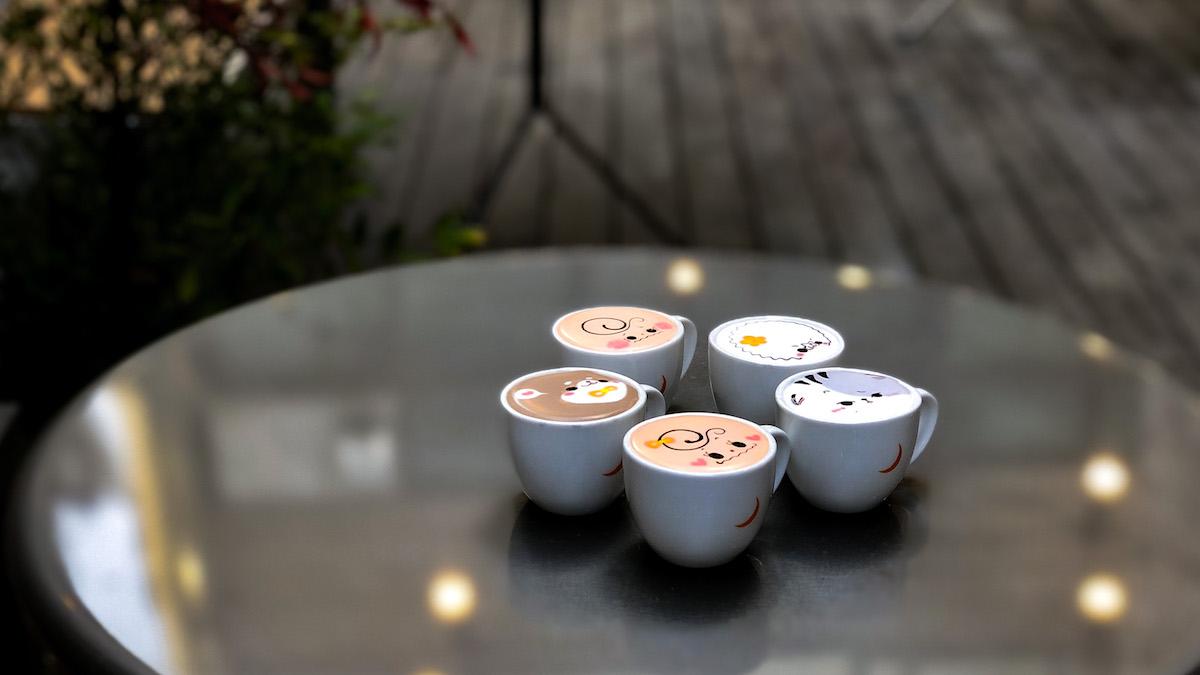 How did you like my review?
It was a pleasure for my eyes as well as my tongue. You can enjoy the coffee, desserts and selfies with beautiful latte arts here!
This is a must visit place if you are planning to travel Korea. Make beautiful memories here~
They have more menus which I couldn't introduce. Just look them up in C.THROUGH instagram
C.THROUGH Yeonnam | How to go
Address ㅣ 서울 마포구 동교로 266-6 1층
10 minutes walk from Hongik Univ. Station Exit 3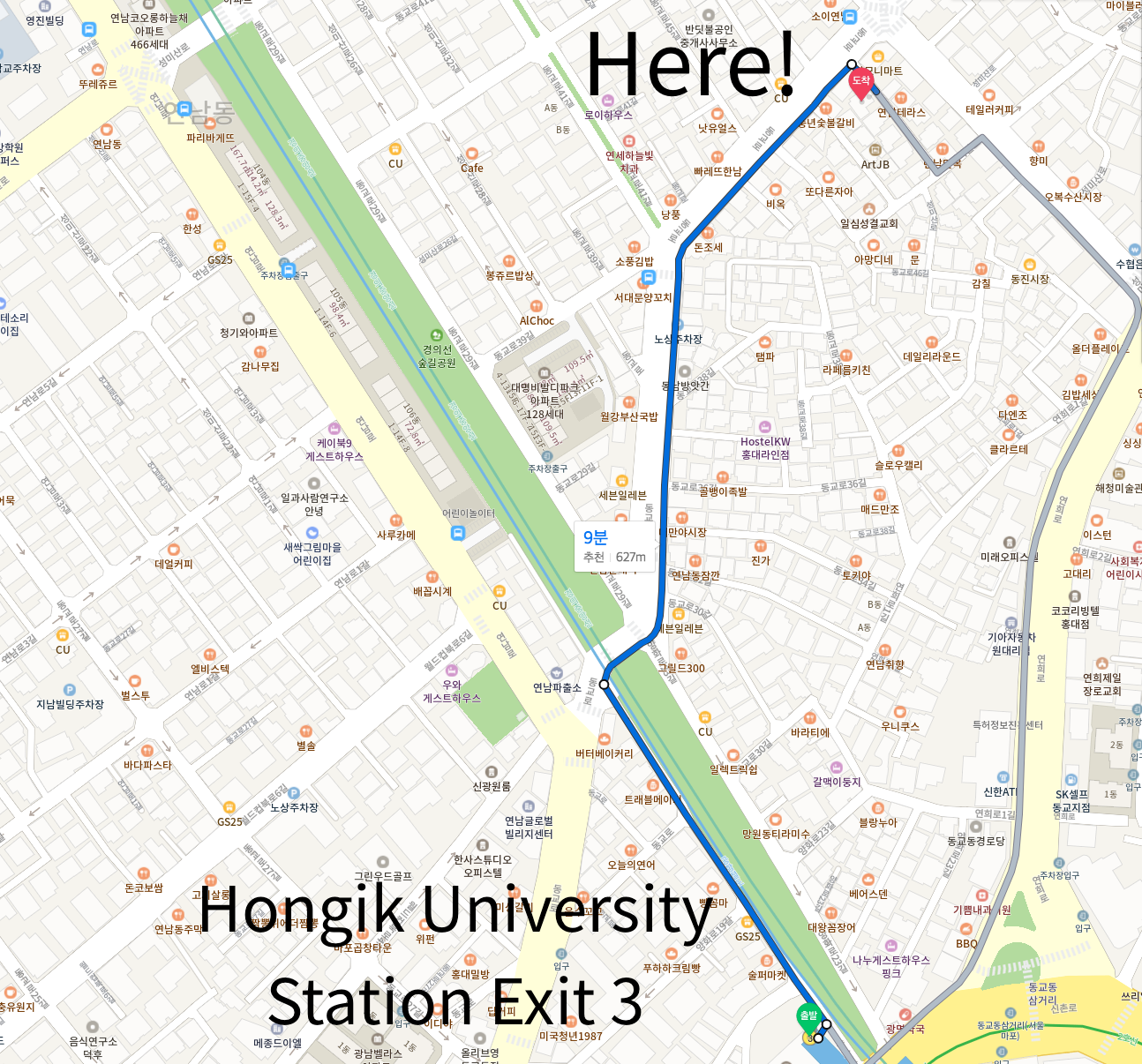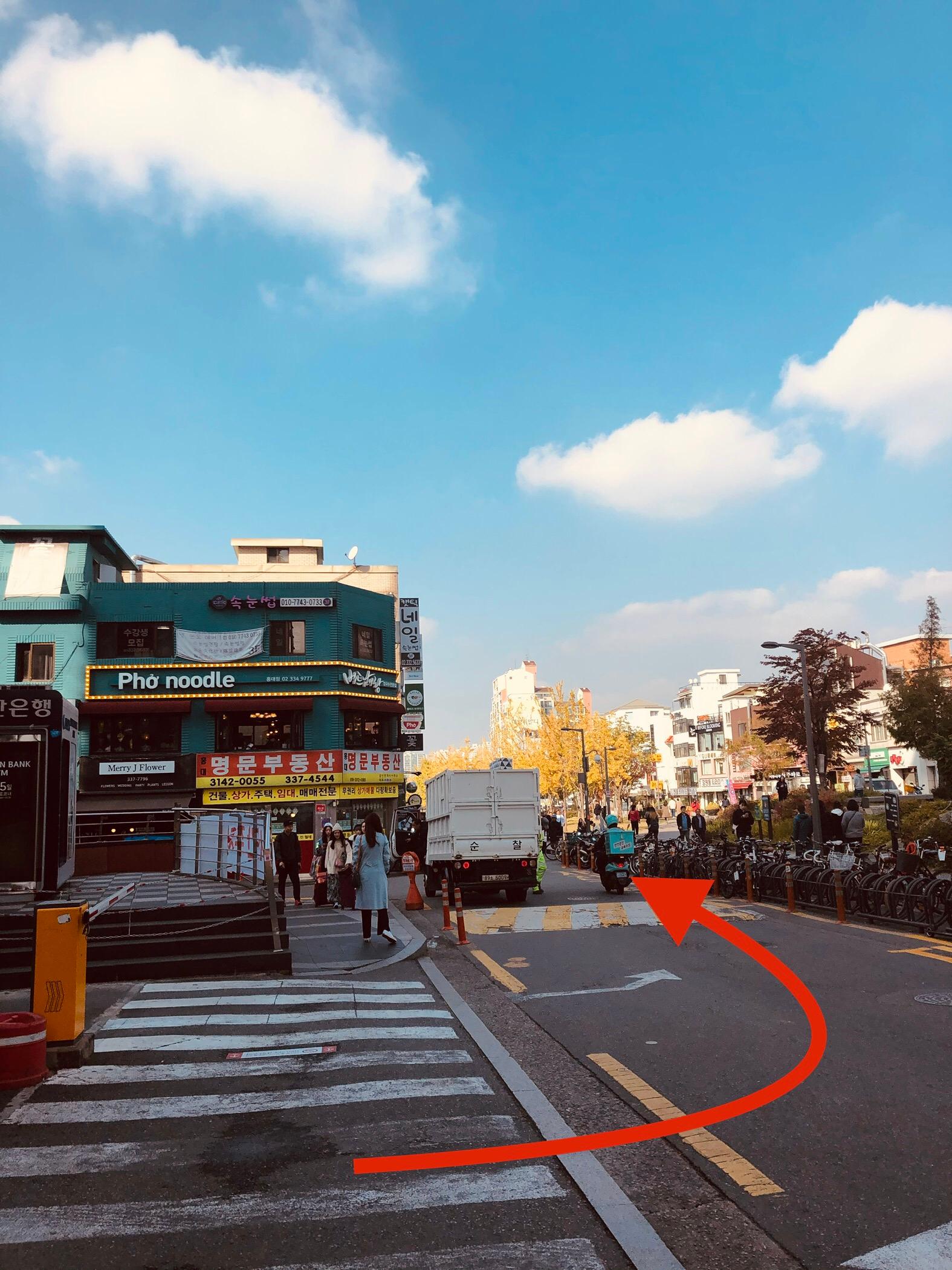 1. Get out through Hongik Univ. Station Exit 3, turn left.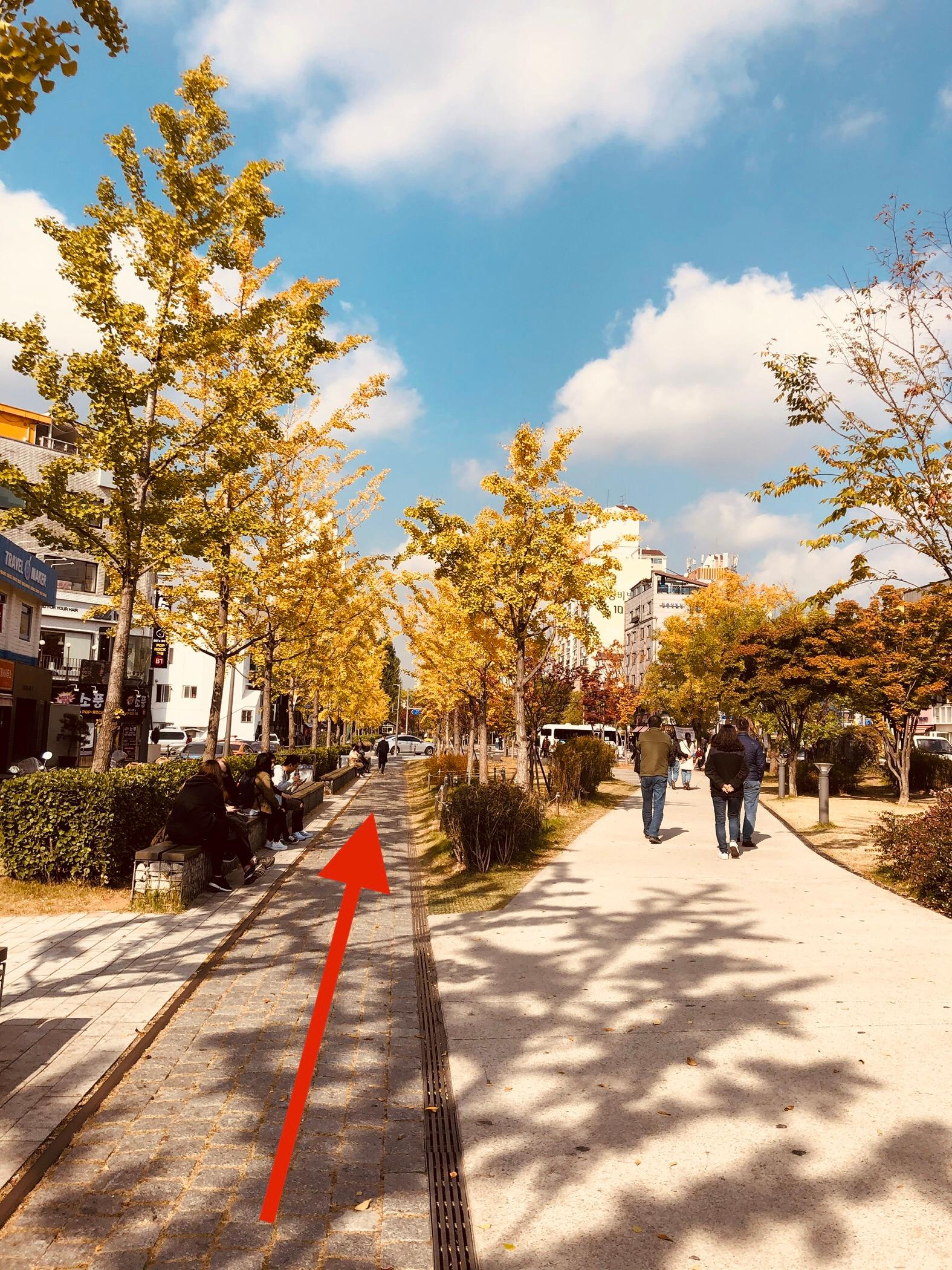 2. This is Gyeongui line forest park aka "Yeontral Park". Go straight through it.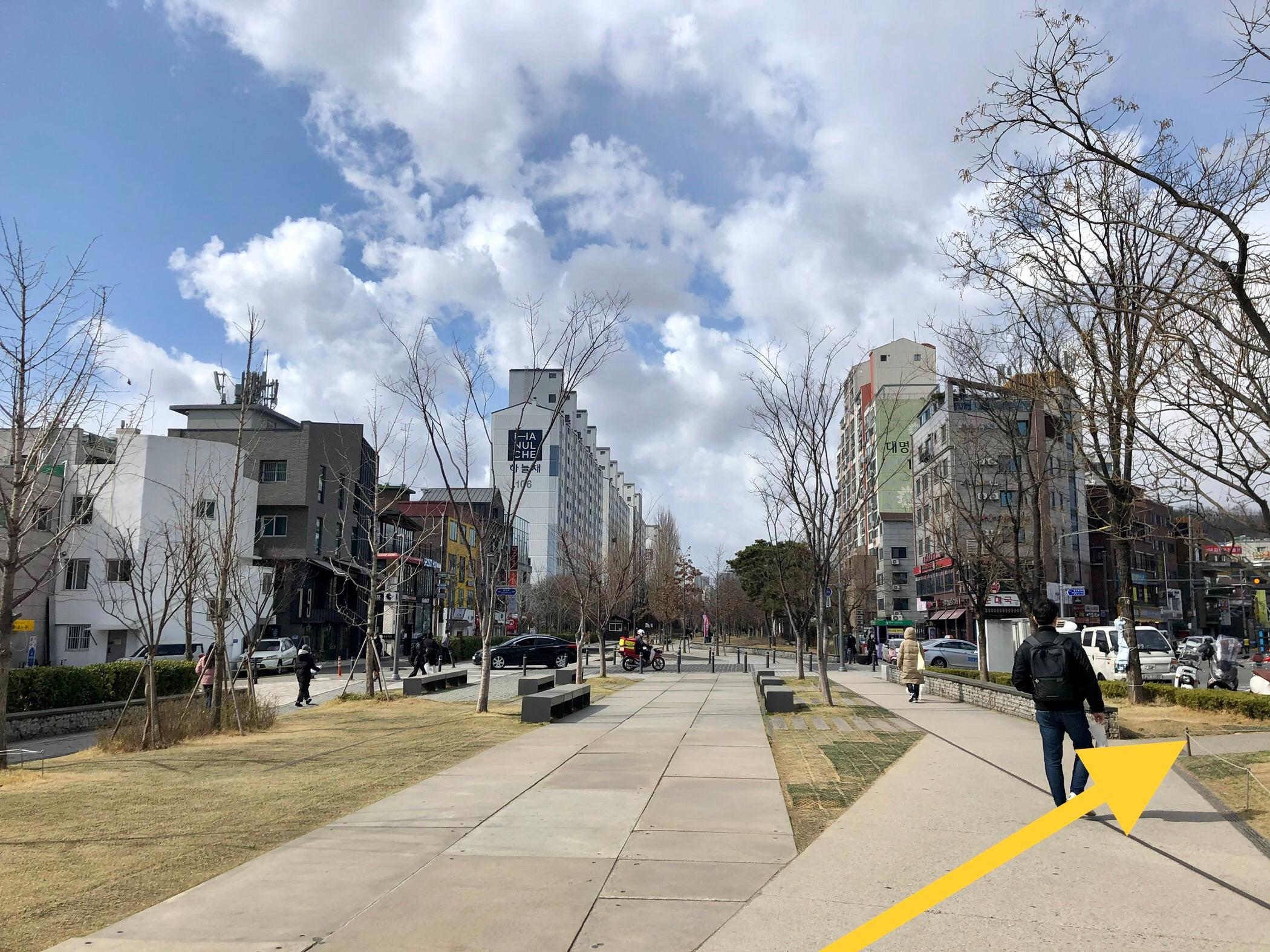 3. When you see the apartments ahead you will see an alleyway to your right.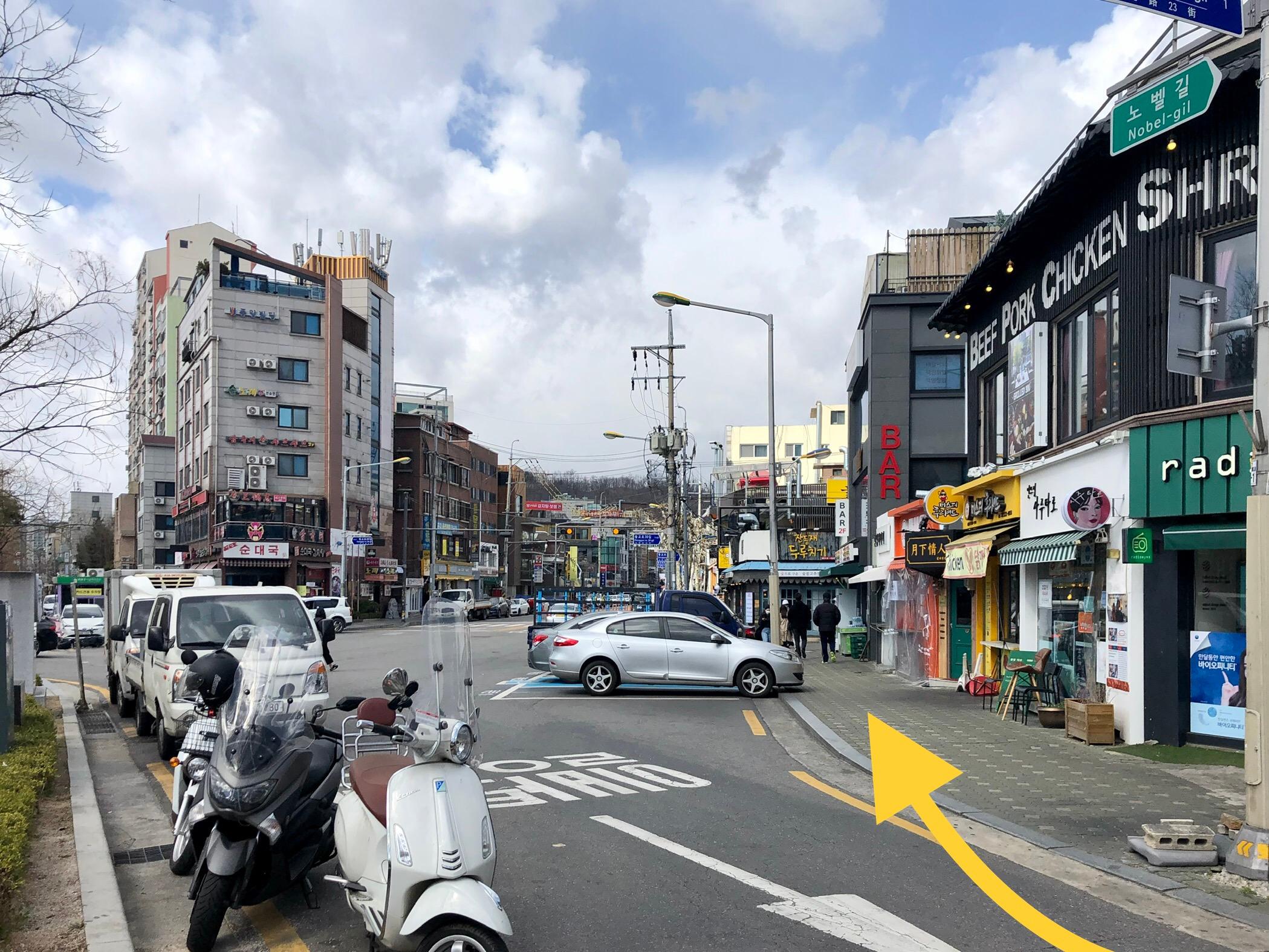 4. Turn right and enter the alley.
5. Go straight forward.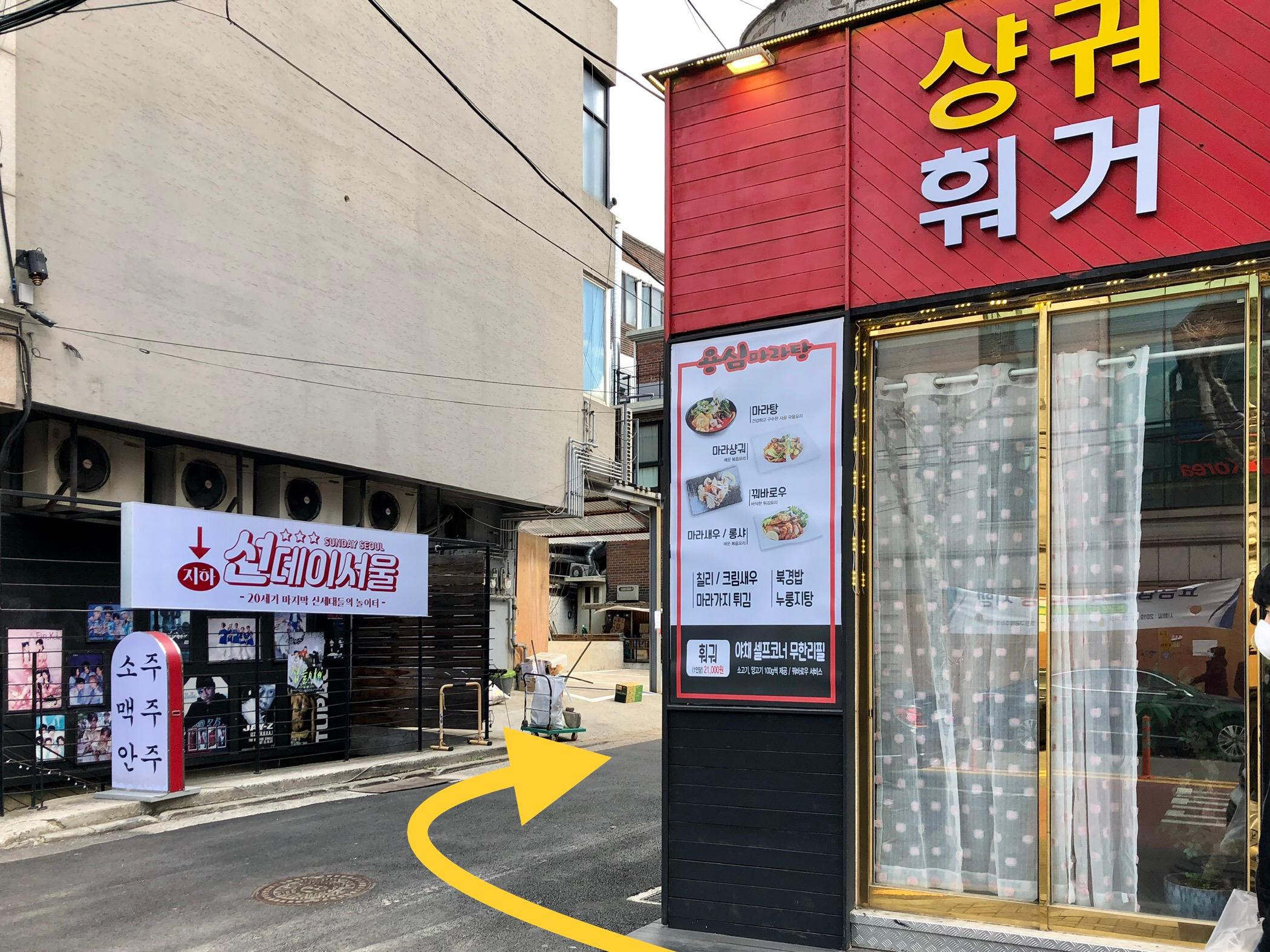 6. Turn right at the Hot Pot (훠궈) restaurant.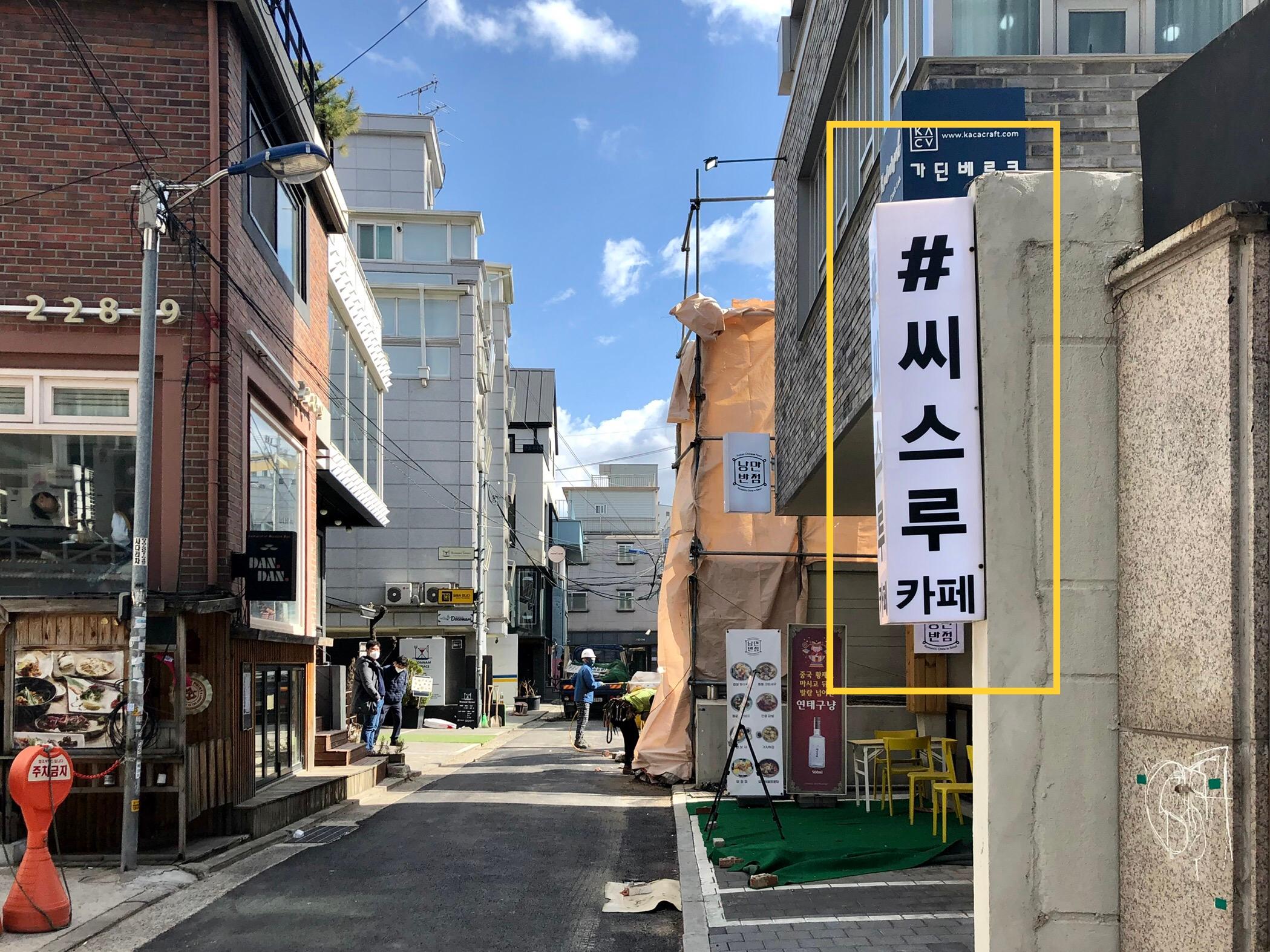 7. You'll find C.THROUGH on your right.
Click the 'COUPON' button at the bottom to claim yours now!
This posting was about C.THROUGH Yeonnam. If you have any questions leave a comment or send us an e-mail at support@creatrip.com.
---