A Day Out in Deoksugung
Come with us around one of Seoul's Royal Palaces!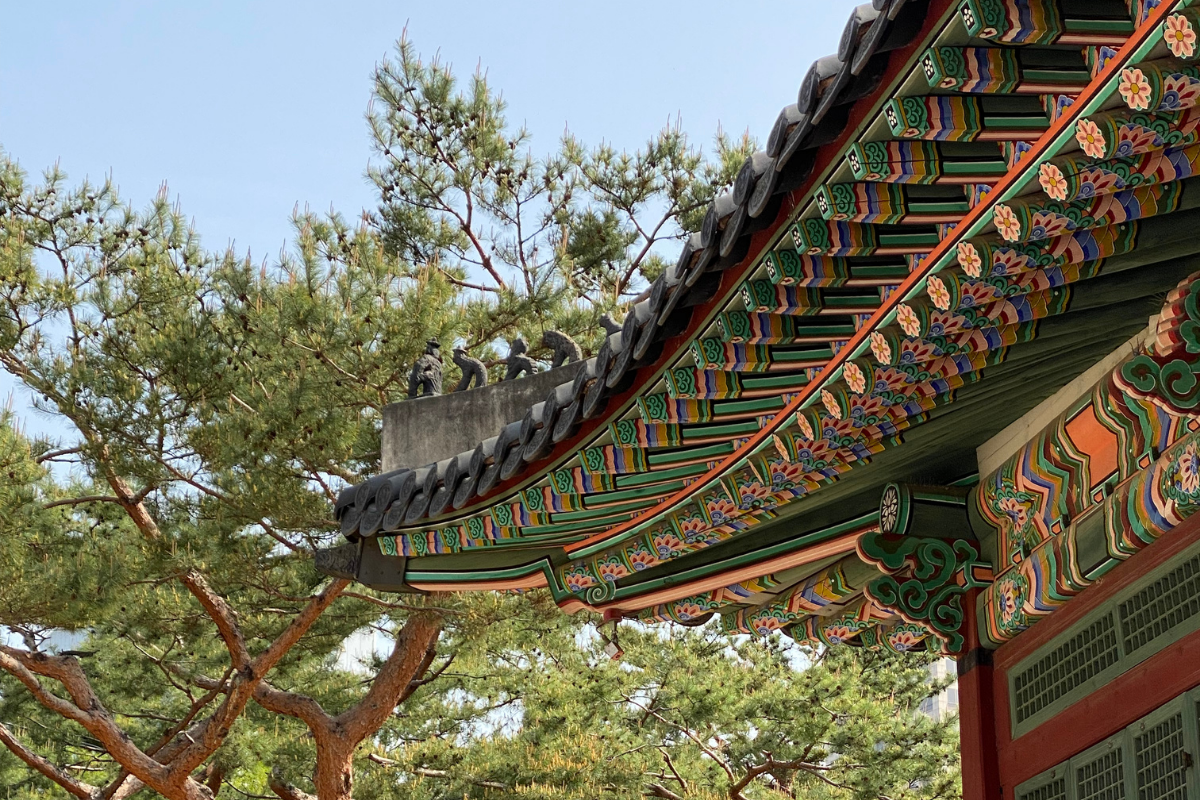 Deoksugung, also known as Deoksu Palace is one of the "Five Grand Palaces" in Seoul and was built by the kings of the Joseon Dynasty. It was the home to King Gojong who was determined to modernize the country at the time. Therefore at Deoksugung, you can see a unique combination of traditional Korean architecture as well as buildings with Western influences. Many find the clash of western style gardens and fountains amongst the traditional Korean buildings and palaces to be quite intriguing, as well as a good reflection of present-day Korea as well.
It is now an area open to the public and a popular tourist destination! It is in a prime location as well, being walking distance of Cheonggyecheon, Gwanghwamun and Gyeongbokgung! Make sure to add this beautiful palace to your travel itinerary on your trip to Seoul.
---
Information
Address: 서울 덕수궁길 중구 세종대로 99
99 Sejong-daero, Jung-gu, Seoul
Hours: Tues-Sun 09:00-21:00 (Last admission is one hour before closing)
Closed on Mondays
---
Price
For those that wear a Hanbok, entrance into the palace grounds are free! You can find the list of where to rent Hanboks here. Senior citizens that are ages 65 and older can also enter for free. Those that visit on the last Wednesday of every month (Culture Day) can also enter the palace grounds for free.
For those that do not fit into the above categories, entry fees are as follows:
| | | |
| --- | --- | --- |
| Type | Age | Price |
| Individual | Children (7-18) | 500 KRW |
| Individual | Adult (19-64) | 1,000 KRW |
| Group (10 individuals or more) | Children (7-18) | 400 KRW |
| Group (10 individuals or more) | Adult (19-64) | 800 KRW |
Royal Palace Pass
You can also get combination tickets for palaces where you can access Changdeokgung, Changgyeonggung, Deoksugung, Gyeongbokgung, and Jongmyo Shrine which is valid for up to three months after purchase.
| | |
| --- | --- |
| Type | Price |
| Adult (19-64) | 10,000 KRW |
| Child (7-18) | 5,000 KRW |
You can purchase these combined tickets at any of the 4 palaces or at the Jongmyo Royal Ancestral Shrine.
---
Tours
There are free guided tours for those that would like to have more of an in depth understanding of the palace grounds. These tours are offered in English, Chinese, and Japanese. The schedule for the free guided tours are as follows:
| | | |
| --- | --- | --- |
| Language | Date | Time |
| English | Tues-Sun | 10:30 AM & 1:30 PM |
| Chinese | Tues-Fri | 10:00 AM & 2:30 PM; Saturdays 10:00 AM |
| Japanese | Tues-Sun | 9:30 AM & 4:00 PM |
Tours last for one hour and are given by professional guides. This means that you will gor through the palace grounds with your tour guide and get a thorough explanation of the palace and of the buildings. There are no tours on National Holidays and tours may be cancelled depending on weather conditions or unavoidable circumstances.
Audio Guide
There is also an audio guide that you can rent for those that would like to explore the palace at their own pace. You can rent the audio guide in English, Korean, Japanese or Chinese for 3,000 KRW. You can rent them at the entrance of Deoksugung from 9:00 AM to 16:00 (last return is 17:00) and return it back to the original rental location.
---
Changing of Royal Guards Ceremony
Another main attraction is the "Changing of The Royal Guards Ceremony". This is a ceremony that dates back to the Joseon Dynasty, when royal guards were responsible for guarding the gates of the royal palaces. Therefore the guards were divided into various shifts throughout the day and night, and the ceremony took place when the shifts changed over. During the ceremony, you can experience a rare part of traditional Korean culture, as it is reenacted exactly as it took place back in history. The guards wear royal uniforms, cary traditional weapons and play traditional instruments. It is similar and often compared to the Changing of the Guards at Buckingham Palace.
You can experience this ceremony in front of the main gate of Deoksugung at 11:00 AM, 14:00 AM, and 15:30 PM daily, excluding Mondays.
(Please note that this schedule can sometimes change due to extreme weather conditions)
---
Suggested Route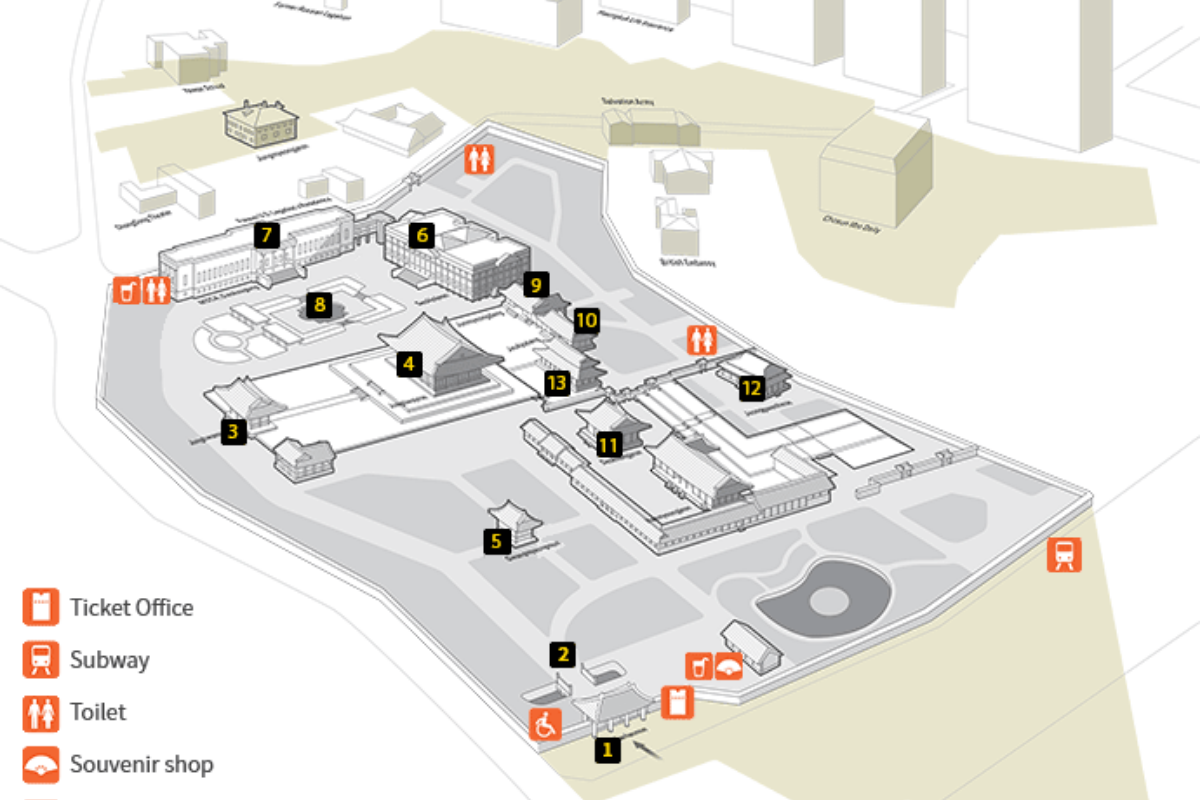 Deoksugung is not as big as many other palaces in Seoul, but still consists of many different buildings. For those that are coming we suggest setting up your route around the palace in the following order:
Daehanmun Gate (1) → Geumcheongyo Bridge (2) → Deokhongjeon Hall (11) → Jeonggwanheon Hall (12) → Junghwamun Gate (3) → Junghwajeon Hall (4) → Junmyeongdang Hall (9) → Jeukjodang Hall (10) → Seogeodang Hall (13) → Seokjojeon Hall Area (6, 7, 8)
After visiting inside the palace grounds, we also suggest heading outside towards the back to visit Jungmyeongjeon (pictured on the map behind 7). Although it is not in the main are of the palace grounds, it is still officially apart of the palace. It is just a short walk away so we recommend you make don't forget to stop by before you leave!
---
Our Visit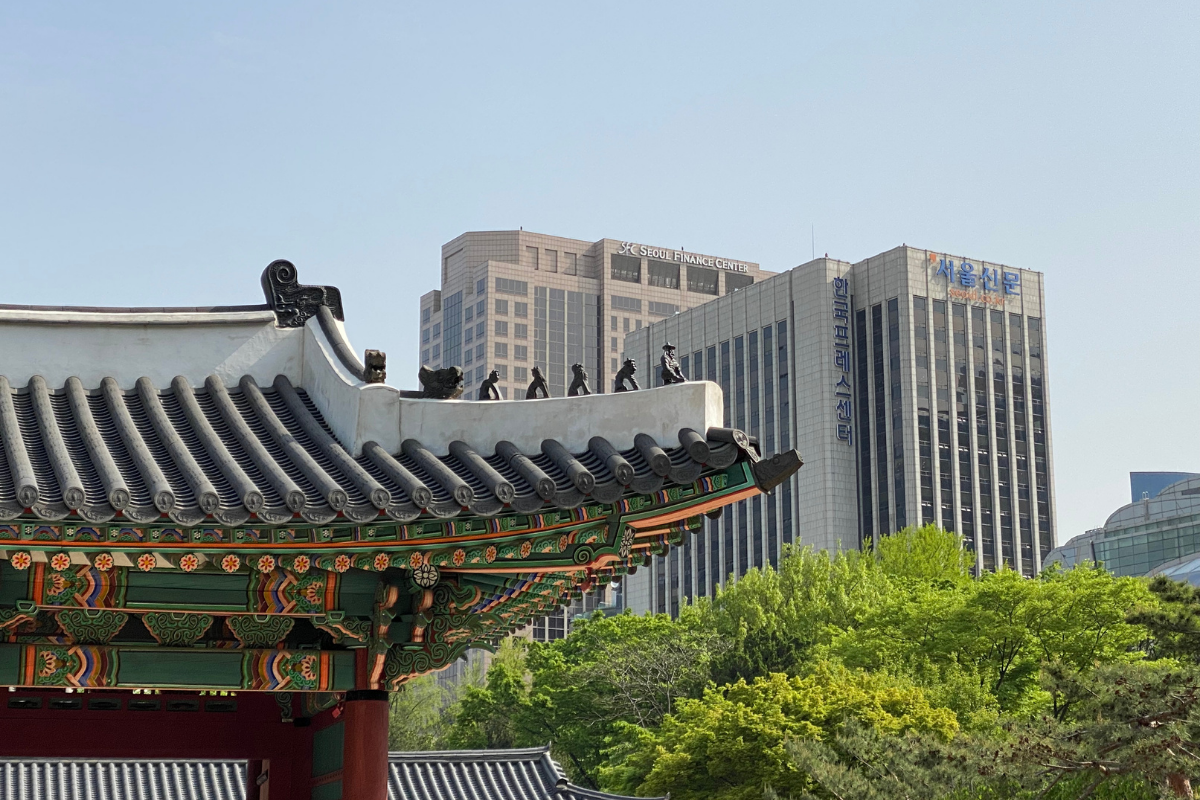 Deoksugung is one of the five royal palaces that are in Seoul. You can learn more about other palaces in Seoul here. Deoksugung Palace means "Palace of Virtue and Longevity" in the spirit of King Gojong, who made Deoksugung his main living quarters. Deoksugung is located in the middle of one of Seoul's biggest intersections right in front of City Hall and down the street from Gwanghwamun and Cheonggyecheon. It is surrounded by many office buildings as it is near City hall. It is very unique to see a piece of history lie peacefully amongst the skyscrapers and busy traffic.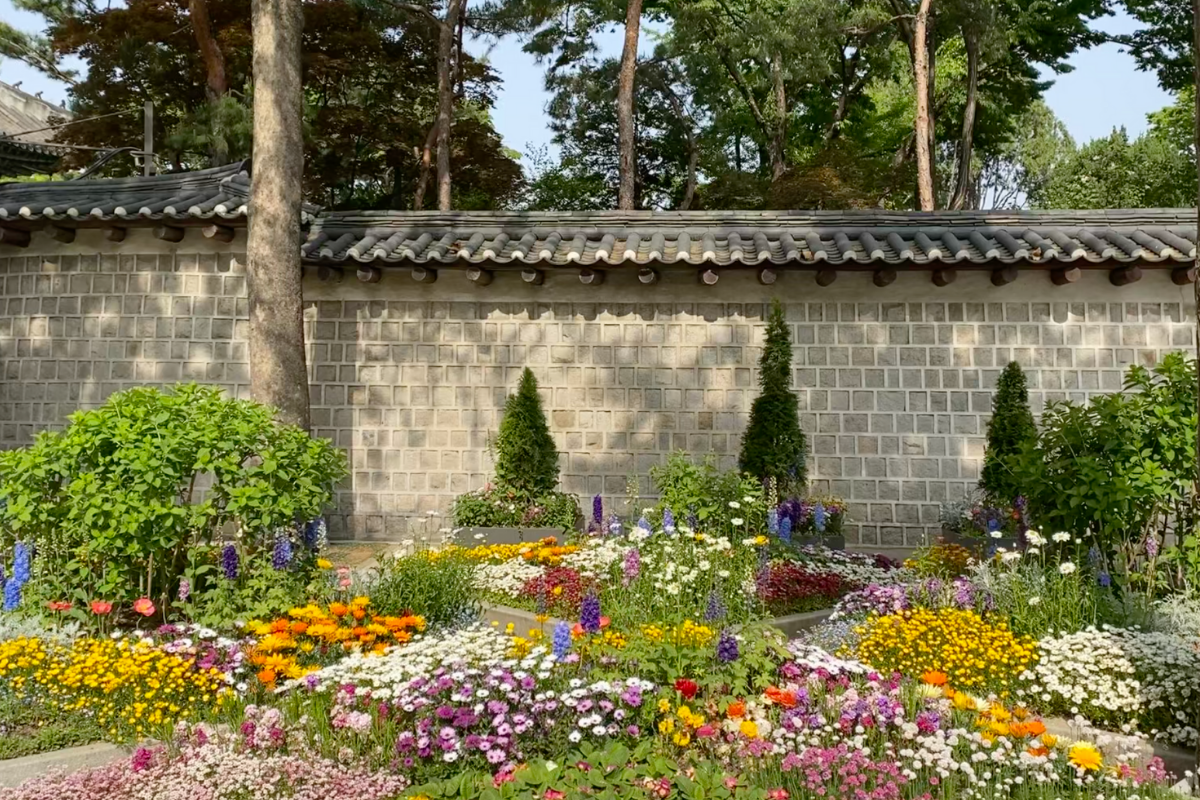 Deoksugung is known for it's beautiful stone wall that surrounds the palace grounds. The stone wall that surrounds it has been used as the backdrop and filming location for many Korean dramas such as Goblin! It is also a popular place for people to come and take photos at.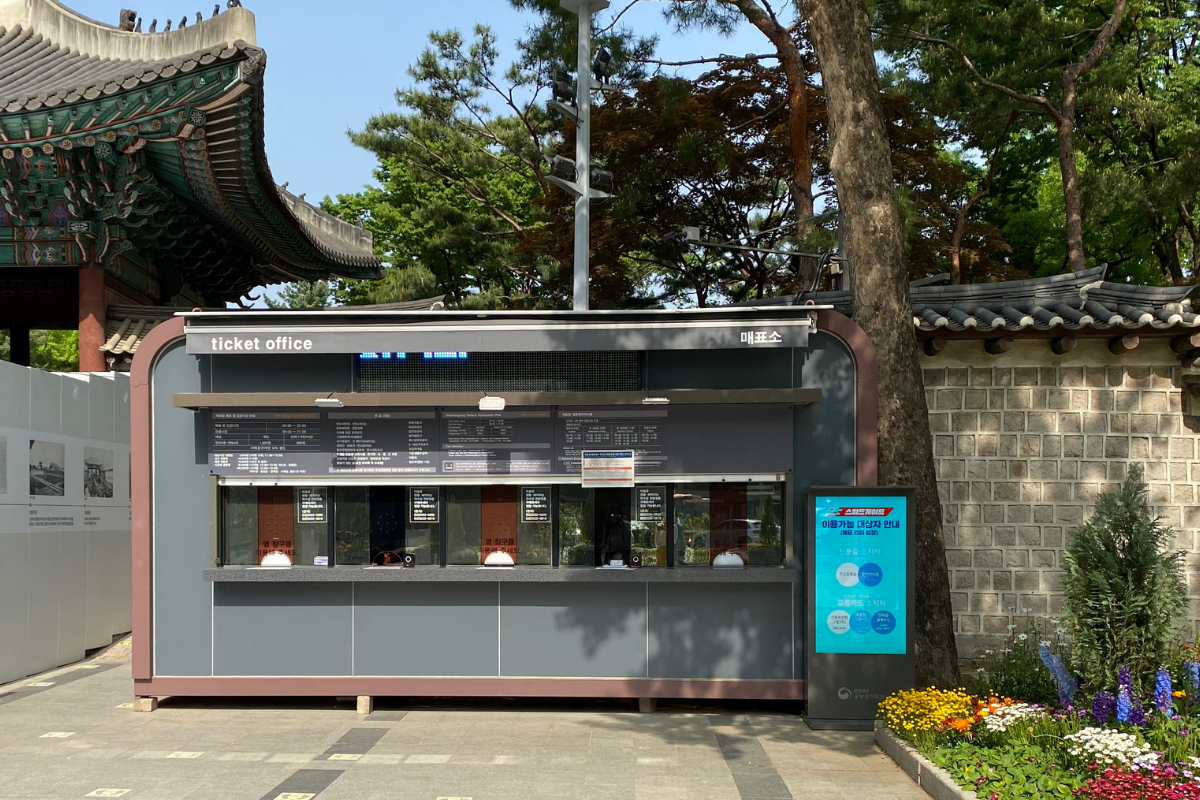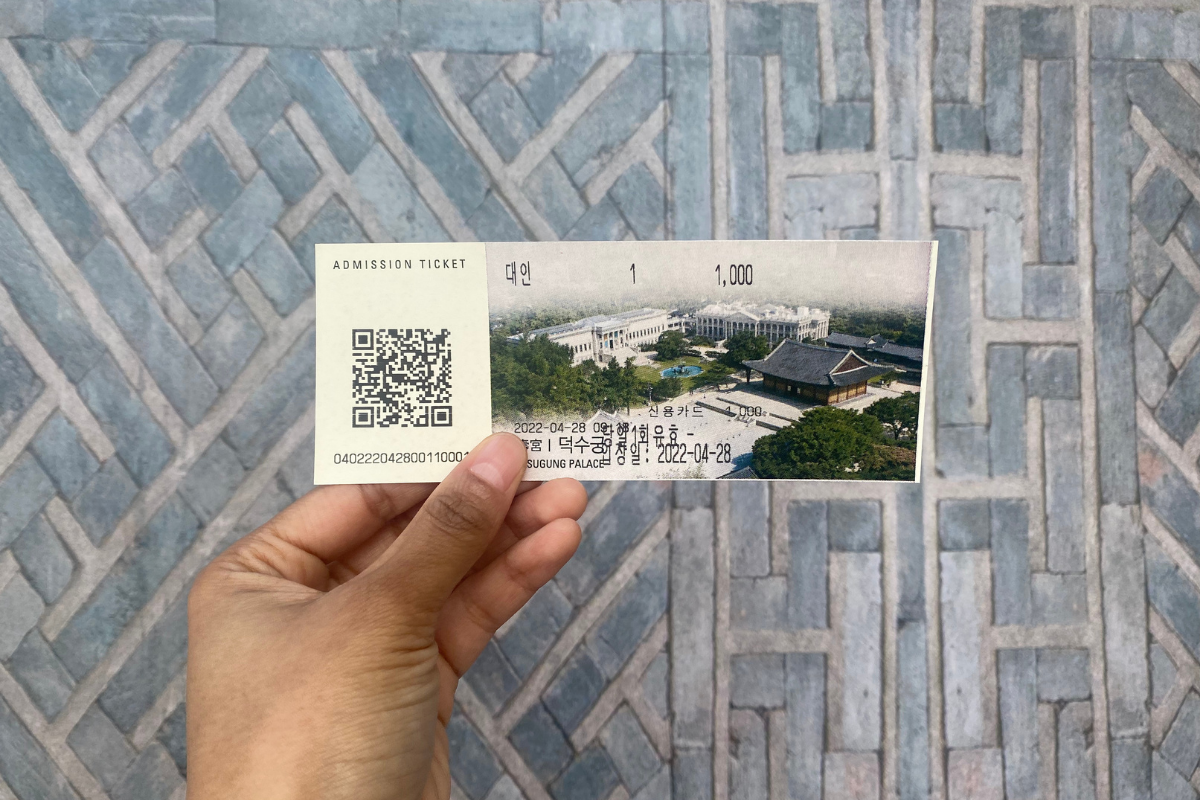 You can get your tickets from the ticket booth that is adjacent to the entrance. We were not wearing Hanbok and it was not the last Wednesday of the month so we had to pay the regular admissions price to get a ticket to enter. For those that want to rent an Audio Guide, you can do so here as well.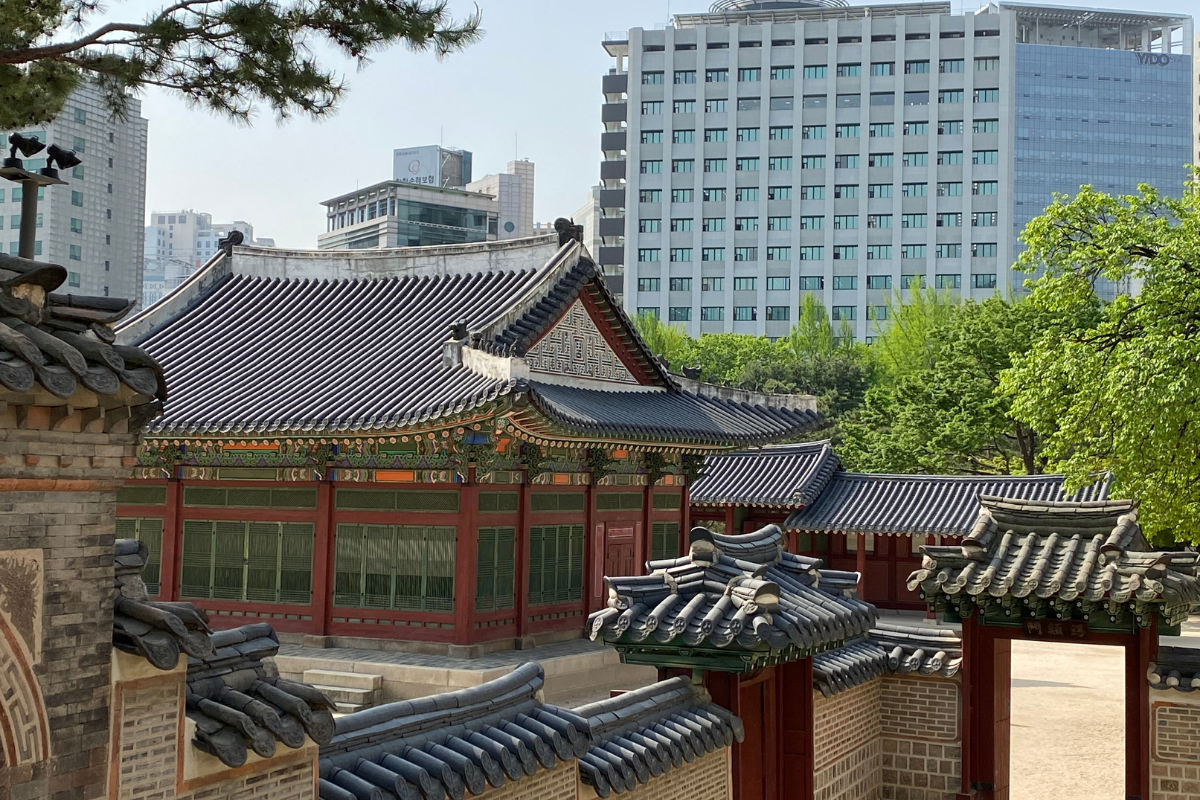 The palace grounds is beautiful. If you go on a warm, sunny day like we did, you can enjoy a relaxing stroll around the premise. We went in the morning as soon as they opened to avoid the crowds and we were successful! If you are looking to go at a quiet time, we suggest getting there early.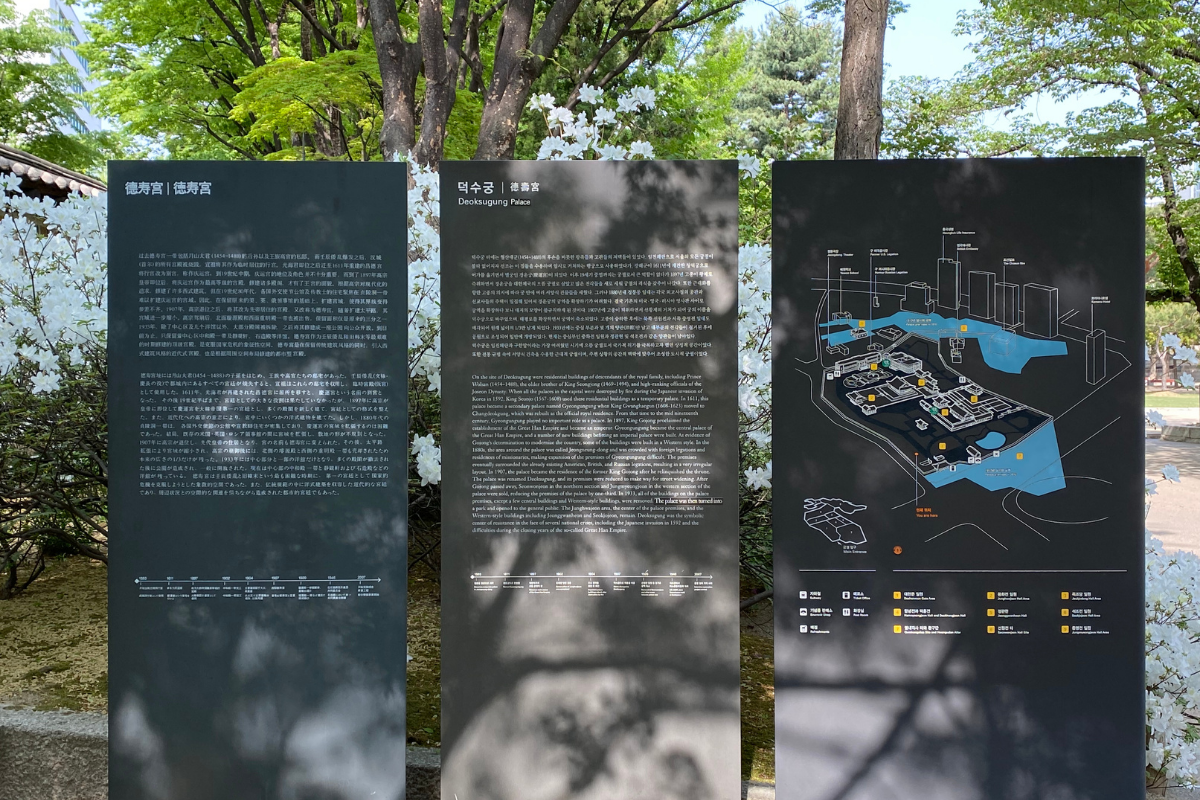 If you decide not to take the free tour, or do not want to rent an Audio Guide, you can guide yourself around the palace. There are maps when you get on the palace ground that explain the buildings and there are also information panels that give descriptions and history to the specific buildings. It can get overwhelming and confusing to figure out what to look at as there are many buildings. However, these are the main areas that we suggest checking out once you get into the palace!
Geumcheongyo Bridge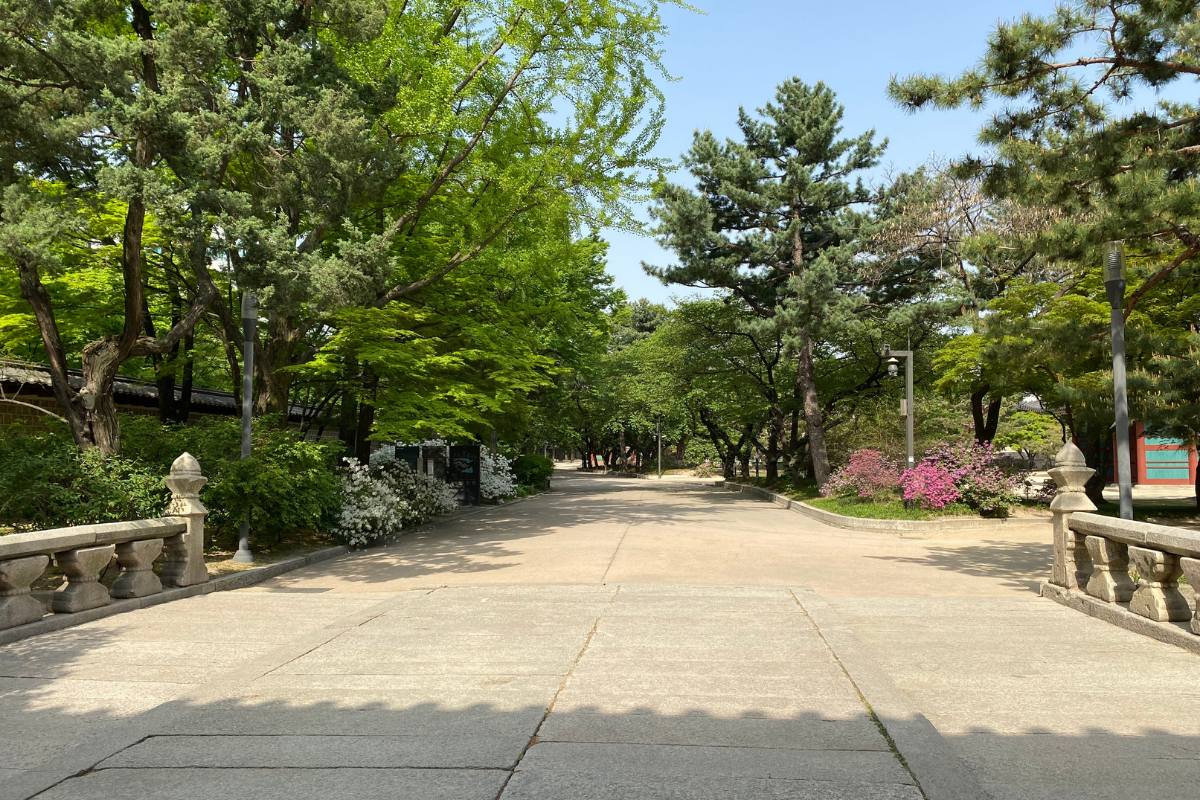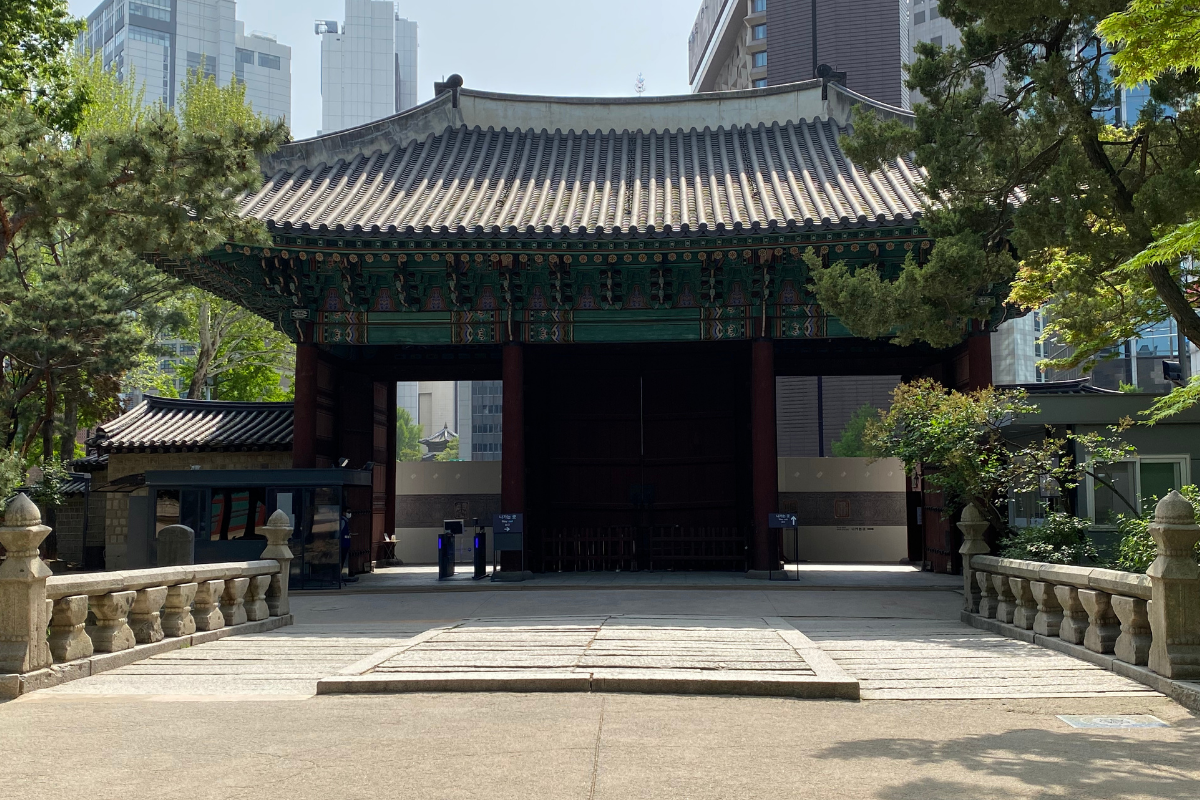 As soon as you enter Deoksugung, you will see Geumcheongyo Bridge. Unlike other royal palaces that all had waterways flowing through them, Deoksugung did not have a natural stream. Therefore an artificial waterway was dug and a stone bridge was built over it. You can cross the bridge to get to the other buildings!
Deokhongjeon Hall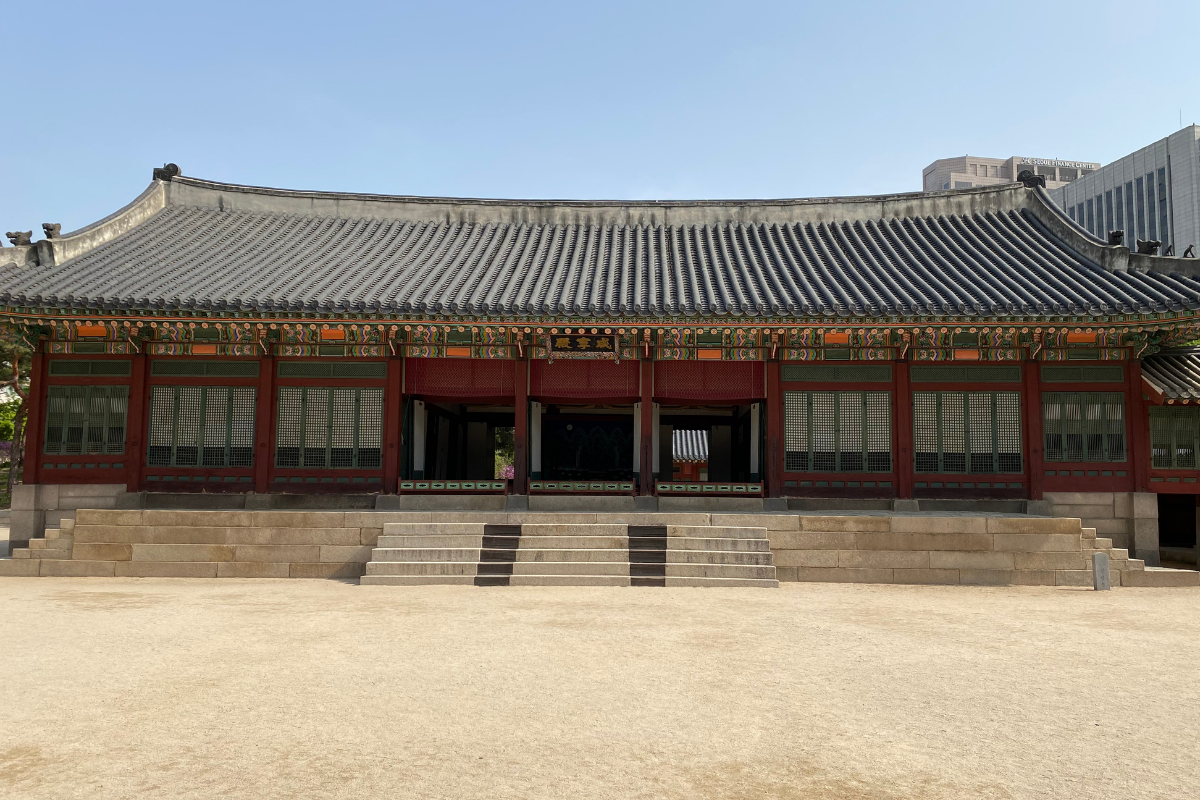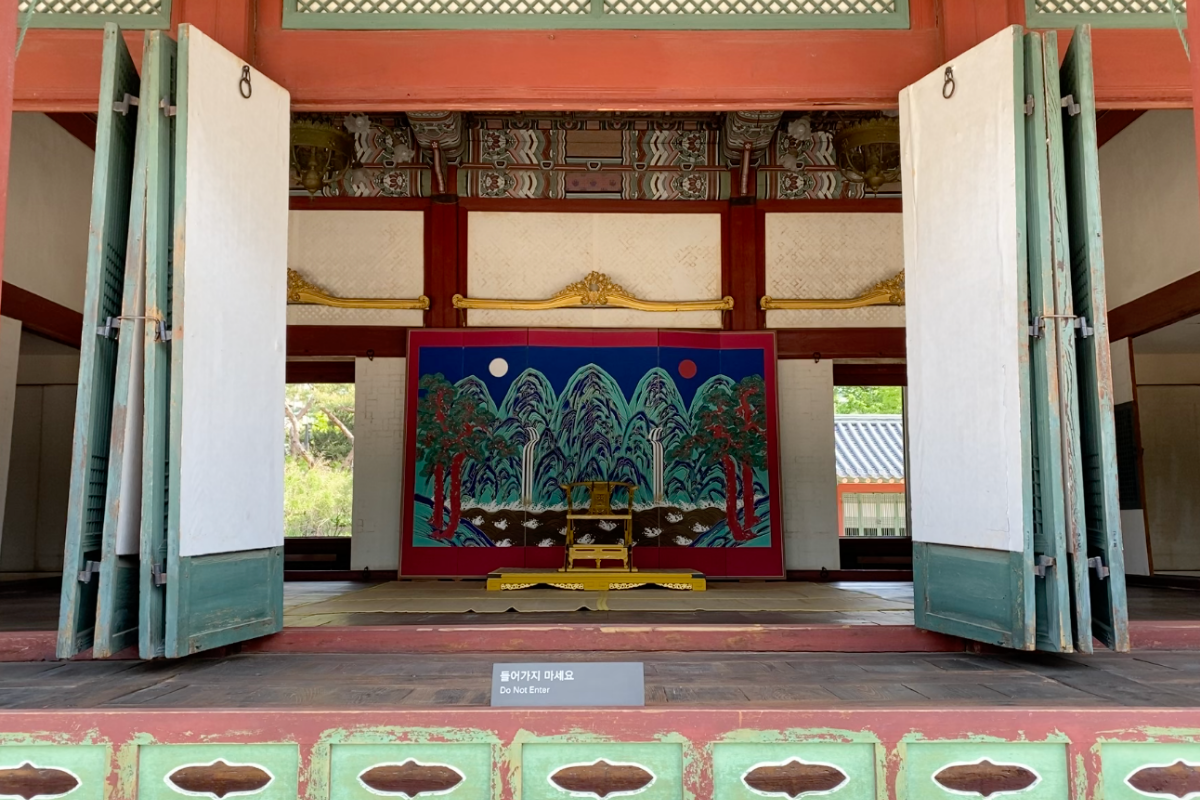 Deokhongjeon is a must-see site within the palace. This hall is where the King would conduct his daily businesses and where he would meet with both domestic and foreign high ranking officers to discuss national and foreign affairs. The images and the dragon heads that can be found on the roof were believed to expel misfortune within the building and protect the building from catching on fire.
Jeonggwanheon Hall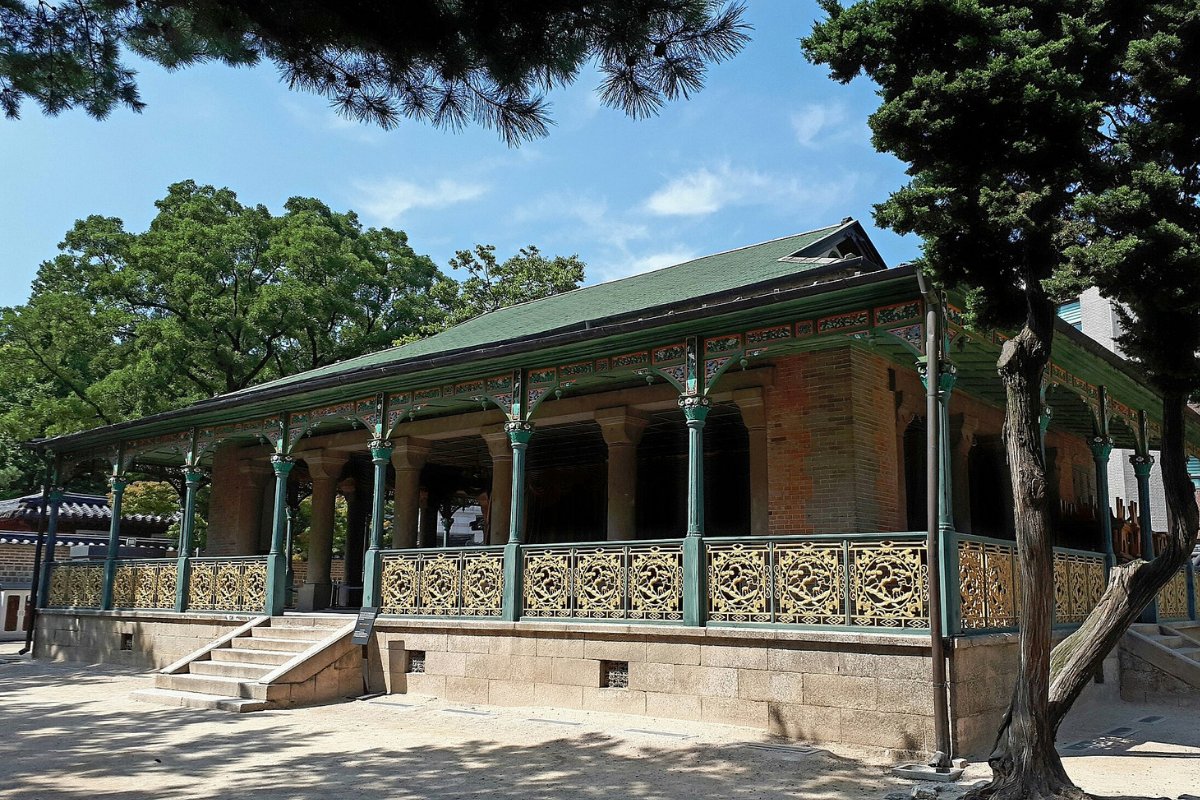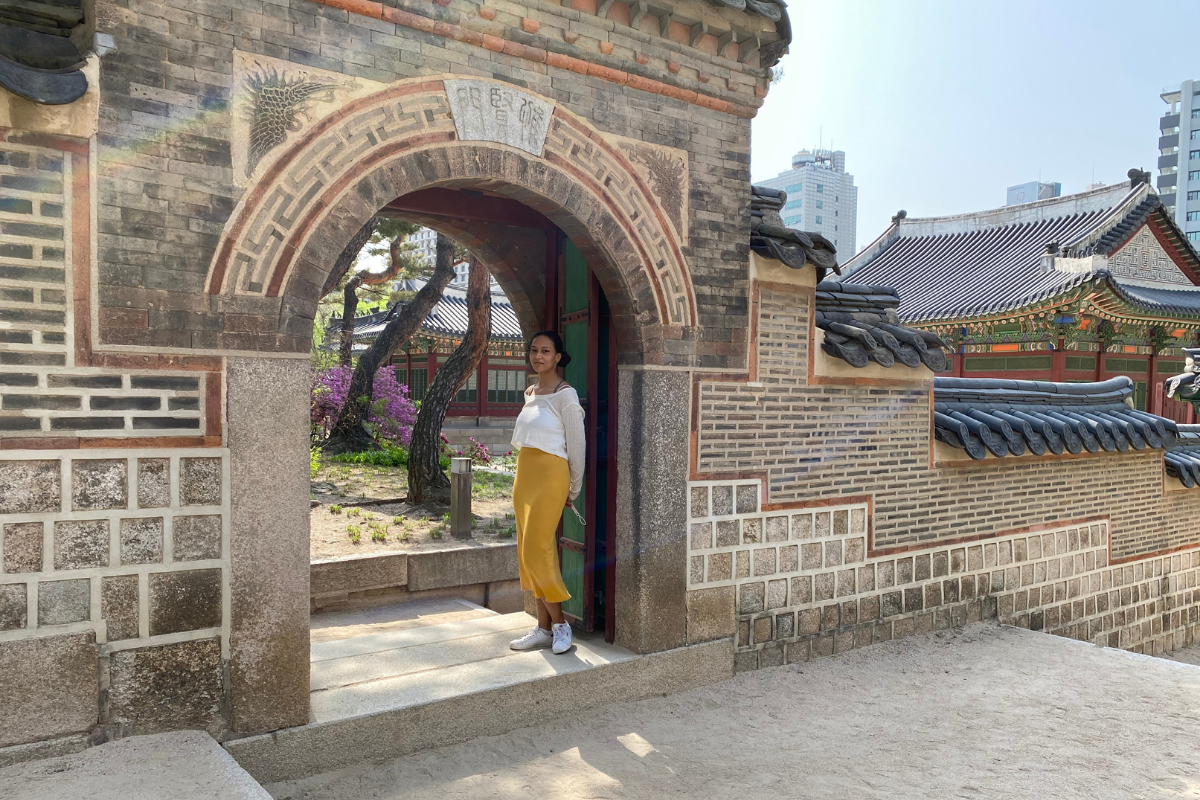 Jeongwanheon Hall is one of the first European style buildings that were building within palace. This building was used for entertaining guests and parties. Although the architectural style is Western, this building still has touches of Korean style elements such as the gold decorations and the colorful floral designs. In front of the Hall is also a mini garden area that has a view of the other buildings in the palace ground and is a great place to take some beautiful photos!
Junghwamun Gate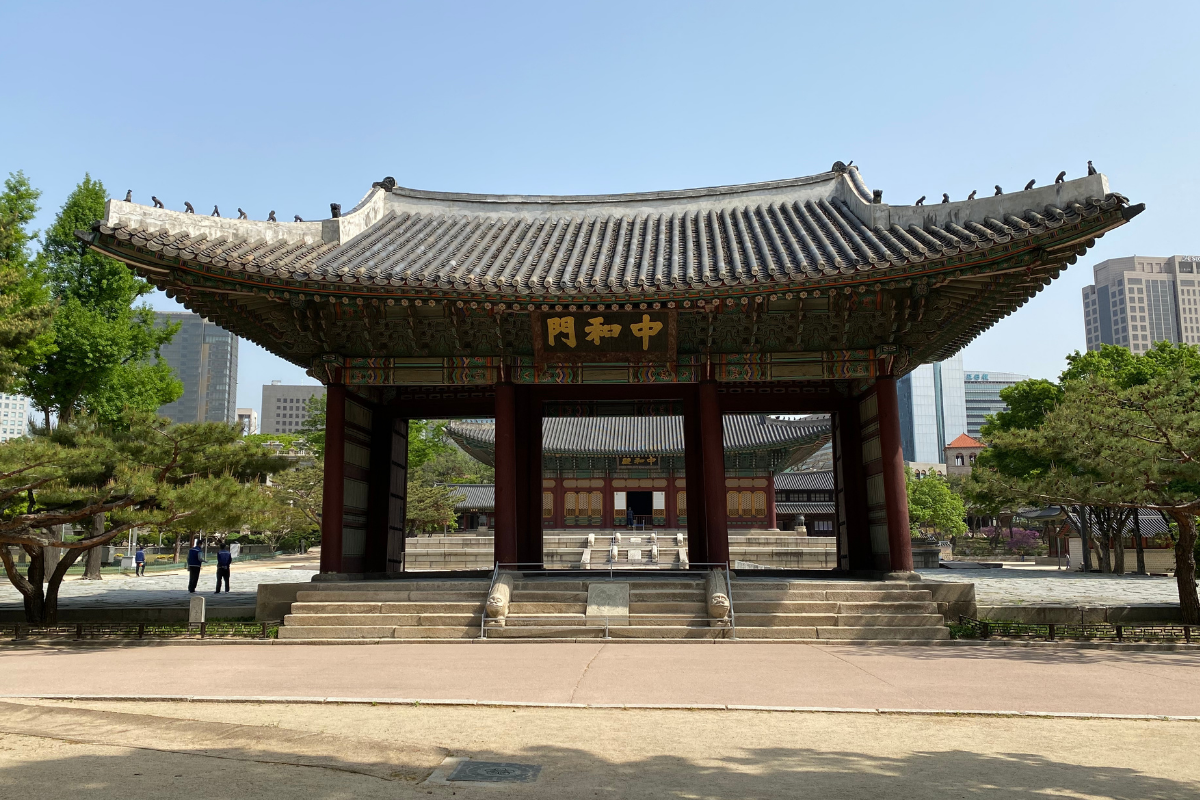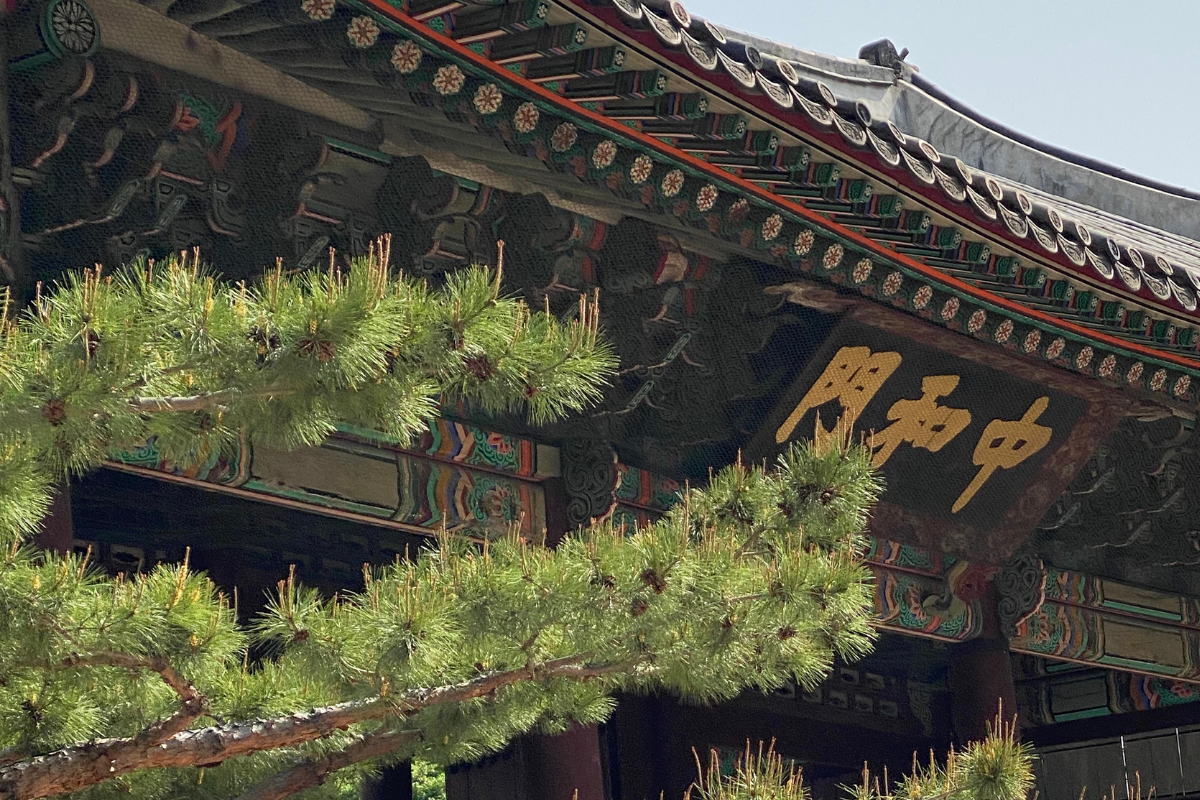 This is the gate that leads to the main hall of Deoksugung palace. You can see the main hall through the gate. It is believed that this gate was built when Junghwajeon (the main hall) was rebuilt in 1906. One unique thing that we liked about this gate was that you could see some present day buildings (on the right) in the background as well as parts of the main hall through the gate pillars. We thought it was a great way to show how this palace still remains untouched amongst all the new buildings, changes, and modernization that Korea has gone through.
Junghwajeon Hall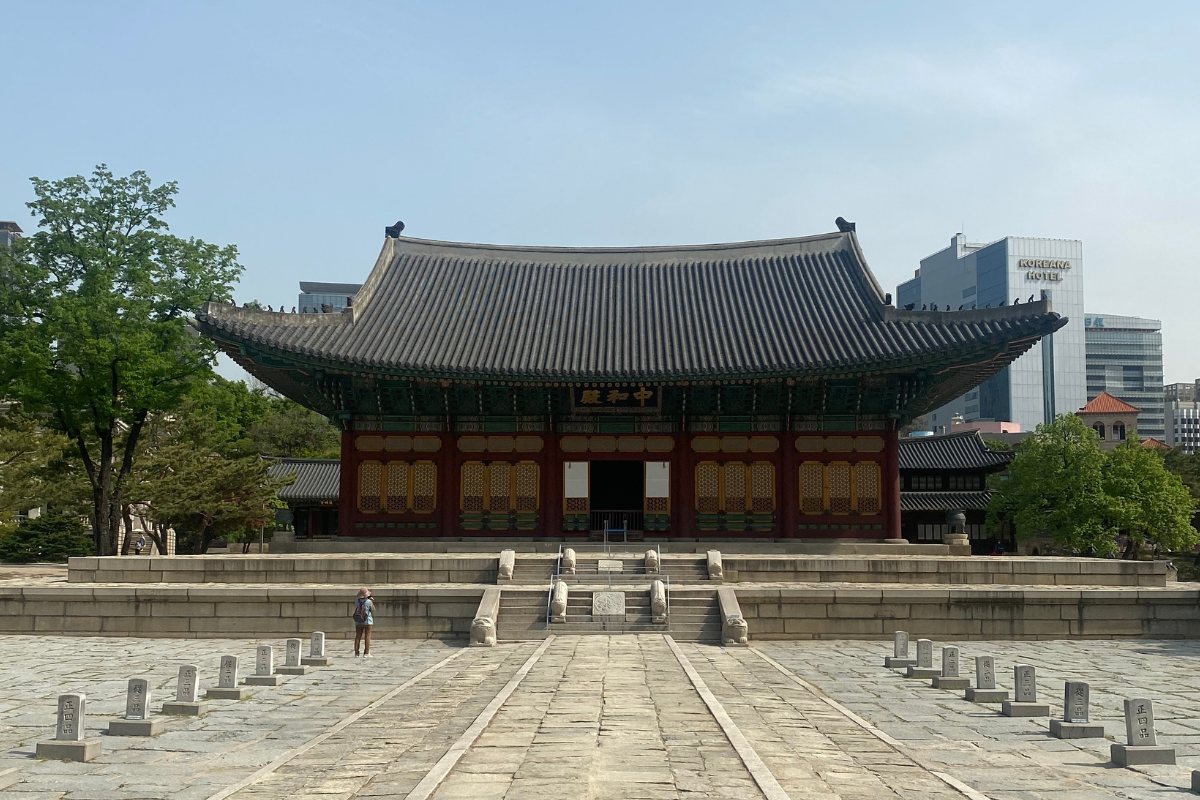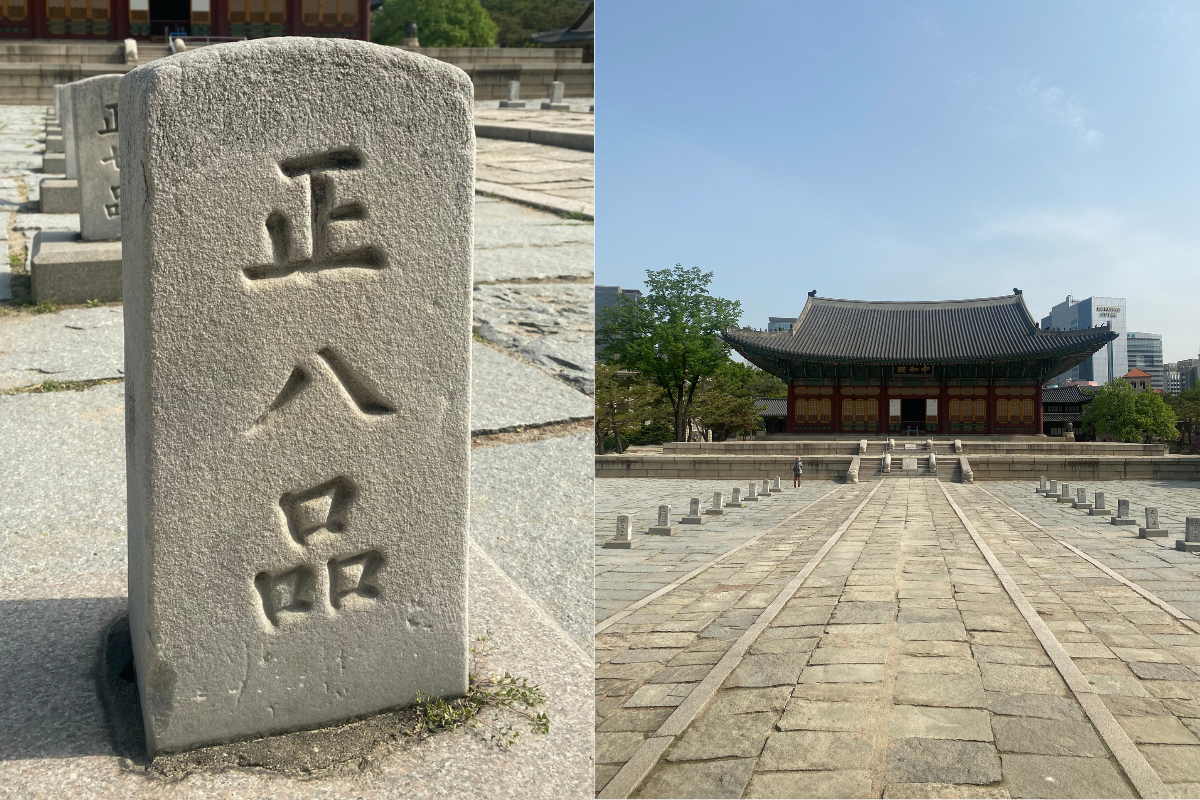 This is the main throne hall of the Deoksugung where King Gojong held official functions. On the way leading to the hall are rectangular stones called 'pumgyeseoks' which are stone markers where military officials would line up against based on their ranks during official functions. These are not unique just to Deoksugung, you can see these stone markers in other royal palaces as well!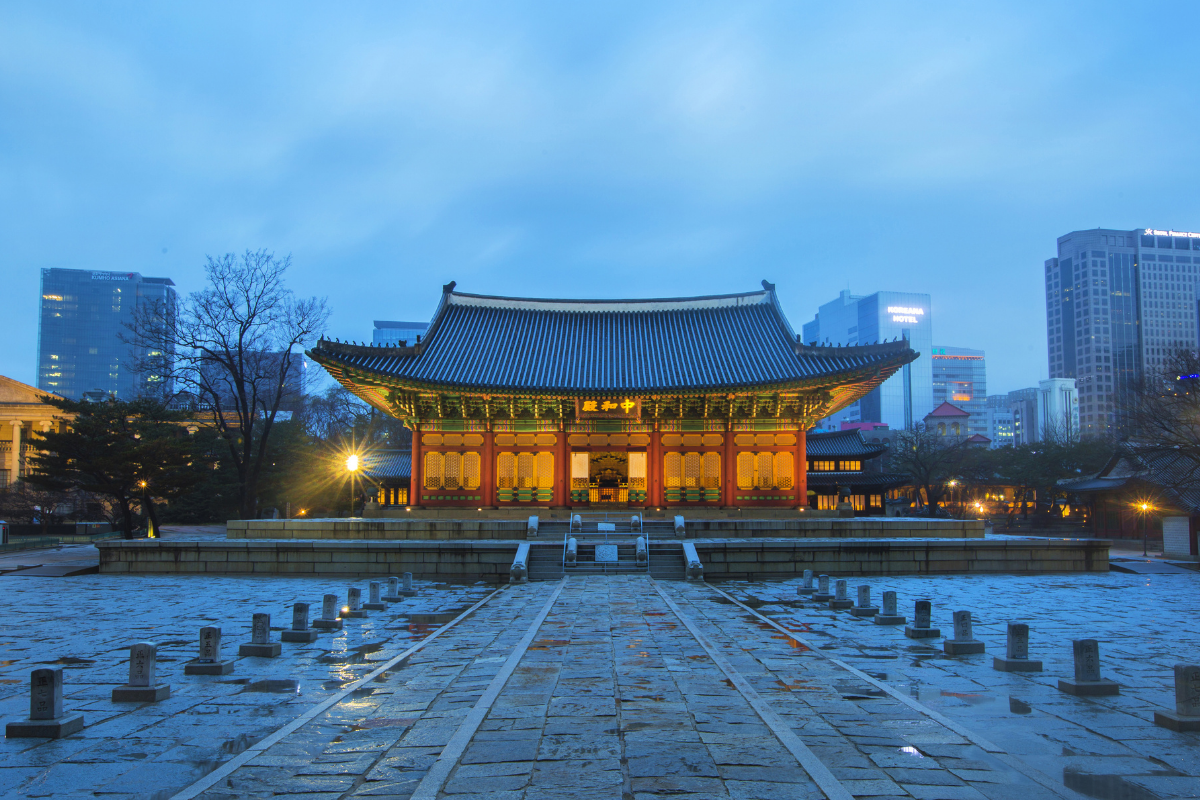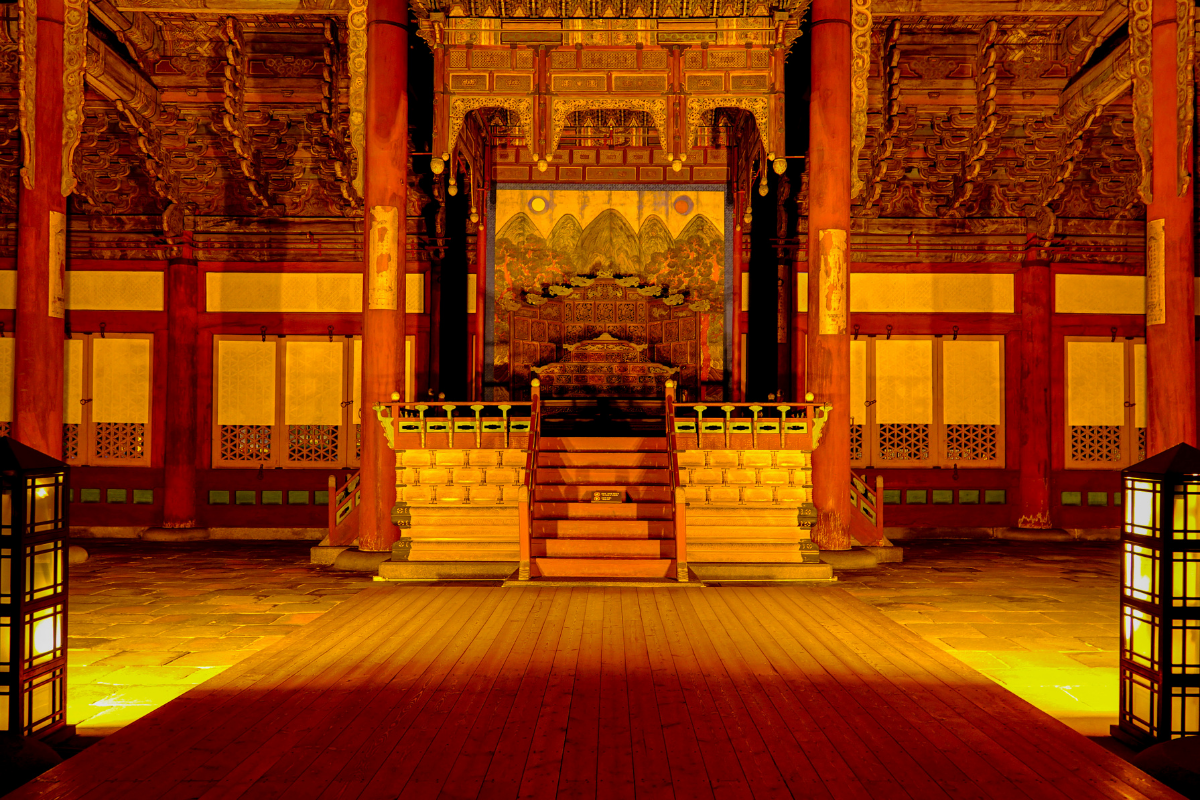 The main hall and the interior of the throne light up at night and are known for being absolutely breathtaking in the darker hours! If you are here around sunset, make sure to come and take a look as the lights come on.
Seokjojoen Hall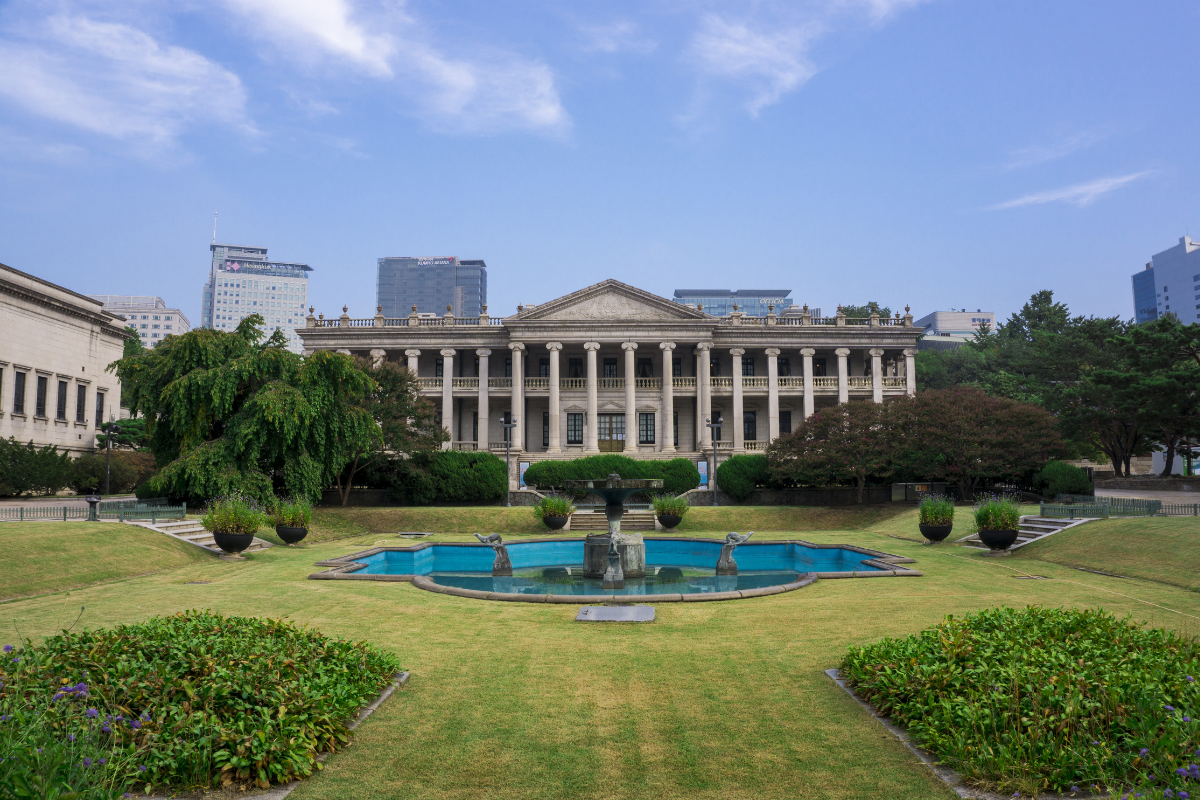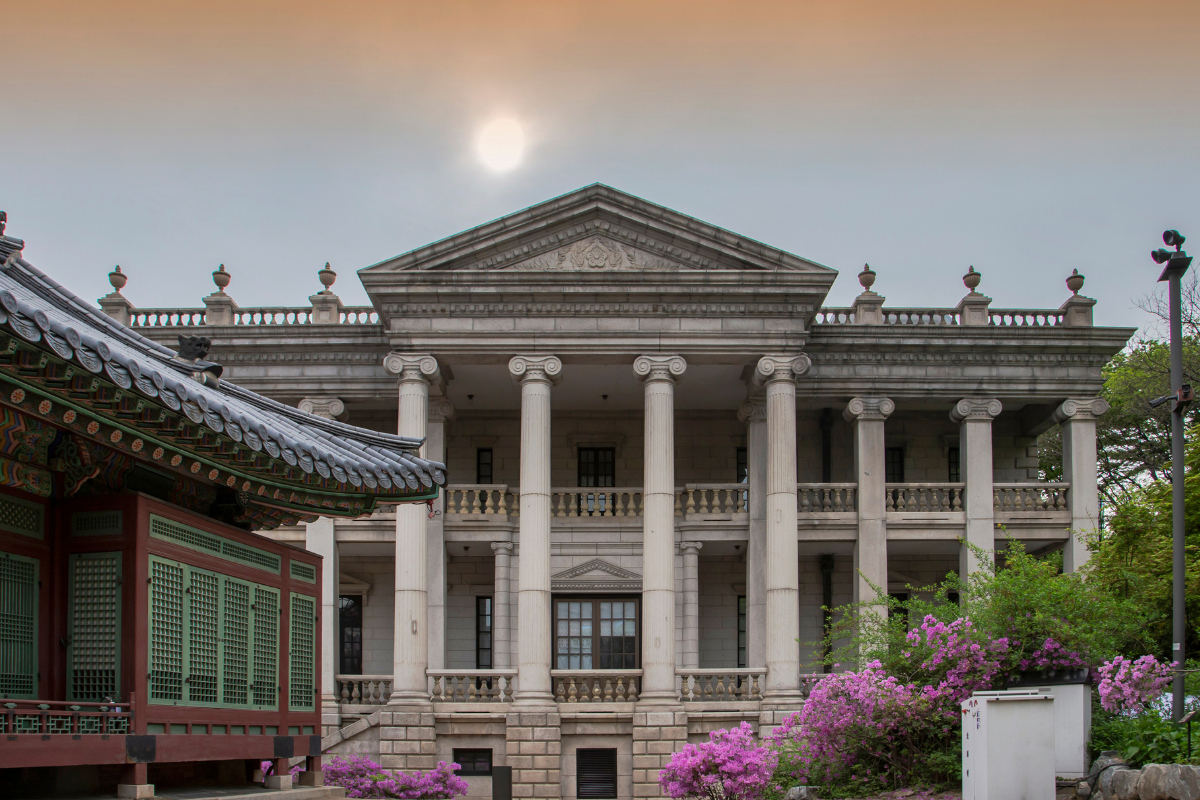 This hall has obvious western influences, created in a Neo-Classicist style. This was one of the first western buildings in Korea, and it reflects King Gojong's hope for sovereignty of the nation. This building was the sleeping quarters of King Gojong, and also an audience hall for casual events. This building is iconic as it is one of the first symbols of Korea's modernization and incorporation of the west. You can also enjoy the garden in front of the hall and walk around the area.
Jungmyeongjeon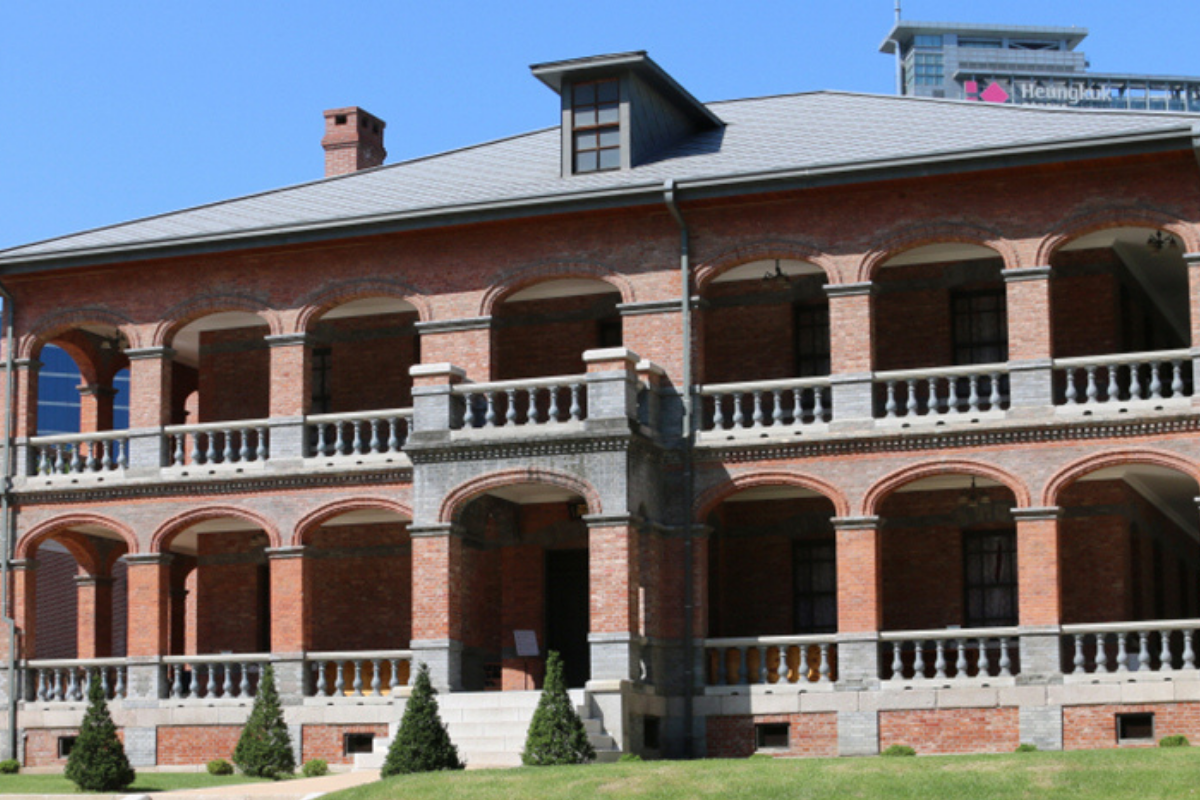 Jungmyeongjeon Hall is not physically located in the palace grounds, but is a short walk away. When Deoksugung caught on fire in 1904, Jungmyeongjeon Hall became the main office for King Gojong for discussing national affairs. It also used to be a part of the the main palace grounds until the stone wall was built between the two areas. Like Seokjojeon, Jungmyeongjeon also showcased a modern and wester architectural style. It has been officially apart of Deoksugung as of 2007.
Stonewall Road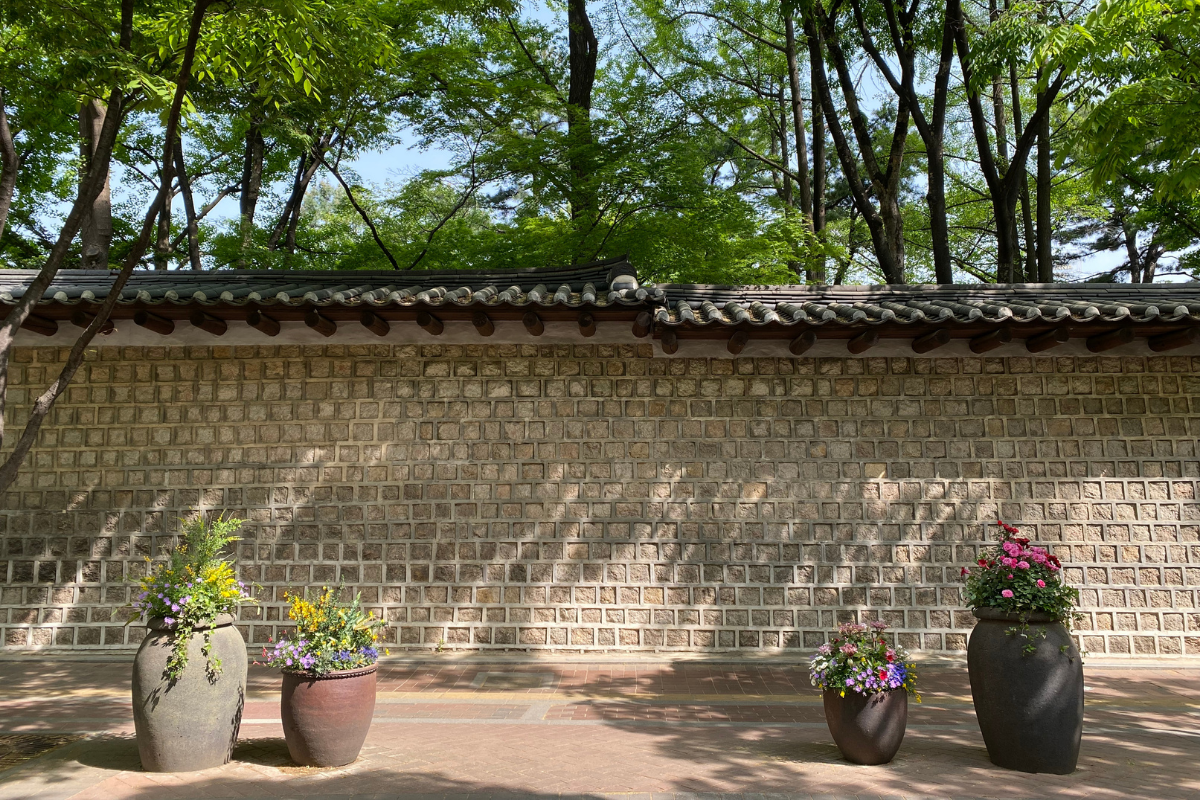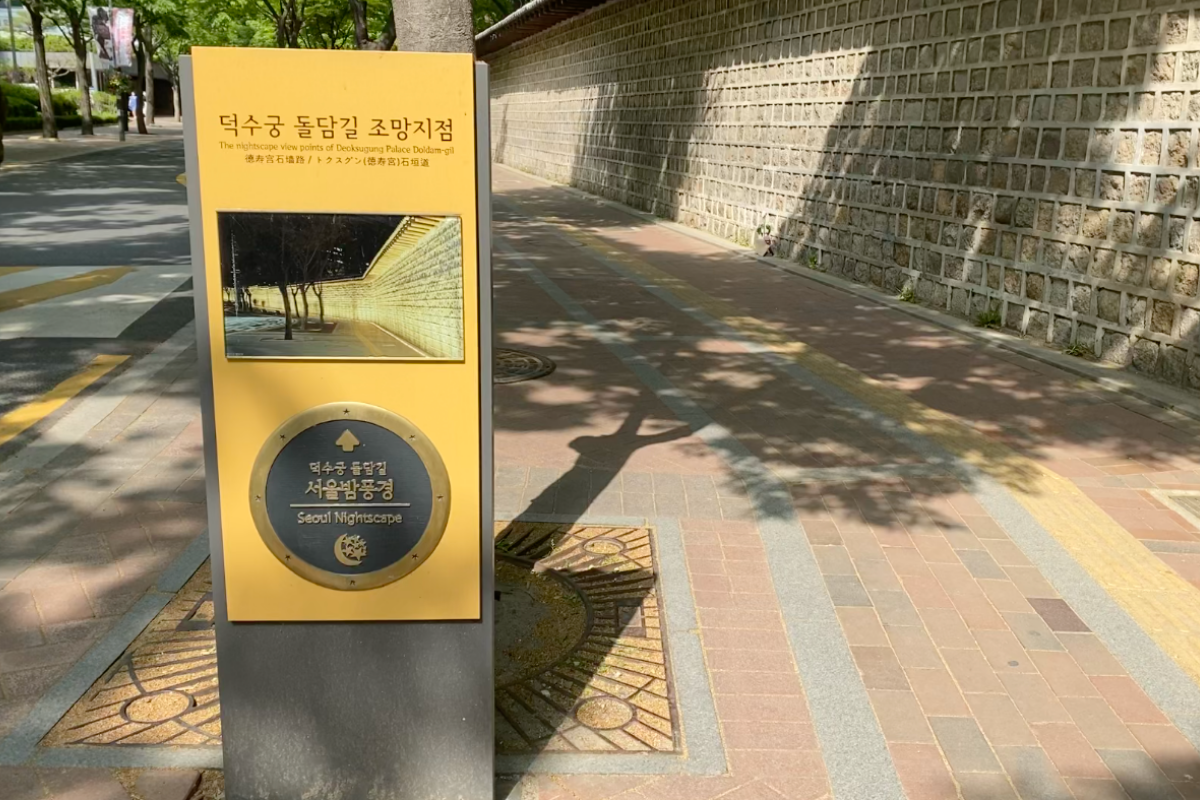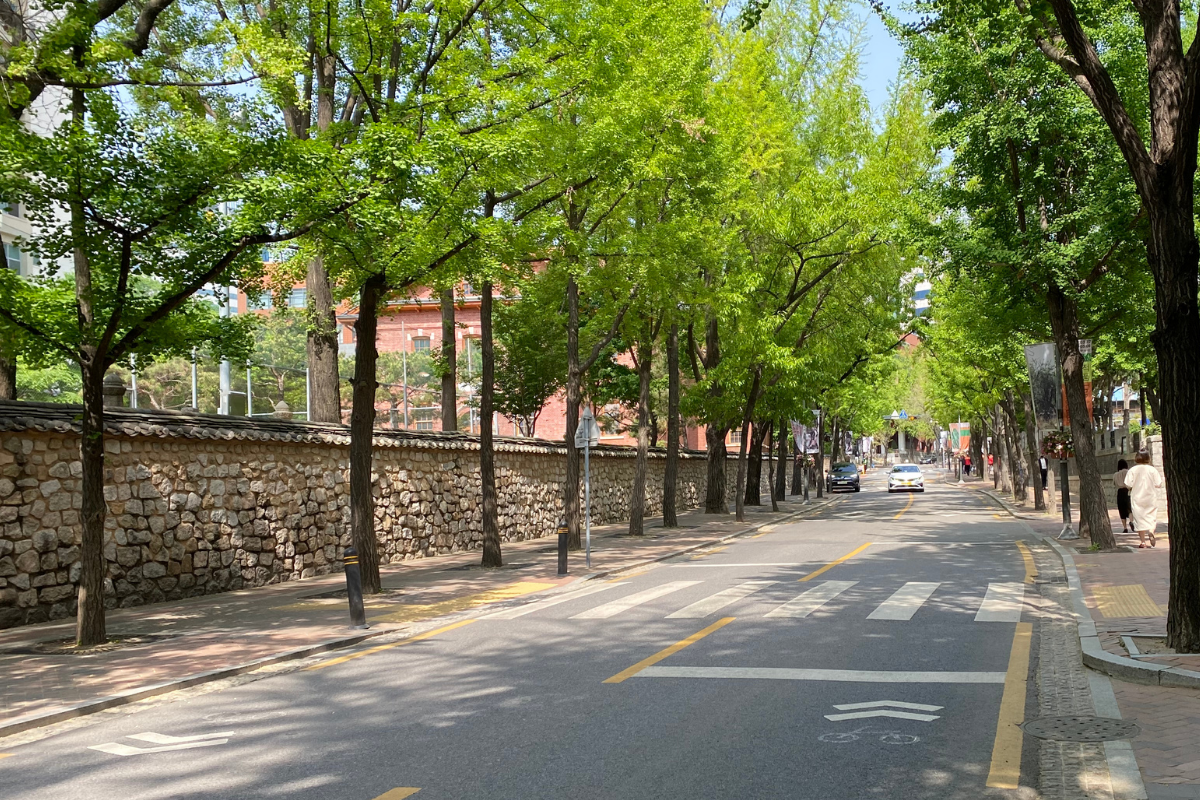 Like stated earlier, the stonewall that surrounds Deoksugung is an extremely popular spot. Not only does the stonewall surround the palace premise, but there is also a walkway along the side of the palace. This walkway is a picturesque spot that is known by many locals. The path runs for around 900 meters and even more so during the spring and fall months due to the flowers and the foliage that can be seen during those seasons. After exploring the palace grounds, take a relaxing walk alongside the stonewall!
---
Nearby Attractions
Jeongdong Observatory & Cafe Darak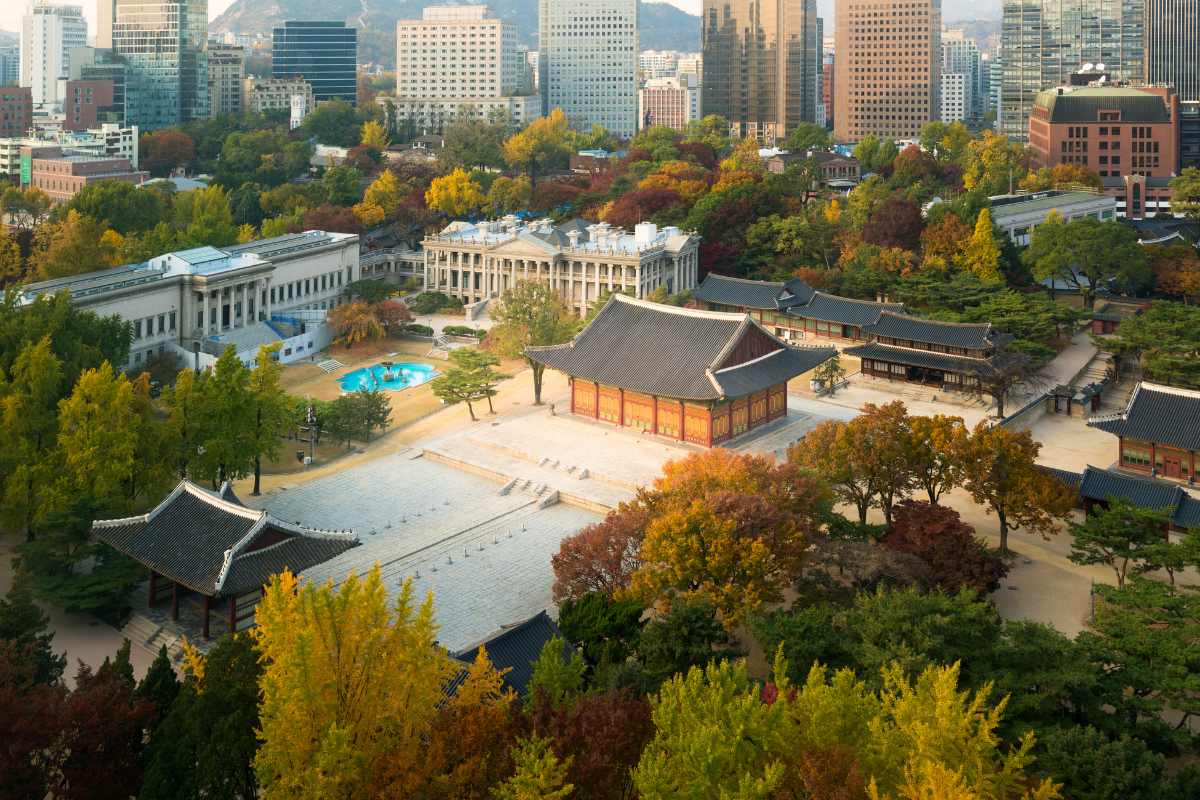 When you look up "Deoksugung" on Instagram or in Google, you might come across many photos of the palace from above. If you would like to recreate these iconic photos, or would just like to enjoy the view from above, head to Jeongdong Observatory & Cafe Darak on the 13th floor of Seoul City Hall Seosomun Building. The view from above is beautiful no matter the season or time of year so you are always bound to get some nice photos no matter when you go!
Address: 서울 중구 덕수굴길 15 서소문청사 1동 13층
Deoksugung-gil, Jung-gu, Seoul (13th Floor of Seoul City Hall Seosomun Building)
Hours: Weekdays: 09:00-21:00, Weekends & Public Holidays: 09:00-18:00
(Currently Jeongdong Obeservatory is not operating. We will update when it is back in operation)
Seoul Museum of Art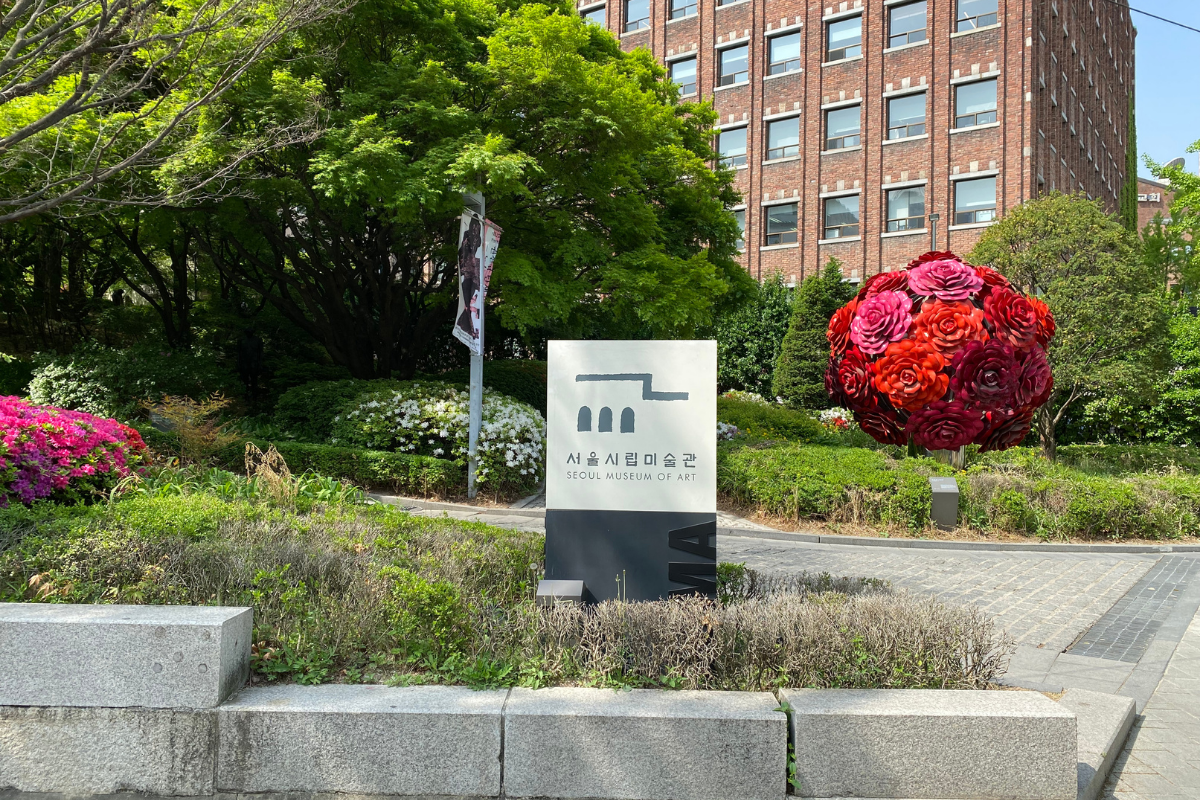 Once you start walking alongside the Stonewall Road, you will pass the Seoul Museum of Art. If you are a fan of modern art and would like to learn more about Korean art and artsits, this is a great place to stop by after your visit to Deoksugung! The museum has many exhibitions and programs that change up frequently, so be sure to check their website to see what exhibitions are on during the time of your visit.
Address: 서울 중구 덕수굴길 61 (서소문동)
61, Deoksugung-gil, Jung-gu, Seoul, Korea
Hours: Tues-Fri: 10:00-20:00 Sat / Sun / National Holidays: Summer 10:00- 19:00, Winter 10:00-18:00
Price: Admission is free unless it is to a special exhibition
Seoul Plaza / City Hall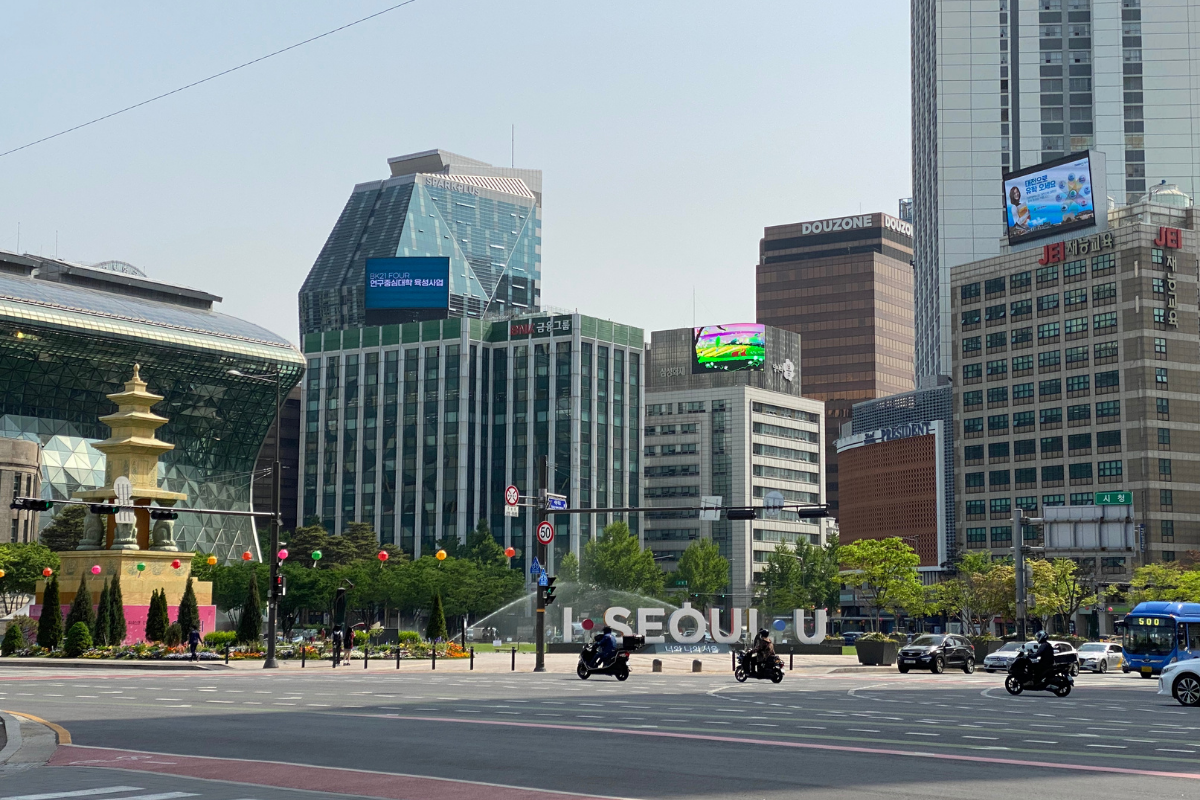 Like stated earlier in the blog, Deoksugung is located on a very busy intersection. This is because right across the street from Deoksugung is Seoul Plaza and City Hall. This area is famous for being the plaza where pro-democracy movements as well as the Samil (March 1) Independence Movement took place. Now it is a nice green area you can enjoy with a grass field as well as a beautiful ice rink in the winter.
Address: 서울 중구 세종대로 110
110 Sejong-daero, Jung-gu, Seoul
Beans Bins Shinhan Bank Branch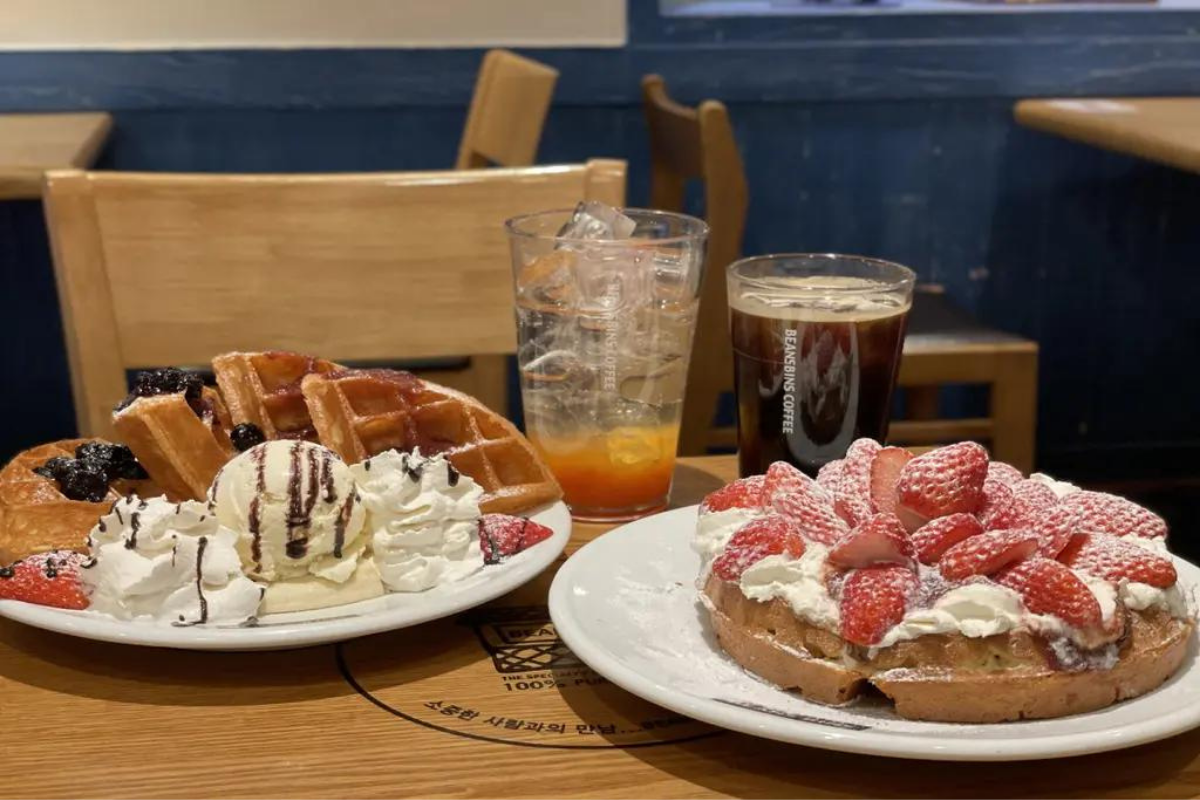 After all that exploring, you might be a little hungry! Don't worry- in a short walking distance of Deoksugung is Beans Bins, a Korean waffle shop! They specialize in Korean-style waffles, which tend to be filled with heavenly amounts of whipped cream and topped with various types of fruits! They come in an assortment of flavors so you can try out a whole bunch. Creatrip members can even get a coupon here.
Mugyodong Yoojung Nakji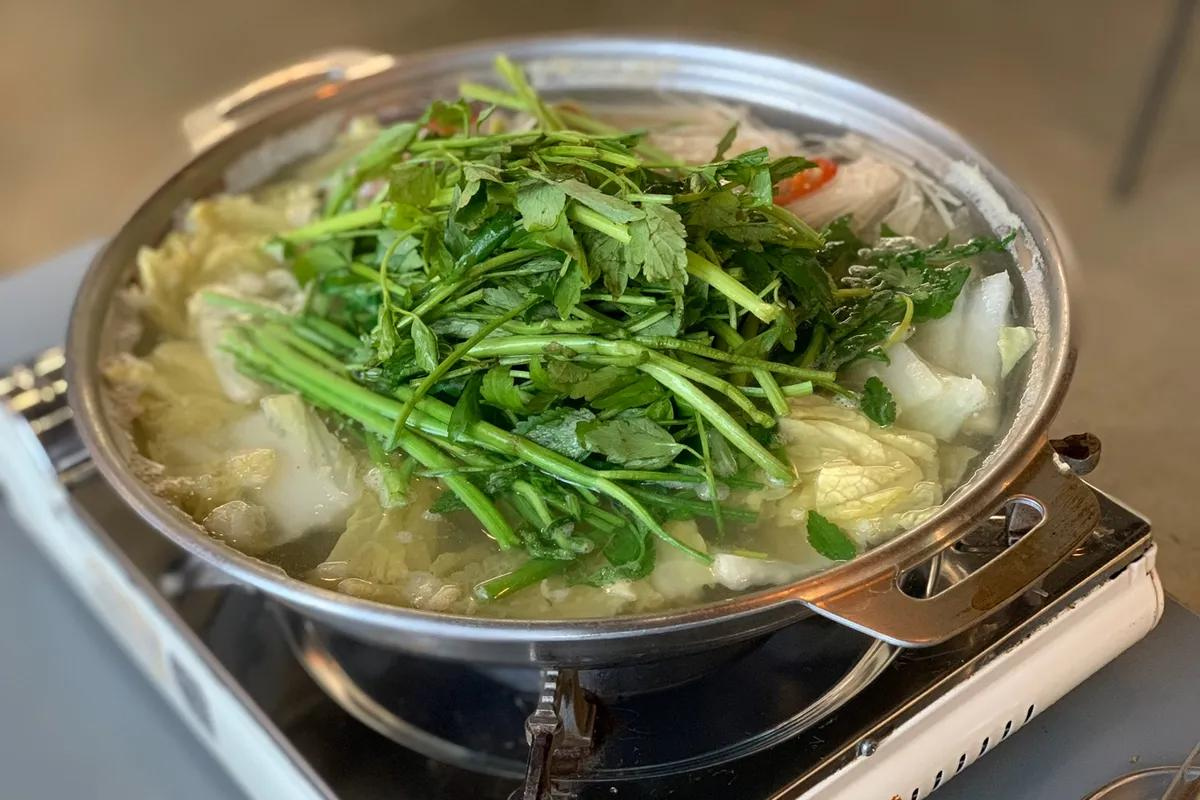 For those that would like to try some more traditional and classic Korean food after their visit to the palace, head over to Mugyodong Yoojung Nakji and try octopus stir fry and octopus stew! Seafood is a major component of Korean cuisine and many of it comes in the form of stews and stir-fried. You can try both here and even get some special Creatrip member benefits if you download the coupon on our website here!
Yonsei Yegam Dental Clinic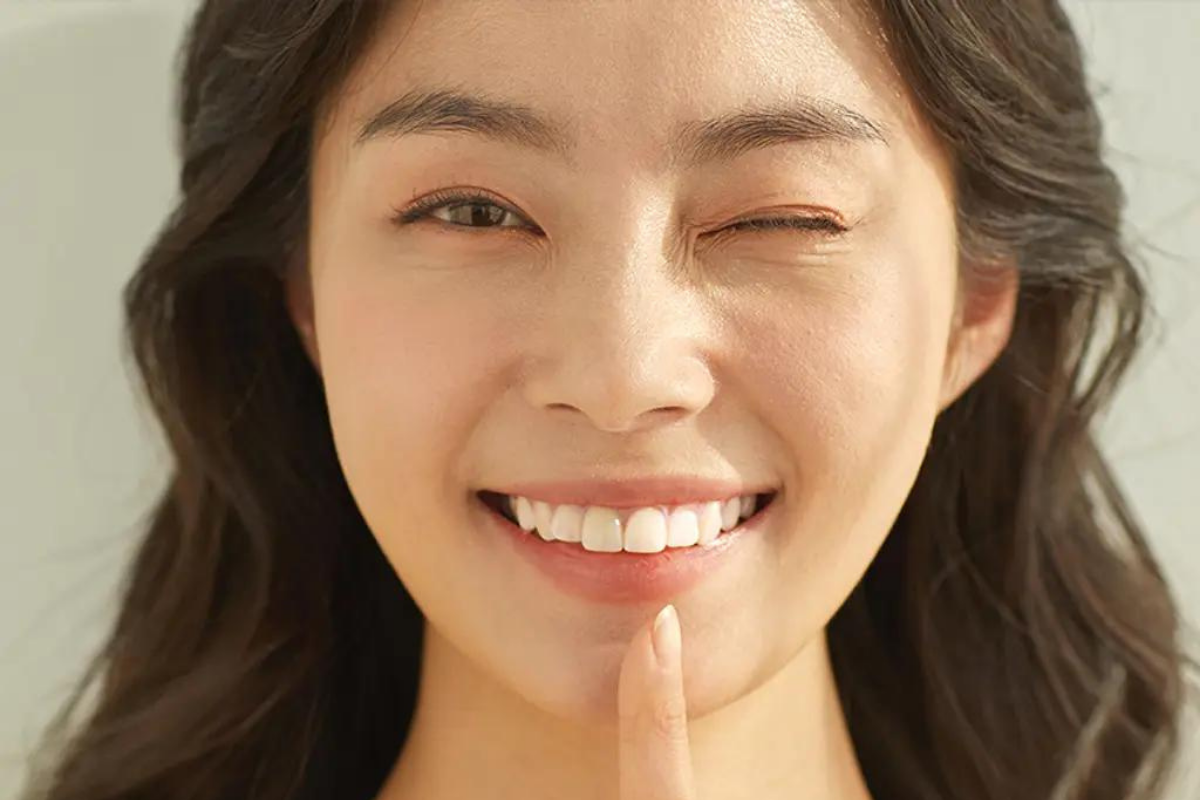 We know that this recommendation sounds quite random, especially in a blog about a palace! However, Korea is known for having affordable and efficient healthcare! They are very quick with procedures and they rarely cost that much (Teeth cleaning for around 40 USD!!). For those that may need a dental check up, cleaning or would like to do a teeth whitening but have been hesitant due to high healthcare costs or slow treatment times back home, we truly recommend trying it out when you are in Korea. If you reserve through Creatrip, you can also get an additional discount. Get your pearly whites now!
---
How to Get There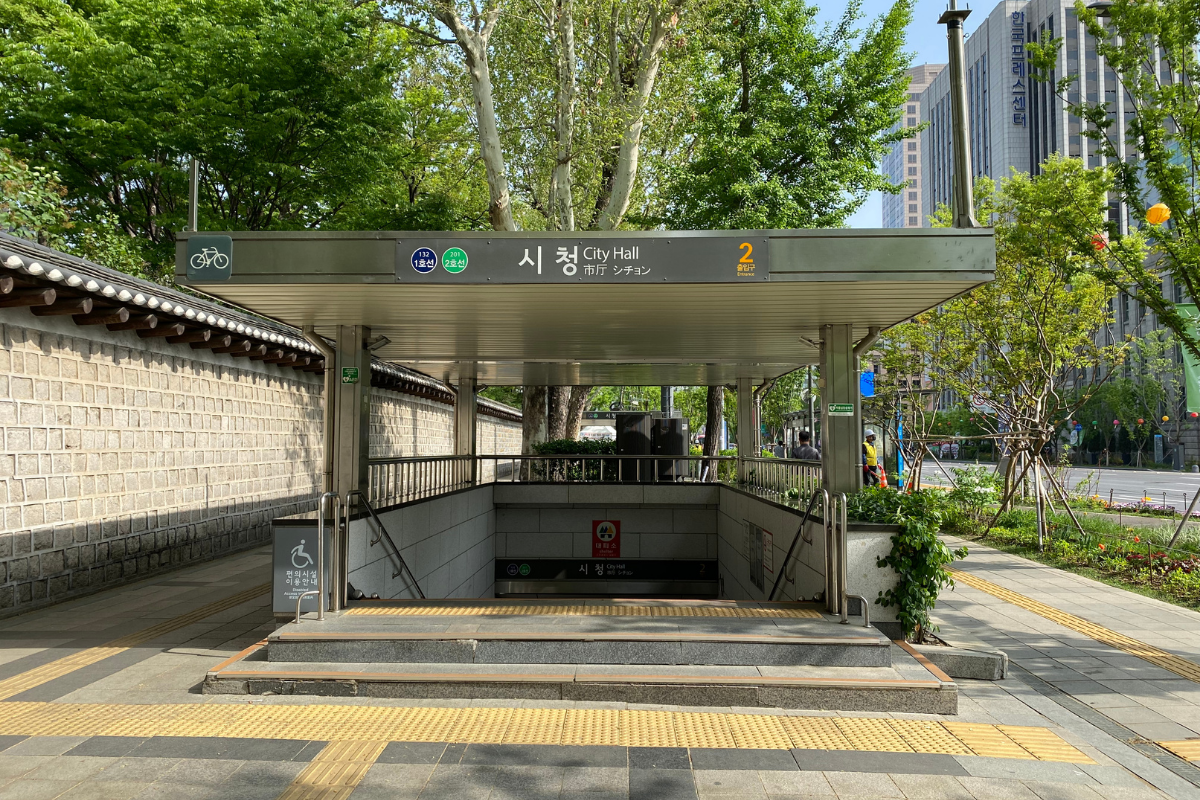 Exit out of Exit 2 of City Hall Station (Line 1).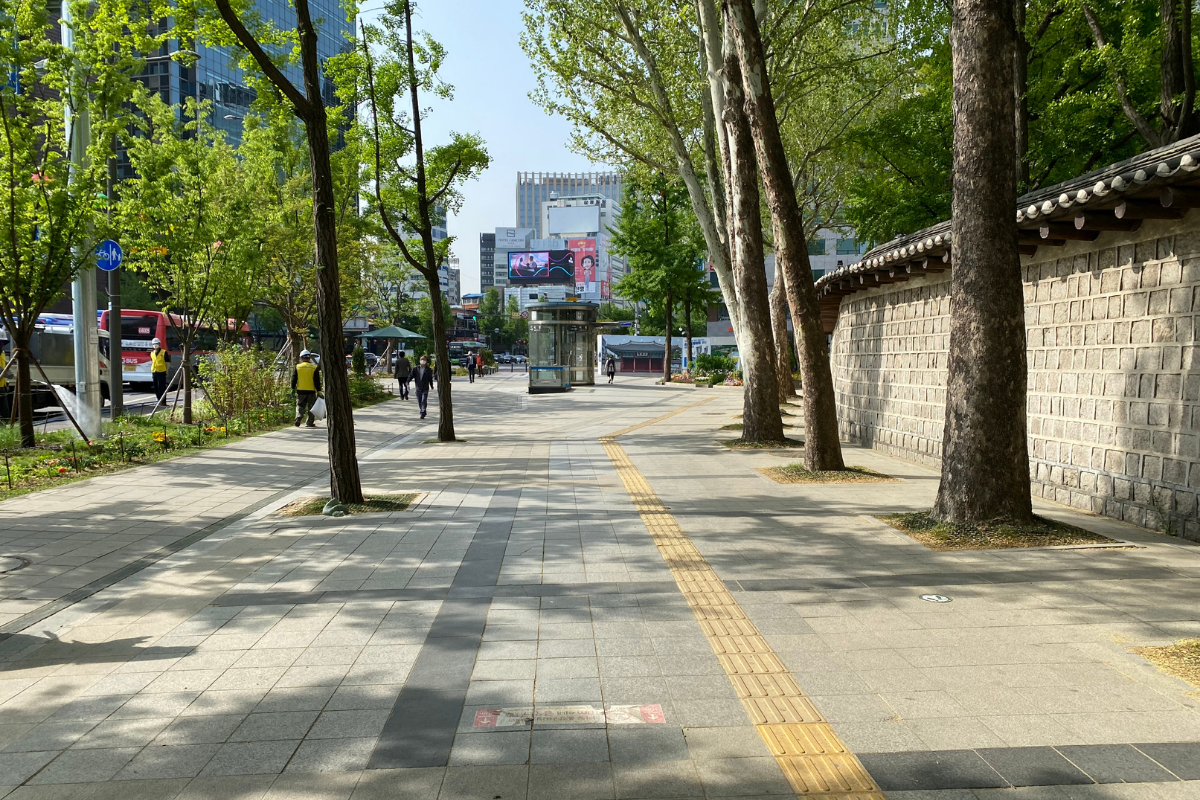 Continue straight.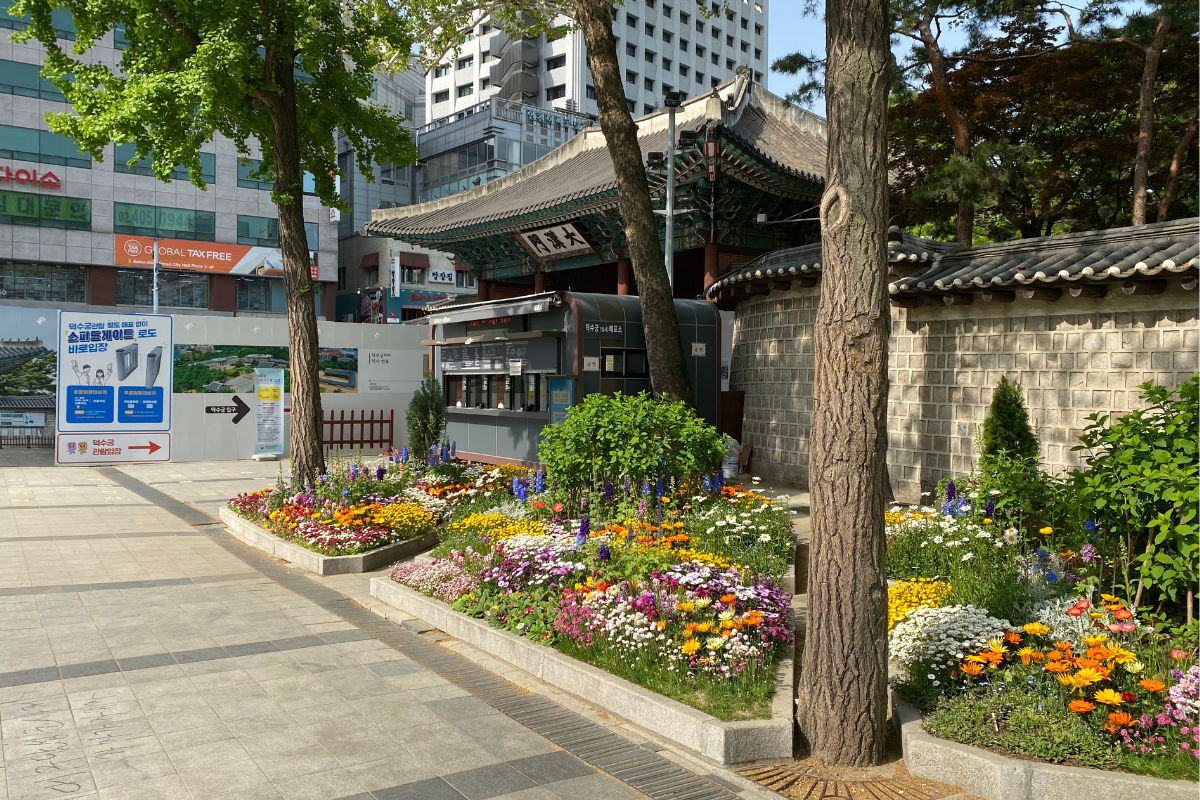 You will see Deoksugung on your right.
---
We hope that you will enjoy your visit to Deoksugung, one of the five royal palaces in Seoul! If you have any other questions, please leave a comment below or send us an email at help@creatrip.com! You can also follow us on Instagram, Tik Tok, and Facebook to stay updated on all things Korea!
---