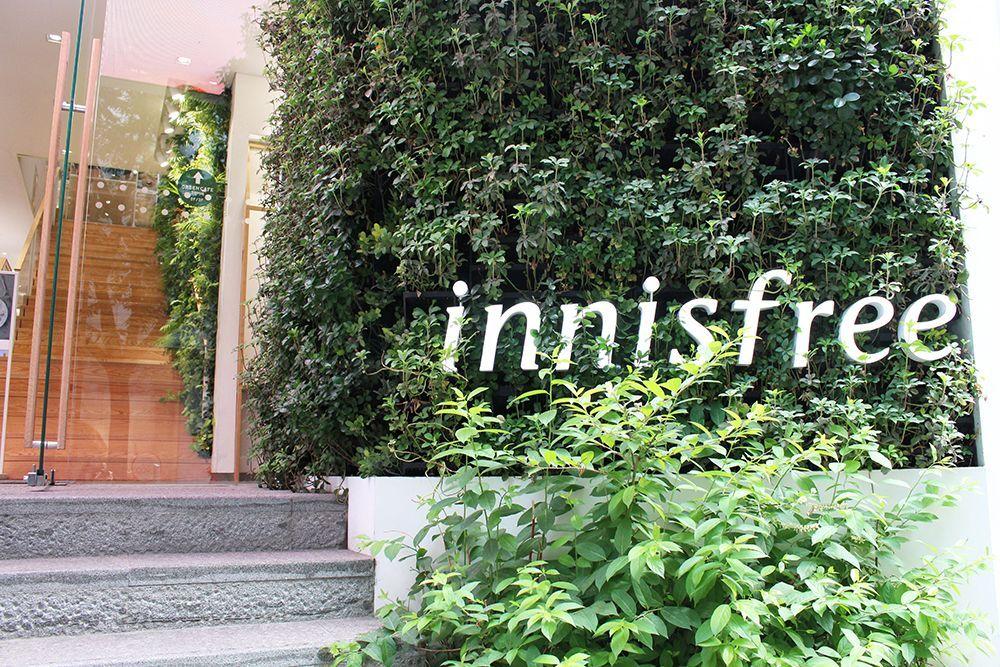 Innisfree is a Korean road-shop cosmetics brand popular among both locals and foreign visitors, but did you know that there's an Innisfree cafe in Myeongdong?
This place does not only have their usual collection of cosmetics but also features beautifully-decorated space and various types of desserts.
---
Information
Address:서울특별시 중구 명동길 13 2-3F
Hours : 09:00 - 23:00
---
Review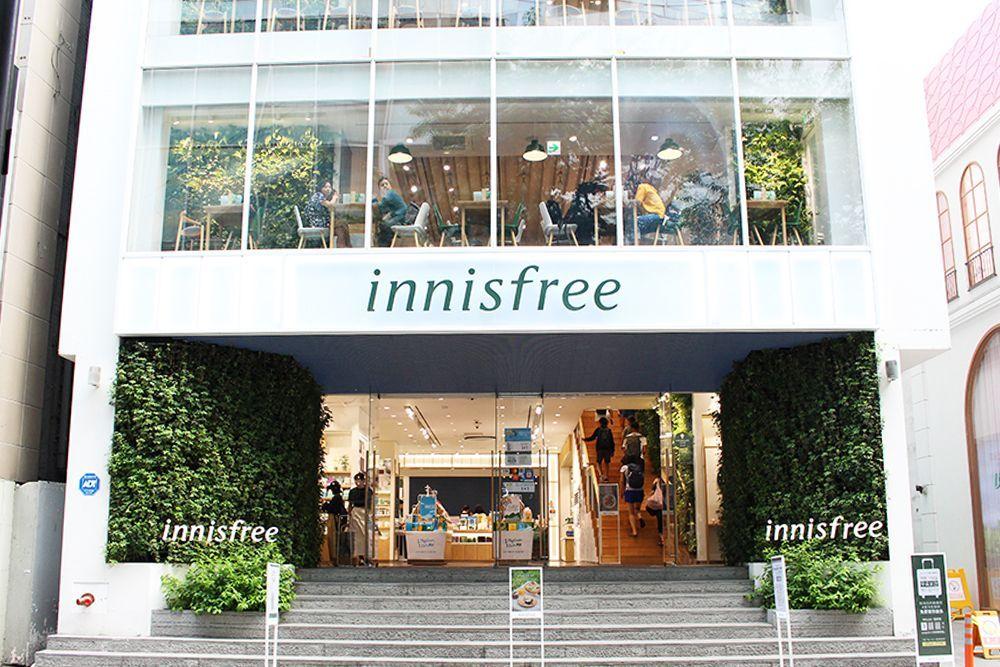 Today we visited the popular Innisfree Cafe located in Myeongdong. The building is massive that you'll spot it from miles away!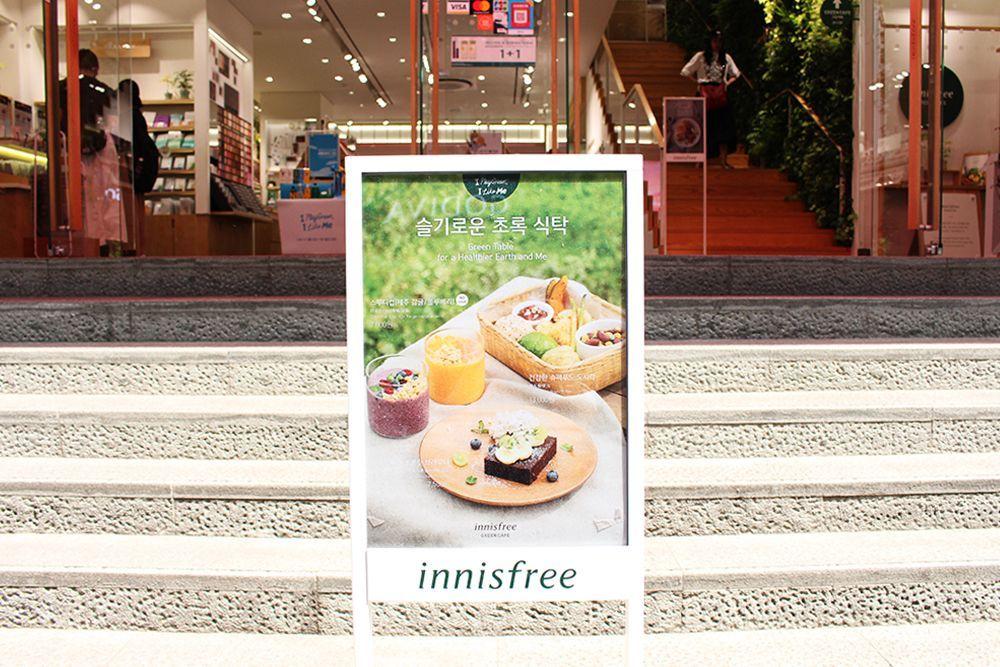 At the entrance, you can find out what the newest menus are.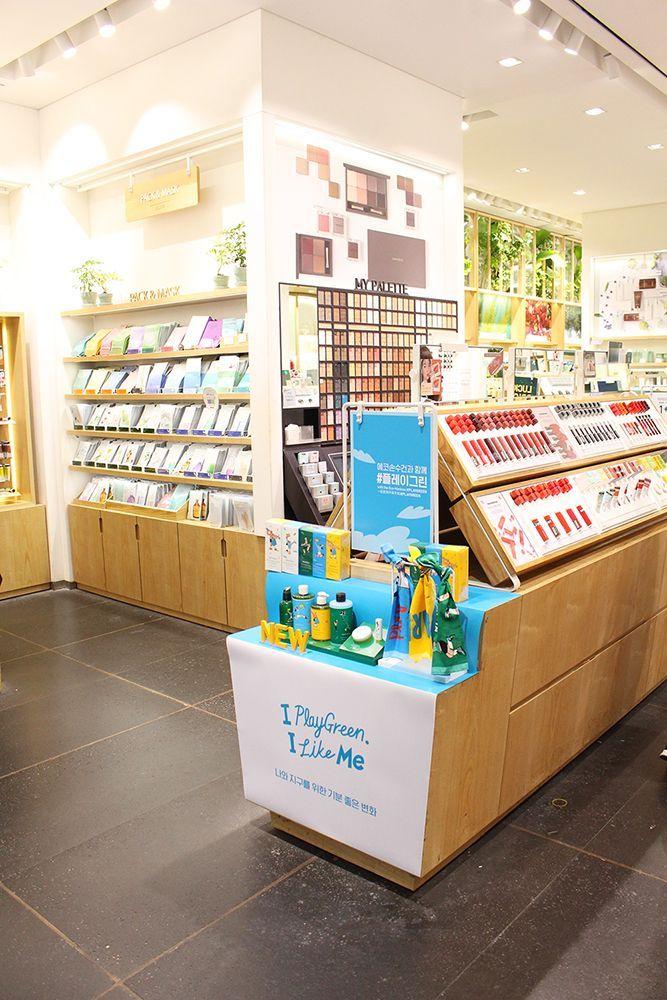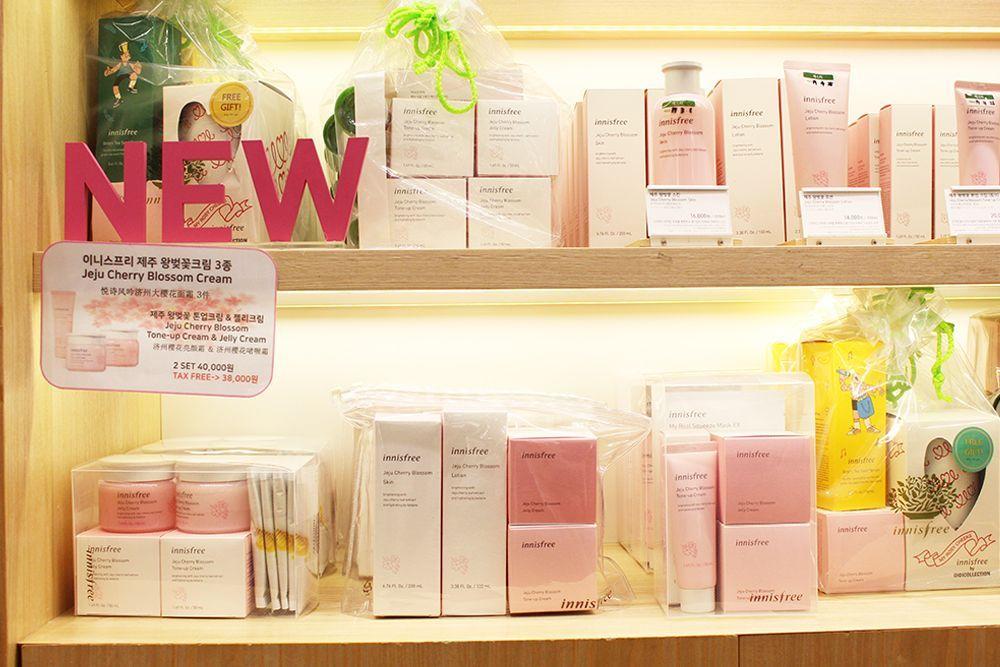 There are four floors in total. When you enter the building, you will be able to experience the A to Z of Innisfree's products. When you take the stairs up to the second and third floors, you will see the Green Cafe. Please note that the luggage service on the fourth floor isn't available at the moment.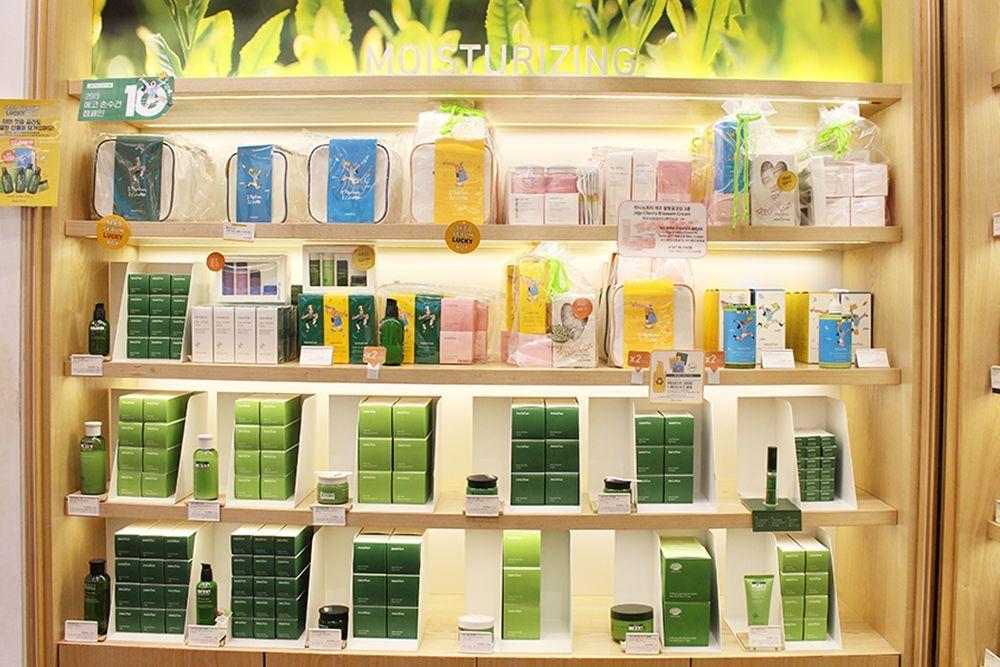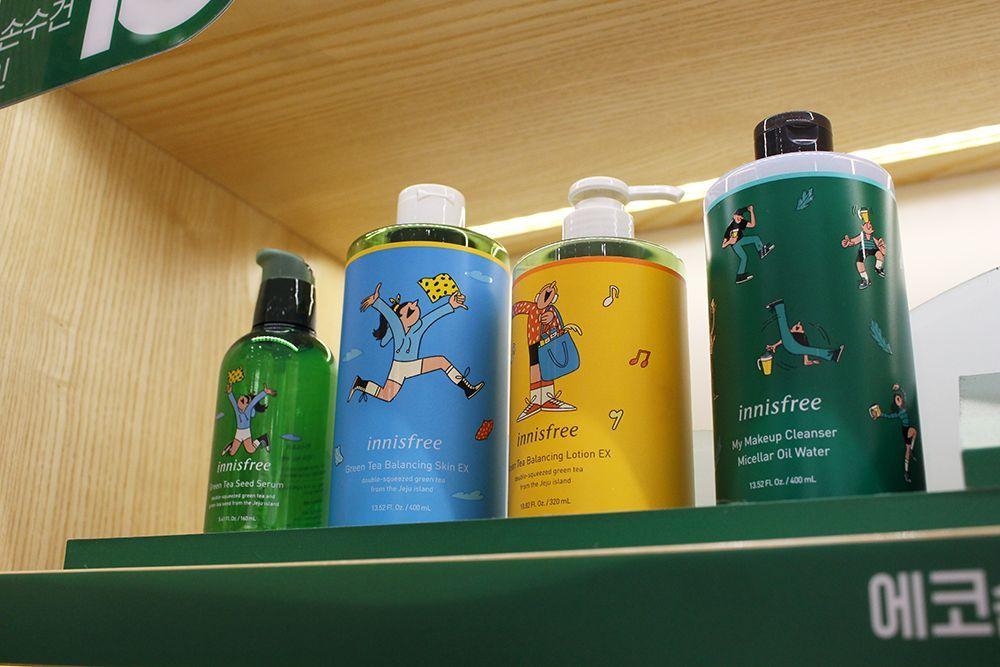 Innisfree changes its packaging from time to time. The quantity is limited, so if you are a fan of the specific product that has a cute design, get them while you can.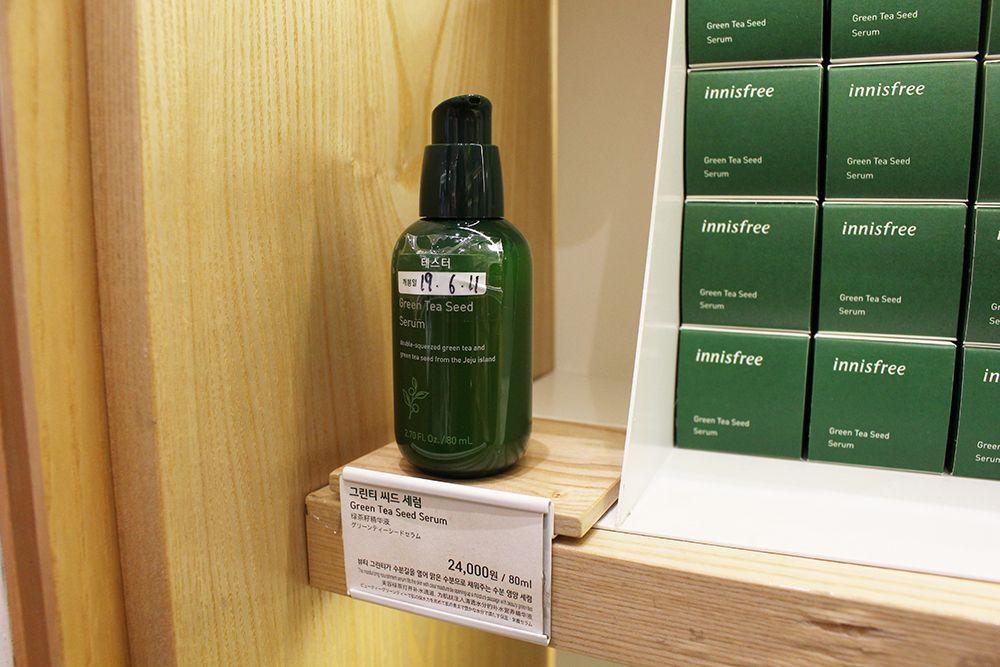 This is one of Innisfree's bestsellers. Green Tea Seed Serum is well-known for moisturizing and soothing texture for sensitive skin. It's a great product to use during the summer as a replacement for your normal moisturizer.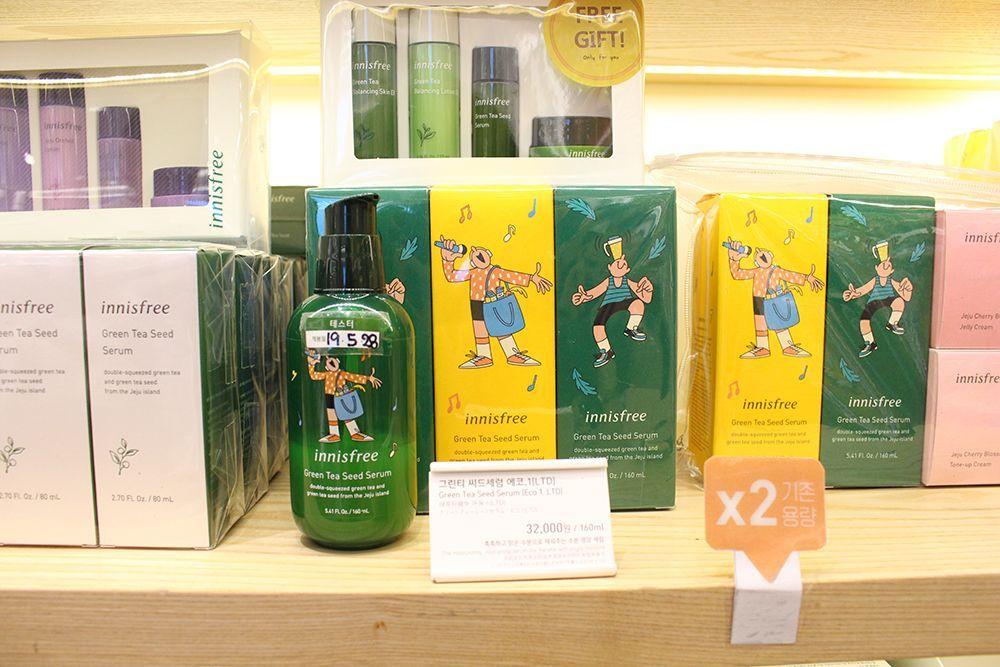 If you already are a fan of Green Tea Seed Serum, they have a larger option, which you get at twice the amount at a cheaper price. This is a very cost-effective option for those who are using this with the whole family or just a big fan of this!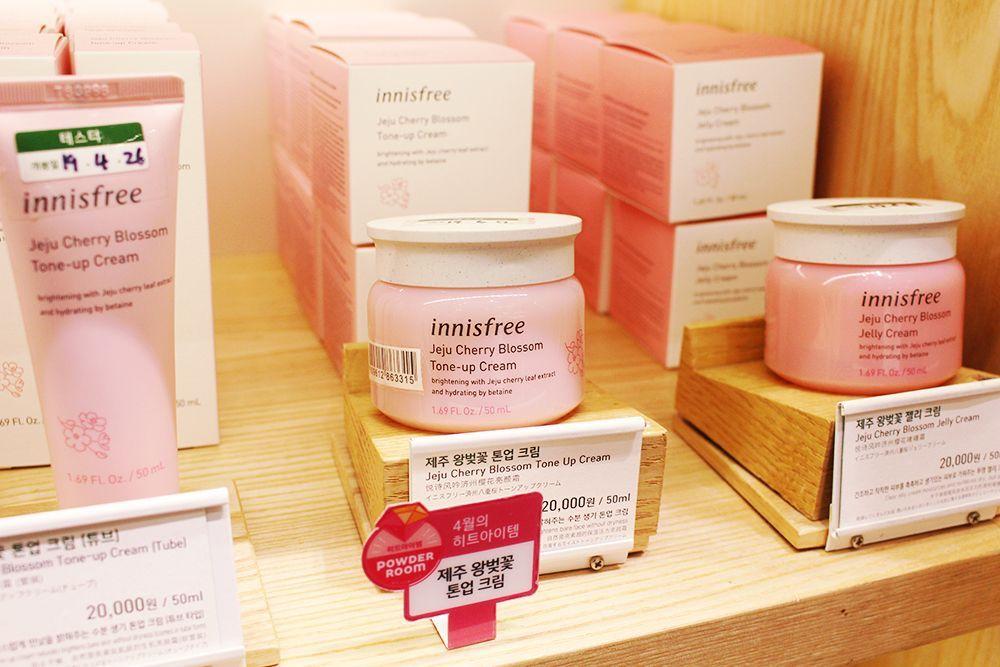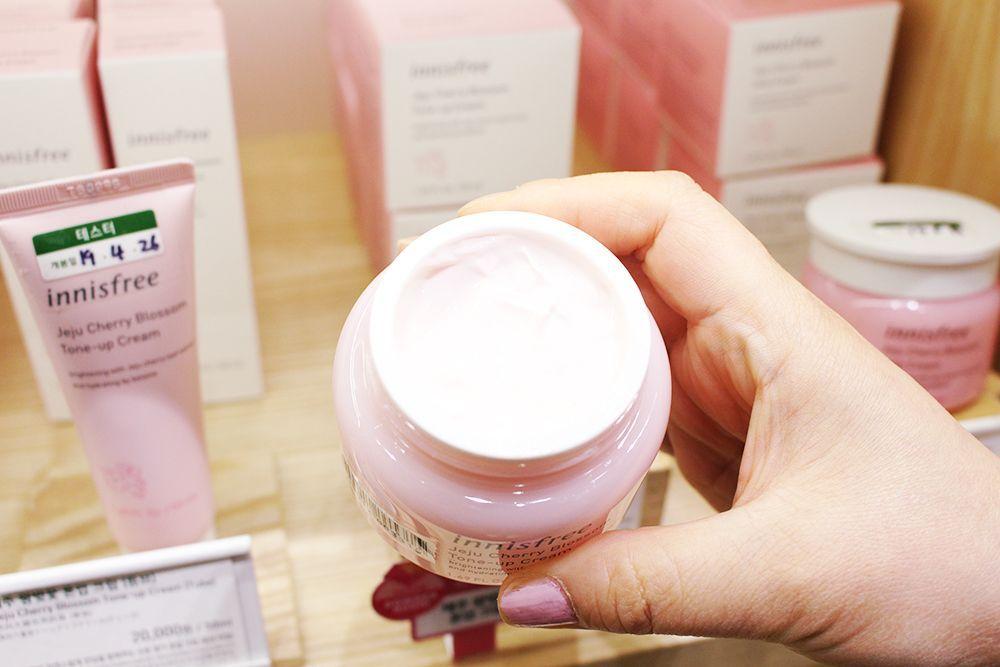 This Jeju Cherry Blossom line's tone-up cream was ranked under 2019's 'Best Tone-up Creams'. Isn't their pink packaging so adorable? This cream brightens your skin tone naturally without stickiness.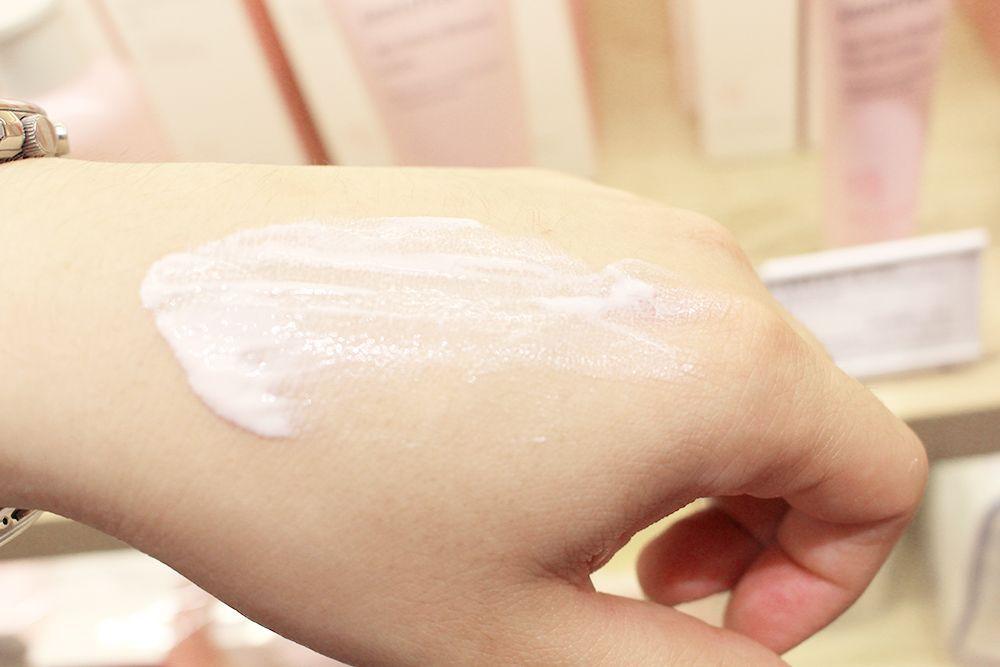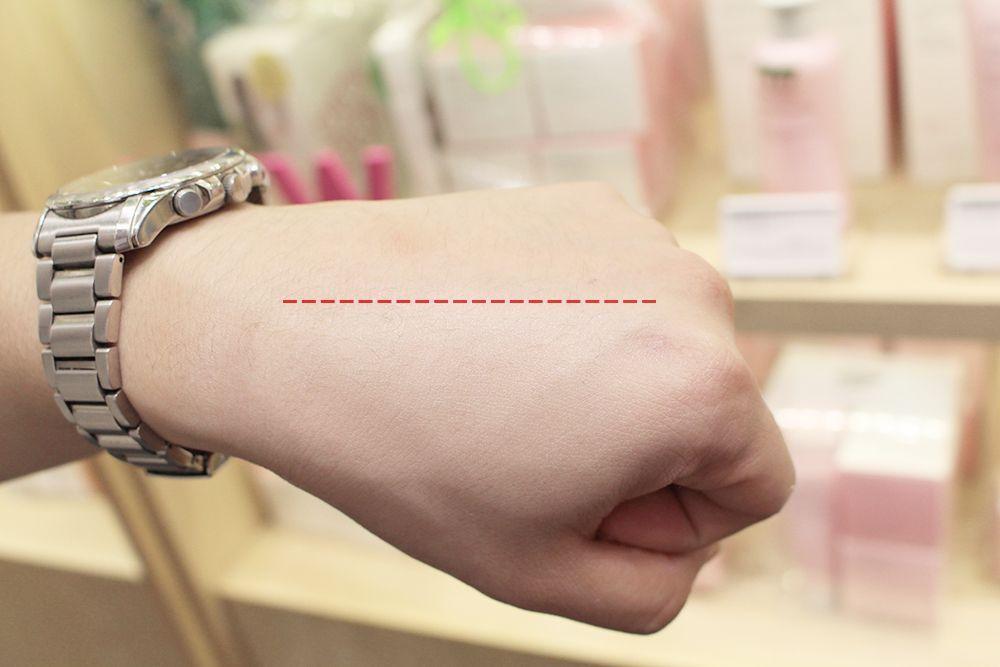 I have applied some on my co-worker's hand. The bottom part got slightly brighter from using the cream. Can you spot the difference?
I don't love using rich cream when the weather gets humid. This seemed like a great product to use since it hydrates your skin with the perfect amount of moisture. I would recommend this to anyone who is looking for a quick make-up base.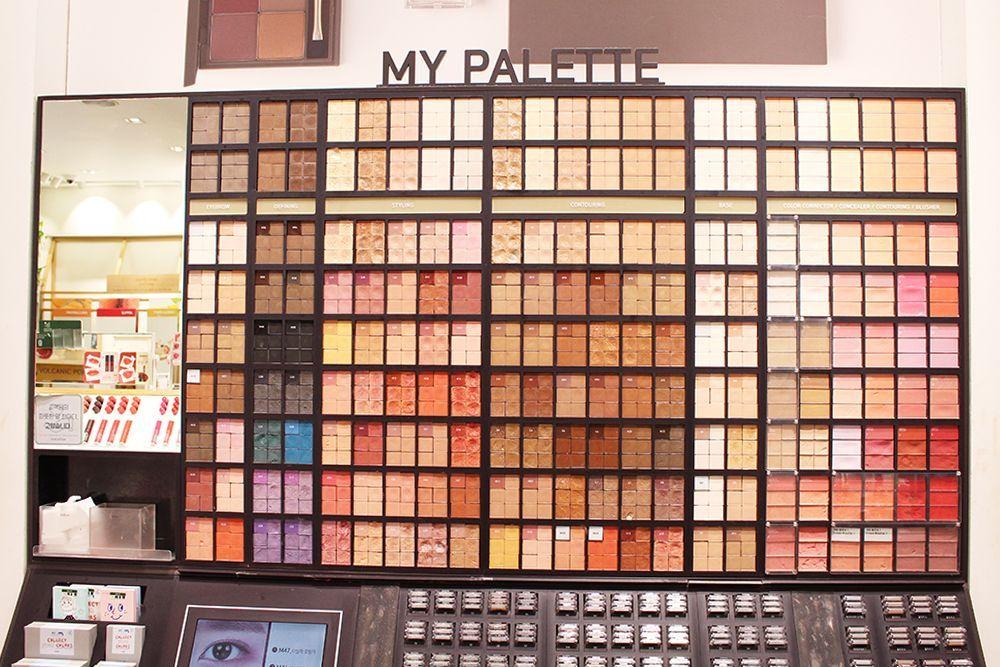 The My Palette corner is where you can select the colors of eyeshadows and make them into a palette exclusively for you! There are plenty of colors and textures to choose from.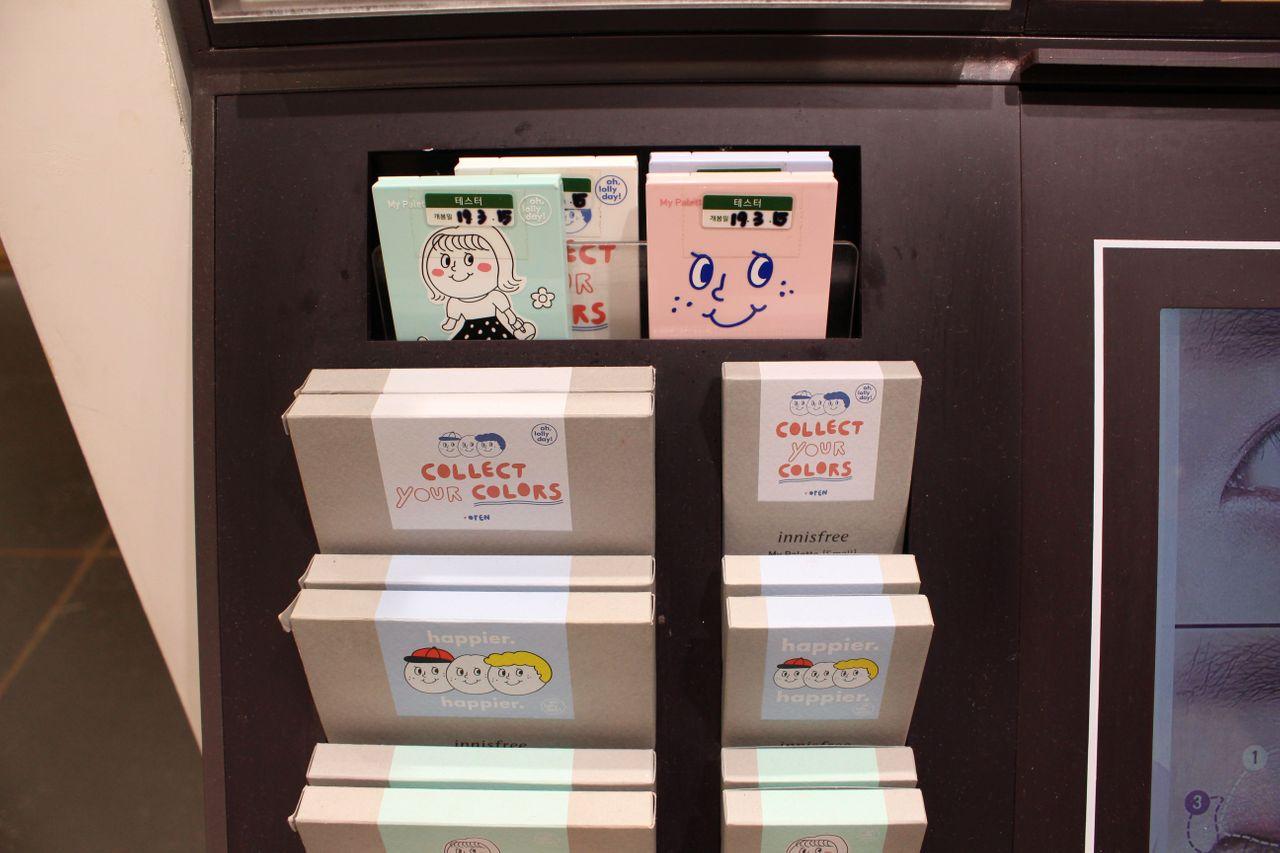 You cannot only choose the colours of eyeshadows but you can also pick blushes, bronzers, and even designs of the palette! There are always a few colors that you never use when you purchase eyeshadow palettes, so this is a great opportunity to build your own palette.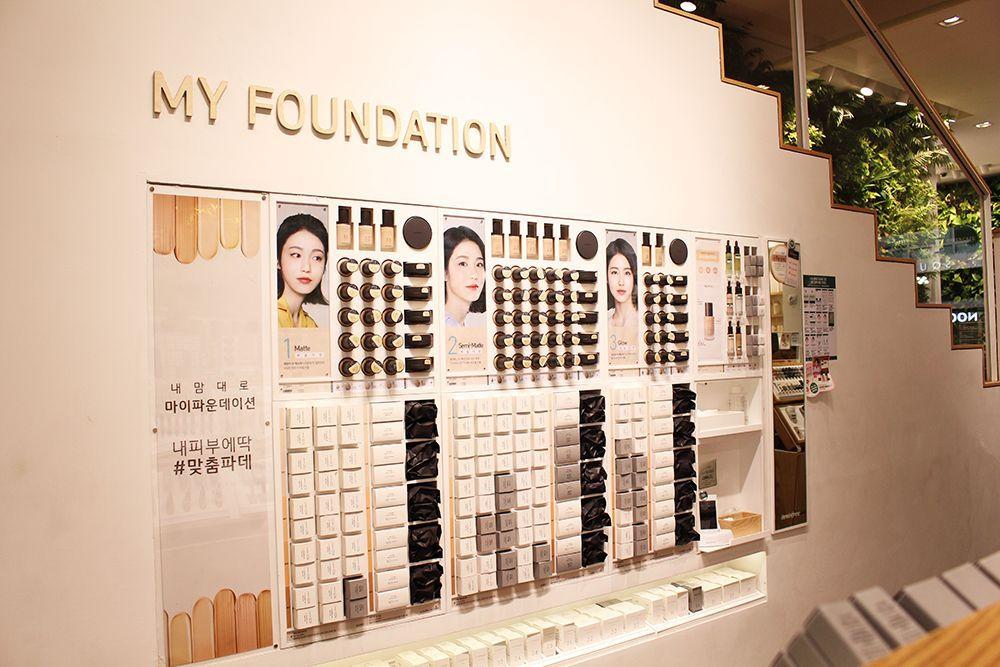 The following destination is My Foundation, where you can find your perfect shade and needs for your foundation.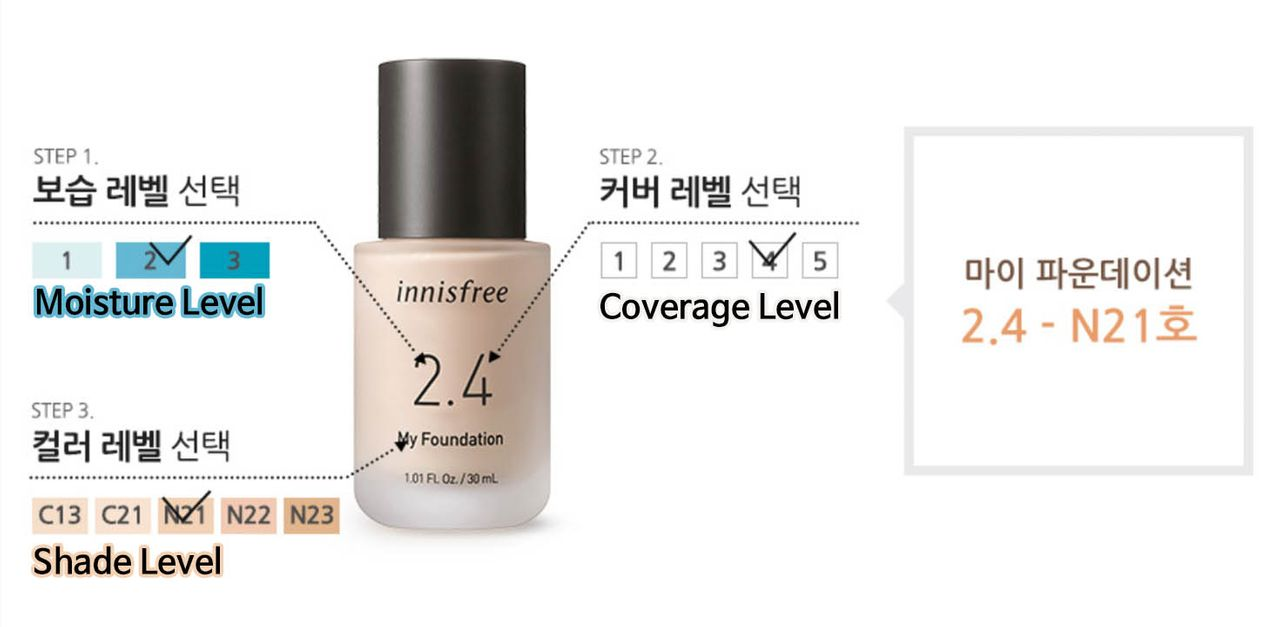 Source: Innisfree Website
My Foundation allows customers to pick the moisture level and coverage intensity to their preferences.
First, choose your moisture level from 1 to 3; if you prefer a matte finish, pick 1 and if you prefer a dewy finish, pick 3! Next, you can pick the coverage level from 1 to 5. Pick 1 if you prefer a more natural look, and 5 if you prefer to have full-coverage. Most importantly, pick your shade by checking your shade and undertones.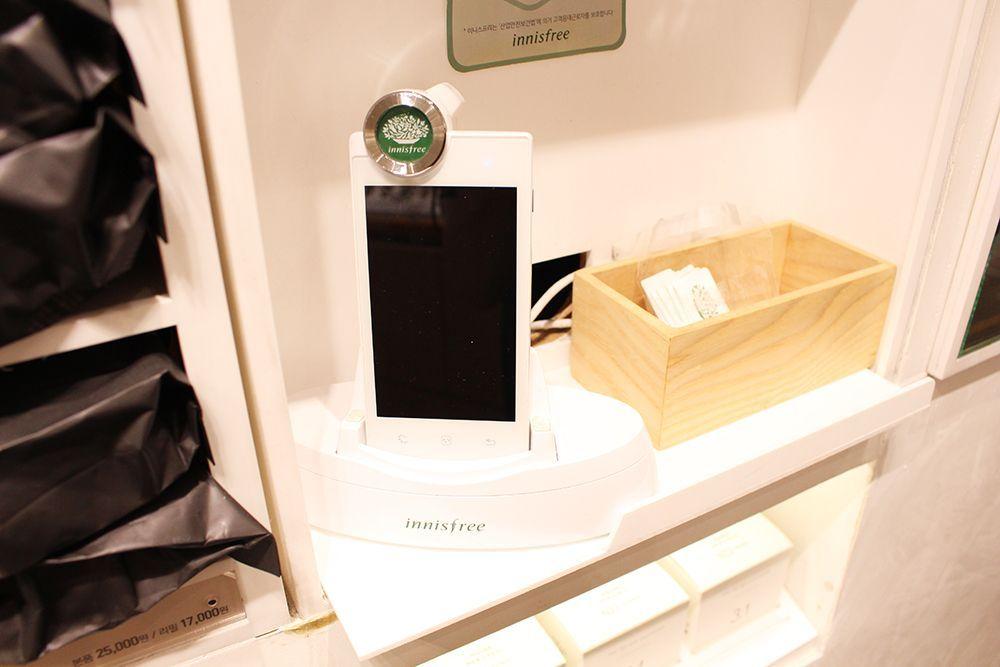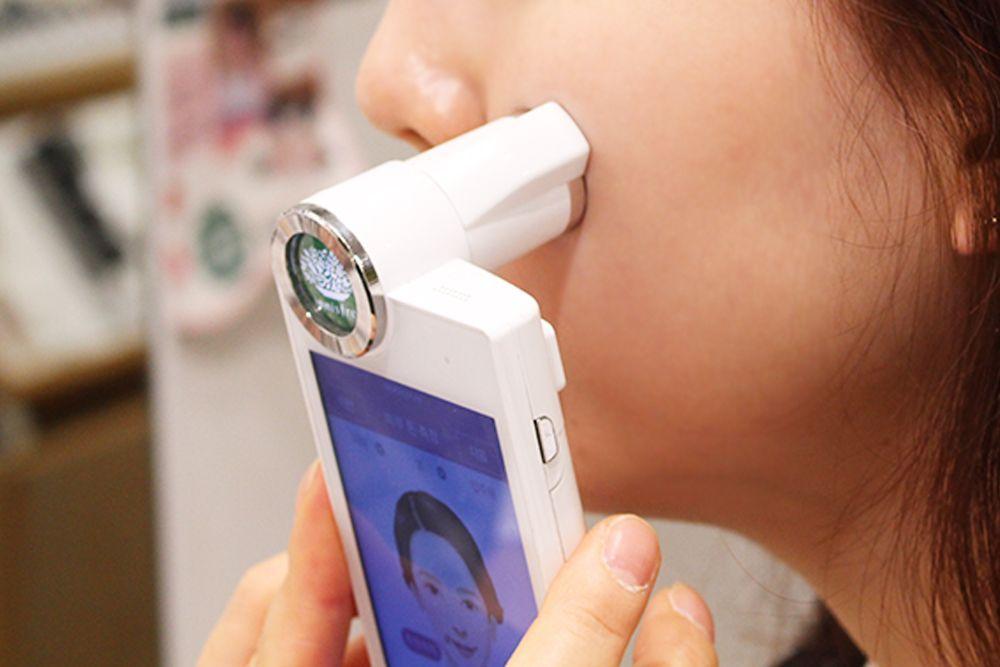 No worries if you don't know your skin type or shade.
At Innisfree Cafe Myeongdong, there is a service available for finding your skin type and shade. Ask one of the assistants and they will be more than willing to help you out. You can find out if your skin is dry or oily and which shade to buy for your foundation. They will check three spots from your face: forehead, cheek, and near your mouth.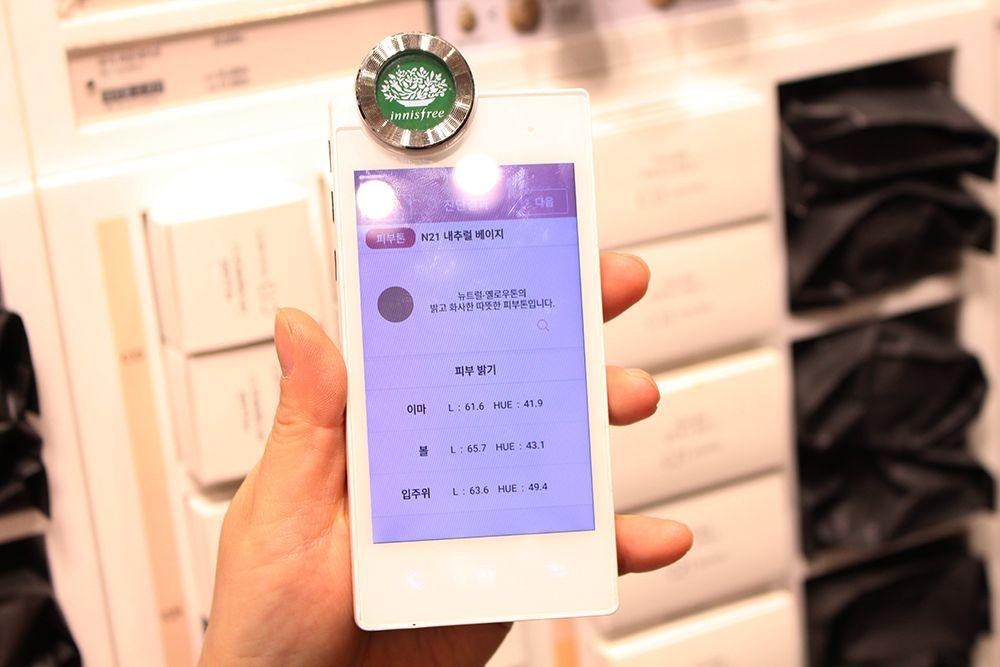 This is what I got as a result! My shade is N21. Besides, I prefer a natural look with a moist finish, so I ended up choosing the 3.1 - N.21 Foundation.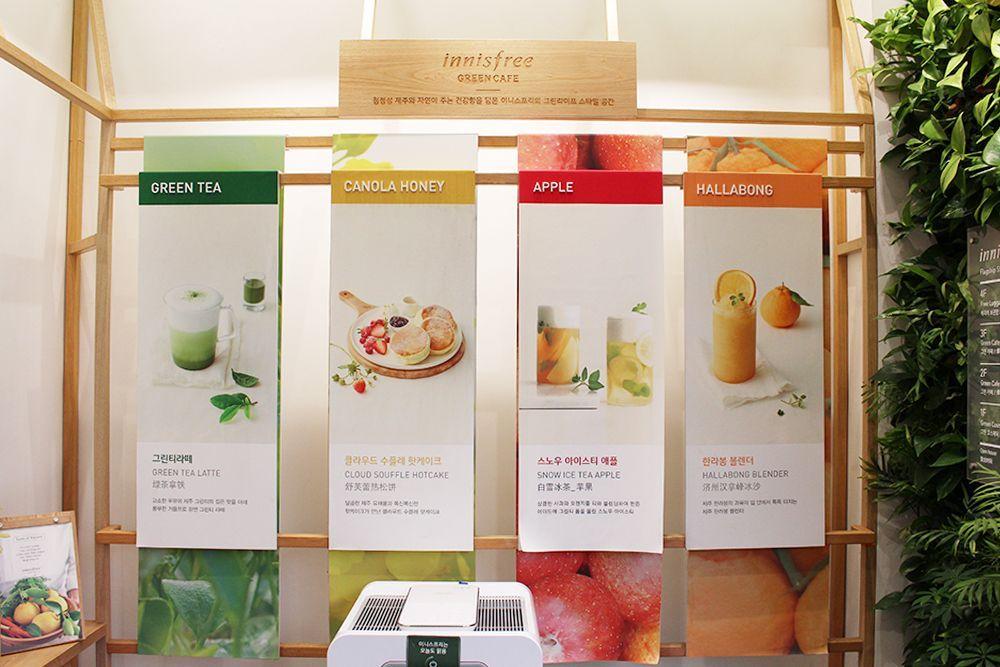 After getting some shopping done, we got a bit hungry so we climbed upstairs to the second floor.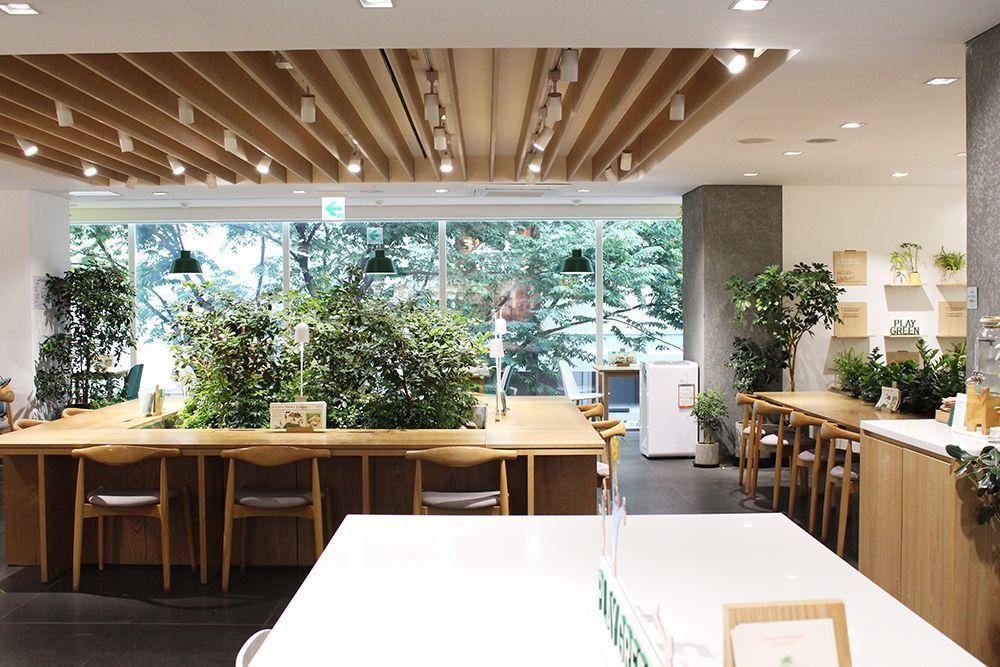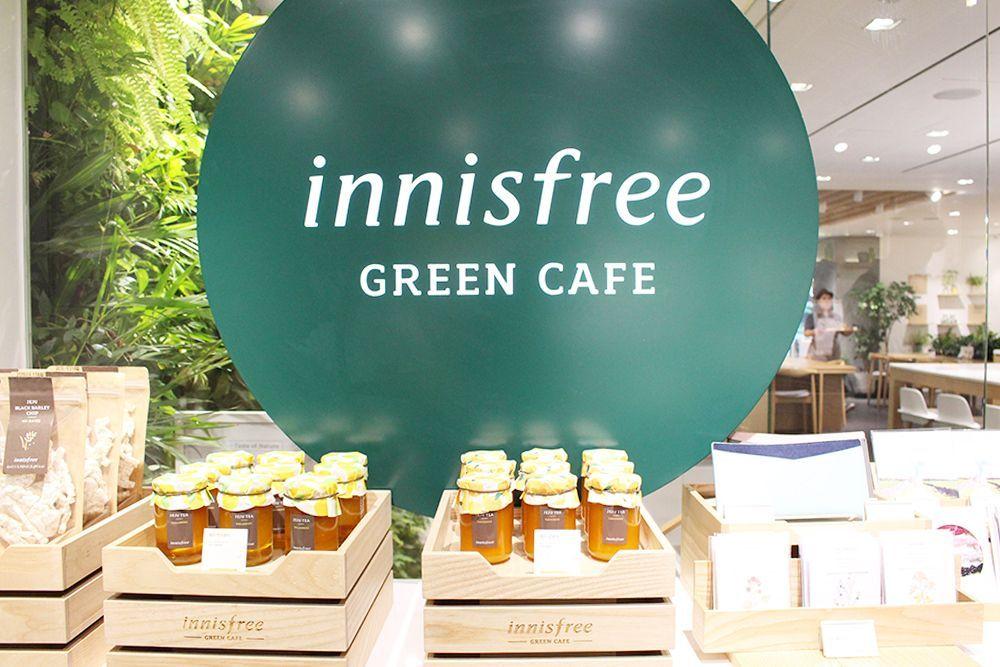 The cafe is spacious, wide-open and green. They were featuring hanrabong jam and various snacks for purchase.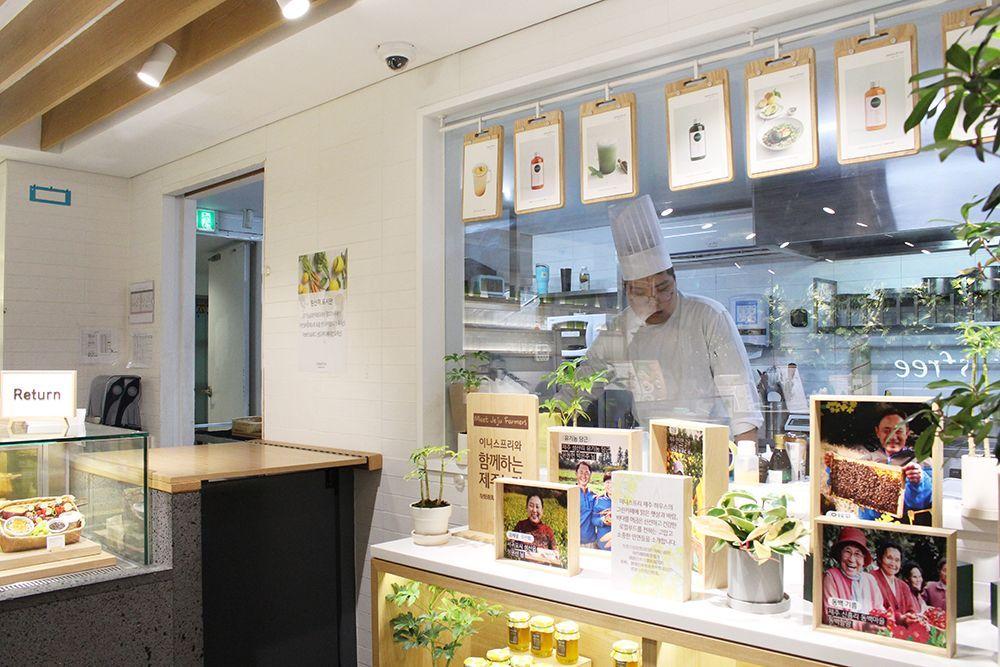 There is a baking room in the corner of the cafe where they make your order on the spot. It may take longer, but you know that you are getting those fresh desserts.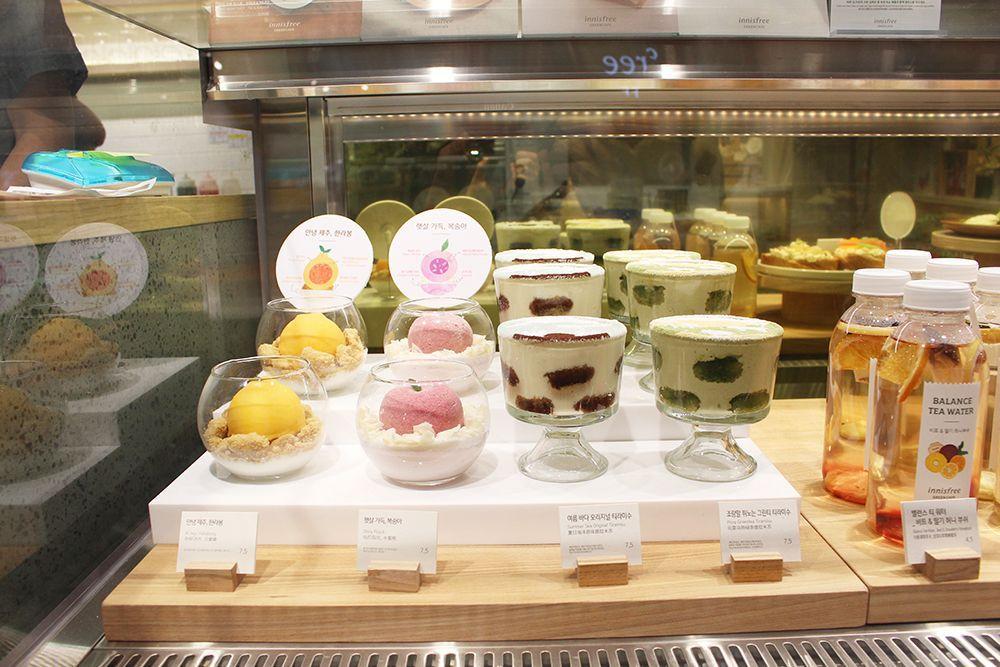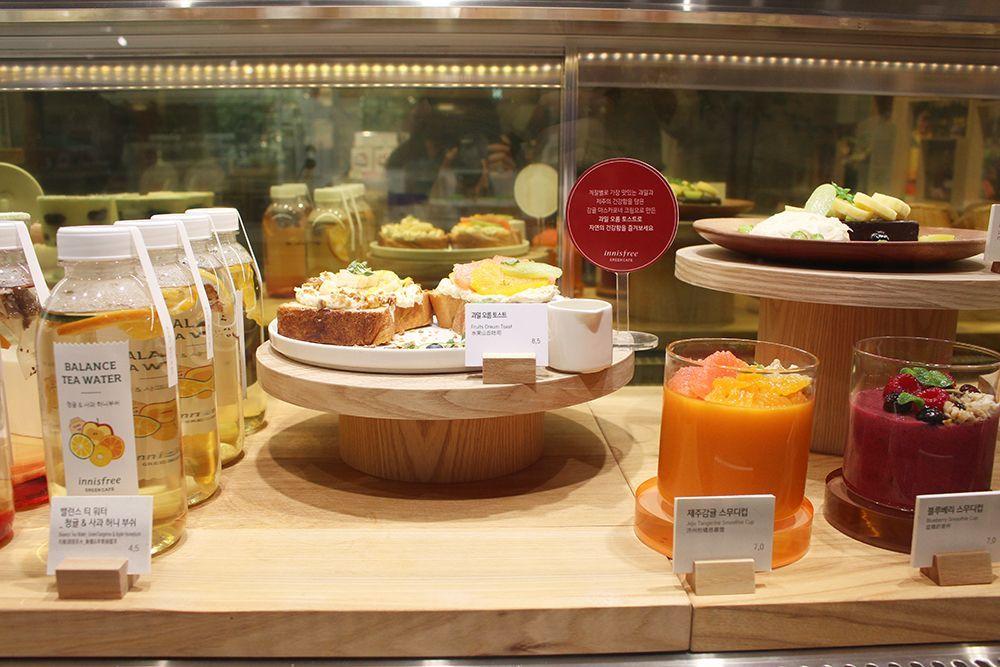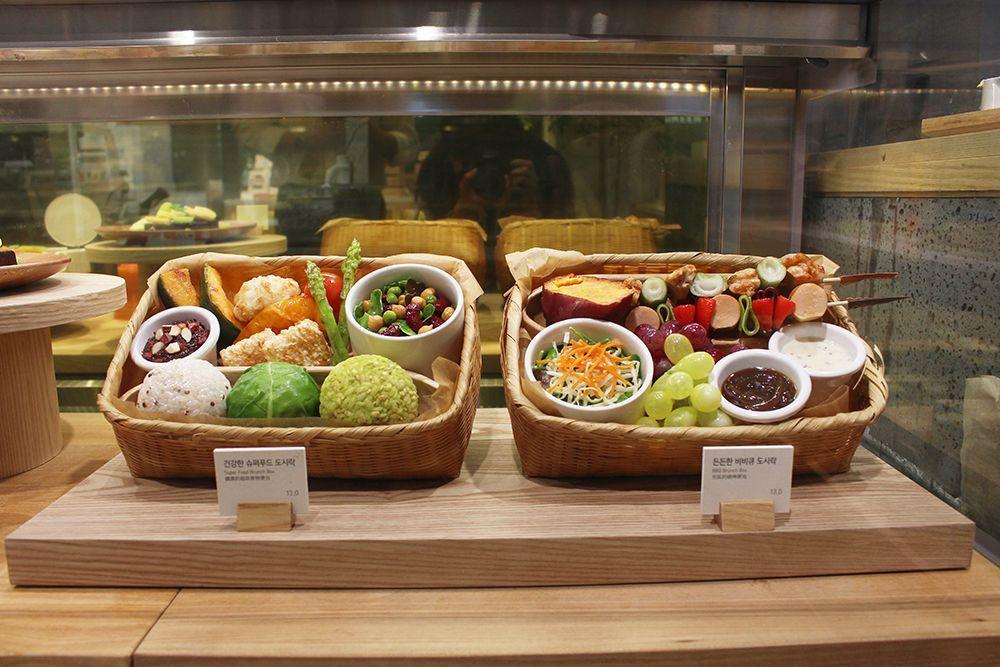 There are lots of appetizing brunch and dessert menus available.
The best-selling menu at Innisfree Cafe is the Soufflé Pancakes. Their price is reasonable compared to the other cafes that I have visited for soufflé pancakes. I ended up ordering the pancake, Green Tea Tiramisu, Green Tea Latte, and the Snow Iced Tea.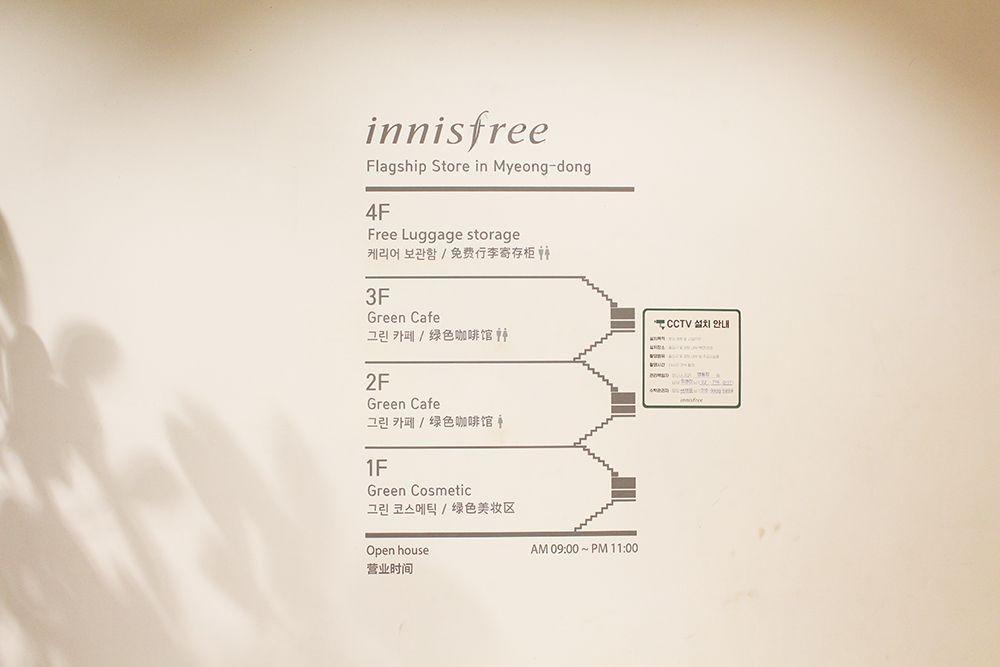 There are seatings available on the third floor as well.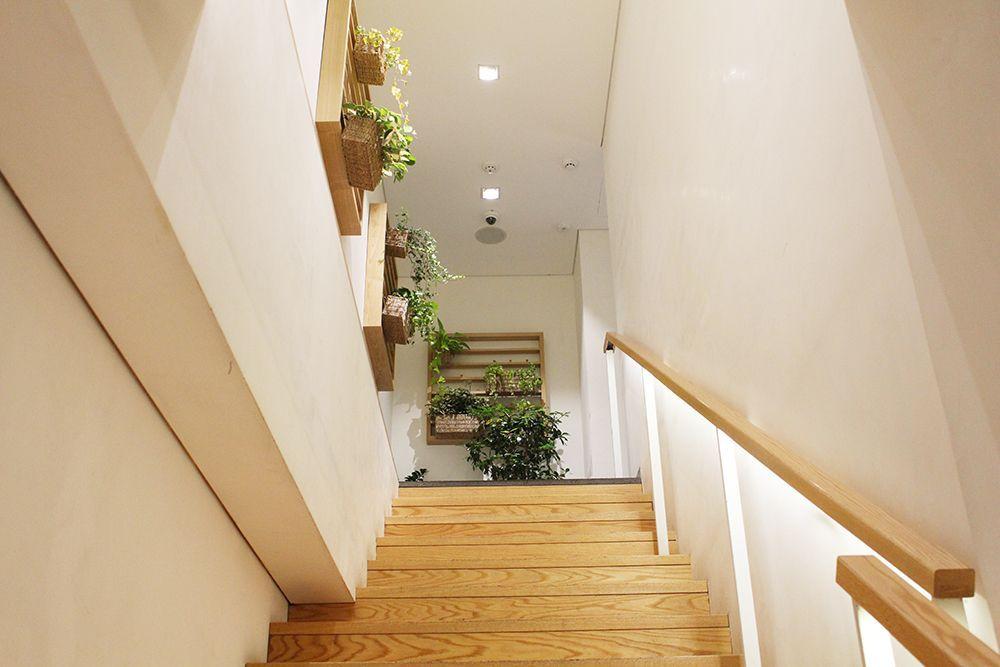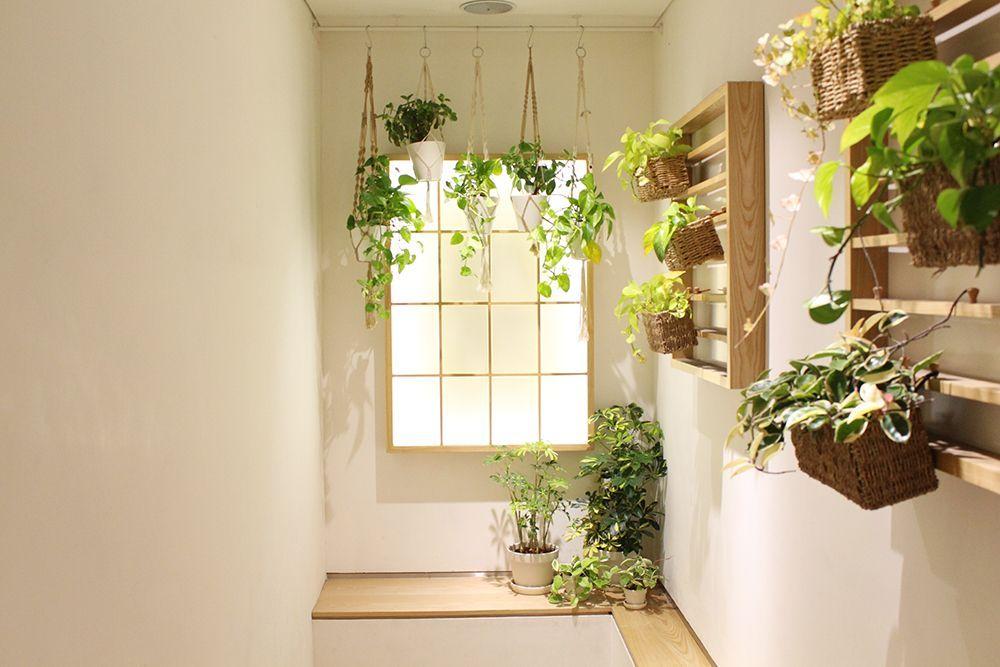 Even the staircase is decorated with real plants. Since Innisfree cafe's theme is green and nature, they have real plants displayed throughout the venue. It makes you feel like you are in a small garden.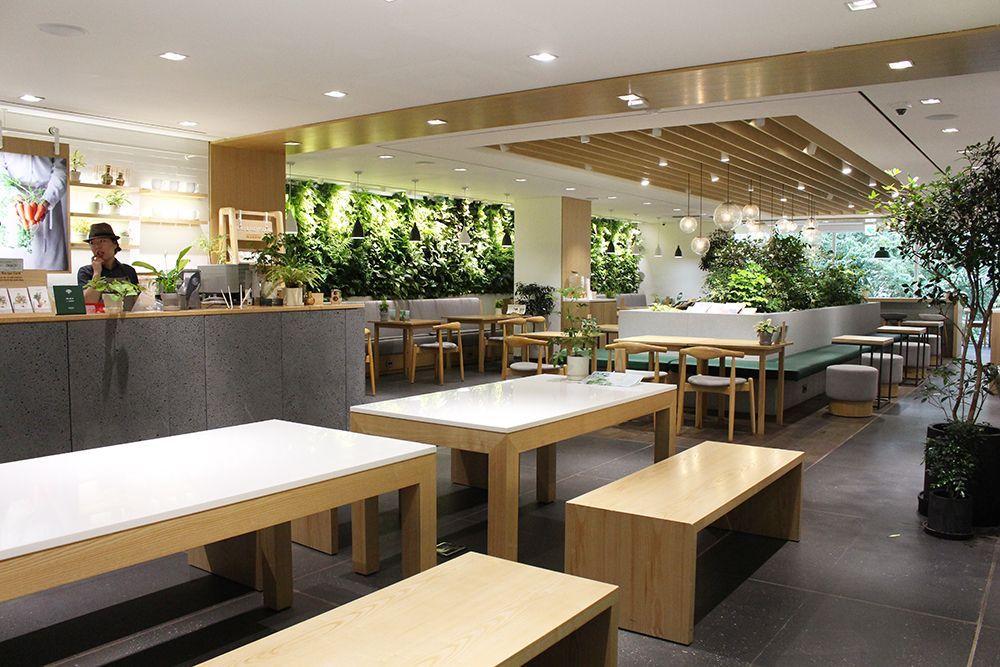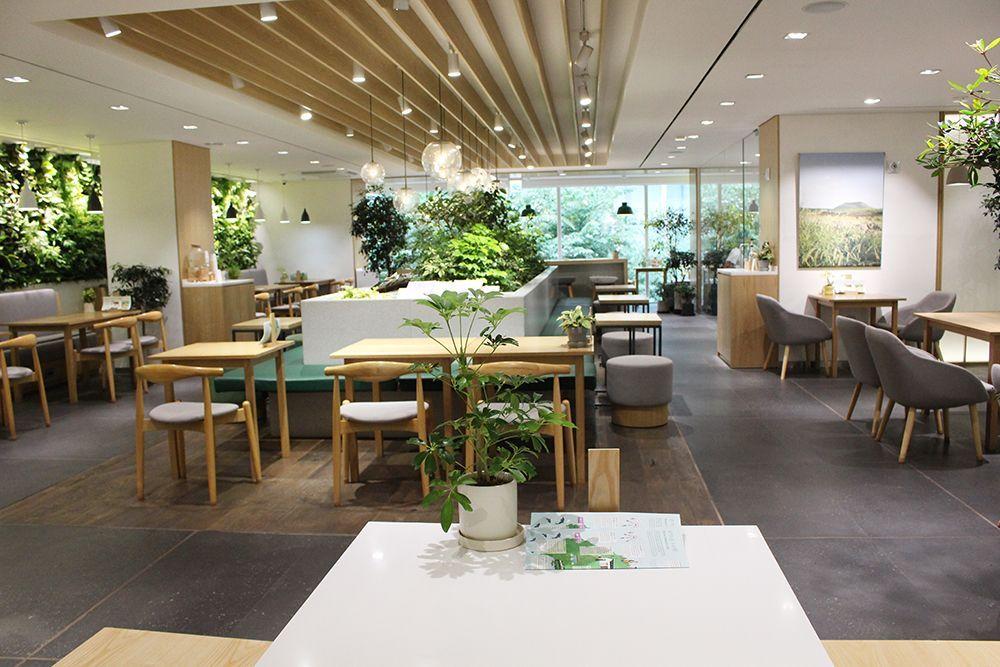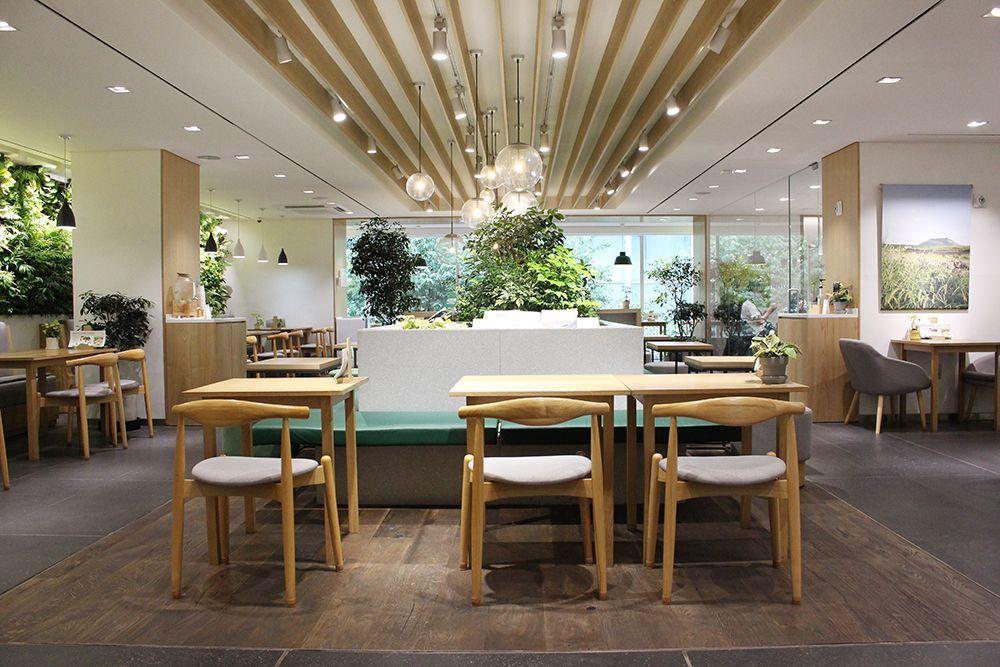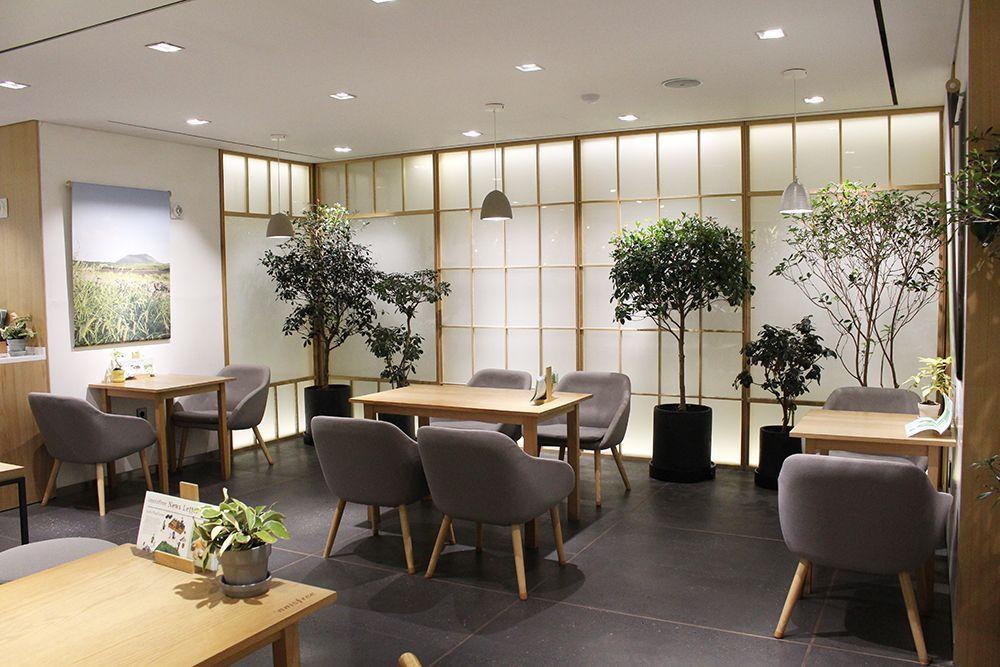 The cafe is very spacious and clean with seating areas of different sizes. I chose the seat near the window to get some sunlight.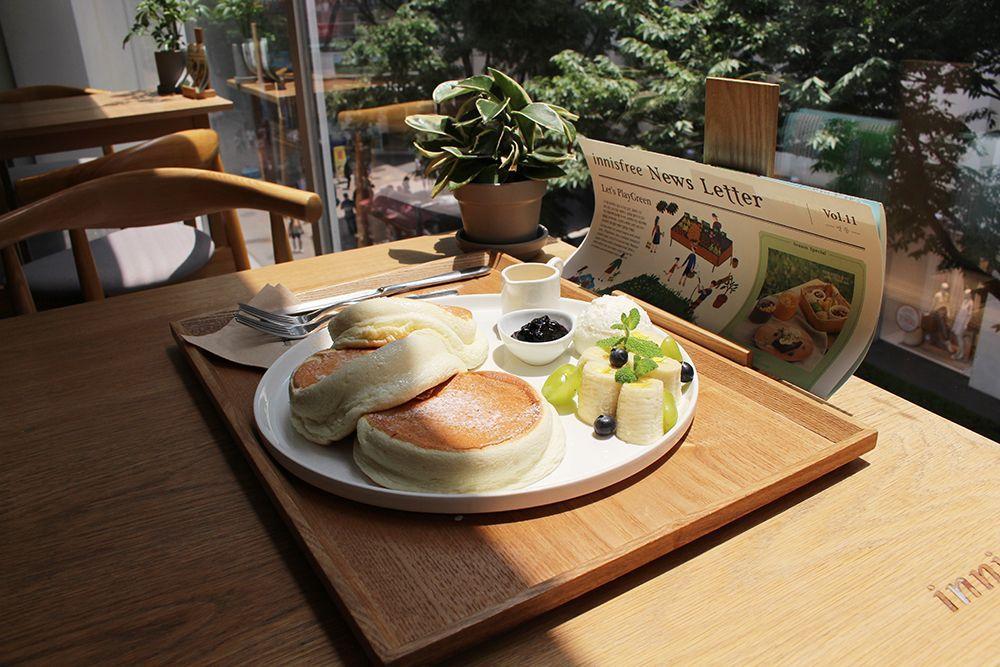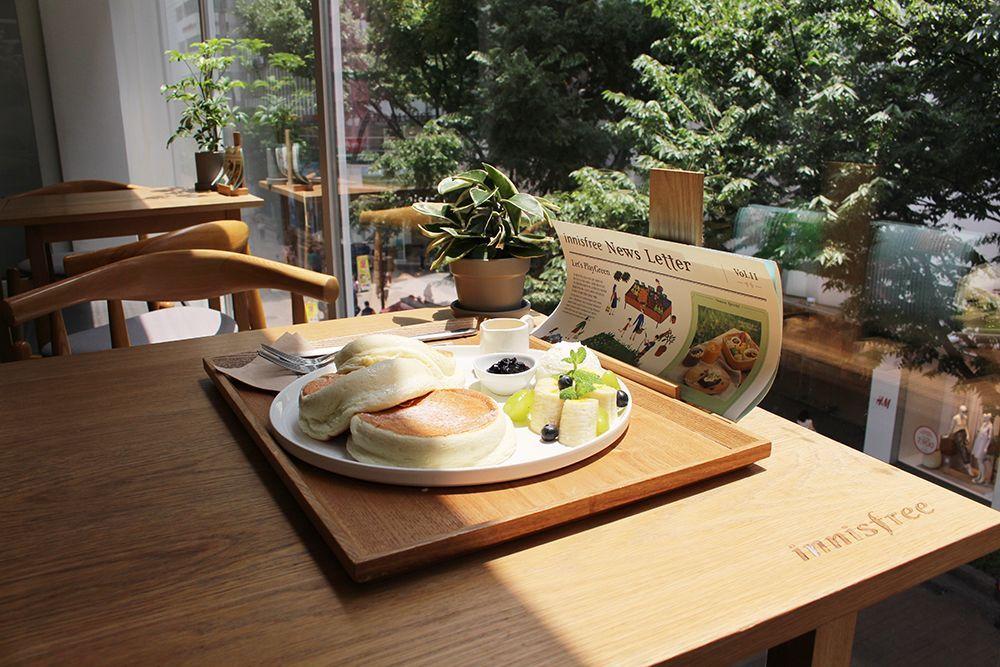 The Soufflé Pancakes arrived looking so fluffy and soft. They smelled amazing.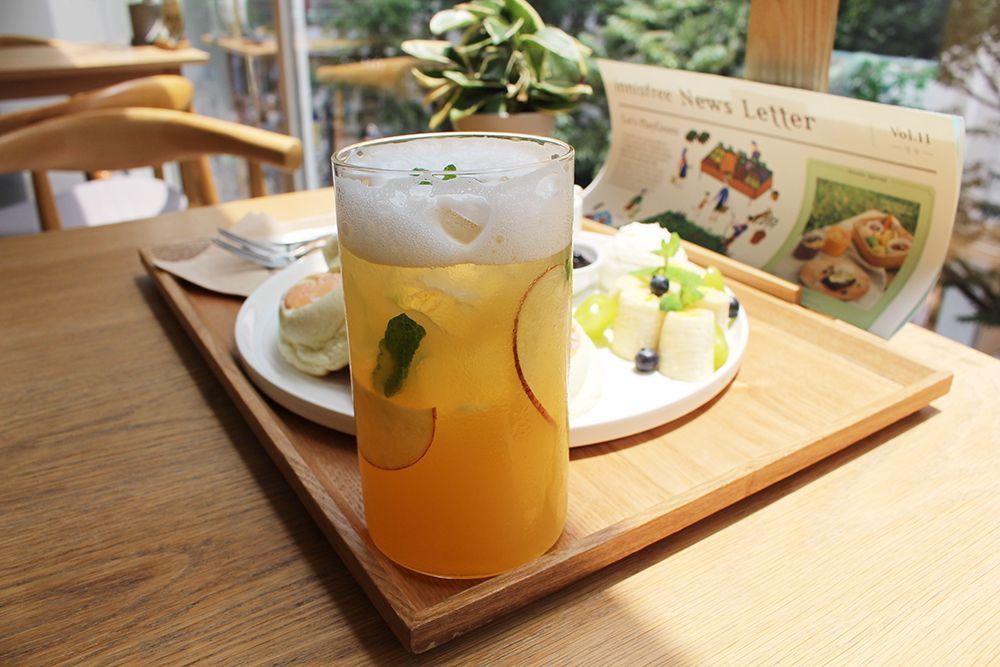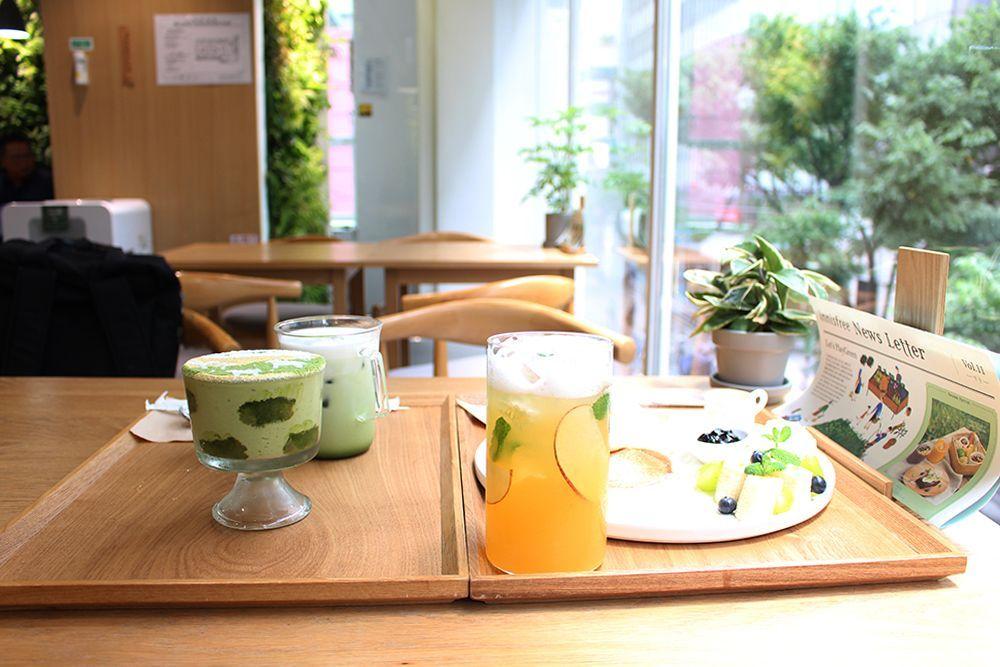 The Snow Iced Tea is a blend of two different types of tea. There were three options for Snow Ice Tea: lemon, orange, and apple. We ordered apple and it was very refreshing. If you are looking for a great match with your sweet desserts, this will be a good choice!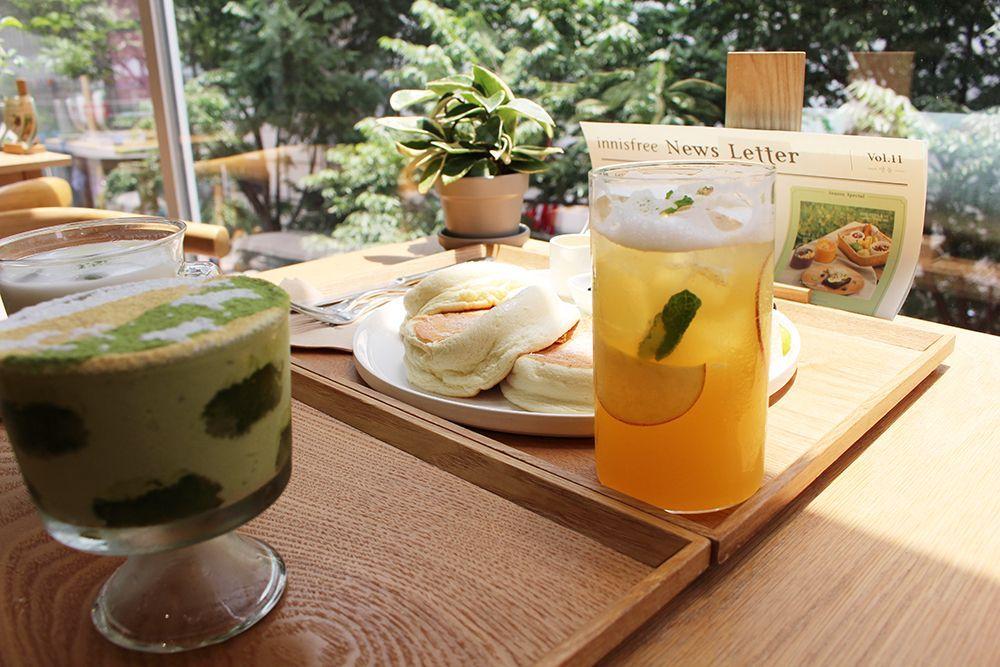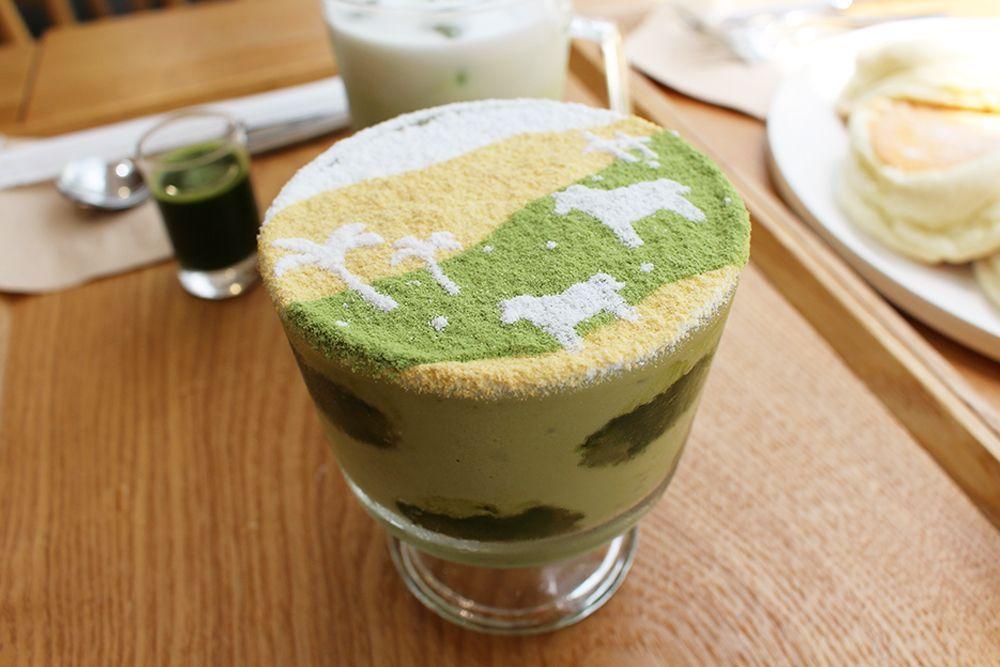 The Green Tea Tiramisu has some cute drawings on top. They were so adorable that I felt bad when I took the first scoop. The layers were creamy and moist. yum!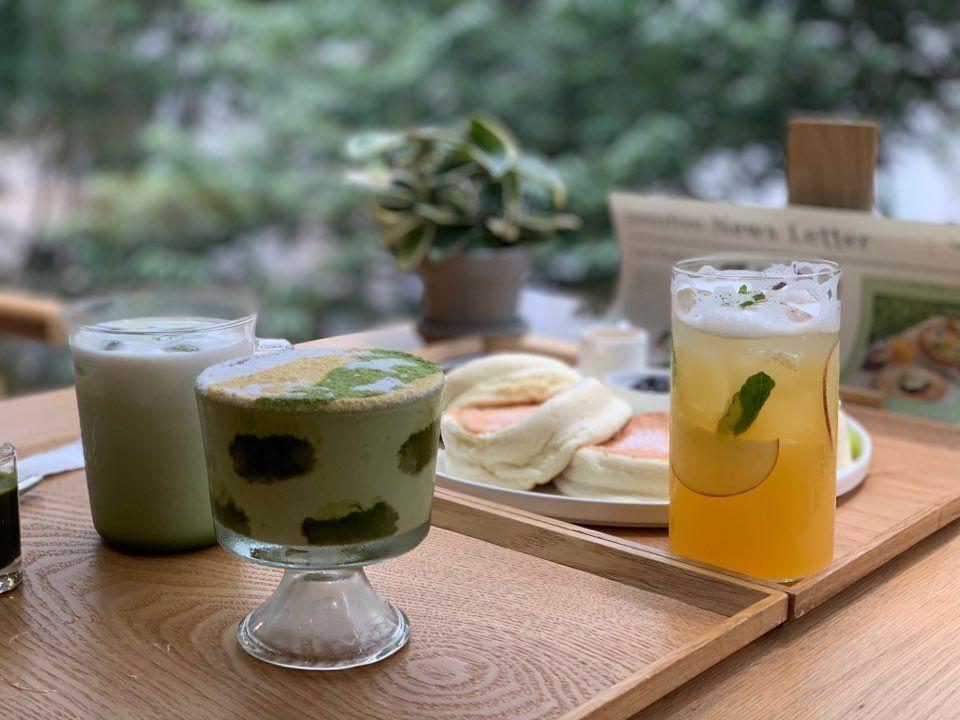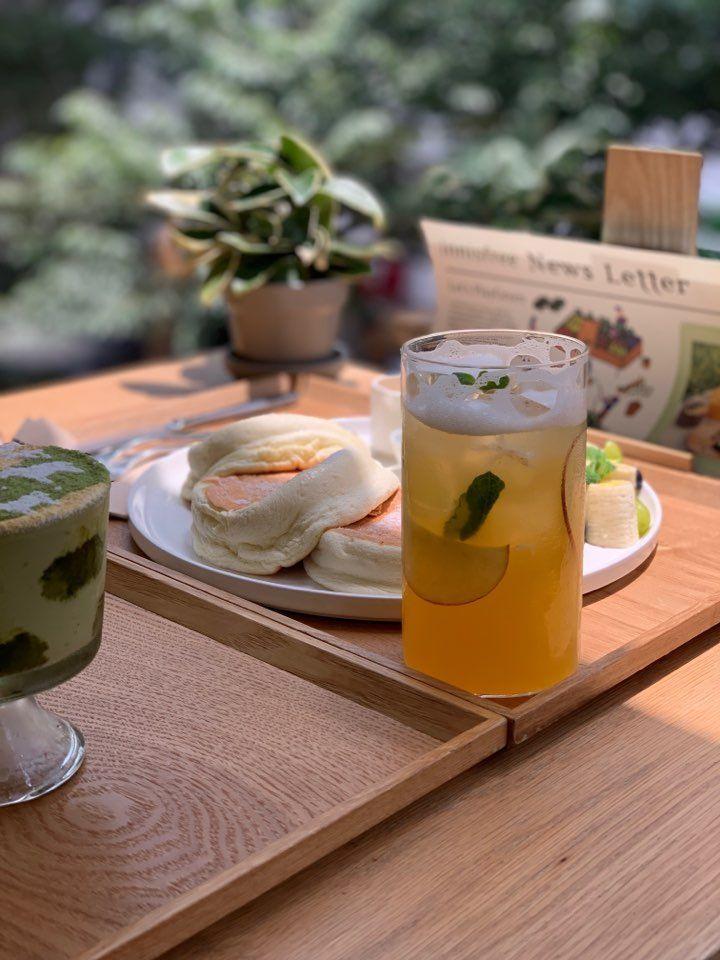 We both loved all the desserts and drink, but our favorite was the Soufflé Pancakes. The texture was soft and fluffly, something I have never tried before. It's a must-try!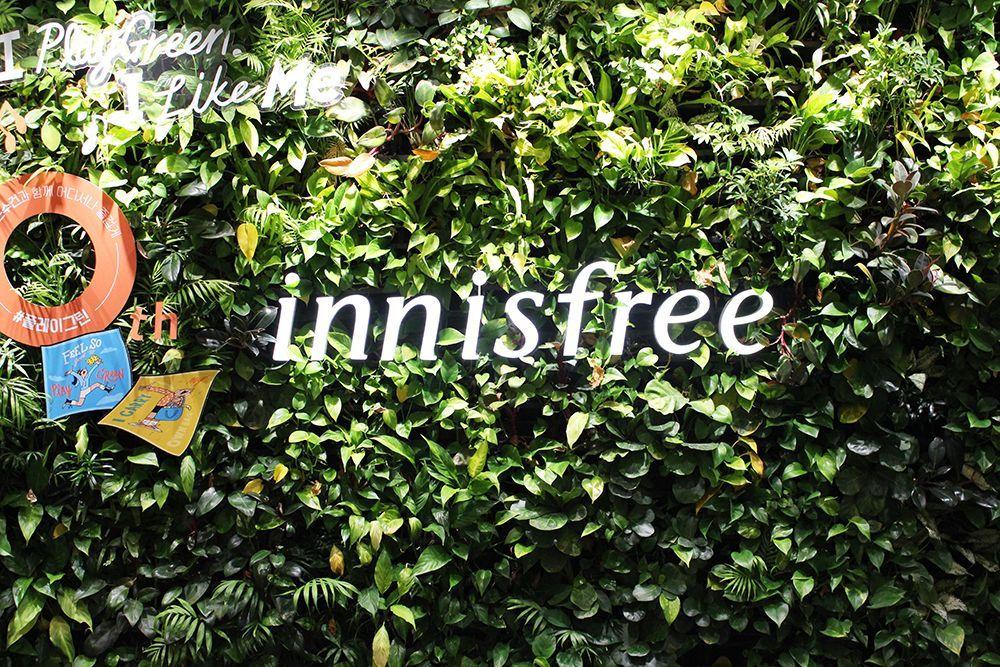 Innisfree cafe offers a taste of Jeju island in the middle of Myeongdong. It's highly accessible and the spacious store makes for a pleasant shopping/cafe experience away from the crowds. The interior is very Insta-worthy, and the desserts are affordable too!
After our Innisfree Cafe Myeongdong tour, I was extremely satisfied with the shopping and desserts I got! I loved their detail-oriented interior design as well. Definitely check this place out when you're in Myeongdong!
---
How to Get There
Note: You can get to the cafe from both Euljiro-1(il)ga Station Exit #6 and Myeongdong Station Exit #6. You can easily locate it as it's right in the middle of Myeongdong Street Food Street.
The cafe is located at a 5-minute walking distance from Eujiro 1-ga Station and 7 minutes from Myeongdong Station.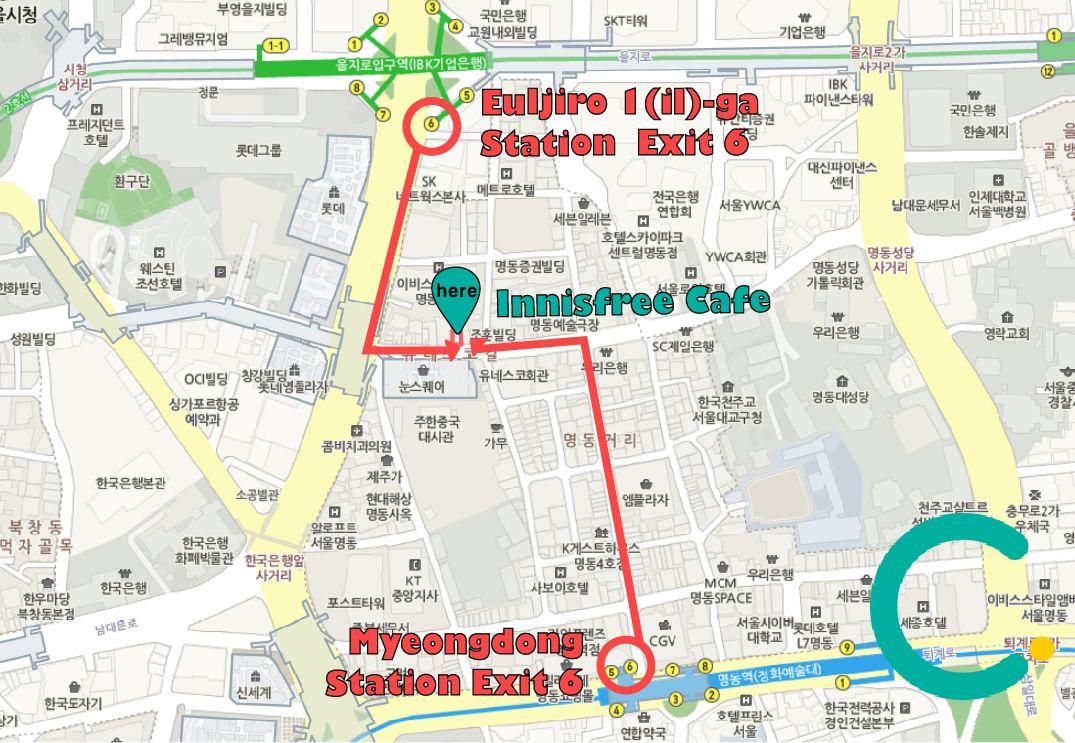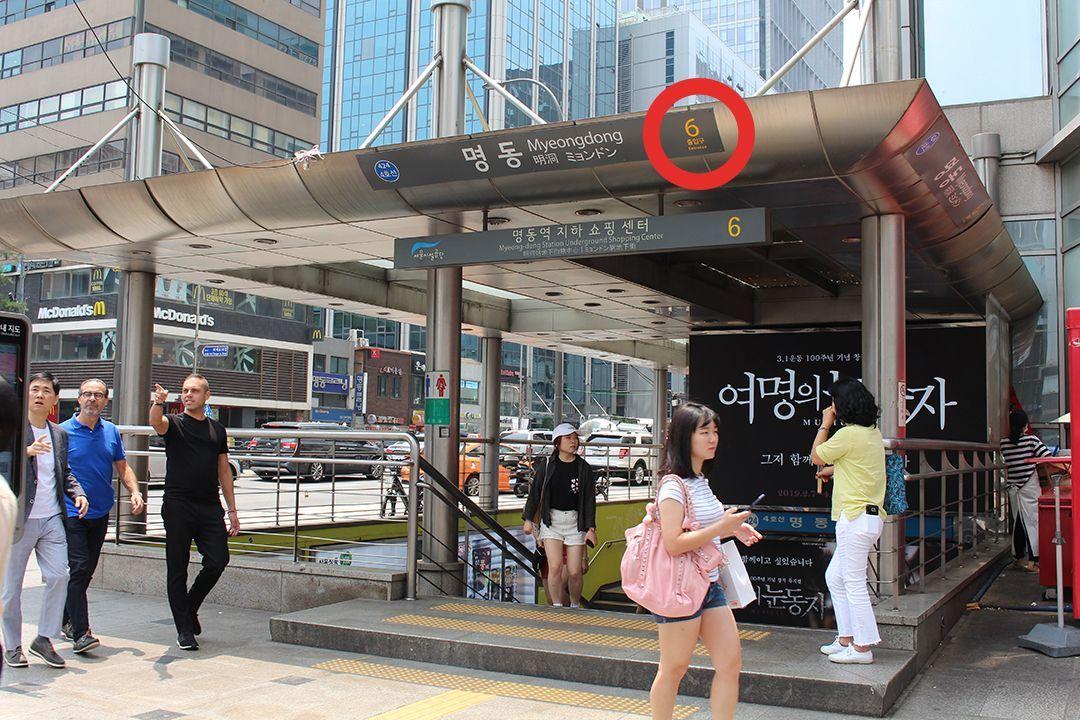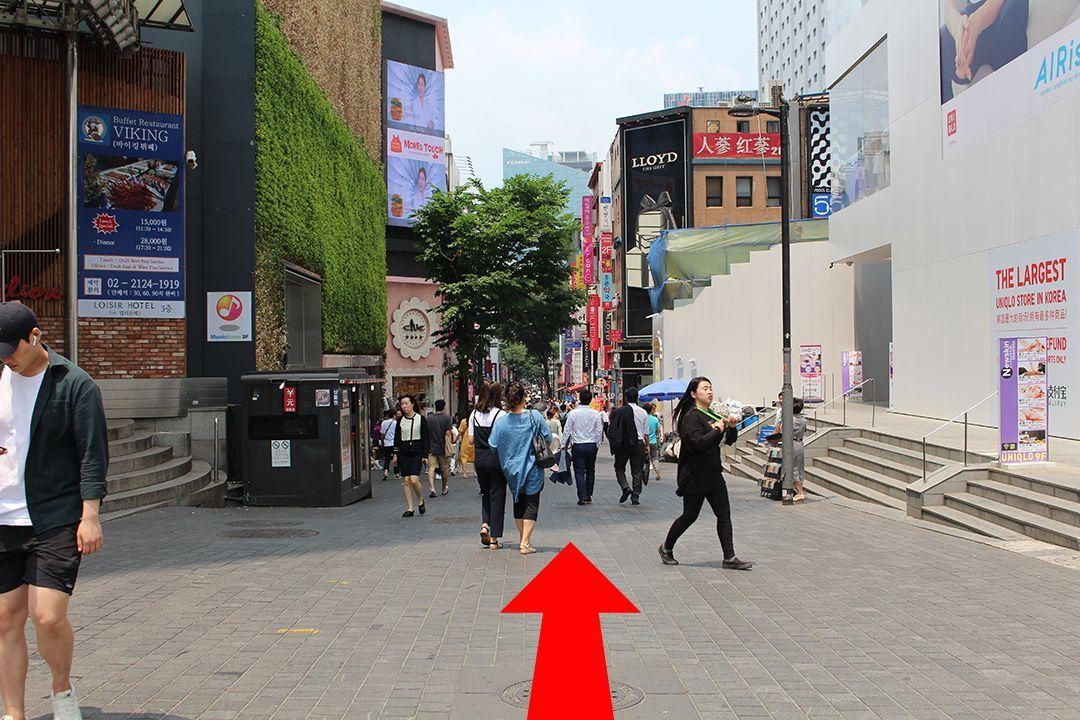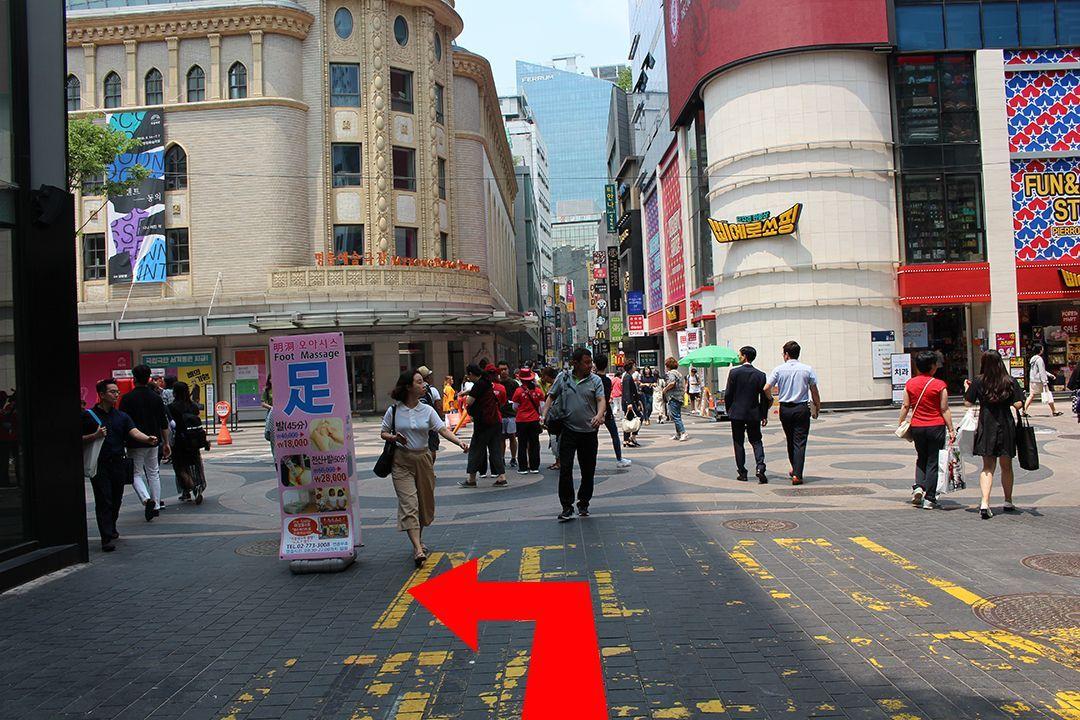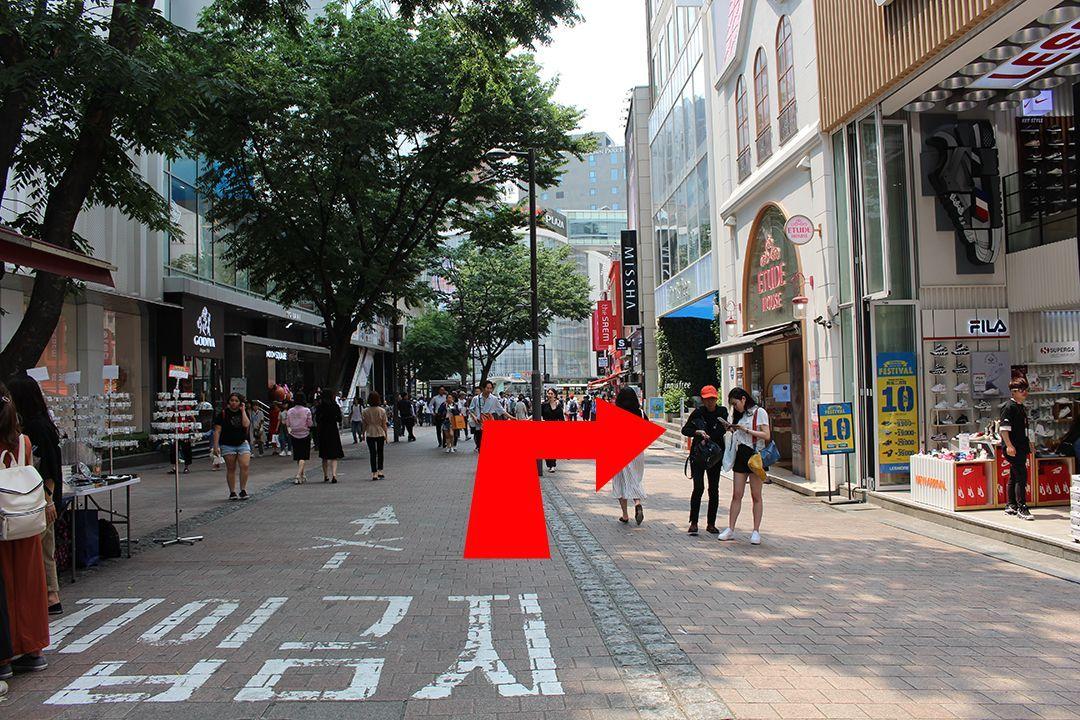 ---
If you have questions about information not covered in the blog post, please email us at support@creatrip.com