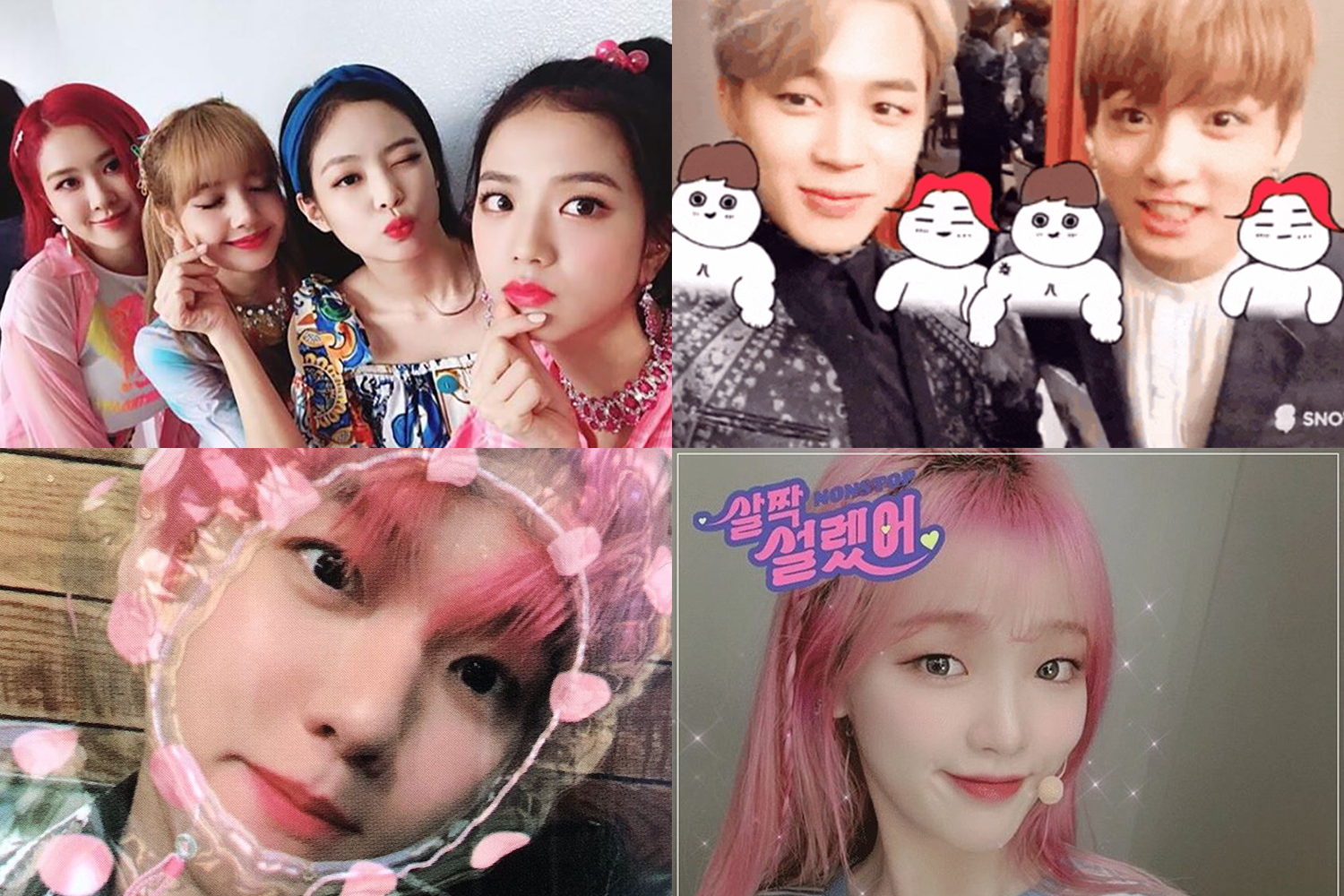 There's a new slang in Korean "selgiggun", "sel" from "selfie" and giggun from "sagiggun" meaning, "con man".
So the word selgiggun basically means that you're a person whose selfie is so good that it's almost a scam!
There are so many selfie apps that beautify your photos to the next level that such slang exists!
Let's take a look at the most popular selfie apps in Korea.
---
SNOW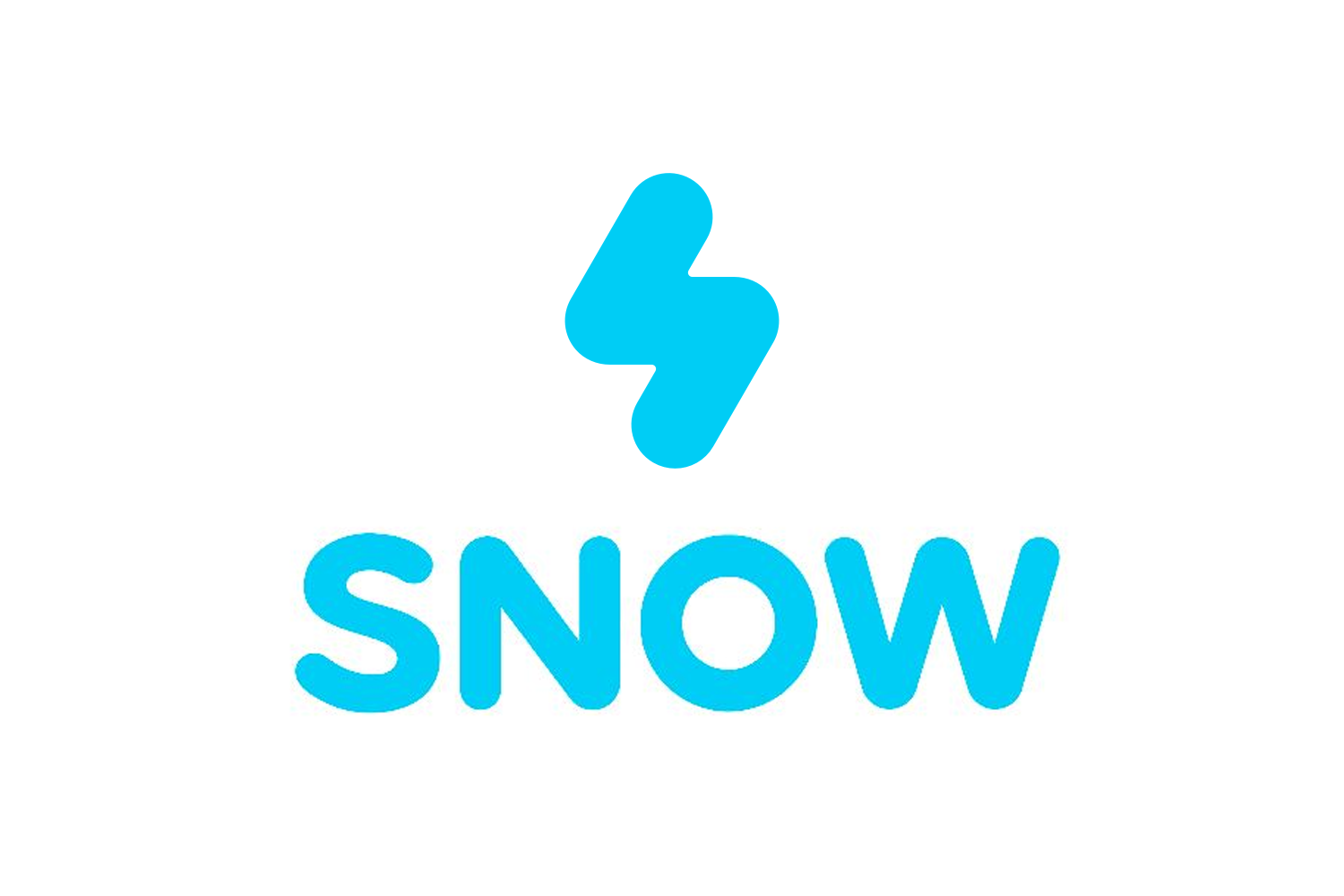 Since its launch in 2015, SNOW has been the most popular selfie app in Korea!
We all feel like we need to keep the app even when new selfie apps launch.
Today, more than 200 million users around the world use SNOW! Many Korean celebrities love using the app too.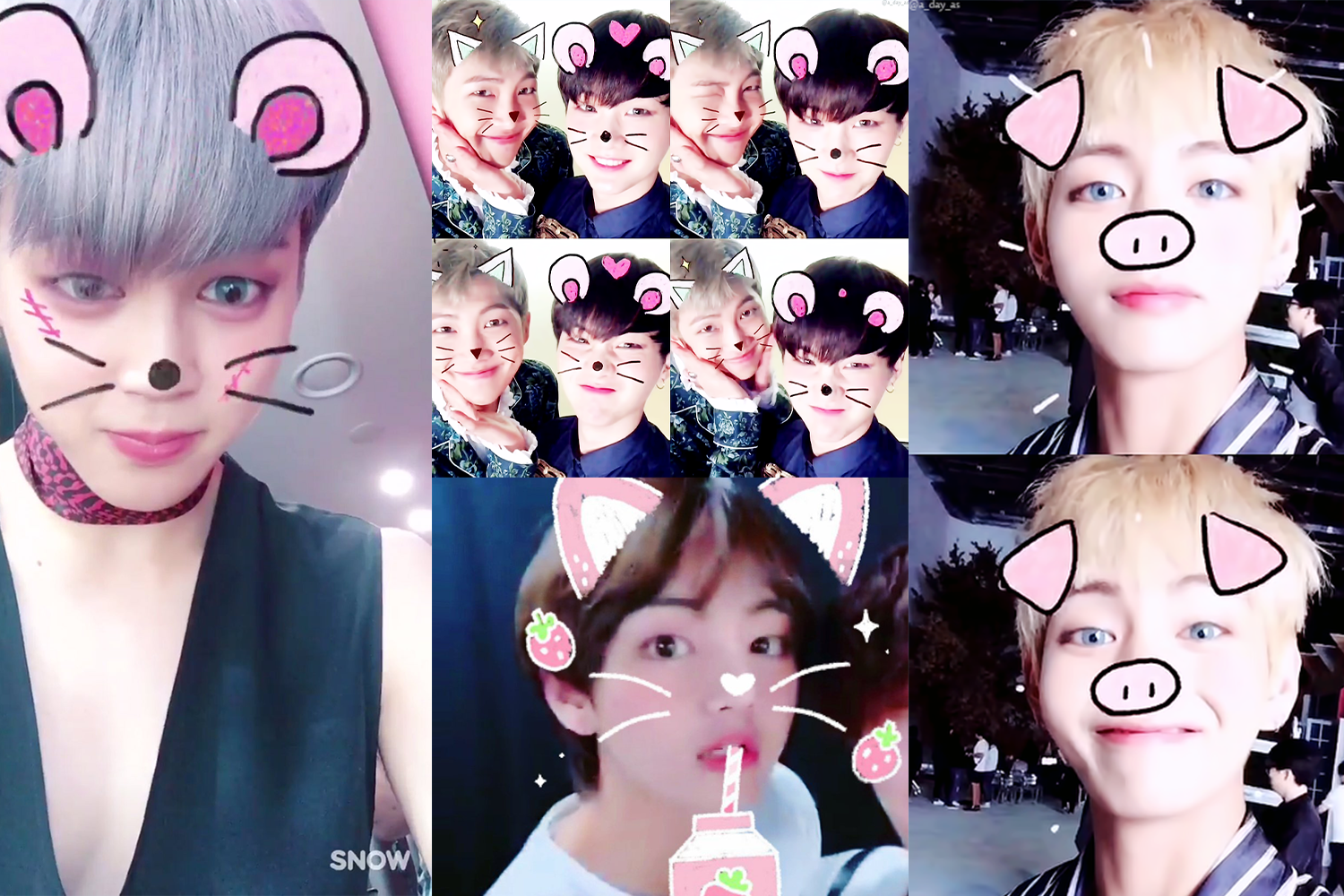 It's not just a selfie app. In fact, it comes packed with loads of features!
The company that created SNOW said that the app is constantly getting developed for Millennials and Generation Z to enjoy and have fun with.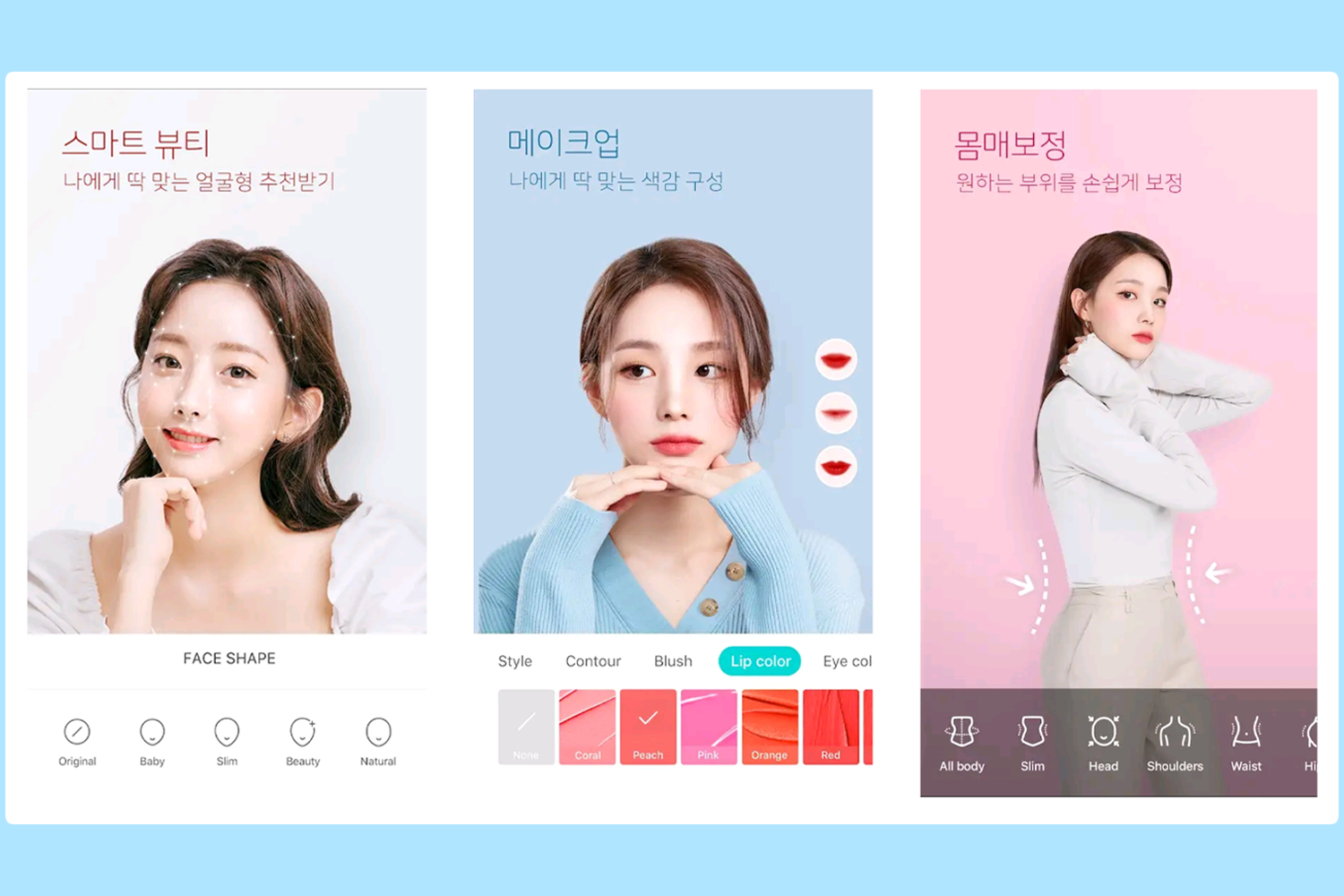 First of all, their beauty functions are really advanced!
Under the beauty tab, you can get the app to recommend the most ideal face shape as well as customizing your face shape, size, pores, skin tones, eyes, nose, lips, eyebrows and more!
Under the makeup tab, not only can you adjust the skin tones and lip colours, but you can also adjust contours, blush, eyeliners, eyelashes and more!
If we're struggling with getting the right makeup look, this app could help us out!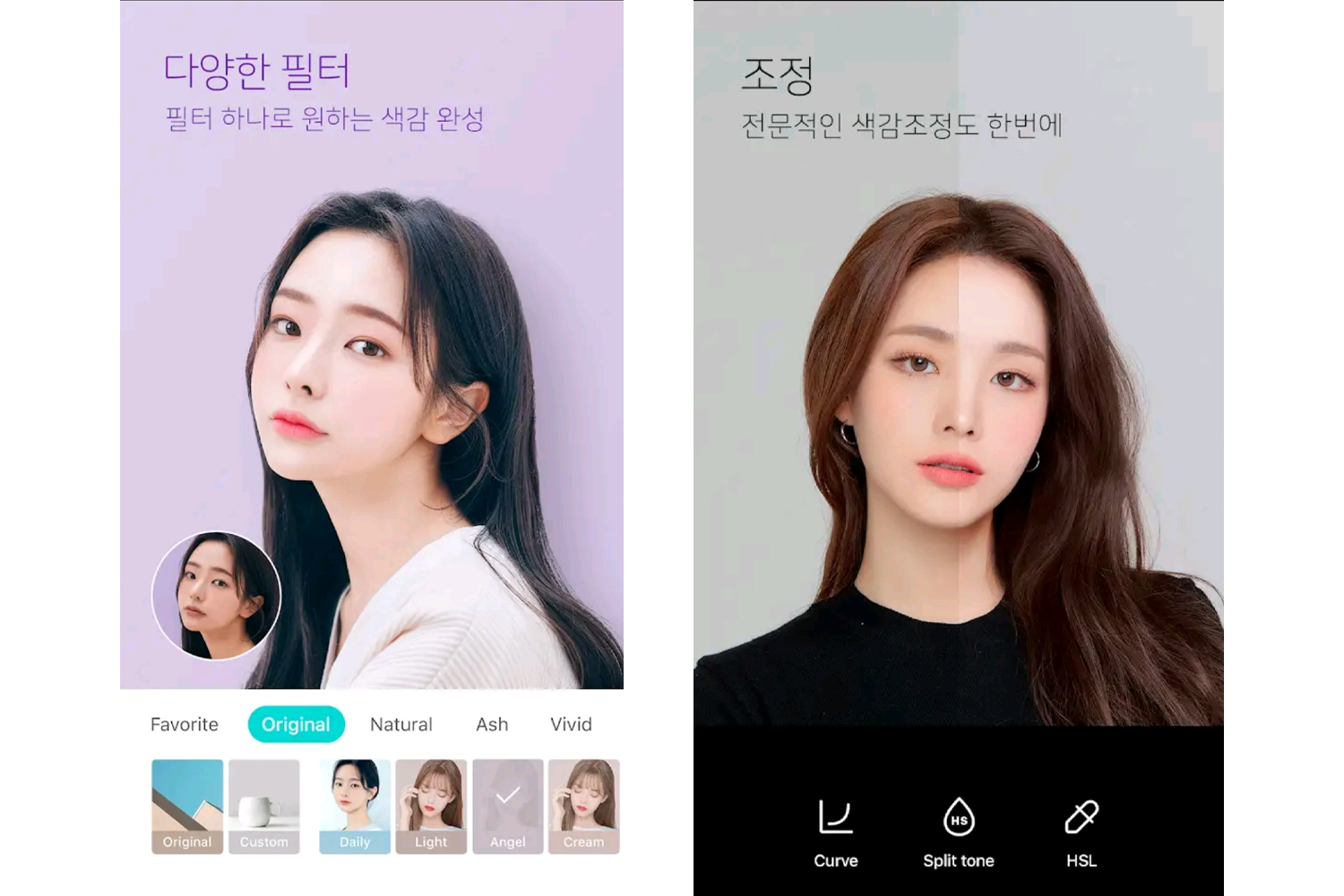 Filters are essential in creating the perfect selfie, right?
On SNOW, you get a large range of selections from natural filters to retro to classic filters.
You can also adjust the colours of these filters manually.
Don't forget to play around with their many stickers!
You get over 1,000 stickers to try out and more are updated on a daily.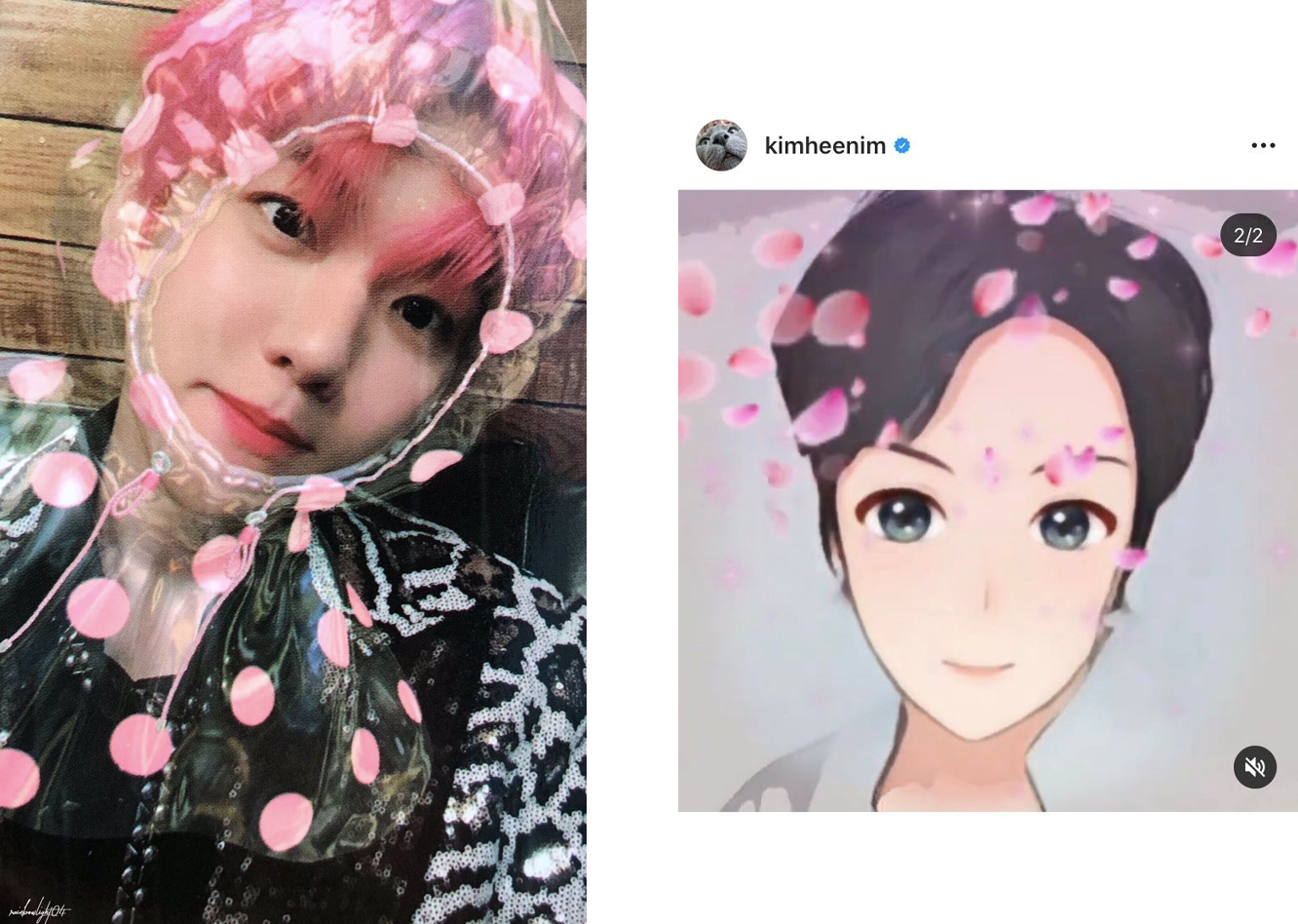 The raincoat filter EXO Baekhyun used and the animation filter Super Junior Heechul used are both from SNOW!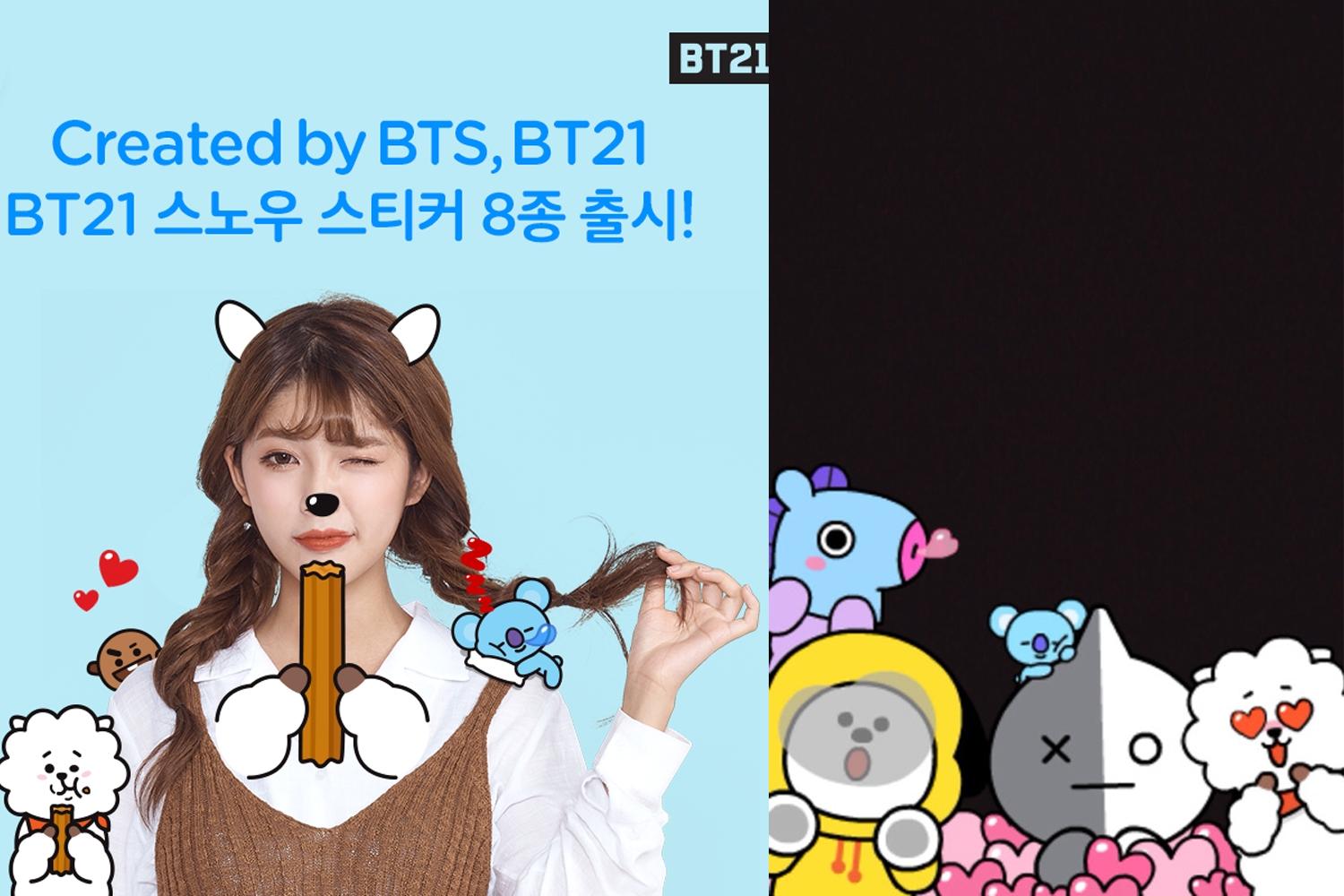 If you're a K-pop fan, don't forget to check for the idol filters! They feature idol stickers from BTS, BLACKPINK, TWICE and many more!
It's amazing that we can take photos using the stickers that feature our bias or stickers made by them.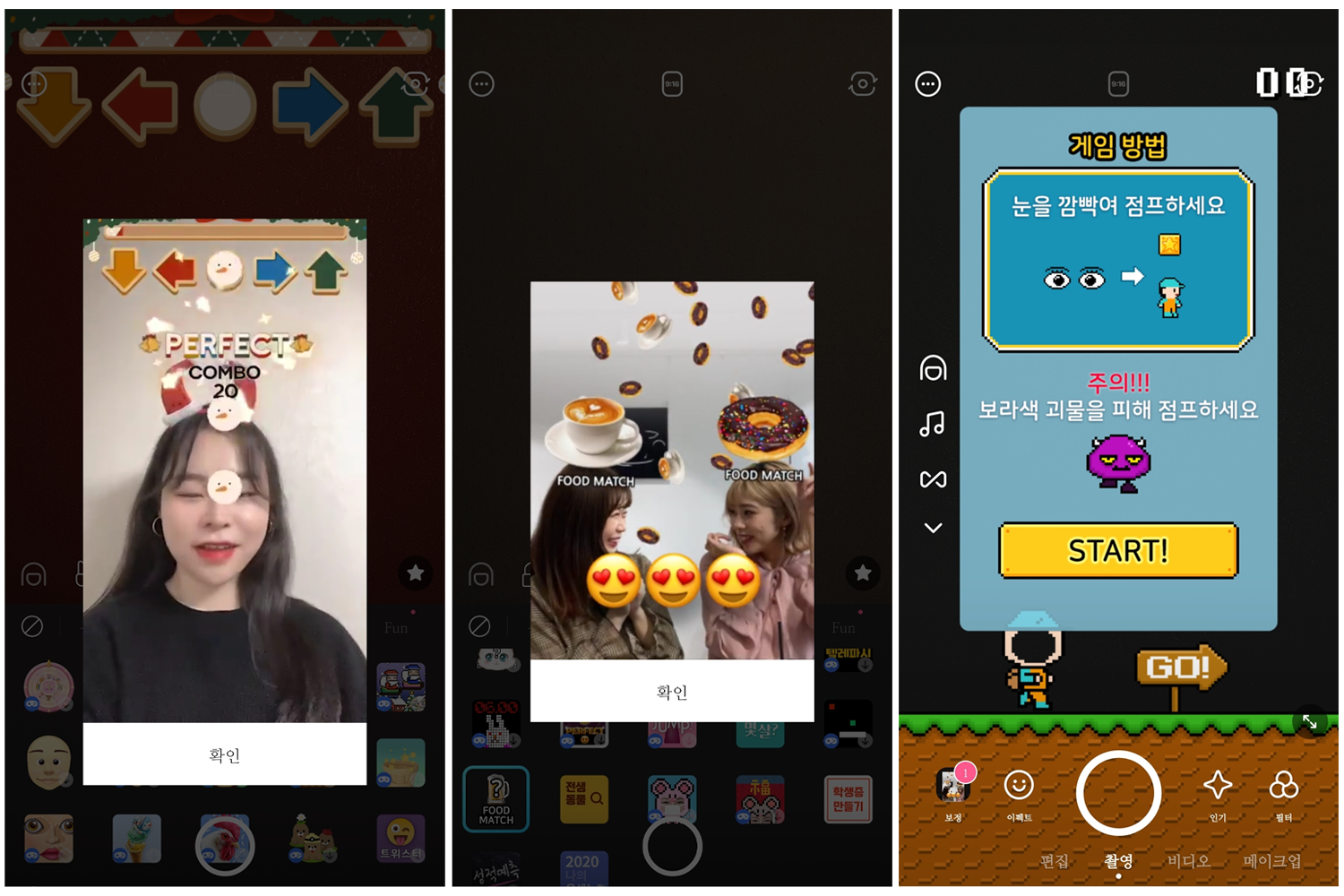 SNOW also has many games in the app, mostly using faces.
Look at how our adorable Korean editor plays with the filter!
It's one of the best ways to kill time with friends and family.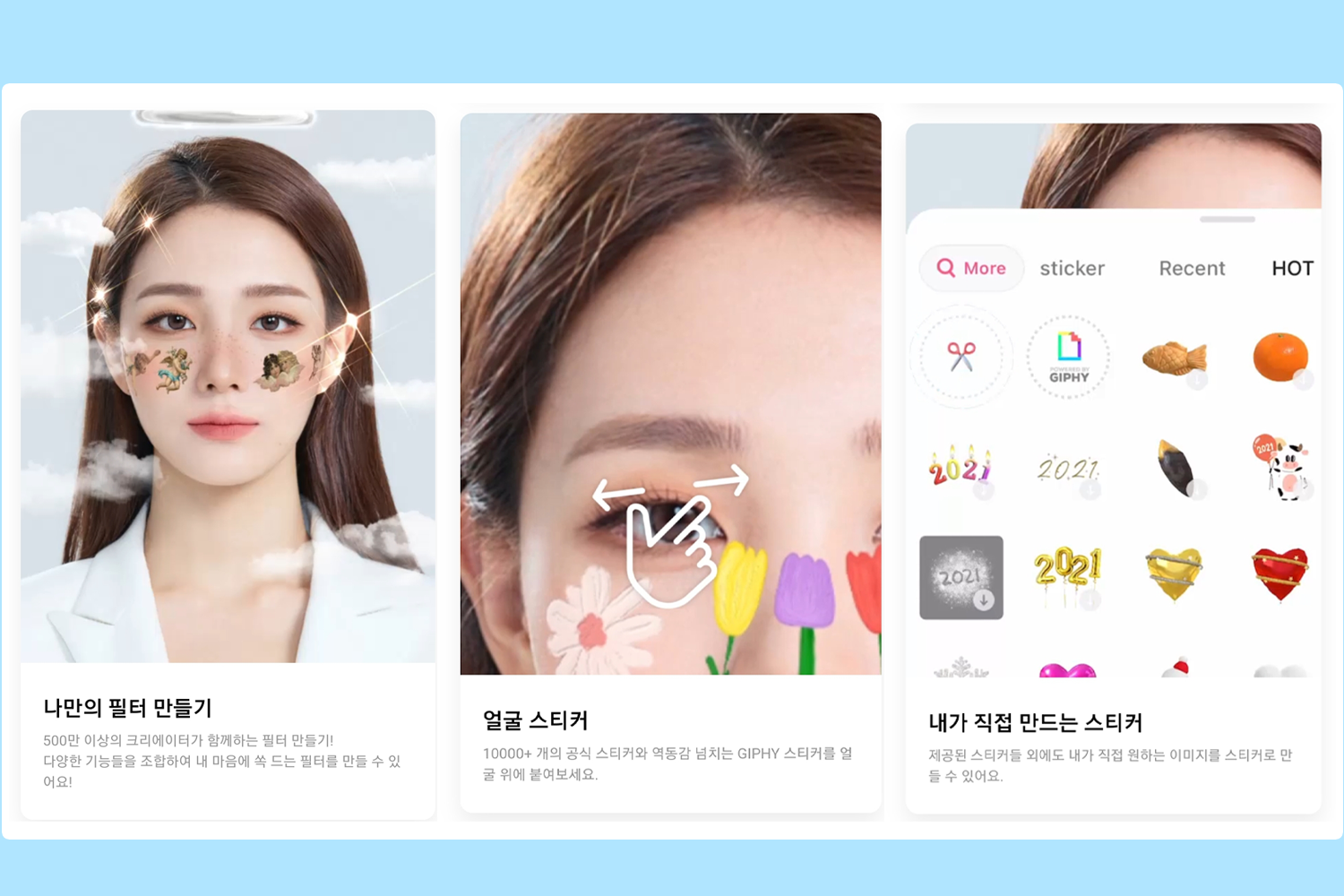 Our Korean editor especially likes the feature where you can create your own filters.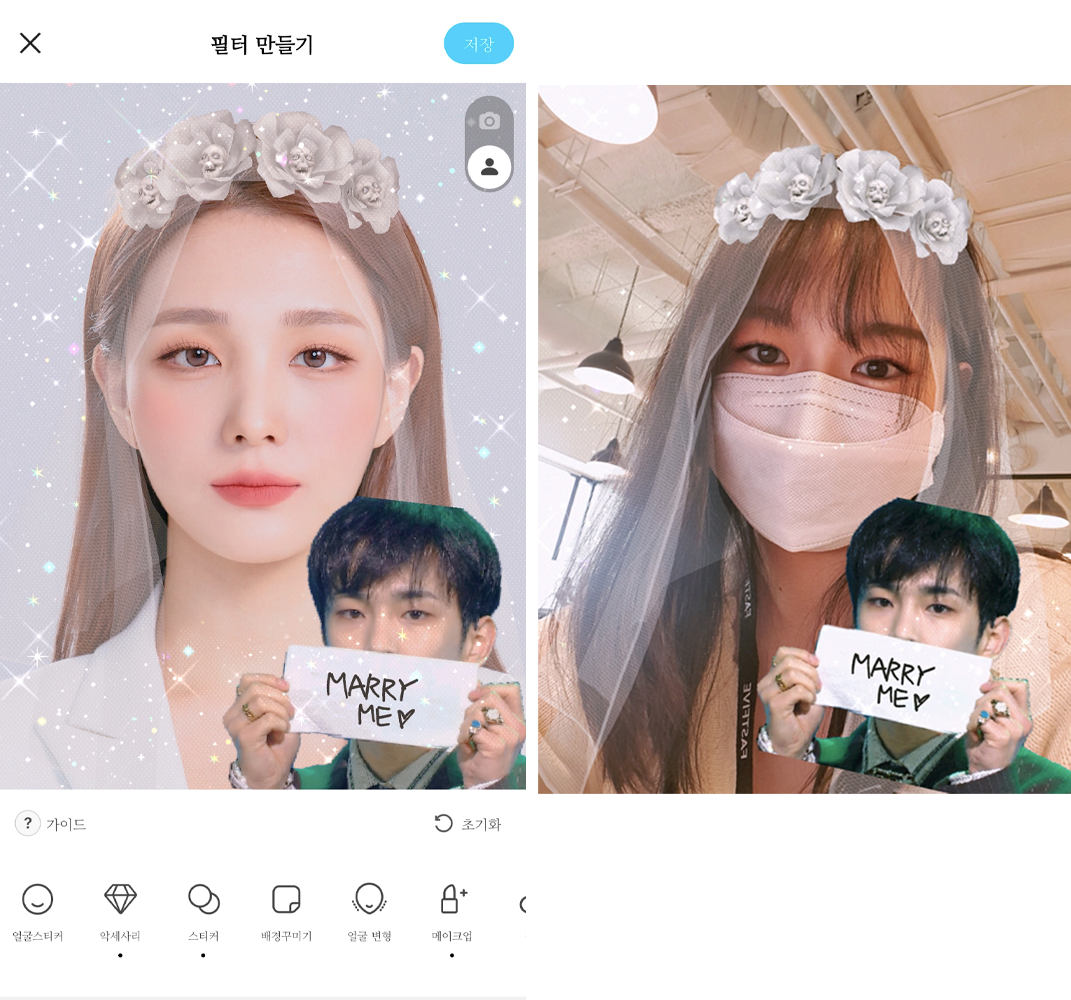 We can clearly see that our Korean editor is a huge fan of SHINee Key from the filter she made!
Make your own filters to create a fully customized photo experience on the app.
---
B612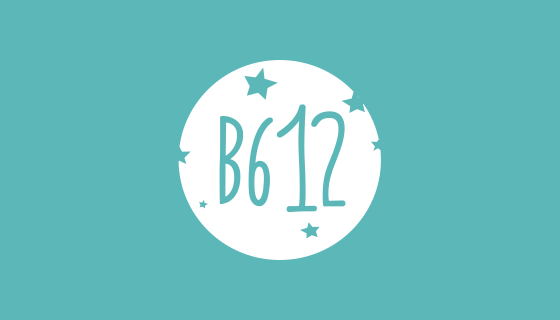 B612 was also released around the same time as SNOW, and received a lot of attention next to SNOW and even received a 2015 Red Dot Award!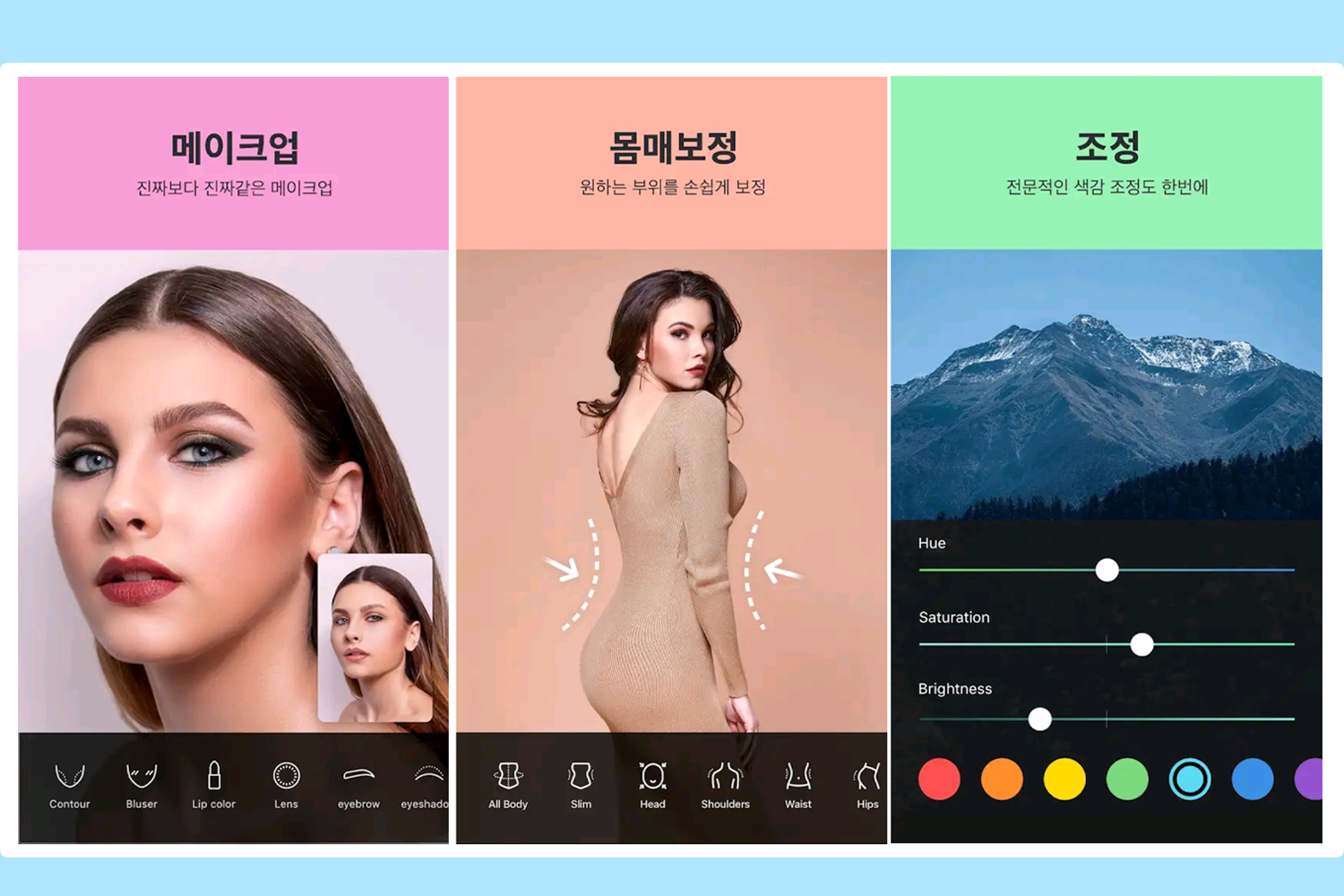 B612 is popular in Korea for its natural enhancements and stickers.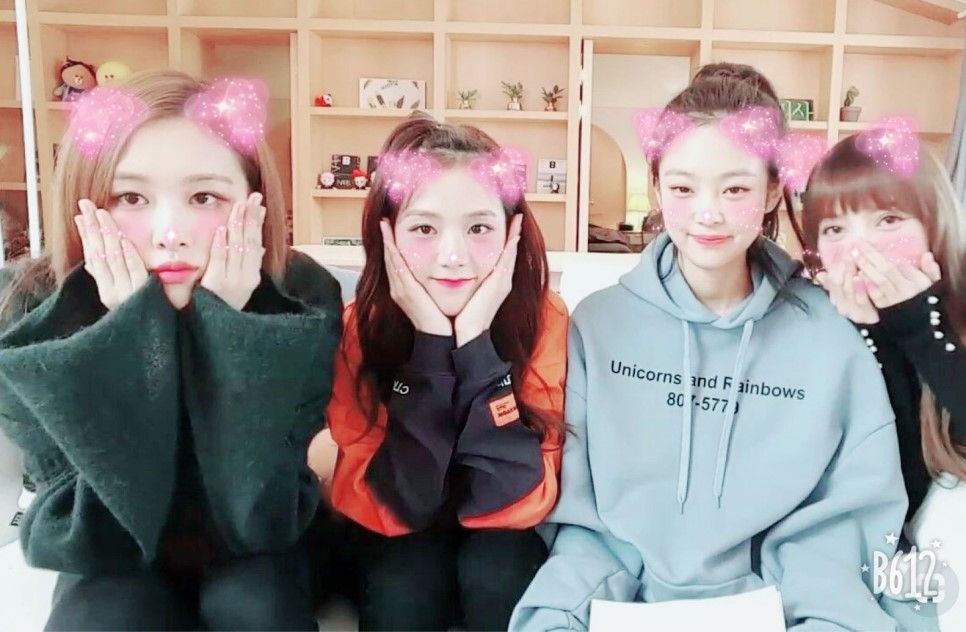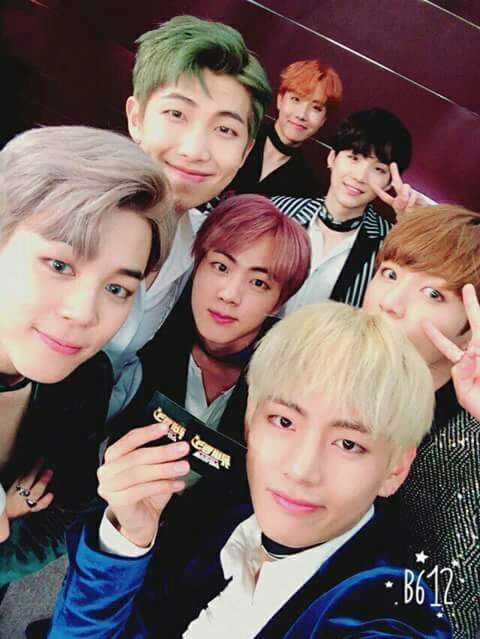 In the beginning, the two apps were quite different. SNOW was more of a communication and social media app where you could upload short videos and photos while B612 was solely for taking selfies.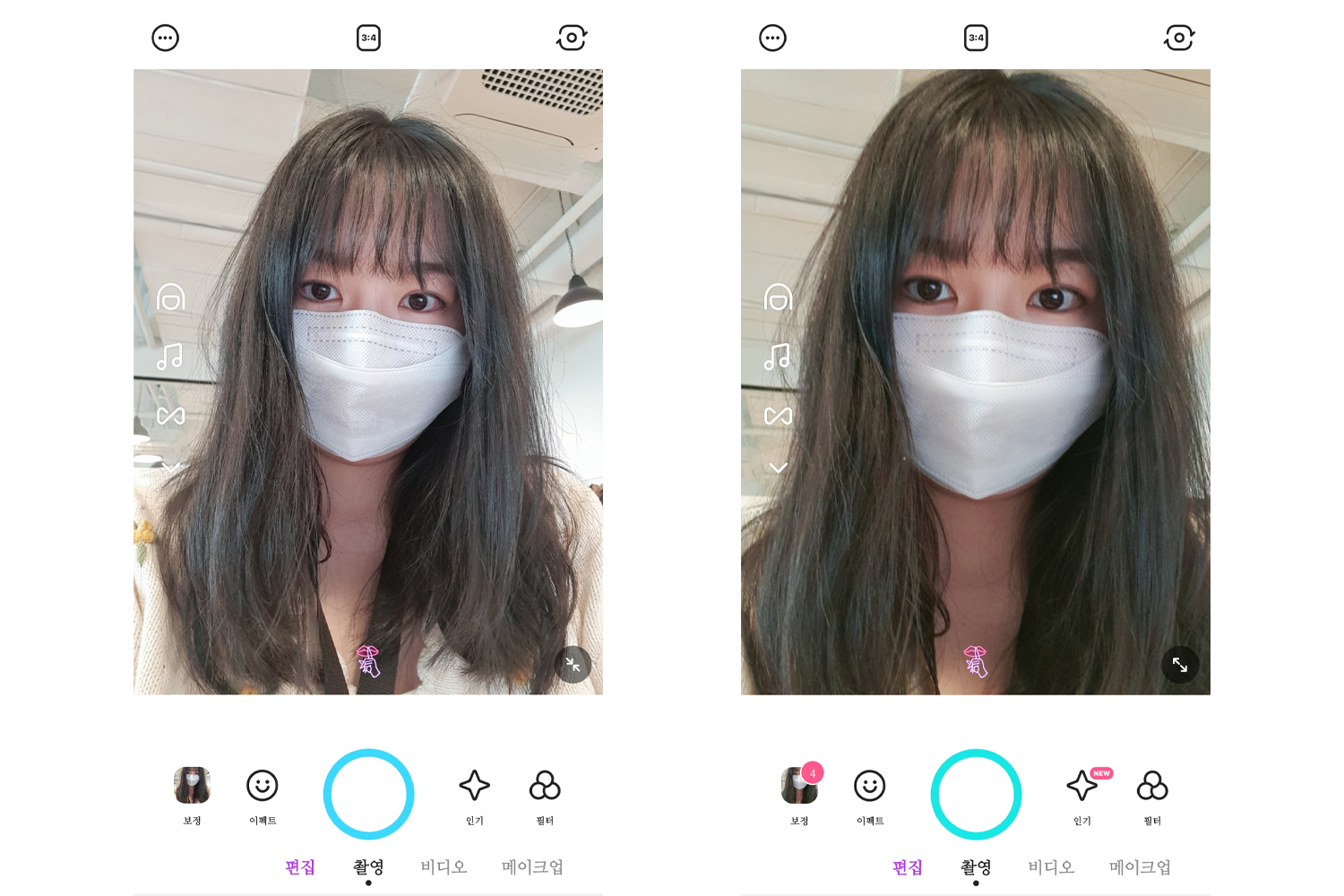 But ever since Naver acquired and integrated the two apps, they've become very similar.
In the photo above, the photo on the left was taken with SNOW and the right with B612. What do you guys think?
Pretty similar, right?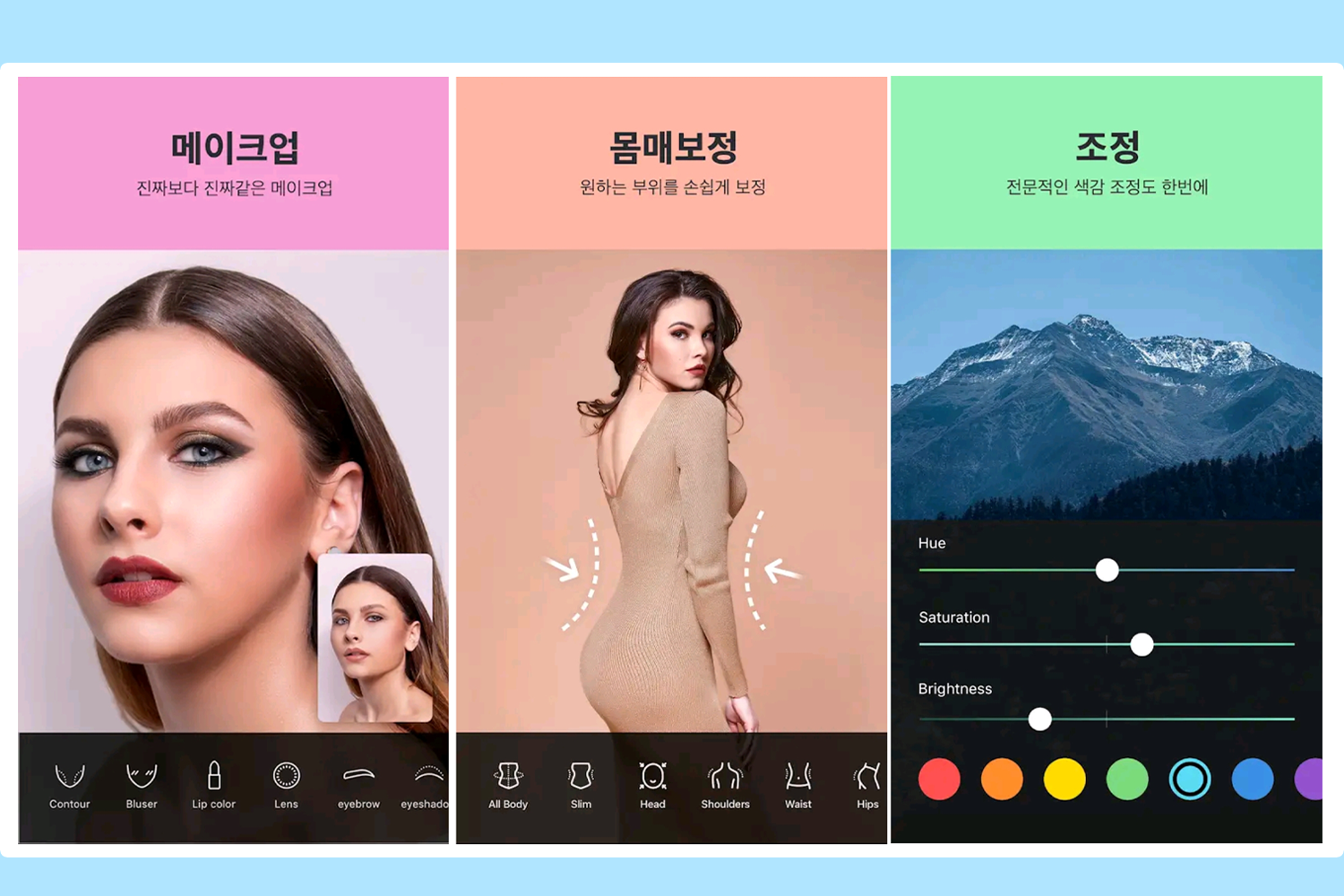 Because we've already explained the makeup and beauty tabs, we'll dig deeper into the video editing features.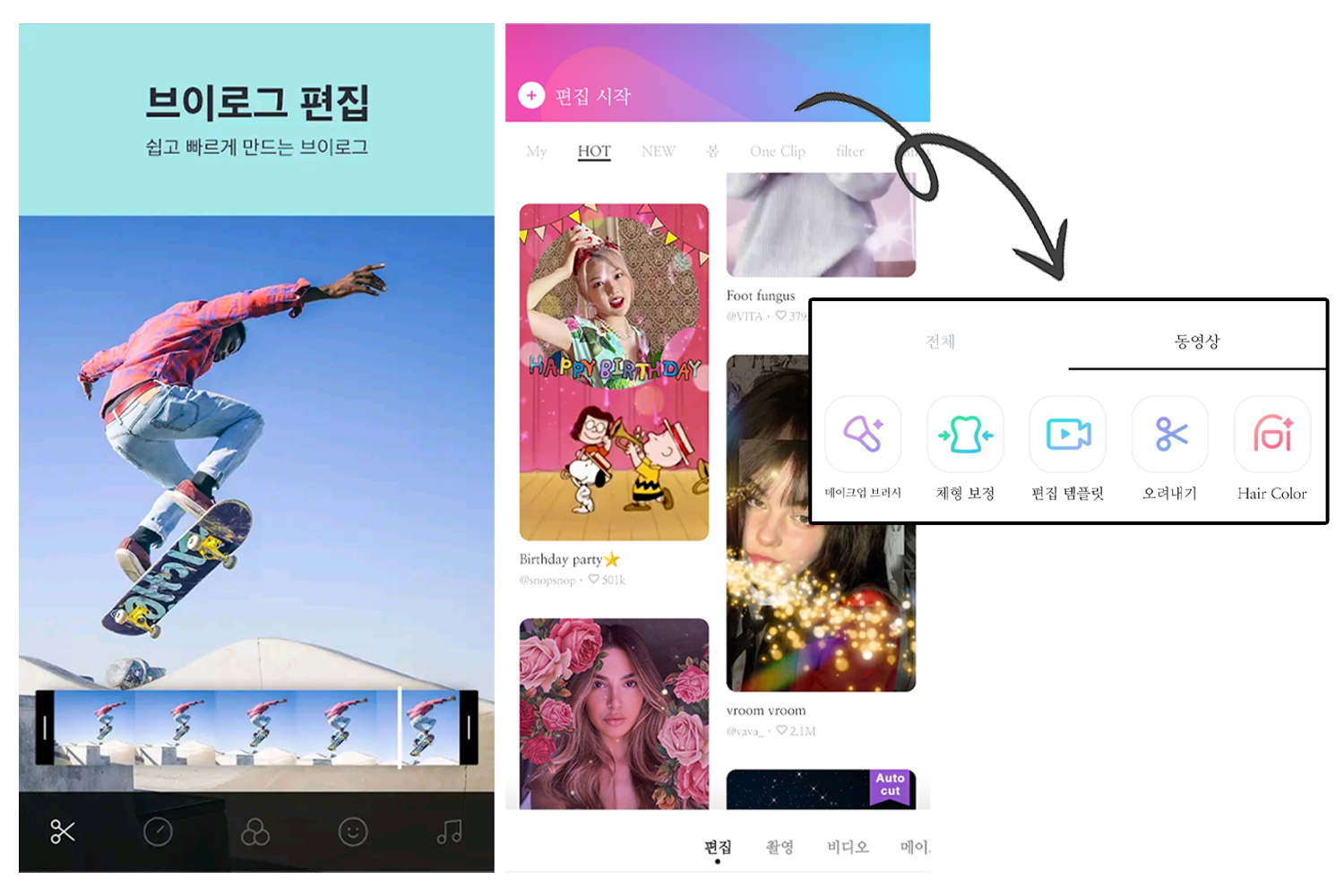 First, you can edit a video that you already have. You can adjust the length, play speed, background music, filters, effects, stickers and even make facial enhancements!
Above is a video of our Korean editor playing arcade games at Seochon's Okin Arcade.
As you can see, you can adjust the play speed of the video, choose music that matches the vibe and pick a filter to customize your video even more!
It might not be the best to edit long videos, but their features are perfect for creating trendy Instagram Reels!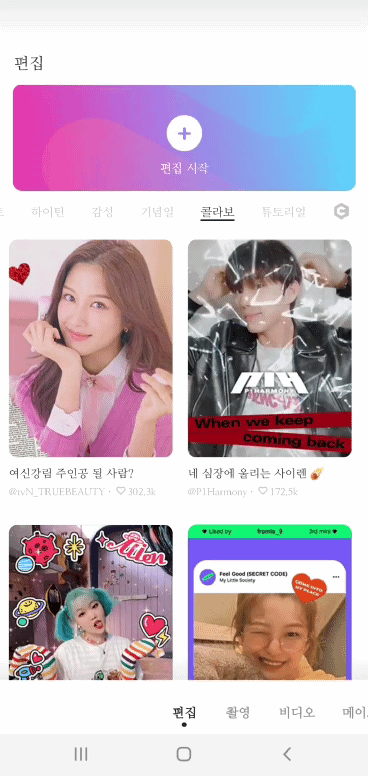 If you don't feel like editing the videos one by one, you can also go with their video templates!
These premade templates come in different concepts and vibes, so just pick and choose the one you like.
You can even make videos that collaborate with Korean dramas with these templates.
Let's take a look at the True Beauty template! The template puts your face in the filters instead of those of Moon Ga-young, Cha Eun-woo and Hwang In-yeop.
Last year, a song by Stella Jang named "Colors" was popular in Korea. The song's lyrics, "I could be red, I could be blue, or I could be purple," could be heard everywhere in Korea.
Along with the song's popularity, it became a thing in Korea to create a colourful video with her song in the background and B612 made a filter called "Colors Challenge".
The above video is what our Korean editor created with the Colors Challenge filter. Cute!
Fans also applied the Colors Challenge to their idols like the video below.
---
SODA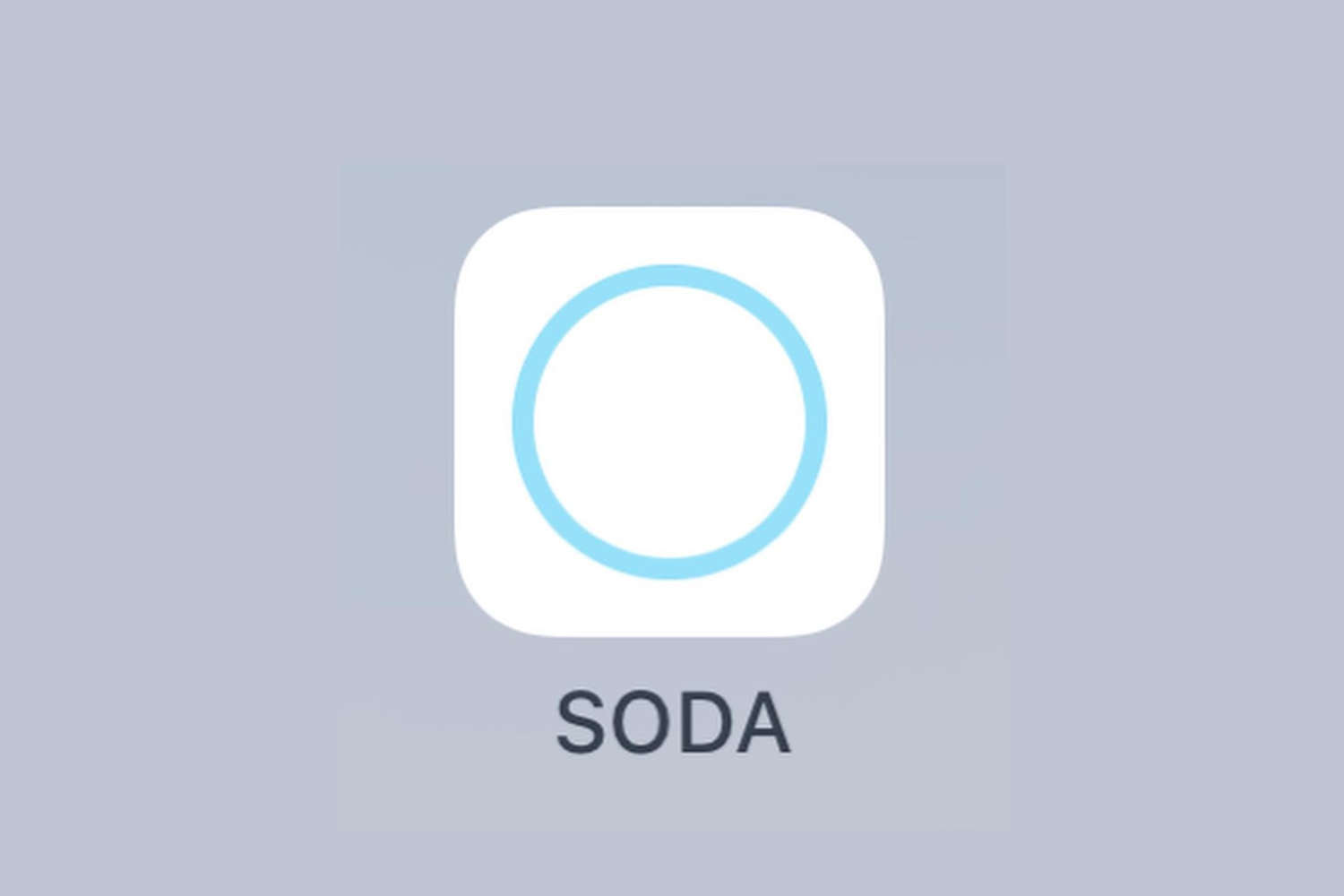 SODA is an app that became big more recently than SNOW or B612.
Overall, it's got a simpler look, because it's a light app only used for selfies.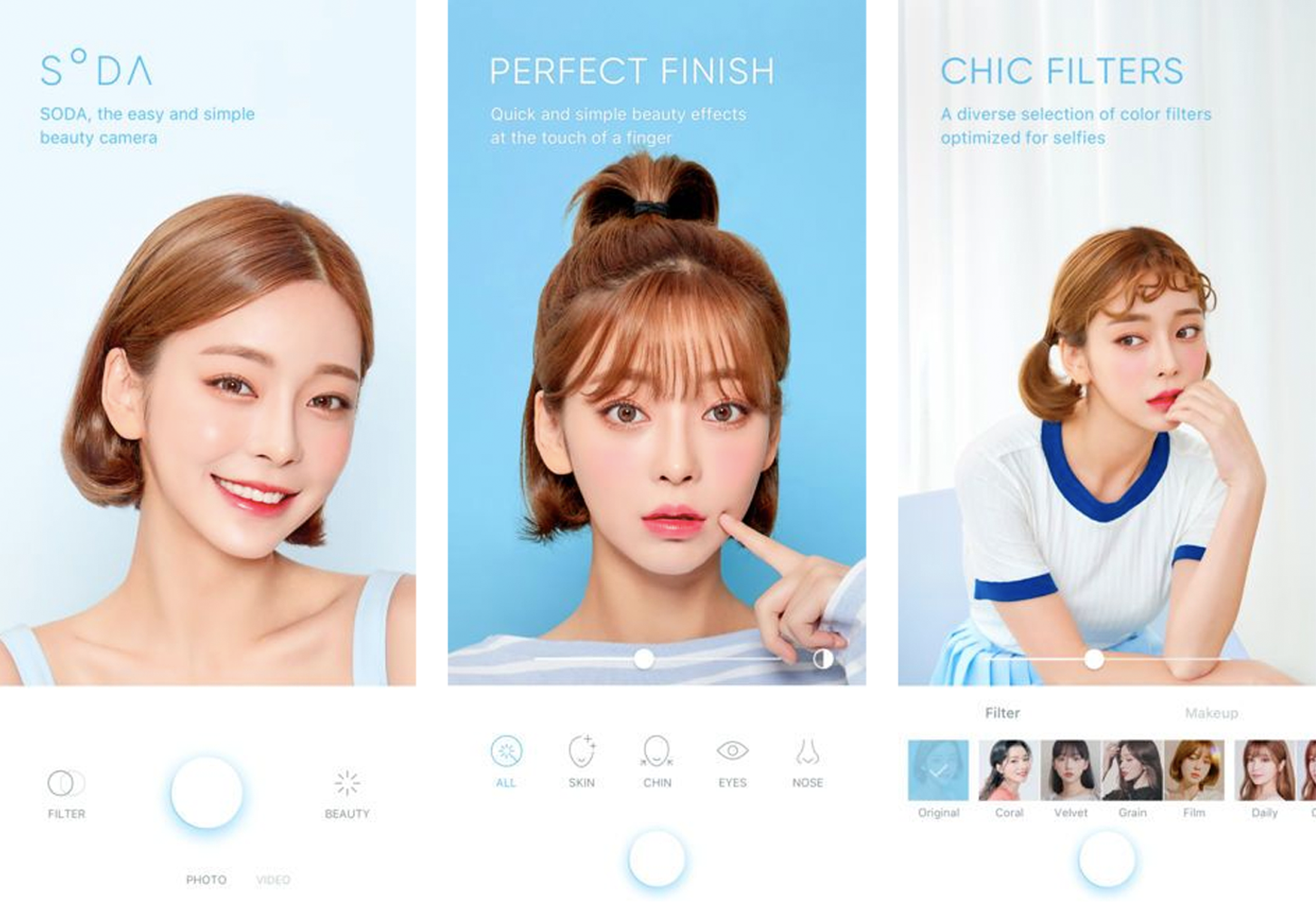 You can do simple face enhancements as well as put on stickers and filters.
Many celebrities and influencers use the app and that's how this app became popular!
Our Korean editor, as a university student, said that it seems that teens and people in their 20s seem to use SODA as a daily selfie app the most.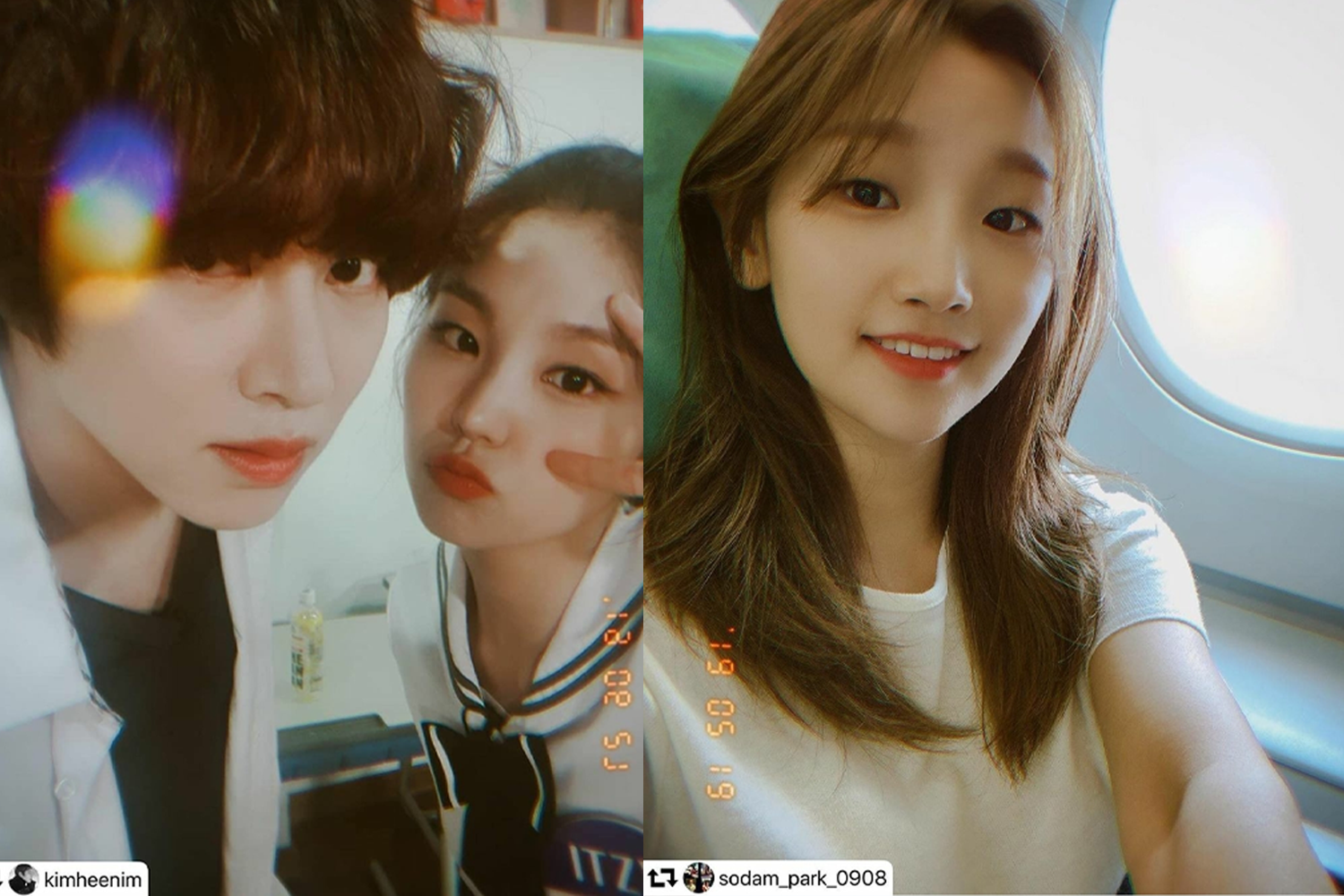 Source: SODA Instagram
SODA's filters tend to be clean and not make changes to the colours, making them perfect for daily use.
It's perfect for those who want a more naturally enhanced photos.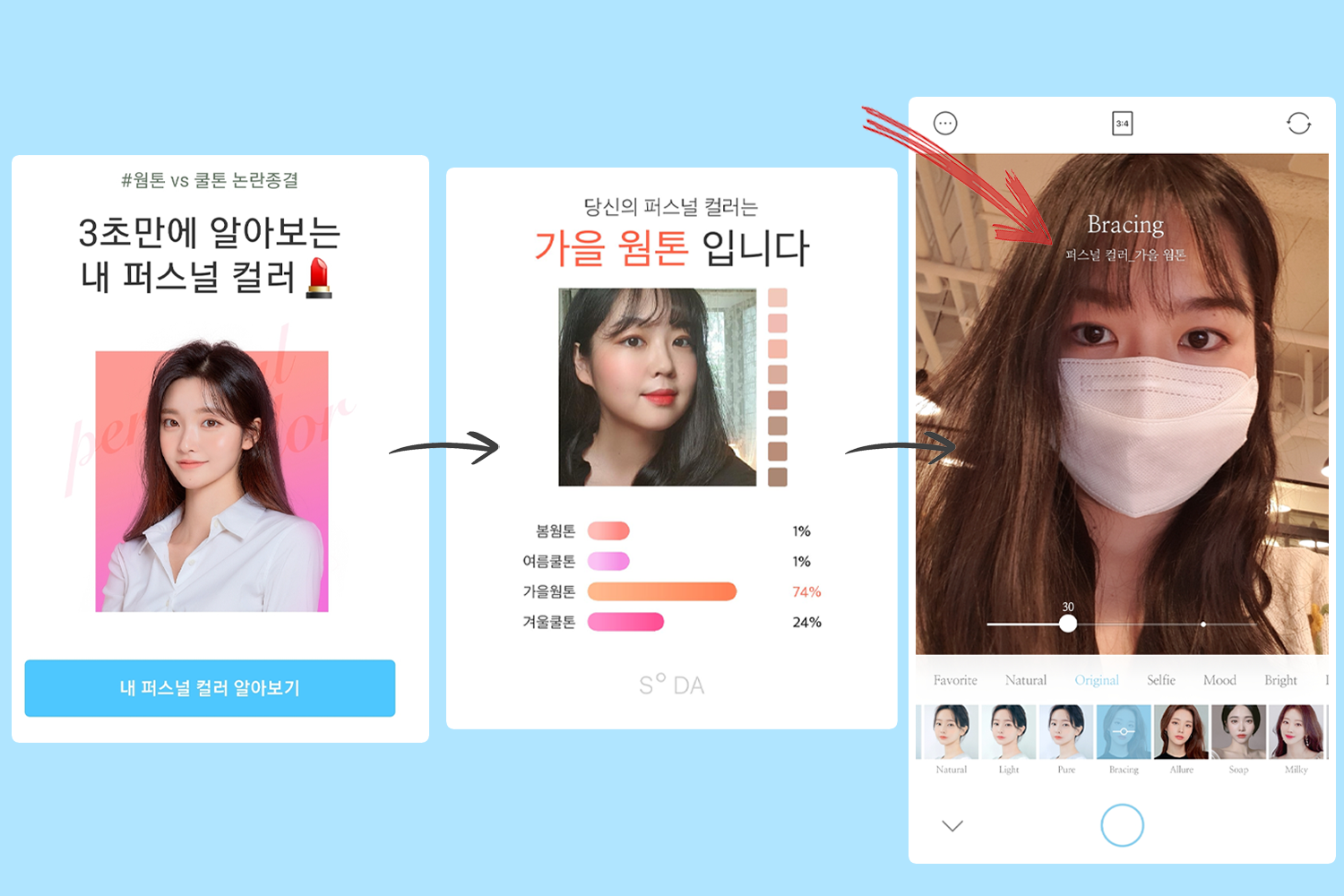 There's a cool feature on the app where it finds your personal colour in 3 seconds!
Based on your personal colour, the app will recommend filters that suit you.
Our editor's personal colour is autumn warm tone, so the appp recommended the filter 'Bracing'.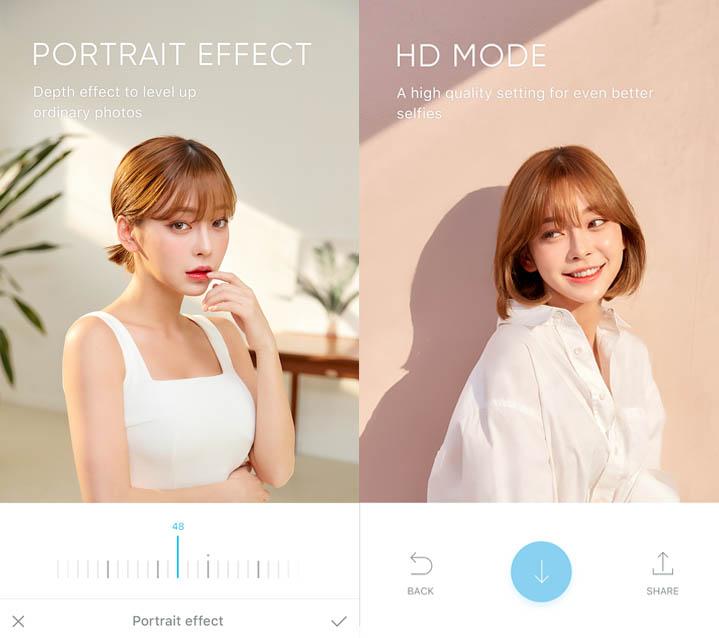 SODA great that it doesn't compromise the image quality in the process of enhancing it. Some selfie apps will blur the images to enhance the photos, but it's not the case for SODA!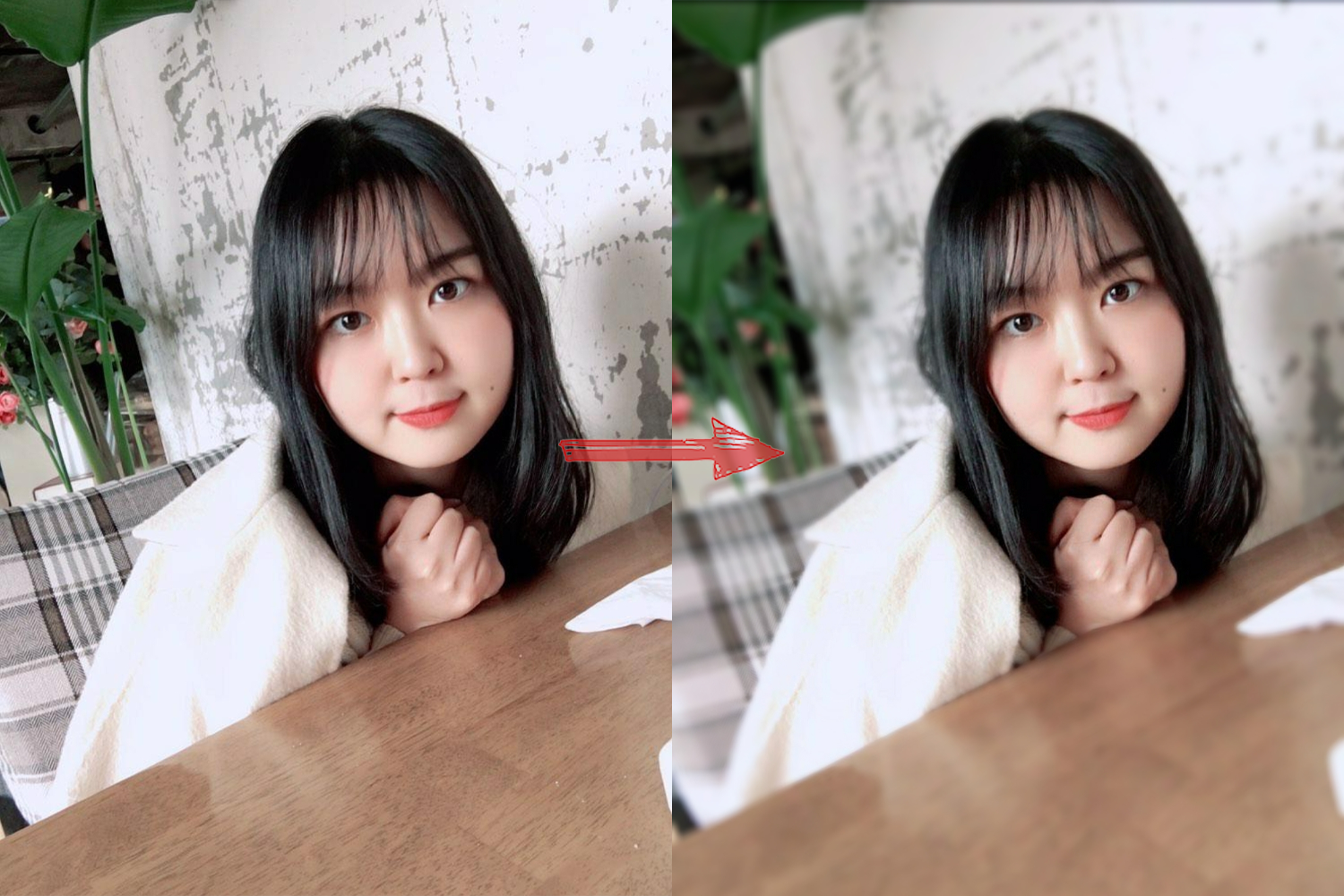 To minimize the risk of getting your original image blurred, you can set your photo quality to 'high-definition' in the SODA app.
If you want a more DSLR-like effect, check off 'Portrait Mode' too!
The above image shows the Portrait Mode turned off on the left and turned on on the right. We can definitely spot the difference!
---
Ulike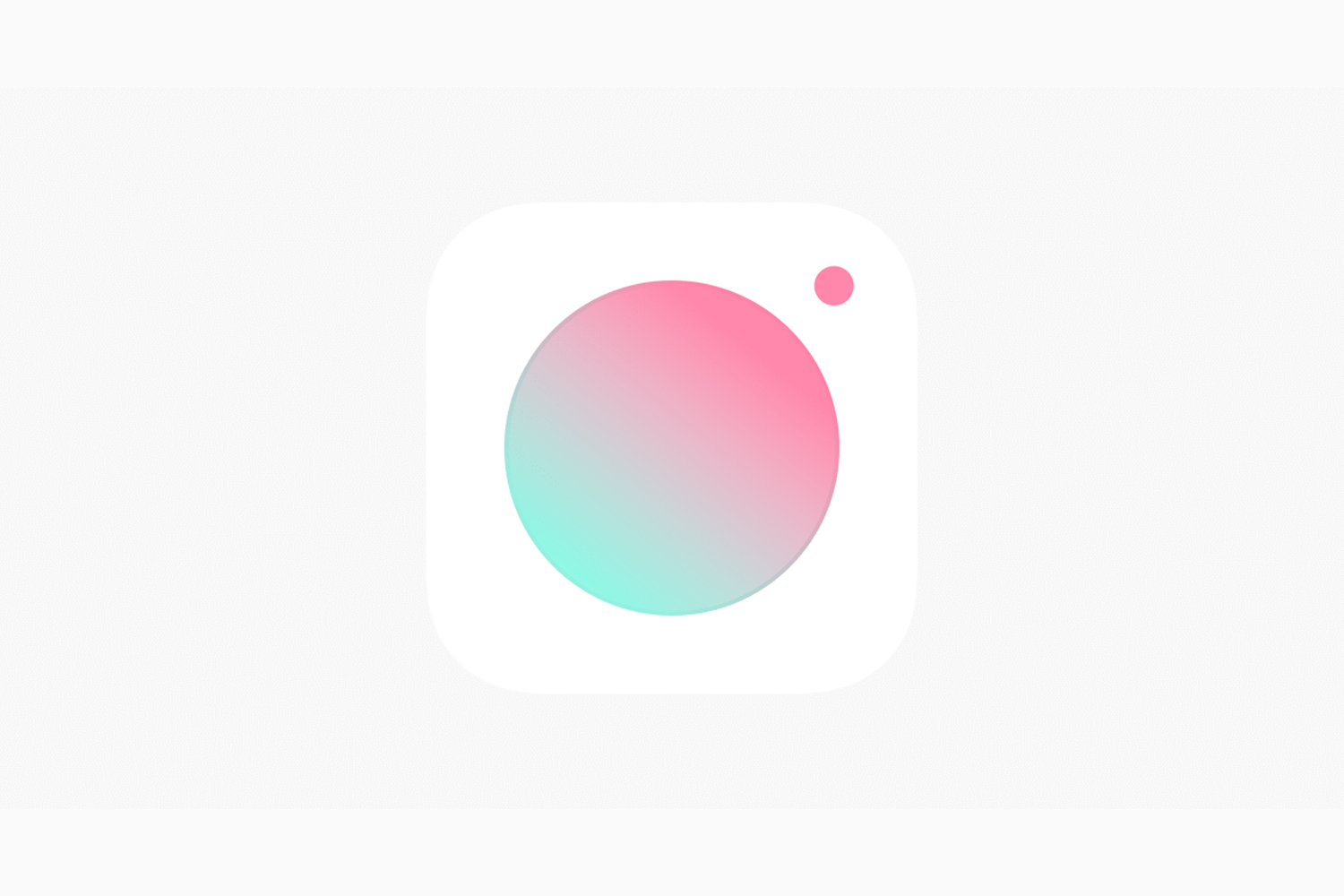 This is another big app people like to use for selfies.
Most Koreans will have both SODA and Ulike on their phone and choose between the two depending on their mood of the day.
Just like the other selfie apps we introduced, Ulike also has many makeup, beauty, filter and sticker functions.
Ulike is perfect for making more intricate changes.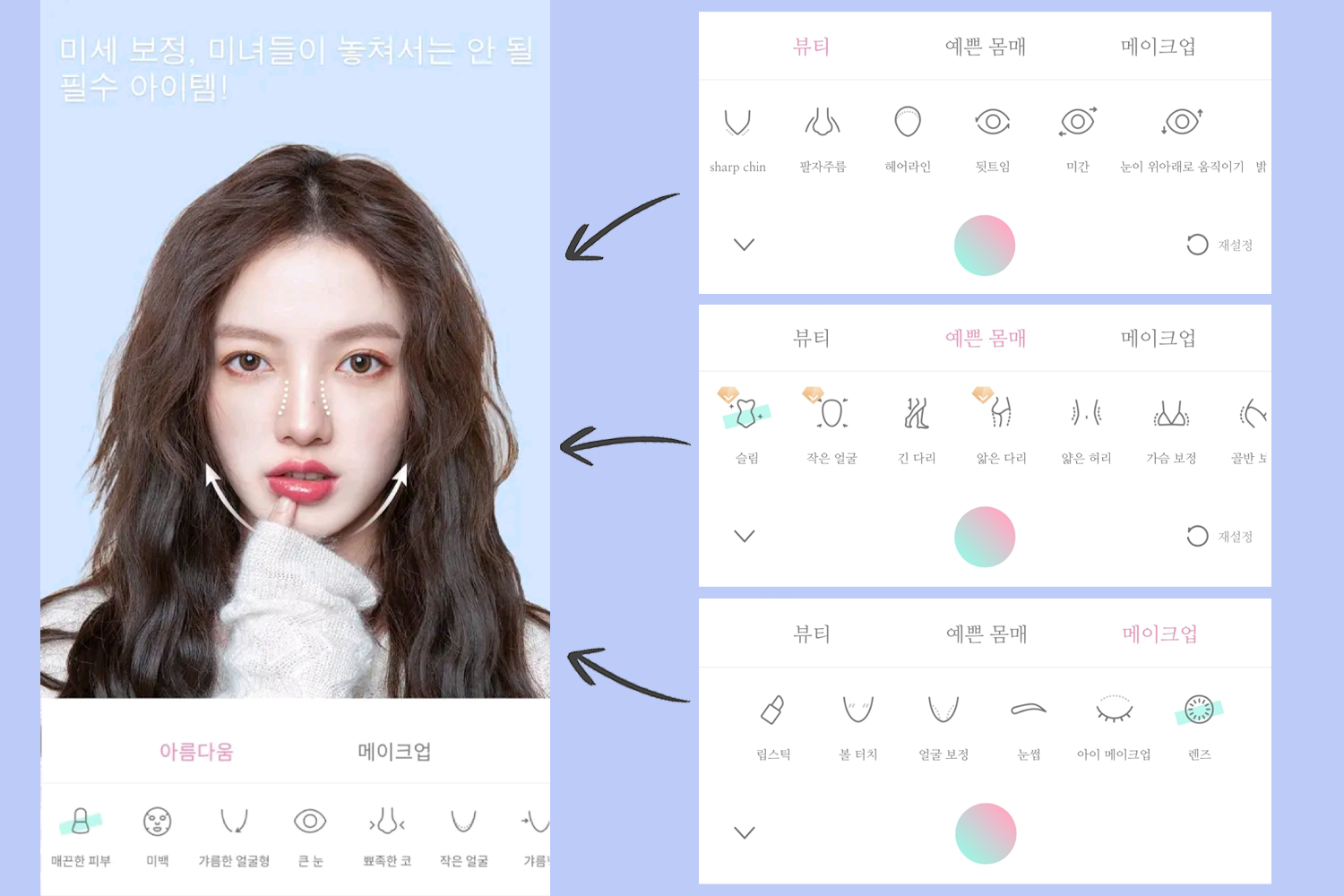 You can preset the enhancements to fit your features the best. This is why when you use Ulike on your friend's phone to take photos, you might end up looking like your friend.
Source: 인스티즈
Because this app focuses on looking pretty, many celebrities use this app to take selfies.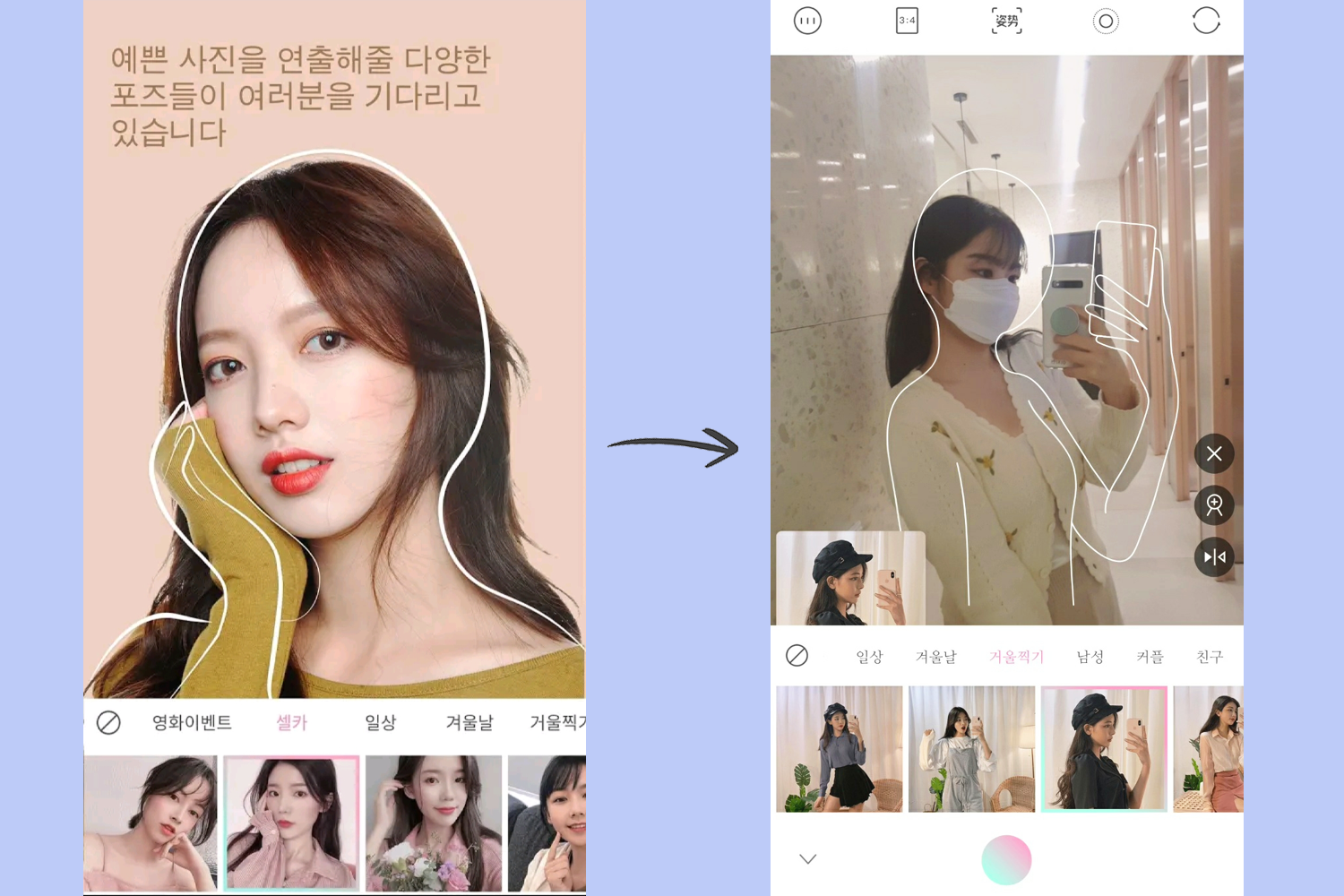 One more feature to remember for Ulike! It has a pose function where it will give you pose recommendations.
Our Korean editor took her photo using the post function in the picture above on the right. What do you guys think?
---
Snapchat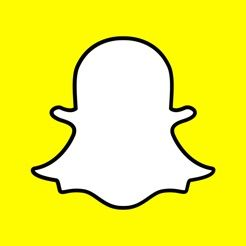 The last application on our list today is Snapchat, which is the most popular app internationally.
Snapchat's principal feature is that pictures and messages are available for a short time. After that, it disappears!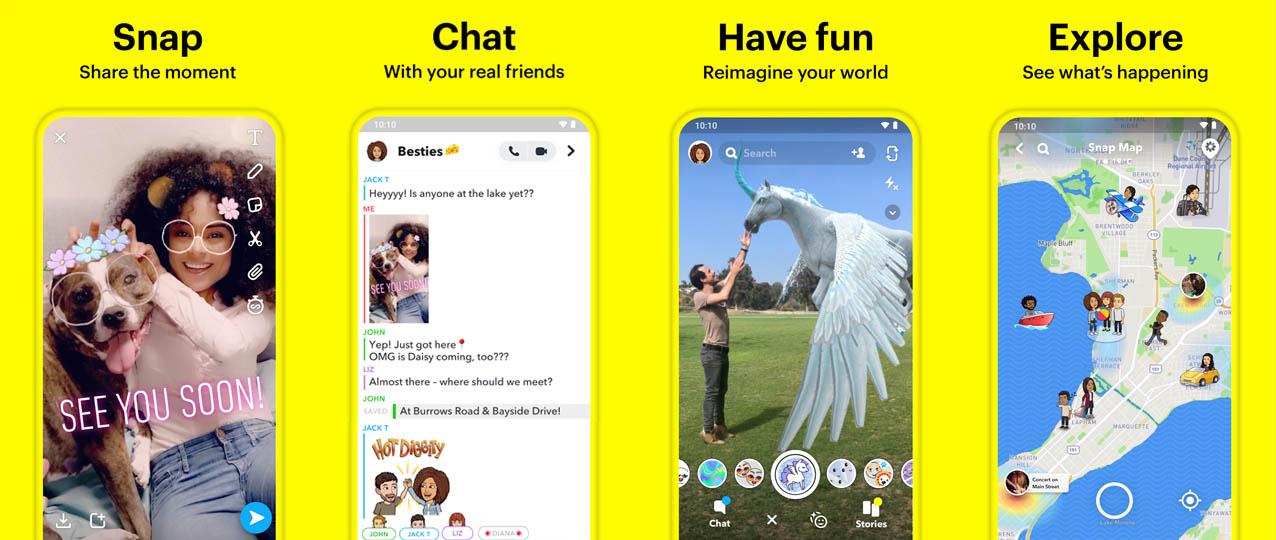 Besides, since it is mainly a messenger application, it offers a variety of services such as the ability to show my current location to friends, and stickers/filters available in certain locations and countries.

IU Instagram & Suzy Instagram
Last year, Snapchat released a new baby filter that became popular.
Many celebrities took pictures and posted photos of their baby faces on social media. Have you tried it as well?
---
App Comparison

For more comparisons, I used all five apps in the same condition.
| | |
| --- | --- |
| ▲ Snapchat | ▲ Ulike |

As you can see, they generally come out looking similar, but you can still spot some differences.
SNOW and Snapchat have the sharpest colour, while B612 seems to have low saturation and minor blur effects.
Photo taken in SODA has high hue saturation and pinkish compared to other photos which can look lovely.
Ulike is a bit more corrected compared to other apps, I personally prefer Ulike and SODA.
---
How To Stay Up To Date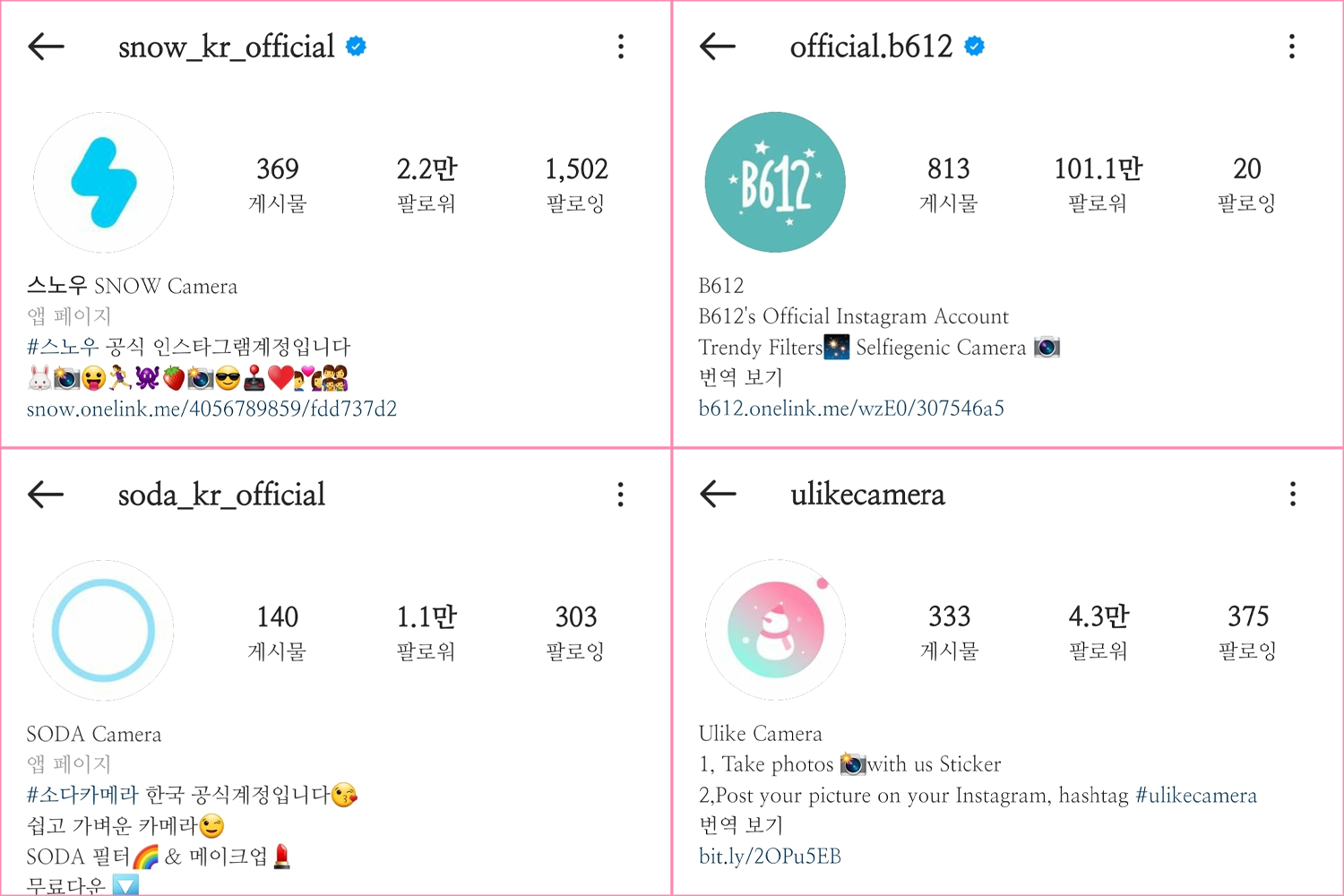 Follow these apps' official Instagram accounts to stay up to date with the latest filters!
They announce and introduce the newest filters and stickers here. As well, they also give you tips on how to optimize their filters and enhancements the best.
---
Bonus : SOVS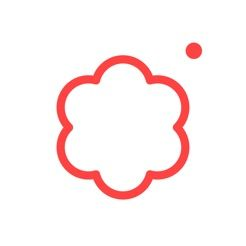 Lastly, if you have friends who are bad at taking pictures, or if you are a bad photographer, I would recommend this application called SOVS.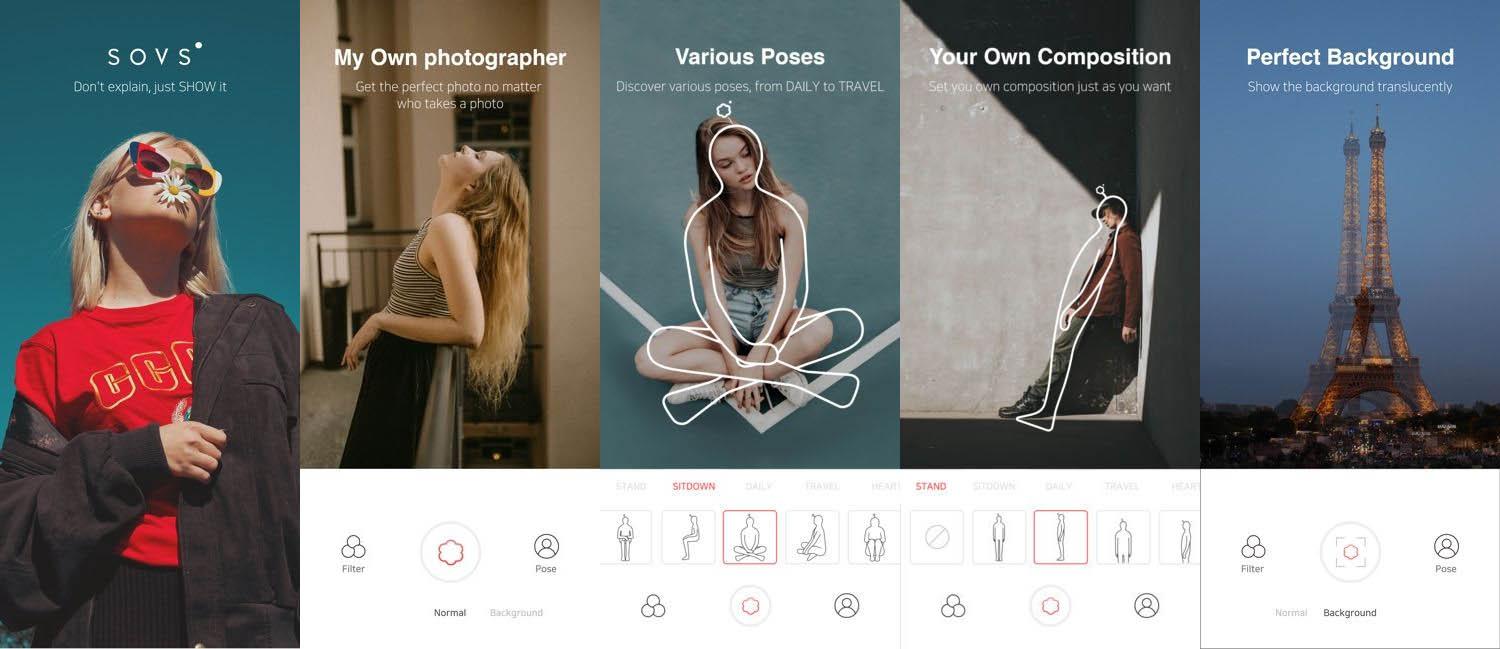 Whenever you are travelling, there is a certain picture that you would like in specific.
However, it may be challenging to explain how you want the photo. To solve your problem, SOVS offers pose guidelines for those who get awkward when it comes to taking photos, or just not good at taking pictures.
You just set the compose in advance and then ask your friend to take a picture according to the guide. It's that simple!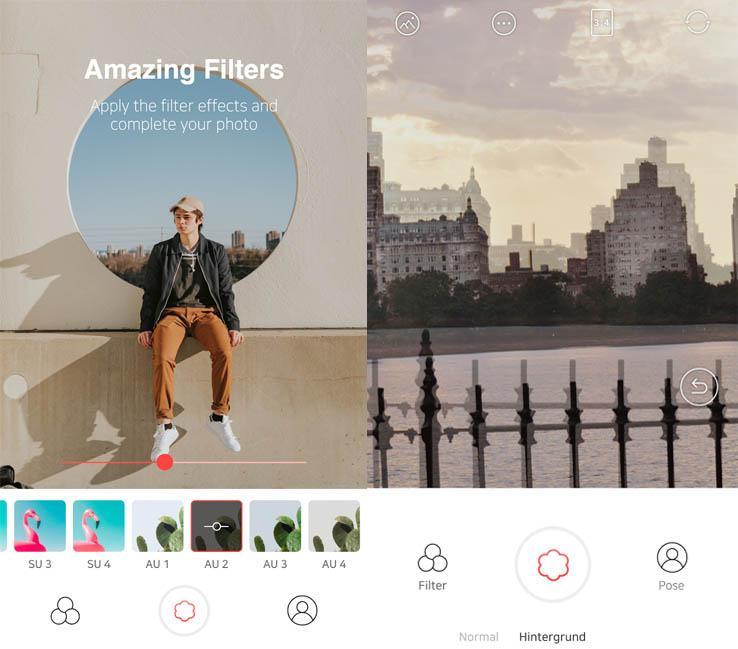 There are also a variety of filters that do not lag behind other cellphone apps. If you would like to take the 'best photo of your life' on the trip, I recommend you use SOVS!