NAMDAEMUN MARKET | Creatrip Locals' Guide
The Largest Traditional Market In The City Of Seoul That Offers A Truly Local Experience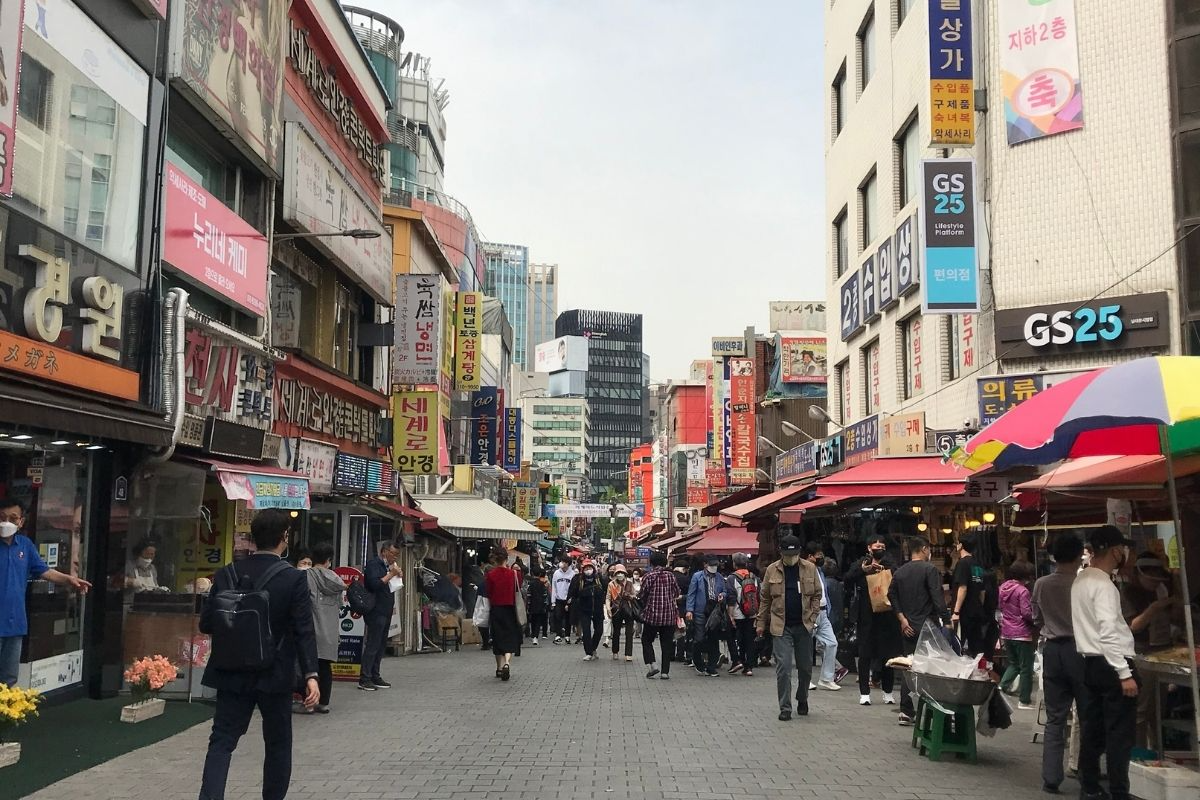 Trying out different foods and looking at the traditional markets is a great way to learn more about a country's culture when traveling. Namdaemun is popular market amongst Korean locals and is known to be a place where you can find truly anything. For those that are looking to take a dive into Korean culture and learn more about Korea, we suggest taking some time out of your day to head over to Namdaemun Market!
---
Information
Address: 서울 중구 남대문시장 4길 21
21 Namdaemunsijang 4-gil, Jung-gu. Seoul
Hours: 00:00-23:00, Closed on Sundays (Please keep in mind that individual stores have their own hours of operation)
---
Our Visit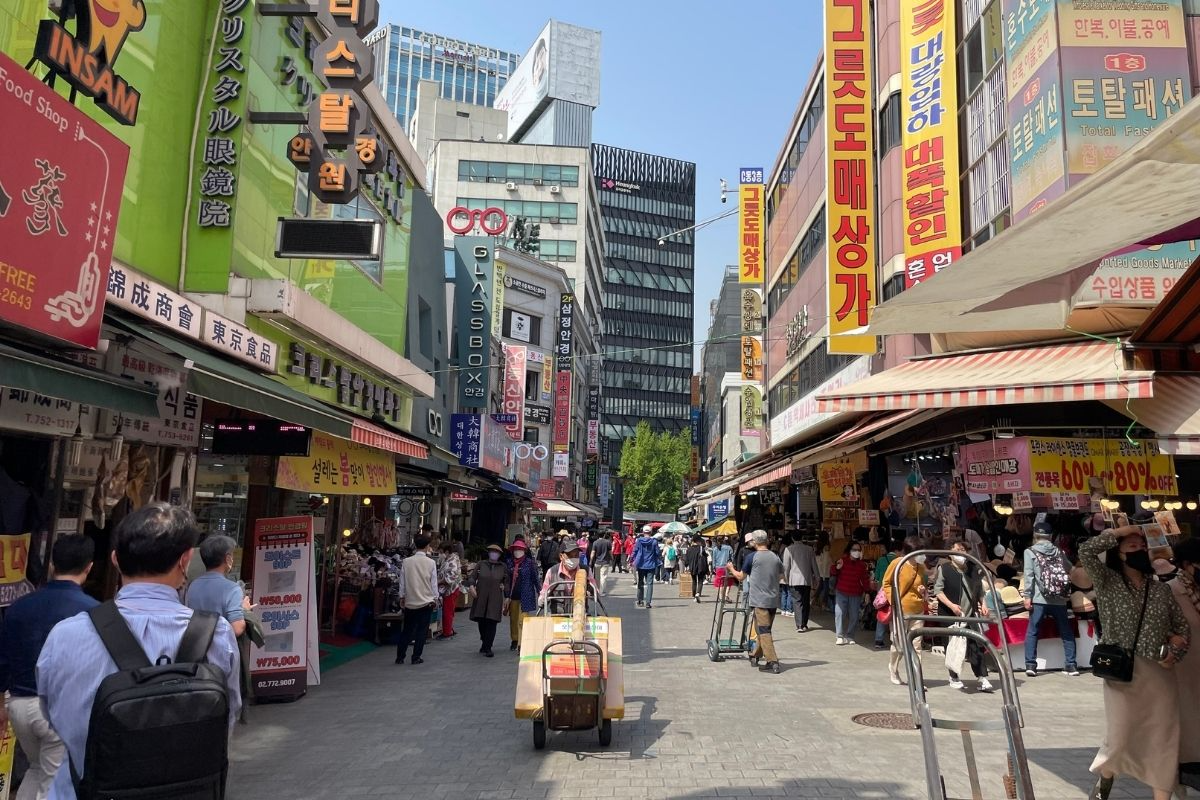 Namdaemun Market is known for being THE place to find anything and everything! There is even a popular saying amongst Koreans, "If you can't find it in Namdaemun Market, you can't find it in Korea!"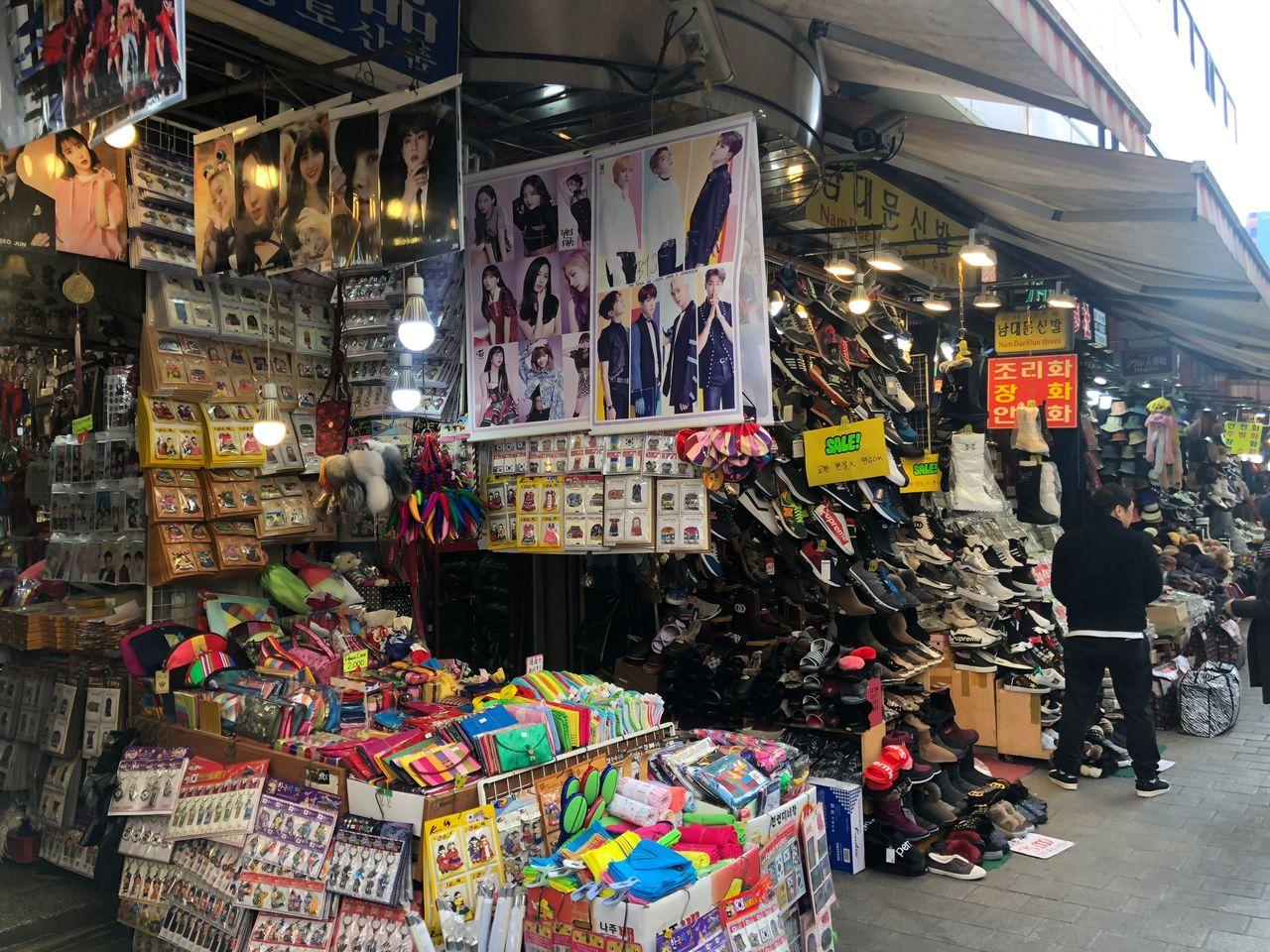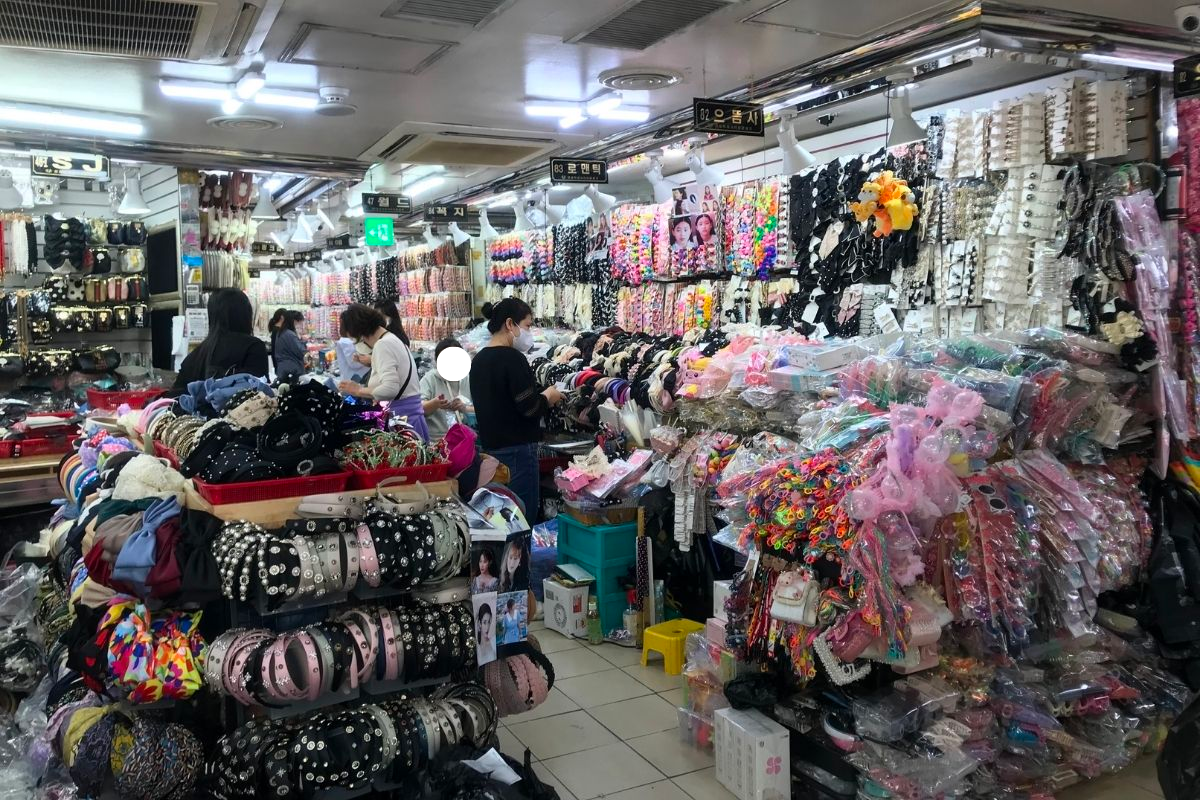 Namdaemun Market is especially a popular place to find clothes, especially a variety of fabrics and children's clothing. There is also a wide selection of handicrafts, foods, shoes, and more than 1,700 other types of goodies. We truly believe that you will be able to find something here, and suggest coming here to pick up souvenirs for friends and family members back home.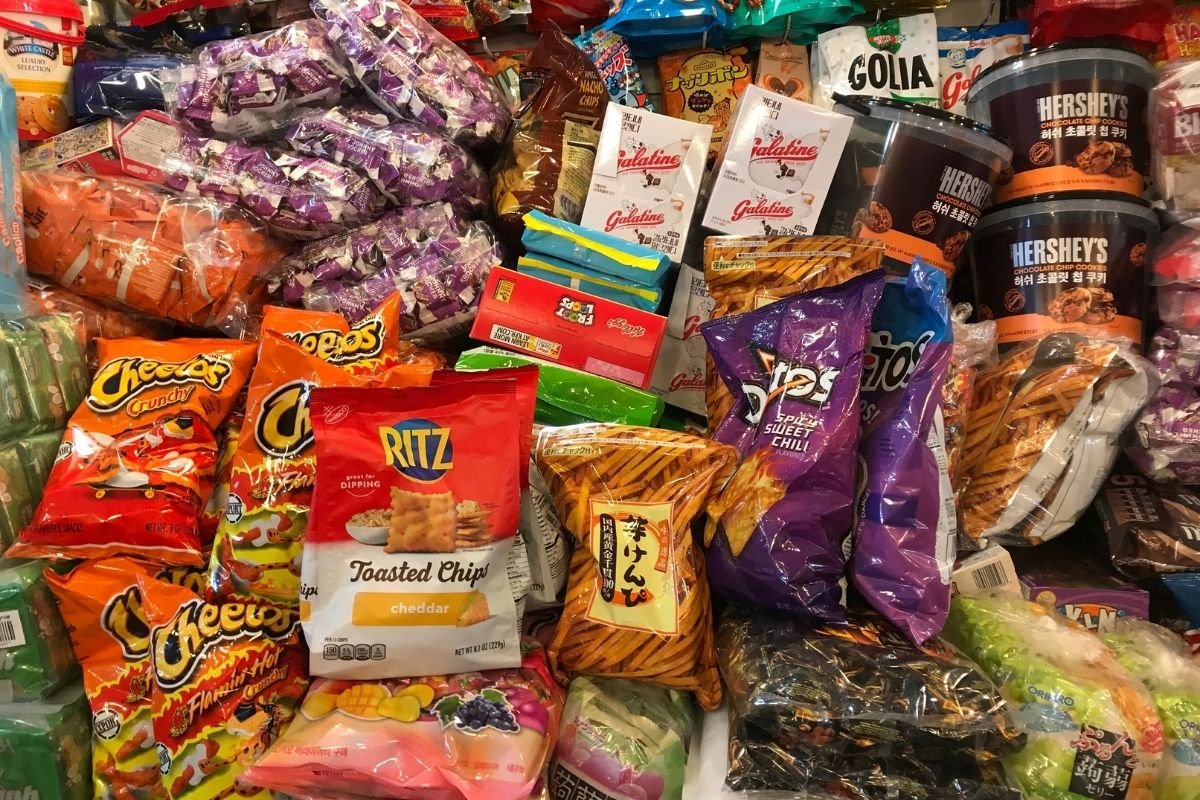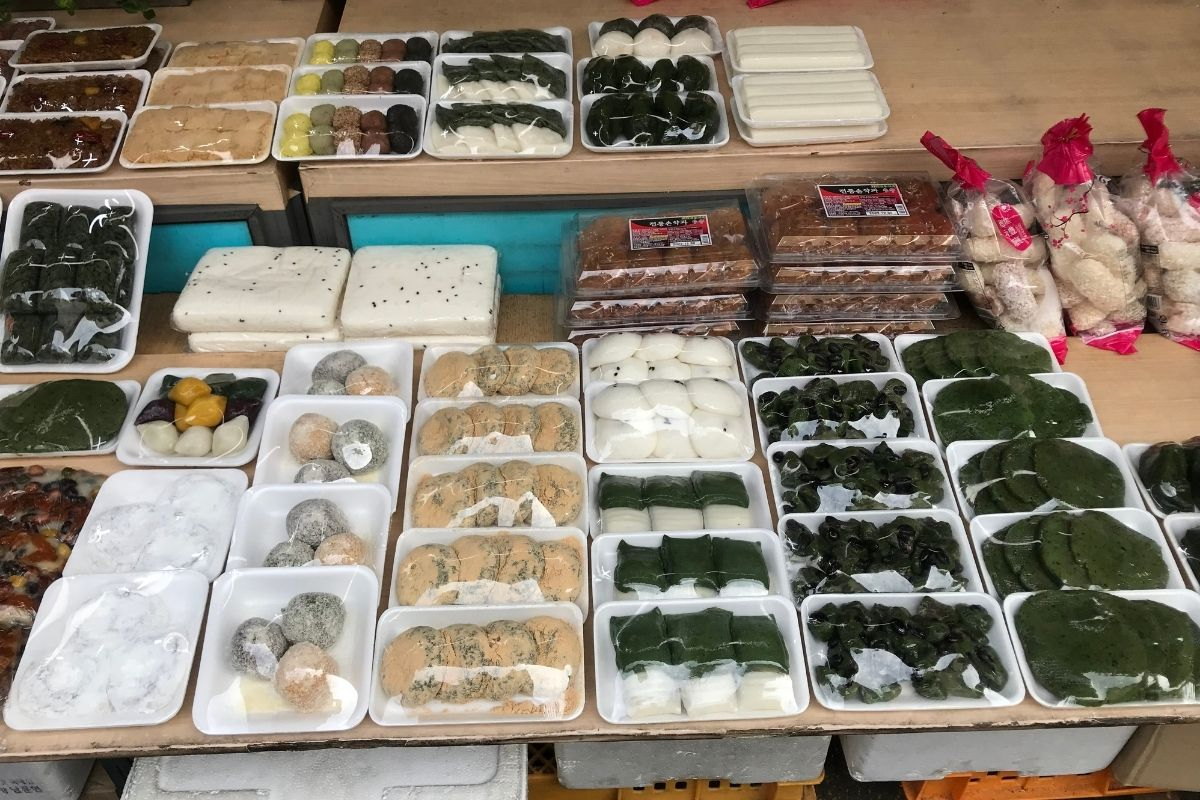 In addition to the products mentioned above, there are also various snacks for sale. There are both Korean snacks and imported snacks.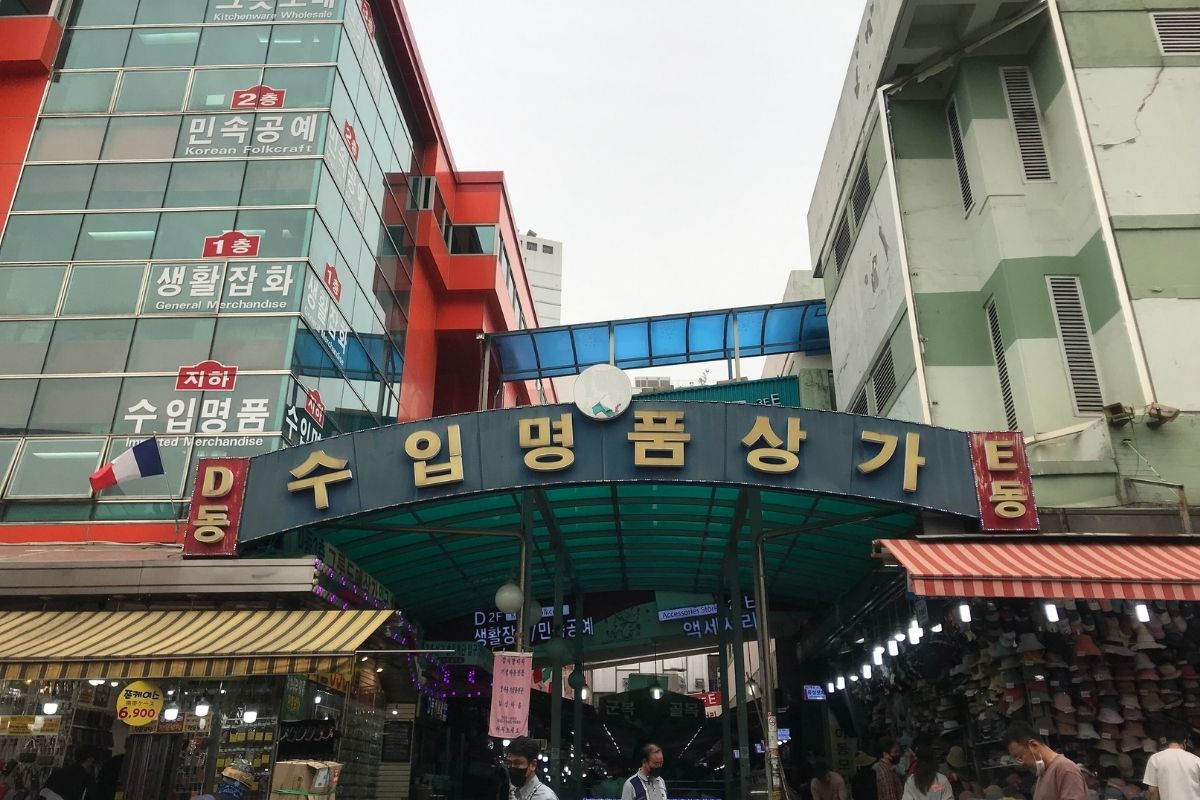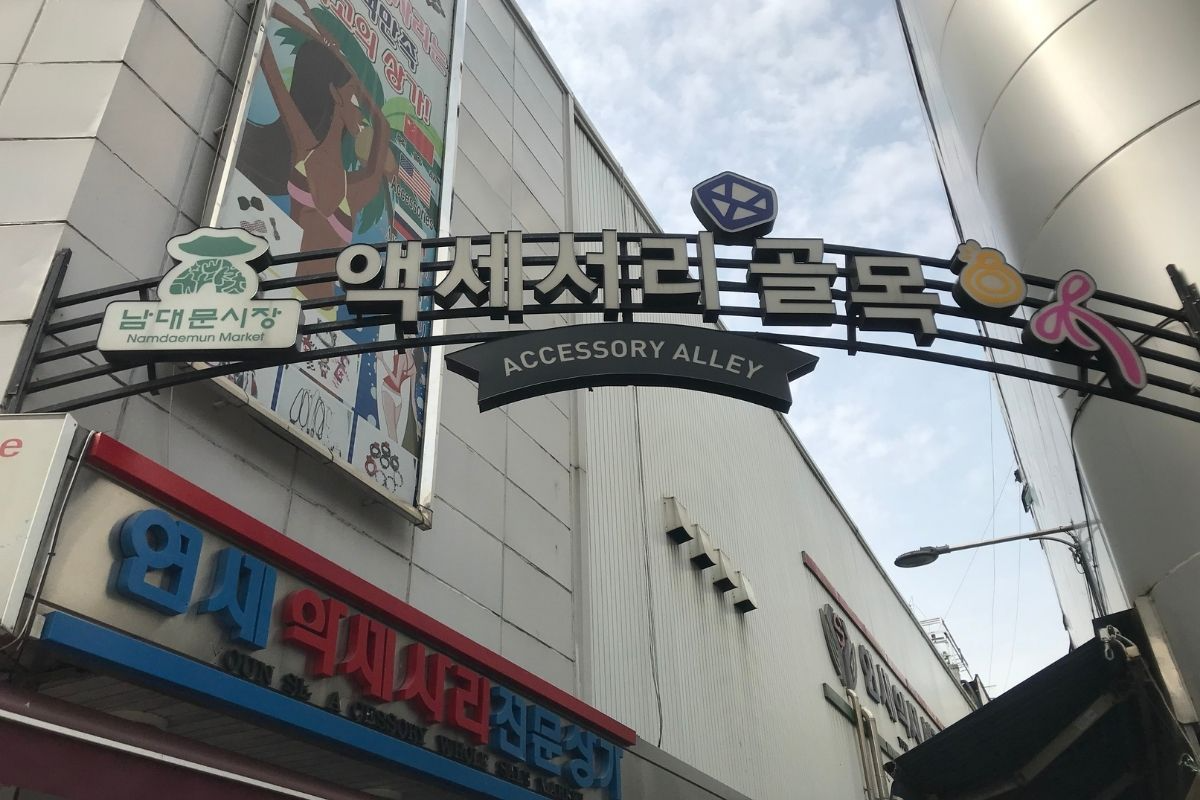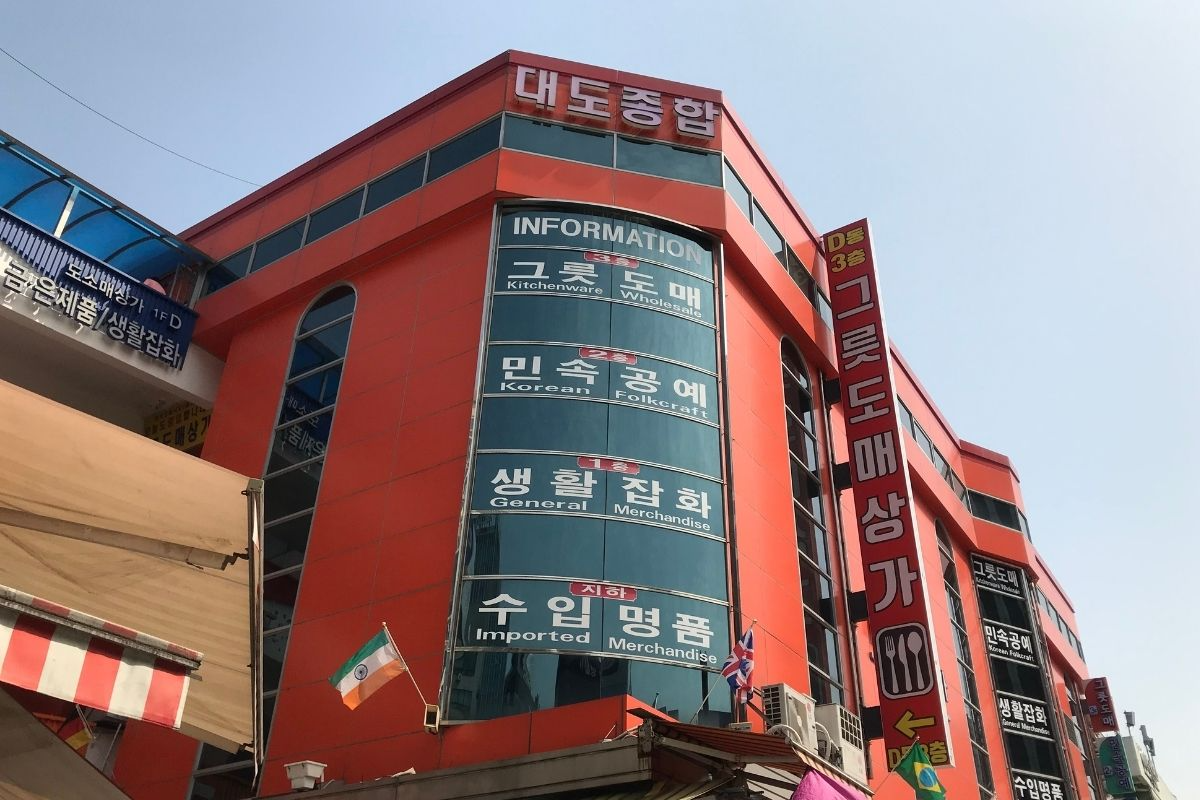 The shops in Namdaemun Market are organized into zones. Most of the time, each building sells different things, for example the textile district and the garmet district are all divided up and in different zones.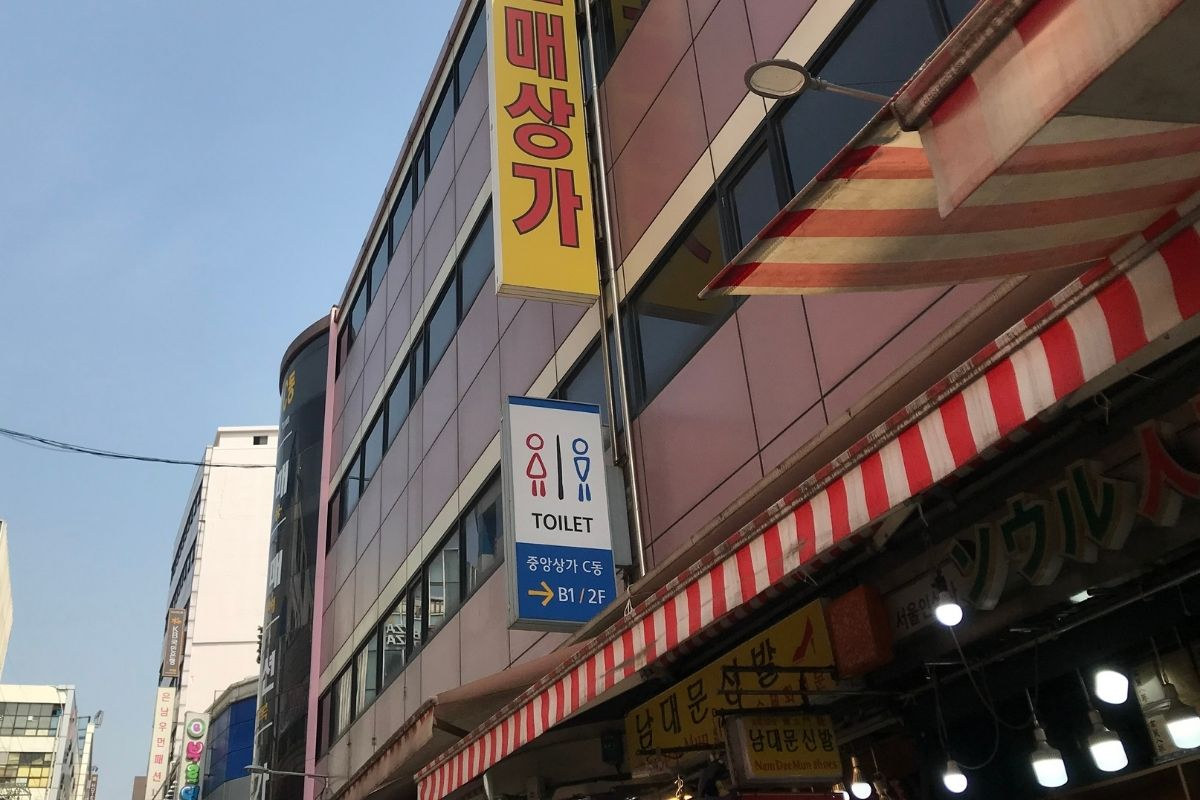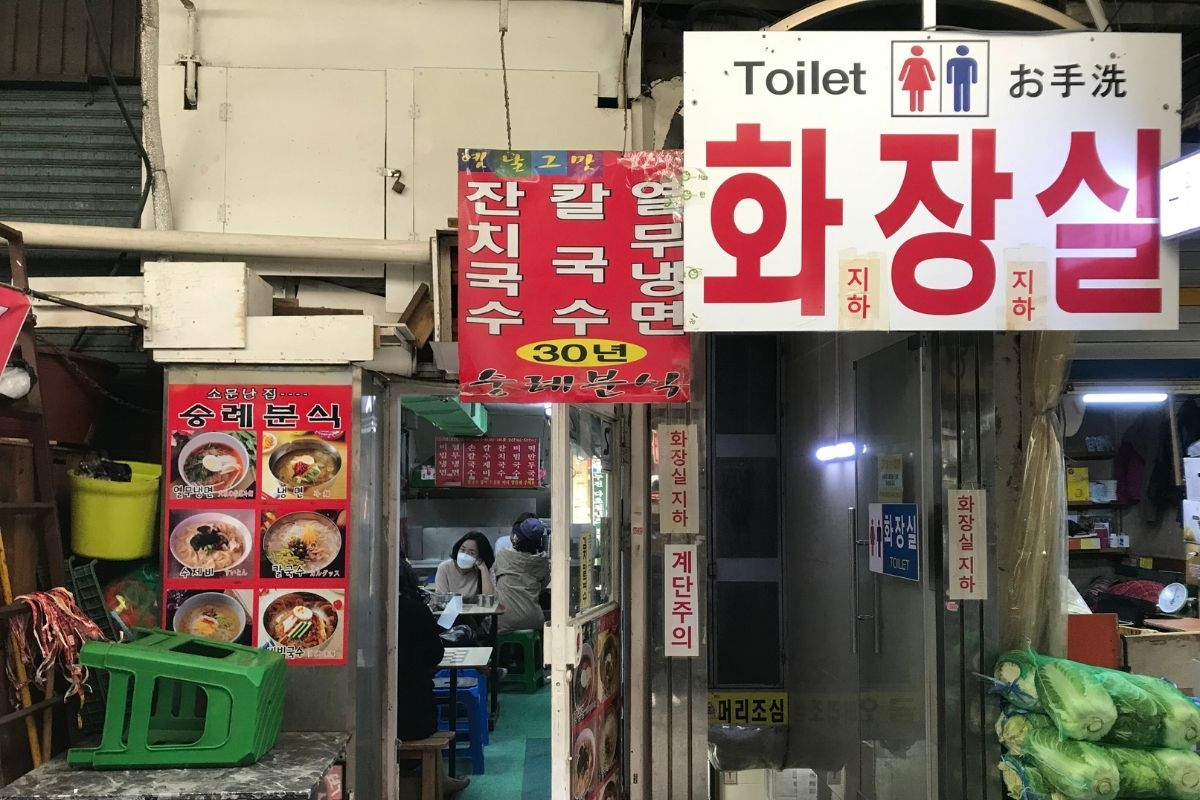 If anyone is looking for a bathroom, you can also make sure to look out for these red and blue toilet symbols. Many of the restrooms are located on the first floor or basement floors. It can get a little tricky to find bathrooms in the market, so we suggest you go beforehand or when you come across one!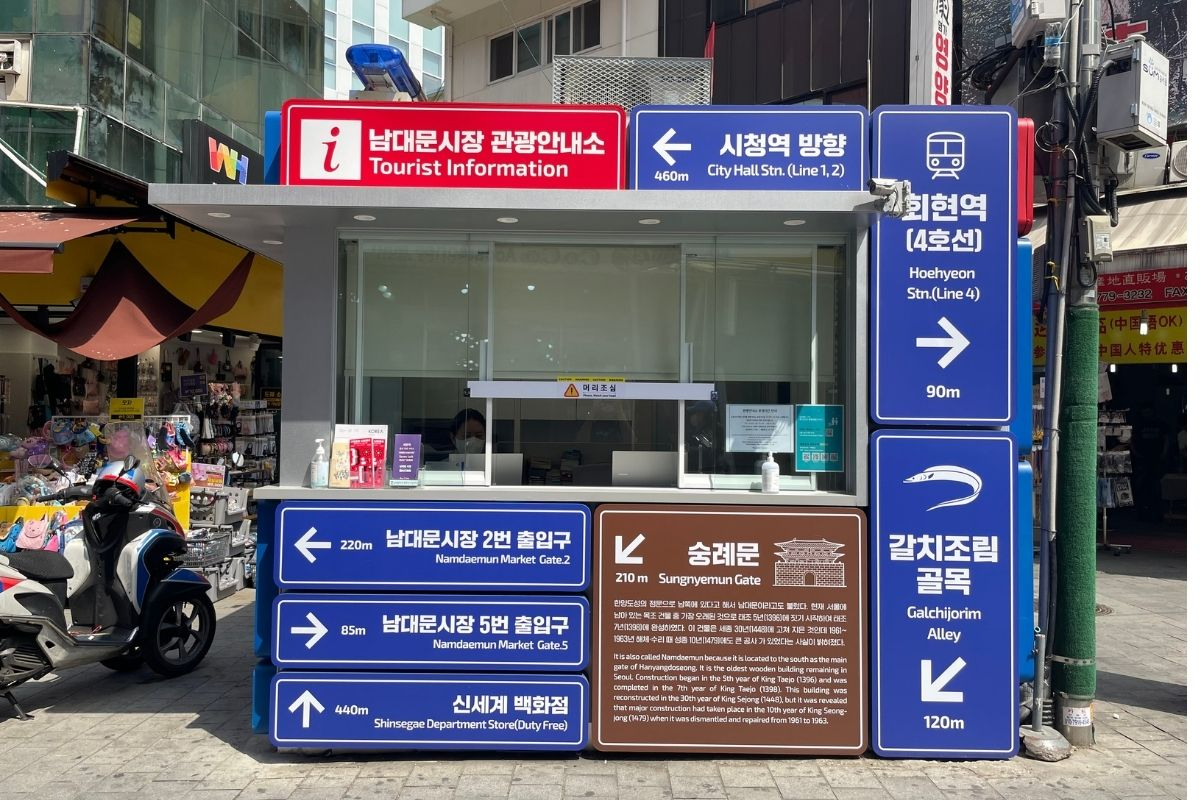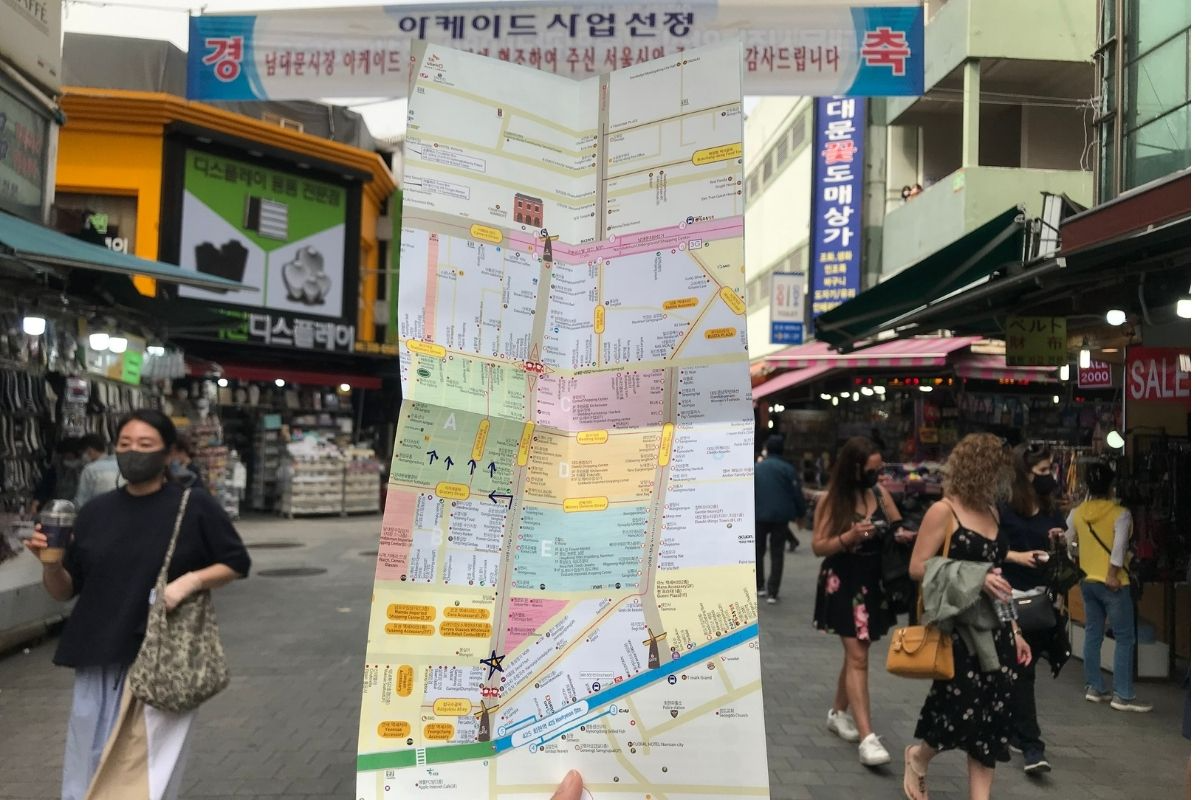 If you are not sure which way to go, you can ask the Information Center. It is easy to spot and they will be able to help you navigate your way around the market! The staff speak English, so you do not need to worry about your Korean abilities!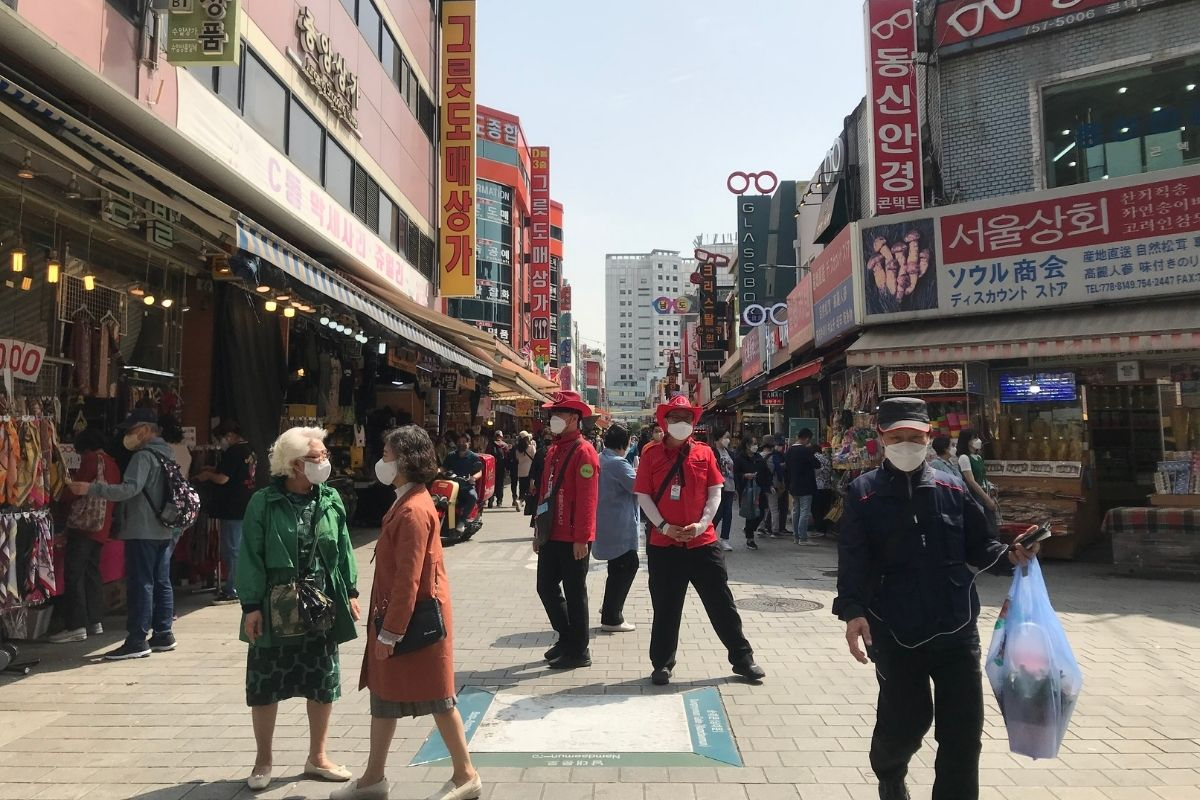 If you do end up getting lost or cannot figure your way out in the market, you can ask the volunteers, who can be easily spotted by their red outfits and hats. They are all over the market so you can ask them to help you find where you need to get to.
---
Popular Shops in Namdaemun Market
Hotteok (호떡)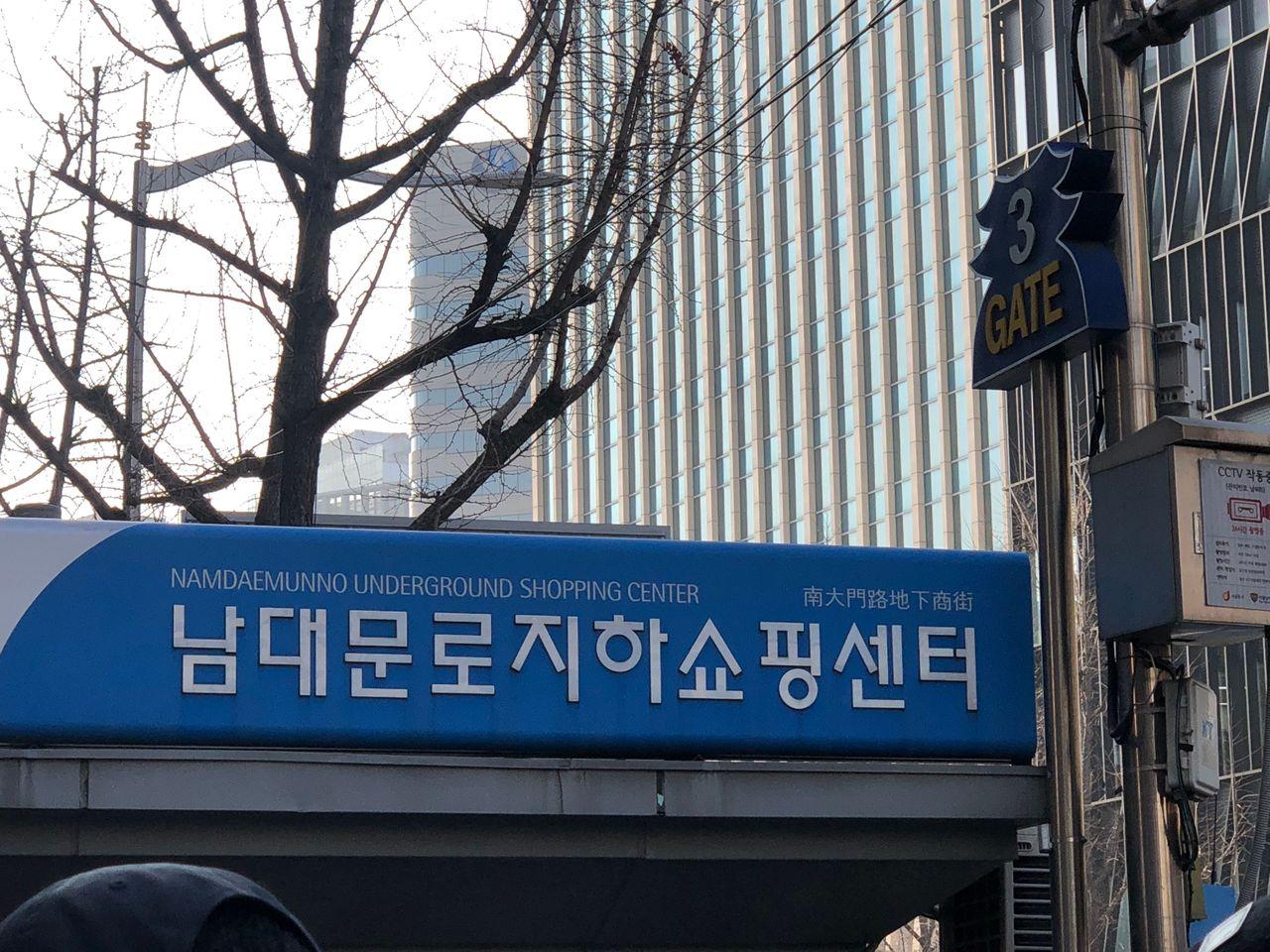 If you exit from Namdaemun Underground Shopping Gate 2 and walk around 300 meters, you will be able to find Hotteok, located in front of IBK Bank.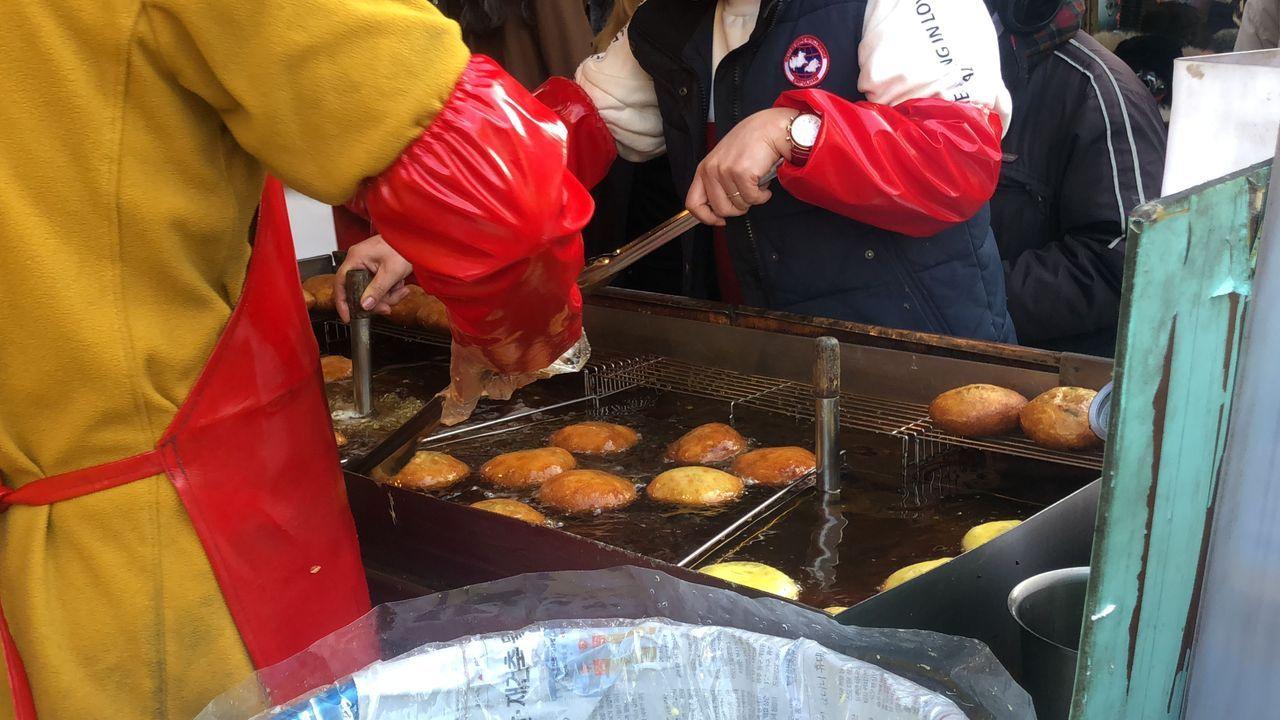 As the name implies, Hotteok is a popular choice here at Hotteok. Hotteok is a Korean style pancake, usually filled with brown sugar and nuts. However, at Namdaemun Market, you can try out a variety of different flavors such as Vegetable Hotteok. Hotteok is usually associated with being a sweet treat, so many people like to come here and try out the unique savory version!
Another popular option here is the Japchae hotteok, which is a hotteok that is filled with Japchae. Japchae is a traditional Korean dish that is made up of glass noodles and veggies. This is another interested hotteok flavor that you can most likely only get at Hotteok in Namdaemun Market, so we strongly recommend that you come here and try them out!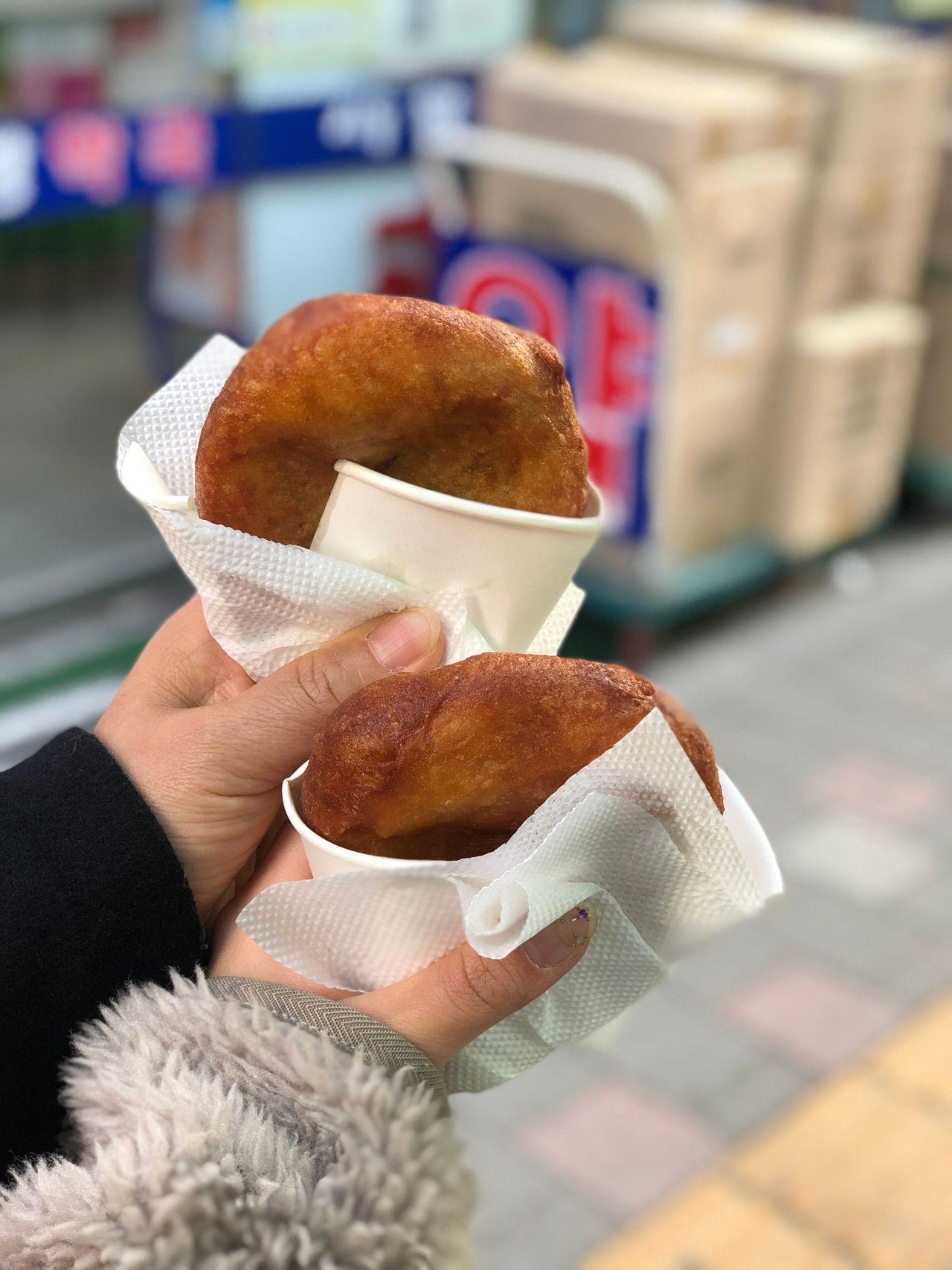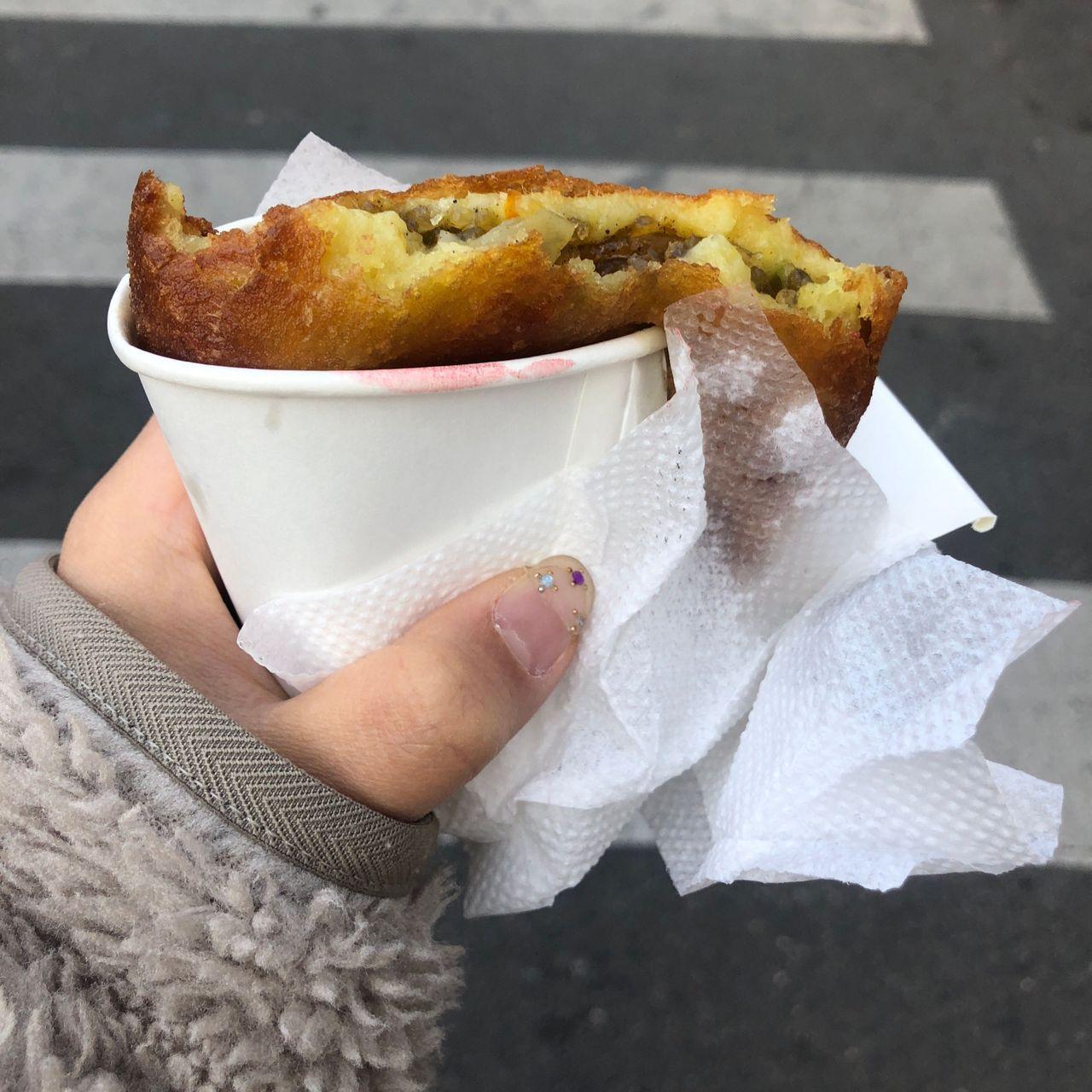 Hotteok is a popular winter snack food in Korea. For those that are coming to Korea in the winter, this is a street food that you really must try! Although it is delicious all throughout the year, it is especially tasty on a cold winters day!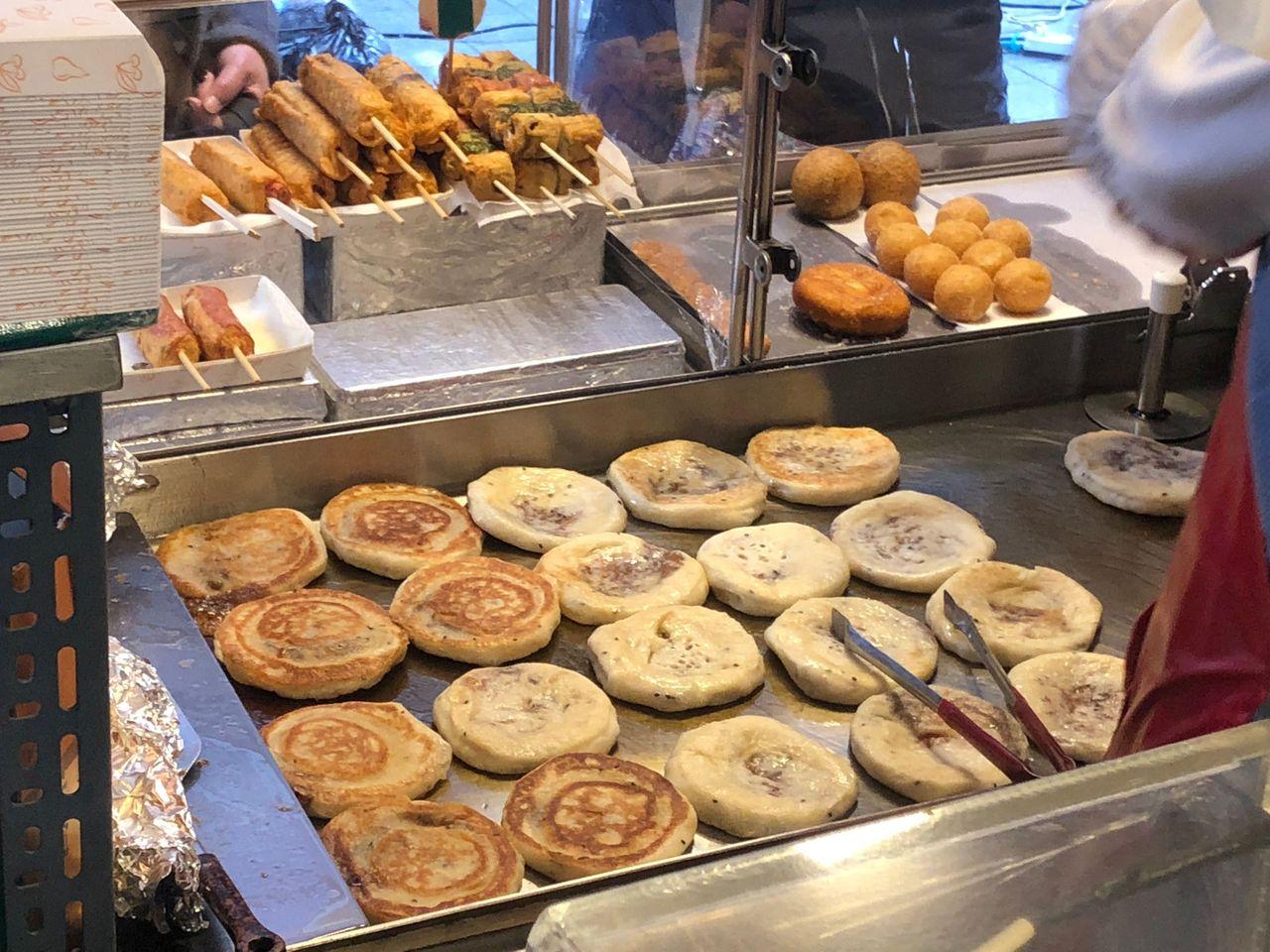 In addition to these special hotteok fillings, you can also get the classic hotteok here filled with brown sugar! You can never go wrong with the classics!
HotBar (핫바)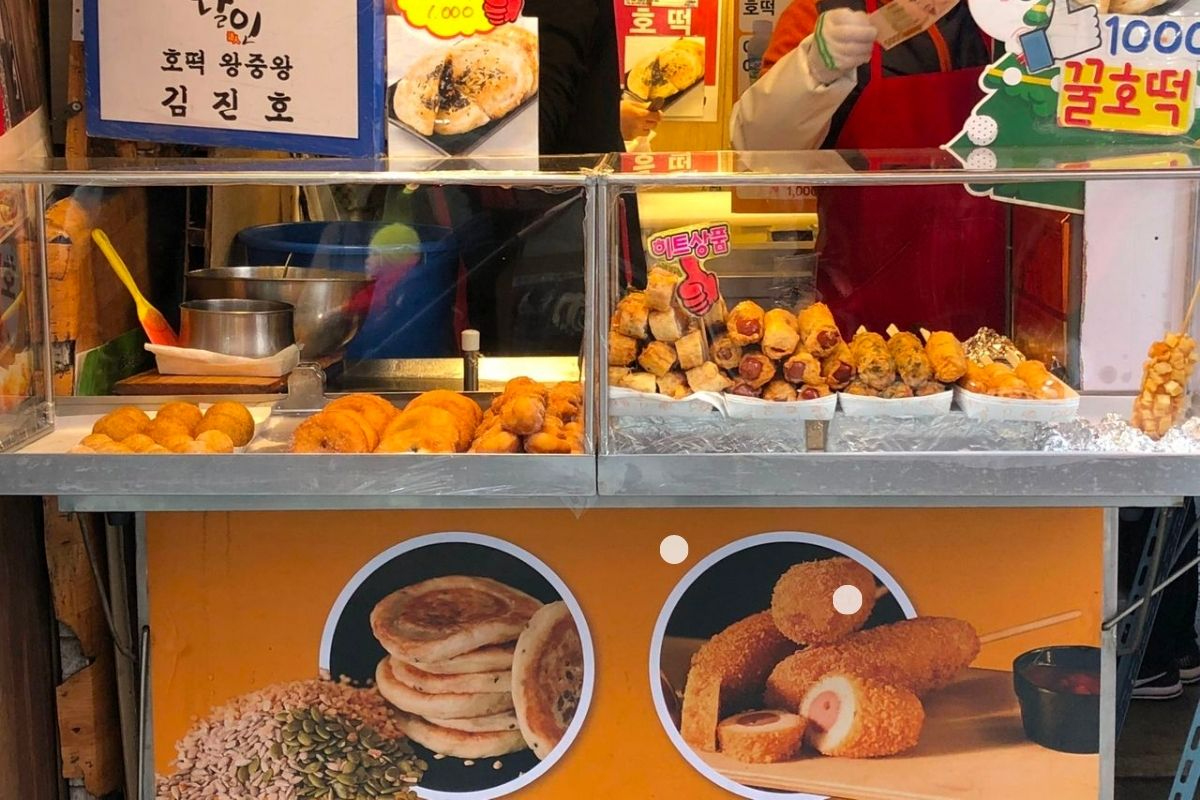 On the south street of Namdaemun Market, you can find alleys for HotBar, which are around 2,000-3,000 KRW each. Hot Bar is the Korean name for fried fish cakes. Unlike traditional fish cakes, HotBar also contain sausages, rice cakes, and a variety of other ingredients in them. We personally would reccomend that you get a hotbar at Wonjo Sujee Hot Bar (원도 수제 핫바) if you want some delicious hotbar.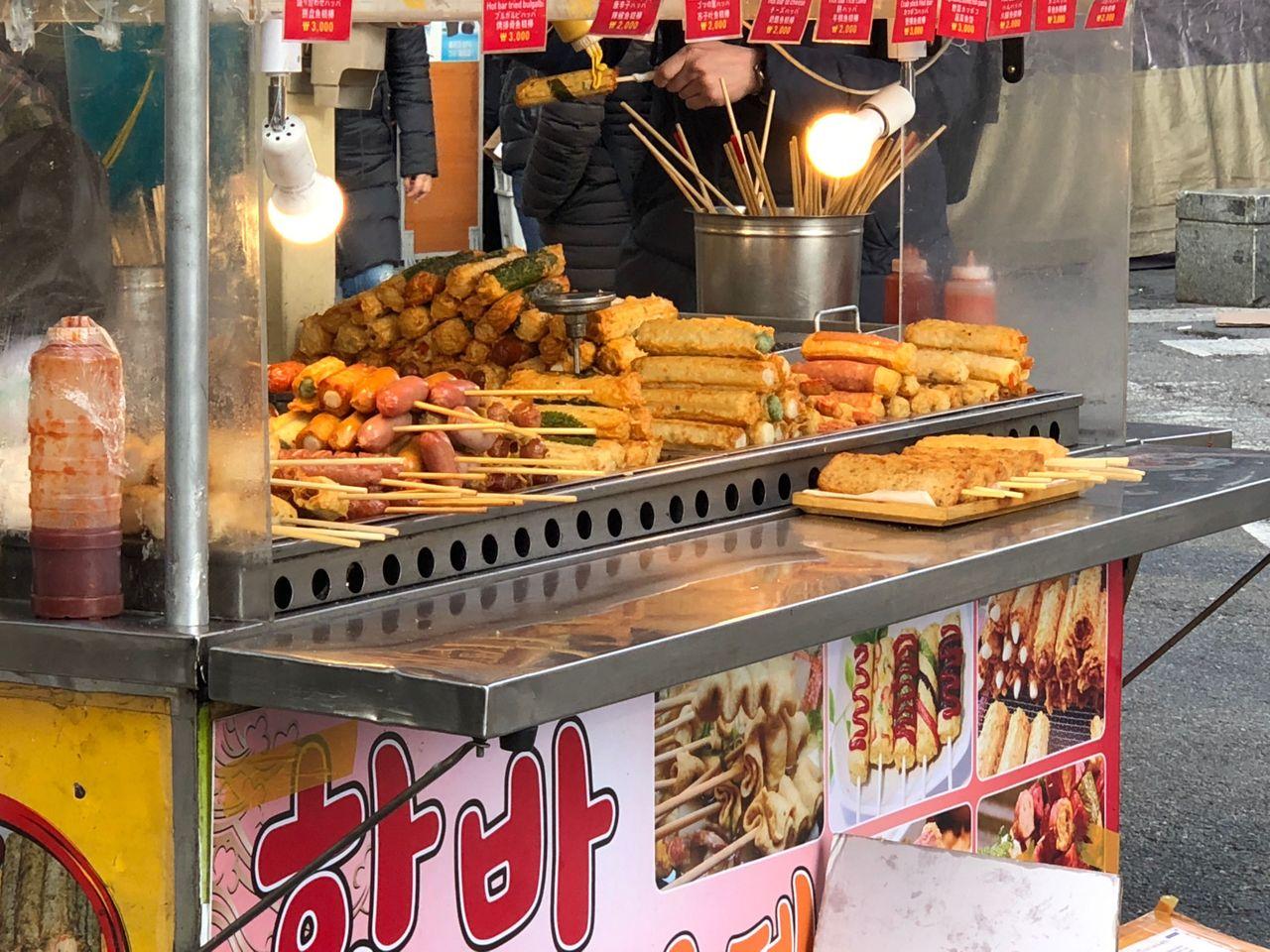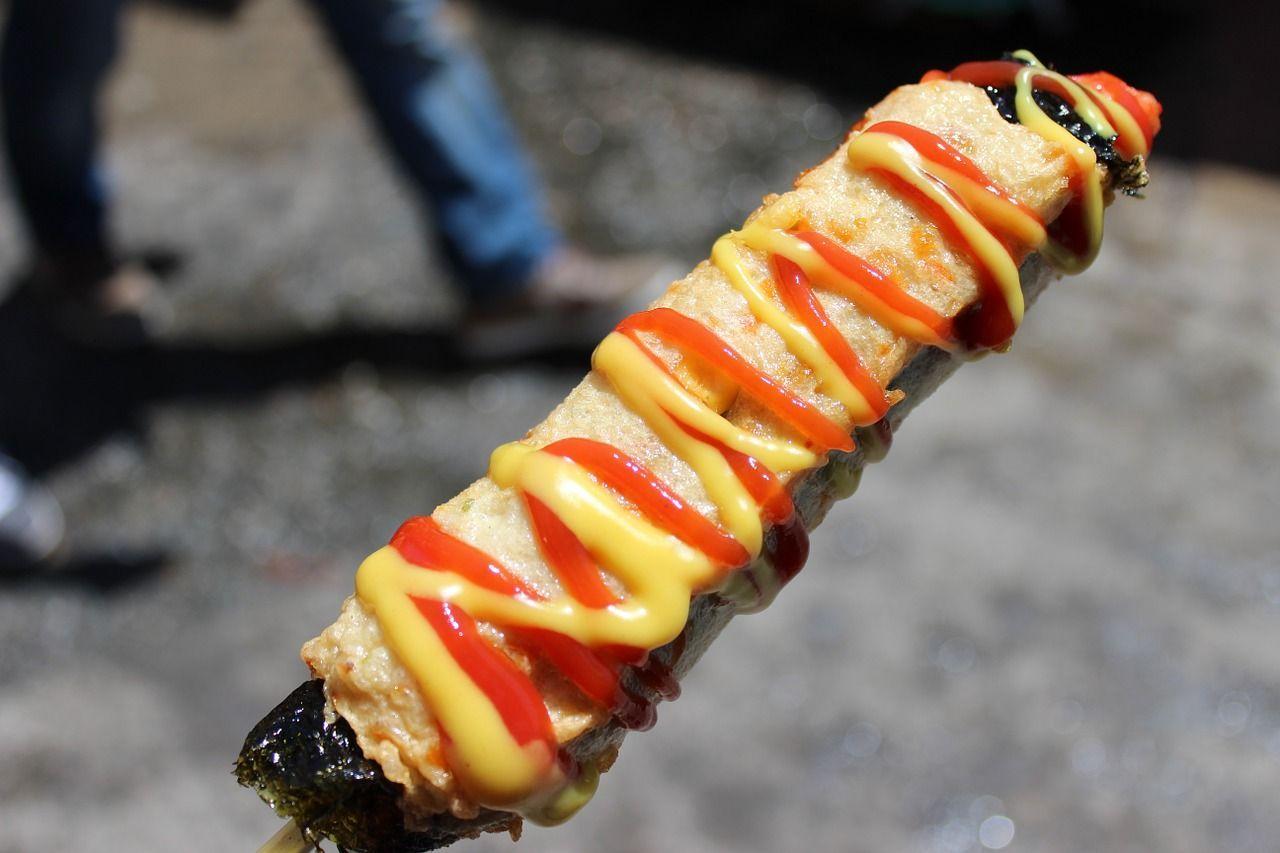 A Hot Bar is similar to other fish cakes, but is easy to eat thanks to the skewers. It tastes very sweet and delicious when paired with different types of sauces. It is a really popular street food amongst Koreans of all ages!
Hyo Jason Wang Mandu (효자손왕만두)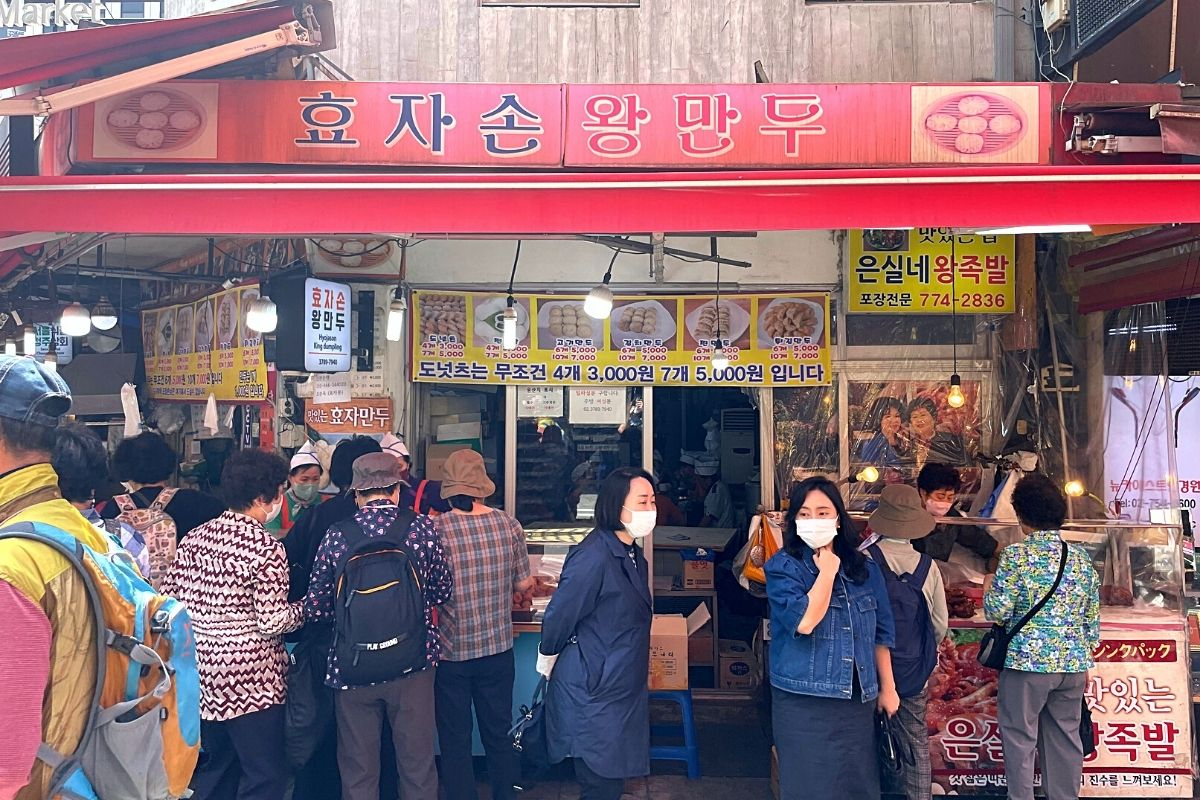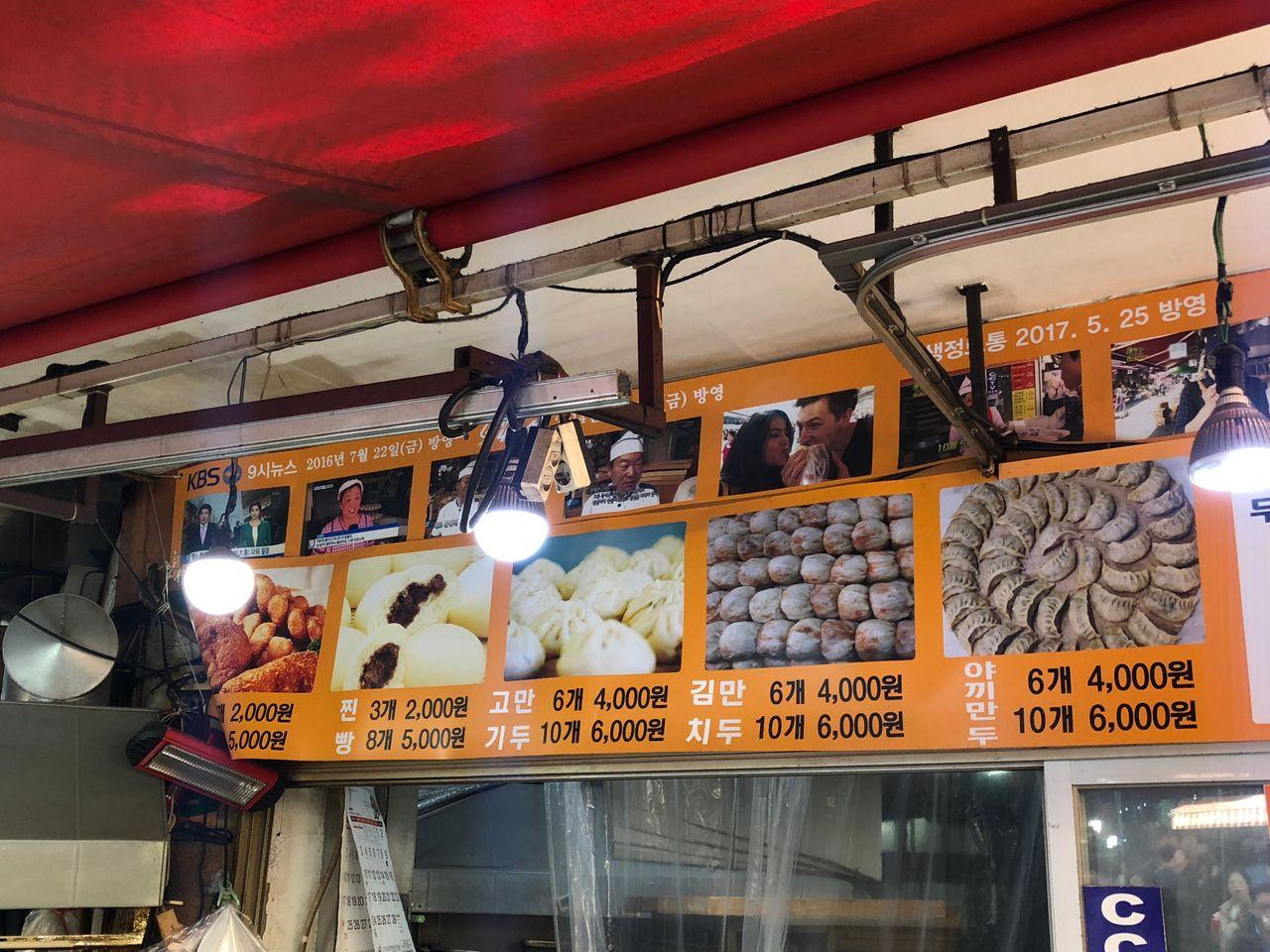 If you walk along the middle of Namdaemun Market, you will be able to see Hyo Jason Wang Mandu, a delicious store where you can get all sorts of dumplings. These dumplings go for 5,000 KRW for 6 pieces or 7,000 KRW for 10 pieces.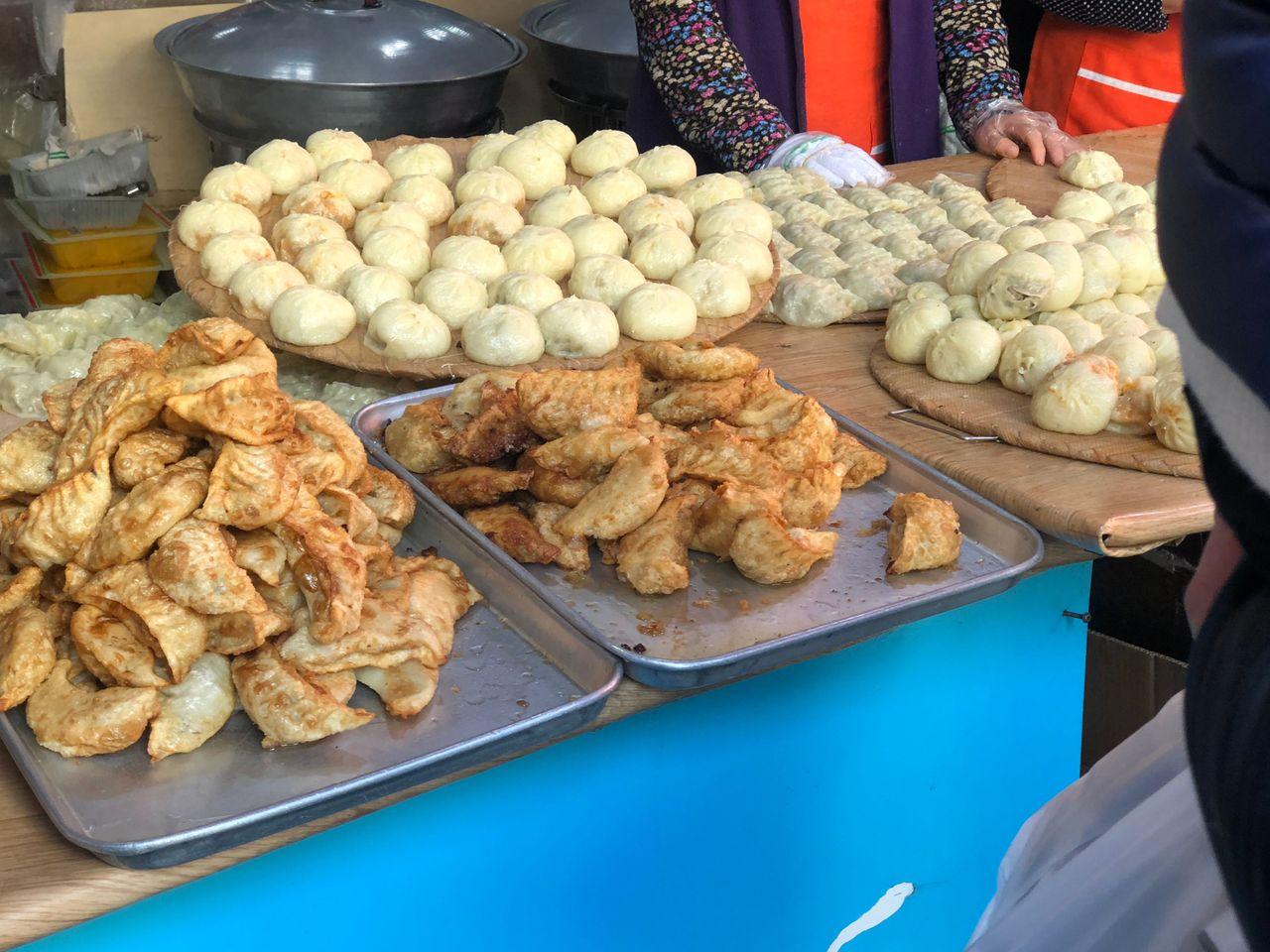 Famous Korean-style dumplings are Kimchi dumplings, and meat dumplings. Because they are made on the spot, they are very fresh and delicious! There are always tons of people lining up for these dumplings!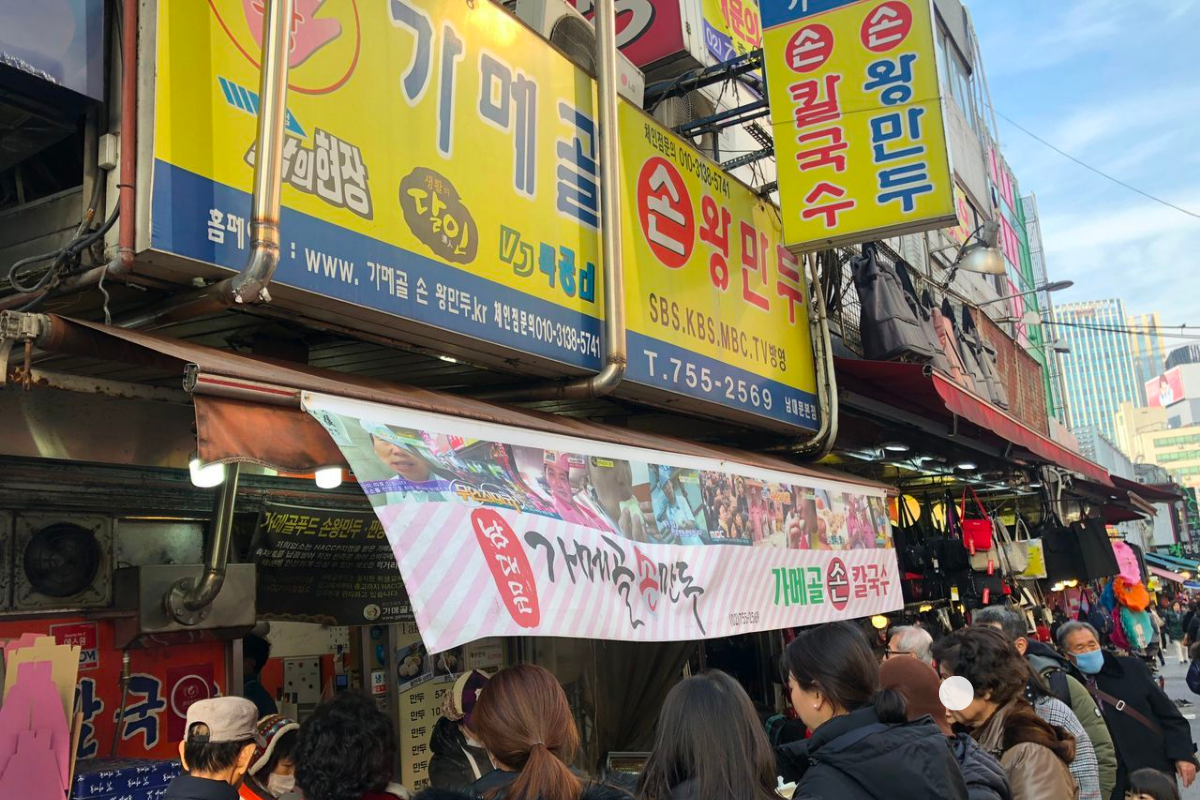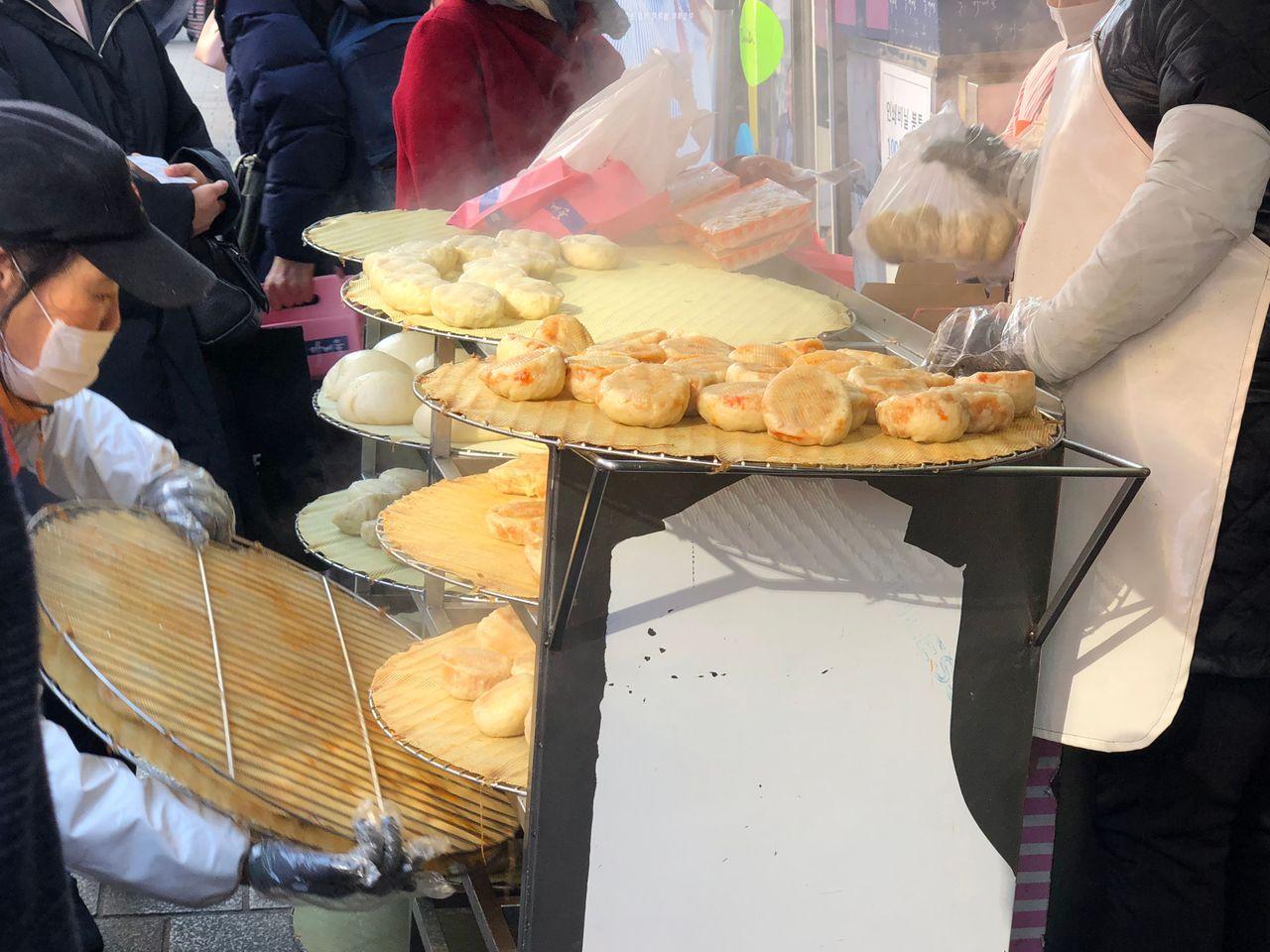 Kamagol Wang Mandu (가마골 왕만두)
Another popular mandu places is Kamagol Wang Mandu. This dumpling store is also in the middle of Namdaemun Market. You can get dumplings for 1,000 KRW per piece and 1,500 per bun. You can choose from two different flavors, Kimchi, or Galbi!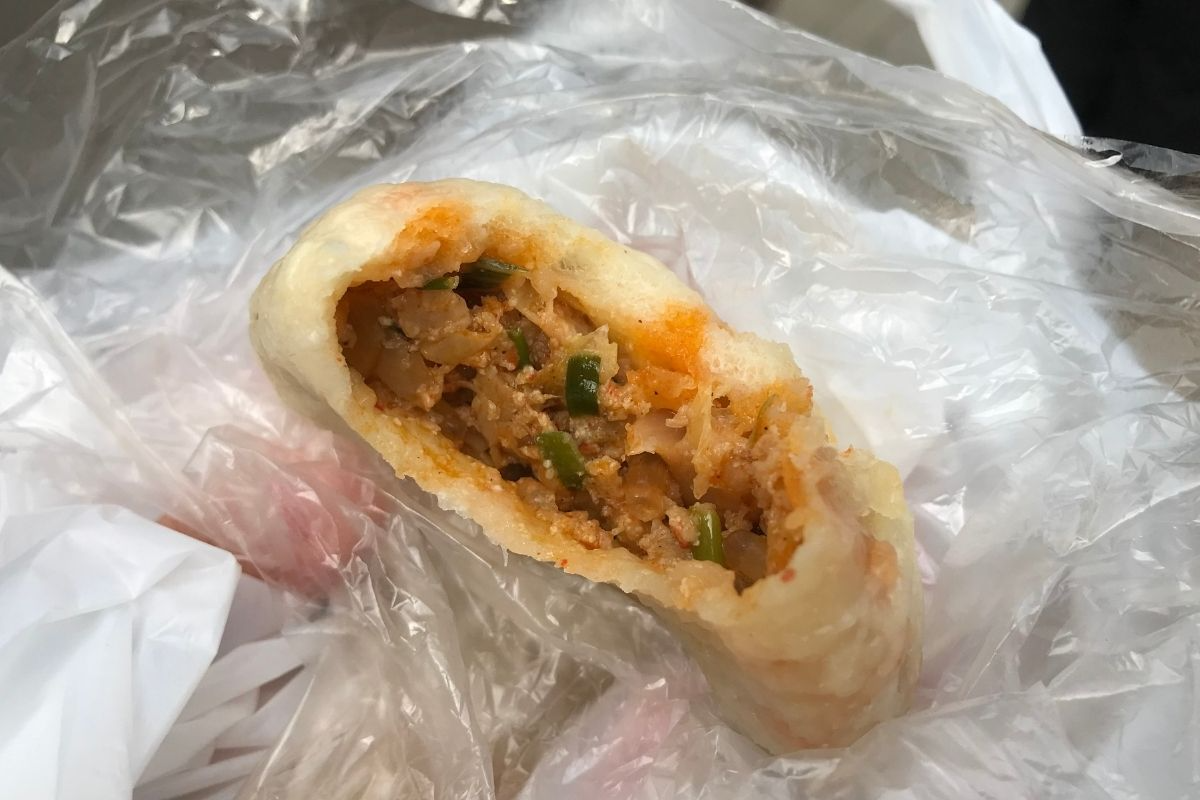 This is the Kimchi dumpling! It looks very delicious right? The dumplings are huge and are stuffed with a juicy filling consisting of veggies and Kimchi!
Donuts (도너츠)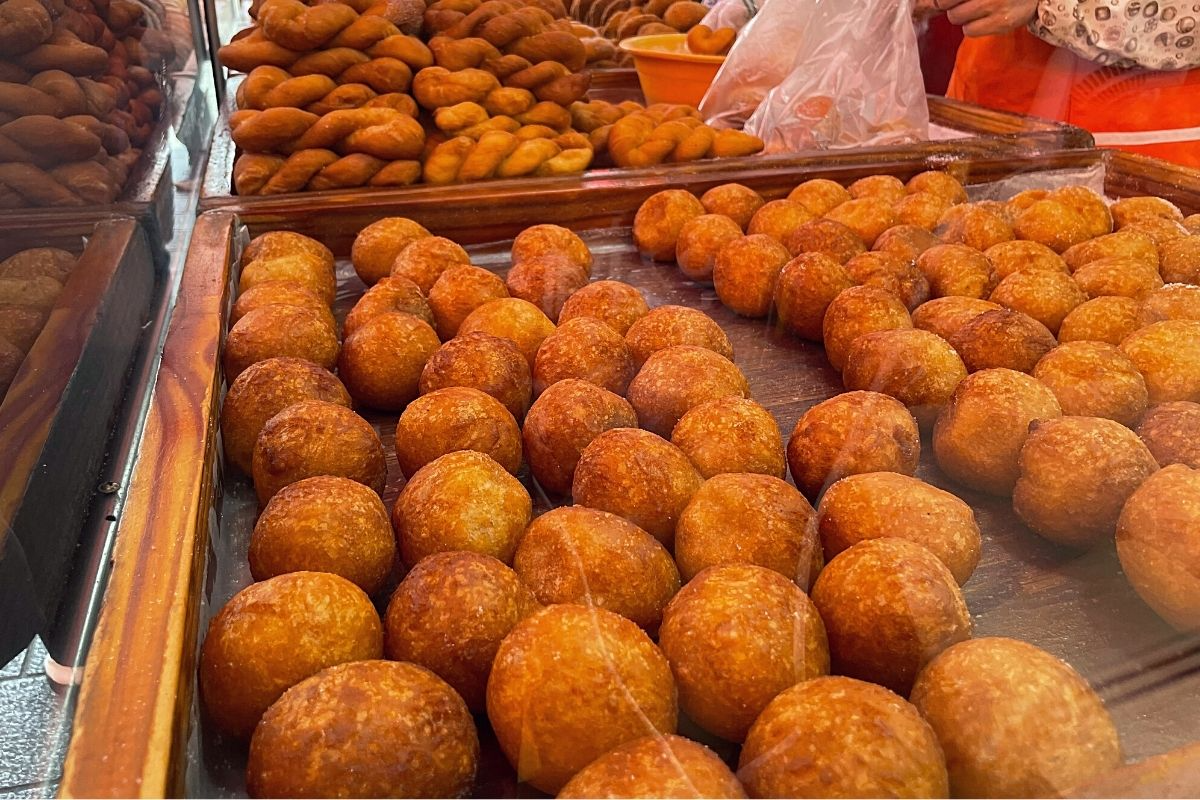 Donuts are also a popular street food to indulge on in Namdaemun Market. You can also find the stalls for Donuts in the streets that are located in the middle of Namdaemun Market. They are around 3,000 KRW for 4 pieces.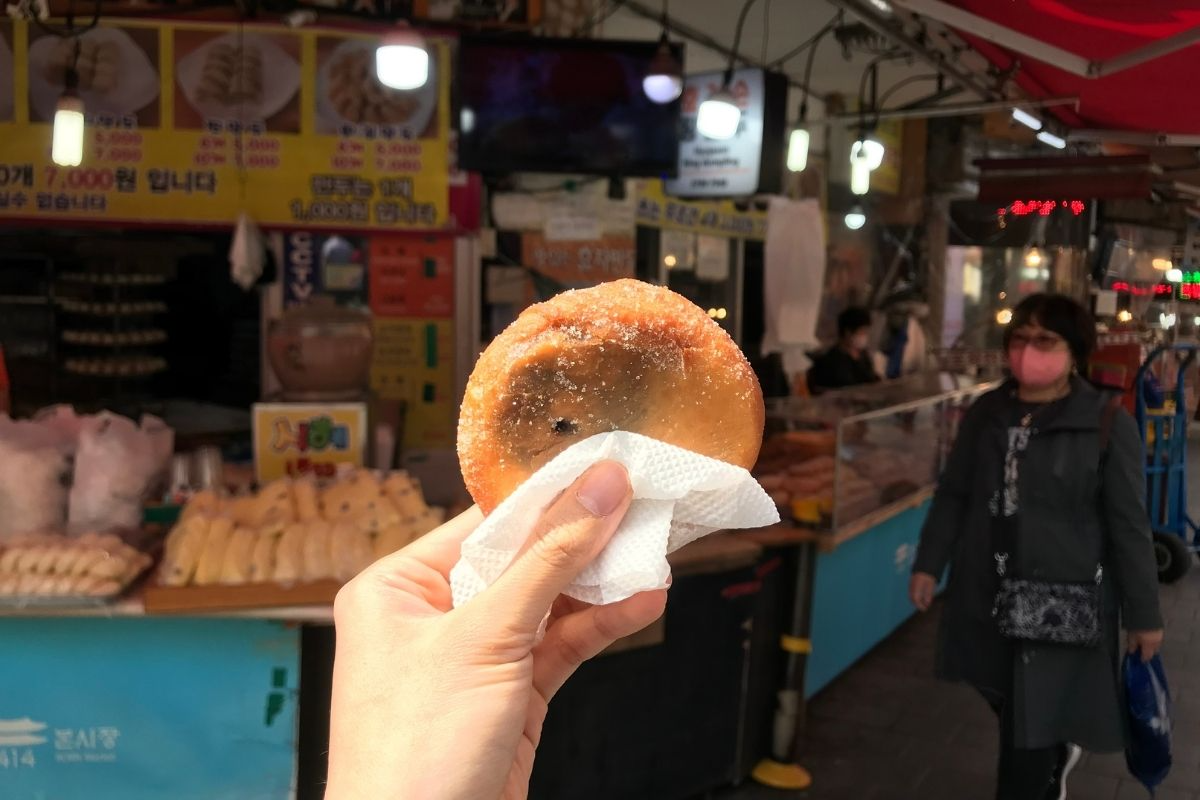 Although there are many delicious donut shops and stalls around Namdaemun Market, we are fans of the donuts that are sold at Hyoja Son Wang Mandu (효자손왕만두) which is the dumpling place that was mentioned before! The dumpling stall also sells fried donuts with various fillings such as red bean and curry.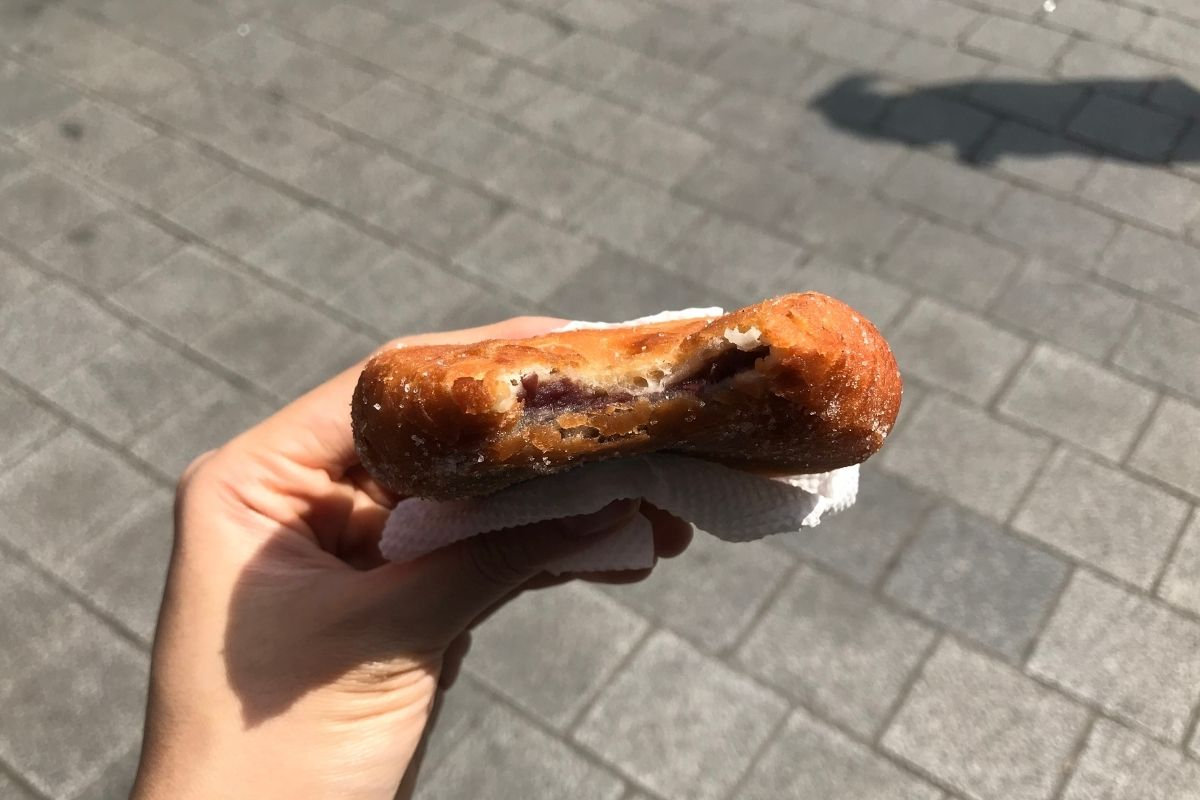 The red bean filling is the original flavor and the one that we opted for. These donuts are a little different from the donuts that you may have tried back home. They are filled with sticky rice in the flour, which makes them very chewy, but light! They are also filled with red bean but coated with sugar, adding a much needed sweetness to the donuts!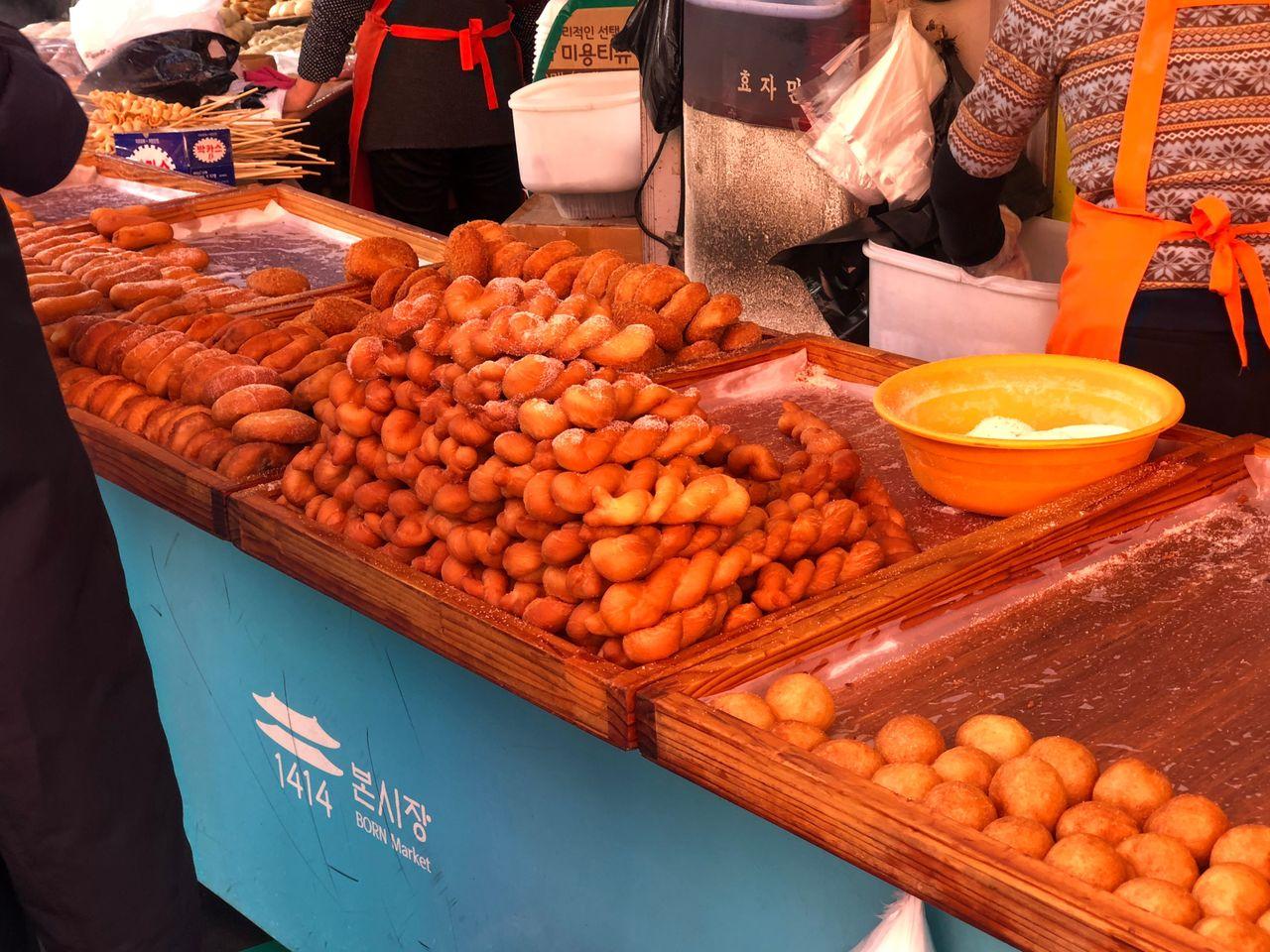 If you are a fan of fried foods or fried breads, we highly suggest trying out these donuts! For those that do not like red bean, you can also try the donuts without any fillings! If you are not a fan of sweets, you can get your donuts without sugar on the top. They are very versatile and are able to be customized to your liking.
Kalguksu Alley (칼국수 골목)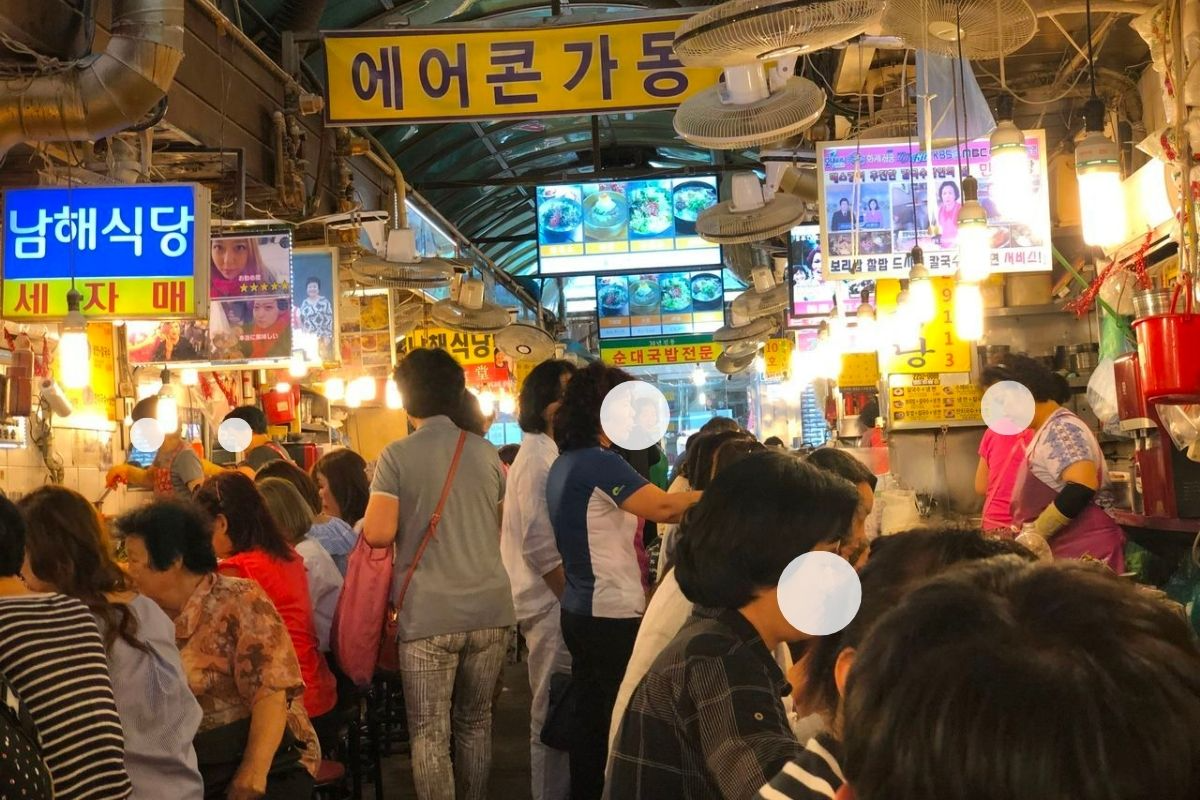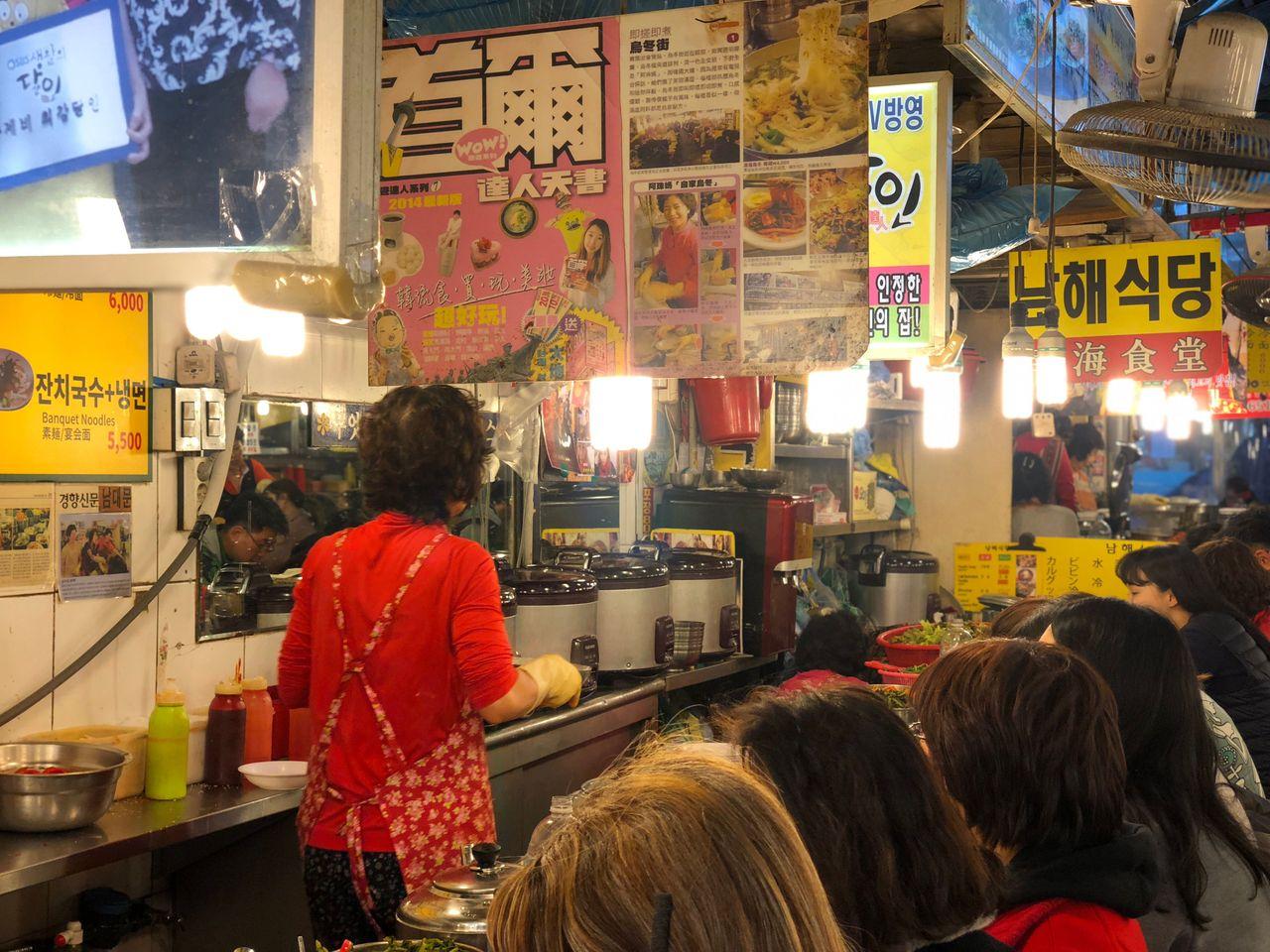 Kalguksu Alley, located in Namdaemun Market, is an alleyway filled with many different stalls where you can get and dine on Kalguksu. Becuase the alleyway is filled with many vendors that all sell the same menu item (Kalguksu), it can get overwhelming and confusing to know where to go and what to do. However, all the stalls are the same shop, so all you have to do is pick a seat and order!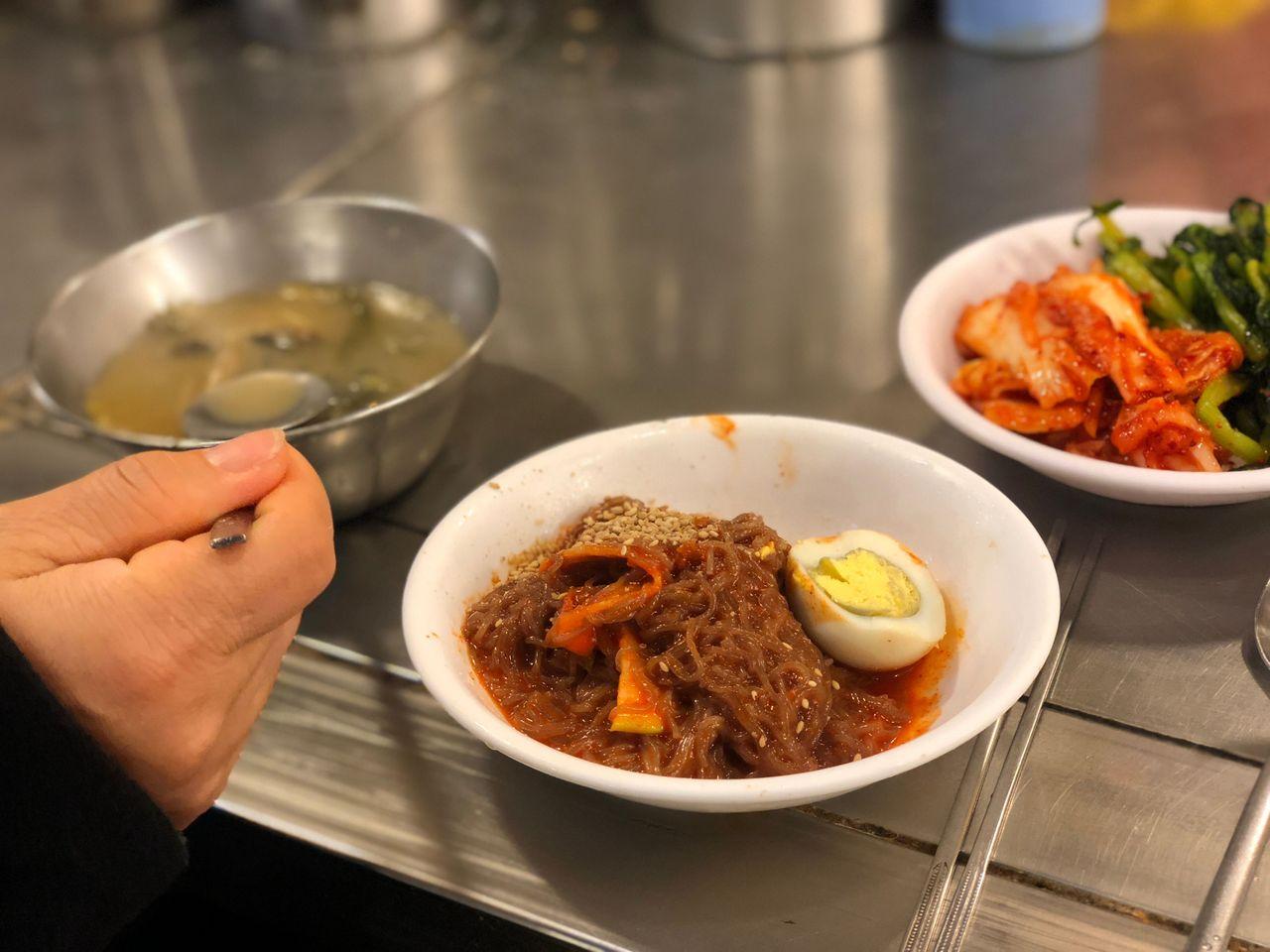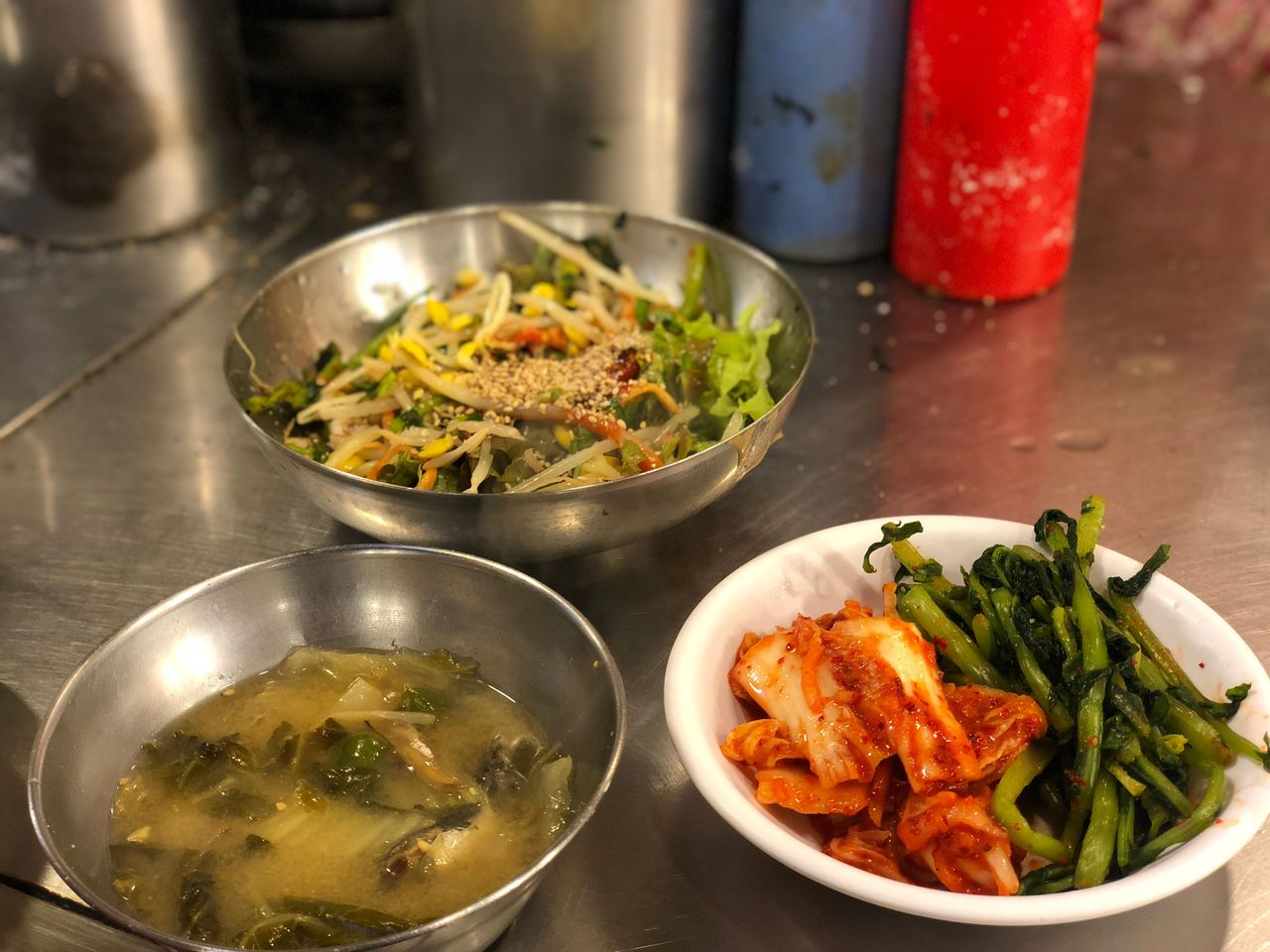 At Kalguksu Alley, the food is very cheap. You can get a large amount of food at a very cheap price. When you order Kalguksu, you will also get soybean soup, rice, kimchi, and other veggie side dishes, so we suggest that you come ready to eat!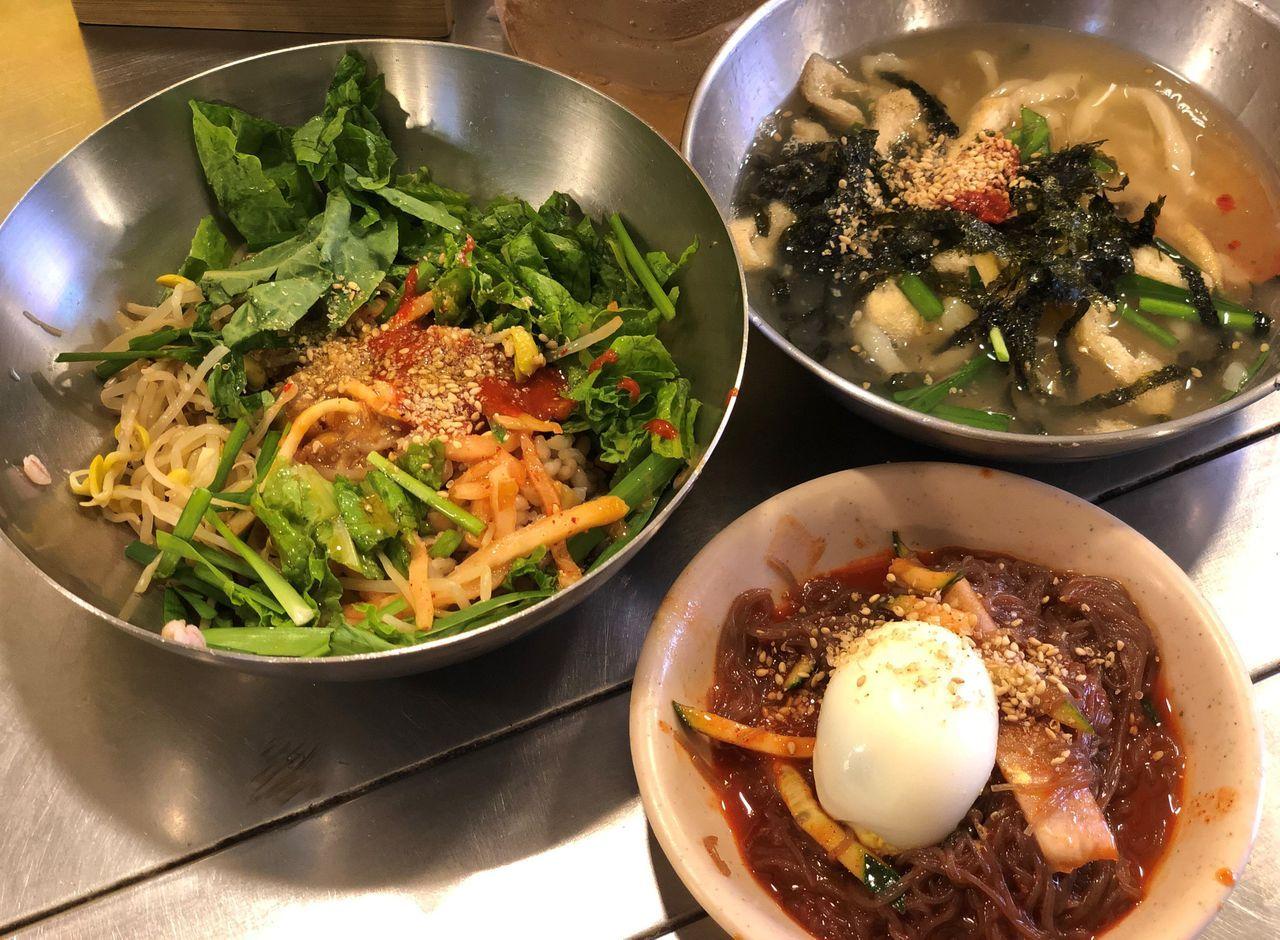 Address: 서울 중구 화현동 남대문 시장 4길 42-1 남대문시장 칼국수골목
42-1, Namdaemunsijang 4-gil, Jung-gu
You can read our full blog review about Kalguksu Alley here.
Swordfish Alley (갈치골목)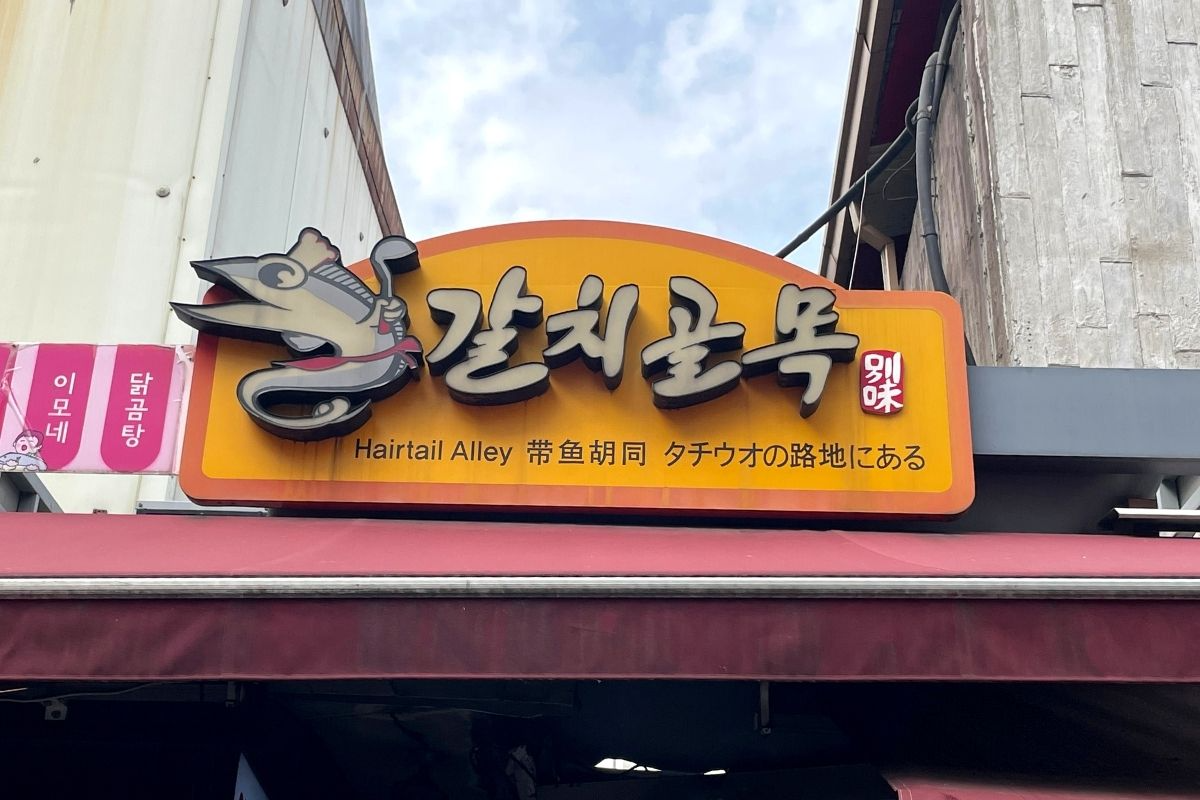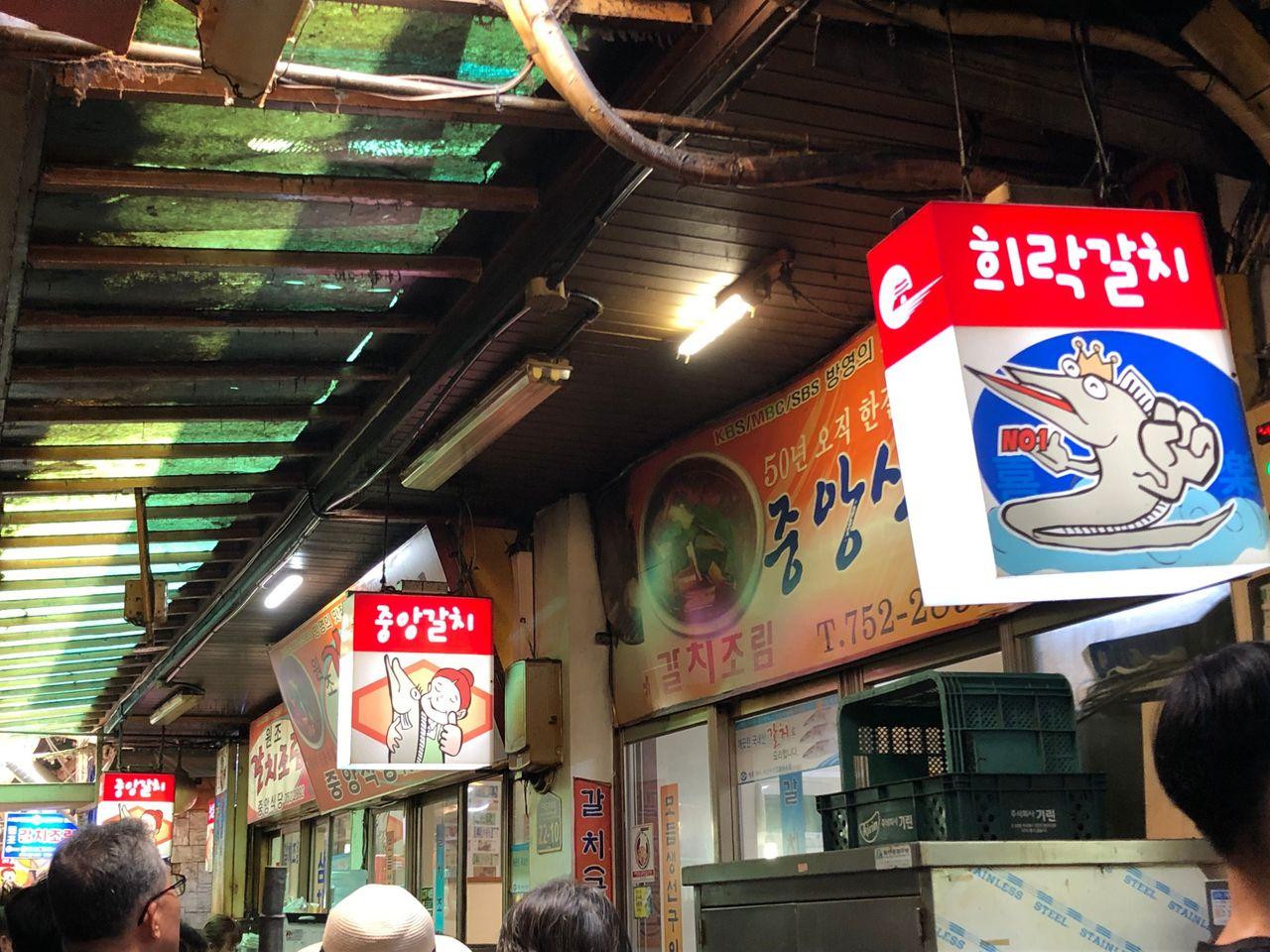 Namdemun's Swordfish Alley, otherwise known as Galchi Alley is located next to Kalguksu Alley. You can eat grilled swordfish and swordfish soup here. The seasoned swordfish is also very delicious, as it is seasoned with lots of vegetables, peppers, and a spicy sauce.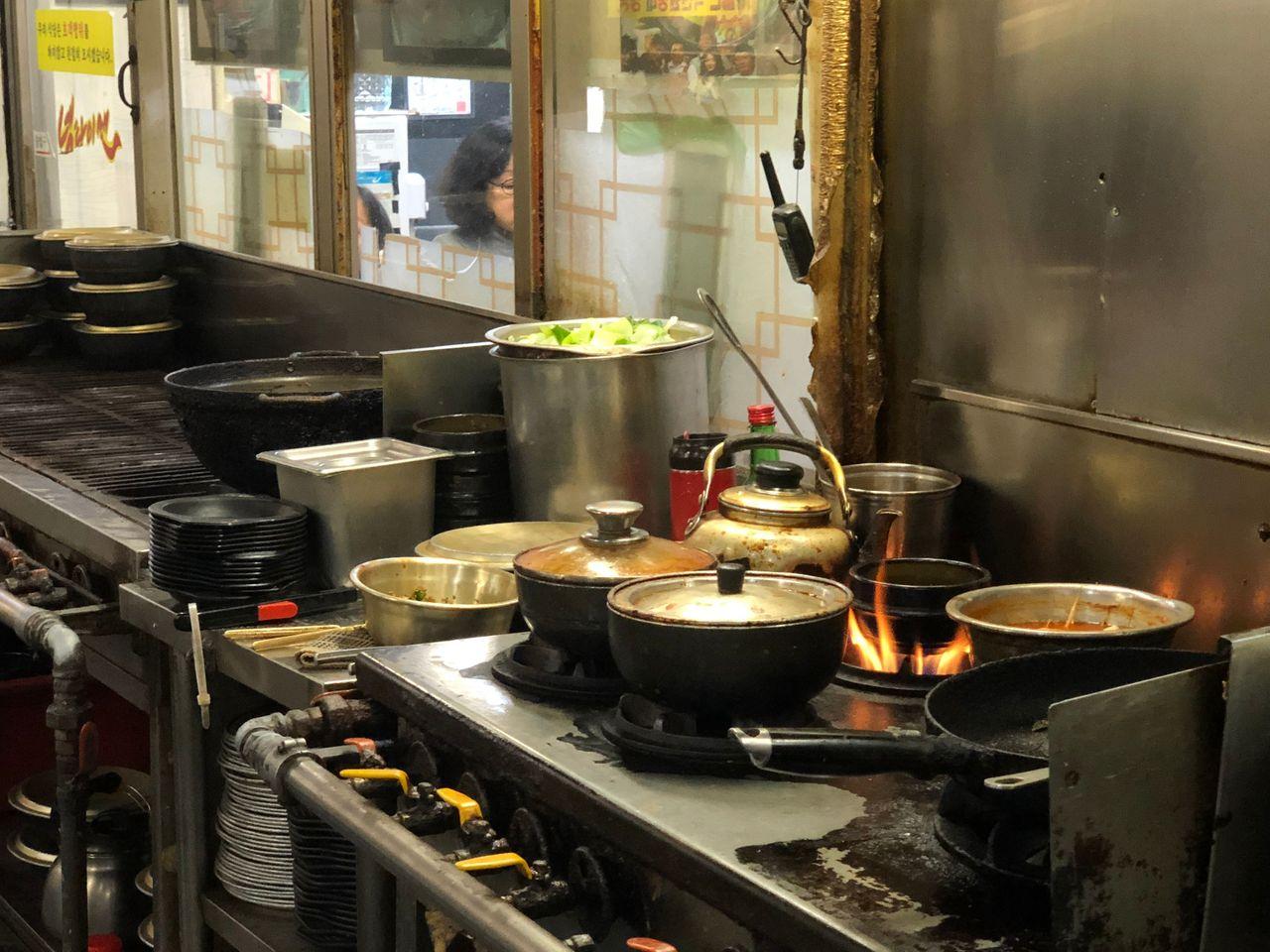 Many dishes that are made with swordfish in Korea are seasoned and spiced to add flavor. If you do not like spicy food, we suggest that you try the grilled or fried swordfish instead!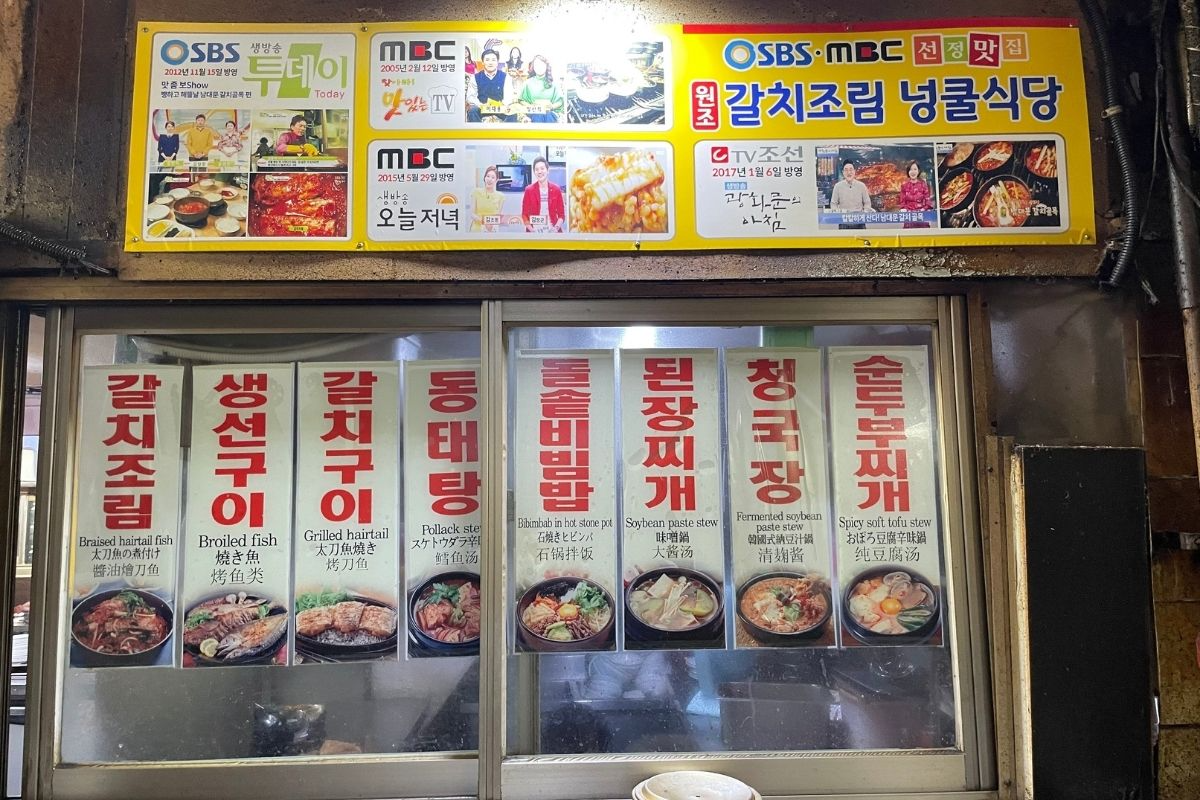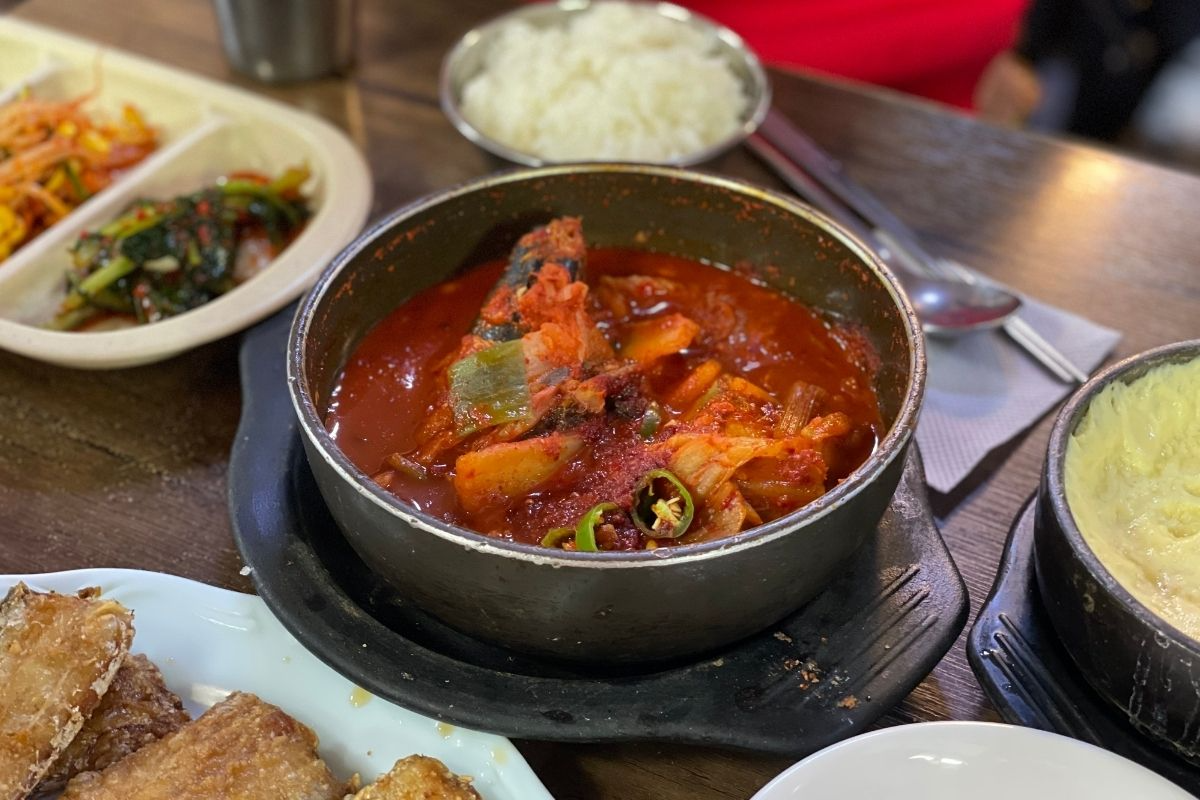 We tried both fried and soup based dishes. Both of them only cost 10,000 KRW per dish, which we thought was a steal due to the amount of food that you came out. We were really impressed with the food, the fried fish was seasoned perfectly, it was not oily at all and was crispy on the outside, and soft on the inside. When we bit into the fish, we could literally hear the crispy sounds! The fish fillet stew was also delicious! The fish was very tender and the spice of the stew paired perfectly with the fried fish.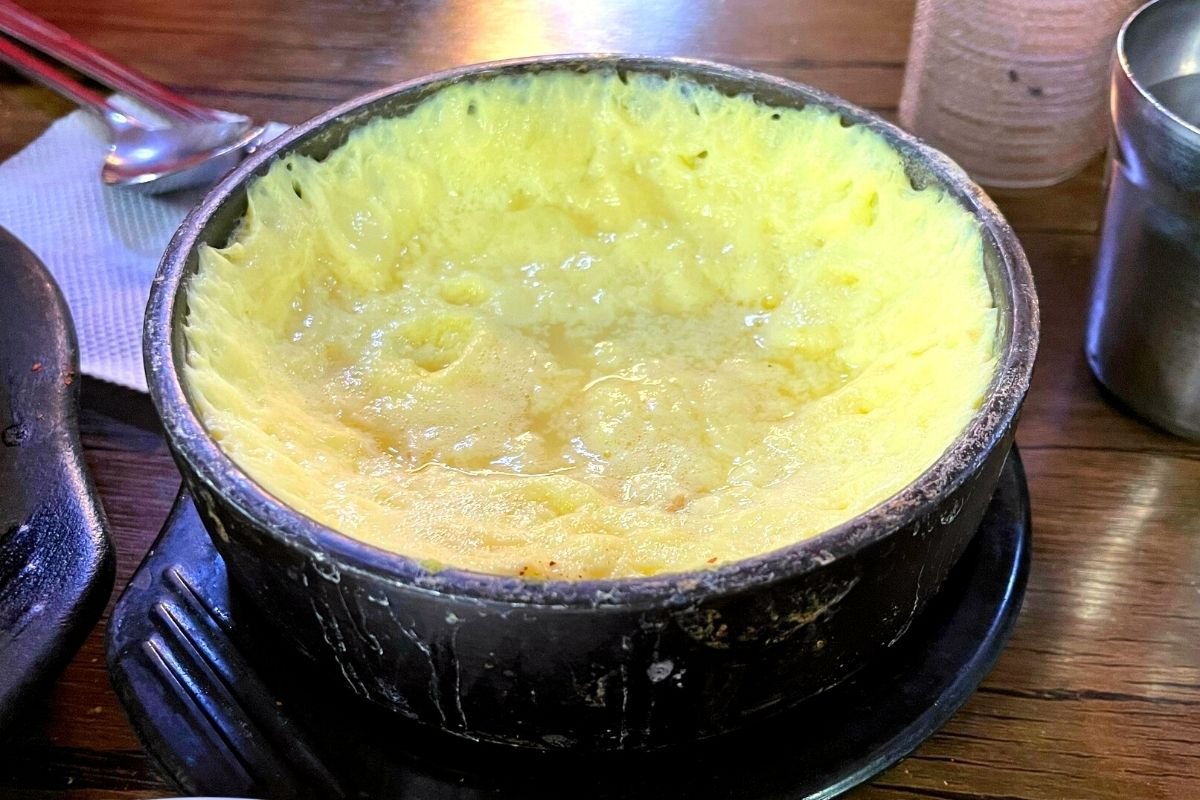 You also get many side dishes such as rice, and steamed egg on the side. These dishes also paired very well with the fish!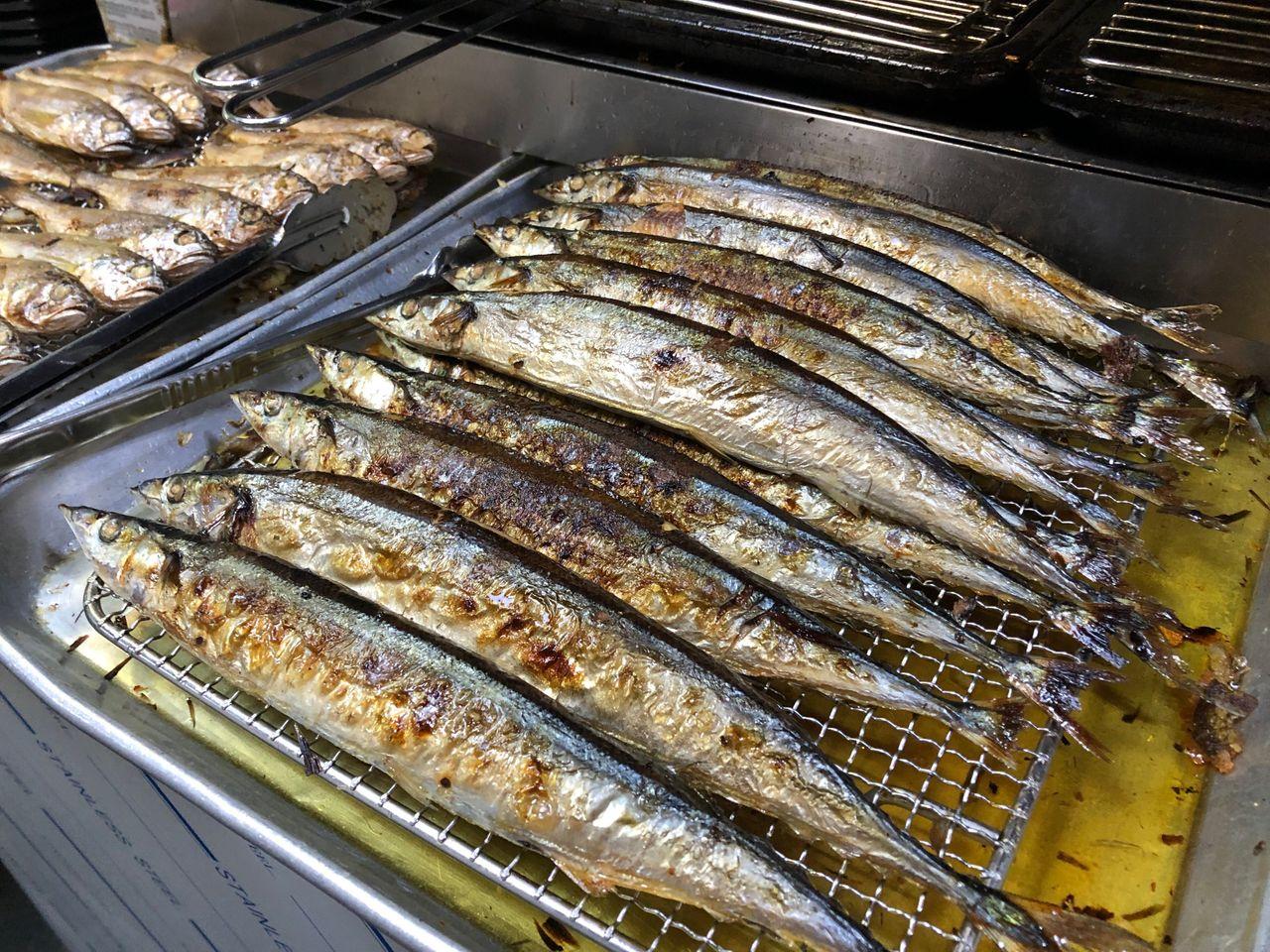 If you are a fan of seafood, or would like to venture out of your comfort zone and try a new traditional Korean food item, we recommend trying out the swordfish here at Namdaemun Market!
Address: 서울 남대문시장길 22-6
22-6 Namdaemunsijang-gil
You can read our full blog review on Swordfish Alley here.
Eomukkochi (어물꼬치)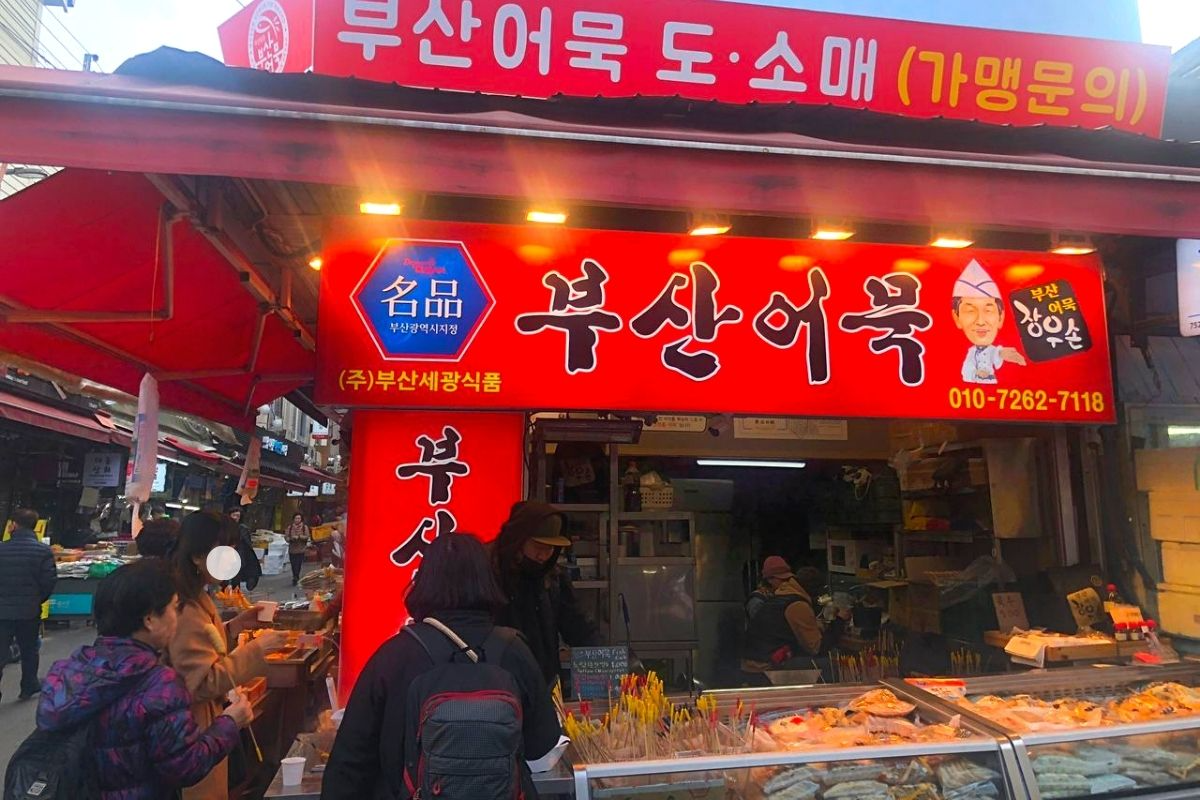 Eomuk is a type of fish cake that is a little different from the HotBar that we mentioned previously. It is one of the most famous fish cakes in Busan, however, Namdaemun Market is also home to very delicious Eomuk stall! This place has kept the authentic recipe from Busan and incorporated it into their Eomuk.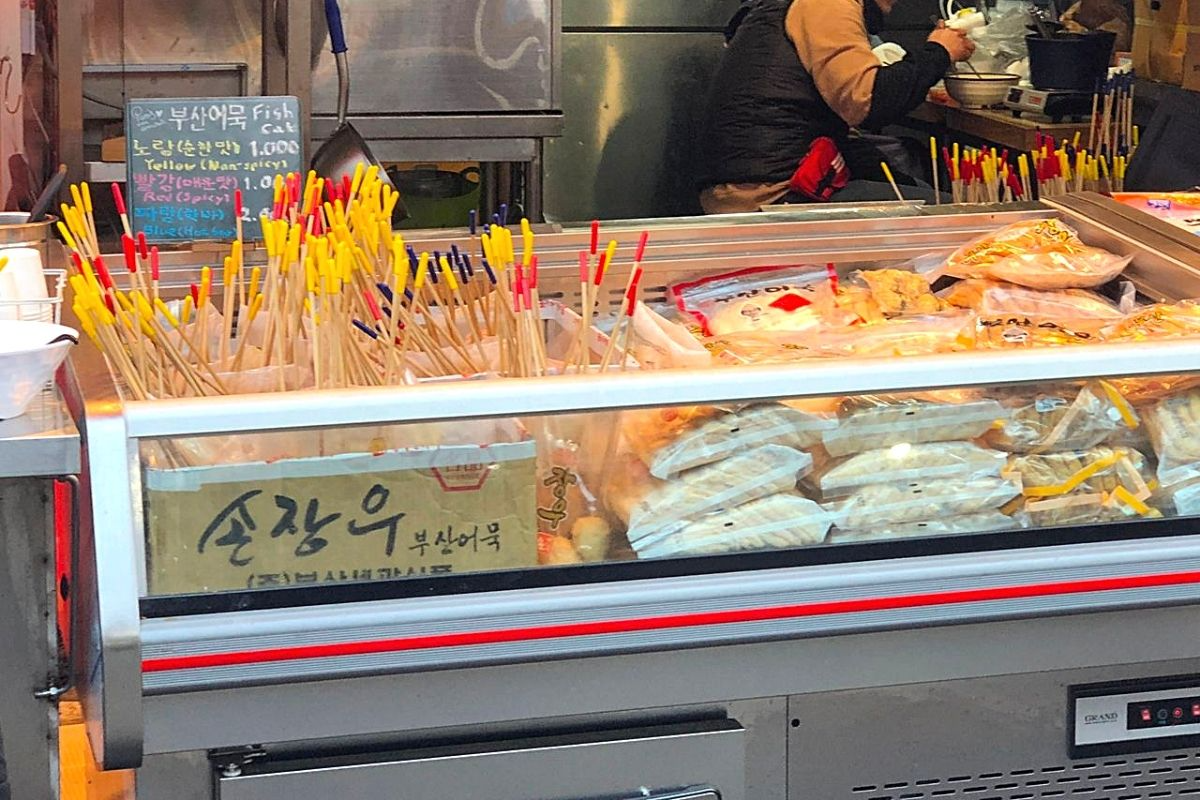 Eomuk is a warm dish that is often sold with a warm soup, so it is the perfect snack for cold winter days. At Busan Eomuk, you can get one stick of Eomuk for around 1,000 KRW.
Address: 서울 중구 남창동 34-46
34-46 Namchangdong, Jung-gu, Seoul
Donggyung Shikdang (동경식당)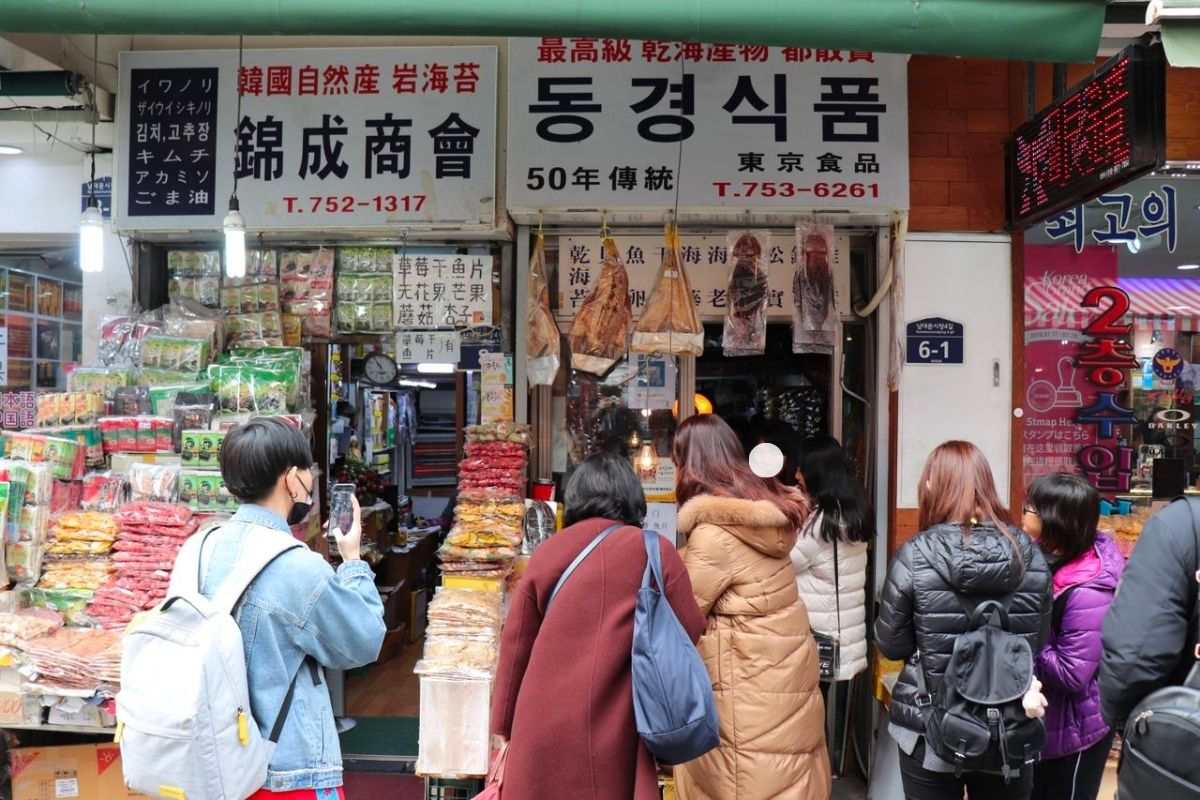 Donggyung Shikdang is a food and dried fruit shop that is loved by many Koreans and tourists. It is a great place to come and grab gifts and goodies to take back home. This shop is also known for being a warm and friendly place to shop, as the shop owner is always smiling and freindly towards customers.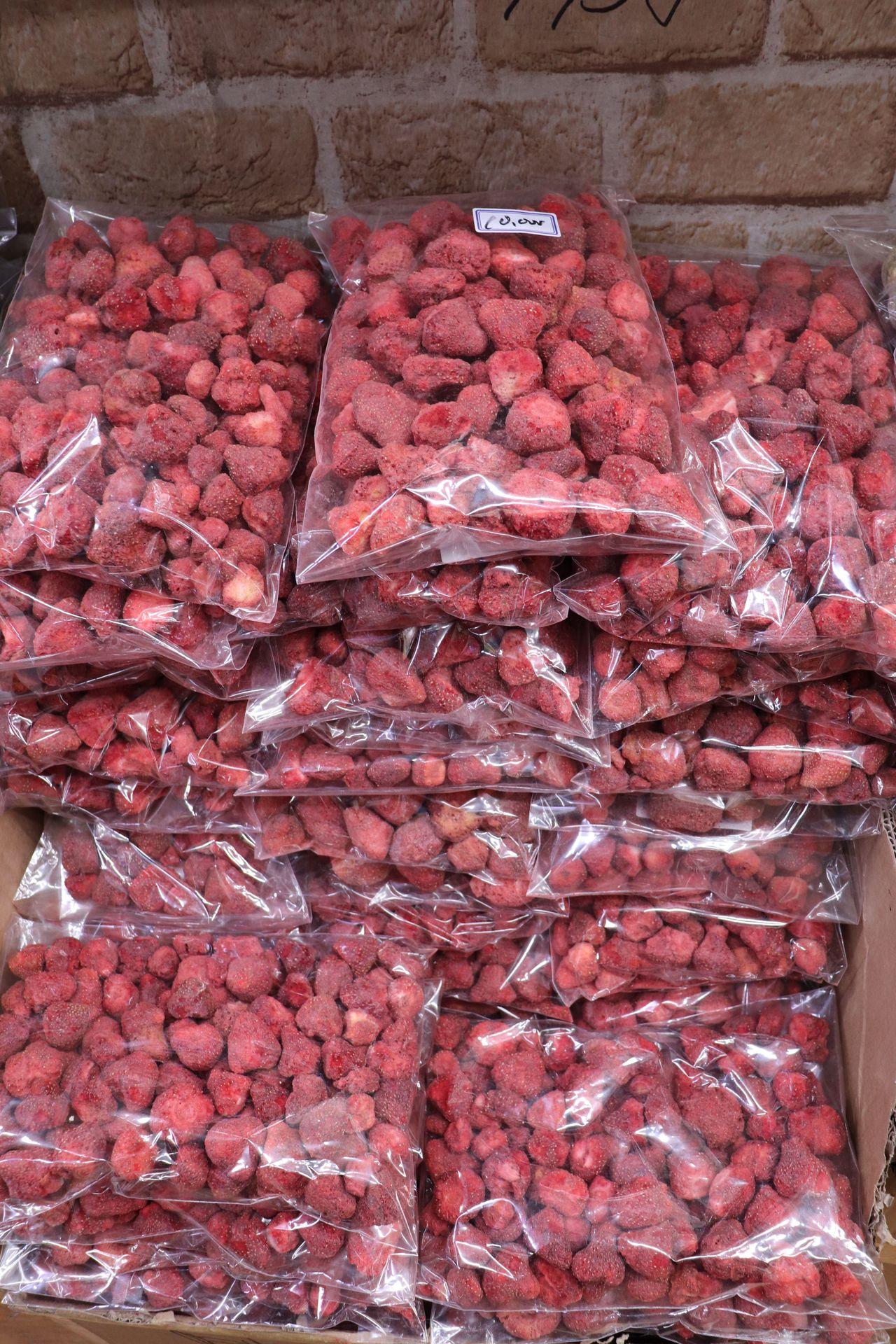 At this shop, anyone can buy a large bag of dried strawberries to take home at a very affordable price. One bag is enough to feed a whole family! These are the perfect snack that are both nutritious and delicious. We also love to put these dried fruits in our salads, yogurt or ice cream for additional flavor. Prices start at just 10,000 KRW so they are also very affordable.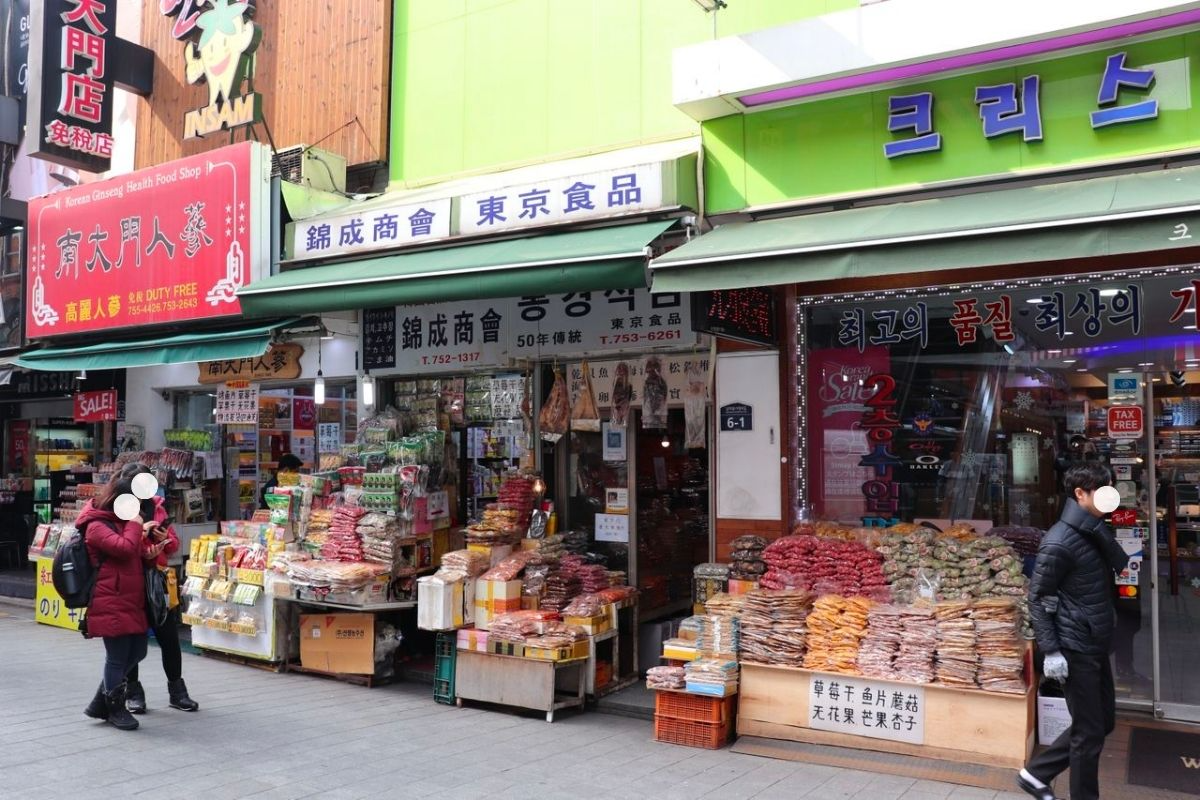 Address: 서울 중구 남대문시장 4길 8
Namdaemun Market 4 Gil 8, Jung-gu, Seoul
For those that would like to purchase some dried fruits from Donggyung Foods from the comfort of your home, you can always buy through us!
Seoul Sanghwae (서울 상회)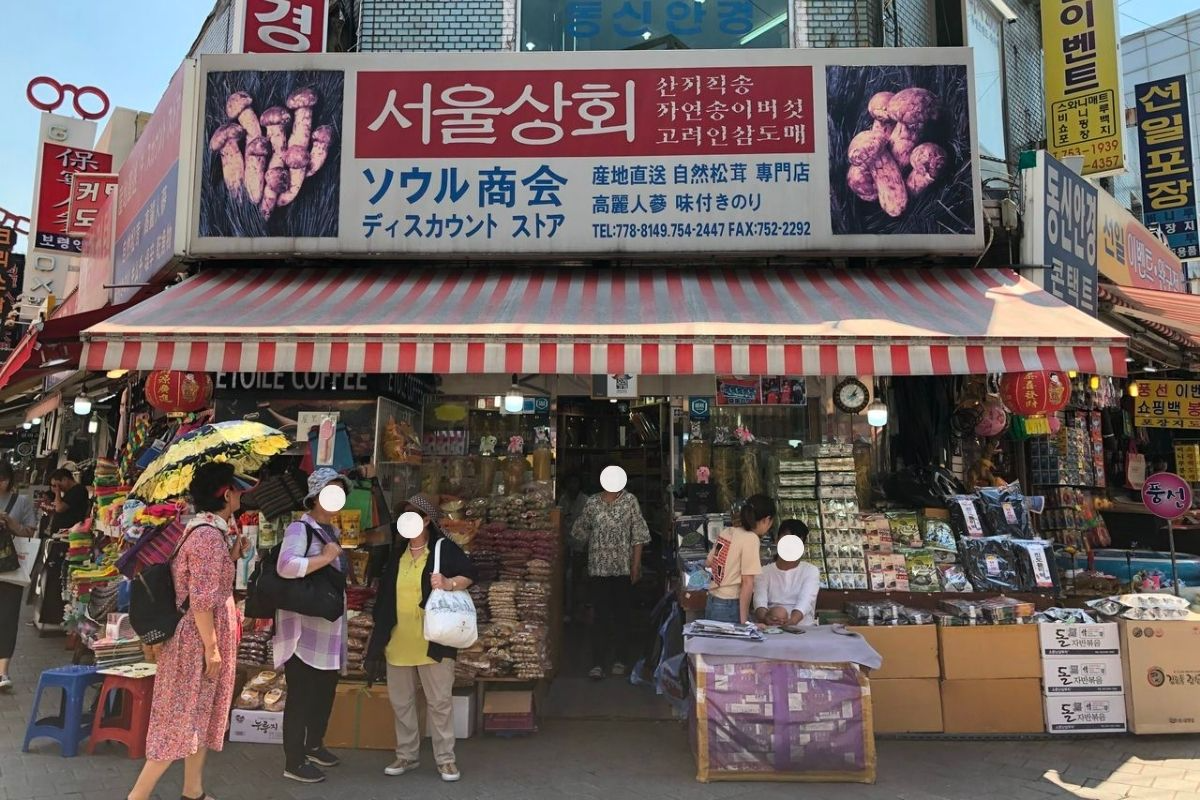 Seoul Sanghwae is another dried fruit and foods shop in Namdaemun Market. The prices here are known for being around 10% cheaper than other stores. If you are looking for fun souvenirs but on a budget, we suggest taking a look here.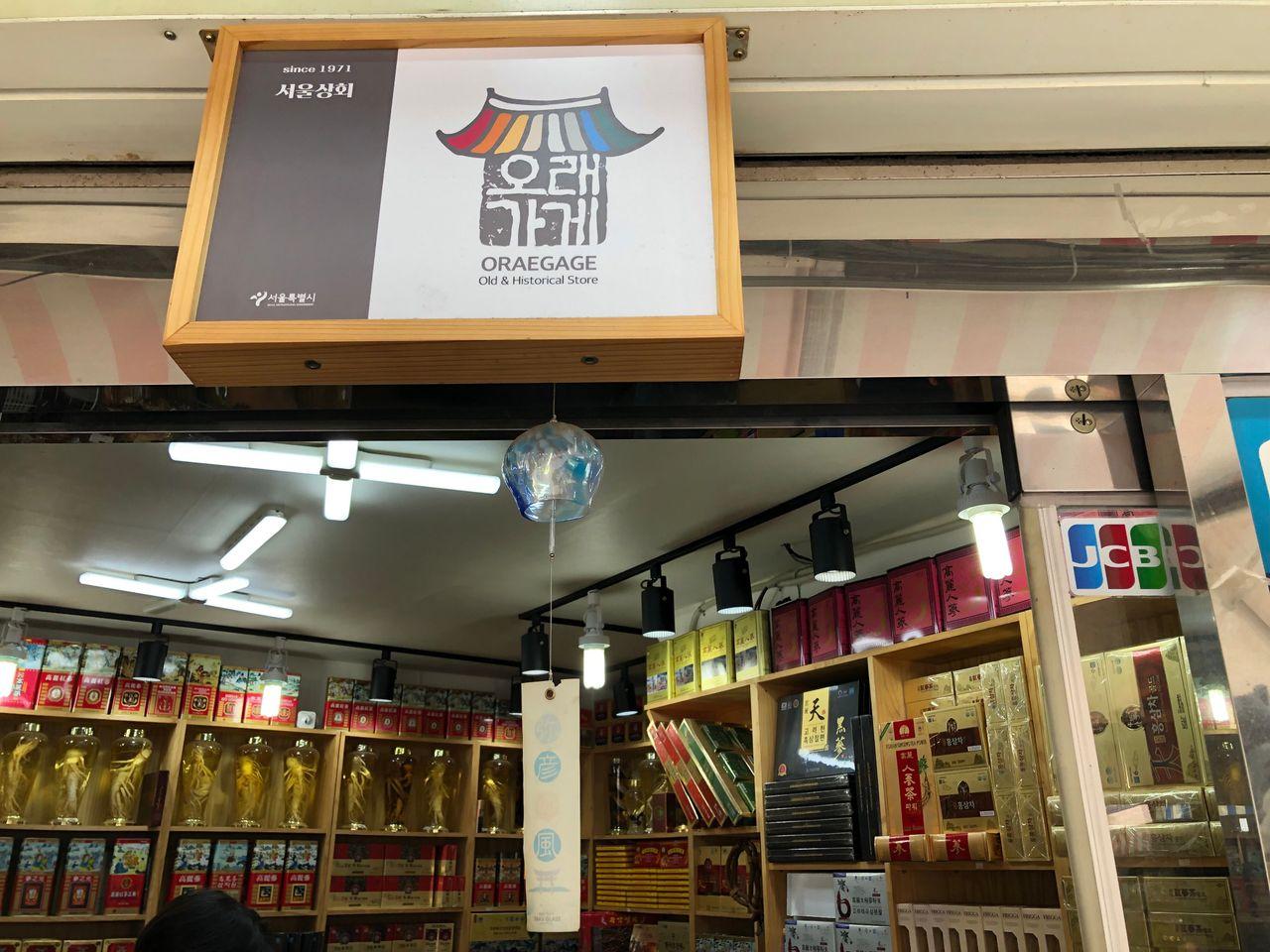 Seoul Sanghwae is officially classified as "orgaegage" which literally translates to "old shop in history". These classifications are given to the shops that were one of the first shops at Namdaemun Market!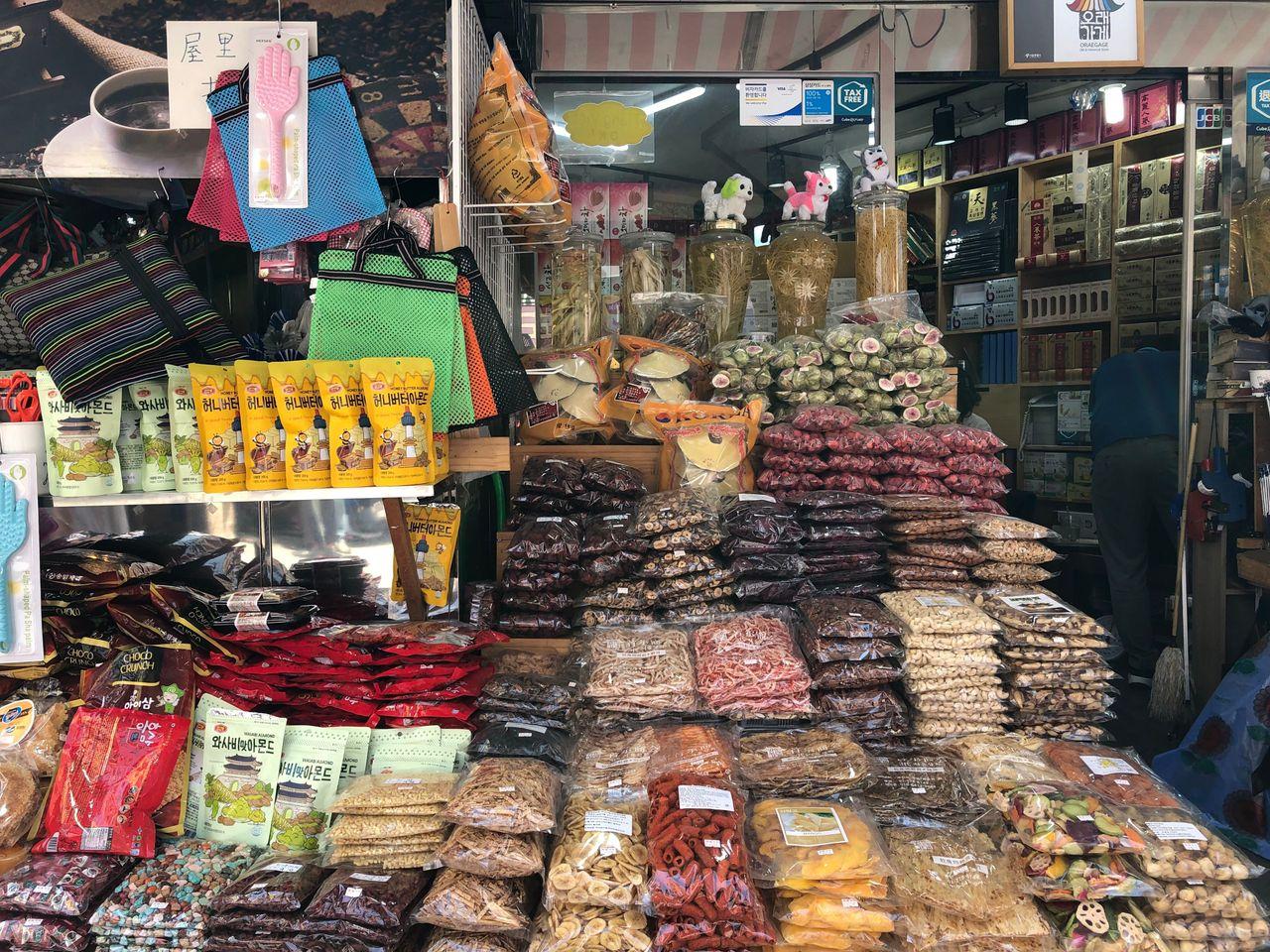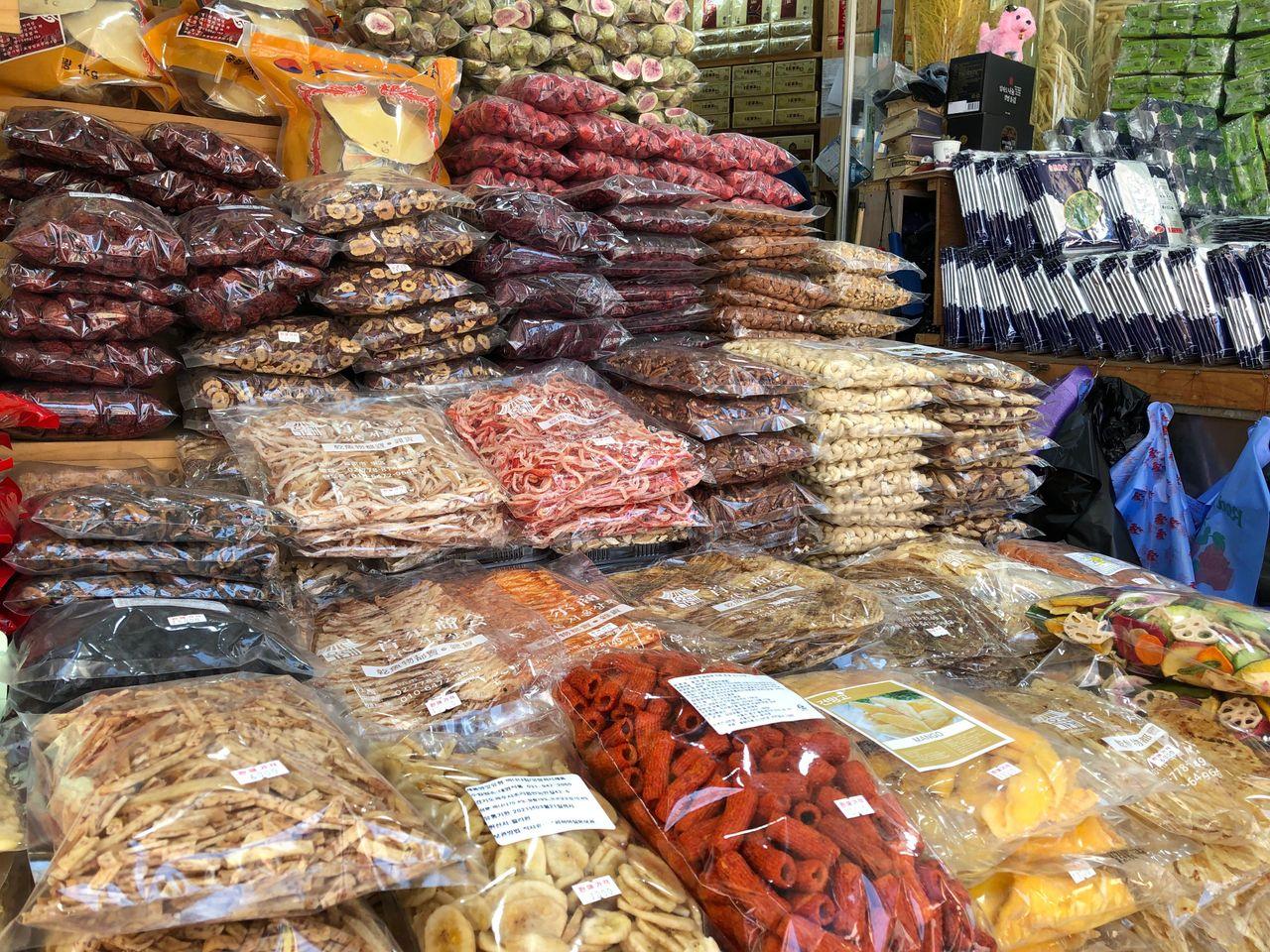 Everyone can find affordable, but high quality dried fruits and food items here! Prices start at around 10,000 KRW.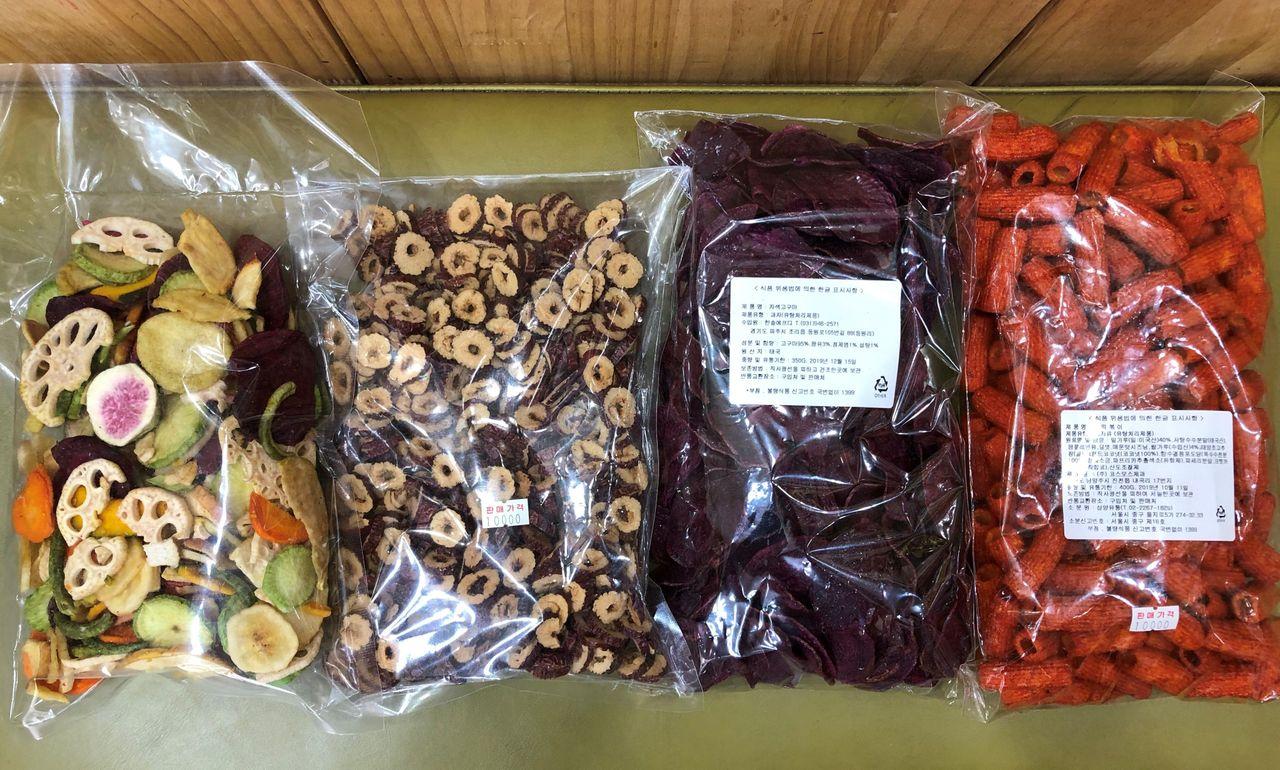 Address: 서울 중구 남대문시장 4길 2
Namdaemun Market 4 Gil 2, Jung-gu
You can read our full blog review of Seoul Sanghwae here.
Namdaemun Flower Market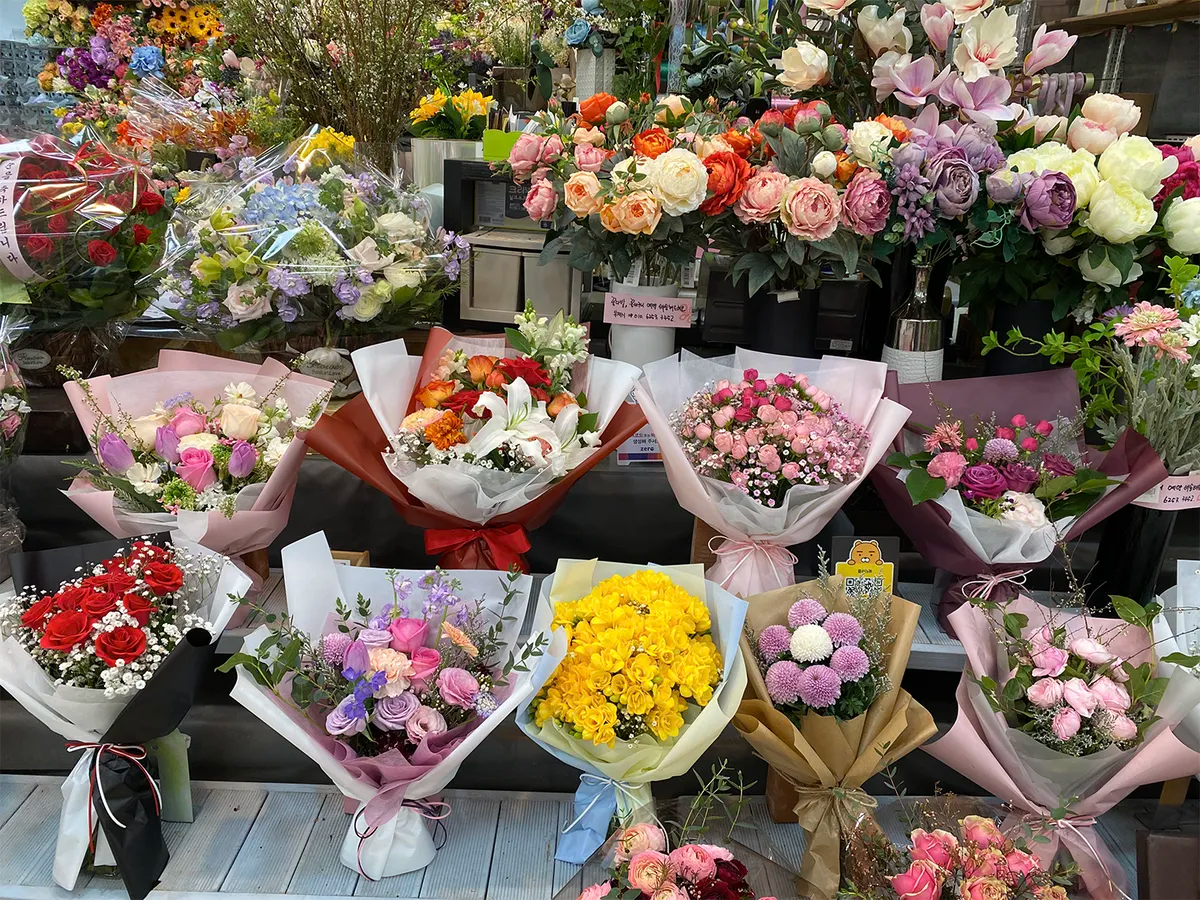 For anyone looking for a place to take a walk around Namdaemun Market besides the main area of the market, we suggest heading over to the flower market that is nearby. You can find lots of different types of beautiful flowers, at a very affordable price.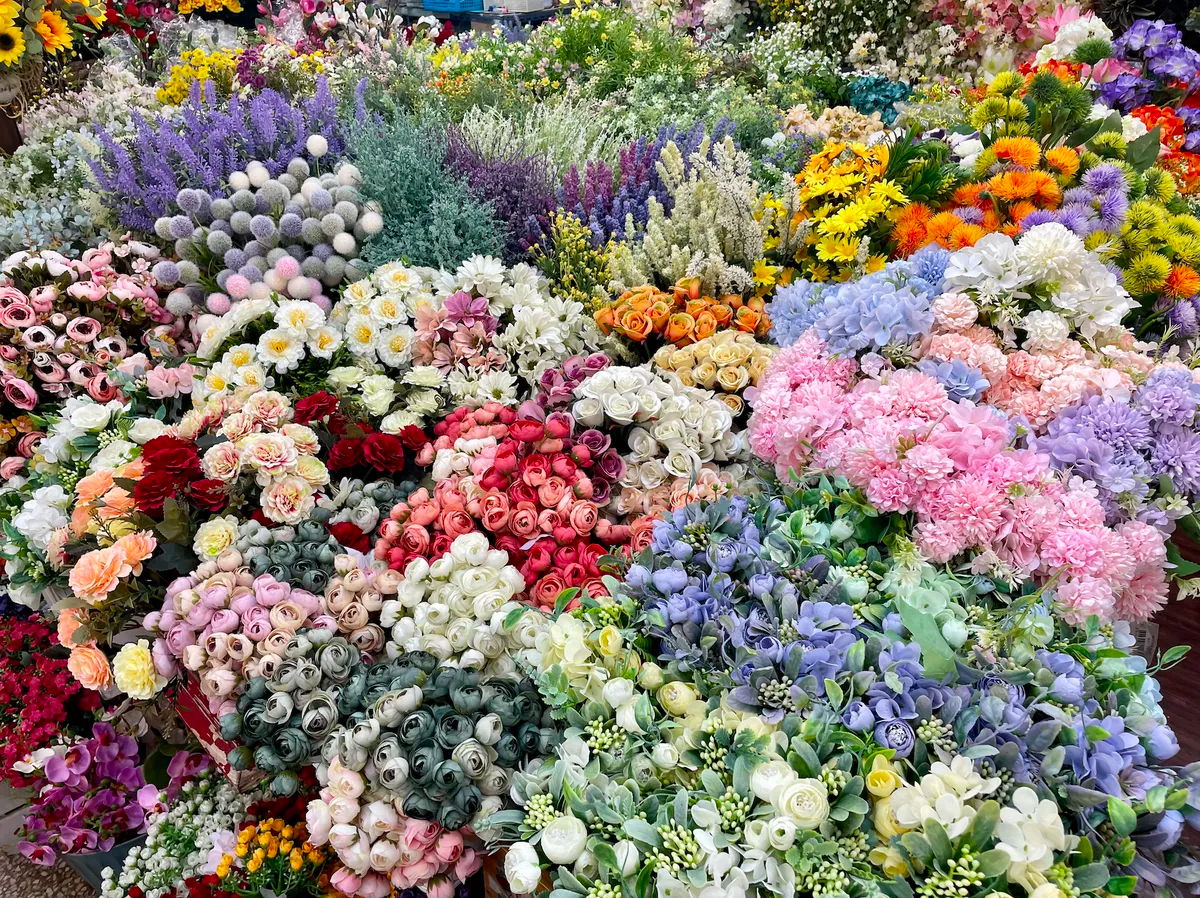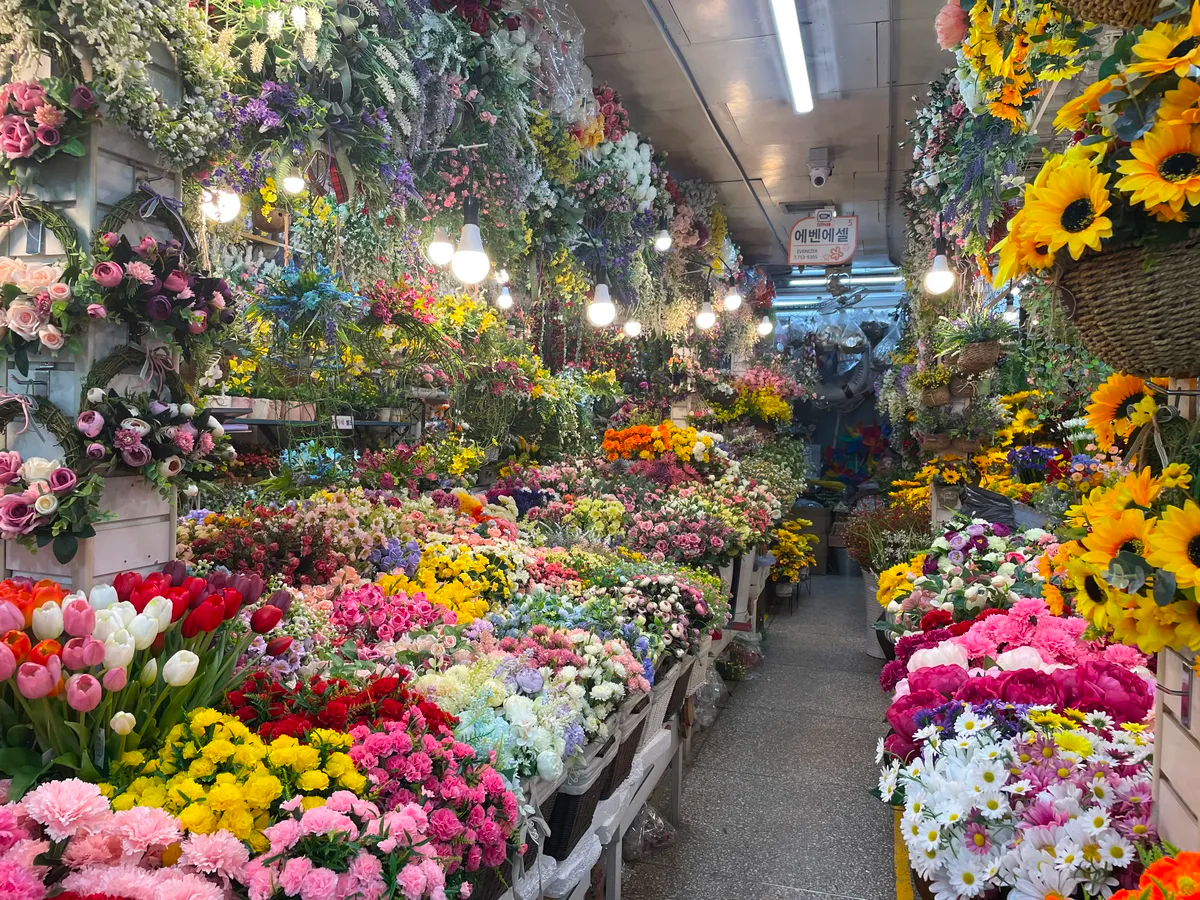 In addition to flowers, you can also buy accessories for arranging beautiful flower bouquets!
Address: 서울 중구 남대문시장 4길 E동 3층
3F, 21E, Namdaemunsijang 4-gil, Hoehyon-dong, Jung-gu, Seoul
Hours: Mon-Thurs: 03:00-15:00, Fri-Sat: 03:00-16:00, Closed on Sundays
You can read more about Namdaemun Flower Market and other beautiful flower markets here!
---
How to Get There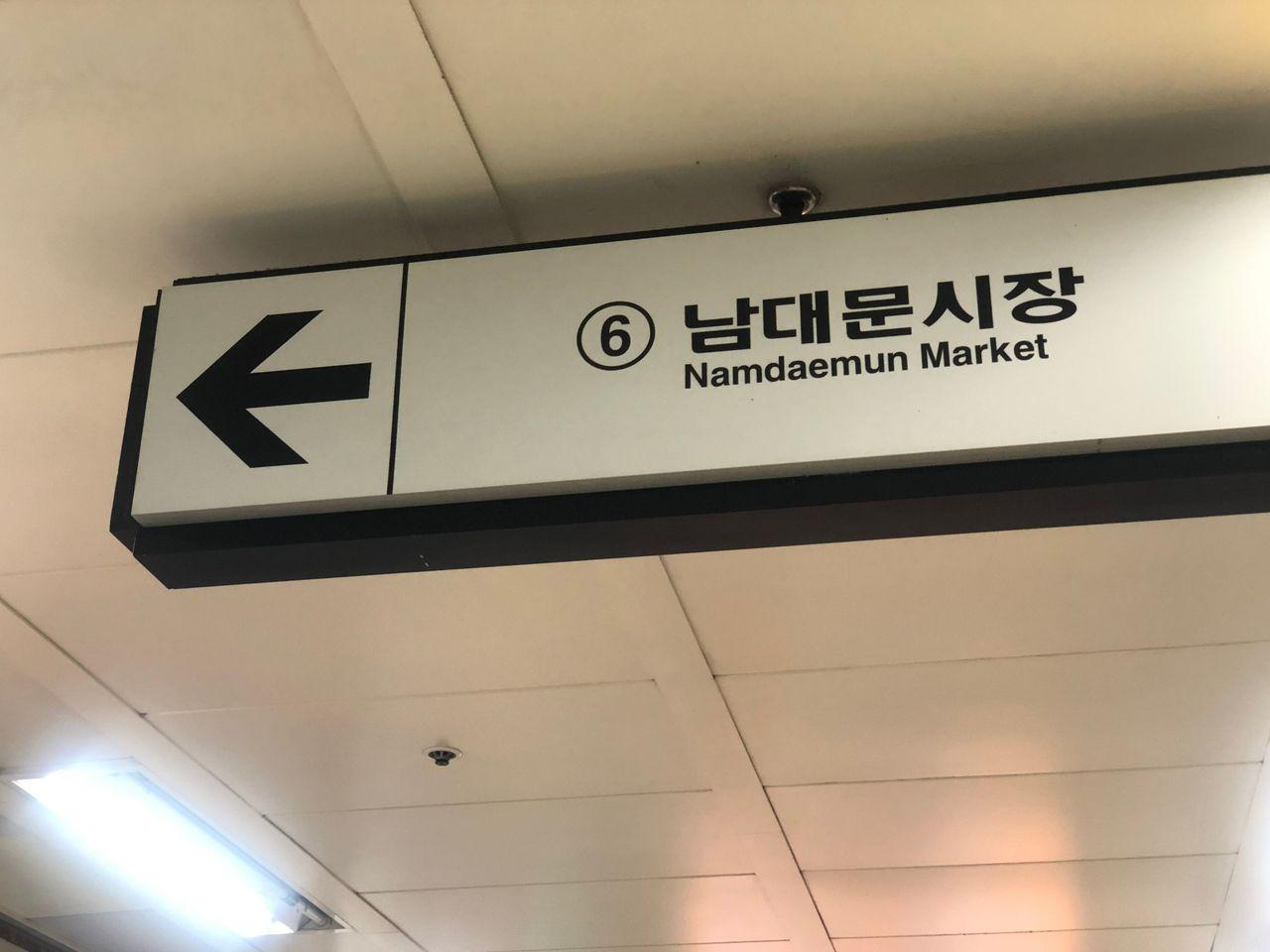 Getting to Namdaemun Market is quite simple! You can take Subway Line 4 to Hoehyeon Station and exit from Exit 5 or 6 and you will be in front of the market. Namdaemun Market is also in a close proximity to Myeongdong and Chungmyro which makes it the perfect place to stop by after a day of shopping in Myeongdong!
As soon as you exit from Exit 5, you will see Namdaemun Market!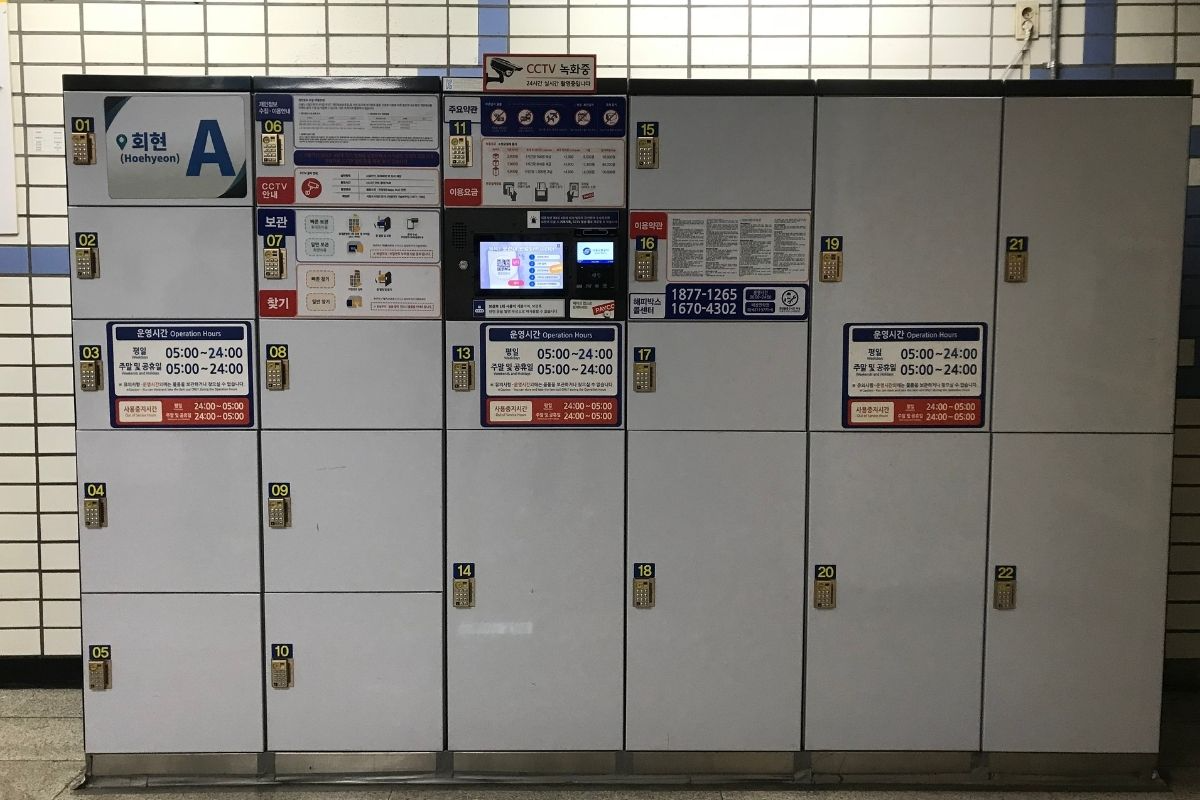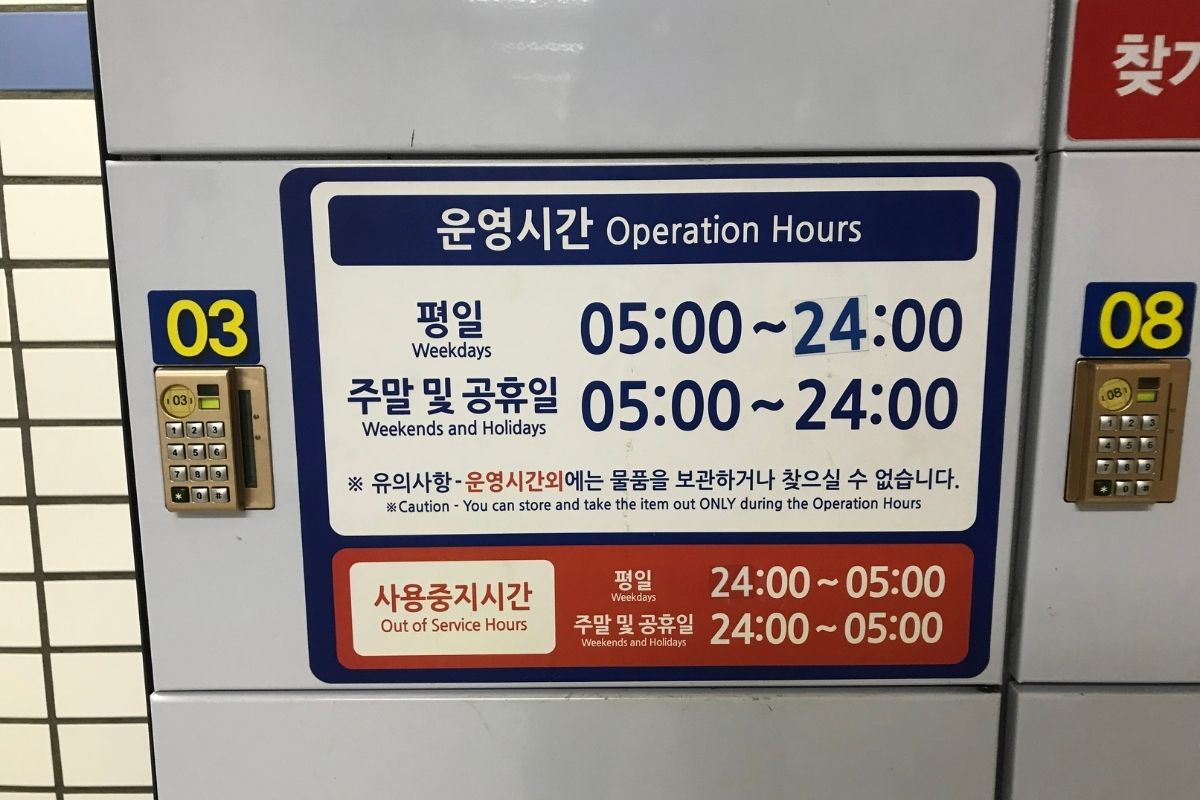 If you have a lot of stuff with you and do not want to lug it around, you can leave it at the locker in the station. Prices start at 2,000 KRW for a small bag for 4 hours, and full day rental starts at 8,000 KRW. You can find the lockers on the right hand side.
---
We hope that you can enjoy delicious Korean street food and buy fun souviniers for your friends and family back home at Namdaemun. If you have any questions or concerns, please leave a comment below or send us an email at help@creatrip.com. You can also follow us on Instagram, Tik Tok, and Facebook to stay updated on all things Korea!
---