DONGDAEMUN | Creatrip Locals' Guide
24-Hour Shopping Scene, Food & Drink Recommendations, Activities And Everything Else You Need To Know Before Going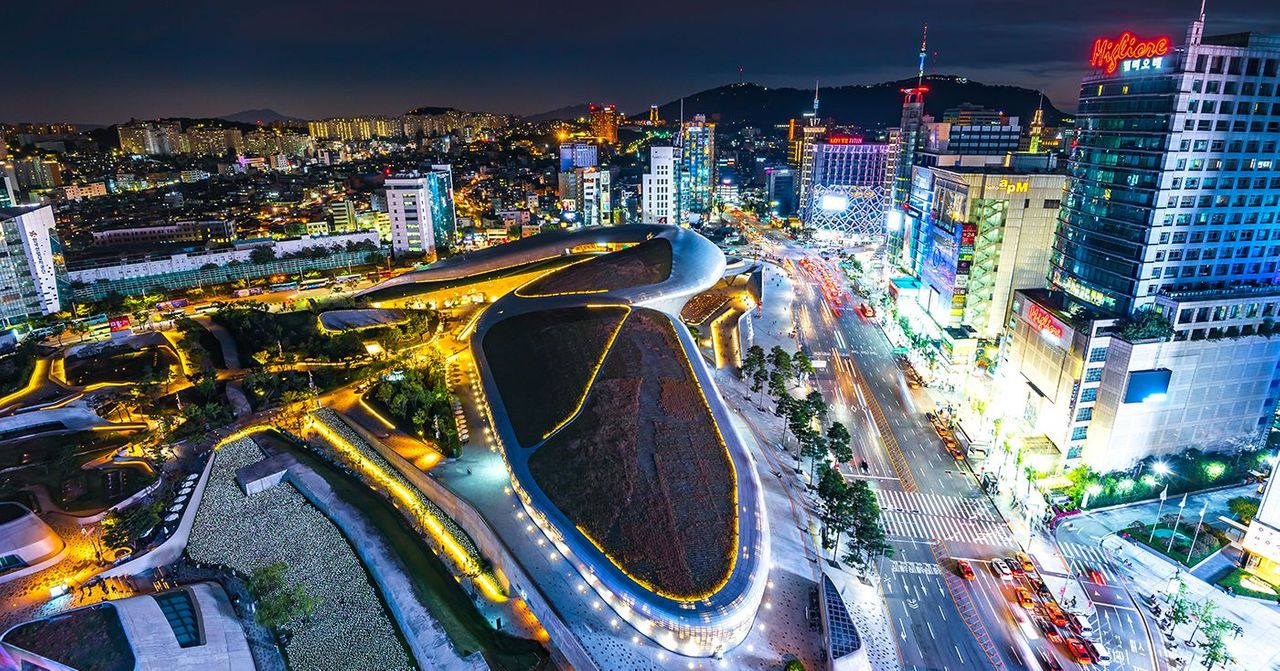 Seoul is a city that never sleeps. Even at the strangest hours of the night, you're bound to find lively restaurants filled with patrons devouring their food. Dongdaemun certainly lives up to this standard as it offers a nonstop shopping experience ranging from overnight malls and thrift markets to brand stores and street vendors.
Dongdaemun also offers lots of great food and drink options as well as activities which we will cover in this guide. With this guide, you'll be able to customize your itinerary in the charming part of Seoul to your liking!
---
SHOPPING GUIDE
---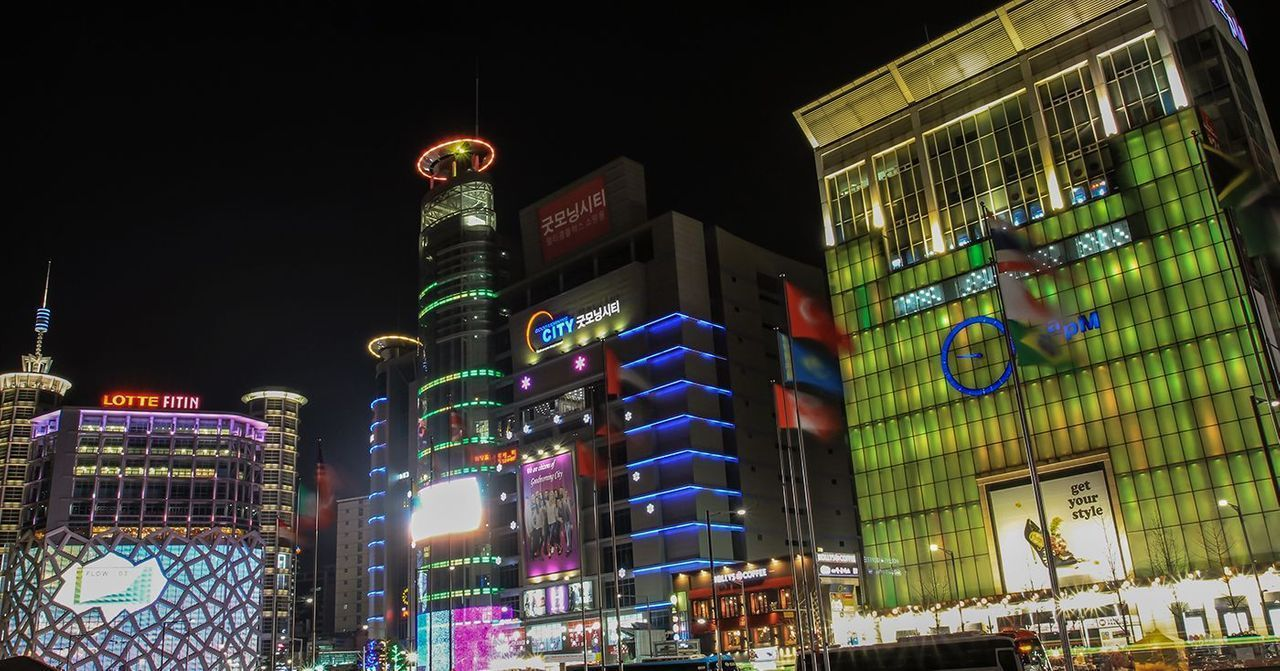 You'll notice that Dongdaemun is filled with high-rise buildings. A lot of them are shopping malls, some of them only available for wholesale, some open to regular shoppers. Our list of Dongdaemun Shopping Centers covers 7 places worth shopping at. The malls are located quite close to each other, so if you're not finding what you're looking for in one place, easily hop over to the next one!
---

Location: Dongmyo Station Exit 3
Hours: Roughly 10:00-17:00 (Hours vary by store)
For used items including cameras, LP vinyls, CDs, clothing and many more at cheap prices, don't miss out on Dongmyo Market! You'll see big piles of shirts and pants scattered about on the ground; make sure to do some digging to find your treasure. It's one of the most unique shopping experiences you'll come across in the city.
---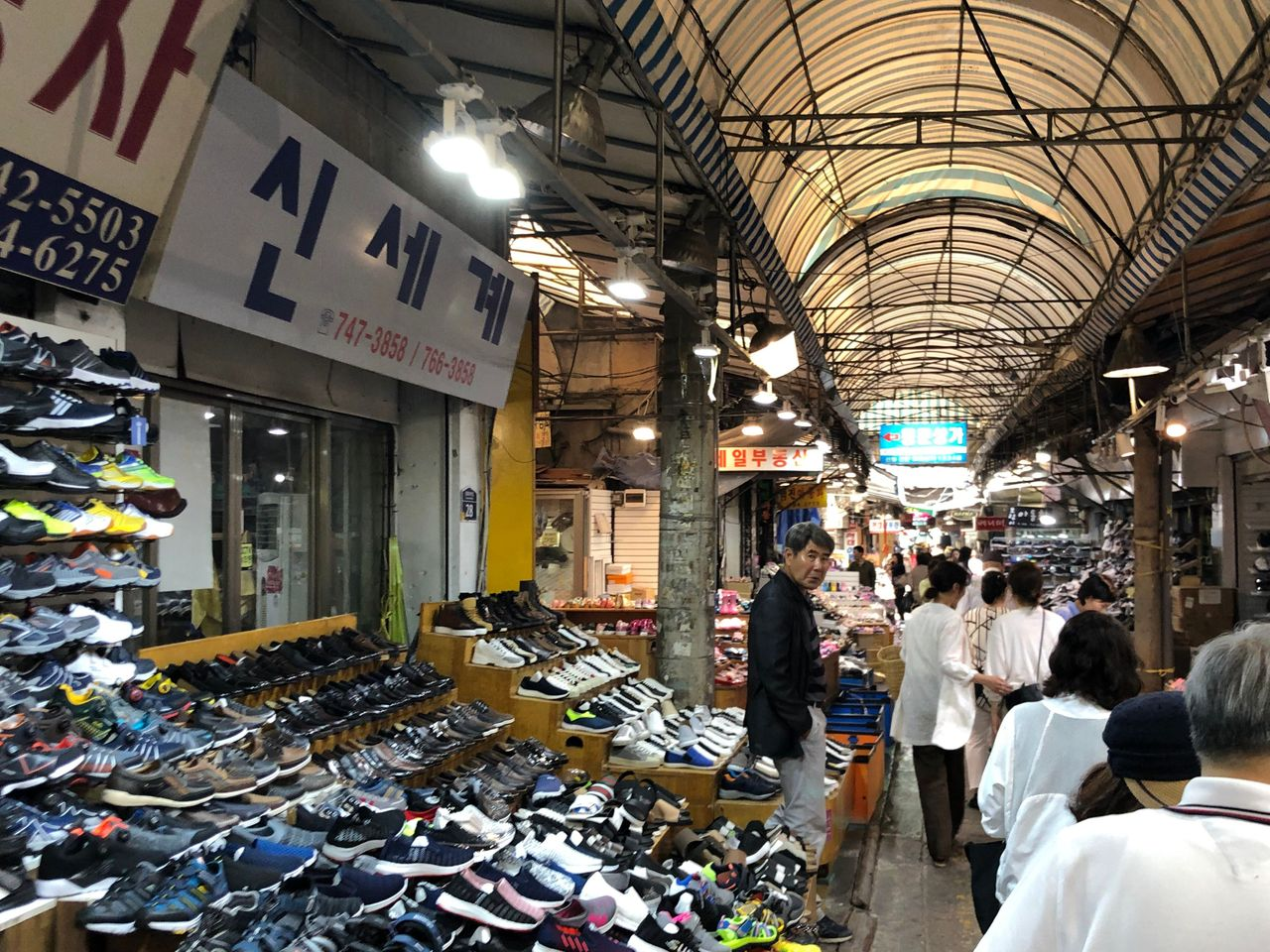 Location: 서울 종로구 청계천로 307
Hours: 02:00-15:00 (Hours vary by store)
You'll be overwhelmed with the number of options you get but you'll be glad you stopped by. You'll find shoes here for cheap at ₩5,000-₩10,000. Keep in mind that it's good to know your Korean shoe size before heading over!
---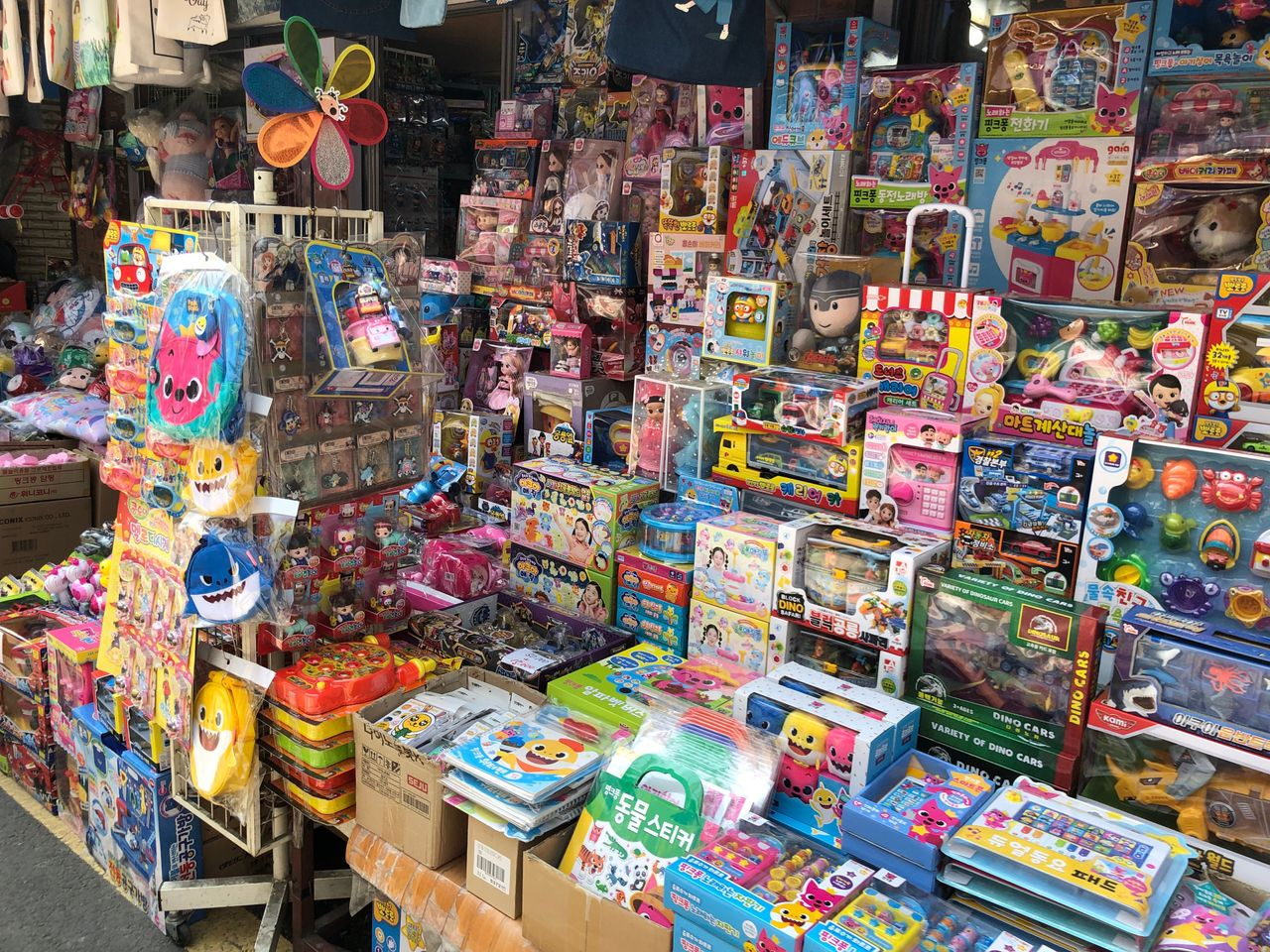 Address: 서울 종로구 종로52길 36
Hours: 08:00-19:00 (Hours differ slightly by store), Closed on Sundays
Shop around the area for toys and stationery. It's a great place if you're looking for toy souvenirs for young family members and relatives. You might even end up buying yourself a toy car or a Star Wars souvenir too.
---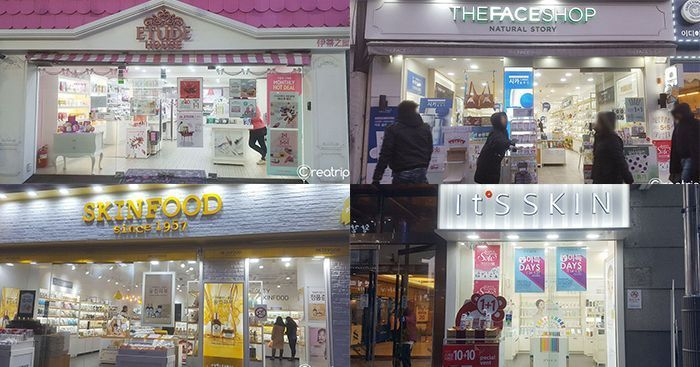 We all know that one of the must-buy categories in Korea is cosmetics. Dongdaemun is the place to shop for makeup and skincare products as many brands are situated next to each other, offering an one-stop-for-all shopping convenience.
Options are many and price ranges run wide, but don't worry! Check out our list of Must-buy Cosmetics to narrow down or add onto your list.
---
Brand Stores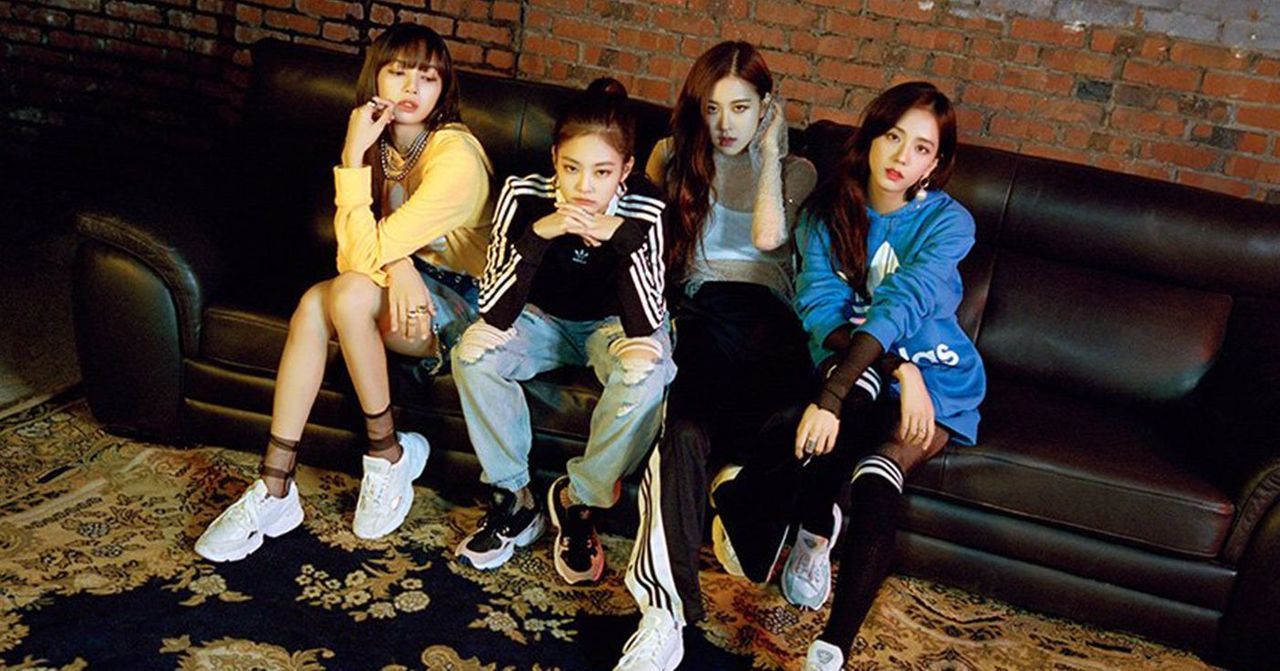 Some of the brands worth checking out in Dongdaemun are:
ABC Mart : Located at Lotte Fitin B1, Hyundai Outlet B1
FILA : Located at DOOTA B1, Hyundai Outlet 5F 7F 8F
NIKE : Located at DOOTA B2, Hyundai Outlet 7F, Lotte Fitin B1
The North Face : Hyundai Outlet 7F
To find out what style shoes and brands you would be the most interested in, refer to Best Korean Shoe Brands 2020.
---
---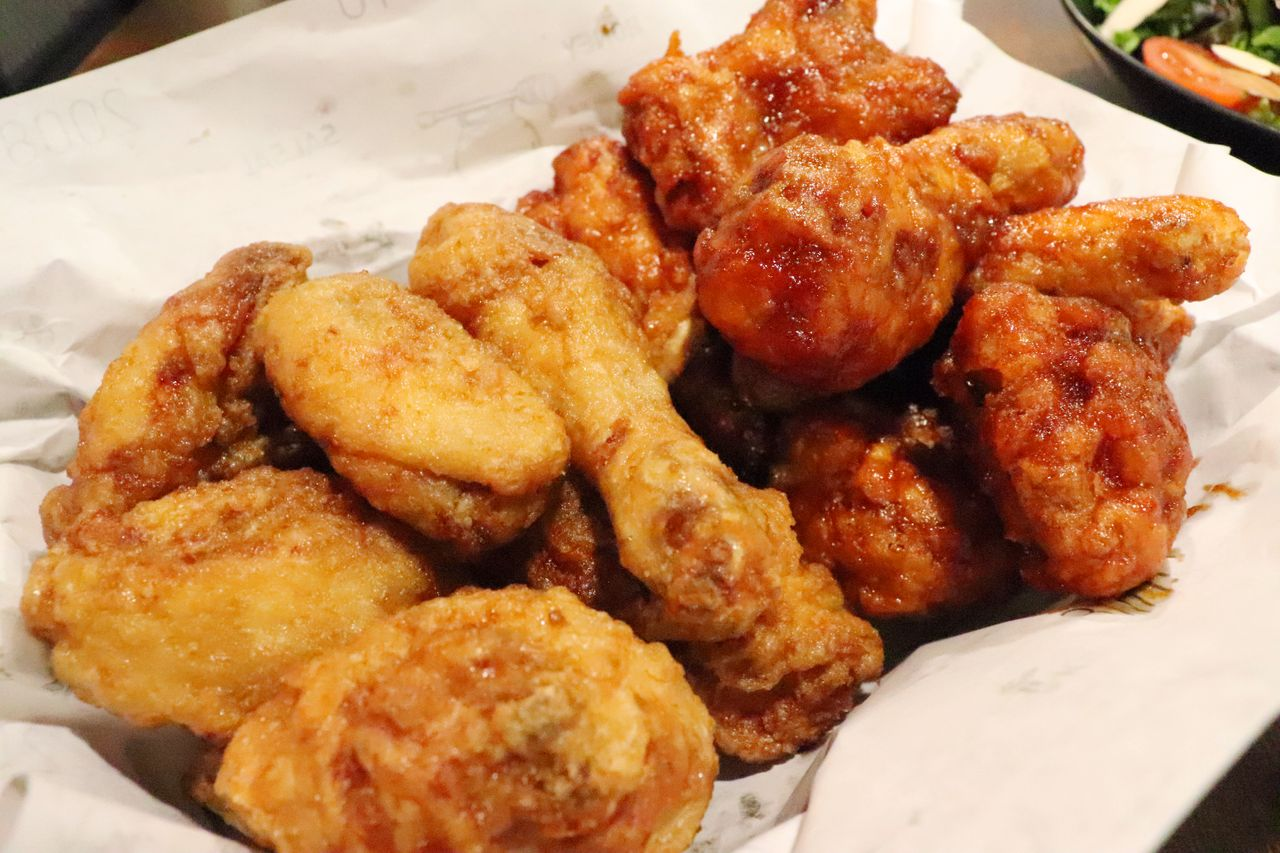 Address: 서울 종로구 창신동 464-6 2F
Hours: 24 Hours
Price: ₩15,000 for Original Soy Sauce Chicken
Kyochon is one of the brands that represent Korean fried chicken! I've tried most of their flavours and they were all good, but if I had to recommend a couple for you to start off, I would say try their Original & Red combo.
Their Dongdaemun branch is great because it's open 24/7! You can even stop by at 4 am after your late night shopping in the area. Check out our review blog for more information.
---
Jinokhwa Dakhanmari (Chicken Soup)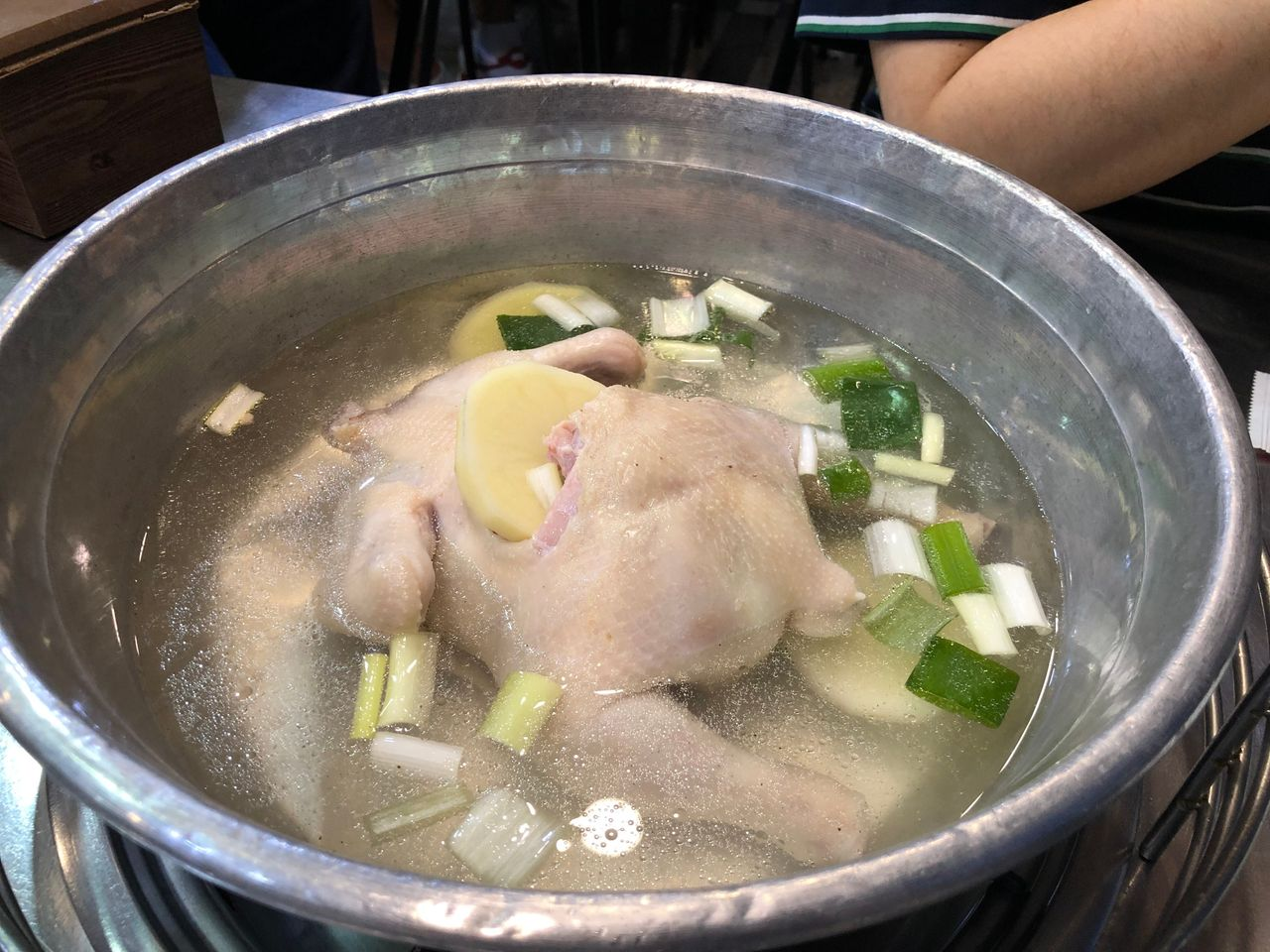 Address: 서울 종로구 종로40가길 18
Hours: 10:30-01:00, Last order at 23:30
Price: ₩22,000 for a whole chicken soup that serves 2-3 people
If you're looking for a chicken option that's not too spicy, dakhanmari is a good option. Dakhanmari is a whole chicken served in hot, savoury soup. Talk about comfort food!
This restaurant is a classic locals' dakhanmari place that has been around for a long time.
---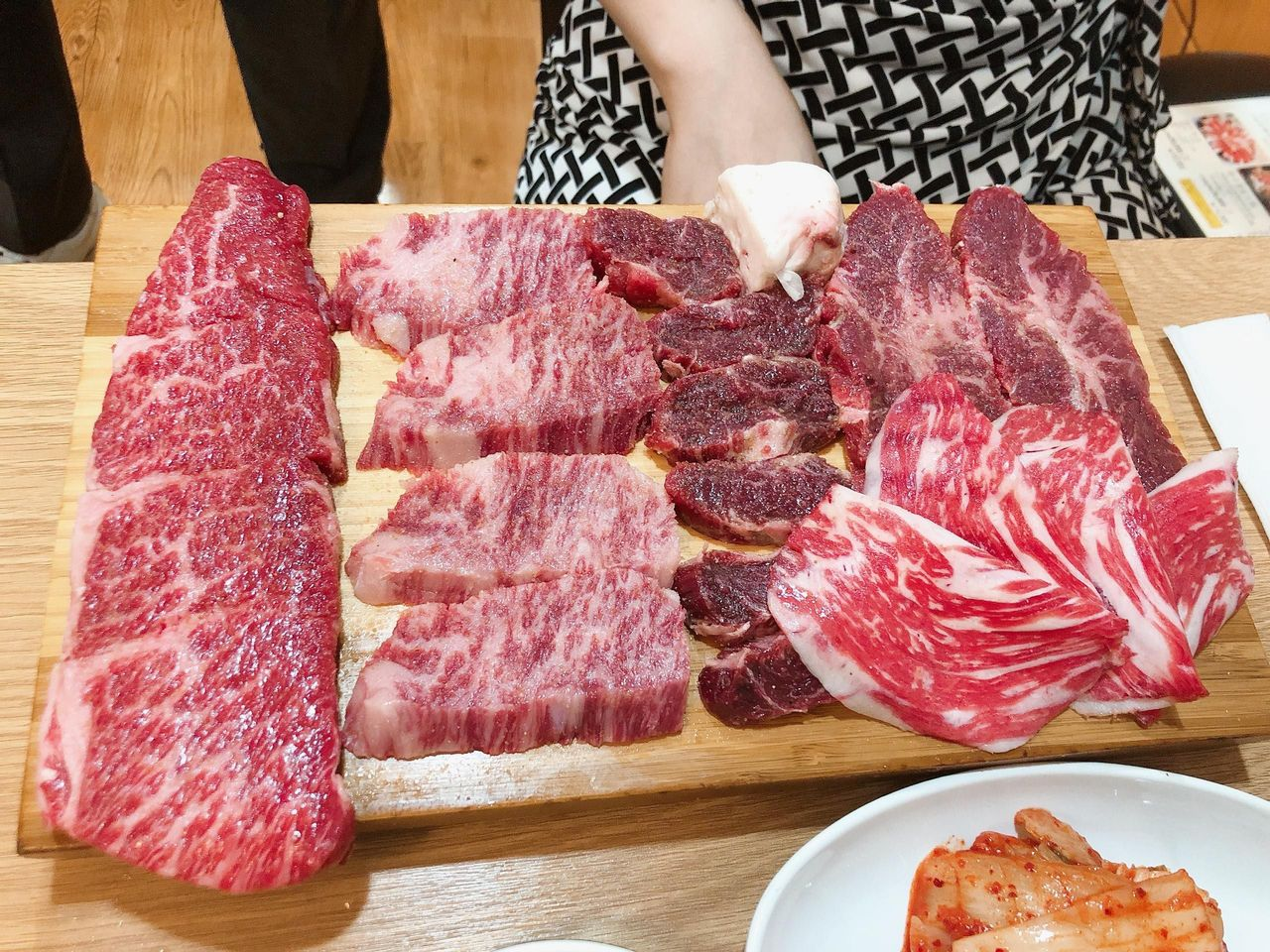 Address: 서울 종로구 종로46길 7
Hours: 24 Hours
Price: ₩24,000 for 600g of assorted meats
You can get an assortment of different pork and beef parts at great prices here. Their juicy, delicious pork set starts at ₩24,000 and their VIP beef set starts at ₩65,000.
---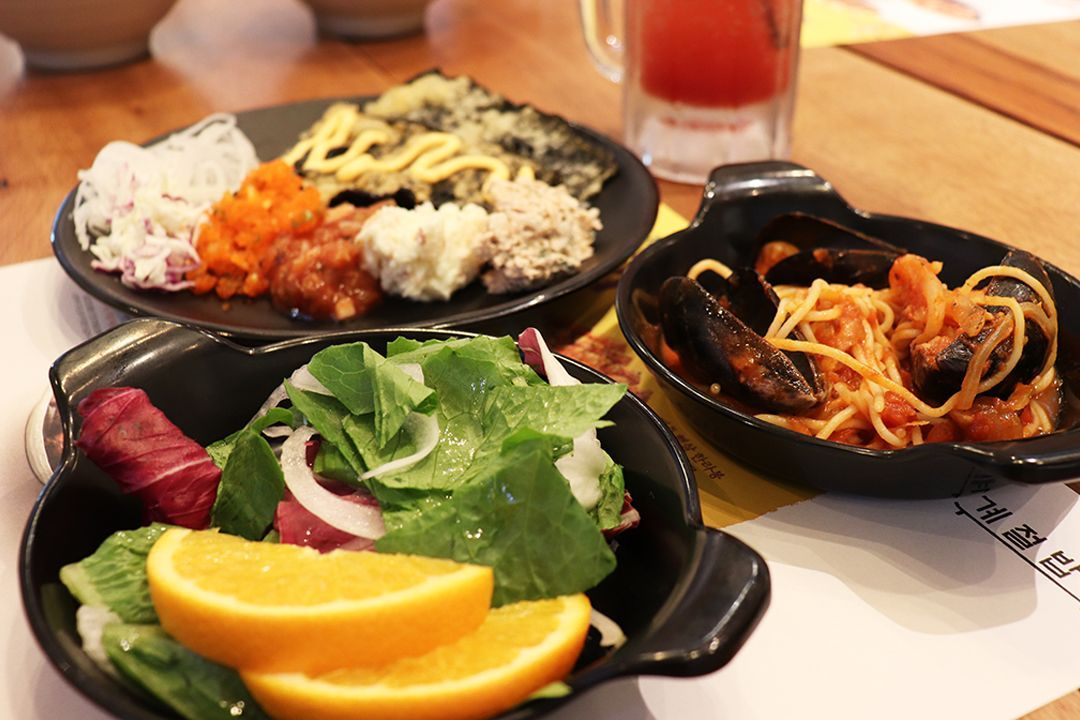 Address: 서울 중구 을지로 264 Lotte FiTin 7F
Hours: 11:00-21:00, Break (Weekdays Only) 15:30-17:00
Price: ₩11,900 and up
Seasons Table is perfect for those who want to enjoy a good variety of Korean and fusion dishes at once. You'll find Korean fried chicken, grilled meats, tteokbokki (spicy rice cake) and many more!
Make sure to try out the dessert section after your satisfying meal too.
---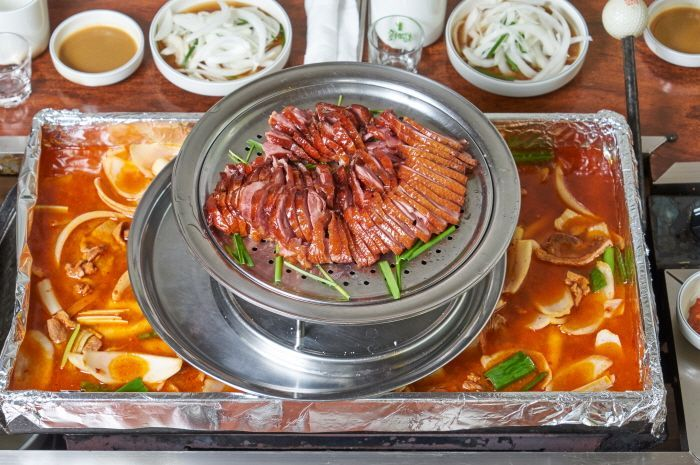 Address: 서울 종로구 종로46길 12 2F
Hours: 11:00-23:00 (Closed on Sundays and Holidays)
Price: ₩17,000 for Half Smoked Duck
This halal-certified restaurant has been around the Dongdaemun area for over 10 years serving up spicy duck soup and smoked duck. Try their tender, flavourful duck with traditional sides.
---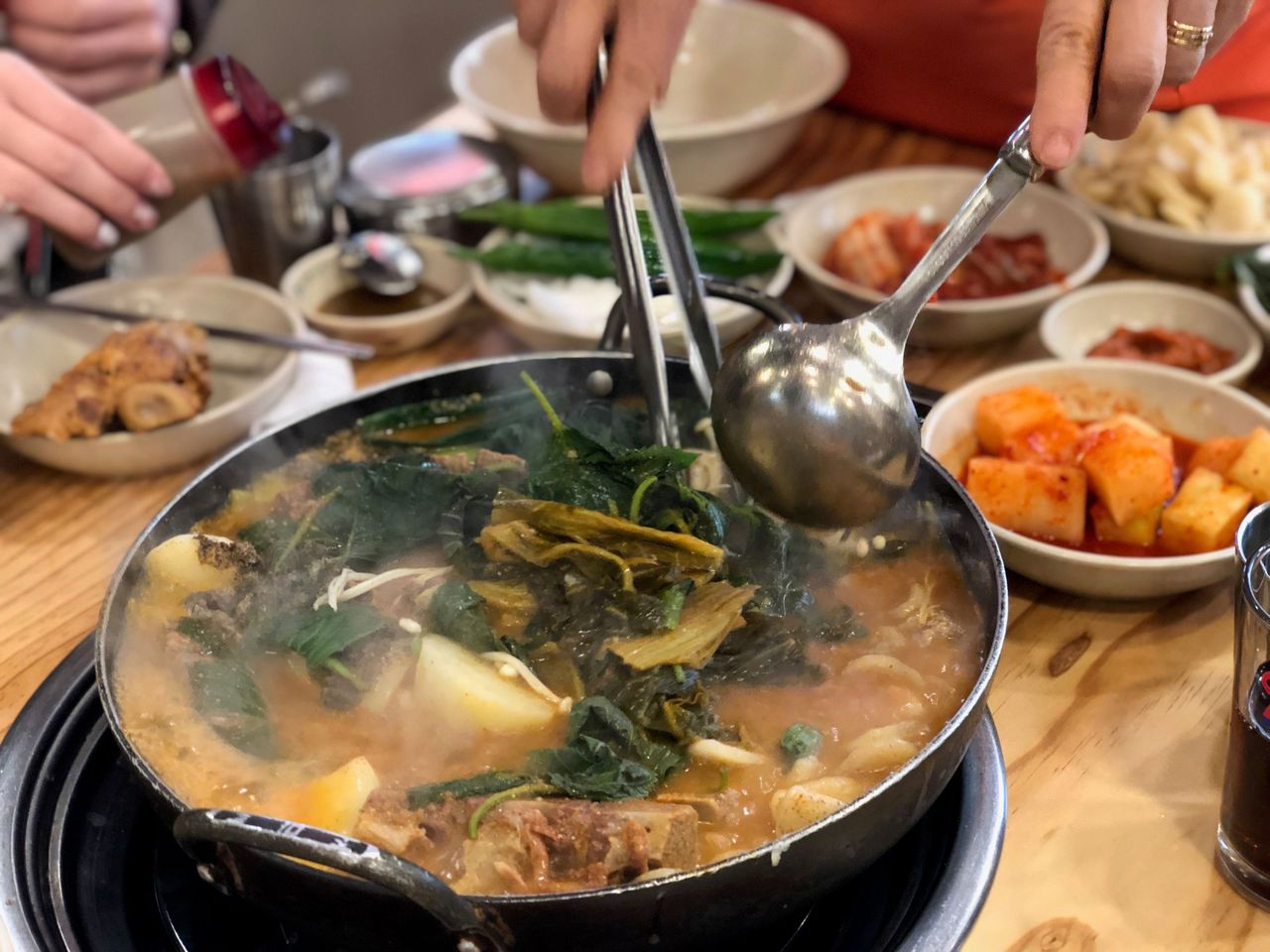 Address: 서울 종로구 난계로29길 37
Hours: 24 Hours
Price: Gamjatang ₩8,000, Small Pot of Gamjatang (2-3 persons) ₩25,500
For a hot pot of boiling gamjatang (pork bone soup) cooked in a flavourful soup and with a generous amount of vegetables, stop by Jomaru! This restaurant is just two subway stops from Dongdaemun Station and situated in a local area not visited often by tourists.
---
Pyeongyang Myeonok (평양면옥)

Address: 서울 중구 장충단로 207
Hours: 11:00-21:30
Price: Naengmyeon (cold noodles) ₩12,000, Mandu (dumplings) ₩12,000
This Michelin Guide 2020 restaurant serves up naengmyeon (cold noodles) served in tasty broth. Try the broth by itself and slowly add in more vinegar and mustard for different layers of flavours. Their naengmyeon (cold noodles) paired with dumplings is the best combination you'll find in the area!
---
Shake Shack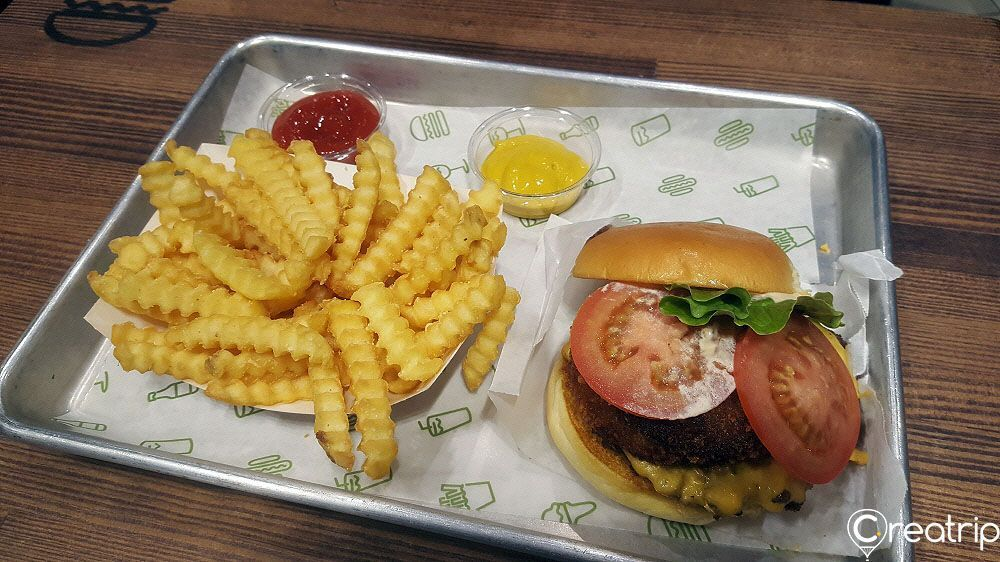 Address: 서울 중구 장충단로 275
Hours: 10:30-22:00
Price: Shack Stack ₩12,400
Get your fix for American food here! The globally renowned New York franchise has locations throughout Seoul, so stop by the Dongdaemun branch if you're in the area. It's gained a good amount of popularity in Korea, so keep in mind that the lineup might be long depending on when you visit.
---
Dokkebi Bulgogi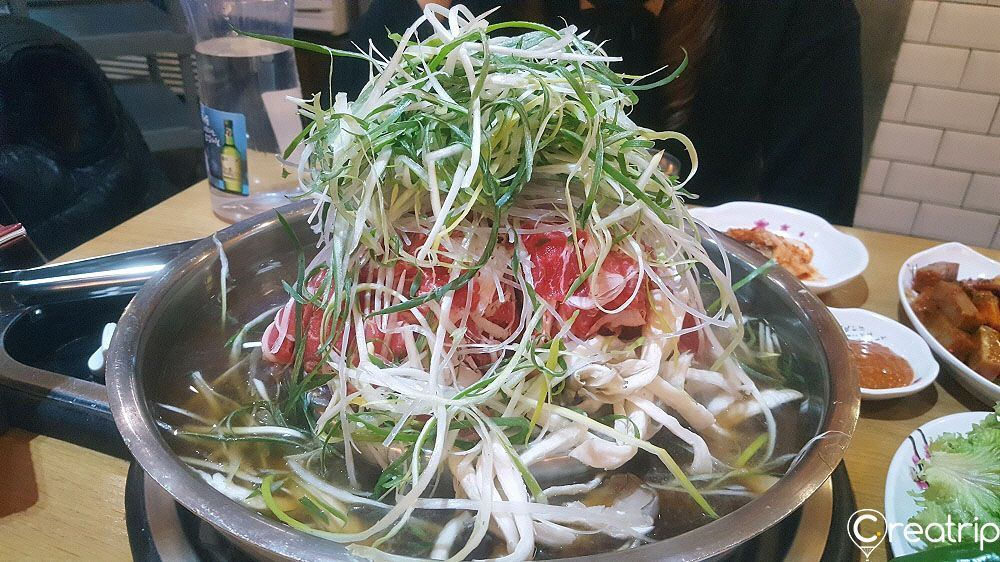 Address: 서울 중구 을지로43길 38
Hours: 24 Hours
Price: ₩10,000 per pax (only available during lunch hours)
Try their signature menu Kebbi Bulgogi which comes in as a huge stack of bulgogi, mushrooms and onion slices. The tender meat is cooked in the savoury soy sauce-based broth. Place the bulgogi on a lettuce wrap, add on mushroom, onion, vegetables as well as the sauce, wrap everything nicely, and devour the whole thing at once for an amazing mix of flavours!
---
Changshindong Jokbal (창신동 족발)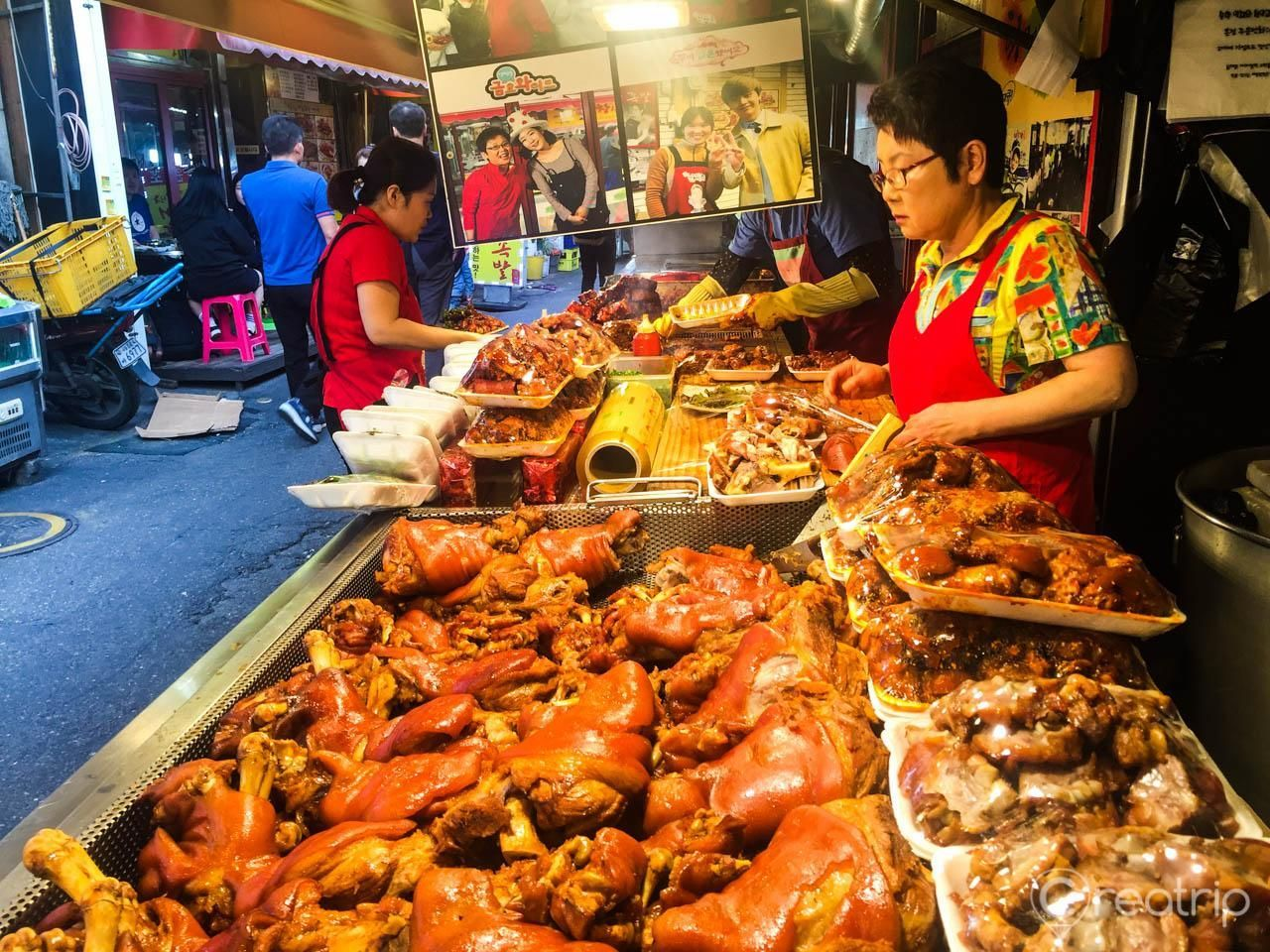 Address: 서울 종로구51길 23
Hours: 10:30-24:00, Closed on Mondays
Price: jokbal starting at ₩18,000
Put on your gloves and get digging! Jokbal (boiled pork feet) is a local dish with a long history and Dongdaemun's jokbal alley is one of the best places in the city for it. At Changshindong Jokbal, the cook will place the pork feet on the grill and smear them with spicy sauce. Then, he roasts it over charcoal. The fire flavour and the meaty goodness are what make this eatery a popular spot among locals!
Check out our Food Guide | DONGDAEMUN for more details of the restaurants.
---
CAFE GUIDE
---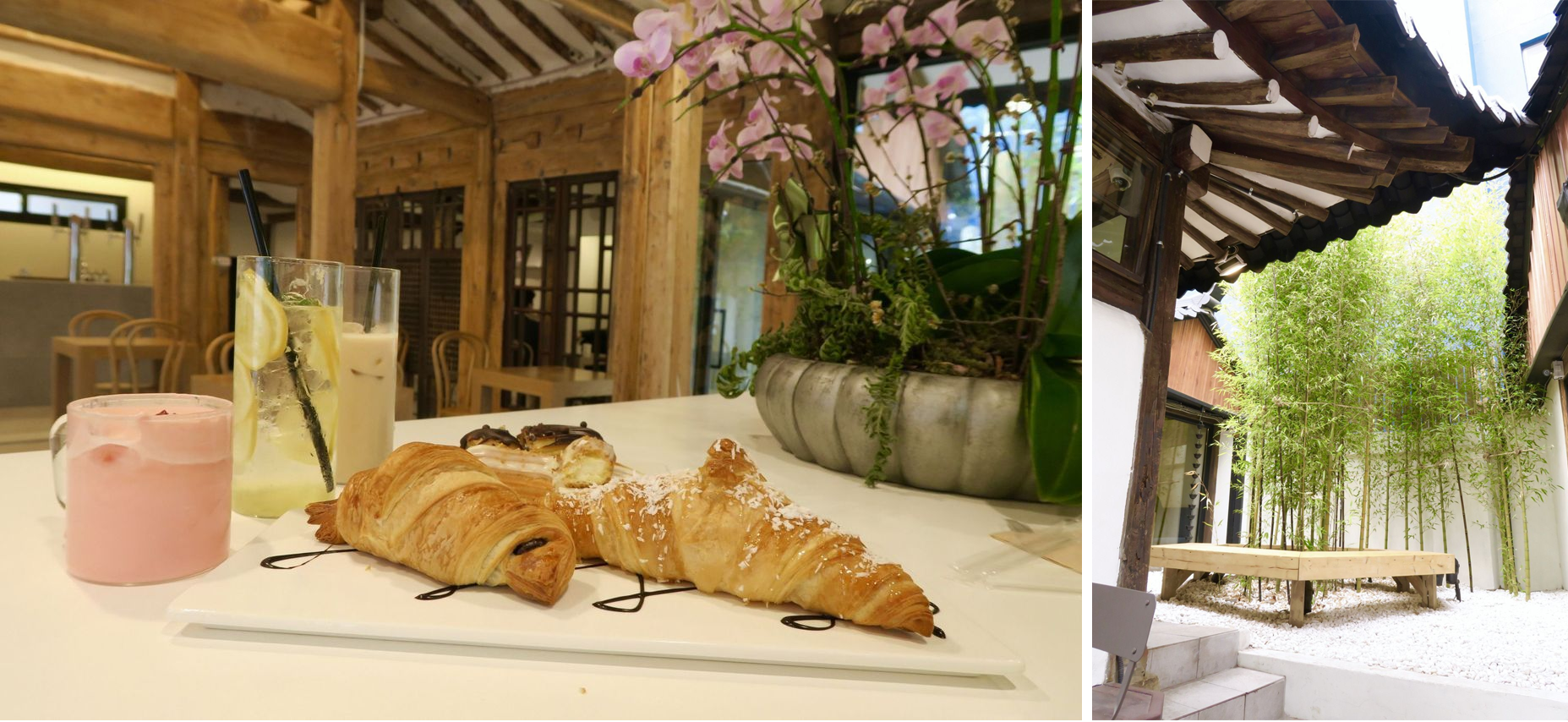 Address: 서울 종로구 종로 269-4
Hours: 11:00-19:00
Price: Drinks starting at ₩6,000
As its name suggests, J. Hiddenhouse is a beautiful indoor-outdoor hanok cafe masked away in a quiet corner of Dongdaemun. If you need to take a break from the busy tourist shopping scenes with delicious pastries and beverages, this place is your definite go-to.
---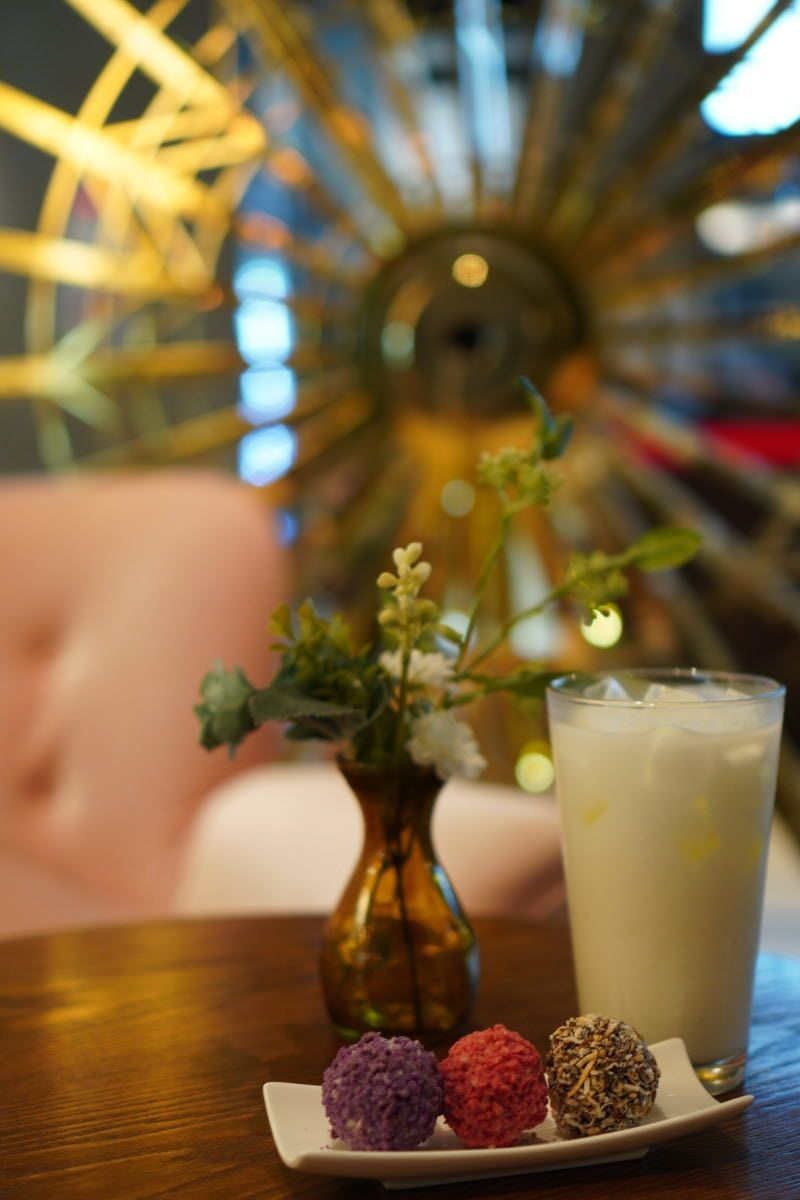 Address: 서울 중구 장충단로13길 20 Hyundai City Outlet B2
Hours: 11:00-22:30
Price: Cheesecake starting at ₩8,000
If you are a cheesecake lover and you are in the mood to try a unique version of it, try C27! Located just next to Dongdaemun Design Plaza, C27 serves up cute bite-sized cheesecake bites that come in tens of flavours.
---
Heaven On Top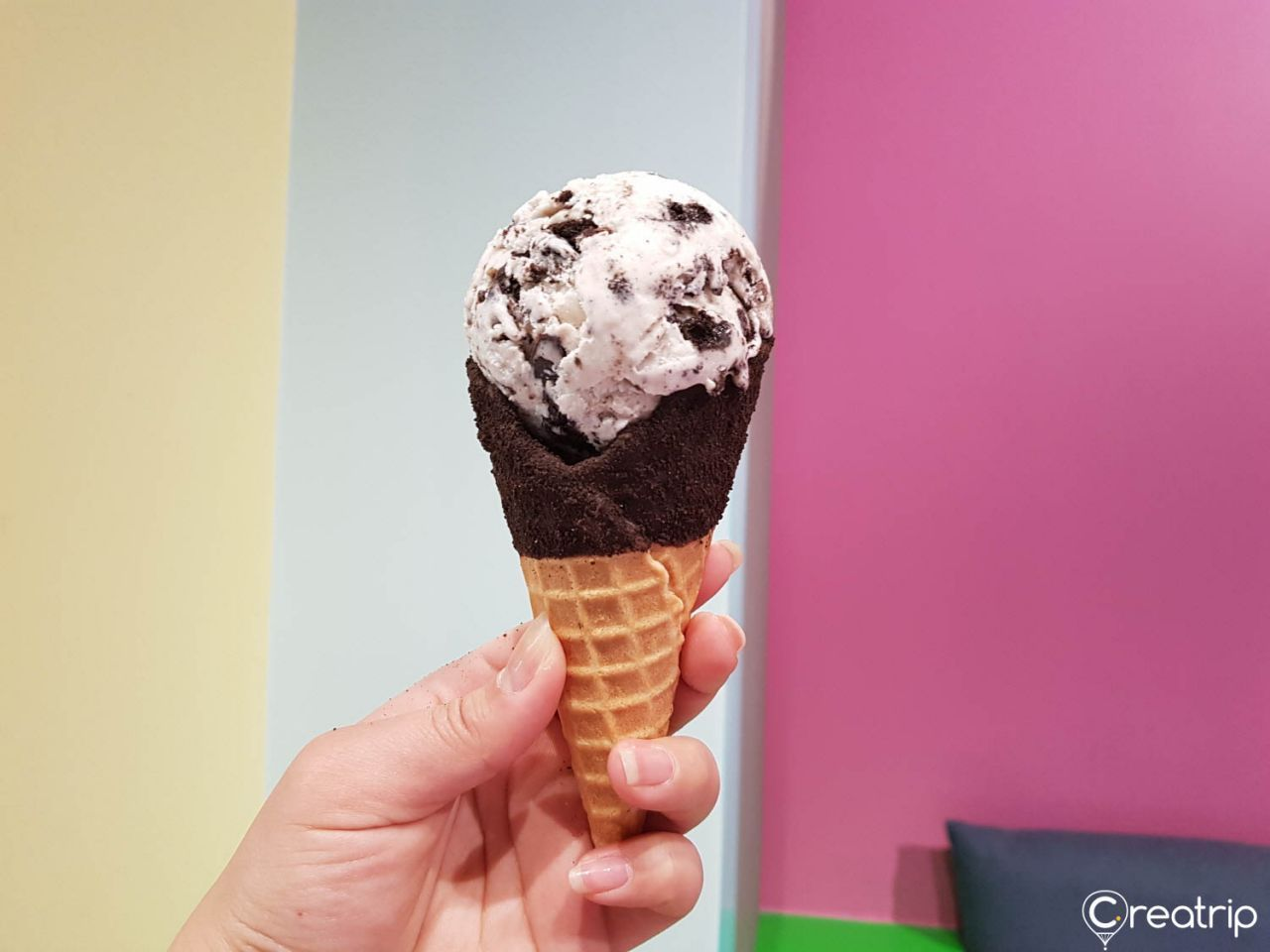 Address: 서울 중구 을지로 281
Hours: 10:00-22:00
Price: Ice cream cone starting at ₩4,500
This popular dessert franchise features a colourful space and an even more colourful selection of desserts! The variety of ice cream cones also make this place deserving of cute snaps.
---
THINGS TO DO
---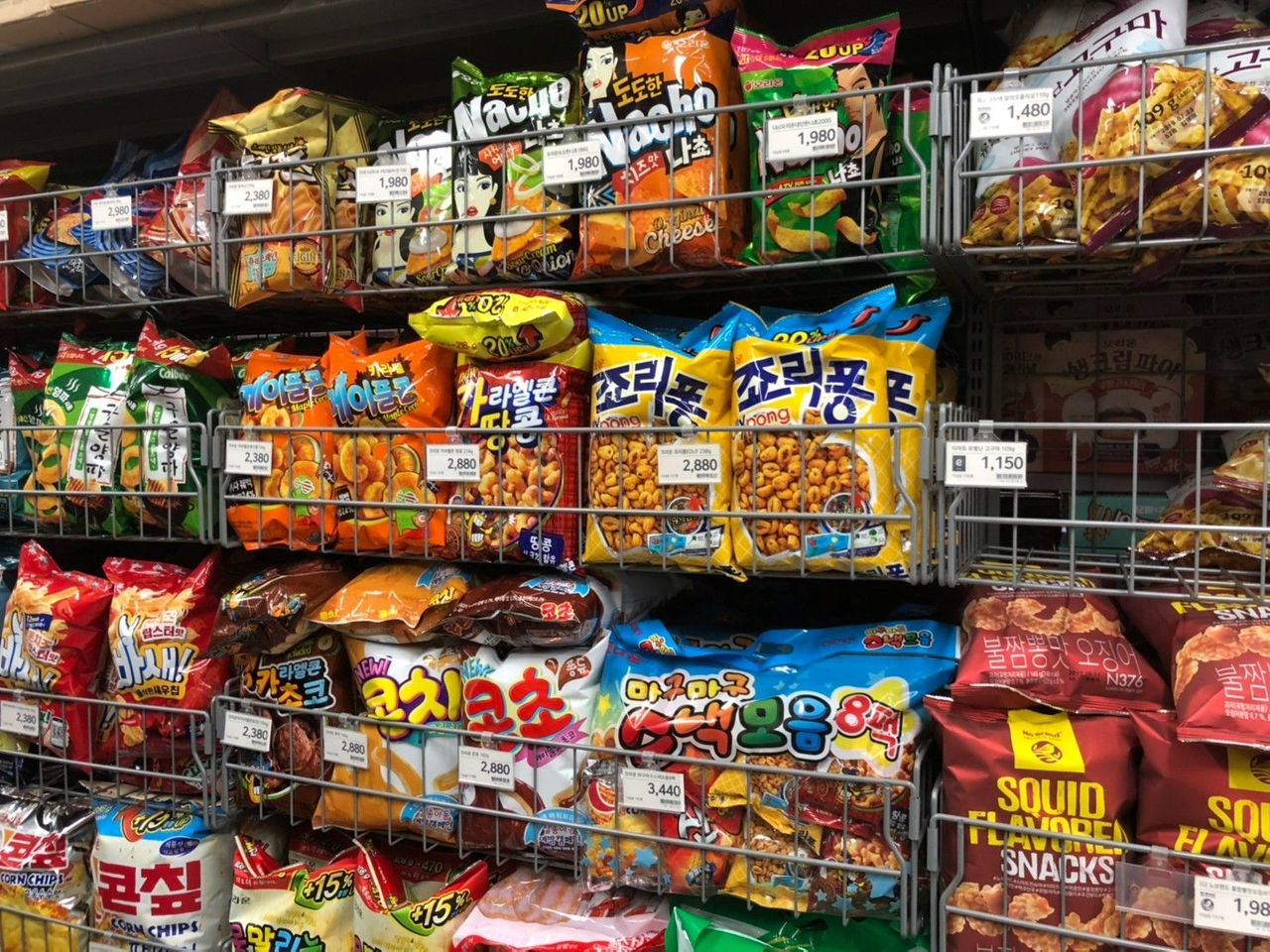 Address: 서울 중구 청계천로 400
Hours: 10:00-23:00 (Hours may differ depending on season)
The closest large supermarket you'll find in the Dongdaemun area is the Dongmyo branch located along Cheonggyecheon. Large franchise supermarkets are perfect for when you want to shop for everything from shampoo to snacks at great prices. The prices are lower than local convenience stores, so if you're looking to stack up on snacks to take back home or munch on, check E-mart out!
---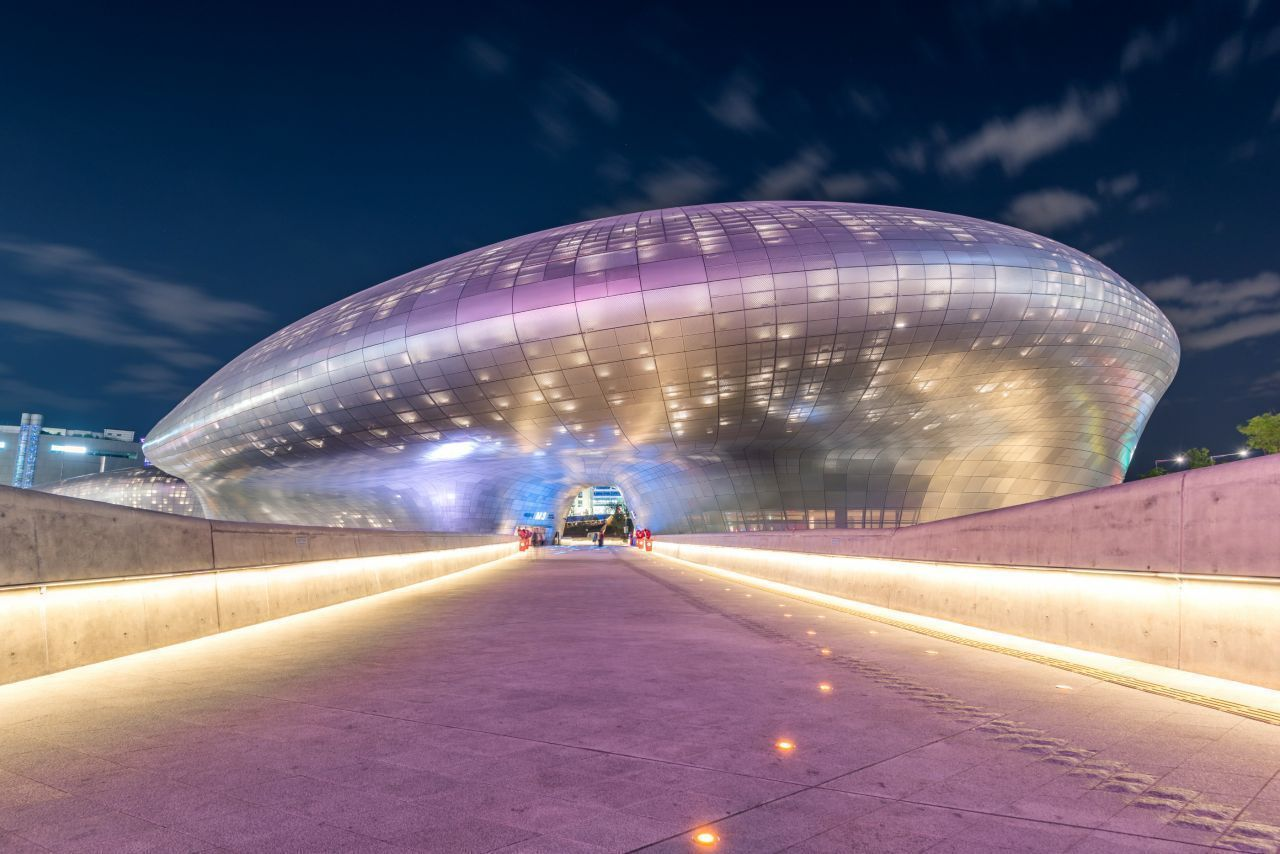 You'll come across the large luminous building while walking by in the area. It is in fact the works of the world renowned architect, Zaha Hadid. The large building is an arts and cultural space divided into a museum, design shops and markets, art hall and shops. Check out our DDP Guide to customize your DDP experience.
---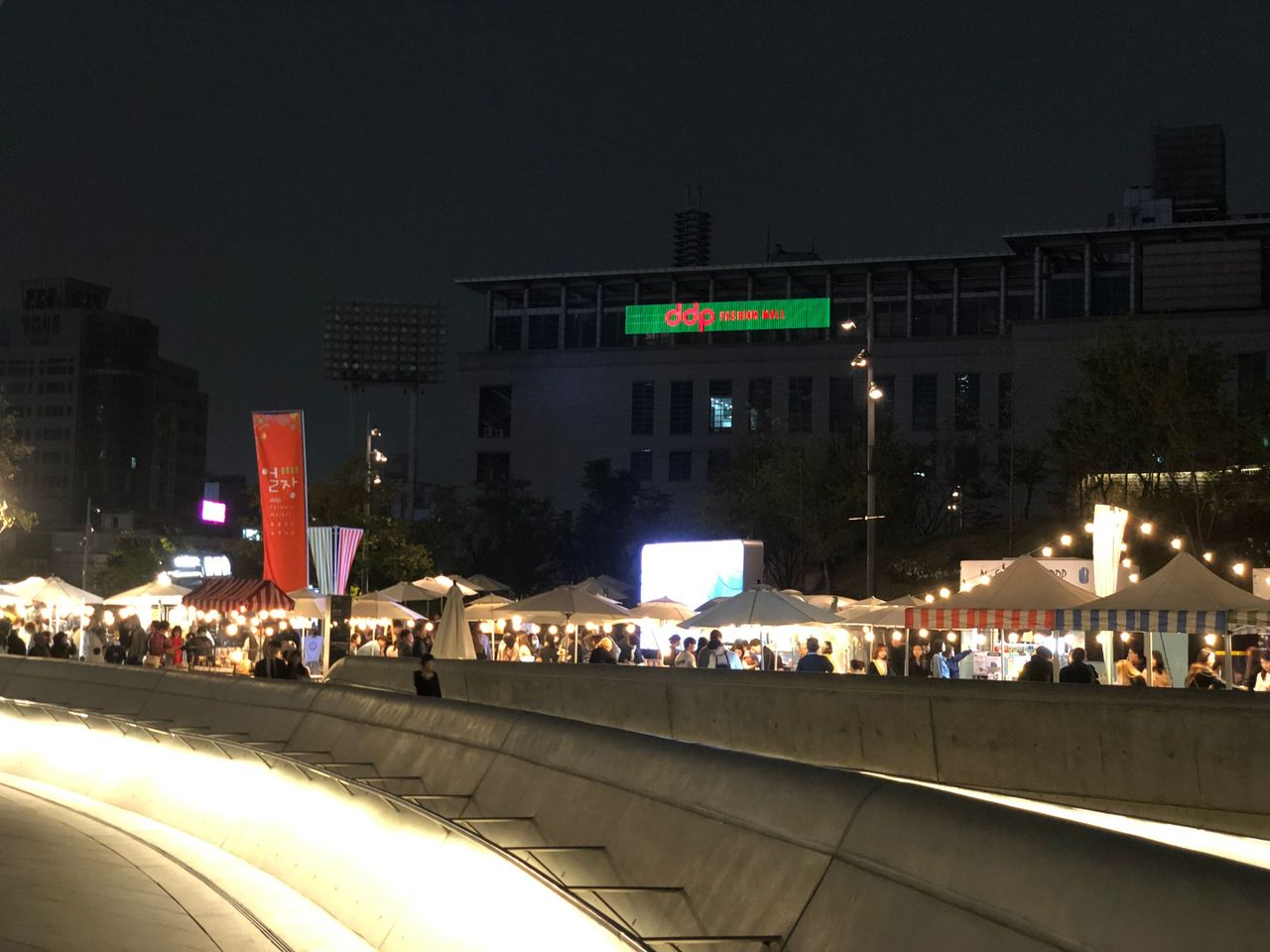 Location: DDP
Time: April to October (official dates differ by year)
For an array of food trucks and goods made by local designers, check out Bamdokkaebi Market at DDP. Bamdokkebi Market is a seasonal event hosted by the city of Seoul and opens at different locations throughout Seoul.
---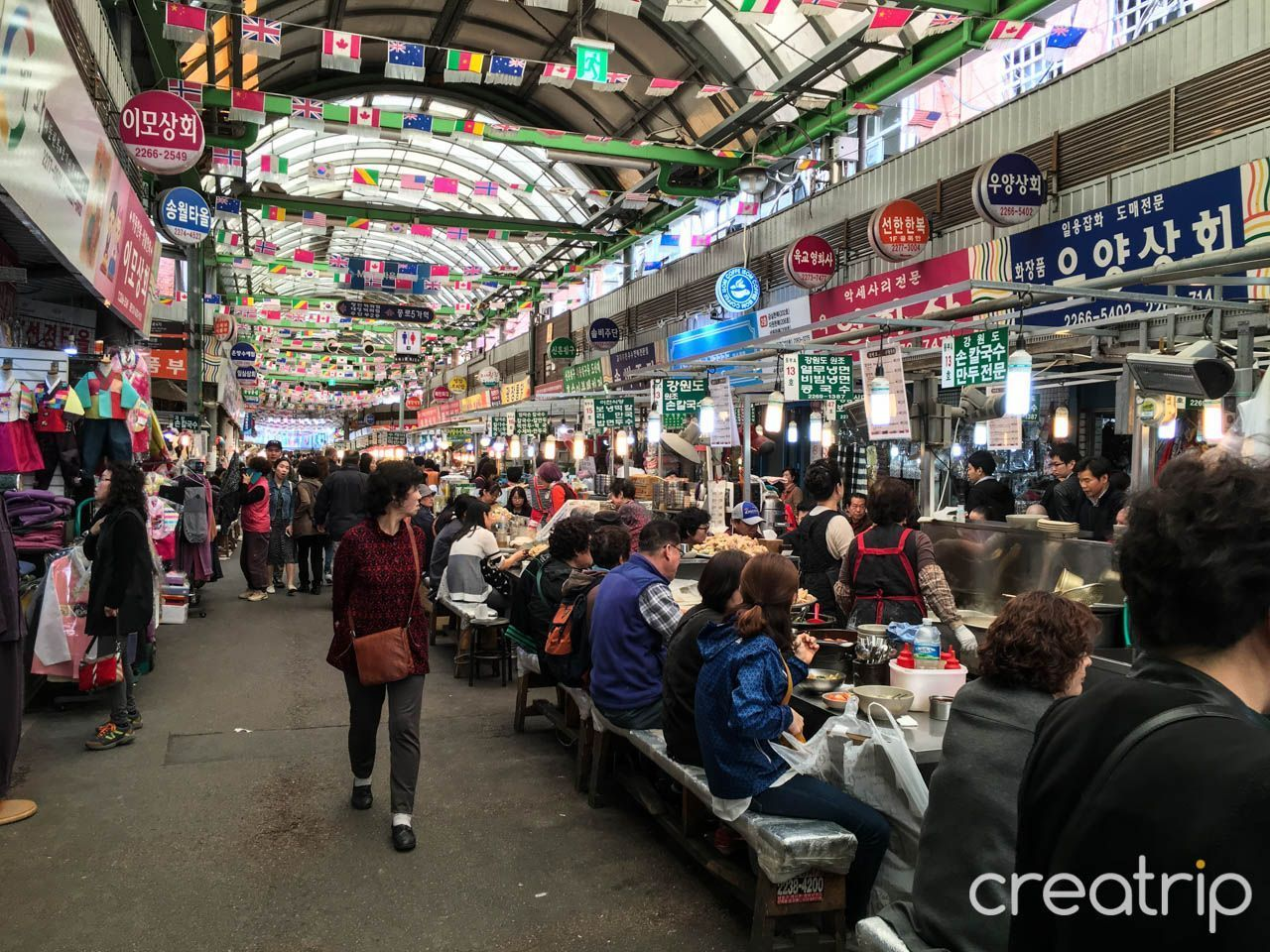 Address: 서울 종로구 종로4가 창경궁로 88
Location: An 8-minute walk from Dongdaemun Station Exit 9, a 1-minute walk from Jongno 5-ga Station exit 7
Hours: 09:00-23:00 (Hours differ by vendor)
This renowned market is a charming destination for travelers and locals alike. You'll find delicious street food cooked right on the spot as well as quality items including comforters and fabrics for sale.
---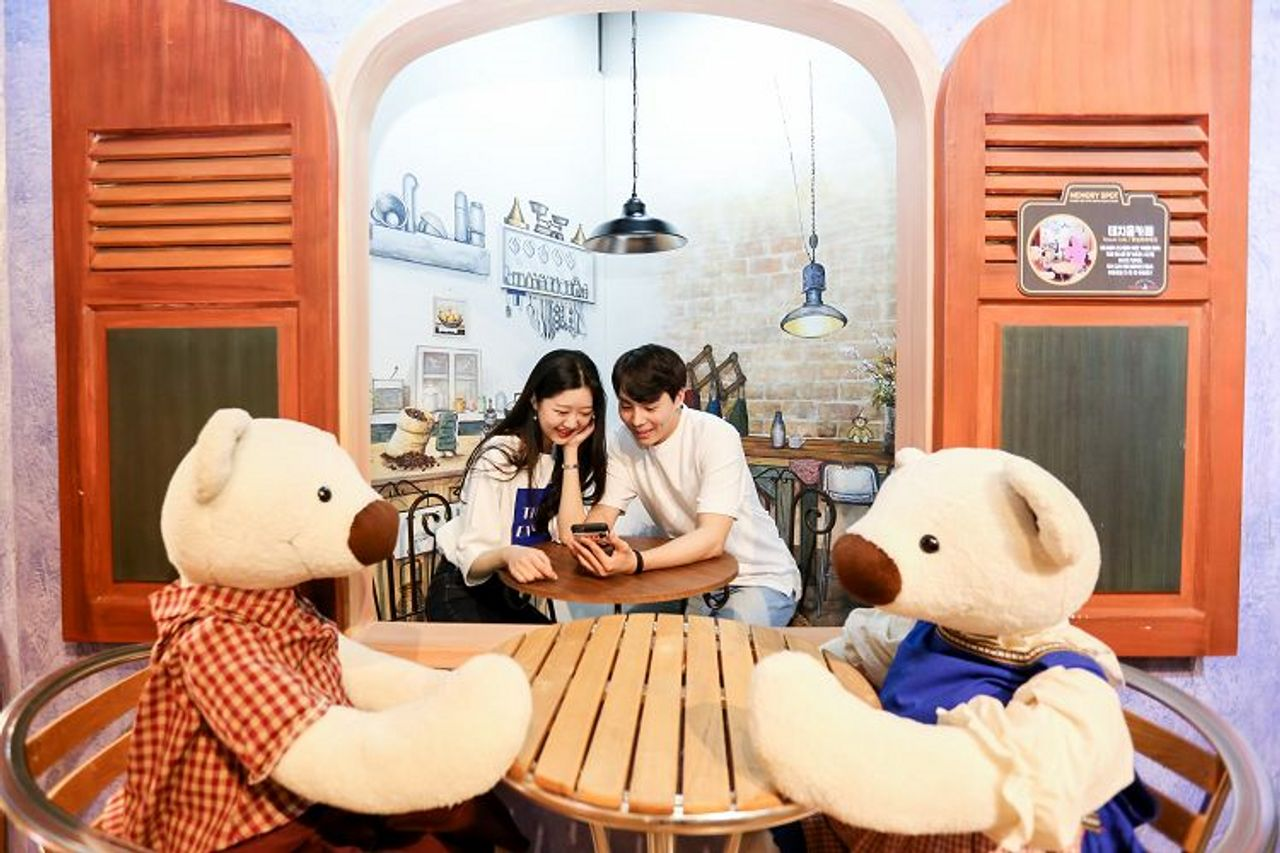 Address: 서울 종로구 창신1동 지봉로 19 B1
Hours: 08:30-19:00, Last entry 18:00
Price: ₩10,500 with online booking
Relive your fond childhood memories of teddy bears and snap adorable photos with life-size teddy bears! The various themes will present you from a painter teddy bear to ancient Korean gate keeper teddy bears in different outfits and backgrounds.
---
Others
---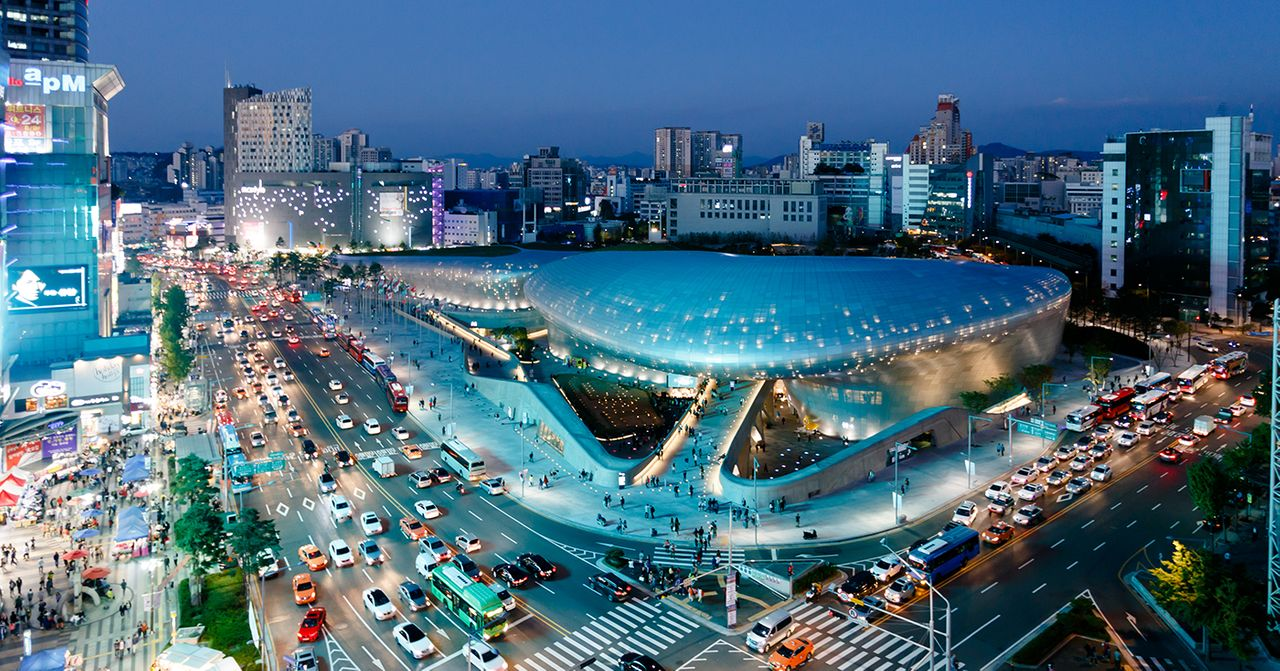 Our Transportation Guide to Dongdaemun covers essential transportation information for Dongdaemun including subway, public transportation facilities, airport buses and night buses.
---
Accommodation Review: Novotel Ambassador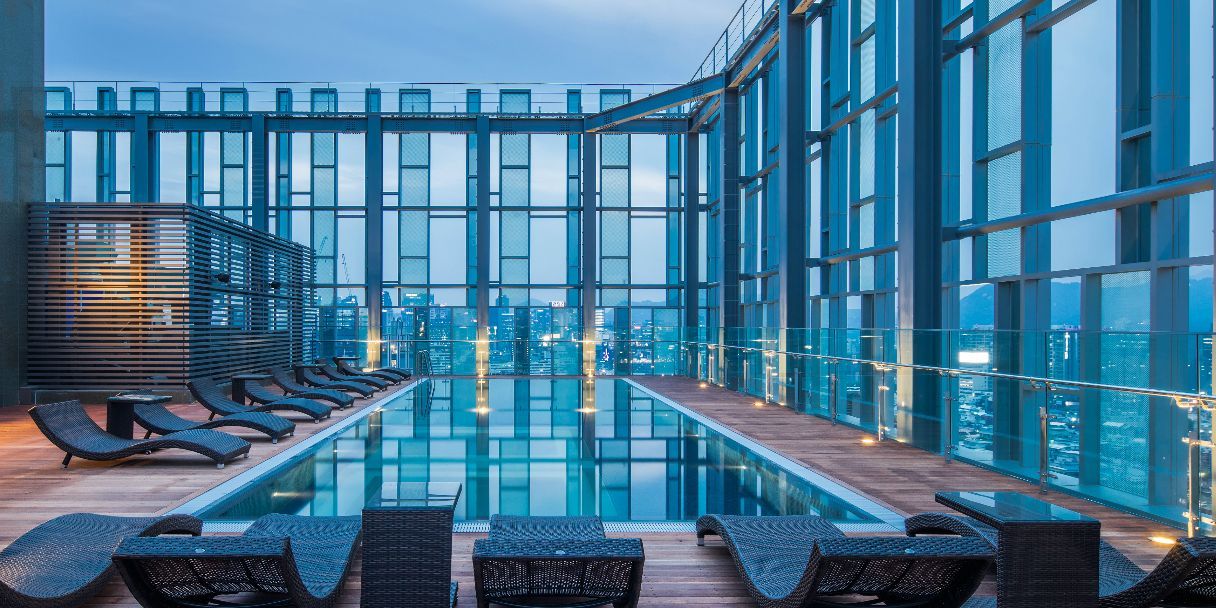 Address: 서울 특별시 중구 을지로 238
Metro: 3-minute walk from Dongdaemun History and Culture Park Station exit 11
Price: Starts at ₩110,000
Novotel is perfect for those looking for an accommodation that's not too shabby while not breaking the budget. The swimming pool makes it perfect for a relaxation after a busy day around Dongdaemun and some rooms offer bath tubs too. Check out our review to find out more!
---
We hope you found the guide helpful! Dongdaemun is certainly a unique area you want to explore whether you're looking to get some shopping done or simply to check out one of the most vibrant scenes in Seoul. Be sure to share your experiences there with us.
---
If you have questions or comments about the blog post, please leave them down below or email us at support@creatrip.com.
---