Lovin' Her | K-Pop Idol Event Cafe In Hongdae
A beautiful cafe in one of the trendiest parts of Seoul where you can celebrate your favorite idols' birthdays!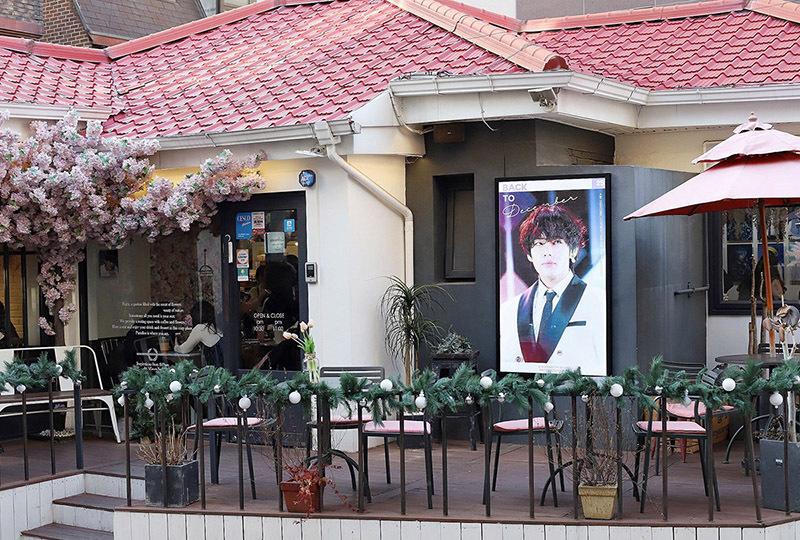 In Korea it is very common for cafes to host celebrations for idols' birthdays so fans can gather and celebrate together.
At Lovin' Her in Hongdae, there are events held year-round that fans organize to show their love and support for their favorite idols in a beautiful and whimsical setting.
For all K-pop fans visiting Korea, this cafe is a must, especially if you come around the time of your fave's birthday, of course.
And as a bonus, Creatrip members can receive a 10% off coupon, valid for all menu items!
---
Due to the spread of COVID-19, the number of people allowed and business hours may be limited, or a vaccine pass may be required.
Please refer to the linked blog for the latest social distancing restrictions.
Latest Social Distancing Restrictions
---
Information
Address: 서울 마포구 동교동 신촌로6길 22
22 Sinchon-ro 6-gil, Donggyo-dong, Mapo-gu, Seoul
Hours: 10:00-20:00
May vary depending on the event
Public Transportation: 3 minute walk from Exit 6 of Hongik University Station (홍대입구역)
---
Reasons For Recommendation
This gorgeous flower cafe hosts K-pop fan-organized events throughout the year.
Fans can conveniently get together to celebrate their favorite idols' birthday here.
Creatrip members can receive 10% off all menu items.
---
Things To Keep In Mind
Please present your Creatrip coupon to cafe staff when you pay to receive your 10% discount.
You do not need to make a reservation to use the coupon.
If you have problems using your coupon, please contact support@creatrip.com.
Menu options are subject to change per the cafe's situation.
Please refer to Lovin' Her's official Twitter for details on all upcoming events (@lovinherflower)
---
Menu
Beverage

Price (KRW)
Americano
아메리카노

5,000 won

Strawberry Condensed Milk Latte
딸기 연유 라떼

6,000 won

Royal Milk Tea
로얄밀크티

6,000 won

Peachade
피치에이드

6,000 won

Peach Iced Tea
복숭아 아이스티

5,000 won
---
Event Schedule
| | |
| --- | --- |
| Dates | Event |
| December 25-30 | BTS V |
| January 9-11 | WINNER Seung Hoon |
| January 14-16 | Day6 Sungjin |
| February 6-9 | NCT Johnny |
| February 11-13 | 2PM Chansung |
| February 26-28 | SF9 Taeyang |
| March 1-4 | TXT Debut Anniversary |
* For other detailed event information and updates, check Lovin' Her's official Twitter @lovinherflower
---
Our Visit
Lovin' Her in Hongdae holds various K-pop events throughout the year, so many fans come to visit for specific events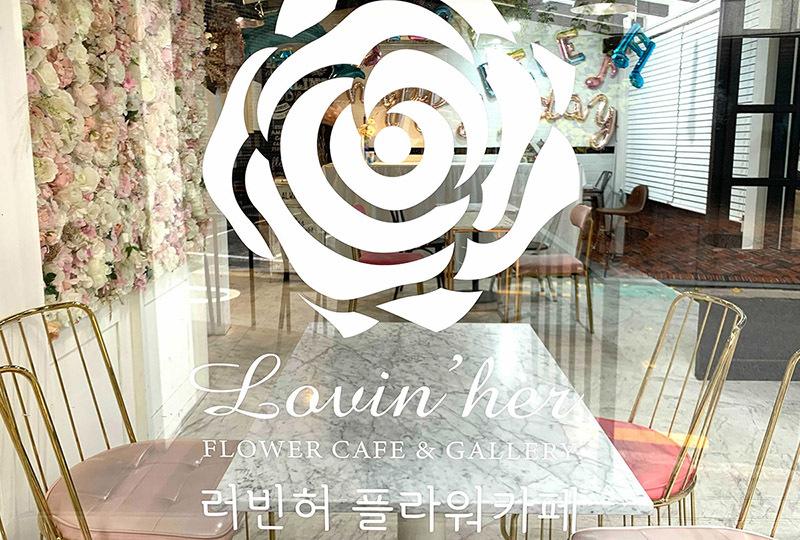 There are a lot of cute and pretty photo spots adorned with flowers located around the shop.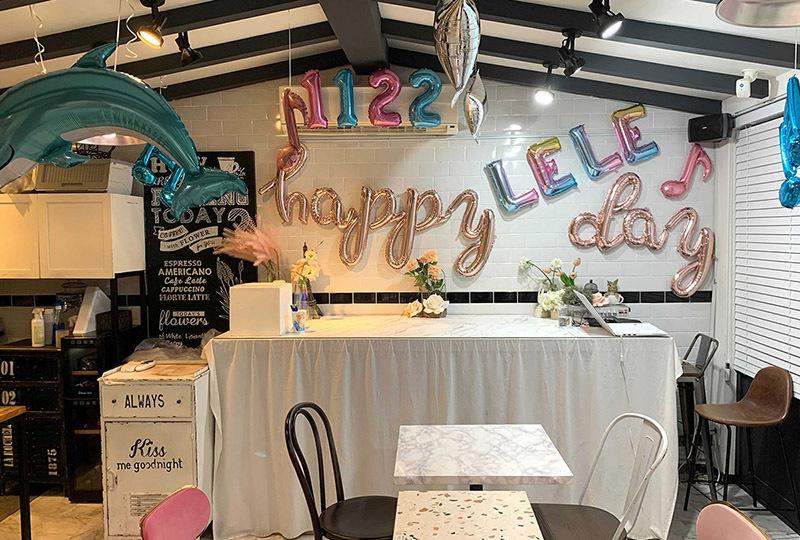 When you enter the shop, you will be greeted by festive balloons and other decorations that really make it feel like a birthday party.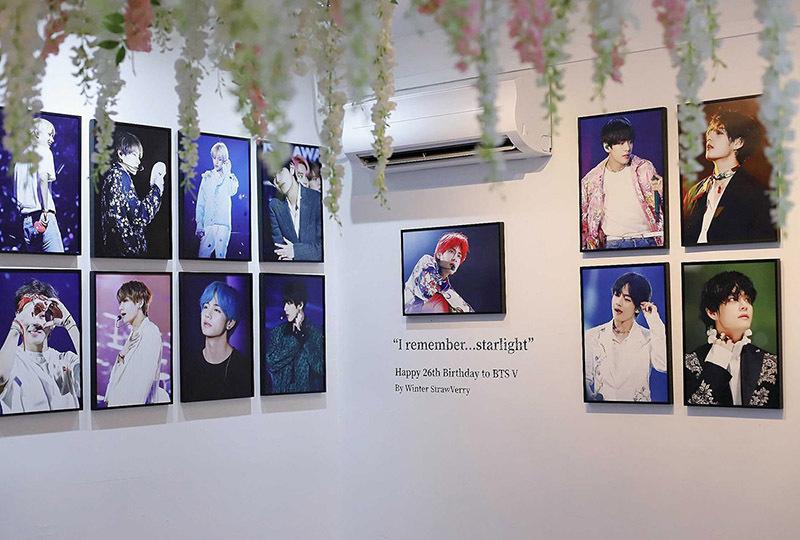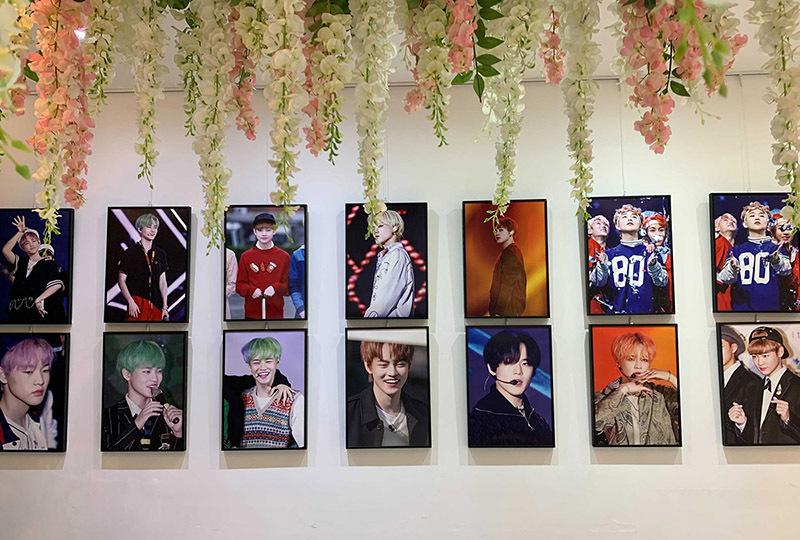 Photo galleries like this will be set up for an idol's birthday.
Fans can chat about the different looks from each era, which were their favorite ones, favorite hair color and style, etc.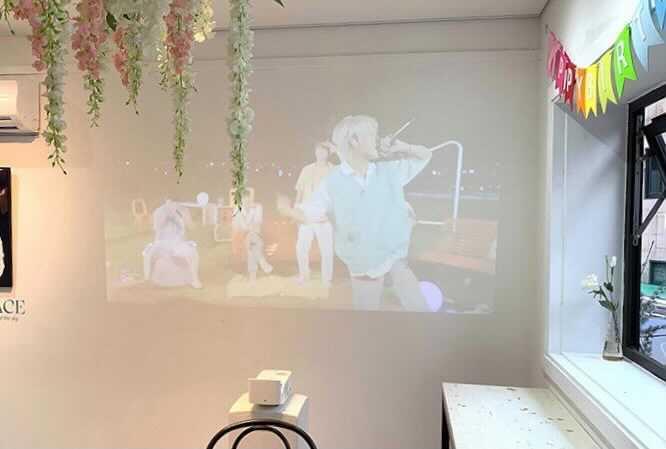 Something that many people love is that this cafe doesn't just play the music of the idol, they also have a projector playing music videos.
The seats with a view of the projector screen are highly coveted, so if you happen to see an open seat in that area, be sure to grab it.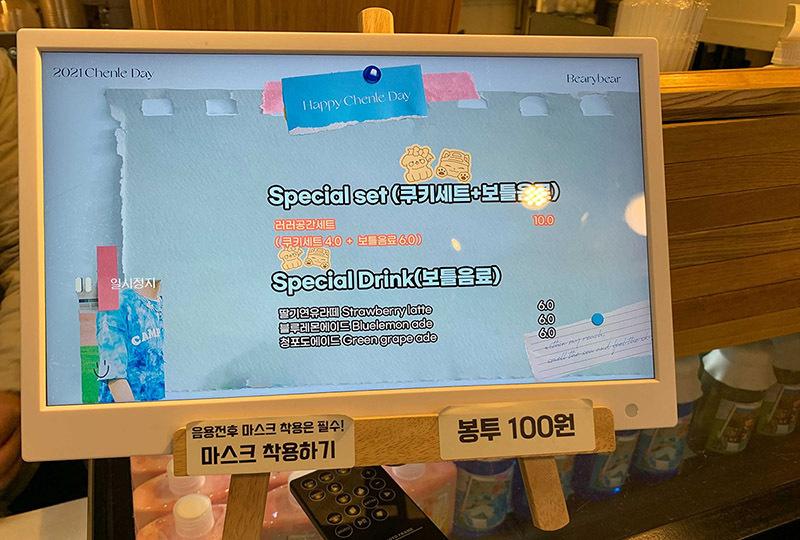 At the counter, the menu will be displayed on the screen like this, customized for each event.
Aside from the special menu item for the birthday event, there are regularly offered items as well such as coffee, tea, and ade.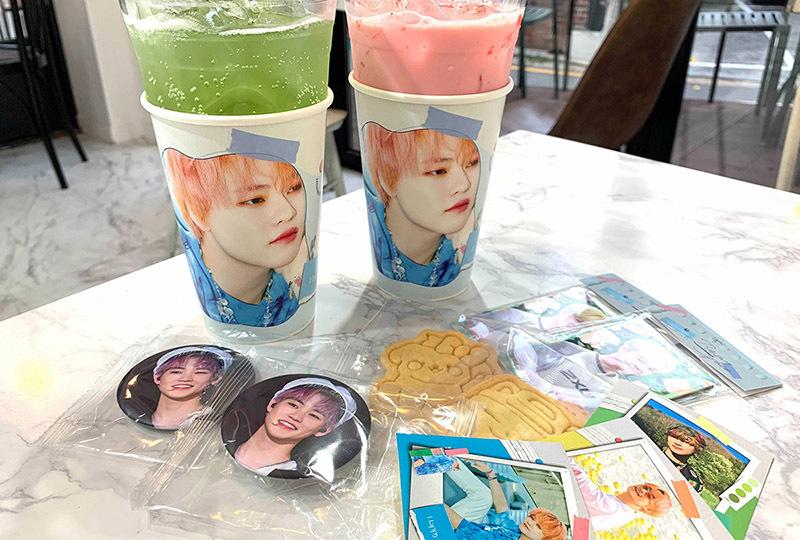 We visited during NCT Chenle's birthday event and there were many other fans gathered throughout the day to celebrate him and show their support for him.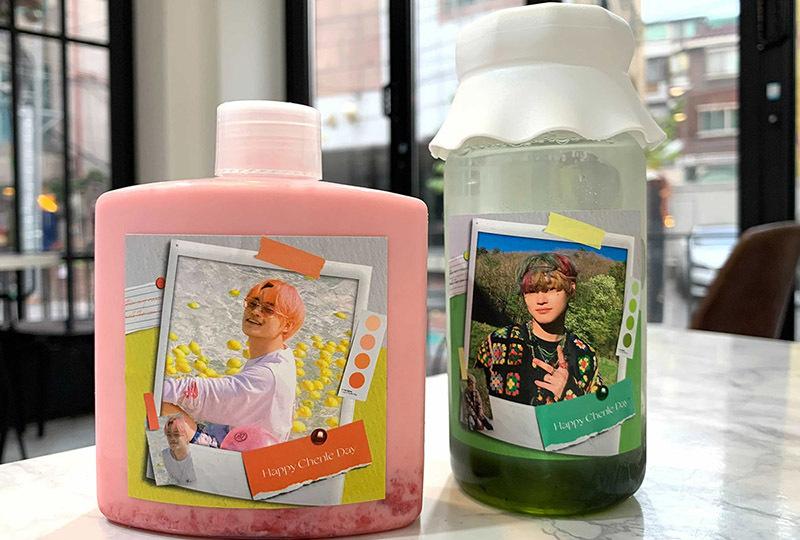 All the commemorative souvenirs were prepared by fans. They are so well done and looks so nice, it almost seems a shame to drink these.
We also got some pictures from BTS V's birthday event!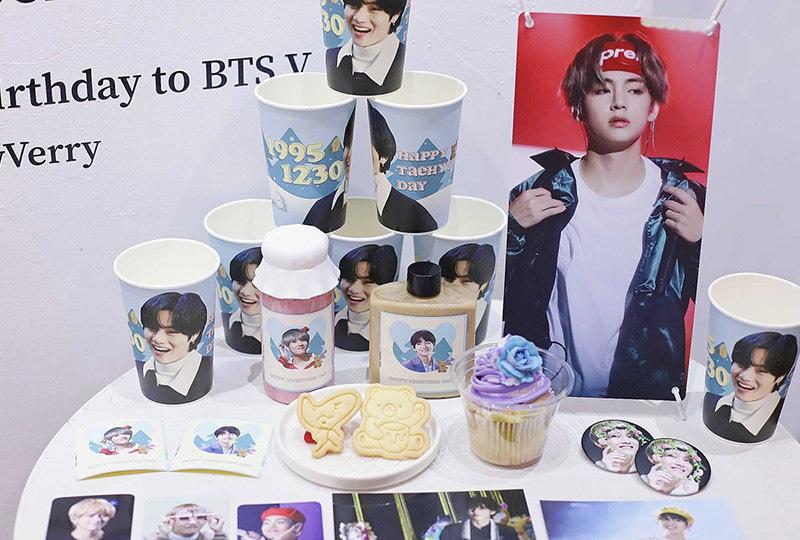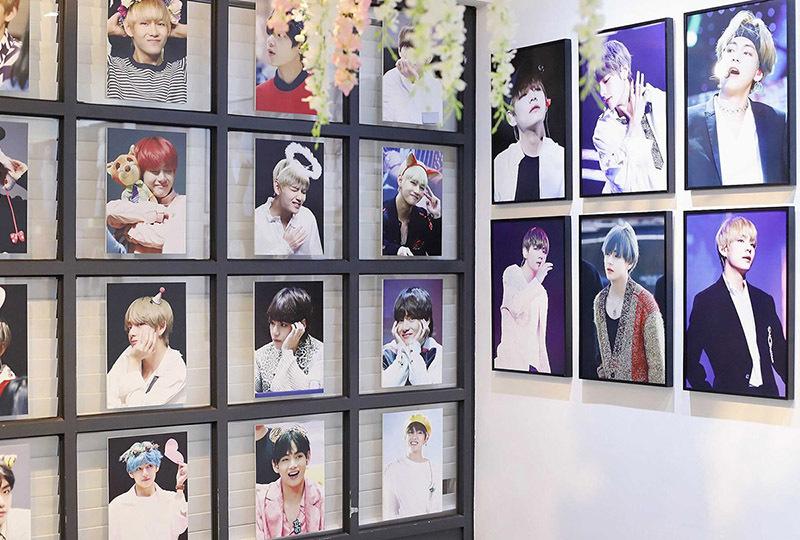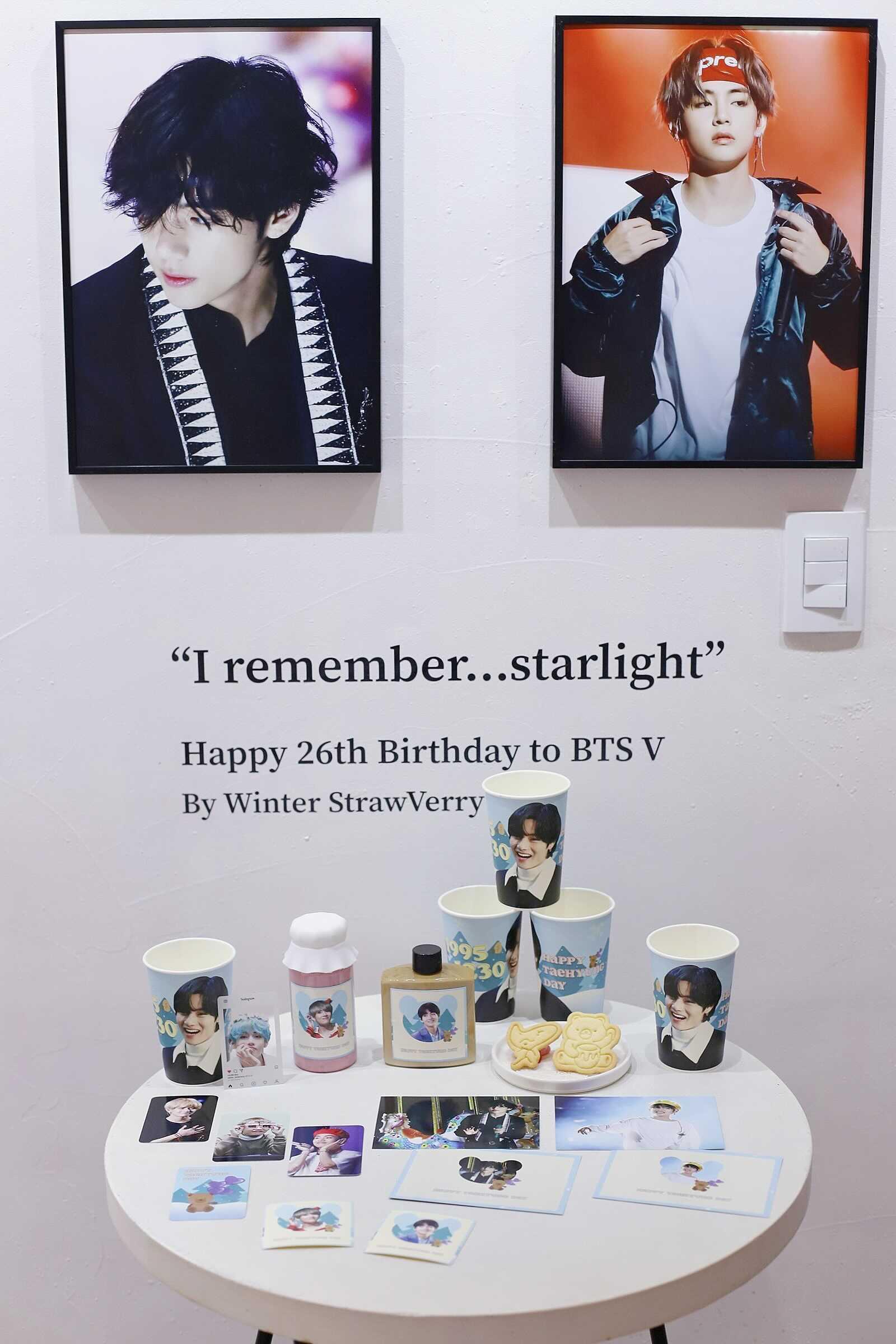 We had a lot of fun visiting Lovin' Her, and if you are a K-pop fan, we're sure you will too!
---
How To Get There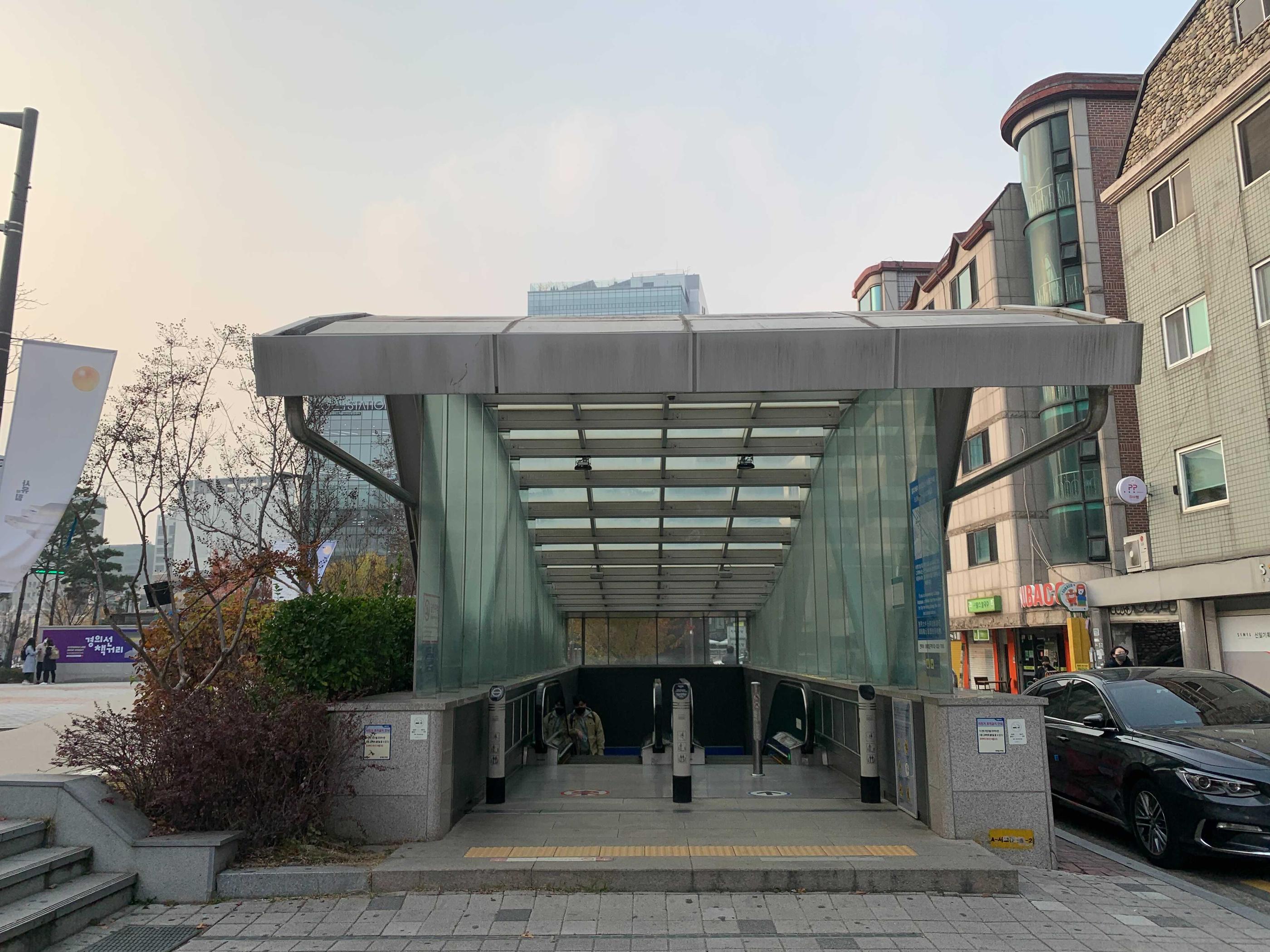 Go out Exit 6 of Hongik University Station (홍대입구역).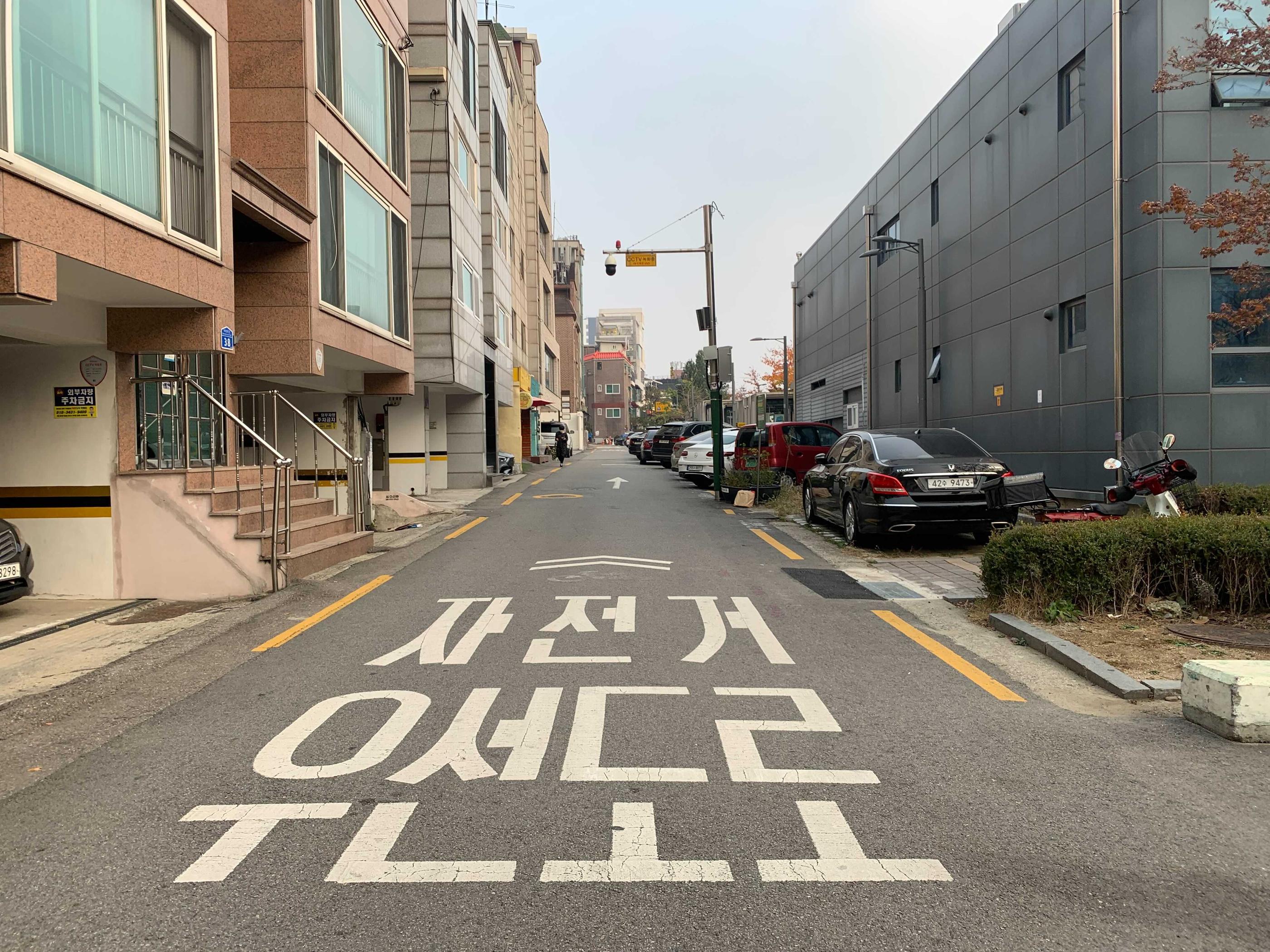 Go straight down this road that you see immediately after exiting the subway station.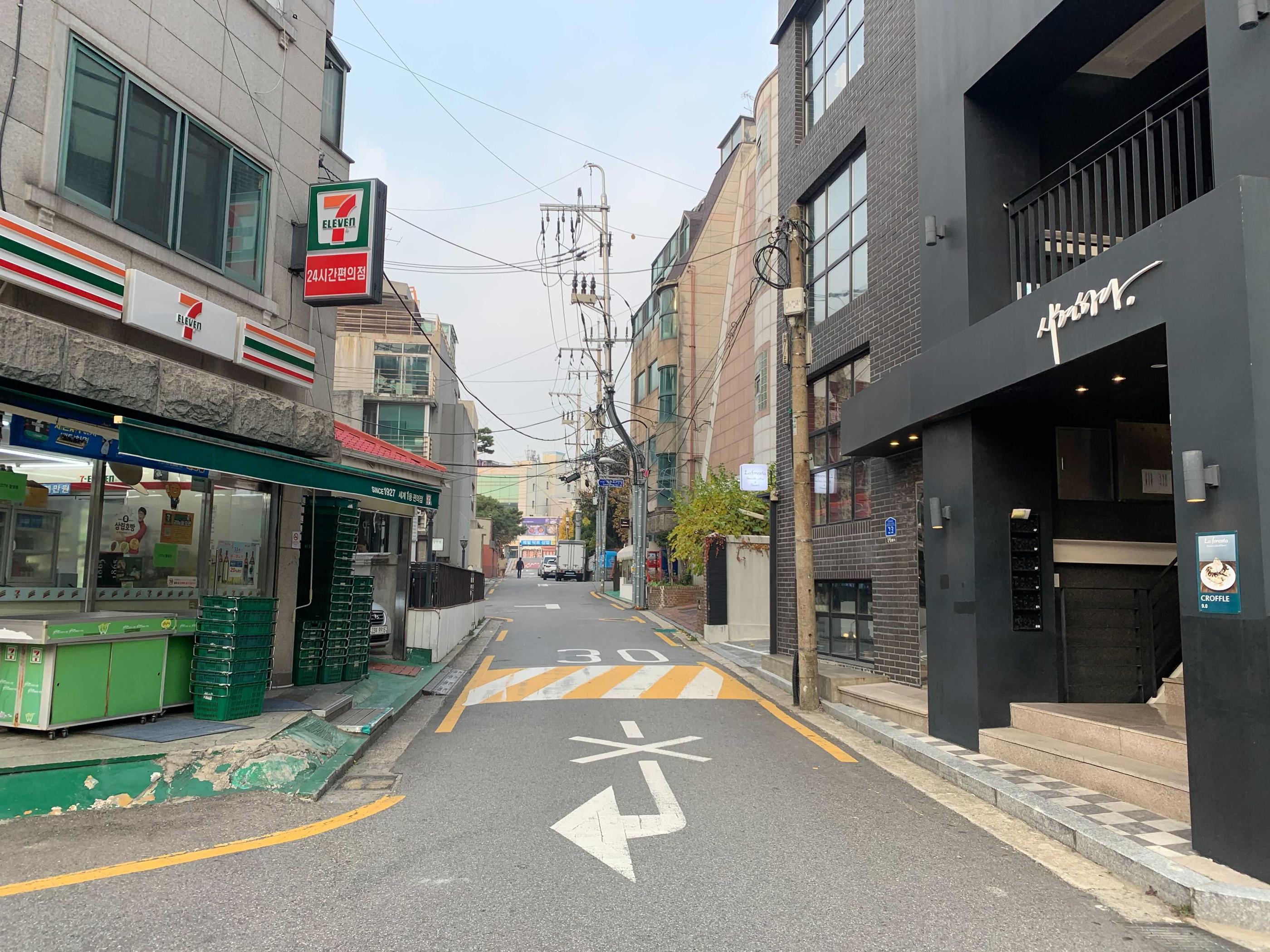 When you see the 7-Eleven on your left, turn left and you will see the cafe on your left.
---
For all K-pop fans, we hope you get a chance to visit Lovin' Her the you travel to Korea!
It would be even better if you got the chance to visit for your ult's birthday event, wouldn't it?
Don't forget to download your 10% off coupon!
---
---