Lotte World Full Day Pass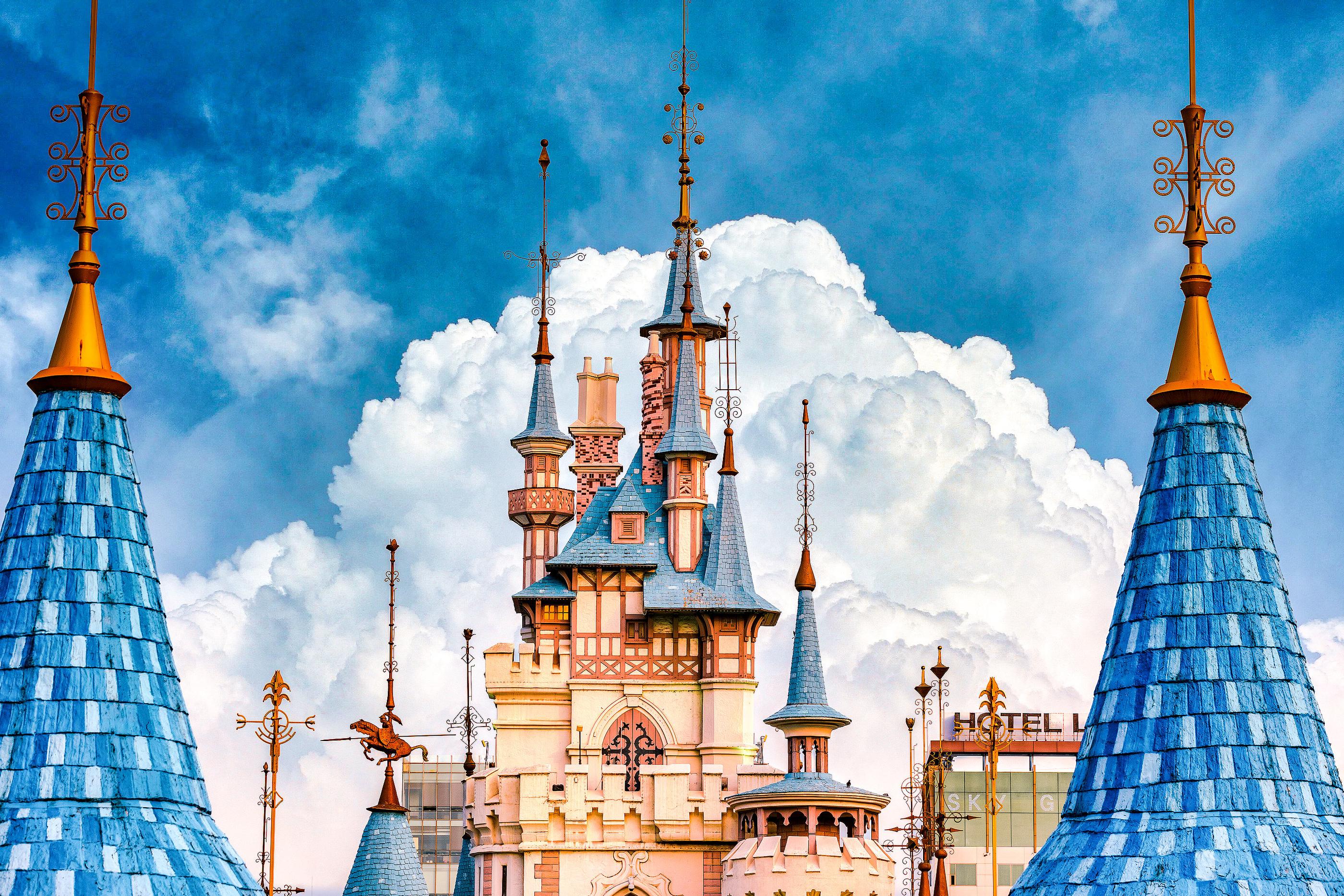 Lotte World is a famous theme park in Seoul, known for being the most accessible due to its central location in Songpa-gu, in Seoul. It is a theme park that is loved by everyone regardless of age due to its variety of attractions and rides. At the entrance, Lotte World's mascots, Lottie and Lori will welcome you warmly, making you even more excited to start your day at the theme park! After enjoying your day you can enjoy a nice dinner at a restaurant nearby Jamsil Station!
---
Lotte World Full Day Pass
Lotte World Full Day Pass | Reserve Here
---
Information
Address: 서울 송파구 올림픽로 240
240 Olympic-ro, Songpa-gu, Seoul
Hours: Daily 10:00-21:00
---
Why We Recommend It
Lotte World is located near major tourist attractions in Seoul Due to its central location, it is very accessible as it is located right next to 'Songridan-gil' at Jamsil Station.
The interior of the theme park is beautiful and resembles a fairy tale. There is much to see even if you do not plan of riding any of the rides. It is also a great place for those that want to take photos, as the interior is so aesthetic.
The amusement park is divided into indoor and outdoor areas, so it is a great place to come regardless of the weather.
If you are a thrill seeker, there are many fun rollercoasters that you should try such as the 'French Revolution, 'Gyrodrop', and 'Atlantis'!
---
Things to Keep In Mind
1. Lotte World
The price for the Day Pass is the same for adults, young adults, and children.
You must make a reservation at least 2 days in advance. You can book tickets up to 30 days in advance.
The ticket is in the form of a web ticket linked to a URL. You can enter the ticket immediately by presenting the QR code in the URL without needing to exchange it at the ticket office.
You cannot use a screenshot to enter as the QR codes are constantly changing for security purposes. Customers who cannot use data are recommended to connect to 'LOTTE FREE' Wi-fi in Lotte World.
Once the ticket has been sent, you cannot refund or cancel your reservation.
If you have any questions, please contact support@creatrip.com.
Entrance is allowed up to one hour before closing time.
---
Price
1. Lotte World

Item

Price


59,000 KRW

41,000 KRW


---
How to Reserve
1. Lotte World

Step 1




Make a reservation on the Creatrip reservation site.




Step 2




Please enter the details required for your reservation.



Step 3




Please complete the full payment.



Step 4


1. Lotte World


Creatrip reservations will be confirmed within 1-2 business days of booking and a voucher will be issued.




Step 5


1. Lotte World
There is no need to exchange the ticket at the ticket office, just show the QR code to the staff, and then you will be able to enter immediately.




---
Lotte World Recommended Rides
1. Atlantis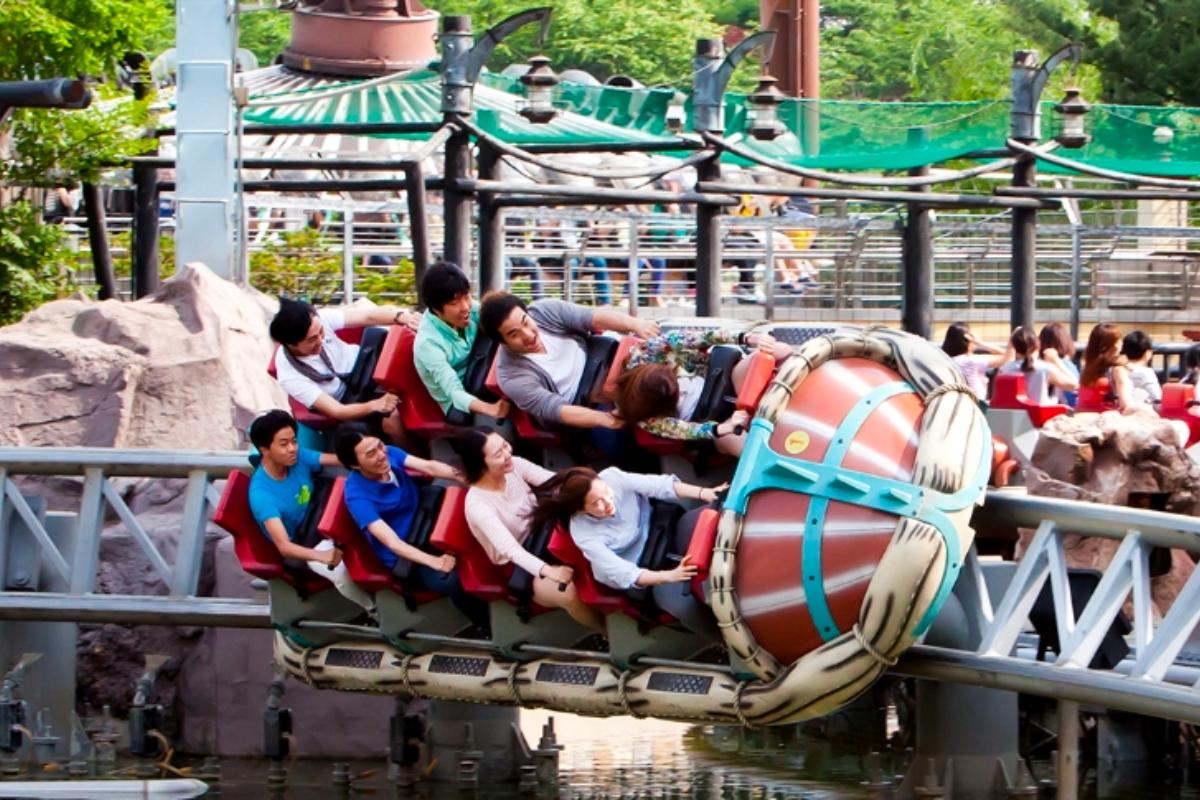 Source: Lotte World
Atlantis is the most popular attraction in Lotte World. It is a thrilling roller coaster that runs on the water at a very high speed. If you are someone that enjoys thrill rides and seeks an adrenaline rush, we highly recommend waiting in line and giving it a try!
2. Gyro Swing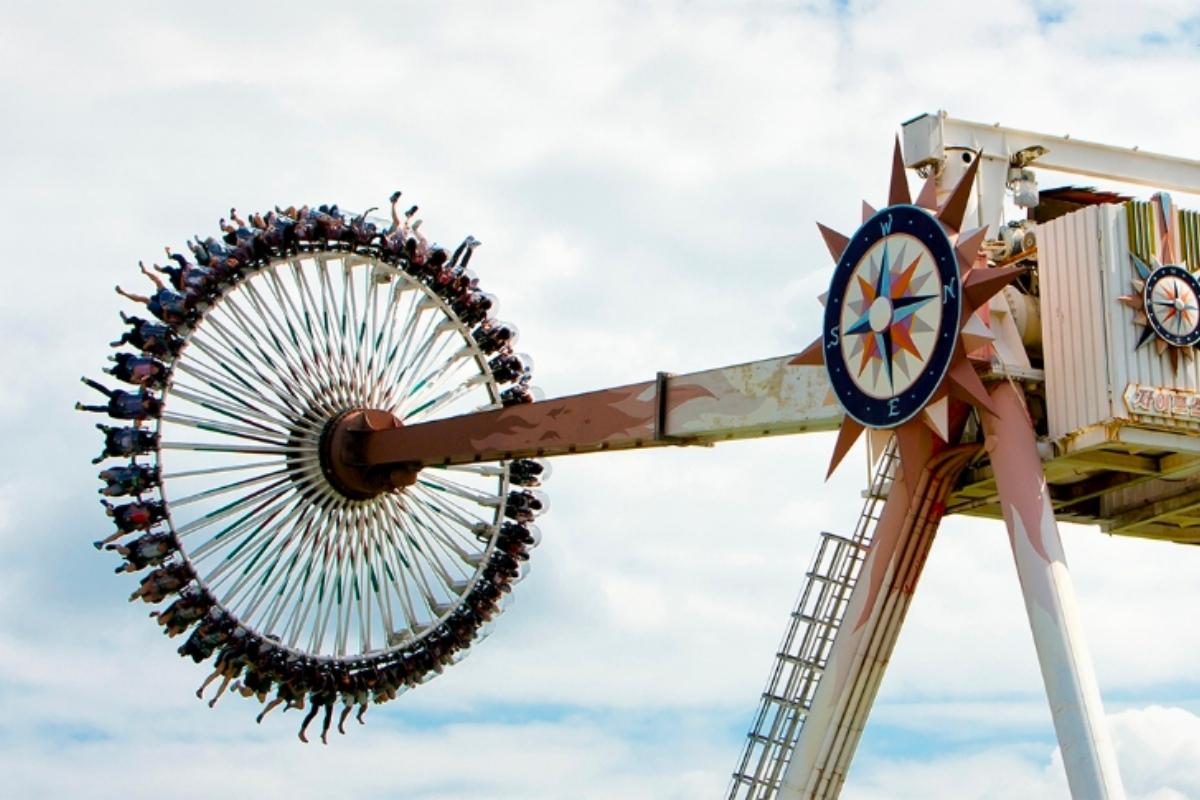 Source: Lotte World
You have most likely seen many bungee drops that just fall straight down. However, at Lotte World, you can try out the Gyro Swing, which spins around while swinging back and forth in the sky! Once you see this place in person you might get surprised by its size.
Maybe it is because it can hold so many people, the wait here tends to always be a little bit less than on other rides!
3. The French Revolution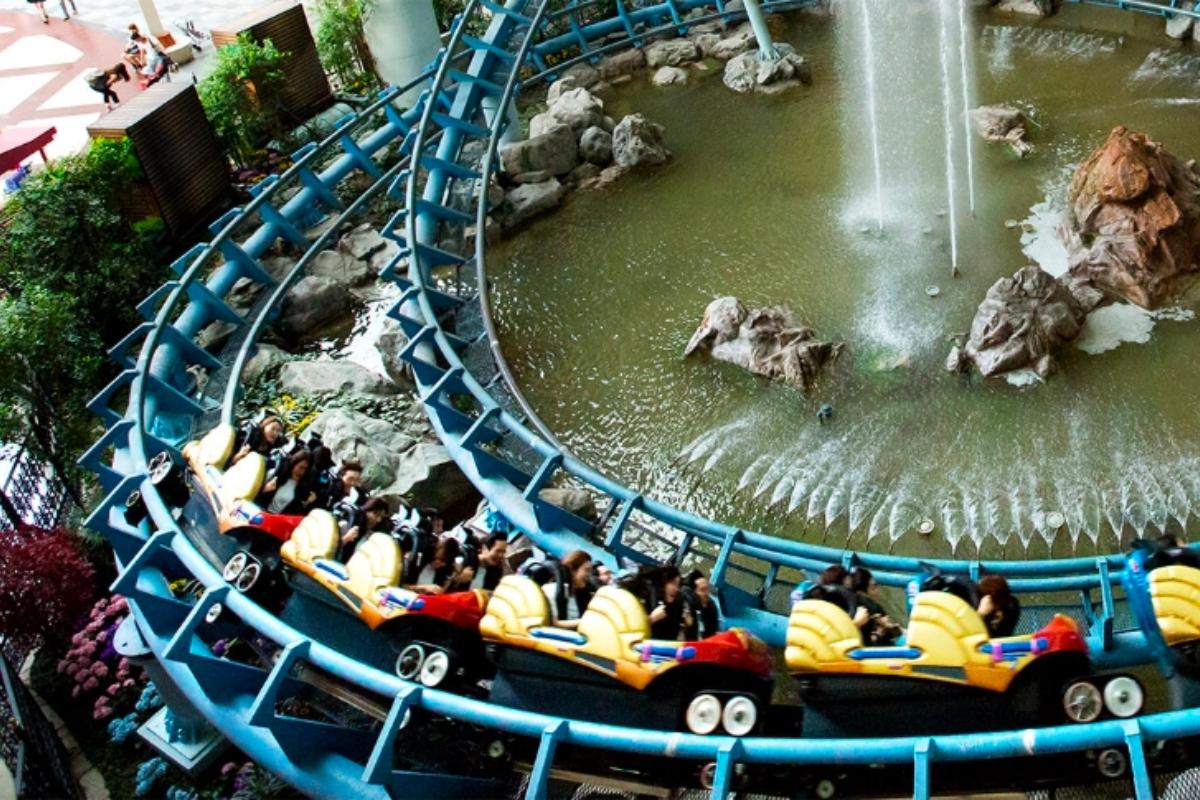 Source: Lotte World
If Atlantis is the best-known outdoor rollercoaster at Lotte World, The French Revolution is the most popular indoor roller coaster at Lotte World! This rollercoaster is in the indoor section of Lotte World and spins around all over the theme park. It is truly a fun ride to try out!
4. The Adventures of Sinbad
Source: Lotte World
For those that are not that good at riding rollercoasters, we recommend trying out The Adventures of Sinbad! This ride is a story-themed adventure ride that's great for both kids and adults alike!
5. The Conquistador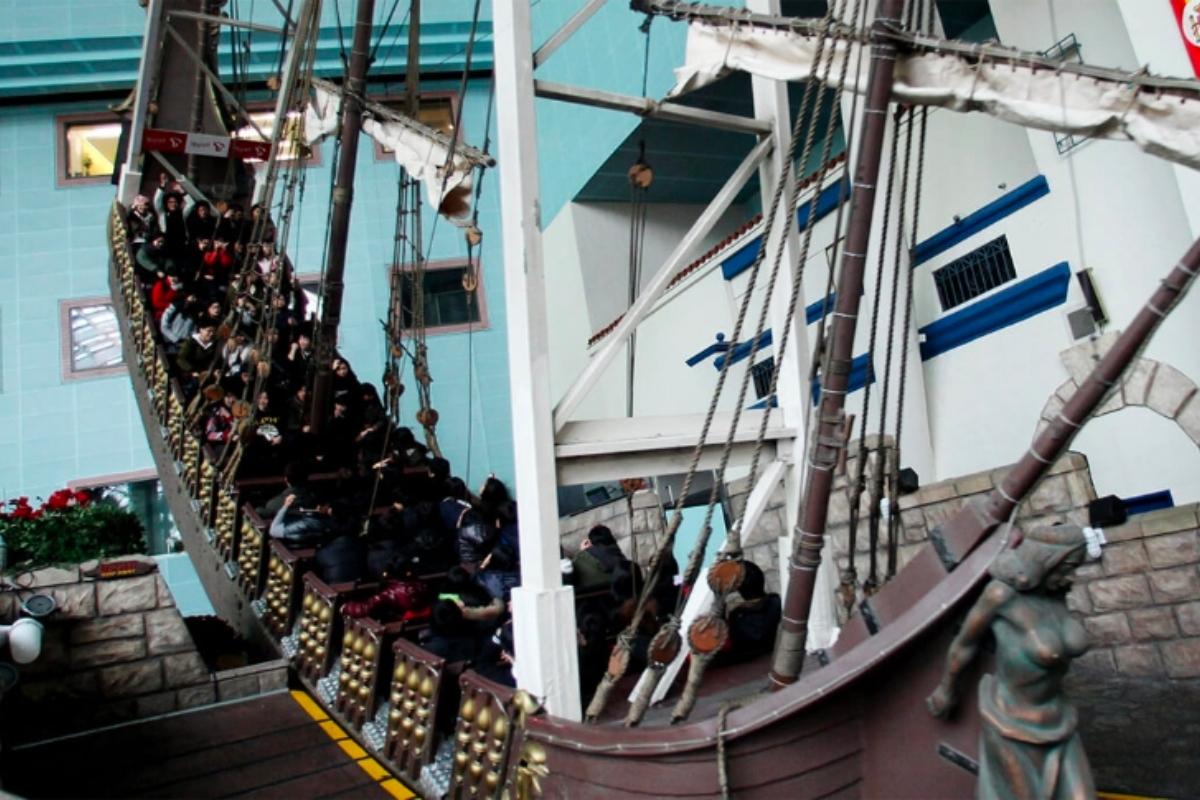 Source: Lotte World
The last ride we recommend is The Conquistador! If you want a more thrilling experience, sit in the back seat! However, for those looking for a calmer ride, you can sit in the middle section. The ride experience varies based on where you choose to sit.
---
Lotte World Christmas: Miracle Winter (11/19-12/31)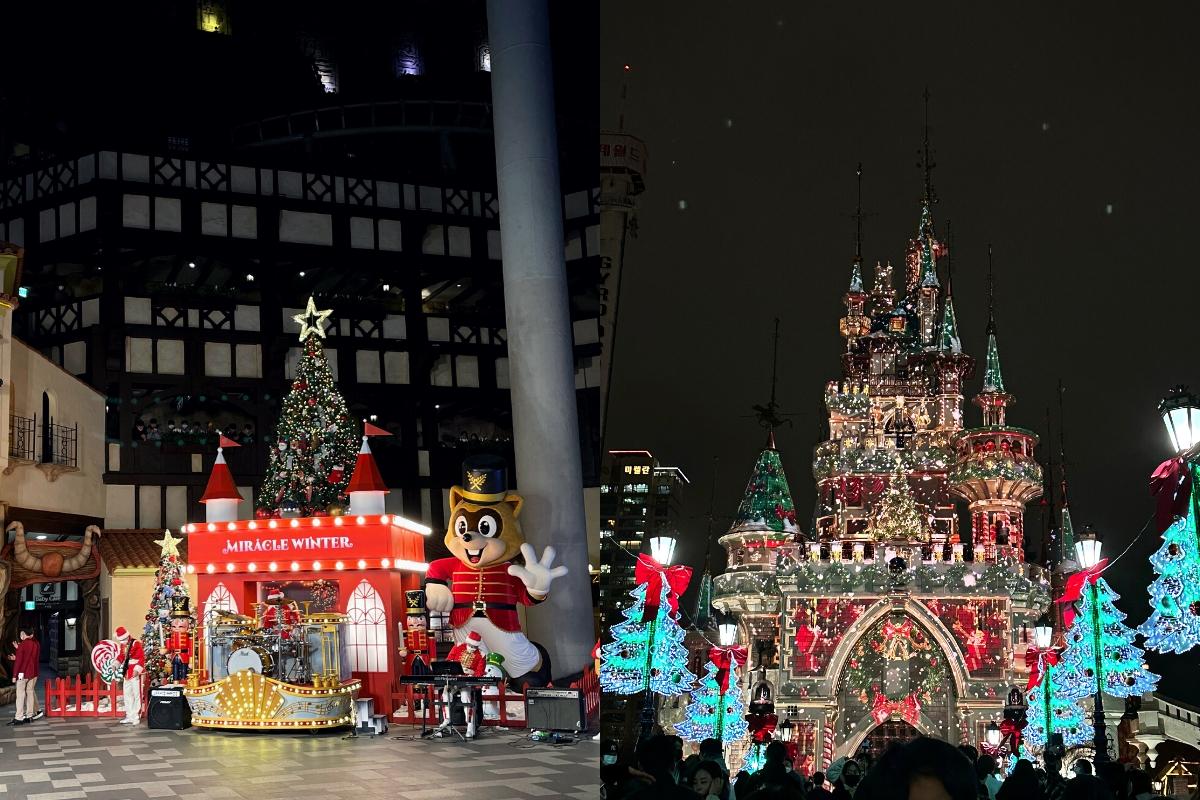 If you're in Korea during the Christmas season, you have to visit Lotte World! There are Christmas decorations everywhere and all kinds of special events like parades, seasonal foods and goods, and the best photo spots! Even though the weather is cold during winter, Lotte World is a great place to visit because it has both indoor and outdoor areas, so you don't have to worry about being cold if you stay inside. We couldn't miss out on visiting Lotte World during Christmas this year, so come check it out with us!
Christmas Goods & Seasonal Foods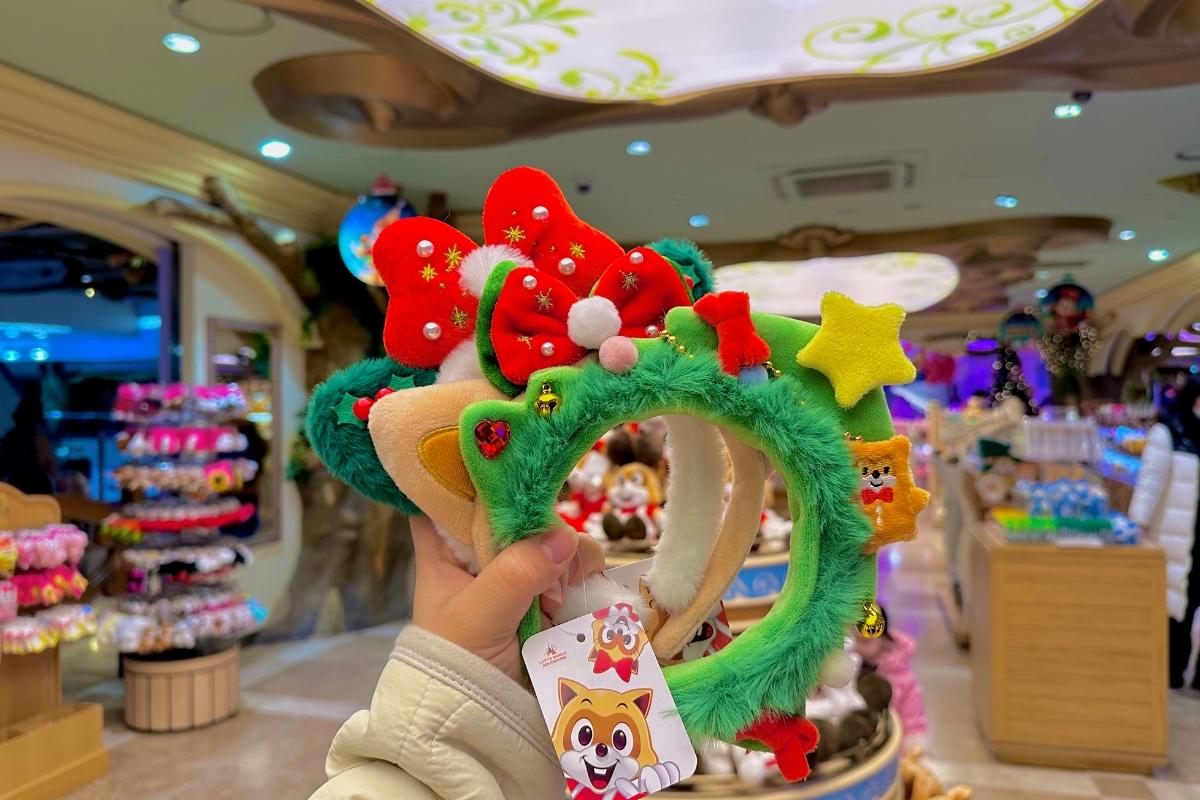 Christmas-Themed Headbands (9,000 KRW - 10,000 KRW)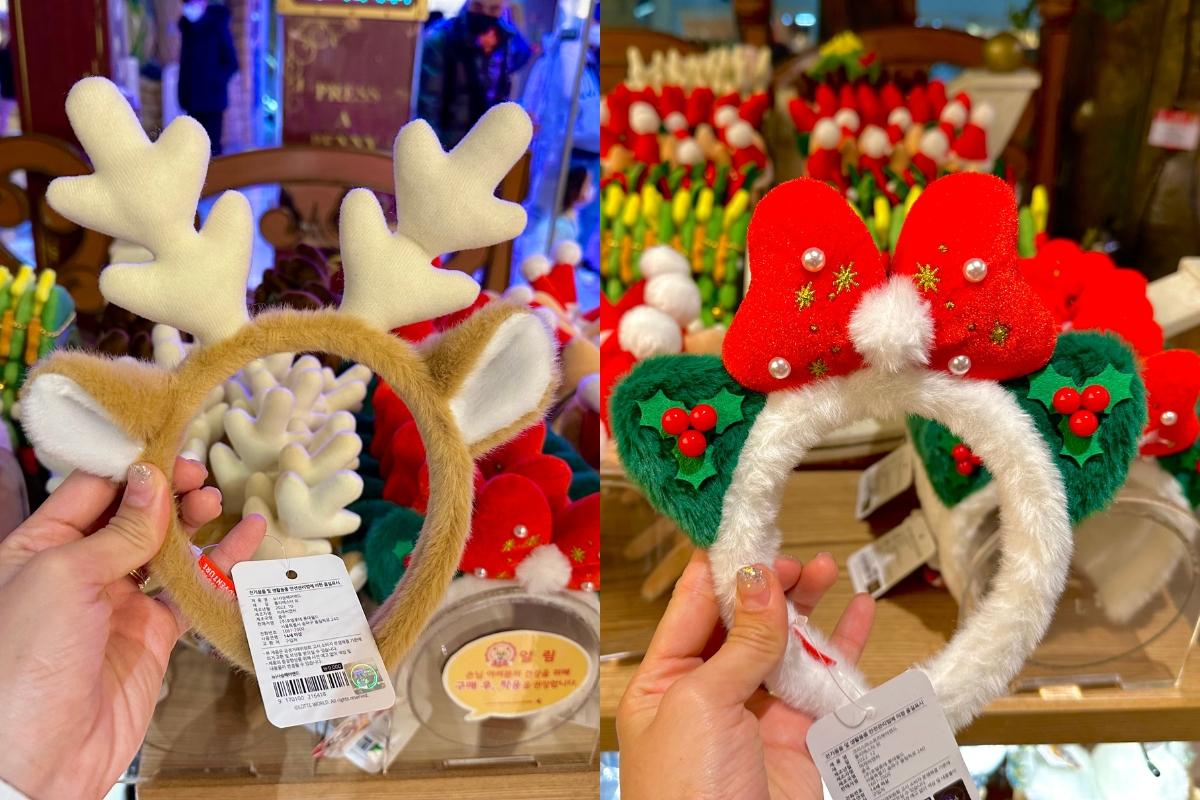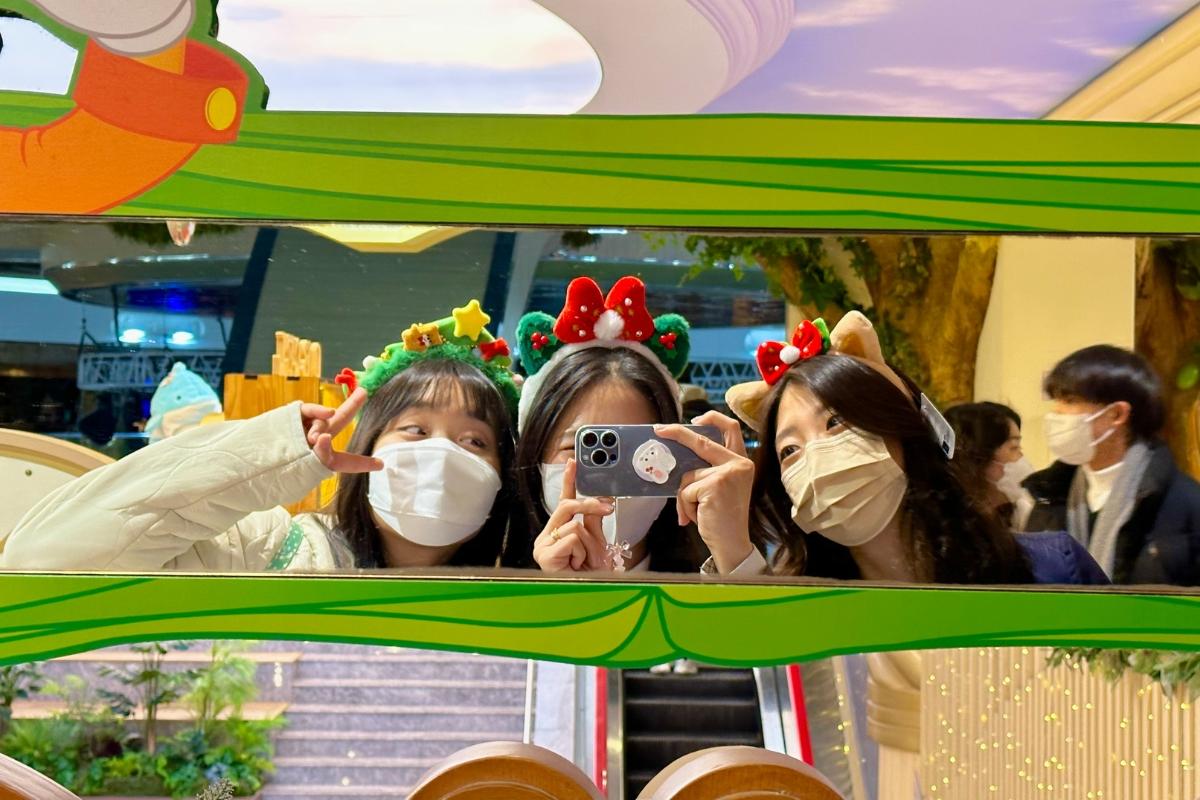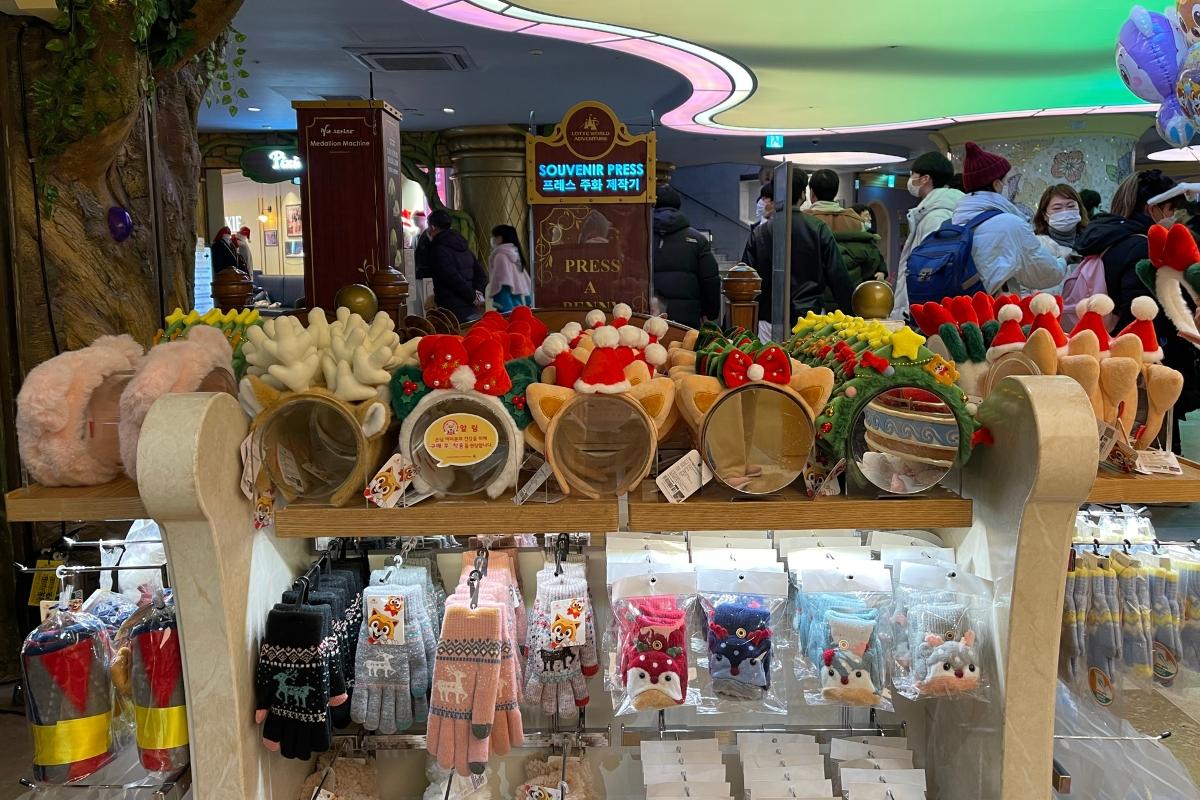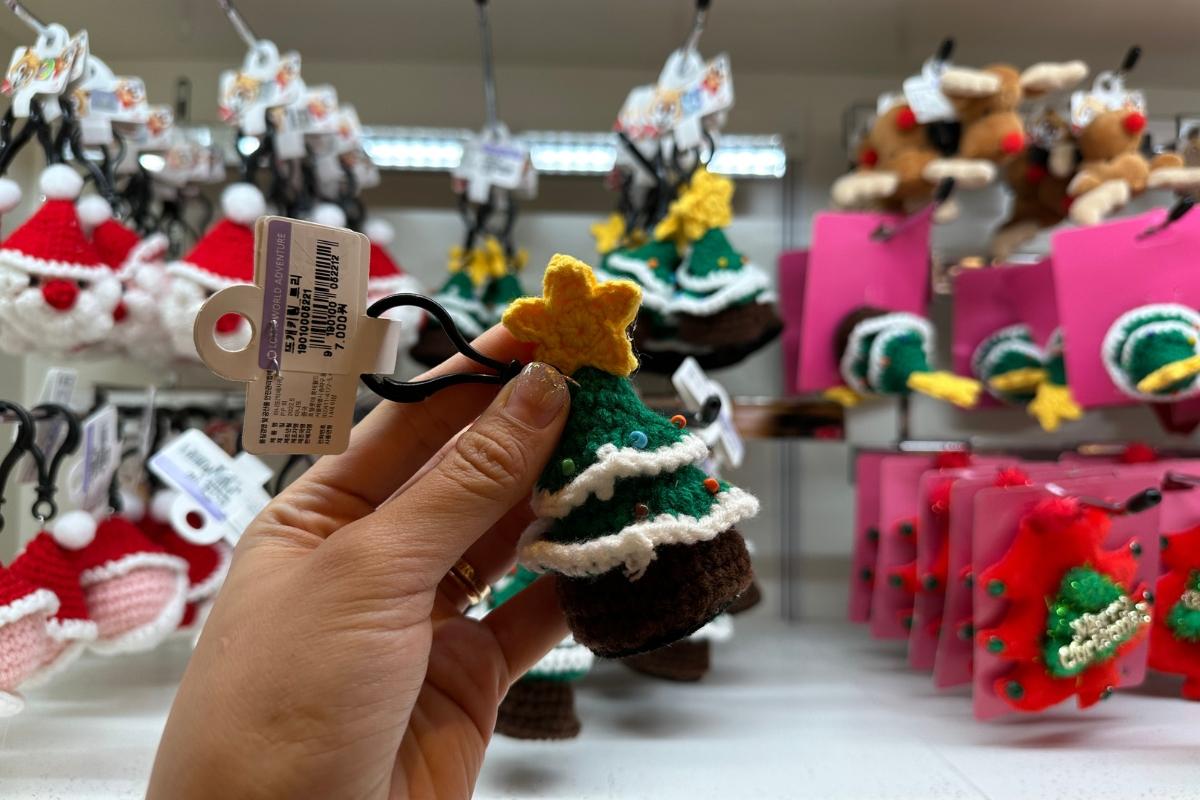 Christmas-Themed Key Rings & Hairpins (5,000 KRW - 7,000 KRW)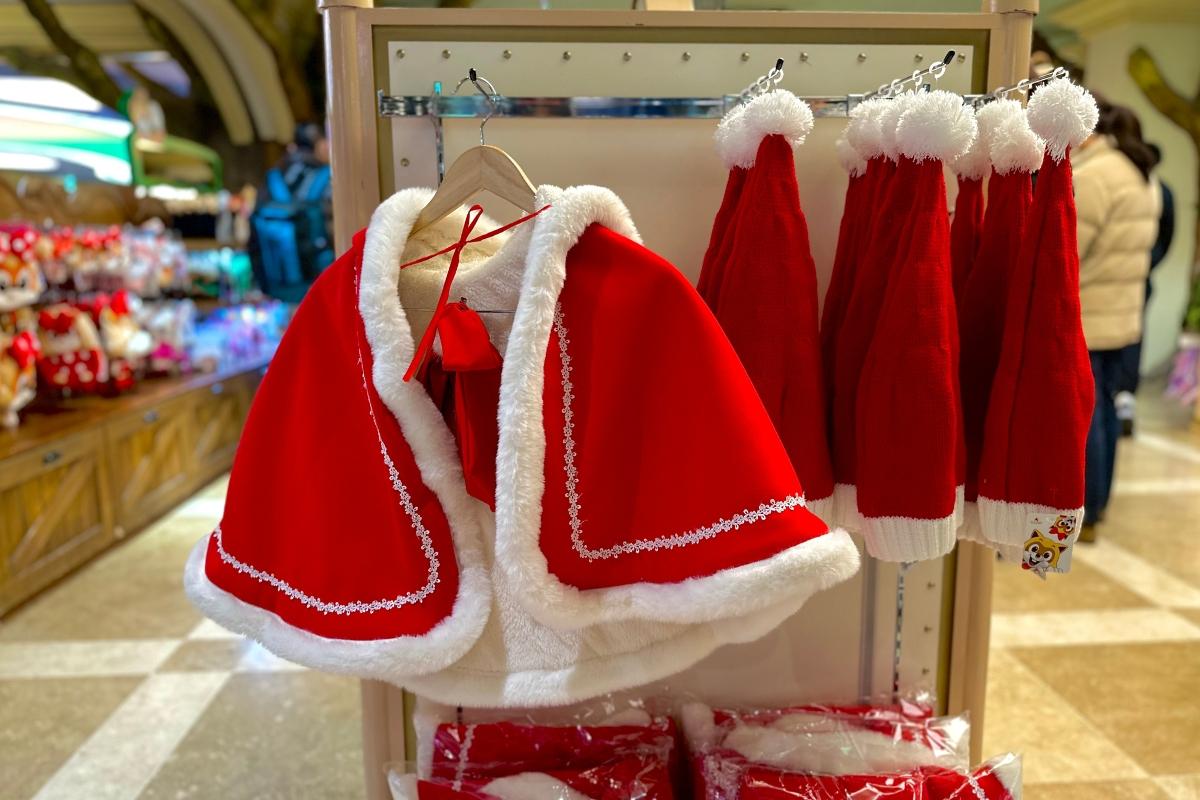 Santa Cloak (36,000 KRW)
There were all kinds of cute Christmas-themed goods at the goods store! You can find these at pretty much any gift shop or stand within the park. We headed for the gift shop first so we could each pick out a headband and wear it all day for cute photos!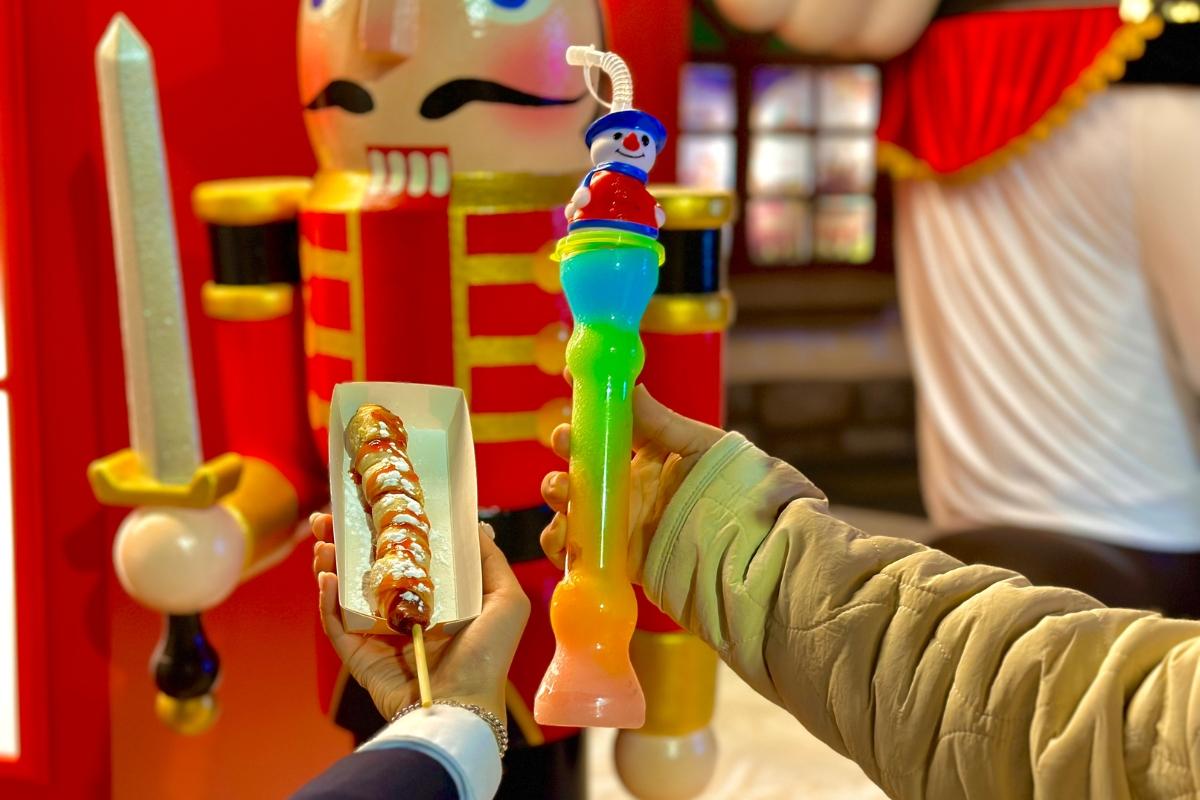 Snow Hot Dog (4,500 KRW) & Character Slush (6,000 KRW)
There are limited seasonal food menu items as well! We tried the Snow Hot Dog, which had a juicy sausage wrapped in a flaky puff pastry and topped with sugar powder (can be substituted with cheese powder). We got the Character Slush in all 4 flavors (Papaya, Green Grape, Orange, & Peach) and it was delicious and fun to try different flavors! You can mix and match the flavors however you want~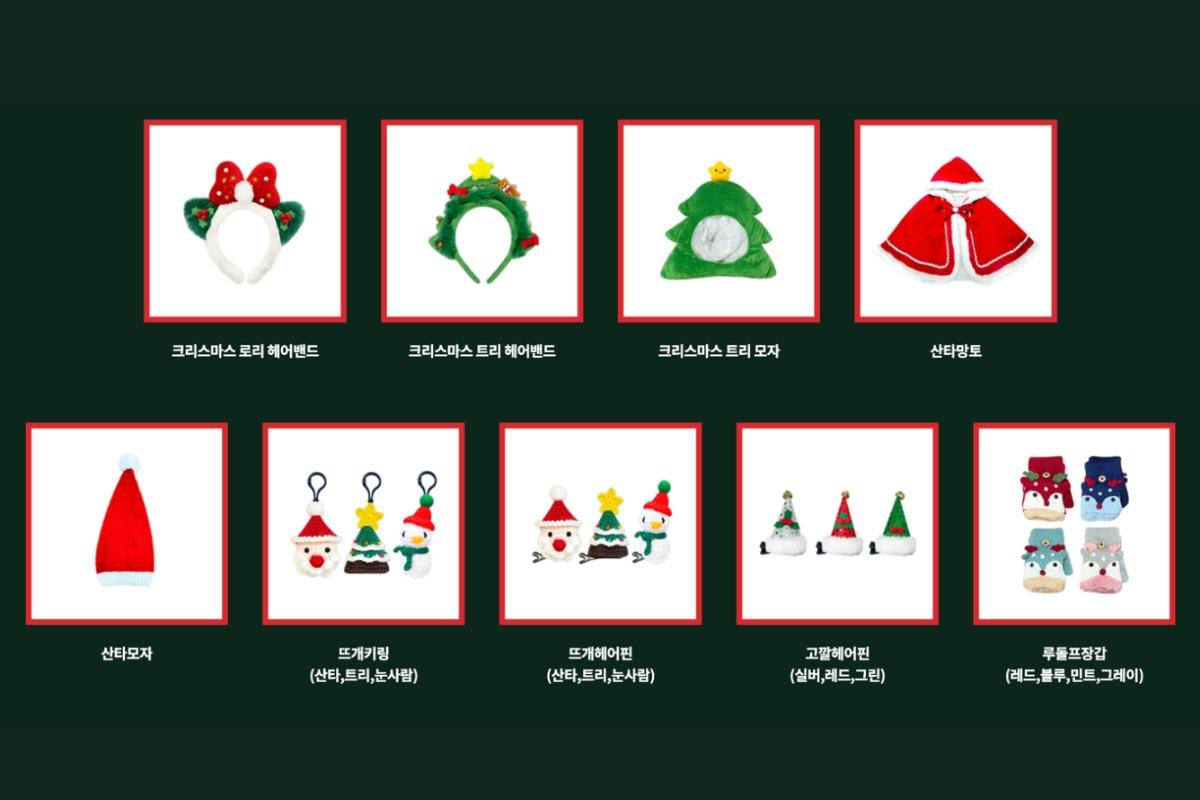 Credit: Lotte World Adventure Site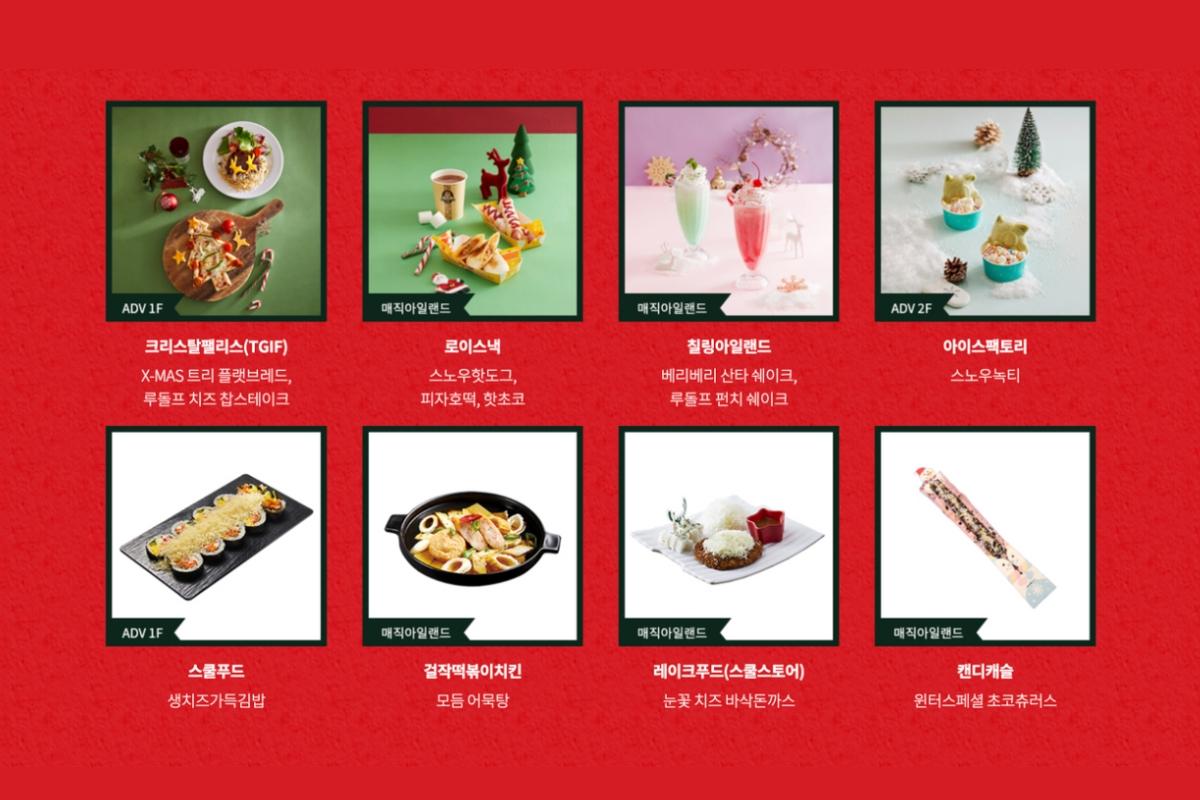 Credit: Lotte World Adventure Site
Photo Spots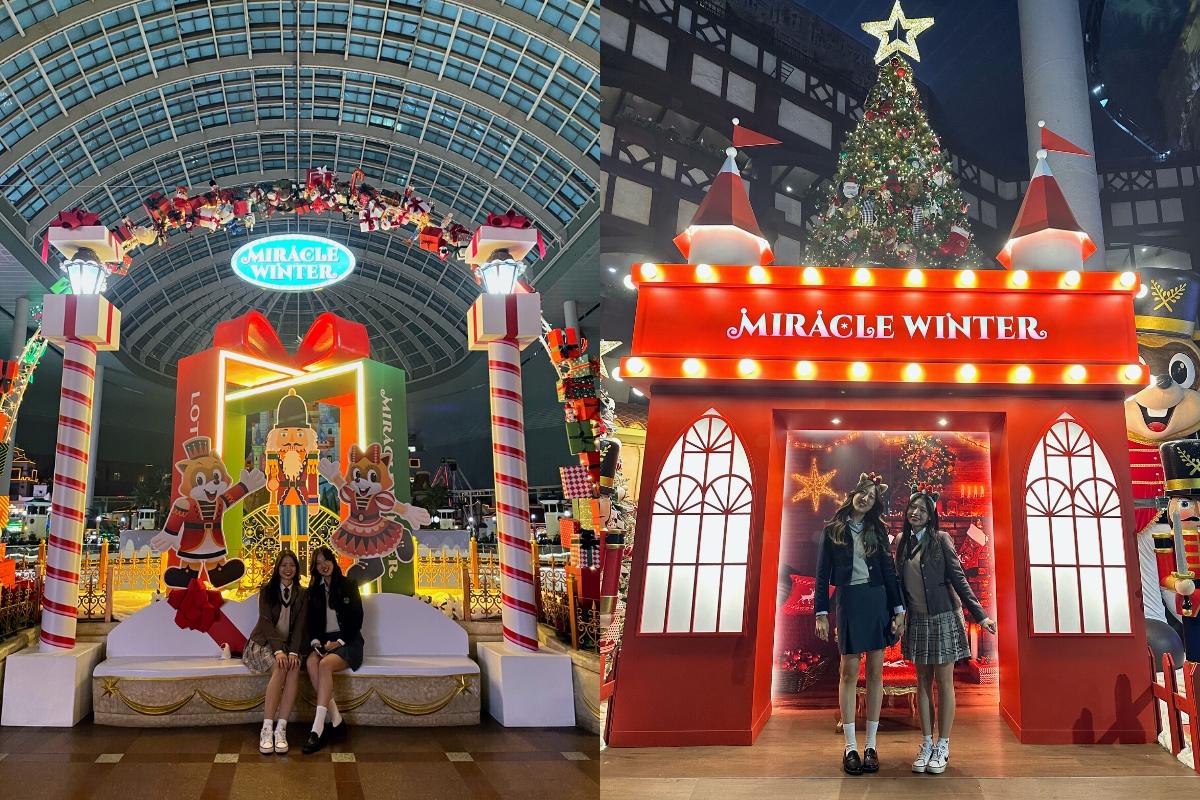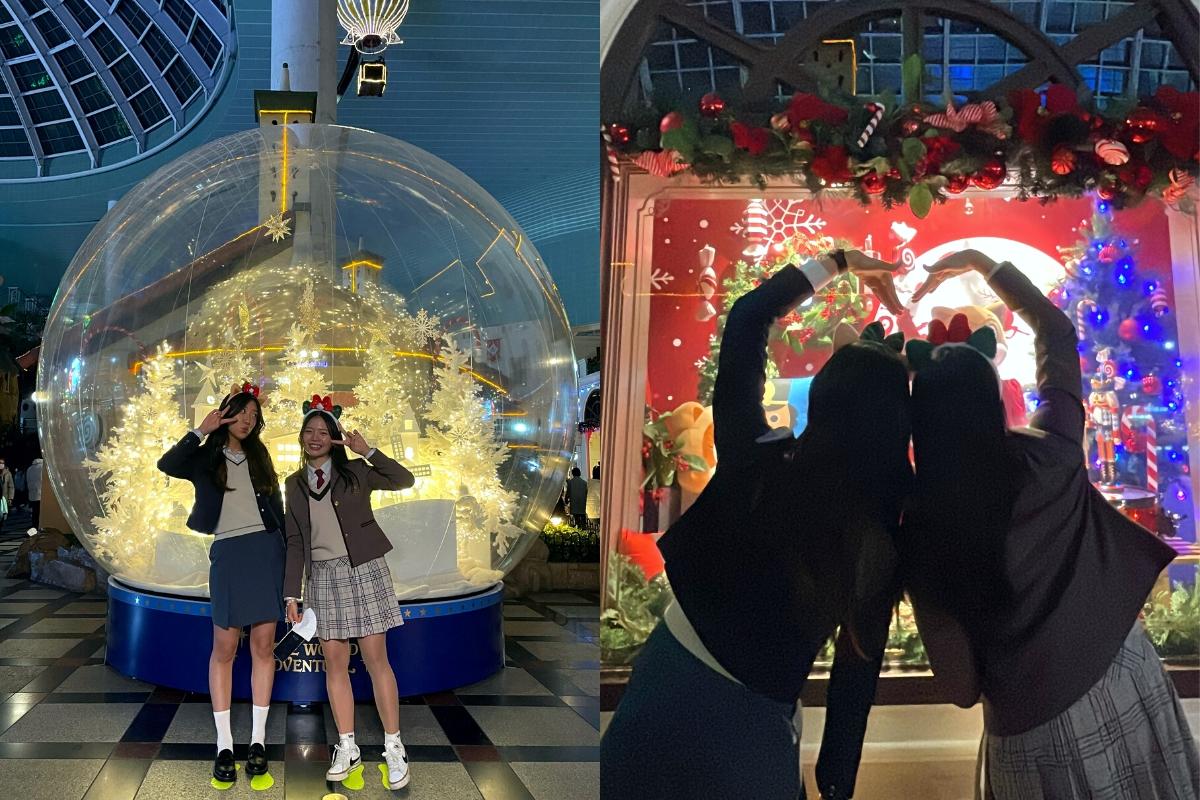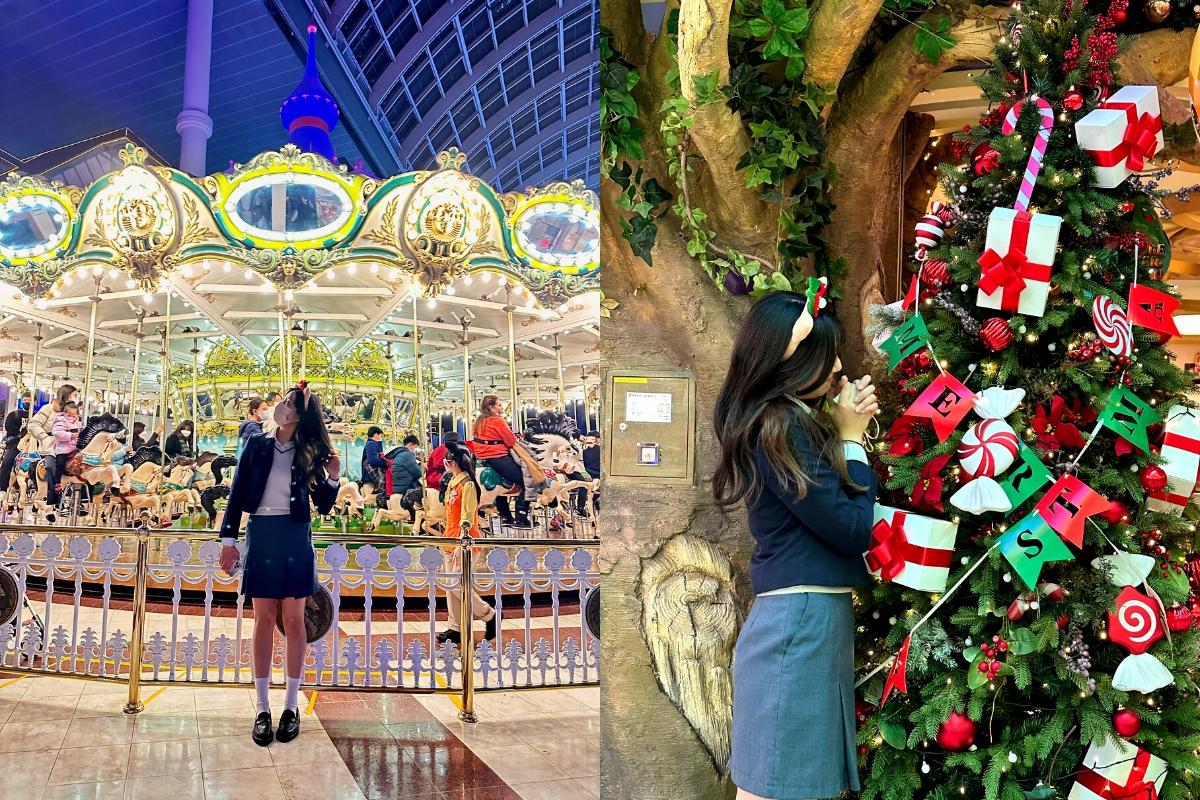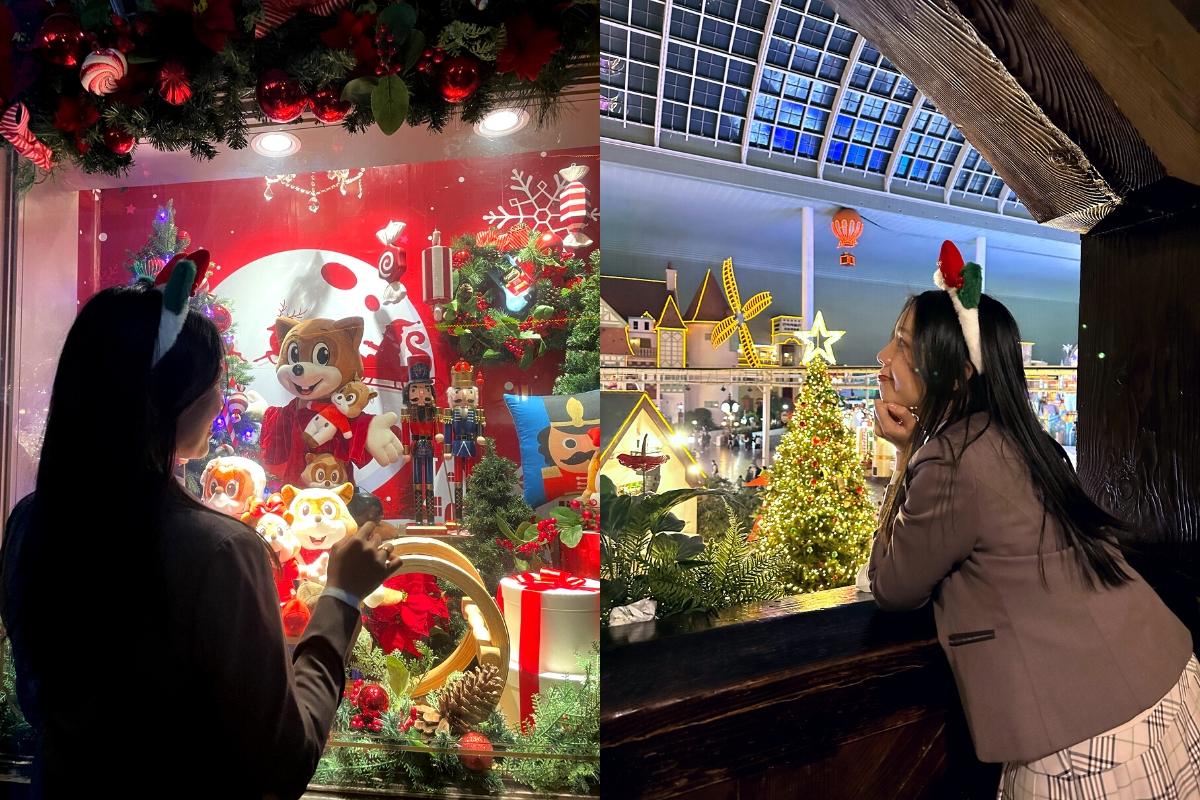 There are so many Insta-worthy photo spots in Lotte World during Christmas! It really felt like we were in a little Christmas village with all the holiday decorations and Christmas music playing. All of these photo spots were indoors as well, so we were able to get great photos in the cute school uniforms we rented from the Ehwa School Uniform rental shop. These are only up during the Christmas season so don't miss them before they're gone!
Parades & Shows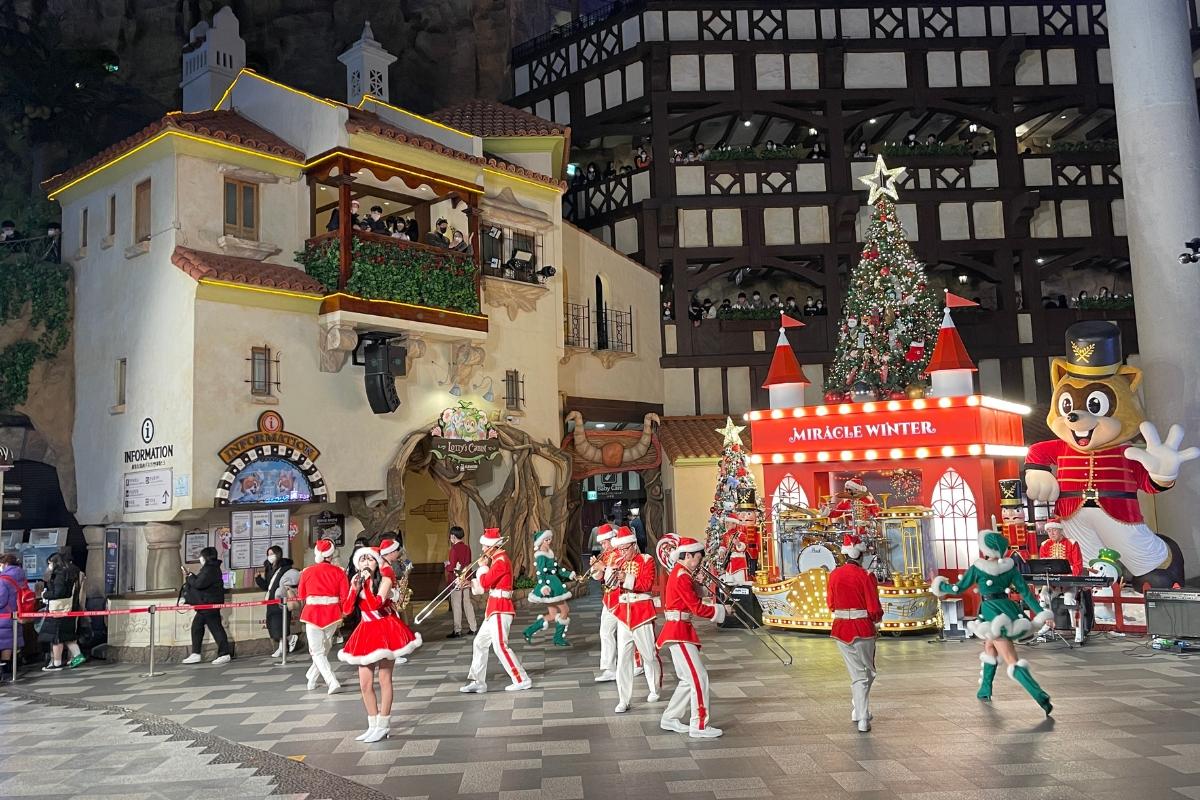 Christmas Big Band Show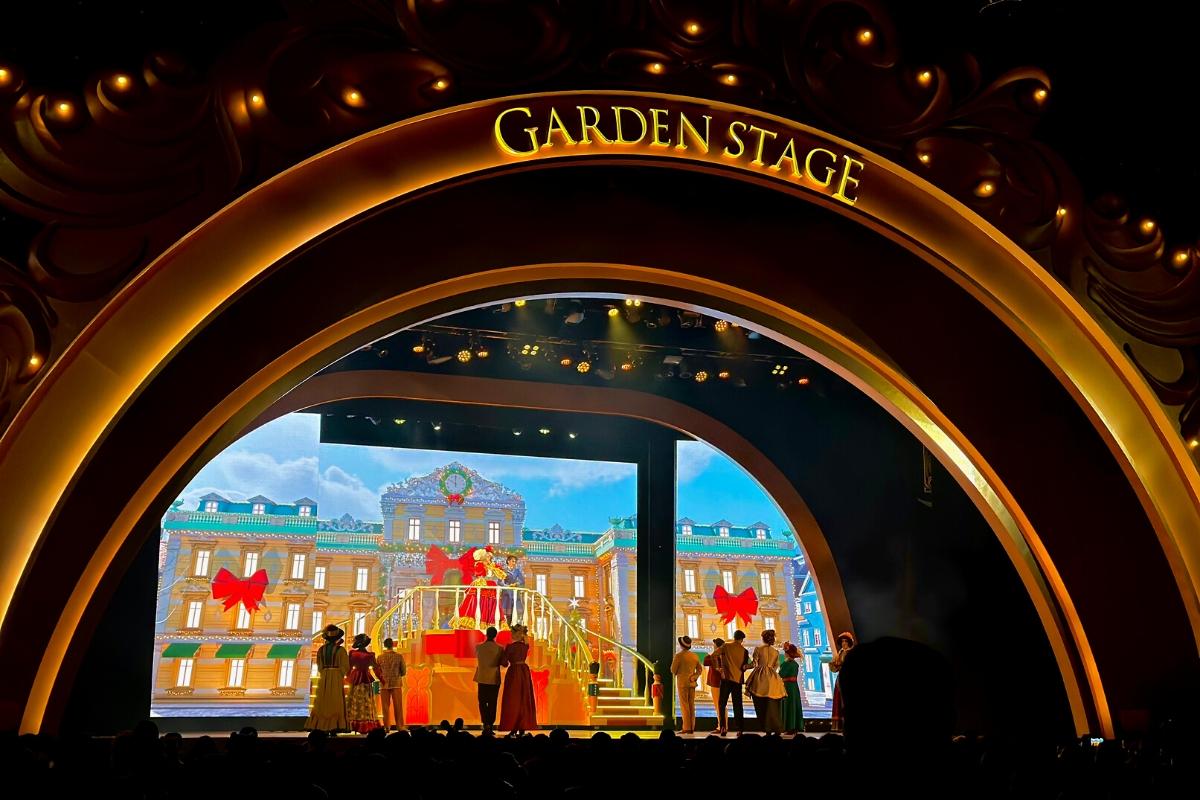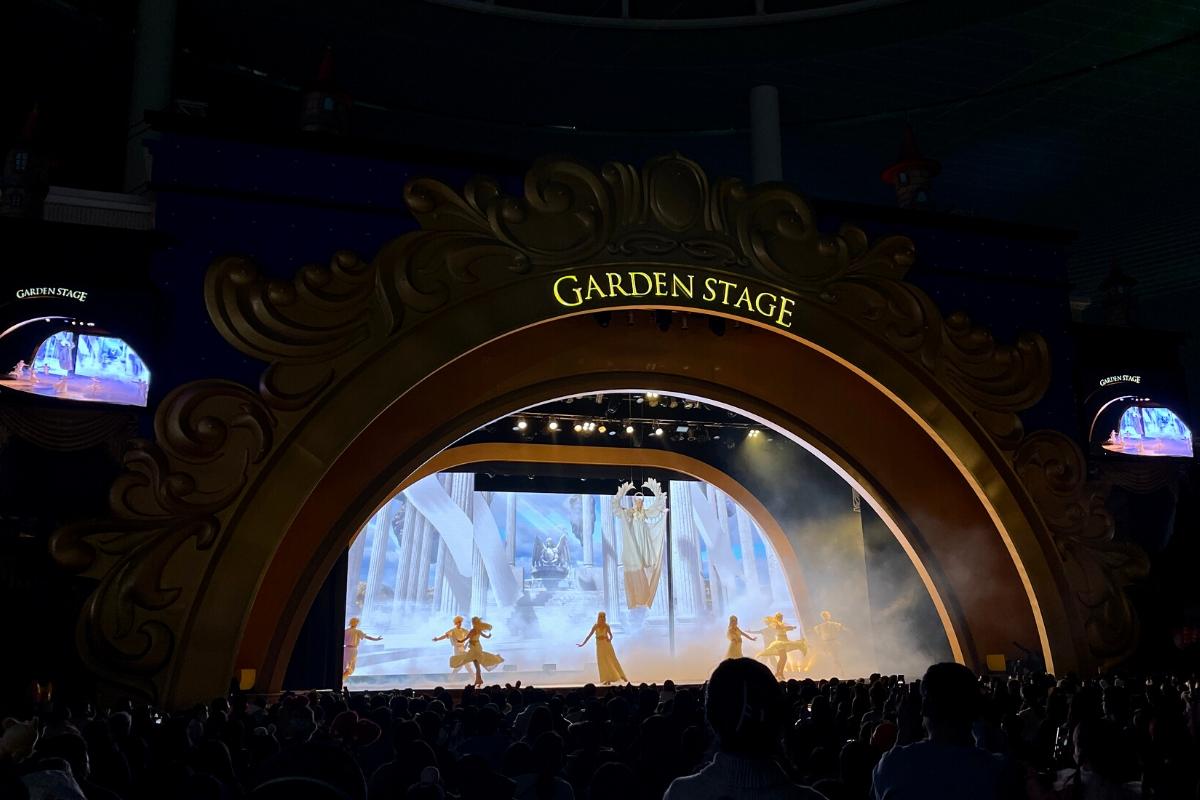 The Magic Match & A Night Full of Dreams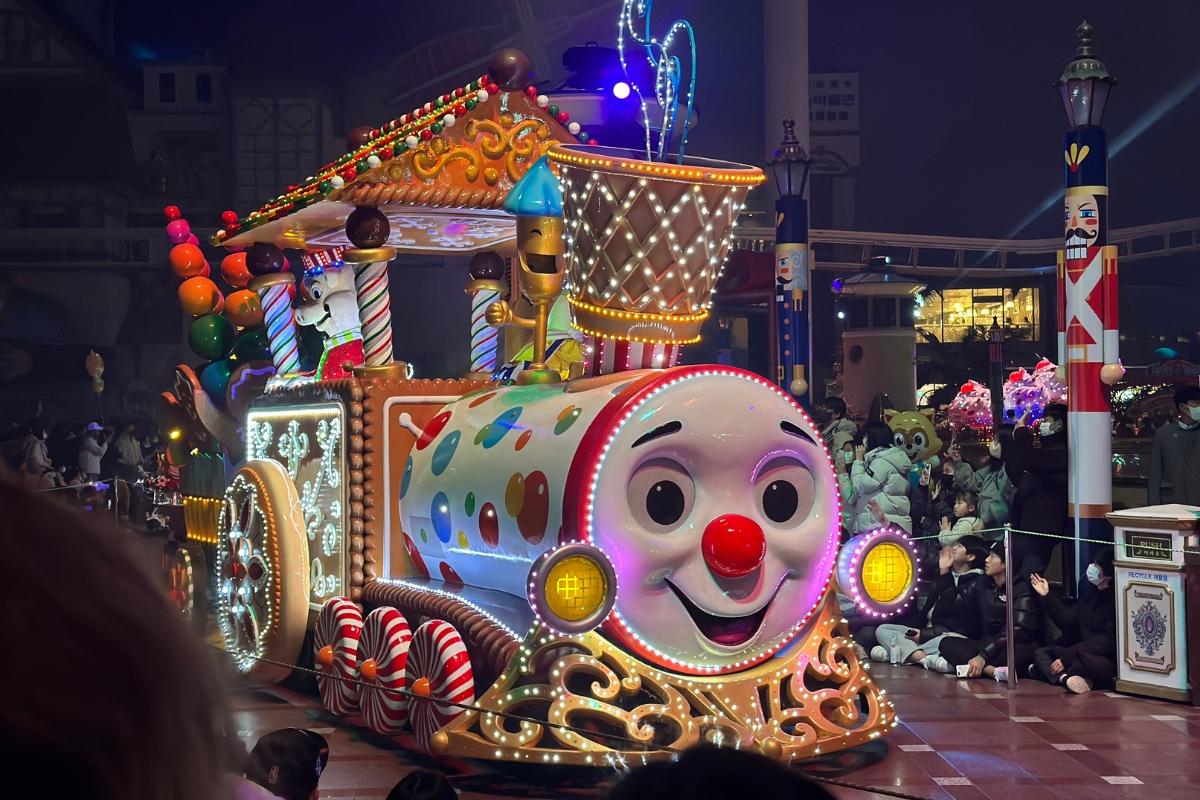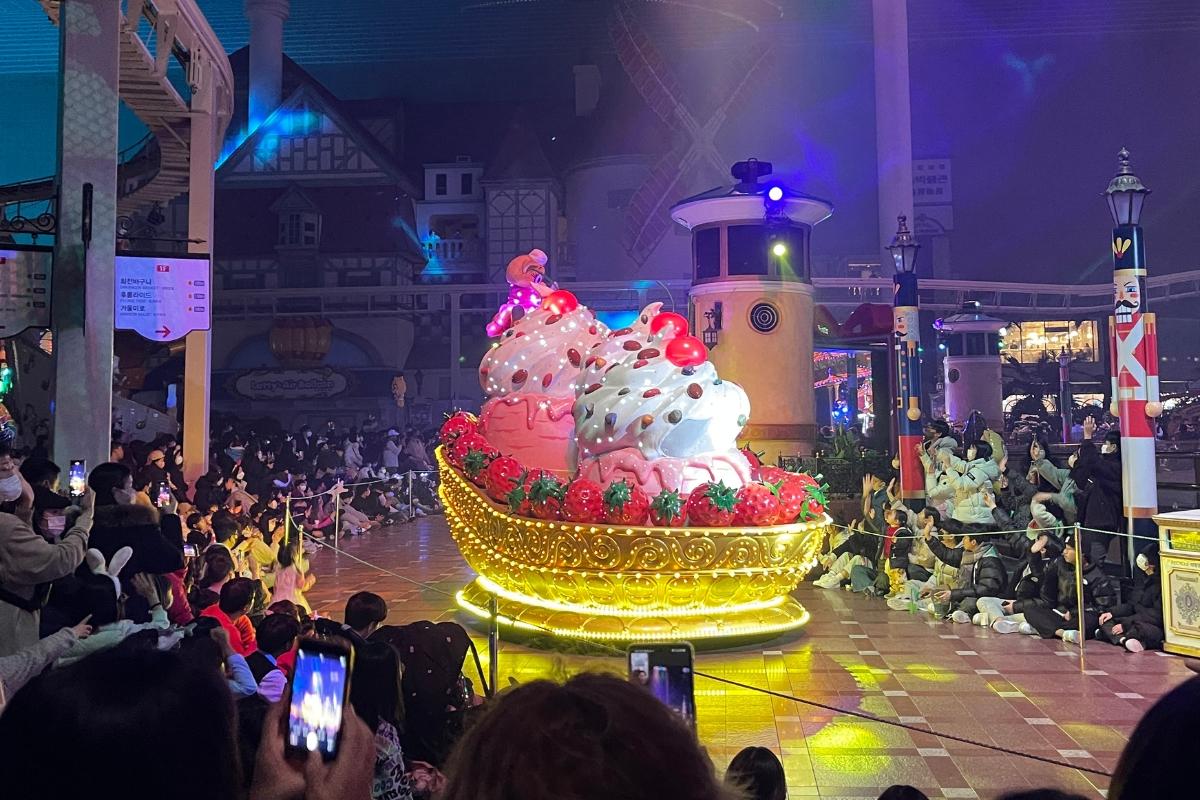 Happy Christmas Parade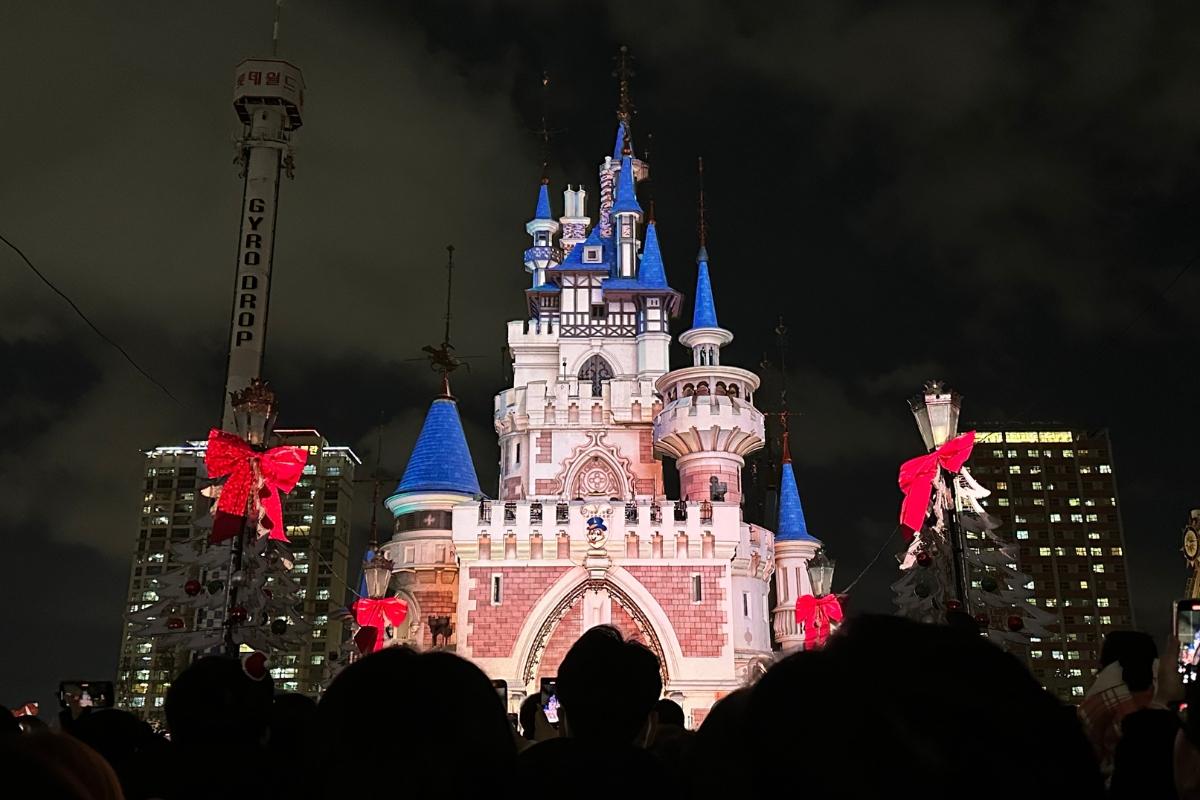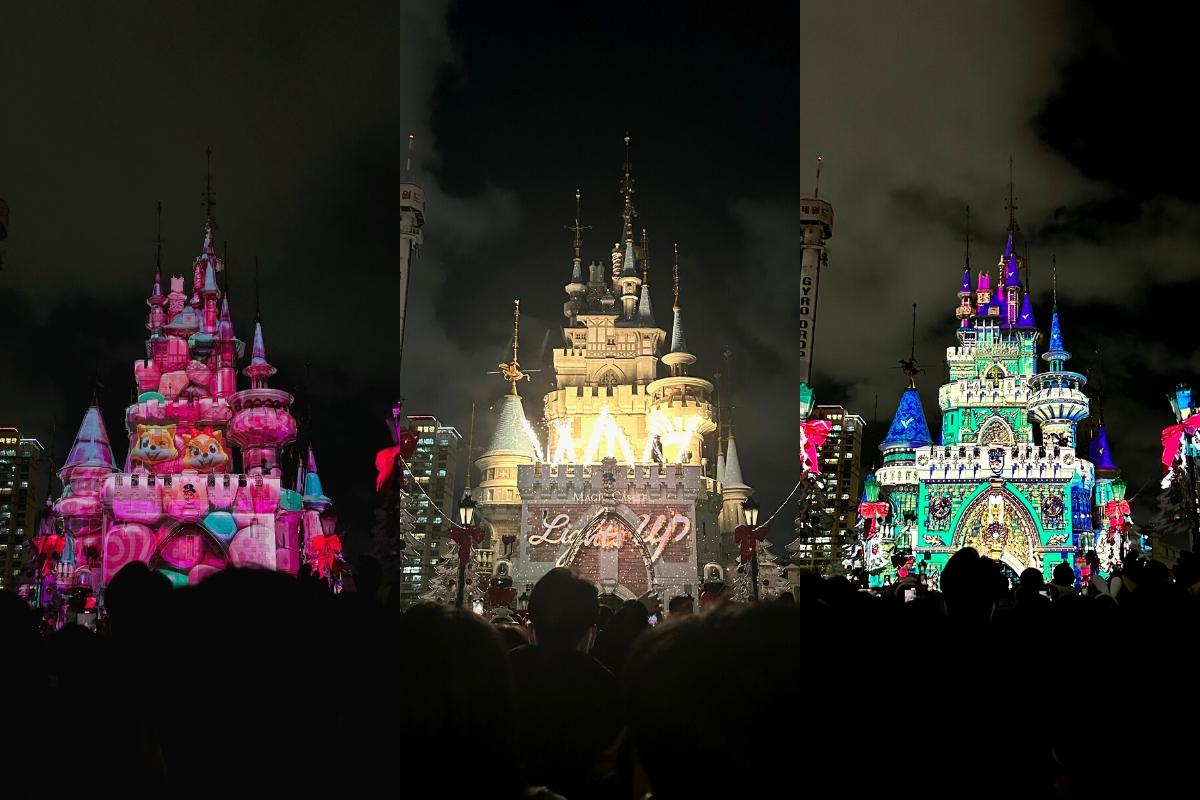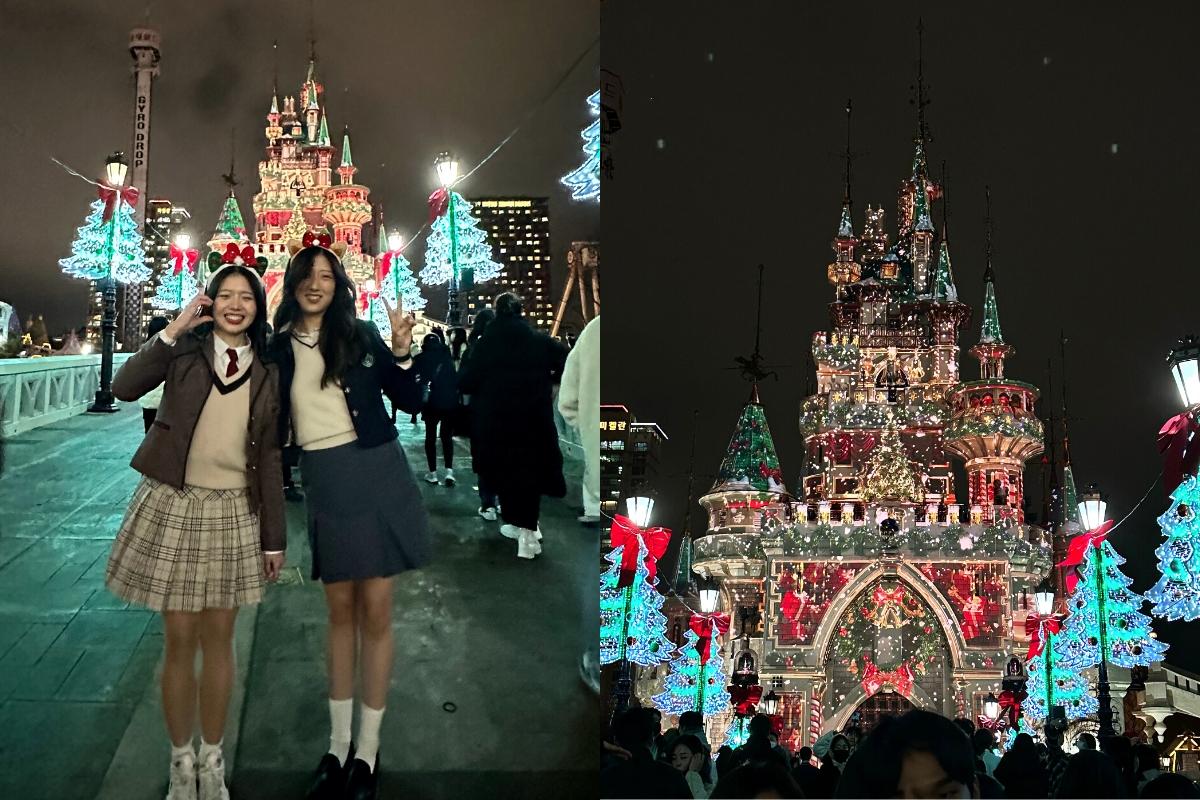 Magic Castle Lights Up Show
During the holiday season, Lotte World is filled with all kinds of shows and parades! From a band performing Christmas carols to a spectacular parade with various characters and even fireworks, Lotte World has it all. We highly recommend the Happy Christmas Parade because it was so entertaining to watch and had a really amazing light show along with some fireworks!
We also could not miss out on the famous Magic Castle Lights Up Show! This show is outdoors on Magic Island and plays every night at 20:40 for about 6 minutes. If you want to get a good spot, we recommend getting there about 15-20 minutes early. The Lights Up show plays a variety of projected animations on the castle and it's really cool to see! Don't forget to get a photo with the Christmas-themed Magic Castle after the show~
For show times, you can check the official Lotte World site here.
---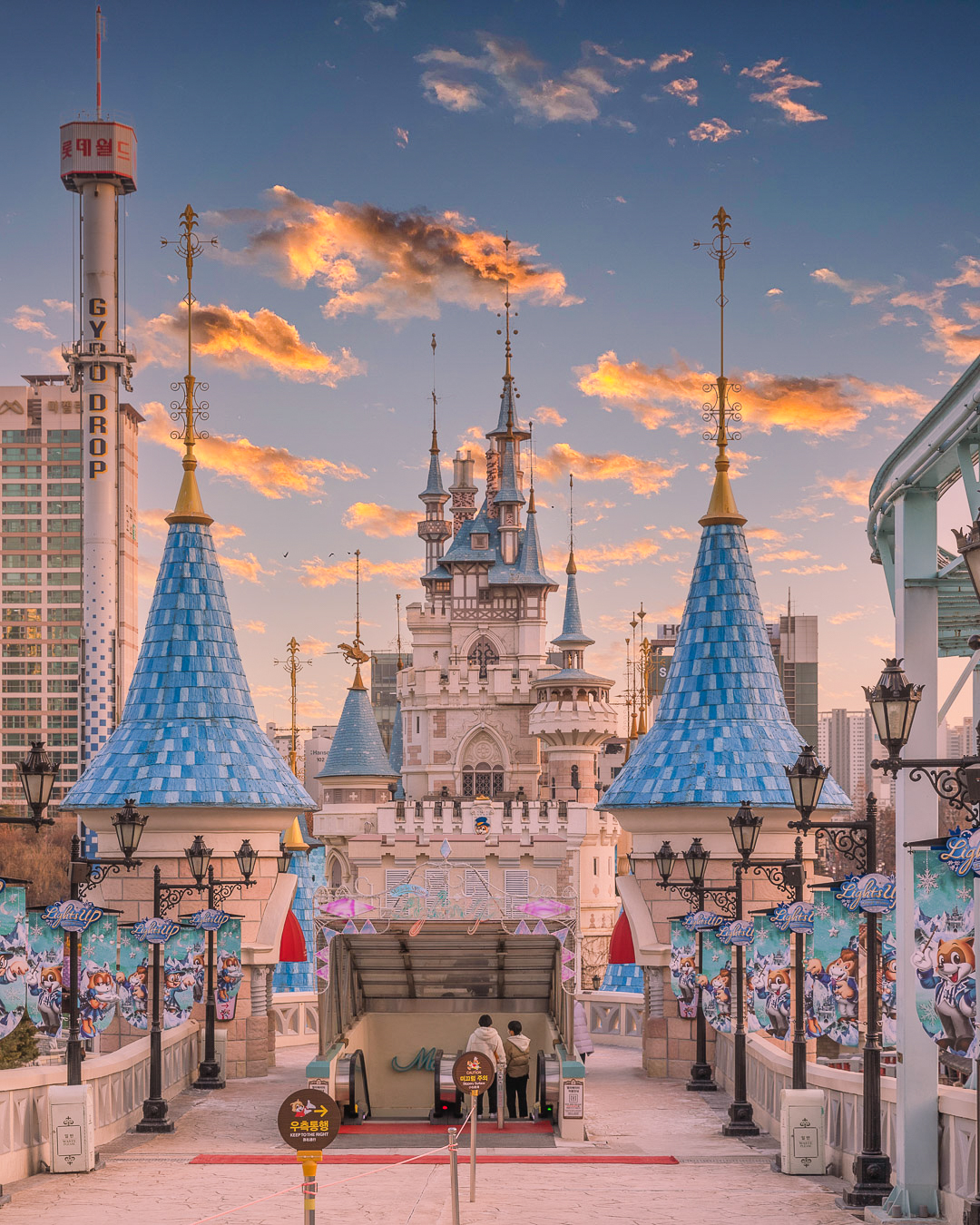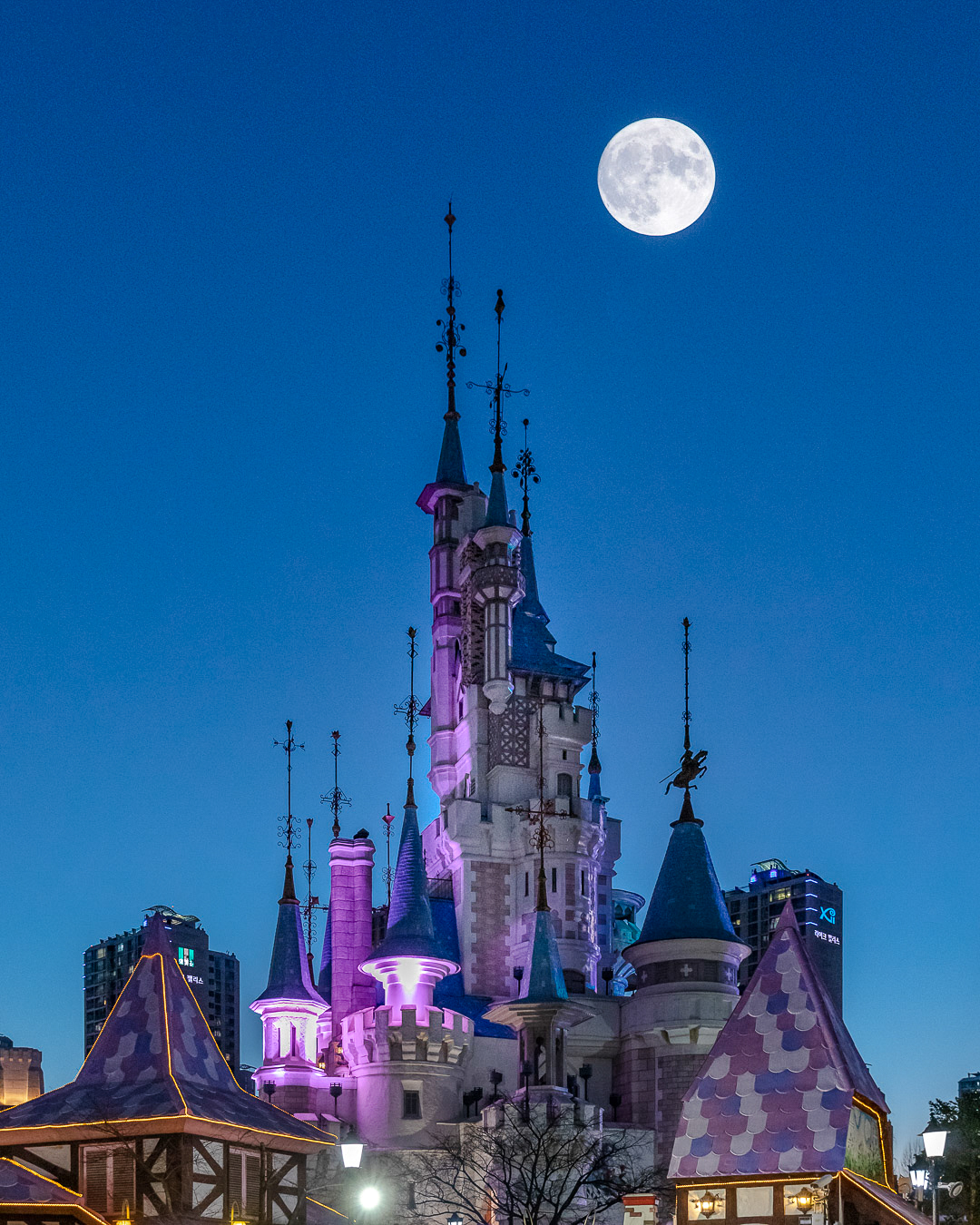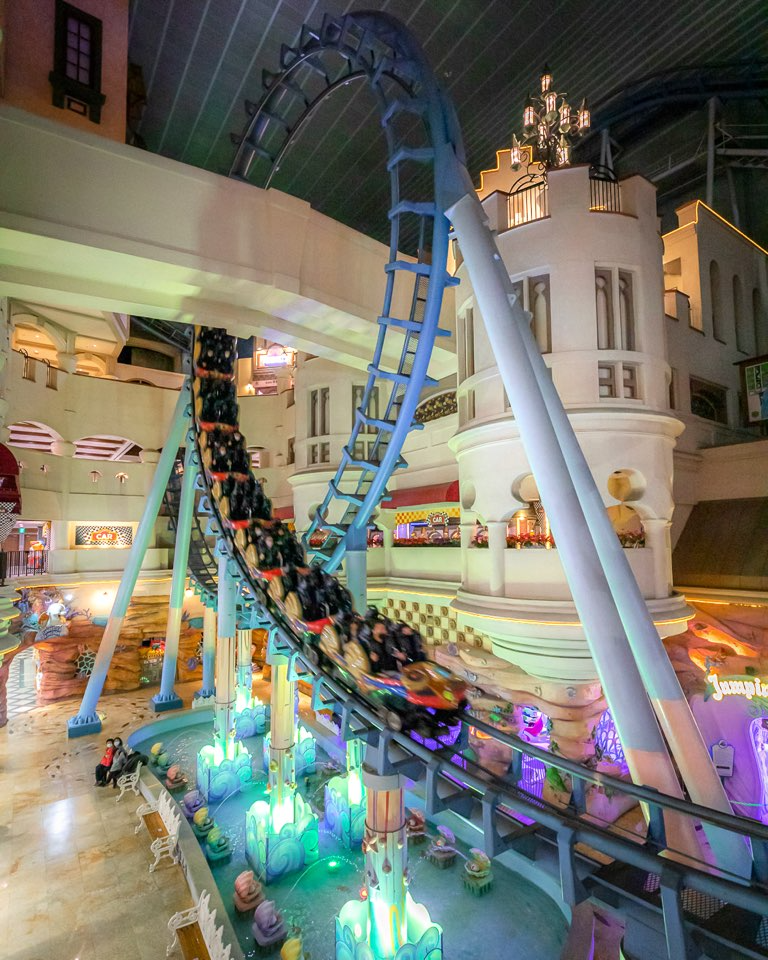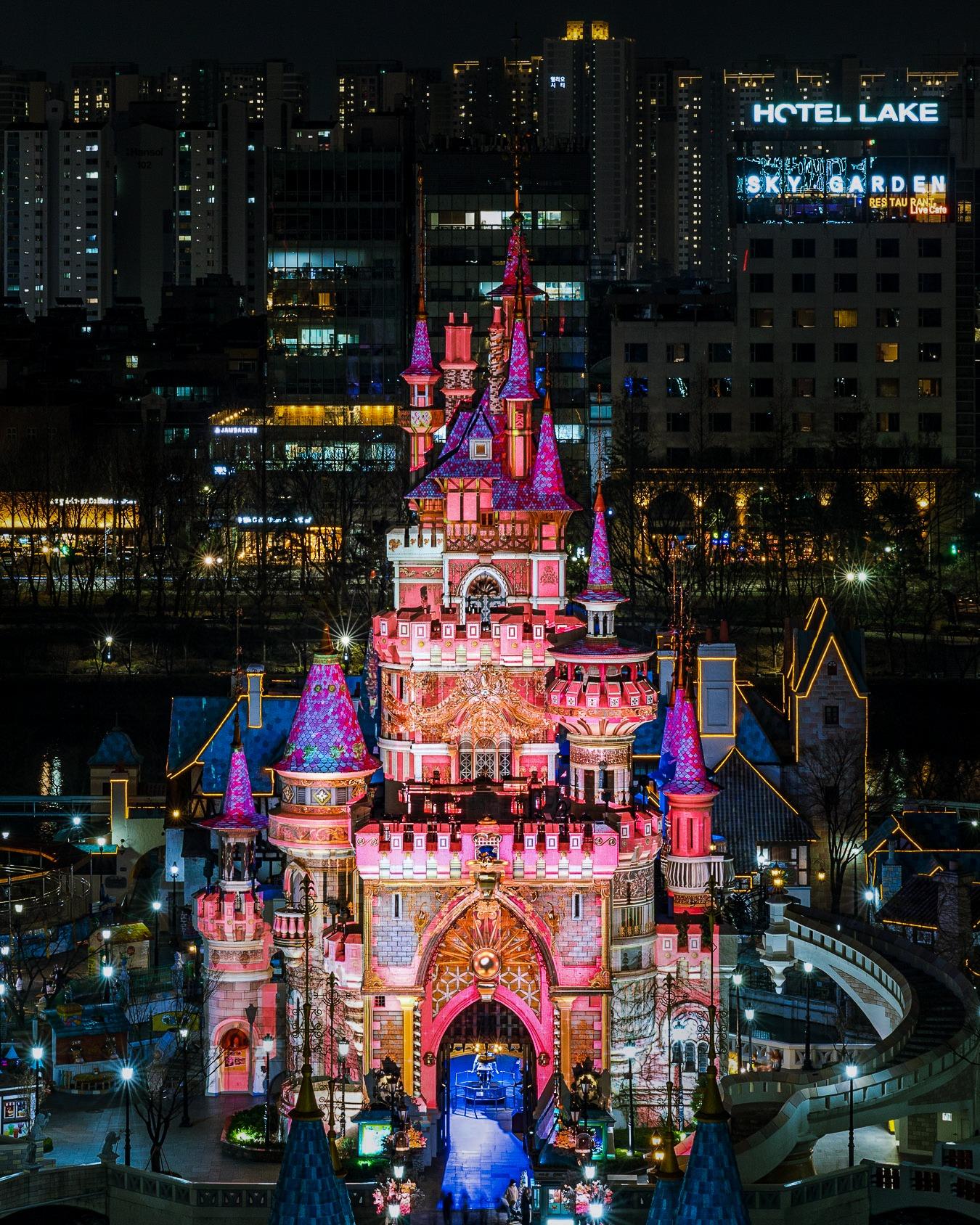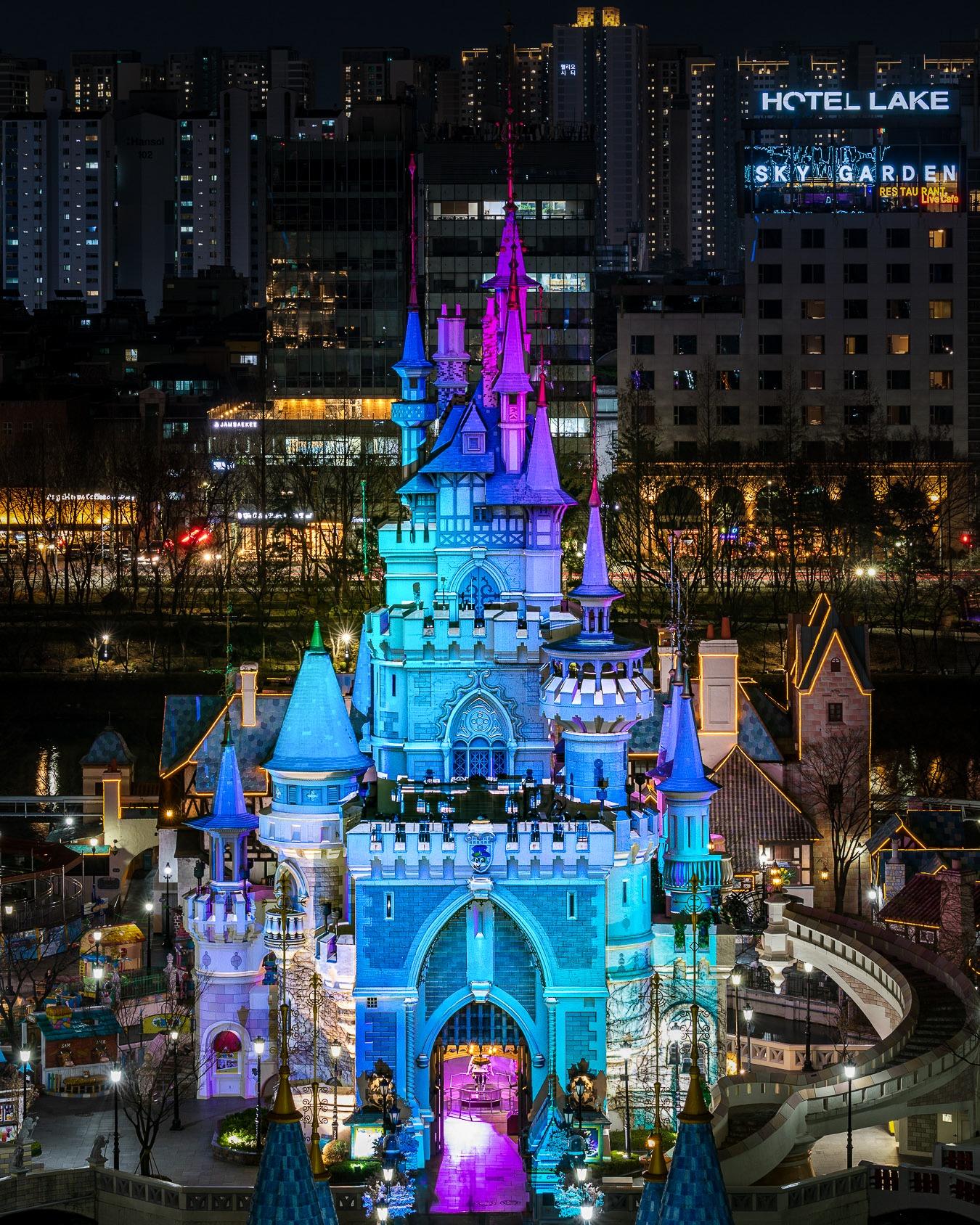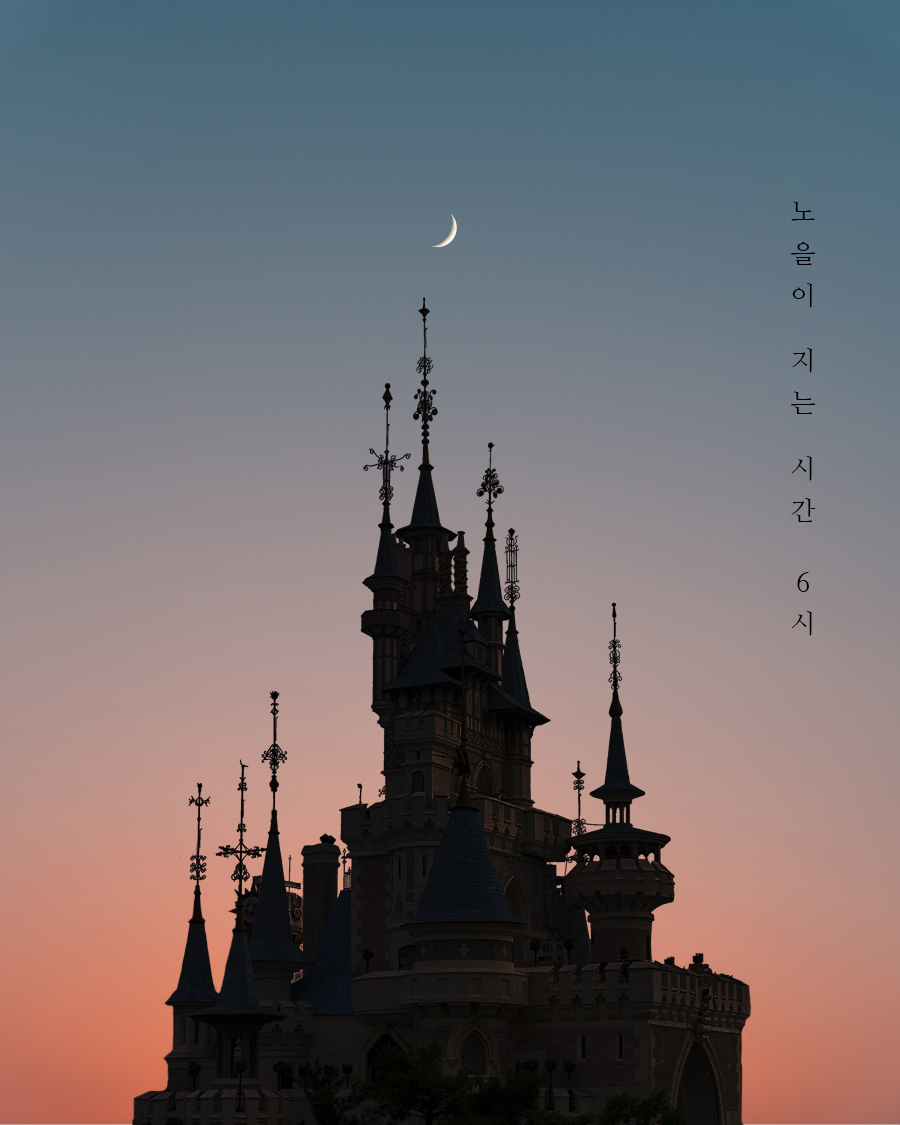 ---
Lotte World Full Day Pass
---
We hope that you can have a fun experience enjoying the rides at Lotte World! If you have any questions please leave a comment below or email us at support@creatrip.com! Also, make sure to follow us on Instagram, Tik Tok, and Facebook to stay updated on all things Korea!
---