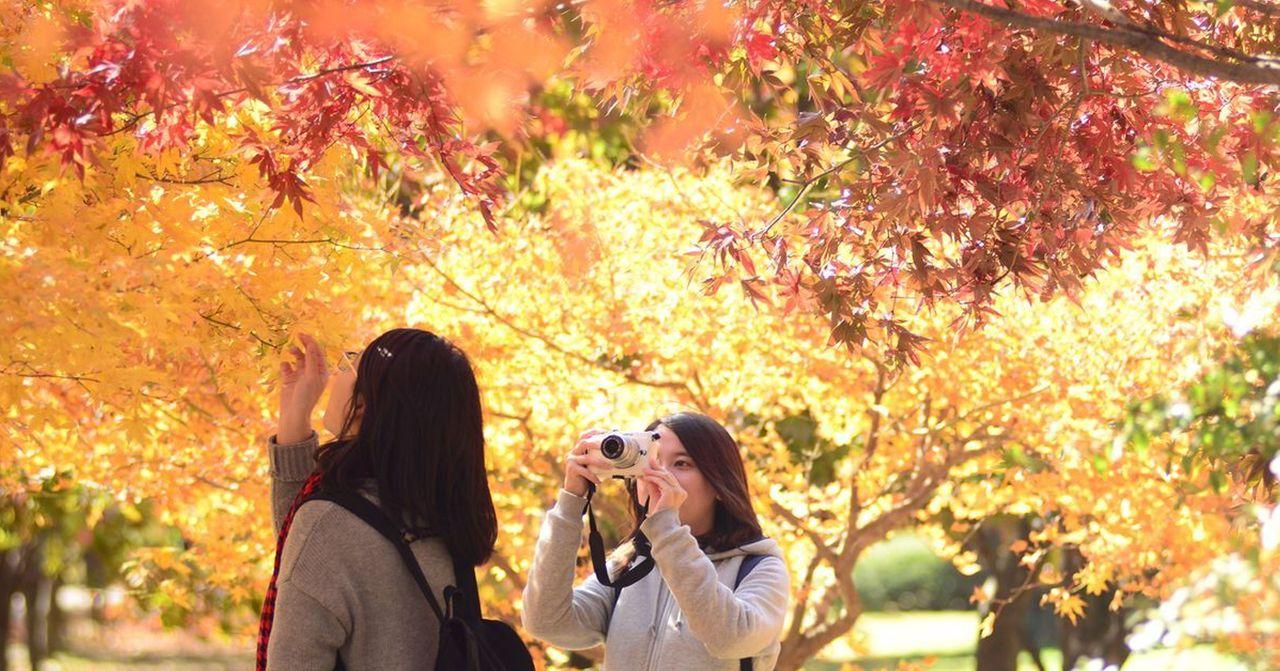 Many people come to Korea in the Autumn to enjoy the beauty of South Korea's colourful fall leaves and ginkgo trees. This post provides a summary of the best spots in Korea to go to see maple leaf and ginkgo trees.
---

Location: Hangyeori, Buk-myeon, Inje-gun, Gangwon-do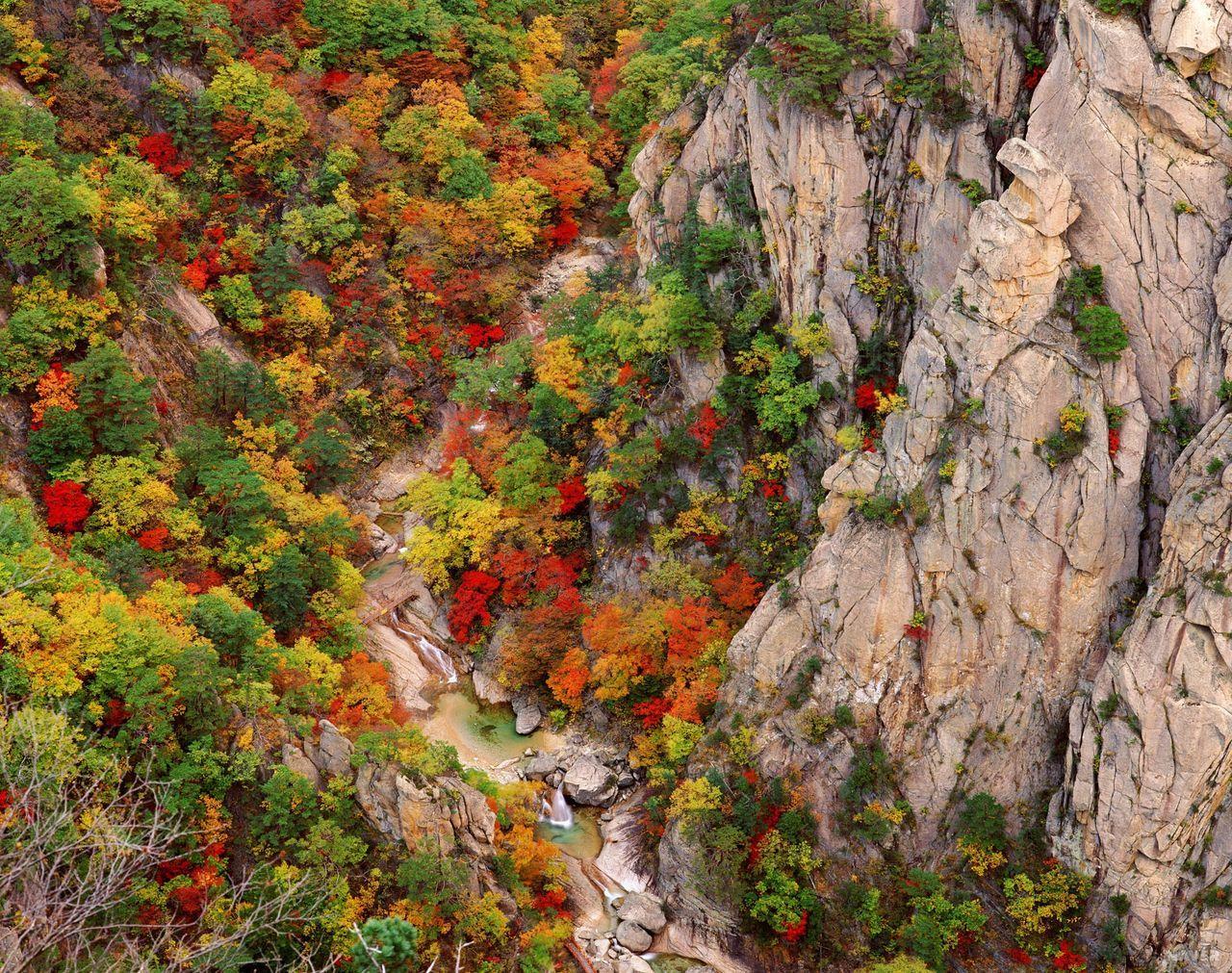 The first recommended spot is Seoraksan Mountain located near Sokcho, Gangwon-do.
It is one of the best places to enjoy stunning autumn vibes. Mid-October is the best time to go to enjoy the colourful leaves here.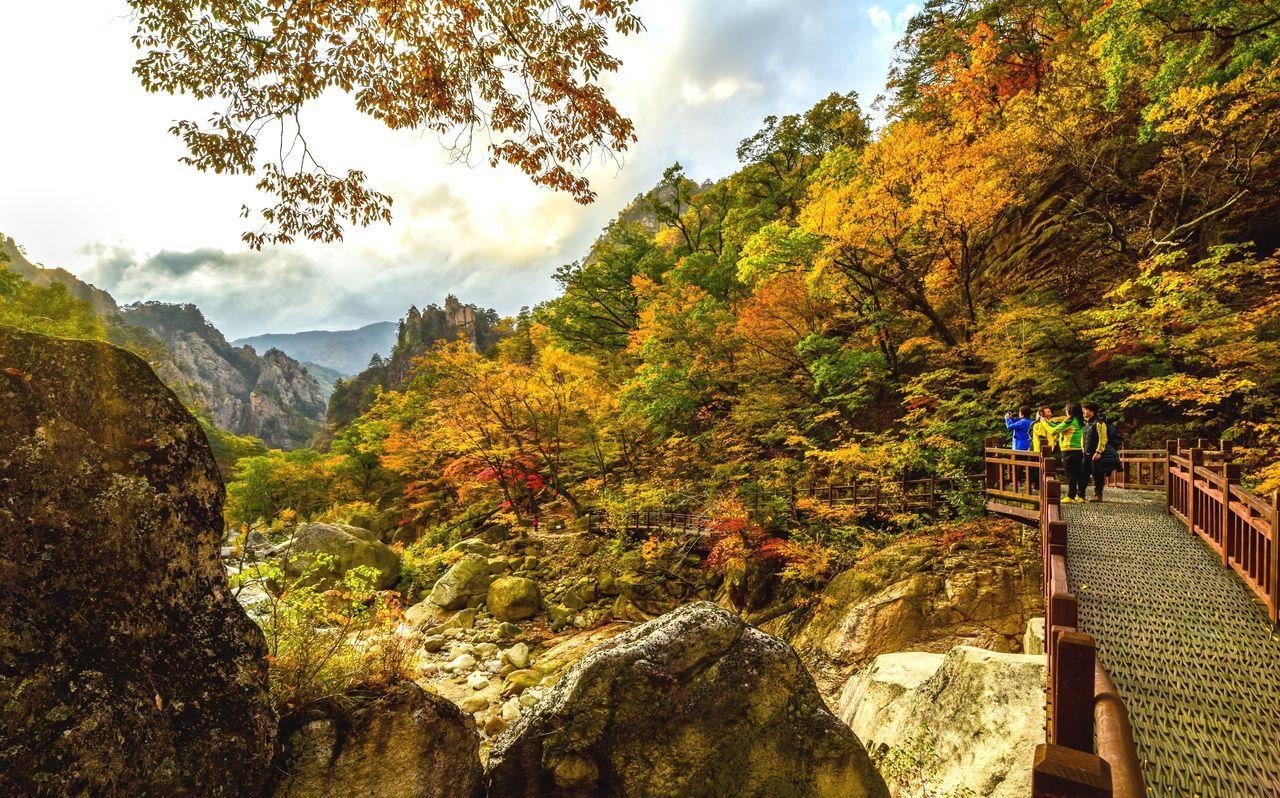 There are many attractions in Seoraksan Mountain. Starting from the Ulsan Rock all the way to the Sinheung Temple, but the most famous out of them all would have to be the scenic road in Seoraksan mountain.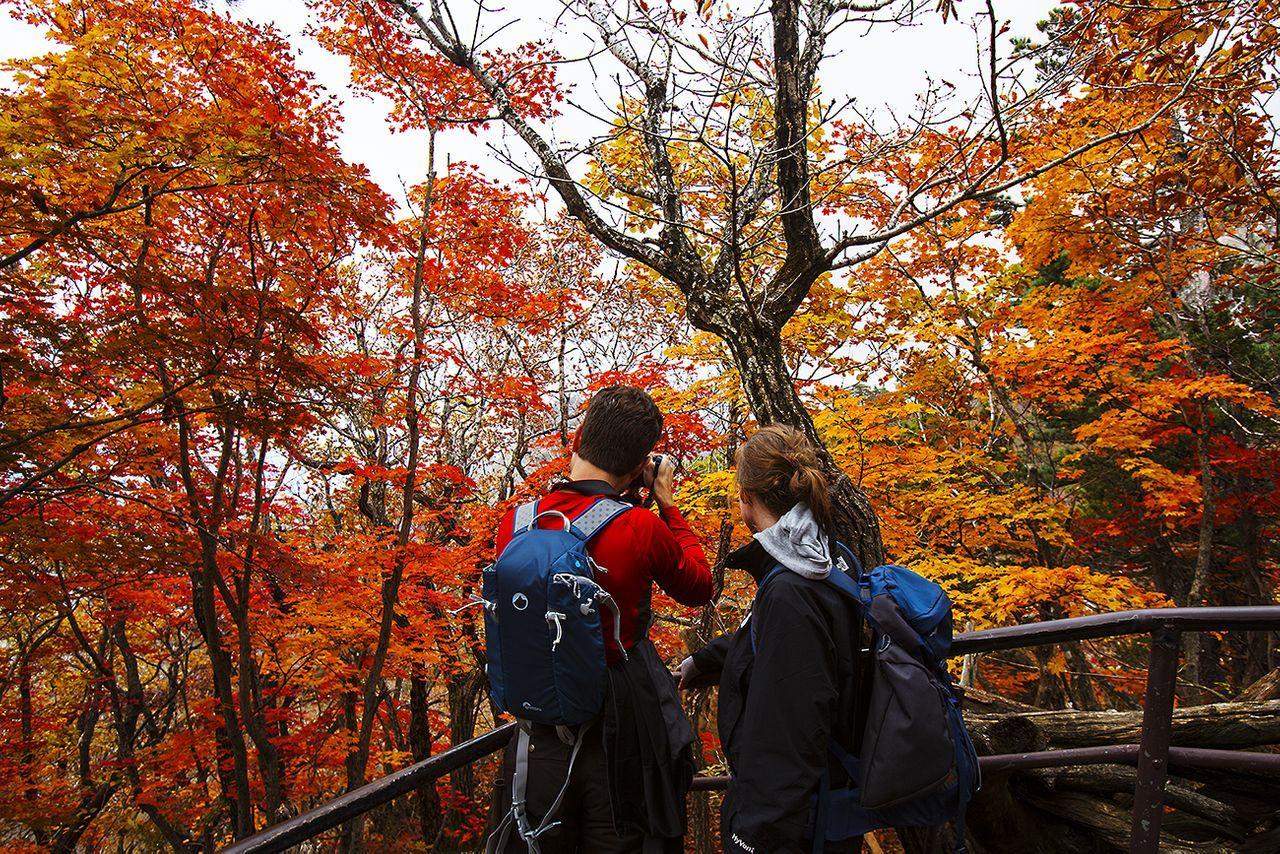 Seoraksan mountain has a variety of bright red, yellow, and orange leaves which is a go-to autumn spot. It is perfect to come here to get a refreshing rest when living in the bustling city of Seoul.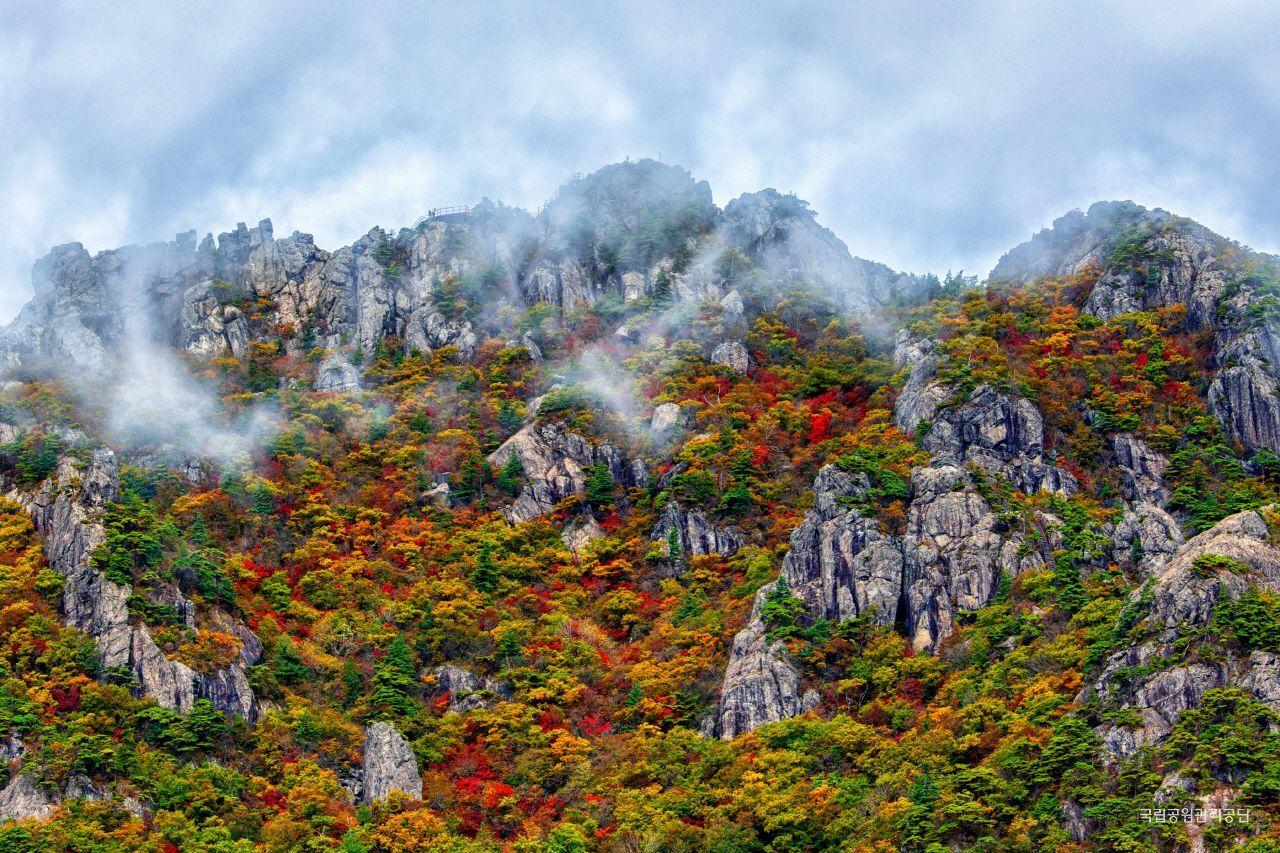 Ranked the third highest peak in South Korea, it is one of the first places where trees will put on vibrant hues. It is also one of the first places where winter starts and snow falls in Korea.
I recommend you to come here to make an unforgettable memory of visiting Korea.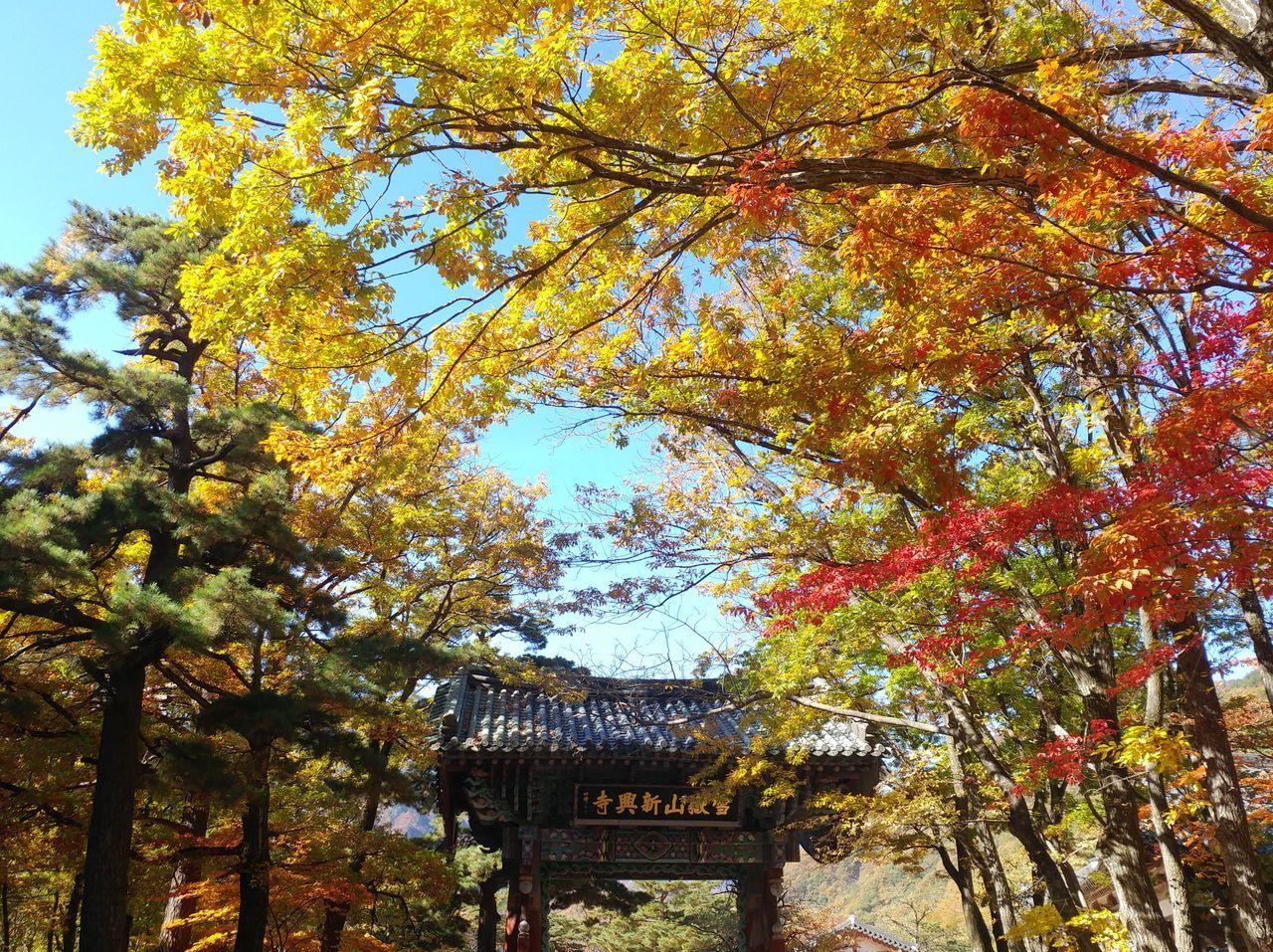 ---

Location: 2, Odaesan-ro, Nae-myeon, Hongcheon-gun, Gangwon-do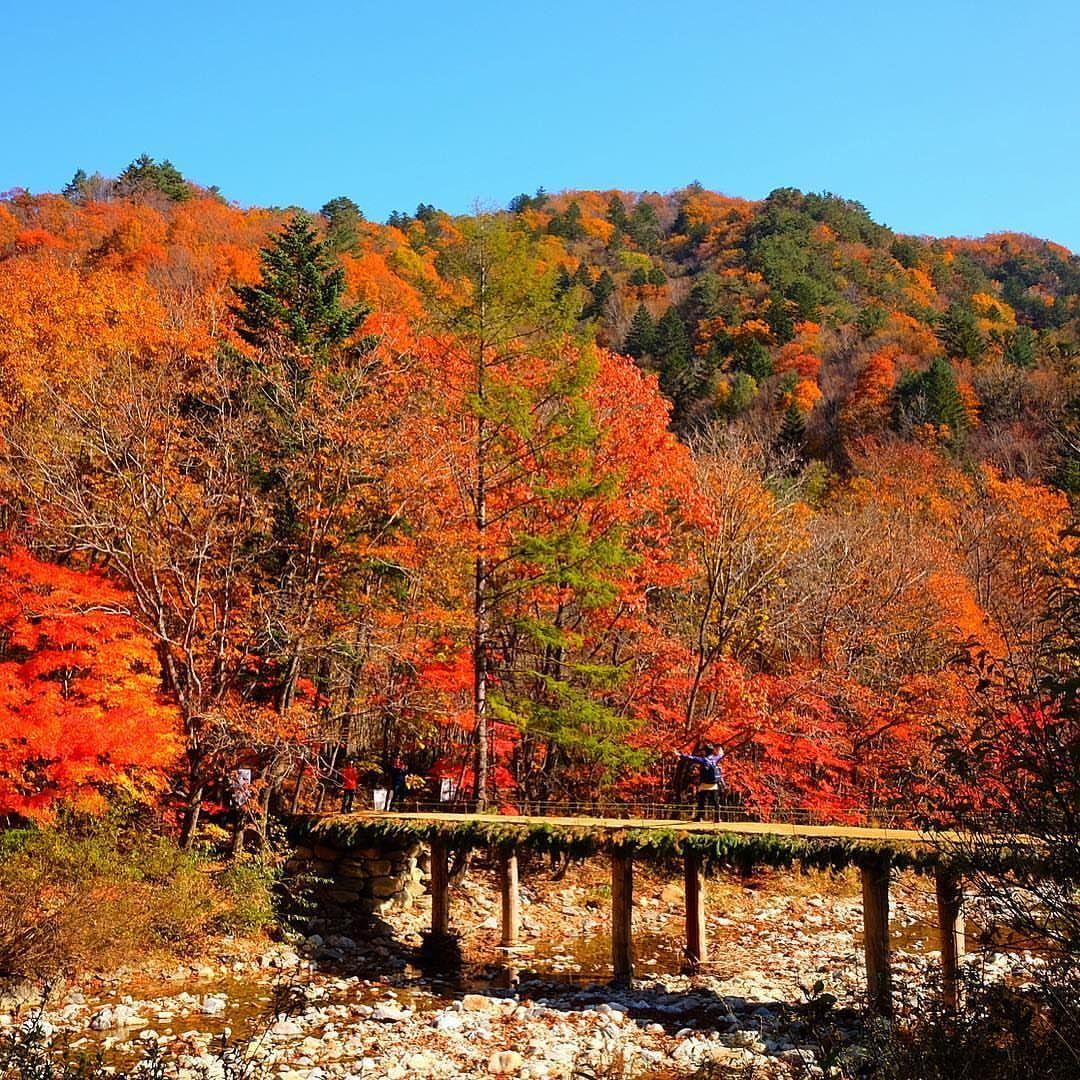 When going on a foliage tour in South Korea, as long as the leaves turn red in Seoraksan, the Odaesan Mountain located in Pyeongchang, Gangwon-do will also have leaves that turn to beautiful red and yellow.
K-drama Guardian: The Lonely and Great God was also filmed here at Odaesan.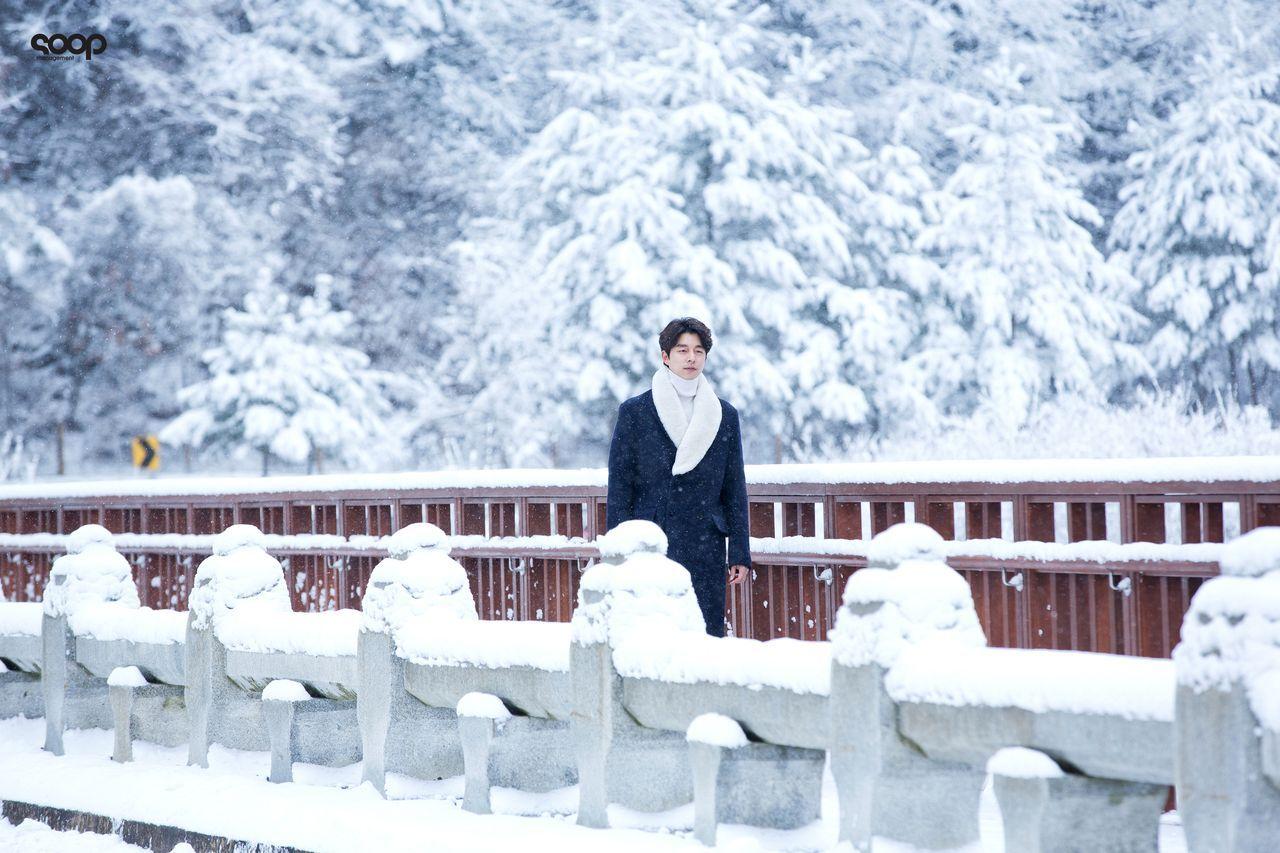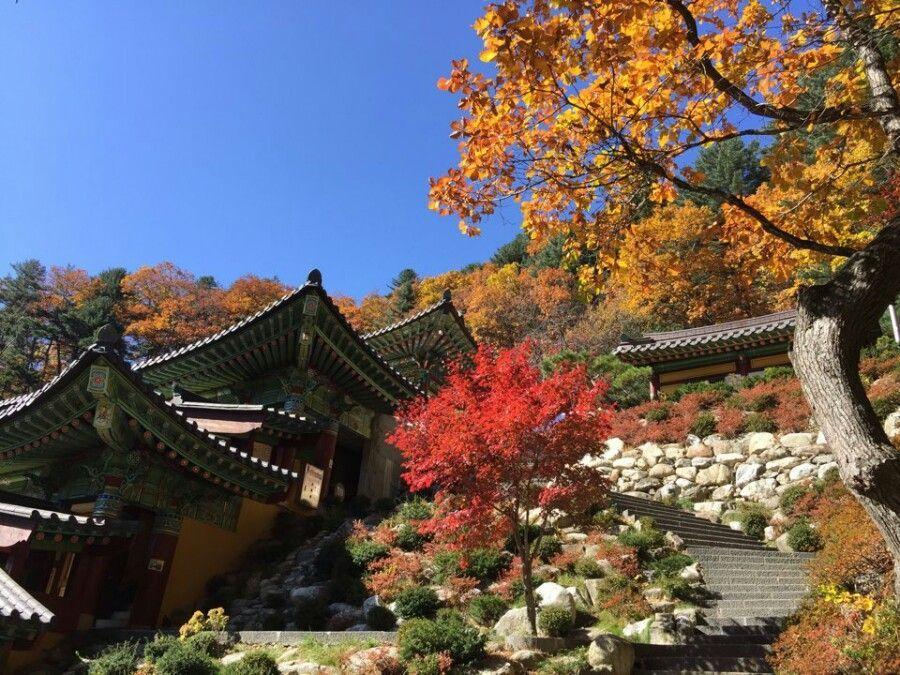 Sangwon Temple in Odaesan is also stunning at the time of the year. The hiking trails and walking paths are famous among avid local hikers and travelers.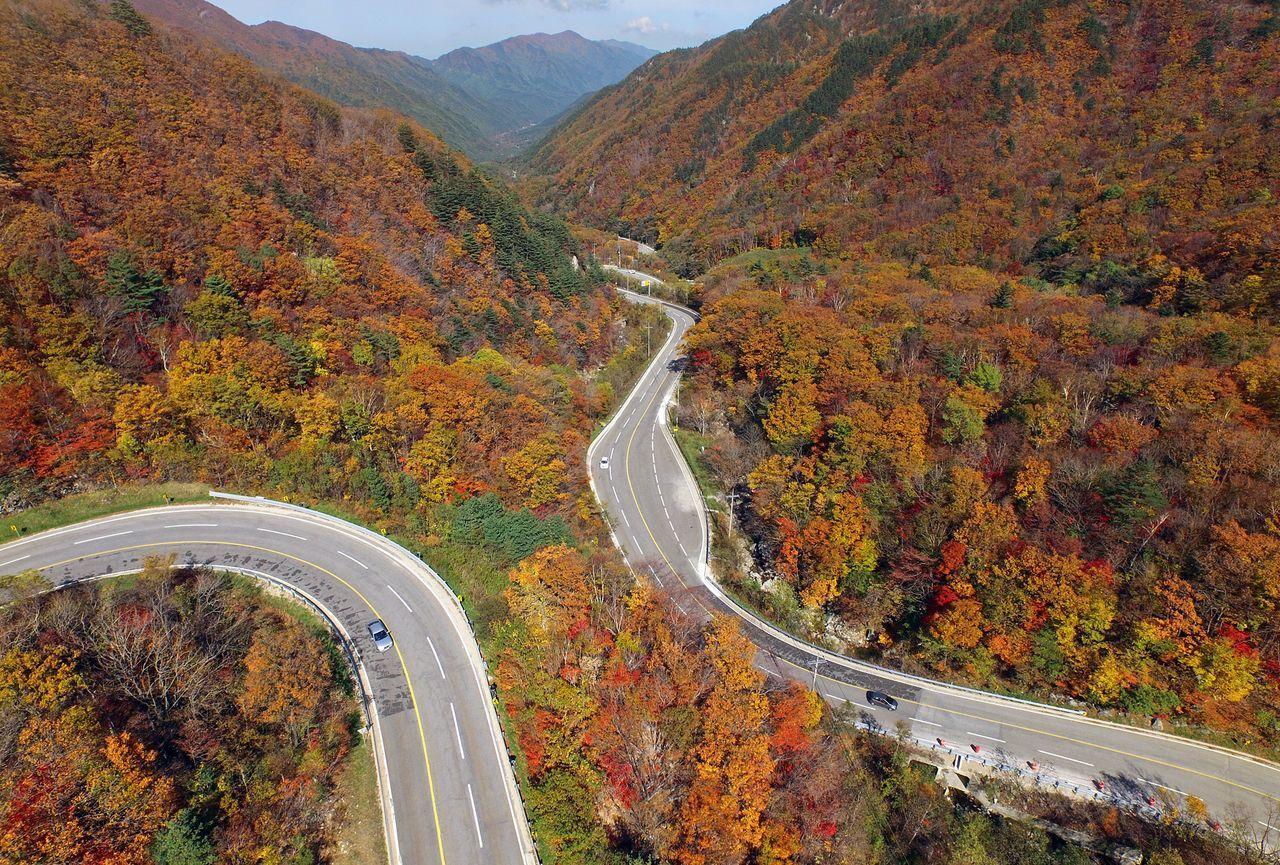 The road up to the mountain is covered with radiant foliage on both sides. I strongly recommend you come here, walk up and enjoy the scenery.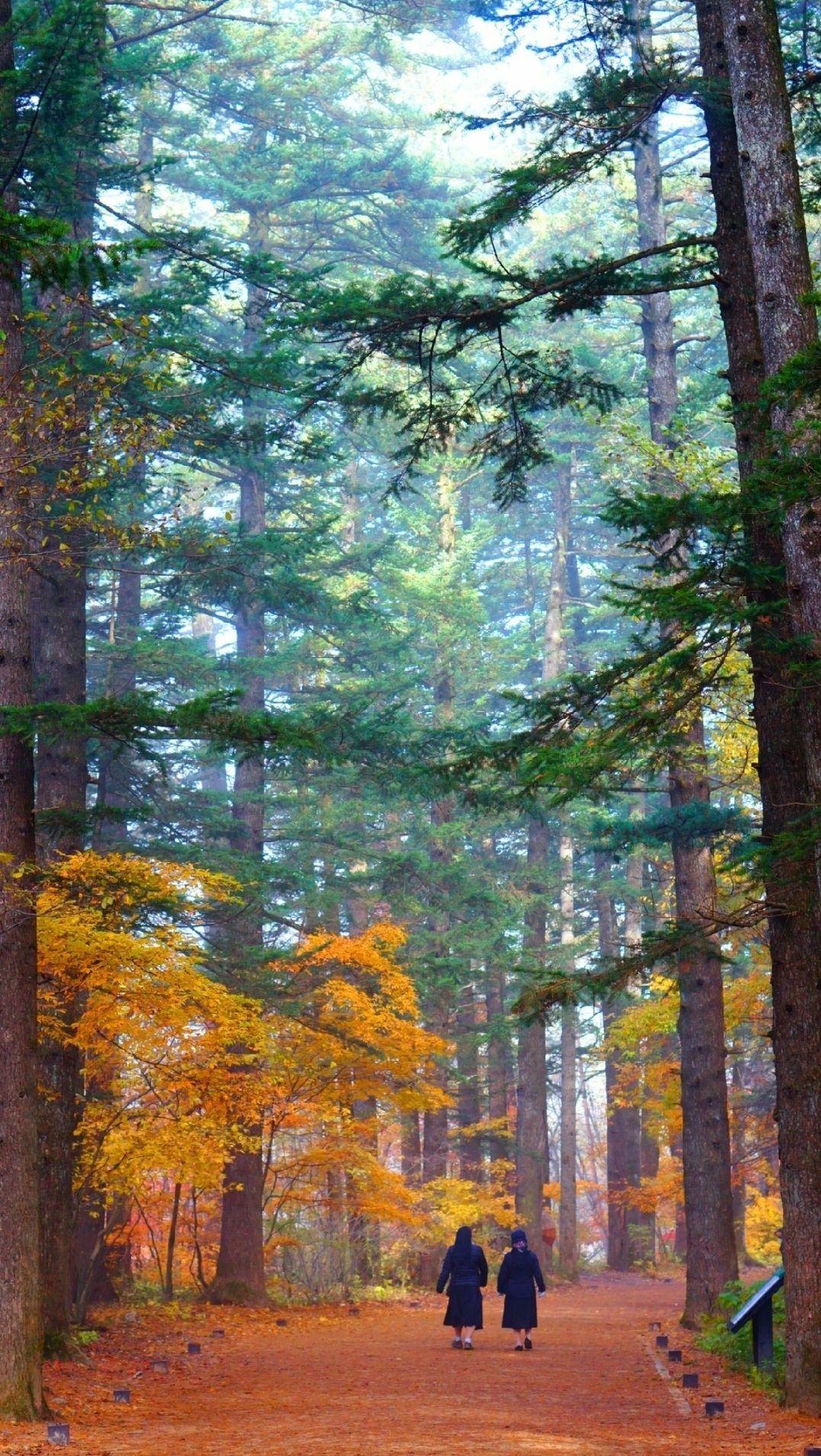 ---

Location: 936, Naejangsan-ro, Bokheung-myeon, Sunchang-gun, Jeonbuk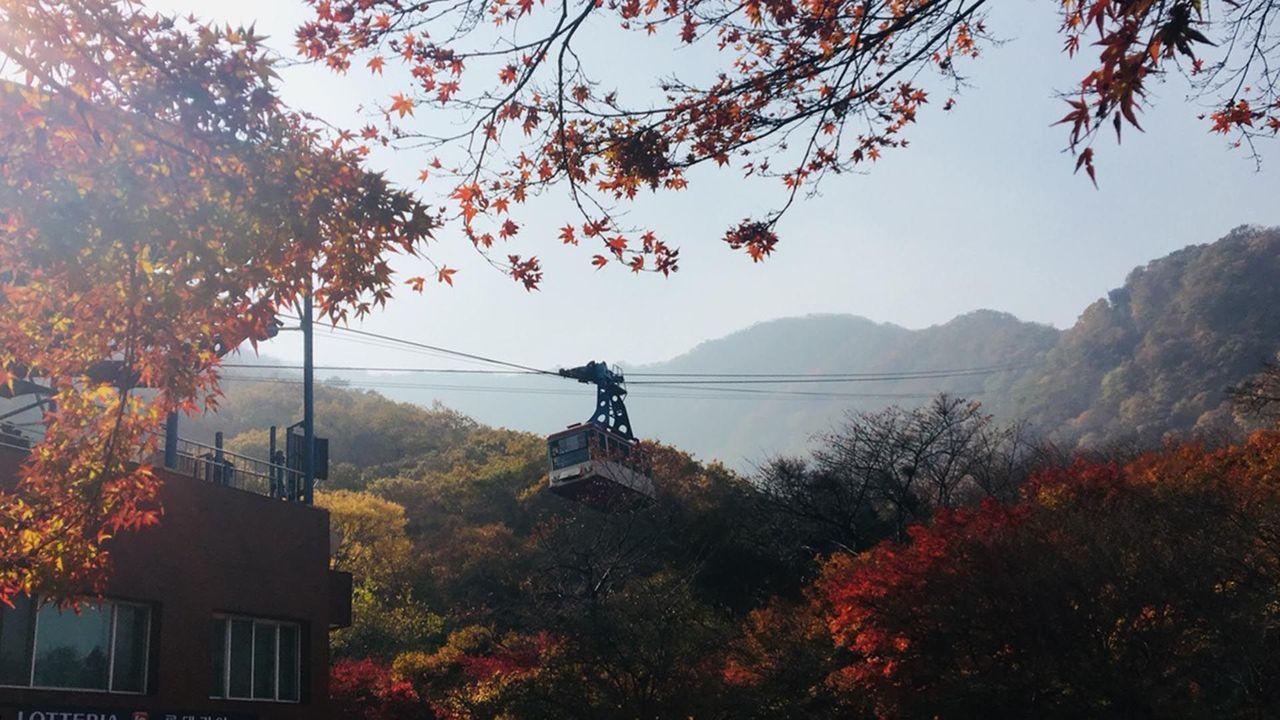 In 1971, Naejangsan Mountain was designated as the eighth national park in South Korea. It has a beautiful scenery with a lot of trees and leaves in different hues.
Because of this, a lot of tourists come to visit and fall in love with the mountain.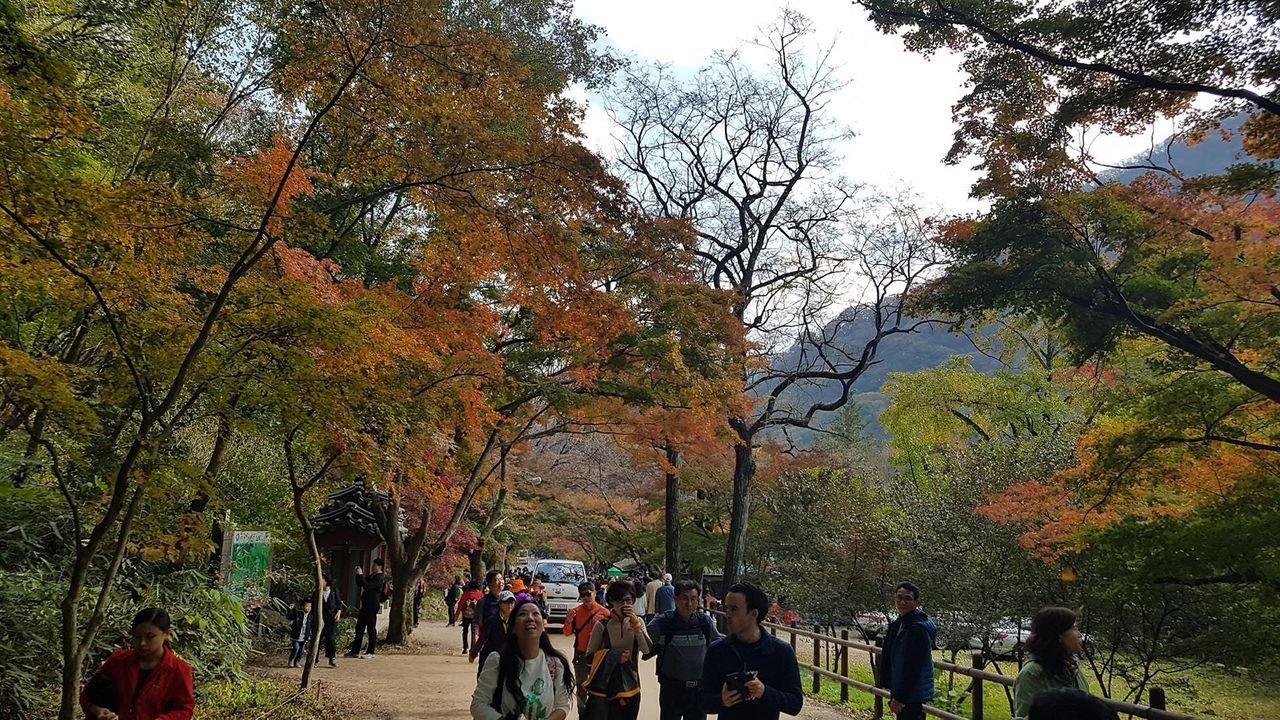 When autumn comes, Naejangsan Mountain gets busy with tourists and photographers who pay a visit to admire its amazing scenery.
You'll find a crowd from the very entrance!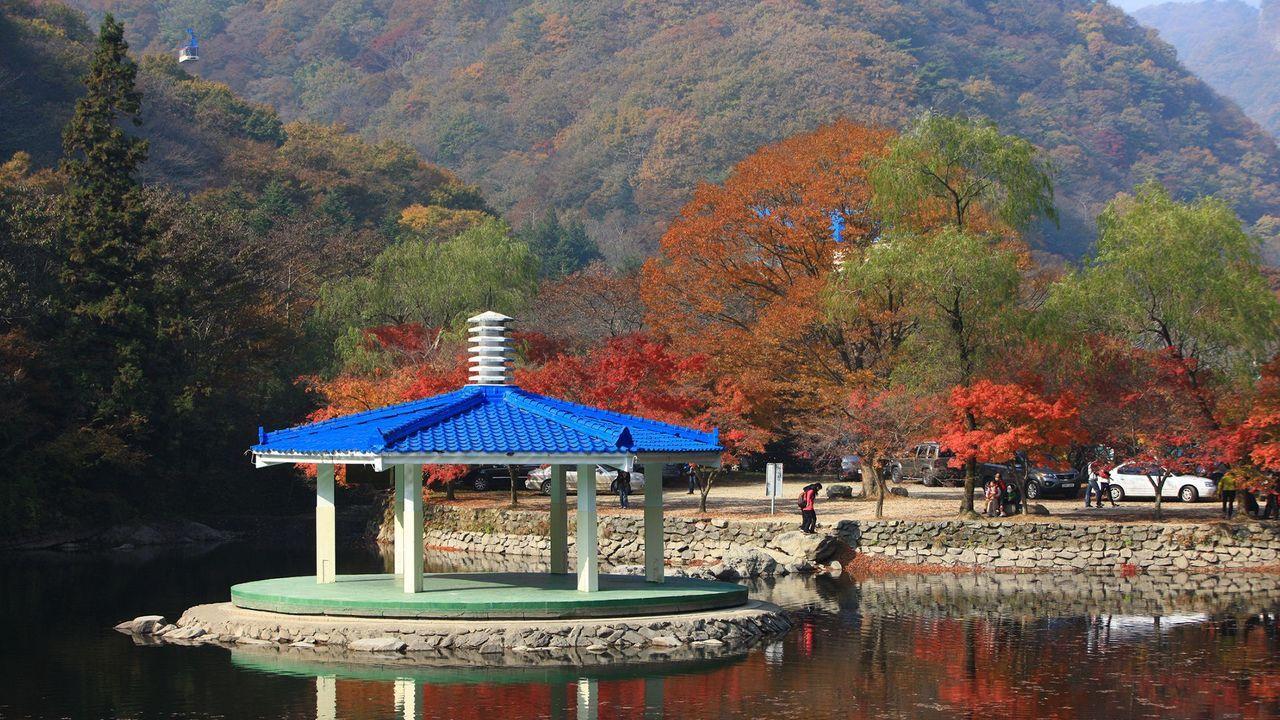 There are many attractions on Naejangsan Mountain but the most famous spot has to be Wuhwajung.
Wuhwajung is a pavilion floating on the water surrounded by red maple leaves that form the beautiful scenery shown above.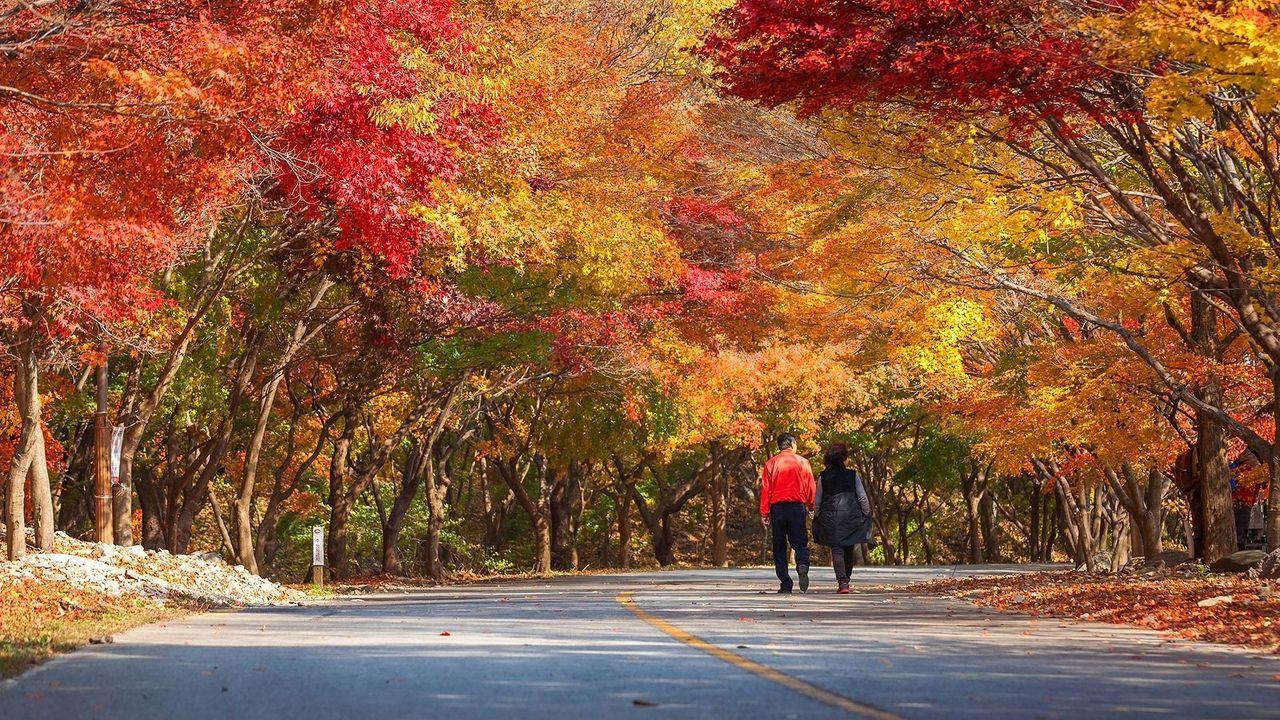 ---

Location: Chuseong-ri, Macheon-myeon, Hamyang-gun, Gyeongnam

Jirisan mountain shows that the best foliage spots are not limited to areas near Seoul. The second highest peak in Korea "Jirisan" Mountain is one of the most stunning fall spots in the southern part of South Korea.
The leaves here begin to turn red at the end of October.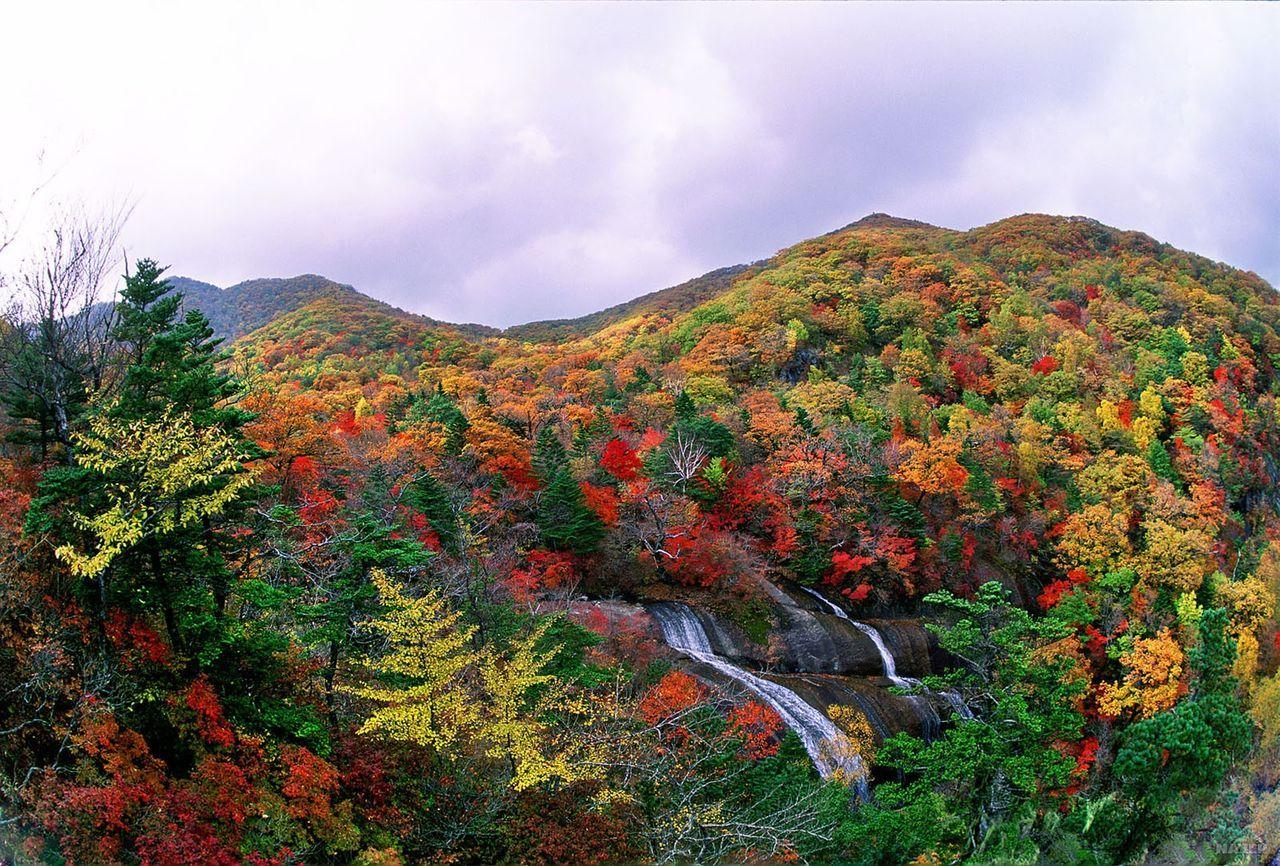 Jirisan mountain is also the first designated national park where you can see the well-preserved nature and ecology that remains here.
I recommend that if you are coming to Busan during the autumn to make sure you add Jirisan mountain to your itinerary.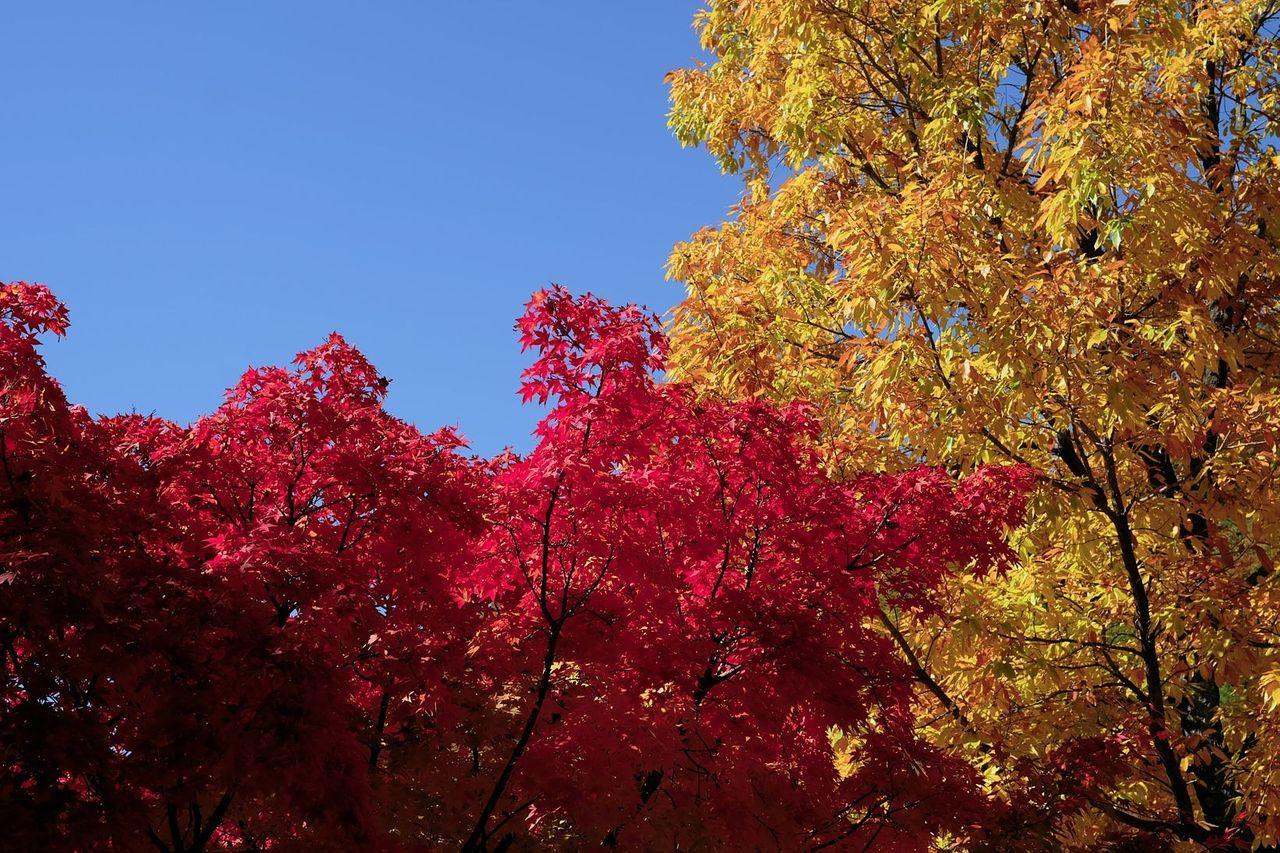 There are a lot of scenic spots in Jirisan mountain with more than a dozen waterfalls in the valleys. However, the best valley would have to be in Baemsagol Valley with its beautiful foliage scenery. Walk along this valley and enjoy the colourful leaves!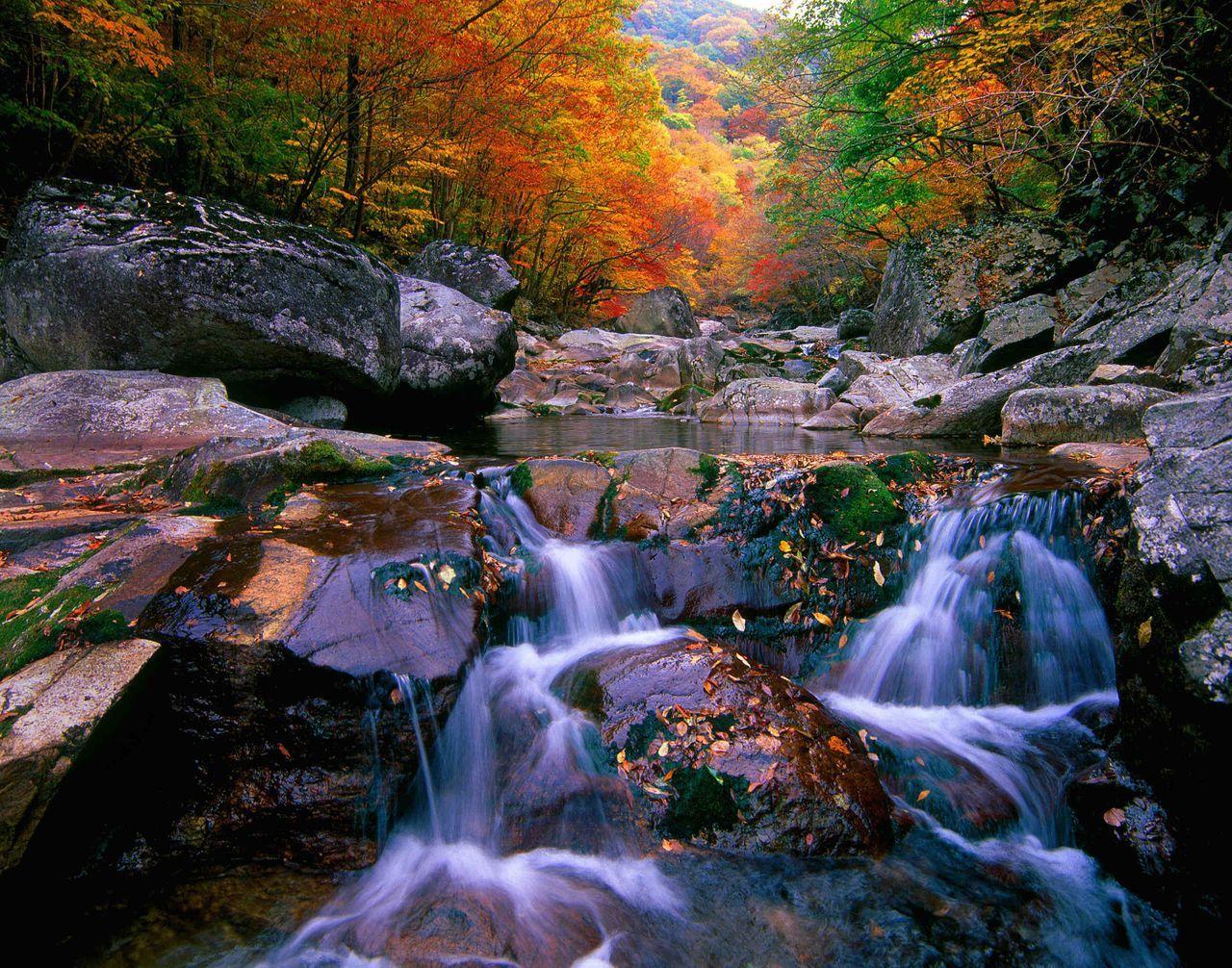 I recommend you come to visit this valley during the end of October with your friends and it is surely going to be one of the most memorable memories of your trip.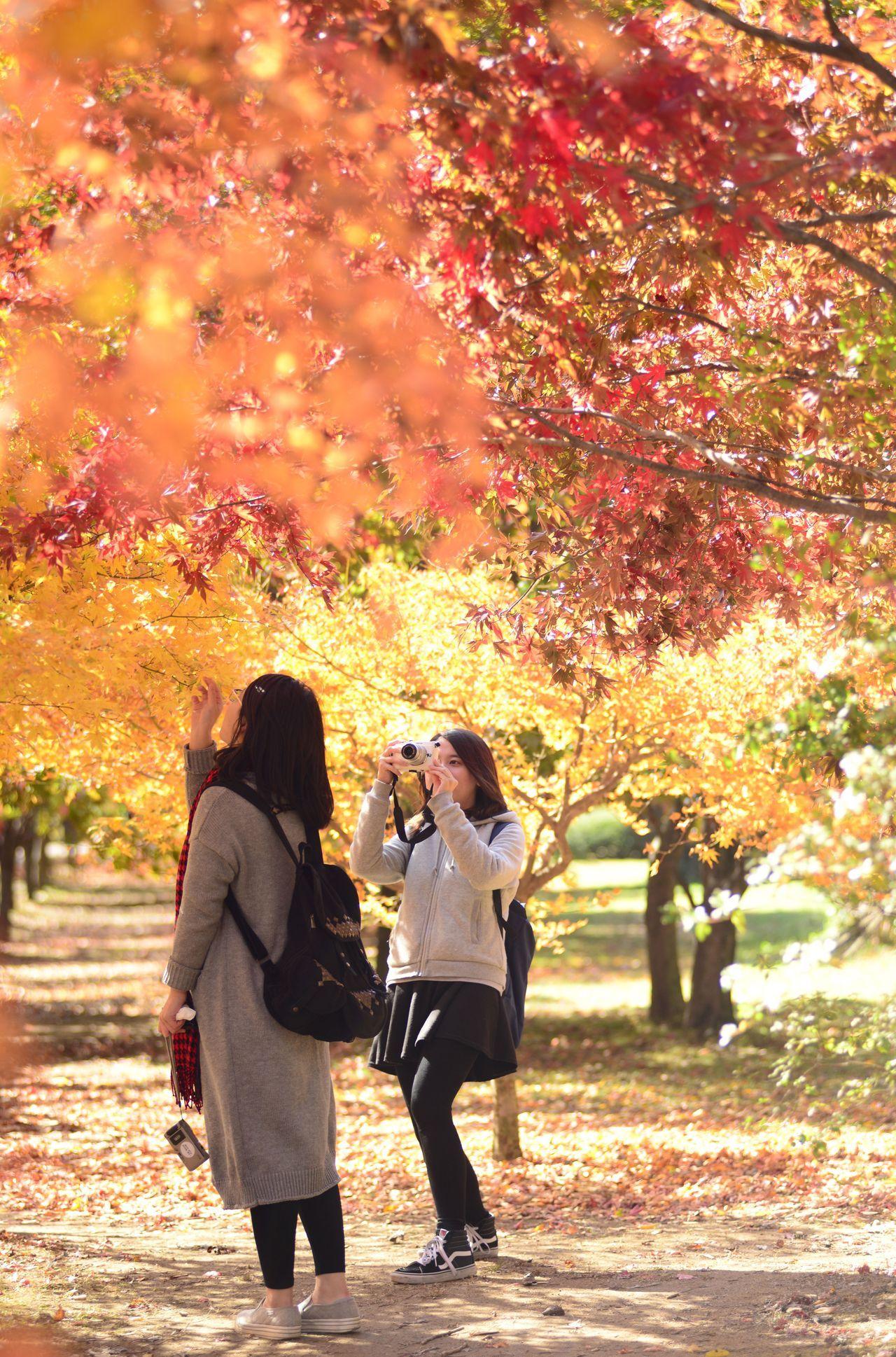 ---

Location: Chuseong-ri, Macheon-myeon, Hamyang-gun, Gyeongnam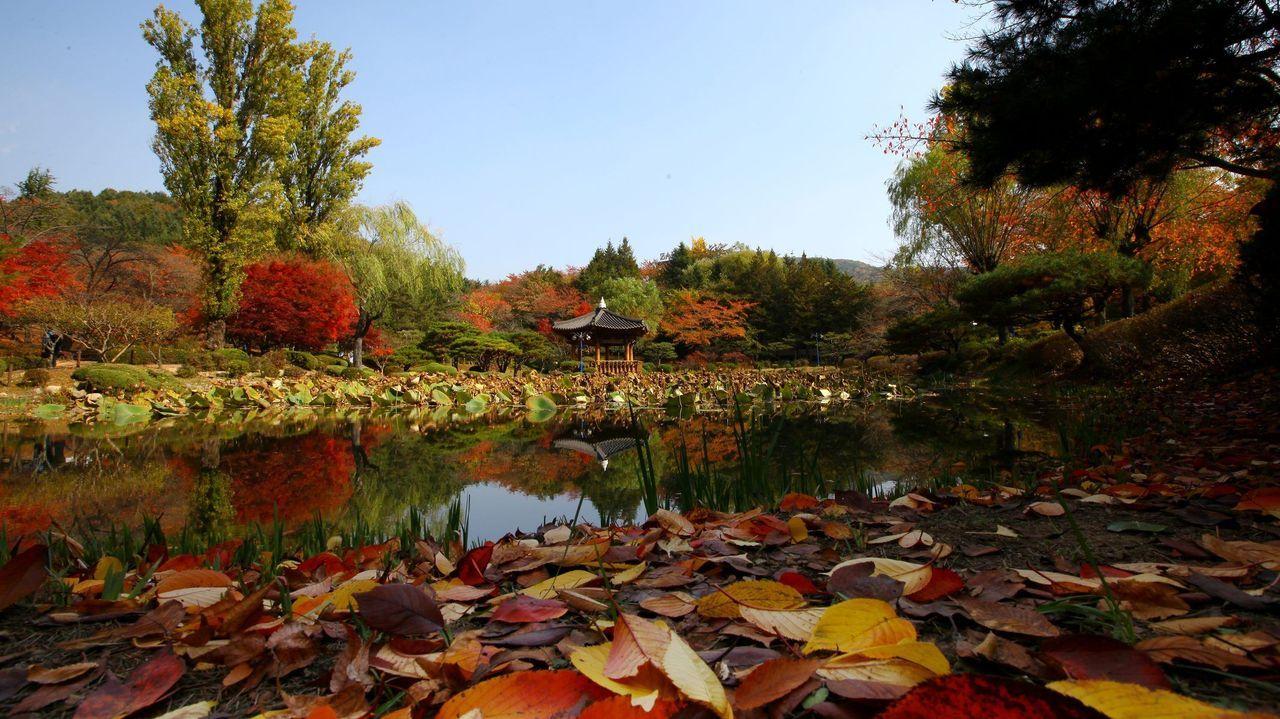 Located in Gyeongsangnam-do, South Korea's Gayasan Mountain may be less known to people but will be recognized more for the temple located here called Haeinsa.
Since ancient times, Gayasan mountain has been recognized as one of the eight best scenic spots in Korea.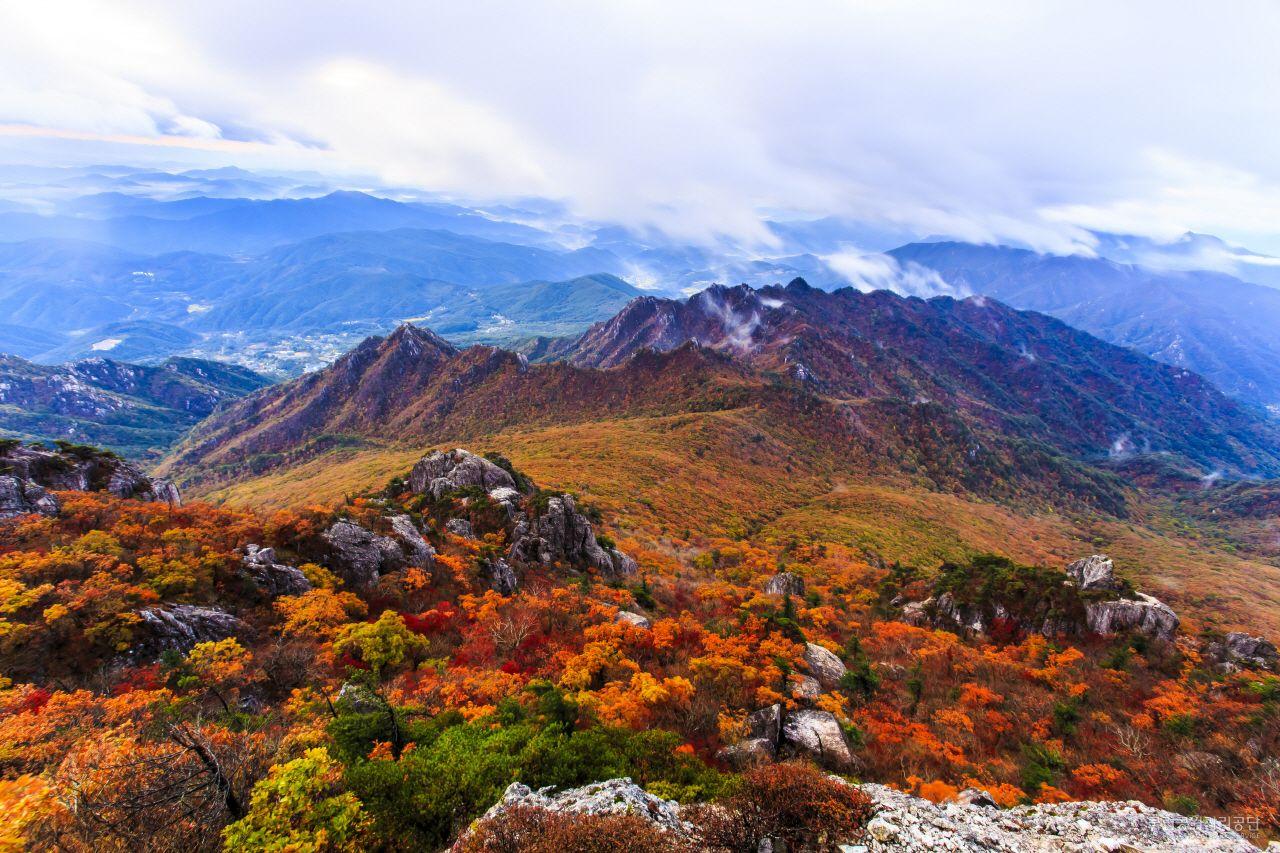 Every autumn, Gayasan mountain is covered with fall foliage. Many Daegu residents will come to Gayasan mountain when the weather is good and climb it to enjoy the scenery it offers.
In 1972, Gayasan was designated as Korea's ninth national park.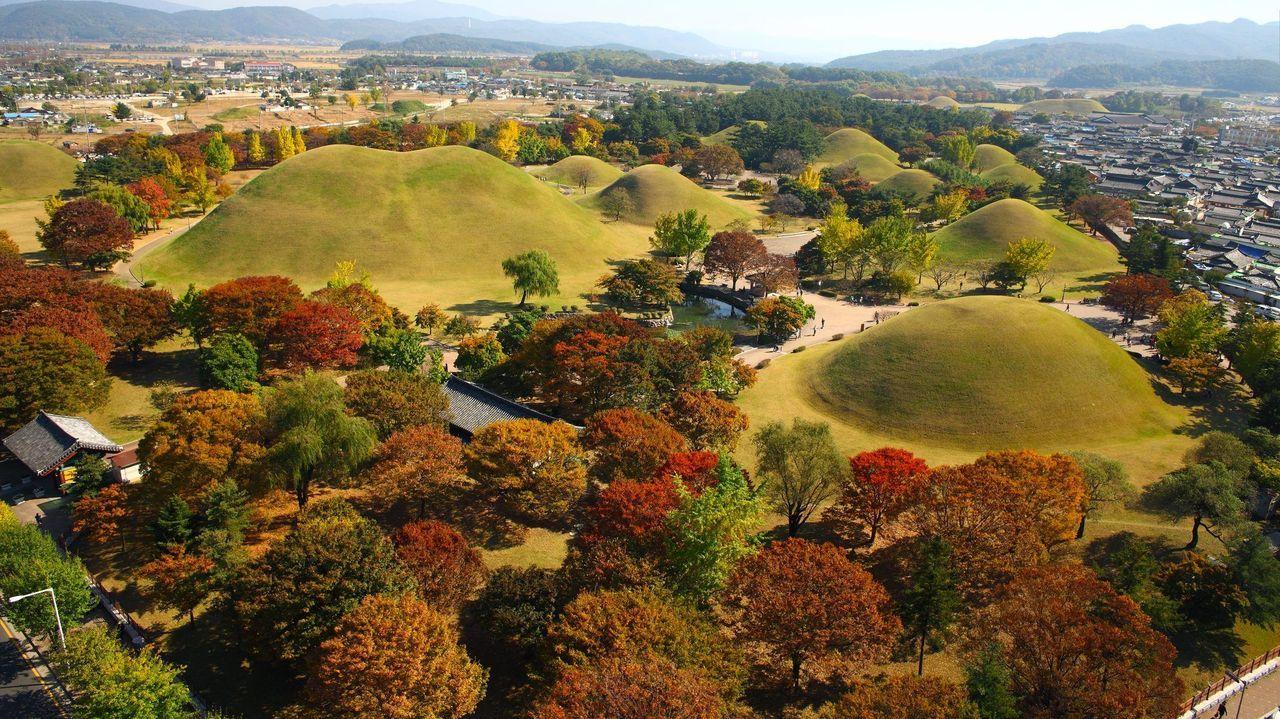 In the autumn people who are taking trips to nearby cities of Gayasan mountain such as Daegu or Busan may want to come here and enjoy one of the most beautiful sceneries in Korea.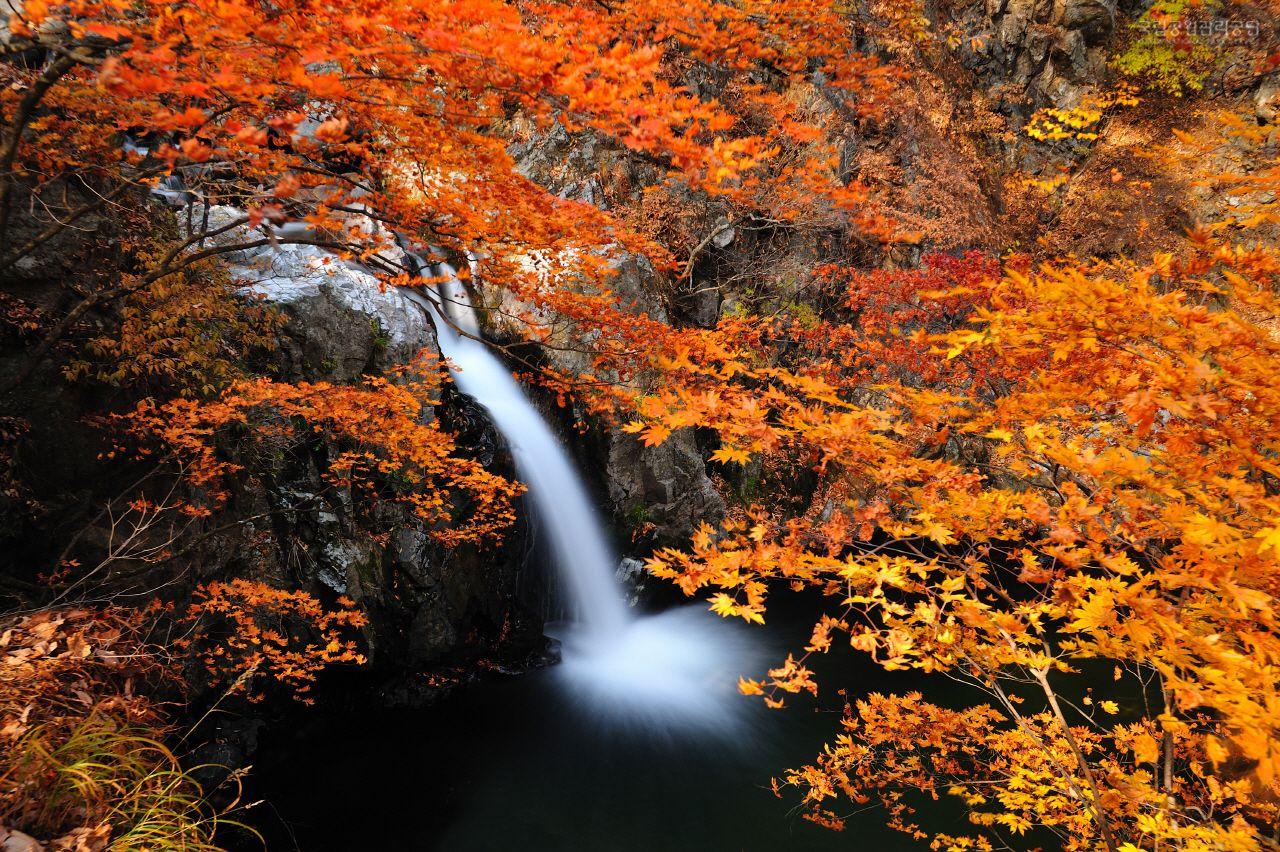 ---
6. Juwangsan (주왕산)

Location: 169-7, Juwangsan-myeon Park-gil, Cheongsong-gun, Gyeongbuk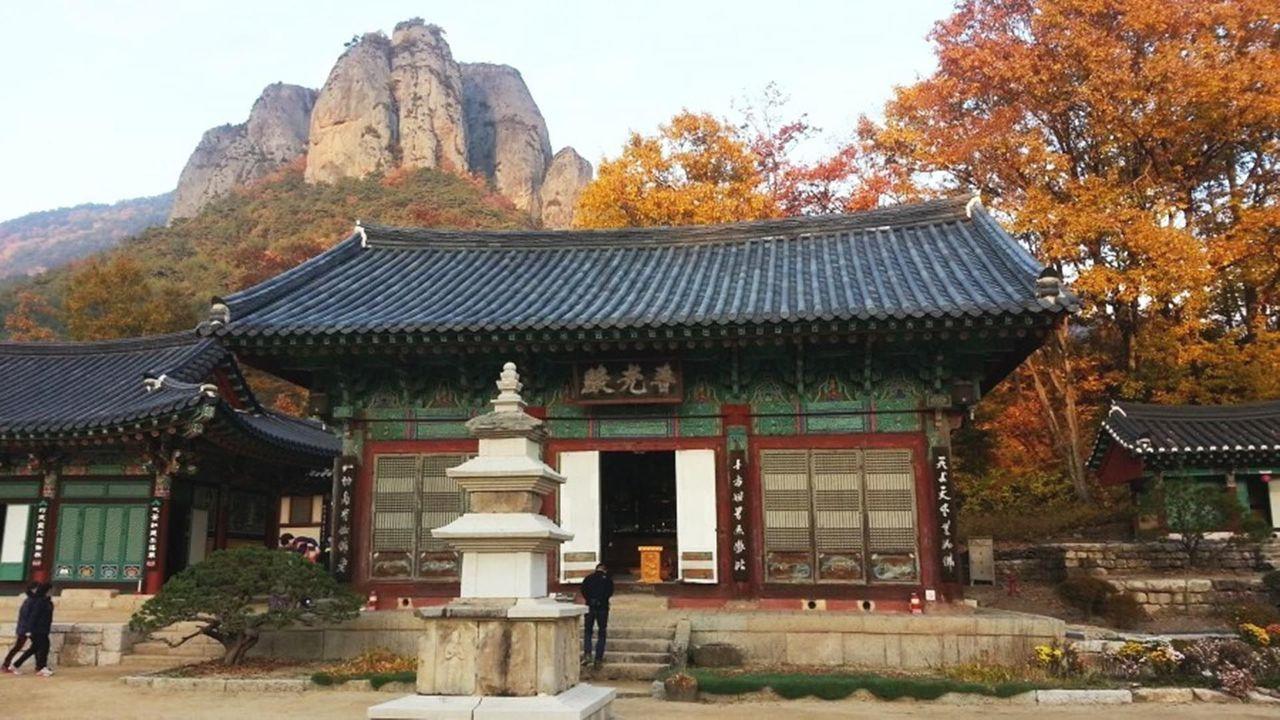 Juwangsan Mountain located in Gyeongsangbuk-do is the twelfth national park in Korea. The beautiful valley landscape is its most special scenery. Walking on the trail next to the rock walls are amazing.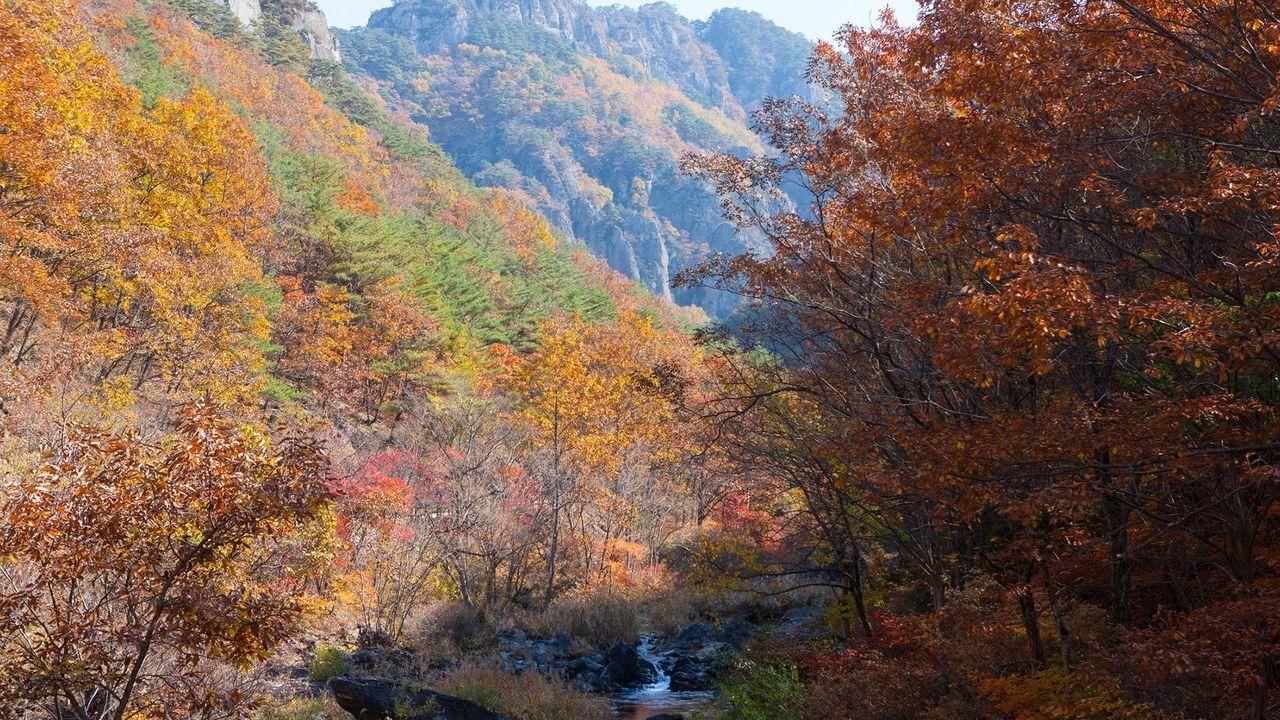 Juwangsan Mountain is located in the middle of South Korea and close to Daegu but because of it's slightly inconvenient nature, there are fewer travelers that choose to visit this place compared to other places.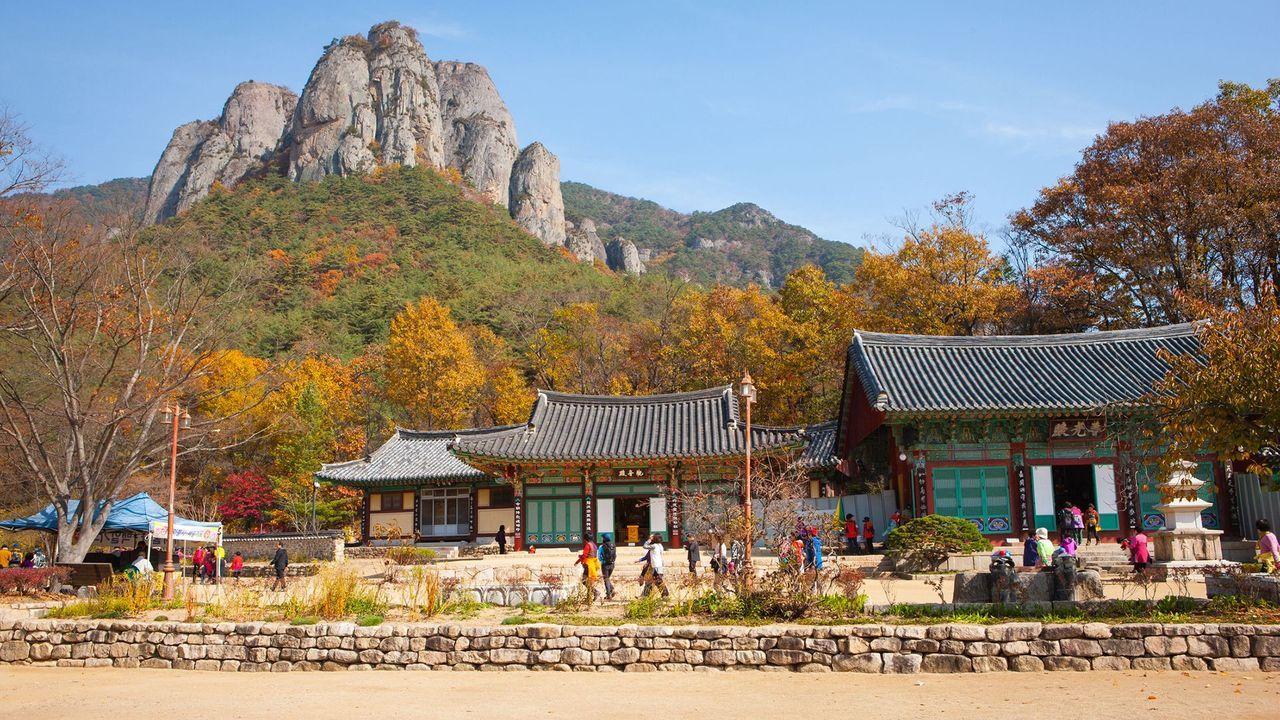 The beautiful Huiyeondang is located on the foot of the mountain. You can get a view of the mountain in one view from here. The trees here seem full of life and is an amazing scenery.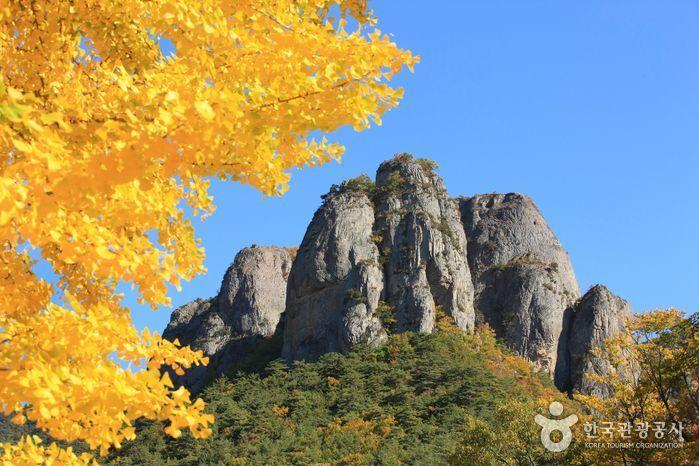 Going into Juwangsan mountain, the maple leaves and gingko trees make an amazing trail to follow and leave unforgettable memories of your trip to Korea.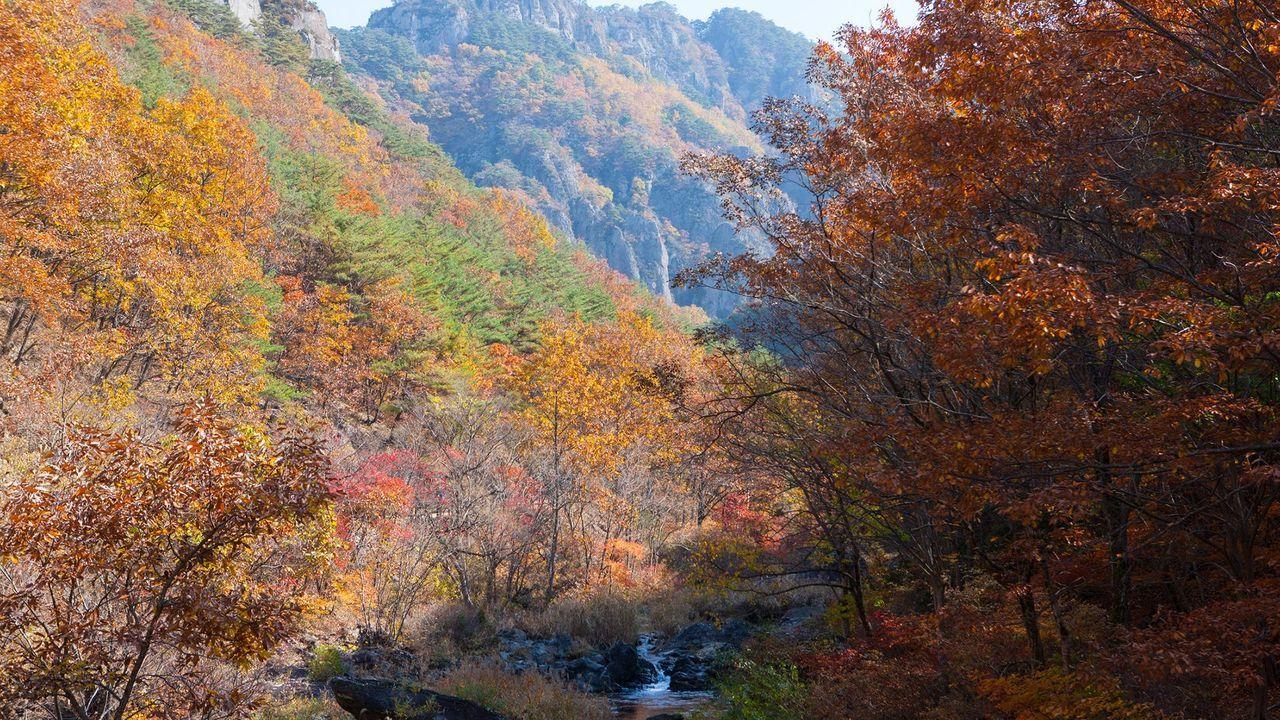 ---

Location: Gyeongju, Gyeongsangbuk-do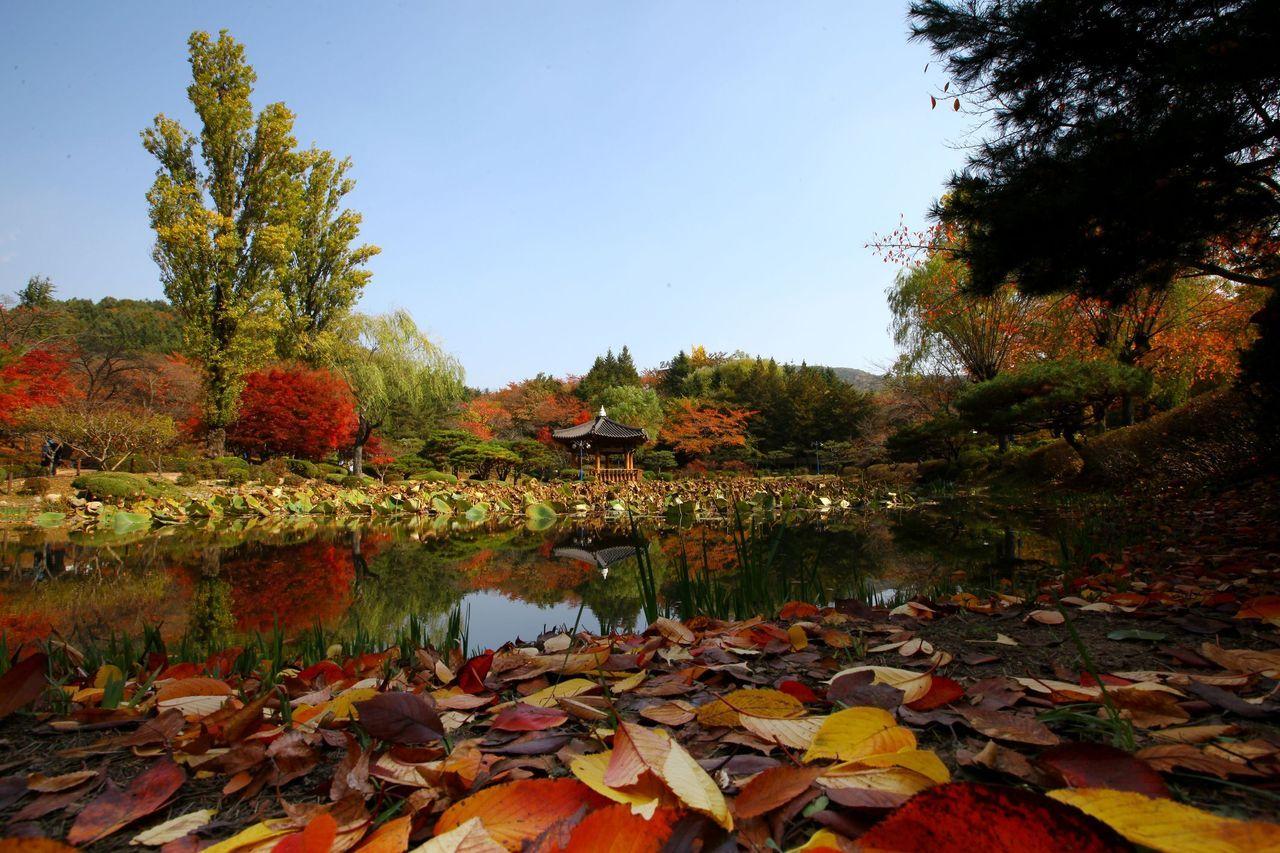 Gyeongju, which is not that well known to tourists is also an amazing place to visit. In the autumn besides the beautiful scenery, check out the Bulguksa temple and Bomunsa temple in Gyeongju.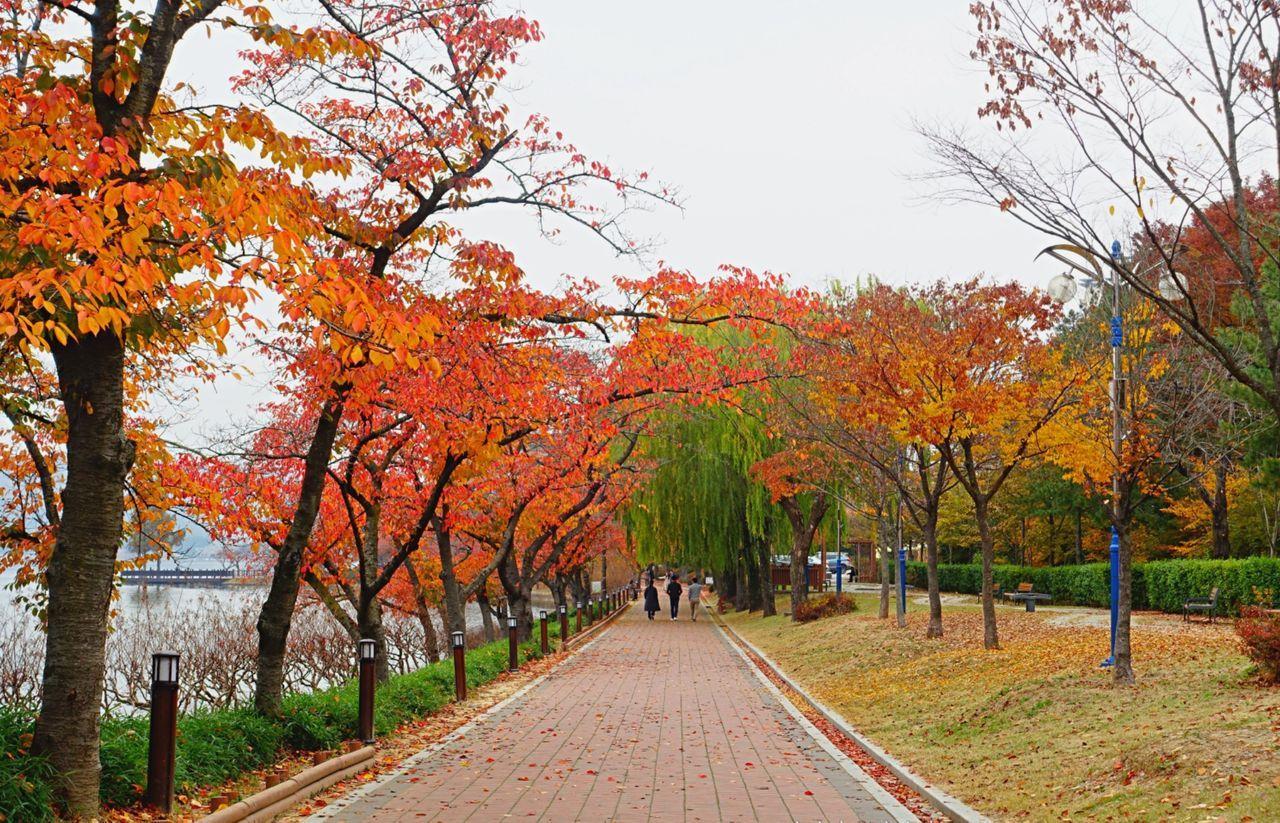 The Bulguksa temple and Bomunsa temple are surrounded by beautiful maple trees and ginkgo trees in the autumn. It can be considered one of the best scenic spots in the south-central region of South Korea.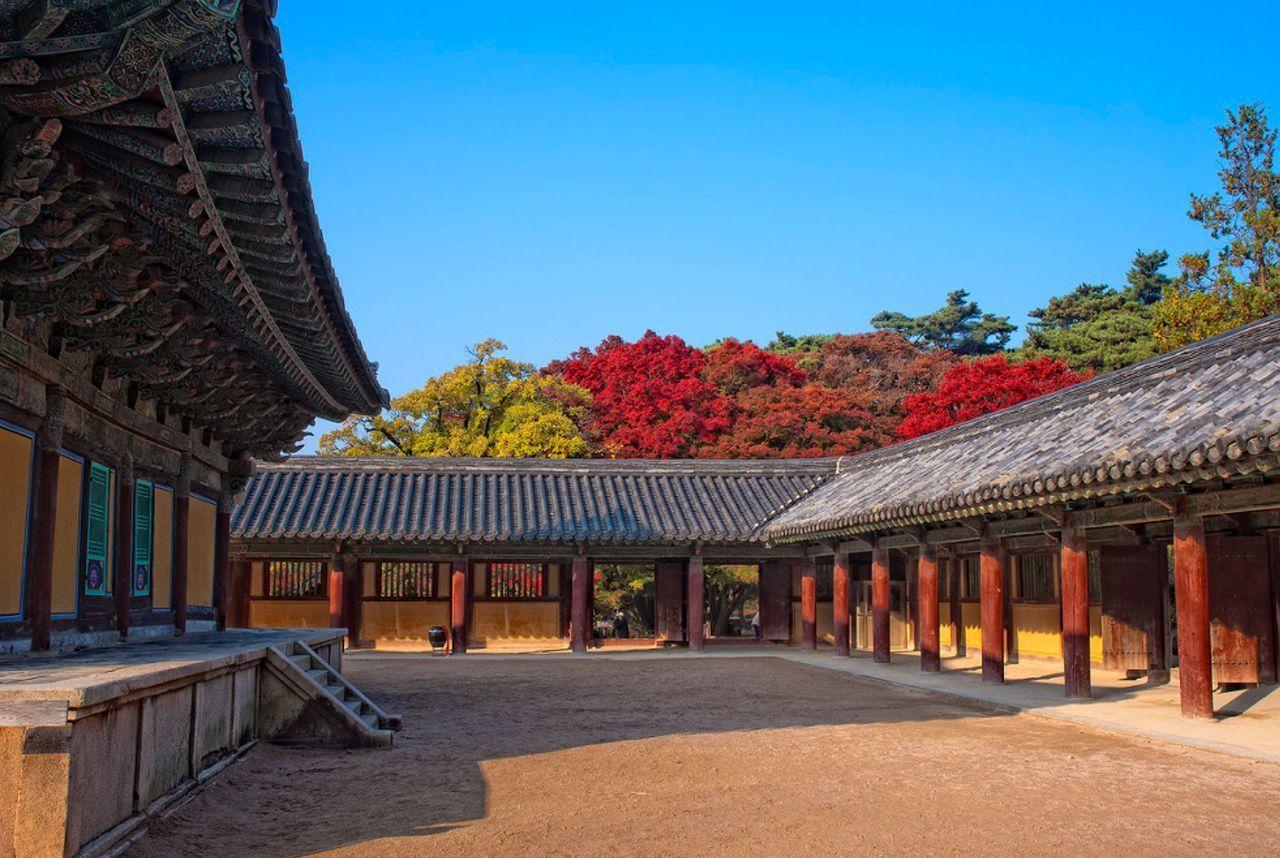 Bulguksa temple, I can guarantee that if you come here you will not forget it. Built in the year 528 during the Silla era, Bulguksa Temple is also of great national value being shown on Korean currency behind the 10 won coin.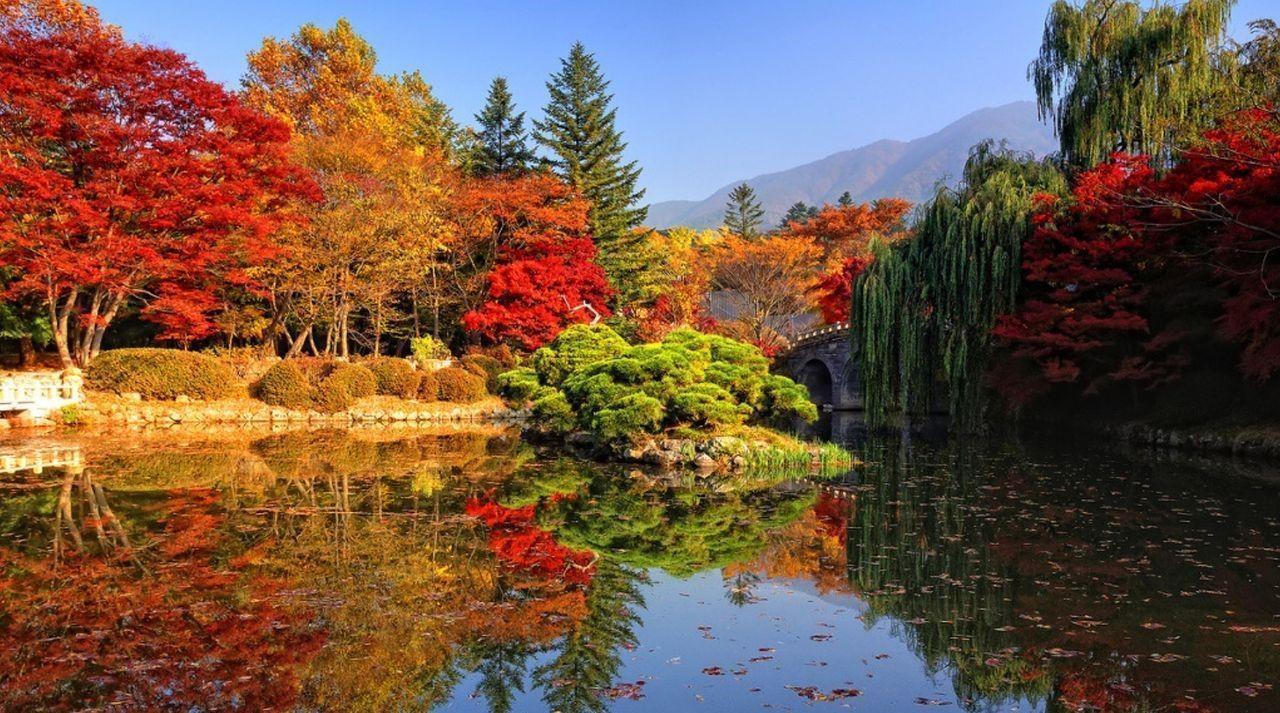 There is also a lotus pond in the temple. This lotus pond is one of the most famous scenic spots for foliage here at Bulguksa temple. Every autumn, this lotus pond is surrounded by red and yellow leaves making it really beautiful.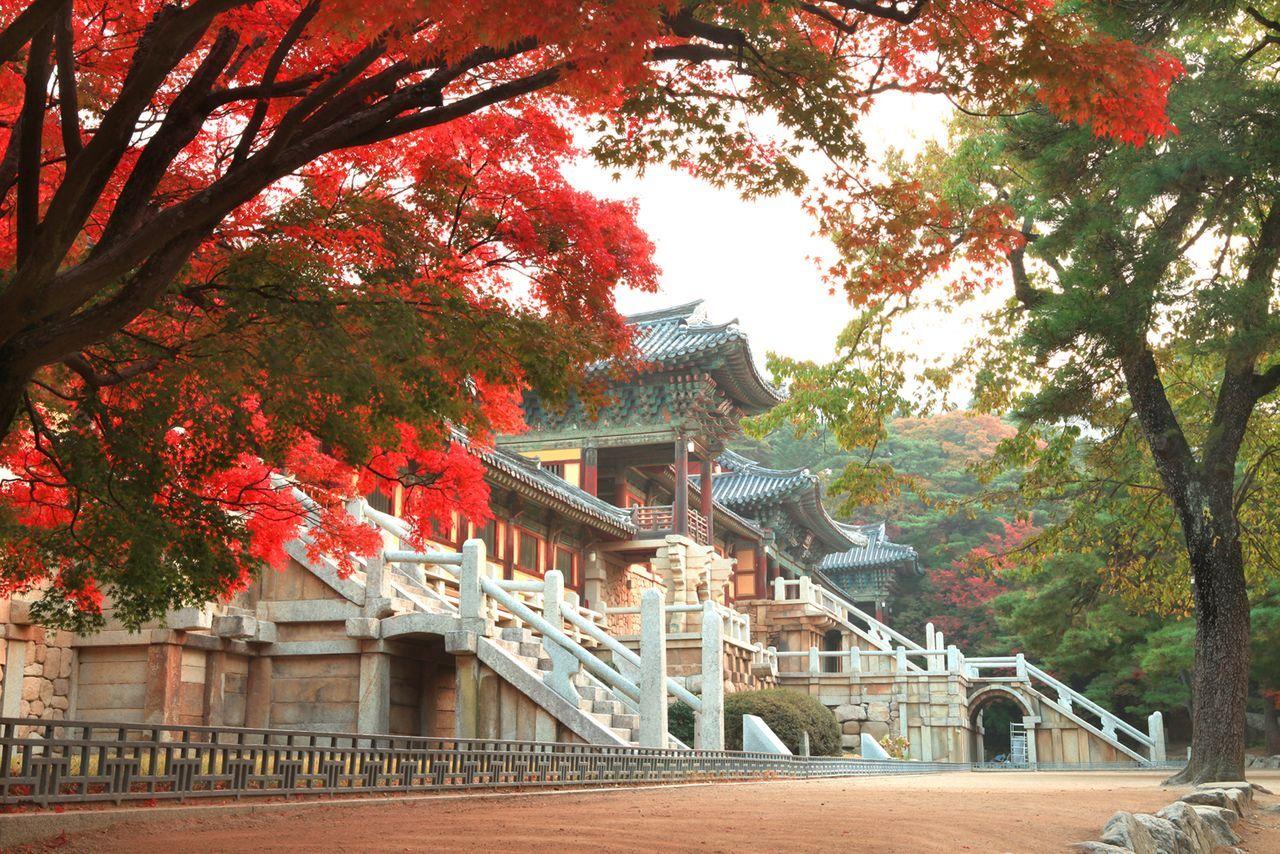 ---
That wraps up our list of the best fall foliage spots in Korea. Be sure to save this list for your future trip here!