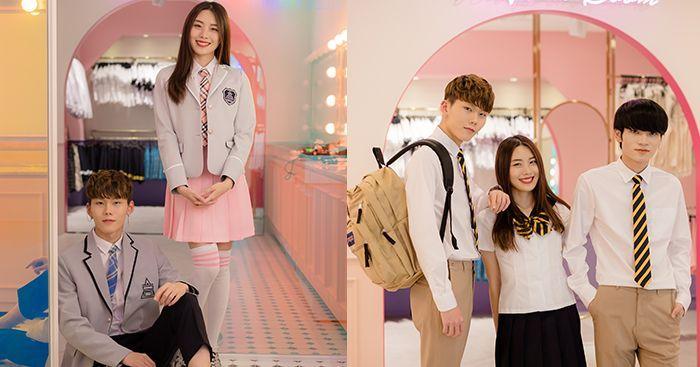 Hello,everyone! We are Creatrip, a group of Korean travel experts.
We proudly present you with the latest, useful Korean travel information and tips every day.
Wearing school uniforms at famous tourist places became a popular trend among young Koreans.
Not only couples, but even friends come and rent Korean school uniforms and take photos together.
At the Jamsil Lotte World Amusement Park, you can see loads of Korean people wearing school uniforms. Many of them rent from a school uniform rental shop. You can find pretty uniforms that appeared on popular Korean shows, such as Produce 101 and Korean dramas.
For those of you who always wanted to try on Korean uniforms, Creatrip found the perfect rental shop in Jamsil called [Ewha School Uniform (Gyobok)].
---
Rental Price
| | | | |
| --- | --- | --- | --- |
| | | All Night Long Rental (2 days) | All Night Long Rental (3 days) |
| Uniform (1 set) | ₩20,000 | ₩25,000 | ₩30,000 |
Additional Services
shirt, skirt or pants, vest, tie; free use of makeup/dressing room, photo zone

Additional Charges

Produce101 jacket ₩5

,000,

backpack ₩5

,000,

women's vest, inner pants, pantyhose, male short sleeve shirt, Knee socks, selfie stick, tripod
School Uniform Details
XS to XXL (Request for non-standard sizes on-site);School Uniform Size Chart (Click!)

All Day Rental

All Night Long Rental

For "All Day Rental", you must return uniforms before closing hours on the same day, and it doesn't mean a 24 hour rental.
For "All Night Long Rental 2 days/3 days", you must return before closing hours on the 2nd/3rd day.
Additional Rental Services
If you wish to rent the uniform for more than 3 days, the additional charge would be

₩3,000

per day. Please ask at the site.

Service Review
Ewha School Uniform (이화교복):Produce 101 & High school uniform rental(introduction, directions, etc.)
Recommended reasons
Ehwa School Uniform (이화교복) is located right next to

Jamsil Lotte World

, which is one of the most representative travel attractions in Korea. You can rent, wear and have fun at the amusement park.
Ewha School Uniform has an extensive collection of school uniforms. Other school uniform rental shops usually have the regular school uniforms and the old school uniforms from the 70s and 80s. Ewha's school uniforms, however, are more simple and modern. It has many customized school uniforms similar to the uniforms worn by

K-Pop

idols

and

Produce 101

and

Produce 48 stars

. You won't be able to rent these special school uniforms from elsewhere.
The Ewha School Uniform has a

photo zone

where customers can take photos for free in uniforms.
Business Information
Address: 서울특별시 송파구 잠실3동 잠실동40 지하1증 36-27
Business Hours: 09:00 to 22:30(For all day rental, uniform must be returned by 22:30; For more than 2-day rentals,uniform must be returned by 22:30 on the last day)
Facebook Page:Ehwa School Uniform Facebook Page(Contact the vendor directly if you want to change or cancel your reservation)
Precaution
A Chinese speaking staff is available on-site.
₩5

,000 per set of uniform

A group of customers needs to leave a passport in addition to the deposit
Enjoy a 10% discount on reservations made on Creatrip. However, if the payment is not made after the reservation, the reservation will be invalid. Your payment must be completed after you make your reservation. Please complete the payment as soon as possible.
No makeup service is provided nor photo shooting service.
You can try on two school uniforms for free. After two trials, the vendor may charge additional cost on the third trial and onward.
To cancel or change your reservation, please contact the vendor (Ewha School Uniform Facebook Page).


Reservation Process
After making reservation, you can check the reservation status at "

My reservation

" after submitting the order form. If the button turns out to be green marked "

Confirmed

", your reservation is confirmed.
If you want to modify the reservation date, please cancel your reservation and make a new reservation.
Present your reservation confirmation at the store to prove your booking by clicking the "

Confirmed

". It is your reservation confirmation.



How to see whether your reservation is confirmed


Reservation confirmation to be presented at the store



Ewha School Uniform (이화교복) | Photo reviews
The Ewha School Uniform (이화교복) is a uniform rental shop near Jamsil Lotte World. It is about 10 minutes walk away from Exit 4 of the Jamsil Station. Creatrip landed on a partnership with Ewha Unifrom because they have an extensive collection of school uniforms. From general high school uniforms to the uniforms worn by K-Pop Idols, all kinds of Korean school uniforms at available at Ewha.
There are a variety of school uniforms available for rental at Ewha School Uniform (이화교복). At Ewha, you can find the actual high school uniforms that Korean students wear and the retro-style school uniforms from the 70s and 80s, and school uniforms. Plus, there is an extensive collection of K-pop Idol-style school uniforms similar to the ones featured on Produce 101 and Produce 48. They all come in different sizes.
Many times, you will see Korean actors and actresses wearing beautiful school uniforms in K-dramas. Or maybe you already came across your favorite K-pop Idols wearing school uniforms on stage. These uniforms are not only meant to be seen on a TV. You can try them as if you are a celebrity at Ewha. Ewha school Uniform is famous for having customized K-Idol school uniforms, and this type of uniforms cannot be found elsewhere.
Also, Ehwa School Uniform also has a pretty photo zone, and it is free to use for guests. Guests are more than welcomed to take photos at the studio in their favorite uniforms. You can be a Korean school student or even a K-Pop Idol star.
Ewha school uniform is located in Korea's most representative tourist attraction: Jamsil Lotte World. Recently, Korean locals started to wear school uniforms for dating. When you come to Korea, we would like to recommend you to have this experience and make a fun day at Lotte World. Ewha School Uniform closes late when Lotte World has an extended working hour. Don't worry about the return time, enjoy your day at Lotte World to the fullest!
Many accessories are for free at Ewha. In addition, the dreamy looking dressing room and makeup tables are free to use. Come and experience the high school uniform rental at Ewha School Uniform.
---

Business Location
Ewha School Uniform Roadmap Directions
Take the Seoul metro line 2 or Line 8 and get off at the Jamsil station (잠실역). Get out of Exit 4 and walk straight. Walk past the Jamsil Lotte building and the parking lot. When you see the building that has CU and Starbucks, go down one floor.
Jamsil Station Exit 4
Walk Pass Jamsil Lotte building.
Walk pass the parking lot
Enter the door next to CU
Take stairs/elevator to go down one floor
Ater arriving at the next floor
Ewha School Uniform


---

The above was a short overview of Ewha School Uniform (이화교복) near Jamsil Lotte World. Please read this blog post carefully, and make your reservation by following the instruction given in this post. If you have any further inquiry, please shoot us an email at support@creatrip.com.
If you need to change any details about your reservation, please make another reservation instead of modifying after canceling previous one. Please read the information on the service and reservation and do not hesitate to contact us for further details.
Email: support@creatrip.com