One Day Trip to Hongdae
Going around Hongdae from breakfast to dinner, a full day itinerary.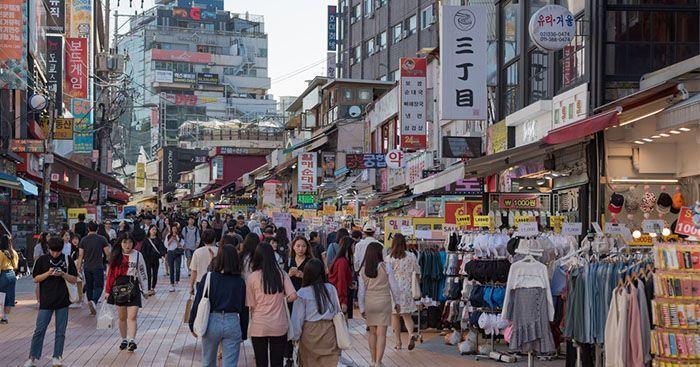 What do you usually think of when you think of Hongdae? Shopping? Food? Dessert? Nightclub? Of course, all the above come to mind but do you struggle to figure out where to go exactly in Hongdae? In this blog, you'll find places I've picked out from my visits from Hongdae that I think are worthwhile to visit.


---
The Famous Lamb (더페이머스램)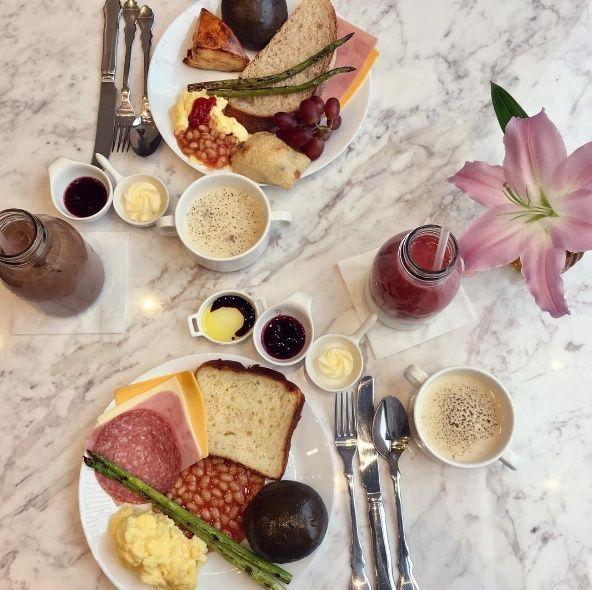 One's fuel for the day begins with breakfast. Therefore, your stomach should be full and happy when starting off your journey for the day. The Famous Lamb offers a breakfast buffet every morning for those breakfast lovers.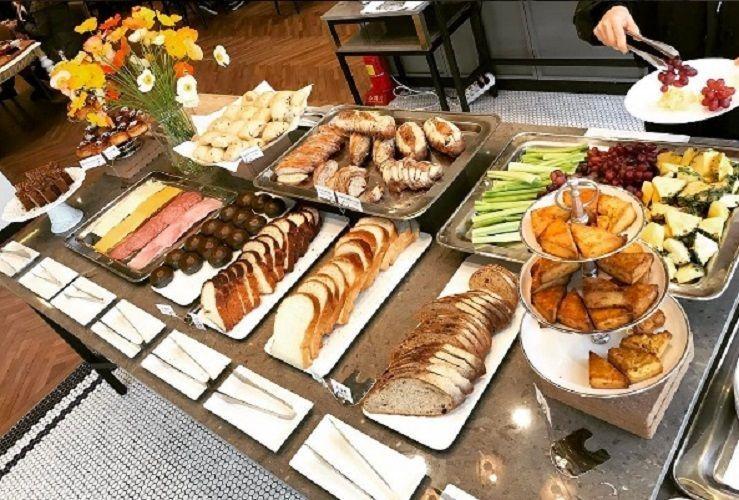 Their elaborate breakfast buffet is similar to the ones we see in a grand hotel. They serve soup, different kinds of bread, fruits, scrambled eggs, vegetables, desserts, ham, cheese, and many more. Just look at the photo above, and you'll see how elaborate it is. All these only costs ₩9,000! However, you have to order a drink separately (per person) and you are free to have as much coffee as you want.
Address: 서울특별시 마포구 월드컵북로4길 29
Hours: Monday to Saturday 8:00 - 23:00, rClosed on Sundays and National Holidays
Hongdae Free Market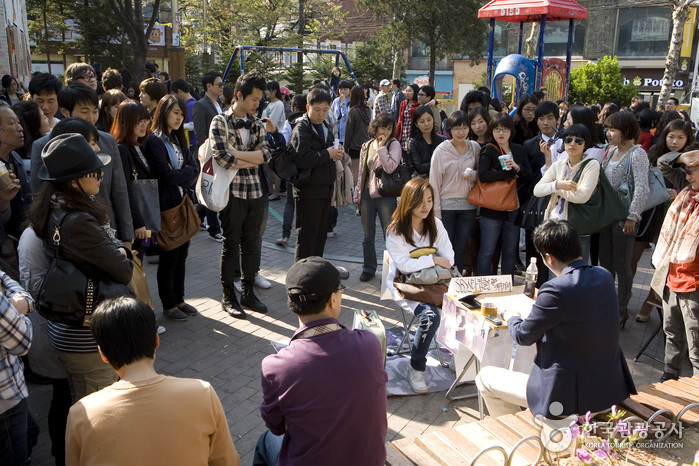 Source: Korea Tourism Organization
After a good breakfast, I went to Hongdae Free Market which has become a big tourist attraction. Hongdae Free Market started in 2002 and is mainly a marketplace for young artists and craftsmen to showcase their works. This flea market mostly sells second-hand goods. It has become a prime cultural hotspot on Hongdae's main street.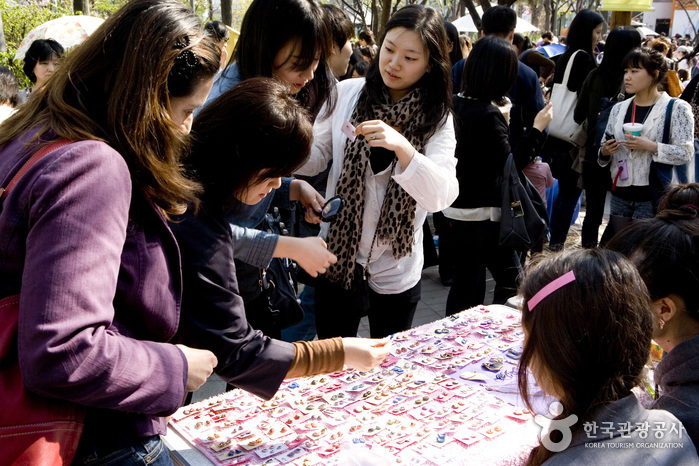 Source: Korea Tourism Organization
The market only opens on Saturdays from 13:00 to 18:00, and it starts from March and ends in November.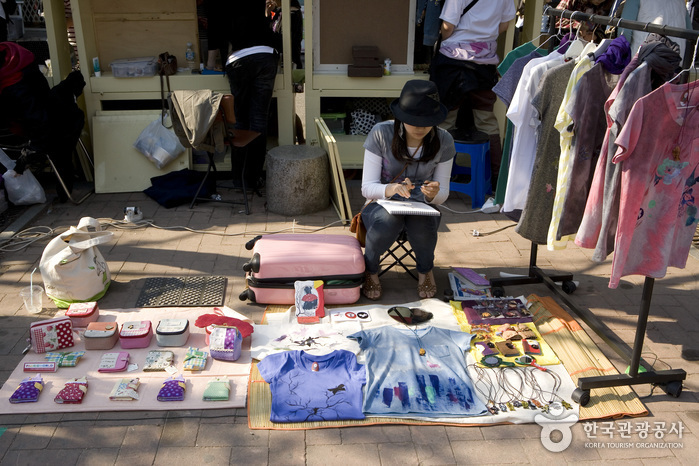 Source: Korea Tourism Organization
There are items like postcards, handmade dry flowers, handmade decorations, handmade clothes, dolls, and many more. In addition, there are busking and street performances for you to enjoy.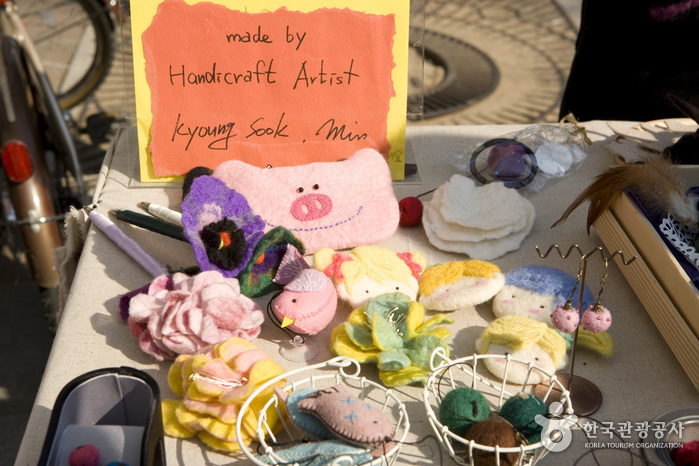 Source: Korea Tourism Organization
Address: 서울특별시 마포구 서교동 와우산로21길 19-3
Hours: (March to November) Every Saturday 13:00-18:00

Fell+Cole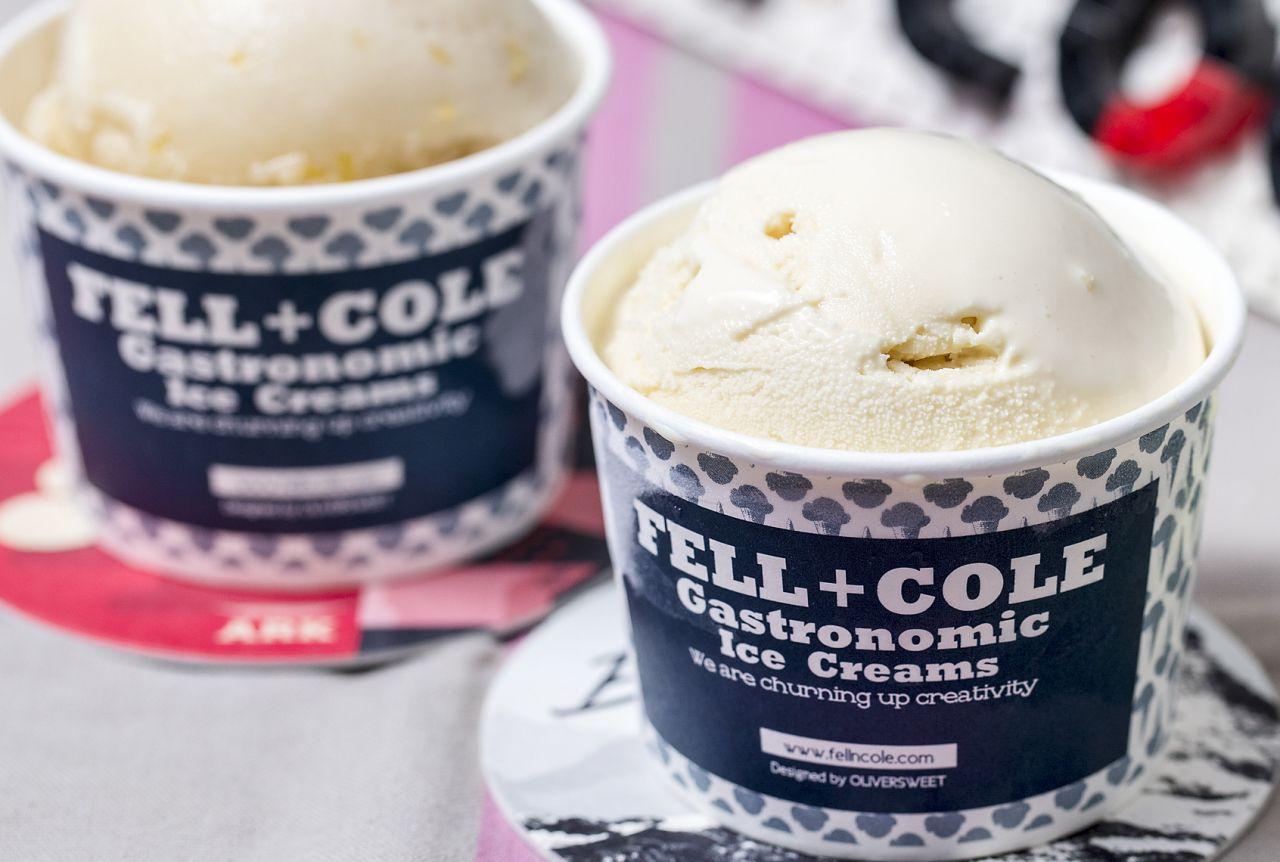 Sangsudong is an expensive area, so many businesses often come and go. However, the Fell + Cole ice cream shop, located close to Sangsu Station, has been here since 2014. The secret of Fell + Cole is that all of their ice creams are handmade. You will know instantly that the taste of their ice cream is out of this world.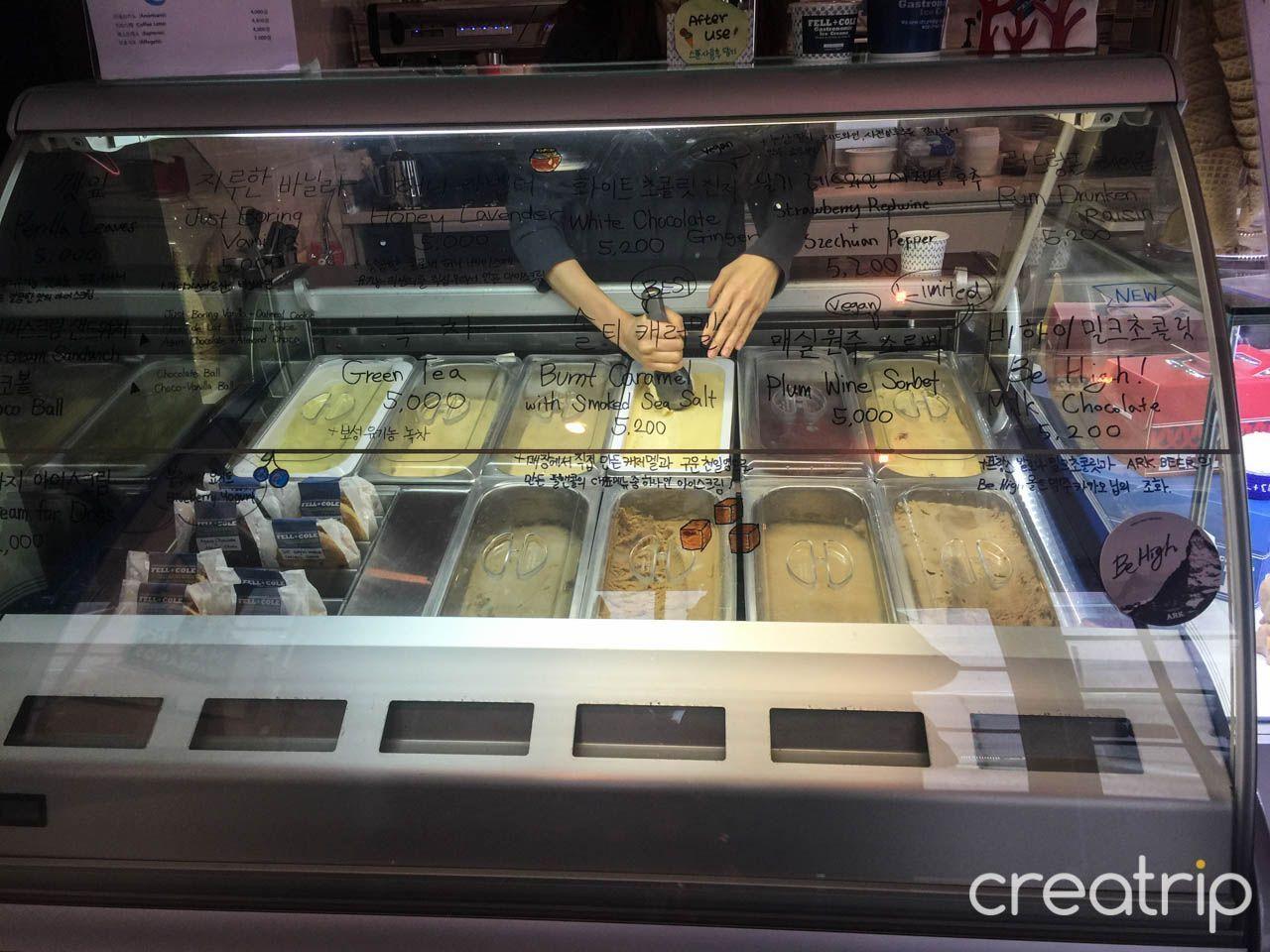 Ice cream flavours like sesame leaf, carrot, beer, and many more can only be found here. The flavours might sound strange but they have their fans. Their most popular ice cream flavours are sea salt caramel (my favourite) and lavender honey.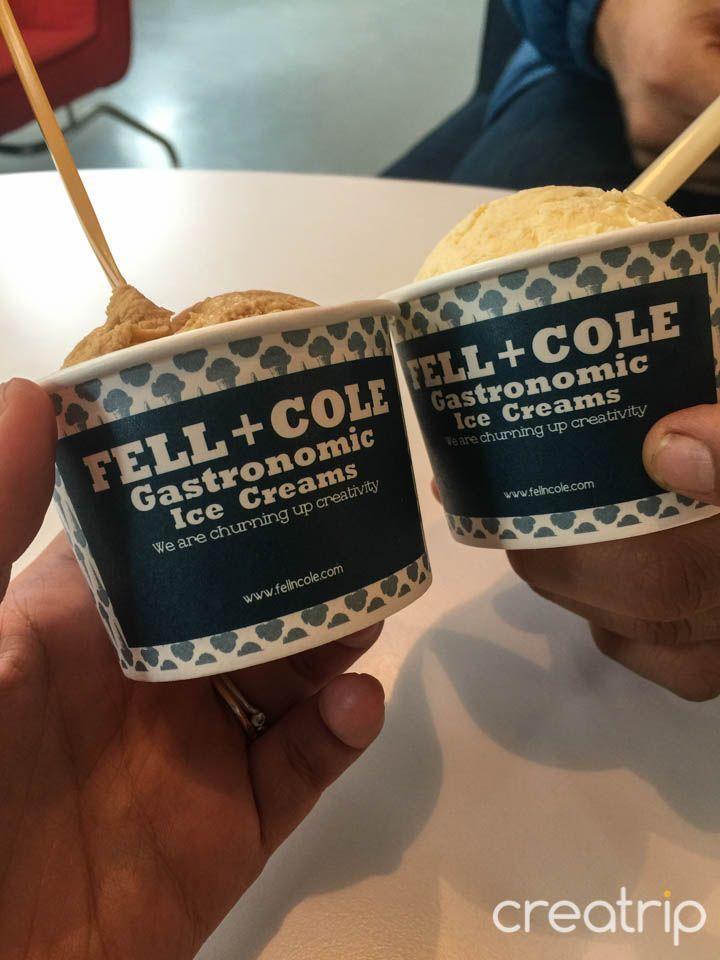 Address: 서울특별시 마포구 상수동 310-11
Hours: Sun to Fri 12:00 - 21:00, Sat 12:00 - 22:00
Before Gray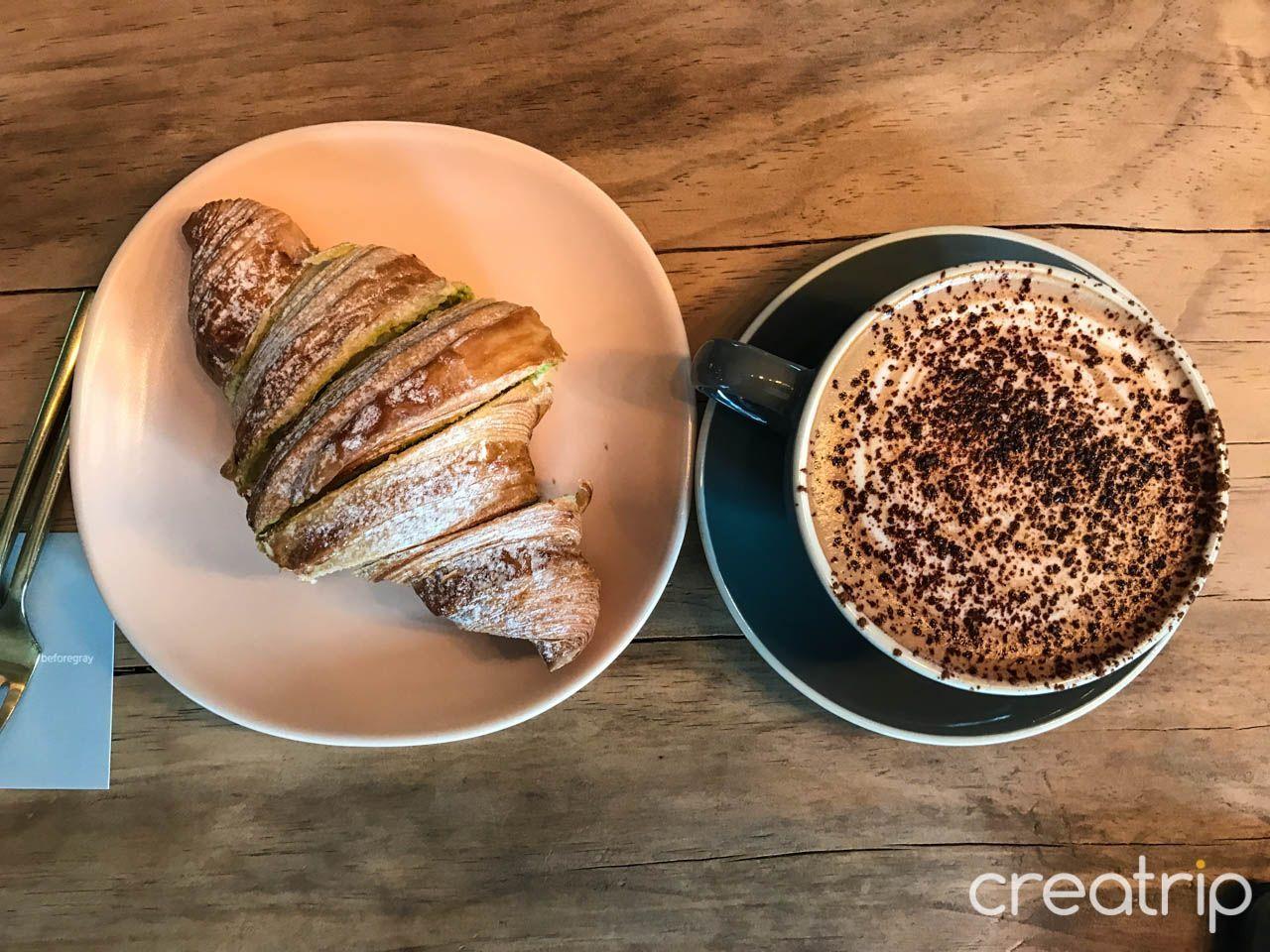 This cafe is not the easiest cafe to find in one shot because there are no big visible signs. However, once you find it, you will love its chic, modern atmosphere. When I arrived at this place, I found the place filled with patrons.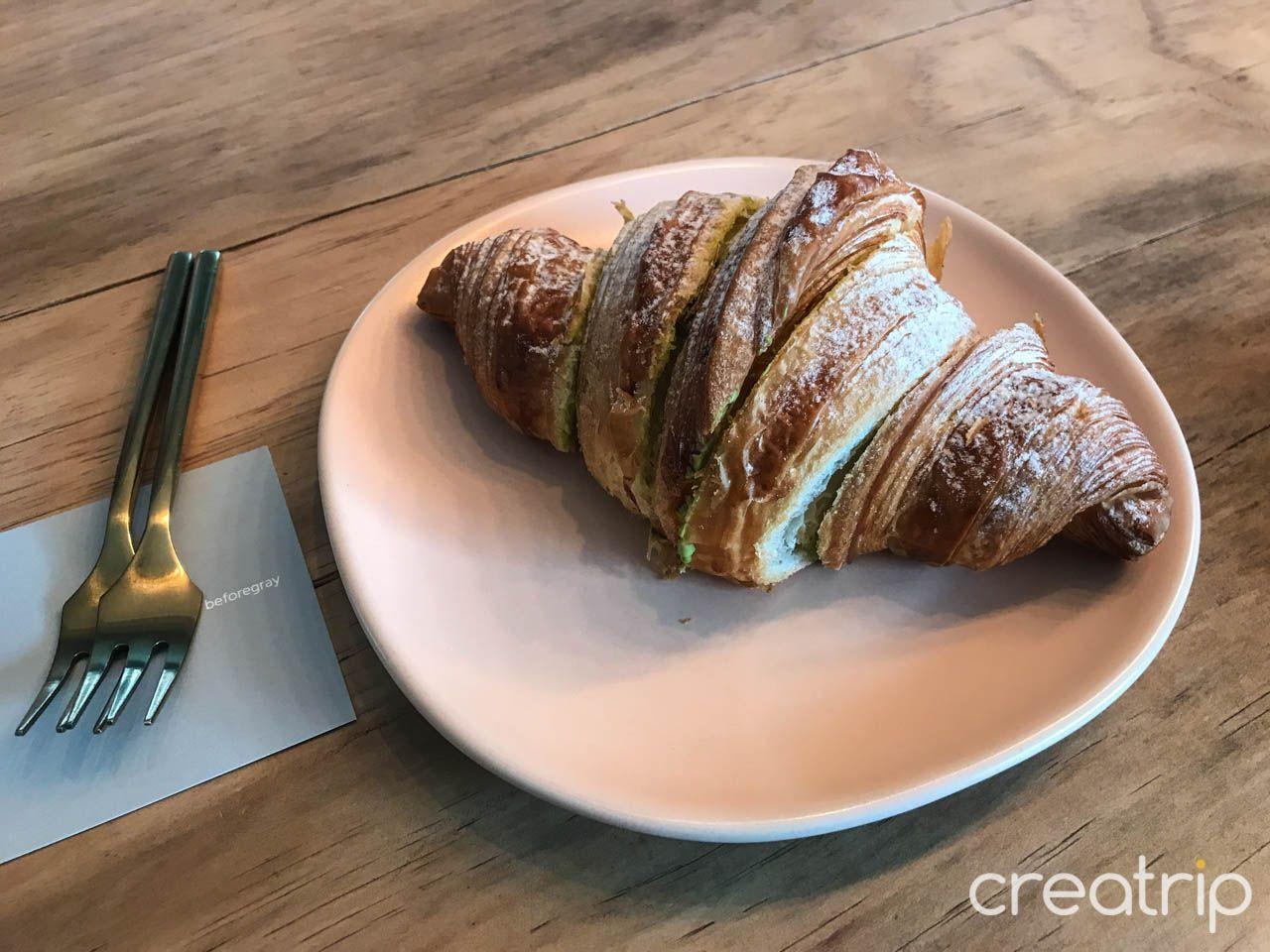 If you are a matcha lover, this cafe might make it to your favourite cafe as their signature menu is matcha flavoured croissant. Before Gray is located in Hapjeong, a walking distance from Hongdae, so it's a great place to visit to chill and relax with tasty pastries after spending some time in Hongdae.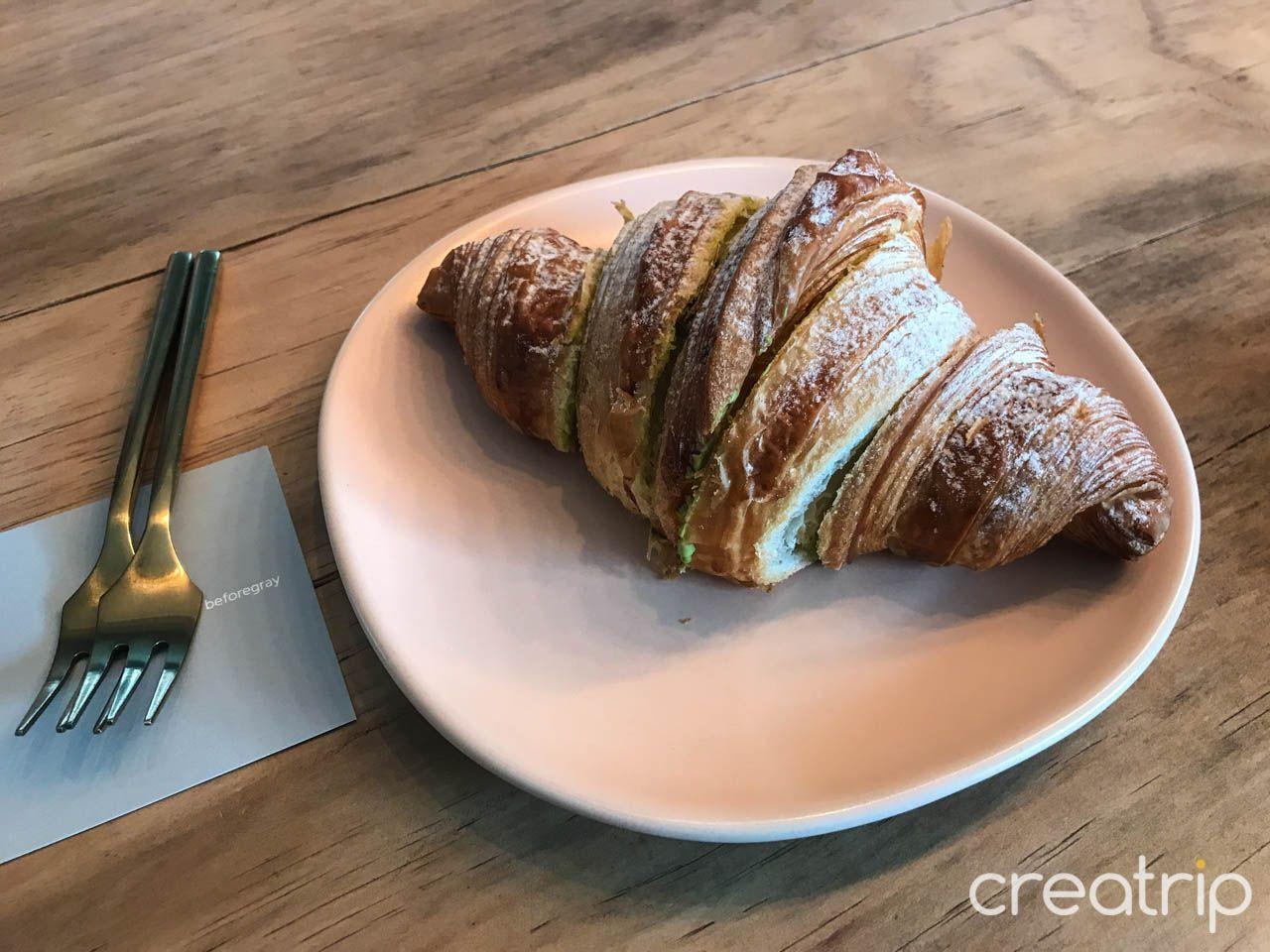 Address: 서울특별시 마포구 합정동 토정로3길 16
Hours: Mon-Fri 10:00-22:00, Sat-Sun 12:00-22:00
Mangwon Hangang Park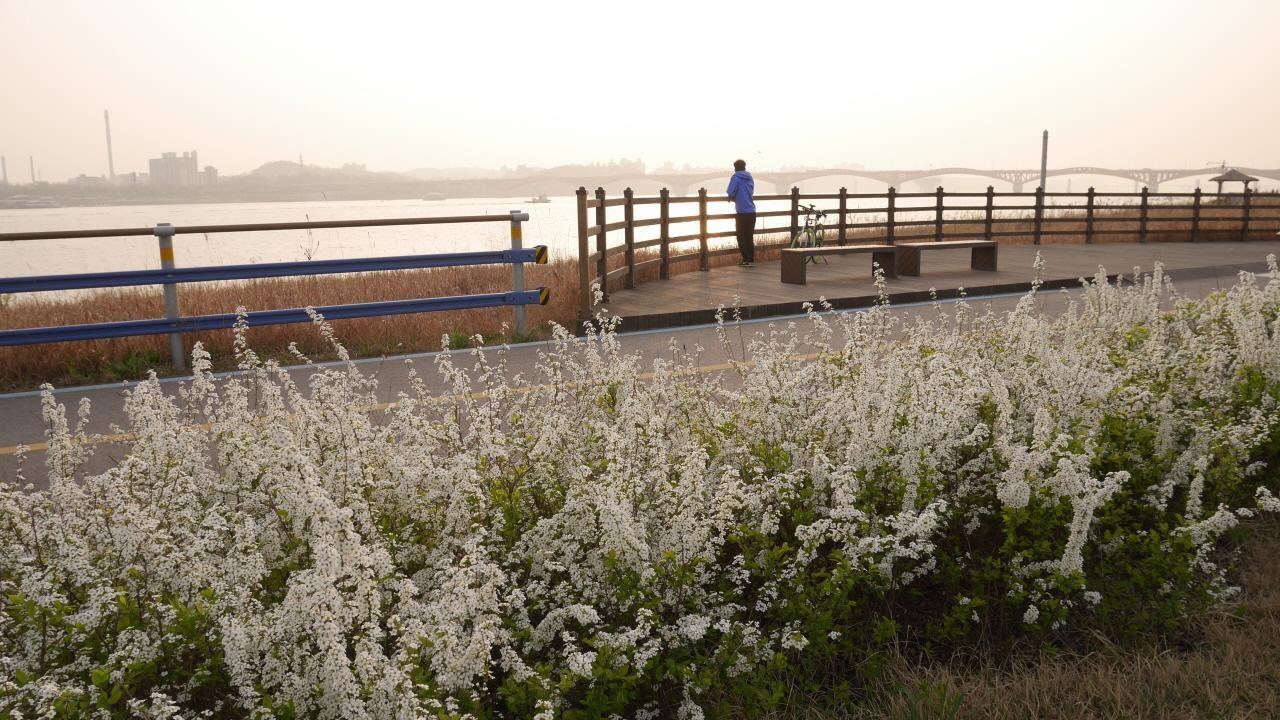 The beautiful waters of Hangang boast 12 dedicated parks, the most famous park being Yeouido Hangang Park. Compared to other well-known Hangang parks, Mangwon Hangang Park, which is near Hapjeong Station, is relatively quiet and sees fewer crowds. Apart from taking a stroll, you can also rent a bicycle and ride along the river.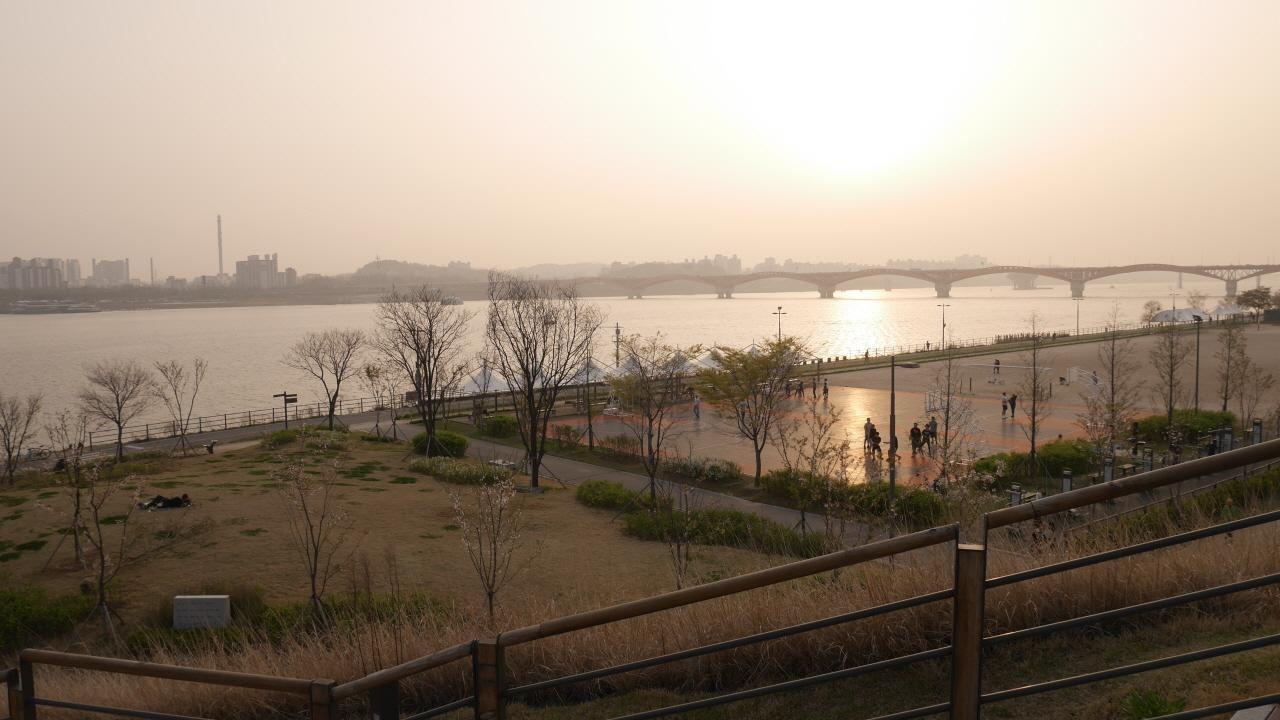 Every October, Yeouido Hangang Park holds Seoul International Fireworks Festival and you could catch the show even from Mangwon Hangang park. The view might not be perfect, but at least it won't be crowded with people.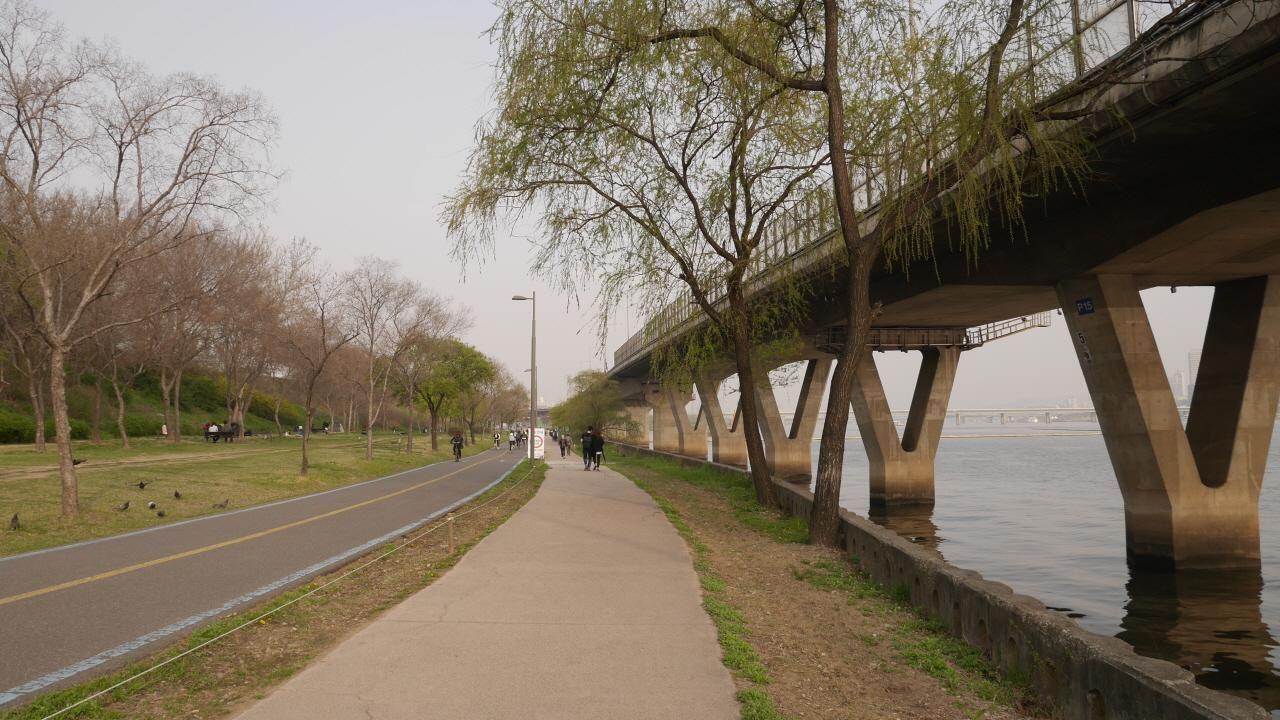 Address: 서울특별시 마포구 마포나루길 467
Homeplus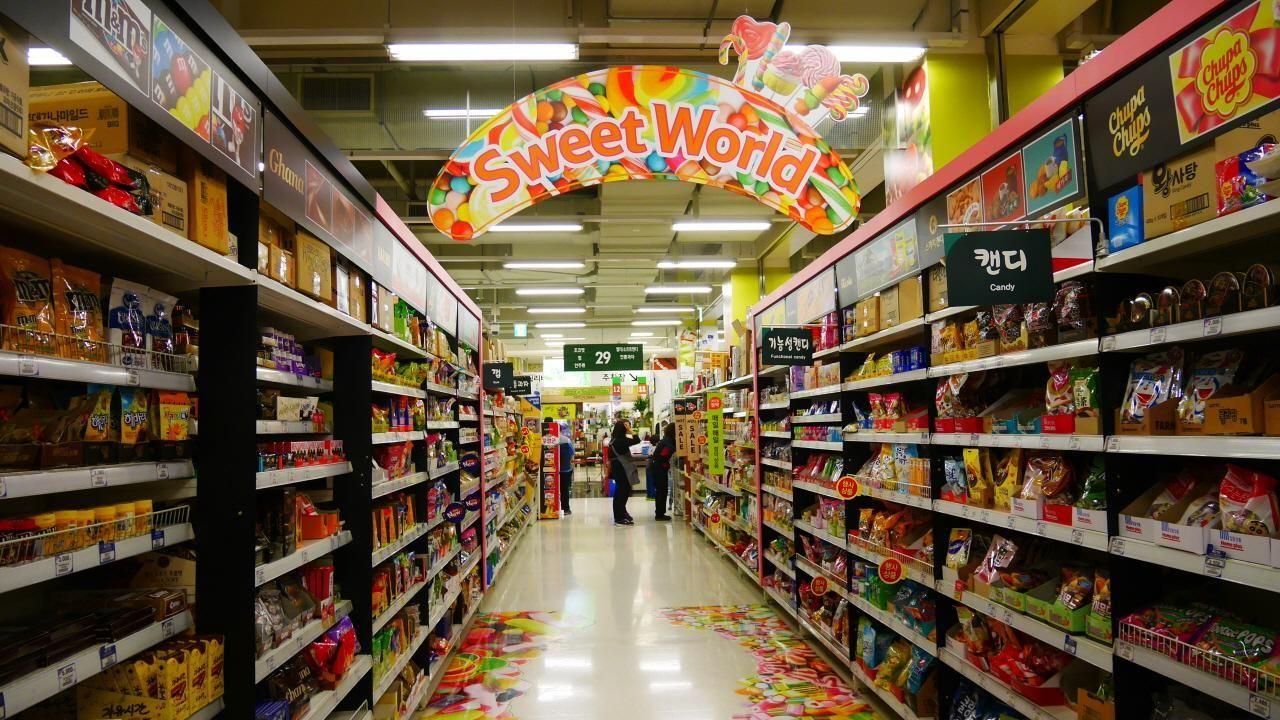 Next stop is Homeplus located in Hapjeong! People who live in Hongdae, Sinchon and other surrounding areas get their shopping done at Homeplus in Hapjeong. It is a very popular supermarket among locals. I personally love looking around and grocery shopping at a local supermarket when I go travelling. I love looking at local products in the country and trying new alcoholic beverages, snacks, and candies.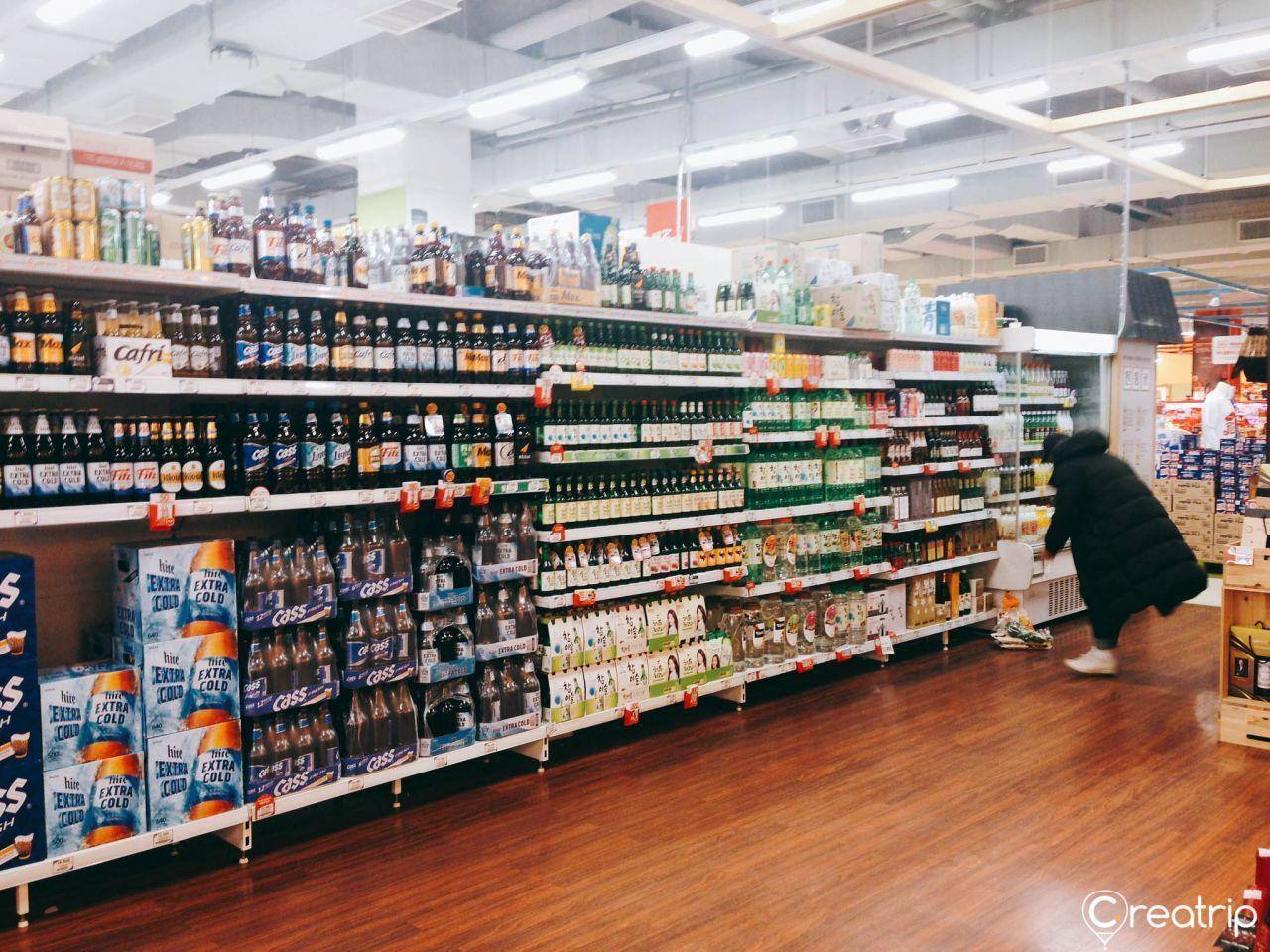 You'll find everything here. This may be a great place to buy Korean candies and snacks for your friends and family to take back home!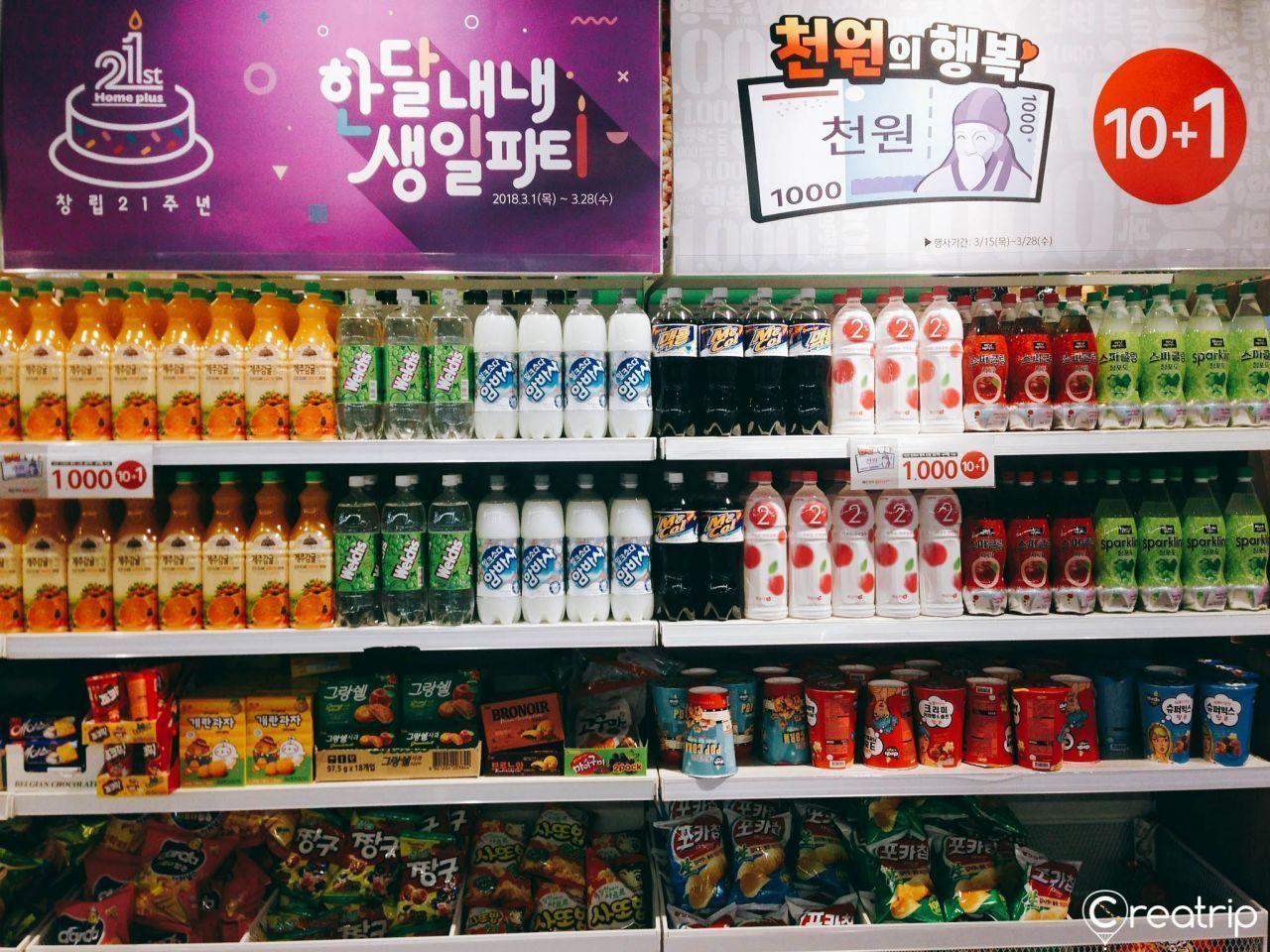 The most extraordinary part is that there is a '₩1,000 Happiness' section where everything is ₩1,000! Whether it is biscuits, drinks, canned food, instant noodles or even daily necessities, it's only ₩1,000. Plus, if you buy 10, you will get 1 free if you buy 20, you will get 2 free and so on. If you are looking for cheap products and snacks, this is your place.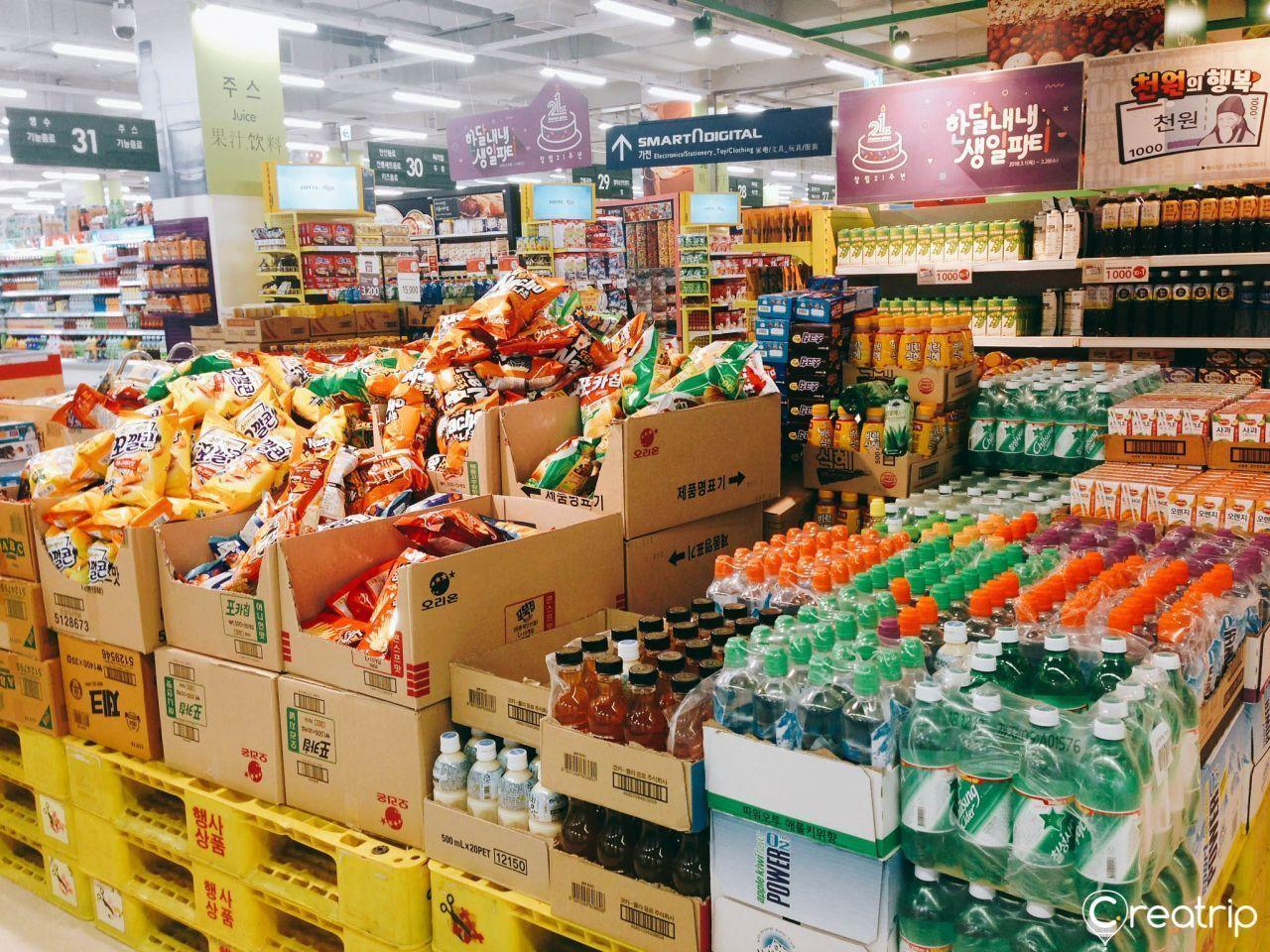 Address: 서울특별시 마포구 합정동 양화로 45
Hours: Mon to Sun 10:00-24:00

Ongdalsam Gamjatang (옹달샘 감자탕)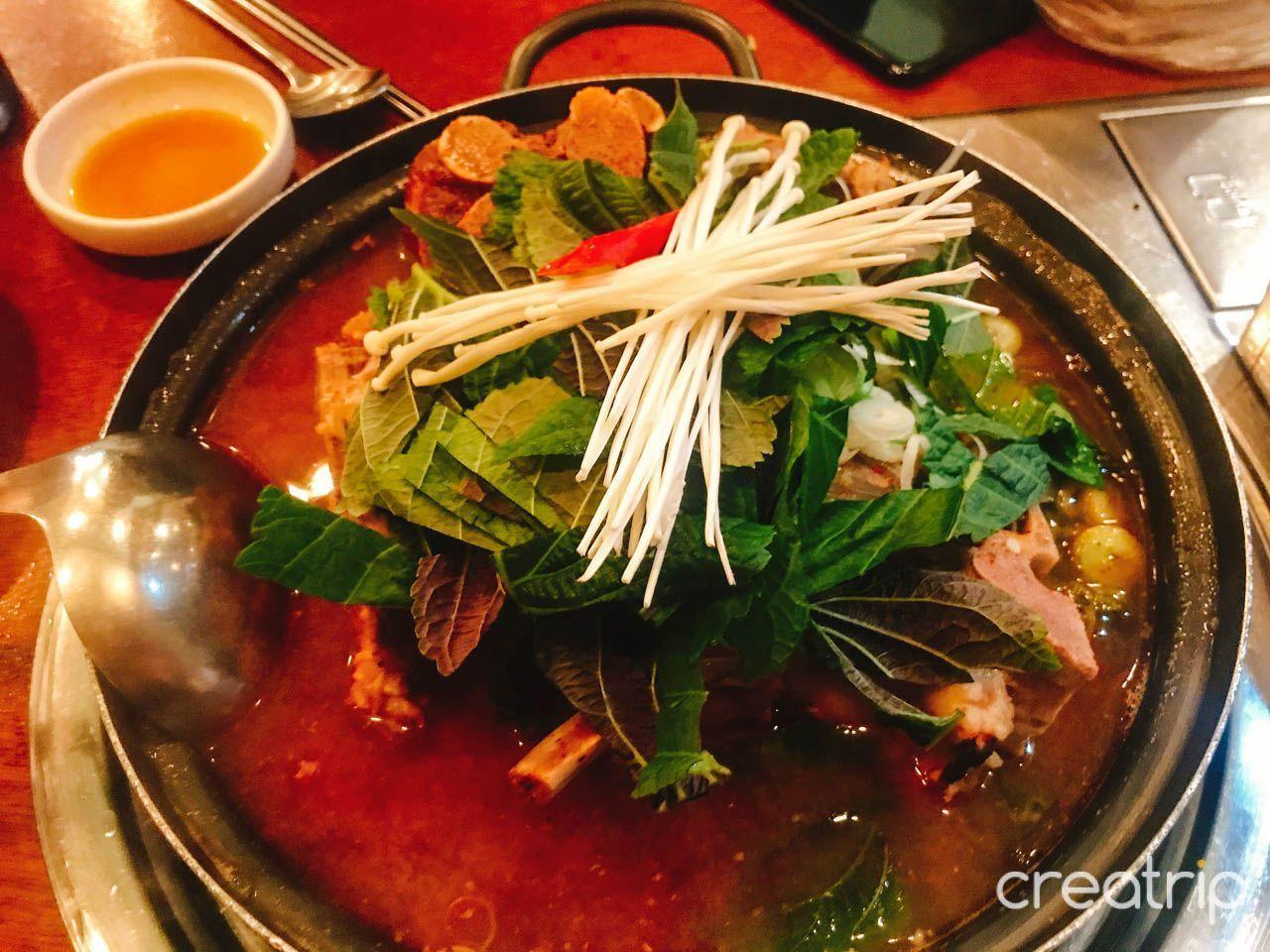 Your tummy will start to rumble after shopping so let's go for dinner! A day's fatigue will be eliminated with delicious food. I'll introduce to tasty Korean food near Hepjeong Station. It is a local gourmet restaurant that attracts Koreans from all over the nation.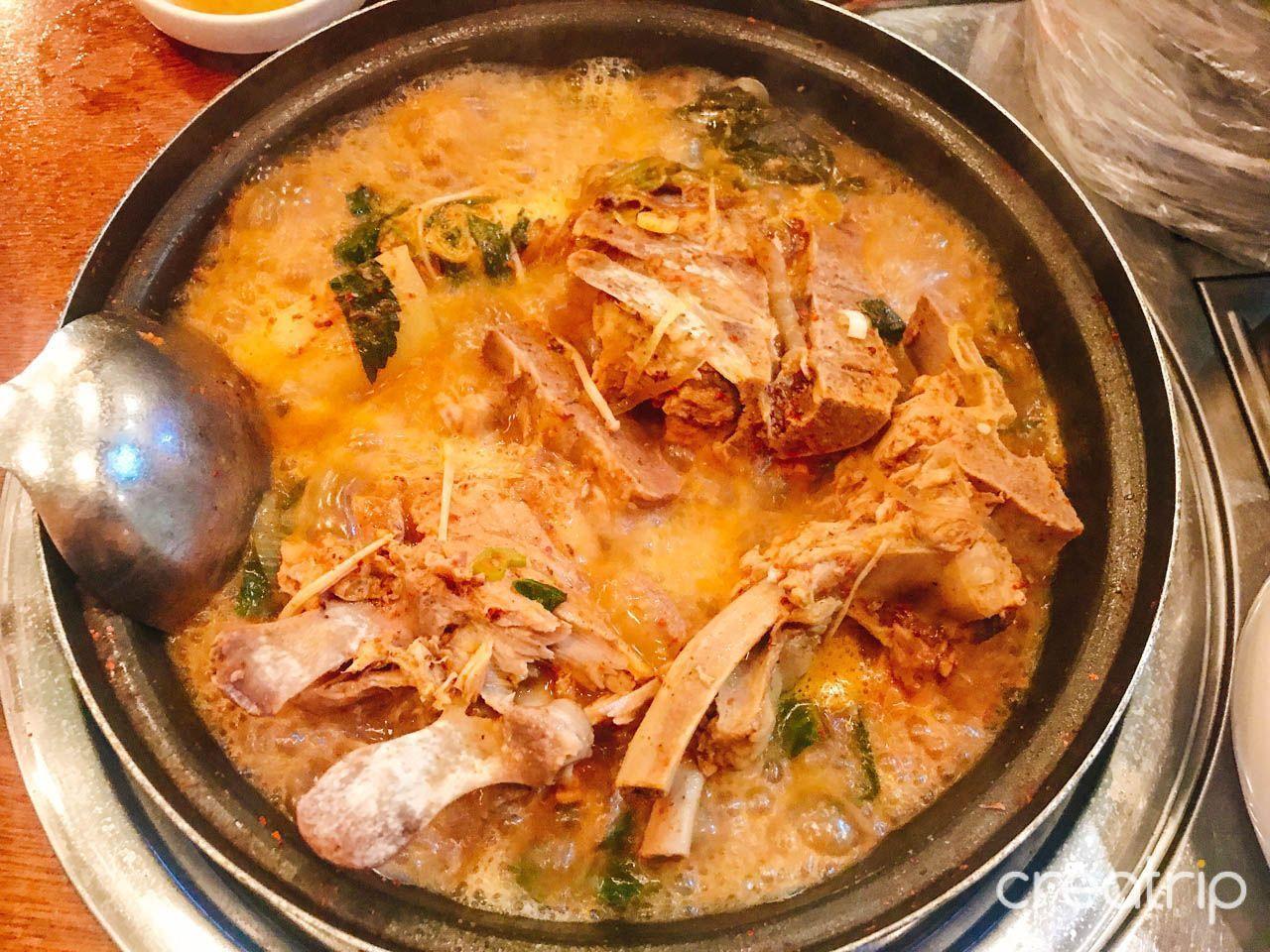 This restaurant's specialty is the gamjatang (pork back-bone soup). This rich but not-too-spicy stew can be enjoyed by many. The pork meat comes off the bones so easily, and it's super yummy. The portion of gamjatang is also very large, so you will definitely be full after this meal. In addition, you can add ramen noodles to the stew.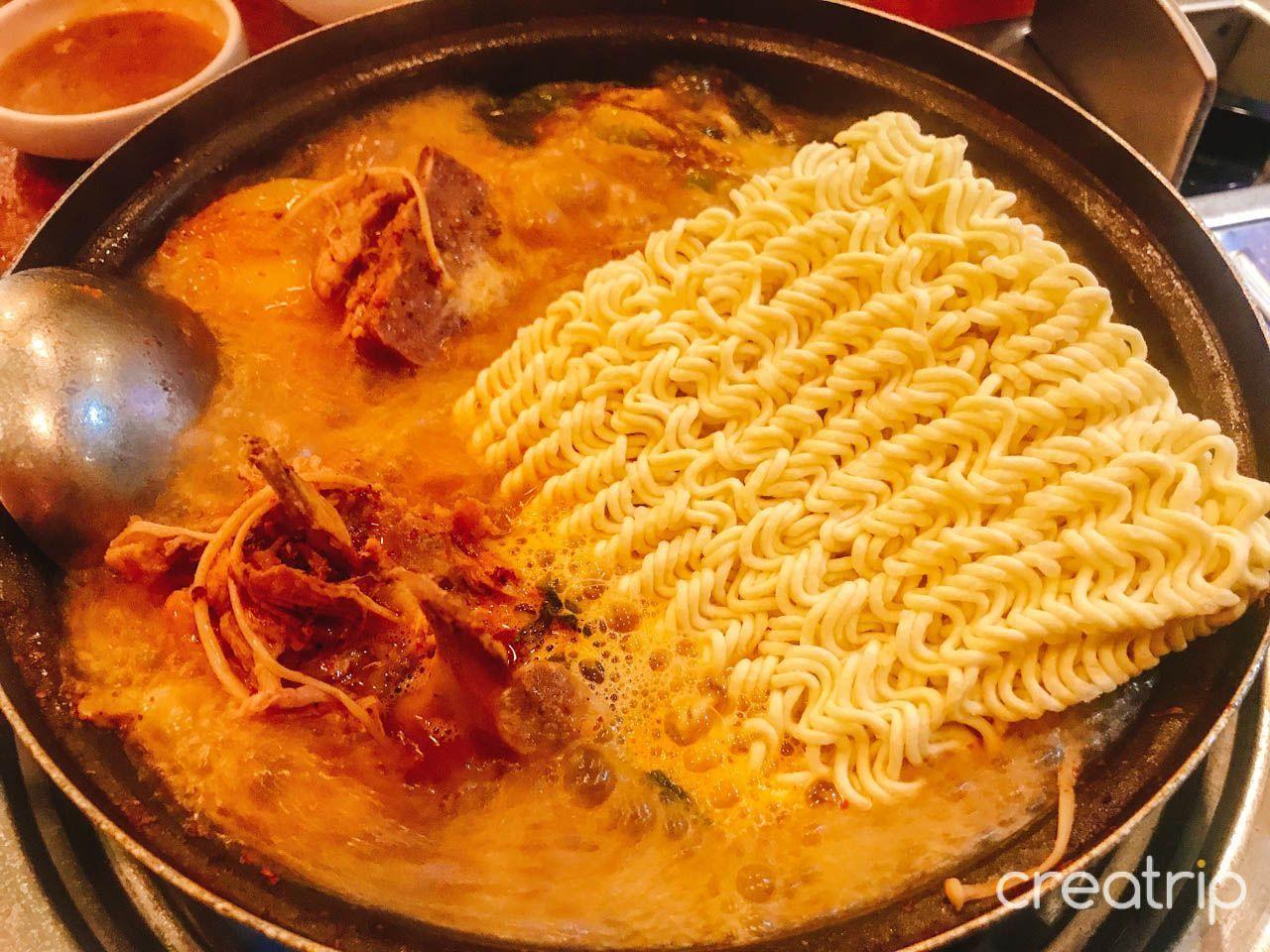 Address: 서울 마포구 독막로2길 9
Hours: Mon-Sun 11:00-24:00
Dancing Sea (춤추는 바다)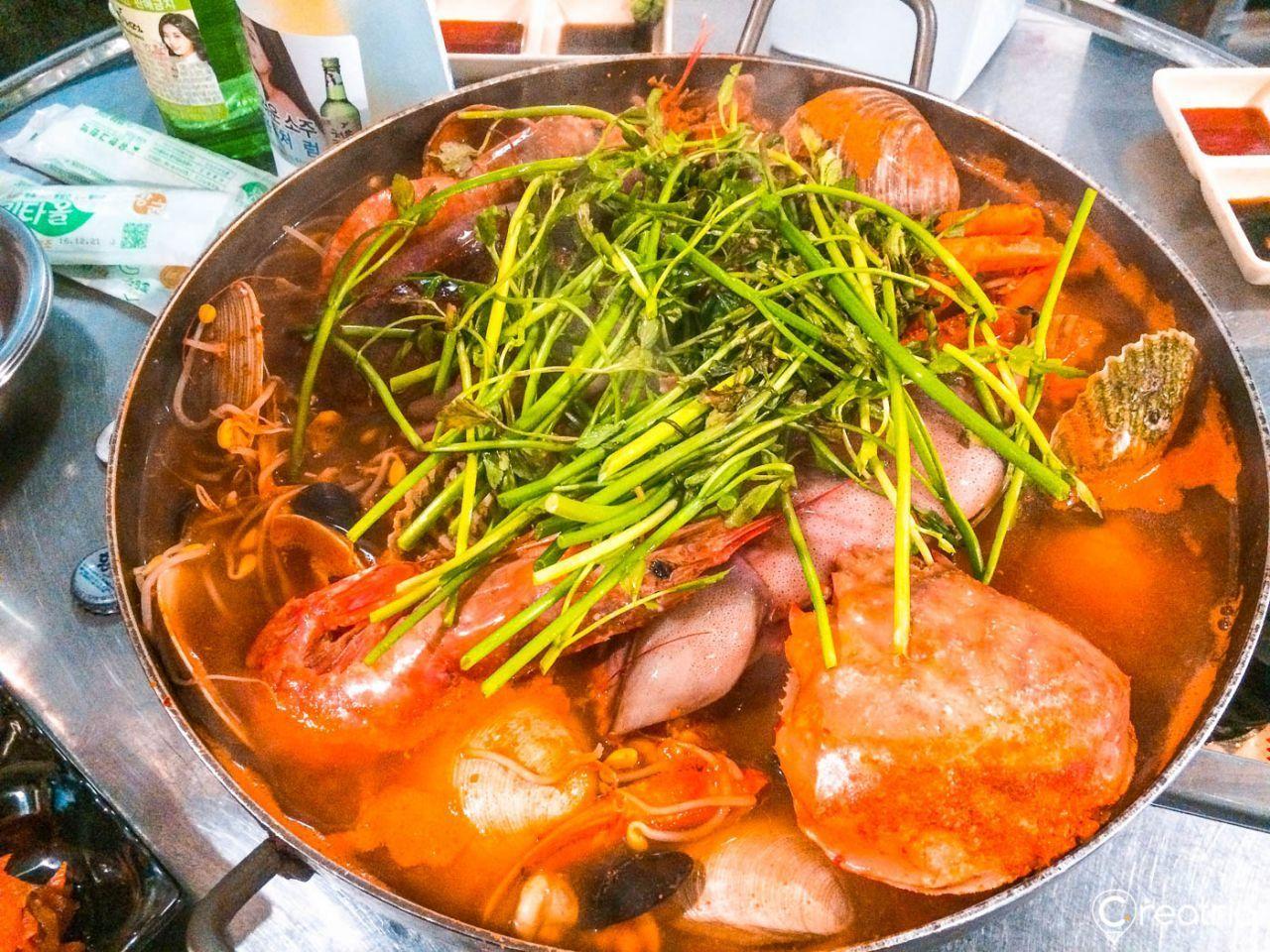 If you love seafood go to this restaurant! A place where you can eat all kinds of fresh clams, scallops, pine leaf crabs and more! This restaurant has become famous solely from word of mouth among the locals! It is now one of the most frequently mentioned restaurants on Instagram.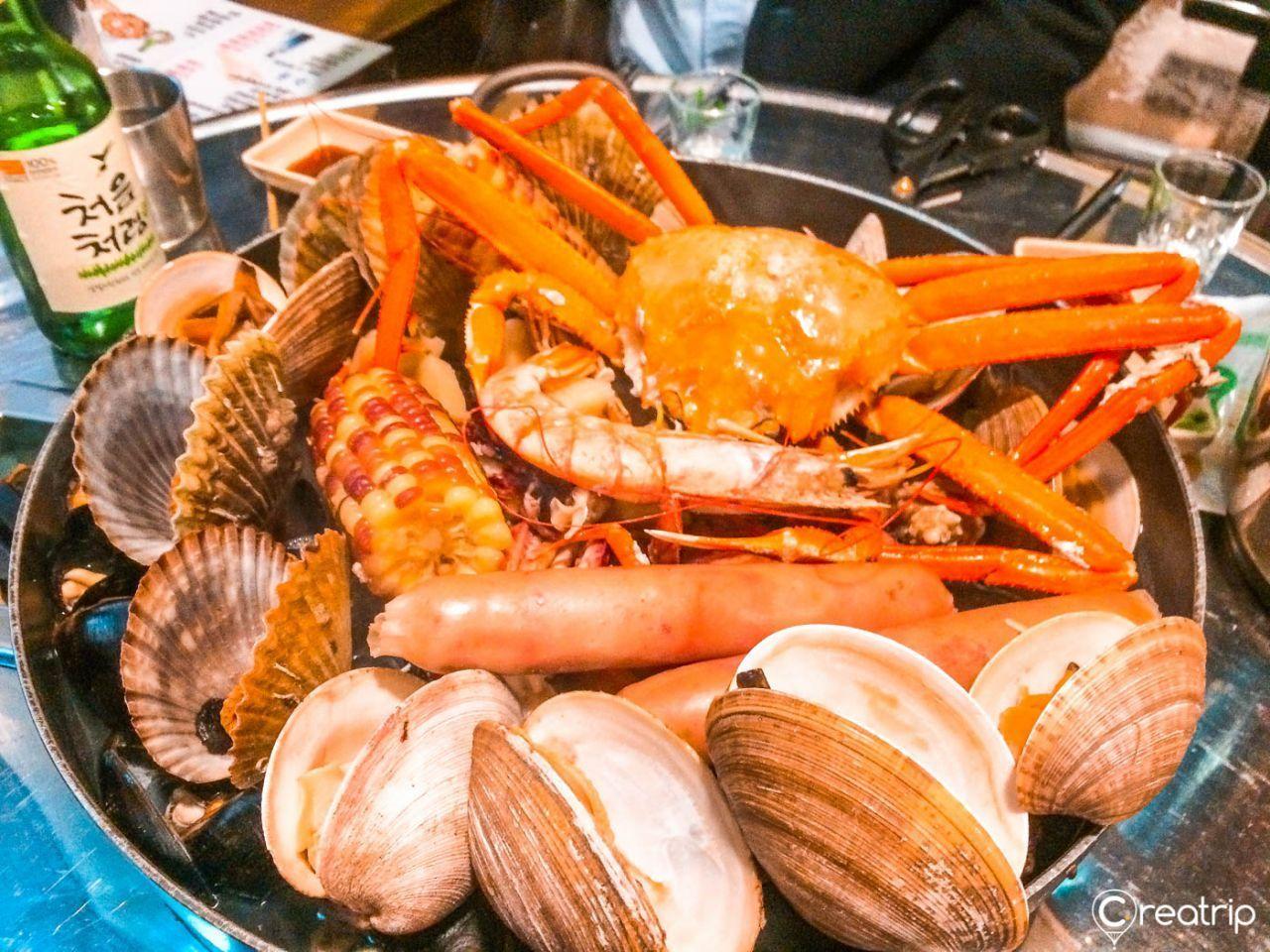 Not only do they serve quality seafood, but the amount of seafood you get is amazing. When the owner is in a great mood, he will give oysters or drinks for free. Stop by for a great seafood meal!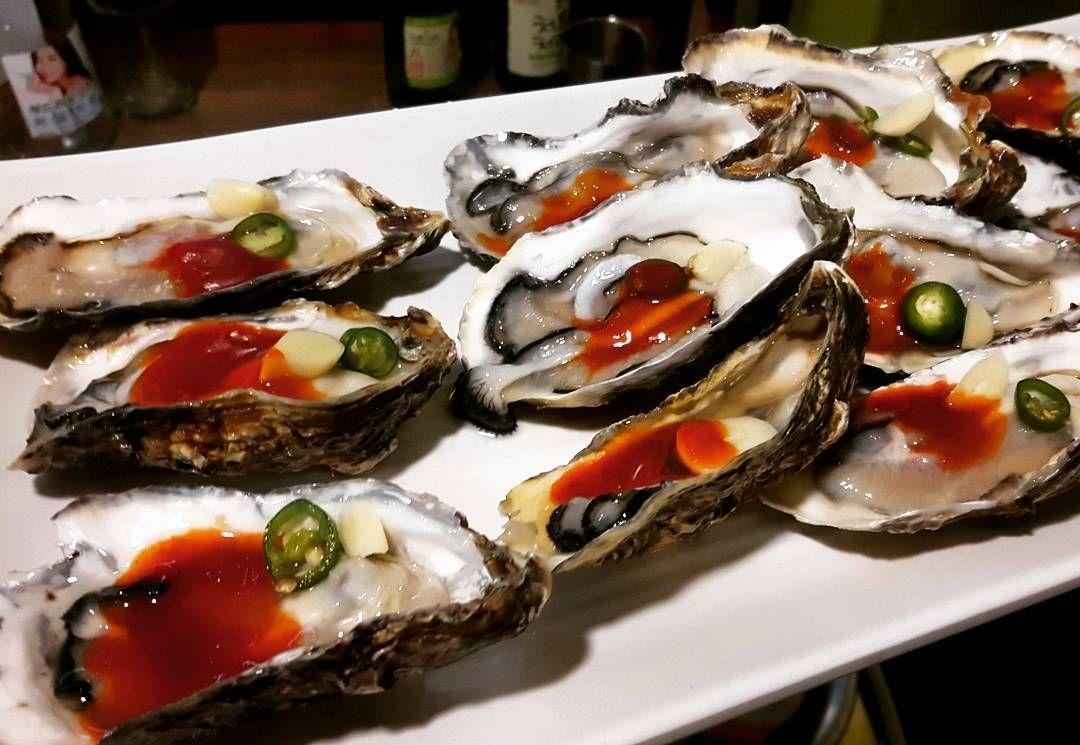 Address: 서울특별시 마포구 서교동 399-26
Hours: Mon-Sun 16:00-04:00

Mr. Yoon's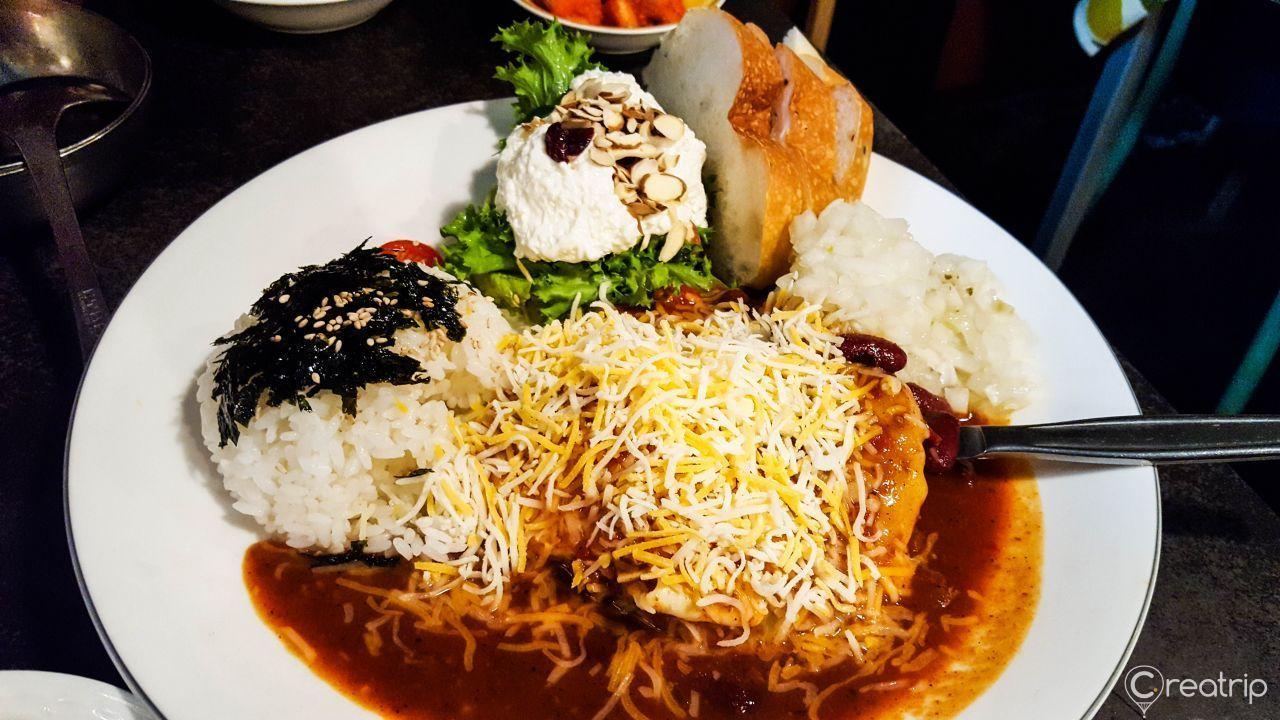 Usually, when people travel to Korea, they tend to avoid non-Korean food. But for those who think they had enough of Korean food, why don't you try this Western-meets-Korean fusion cuisine?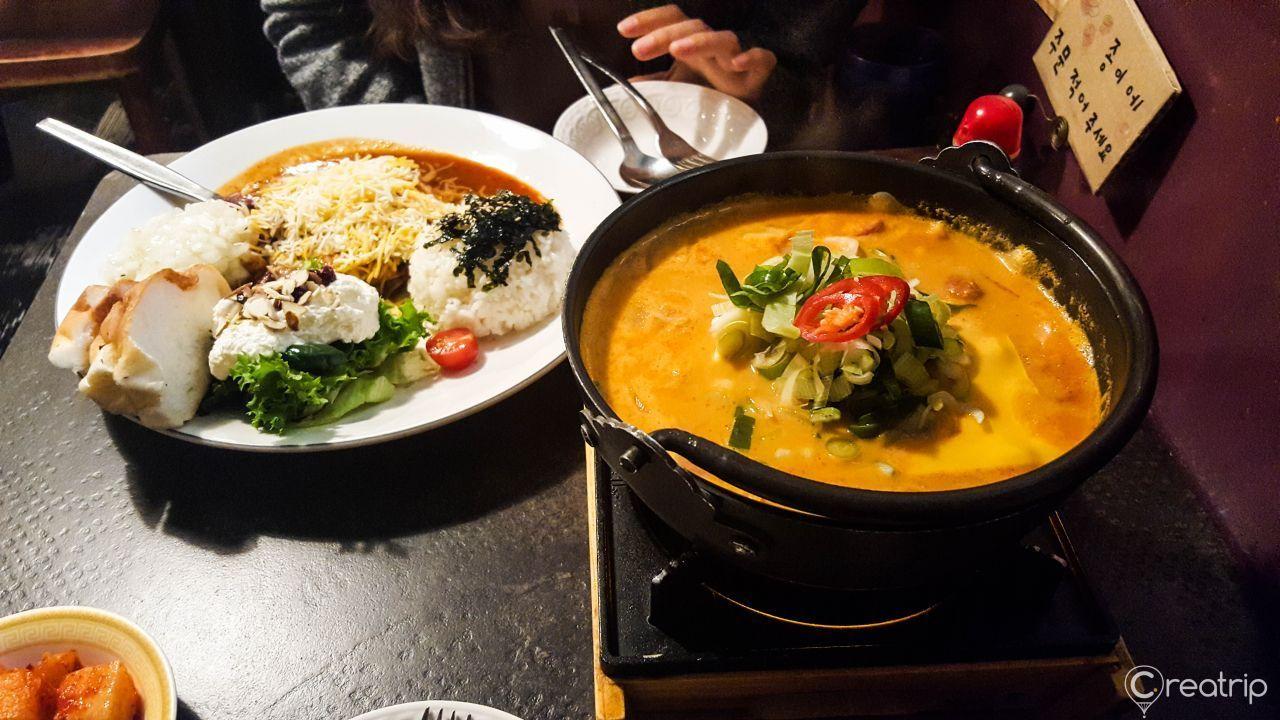 This restaurant is hidden in the alley near Sangsu Station. It is a small restaurant that often holds a long queue. They're most famous for their delicious hamburger steak and the price at this place is on the low side. No wonder so many people queue up to dine at this place!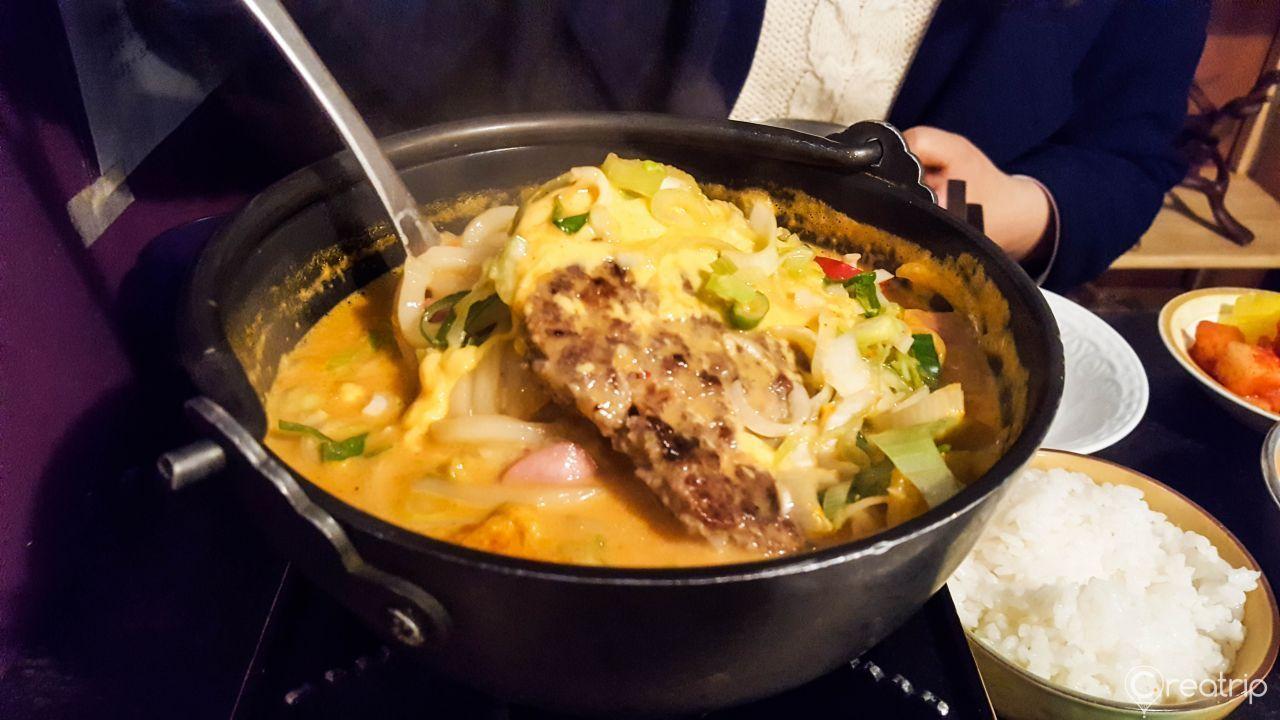 Address: 서울 마포구 와우산로15길 15
Hours: Tuesday to Sunday 11:00 - 22:00 (Last order at 20:30), Closed on Monday

What did you think of our list? Let us know how you mixed and matched the places from our list to create your day around Hongdae!
---
If you have questions or comments about the blog post, please leave it in the comment section below or email us at help@creatrip.com.

Powered by Froala Editor
---