Cafe Guide | HONGDAE
15 beautiful cafes that you must visit during your shopping tour!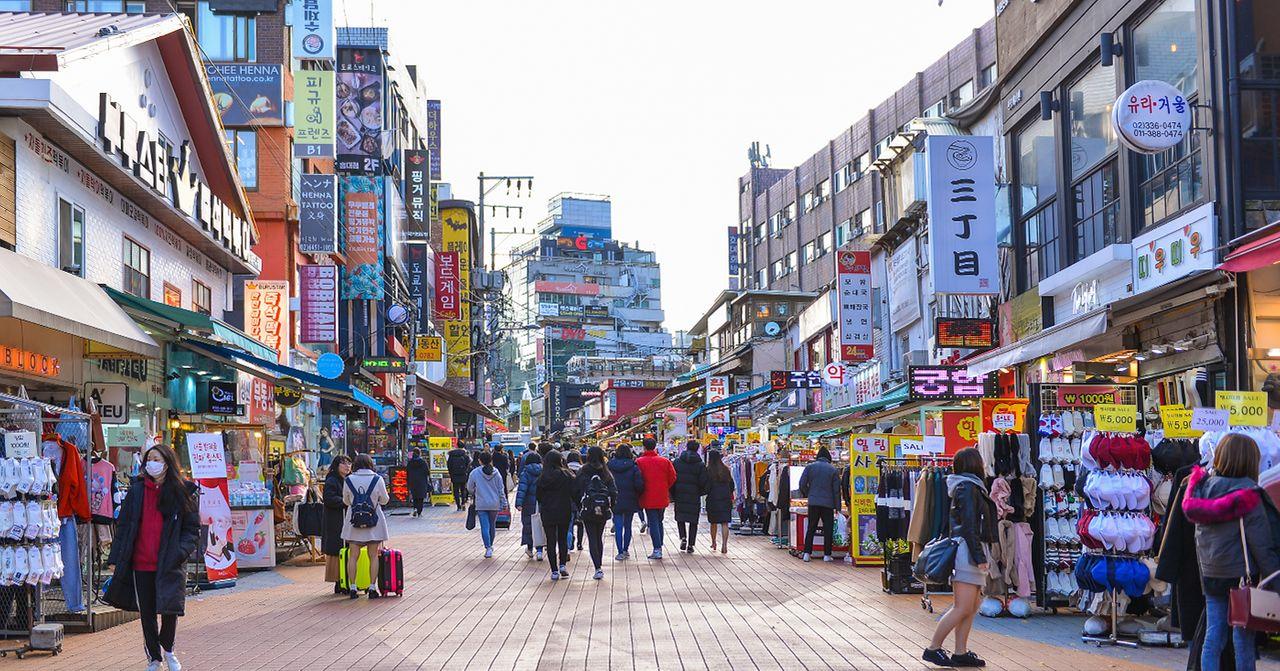 Hello everyone! We are Creatrip, your group of Korean travel experts.
Hongdae is a must-visit tourist spot with many attractions and lots of delicious food. But you should also be coming to Hongdae to visit beautiful cafes and dessert shops. I've prepared for you an introduction to lots of cafes around Hongdae with sights that you cannot miss. Let's go and check them out!
---
Butter Milk (버터밀크)
Address: 서울 마포구 와우산로 130
Opening hours: 10:00至17:00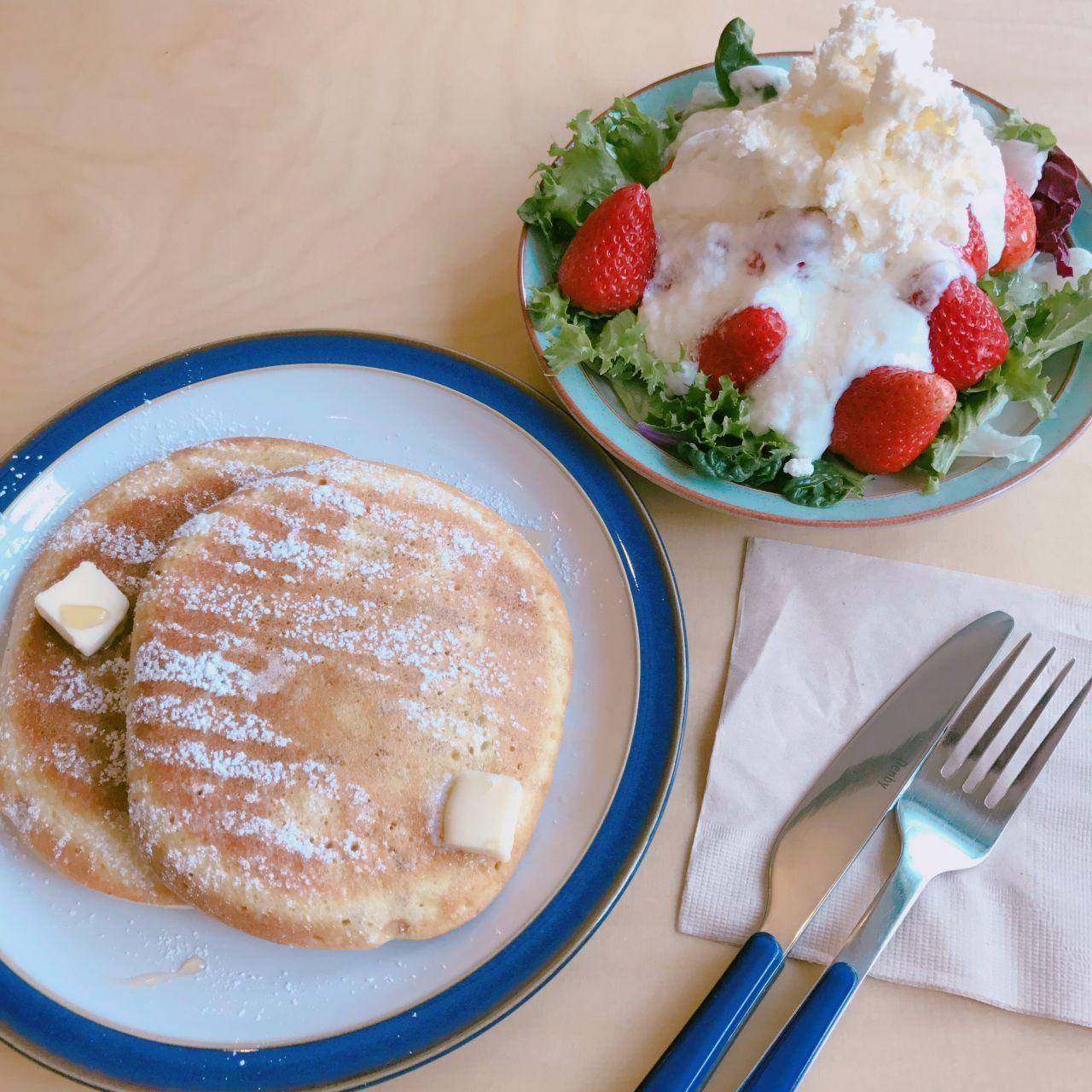 Hongdae's Butter Milk has a small store, but is incredibly popular, so if you're unlucky, you may have to wait in line for an hour. The store even announced that they will close early if they sell out, but its business is still booming.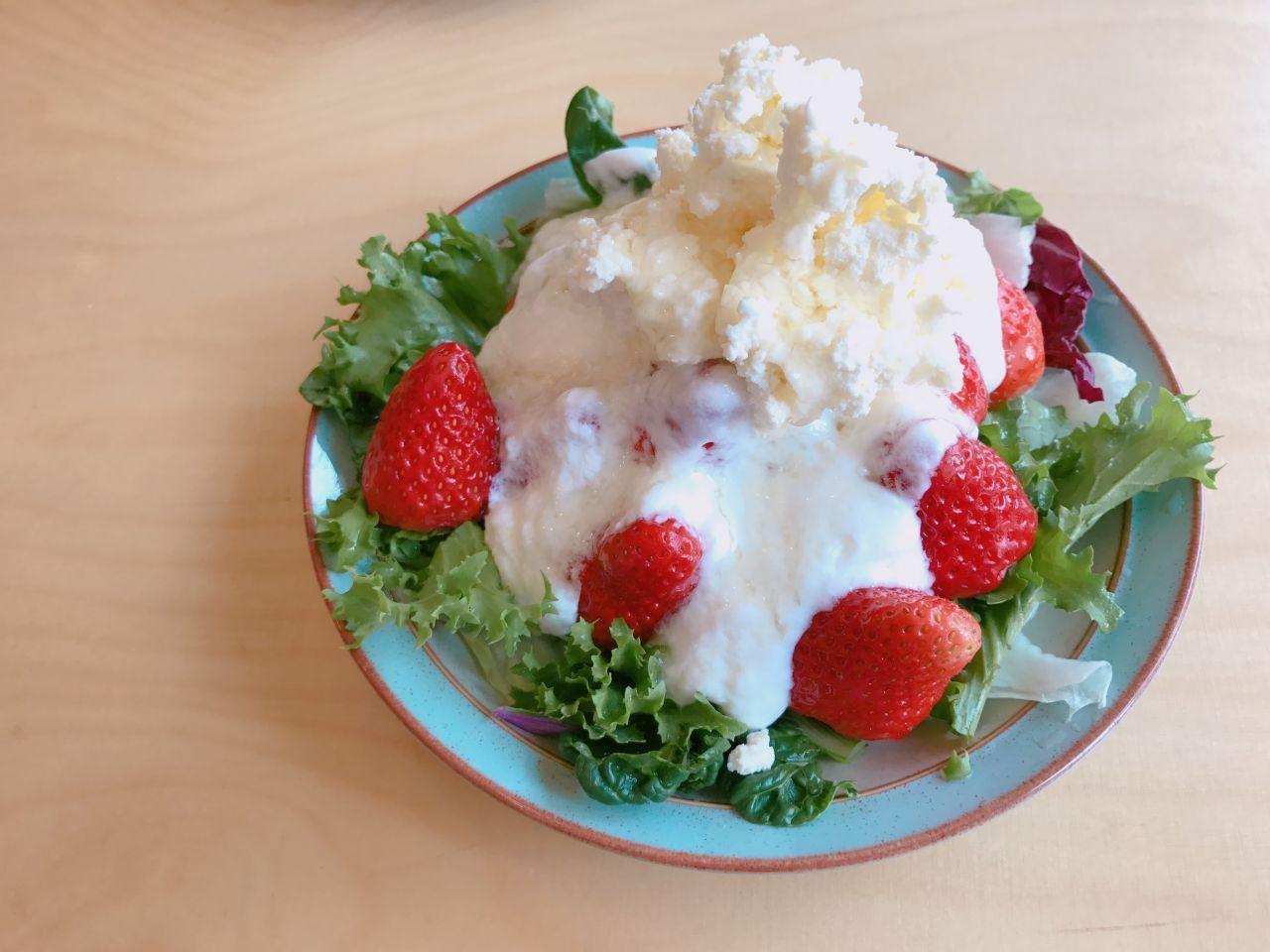 This strawberry salad dessert looks incredibly refreshing, and gained lots of popularity. This place has menus suitable for a nice brunch and afternoon tea, and provides them at a reasonable price. It has become a must-visit destination in Hongdae in the eyes of many Koreans!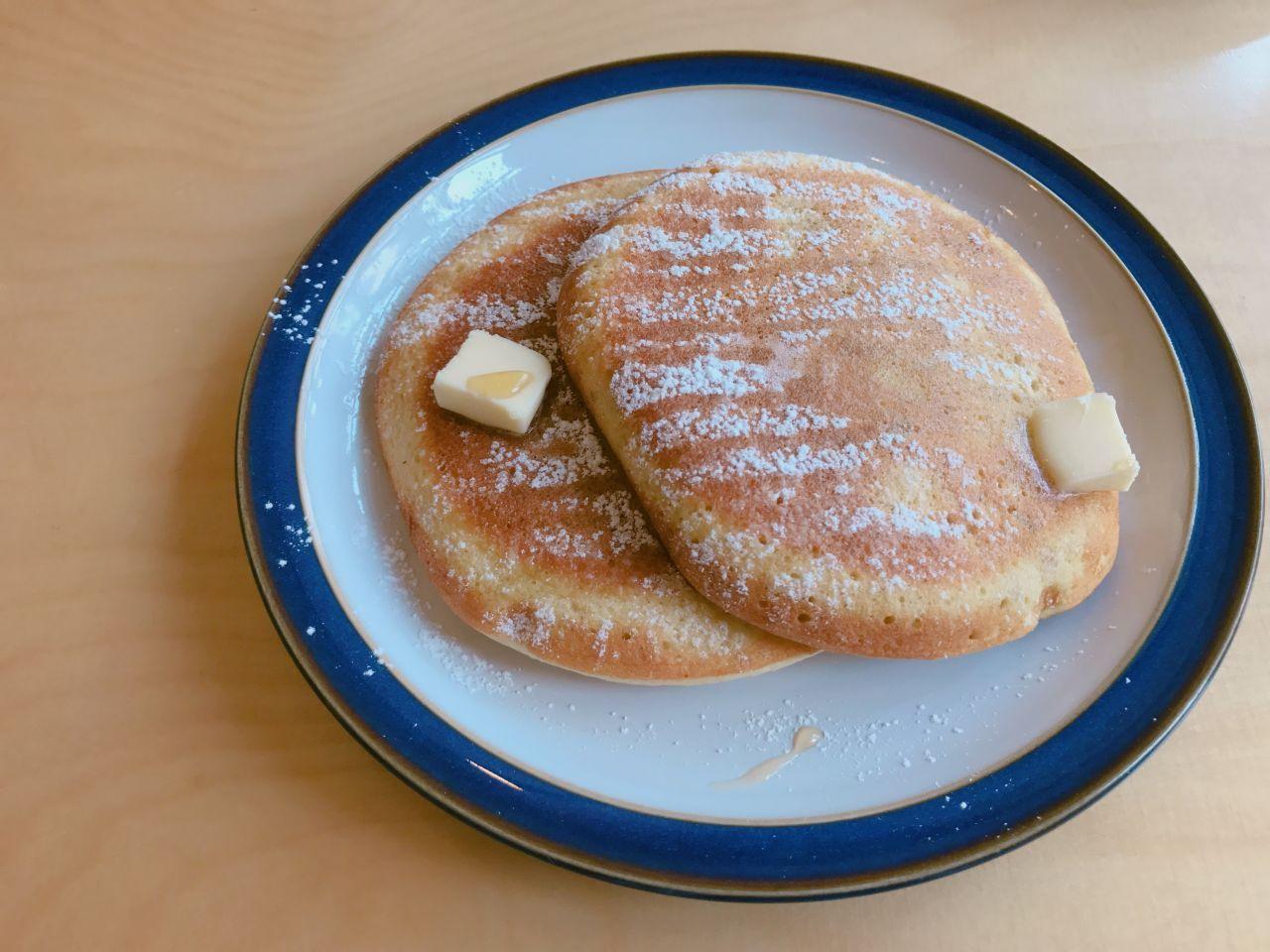 The pancakes are soft and fluffy, with served with cream and frosting. They're small, cute, and delicious! You'll understand why this place is so popular when you visit yourself!
---
Fell + Cole (펠앤콜)
Address: 서울 마포구 와우산로 39-21
Operating hours: 12:00至22:00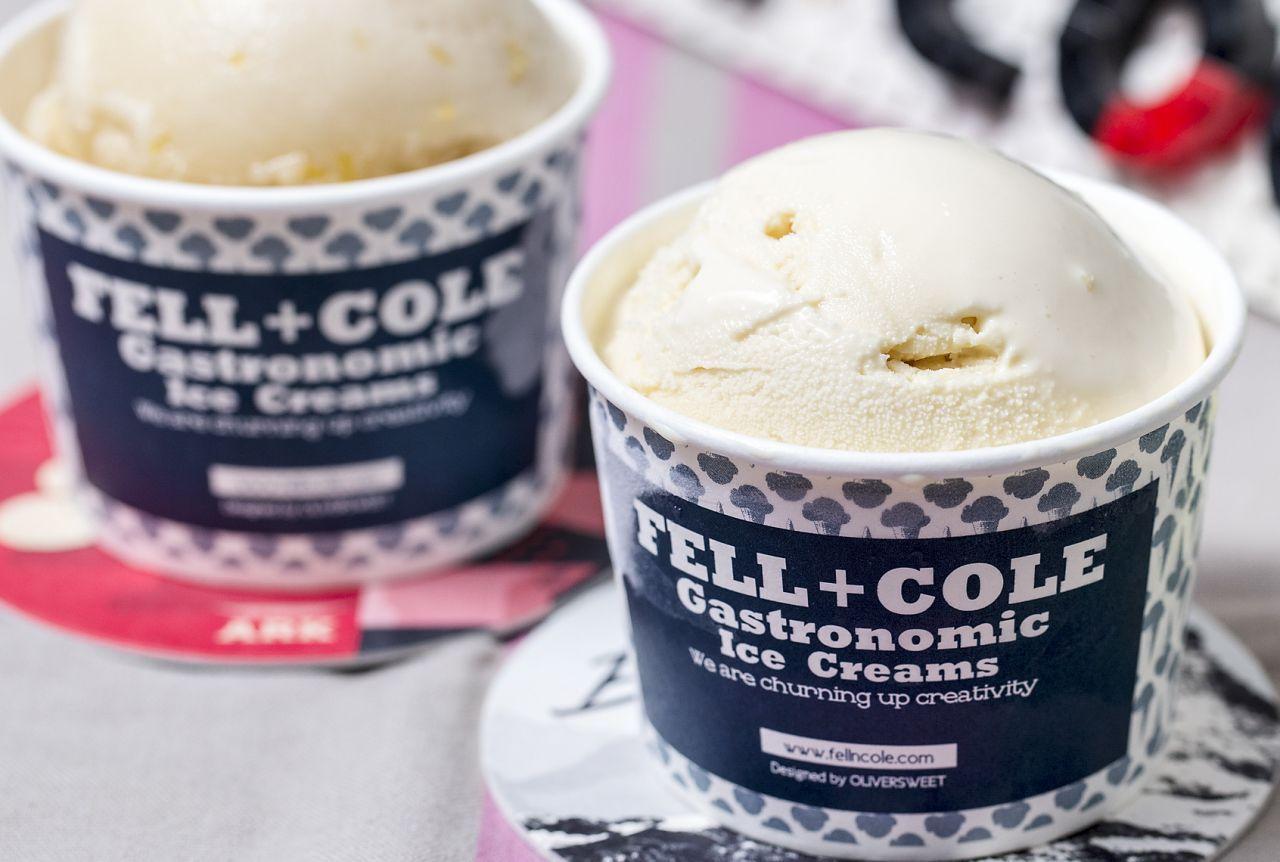 Hongdae's Cafe "Fell + Cole" sells hand-made ice cream with different flavors every day. After tasting this handmade ice cream just once, my mouth refuses to be satisfied with any other ice cream.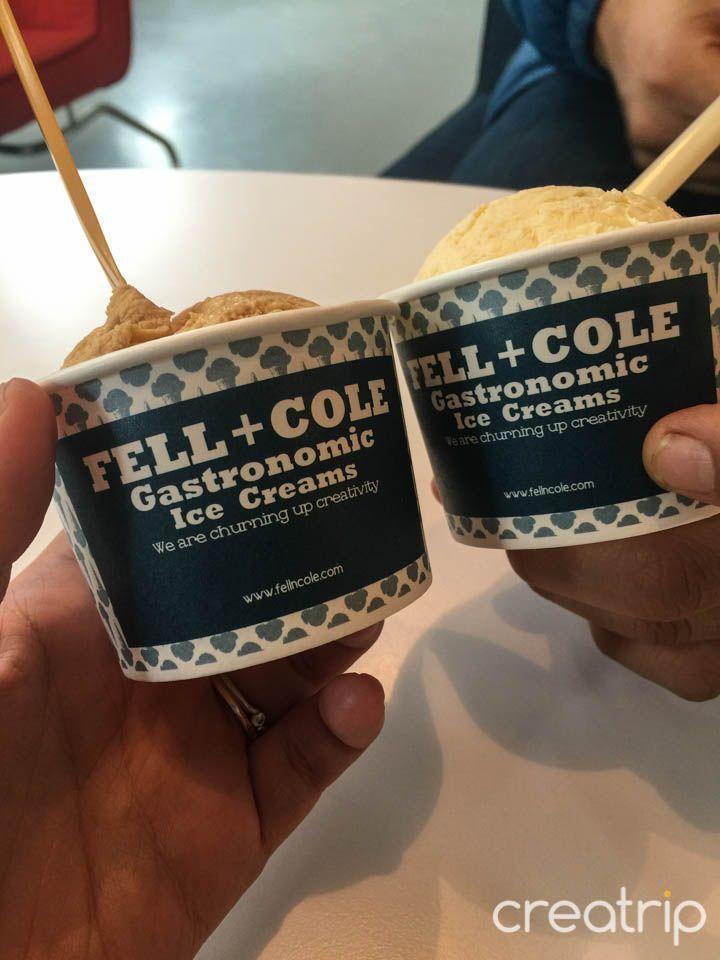 Also, at Fell + Cole, you can buy ice cream flavors you can't find elsewhere, like carrot cake ice cream, sesame leaf ice cream, or beer ice cream. They might sound like they'll taste weird, but they're actually really good!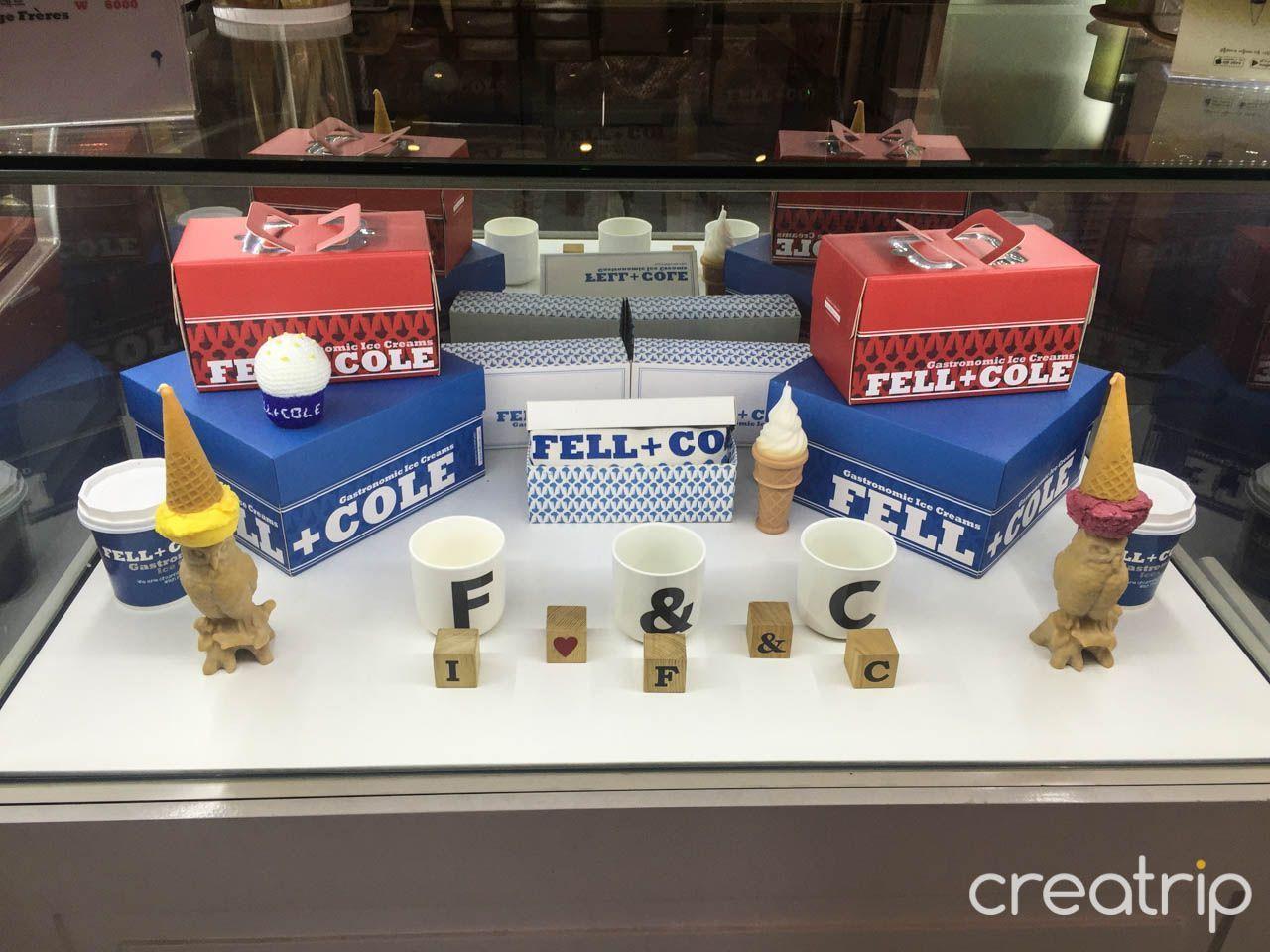 The most popular flavors are sea salt caramel and lavender honey. Sea salt really highlights the sweetness of the caramel, making a very powerful caramel flavor. As for lavender honey, the lavender scent is peculiar but it's strangely delicious.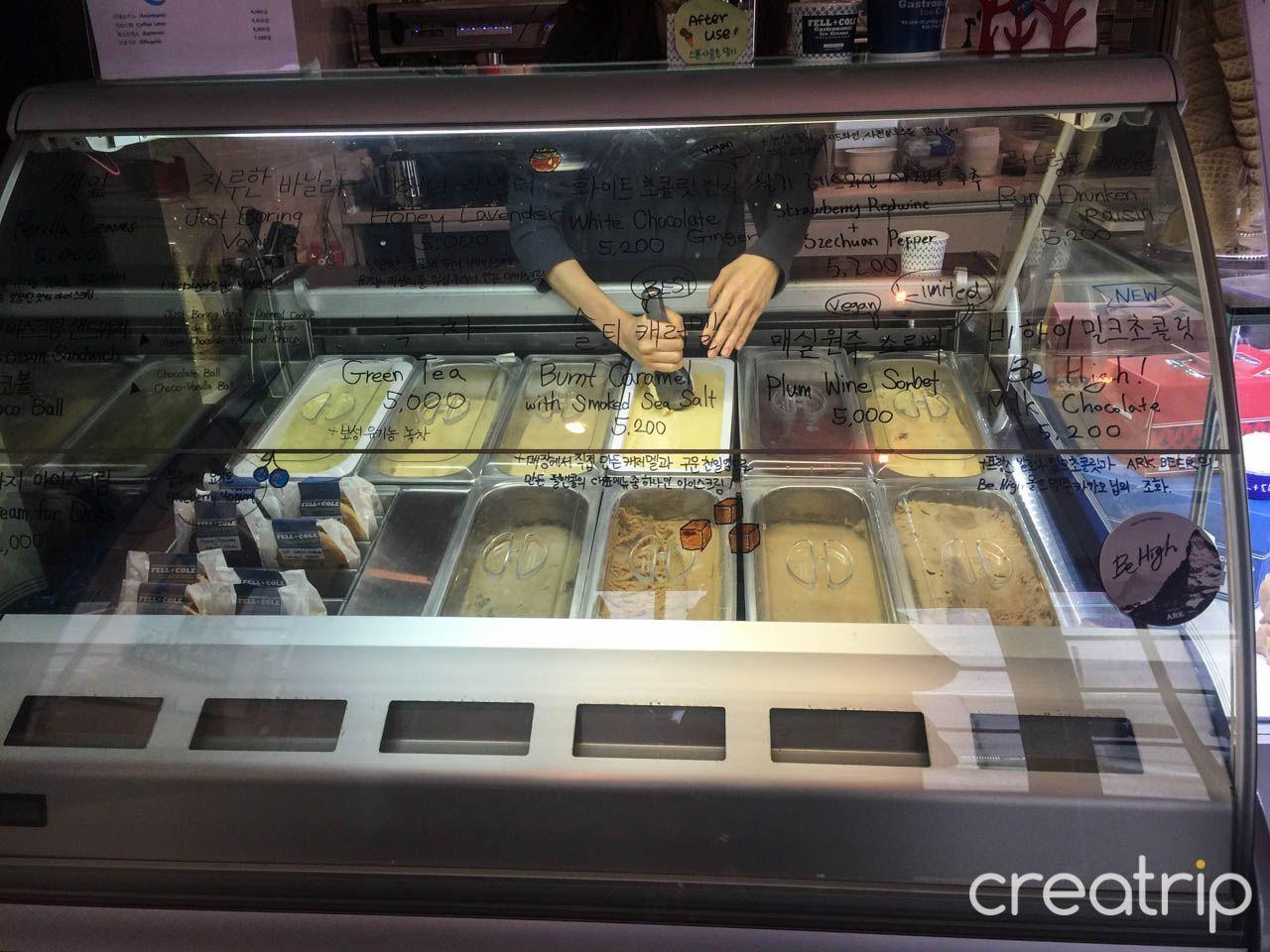 Hongdae's "Fell + Cole" is located near Sangsu, towards the end of the shopping area, but they've been introduced on the foodie TV show "Wednesday Food Talk", so they've always been very popular. Drop by next time for some delicious ice cream!
---
Address (Hongdae Branch): 서울 마포구 독막로7길 57
Operating hours: 11:00 - 00:00 (Sun - Thu); 11:00 - 01:00 (Fri, Sat)
Address (Designers Branch): 서울 마포구 양화로 86
Operating hours: 11:00 - 22:00
Offer: Creatrip members can download a coupon and enjoy a 10% discount on the entire menu!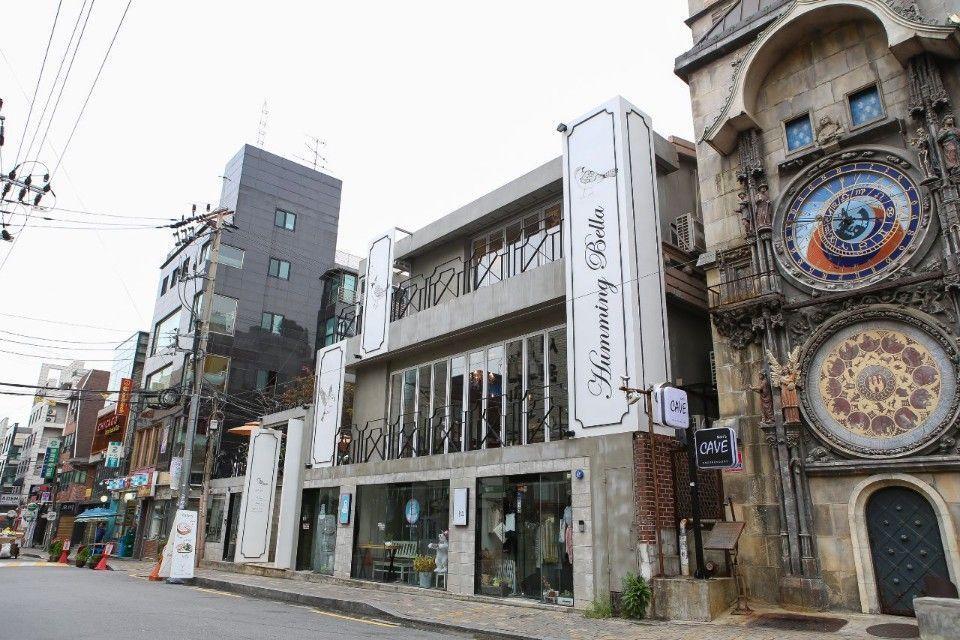 Cafe "Humming Bella" is located in the downtown area of Hongdae, and is unforgettable even after one glance. It's three stories high, and it sells many delicious desserts. It even provides outdoor seating! It's a very famous cafe.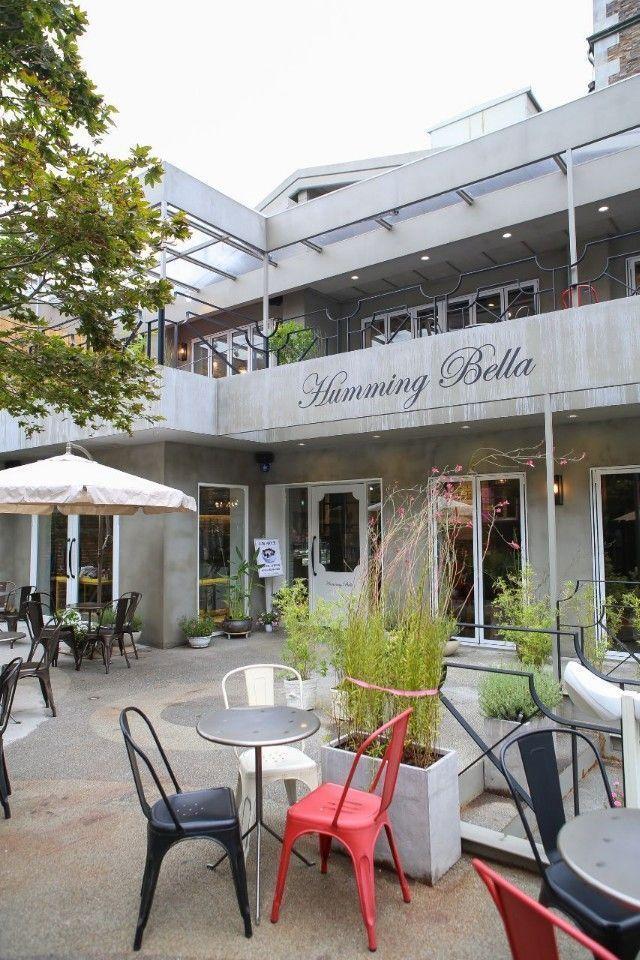 On a day with good weather, it's nice to sit outdoors and enjoy some food with friends, watching the busy Hongdae scenery.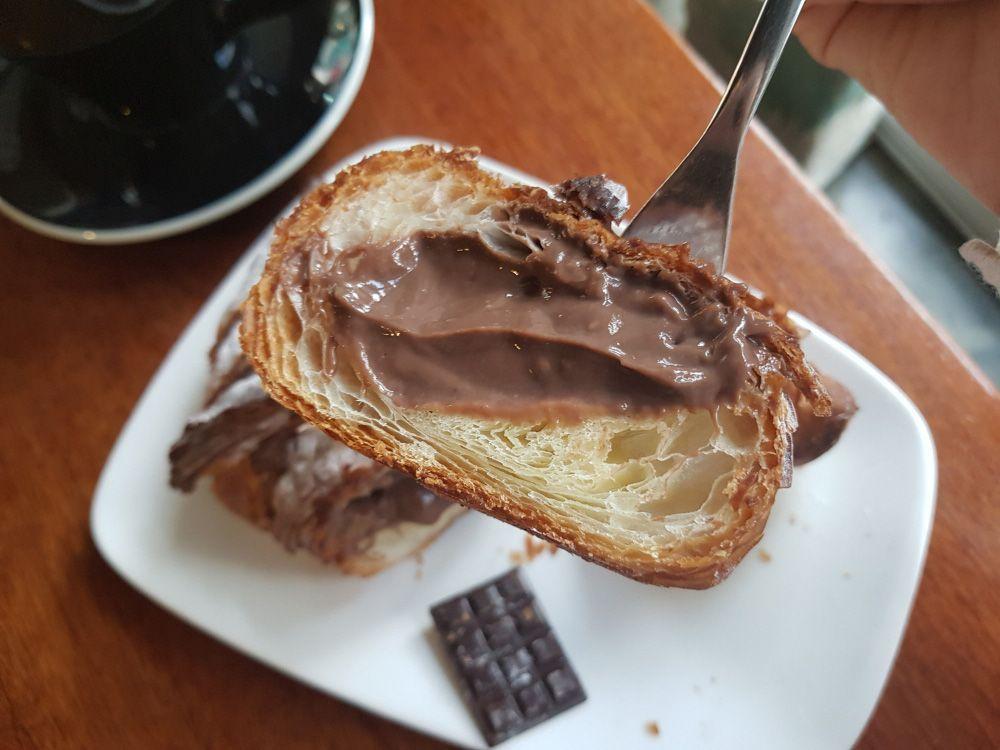 The first floor of Humming Bella is a bakery, selling many delicious pastries. I really recommend the chocolate; the melted chocolate filling was rich and delectable. If you are a chocolate lover, visiting Humming Bella is a must!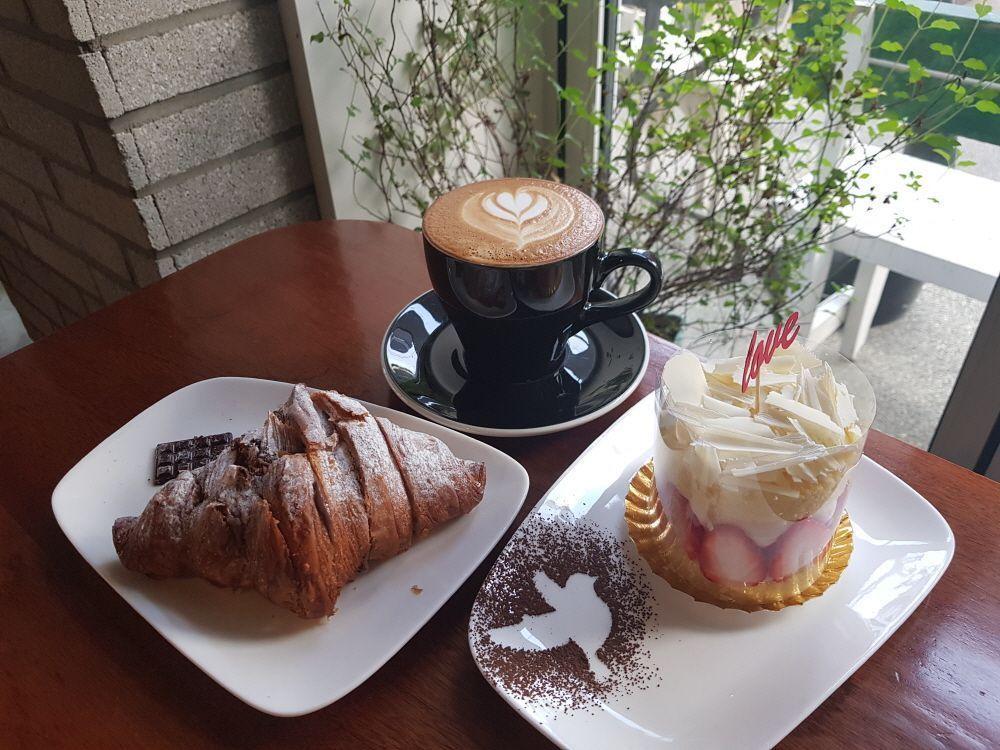 ---
Address: 서울 마포구 양화로16길 24
Opening hours: 11:00 - 22:00 (weekdays); 09:30 - 22:00 (weekends)
Offer: Creatrip members can download a coupon and enjoy a 10% discount on drinks and desserts!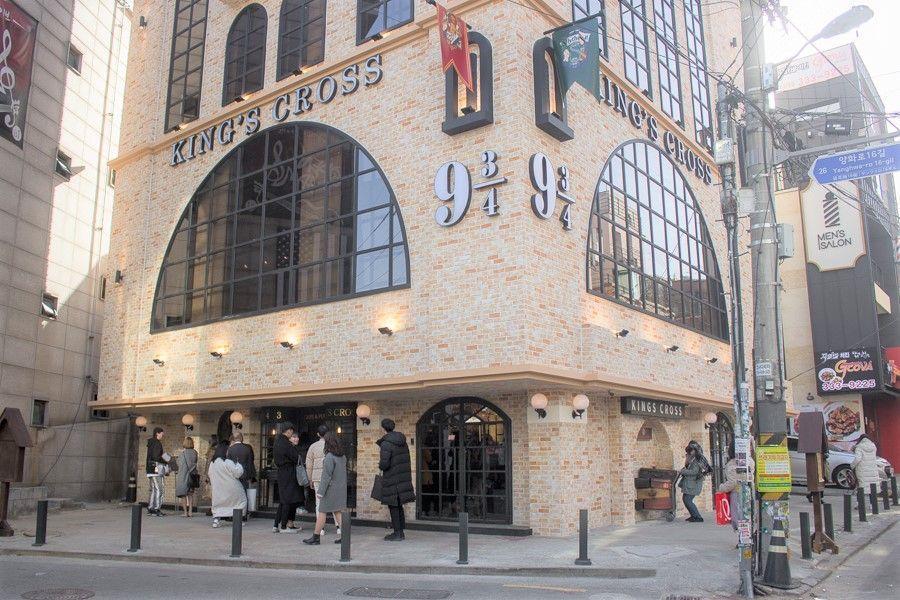 I'm sure you all know what this picture is! That's right, it's Platform 9 3/4 from Harry Potter! When you come to Hongdae, you must drop by "943 King's Cross" to take a picture.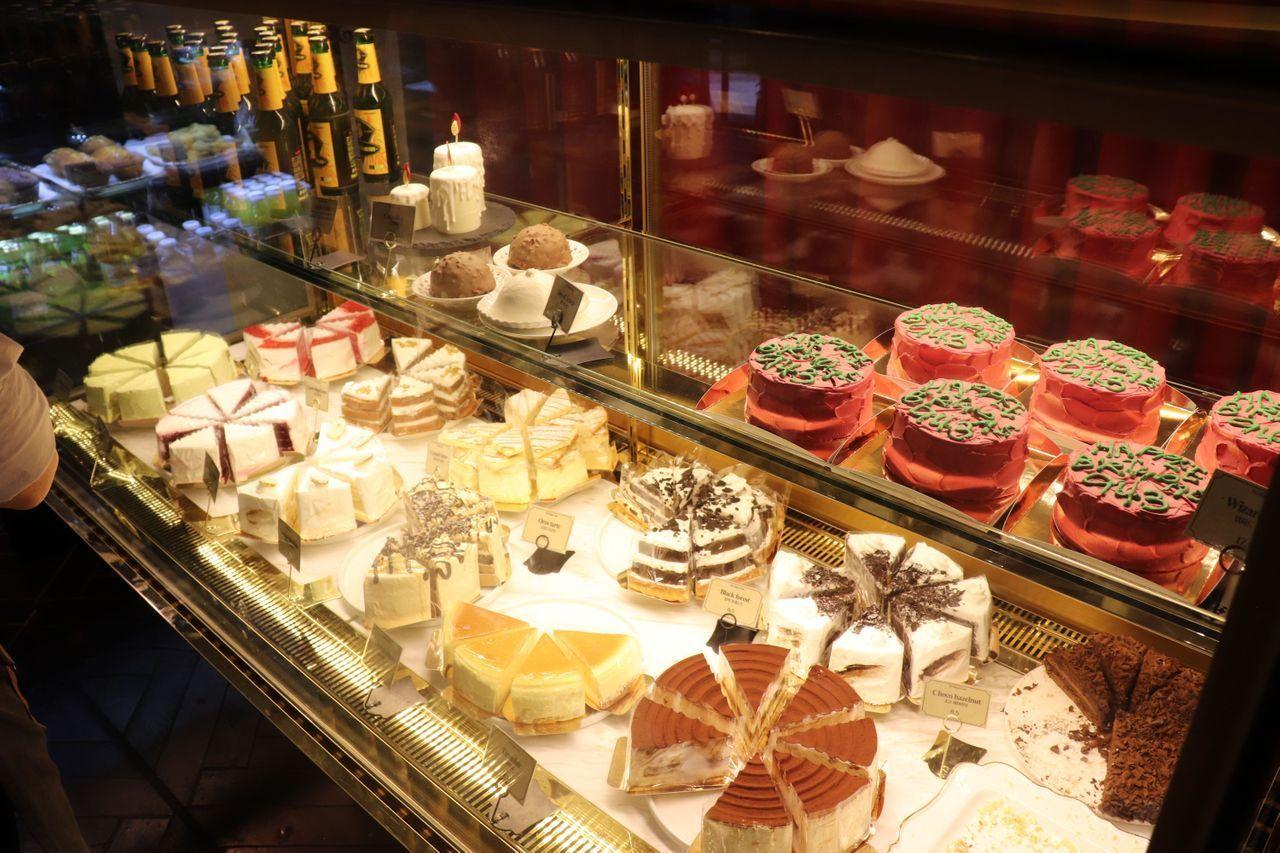 Of course, the decorations aren't all they have to offer. Their cakes and drinks have also been very carefully prepared. If you find them a tad too expensive, you can take advantage of the 10% discounts provided by our Creatrip membership coupons!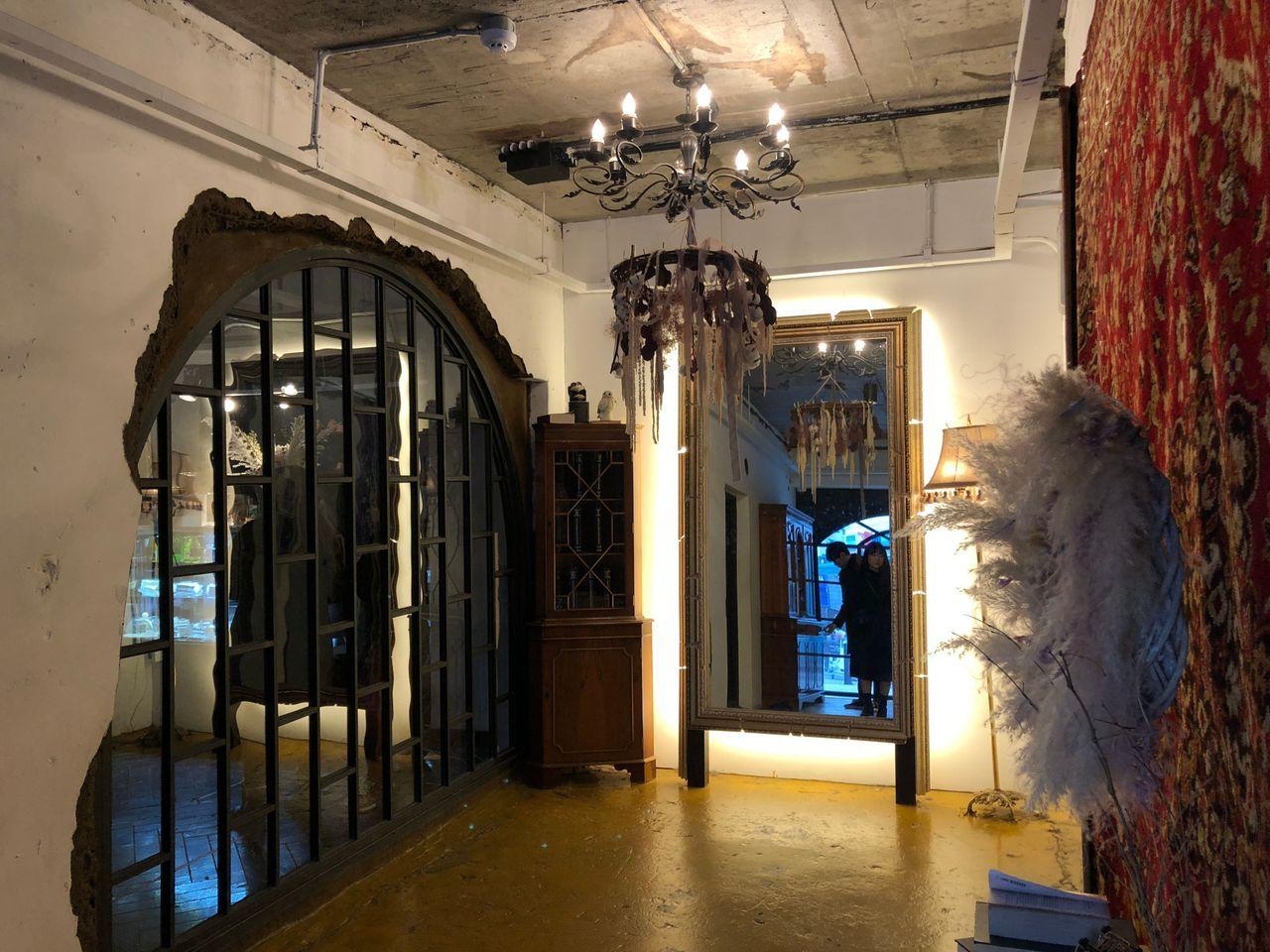 After you're done ordering, head over upstairs to see the interior designs. The scenes of the Harry Potter movies are still so vivid in my mind, and to see them so delicately replicated in Hongdae was definitely unforgettable.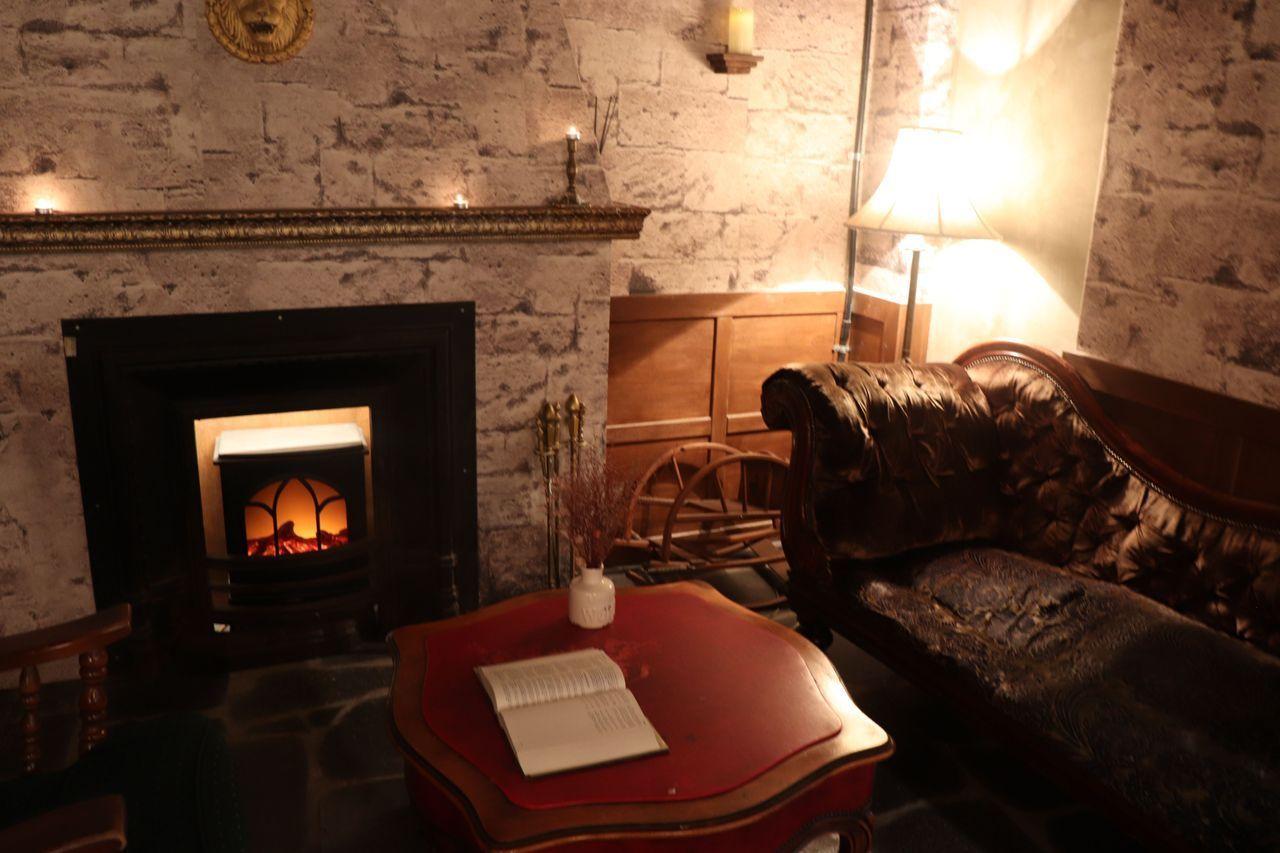 Put on your wizard robe, and take a photo at the Harry Potter themed "943 King's Cross" at Hongdae. The delicious desserts are memorable, but the overall cafe experience even more so.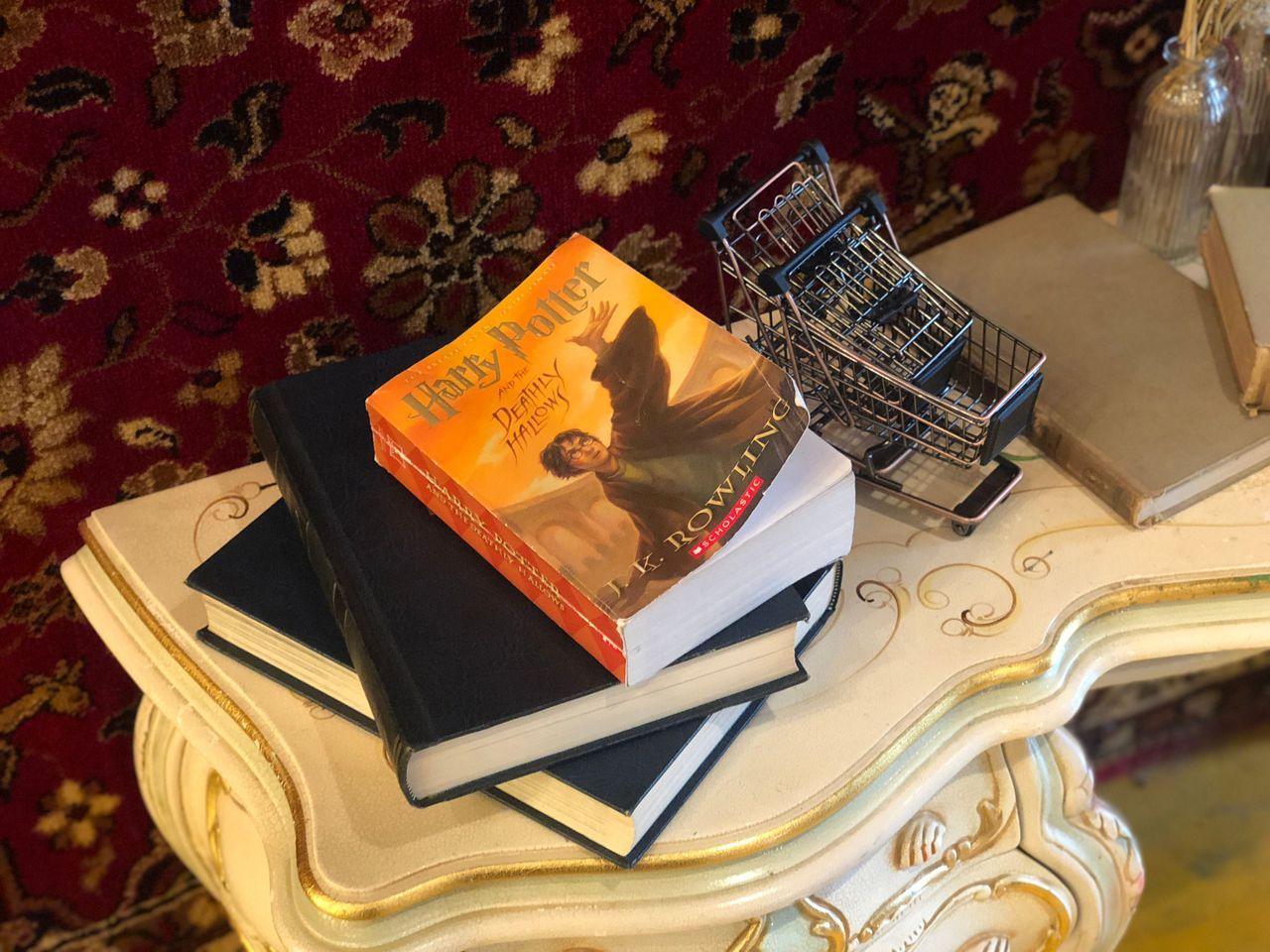 ---
Vanilla Kitchen (바닐라키친)
Address: 서울 마포구 동교로 266-7
Opening hours: 12:30 - 22:30; Closed on Mondays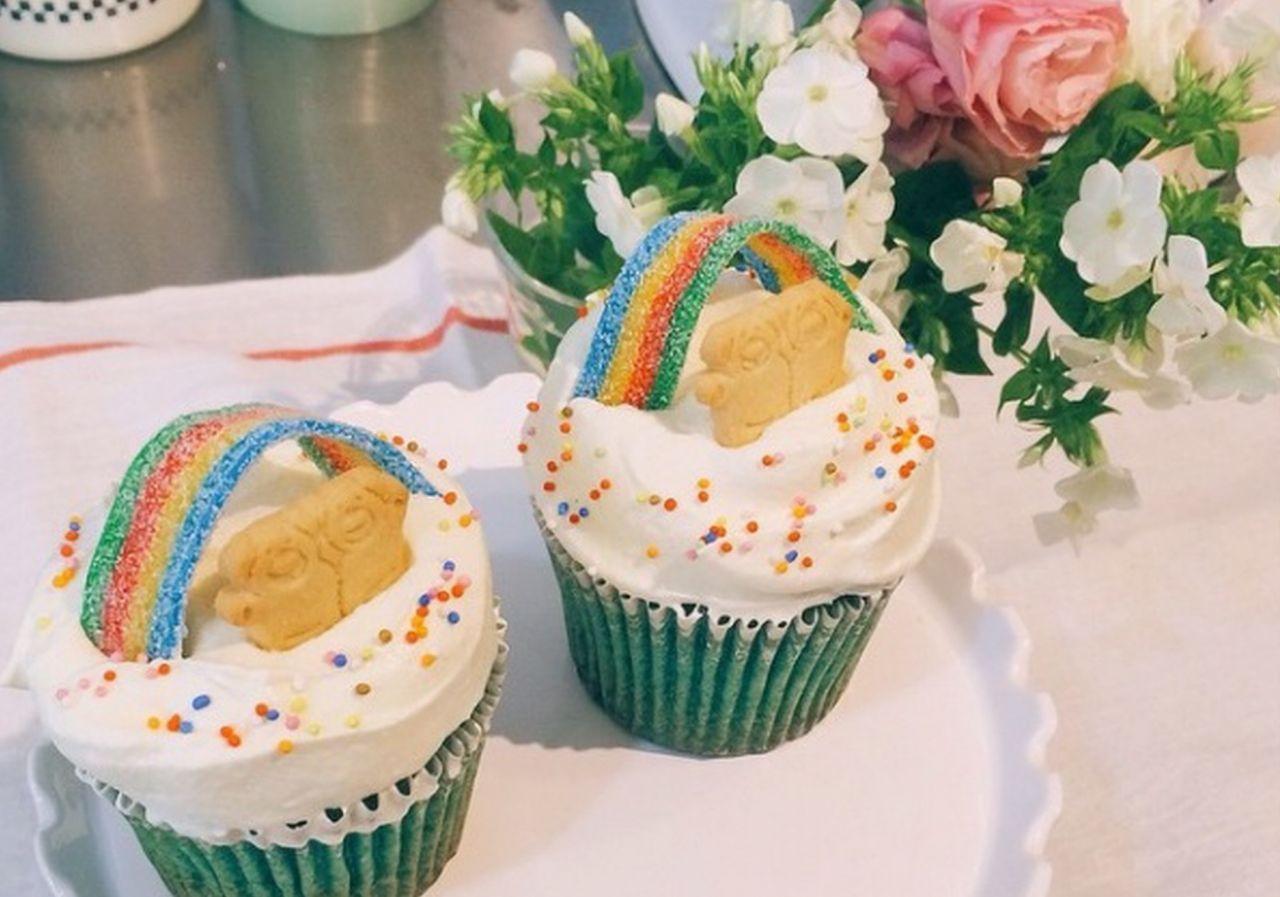 Hongdae's "Vanilla Kitchen" is very eye-catching from its exterior. Its floor-to-ceiling windows and dried flowers on the side gives the shop a unique atmosphere, making it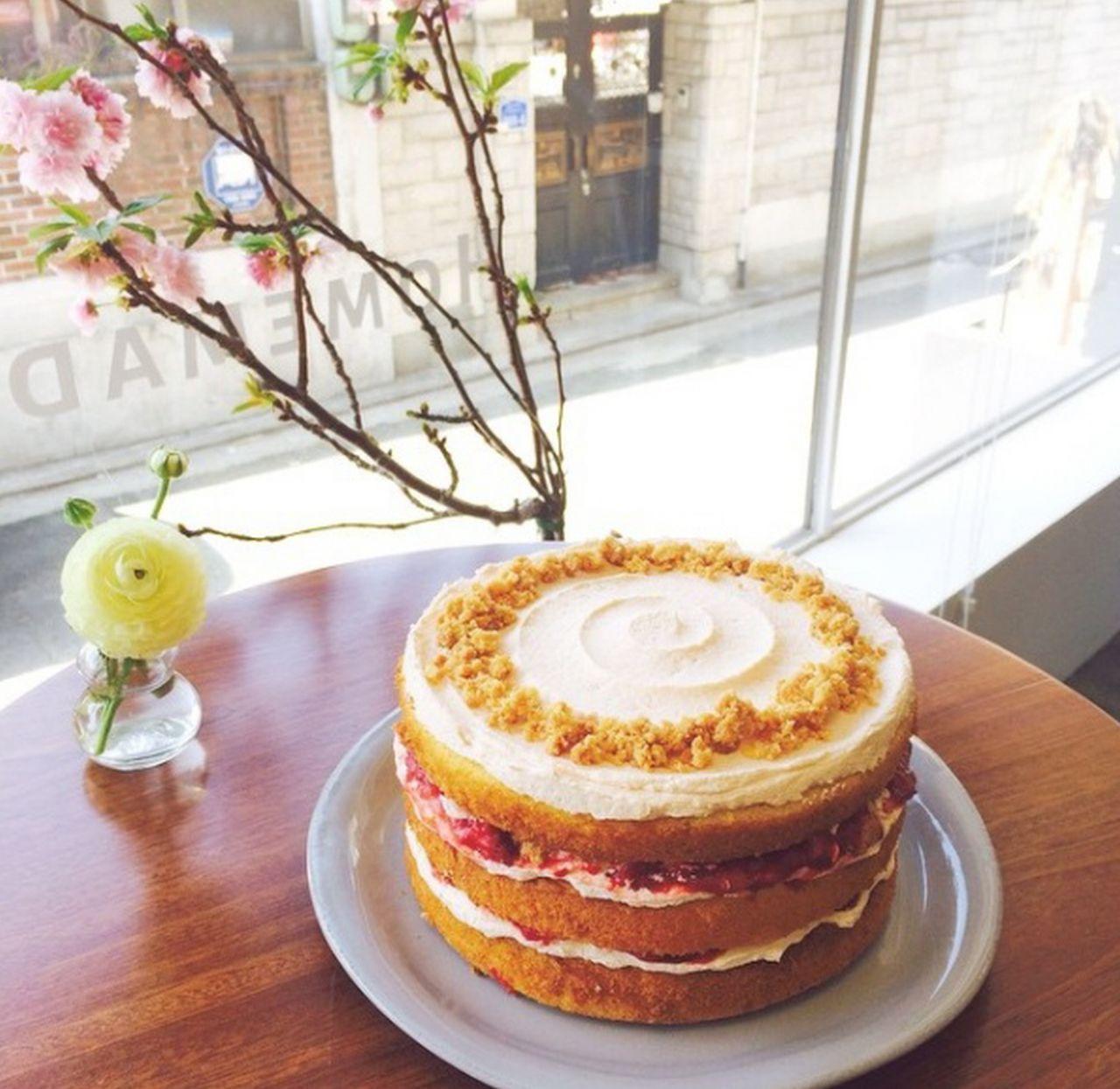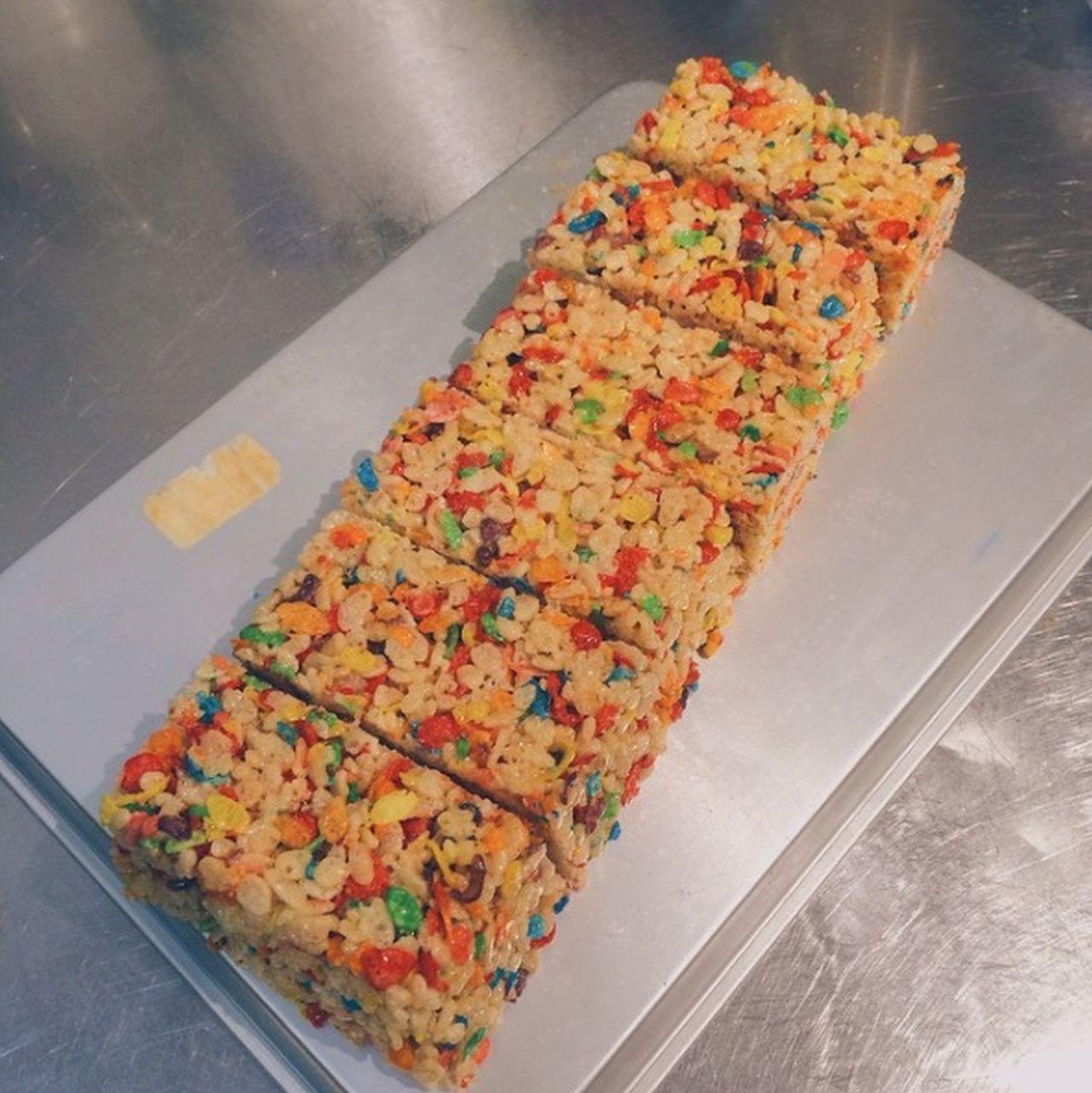 What's even more attractive than the cafe's vibes are their desserts. Vanilla Kitchen has cakes and small pastries with decoration that will make any girl's heart flutter.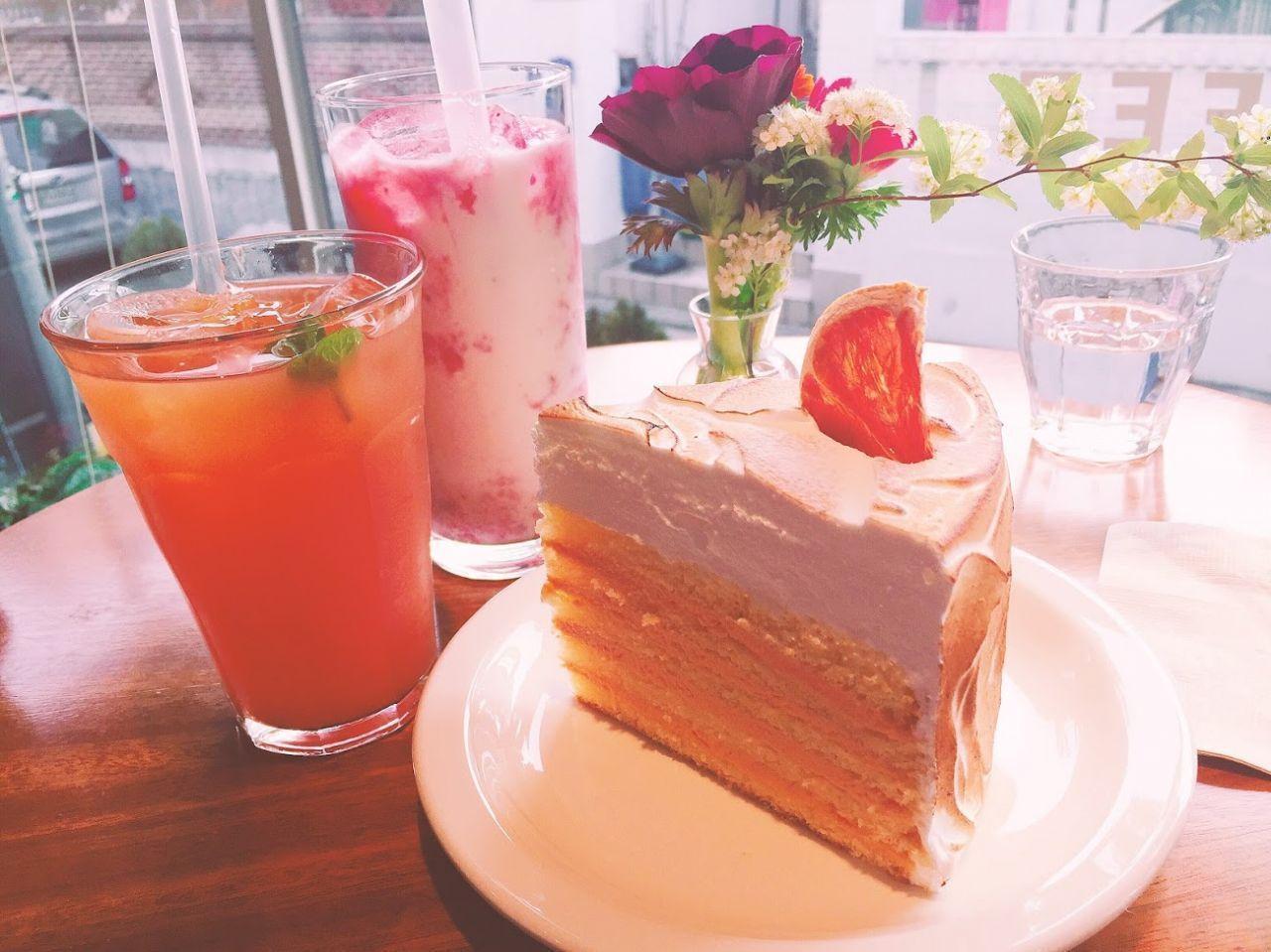 Taking good pictures is an important skill at Vanilla Kitchen. Even people who don't like desserts are drawn to order, take pictures, and cherish their memories.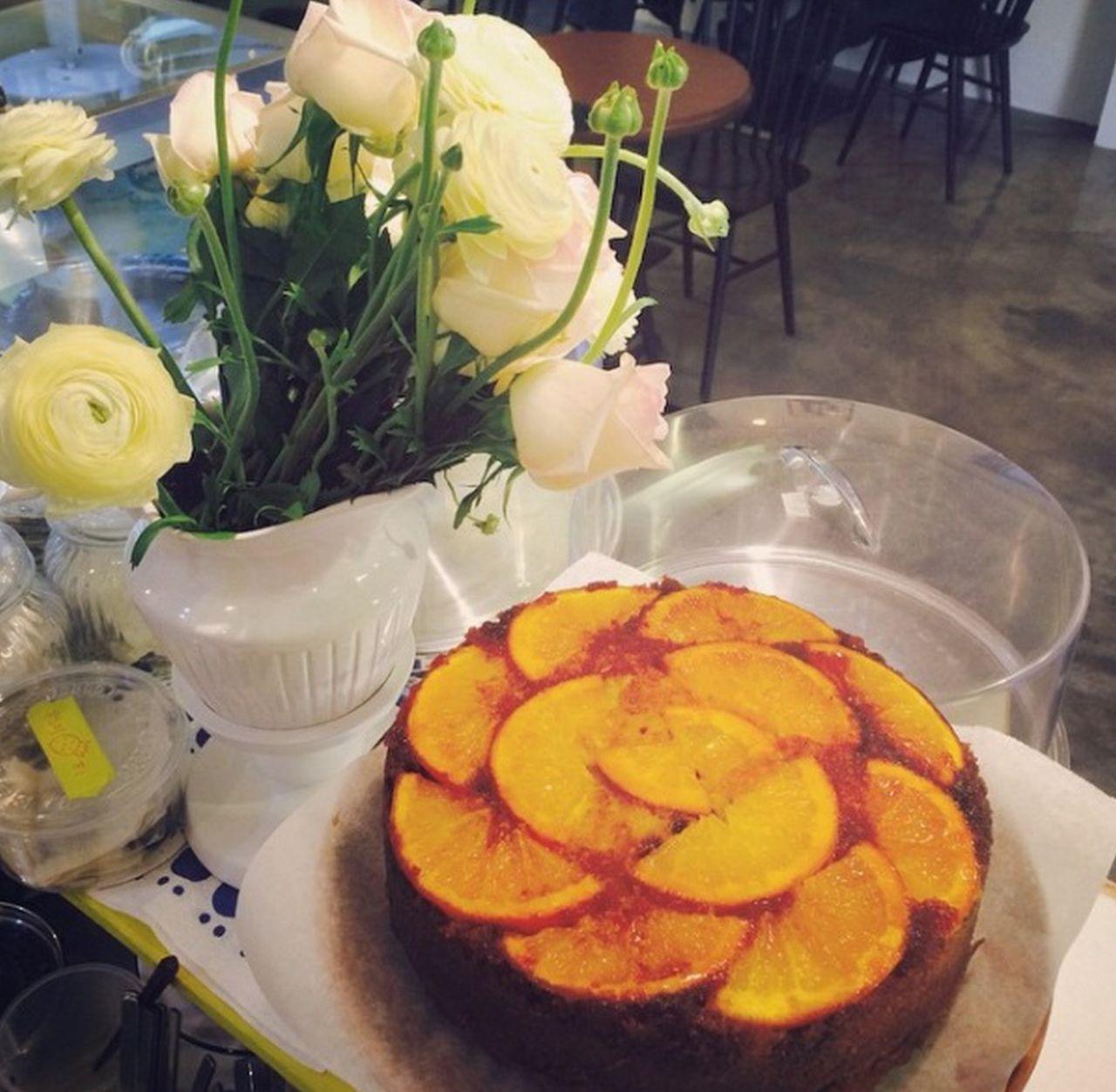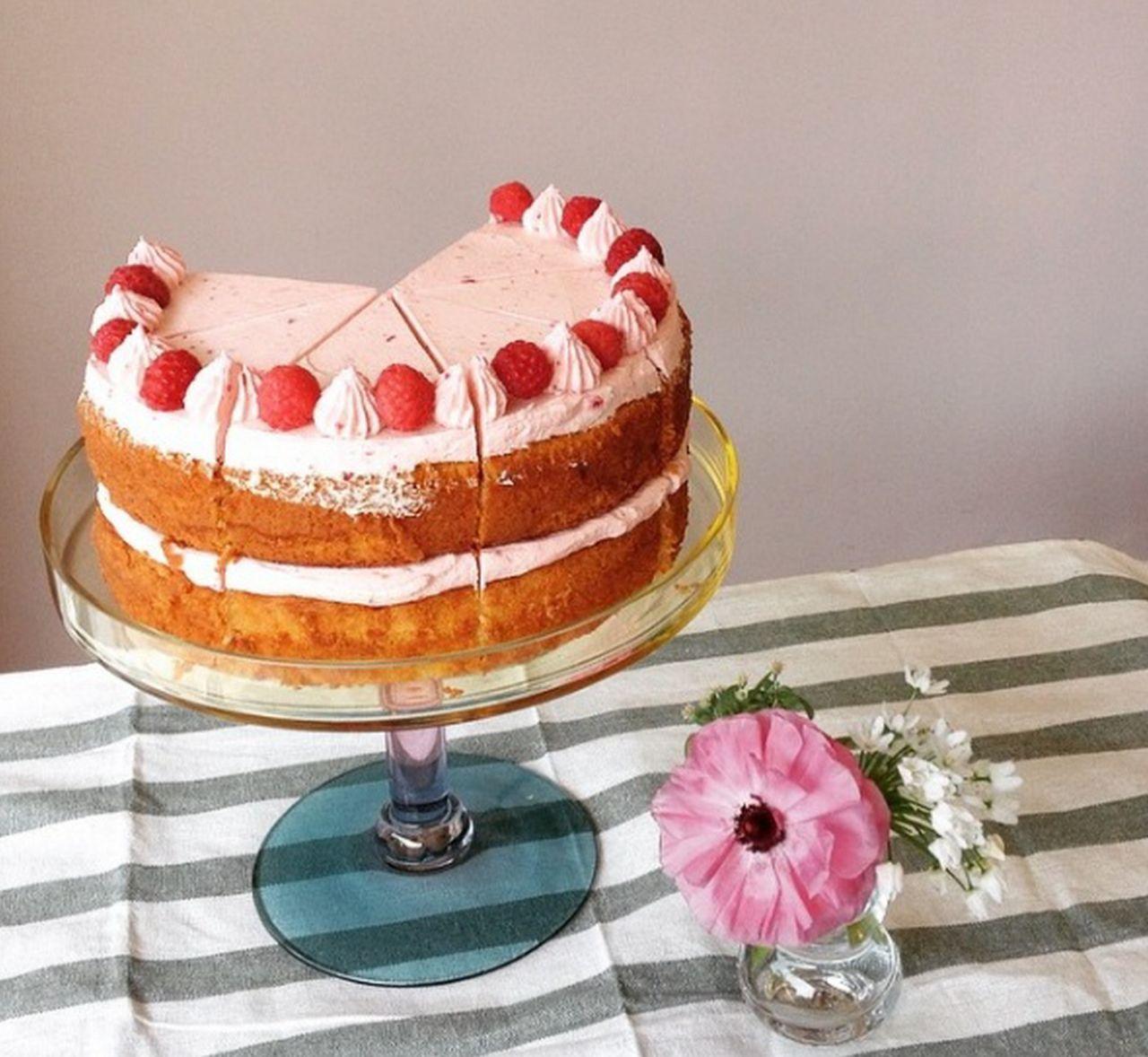 If you're taking a stroll around Yeonnamdong or Hongdae, make your way to Vanilla Kitchen, order a glass of strawberry milk, and enjoy a relaxing time in Yeonnamdong with a piece of cake.
---
Address: 서울 마포구 동교로39길 4-13
Opening hours: 09:00 - 23:00
Offer: Creatrip members can download a coupon and enjoy a 10% discount on the entire menu!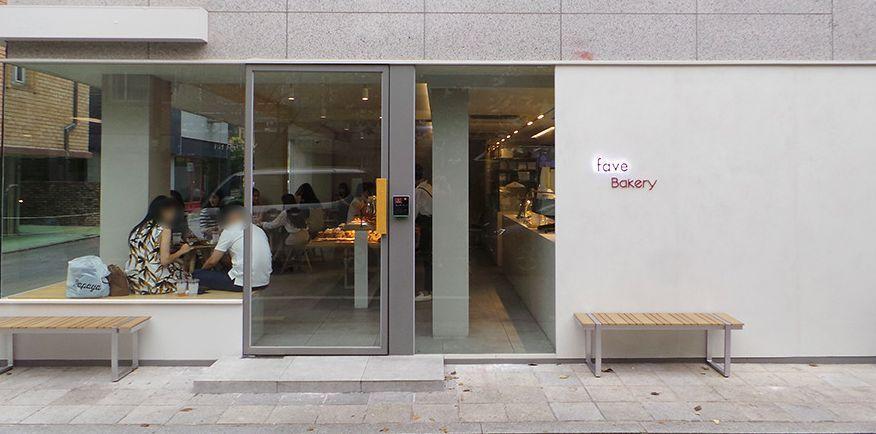 You all probably know that there are restaurants and cafes in Seoul that only locals go to. Hongdae's "Fave Bakery" is one of those places, hidden in Yeonnamdong.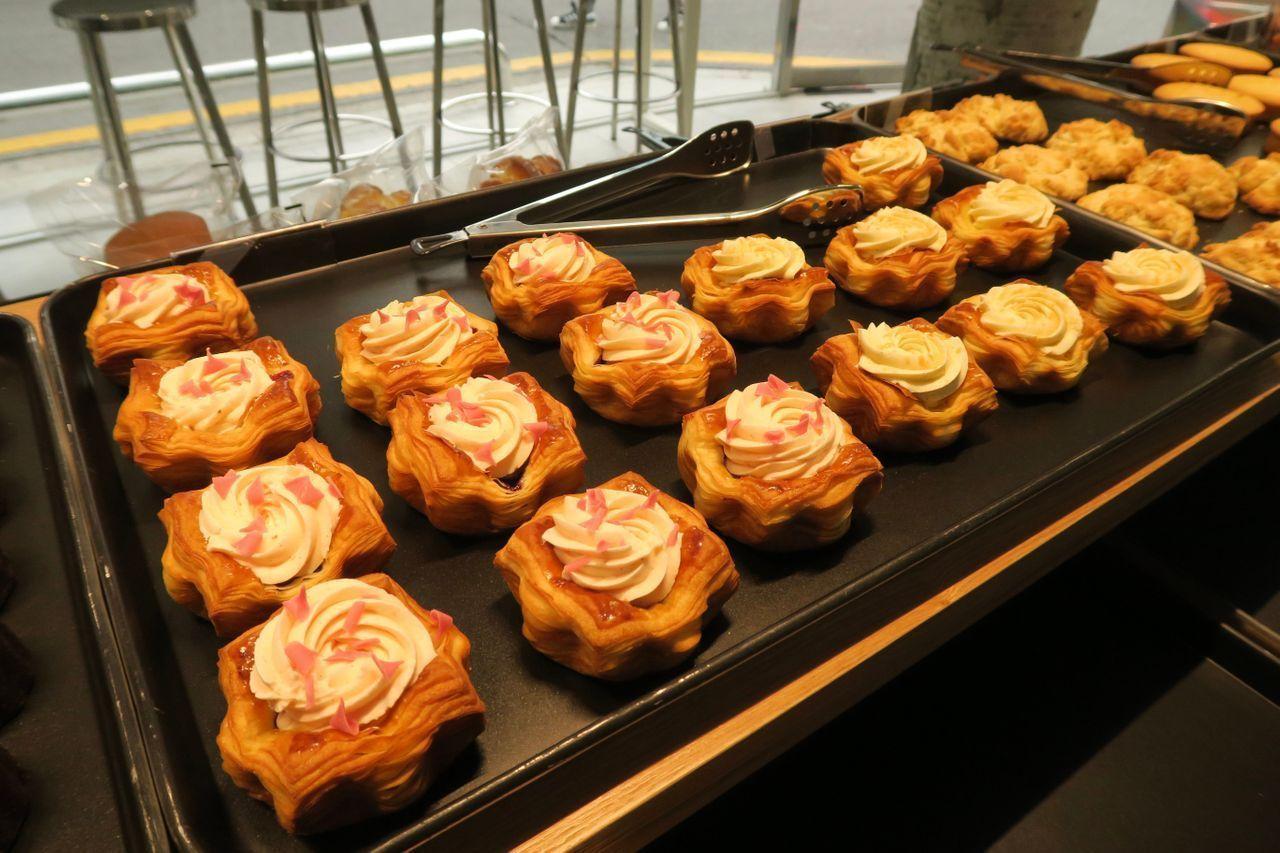 Delicious bread and coffee are the key to how Fave Bakery was able to expand its business from its initial small shop in Yeonnam. Here, you can spend a relaxing, quiet afternoon drinking coffee, or buy some bread and desserts on the shelf to make your Hongdae experience even more delightful.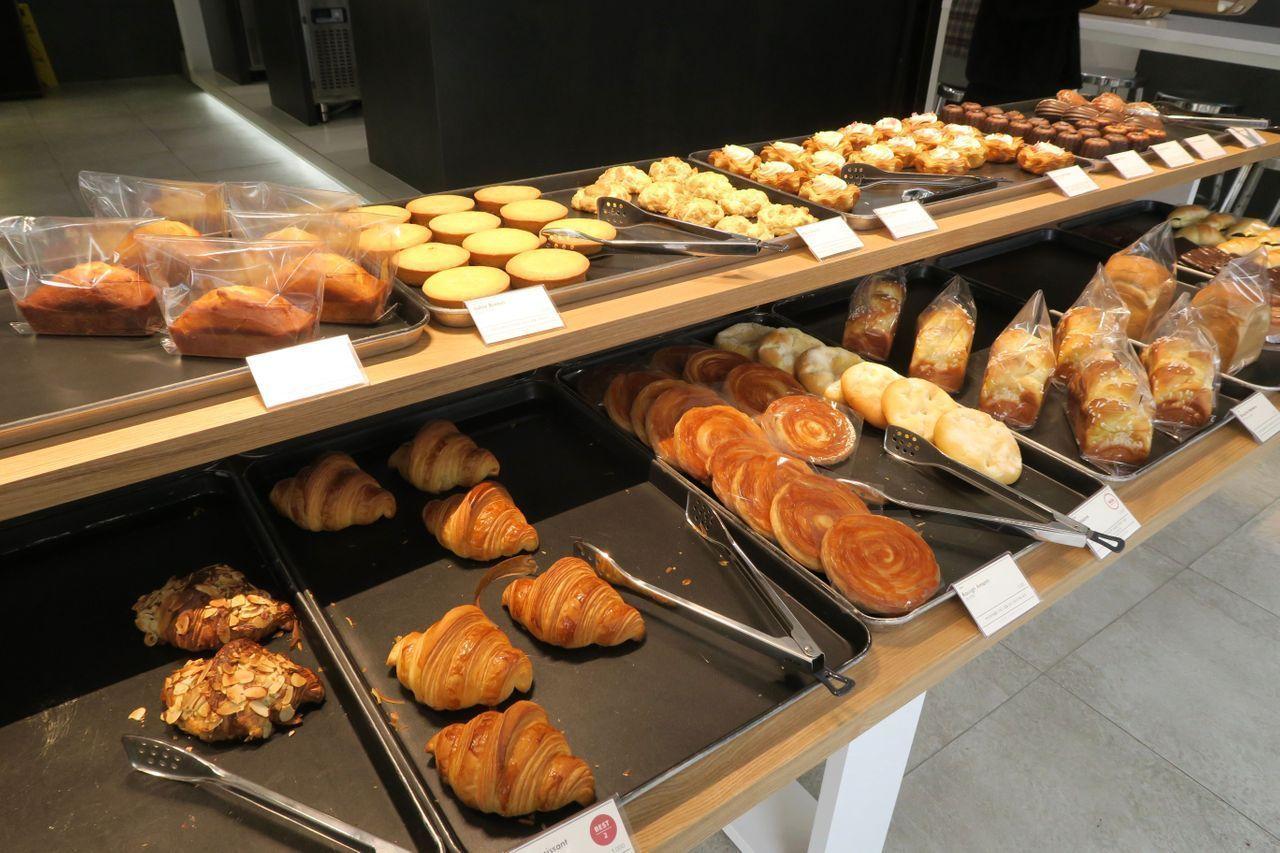 I recommend their croissants and madeleines, which were all well above my expectations. (Their madeleines come in three flavors!) Creatrip members can also enjoy a 10% discount on all items on their menu (discount coupons also accepted at other branches in Seoul).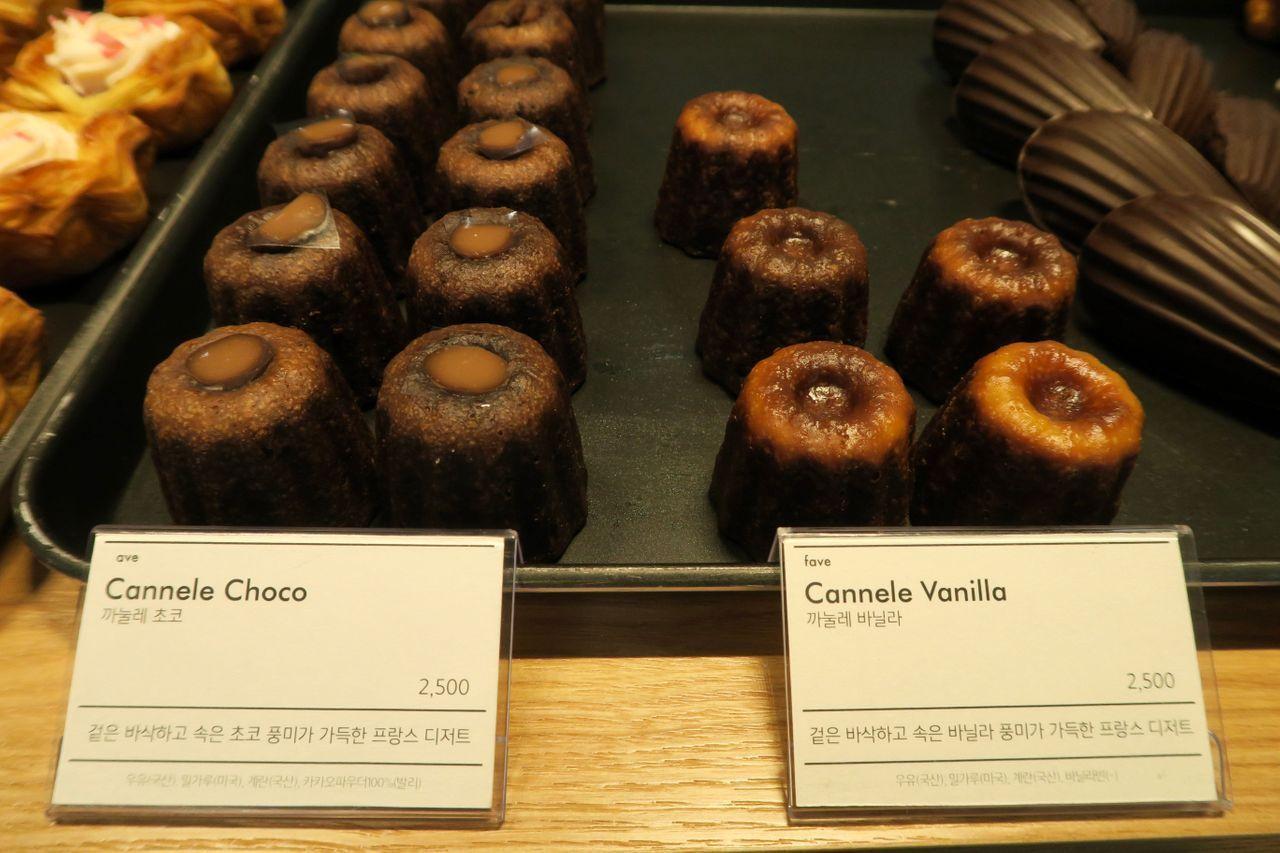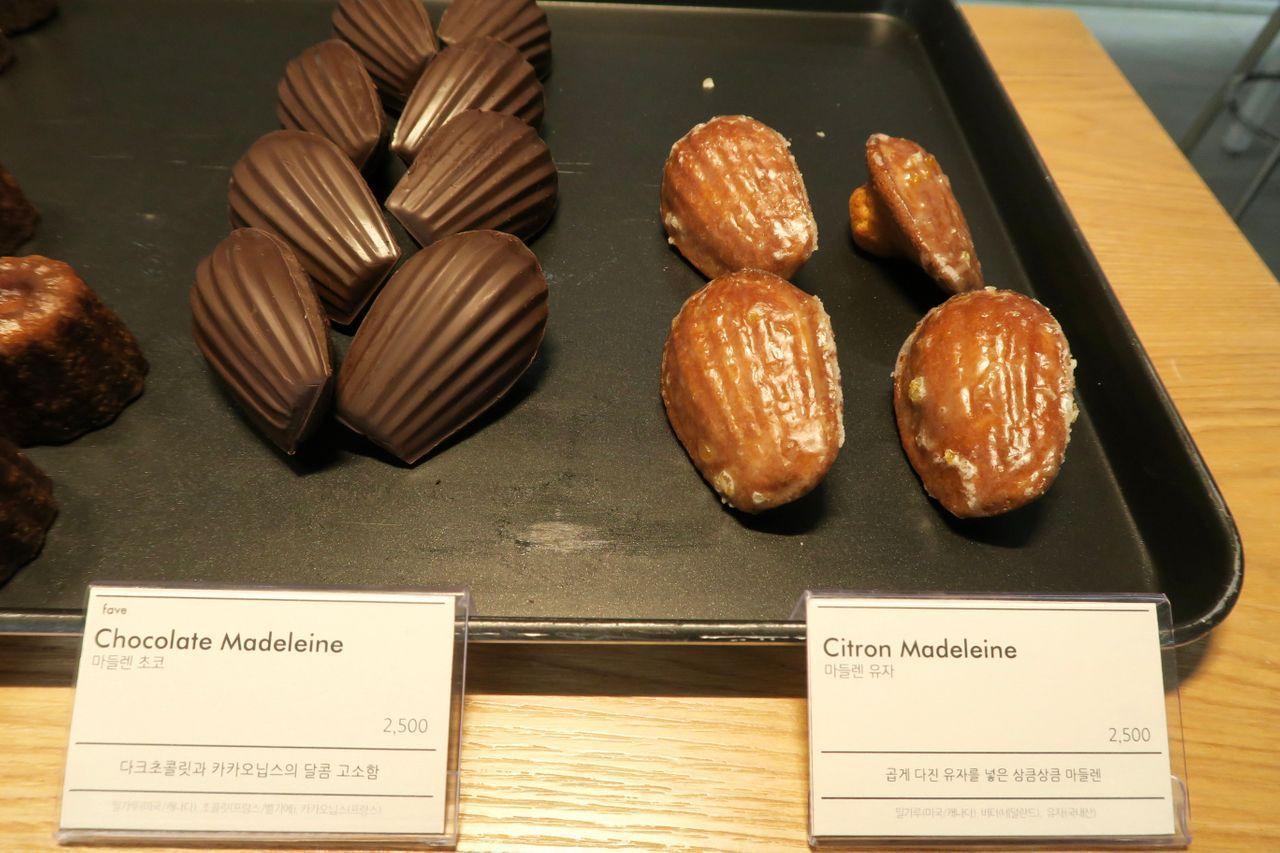 The fresh, soft cream was a perfect match with the crispy croissants, and the madeleines were also sweet but not overwhelming. I recommend the grapefruit flavor, which contains actual grapefruit. Make sure to make a visit to this Hongdae cafe for bread and desserts!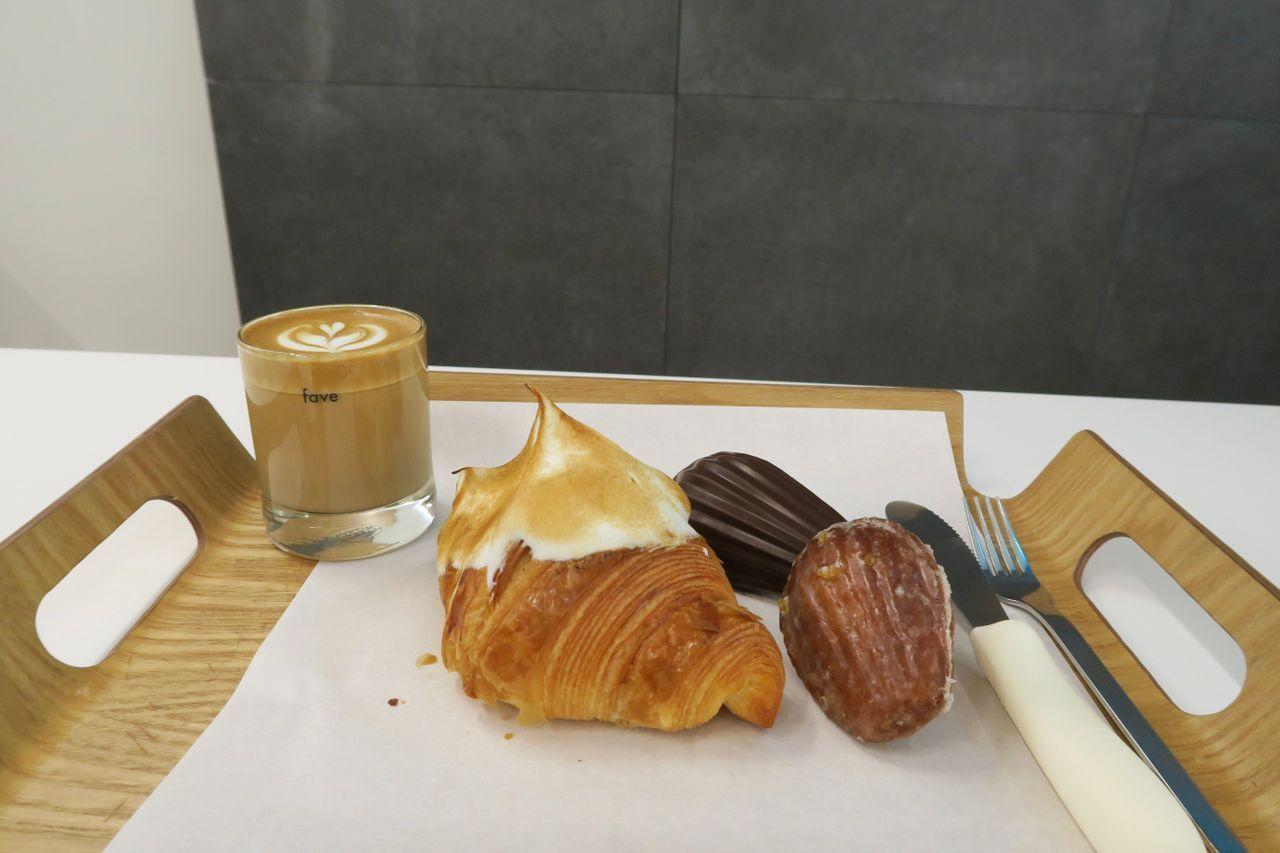 ---
Address: 서울 마포구 신촌로6길 22
Opening hours: Every day 10:30 - 23:00
Offer: Creatrip members can download a coupon and enjoy a 10% discount!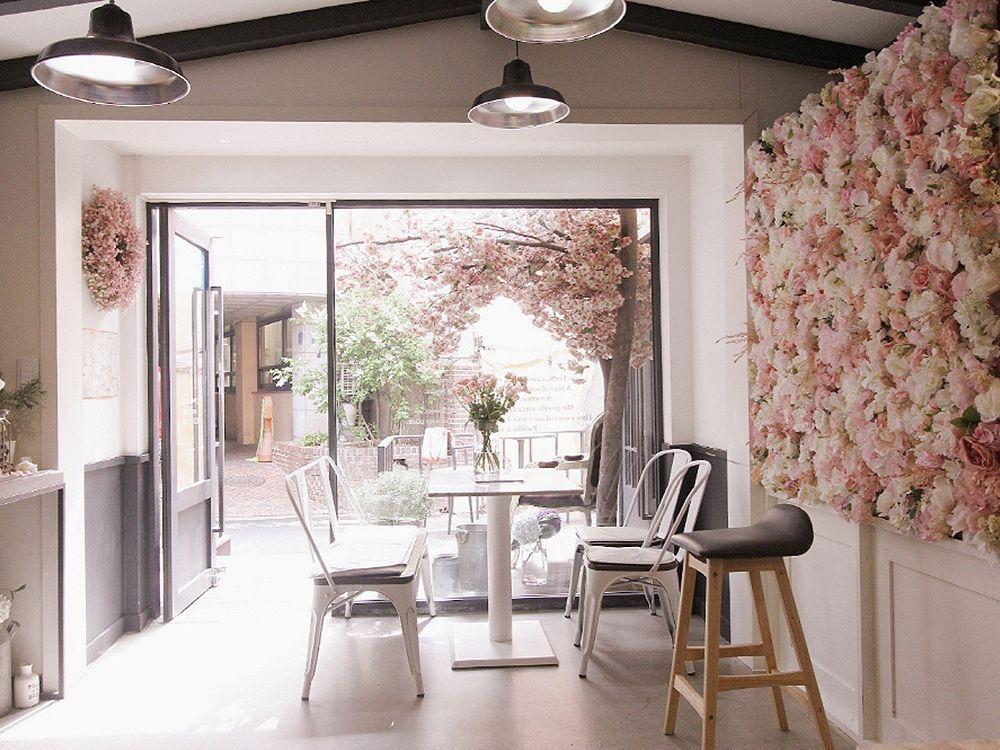 When it comes to girly dessert cafes around Hongdae, there is no place like Lovin'Her in front of Hongdae Station Exit 6! This is a floral cafe in the Hongdae area that is popular all around Seoul. They decorated not only their store, but even their drinks and desserts with flowers.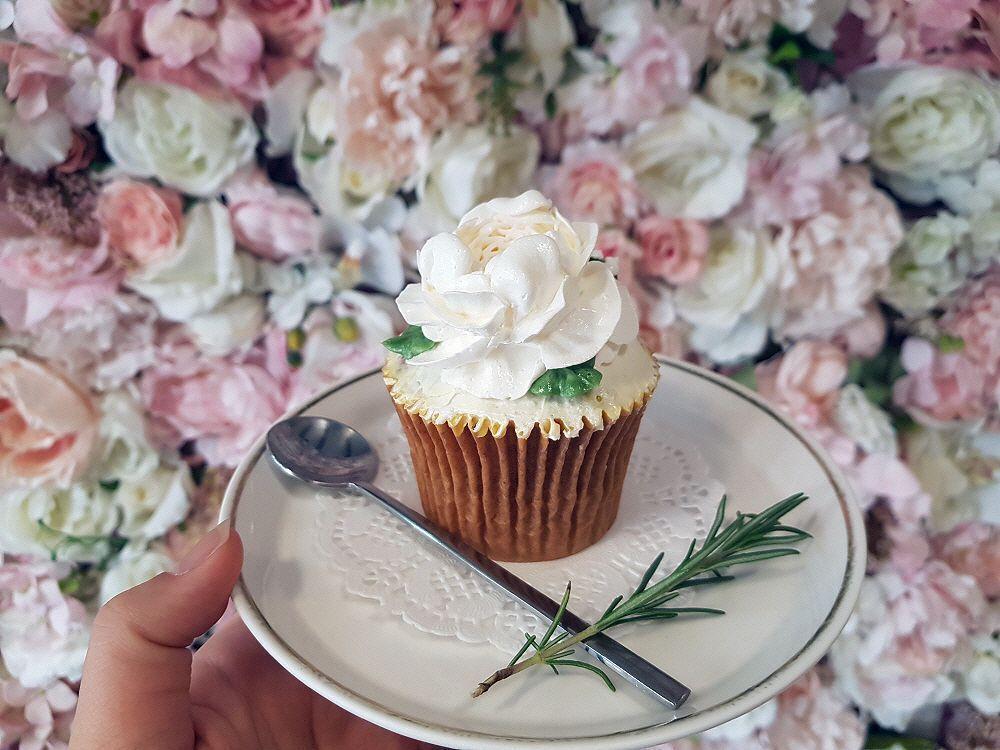 If you order a cupcake, the whipped cream on top is decorated in a flower shape, and the ice cubes in the drinks are also shaped like flowers. Eating in this cafe makes you feel like you've become a beautiful flower fairy!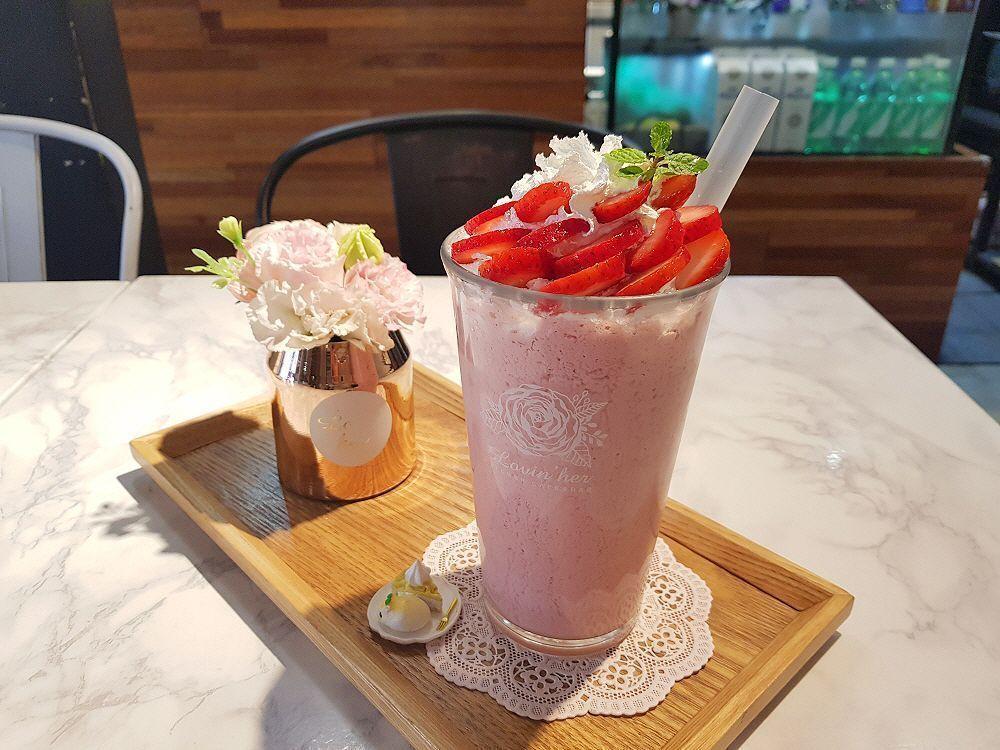 Every corner of the cafe is beautifully decorated, and if you look around, you see beautiful flowers everywhere. If you're around the Hongdae area, and you like floral decorations, you should come and visit Lovin'Her to enjoy the blooming flowers!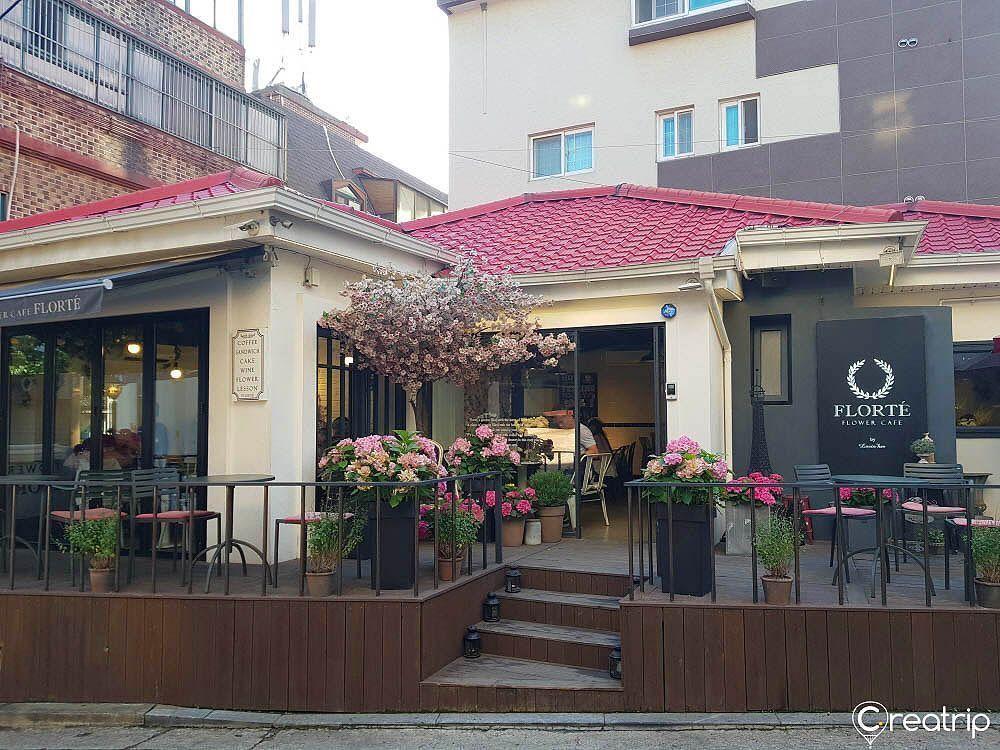 ---
Deweet
Address: 서울 마포구 동교로 242-5
Opening hours: 12:00 23:00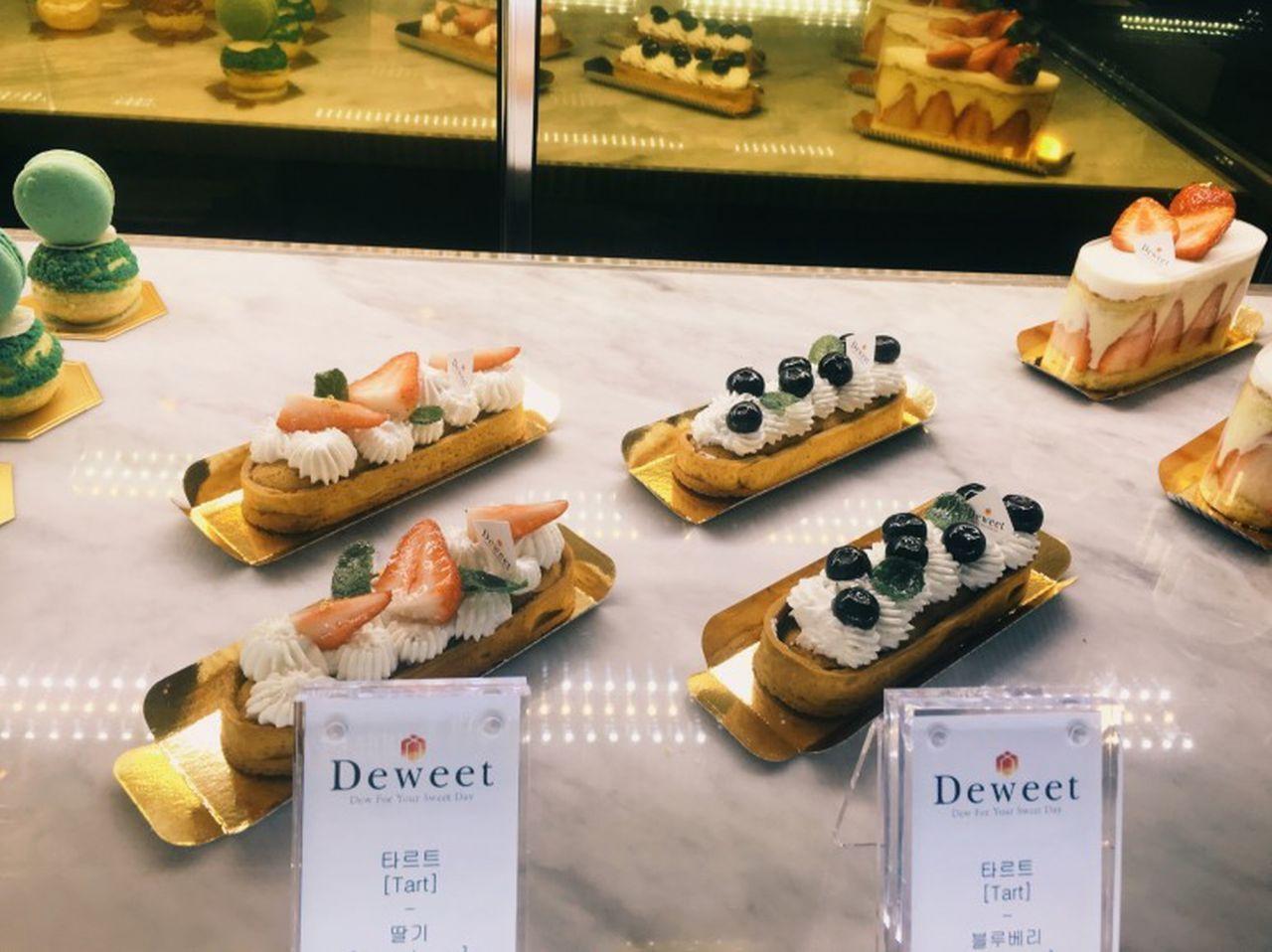 Deweet is a cafe in the Hongdae area with all the elements that women love: marble tables, scented candles, and high-quality desserts. When you walk into the cafe, the beautiful interior will make you feel like you're in a fancy restaurant.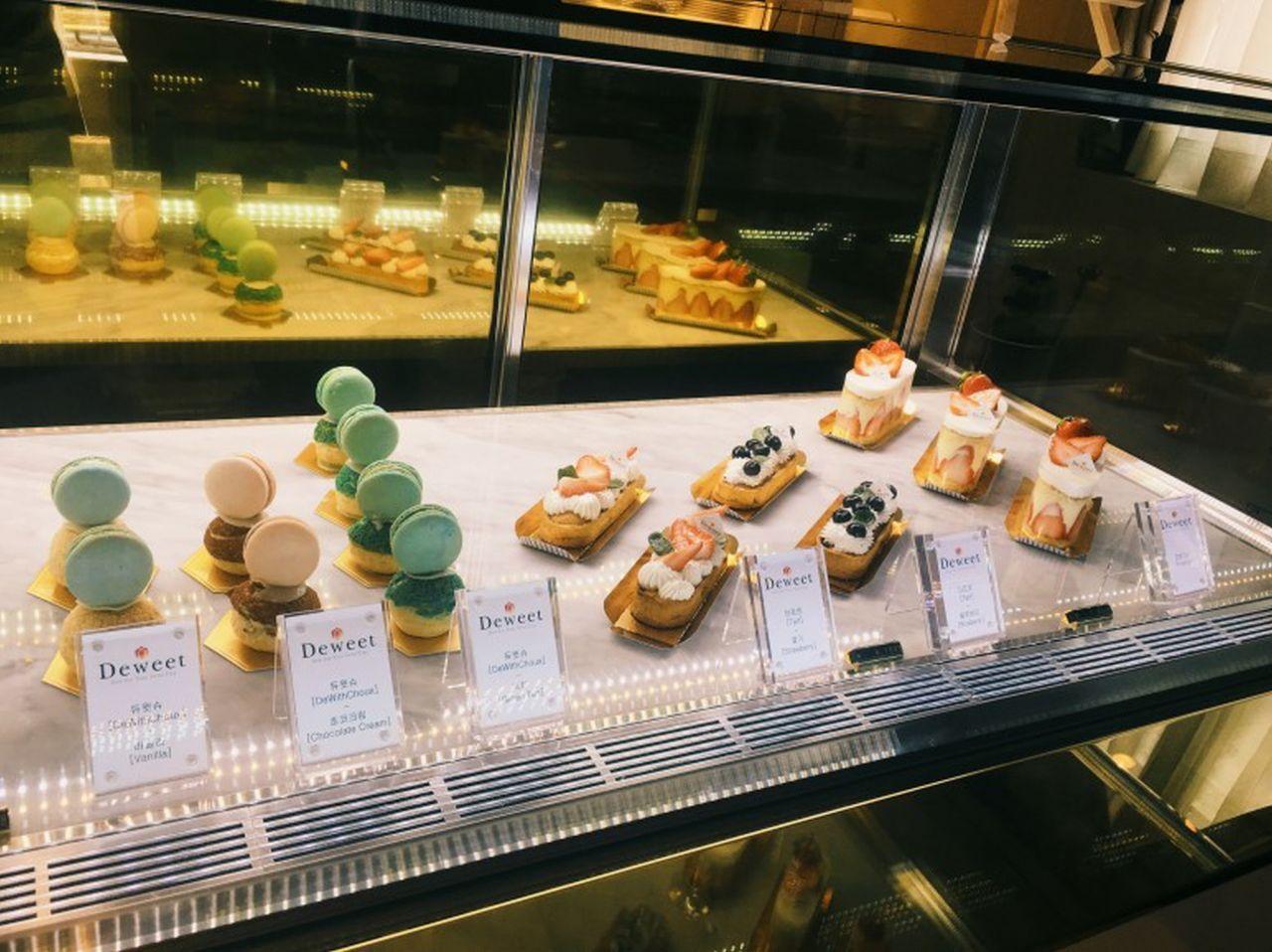 Alongside the interior, the cafe's desserts are also famous for their amazing flavors, especially their strawberry cakes filled with fresh strawberries and their sweet, cute macarons.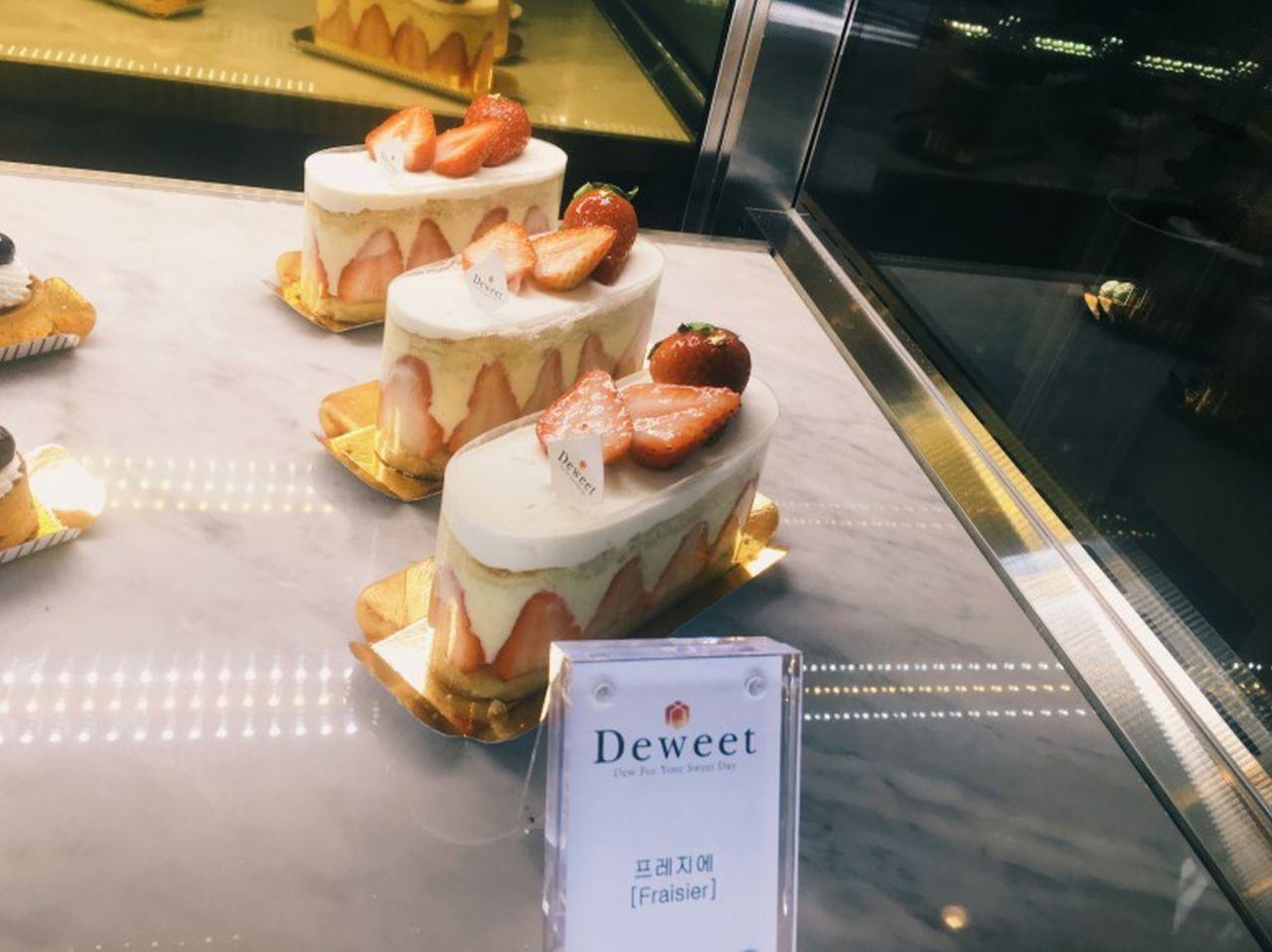 Deweet has a variety of European style desserts and is widely popular. Visit for a princess dessert experience! It will not disappoint.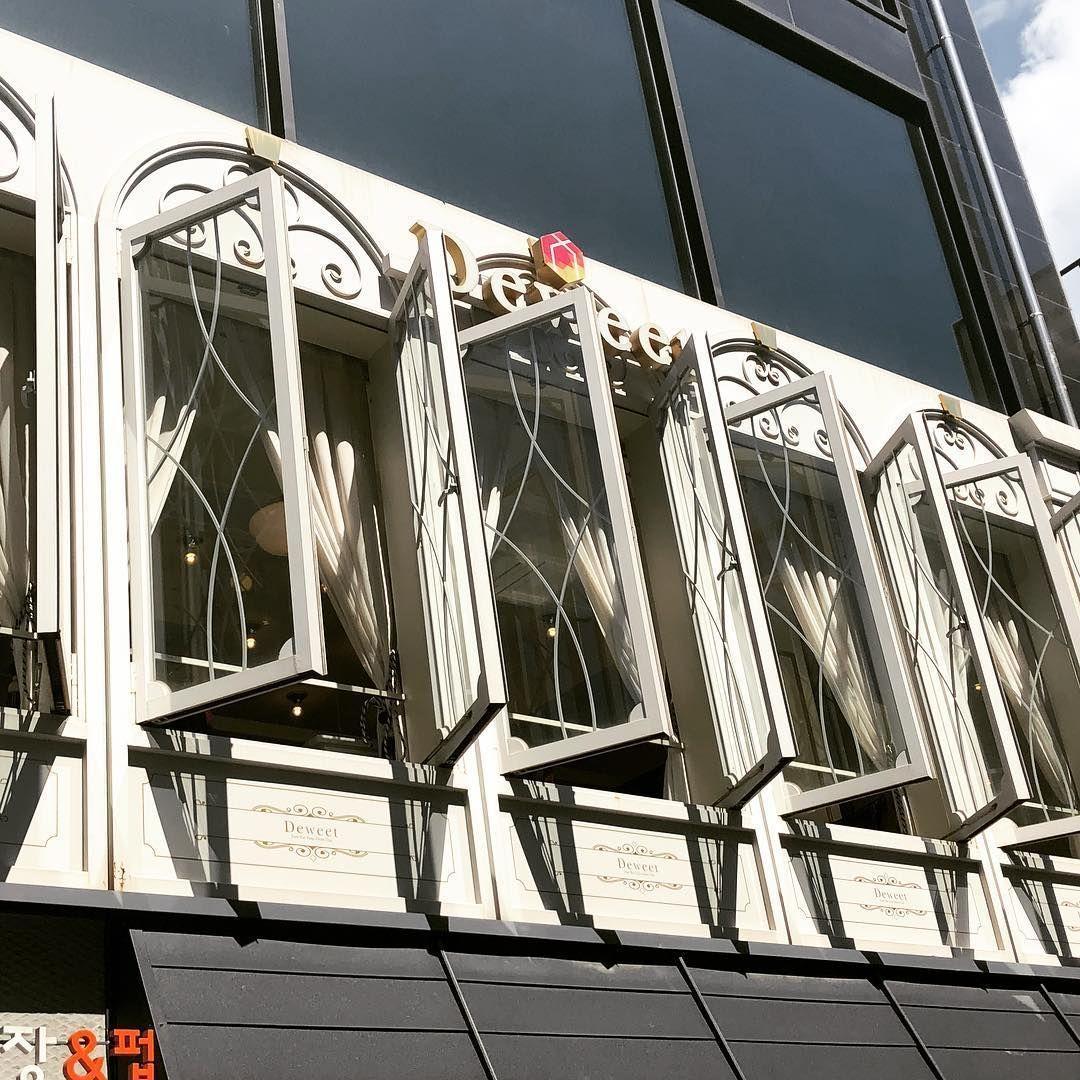 ---
FÜHAHA Cream Bread (푸하하크림빵)
Address: 서울 마포구 양화로19길 22-25
Operating hours: 09:00 - 22:00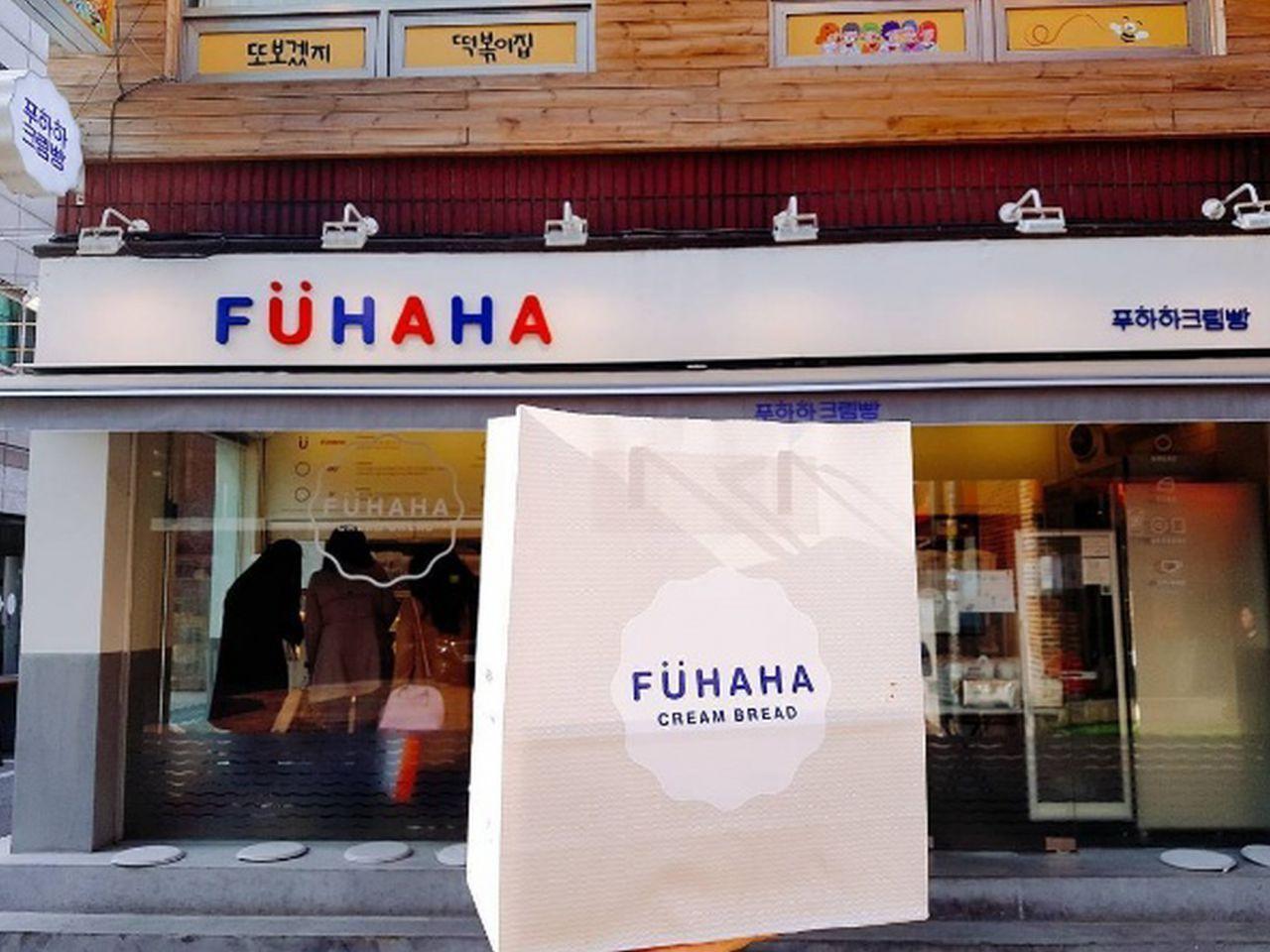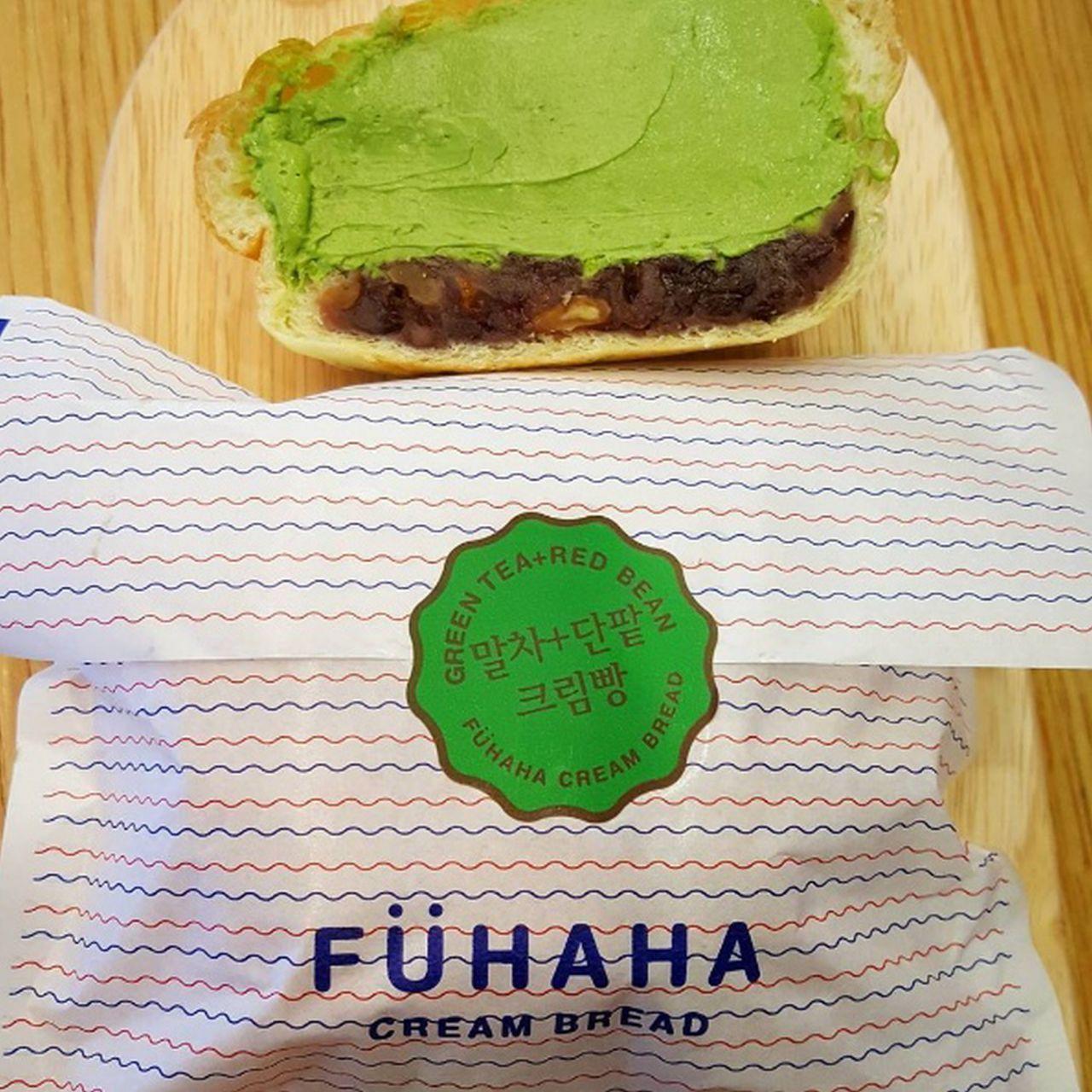 FÜHAHA Cream Bread, which specializes in, well, cream bread, is very famous in Hongdae. They bake a limited number of bread each day, and are often sold out shortly after their bread is out of the oven.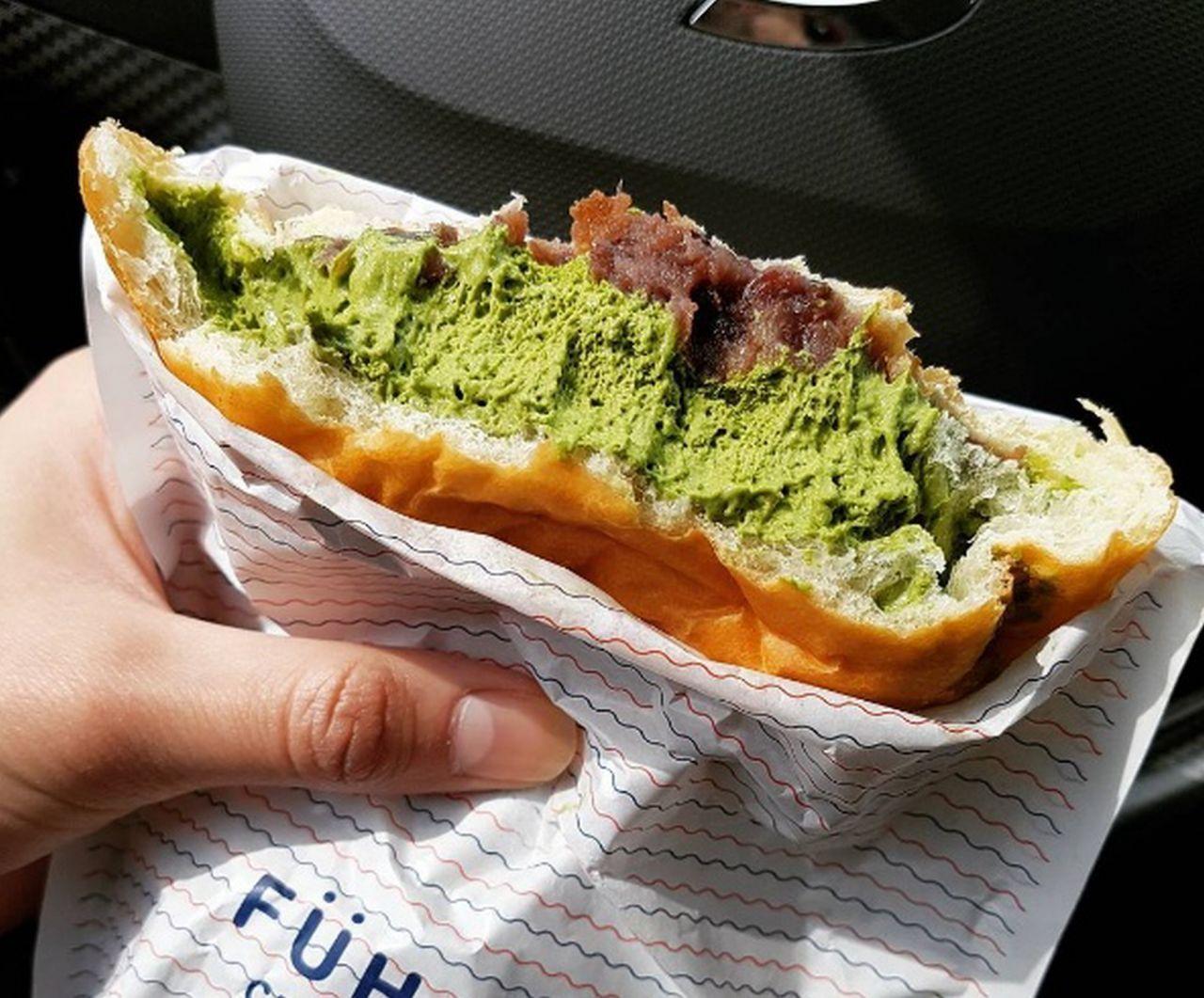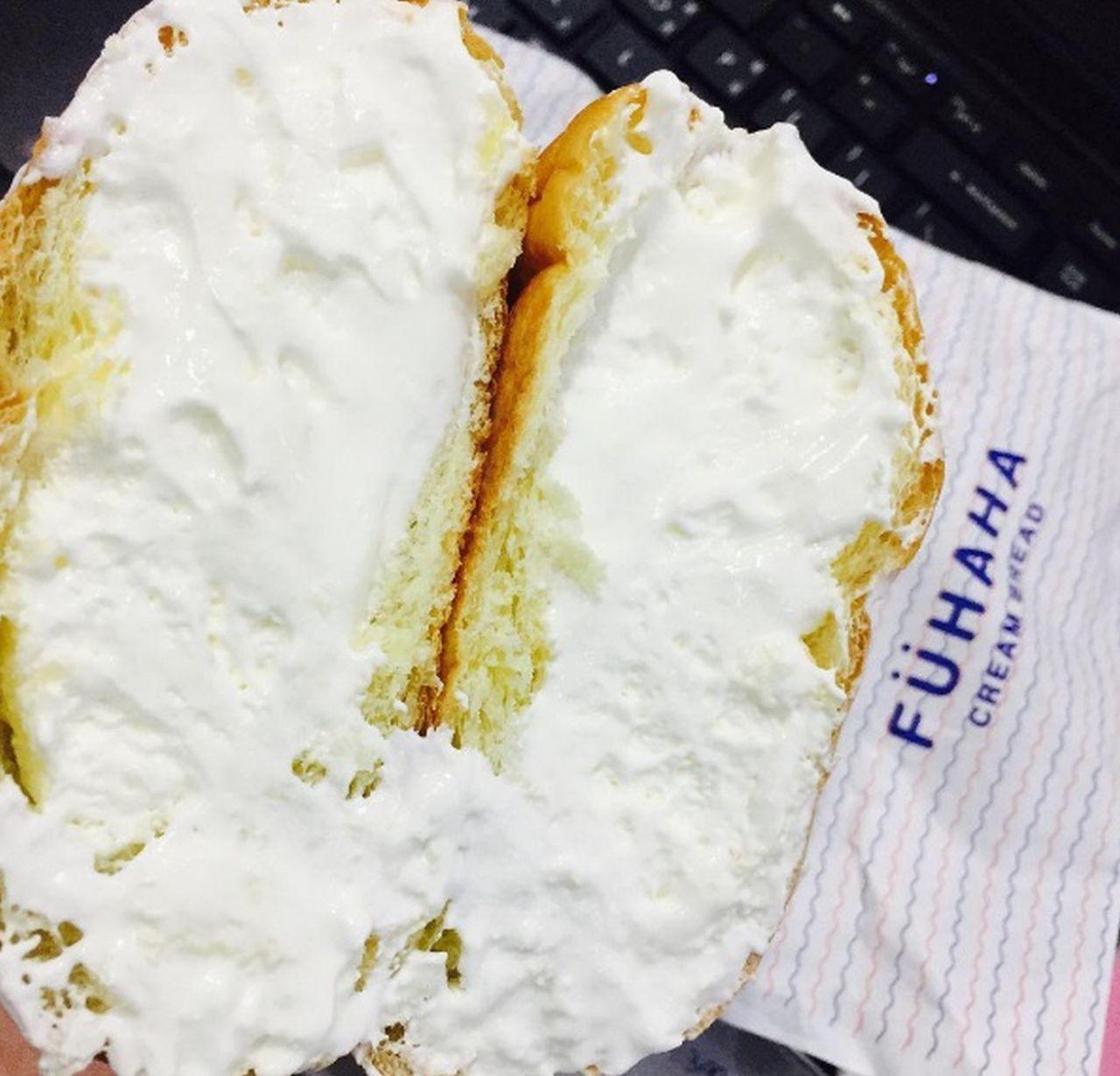 When you take a bite into the bread, your mouth will be full of fresh cream without any unpleasant, greasy taste.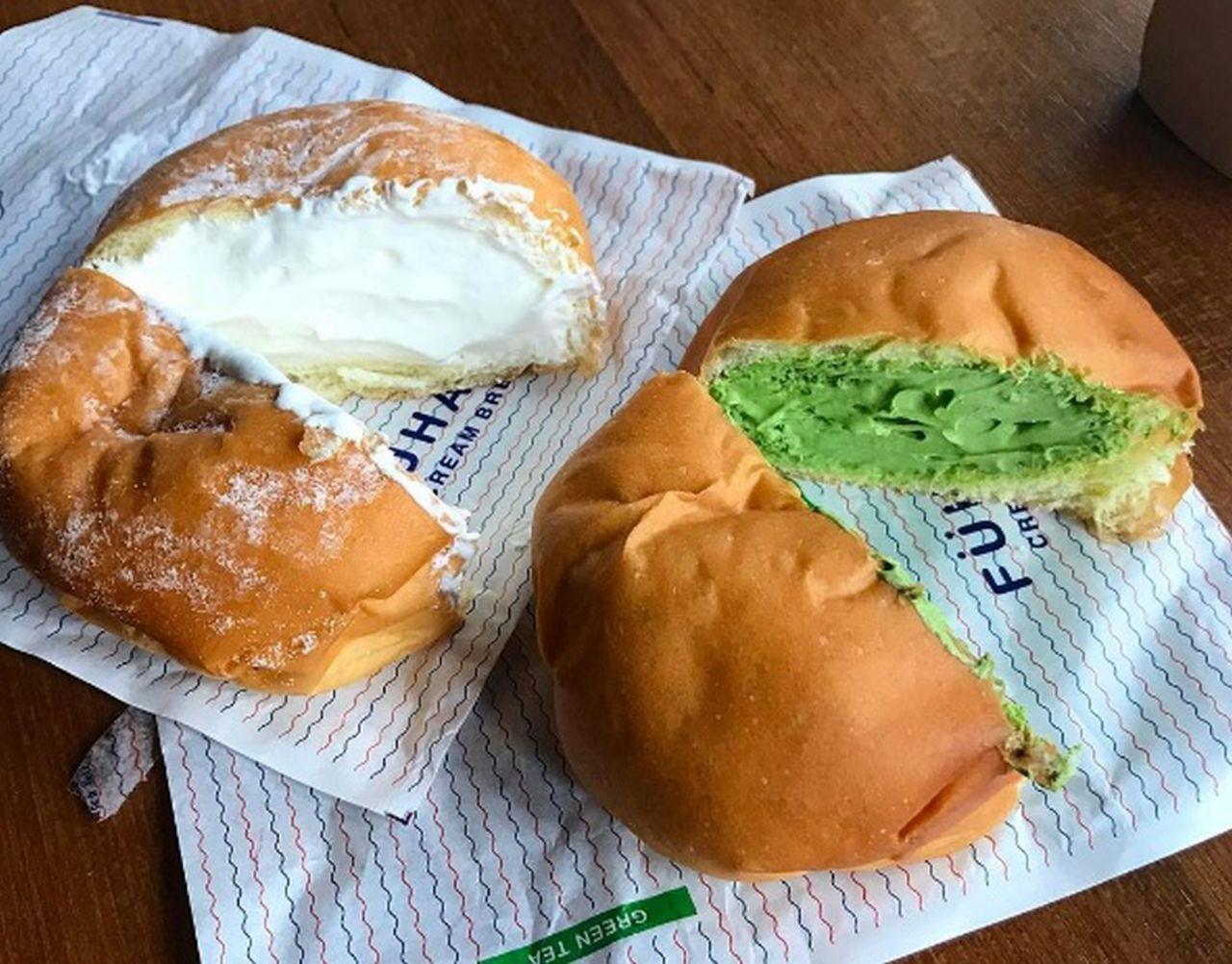 Tasting this bread gives you the perfect balance of sweet and salty in one bite, at a very affordable price. If you're passing by Hongdae, make a brief stop here and buy a piece of bread for yourself!
---
lareine (라헨느)
Address: 서울 마포구 동교로46길 24-5
Opening hours: 12:00 - 23:00; Closed on Tuesdays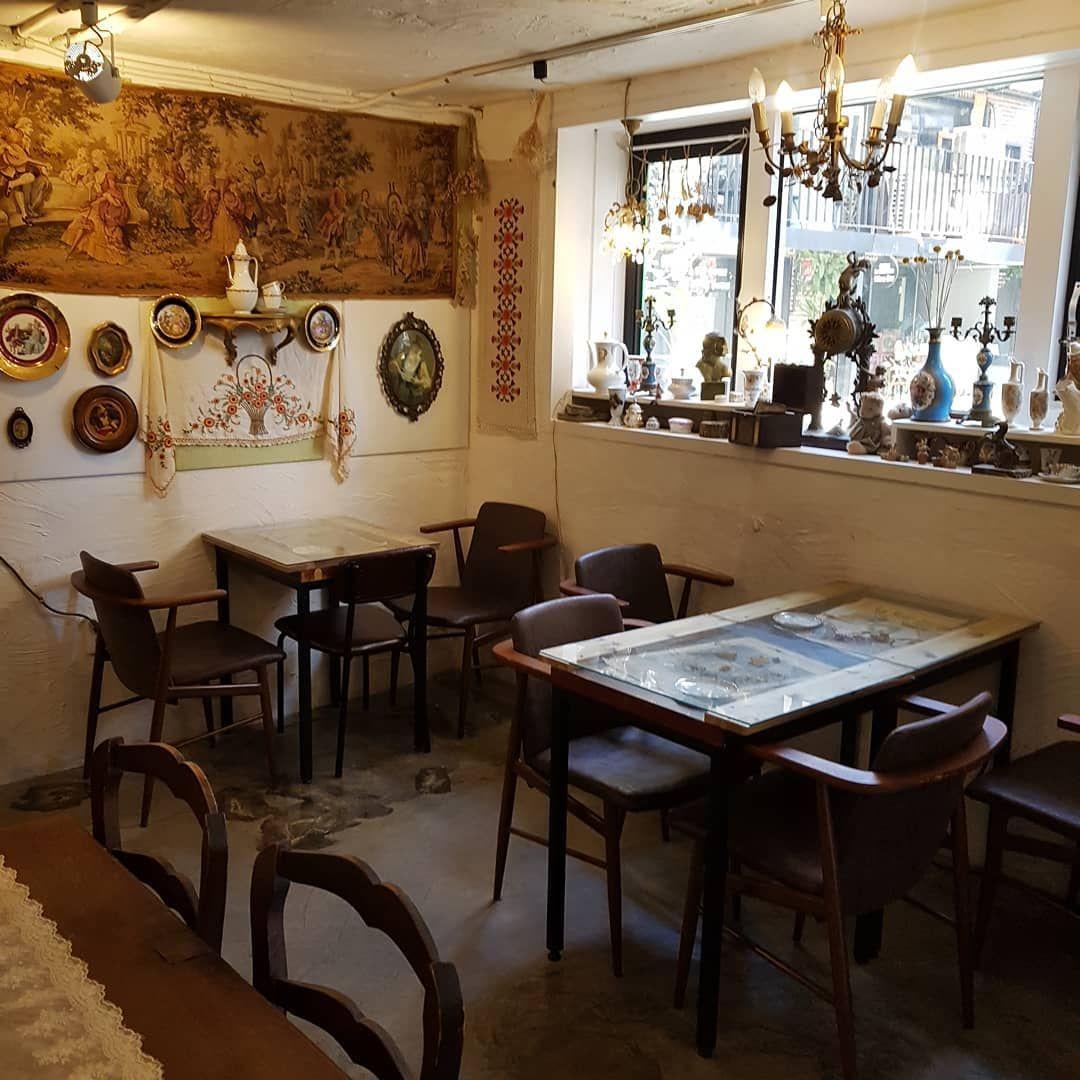 INSTAGRAM:cafe_lareine
Lareine, hidden in the alley of Yeonnamdong, and is a cafe I stumbled upon by accident. It's a small shop, but it has a beautiful British style design.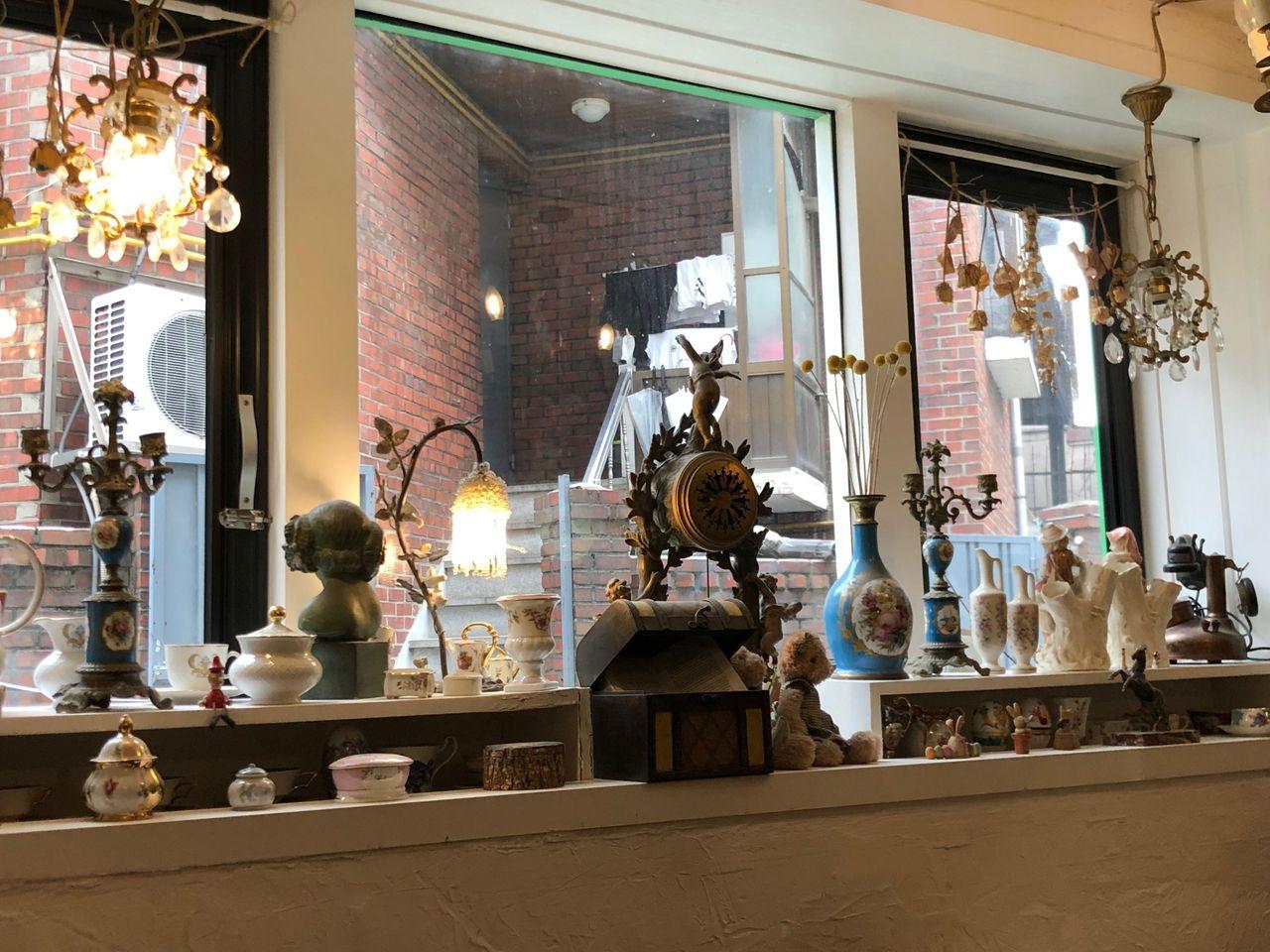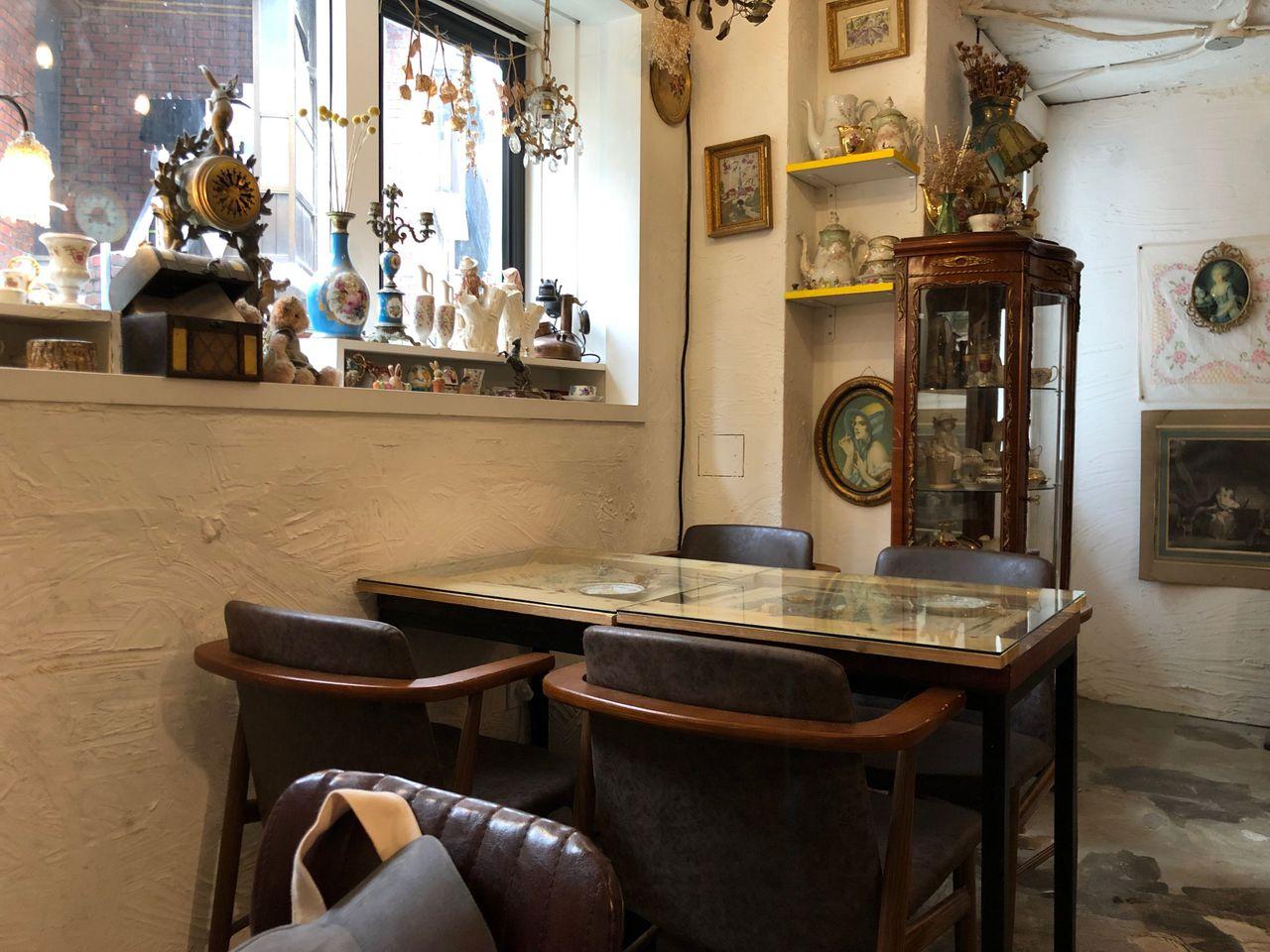 From the decorations, tablewhere, to the overall atmosphere of the cafe, you can see that loreine's owner paid lots of attention to detail. Even the drinks will be served in beautiful tableware.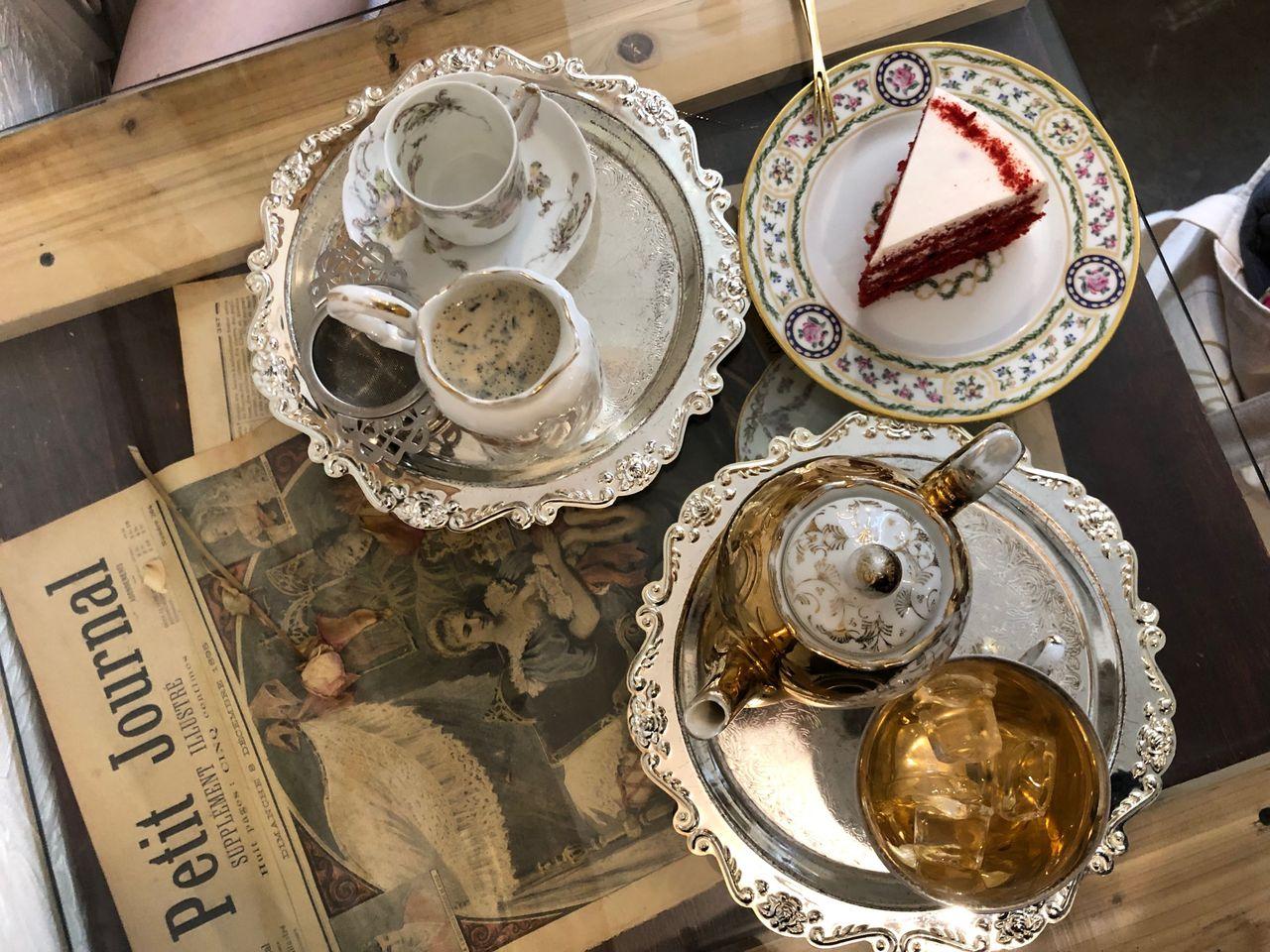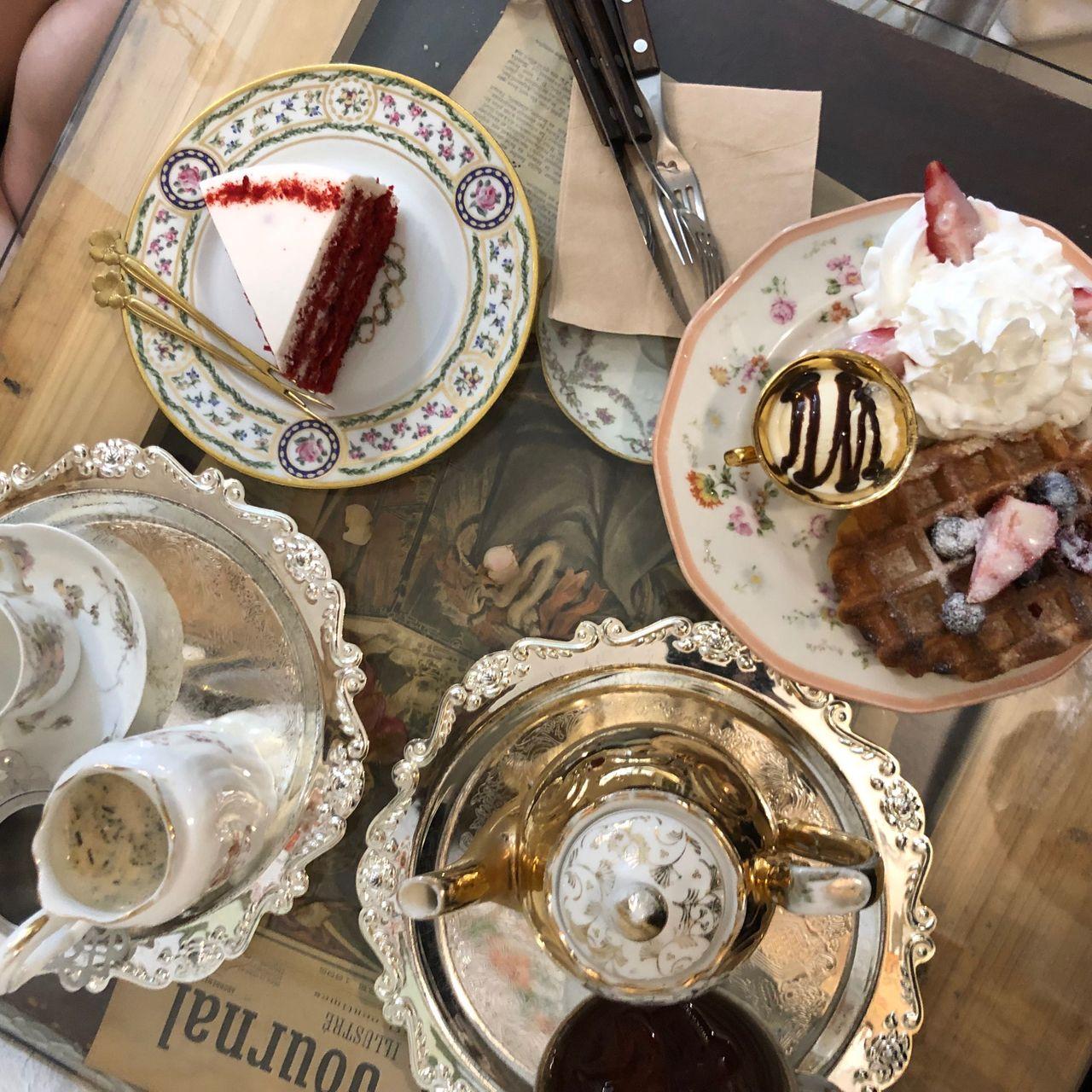 With beautiful tableware and exquisite desserts, the lareine experience will give you the perfect retreat from reality. Come to Yeonnamdong and discover a new unique experience.
---
Address: 서울 마포구 동교로46길 42-20
Operating hours: 12:00 - 22:00
Offer: Creatrip members can download a coupon and enjoy a 10% discount!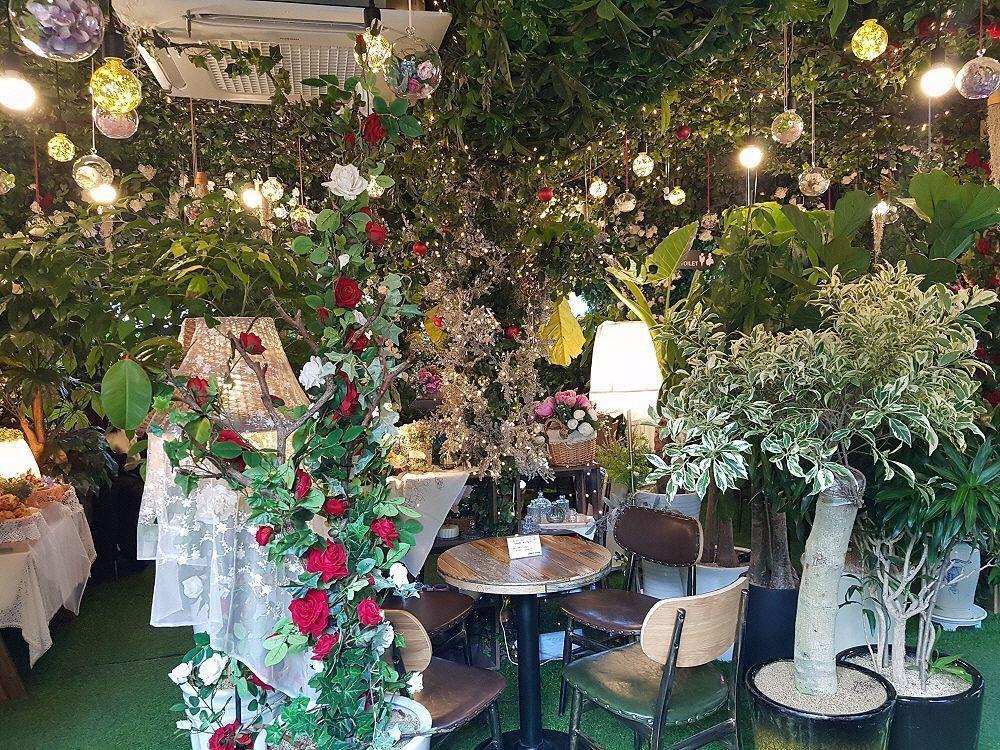 This is not a flower shop, it is another cafe in the Hongdae area, with a different, unique decoration using contrasting colors. Bloom Story attracts groups of people who enjoy a different style of cafes.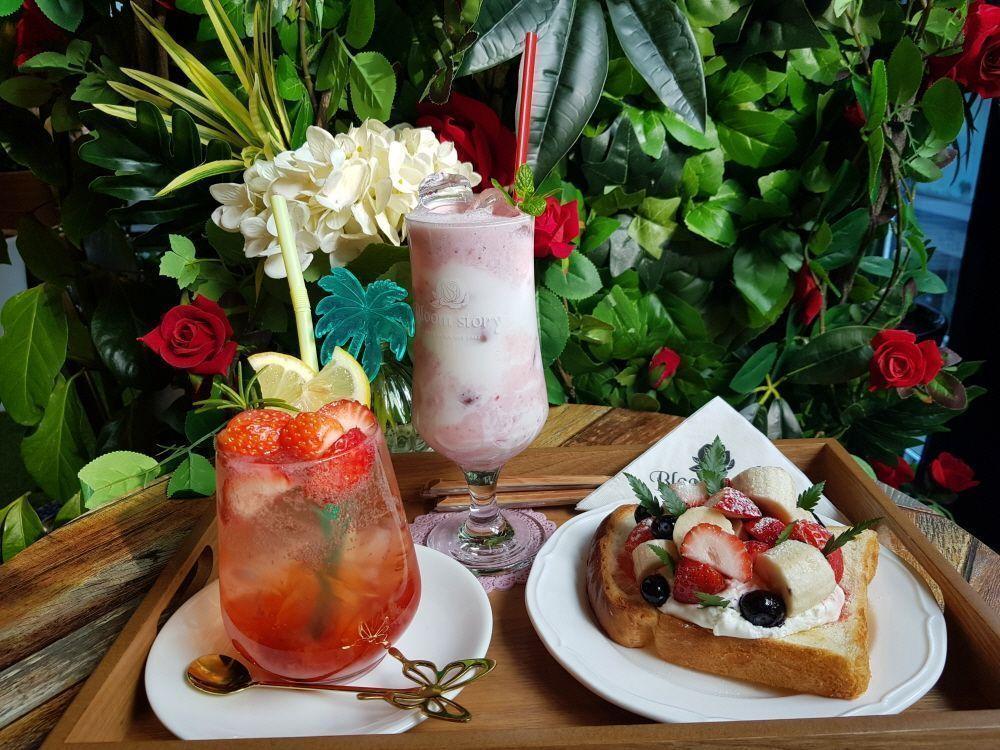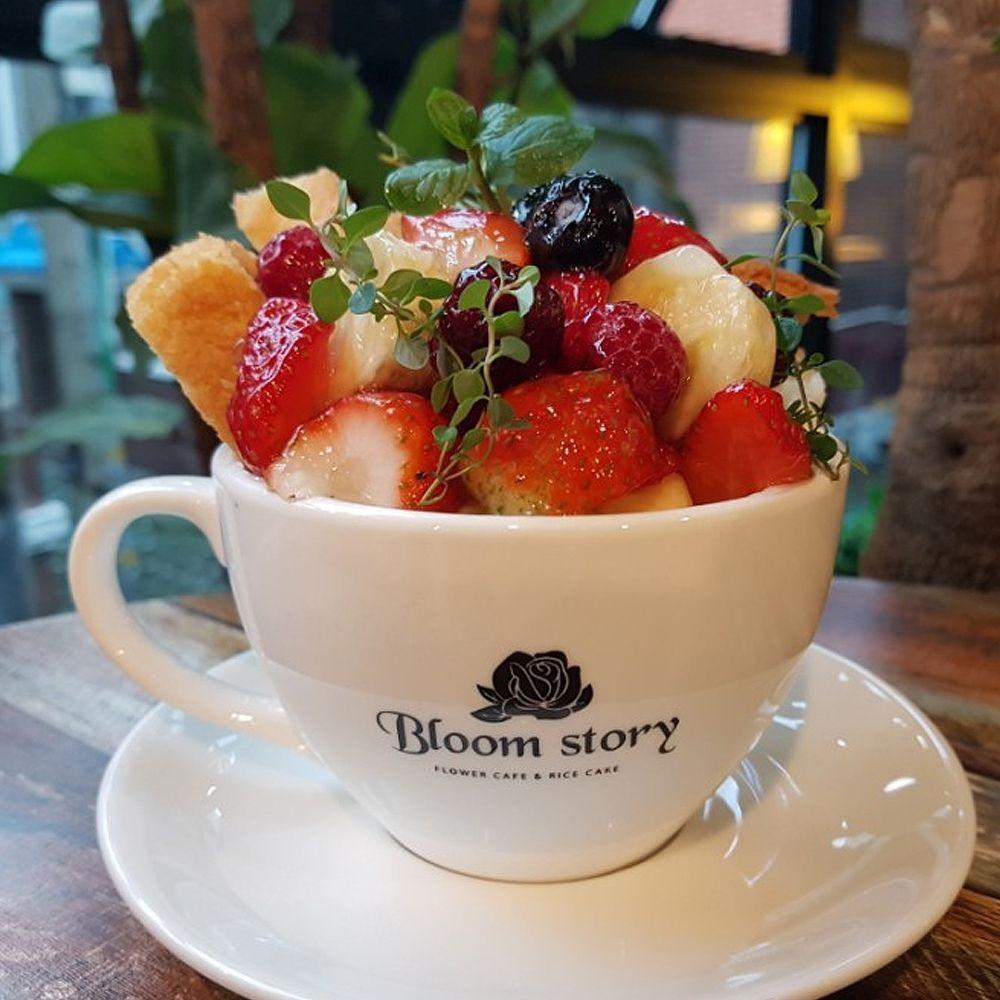 Their delicious desserts are not to be missed. I recommend you order their scones and their fruit toast. The top is covered with fresh fruit, making it very appetizing, and their interior is also great for photos, making this cafe very Instagrammable.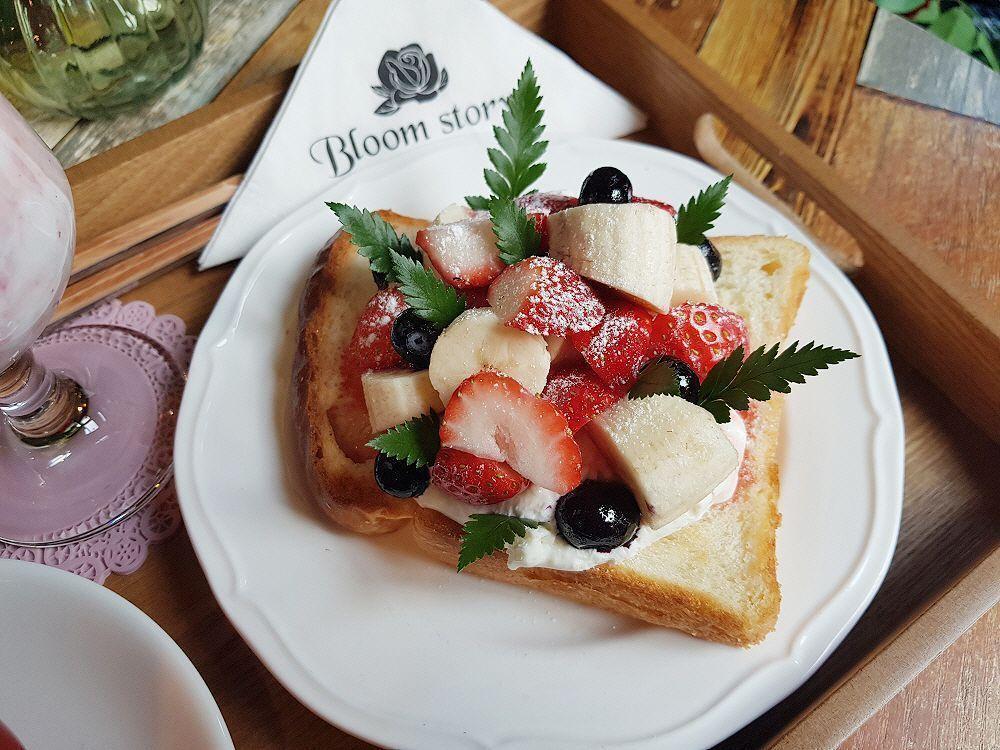 The desserts alone are already delicious, and the beautiful cafe interior only adds to the excitement. Come and enjoy Bloom Story at Hongdae! You can also get a 10% discount through the Creatrip coupon, so use it well.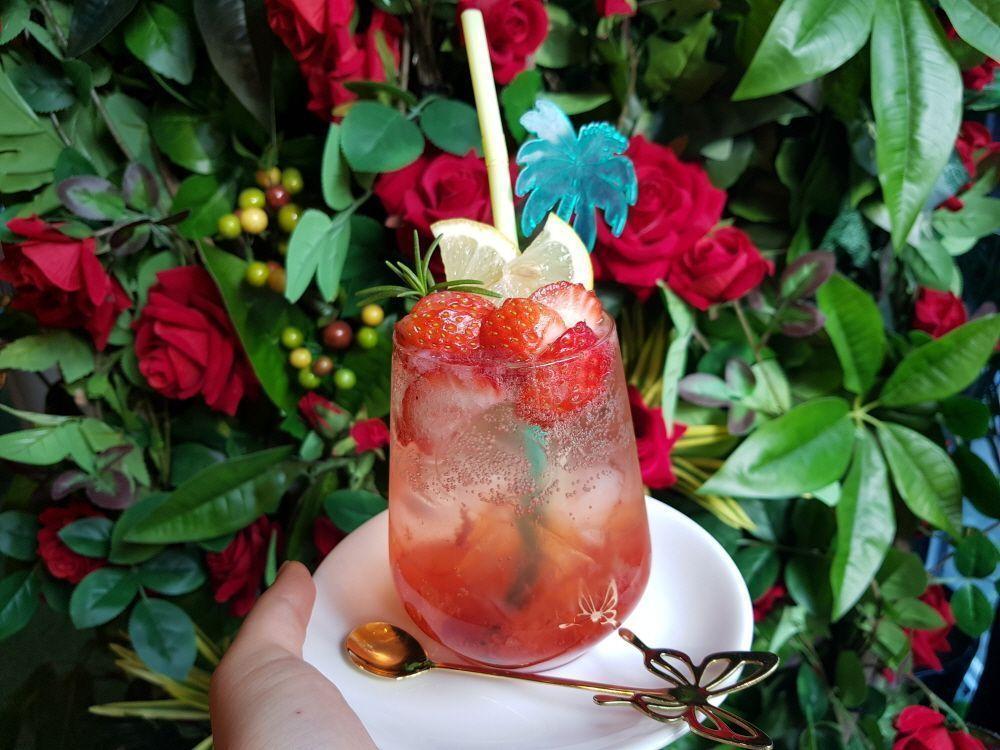 ---
Miso Sikpang (미소식빵)
Address: 서울 마포구 동교로27길 92
Operating hours: 10:00 - 21:00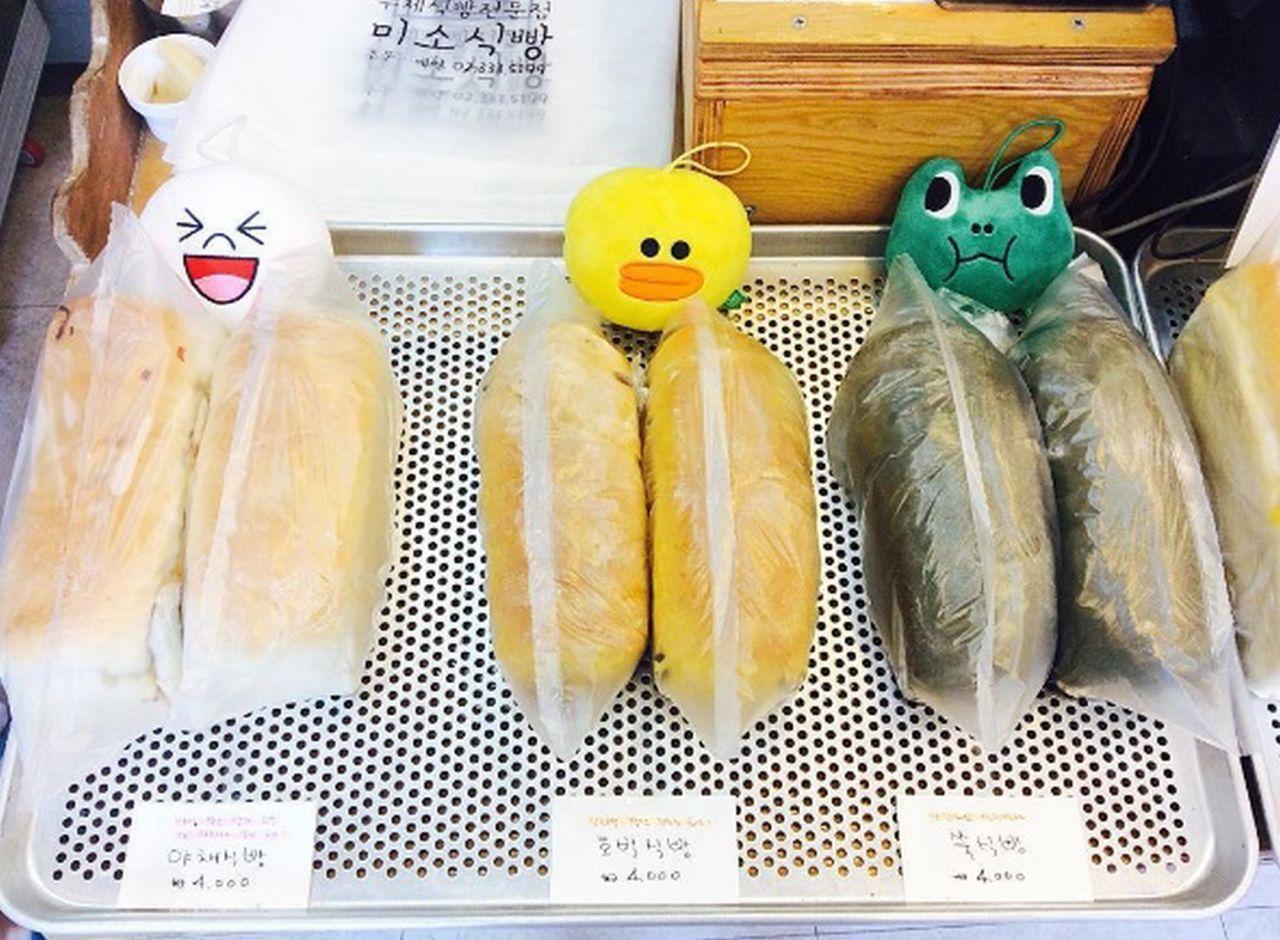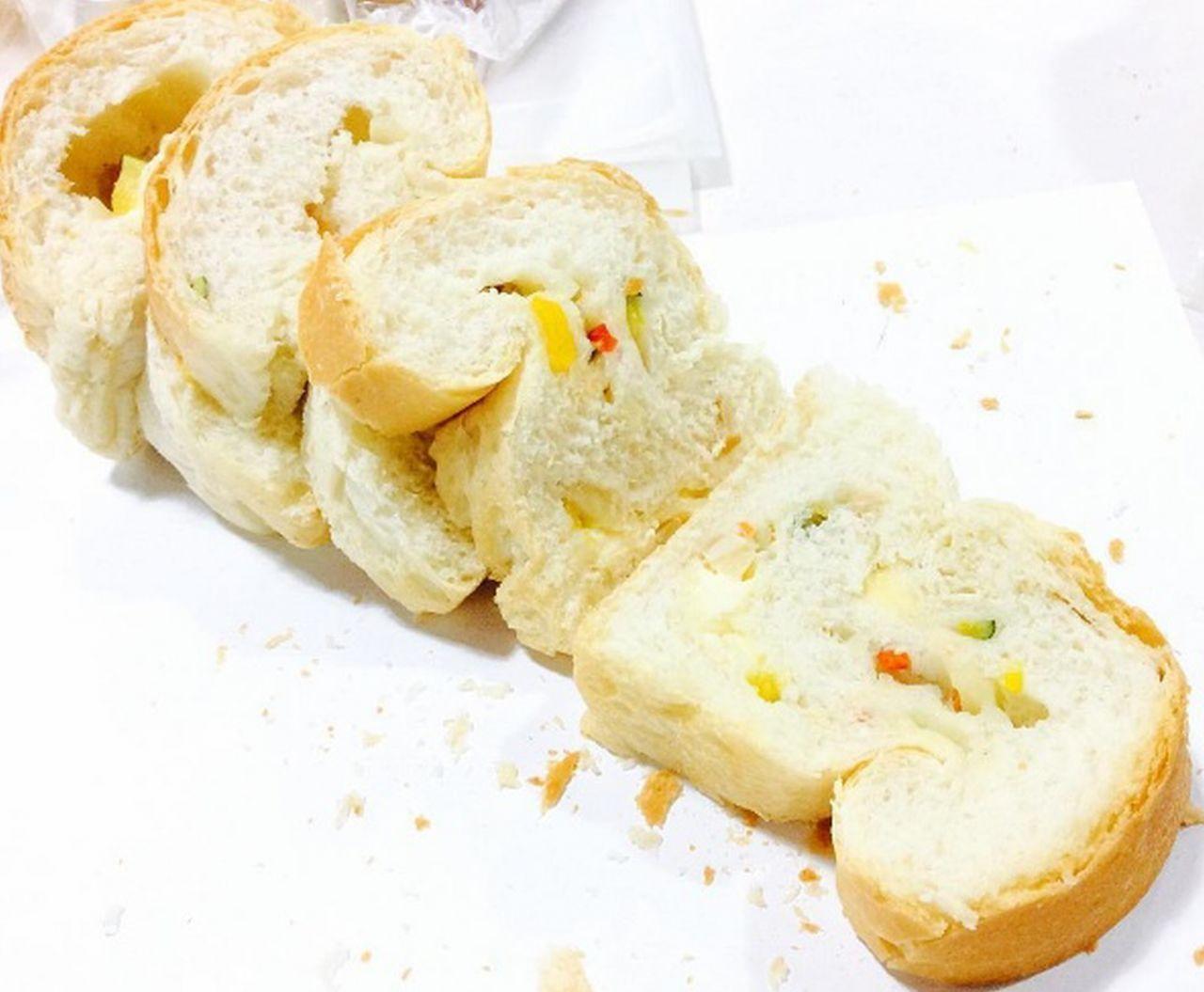 Hongdae's "Miso Sikpang" doesn't have fancy decorations or appearance, and rather chose to focus on the raw form of the toast. Healthy toast with healthy ingredients are an important part of the diets of busy Seoulites.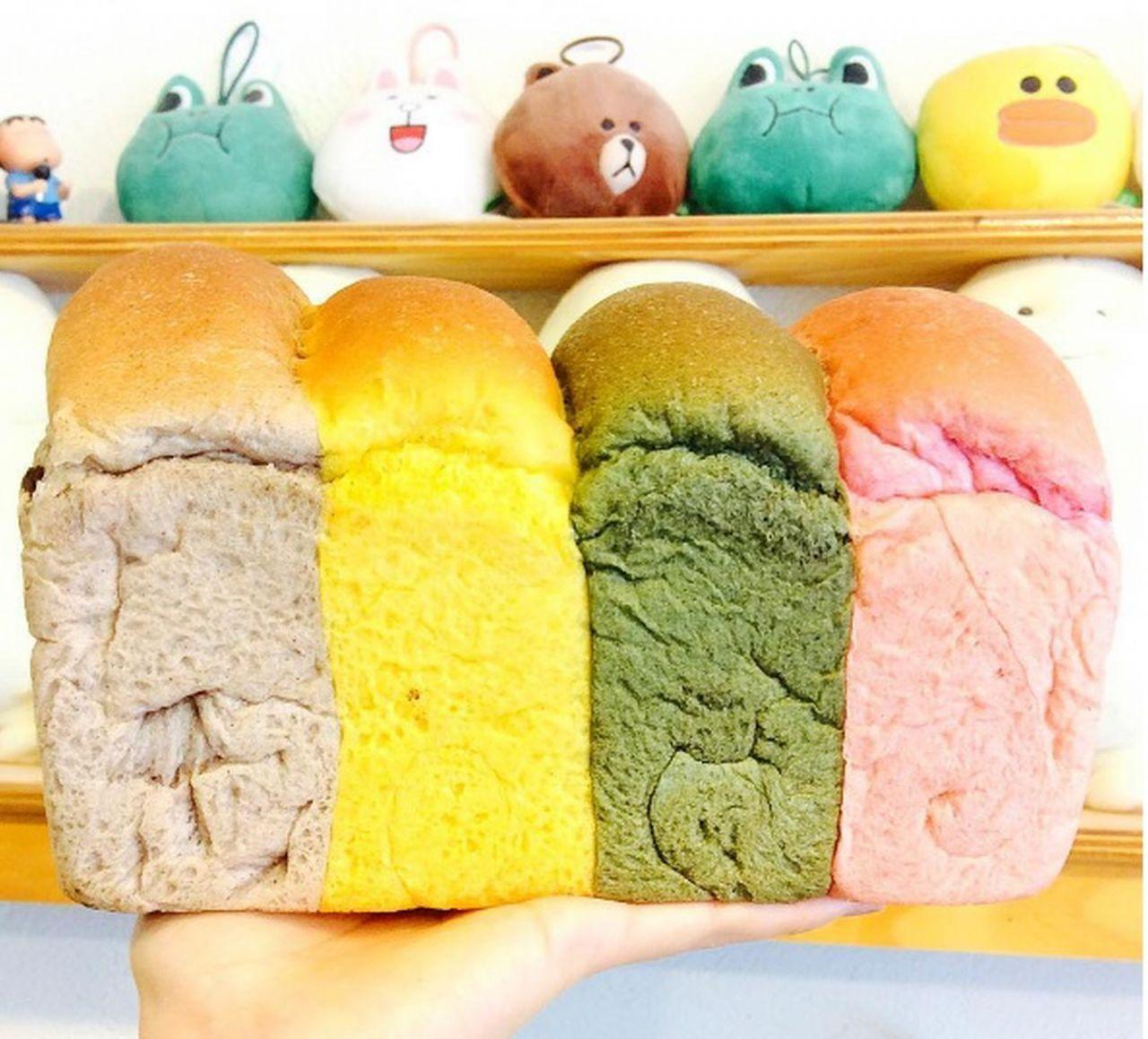 There are four main flavors: ssuk(mugwort), red beans, cheese and cinnamon. Because the toast is made with glutinous rice powder, not only is it chewy, but it's also very aromatic. It's a must-visit bakery during your stay in Hongdae.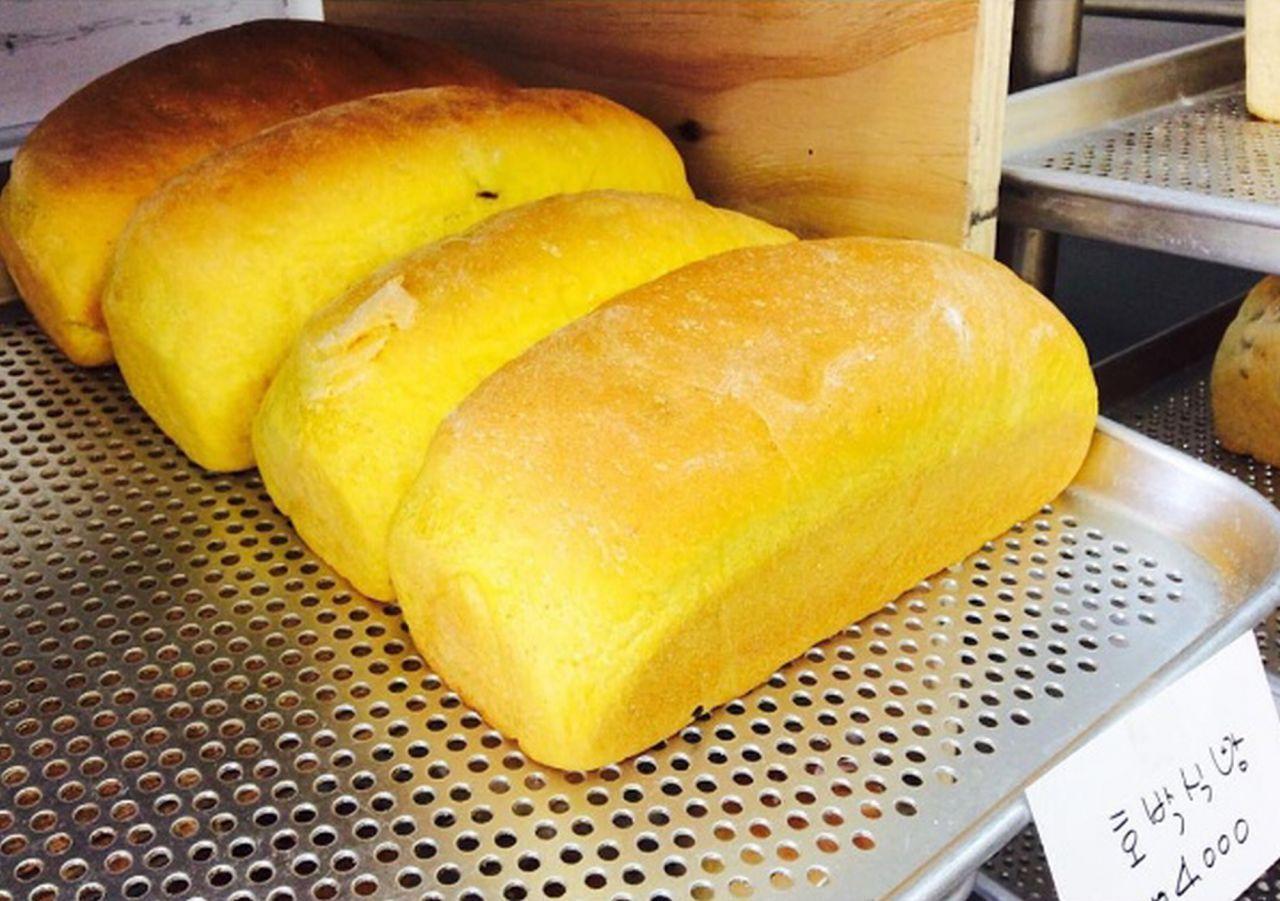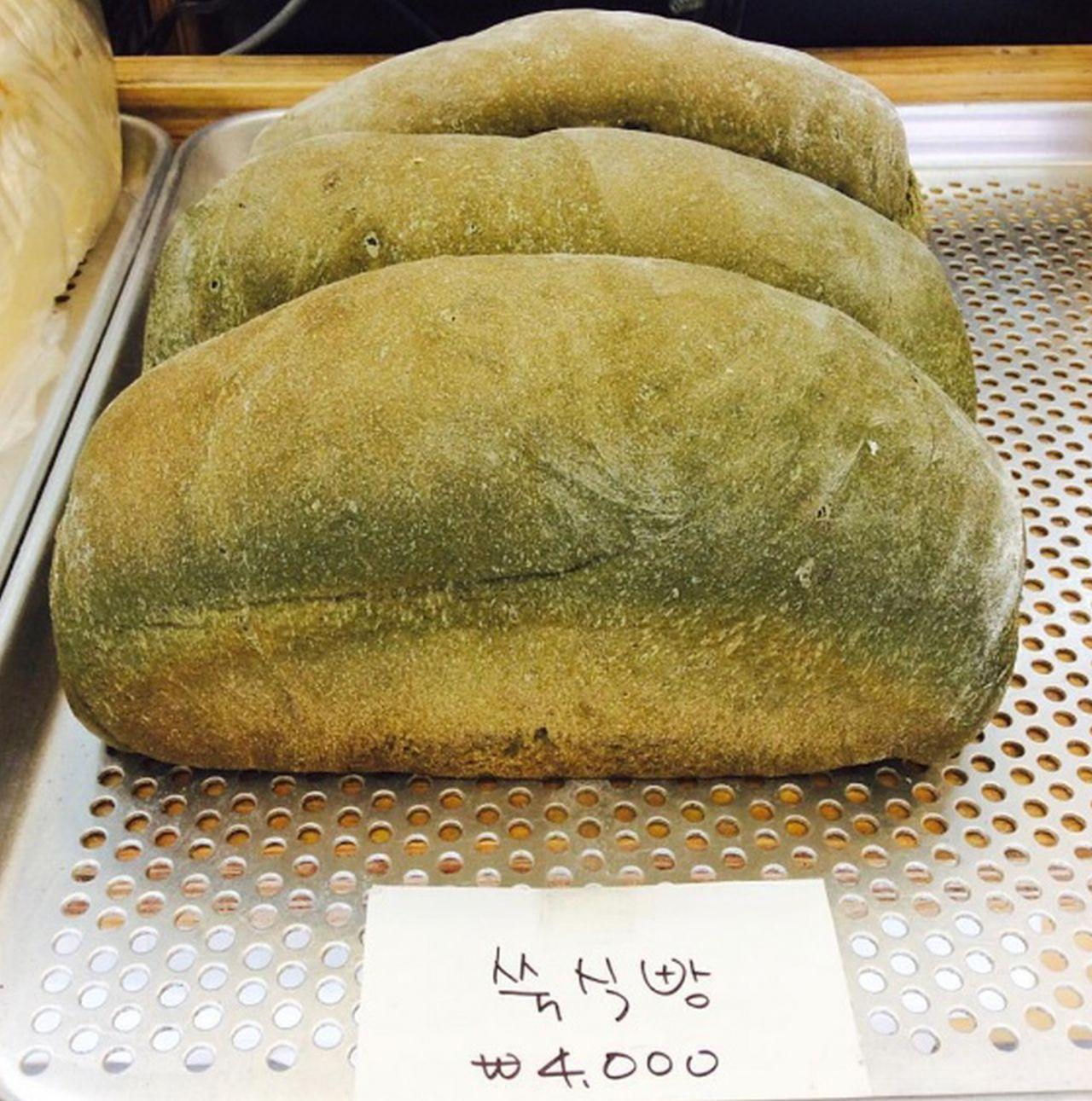 Unsure of what to have for breakfast in Hongdae? Have some toast here with a glass of milk, and you'll definitely have more energy for your next travel destination.
---
Address: 서울 마포구 동교동 159-17 3F
Operating hours: Every day 11:00 - 00:00
Offer: Creatrip members can download a coupon and enjoy a 10% discount!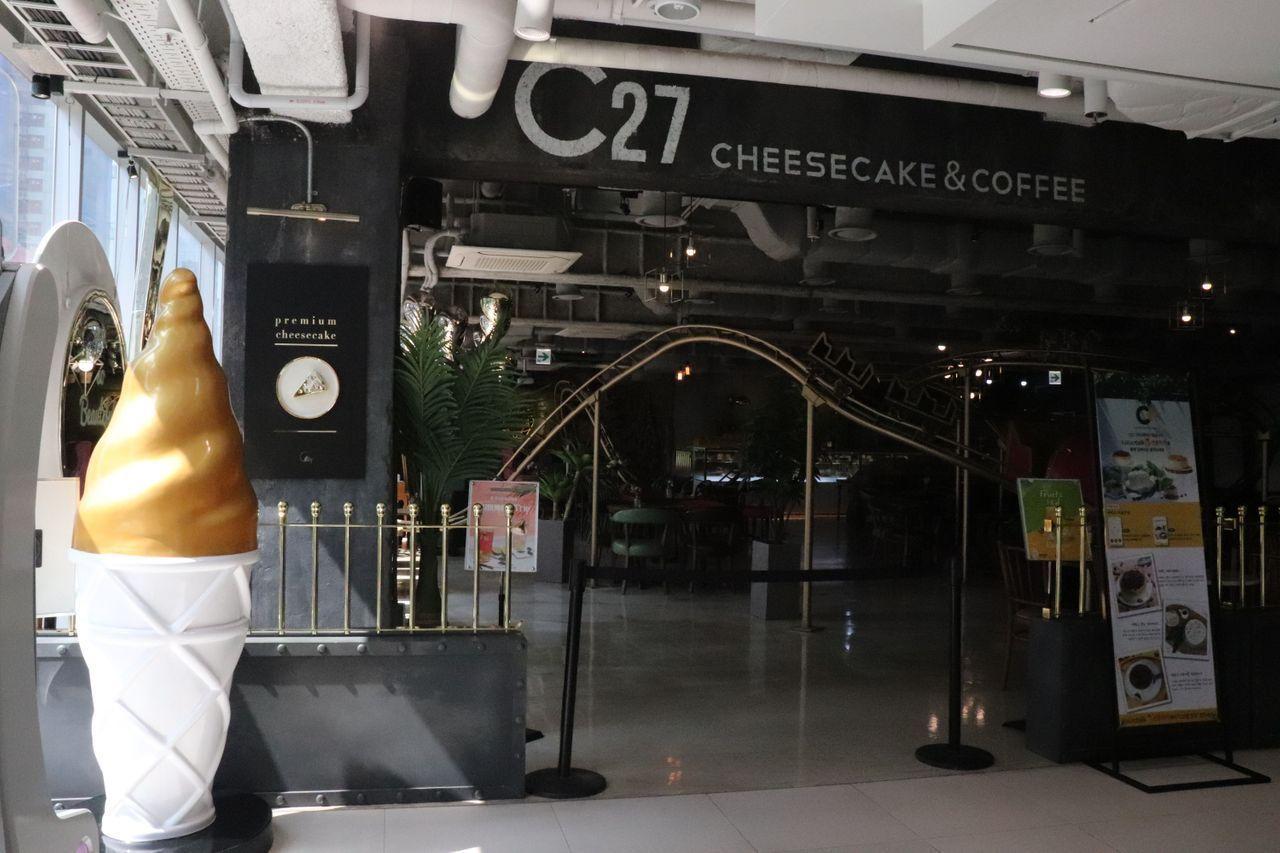 You may already know C27 for its rich, diverse cake flavors. It's not just in Sinsa, there's also a branch open in Hongdae. You have the same full set of cakes to choose from.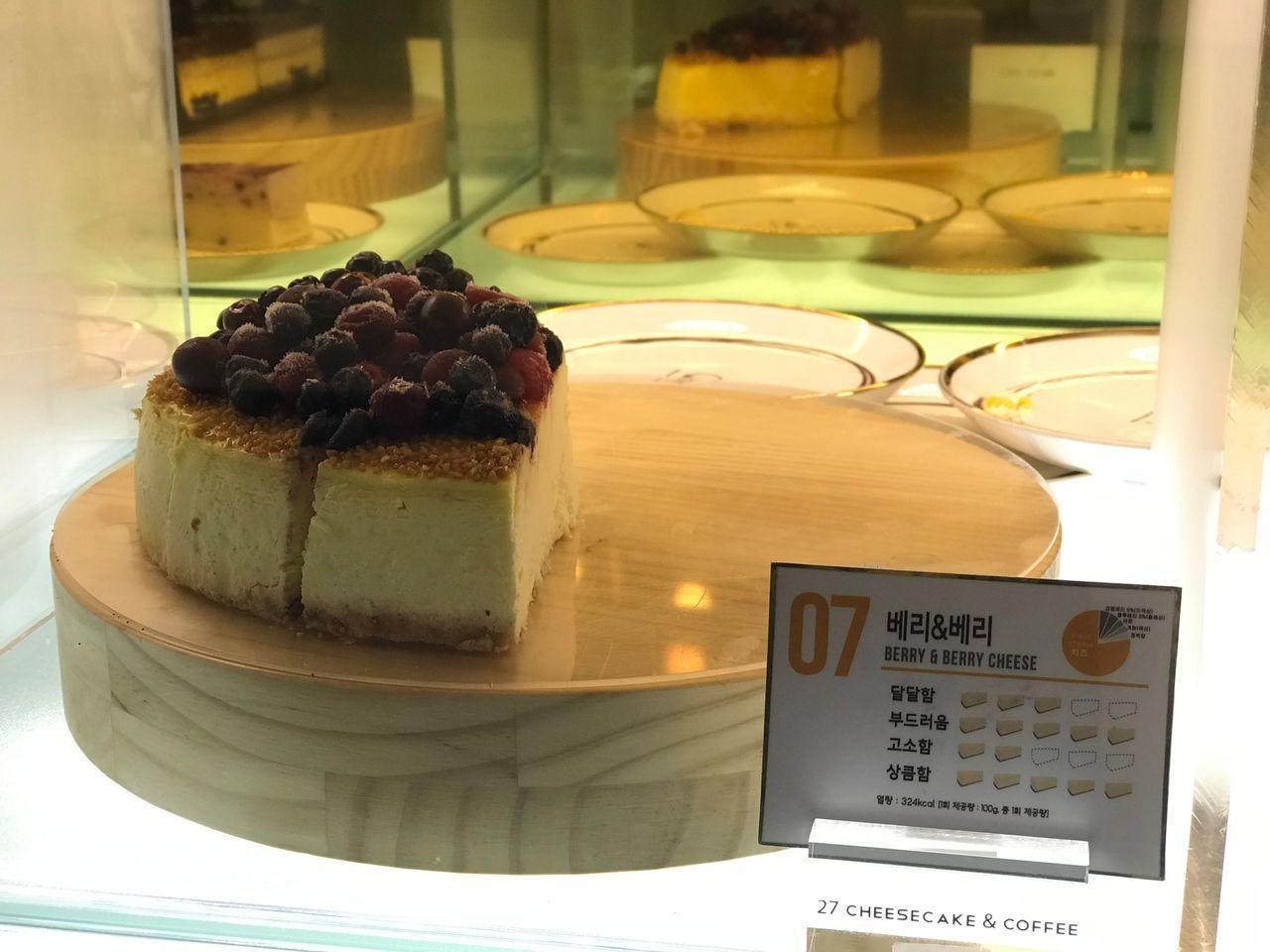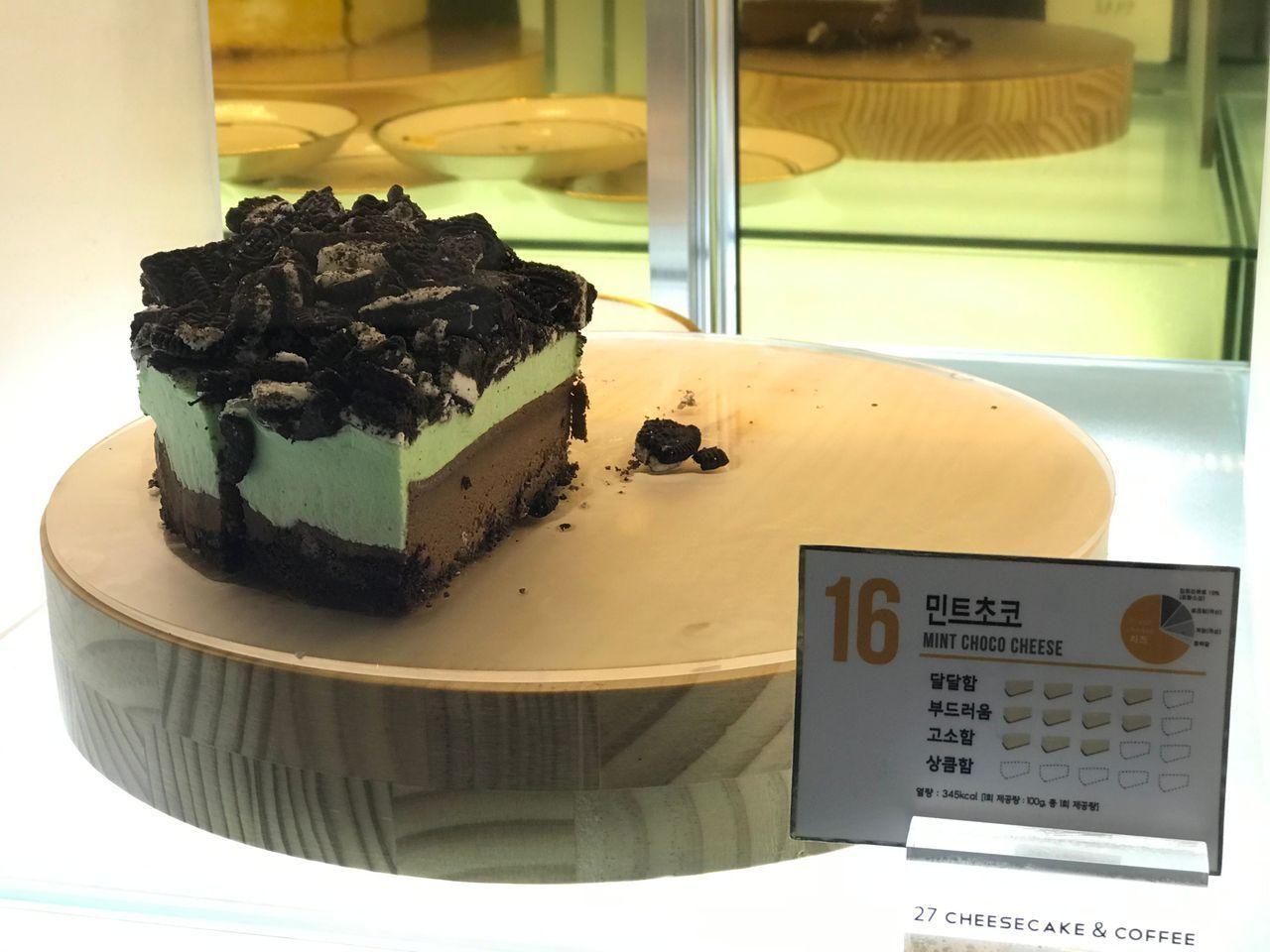 One side of the cafe is decorated as an amusement park, and the other side is decorated as an industrial complex. No matter what kind of atmosphere you like, C27 has photo spots that can satisfy everyone.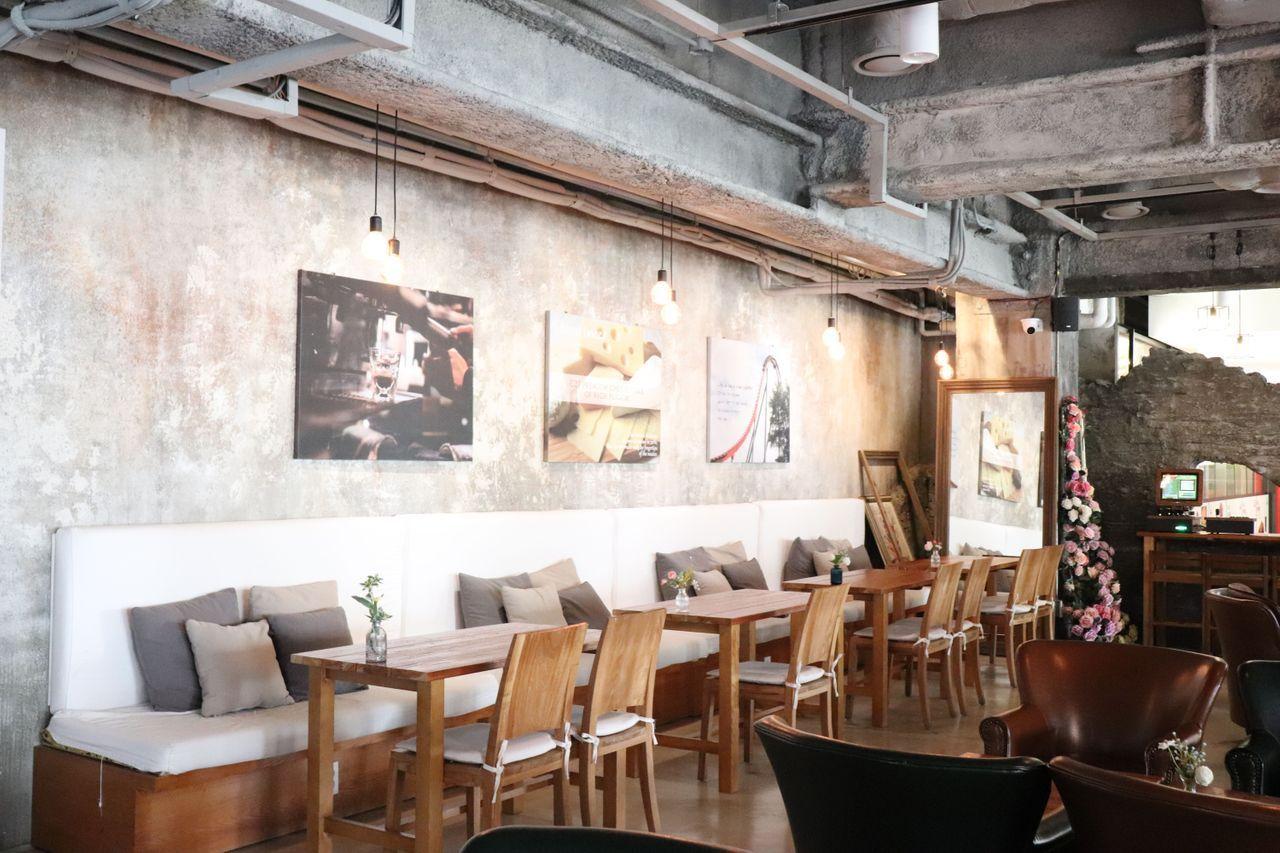 Another plus side is that there are window seats, where you can look down at the Hongdae crowd underneath. Coupled with the amusement park decorations, it'll all feel like a dream!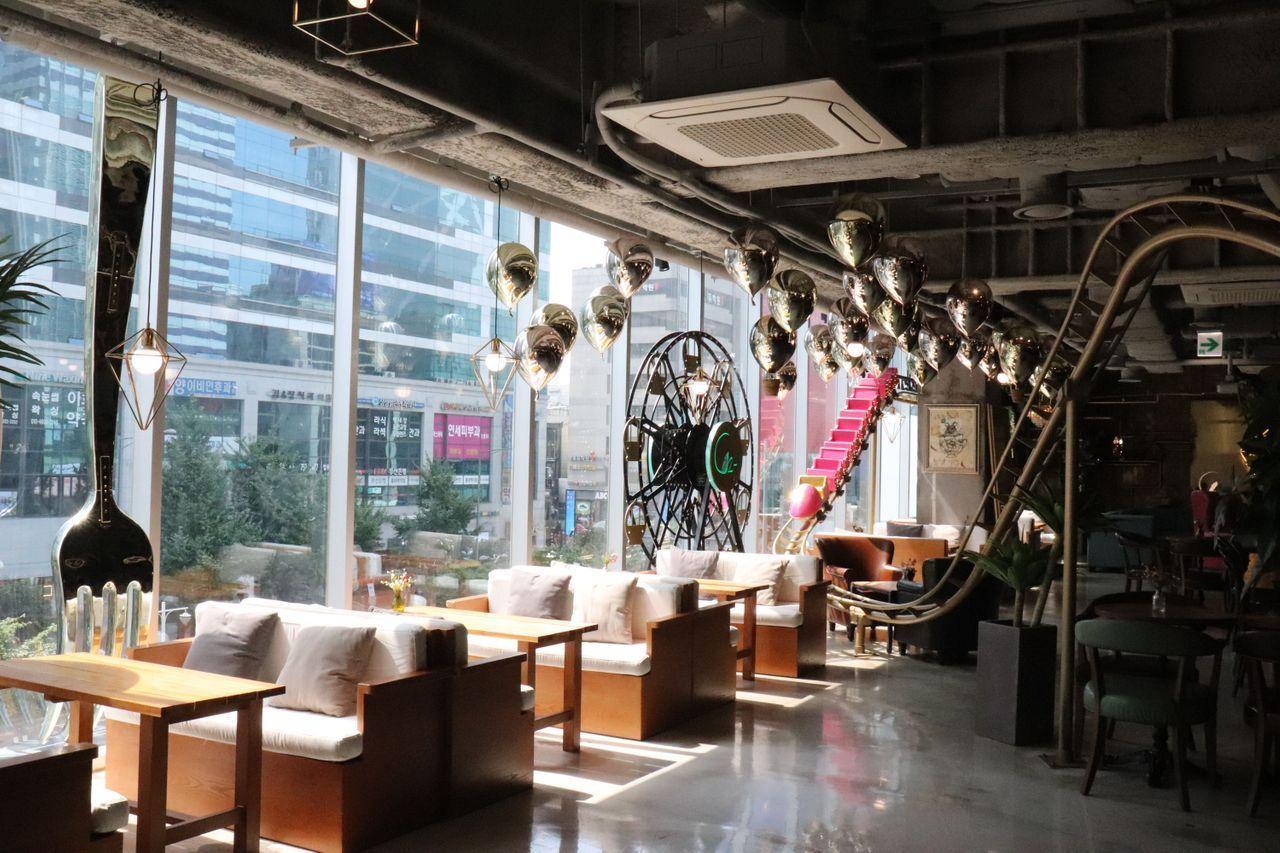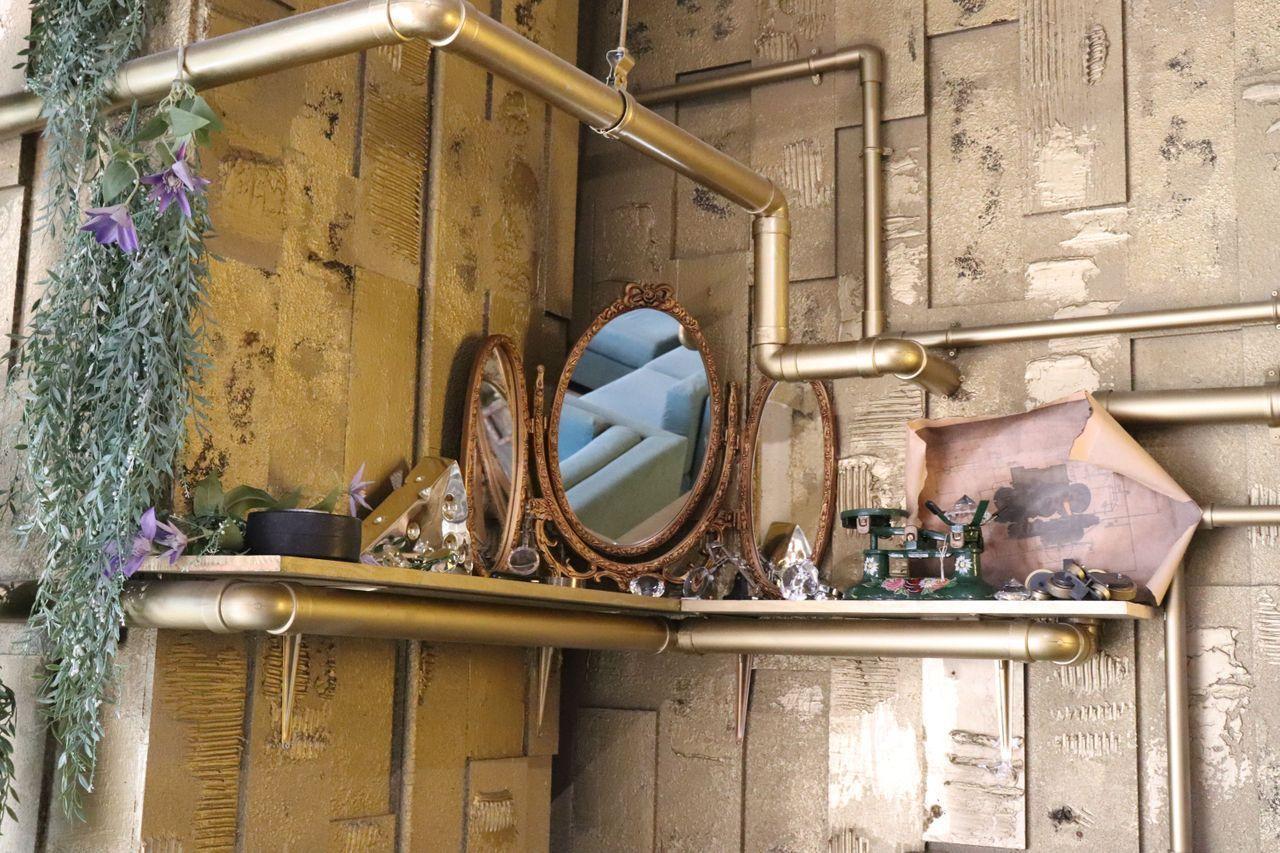 Visit C27 to add more color to your SNS! Add a slice of delicious cheesecake, and it will certainly be one of the highlights of your trip to Hongdae.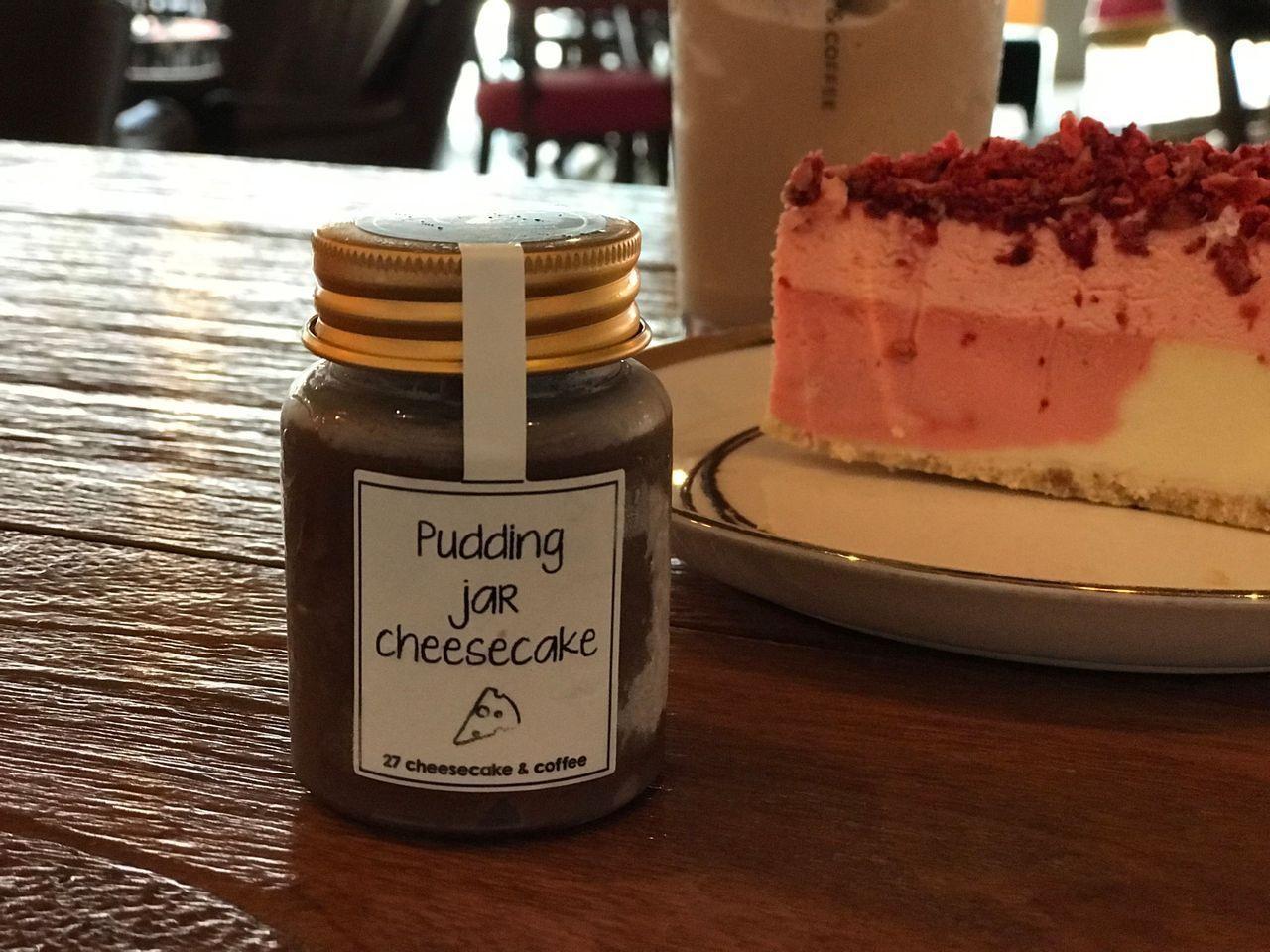 ---
That's it for my selection of 15 cafes in the Hongdae area! They have beautiful desserts and also have great scenery for taking pictures. I hope you all come to Korea and enjoy your afternoon in these cafes.
See you next time!
---