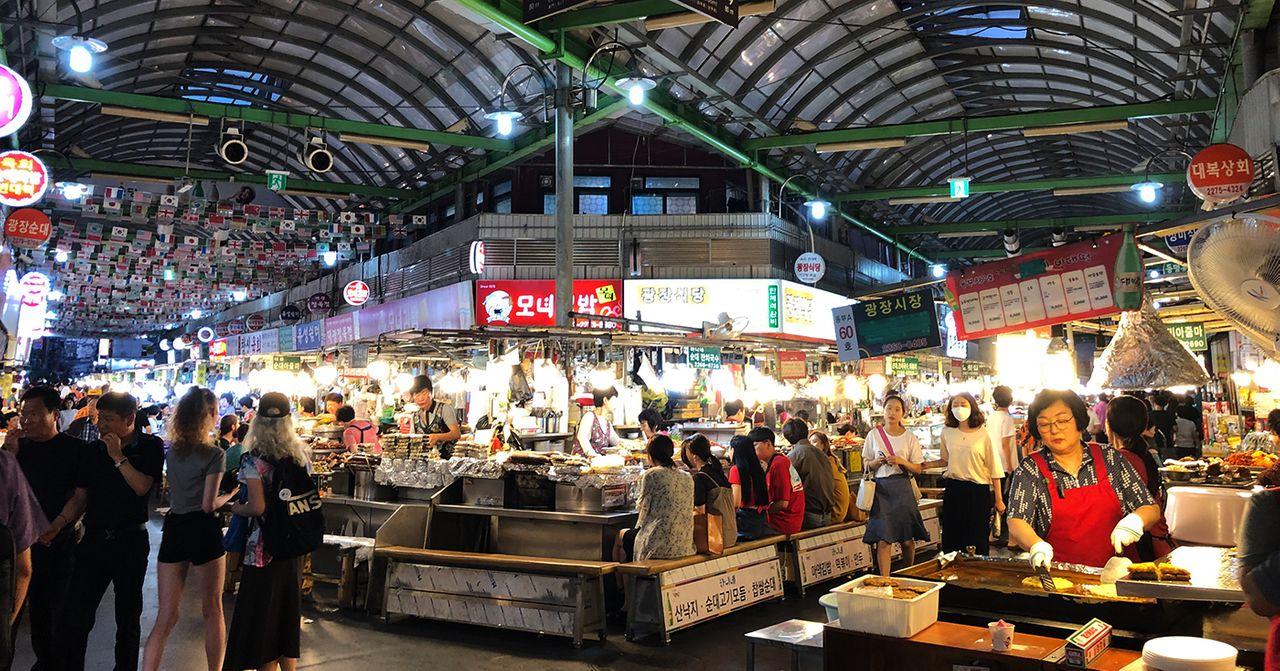 Hey guys! We're Creatrip. We bring you info on Korea so you can travel like a local.
The most famous traditional market in Seoul is the "Guangzang Market" on the 5th Street of Jongno, which is located next to Dongdaemun. It has a long history and a large area. It is located in the center of Seoul and is a place where many people come to Seoul and will definitely visit Seoul. Traditional market.
---
Gwangjang Market Intro
Address:서울 종로구 종로4가 창경궁로 88
Hours:General market 10:00 - 19:00(Sundays);Snack vendors 09:00 - 23:00

(

Open year round)
Subway:Walk straight from exit 8 of Jongro 5-ga Station (종로5가역)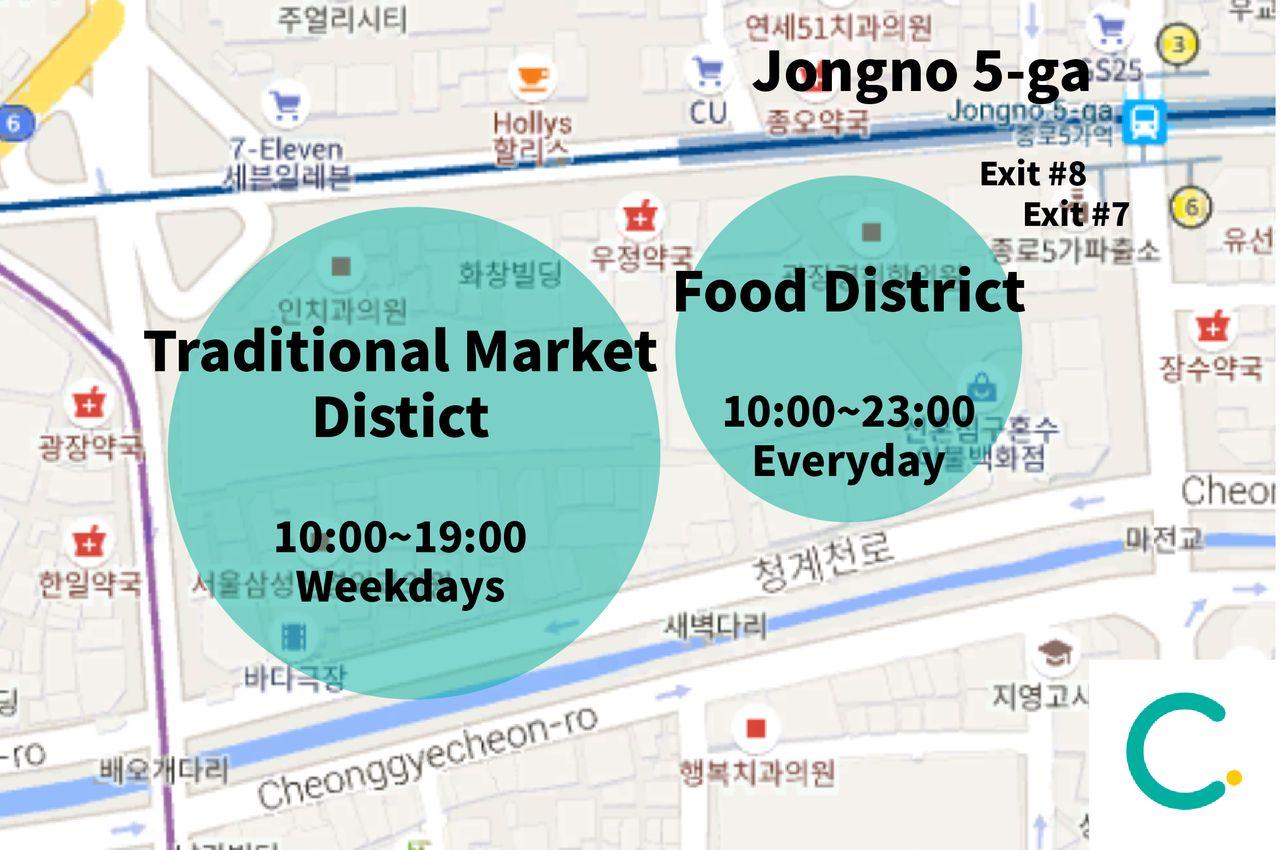 ---
The area closest to the subway station in Gwangjang Market is the food stall section that's open year round, from early morning until late at night. Next to the food section is the quilt and traditional section.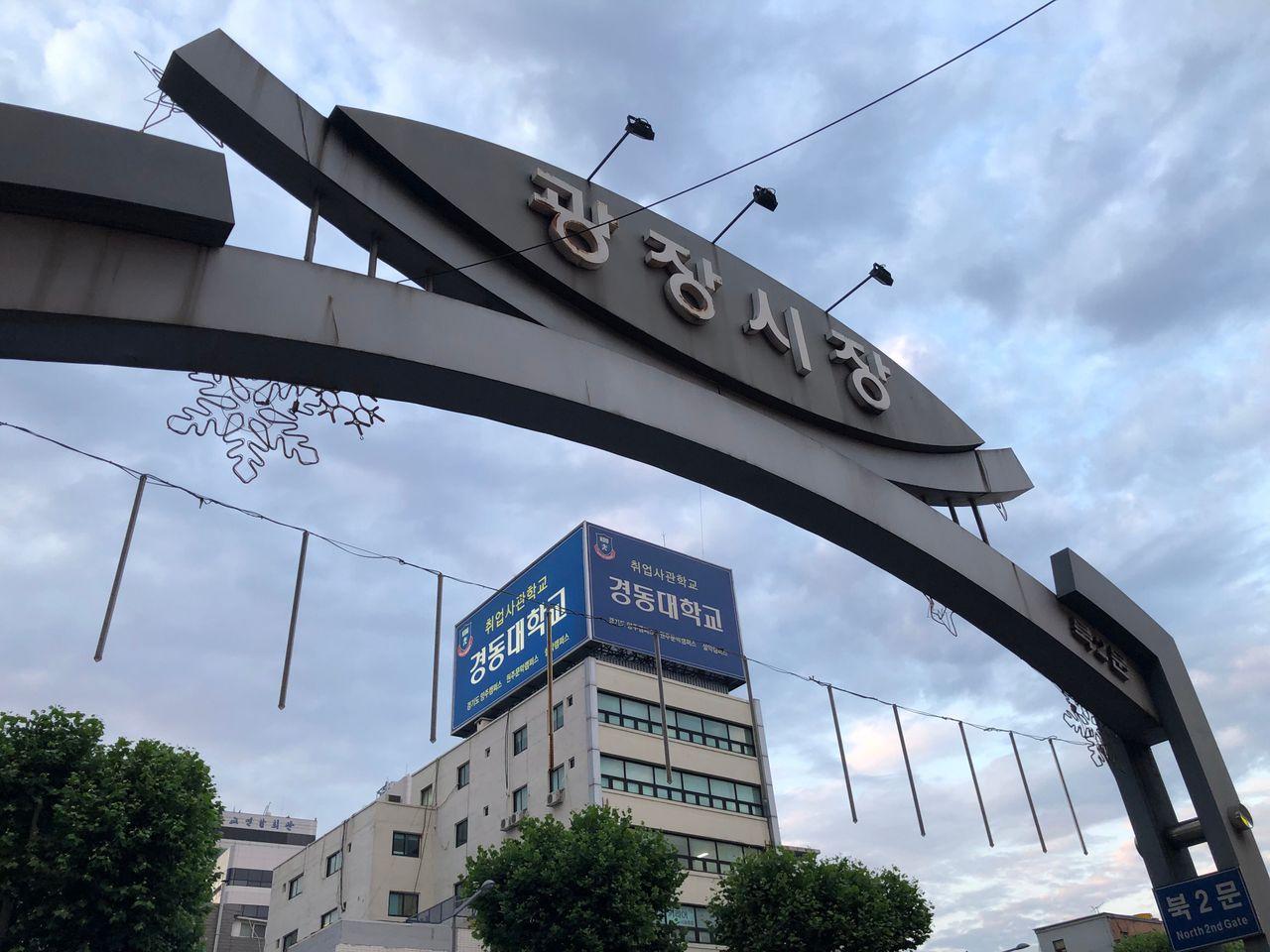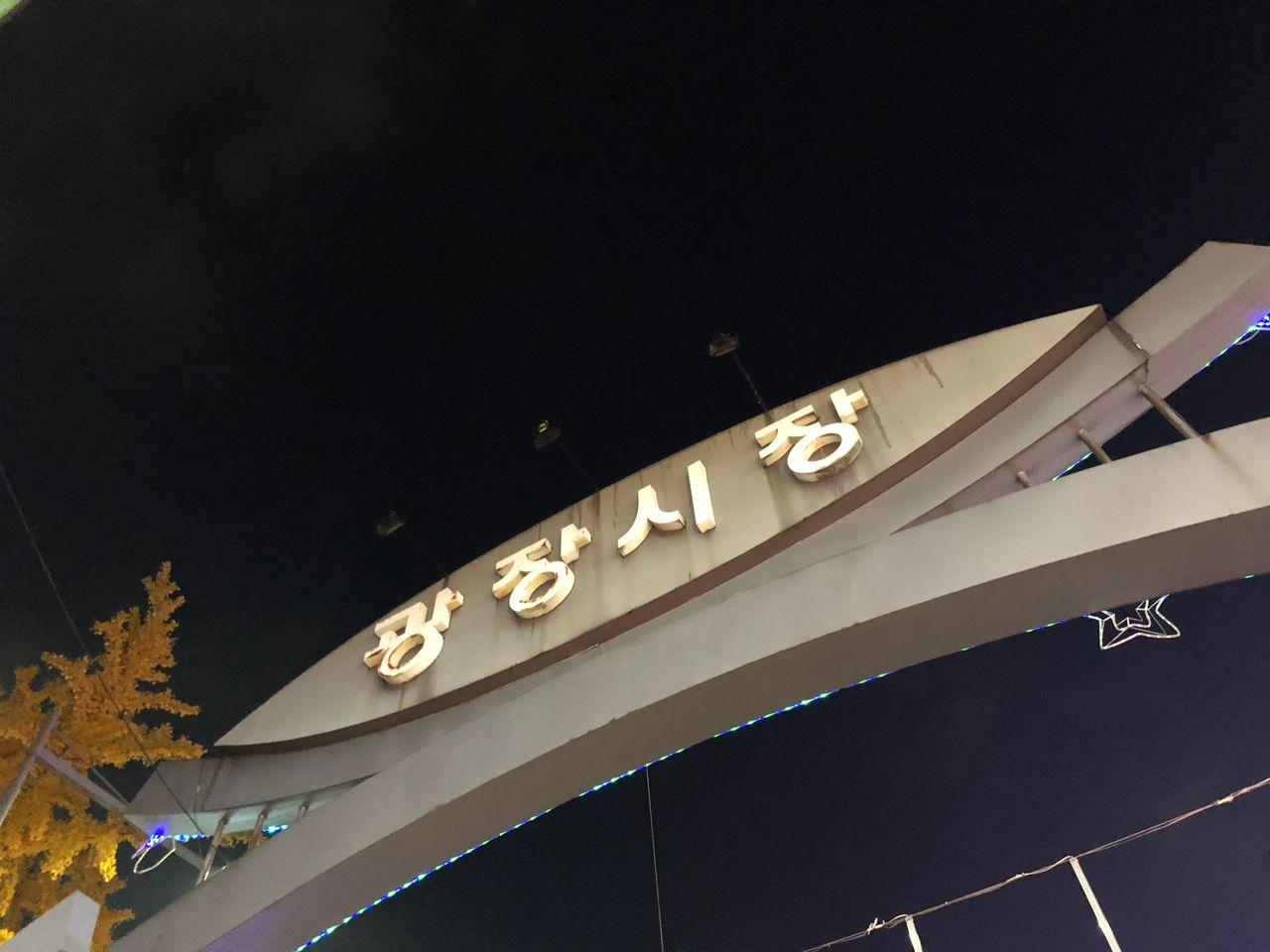 The Gwangjang market is a traditional market with a long history. The management rights of Namdaemun Market was lost to the Japanese after the Korea-Japan Agreement of August was signed in 1904. To keep the straining economy afloat, Koreans established a new market.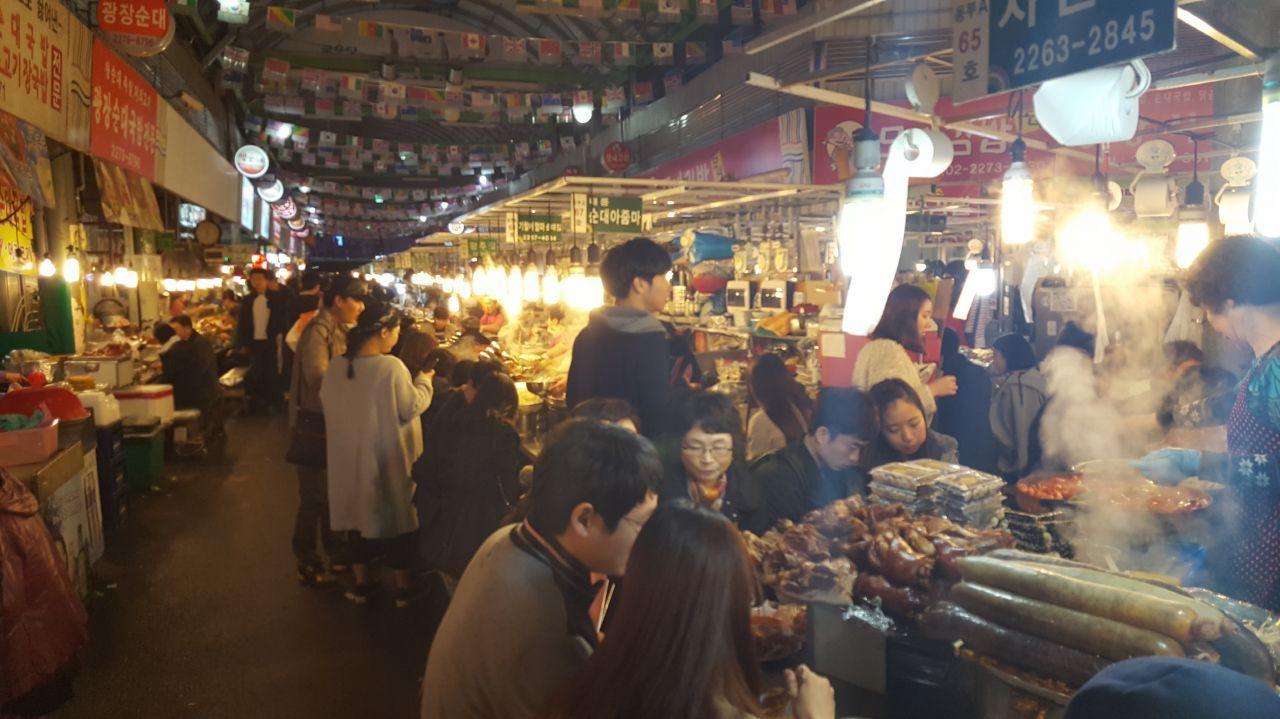 Thus, Gwangjang Market was born in 1905. It was originally located between the then-standing Gwanggyo Bridge and Janggyo Bridge, which is how Gwangjang Market got its name. But due to the difficulty of maintaining the market when the rain was too heavy, the market was re-located to a site near Dongdaemun, which used to be the site of the old Ehwa Market.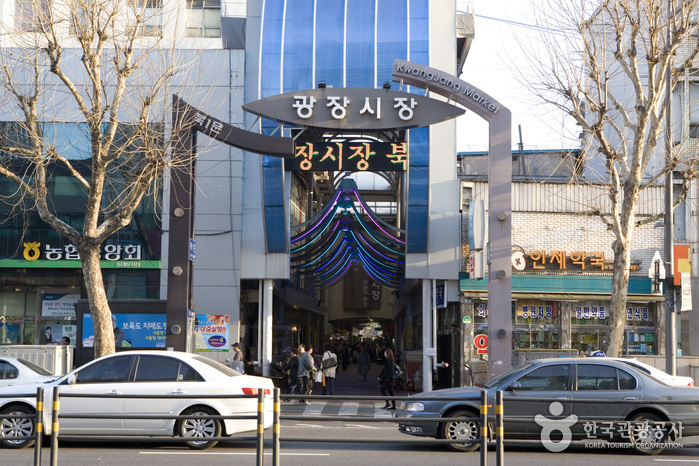 The Korean name remains unchanged, but the hanja (Chinese characters) were changed to mean "to be widely preserved."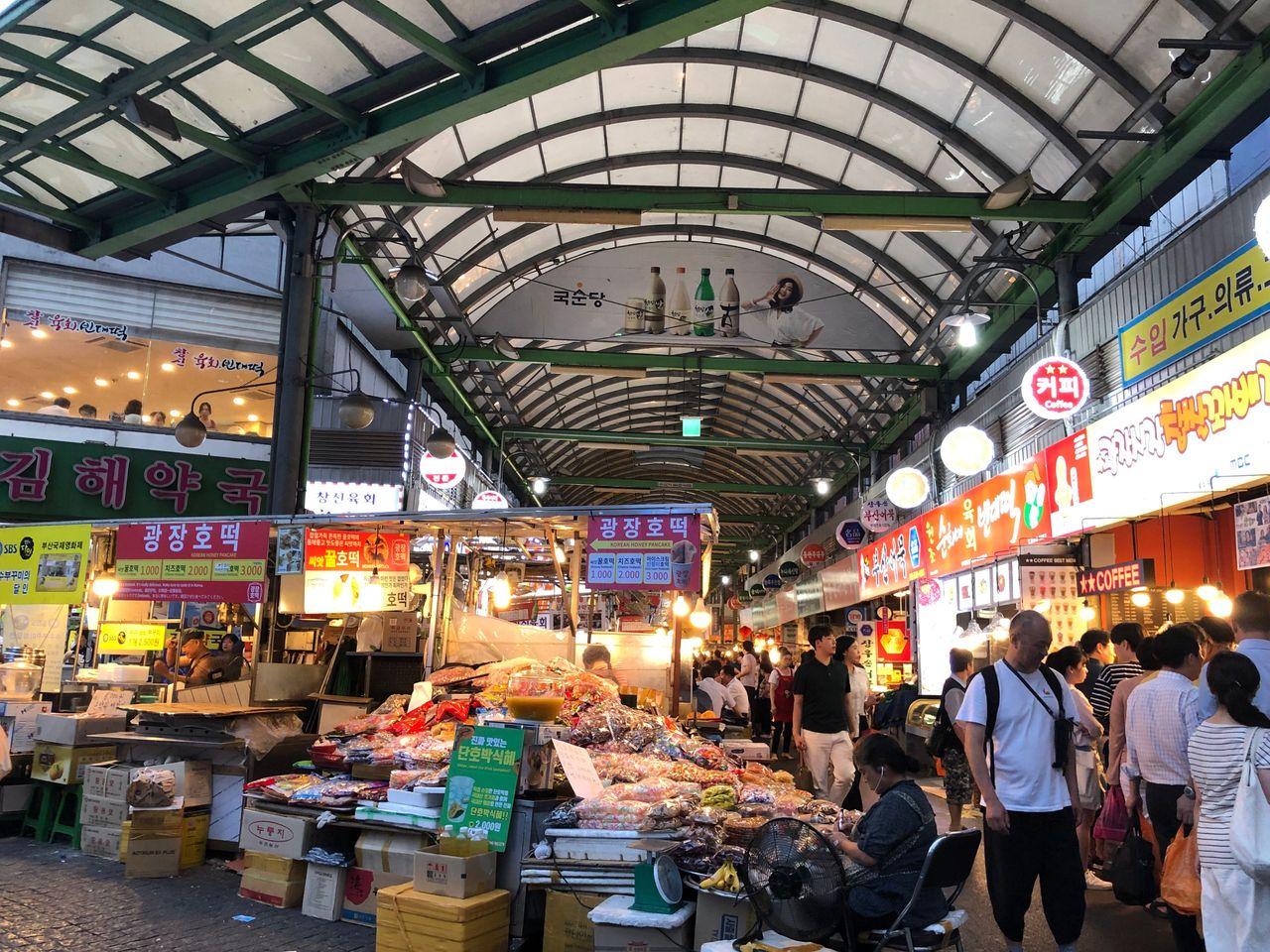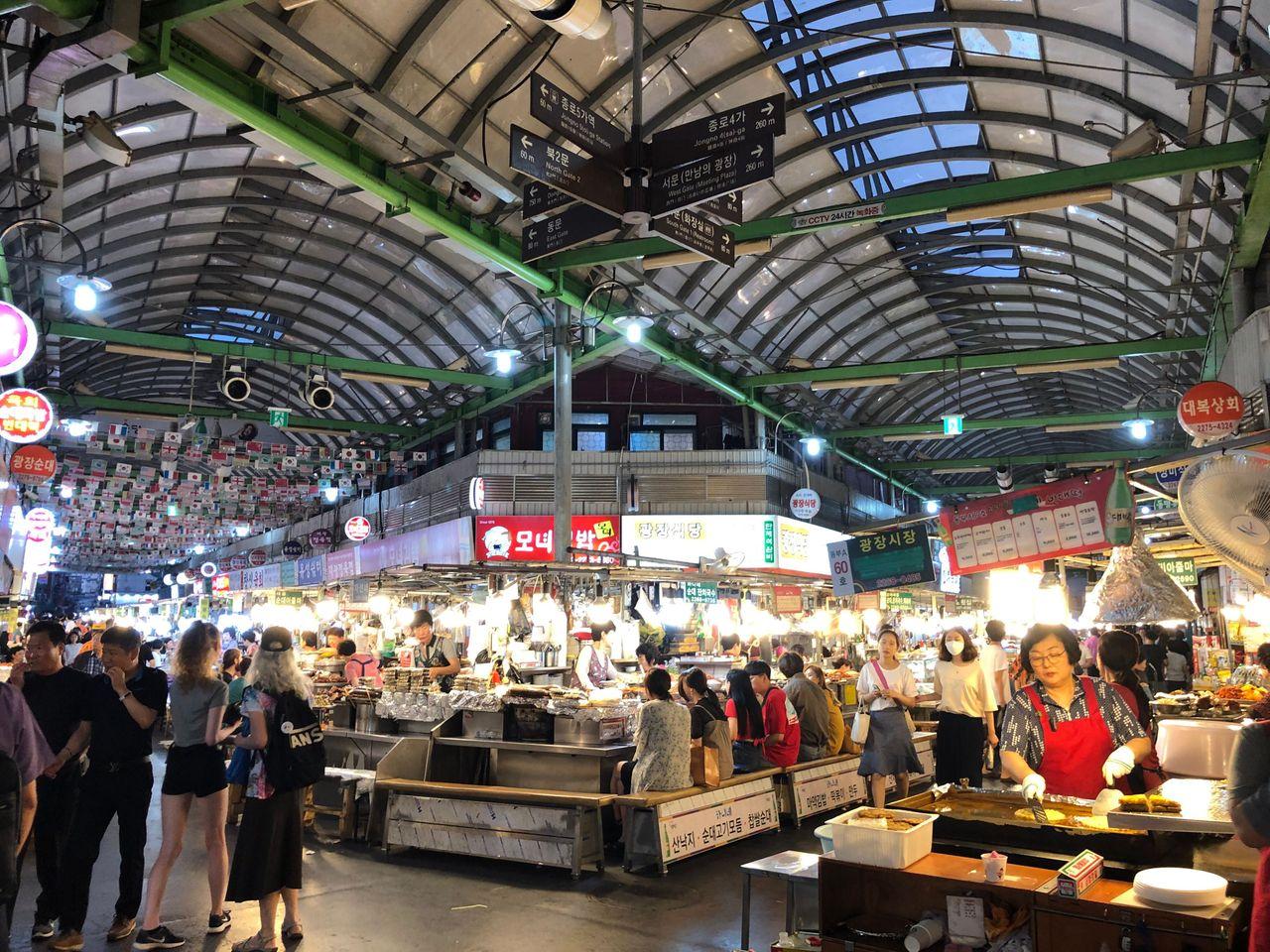 Gwangjang Market is packed with people from morning till late at night, on weekdays and holidays. Friday night, weekends, and holidays are always super crowded. If you're planning on visiting, I suggest that you come during the day on weekdays.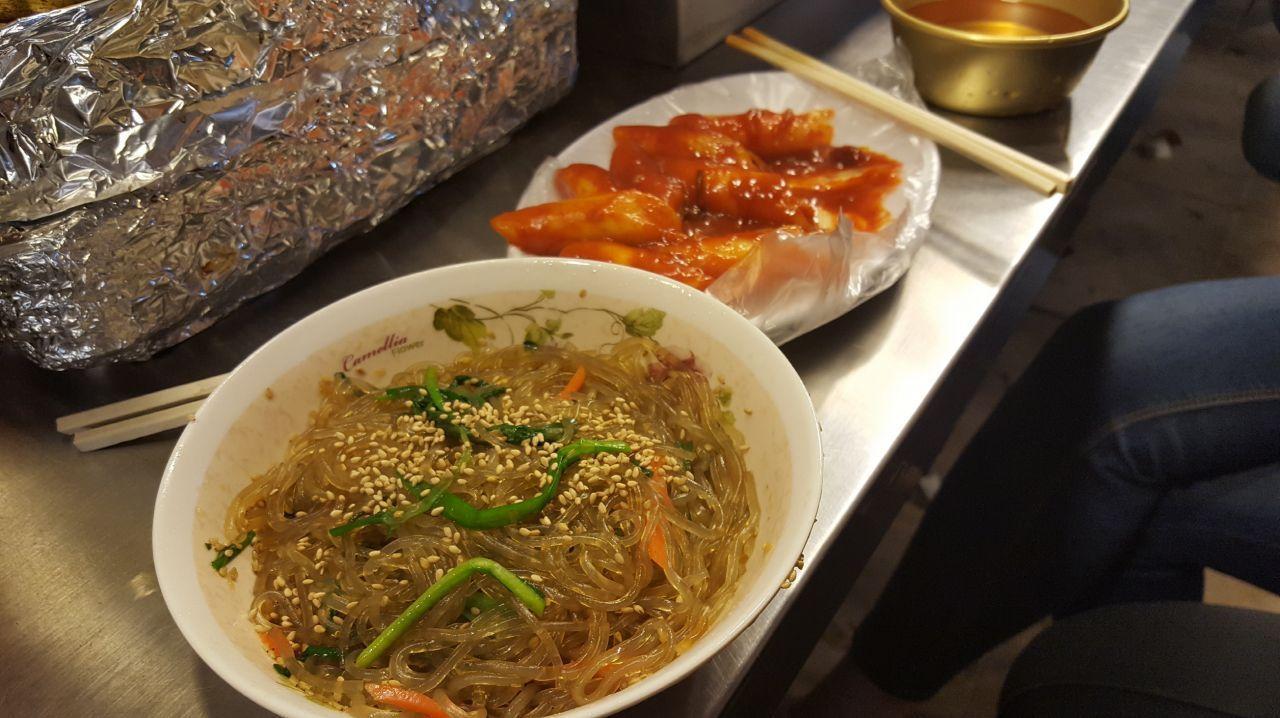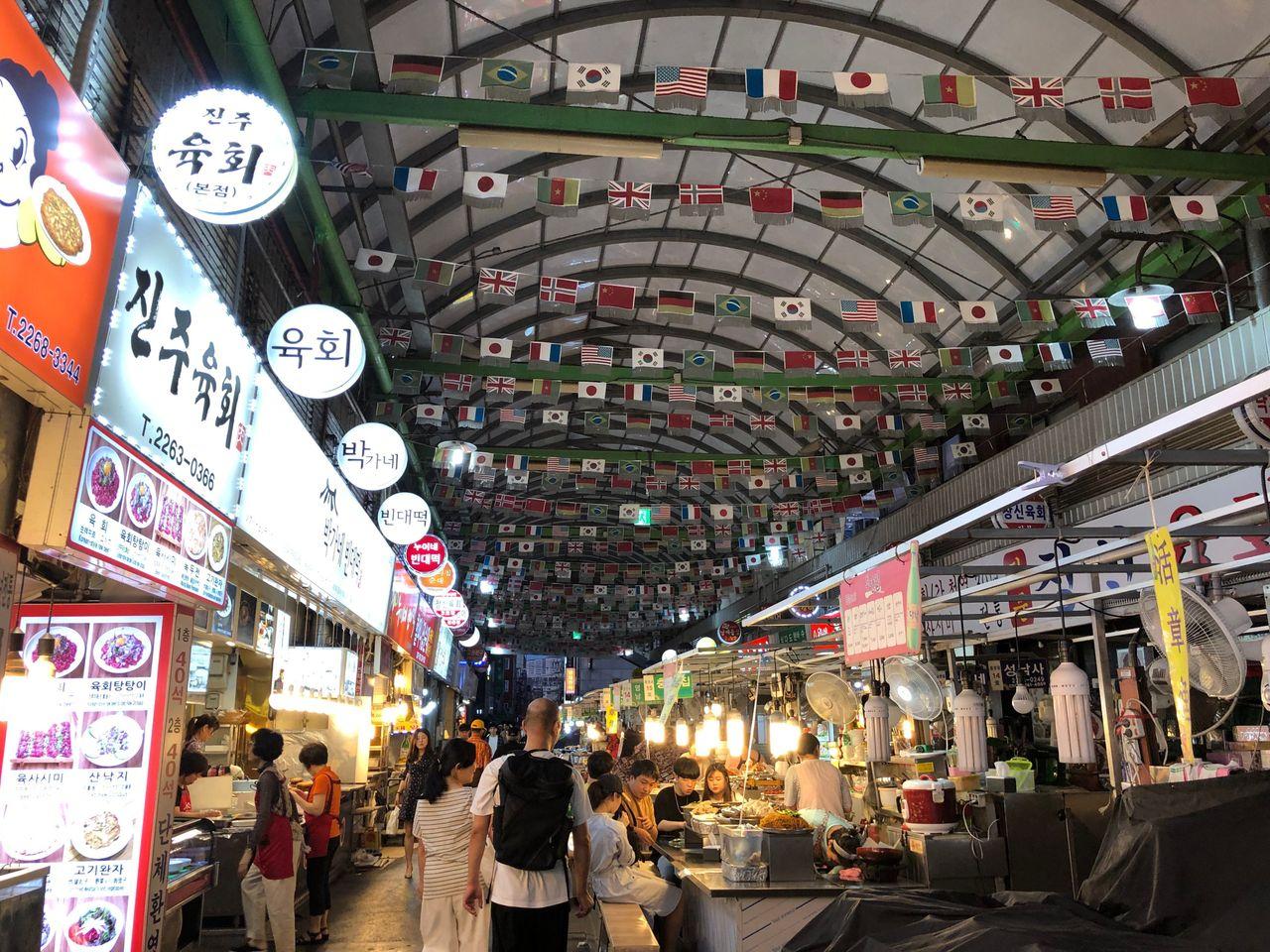 Gwangjang Market has some famous dishes that are unique to the market.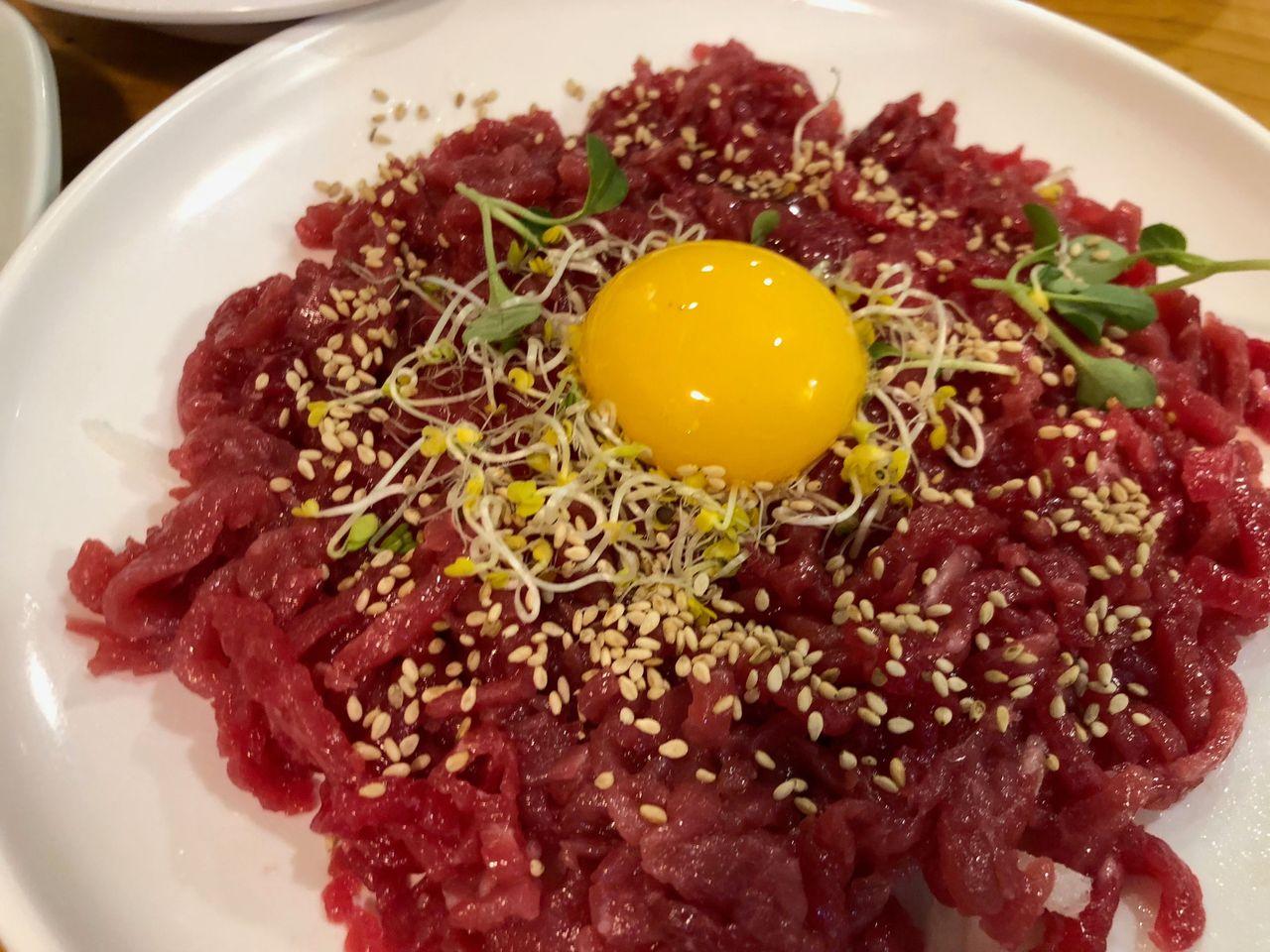 First and foremost, the raw beef dish.
Raw beef is cut into thin, long pieces, marinated with a sweet, salty sauce and topped with some sesame oil, sesame seeds, and a fresh egg yolk.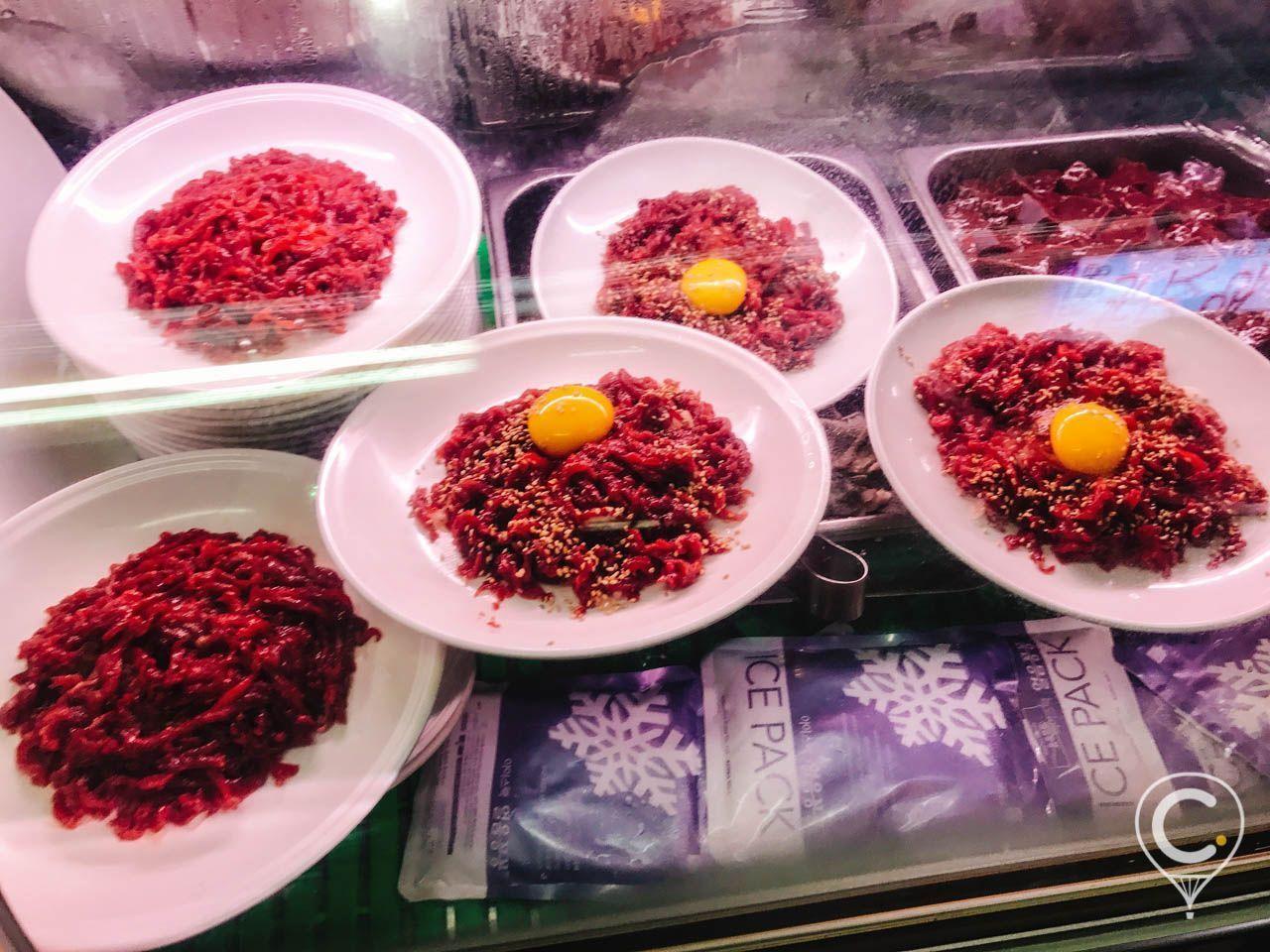 Many people that come to the Gwangjang Market are there to get some raw beef. The plate can seem terrifyingly raw, but is actually is a delicacy that is sweet, salty, and surprisingly tender.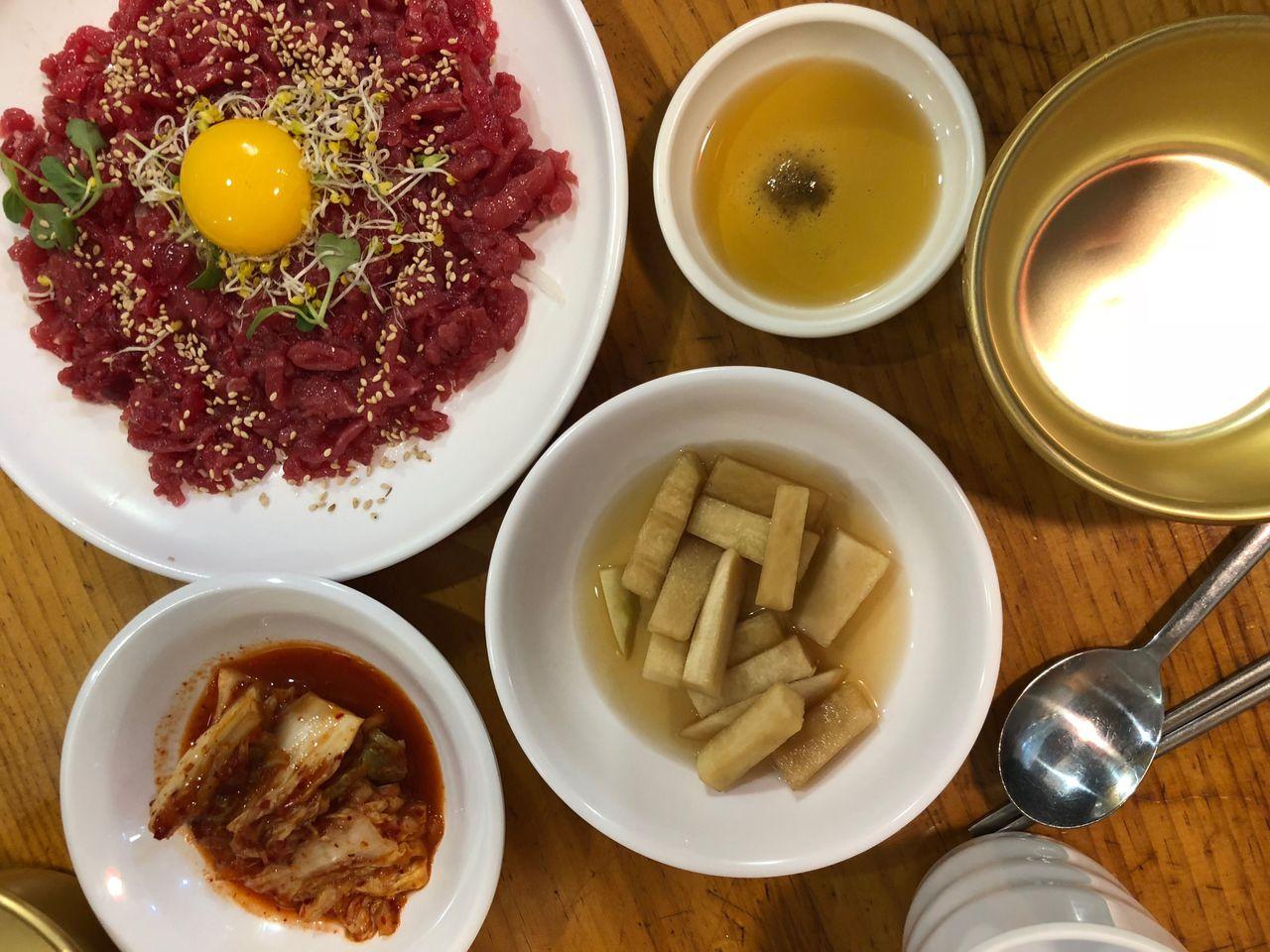 Jinju Meat
If you're going to get the raw beef dish at Gwangjang Market, make sure you make a round to take a look at the prices of all the stores; the flavors are not super different store to store, so get the most inexpensive dish.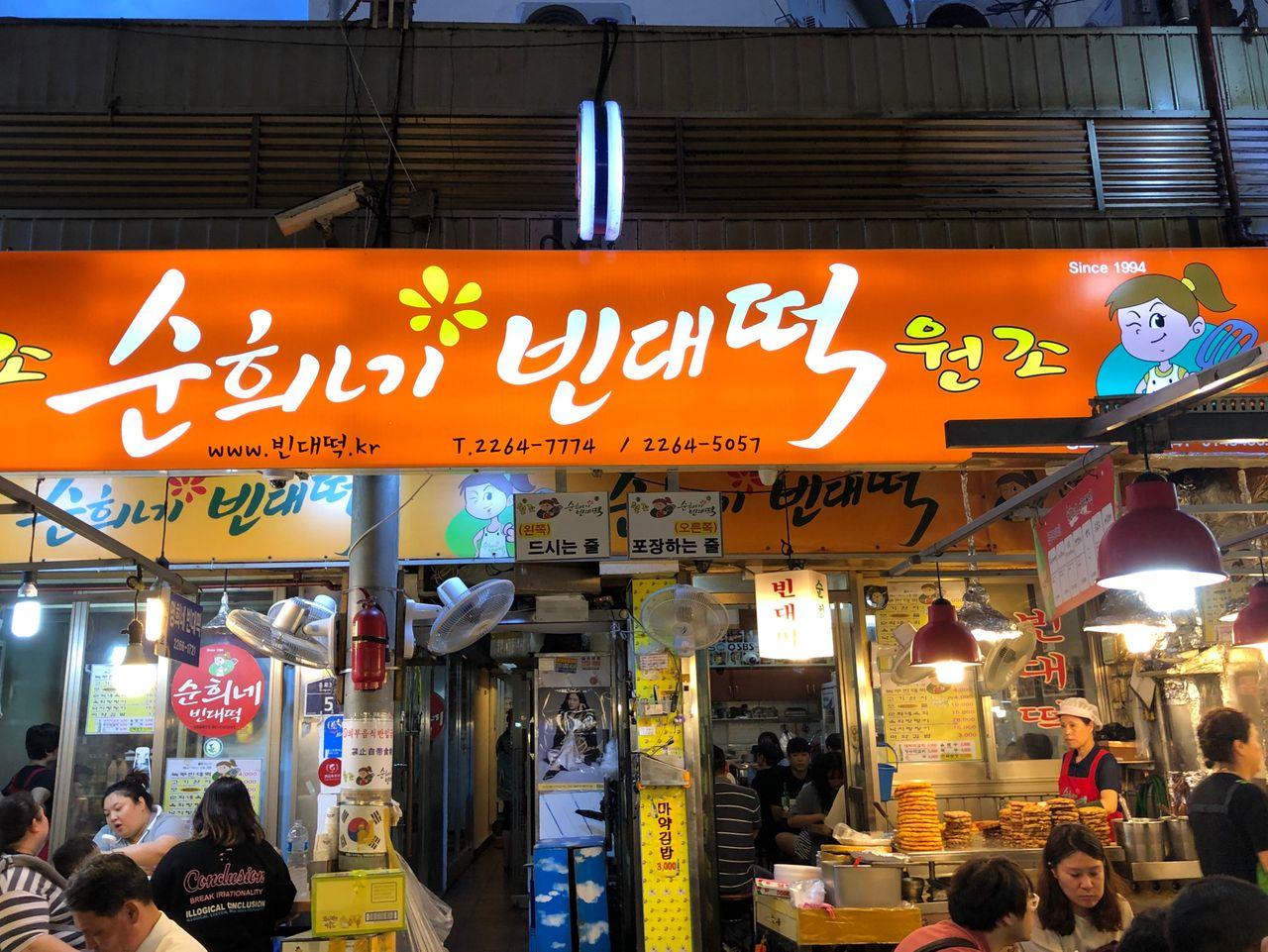 Sunhuine Pancakes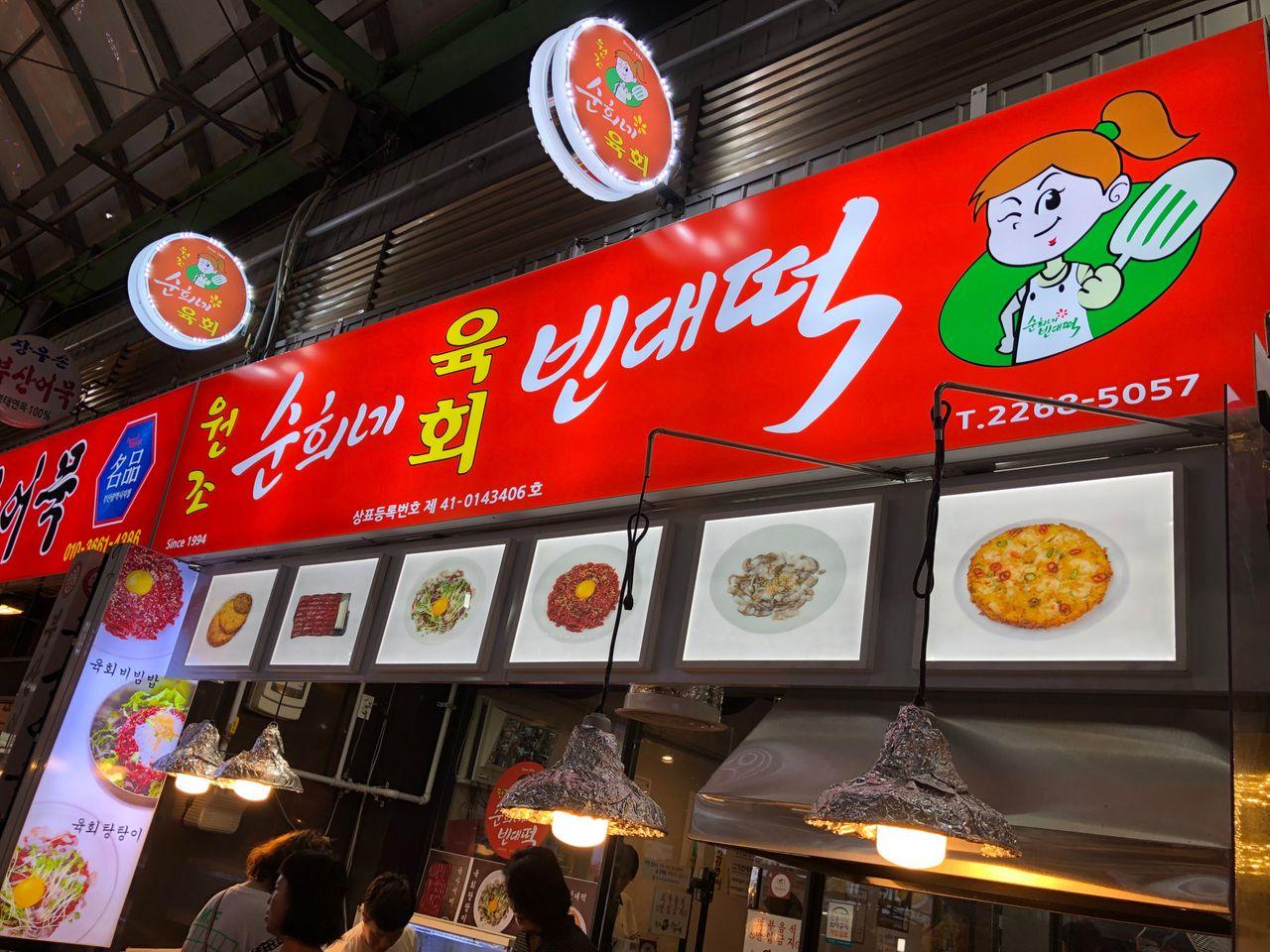 Sunhuine Pancakes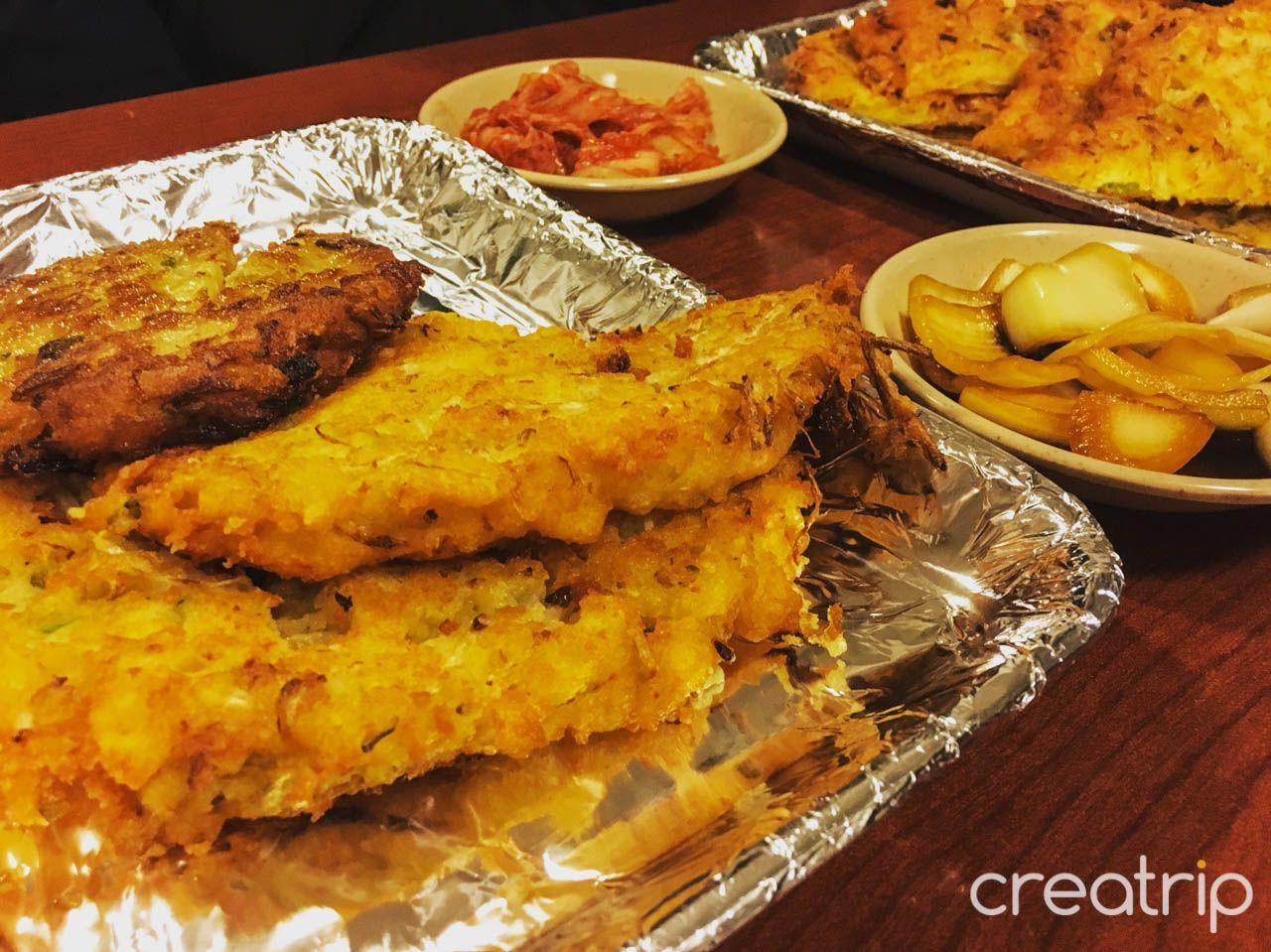 Sunhuine Pancakes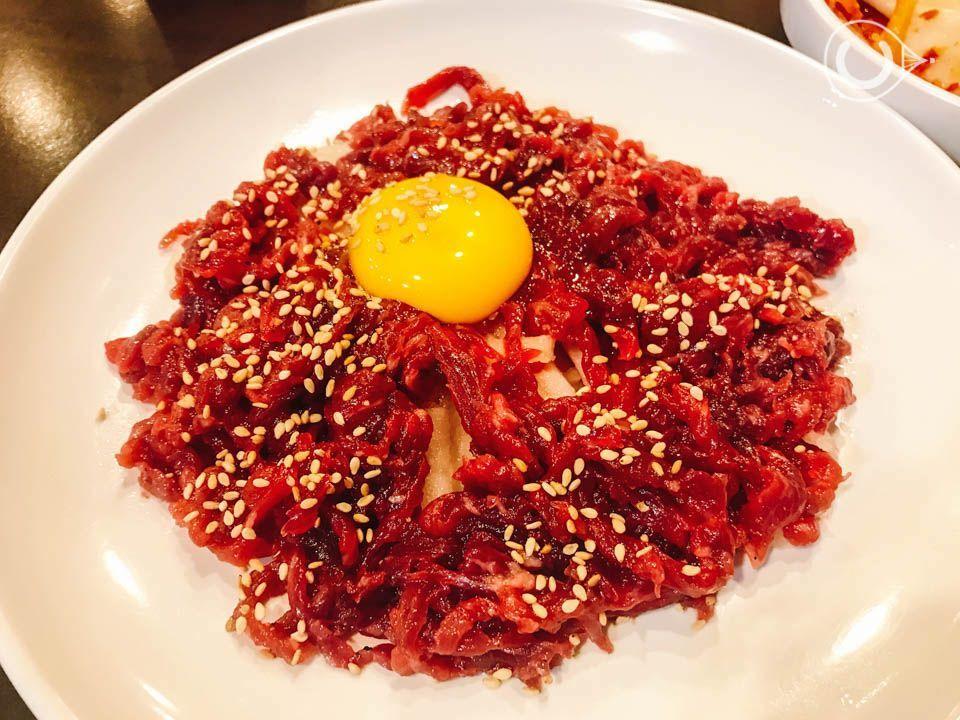 Changshin Yookhwe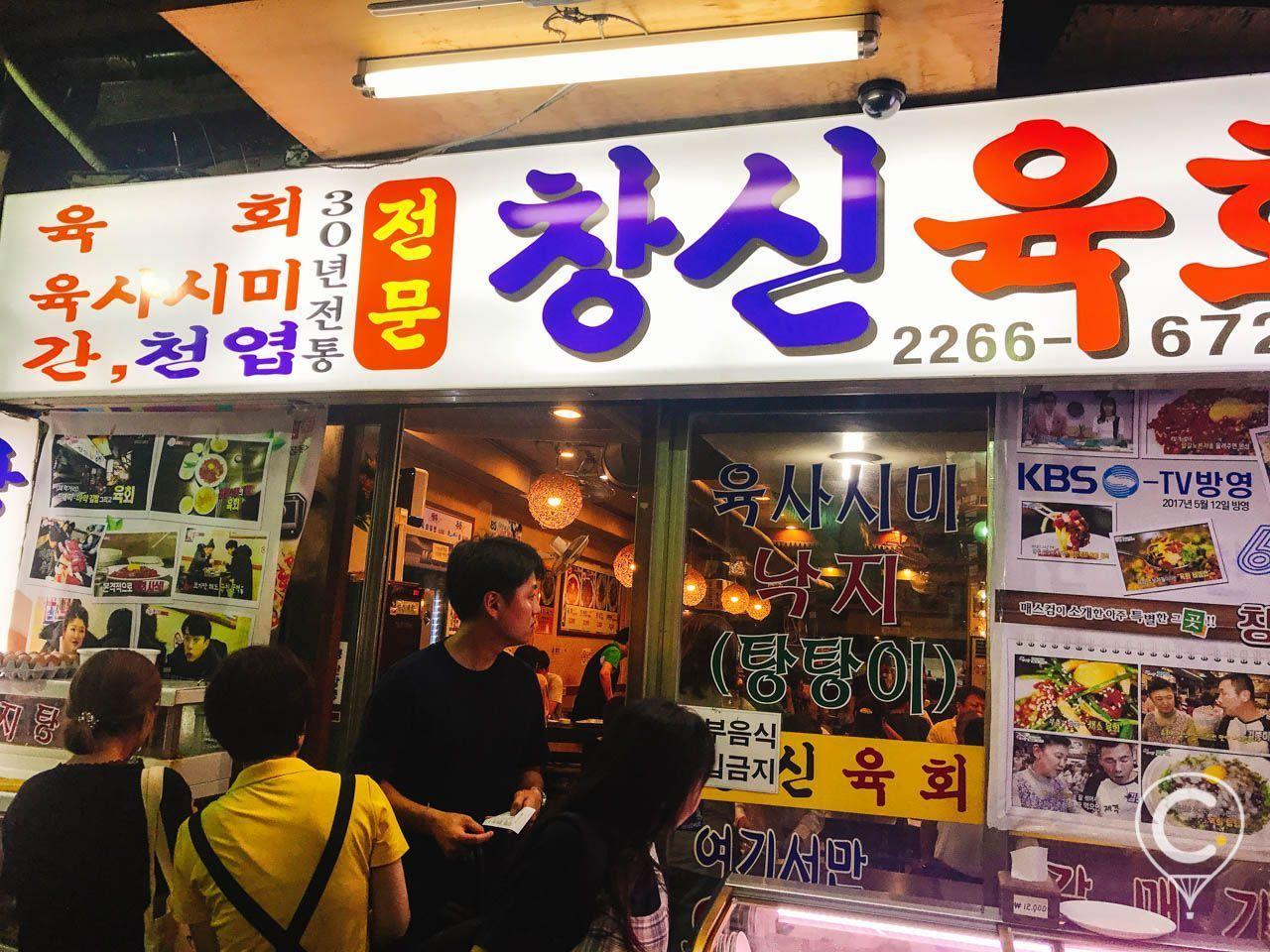 Changshin Yookhwe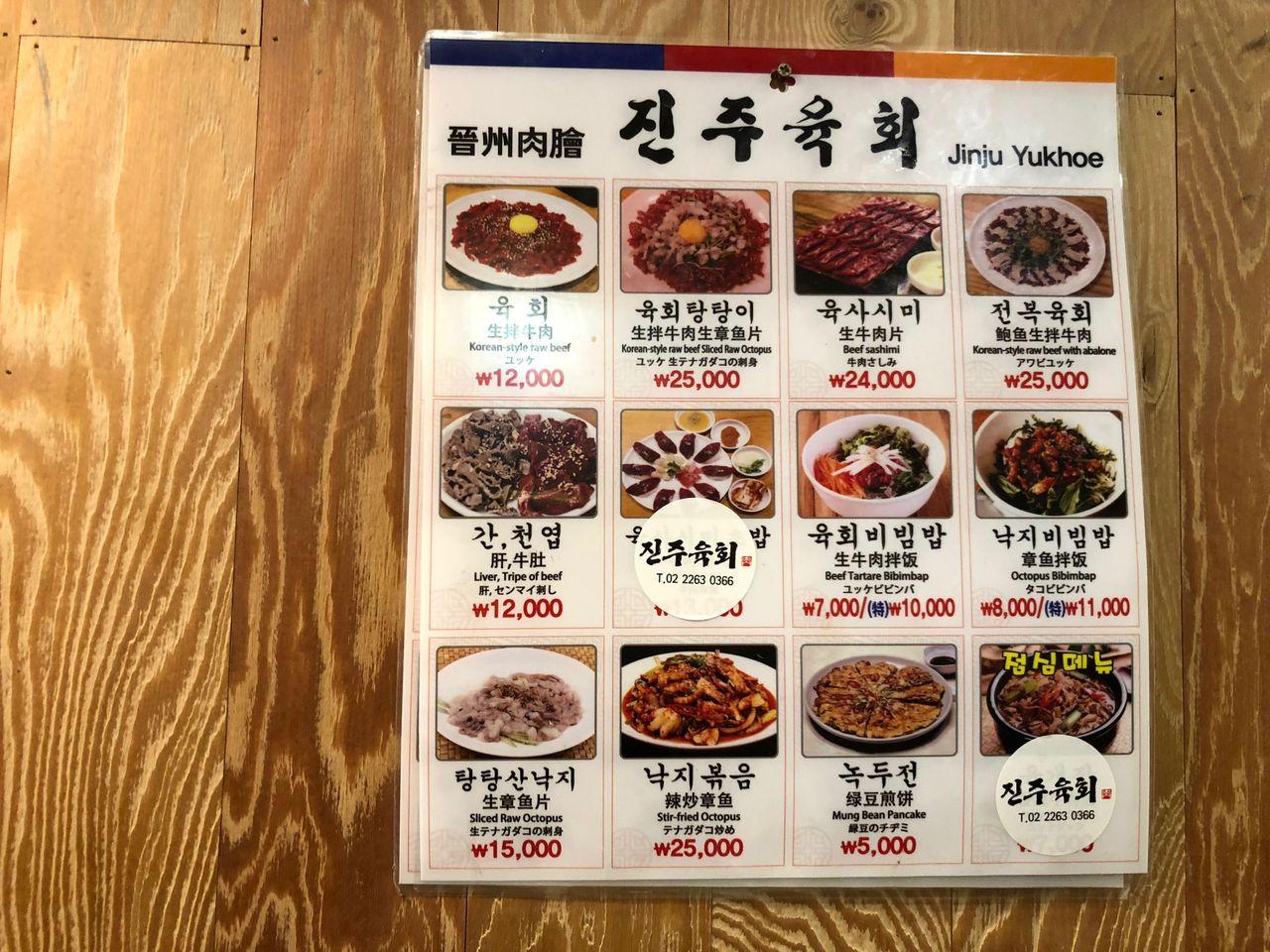 Jinju Yukhoe
Most stores that have the raw beef dish also have raw octopus, bindaetteok (mung bean pancakes), etc. Raw octopus is another gorumet delicacy that you may want to try.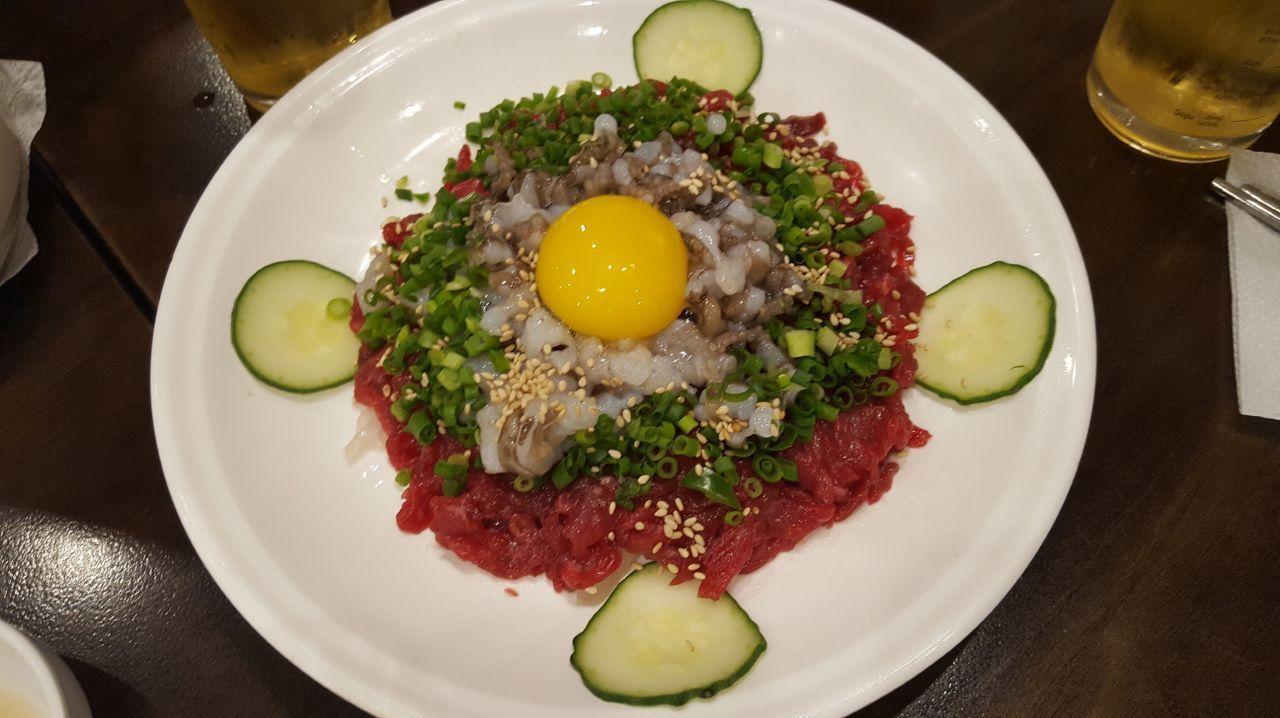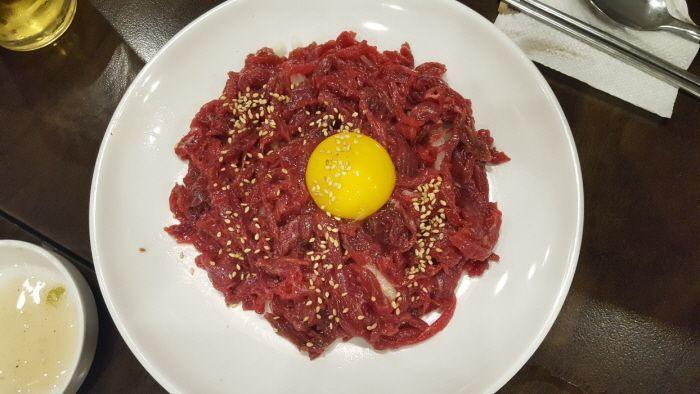 The raw octopus may very well seem more terrifying than the raw beef, and yes, it can squirm or stick inside your mouth. But the raw beef and octopus go very well together.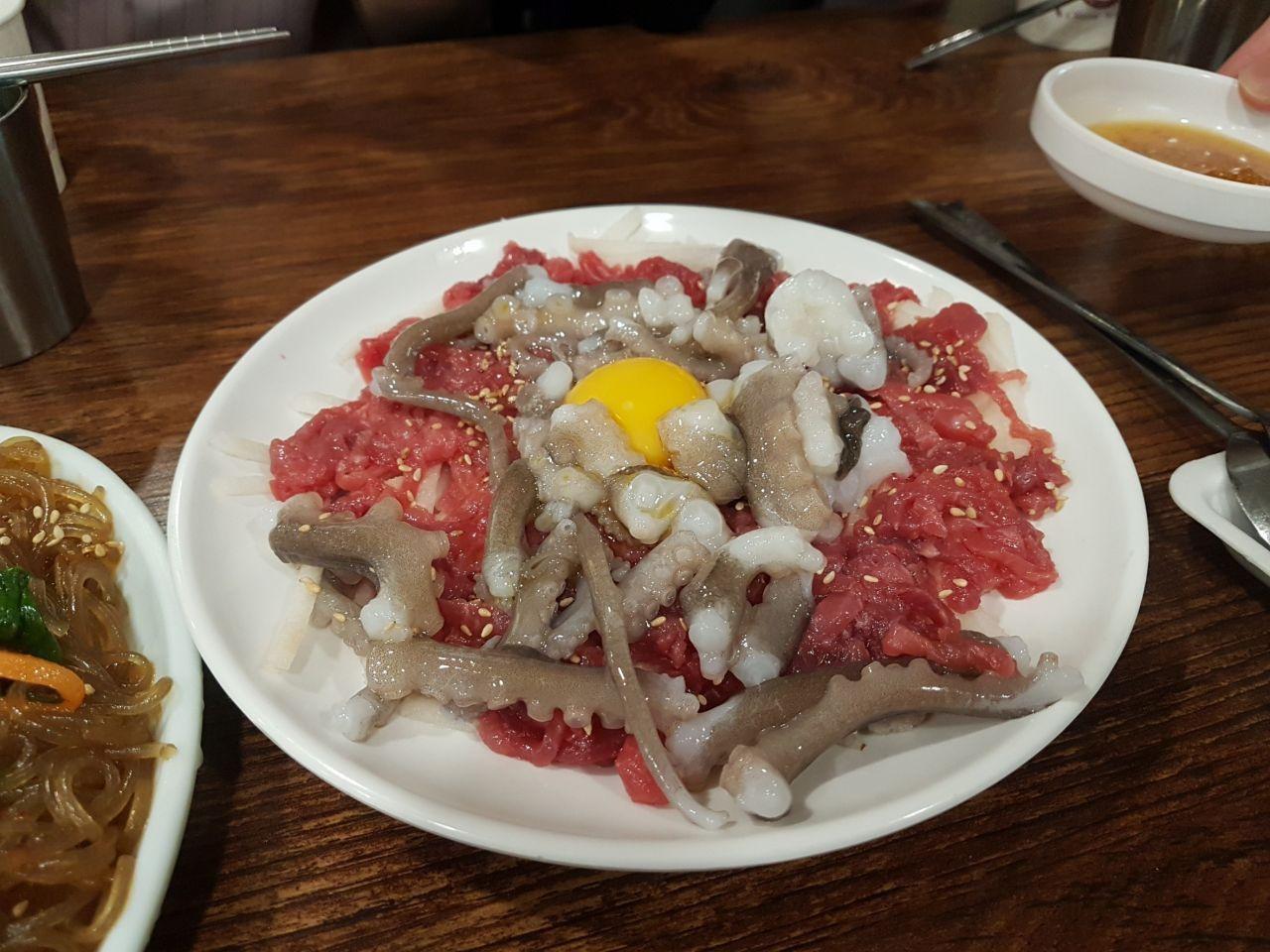 Gwangjang Market is also known for bindaetteok (mung bean pancakes). The pancakes at the front of the market are more expensive, so you're going to want to walk further into the food area and get the pancakes at the stalls where there are benches where you can sit and eat.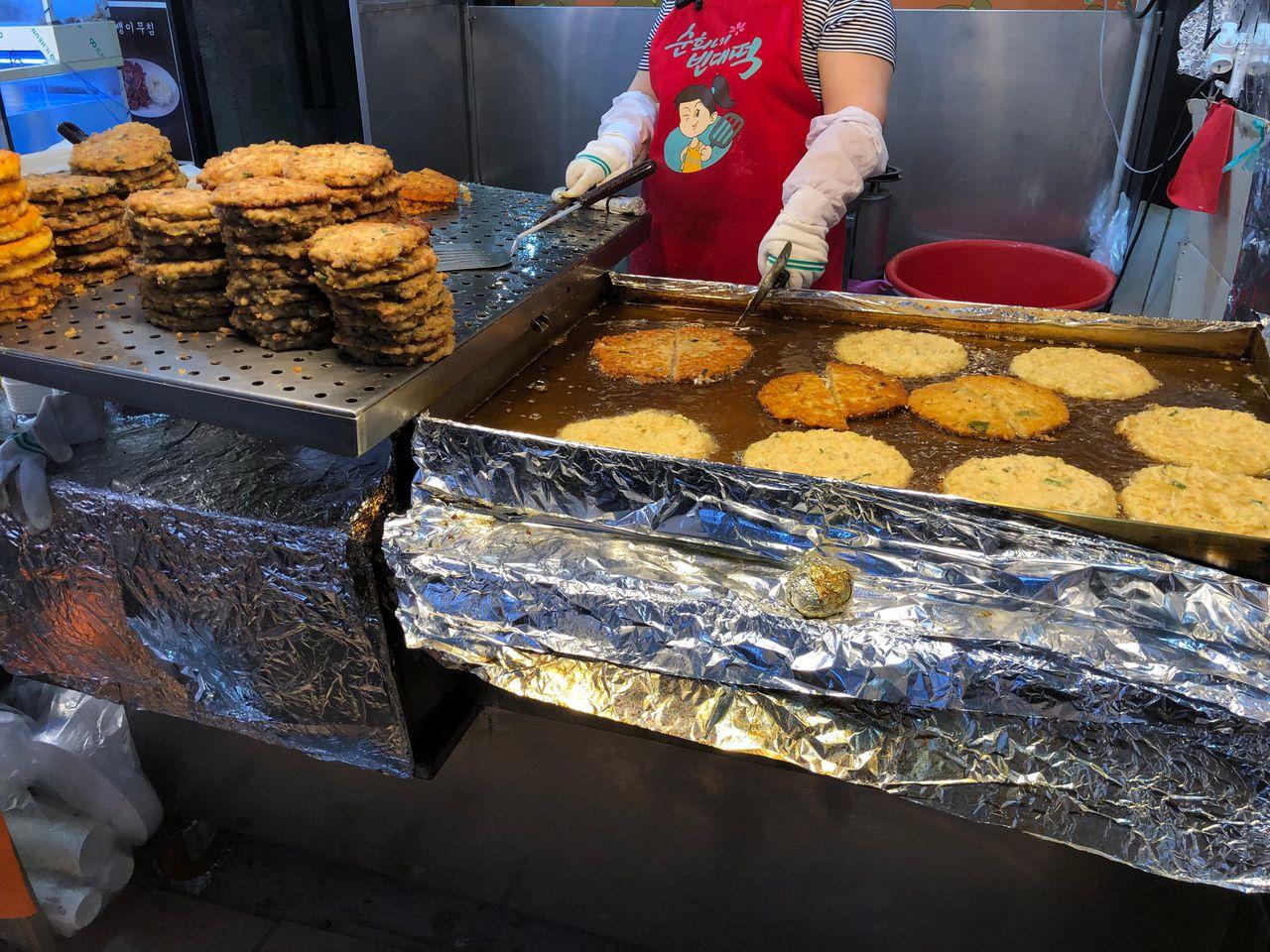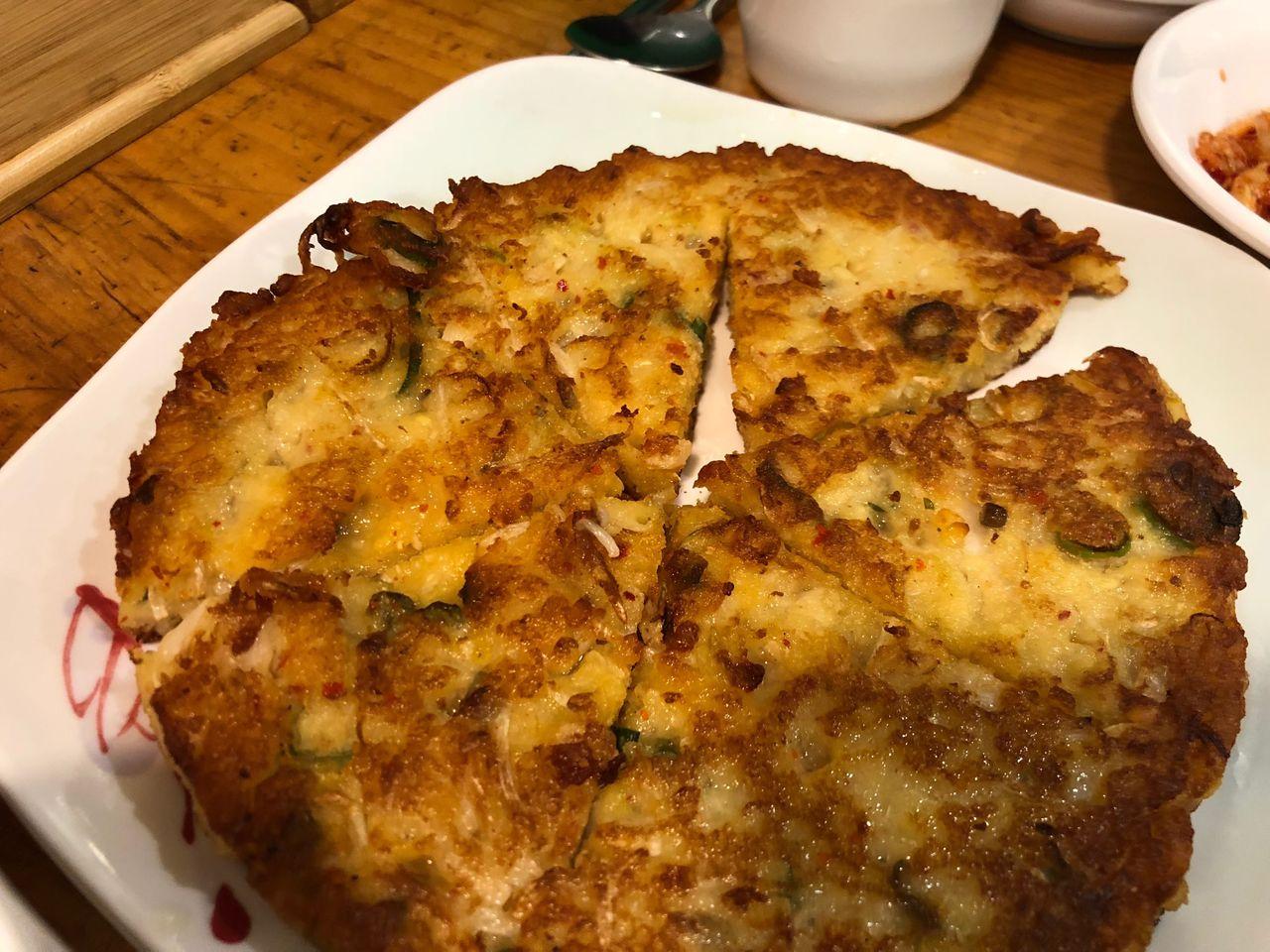 The pancake is made by grinding mung beans into a powder and frying it with veggies. It has a somewhat strong aroma.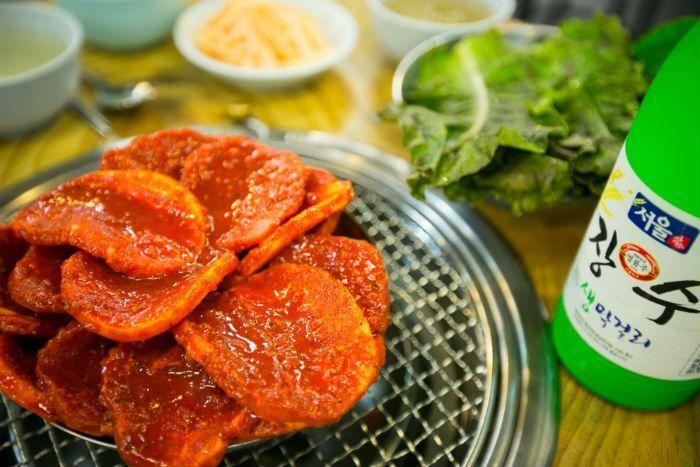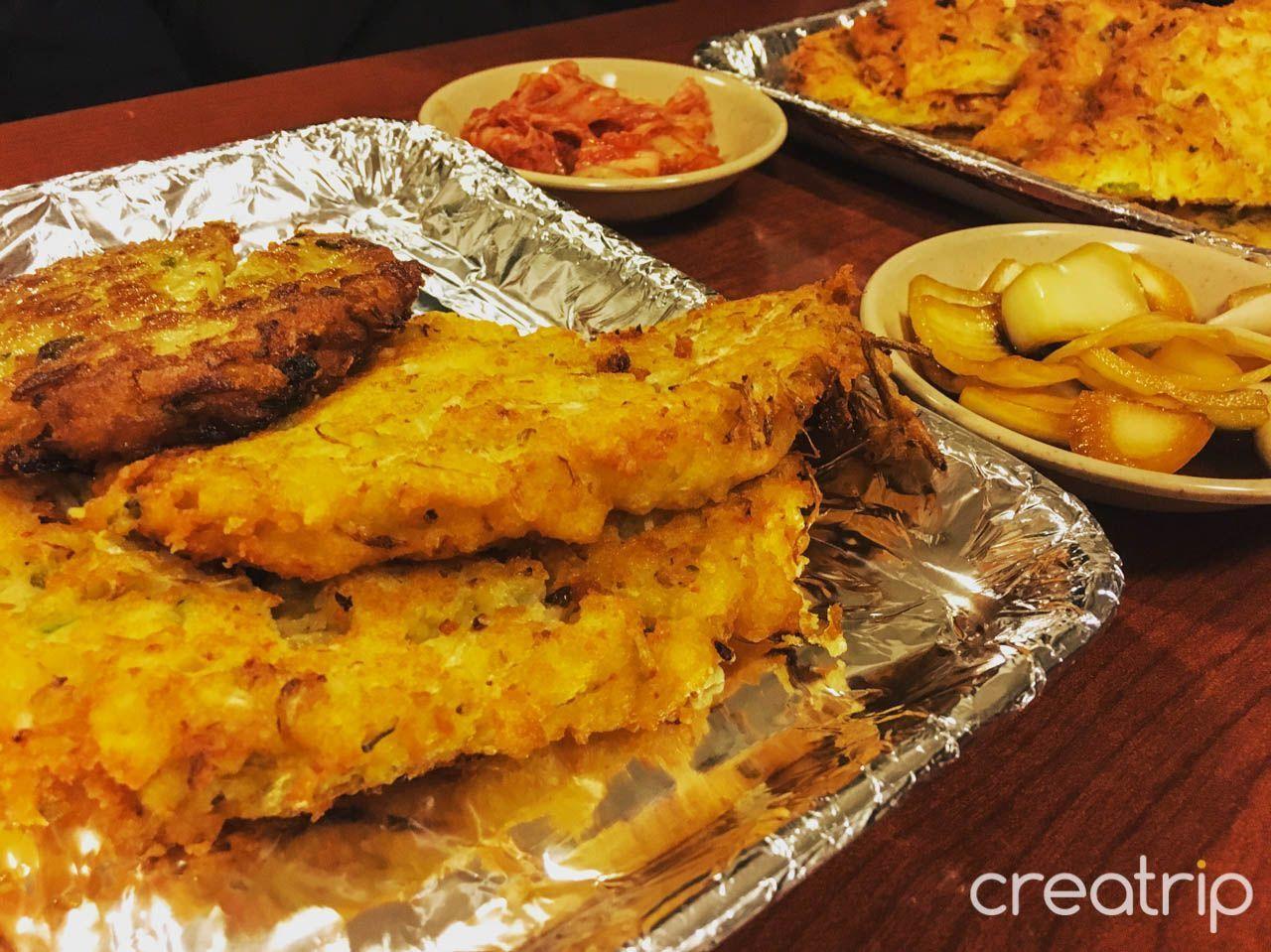 Gwangjang Market has a lot of small vendors that have benches and make-shift tables. It's may not seem as modern or nice as the restaurants outside, but it's the authentic experience.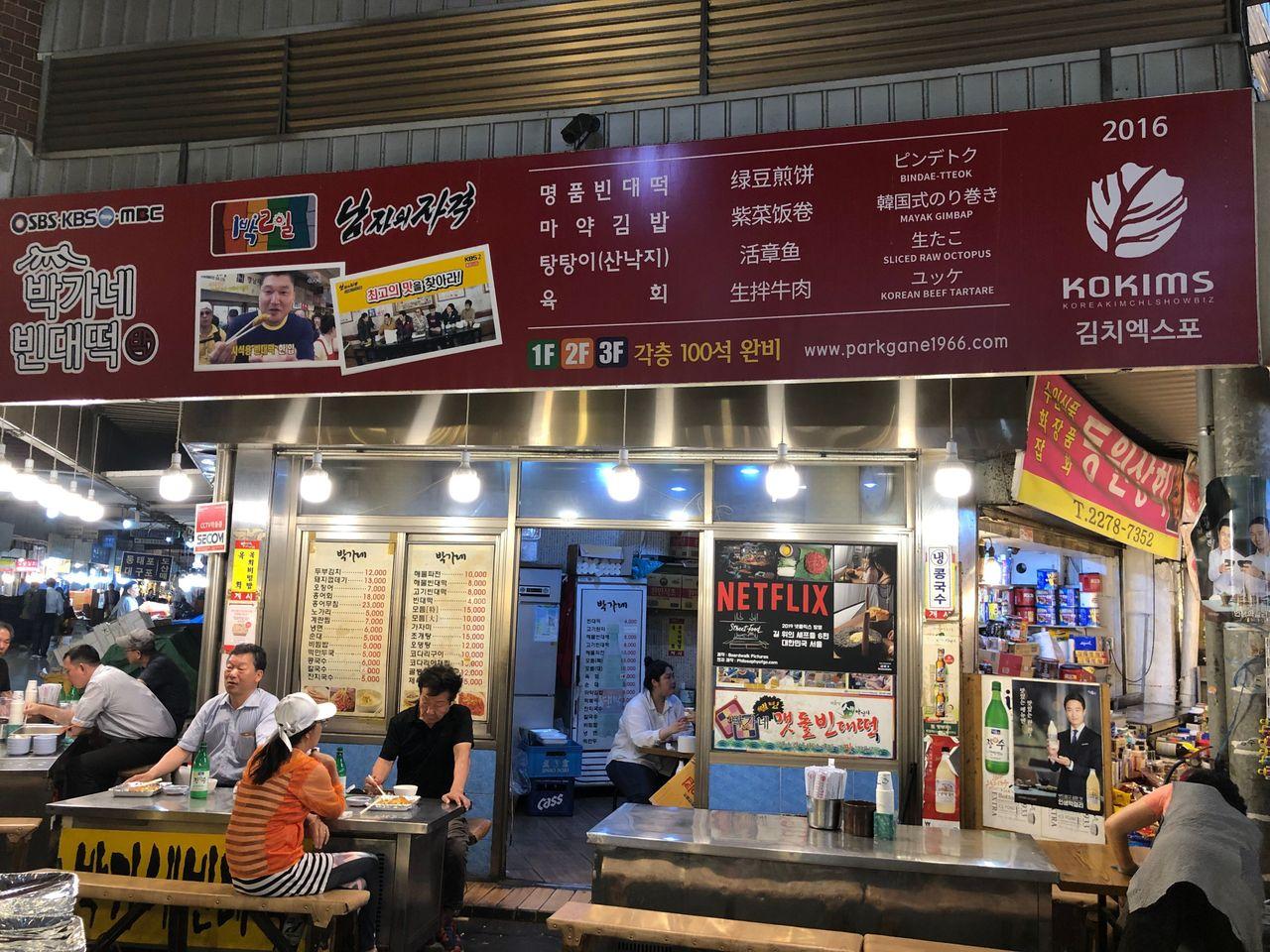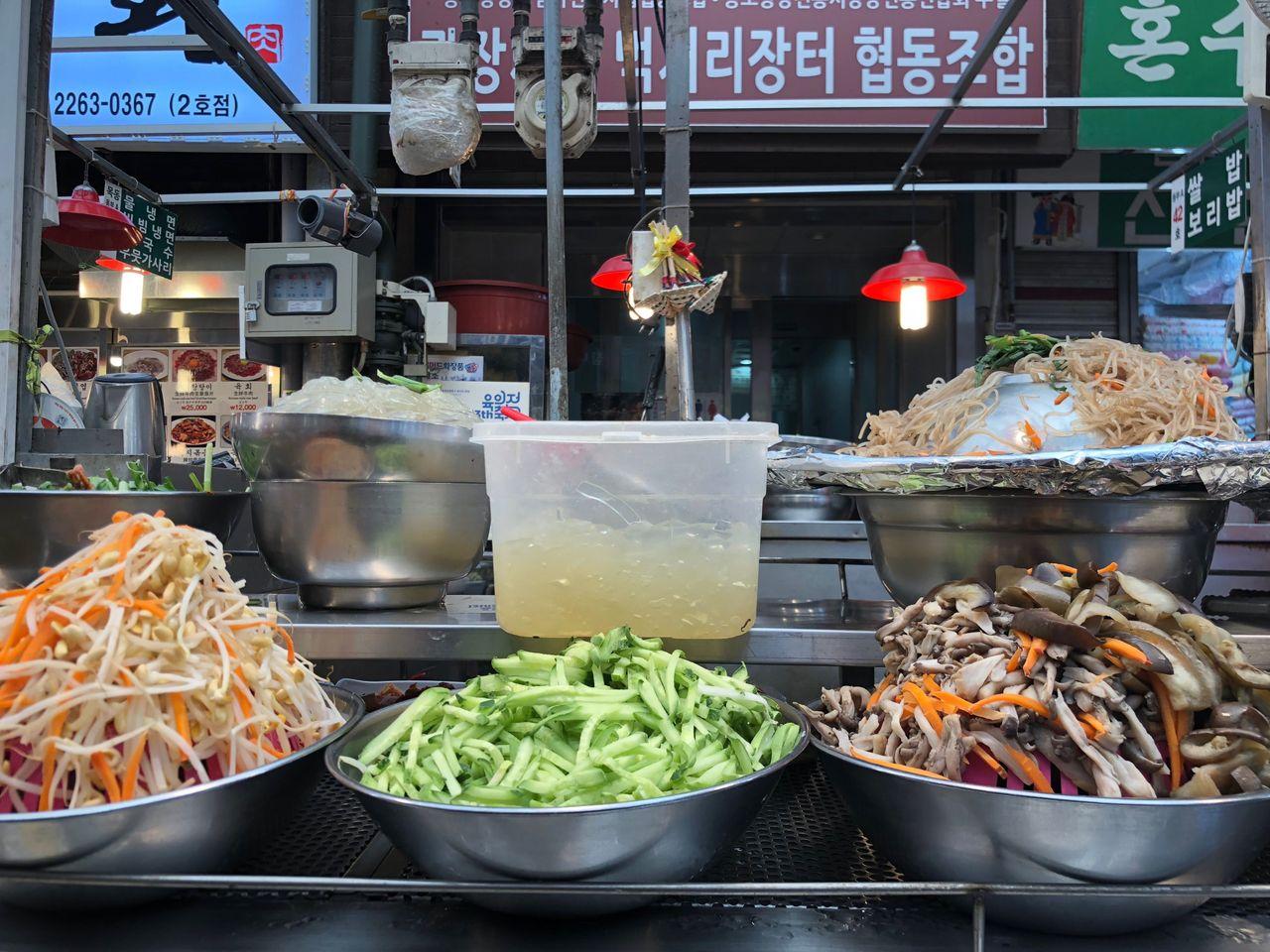 Just sit directly in front of the stall and watch the aunts warmly greet the guests. Every booth sells Korean food such as dumpling soup, rice cake soup, or mayak rice rolls.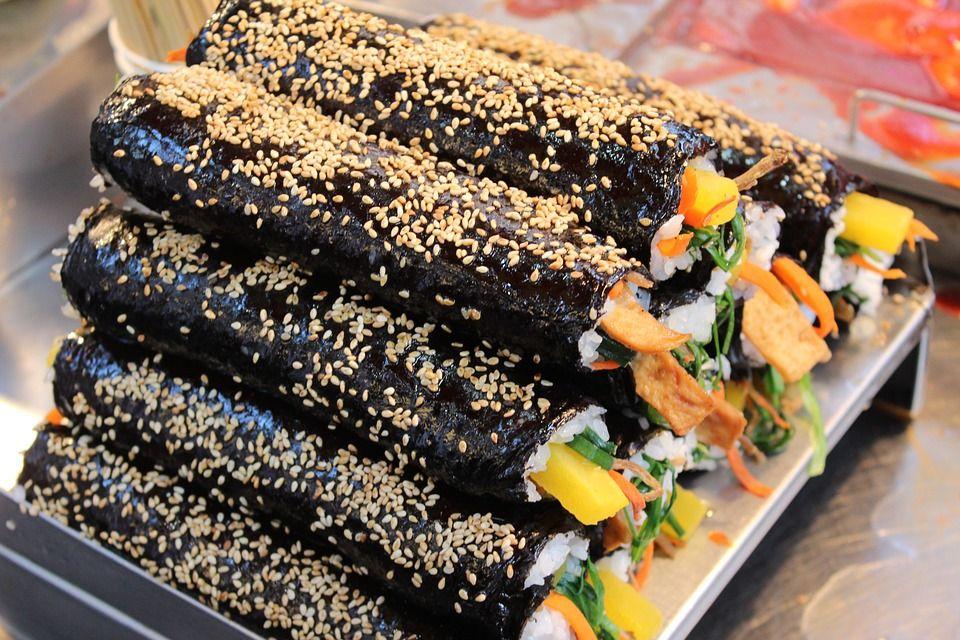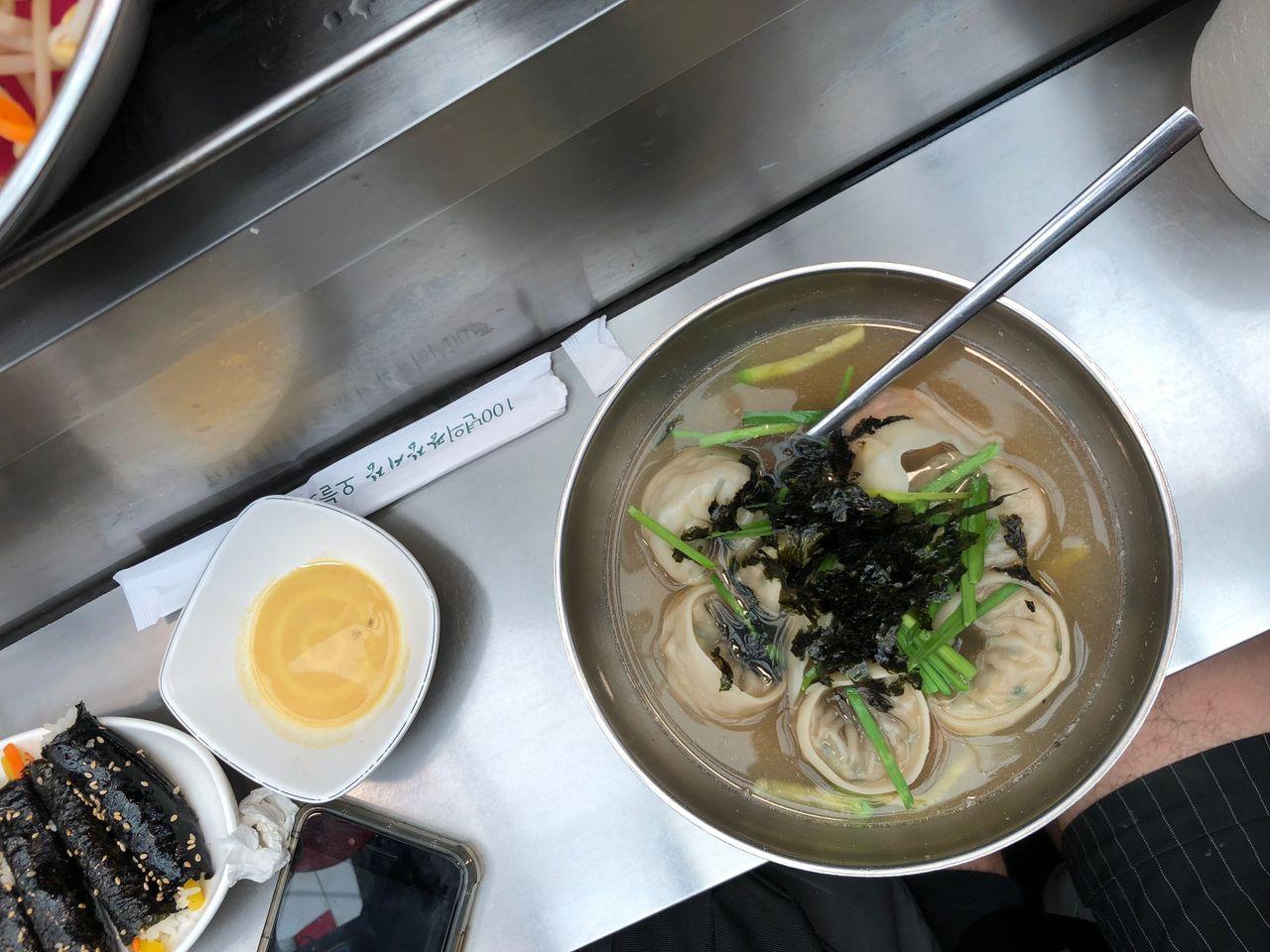 The sesame rice roll is called mayak (drug) because it's so good it's almost addictive. It's another popular food pick from Gwangjang Market.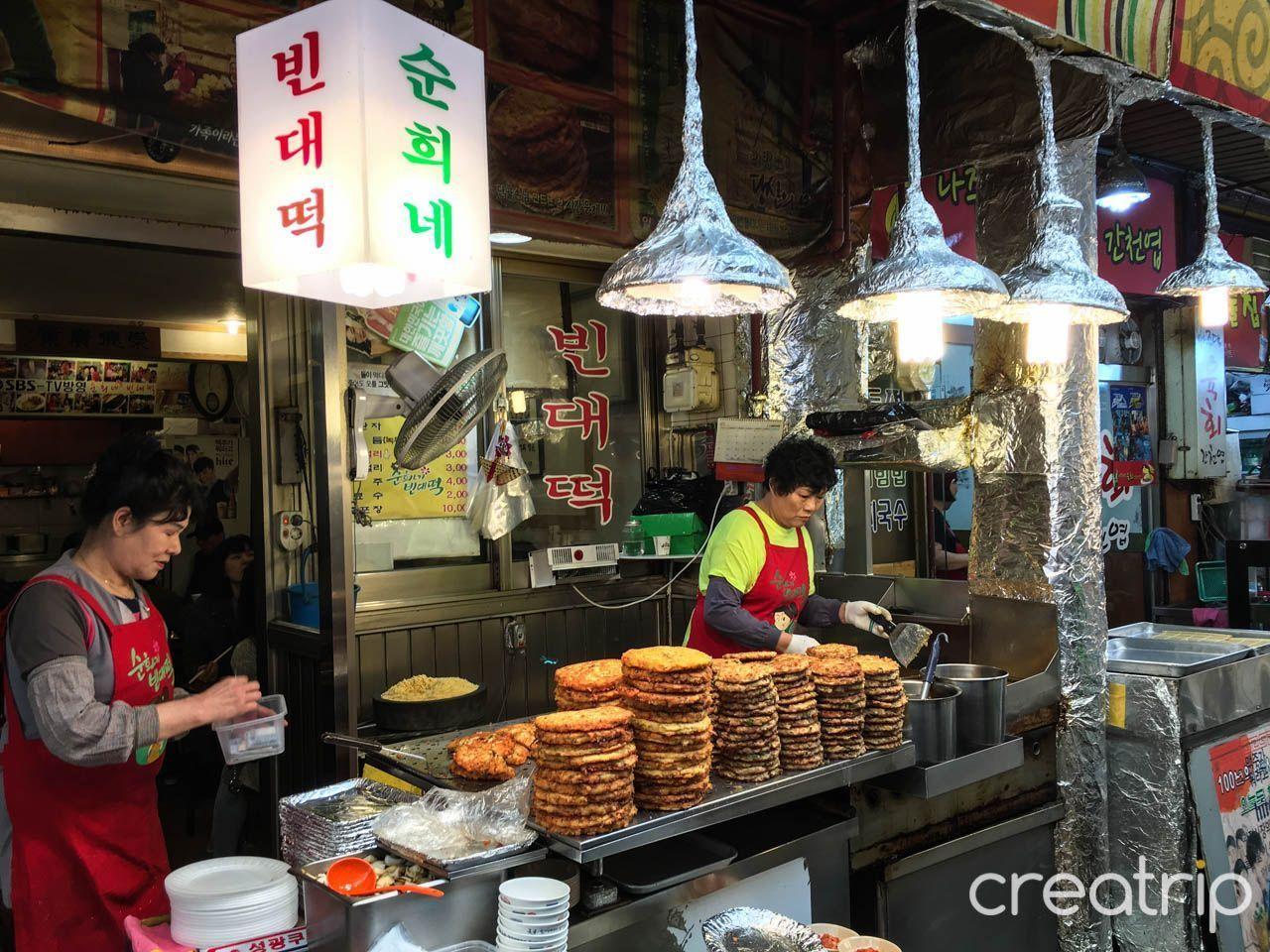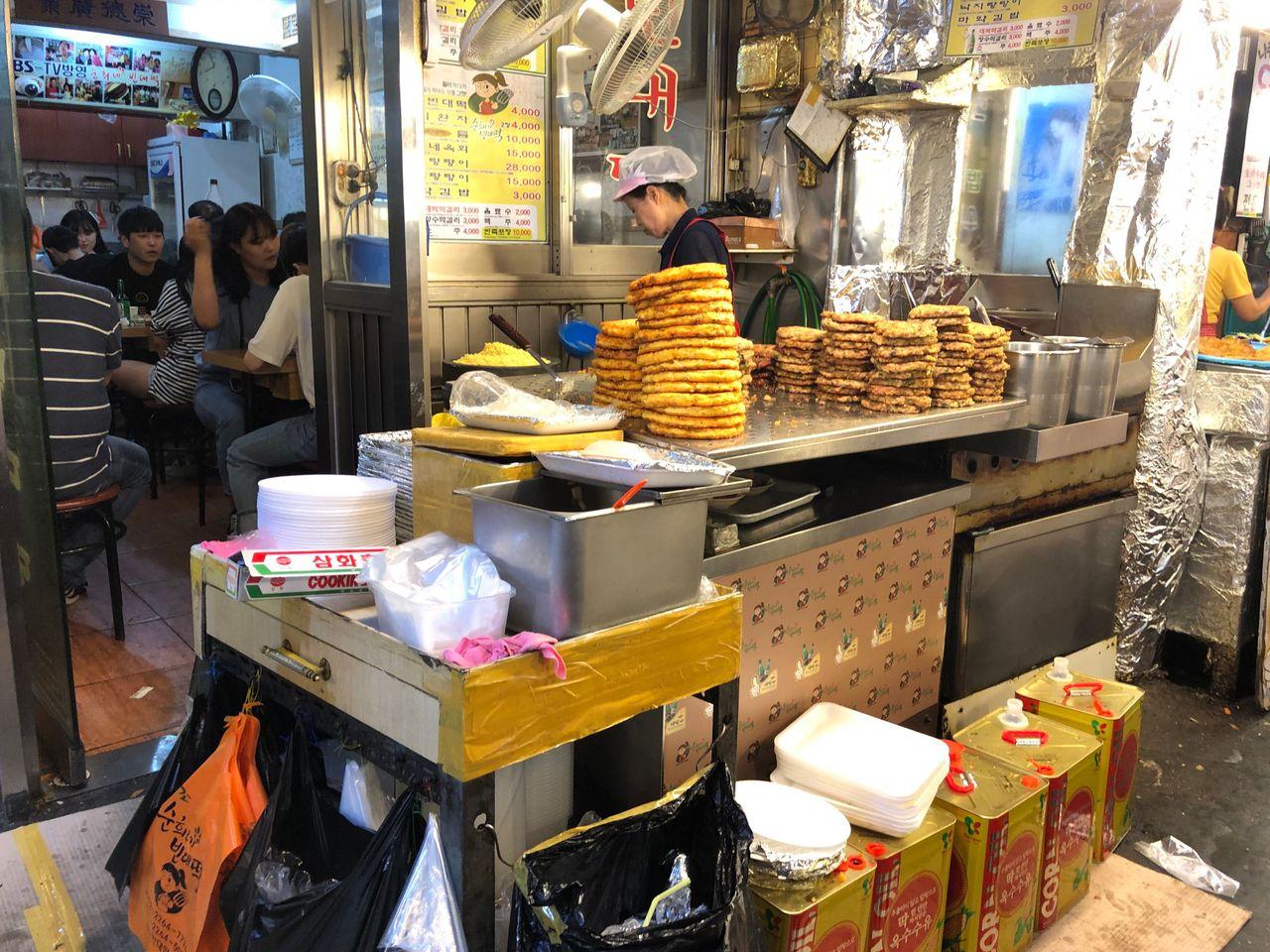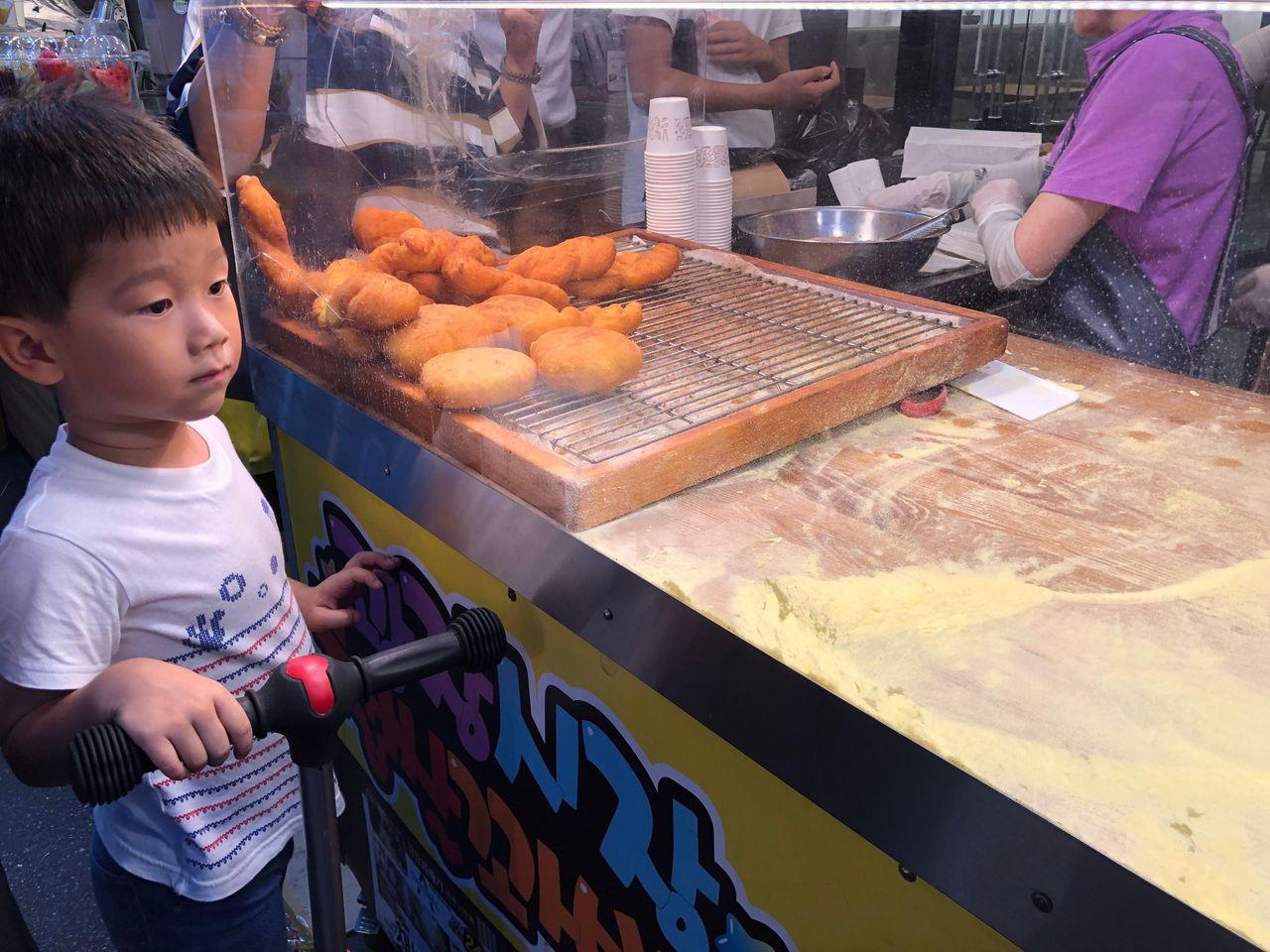 Of course, there are so much more food at Gwangjang Market than just the few mentioned above. Almost all traditional Korean dishes can be found in the streets of Gwangjang Market. Take your time to look around and immerse yourself in the authentic Korean market culture.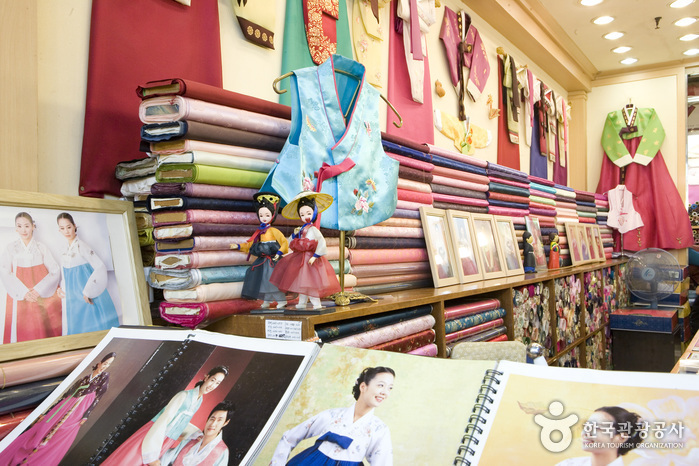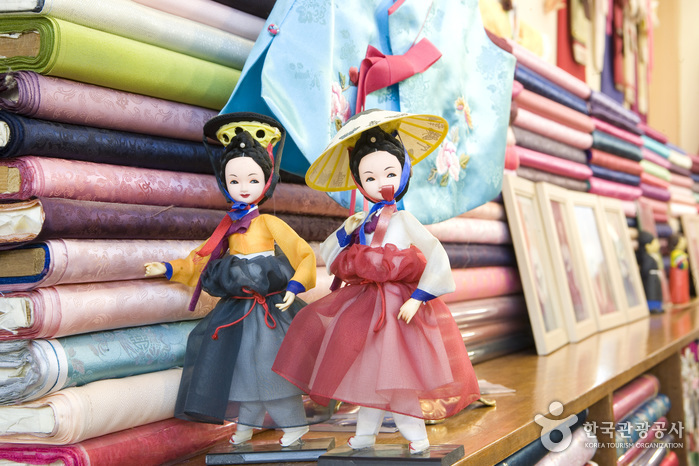 Gwangjang Market has more than just food. Venture further in and you'll find the general market where quilts, hanbok, and daily necessities are sold.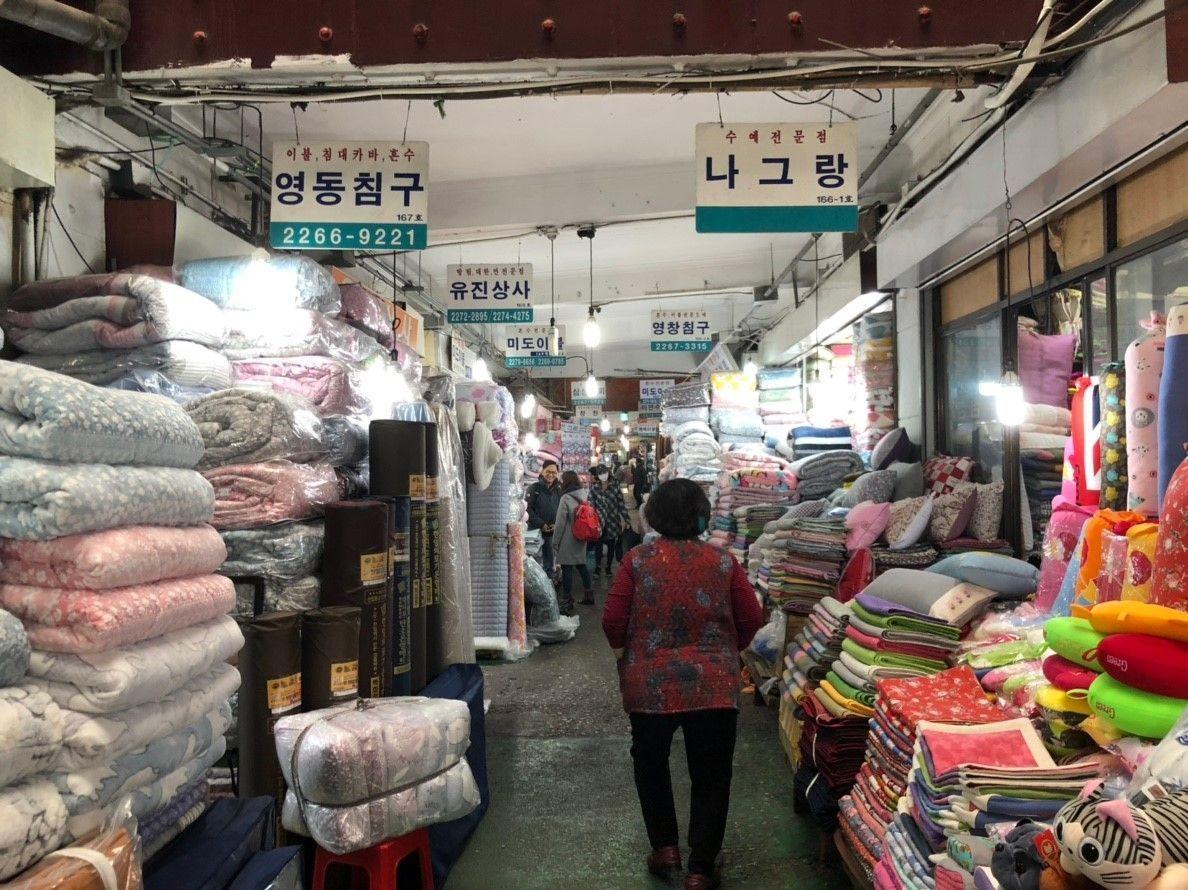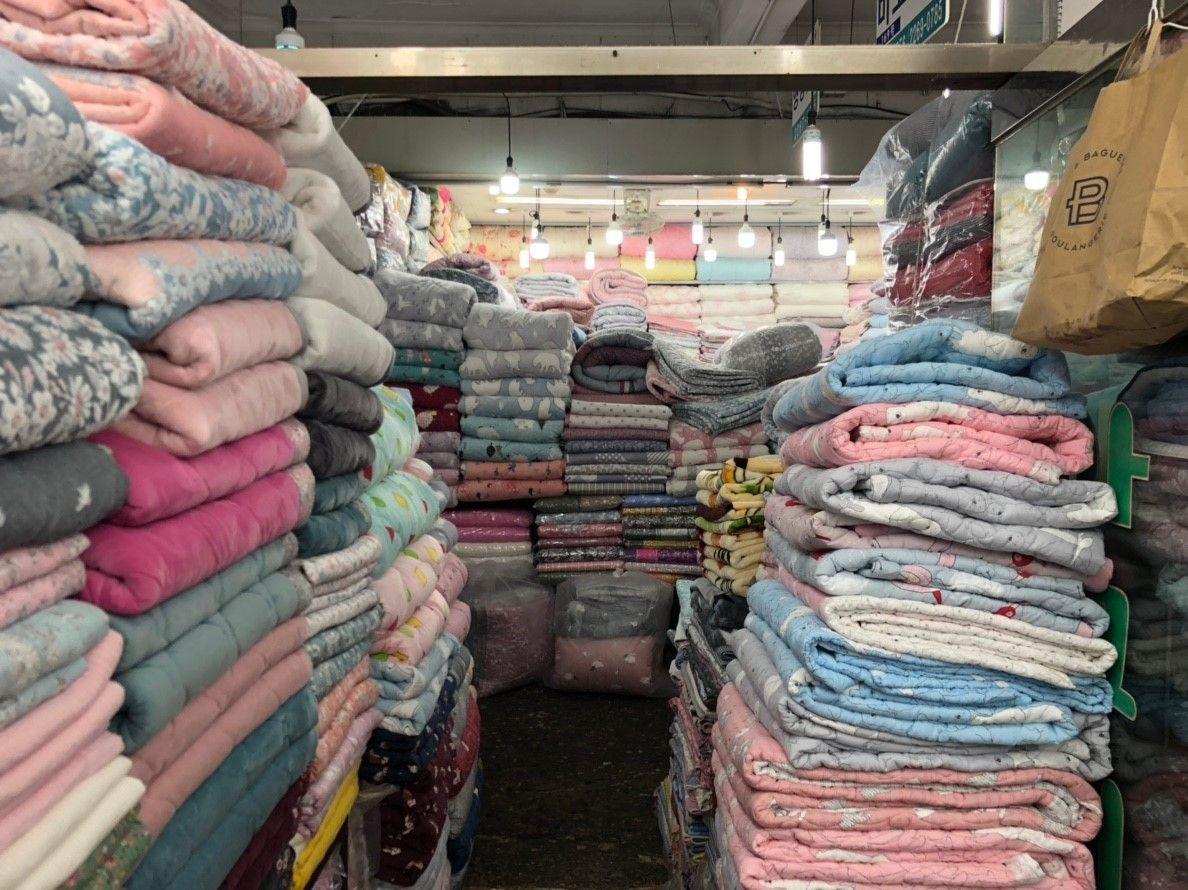 Have you visited the Gwangjang Market yet and experienced a bit of Korean tradition? Get some great food, and wander around to get the full experience.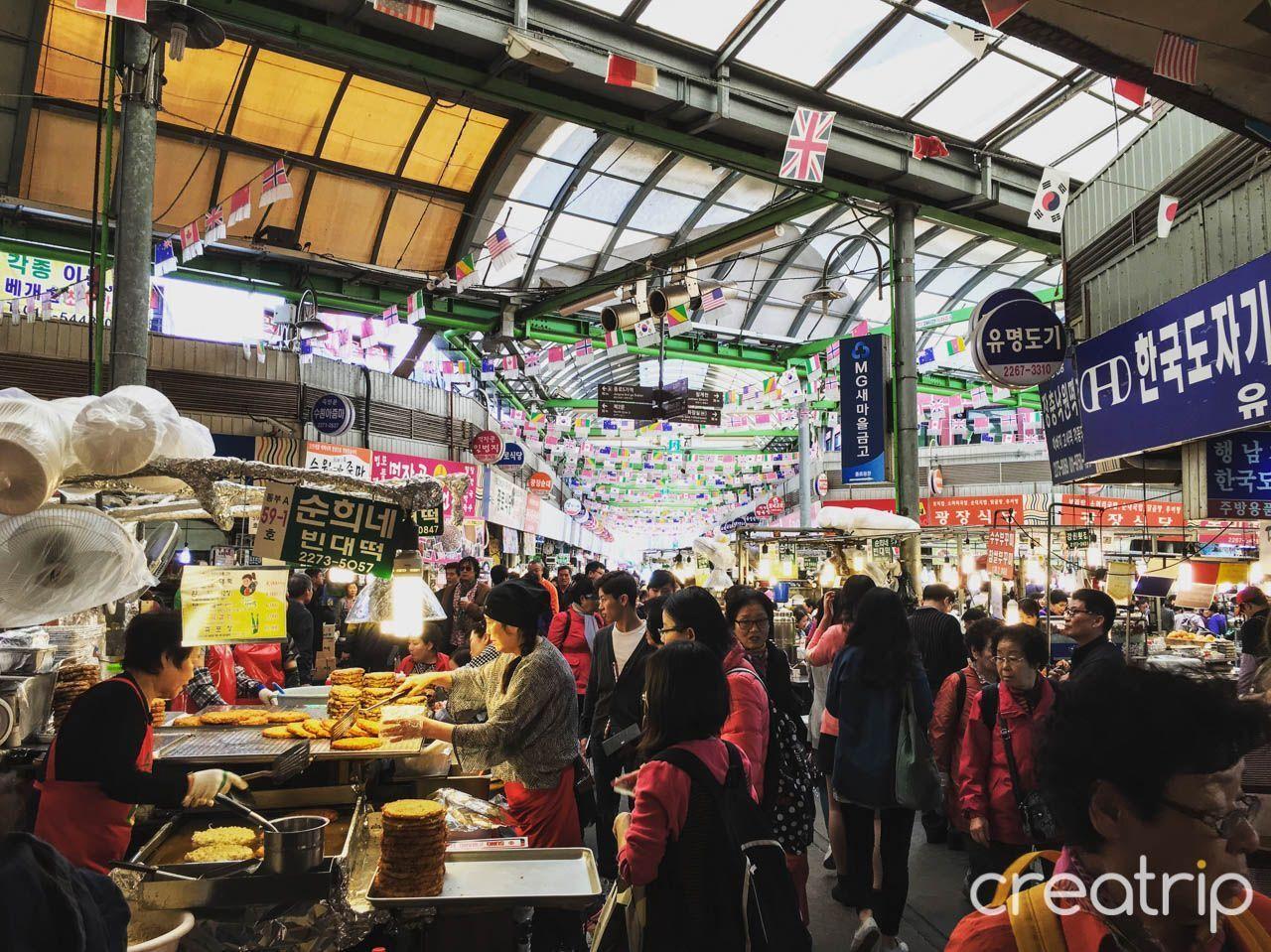 At a convenient location that's easy to reach via public transportation, Gwangjang Market has long been Seoul's favorite market. Everytime I come to Seoul, I always make sure to visit and have a look around.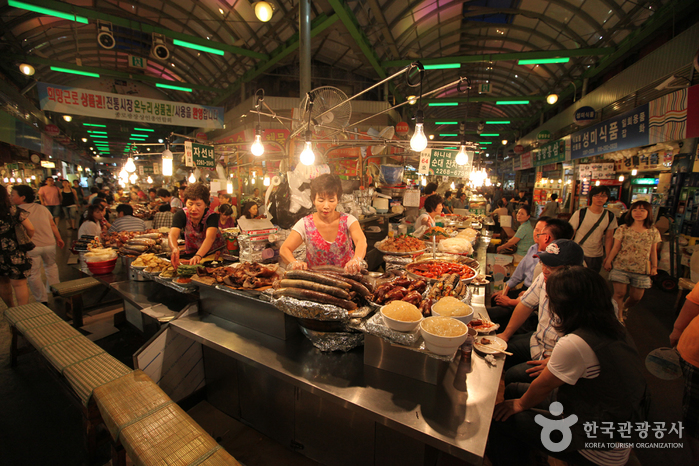 Although admittedly, there is increasing concern that Gwangjang Market is changing and no longer what it used to be due to the saturation of sightseers and foreign tourists. The vendors are no longer the kind Korean aunties of the past, but rather rude and harsh.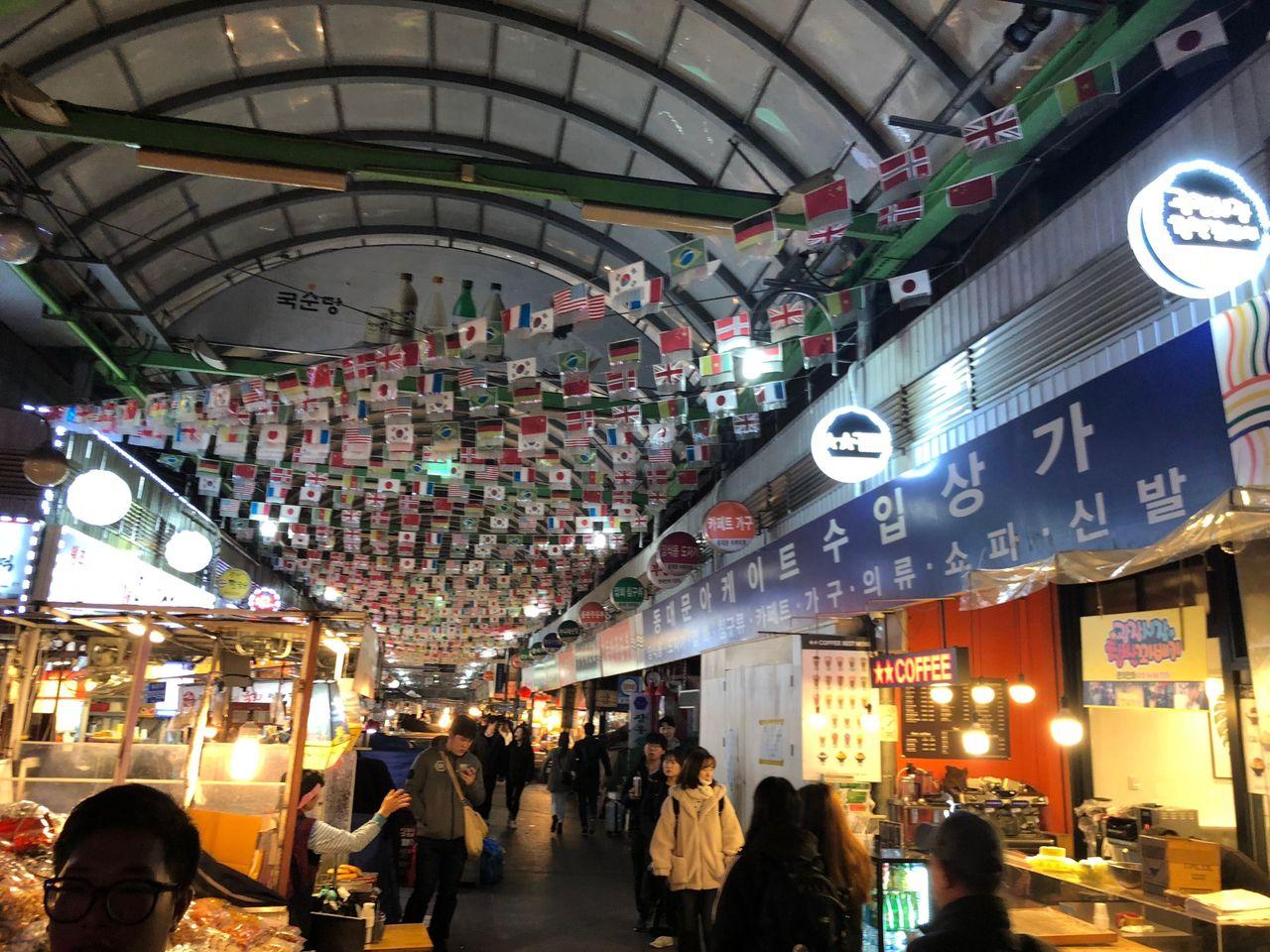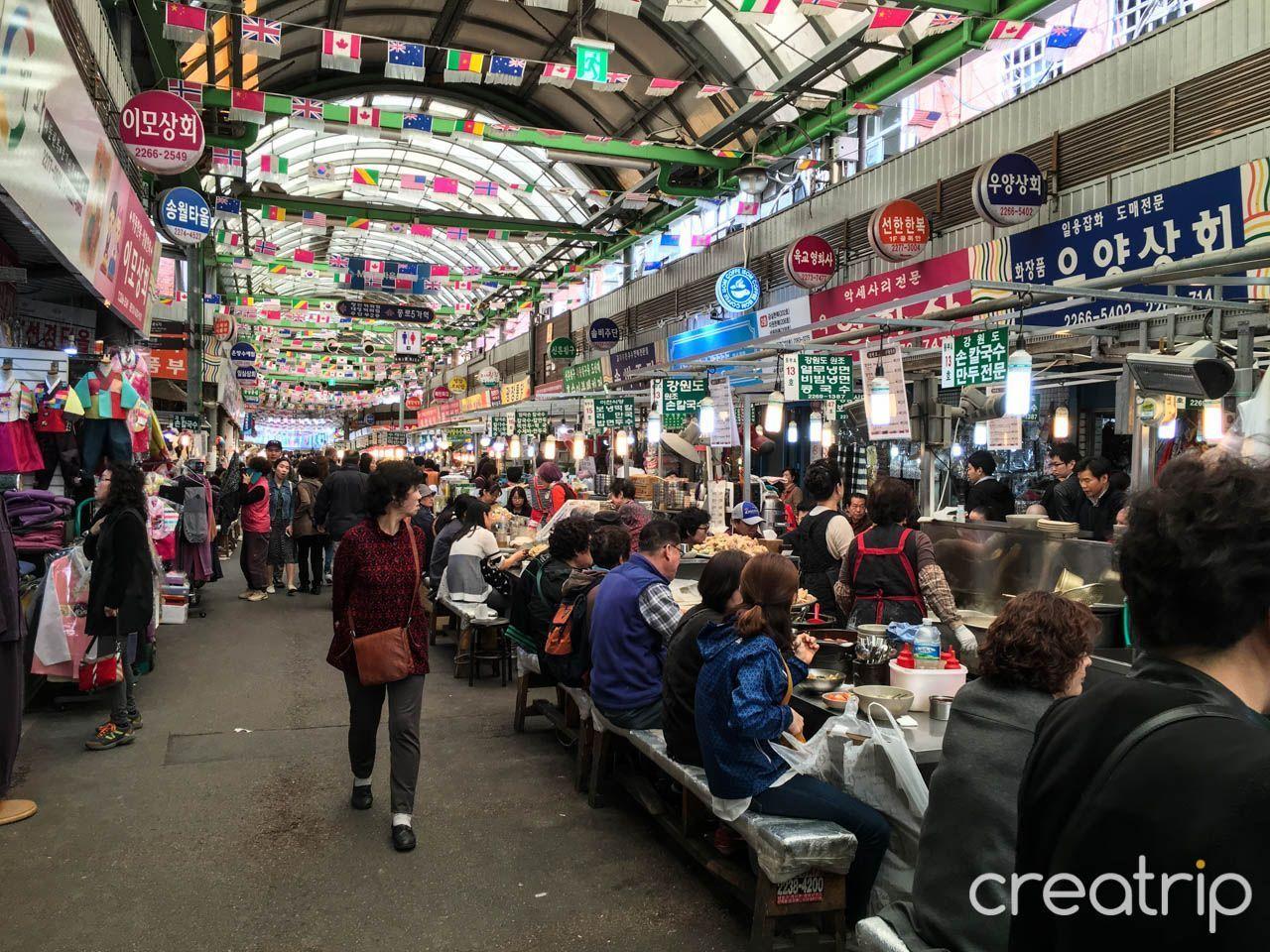 ---
I also have to admit that Gwangjang Market is getting more expensive with each year and the vendors are getting meaner.
But Gwanjang Market is still one of the best traditional Korean markets that has a long standing history and tradition. Explore for yourself and see if you think it's an authentic expeirence or another tourist trap.
Until next time!