Gwangjang Market Visit
Gwangjang Market, a local gem or a tourist trap?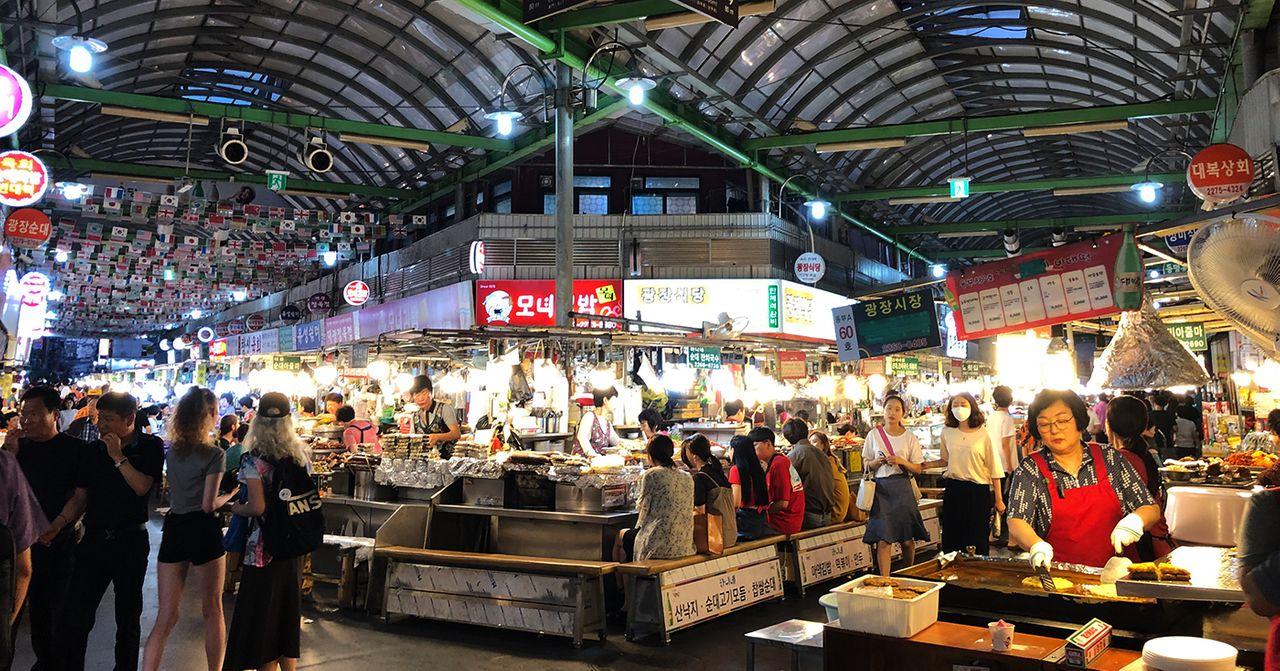 The most famous traditional market in Seoul is the "Gwangjang Market" on the 5th Street of Jongno, which is located next to Dongdaemun. It has a long history and a large area. It is located in the center of Seoul and is a place where many people come to Seoul and will definitely visit Seoul this traditional market! It is so famous that it has appeared on countless of T.V shows such as Netflix's "Street Food".
---
Information
Address: 서울 종로구 종로 4가 창경궁로 88
88 Changgyeonggung-ro, Jongno-gu, Seoul
Hours: General Market: 10:00- 19:00, Closed Sunday
Snack Vendors: 09:00- 23:00 (Open year-round)
Transportation: 8-minute walk from Exit 8 of Jongro 5-ga Station (종로 5가역)
---
Our Visit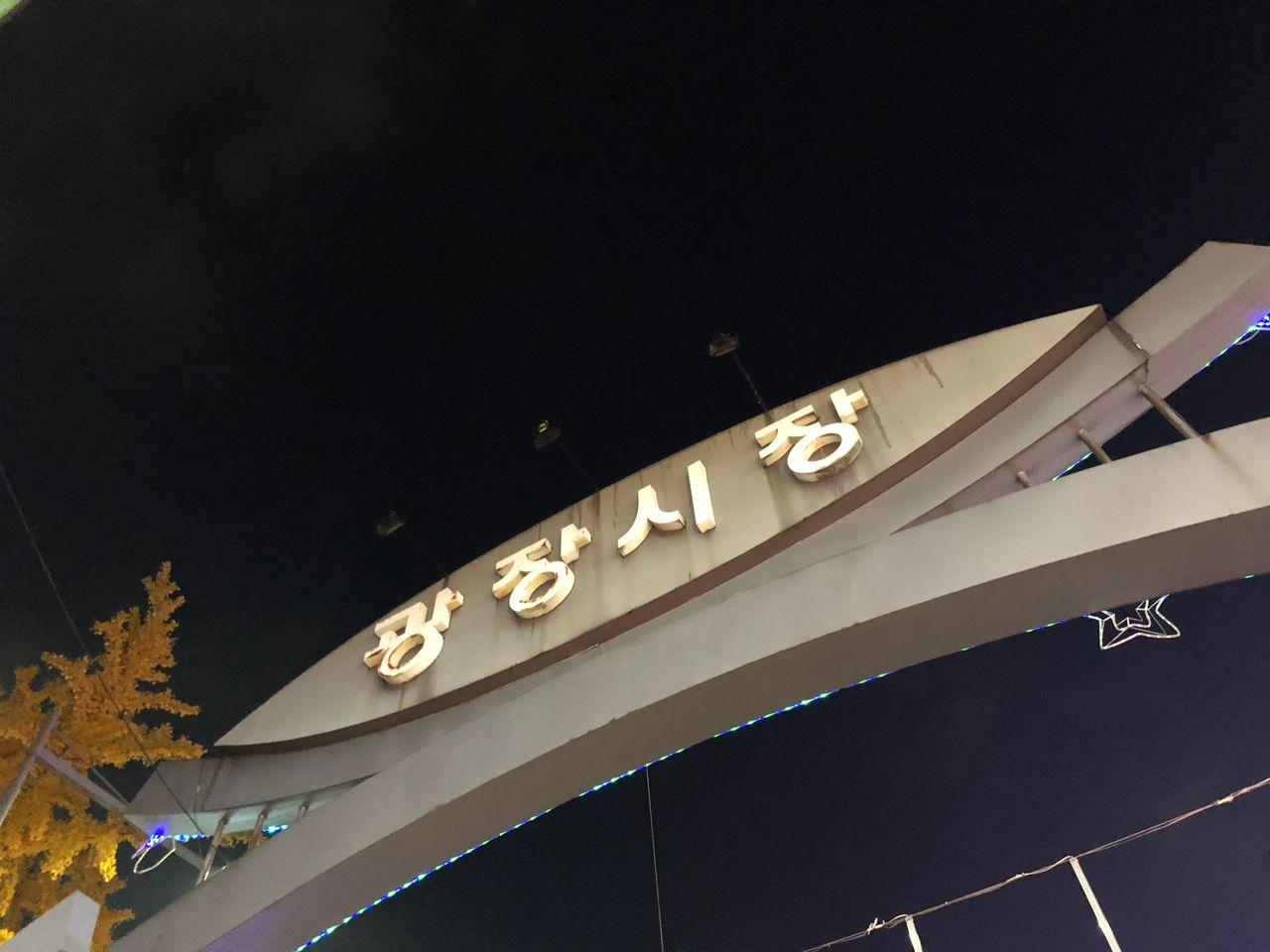 The Gwangjang market is a traditional market with a long history. The management rights of Namdaemun Market were lost to the Japanese after the Korea-Japan Agreement of August was signed in 1904. To keep the straining economy afloat, Koreans established a new market. Thus, Gwangjang Market was born in 1905. It was originally located between the then-standing Gwanggyo Bridge and Janggyo Bridge, which is how Gwangjang Market got its name. But due to the difficulty of maintaining the market when the rain was too heavy, the market was relocated to a site near Dongdaemun, which used to be the site of the old Ehwa Market.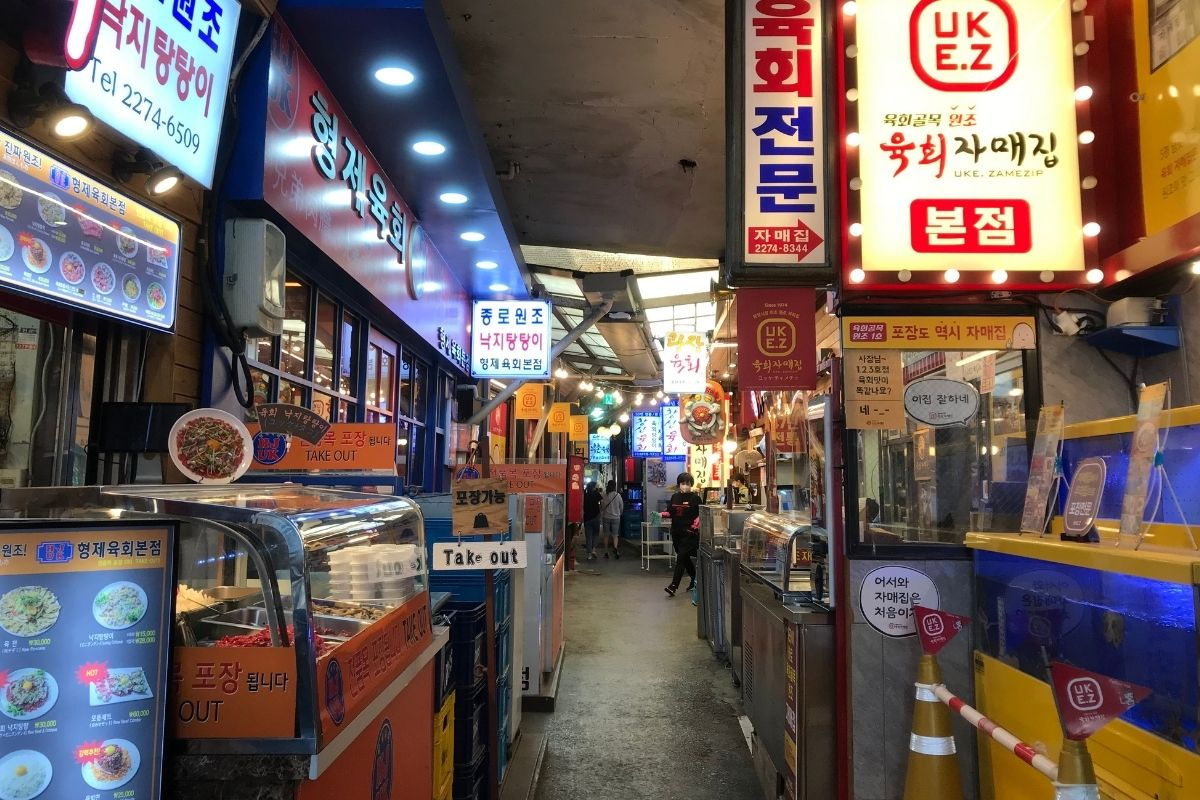 The Korean name remains unchanged, but the hanja (Chinese characters) was changed to mean "to be widely preserved."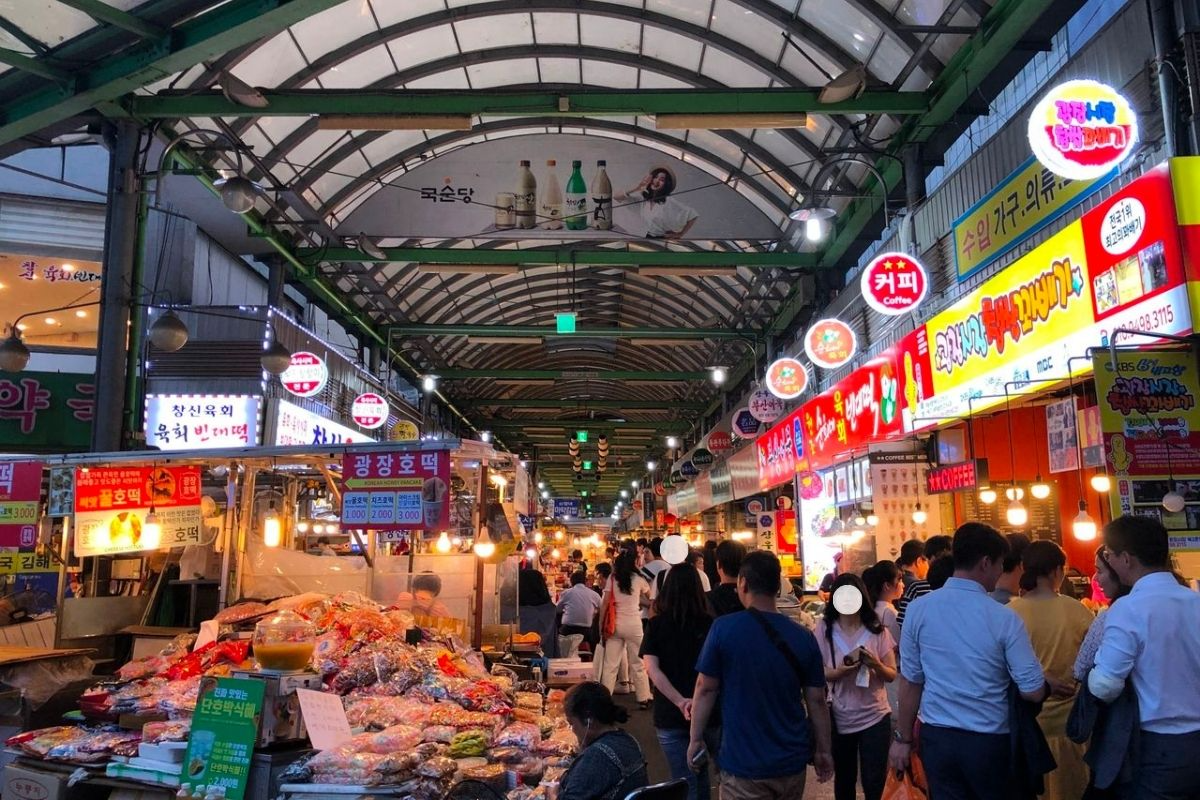 Next to the food market is an area where they sell quilts and other traditional Korean goods.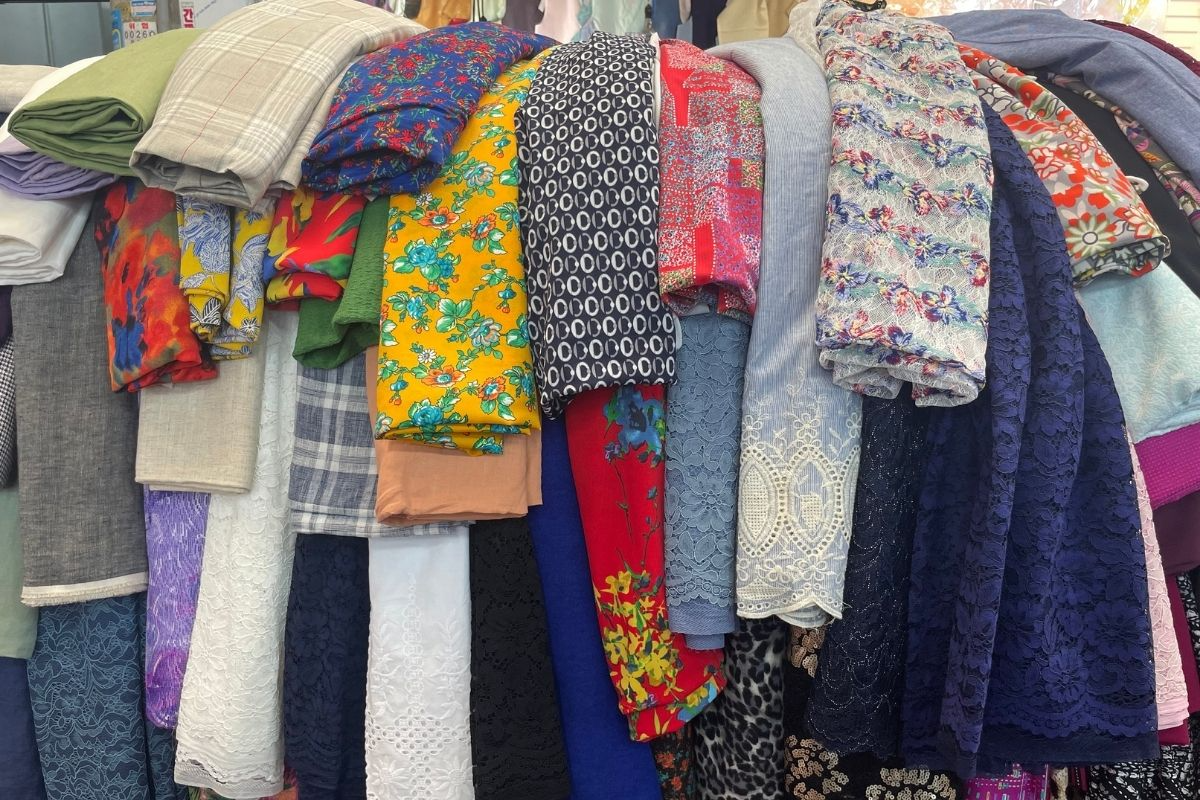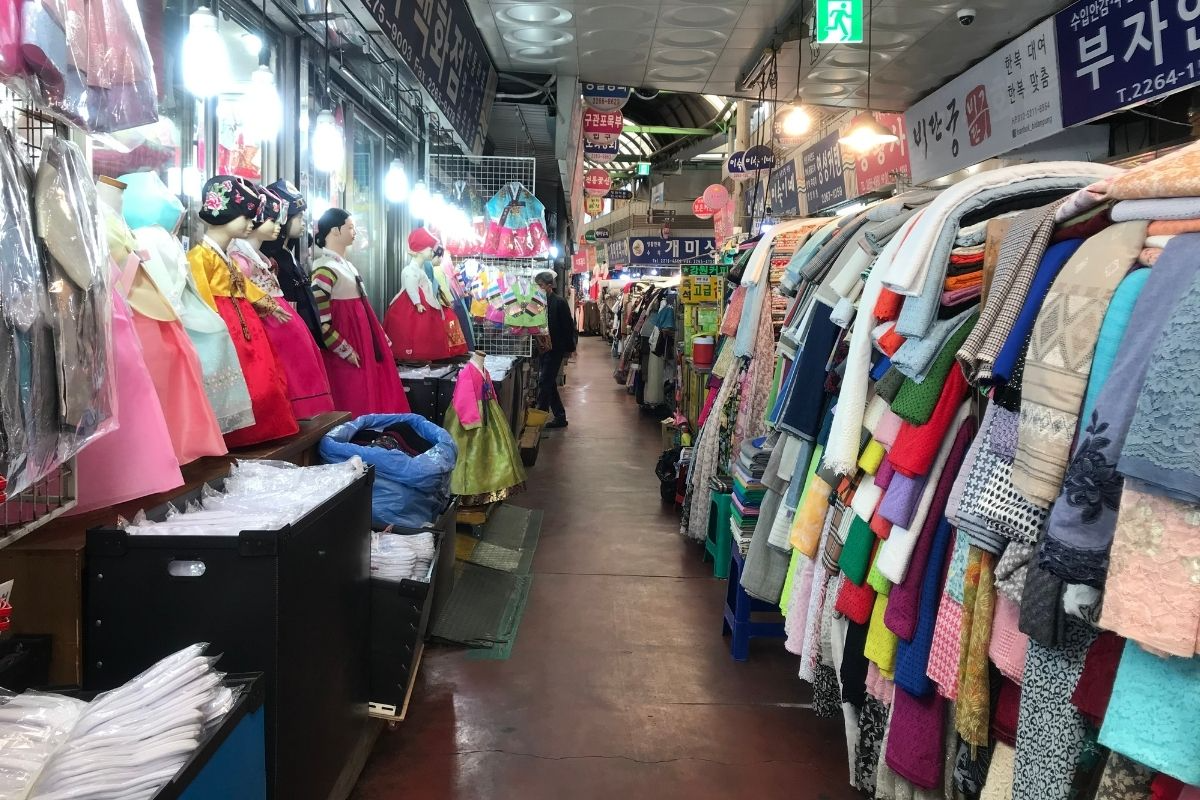 Gwangjang Market is packed with people from morning till late at night, on weekdays and holidays. Friday nights, weekends, and holidays are always super crowded. If you're planning on visiting, I suggest that you come during the day on weekdays.
Tip! Don't forget to bring cash! Although many of the stalls accept cards, some stores might not accept foreign cards.
---
What to Eat at Gwangjang Market
1. GoHyang Kalguksu (고향칼국수)
Gwangjang Market Stall A70
Hours: 08:00 - 23:00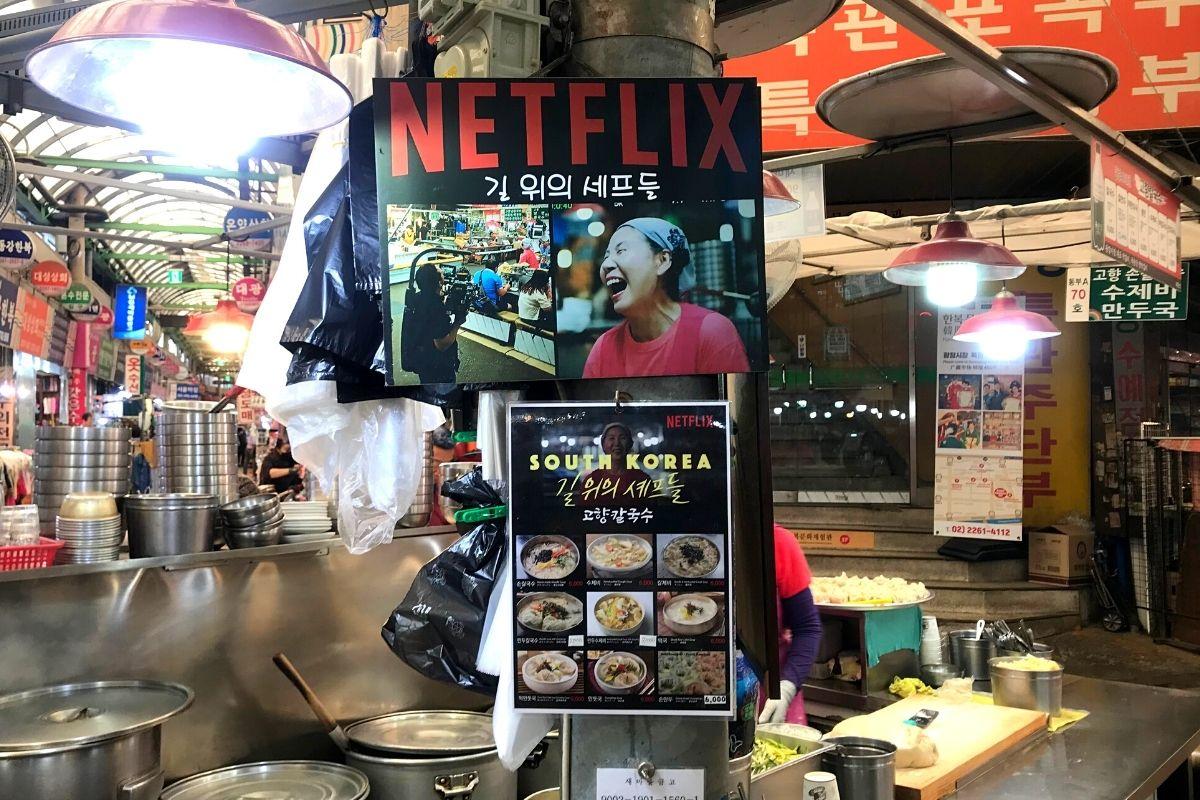 The first store on our recommendations list is Gohyang Kalguksu, which is located in the center of the market. This store is known for being featured in the Netflix documentary "Street Food". It's very easy to find since it's near the entrance and there can be easily spotted by the banner with the Netflix logo.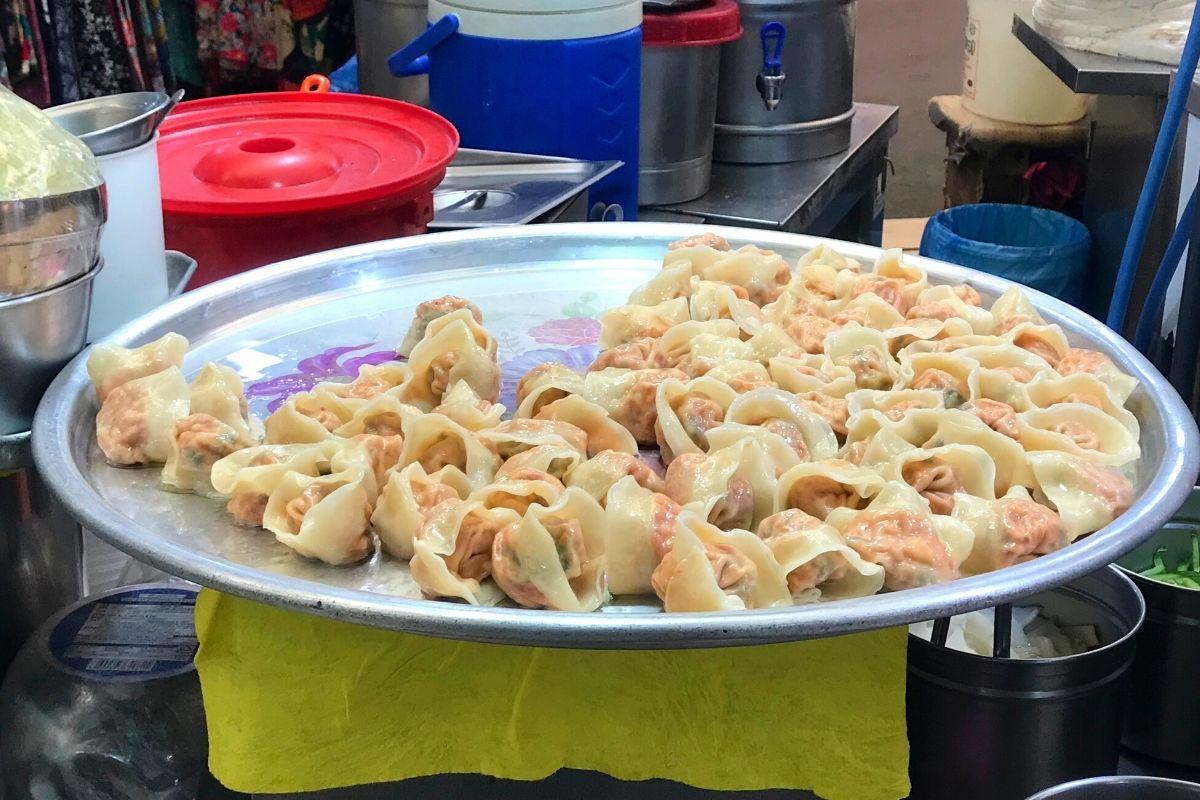 Since we arrived right when it opened, we found the owners preparing the ingredients. The smell had our mouths already watering. They have two types of dumpling on the menu, which is handmade on the spot: pork dumplings and kimchi dumplings.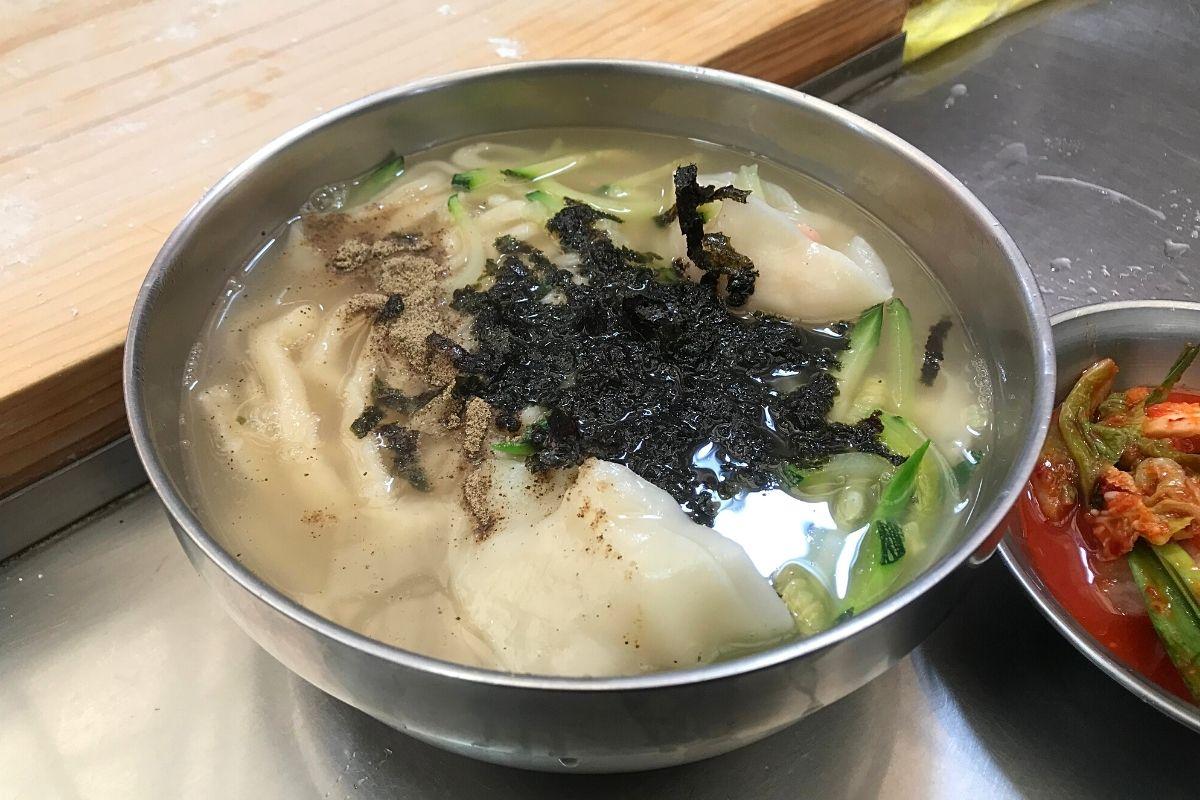 The noodles are what they are known for. The handmade knife-cut noodles are made by the owner that is seen kneading the dough and cutting it into noodle strips. Since the noodles are freshly made, it has a decent chew and goes perfectly with the soup. The price is also super affordable at 6,000 KRW for a bowl of noodles and 7,000 KRW for a bowl of noodles with dumplings.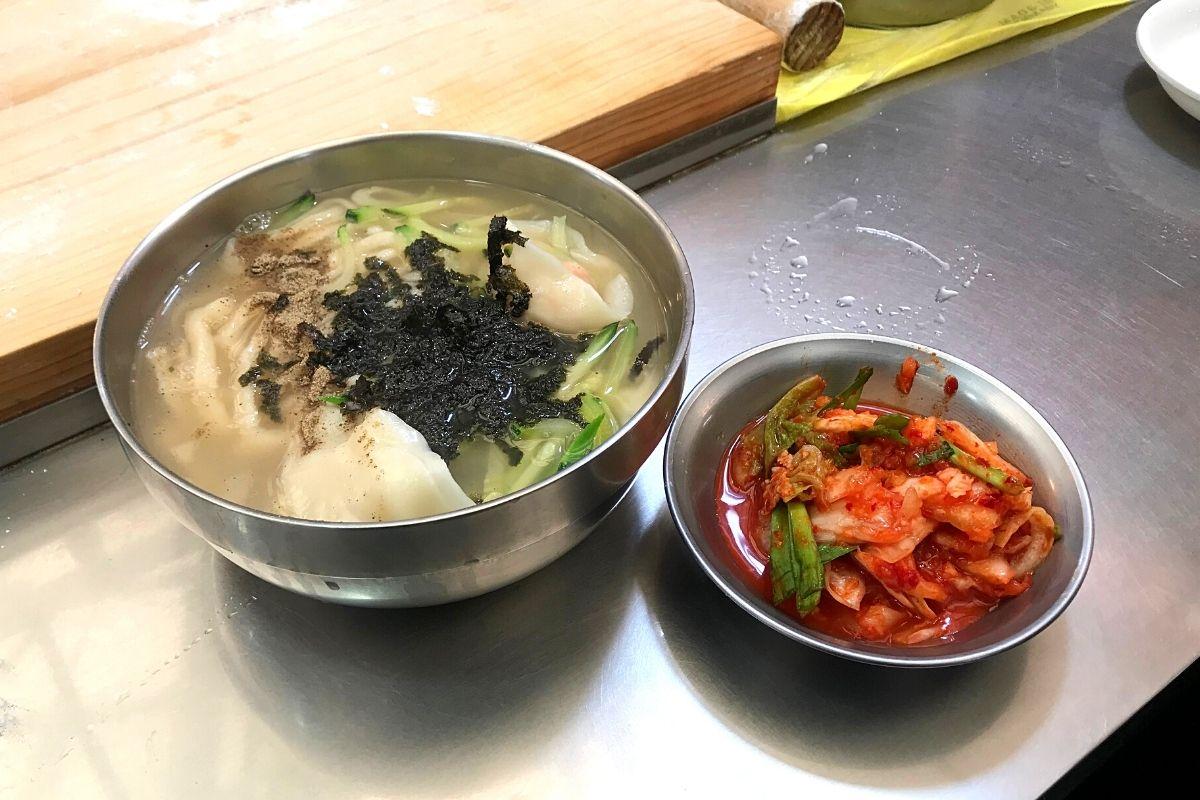 You can tell whether or not a kalguksu restaurant is a good spot or not by its kimchi. And this place had the kimchi that was equally as good as the noodles! The slight spiciness paired well with the hot soup noodles. If you want to visit this stall, but can't speak Korean, don't worry because the owner can speak simple English!
2. Seongwoo Yukhoe
Hours: 10:00 - 22:00 (Last order 21:00; closed on Wednesday)
Click here for more information.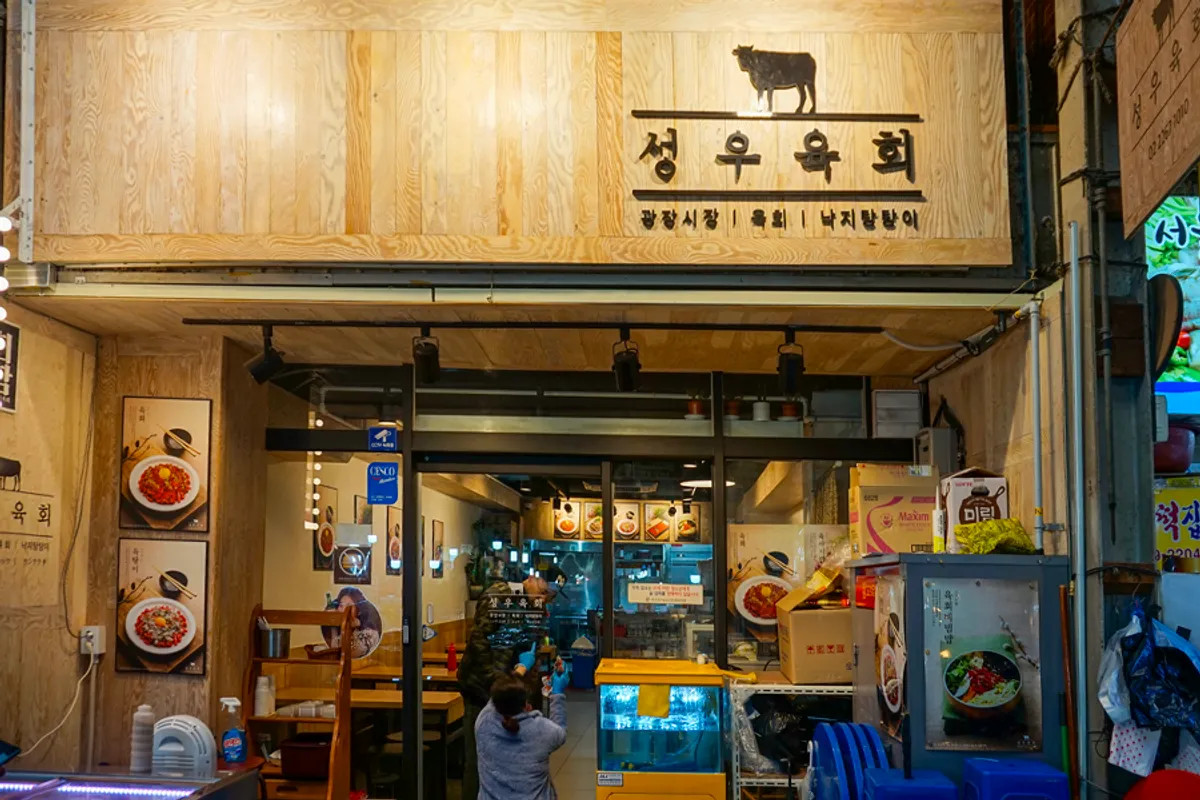 The next spot we're going to recommend is Seongwoo Yukhoe, where they sell a Korean dish called yukhoe, which is a dish consisting of marinated raw beef, like beef tartare but with Korean seasoning. The beef is cut into thin slices and seasoned with traditional Korean seasoning like soy sauce, sesame oil, etc. Many Koreans like to come to Gwangjang Market to eat yukhoe so much so that there are several stalls specializing in this dish. It may seem too exotic for people who have never had raw beef before, but after trying it for the first time, you might come back for more. The average price for a plate of yukhoe is around 17,000 KRW.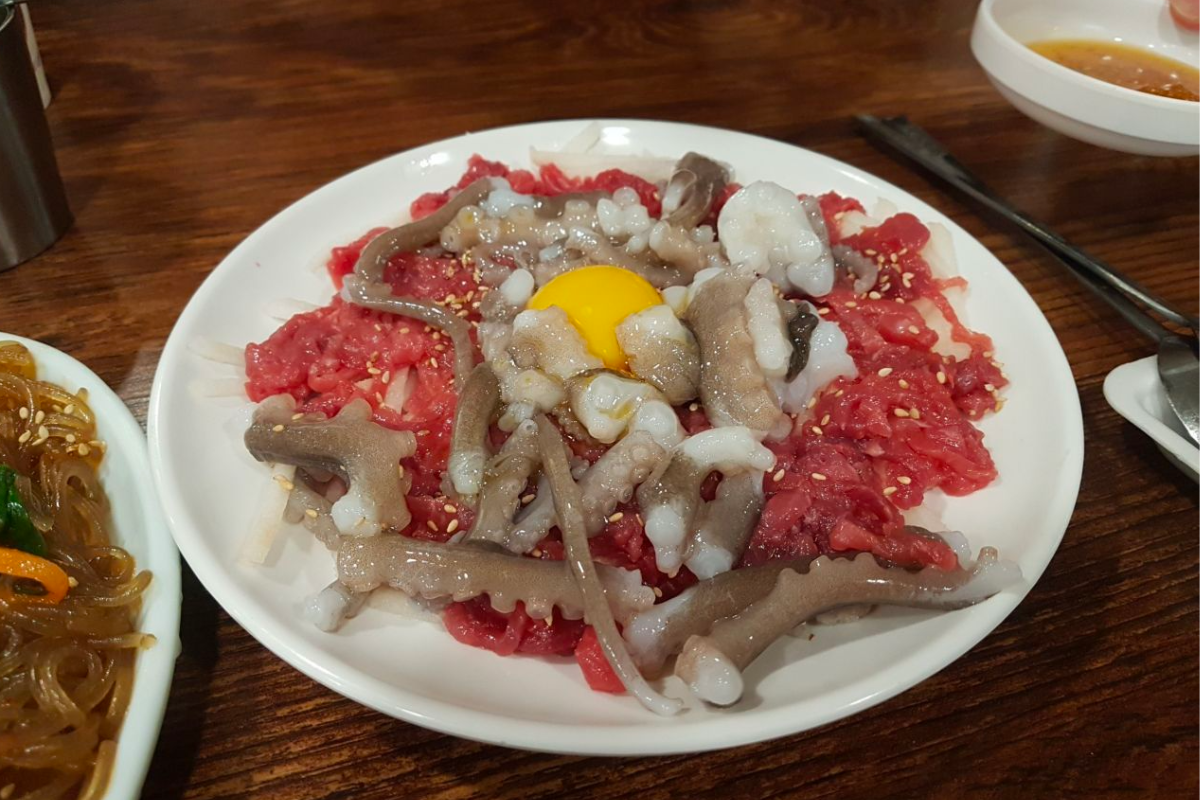 There is also a variation of yukhoe called Yukhoe Tangtangi, which is the yukhoe topped with raw baby octopus. Live octopus is freshly prepared and chopped into pieces. It may look like it is still alive because it moves on the plate, but rest assured, the octopus is dead and is only moving because of the nerves.
3. Park Bindaetteok
Gwangjang Market Stall A59
Hours: 08:00 - 22:00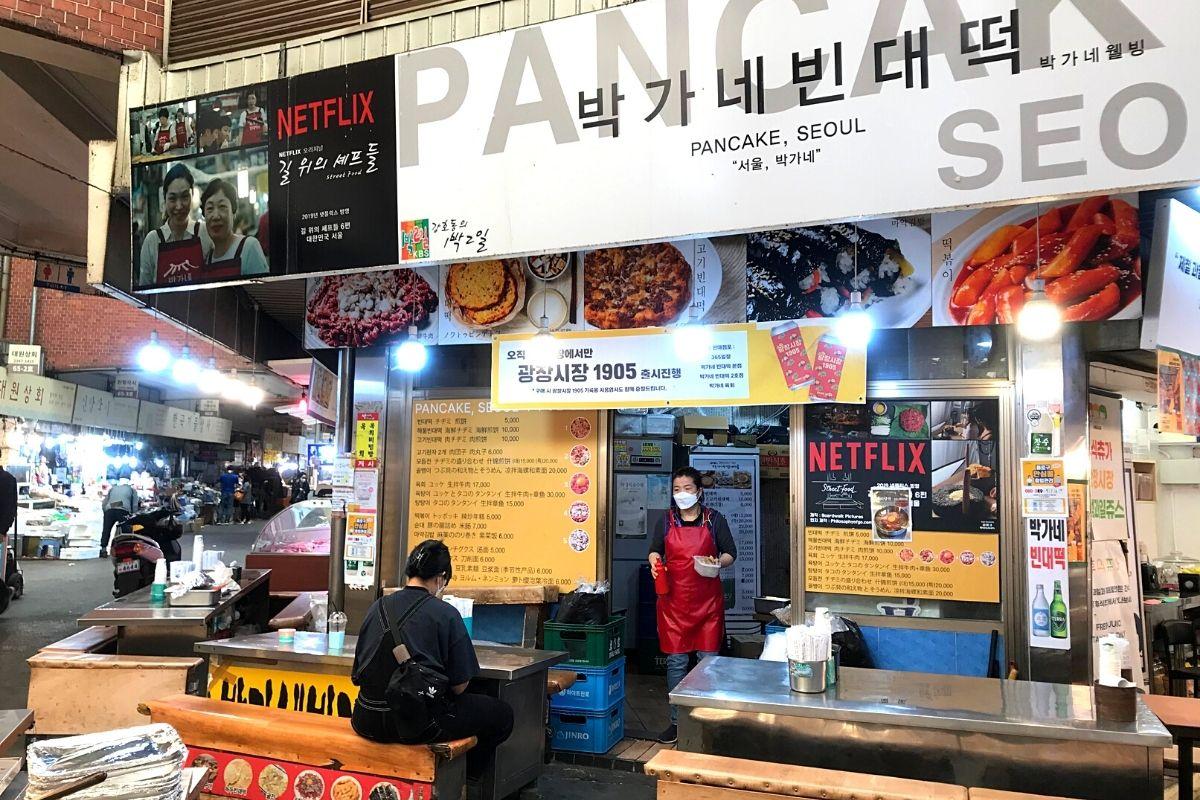 Gwangjang Market is filled with the sound of bindaetteok frying on pans filled with oil. Bindaetteok is a type of Korean pancake which is made out of mung bean batter. Out of all the bindaetteok stalls in the market, this particular stall was featured in the Netflix documentary 'Street Food: Asia'. Park Bindaetteok is not a stall but a restaurant with plenty of seats inside. They also have other items on their menu like tteokbokki, kimbap, yukhoe, and more.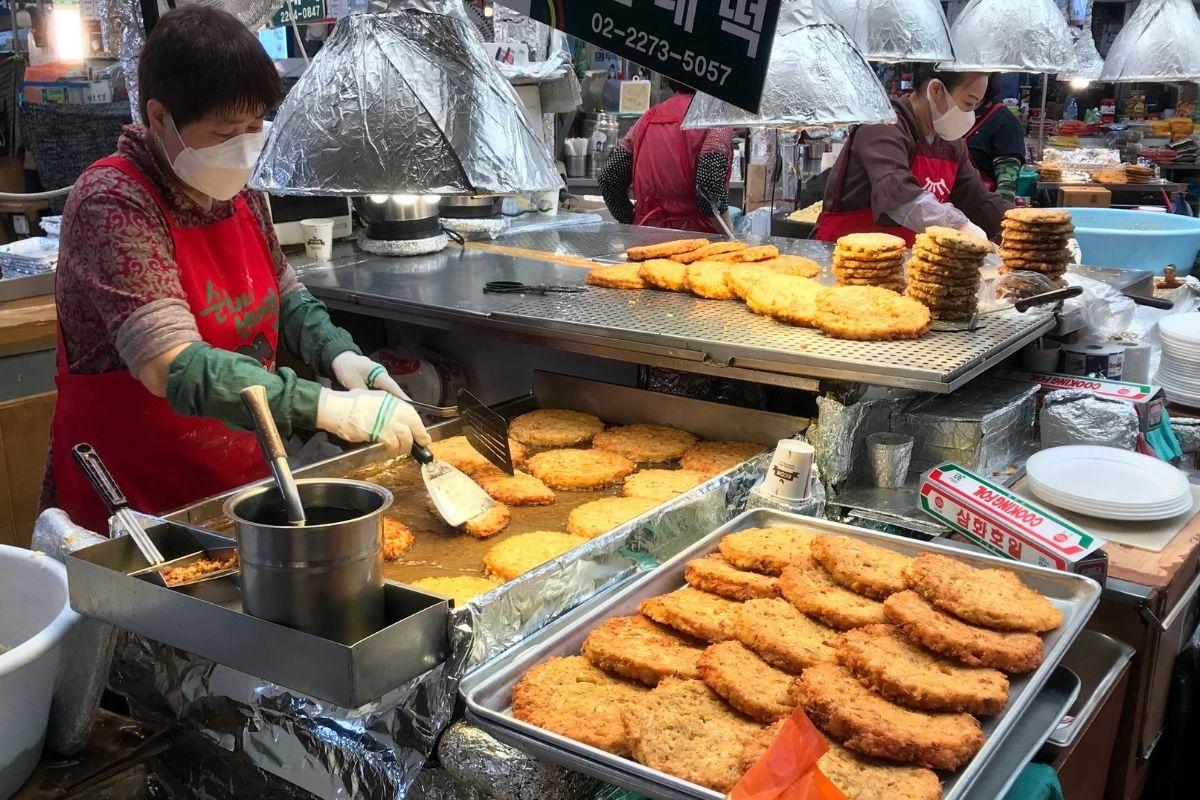 Bindaetteok is 5,000 KRW per piece. There is also a meat option which is an additional 5,000 KRW.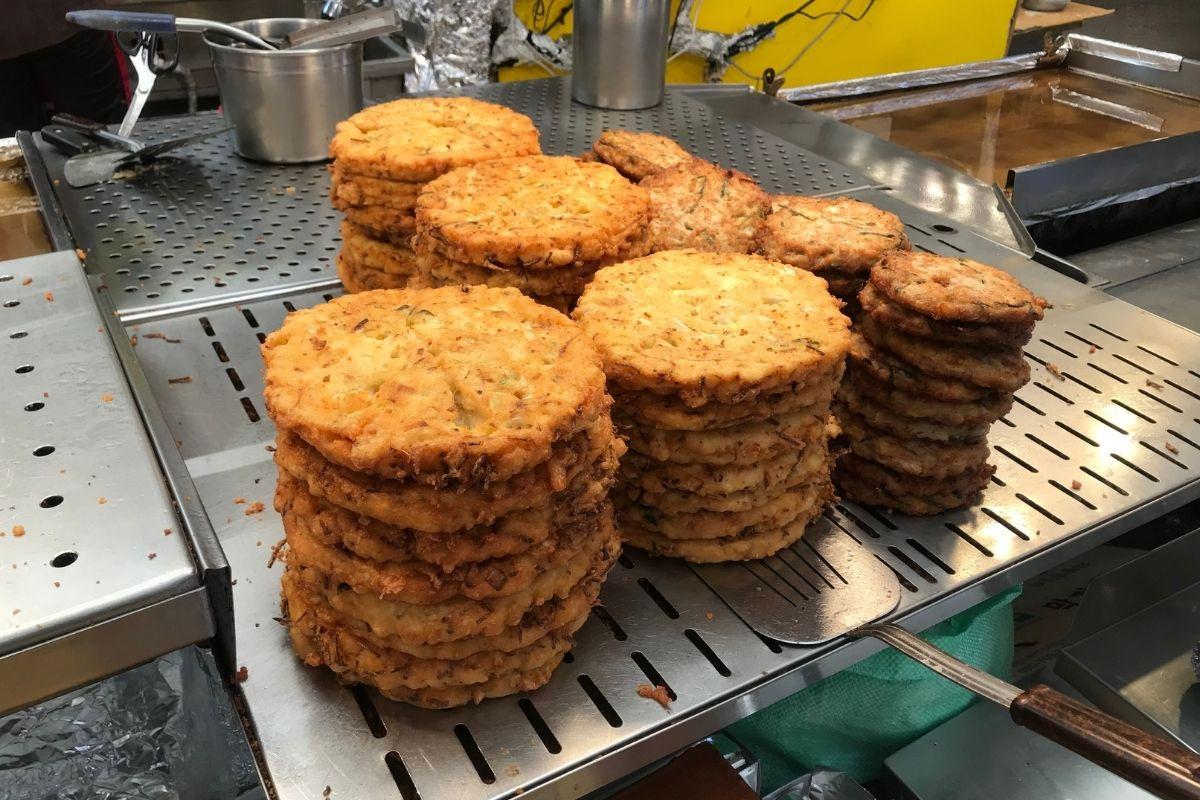 This pancake is made of ground mung beans, mixed with flour and other vegetables, and is fried until golden brown. It is so crispy and flavorful, definitely a must-have when at Gwangjang Market.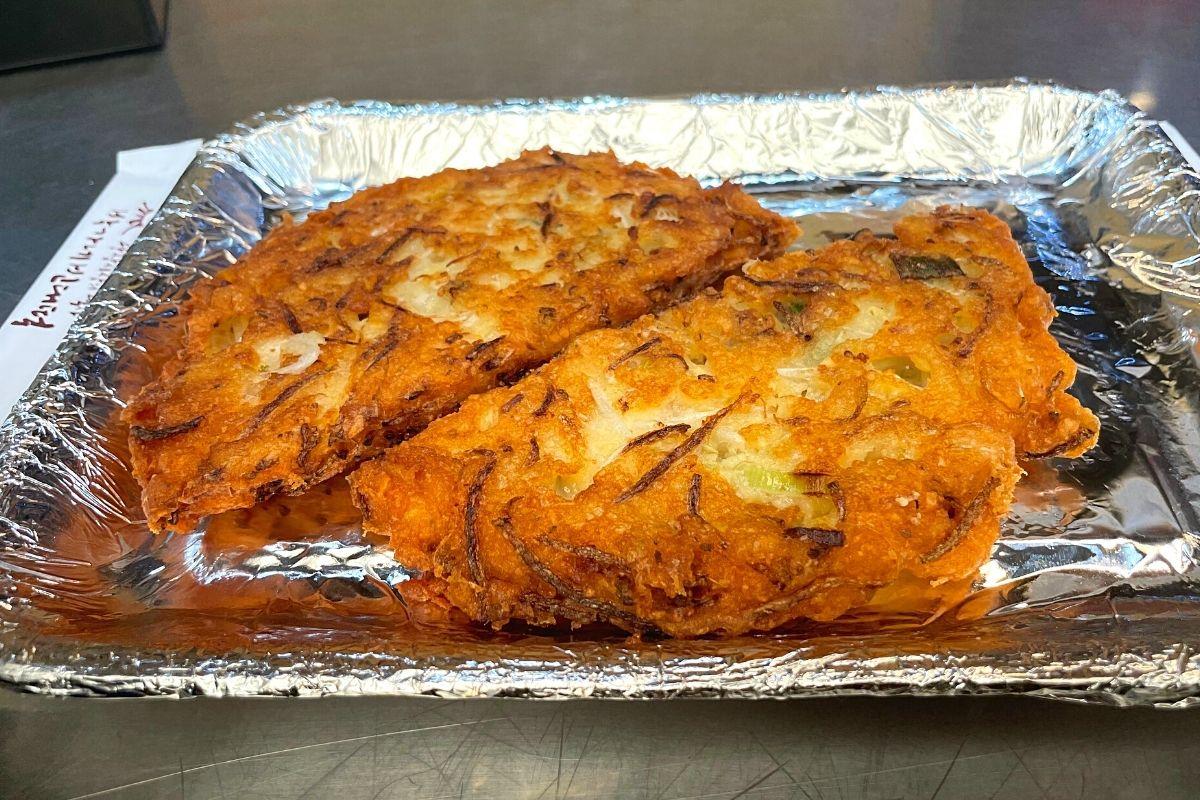 Get a piece of the pancake and dip it in the special sauce for even more flavor. Warning, the restaurant can get very busy so the ladies working here are a bit savage. Don't be scared or get hurt because they are like this to everyone.
4. Wonjo Jamae Mayak Kimbap
Gwangjang Market Stall A08
Hours: N/A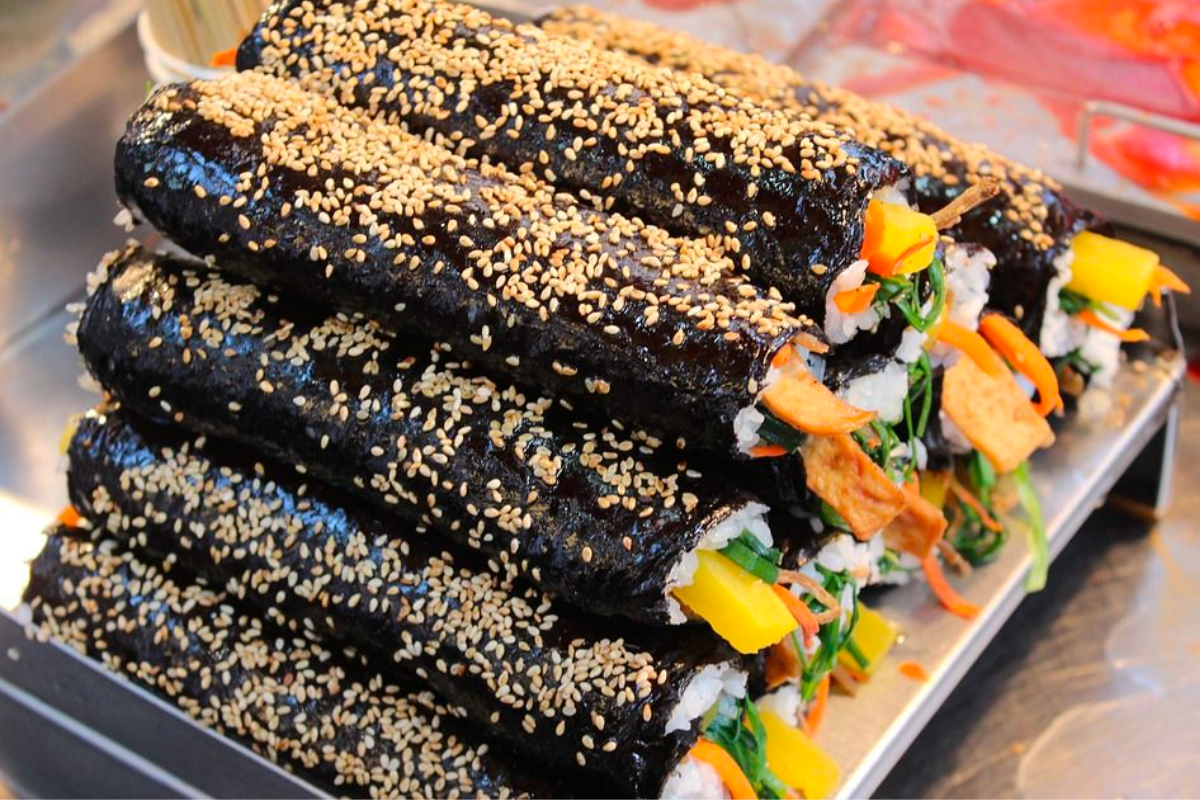 Another food item that is popular at the Gwangjang Market is Mayak Kimbap. Mayak translates to drugs in Korean, but don't worry, it has nothing to do with narcotics! The dish is named so because of its small size and because it is so addicting. Wonjo Jamae Mayak Kimbap is known for this dish.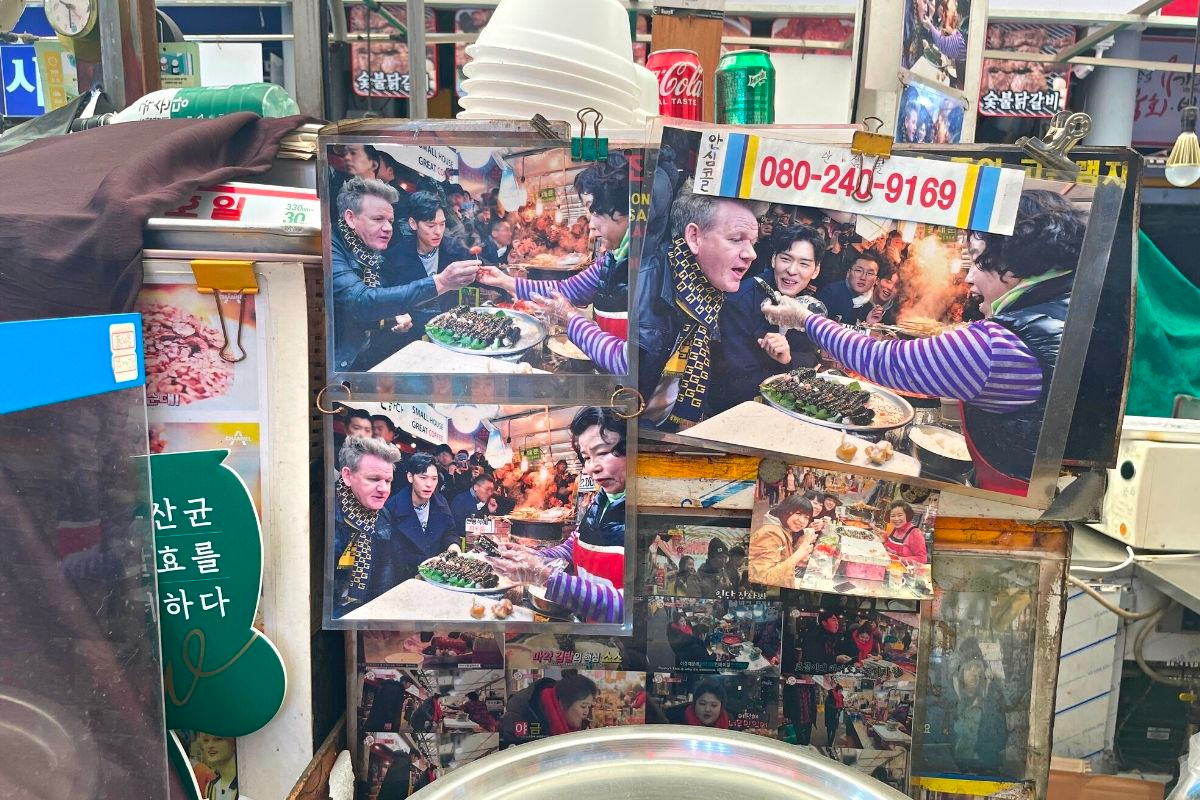 This stall was visited by the world-famous Gordon Ramsey, which the owner takes pride in, as she has pictures of his visit plastered on the stall. She also sells set menus where you can eat the mayak kimbap with tteokbokki. The sets start from 5,000 KRW and some are 6,000 KRW.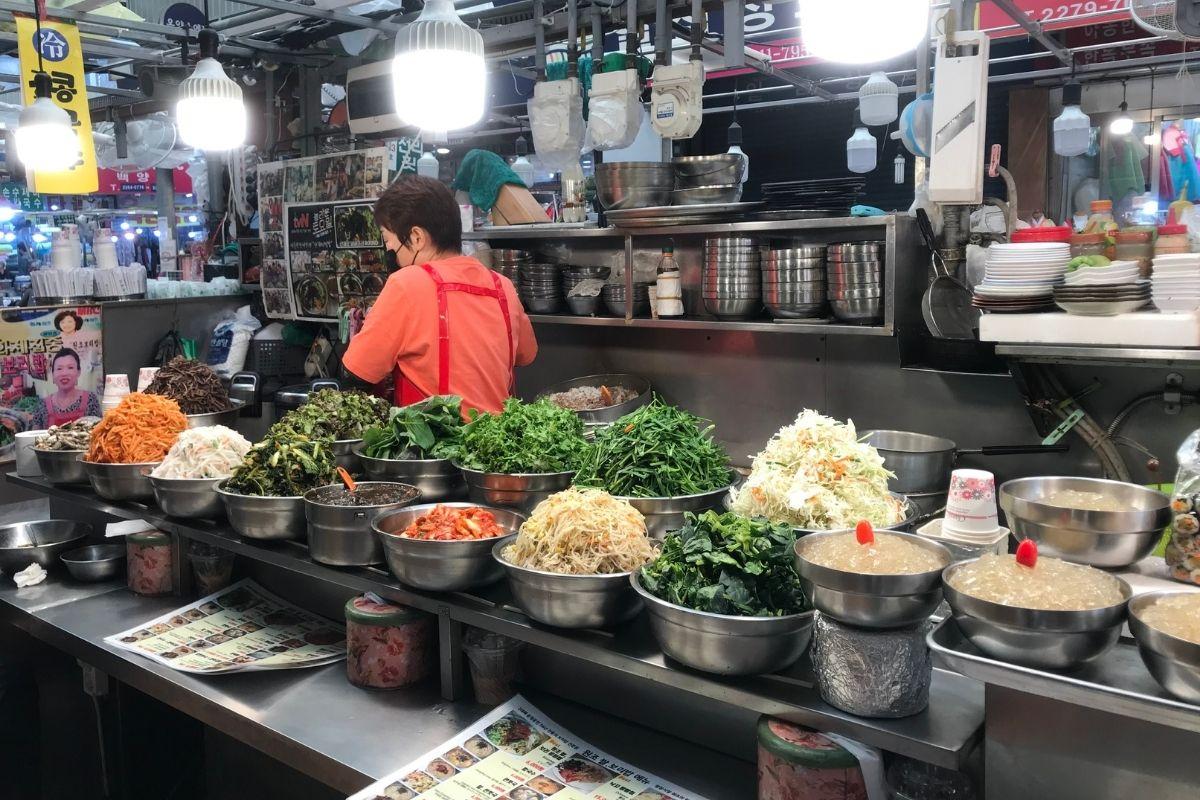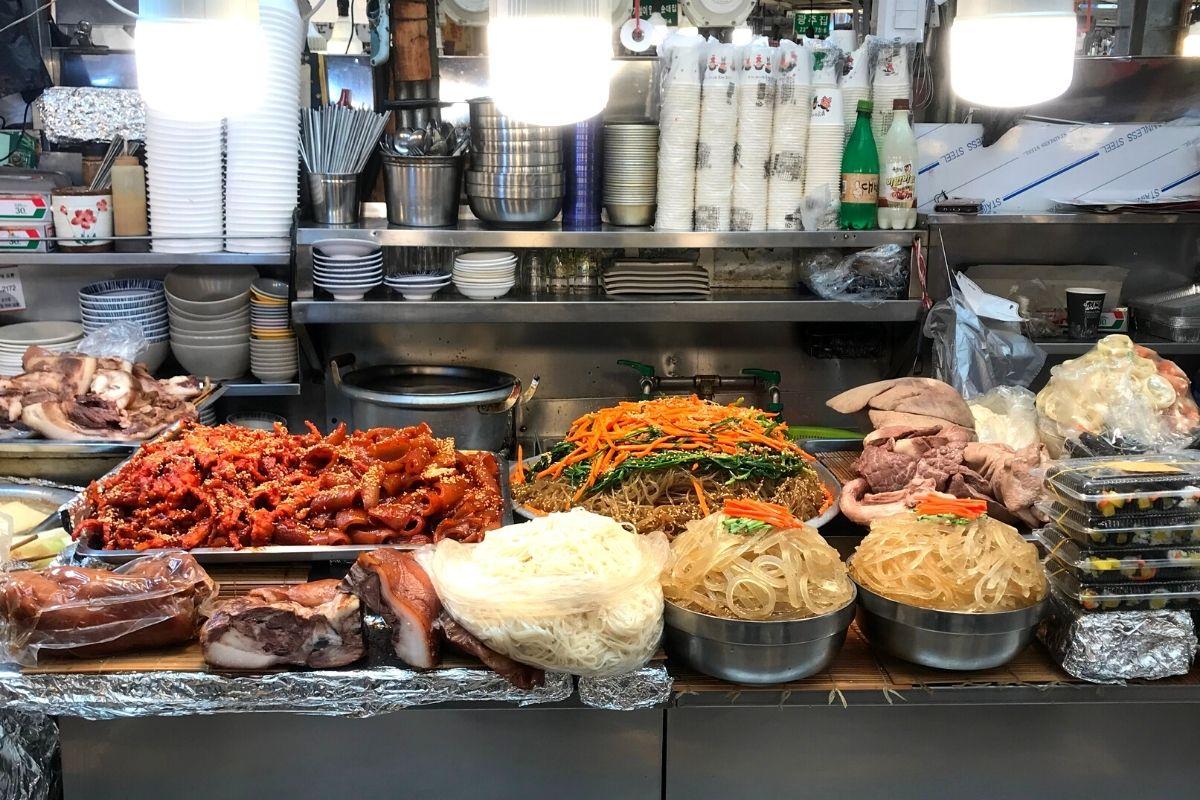 In addition to these stalls, there are a plethora of stalls that are all worth visiting! There are various street food stalls, including japchae and hotteok! All the stalls make their food fresh on the same day, so check them out!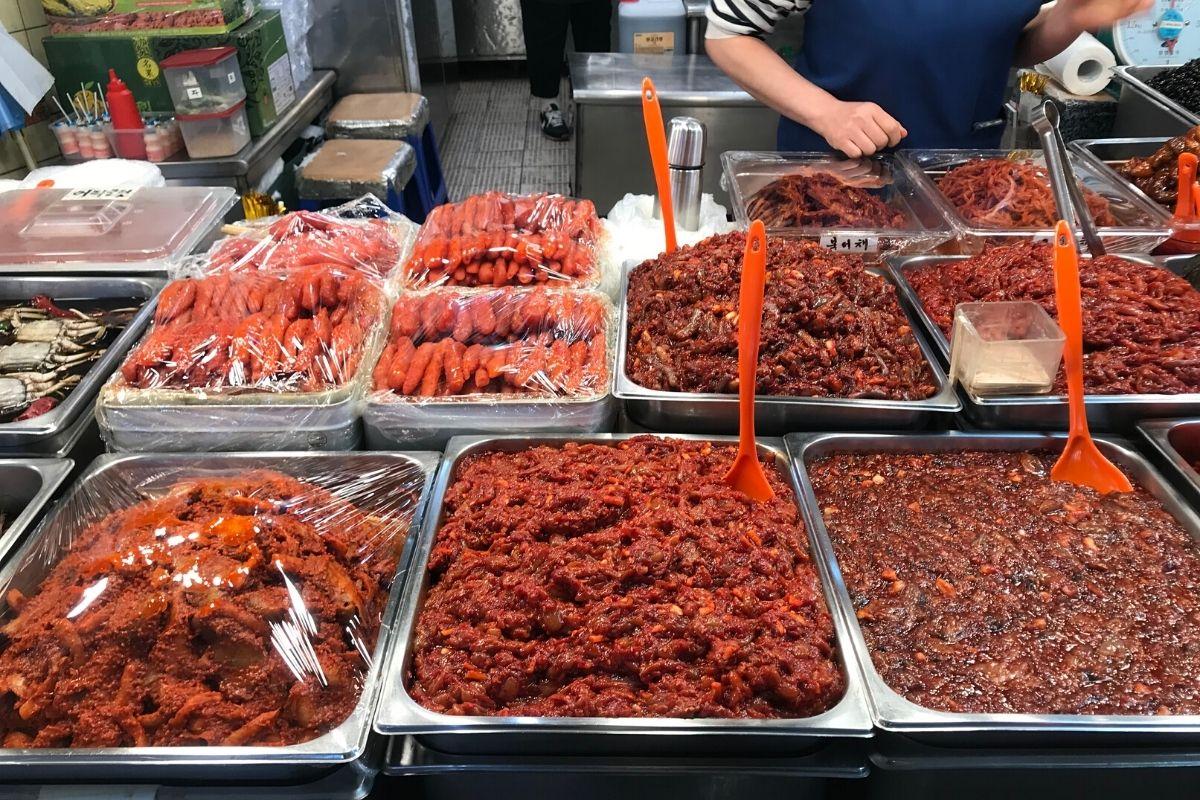 Besides the street food stalls, there are stores that sell kimchi and marinated foods that are often eaten as banchan(side dishes).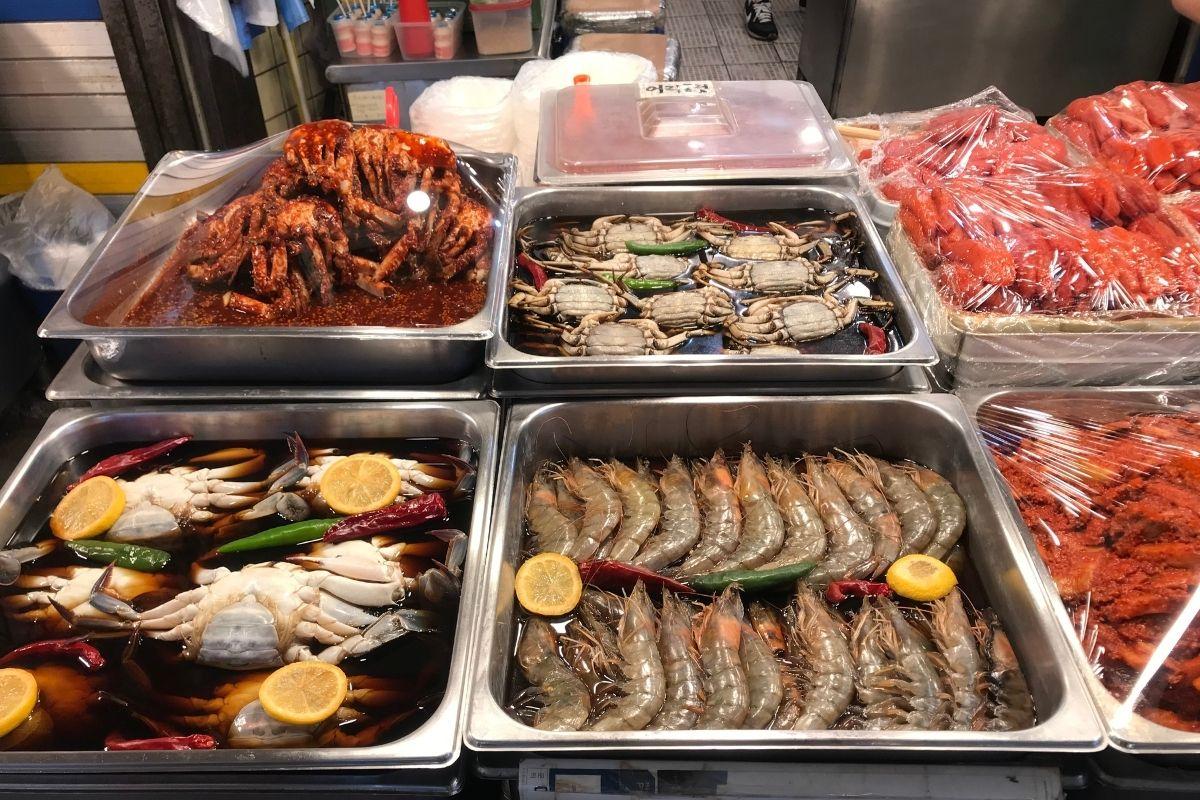 The stall owners might let you have a taste of some of the items if you're lucky. They are all delicious and fresh, so try them out!
Anyone that wants to get a taste of real authentic Korean food needs to go to Gwangjang Market. There is so much to try so make sure to go on an empty stomach!
---
More to See at Gwangjang Market

1. Hanbok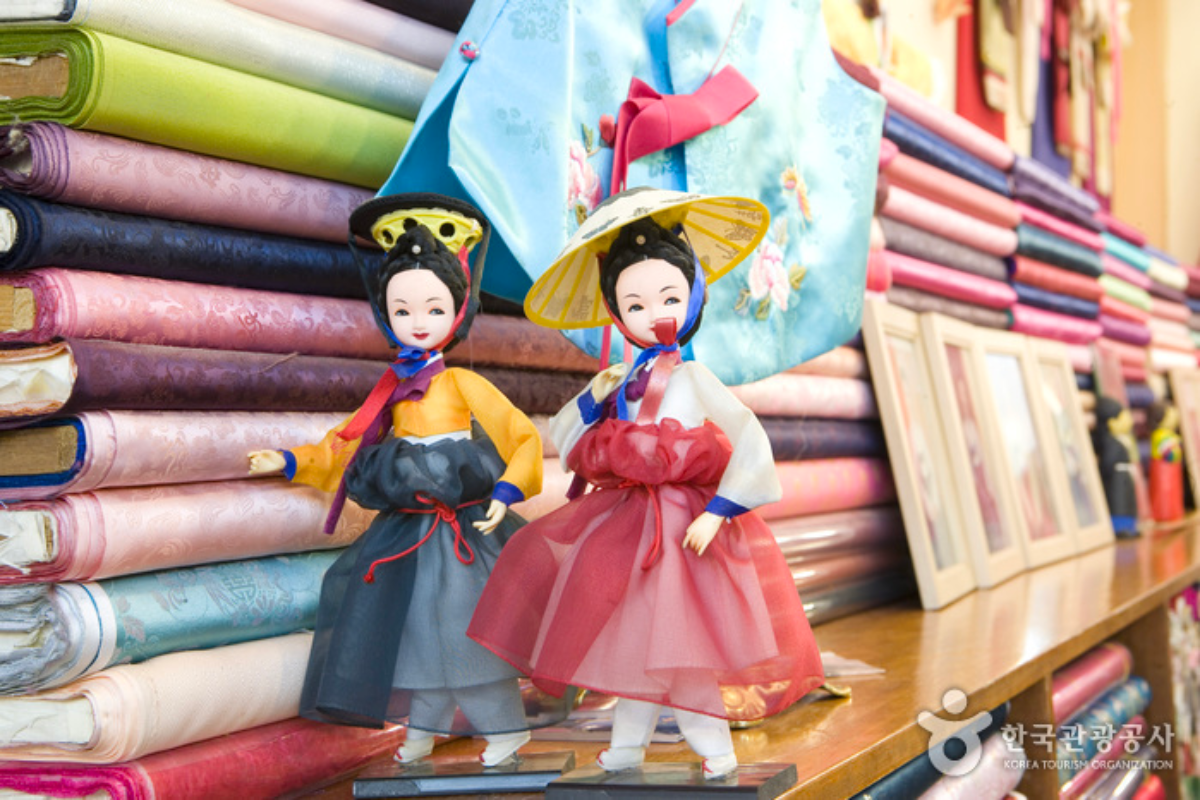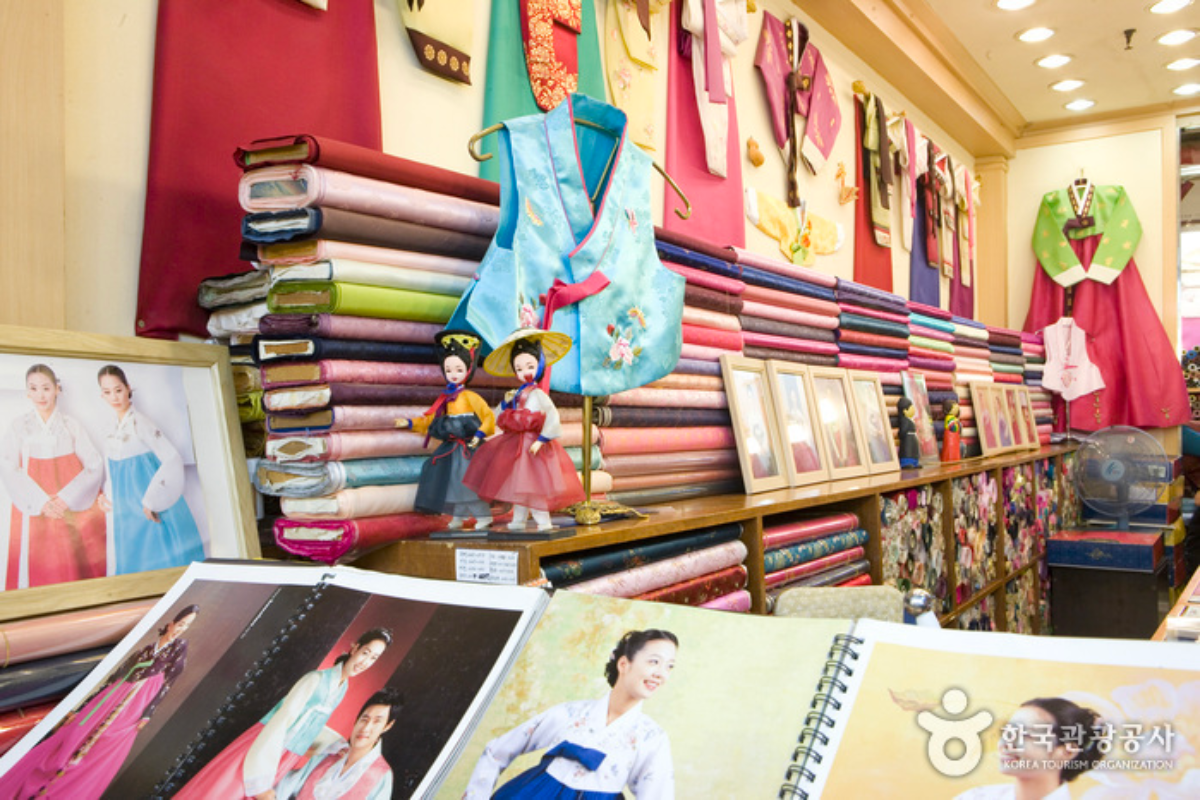 Gwangjang Market may be mostly known for its food market, but it sells other items too! There is a section that sells hanboks and hanbok fabric that is worth a visit.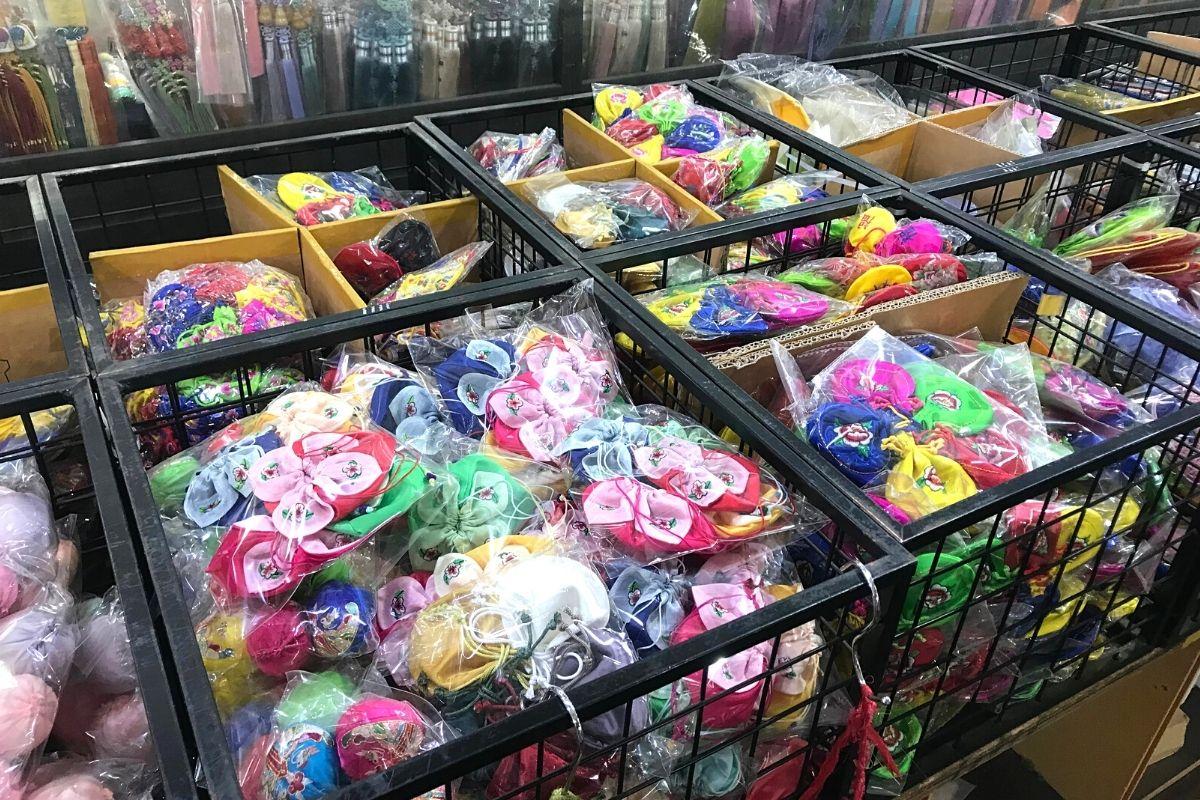 They have hanboks for both adults and children and also sell accessories that go with the hanboks. Perfect for a gift or souvenir!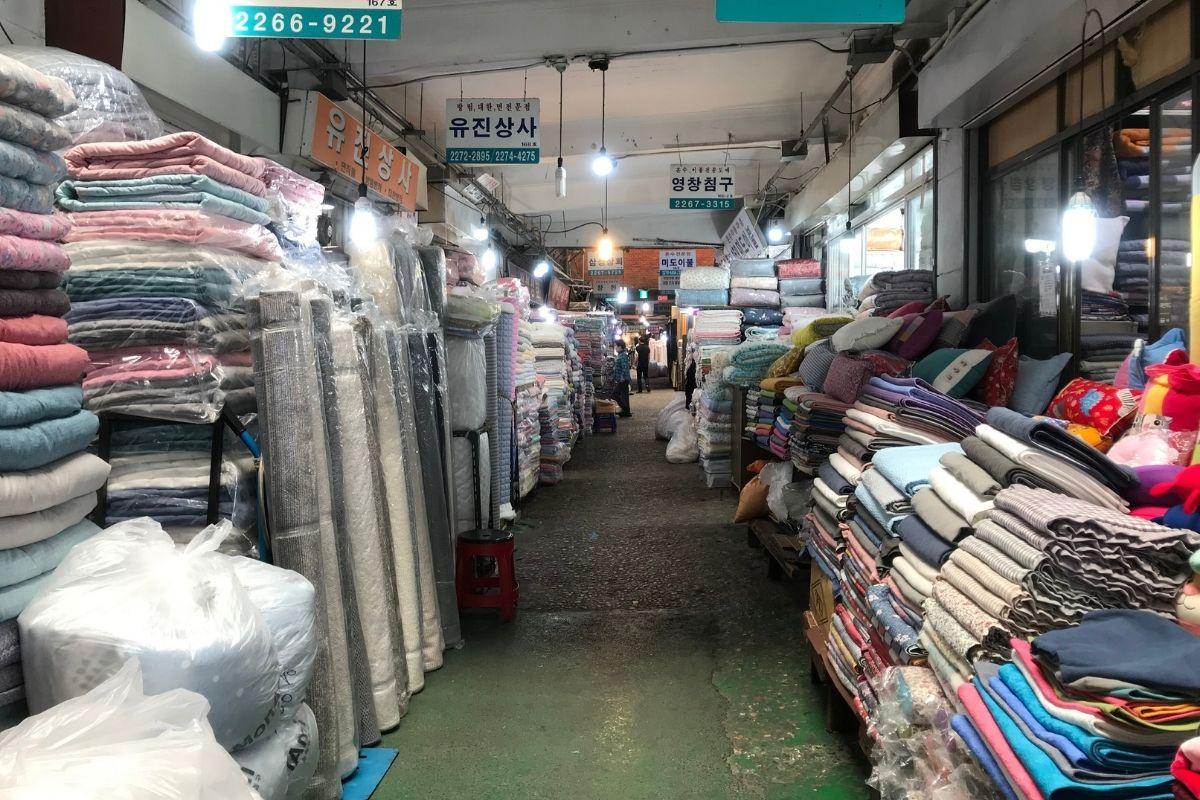 2. Bedding
Other than the hanboks, tourists also like to bring home bedding from this market because they are affordable and are high quality! There are all sorts of bedding, that range in pattern and thickness!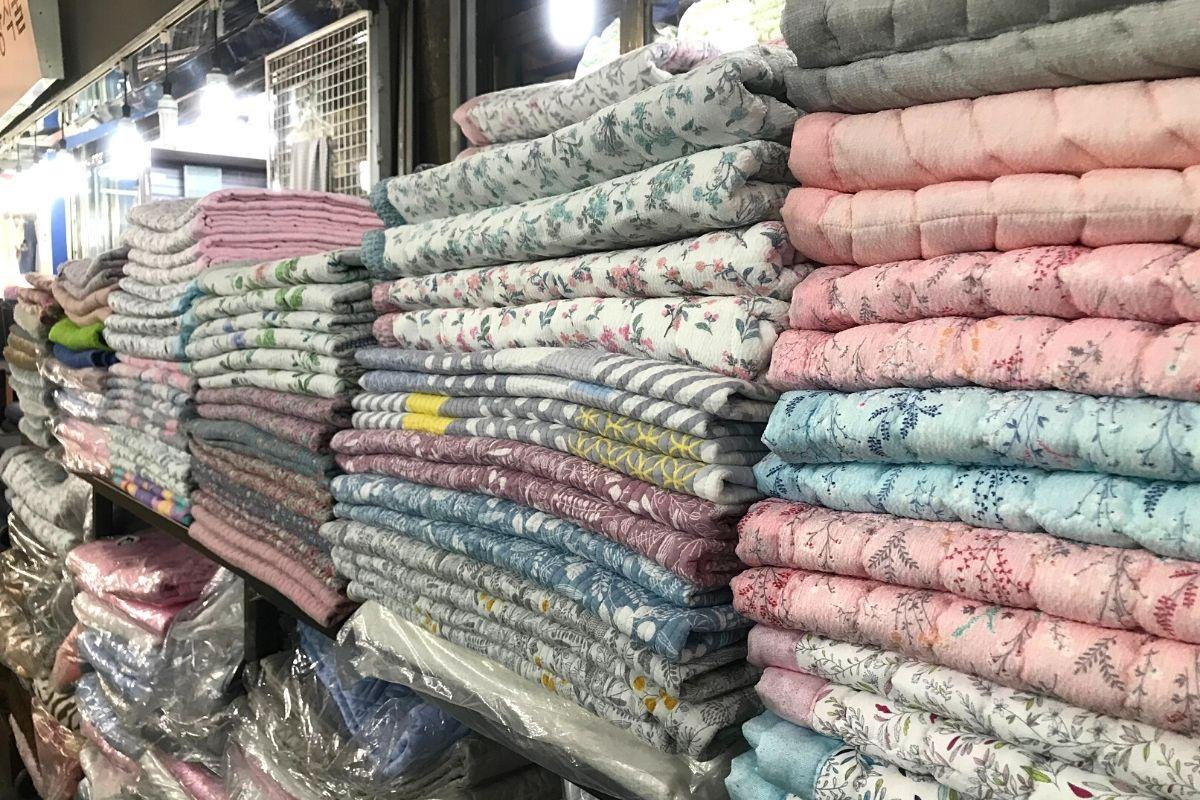 If anyone is interested in purchasing good quality blankets at a great price, you can order them at Creatrip as well. Check out Assibang and Arpeggio here!
3. Vintage Stores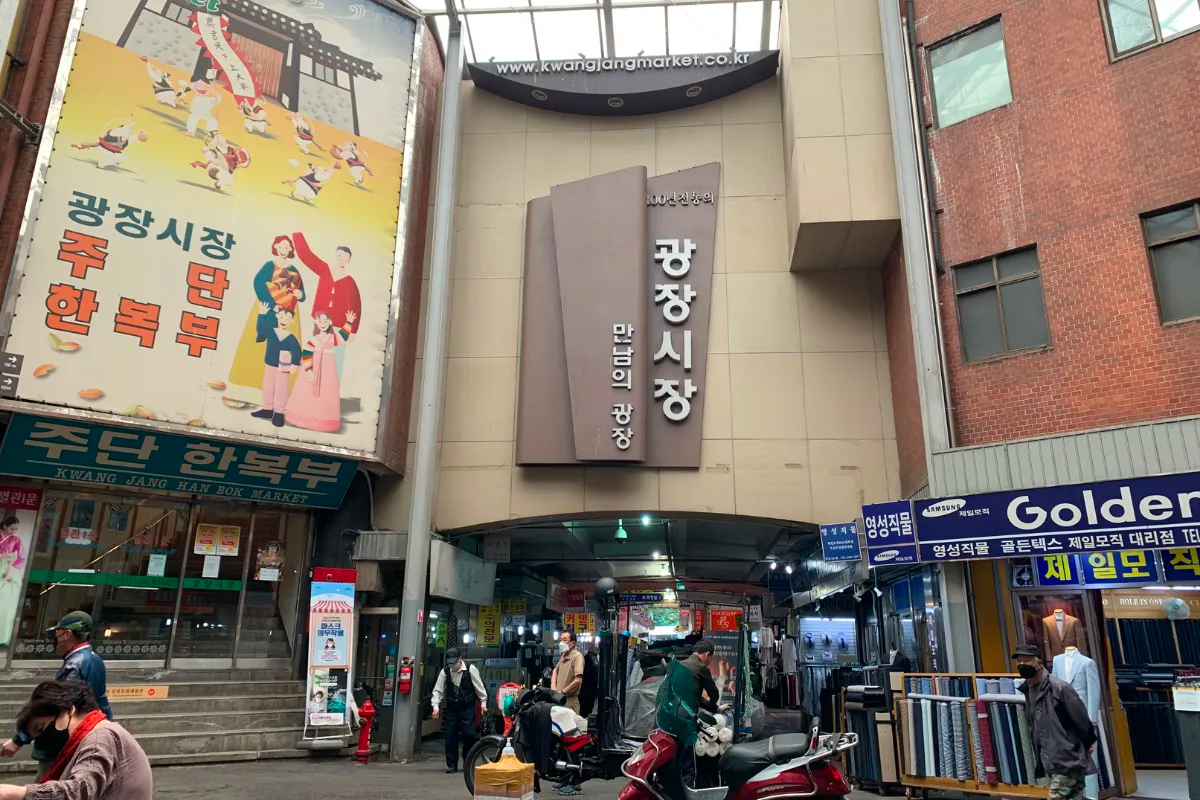 Address: 서울 종로구 창경궁로12길 11
11, Changgyeonggung-ro 12gil, Jongno-gu, Seoul
Hours: 10:00 - 19:00 (closed on Sundays)
There is a section that sells all sorts of vintage clothing from America and Europe.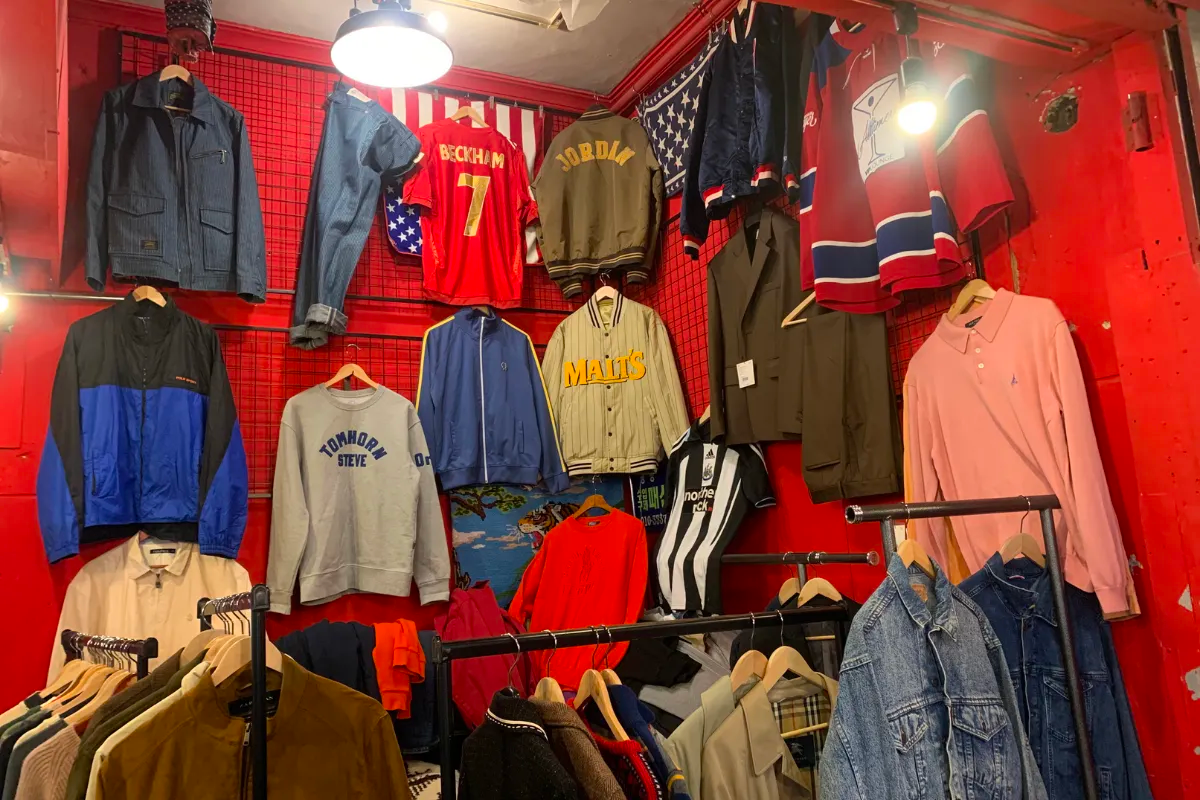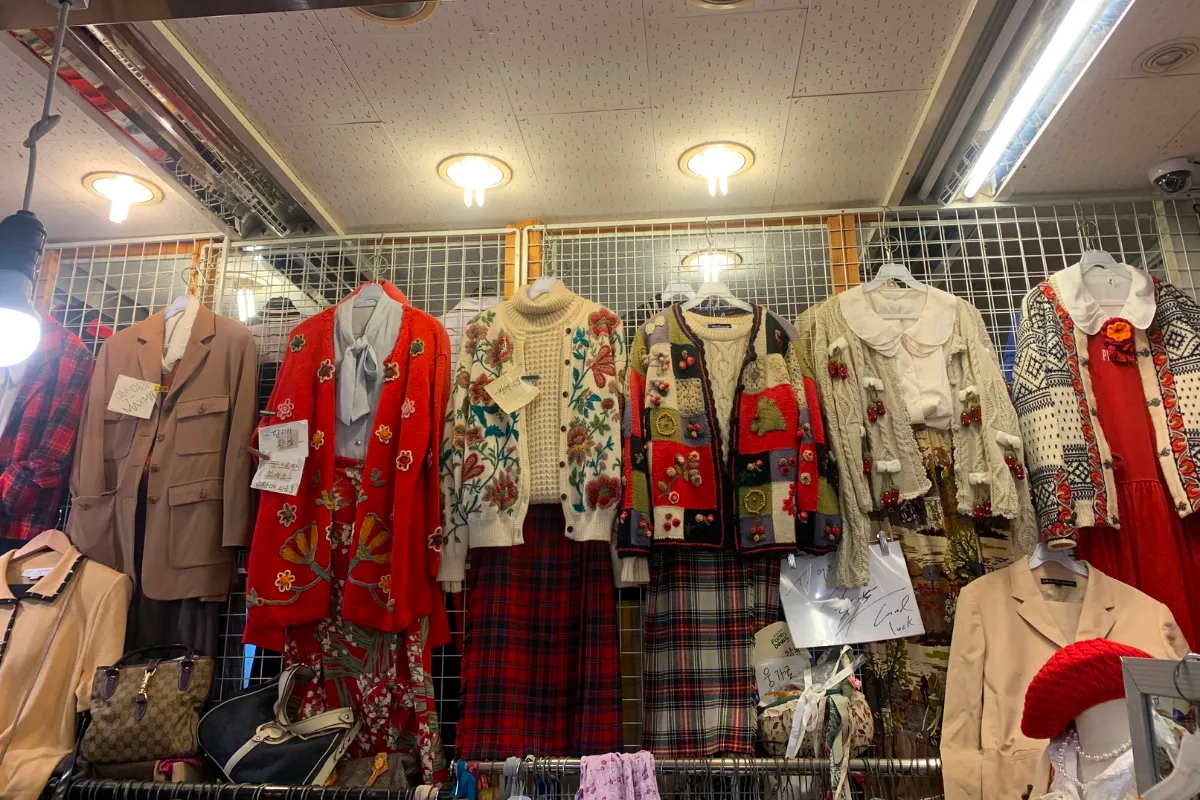 Anyone that wants to check it out, look for directions on signs with '수입구제' written on them.
4. Other market goods
There are stalls that also sell fresh and dried produce. This market has it all!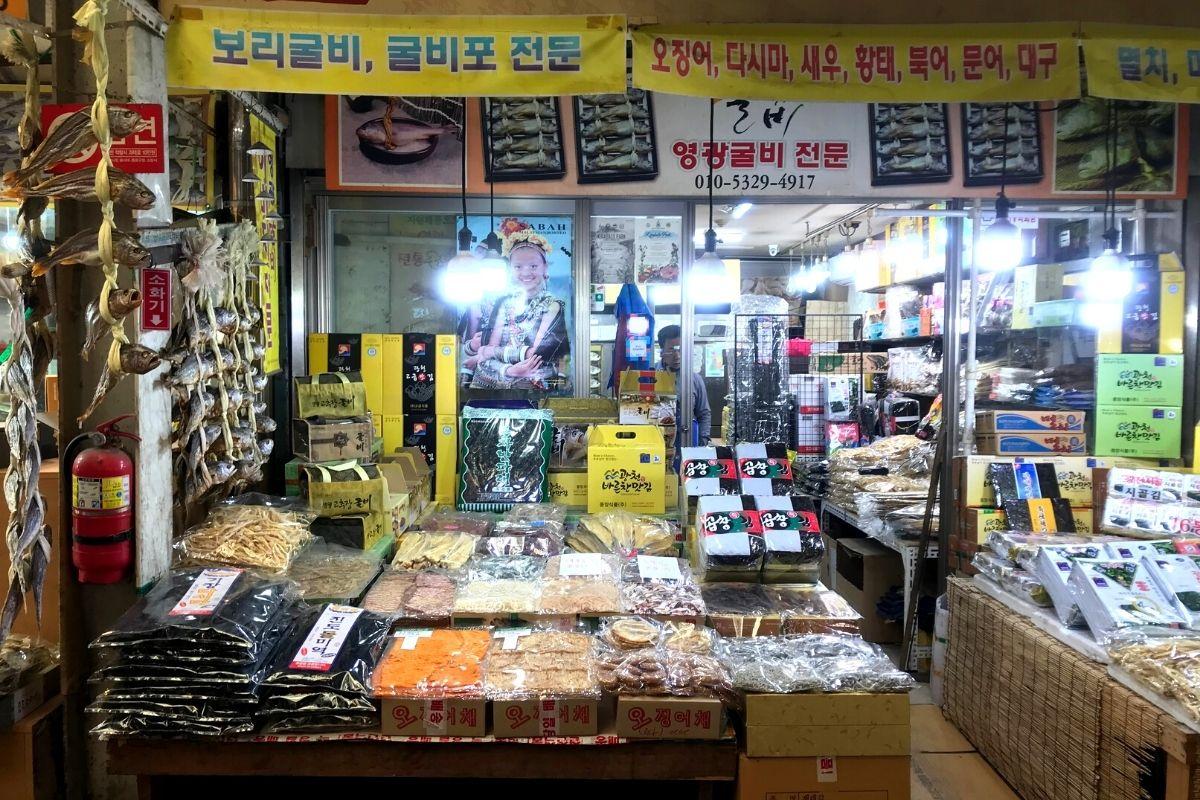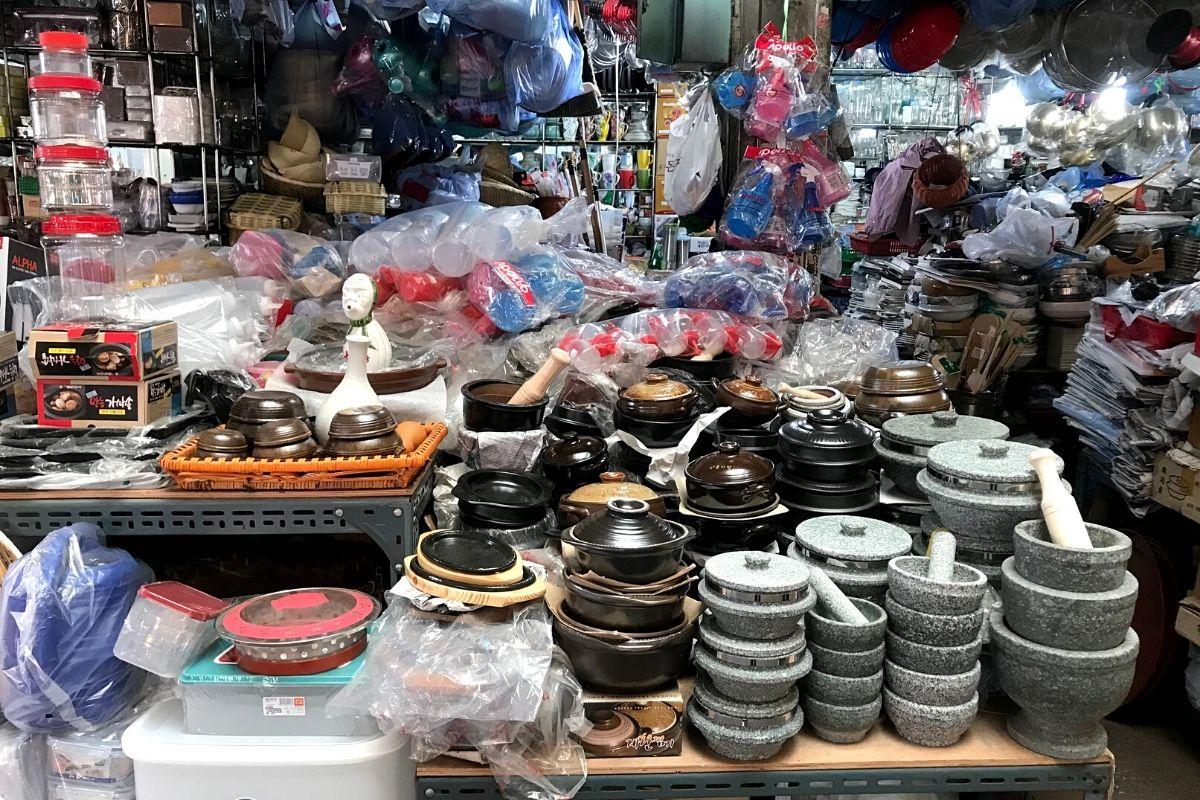 Anyone looking for a traditional Korean stone pot can find one here.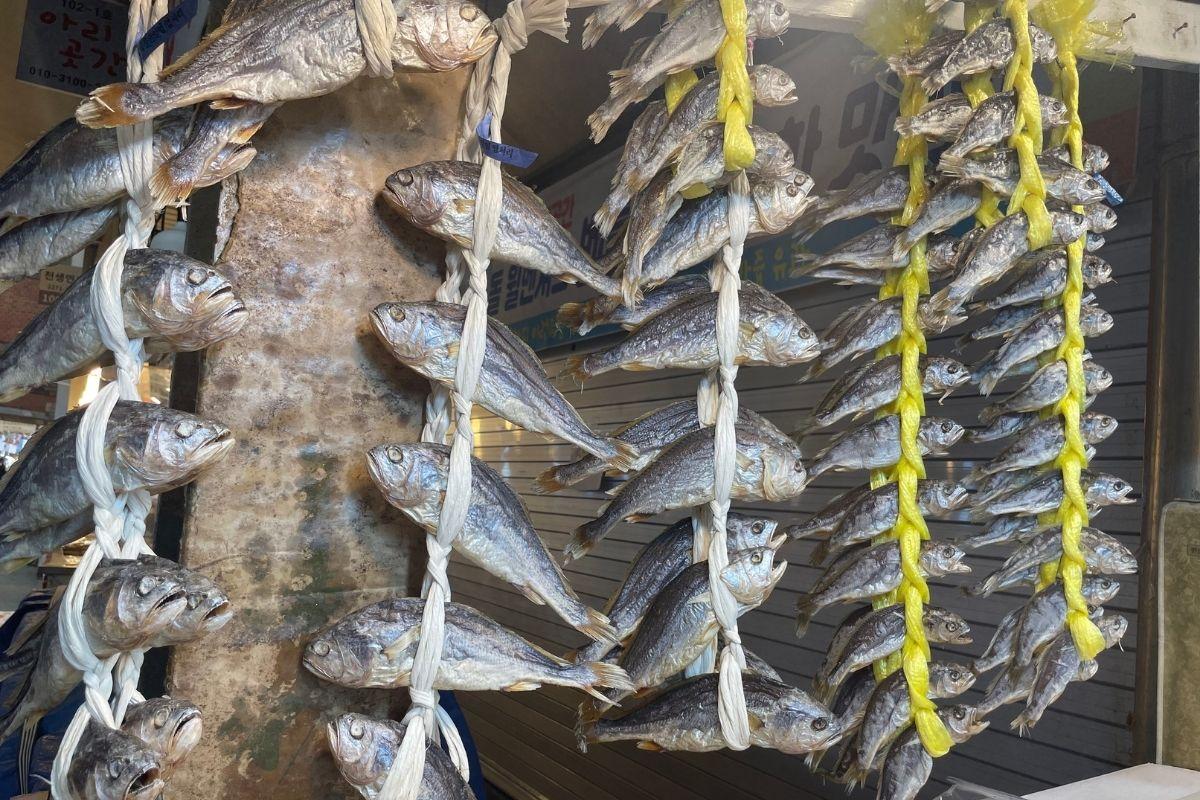 Along with dried fish, you can also get packs of fish cake!
Gwangjang Market is the perfect place to grab a bite and shop for traditional goods! We guarantee you'll have a good time.
---
Places to Go Near Gwangjang Market
1. Green Language School
Address: 서울특별시 종로구 청계천로 61 관철동 빌딩
Gwancheoldong Building, Cheongyecheon-ro 61, Jongno-gu, Seoul
Hours: 09:00 - 21:00 (Open until 24:00 on Saturdays; Closed on Sundays)
If anyone wants to take a simple Korean language course, check out Green Language School! For more information, click here.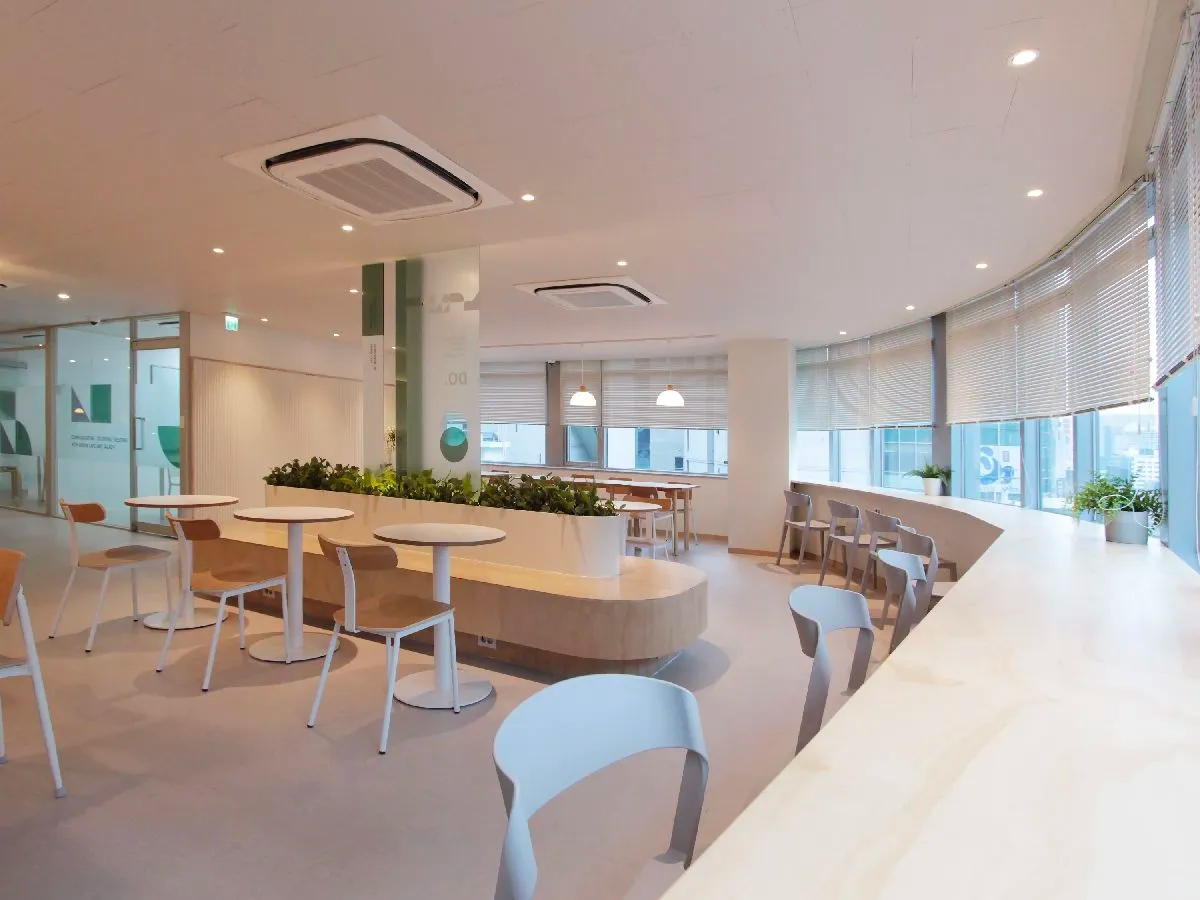 2. Wonjo Agujjim
Address: 서울 종로구 삼일대로 436-1
436-1, Samildae-ro, Jongno-gu, Seoul
Hours: 10:00 - 02:00
Seoul Wonjo Agujjim is loved by both Koreans and foreigners.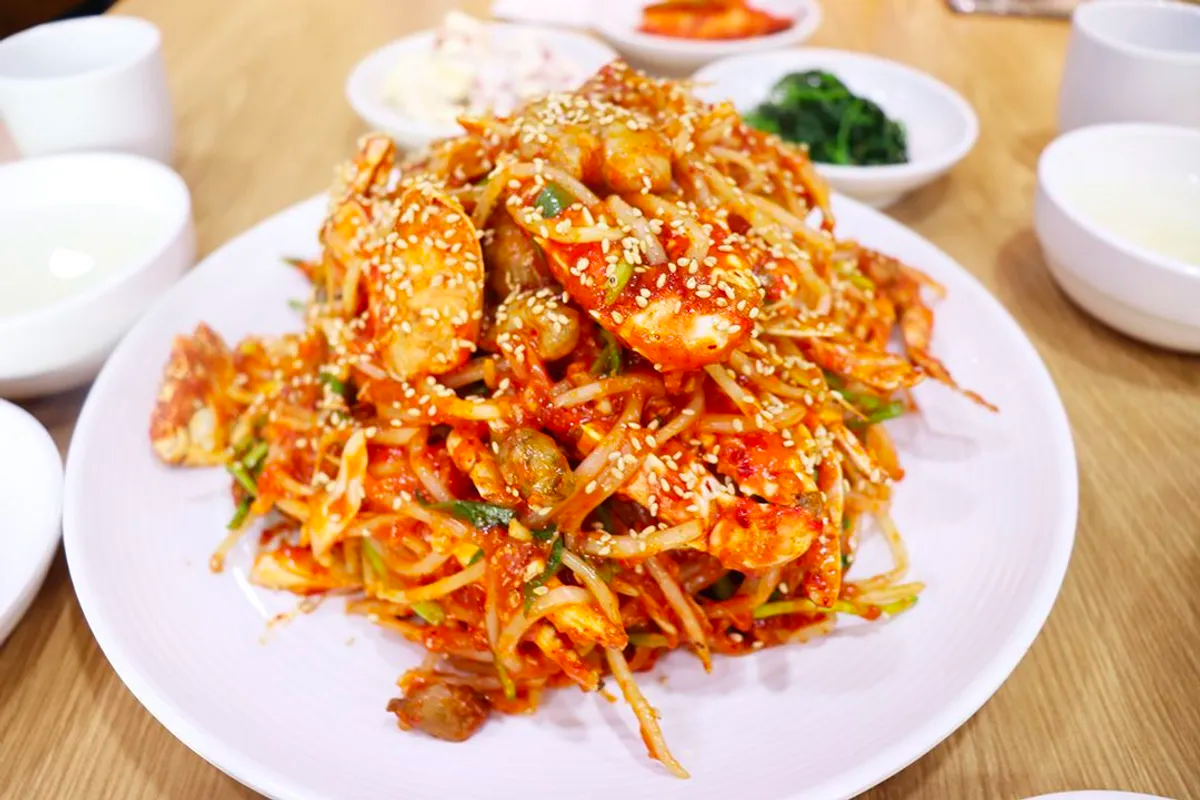 The restaurant specializes in a dish that consists of spicy steamed monkfish with an assortment of vegetables, mostly consisting of bean sprouts.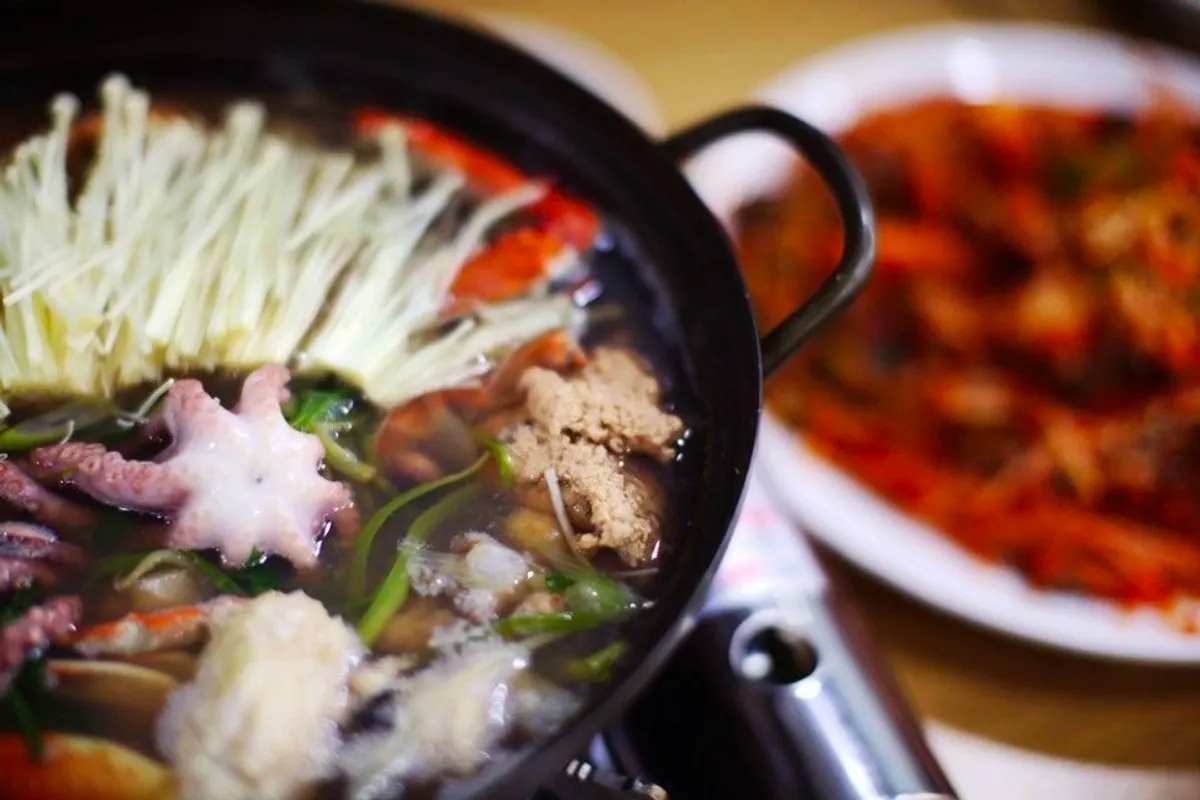 They have other seafood dishes as well, like a seafood stew that would be perfect on a cold day. Anyone who is a seafood fanatic, click here for more information.
---
How to Get There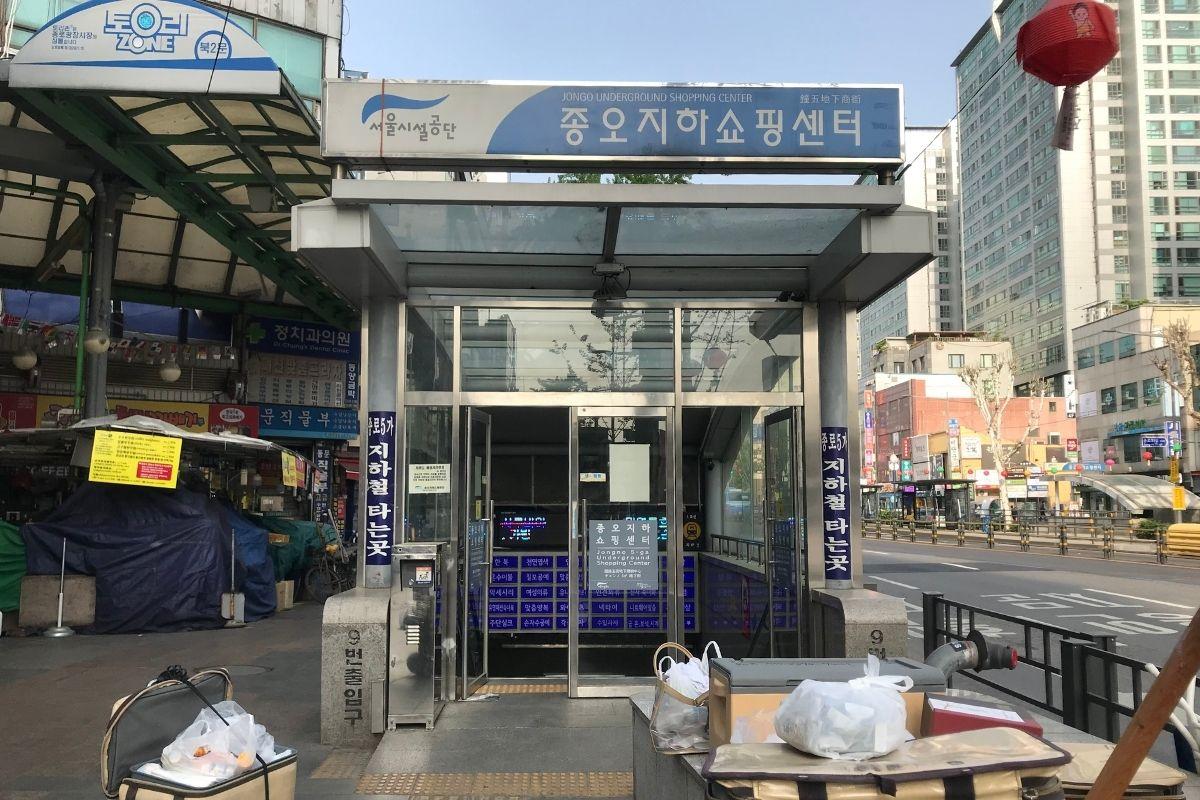 It's very easy to get to Gwangjang Market. Take the subway and get off at Jongno5ga Station. The closest exit is Exit 9, where you will find the entrance to the food market.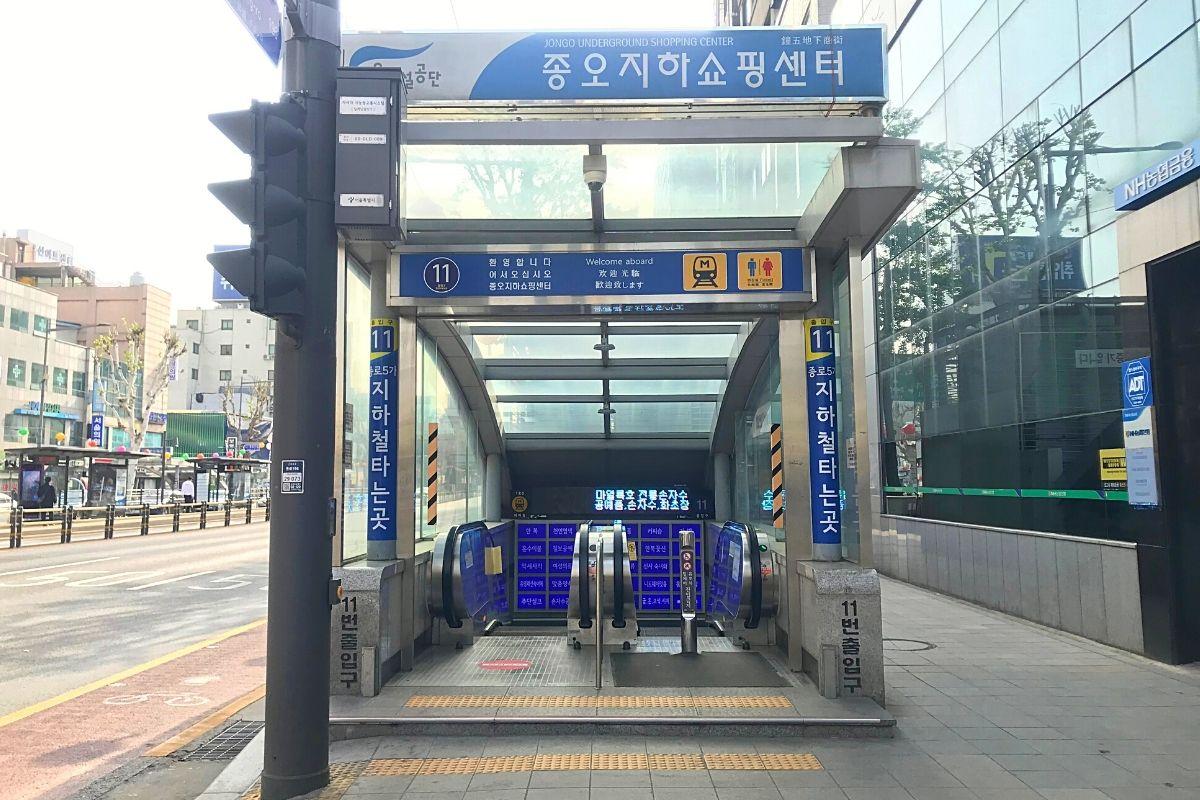 If you want to use the escalator, use Exit 11 and walk straight for 1-2 minutes.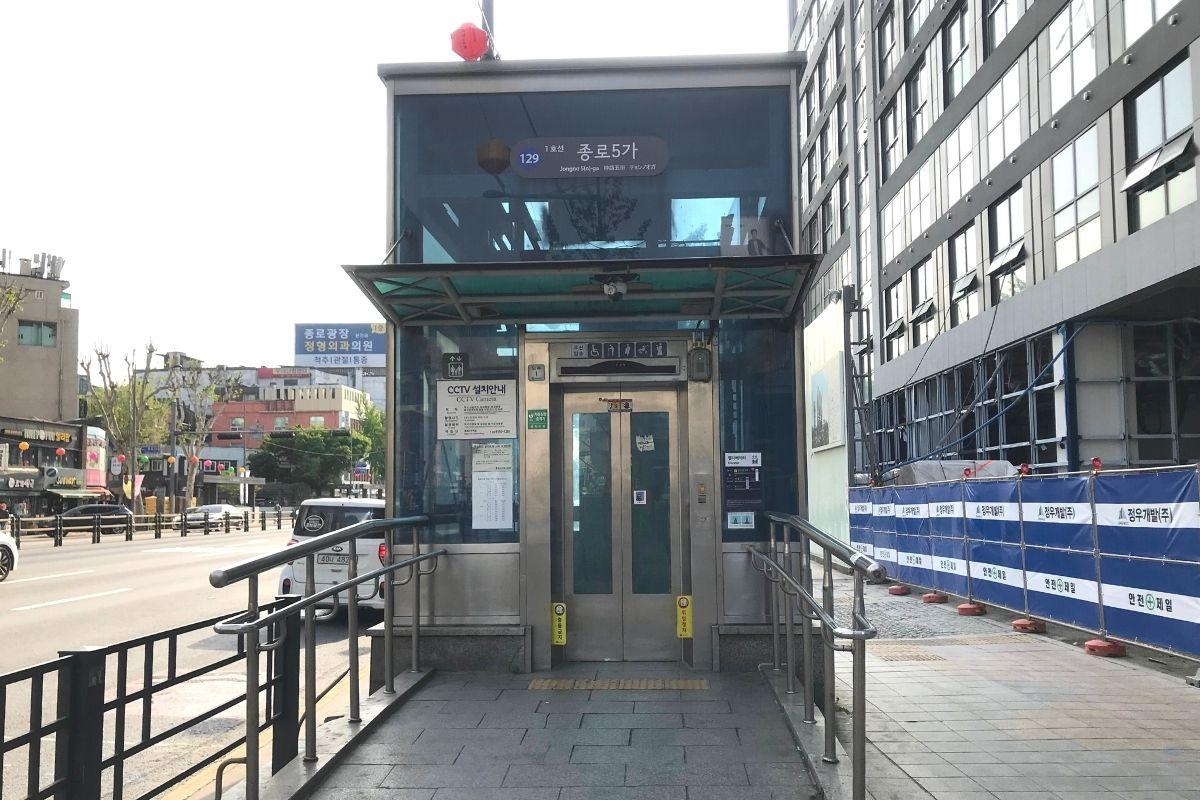 The elevator is also a 1-2 minute walk from the market.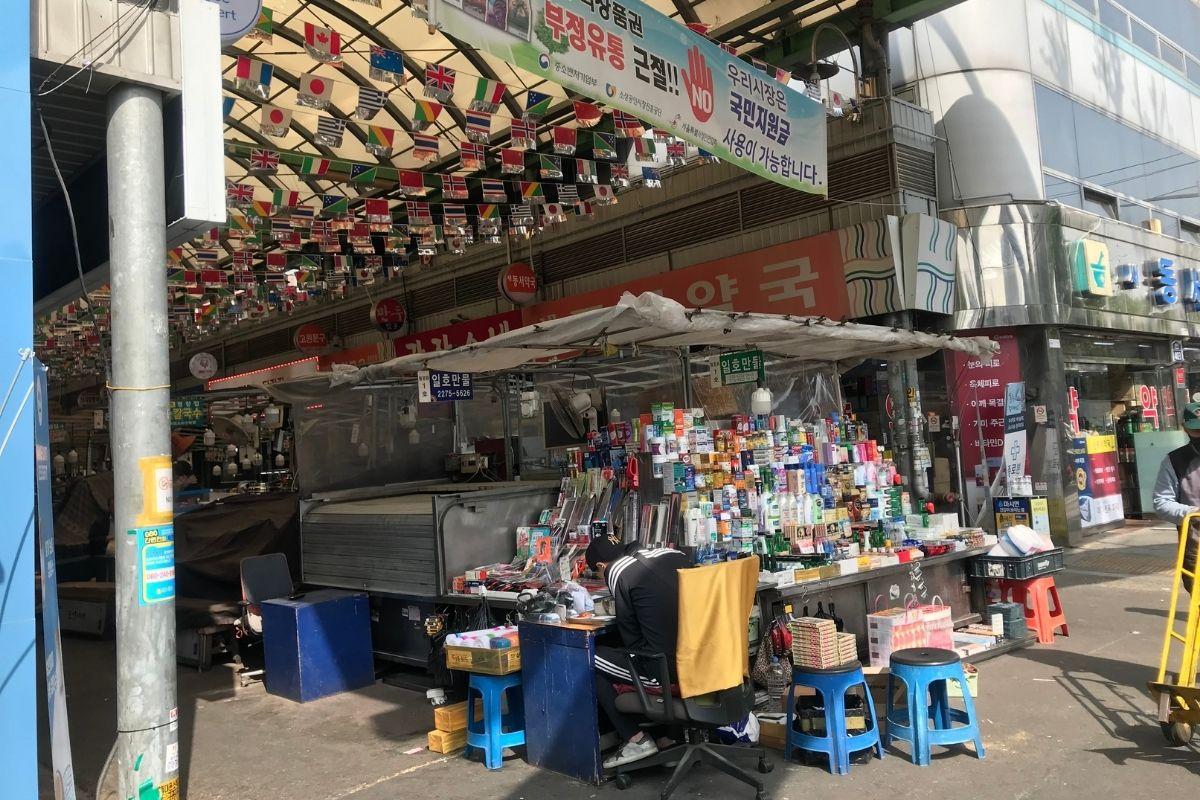 Because of its accessible location, it is a great place to bring your family!
---
Gwanjang Market is one of the best traditional Korean markets that has a long-standing history and tradition. Explore for yourself and let us know which foods you tried in the comments below!! Make sure to follow us on Instagram, TikTok, and Facebook to stay updated on all things Korea! If you have any other questions, leave a comment below or send us an email at help@creatrip.com!
---