Tongin Market Doshirak Cafe
₩5,000! Dosirak (Lunchbox) Mix-and-Match In Traditional Market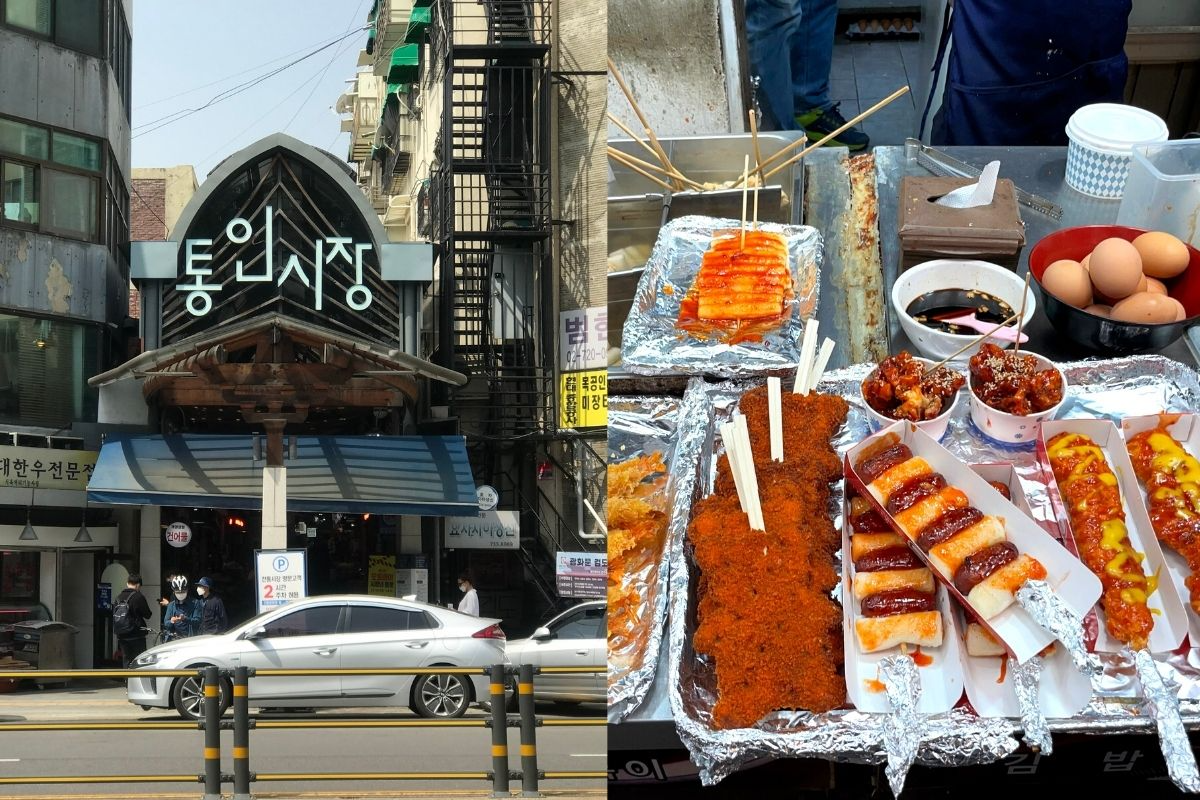 Although you may be familiar with KBBQ and delicious Korean hot dogs, many of the hidden gems of Korean cuisine are tucked inside the busy streets of the markets. Tongin Market, located right next to Gyeongbokgung Palace is home to some of the most delicious and beloved Korean dishes! Not only are the food finds here tasty, they are also very affordable. You will be able to leave the market with both a full stomach and wallet!
---
Information
Address: 서울 종로구 자하문로 15길 18
18 Jahamun-ro, 15-gil, Tongin-dong, Jongno-gu, Seoul
Hours: 07:00-21:00 / The market is closed on every 3rd Sunday of the month
---
Our Visit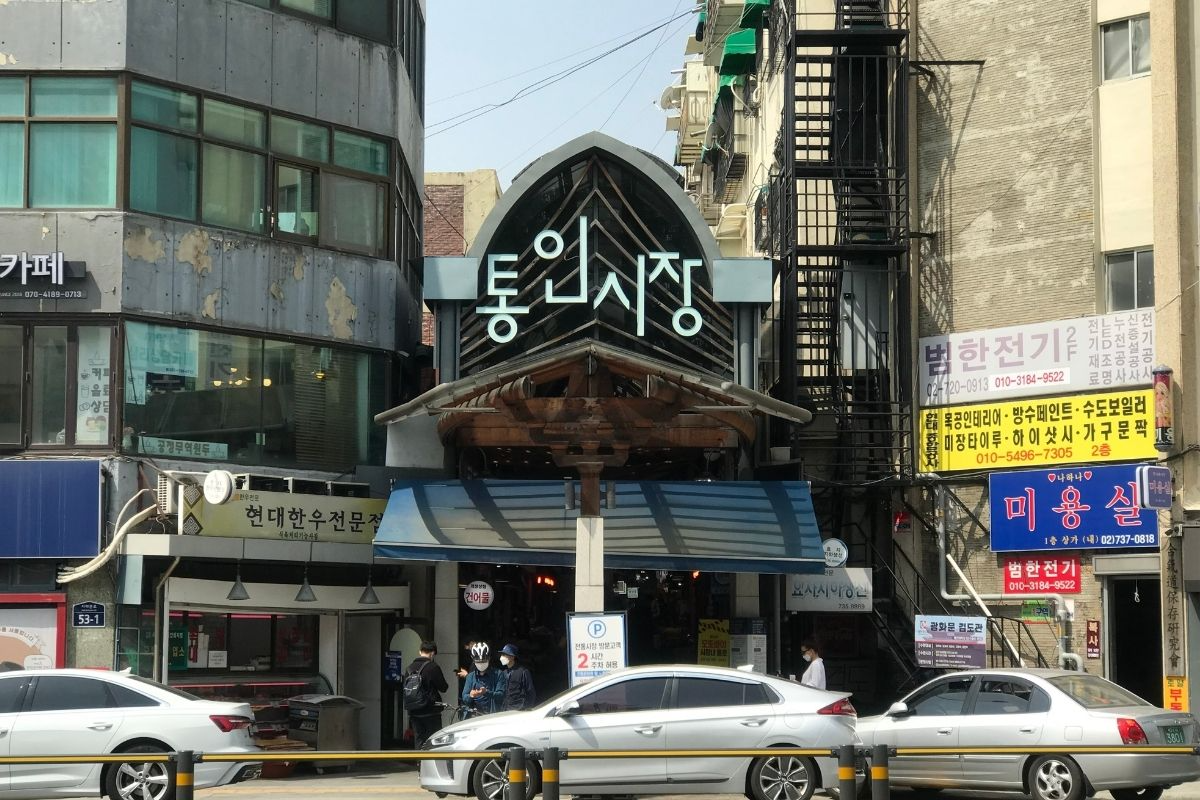 Tongin Market is a market that is located next to Gyeongbokgung Palace. It is located right next to the subway station and the bus stop which makes it a convenient location to travel to. It is also a great place to stop by after spending some time at Gyeongbokgung Palace and the Seochon Area. Although rich in history and culture, the vendors at Tongin Market were continuously losing business due to the influx of supermarkets and online grocery delivery. But the market was able to be revived after Doshirak Cafe, gained immense popularity amongst the general public. Doshirak Cafe lets you go around and choose food from each of the vendors in the market to create your own Doshirak (Lunchbox)! It is done via coins that the market uses and these coins can only be used within the market. It is a unique and fun concept that has helped the vendors within the market.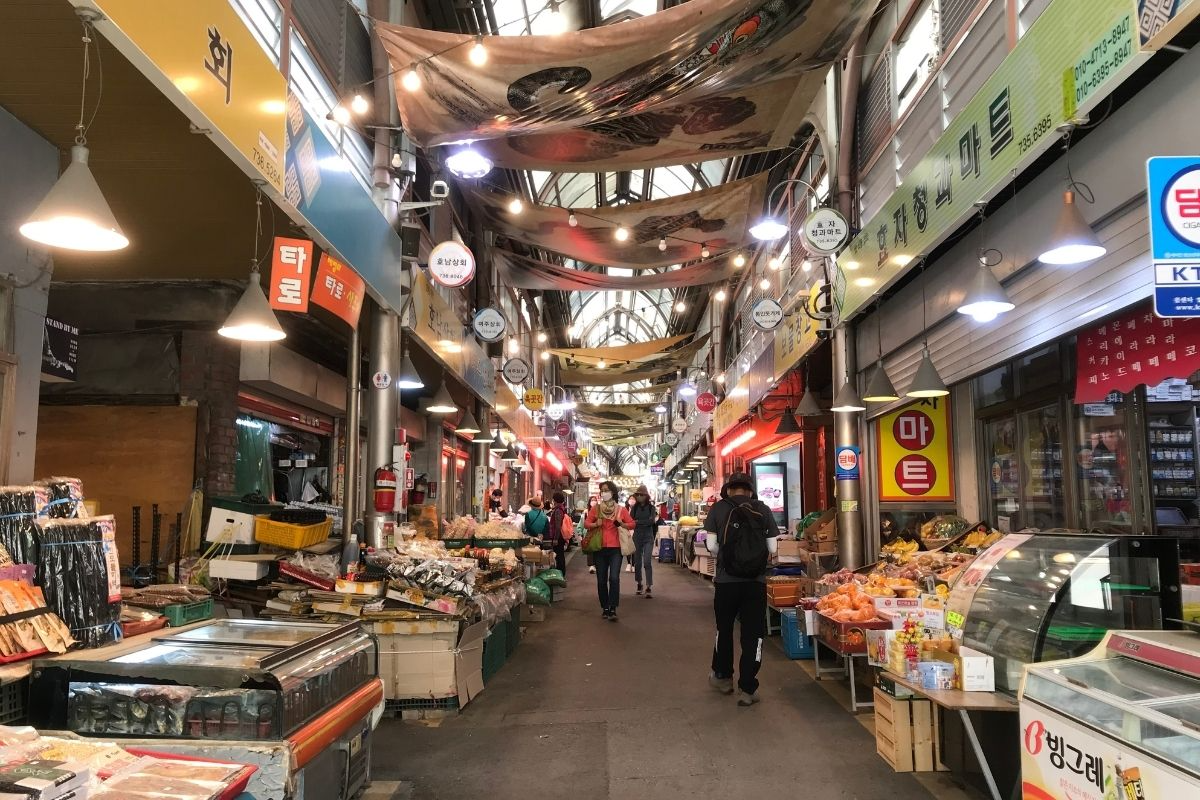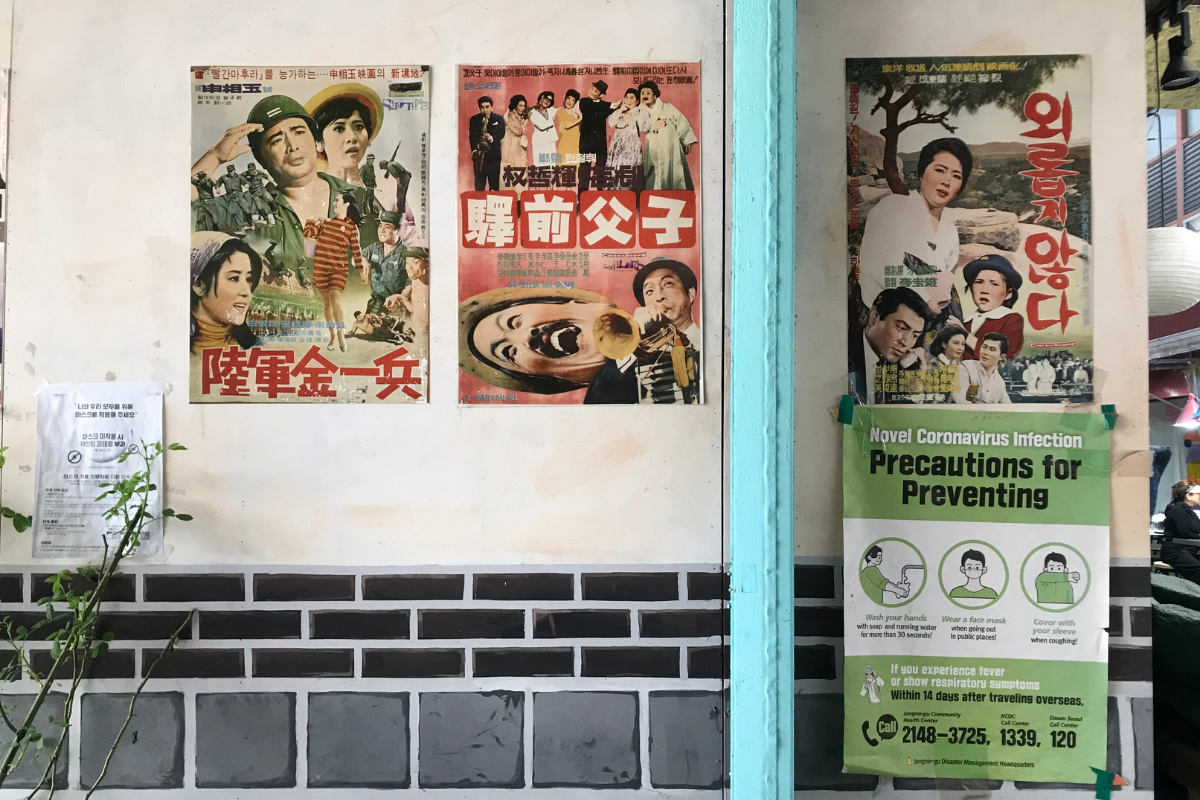 Tongin Market is not as big as other markets in Korea such as Gwangjang Market or Namdaemun Market. You could easily walk through the whole market in 5 to 10 minutes! However, if you take a step back and walk through the market slowly, you will be able to see all the hidden gems within the market ranging from fresh fruit and veg stalls to mouth watering street food shops.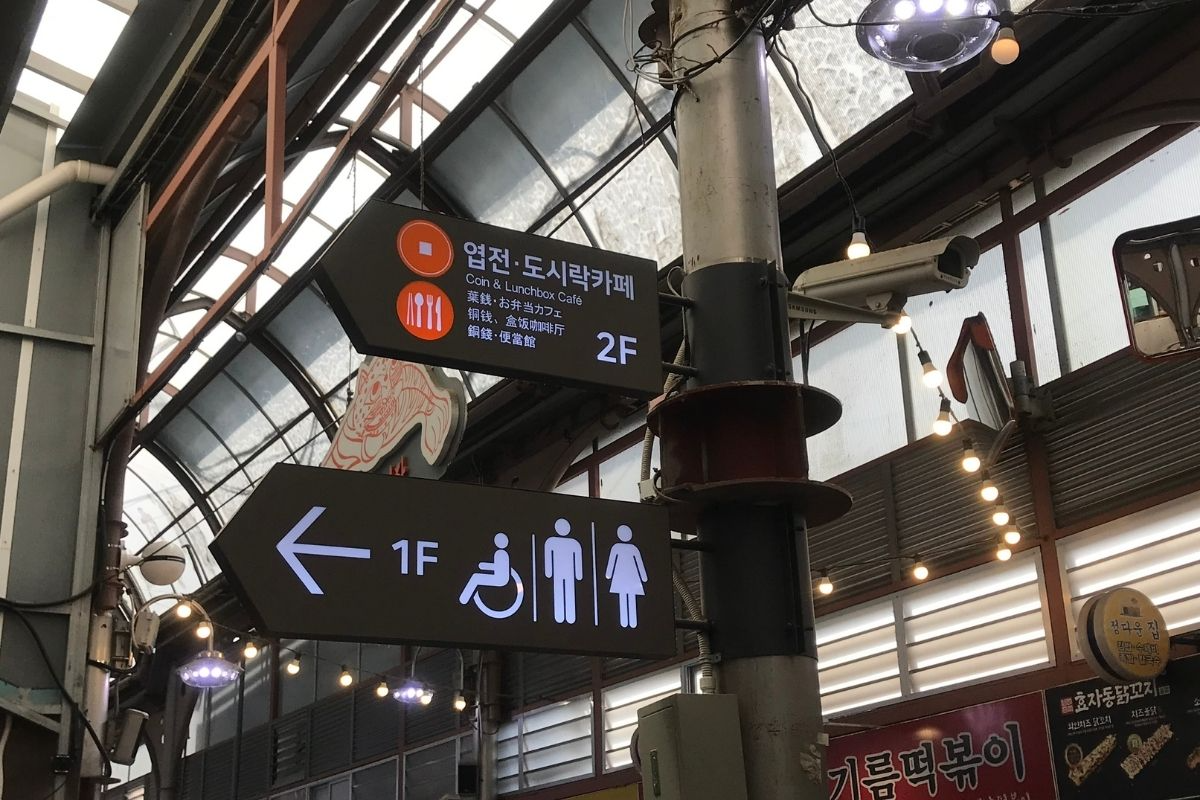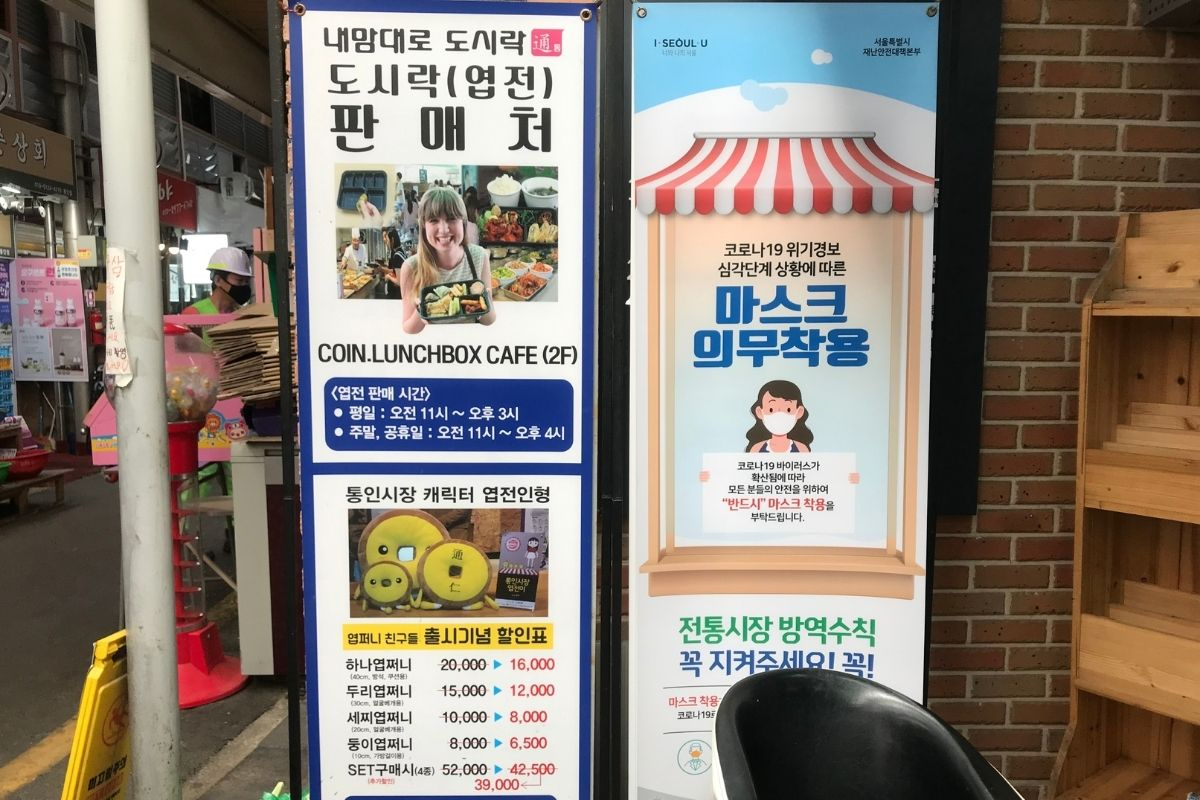 Doshirak Cafe is located on the 2nd floor of the Customer Service Center Area (통인시장 고객 만족 센터), in the heart of Tongin Market. This is a place where you can exchange money for the coins that are used in the market.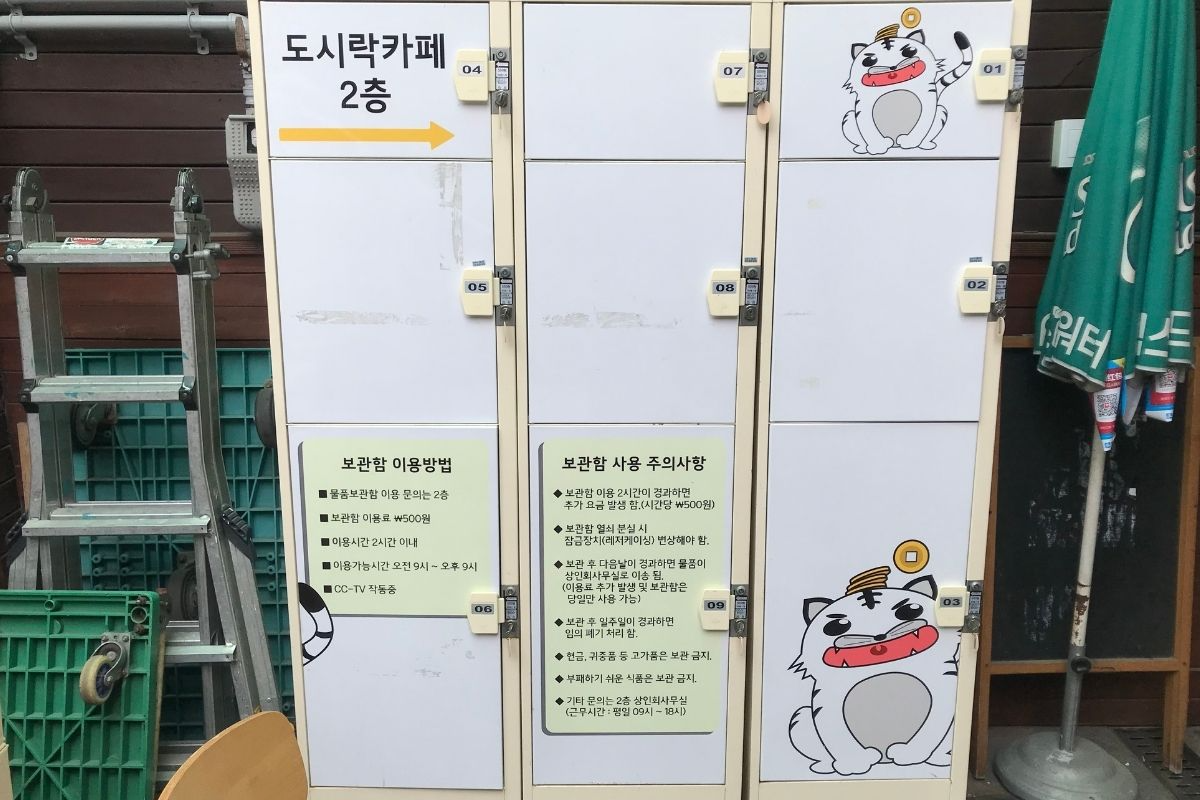 On the 1st floor of the center, you will also find that there are lockers that you can place your belongings in. It only costs about 500 KRW to keep your belongings in the locker!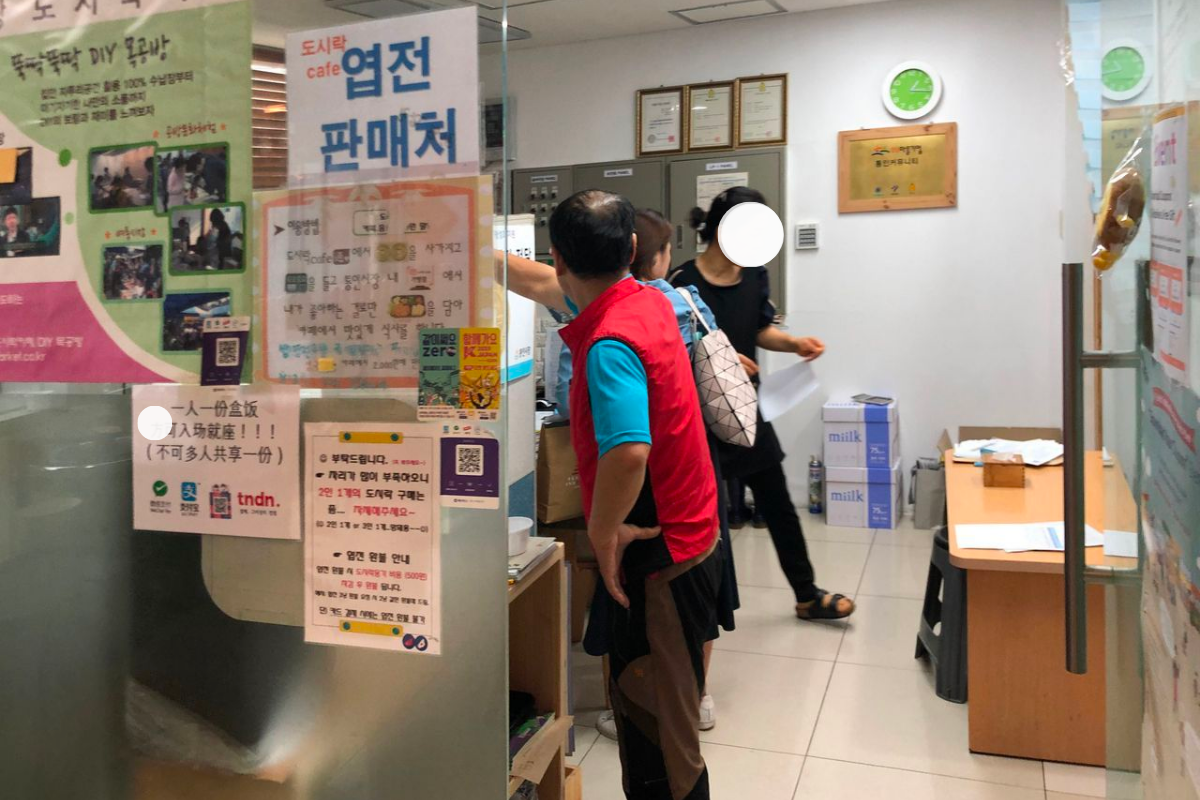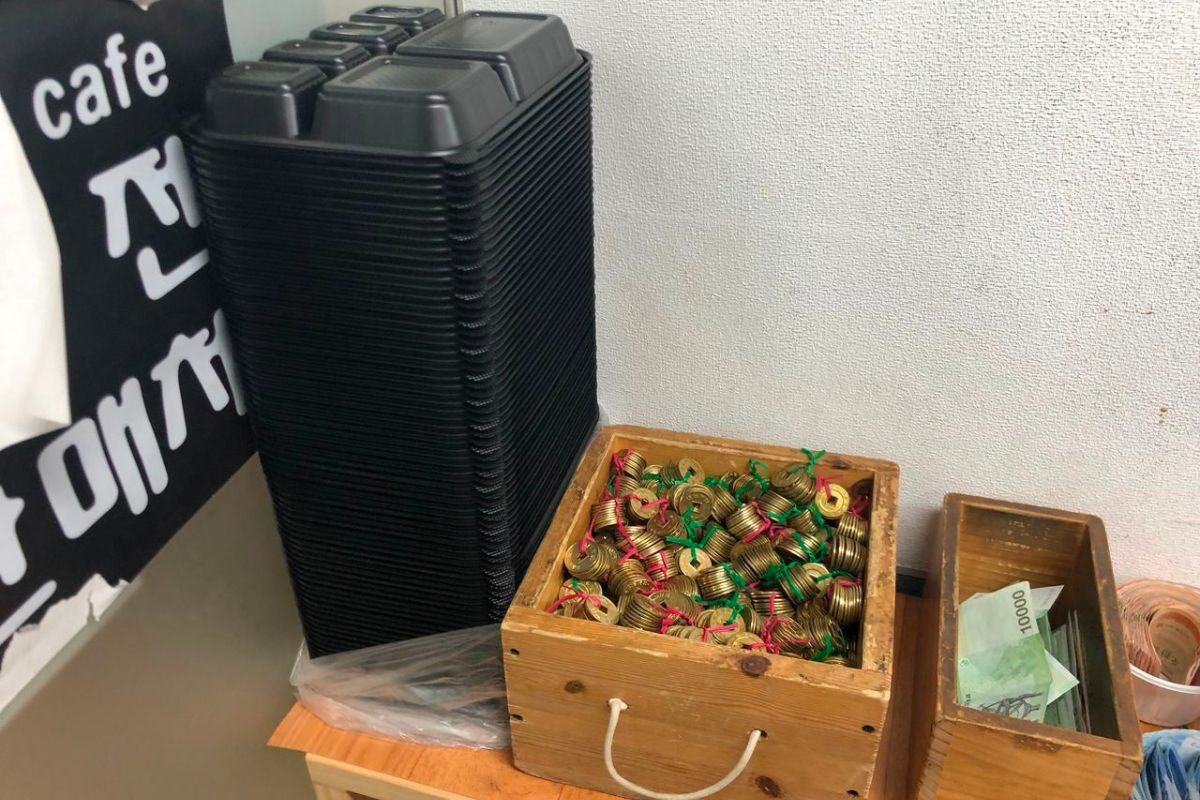 When you go up to the 2nd floor, you will find a coin exchange. You will need to purchase at least 10,000 KRW ( accounting to a total of 20 coins, 500 KRW each). At this point, you can pay via either cash or credit card. Once you pay, you will get a tray where you can go around and put your food in.
On the 2nd floor, there is also an area where you can purchase cute little souvenirs. The price for these dolls range from 6,500 KRW / 8,000 KRW / 12,000 KRW / 16,000 KRW depending on the size. You can also get one of each in a complete set which is sold at 39,000 KRW.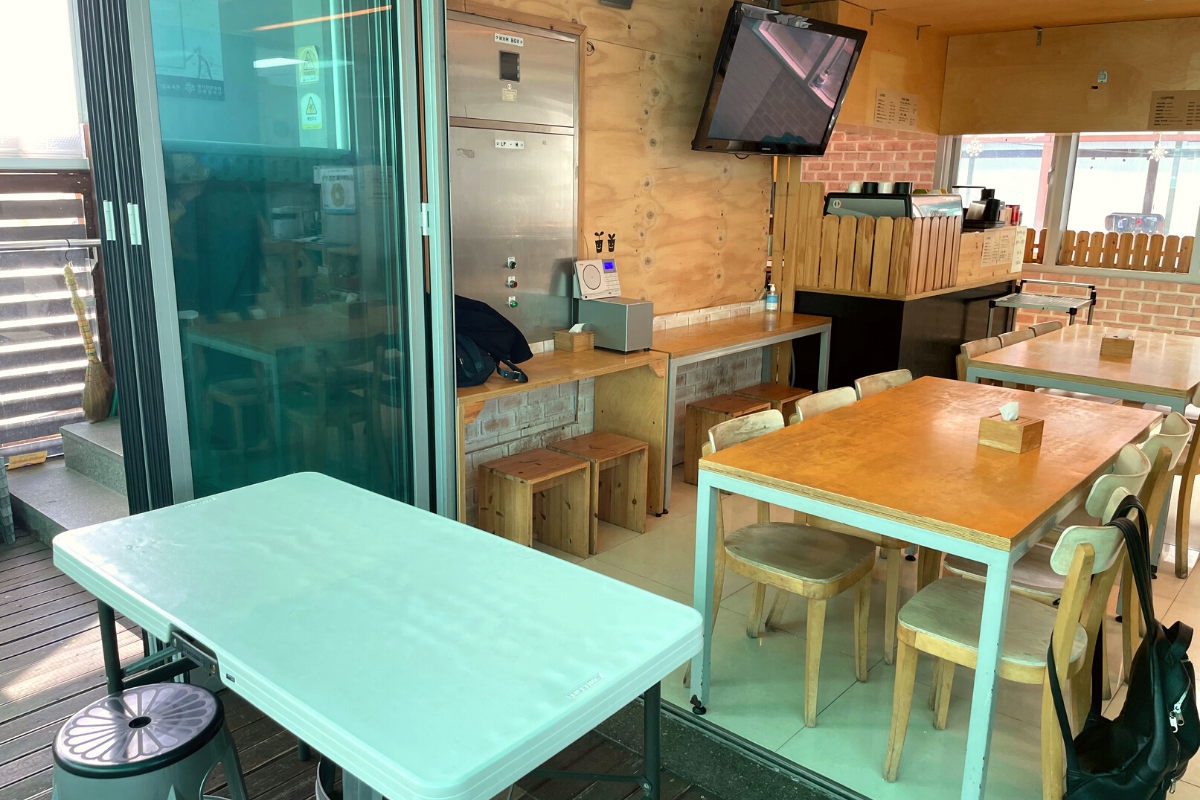 In the cafe section, there is also a place to sit and dine. The seating area is not that spacious, but it is clean and tidy.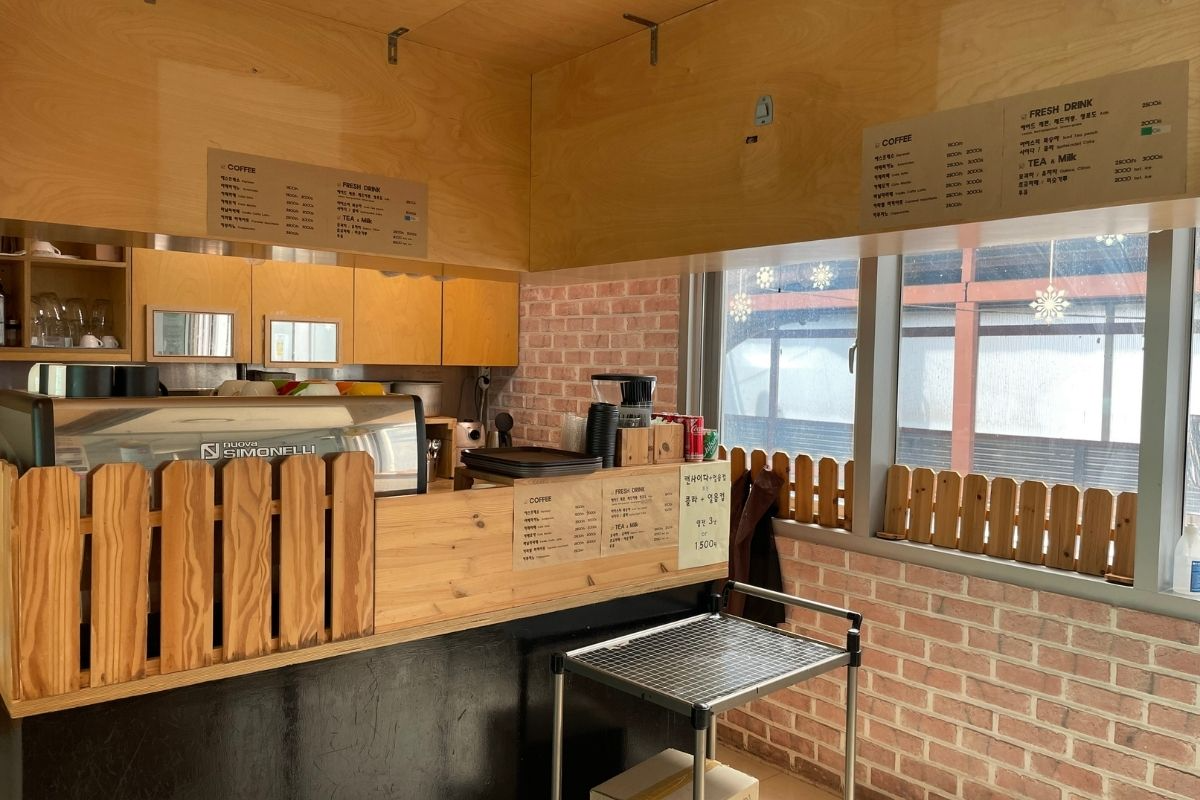 For anyone who wants to buy a drink, you can purchase it on the 2nd floor. There is a small cafe corner that sells drinks at a very affordable price. Hot Americanos start at 1,500 KRW and Ice Americanos start at 2,000 KRW. There are also a variety of teas and soda drinks that range from 2,000-2,500 KRW.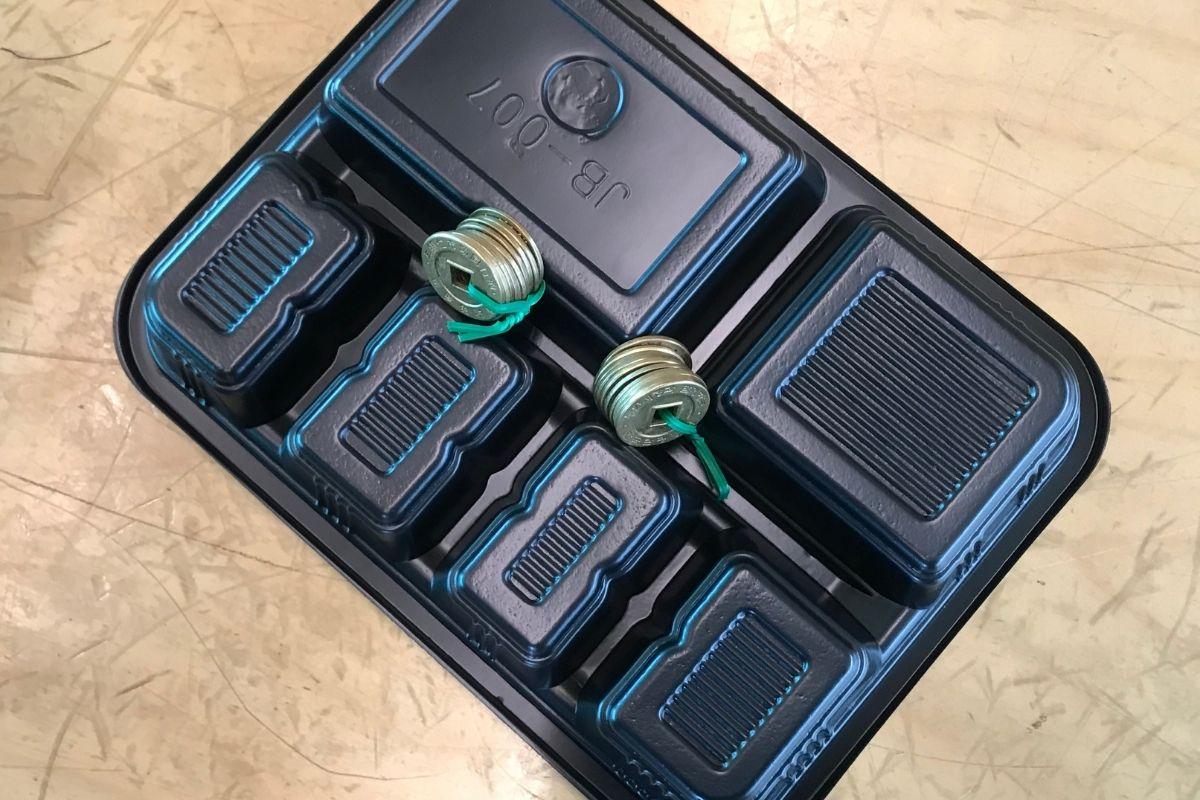 This is the lunchbox tray that we received and the coins for us to use when we are shopping around the market. This lunchbox is also given with a lid so you can take it home if you don't feel like eating at the market. The coins are also unique to the market and used to purchase the items that go into your lunchbox in the market.
---
Tongin Market Recommendations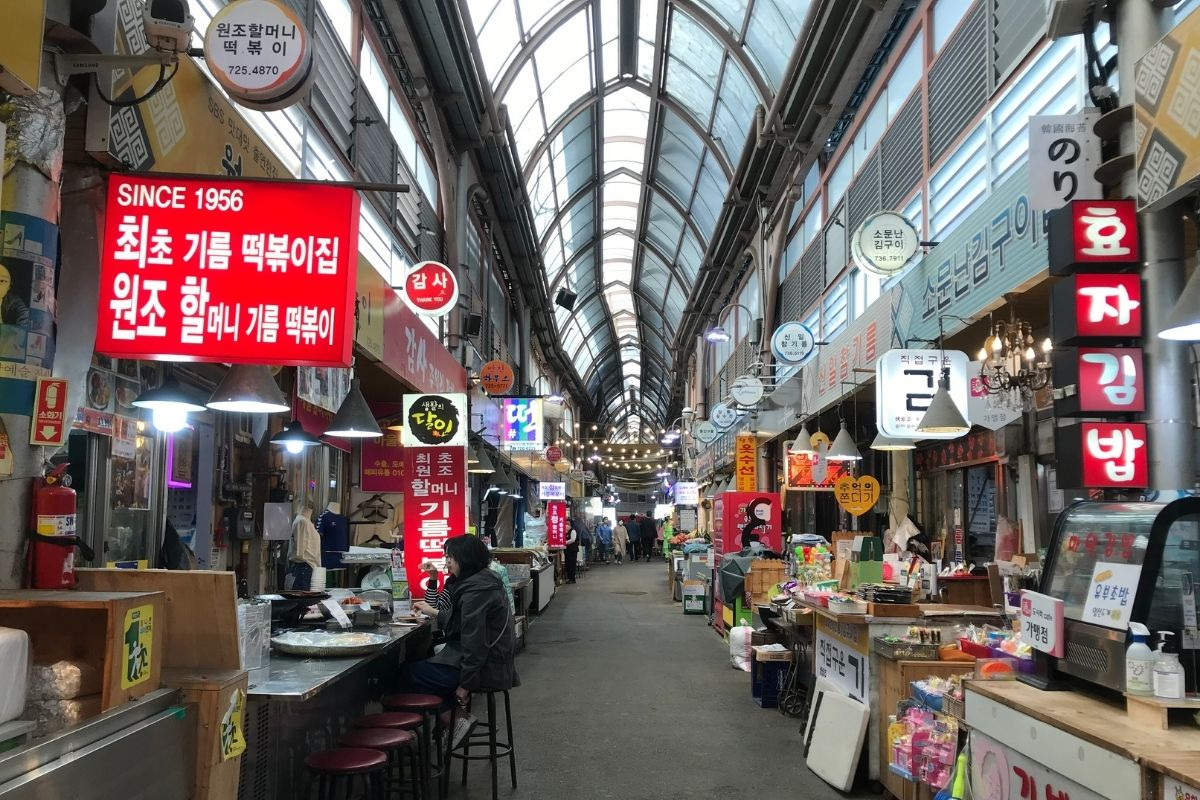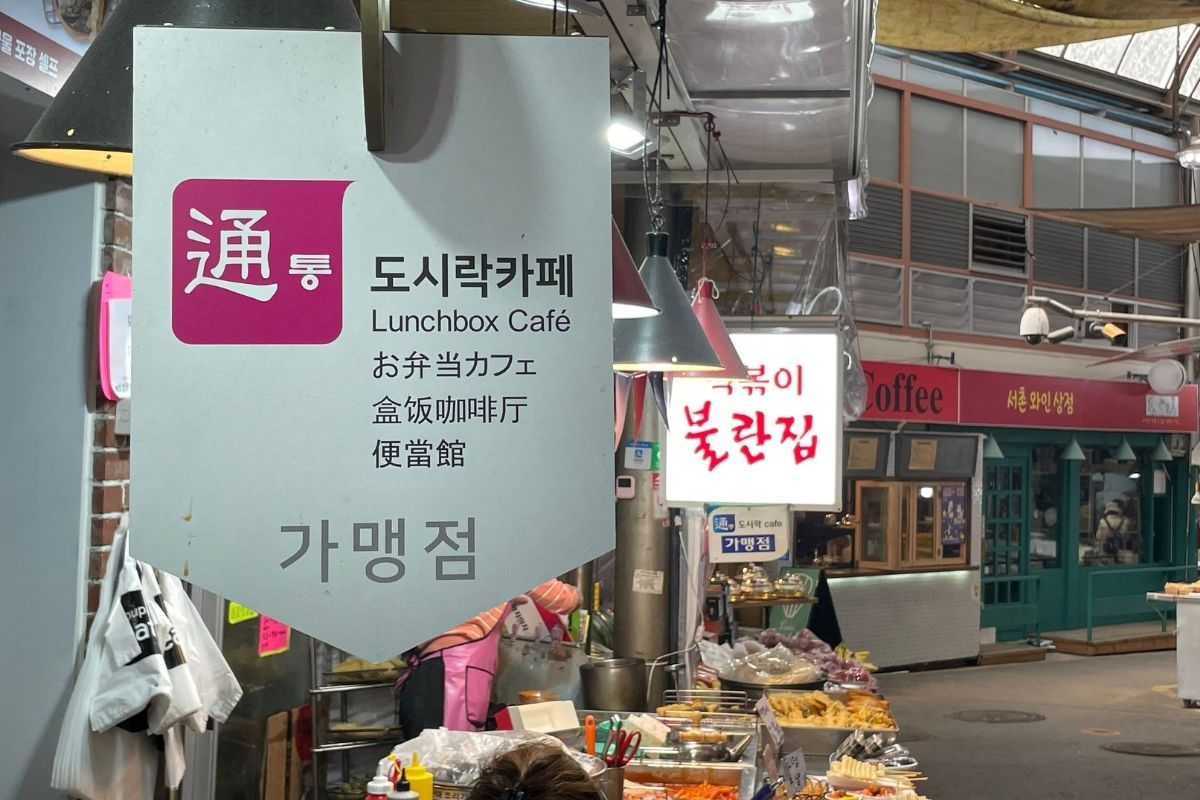 The stores that take the coins that can be identified by these sign boards. If you see this sign in front of a store that you would like to eat from, you can use the coins that from Doshirak Cafe.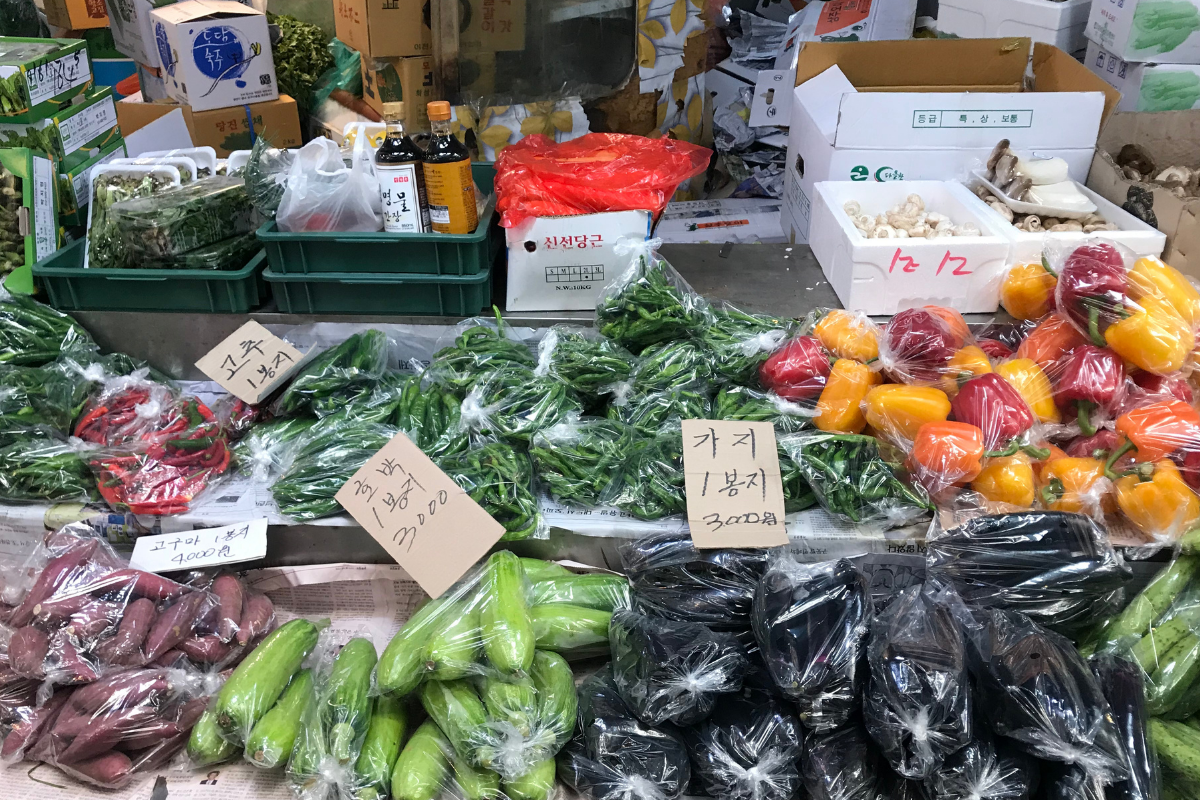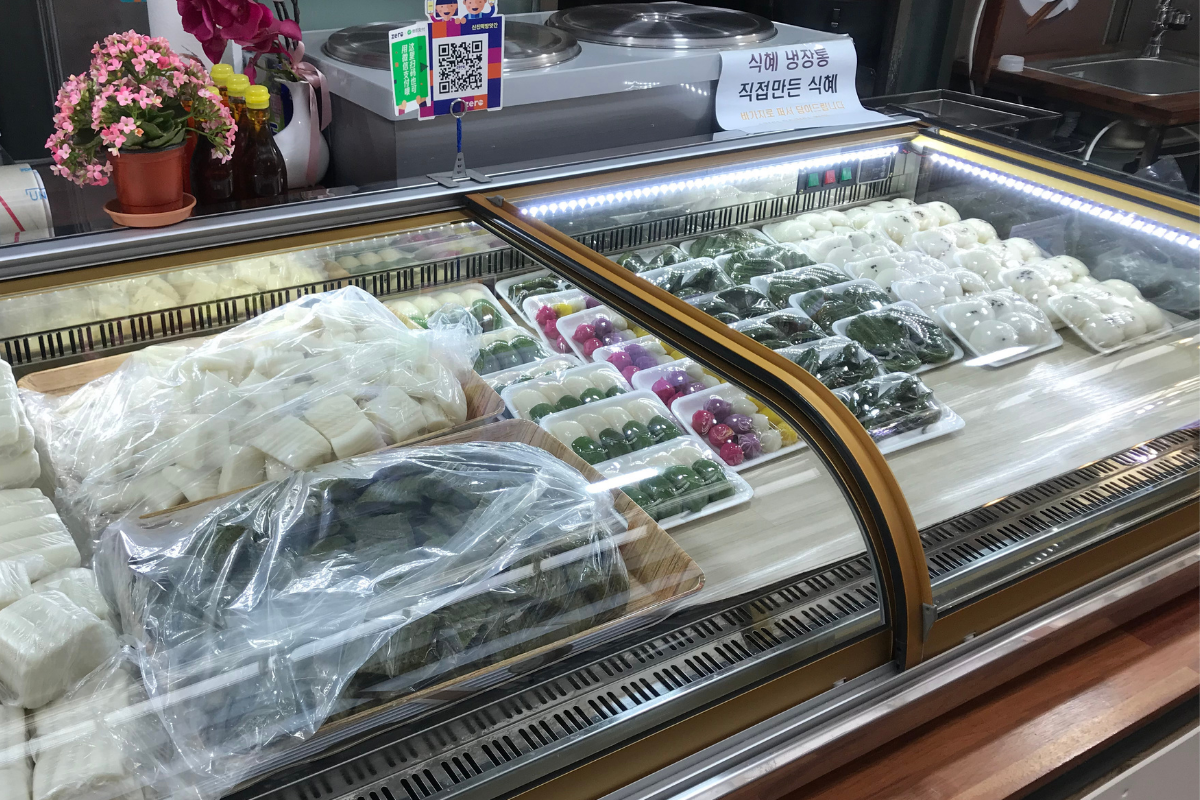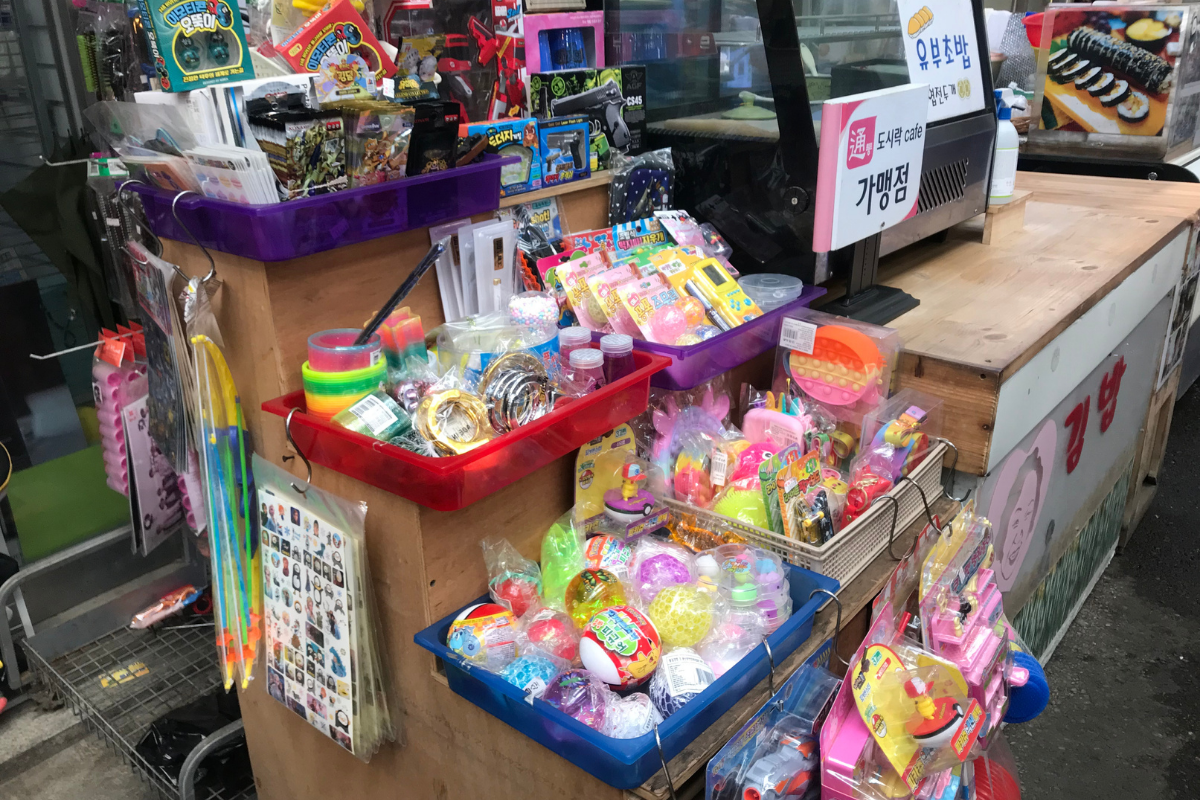 Like many other traditional markets in Korea, there are many stores where you can get fresh produce, traditional Korean rice cakes and sweets, as well as household goods. Markets also tend to be cheaper than supermarkets so it is a good place to come and get some produce and snacks while you are here!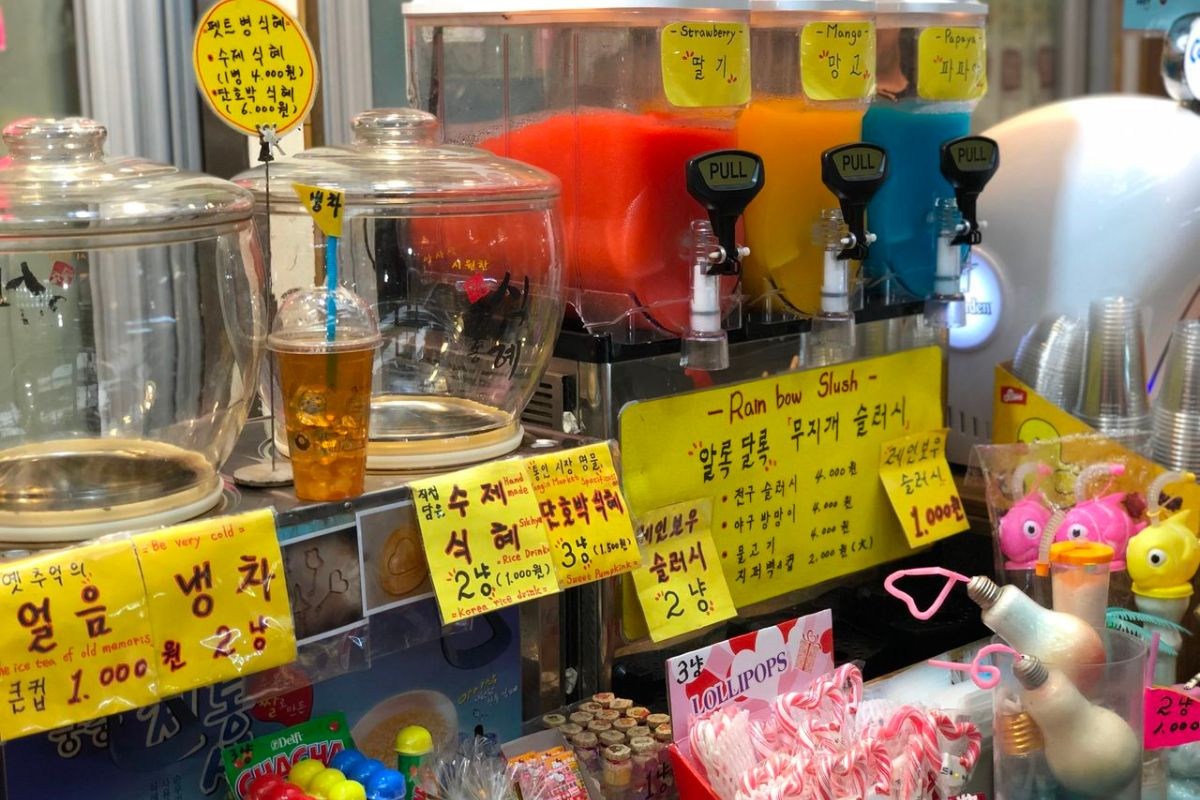 There are also snack and street foods that are sold in markets! Tongin Market also has a large assortment of delicious snack and street foods that are loved by Koreans of all ages! These are a few that we think you shouldn't miss out on while in Tongin Market.
1. Wonjo Halmoni Tteokbokki (원조할머니 떡볶이)
Tteokbokki is a classic street food, and one of the most popular street foods in Korea. Tteokbokki is a spicy rice cake, so it is a perfect dish for those that love spicy food or for those that are feeling a little adventurous!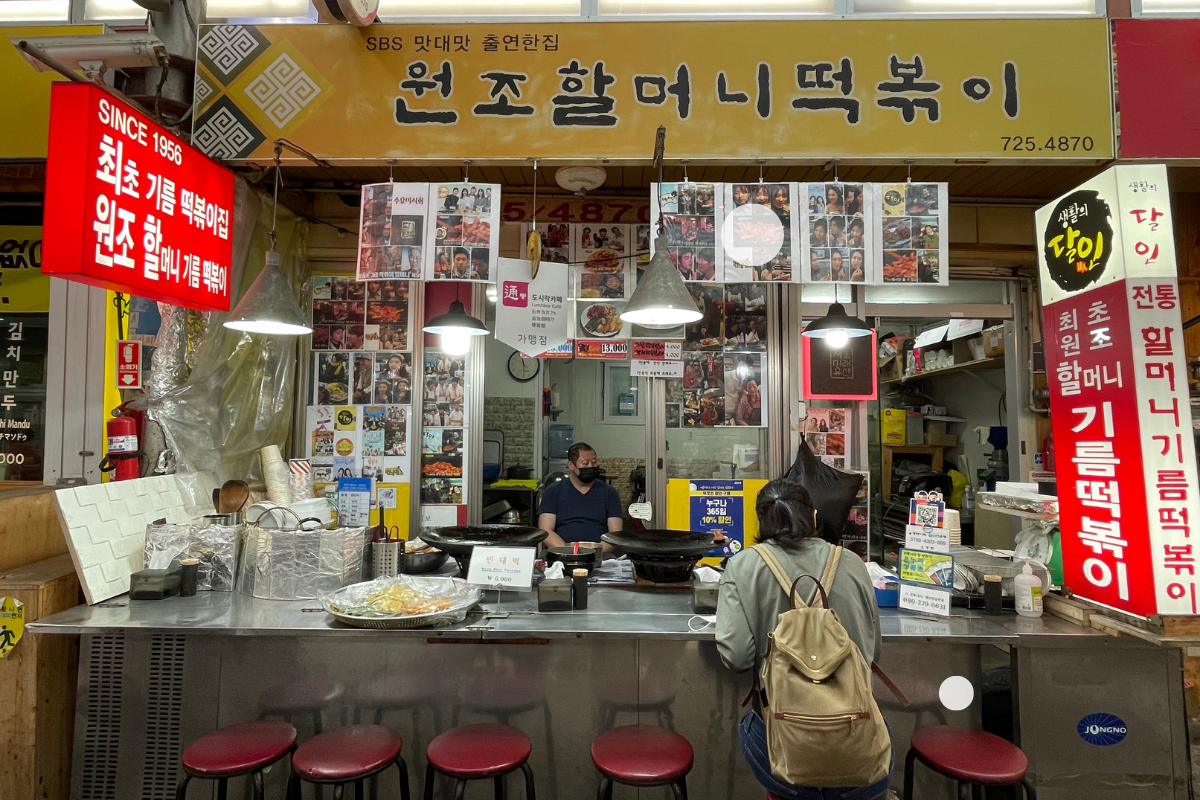 You can buy Tteokbokki here to add to your lunchbox, so we opted for that option. We got a smaller portion, so it was just 2,000 KRW, but the normal serving portion is around 4,000 KRW.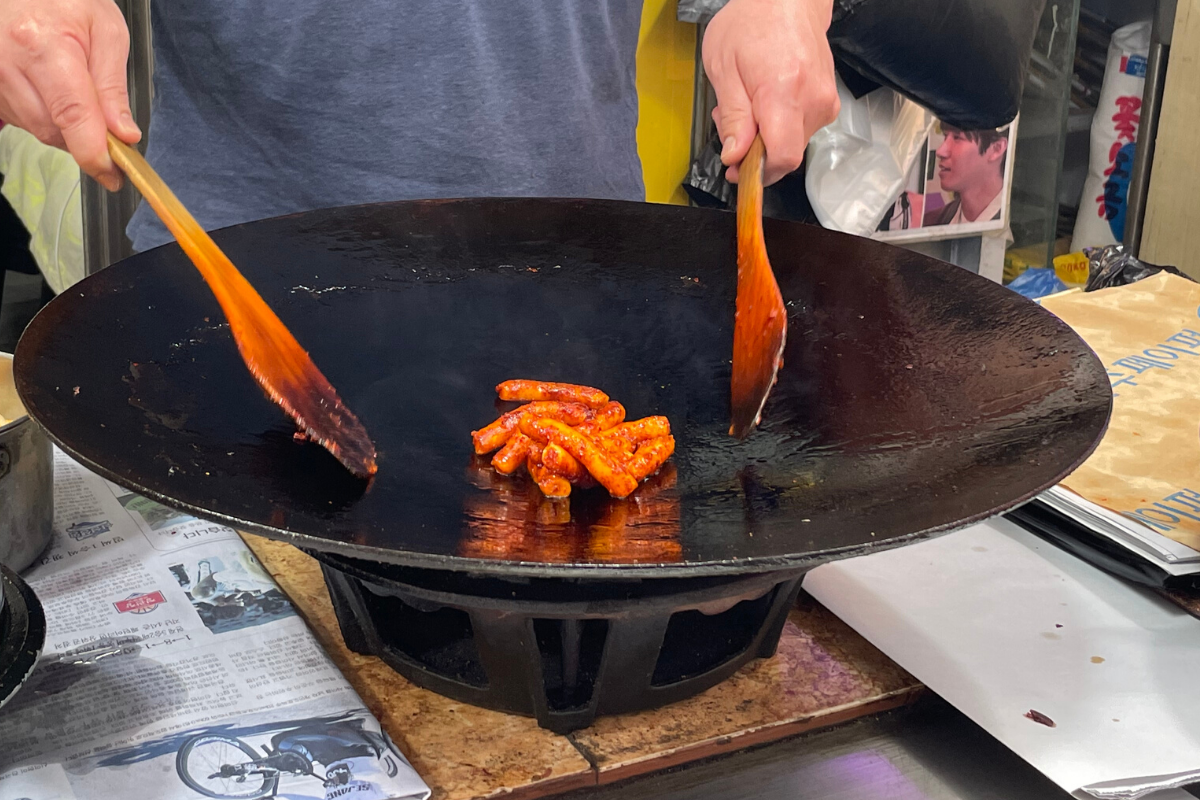 The classic flavor of Tteokbokki is the spicy flavor, however, due to it's popularity, there have been many other variations of the dish such as stir fry and black bean flavored!
2. Wonjo Junghalmoni Tteokbokki 원조정할머니 떡볶이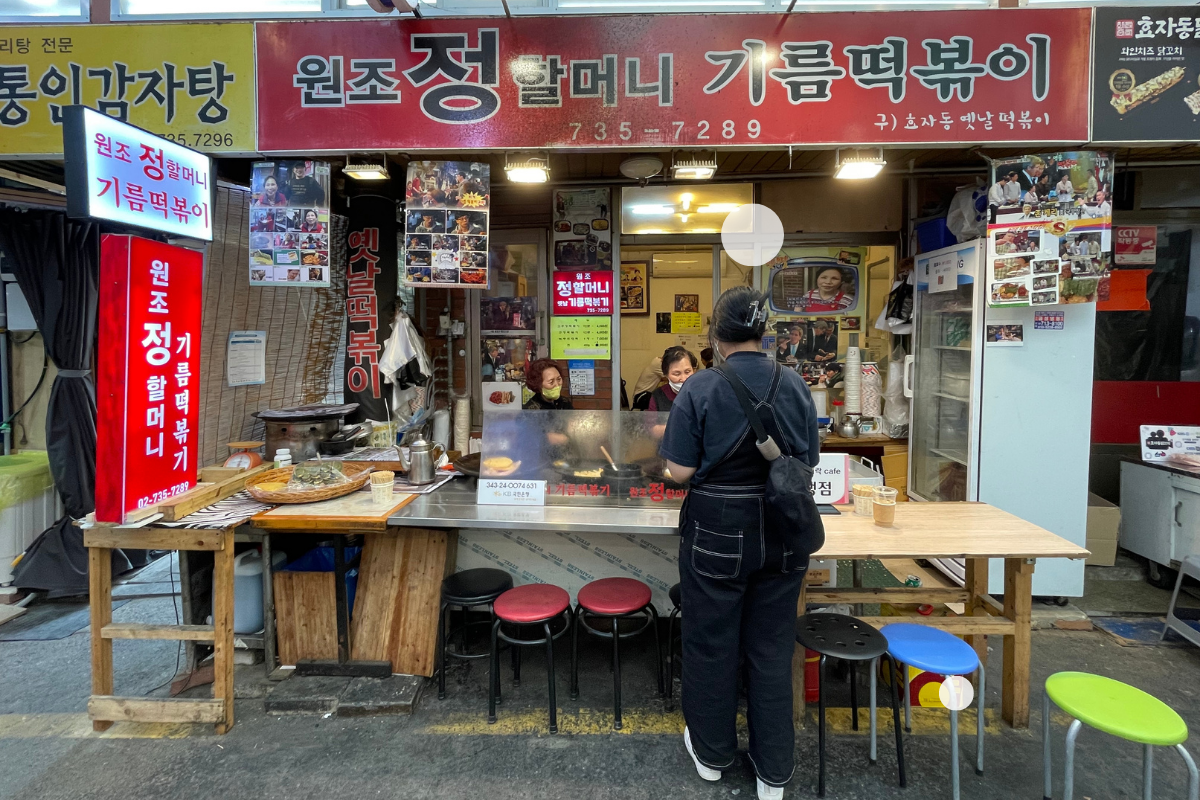 Just a few shops down, you can try stir fry tteokbokki!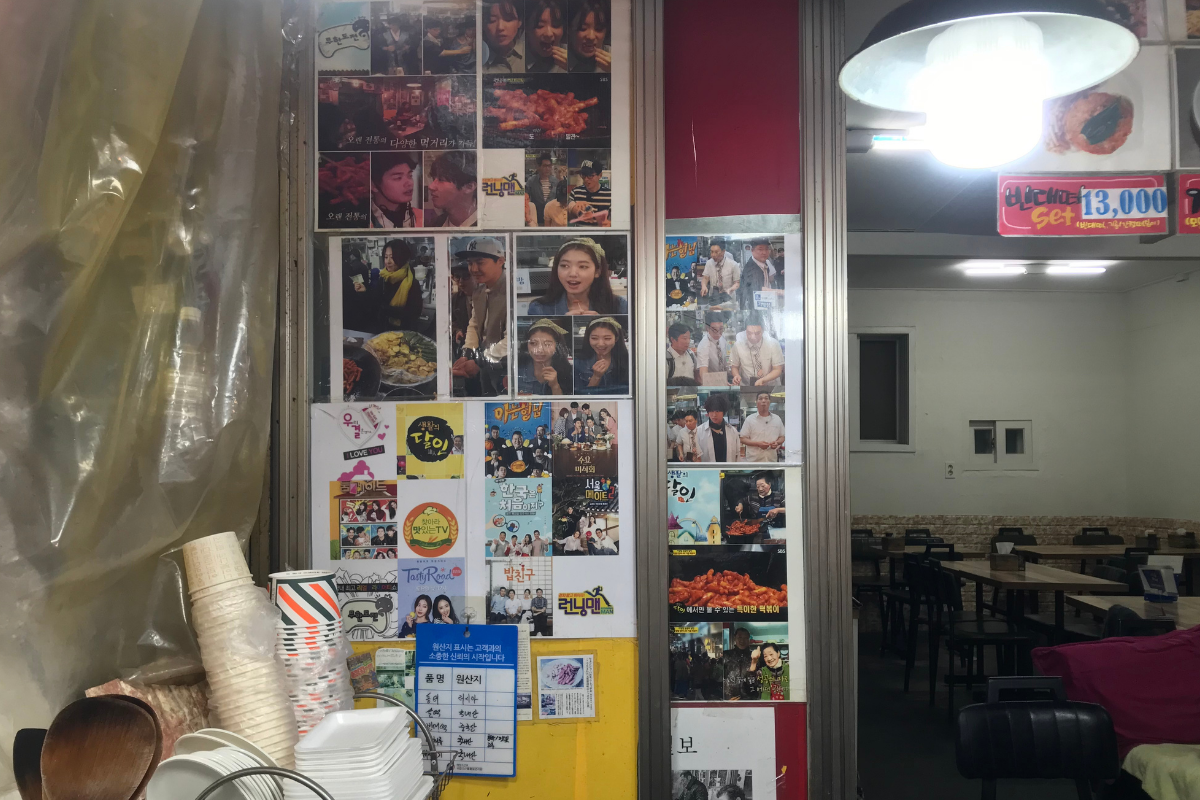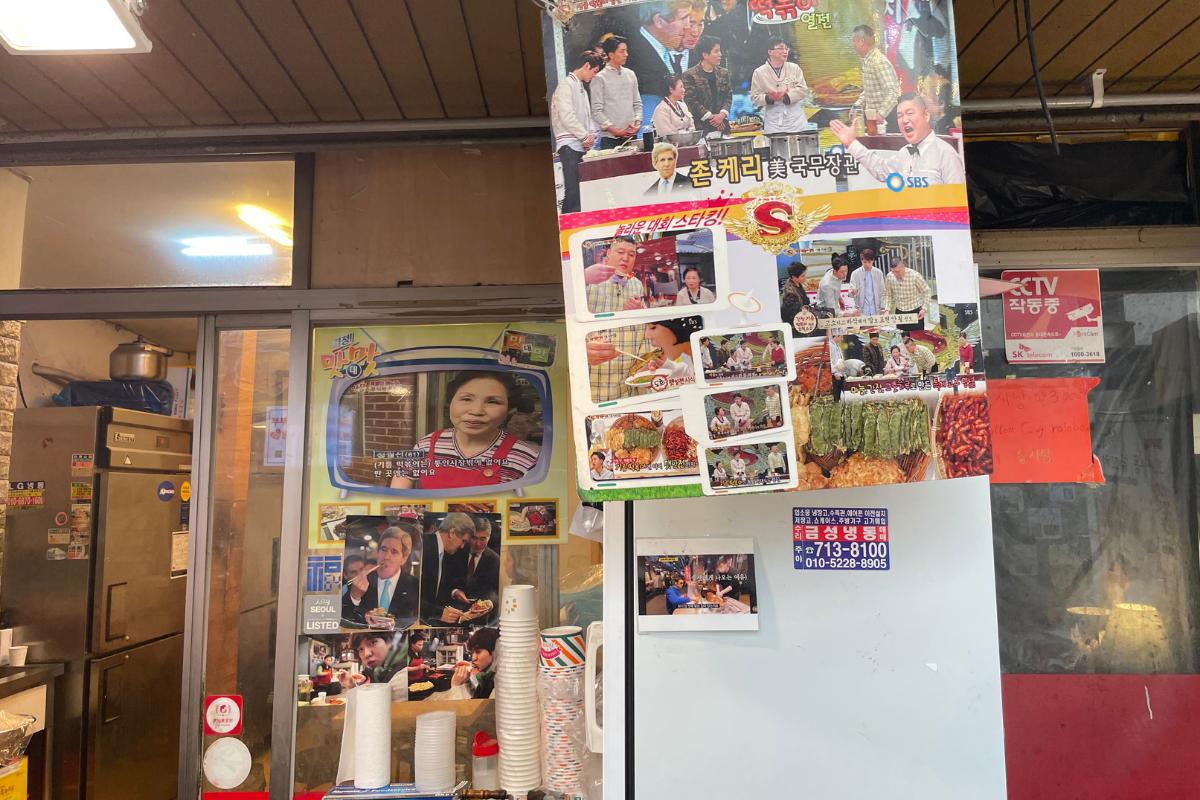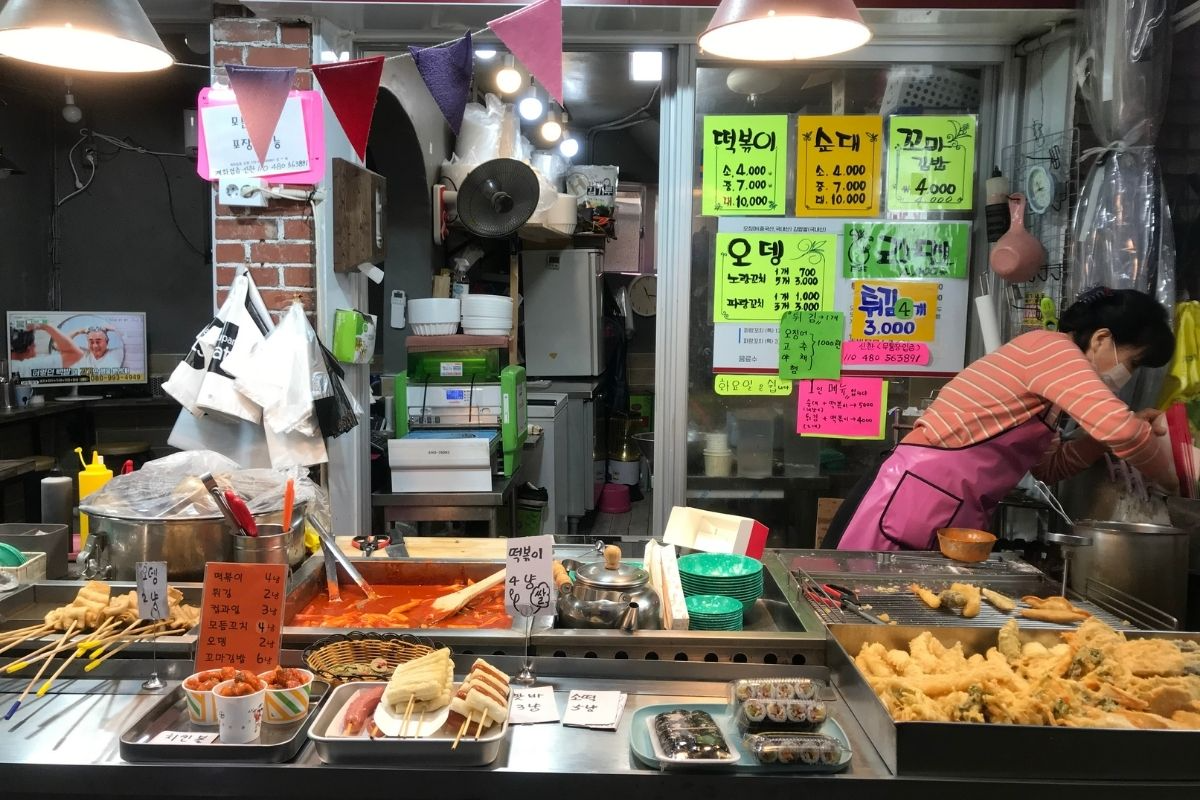 This shop is another one that caught our attention becuase of all the celebrities that visited! You can see photos of all the famous visitors that this stall has had. The price is the same as the other tteokbokki place (2,000 KRW for the lunchbox serving and 4,000 KRW for a regular serving).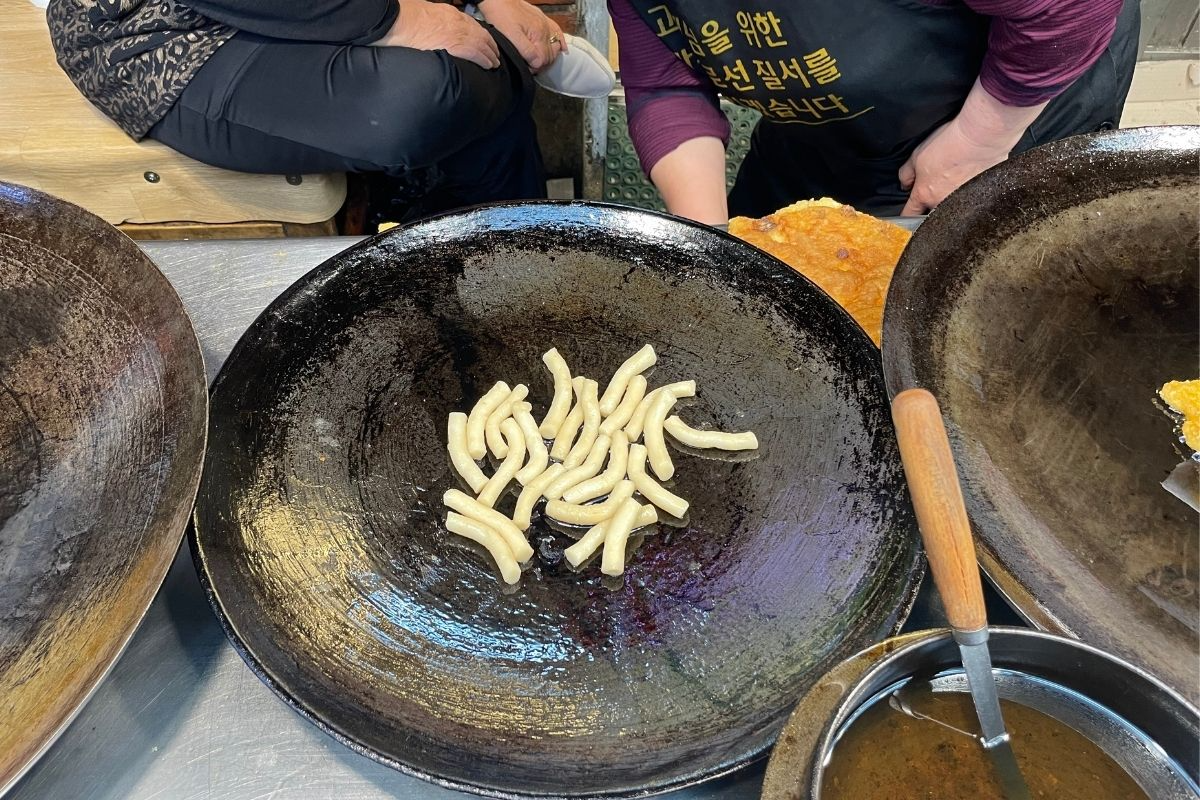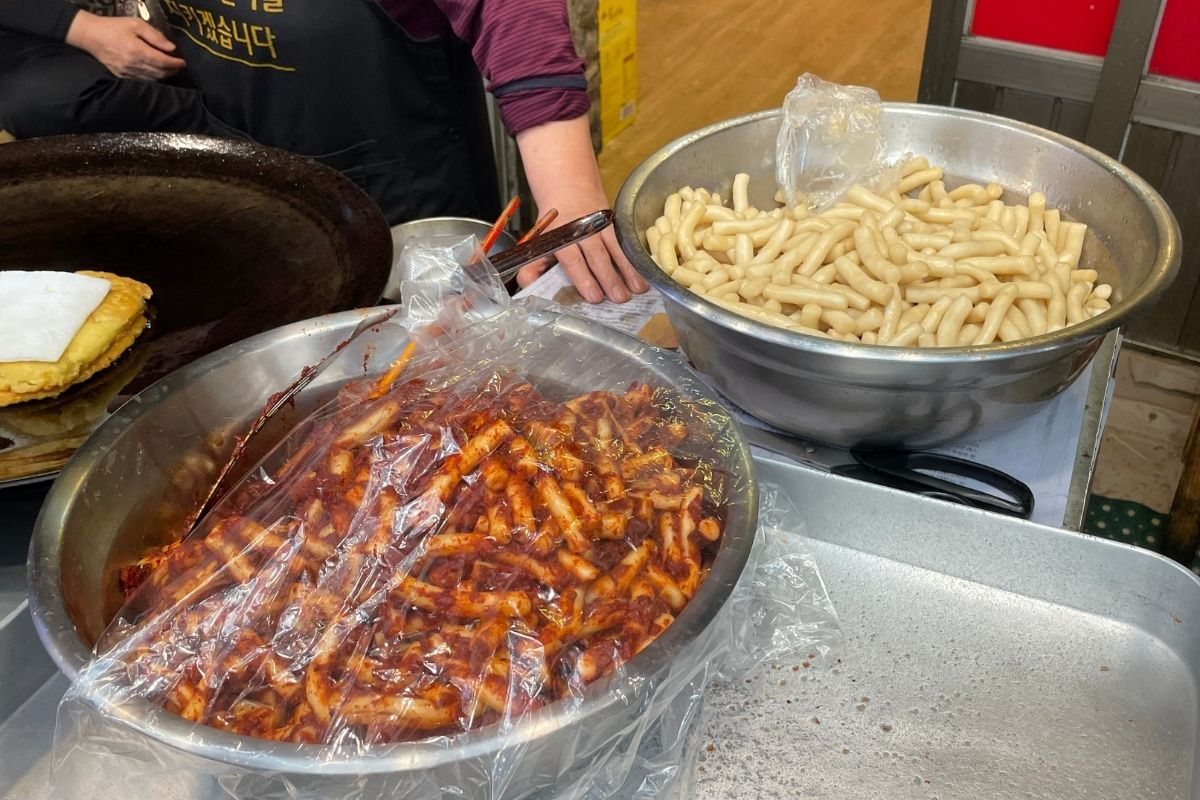 The stir fry tteokbokki has a little bit of a different texture than the classic tteokbokki. It is a little bit more crunch on the outside and soft and chewy on the inside.
3. Jeongkeum Inekimbap 정금이네김밥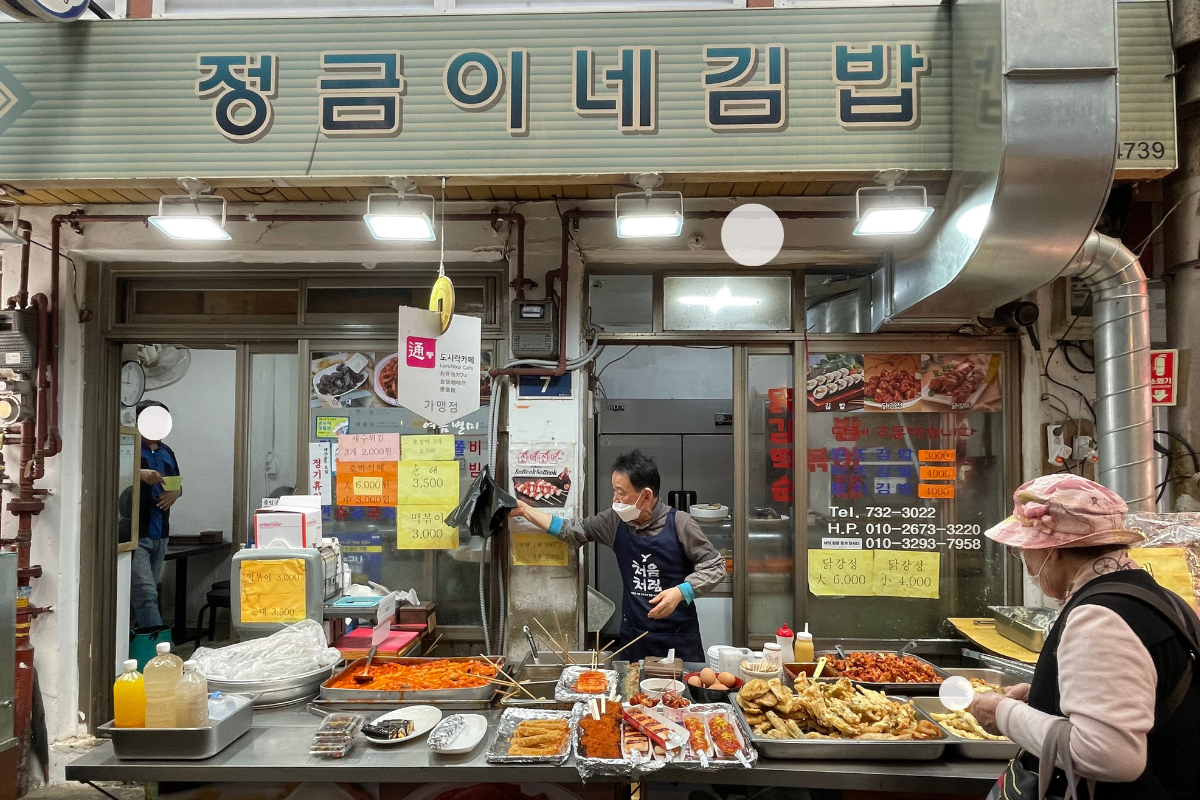 Another restaurant that we walked past was this Kimbap place. However, they also sell a variety of other fun and delicious street foods such as tempura, fried chicken, fried shrimp, sausages, grilled Tteokbokki and skewers! If you want to get a taste of classic Korean street food, we highly suggest coming here and trying out all the items here. They truly had everything considered a classic Korean street food item.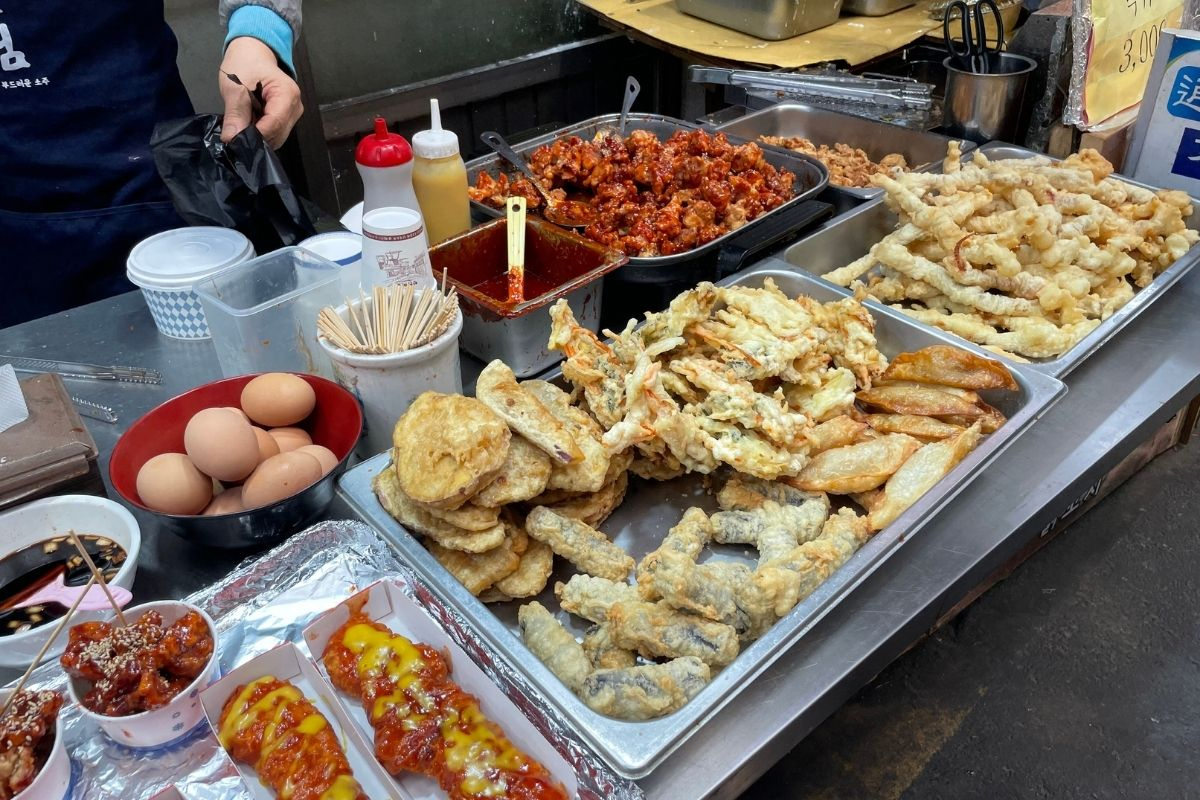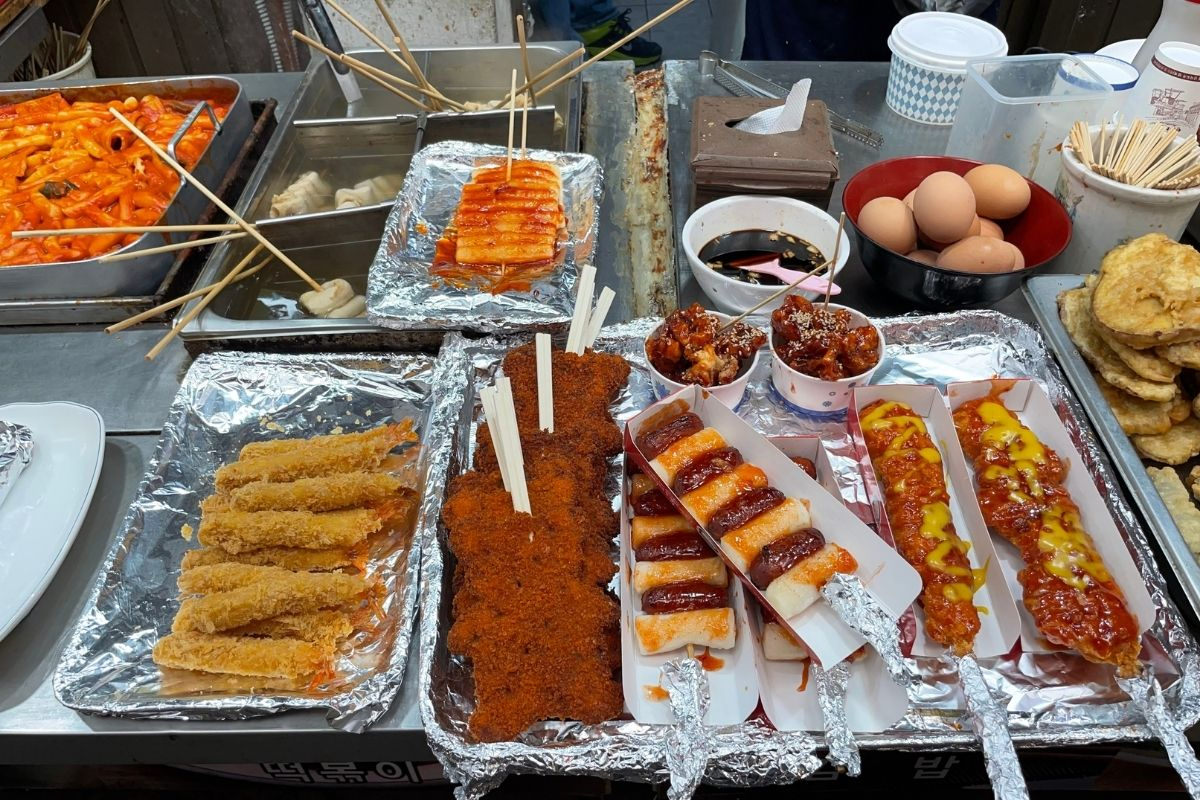 4. Jungang Jeonju Banchan (중앙전주반찬)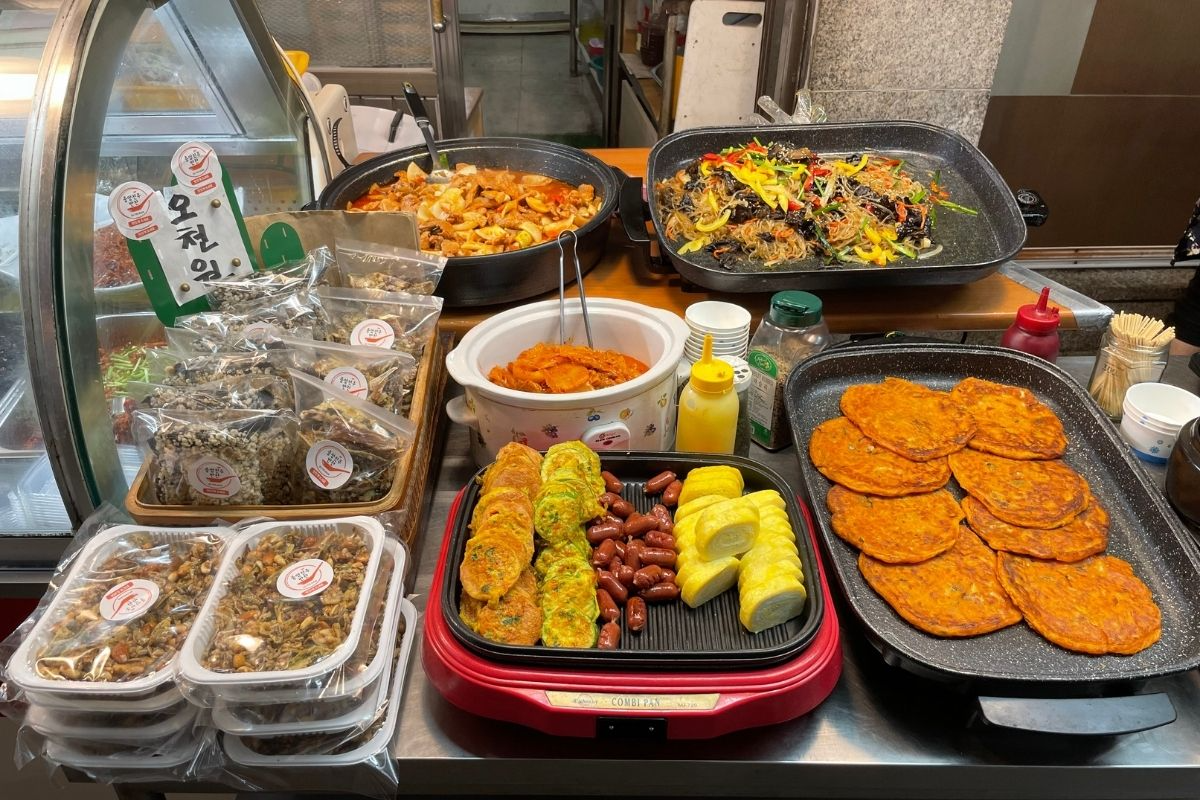 If you are somewhat familiar with Korean cusine, you most likely have heard of banchan, the side dishes that accompany every Korean meal. There are so many different types of banchan that Koreans like to eat. Because banchan is such a staple in Korean cuisine, in Korea, you will be able to find banchan stores. These stores sell just banchan, and are usually there for convenience. Many Koreans that are too busy to cook will buy a few banchan and eat it with rice at home for a delicious and nutritious meal!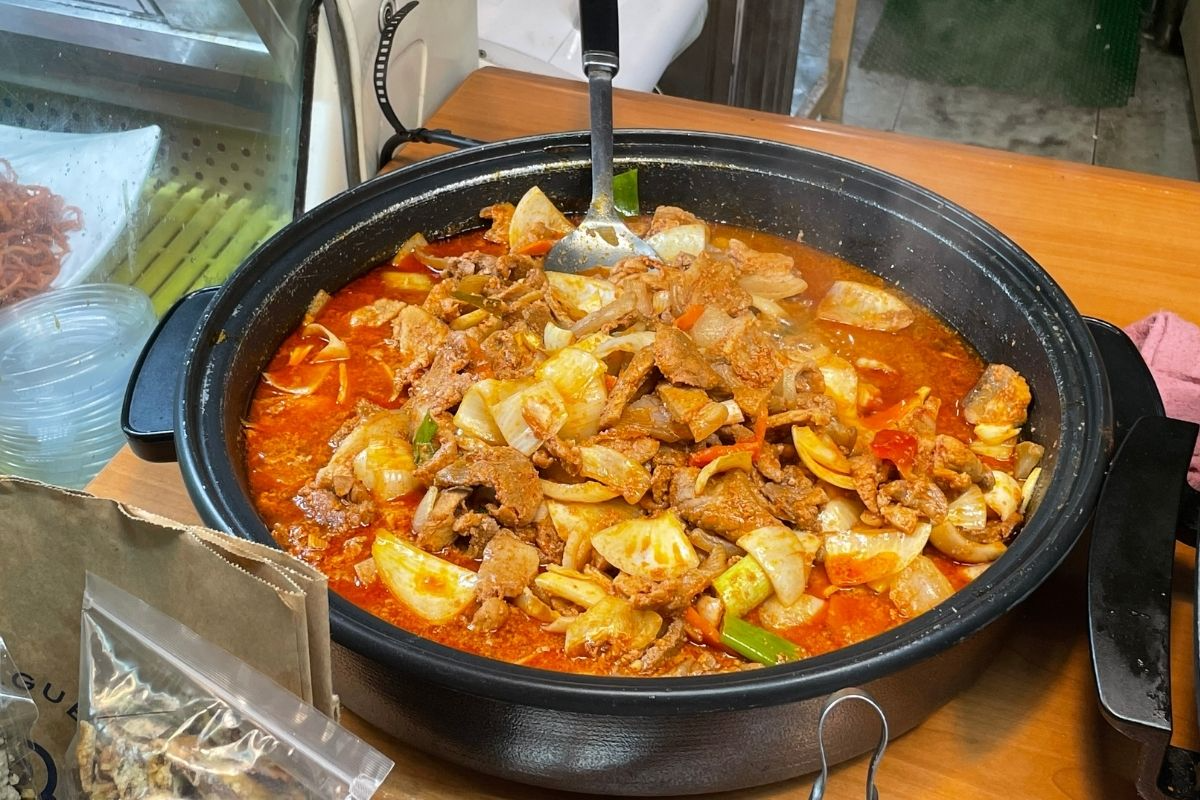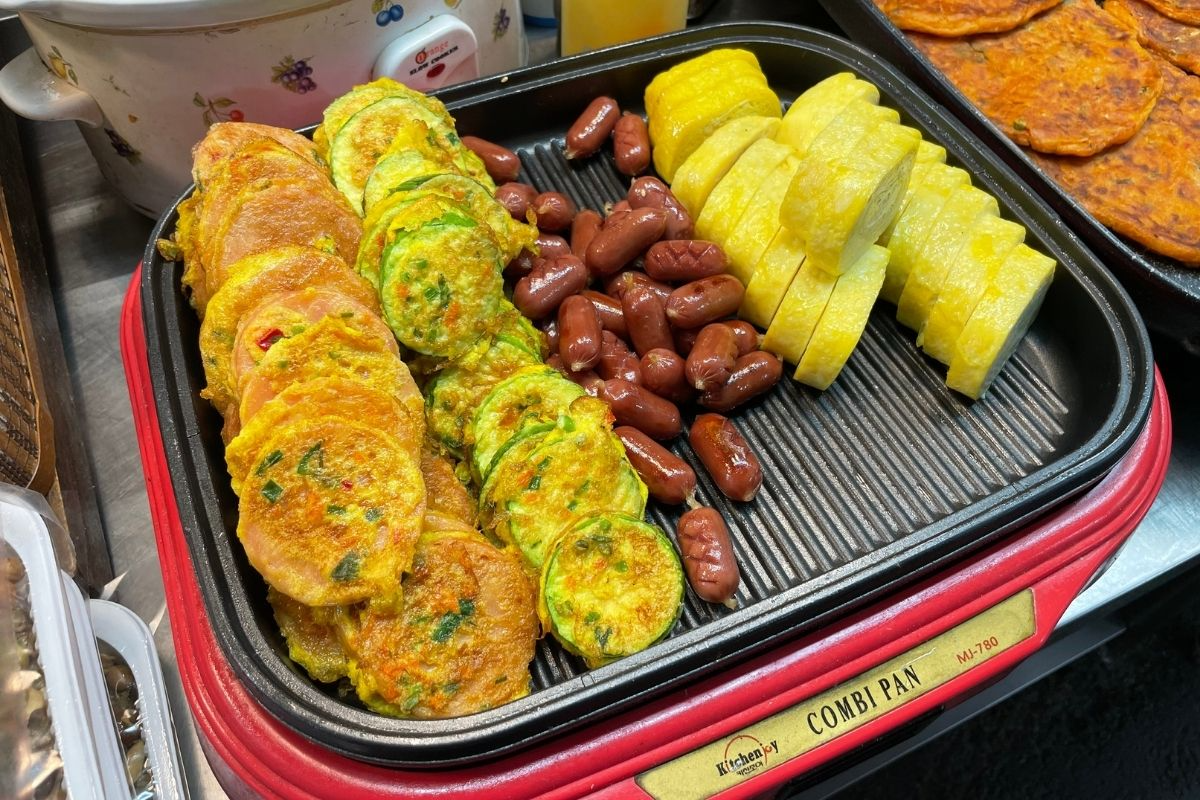 Many of these stores are located in traditional markets. The one in Tongin Market was selling a variety of different types of banchan ranging from stir fry meat and noodles, curries, egg rolls, and different types of pancakes (jeon)! We added a few to our lunchbox and it was 2,000 KRW each!
5. Tongin Chok 통인촉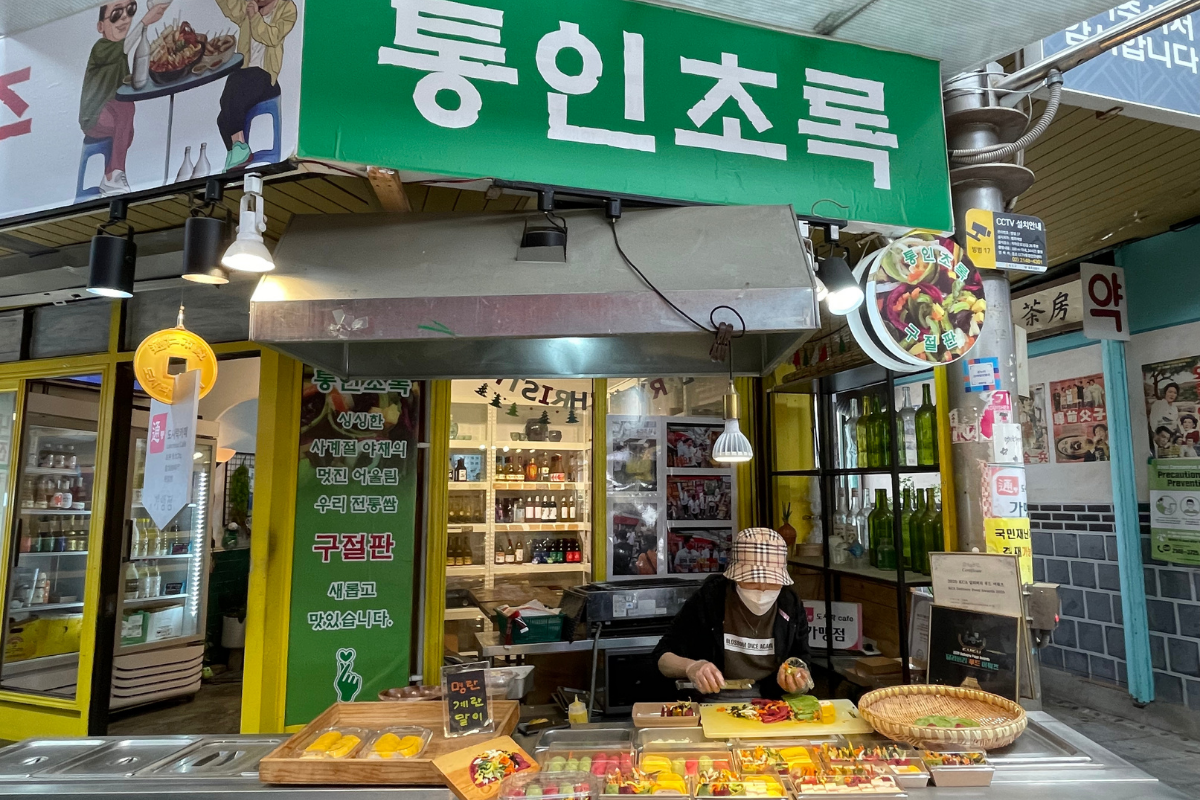 Tongin Chok is a stall where you can get veggie rolls. The rolls are so colorful as they are filled with so many different types of vegetables! This is the best way to eat the rainbow and get those nutrients in!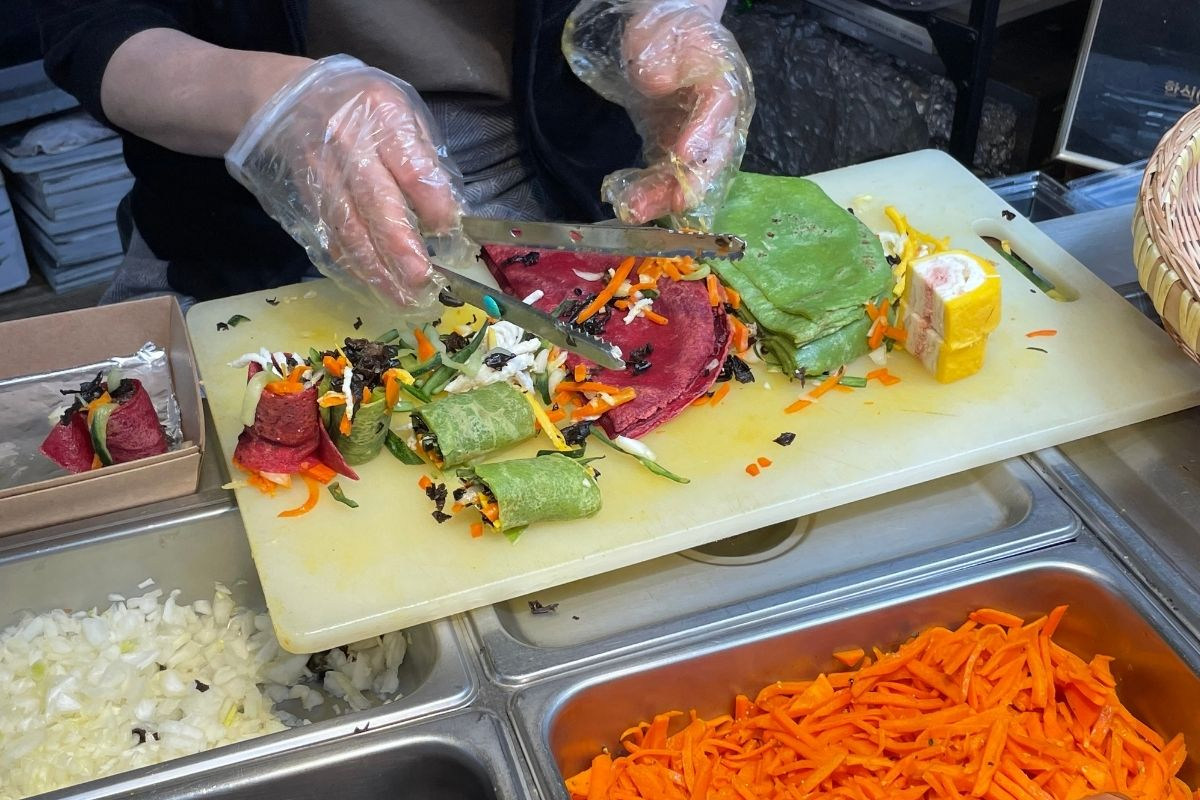 If you like it you can buy a normal size4 and you can wrap it up and take it home! You can also purchase these rolls using normal cash rather than the coins!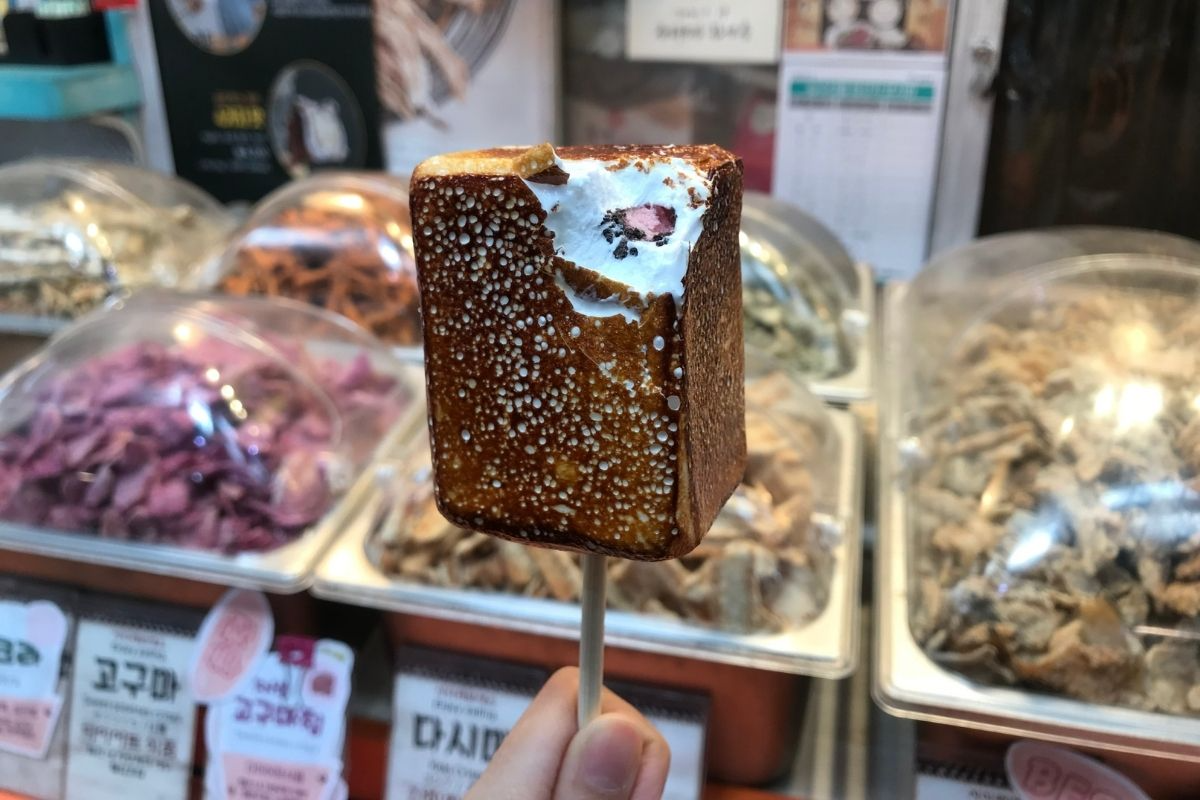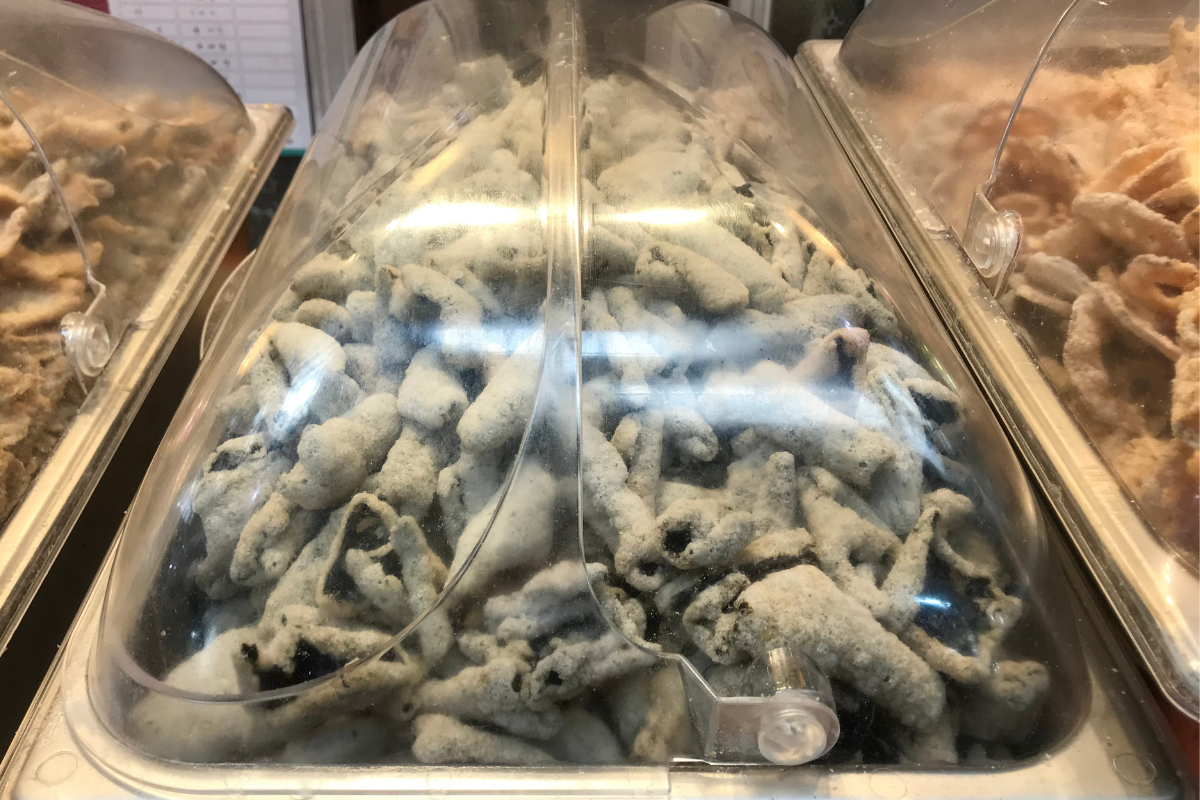 In addition to savory food, there are also desserts like ice cream. This ice cream was very popular on social media! The ice cream is covered in marshmallow and is a delicious combination. You can also try out some more traditional Korean snacks such as fried seaweed!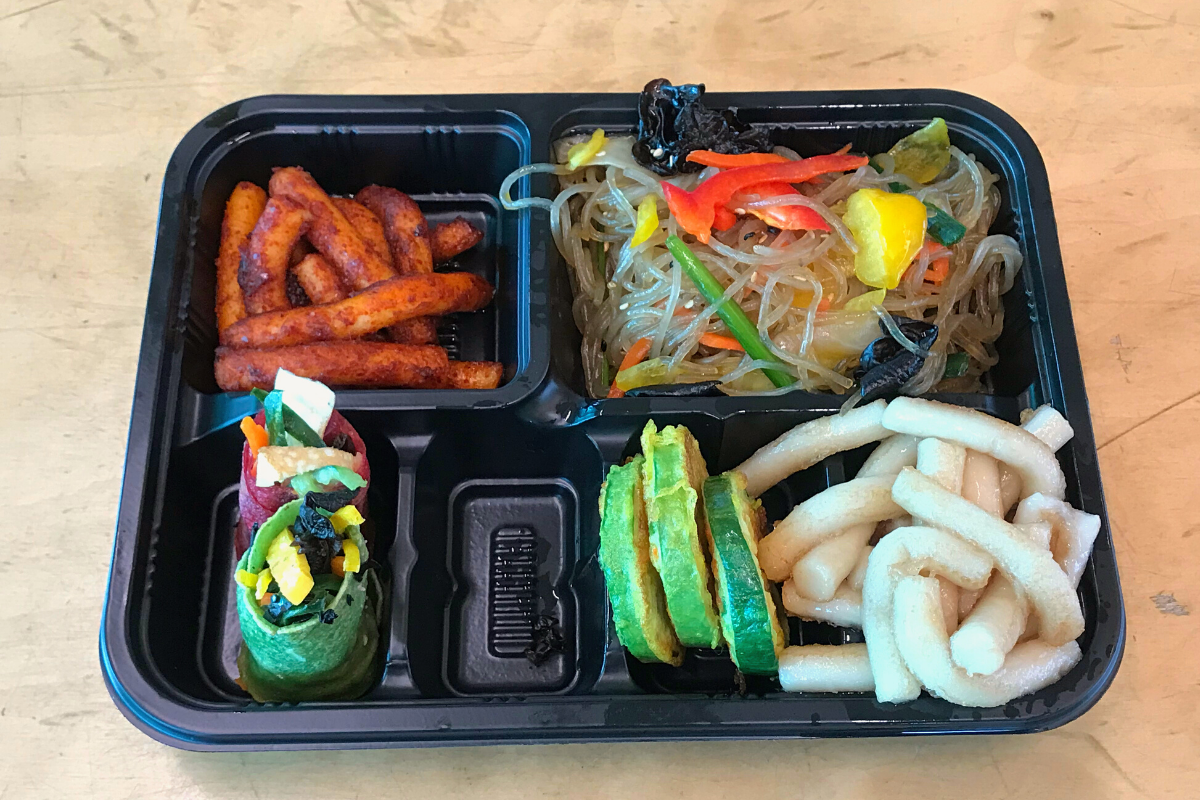 This is our lunchbox. We were able to get such a large variety of different foods! The whole thing only cost 8,000 KRW!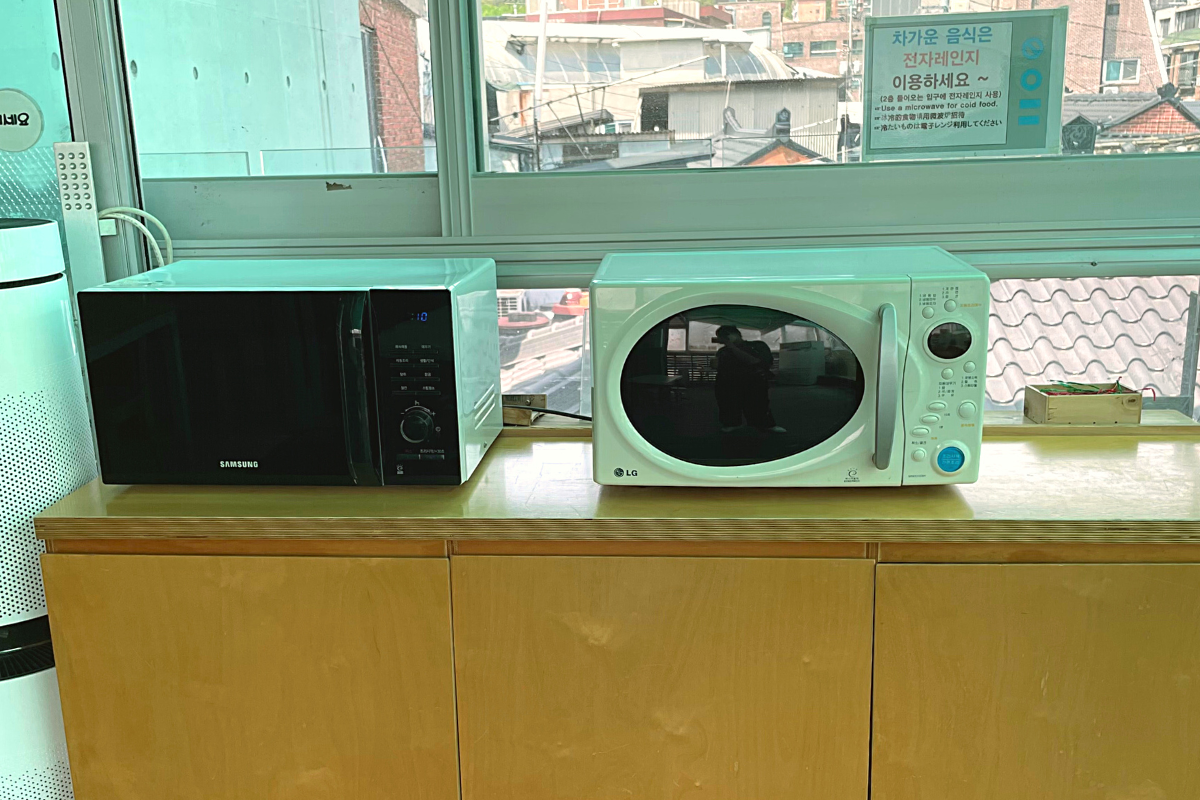 For those that do not want to eat right away, you can walk around the market and come back and microwave your food.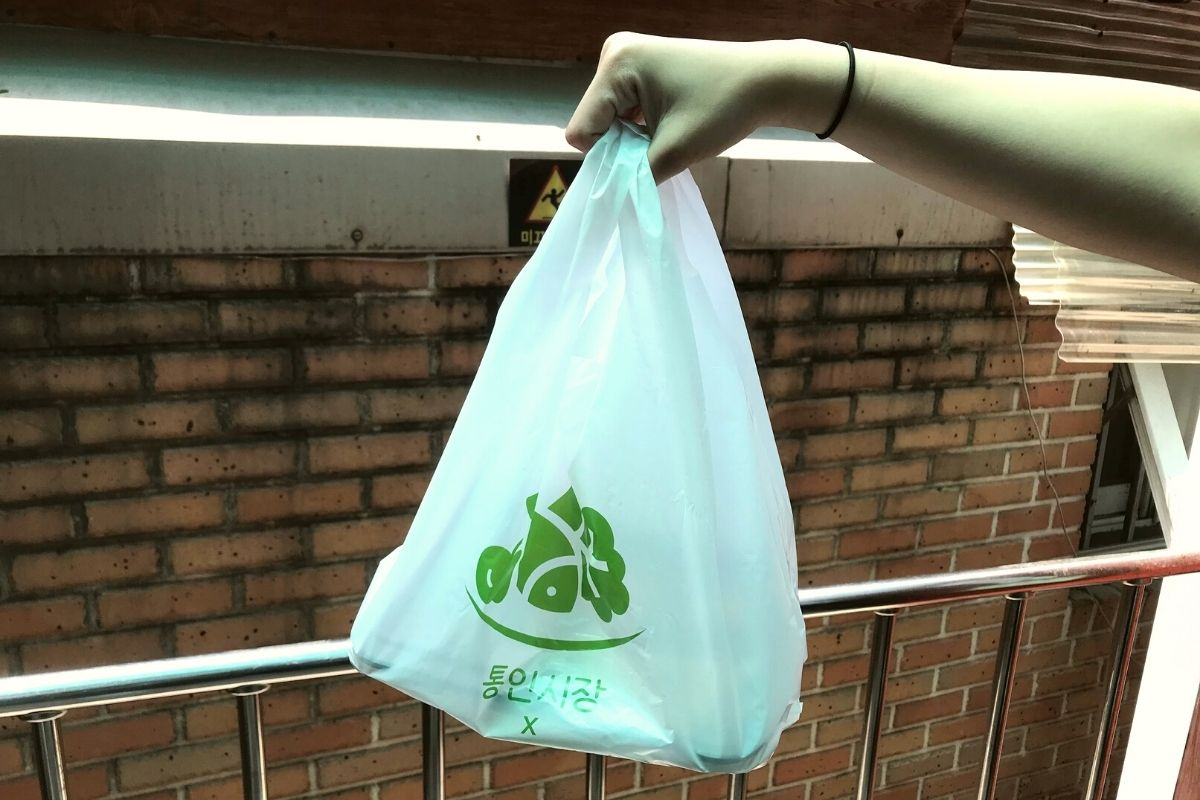 If you don't feel like eating at the market at all, you can ask for the lids and plastic bags to take your food home!
---
How to Get There
You can exit out of Exit 2 of Gyeonbokgung Station on subway line 3.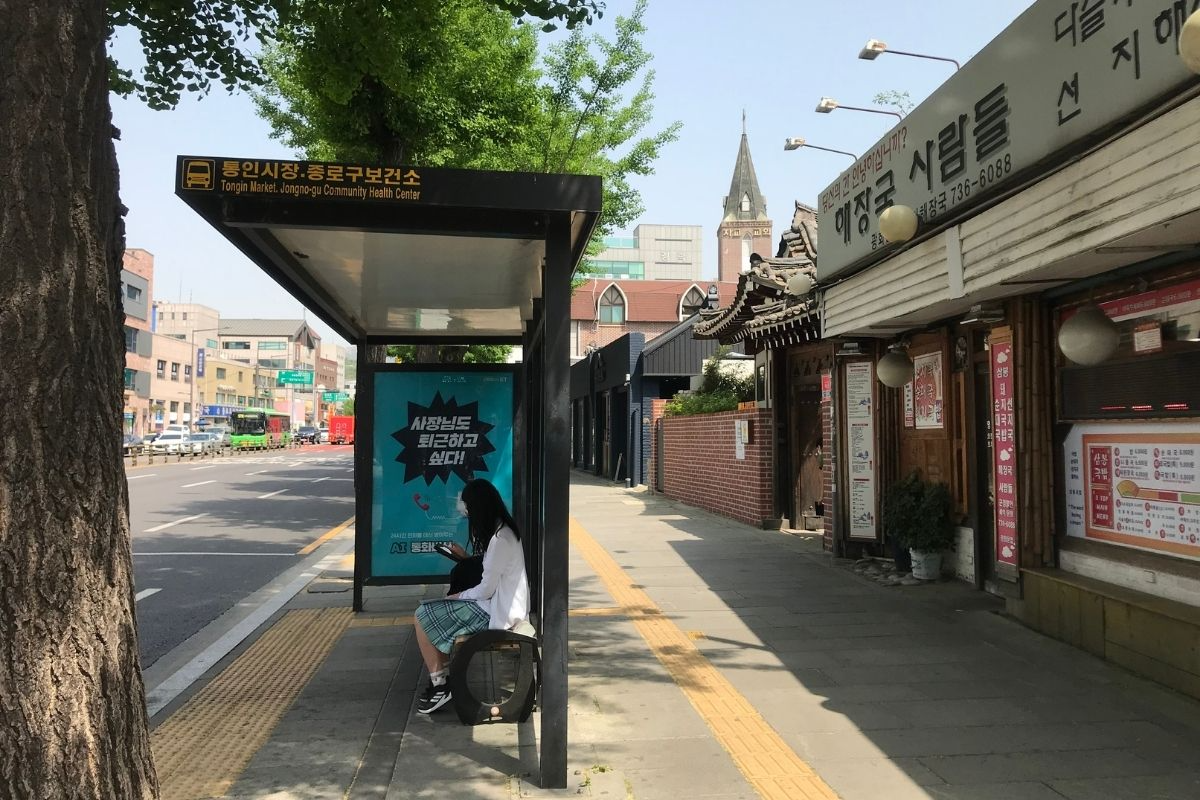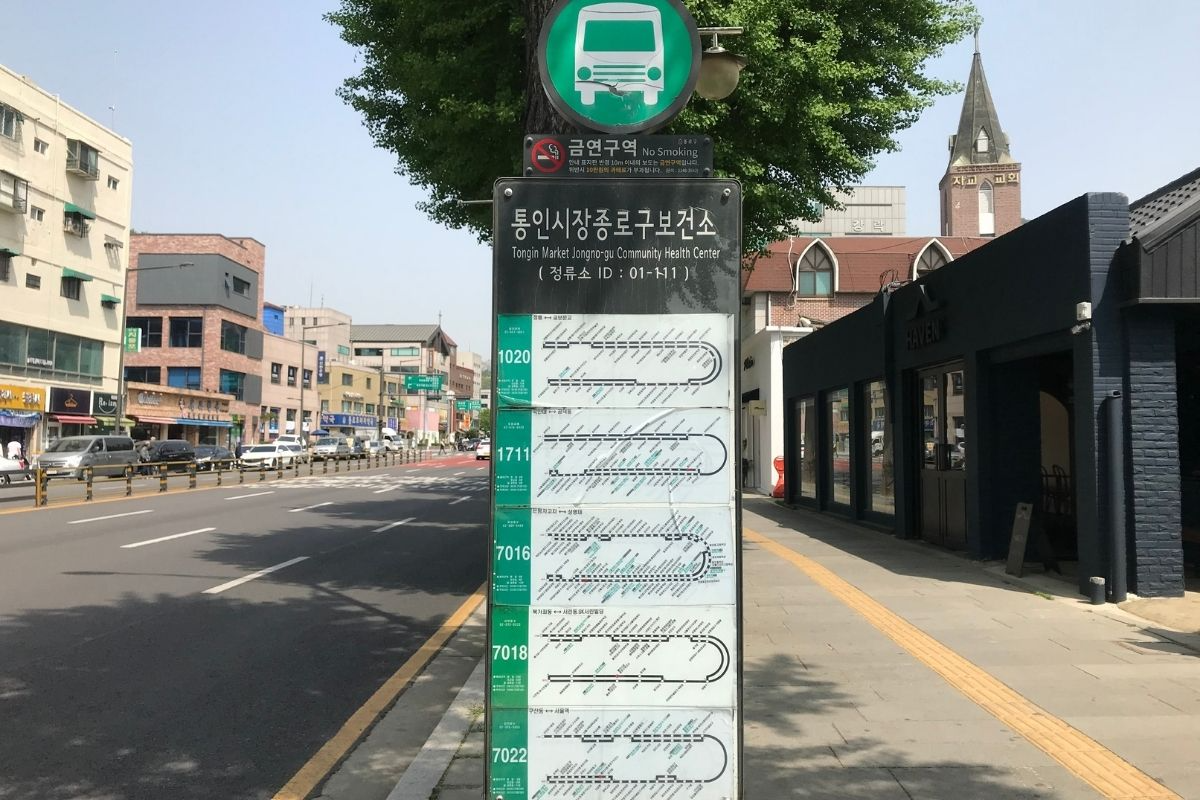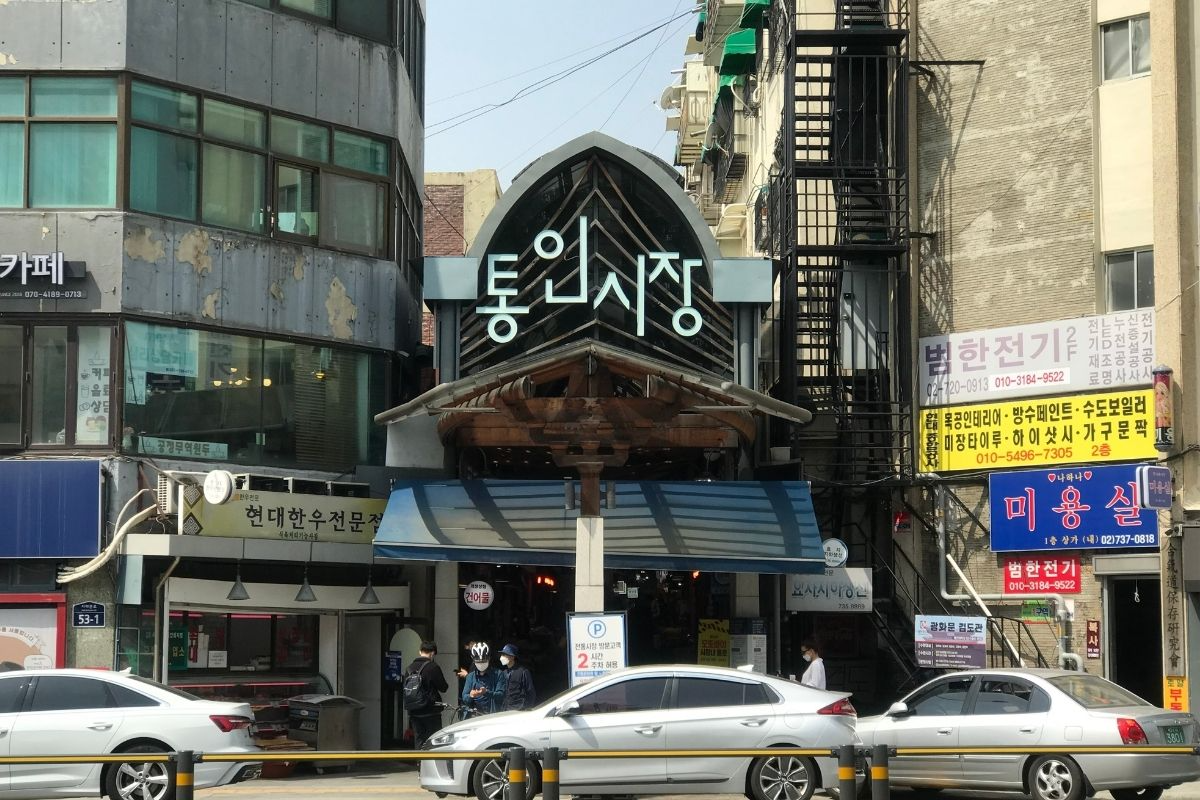 Or you can take a bus to Tongin Market Jongro-gu Community Health Center. When you arrive at the bus station, just cross the street and you will arrive at the market.
---
Things to Do Nearby
1. Rent a Hanbok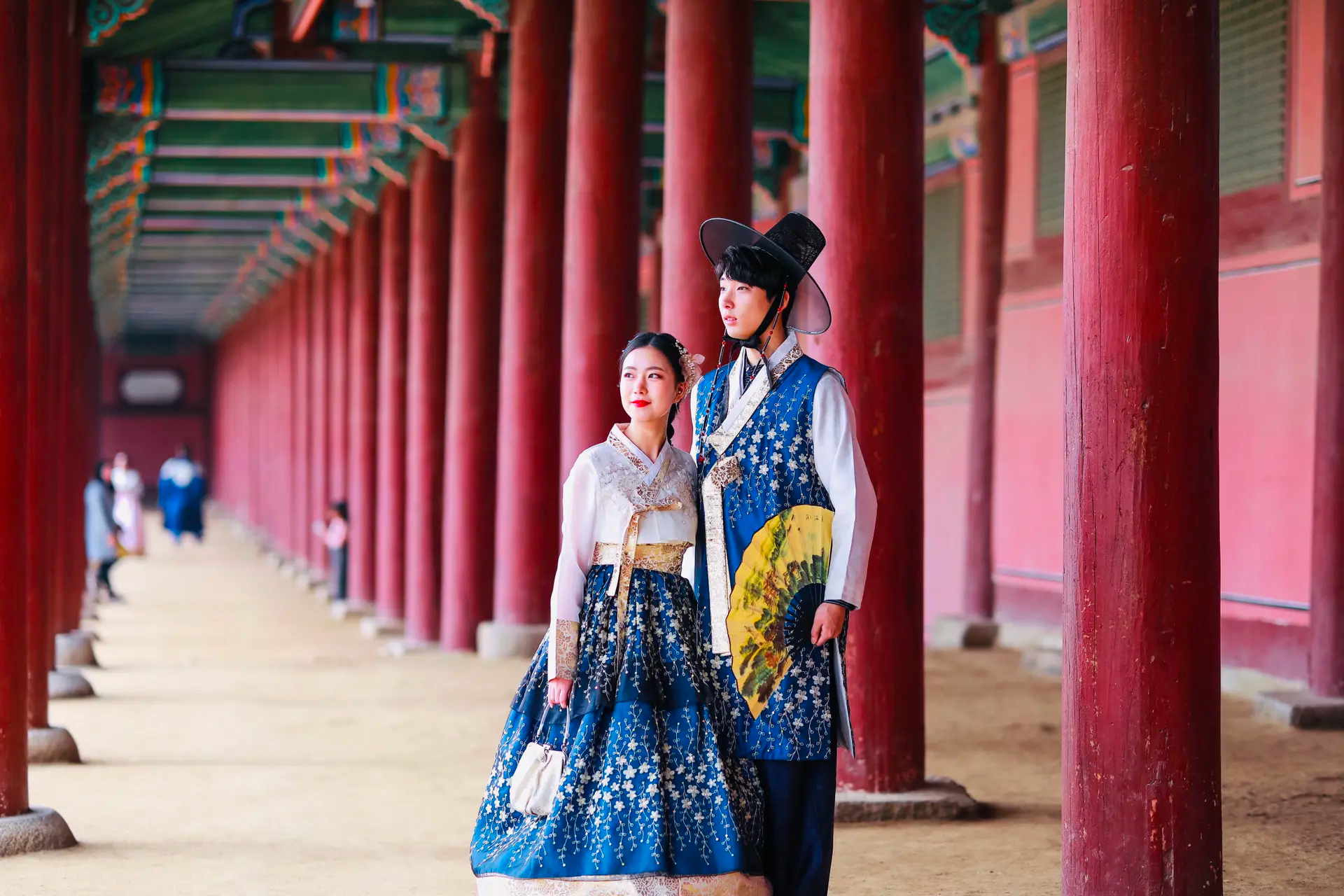 | | |
| --- | --- |
| Store | Link |
| Haewadal Hanbok | |
| InKorea Hanbok | |
| Hanbok Girls | |
| Today's Day Habok | |
| Hello Hanbok | |
| Yes Hanbok | |
| Hanboknam Seochon | |
2. Cafes and Restaurants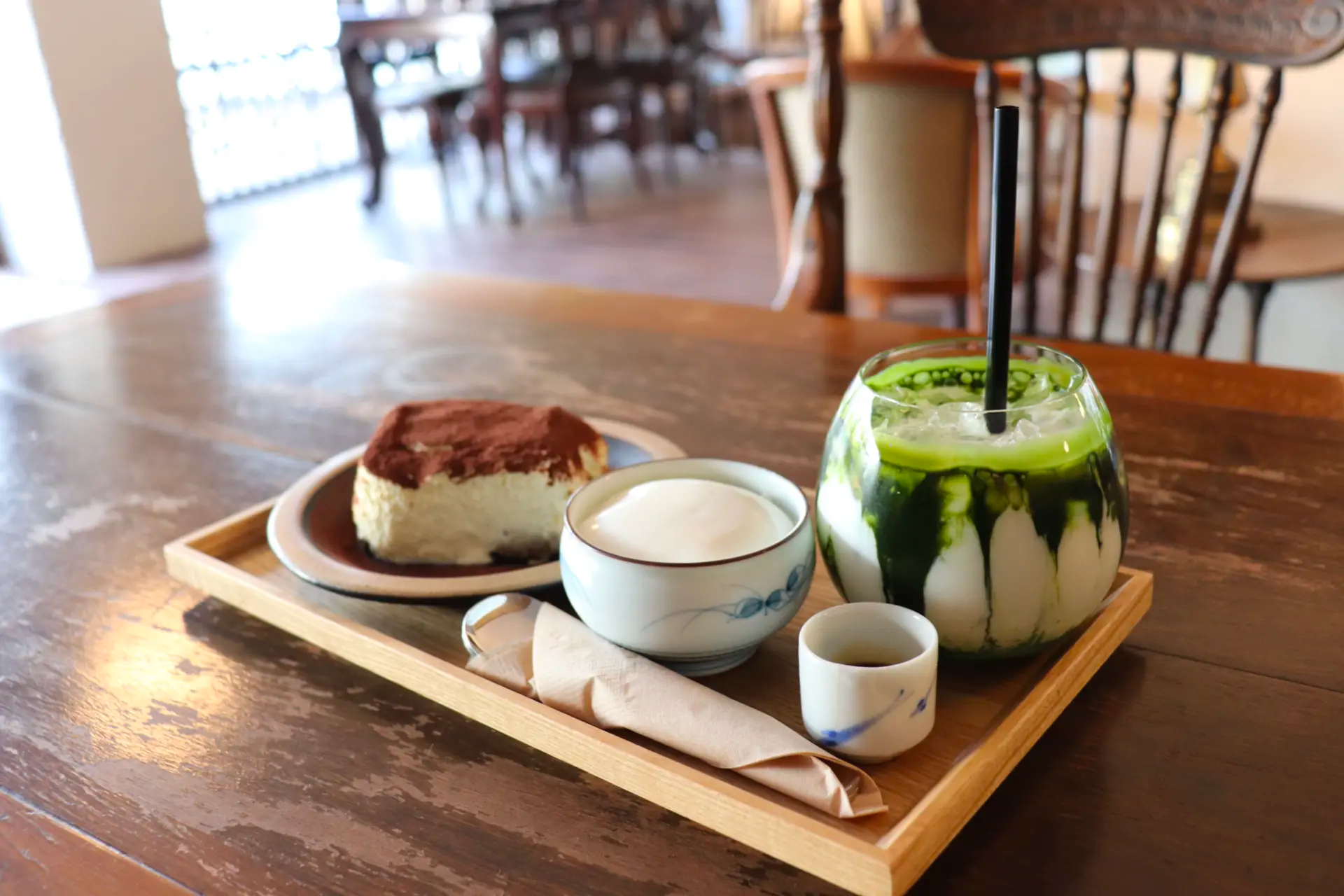 | | |
| --- | --- |
| Store | Link |
| Gabaedo Samcheong | |
| Cafe Piu | |
| Masan Agujjim | |
| Najuso Naju Gomtang | |
| Tea Therapy | |
| Maji | |
3. Photo Studio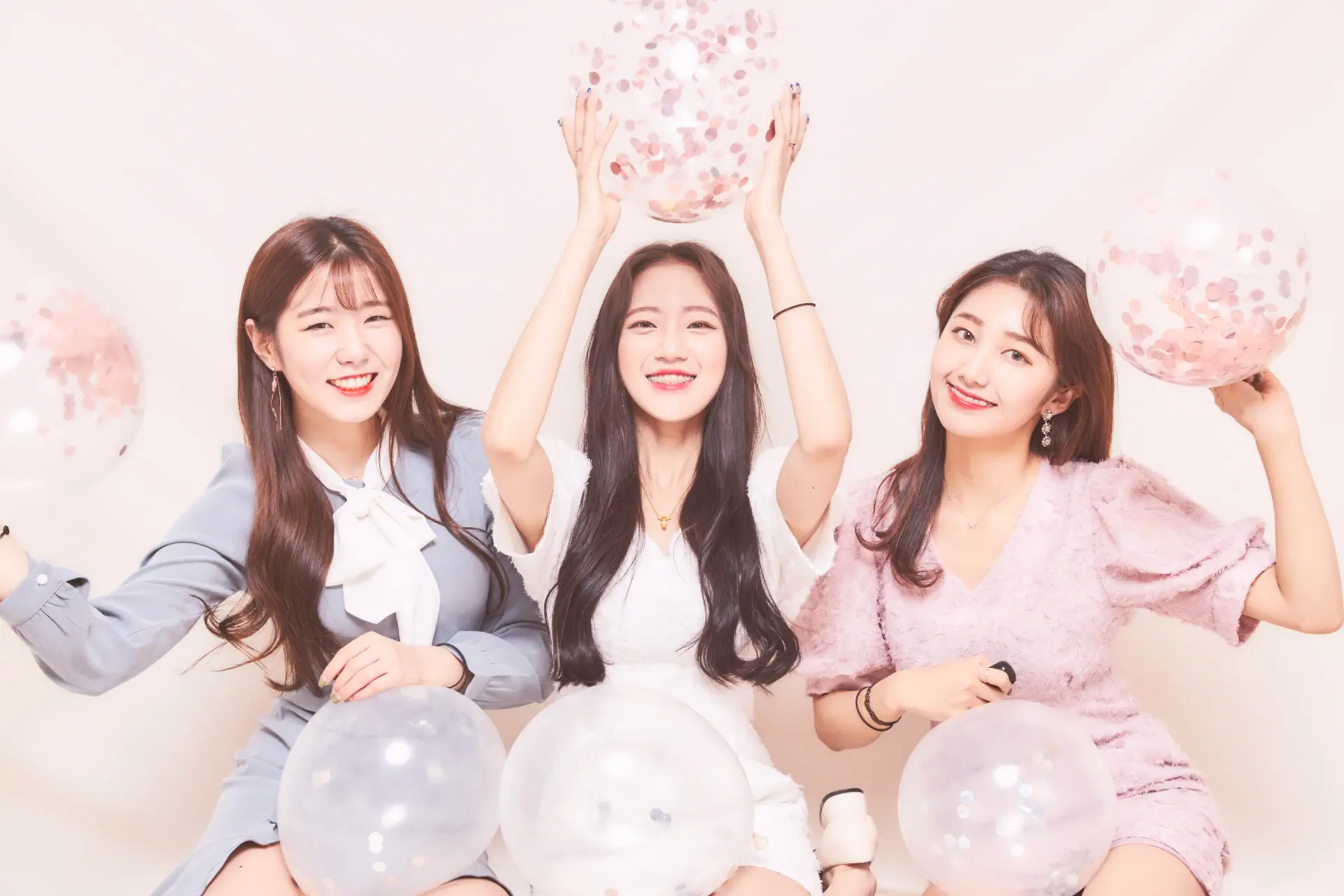 | | |
| --- | --- |
| Photo Studio | Link |
| Cheese Smile Studio | |
| Bukchon Photo Studio | |
| Outdoor Shooting: Bukchon Photo Studio | |
| Travel Light | |
4. Other Activities
| | |
| --- | --- |
| Activity | Link |
| Tour Korea by Pedicab | |
---
We hope that you get the time to go out and explore Tongin Market! If you have any questions, please leave a comment below, or send us an email at help@creatrip.com! You can also follow us on Instagram, Tik Tok, and Facebook to learn more and stay updated on all things Korea!
---