Complete List Of Must-Try Snacks In Korea 2020
A List Of Our Favorite Korean Snacks! Green Tea Wafers, Purple Sweet Potatp Chips And Much More!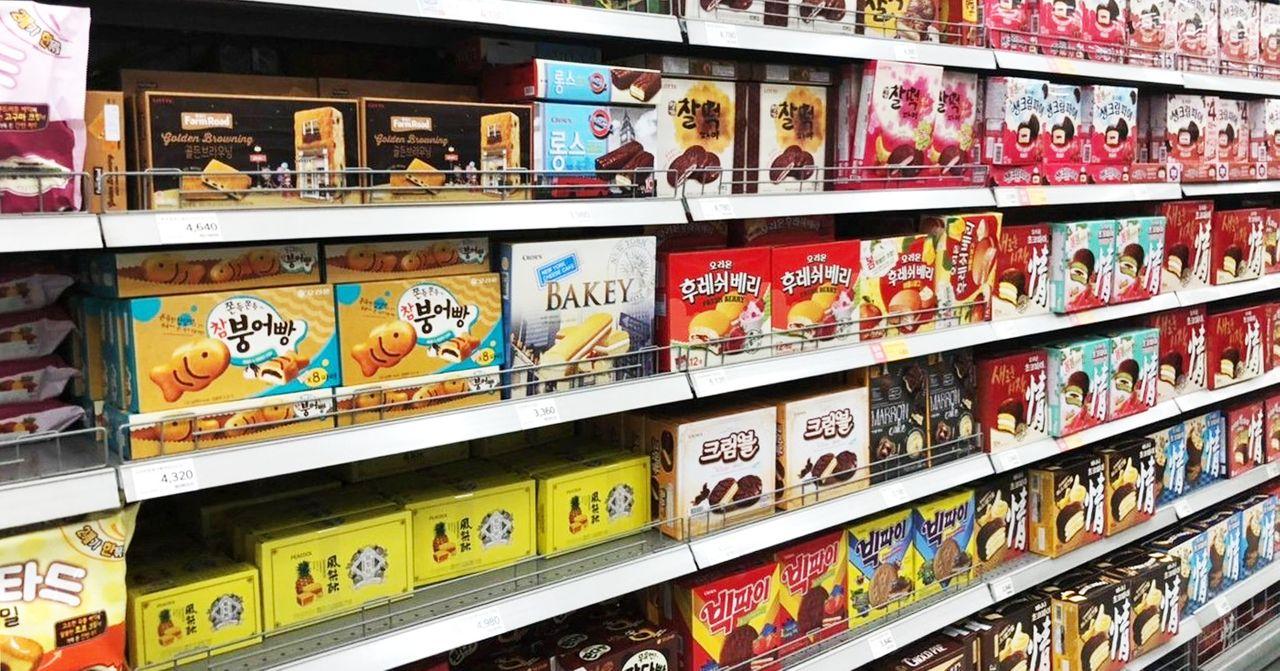 In addition to exploring different Korean food options, visiting supermarkets to check out local snacks is also a must-do itinerary when you come to South Korea.
But with such a variety of snacks, it can be difficult to know what to buy. Here we have listed our favorites for your reference. Let's have a look!
---
1. Choco Heim




CROWN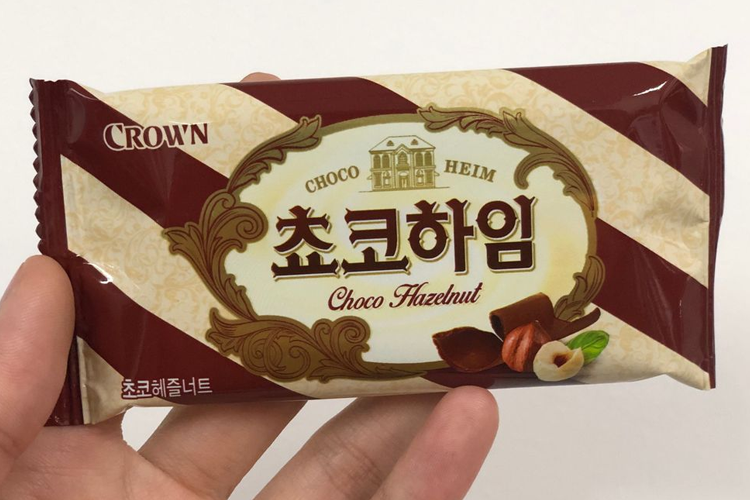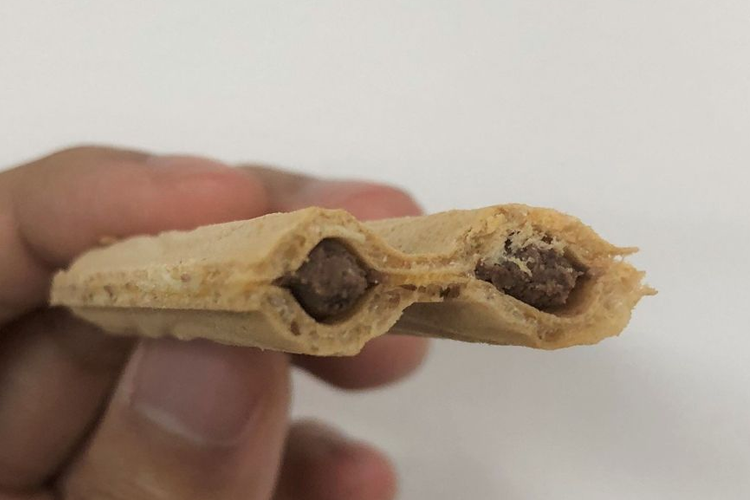 CROWN has long held the top spot in the Korean biscuit industry. Choco Heim Choco Hazelnut is one of our favorite snacks from them.
Each packet holds two pieces, and you'll find it difficult not to finish them both in no time. The wafer is full of sweet hazelnut flavored chocolate filling. It doesn't crumble as much as other snacks on this list and is great to open up in the sofa while watching TV.
It will taste better slightly chilled, so we recommend storing it in your refrigerator before devouring.
---
2. Couque D'asse
CROWN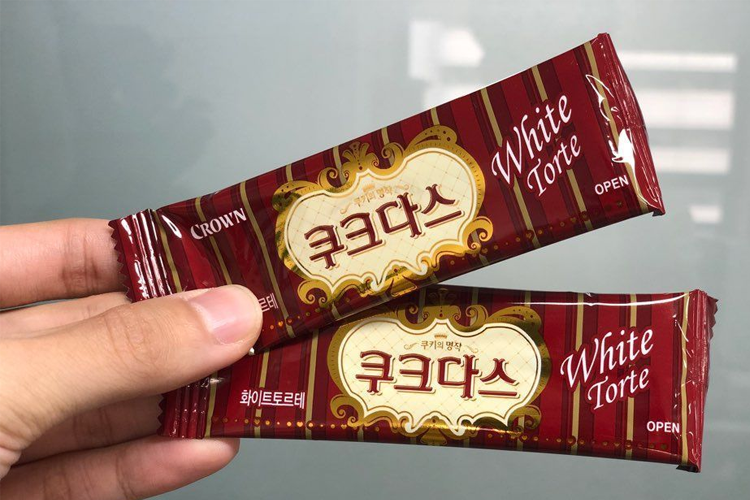 Another biscuit from CROWN. The biscuits being individually packaged, it is a good souvenir to bring back and hand out to colleagues or friends.
It is crisp and light, and the thin biscuit easily breaks in two when you open it. It has a milky flavor which is very satisfying.
---
3. Banana Choco Pie
ORION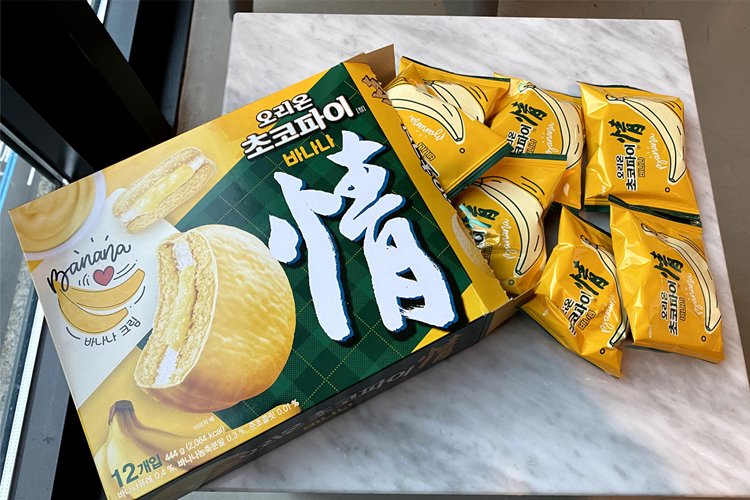 In addition to their original chocolate flavor, Orion has released this banana-flavored Choco Pie. The rich banana smell will hit you immediately after opening the package.
When the banana flavored coating melts, it combines with the soft bread in your mouth to create flavor similar to a banana milk. Furthermore, it is filled with banana flavored cream, adding to the experience and making it a perfect snack for any time.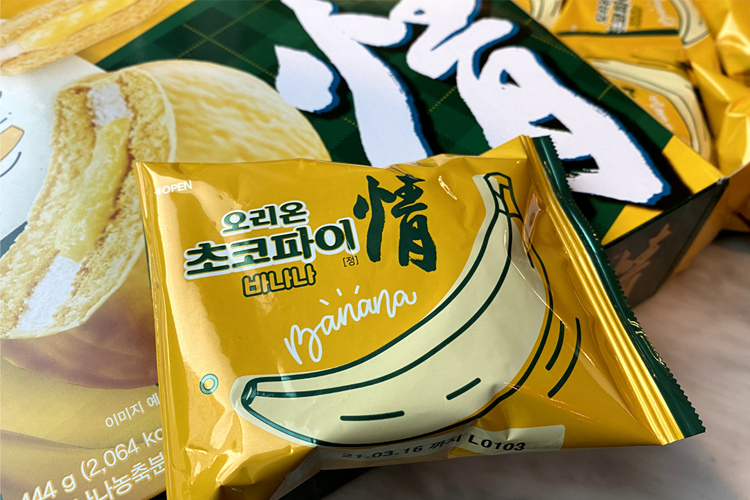 The edition of Banana Choco Pie you can see in the pictures is coated with white chocolate, as opposed to another version with dark chocolate coating.
So definitely keep your eyes open for this one, it might be a limited release!
---
4. Purple Sweet Potato Chip
No Brand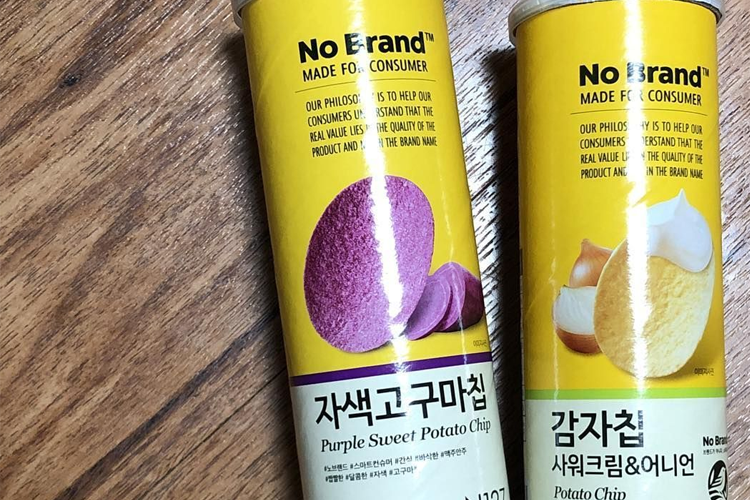 Speaking of unique snacks to try while in Korea, don't miss No Brand's purple sweet potato chips. You can find it in Emart stores as well as No Brand's own stores.
Both unique and tasty, it has quickly gained many fans. No Brand chips come in three different flavors, so there is something to try for everyone.

The purple sweet potato flavor is, as its name suggests, sweet rather than salty like your ordinary potato chips. But watch out, you can easily end up finishing a can of these chips on your own!
---
5. Mother Hand Pie (엄마손 파이)
LOTTE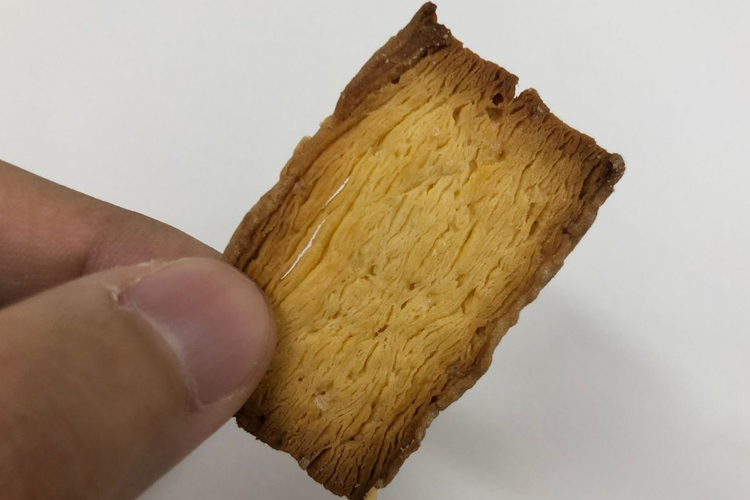 This "Mother Hand Pie" is another delicious Korean biscuit that we recently discovered. It claims to be a pie, but it resembles more of a puff pastry. Not too hard, it is crispy and slightly sweet.
There are two pieces in each package. The sweetness is just right, making it one of our favorite biscuits right now.
---
6. Oh Yes (오예스)
HAITAI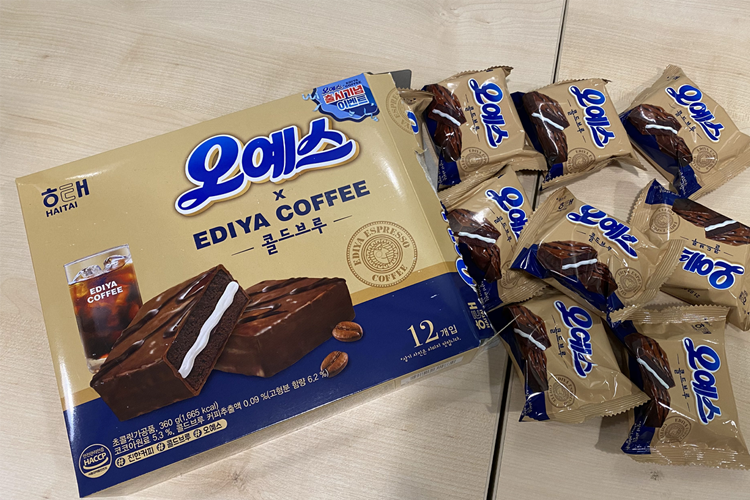 Haitai's Oh Yes Chocolate Coated Cake comes in several flavors. The one above is a collaboration with the coffee chain EDIYA, using their cold-brew coffee to flavor the chocolate.
The slightly bitter coffee aroma along with chocolate sweetness makes this a great Korean snack to bring back home.
This version of Oh Yes Chocolate Coated Cake gained a lot of attention when it was released. The taste is similar to a brownie but with a smooth vanilla cream filling.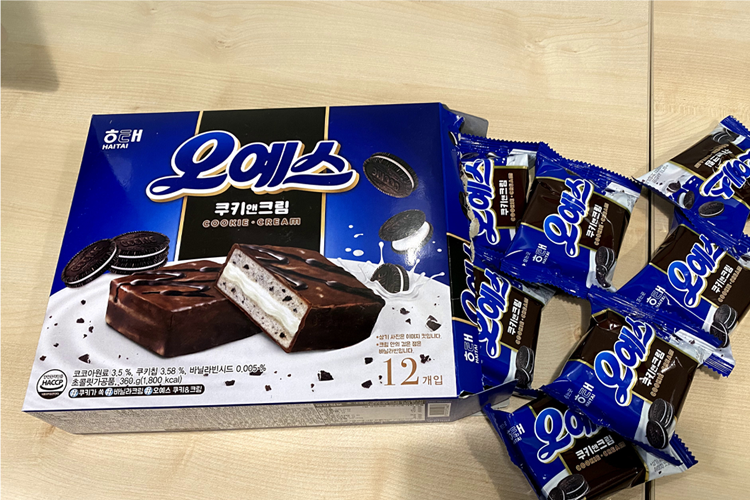 The second Oh Yes flavor, Cookie and Cream, has a thicker layer of cream filling. It is a perfect option if you don't like bitterness.
With its two cake layers, cream filling and chocolate coating, it is quite thick. Soft and airy, it tastes great, and the chocolate chips dispersed in the cake provide a pleasant surprise every time you bite into one.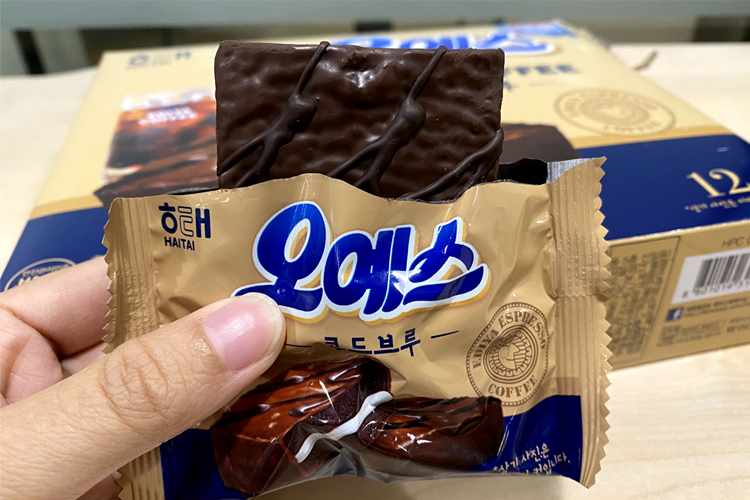 ---
7. Homerun Ball
HAITAI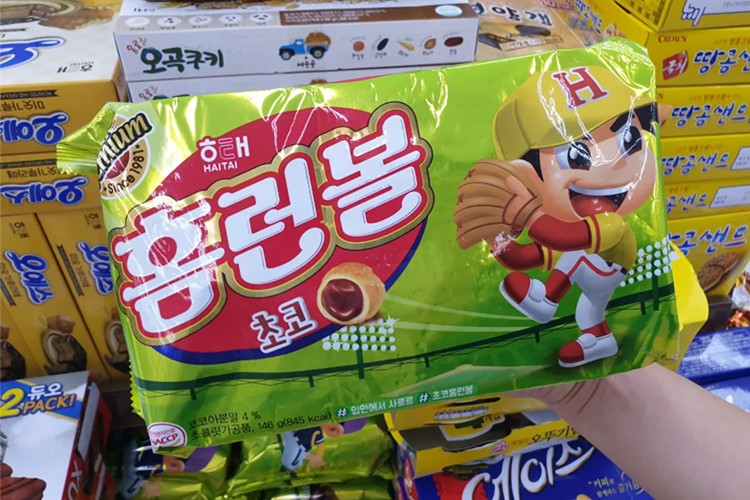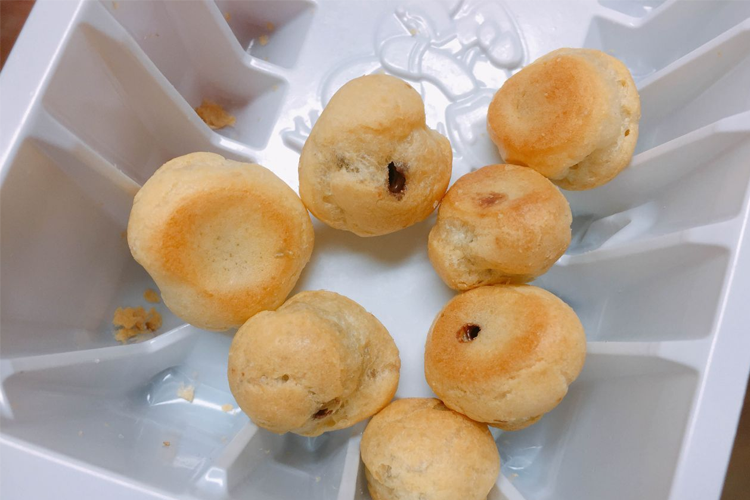 Haitai's Homerun Ball is a classic snack that we can't get enough of. The small size of each ball makes it easy to eat without getting crumbs all over the place.
Filled with rich chocolate, Korean baseball fans often enjoy it while watching their favorite baseball team play. It is said that enjoying this snack while cheering for your team means good luck.
Maybe it will help your team to strike a homerun.
---
8. Chic Choc
LOTTE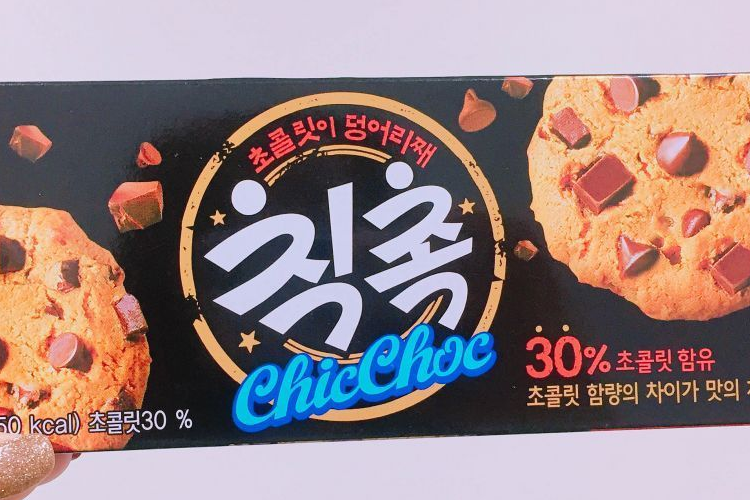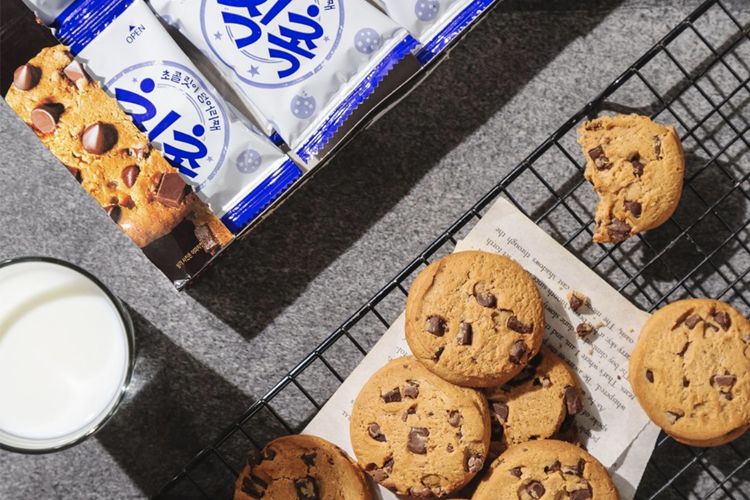 This Korean chocolate chip cookie is another favorite of ours. You can find the high-quality biscuit in Lotte supermarkets. It is soft, sweet and not too greasy. It goes great with a cup of coffee.
The individually packed cookies are super convenient to bring with you to school or work. But do watch out so you don't eat too many, they also contain quite a few calories.
---
9. French Pie
HAITAI
Haitai's biscuit French Pie has 64 layers of thin pastries which creates a rich taste experience. It comes in several different flavors, such as apple, strawberry and chocolate, and every bite is a delight.
The biscuits are individually wrapped and easy to share with friends or colleagues. The soft jam or chocolate on top of the biscuit goes well with the crunchy and rich texture of the biscuit.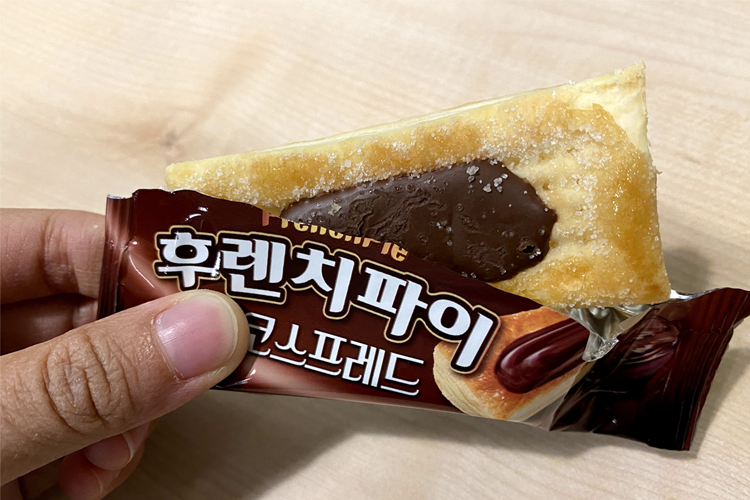 We recommend trying the smooth milk chocolate flavored French Pie. It goes great with a cup of coffee!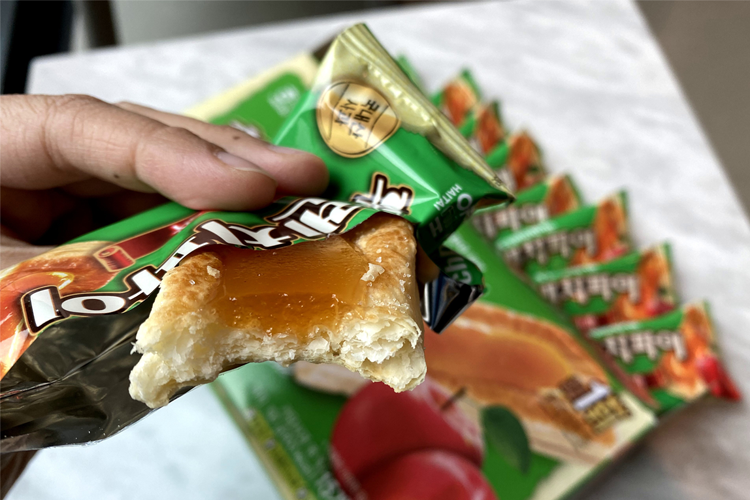 The apple and strawberry flavors are also great. Some prefer to eat the biscuits cold, so try putting a few in the fridge and compare to the ones you store in room temperature.
---
10. Mongshell
LOTTE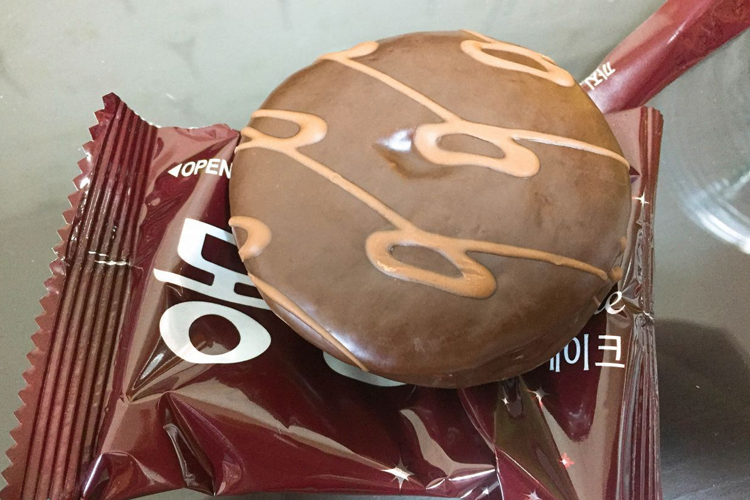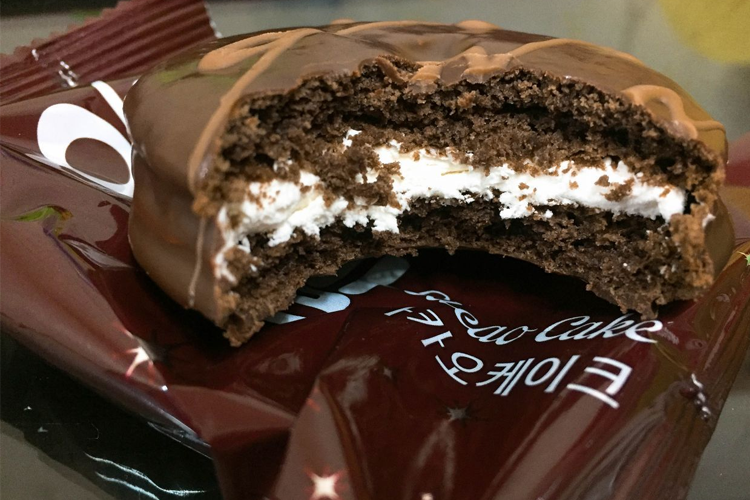 Although it looks similar, many Koreans make a point of differentiating Mongshell from other Choco Pies by calling it a cake rather than a pie.
Once you bite into it, you will be met with a generous cream filling. The chocolate layers and coating are also sweet and yummy!
---
11. Crab Chips
BINGGRAE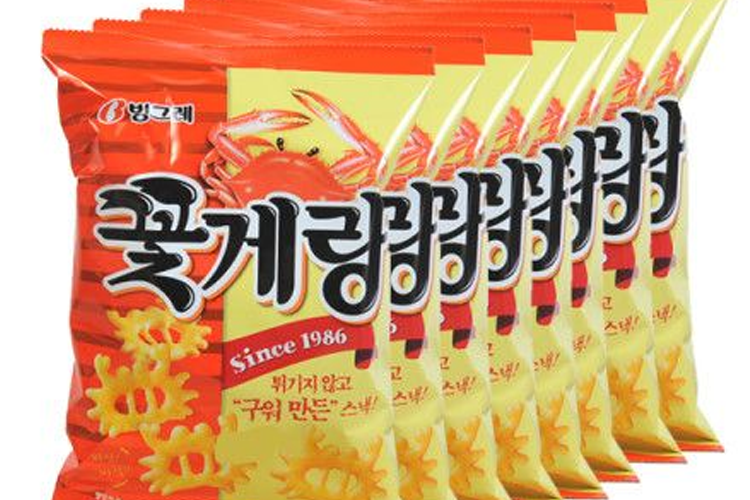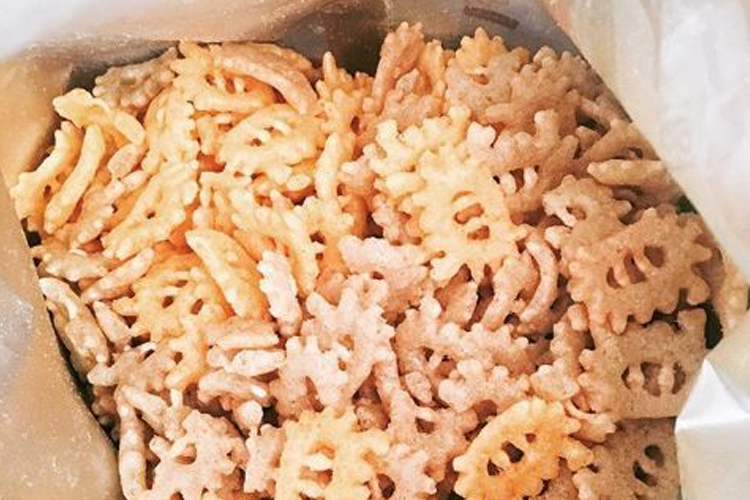 Tired of sweet snacks? This one is or on the salty side. Although sweets snacks are generally in higher demand in South Korea, this crab-flavored snack is also popular.
Thankfully, it is not overly salty, and the crab flavor is not too fishy but just right. It is a snack that will grow on you as you eat, and you can't stop once you start eating.
---
12. Green Tea Wafers
OSULLOC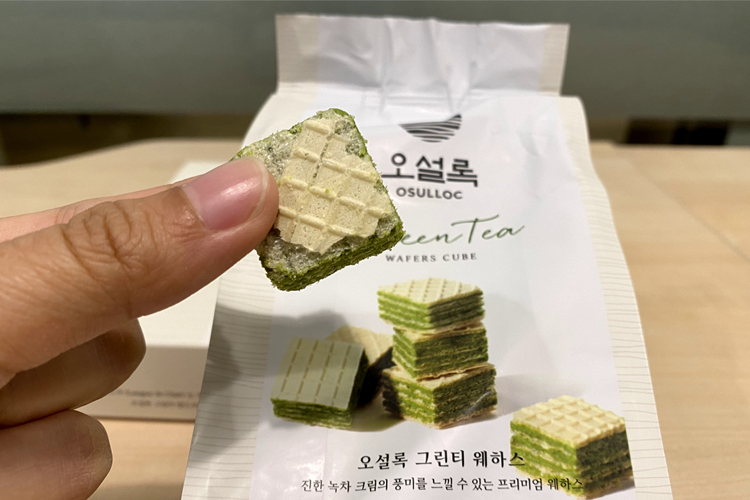 Many might already be familiar with Osulloc, a major Korean tea brand that sells both tea and tea infused products, using green tea from Jeju island.
Their green tea wafers have been hugely popular since they were released.
Containing natural green tea, after opening the package, you will be met by a green tea fragrance, and you can immediately feel that this is made with quality ingredients.
The small wafers are perfect to devour in one bite, and the filling is creamy and lovely. Crispy and creamy at the same time, this is one of our favorites. If you like matcha, this is a must to try!
---
13. Sumi Potato Chips
NONGSHIM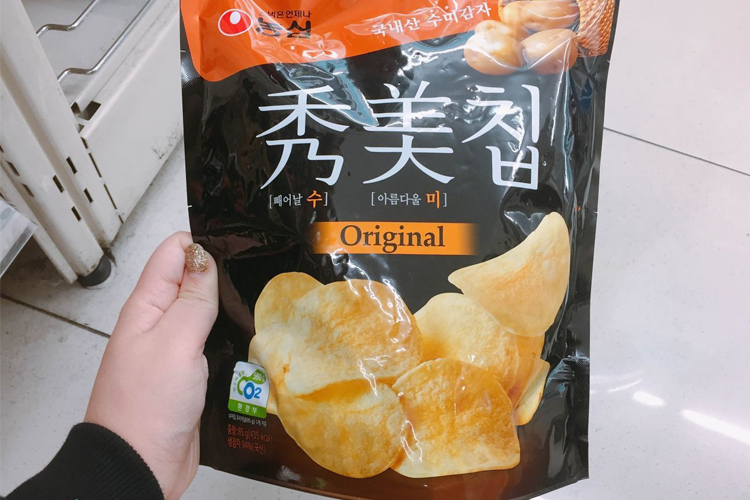 If you have been to Korea, you have likely seen this brand of potato chips. In a fiercely competitive market, Nongshim's Sumi Potato Chips is one of the top selling brands, and you can find it everywhere.

There are a bunch of different flavors to explore. Personally, we recommend the original flavor, but you can also try Honey Mustard, Onion or Basil Pesto.
---
14. Binch
LOTTE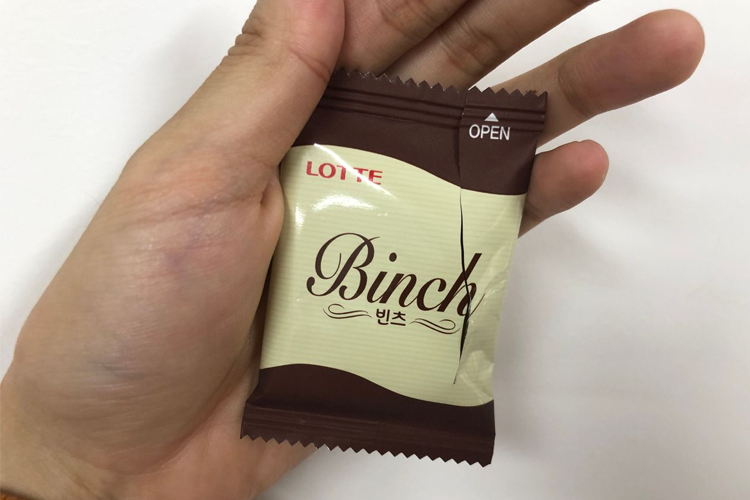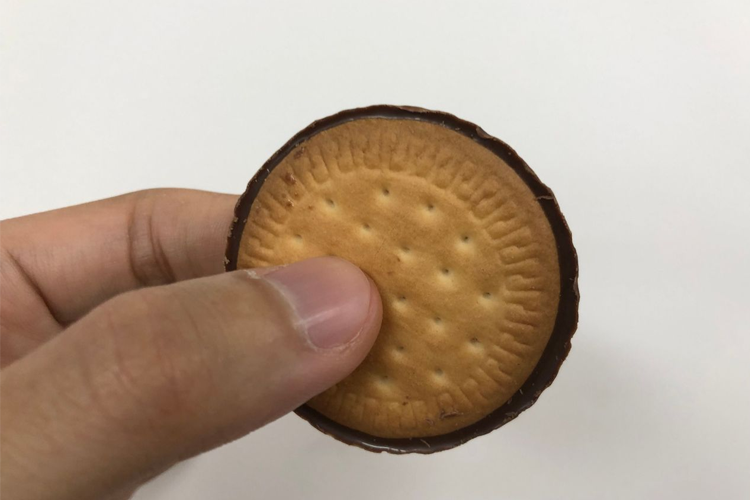 Many chocolate coated biscuits will rely too heavy on the chocolate. But Lotte have found a great balance between biscuit and chocolate in their Binch biscuits.
One side is coated with chocolate, and the other side looks like a normal biscuit. It a great choice if you want something between a heavy chocolate snack and a biscuit.
---
15. Green Tea Langue De Chat
OSULLOC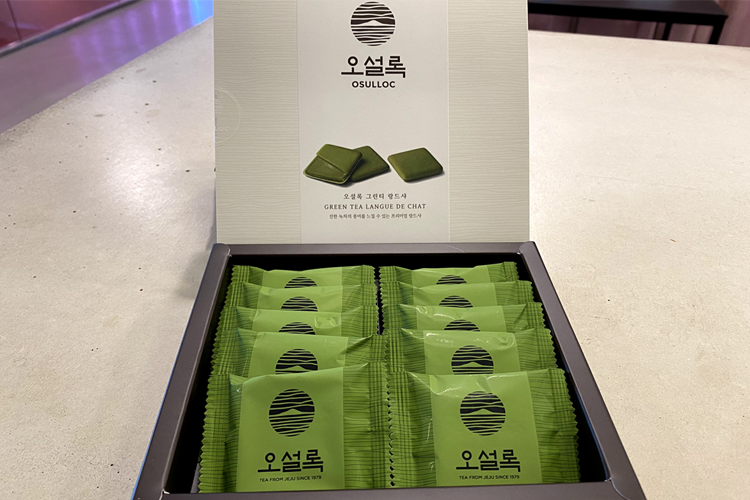 In addition to the wafers we previously introduced, Osulloc also make these popular green tea biscuits. Once you open the packaging, a pleasant green tea aroma will fill your nose.
The biscuits are quite heavy and contain plenty of powdered green tea. Soft and easy to devour, you're going to love this if you are a fan of matcha.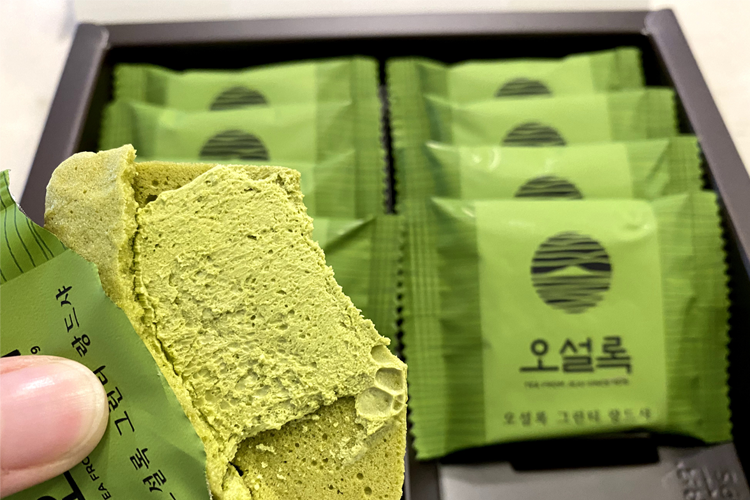 Note that it is not as sweet as many other biscuits on this list. If you think the matcha flavor is too strong, you might want to eat it along with a glass of milk.
Above we have listed our favorite South Korean snacks. When you come to Korea and don't know what to buy, feel free to take some inspiration from this article. Happy munching!
---
If you have questions or comments about the blog post, please leave a comment below or email us at support@creatrip.com.

---