Seoul Forest Tour
A place where you can feel nature and heal in downtown Seoul.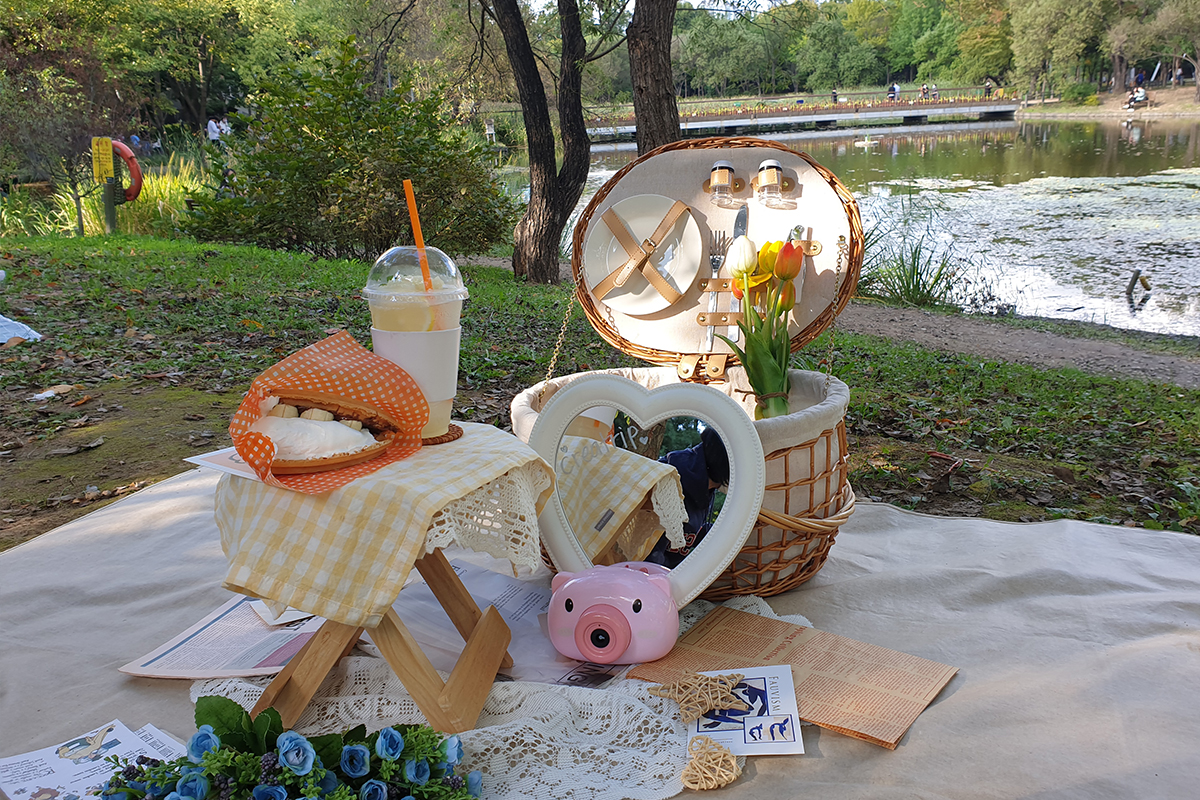 Although Seoul is an extremely population dense and large city, surprisingly, there are still many large parks where you can enjoy nature and take a breather at. Seoul Forest is a large park located in Seoul that is so big, it is literally like a forest in the middle of the city. It was developed by the city government and took around 235.2 billion won to develop. However, all the efforts of the city paid off, as Seoul Forest is one of the most beautiful parks in the city.
---
Information
Address: 서울 성동구 뚝섬로 273
273 Ttukseom Road, Seongdong-gu, Seoul
Hours: General Park: Open 24 hours a day, 7 Days a week, Eco Forest Area: 05:30 to 21:30
---
Our Visit
Seoul Forest is divided into four areas: the Cultural Arts Park Area, Nature Experience Learning Area, Natural Ecological Forest Area, and the Wetland Ecological Area. There are 16 different ways that you can enter the forest, but if you enter from the main area, you will be greeted with the Seoul Forest Information Center upon entry.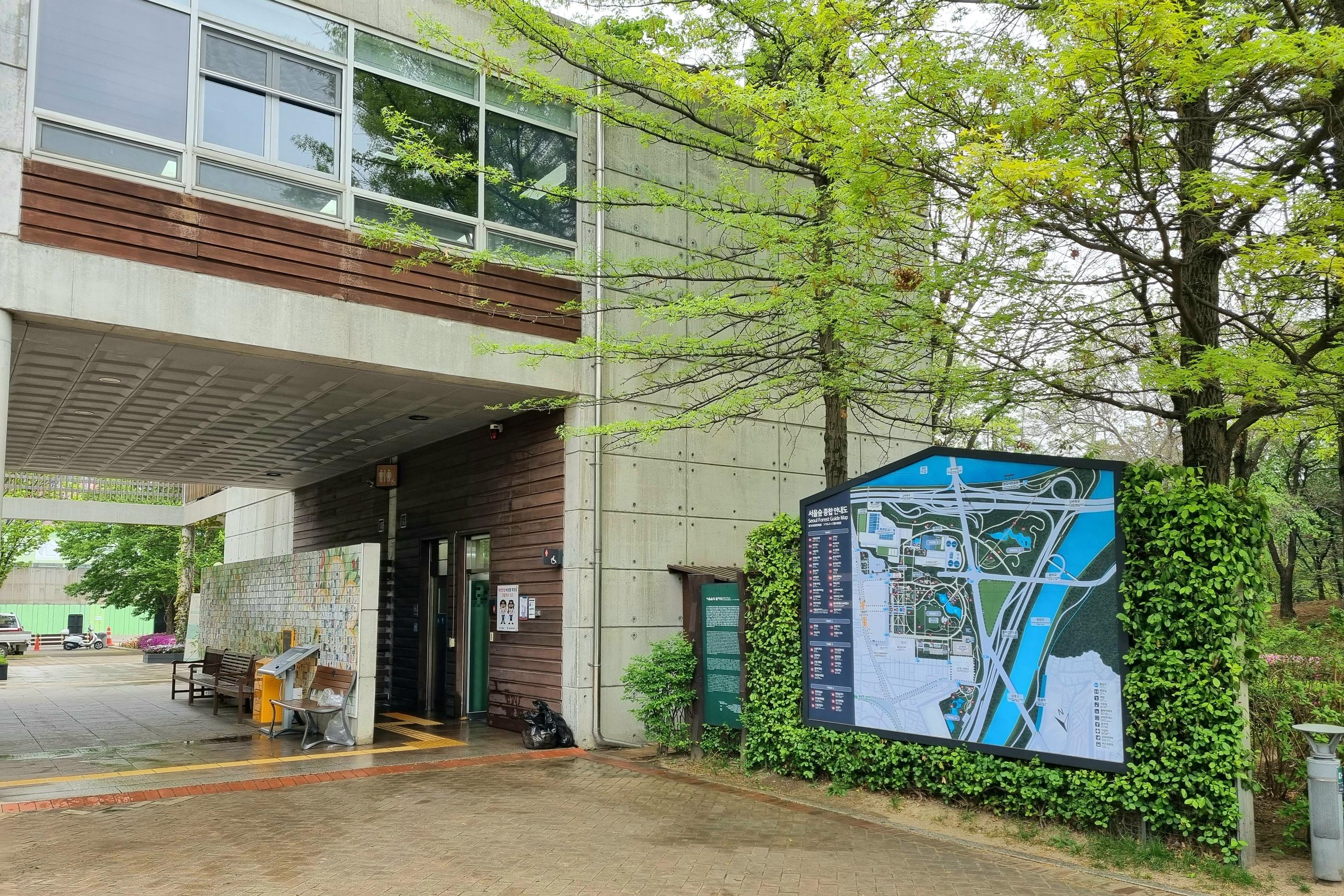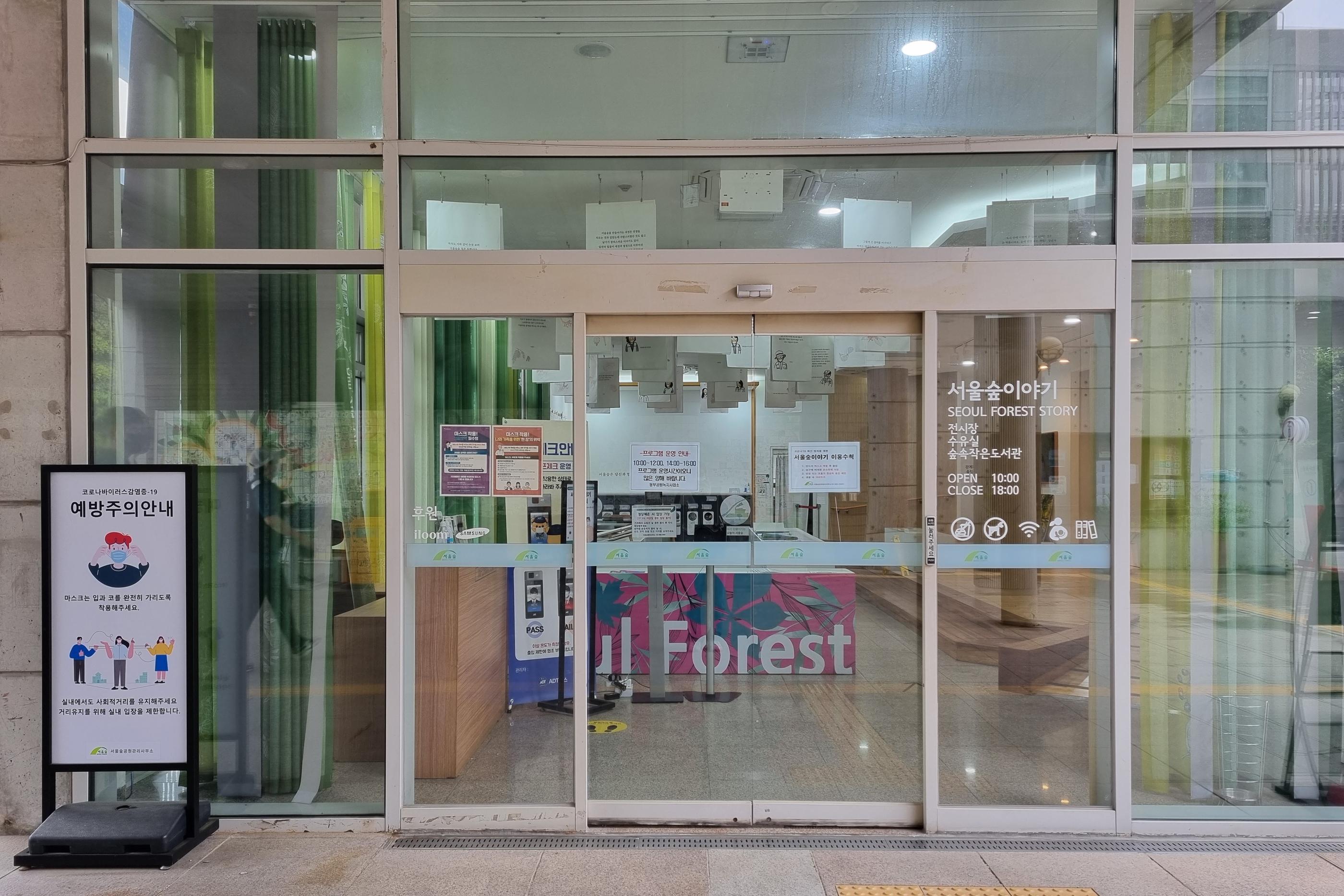 It is located in the Cultural Arts Park Area, which is open all year round. This center is a useful place for those that want to rent strollers or use facilities such as the exhibition hall, library, or nursing room which are also attached to the same building. Strollers can be rented free of charge, you just need to provide a form of ID as a deposit to the staff when renting, which you will get back to you once you return the stroller.
Area: Cultural Arts Park Area
Hours: 10:00-18:00, December - February 10:00 - 17:00
CU Convenience Store 1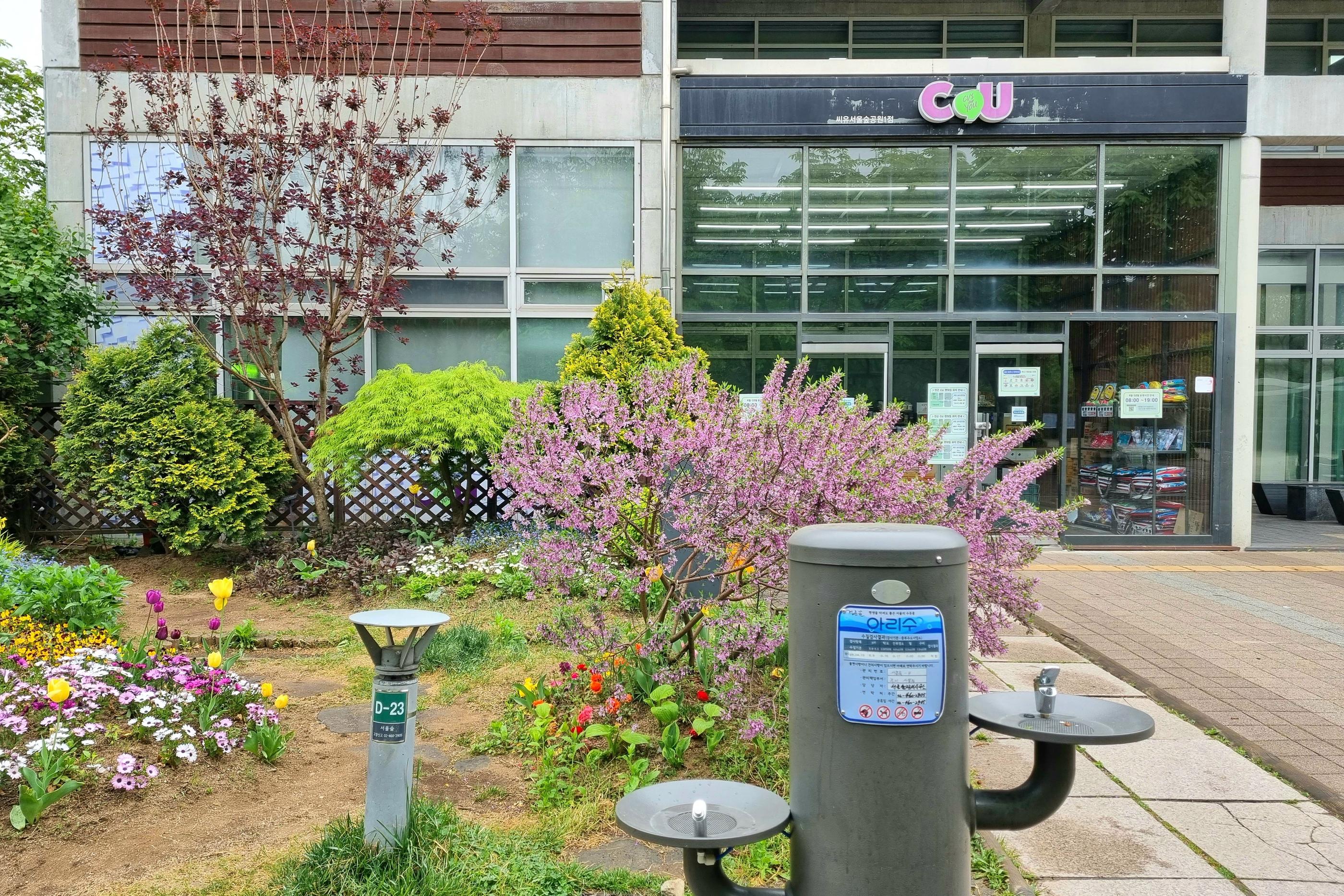 Area: Cultural Arts Park Area
Hours: 8:00 - 19:00 (April-October)
There are two convenience stores in Seoul Forest, one of which is in the same building as the visitor center mentioned above. There is also a little space where you can eat food in front of the convenience store.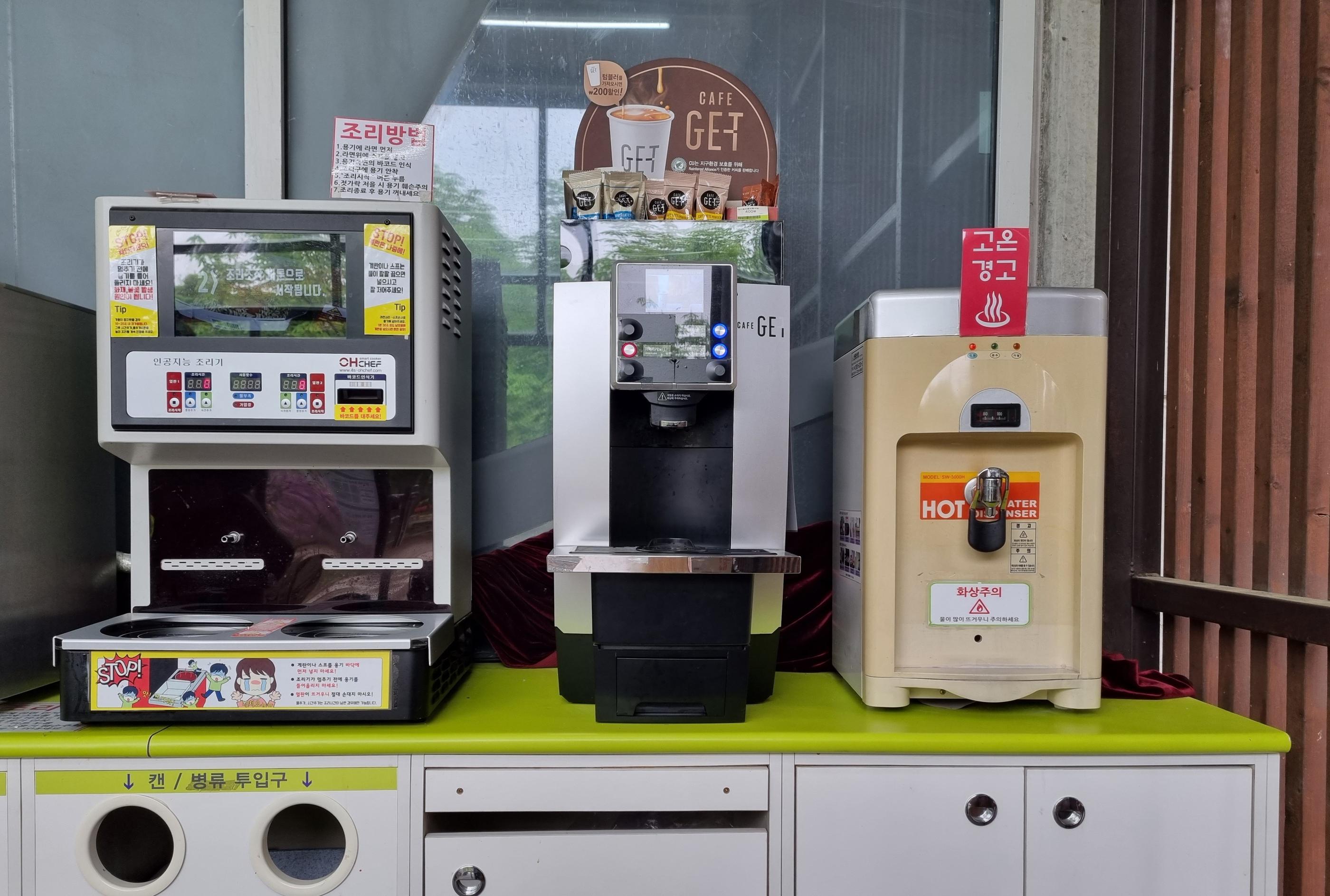 There is also a ramen making machine , so you can make instant noodles as soon as you buy them. It is perfect for those that would like to have a little picnic in the park.
CU Convenience Store 2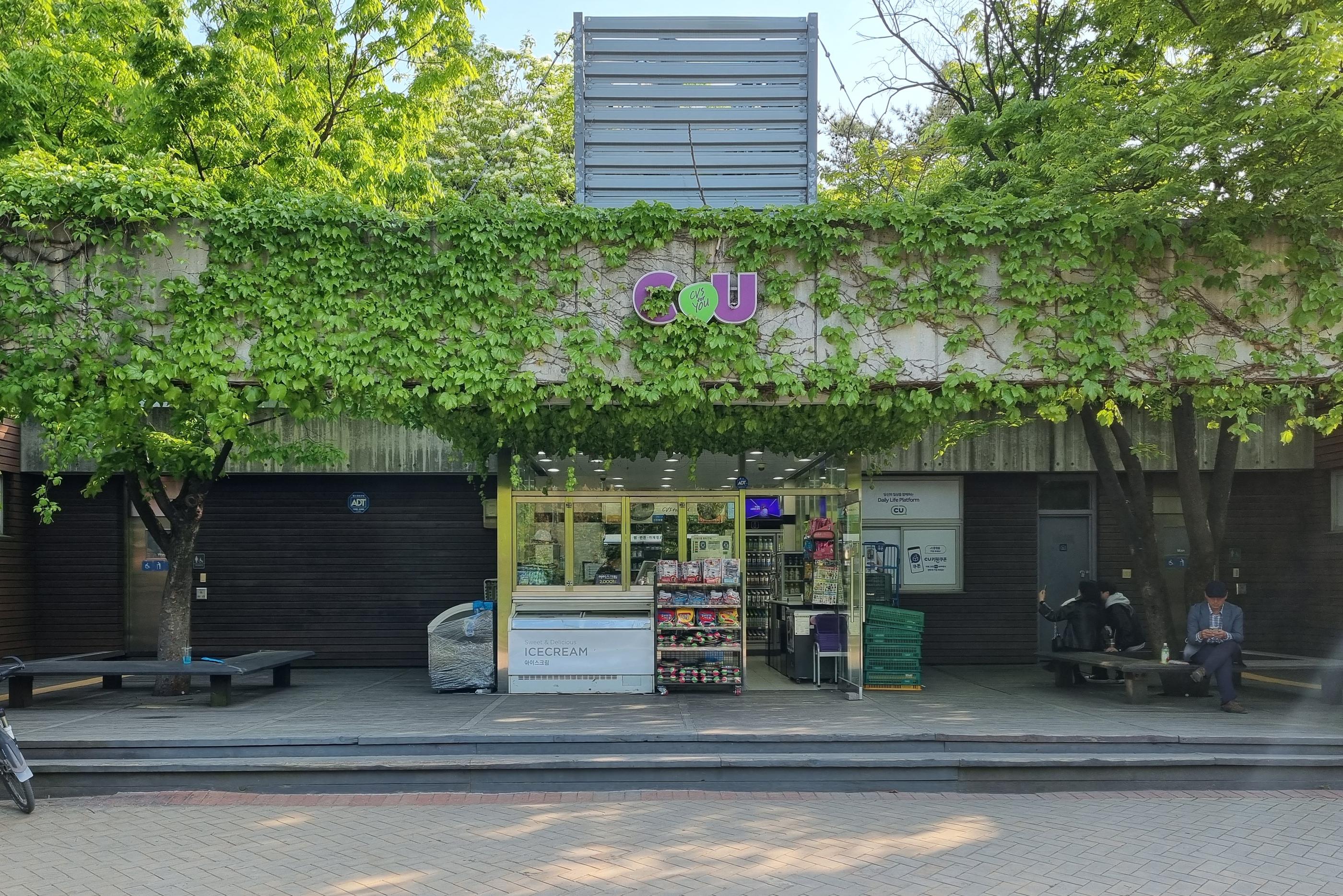 Area: Nature Experience Learning Area
Hours: 8:00-19:00 (April - October)
Because Seoul Forest is so big, we suggest that you make sure that you have enough water and snacks before you walk around. It may be hard to find a place to get water or food nearby once you start walking inside the park area. This location also had a good amount of seating in front of the store!
Ddareungi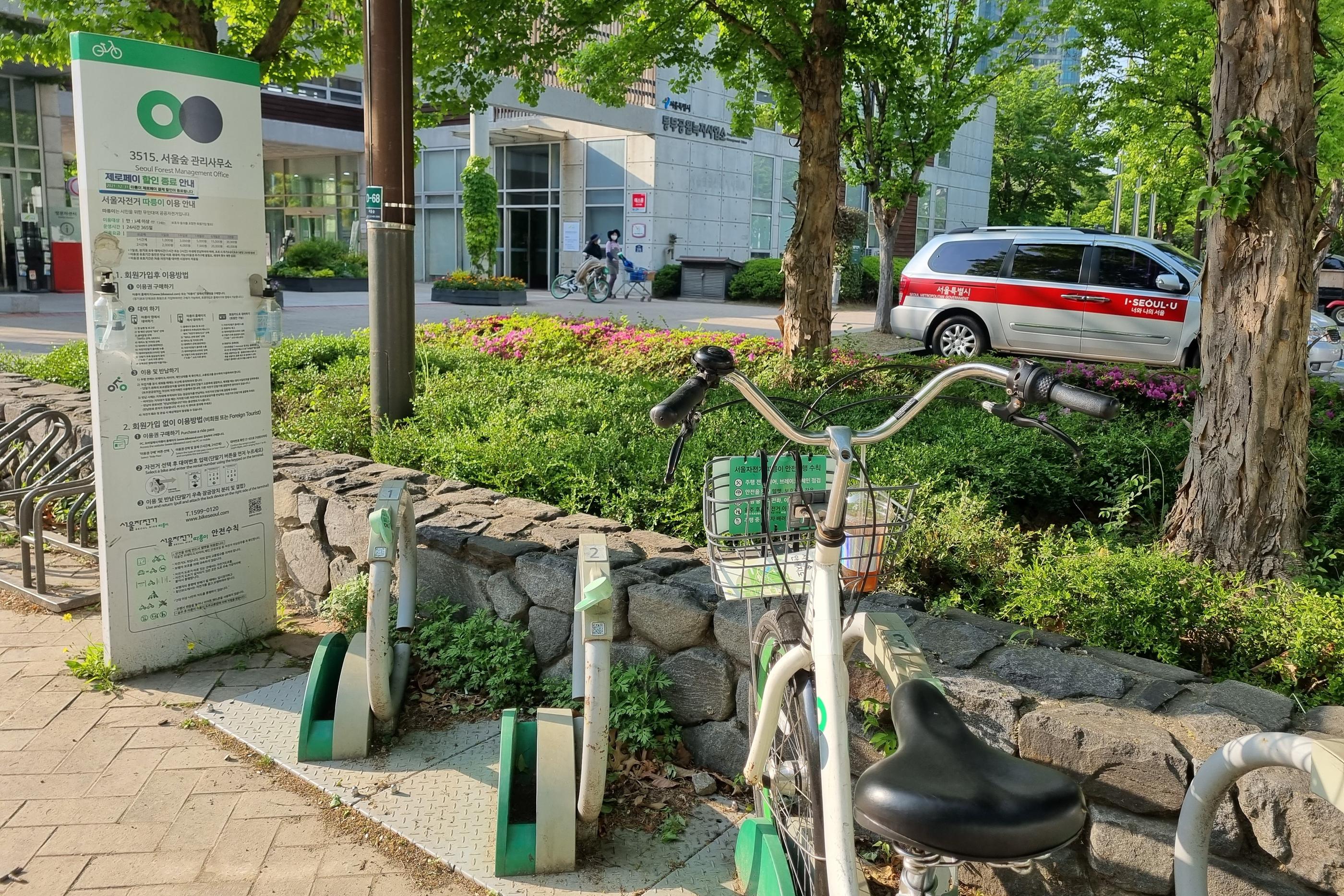 Area: Adjacent from the entrance located next to Exit 3 of Seoul Forest Station
Our personal favorite activity to enjoy in Korea is the riding a bike. It is really easy to rent out bikes, especially through Seoul City bike's rental service. It is perfect for if you get a little tired of walking around or want to enjoy the park in a more athletic way.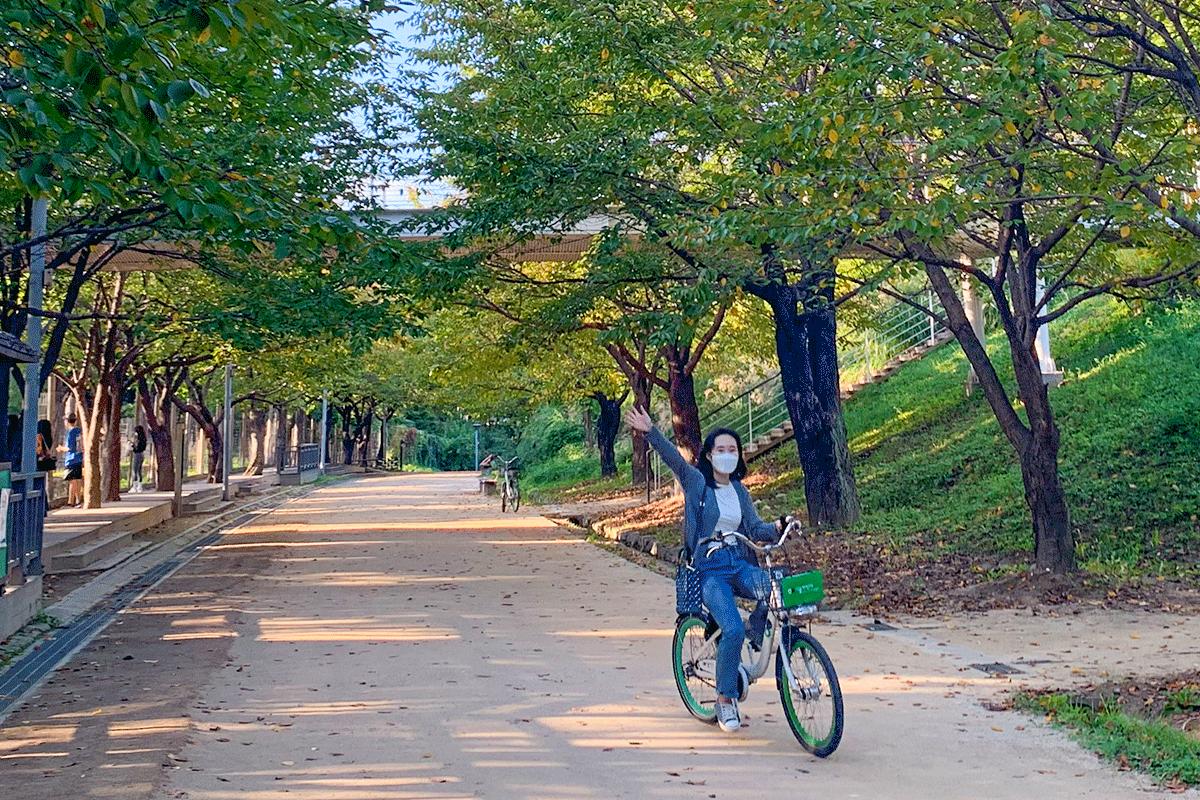 ---
Entrance to the Park
There are 16 different entrances to enter Seoul Forest! There is the main entrance, but there are a few other entrances that many people are familiar with. Let's go through all the major entrances into the park!
Main Entrance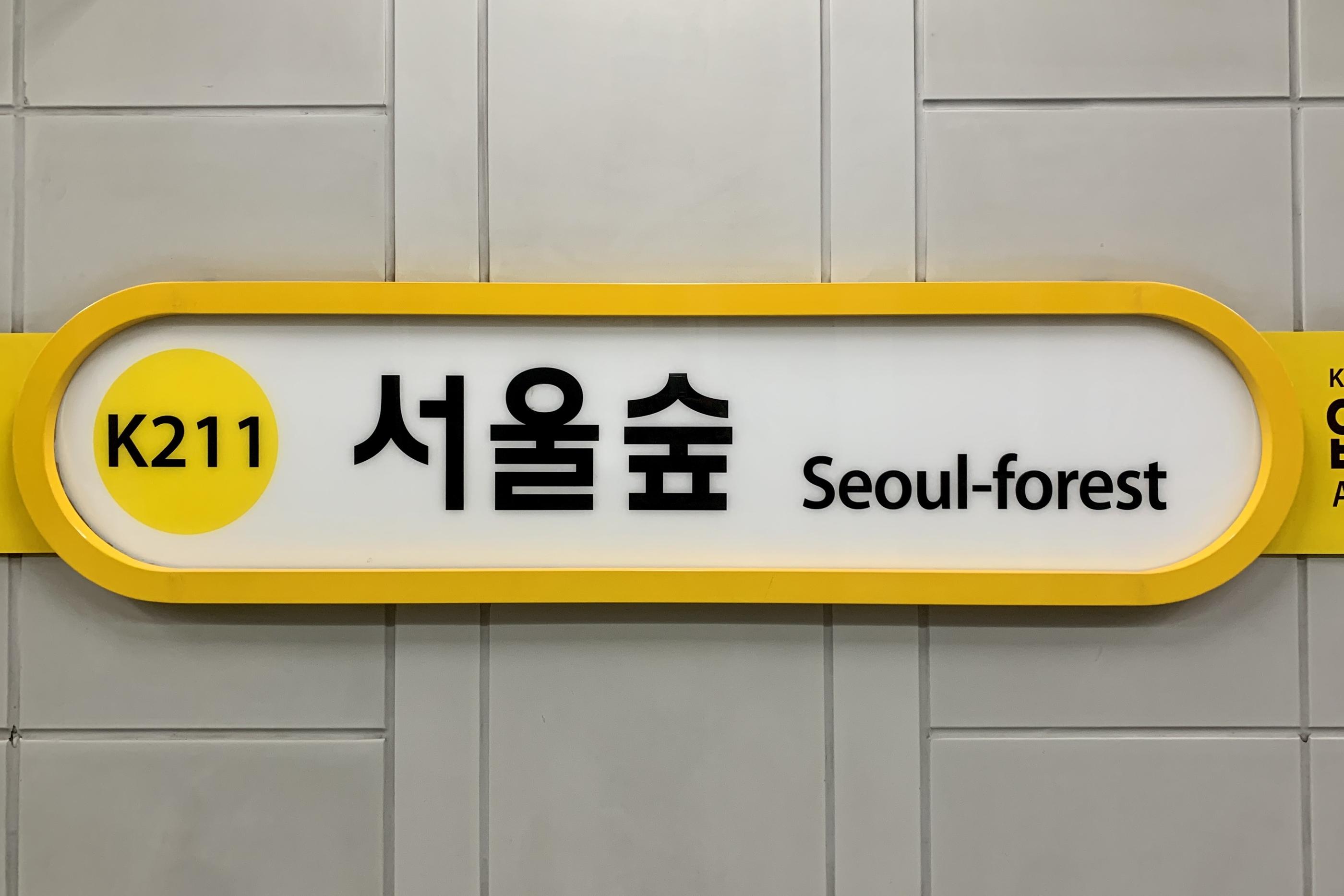 When you get to Seoul Forest Station, Exit from Exit 3.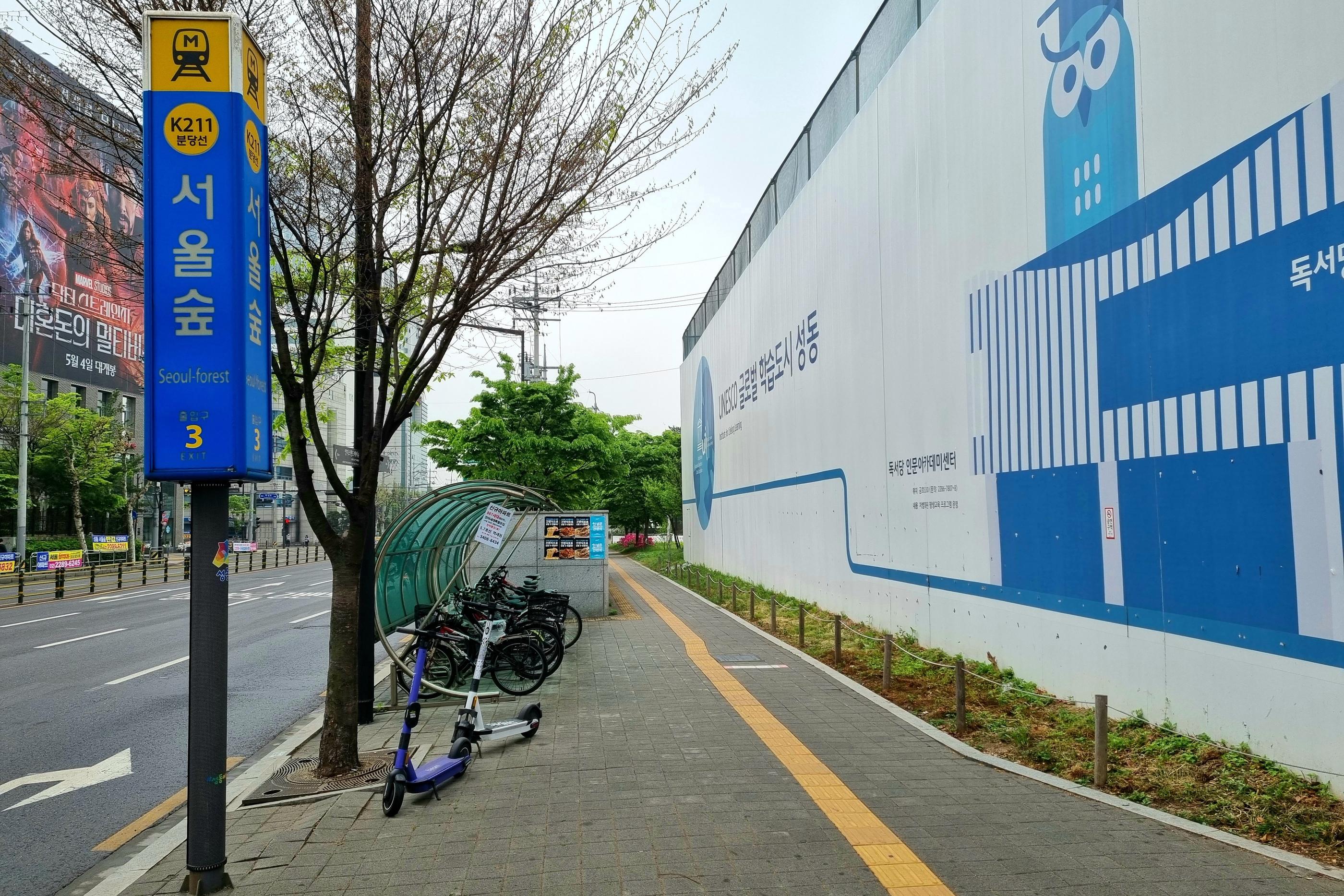 If you go straight up the stairs, you will the sign below which translates to "Seoul Forest Direction". Follow the sign!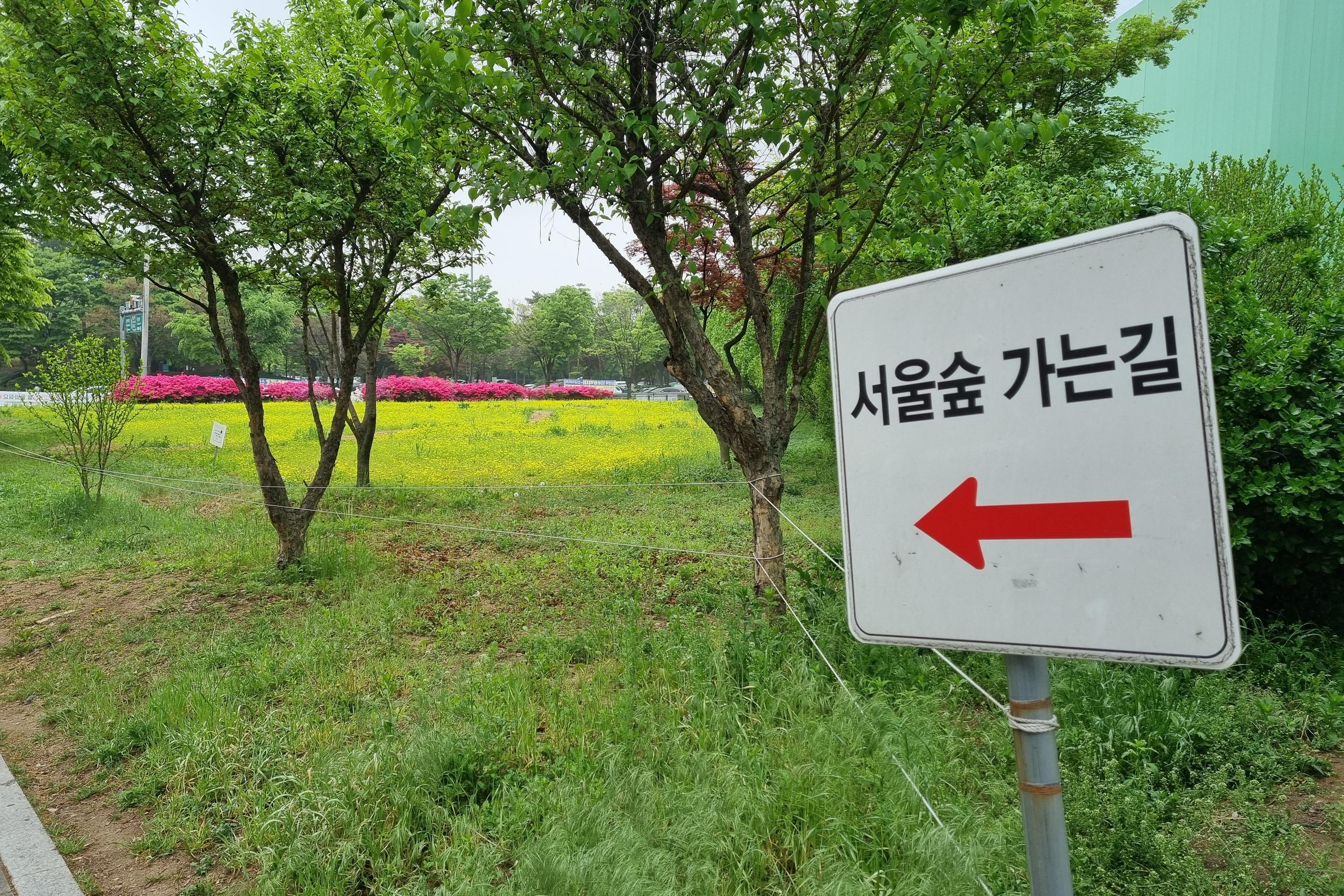 Before you cross the pedestrian crossing, you should see the sign below.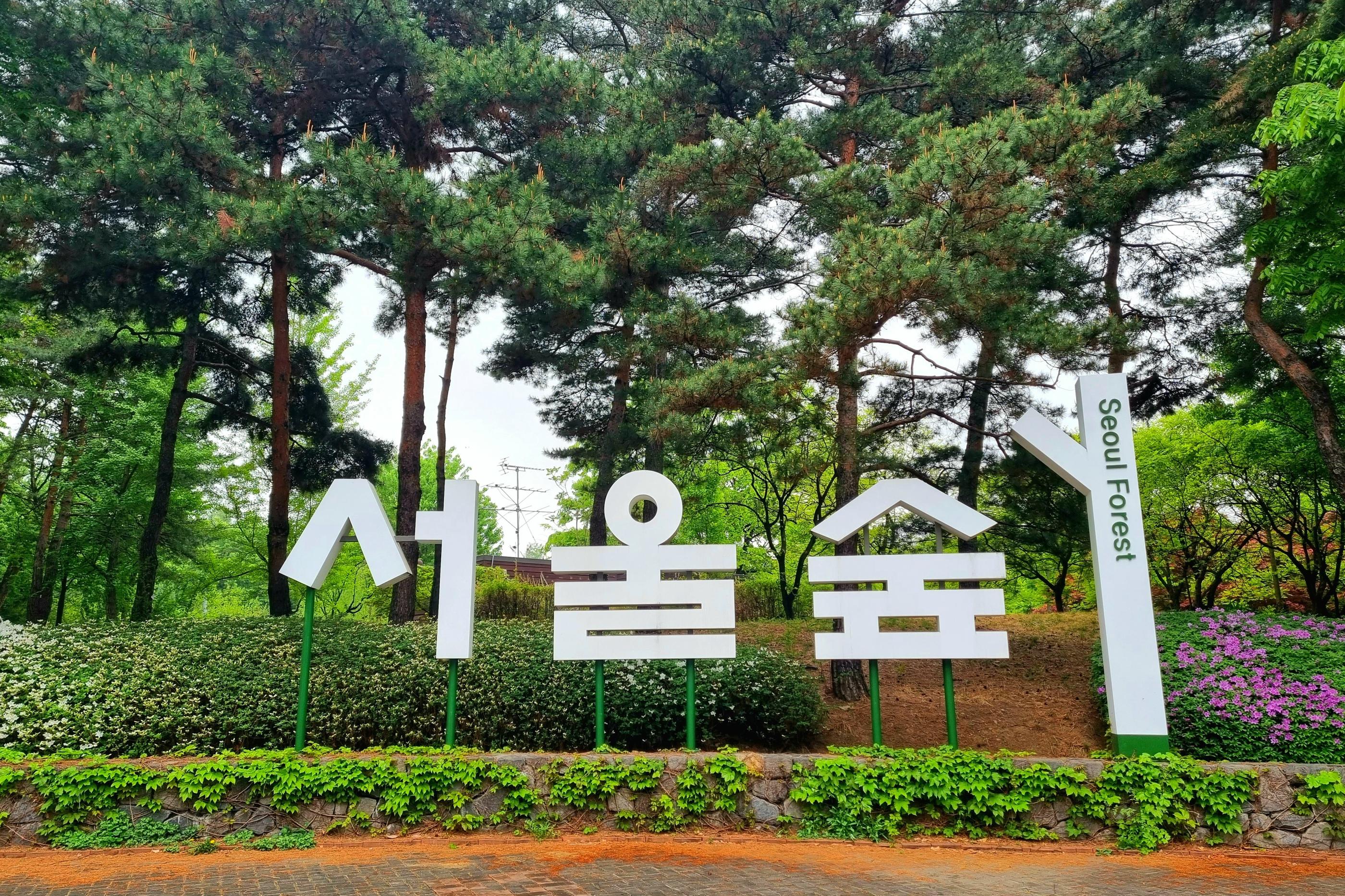 This sign translates to "Seoul Forest: and is the sign at the entrance of the park. If you look to the right, you will also be able to see the SM Entertainment building which related to this area from Cheongdam back in 2021.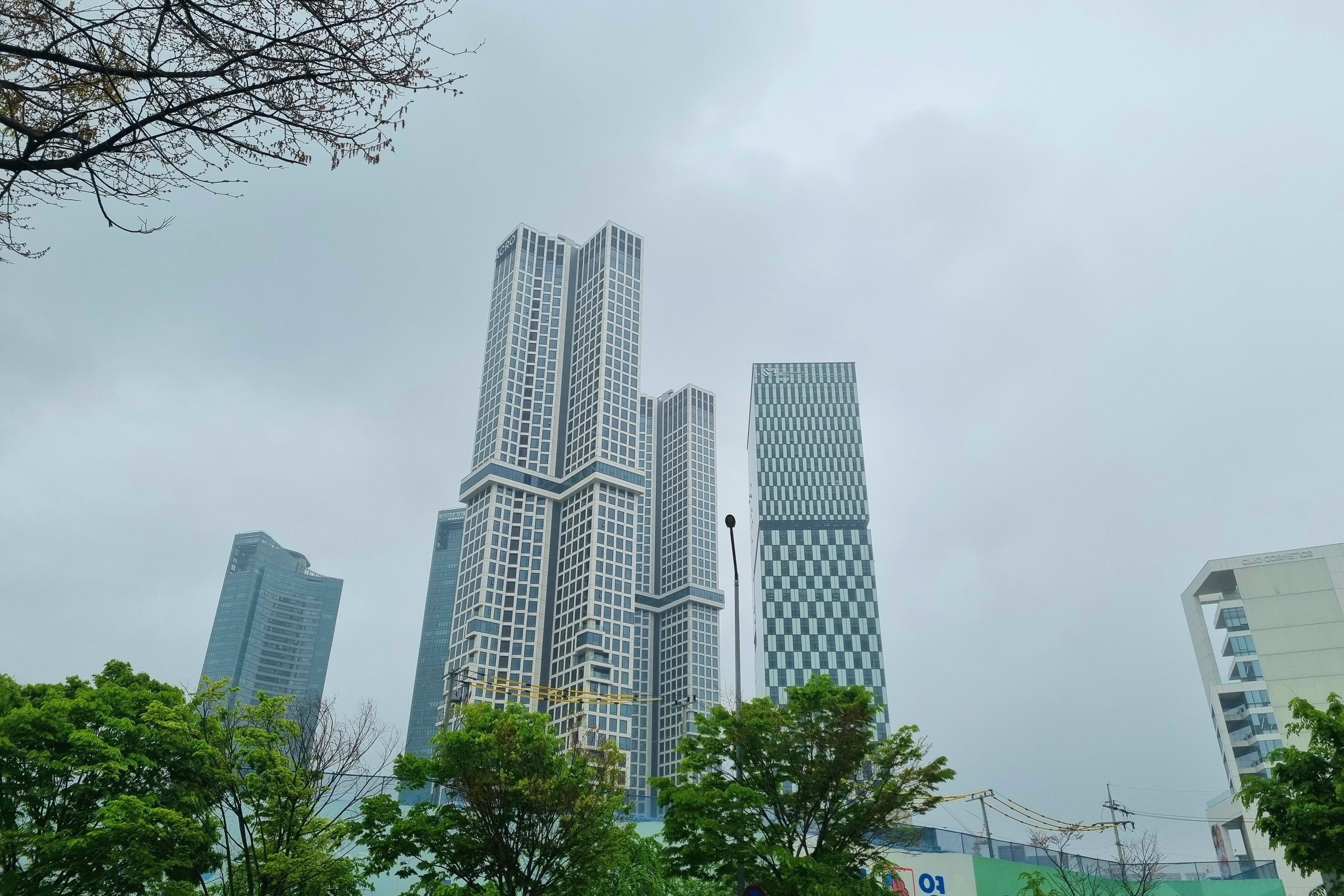 If you continue to move forward a little, you will see the entrance in front of you!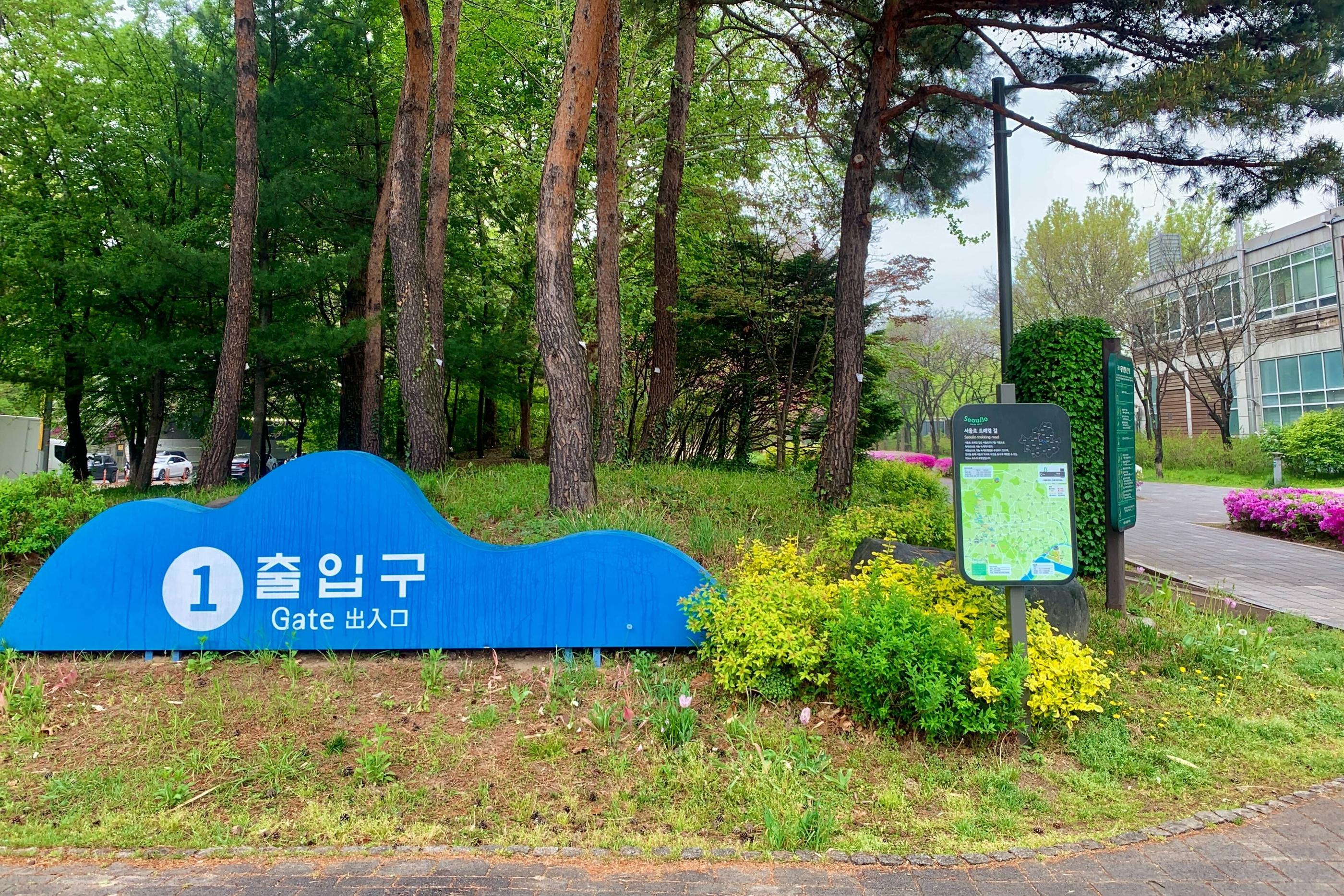 Right next to the entrance is the Ddareungi Bicycle, the visitor center and the CU location 1.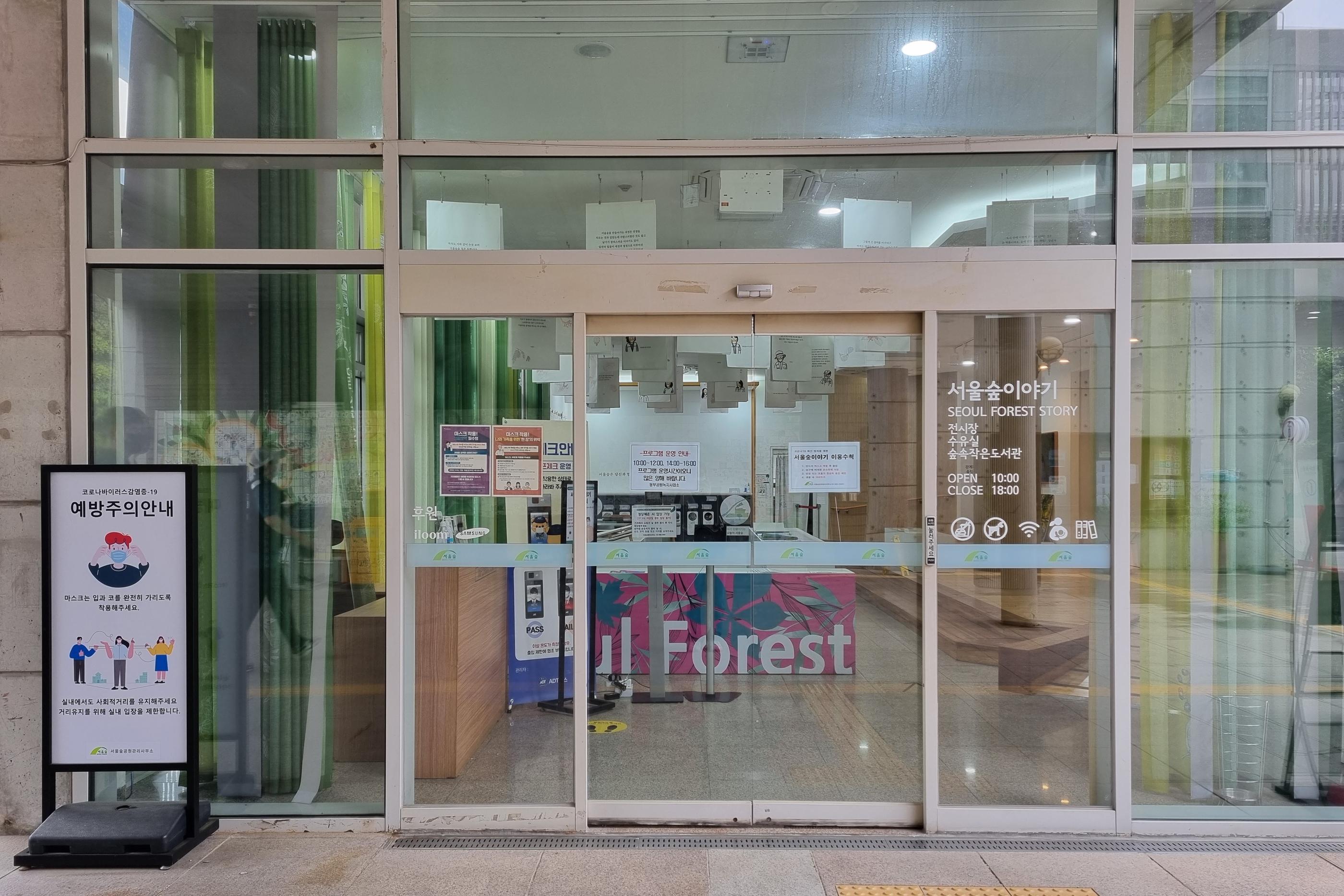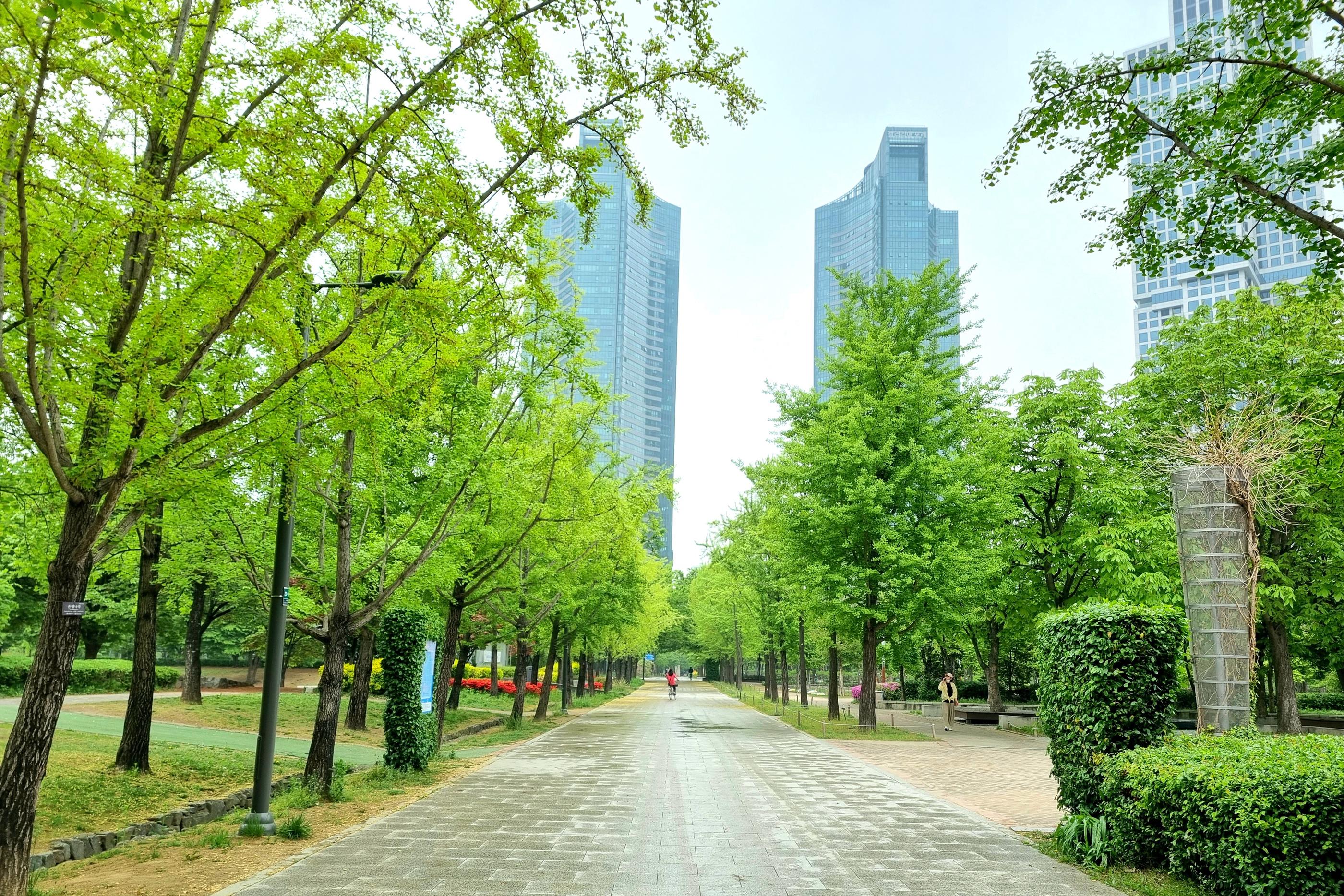 Entrance 2
You can get to entrance 2 by getting off at Seoul Forest station Exit 3 and turning right immediately out of the exit. Once you exit you will see a fashion shop with a container that says "UNDER STAND AVENUE". You can turn left there and continue straight.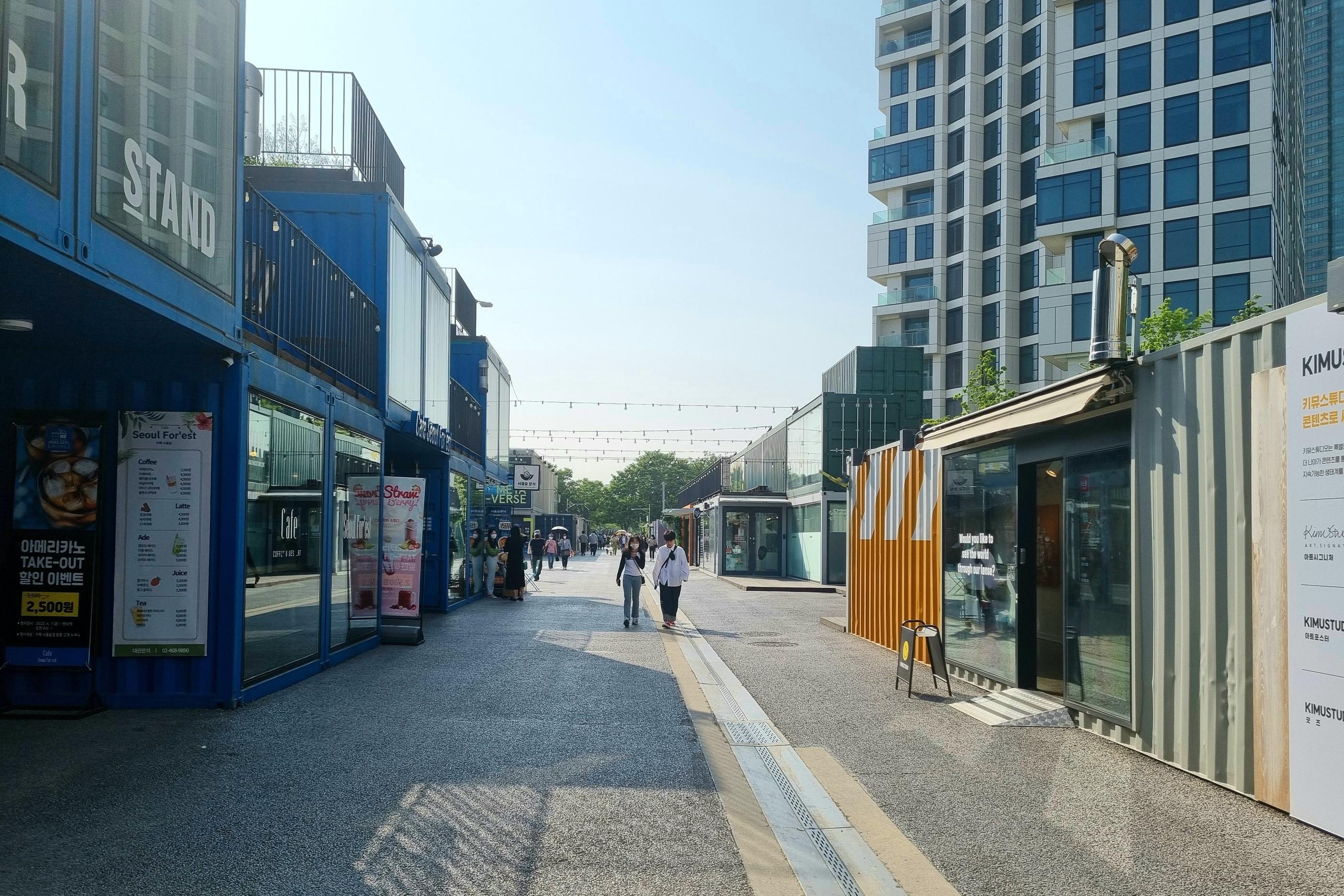 This street is lined with different types of container shops, restaurants and cafes that all opened in the summer of 2016.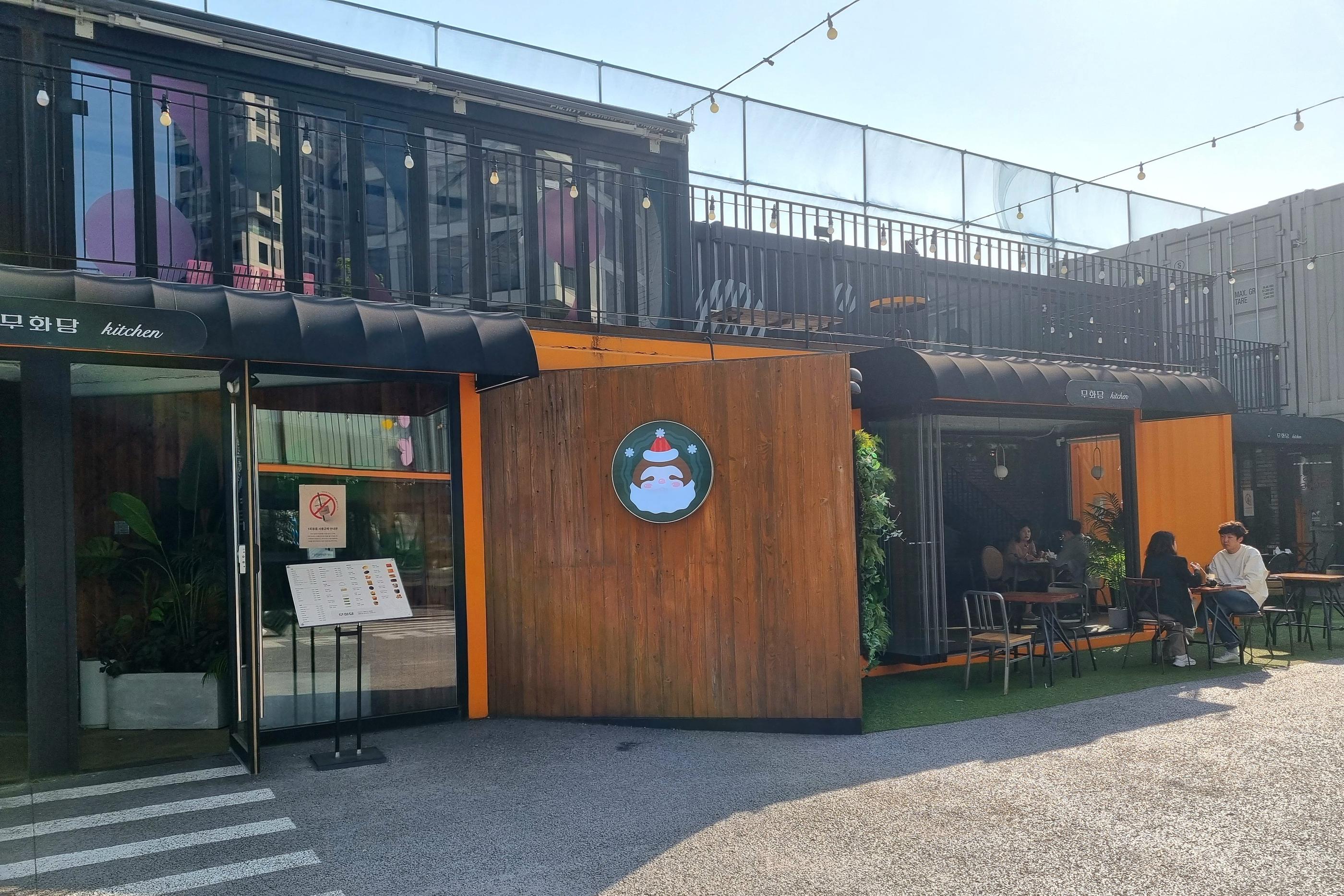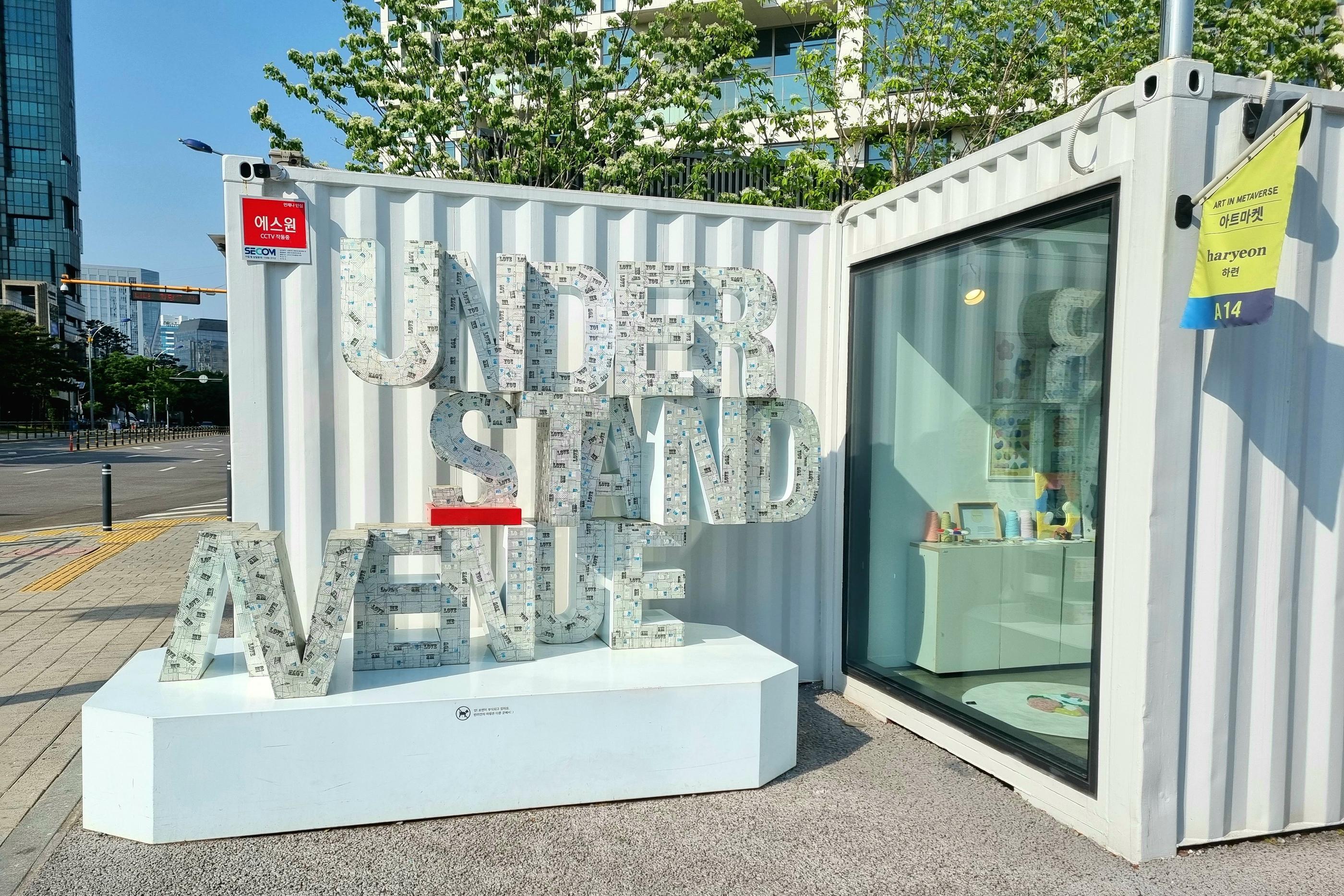 It is not that big, so it is a good place to take a walk to Seoul Forest. When you cross the "UNDER STAND AVENUE" sign, you will see the 2nd entrance right in front of you!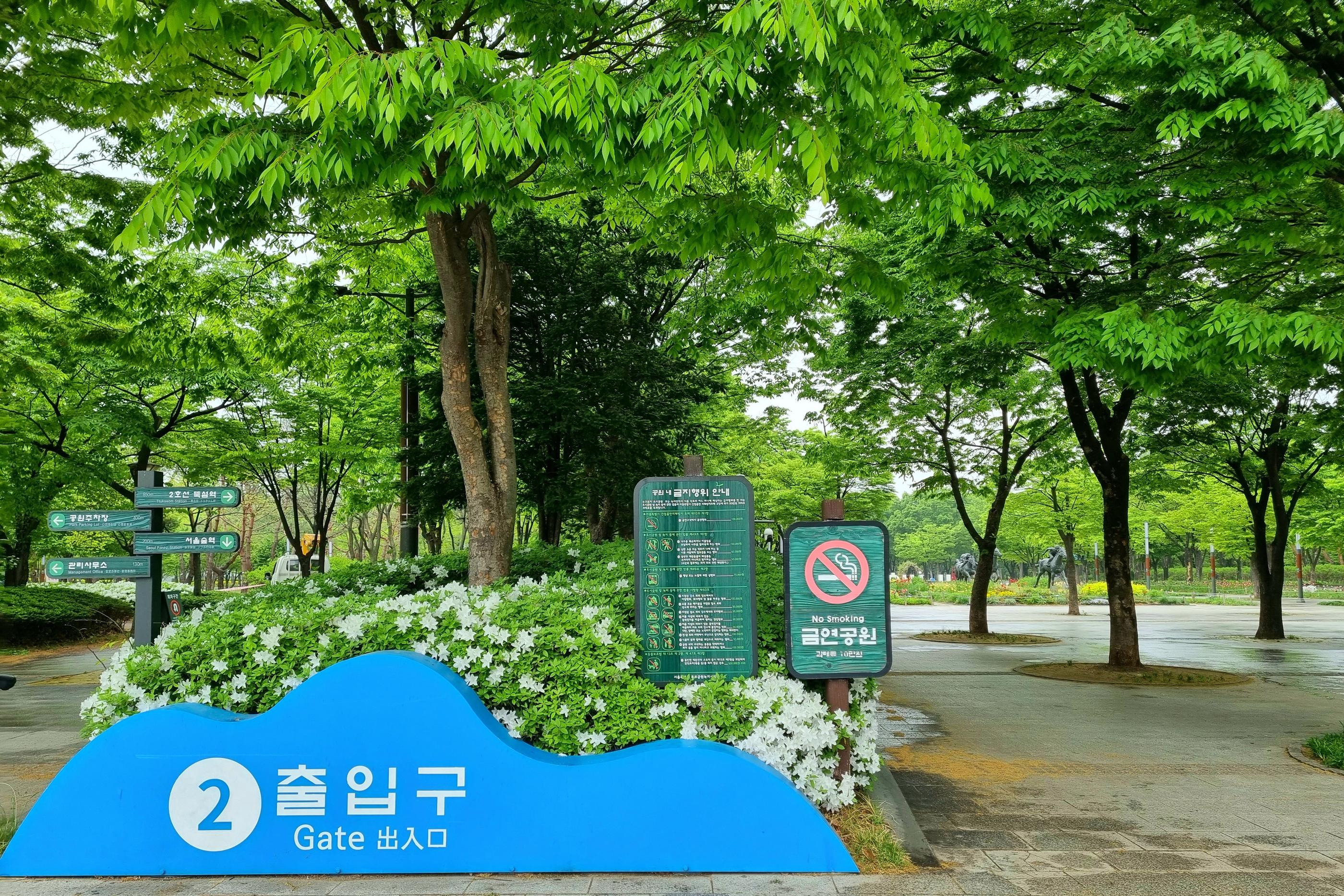 When you enter through this entrance, you will be able to see statues that are placed there to commemorate Seoul Forest's past of being a stadium before the park was built.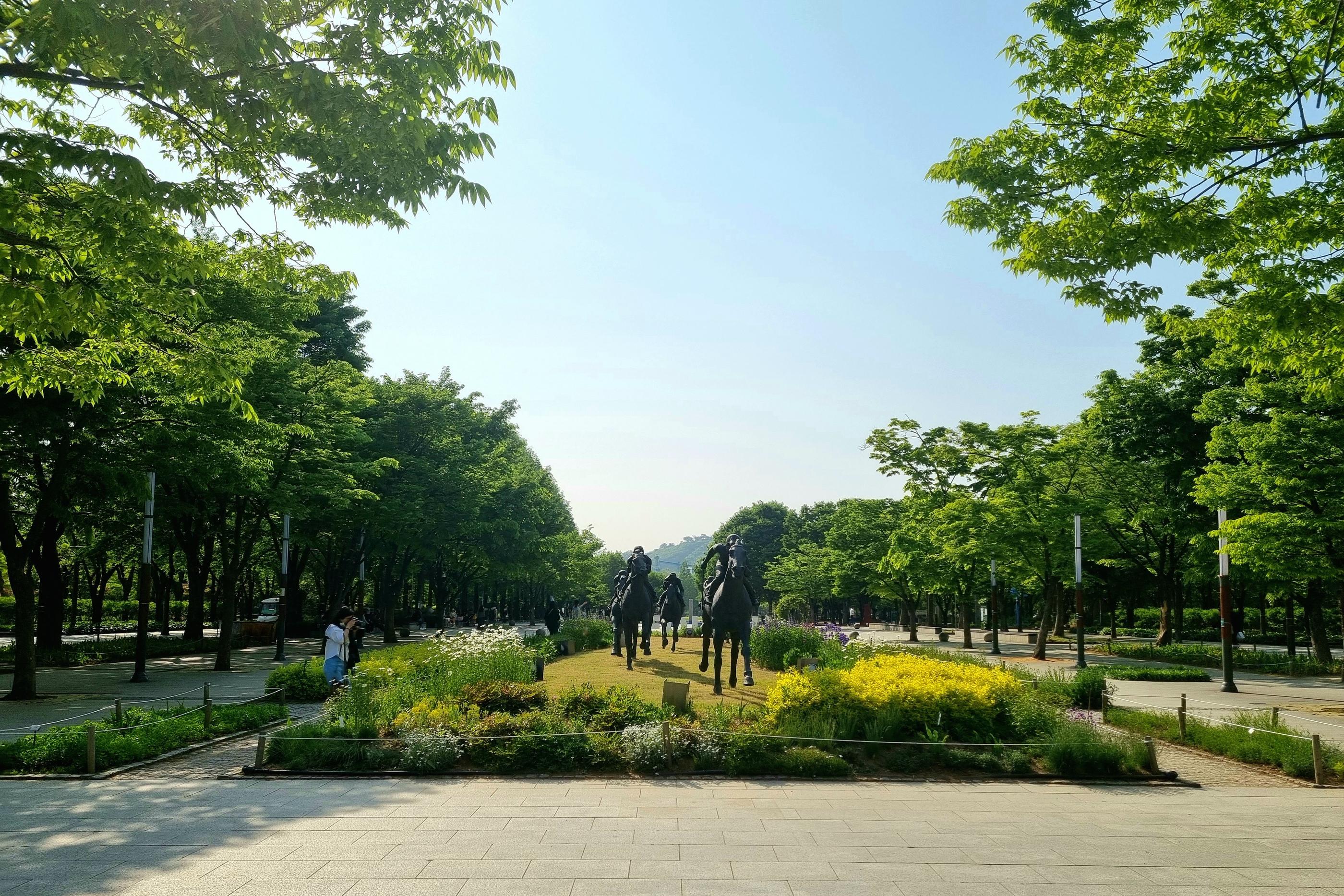 Next to the statue, there are many flowers that have been planted that are very beautiful and change throughout the season. You can also see entrance 3 which is just a little further straight on the left of the entrance.
Entrance 3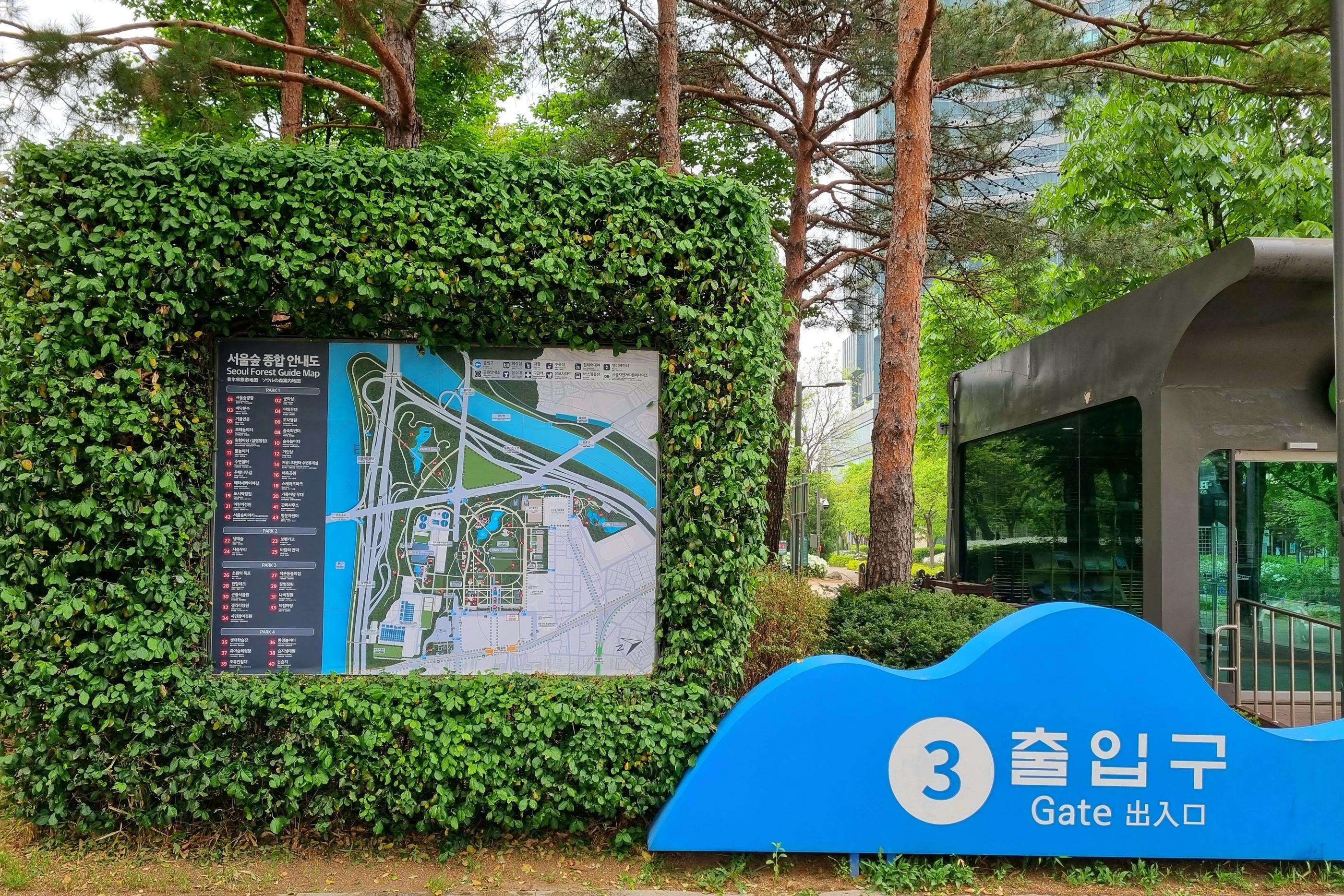 When you enter from this entrance, you will see that there is a luxury condominium called GALLERIA FORET which is said to be home to many entertainers, and there are many restaurants and cafes on the lower floors.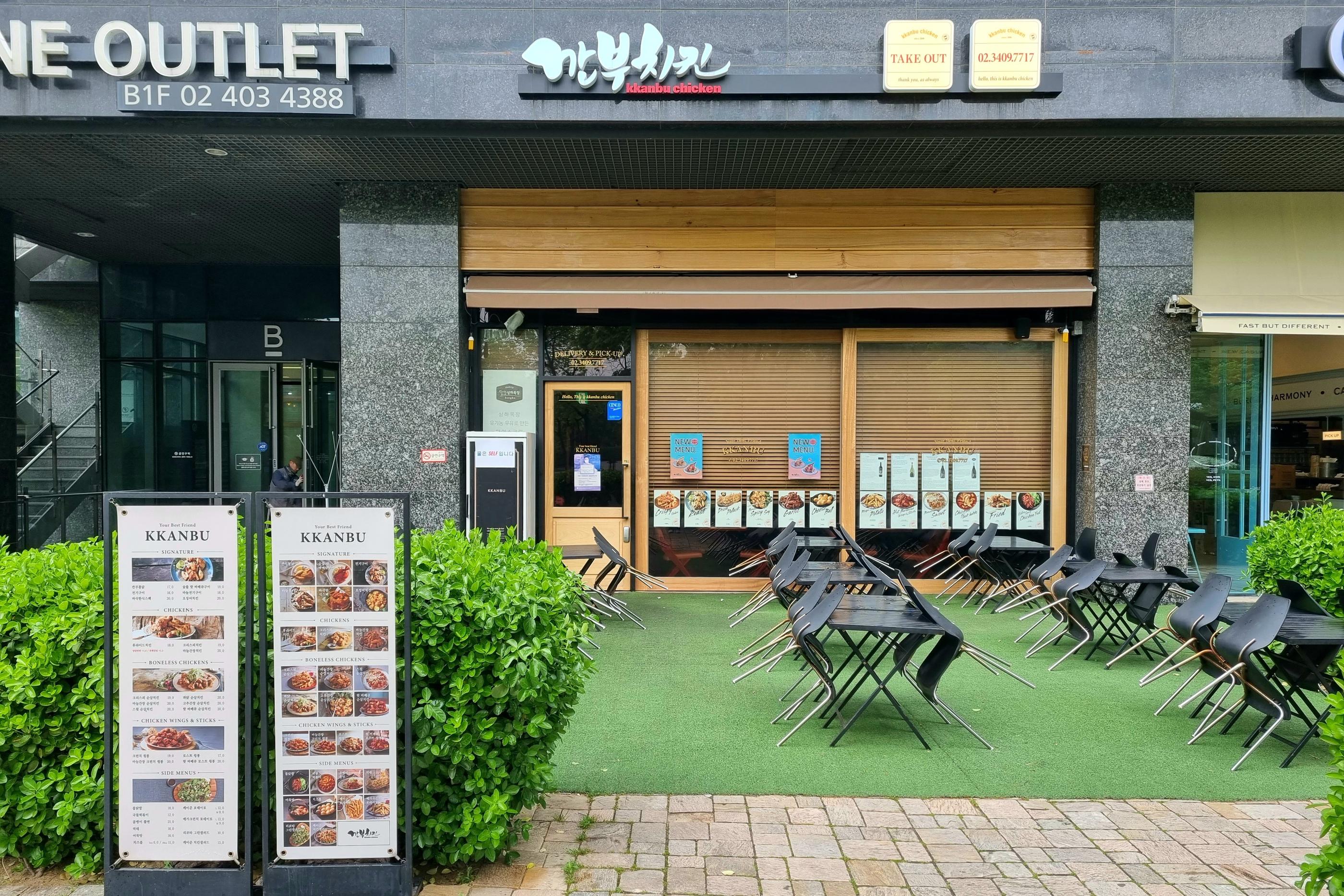 If you want to enjoy a cup of coffee and some delicious food, we suggest that you come here! This entrance is the best for those that want to visit Seoul Forest after spending some time at a cafe at Seoul Forest Cafe Street. If you pass the entrance and exit the park you will see a little path that leads to a different forest-like area.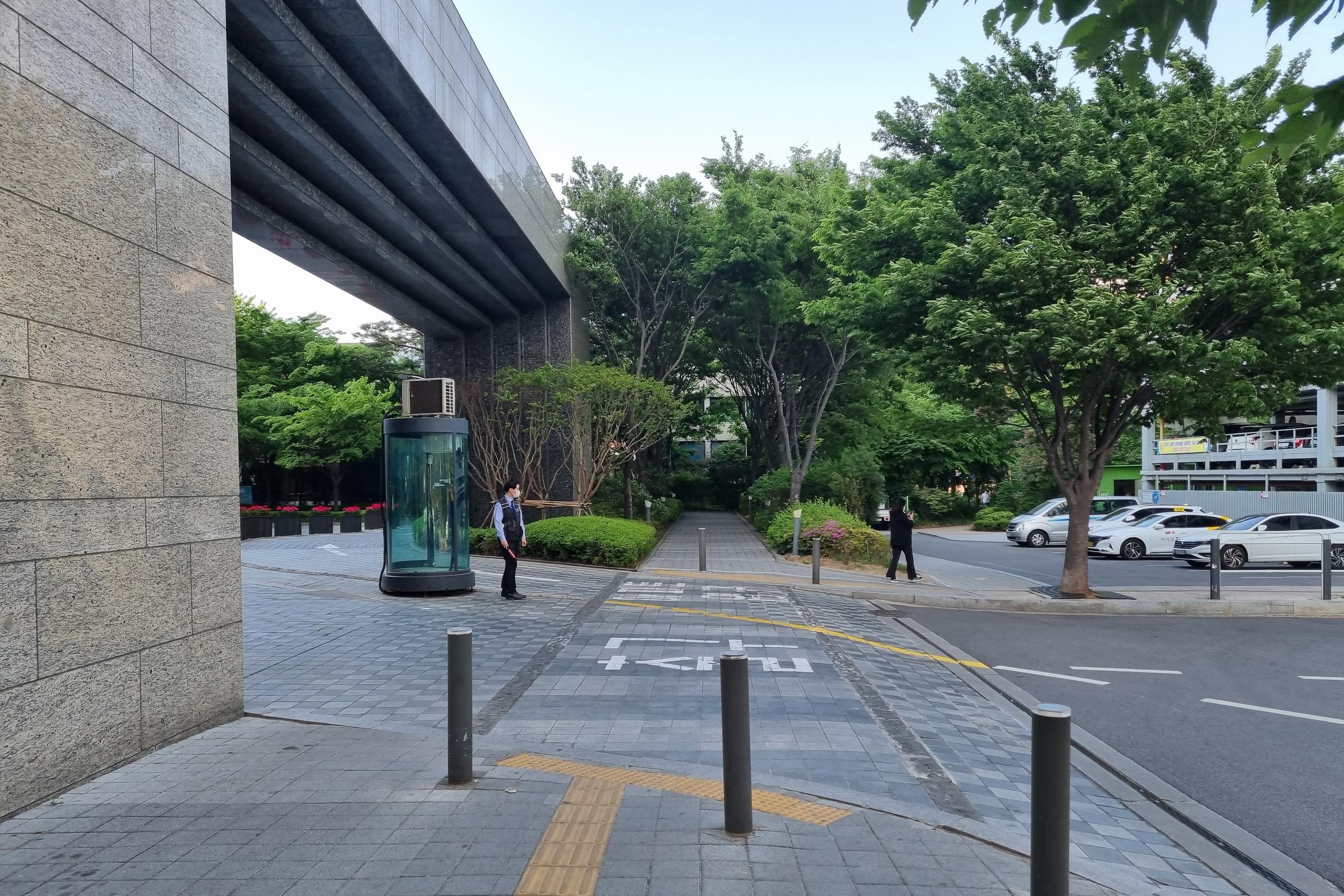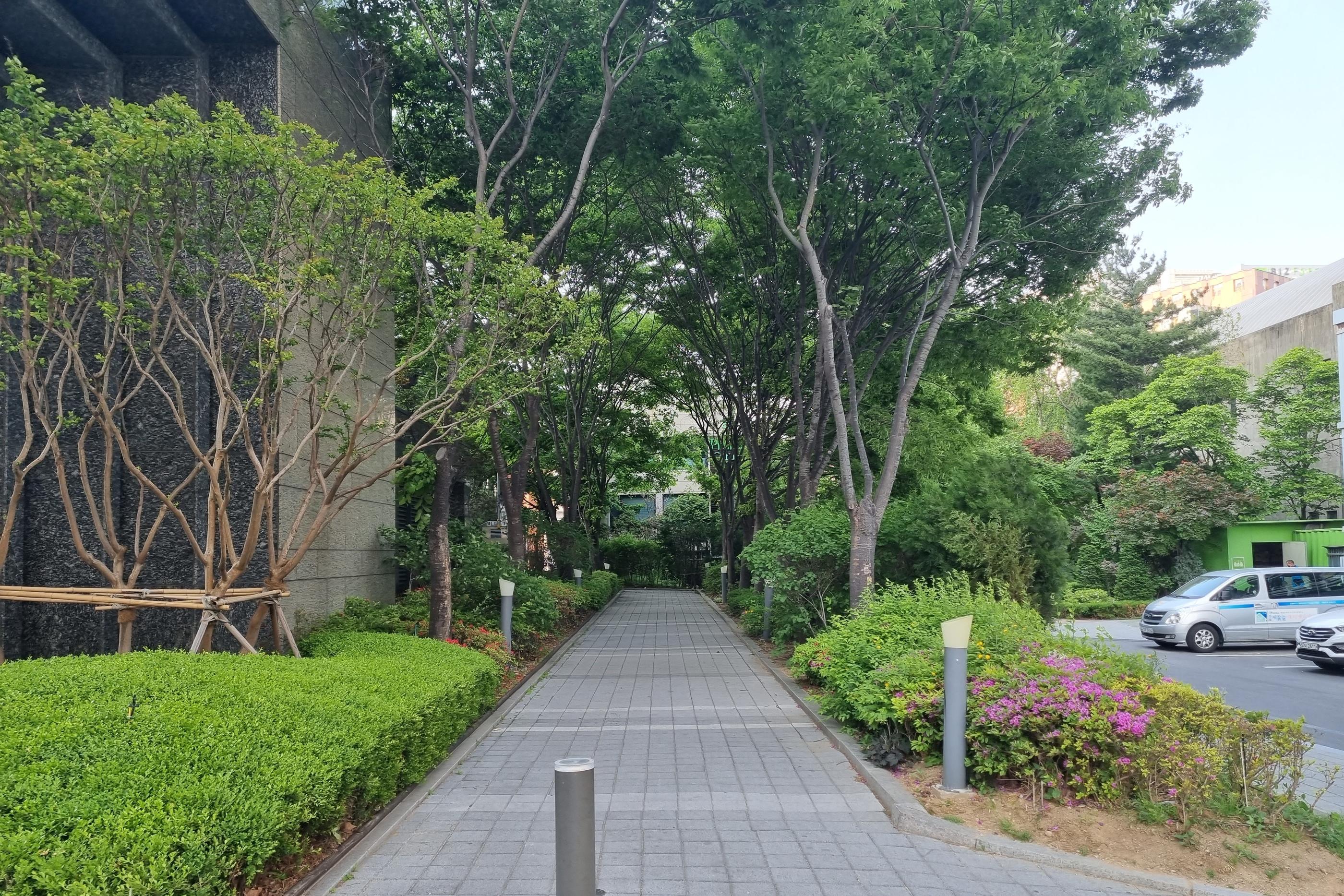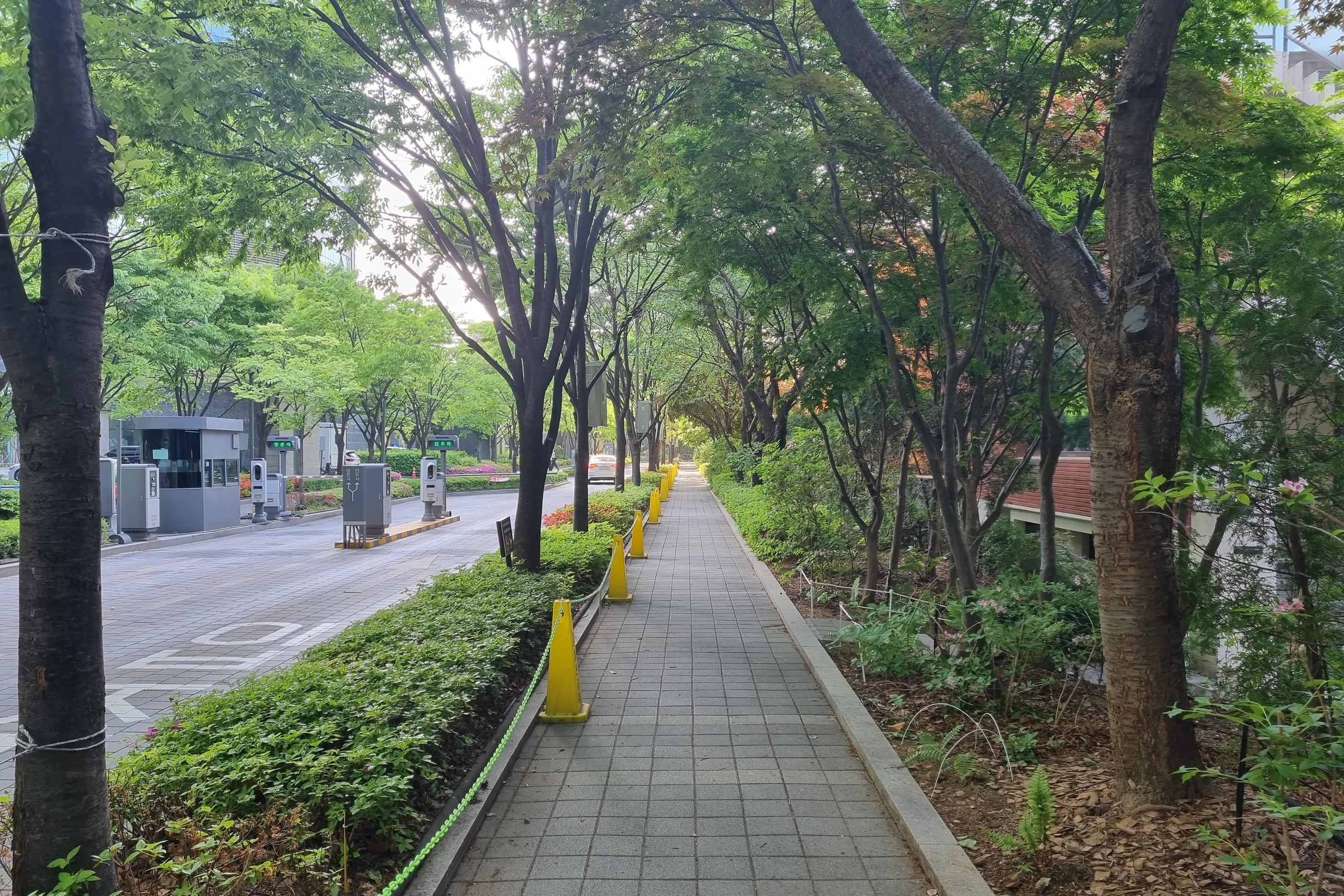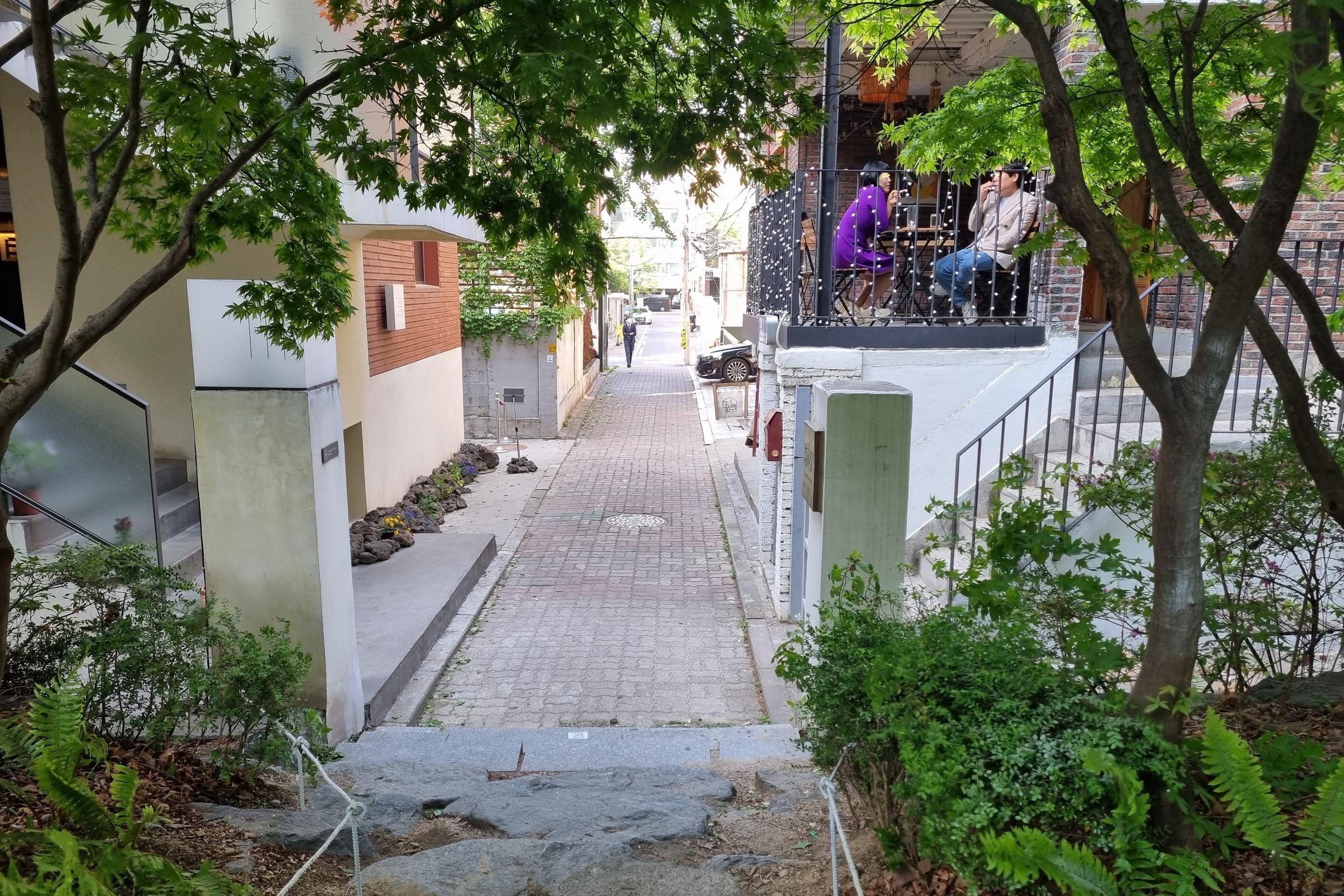 If you follow the path the whole way, you will reach the famous Seoul Forest Cafe Street.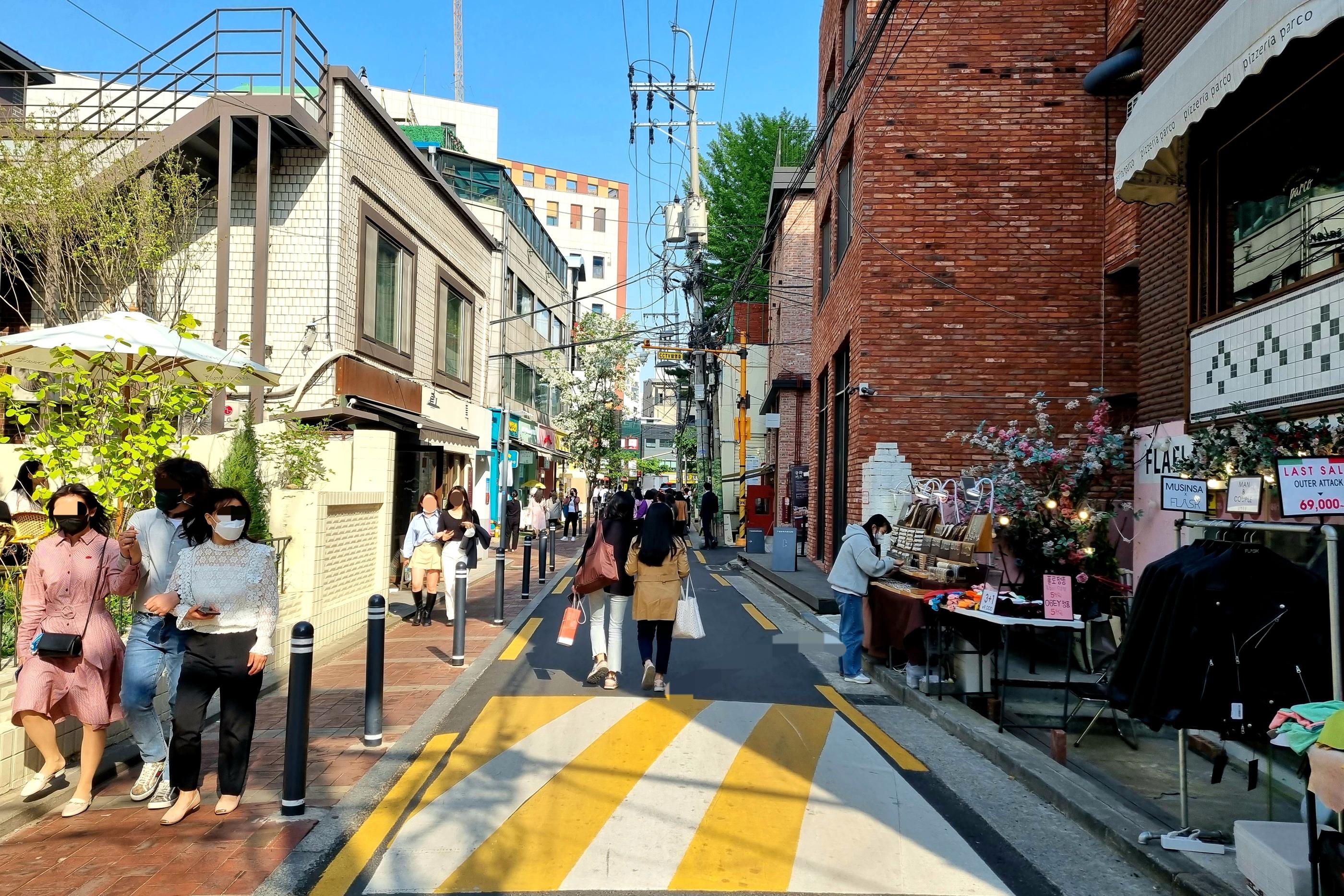 This street is a very popular area in the Seoul Forest area. It is filled with many trendy and popular cafes. If you go on the weekend, you will most likely have to wait to enter the cafe!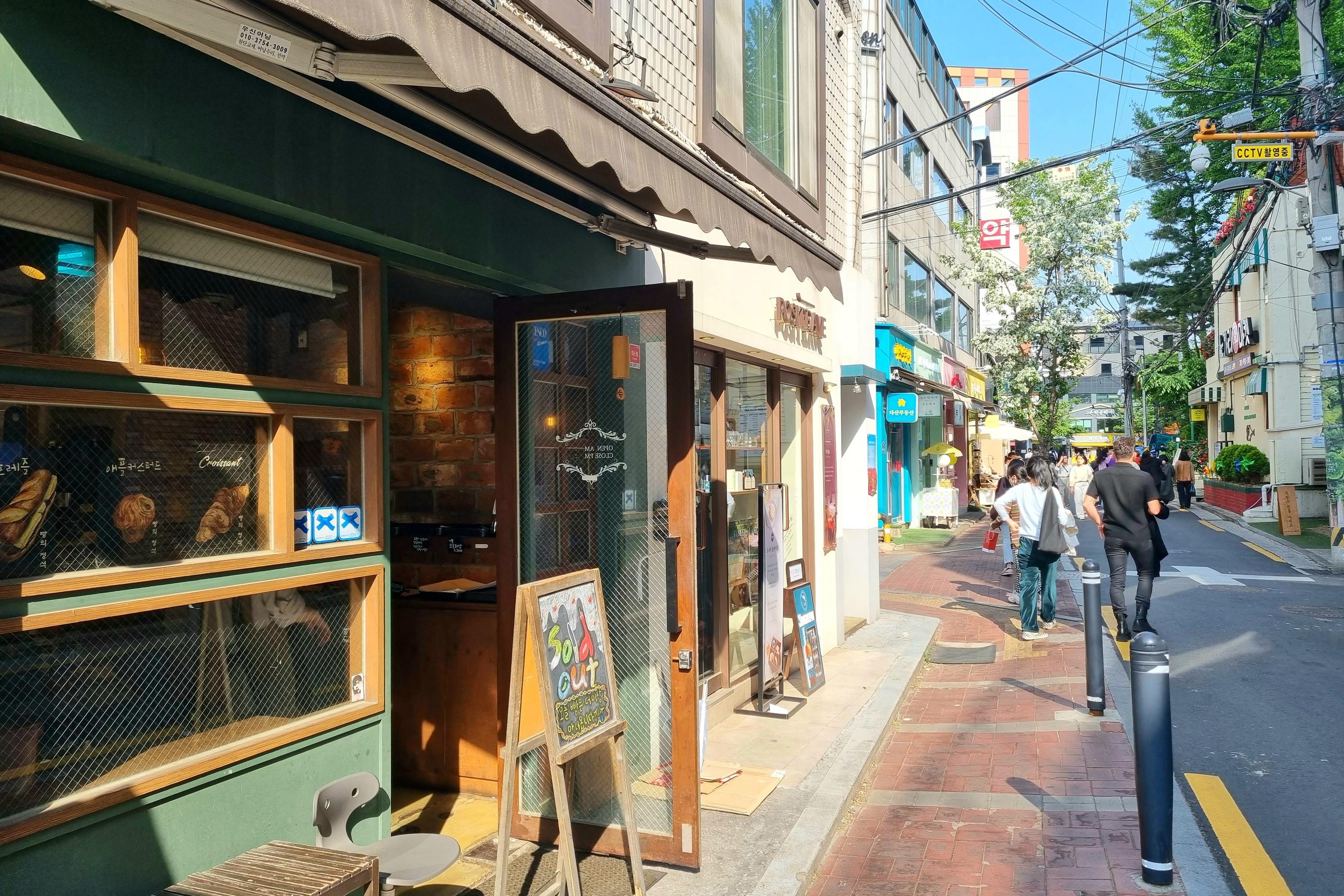 The street itself is very beautiful! Along with beautiful cafes, you can also find that this street has many bakeries, and stores that sell cute accessories! It is a fun area to hang out and take a walk in and enjoy.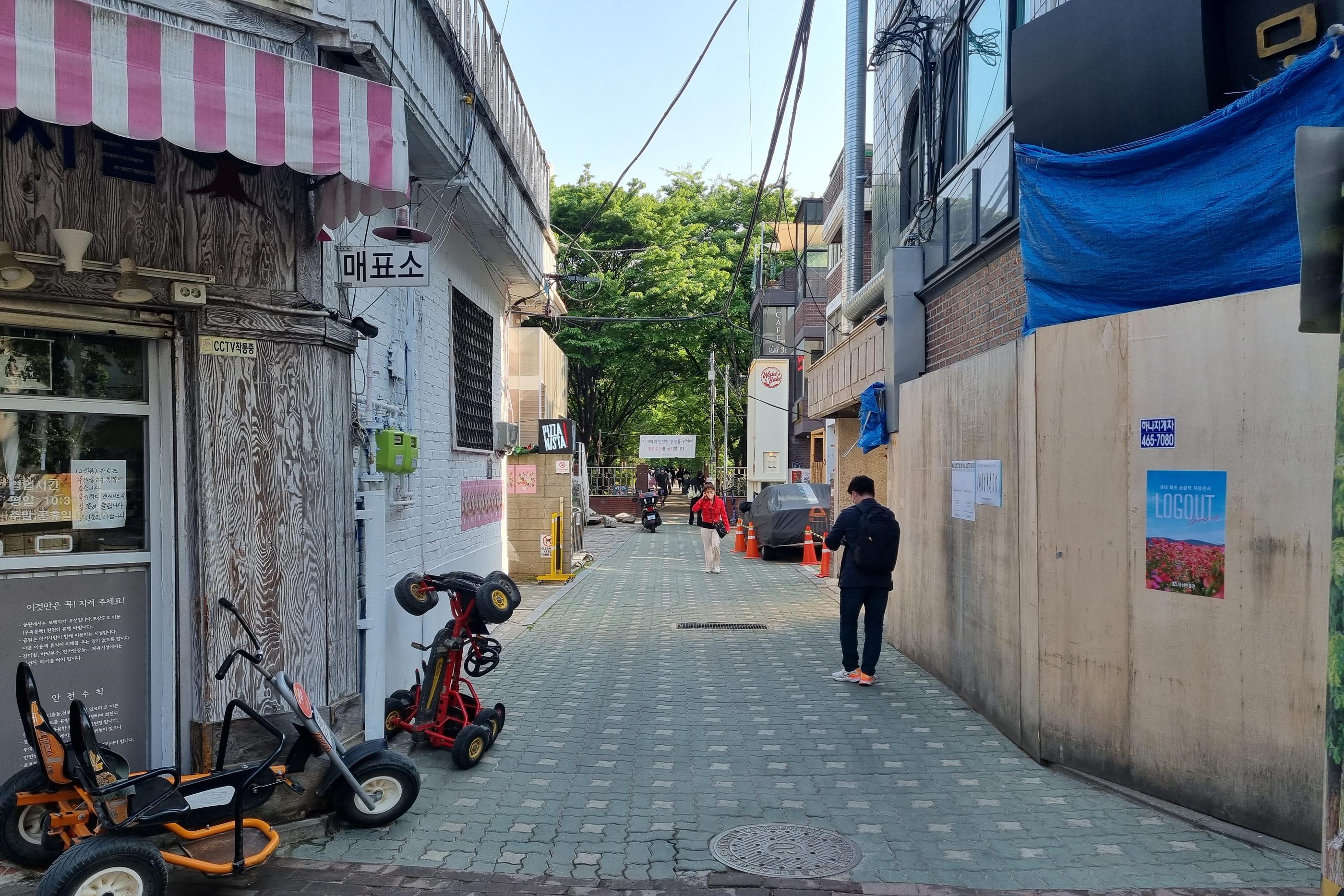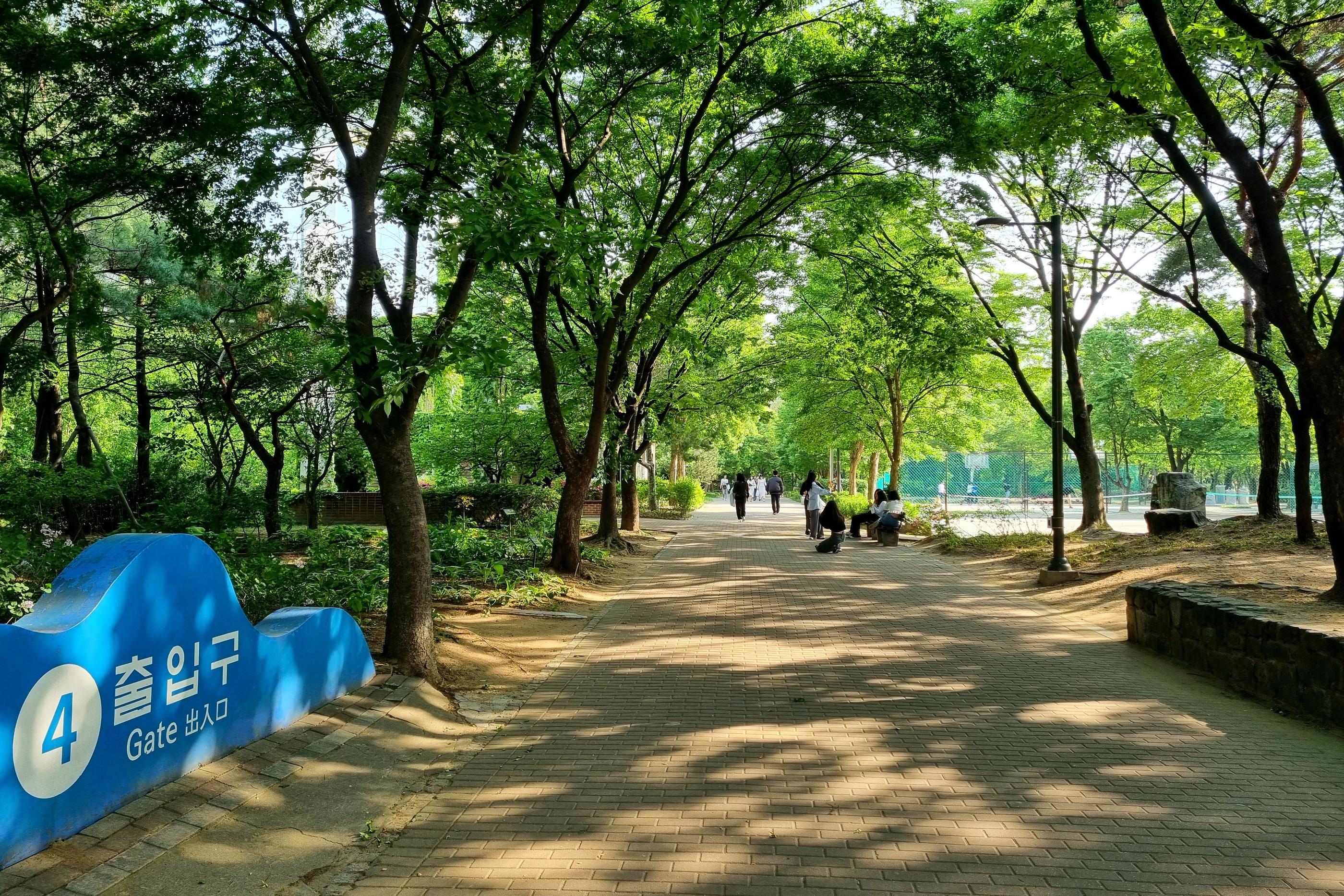 Keep in mind that there are also toilets at the entrance area near the park and the cafe street.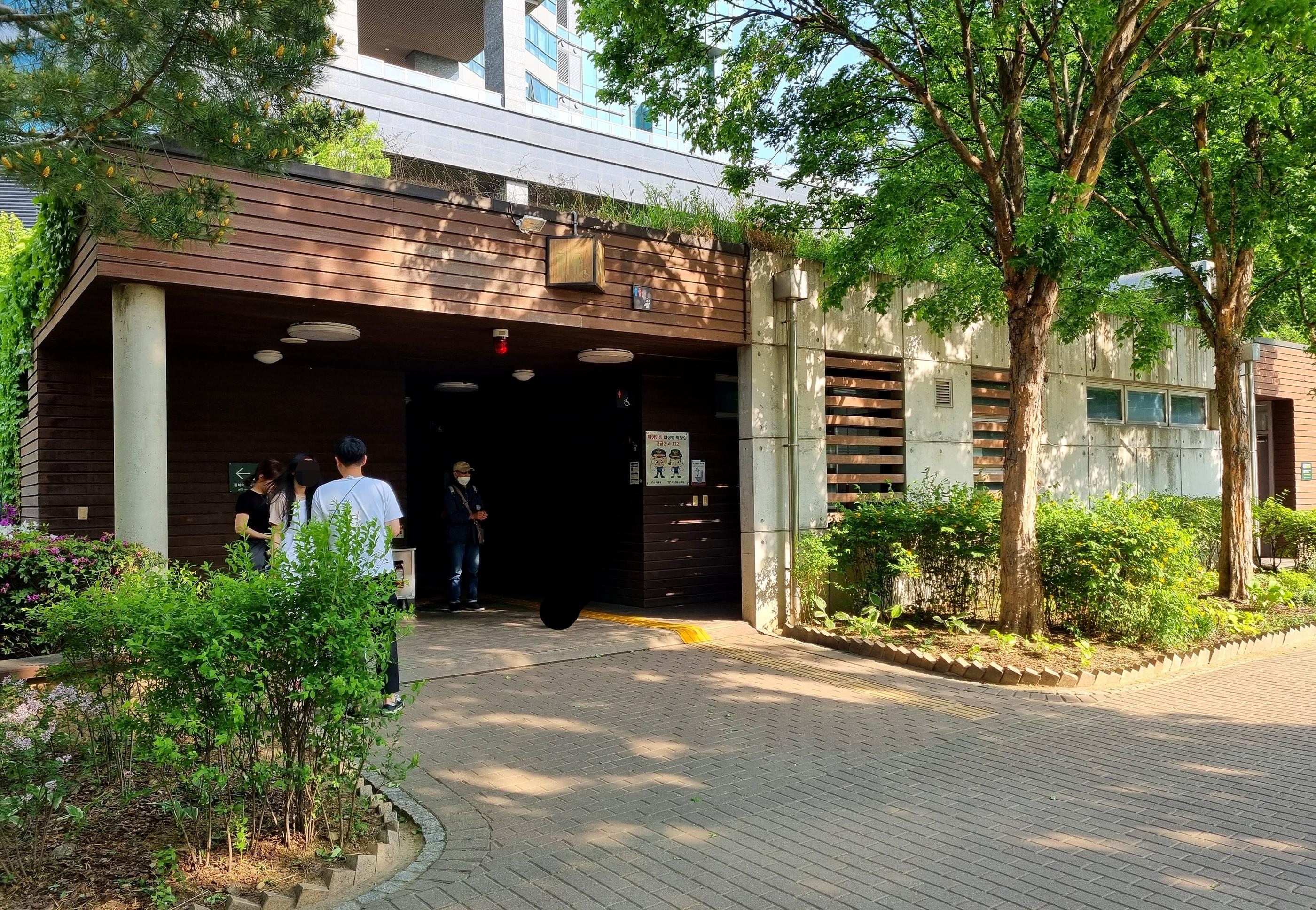 ---
Our Visit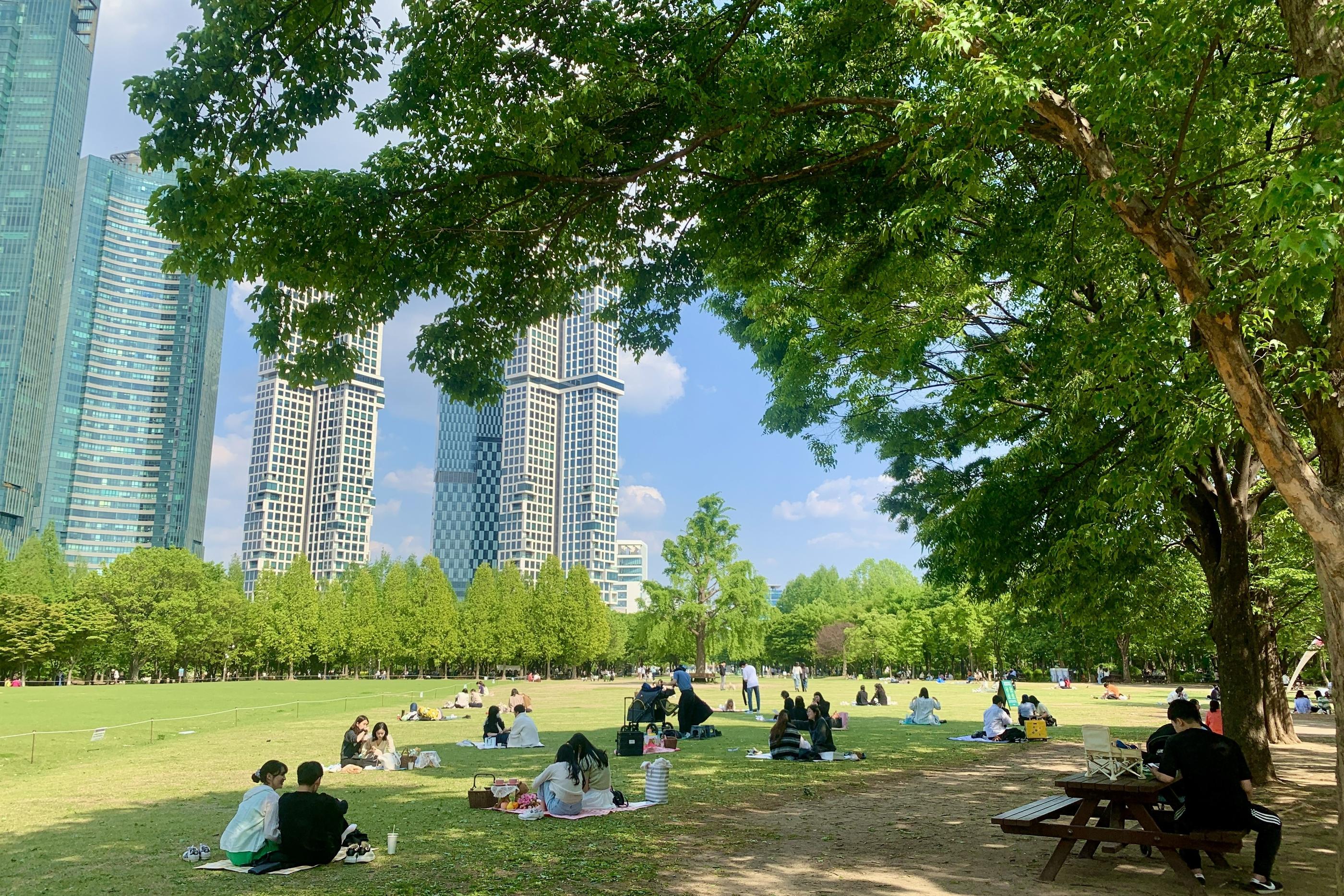 Seoul Forest is a park with lots of nature that citizens can enjoy! It is not only loved by Seoul citizens, but also by Koreans that live in the Gyeonggi area and the Seoul Metropolitan Area. Seoul Forest is just as popular as Olympic Park, and World Cup Park!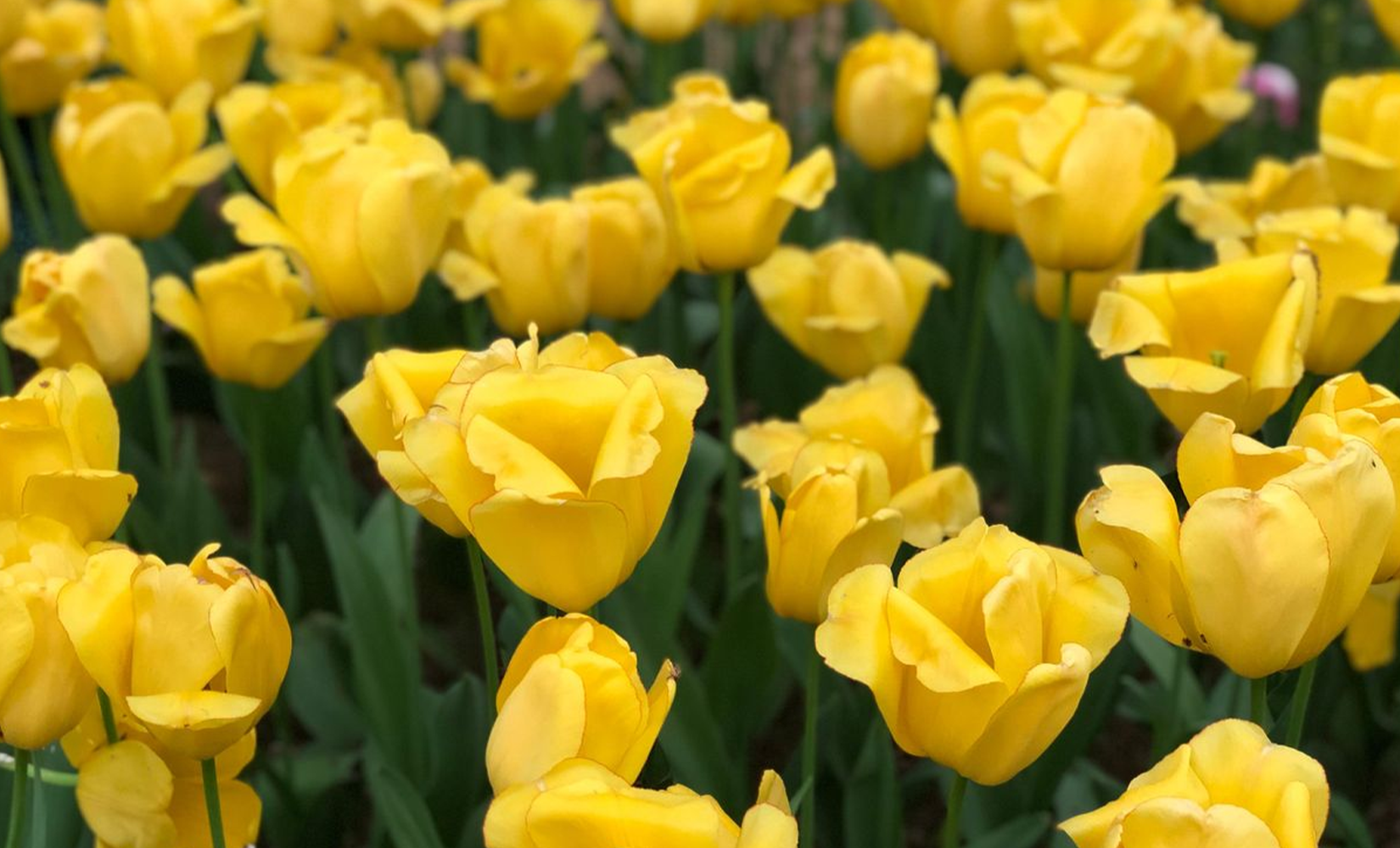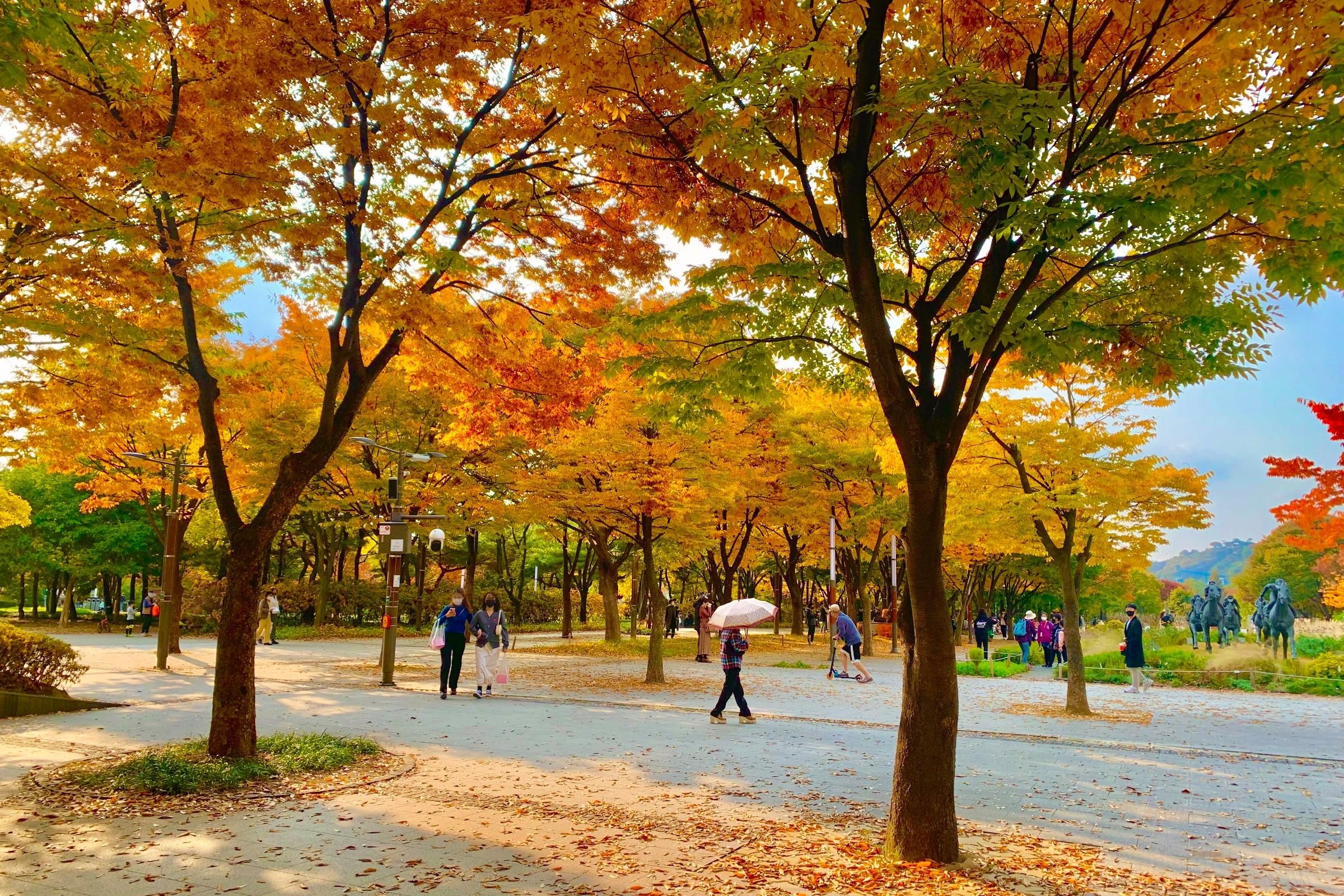 Because the nature here is so beautiful, there is no right season to come! Whether you come in the spring, summer, winter, or fall season, it is bound to be beautiful here! Many people like to come here to enjoy walks, picnics, and photoshoots.
Our personal favorite season to come here is in the spring, as all the cherry blossoms are in full bloom and the atmosphere is beautiful. However, if you come in the autumn, you can enjoy the fall foliage, and if you come in the summer you can enjoy the roses and daisies!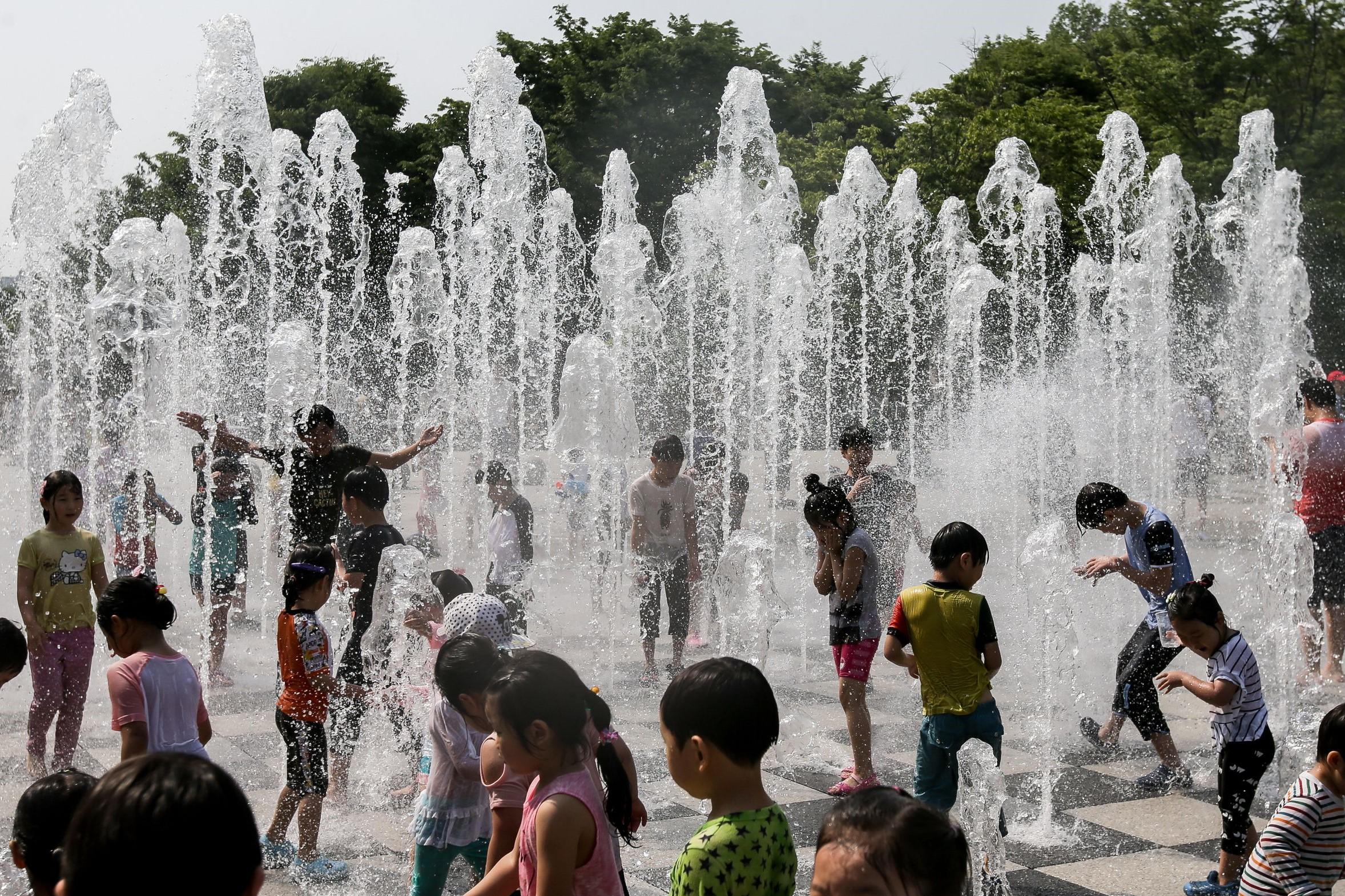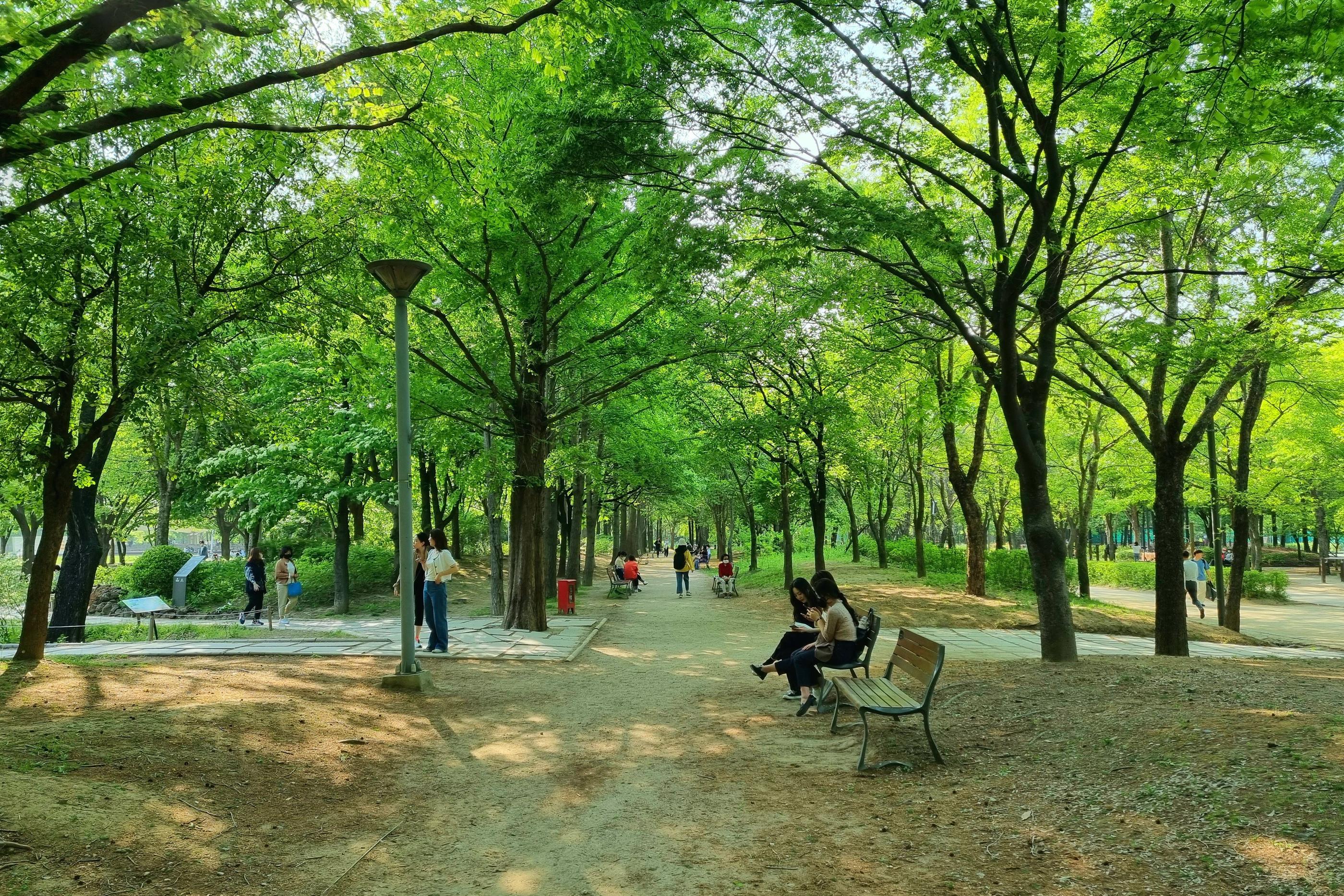 The park is always filled with people taking walks, enjoying picnics, talking, and spending quality time with one another. There are also many trash cans across the park, so please make sure to throw away your trash properly! You wouldn't want to ruin the beautiful park with litter.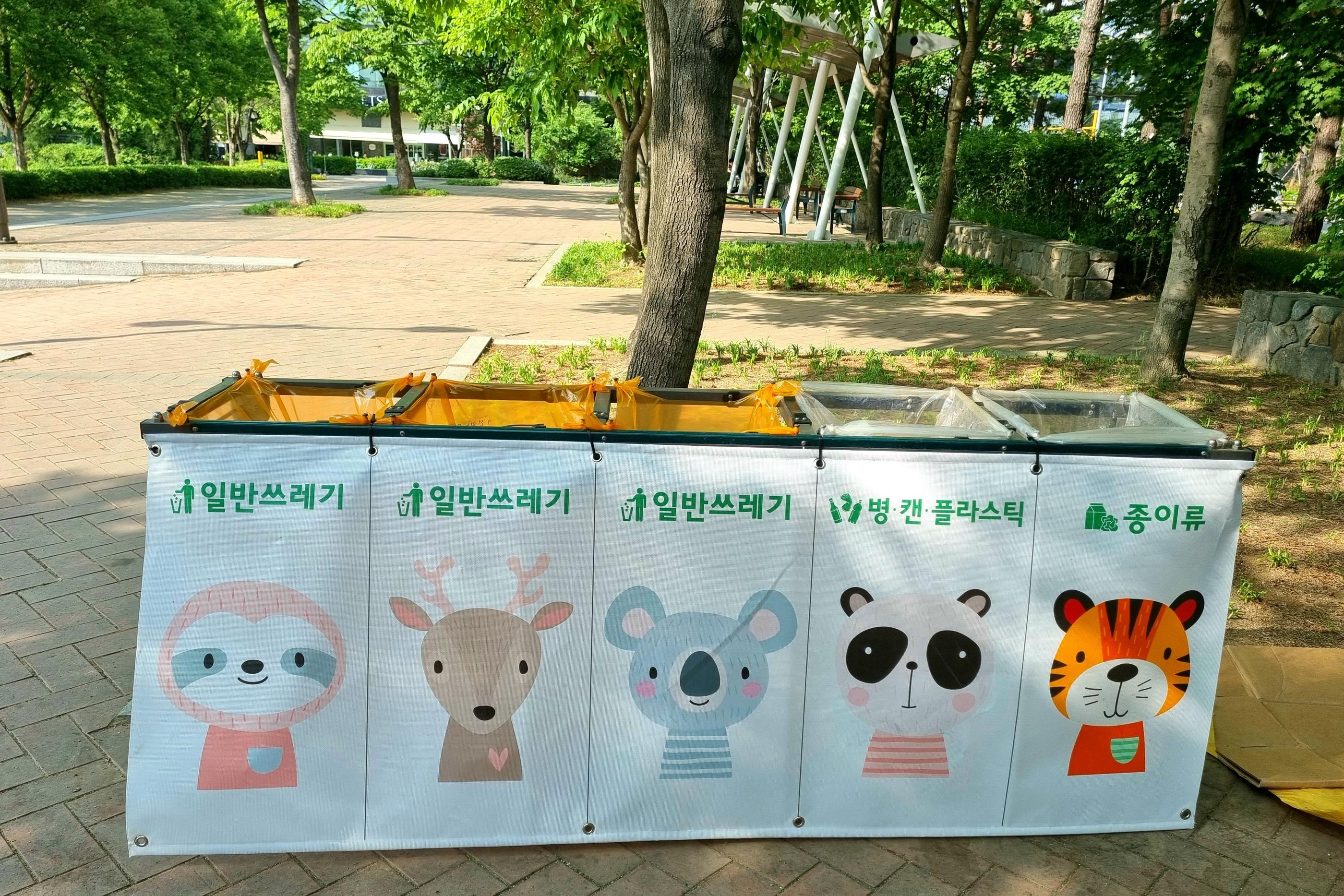 If you walk a little further into the park, you will see the "Family Square" which is a large green area where you can enjoy a picnic!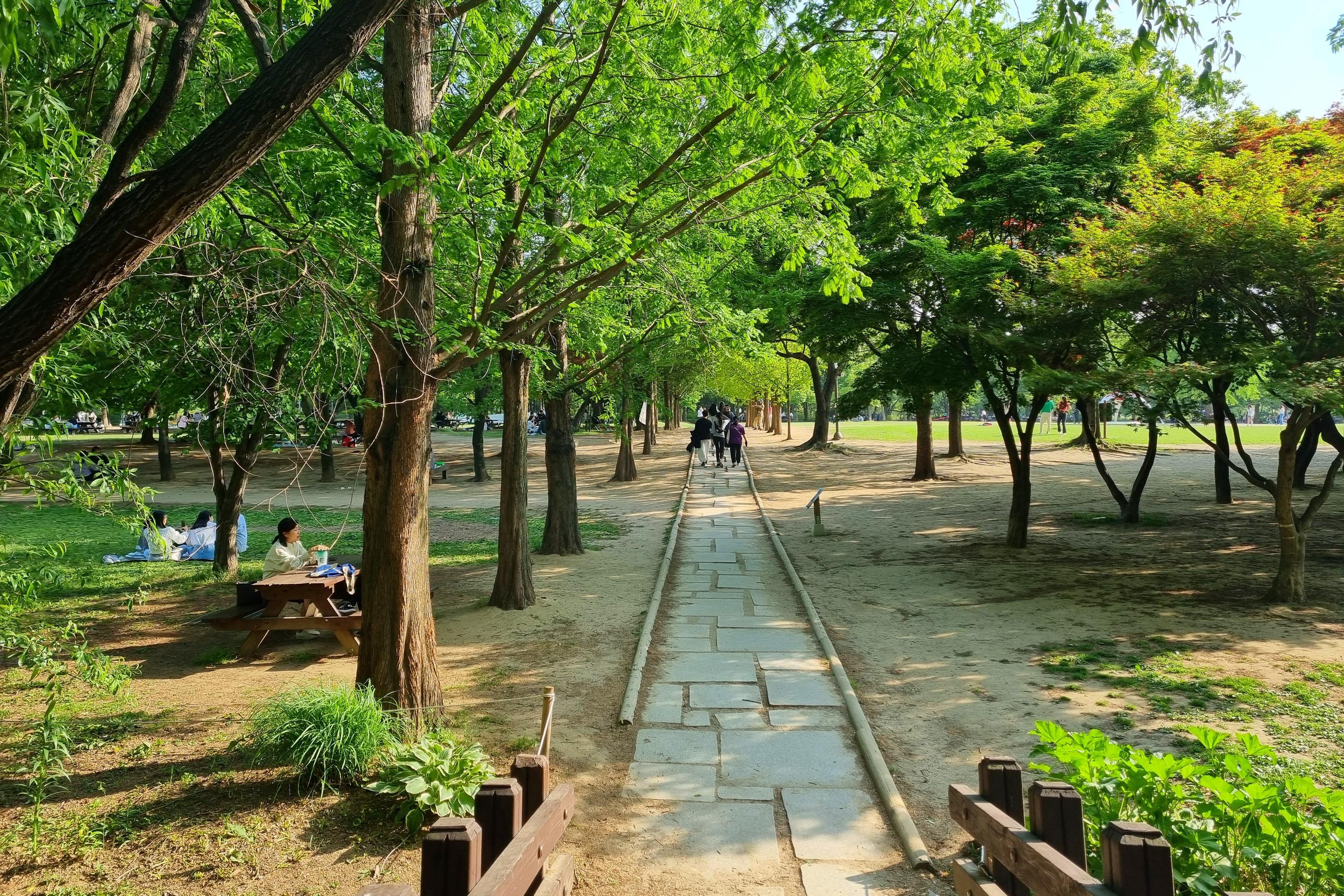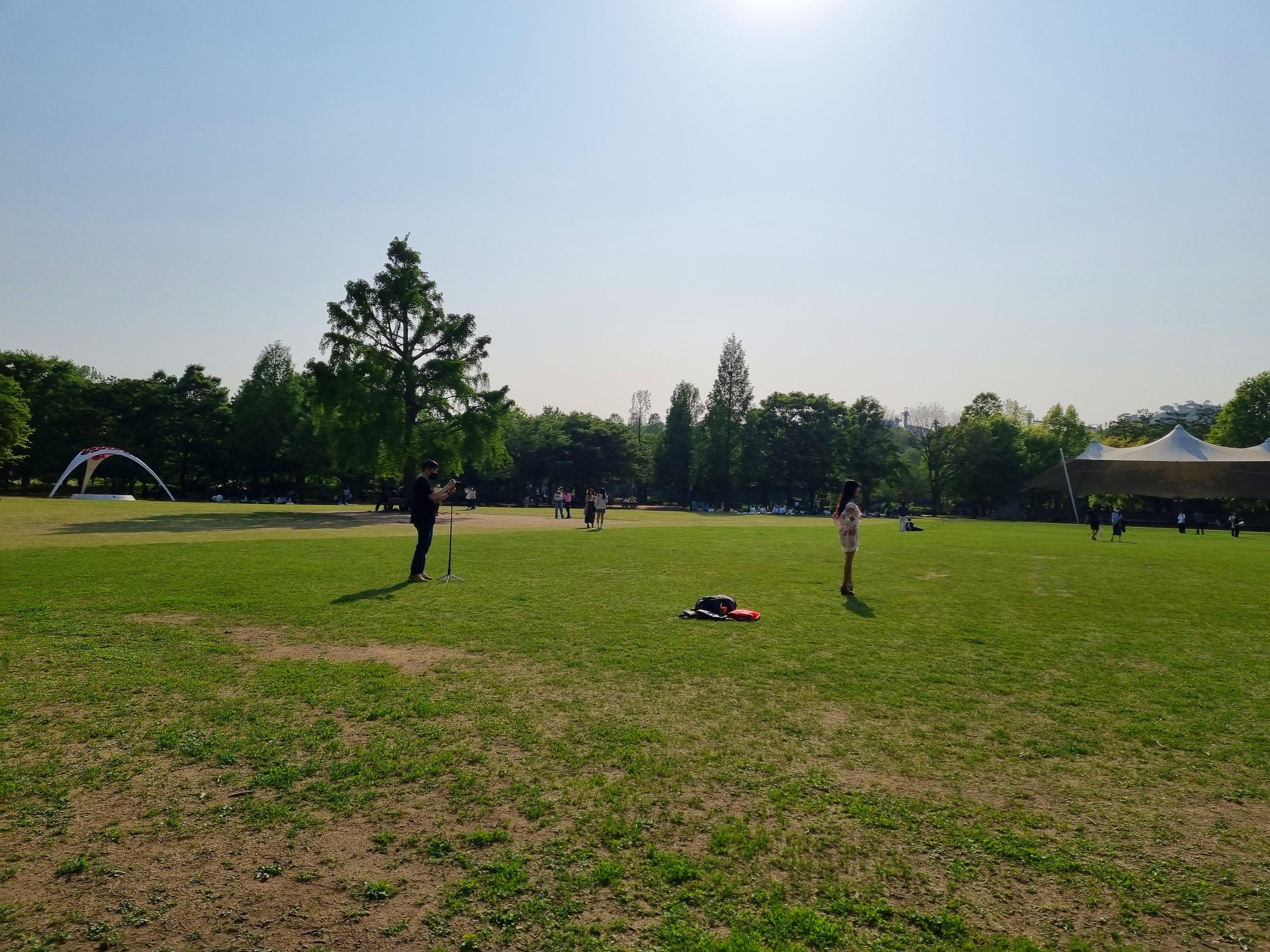 Family Square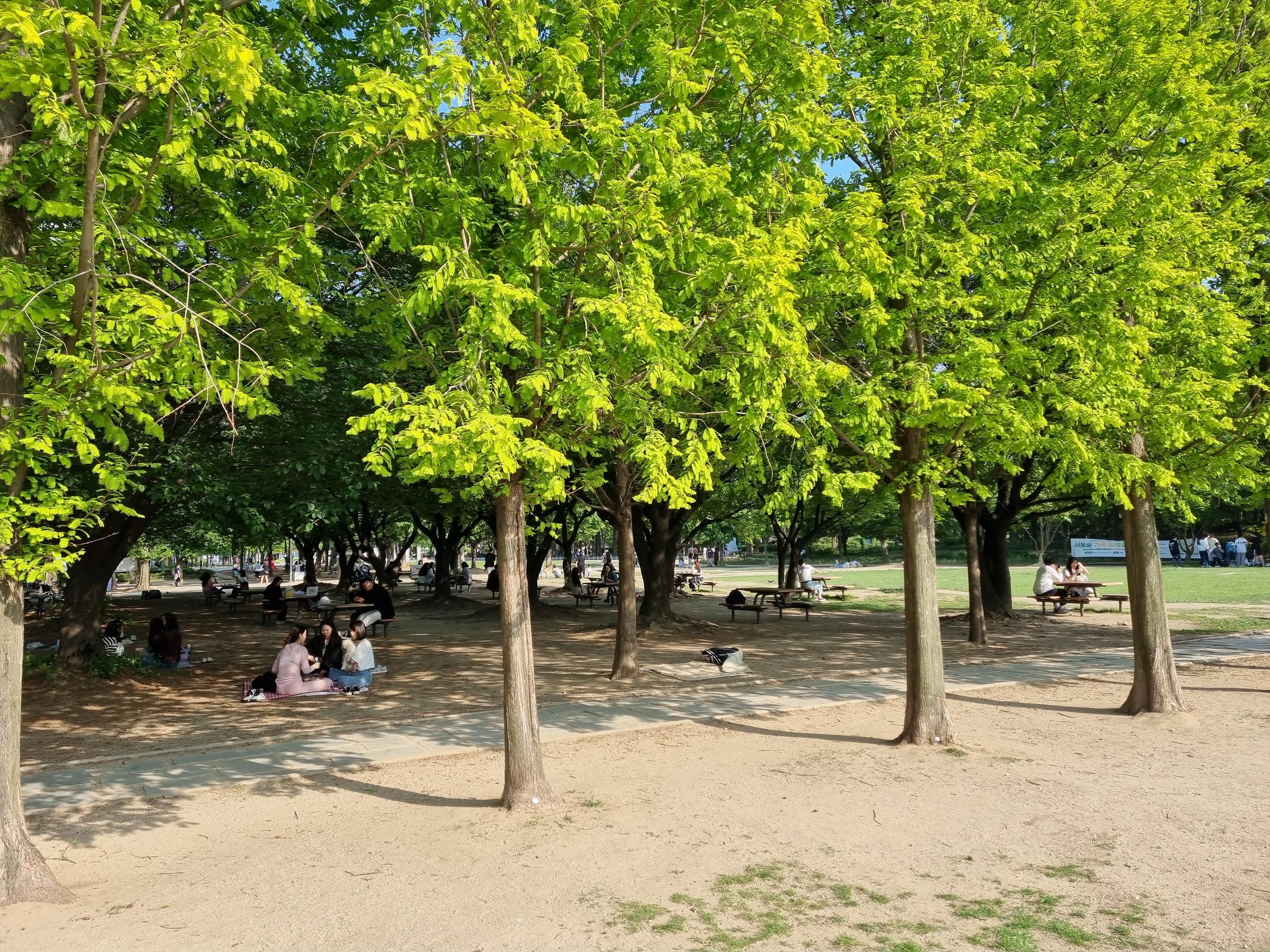 if you head past the family square, you will also see the "Mirror Pond".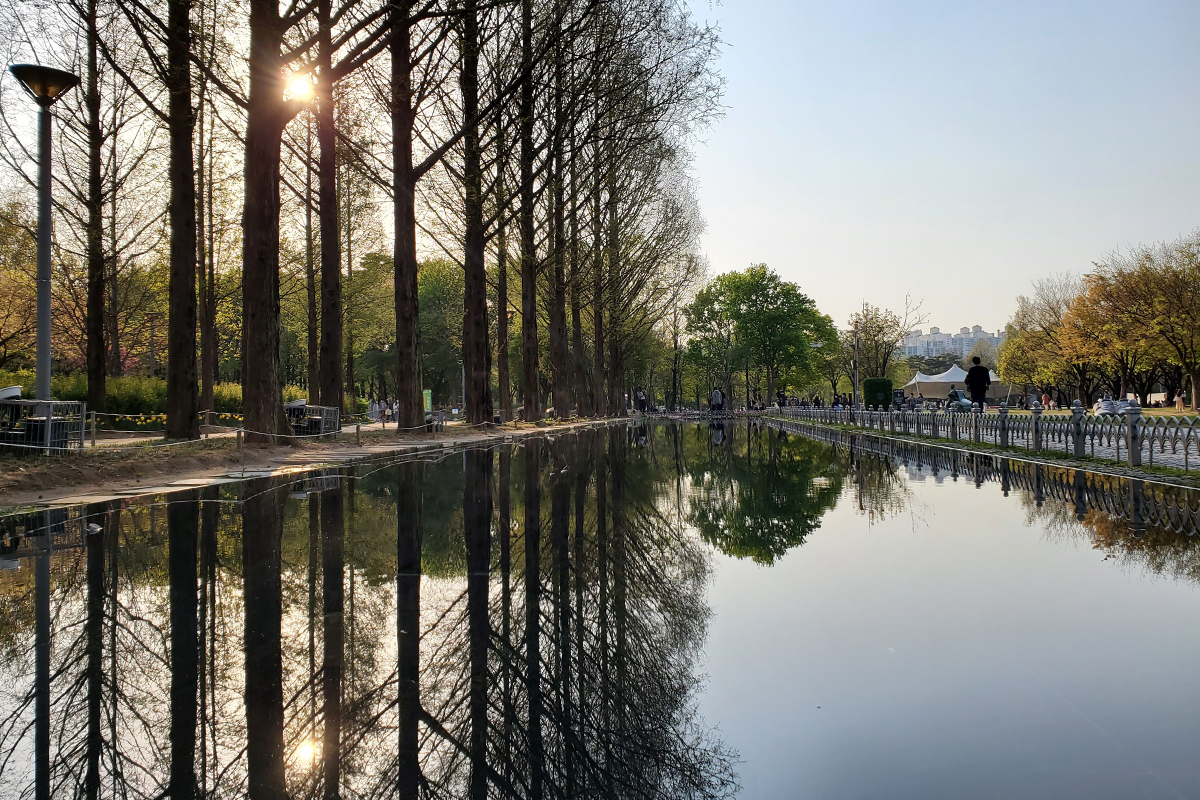 This pond is a very popular photo spot. The shallow pond is surrounded by beautiful trees, creating an interesting and mysterious sight. If you continue from here, you will find the "Water Playground".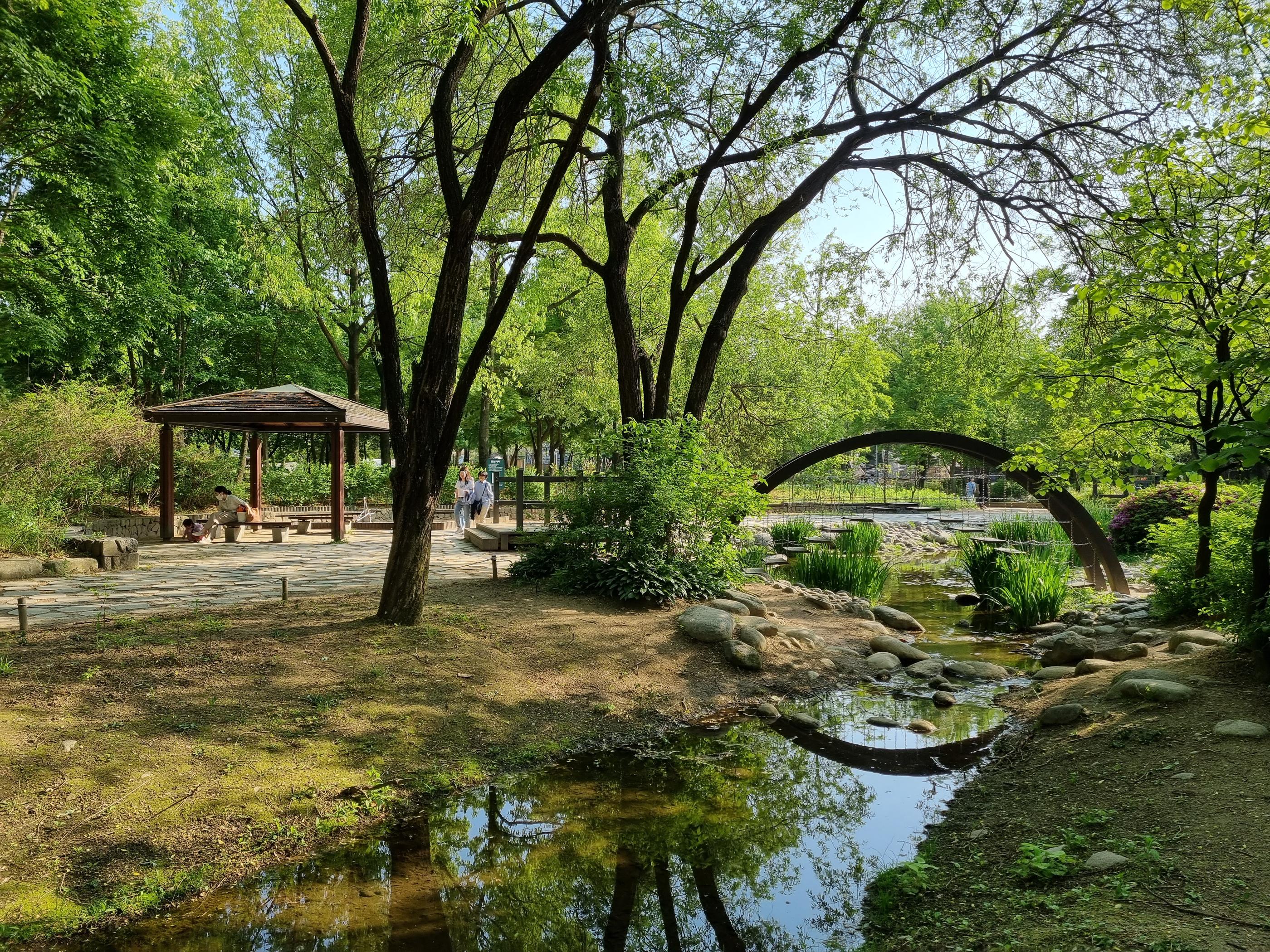 Water Playground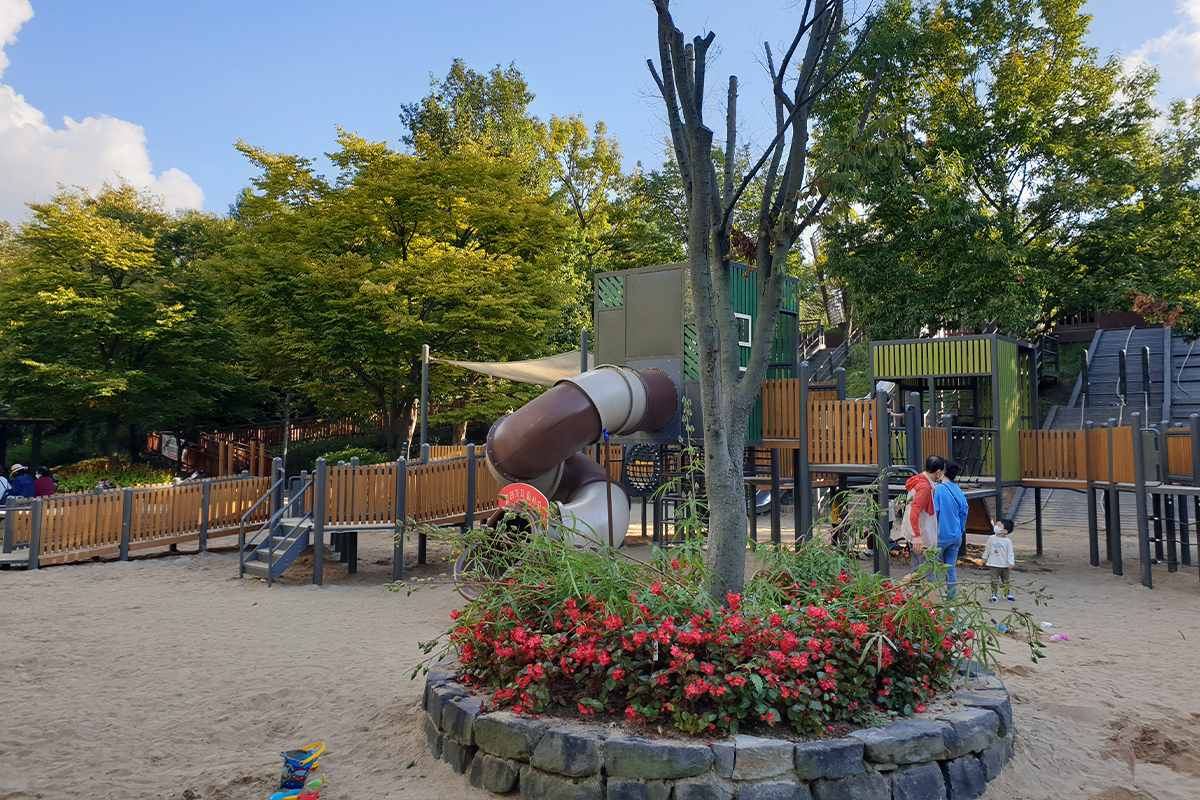 If you go straight from here, you will find a playground perfect for children to play at. It is a very nice spot for those that have children. If you do not proceed and follow the flow of the road to the right, you will reach a large pond and a bridge over it.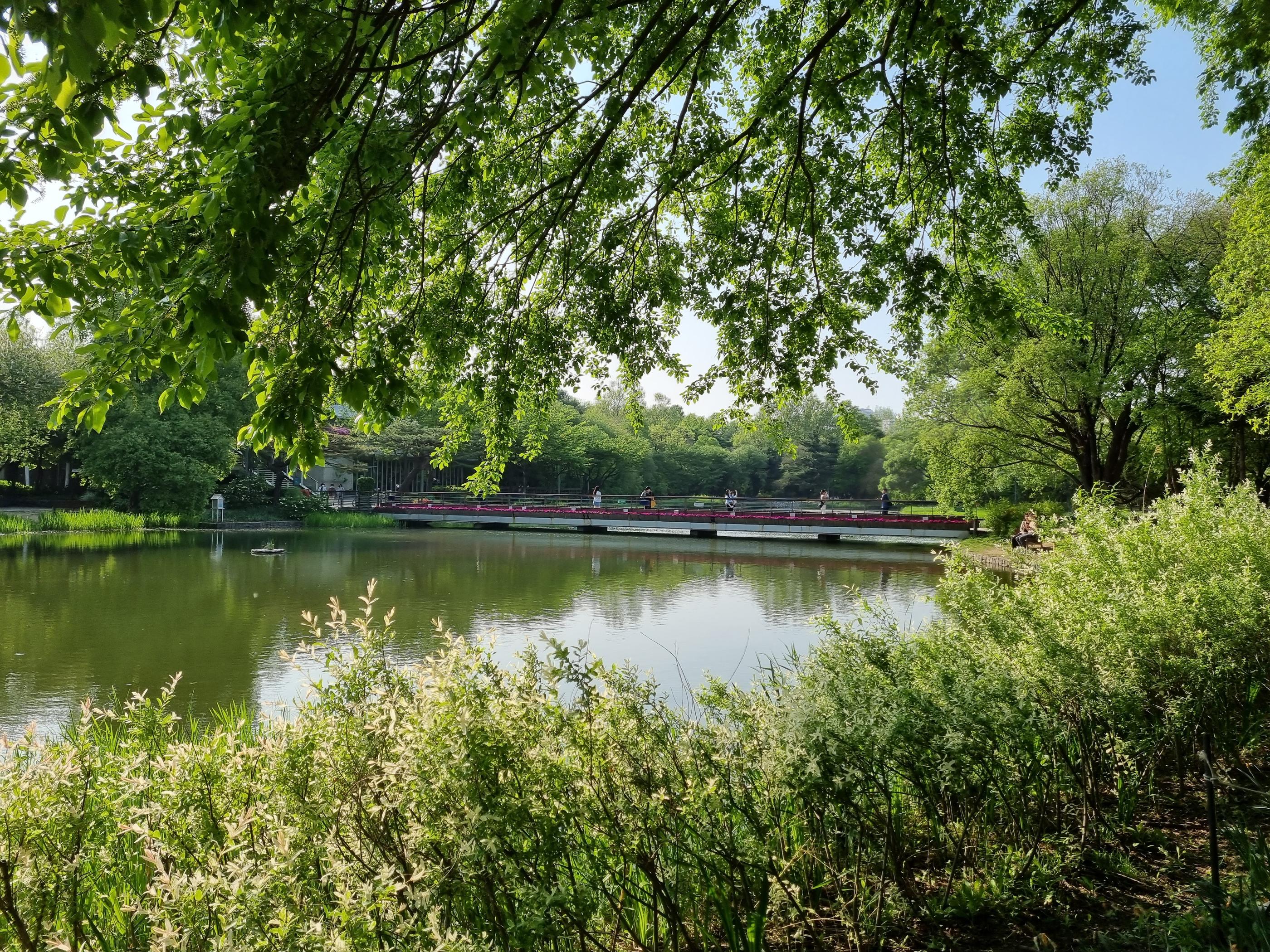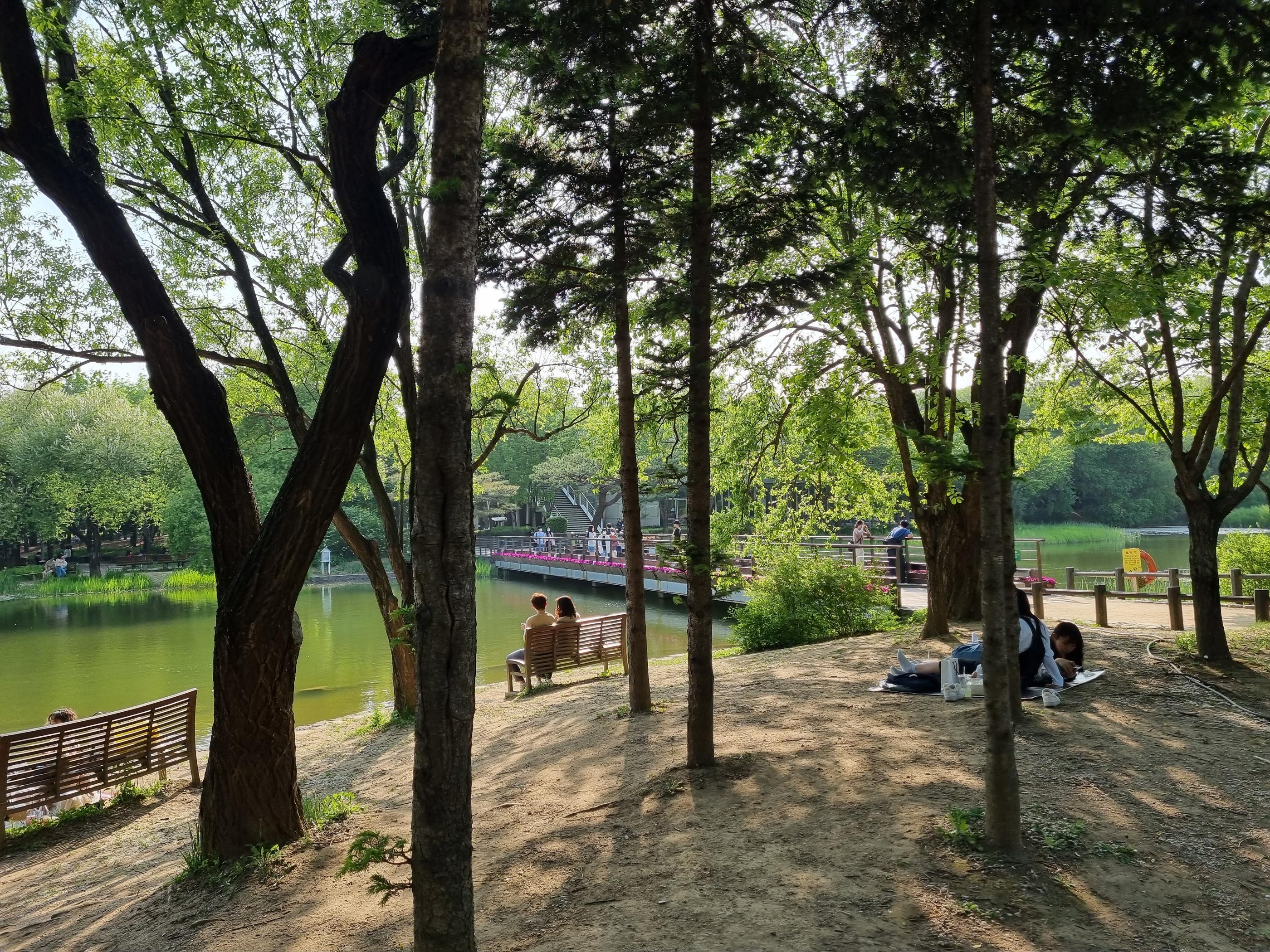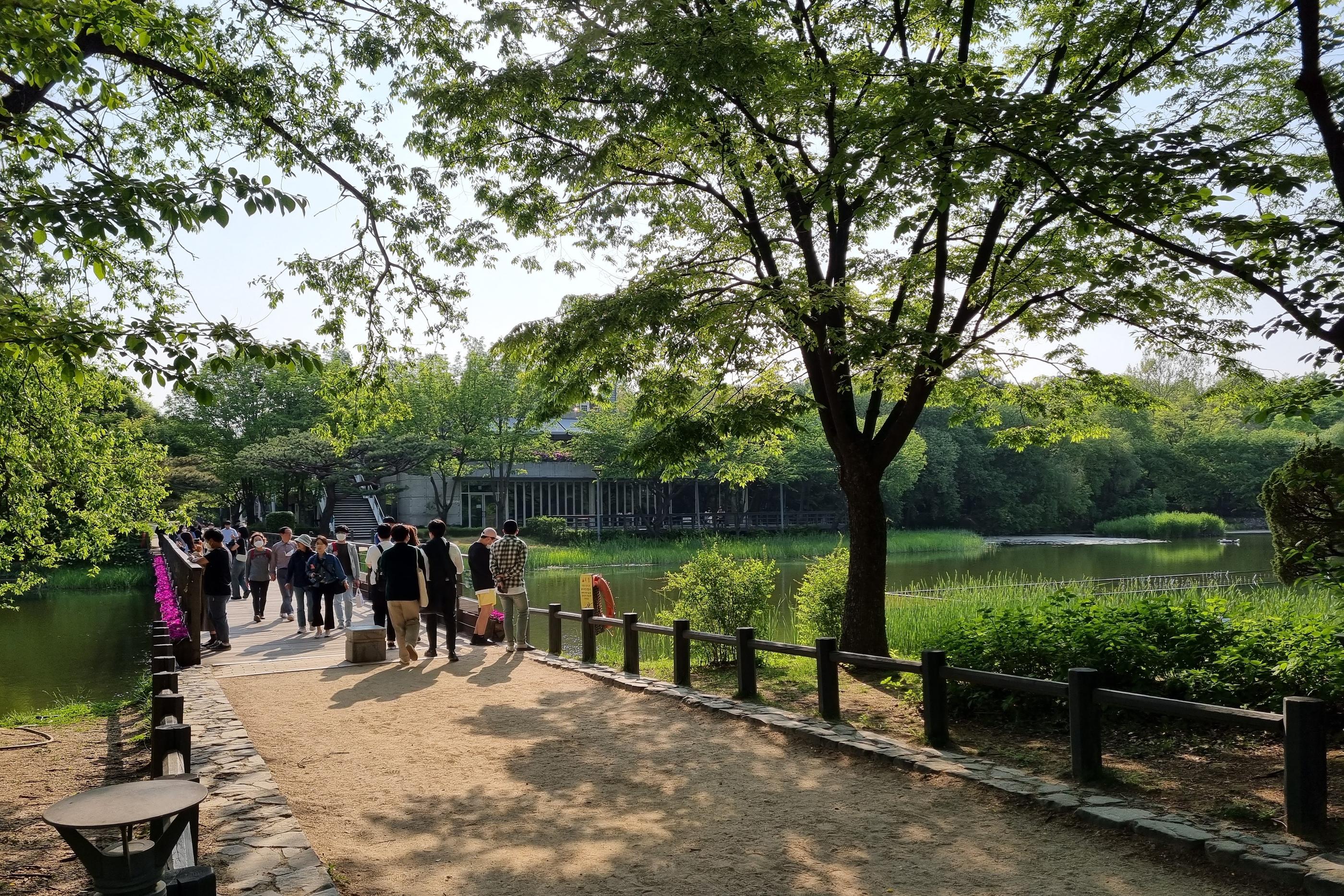 We also came across an electronic information board before we approached the bridge! It is always fun to see how high tech Korea is!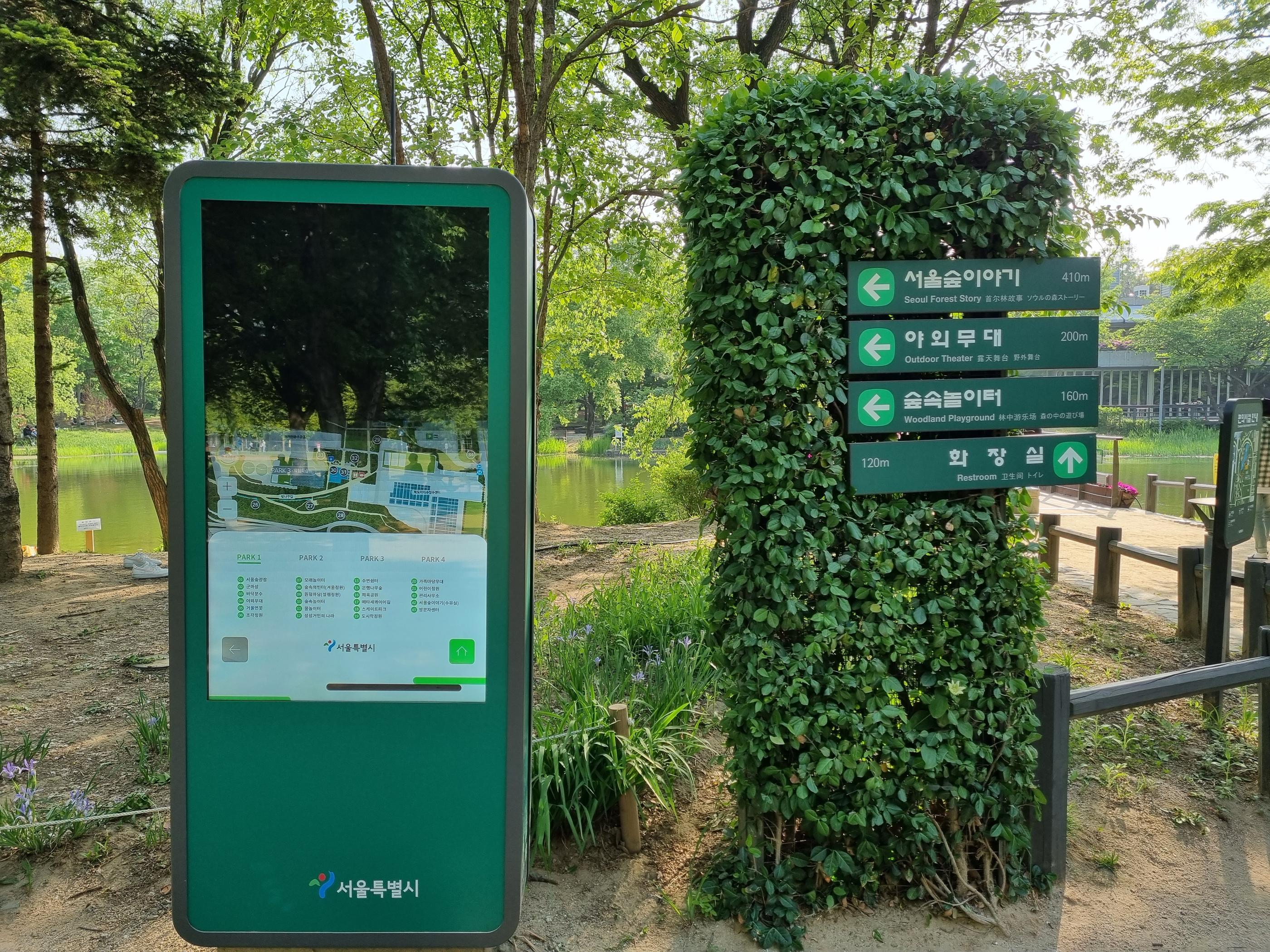 They are installed in many places across the park, so if you get lost try to keep an eye out for these electronic information boards!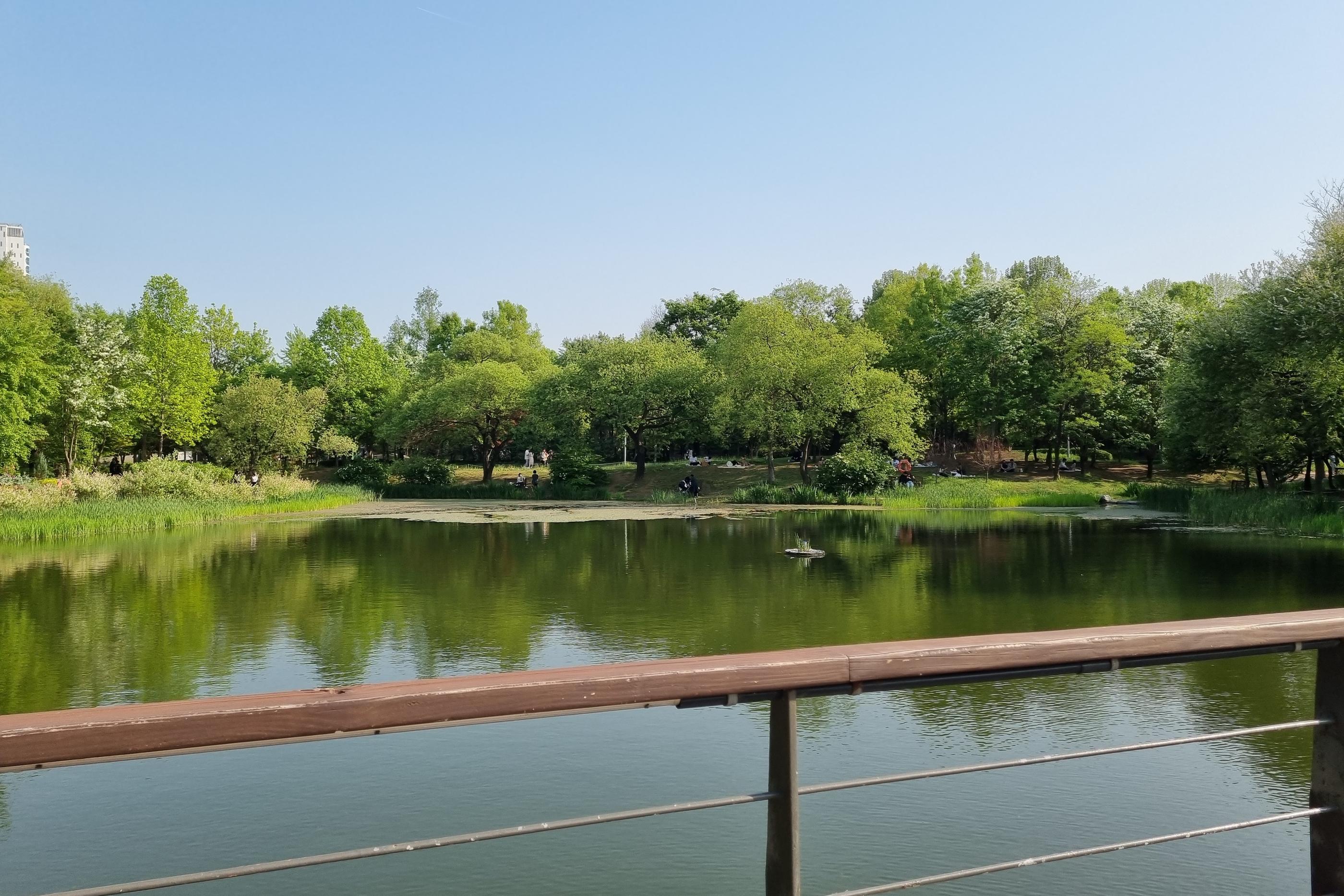 When you are at the bridge that we mentioned before, you should also be able to see this fountain across the pond. There are sometimes fountain shows, so keep an eye out!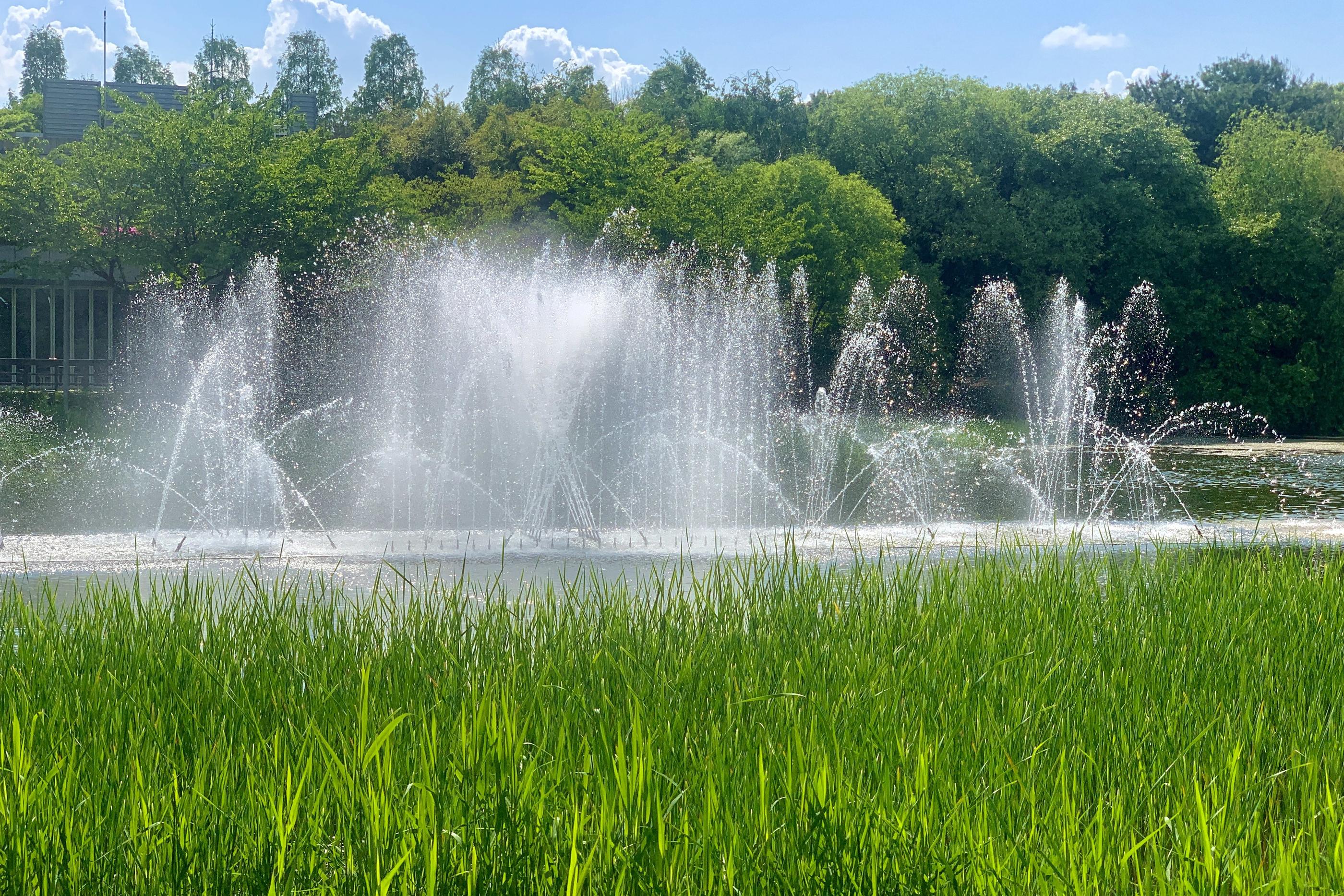 One of our favorite things about Seoul Forest is how versatile the park is throughout the seasons. In the summer you can enjoy the beautiful ponds, fountains, and greenery, but in the fall seasons, the same area becomes painted with hues of orange, red and yellow!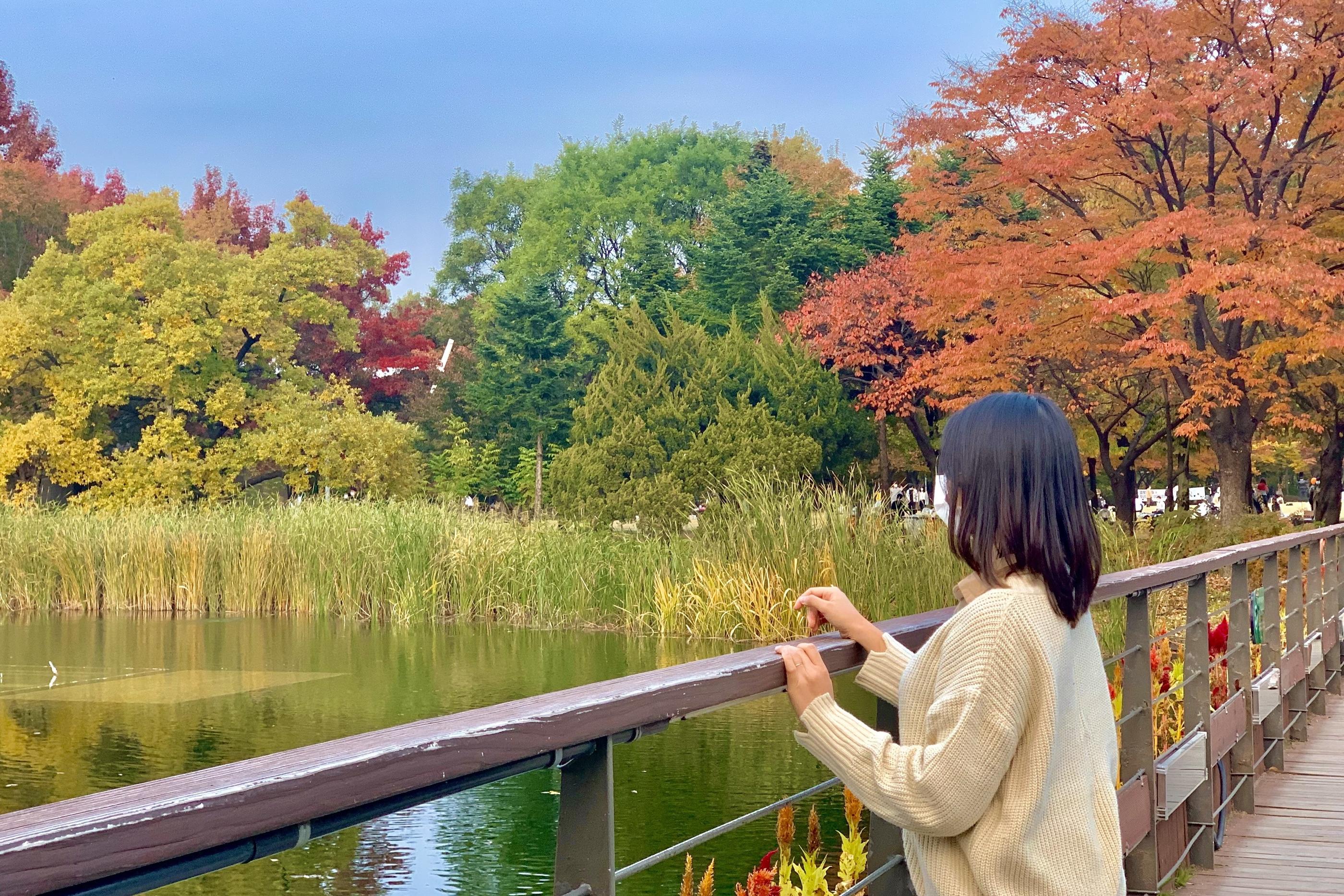 Even though it's the same location, the park feels different every season, and we love that! Once you finish admiring the nature at the bridge, you will have access to the toilets at the end of the bridge.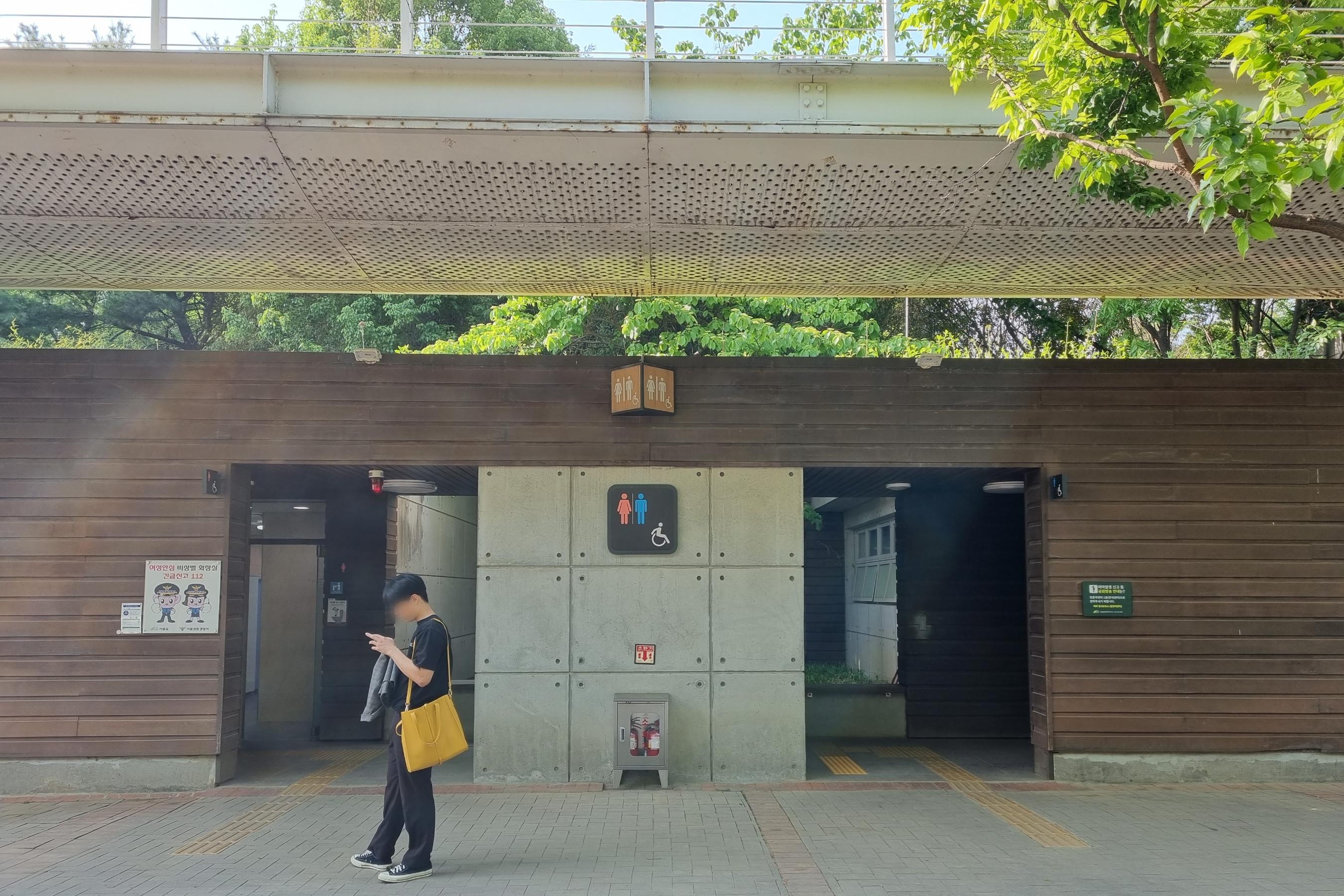 Behind the toilet there is a road that is lined with Ginkgo trees called "Ginkgo Road". This road is extremely popular in the autumn months and is infamous for being a favored photo spot with photographers during autumn!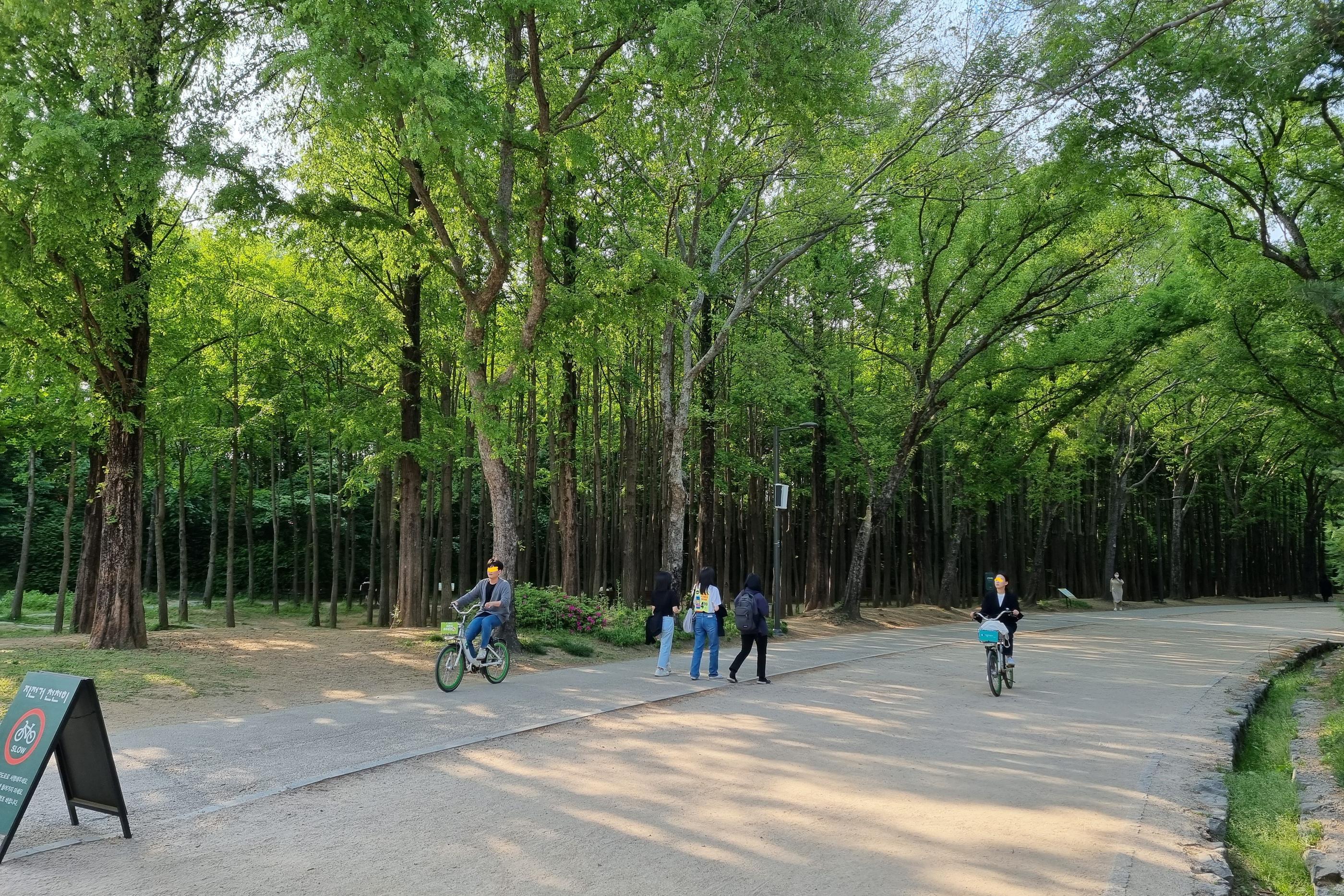 It is a must-visit spot in the fall due to the beautiful scenery. You will be able to experience all the beautiful fall leaves! However in the summer, this area is also a beautiful place as it is filled with so much green and is a cool area with lots of shade. It is a great spot to just sit back and relax.
If you continue straight down this road, you will be able to head towards the Natural Ecosystem Forest (Eco Forest).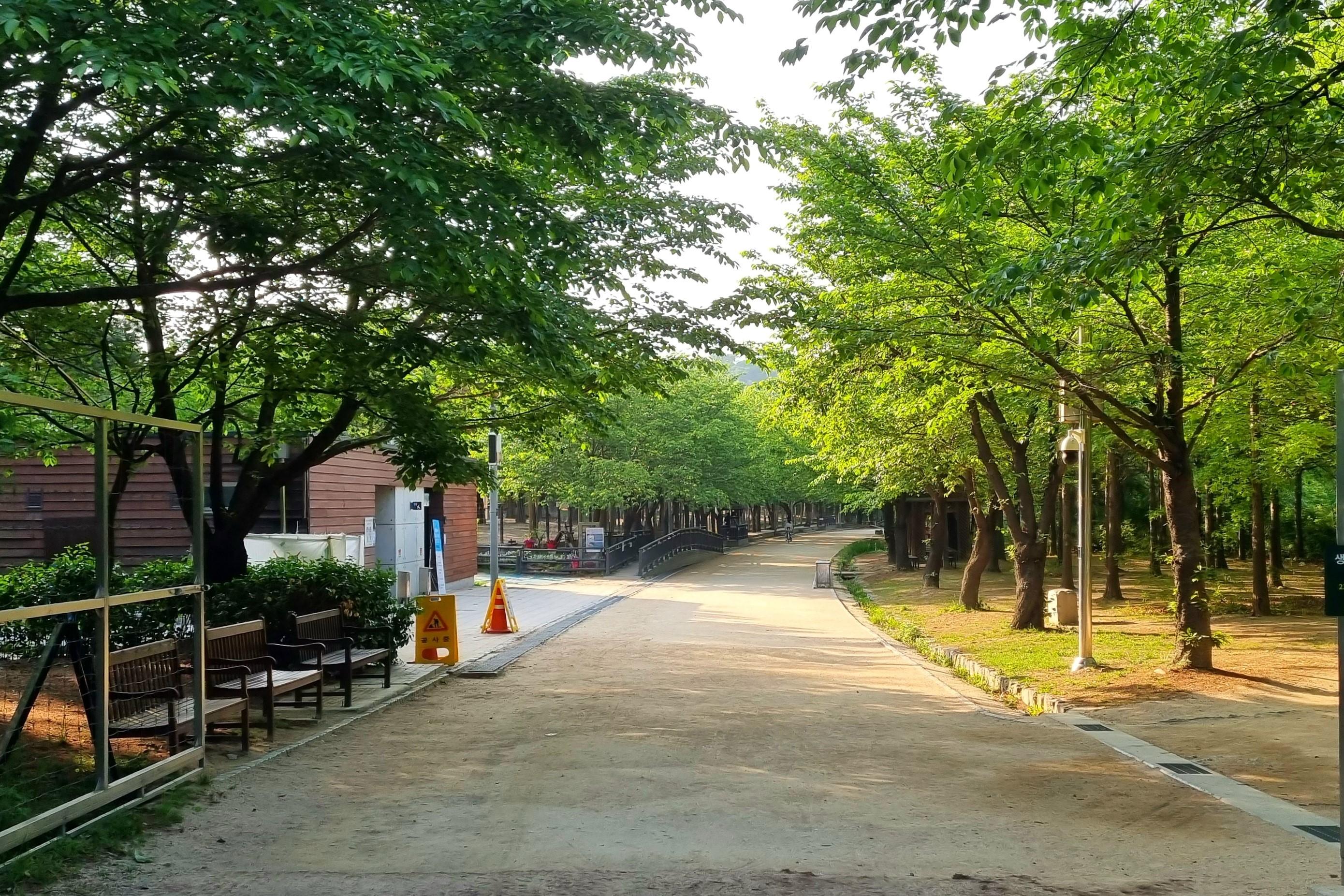 Eco Forest
Hours: 5:30-21:30
There is a toilet nearby the entrance.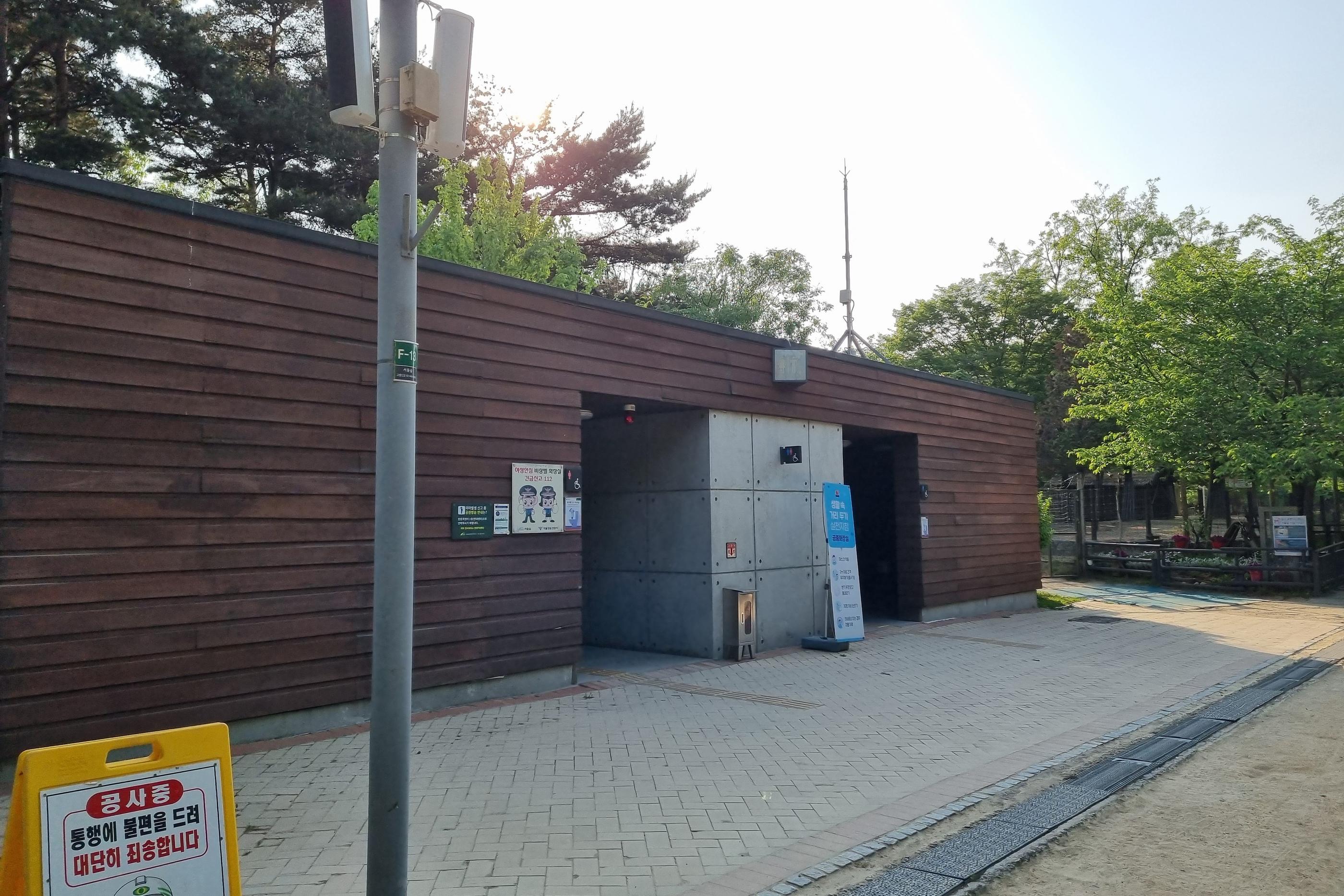 If you continue straight, you can see an area with all these cute deer!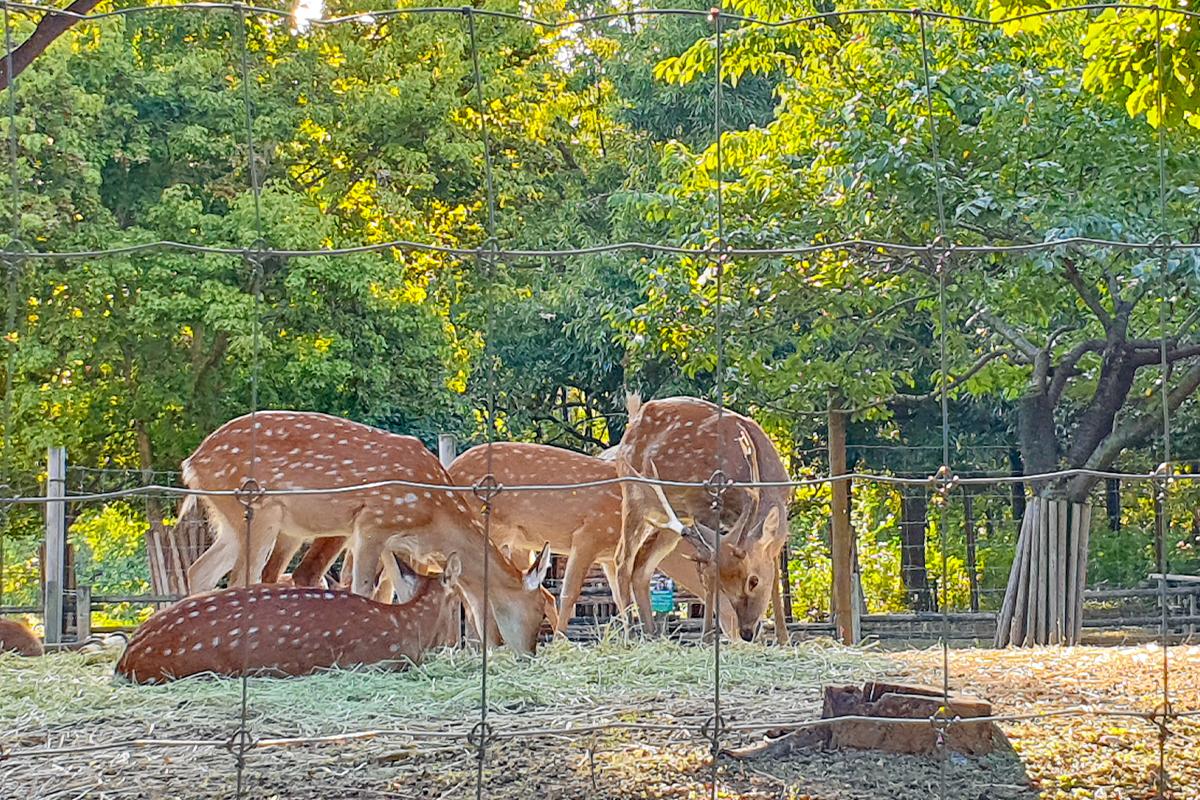 Please keep in mind that feeding the deer is not allowed. It is so nice that you can see wild animals like deer in the middle of the city. It was such a nice and healing experience for us.
This area is quite far from the main entrance area , so it may feel like a trip to get out to this area. But the deer are so cute, it is definitely worth checking out! Especially for all of you all that are from city areas and do not have many opportunities to see many animals.
This area of the park is also very popular during the spring months because it is when the cherry blossoms are in bloom.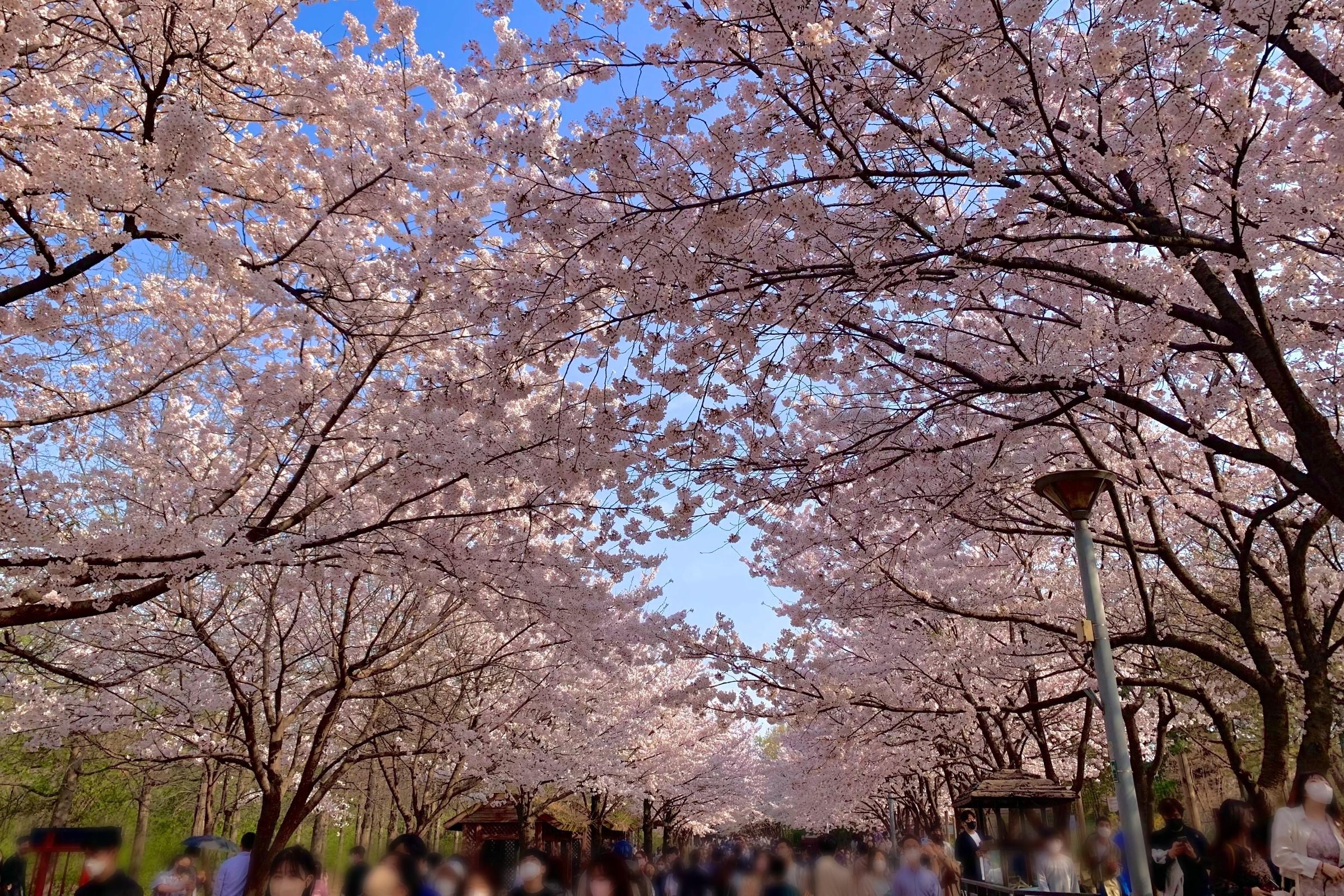 Although the cherry blossoms are only in bloom for a very limited time during April, this area becomes extremely crowded with people visiting from all over to experience the cherry blossoms.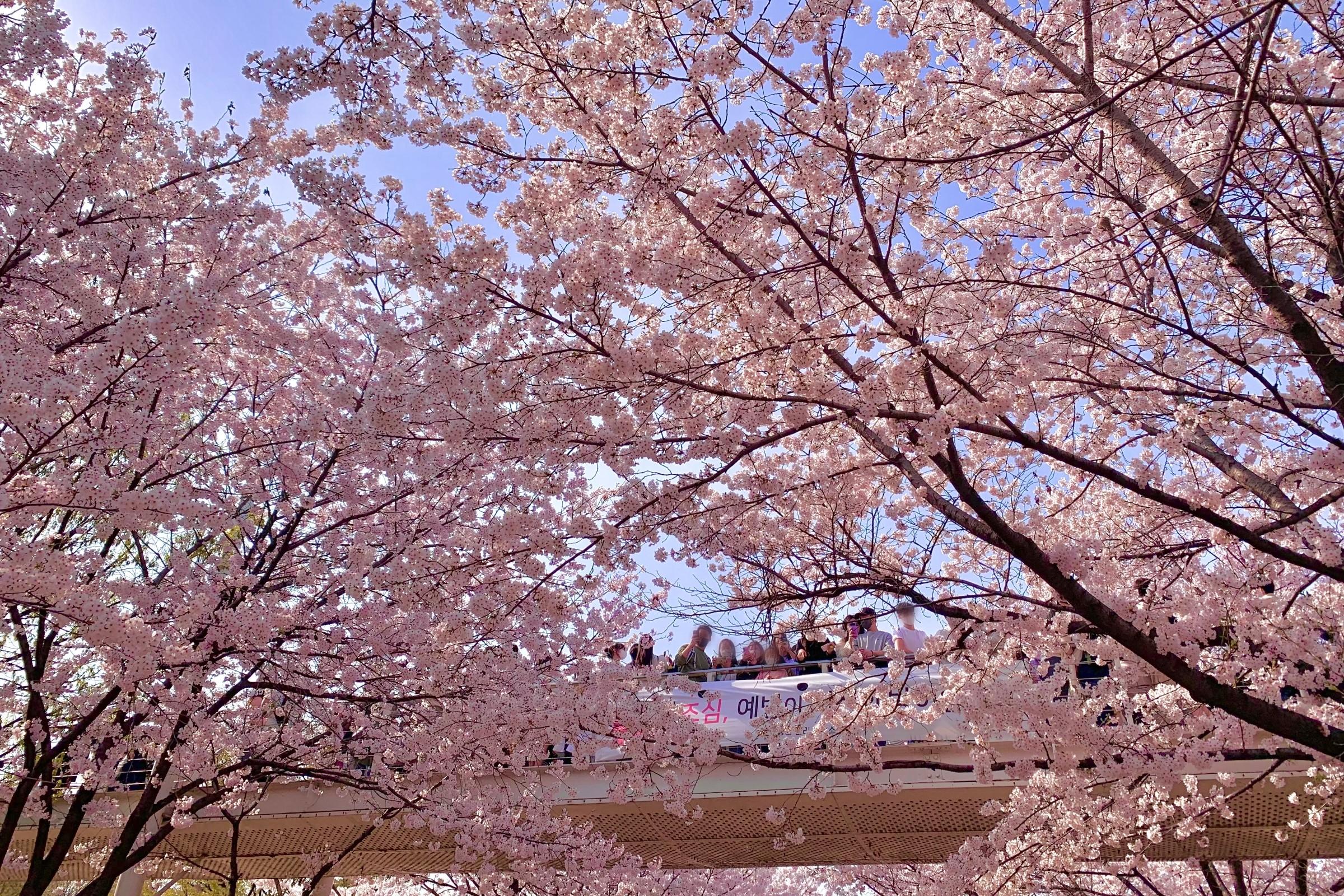 The photo above was taken on the bridge that is over the deer area. The cherry blossoms are so beautiful here in the spring months. Like we said earlier, each month has it's own unique color and atmosphere!
How to get here:
After crossing the bridge of the pond, proceed towards the "Eco Forest" area that is shown on the information board!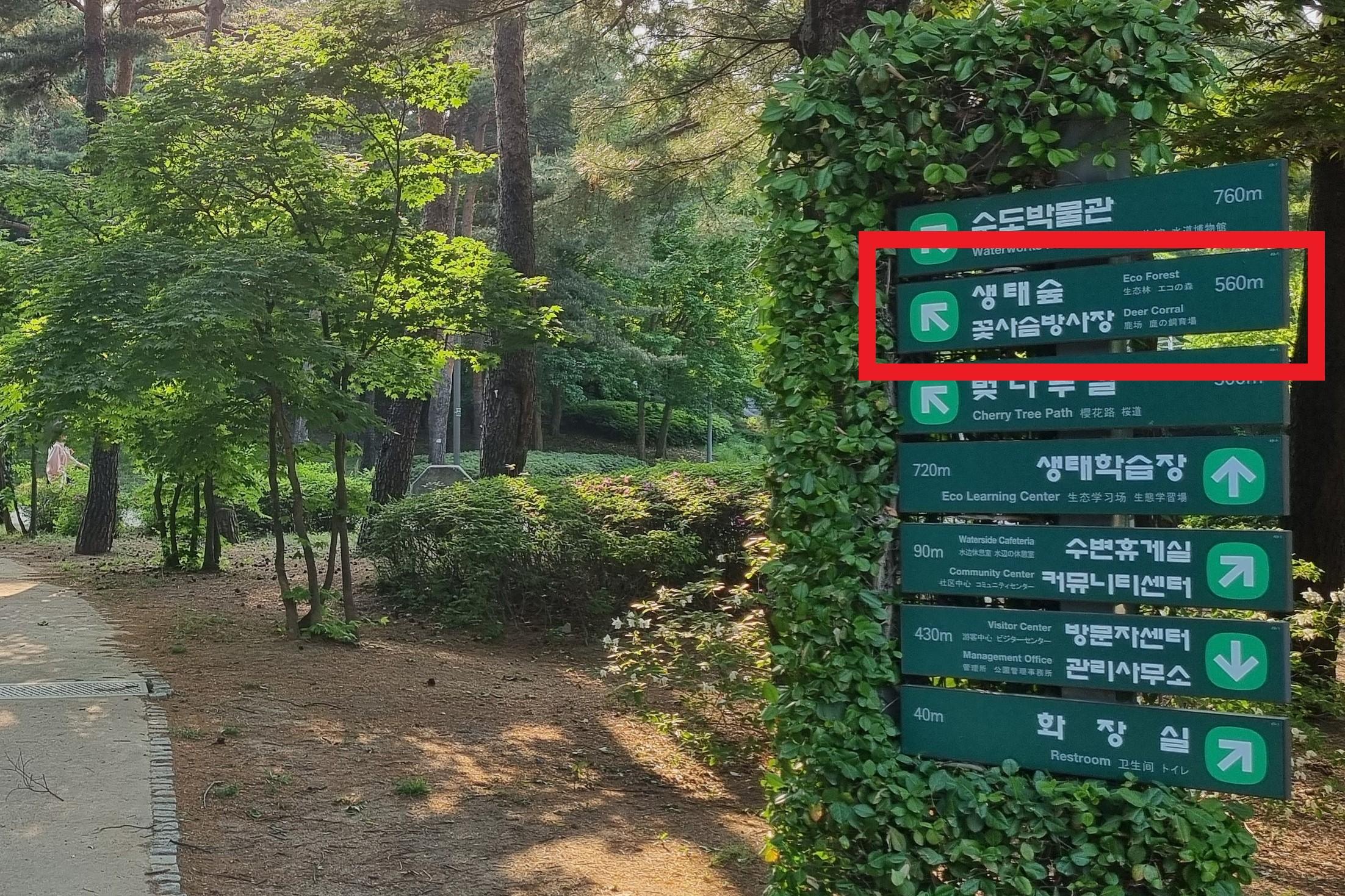 After following the sing, go right under the first pedestrian bridge.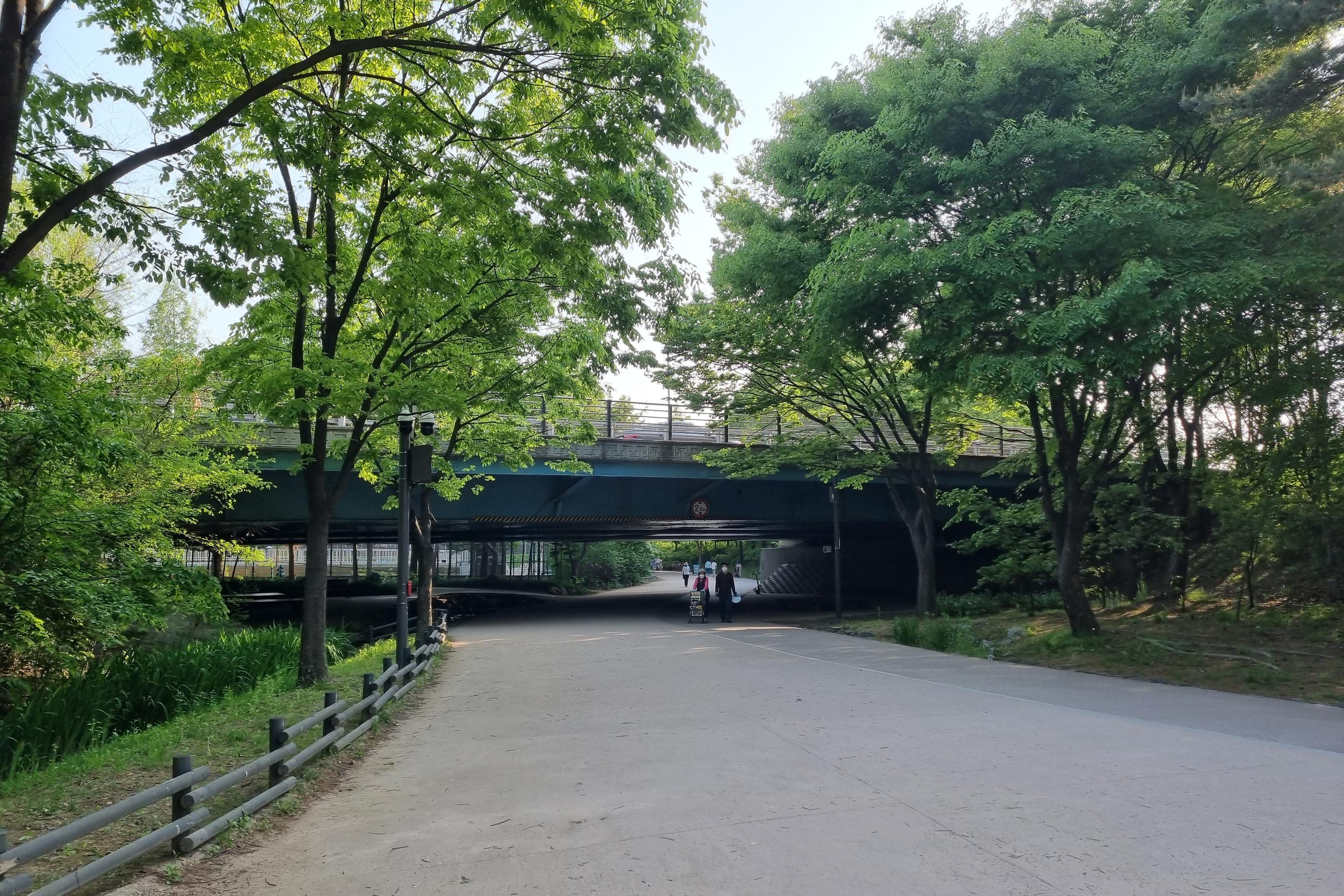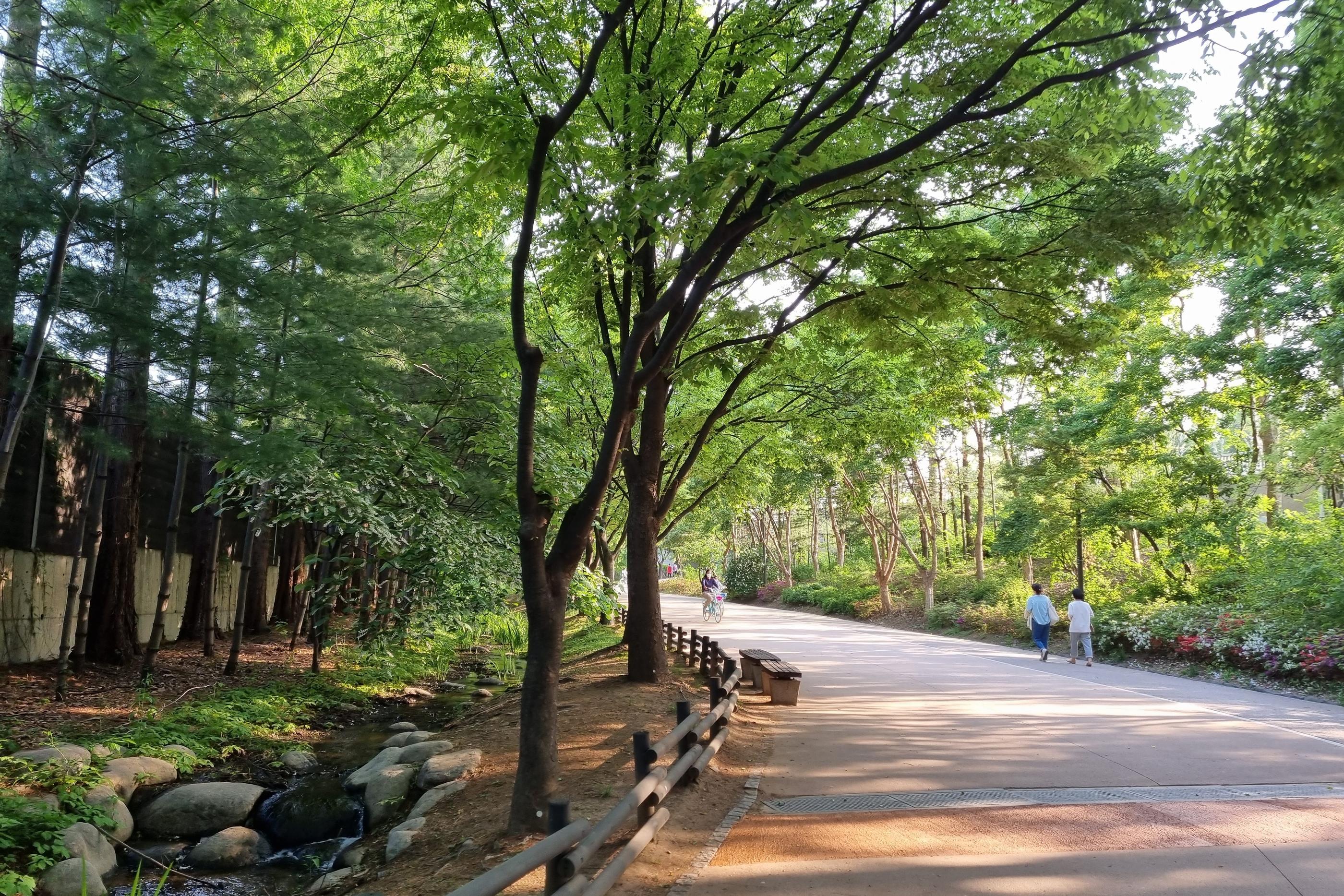 When you get here, turn right again.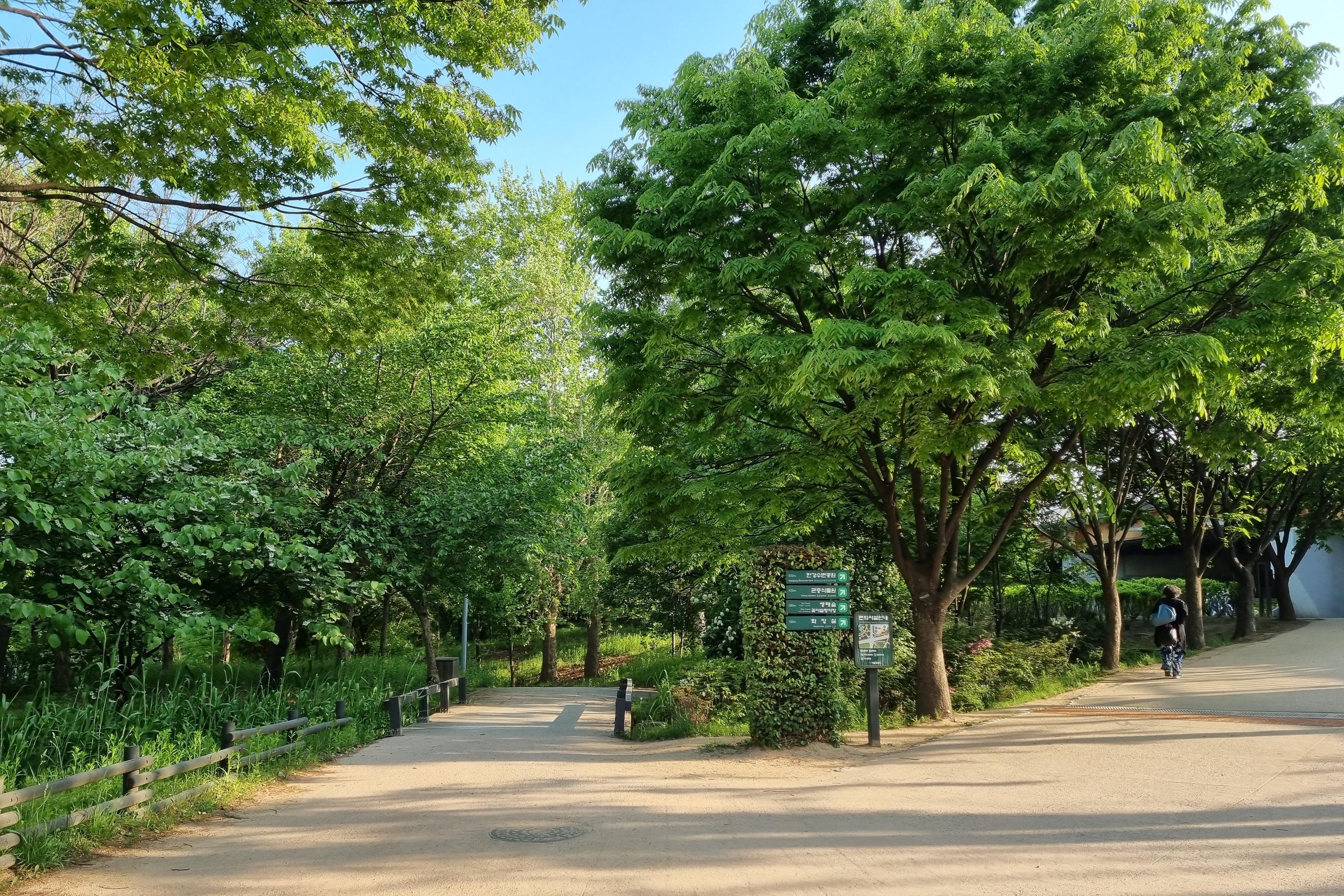 You will then come to another bridge. Continue straight under the bridge.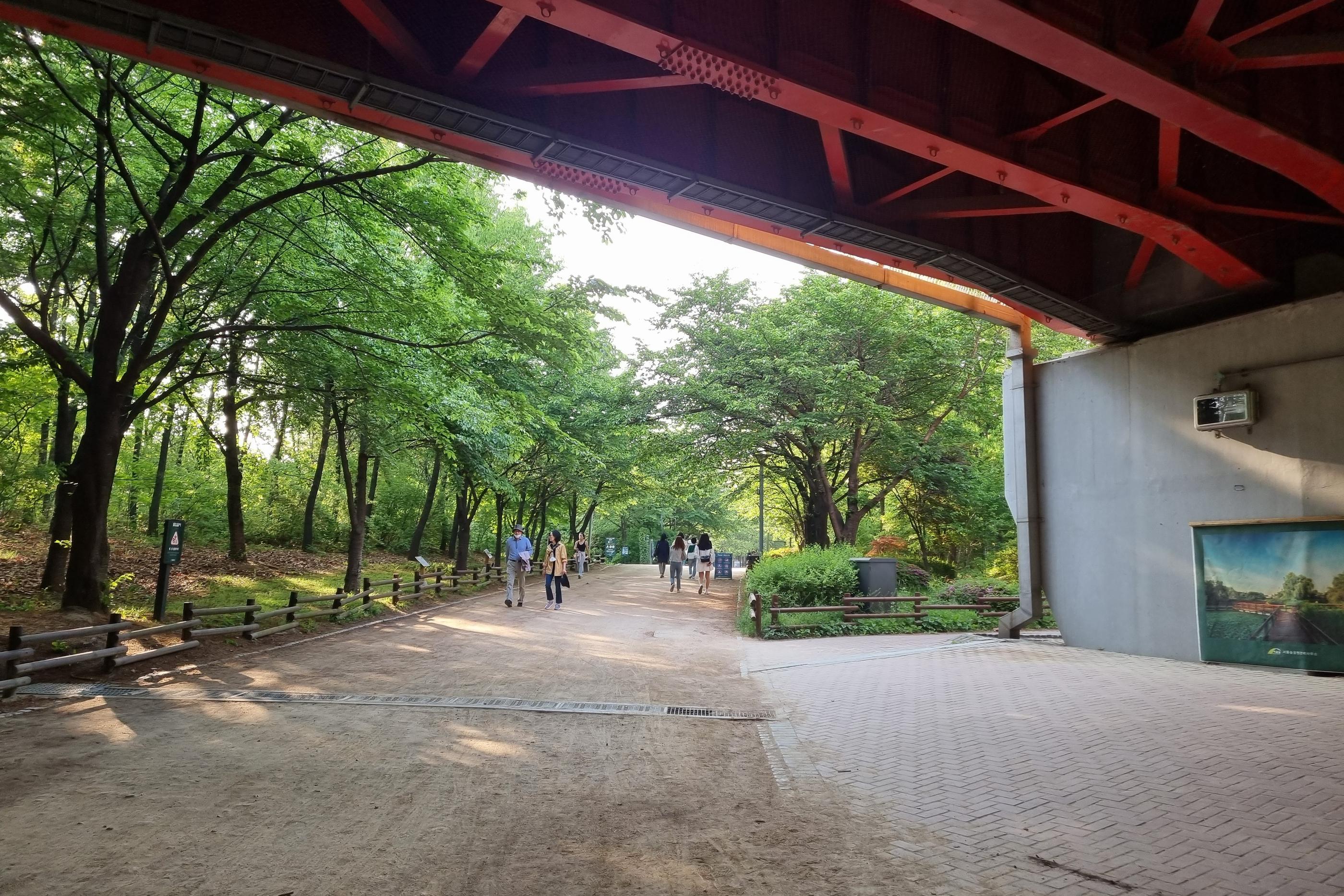 Continue straight.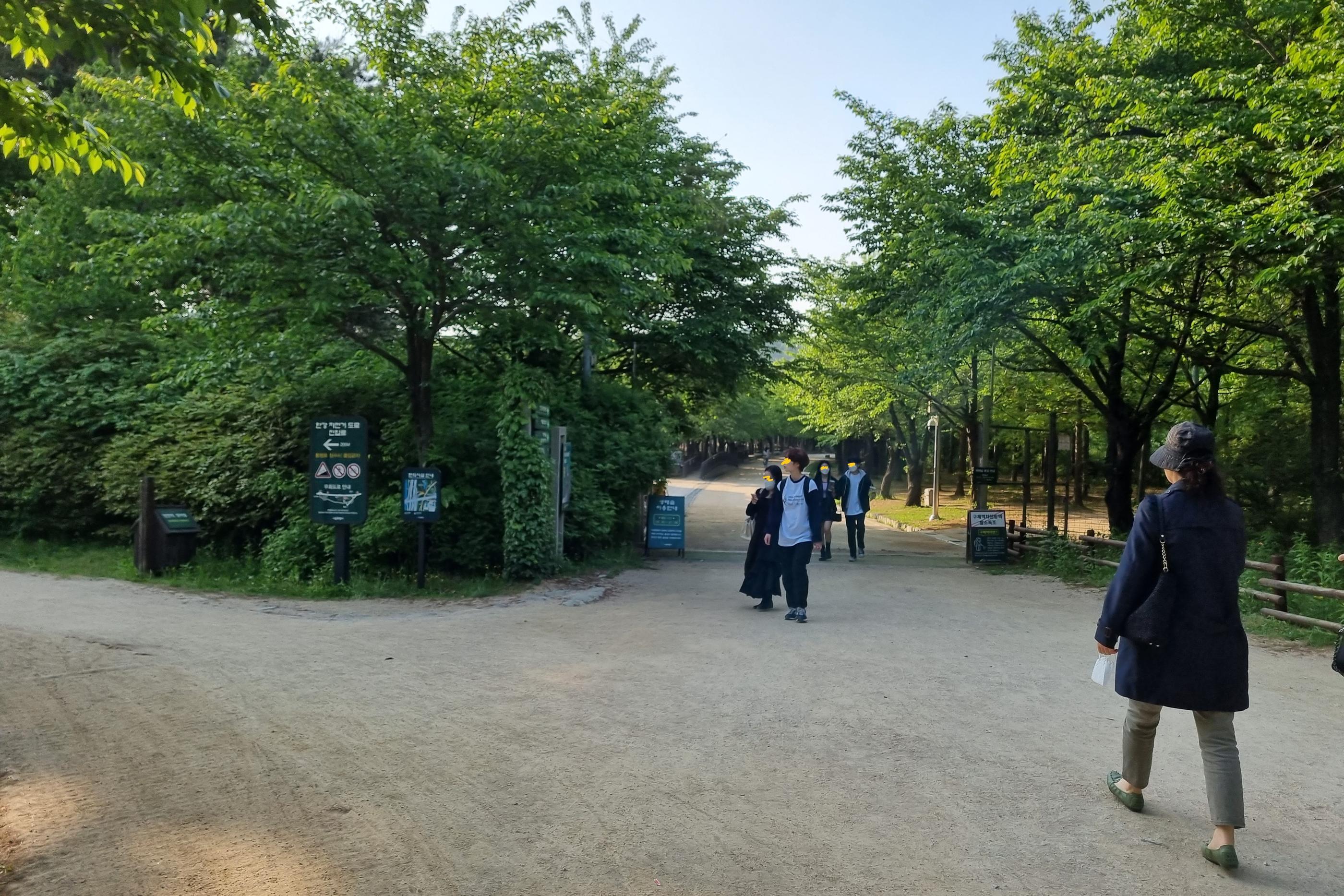 After leaving the forest, if you continue straight, you will come across an area of the park where rabbits are bred.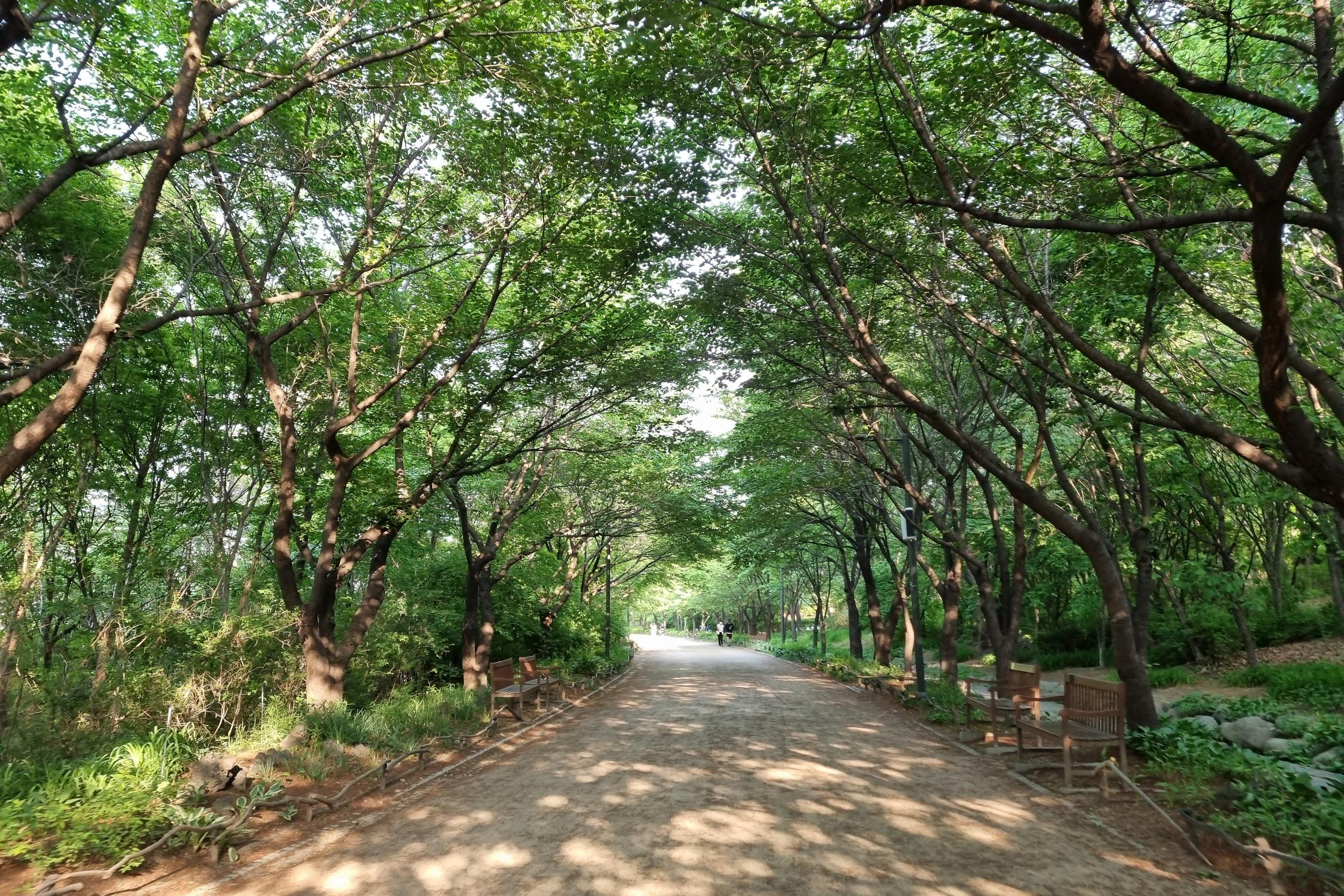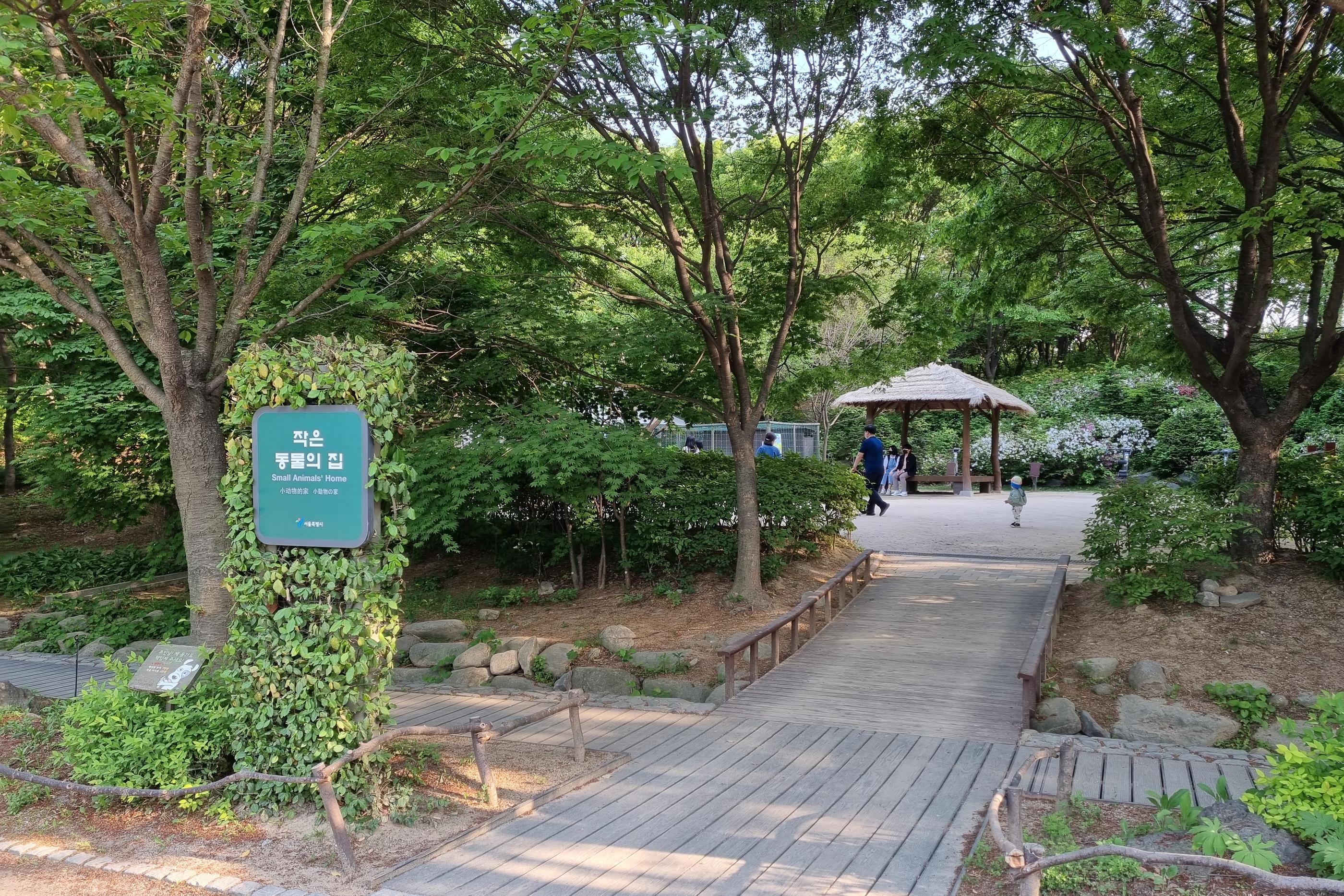 Small Animal House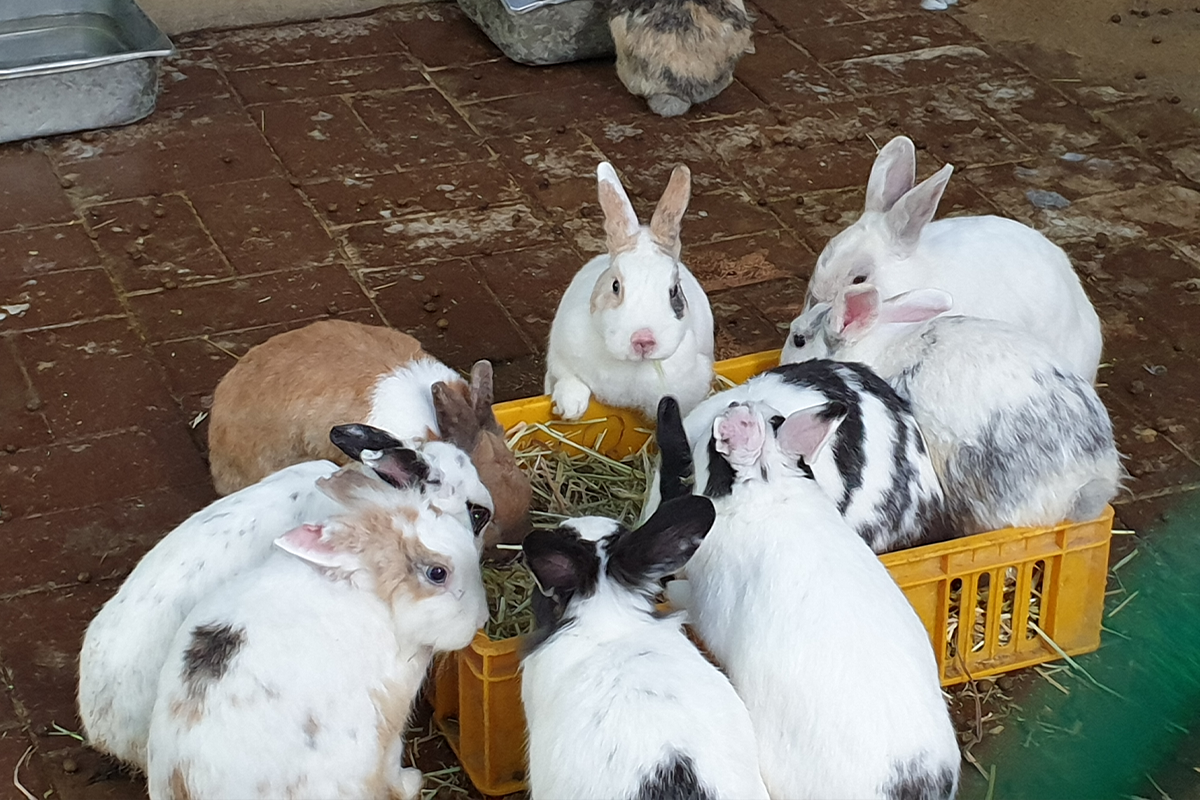 These rabbits are really calm and this is a perfect area to go to with children. If you leave the small animal house and continue straight along the road, you will come across the entrance of the nature experience learning area.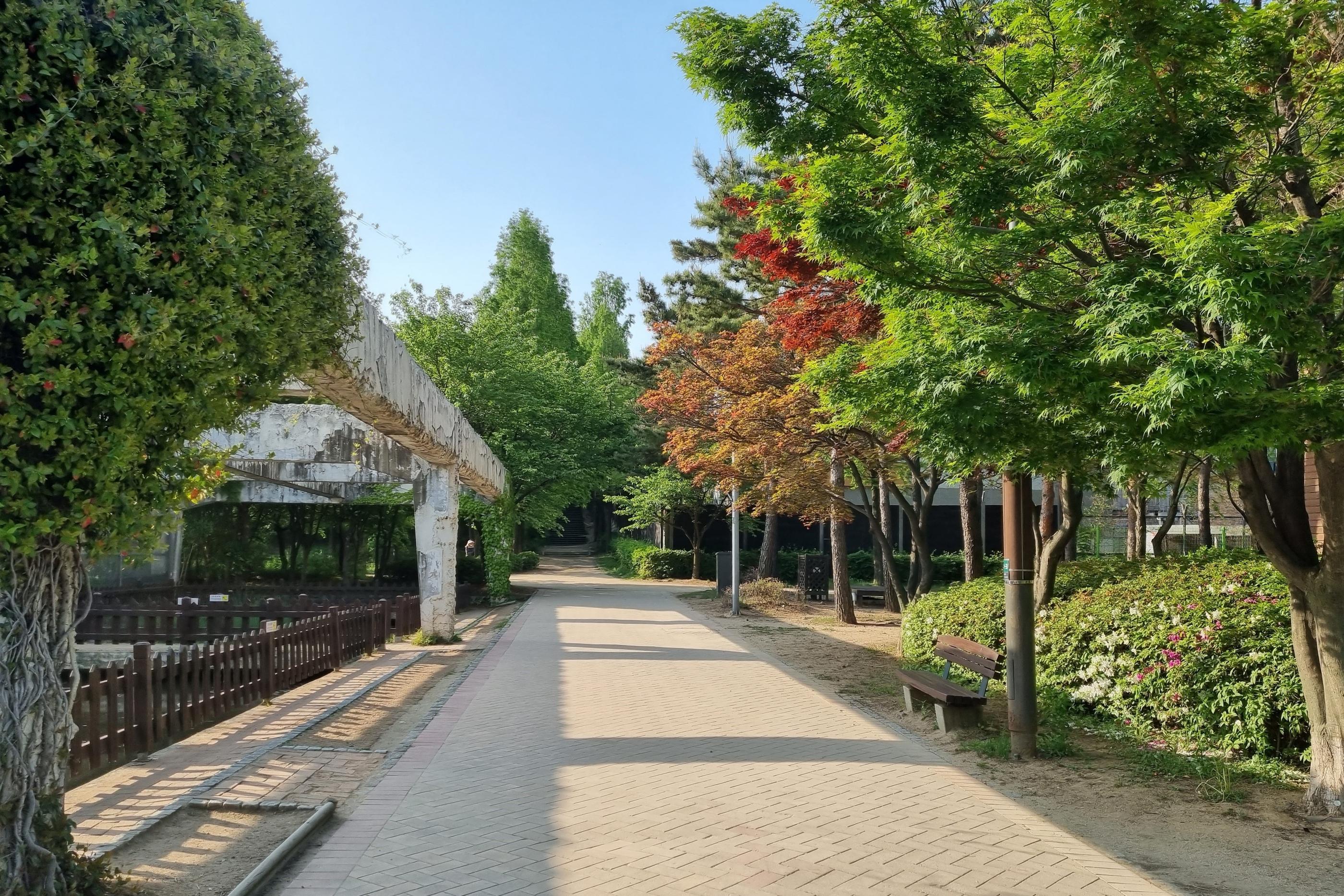 In this area, you will find a CU convenience store, toilets, butterfly garden and insect botanical garden.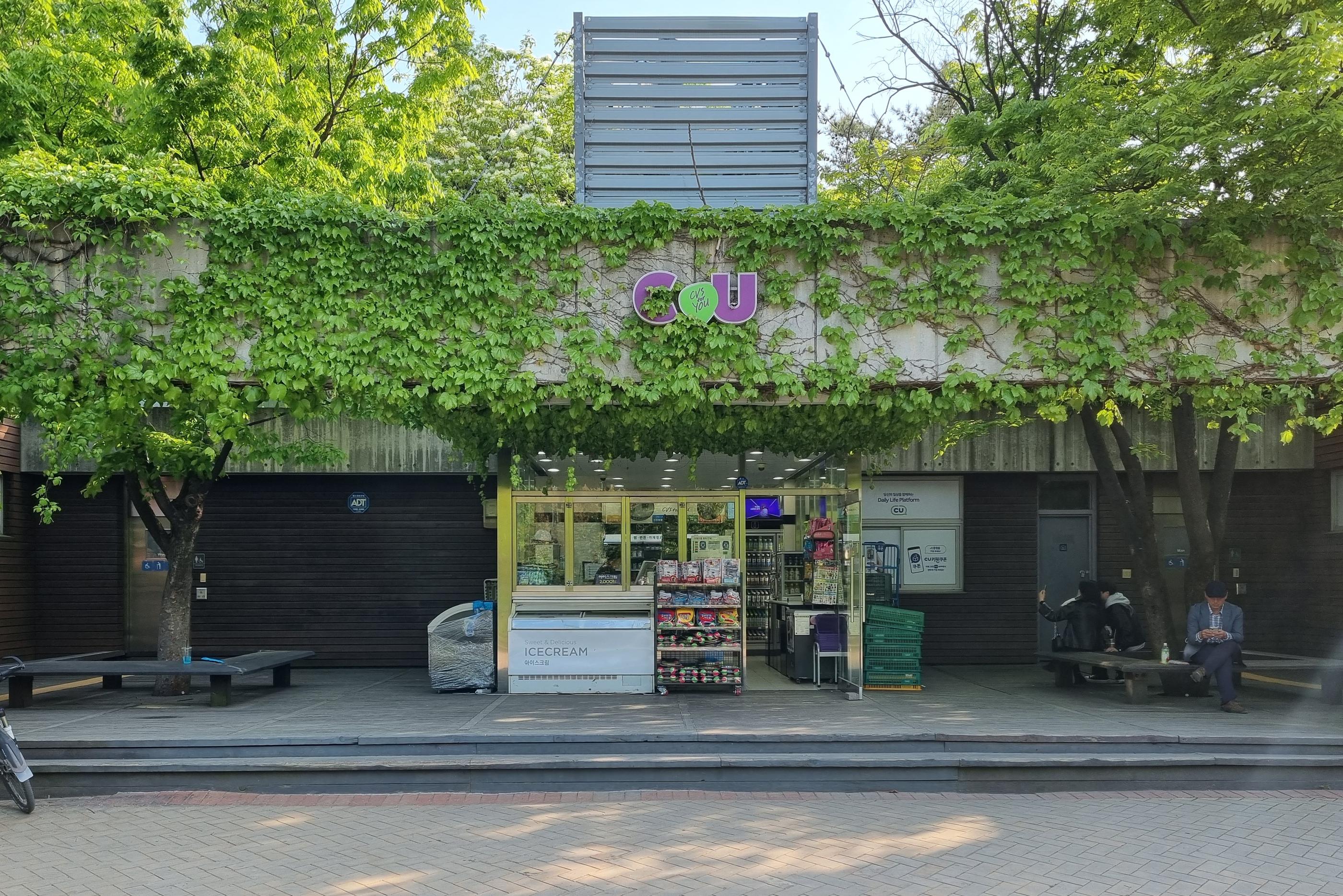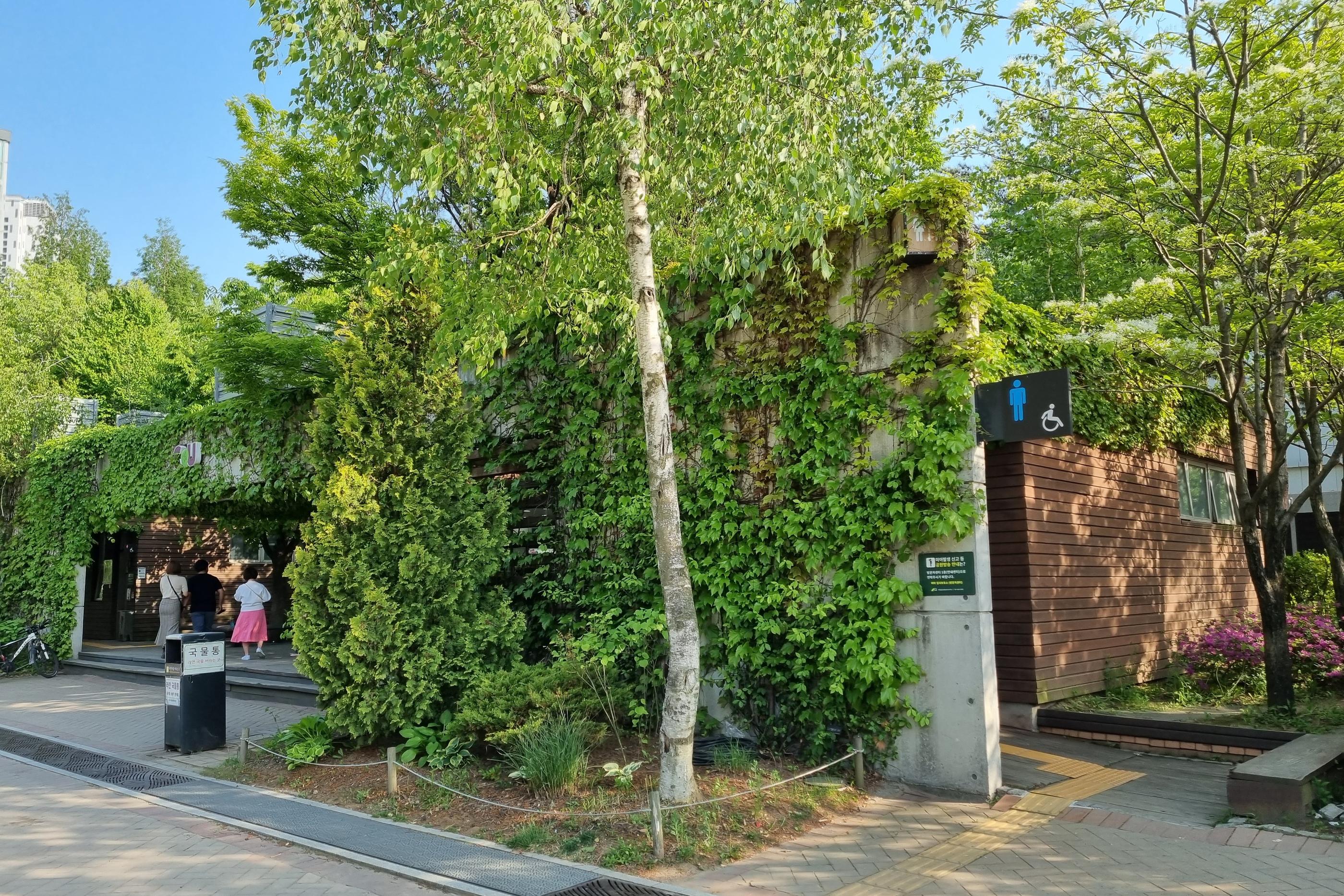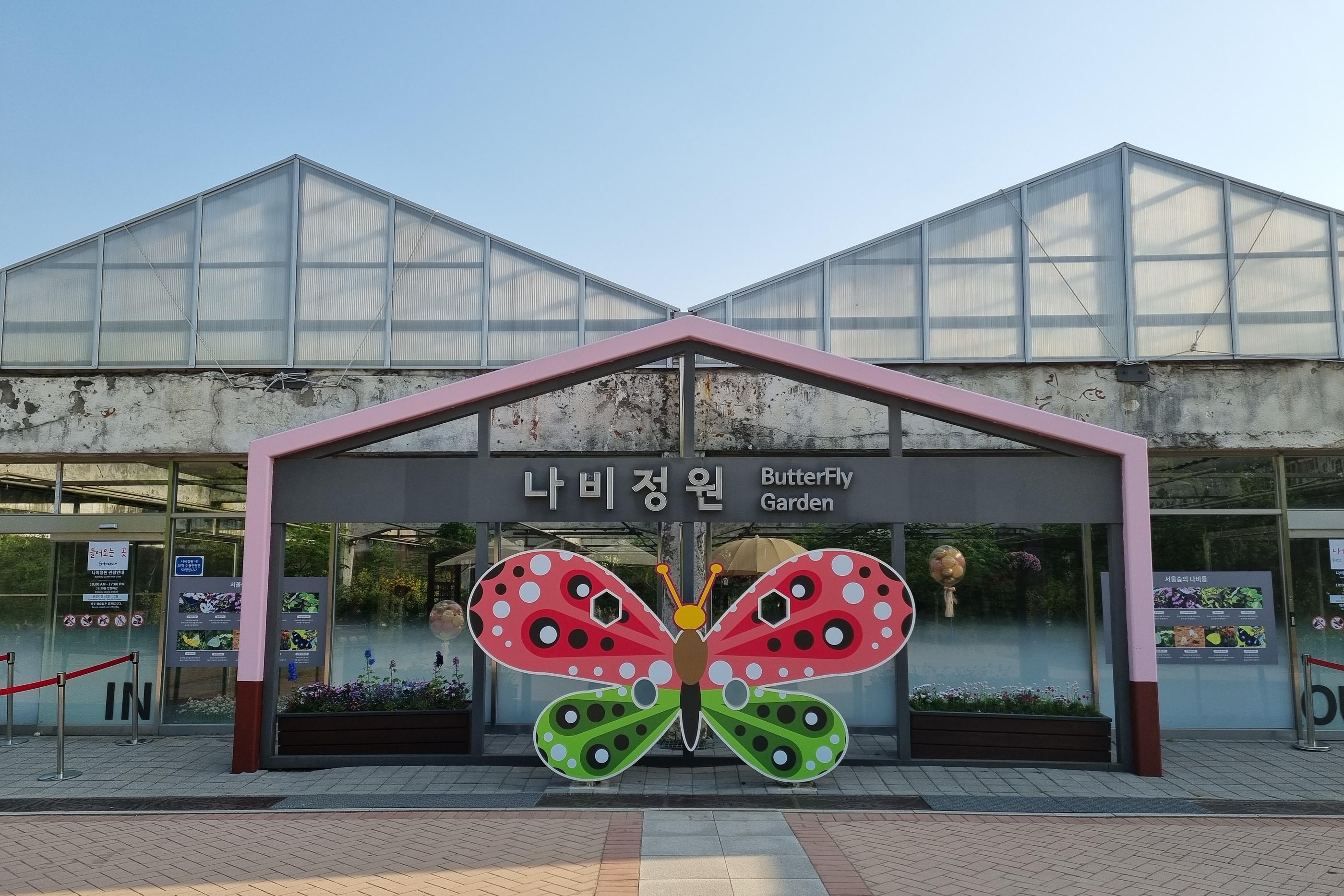 Butterfly Garden
Hours: May-October 10:00- 17:00, Last entry 16:30, Closed every Monday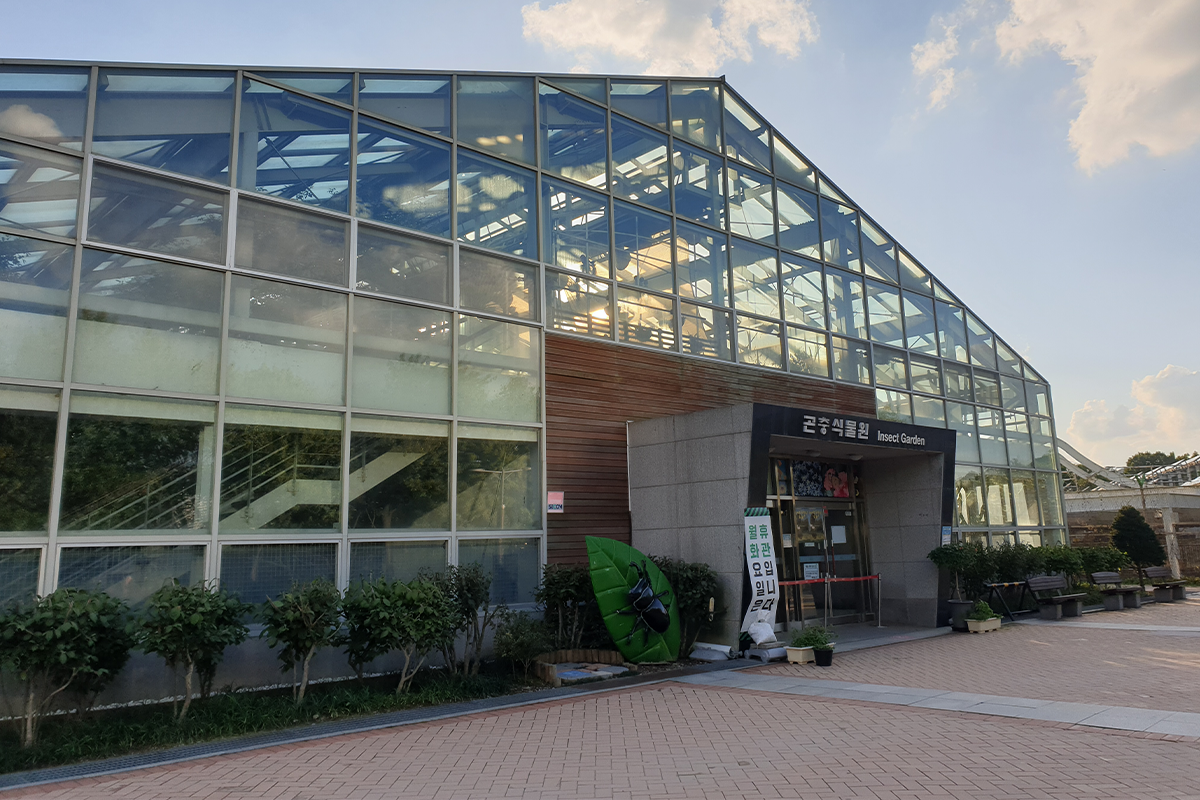 Insect Botanical Garden
Hours: 10:00-17:00, Last entry 16:30, Closed every Monday
If you do not want to walk all the way out towards the area where the deer and the rabbits are, you can come to this section of the park and observe the deer and rabbits. This area is a little closer to the main entrance area (around 15 minutes away).
There is also a beautiful garden here called "Gallery Garden". This is because there are various kinds of colorful flowers! When we visited, we saw 3 different couples taking wedding photos in that garden. It truly is a beautiful area and worth the visit!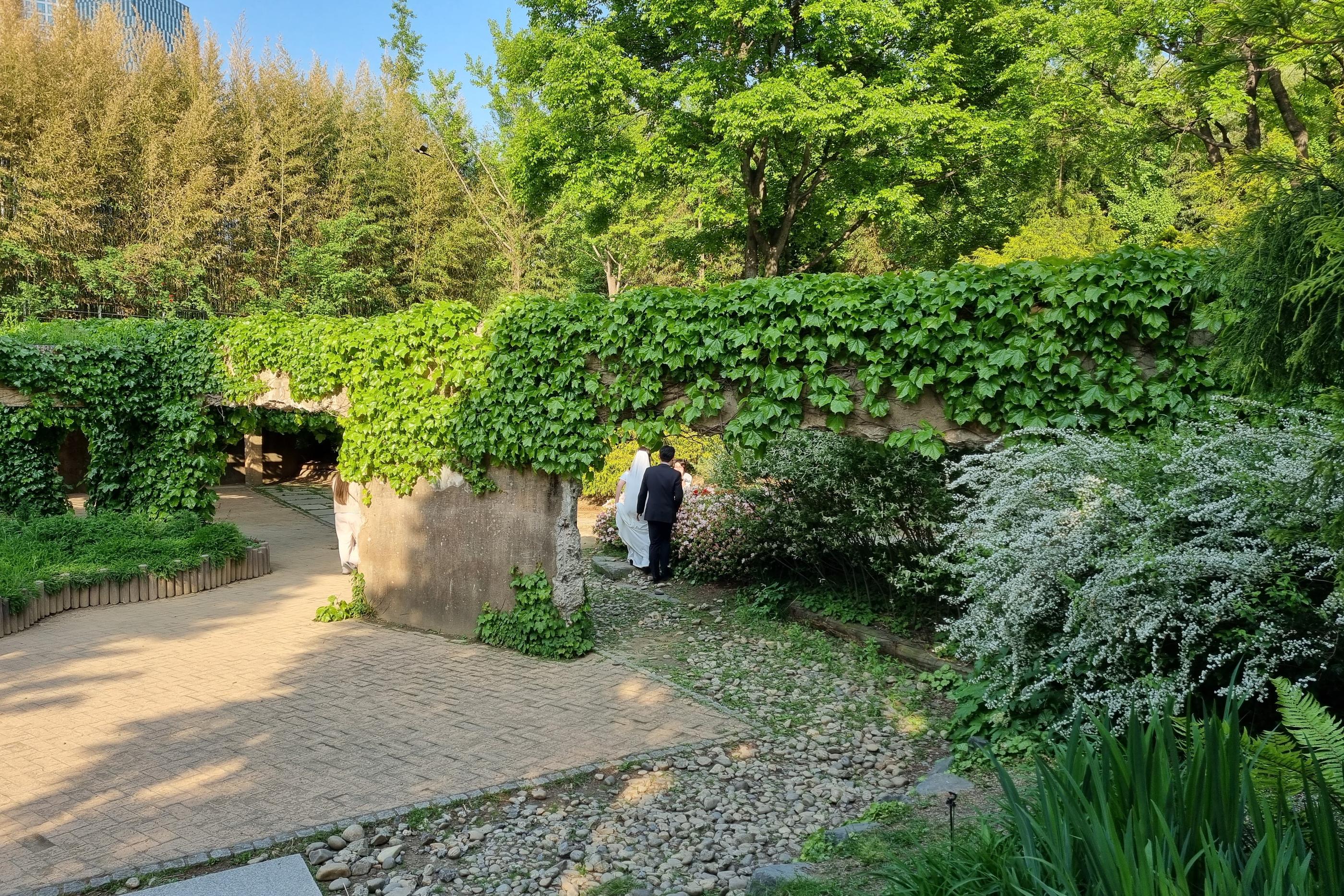 Gallery Garden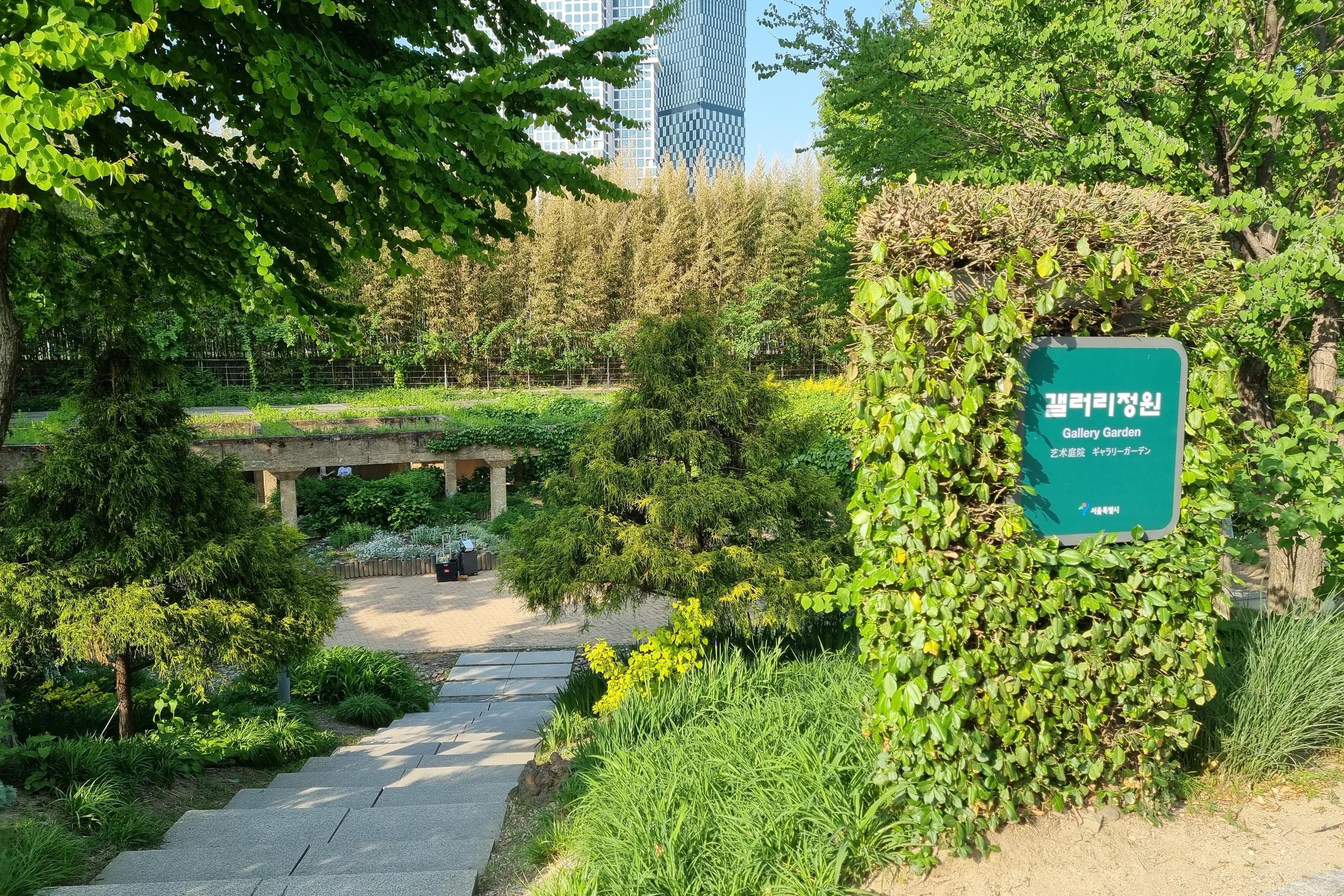 After passing the gallery garden, there will be a green lawn area.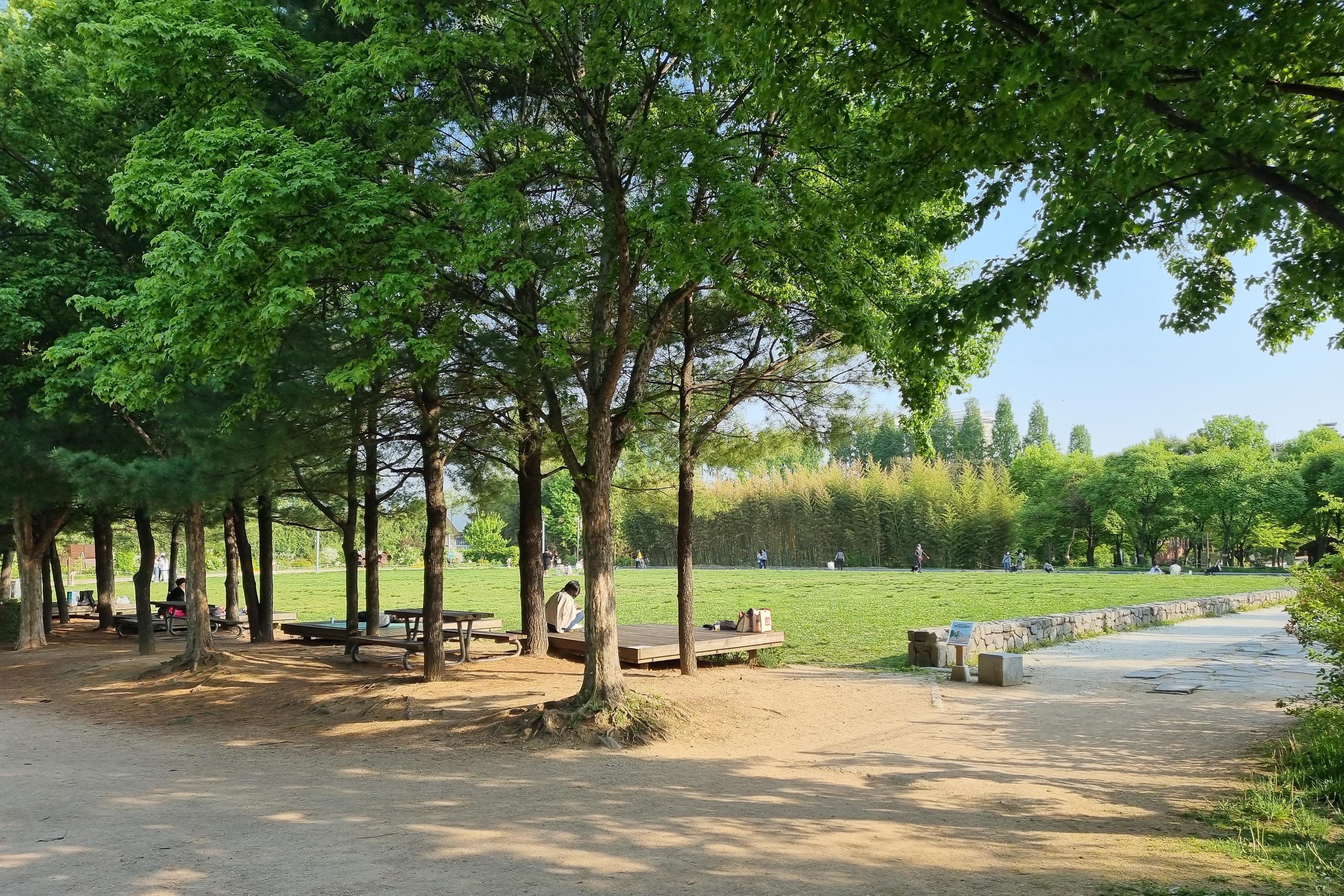 This area is an unnamed lawn, but it is a popular spot for those that want to have a picnic!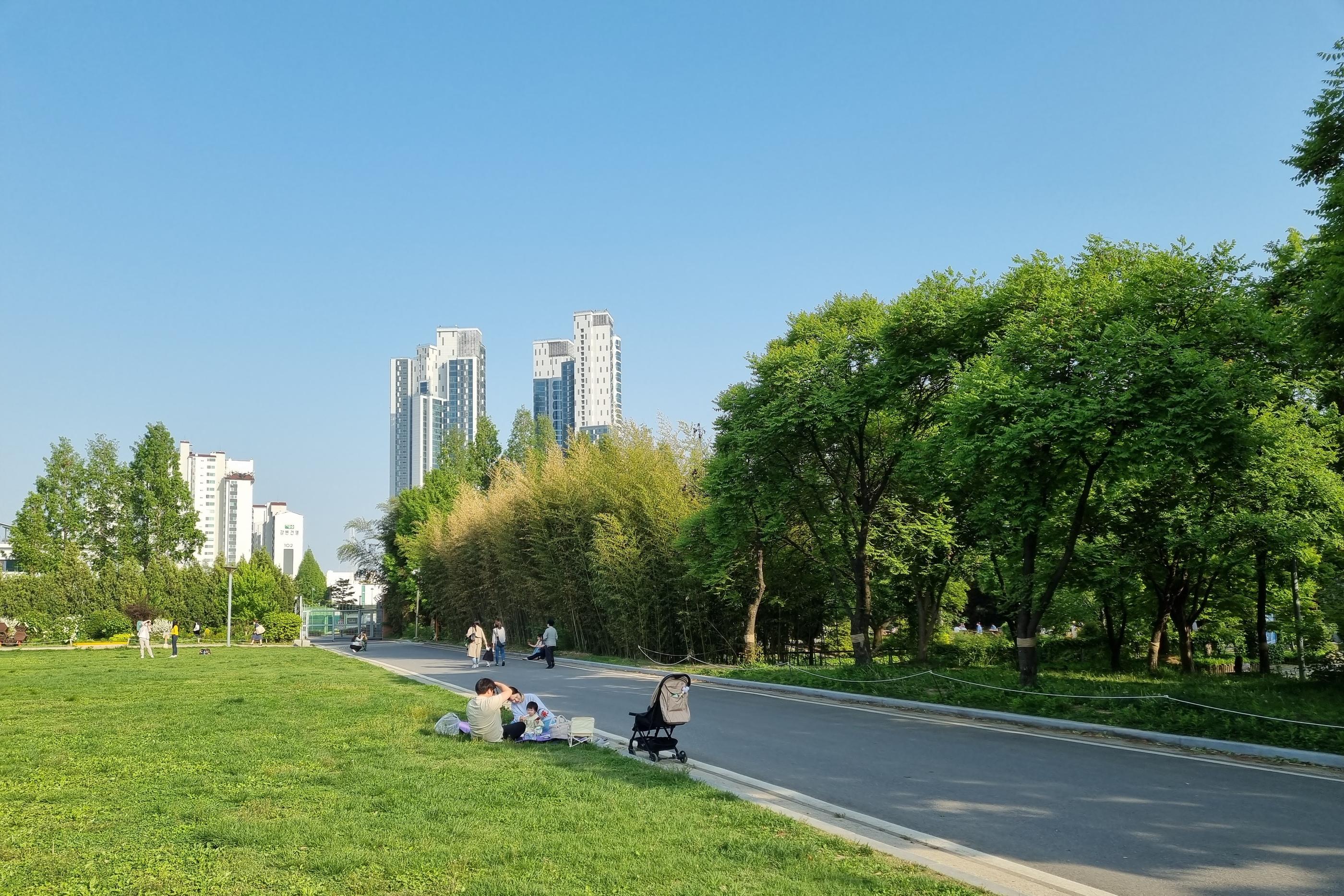 Keep in mind that this area does not have as many trees so there is less shade. We suggest that you come here at dusk or on cooler days!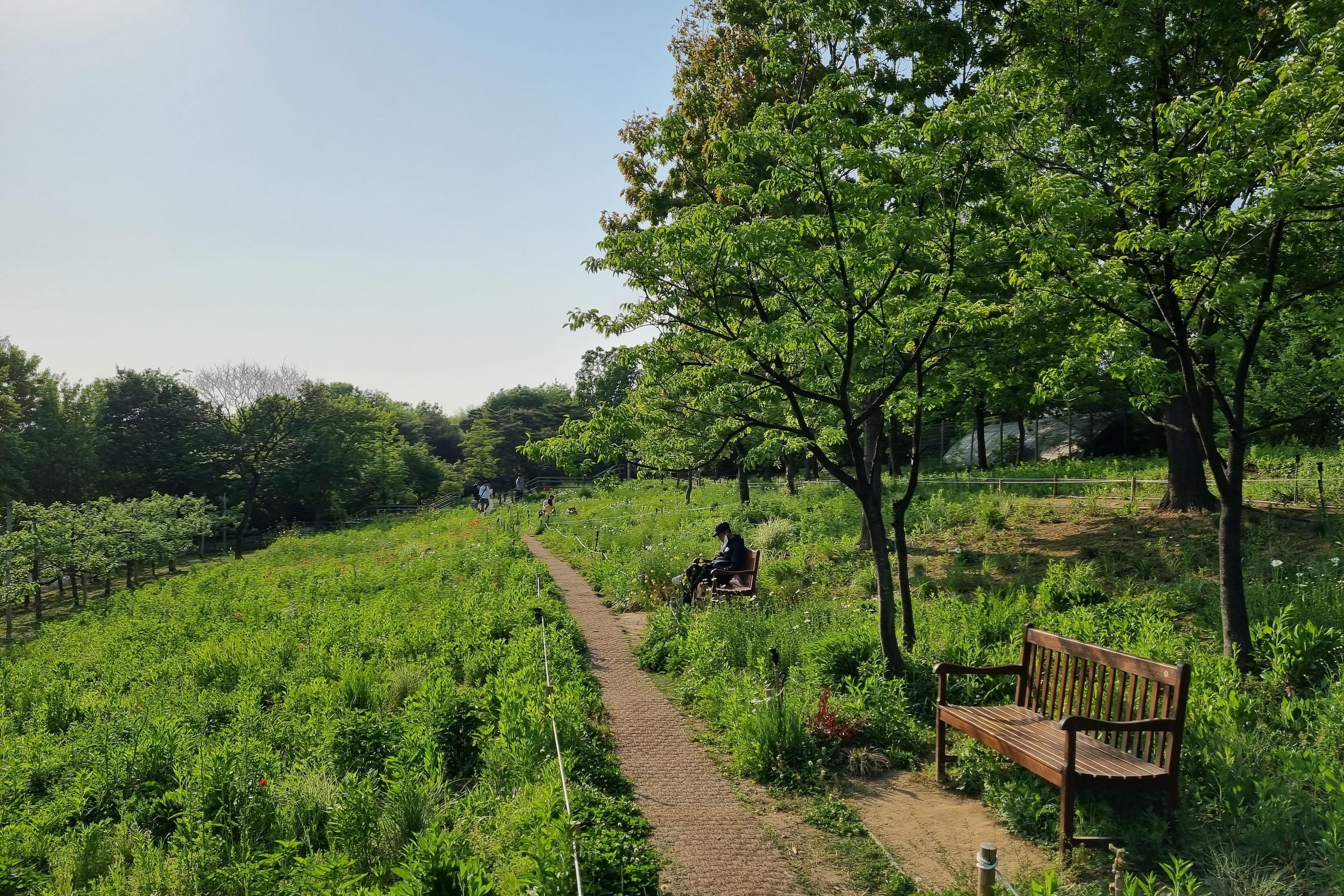 If you go straight, you will continue towards the stairs near the entrance that we talked about earlier.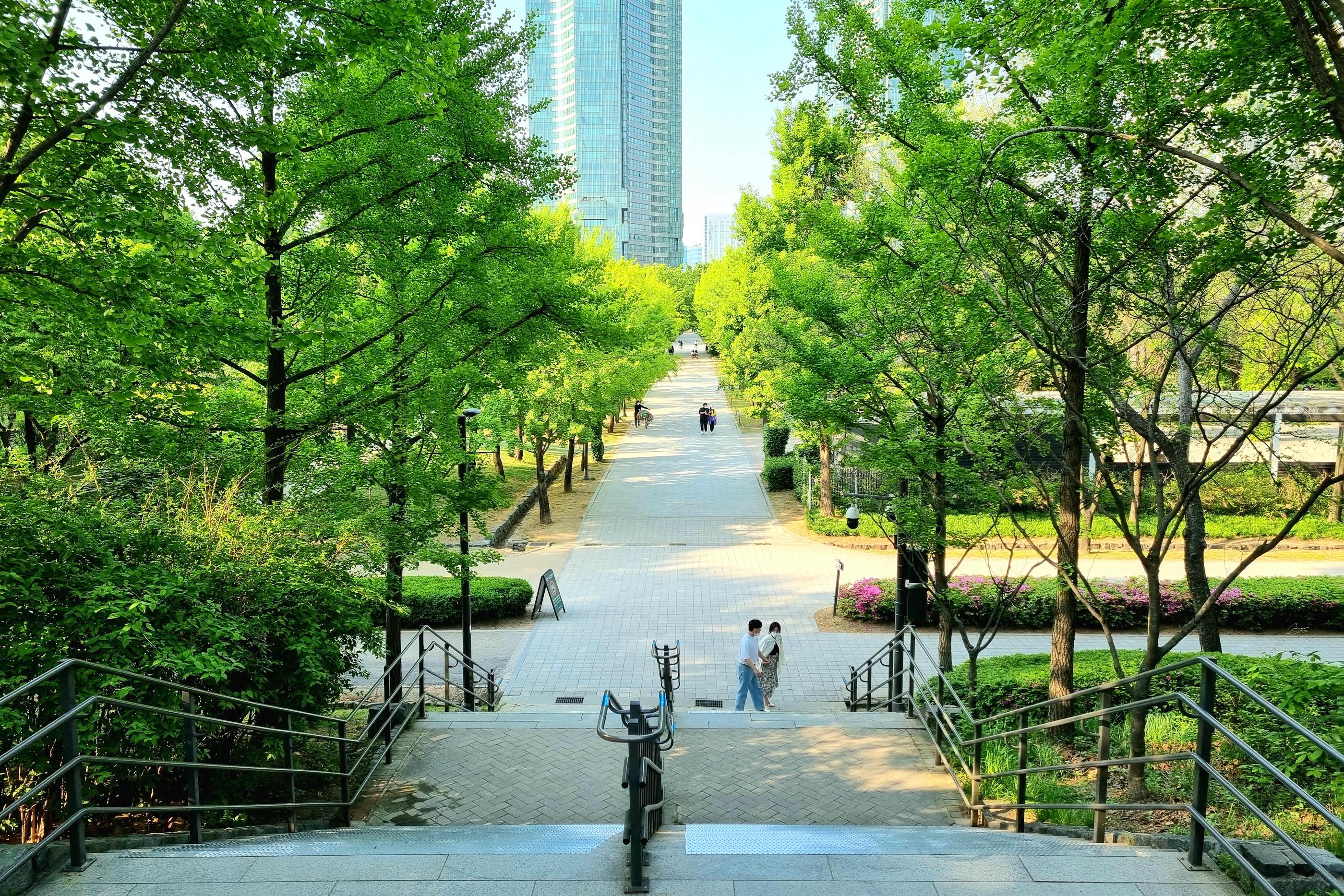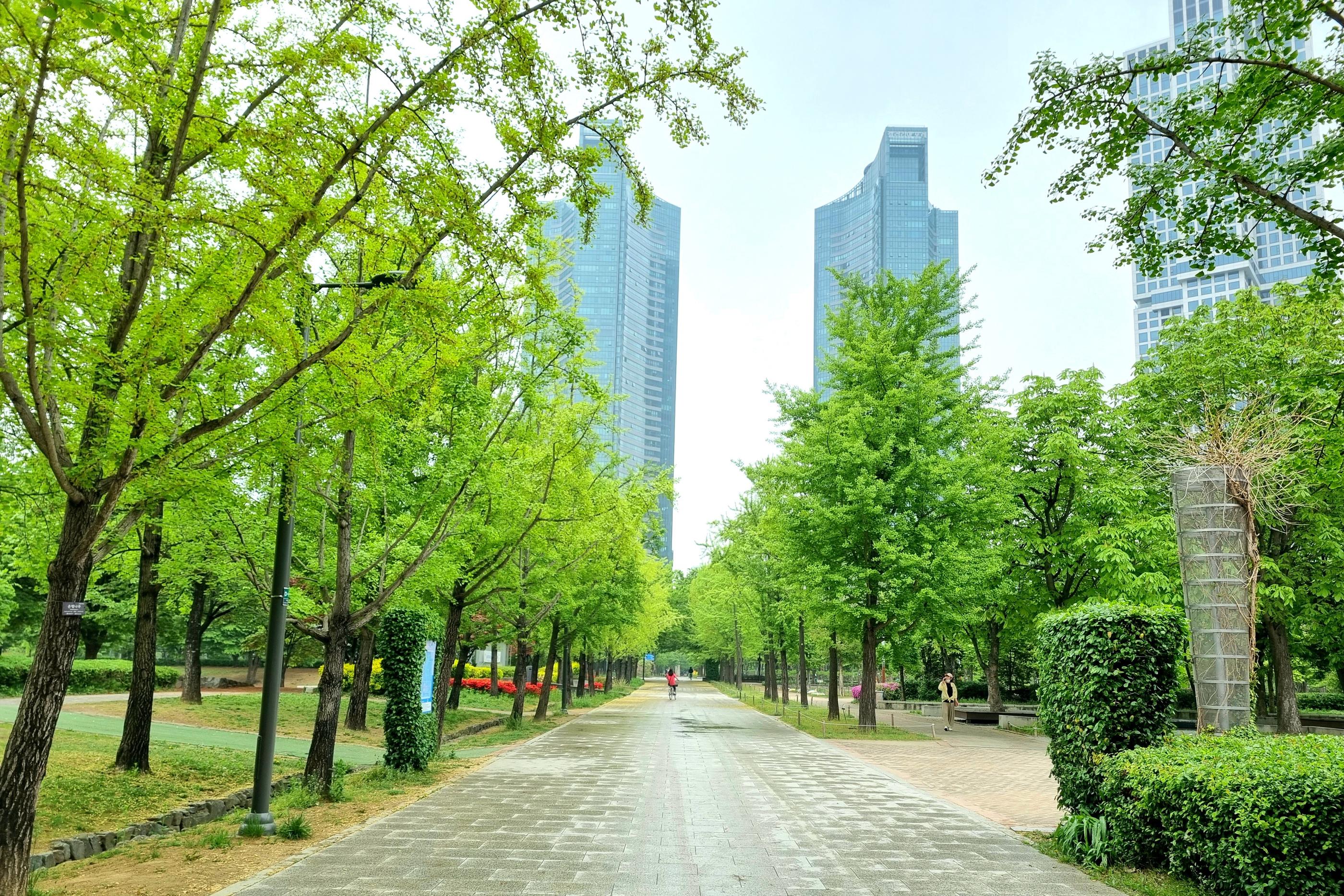 ---
Other Spots
Oso Garden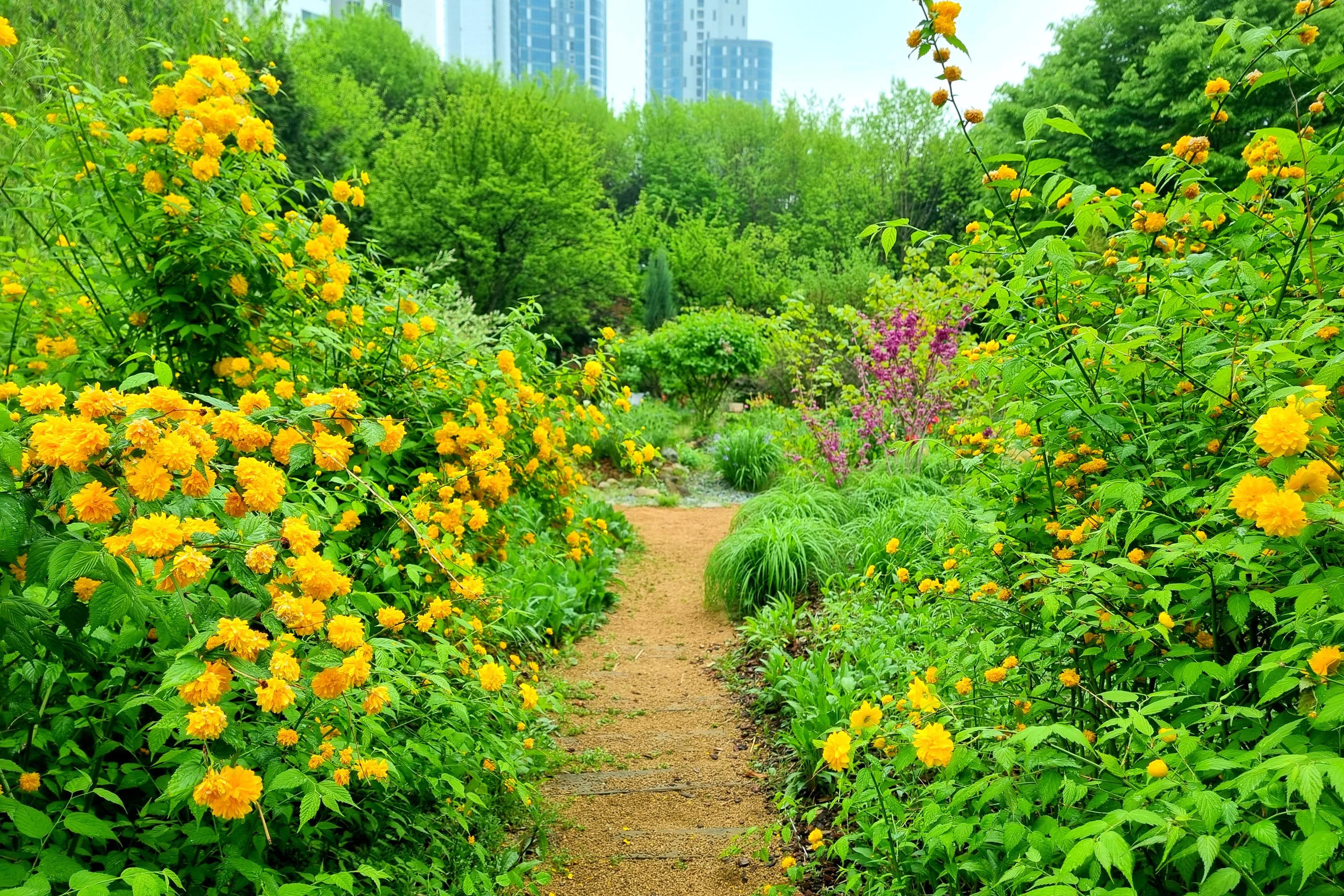 Oso Garden is located on the right side of the entrance that is located straight after getting off at Exit 3 of Seoul Forest Station. This garden was an old parking lot that was dug up and transformed into a garden with beautiful butterflies and flowers.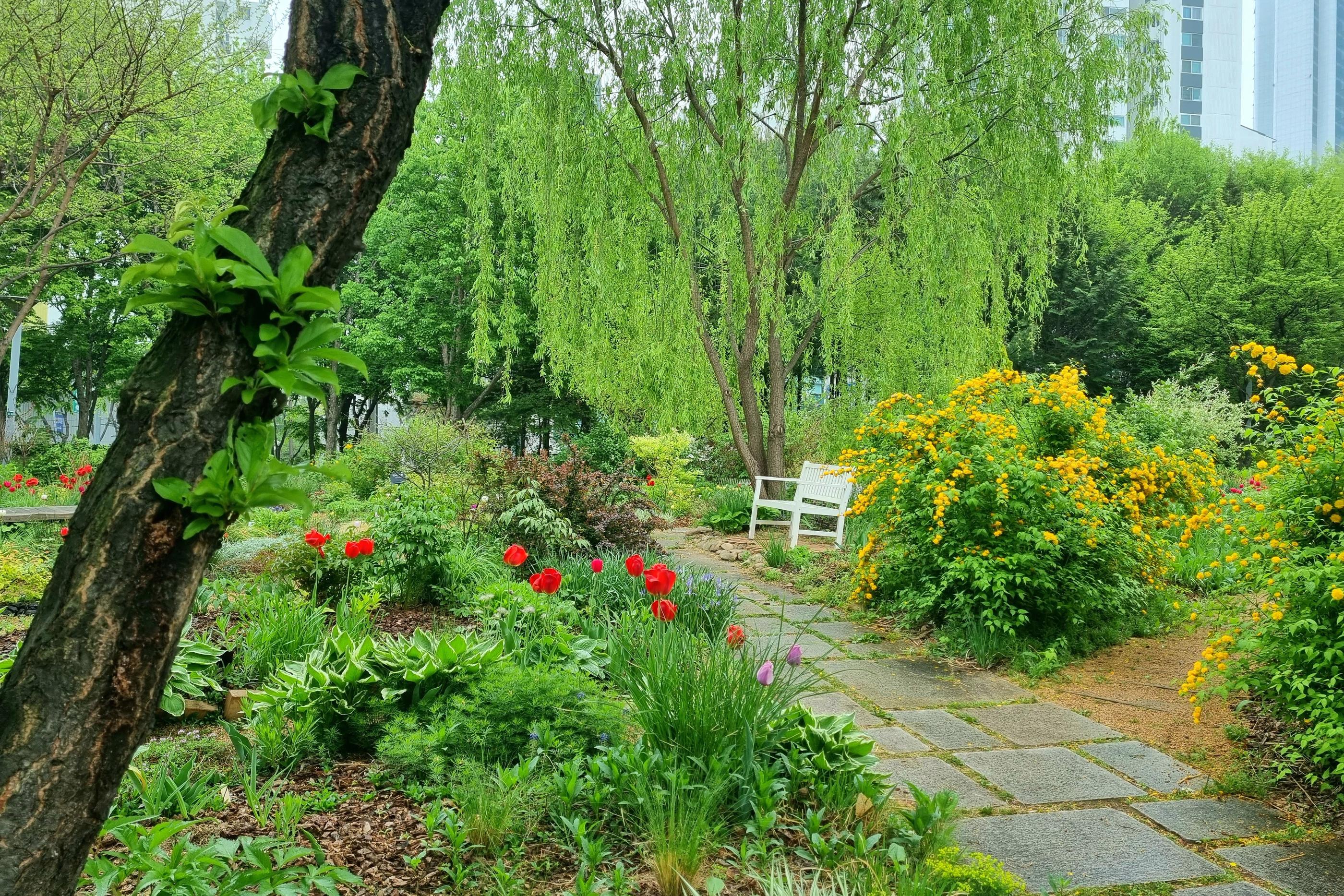 The benches that are surrounded by flowers make it the perfect place to take photos! This area is a lesser known spot, so it tends to be less crowded as well which is a plus!
SM Entertainment Building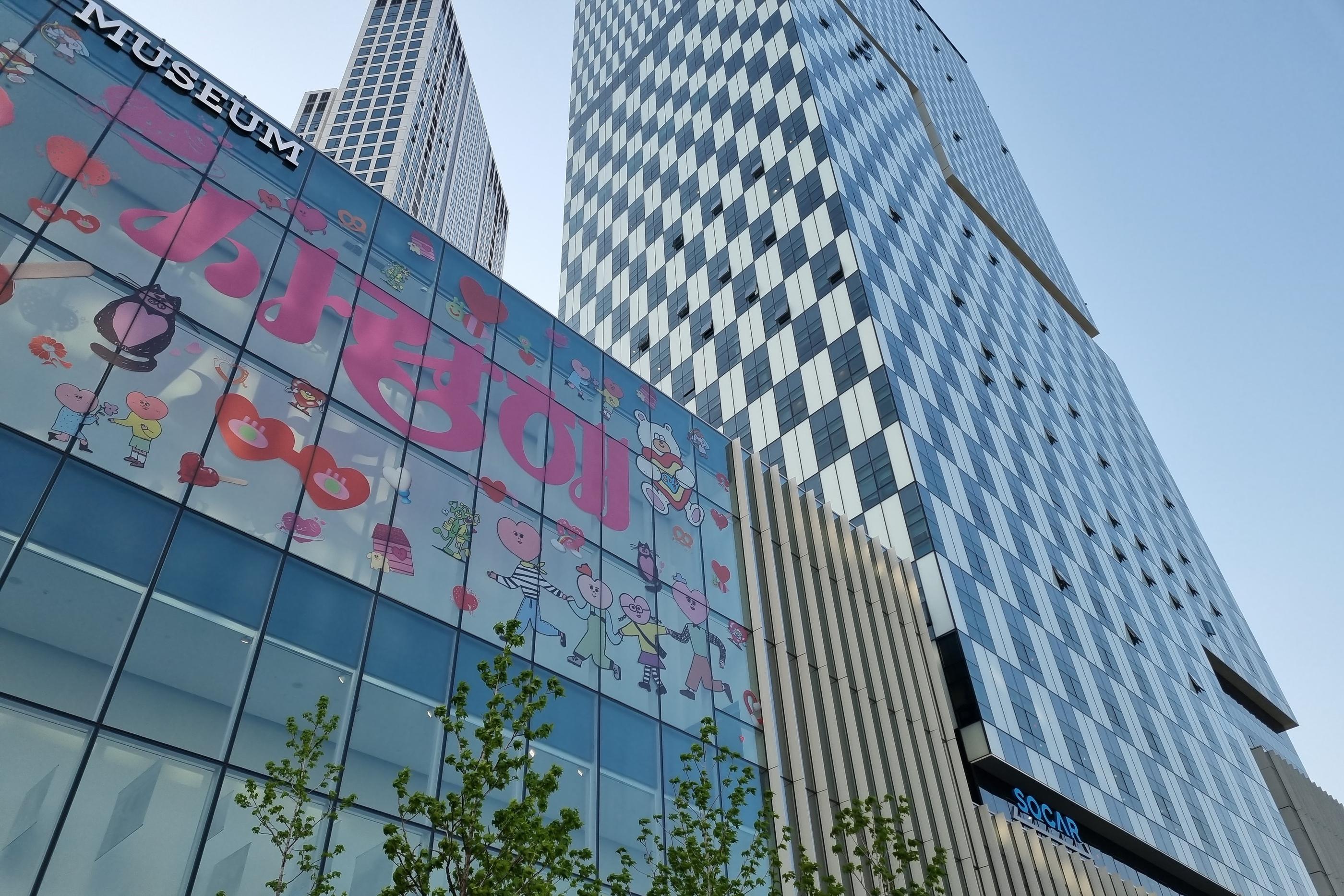 Although it is not in Seoul Forest Park, the SM Entertainment building is close by. It is located right next to Exit 5 of Seoul Forest Station.
The building is quite big and hard to capture in one photo. However once you exit you will see it. You can also access it via Exit 4.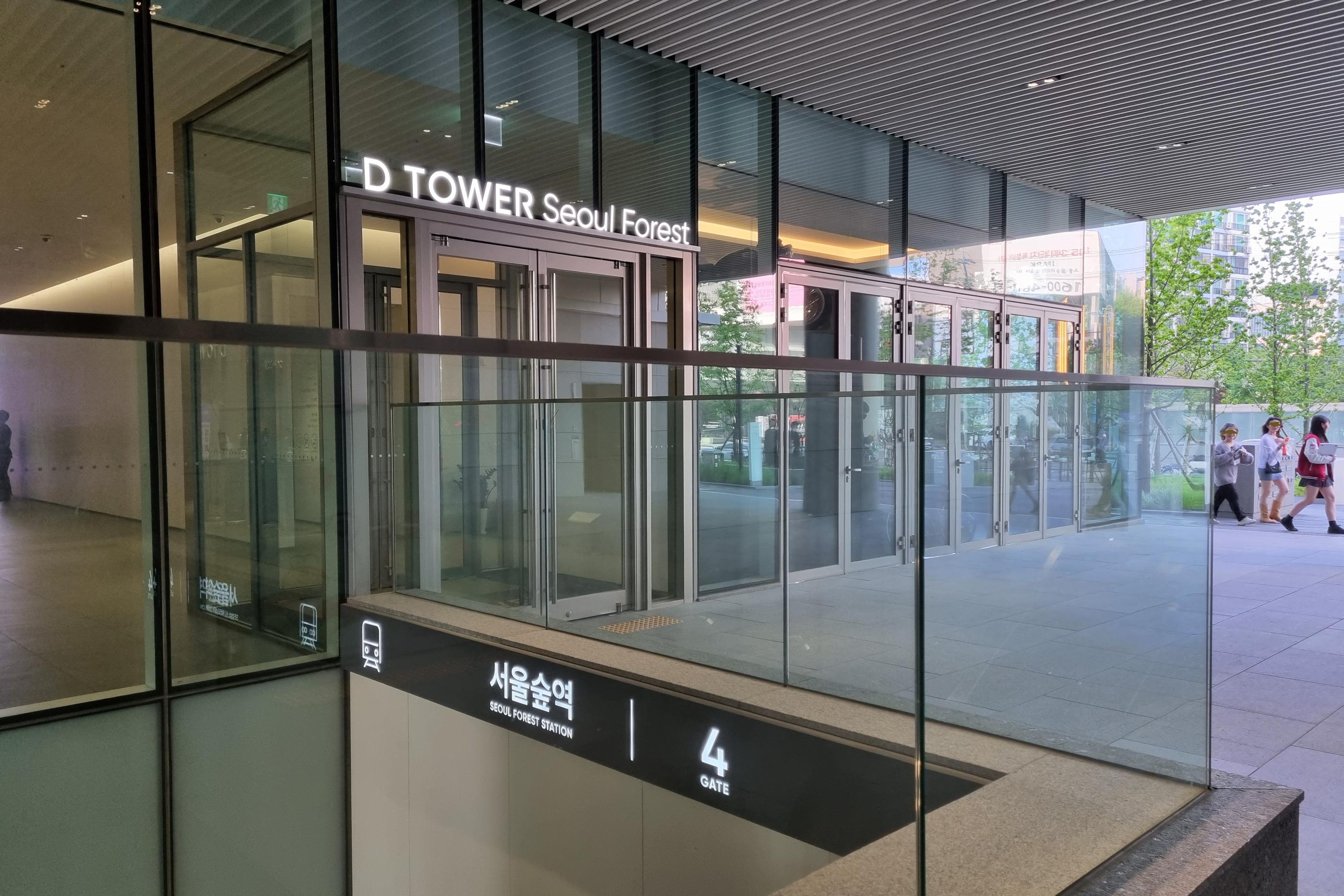 When we entered front he first floor entrance, the first thing we saw were huge monitors with K-pop stars on the screen.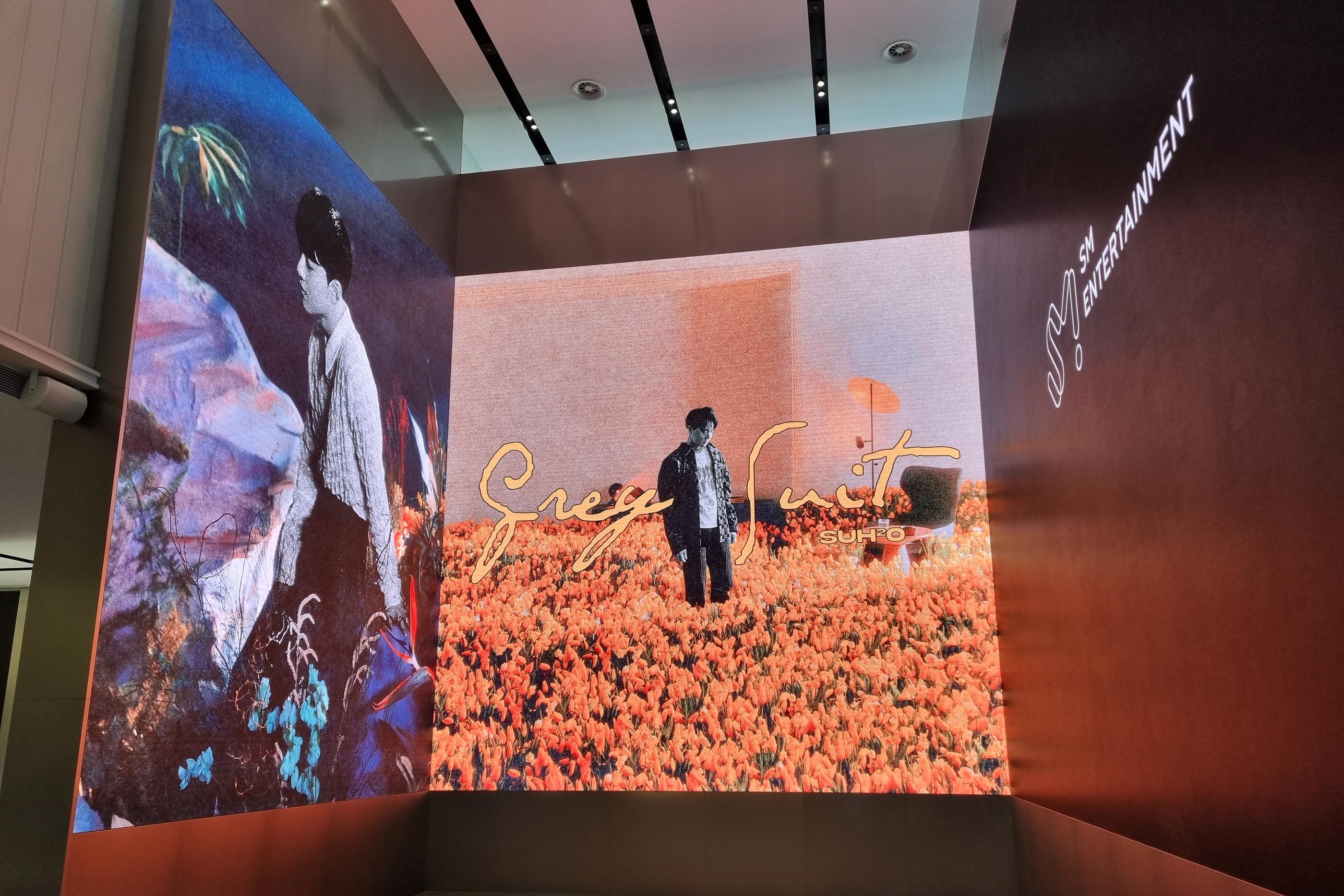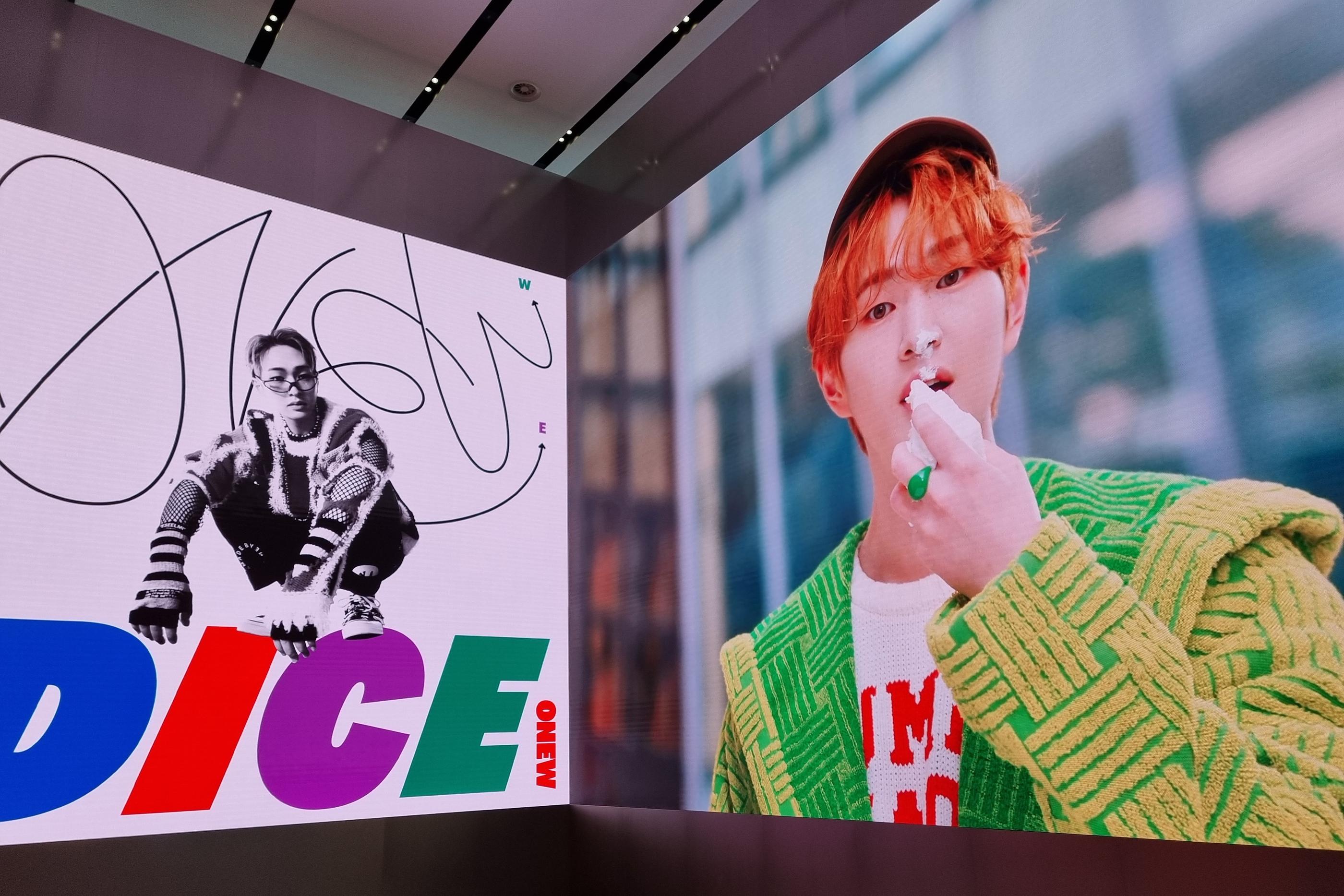 There was a small cafe inside the building that you can visit, but the cafe is not related to SM in any way and is not an SM themed cafe. Other than visiting this cafe and checking out the main monitors with the idols, there is not much more you can do at the SM building.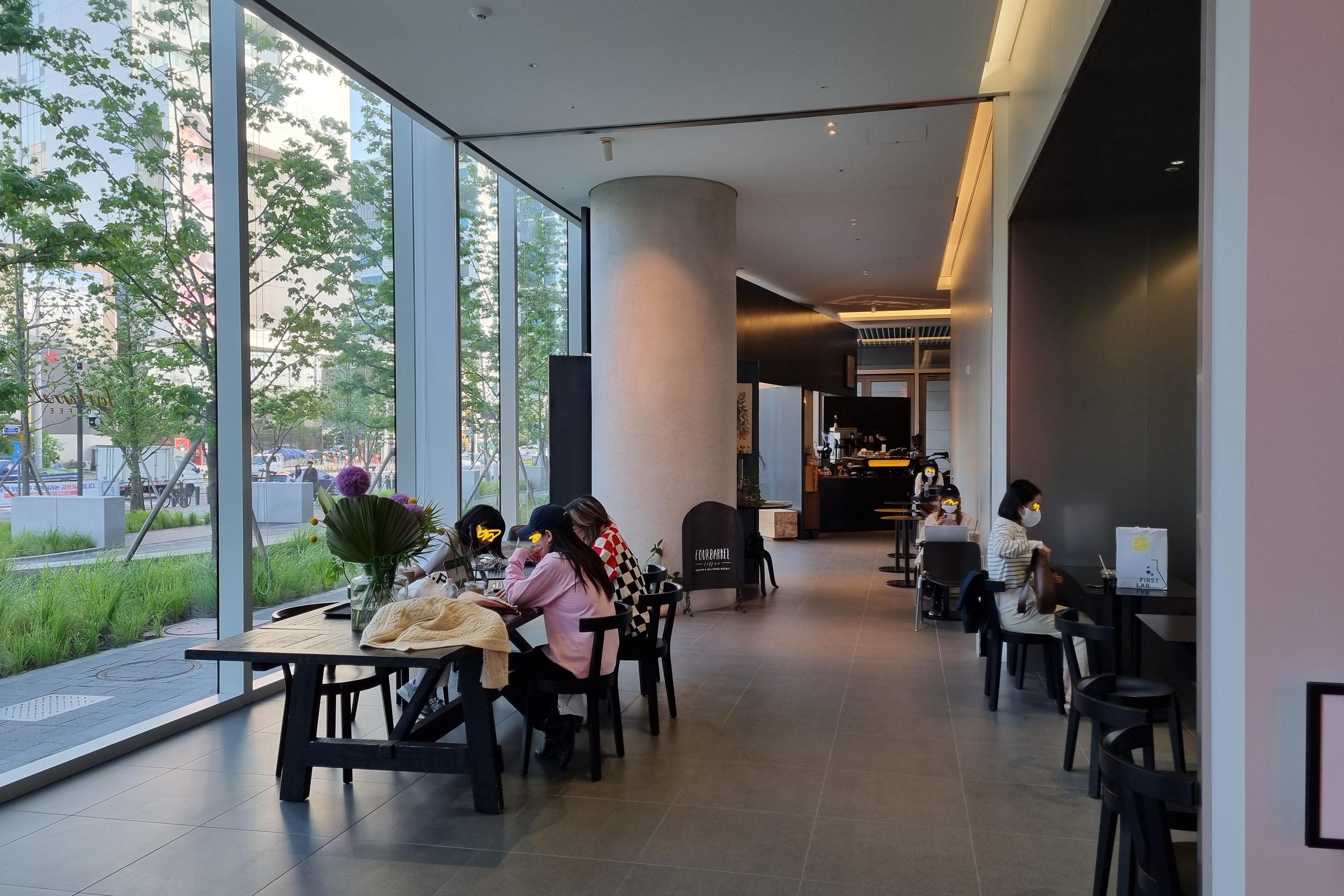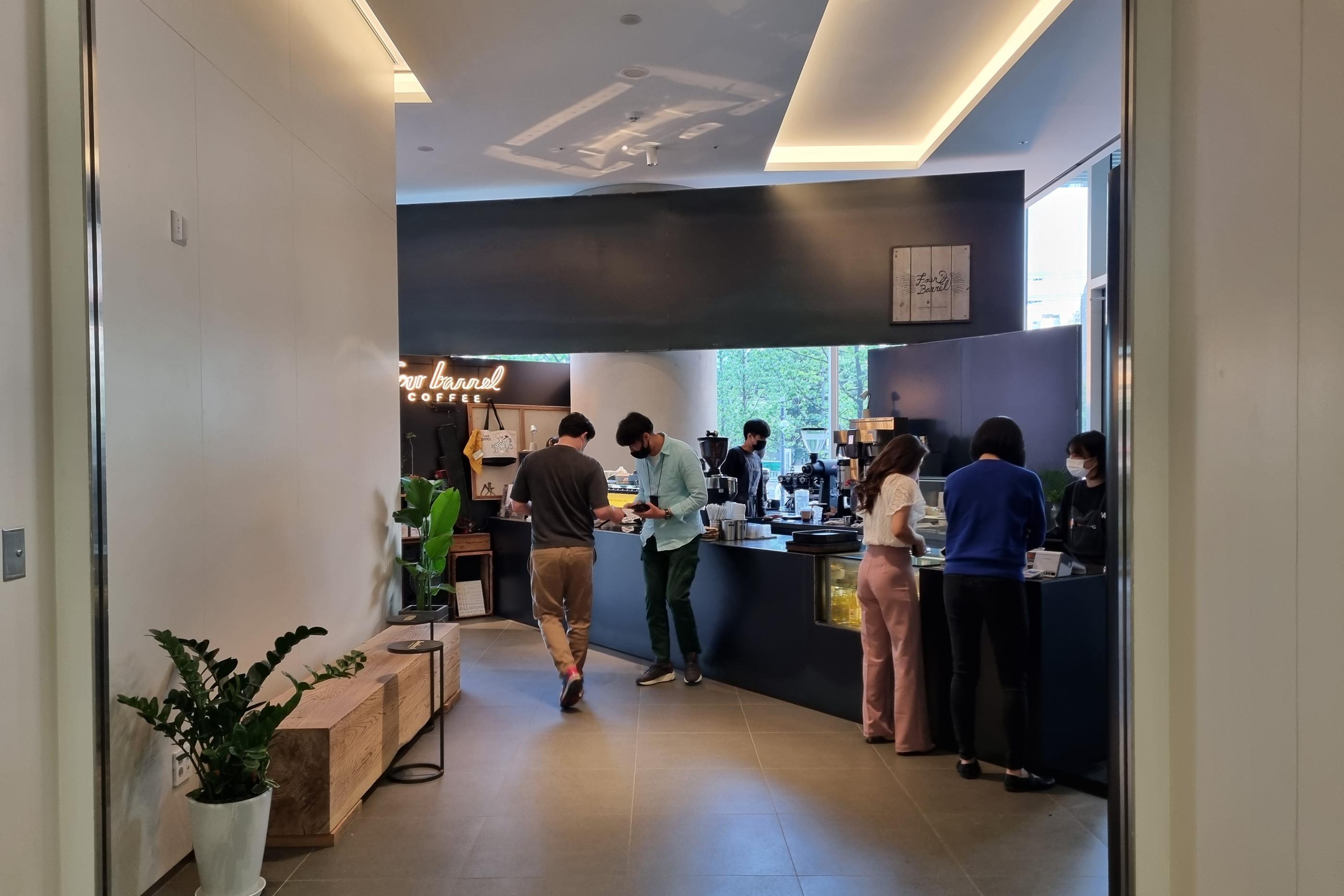 Seoul Forest Cafe Street
In the alley leading to the entrance of Seoul Forest, there is a street called Cafe Street, otherwise known as the Seoul Forest Cafe Street. This street is popular with young people and is lined with many cafes and fun shops!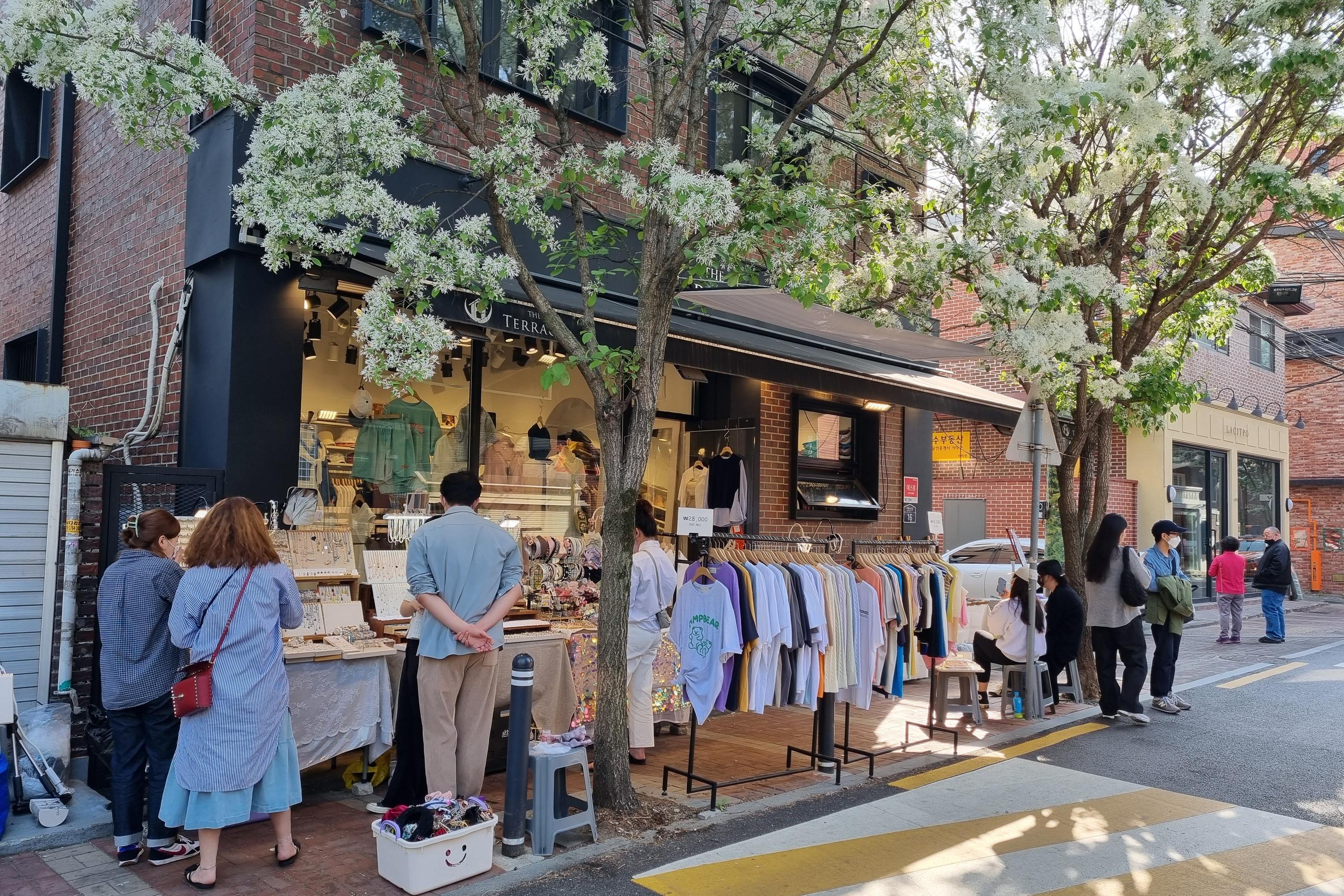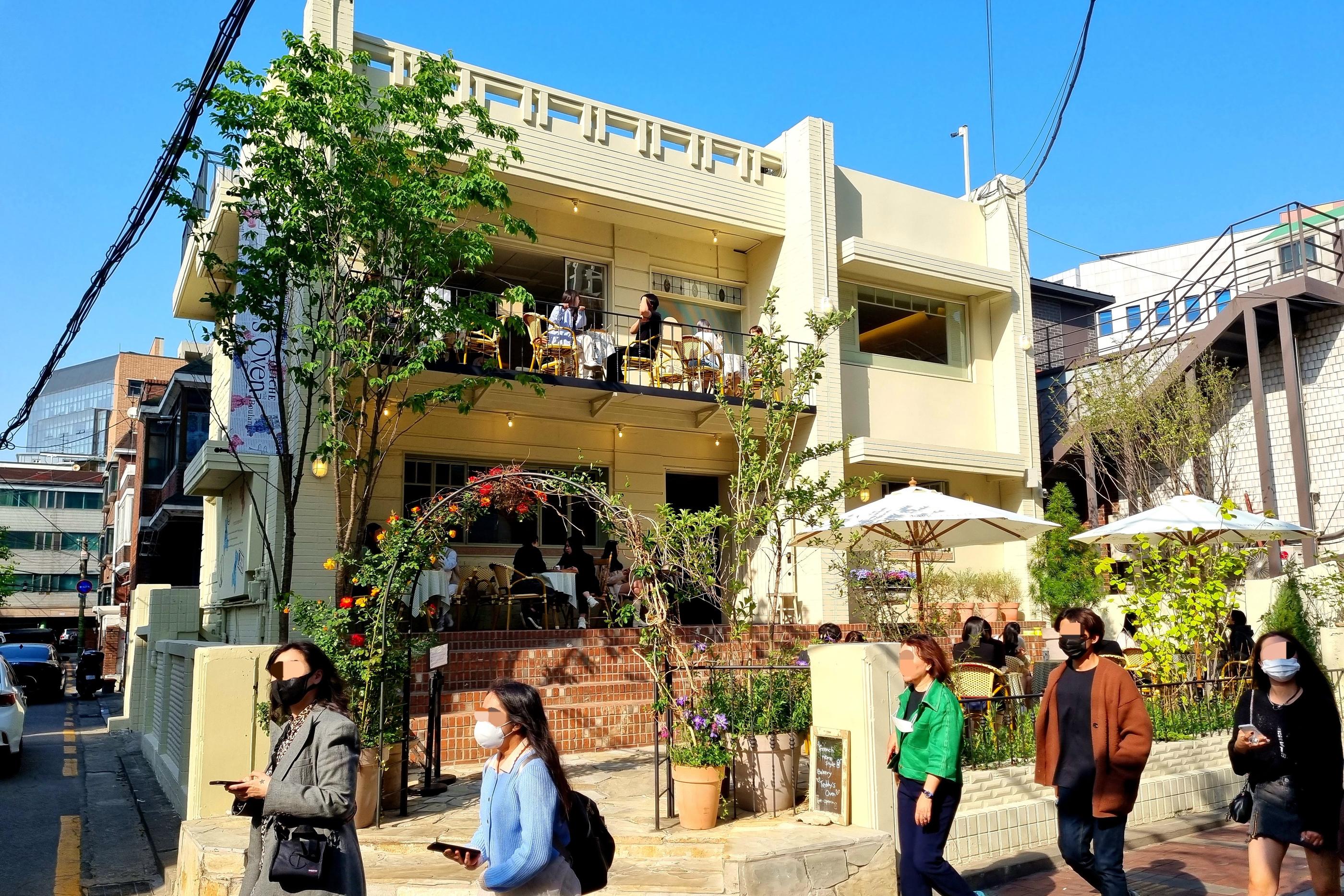 Many of the shops were built by remodeling a building that was originally private homes, so the exterior and interior of many of the shops and cafes here are extremely unique!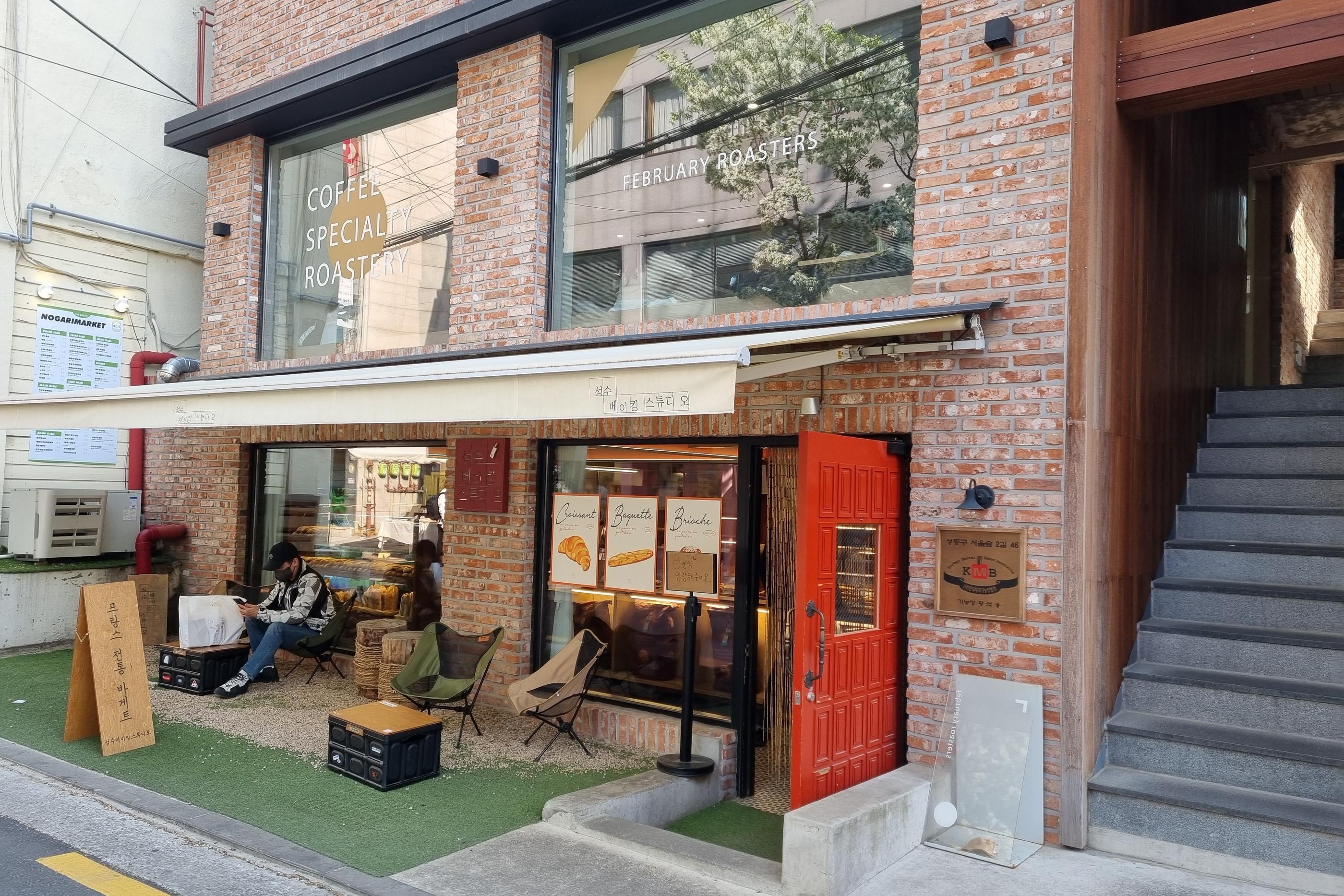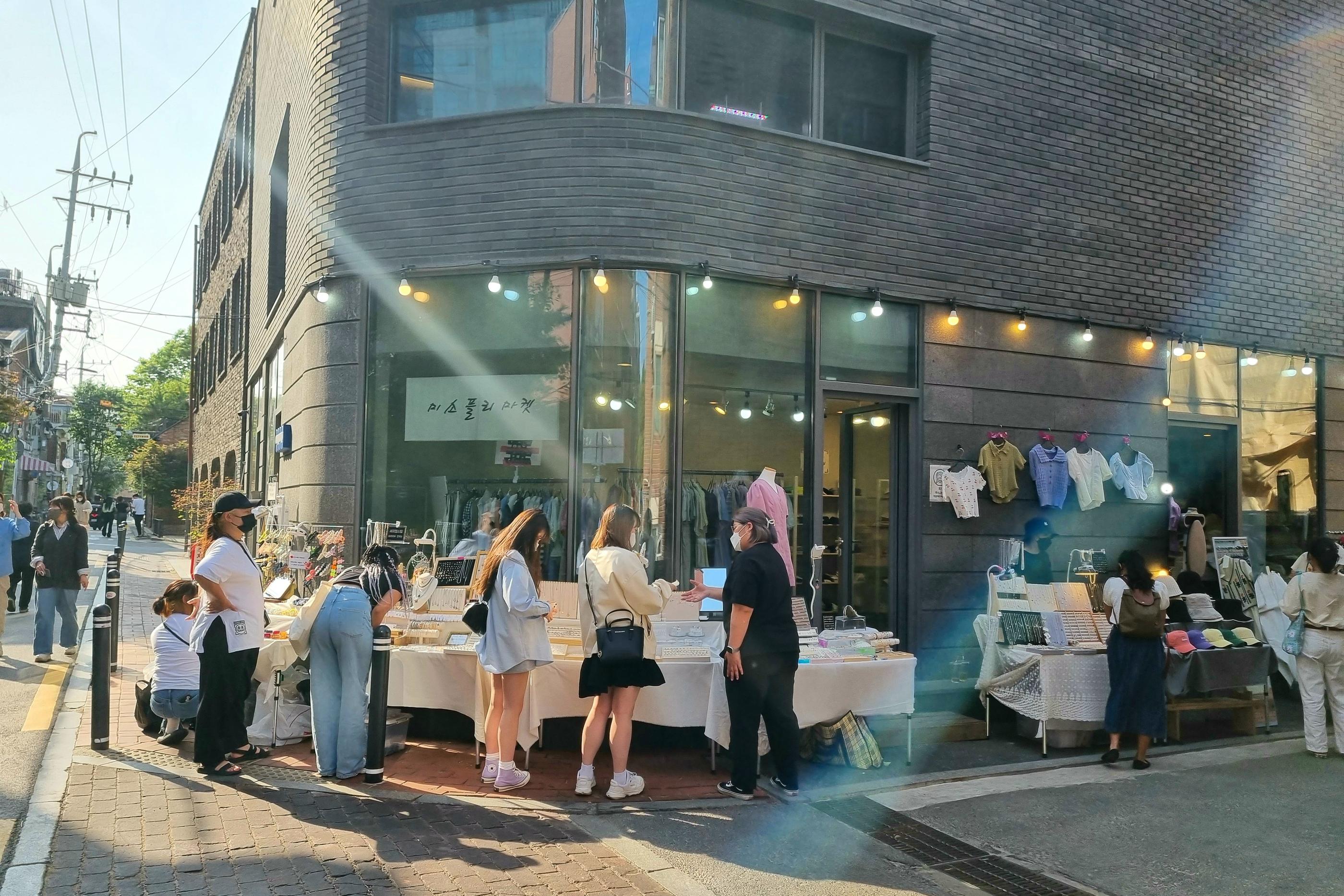 If you go to Seoul Forest, it would be a shame to not check out this street and everything it has to offer!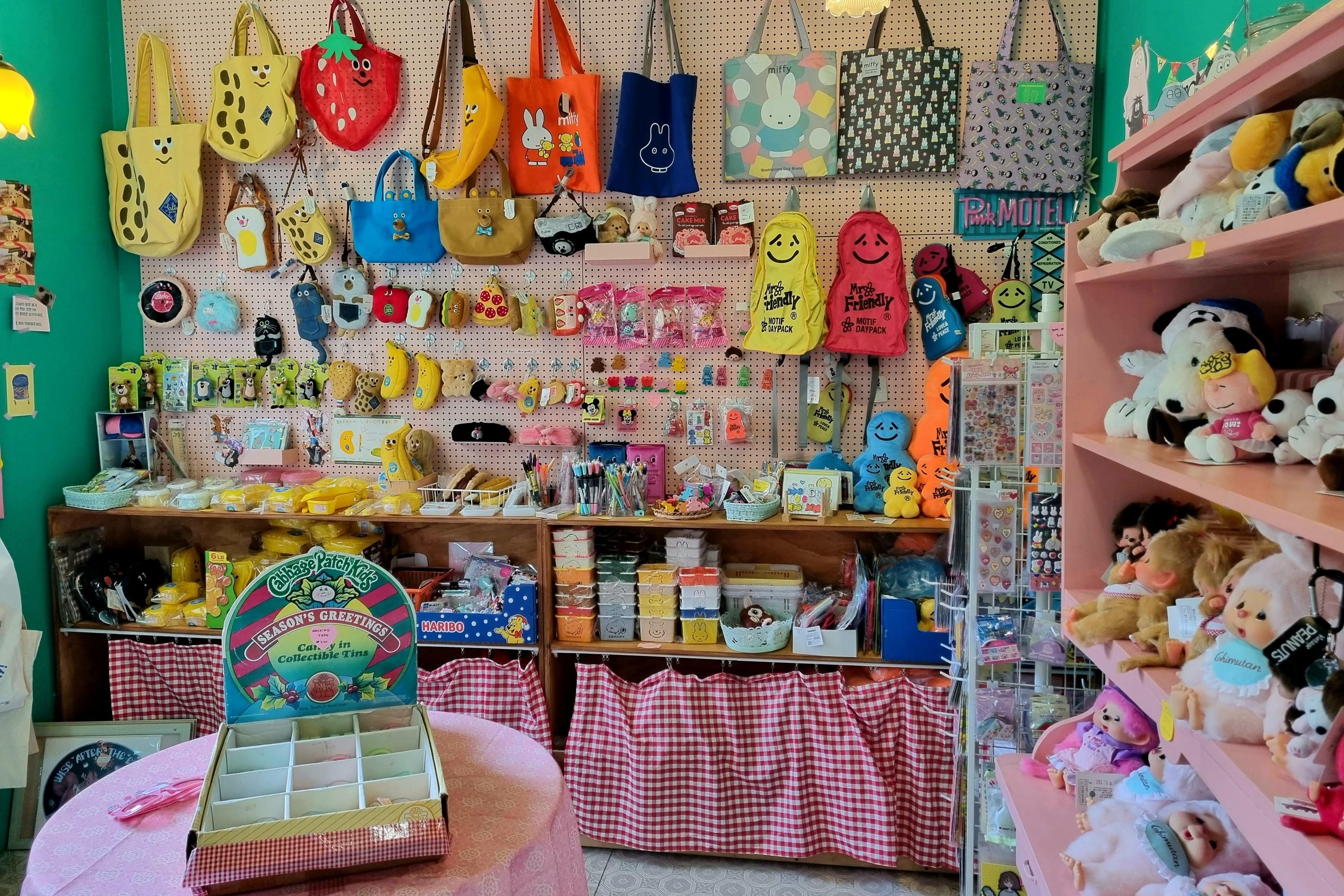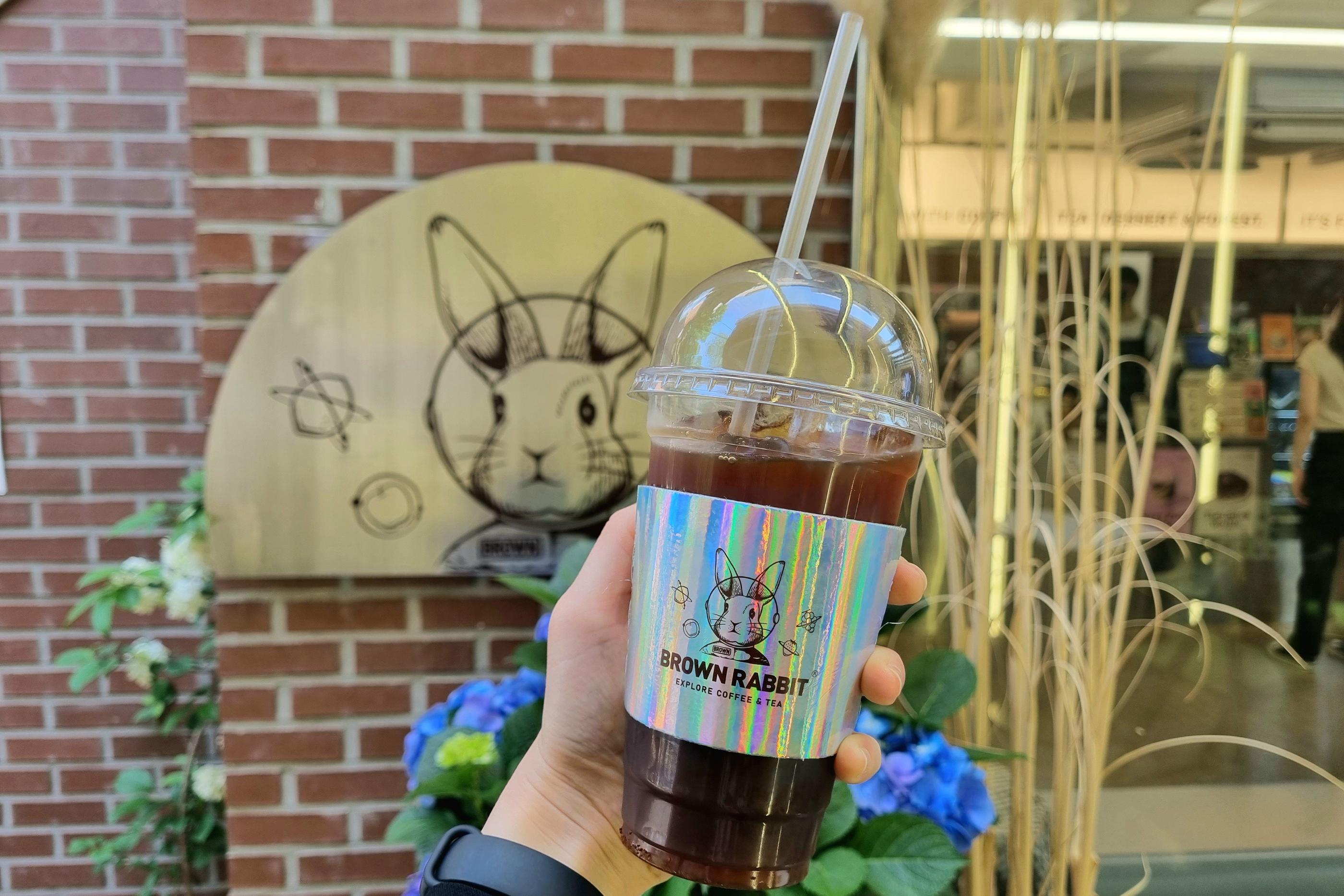 Another thing that many people like to do is take coffee and desserts from the cute cafes and bring them to Seoul Forest Park to enjoy! This is a great way to get the best of both worlds. There is even a shop that rents out picnic sets that have everything from baskets to mats so that you can have a cute picnic in the park!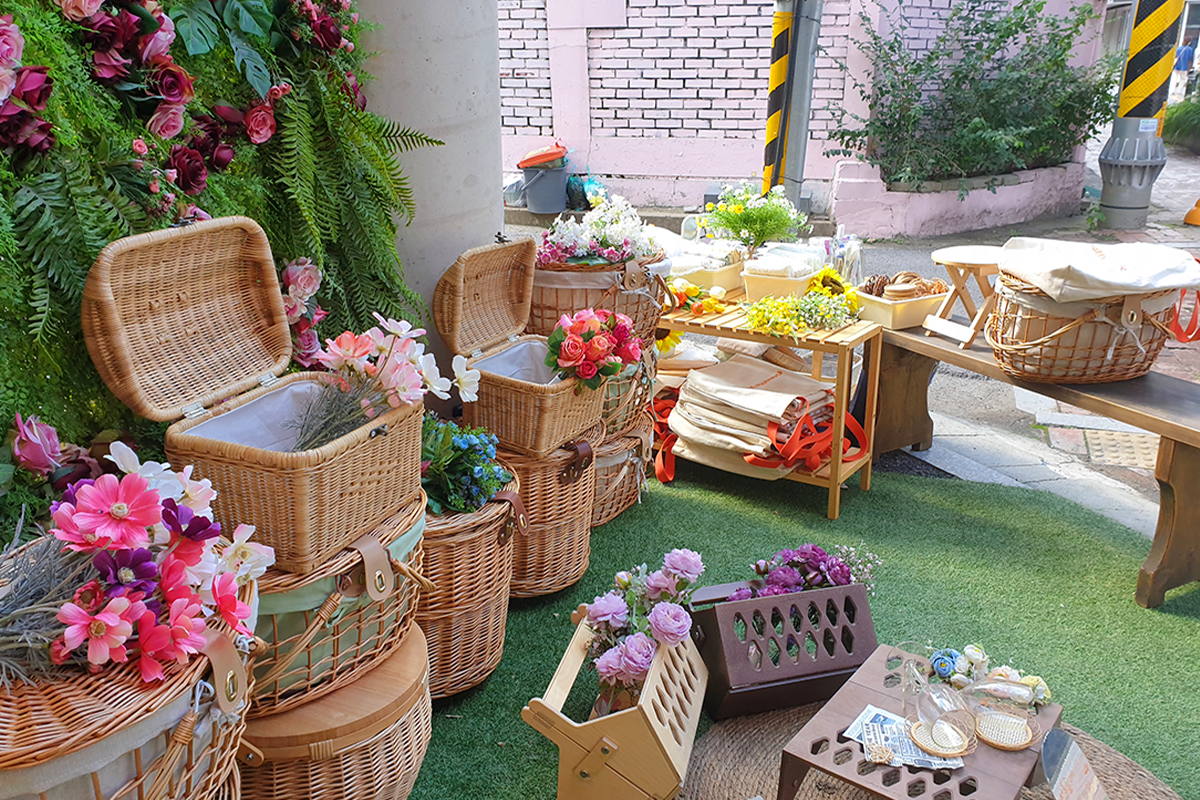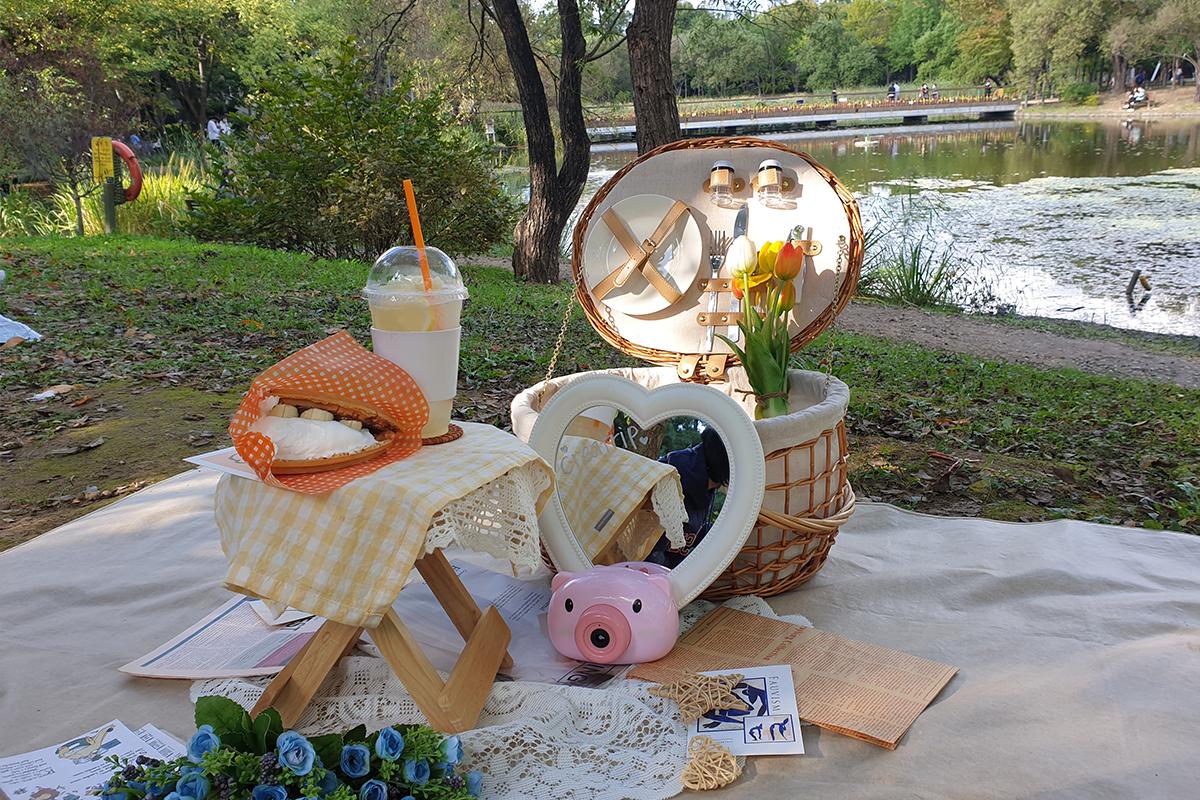 If you want to check out all of Seoul Forest Cafe Street, we suggest getting off at Exit 5 of Seoul Forest Station. This is closest to the entrance of the street.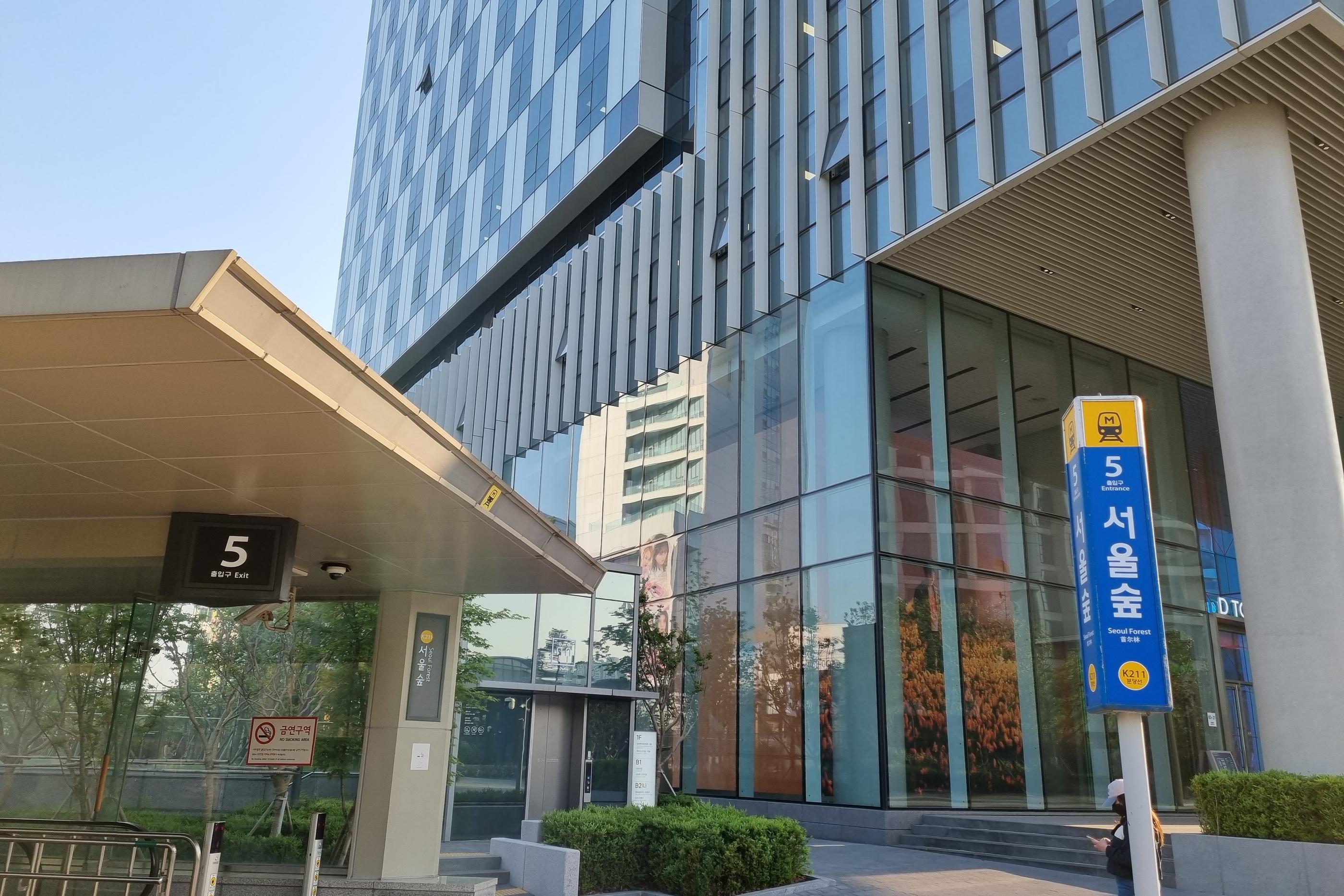 The SM building will be right in front of you.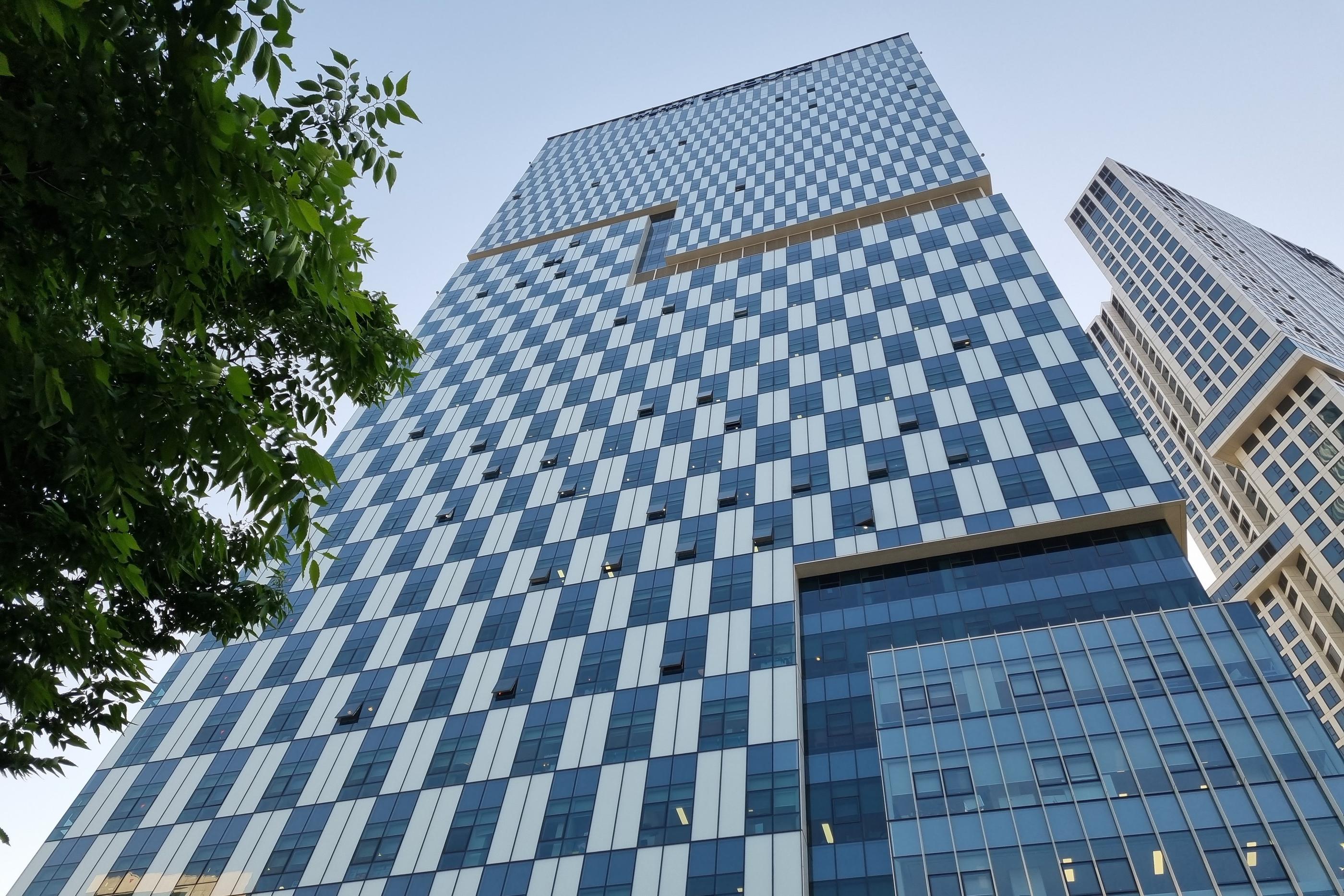 After going straight, cross the first intersection and turn left between the gymnasium and health center. You will see the start of Seoul Cafe Street as you walk straight.
---
This was a short introduction into one of Seoul's beloved parks, Seoul Forest Park! This park is great to come, any time of the year and a great place to enjoy nature and have a picnic. If you have any questions, please leave a comment below or send us an email at help@creatrip.com! You can also follow us on Instagram, Facebook, and TikTok to stay updated on all things Korea!
---