How to Ride the Express Bus
We'll guide you on the types of express buses, price comparisons, reservation and boarding process, and terminal locations!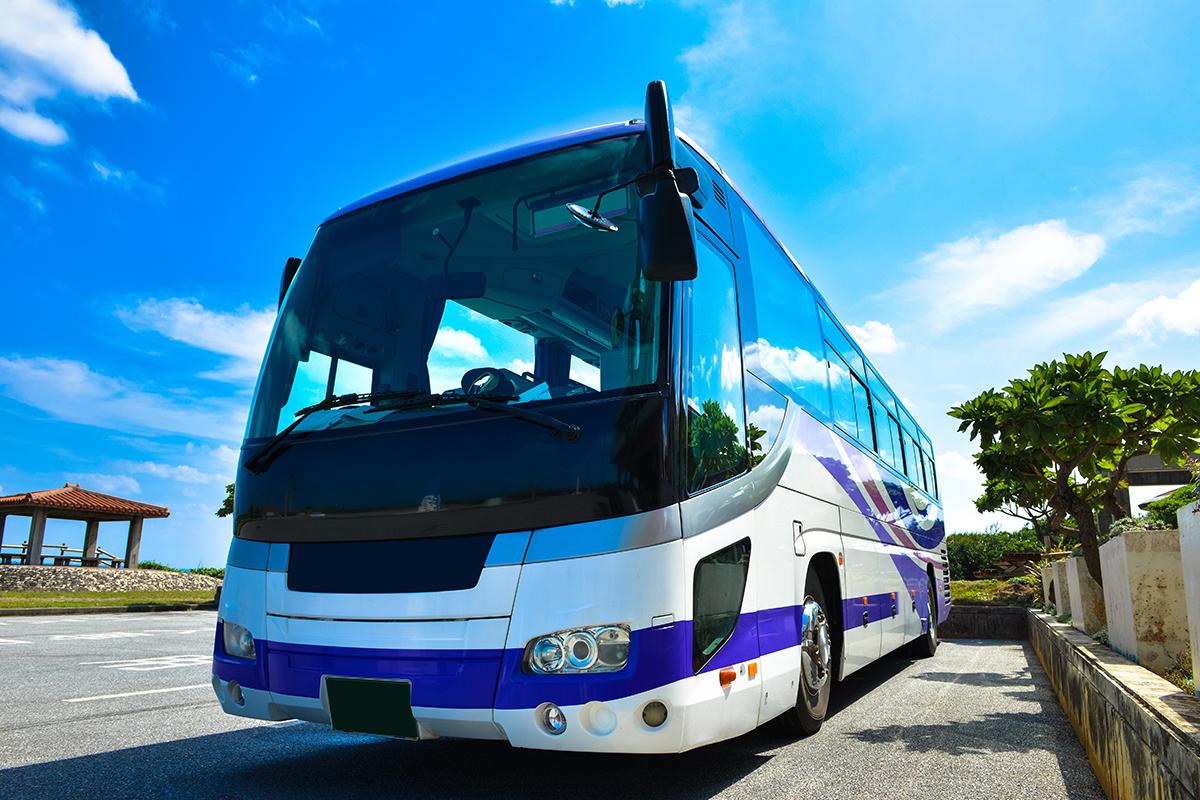 When in Korea, there is so much to see. Seoul offers many known landmarks and experiences for travelers to see and do, but there is so much more beyond the big city. So, the knowing how to properly navigate the country is very important. While many people enjoy the speed and convenience of KTX, it is not always an option for the location you are traveling to or from and it is a bit more expensive than other options.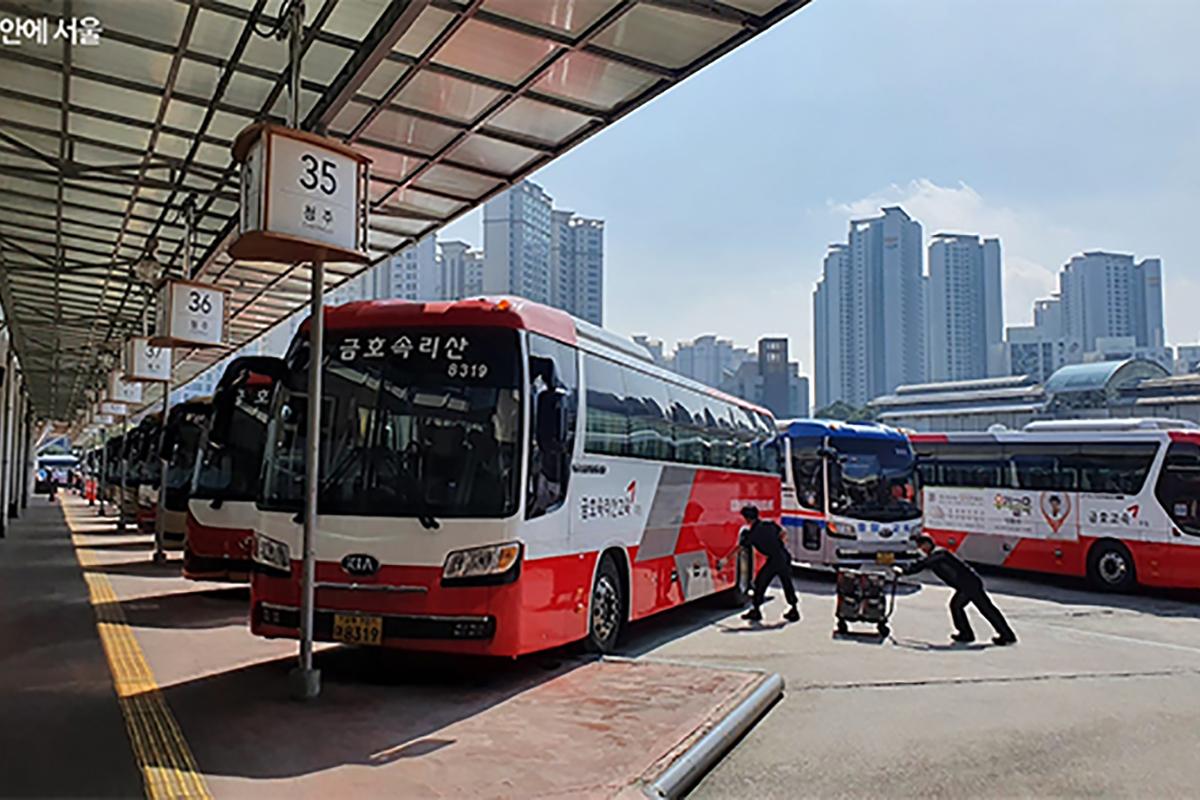 One way people overcome these points is by taking the express bus. These buses are much cheaper than KTX and have the advantage of being able to travel to more diverse areas than the KTX. Express buses also have designated express lanes on the highway so they travel much quicker than regular traffic (although slow downs do occur during holidays and bad weather).

Today we will introduce the express bus system, the prices, the reservation process and how to use it.
Note: If you do not have a Korean phone number, you will not be able to book a ticket online.
---
Types of Express Buses
While all express buses travel to the same locations at the same speed intervals, there are multiple types of buses determine your comfort during the journey. There are three types: regular, superior, and premium.
The higher level the bus, the higher the comfort (and the price ). We will explain the differences below.
Regular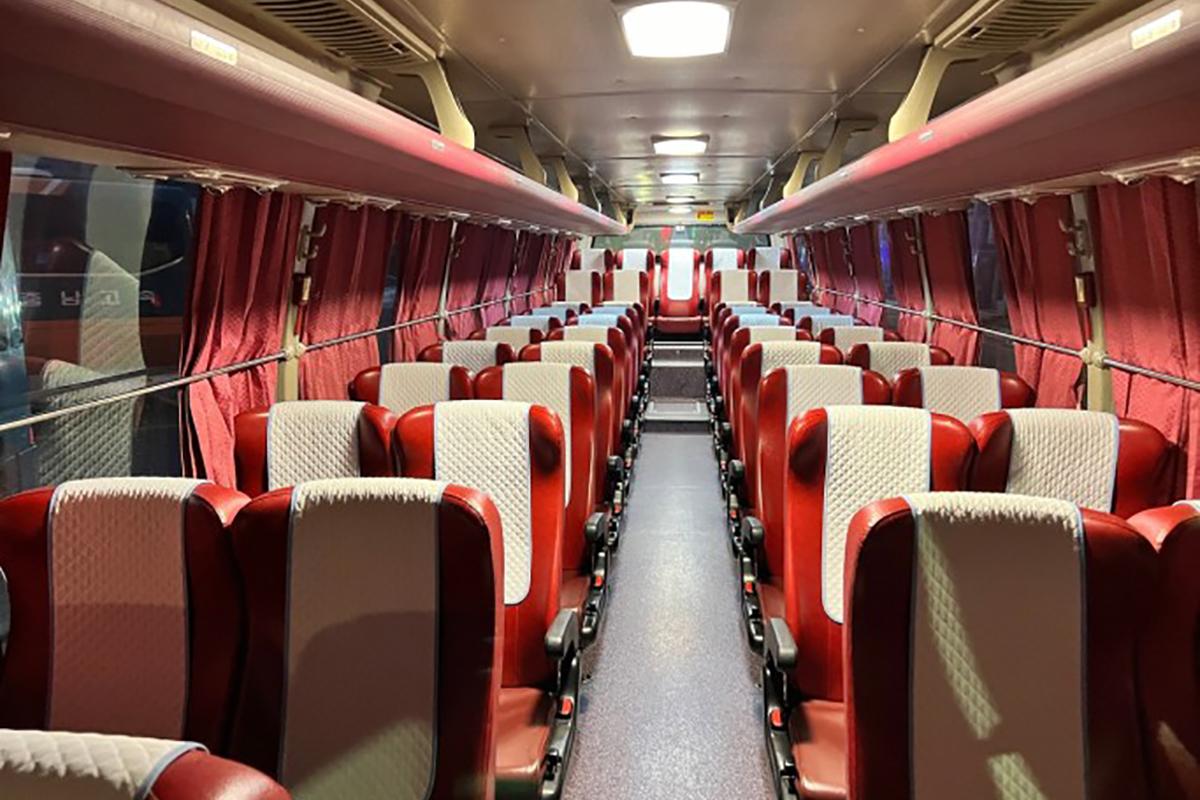 The regular express bus is the bus is a great option for short travel. Since it is the most basic bus option, the seats are quite narrow which would probably not be ideal for longer trips. However, it quite affordable! A trip from Seoul to Busan, for example, costs about 60,000 KRW by KTX, while it is only 25,000 KRW by express bus. So depending on your travel needs (speed, affordability, comfort, etc.) you have options to accomplish them all!
Superior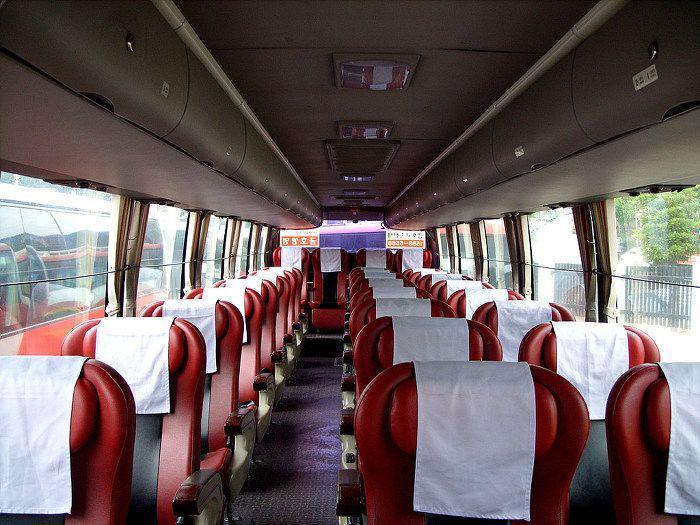 The superior bus is the most commonly used express bus. This bus offers the best of both words, comfort AND affordability, so you can travel long distances with easily. For pricing reference, you can travel from Seoul (Gyeongbu) to Busan for 36,000 KRW.
Premium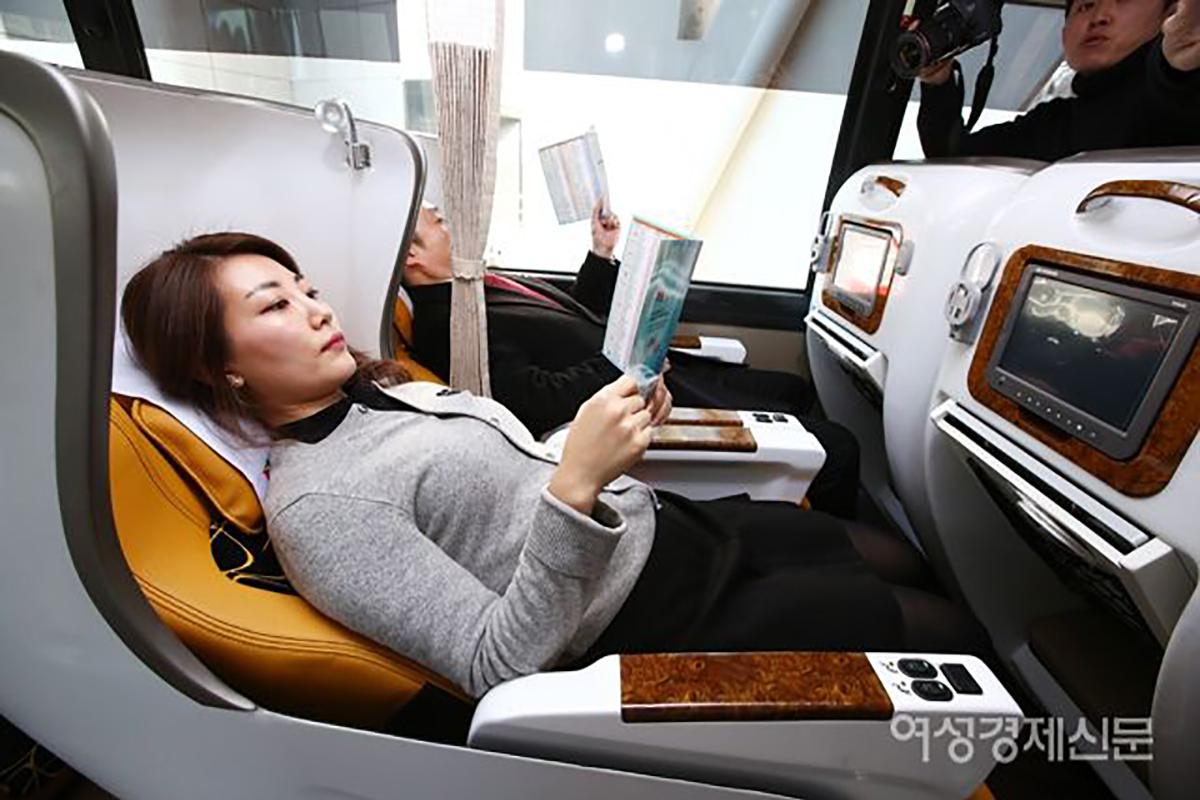 The premium bus is the most luxurious option of the three. As the name indicates, not only is the bus premium, but so is the price. For reference, the price from Seoul to Busan is about 47,000 KRW by express bus.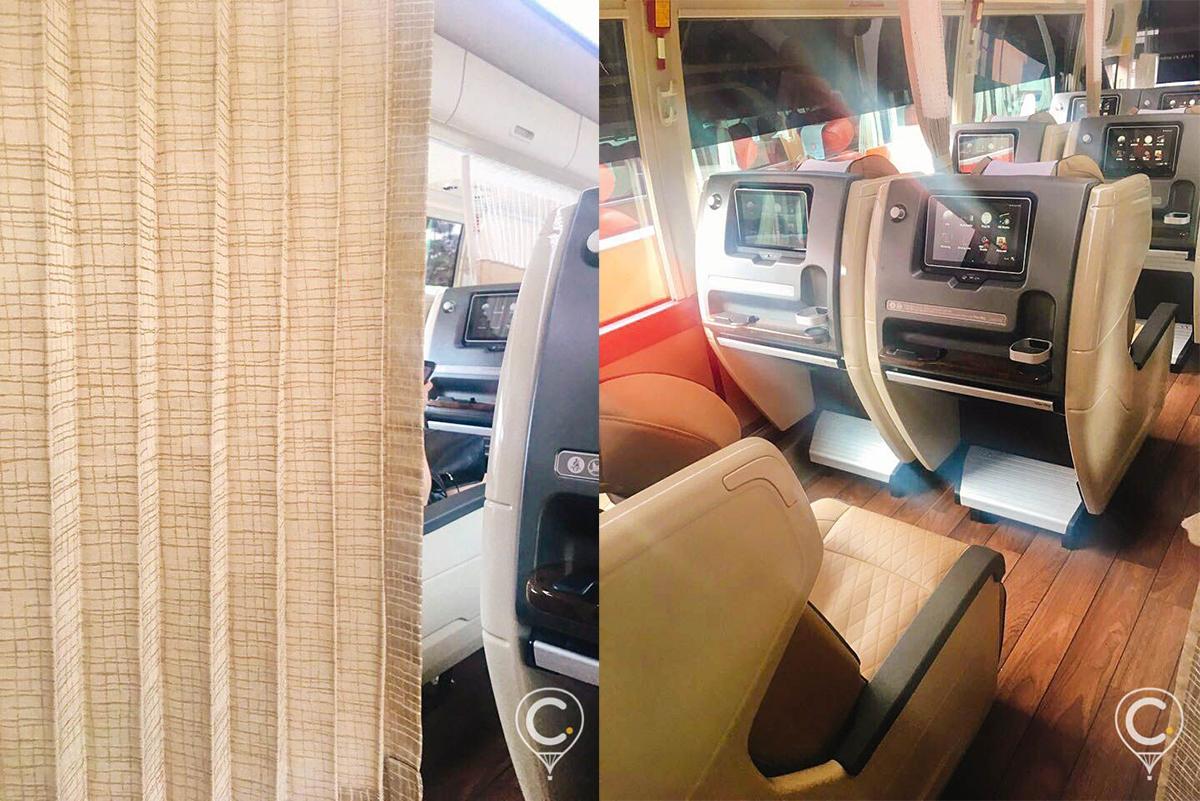 This bus offers the most space, some with the ability to lie down. Other amenities include a personal television, radio, privacy curtain, charging stations, and more. The quality of seat feels reminiscent of business class in an airplane.
With these three levels of comfort, everyone should be able to find an option that suites their needs.
Since there is so many options, it may be hard to distinguish the pricing gaps so we made this table for your comparison.
| | | | | |
| --- | --- | --- | --- | --- |
| | KTX | Premium | Superior | Regular |
| Seoul ↔ Busan | 59,800원 | 46,800원 | 36,000원 | 24,200원 |
| Seoul ↔ Gangneung | 27,600원 | 28,900원 | 22,300원 | 15,200원 |
| Seoul ↔ Daejeon | 23,700원 | 19,600원 | 15,100원 | 10,300원 |
| Seoul ↔ Daegu (East Daegu) | 43,500원 | 35,300원 | 27,200원 | 18,400원 |
| Seoul ↔ Jeonju | 34,600원 | 26,100원 | 20,100원 | 13,800원 |
*Express buses are based on the Seoul (Gyeongbu) Terminal except for Jeonju which leaves/arrives to Seoul (Central City) Terminal. KTX and express times and bus types vary.
As we mentioned before, it's best to choose your travel option by deciding which factors matter most do you. Is the most important variable price, length of trip, or comfort?
If you decide that KTX is the best option for you, check out these blogs to learn more!
---
How To Get Tickets (Online & Onsite)
Unfortunately, unlike the KTX website, the express bus requires the buyer to have a Korean phone number in order to make a reservation. However, if a friend buys the ticket and send you a screen shot, you'll be able to use that to board the bus.

In addition to this, express buses are not as commonly sold out as KTX (except on public holidays) so you will be able to easily buy in person in most cases.
Website
The website is available in four different languages so you should be able to navigate it without issue.
Make sure you print your ticket before you trip or pick it up when you arrive to the bus terminal!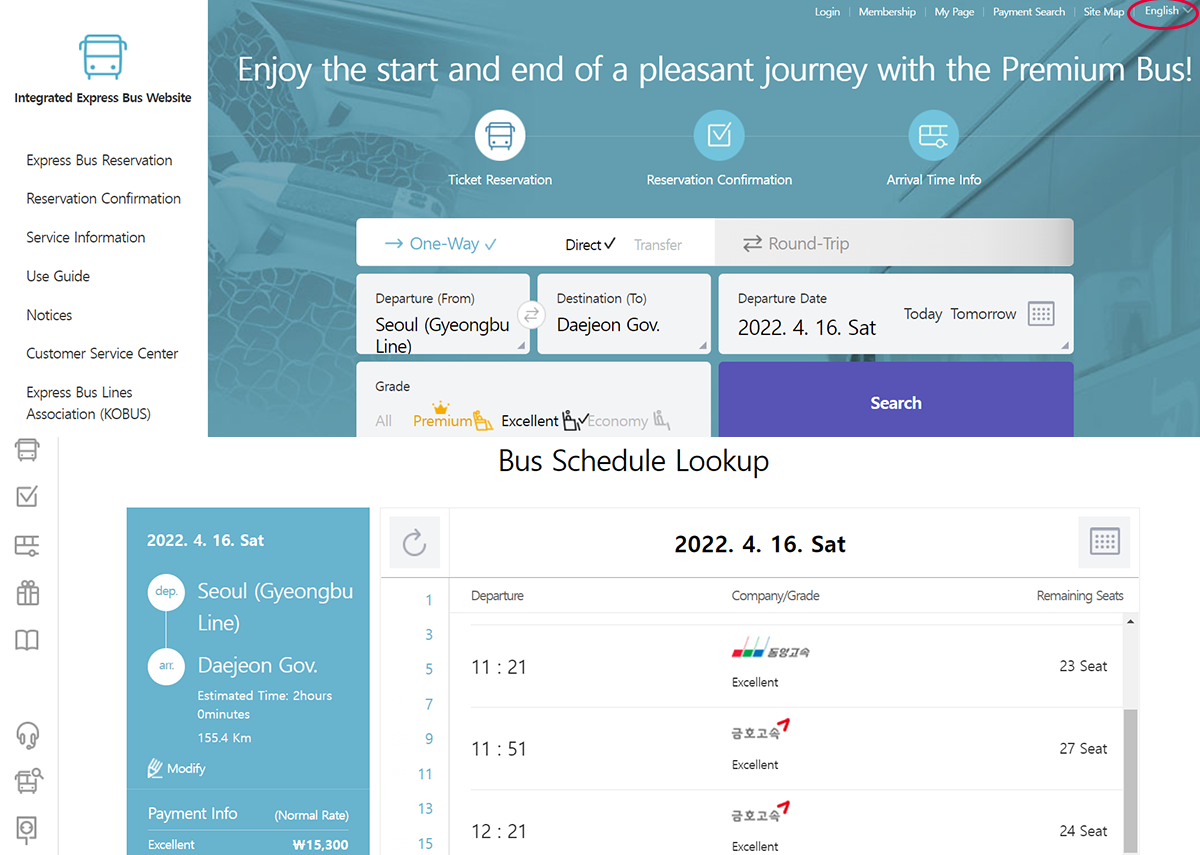 1. Go to the express bus site website (https://kobus.co.kr/main.do) and select the language (English, Chinese, Japanese, or Korean) which is most comfortable for you in the top right corner.
2. Enter all the bus information for the trip that you would like to take. (Online ticket reservation is only available until one hour before the bus departs.)
3. Press the search button to see your results. On the left, you will available seats and on the right, the price.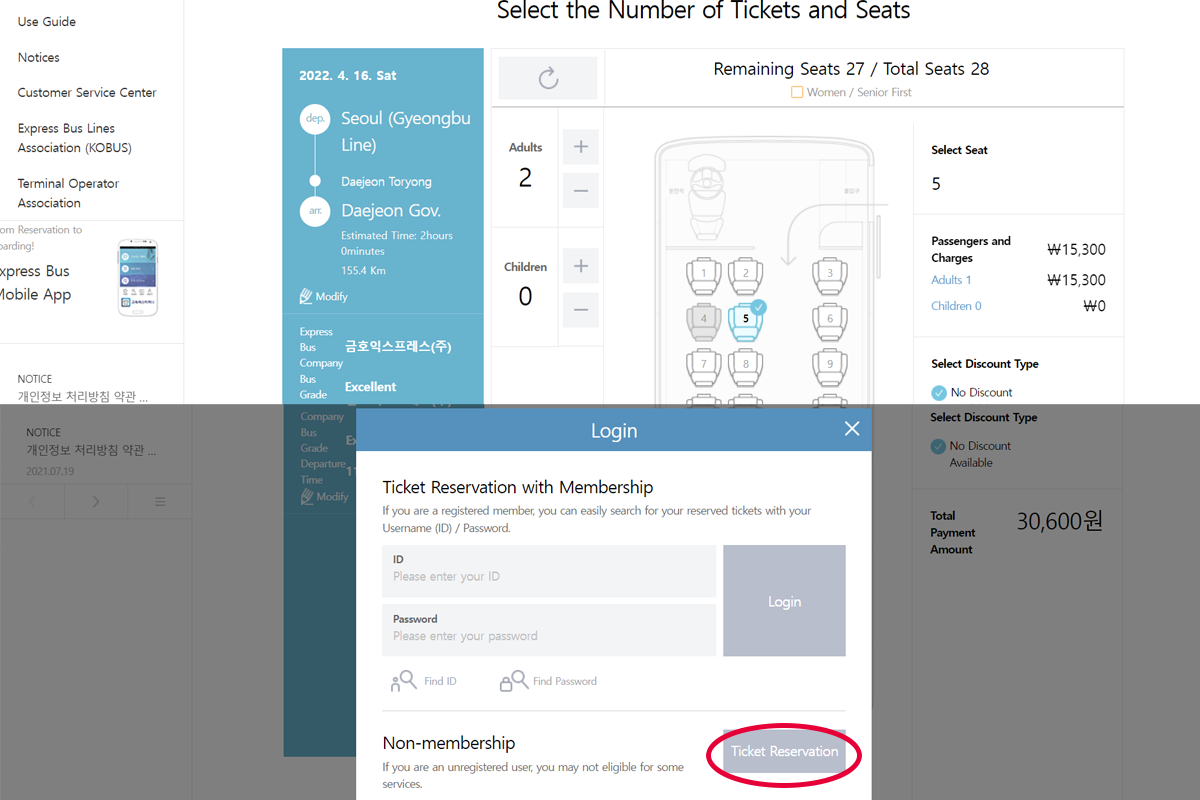 4. Next, choose the number of seats you want and what type. (Those up to the age of 12 are eligible for 'Child' tickets)
5. When the login window appears, press the 'Reserve Non-Member Ticket' button.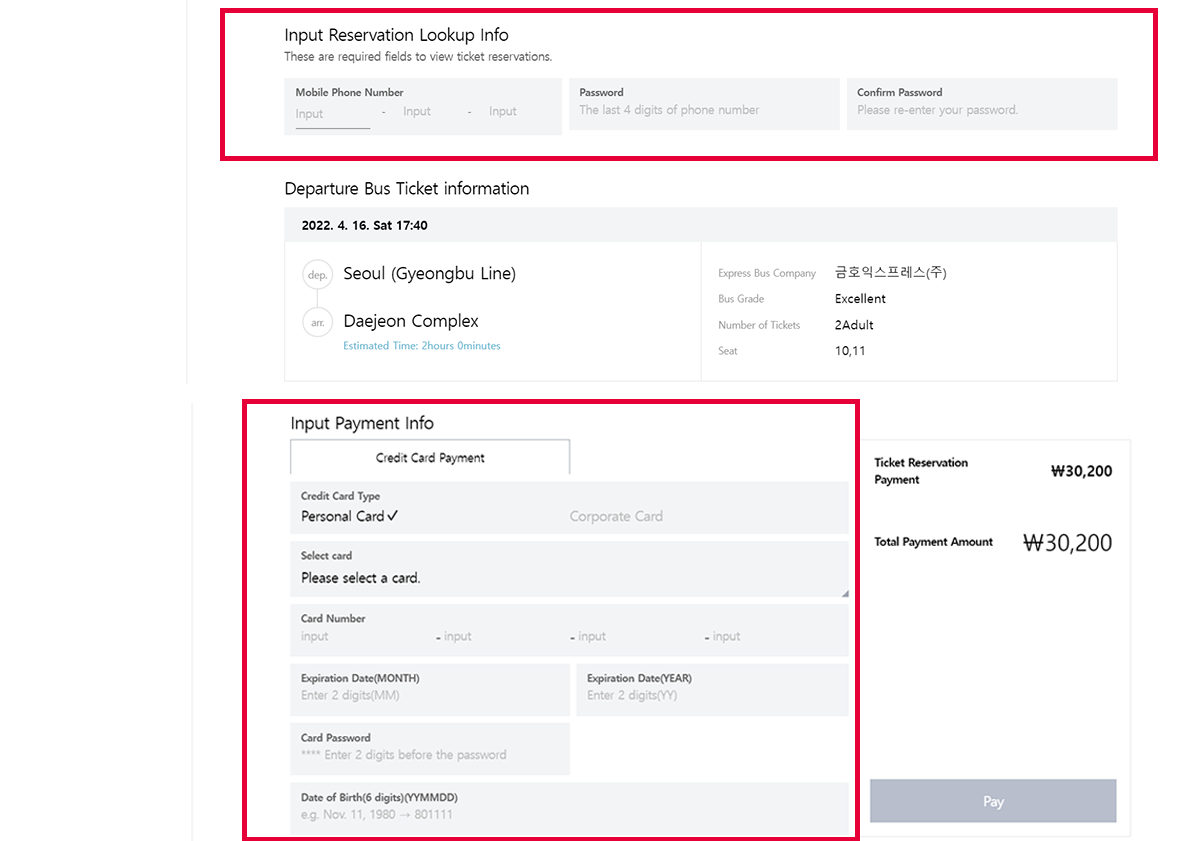 6. Confirm the ticket information, the enter both your phone number and your card information. Once you confirm your payment, you're done!
7. Go to the 'Check/Chang/Change Ticket Reservation' menu to see if the ticket reservation has been successful.
8. If you print out the ticket in advance, using the 'Home Ticket' service, then you won't need to go to the counter at the terminal.
9. If you want to get your ticket from the counter after booking online, you must bring the card you used to book. If you present that card at the counter, they will be able to issue you your ticket right away.
Note: If you made your reservation with another payment method, you can get your ticket by telling your mobile number or birthday at the counter.
Express Bus T-Money App
The advantage of using the app is that you can easily reserve your ticket on your phone. You also don't need to print out your ticket or go to the counter. You can easily present it on your phone.
However, in order to use the app, you need to be a registered foreigner with a residence card in order to do the self-verification process AND have a Korea-issued card as well. As a result, this method is only possible for foreigners living in Korea long-term.
Note: This app is also only available in Korean.
1. First, download the Express Bus T-Money app (고속버스티머니). You may need to search in Korean in order to find it.
2. Click the top menu item to reserve a ticket (고속버스 예매). If you would like a one-way ticket, select '편도'; for a round-trip ticket, select '왕복'. '출발지' is your starting location and '도착지' is your destination. Finally enter the corresponding dates and press '조회하기' to see your search results.
3. Select the bus that fits your travel needs. Remember, price is determined by the type of bus and only certain buses are available at certain times.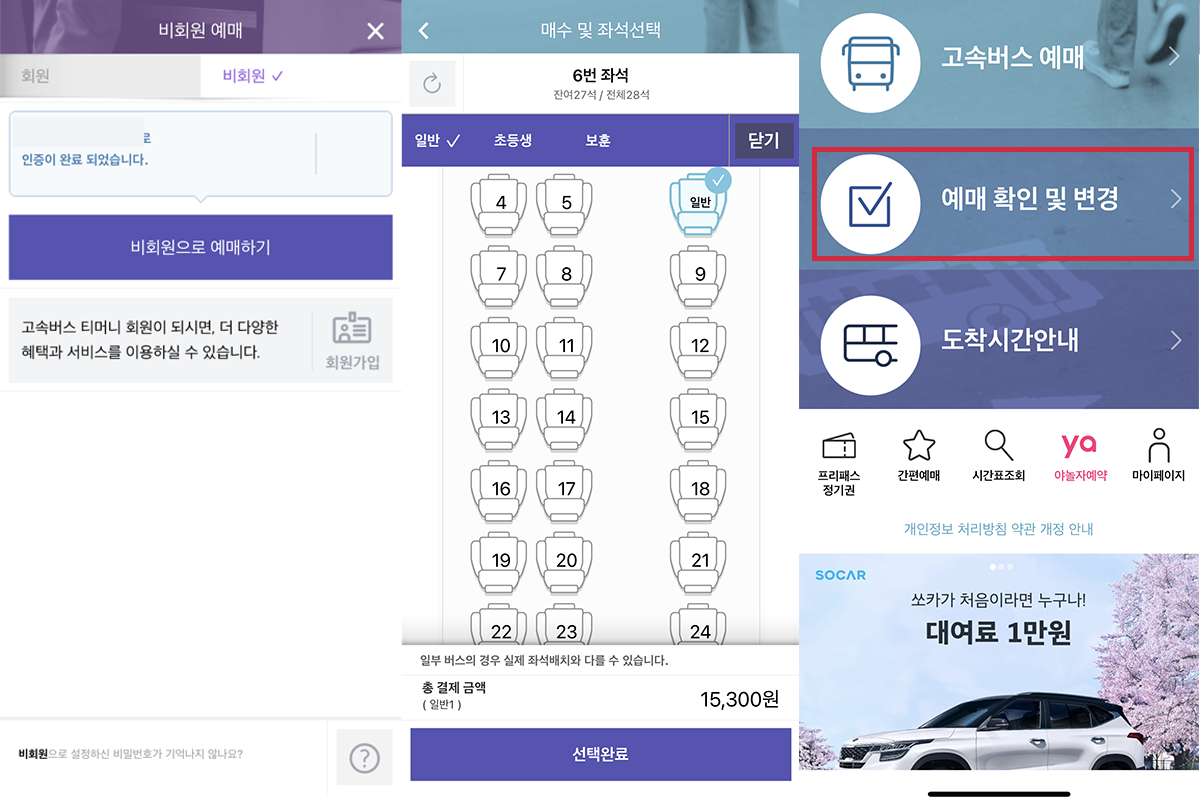 4. If you haven't registered as a member, you can also pay as a non-member. In this case, your authentication number would be sent via Kakao.
5. Once you've selected a seat, you will be able to proceed to the payment page. Remember, you must use a Korean card.
6. When your reservation is complete, you will be able to see the ticket right away on the reservation confirmation page (예매 확인 및 변경). You don't need to print out your ticket either. Just show it on your phone to scan and you're good to go.
App Download | Google Play Store
On-Site Purchase
Since you are required to have a Korean phone for the online and mobile reservation process, the best option for some may be to get tickets in person. In this scenario, it is best to arrive a bit early to get your ticket. It is not as much of a worry compared to KTX tickets so you shouldn't have a problem. However, if you would like to be extra safe, try going to the bus terminal a week prior to your trip to make sure all your trip needs are met (bus type, time, seat preference, etc.).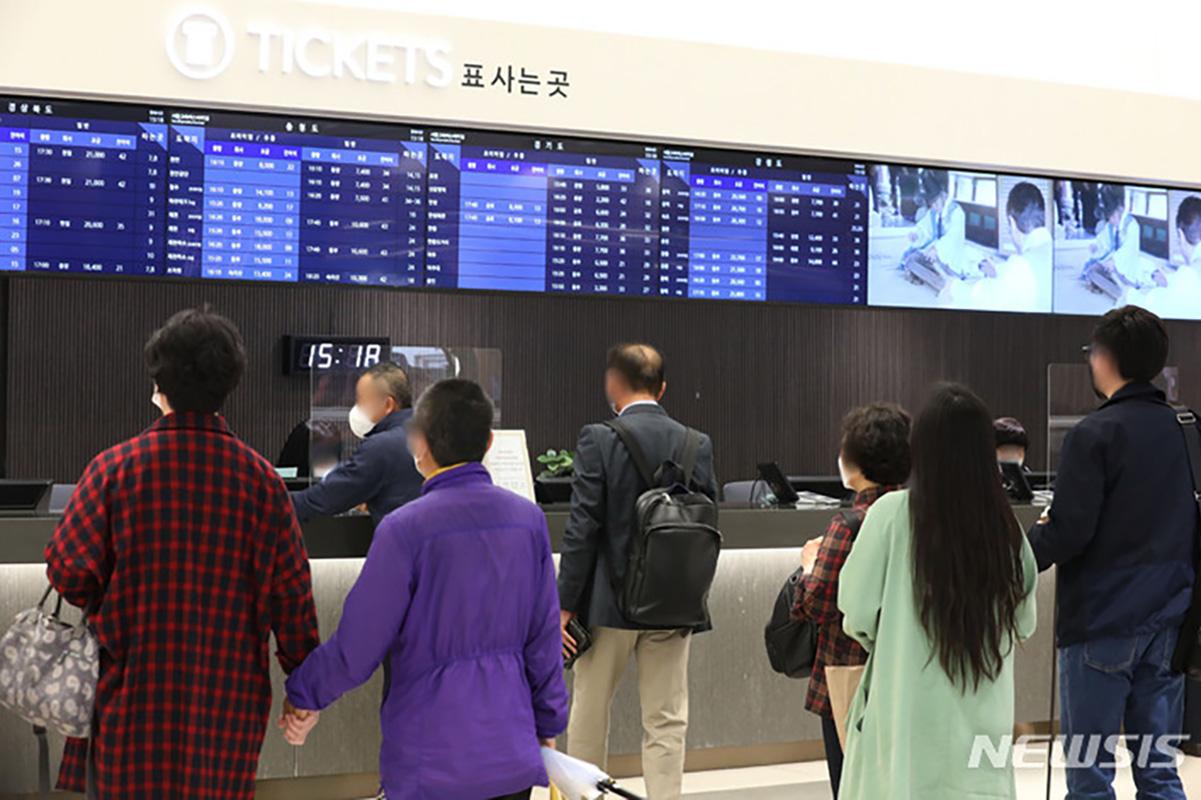 Photo Cred: NEWSIS
When you arrive to the express bus terminal, there are two places where you can buy tickets: at the ticket counter or at an automated machine. Even if you don't speak Korean, if you say your destination, the person at the window should be able to help you.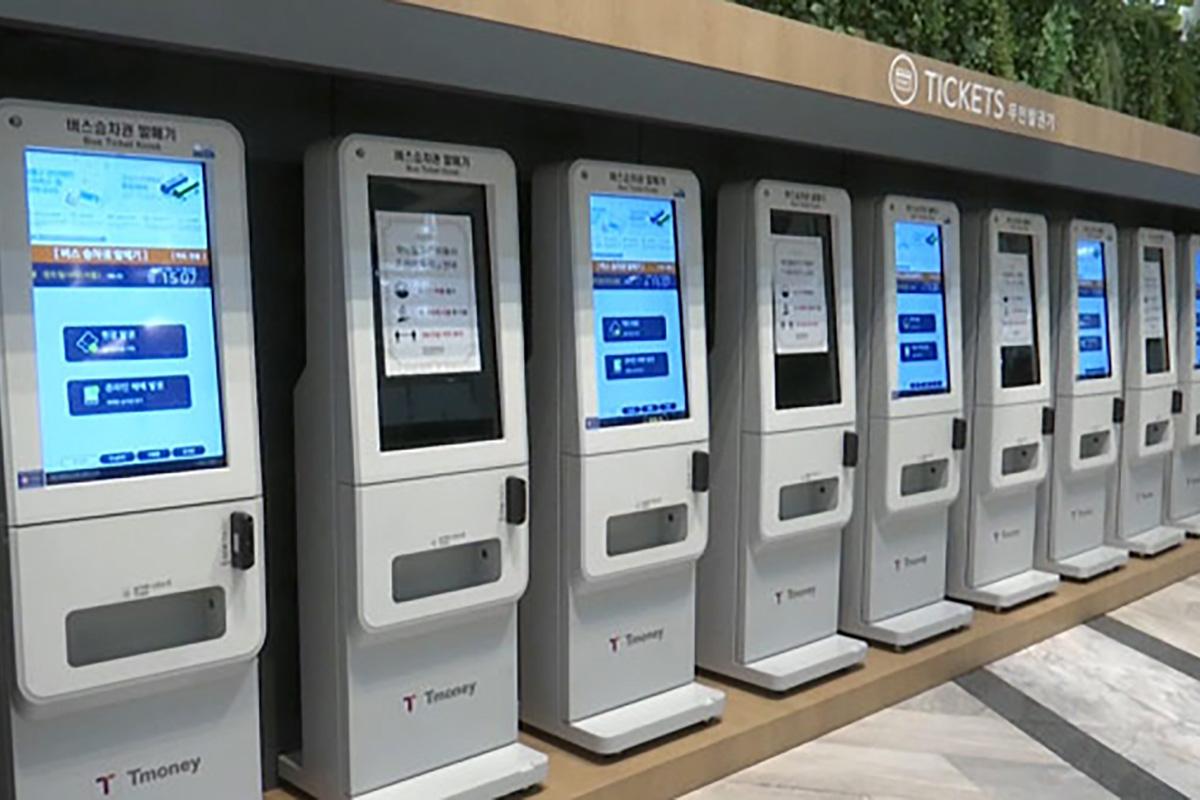 Photo Cred: MBC
The automated ticket machines are easy to use since they offer four different language options. You can also pick up tickets reserved online at these booths!
---
How to Board the Express Bus
Now we will discuss how to board the bus. Please make sure you have your ticket before attempting to board the bus. Unlike the KTX, you will need to scan your ticket to get on. So, if you reserved online, make sure to print your ticket, get it from the automated machine or at the ticket booth. If you used the app, you can show it on your phone.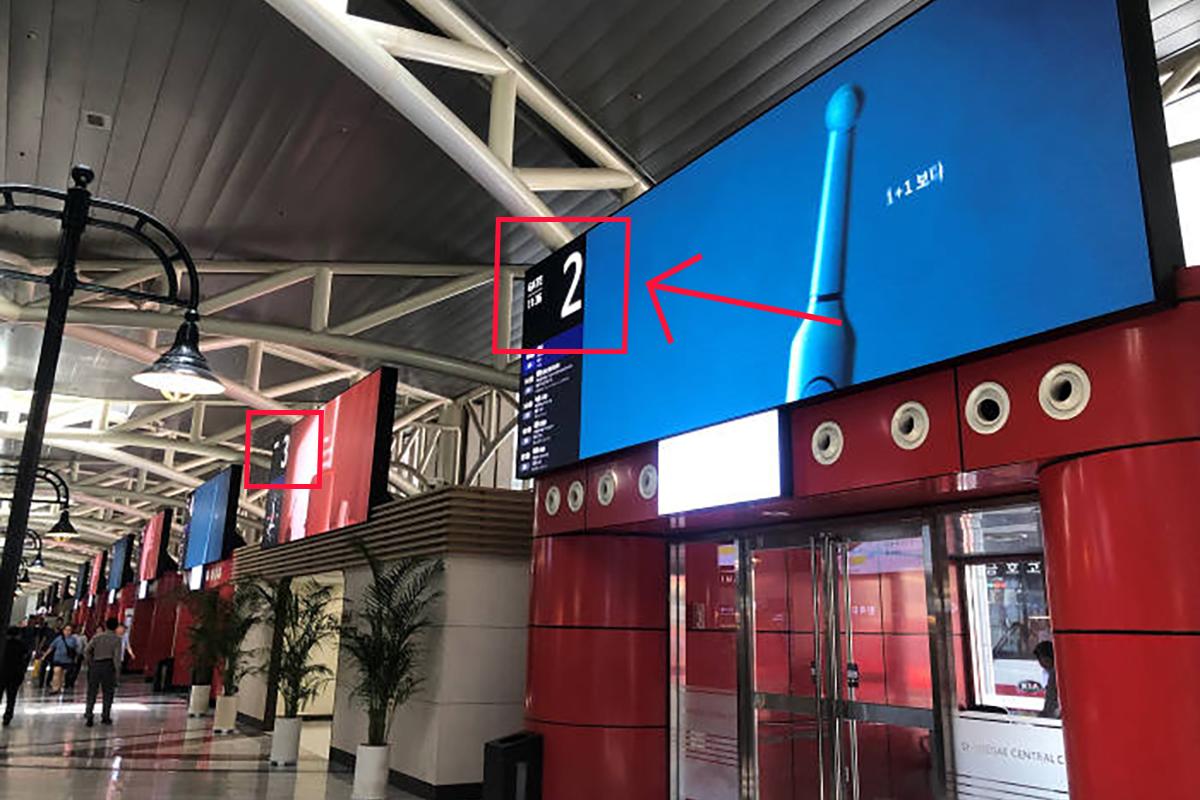 Photo Cred: 이노션 (Seoul Express Bus Terminal)
After you've received your ticket, check the number written on it to find out where your bus is located. There will be a number that determines the boarding area. If you want to confirm further, make sure you see the proper departure time in the area as well.
If it's hard to find the correct location, don't be afraid to ask for help from information or staff in the area!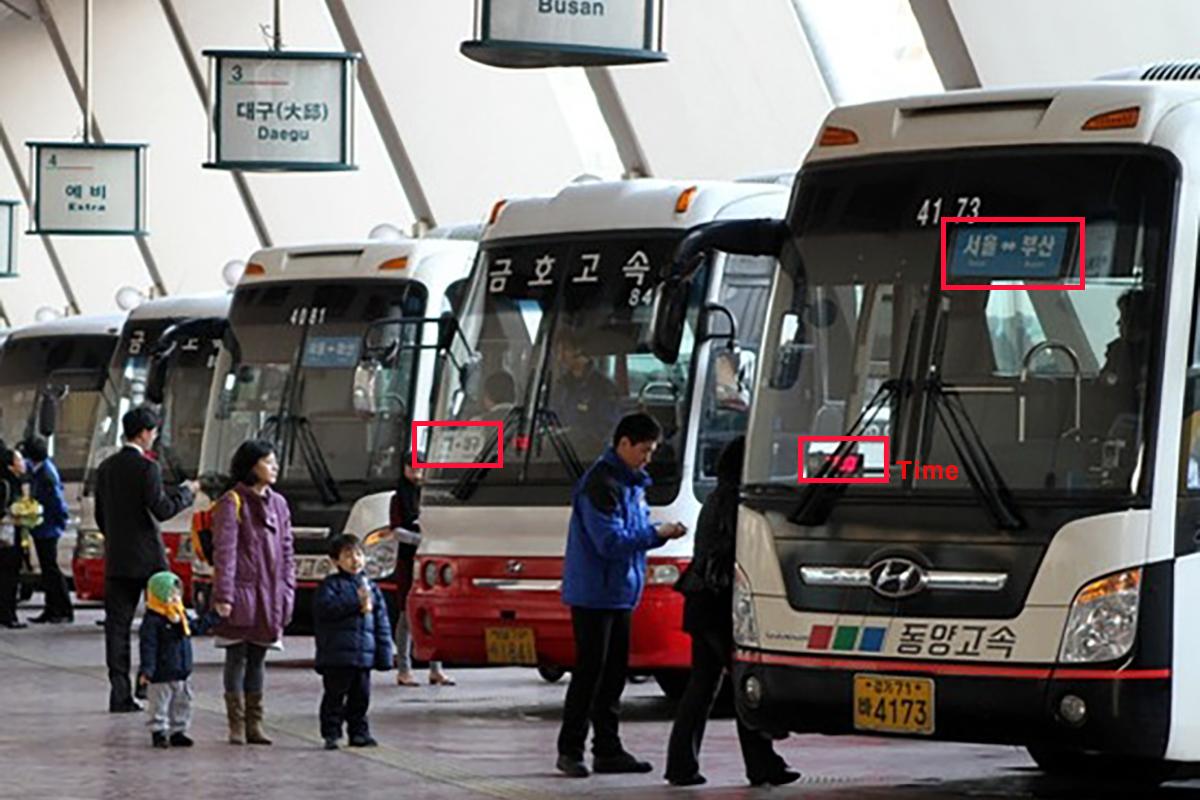 Make your way to the bus terminal about 5-10 minutes before departure time. By then the bus should be there and accepting passengers on board. Double check that the bus sign matches your destination and then you can make your way on. You will need to scan your ticket onto the QR reader and then find the seat that matches your ticket.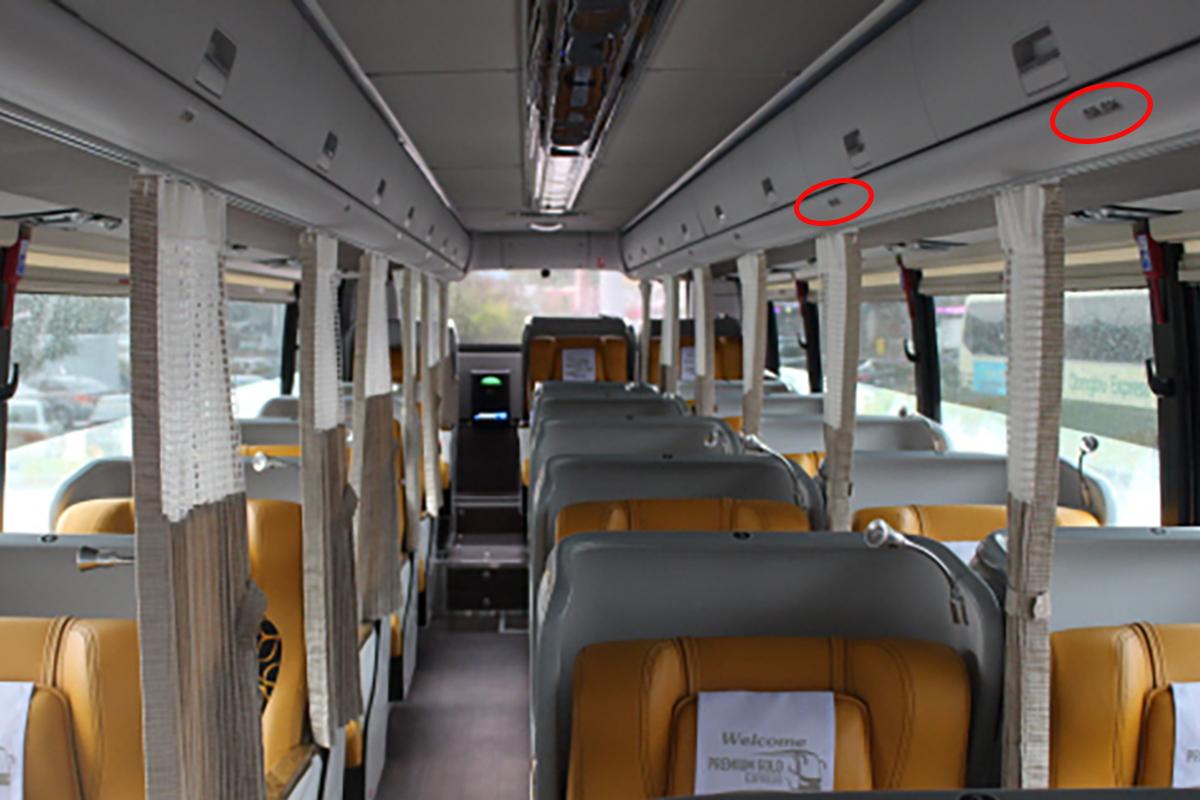 If you are traveling with luggage, there are two options. If it is relatively small, you can bring it with you on the bus. There is a little space in front of your seat or you can put it in the overhead compartment. If your luggage is on the bigger side, before you get on the bus, you can put it in the storage space located on the side. Ask the driver if it is not already open.
---
Major Express Bus Terminals
Seoul Express Bus Terminal (Gyeongbu Yeongdong Line)
Location: 서울 서초구 신반포로 194
194 Sinbanpo-ro, Seocho-gu, Seoul
Transportation: Take subway Line 7, 3, or 9 to Express Bus Terminal Station and take Exit 1 and go 73m. (Follow the Gyeongbu Line signs.)
Seoul Central City Terminal (Honam Line)
Location: 서울 서초구 신반포로 176 선트럴시티
176, Sinbanpo-ro, Seocho-gu, Seoul

Transportation: Take subway Line 3, 7, or 9 to Express Terminal Station and take Exit 2 for 94m. (Follow the Honam Line signs)
Daejeon Bus Terminal (대전복합터미널)
Location: 대전 동구 동서대로 1689
1689 Dongseo-daero, Dong-gu, Daejeon
Busan Central Bus Terminal (부산종합버스터미널)
Location: 부산 금정구 중앙대로 2238 노포동종합버스터미널
2238 Jungang-daero, Geumjeong-gu, Busan
Transportation: Take subway Line 1 to Nopo Station, take Exit 3 and walk 42m.
Jeonju Express Bus Terminal
Location: 전라북도 전주 덕진구 가리내로 70
70 Gari-naero, Deokjin-gu, Jeonju, Jeollabuk-do
East Daegu Transportation Center (동대구역복합환승센터)
Location: 대구광역시 동구 동부로 149
149 Dongbu-ro, Dong-gu, Daegu
Transportation: Take subway Line 1 to East Daegu Station, take Exit 2 and walk about 168m.
---
And that is it! Thank you for reading this far and we hope you found the blog useful on how to use the express bus system. Please feel free to reach out if you have any questions by joining our Facebook Group or sending an email to support@creatrip.com. Also make sure to follow us on Instagram, TikTok and Facebook to hear all the latest things Korea.
---