Yukjeon Sikdang Gangnam Location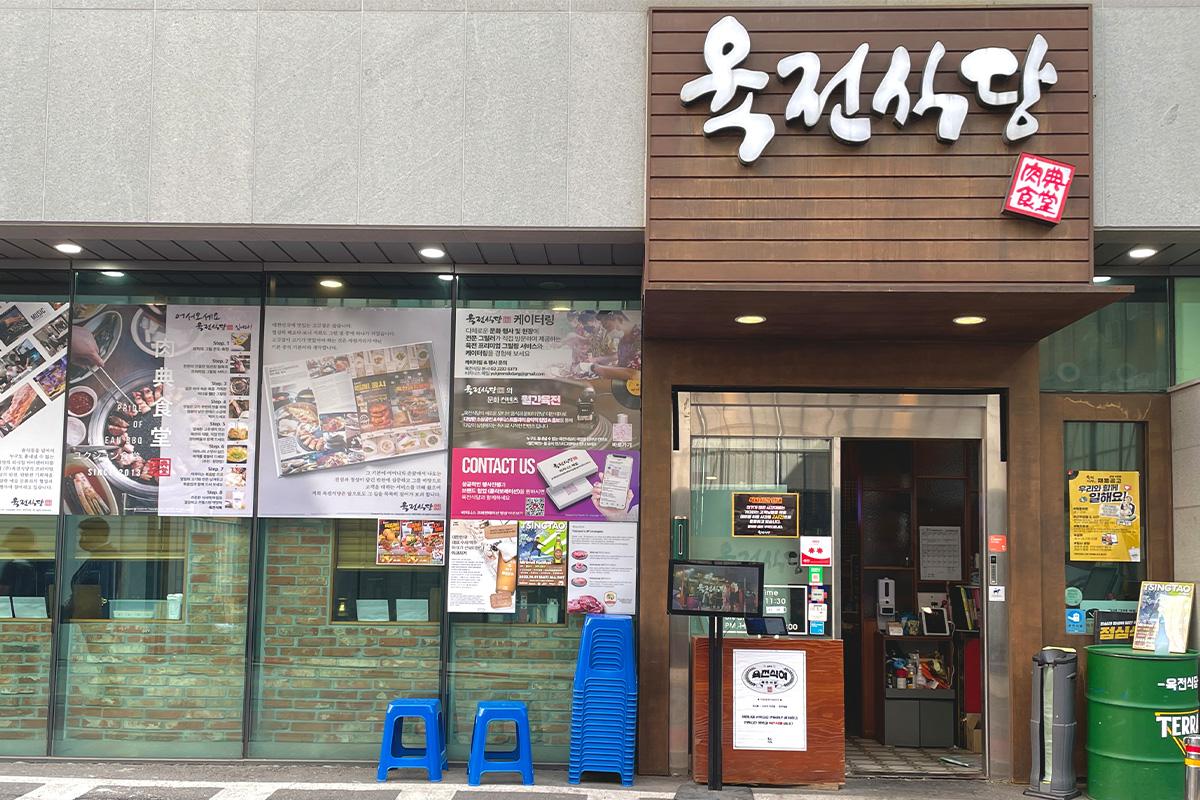 Did you know that Koreans love pork belly? Yukjeon Sikdang, which is the first restaurant known to introduce grill-style meat, is very well-known for its pork belly and a great place for tourists to try Korean-style pork belly! You can try various parts of the pork including pork belly and pork neck, which is really thick and flavorful! If you download this coupon we have for you and present it to an employee, you can receive one free pack of Yukjeon Sikhye (3,000 KRW), a traditional Korean rice drink! You have to come visit!
---
Yukjeon Sikdang Gangnam Location
---
Information
Hours: Mon-Sat 11:30-21:30 (Break Time 15:30-17:00); Closed Sundays
Address: 11-4 Teheran-ro 8-gil, Gangnam-gu, Seoul (서울특별시 강남구 테헤란로8길 11-4)
---
Why We Recommend It
You can get a free pack of Sikhye, a traditional Korean rice drink worth 3,000 KRW, for free with this coupon!
The meat at this restaurant is super thick and juicy, so it's delicious!
It's the first grill-style restaurant in Korea, so the employees are very good at grilling meat. You can just sit back and enjoy the food!
---
Things To Keep In Mind
If you present the Creatrip coupon when you order, you will receive 1 free Sikhye (3,000 KRW) per person!
You don't need to make a reservation in order to use the coupon.
If you experience any difficulties using the coupon, please let us know at help@creatrip.com.
The coupon can only be used at this location (Gangnam Branch) or the Sinseol-dong Main Branch. Please note that the coupon cannot be used at other locations.
You must order 2 servings of meat when you make the first order. You cannot order only 1 serving when you first order; at least one cut of meat has to be ordered in 2 servings.
Outside food and drinks are not allowed at the restaurant.
You can only order Lunch Special menu items between 11:30-14:30.
---
Price
| | |
| --- | --- |
| Pork Neck (150g) | |
| Pork Belly (150g) | |
| Pork Cheek (130g) | |
| [Lunch Special] Spicy Cold Noodles (Bibim Naengmyeon) | |
| [Lunch Special] Yukjeon Pork Bulbaek | |
| [Lunch Special] Cold Noodles (Water/Spicy) + Yukjeon Pork Bulbaek | |
| Yukjeon Sikhye (400ml) | |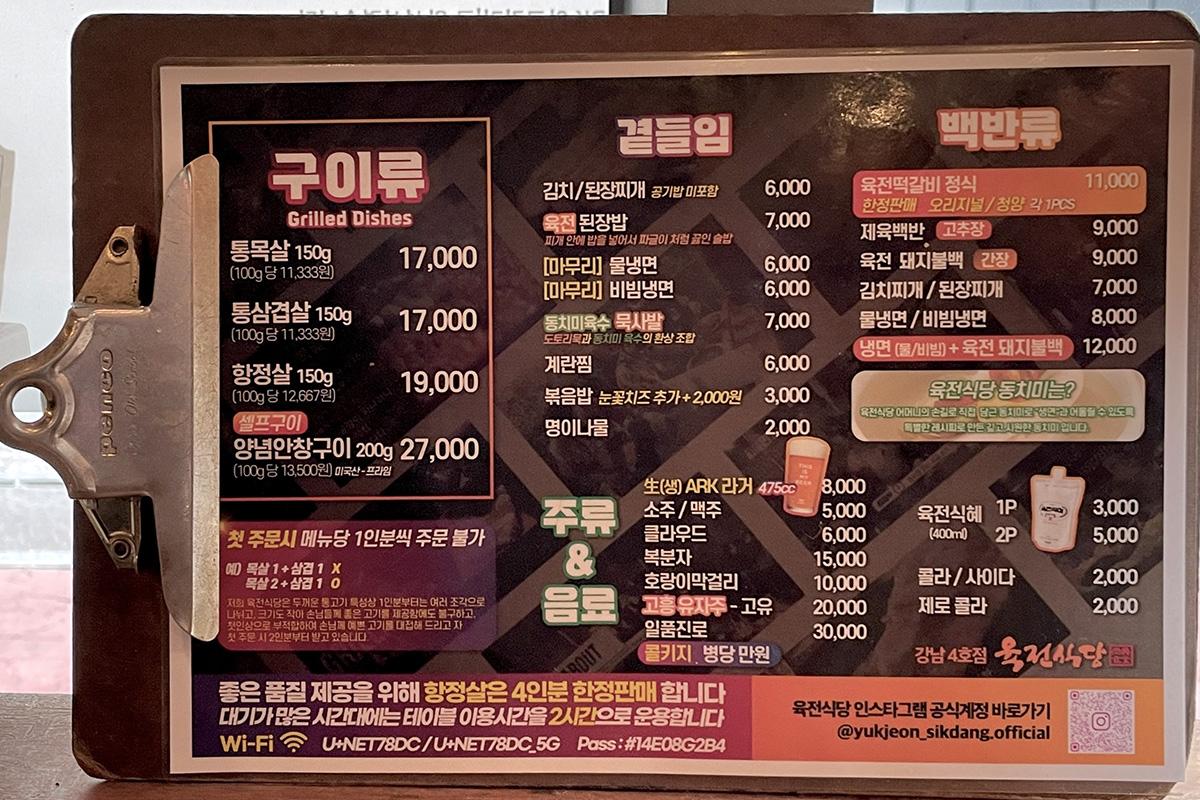 *Lunch Specials can only be ordered between 11:30-14:30
---
Our Review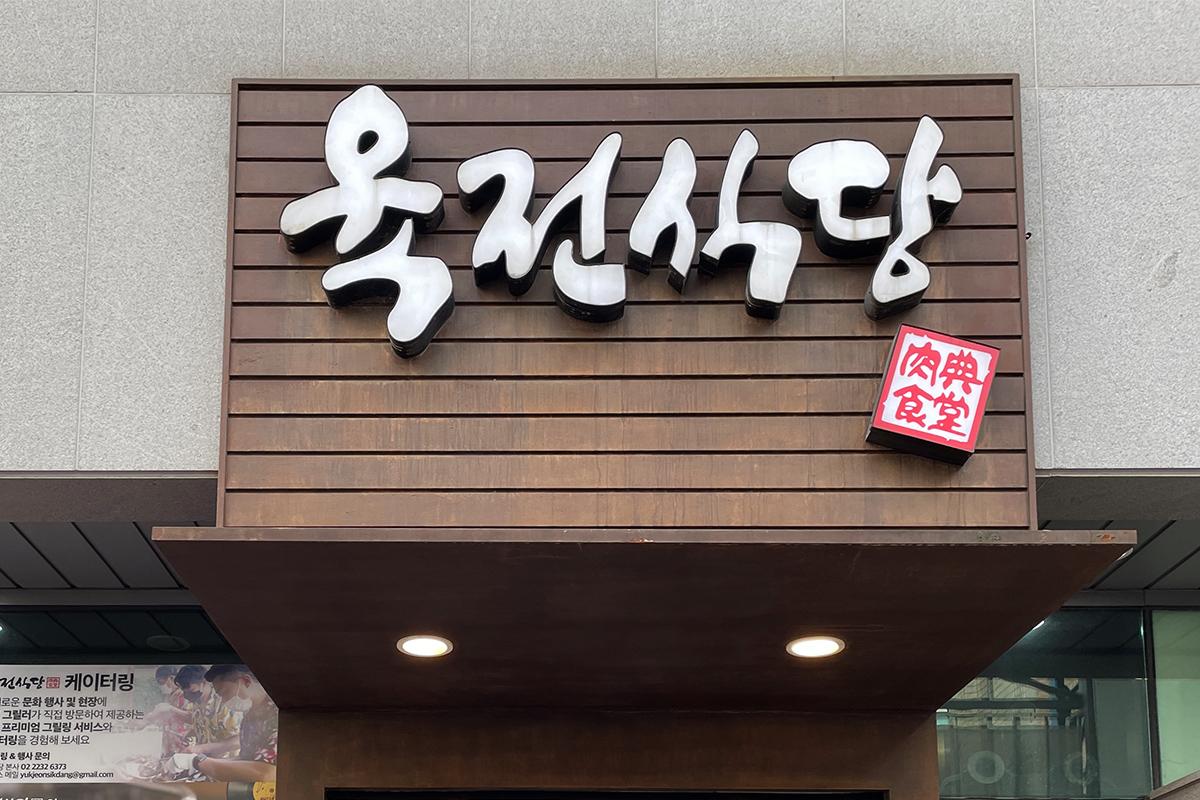 We visited Yukjeon Sikdang's Gangnam Branch, which is near Gangnam station. It wasn't too far from Gangnam station, so I found it quite easily.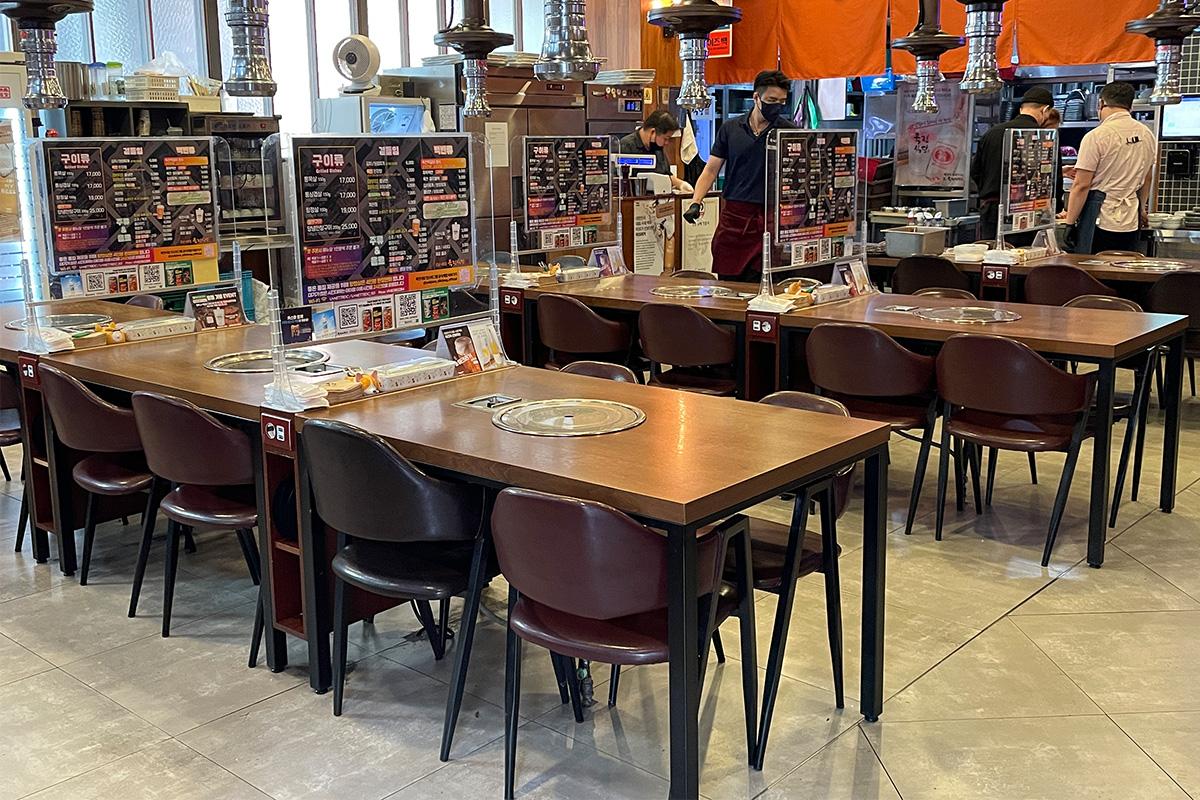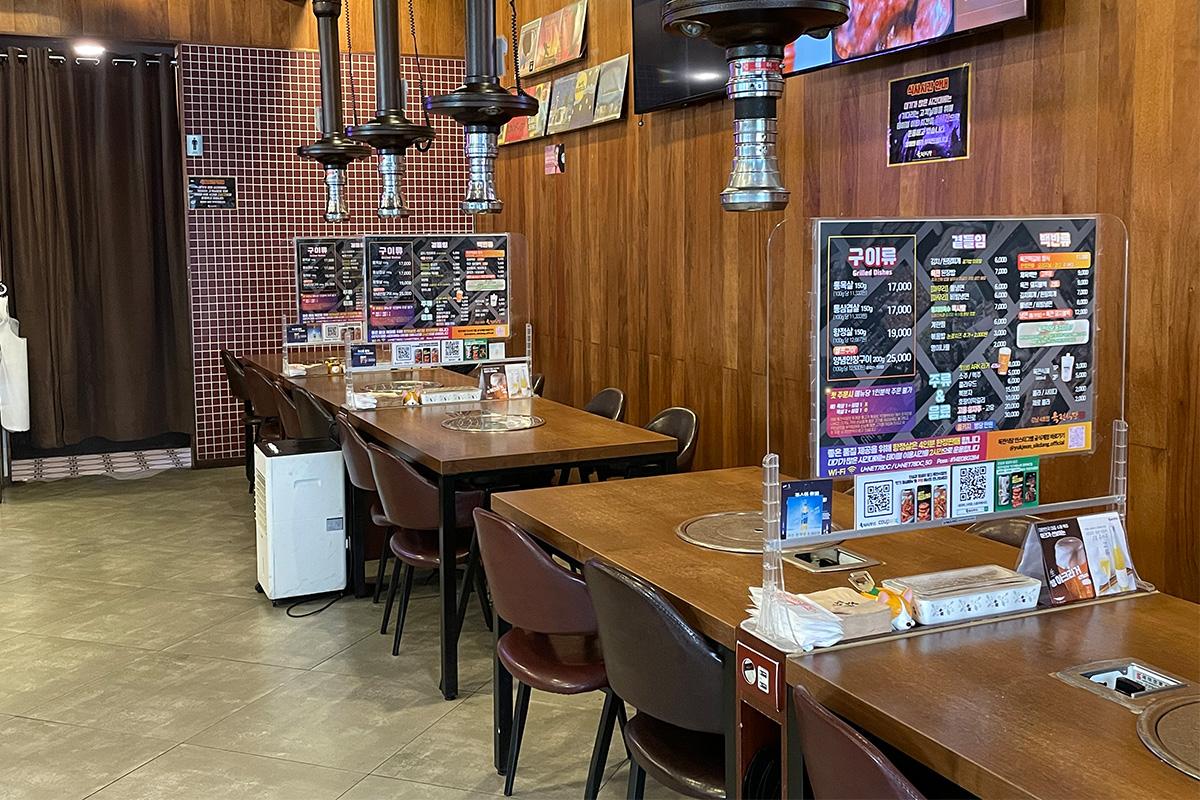 The interior of the restaurant was spacious and clean. It was the size of a hall that could accommodate about 60 people. Since the restaurant was so clean, I immediately had a good impression of the place!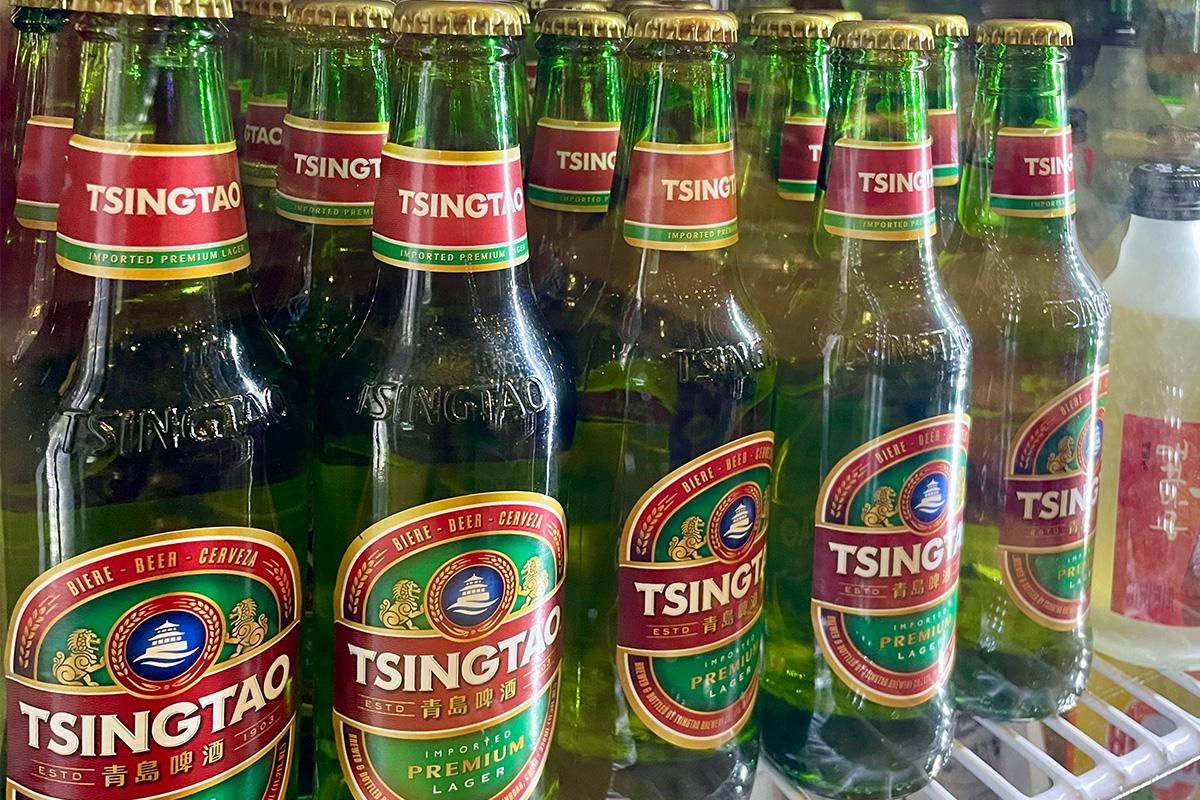 They also have bottles of beer that can be paired with the meat on display. Should we try out the food now?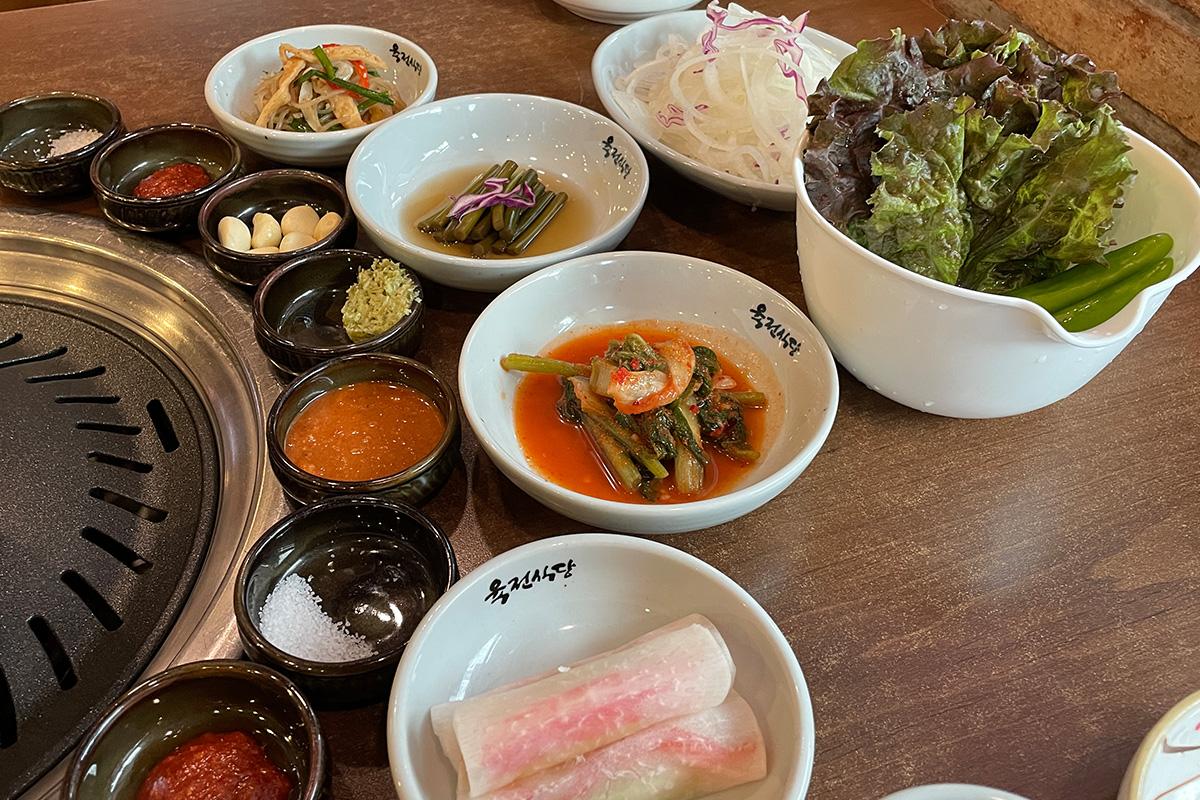 First off, the side dishes came out. These consisted of glass noodles, pickled vegetables, radish kimchi, and radish wraps! The side dishes can alter from day to day.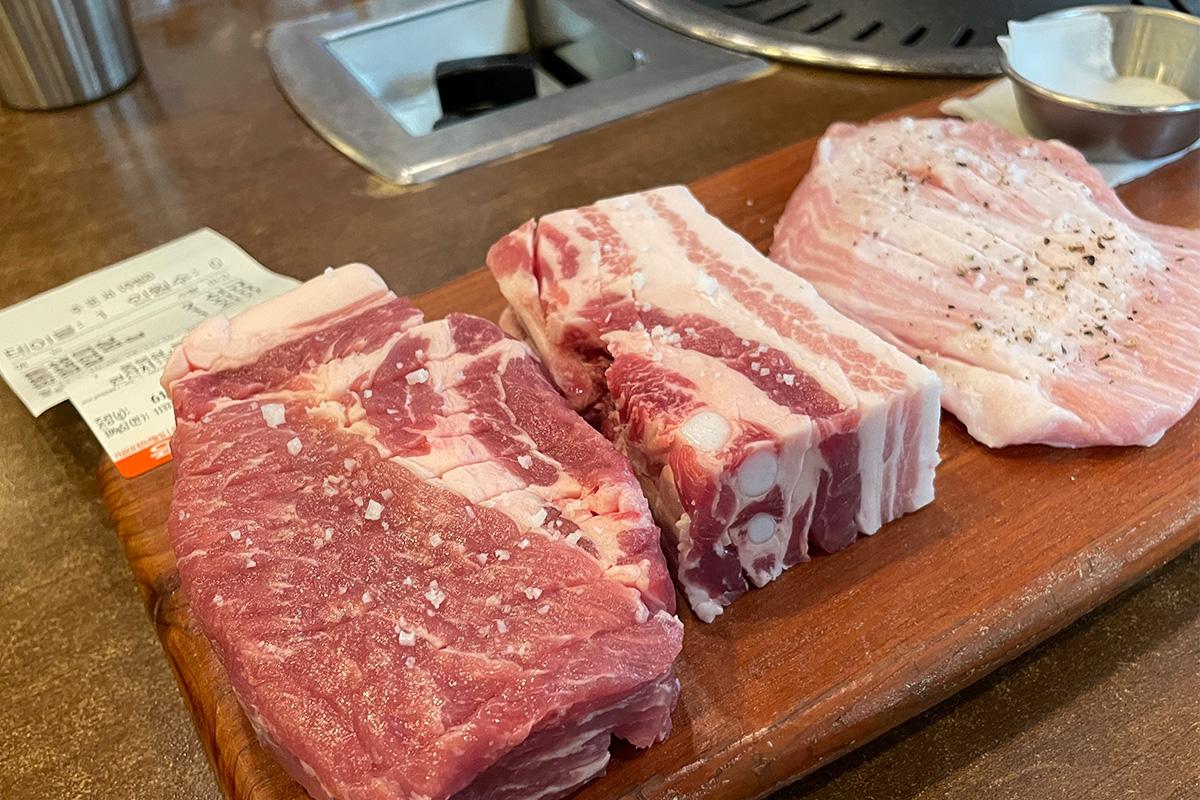 Pork Neck 300g / Pork Belly 150 g / Pork Cheek 150 g
I ordered their most well-known menu items, 2 servings each of pork neck, pork belly, and pork cheek. There are a few things you should keep in mind when ordering at Yukjeon Sikdang. You must order 2 servings of a certain cut of meat when you make the first order. You cannot order just 1 serving when you first order.
For example, you can't order 1 serving of pork neck and 1 serving of pork belly – you have to order at least 2 servings for one cut. But, you can order 2 servings of pork neck and 1 serving of pork belly. The reason for this is that Yukkeon Sikdang mainly sells large cuts of meat in order for it to be tastier. If you would like to add 1 serving per cut of meat after ordering 2 servings initially, you can do so!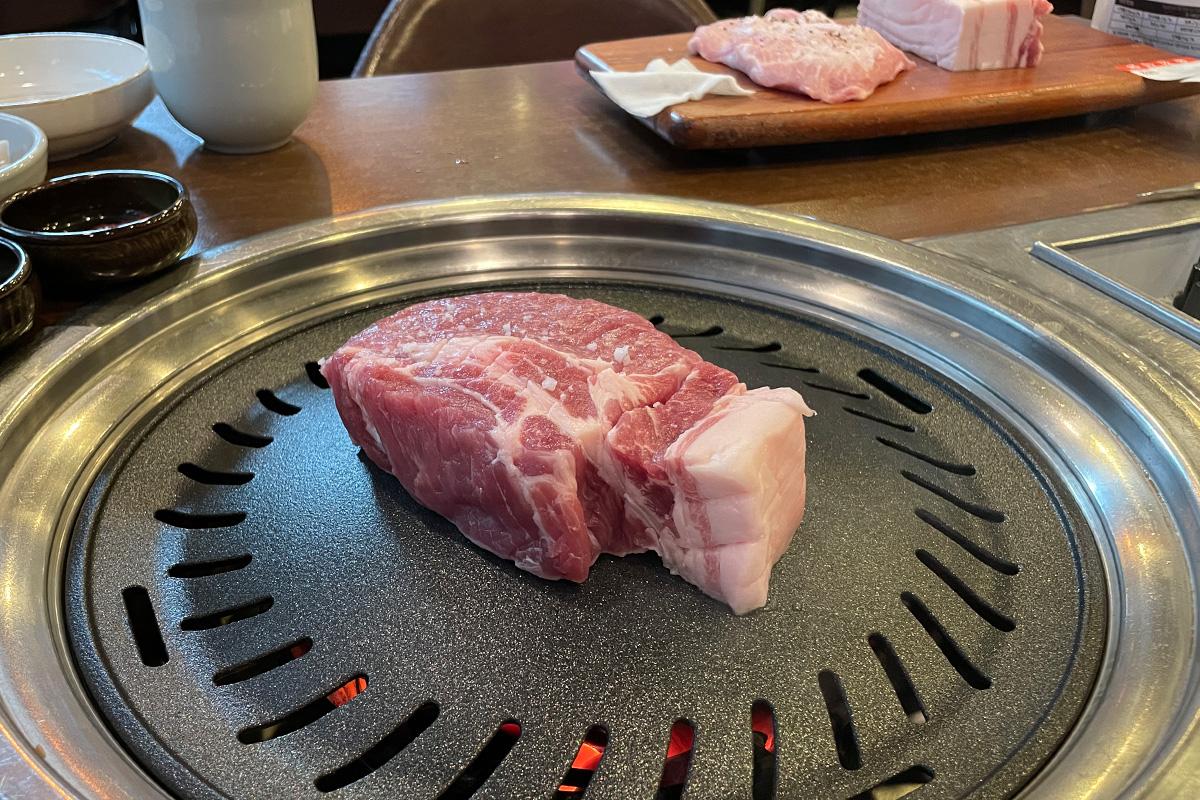 At Yukjeon Sikdang, the employees cook the meat for you the entire time. When the grill is at the right temperature, the employee will start grilling the meat. They started off by grilling the pork neck. The meat is super thick, right? Because it was so thick, I could really taste the texture and juiciness of the meat.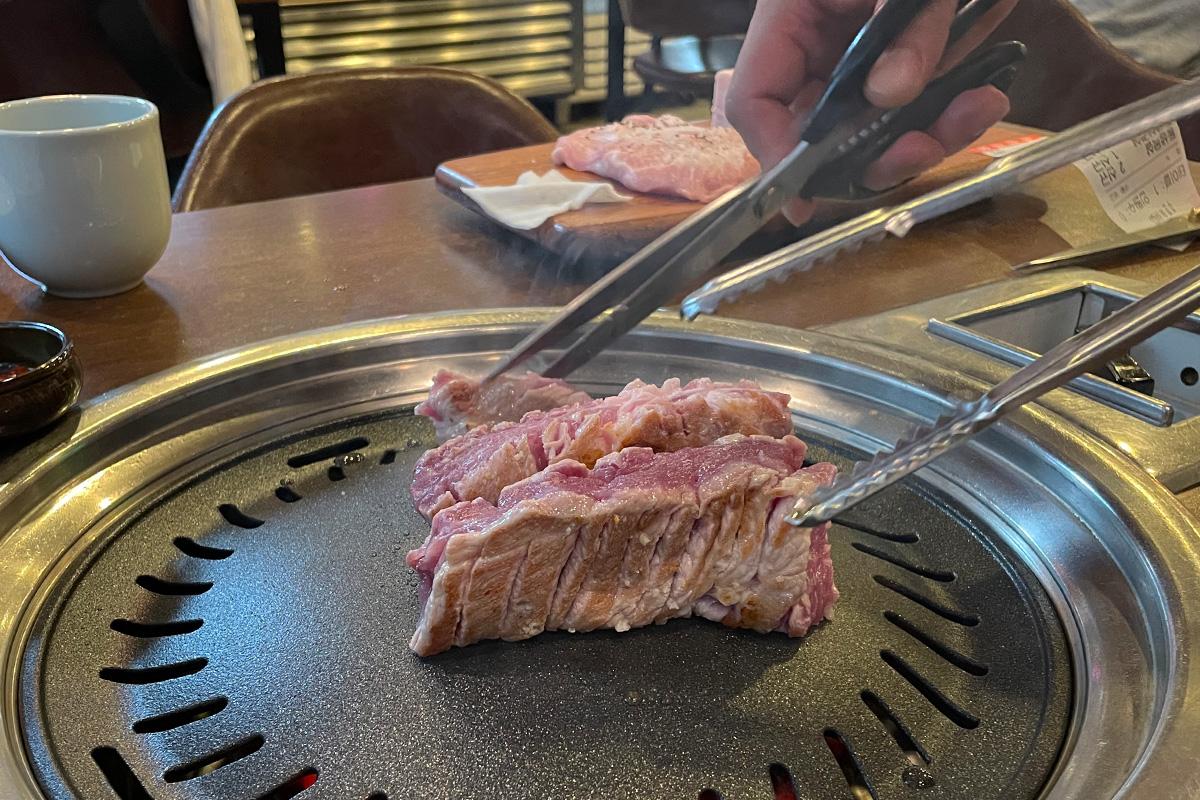 Yukjeon Sikdang is said to be the first restaurant to introduce grilling meat directly at the table. Nowadays, there are tons of restaurants that serve their meat in this grill-style, but Yukjeon Sikdang was the first to do so! Maybe that's why the staff was so good at grilling the meat.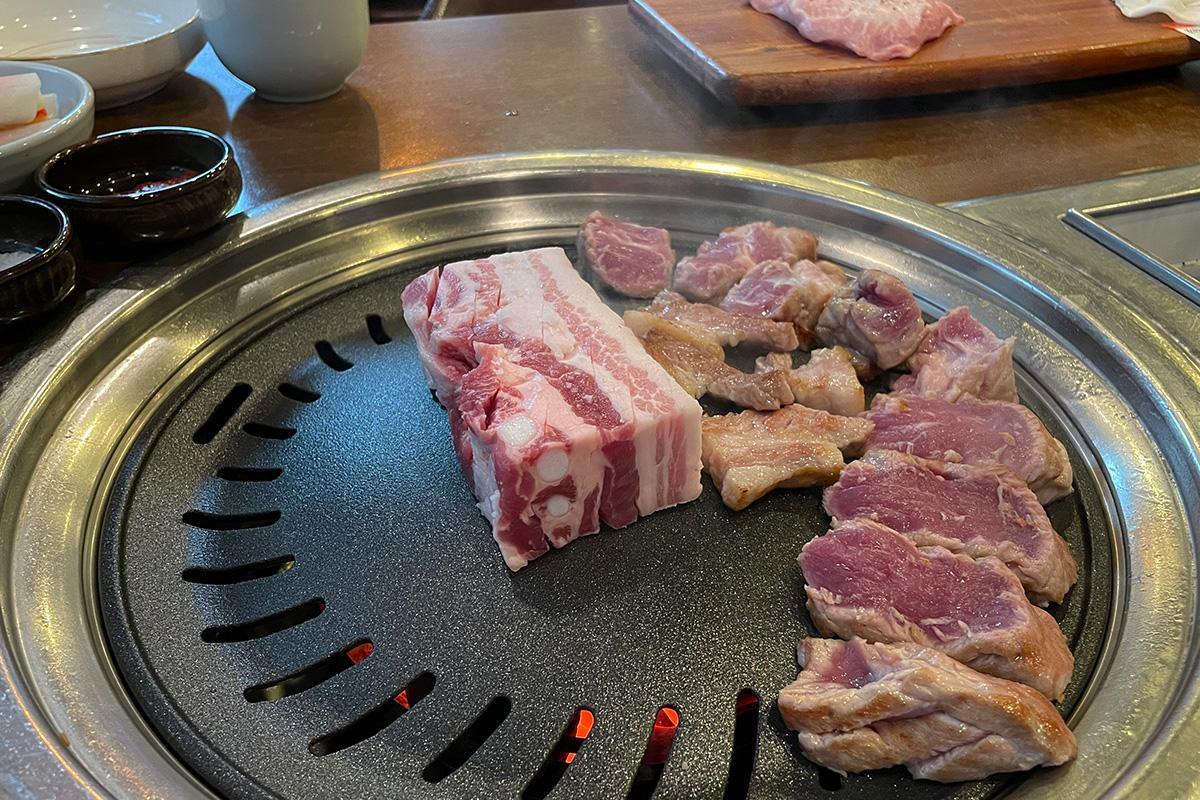 Next up was the pork belly. In terms of grilling the meat, the employees explained that they cook the meat in order, from lean cuts to fatty cuts, so that it's easy to grill and easy to eat. They grilled the meat in this order: pork neck, pork belly, and then pork cheek.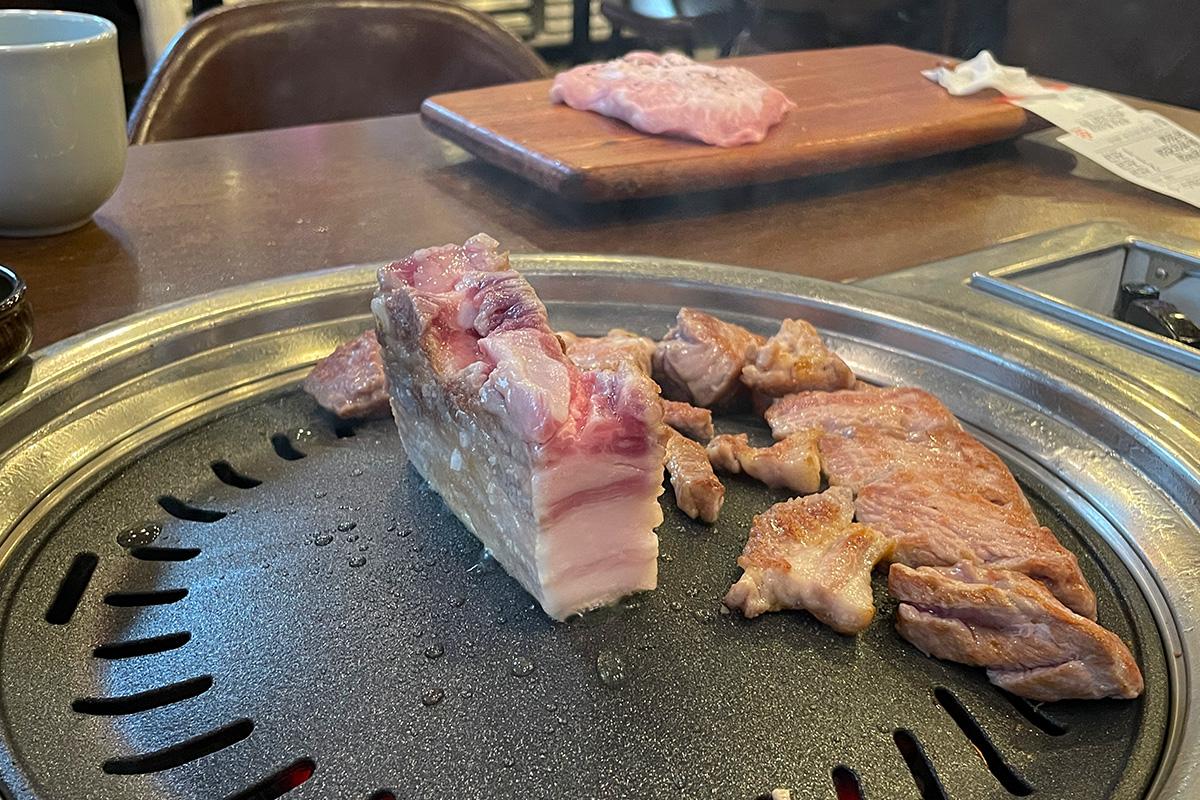 The pork belly is also a very thick cut, so you can't just cook the top and bottom. As you can see, the meat is thick enough to cook by standing it up on its sides! Since the employees take care of the grilling, I can trust that it'll be cooked really well!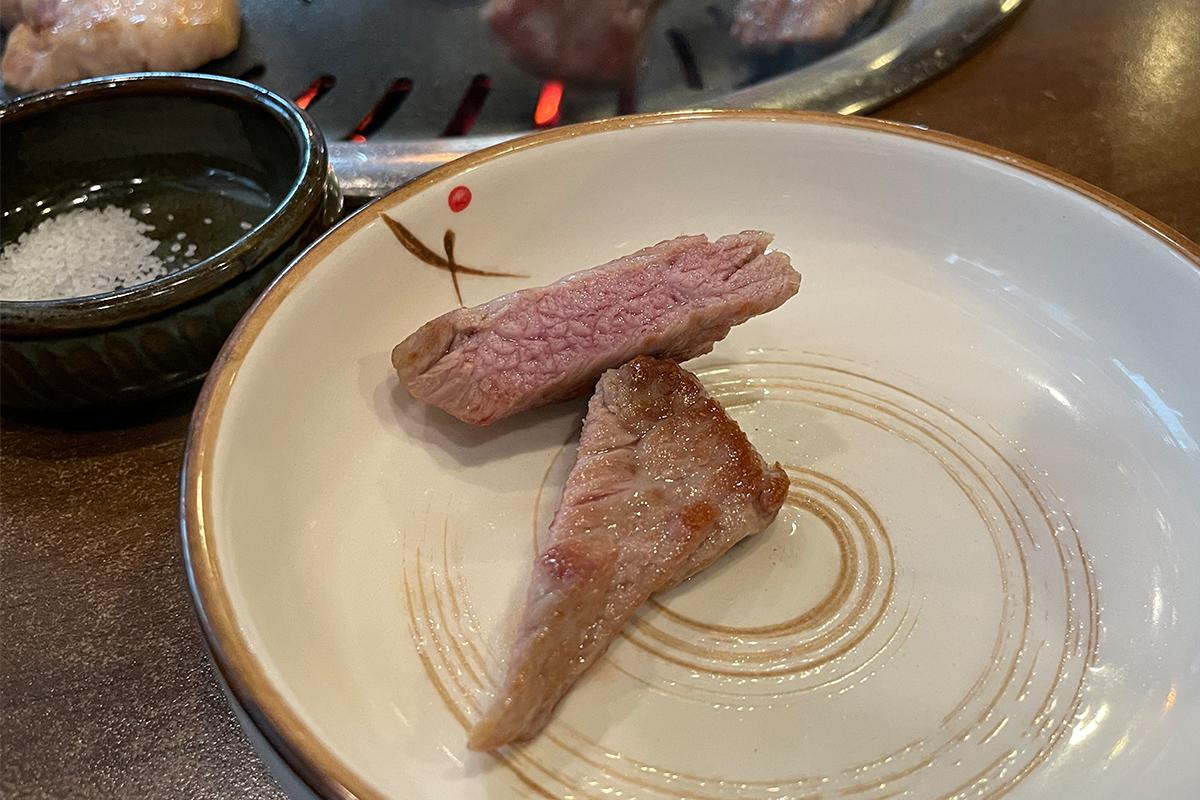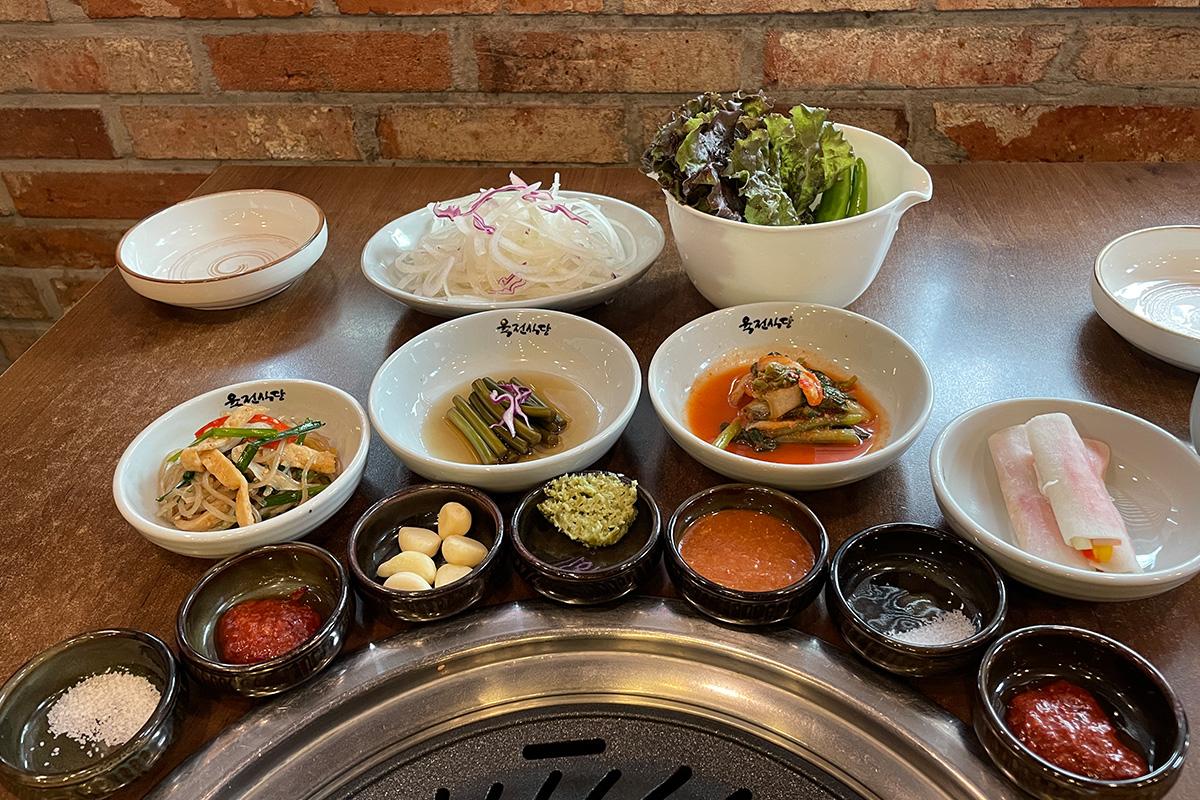 Time to try the juicy meat! There are three different types of sauces you can dip the meat in – Ssamjang, salt, and salted fish sauce! The meat tasted especially rich when dipped in these different sauces!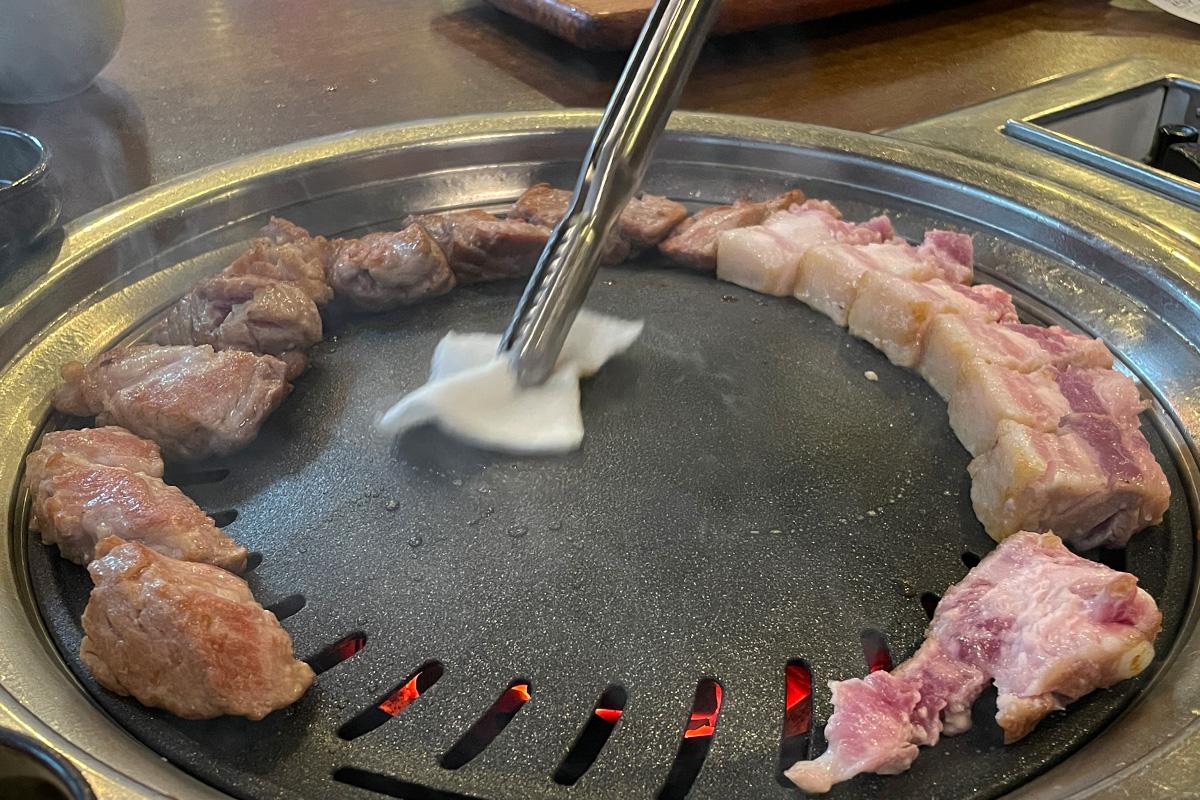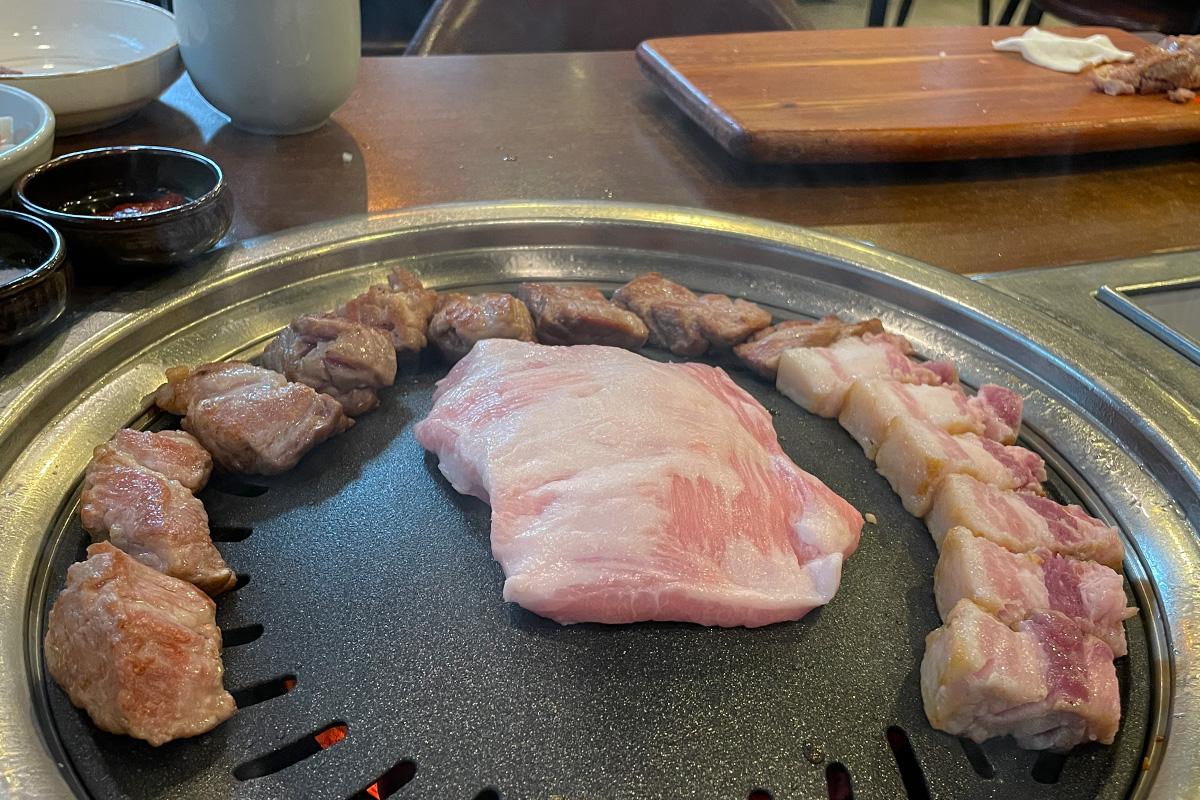 Lastly, after wiping off the greasy grill, the staff put on the most fatty cut of meat, the pork cheek.
While the pork cheek is cooking, the staff will put aside any remaining pork neck or belly so that it doesn't burn. It's all kept on a dish that's on the grill so that the meat stays warm!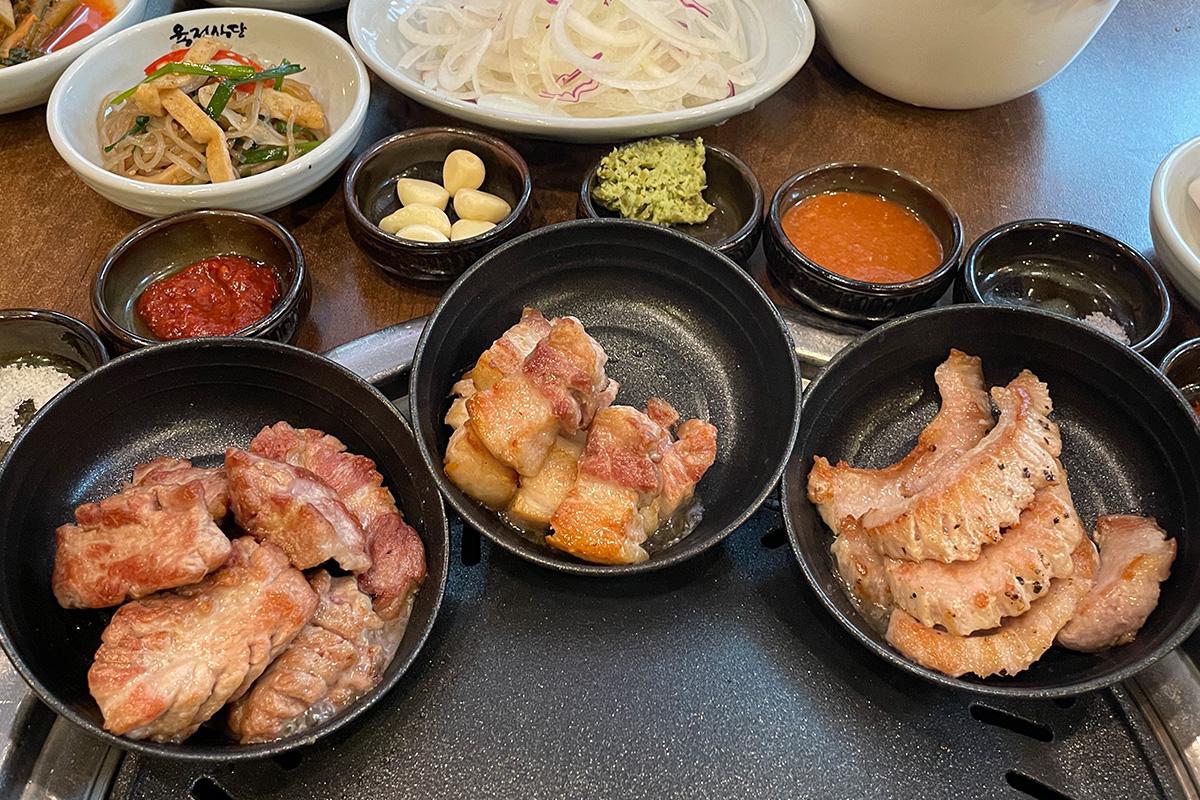 Now all the meat has been grilled! It'd be slightly disappointing to only eat meat while you were here, right? Yukjeon has a variety of other tasty dishes to offer, including spicy cold noodles, short rib patties, and dongchimi noodles.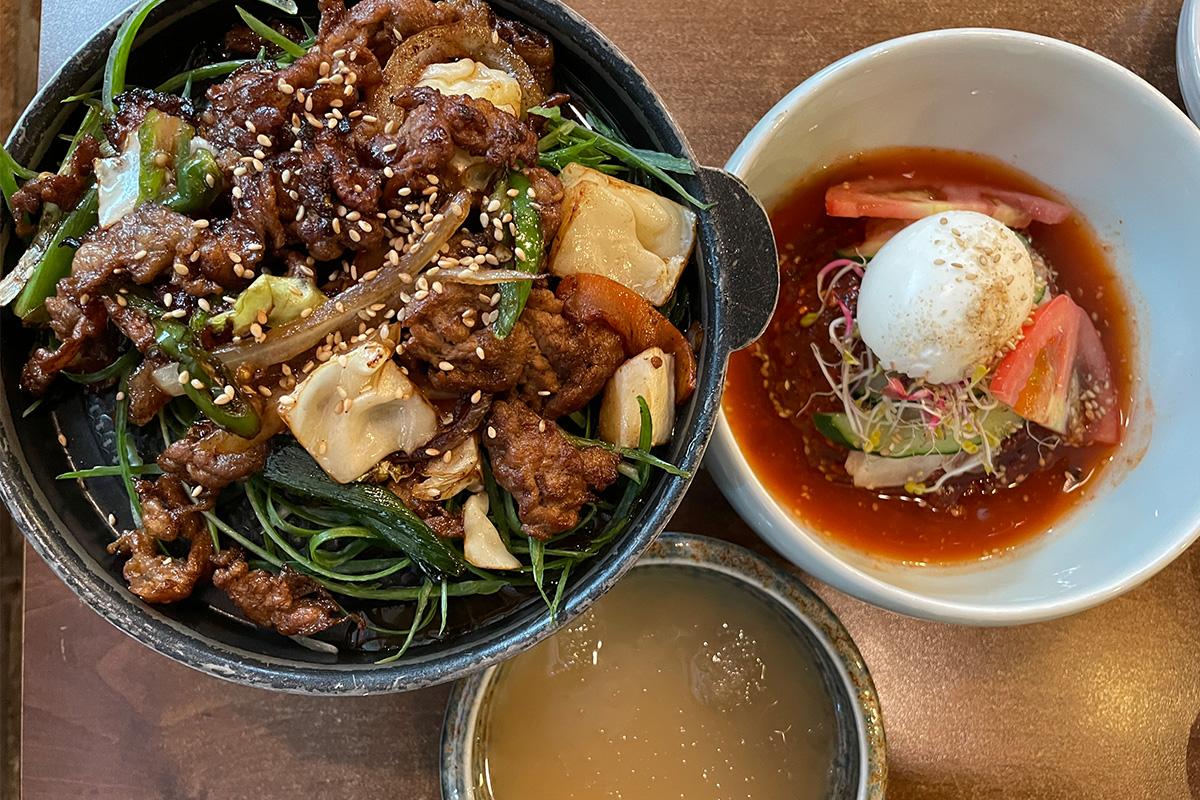 Naengmyeon (Water/Spicy) + Yukjeon Pork Bulbaek Set (12,000 KRW)
We ordered the Naengmyeon and Yukjeon Pork Bulbaek Set so that we could try both side menus! This is a lunch special menu item, so please note that it can only be ordered between 11:30-14:30.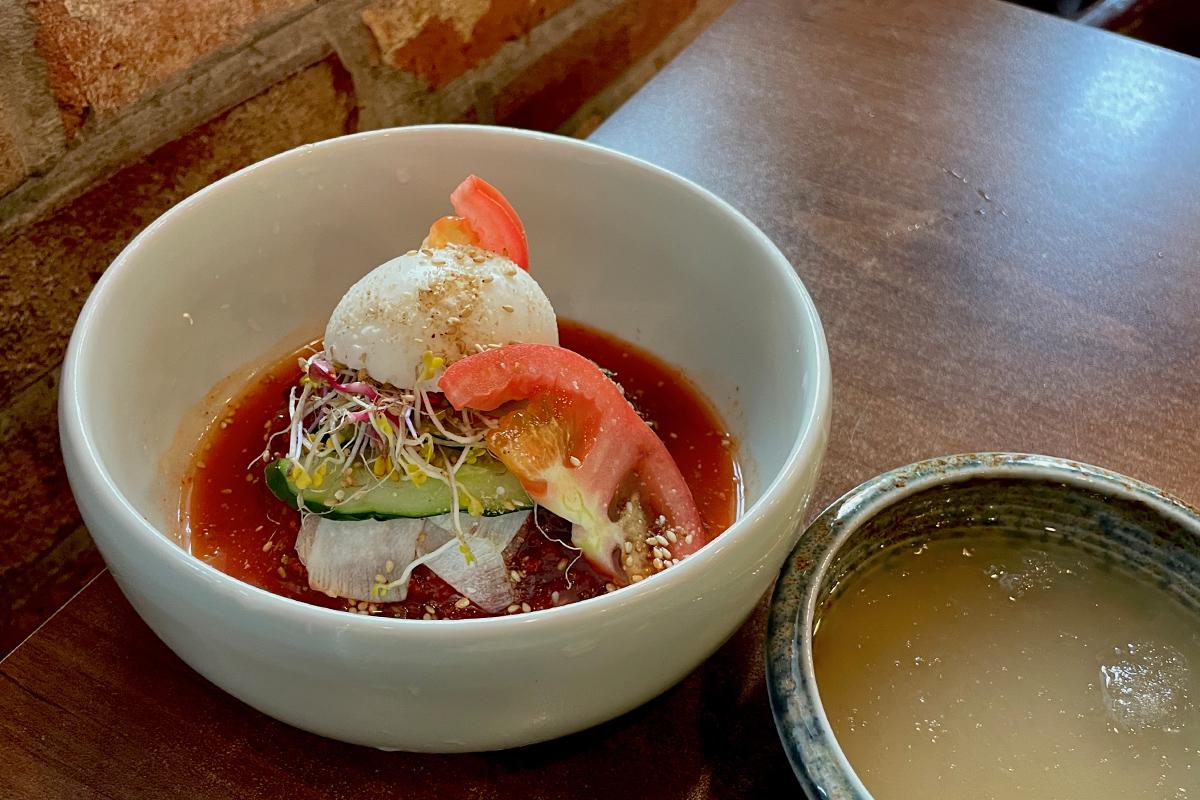 The combination of cold noodles and meat is the best! You can choose between Water Naengmyeon (물냉면) or Spicy Naengmyeon (비빔냉면). We decided to get the Spicy Naengmyeon, which is both sweet and slightly sour. It also comes with cold dongchimi broth that you can mix with the Naengmyeon!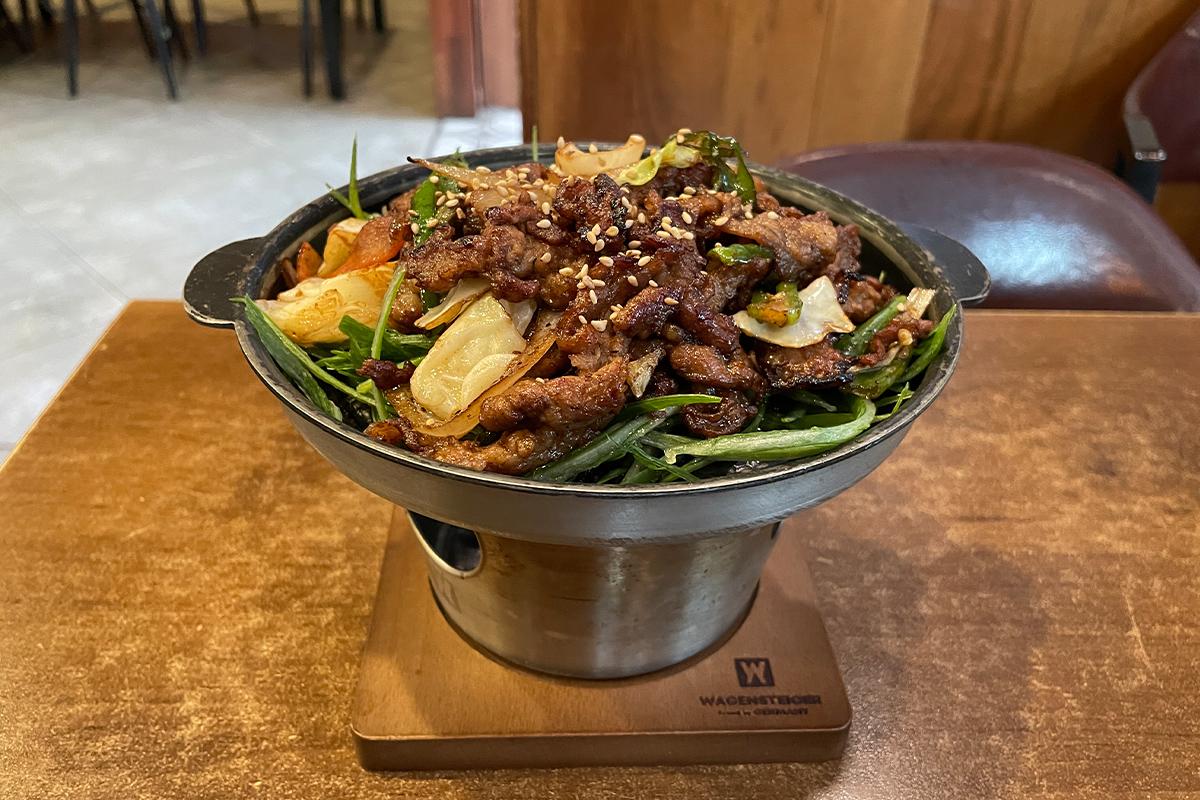 The Pork Bulbaek is a Korean dish in which you can properly enjoy the taste of Korean Bulbaek. With this dish, you can experience Korean food in a way that's different from pork belly. You don't have to worry about it getting cold because they serve the dish with a little fire underneath so it stays warm! We really felt that the employees at Yukjeon Sikdang do their best to make sure the customers are comfortably enjoying the delicious food!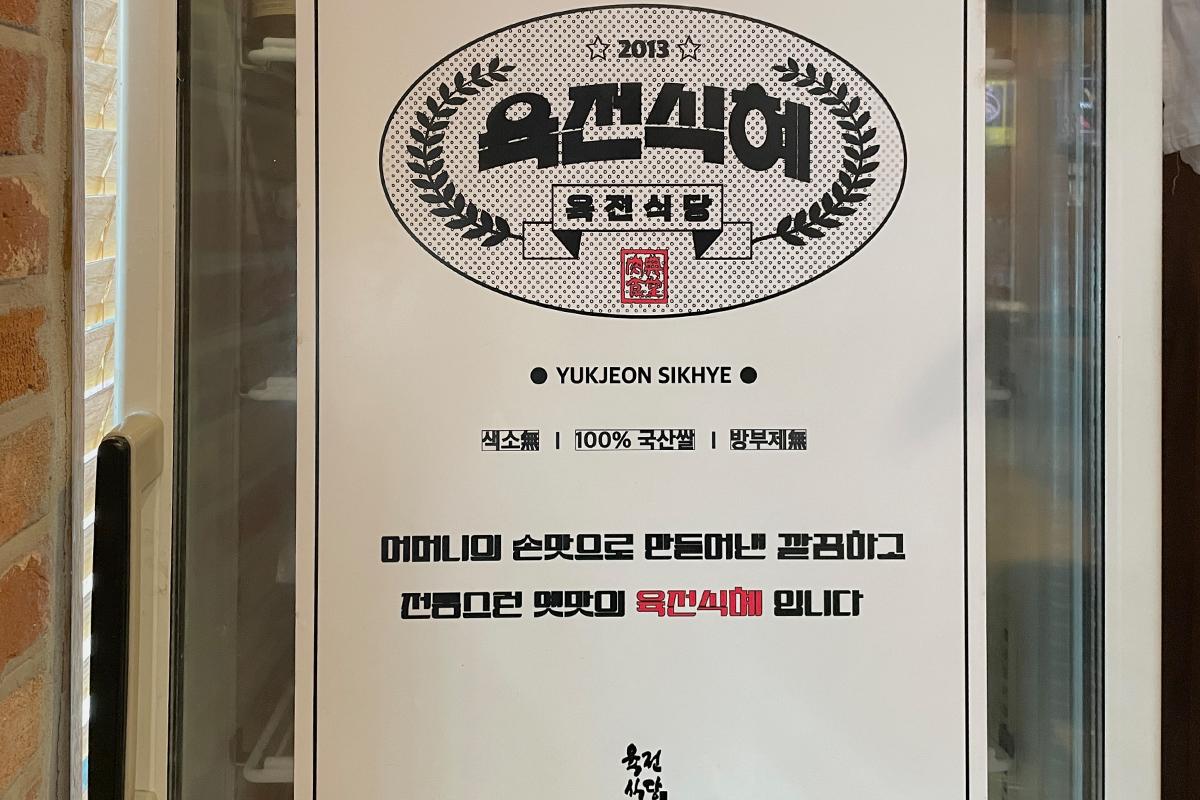 Sikhye is a traditional drink that was enjoyed as a dessert after feasting during the holidays. It is made by dissolving cooked rice in malt water, then boiling the rice bits in sugar or honey water. It is said to help with digestion too! We had this Sikhye as well to finish off the meal!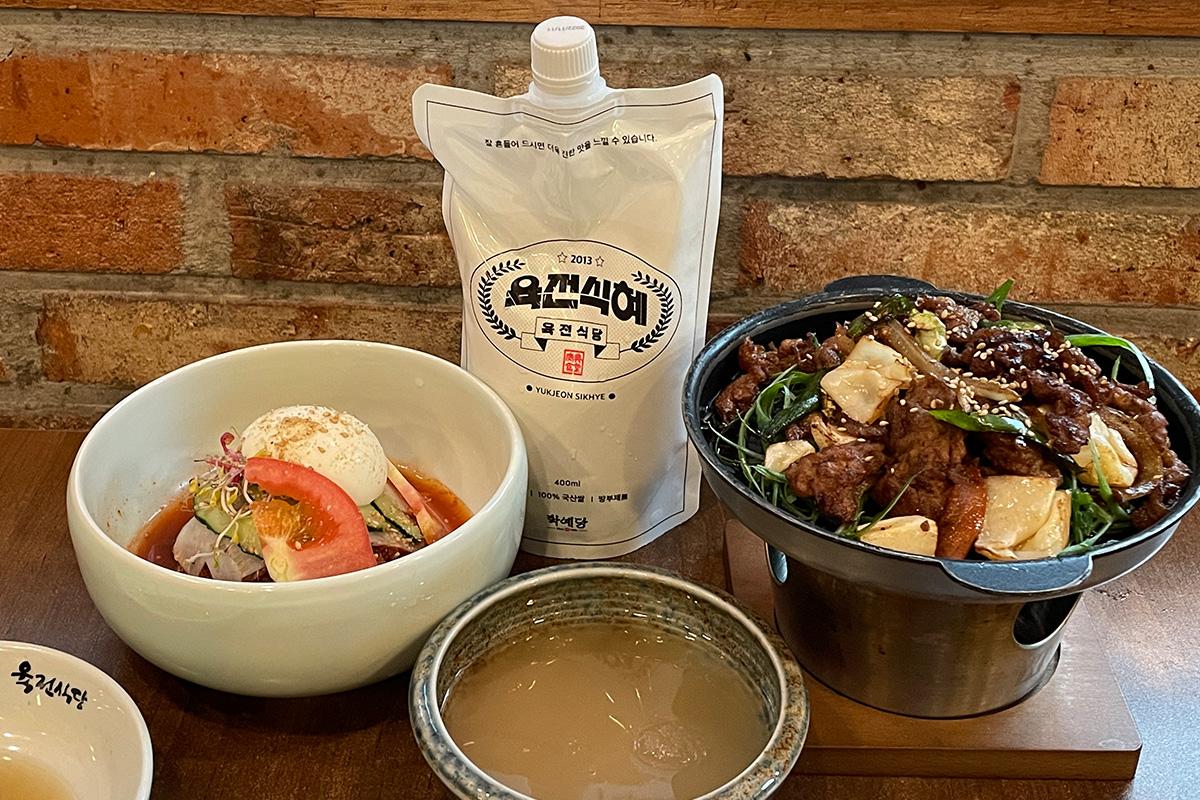 After downloading our coupon, you can present it at the restaurant and they will provide each person with 1 free Sikhye! I'm surprised they provide each person with their own free drink, but I was more surprised by the amazing taste! Not to mention how big the drink was! Each pack is 400ml, and it had a light, refreshing flavor that wasn't too sweet. I highly recommend you have some Sikhye after your meal, as it's the perfect drink to have after eating all that greasy meat.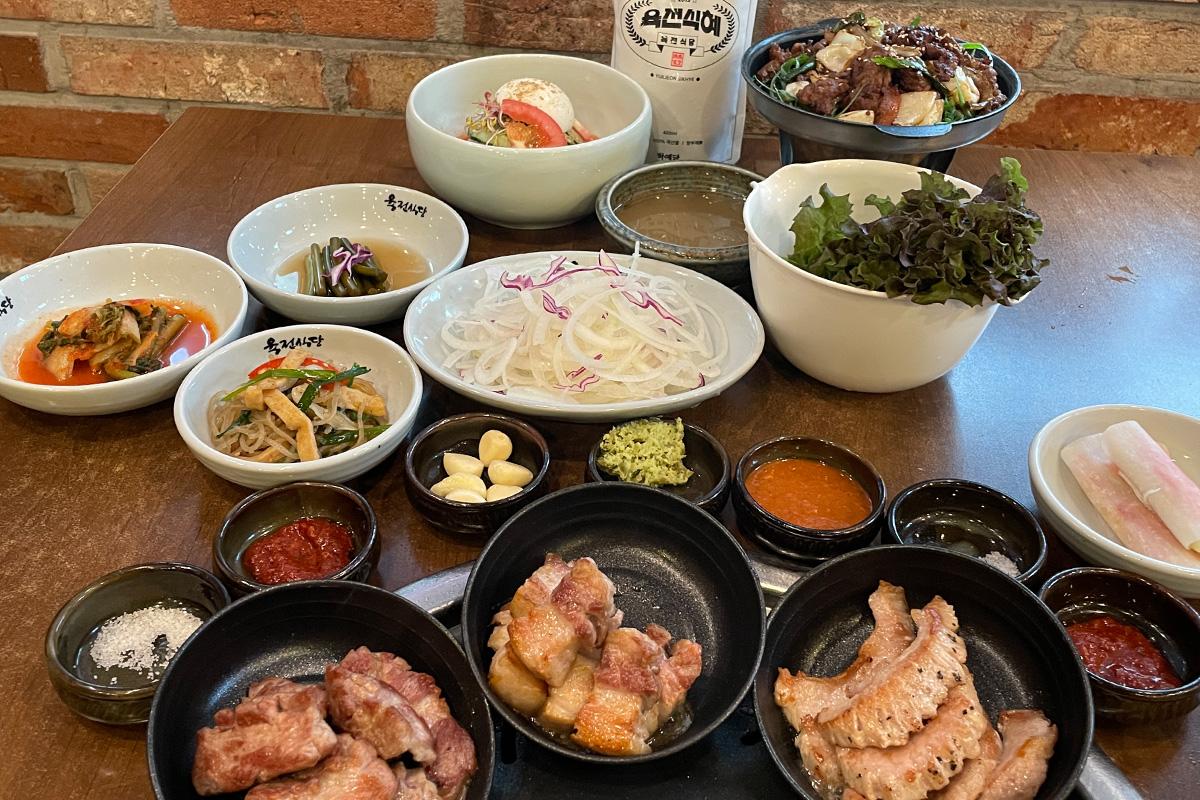 We really enjoyed our meal here at Yukjeon Sikdang! From the juicy meat to refreshing cold noodles and sikhye – it was all so delicious! Yukjeon Sikdang serves guests in a way that makes them feel like they are having a home-cooked meal despite being at a restaurant. Maybe that's why it felt like I was being treated to a home-cooked meal!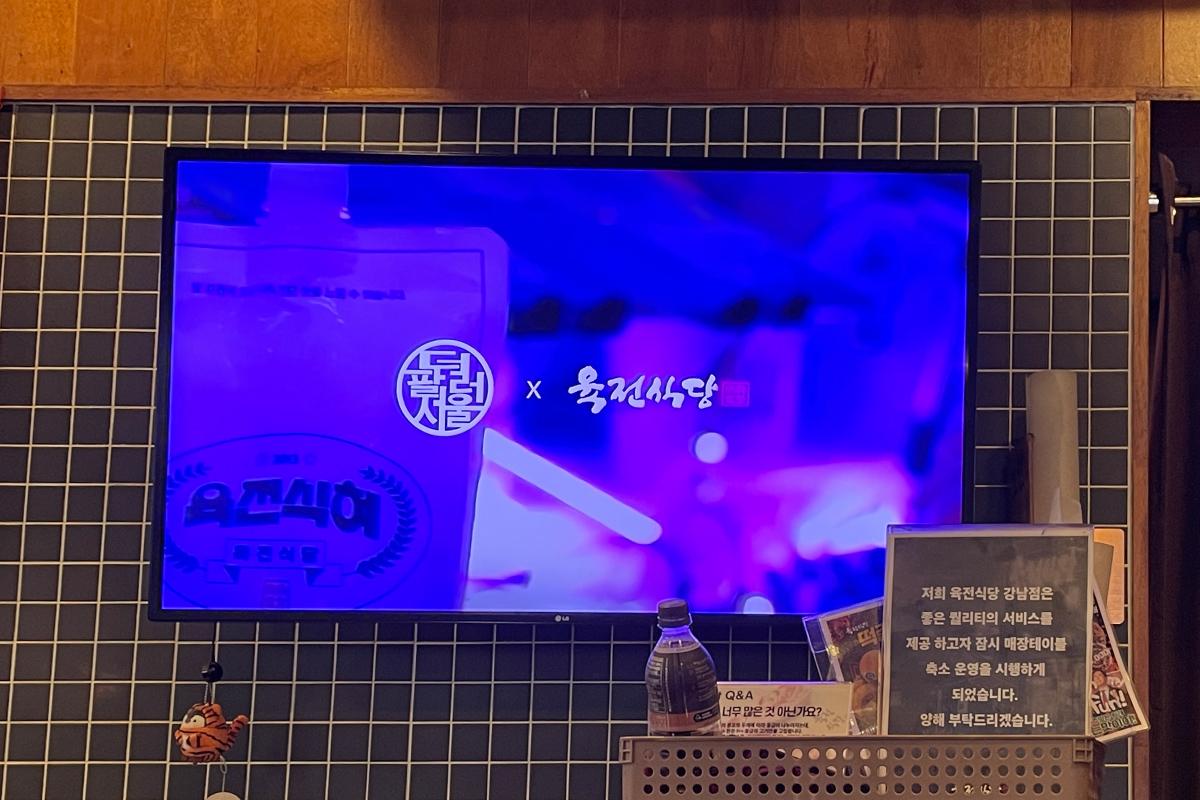 If you want to enjoy the best Korean pork belly you can get in Korea, come to Yukjeon Sikdang! No doubt, you'll be able to experience a proper Korean meal!
---
How to Get There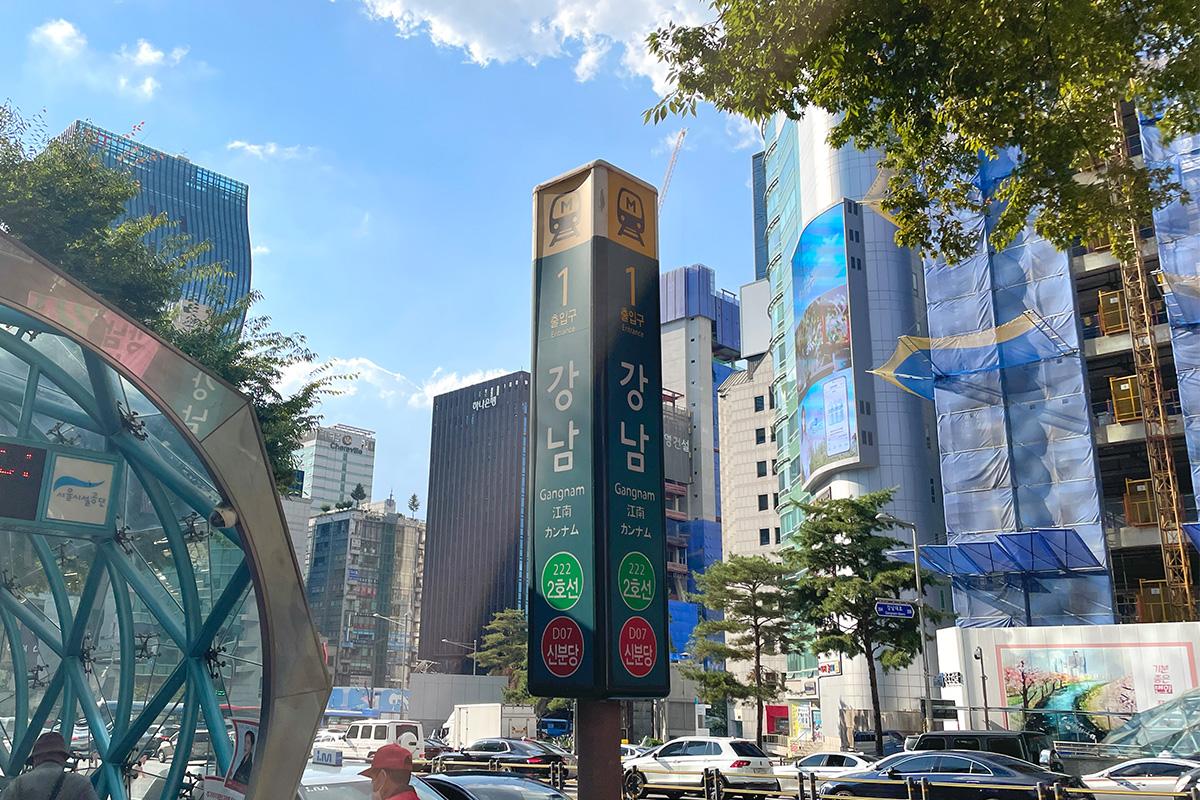 Come out from Gangnam Exit 1.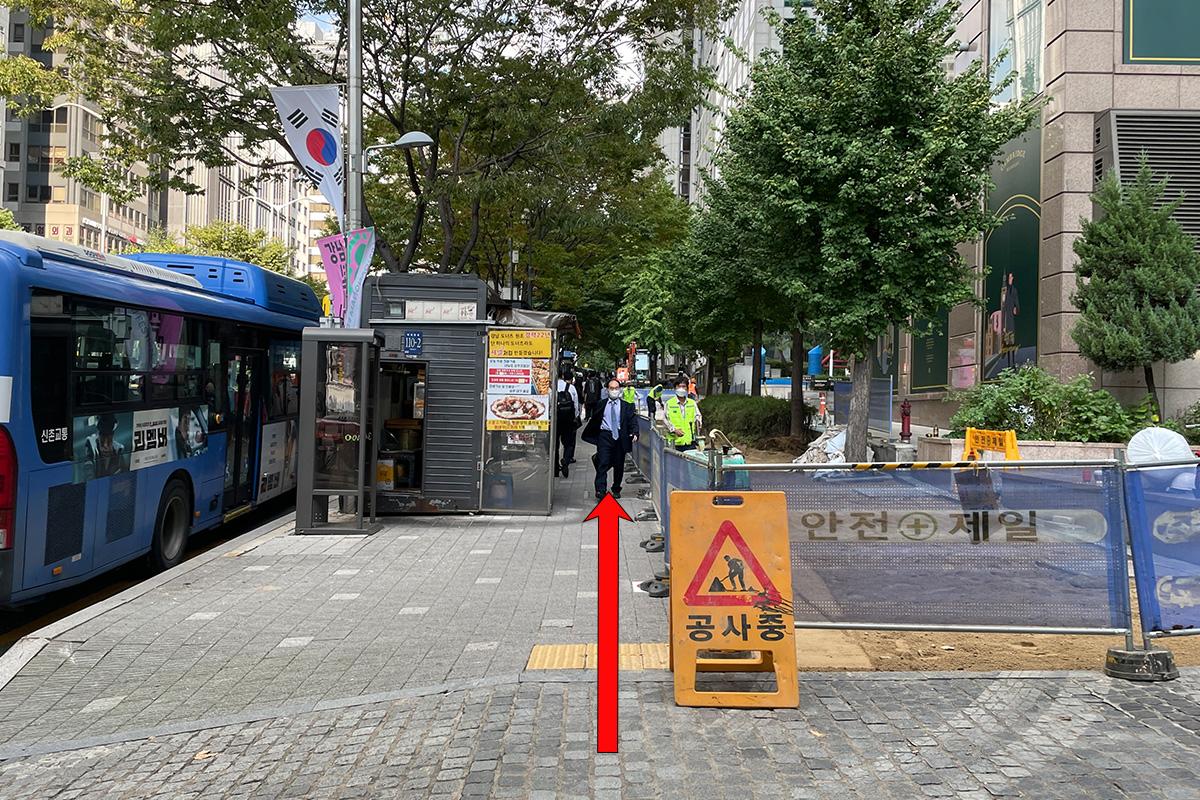 From there, go straight.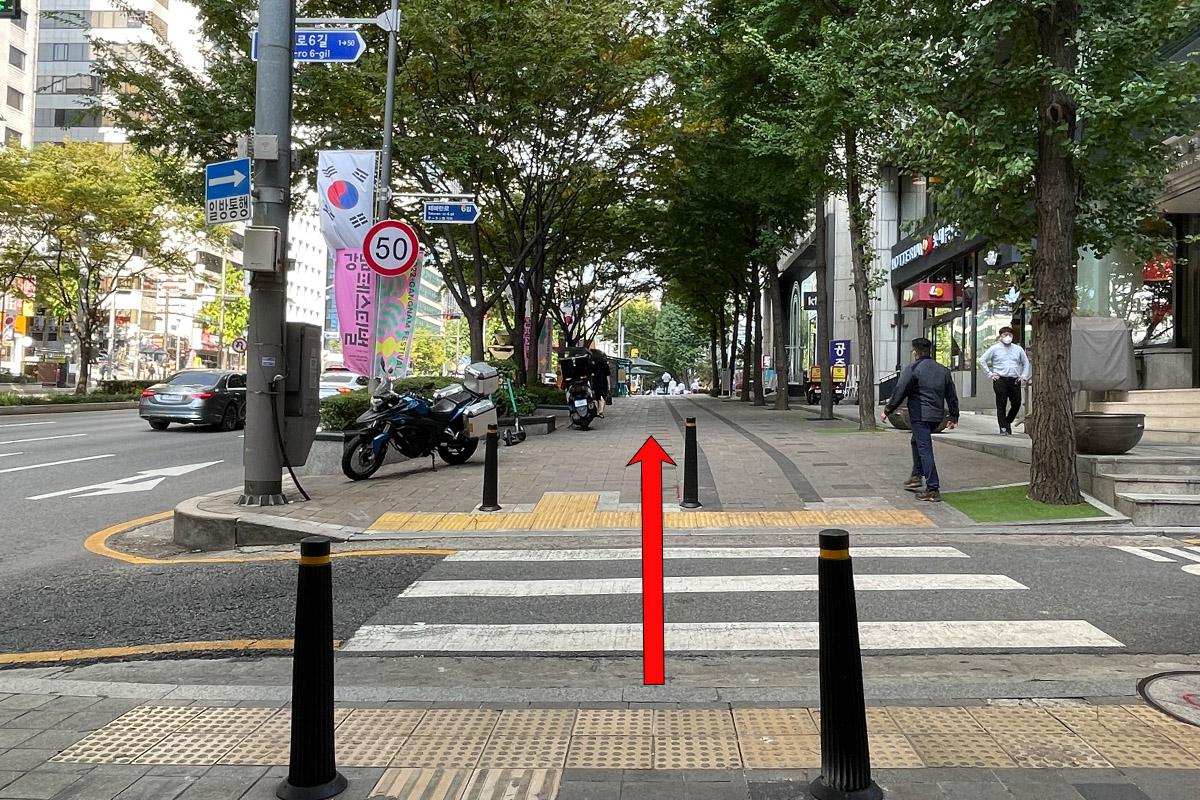 Keep going straight until you reach this big intersection.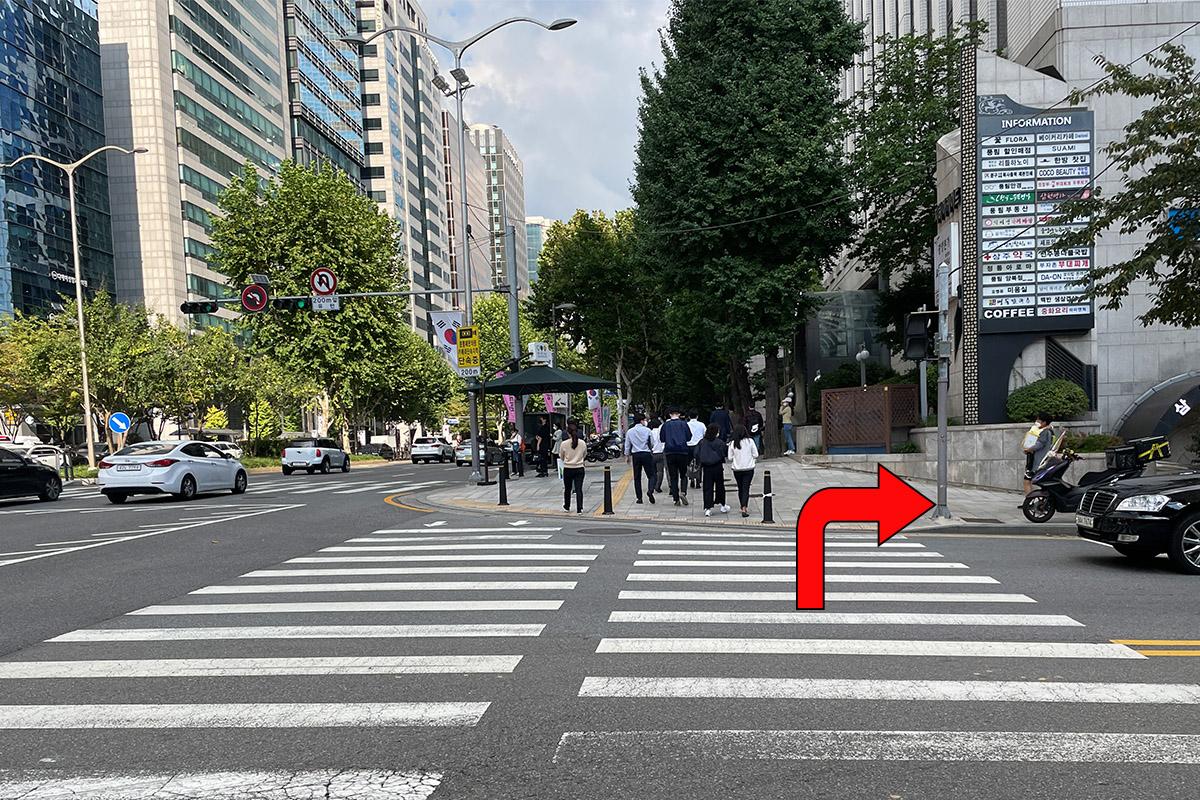 Once you reach the intersection, cross the street and turn right.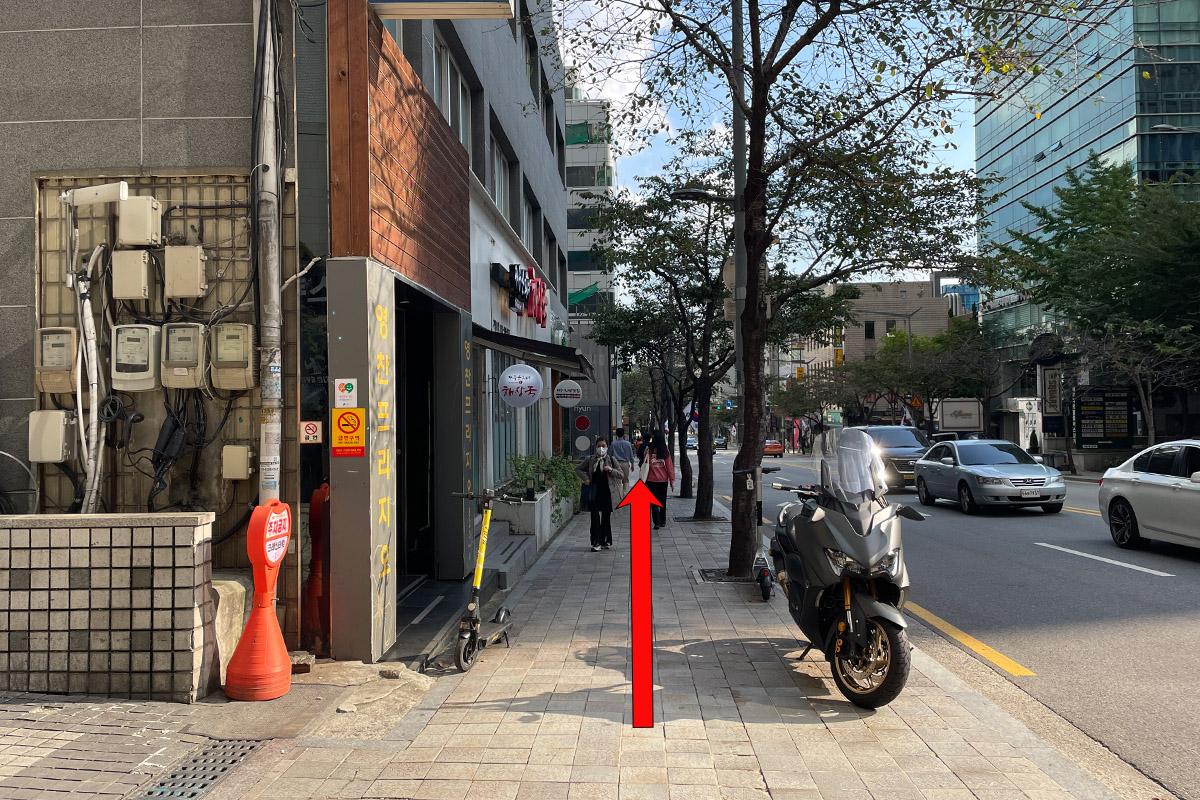 From there, go straight.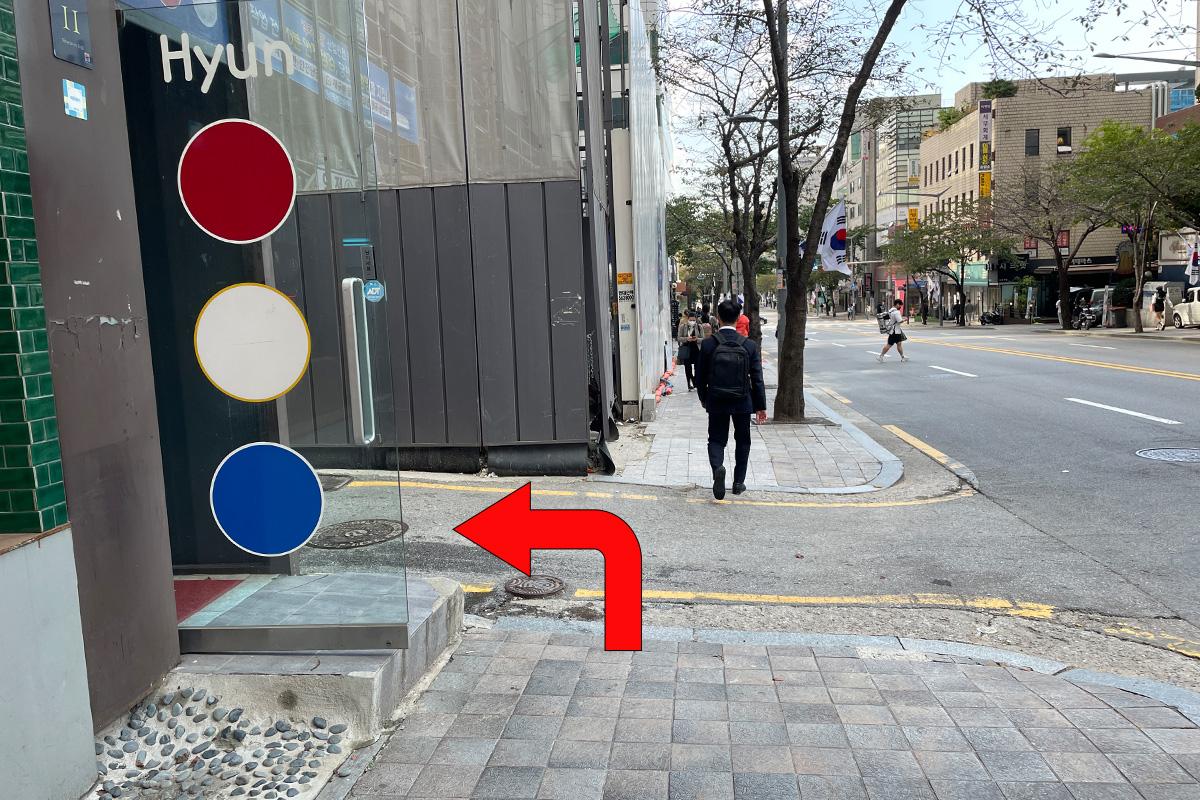 Once you reach the first alleyway, go left into it.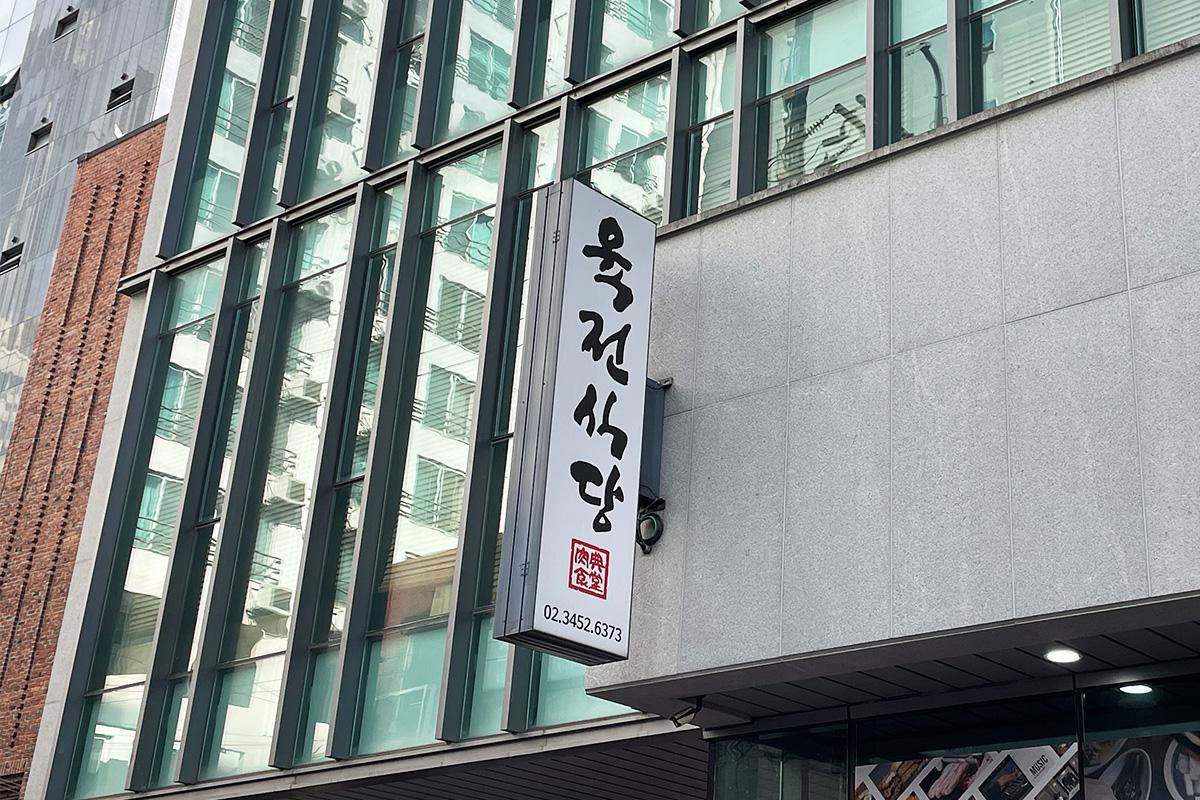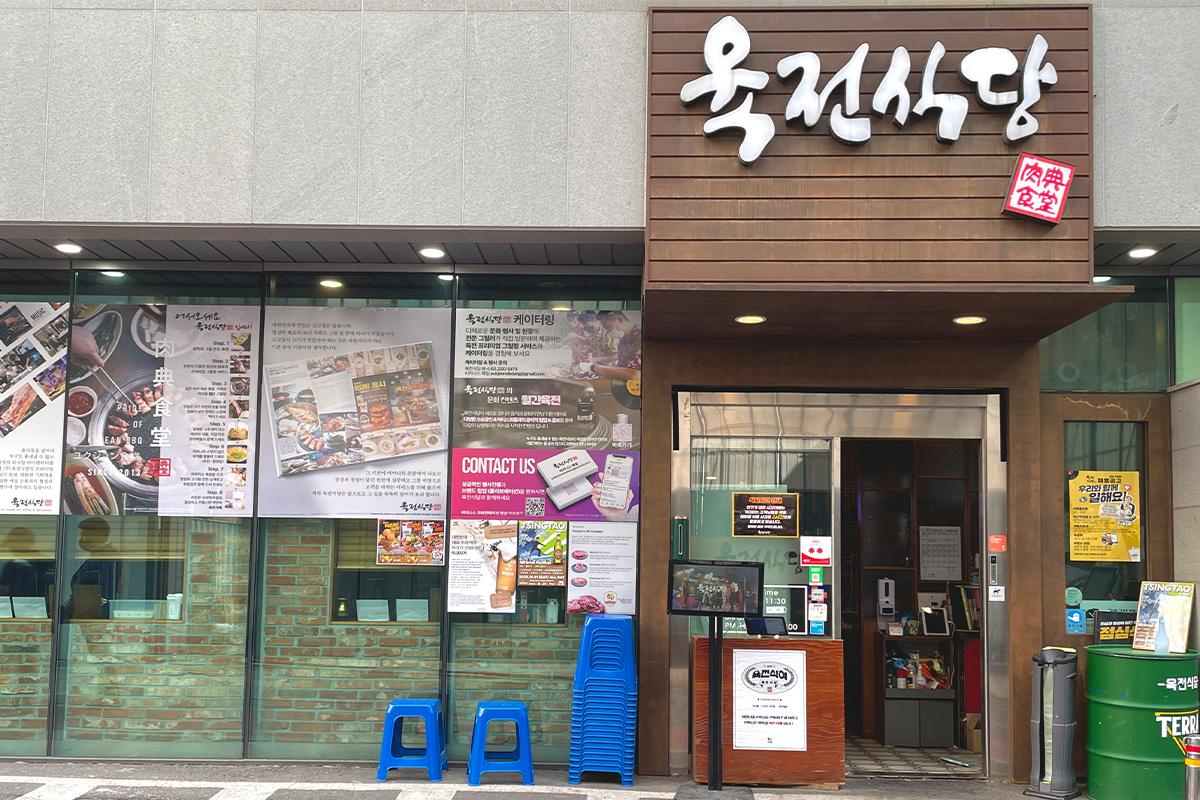 You should see the Yukjeon Sikdang sign from there!
---
Yukjeon Sikdang Gangnam Location
---
We hope you can enjoy a delicious meal and your free drink here at Yukjeon Sikdang! If you have any questions or concerns, please leave a comment below or send us an email at help@creatrip.com! You can follow us on Instagram, TikTok, and Facebook to stay updated on all things Korea!
---