A Night at the Nine Tree Premiere Hotel in Insadong, Seoul
We stayed the night at the clean and luxurious Nine Tree Premiere Hotel. Come check it out!
Insadong is widely known in Seoul to be a traditional beauty of the city. With easy access to popular locations such as Gyeongbokgung Palace, Myeongdong, and the Cheonggyeoncheon Stream, Insadong naturally became a great place for tourists to stay.
Since there are many choices for where you can stay, we decided to review hotels so you could make the best choice for you. Today, we're reviewing the Nine Tree Premier Hotel located in Insadong. Make sure you check out our Insadong Locals' Guide to help you make the best of your trip!
---
Information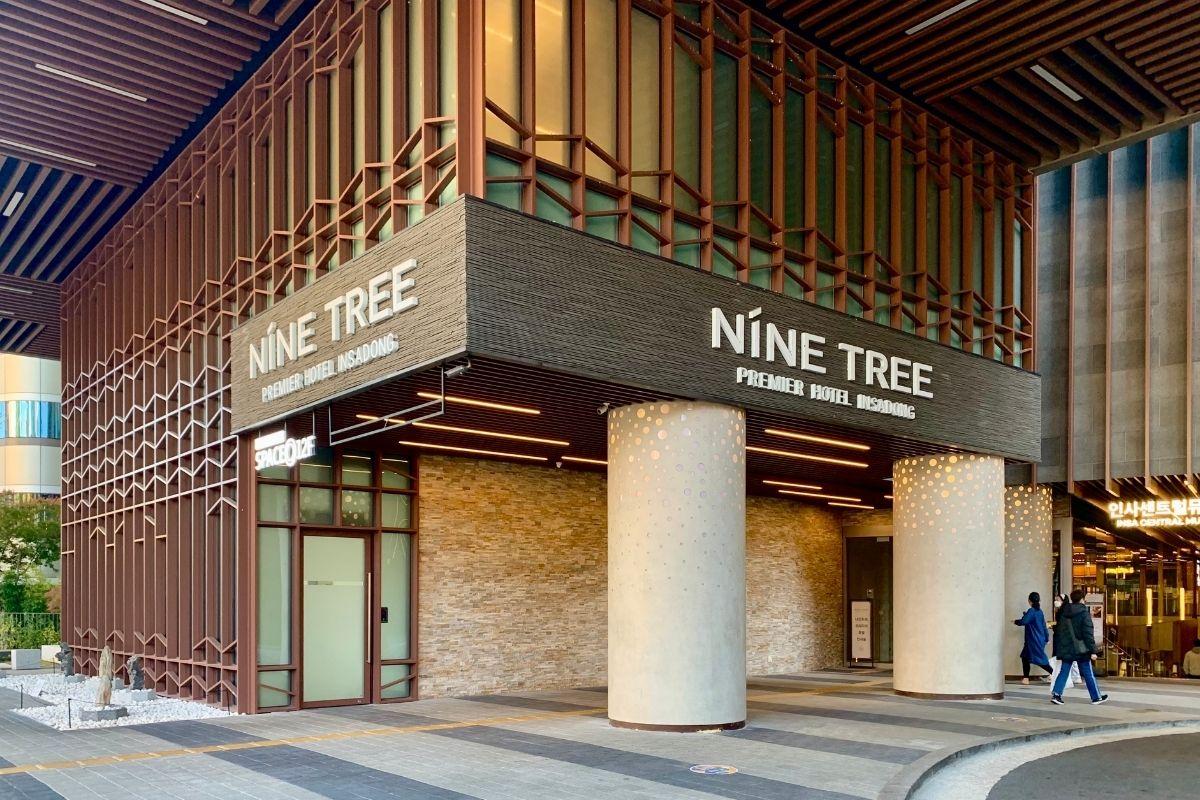 Address: 서울 종로구 인사동길 49
49, Insadong-gil, Jongno-gu, Seoul
Directions: About 750ft/230m from Anguk Station Exit 6
---
Price
The Nine Tree Premier Hotel often runs promotions as high as 73% off so make sure to check for them before reserving your room.
Room

Standard Twin
Standard Double

Family Twin Suite
Family Kids Suite
Panoramic Suite
Check In: 3pm
Check Out: 12pm
---
Our Visit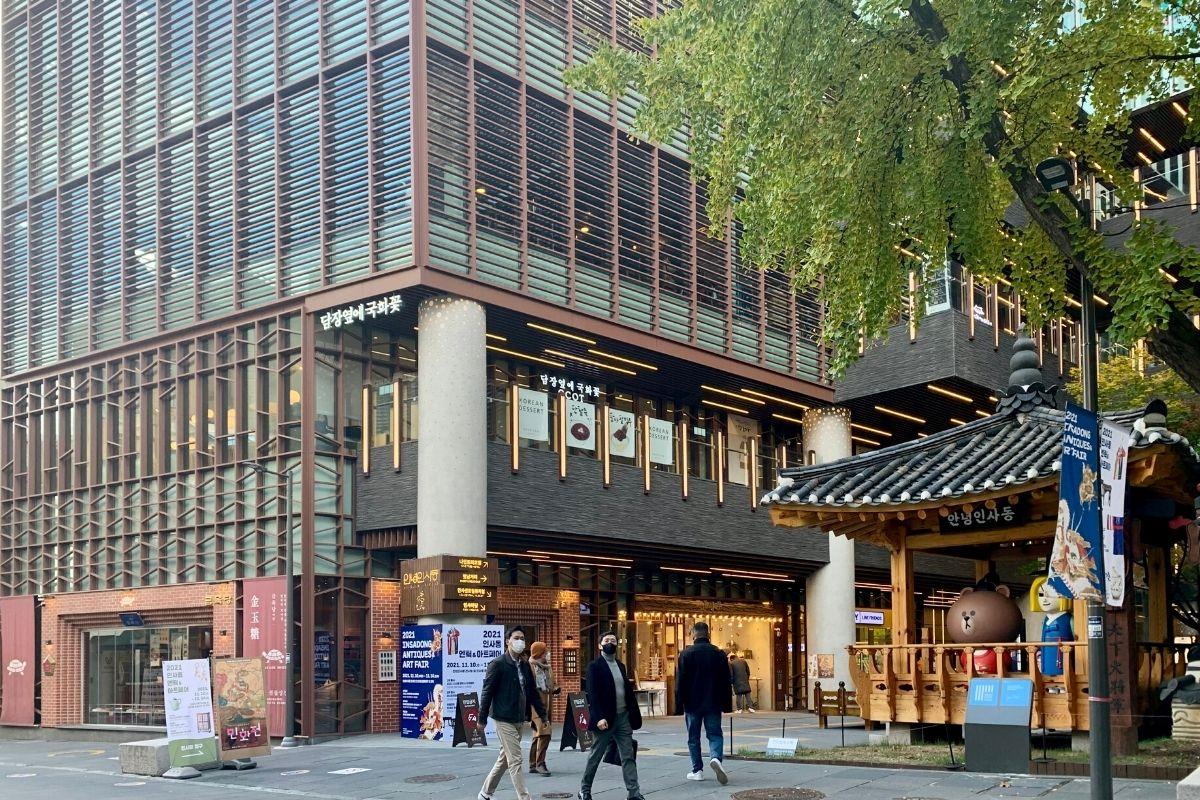 Nine Tree Premier Hotel in Insadong is the third branch of the chain located in Seoul. It is located near popular Seoul attractions such as Gyeongbukgung, Gwanghamun, and Cheonggyecheon, and the Jogyesa Temple. The hotel has two entrances, one located near the main entrance of the Hi Insadong Shopping, Entertainment and Culture Complex on Insadong street. The second entrance is located across from the Jogyesa Temple on Ujeongguk-ro.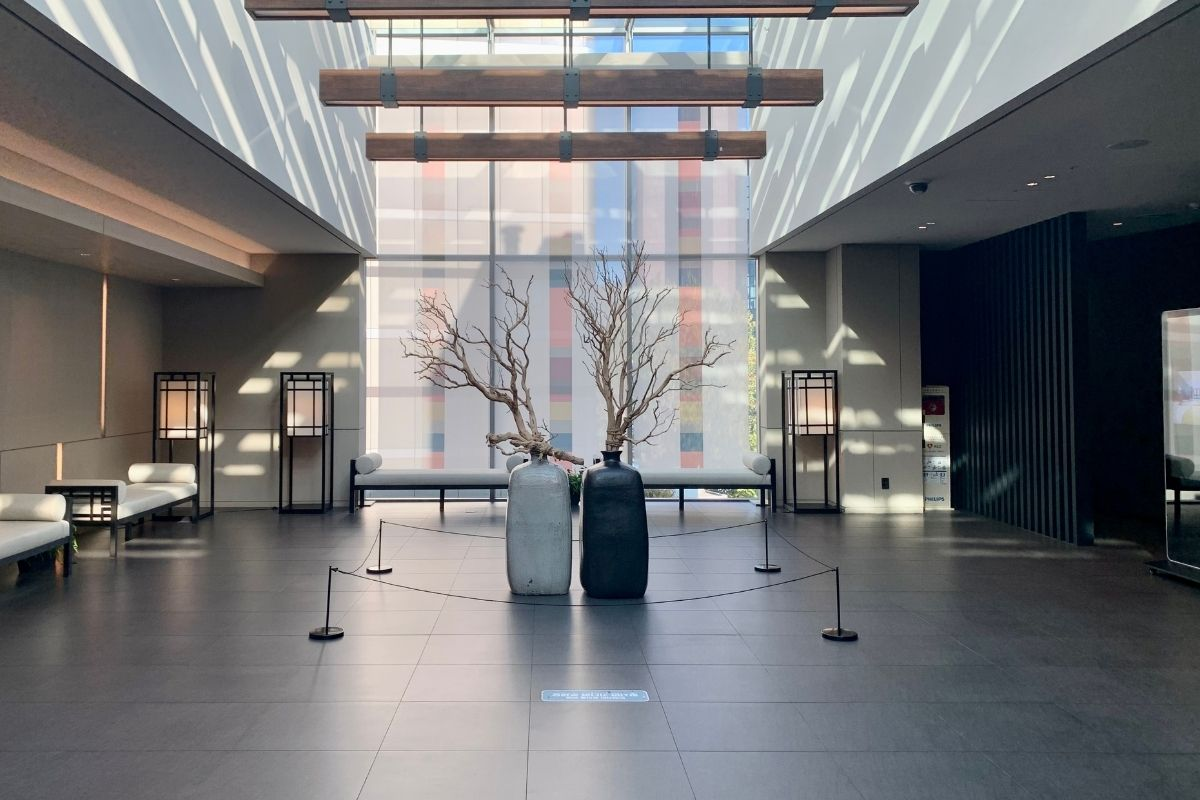 The four star hotel, which opened in 2019, maintains a clean and modern interior. The hotel has a total of 17 floors, including 3 basement level floors and 301 guest rooms.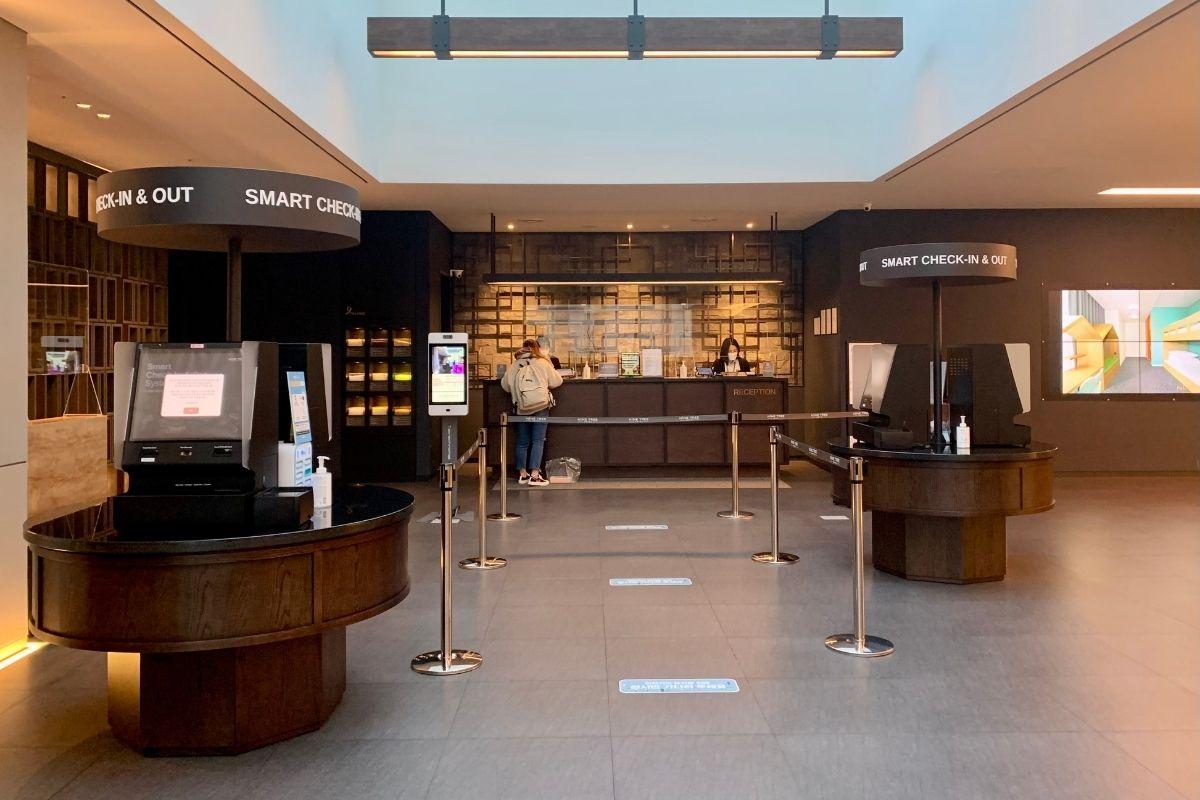 The reception area of the Nine Tree Premier Hotel Insadong is located on the fifth floor. Here you can find self check-in and check-out kiosks, however due to Covid-19, they are currently out of operation. The receptionist will help you check in and give you your room key and included breakfast voucher.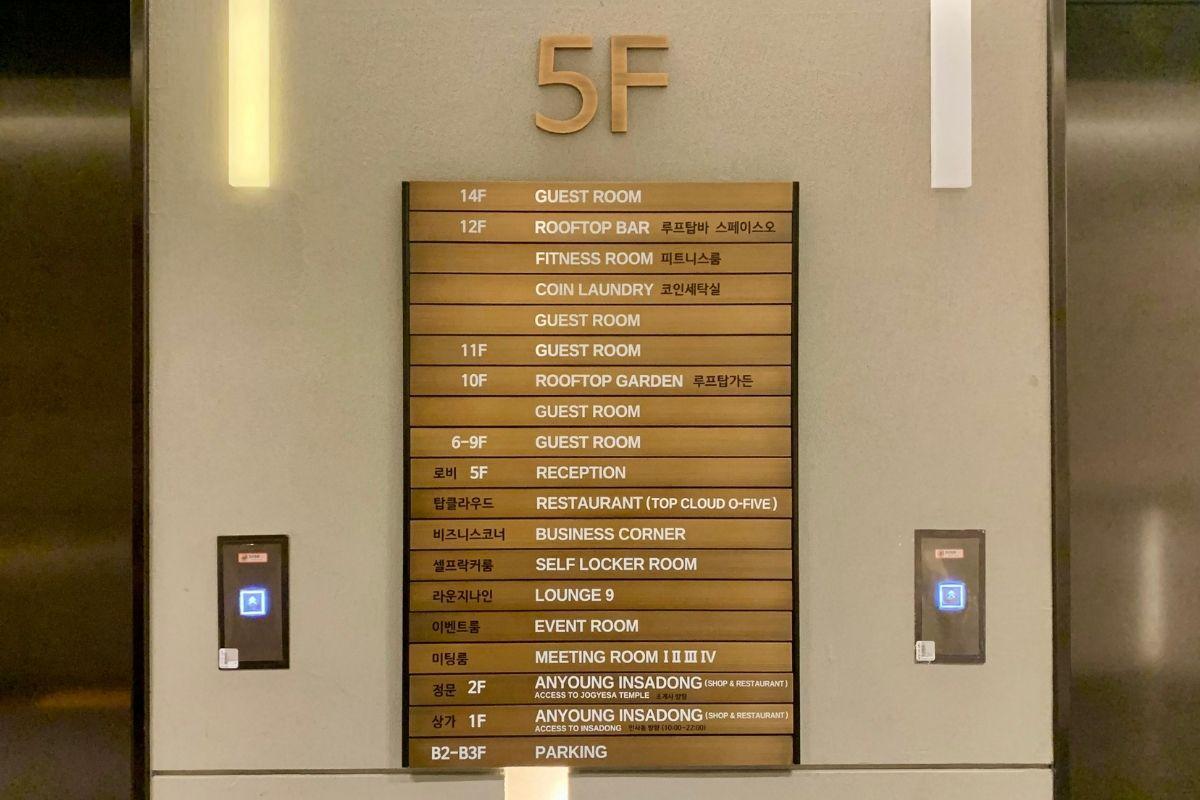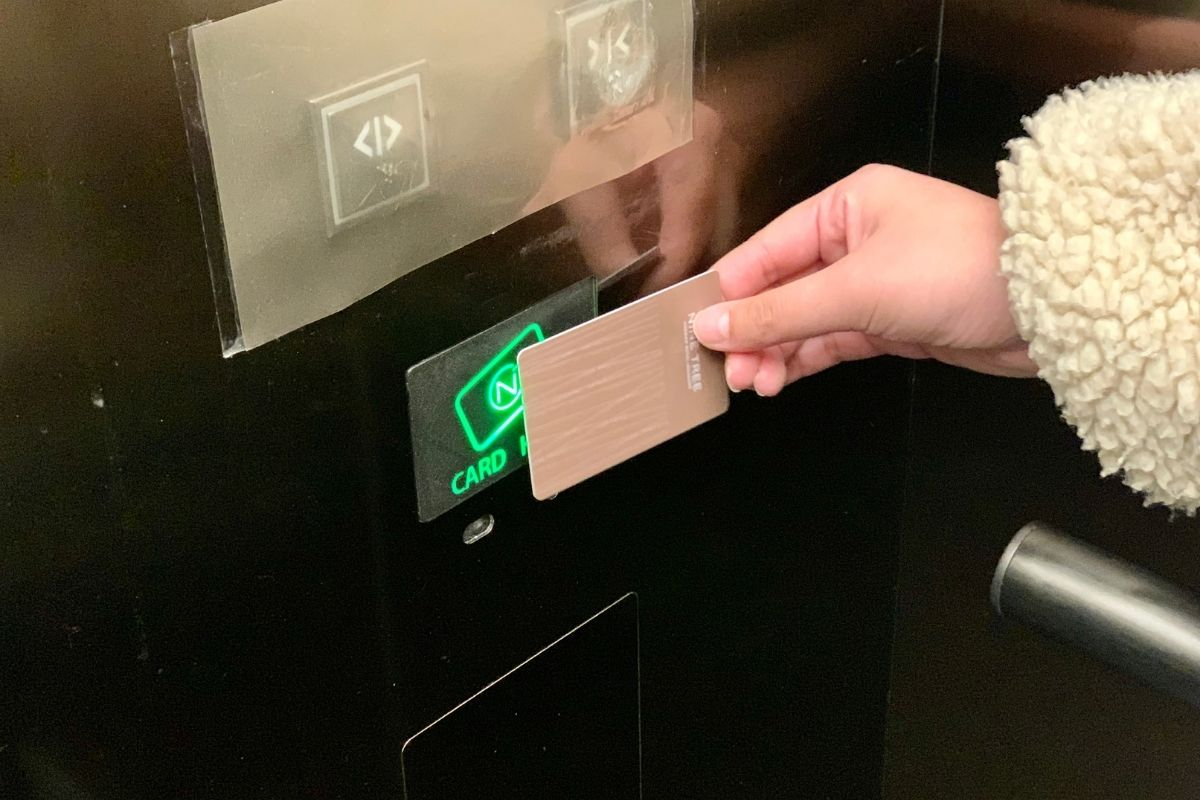 In order to ensure the safety of their guests, the elevator requires you to tag your key card in order to select any floors where there are guest rooms.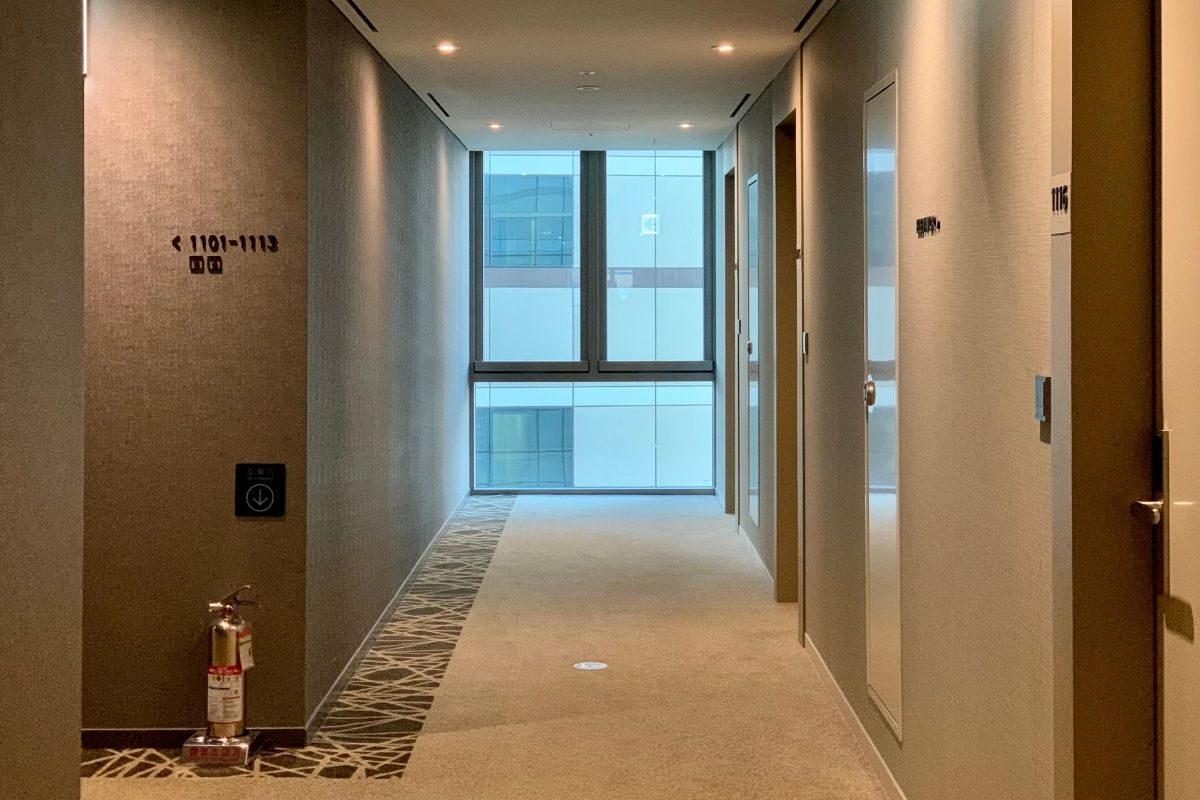 The halls of the guest floors were spacious, open and clean which left a great first impression.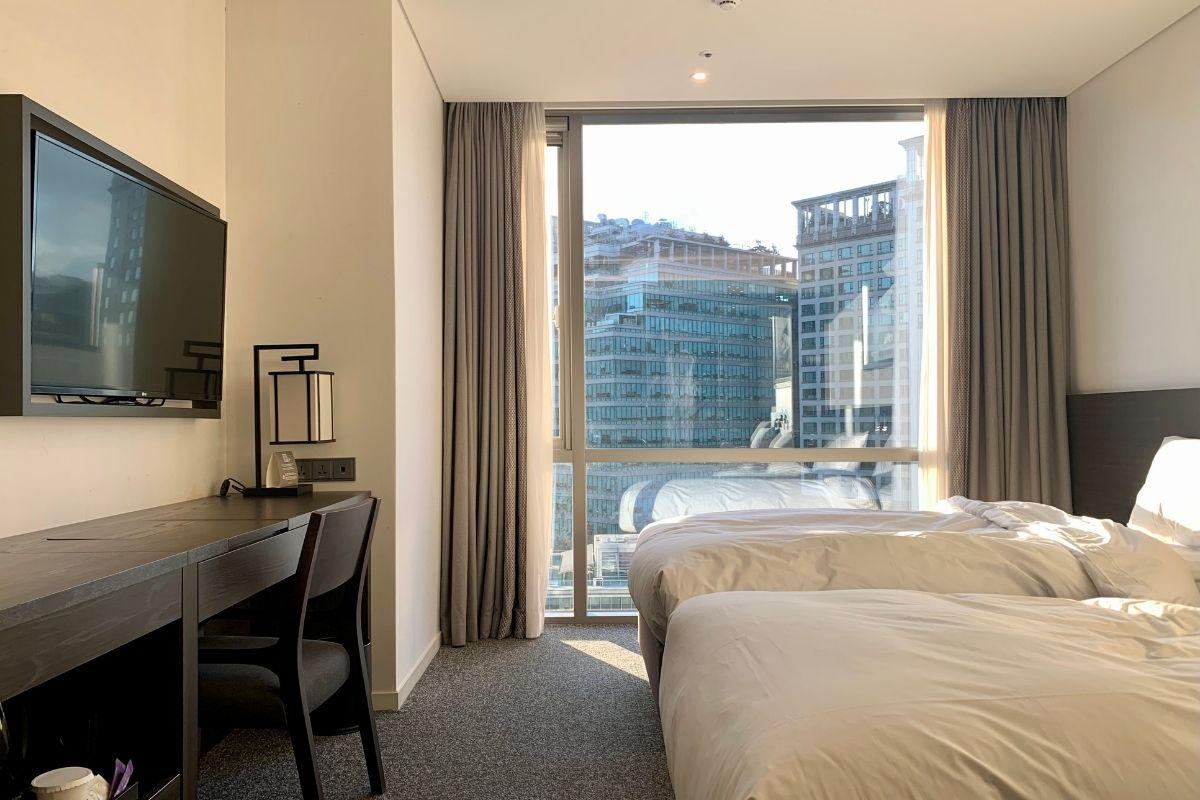 We chose a Standard Twin Room with breakfast included. The price was extremely low since there was a promotion. The room is usually around 270,000KRW a night, but we were able to book our room for 98,415KRW thanks to the discount.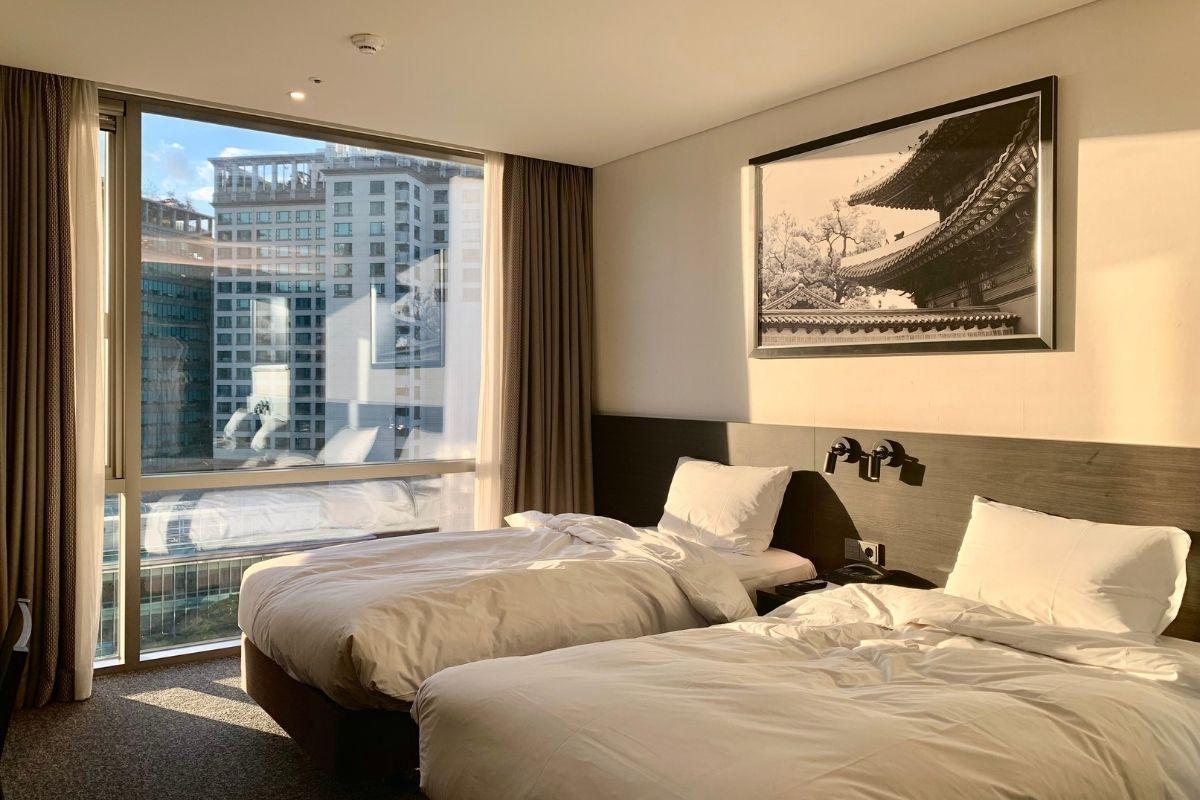 When we first entered the room, we were pleased to see our room was arranged neatly and that there wasn't any strange smells. The sunlight shining through the window created a very nice ambiance in the room as well.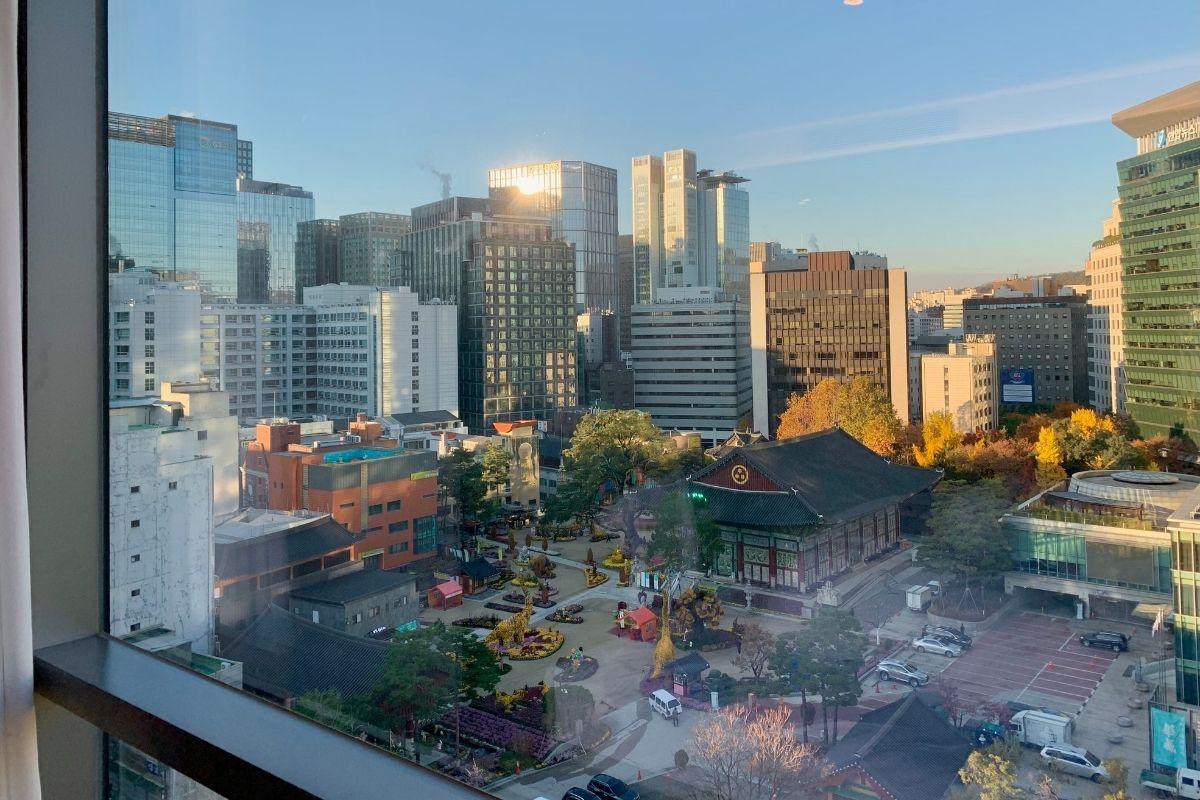 Our room gave us a great view of the Joygyesa Temple, Gyeongbokgung, and Bugaksan Mountain. After a long day of exploring Insadong, this is surely a great place to rest and and recharge for the next adventure.
---
Amenities & Bathroom

The wifi in the the room had a strong signal and never disconnected. This is perfect for streaming or using multiple devices during your stay.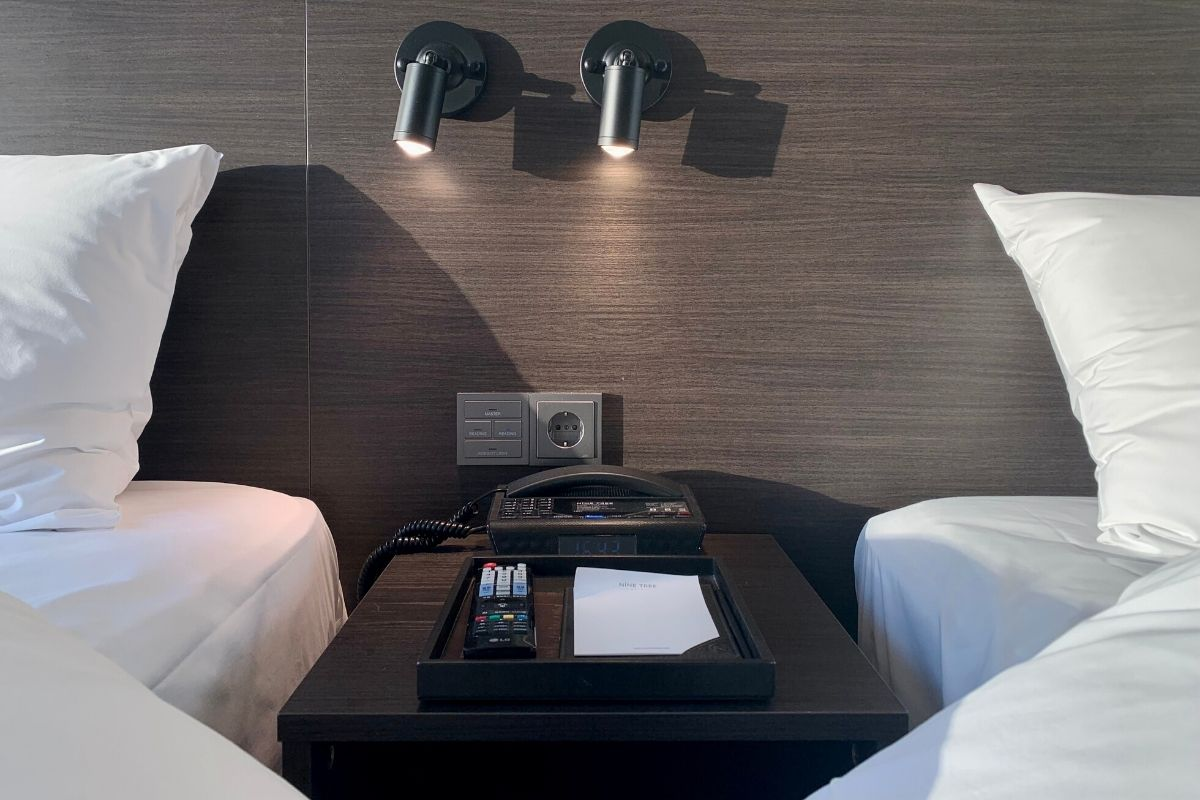 Next to both of our beds, there was lights for our use, as well as a light control panel so we could control the lights from the comfort of our beds. On the nightstand there was a phone, a TV remote control, a guide book, and even an umbrella. However, there was only a single outlet.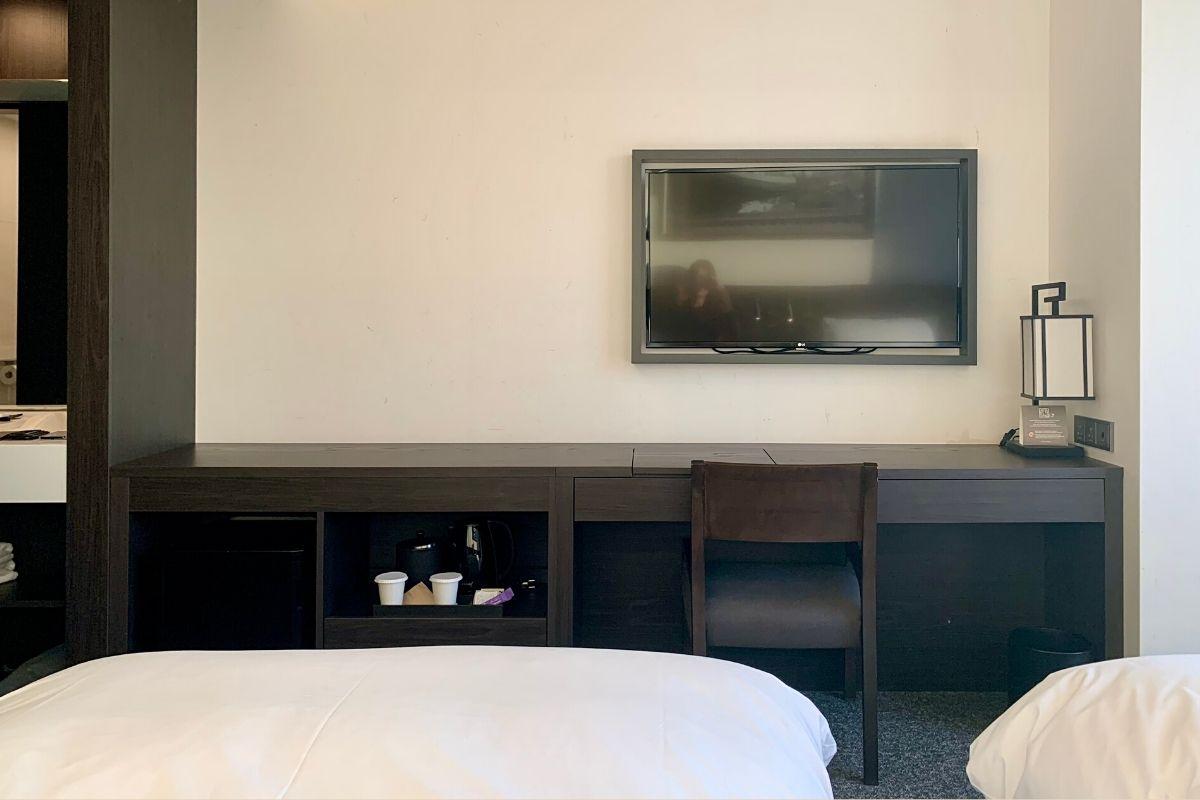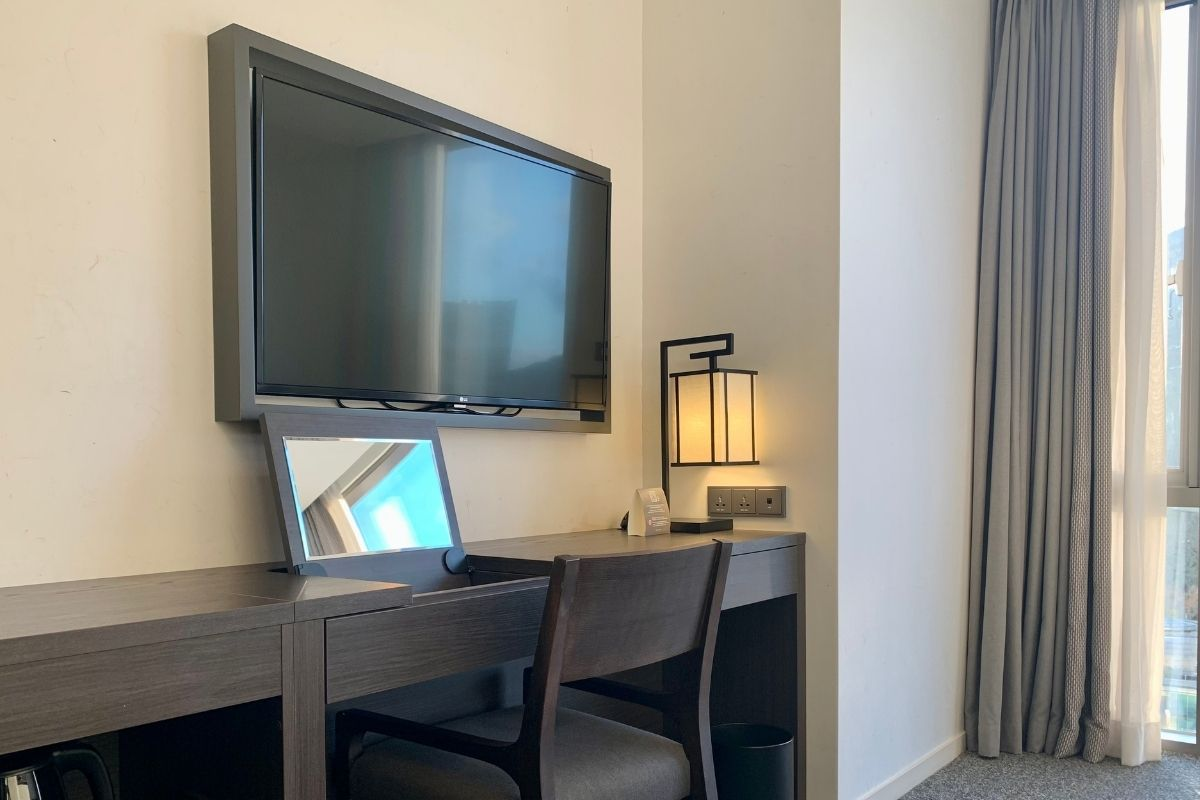 On the opposite side of the the room, there was a flat screen television, a shelf, and a small vanity that blended into the countertop. In the corner was a lamp and more outlets. If the vanity was not needed, we could simply put the mirror down and use the top as more counter space!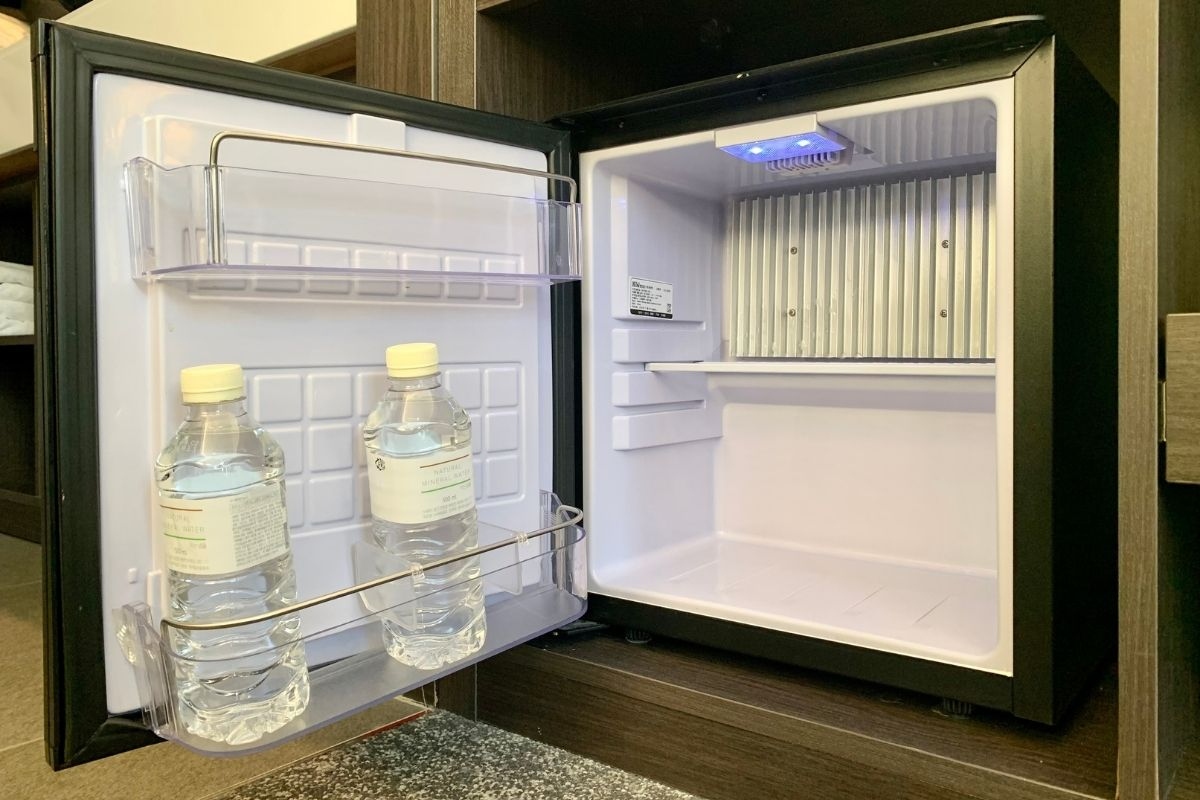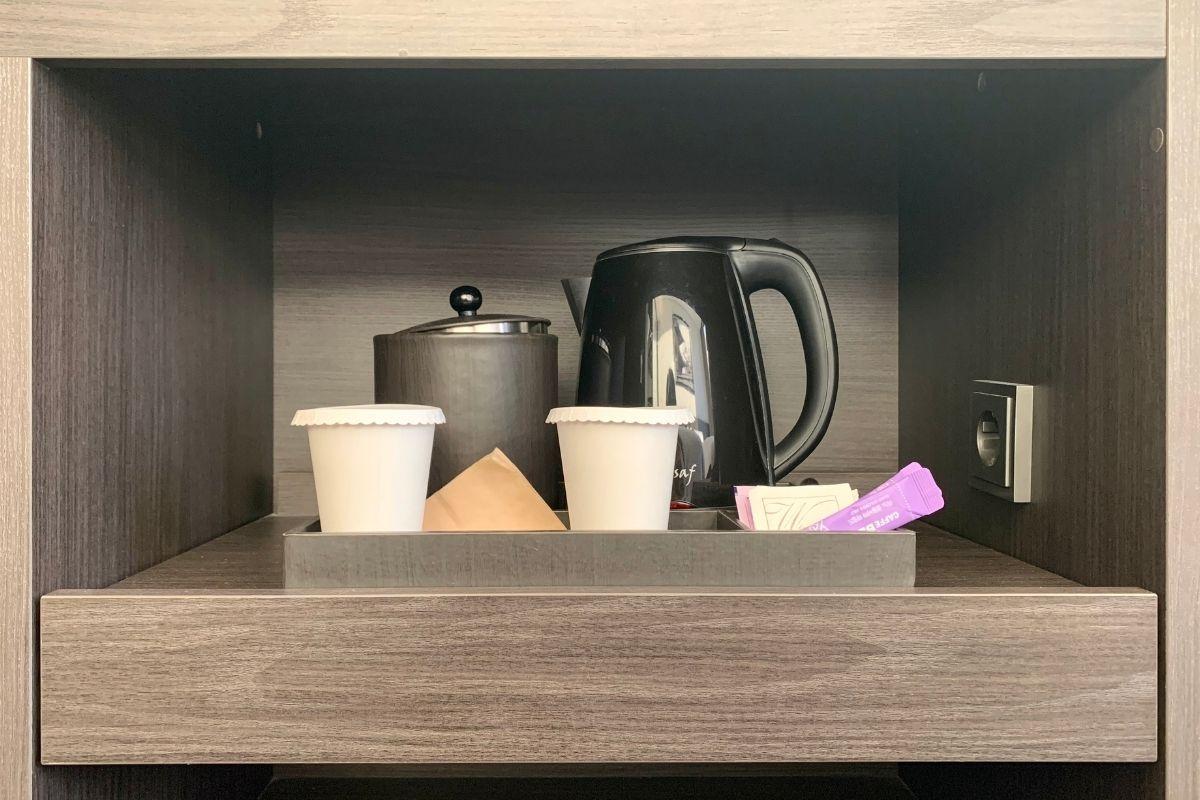 Under the counter were various other items available for your comfort. The room came equipped with a mini refrigerator, two bottles of water, a pot for ice, a hot water pot, as well as various teas and instant coffee.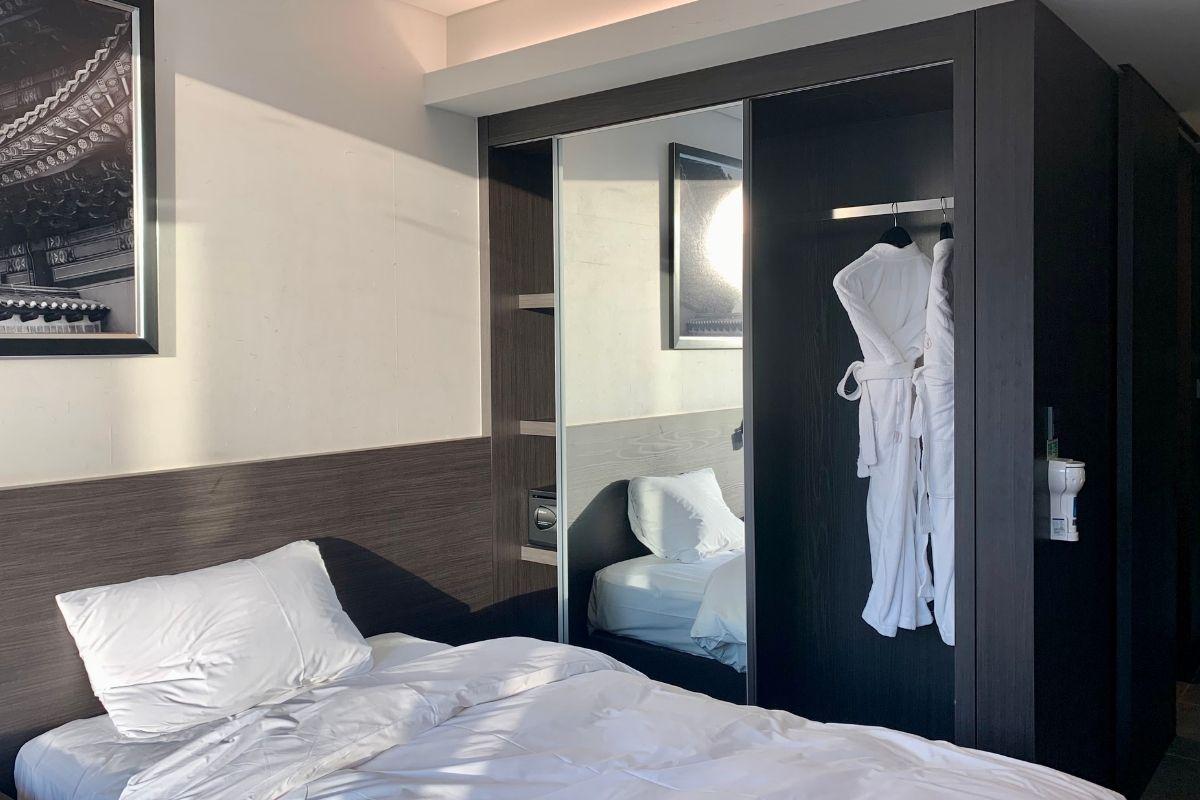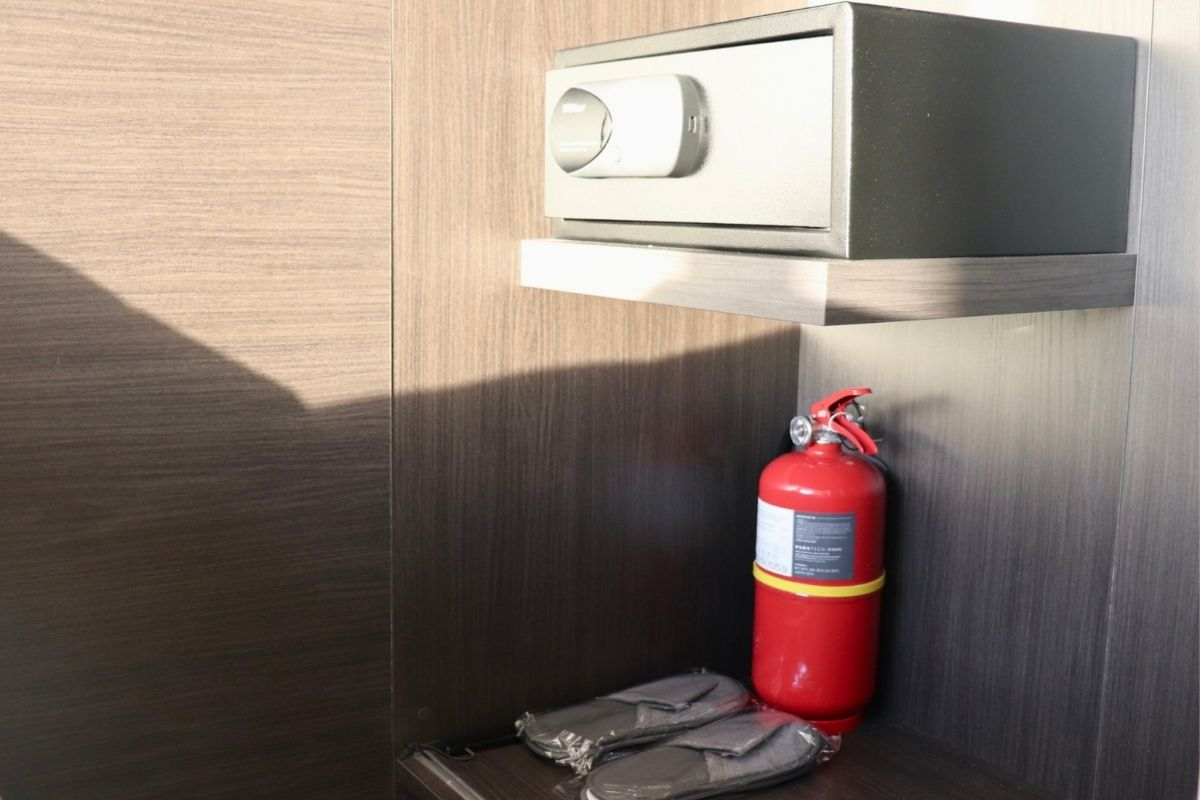 Directly next to the bed was a closet that came stocked with two bathrooms, slippers, a safe for your valuables, and a fire extinguisher.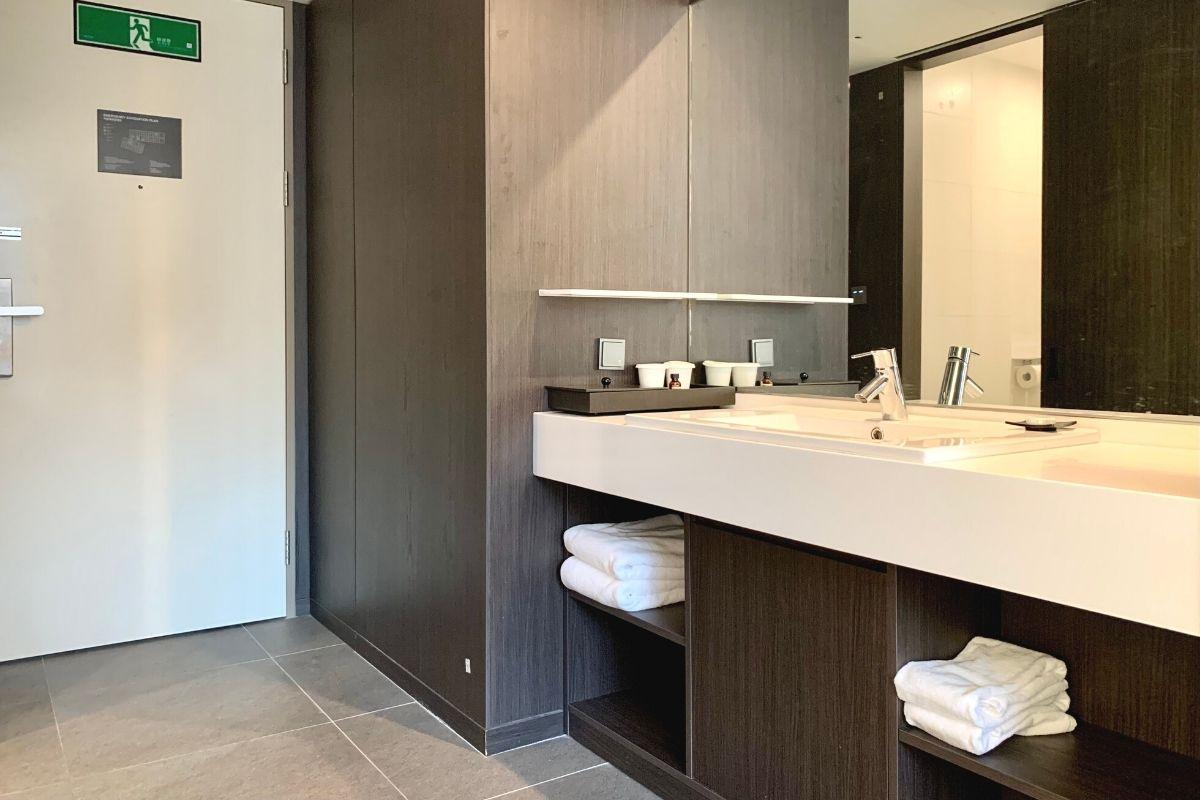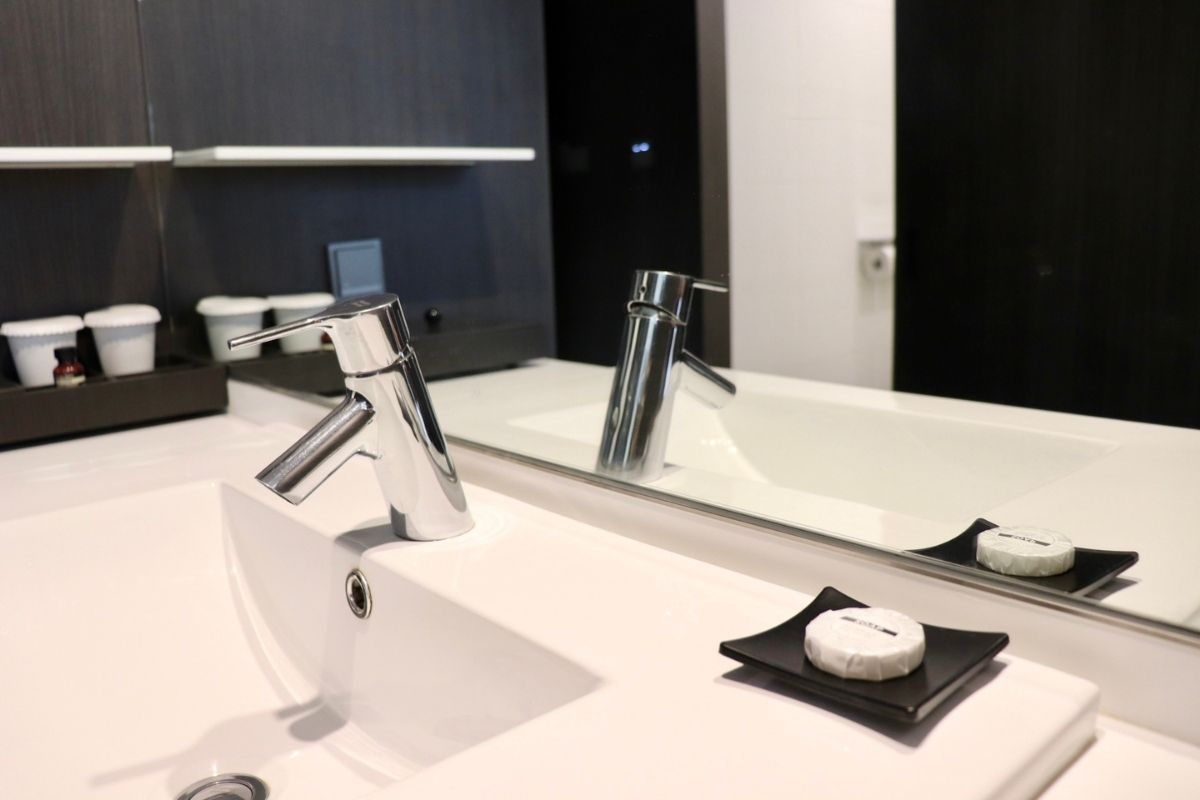 When we entered the bathroom, we immediately were greeted by a large mirror. To the left of the counter was a sink and many personal hygiene materials to be used as needed. This included things like hand soaps, and a hair dryer.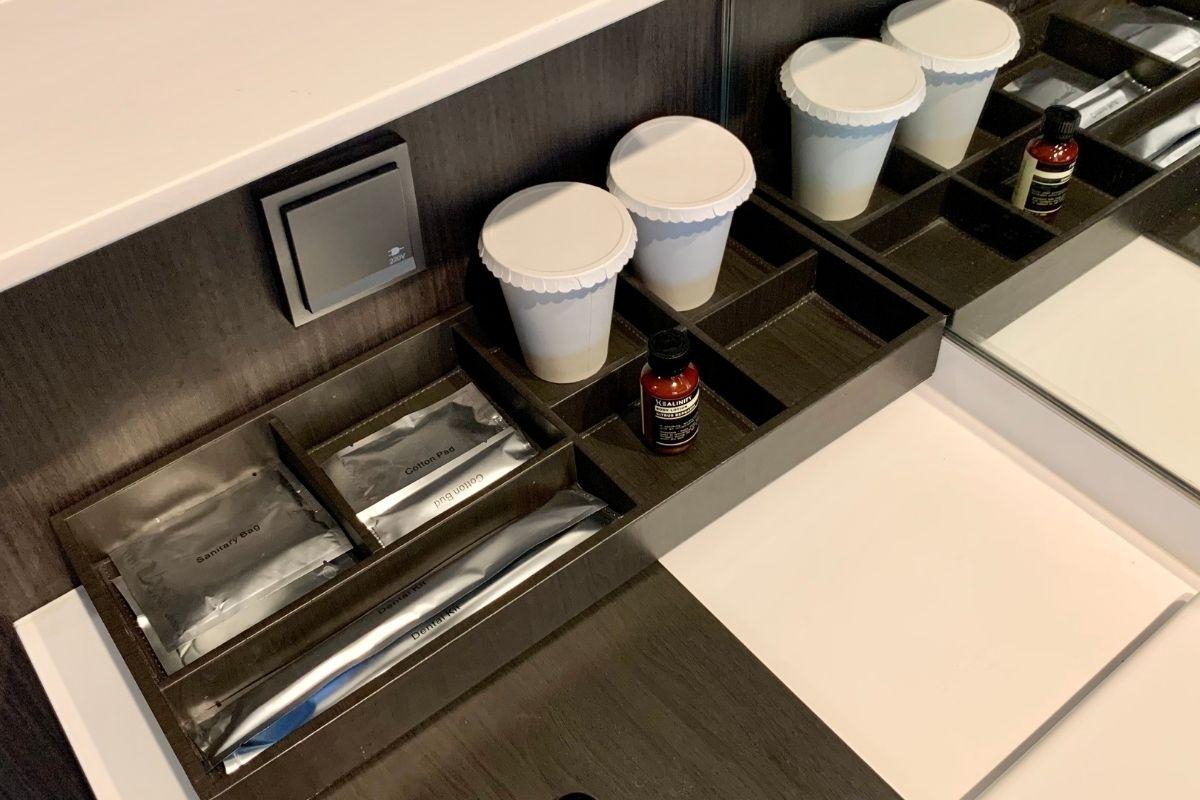 We were also fully equipped with a bunch of toiletries like toothbrushes, toothpaste, cotton pads, etc. so you don't have to worry if you forgot to pack your own.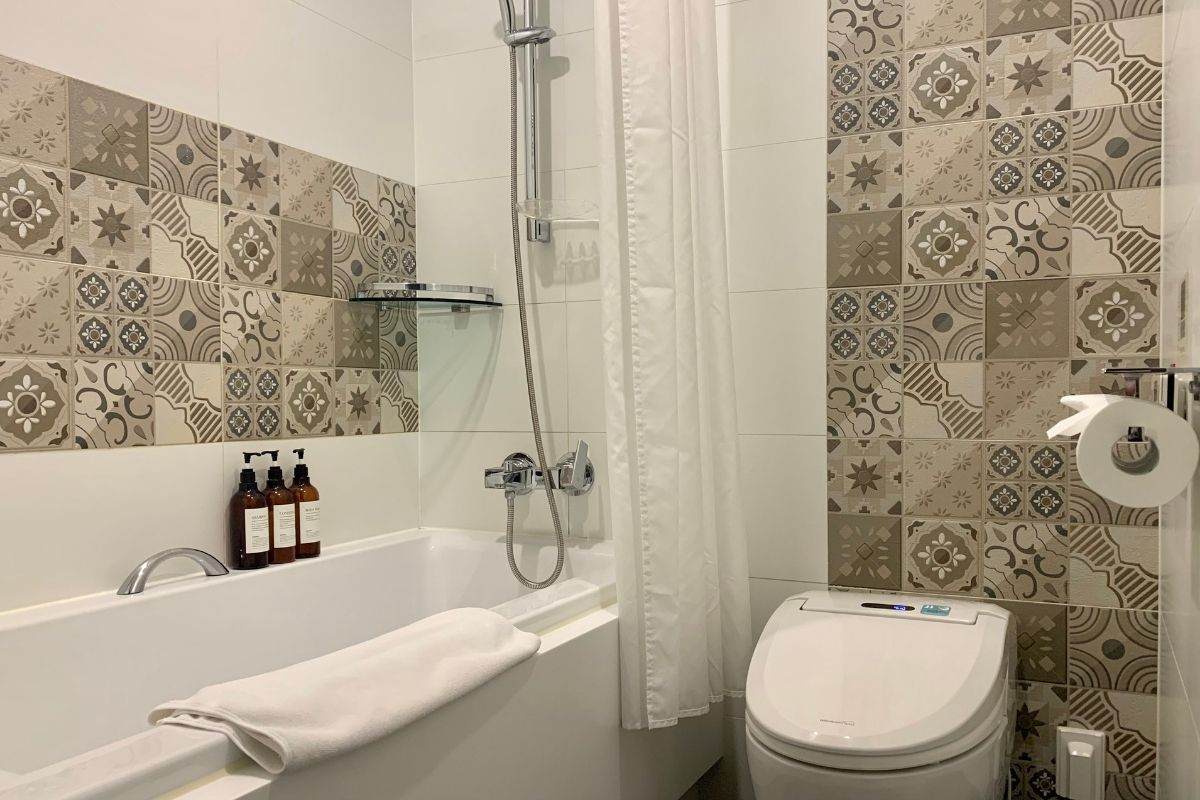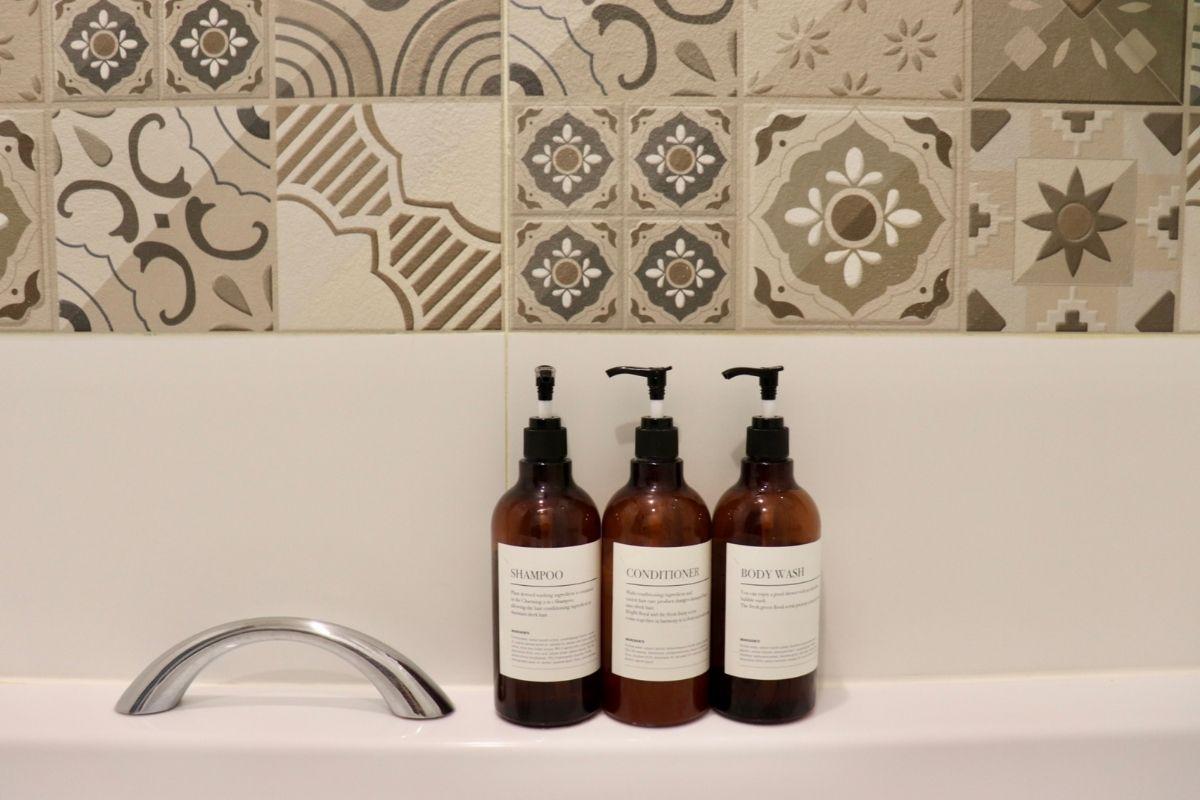 Overall the bathroom was very clean and didn't have any bad odors coming from it. It was fully stocked with soap, shampoo, conditioner and lotion, and even a bath tub. Since bath tubs are very common in Korea, this make the hotel particularly great for relaxing after a long day exploring Seoul.
---
Services & Facilities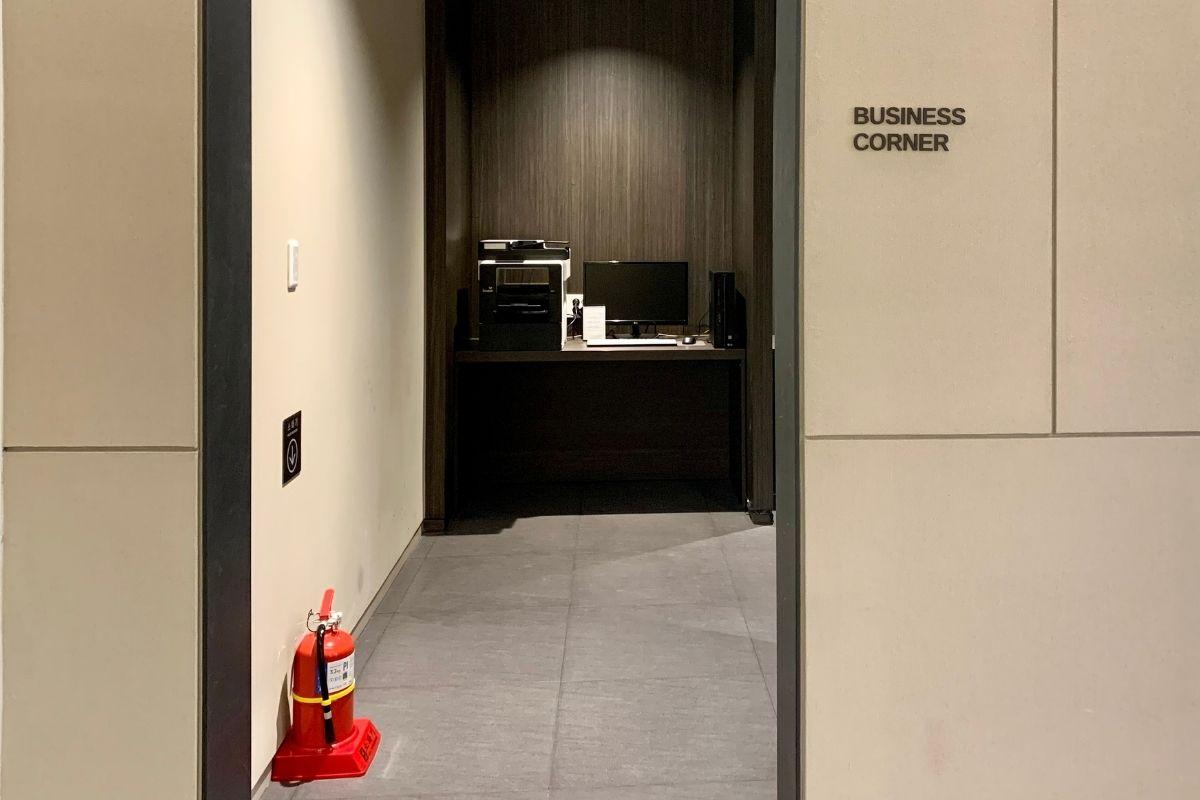 On the fifth floor, there is a Business Corner which has a computer and printer with high-speed internet that is available to guests 24/7.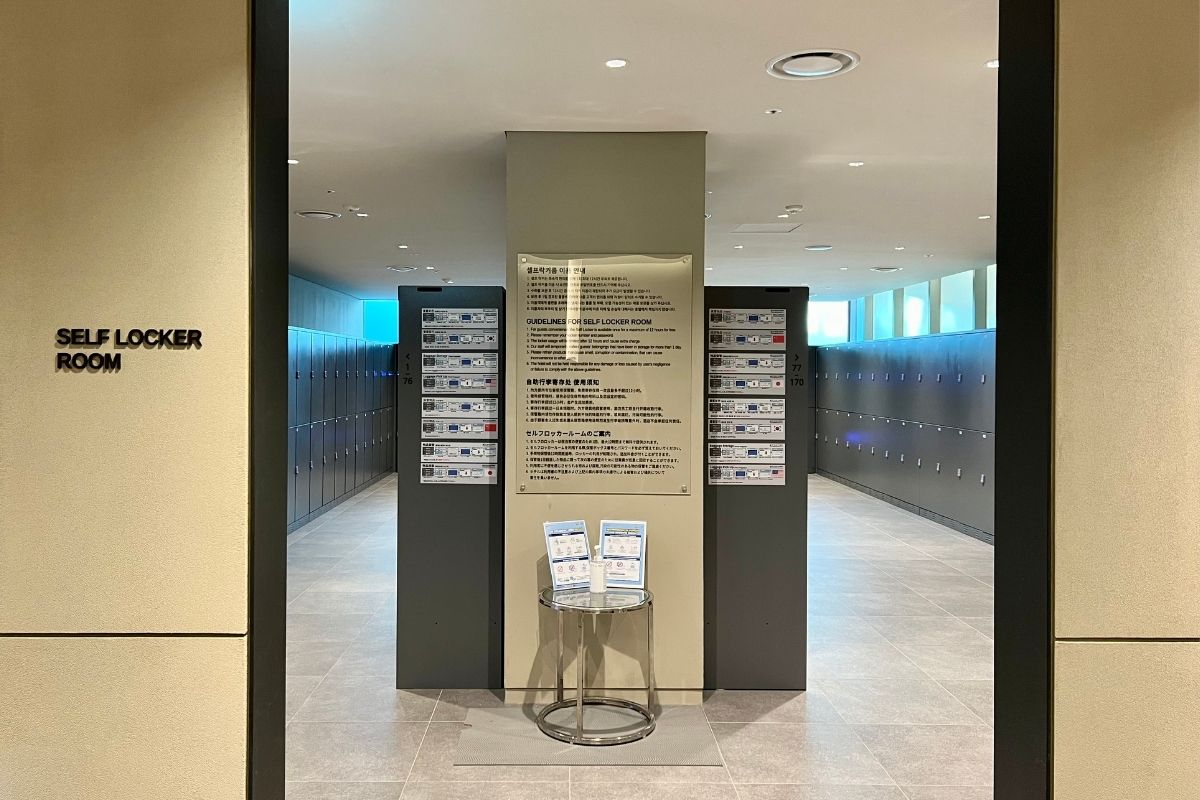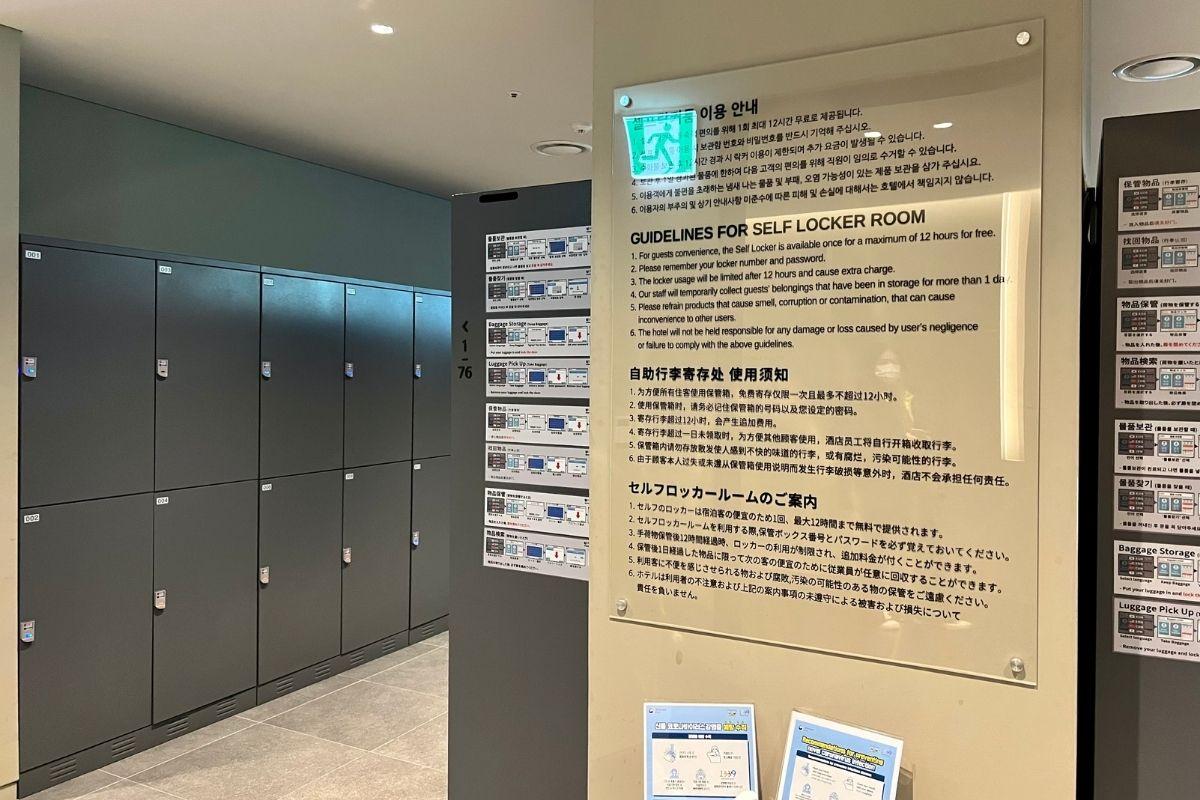 In front of the Business Corner is an automatic locker room that can be used as needed. You can store your belongings in the lockers for free for up to 12 hours. Once you've hit 12 hours, you'll need to pay an extra-fee. Instructions for how to use the lockers available in Korean, English, Chinese and Japanese.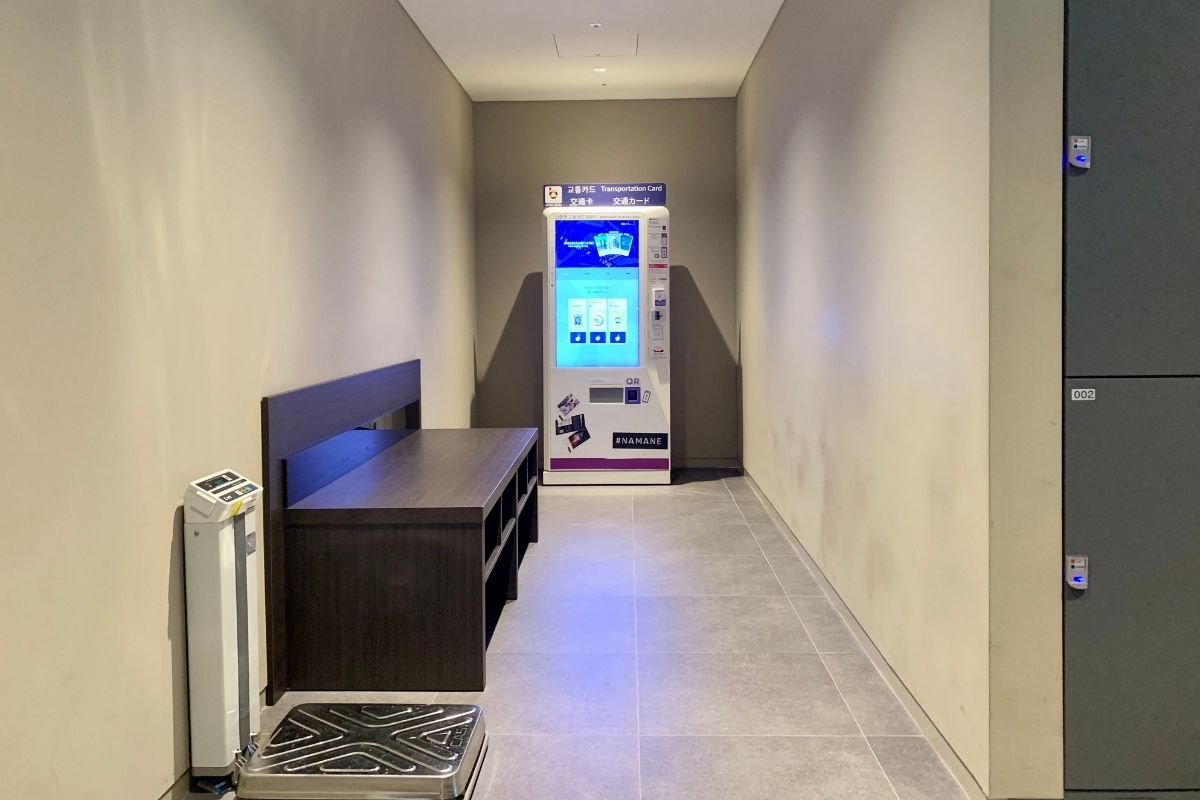 In one corner of the locker room, there is a luggage scale which is great for those who are preparing for international travel. There is also a transportation card vending machine where you can create your own custom transportation cards with pictures of your choice.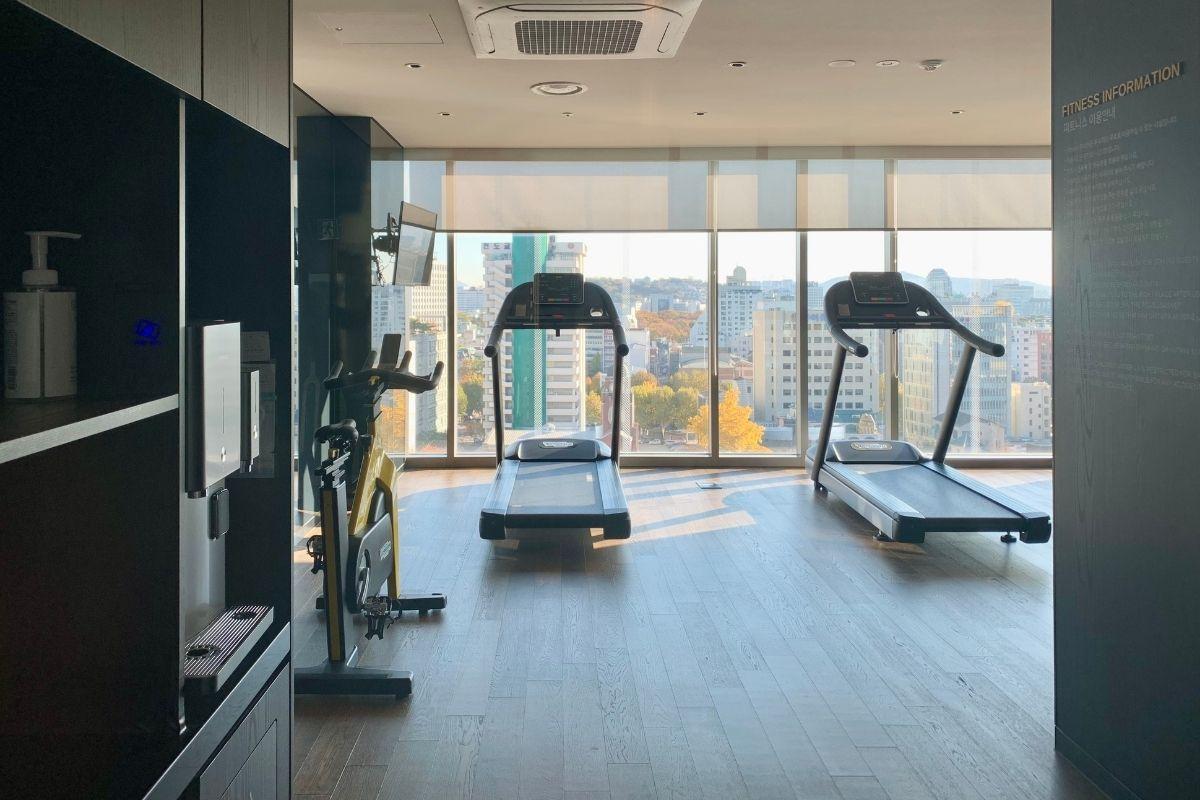 On the 12th floor, there is a simple gym stocked with treadmills, a stationary bike and dumbbells. Normally, the gym is available for use from 7am to 10pm; however, due to Covid-19 the service has been temporarily suspended.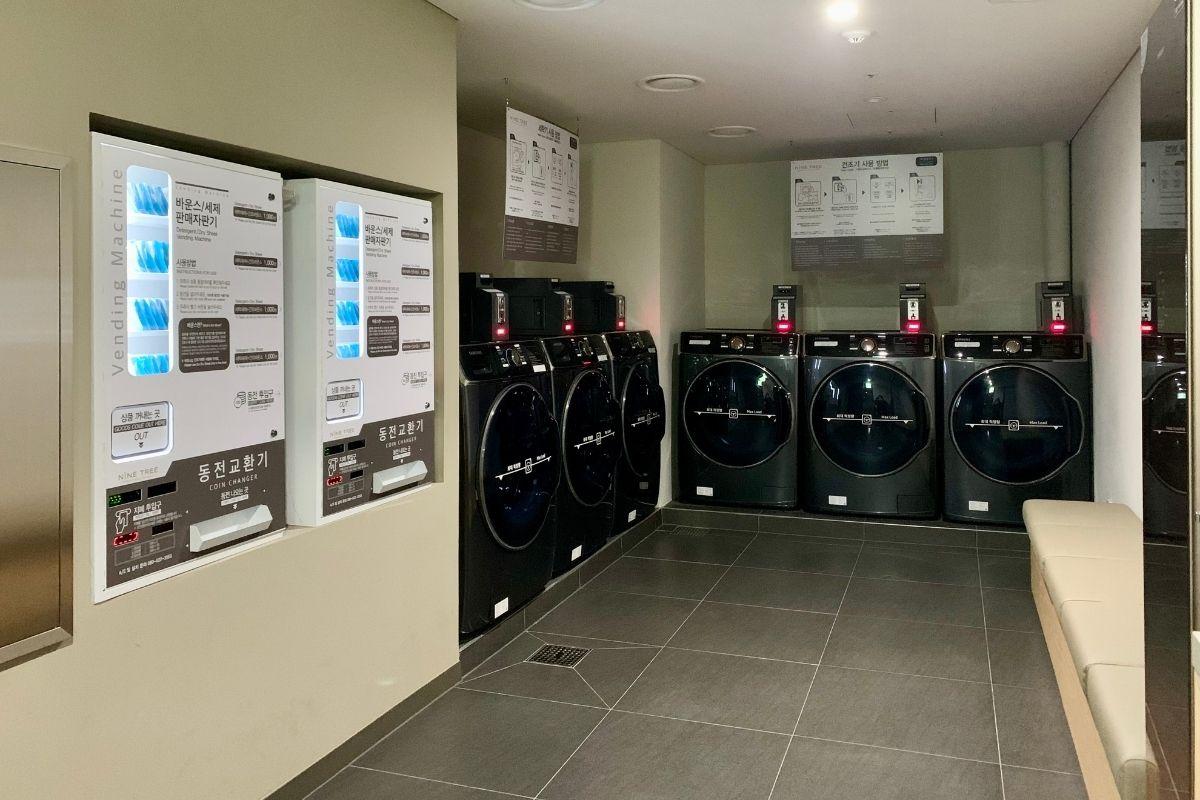 Also on the 12th floor is a laundry room where you can do your laundry 3,000KRW per load. This room is open from 7am to 11pm.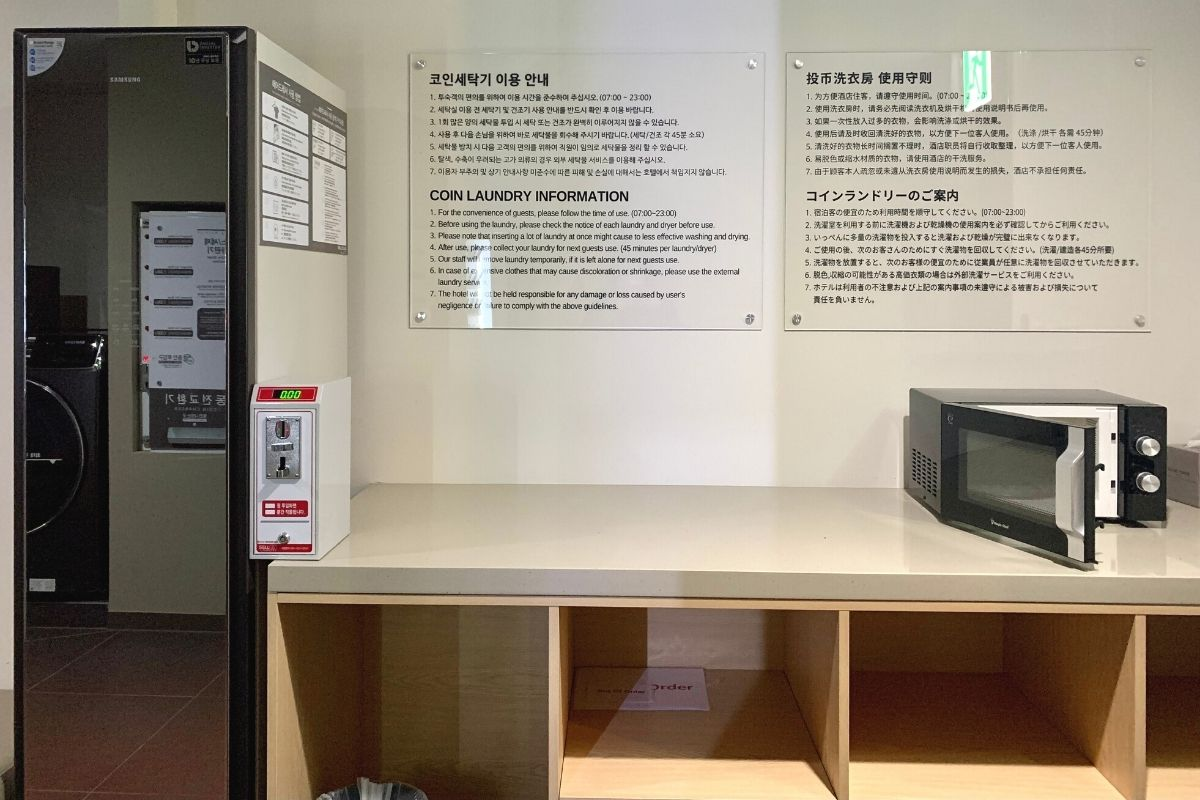 There is also clothes dryers and a microwave available for your convenience. The instructions are available in Korean, English, Chinese, and Japanese so please make sure to read them carefully before using. One load of laundry (washing and drying) will take approximately 45 minutes so make sure to place accordingly.
Nine Tree Premiere Hotel Insadong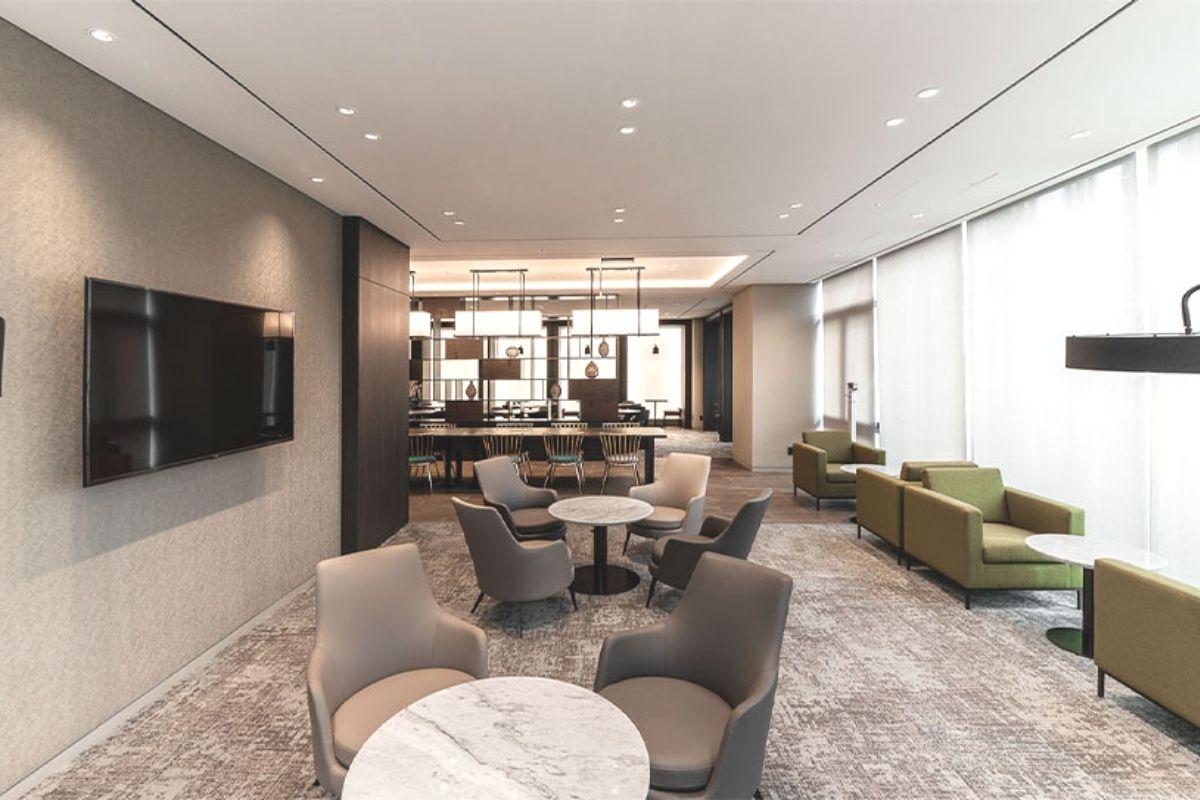 Nine Tree Premier Hotel Insadong
In addition to these facilities, the hotel also has conference and event rooms, as well as bars that you can go to during your stay.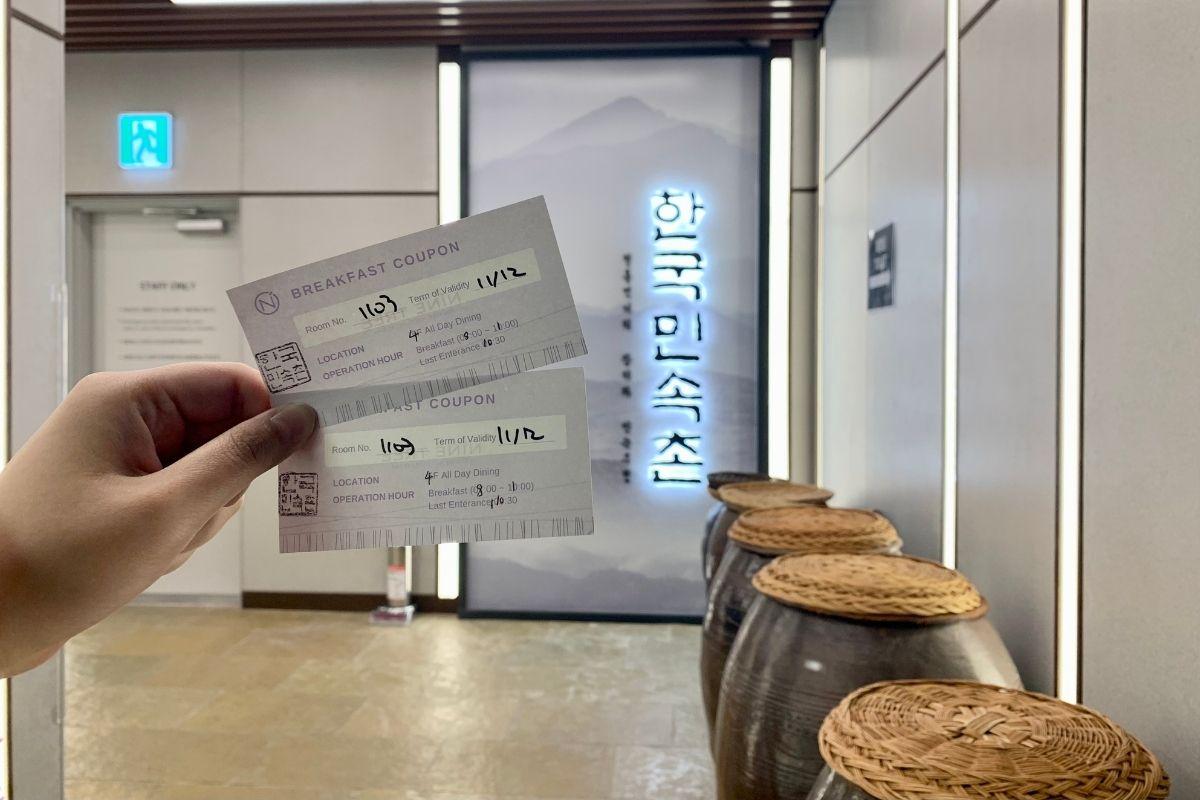 The next morning, we made sure to make good use of our breakfast vouchers that were included with our room. We went down to the fourth floor to the Korean Minsokchon Restuaraunt (한국 민속촌) and gave our breakfast vouchers to the staff at the door.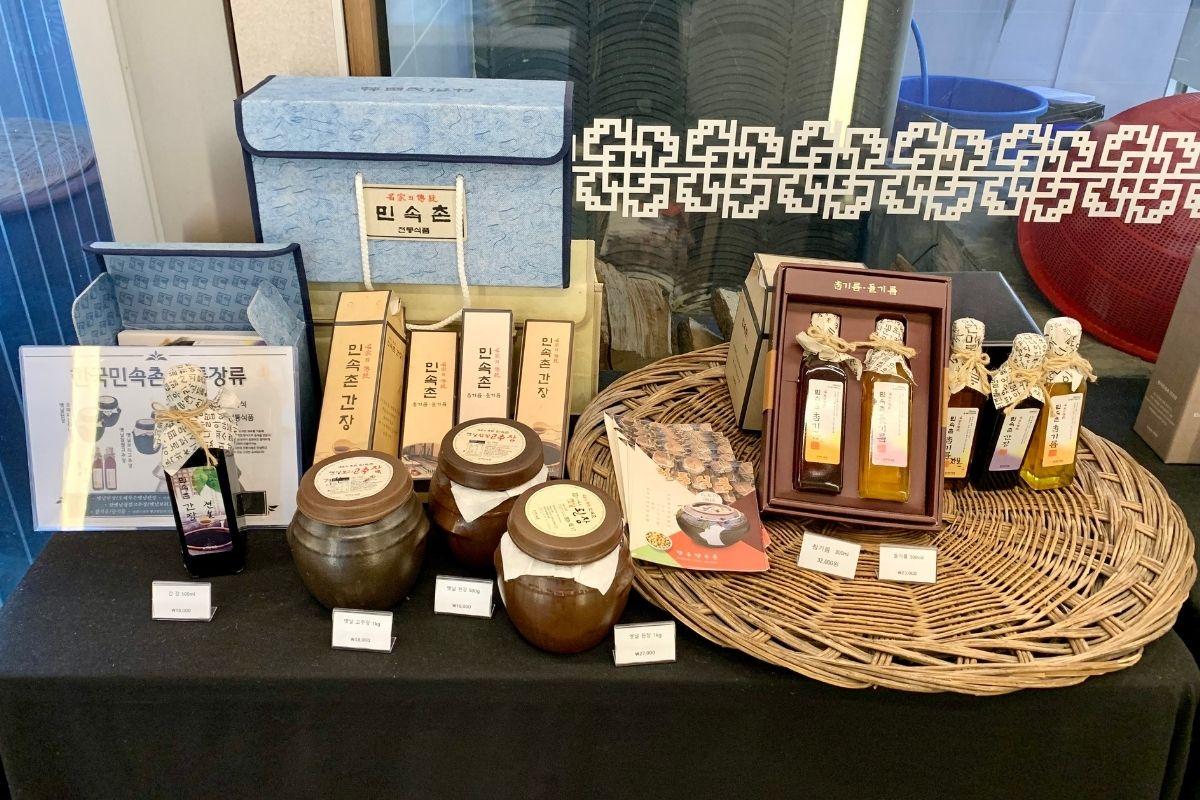 As we entered, we saw various Korean items like liquor and tradition soy sauce and pastes that could be bought as as souvenirs.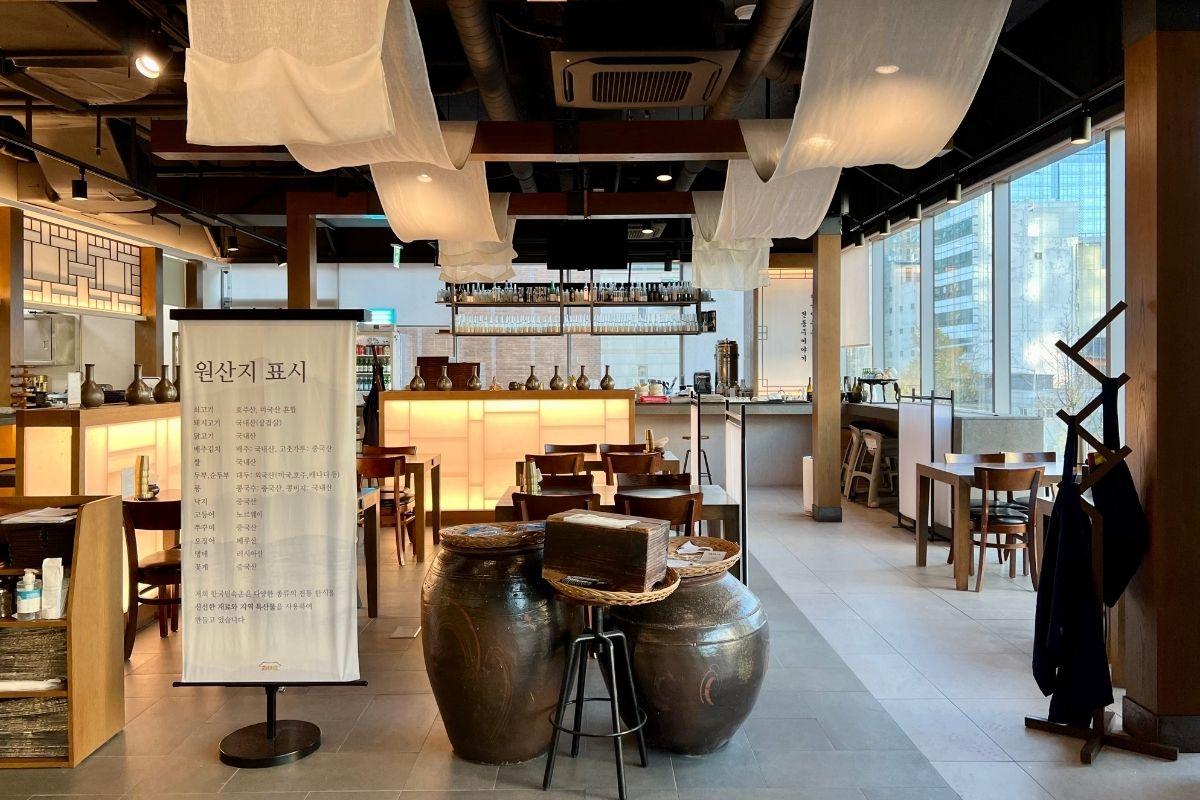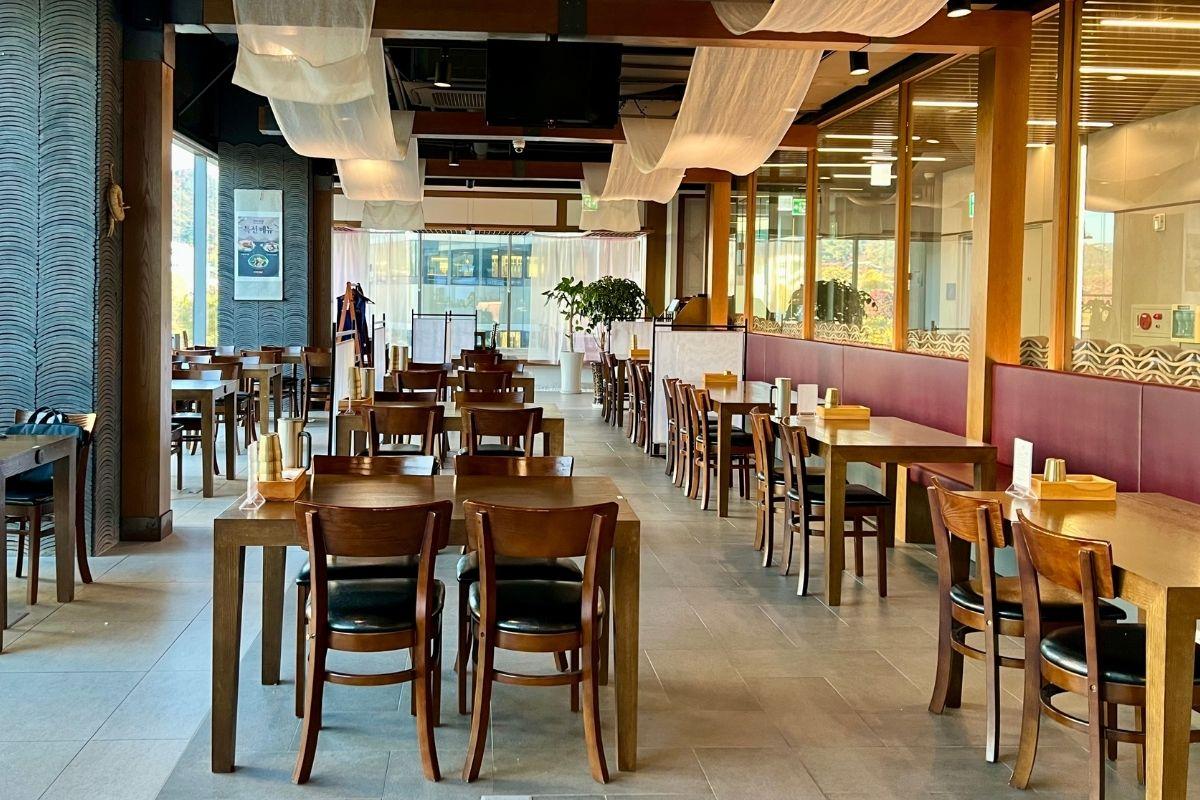 The restaurant was very spacious and clean and was decorated with a traditional hanok style interior that gave a very traditional Korean feeling.
The windows went down to the floor which allowed for the place to be filled with natural light. We also had a great view of the Jogyesa Temple and streets of Insadong.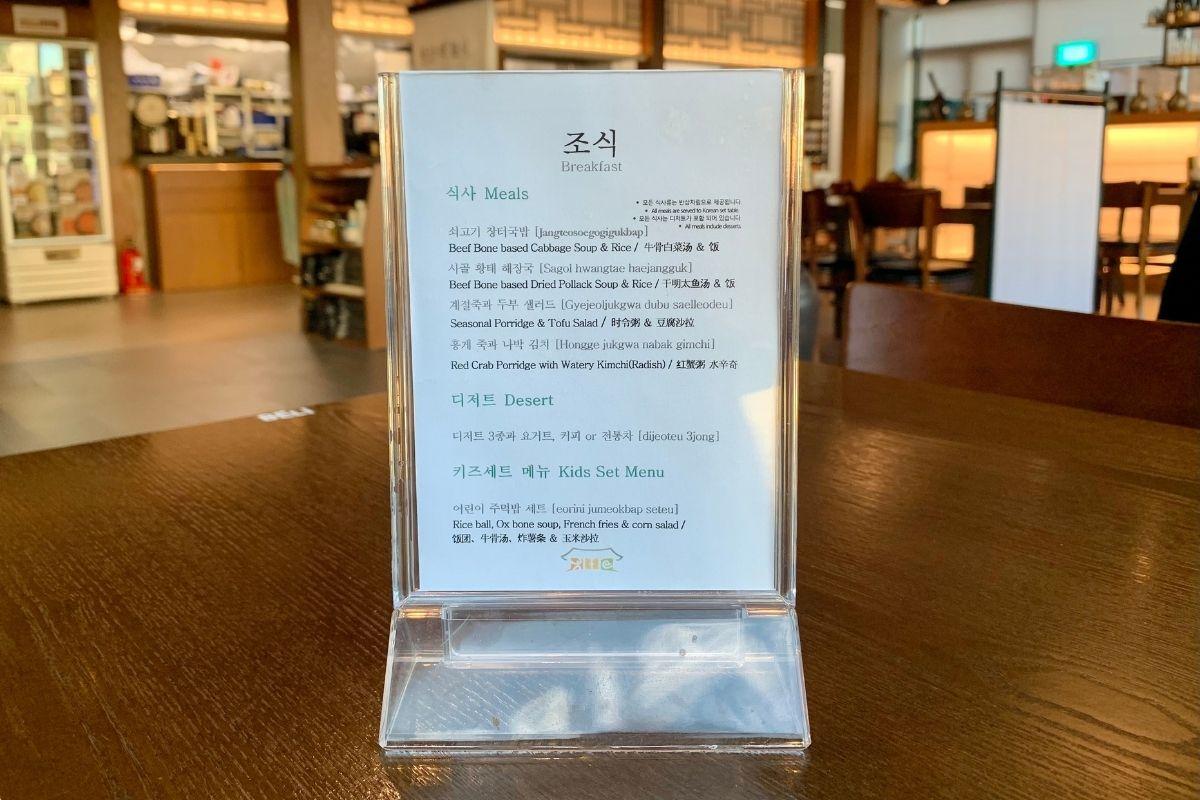 The morning's menu consisted of four main dishes to choose from, a children's menu, and dessert, all written in English and Korean.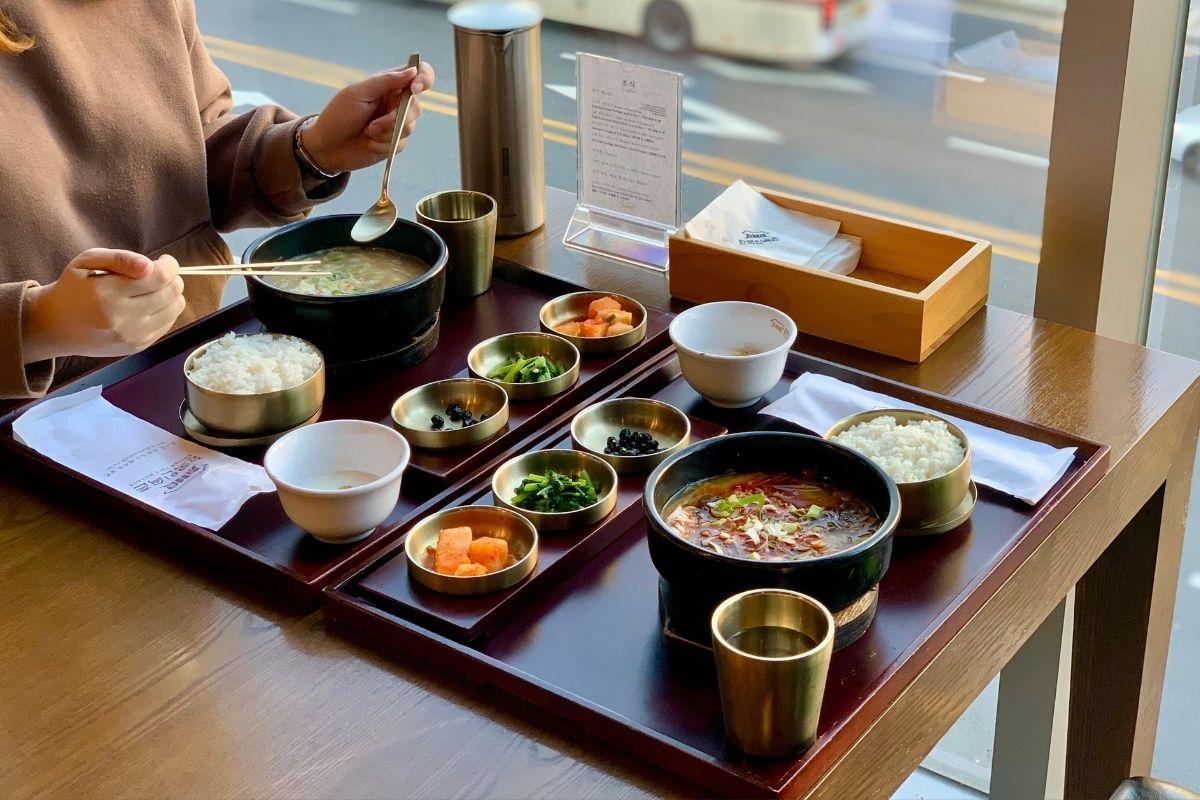 We chose a cabbage beef soup with rice (쇠고기 장터국밥) and a pollack beef soup (사골 황태 해장국). To our surprise, they were beautifully presented on our individual trays which made us even more excited to dig in.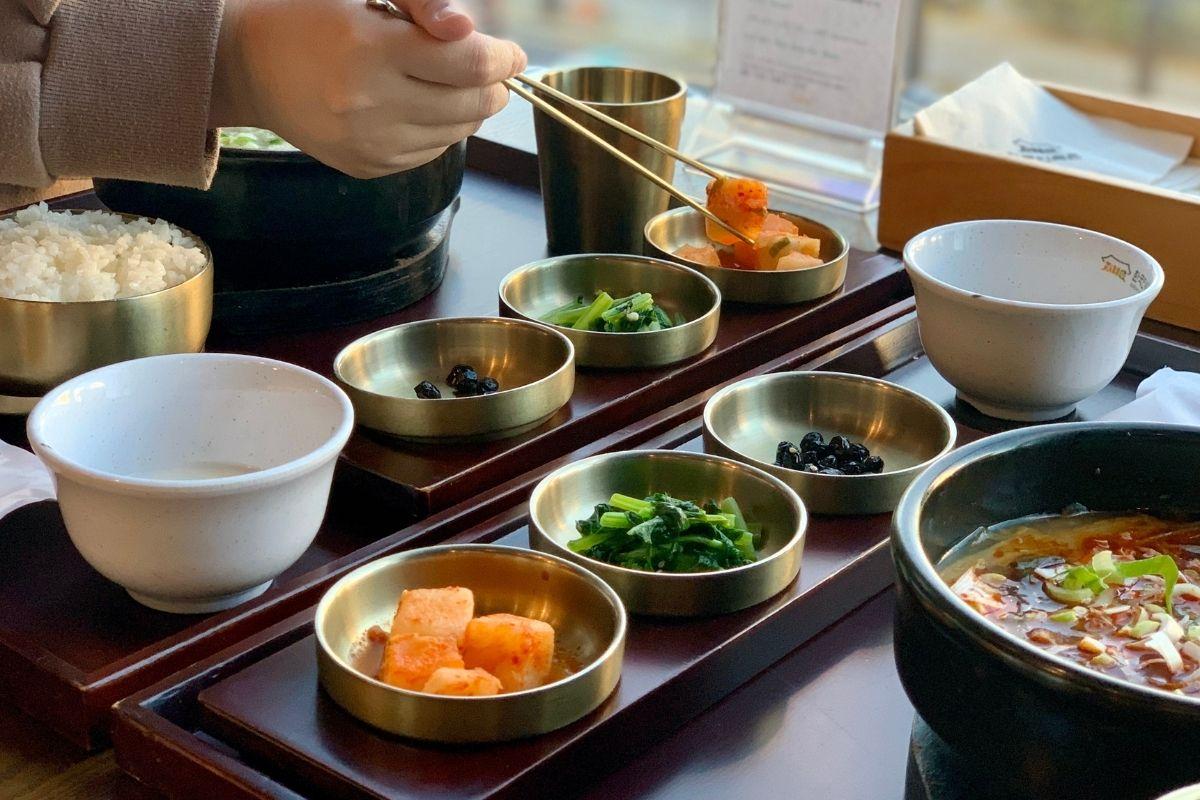 Along with our main dish dishes came three side dishes: radish kimchi, salted green vegetables and fermented beans. There was also a small bowl of sweet and sour yogurt that was great for cleansing your pallet once you finished eating.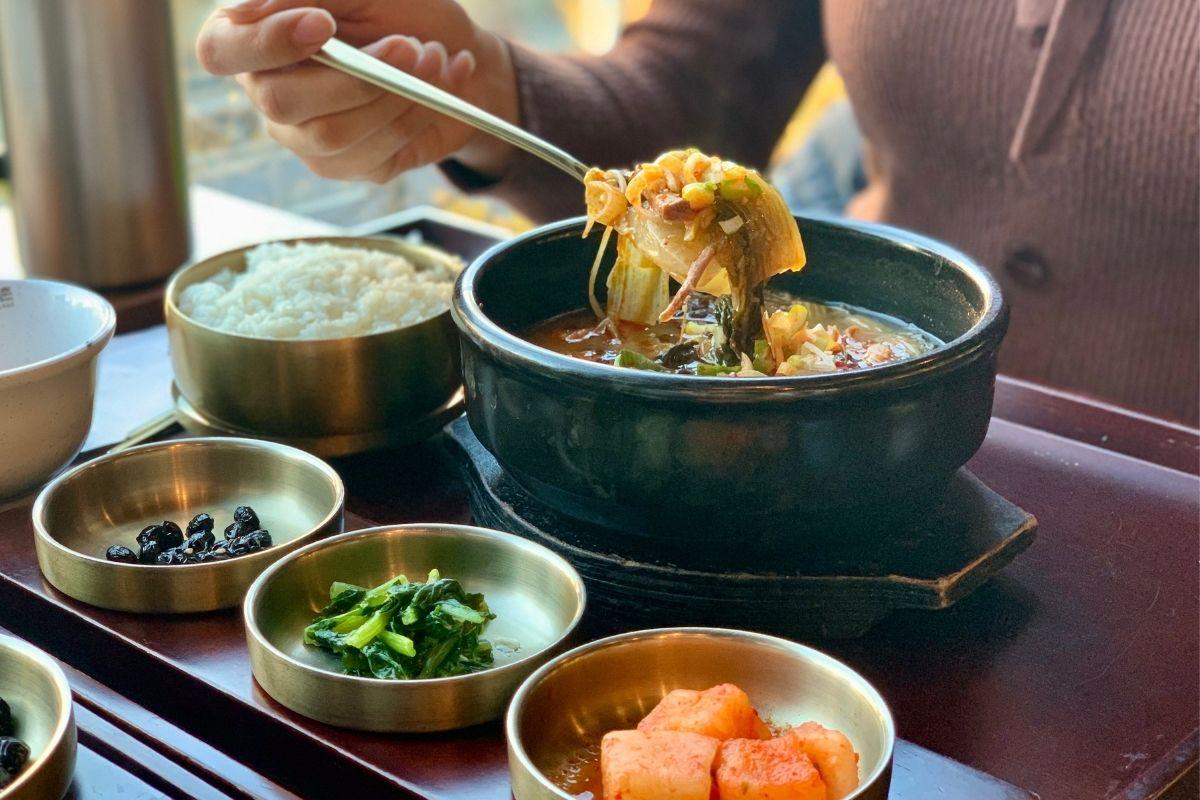 Cabbage Beef Soup with Rice (쇠고기 장터국밥)
This soup was perfect for giving you a great start to your day. Filled with cabbage, green onions and garlic in a beef broth with small chunks of beef was seasoned super well. It wasn't too spicy or too salty.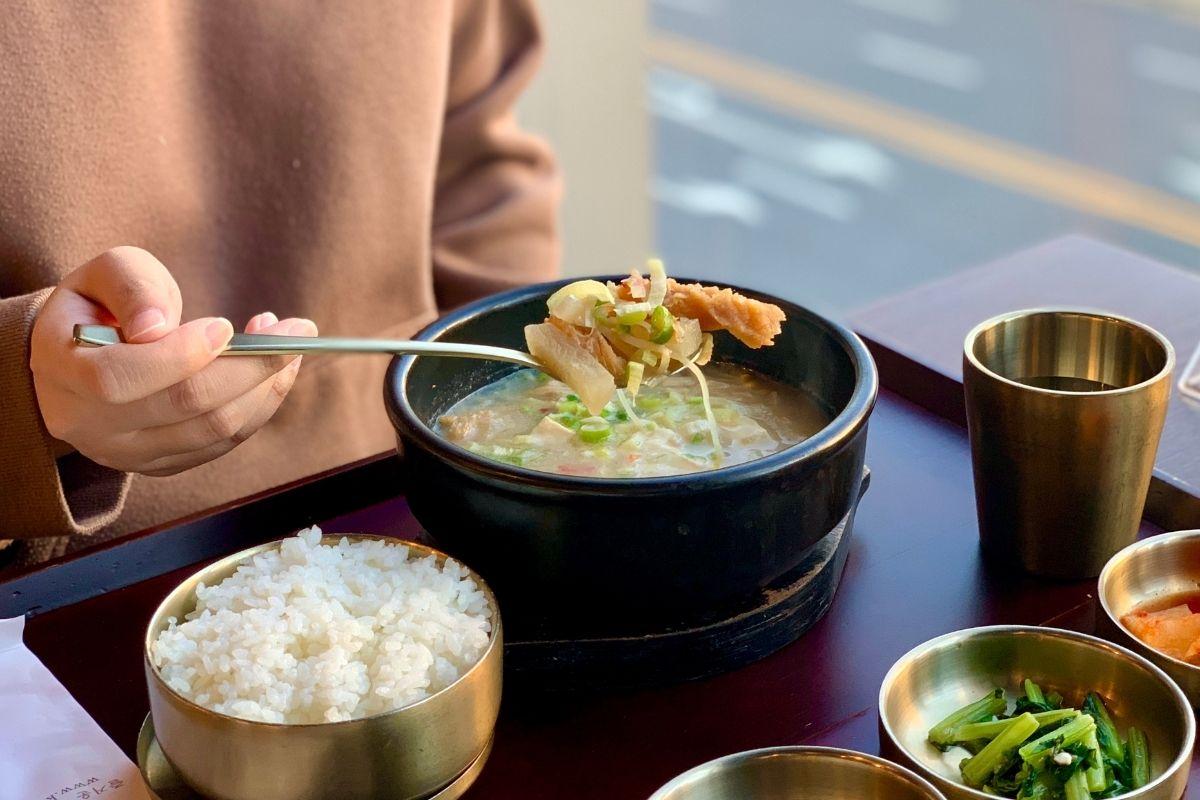 Pollack Roe Soup with Rice (사골 황태 해장국)
If you are a fan of seafood, then this is a good choice for you. The slices of pollack were put into a beef broth, along with beans sprouts and radish. This soup is known to be good for your health and also leaves you feeling energized for your day.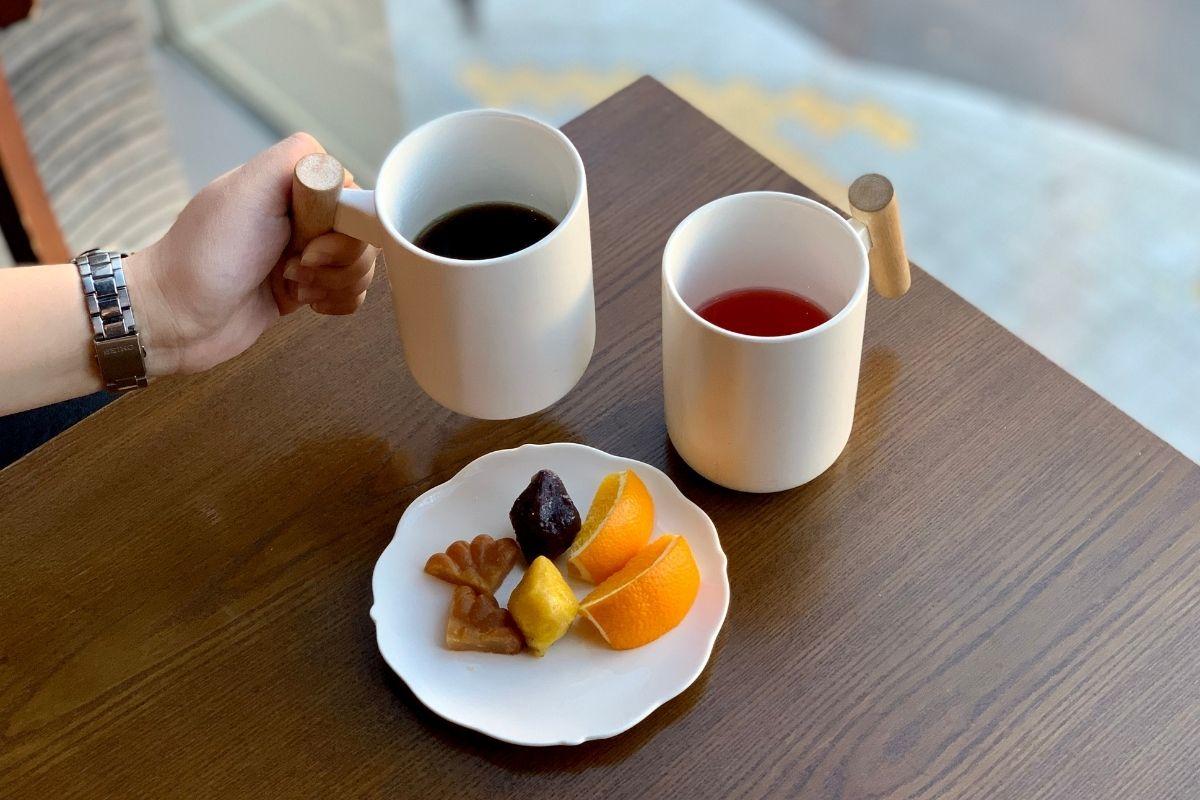 When you're nearly finished with your food, you'll be served with a small dessert to end the meal. You can choose between coffee or tea to accompany your array of fruits, songpyeon and yakgwa (traditional Korean snacks). We thought the size of this breakfast added a great value to the room which we got at such a great price for the two of us.
---
How to Get There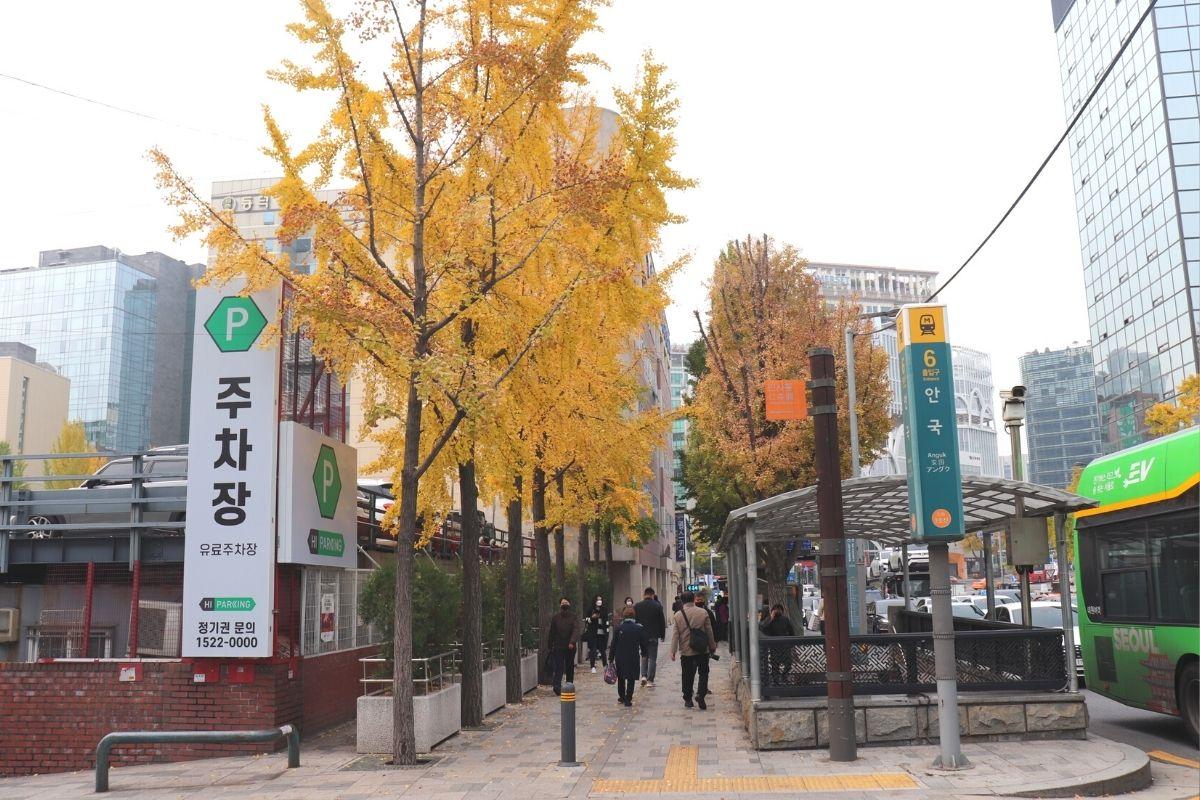 Leave from Exit 6 of Anguk Station.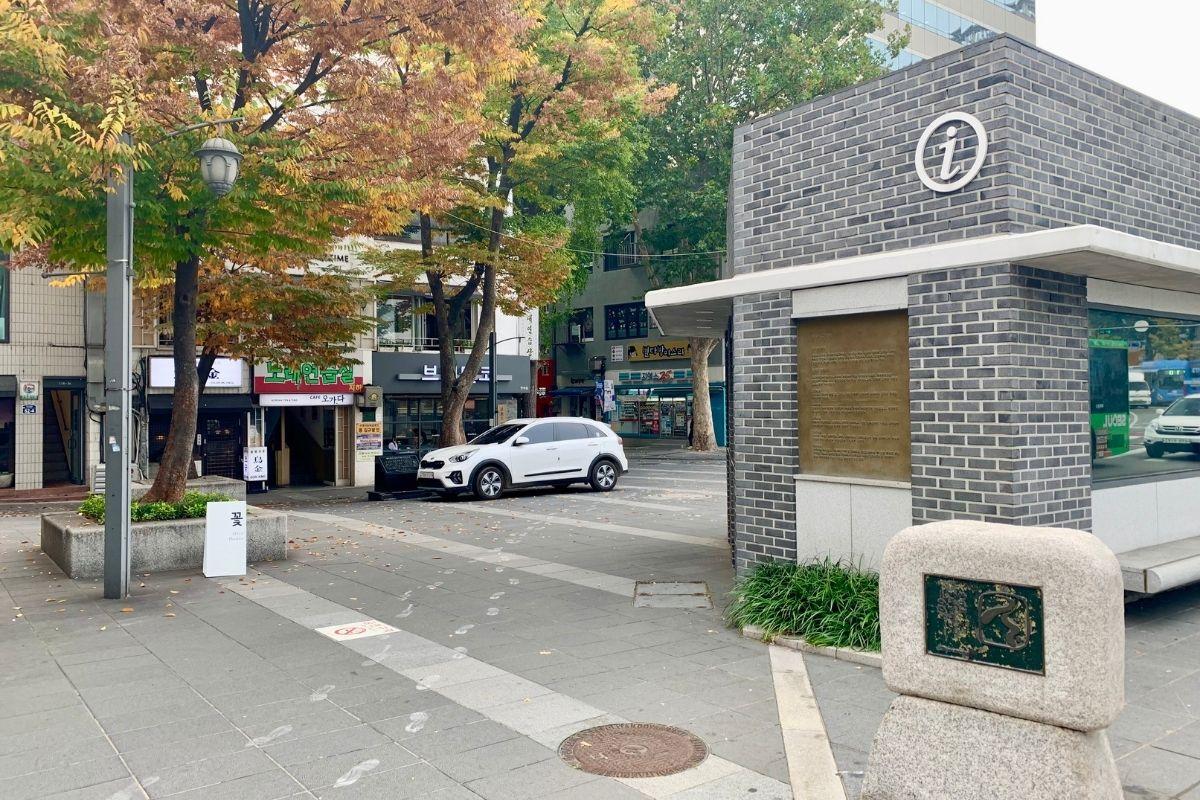 When you get to the Insadong Information Center, turn left and follow the white footprints to Insadong's main street.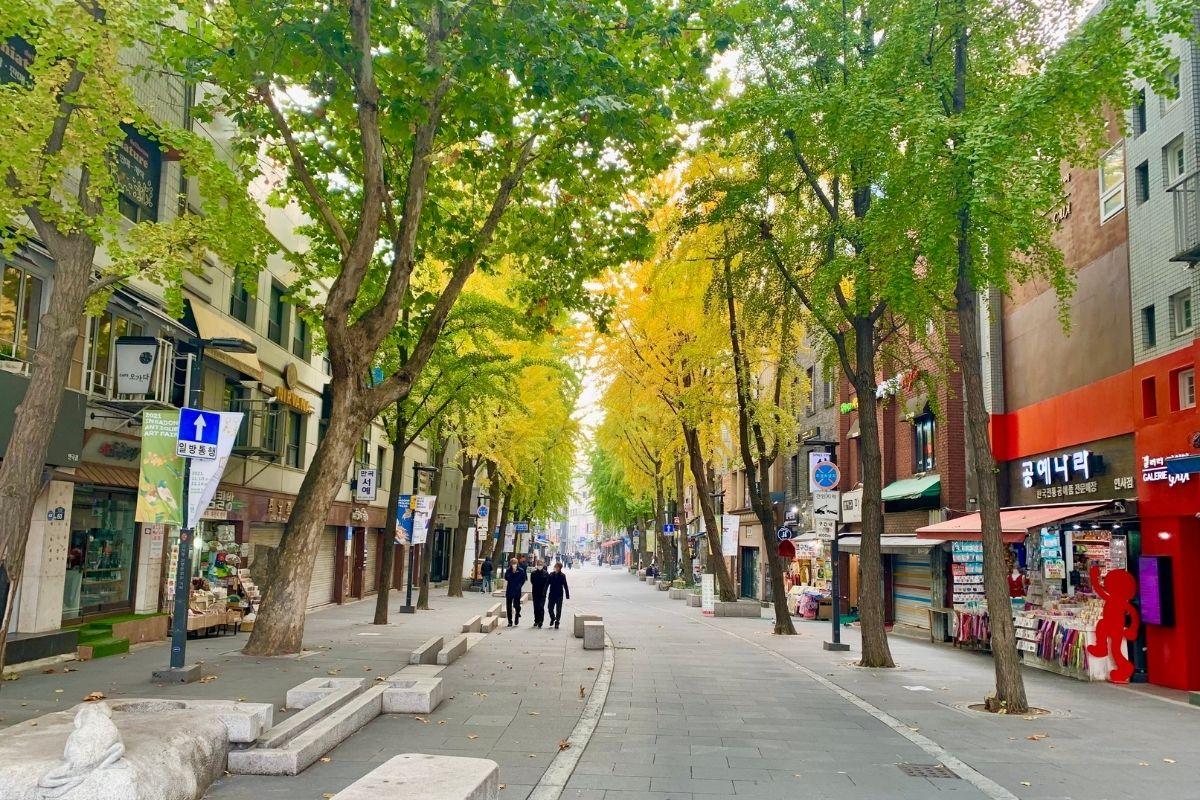 You will find the hotel about 650ft/200m away from the main street of Insadong.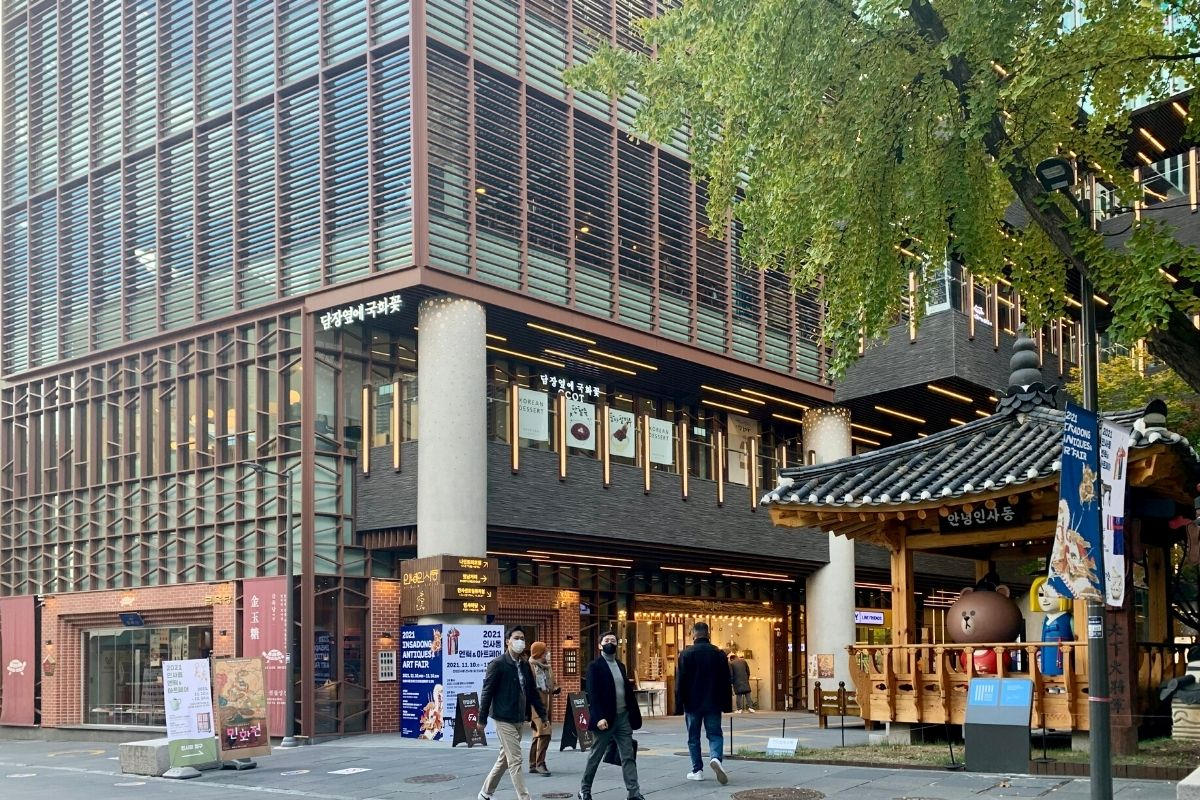 There you will find the Hi Insadong Shopping, Entertainment and Culture Complex to the right.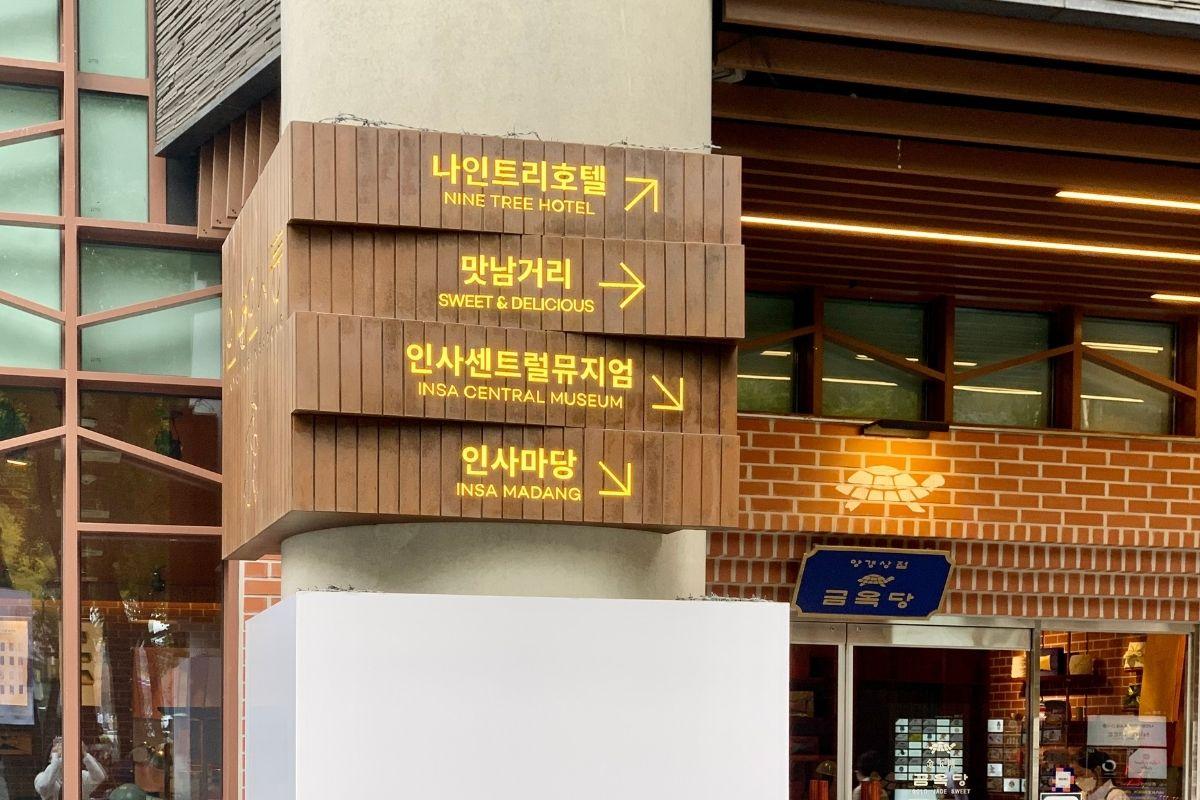 If you follow the arrow and go to the fifth floor of the Hi Insadong Center, you will finally arrive at the Nine Tree Premier Hotel Insadong.
---
We had a great experience staying at the Nine Tree Premier Hotel in Insadong and we hope that our review has made it a little easier when booking your own trip to Seoul. If you are set on staying in Insadong, again, don't forget to use our Insadong Locals' Guide and make sure you follow us on Instagram, TikTok, and Facebook to stay updated on everything Korea. Feel free to contact us at help@creatrip.com if you have any questions.
---