Calling All Mint Chocolate Lovers! A Review Of 9 New Mint Chocolate Flavored Products
If You're A Mint Chocolate Fan, You Must Try These New Items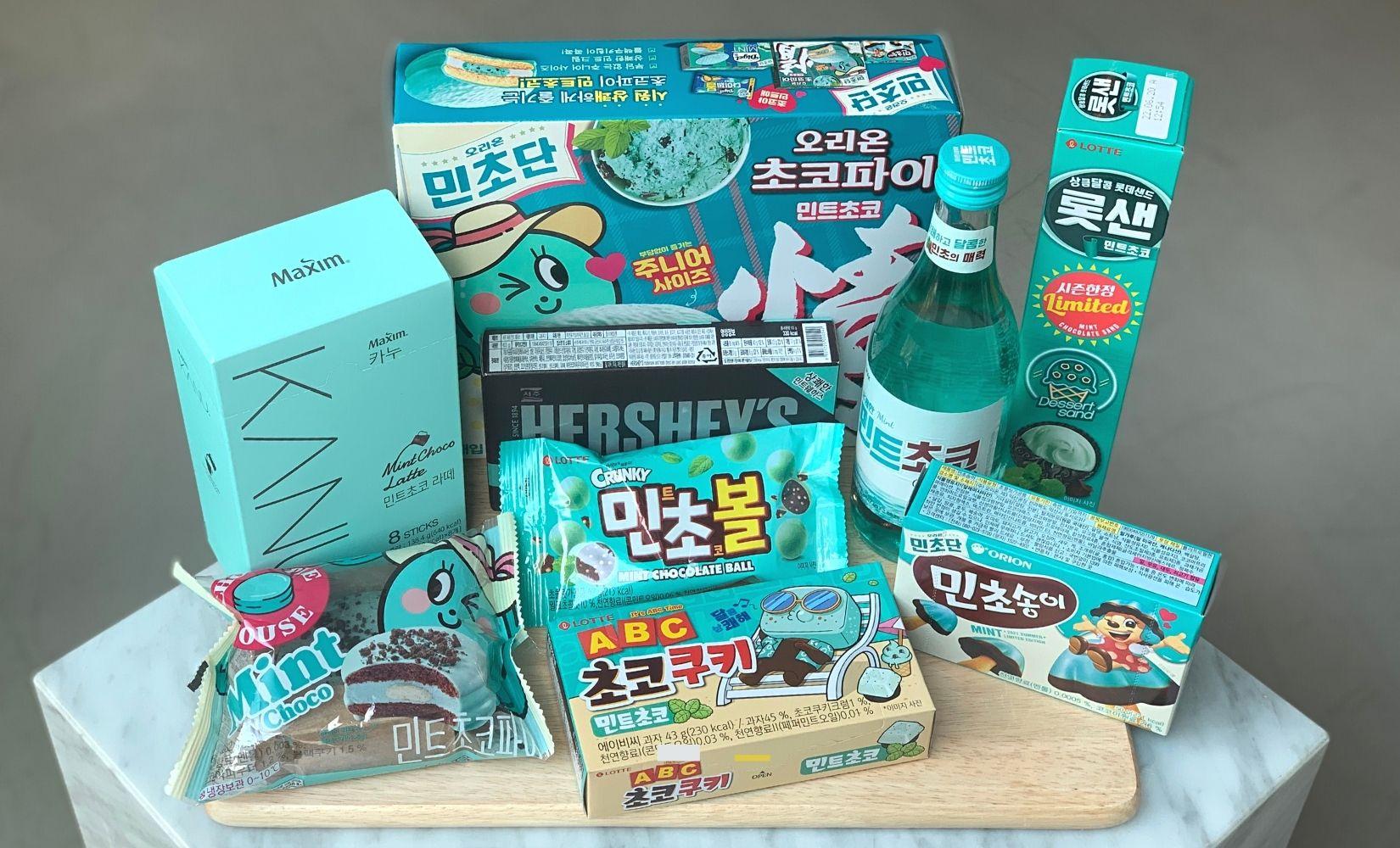 Mint chocolate always divides people into two teams: those who love it and those who hate it, saying it tastes like toothpaste.
The mint chocolate fad is taking over Korea and this summer, many food companies released mint chocolate flavored products. Let's find out what new foods are available here this summer!
If you would like to purchase any of these items or other Korean snacks, feel free to request them on Creatrip's shopping service.
---
Hershey's Mint Creme Wafers


허쉬 민트초코 웨하스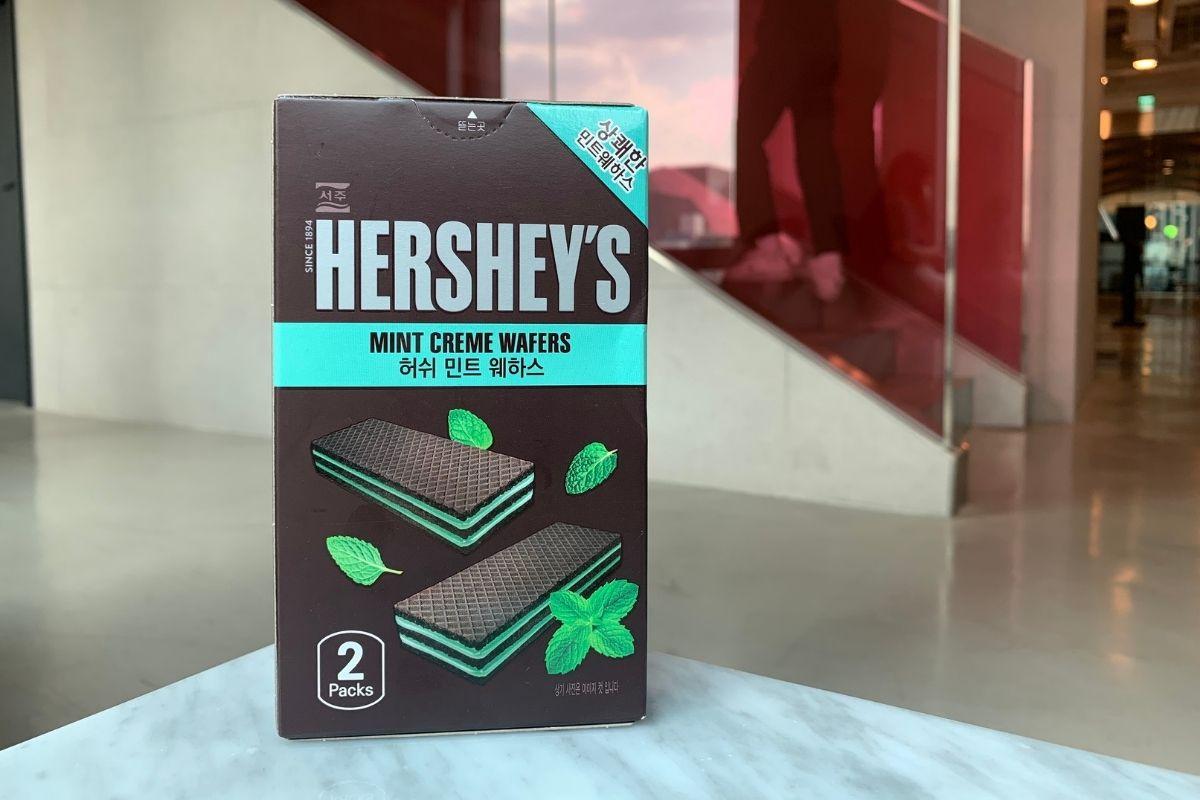 Price: 1,800 won
Calories: 330 kcal
Where To Buy: 7-Eleven, CU, supermarket
These are wafers with a thin layer of mint cream in between the layers. 1 box has 2 small bags inside with 6 wafers in each bag.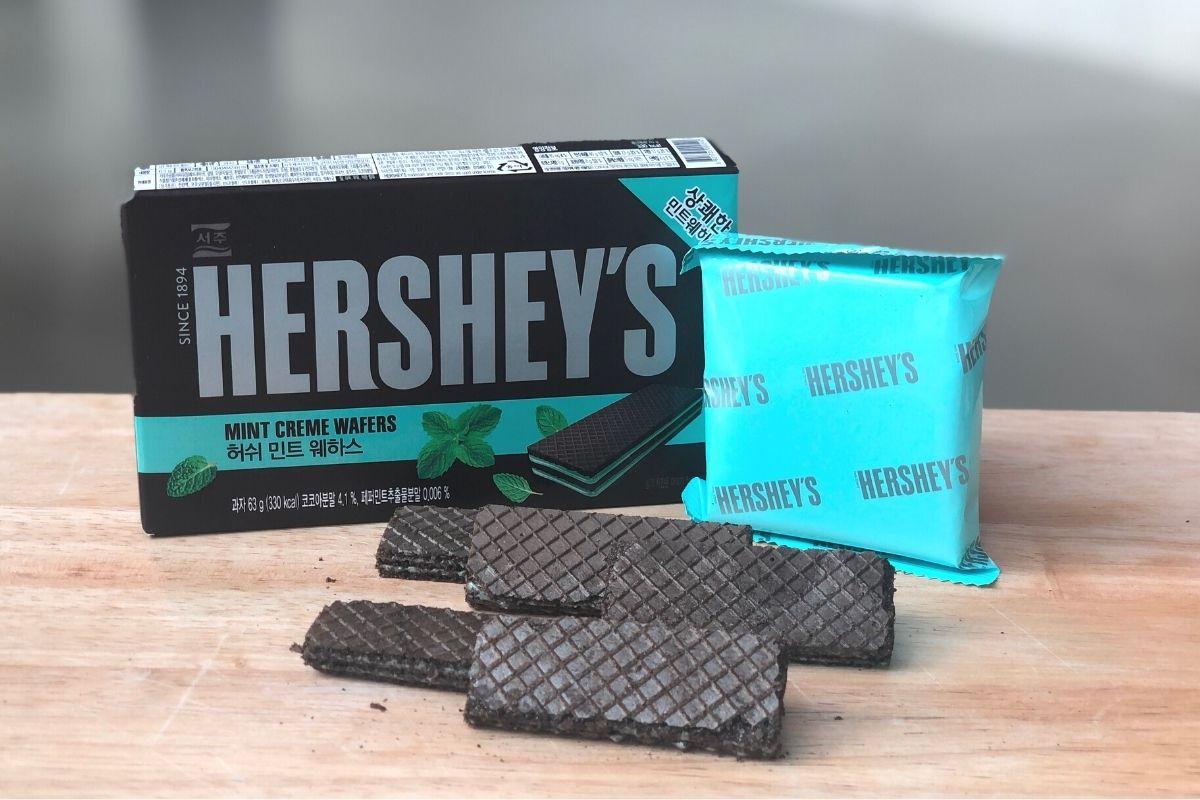 In my opinion, the mint flavor isn't too strong and is covered by the bitter chocolate taste, so those who are worried about it tasting like toothpaste can still eat it.
Unfortunately, the wafer was a bit thin and crumbly. It would be much better if it was a little thicker.
---
KANU Mint Chocolate Latte
카누 민트초코라떼
Price: 4,500 won
Calories: 80 kcal/pack
Where To Buy: 7-Eleven, GS25, CU, supermarket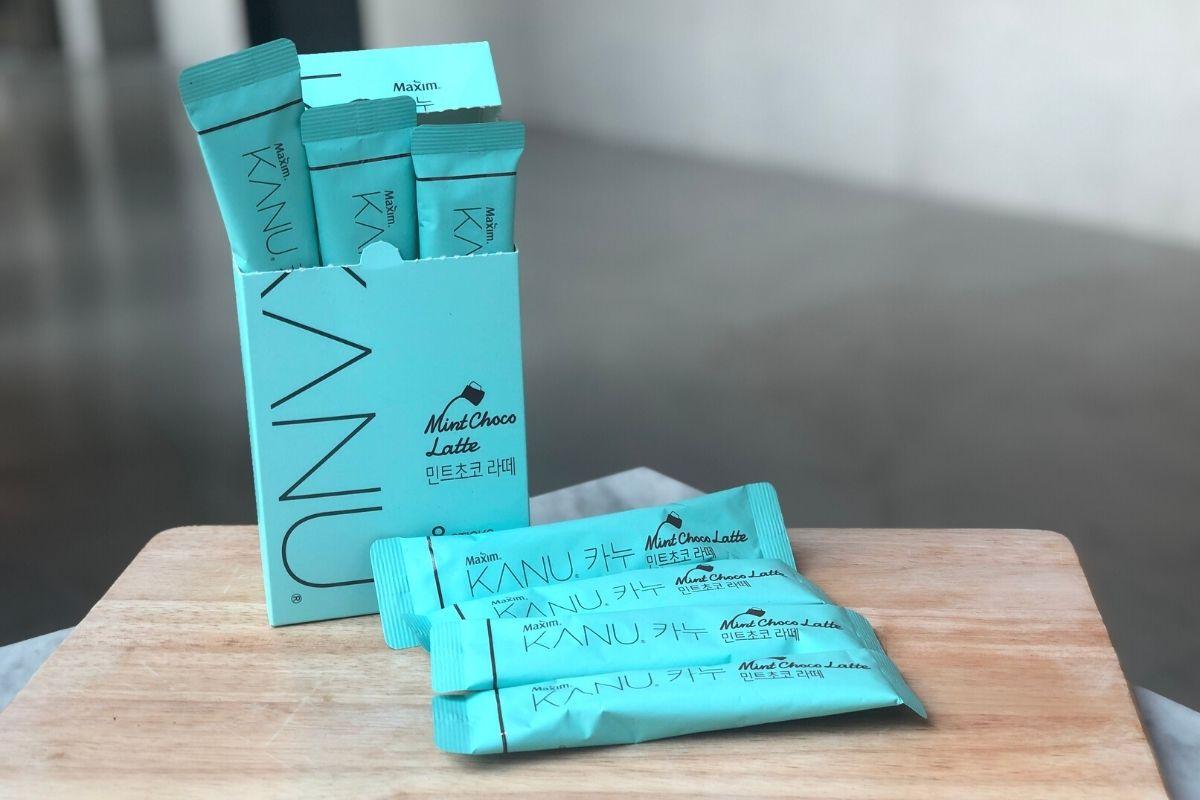 The second product I want to introduce is an instant mint chocolate latte from the famous instant coffee company, KANU.
Each box has 8 pretty, mint green packs. However, when you mix it, it ends up being the same color as a normal latte.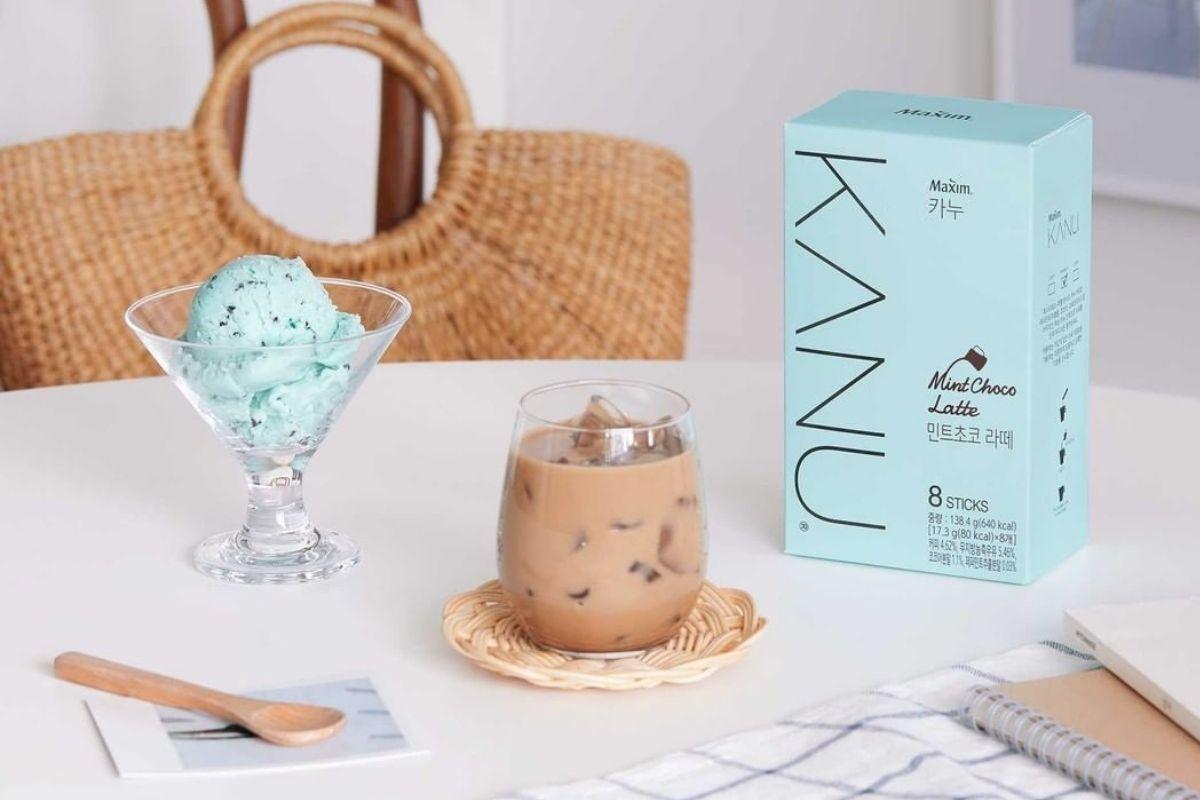 Source: KANU
You can taste the bitterness of the coffee mixed with a minty aroma. The mint flavor is not too strong, but it definitely leaves an aftertaste. Add some ice and you'll have a delicious latte!
---
Crunky Mint Chocolate Ball
크런키 민트초코볼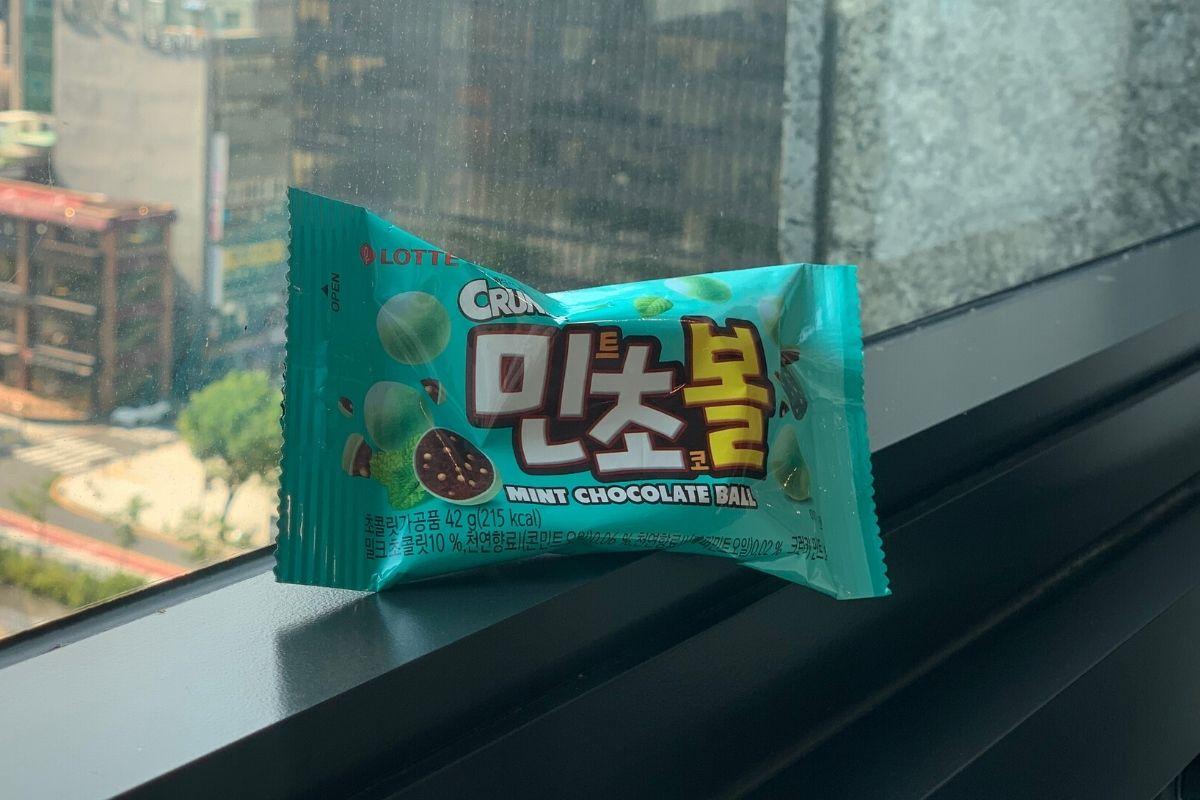 Price: 1,500 won
Calories: 215 kcal
Where To Buy: GS25, supermarket
Next up is Crunky's Mint Chocolate Ball. I was expecting them to have a strong mint flavor because the chocolates are all covered in a bright, mint shell.
However, the mint layer was pretty thin, so you mostly taste the chocolate.
The inside is the usual Crunky milk chocolate with crunchy rice bits mixed in, which is always delicious!
When you're feeling tired, grab a pack of these to recharge your energy.
---
Orion Mint Chocolate Songi
오리온 민초송이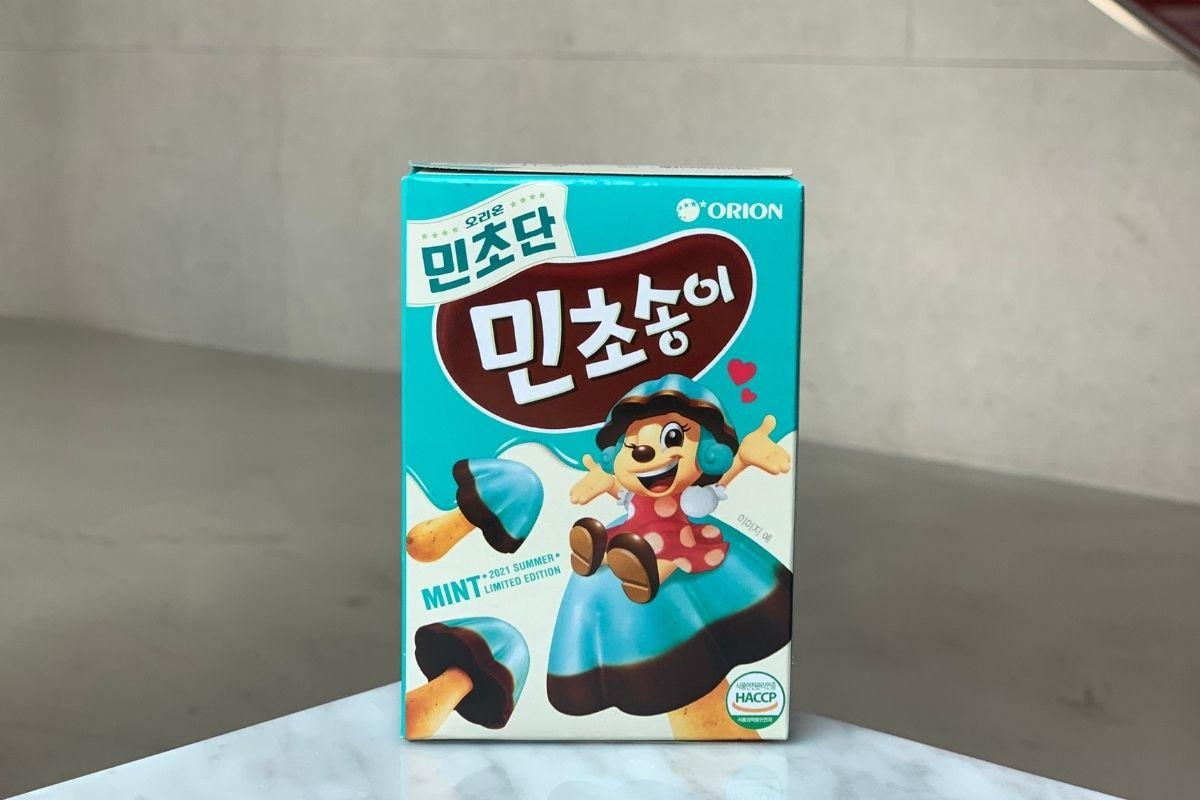 Price: 1,000 won
Calories: 271 kcal
Where To Buy: GS25, supermarket
Orion is already very famous for their Choco Songi (mushroom-shaped chocolate-topped biscuit snack).
In Summer 2021, the company released a special mint chocolate version. You can't deny that the packaging is super cute!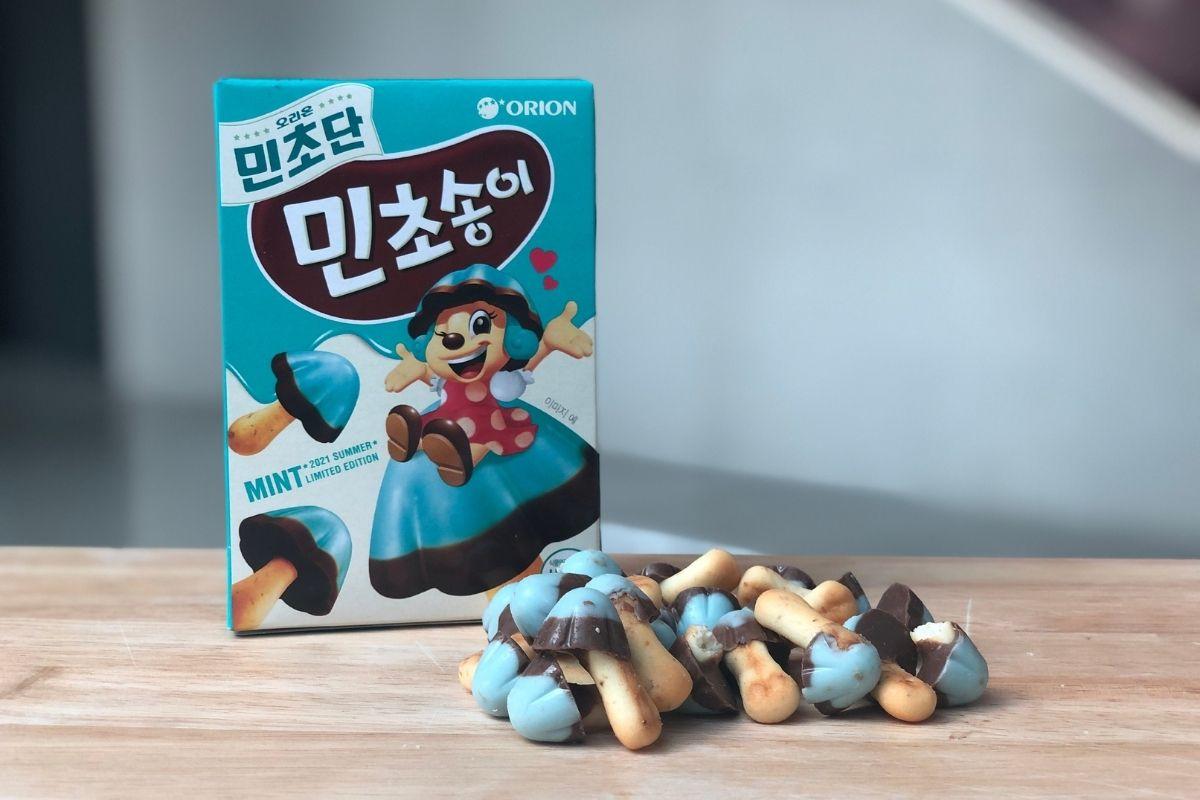 Inside the box, there is a small bag and when you open it, you will see little mushrooms with a very pretty mint tip.
The mint flavor of this snack is quite strong. You just have to eat one and you will taste the mint flavor spreading in your mouth right away.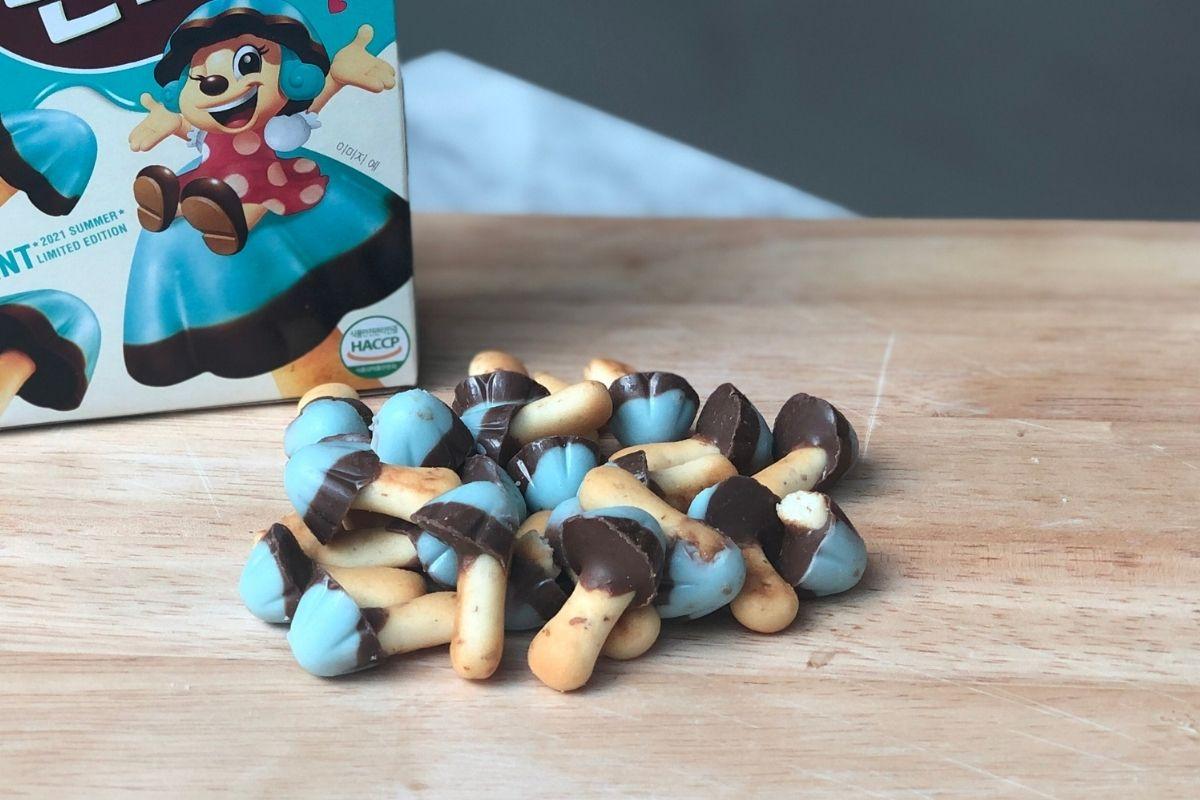 Also, the top of the mushroom is chocolate and the stem is a biscuit, so it's a great mix of soft and sweet chocolate and crunchy biscuits! If you like mint chocolate, you definitely have to try this one.
---
ABC Choco Cookie Mint Choco
ABC 초코쿠키 민트 초코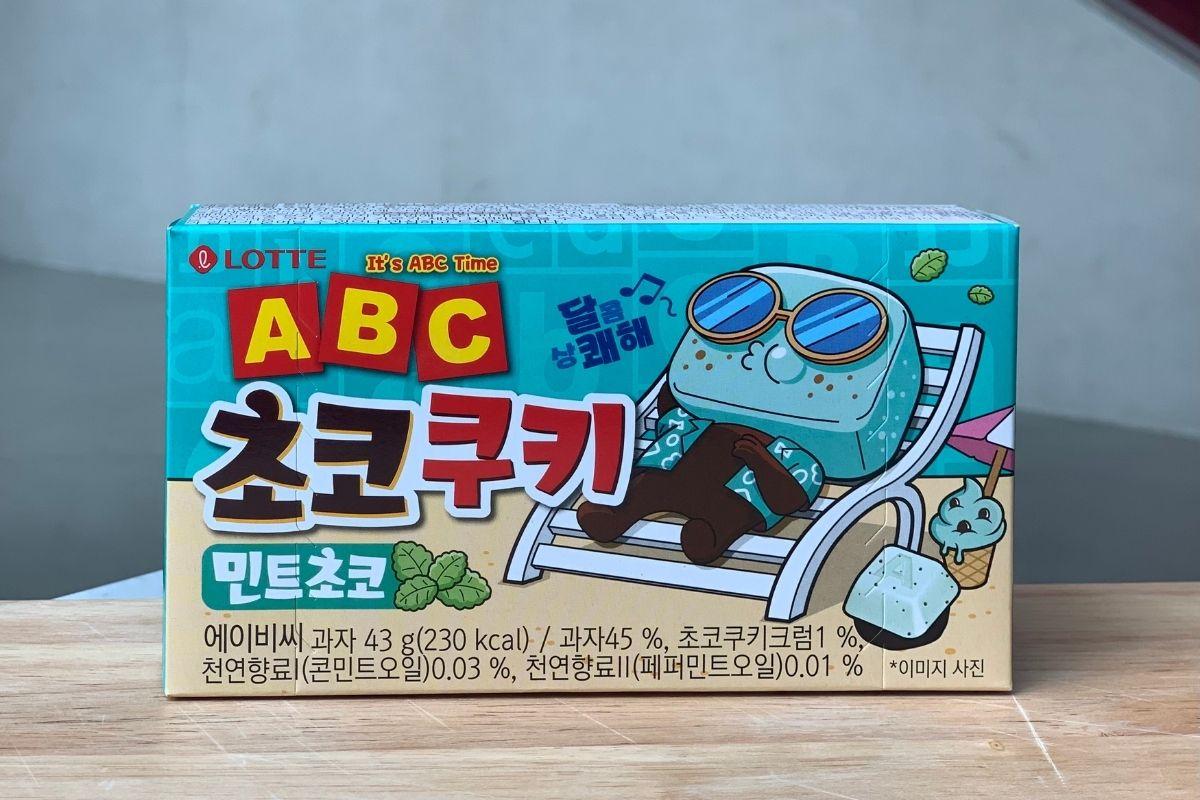 Price: 1,000 won
Calories: 230 kcal
Where To Buy: GS25, supermarket
This is also a cheap, new item that is only 1,000 won. ABC is famous for their cheap chocolate that tastes good for the price. This time, they released some mint chocolate flavored cookies.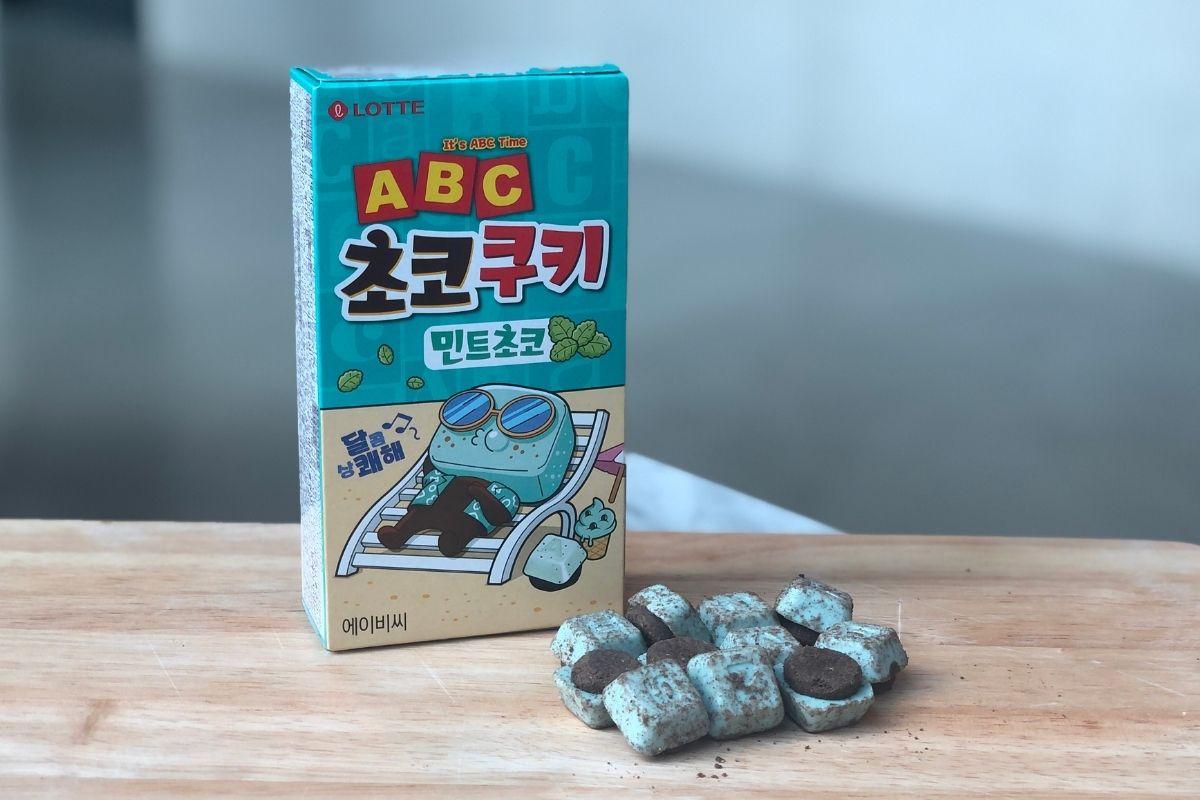 The box is filled with chocolate cookies covered in a layer of mint chocolate.
Honestly, they didn't look very good because the chocolate crumbs on the mint layer looked pretty messy and smudged.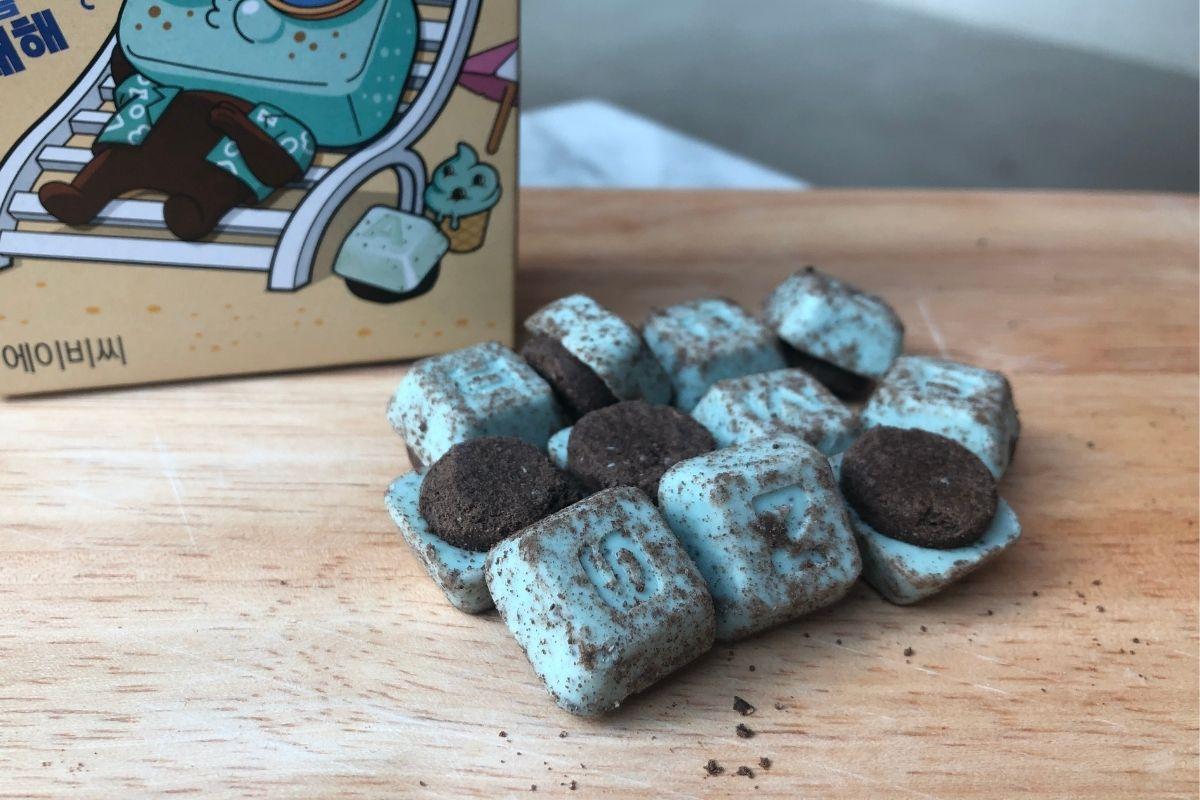 They do have a mint flavor, but are a bit sweet and the crumbs get stuck in your throat easily, which can be uncomfortable. However, they wouldn't be bad to have with some coffee!
---
Lotte Sand Mint Chocolate Cookies
롯샌 민트초코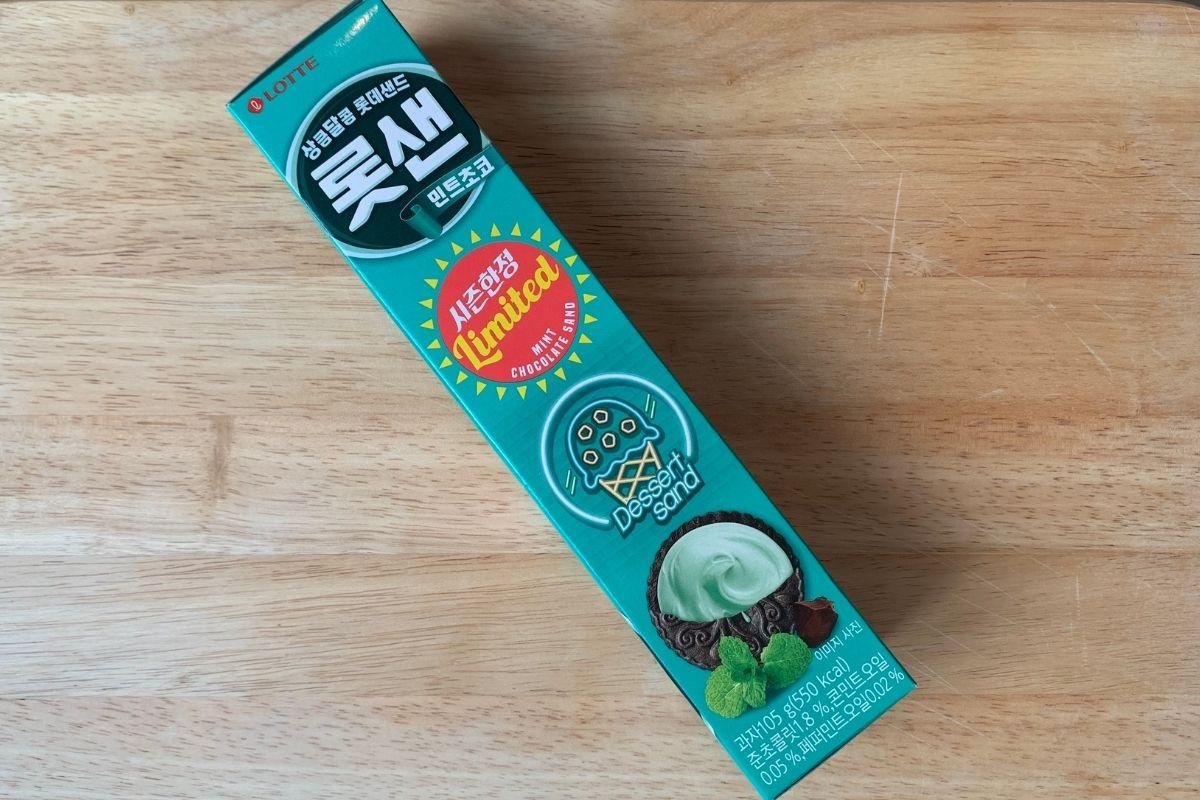 Price: 1,500 won
Calories: 550 kcal
Where To Buy: CU, supermarket
This is a summer special edition product in Lotte's mint chocolate series. The packaging and the cookies both look great and the cookies had a sharp, clean pattern engraved on them.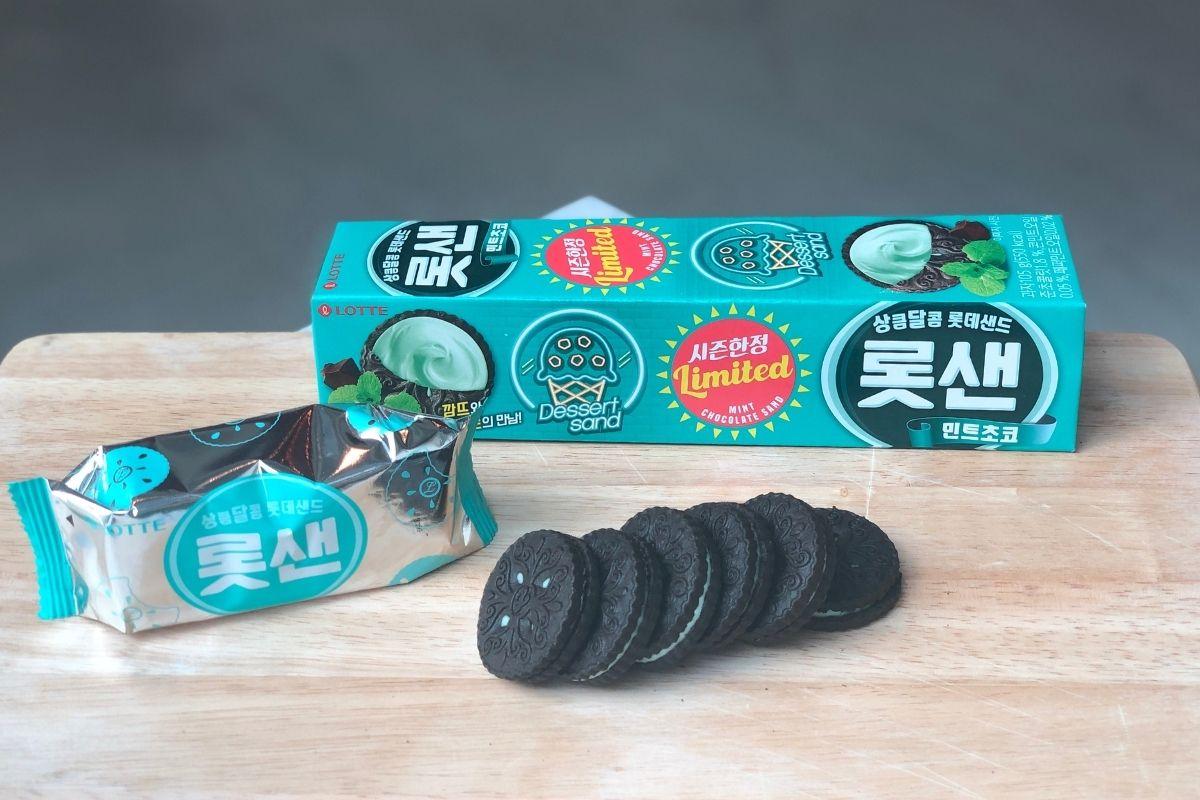 1 box includes 2 packs of 6 cookies for a total of 12 cookies. There is a layer of mint cream in the middle keeping the cookie together. It is actually quite difficult to separate the 2 sides!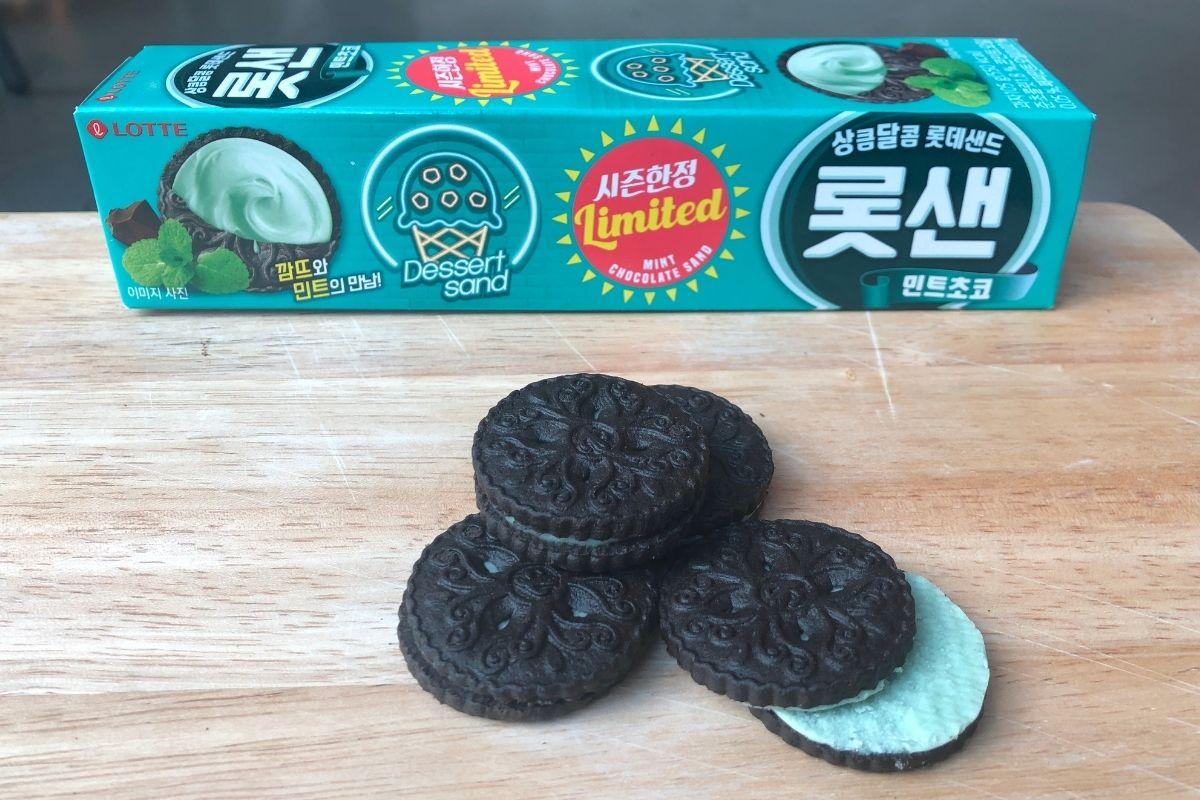 I was really satisfied with the taste. It had the perfect amount of crunch with a thin layer of cream that had a strong mint flavor.
---
Orion Mint Choco Pie
오리온 초코파이 민트초코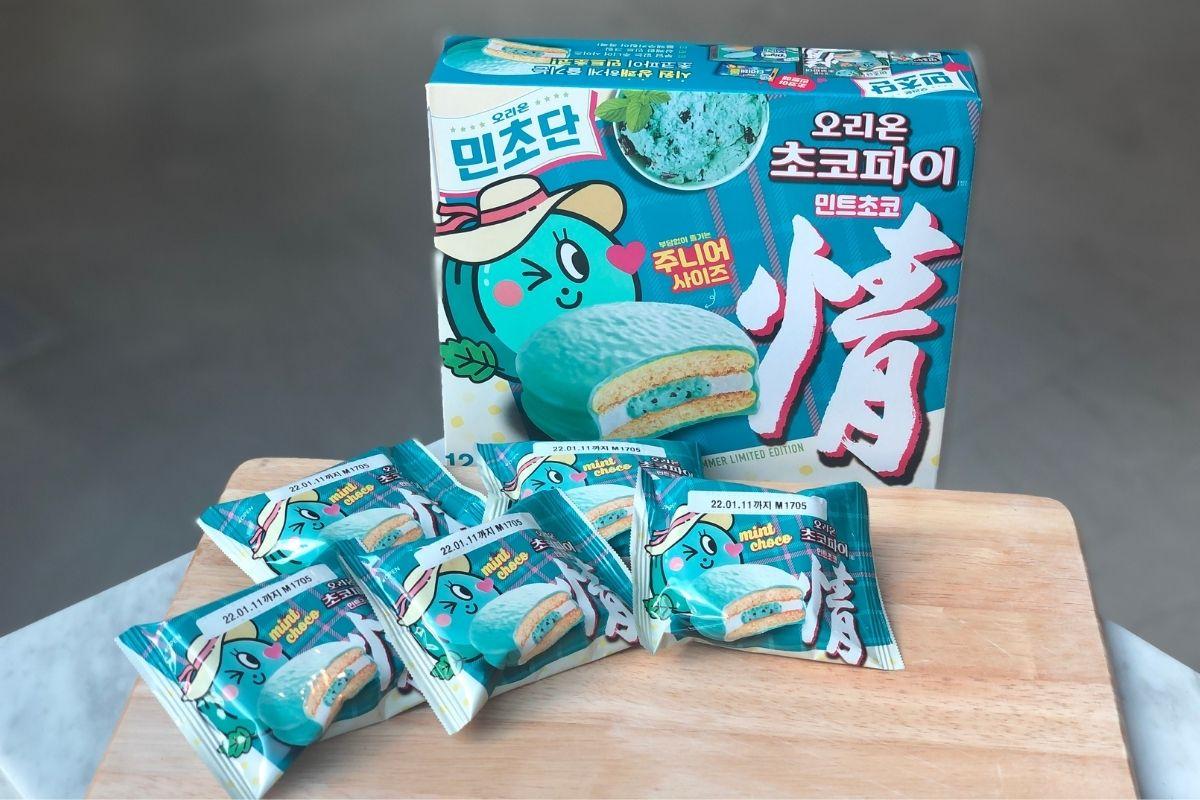 Price: 2,980 won
Calories: 131 kcal/pack
Where To Buy: GS25, supermarket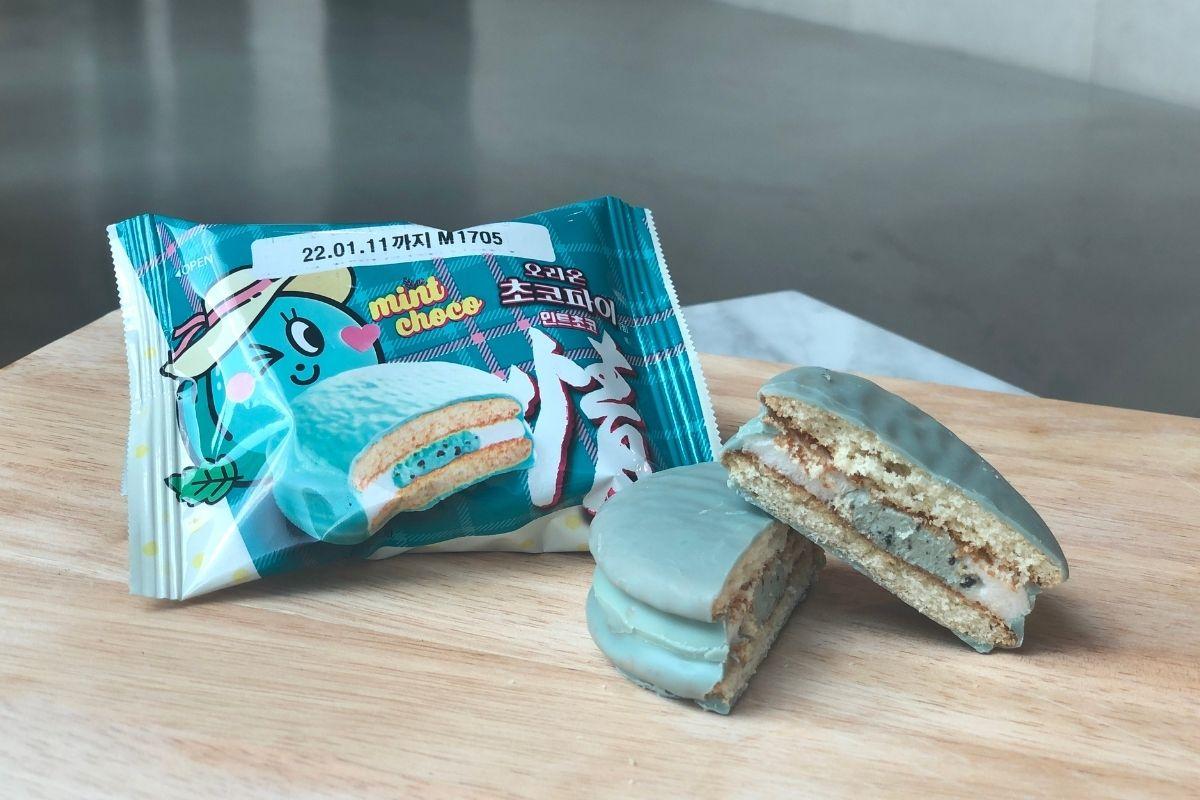 If you want to enjoy a snack with an explosive mint flavor, you can't miss this Mint Choco Pie. 1 box comes with 12 pieces.
Because each pie is pretty small, you can easily eat the whole box if you're not careful.
Don't worry about freshness because the expiration date is printed clearly on the wrapper.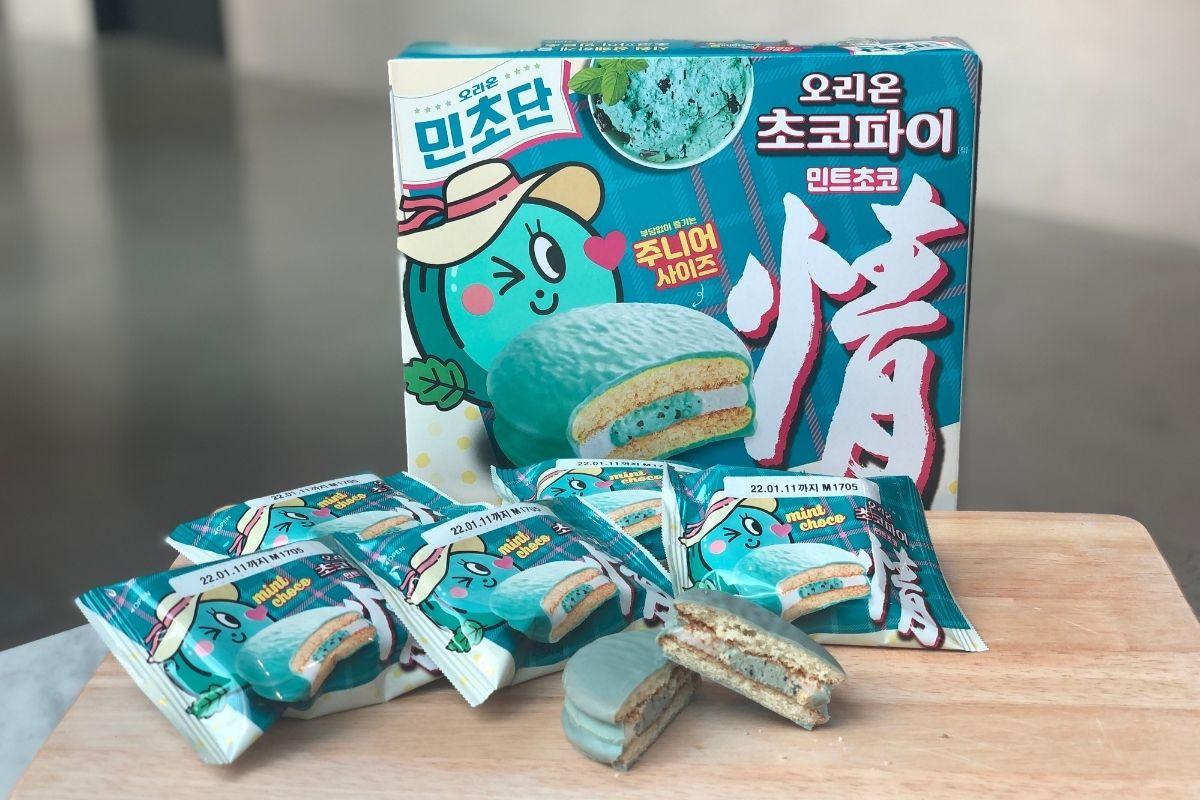 Just take one bite and the mint flavor will fill your mouth. If you look at it, you will see that there is very little chocolate in the cake.
However, the chocolate flavor is still pretty strong. The cake is soft and not too sweet, so it's very nice to eat!
---
Choco Pie House Mint Choco Pie
초코파이 하우스 민트초코파이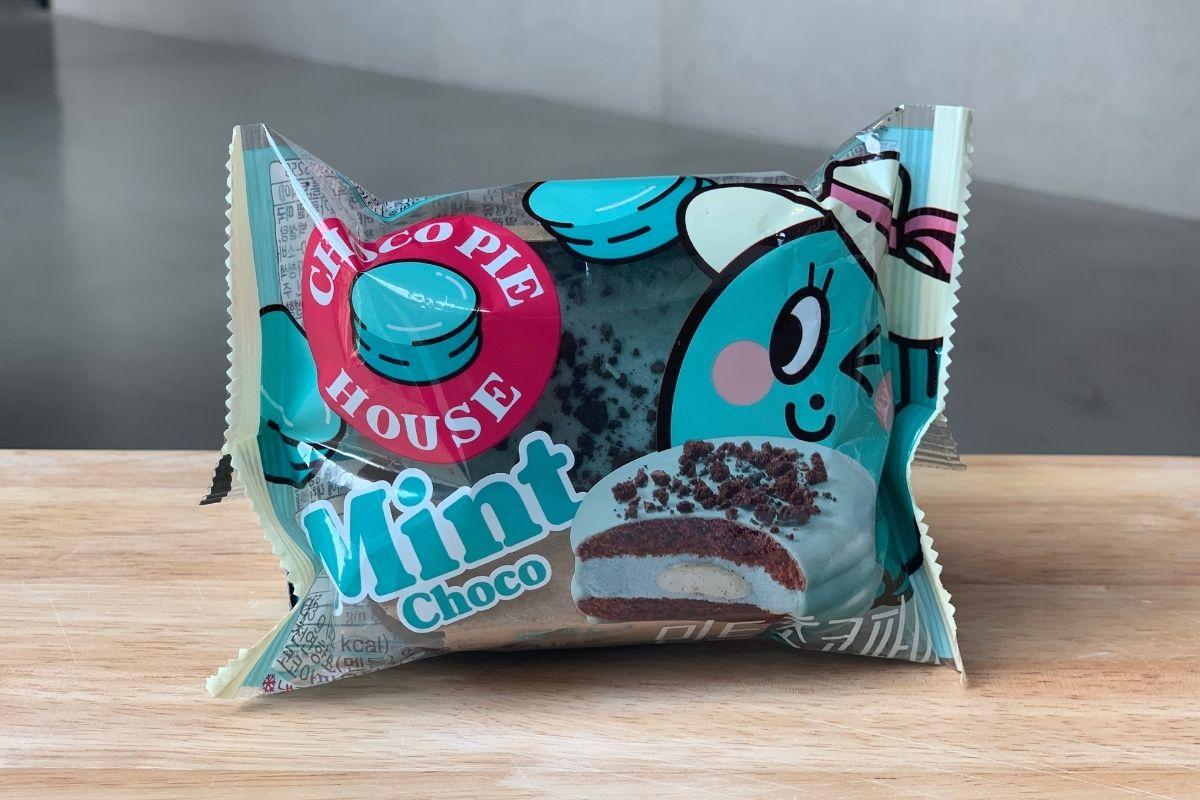 Price: 2,500 won
Calories: 282 kcal
Where To Buy: 7-Eleven
This choco pie is also released by Orion and to me, it is an upgraded version of the Mint Choco Pie shown before.
The mint chocolate flavor is much stronger. The mint aftertaste lasts for a long time, even when you're finished eating it.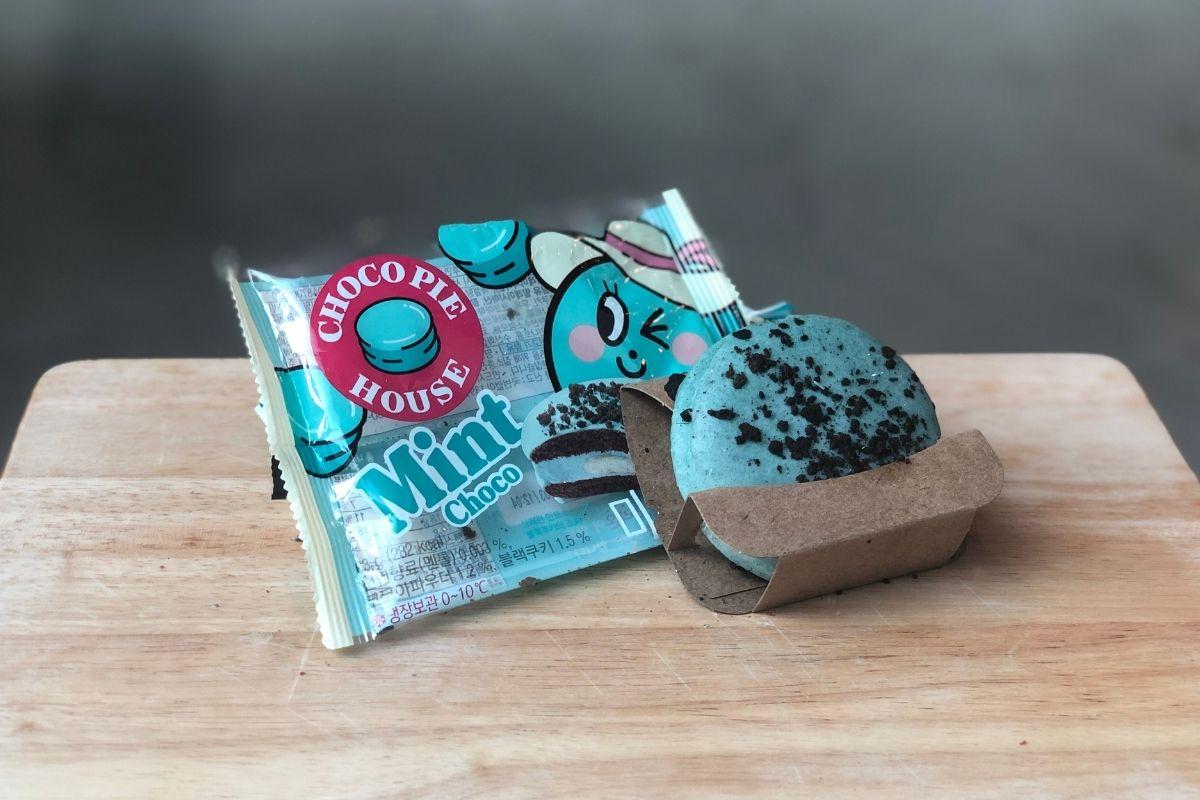 It needs to be stored in the refrigerator between 0-10 degrees Celsius. Eating it when cool makes it taste even better.
When you bite in, you will feel the crunchiness of the cake covered with chocolate, followed by a layer of marshmallow filling mixed with mint and rich chocolate.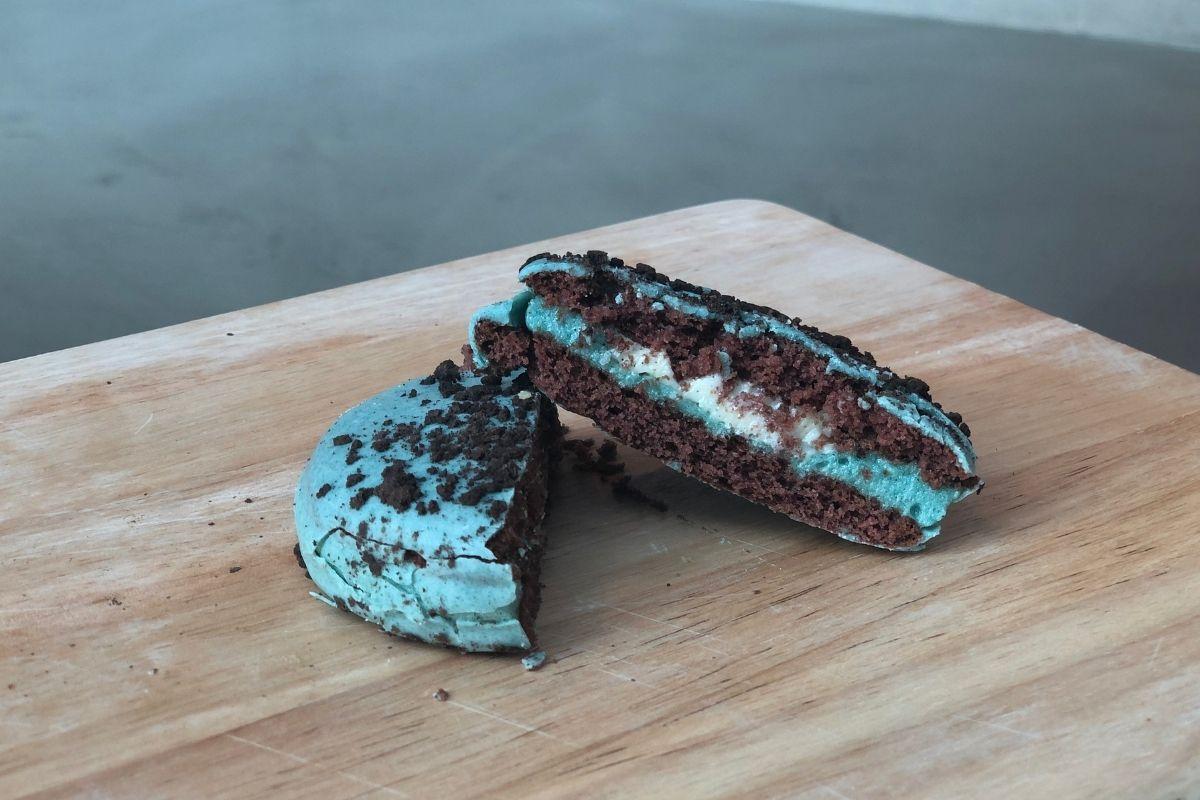 The only downside is that it's a lot of calories, up to 282 kcal a piece. It would be the perfect snack if it just had a little less calories.
---
Joeun Day Mint Choco Soju
좋은데이 민트초코 소주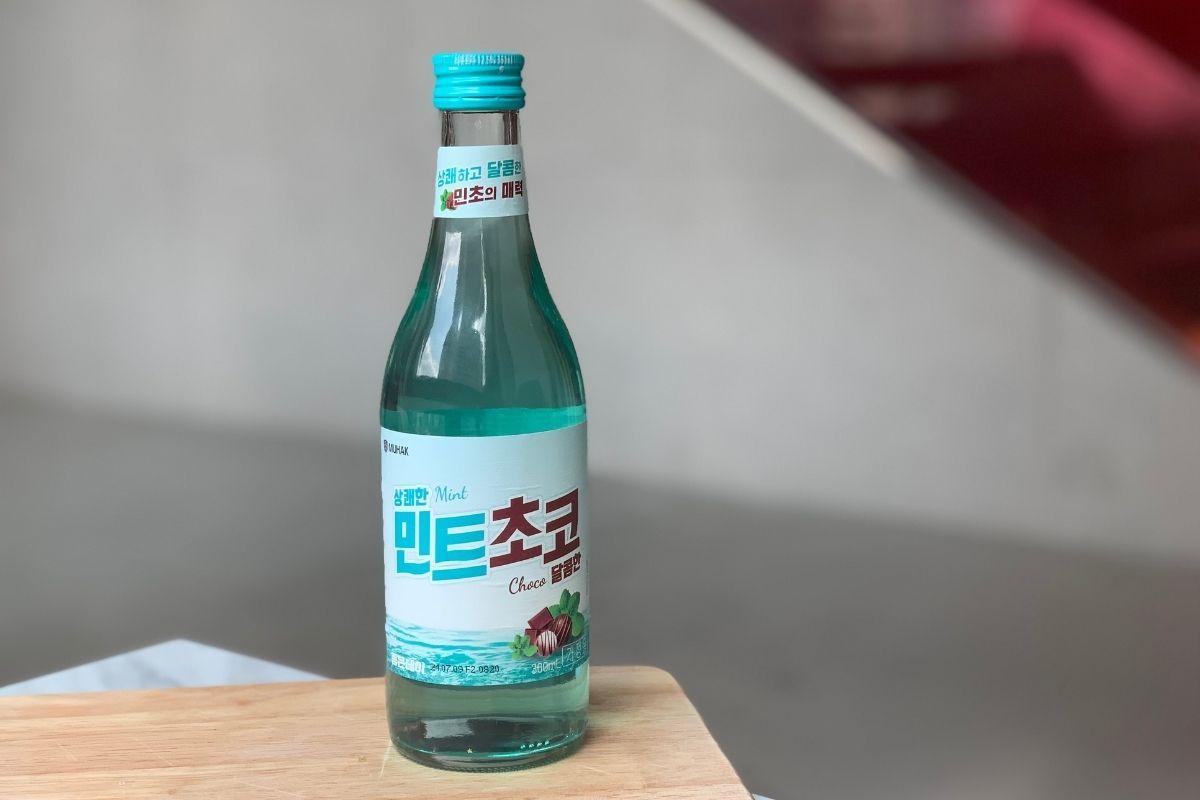 Price: 1,800 won
Where To Buy: 7-Eleven
Mint chocolate soju is probably the most interesting thing on this list. I was so curious to see how alcohol could taste like mint chocolate!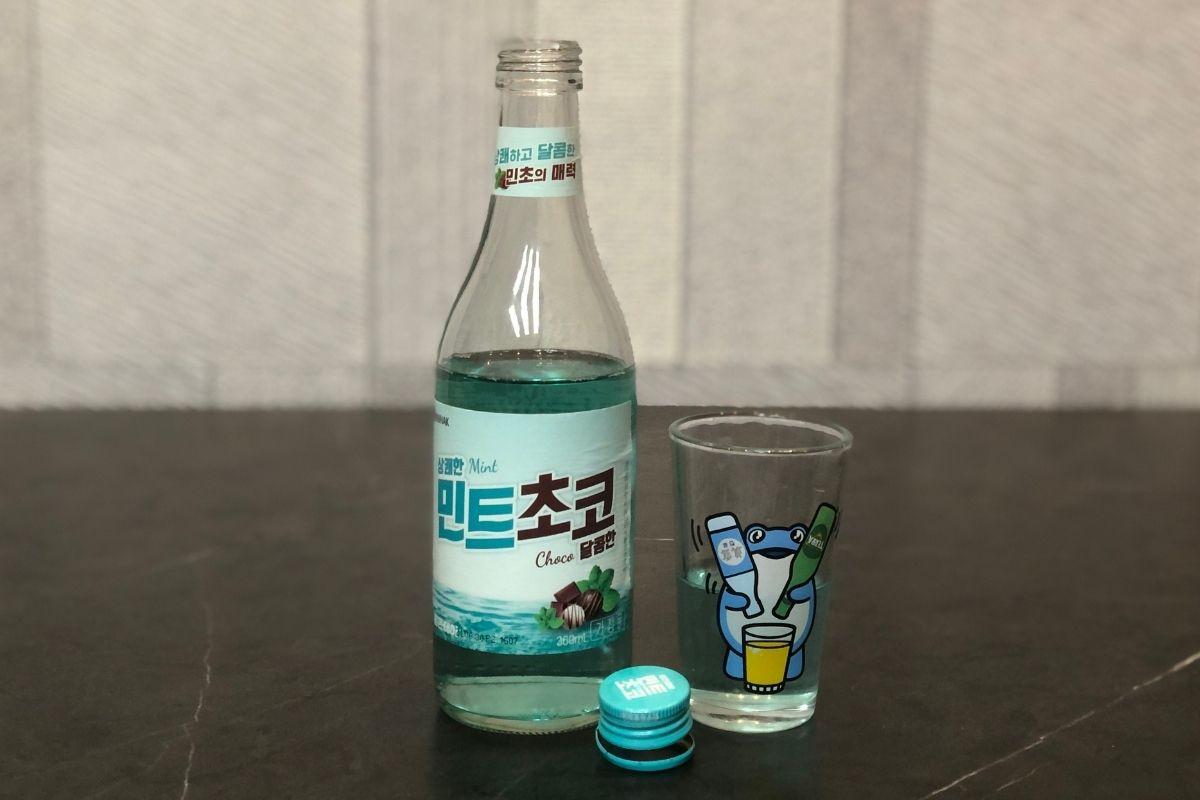 The bottle has nice, fresh looking packaging. Don't let the cute packaging fool you though, this is alcohol and not a regular drink! The alcohol content is 12.5%.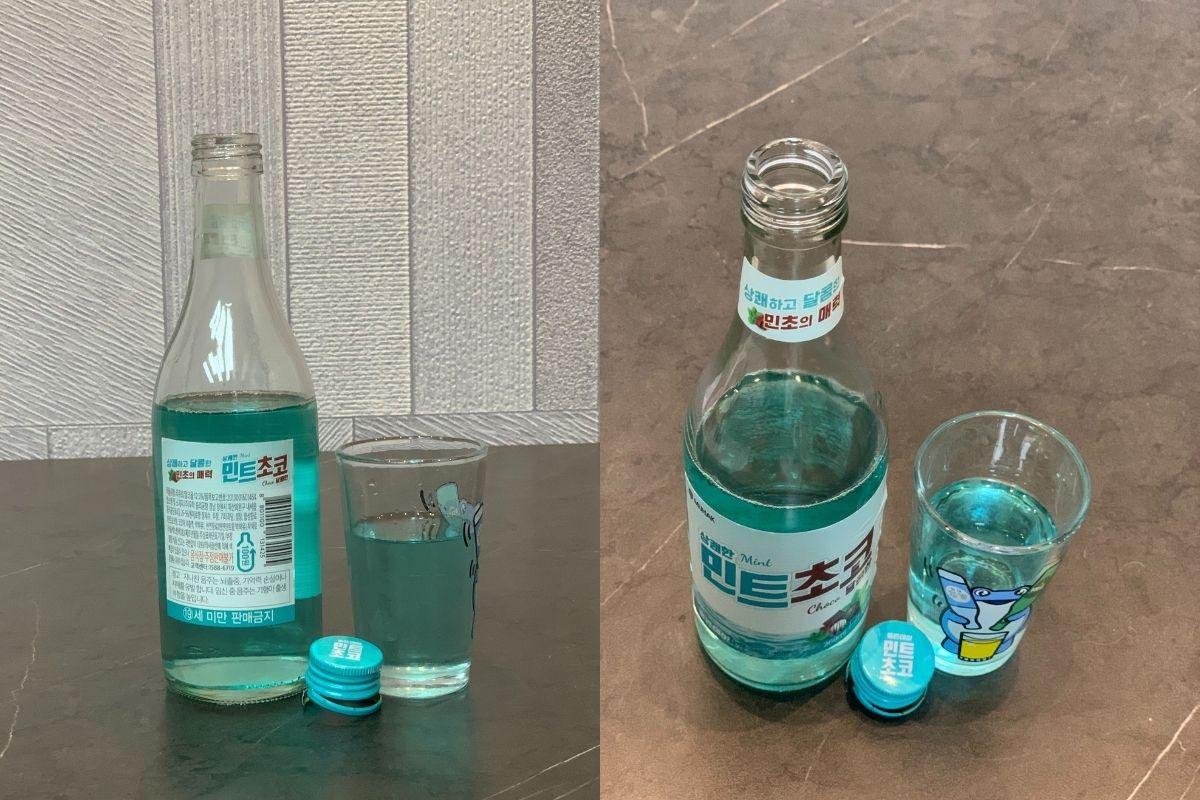 You can see that it has a pretty turquoise color, different from other soju flavors.
Just open the lid and you'll smell a faint mint chocolate smell. It had the sweet taste of chocolate and just the smell of mint.
When I tried it, I could barely taste the alcohol. Seriously, how did they make this?! If you want to try out a unique soju, I definitely recommend this product.
---
That's it for our list of new mint chocolate flavored products launched this summer. Which one do you want to try first?
We hope this was an interesting read and feel free to leave a comment or contact us if you have any questions!
---