Chupungryeong Kal Samgyeopsal l A KBBQ Restaurant Loved By Many Kpop Idols
A popular pork belly restaurant that members of NCT, EXO, TWICE, ASTRO, ABIX and many other K-Pop idols visit!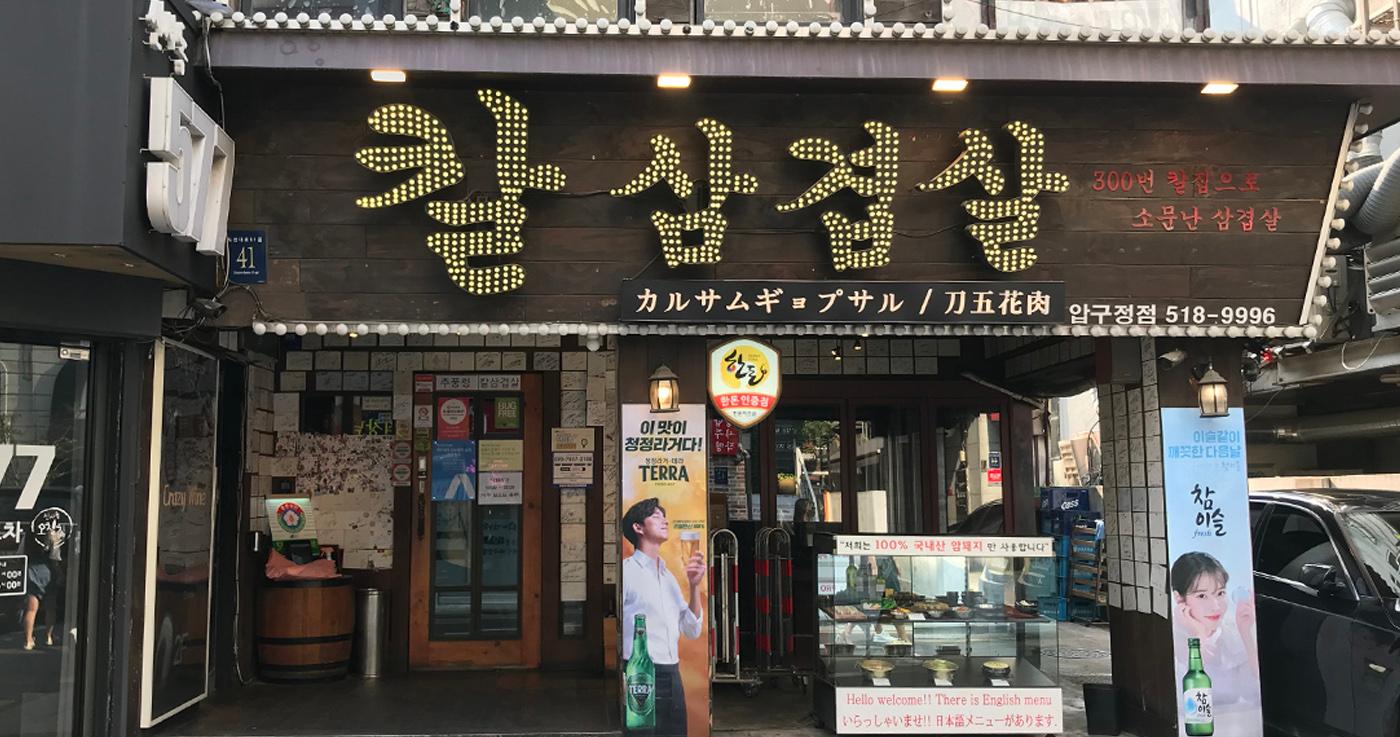 If you were to ask at which samgyeopsal restaurant in Seoul you'd most likely spot a Kpop idol, and you'll most likely hear Chupungryeong Kalsamgyeopsal (추풍령칼삼겹살) in Apgujeong. Members from K-pop groups such as NCT, TWICE, SUPER JUNIOR, SHINEE, EXO, CN BLUE, as well as many others, often visit this restaurant serving up delicious pork belly. Idols all love this restaurant because of the wonderful service and the great-tasting food. We visited in person to find out what made this eatery so special.
---
Information
Address: 서울특별시 강남구 도산대로51길 41 1층입니다
1st floor, 41, Dosan-daero 51-gil, Gangnam-gu, Seoul
Hours: Mon-Sat 15:00-23:00 (Last Order 22:30); Closed Sundays
Directions: 6-minute walk from exit 5 of Apgujeong Rodeo Station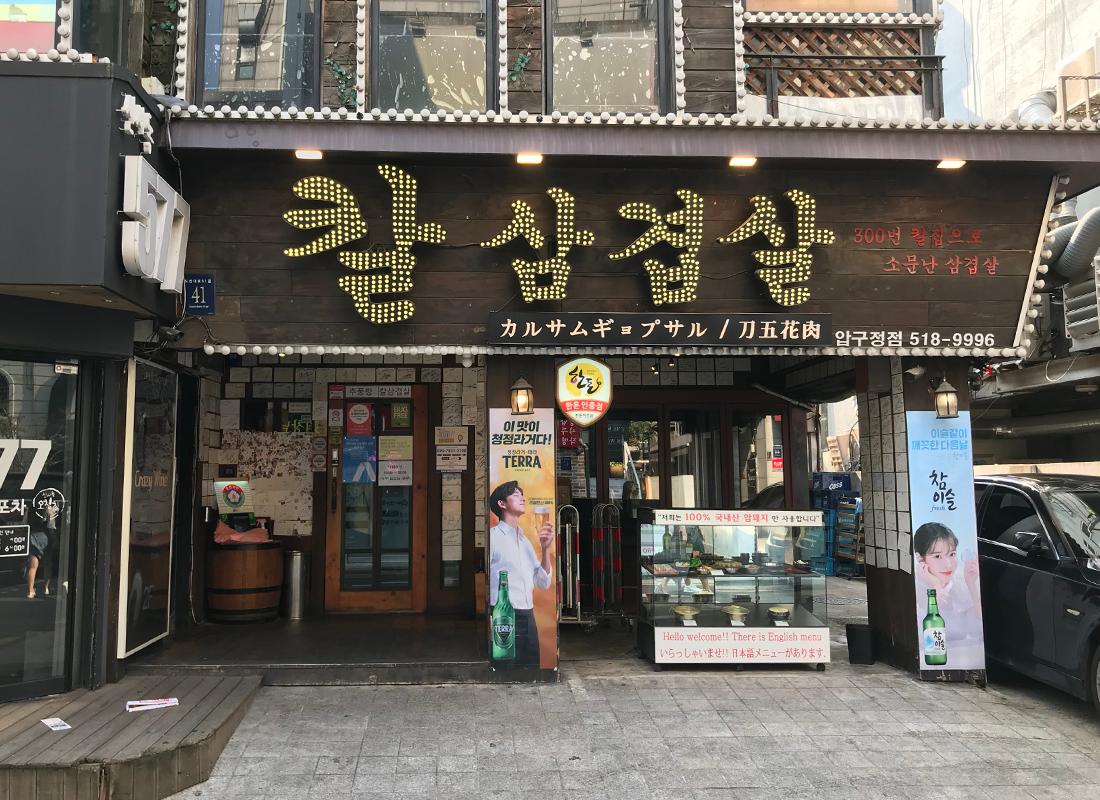 Chupungryeong Kalsamgyeopsal is located in Apgujeong.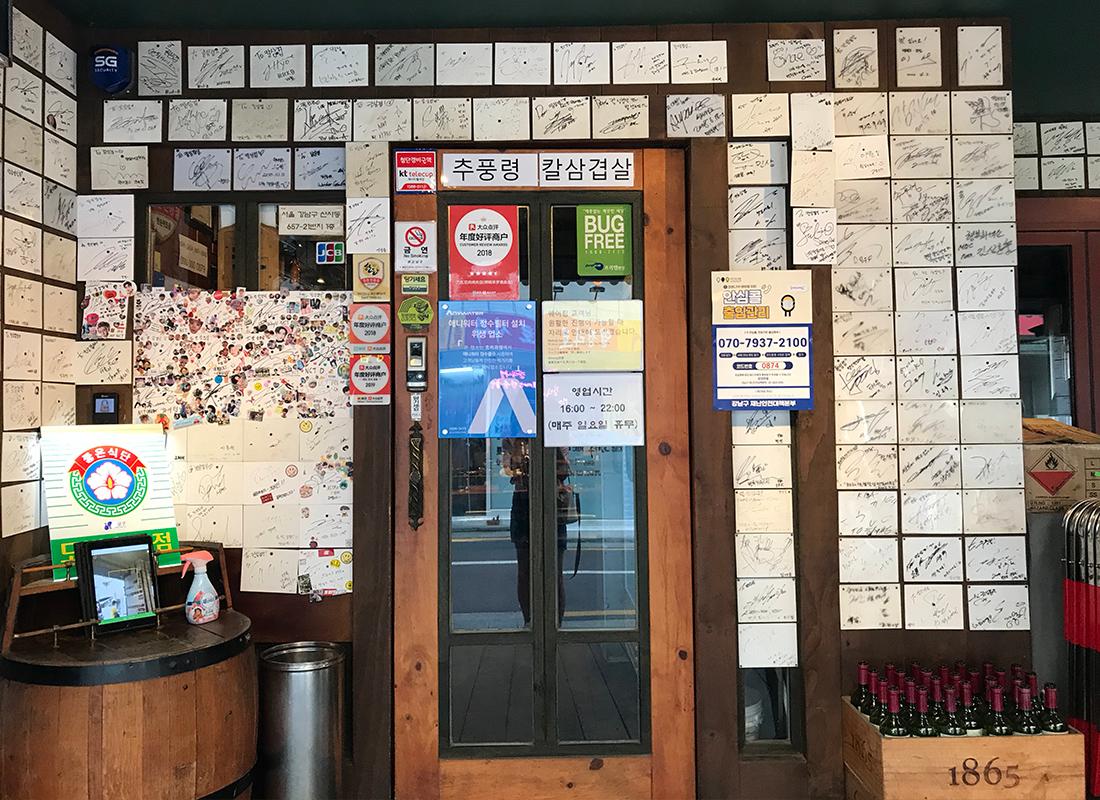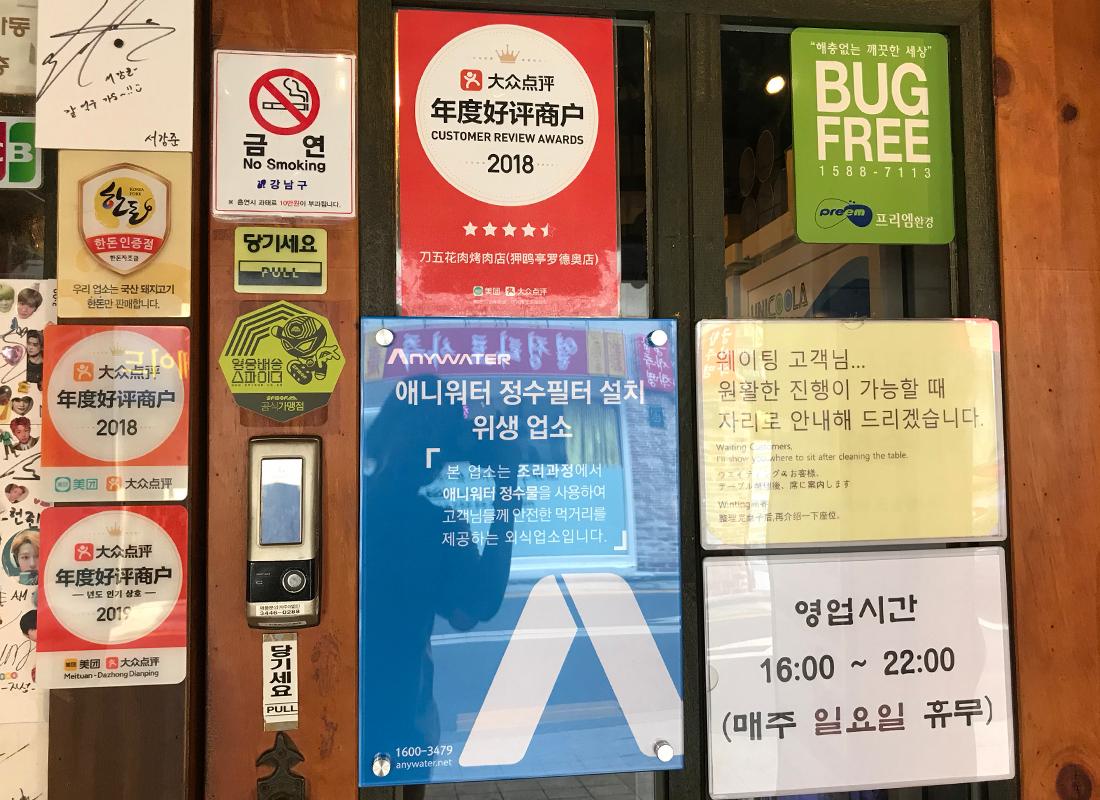 Autographs of Kpop idols decorate the entrance of this restaurant. In addition to the autographs, there are several Customer Review Award accolades on the door.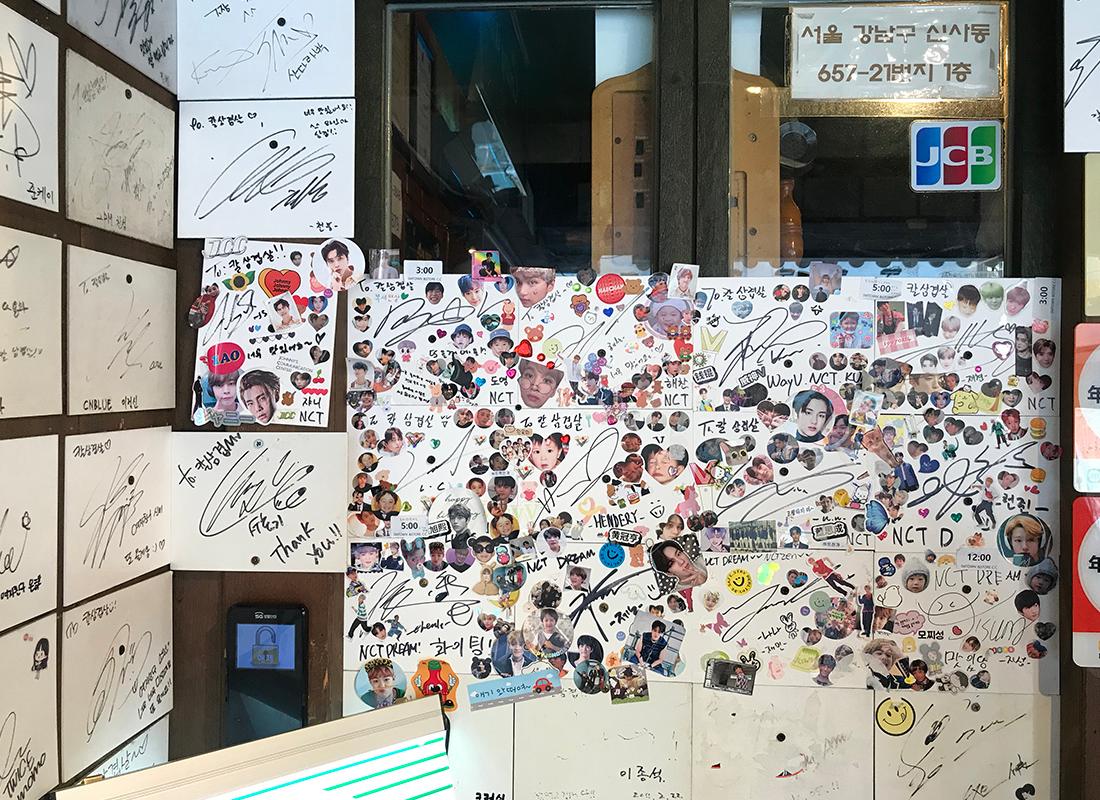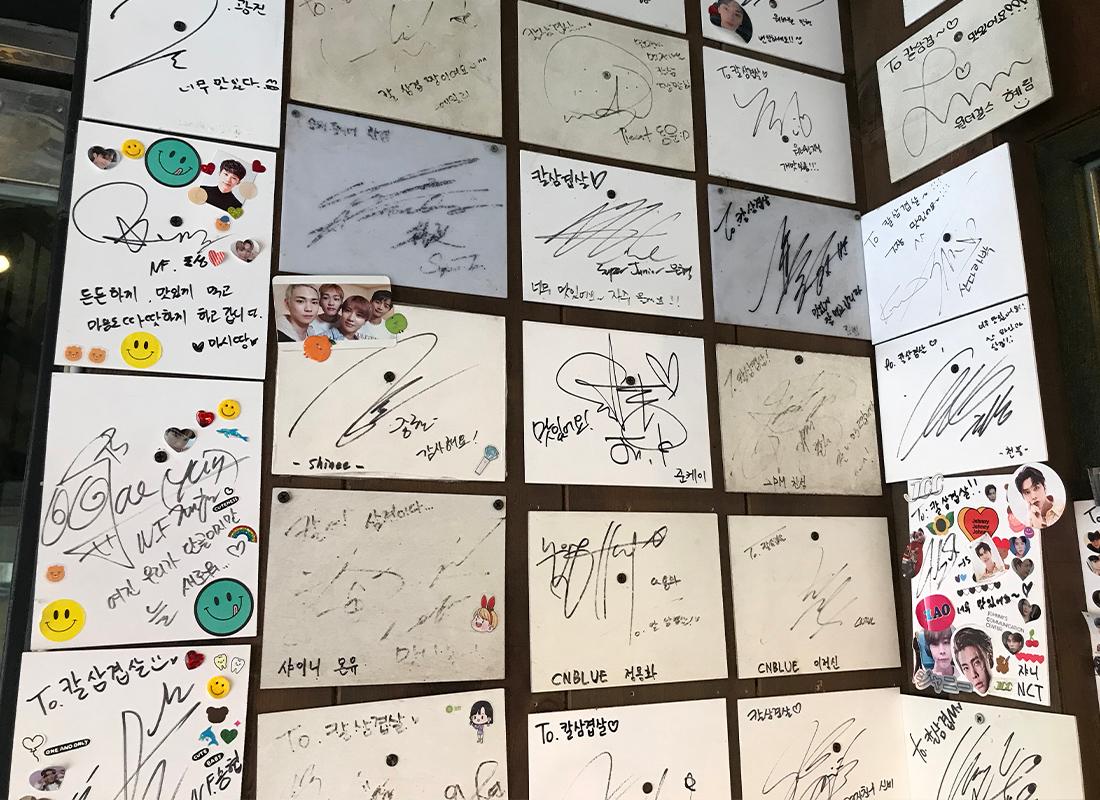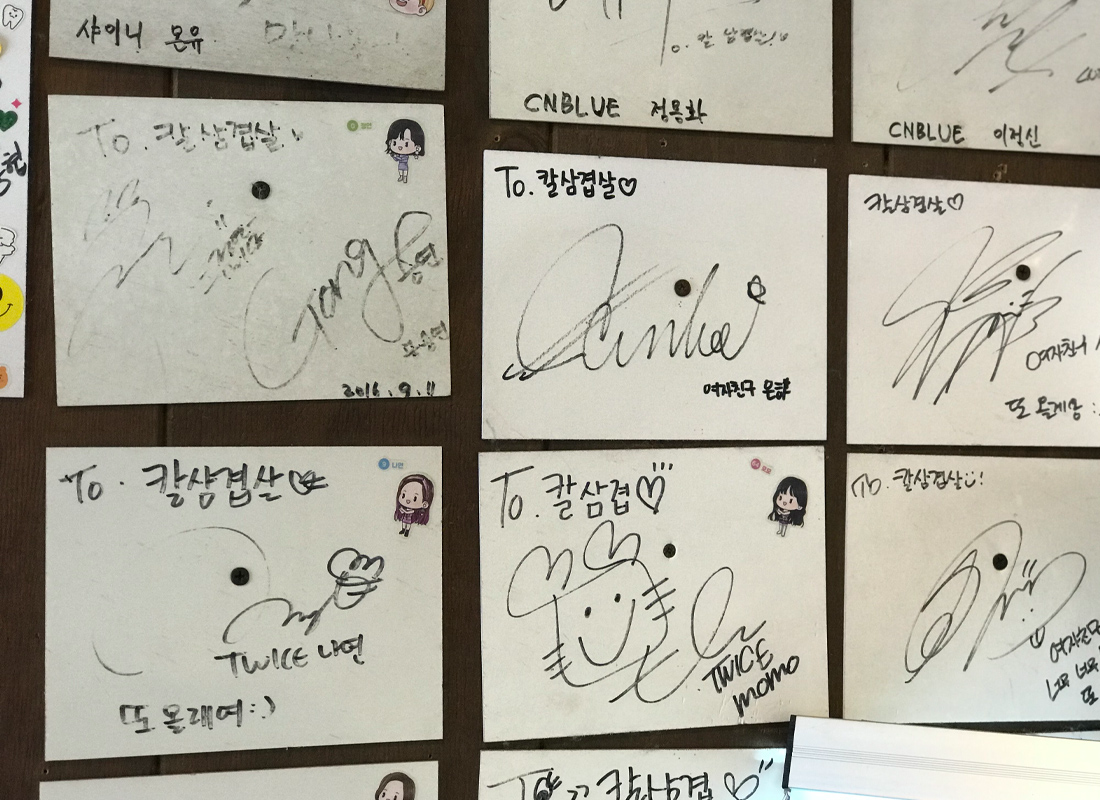 This restaurant is located near many entertainment companies such as SM Entertainment and FNC. Because of this, many idols quite often visit this restaurant. The restaurant is particularly popular with NCT fans. In addition to NCT, members from TWICE, GFRIENDS, SHINEE, CN BLUE, SUPER JUNIOR, and WONDER GIRLS have also eaten here.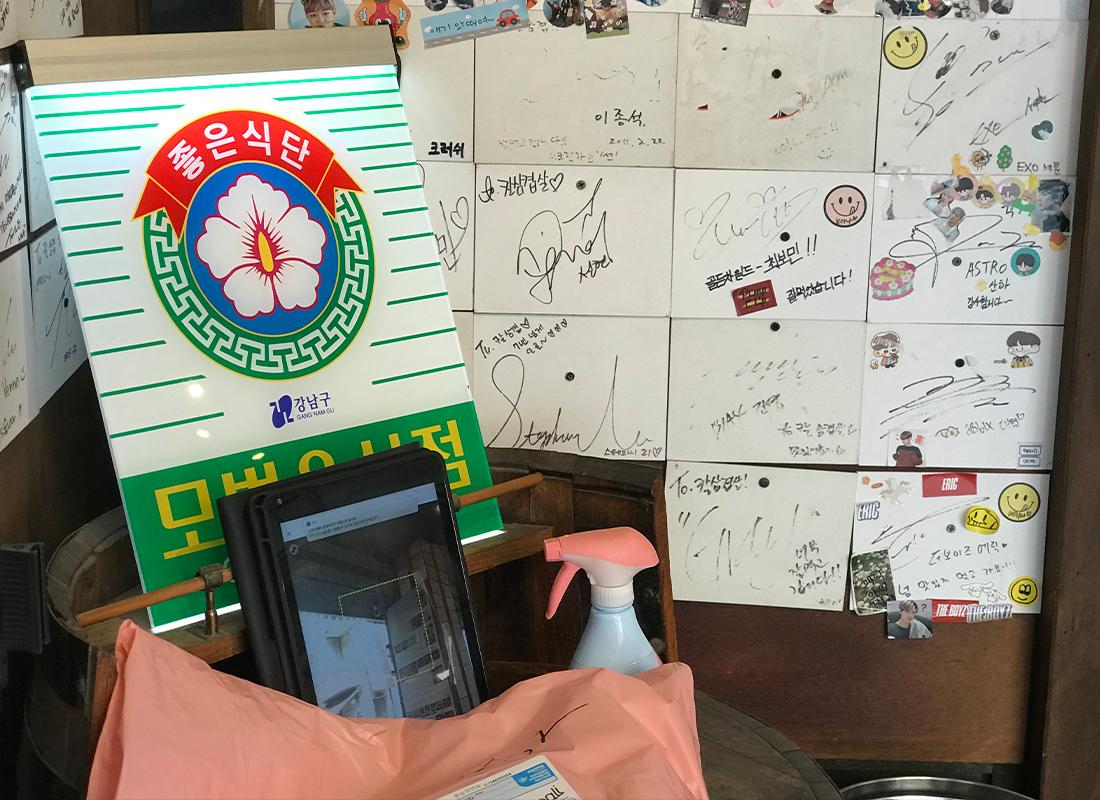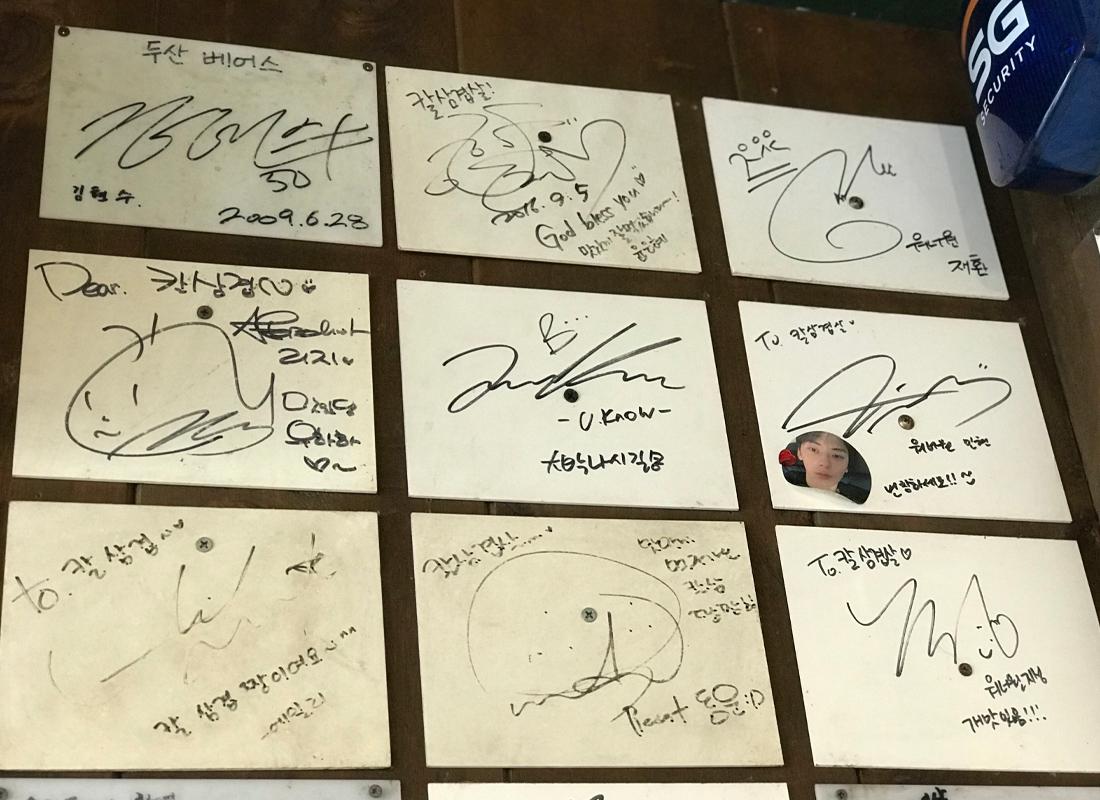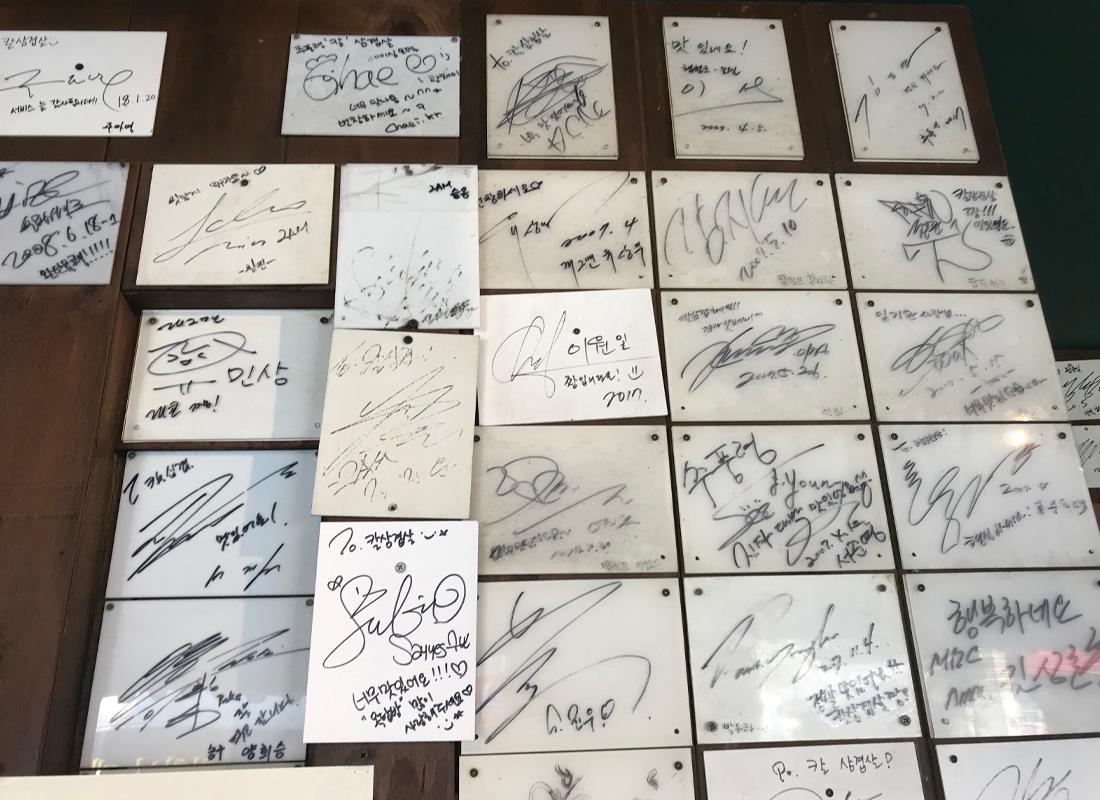 Members of WANNAONE, ASTRO, ABIX, and THE BOYZ have also been here.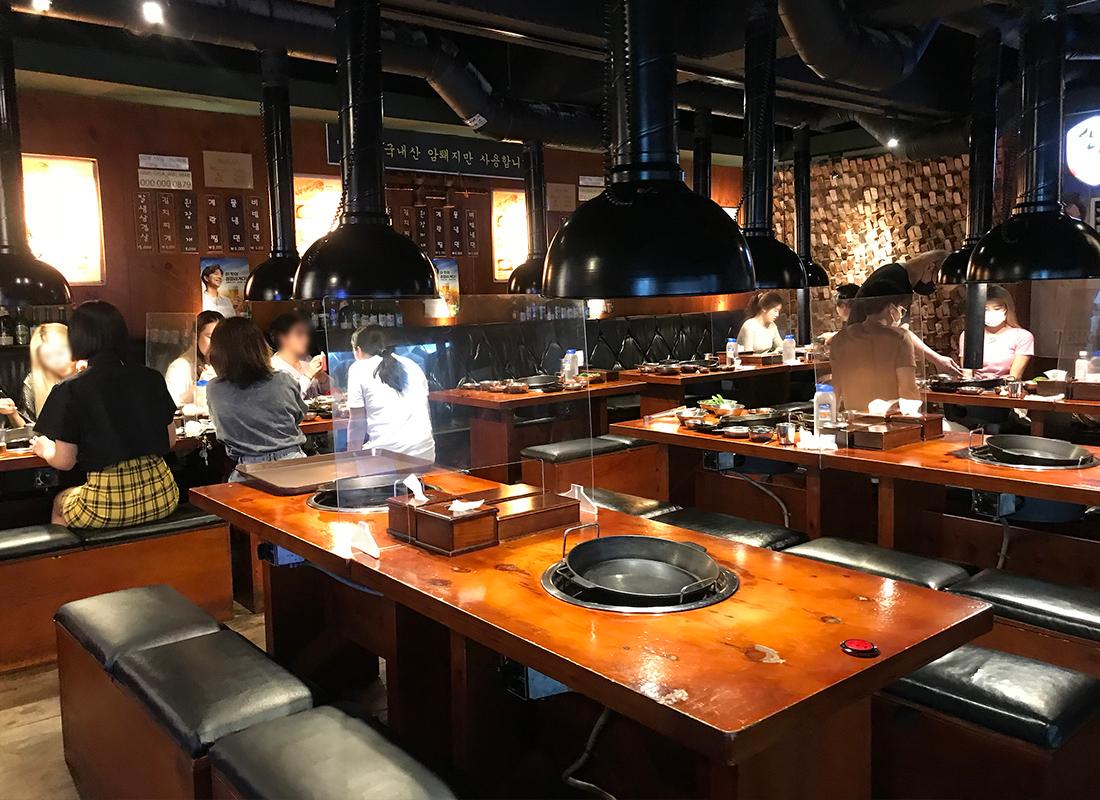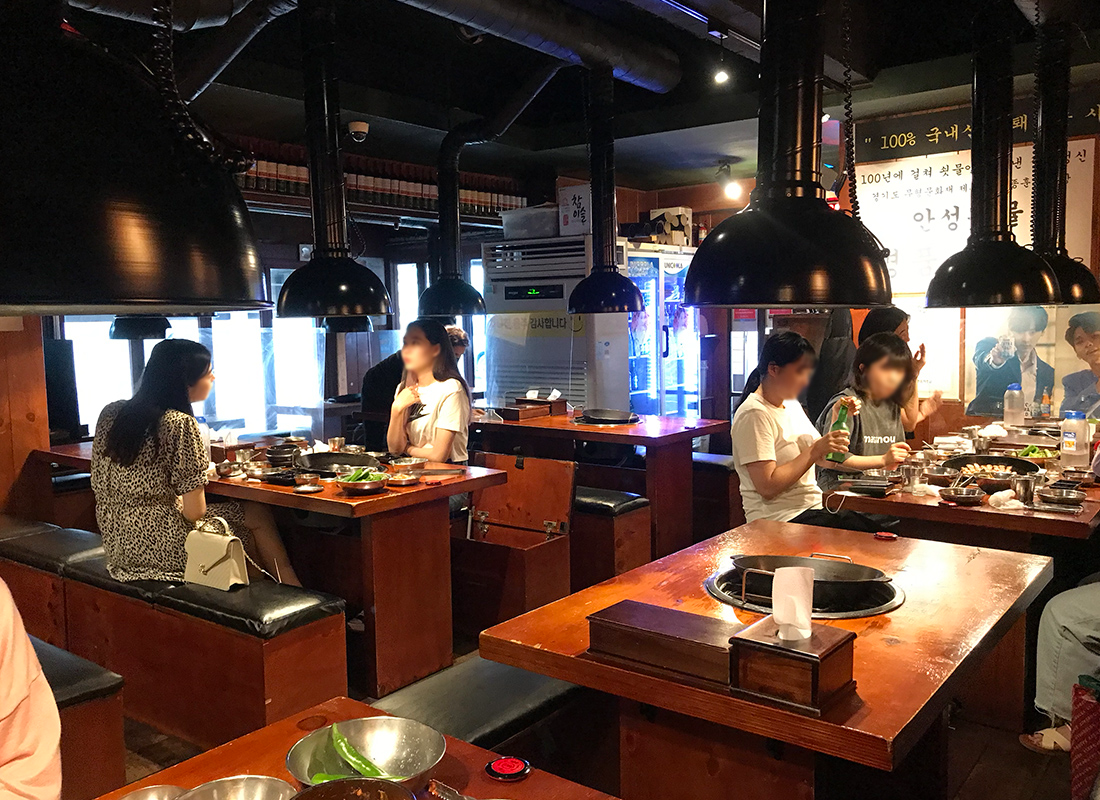 Despite the crowds of people, the atmosphere at this spacious restaurant here is very comfortable and relaxed.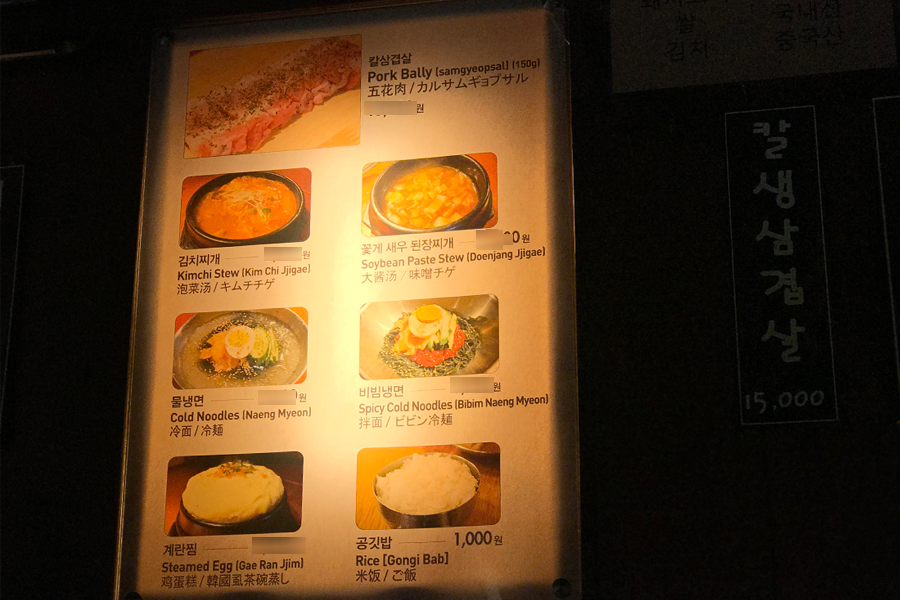 The menu can be found on the wall with the prices listed. There are pictures, and menu items are written in Korean, English, Chinese, and Japanese, making it more convenient to order. The restaurant is famous for its samgyeopsal, pork belly, and kimchi jjigae, or kimchi stew. The restaurant owner will always recommend ordering these two dishes together because they make the ultimate pairing.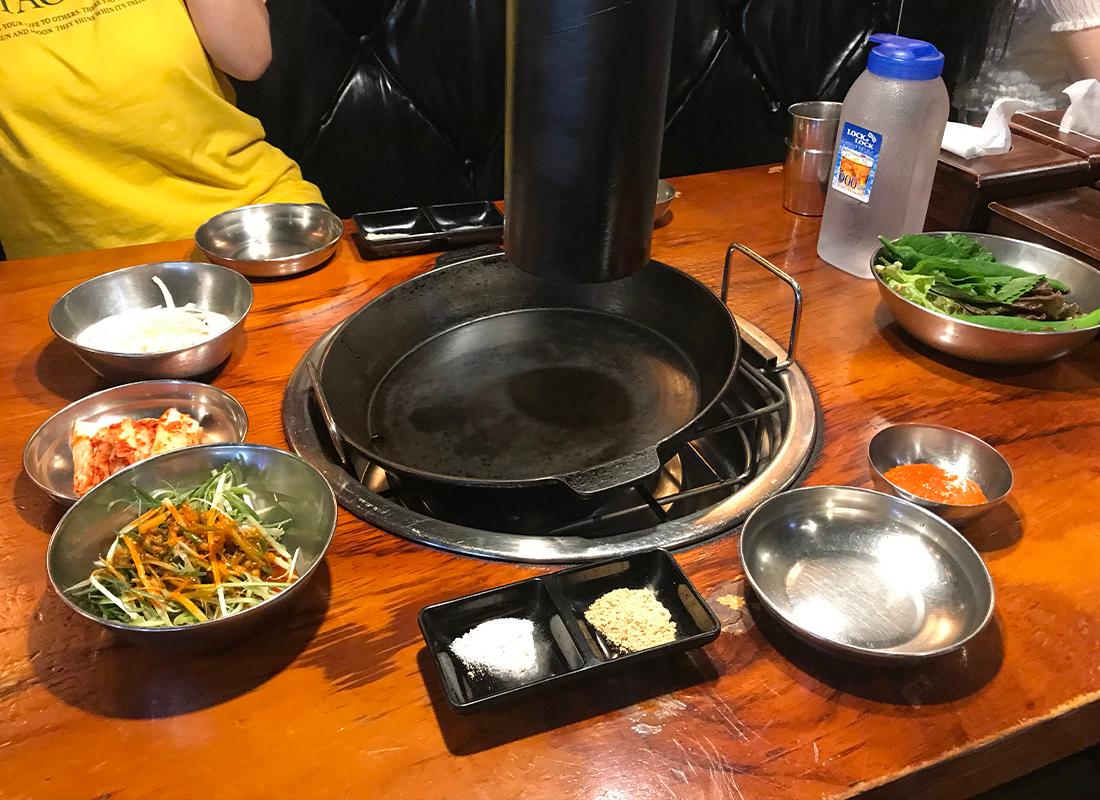 After you place your order, your server will bring out your side dishes. They'll also bring the grill pan to your table.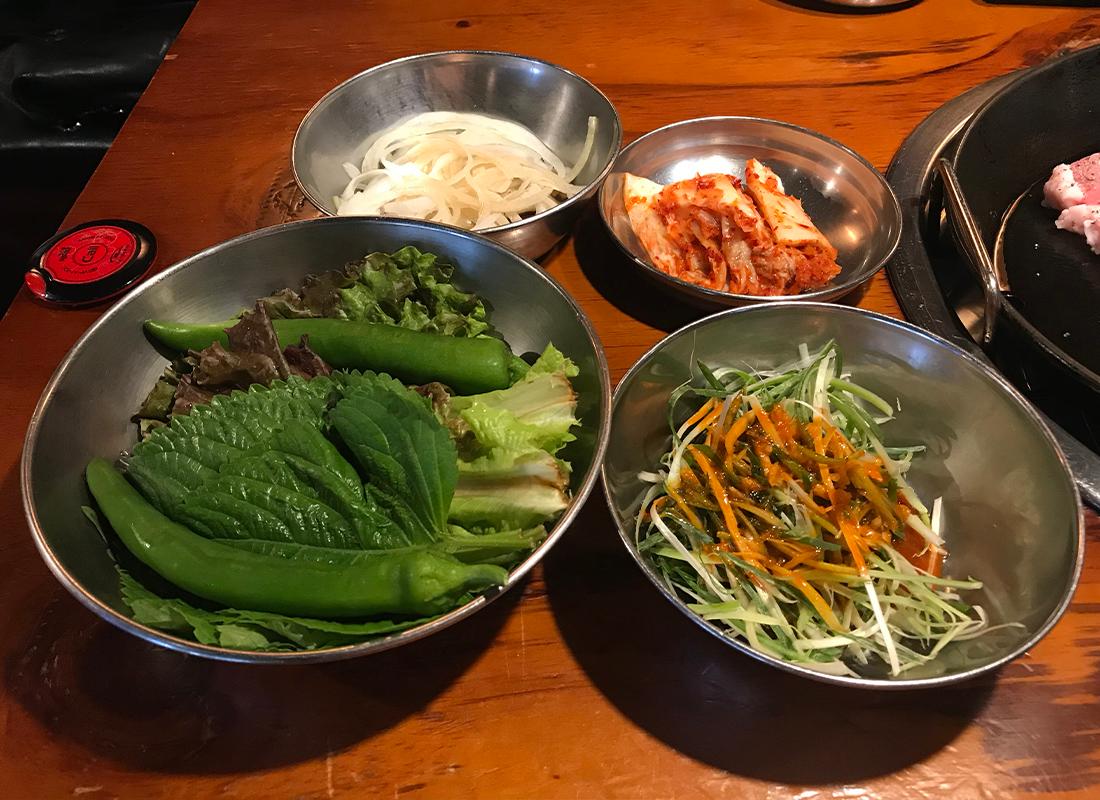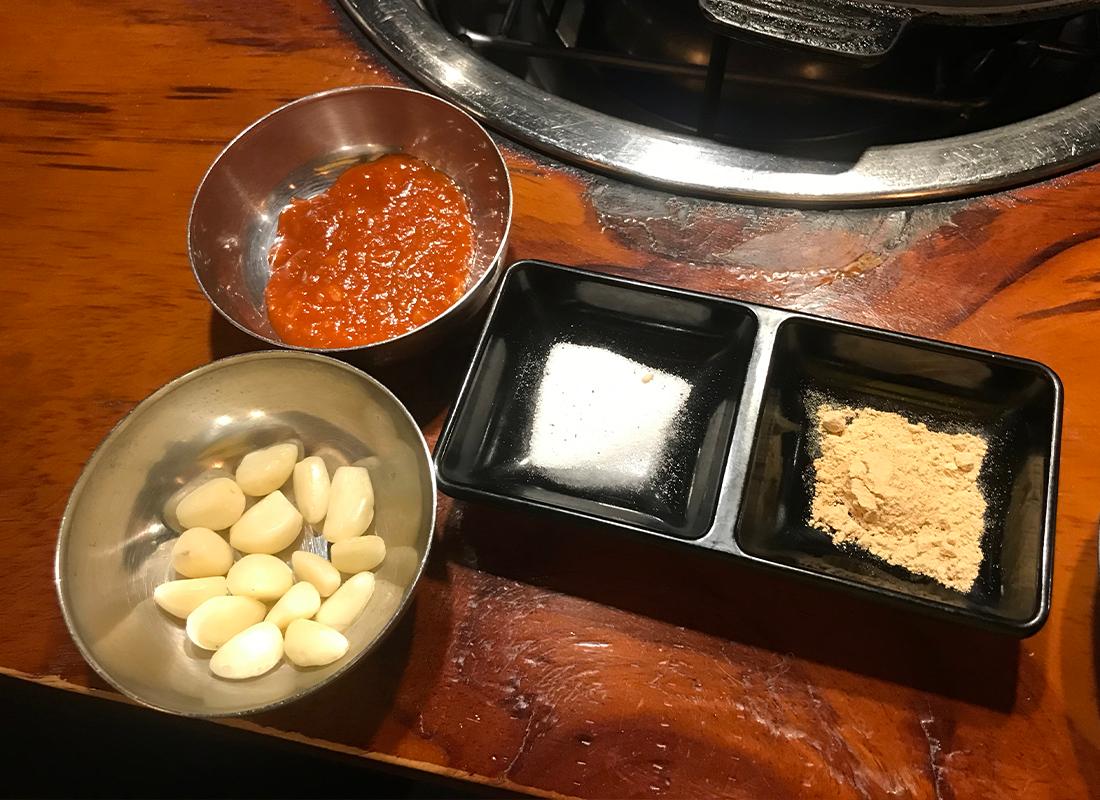 Don't these side dishes look so fresh and delicious? The side dishes consist of kimchi, pickled radish, seasoned spring onions, lettuce, sesame leaves, and garlic. As for the dipping sauces, there are three types to choose from ssamjang (쌈장), salt, and injeolmi (인절미). Ssamjang is a mix of hot pepper paste and soybean paste; it has a bit of a kick and is salty in flavor. Injeolmi is roasted bean powder; it has a nutty and savory flavor.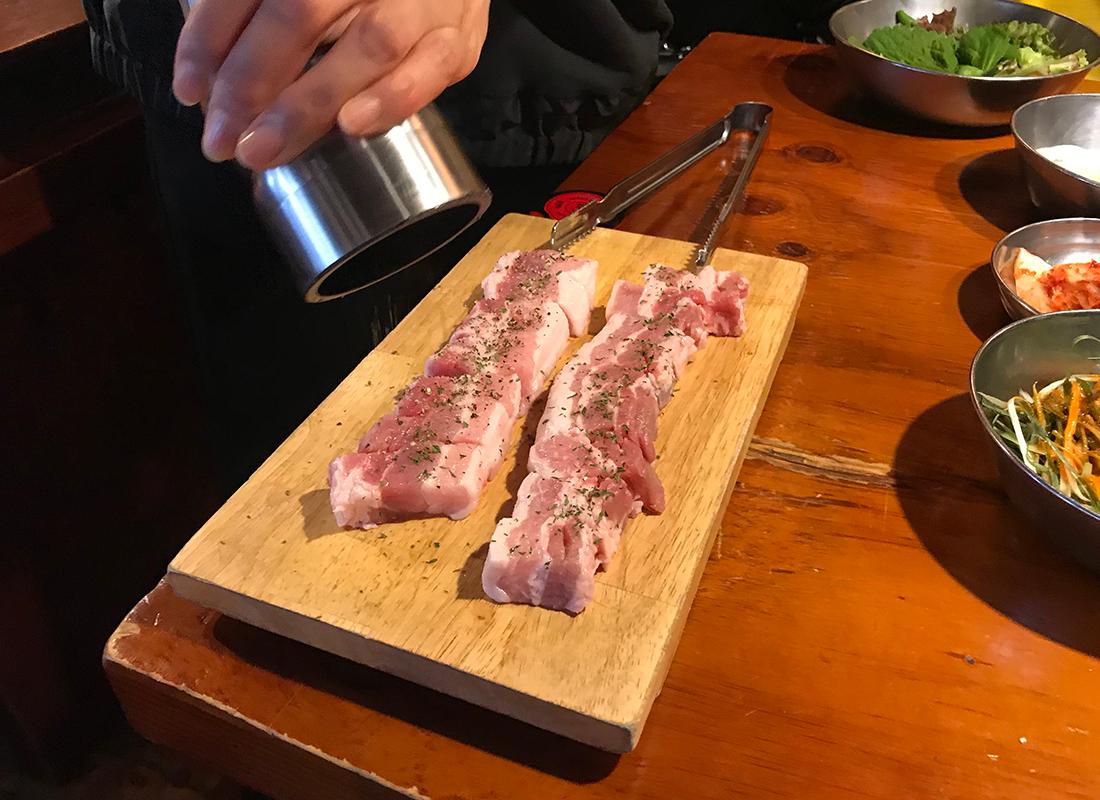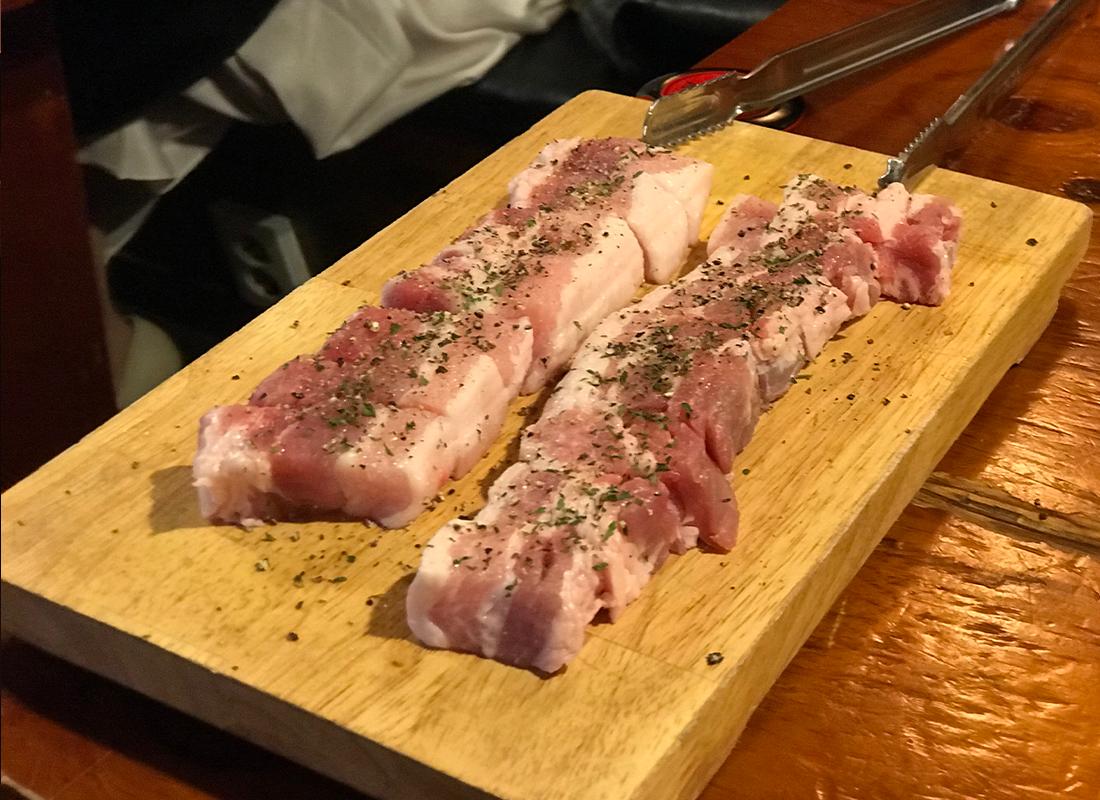 Samgyupsal (칼삼겹살)
16,000 KRW per serving
Our samgyupsal order arrived and we couldn't wait to start grilling! Our server seasoned our order with herbs to enhance the aroma of the pork.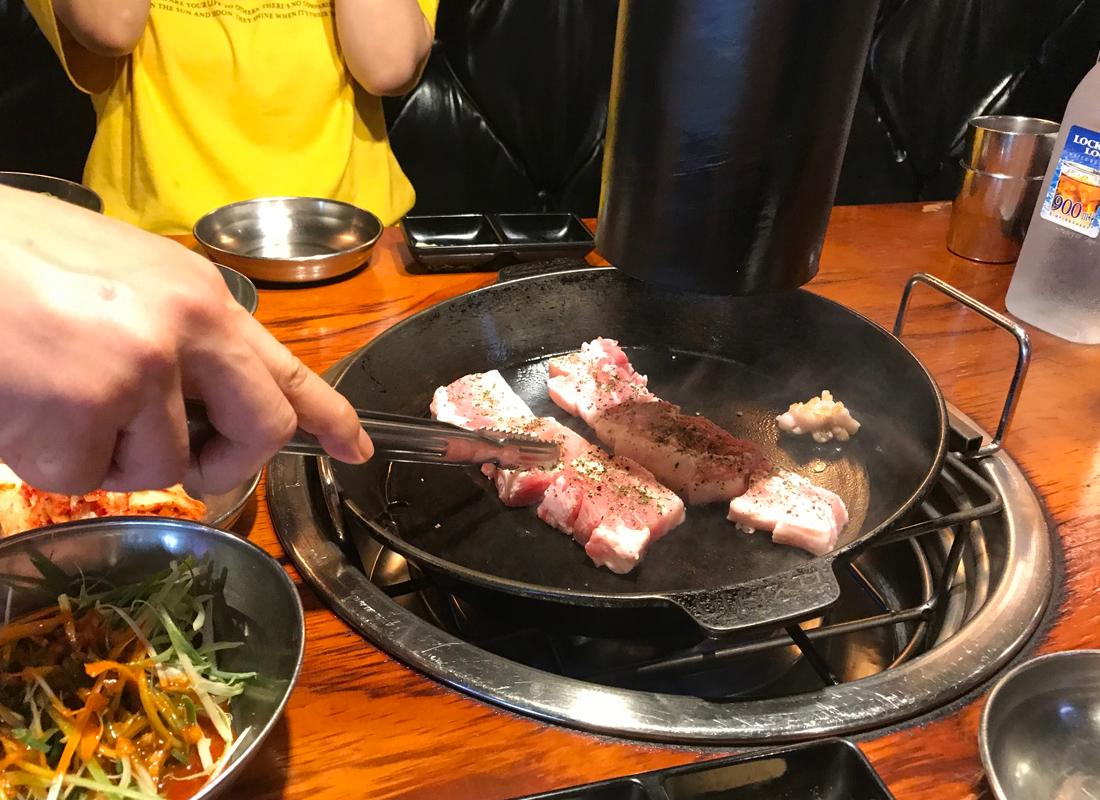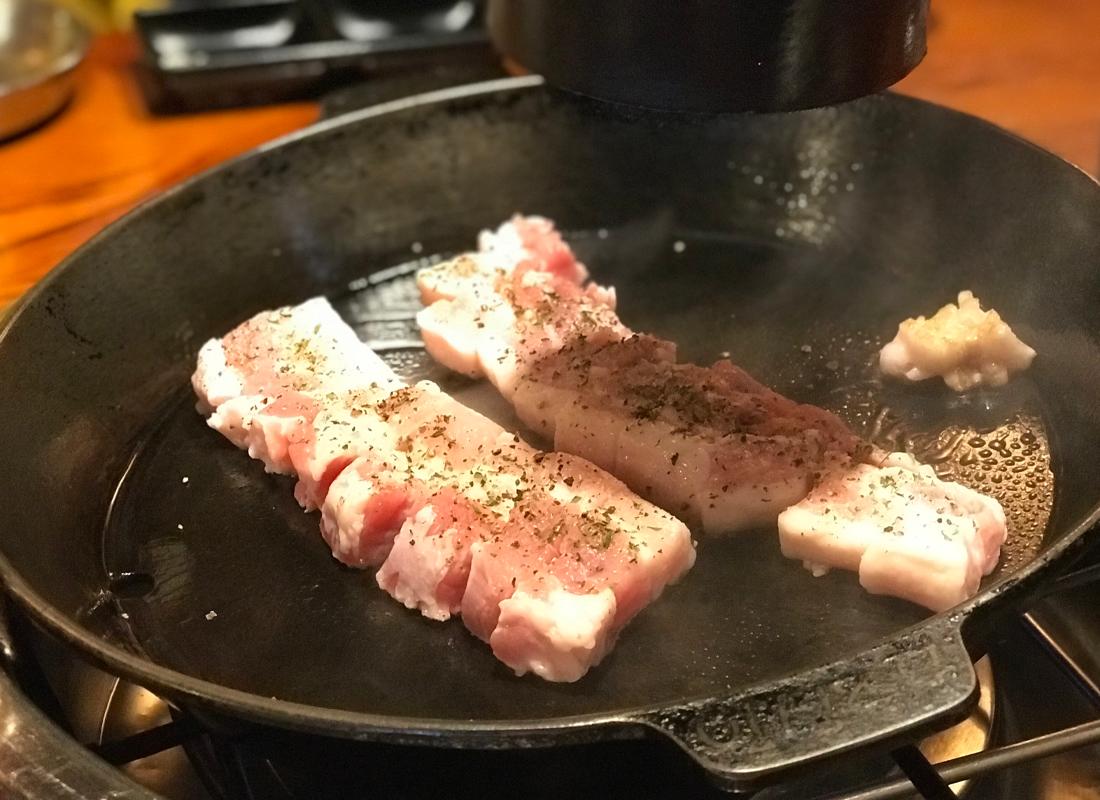 Before grilling the pork, the grill pan is coated with pork grease to prevent any sticking. The park grease also adds more flavor to the meat.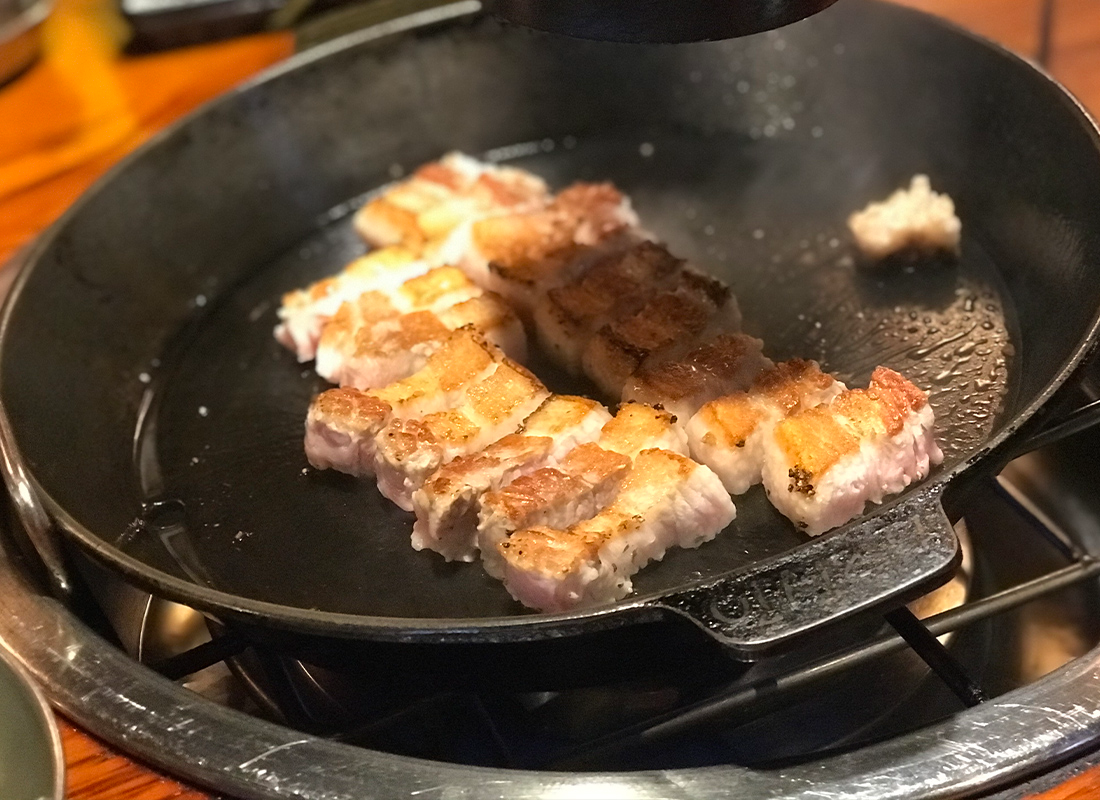 Your server will periodically come by to check on your pork to ensure that it's being cooked perfectly. Are you getting hungry yet?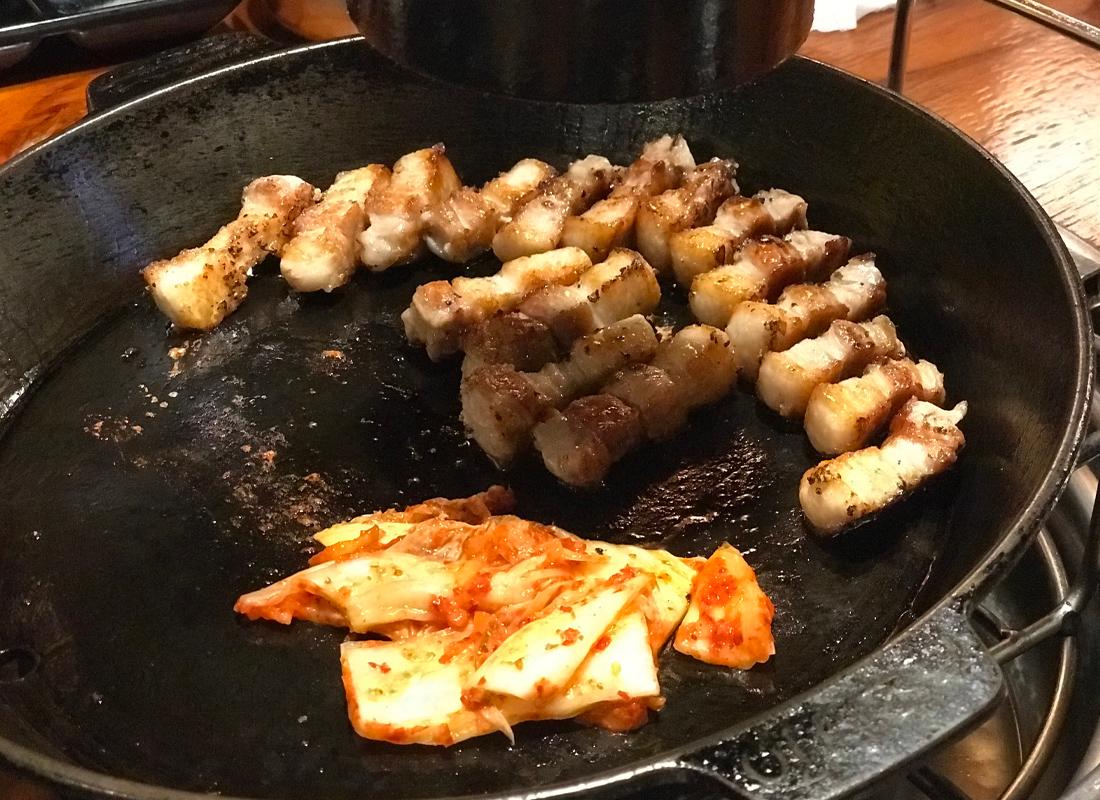 When the pork is fully cooked, the staff will move it toward the top of the pan to prevent it from burning. They will also grill kimchi for you, which you can eat with your samgyeopsal for the perfect bite. The oil from the pork belly gives the kimchi an incredible flavor.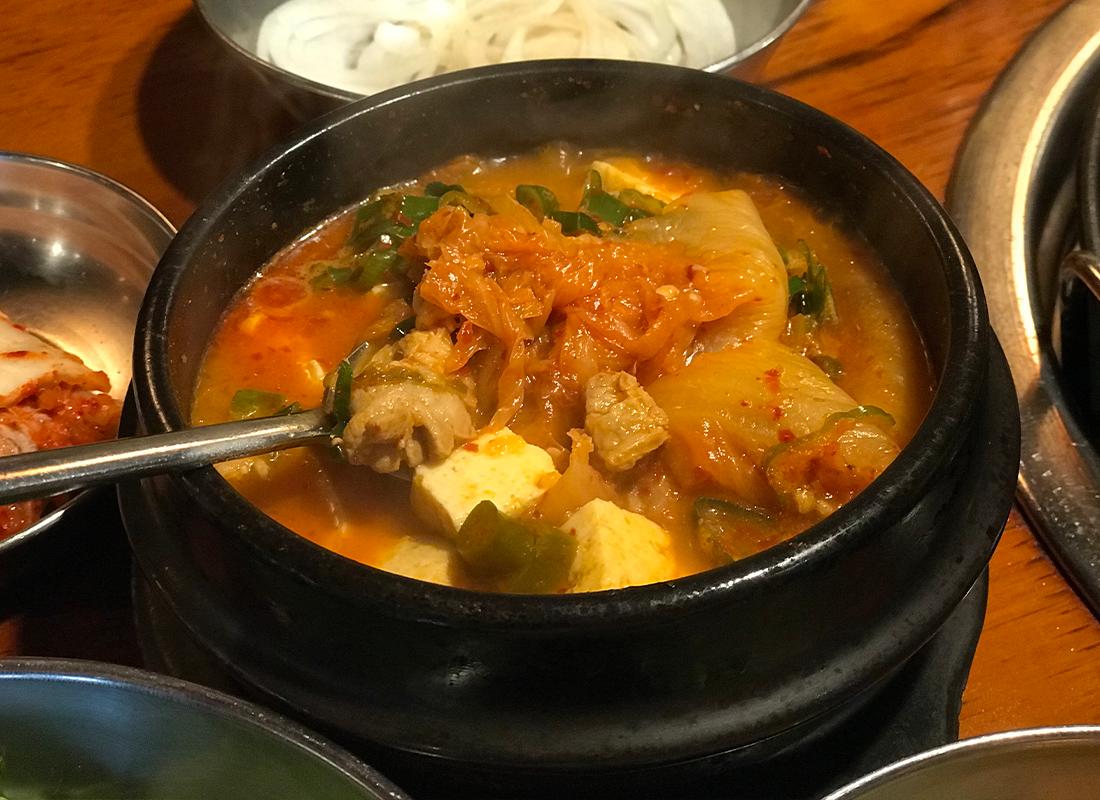 Kimchi Jjigae (김치찌개)
8,000 KRW
Don't forget about their kimchi jjigae! It is one of the best items on the menu, so we highly recommend it. It has a nice spicy flavor and pairs perfectly with the grilled samgyeopsal.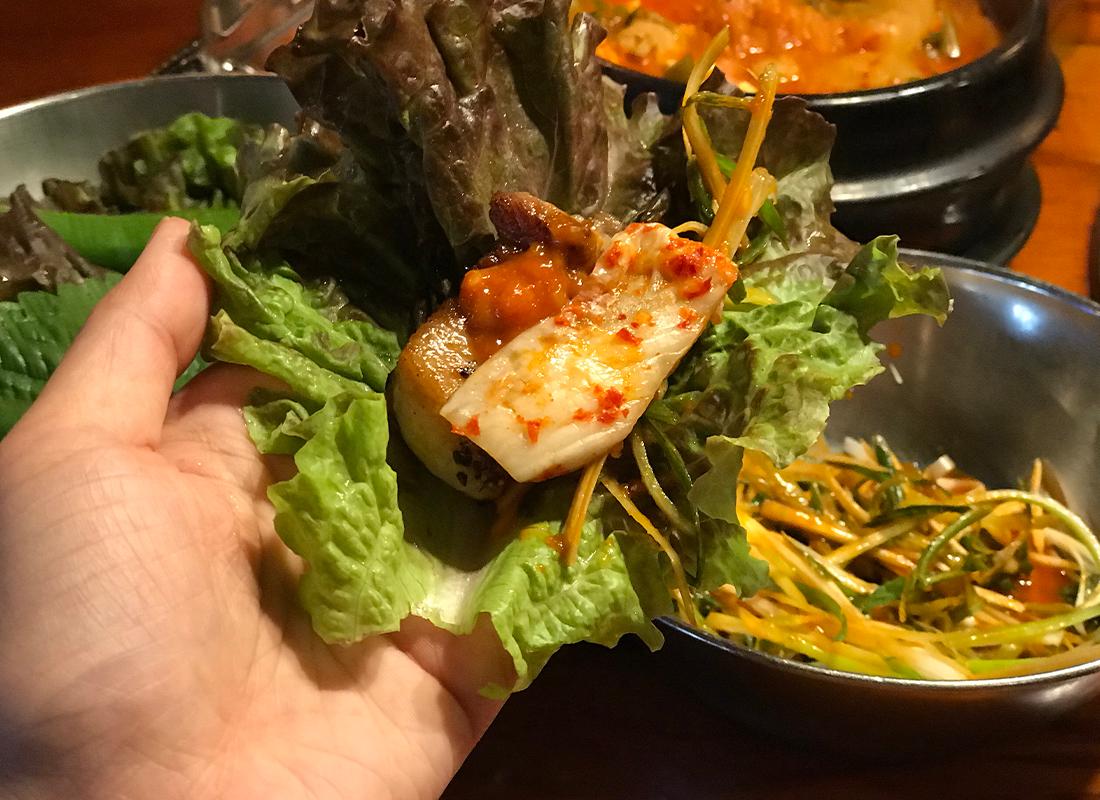 We ate our samgyupsal in a lettuce wrap. For the perfect bite, place a few pieces of pork on top of a piece of lettuce with grilled kimchi, seasoned green onions, and some ssamjang sauce!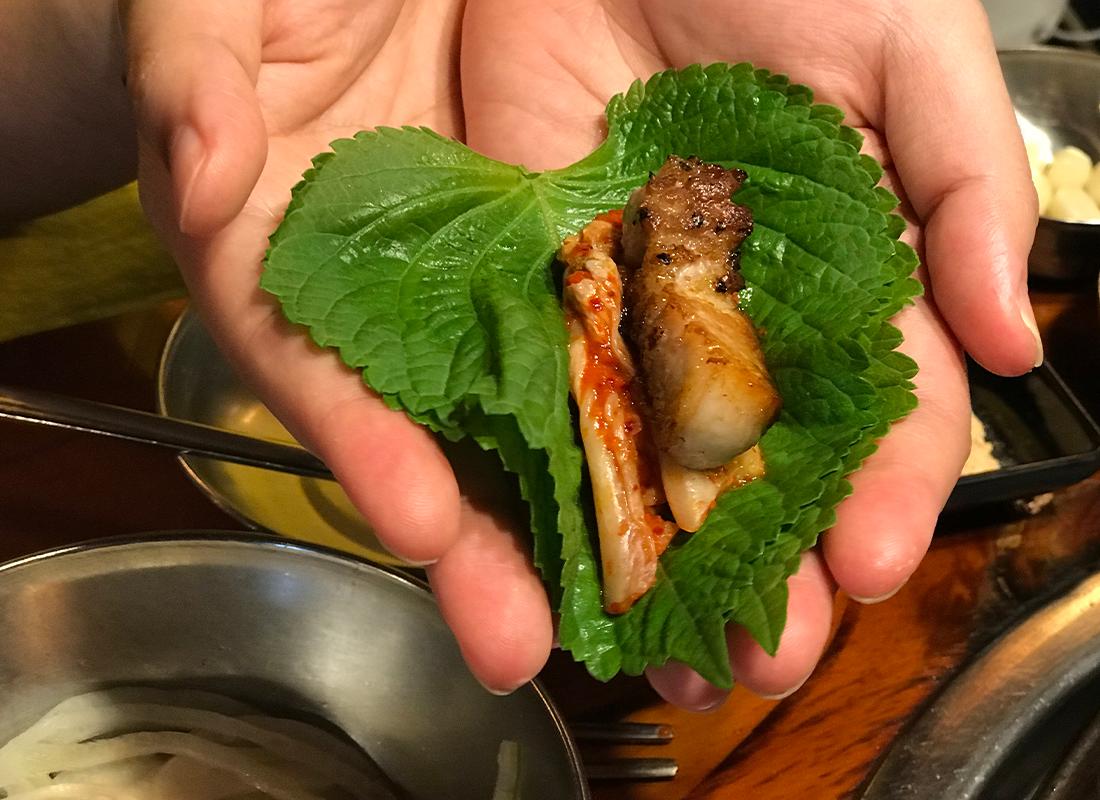 You can also wrap your samgyeopsal in a perilla leaf. This is also very delicious!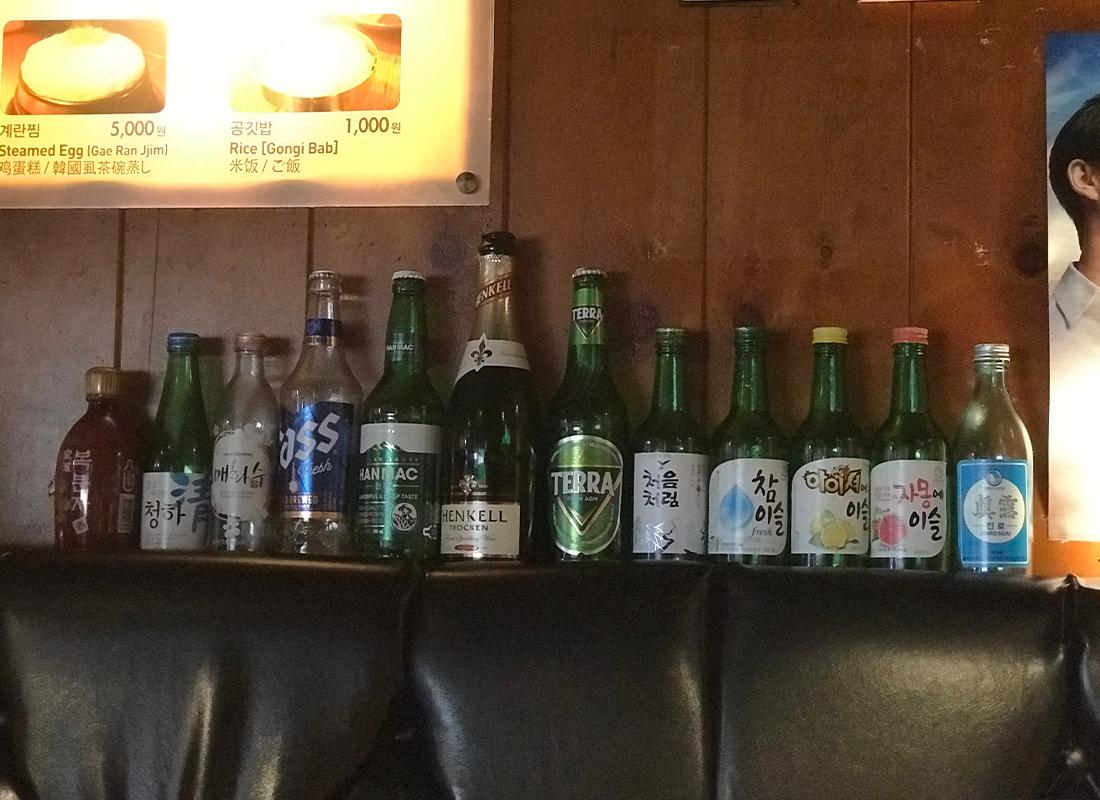 The restaurant has a large selection of drinks to choose from. It's very common to see other diners drinking alcohol as they enjoy their food.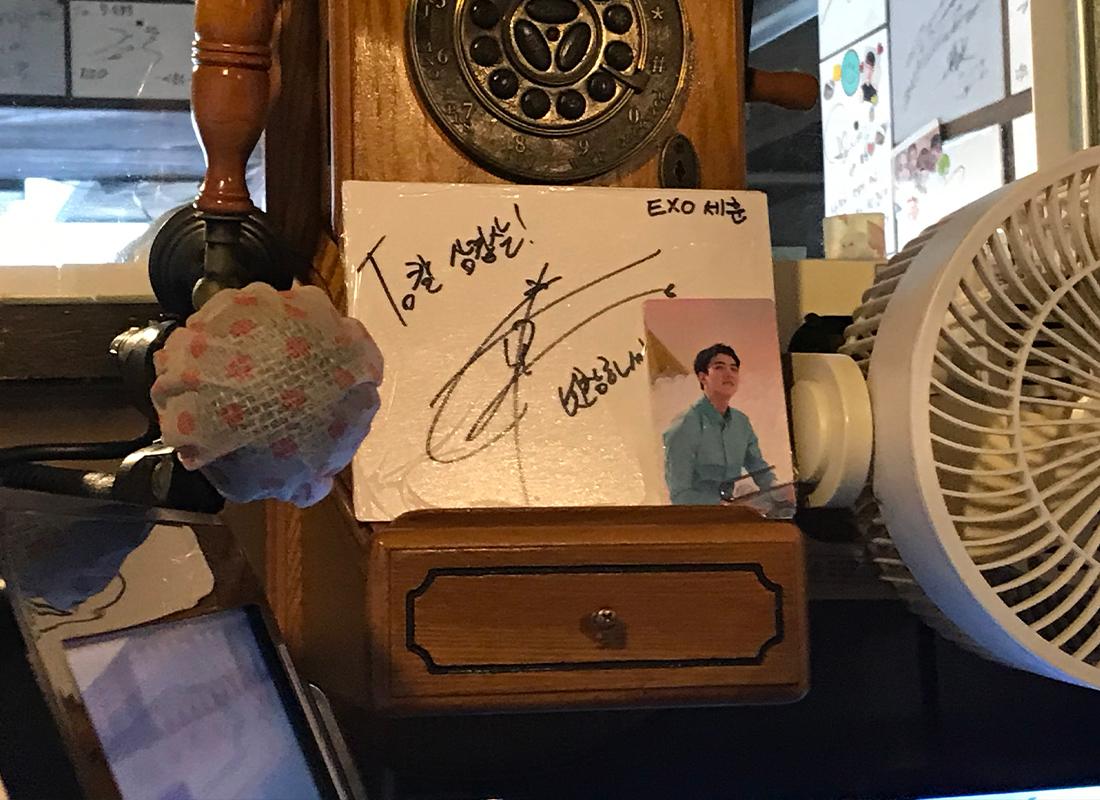 When we went to pay, we noticed a signature from EXO's Sehun next to the register. The staff let us take a picture of it! The service here was incredible.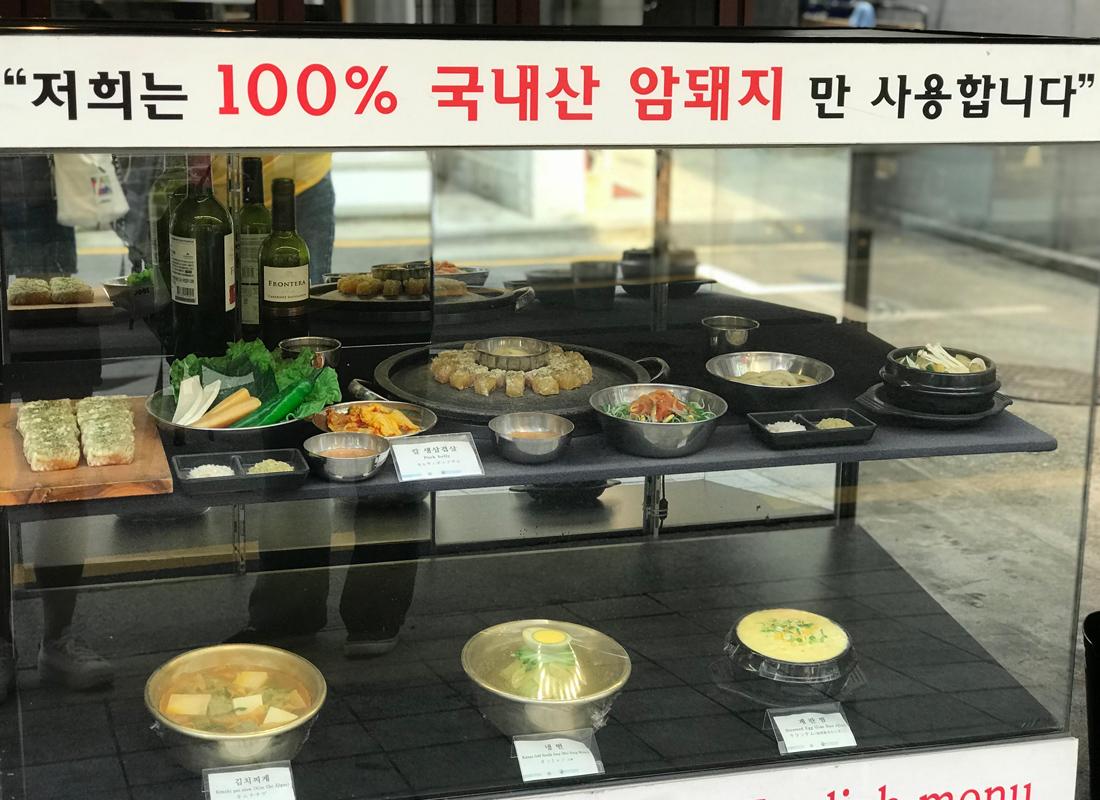 After eating at the restaurant, it is no wonder why idols and local Koreans often come here! Everything is locally sourced, ensuring the freshness and quality of every meal. The food and service are both amazing. Whether you want to try to see an idol or enjoy some delicious pork belly, we recommend visiting Chupungryeong Kalsamyupsal in Apgujeong. Be sure to pin this restaurant for your next visit to Korea!
---
We hope this review was helpful! If you have any questions or concerns, please leave a comment below or send us an email at help@creatrip.com. You can follow us on Instagram, TikTok, Twitter, and Facebook to stay updated on all things Korea!
---