Grandpa Factory: A Cafe Near Seoul Forest
Grandpa Factory is a beautiful and spacious art gallery cafe in Seongsu-dong in Seoul.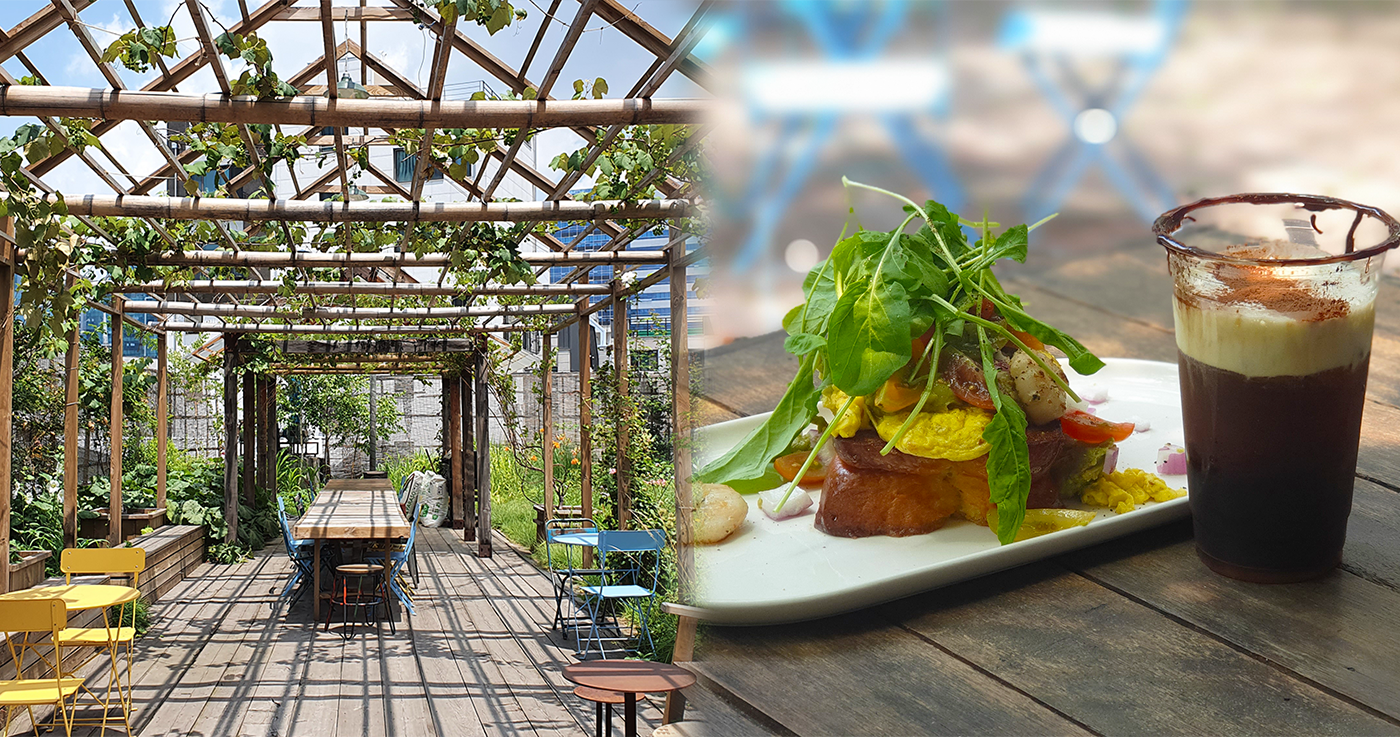 Today, we visited Grandpa Factory, one of the most popular cafes in Seongsu-dong near Seoul Forest.

If you're looking for a cafe to go to after visiting Seoul Forest, we highly recommend that you to go Grandpa Factory.
Let's go check it out!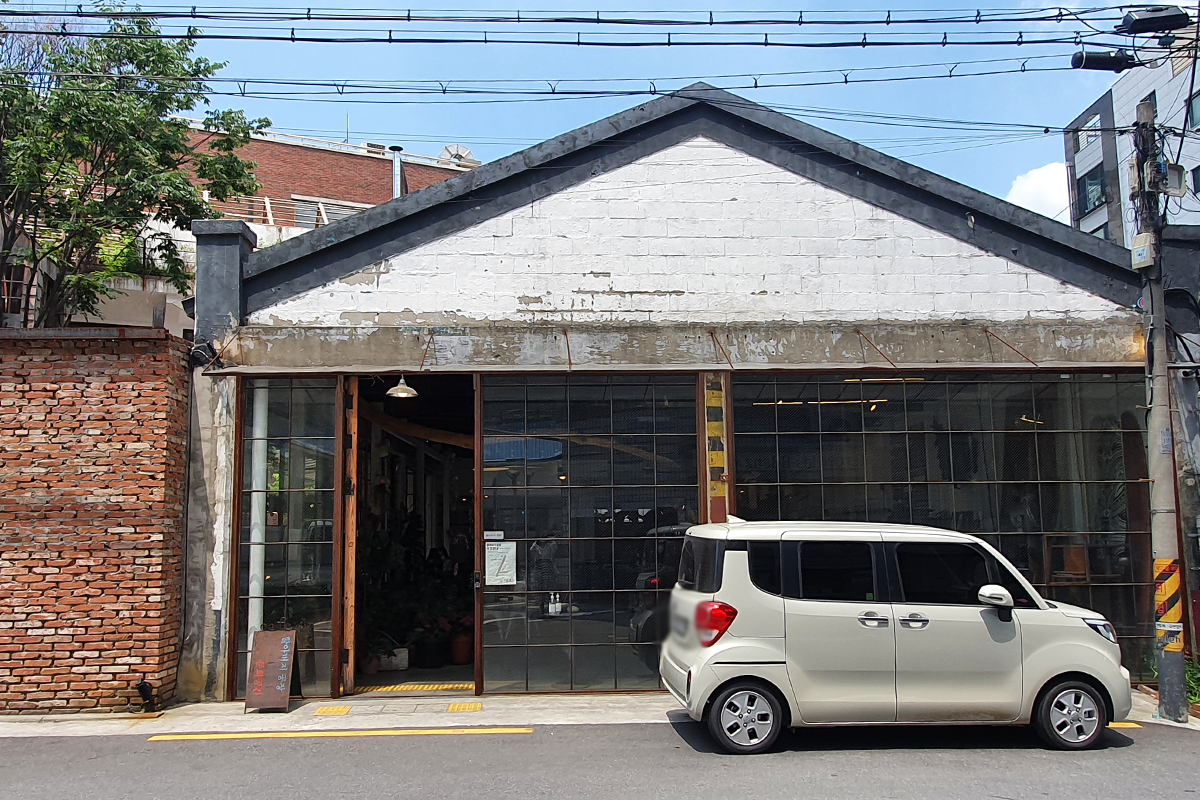 Grandpa Factory is located on Seongsu-dong's cafe street, not far from Seoul Forest.
Hong Dong Hee, who designed and opened this cafe, is a famous architectural designer and installation artist in Korea.
With all his know-how, Hong has established one the most beautiful cafes in Seongsu-dong.
Due to the popularity of Grandpa Factory, this cafe street in Seongsu-dong could soon become the place to go for cafes.
Grandpa Factory is divided into four spaces.
Let's take a look at each space!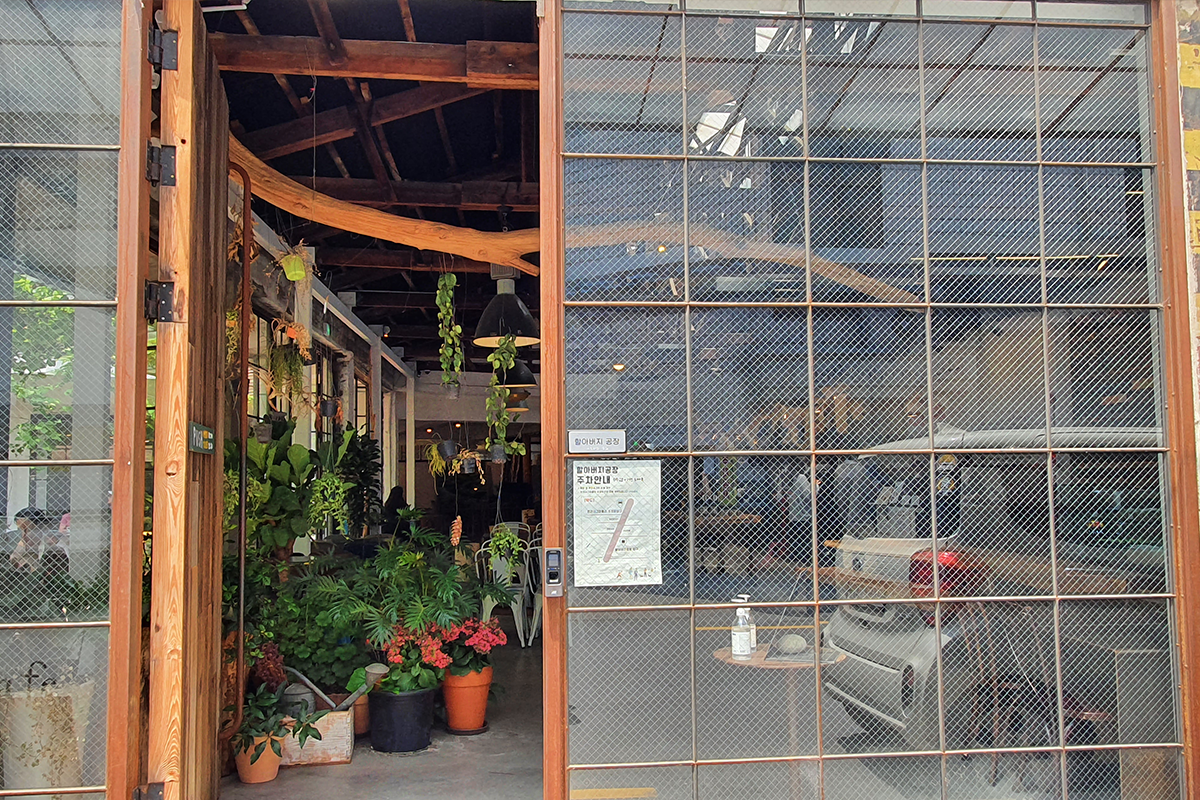 When you first walk into Grandpa Factory, you're immediately greeted by an array of plants and flowers.
This is the first floor of the cafe.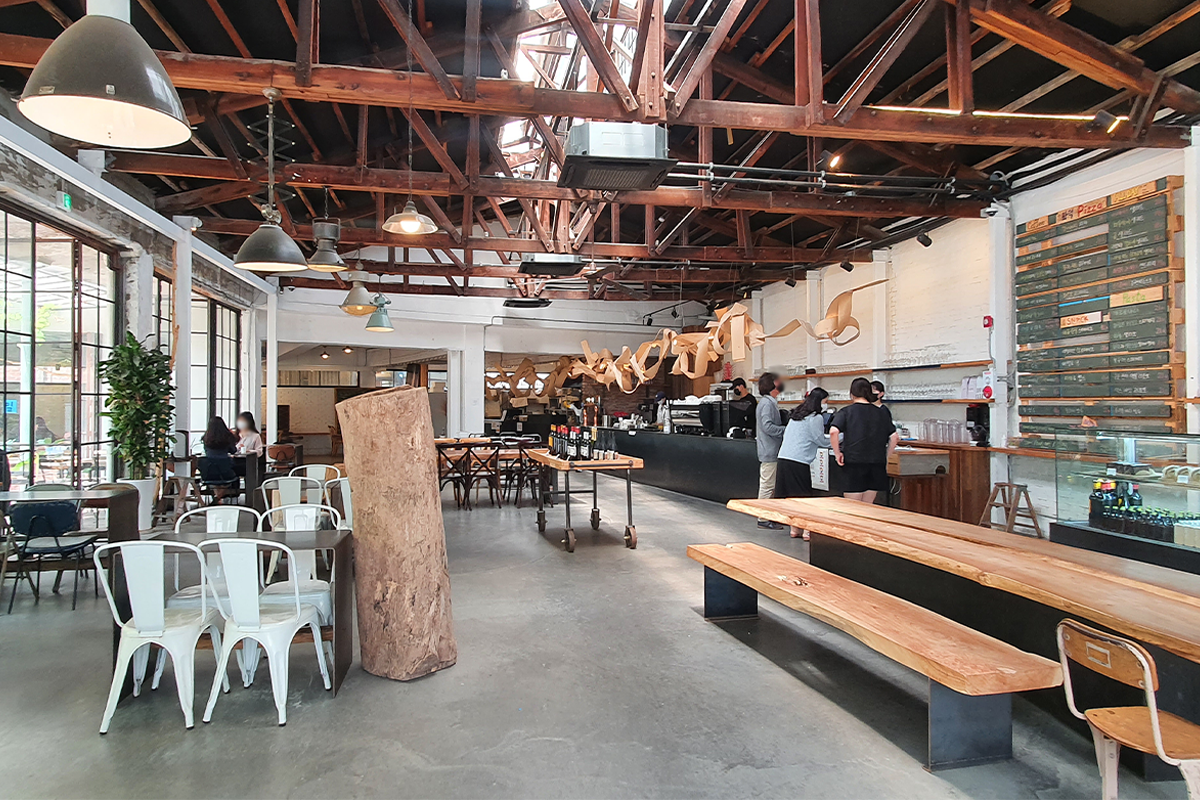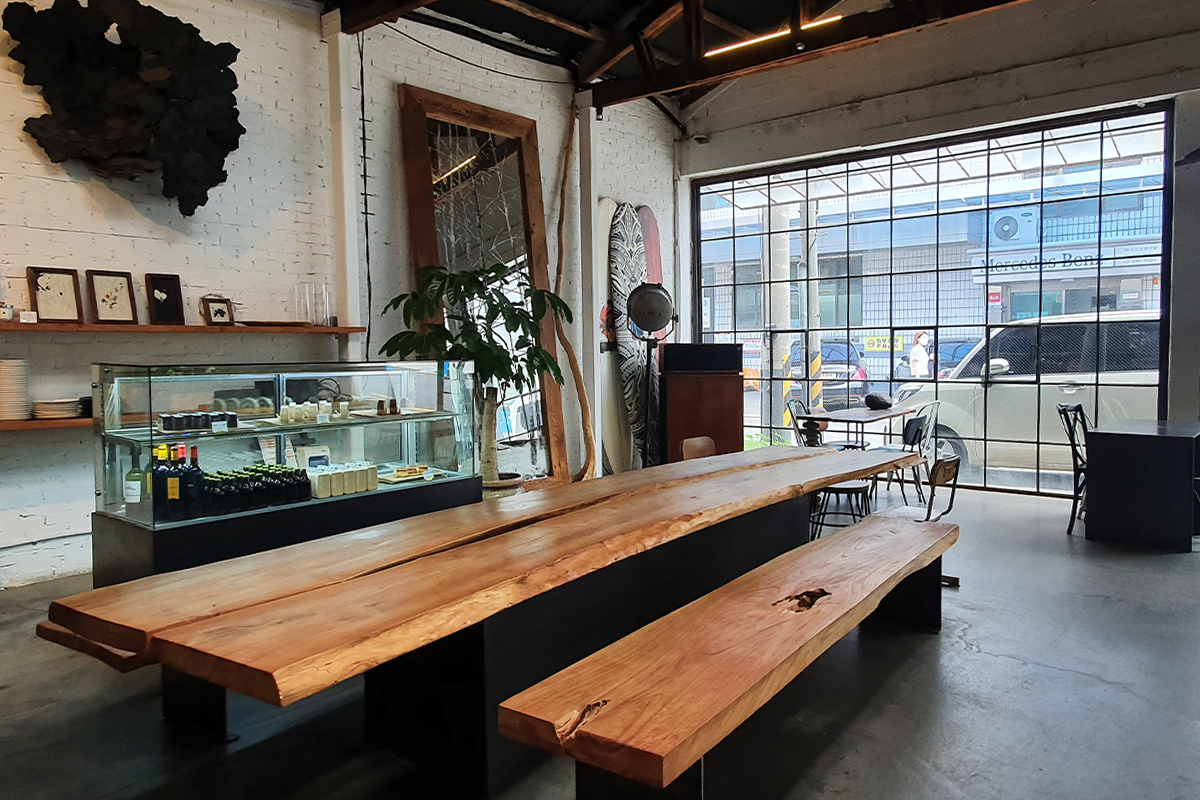 Once you walk past the plants, the space opens up into this large room filled with natural light.
This space looks big, right?
But this is only one-tenth of Grandpa Factory!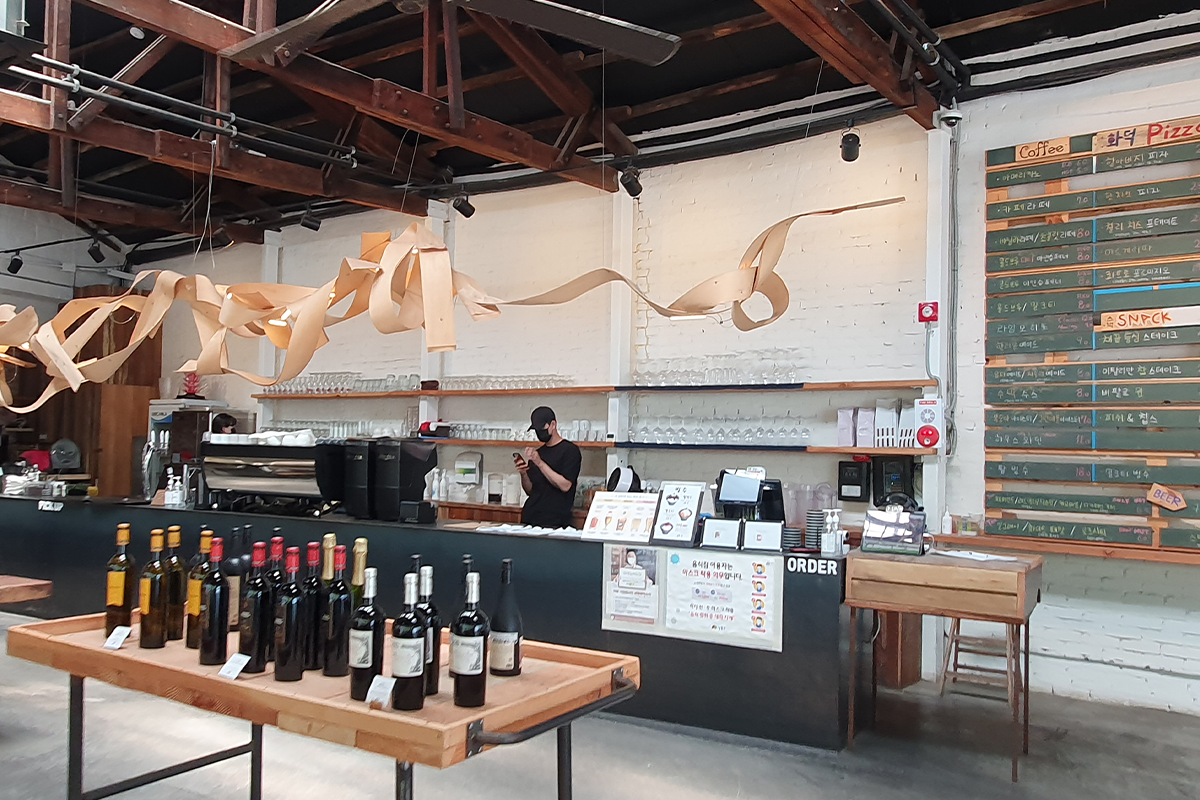 You'll see a long black counter on the right.
This is where you can place your order for food and drinks.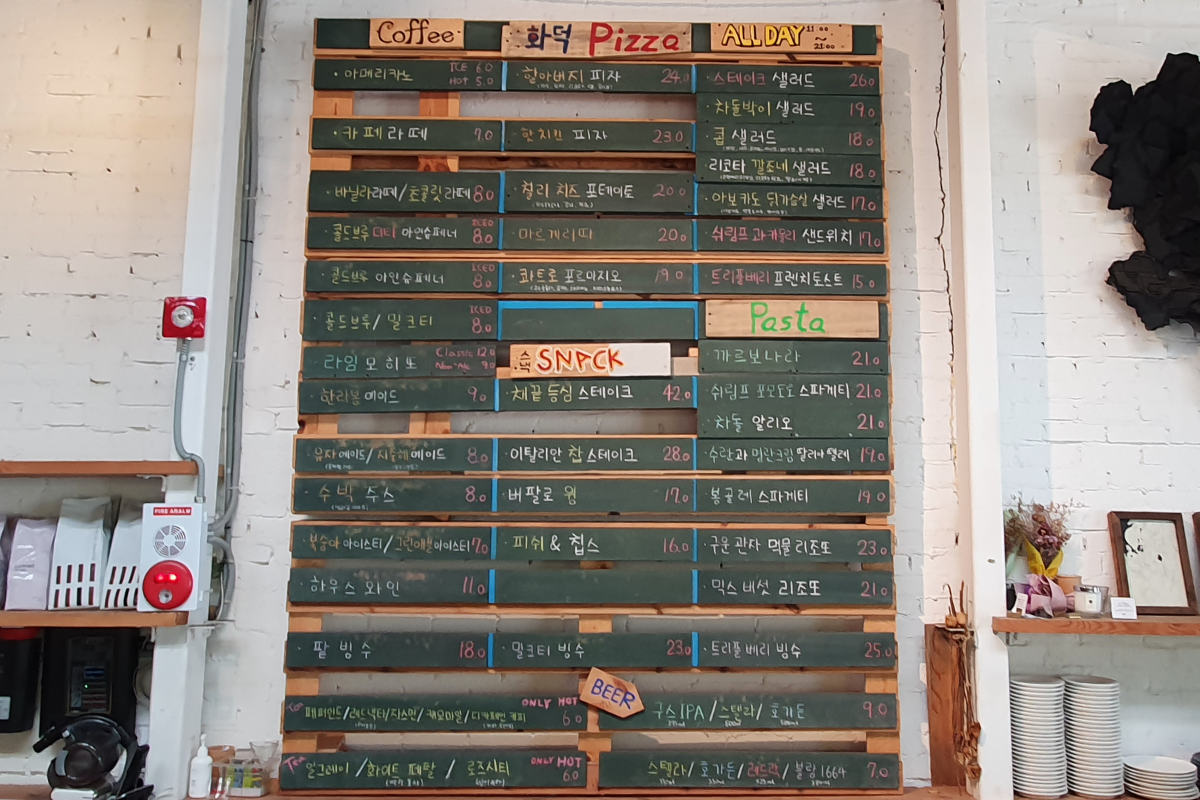 To the right of the counter, you can see the menu.
Even the menu is huge!
In addition to various coffee drinks, Grandpa Factory serves food such as pizza, salads, steak, and pasta.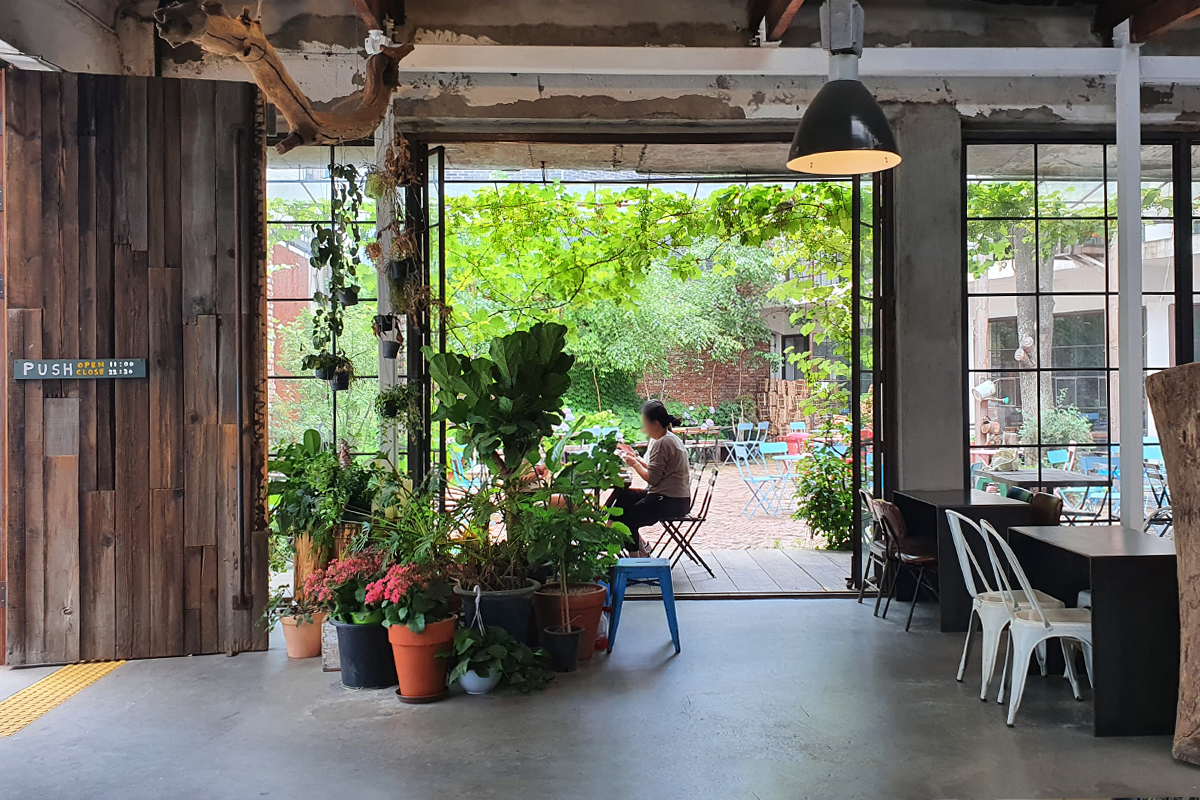 Opposite the counter, there are floor to ceiling glass doors that open out to a courtyard.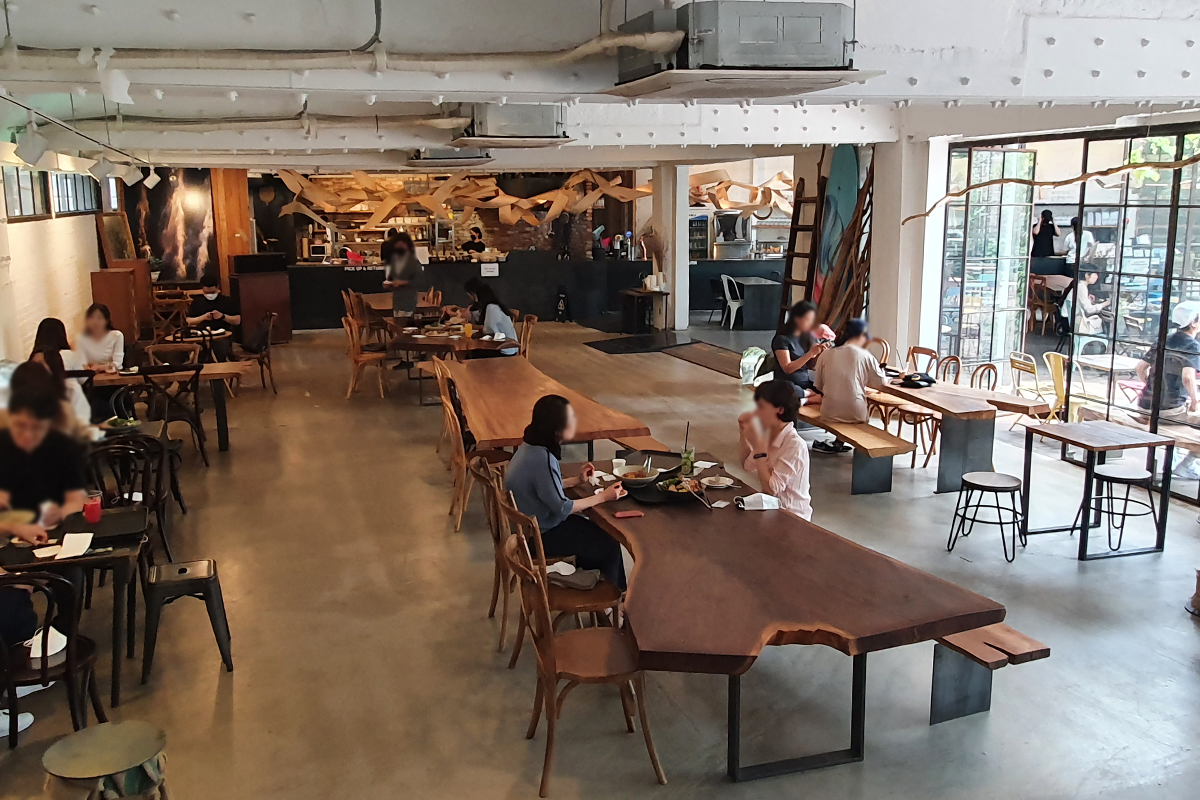 If you walk past the counter, there is a large seating area.
There were four long wooden tables in the center of the room and multiple smaller tables along the walls.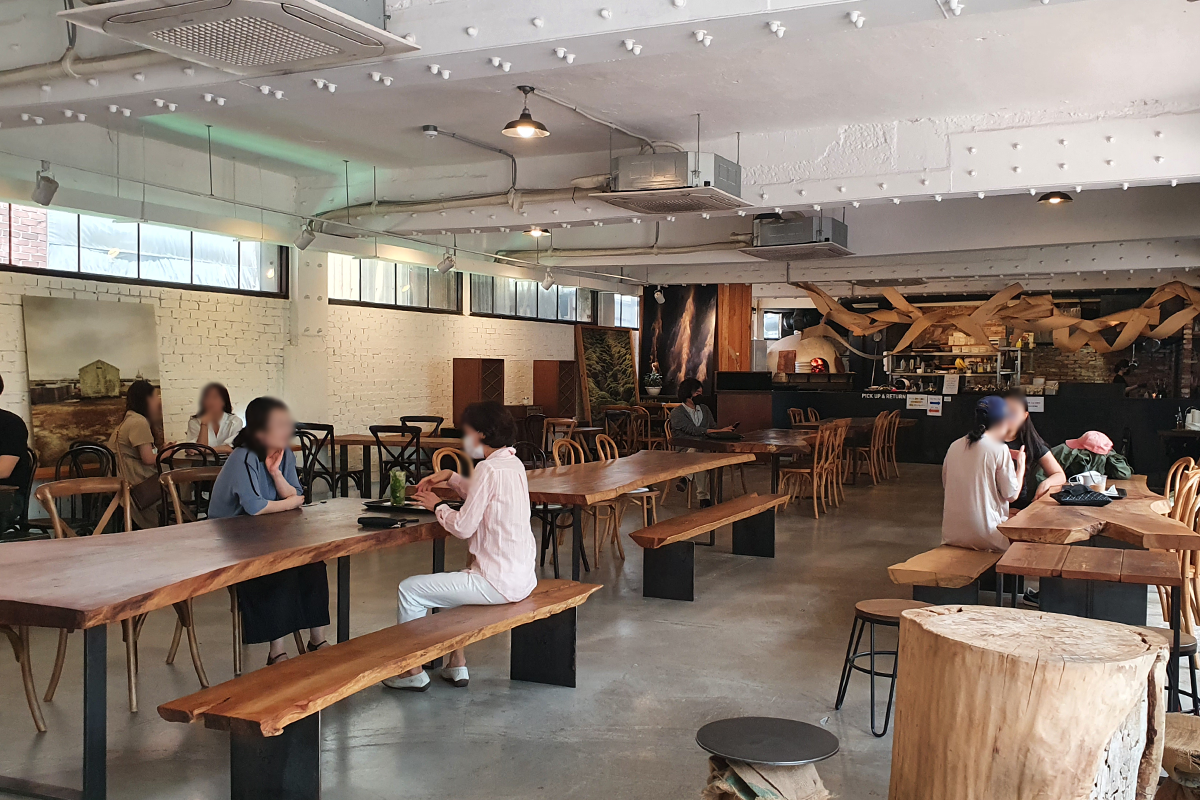 The tables were made out of different types of wood.
Although the colors and textures of the tables were different, this entire space felt harmonious.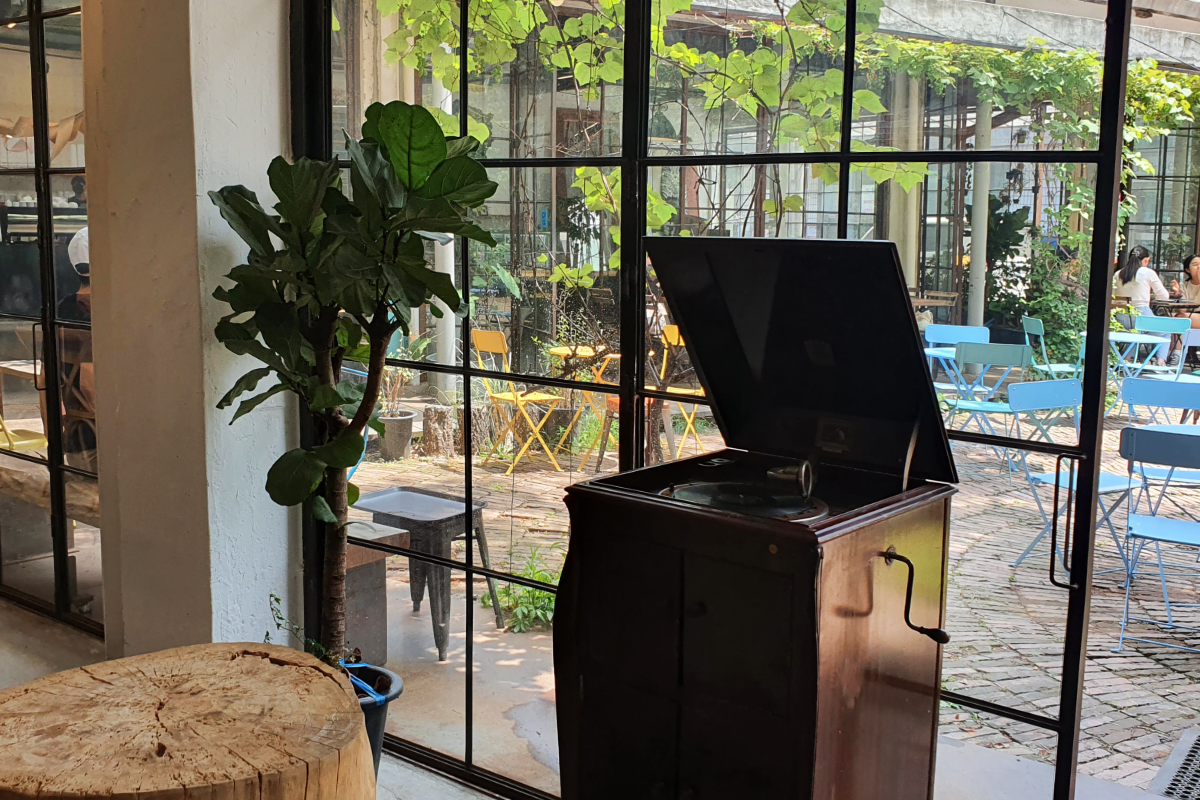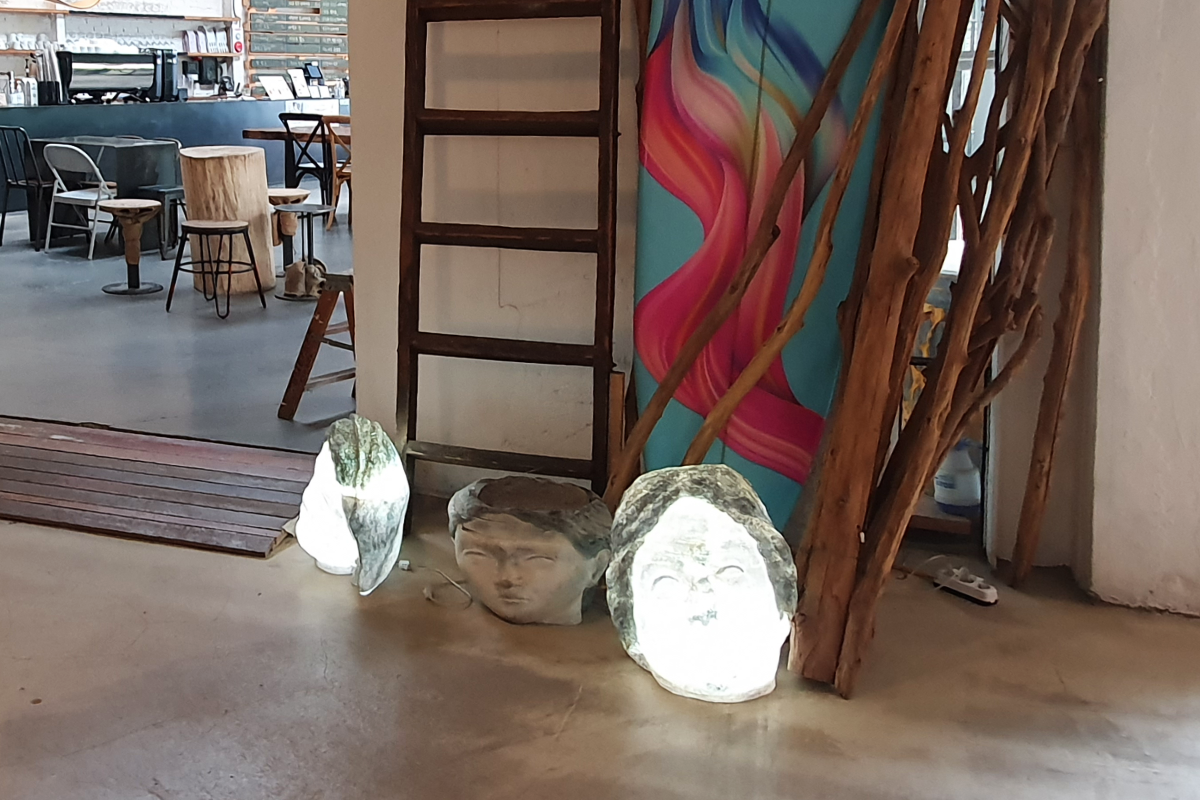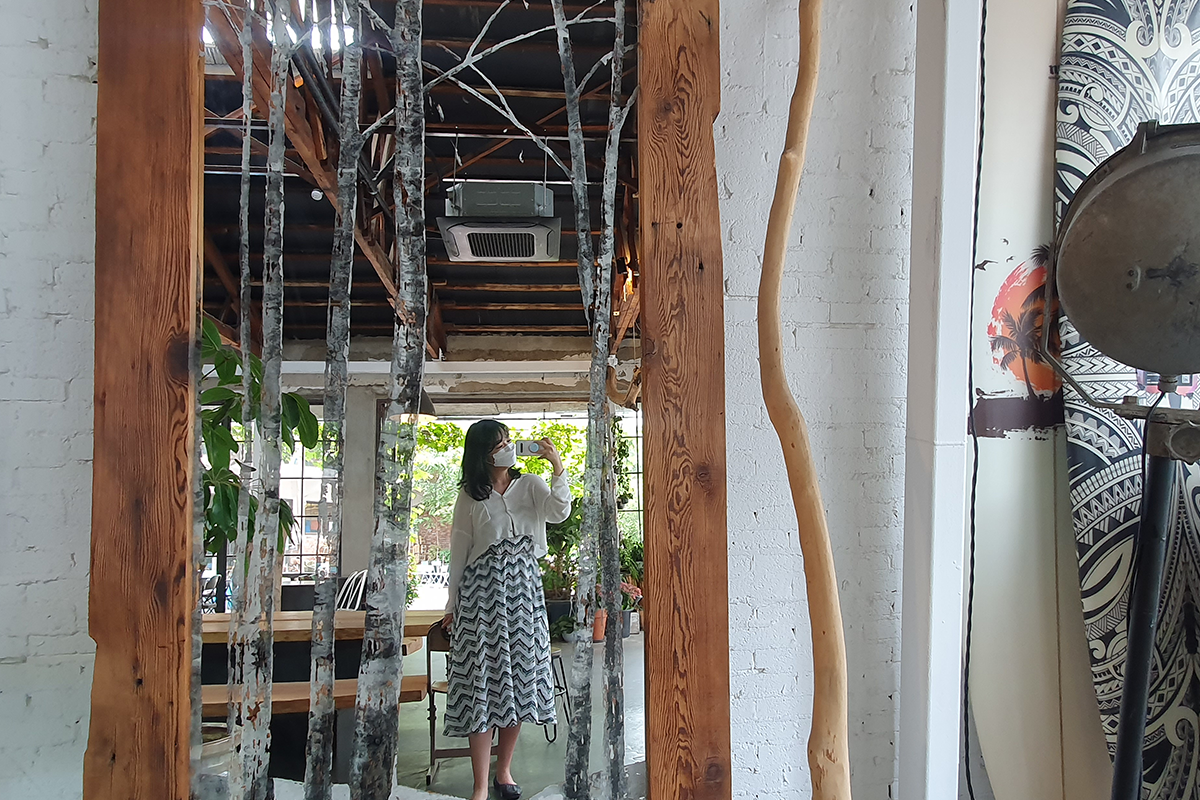 Different props such as a vinyl record player, fun light fixtures, and large mirrors added some funk to this space.
I thought that this space in front of the mirror was so pretty.
I had to take a picture here!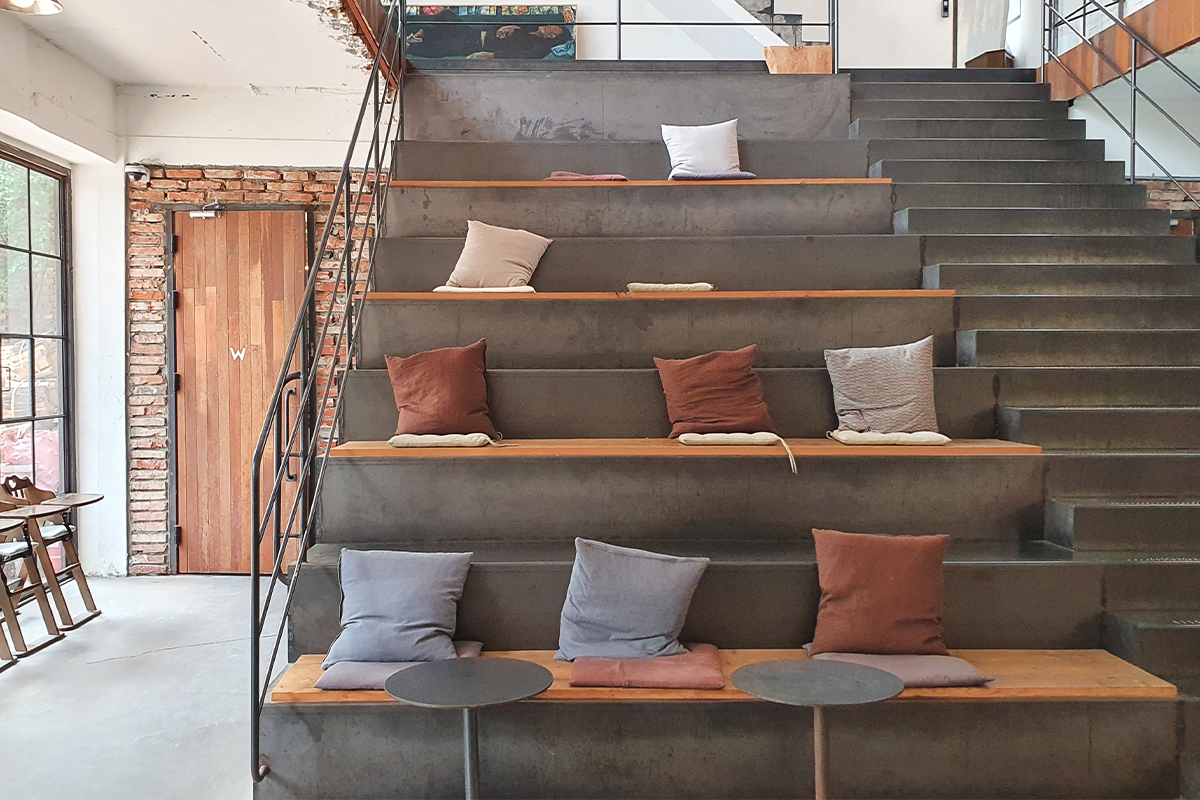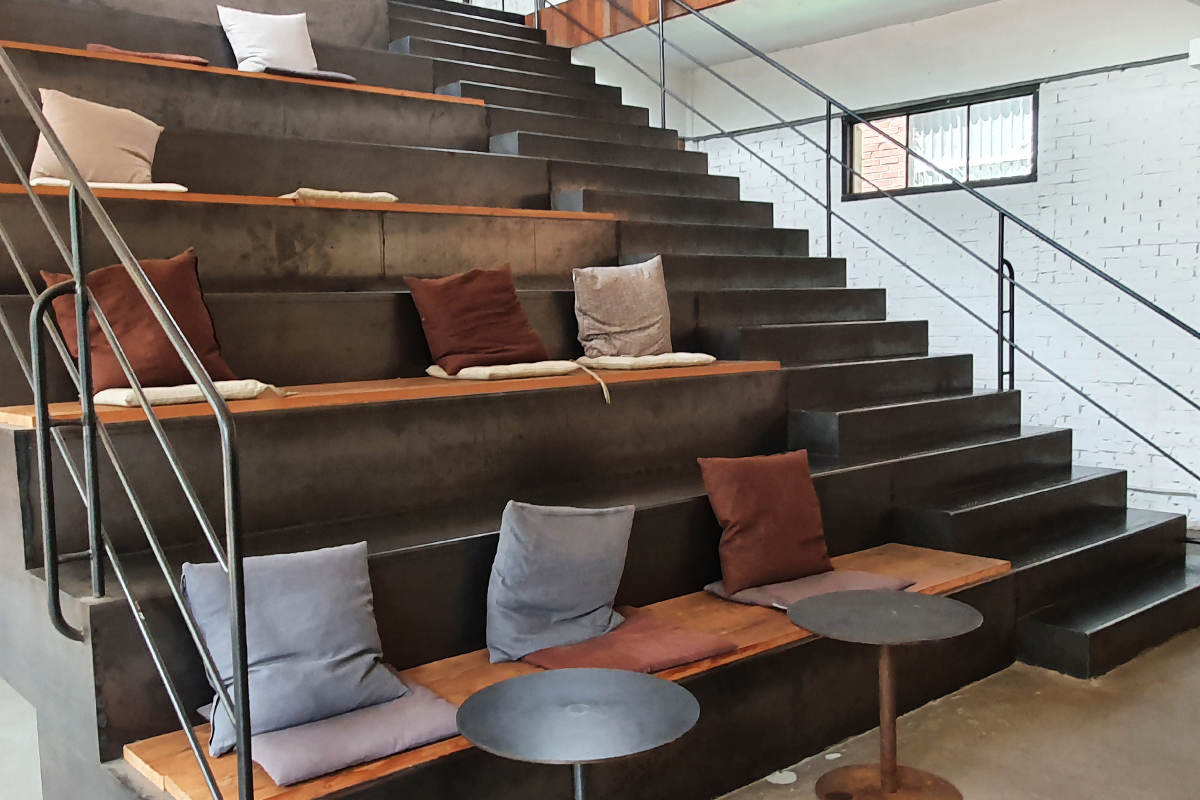 These are the stairs leading up to the second floor.
Along the staircase, there was a seating area with pillows and cushions that looked out onto the entire first floor.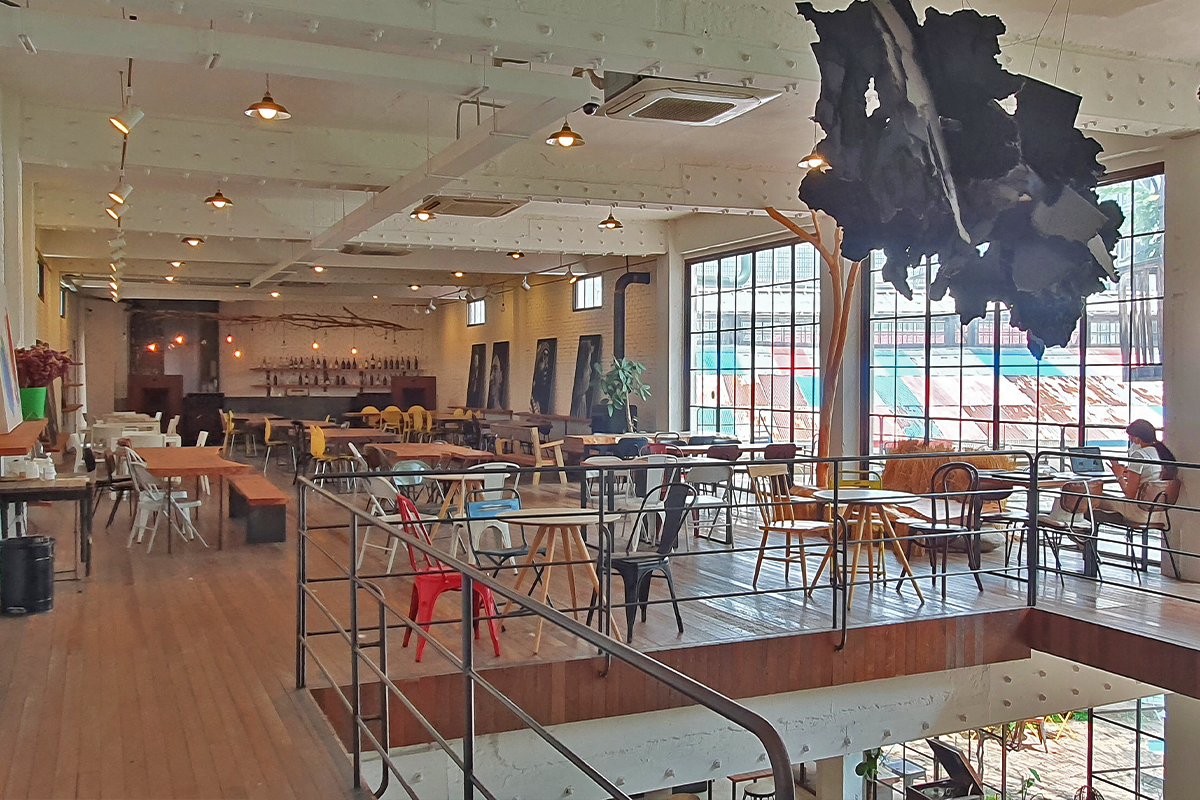 If you go up the stairs, you'll come to the second floor.
The second floor is a gallery space where various works of art are on display.

Isn't the installation art hanging from the ceiling impressive?
I felt like I was in a modern art museum.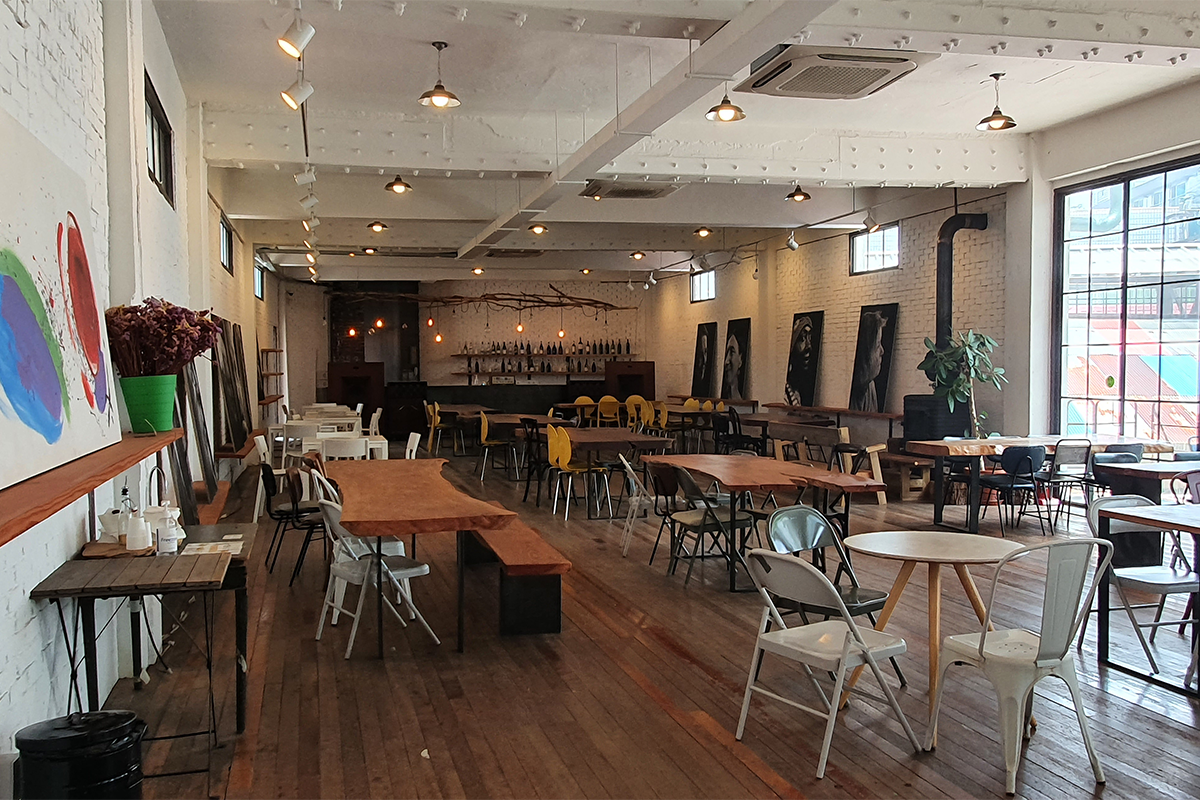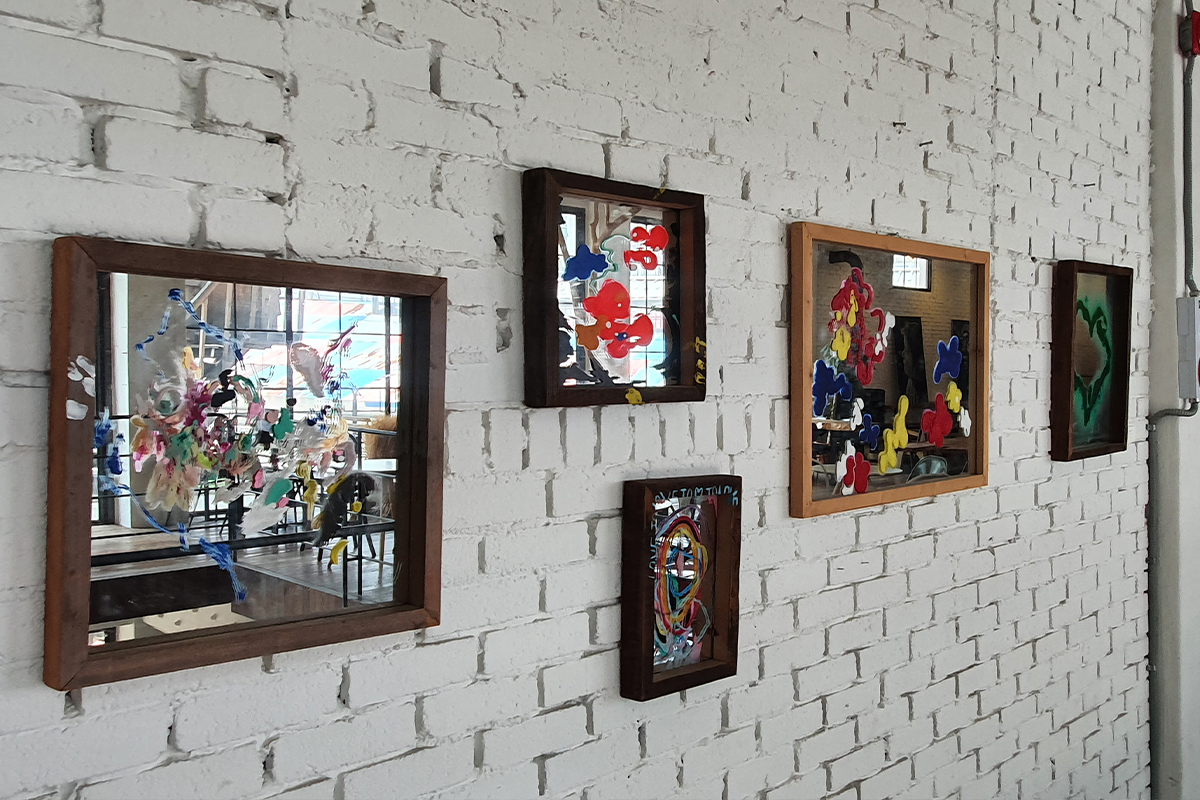 The seating arrangement on this floor was similar to that of the first floor.
What was different about this space though was all of the artwork on display.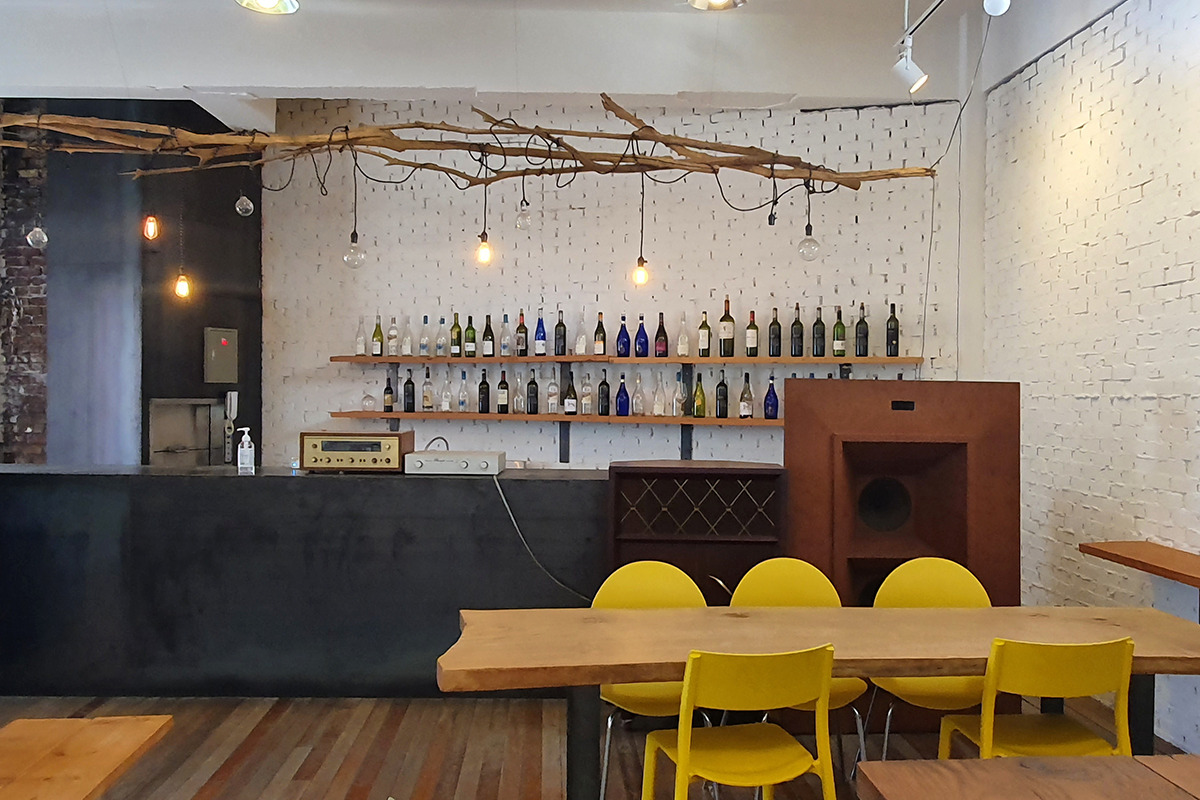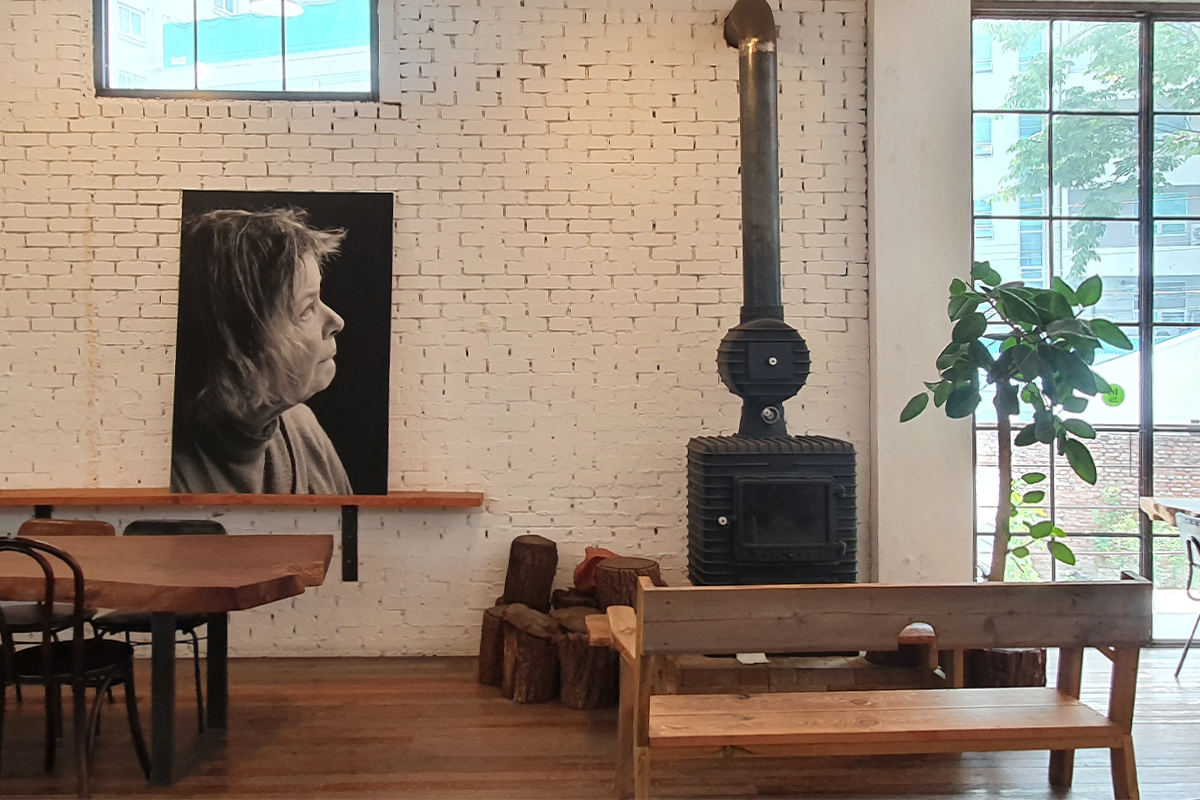 There were all kinds of art including paintings, photographs, and installation pieces on display.
Grandpa Factory regularly changes the artwork on display to feature new and different artists.

I appreciate how Hong Dong Hee, who is also an artist, intentionally created this cultural space for art lovers when he designed Grandpa Factory.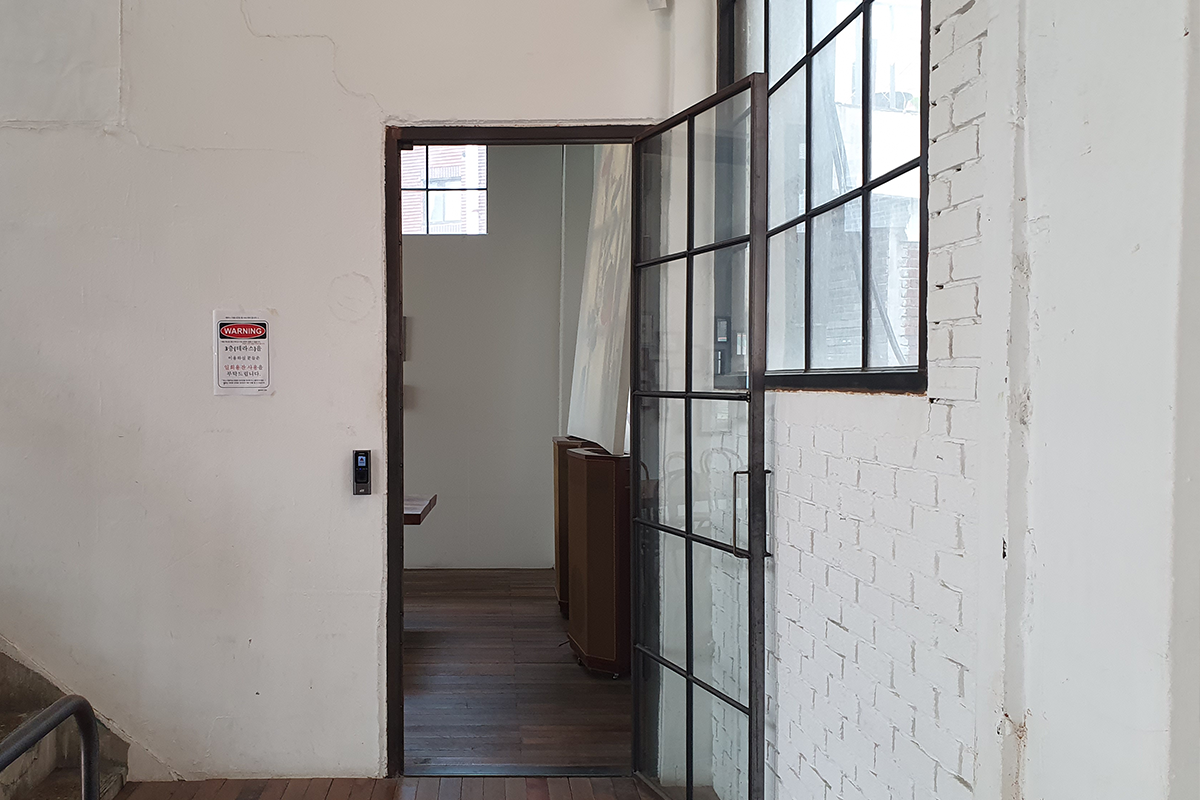 On the second floor, I noticed that there was this small room in the corner.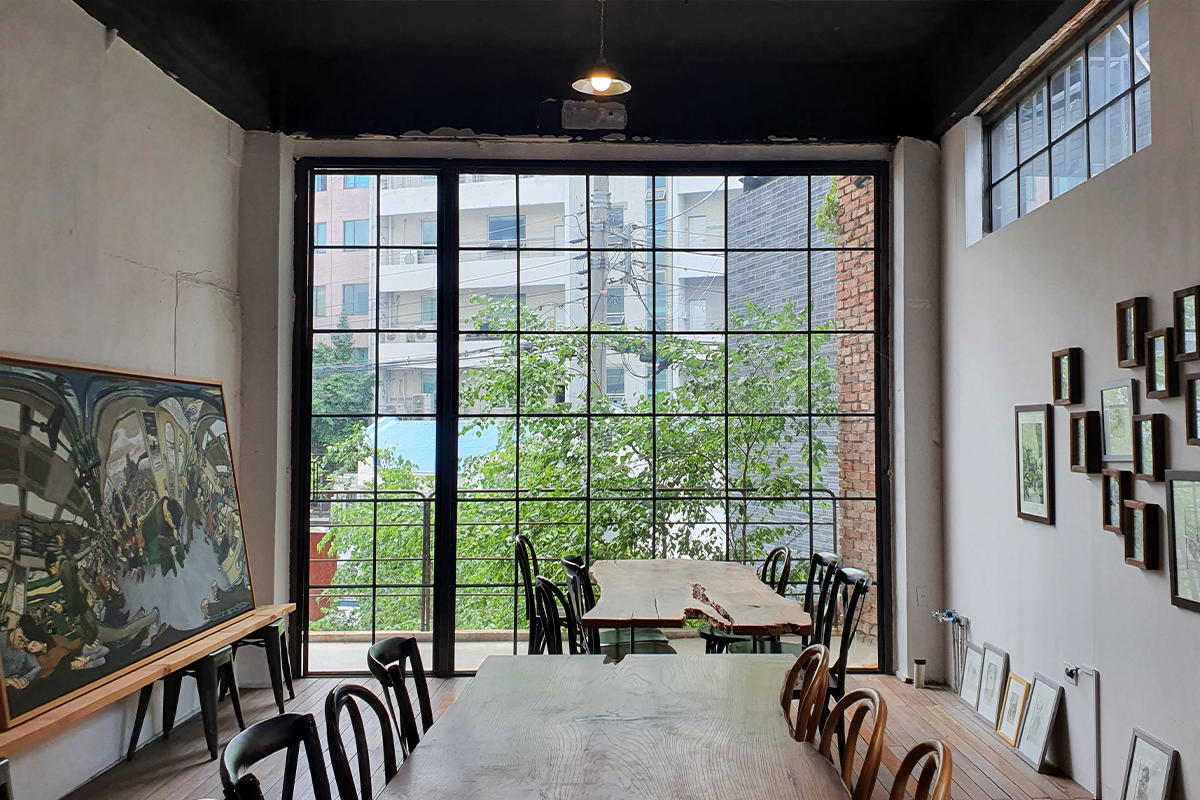 This room had two long wooden tables, which would be perfect for group gatherings and parties.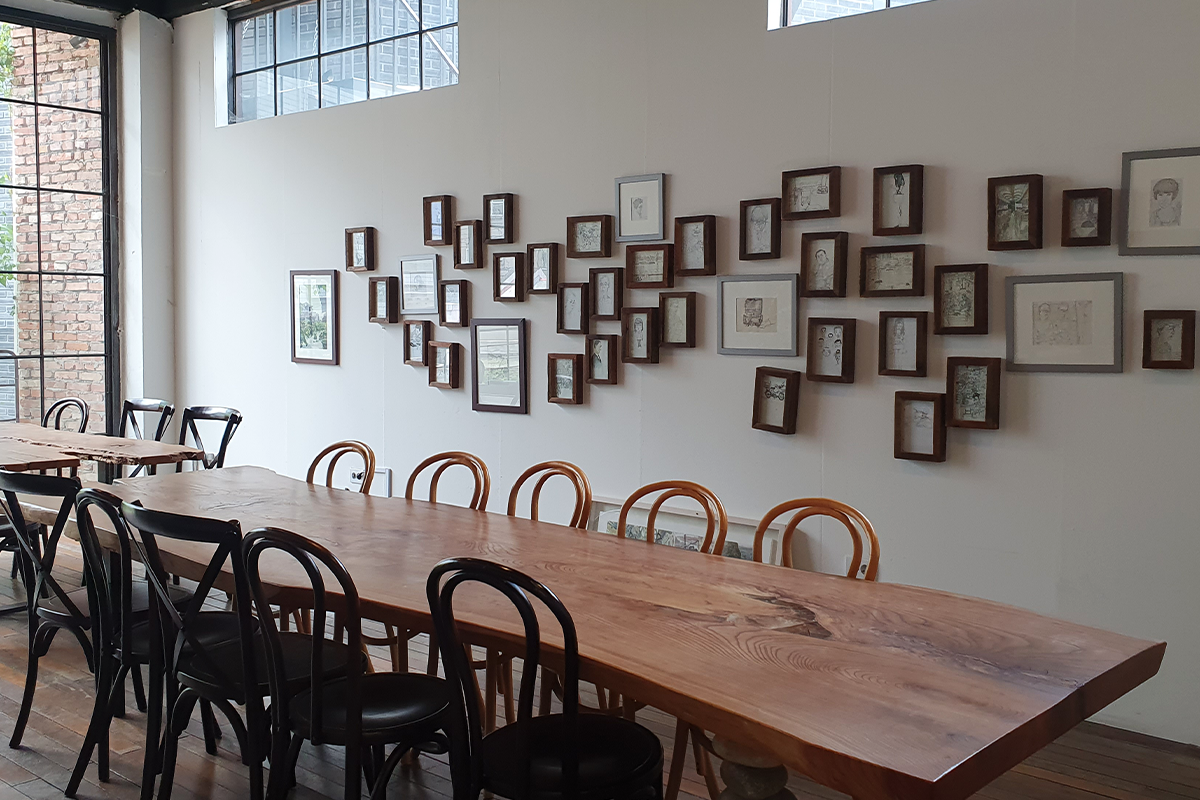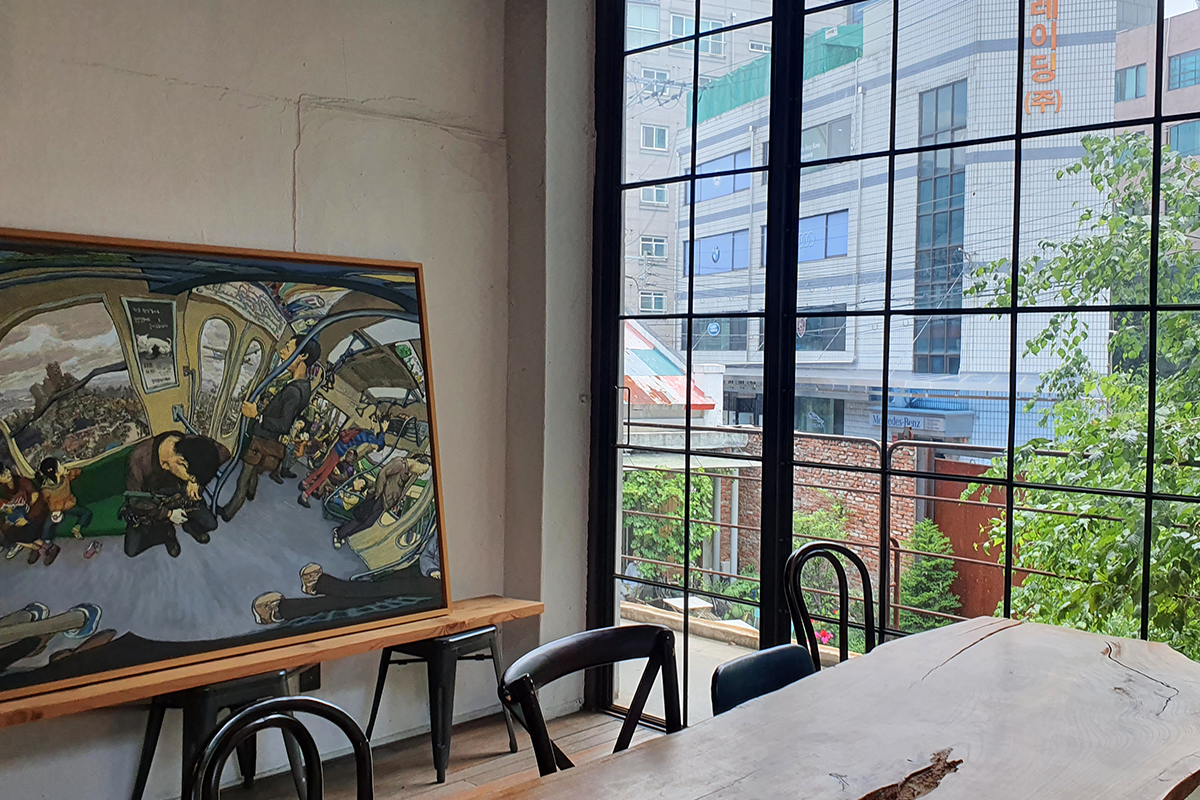 The walls of this room were decorated with vivid paintings and cool drawings.
It was fun to look at each piece of art.
The view from the window was also really nice.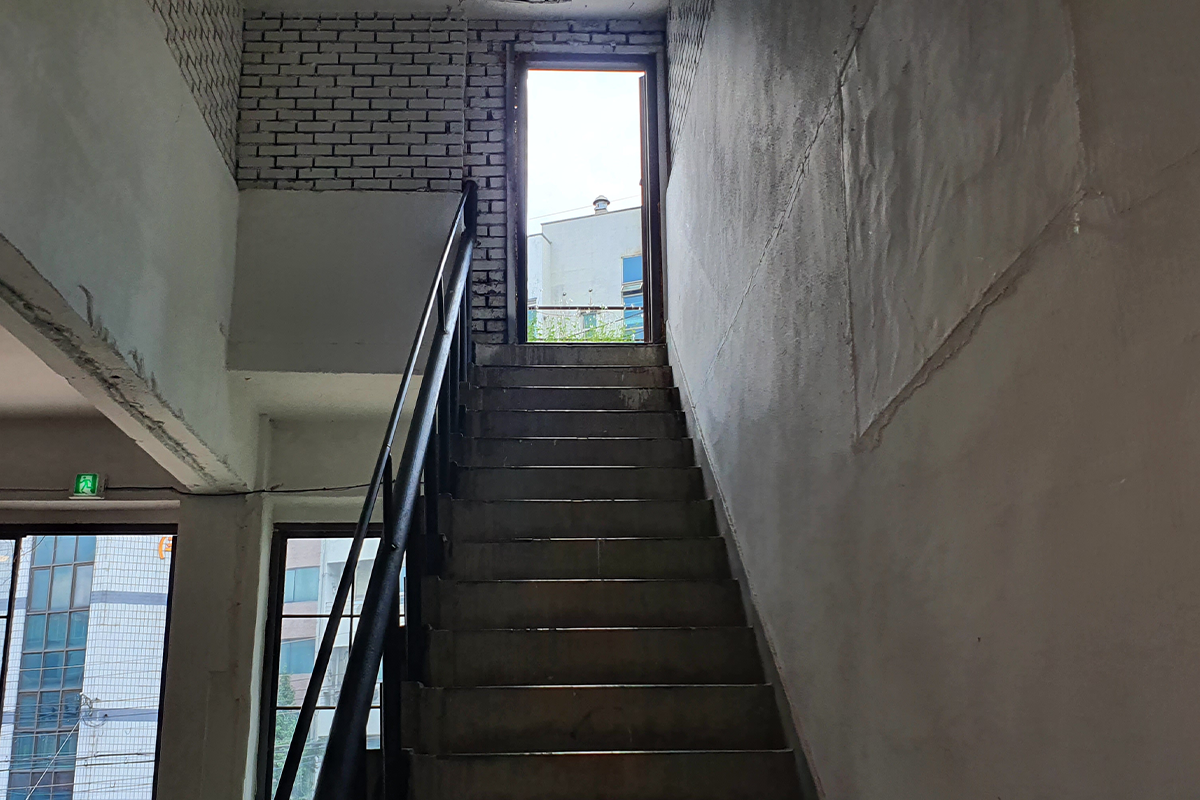 If you follow these stairs, which are located in front of the small room on the second floor, you can go up to the rooftop terrace, which is the third space.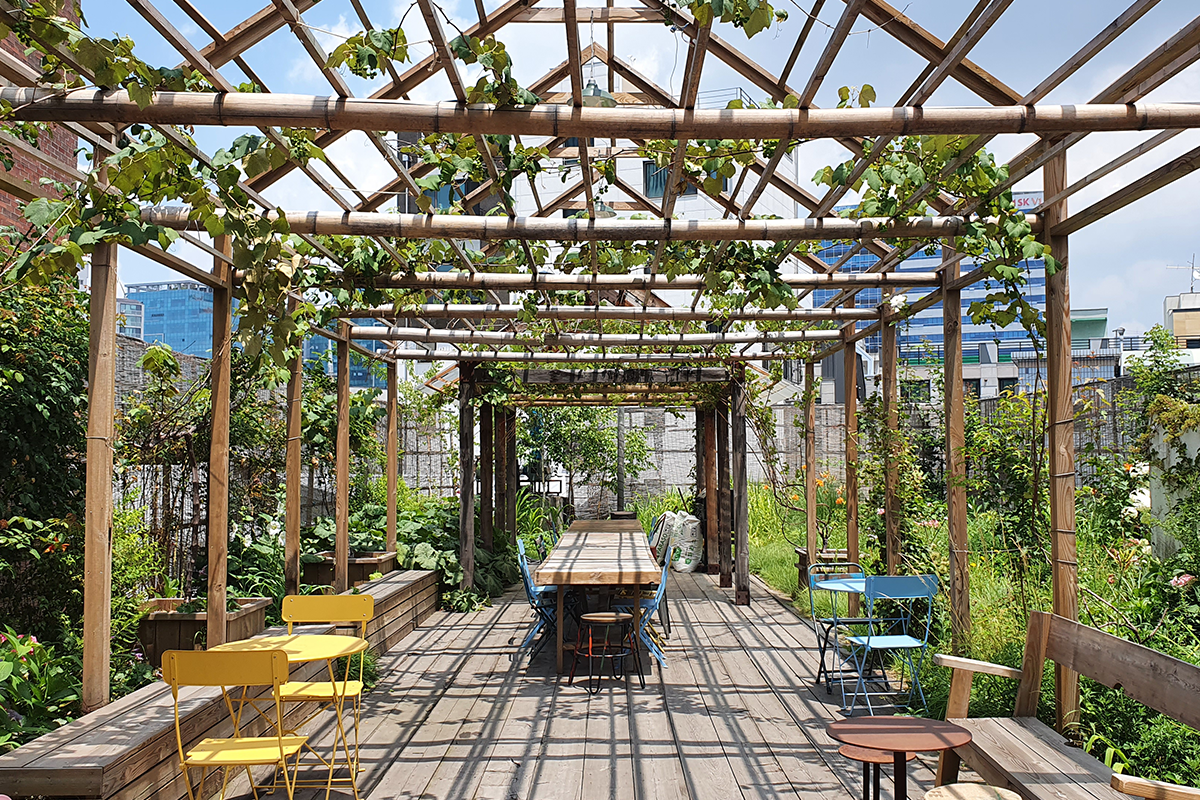 The wooden design of the terrace perfectly matched the overall concept of the first two floors.

The vines on the terrace were so pretty!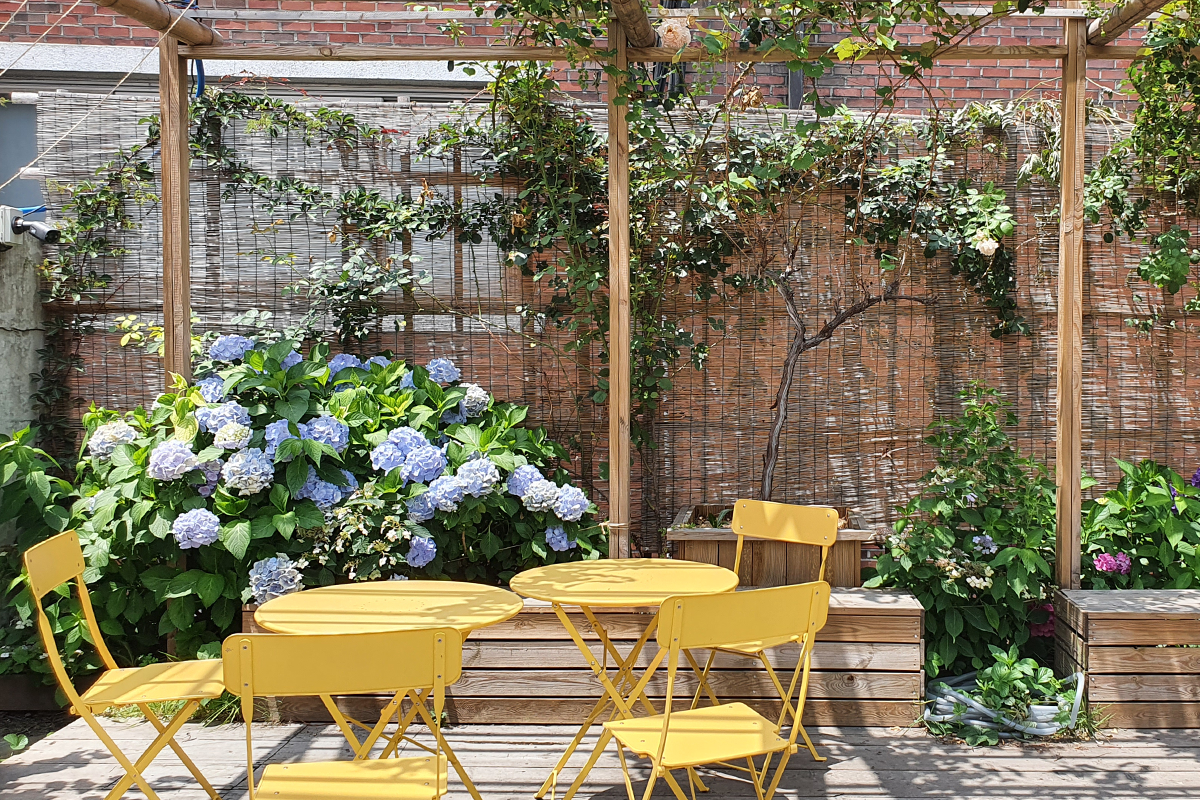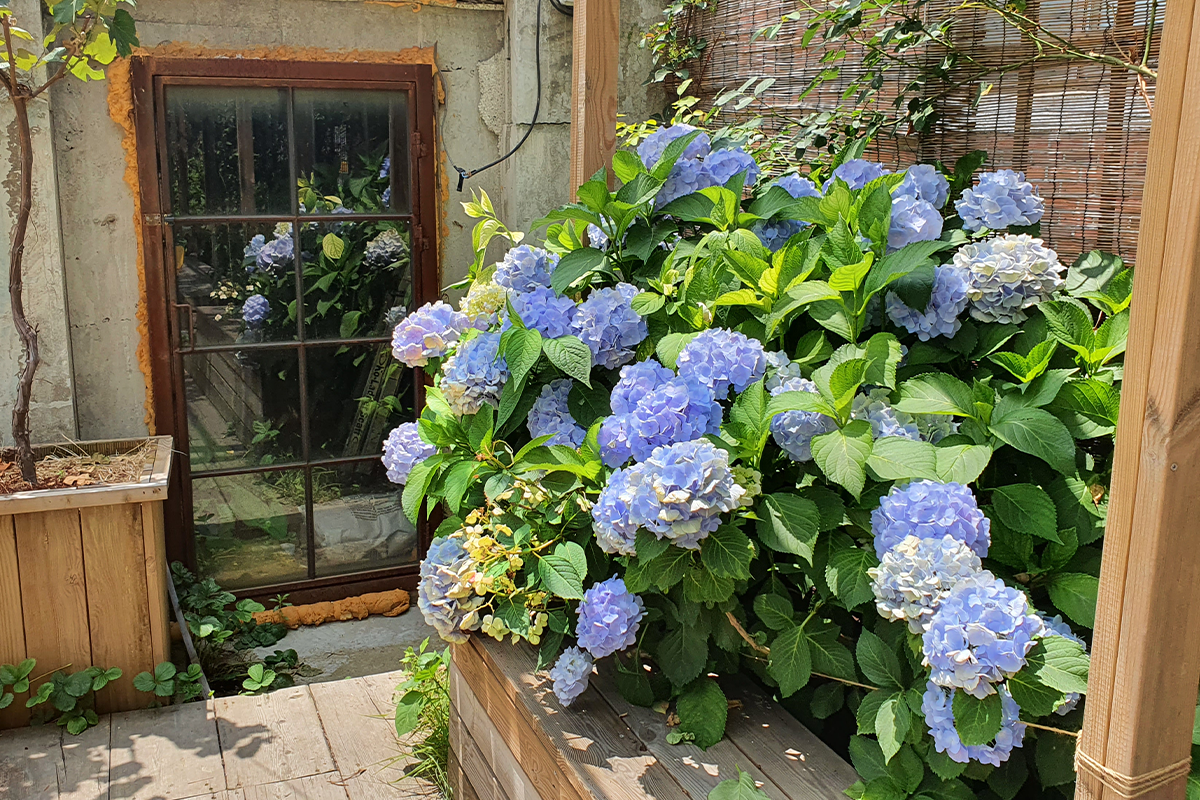 Hydrangeas were blooming everywhere!
The blue and lavender hydrangeas made this space more inviting and beautiful.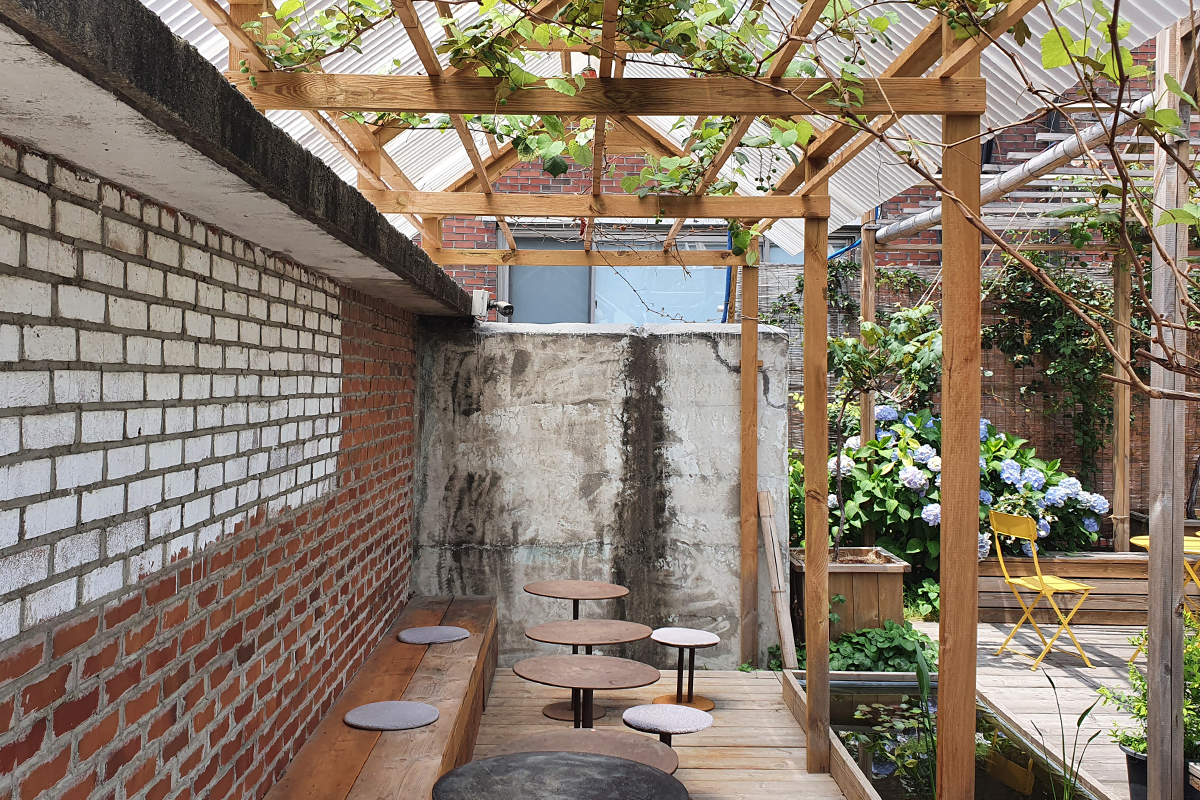 There is a lot of seats on the terrace.
So, if you visit on a nice day, feel free to come up and have a relaxing time in this space!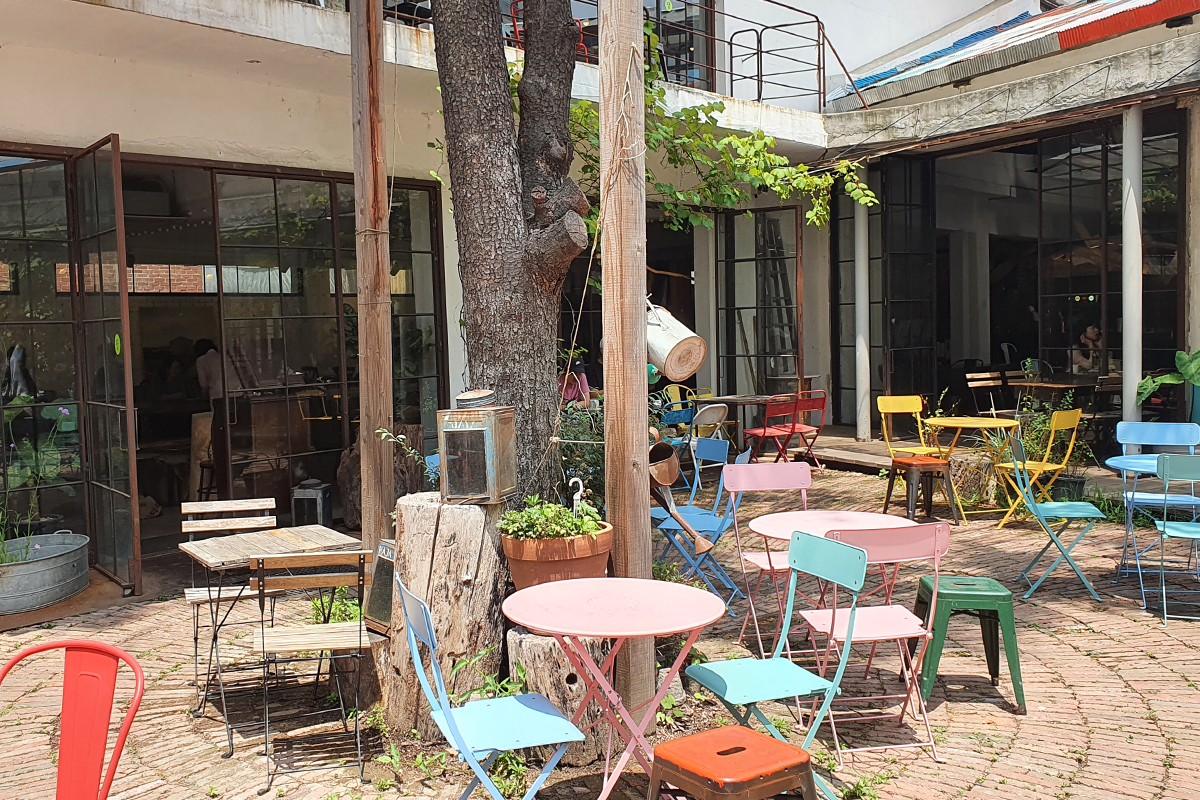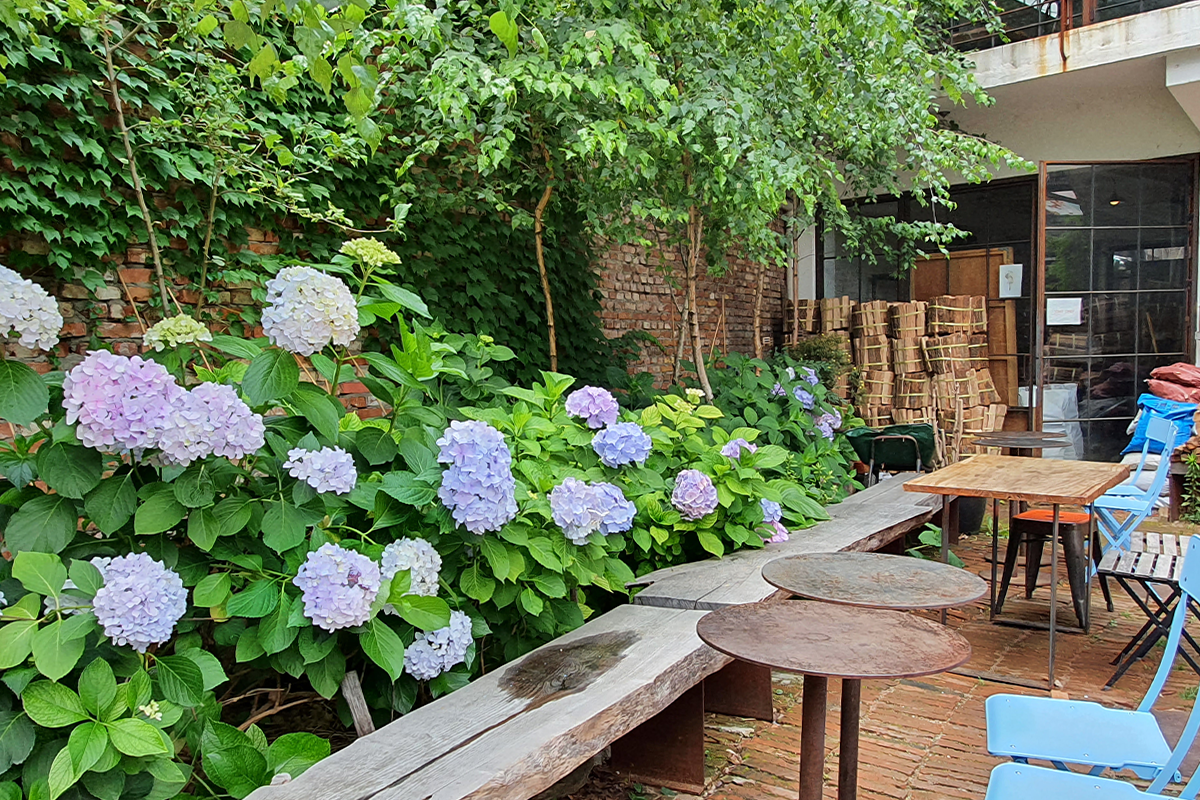 The last place I'd like to show you is the garden.
Do you remember the glass doors on the first floor that led out to a courtyard?
That's where the garden is!
This garden felt like a secret hidden place because it was surrounded by buildings.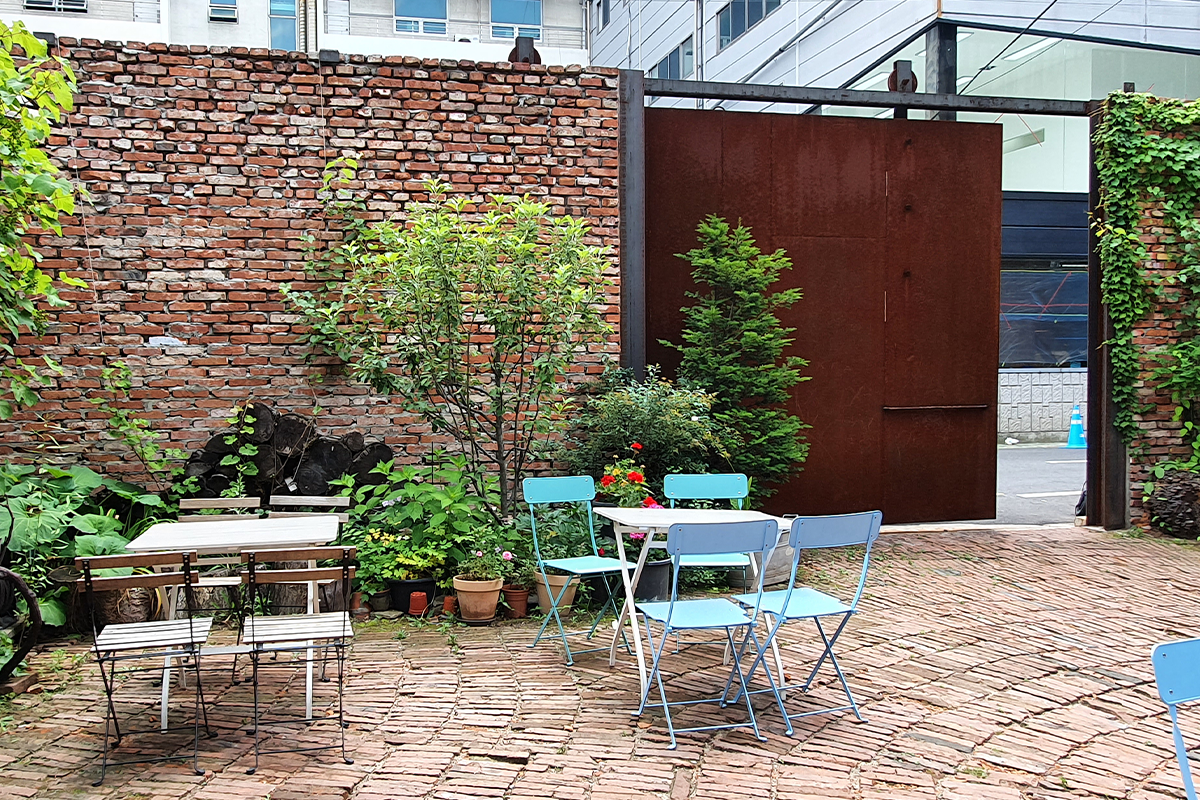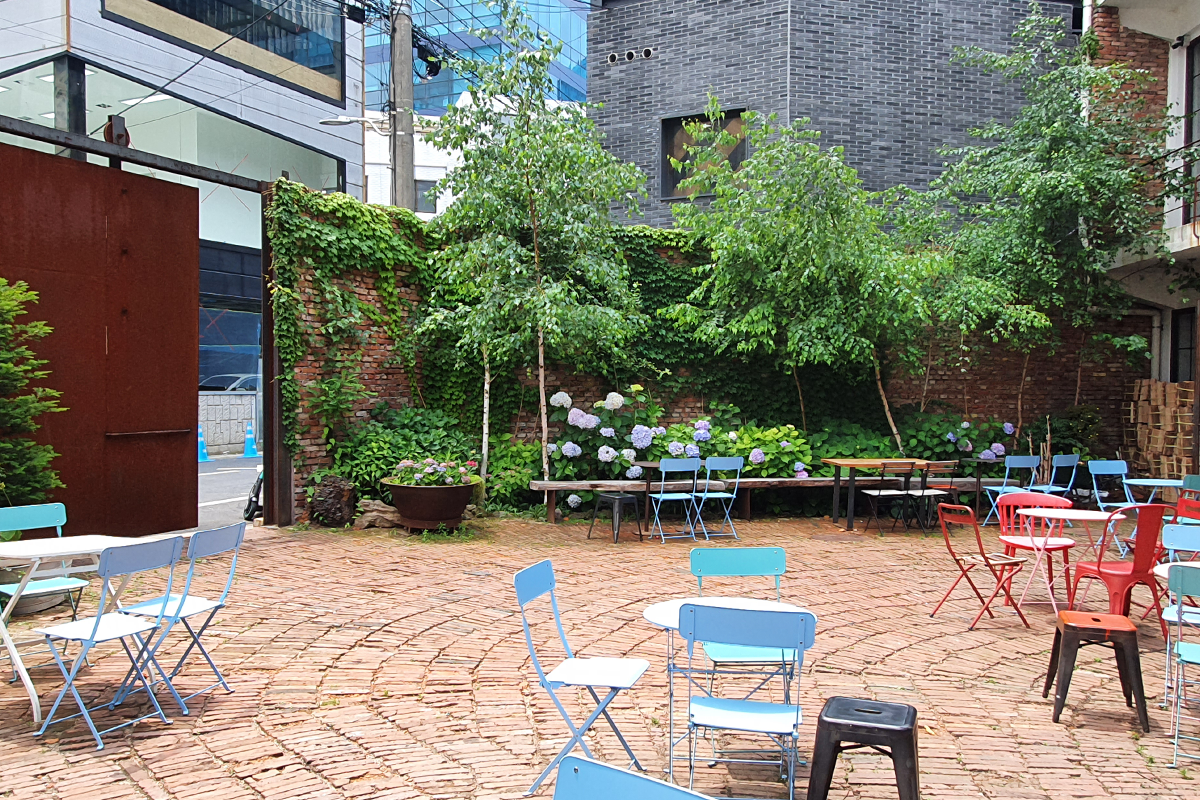 This is the seating area in the garden.
The colorful chairs gave this space a whimsical feel.

Just like on the terrace, there were so many hydrangeas here.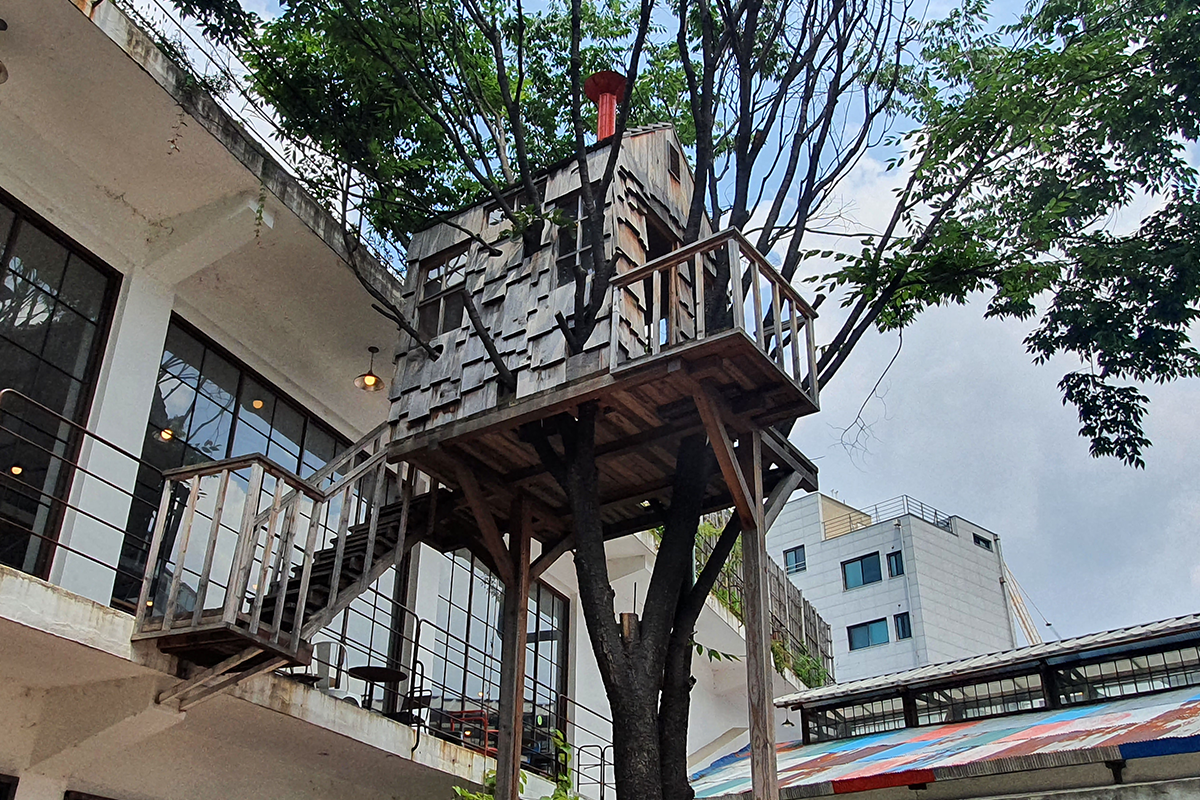 In the middle of the courtyard, there is a treehouse!
This cabin-like treehouse is what Grandpa Factory is known for.
This reminded me of my grandfather's house in the countryside.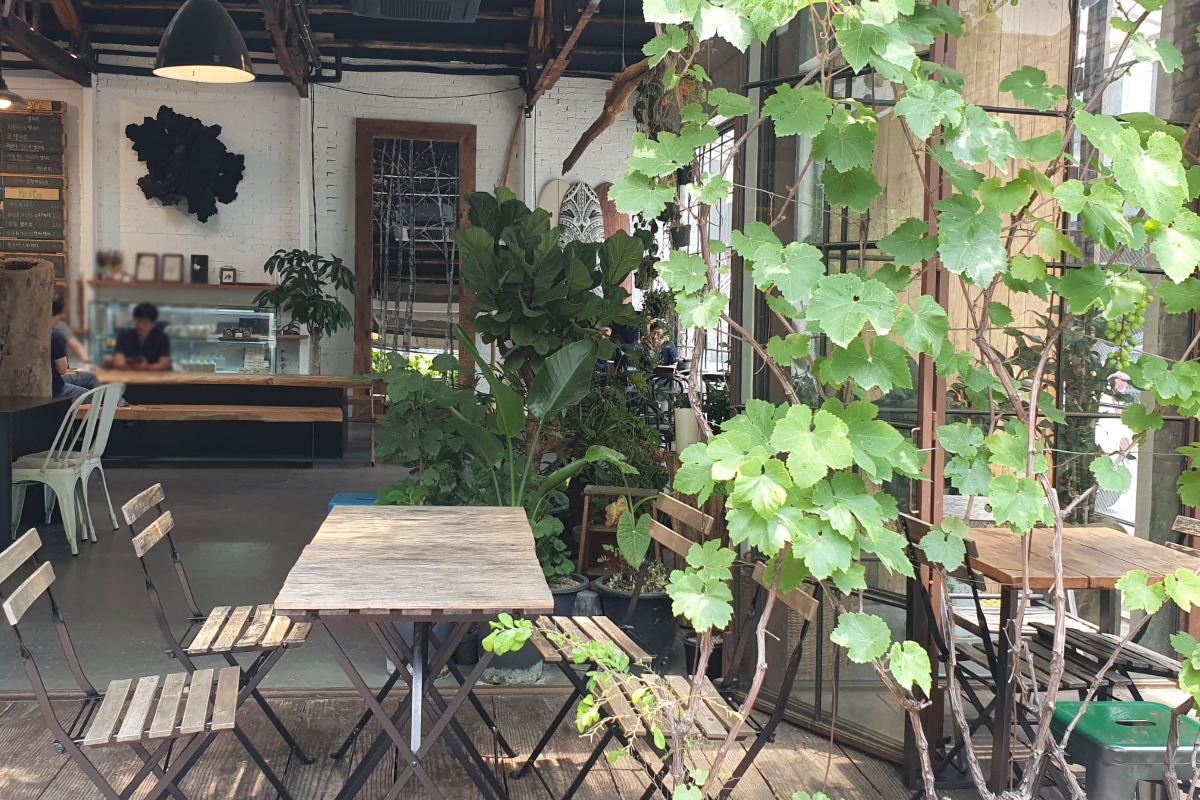 I chose this seat so that I could see the entire courtyard.
In the drama, Vincenzo, this is where Vincenzo and Hong Cha Young sat.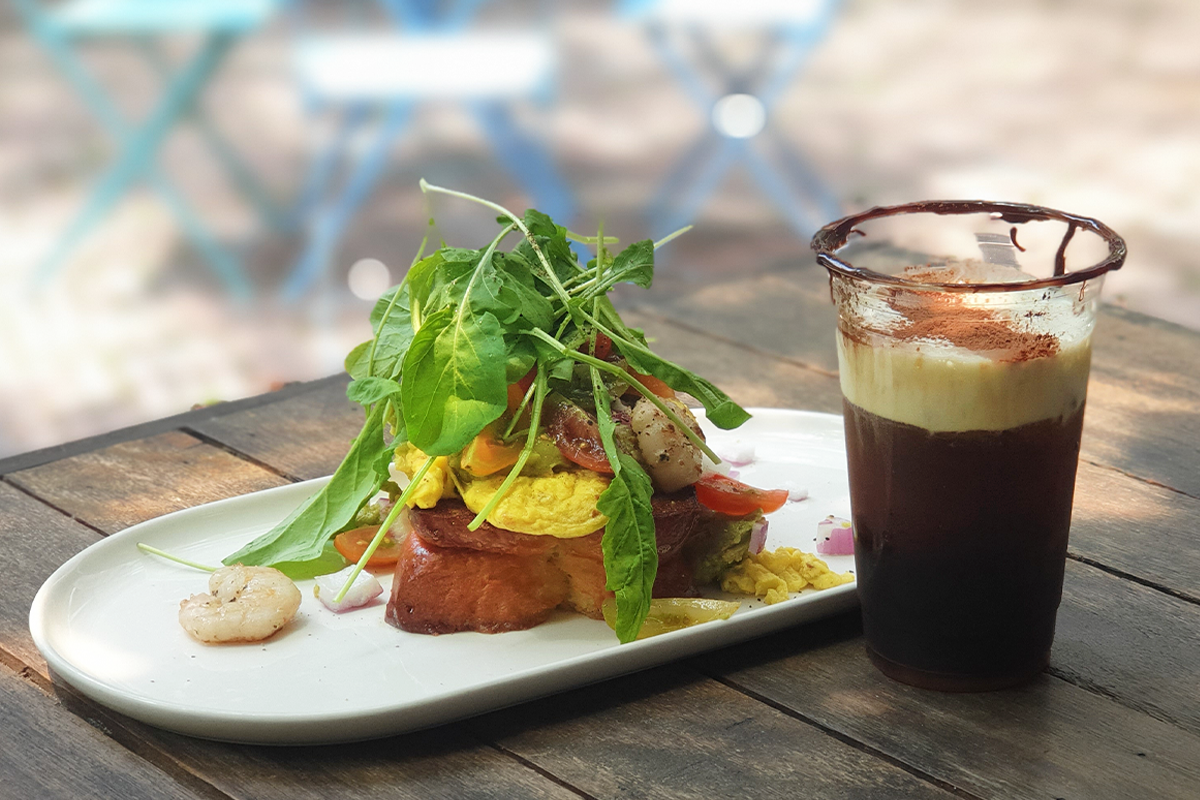 I ordered a Cold Brew Dirty Einspanner and the shrimp guacamole sandwich.
Both of these menu items are very popular here.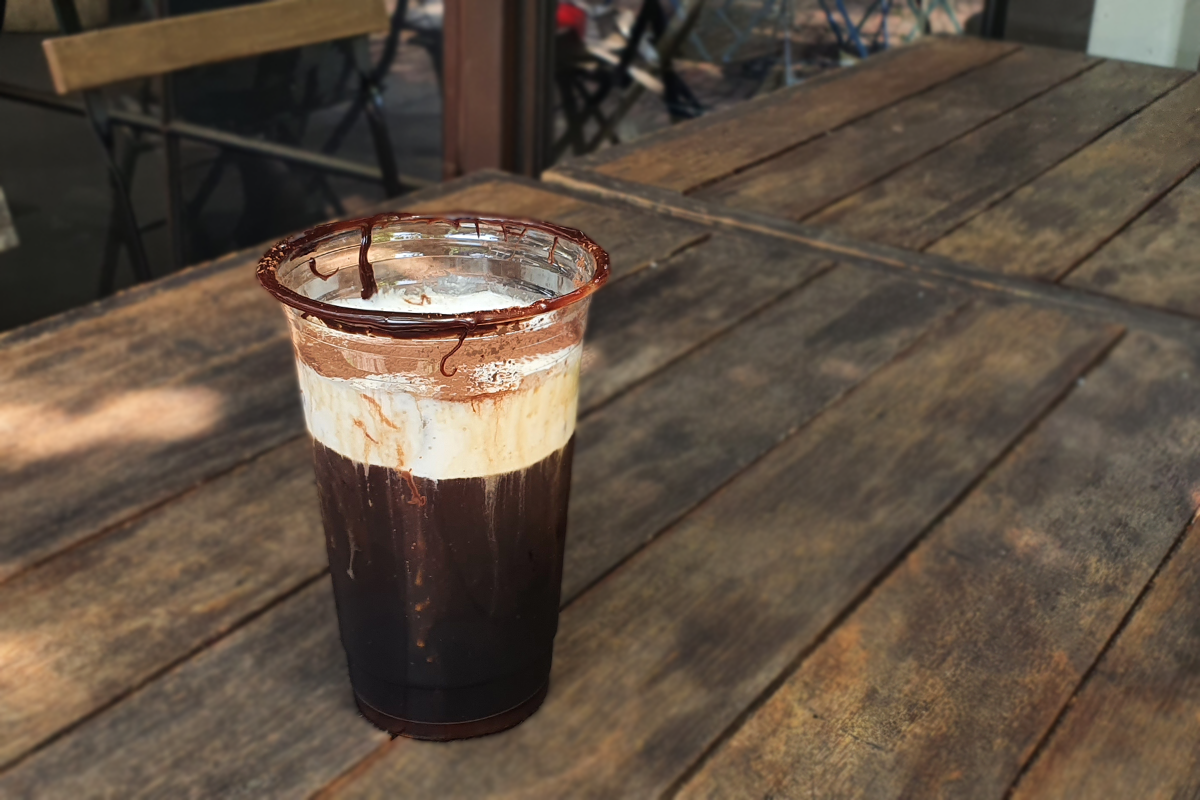 Cold Brew Dirty Einspanner
8,000 won

This cold brew drink came with whipped cream and cocoa powder sprinkled on top.
There was also chocolate syrup drizzled along the side of the cup, which made this Einspanner "dirty."
I thought that this drink would taste sweet because of the syrup, but it wasn't as sweet as I thought.
Because the syrup tasted more bitter than sweet, it went well with the sweetness of the whipped cream.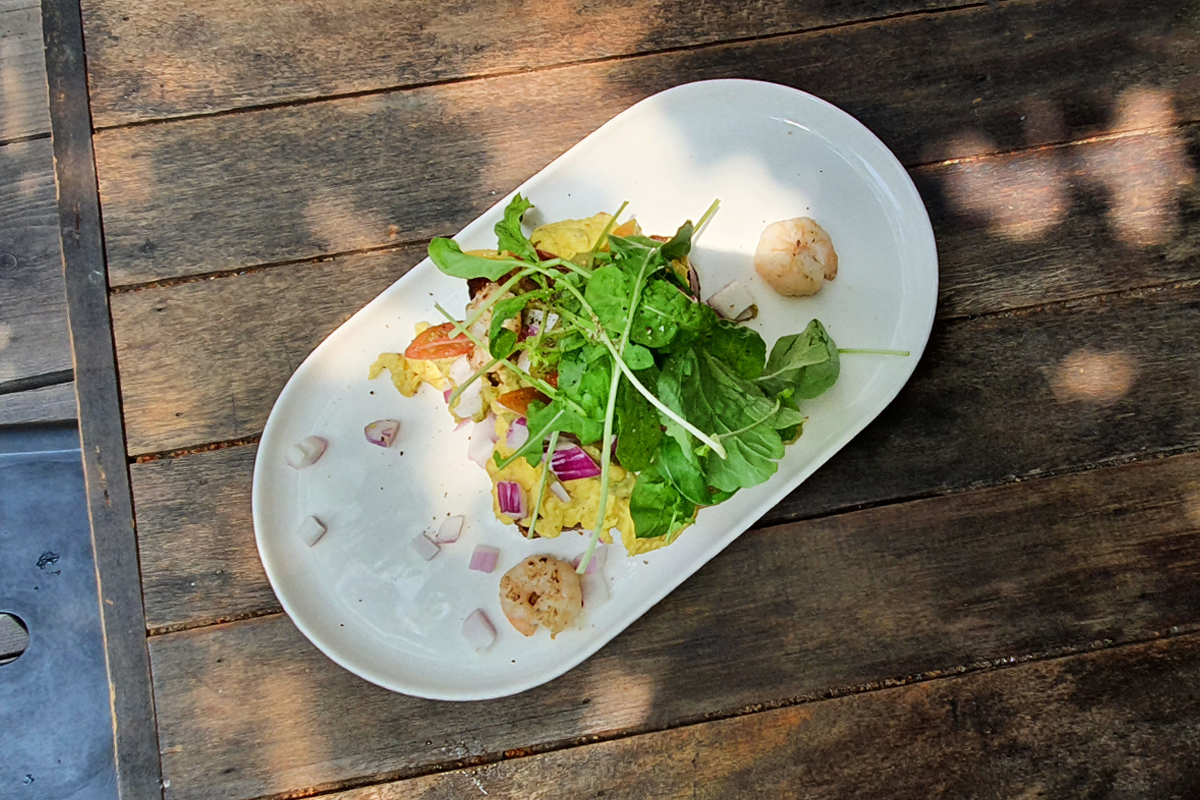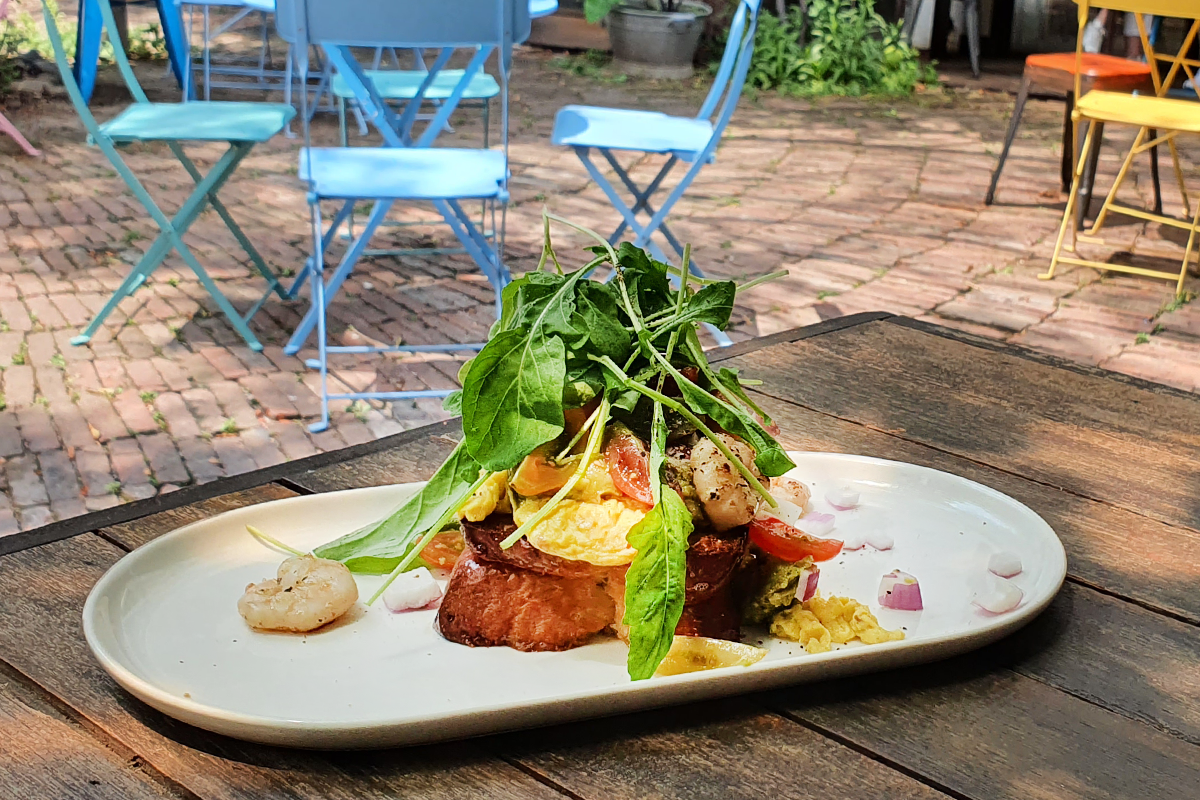 Shrimp Guacamole Sandwich
17,000 won

The shrimp guacamole sandwich is an open-faced sandwich.
Guacamole, eggs, onions, tomatoes, shrimp, and greens are served on top of a thick slice of bread.
I thought the plating looked really nice.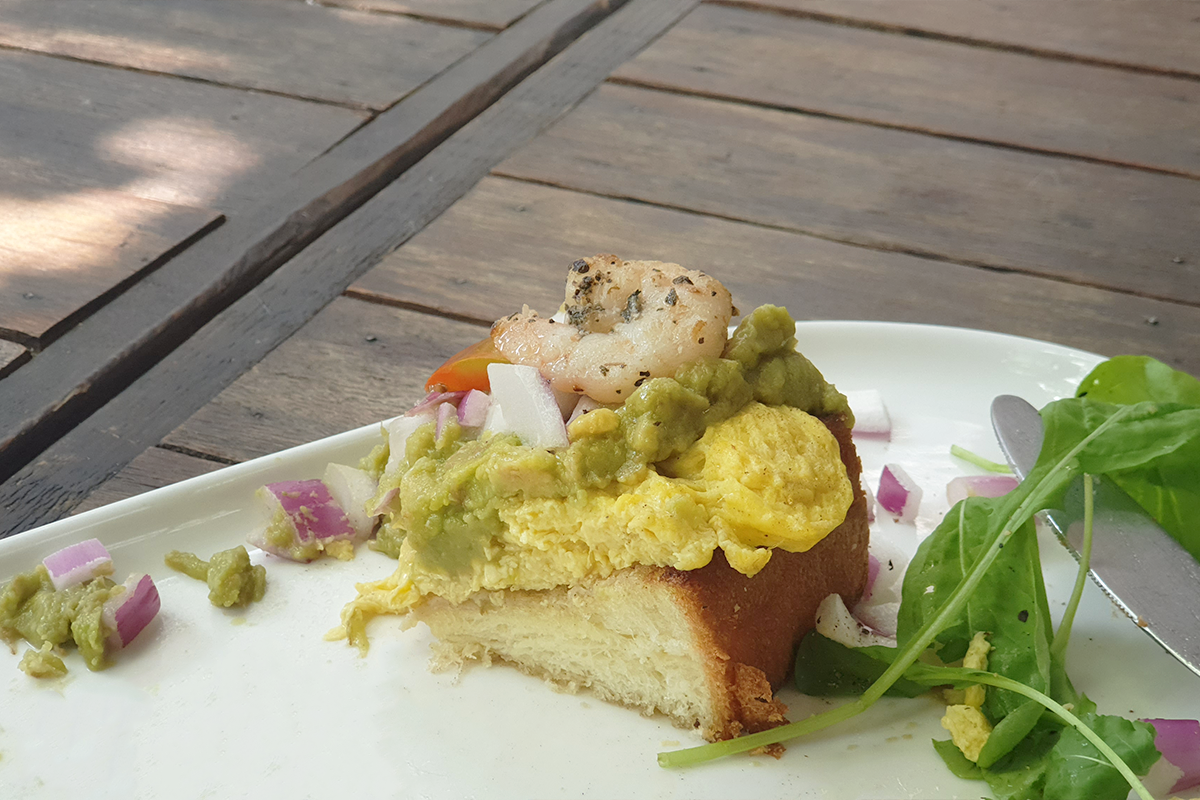 This sandwich was so delicious!
All of the ingredients went so well together.
This was a very generous portion, so this would make a really satisfying meal.
With its delicious food and drinks, beautiful interior, and tranquil outdoor garden, Grandpa Factory is a unique and relaxing place to spend time with family and friends.
If you're traveling to Korea, this is a cafe that you can't miss!
---
Information

Address: 서울특별시 성동구 성수이로7가길 9
9 Seongsui-ro 7-ga-gil, Seongdong-gu, Seoul
Hours: 11:00 - 22:00
Transportation: 6-minute walk from Seongsu Station (Line 2) Exit 3
Instagram: Grandpa Factory
---
How to Get There




Take Line 2 to Seongsu Station, and come out of Exit 3.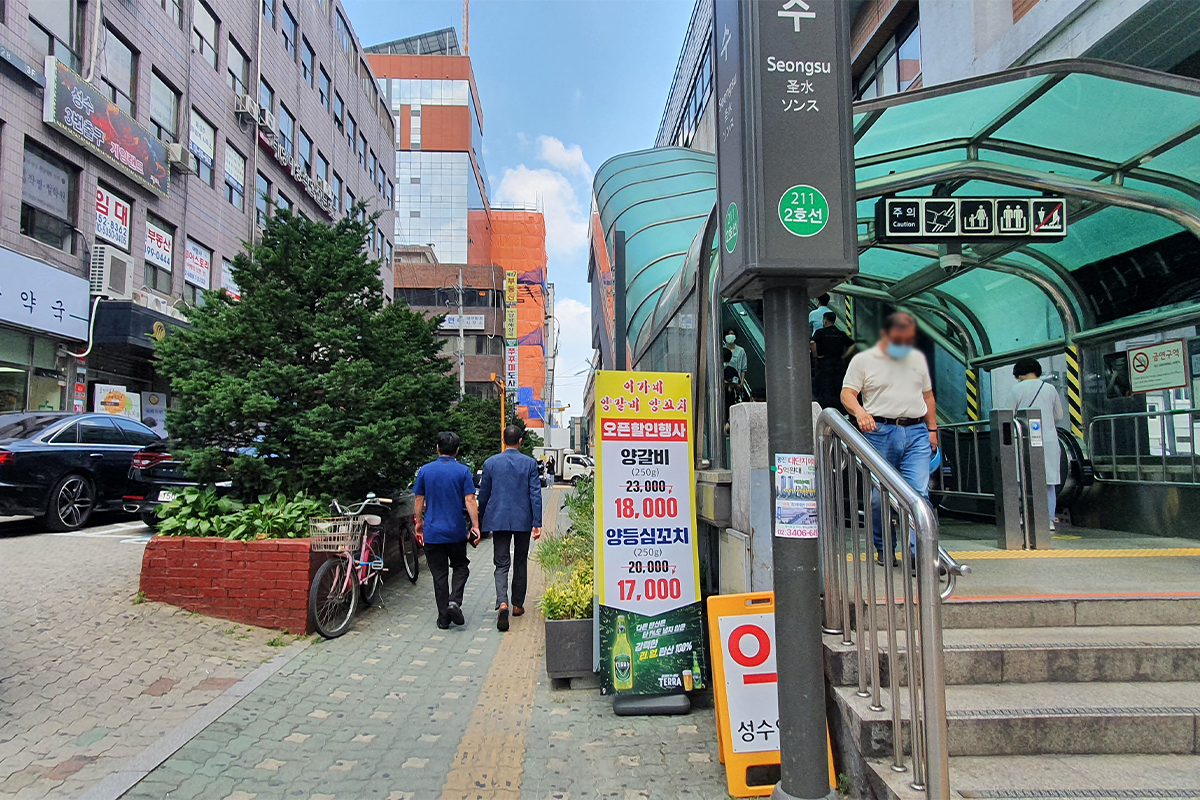 When you walk out of the exit, turn right, and start walking towards Exit 4.
Turn left onto the first side street that you come to on your left.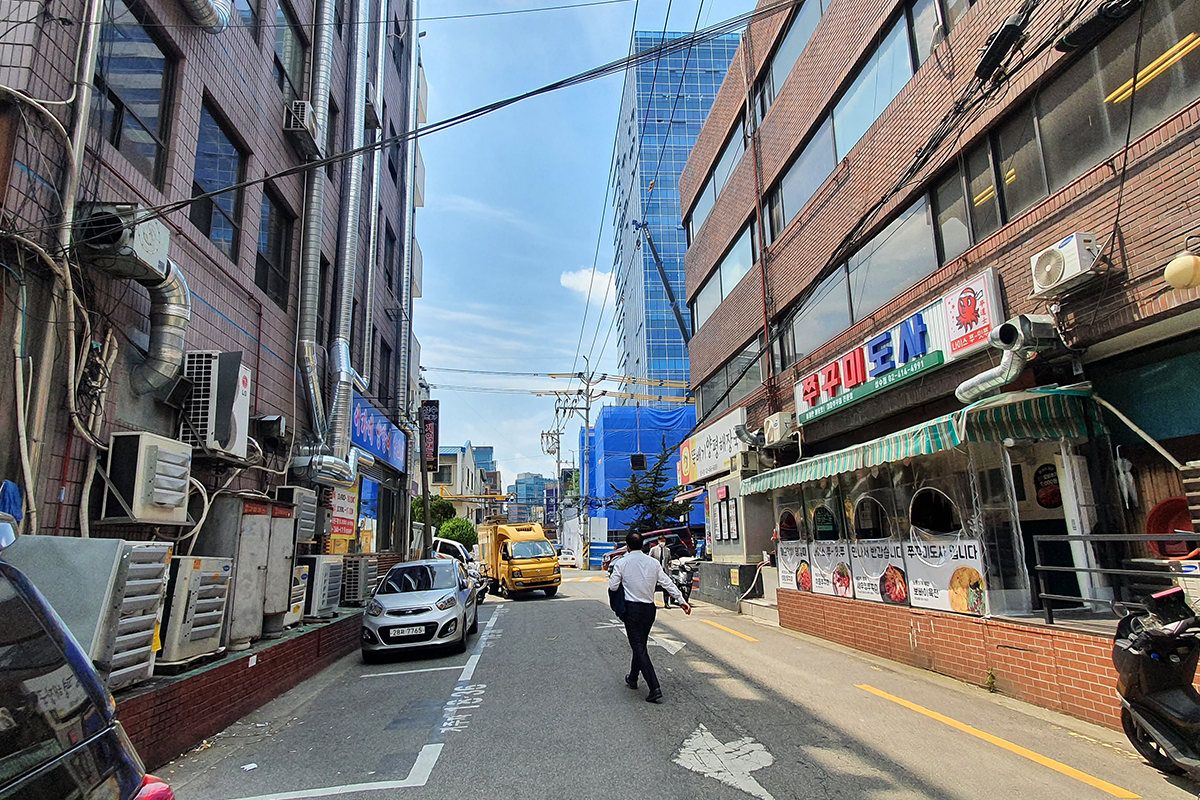 This alley is Seongsu-dong cafe street.
Go straight along this street.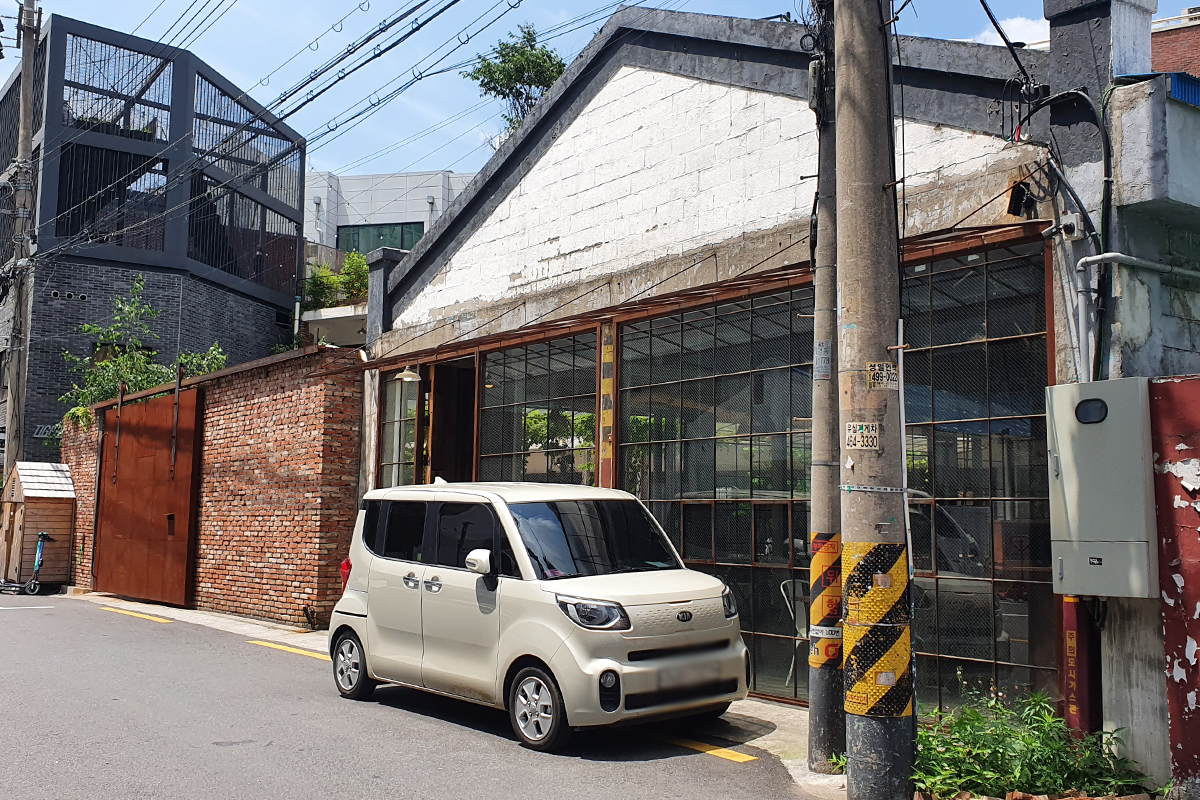 Walk for about five minutes.
You'll see Grandpa Factory on the right side of the street.
We hope you enjoy your time at this cafe!
---