Amazing Nongkhai: Thai Restaurant In Hongdae
Looking for authentic Thai food? Visit this popular Thai restaurant at Hongdae picked by Thai and Korean visitors.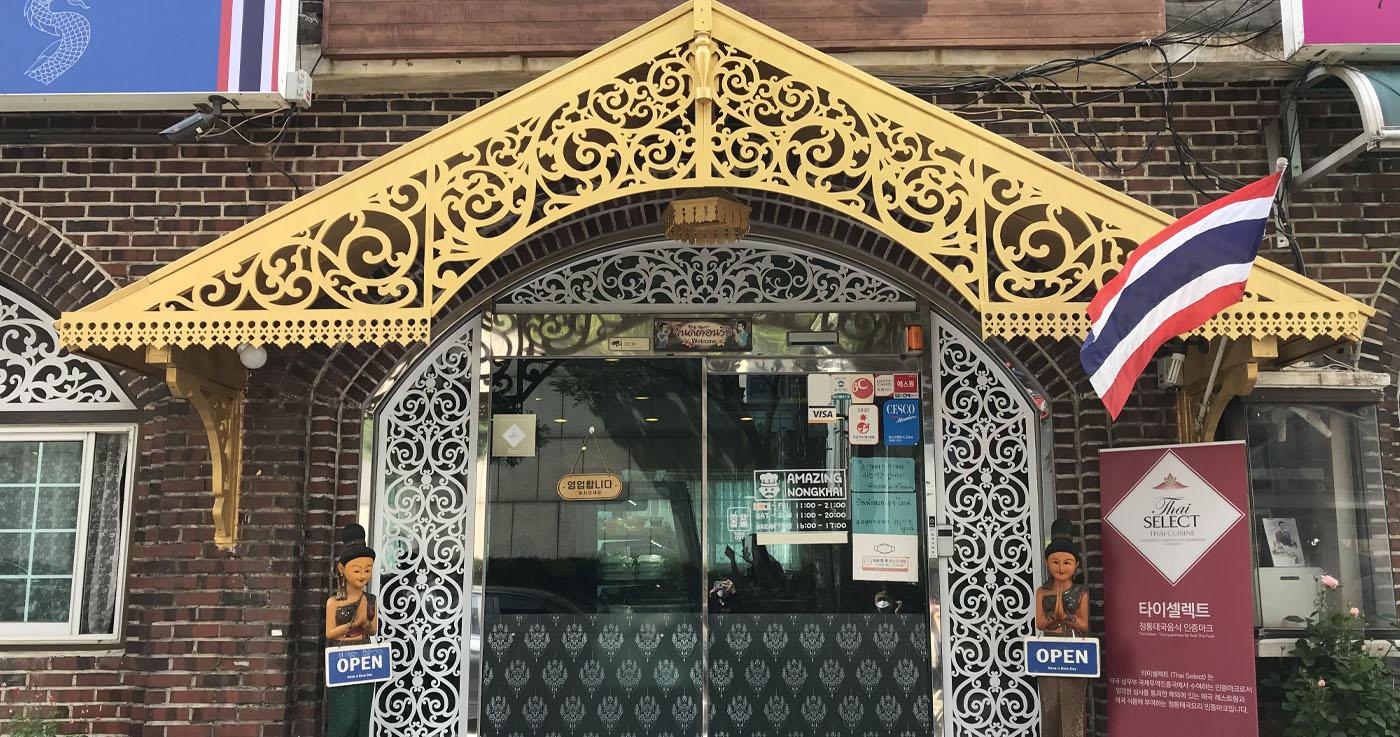 Are you looking for some authentic Thai food in Korea? Today we're taking you to a delicious Thai restaurant in Hongdae where you can taste authentic Thai food without hopping on a plane. The Amazing Nongkhai restaurant was awarded Thai Select for its tasty dishes. Let's go see why it's so popular among Thai and Korean visitors alike!
---
Amazing Nongkhai
Amazing Nongkhai Thai Restaurant | Free Thai Milktea Coupon
---
Information

Address: 서울 마포구 동교로 156-11 1층
1F, 156-11, Donggyo-ro, Mapo-gu, Seoul
Hours: Everyday 11:00-20:30 (Breaktime: 15:20 - 17:00; Last order at 19:45)
---
Why We Recommend It
Amazing Nongkhai is a Thai Select award-winning restaurant that was awarded for its authentic taste and hospitality.
The menu boasts a wide variety of items including the most popular Thai dishes.
The staff at the restaurant speak both Korean and Thai for smooth communication.
The ingredients at the restaurant are fresh and some are even imported from Thailand.
Groups of 2 can receive a free Thai milk tea, Cha-yen, or Nom-yen with the coupon located at the end of the page.
---
Things to Keep In Mind
Present your Creatrip coupon to the employee and get a free glass of Thai milk tea for every 2 people. (4 people = 2 milk teas)
If you order your drink before you show the Creatrip coupon, the price of the milk tea(s) will be deducted from your bill.
Reservations are not needed beforehand.
If you have questions about or problems with using the coupon, contact us at help@creatrip.com.
---
Menu
Menu

13,000 (Regular)

20,000 (Large)

Poo Pad Pong Garee Stir-fried Crab Curry


(푸팟퐁 커리 게튀김 퐁커리)


25,000

Pla Rod Prik


(매콤 소스 생선튀김)


40,000 (Regular)




45,000 (Large)

Kana Mu Krob


(케일 튀긴 돼지고기 볶음)


13,000

Tom Yum Kung Pork Noodle Soup




(새콤매콤 돼지고기 쌀국수)

10,000

Isan Sausage
(태국 북동부 소시지 튀김)

8,000

Yam Un Sen Vermicelli Salad
(얌운센)


11,000

Pad Kra Pao Moo Sap


(팟카파오무쌉)


12,000

Pat Thai Kung




(팟타이 새우)

13,000

Thai Milk Tea




(타이 밀크티)

Nom Yen




(놈옌)

4,000
---
Our Visit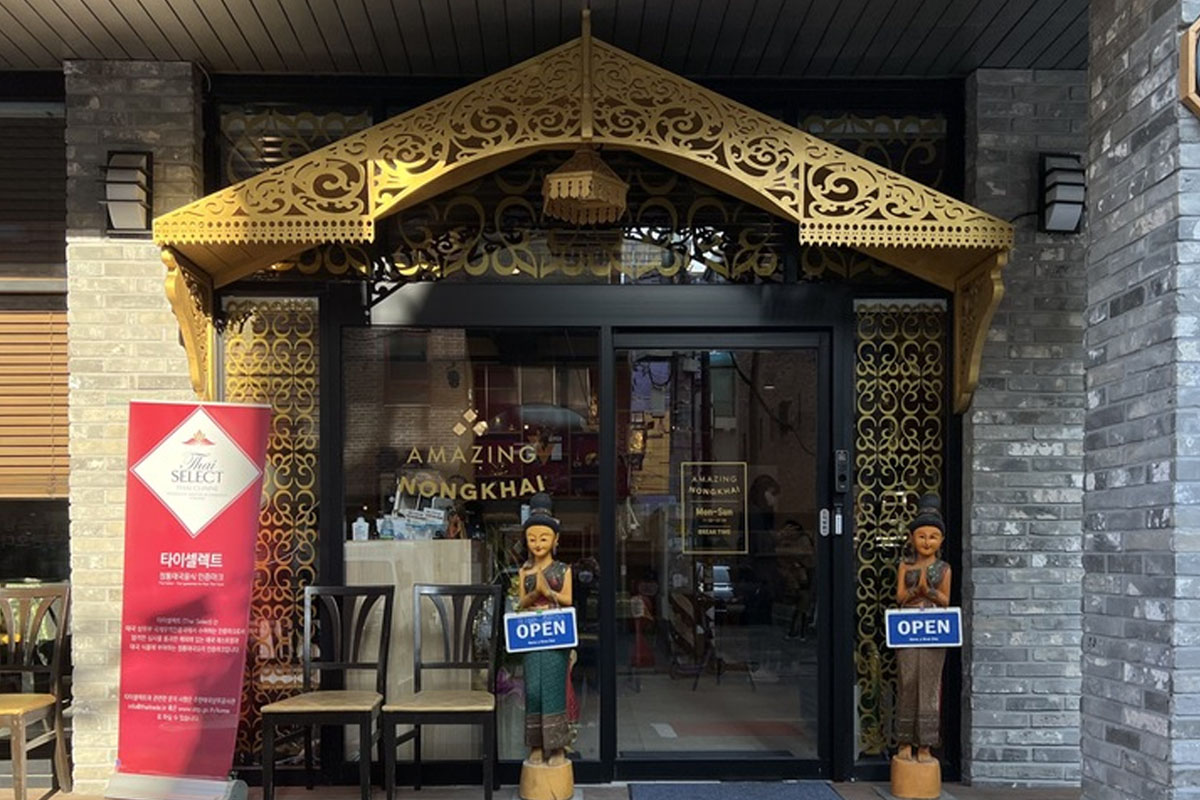 For many people, when mentioning Thai restaurants in Hongdae, Amazing Nongkhai will pop up first in their minds. It has been open for a long time and is widely popular among Thai and Korean visitors. It's very convenient to get there. Just walk out of exit 1 of Hongik University Station and walk for 9 minutes.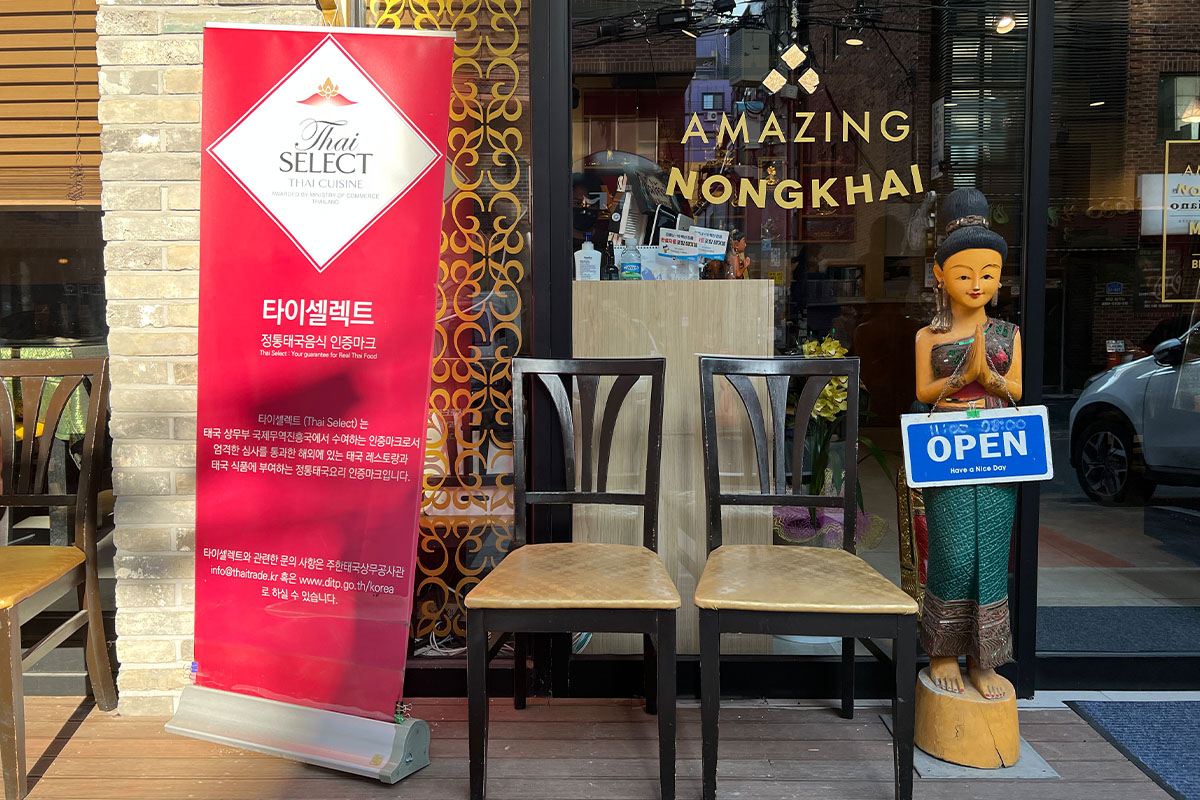 Amazing Nongkhai is a great choice as it has been awarded Thai Select, which guarantees the real and authentic taste of Thai food.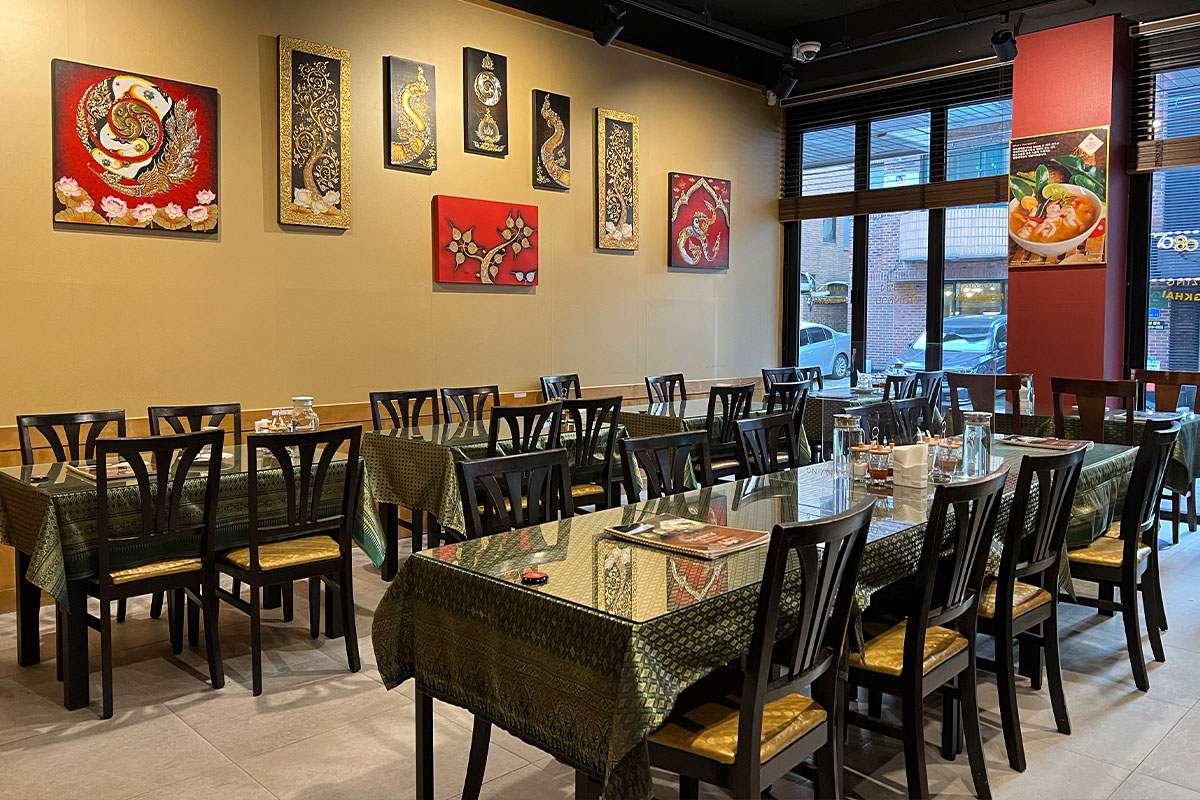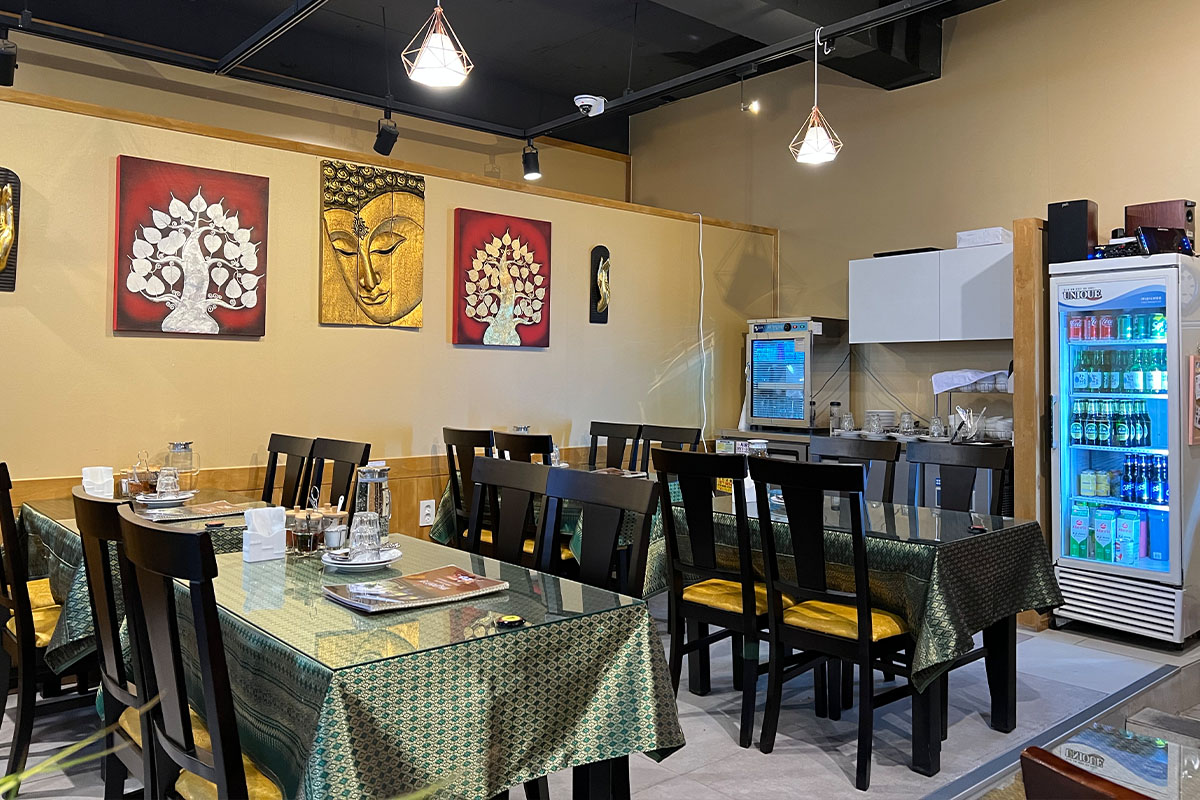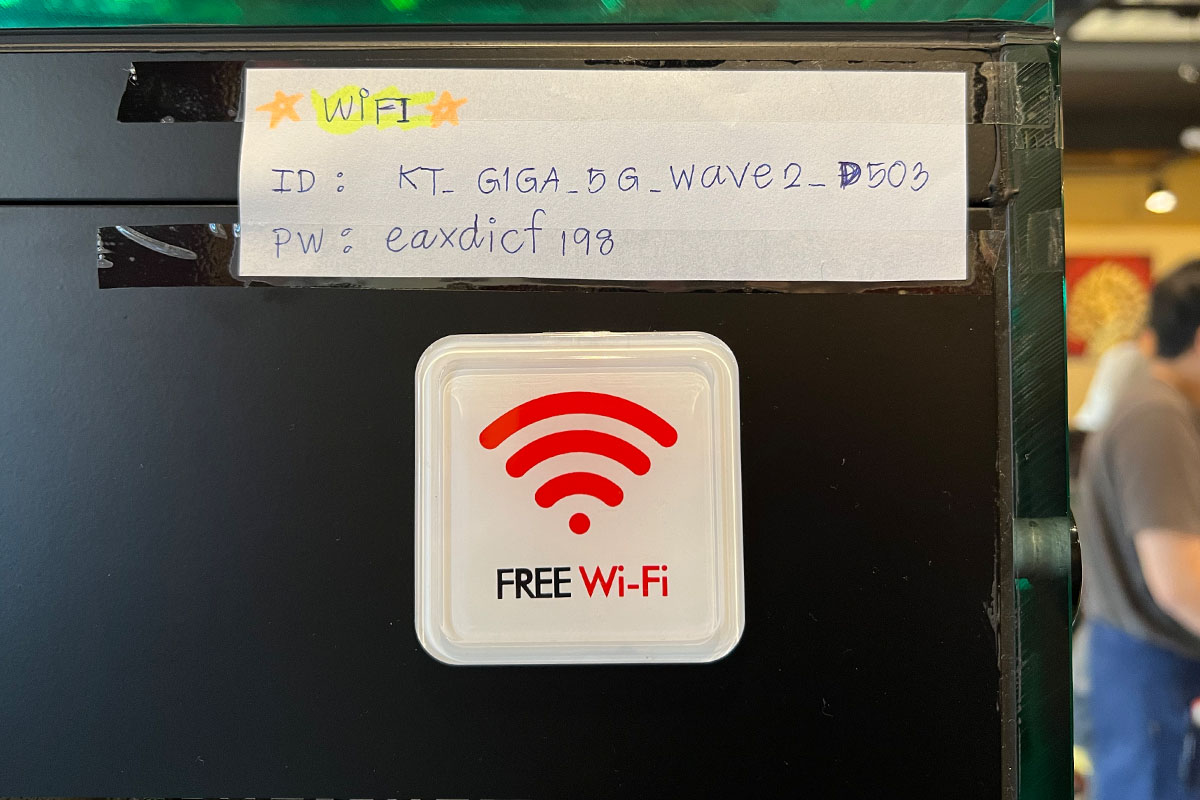 The inside of the restaurant is very large and has tables that are suitable for large crowds. If you come during lunch rushes or weekends, you may have to wait a long time. The restaurant has free WiFi so if you are a tourist with limited WiFi, you can use their Internet freely which is a major perk.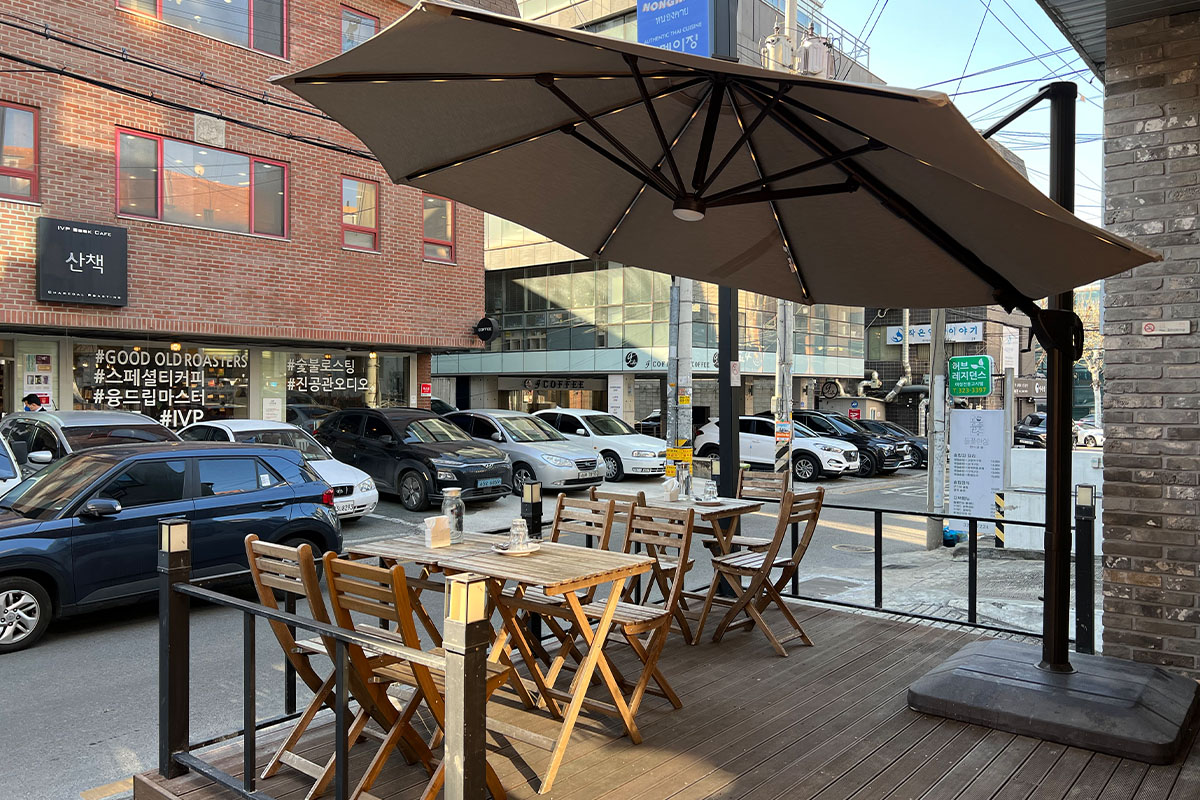 There is also an outdoor patio with seating available. When the weather is nice, let's take a seat outside!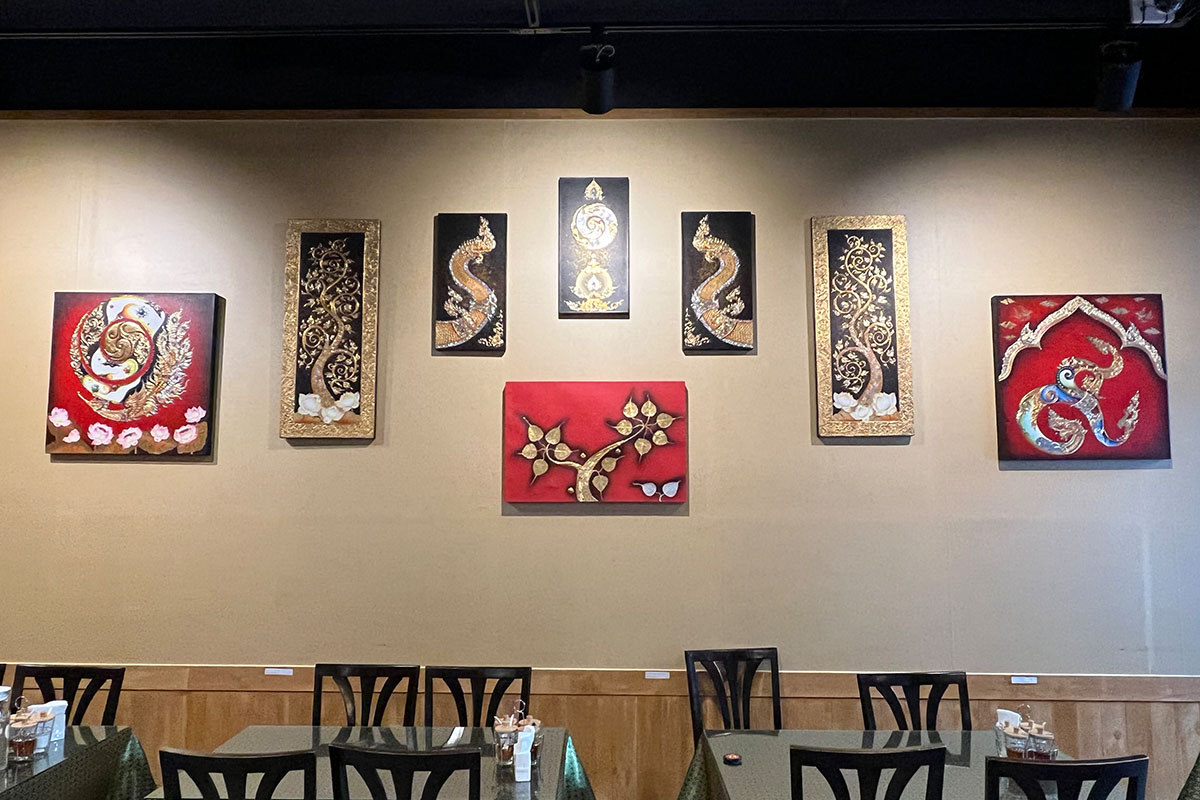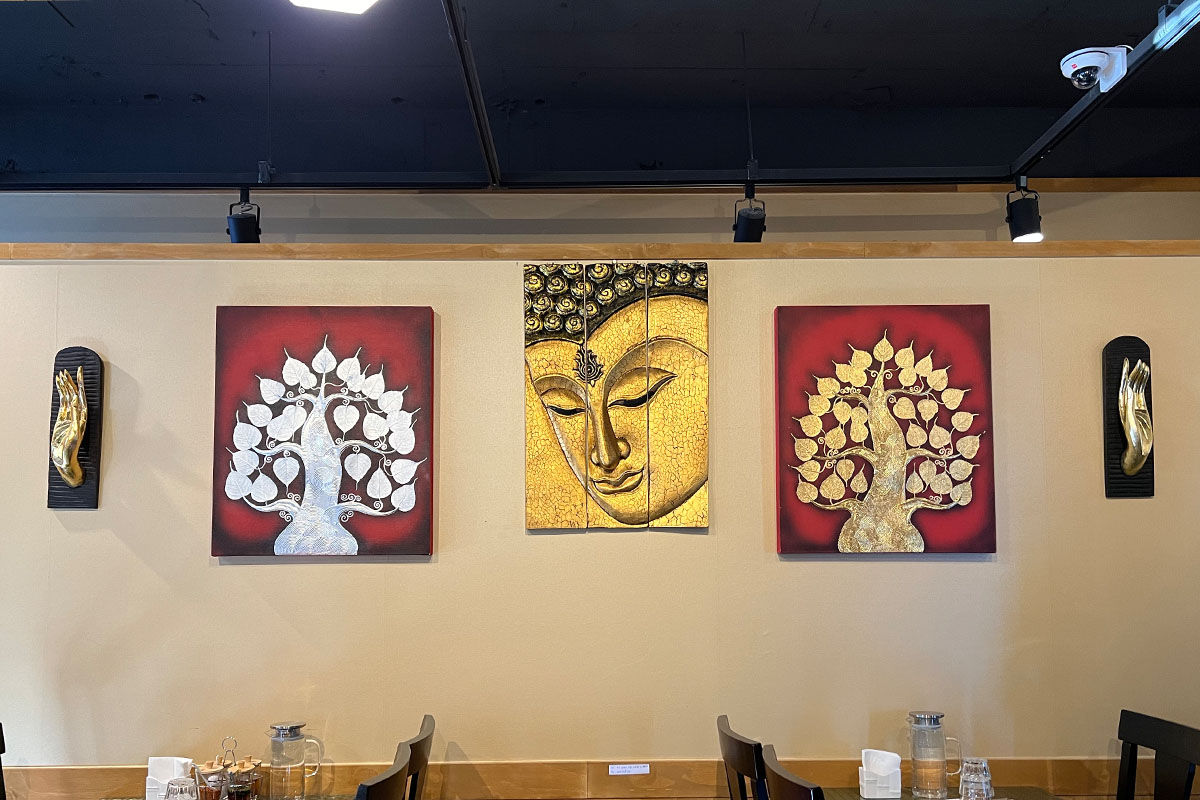 The decor in the restaurant is full of ornaments that convey Thai tradition that is exotic to the foreigner's eye. You can spot many props and decorations here that will make you feel like you've traveled to Thailand!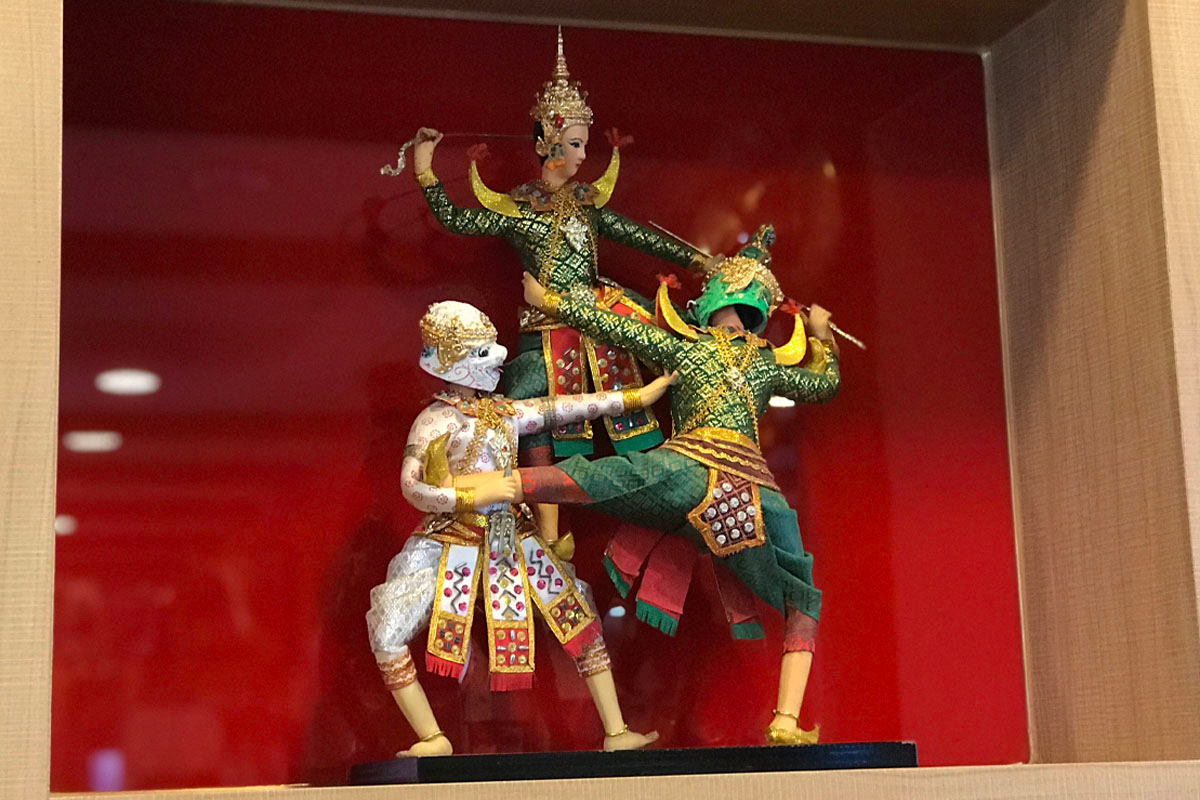 You'll be able to find beautiful Thai dolls, carved wooden figures, and many more props that add to its atmosphere.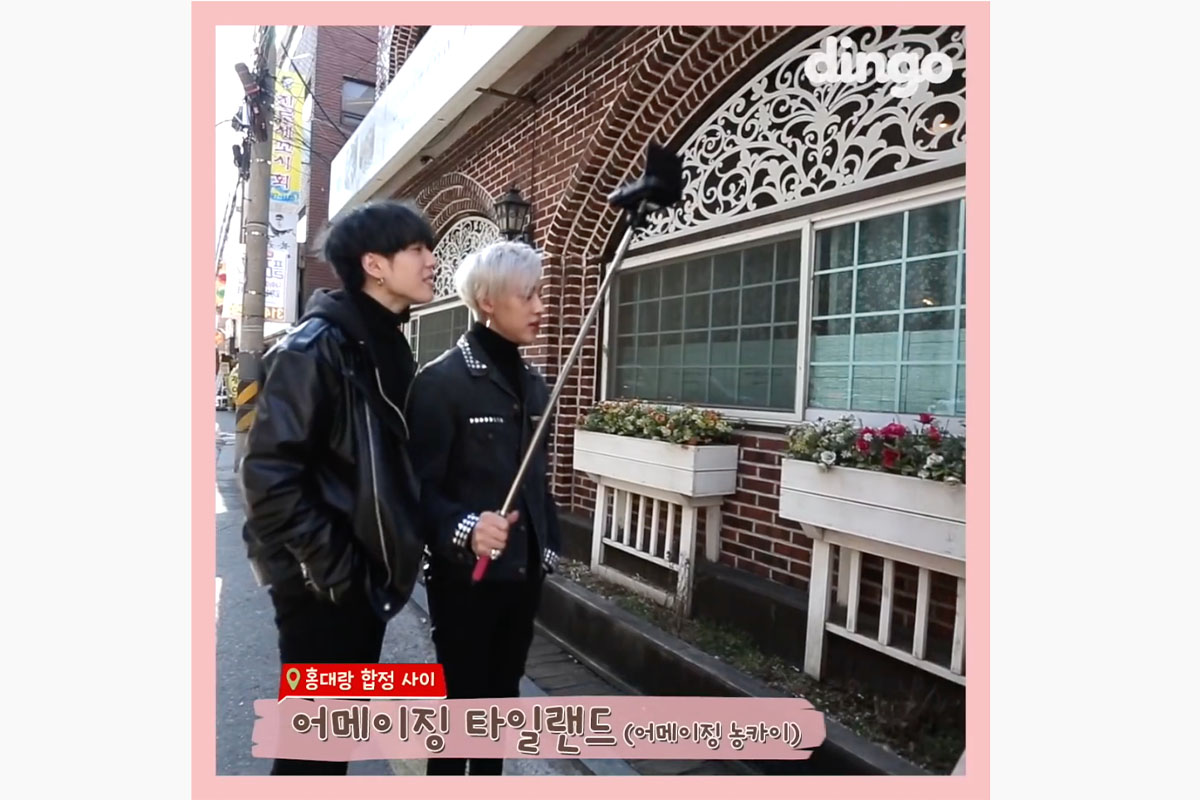 Source: Dingo
It's no surprise that this place is very popular as you can see many Korean and Thai celebrities that have eaten at the restaurant. Amazing Nongkhai has been visited by celebrities like Bambam and Yugyeon of GOT7, famous chef Hong Seok-Cheon, and many more.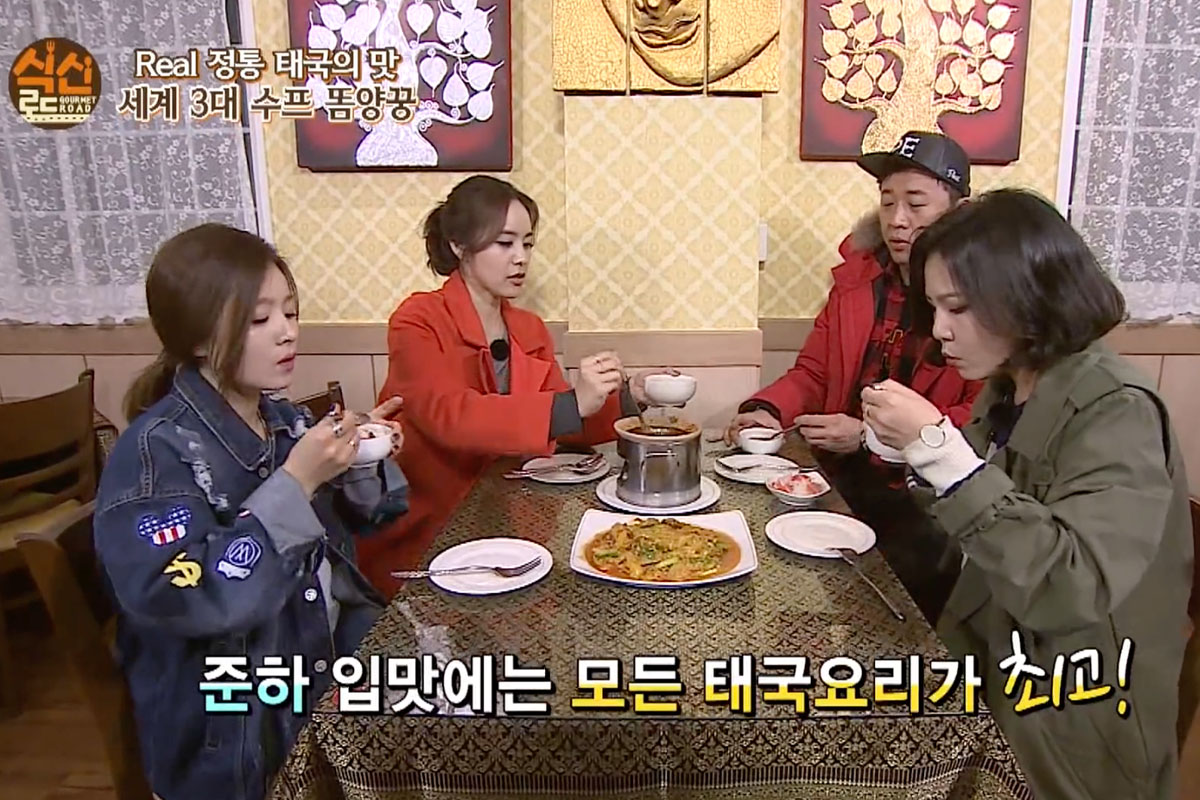 Source: youtube @식신로드 4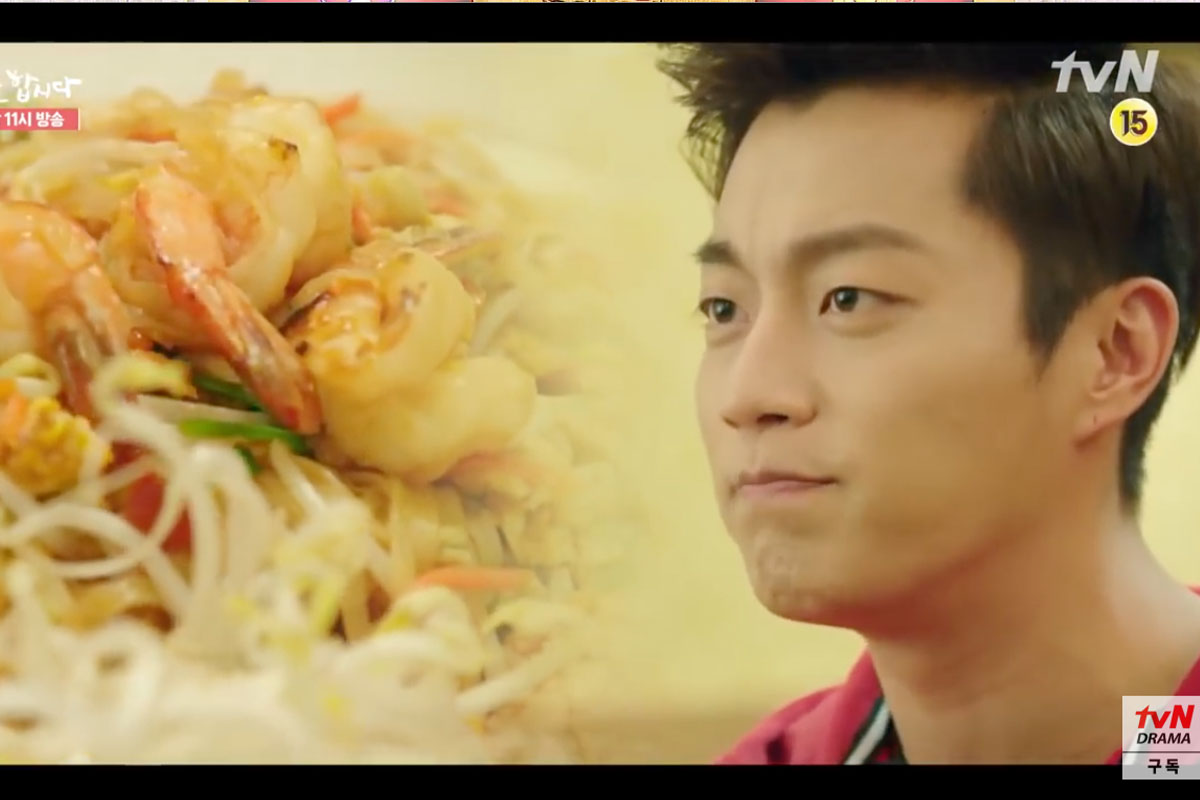 Source: youtube @tvN drama
Korean food variety shows such as Gourmet Road and Tasty Guys were filmed here. In addition, Let's Eat 2 starring Yoon Doo-Joon, who is also the leader of K-pop band Highlight, was filmed here as well.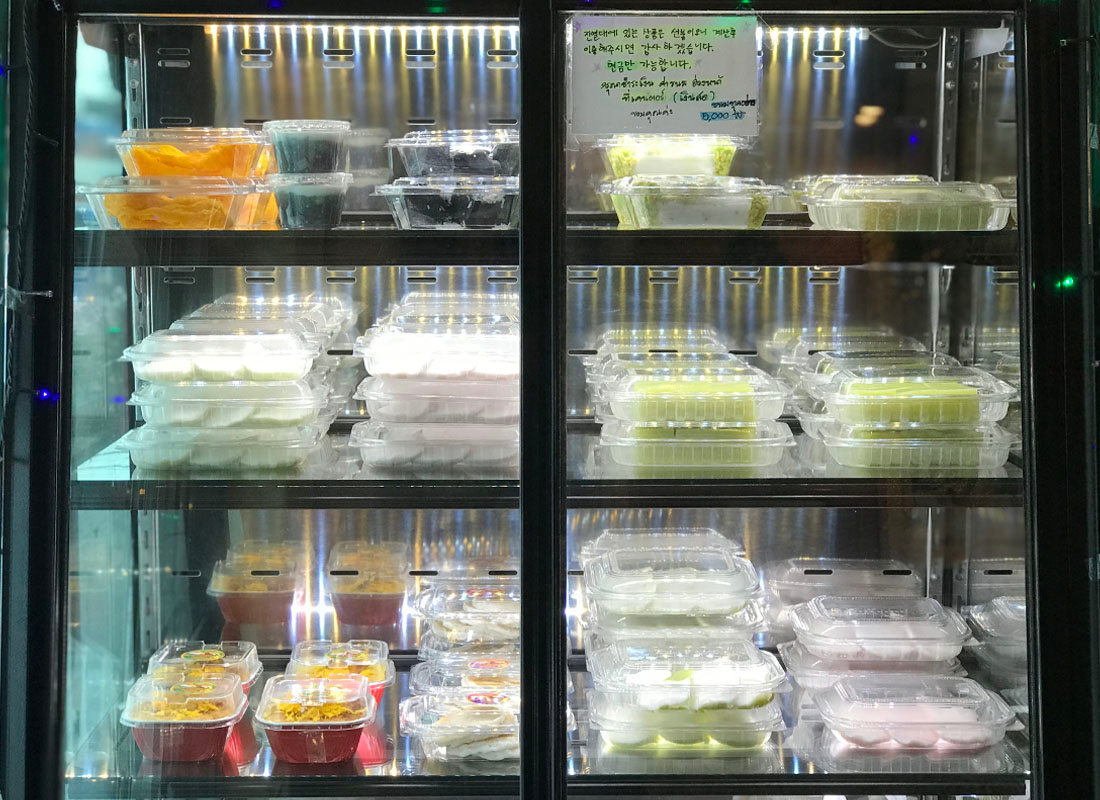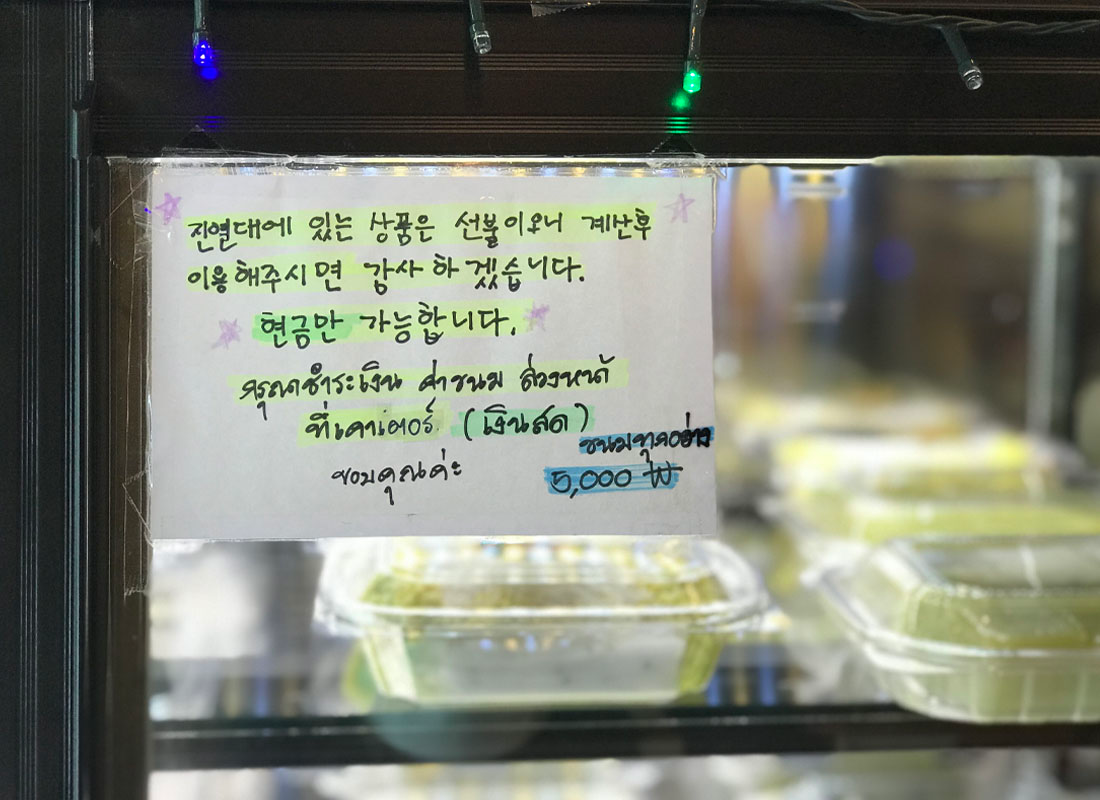 Another specialty here in Amazing Nongkhai is that they sell Thai sweets that are hard to find in Korea! Anyone that misses the taste of Thai sweets or wants to bring some friends over to try a taste of Thai should come here. Keep in mind that they only accept cash for the desserts!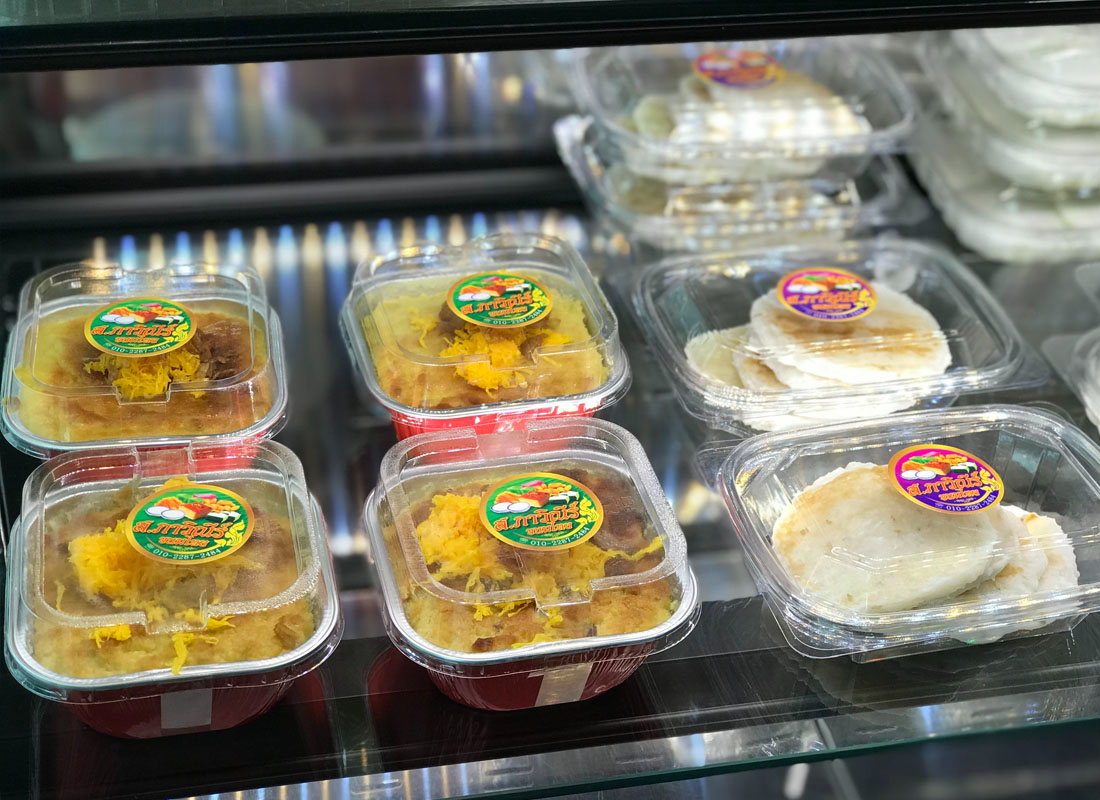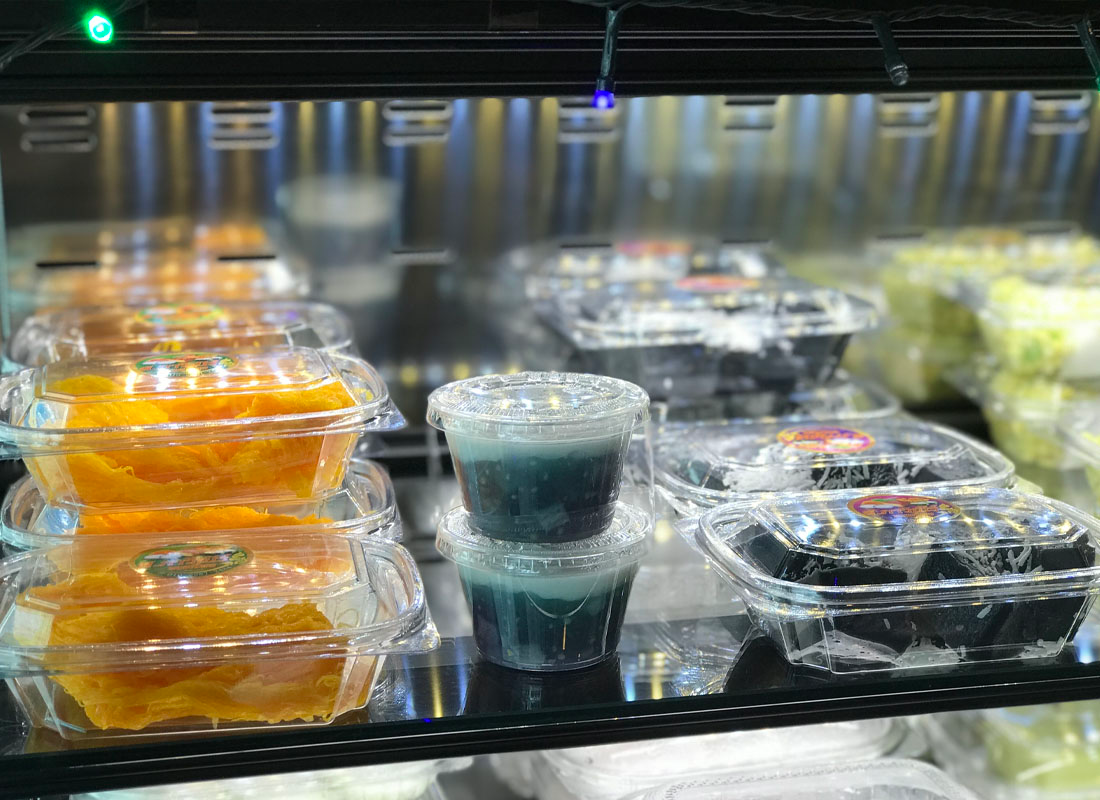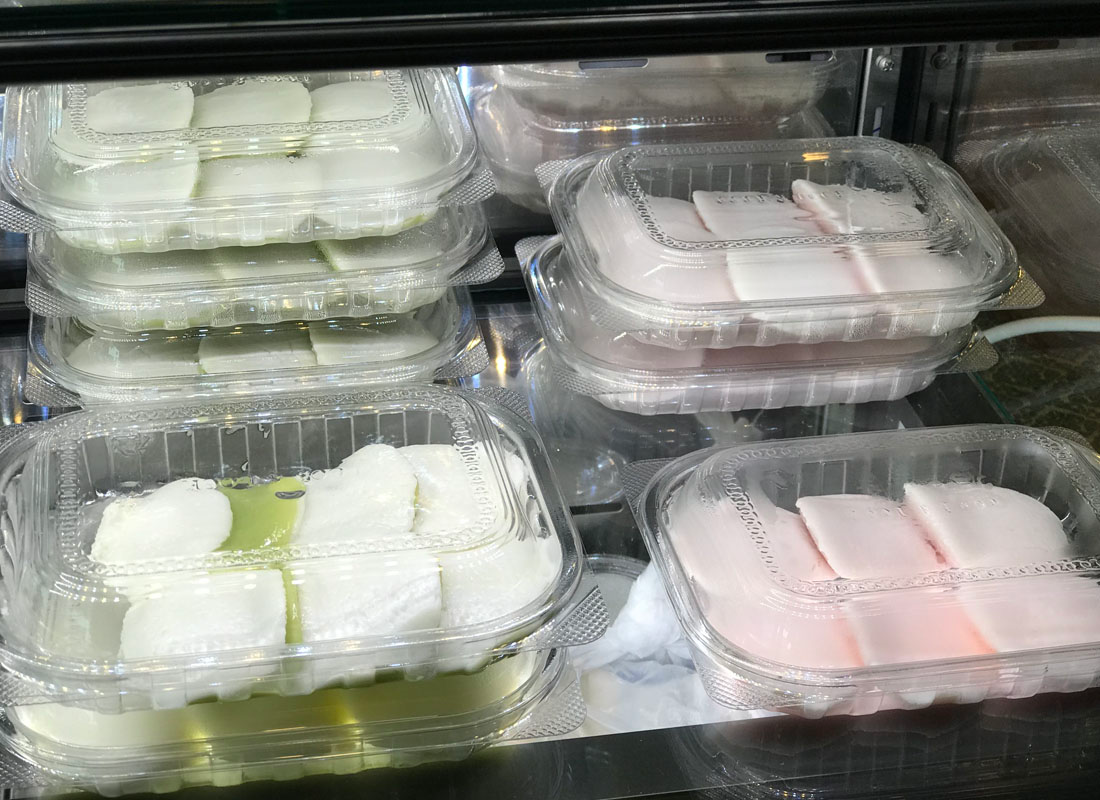 There are a wide variety of sweets sold including Khanom Chan, Khanom Cup, Rum Pum, and more for 5,000 KRW.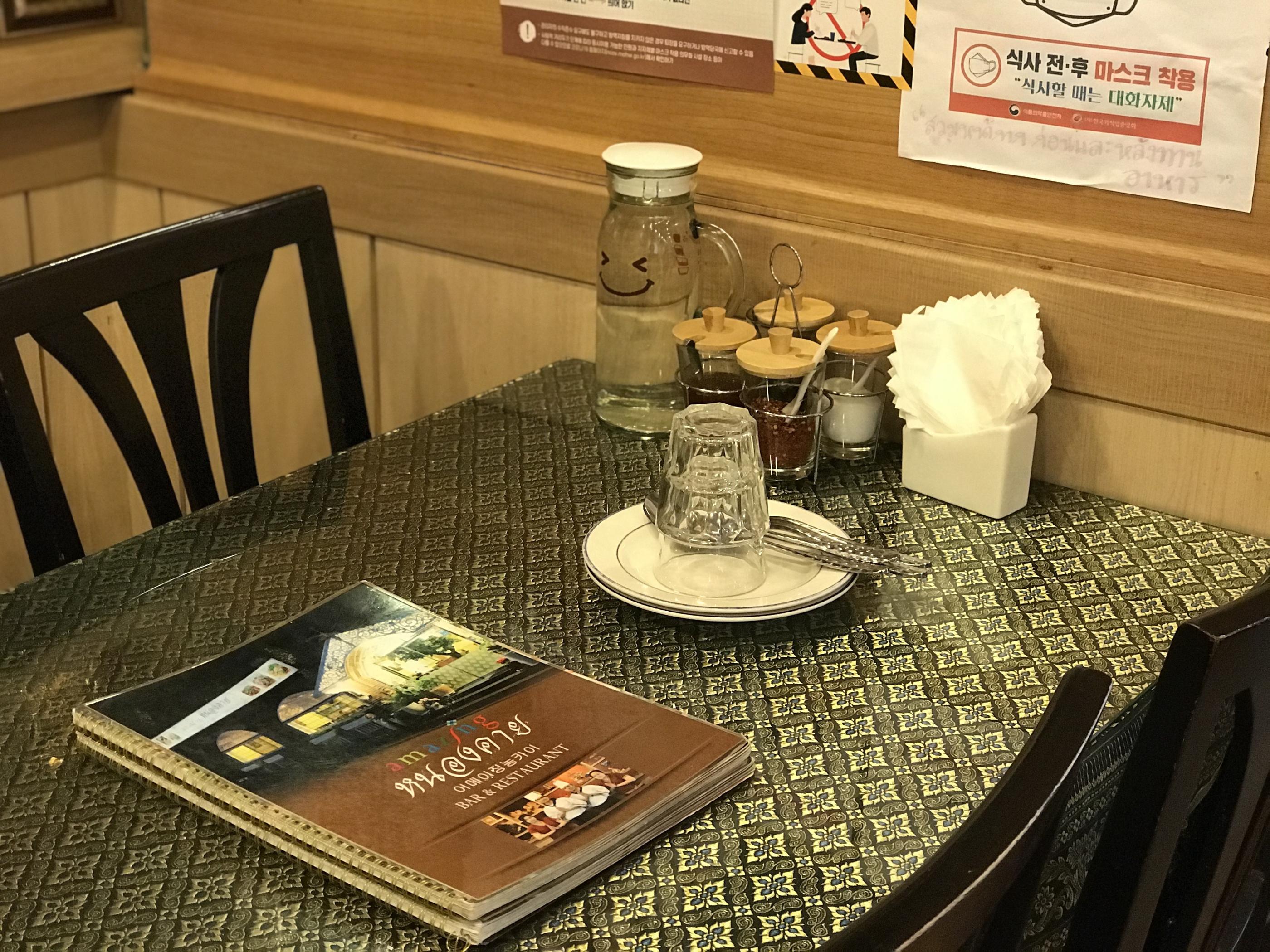 After taking a look at the restaurant, we chose a seat and ordered our food. Water, cups, plates, and the menu were given right away, so you don't have to wait to be greeted. On the table was an assortment of seasonings as well. When we saw it, it reminded us of Thailand!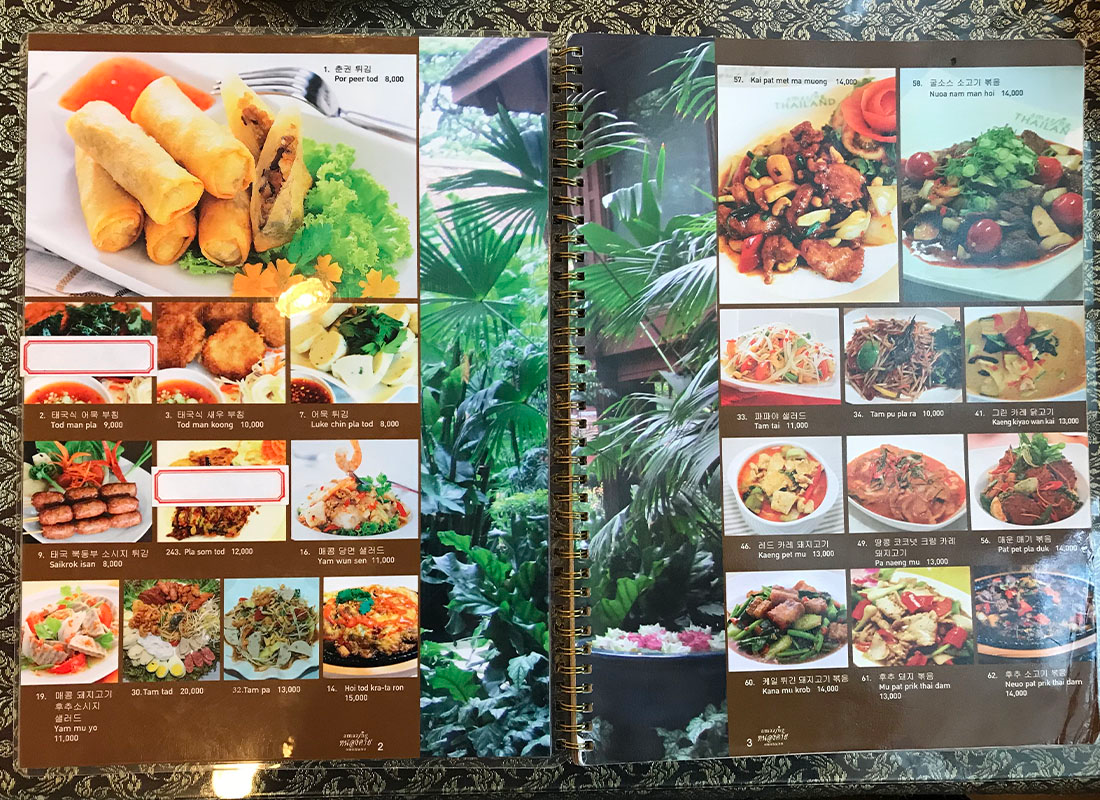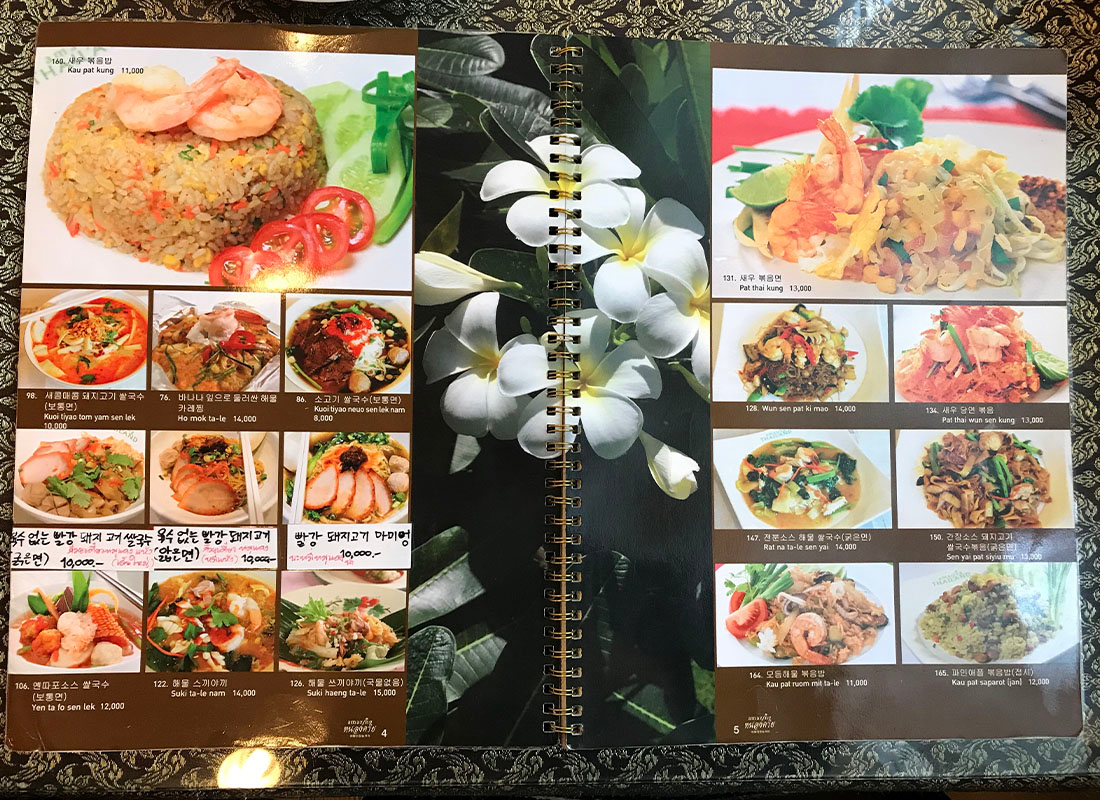 The menu was large but it wasn't too difficult to order because there were pictures and Korean/English names as well. With this extensive variety, it really felt like a restaurant in Thailand!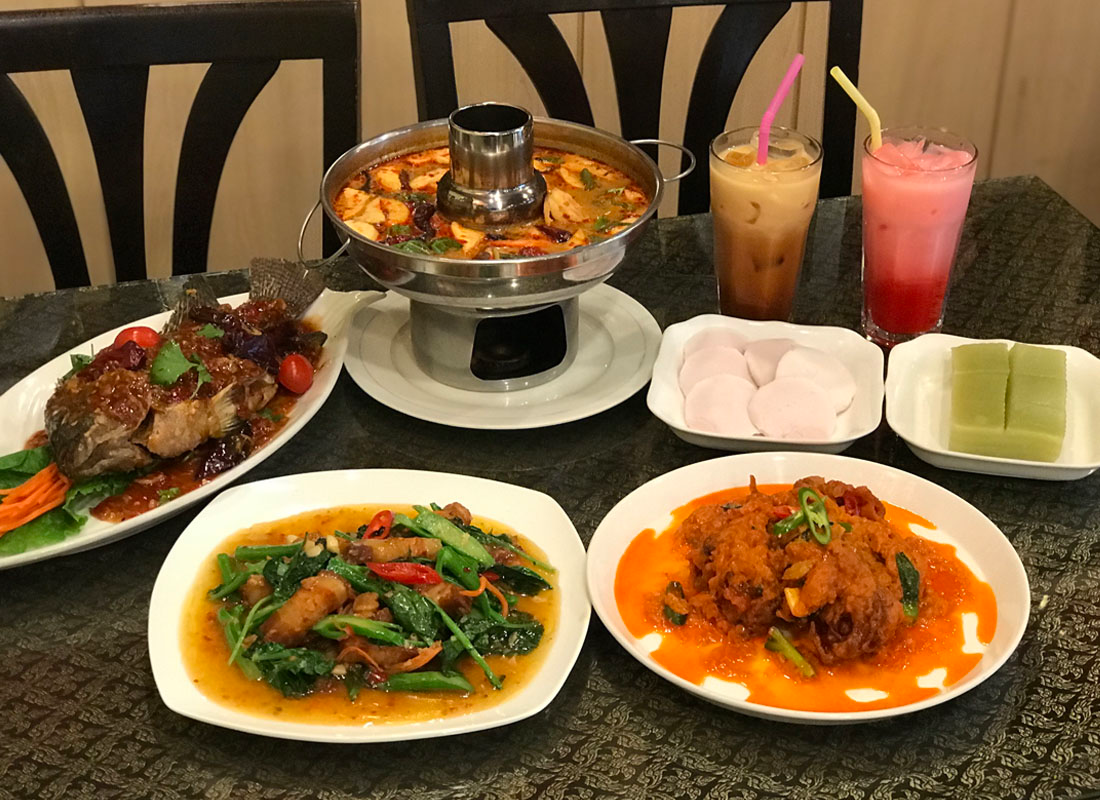 It didn't take long for the food to arrive. We ordered 4 Thai dishes: Tom Yum Kung Hot Pot (20,000 KRW), Chili Fish (40,000 KRW), Soft-shell Crab Curry (25,000 KRW), and Crispy Pork (13,000 KRW).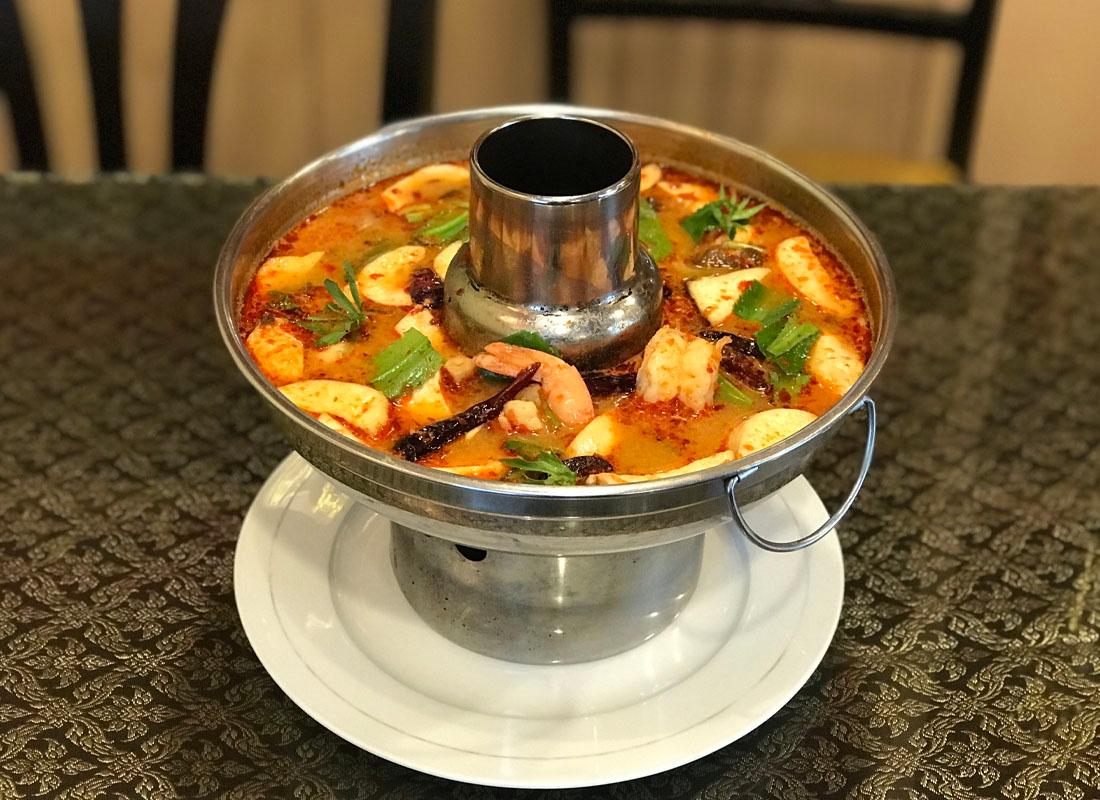 Tom Yum Kung
20,000 won
Starting with the most popular dish is the Tom Yum Kung shrimp stew. The stew had a nice light aroma and the shrimp was very fresh. I felt like I was in Thailand when I smelt this dish. The shrimp stew had a very authentic Thai taste which is quite hard to find in Korea.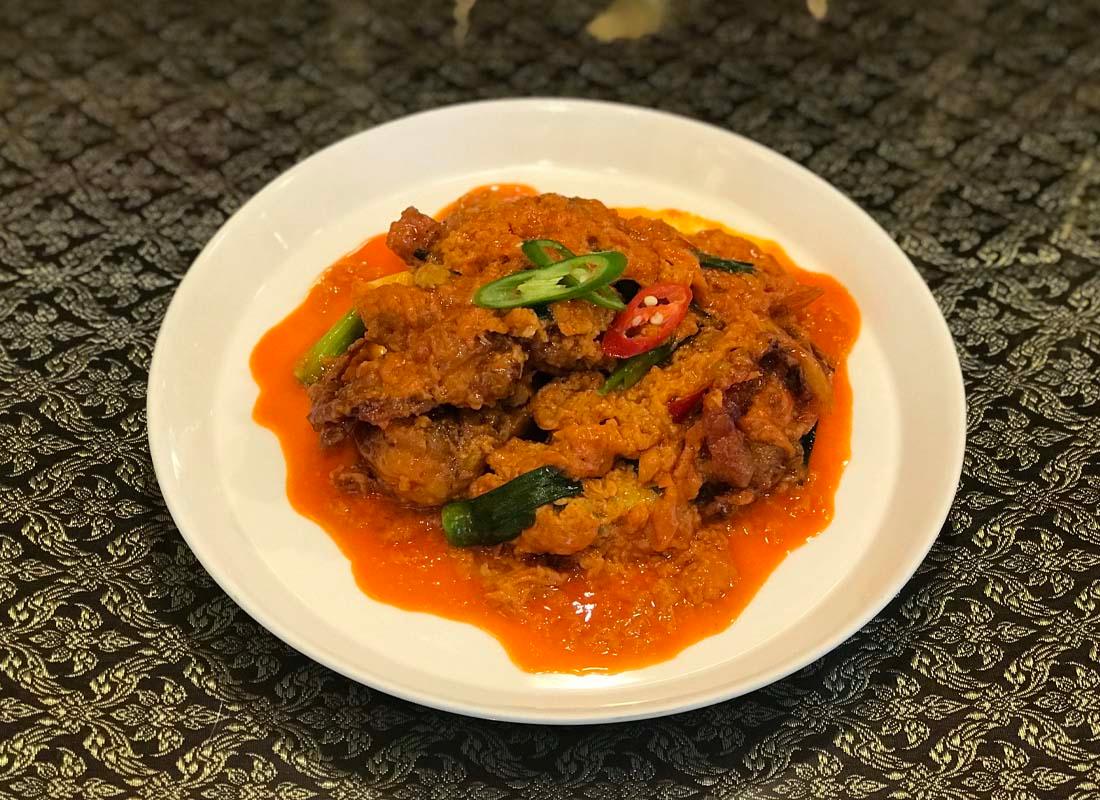 Poo Pad Pong Garee
25,000 won
The next dish is the stir-fried crab curry. Most of the curry powder in Korea is made of flour which I love. We dug in for the crab meat right away! It was very convenient to eat, not to mention delicious. It's recommended to eat it right away before it gets cold. Dip it in plenty of the sauce and enjoy!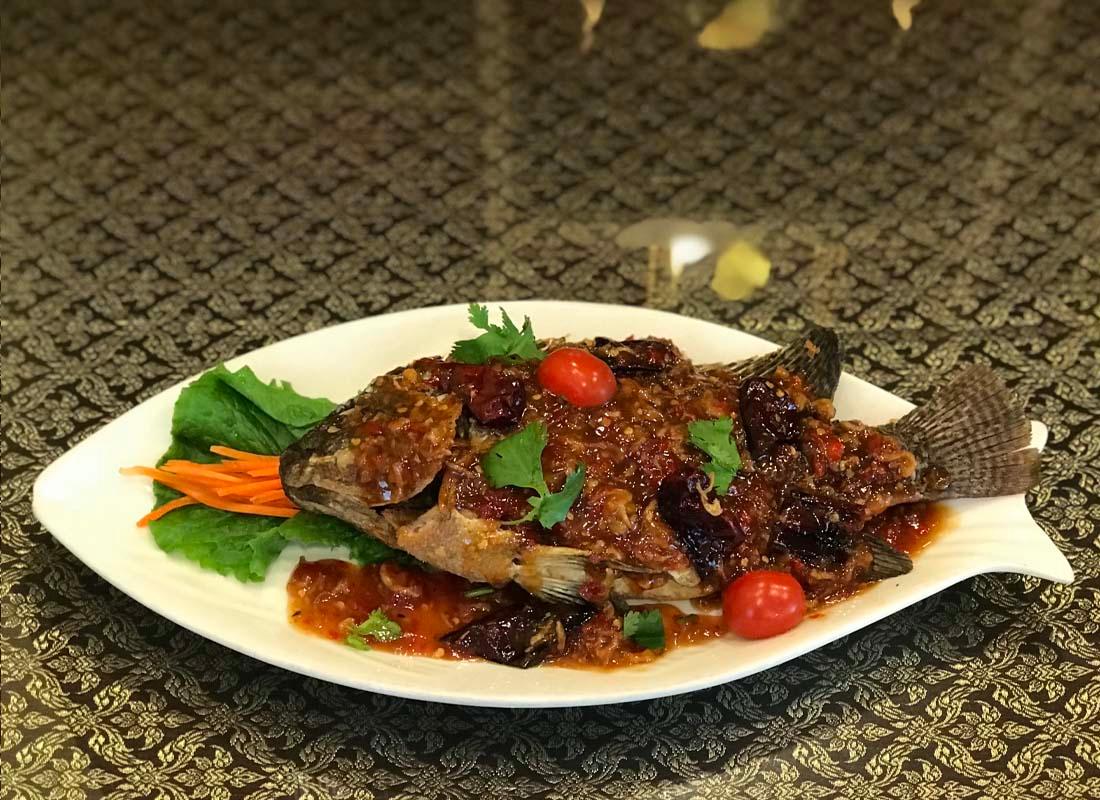 Pla Rod Prik
40,000 won
This dish is Thai crispy fish topped with chili sauce. It's a good dish to share among others in a group. If you like fish dishes, we highly recommend this menu. In Korea, it's difficult to find an authentic Thai dish made of fish but this dish in chili sauce and lime tasted just like the ones you can find in Thailand.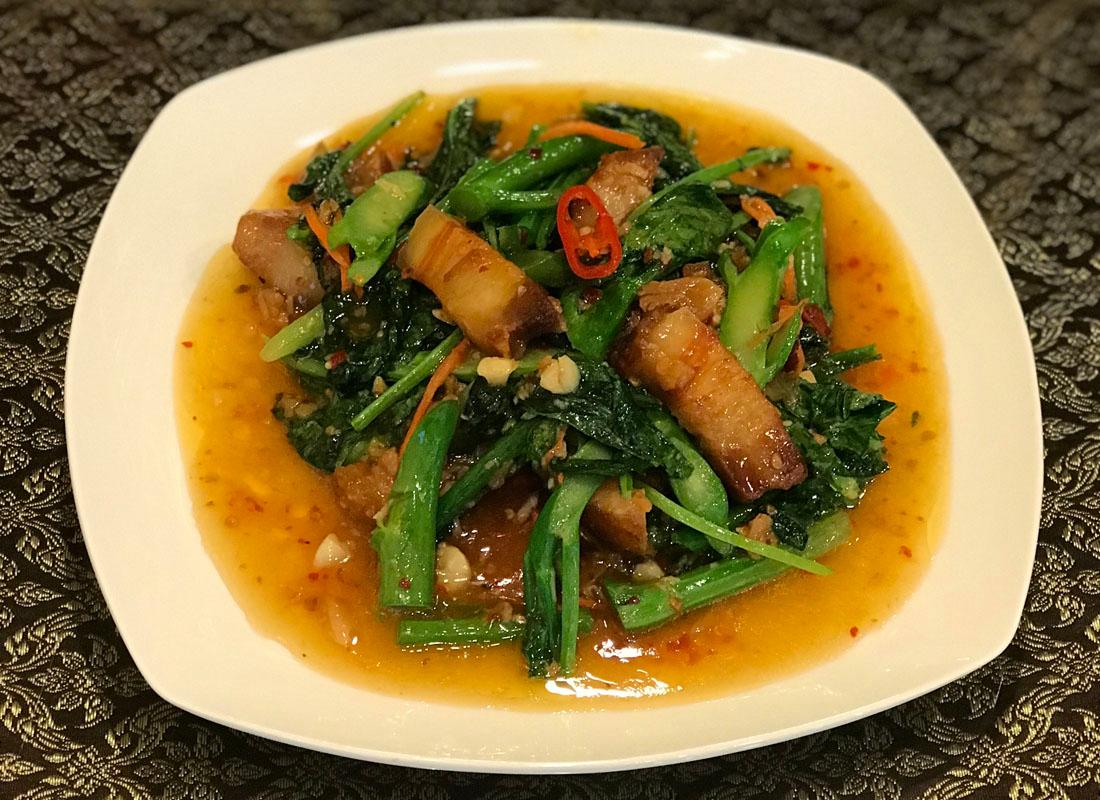 Kana Mu Krob
13,000 won
This dish is fried pork with kale. There is a lot of meat and vegetables served on this plate. If you enjoy eating pork dishes, we recommend this dish for you. The pork belly tasted a little spicy but it tasted great with the vegetables and sauce.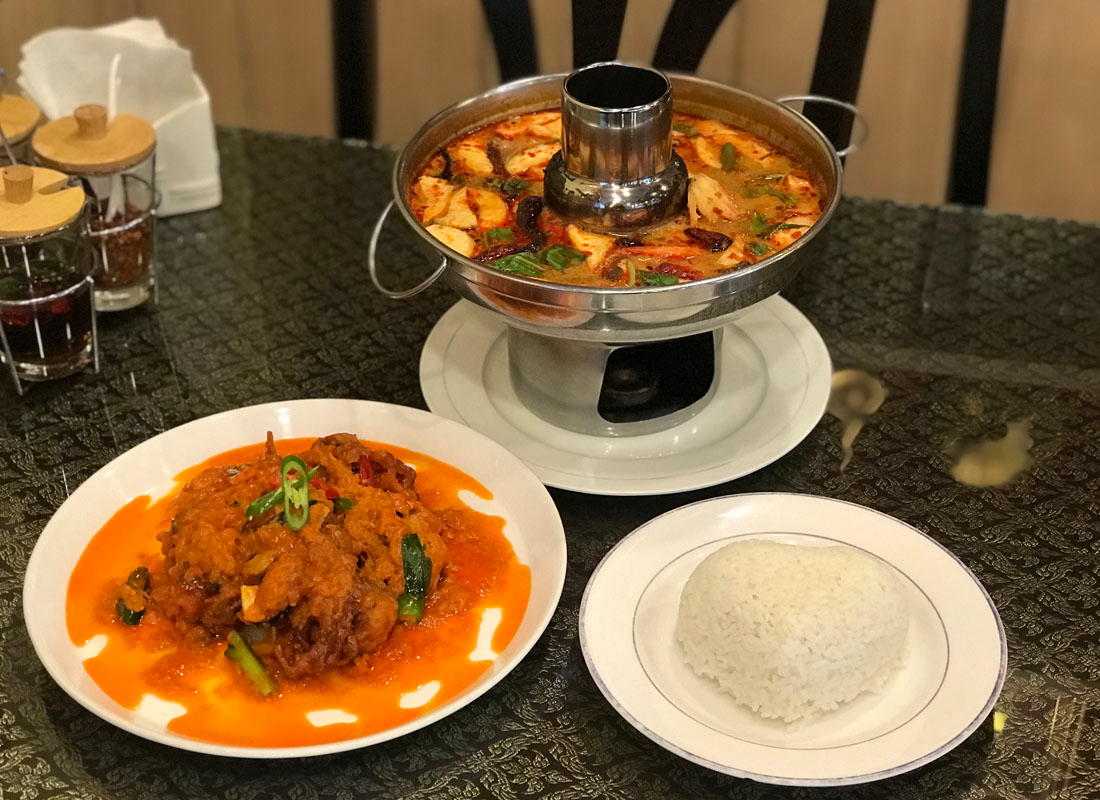 My favorite thing about the restaurant was the heart-shaped rice! Doesn't it look so cute? The portions were big too. We had a very satisfying meal at the restaurant.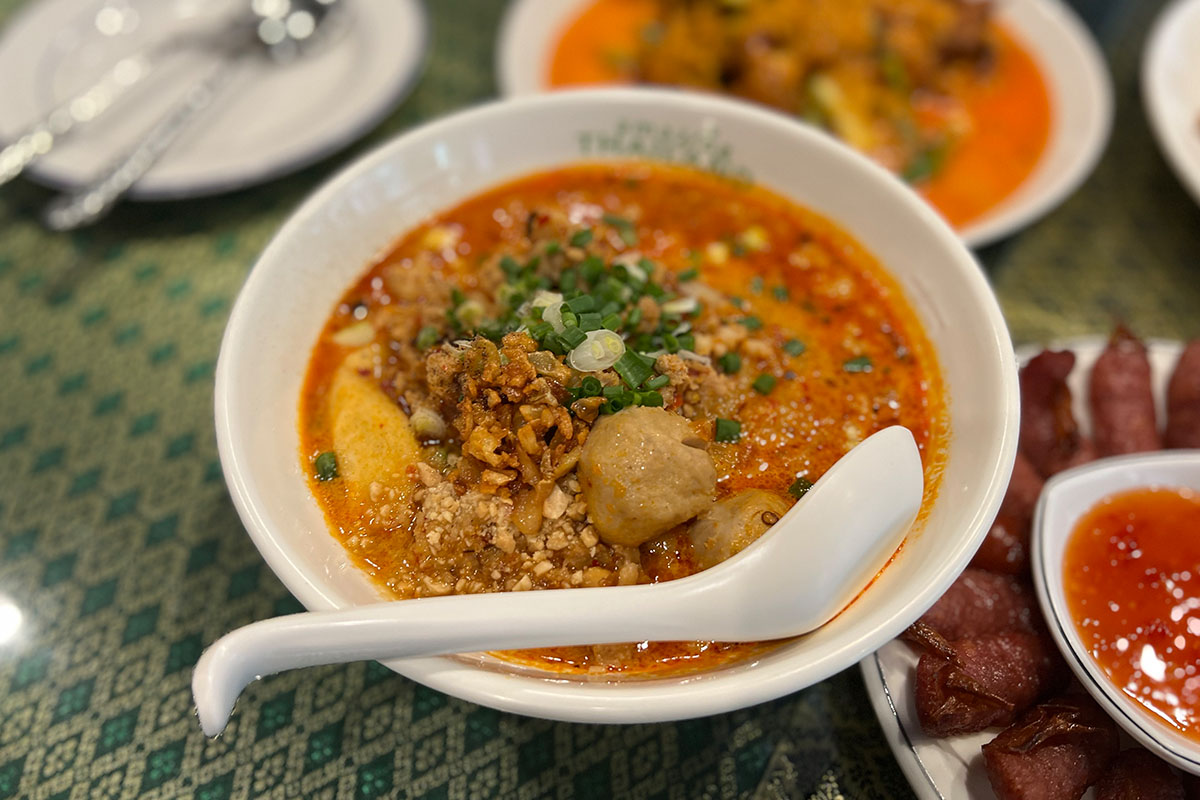 Oh wait, we lied. We actually ordered more!
Tom Yum Pork Noodle
10,000 KRW
This dish tasted different than what it would've tasted like in Thailand. The soup was similar to the Tom Yum Kung but lighter, but still very delicious.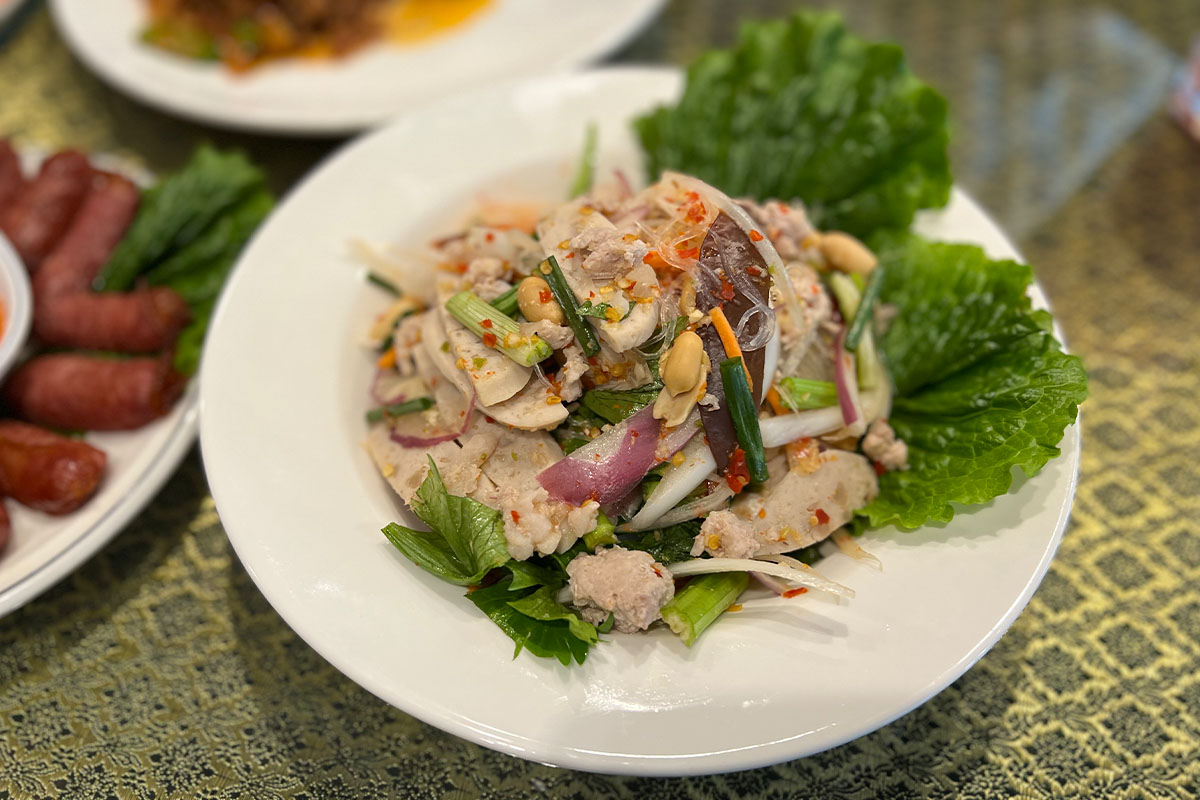 Vermicelli Salad
11,000 KRW
This was as delicious as it would be in Thailand. We recommend you get this if you want the real taste of Thailand!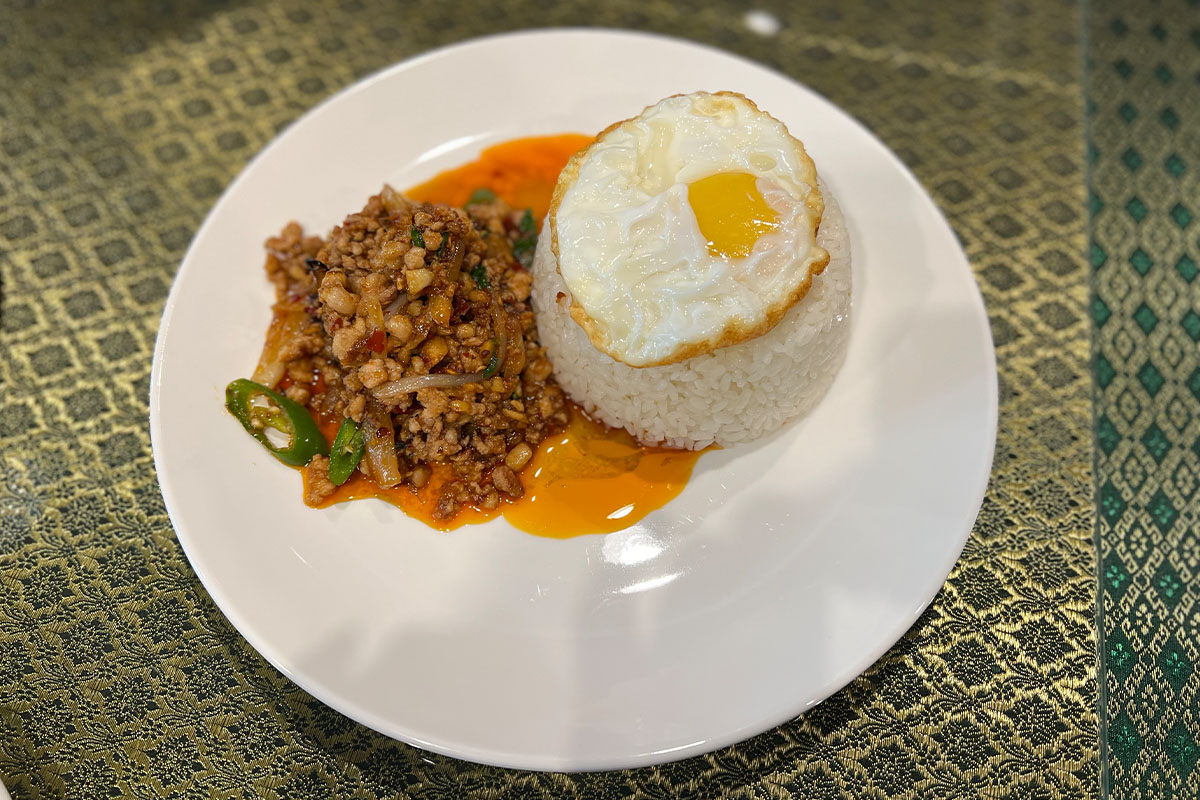 Stir-Fried Minced Pork with Thai Basil
12,000 KRW
Thai people like to eat this dish taking a bit of everything on a spoon in one bite but Koreans seem to like to mix everything together like it would be a Bibimbab! Either way, the dish is delicious!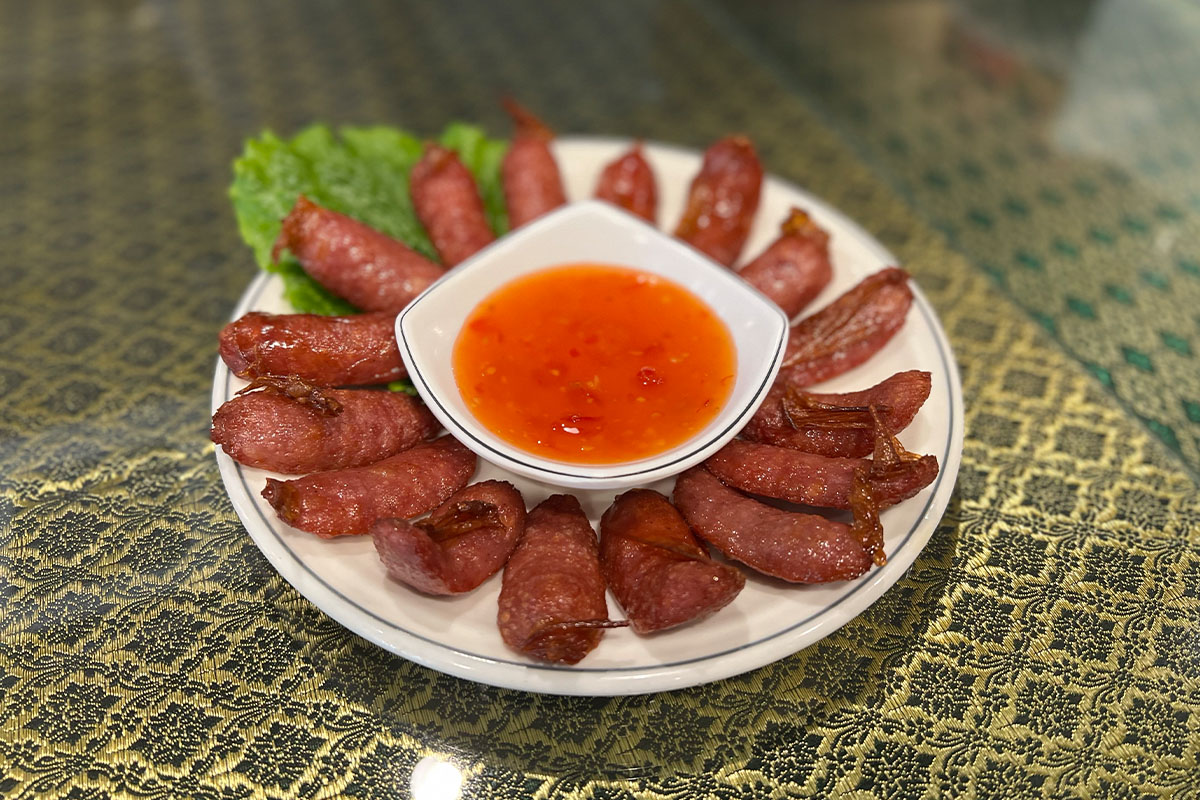 Isan Sausage
8,000 KRW
These sausages were different from the Isan Sausages we would get back in Thailand, but it is expected that Thai restaurants would adjust to fit the taste buds of Koreans. These tasted like garlic sausage and was still very delicious!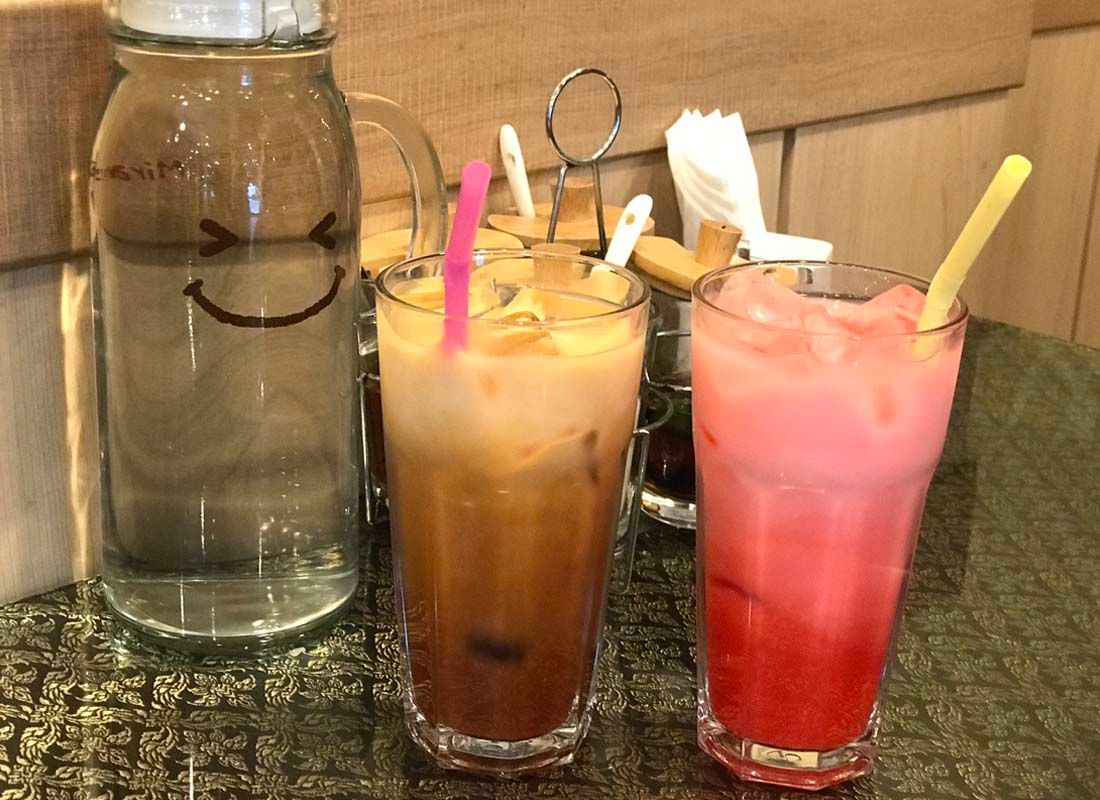 After we were done eating the food, we sipped our Thai drinks. The Cha-yen and Nom-yen were very refreshing and perfectly sweet. Remember, if you show your coupon to the employee after placing your order, you can receive one free cup of Thai milk tea in groups of 2. If you come with more than two people, they'll provide more depending on the number of people. If you've already ordered the drinks, you can show your coupon at check-out and receive it for free.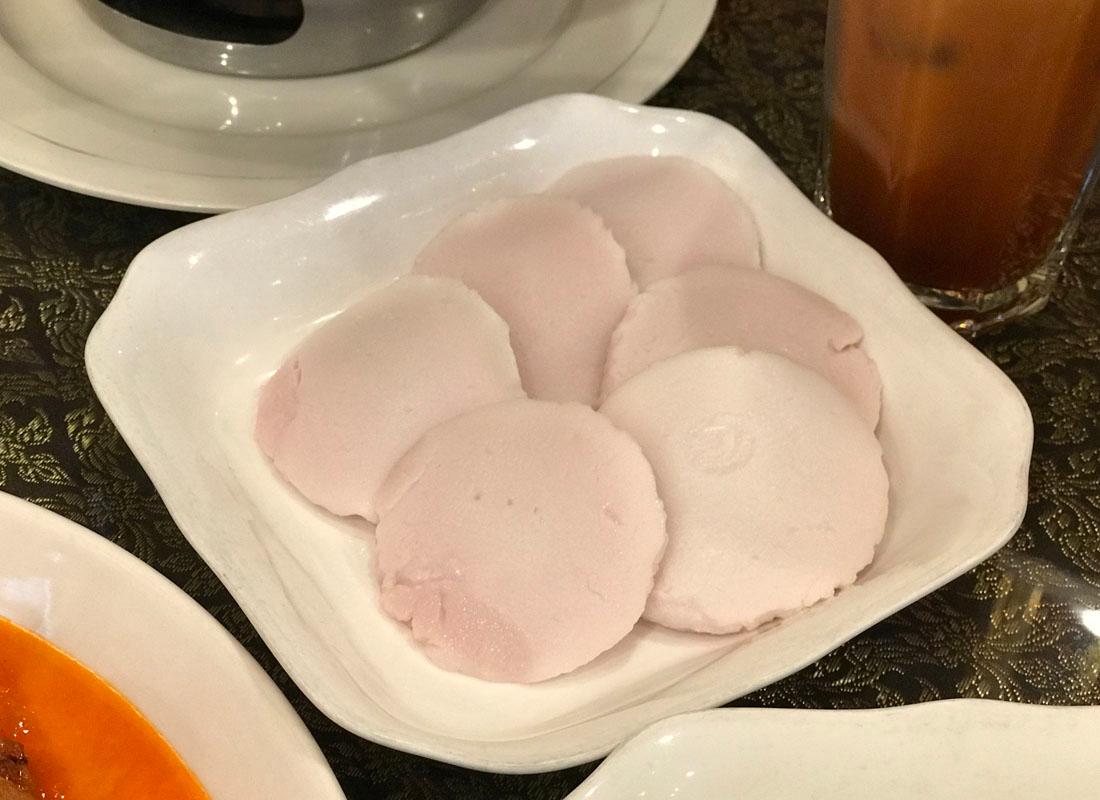 We wrapped up our meal with this delicious dessert that melted in my mouth. This one is made out of Taro. This is usually made with pandan but this was a delicious surprise!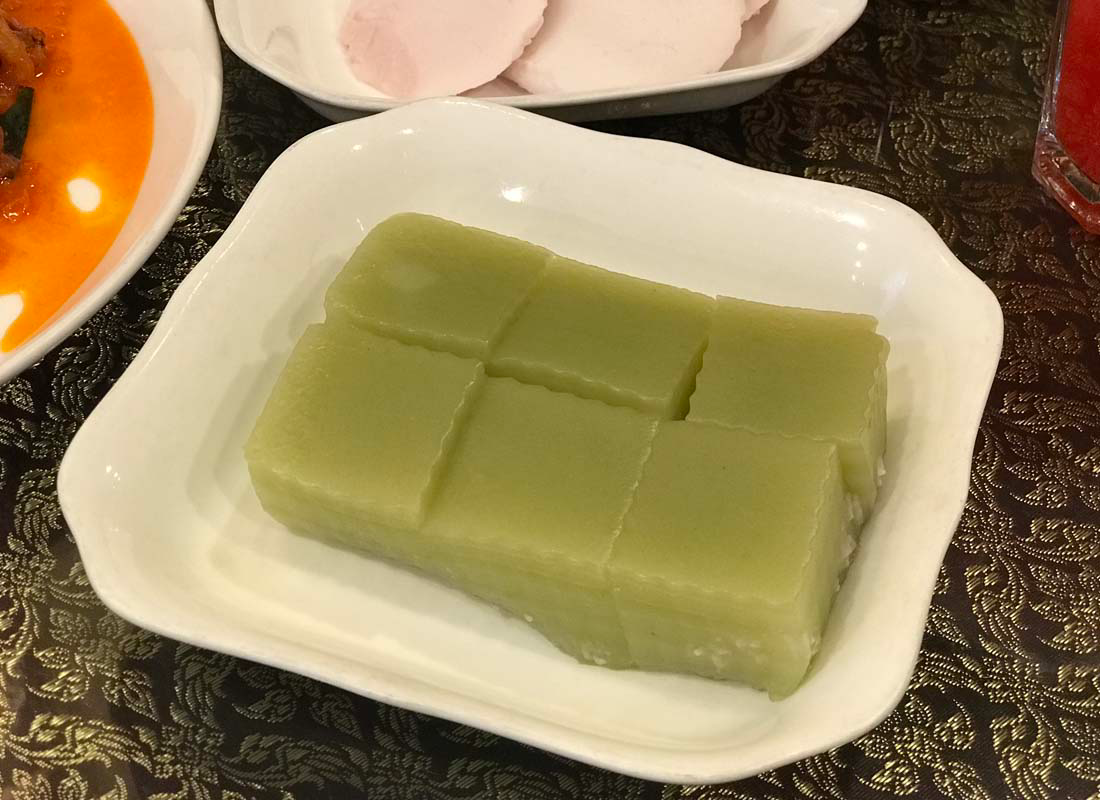 This green dessert is made out of pandan leaves! If you miss desserts from Thailand or you want to try something new, don't miss out on ordering their desserts!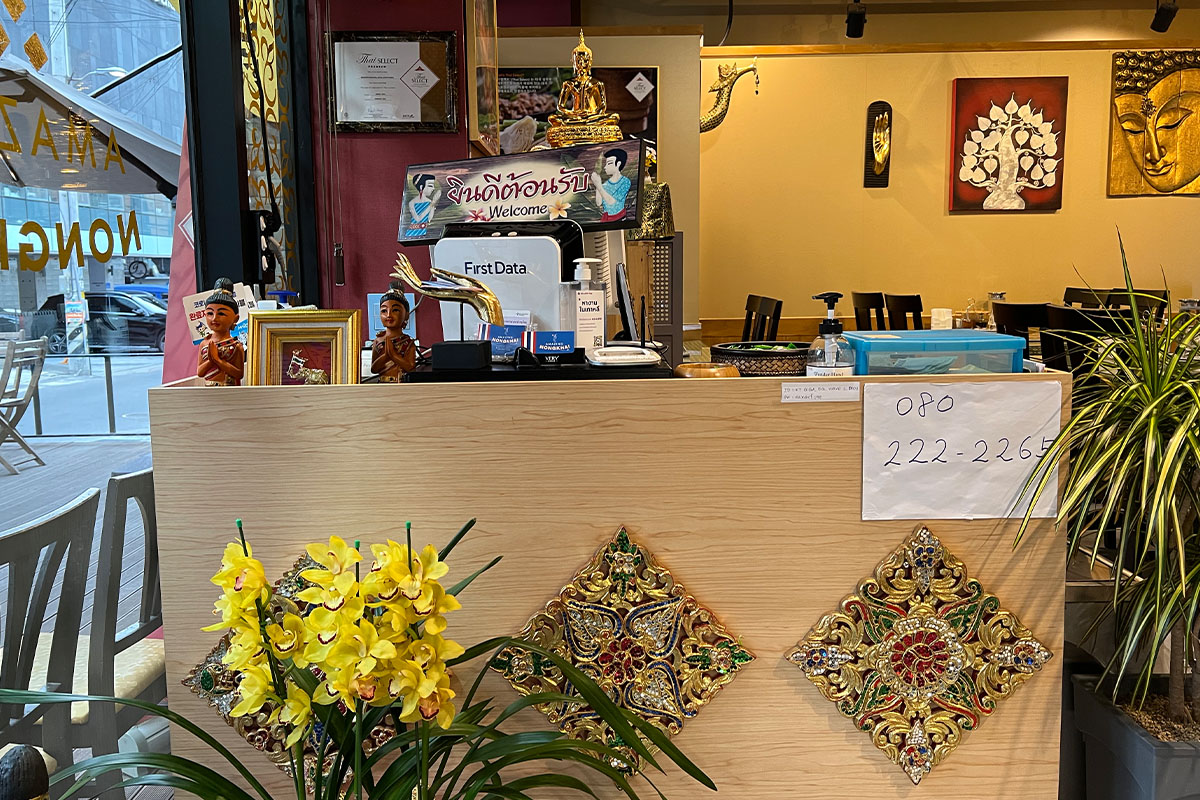 After you've finished your meal, you can head to the counter to make your payment.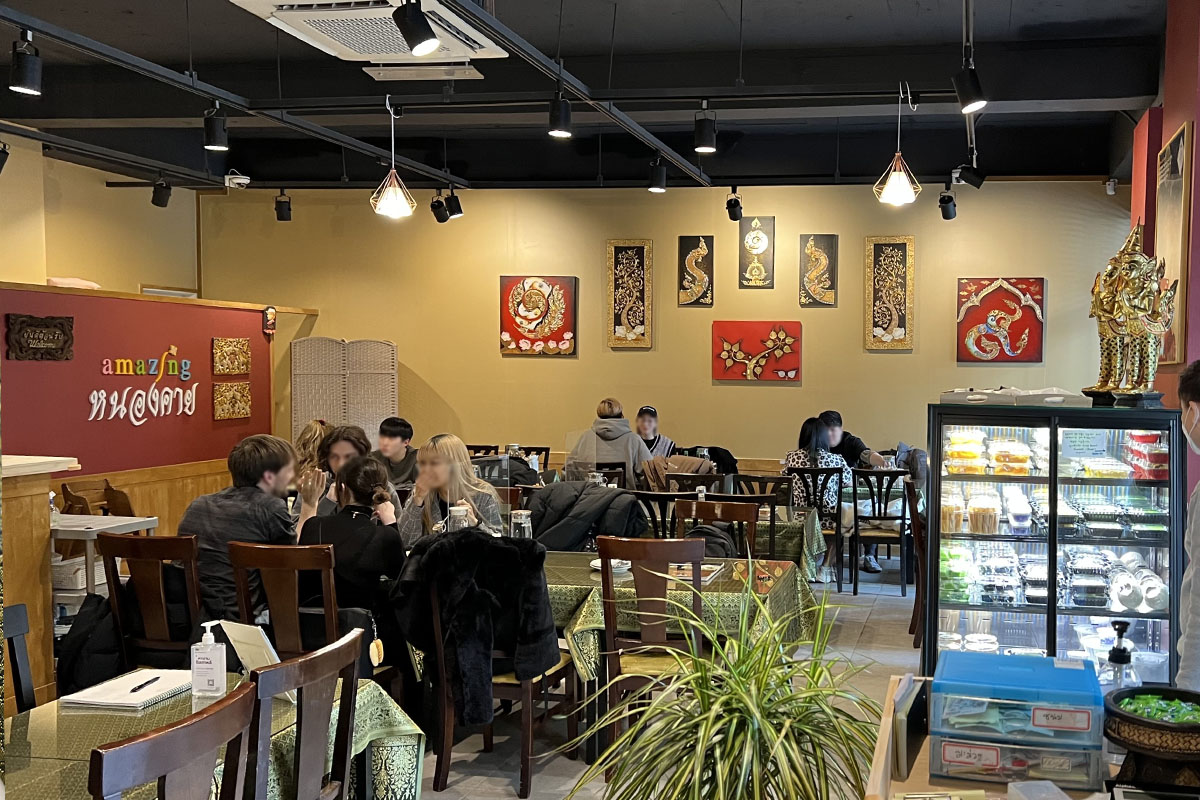 If you want to try authentic Thai food with your friends and family, you can visit Amazing Nongkhai. Most importantly, don't forget to use the Creatrip coupon to get a free Thai milk tea! It will be the perfect addition to your meal!
---
How To Get There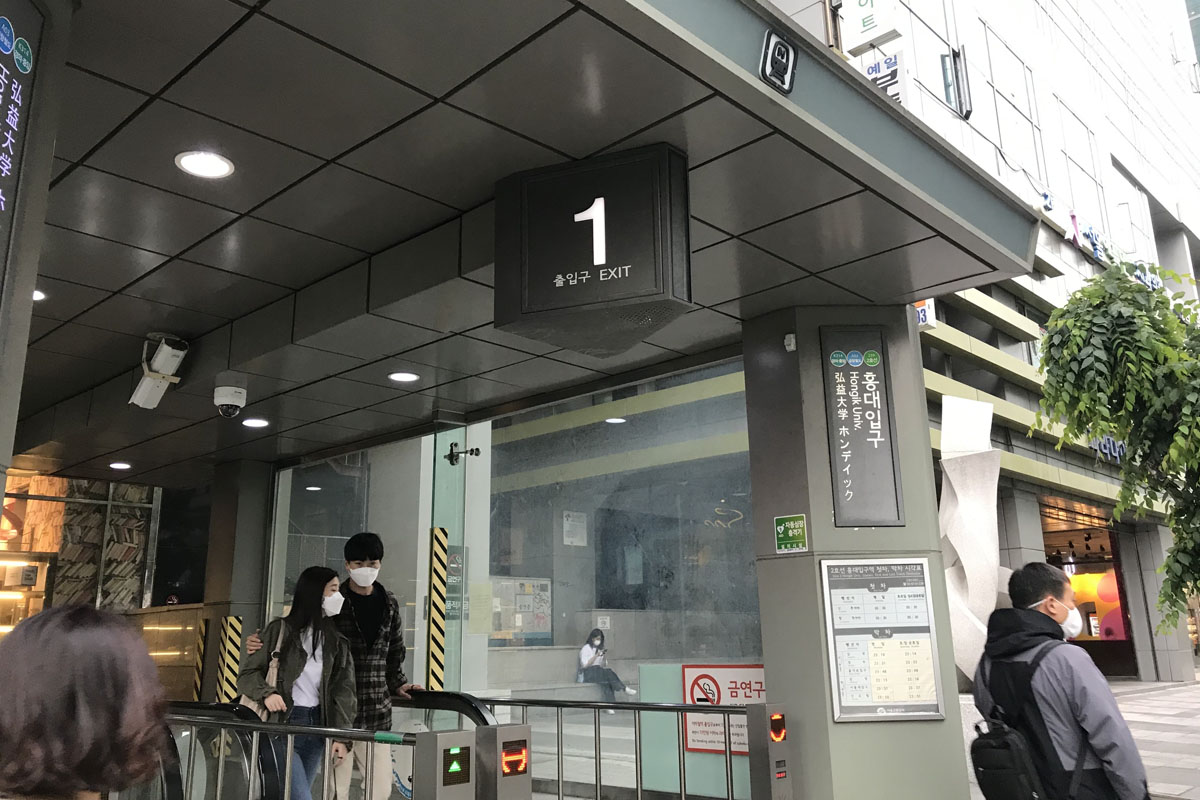 Walk out of Hongik University Station exit 1.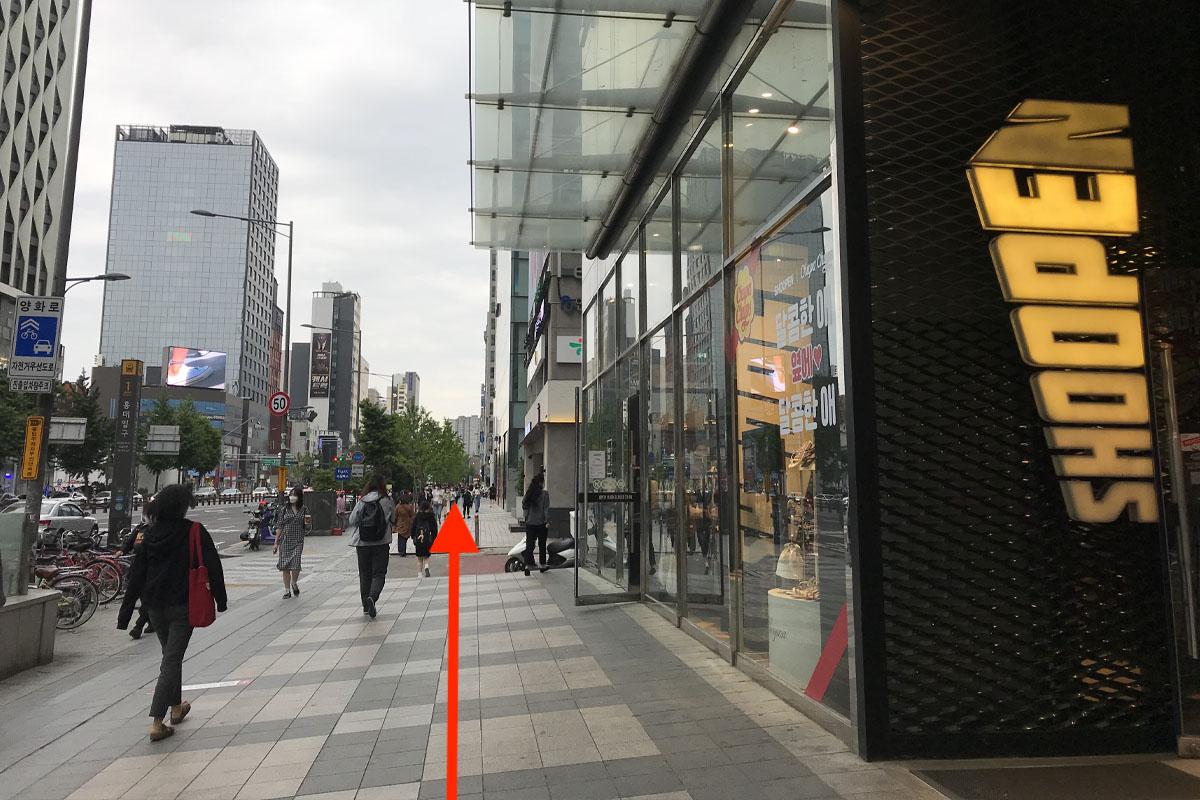 Turn right and you'll see Shoopen. Walk straight.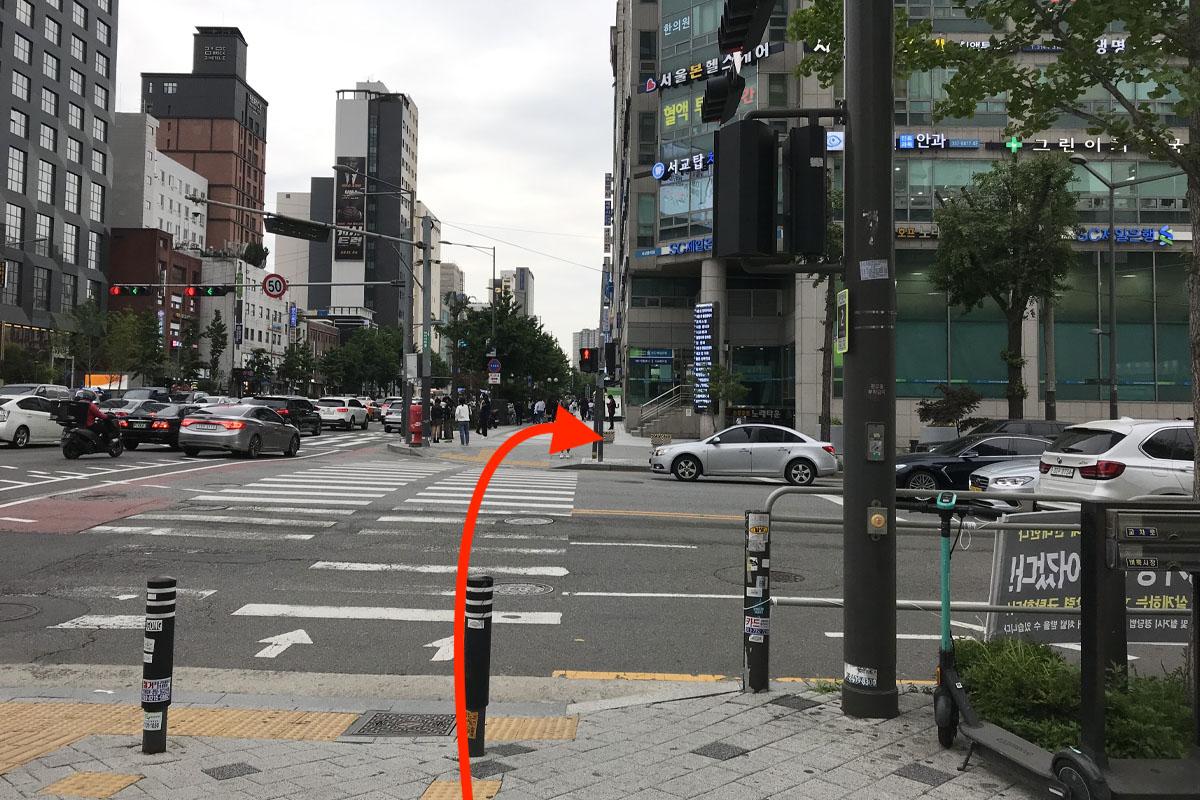 Walk straight to the intersection, cross the street, and turn right.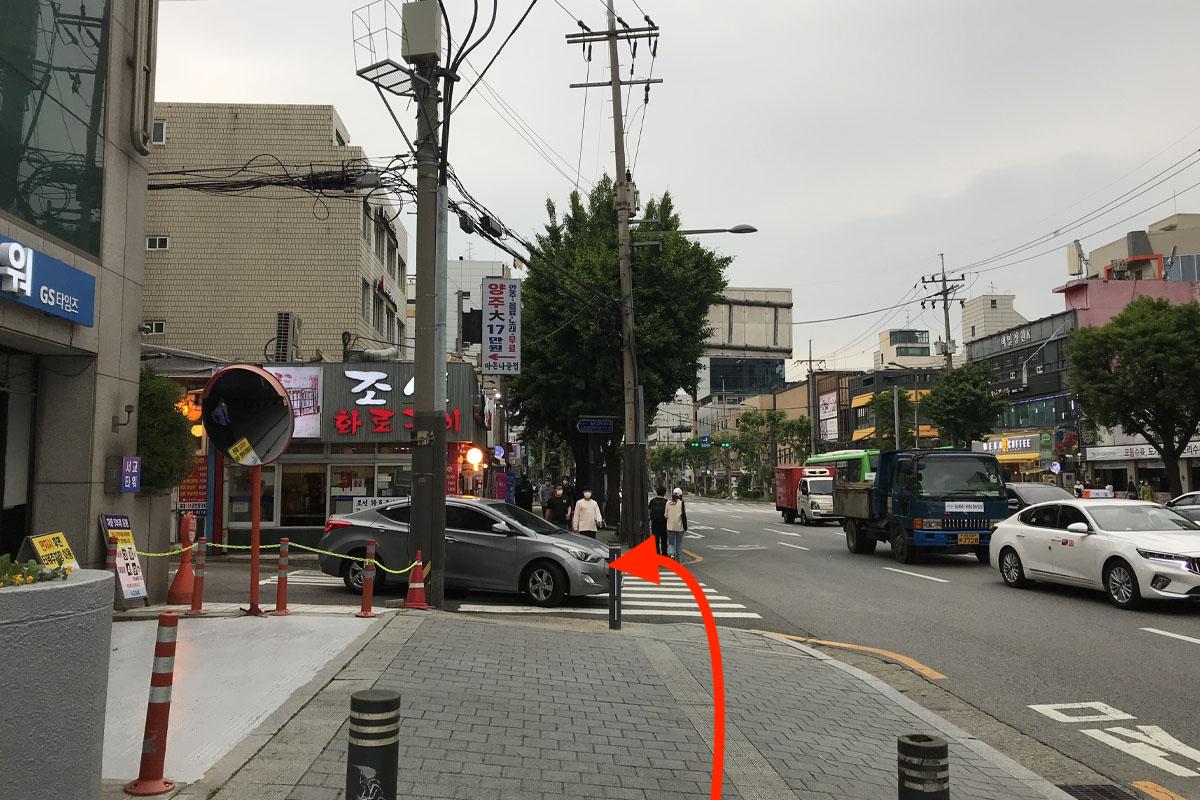 Turn right and keep walking. Turn left and walk into the first alley.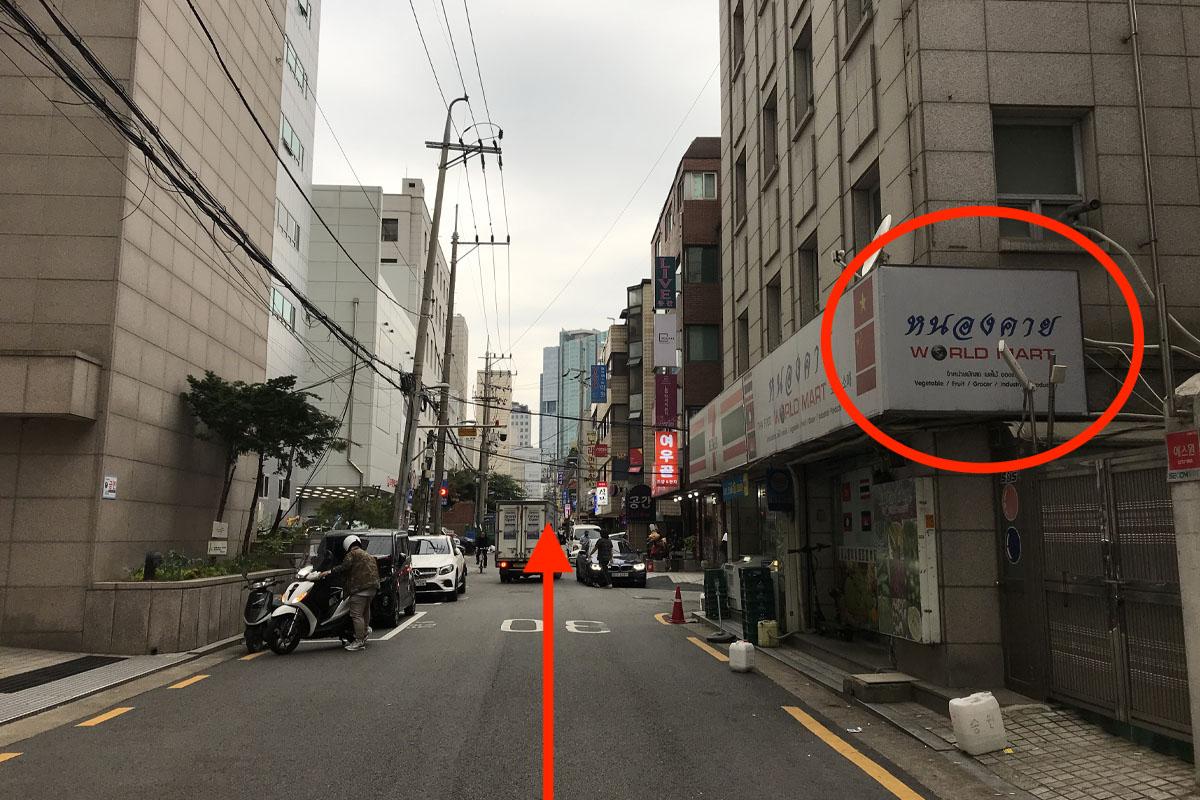 You'll see World Mart, walk straight ahead.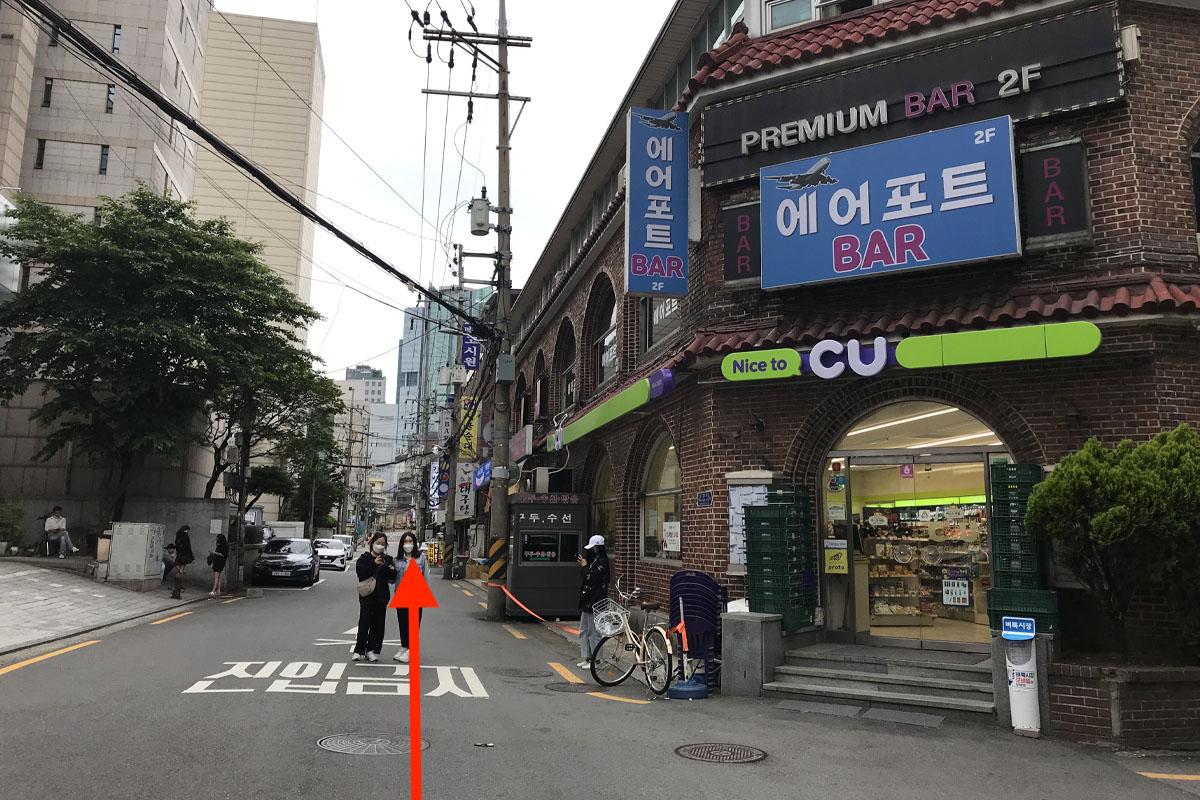 Walk straight past the convenience store, CU.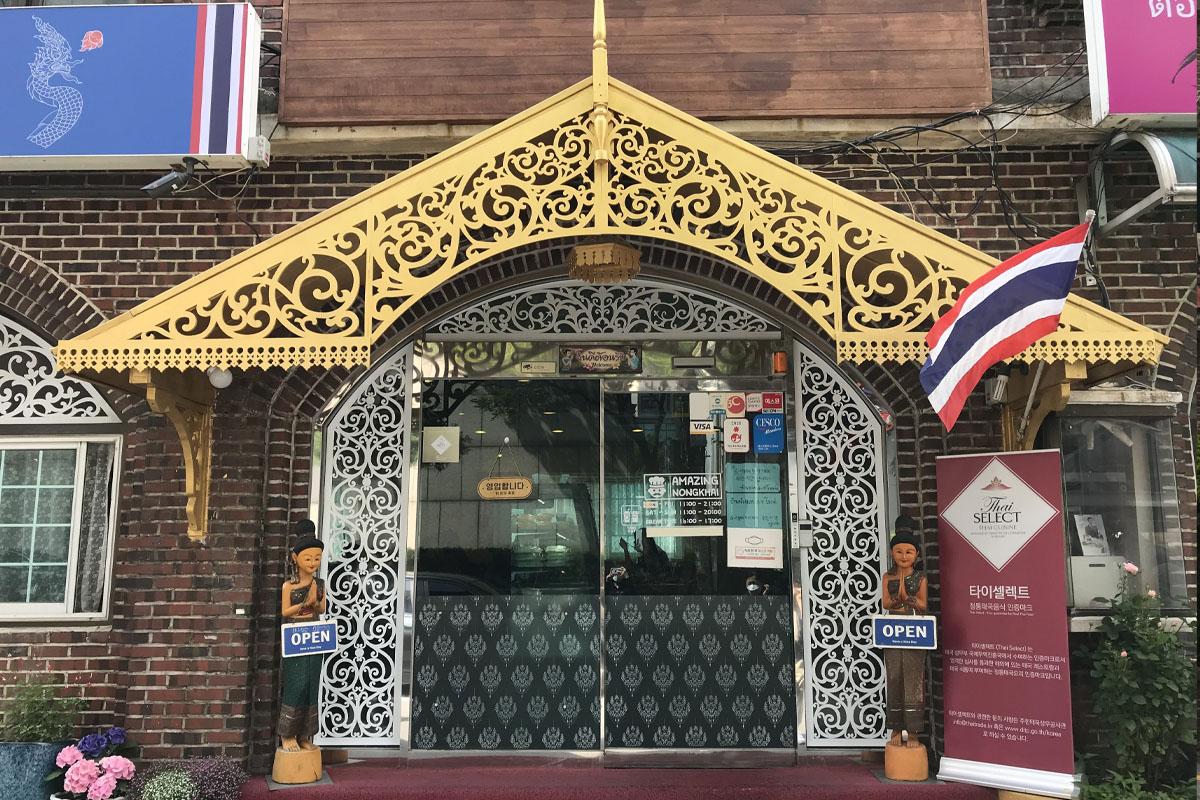 You'll see Amazing Nongkhai on the right.
---
Amazing Nongkhai
Amazing Nongkhai Thai Restaurant | Coupon
---
We hope that you can enjoy a delicious, authentic Thai meal at Amazing Nongkhai! If you have any questions or concerns, please leave a comment below or send us an email at help@creatrip.com! You can follow us on Instagram, TikTok, and Facebook to stay updated on all things Korea!
---