5 Romantic Seoul Date Ideas By Budget From $10 A Day To $200 A Day
Choose your own adventure around Seoul according to your budget. Our favorite date ideas ranging from from 10,000 won to 200,000 won!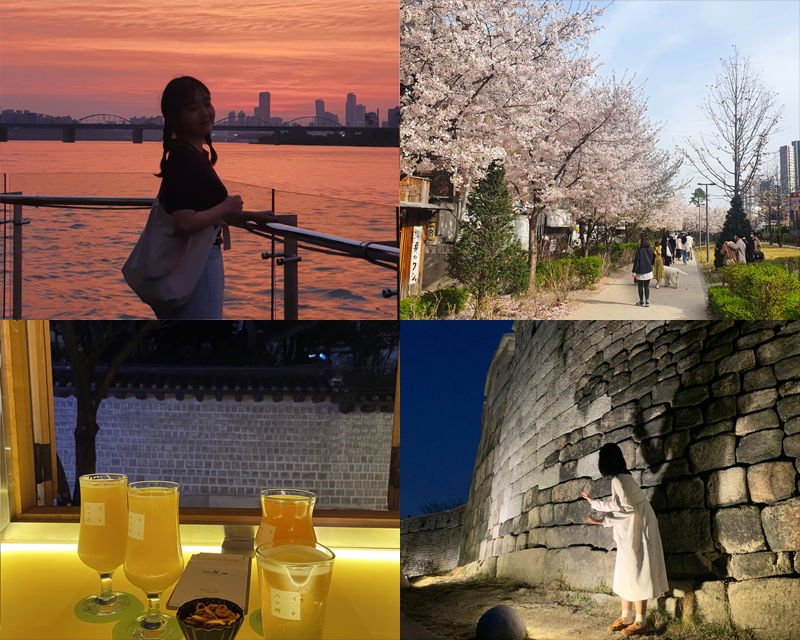 What is the biggest struggle when it comes to planning a date? For us, it's deciding where to go!
Seoul is a great place because there are so many fun things to do, but that also makes it difficult to narrow down where to go.
We like to plan our dates depending on our budget, so we hope you all refer to this blog to make dates in Seoul a memorable experience!
Today, we will introduce some great date ideas around Seoul that range from 10,000 won to 200,000 won.
Each date plan has a unique concept, but they all should be fun, delicious, and romantic.
---
Mangwon-Han River Date


Inexpensive

Overview of cost:
Mangwon Market (9,500 won)
+ Biking around Han River (2,000 won)
= 11,500 won

1. Mangwon Market
(망원 시장)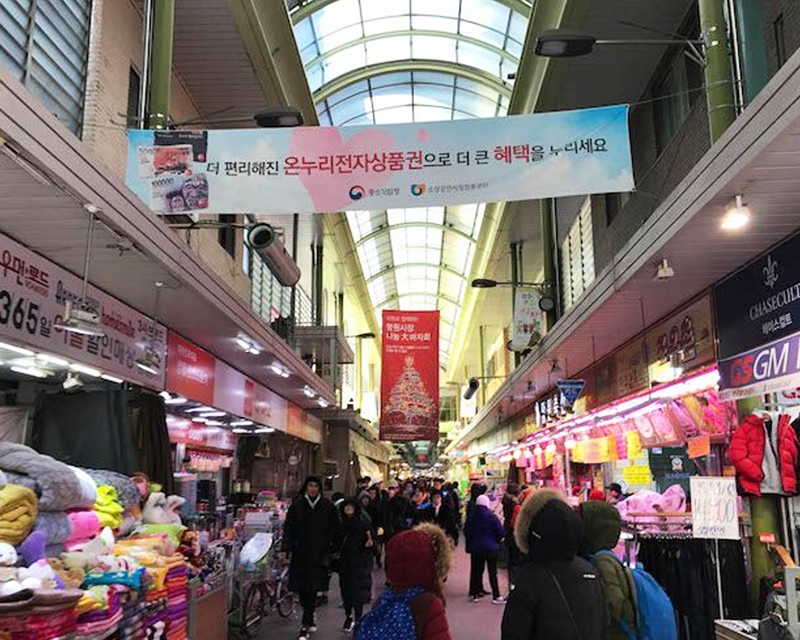 Address: 서울특별시 마포구 망원1동 망원로8길 7
Hours: 10:00-21:00
Located very close to Mangwon Station Exit 2, Mangwon Market is one of the many traditional markets in Seoul.
Mangwon Market is full of different street foods for you to enjoy. It is frequently visited by local residents, college students, and tourists from around the neighborhood.
Our first course begins at this market on a hungry afternoon.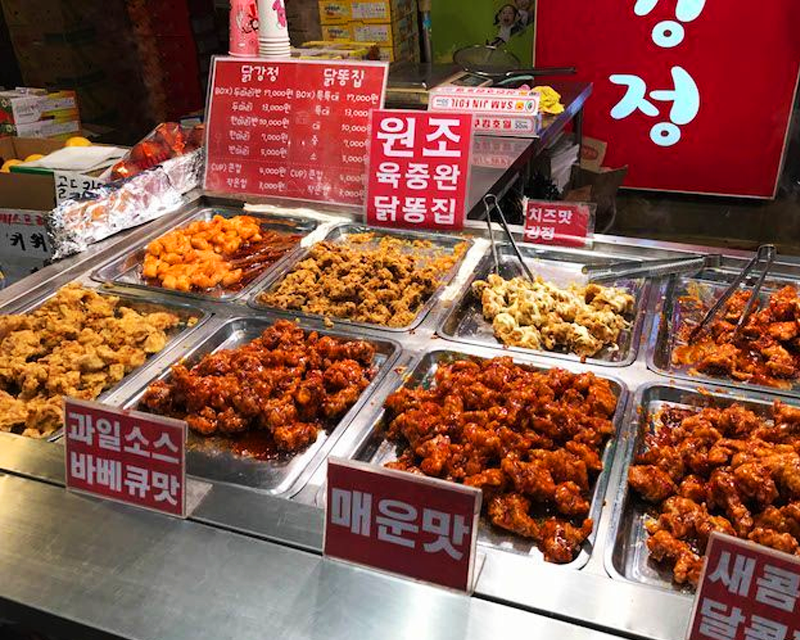 Q's Sweet and Sour Chicken
(큐스 닭강정)
7,000 won (half portion)
A must-try at Mangwon Market is sweet and sour chicken (닭강정).
There are six flavors to choose from; cheese mustard, white cream, fruit, sweet, spicy, and original. So, you can choose whichever fits your taste buds.
You can even choose the portion amount. We felt that a full portion was a bit too much so we ordered half portion to share.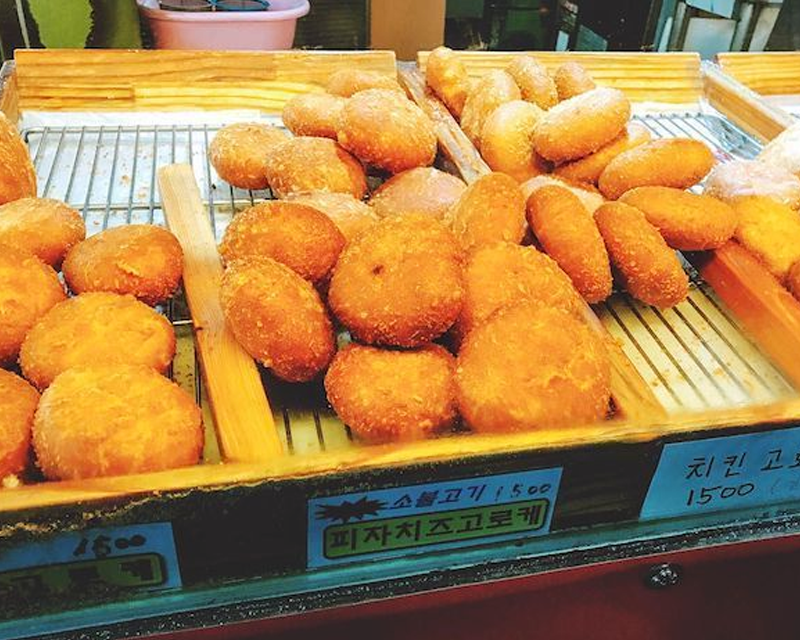 Hwang In-ho's Handmade Croquette
(황인호의 원당 수제 고로케)
1,000 won-1,500 won each
This handmade croquette is just as famous as the aforementioned sweet and sour chicken at Mangwon Market. It's fried on the spot, so you can enjoy it while it's still warm and crispy.
There are a variety of flavors as well, the most popular flavors are cream cheese, vegetable, and potato.
We recommend the cream cheese and potato croquettes! They were only 2,500 won each.

2. Mangwon Hangang Park Picnic
(망원 한강 공원 피크닉)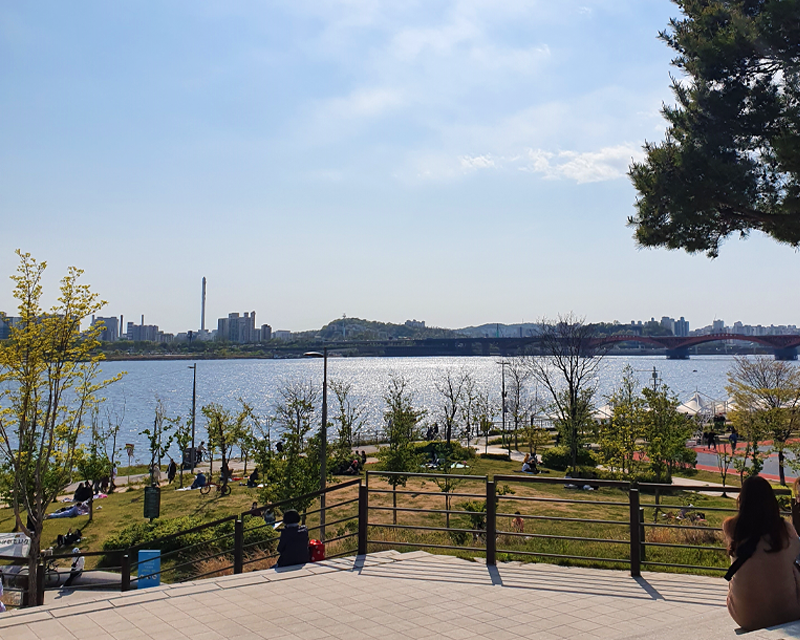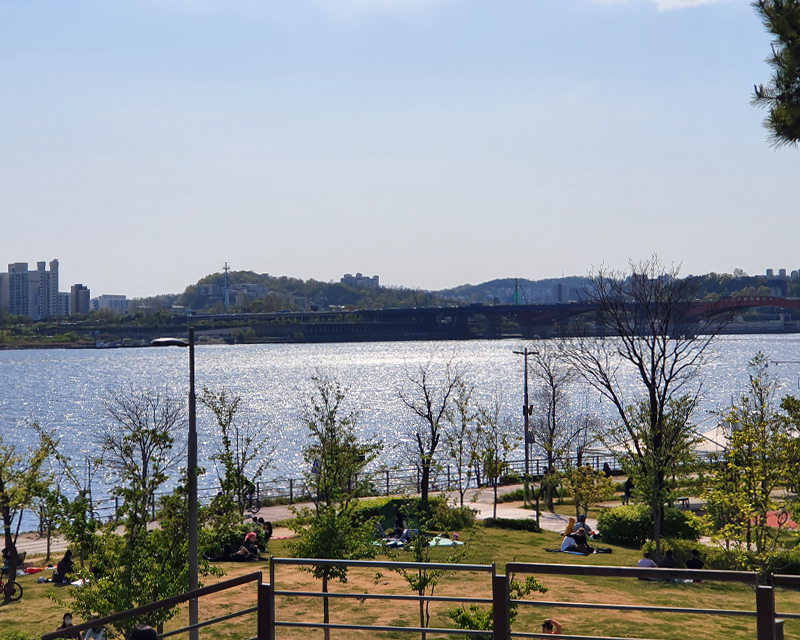 Address: 서울특별시 마포구 마포나루길 467 망원동 망원한강공원
With hands full of food, we made our way to Mangwon Hangang Park, which is less than a 10-minute walk from the Mangwon Market.
You probably know that the Han River is a huge river that runs across the middle of Seoul, but did you know that there are many parks along the Han River?
Of all the parks, our favorite is Mangwon Hangang Park. It's a lot prettier and more peaceful than the other parks so it's the perfect place to relax with your significant other.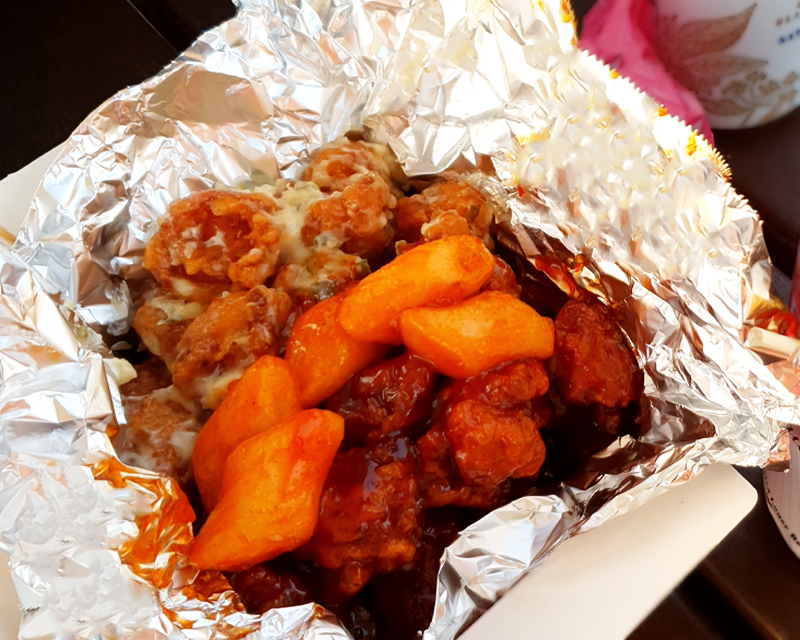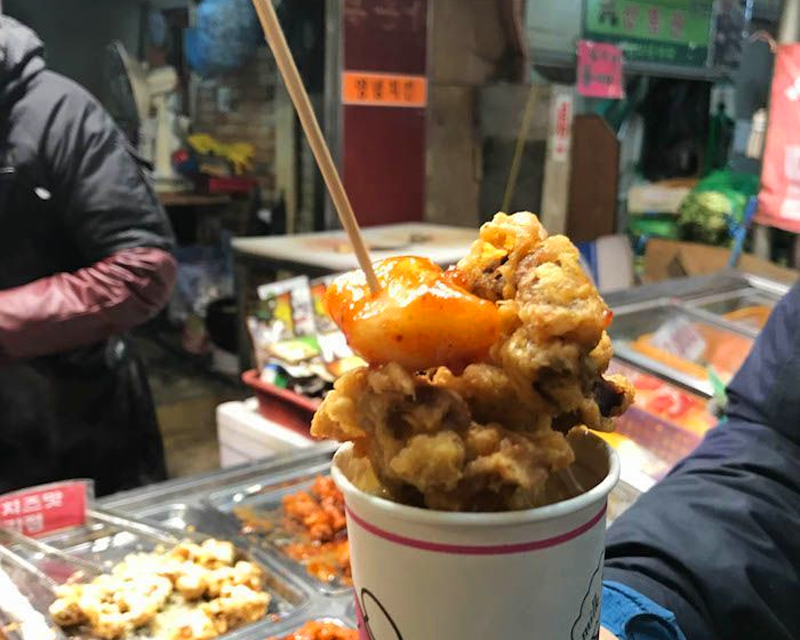 Grab a seat and enjoy the delicious food you've snagged from the Mangwon Market while watching the sunlight glisten beautifully on the Han River.
With a gentle breeze and delicious Korean street food, isn't it the perfect restaurant on a budget?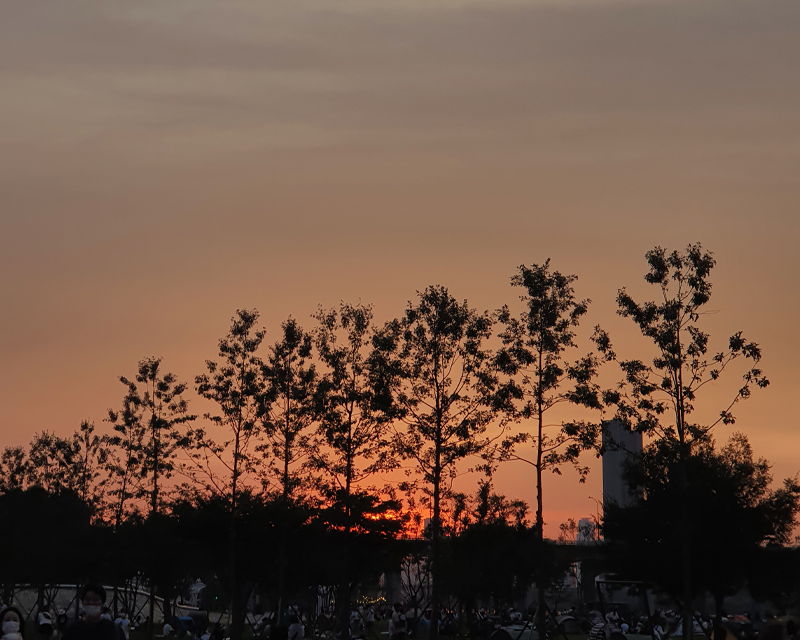 By the time you finish your food, the sun will probably start to set. Now that we've filled our stomachs, why not go for some excercise?

3. Hangang Park Ddareungi
(한강 공원 따릉이)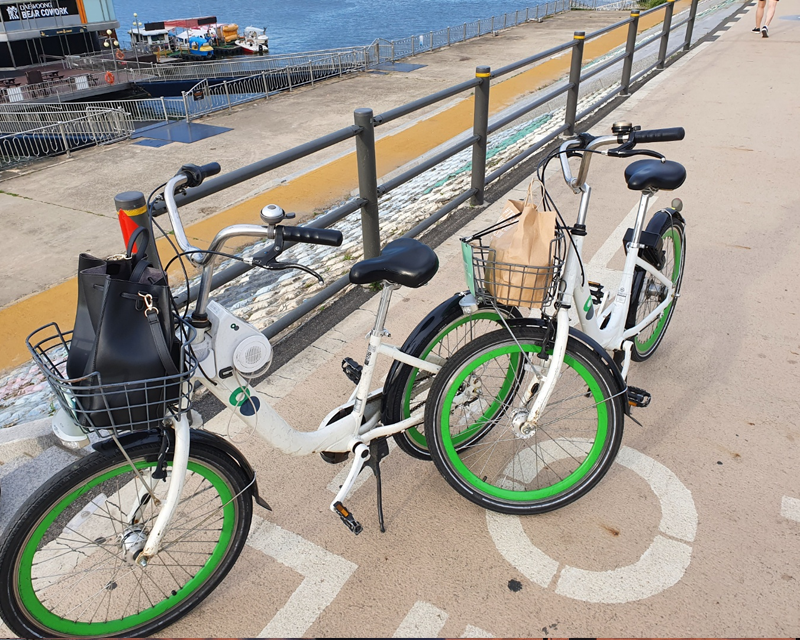 Address: 서울특별시 마포구 망원동 월드컵로 79 (망원한강공원 따릉이 대여소)
Price: 1,000 won (1 person for 1 hour)
Ddareungi (따릉이) is Seoul's official bike rental service. You can use it conveniently with the app after you've made your payment.
If you are curious about how to use the service in detail, please refer to this link!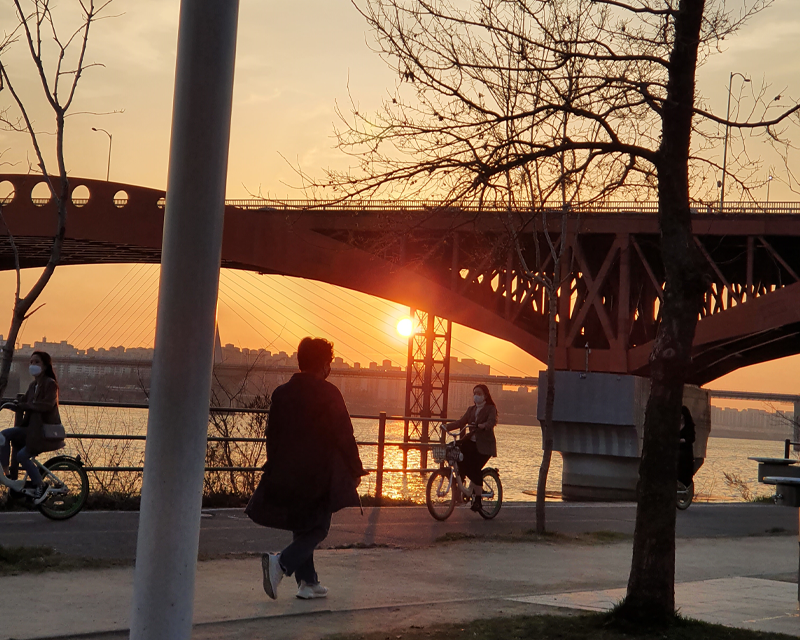 There are two lanes along the Han River, one for pedestrians, another for bikes. Biking along the Han River is a common outdoor activity in Korea.
Since the paths mostly run straight with no hills or significant obstacles, anyone can enjoy them.
The paths are pretty long so you can just bike straight until you're tired!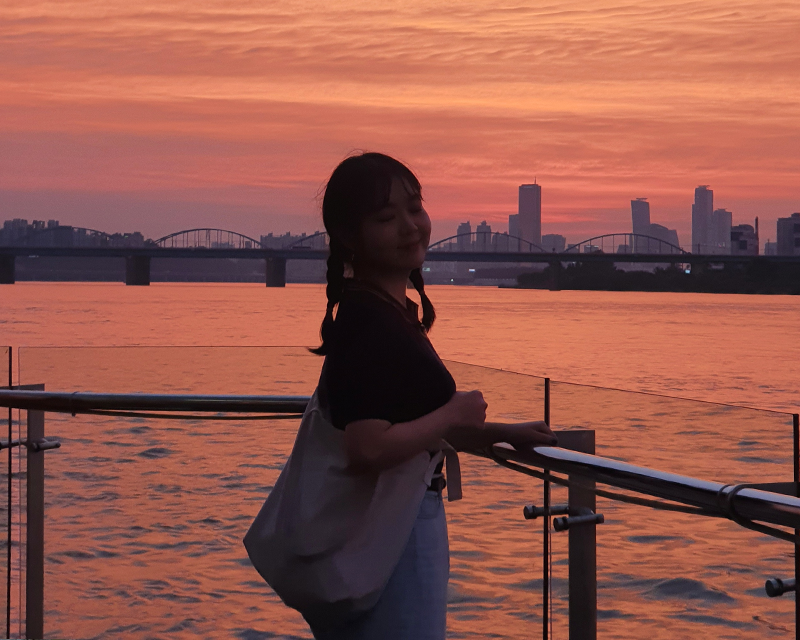 You can even take a break in the middle and take pictures with your partner at wonderful photo ops like this!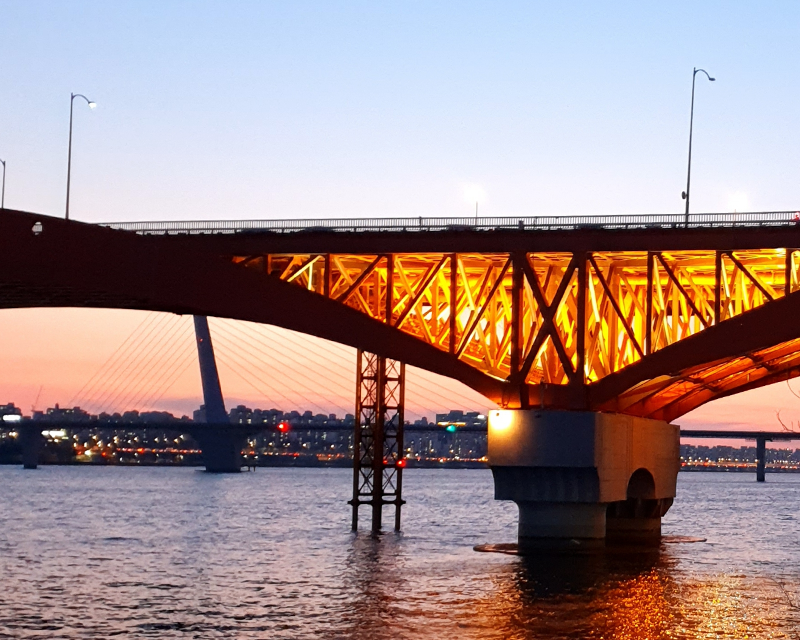 Even if you come when the sun has completely set, you can enjoy the beautiful night view with bright city lights.
It's really pretty because of its bright lights, right? This is what we love the most about Mangwon Hangang Park. Wrap up your date while watching the beautiful night view! How romantic!
---
Daehak-ro Date
Low-Cost

Overview of cost:
Old-School Uniforms (10,000 won)
+ Hyehwa Mister Dolsoe 혜화 돌쇠 아저씨 (19,900 won)
= 29,000 won

1. Ihwa Mural Village
(이화동 벽화 마을)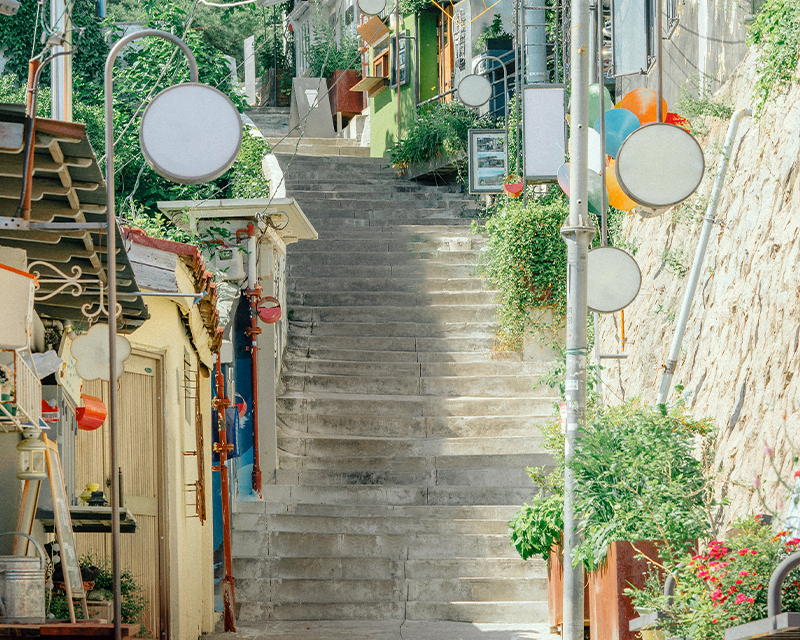 Address: 서울시 종로구 이화동 낙산4길 49
Ihwa Mural Village is about a 10-minute walk from Hyehwa Station. Due to the 2006 Urban Art Campaign, the whole town was beautifully decorated with murals.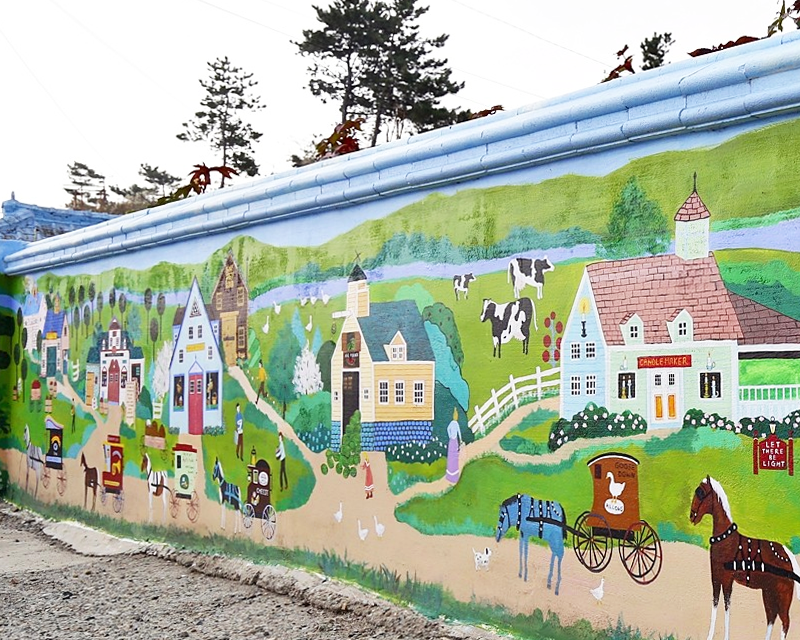 Source: uptrend media
The appearance of Ihwa Mural Village is reminiscent of an old Seoul village but is also quite hip and trendy. It's so much fun to spend time looking around every corner of the alley!

Old School Uniform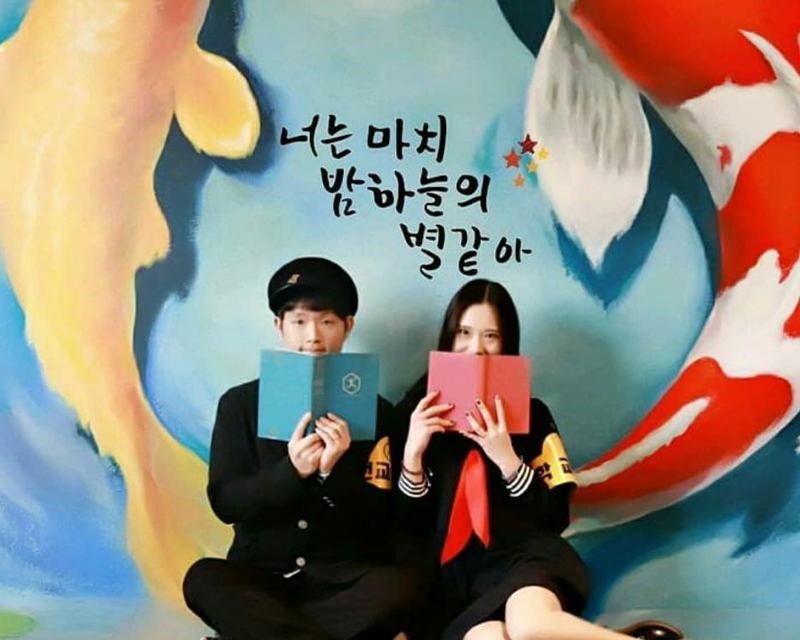 Source: Jolly Store
Address: 서울특별시 종로구 이화동 낙산 4길 46
Price: 5,000 won (1 person for 1 hour)
The most popular thing to do at Ihwa Mural Village is to rent old school uniforms. We recommend renting from Jolly Store.
Jolly Store is the most famous school uniform rental store around Ihwa Mural Village!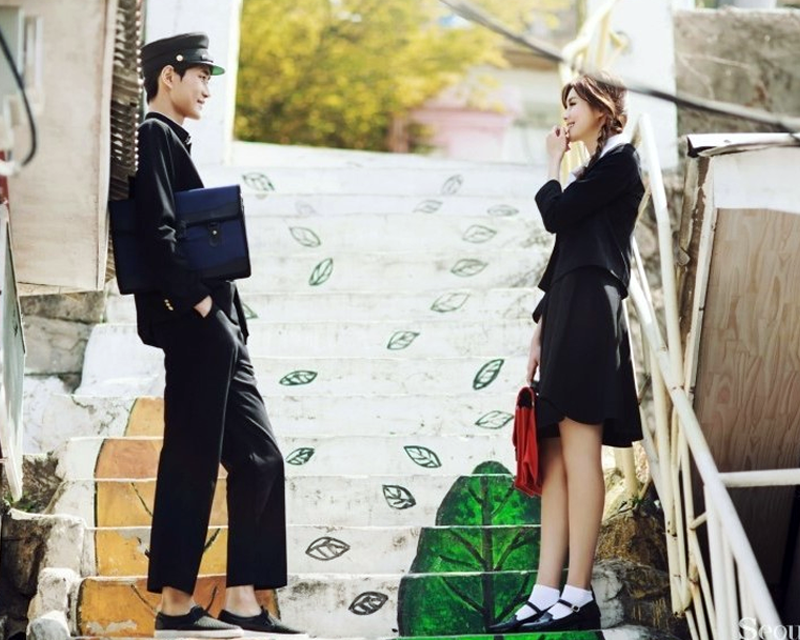 Source: Jolly Store
Make some unforgettable memories dressed up in Korean old-school uniforms while taking pictures in front of pretty murals!
The atmosphere of the village and the old-school uniforms fit so well together that it doesn't matter where you take your pictures, you'll want to keep these photos forever!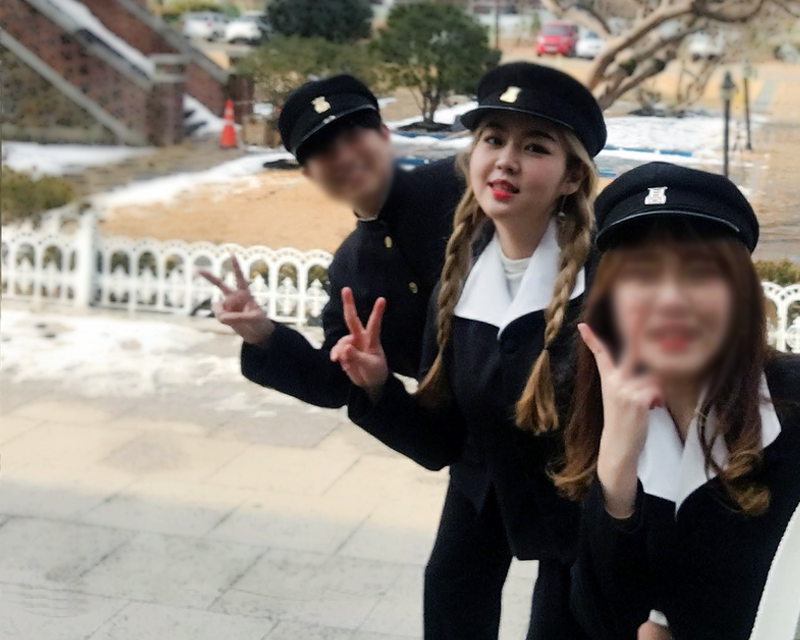 Even though it wasn't a date, we rented the old-school uniforms with our friends and took pictures together. It was so much fun!
We think it was special because it's such a unique experience.

2. Hyehwa Mister Dolsoe
(혜화 돌쇠아저씨)
After walking around Ihwa Mural Village, you'll eventually begin to feel hungry!
Let's head to Hyehwa's oldest restaurant, Hyehwa Mister Dolsoe (혜화 돌쇠아저씨).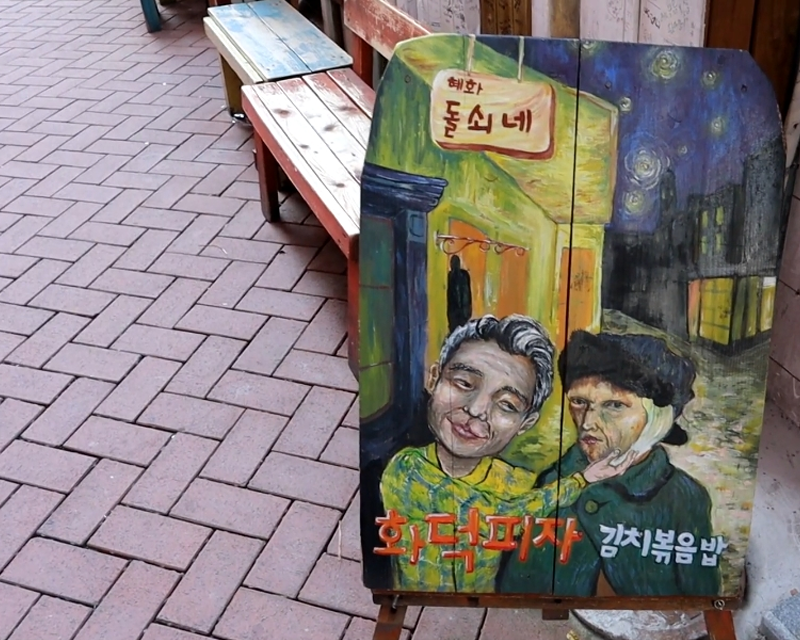 Source: YouTube channel 창수오 SooOh Foo:D
Address: 서울특별시 종로구 명륜4가 23
Hours: 11:50-20:00
Here, you can enjoy traditional tteokbokki with oven-baked gorgonzola pizza!
The combination of cheesy Gorgonzola pizza and spicy tteokbokki is surprisingly delicious.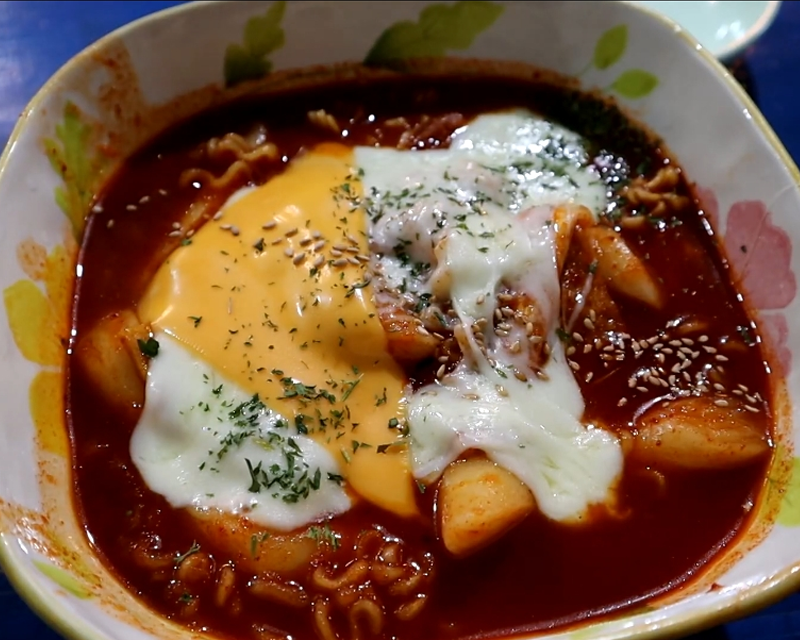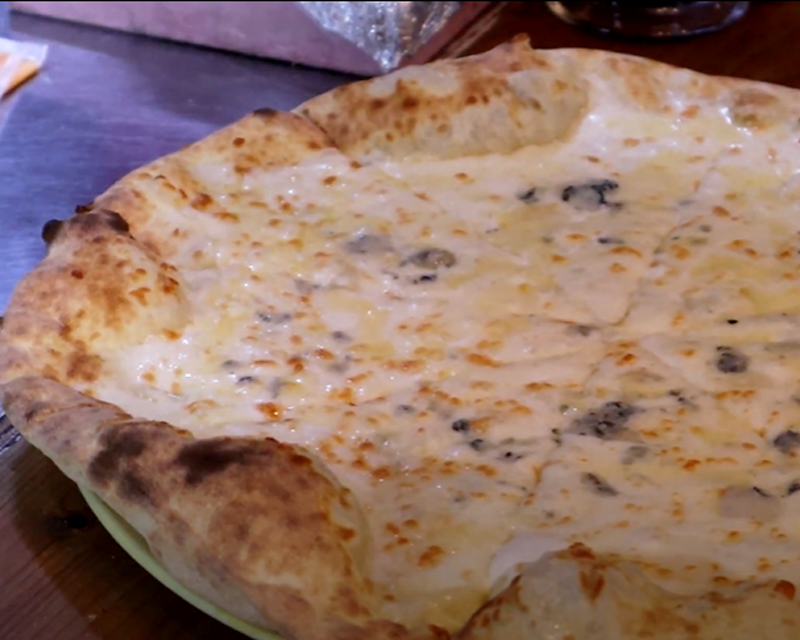 Source: YouTube channel 창수오 SooOh Foo:D
Saranghae Set (Cheese tteokbokki
+ Gorgonzola pizza + Pot ramen)
19,900 won
The restaurant interior is cute with vintage vibes. You can enjoy delicious food such as their signature cheese tteokbokki and Gorgonzola pizza at an affordable price.

3. Naksan Park
(낙산공원)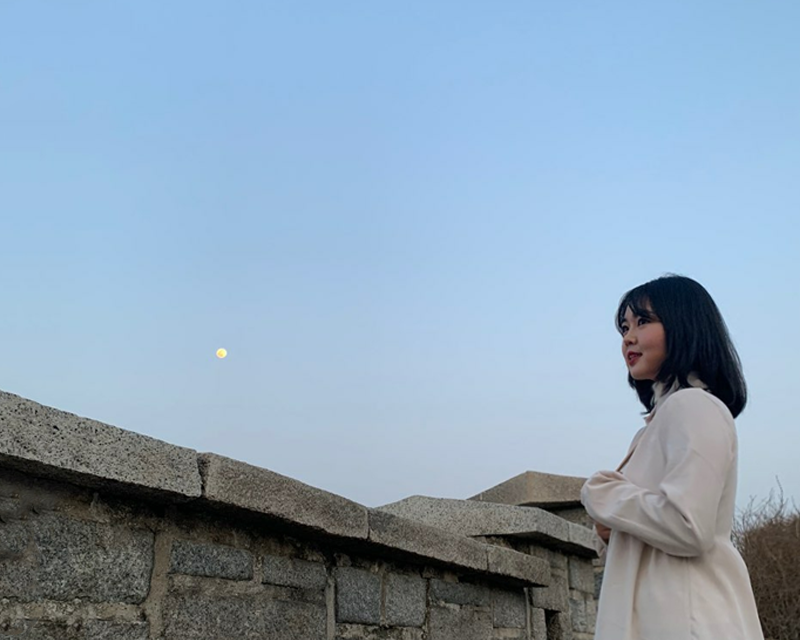 Address: 서울특별시 종로구 이화동 낙산길 41
If you head to Daehak-ro you HAVE to visit Naksan Park with your date!
Naksan Park is one of the most famous spots to take in the beautiful night view of downtown Seoul.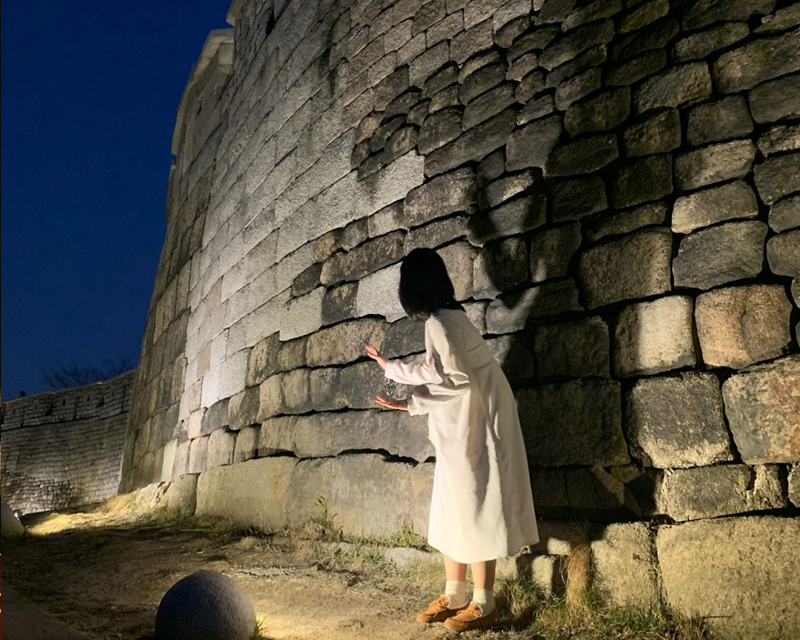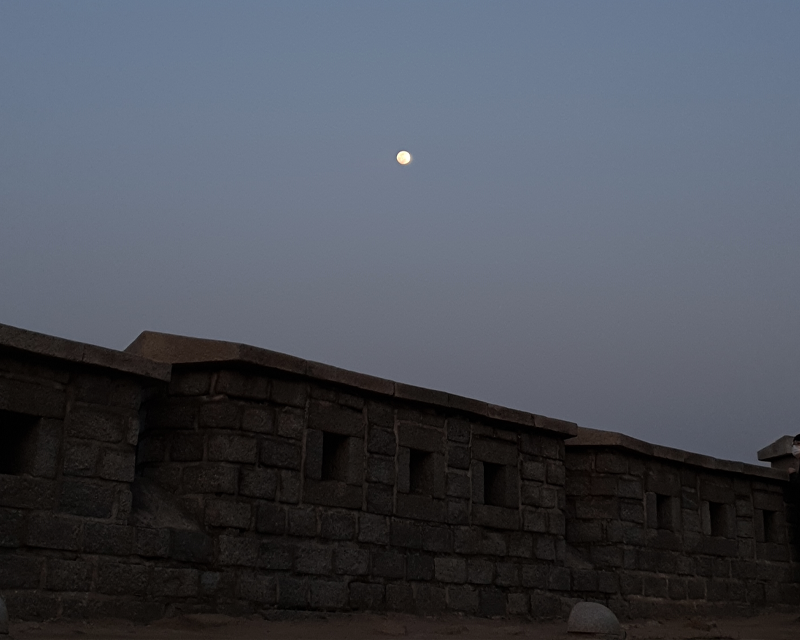 After dinner, take a stroll along the Fortress Wall of Seoul and soak in the view with your significant other!
---
Songridan-gil Date


Mid-Range

Overview of cost:
Godosik (36,000 won)
+ Peach Gray (18,300 won)
= 54,300 won

1. Godosik (고도식)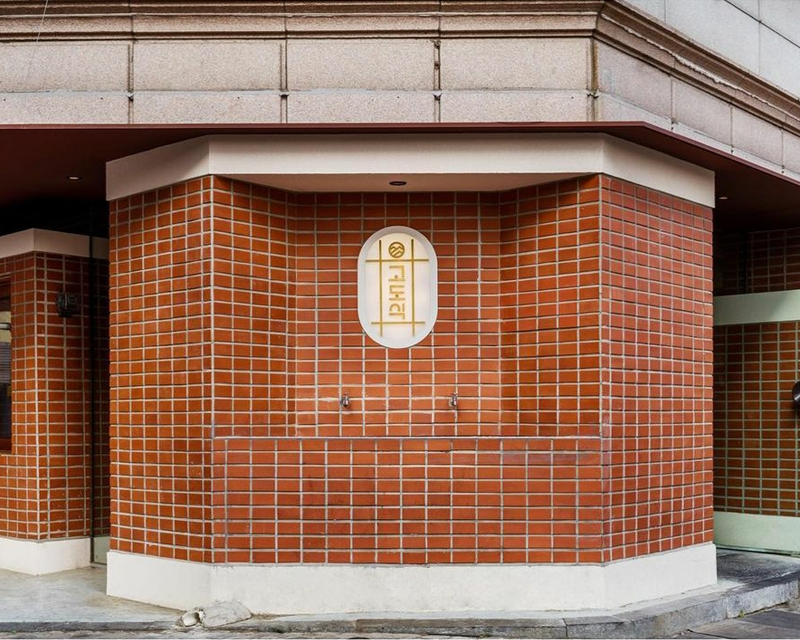 Source: Instagram godosik92
Address: 서울특별시 송파구 송파1동 55-7
Hours: 17:00-12:00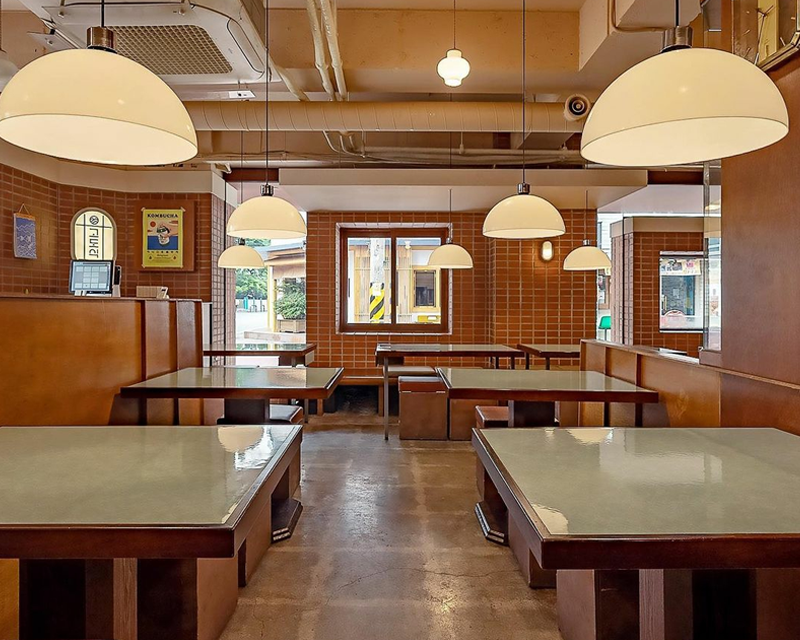 Source: Instagram godosik92
There are many restaurants on Songridan-gil in Jamsil. Among them, we recommend the hottest meat restaurant called Godosik (고도식).
Godosik is a very special restaurant because they only select and sell high-quality pigs raised in high-altitude mountainous areas in Jeju Island.
Unlike typical meat restaurants, Godosik seems to be more popular because of its beautiful interior.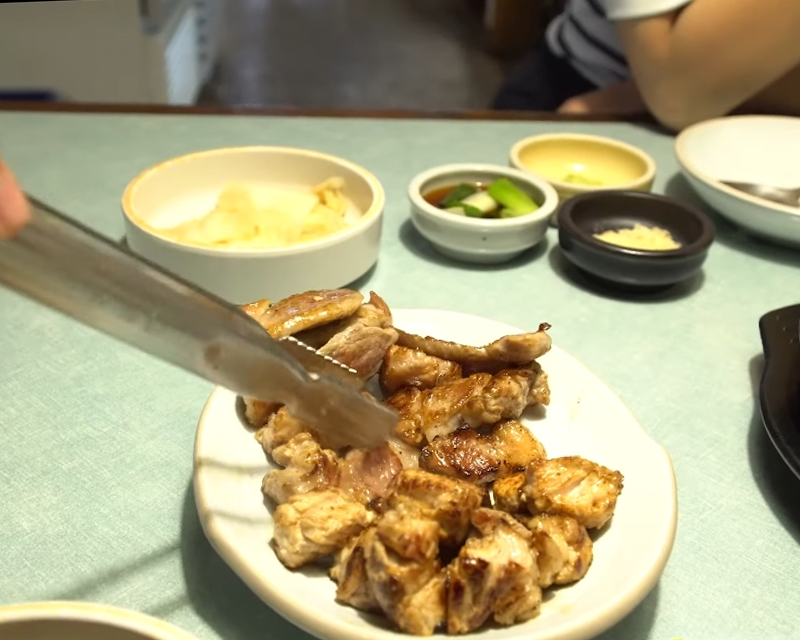 Source: YouTube channel MeatCreator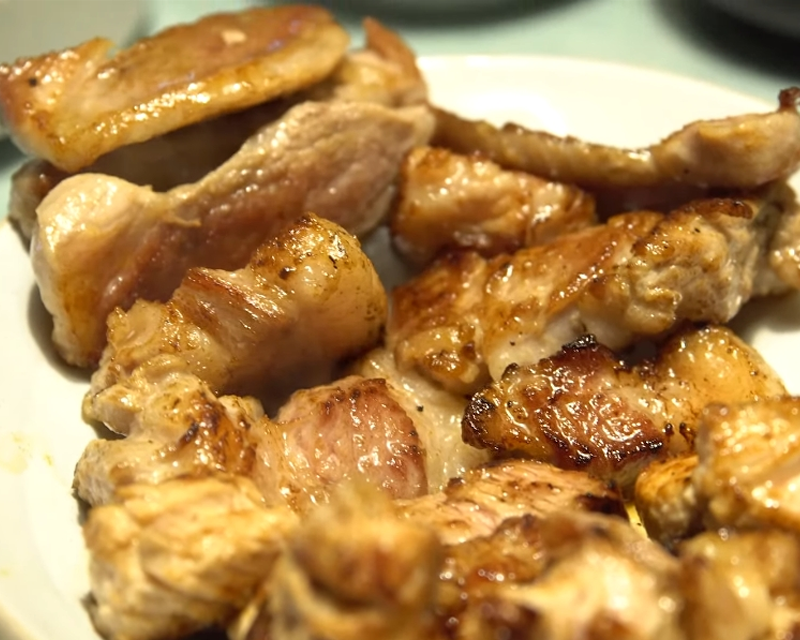 Source: YouTube channel MeatCreator
Godosik Sirloin 2 servings + Soybean Paste Stew (된장찌개)
36,000 won
The signature dish of Godosik (고도식) is sirloin, it is very unique and can't be found at any other restaurant. A staff member explains how to eat it deliciously while grilling.
The meal is perfectly portioned for two people to enjoy!

2. Seokchon Lake (석촌 호수)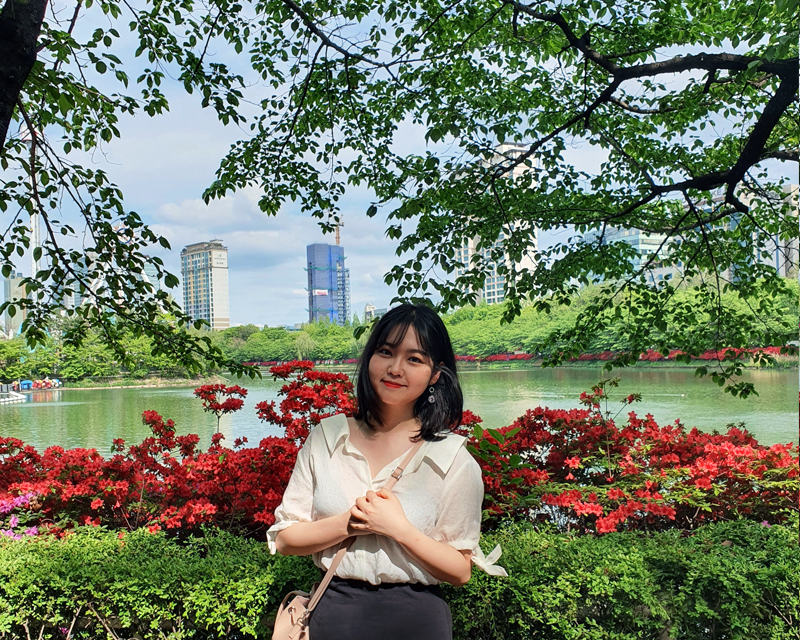 Address: 서울특별시 송파구 잠실동 47
Seokchon Lake is a large lake near Jamsil Station with a total circumference of 2.5 km.
There are trails you can enjoy around the lake and it's also a very famous spot during cherry blossom season!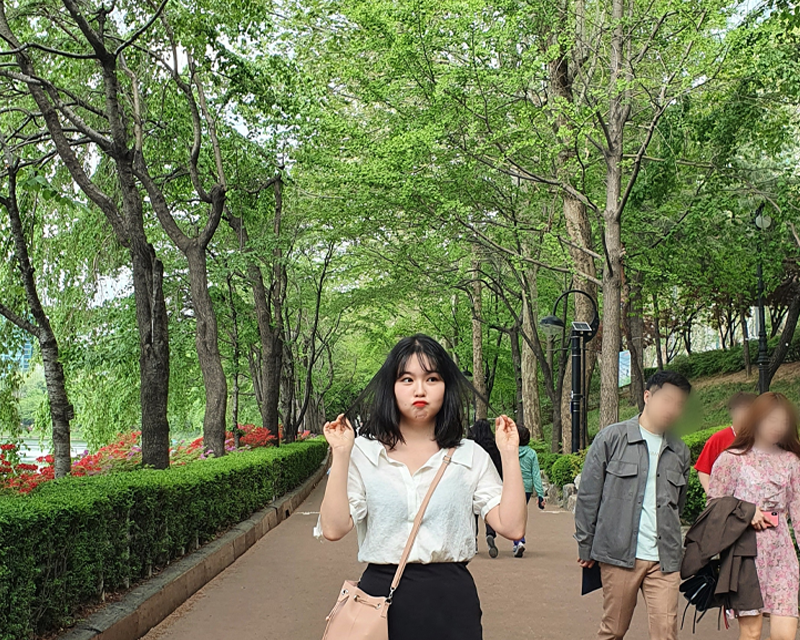 But even when without cherry blossoms blooms, it's a beautiful place. It's a popular area that attracts many tourists and local residents for dates.
How about a romantic stroll around Seokchon Lake surrounded by beautiful nature?

3. Cafe Peach Gray (카페 피치 그레이)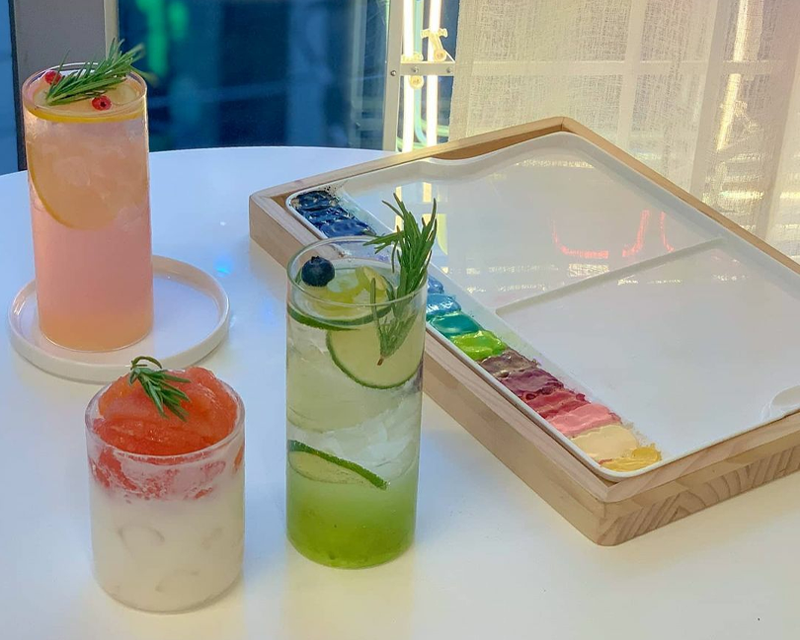 Source: Instagram peach_gray
Address: 서울특별시 송파구 송파동 94, 1층
Hours: 11:00-21:00
The final stop is Cafe Peach Gray.
It is a famous drawing cafe where you can watercolor while having a drink.
There are several drawing cafes around Seoul, but this place is popular because you can watercolor without any additional fees!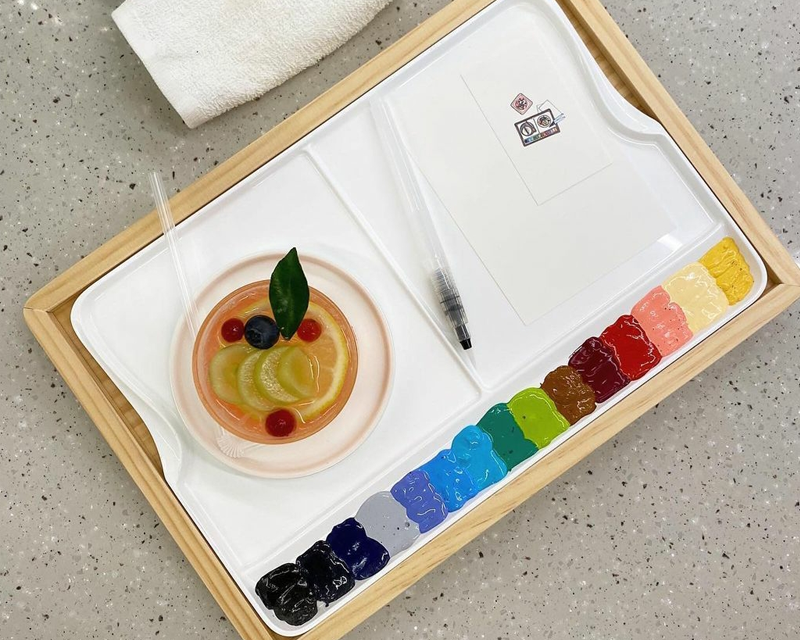 Source: Instagram peach_gray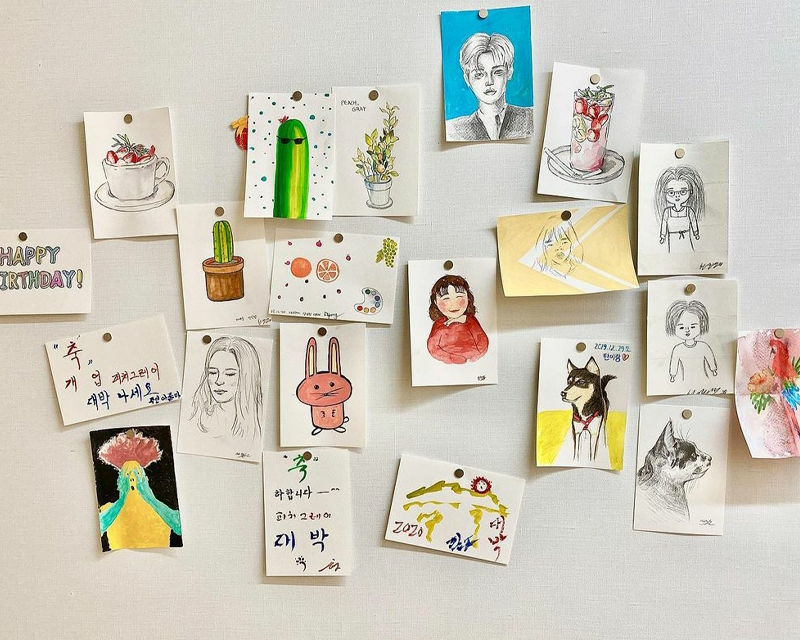 Source: Instagram peach_gray
Peach Vienna 5,800 won
Gray Coco 5,500 won
Pancake 7,000 won
If you order a drink, it is served on a watercolor palette. You can use the palette to paint whatever you'd like!
Even if painting isn't your forte don't worry! There are many coloring books around the cafe so even beginners can enjoy a relaxing time.
How about wrapping up the date by painting each other, or Seokchon Lake to cherish the beautiful memories?
---
Seochon-Bukchon Date


Expensive

Overview of cost:
Gochibi (43,000 won)
+ Bukchon Photo Studio (40,000 won)
+ Sull.a (16,800 won)
= 99,800 won

1. Gochibi (고치비)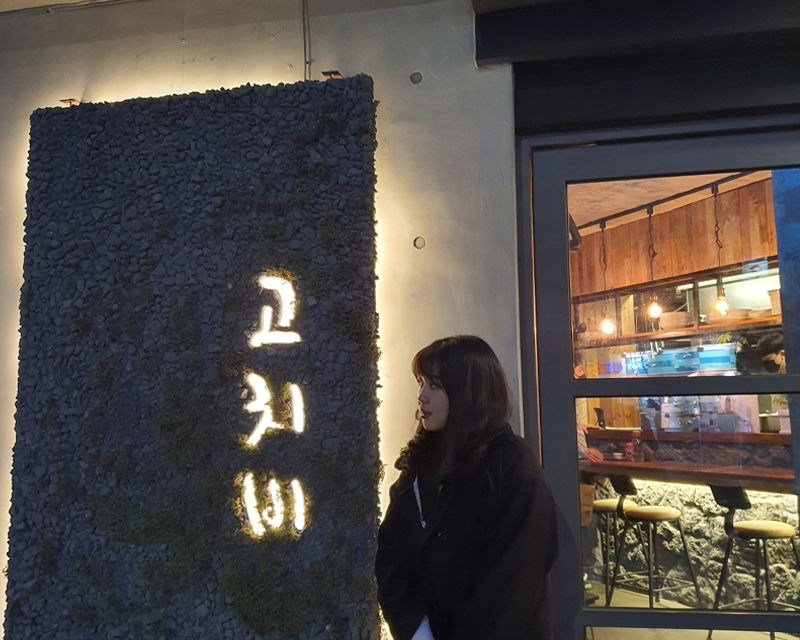 Address: 서울특별시 종로구 누하동 필운대로 38
Hours:
Tue-Sun: 11:30-21:00
Break Time: 15:00-17:00
This restaurant is a fine dining experience. It is a fusion Italian restaurant that reinterprets local food and ingredients of the beautiful Jeju Island.
It's a great place to enjoy Jeju Island flavors in Seoul!
Of course, the atmosphere of the restaurant is also very special.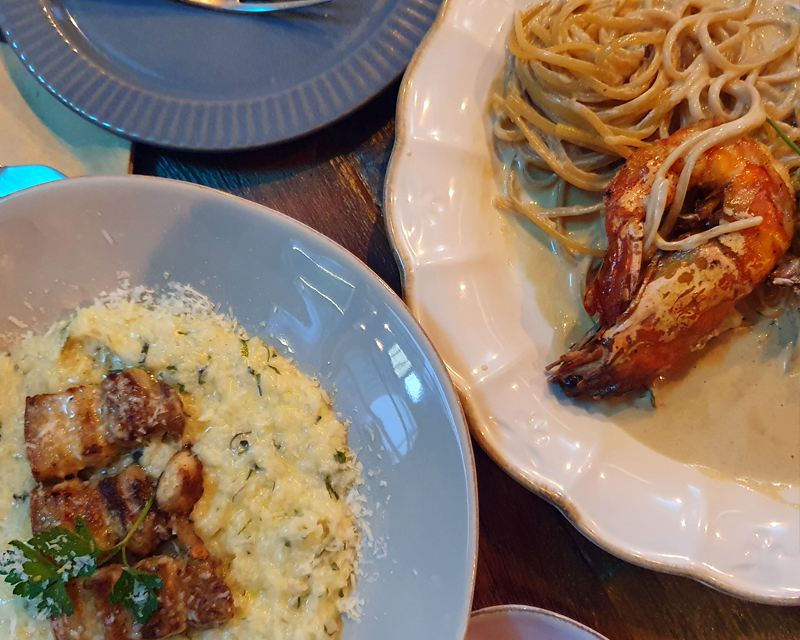 Gochibi Risotto 19,000 won
Shrimp Bisque Rose Pasta 24,000 won
On the left is Gochibi Risotto, which is a reinterpretation of Jeju Island's traditional foods gulfweed soup (momguk) and black pork.
While on the right is a Shrimp Bisque Rose Pasta with shrimp and black tiger prawns from Jeju Island.
Both dishes seemed more like Korean food than traditional Italian so it was very unique.
There are many other dishes where you can taste the freshness of Jeju Island so we highly recommend giving it a try!

2. Bukchon Self-Studio
(북촌 사진관)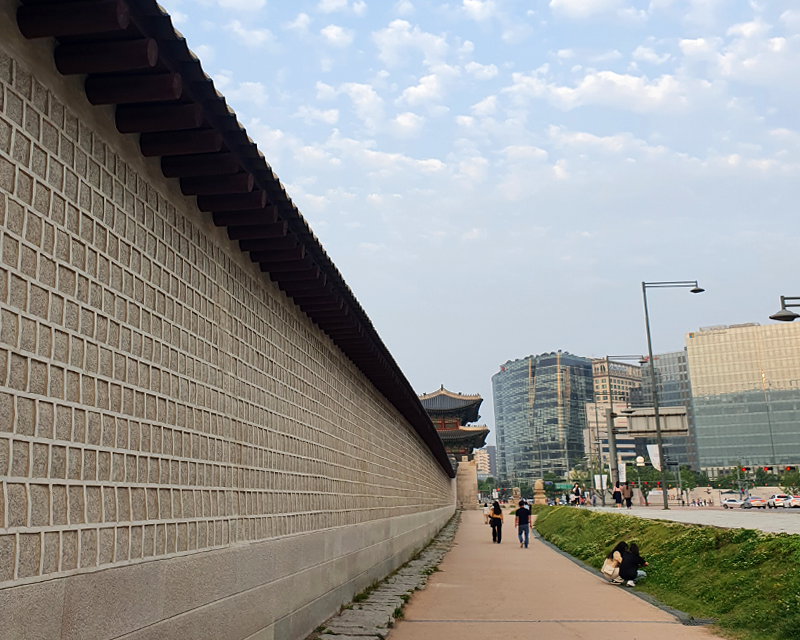 After having a satisfying meal at Gochibi, shall we take a walk to Bukchon via paths that follow along Gyeongbokgung Palace?
If you walk along these stone walls, you'll find the beautiful alley of Bukchon where you can find Bukchon Photo Studio!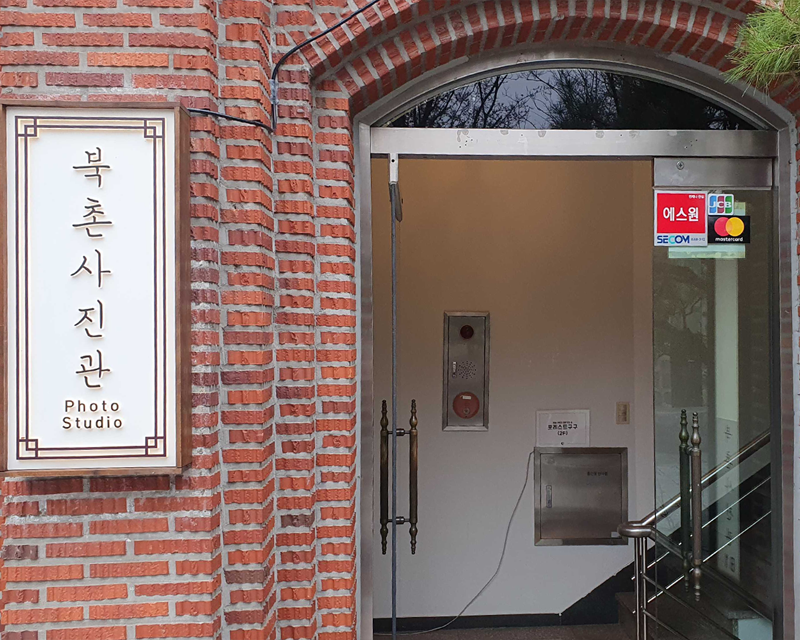 Address: 서울특별시 종로구 삼청동 북촌로5나길 1919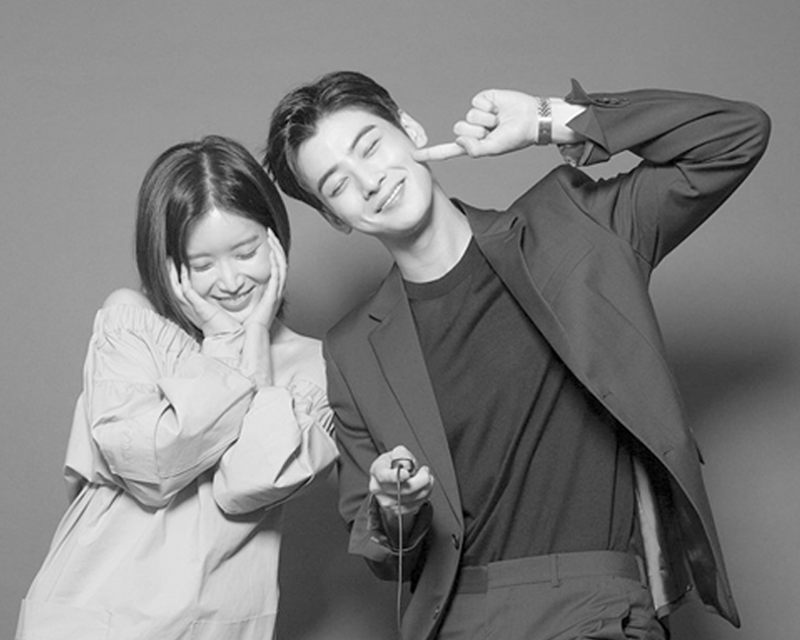 Source: Instagram Photomatic
Price: 40,000 won
Taking photos at a self-studio is not just for Korean celebrities, but also young trendy individuals!
Capture some beautiful memories at Bukchon Photo Studio! It's the perfect place to take your date and celebrate an anniversary together.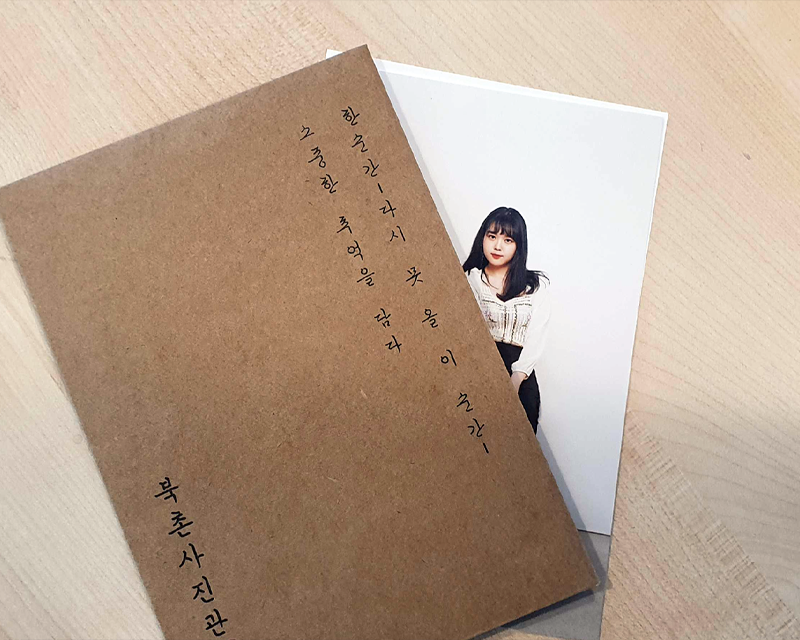 If you're curious about self-studio culture and our personal experience, you can read more about it here!

3. Sull.a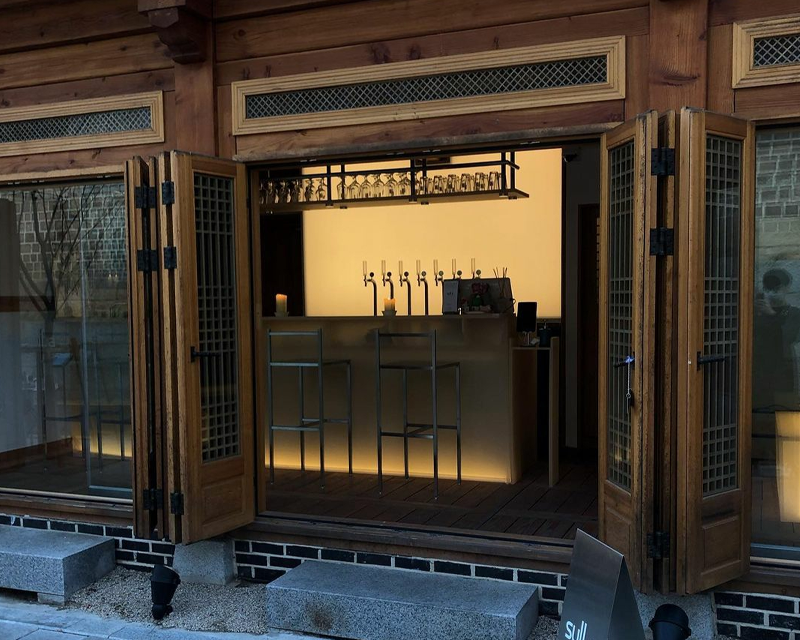 Source: Instagram craftsulla
Address: 서울특별시 종로구 봉익동 서순라길 57
Hours:
Mon: Closed
Tue-Fri: 17:00-22:00
Sat-Sun: 15:00-22:00
This Hanok-style craft beer pub is located on the beautiful road of Jongmyo.
Jongmyo is a popular area amongst the younger Koreans, so it is a perfect place to bring your date!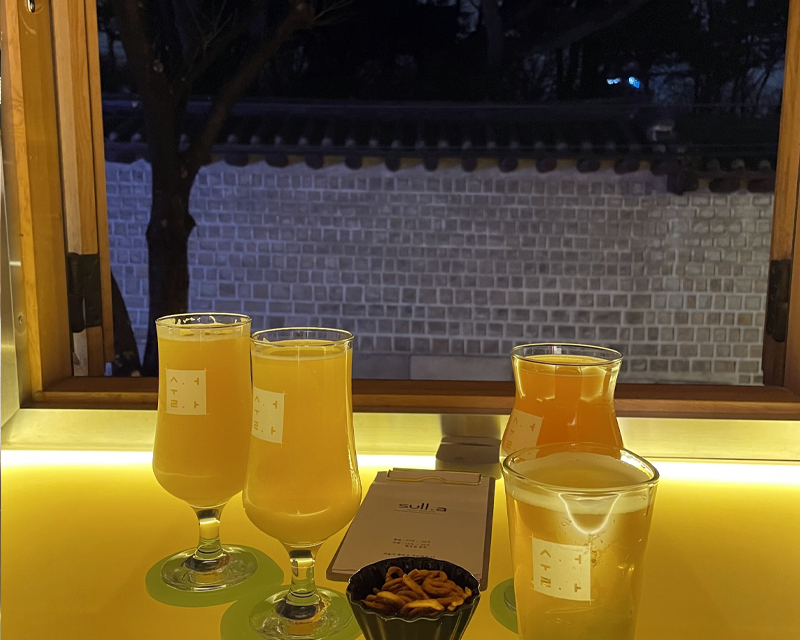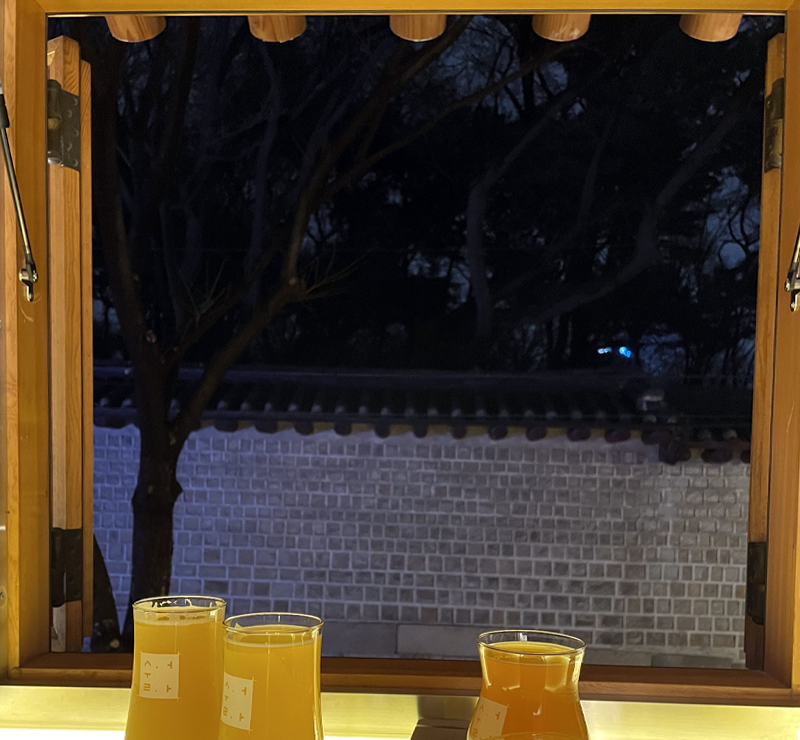 Rose (요새 로제) 8,500 won
First Love's Fragrance (첫사랑의 향기) 8,300 won
Pick two of the most popular craft beers at Sull.a and grab a seat! You can chat away while looking over the beautiful traditional stone wall.
You really feel surrounded by Korean tradition and there is a certain romantic vibe because of the interior of the building.
Wrap up the date with a beautiful view and a glass of refreshing beer.
Overall this course is perfect if you are looking for a date that combines the traditional culture and modernized trends of Korea!
---
Hongdae Date


Splurge

Overview of costs:
Hongdae Ring University (~100,000 won)
+ Gyeongui Line Book Street (~50,000 won)
+ Sanwoolim 1992 (~50,000 won)
= ~200,000 won

1. Hongdae Ring University
(홍대 반지대학)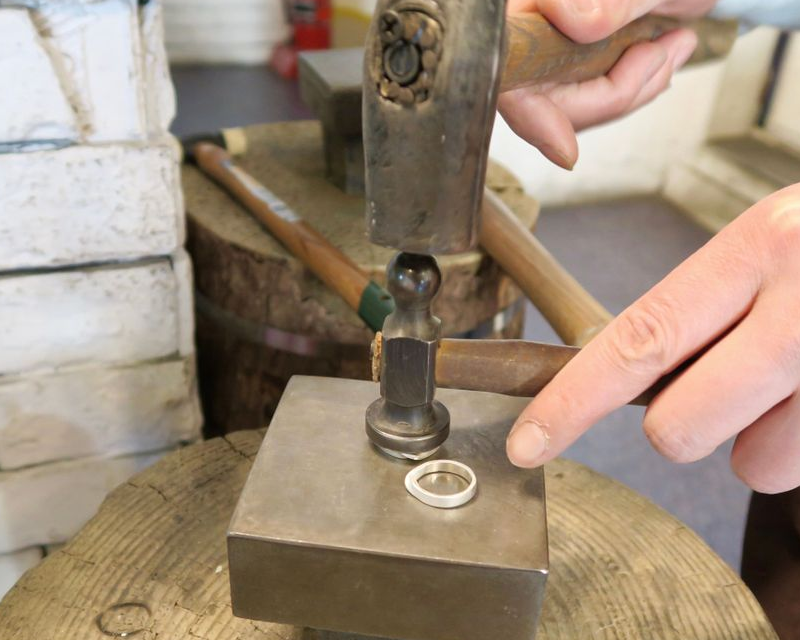 Address: 서울특별시 마포구 서교동 잔다리로 7 4층
Hours: 10:30-21:00
Ring University (also known) in Hongdae is Seoul's famous DIY ring workshop! Here, you can make your own set of couple rings.
This is a popular spot and activity for couples.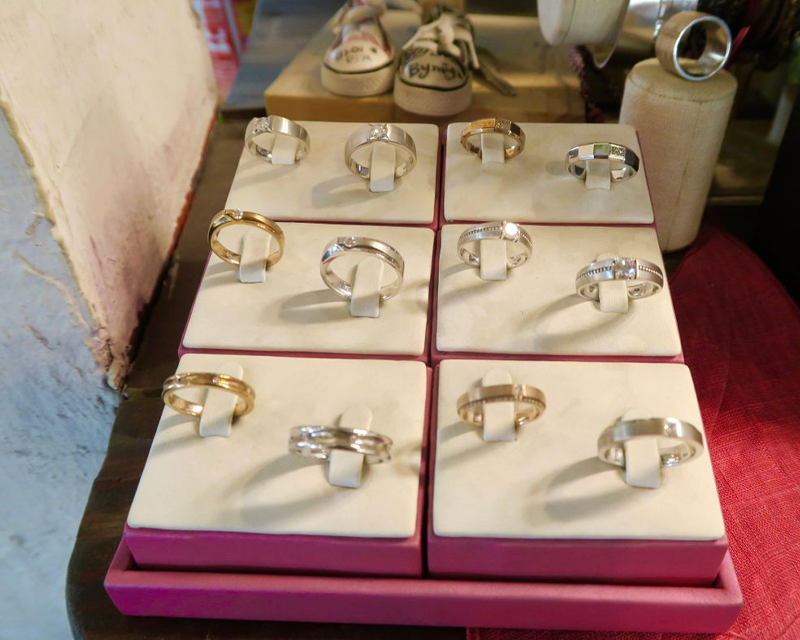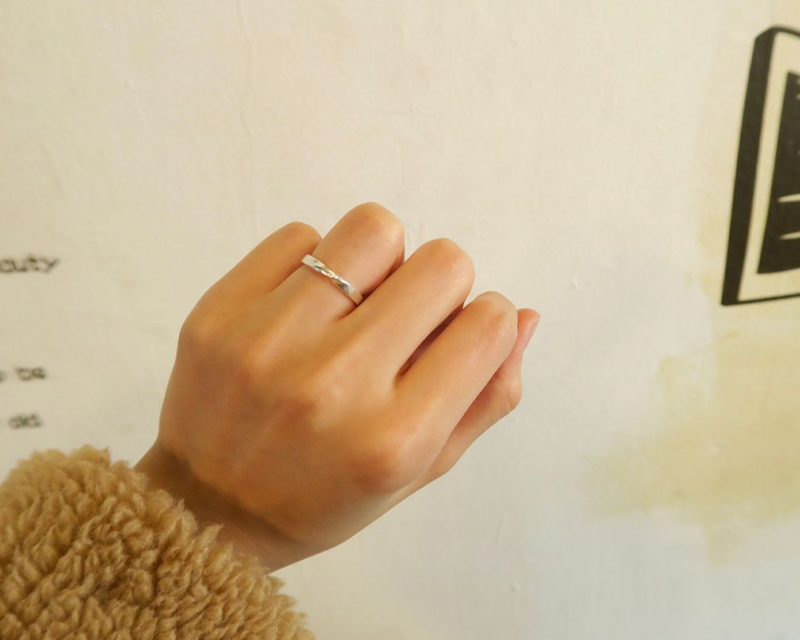 Couple Ring: Approx. 100,000 won
After selecting a ring size and design, the staff will guide you through a very easy one-of-a-kind ring-making process with your partner!
The prices vary slightly depending on your choice of design, but it is roughly around 100,000 won for two people. If you would like to know more about the Hongdae Ring University, click here to read more!

2. Gyeongui Line Book Street
(경의선 책거리)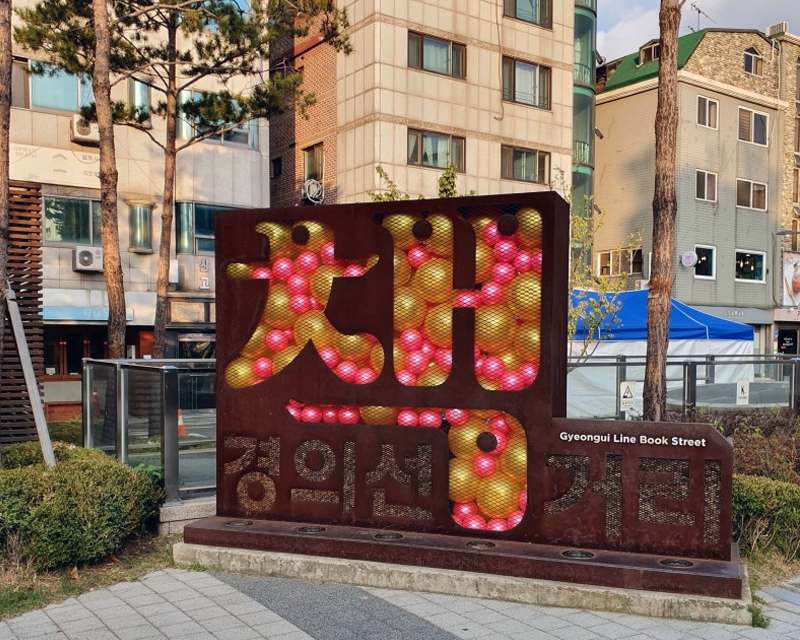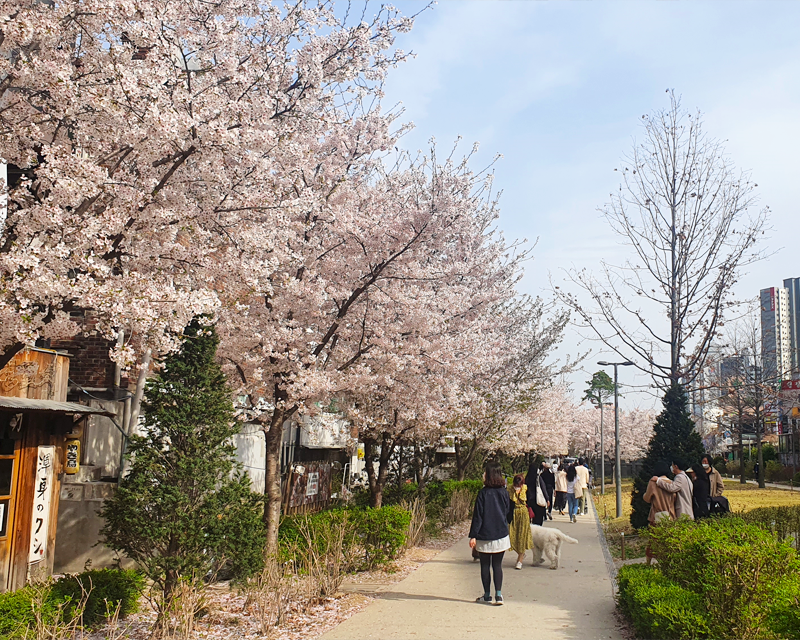 Shall we wear our pretty rings with our partners and head toward Hongik University Station Exit 6?
This is the Gyeongui Line Book Street, which is pretty detached from the busy crowds of the main street area of Hongdae.
There are many restaurants and cafes on both sides of the streets. There are also many unique and small stationery shops! We are going to introduce two of our favorites.

Object
(오브젝트)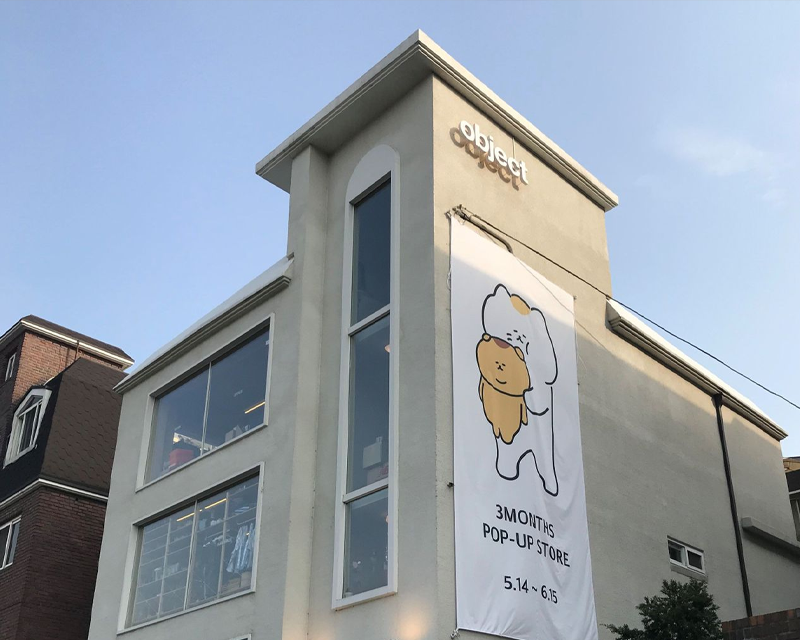 Address: 서울특별시 마포구 서교동 326-2
Hours: 12:00-21:00
Object is a small stationery store that sells a variety of products in small quantities made by young Korean and foreign designers.
It's a trendy place where you can see what kind of designs are currently popular in Korea!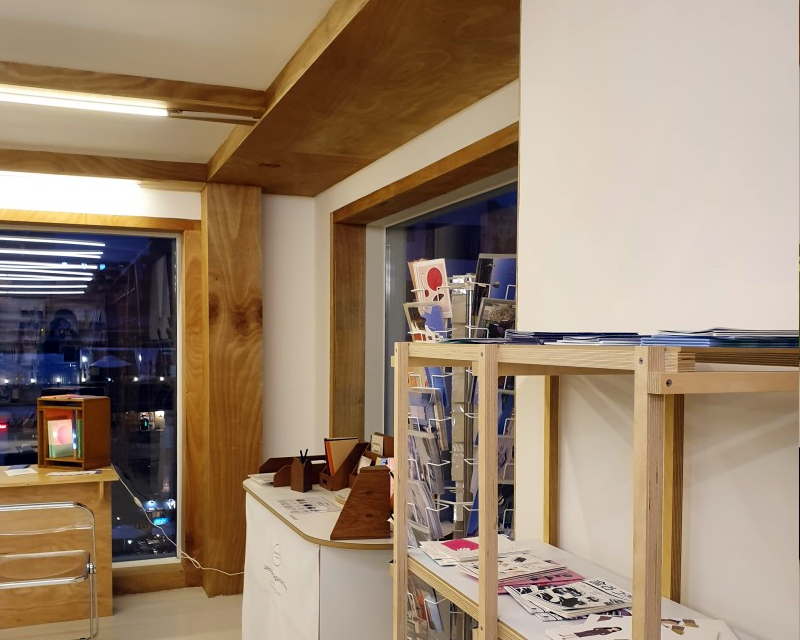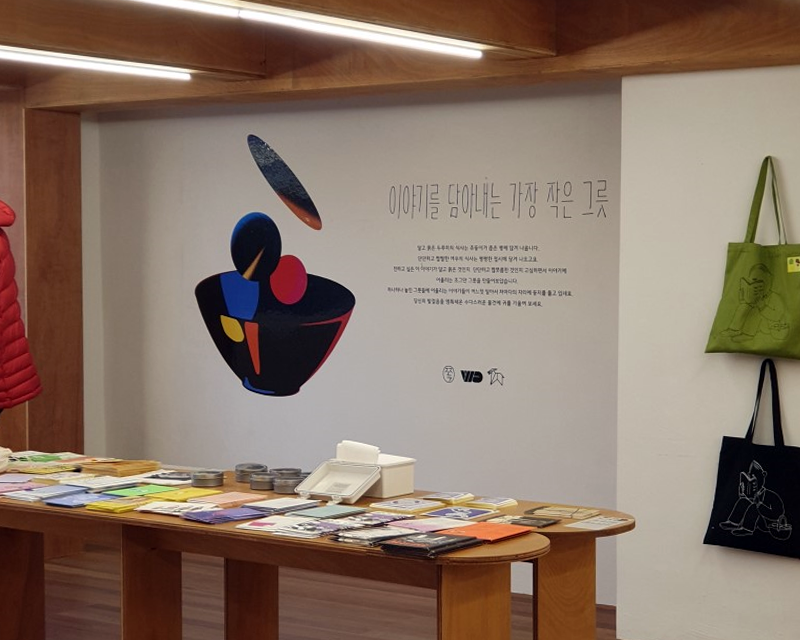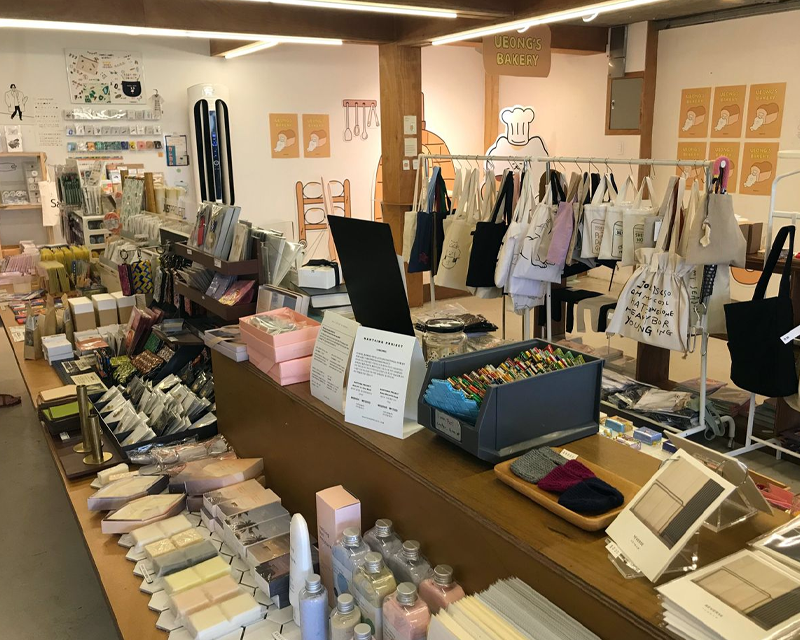 You can find all kinds of products here from books, tote bags, stickers, notepad, pencil cases, phone cases, and more!
In addition, the store is very spacious and nicely decorated so you can spend hours just looking around.
If you want to read more about our experience, you can find our blog here!

Pollalla Store
(뽈랄라 수집관)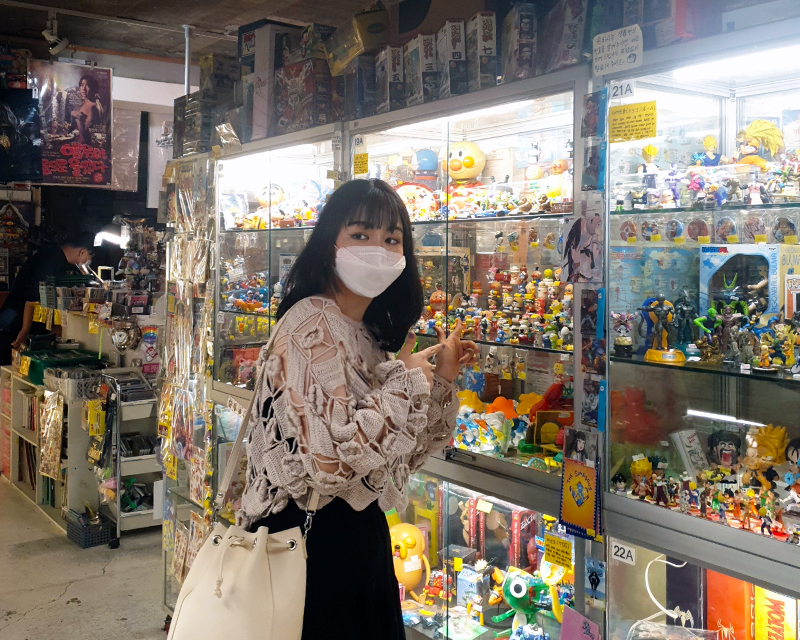 Address: 서울특별시 마포구 서교동 335번지 4 102호
Hours:
Thu-Sun: 12:00-20:00
Polllallla Store is the complete opposite from the stationary store we previously introduced. It's full of vintage collectibles that reflect Korean culture from the 70s to 90s.
There is a wide variety of anime figures that were popular during the time, goods of older Korean celebrities, and comic books!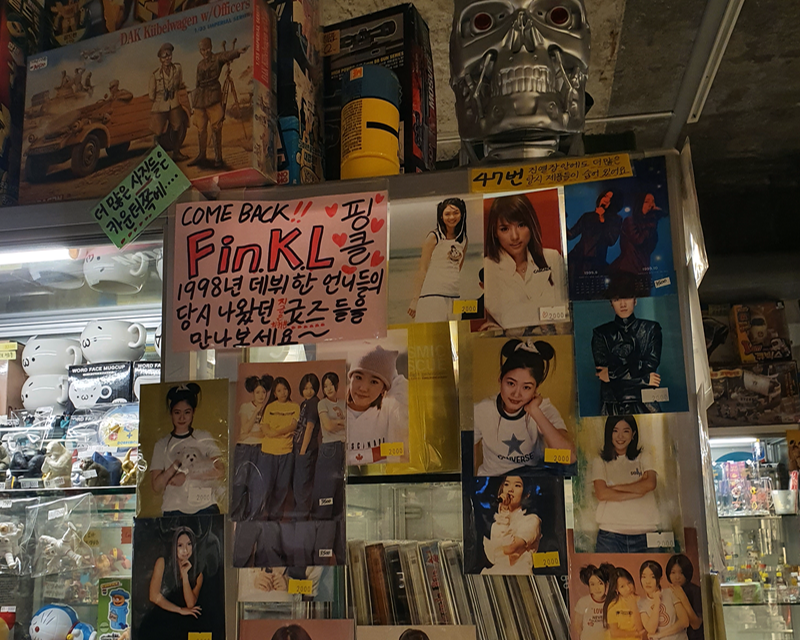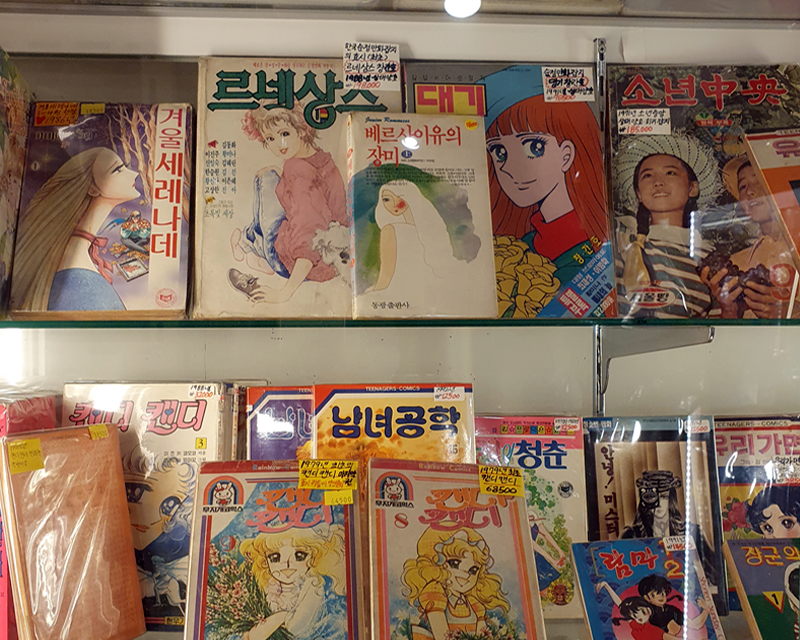 There are also a lot of old products that are rare and are hard to find these days.
You'll find Coca-Cola bottles, drinking glasses, and even arcade consoles that were popular 20-30 years ago.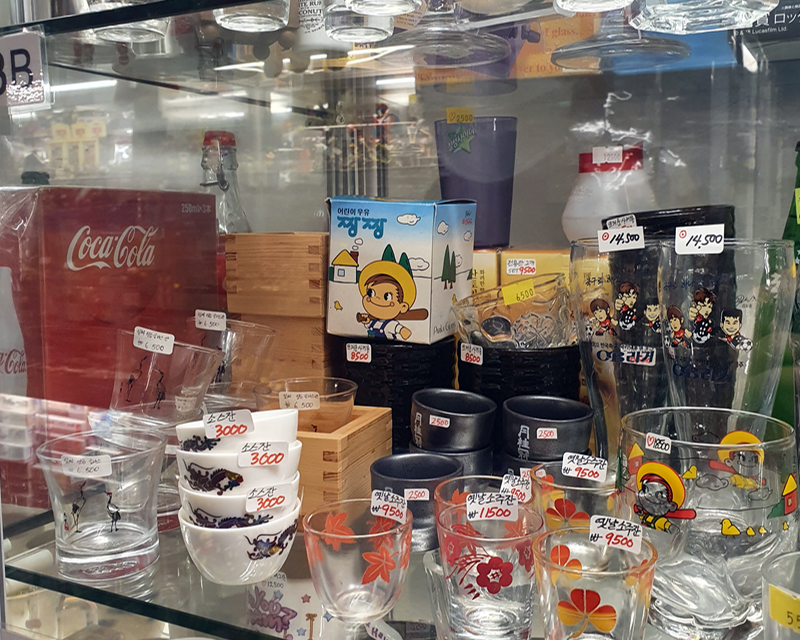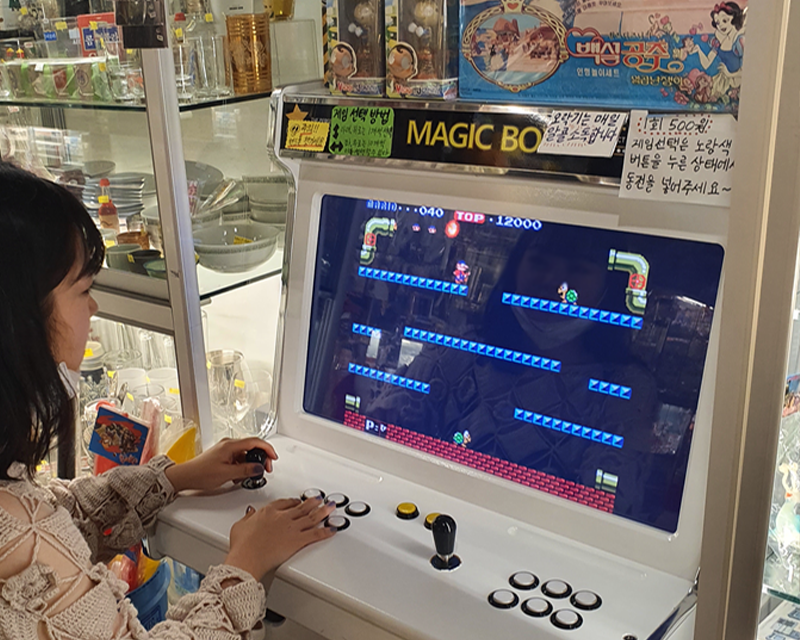 If you're curious about Korean culture during the 70s to 90s, or if you're into old collectibles, we highly recommend this place.
It can be a fun and special place to bring your date!
Since most of the items can only be found here, if you are looking for something to add to your collection, you should definitely look here!
Take a stroll around the beautiful Gyeongui Line Forest Park and gift one another something special from the shops!

3. Sanwoolim 1992
(산울림 1992)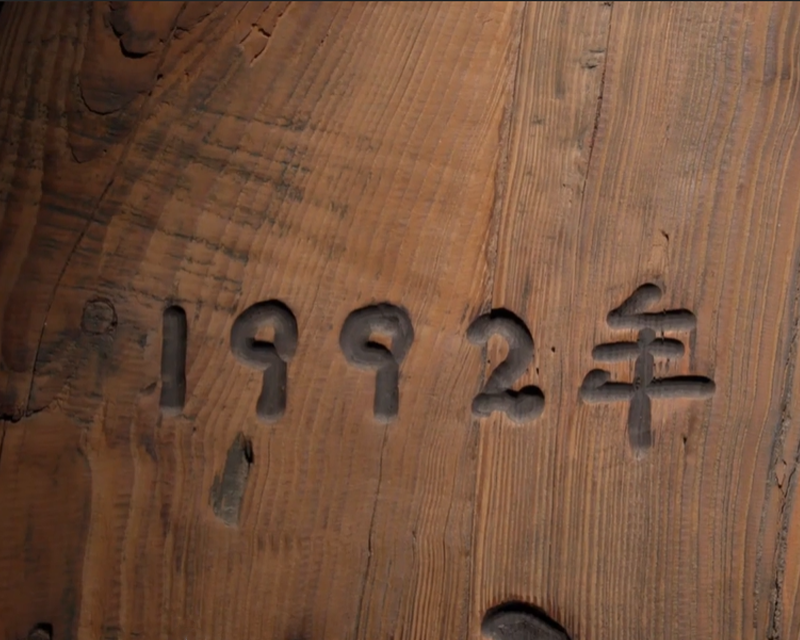 Source: YouTube channel 사다리 필름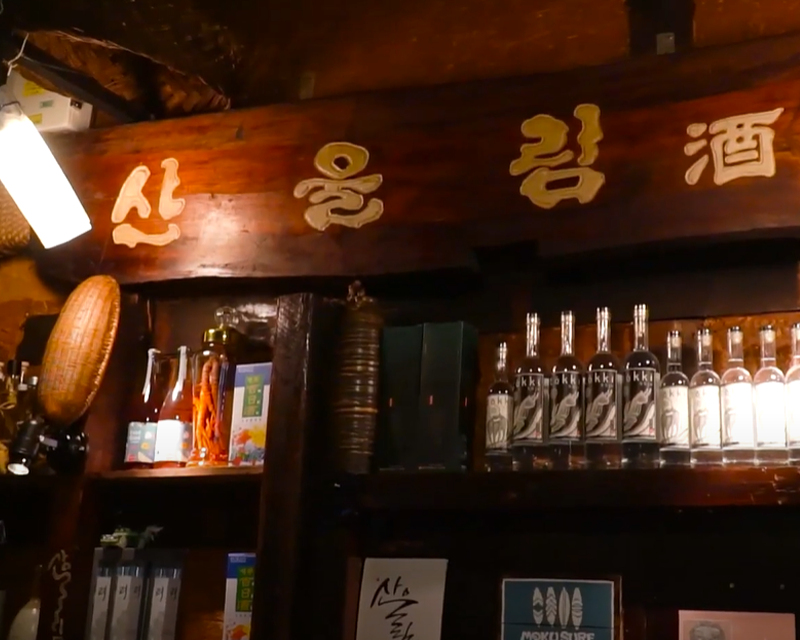 Source: YouTube channel 국내여행 베스트
Address: 서울특별시 마포구 창천동 서강로9길 60
Hours:
Mon-Sat: 17:00-01:30
Sun: 15:00-24:00
The final stop is Sanwoolim 1992 (산울림 1992).
It is a famous bar in Hongdae. A highly loved restaurant because it only sells Korean traditional spirits and makgeolli (rice wine).
Apparently there are over 165 kinds of Korean alcoholic beverages including makgeolli, soju, and beer.
Not only is it popular among Koreans, but foreign tourists in search of authentic Korean food and drinks enjoy this restaurant.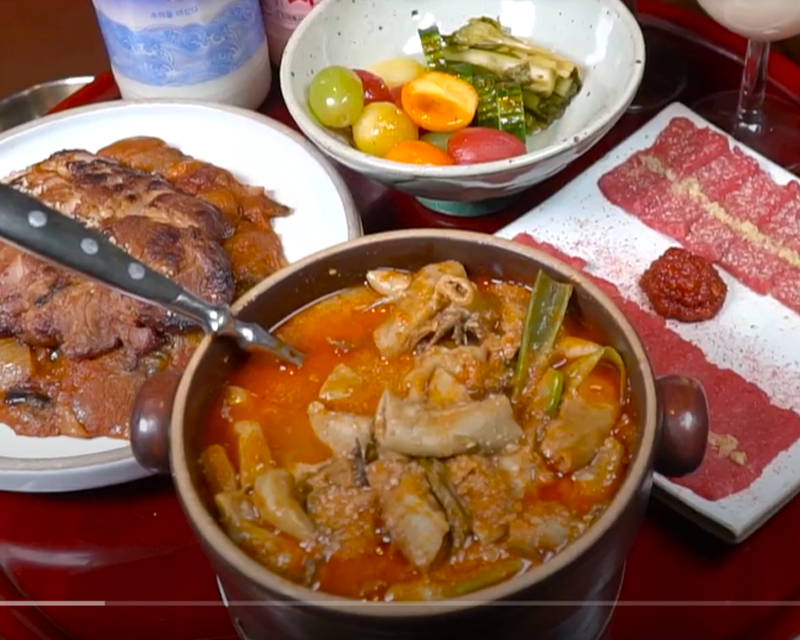 Source: YouTube channel 국내여행 베스트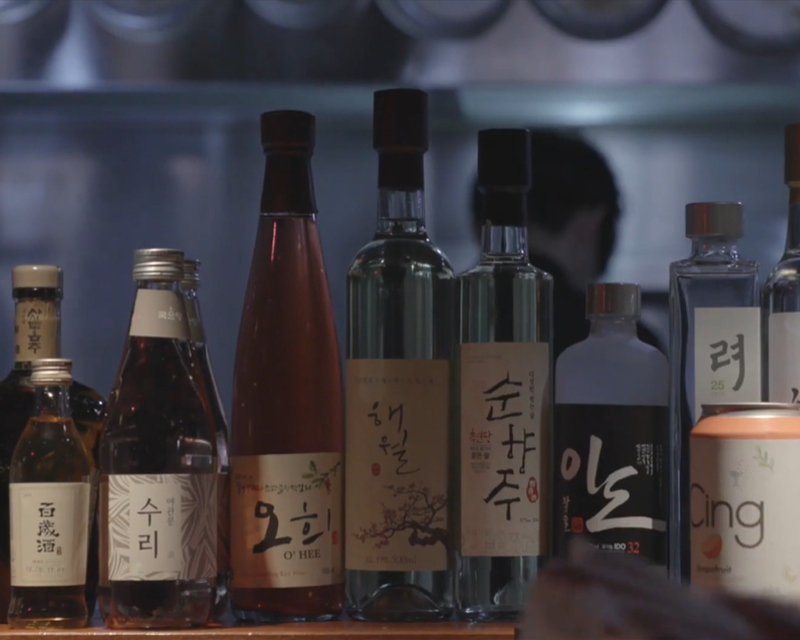 Source: YouTube channel 사다리 필름
Couple Set (커플 반상)
36,000 won
There are lots of Korean food that you can eat with alcohol. Among them is a set course called "Bansang menu" (반상 메뉴).
Bansang (반상) refers to a Korean-style table set with 3-5 side dishes served with rice.
There are so many options but since we visited as a date, we ordered the Couple Set (커플 반상). This set includes cheese potato pancake (감자전), spicy octopus (매운 쭈꾸미), pastry dumplings (패스트리 만두), and pickles.
Make it a memorable night by enjoying some Korean traditional liquor and food with your partner!
---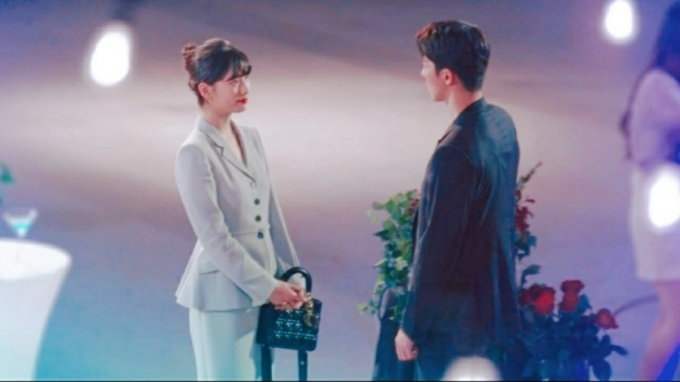 Today, we looked at a total of 5 date ideas in Seoul which range from 10,000 won to 200,000 won. While composing this blog, we were reminded that Seoul is full of amazing food and fun date ideas.
These date ideas were carefully selected from our personal experiences and recommendations from our peers so add them to your list the next time you visit Seoul!
Which place are you most excited to visit with your significant other? Let us know in the comments below.
We'll be back with more fun and informative content for you next time, thank you for reading!
---