7 Whimsical Cherry Blossom Places In Daegu
From a lake park to amusement park, we list the best places in Daegu to enjoy the perfect pink hues of cherry blossoms in spring!
When we went on a food trip to Daegu to explore all the deliciousness the city has to offer last fall, a local taxi driver had mentioned to us very proudly that Daegu offers the best cherry blossom sceneries in the country.
With spring just around the corner and the beautiful seasonal colours blooming and brightening up the streets, we knew we had to head over to the city again.
In this blog, we list 7 stunning cherry blossom spots that we visited in Daegu. Be sure to add these to your list if you're planning a spring trip to Daegu in the future!
---
Ayang Bridge
아양교
Public Transit: Dongchon Station Exit 2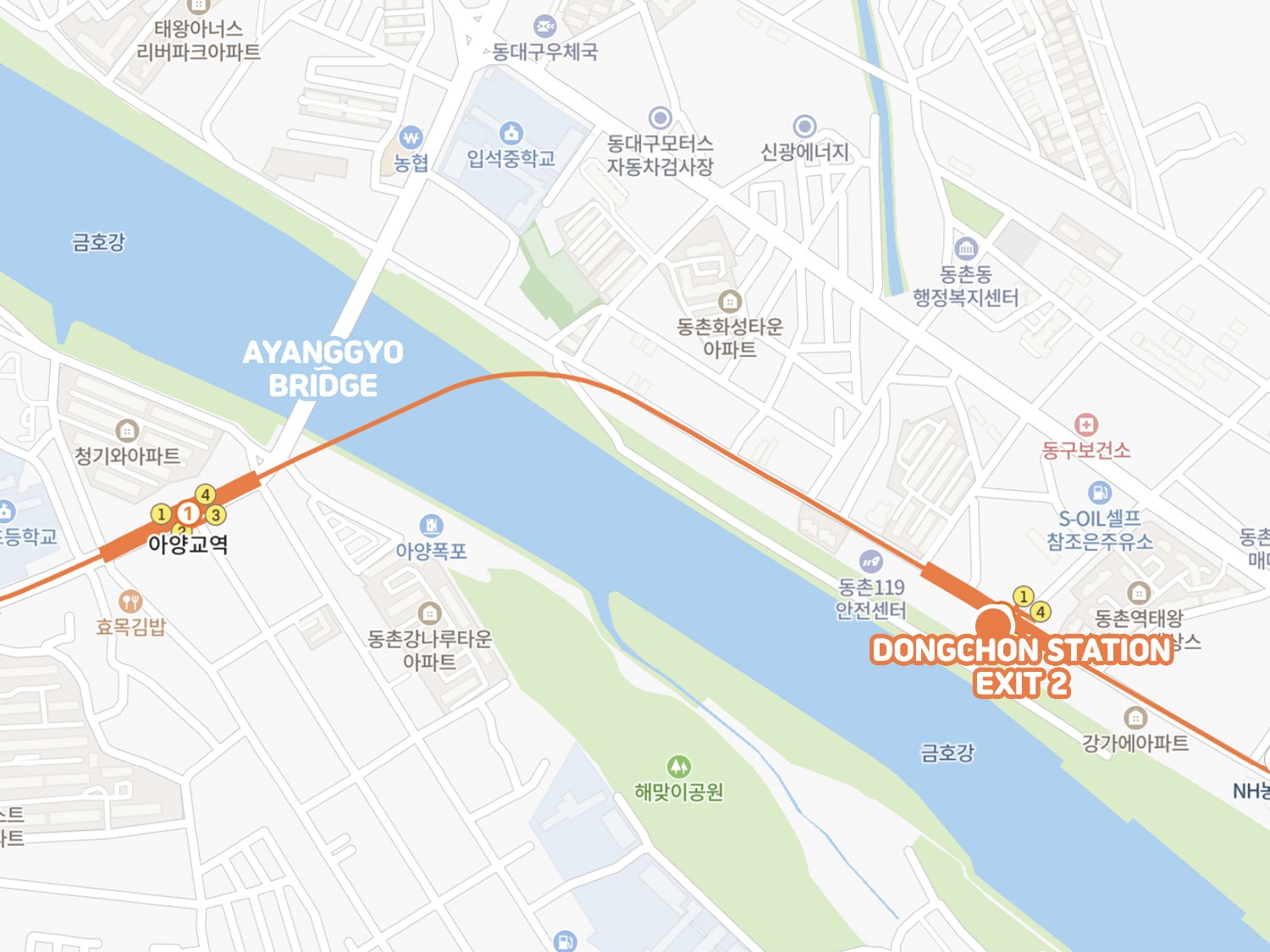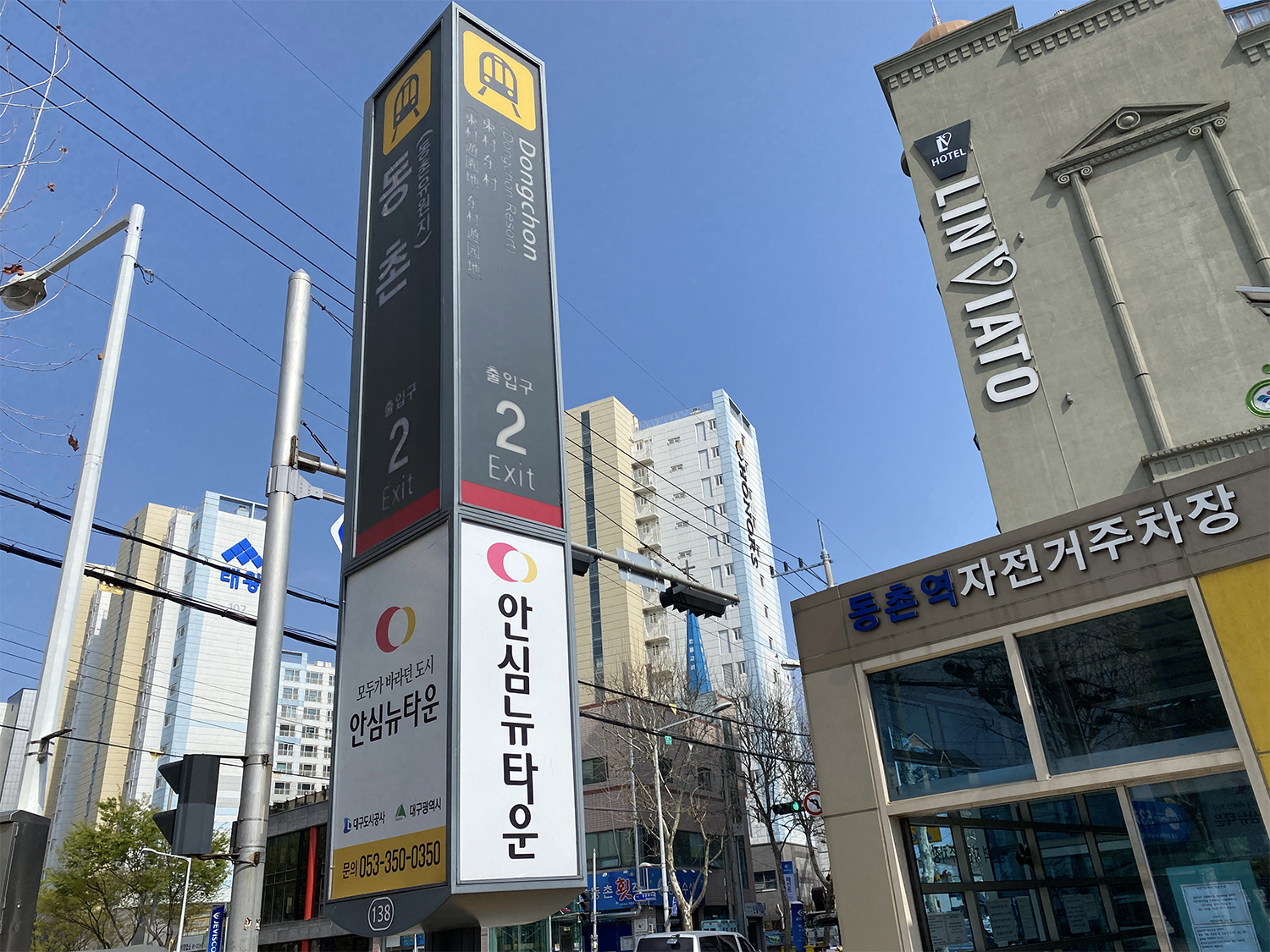 You can get off at Ayanggyo Station too, but getting off at Dongchon Station gets you started on the cherry blossom trail that extends all the way to the bridge!
If you travel to Daegu by KTX and get off at Dongdaegu Station, this is a great place to start your cherry blossom journey as it's only 3 subway stops away.
Unfortunately when we visited, the cherry blossoms had mostly fallen off and some of them were already turning green.
But if you visit when they're in full bloom, every corner of the trail is Insta-worthy!
This is the cherry blossom trail that reaches all the way to the bridge.
We could definitely get a glimpse of spring at Ayang Bridge. If you're looking for a nice, breezy walk surrounded by cherry blossoms and water, this is it!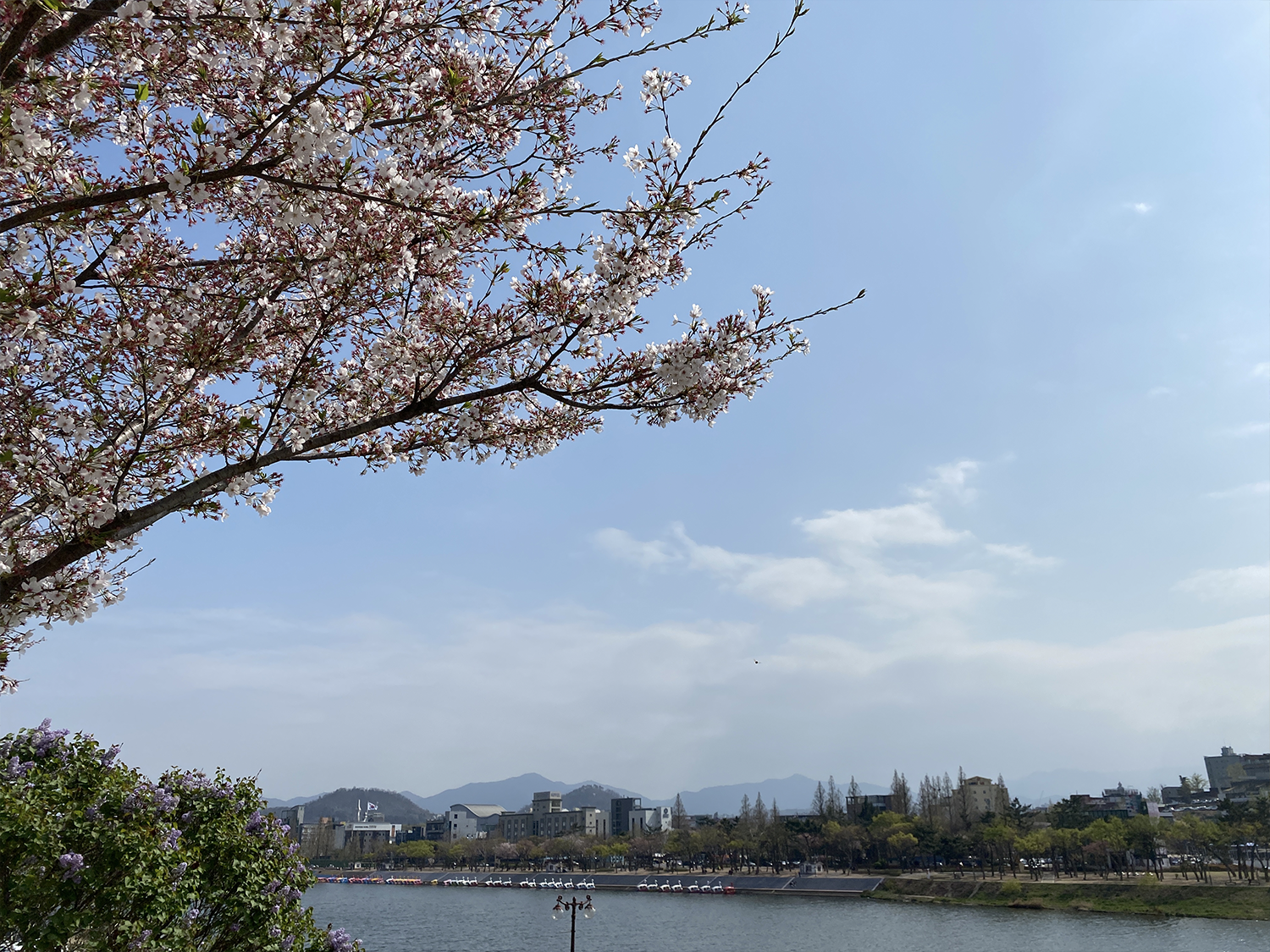 ---
Kyungpook National University
경북대학교
Address:
대구 북구 대학로 80
80 Daehak-ro, Buk-gu, Daegu
Public Transit:
Take bus #937 from Dongdaegu Station → After 6 stops, get off at Gyeongdae Apartment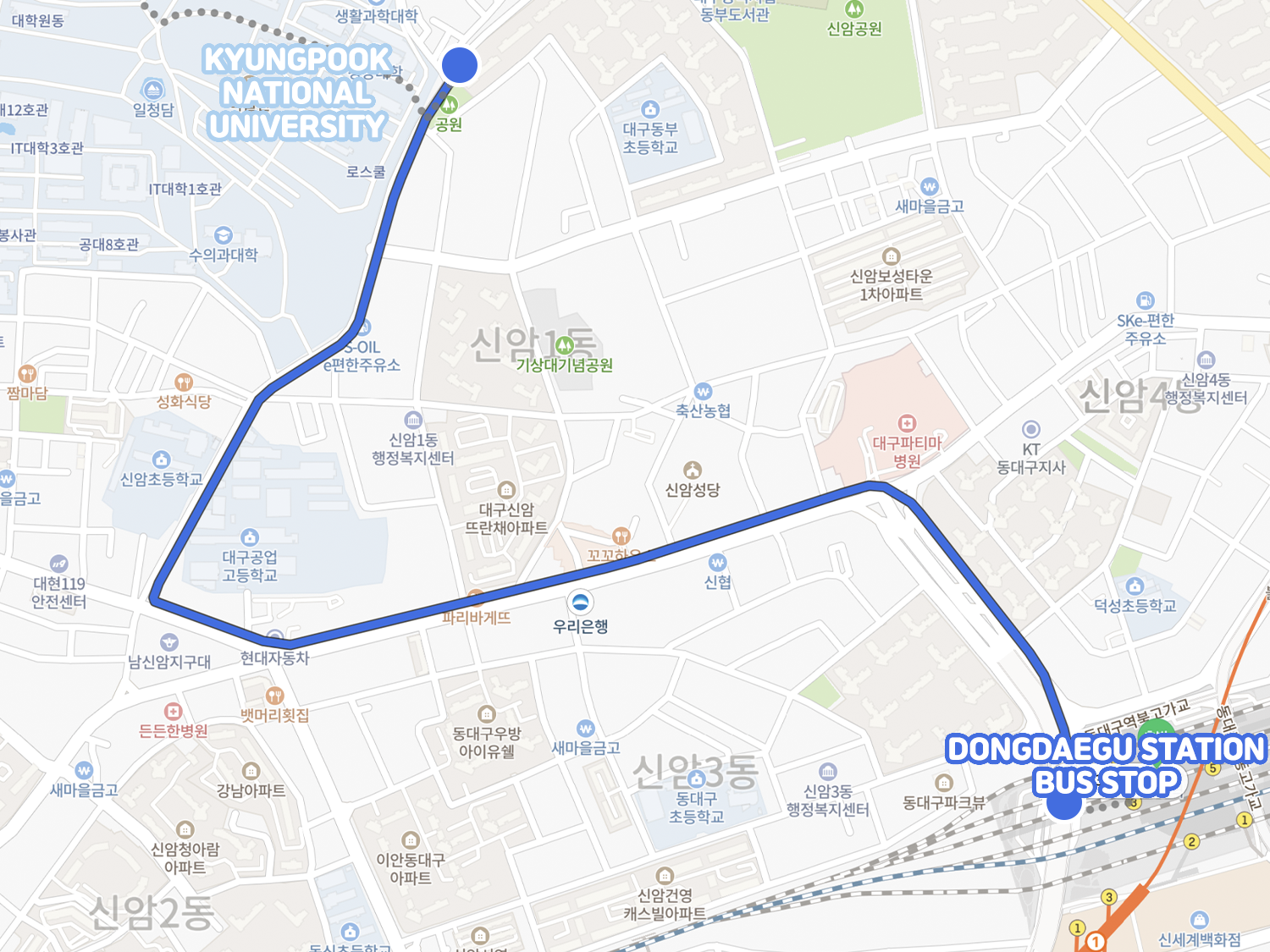 Kyungpook National University is known for having the second-largest collection of books in its libraries after Seoul National University!
Among locals, the campus is known for its mesmerizing landscape and of course, cherry blossoms, which makes it perfect for a romantic tour.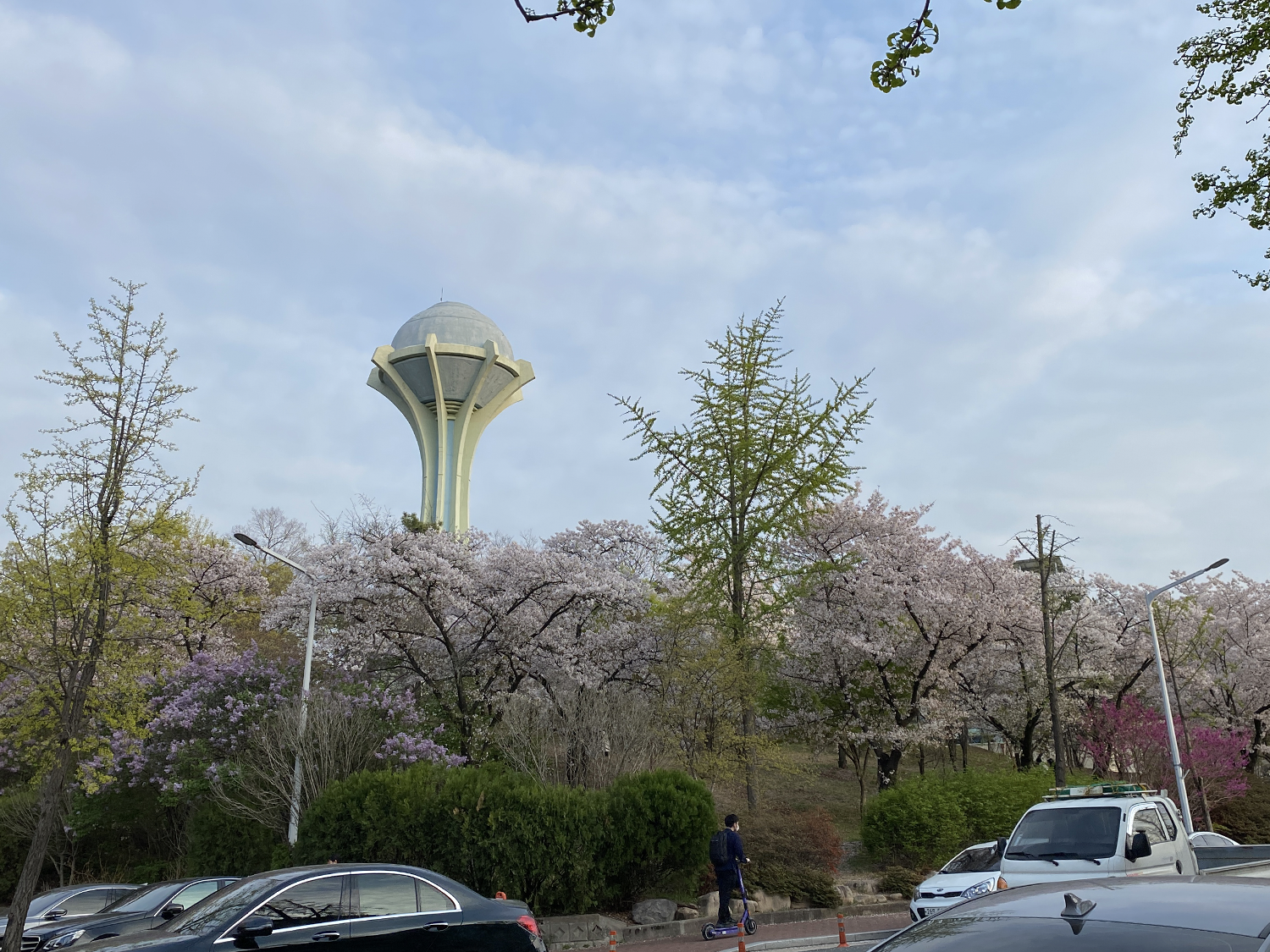 We entered through Gate 01 where the Global Plaza building is located and you'll see an area occupied by lots of cherry blossom trees right away.
There were lots of students taking photos under the flowers in groups of 2-4!
The beauty of the campus made us wonder what life would be like as a KNU student.
---
Flower Garden
꽃보라동산
Address:
대구 북구 산격동 1384-1
1384-1 Sankyeok-dong, Buk-gu, Daegu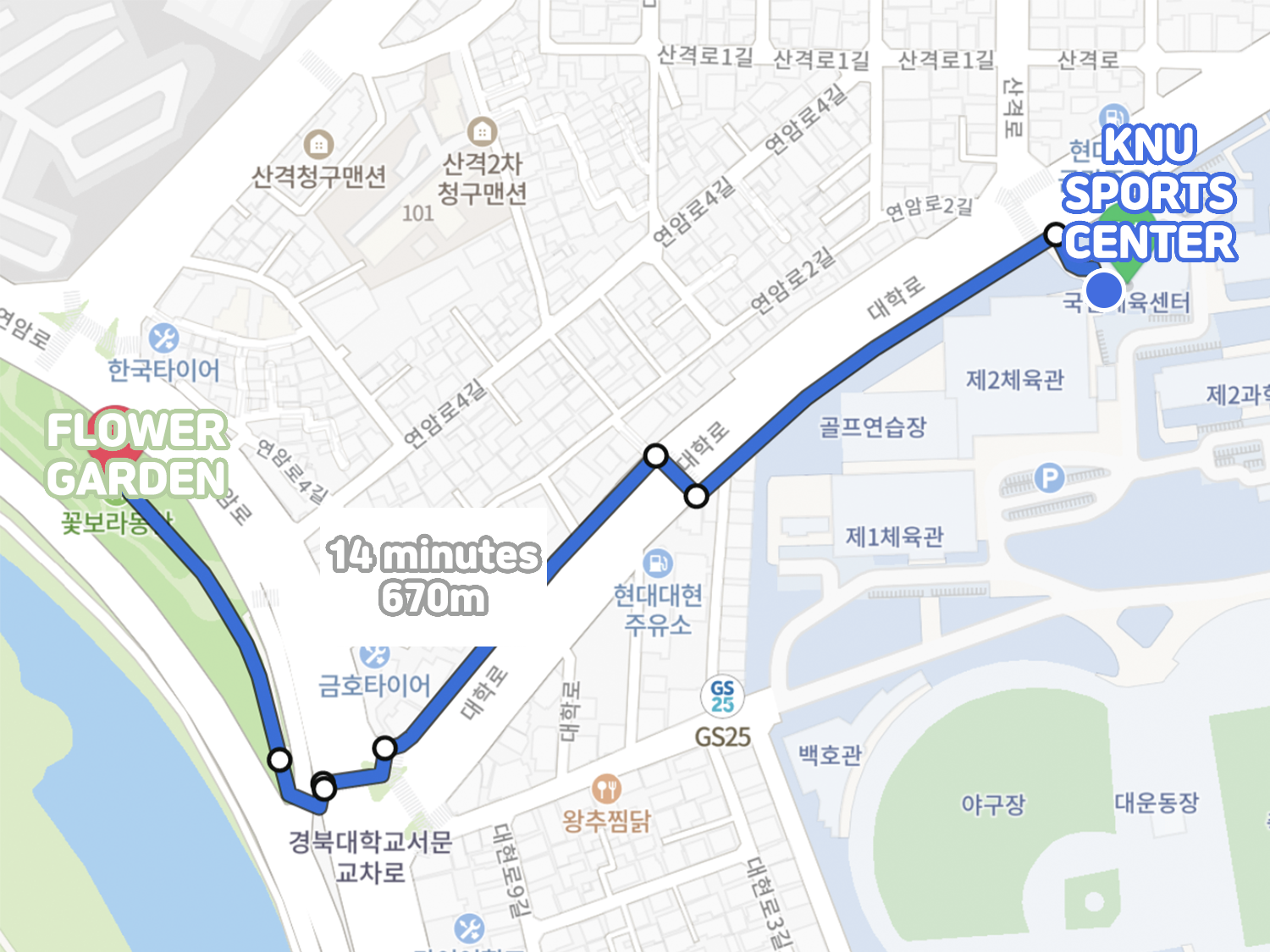 Kkotbora Dongsan (Flower Garden), situated on the banks of Shincheon Stream, is located not too far from KNU.
This magnificent public park offers cherry blossom views around its bicycle path and trail, and it is considered one of the key cherry blossom spots in Daegu.
In 2018, themed photo zones were created where LED lights decorate the stunning flowers, trees and plants once the sun goes down.
Many couples can be seen taking selfies together in front of the nicely lit backgrounds.
You'll also find painted trails and spring-like decorations all around just as in the photo above.
---
E-World
이월드
Address:
대구 달서구 두류공원로 200
200 Duryugongwon-ro, Duryu-dong, Dalseo-gu, Daegu
Hours: Changes seasonally, check for hours here.
Admission:
Adults: 26,000 won and up
Teens: 16,000 won and up
Children: 15,000 won and up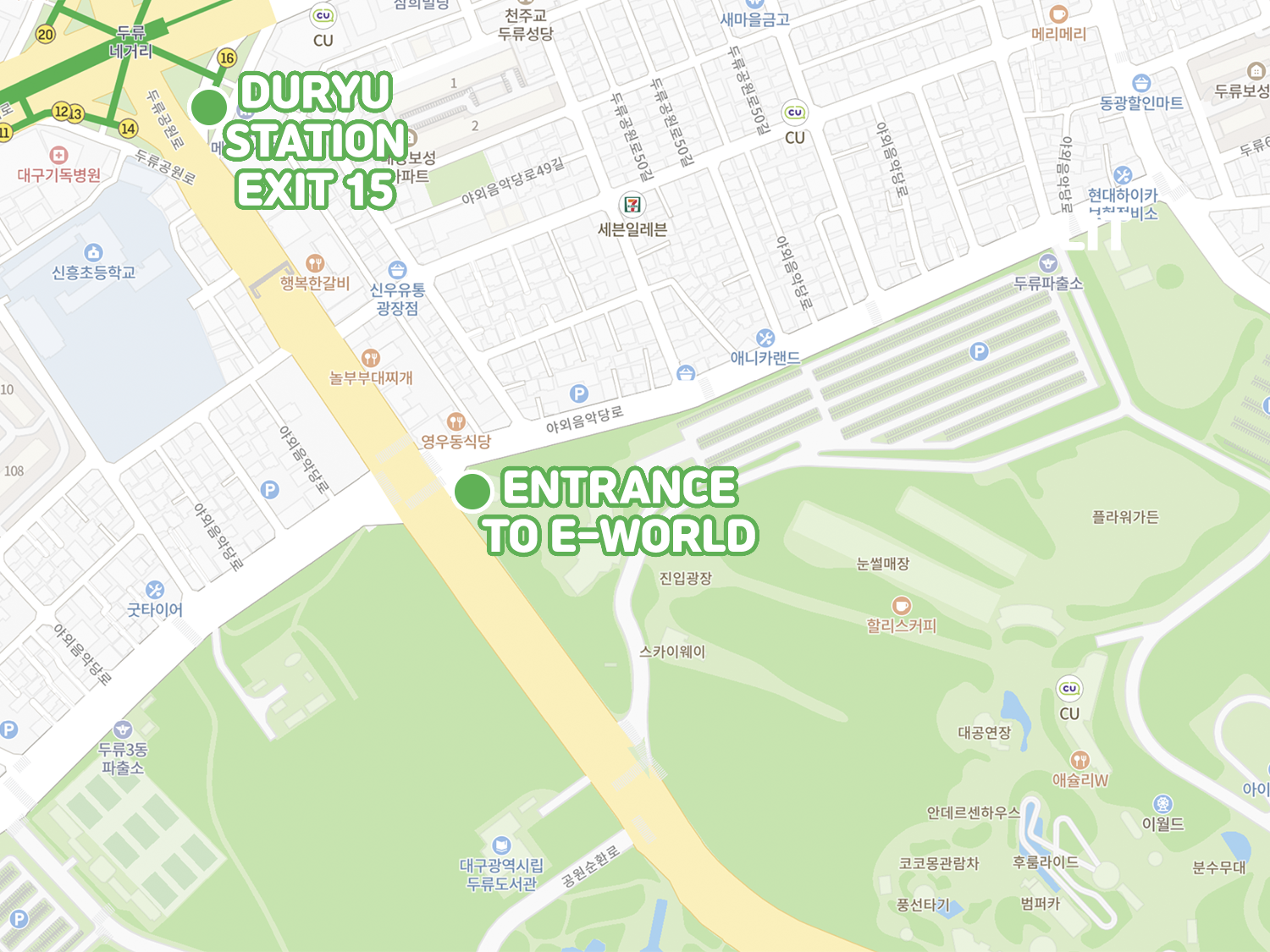 E-World during cherry blossom season is breathtaking!
They deck up the cherry blossom trees with lights and decors like the big red bus you can see in the photo above.
You get a whole different view of the 83 Observatory Tower when you look up at it through the cherry blossoms.
You'll also find a garden with blue lights with stars at the end of the cherry blossom trail, which is also magical!
We highly recommend you get the free pass and get a view of the whole amusement park on the cable car too.
---
Apsan Cafe Street
앞산카페거리
Address:
대구 남구 현충로 32
Hyeonchung-ro 32-gil, Daemyeong-dong, Nam-gu, Daegu
Public Transit: Hyeonchungro Station Exit 2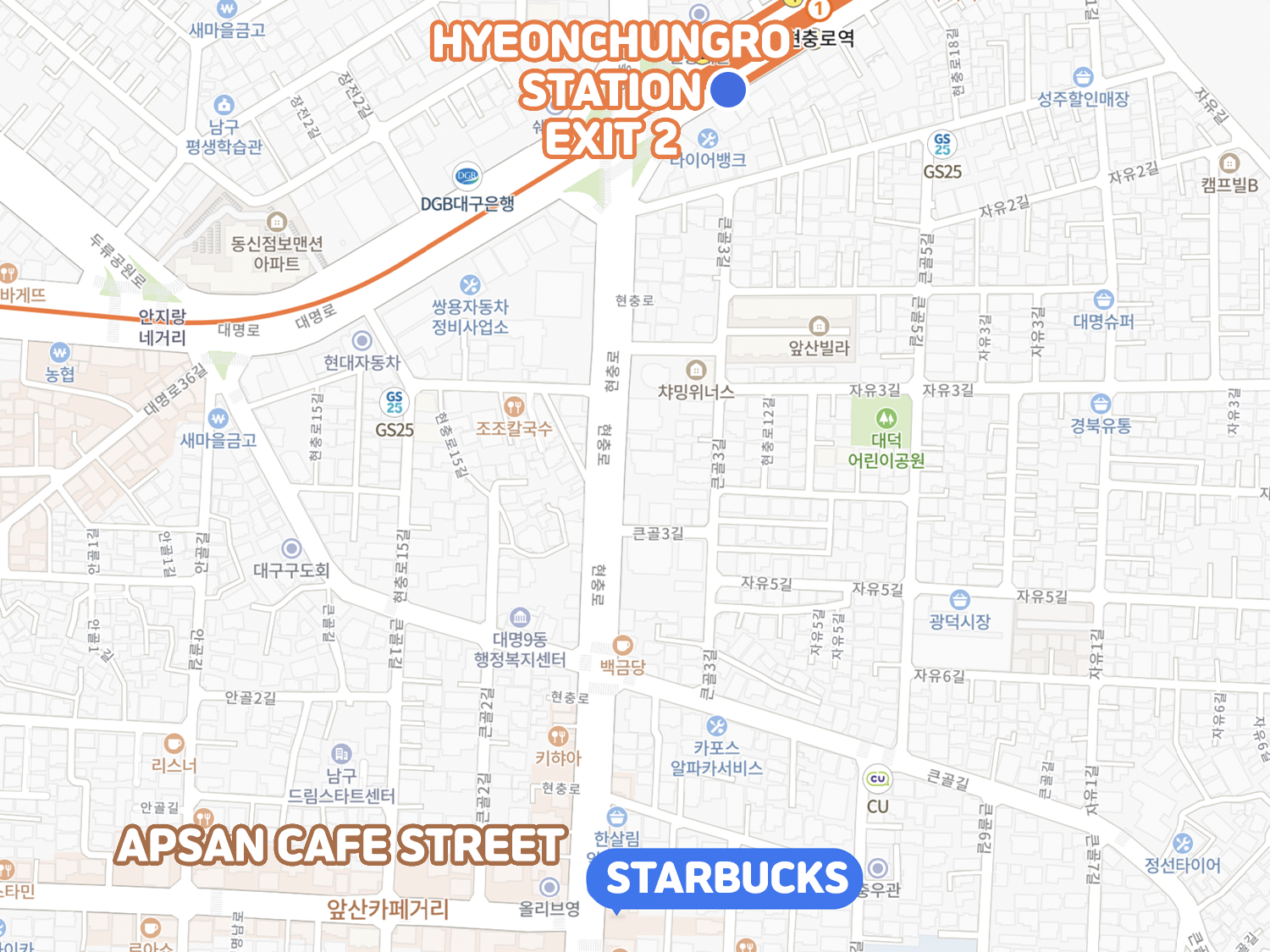 This charming cafe street, just 5 minutes away from Hyeonchungro Station by foot, is where you'll find a cluster of cafes and restaurants.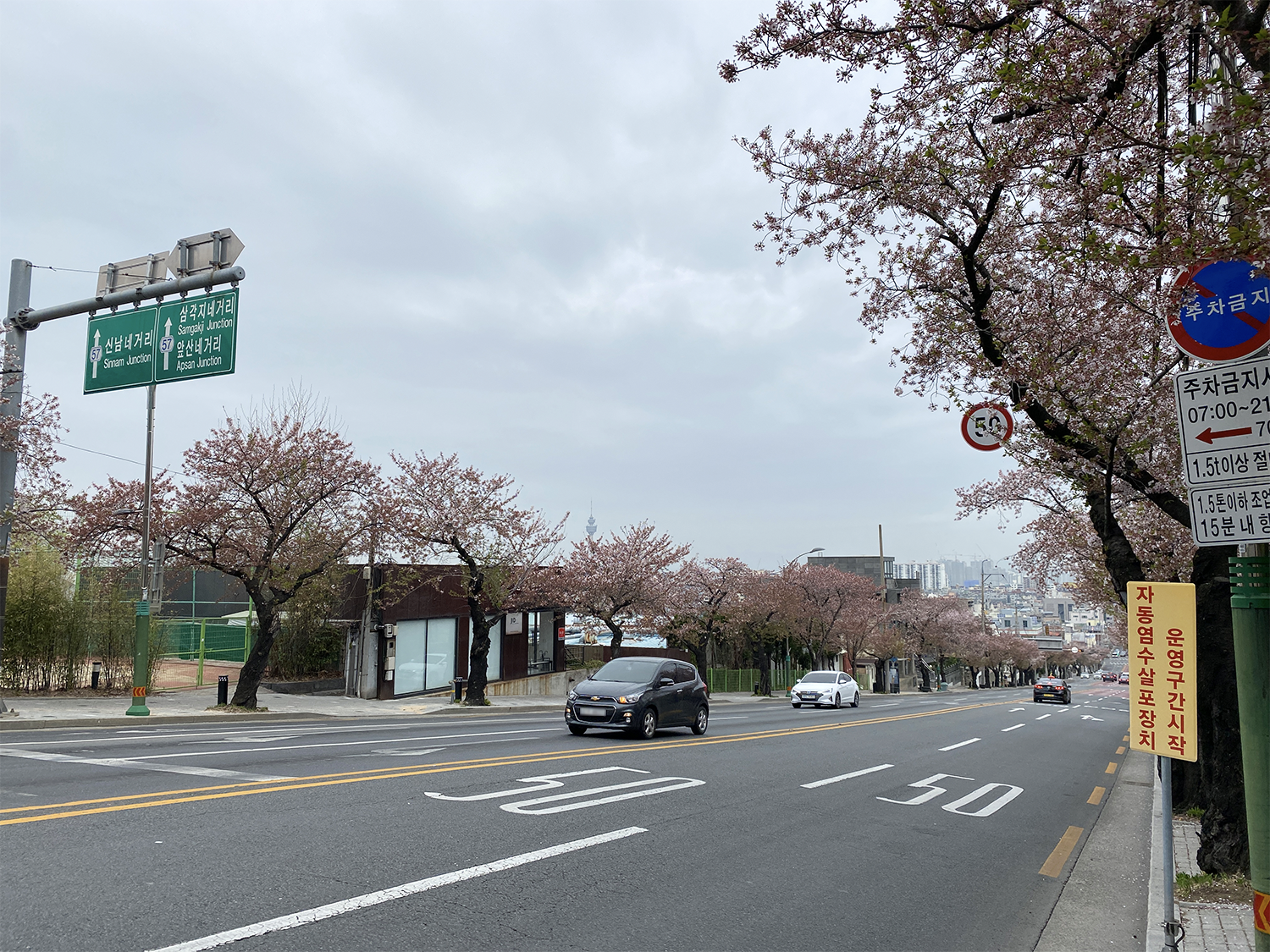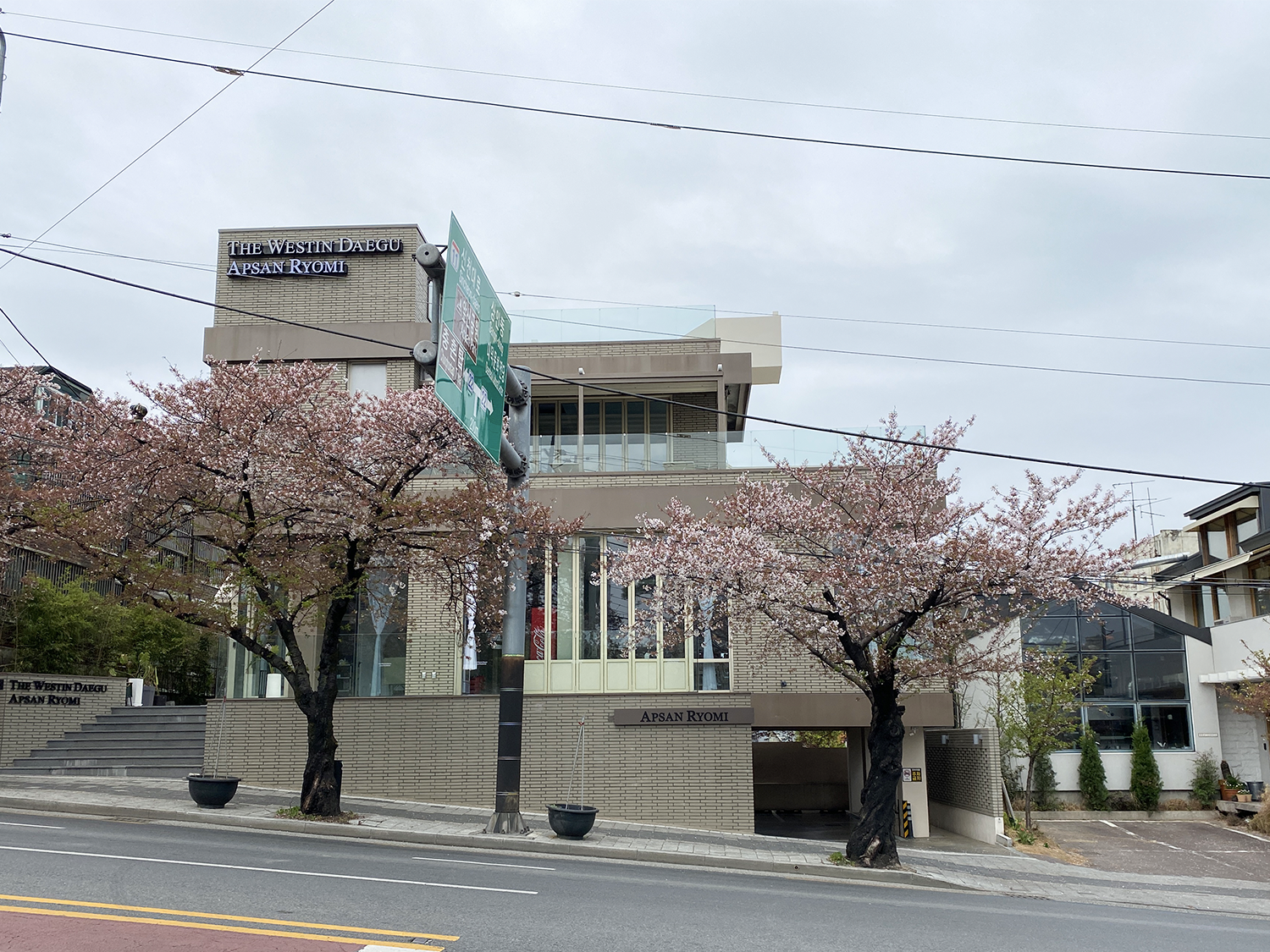 In the daytime, Apsan Cafe Street is busy with patrons who are stopping by its charming cafes for a cup of coffee and a chat.
In the evening, this area gets filled with hungry locals who are looking to grab a bite to eat. Dining options are wide from traditional Korean to fusion Japanese and Italian.
Whether it's with coffee or food, the cherry blossom views you get through the windows of these venues are alluring!
One of the most popular cafes on the cafe street has to be a.nook.
We visited on our previous cafe trip to Daegu and it is also considered one of the most beautiful cafes to experience cherry blossoms over coffee just as you can see in the photo below!
---
Suseong Lake
수성못
Public Transit: Suseongmot Station Exit 1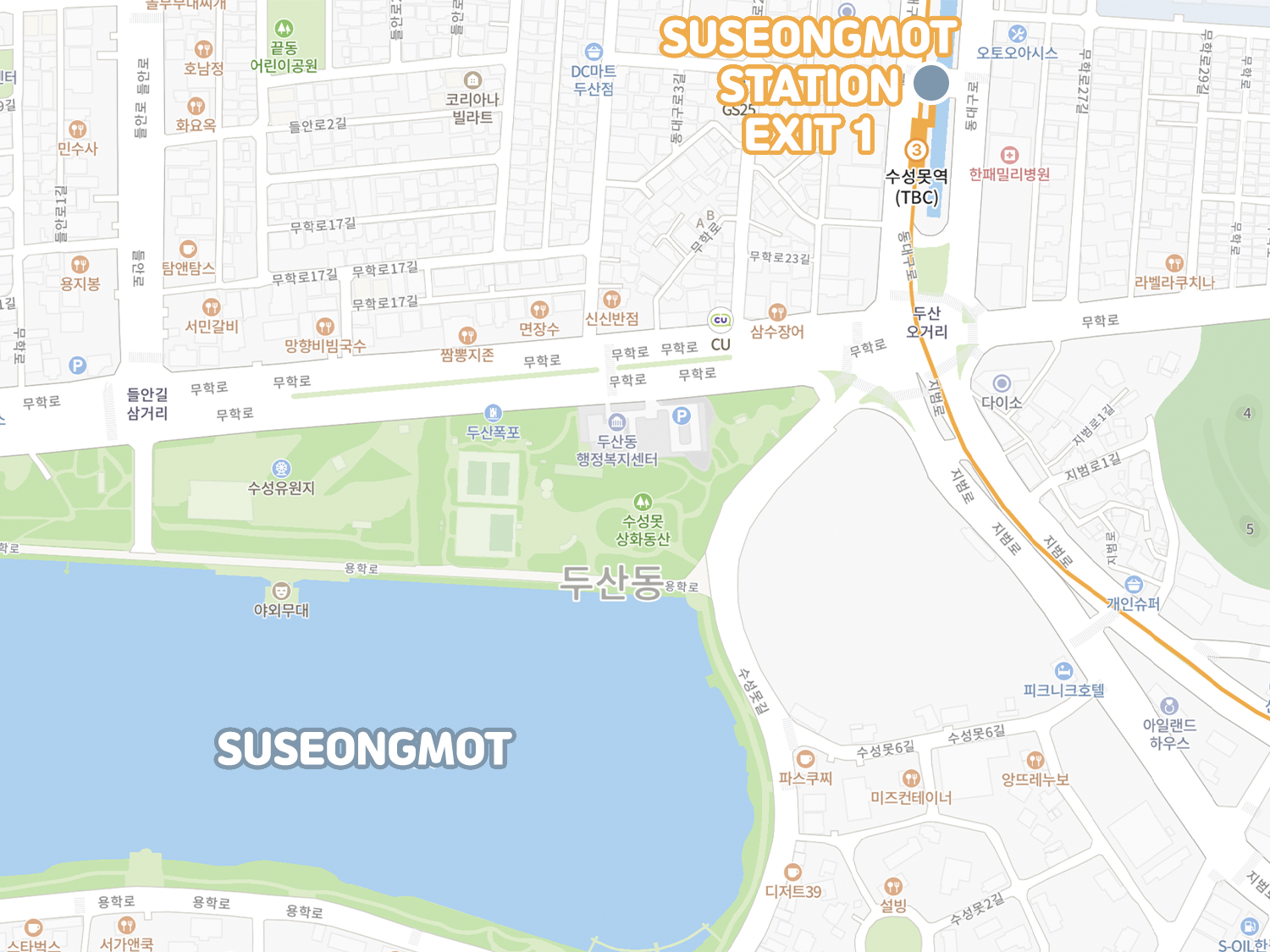 The long trail that goes around the lake is a beloved place among Daegu locals for a quiet walk and exercise.
The trail gets surrounded left and right by arrays of cherry blossoms come spring, which makes the walk around the lake park even more marvelous.
There are lots of cute cafes and brunch spots along the trail, so if you're feeling for a snack or drinks, you'll definitely not be short of options.
When we visited, we saw lots of couples and families who were having a relaxing time while walking and chatting on the trail.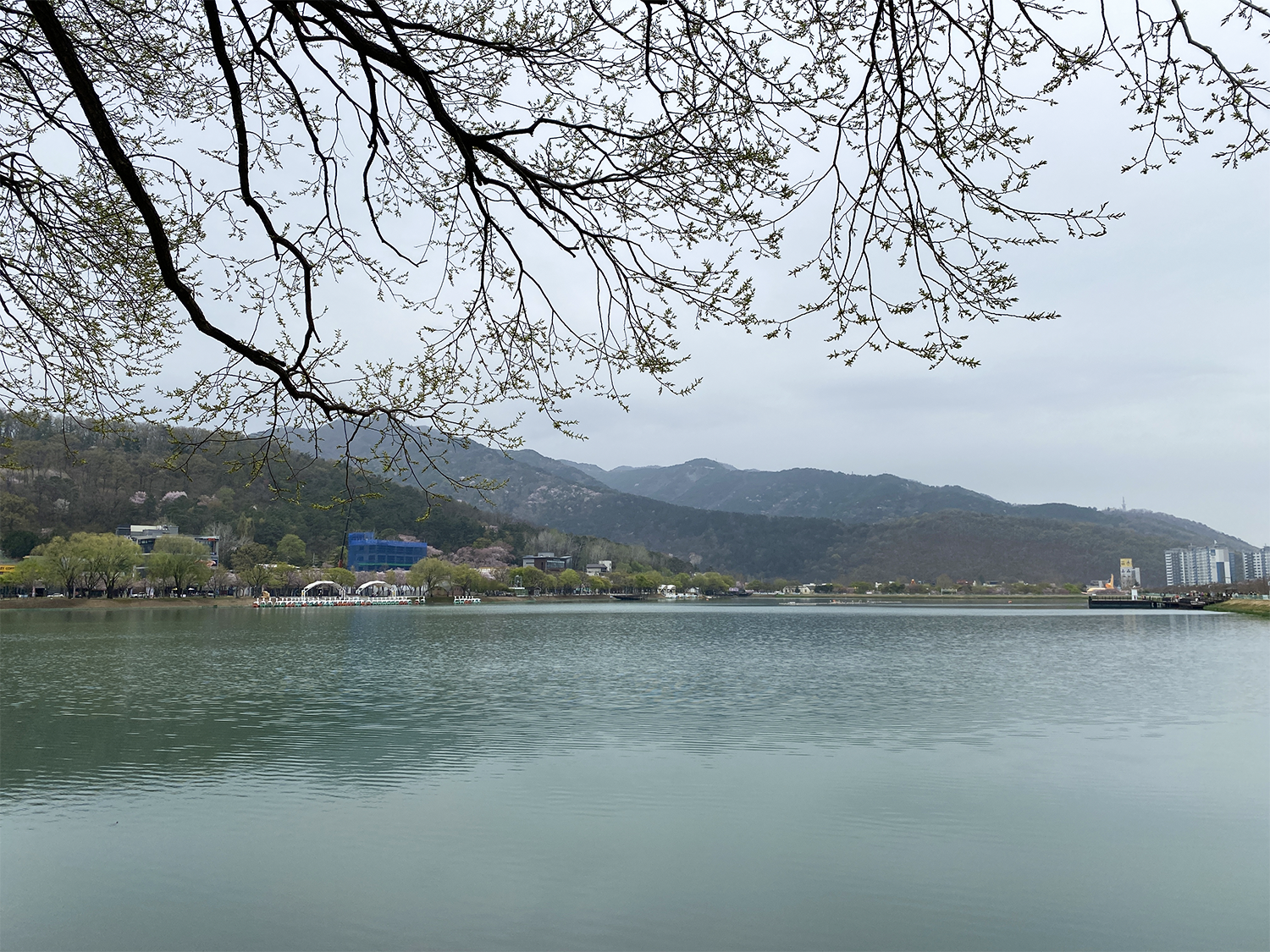 ---
LIT




카페 엘아이티
Address: 대구 중구 달구벌대로447길 64
64 Dalgubeol-daero 447-gil, Samdeokdong 3(sam)-ga, Jung-gu, Daegu
Hours: 12:00-22:00
Public Transit: Kyungpook National University Hospital Station Exit 4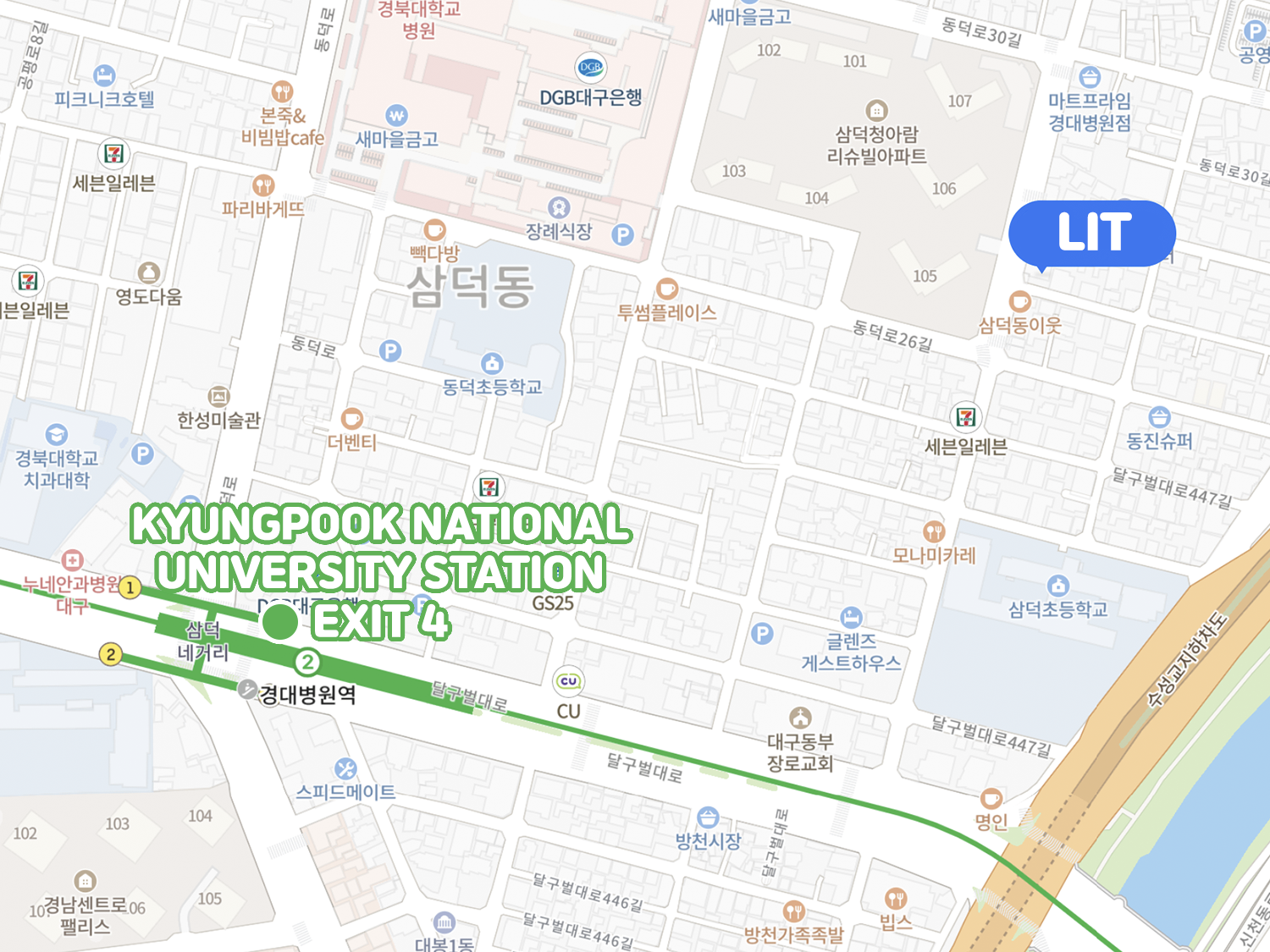 Unfortunately when we visited, the cherry blossoms had already fallen off and the tree had turned green!
When the cherry blossoms bloom, the cafe looks like the photo below. Isn't it stunning?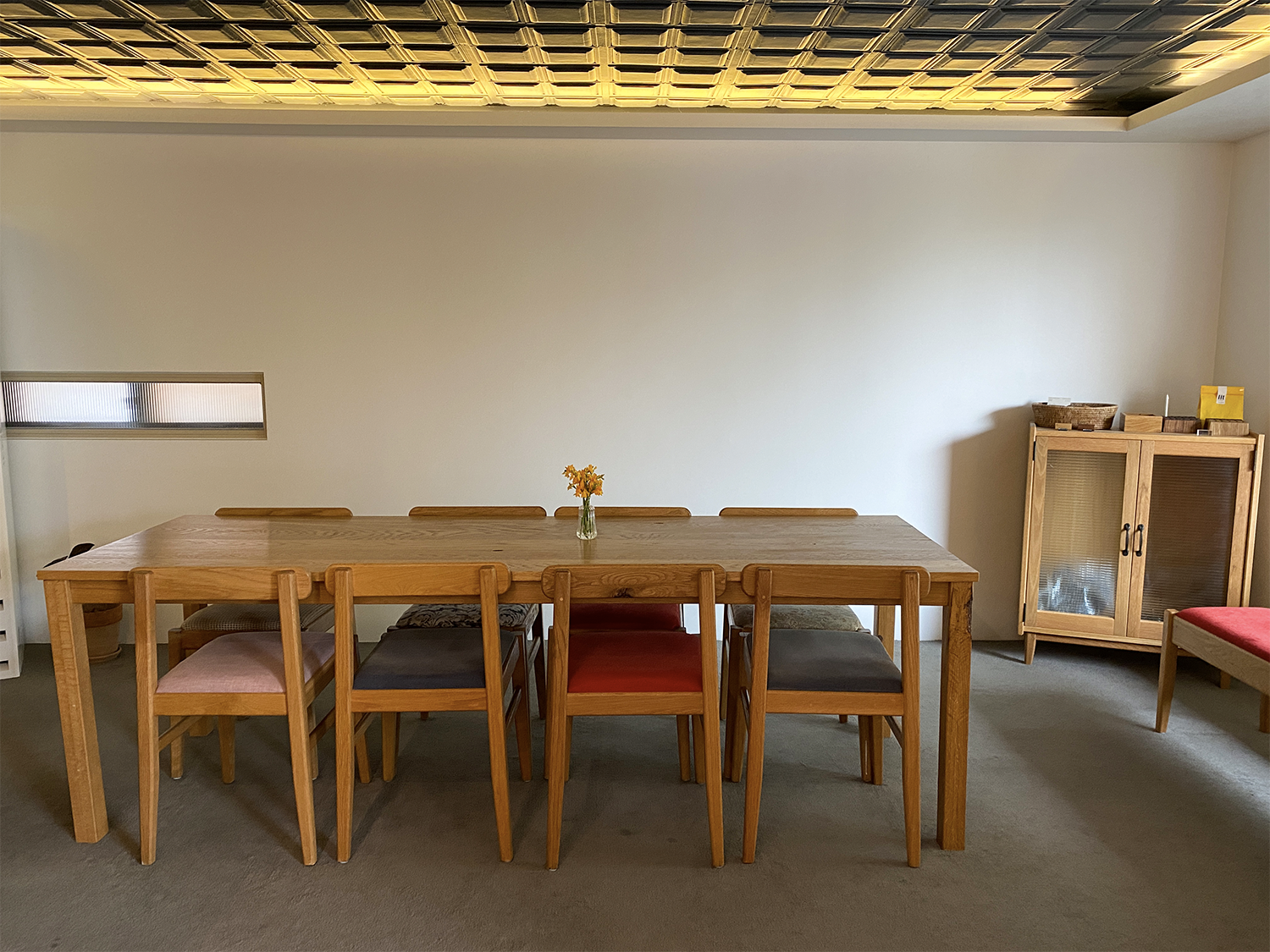 This cafe also functions as a furniture showroom so all the furniture you'll see inside is delicately made design furniture!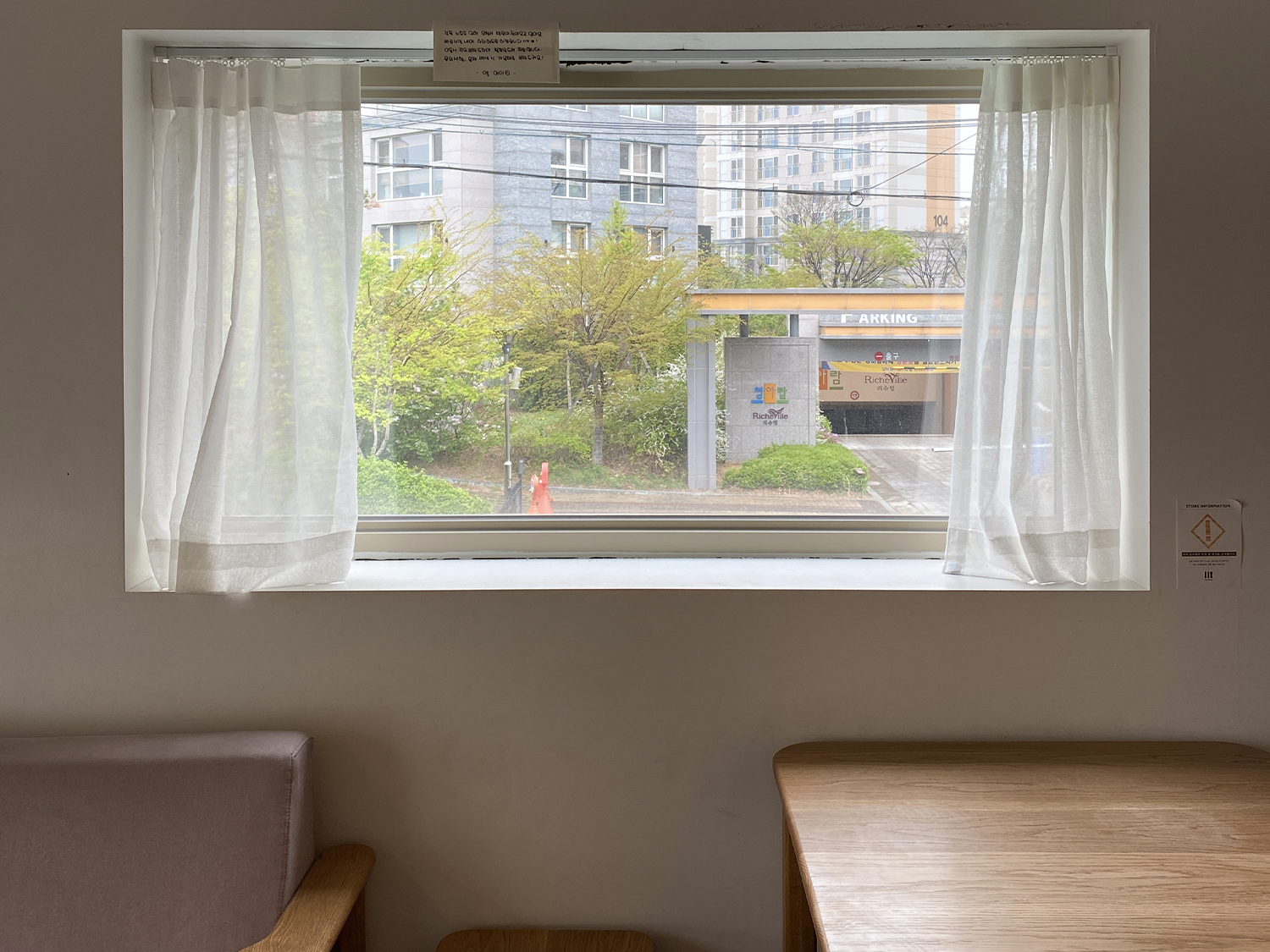 The overall atmosphere of LIT is calm and relaxing, each room offering a cozy space.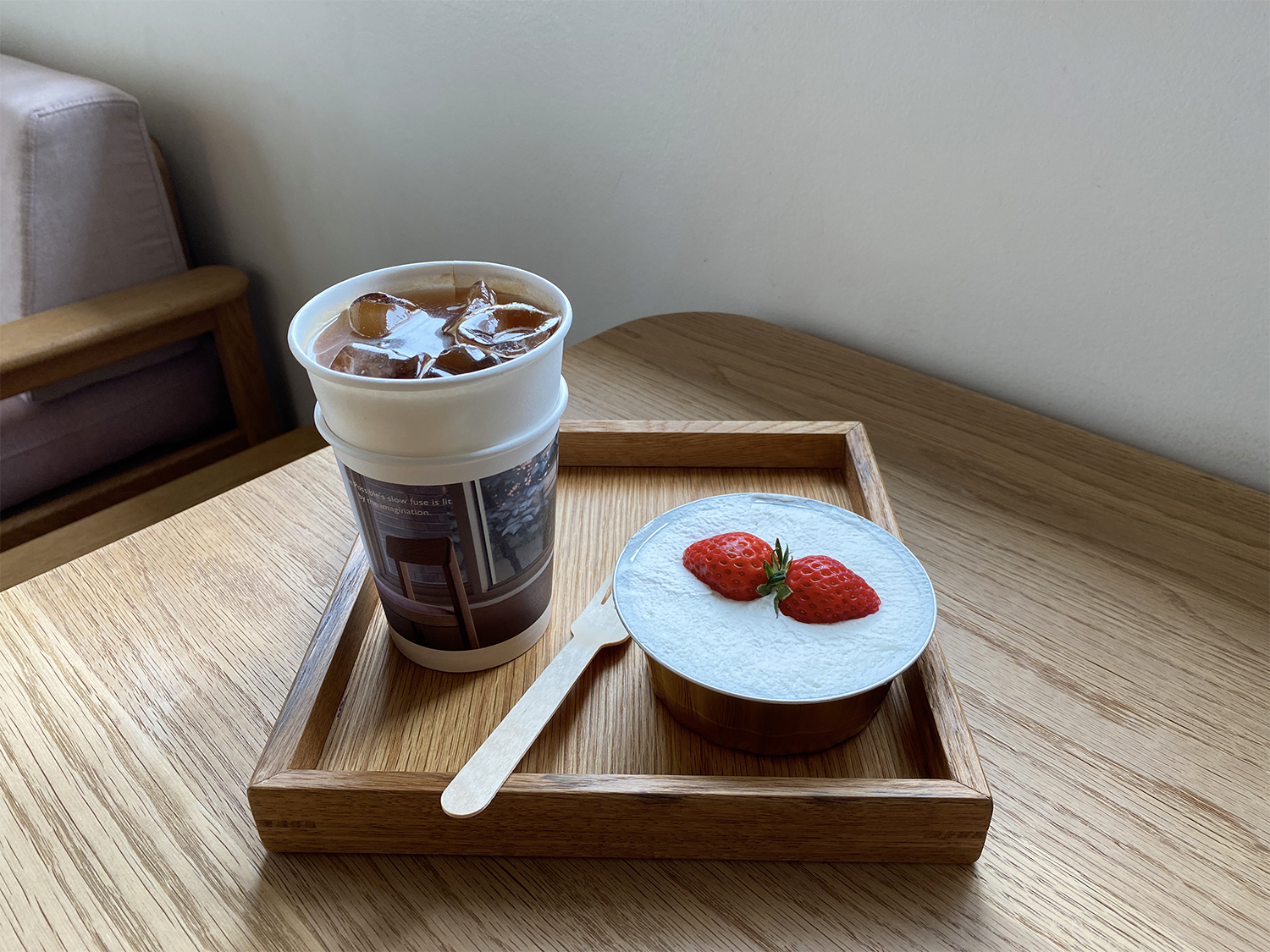 Their strawberry cake (7,000 won) is highly recommended! The cream of the cake is especially smooth and complements the moist cake layers and strawberries well.
---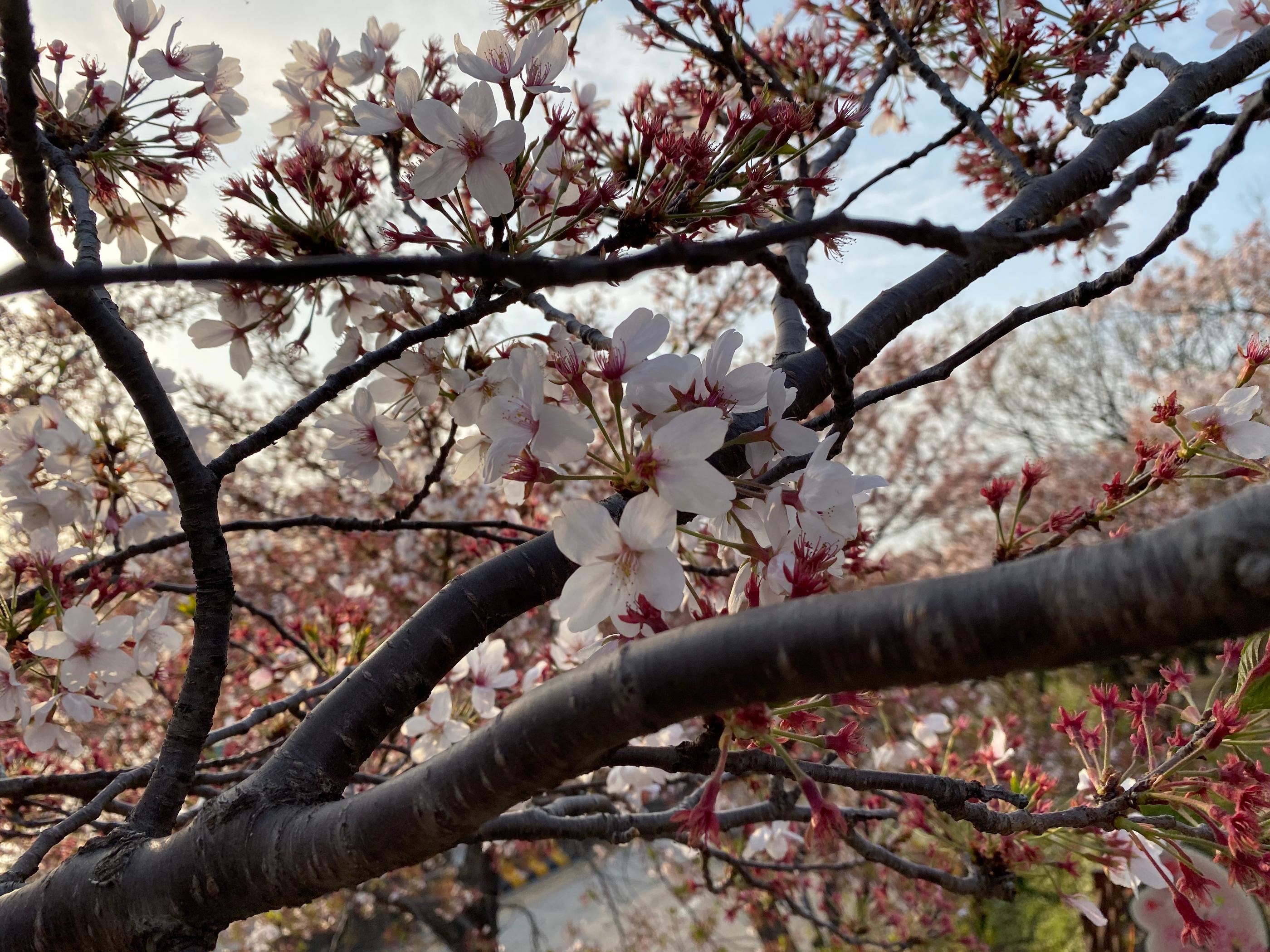 Overall, it was one of the best cherry blossom trips we've had in Korea!
Not only is Daegu a worthy place to visit for cherry blossoms, the city offers a lot more from food, cafes, nature and fun activities.
We hope you enjoy the city as much as we did when you visit!
---